Sire: Judas von den Golan-Hohen
Dam:  Greta vom Räuberweg
Born: 16 July 17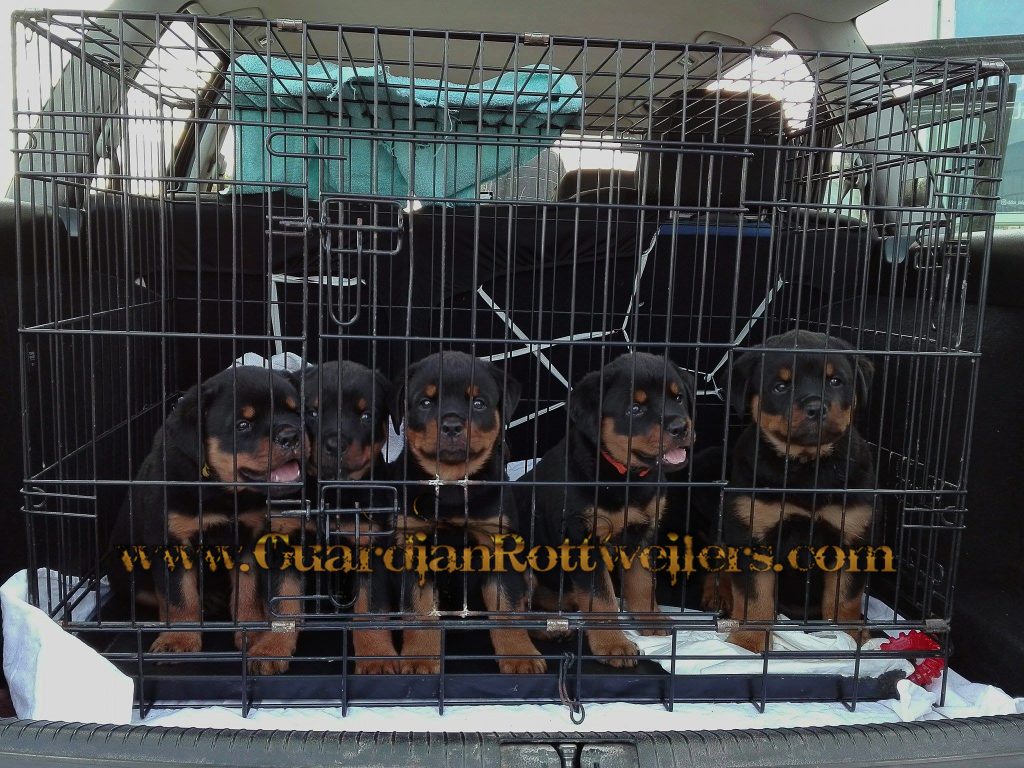 We are so excited to be importing pups of this quality!  Helena is a phenomenal breeder who understands how important pedigree is, but does not forget that how the pups are raised and socialized, ESPECIALLY during the early weeks is monumental to their growth and development.  She is the first European breeder I have come across that uses Puppy Culture https://www.puppyculture.com!  The amount of time Helena put into researching pedigrees and progeny to chose the perfect sire for this litter is evident when you see that, from a litter of 11, you have 11 puppies that could easily be pick of the litter!  After you meet the puppies, you can see for yourself that excellent choice in breeder are only the tip of the iceberg with Helena.  The puppies are well socialized, confident, affectionate, intelligent and biddable.  This was my first litter to import from Helena, and I truly hope it is not my last!
Here is a video of Ranger, the male with the highest drive in this litter that went to a well respected trainer, Miroslav Tomic!
This video was taken on his FIRST DAY of training!!  How incredible is this little guy!?!?!

This is a 100% ADRK German breeding.  Sire and Dam are BOTH Pink Paper German Imports, and some exceptional German working lines!  If you do not know some of these dogs or some of these titles, please look them up!  Judas was ADRK KLUBSIEGER (Best dog in the world at the biggest, most prestigious Rottweiler show in the world!), as well as Sieger many, many times over.  He has a Gek?rt (Koerung)!!  This is no easy achievement!!  This is a LIFETIME breeding titled that is very hard earned!  He has every temperament test/character title he can earn in Germany and he has the highest level working title achievable (IPO 3)!  The line breeds in this litter are on some of the notable Rottweilers in the breeds history.  This is one of the highest caliber litters I have ever imported and I could not be more proud!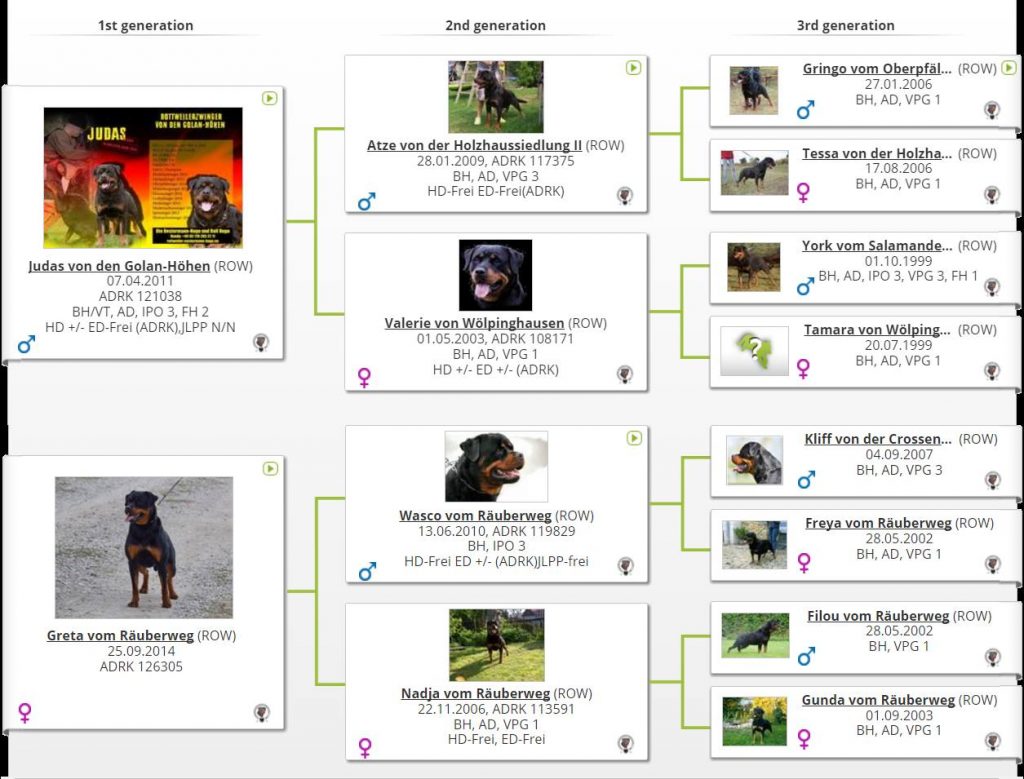 Sire:
JUDAS VON DEN GOLAN-HOHEN

Sire: Atze von der Holzhaussiedlung II – BH, AD, VPG 3, HD-Frei ED-Frei,
Dam: Valerie von Wölpinghausen – BH, AD, VPG 1, HD +/- ED +/-
HD+/-, ED-Free
JLPP-Free
BH, ZTP, AD
IPO3, FH2, Gekort (Koerung)
ADRK Klubsieger 2015
International Champion
Dt. ADRK Ch. (German Champion ADRK)
Dt. VDH Ch. (German Champion VDH)
Danish Champion
B?rdelandsieger
Salzlandsieger (2015)
Oberpfalzsieger
Wittenbergsieger
Dessausieger
Lechtalsieger
Heidesieger
Niedersachensieger (2014),
Spreesieger
Westsachsensieger (2013)
(Grandson of Gringo vom Oberpfalzer Wald and York vom Salamandertal!)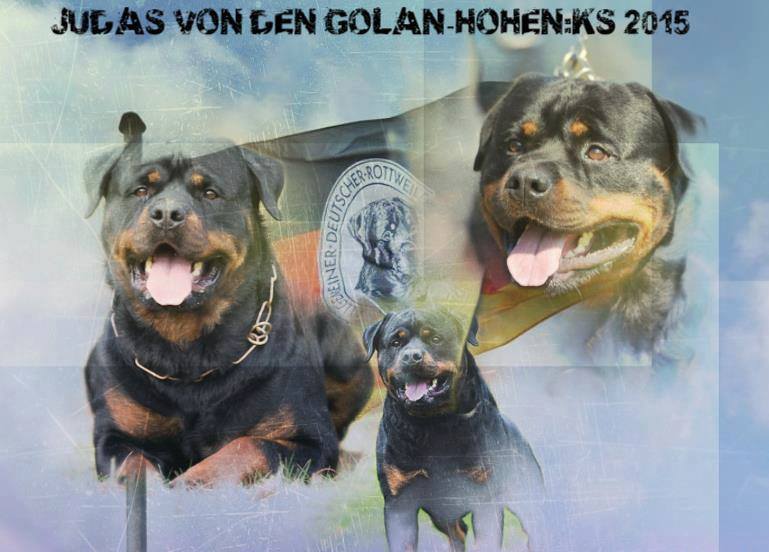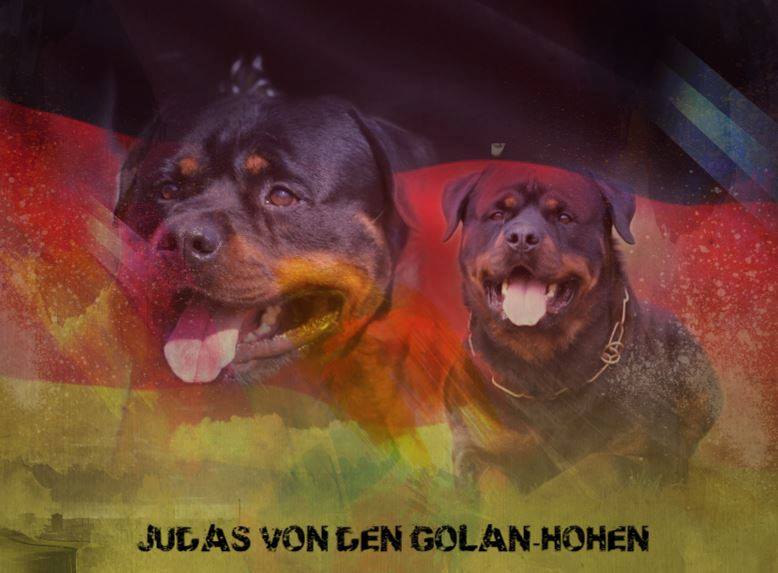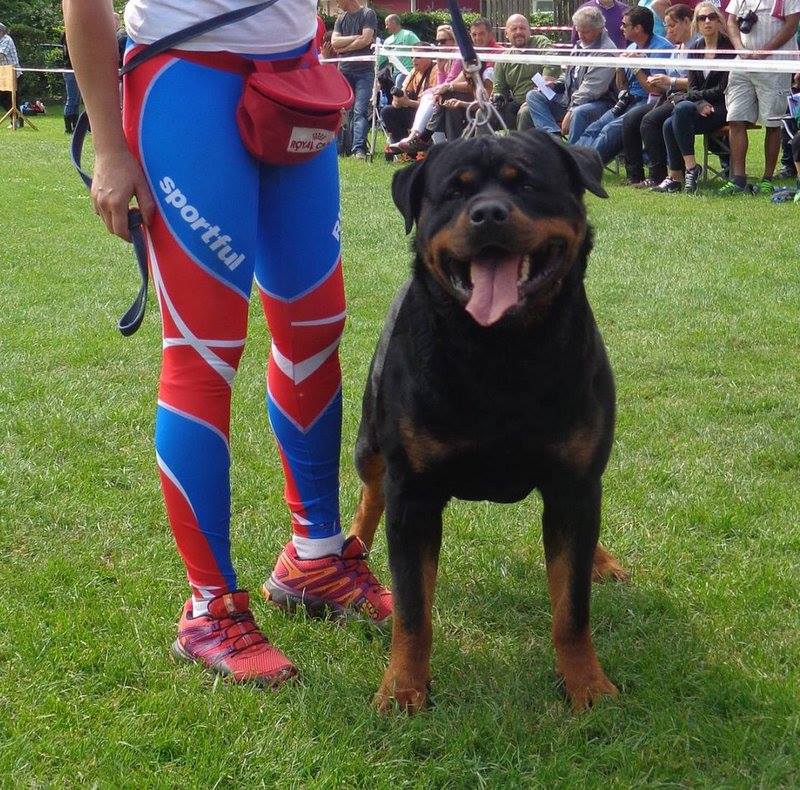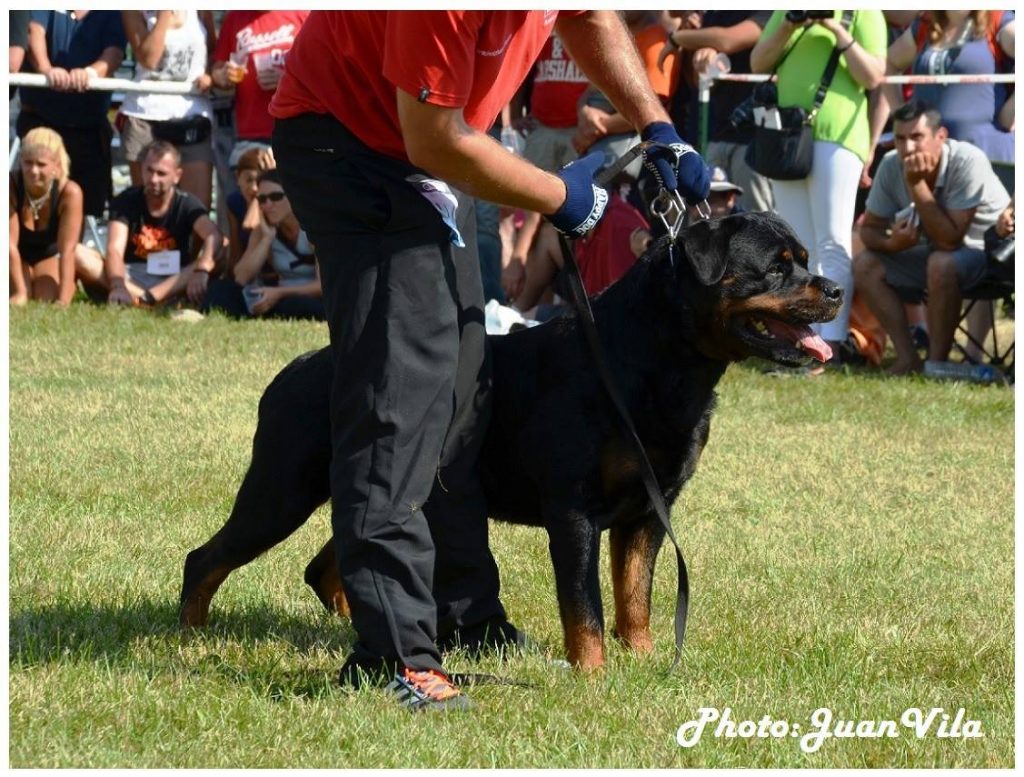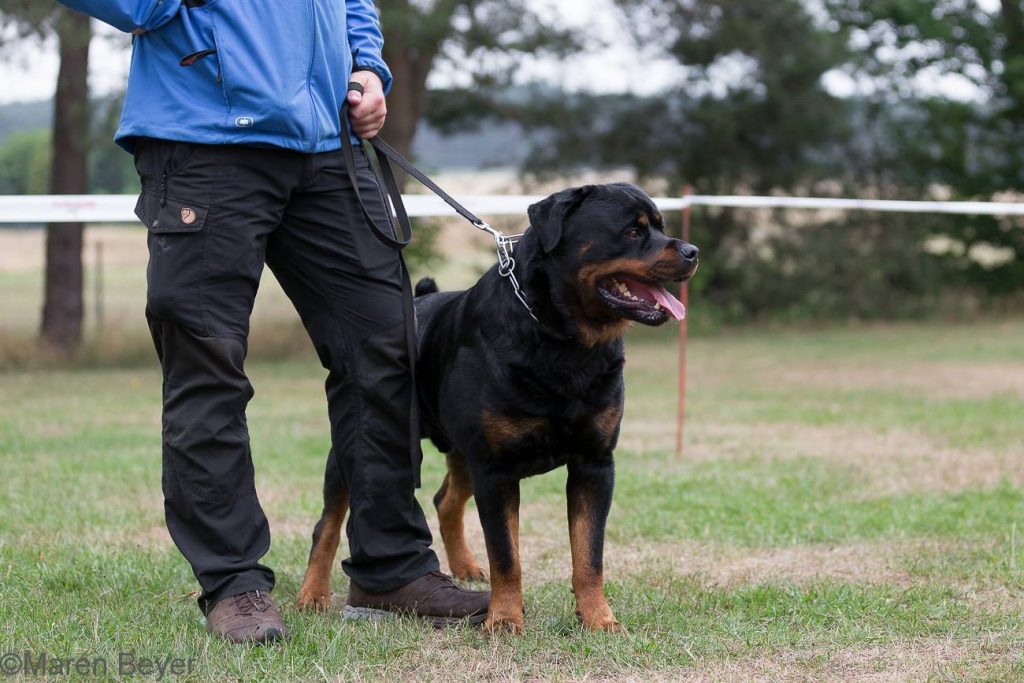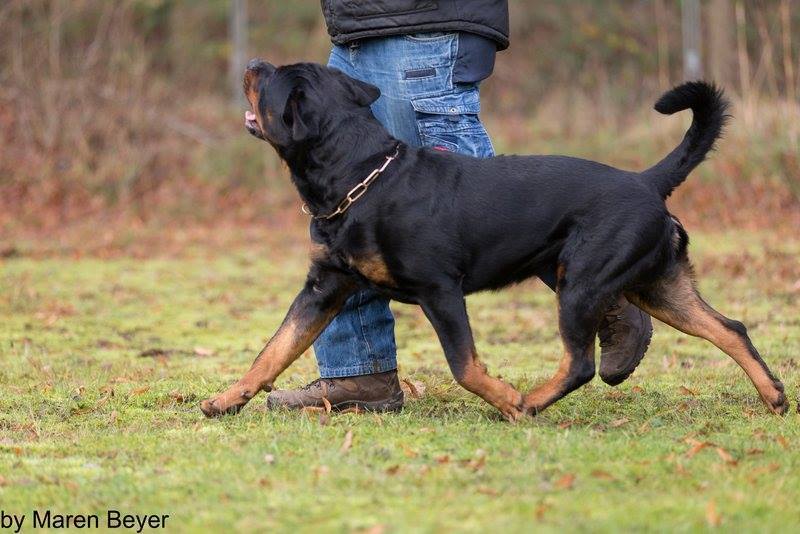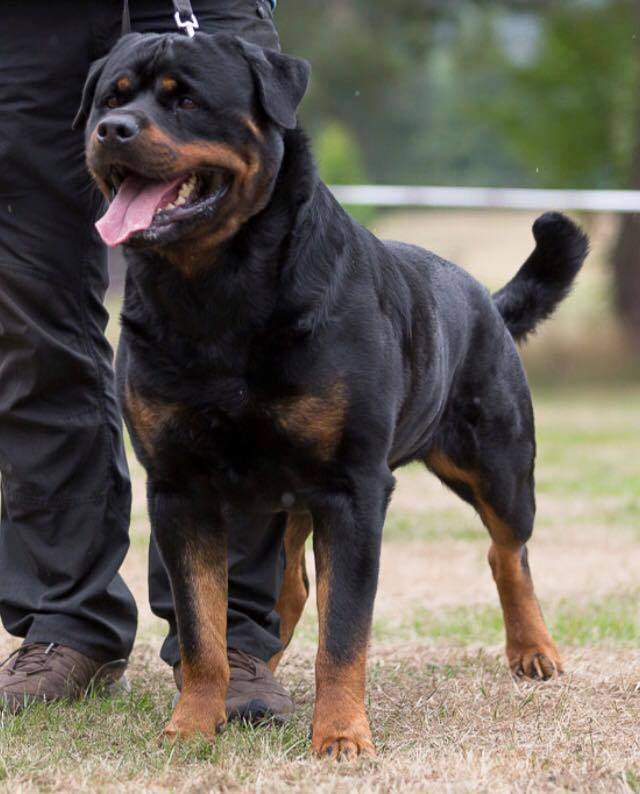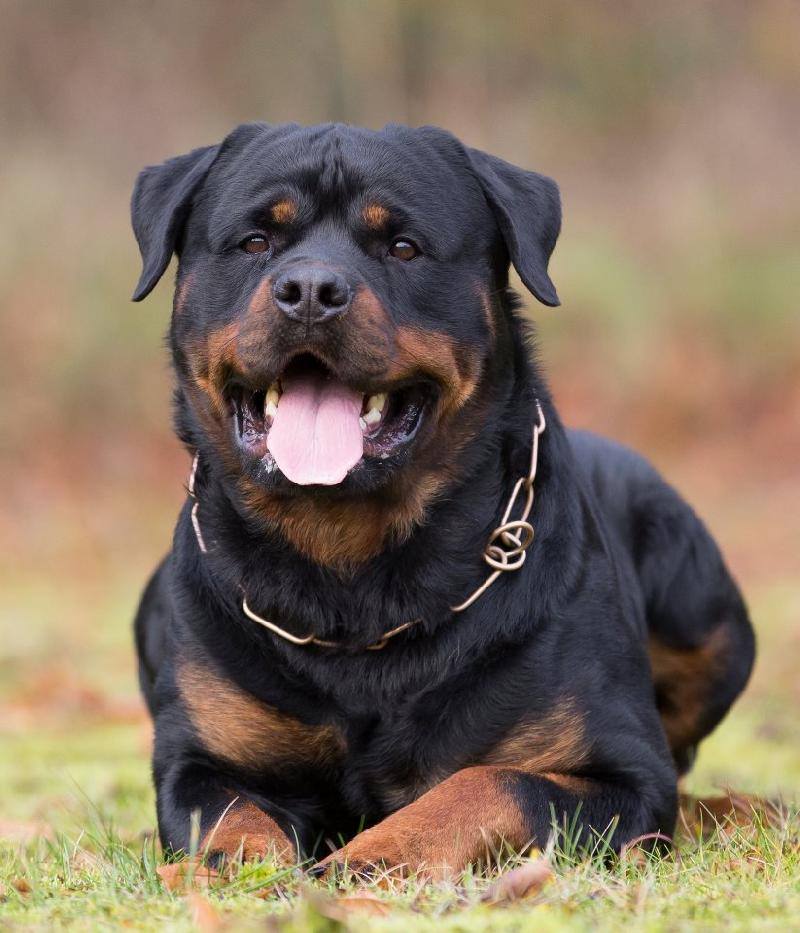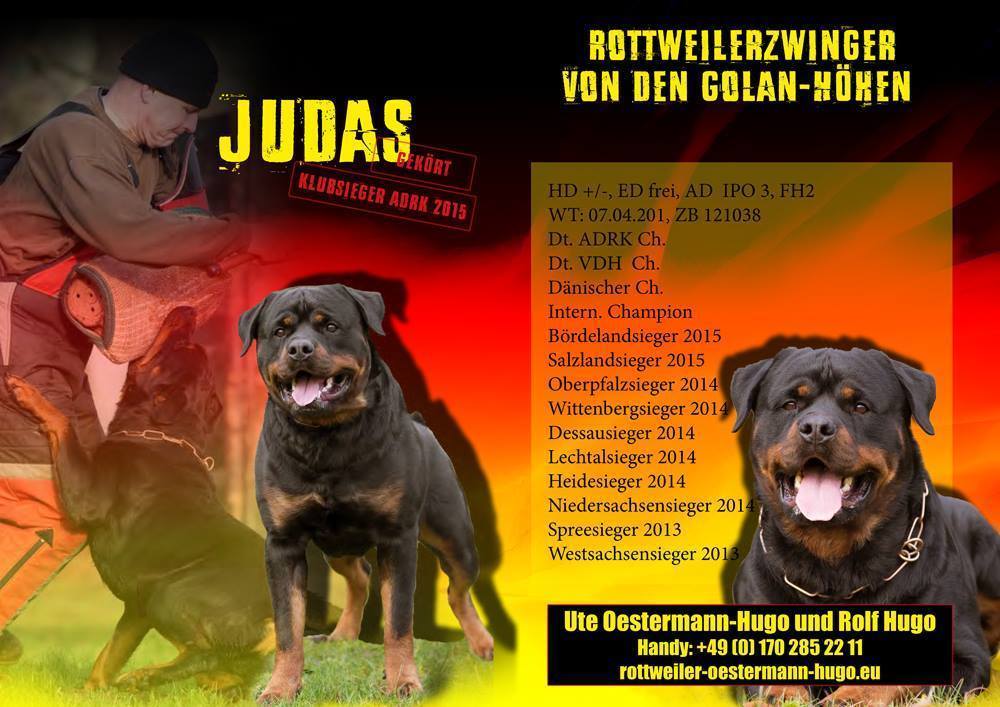 Dam: GRETA VOM RÄUBERWEG
??
Pink Paper German Import- ADRK 126325
Sire: Wasco vom Räuberweg
BH, ZTP, IPO3, Multi-V1, German Winner 2013, HD-Frei, ED+/-, JLPP-Free
(Kliff von der Crossener Ranch x Freya vom Räuberweg)
Dam: Nadja vom Räuberweg
BH, ZTP, IPO1, AD, HD-Frei, ED-Frei
(Filou vom Räuberweg x Gunda vom Räuberweg)
HD-B, ED-0
JLPP-Free
V-Rated
Granddaughter of Filou vom Räuberweg and Kliff von der Crossener Ranch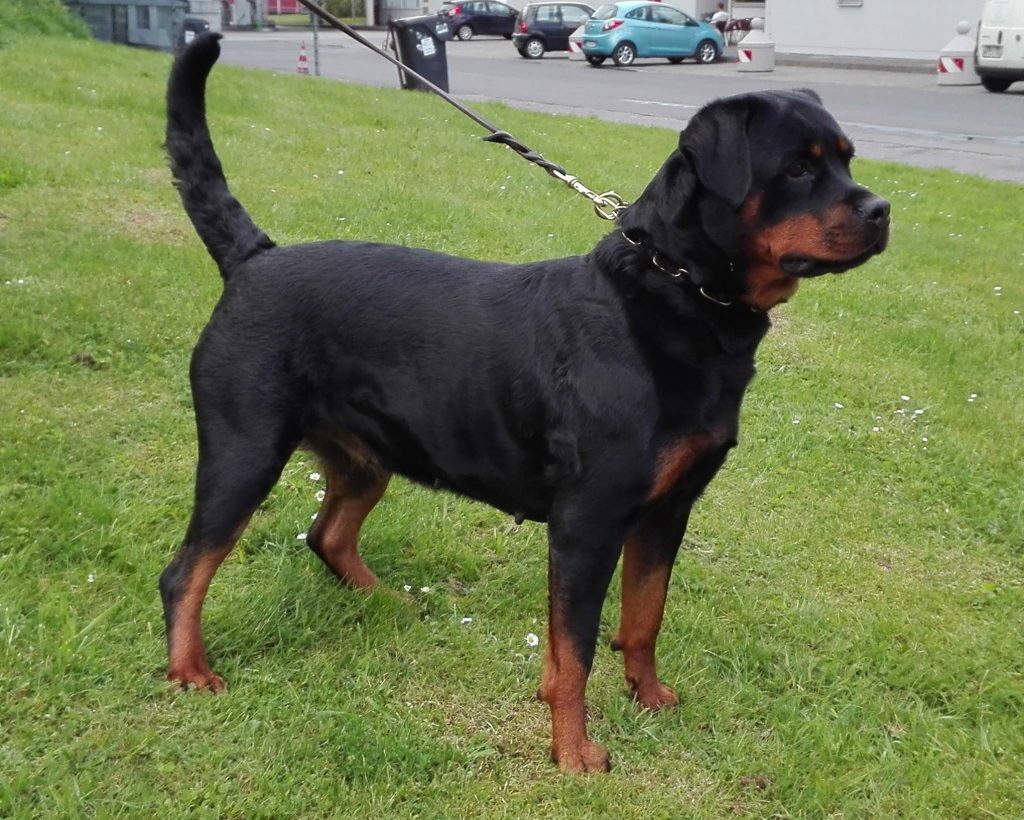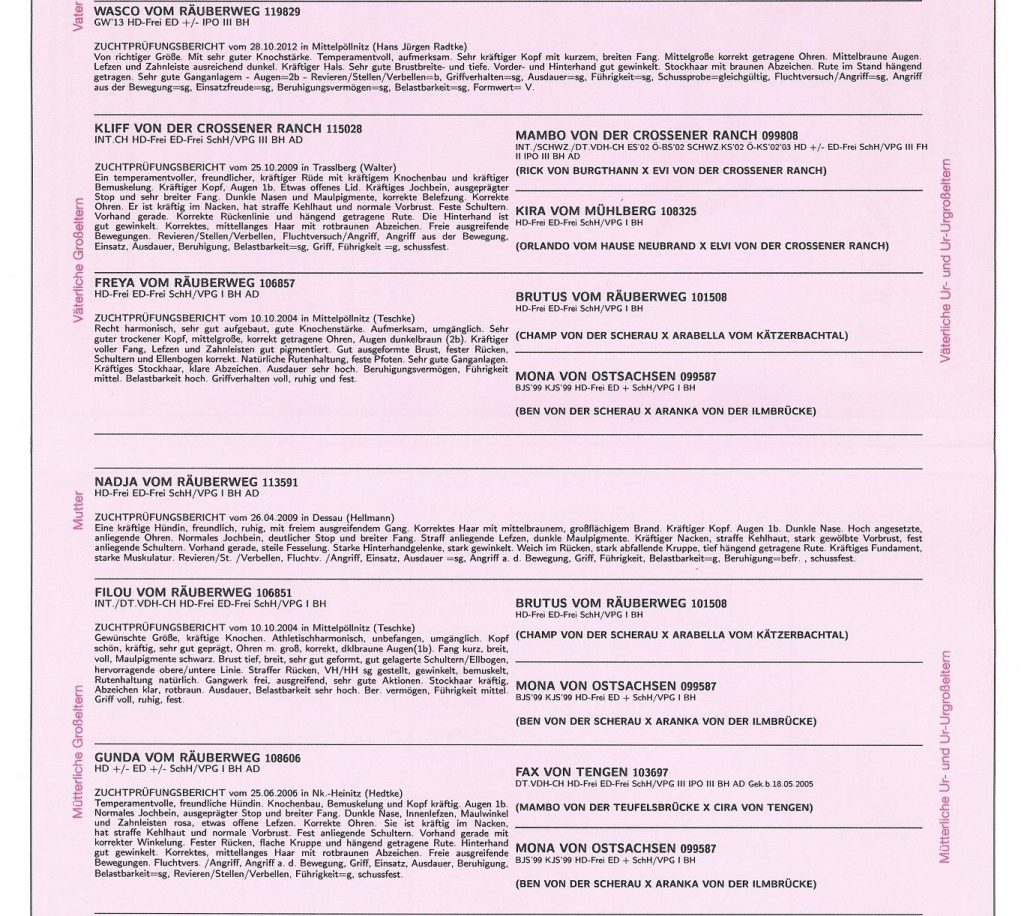 Greta Line breed:
Linebreeding – 5 generations:
3 – 3 Brutus vom Räuberweg BH, ZTP, SCHH/VPG I
?4 – 4 ?Champ von der Scherau V-1 BS 98′ BH ZTP AD IPO III SCHH III
?4 – 4 ?Arabella vom Kätzerbachtal SCHH I, AD, BH, ZTP
3 – 3,3 Mona von Ostsachsen BJS'99, KJS'99, SCHH I, BH, ZTP
?4 – 4,4 ?Aranka von der Ilmbrücke BH, ZTP, SCHH/VPG I
?5 – 5,5 ?Ferro von der Teufelsbrücke BH,ZTP,SCHH/VPG III,FH,AD GEK.B.EZA
?5 – 5,5 ?Matcho von Burgthann INTL/DTVDH-CH,Ö-BJS, BH, AD, ZTP, SCHH III, IPO III, FHII, GEKORT BIS KÖRUNG
LITTER LINE BREEDING: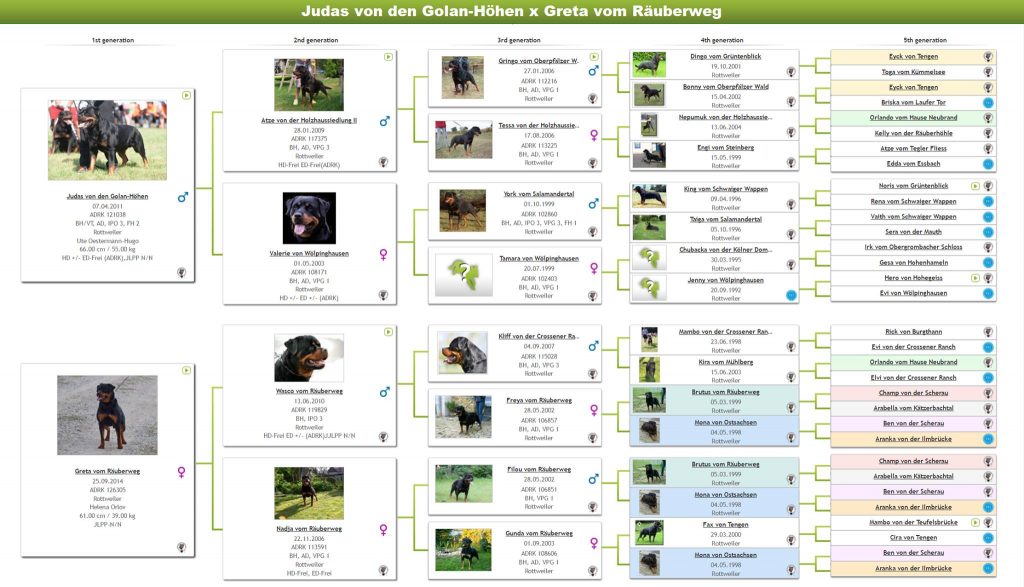 Linebreeding 5:5 on Orlando vom Hause Neubrand
Linebreeding – 7 generations:
5 – 5 Orlando vom Hause Neubrand DT.VDH-CH. Ö-KS'04 SCHH/VPG III AD BH IPO III (02.34%)
3X Rick von Burgthann INT CH,ÖSTER,LUX,VDH, KS BH, ZTP, AD, IPO III, SCHH III, GEK. KORUNG
3X Champ von der Scherau V-1 BS 98′ BH ZTP AD IPO III SCHH III (01.86%)
3X Cira von Tengen SCHH 3 IPO 3 ZTP HD-ED- (00.88%)
3X Noris vom Grüntenblick INT./DT.VDH-CH ES'93 SCHH III FH AD BH IPO III GEKORT BIS EZA
8X Irk vom Obergrombacher Schloss AD, BH, SCH/VPG3, GEKORT BIS EZA, KÖRUNG
5X Matcho von Burgthann INTL/DTVDH-CH,Ö-BJS, BH,AD,ZTP,SCHH III,IPO III,FHII,GEKORT BIS KÖRUNG
3X Doc von der Teufelsbrücke INT.CH, O-KS' 95, IF, SCHHIII, FH, AD, BH, GEK
2X Ken vom Schwaiger Wappen WS'94 ES'94 BS'94 KS SCHIII FH AD IPOIII GEK. 9-24-94
8X Benno von der Schwarzen Heide INT/AM CH WS90, ES90, SCHH III,FH,IPO III,ZTP,TT,AD,CGC
6X Chris vom Obergrombacher Schloss BS 1989 SCHIII AD GEKB 10190
---
Ronan Vom Drachenheim
Hello!! Everything is going great with our little guy! Other than crying at night (which we expected) he's his happy go lucky self and is bonding with us well! Name hasn't been decided, although we're oddly enough leaning towards "Rottie" ?
We have a vet appointment tomorrow afternoon so I will keep you updated after that.
Also I was wondering what toothpaste you use for your dogs? I read it's good to brush their teeth at least once a week, just curious what you do, thanks!
We are in love!!!
Kaite