Guardian Rottweiler's U Litter:
Sire: "Ocho" Guardian Warrick Von Gottschalk
Dam:  Guardian Kashi Von Gottschalk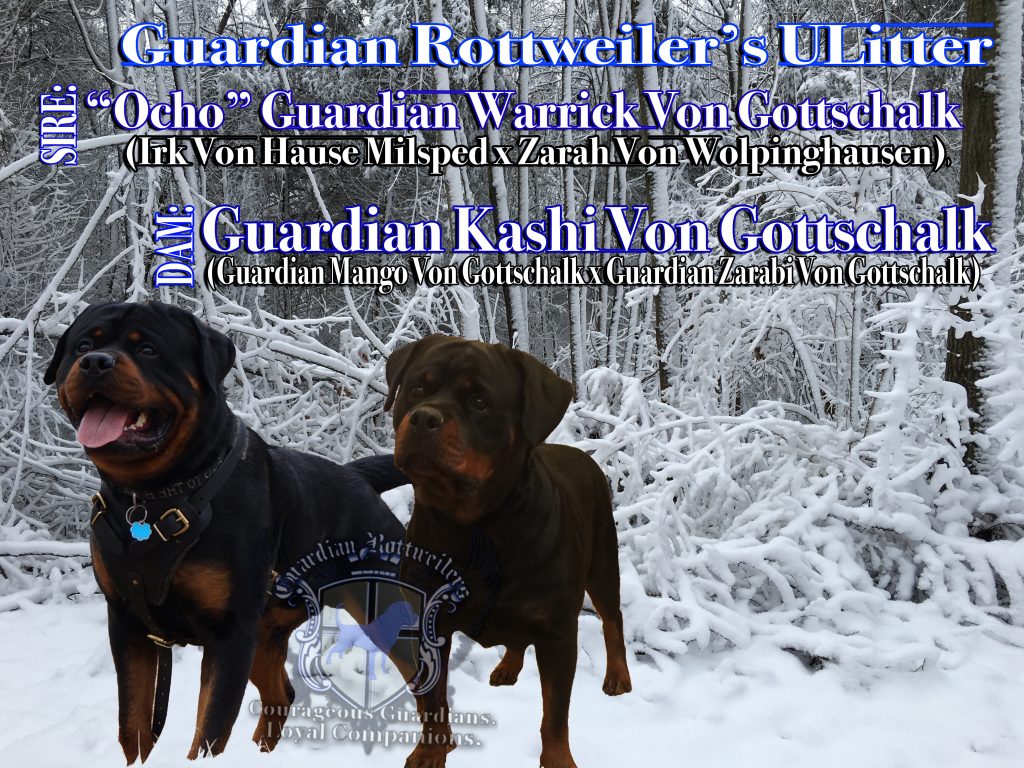 What an exciting litter!  This is a repeat breeding of Kashi's last litter, in 2015!  Some PHENOMENAL, GORGEOUS pups from the pair of them, and we are expecting equally excellent results this go!  Ocho is a large, impressive male in every way.  Working dog with some go Germany and Serbia's best bloodlines!  Ocho is a beast when he is at work- a powerful, intimidating dog that hits the sleeve like a freight train!  And yet, off the field, he could not be a more affectionate boy.  Kashi is built like a tank with a heavy frame and an unmistakable head.  Her father, "Koda" Guardian Mango Von Gottschalk was named mango as a pup because of his mellon, so the apple definitely does not fall far from the tree!  Kashi's mom, Guardian Zarabi Von Gottschalk, is a direct daughter of KING Marsio Ri Moby Dick and the grand daughter of Whisky Se Ungo-Rot, one of our best moms ever and the daughter of  Henry von den Hassberghöhen!  Expect some great working prospects in this litter and just fantastic characters all around.
Kashi's first puppy was a massive, gorgeous boy.  Shortly after, we had to take Kashi to the vet for an emergency c-section.  Kashi did brilliantly and made quite a few friends at the vets office- always the breed ambassador.  We were blessed with one more, a beautiful baby girl.  We named them both while in the recovery room at the Emergency Hospital.  The boy is Ulan- his name is African and means "first born of twins" which is absolutely perfect for this strong, beautiful boy.   His sister was named Ursa.  It is an old Roman name and means "little she-bear."  Despite receiving part of the sedative that puts mom under for her emergency c-section, this little warrior princess, who should have been lethargic at birth, was so strong!  Could not keep her still to dry her off as she was powering her way all over the table and rooting for milk.  She is AMAZING and my little she-bear.  
This is Kashi fresh out of surgery, still groggy (that is why Kashi is strapped in place- to make sure she does not fall or injure herself while drugged- although of course we did not leave her side at all either).  Undoubtedly uncomfortable, and probably confused, she is still a mom <3  Not at all worried about herself, just her newborn princess <3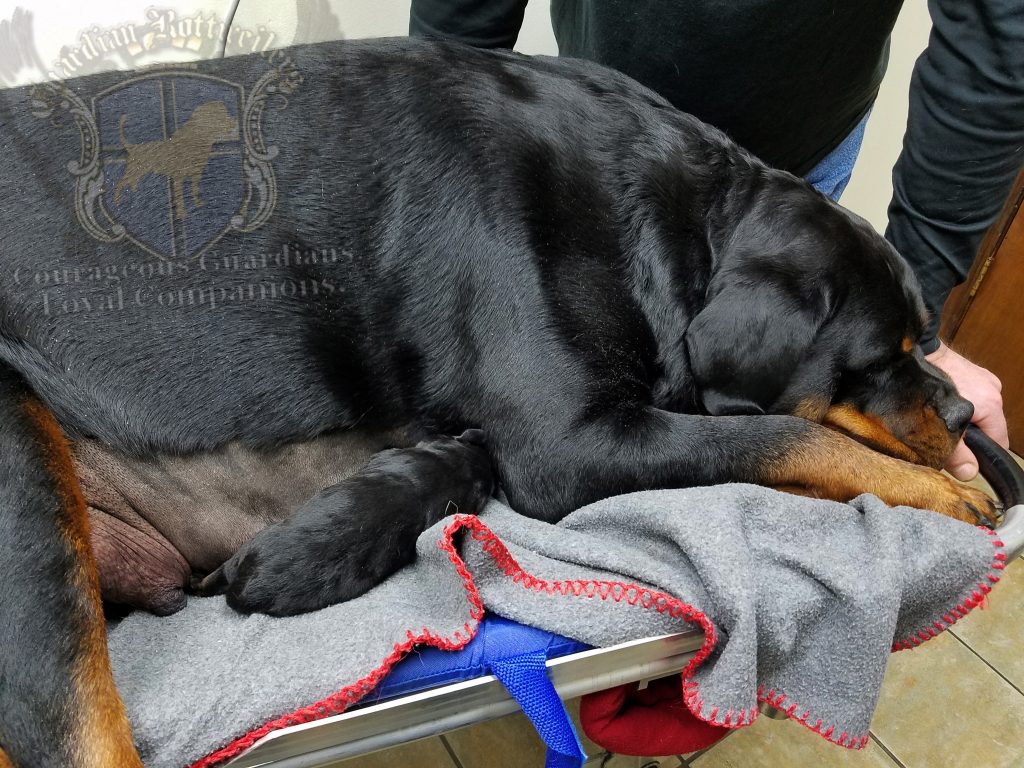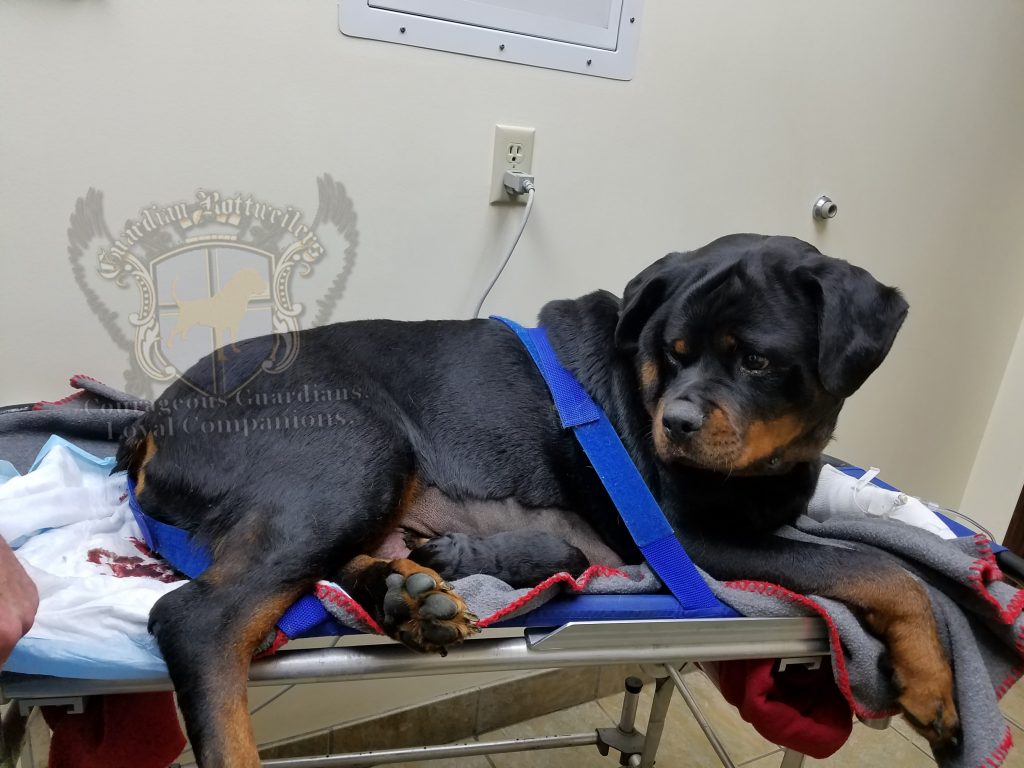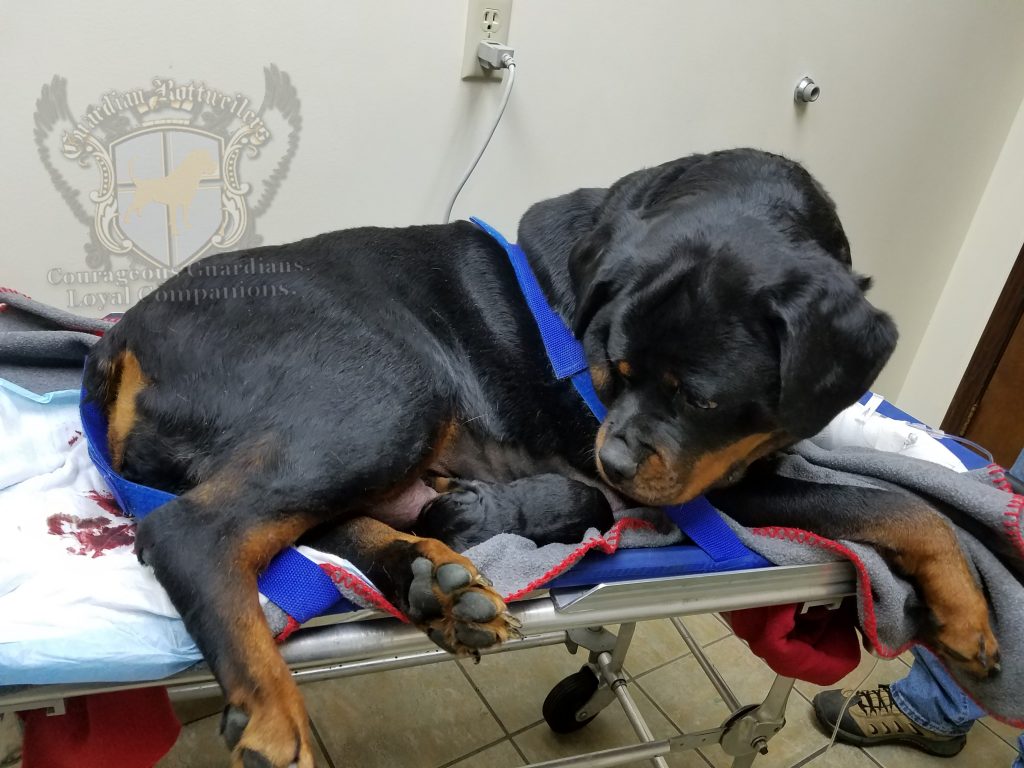 Once we got her back home, she was visibly anxious.  She kept looking for puppies even though she had both of her babies- it was clear she new there should be more 🙁  Since Xoana had 7, born the same day, only hours apart, it seamed perfect to give her 2 of Xoana's babies to foster.  This eases Xoana's burden as well as gives all of her pups even more milk.  Along with, of course, the added bonus of giving Kashi 4 pups to mother making for 2 relaxed and happy moms.  Xoana had already given Kashi a hand as well by nursing and taking care of Ulan while Kashi was at the vet <3  Not all moms will foster another females puppy- it takes resources away from their own babies and can create competition for their young later.  So we were very blessed to have 2 amazing girls who were happy to just love babies <3  Expected nothing less from a Whisky daughter and a Whisky granddaughter <3

When you want to snuggle puppies, but you're really tired 😉
(featuring Ulan, Ursa and Ethan <3 )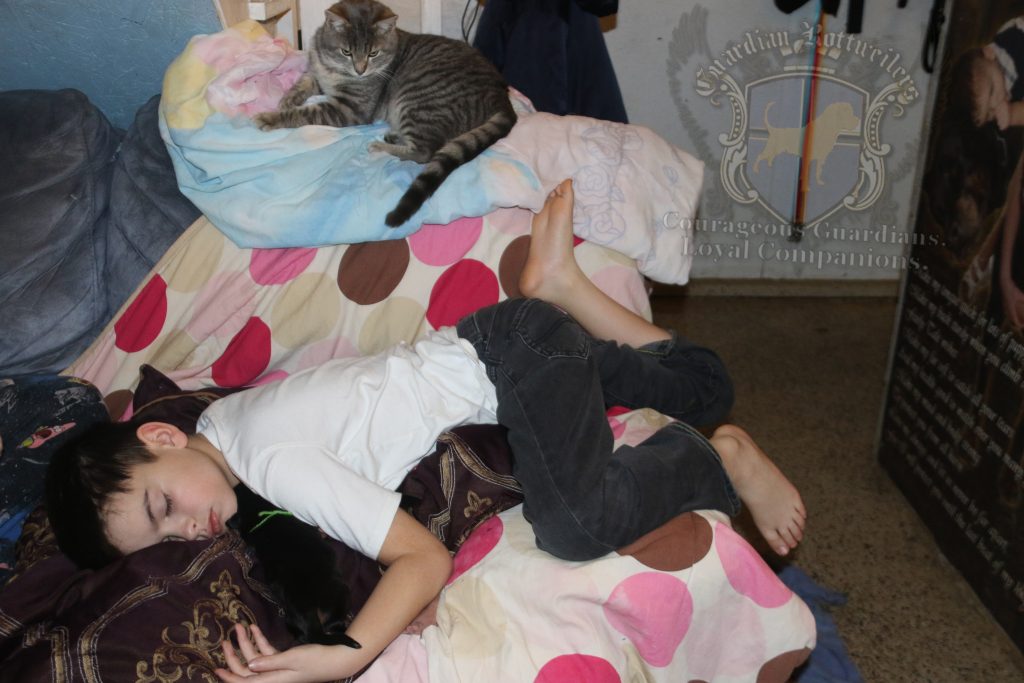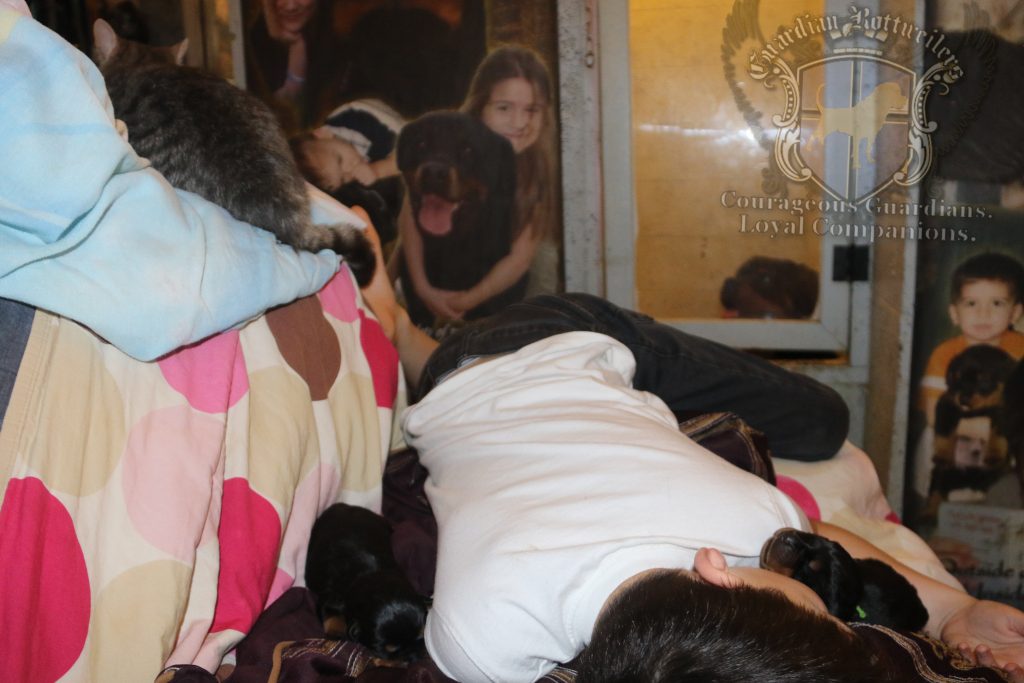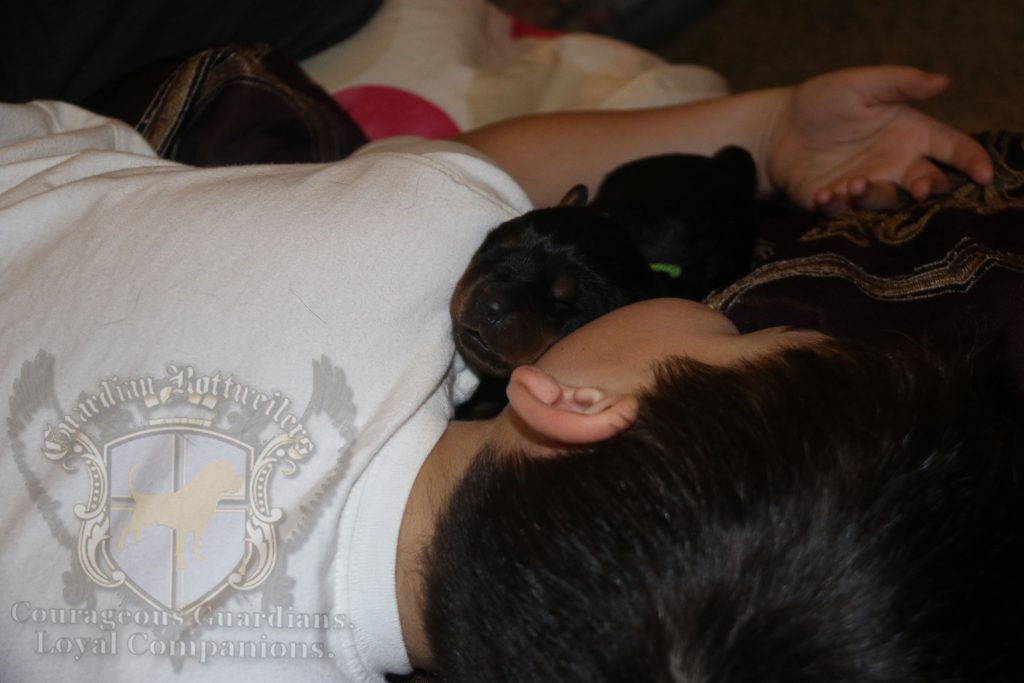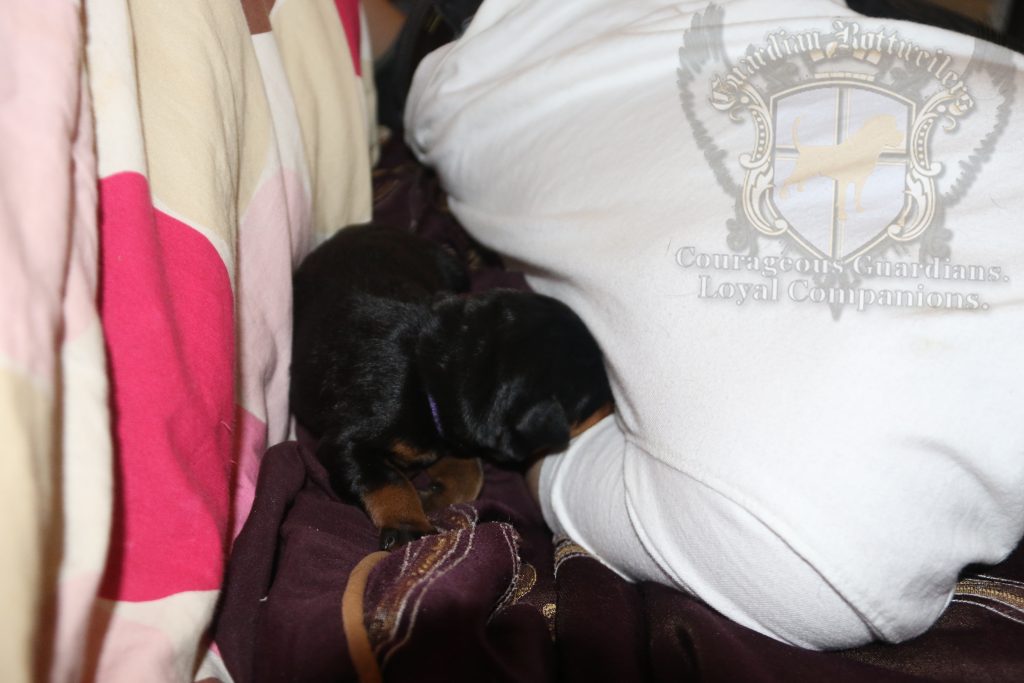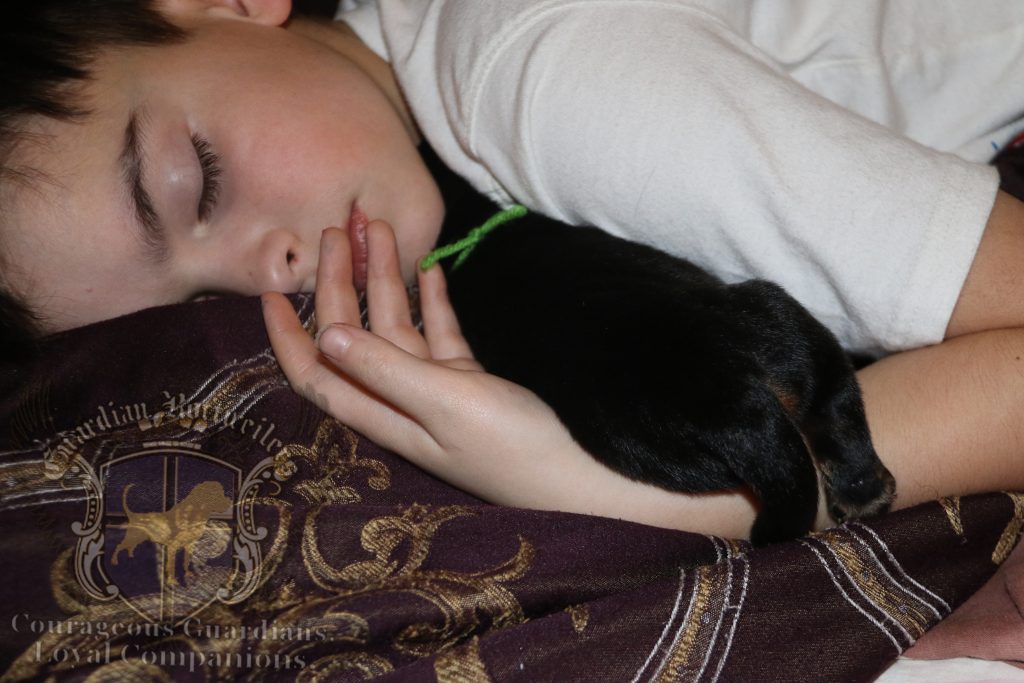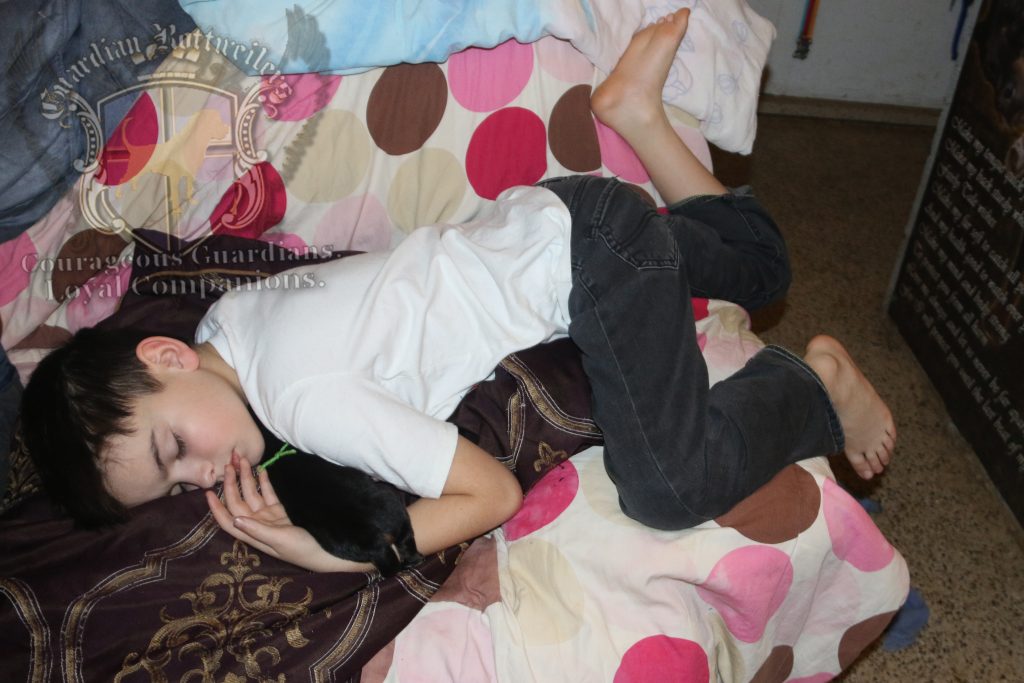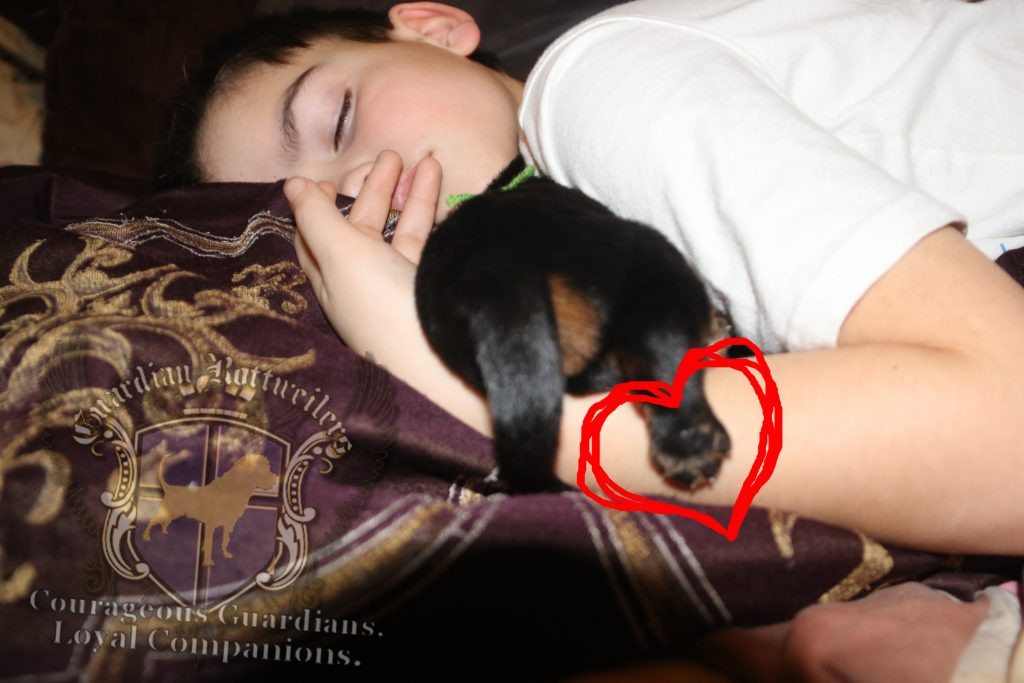 ---
"Boomer" Guardian Ulan Von Gottschalk
Hello Alice this is Sky.
Just wanted to give you an update on Ulan. First off HE IS AMAZING!!! We love him sooo muuuch!! He is so smart! He was sitting after 2 days, we have been working with him on down and he did it all by himself last night!  No potty acidents so far, and he is starting to go to the door! He has done so well with play bitting we only had to correct him the first 2 days now he doesn't even try. Gurdy is his best freind. Now that he is not scary to her (puppies are so terrifying 😉  lol).  I know you here this all the time but I have to say it again the dogs you are producing are so very special. This puppy is so even tempered not to hyper not to calm just right. Sweet and loving  confidence level is perfect. Your evaluation was on point!
OMG I can't say it enough. Thank you so much for your efforts the keep producing the best rotties in this country! (And the world in my opinion)  <3  Ok so I will stop myself there because I could literally talk all day about his extreme awesomeness. I did have a couple of questions. The hoofs you sent with him, what did you stuff them with? He was loving them and now that the stuffing is gone he is bored of them. Also wanted to know what your favorite flea prevention was. We used NexGaurd chews for Gurdy for the first year of her life and then it seemed like she didn't feel good when we gave them to her     (lethargy , diarrhea) so i switched her to Vectra 3d it doesn't make her sick but I was worried it might be to strong for him? I thought I would ask you first. Thank you so much again!    -Sky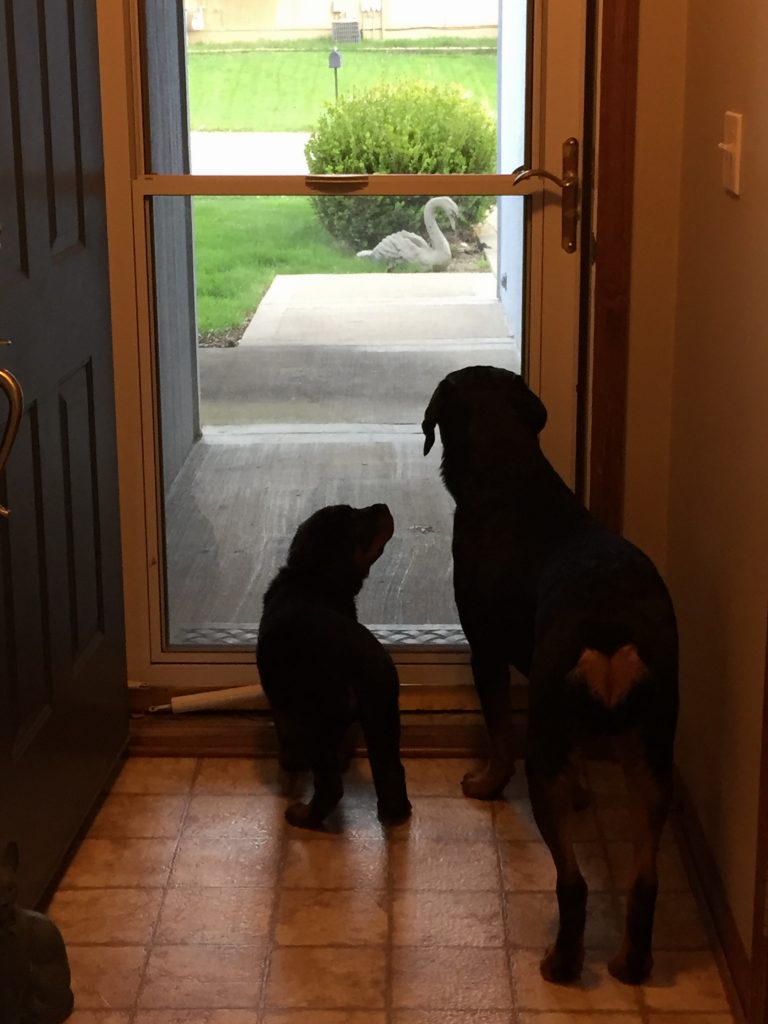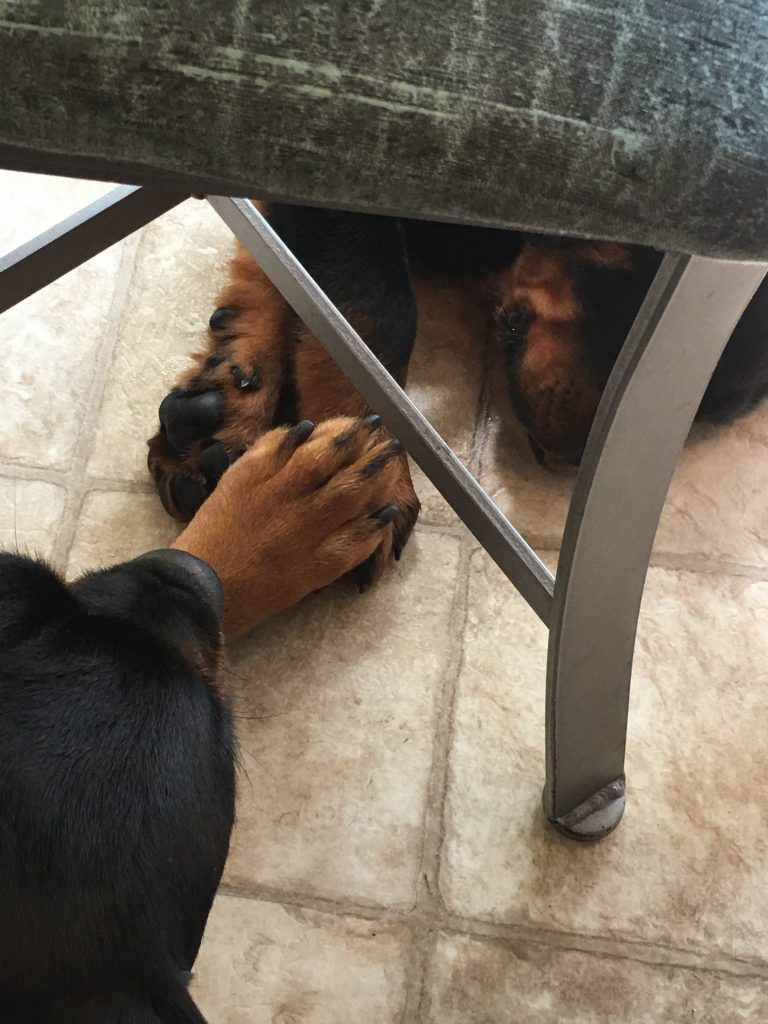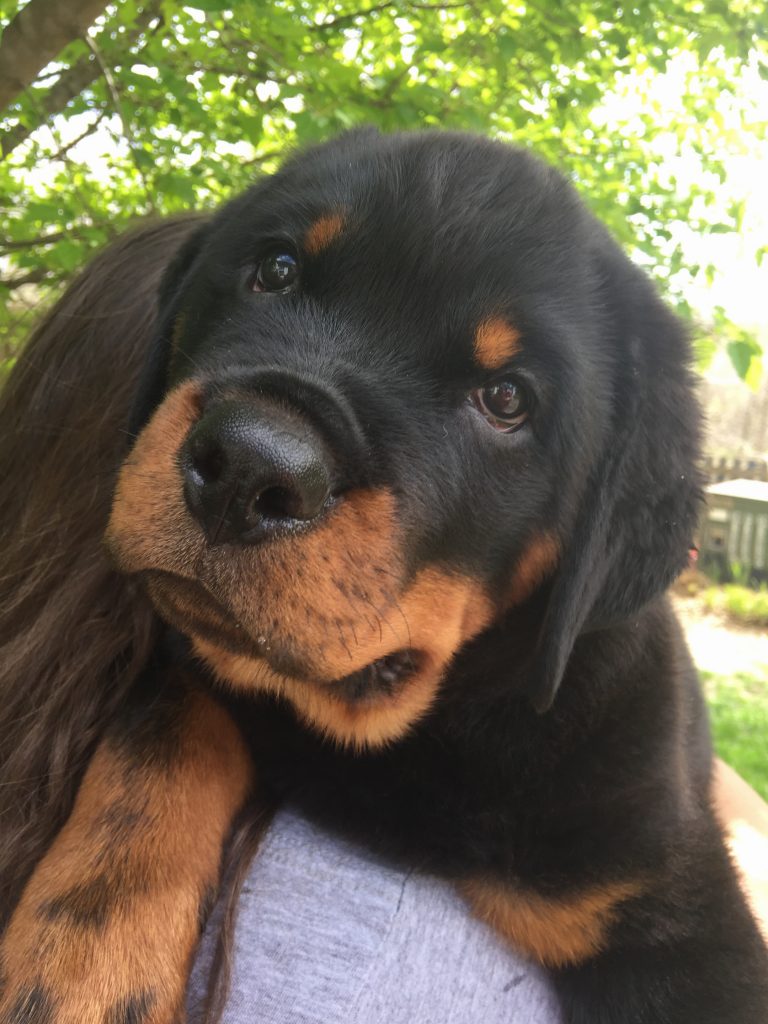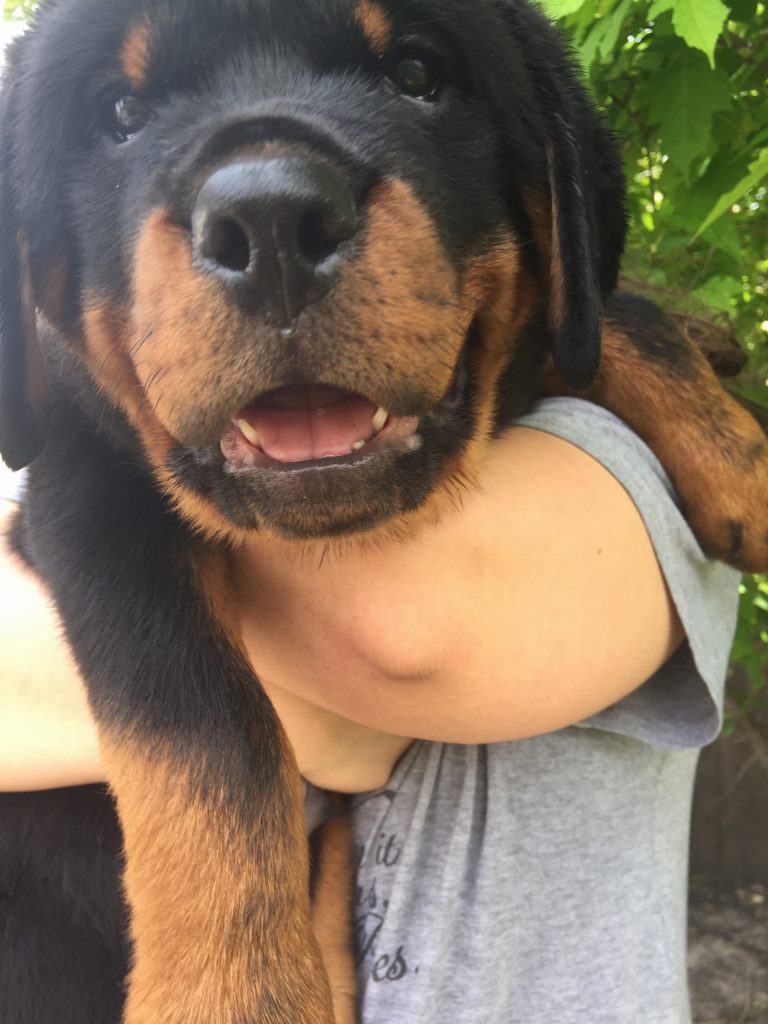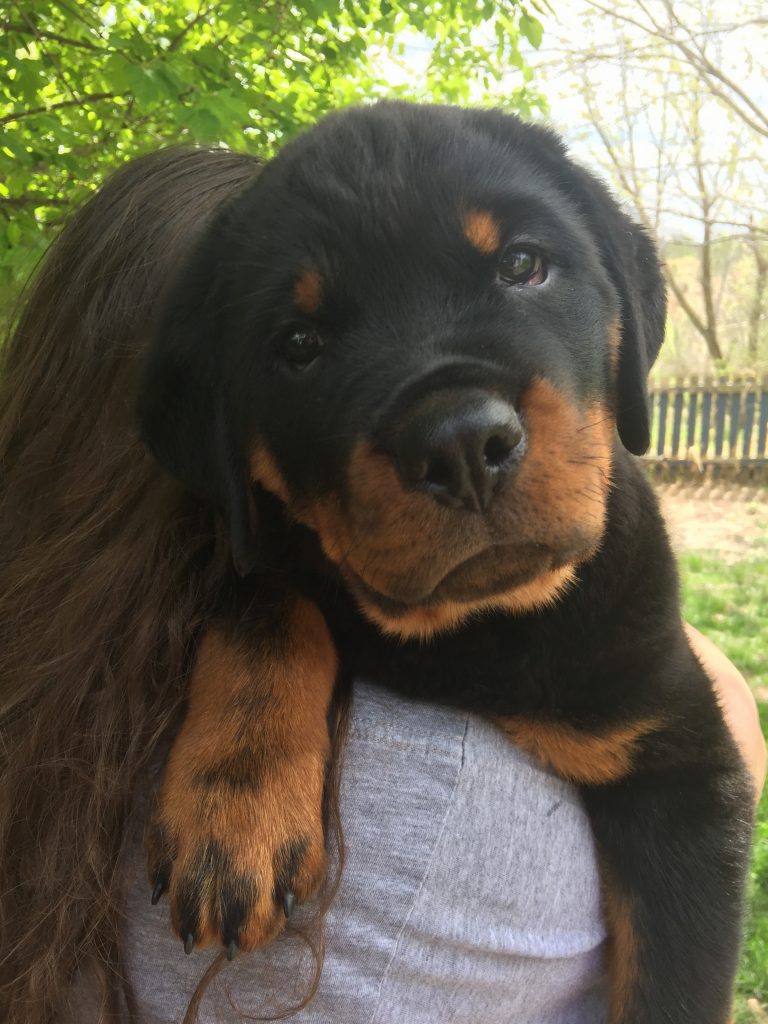 Guardian Ursa Von Gottschalk

Alice,
   Good afternoon! Hope everyone is doing well. The girls have completed their first puppy training class. I have attached their award certificates when we get the star award I will scan it also. We have already signed up for the basic training class. The girls are so smart I have attached some pictures. They already know 12 commands. The video of them swimming for the first time I sent through google account.
Best regards,
 David & Jenny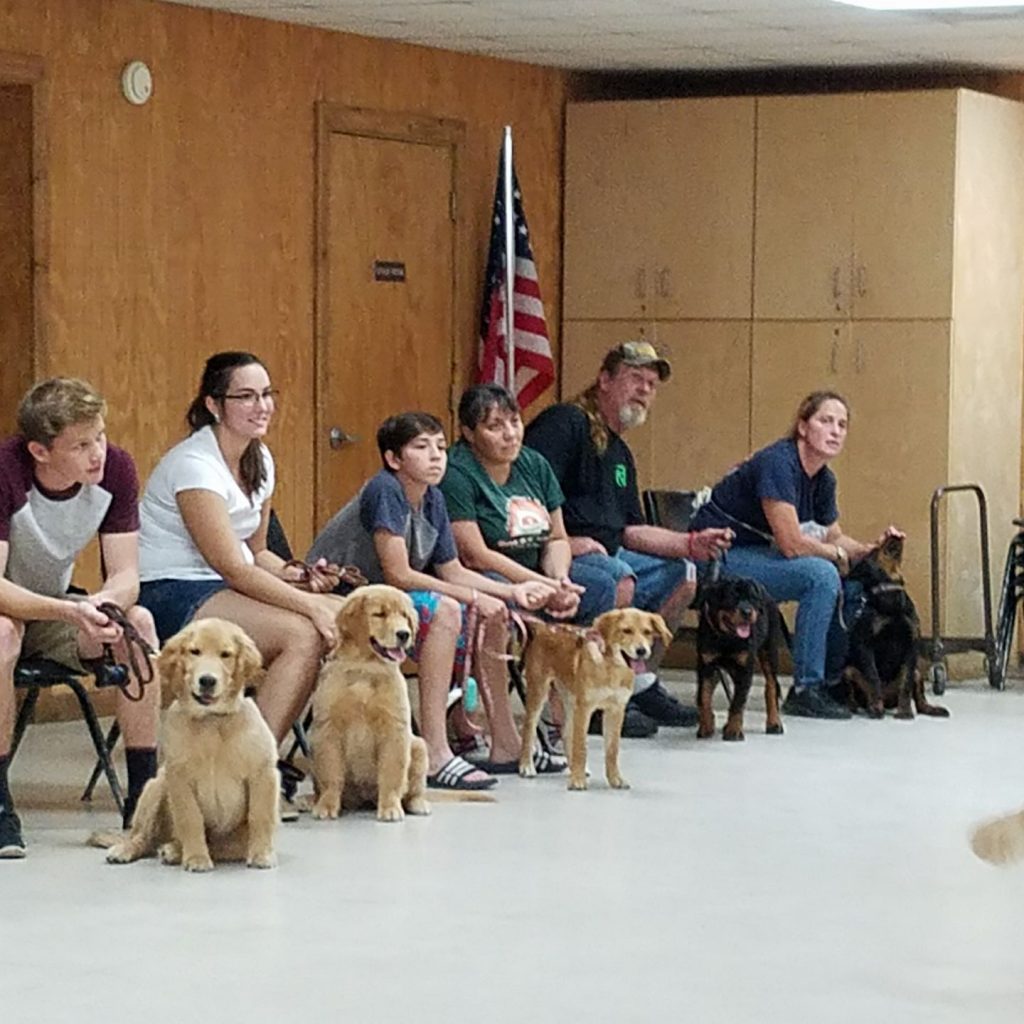 Girls awards for puppy class graduation
 (click here to see award!)