Hamburg, Germany March 2013
VERY successful show tour in Europe!  LOADS of thanks to my EXCEPTIONAL handler, UROS GOLUBOVIC!!  Not only one of best breeders in all of Serbia, but also FCI Judge with Rottweiler Specialty and incredible handler!!  He gives himself 100% to my dogs and, as they are family members, it certainly makes parting with them temporarily so much easier.  HVALA UROS!  LJUBIM TE! <3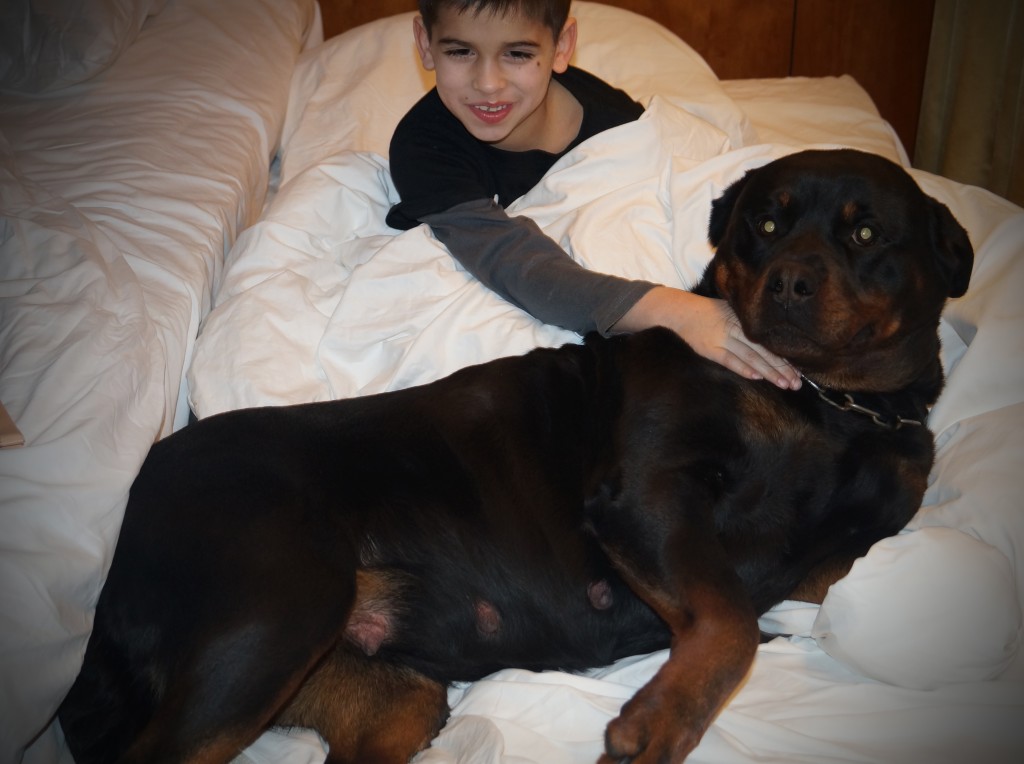 As soon as we got to the hotel room, Geneva hopped on the bed and snuggled up with Korbin like she had never left!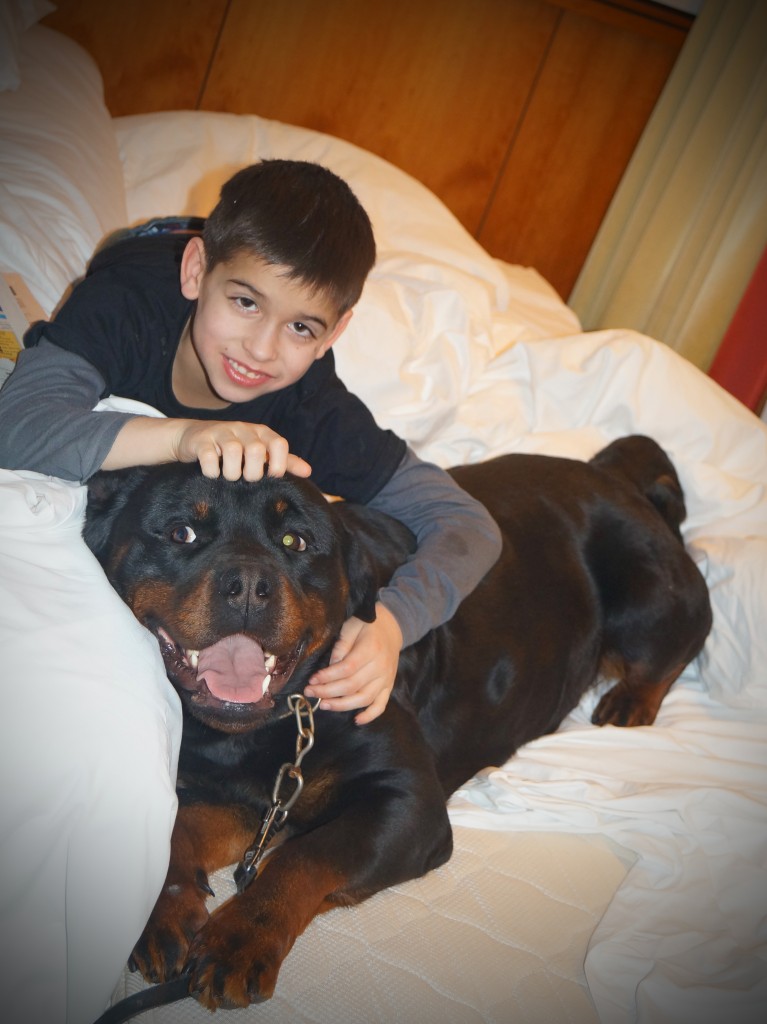 The breakfast buffet at the hotel was OUTSTANDING!!  ABSOLUTELY anything you could think of!  We were so stuffed by the time we headed to the airport!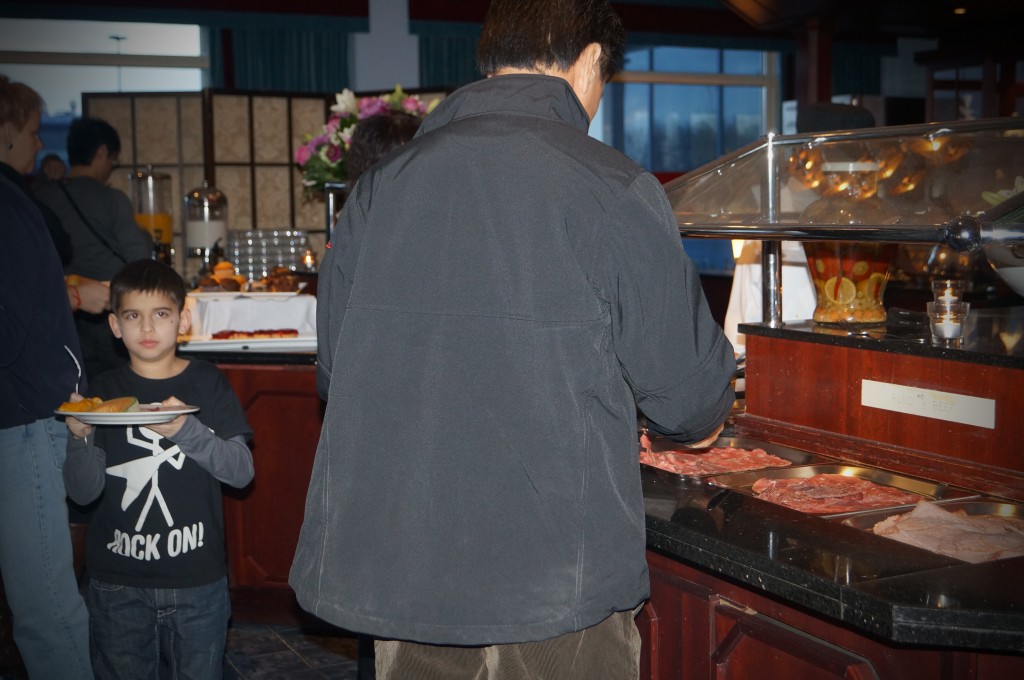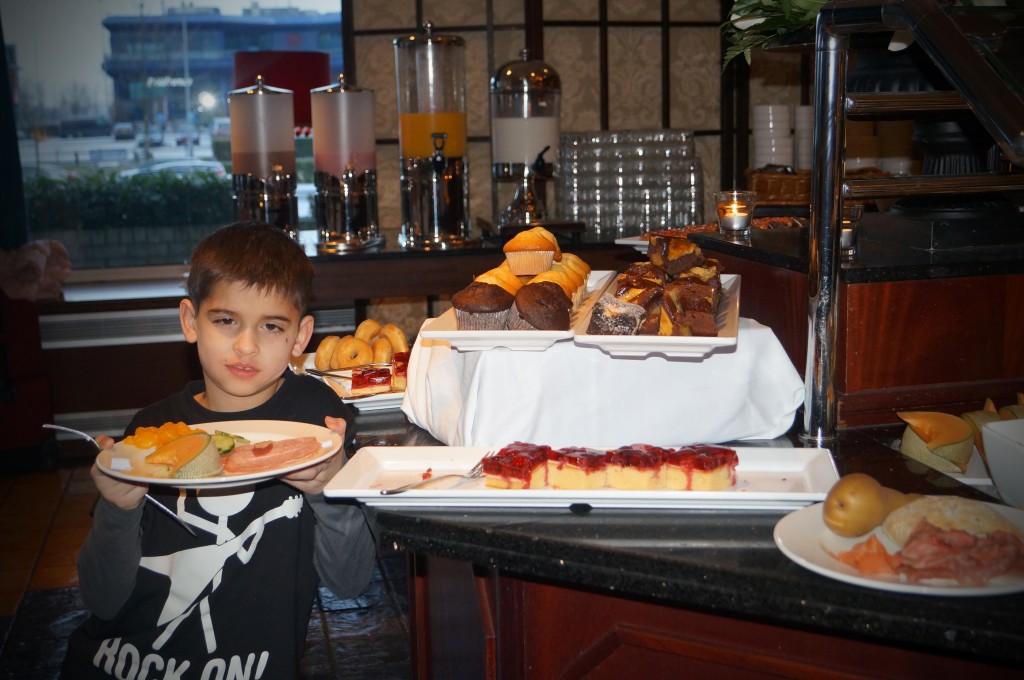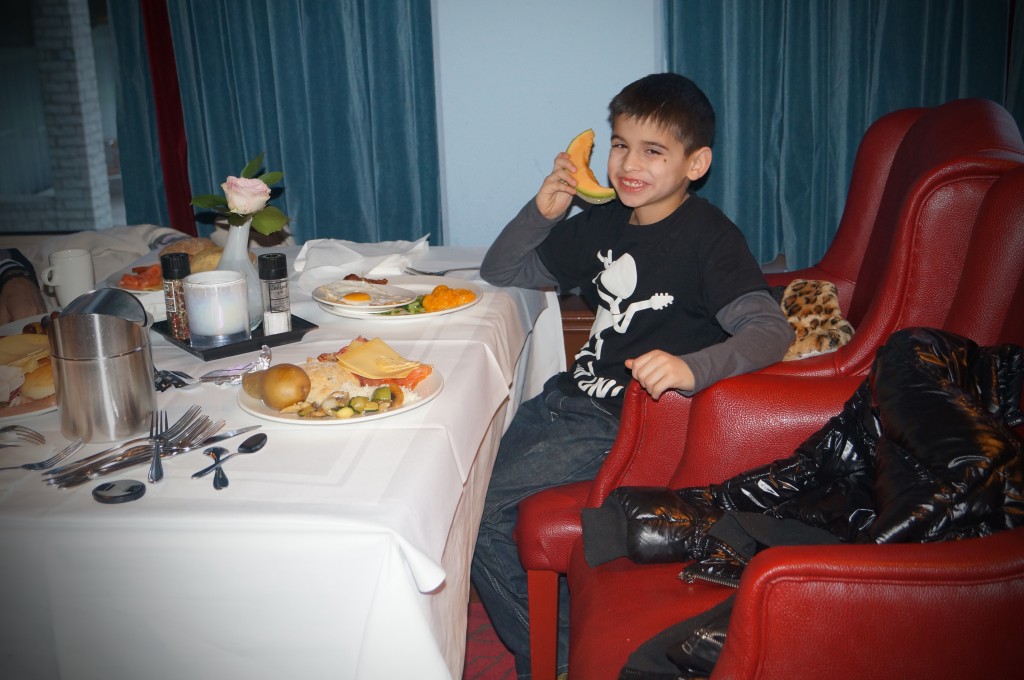 Breakfast with my baby boy and my dear friends Uros and Kale <3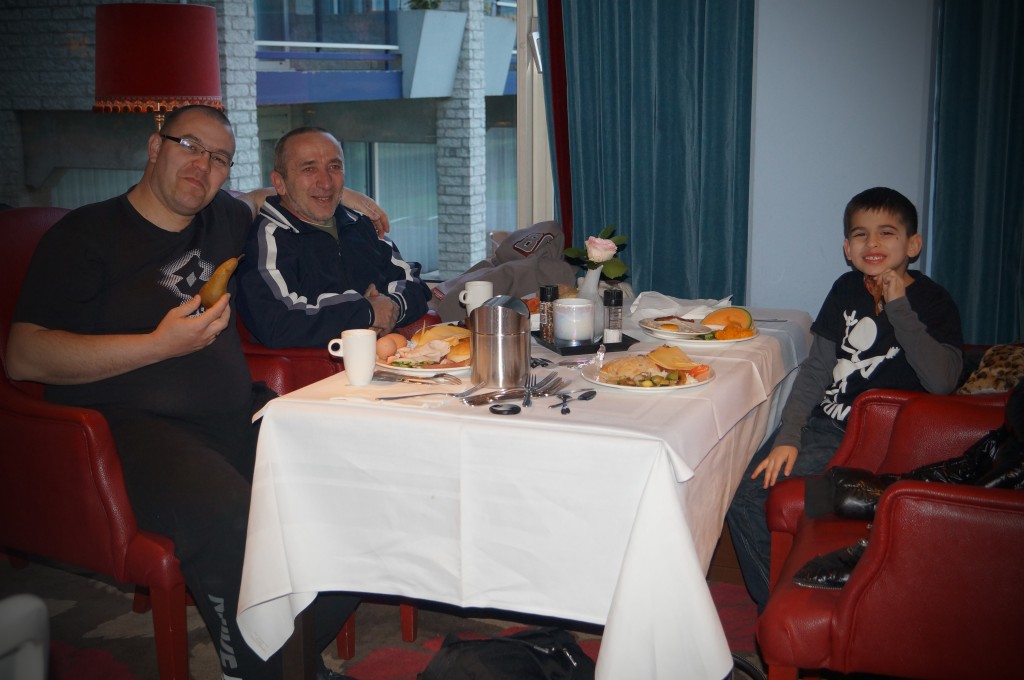 And of course if you are traveling with an 8 year old, even breakfast needs to be followed by dessert!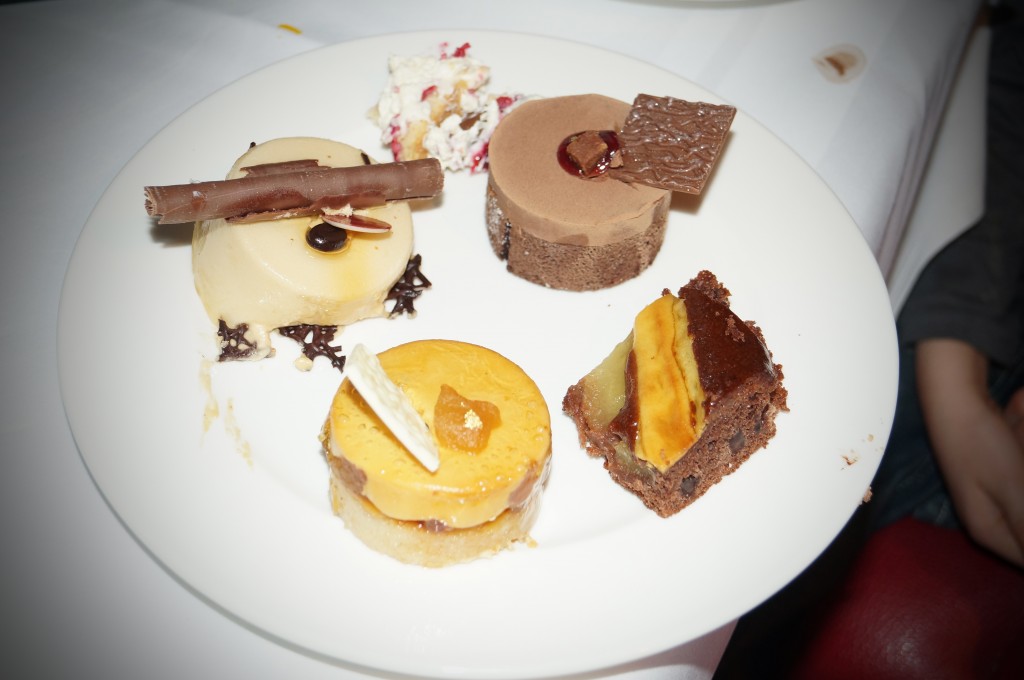 And then a little nap while the adults talk dogs, breedings and bloodlines 😉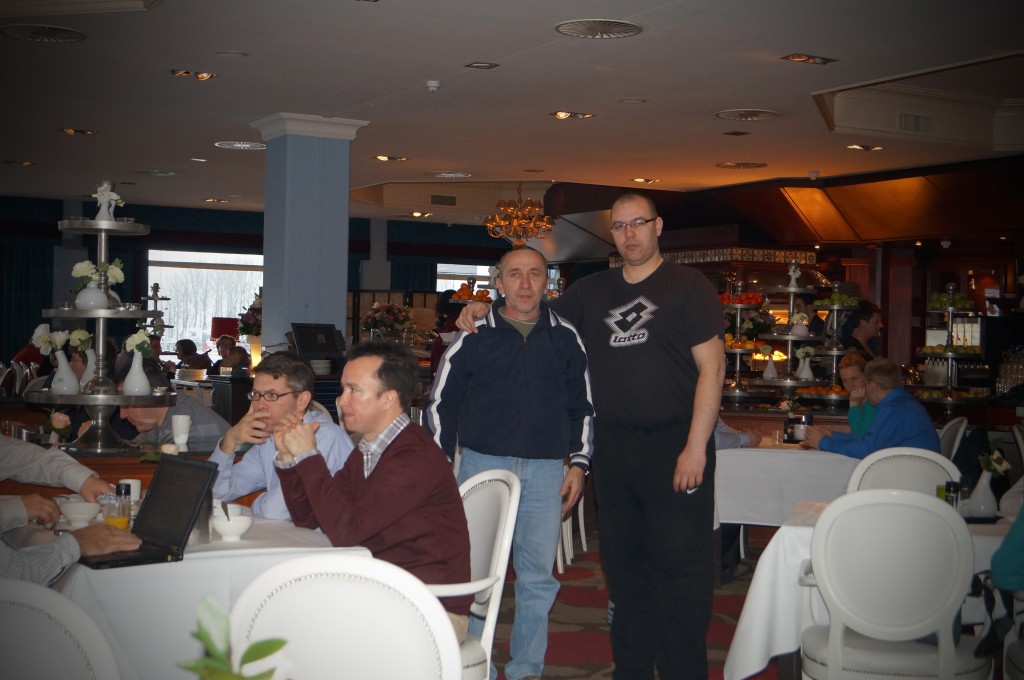 Kale and Uros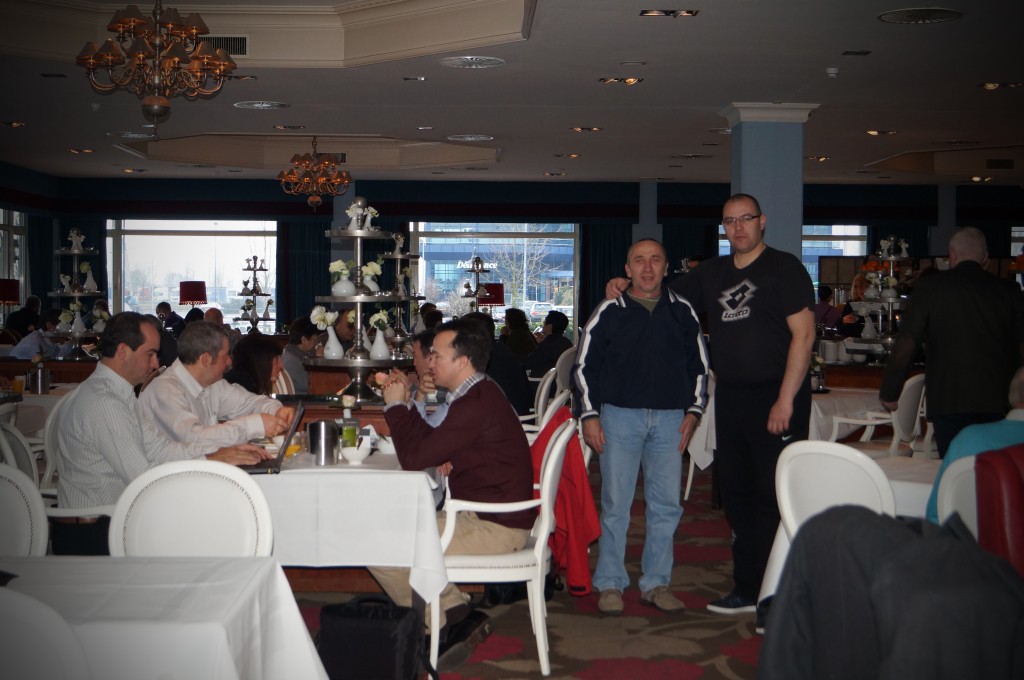 Even though it was a short trip, I enjoyed spending time with my dear friends so very much!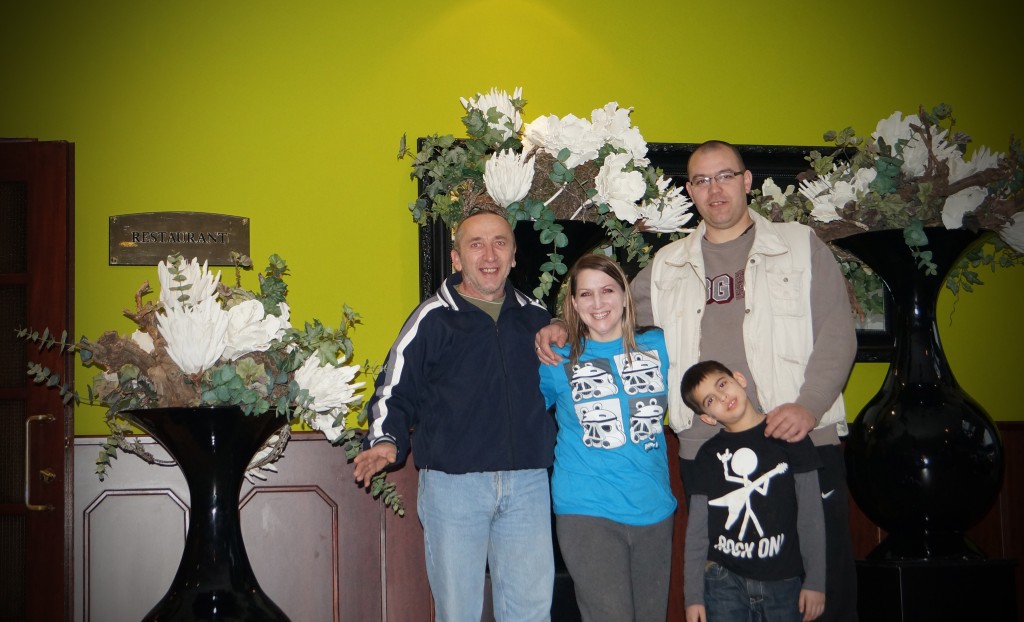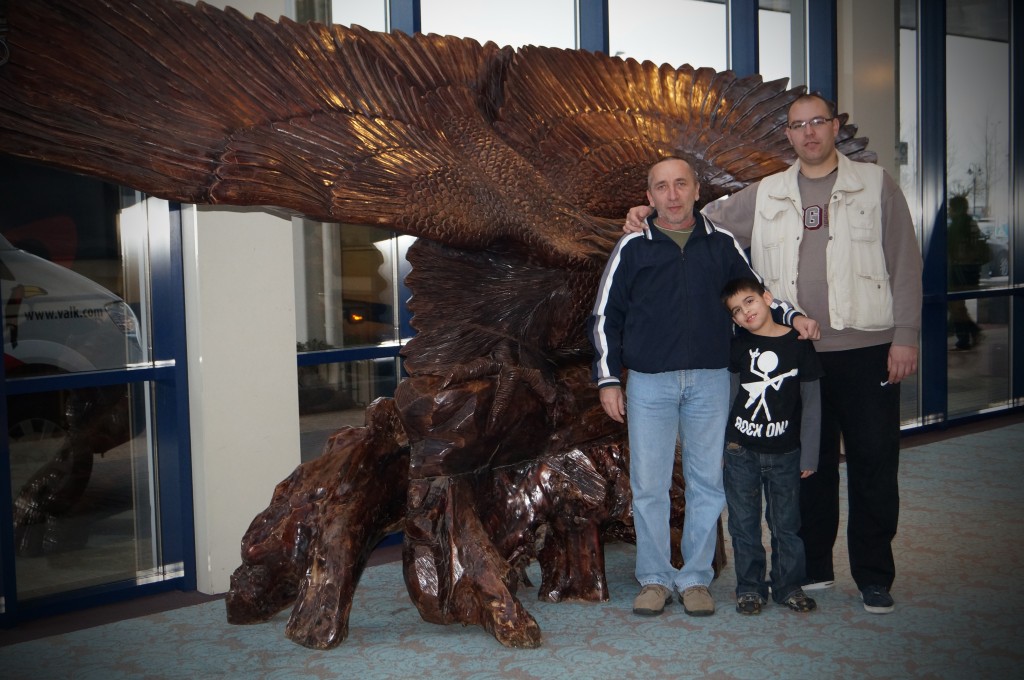 There was this MASSIVE hand carved eagle statue at the hotel that was absolutely amazing!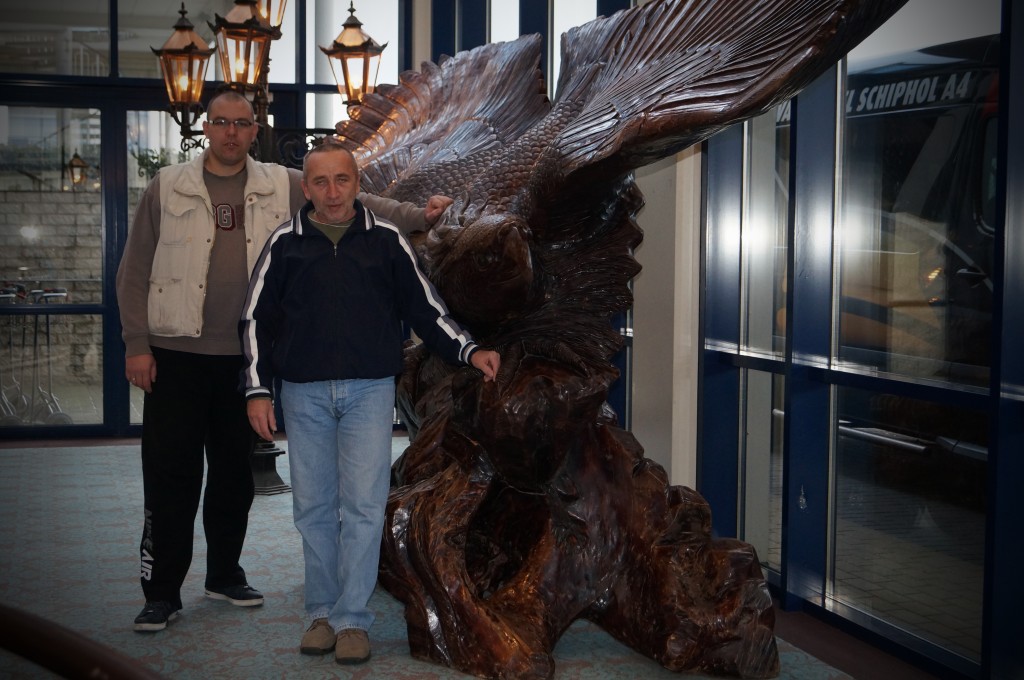 So, how exactly do you get two 100+ pound crates with Rottweilers through the airport by yourself?  You mush it the same way the dogs would!!  Who needs a gym?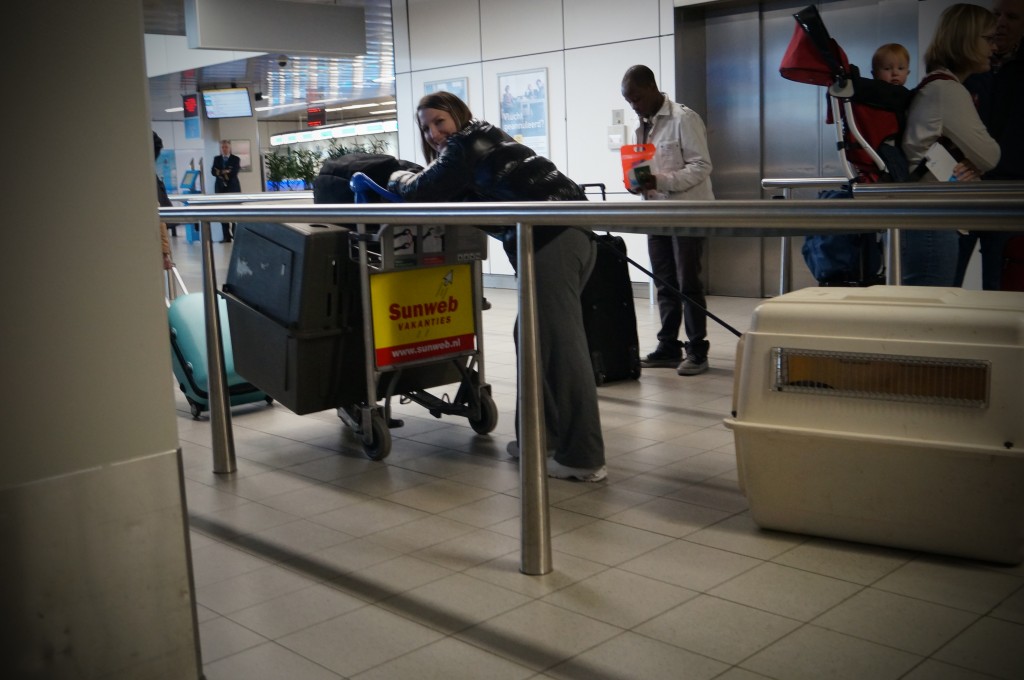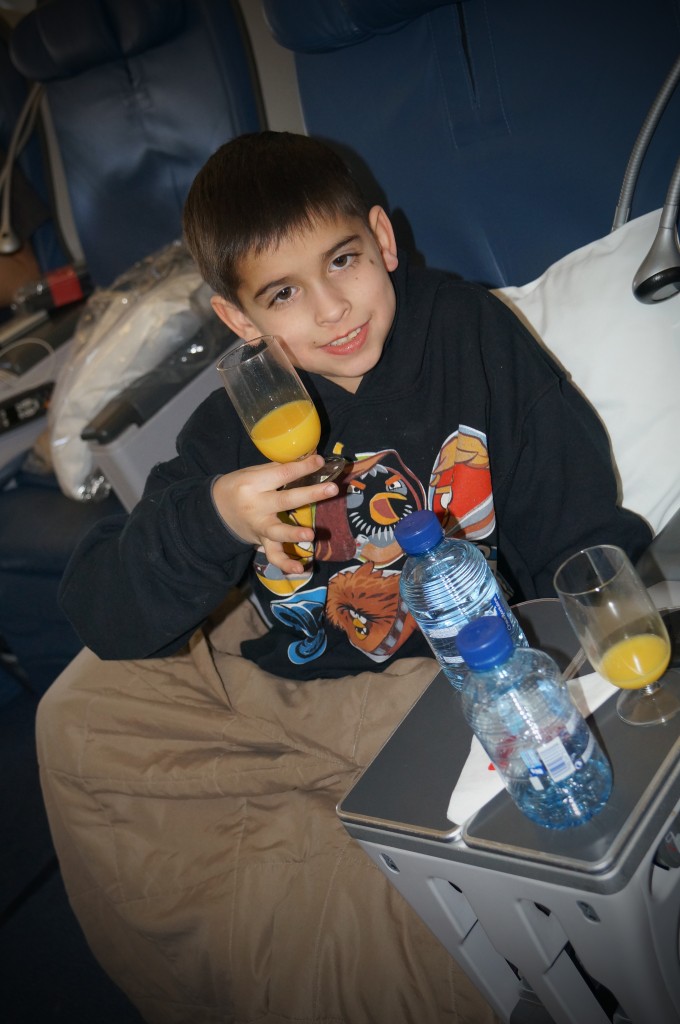 Not many kids can say they have had the opportunity to fly first class on an international flight!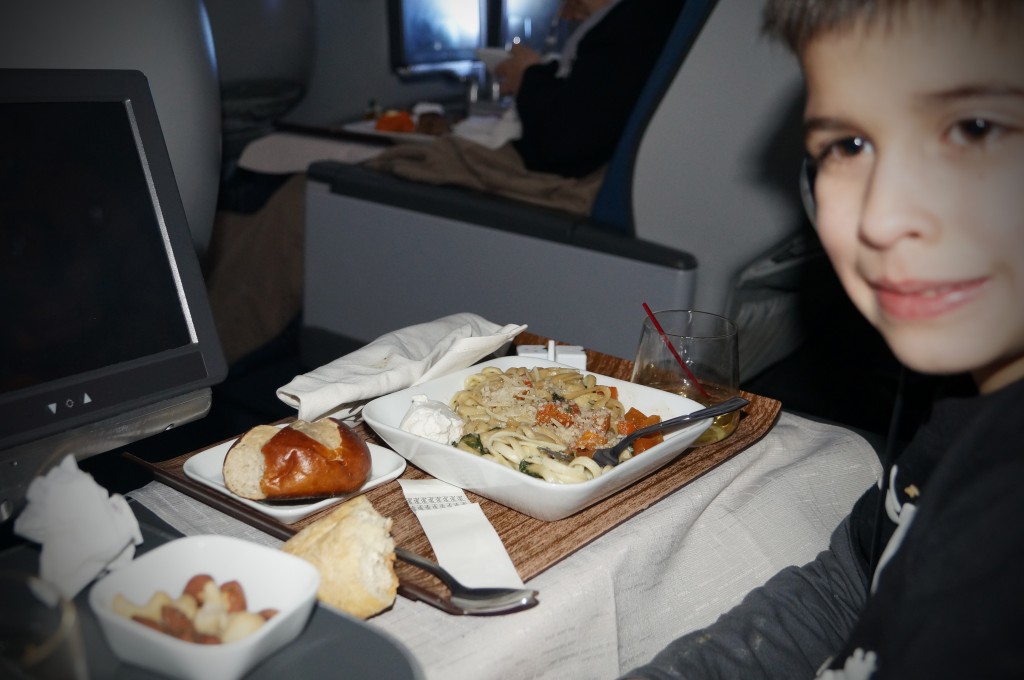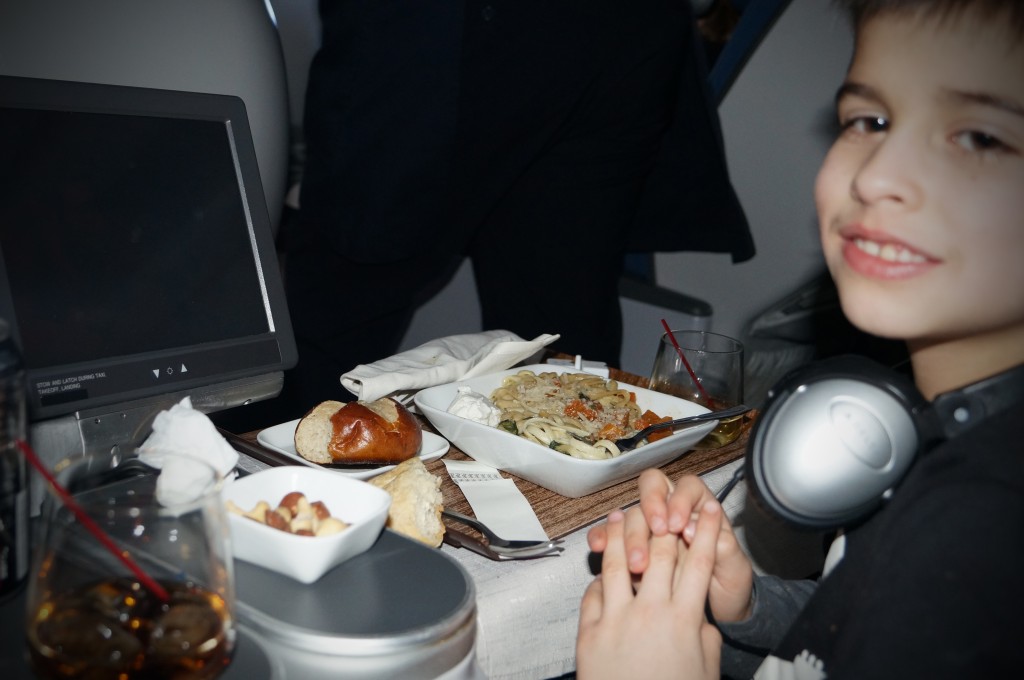 You know you are tried when you are too sleepy for a fresh, warm chocolate chip cookie!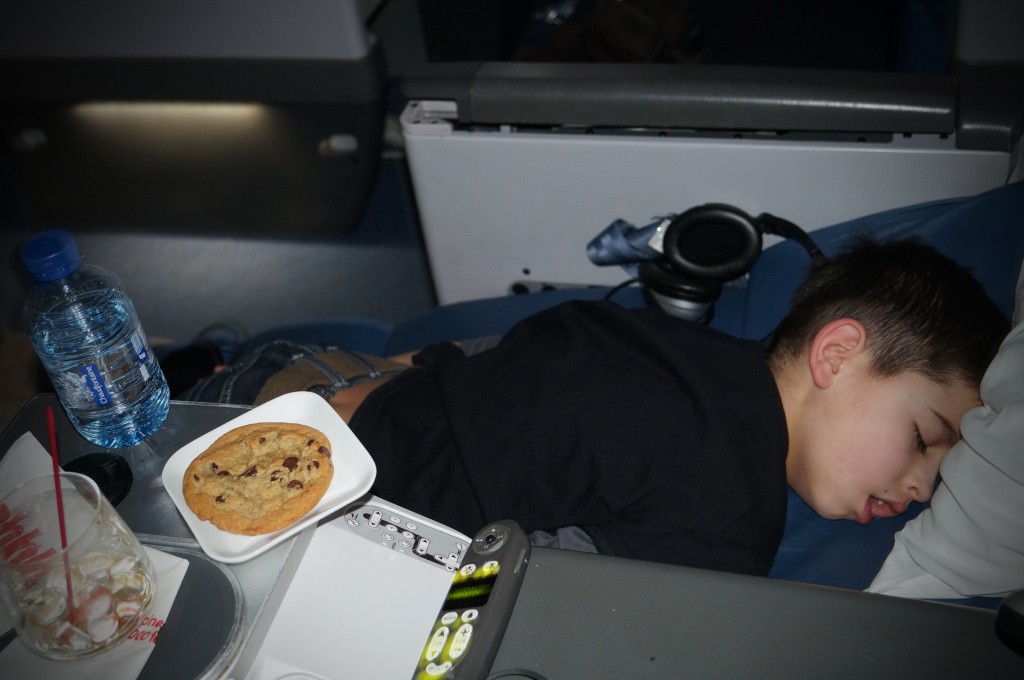 Not sure how he ended up in that position! LOL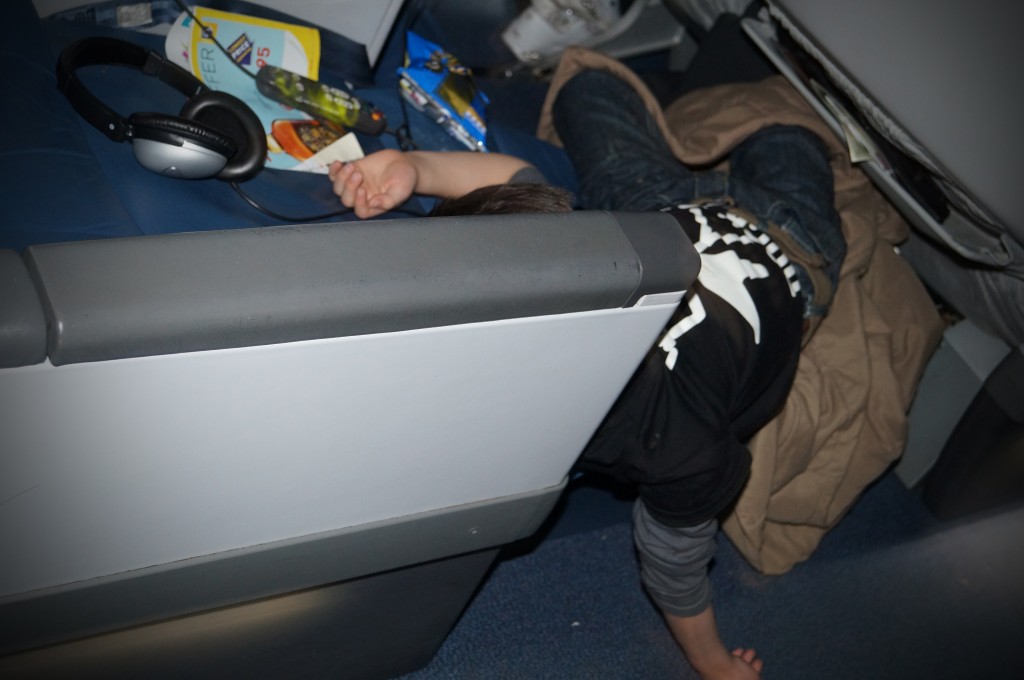 Watching Coraline and enjoying some yummy appetizers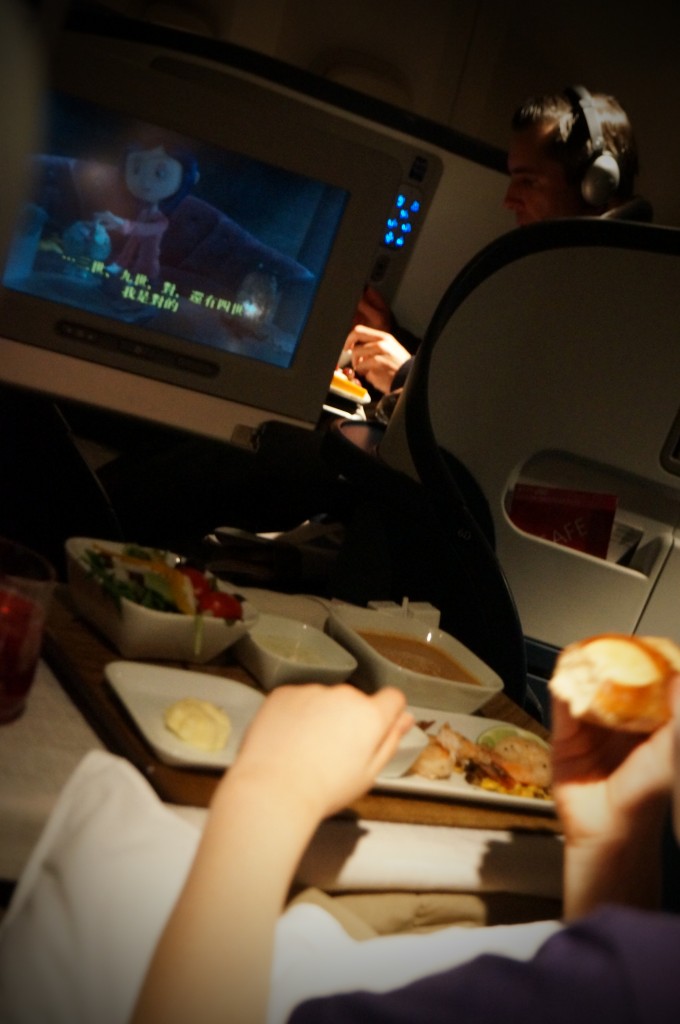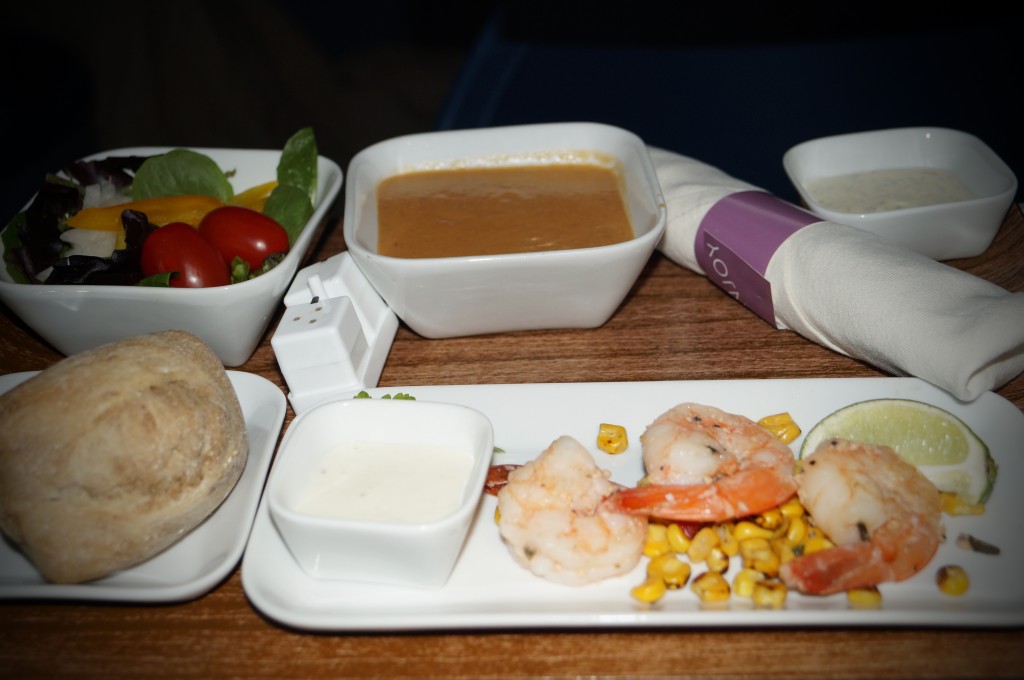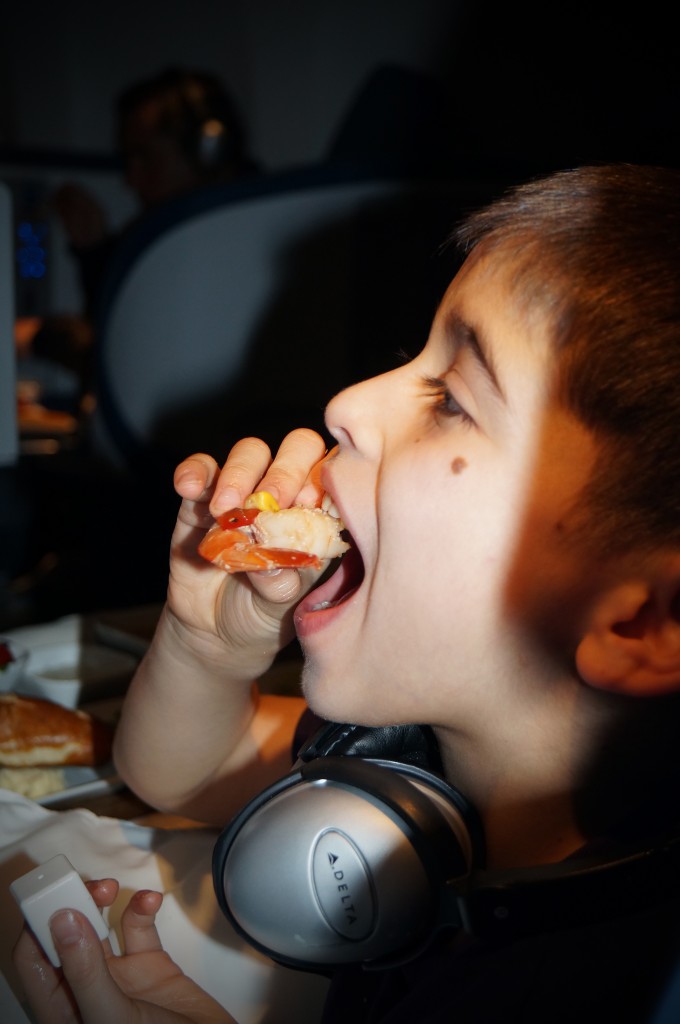 Not too bad at all for airplane food!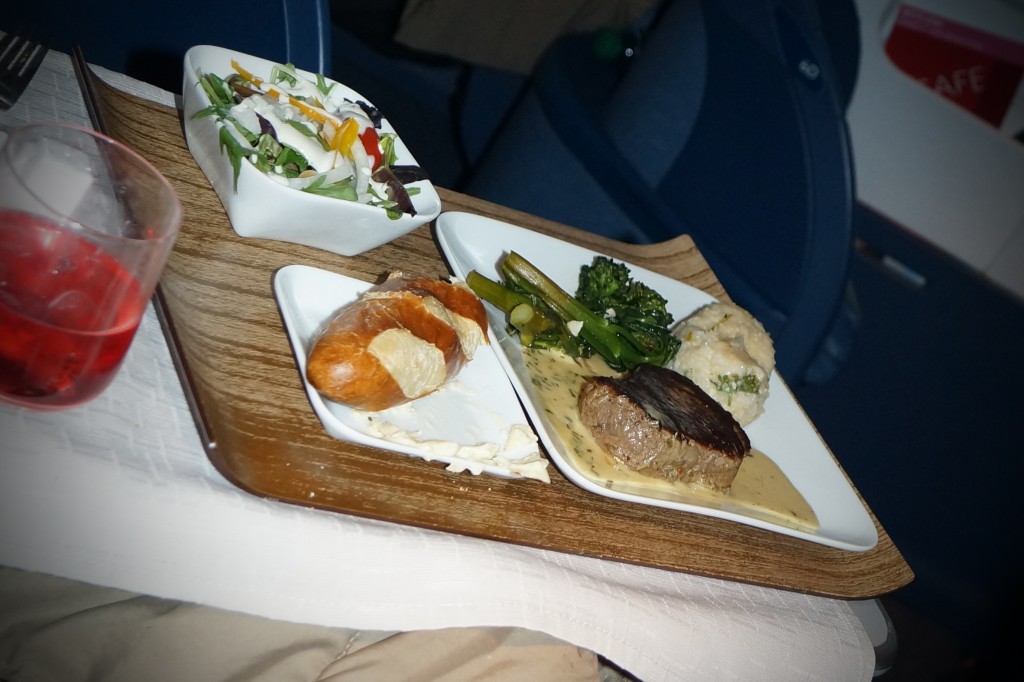 And of course the most important part of any meal- dessert!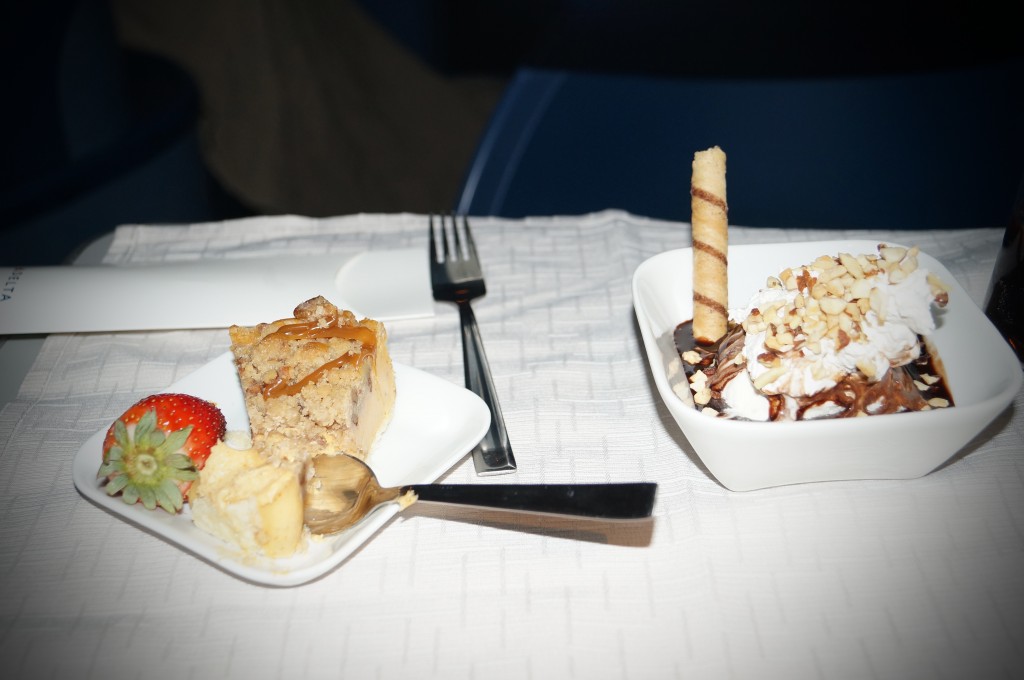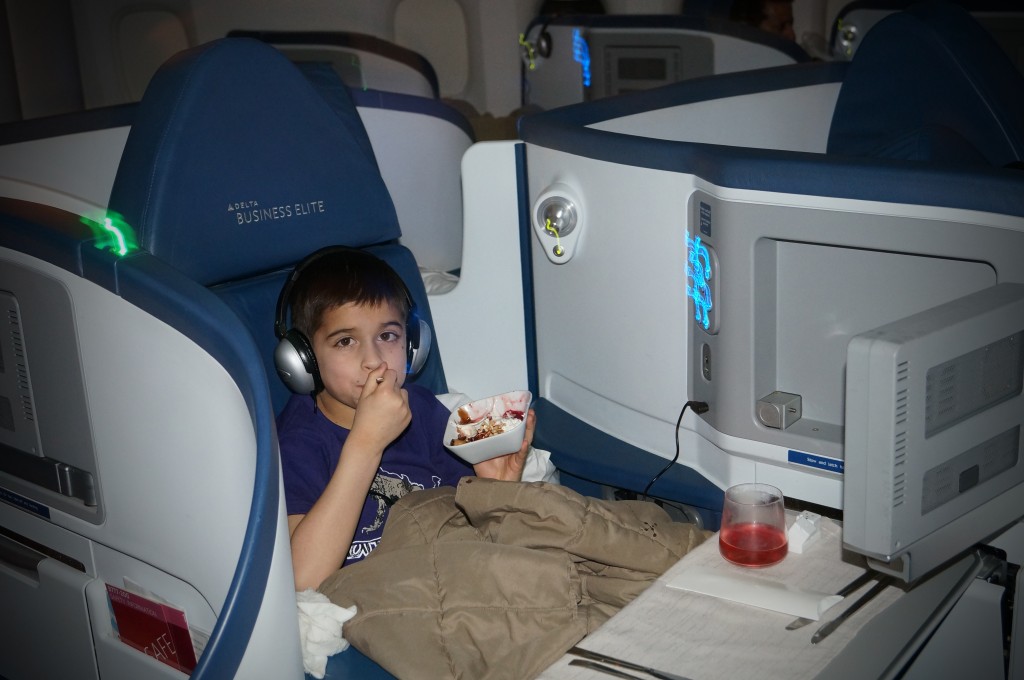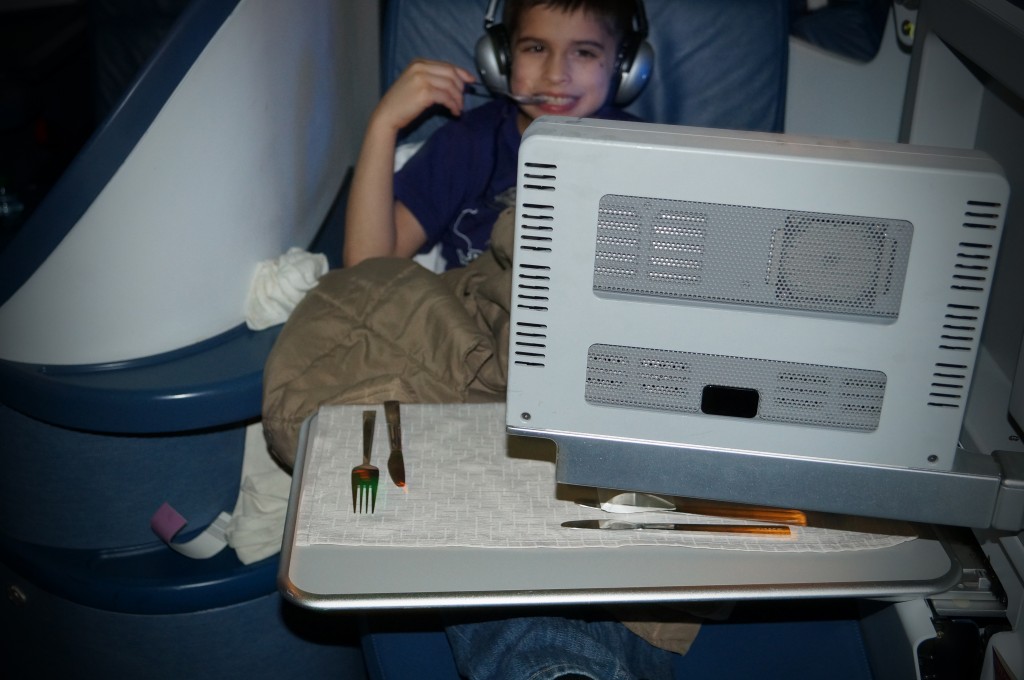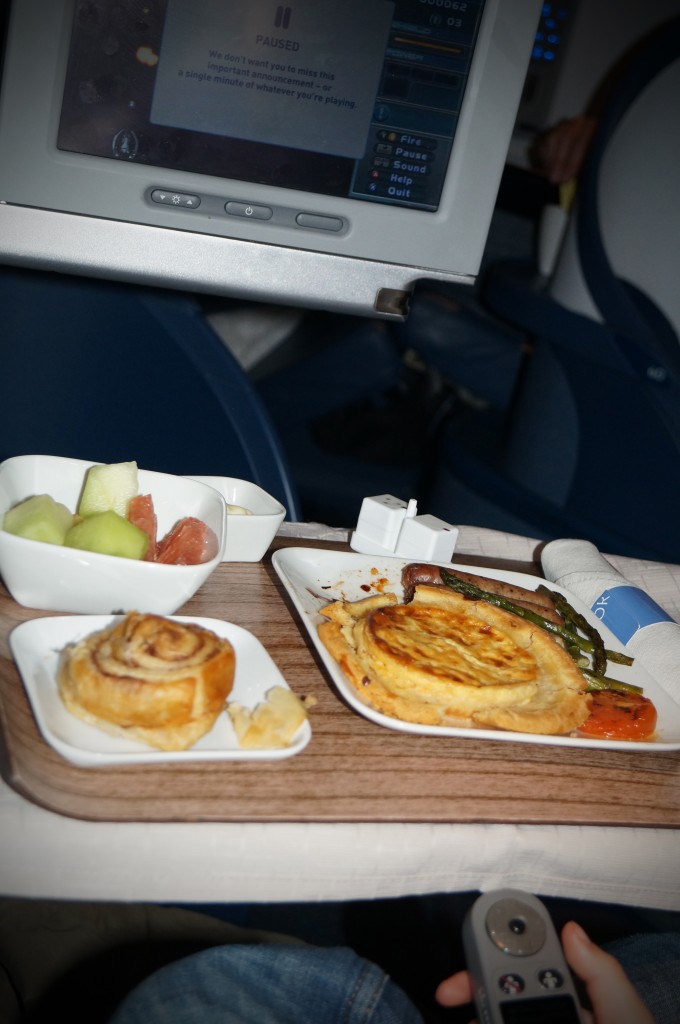 At the airport with a dangerous wild animal in the crate 😉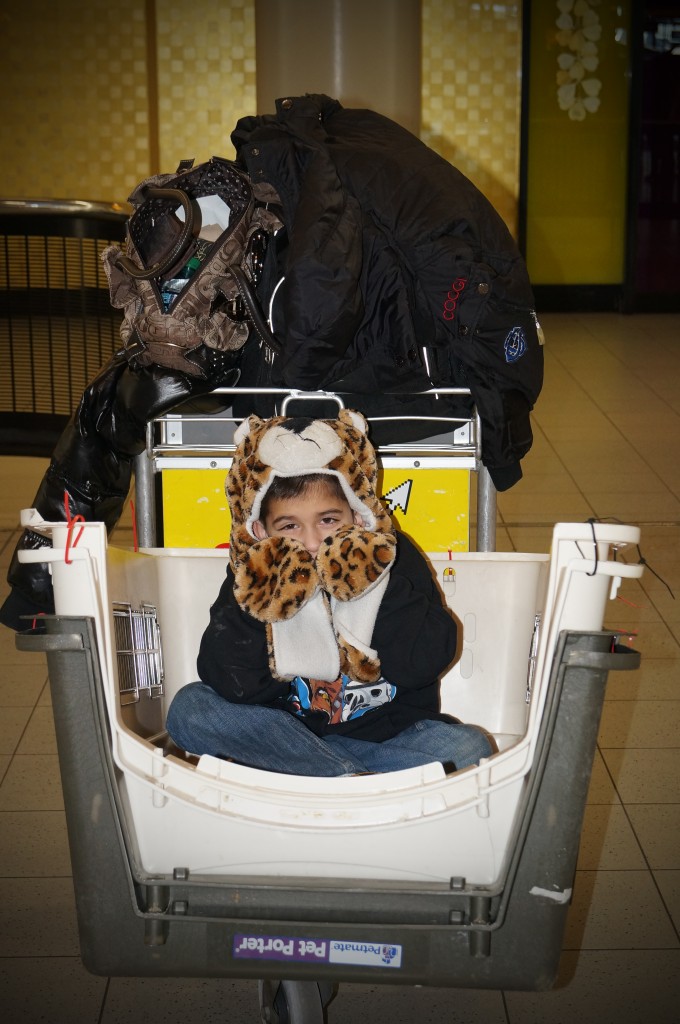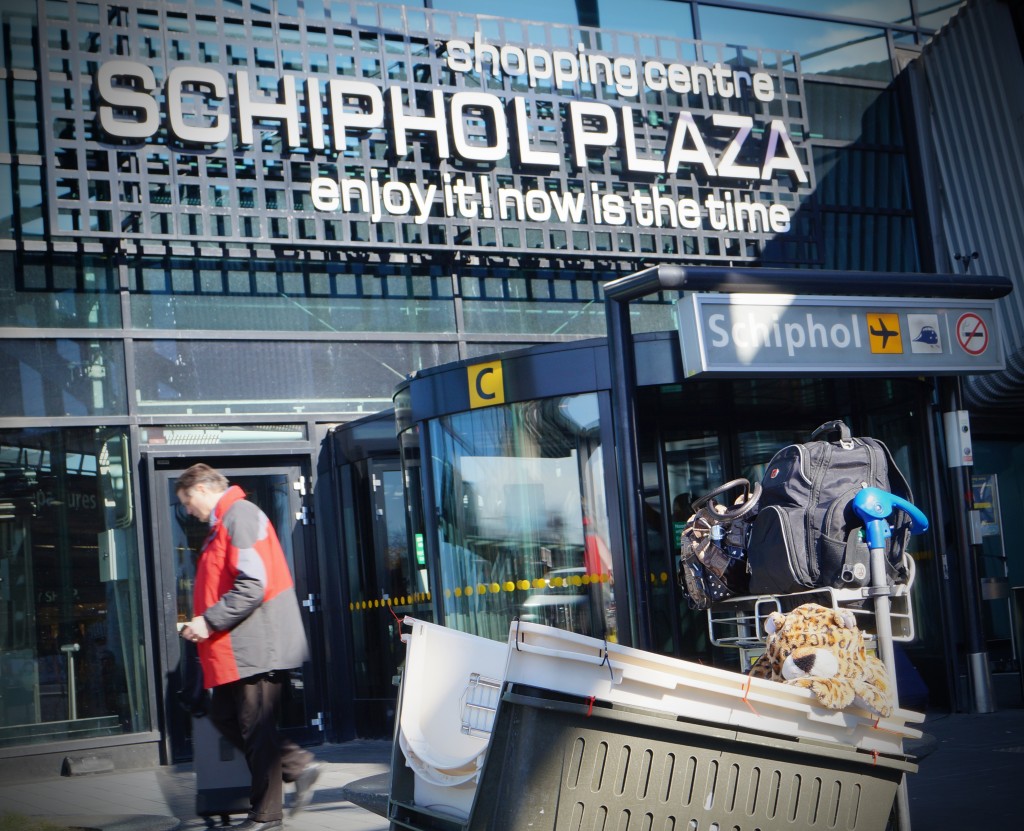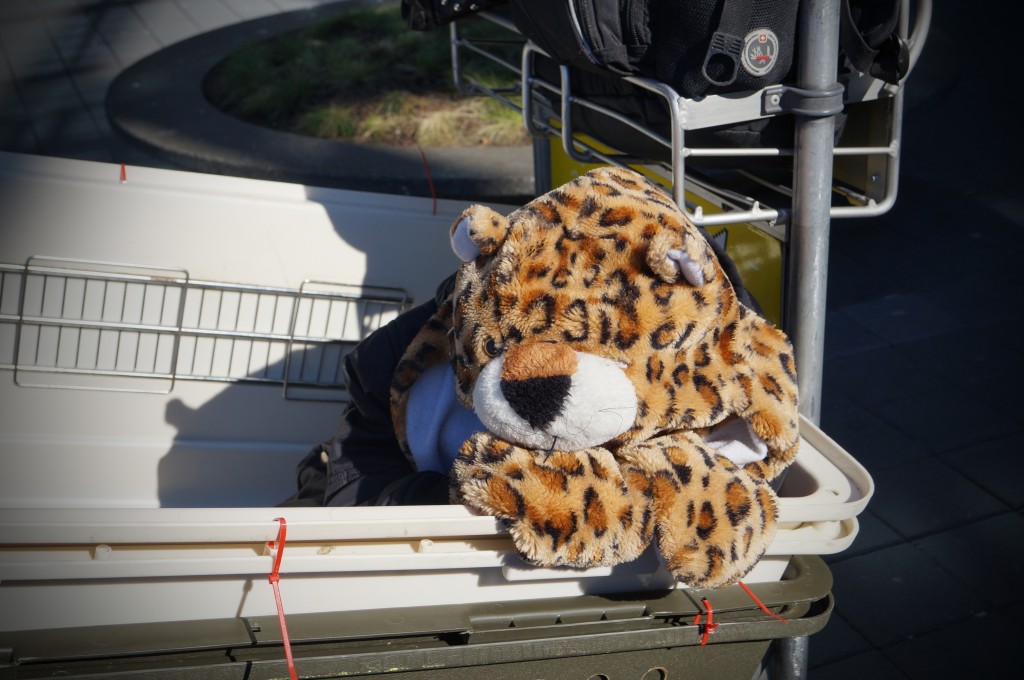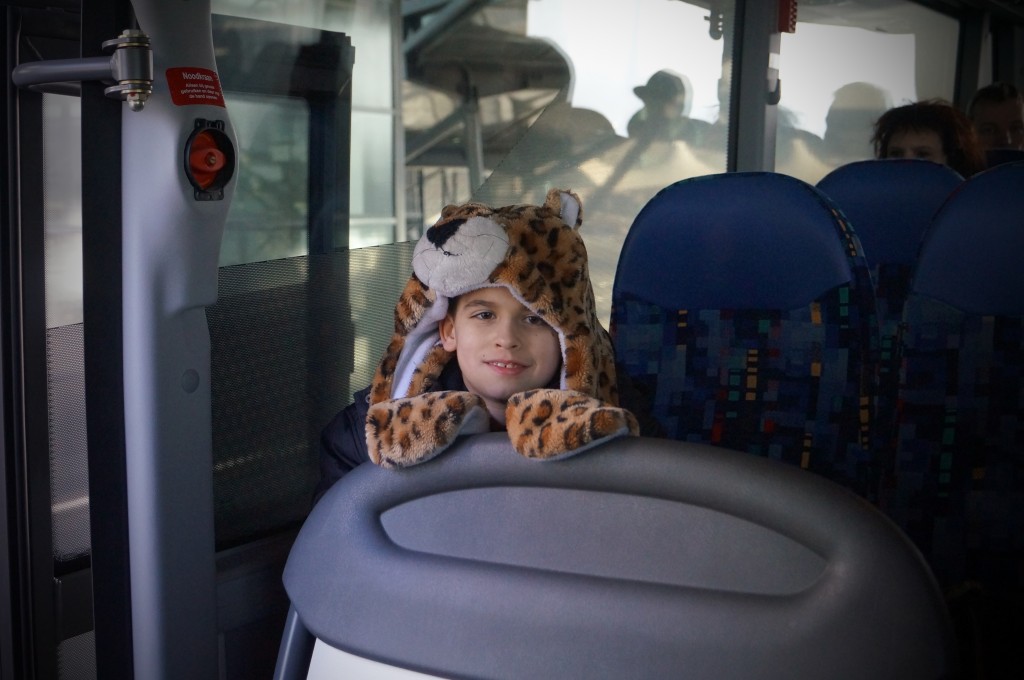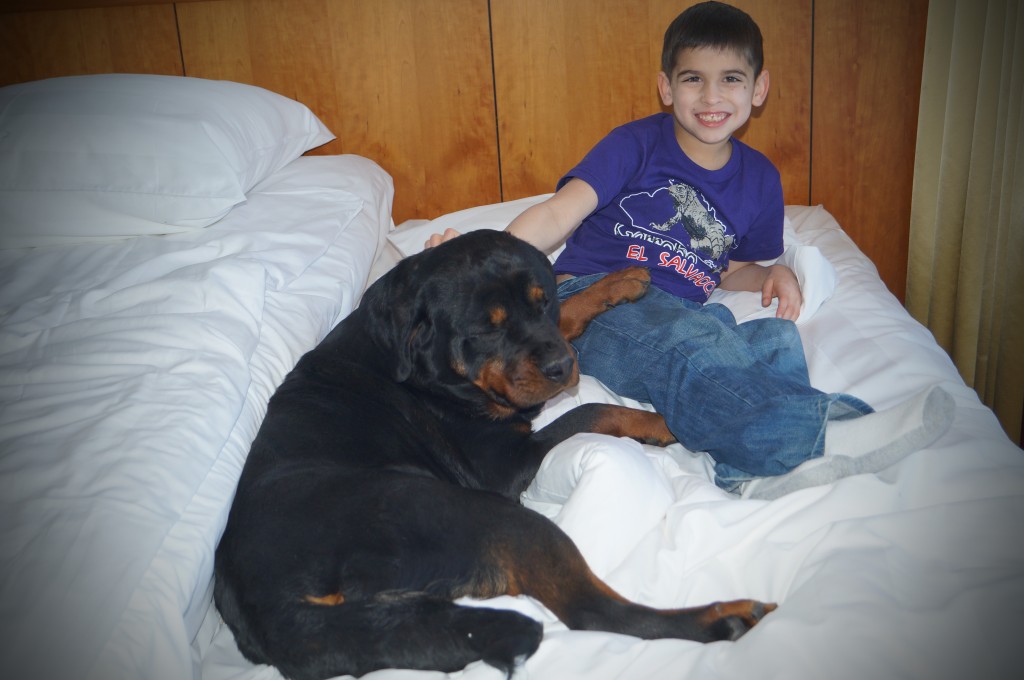 Little Bit has always been one of Korbin's favorite puppy and he was SOOO happy to have her back in bed with him!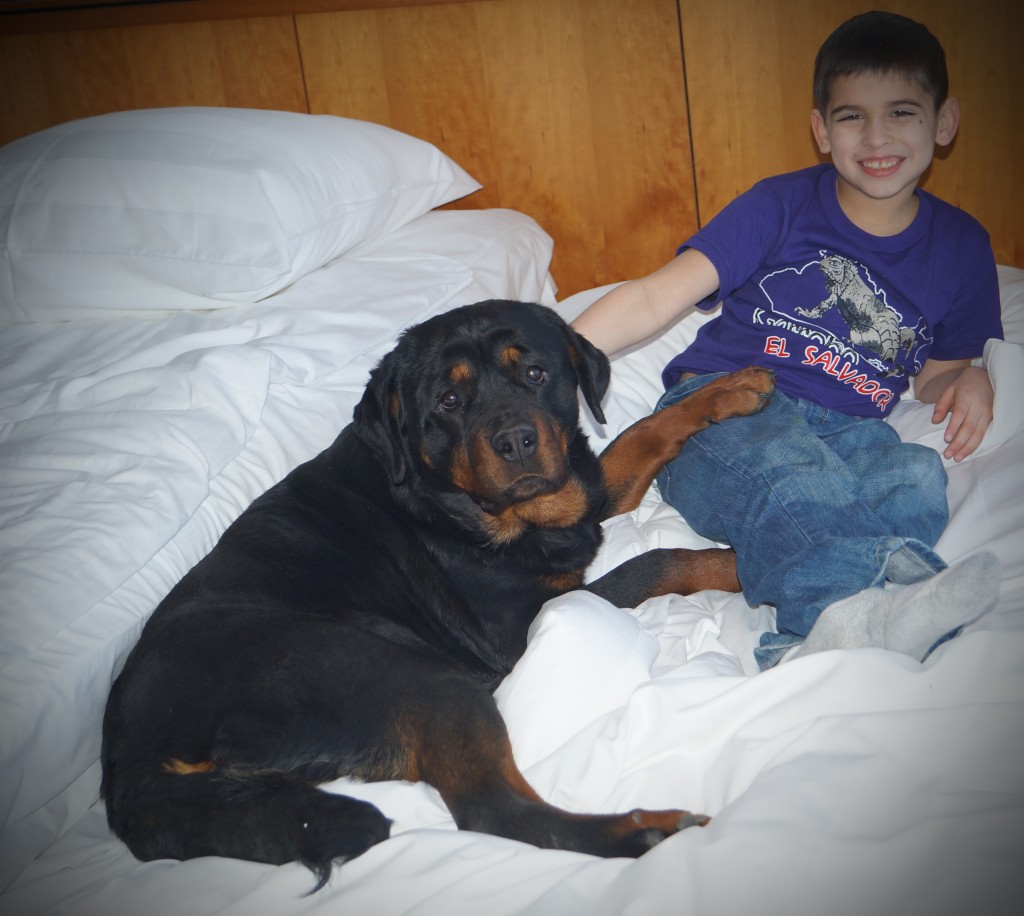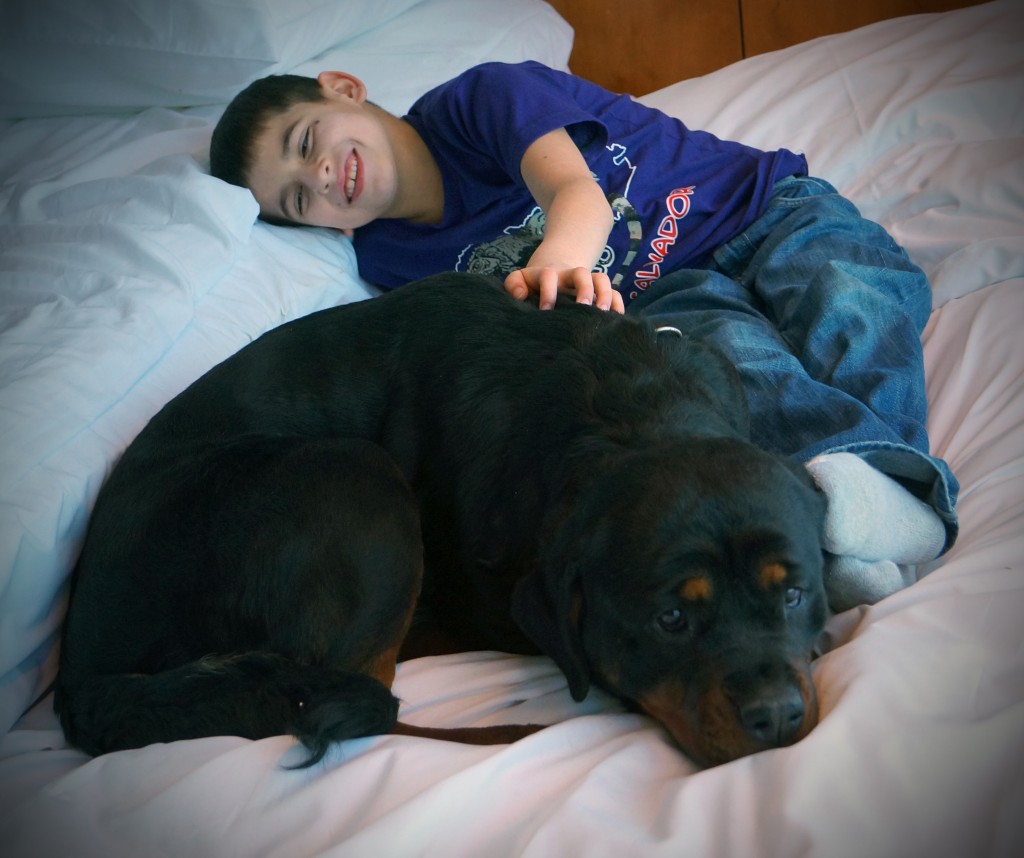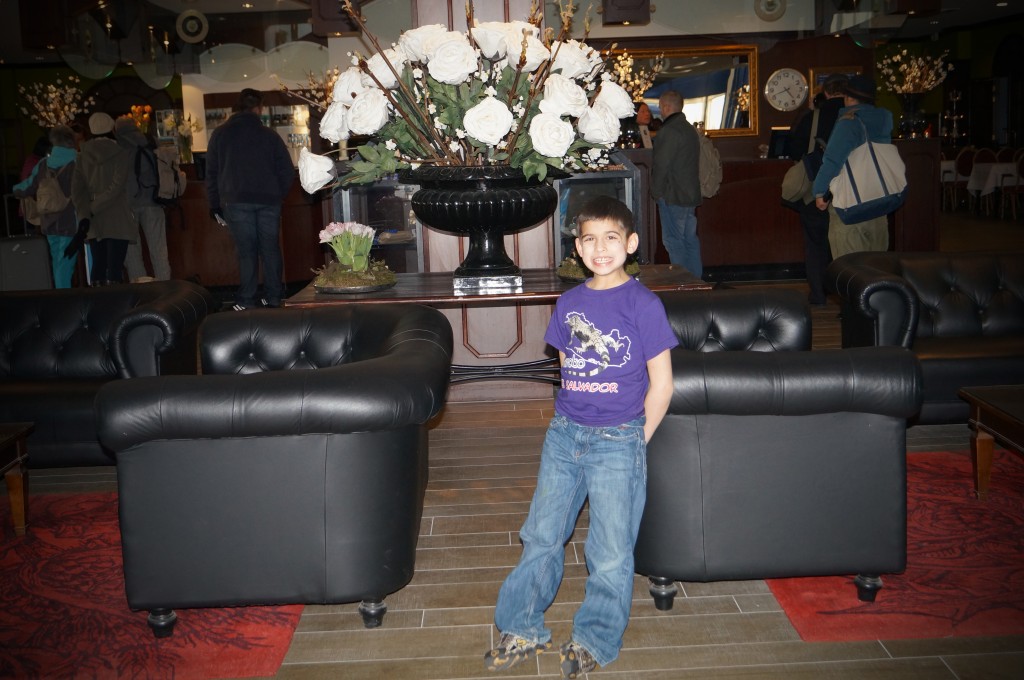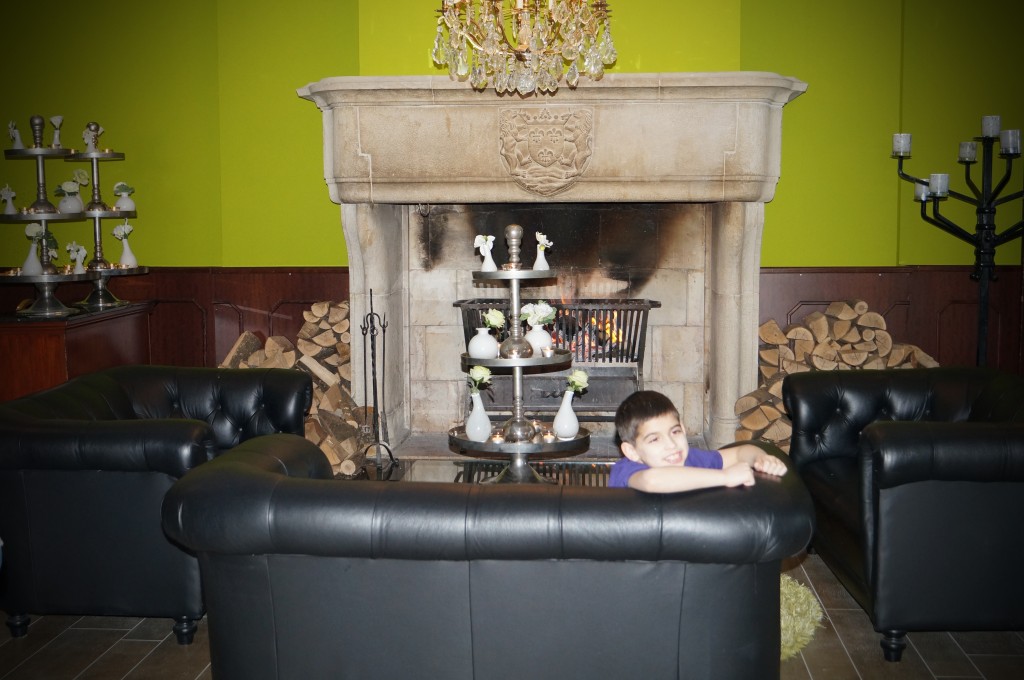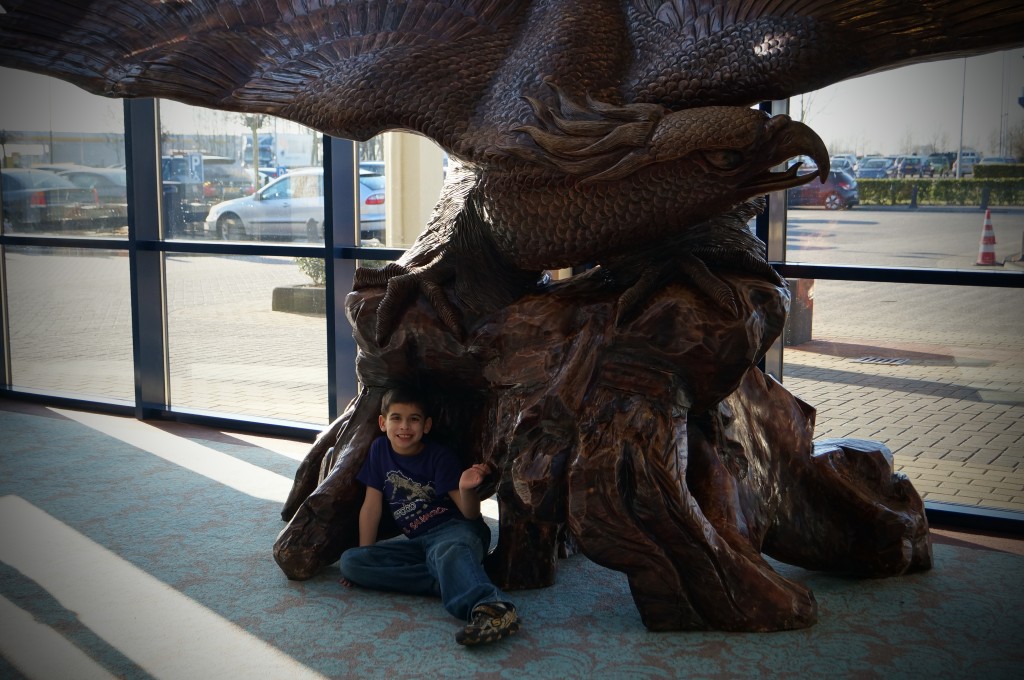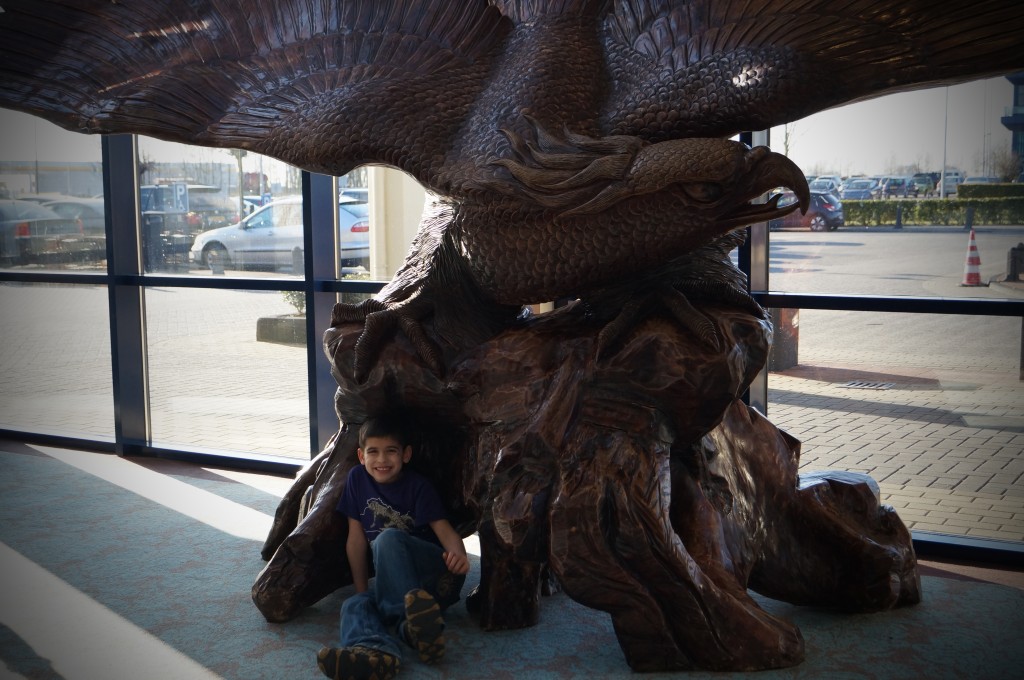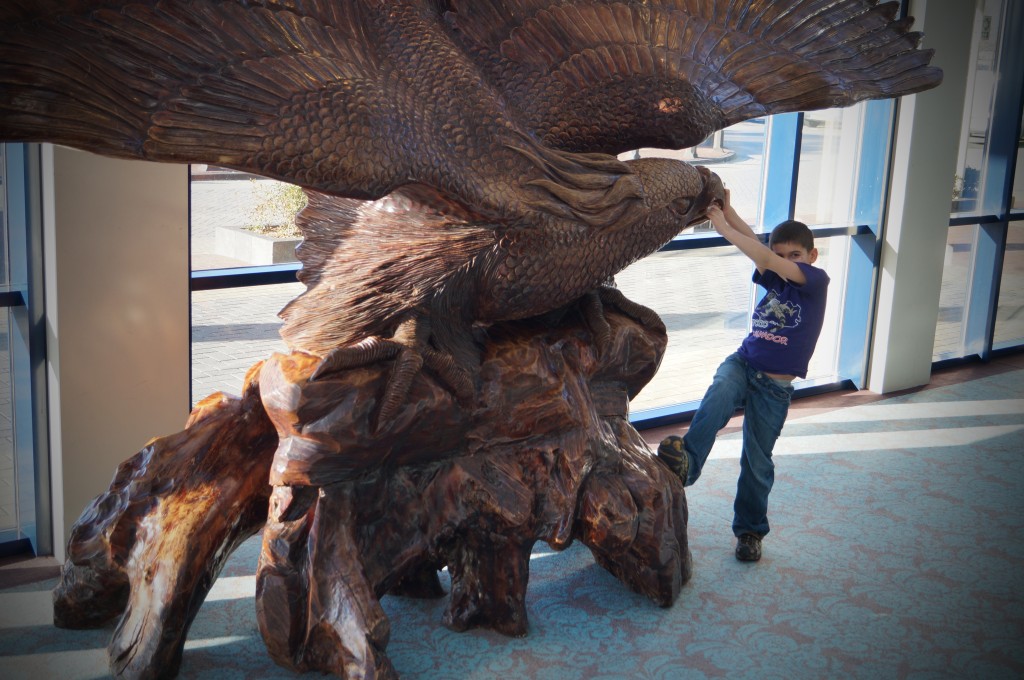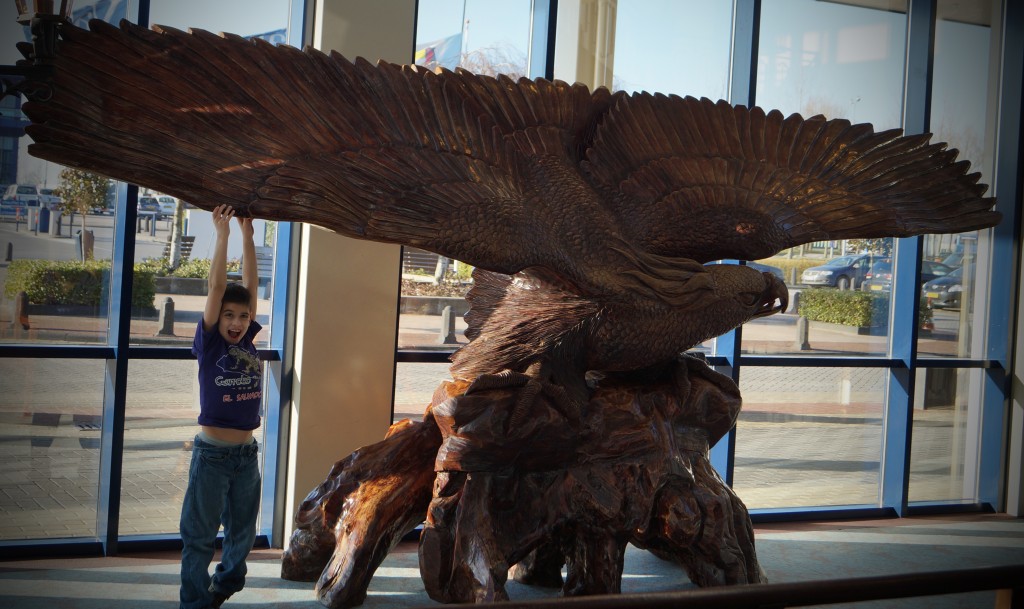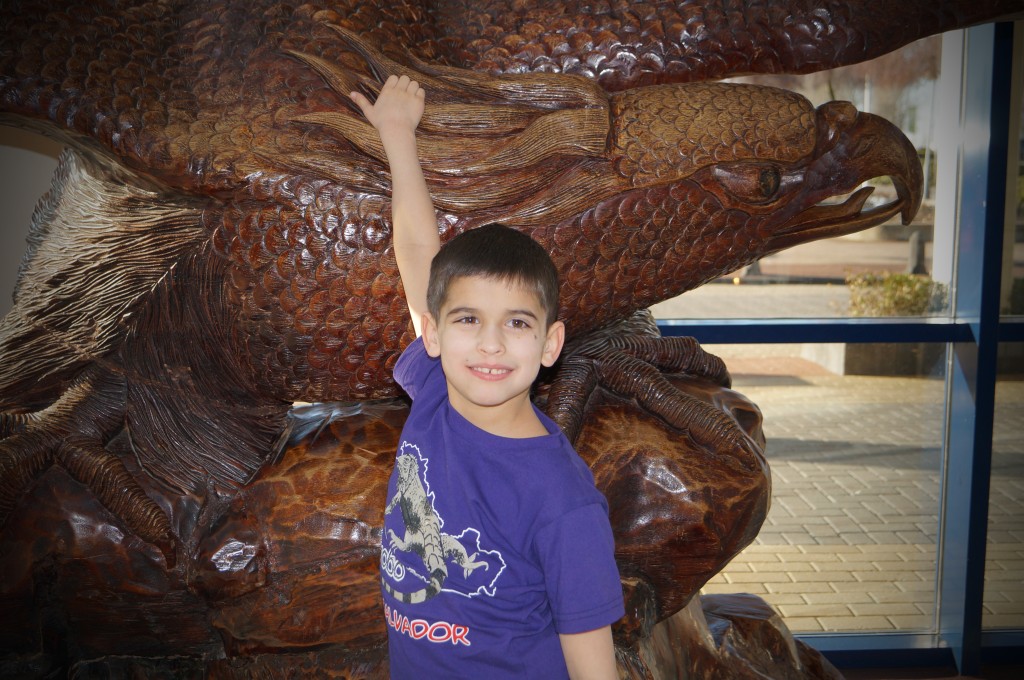 Waiting on dinner and snuggling with my favorite Korbi-bear! <3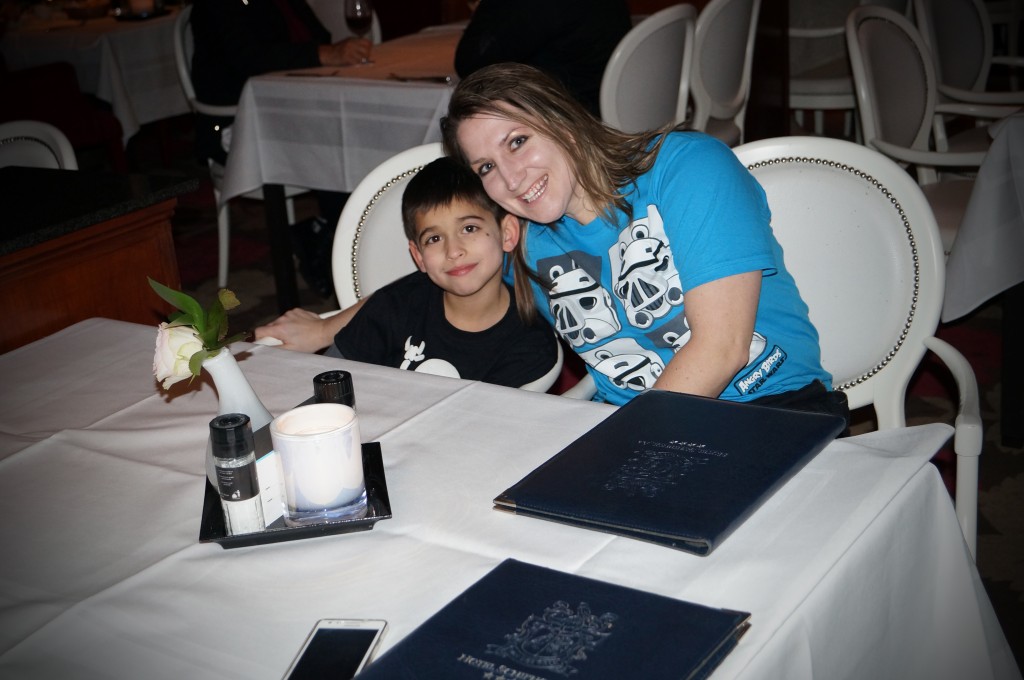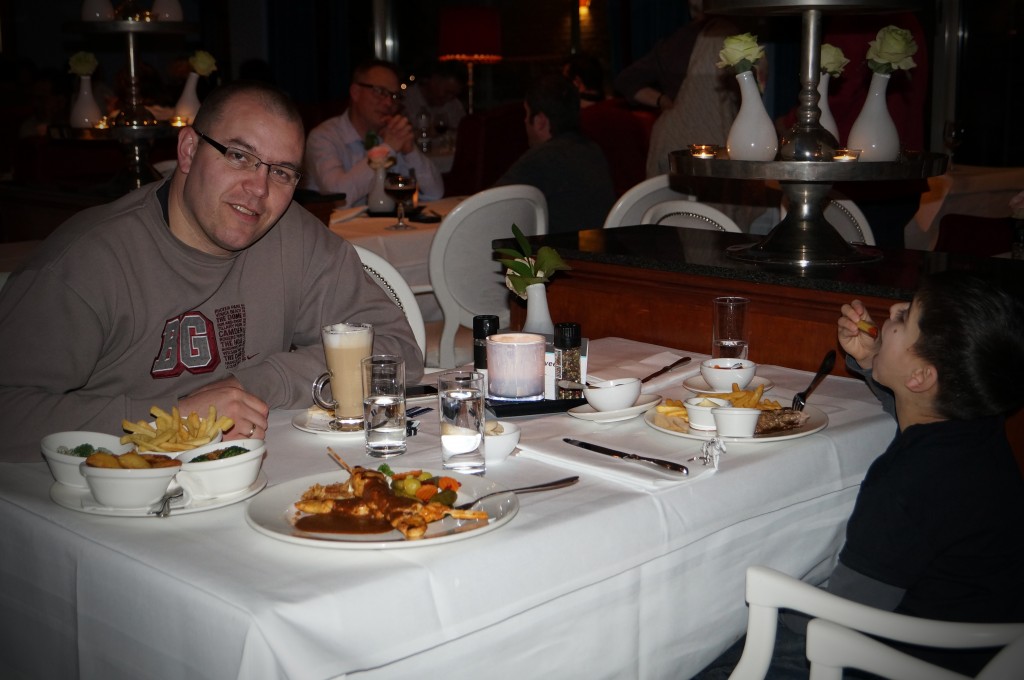 Korbin could not decide what he wanted for dessert… so why choose? 😉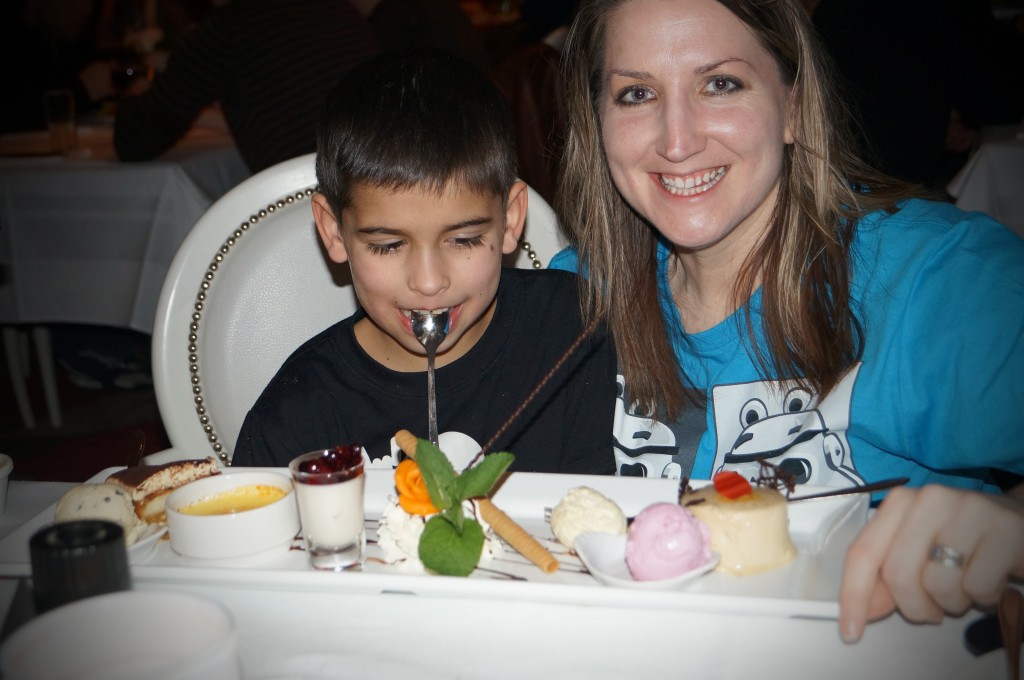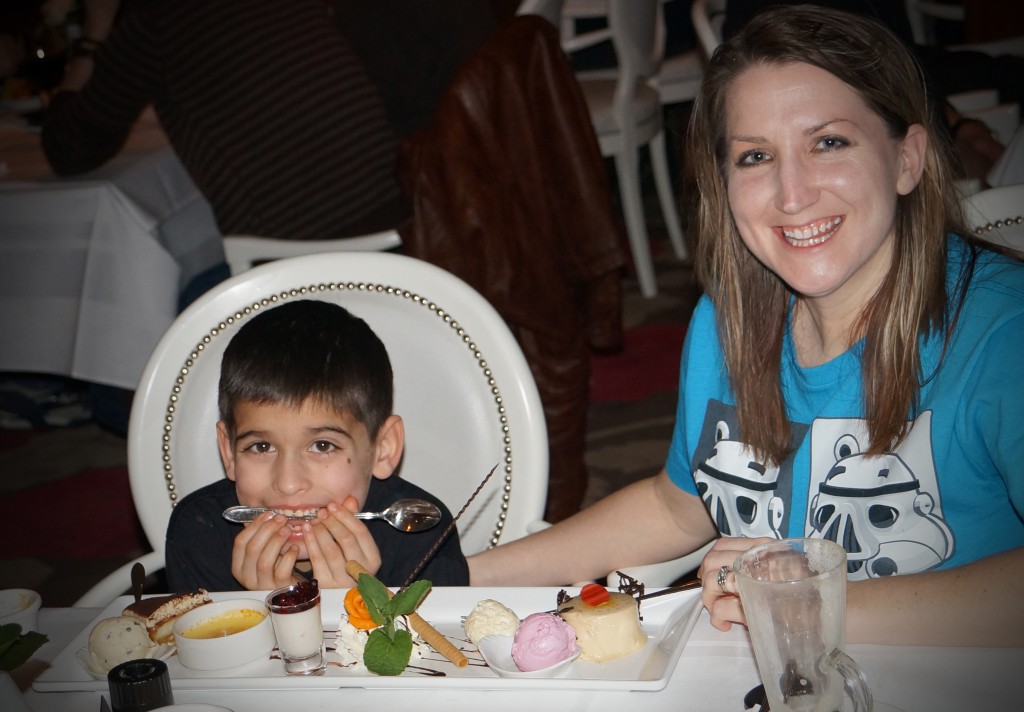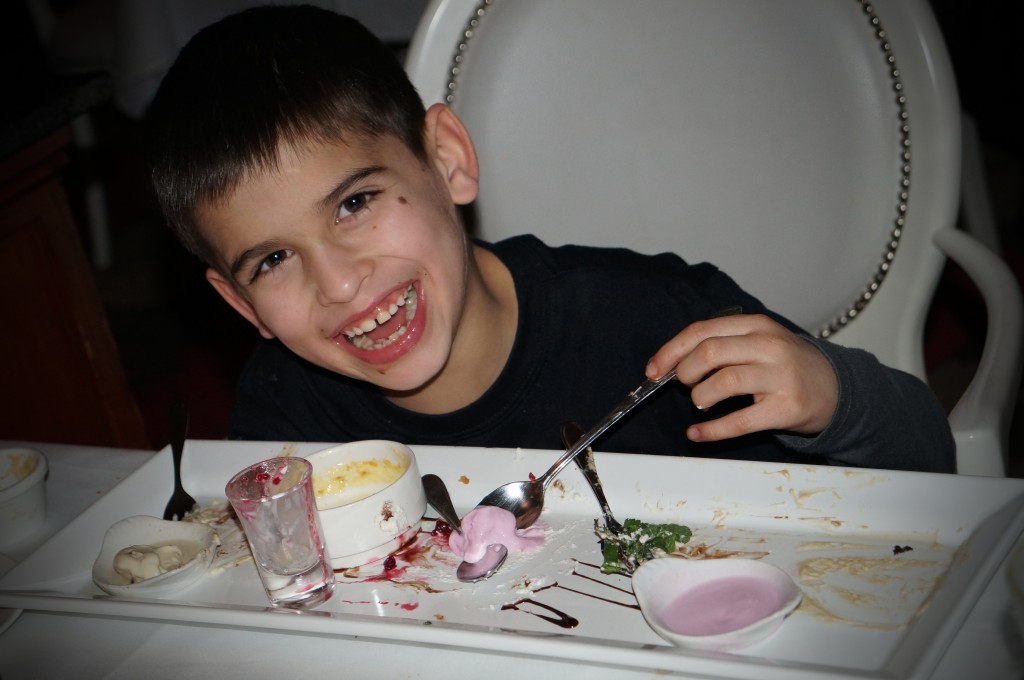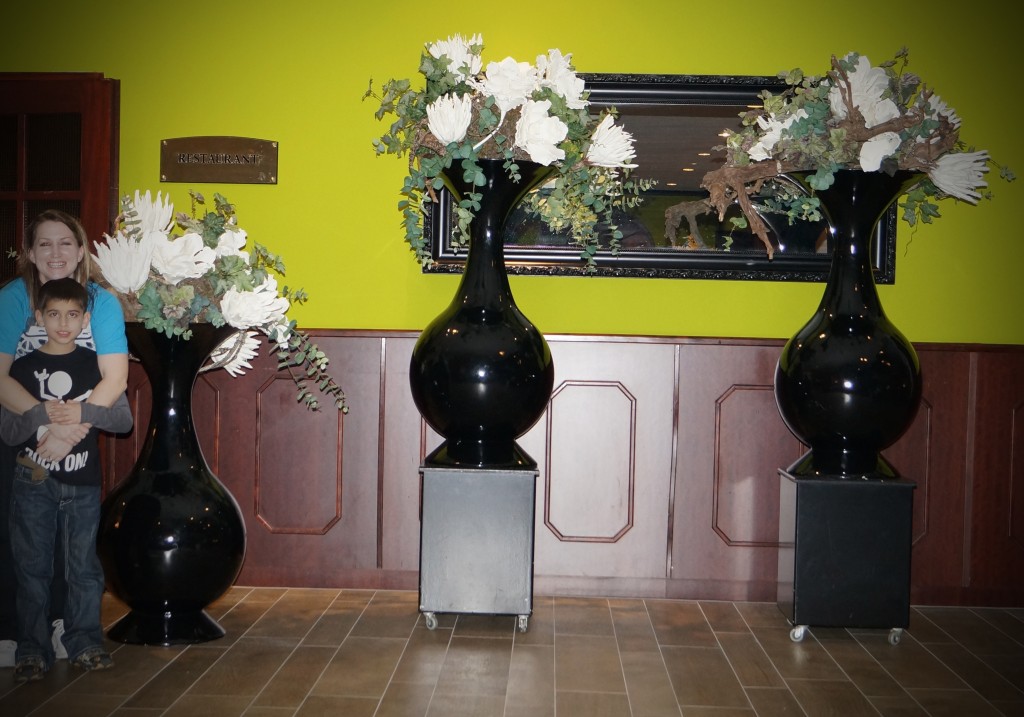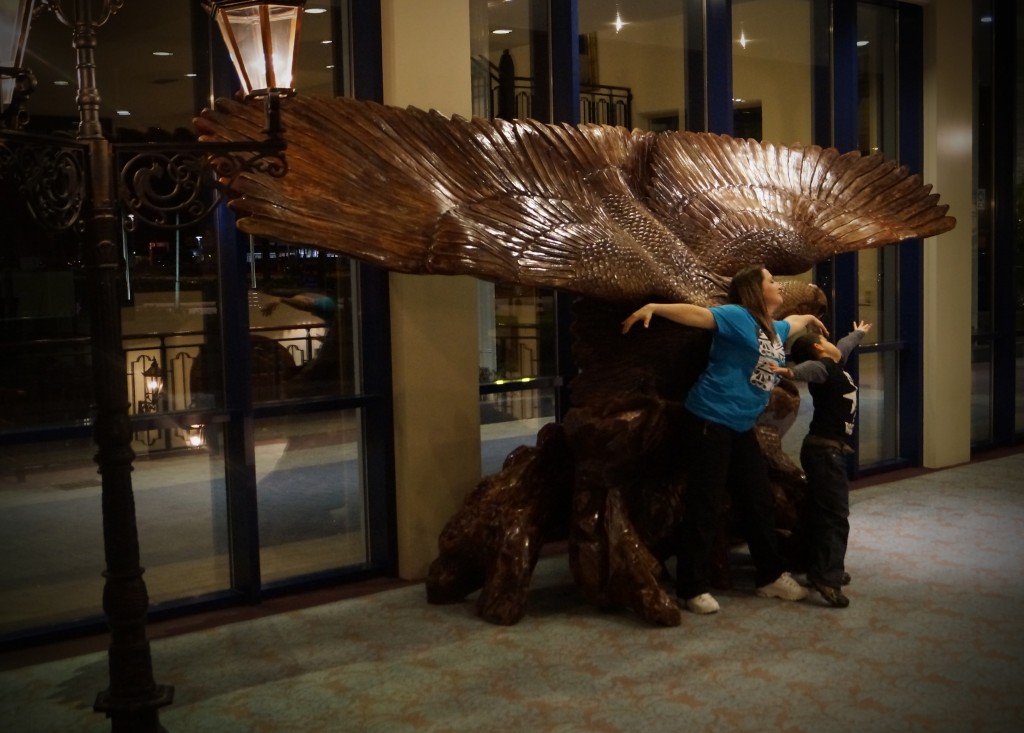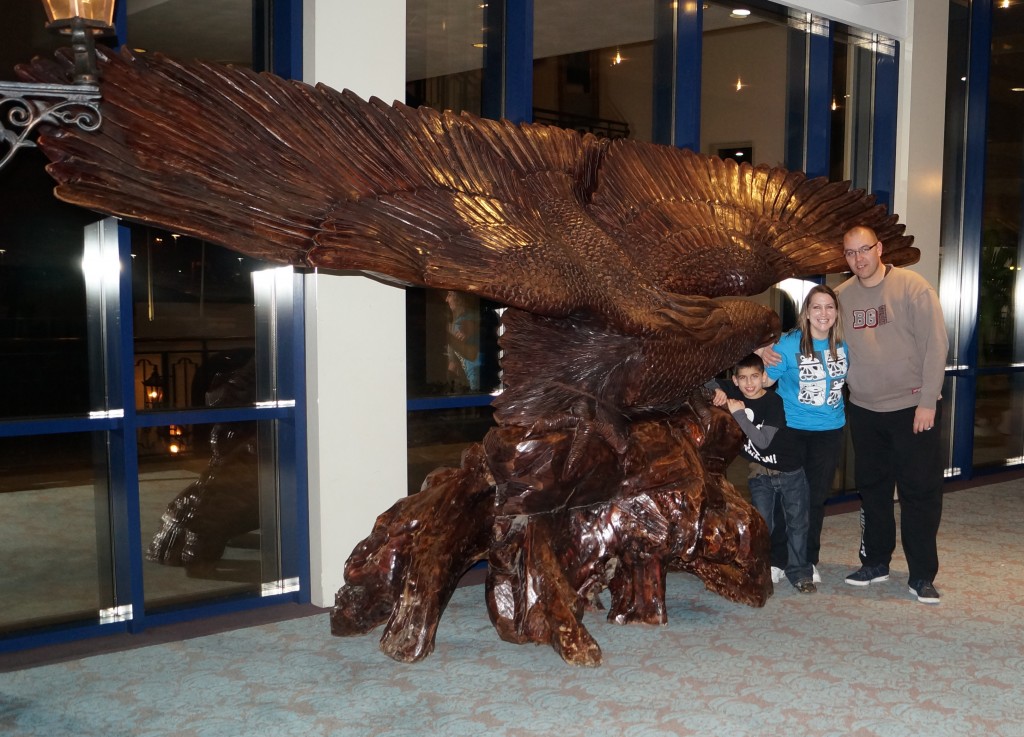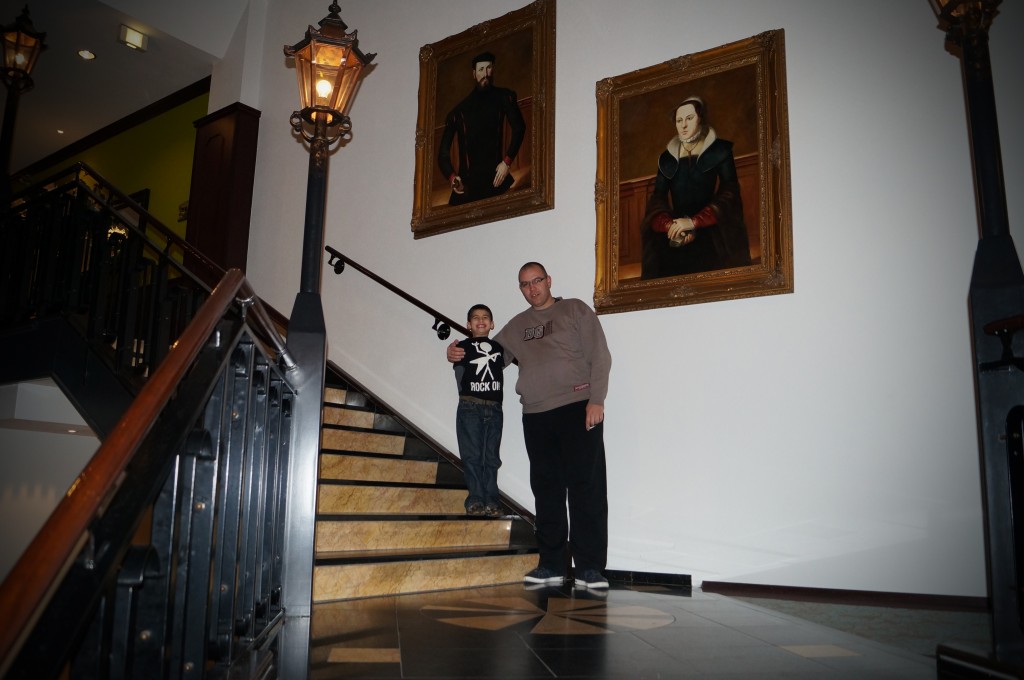 Korbin looks so tiny with Uros! LOL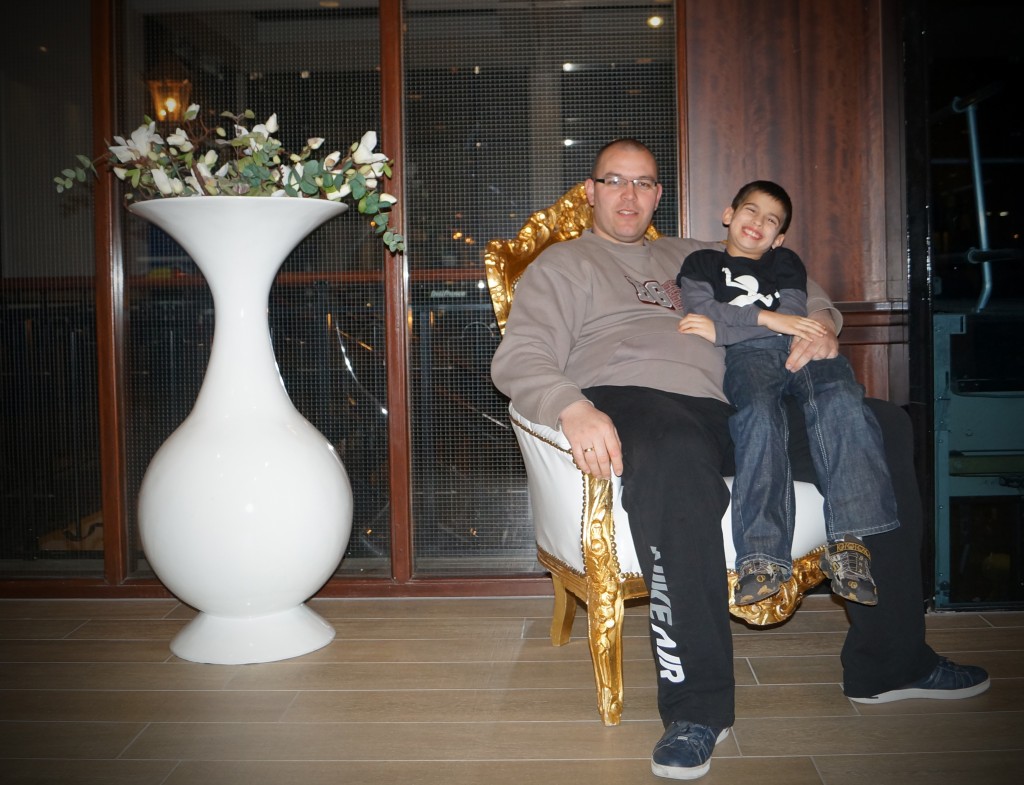 That was my "fancy" pose (probably a bit more believable without the Angry Birds t-shirt and sneakers 😉 )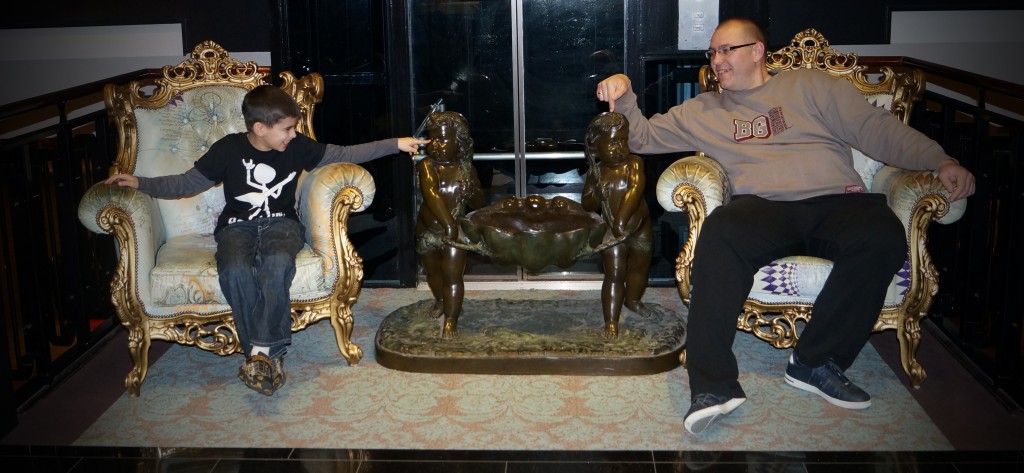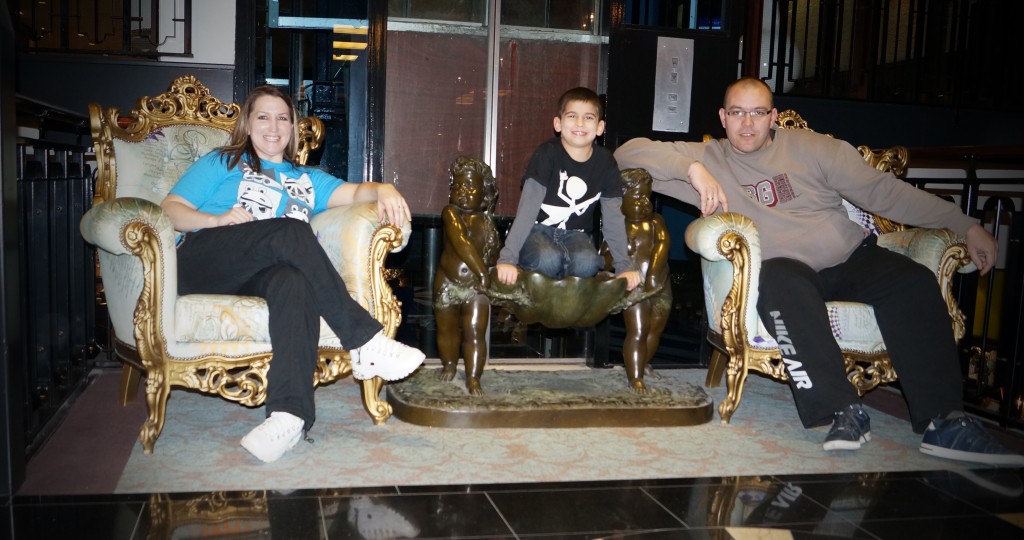 Serbian Mafia 😀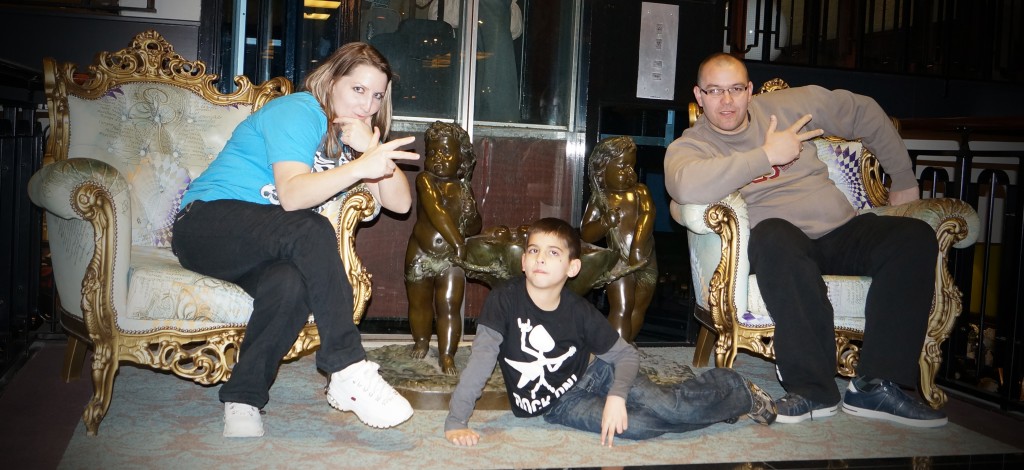 We found clones of ourselves at the hotel and were so shocked that we had to take a pic of it!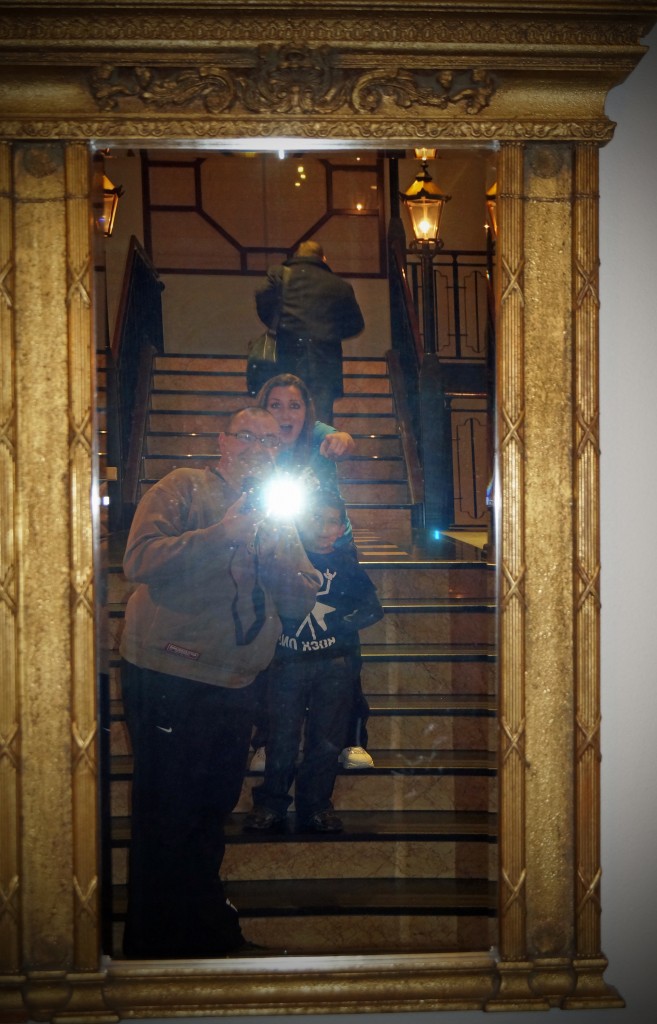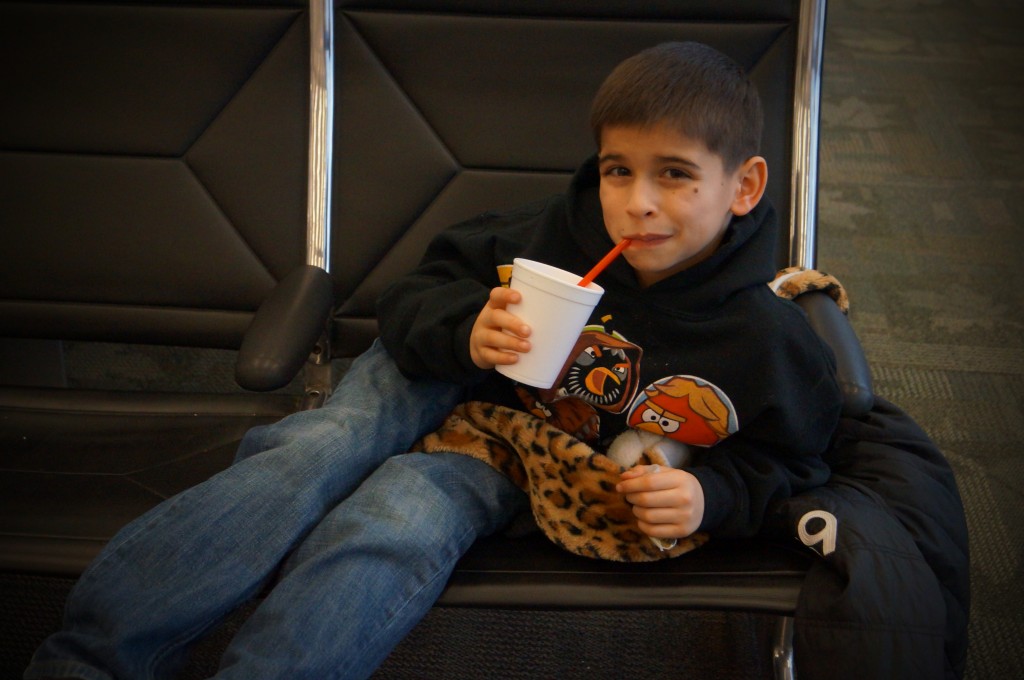 There is a tunnel in Detroit airport where the whole thing lights up different elaborate colors synchronized with the music.  It really neat and we always end up spending a bit of time in there riding the "conveyer belts" (moving walkways) back and forth!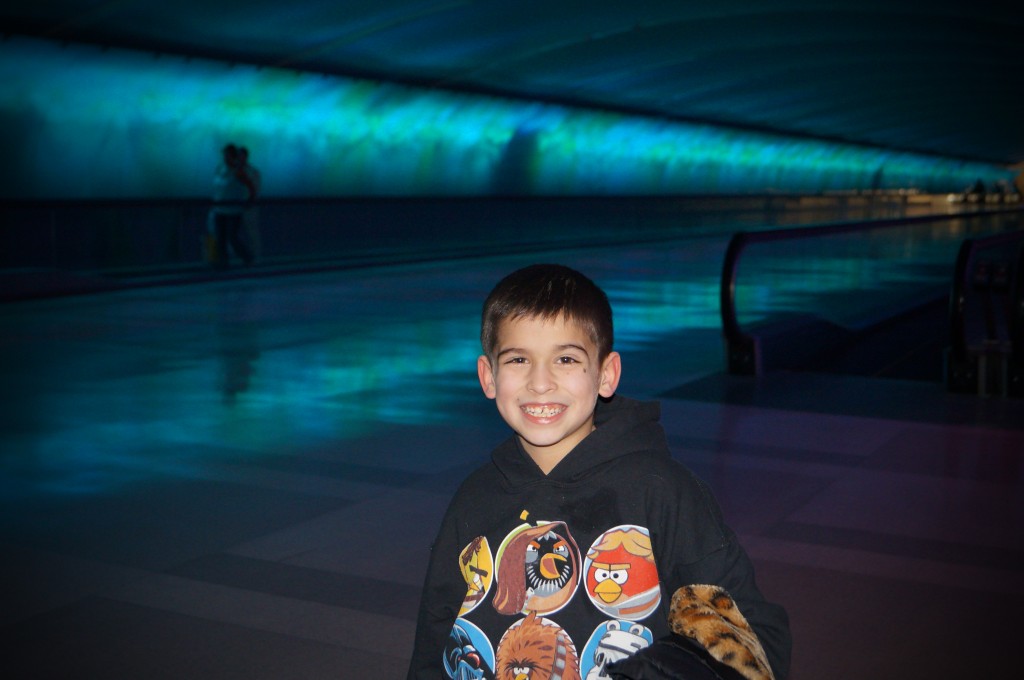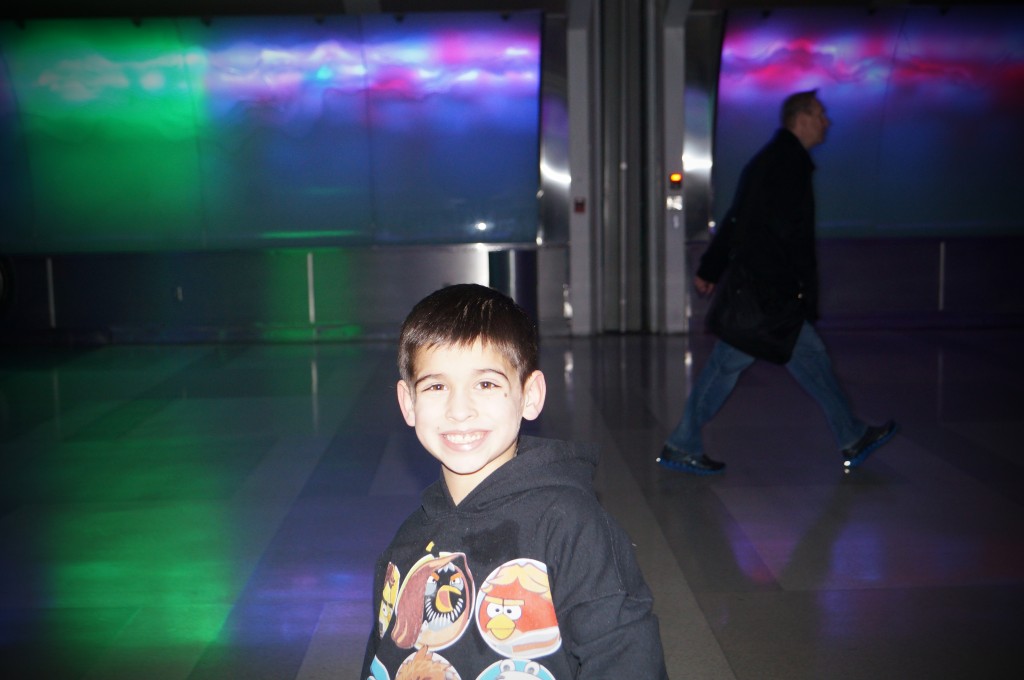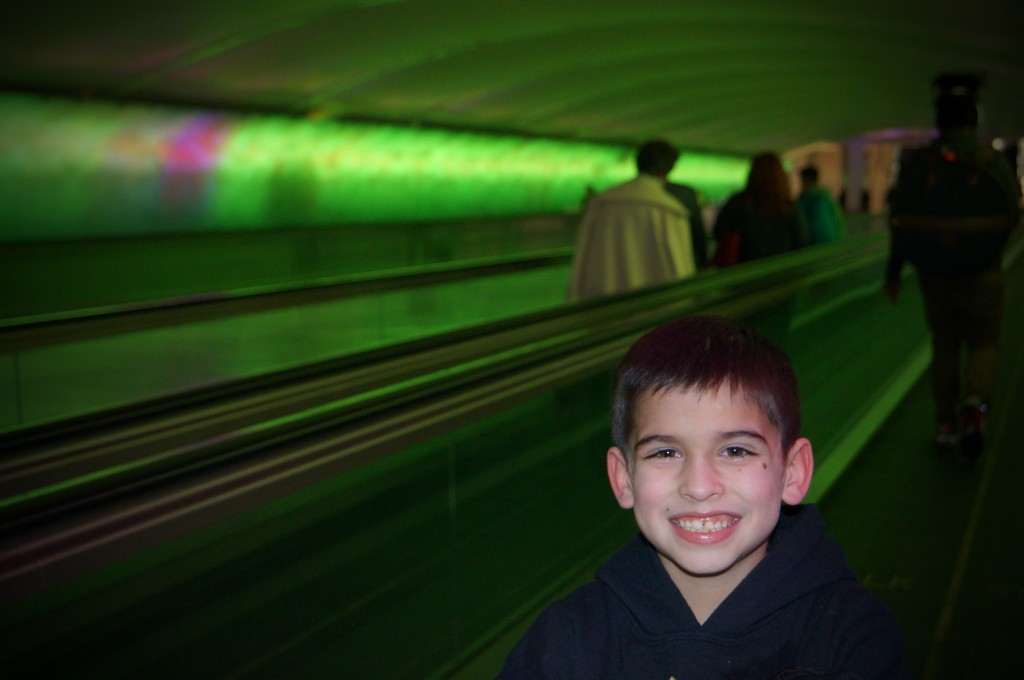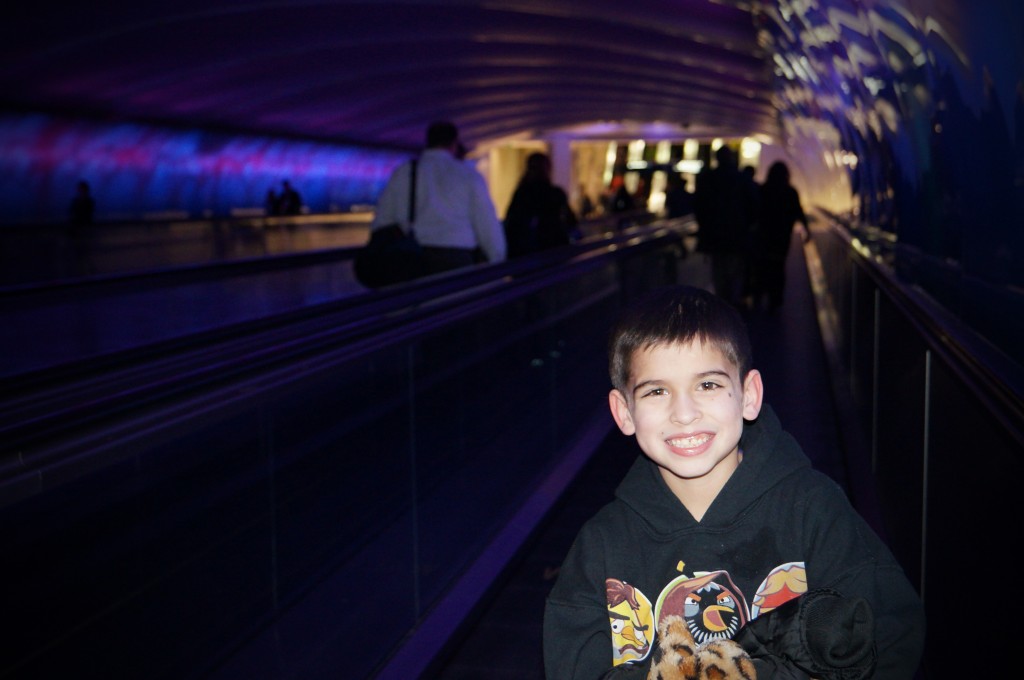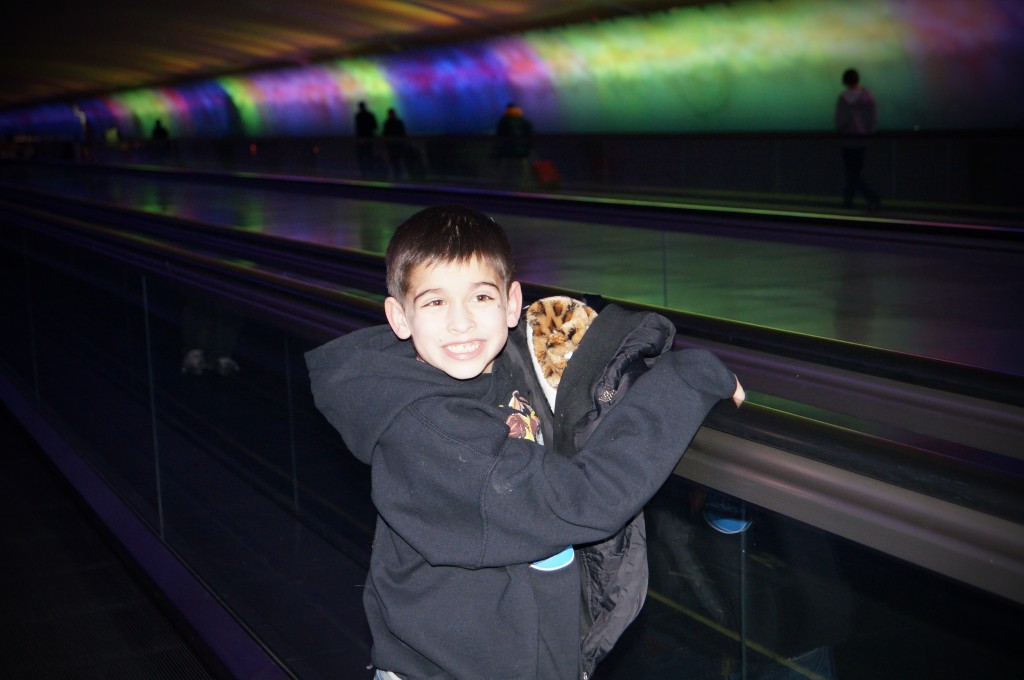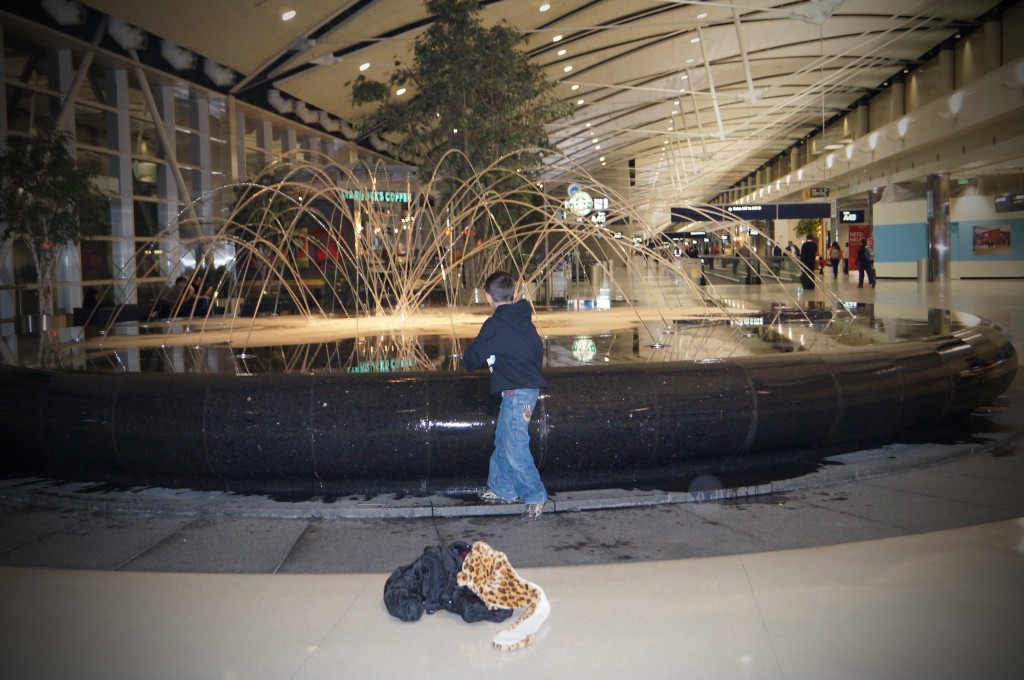 This is another highlight of the Detroit airport- a water fountain where the water dances!  The kids LOVE it!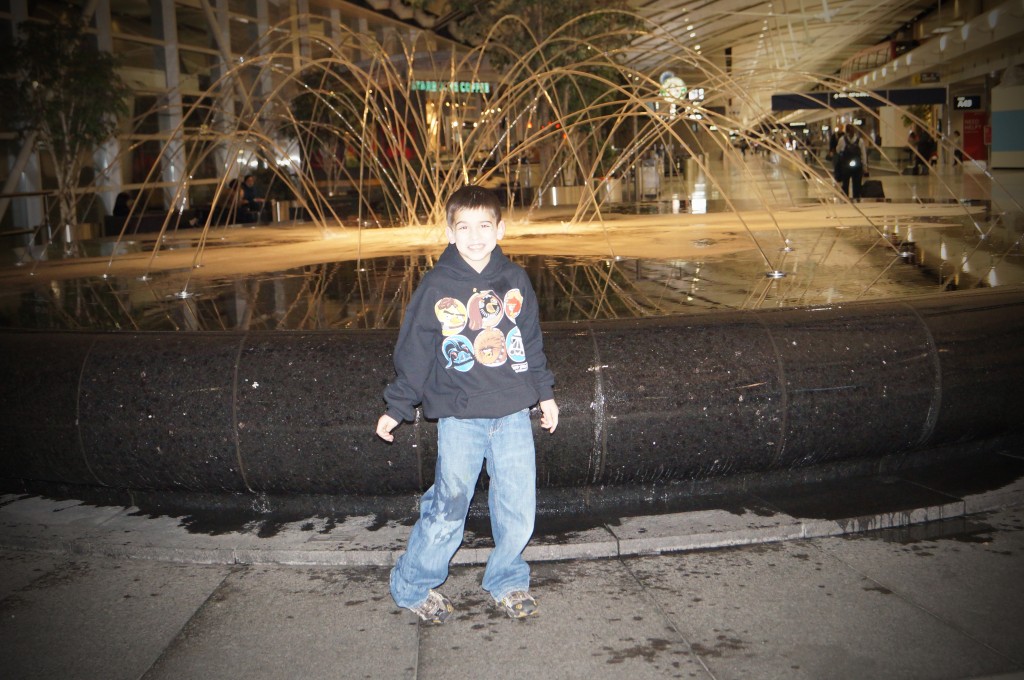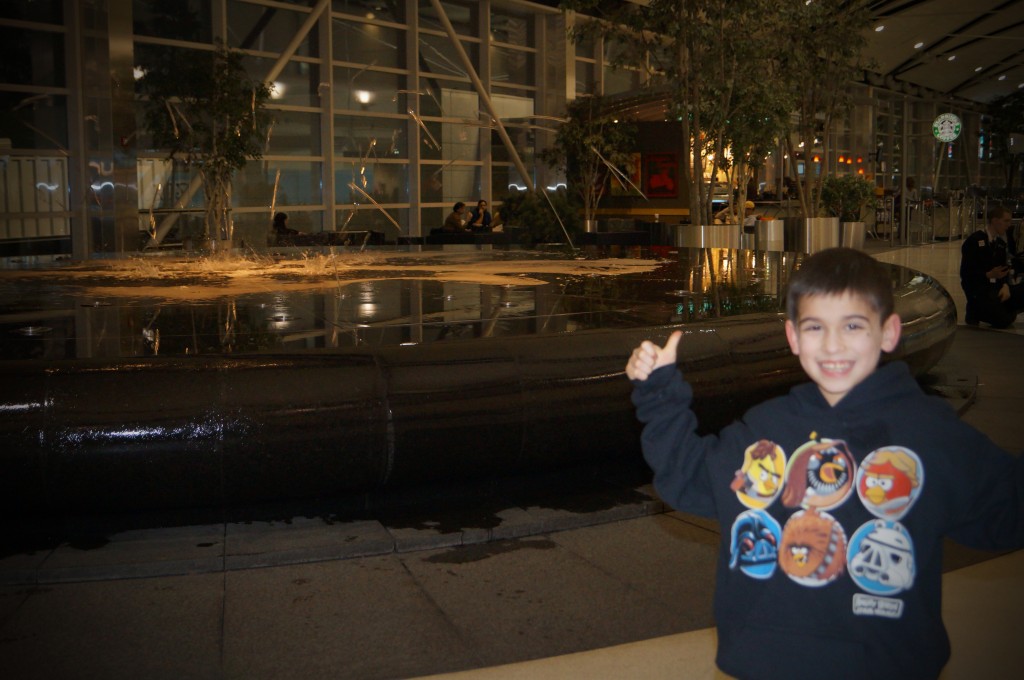 Our gate was immediately where we walked out of security, however, it was still 'necessary' to ride the train back and forth in the terminal 😉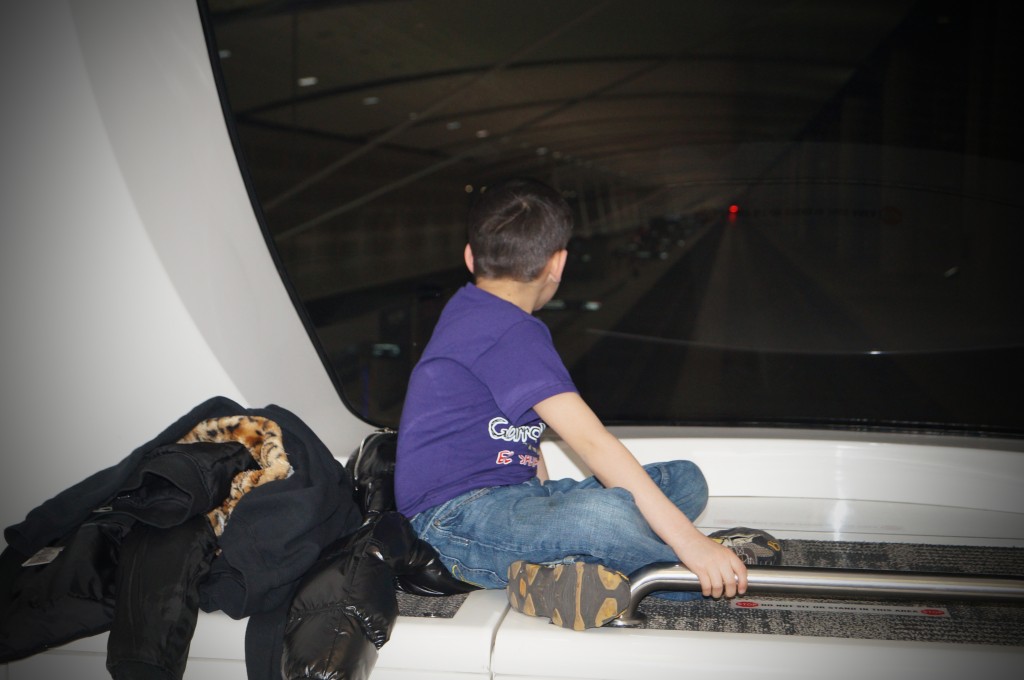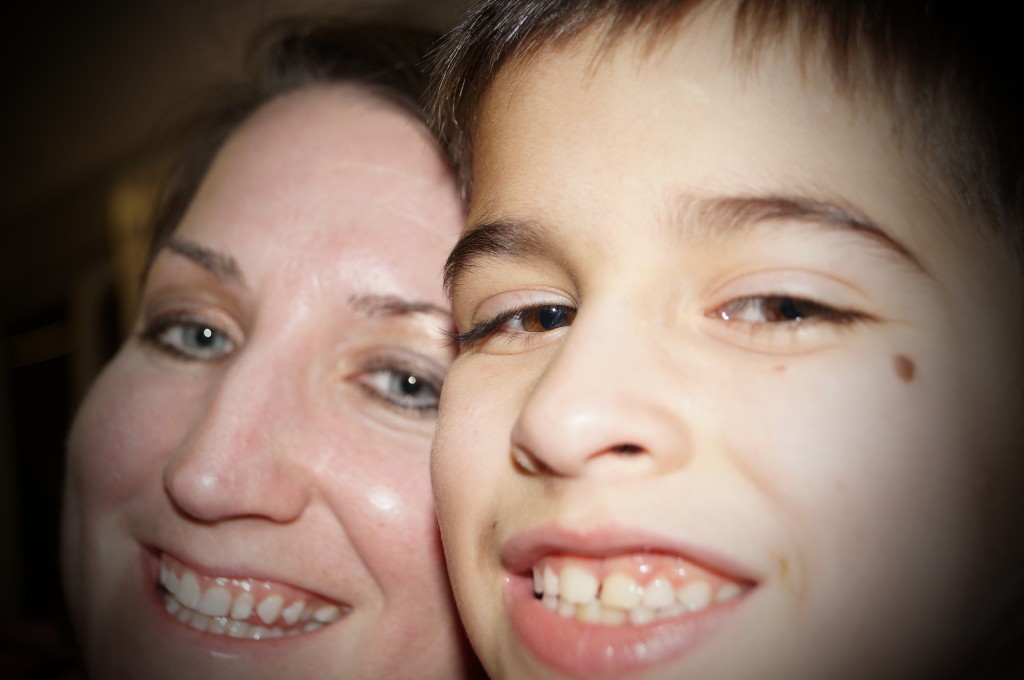 First class on the Delta 777 have these individual pods in them!  It was the first time I had ever ridden on a Boing 777 and it was really neat!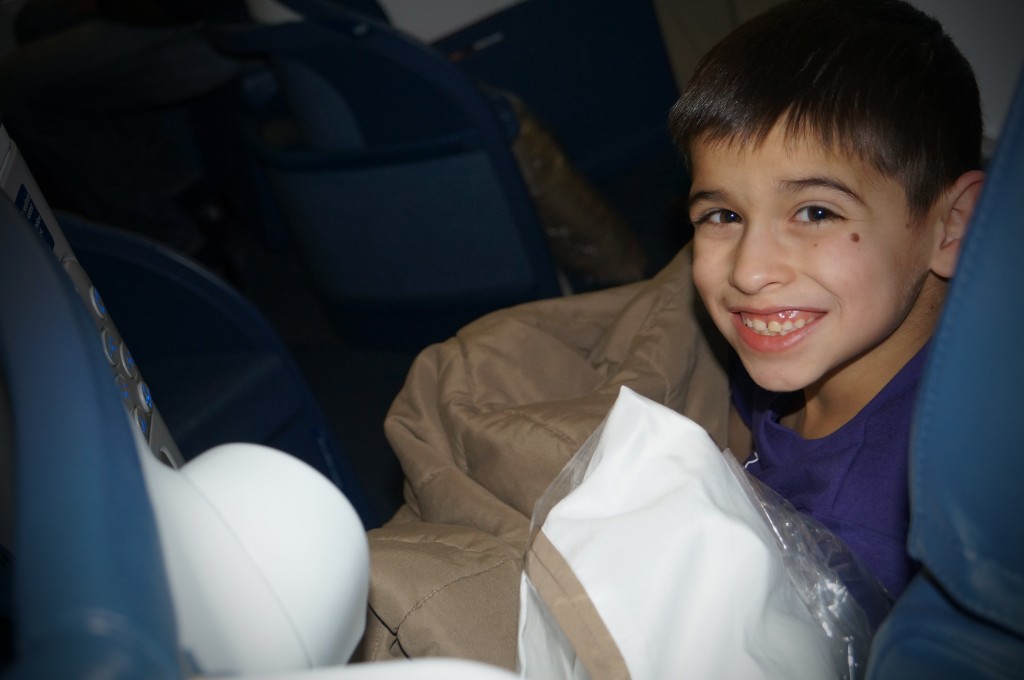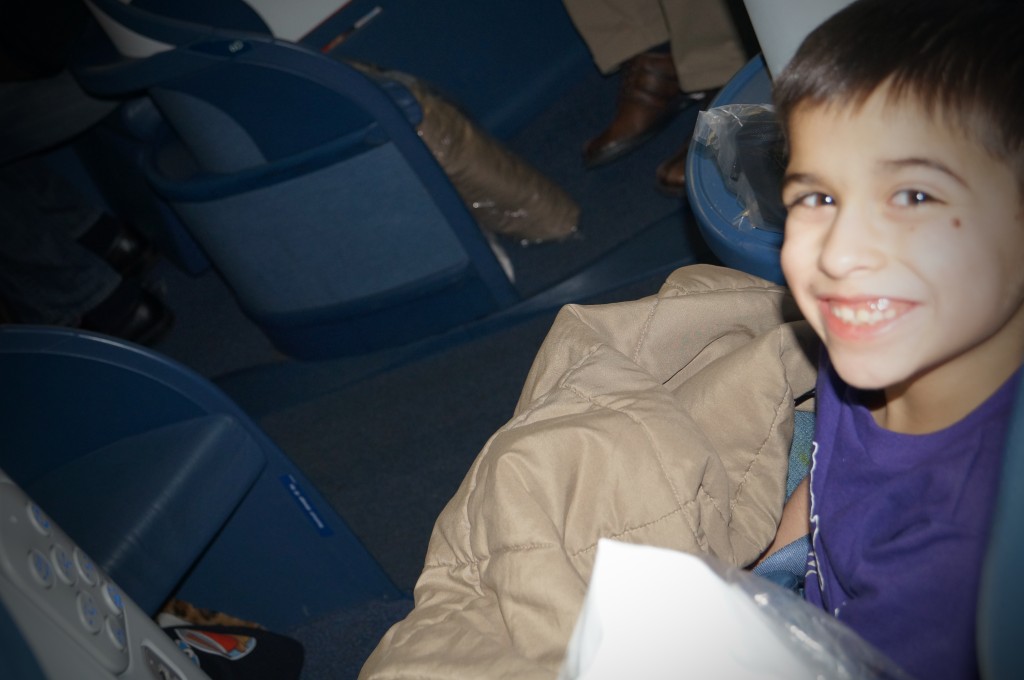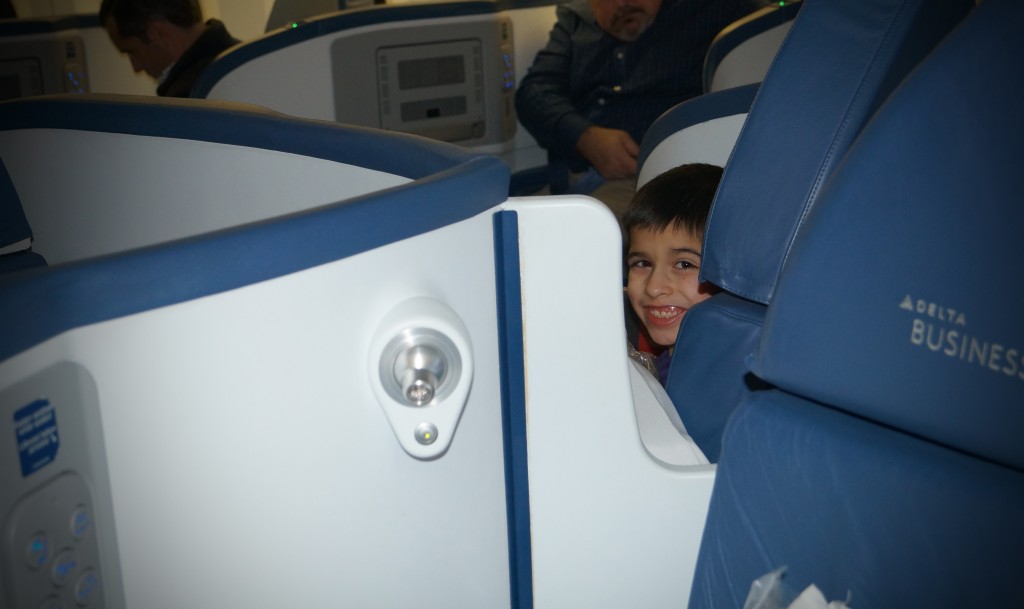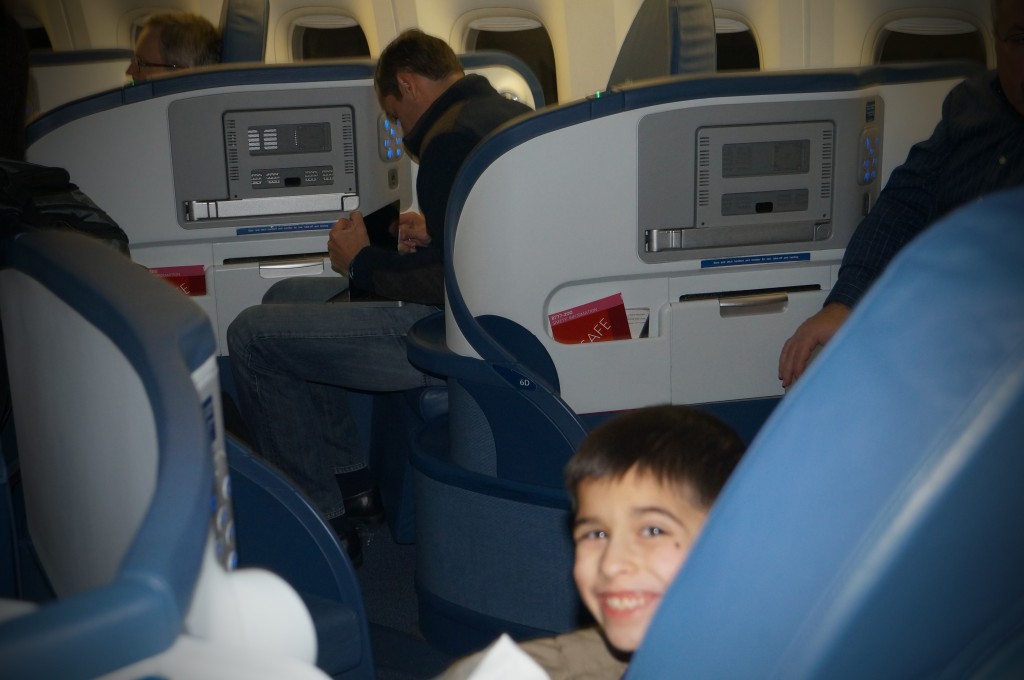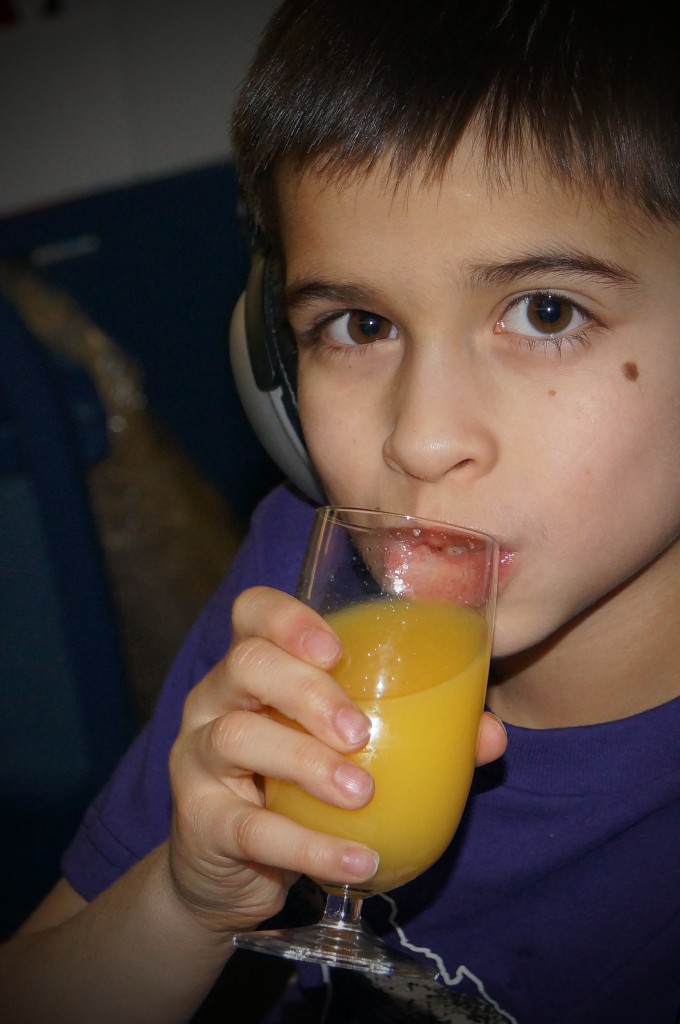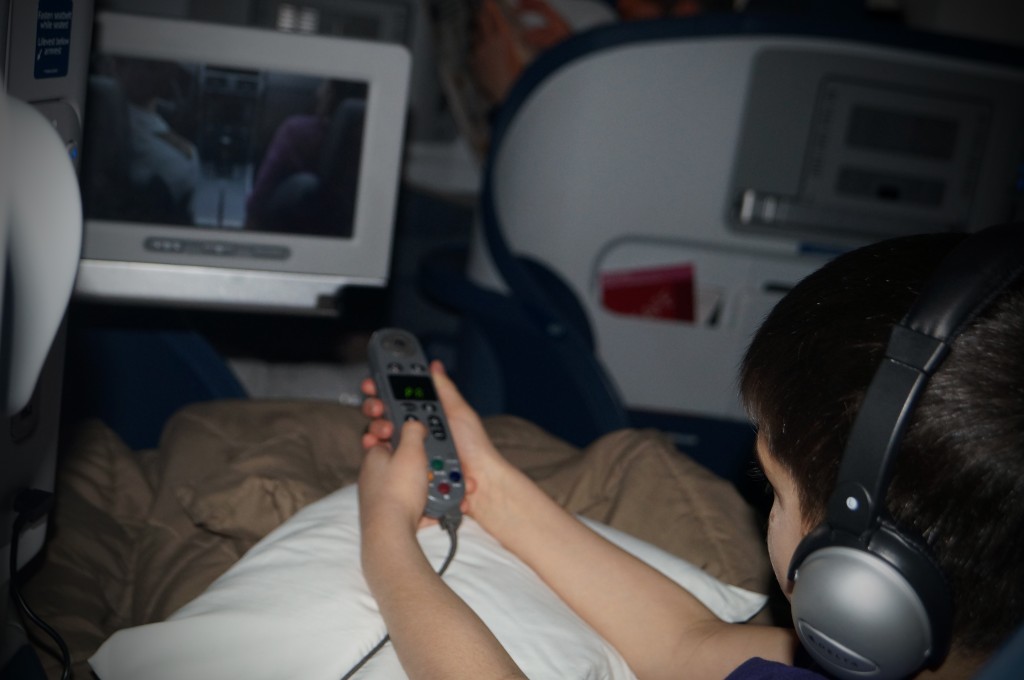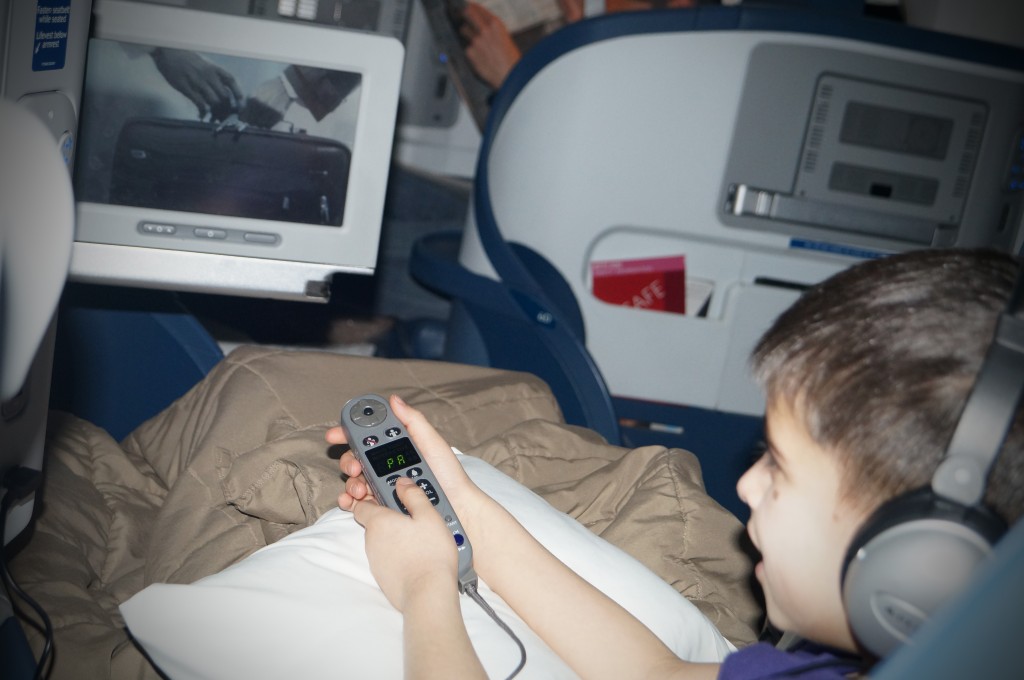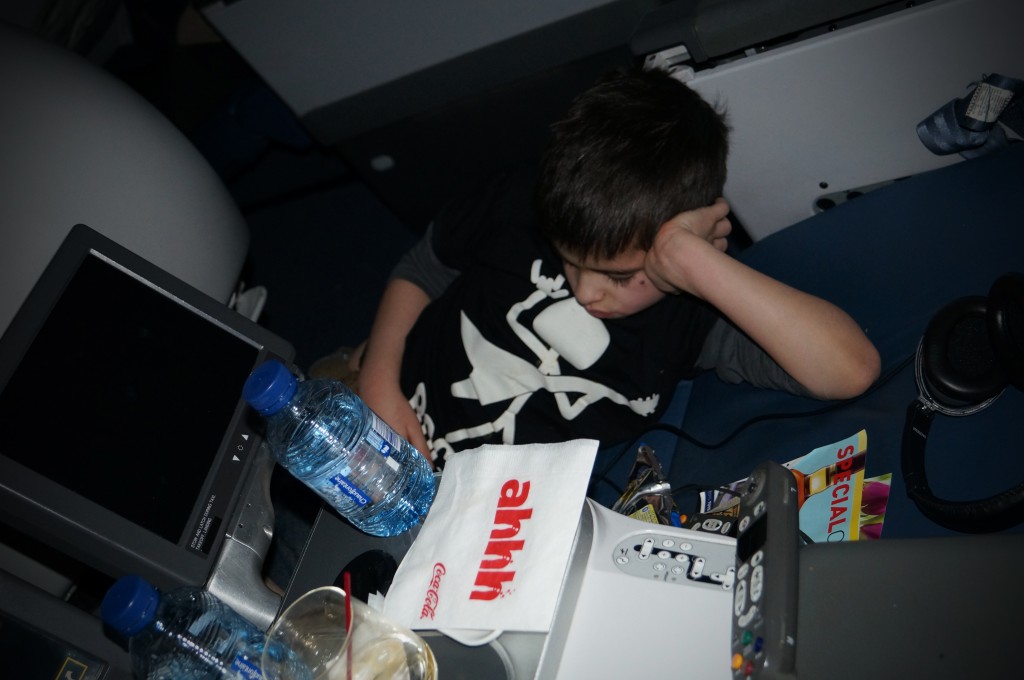 (Visited 2 times, 1 visits today)