NEWS!!  This page contains some of our latest news and links to some of the pages on the Guardian Rottweiler website that will help you keep up with us!
ANIMAL PLANET!!


We were honored when we were contacted by Sean McDonnell from Animal Planet and asked to bring a couple of our dogs to the Exotic Feline Center to film a movie for Animal Planet!  We do not unfortunately have specifics on when it will air, but will post them as soon as they become available.  It was a lot of fun and these big cats are just absolutely breath taking and awe inspiring up close.  SOO proud of Diesel and Serenity!  Not only did they TOTALLY rock it on set getting EVERYTHING asked of them on the first take!  BUT they were ambassadors of the breed as several crew members came us admitting they were more trepidatious of the Rottweiler then the lions before we got there but that we had totally changed their minds!
---
Pet Pals TV (click for video)
It was so much fun meeting with Patty Spitler and Joy Hernendez from WISH TV 8 when they came to film for Pet Pals TV.  As soon as we know exactly when we will air, we will announce it.  I was so proud when Patty told me that not only did they typically not recognize breeders but that this was also their FIRST show on the Rottweiler!!  Thank you again Patty for giving us the opportunity to show the TRUE CHARACTER of this exceptional breed!
---
Serenity Continues to Show why after a Rottweiler, everything else is just a dog!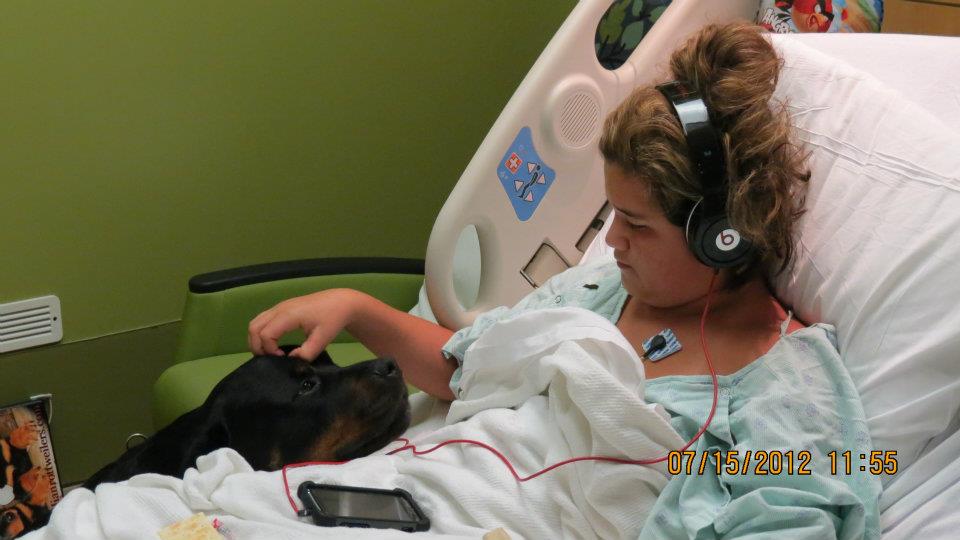 This summer, my daughter was in a horrific bicycle accident that launched her head first over a guard rail on a bridge and plummeting her about 20 feet to a dry river bed.  She cut her upper thigh bone deep and ripped a significant portion of the muscle.  She was air lifted to Riley Children's hospital where she went in for a nearly 5 hour surgery to try and save her leg.  She had her second surgery just 3 days later.  Throughout her stay at Riley, including her surgeries, the staff at Riley Children's Hospital graciously permitted her beloved best friend Serenity to stay with her at her side constantly.  I firmly believe it made all the difference in the world.  By the power of prayer, she not only kept her leg but has been healing at a remarkable rate.  Her faithful friend by her side throughout everything.  My brave little princess has been just absolutely amazing.  Her courage and strength have left me in absolute awe.  I am so very honored to be her mom and feel so very blessed.  Thank you all so much for your prayers and cards.  God Bless you all!
http://www.wishtv.com/dpp/news/local/south_central/mother-saves-10-year-old-daughters-life
http://www.fox59.com/news/wxin-mother-leaves-injured-daughter-to-save-her-life-20120725,0,4414962.column
http://www.sfgate.com/news/article/Ind-woman-s-quick-actions-saved-daughter-s-life-3733815.php
---
Tahlia goes back to school!!
Tahlia was so excited to go back to school AND get out of bed 😉  

---
Siemer Trade Show 2012


We love to travel around the world attending Pet Expo's and Products Debuts.  The opportunity to meet directly with the manufacturers, product designers, and vendors is invaluable!  Learning everything we need to know about the product from where it is sourced to why it was created, as well as the best way to use/apply/feed it.  Here is a link to one of the trade shows we attended this year in Illinois.  I cannot WAIT for the dogs to try out all the new products we ordered!!

---
HERE you will find some of our latest travels around the world to include dog shows, seminars, and training.  I love to travel with my family, 2 and 4 legged, and I cannot find the words for how proud I am of my kids and my Rotties that are able to compete (and win!) in such prestigious show, trials and working event all around the globe!  I love immersing myself in all the unique and diverse cultures when we travel, and we always make time for fun!
Here are my 2 baby boys, Korbin and Ethan, in Venice, Italy (my apologies as it seems the sun is in everyone's eyes!)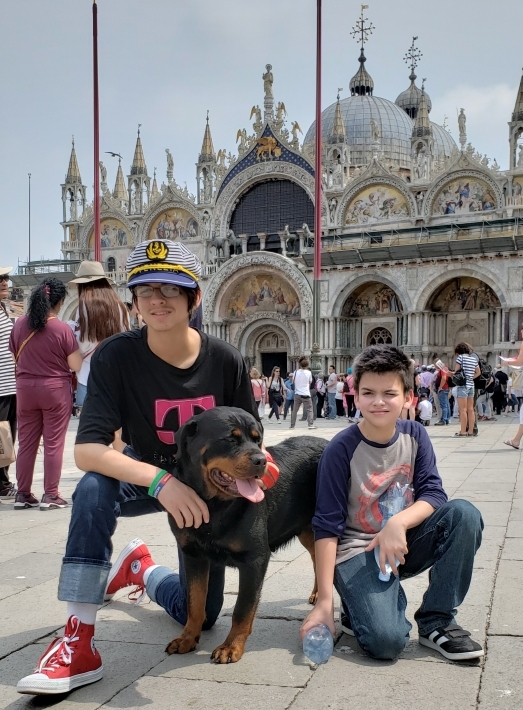 2012 ARV Regional & National Sieger Shows-Caryville, TN
Regional Sieger Judge:  Lydia Mihajlovic- Serbia
National Sieger Judge:  Mick Svaljeck- Australia

Guardian Rottweiler Results:
Guardian Xoana Von Gottschalk  VP3 Regional Sieger; VP3 National Sieger
Guardain Warrick Von Gottschalk  VP3 Regional Sieger; VP4 National Sieger
Guardian Atlas Von Gottschalk   SG1 Regional Sieger; V2 National Sieger
Dunjo Von Shambala  V3 Regional Sieger; V3 National Sieger
Akina Von Radkestein  SG3 Regional Sieger; V National Sieger
Kennel Group  3rd Regional Sieger; 2nd National Sieger

We had a great time and went home with 10 trophies!  So proud of my little Junior Handlers and of course my FABULOUS Rotties!!
---
2013 ADRK KLUBSIEGER, in Rottweil, Germany
One of the proudest days of my life.  Just to be able to compete in the largest Rottweiler show on the planet- it was one of the goals I set for myself a decade ago.  It took so much hard work, from the entire family, to get here.  I entered knowing that I would be competing against some of the best Rottweilers, handlers, breeders and trainers in the world- nervous does not even begin to describe how I felt.  I did not hardly sleep all week!  I told myself that even if we came in dead last in every event we entered, we were still competing, with these legends, in the same ring as them!  For anyone not in the show world, the ADRK KLUBSIEGER is essentially the Olympics or the Super Bowl of the dog show world.  Just to be able to touch the field that these athletes that I have admired and respected for as long as I can remember was absolutely incredible!  BUT TO WALK AWAY WITH THE TITLE OF BEST KENNEL/ #1 BREEDER- there will never be words sufficient for that feeling!!  Click HERE or on the photo for more photos of this incredible, life changing event!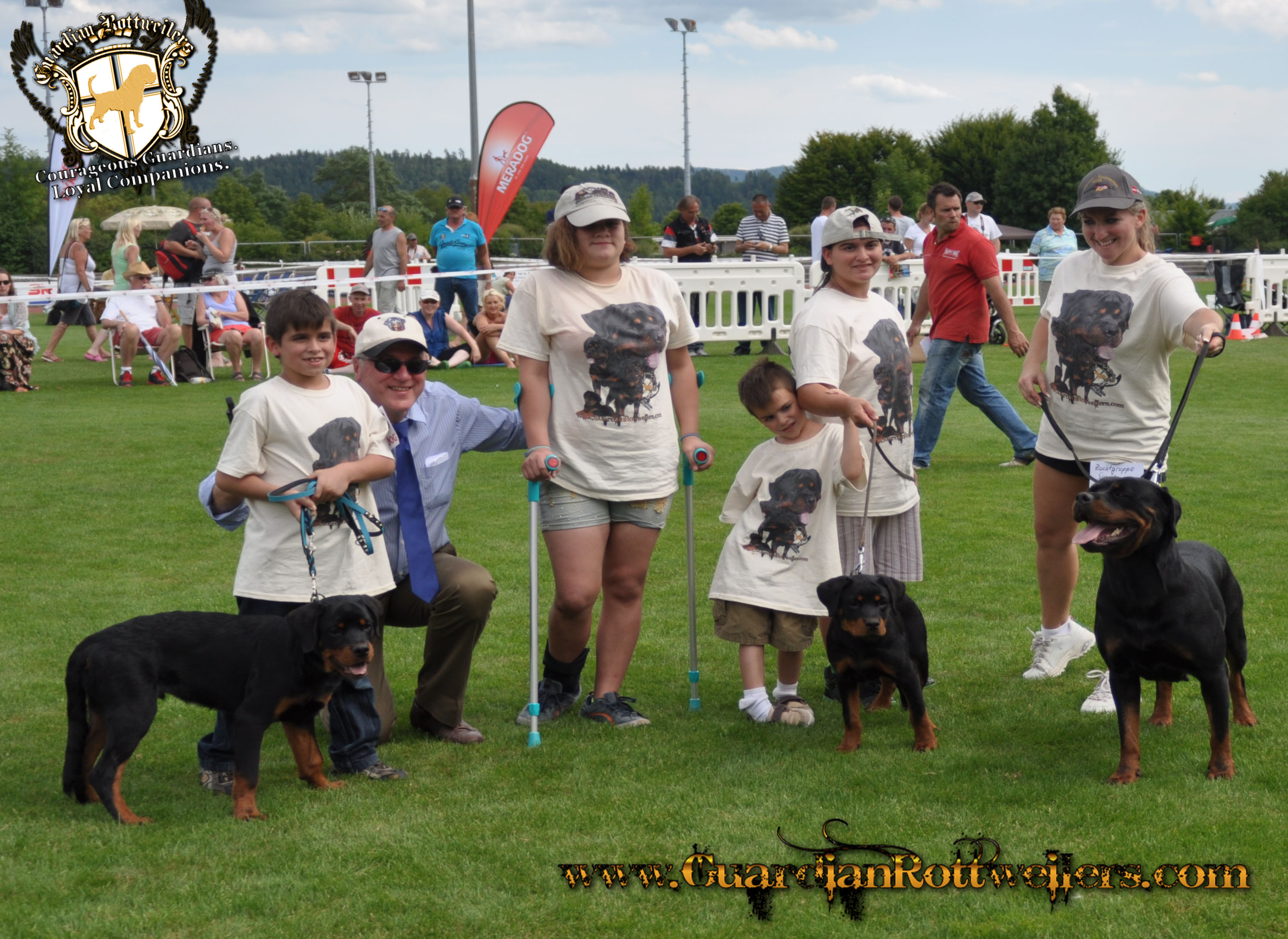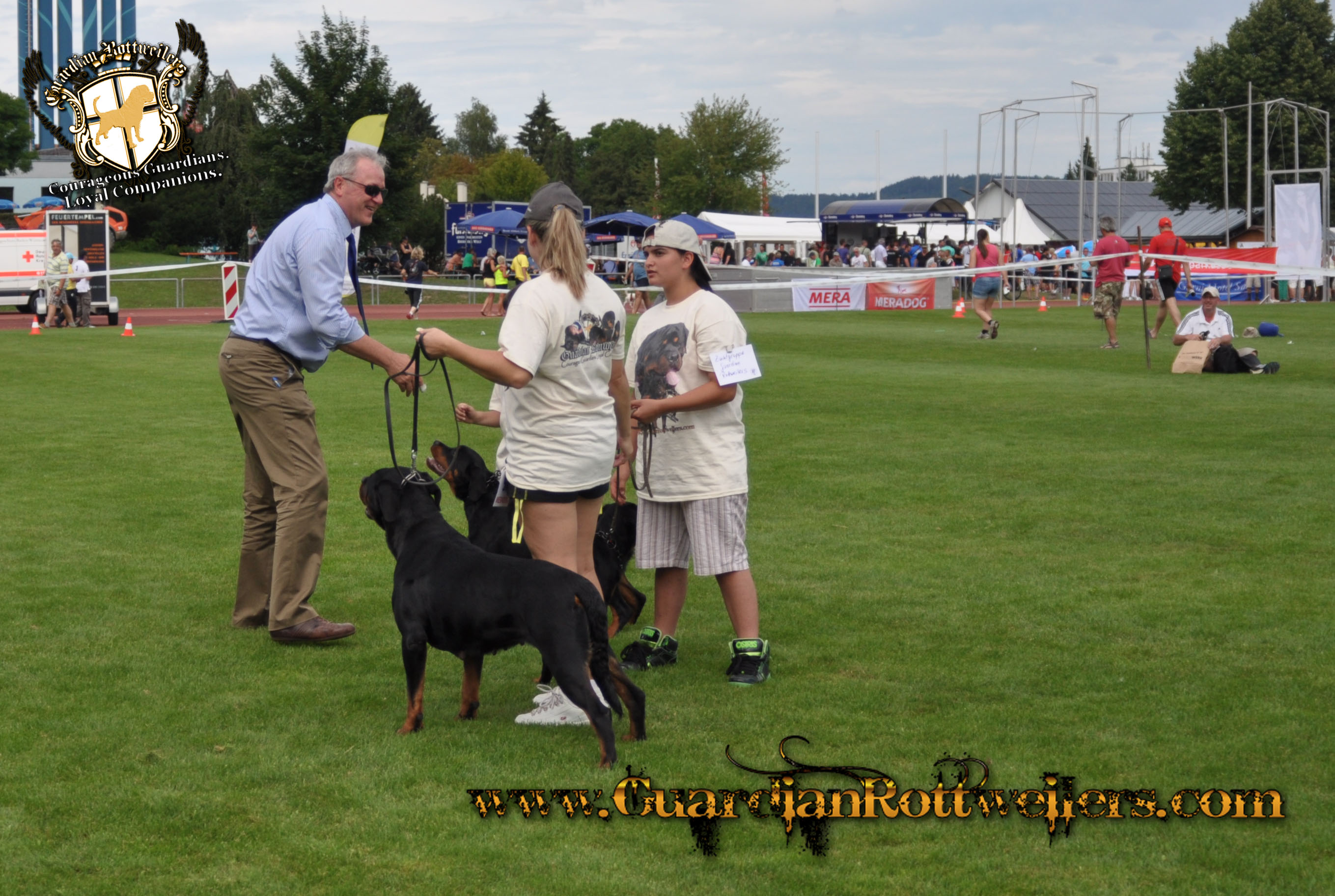 ---
CLICK HERE for some of the articles Guardian Rottweilers has been published in.  Some of articles I was asked to write as an expert in this breed that I adore, and some of the articles are about Guardian Rottweilers.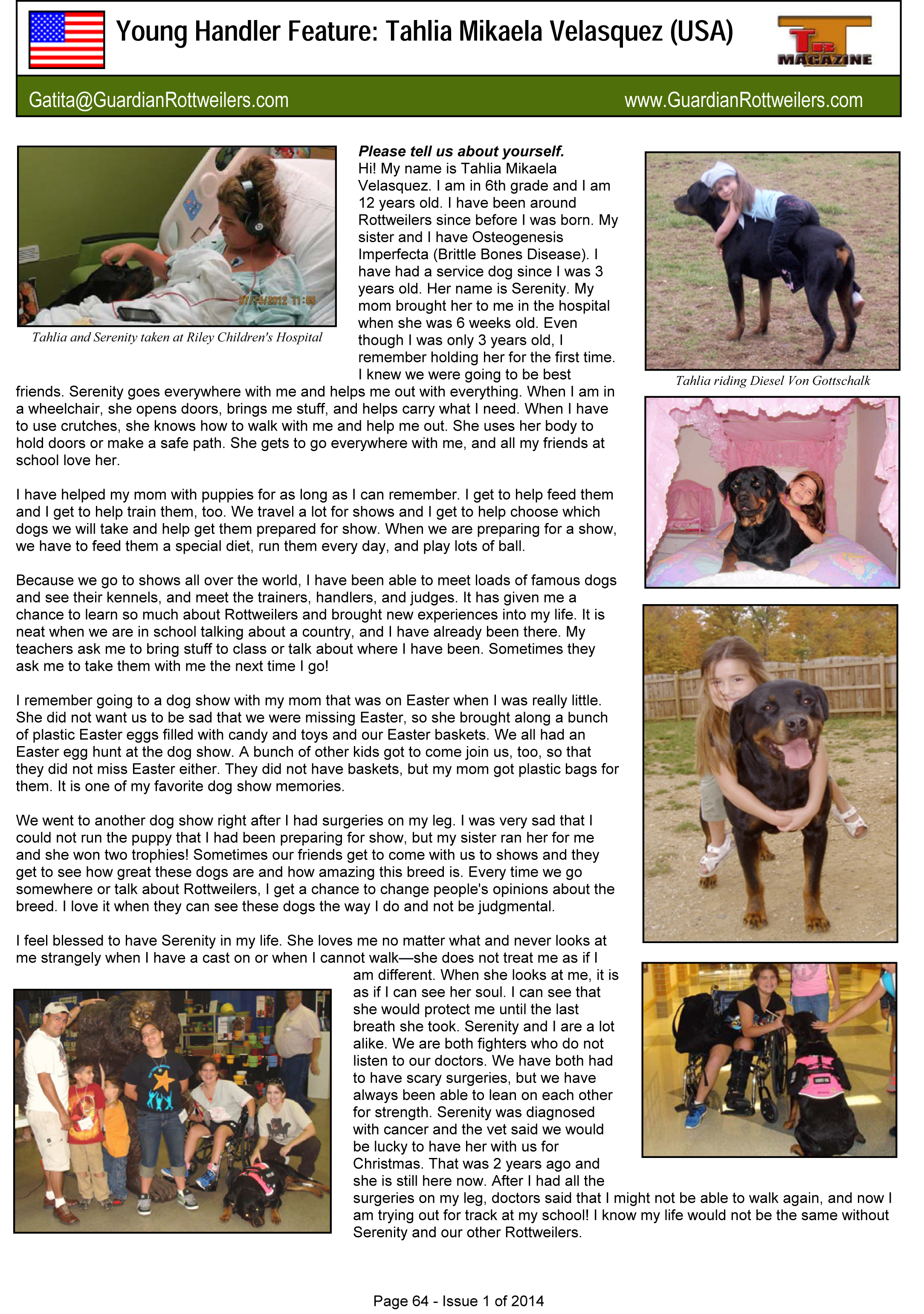 ---
Guardian Rottweiler Extras
The Guardian Rottweiler website has over 500 pages and counting.  It can be easy to get lost and the sheer volume of information can feel unending.  With so many pages, the biggest job- ok, biggest job is maintaining this Titanic- but second biggest job, at least I feel, is trying to sort out the best way to organize that much information and still make it user friendly.  If you feel bogged down or overwhelmed, HERE you will find some of my favorite pages on the whole website.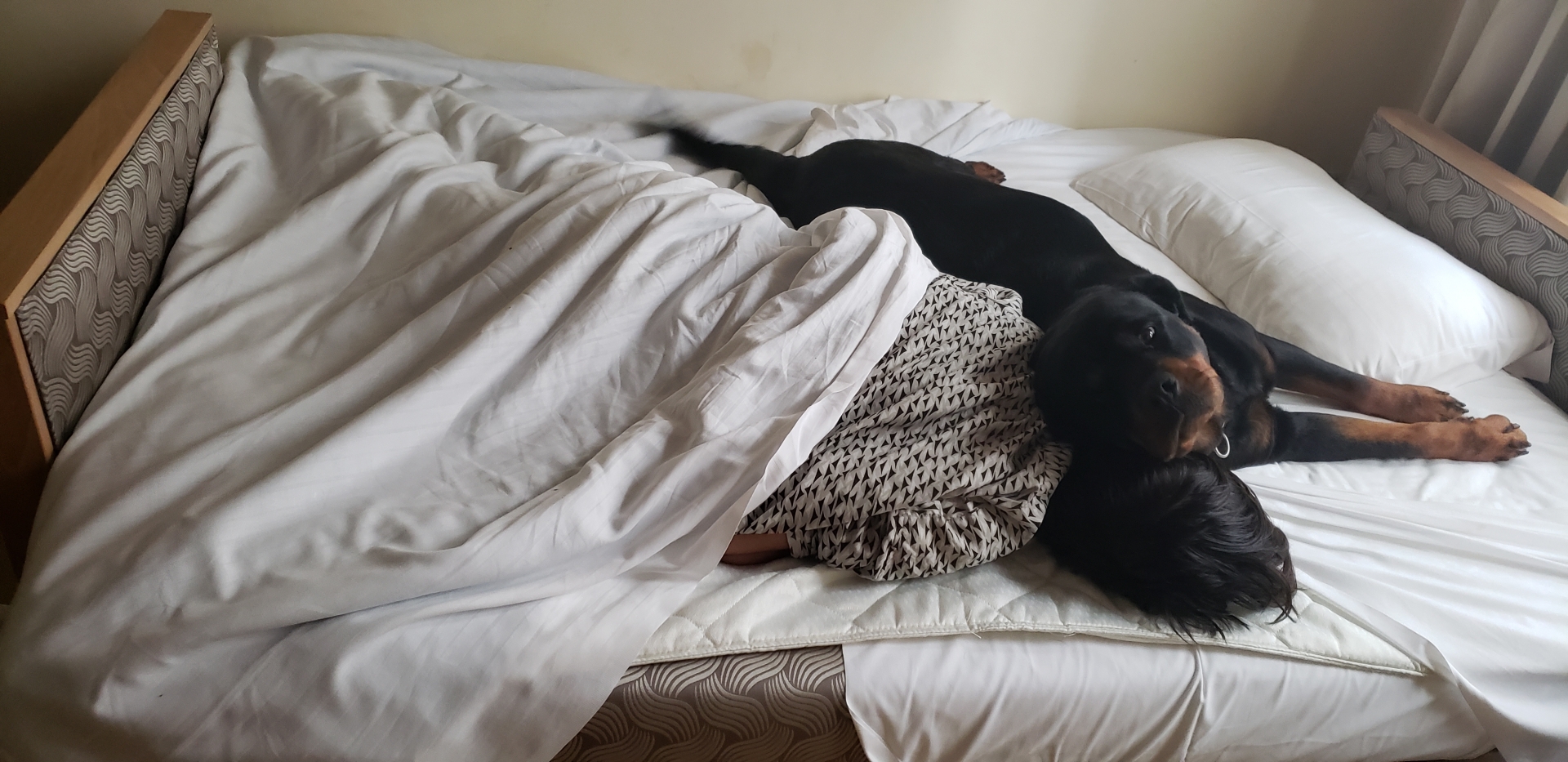 ---
Guardian Rottweiler Videos!
Here is a link to our YouTube Channel with loads and loads and LOADS of awesome Guardian Rottweiler videos!!
---
Rottweiler Breeder with personal delivery to:  AL Alabama, AK Alaska, AZ Arizona, AR Arkansas, CA California, CO Colorado, CT Connecticut, DE Delaware, DC District of Columbia, FL Florida, GA Georgia, ID Idaho, IL Illinois, IN Indiana, IA Iowa, KS Kansas, KY Kentucky, LA Louisiana, ME Maine, MD Maryland, MA Massachusetts, MI Michigan, MN Minnesota, MS Mississippi, MO Missouri, MT Montana, NE Nebraska, NV Nevada, NH New Hampshire, NJ New Jersey, NM New Mexico, NY New York, NC North Carolina, ND North Dakota, OH Ohio, OK Oklahoma, OR Oregon, PA Pennsylvania, PR Puerto Rico, RI Rhode Island, SC South Carolina, SD South Dakota, TN Tennessee, TX Texas, UT Utah, VT Vermont, VA Virginia, VI Virgin Islands, WA Washington, WV West Virginia, WI Wisconsin, WY Wyoming, Canada, AB Alberta, BC British Columbia, MB Manitoba, NB New Brunswick, NF Newfoundland, NT Northwest Territories, NS Nova Scotia, ON Ontario, PE Prince Edward Island, QC Quebec, SK Saskatchewan, YT Yukon, Europe, Italy, Germany, Serbia, India, Egypt
(Visited 1,182 times, 1 visits today)