A well bred Rottweiler is not expensive, it is priceless.

All Guardian Rottweiler puppies, youth and adults are fed exclusively a RAW and fresh foods diet. 
For the better part of 2 decades, I tried to find a dog food that I felt confident in feeding my fur babies, but ultimately, dehydrated, compressed pellets of chemically processed mystery were not what I wanted to put into my growing pups and treasured friends.  Learning about raw and ensuring a balanced diet has been interesting, to say the least, but I am so proud to be feeding my babies fresh whole foods and knowing exactly what I am putting into their bodies.

---
 All Guardian Rottweiler puppies are raised in our home and socialized with a plethora of other rescued friends including kitties, bunnies, chicken, peacock, turkey, duck, African guinea fowl, ferrets, goats, and of course our children who each have their own personal dogs they raise and train.  Our entire family has invested over 2 decades of our lives into this breed and we could not be more proud of our breeding program.  All Guardian Rottweiler puppies come with a lifetime GR Puppy Contract that guarantees health and temperament, and on show quality puppies, a lifetime genetic guarantee.  Our puppies also come with lifetime breed support.  A $500 deposit is required to hold your place on the waiting list, however, it will not be accepted without an interview and our GR Puppy Contract. 
Please read over our ROTTIE FACTS page and the GR Puppy Contract prior to scheduling an interview so that you are aware of what we expect from anyone desiring to own a Guardian Rottweiler as well as what you can expect from us.

Click on the photo or title of each litter to be taken to that litter's webpage which will have photos, video and more information on pedigree and our expectations from that breeding.


**Please note- puppies listed as AVAILABLE are likely only available because they are too young to be selected by families on our wait list.  We do not permit anyone to select a puppy until they are old enough for a comprehensive character and conformation evaluation, done at approximately 6-7 weeks of age.  It is very rare for us to have a puppy that is still available once s/he is old enough to go to their new home as they are nearly always selected by someone already on our wait list.  If you are interested in getting on our wait list, please read over our ROTTIE FACTS page and the GR Puppy Contract prior to scheduling an interview so that you are aware of what we expect from anyone desiring to own a Guardian Rottweiler as well as what you can expect from us.**
---
!!!IMPORT PUPS!!!
Import prices will include transportation from Europe, export pedigrees, pet passports, Customs/Import tax, brokers fees (any import post COVID must come through a broker), USDA and APHIS inspections, and international microchip.
---
---
---
Guardian Rottweilers T Litter
Sire: Libero of Nicola's Lion
(Staklar of Nicola's Lion x Kia of Nicola's Lion)
Dam: Ema of Nicola's Lion
(Codex of Nicola's Lion  x Gromada vom Grossen Tal)
Pups born on June 5th.
1 male and 2 female available.

---
Guardian Rottweilers U Litter
Sire: Dragon Burgan Rottweiler "Drogo"
(Vico von der Maxi Rott x Filly von Hause Leroy)
Dam: Debra The House of Thorin
(Balak vom haus Anin x Daffy vom Kümmelsee)
Born June 7th
2 males and 2 females available.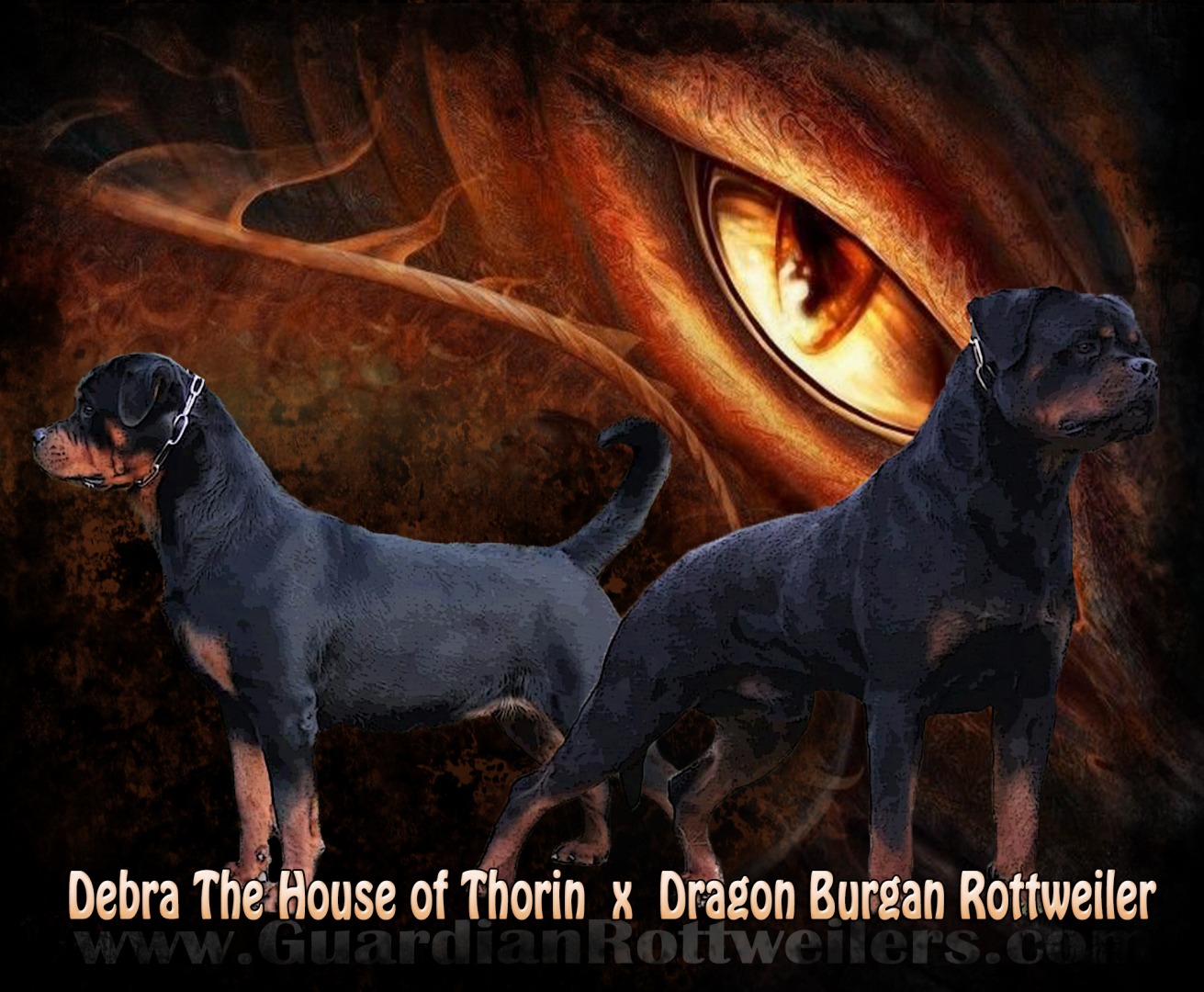 ---
Guardian Rottweilers V Litter
Sire: Duncan Timit-Tor
(Eminem Vom Hause Edelstein x Una Rott King)
Dam: Gandza von hause Pista
(Cvrle Von Hause Pista x Lea Von Hause Pista)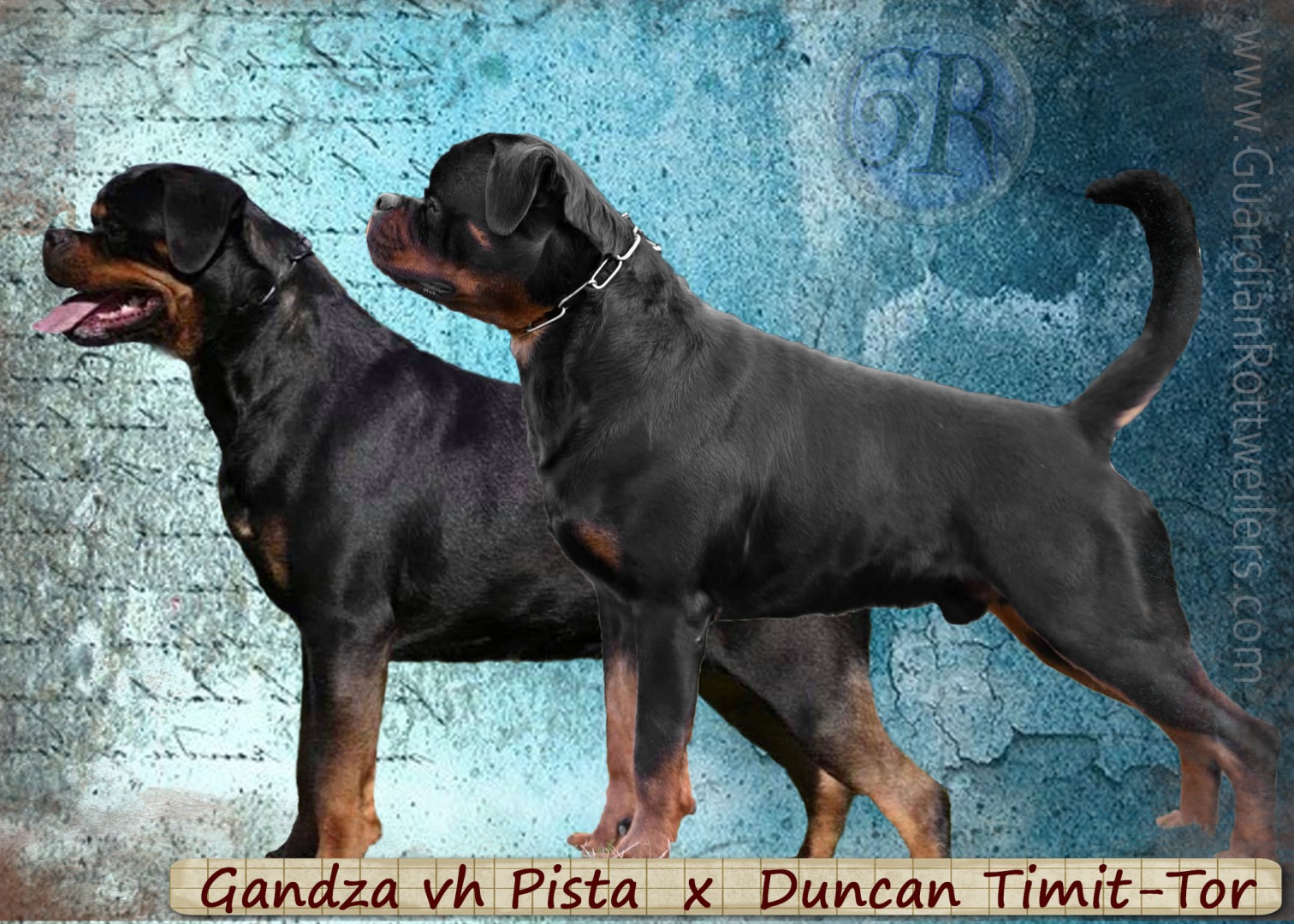 ---
Guardian Rottweilers W Litter
Sire: Vegas vom Bosniak Rott
(Armani Black Allusion x Candy vom Bosniac Rott)
Dam:  Ava von hause Pista
(Rolex Von Hause Pista x Rana of Nicola's Lion)
Pregnancy will be confirmed via ultrasound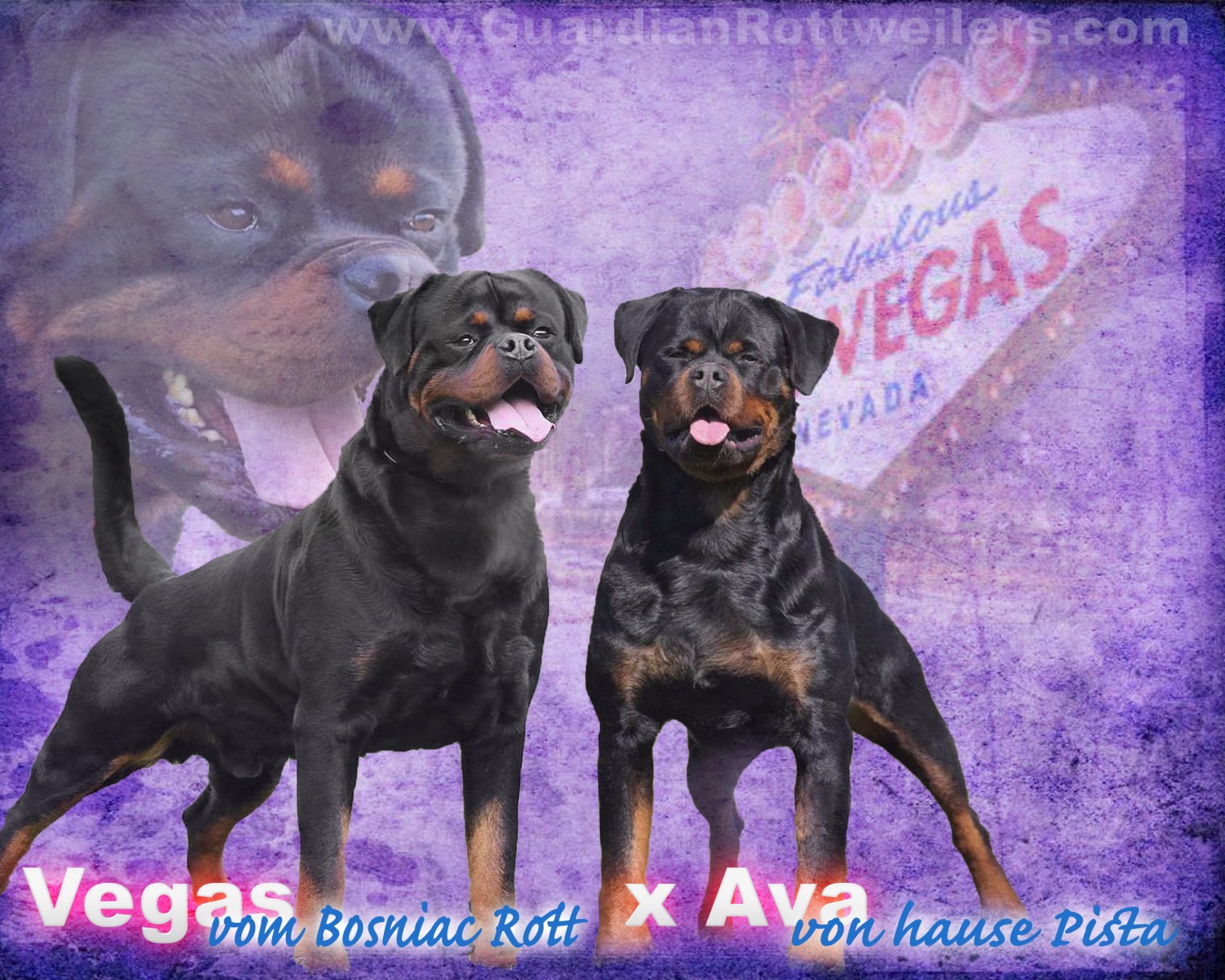 ---
---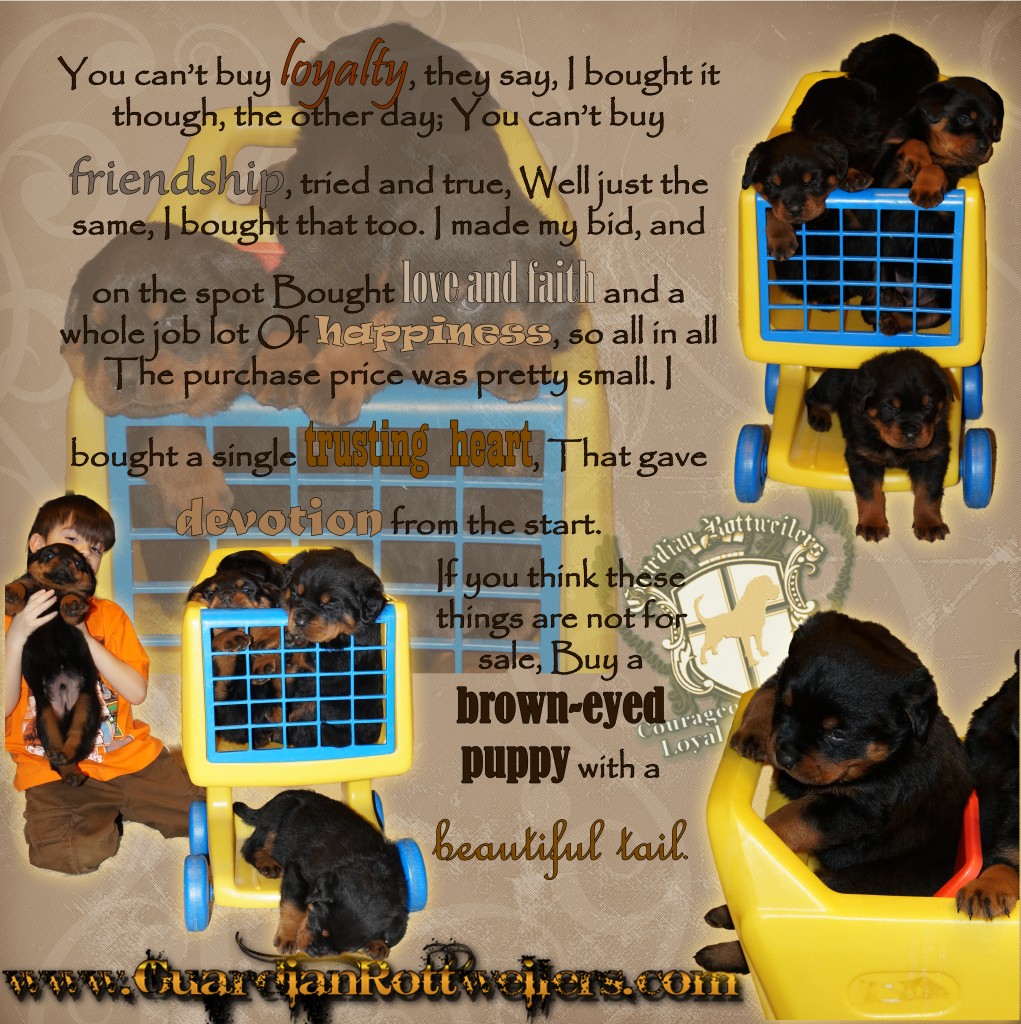 PLEASE UNDERSTAND BEFORE COMING OUT TO LOOK AT PUPPIES:
You will more than likely not be picking up a puppy.  It is very rare for us to have puppies available at the time they are old enough to go home- they almost always are already spoken for by the families on the wait list at that time.  On average, our wait list is 2-4 litters long before you find the exact puppy you are looking for- sex, character, drive, temperament, head type, conformation, quality, etc.
YOU WILL NOT BE ABLE TO HOLD/PET/INTERACT WITH OUR PUPPIES
If you come out to the property meanwhile we have newborn puppies on the ground or expectant moms, you will not be able to get the full tour. For the safety of our moms and pups, we cannot have unnecessary traffic in the nursery or puppy play areas. You will still be able to meet with and interact with other adult and youth dogs so that you have a good idea of the character, size and overall conformation we strive for and produce in our breeding program. If we have pups available when you come, depending on their age, you may be permitted to get a peek at them, but you will not be able to interact with them unless they are fully vaccinated, or it is your puppy that you are picking up to go home. I understand that holding and playing with puppies is the absolute best thing on earth. However, if you are waiting on one of these puppies to go home with your family, I am sure you also would not want a parade of people with the potential for a plethora of pathogens handling your new family member meanwhile s/he is still young and immunocompromised and run the risk of your baby coming home to you with a potentially deadly disease. When we first started breeding more than 2 decades ago, we did not have such policies in place. We permitted everyone who came to visit to hold and interact with our puppies- after all, it is our favorite thing to do here too. Unfortunately, some of our puppies paid for that luxury with their lives.

We welcome visitors by appointment only to ROTTIEOPOLIS.  We ask that if you will come out to visit our Rotties that you DO NOT visit other kennels/breeders prior to coming to our home. Not all breeders are as careful and sanitary with the living conditions or as thorough on deworming and vaccinations and we must be very careful with what is tracked into our newborn puppies and moms. 
guardian Rottweilers, guardian Rottweiler, Rottweiler breeder, German Rottweiler breeder, German Rottweiler puppies, German Rottweiler puppies for sale, available German Rottweiler puppies, German Rottweiler pups, German Rottweiler pups for sale, Rottweiler pups for sale, Rottweiler pups available, German rotts, German Rottweilers, German Rottweiler breeder, Rottweiler, Rottweilers, rotties, puppies for sale
(Visited 18,616 times, 53 visits today)