This page is under construction still, and eventually I will try to organize the questions into topics to make searching for information easier, so forgive the bit of chaos right now, but I promise, loads of useful information is packed into this page.
---
TAIL DOCKING

Sharon Davies, the coordinator of Rottweiler-Central said something very interesting about Rottweilers. I am curious to know what you think because I am now a little confused. I like the rott with the tail and I agree that if God put it there then it should be there. She said:
1. Should Rottweiler's keep their tails, or not?
"Docking the tail is not a stressful procedure for either the pup or the dam (mother dog).  The pup recovers within minutes of the procedure and either goes back to nursing or falls asleep.  If a Rottweiler were to still have a tail, the tail would significantly affect the dogs balance.  The center of gravity would be shifted back.  On a Rottweiler, this can cause problems with training the dog and using him as a working dog.  The tail should not be removed on an adult dog – it will disrupt the dog's sense of balance, as well as cause him unnecessary pain. If you are considering a pup that does not have a docked tail, you may want to reconsider whether this is the best choice for you. Unless you or the breeder has some concerns about docking, a dog that does not have a docked tail implies a breeder that is not knowledgeable about the standards for the breed."
So now I'm a little confused.
WOW!  Where to begin!?!  
I am not familiar with Sharon Davies or the "Rottweiler-Central" but wow, is she ever WAY off the mark.
First, I am sure EVERYONE knows that the Rottweiler is a German dog.  The ADRK sets the breed standard and per ADRK standards, the Rottweiler should have its tail.  Please see the ADRK standards: http://www.adrk.de/5_standard_e.htm  If someone is unfamiliar with the breed standard it is Sharon.
Second, as far as suffering- there is a reason most reputable vets are making a big push against tail docking.  The newborn puppy is held down screaming while his tail is clamped and then sliced through skin, nerve, muscle and cartilage.  The puppy continues to cry for awhile.  Does it move on and eventually cry itself to sleep or begin nursing again?  yes, the same way all dogs adapt even when they have been shot or bitten or hit by a car or any number of horrible injuries.  Dogs do not dwell on how horrible they feel, they just suck it up and drive on.  I have seen absolutely horrific injuries on dogs and the dogs still went about their day.  HOWEVER, not all puppies are strong enough to do this!!  The rate of "failure to thrive" or "fading puppy" syndrome is SIGNIFICANTLY increased in puppies whose tails have been cut off.  They often whimper in pain for days, do not have a strong desire to nurse and will either fall behind in growth or even die!  When I first began breeding, I too was ignorant about the ADRK breed standard and believed everything I was spoon fed by AKC and the AKC Rottweiler Club I was a member of at that time.  I would offer my customers the option of keeping the pups tail or having it docked.  Some litters were all docked and some I would partial docked (where I dock some and leave some with natural tail and EVERY SINGLE litter that I had partial docked, the pups were SIGNIFICANTLY behind in size- as much as half!!  If it is a breeder that has docked the entire litter, they may not notice the difference because all the pups will be equally behind- not just from exerting so much effort into healing this massive open wound at the end of their body instead of focusing all of it into growing, but also from the possibility of digestive issues associated with the antibiotics (the pups really needs the antibiotics because the open would is directly above where the feces exits the pups body, so the risk of infection is obviously significant.)  Where does she base her assumption of "not a stressful procedure for either the pup or the dam"??  Has she been there when the pups tail is chopped off??  I HAVE!  After I saw what REALLY happens when the vet takes the pups back to another room, I KNEW there was NO WAY I could do that again!!!!  Has she seen the distress from the mom??  I HAVE!  Mom cries and whimpers and had to be PHYSICALLY RESTRAINED!!  Did the dam tell her that she had no problem having her newborn pups hacked up because someone thought it looked cute???
Finally, YES, the tail does SIGNIFICANTLY affect the balance of the dog and those without the tail LACK!!  The reason that Germany and Europe abolished tail docking over a decade ago was not just because of how inhumane it was, but also because of how much BETTER the dogs with their tails perform!  They use the tails as a rudder and for balance.  If the dogs perform better without the tails, then WHY do German Shepherd Dogs, Malinois, etc. that are FAMOUS for their field and working performance ALL HAVE TAILS!?!
Please read my webpage Tail of tails: https://guardianrottweilers.com/tale-of-tails/ as it provides even more information regarding tail docking and breed standard.
Best Regards,
Alice
---
---
REGISTRATION
---
CHOOSING A BREEDER

I receive LOADS of questions concerning other breeders and breeding programs.  I typically avoid offering personal opinions about other breeders, but do have a webpage on CHOOSING A BREEDER that has a lot of information on it and I also sent this reply concerning a request for approval of a breeder today:

Read your puppy contract carefully and be sure you know what to expect from your breeder- that is the most sound advice I can give- simply having a contract means nothing if the contract does not actually protect both you and the puppy.  I have not seen her contract, so I cannot proffer any thoughts on that.  If the puppies were not at least 6 weeks old when you picked yours out, you are really taking a chance on getting the character you prefer.  Puppies are born with eyes and ears completely sealed and they do not open until 2-3 weeks of age.  Once open, the eyes can take up to 10 days to really focus and see what is going on around them- so personalities on puppies that are only 4-5 weeks old might only be reflective of a puppy that is not completely aware of its surroundings and/or just starting to become familiar.  They need time to acclimate before accurate character can be established.  That having been said, hopefully she also knows the characters of her bloodlines well (parents, grandparents, great grandparents, aunts/uncles, what each have produced thus far etc.) so that she already has a good idea of what to expect in the pups.  I would also ask what her breeding goals were with that particular pairing- what were the sire's strengths; what were his faults/weaknesses; what were the dam's strengths and weaknesses in conformation, health and character.  Where they hoping for show or working dogs in this breeding?  What aspect of the Rottweiler were they most focused on highlighting and/or helping?  Yes, a breeder should always be focused on "the total Rottweiler" but if the sire's line has a propensity towards bad bites or high set ears or long in the back or poor angulation, etc. then the breeding goal should be focused on improving those; or if the attributes were exceptional character, or good drive or workability, etc.- then perhaps one of the breeding goals was to be focused on enhancing or preserving that.  ALL BLOODLINES HAVE FAULTS- if there were a perfect Rottweiler, the owner would be a billionaire 😉  The key in breeding is being knowledgeable enough about the bloodlines to know what faults are most prevalent in the bloodlines and to breed AGAINST those; i.e. my CROM is a direct son of MAMBO VD CROSSENER RANCH- an INCREDIBLE male who pioneered the extreme head type, HOWEVER, because of how short his muzzle is, one must be careful when breeding on that line to avoid shortening the muzzle any more and creating bite problems (a Rottweiler should have 42 teeth and you can only go so short on the muzzle before you can no longer accommodate the 42 teeth and then you have over bites, under bites, missing teeth, etc.)  So, MAMBO lines- SUPER for fixing a lot of head problems- topskull, zygomatic arch fill, etc., but you must also be careful and know what you are breeding.  This is the same for EVERY bloodline.  Also, at the price of $1500- are you getting a PET or SHOW quality puppy?  If it is SHOW quality, any guarantees on it not having faults that would prevent if from being shown or bred (eye color, bad bite, incorrect coat, etc.) and if it is PET, be sure you know what about that puppy made it PET quality so that you know if there is anything to look for or be aware of in your developing puppy- i.e. is it a conformation fault that made it a pet puppy, and if so, is it something that could impact the health or mobility of the dog down the road; is it a character issue that made it a pet, and if so, is there something extra you should be doing in training to help the pup/dog overcome this as it is growing.  Those are also good things to know when selecting your puppy to be sure you are getting what you are looking for. 
I hope everything works out well for you and please feel free to use my website as much as you like- there are loads of puppy tips, nutrition, training, etc.  Embarking on the journey of a new puppy can leave you filled with both trepidation and excitement- but at the end of the day, there truly is no psychiatrist like a puppy licking you in the face 😉
---
LABROTTIE
I was recently checking out your website and love the passion you have for Rotts. 6 months ago we lost our Labrottie after 14 years and are finally ready to move forward and get a new puppy. However, there doesn't seem to be labrottie breeders in or around Indiana (we live in Carmel) that I can find. I know you are dedicated to the pure breed, but I was hoping you may know of another legitimate breeder that does this mix.  The attributes of that mix are something we have to try for again.  Any help would be greatly appreciated.
Mike
---
HOW CAN I TELL IF MY PUPS ARE FULL BRED?
Hello there my name is Ada Lee I live in deep south Texas. My husband and I have two Rottweiler's with the names Debo (our male)  and Felicia (female) they are our first Rottweilers. Before getting together he owned a Pitbull and I owned a Chihuahua and a Bluenose Pitbull. Unfortunately we both had to give up those dogs when we met due to small living space. Our dogs went to good home. Once we settled in to our new house we decided to get a Rottweiler. We got Debo and a few months after I got pregnant he is so protective of my son.  Around two weeks my son was born we got another dog Felicia. Now that my Dogs are 2 and 3 years old they had puppies on December 29th to be exact… Since an are of the fence was not yet finished I'm afraid these puppies are not full bred… How do we know the difference of a full bred or mix. We plan on keeping just one pup the rest once old enough will go to my father in laws ranch. If you can tell me what to look for in them I would appreciate it thank you in advance.
---
BEST DEAL ON A GIANT ROTTWEILER
I'm contacting several breeders checking where I can get best deal on what I want I'm wanting info on a giant rottweiler puppy   just old enough to leave it's mother 
---
COMPETITION
Hello again Alice,
---
---
BREEDING A PET PUPPY
(This is a compilation of some of the many, many questions I get on this topic.  I hope this clears it up a little.)
Sorry, I do not understand the pet/show puppy difference.  For me, the whole litter looks amazing.  Are you saying that your pet pups do not conform to the breed standard?  Does that mean they are not well bred?  If the puppy looks good to me, why can't I breed it? 
When the pups are about 6 weeks old, we give them a thorough evaluation, usually spending a couple of hours on each pup.  We are checking top and bottom lines, front and rear angulation, head type, muzzle to top skull ratio, ear setting and carriage, tail placement and carriage, marking definition, pigment, dentition, etc.  We are also checking drive, workability and temperament of the pup.  Unless you are cloning, it is impossible for every pup produced by a sire or dam to be exact replicas of the sire or dam.  As a matter of fact, you would not want that anyway because the very purpose of breeding is to combine dogs and bloodlines in a way that will enhance both sides of the pedigree and hopefully make the pups even better than the parents.  However, every pup in that litter will be slightly different.  Some will meet your expectation, some will exceed them, and some will fall short.  A GOOD BREEDER will look for the subtle differences and discern the pet pups from the show pups.  Unfortunately for the breed here in the USA, most breeder do not do this 🙁  They simply say all pups are XXX price and if you want breeding rights it is XXX more.  Some breeders do this because they simply do not know the breed standard well enough or understand how that translates on a 6 week old puppy.  Some unfortunately know the pup has a fault, but are willing to sell breeding rights to it anyway if that means more money can be collected 🙁  The problem with this is that even if it was an excellent breeding, if you give breeding rights to a puppy with a fault- even if it was a minor fault, and then that dog is bred to another dog with that fault, then that minor fault will not be a moderate fault in their offspring.  Then one of their pups exhibiting moderate faults is bred to another dog also lacking and now you have within the space of only 2-3 generations ruined decades of hard work to preserve and better the breed 🙁  When we designate a puppy as a pet puppy, it may be a very minor fault and one that the average person would not even notice, but it is my job as a breeder to be objective, critical and thorough for the sake of this breed.  If the breeding was done correctly, even the 'pet pups' should be remarkable.  The faults that would characterize a pup as a pet pup are not always conformation (physical beauty) either, sometimes the faults that make a puppy a pet are in the character.  For instance, if I have a puppy that has no drive (desire to work) than even if he/she is spot on on the conformation, he/she still is not conforming to the breed standard because the Rottweiler is a working dog and must possess that working drive.  That gentle, laid back personality might be perfect for a pet or even Therapy work, but it would not be the character required for many of the other jobs given to the Rottweiler.  Sometimes the converse it also true- I can have a pup with EXCELLENT drive but maybe the tail is too curly or the ears are not set correctly or the markings are too muddy.  Even though a pup like this would be pet, he/she be a great working prospect if you did not want to compete in conformation shows or breed.
---
---
PROBLEMS WHELPING
My 4 year old rott just gave birth to a litter or 9 pups. I am not a Breeder, but I have many friends who, after meeting mine, really wanted a rott. I am in a very uncomfortable position, and I am sorry to burden you with it, but I don't know anyone personally to ask. One of the pups has a rear leg facing the wrong way. He is half the size of the others and I don't know what to do. It seems a tragedy to enter a crippled dog to the world, and I don't have the resources to have a vet fix it. I need the advice of someone experience. Thank you, Ty Clark
I know you probably do not want to hear everything that I am going to say, but it needs to be said.  I appreciate that predicament you have gotten yourself into.  I am happy to offer my advice, but you also must consider what you are doing.
As well intentioned as you may have been, you should have never considered breeding unless you were in a financial position to do so correctly.  How can you say that you do not have the resources to take this pup to the vet?  It is too late to make that decision!  What would you have done if your female had complications and needed a c-section? or didn't stop bleeding, or any number of complications that can cost thousands of dollars?  What if she did not or later does not accept these pups and you now must hand raise 9 newborn puppies?  Have you read or watched or studied anything to help you know what to do and what to expect?  The number of complications possible to your dam and pups is limitless!  Has your bitch had her hips and elbows certified? heart? eyes?  has she had her conformation proven in a show ring?  any temperament testing?  DNA? registration?  how about the stud you chose?  This could very well be the reason for such a severe birth defect.  
What kind of prenatal care did your female receive?  What food did you have her on?  Lack of proper care and nutrition can also contribute to birth defects, low birth weight, and failure to thrive.
Was your bitch alone while she was whelping?  Could his leg be the result of an injury from mom?  Especially with such a large litter, being inadvertently squished and even killed by mom is not uncommon, especially if no one was there to assist in the delivery.
The only advice I can offer on your pup is to have him/her seen by a vet to see what the extent of the injury or defect is and what your options are AS SOON AS POSSIBLE!  Borrow money, charge a credit card- FIND a way- you OWE your puppy this much!  You also must now see to the welfare of the rest of your pups as well as your mom.  She will need a good, quality food high in protein and fat while she is lactating (producing milk).  You will need to check the milk supply of your female to be sure she can nurse the pups and I would also recommend supplementing your pups as well not only because the dam will likely need help but also because she has such a large litter and the smaller pups will get pushed off nipples and fall behind.
You will also need to have your bitch seen by a vet to ensure that she is indeed finished with the labor and that she has not retained any fetuses or placentas as this can cause life threatening infection for her.
I would highly recommend that you do yourself and your dog a favor and have her spayed after this especially if you are not in the position to take care of them properly.
I wish you and your new little ones the very best.
God Bless,
Alice Velasquez  
---
HAND RAISING NEWBORN PUPPIES
Hello, My name is James.  I emailing you in regards to some helpful tips of hand raising two 24 day old rottweiler puppies. My wife is a vet tech and we have fostered dogs in the past, but never day old puppies.  Currently we have two full blooded rottweiler puppies that we started to take care of when they were 5 days old.  One of the puppies is doing great while the other has pneumonia. At about 2 weeks, we noticed that Miah was breathing heavy and had started a cough.  While my wife was bottle feeding her, she never aspirated, or at least we thought.  she never had any formula come out of her noise or mouth.
My question to you is and your group is what are tips in hand raising these puppies? When should we introduce the puppy mush? Currently Ranger weights about 2.35 pounds at 24 days and Meih weighs about 2 pounds. How many MLs should we feed per sitting? How often should we feed them? Currently we are doing about every 4 hrs.
Thanks for your time,
James
---
TOENAIL TROUBLE!
I am so upset by what you are being put through. I have followed your fb page and website for a while now. I can not imagine a more loving and compassionate Rottie mom. I am behind you all the way. Good luck with the zoning MTG. I will be praying for you and your family. I adopted a 5 yr old male Rottie in March. He is smart beautiful and loving. His daddy couldn't keep him because he was moving across the country. So we opened our home to Dax. He is my first Rottie. I have always had large breed dogs and they are so easy to love. I have a question. When his first daddy had him he had his nails trimmed too short and now he won't let you trim them now. It is the only time he shows any aggression. He will shake and you can pet his paws. But don't put pressure on his nails. Any suggestions other than muzzle and huge vet bill just to trim him?
Paulina
Good Evening Paulina!
Thank you so much for your expressed concern for us. This has definitely been a nightmare 🙁 I appreciate so much your prayers.
The previous owner may have not even injured his toenail, he may simply not have gotten him used to this procedure and/or made it uncomfortable for Dax.  This is one of the reasons we HIGHLY encourage all new puppy owners to play with their puppies toenails ALL THE TIME!  While you are sitting down watching a movie and they are curled up in your lap, just mess with the toenails.  If it becomes a regular, daily occurrence, then it is no big deal.  Even if a toenail is accidentally trimmed too short, it is one bad drop in the bucket compared to the hundreds of thousands of good times that the owner played with the toenails.  But if the only time you ever go near the feet is the one a month (or often fewer than that even) dreaded toenail trim where more often than not, it will be a not so great experience, then it can make for an uncomfortable, if not belligerent dog.
Few suggestions for your baby. First suggestion is to try to find some rough concrete, like side walks, and take him on long walks to see if that can help keep them ground down a bit. The next thing you are going to want to do is work on desensitizing him to the nail trims. Find something he REALLY loves- cooked chicken, bits of bacon, etc. Sit down and just play with his toenails. Start out simple- just touching them and then offer a bit of the treat as a reward. Then work up to where you can play with them as much as you want all while giving bits of treats. This will be a long, gradual process, so patience is the key. After he is good with that, get the nail trimmer out and just let him smell them. Then a bit of treat. Then they sit by his paw- bit of treat. after he has gotten comfortable with that- days or weeks, whatever it takes, then take the trimmers and PRETEND to trim the nails- so that there is no real cutting, just the act and then a treat. Again, may take days or even weeks. Once he is good with that, then trim ONE nail. Treat. then pretend to do the rest. And then gradually work up from there. VERY IMPORTANT to keep it positive and to avoid injury- even if that means only trimming just a tiny bit at first. Also important to NEVER end on a bad note. Once he has gotten comfortable with you trimming them, if you ever do accidentally get one too close, take care of it (styptic powder) and then give him loads of treats and praise and THEN PRETEND to cut a few more nails all while giving loads of treats. You want his first and last memories to be super positive even if there is a bump in the road mid-way, his final memory will be that it was no big deal and I got loads of the best treats ever!
Hope that helps! Thank you for rescuing him and giving him the home he deserves. Please feel free to use my website, including the Q&A page for loads of other helpful tips!
Have a blessed day!
Alice
---
SKIN PROBLEM
---
VACCINATIONS
My vet is a bit confused about shot records/schedule.  Lucius  is showing DAPPV @ 6 weeks,  8 weeks,  and the last yesterday @ 9 weeks. Is this a schedule all your dogs go through? She feels this is excessive and said the standard she uses is 8, 12, 16 weeks.  The last thing I want is to overvaccinate him. Any info would help. 
Thanks, Scott
---
PUPPY BITING AND LEASH TROUBLE
hi,
i have a couple more questions.  what is the best way to correct puppy biting? and how much is normal? i just want to make sure I'm doing the right thing now while he is little so its not an issue when hes 50 lbs.  when he bites we've been redirecting. grab his collar and take his teeth off whatever he is biting and saying no bite, then giving him his rope or puppy kong.  sometimes it works but today and last night its like by grabbing his collar it gets him going and he wants to fight and bite and jump lol.  i cant make him stop because if I'm not holding on to his collar he'll go after our feet or the couch or something and if i grab him he goes after my hand. and twists and rolls.  i didn't know if when he does that i should hold him by his collar until he calms down and submits, like Cesar or if: 1) too early to do that and 2) if I should even being doing that or if that's only something someone more experienced should be doing.
also, how should i build a good association with the leash?  Ive only put it on him like twice, but i want to start teaching him to recall and i need to have the leash to do that, but he tries to bite the leash too.
when hes not biting, hes real calm and he'll just sit there and stare at you, he'll sit on command before we give him food, or even tonight when he was biting a lot i finally put him in the kitchen to get him to calm down, after he quit crying i walked over and he came to the door i told him to sit, and he did then i let him back in the living room… then he started biting again.  this might be normal i just want to make sure I'm handling everything the right way.
i don't want to feel like I'm always yelling at him or correcting him by grabbing his collar and i def don't want to make him fight ppls hands or anything like that.  i didn't know if it maybe i should try the Cesar neck poke, or if its too early, i don't want to hurt him or give him a bad impression of human hands.
thanks for the help, i know these are probably newbie questions, lol
Brandon
Unfortunately, all puppy biting is quite normal, but that does not mean that it cannot be corrected.  I teach my kids to pop them on the nose.  This is VERY effective.  You do not have to do it very hard to make it count because their nose is quite sensitive just like ours.  Because I am an adult, I use my fingers (like when you are trying to flick a coin or something with your second finger and thumb).  The biggest thing to remember with this technique is that 1) you must do it EVERY TIME he bites and use the word NO as well so that he associates the 2 and knows what the word no means and you must do it every time so that he does not just think that sometimes biting is ok and sometimes it is not and 2) you must use that same hand to lovingly pet him and rub him once he is cooperating so that he does not become hand shy and learn that the hand is not up only to correct (like his mom would use her mouth to feed him and clean him and move him and nuzzle him, but she would also use it as a for of correction and nip at him if he was misbehaving and of course always accompany it with a growl so that he eventaually learned that the growl meant "stop or I will bite.")  I thinks Cesar's jab at the neck simulating a bite is much more effective then the collar grab as all that really does is send most dogs into either a panic if they are not well socialized or stimulate play if they are well socialized (just like a sibling grabbing the tail or the collar).  And right now it seems like he certainly thinks your corrections are part of the game.  And you are TOTALLY correct!  You DEF. want to get these issues resolved while he is little so that by the time he is large, you are already in charge.
Get a cheap leash (Walmart sometimes has them) and let him use it as a drag line- this means that he can drag it around when he walks so that he becomes comfortable with the leash and learn that even with the leash attached to him, he is still able to walk comfortably.  You also want to start walking him with the leash so that he also becomes more familiar with the process.  Also, you do not have to use the leash for the recall and you certainly do not have to drag the puppy to you when he is not coming.  You always want the recall to be a positive thing.  If you have to bribe the pup with treats, then so be it.  But even with a leash, all you will do is gently encourage the pup to walk towards you.  But we start working with recall from the time they are about 4 weeks old, so he should still  come most of the time now when you call him even without a leash.  If he does, reward him every time with treats and/or affection and he will learn to come more quickly every time to get his reward.  The most important note on a recall is to NEVER USE A RECALL to correct your dog.  If he has been naughty, you must ALWAYS go to him.  If you call him, then correct him, he will NOT associate the correction with whatever bad behavior you are correction, he will associate it with his recall and quickly learn that if he comes when you call him, he will get in trouble.
I hope those 2 tips help.  Please let me know if you have anymore problems and as always give him some lovin' for us!
Alice
---
STUBBORN ON LEASH
He's great & he has the best love that a puppy could have , just stubborn on his leash, any tips on walking him, he continues plopping down & won't move.

---
FUR SAVER, STRUGGLING ON WALKS, CORRECT AGE FOR A TRAINER and GROWLING WHEN MOVED
My trainer that I used with DJ said that he was not ready for a leash until 16-17 weeks. We've been using one since day 1 with him. I was considering buyin him a fursaver collar because his current soft collar is useless for training. Thoughts on this?
I have to disagree with your trainer.  I use leashes on my pups as early as 8 weeks.  As mentioned before, a Rottweiler is not your "average dog".  Although I do love fursavers, I do caution with them at this young age, especially if not used CORRECTLY.  Once again, I would defer you to an experienced trainer who can show you how to "dead ring" a fursaver or you might simply need to move the collar he is using UP higher on his neck as it should be just under the jaw for the best correction.  The lower you are towards the chest, the less effective it is.  ALSO, keep in mind, the collar is there to guide your puppy, but your words are what you train him with.
Would you rather I stay with his cloth collar for now? The biggest thing I'm trying to train right now is walking by my side. He's constantly lagging behind and sniffing the world. Like stated before I do know how to dead ring a fur saver , choker, etc. I've also considered a harness? I don't want to be constantly pulling on his neck because he's not next to me. Any futher suggestions is greatly appreciated. I can't do a trainer until he's fully vaccinated, which is 20 weeks per your schedule. BTW, he is SUPER SMART. He's already mastered sit , and both left and right paws coordinating with the hand you put down to shake. We just started learning stay and come, and it was not hard to get him on that either. 
As far as his attitude problem, the biggest thing we're facing is picking him up and removing him from something he's not supposed to be doing, or to take him out of his playpen.  Last night he was trying to eat a connection of the electric dog fence that I just installed. It is not hooked up yet, because I'm not sure if I'm ready to let him experience that yet.  Anyways, when picking him up  he tried to snatch his head around and bite me. I corrected him with a pop on the nose and brought him over to sit in front of me.  Julianna came to pet him, and he snapped at her, also followed with a correction from me. I know you can't see it, but hopefully I'm giving you a visual as to what went down. Any tips on that is greatly appreciated as well. Like I said, it's hard without being able to go to a trainer for a few months. I want him to be a joy for our family, and for him to enjoy his home. 
Here are some new pics. He's picked up 5 lbs already. The extra 1'2 cup for meal seems to be calming his food drive "slightly". He also got his first taste of ice cream last night, topped off with a large milkbone of course. 🙂
TTYS, Scott
DOG DOMINANCE
Hello!
I hope all is going well and things are drier in Indiana than in NJ. We got 4" of rain on Saturday and have had flash storms every day. it's crazy! Mother Nature at her best!
Yamara had her second heat and after that she is becoming aggressive toward our oldest Rott who is 8. We had one altercation between them and were able to separate them with little blood shed. Kamino, the oldest doesn't pay much attention to Yamara but Yamara growls, barks and carries on when she sees her. When Yamara is inside and Kamino is outside, she wants to rip down our slider to get to her and without leashing her and taking her away from the door, she will not let up. We are working with a trainer who we dealt with for obedience, to attempt to make our house whole again.
Do you have any suggestions for us? She is the 9th Rott in our family and this baffles me. I haven't had one that behaves like this. She growled at Puck once over the weekend when he was taking her bone, but other than that, she doesn't have any issues with him or our other two shepherds. Thoughts?
Thank you for reading this!
---
PUPPY AGGRESSION
Good afternoon Alice
---
BOARD & TRAIN
Hey Alice, just wanted to see if you had any advice or recommendations on training programs. He went through a four week program that taught the simple basic obedience. Our baby was born one month ago and unfortunately is colicky and poor josey isn't getting the time or attention he needs and his schedule has been flipped upside down. After going days with no sleep or shower you can imagine he isn't getting what he needs either. We were thinking of doing a board and train or so.ething to get him what he needs as far as training and attention. Do you think board and train is a bad idea as he will be away from home for weeks? Any thoughts are appreciated! 
---
STEALING FROM THE BABY
Hey Alice,
I hope all is well with you. Obie is doing great. He is so sweet. He chews on anything and gets in to everything. So, basically, doing everything he is supposed to be doing. Quick question… How do I train him not to take things away from the baby? Especially when she loves to try to hand him things…
Thanks!
Stephanie
Consistency!!  Do not leave her unattended with him until you are sure he has mastered it and STERNLY correct him EVERY single time he attempts to take something from her.  If you catch him every time and give him a strong correction, it will not take long before he realizes what the rules are AND it will also reaffirm his position in the pack vs. your daughter's!  A 2-fer! 😉  It would be the same if he were in a wolf/dog pack.  If he attempted to take a treat/toy/food from the alpha, the correction would be swift and decisive!  He would VERY quickly learn that EVEN if the alpha left his possessions unattended, they were OFF LIMITS.  But like I said, you MUST be consistent.  If you leave her unattended with him and he takes something away successfully, then it will undo all of your training.  It is like a kid with candy.  If mom says rules are no candy, but the kids can grab the candy from the bowl on the table without correction, they will do so as often as they can!  He needs to learn that even when he is offered something from your daughter that she is so superior to him that he is not even permitted the privilege of accepting.  Sound harsh I know, but dogs are pack animals and we must train accordingly and VERY soon he will be bigger and stronger than your baby and if he does not know the rules now, it will be much more difficult to UN-TRAIN him later.
Same applies to the chewing.  DO NOT leave things in his reach that you do not want chewed. period.  EVERY SINGLE time he chews something inappropriate and you are not there to correct him before or during (because we all know that correcting a pup or dog AFTER they have done something incorrect is pointless.  The DO NOT SPEAK ENGLISH and have no idea why you are pointing at a chewed up shoe or a pile of poo.  A dog lives in the moment.  MANY people think that the dog looks guilty when scolded and therefore understands.  OF COURSE he looks guilty, you are yelling at him!  If I were to walk up to you and start yelling at you in Russian, SURE you would know that I was not happy, but you would have NO IDEA what I was upset about!) you are teaching him that it is ok to chew on that.  So unless you are DIRECTLY supervising him, do not leave ANYTHING within his reach that he is not permitted to have and give him LOADS of options that ARE permitted.  Very similar to how you would tend to a toddler.  You would never leave a toddler in a room unattended full of breakable and dangerous things to play with and if he/she was in a place that was not completely toddler proof, you would stay right there with them to constantly remove things that are pulled on and/or placed in their mouth 😉 
As long as you remember the following, training will ALWAYS go favorable:
•  always stay calm and patient.  Just as you would shut down and ignore someone neurotically yelling and losing their mind all the time, and or have absolutely no respect in their ability to be a leader, so will your puppy.
•  be consistent!!  Your puppy  is ALWAYS learning- every moment of every day.  It is up to you if he is learning to do inappropriate things or learning how to be a well behaved adult 😉
•  BE THE PACK LEADER!  You must be calm and patient, but you also must be decisive and firm when it is called for.  If your child was about to place her hand on a burner on the stove, you would be swift and stern with your correction to prevent her from doing anything dangerous in the future.  The same must apply to your puppy.  The Rottweiler is a very intelligent, strong minded breed of dog.  You MUST be the pack leader from the time he is a puppy to avoid challenges as he matures. 
As long as you follow those 3 tips, you will see that the Rottweiler is, without a doubt, the absolute bestest companion He has ever blessed us with!
Loads of love to you all and have a blessed Christmas in case I do not talk to you again between now and then.
God Bless,
Alice
---
TEMPERAMENT PROBLEMS

This may be a very strange email to receive, however my name is Chalene and some friends of mine just got a puppy. The "breeder" got rid of it at a little under 5 weeks old. My friends took it in and I have some questions and concerns about it's temperament. I only know American Staffordshire Terriers, being that those are the only dogs I have ever known. I also know that breeders are worlds more knowledgeable than regular dog trainers. So when this now 6 week old puppy is nervous about a situation it lashes out at people, she put a couple of good puncture marks in my shoulder as well as a bruise to accompany it. She bit her owner in the chest and wouldn't let go of their 20 year old son. I don't know the temperament of these dogs, but after reading your website and countless others, I know they are supposed to people friendly. I know with most breeders of Amstaffs, the puppy would be put down, but these are amstaffs and again, i don't know enough about rotts. In my opinion Mishka was taken away from her mother and siblings too soon, all because of a white marking on her chest, and hasn't learned how to behave properly, but it could also be her temperament. Though the guy calls himself a breeder, he's most likely some SOB BYB who just wanted the biggest rotties in town disregarding the stability of the dog. I experience it a lot with pit bulls in this town. She attacked my male amstaff and my foster female pit bull (not that she hurt them at all other than their feelings) and when I scooped her up she then tried to take a chunk out of my shoulder. She is definitely what we would call a fear biter, and it seems like a dangerous temperament to have around young children who frequent the house. Is there any sort of help that we could provide. They have never had a power breed before, just little dogs. Despite that, I worry for the dog and kids, she's very young and I hope that you can give some insight on what can be done.
Thank you for your time,
Chalene
There are 2 parts to a dog's temperament, and this is true of any breed.  The first half of the equation is breeding and bloodlines.  Just like you can breed for markings, or size, or color, you can also breed for temperament.  Because most of the breeding done here in the US is done out of either ignorance (not bothering to take the time to learn the correct breed standard physically or mentally) or indifference (knowing that the dog or bitch you are breeding is incorrect in either physical confirmation or character/temperament and still breeding it anyway just to make $$$) most of the Rottweilers produced here in the US lack significantly in health, temperament and physical confirmation.  For this reason, nearly everything we use in our breeding program is either imported from Europe or produced by us.  The breed standard is so much higher over there and has always been so you have entire bloodlines of healthy, conformationally and temperamentally correct dogs.  That is why we are able to stand behind all of our dogs with a lifetime contract and lifetime breeder support.  Most people do not realize how crucial good breeding is even if you never intend on showing.  Good breeding not only brings you a more beautiful dog, but more importantly, and health dog with a sound mind.  A dog that is not failing in courage, highly intelligent and a constant companion.  The second half of the equation, is environment and is also very important which is why we require an interview and contract with every puppy we sell.
The problem with your puppy is more than likely 2-fold.
1) if the "breeder" the puppy came from was too ignorant to keep the puppy beyond 4 weeks, they more than likely pay little attention to proper breeding to include health, confirmation and temperament.  Improper breeding and poor bloodlines will produce unstable dogs with bad character and temperament.  This can mean either an over-temperamented (aggressive dog) or an under-temperament dog (fearful).
2) the second issue as you said in your e-mail is that the puppy was removed too early and has missed out on the critical socialization/ discipline that comes from mom and siblings.  Lacking in both temperament and correct socialization, the puppy really needs to be with someone that has experience or you will have a dangerous dog on your hands.  The fact that she has already bitten is certainly a red flag.  At this time, I would highly recommend seeking a professional trainer.
Sorry for you misfortune and I hope that things will improve for you.
Best Regards,
Alice Velasquez
---
SEPARATION ANXIETY AND REFUSING TO EAT DOG FOOD

---
LARGE BREED PUPPY FOOD

Hi Alice!
 Hope your doing well. We are feeding Jaz solid gold wolf cub (large breed puppy food). Should we keep her on puppy food or move her to adult? The lady were we get her food at says she should be on adult food. What do you recommend.
 Thanks in advance
 Joe
I am happy to hear that Jaz is doing well.  She should stay on LARGE BREED PUPPY food until she is 2 YEARS OLD.  Smaller breed dogs are done growing much sooner than large breed dogs, but large breed dogs do not reach full physical or mental maturation until about 2 years of age, and will need not only the higher levels of glucosamine and chondritin to help support optimal bone and joint growth, but also the correct level of protein and fat found in Large Breed puppy food to promote a controlled growth rather than huge spurts which can be stressful on the joints as well as large muscle groups including the heart.  If you feed a brand that does not have specifically LARGE BREED, then you should NOT feed the puppy food.  Puppy formula and LARGE BREED PUPPY formula are VERY different and most Puppy formula's have levels of fat and protein that are too high for a large breed dog and will not provide a controlled growth.  Maybe the representative at the store was only familiar with "puppy" formula and made her recommendation based on that, or perhaps she was unaware that large breed pups are not finished growing and developing until 2 years of age.
Give her kisses for me, she is almost a whole year old!!!
Best Regards,
Alice
---
---
REDFORD NATURALS DOG FOOD
Good evening, my name is JoAnna and I have a beautiful 5 month old Rottweiler names Frankie. I've been going over his food to make sure he's getting the proper amounts of everything (another step in attempting to get him to stop trying to eat his own poop) and I found your glorious page about dog foods! I was really hoping I could your input 🙂 I feed him Redford naturals limited ingredient puppy food – I found out after deciding to buy it that it is the house-brand at pet supplies plus. Have you ever tried it? What's your opinion of it? I would love to hear from you or see your opinion of Redford Naturals on your page. The only thing so far that I don't like is the high protein content – (min 34%!) Thank you so much for taking the time to read this, and for being such a wonderful, caring breeder! Happy new year!
– JoAnna (and Frankie)
---
EATING TOO FAST

Alice,
---
BROWN BEHIND THE EARS
Hi Alice,
I really like your dogs and someday I will hopefully own one! Lol
I have a question.  Is it common for Rottweiler puppies to have some brown coloring on the top of their ears? I have seen a few lately and was curious.
Thanks,
Chris
---
PUP WEIGHT AND AMOUNT TO FEED
Just curious how much Gaia should be eating at this time.  She was 37lbs at her last vaccination appointment yesterday.  We're feeding her 3 cups of FLBP.  The vet thinks she is doing great, the puppies looked a little bigger in the photo so I thought I would ask.  We've kind of been using the bag and her looks as guidelines.
Thanks
Rachel
Her brother, Gambit is about 48 pounds and her sister, Gigi weighed 32 pounds when we left for Germany.  Boys will always be bigger than the ladies, so it sounds like your baby is somewhere in the middle.  She should be around 40 pounds at this age, so she is literally right on point- however that having been said, I ALWAYS caution about getting caught up in the numbers.  Go by how your dog looks, not what the scale says.  Each individual puppy will grow at his/her own rate.  You also want her to stay lean while she is growing so that she does not have extra weight affecting developing joints.  If your vet thinks she looks good, the I would bet she is perfect!  I also caution about getting too concerned about how much the back of the bag says to feed.  I feed based on a dog/pups needs.  Even as adults- I have some dogs that have a high metabolism (like Dunjo) that need 6-8 cups a day depending on how hard we are training; I have others that would quickly get overweight (like Blondie) if fed more than about 4 cups a day.  As Gaia grows, she will have different nutritional needs- some weeks she will eat like she has never had food before; other weeks she may not need as much.  Usually she will eat what she needs in about 15-20 minutes and you can remove her food after that until the next feeding.  But the best way is to watch her.  If she starts to look like a keg with legs, cut her back; if she starts to look riby, give her more.
Hope that helps!  Give her loads of love from all of us!! <3
Alice
---
SIZE/ WEIGHT
Hi Alice, 
---
FOOD RECOMMENDATIONS
Alice,
I had not heard of them but checked them out when I got your e-mail.  I did not look into their dogs, bloodlines or breeding program, just skimmed the 2 pages on what they feed.  (http://www.Rottweilercentral.com/Rottweilerdietcontinued.html) I am assuming that is the one that you read along with the page on raw feeding?  They had/have the same delima as ALL of us do!  It is so stressful knowing what is the correct food.  I do agree with a lot of what they say, but not the dry foods they settled on.  Diamond (also the manufacturer of TOTW- Taste of the Wild) has long been know as one of the bottom of the barrel dog food producers 🙁  I have heard in the last few years that they have tried a major overhaul leading to the release of their new line including Taste of the Wild- but even that has been riddled with recalls and dead dogs 🙁  I am still too nervous of their previous reputation to try it until it is proven.  I also do not like Nutro Max.  Nutro used to be a super brand of food with quality ingredients- UNTIL it was bought out by MARS.  The first thing they did was change and cheapen the ingredients and then raise the price nearly $10/bag.  As I said, I do, however agree with much of what they put concerning the poor quality of ingredients in most commercial feeds as well as calcium levels (although phosphorus levels are also extremely important in growing puppies).  Please see my nutrition page for more info:  https://guardianrottweilers.com/nutrition/
Loads of love to you and miss Belle!  Sorry I took so long to respond, but I wanted to wait until I had sufficient time to respond thoroughly and research the website you requested.
Best Regards,
Alice
---
---
CRATE TRAINING AND POTTY TRAINING
HI Alice
We need some guidance with potty training! and when/ how to use the crate (which he doesn't like). And a few minutes ago he showed some aggression, growled at me when I told him to stop biting at / tugging on my robe, then snapped at me (and this was not in a playful way…). Then put him in his crate where he is now whining and howling.
Hi Leila,
You should have received pamphlets in your puppy-pack about these issues, and there are a few pages on my website also, but here is the skinny:
Crate training.  
He will cry almost every time he is put in the crate for about the first week or 2 until he gets used to it.  There is unfortunately no short-cut to this.  Once he does get used to it, it will be fine and eventually he will prefer it and find comfort in it.  You can try giving him treats when he goes into the crate to help with the transaction.  But he has gone from complete freedom with a whole litter of pups, mom and plenty if kids to play with to now sleeping solo.
Potty training.
There are a few things to keep in mind:
1.)  A puppy should only be expected to hold it for about one hour per month of life.
2.)  The size of the crate is very important- the puppy should have enough room to turn around, but not much more.  If he can pee in one corner and sleep in the other, then it completely defeats the purpose of crate training.
3.)  A puppy will need to go potty:
          -as soon as he wakes up
          -as soon as he eats or drinks
          -right after he plays
          -right before he goes into the crate
          -first thing when he comes out of the crate
4.)  If you are not watching him, then he needs to be in the crate.
Keep in mind, he has NEVER been forced to hold it before and he is only 9 weeks old.  He has only been able to go potty by himself for about 6 weeks, so do not expect him potty trained over night.  If you stay consistent and patient, he will pick it up.
now to the important stuff.
He does not effectively see you as his pack leader yet for what ever reason, and sees you as a sibling.  So just like a 2 year old child, when you take away his toy he will be mad and if you hit him he will hit back.  Understanding that this is normal behavior for a 2 year old and a 9 week old puppy does NOT mean that it is to be accepted.  Just as you would not let a 2 year old smack you without consequences, you cannot allow this in you puppy either.  There are a few approaches to this and you can see what works best for you and your puppy.  One method is to grab the muzzle and firmly and decisively tell him no.  The method we use most in our house with our pups, youths and adults is to flick the pups on the nose (or for my kids who do not know how to do that with their fingers  they just smack the pups, but only on the nose).  The key to making this work is that as soon as they comply and stop nipping or growling or whatever they are doing wrong, you must praise them and use the same hand that popped them to pet them.  This way they do not become hand shy and realize that the same hand that corrects them also gives affection.  Just like a mom or other adult in the pack will nip them when they misbehave, but use that same mouth to lick them affectionately.  This way you are seen as a just leader and not a bully.  You must also remember to give praise when praise is due and emphasize the good not just the negative.
Rottweilers, especially the good ones can be strong minded dogs so you must make your position as pack leader clear now or you will continue to get challenged and in 6 months to a year, it will be much more difficult.  If you are finding it difficult to be the pack leader, you may also want to look into puppy training courses.  Look for a trainer that has specific working dog experience.  Until you are able to do your job correctly, your puppy will not be able to do hid.
So, to sum things up, remember that he is a puppy and set realistic expectations, but at the same time, you MUST set rules and regulations and enforce them.  Just like a good mom, you cannot always just be the friend, you must be the parent first.
Hope this helps!  Please let me know if there is anything else I can help you with.
Alice
---
GOING POTTY IN THE CRATE
Hello Alice. I hope all is well at Guardian Rottweilers.  Ms Presley is adapting really well. The only concern is her going to the bathroom in her cage. She can make it thru the night as we usually put her in it at 10-1030 and I get up with her at 0430-0500. It's during the work day that she isn't holding it and going in her crate. She will usually get put back in around 0800 and not get out til 1530 when I get home from work but she is and has done both, pee and poop in her cage. Is this normal?  I am feeding her at 0430-0500 and again at 1800-1900. I take her water up around 2100 for the night.
Part of the problem is that she is not accustomed to holding it all night and then holding it again all day.  She may also not be getting enough time to completely eliminate her bladder and digestive tract before going into the crate and trying to hold it all day.  She is still just a baby Mike, and that is a lot to ask of her.  That is literally asking her body to hold it a total of 6-ish hours over night and then again for 7.5 hours during the day.  That is over half the day that you are asking a 4 month old puppy to hold it.  The rule of thumb is 1 hour per month of life, so holding it for 6+ hours at night is already a big deal for her and that additional 1.5+ hours on top of the 6 she has gotten used to during the day might just be too much for her.  Do you have anyone that can come let her out about half way through during the day?  If not, you might need to consider getting her a smaller place, like a bathroom, where she can be confined but still have puppy pads to go potty on.  Because if you continue to ask her to hold it for more than she is physically capable of there are 2 possible outcomes- either she could get a UTI from holding it too long and/or she could see it as an impossibility to hold it as long as you are asking and just give up and go whenever and where ever she is.
Please let me know what you decide to do and how it works for you.  Give them both a hug from me and have a nice evening.
Alice
---
GOING TO THE CRATE TO GO  POTTY & PLAYING WITH POTTY PAPER TOWELS
Hi Alice, I hope all is well with you. I am struggling a bit and I hope you can help. I've actually never run into this before and I'm not sure what to try next. I have always crate trained and I have a large wire crate that has a divider. It's set up in my kitchen/family room and I have been sleeping in the adjacent  bedroom with the door open. The puppy can see me anytime she is in the crate. Honestly, during the day, I don't put her in often because I am here and it is a smaller space with tile floors. My main purpose for the crate is potty training… And that is where my trouble begins. She has no hesitation about pottying in the crate. Our routine, dinner at 7, I take up water at 8 and last walk / into the crate at 10:30. I have an alarm set for 2 and 5. I am so close, I can see/hear her moving at night, and I get up to check on her in between walks when I hear her move. None of it seems to matter. She does not whimper or whine, she simply pees or poops in the crate. Since she came home we have had only two successful nights. What's more, when she is loose in the room, she has started walking to her open crate to potty there. Which is really strange, because before now she was pretty good about going on the potty pad next to the door if I did not catch her to go out. And today, she has started going after the paper towels that I used to clean up the messes, and potty pad as well. She grabs it and runs around and starts to shred it. I have no expierence with a dog that was so willing to play in their own waste.  Do you have any ideas?
Thank you in advance-
Andrea
Also a question. Do any of his litter mates have white hairs?  Zakiah has white hairs in his armpits and some on his chest.
I am sorry for the delay in responding Sue, we have some sort of virus/bug running through the family and it has knocked me on my behind.  I have no voice at all and my throat is quite angry with me :/  
I am also sorry you are struggling with potty training.  It seems like you are doing everything correctly, but I am going to go over all the basics just to be sure.
First, as you alluded, anytime there is uncharastic urinating, you want to rule out a UTI, so definitely make sure you bring it up to your vet on your visit on the 14th just to be on the safe side.  Unfortunately, it is not uncommon for a young puppy to get a UTI as they get so distracted playing that they forget to drink.
Next- crate.
The plastic airline type is preferred significantly to the wire crates.  First, the wire crates are very dangerous– there is more information about them on my website and on the Q&A page, and second, even with a divider, it allows the urine to flow somewhere else and not stay with the puppy.  The entire point of a small space is so that if the puppy has an accident, s/he learns very quickly that they are then stuck with it and it is not fun.  No animal naturally wants to lie in its own excrement and the crate utilizes that instinct to teach them to hold it and not go in the crate.  Next, in the crate, make sure there are no blankets, pads, puppy pads, or anything else other than the puppy.  If you have anything absorbent in the crate, it teaches the puppy that the crate auto-magically gets rid of the pee and therefore, go ahead and go potty here.  It will also hold onto the scent and further encourage the puppy to keep going potty there.
Going outside.  There should be almost no interaction with the puppy until s/he goes potty.  Simply walk around slowly as your puppy will want to stick with you and will often just sit at your feet.  As you walk around slowly, eventually, the puppy will feel the need to relieve him/herself.  Once s/he finishes, offer loads of praise and then have a play session.  Even if you are in a hurry, you cannot skip the play session and cuddles.  A Rottweiler puppy is exceptionally intelligent and will very quickly sort out how to manipulate the system.  If s/he gets put back in the crate as soon as they go potty, they will hold it as long as possible to extend their time/interaction with their human.  This is also why you do not play/interact with him/her until they go potty.  They learn it is all business until they do their business, and then it is play time.  Eventually, they will learn to go potty as soon as the get outside so that the playtime can start sooner.  
You are already doing correct by using Nature's Miracle or similar products that have an enzyme to completely eliminate the smell/residue, and you are also doing correctly by cleaning puppy and crate thoroughly as soon as he has an accident.  Those that think forcing the puppy to sit in it longer will "teach him" not to do it again will unfortunately find the opposite effect most of the time.  The puppy eventually learns to deal with it and just comes to understand that this is the acceptable norm here and will eventually be trained to go potty in the crate.
There is more information and tips on potty training in the pamphlets I sent home and on the website as well.  Some of my clients have even taught the pups to use a bell!
There is also more information about the light hairs on the Q&A page as well.  Very light colored hair is not at all uncommon and often shows up under the tail, in the armpits or groin, or in the bowtie.  Unless it is an obvious, measurable white mark (photo included for an example), then a few stray light hairs are not abnormal/a flaw.
Please let me know if you have any other questions Sue or if there is anything else I can do for you.
Alice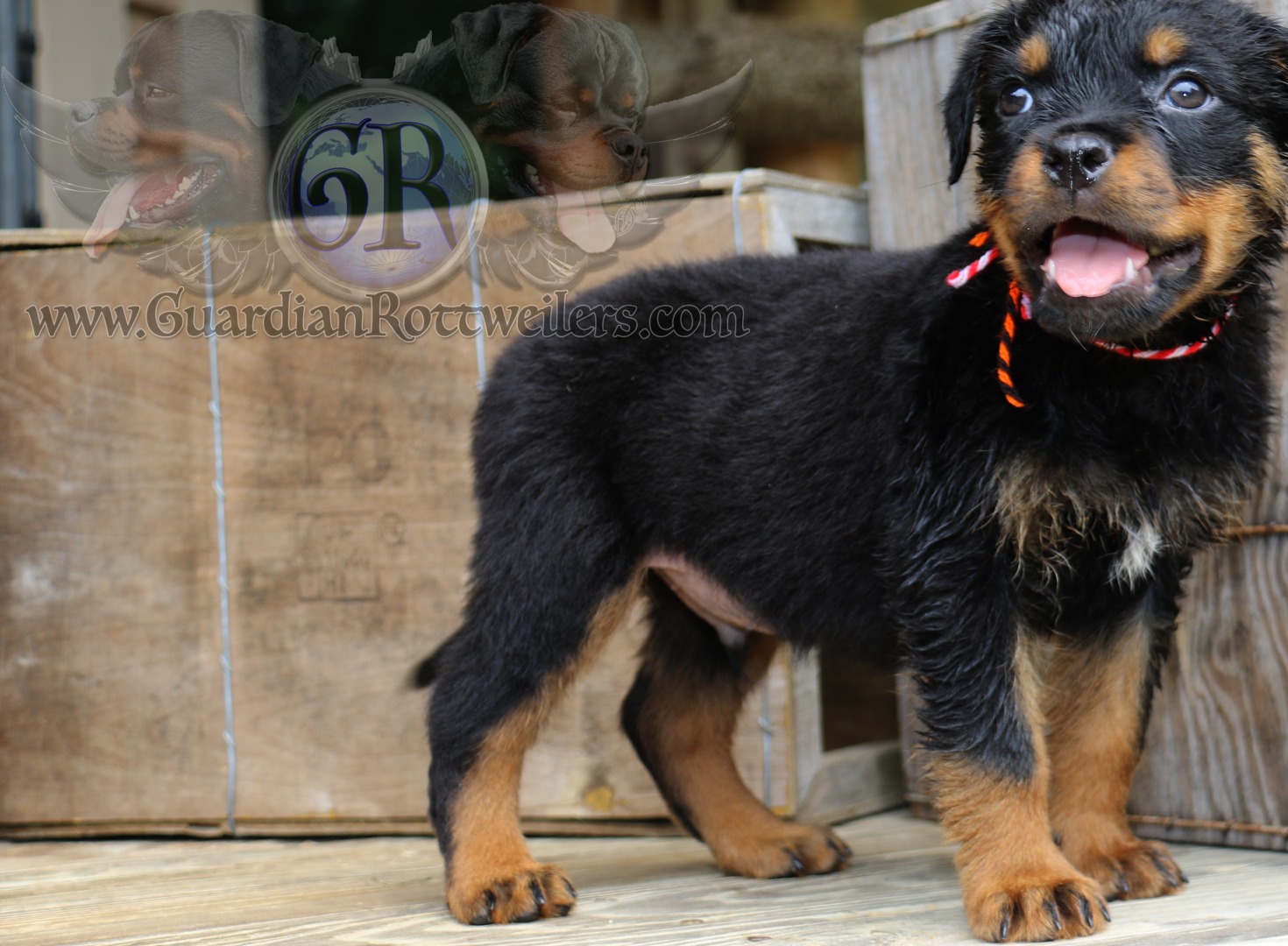 ---
WON'T POTTY OUTSIDE
Hi Alice-
She is so adorable and fits in just well. We are however having trouble with her when it comes to going potty. We will spend 20-25 minutes outside with her and she wont go but as soon as we come inside she poops and pees in the house. Every time she does go outside she is rewarded and praised but it doesn't seem to work. She gets taken out shortly after she eats but for whatever reason would rather pee or poop in the house. I know she is going to have accidents in the house but it shouldn't happen after i just had her outside for a half hour. I was wondering if you might know why she is doing this or if you could give me a couple tips to help her do her business outside instead of inside?
Thanks,
Janelle
She has not learned that "outside" is the place to go potty because the weather did not permit us to have them out often and she learned to go inside on the potty pads.  Please go the the Q & A section of my website for TONS of potty tips:  https://guardianrottweilers.com/q-a/
Every time you let her go potty in the house you are confirming that this is ok and that this is where she is SUPPOSED to go potty.  During the first few days there, she should NOT BE EVER unattended in the house so that she can NOT have an accident!  You need to catch her EACH AND EVERY time BEFORE she goes or IN THE MIDDLE.  Because you have not done this thus far, now you have to UN-TRAIN her as well as train her to go outside.  Take a leash and clip it to your belt if you cannot watch her or put her in a crate- PERIOD.  Do NOT allow her to have accidents in the house while she is training or you are shooting yourself in the foot.  The fact that she is going outside and holding it until she comes in means you have trained her to go potty INSIDE and she is therefore holding it so that she can do the right thing.  You also MUST be sure to clean each and every accident with ENZYME CLEANER specifically designed for potty accidents or she will smell the accident and believe that it is ok to go potty there again (it is the same as seeing a "RESTROOM" sign for her).
I can assure you that she wants to please you.  She is only going inside because she believe this is what is expected.  Puppies will not ever purposefully try to irritate as some people believe 😉  But if you a chair in a room and every time your kids sat on it, no one ever told them no, then they would believe it was ok and permitted.  And concurrently, if you only caught them every now and then and scolded them in a foreign language (because rottie puppies do not speak English) then again, they would have no idea why you were upset and at best might believe that they are only allowed to sit on the chair sometimes and still not know how to determine when it was ok to sit and when they should refrain.  However, if they were never, ever permitted to sit in that chair, and every single time they even started to sit there they were caught and taken to an appropriate place to sit, it would not take them very long at all to figure out what you wanted- EVEN if you never spoke in the same language they spoke.
Do give her some love and snuggles for us and please let me know if you have any more issues after you have tried the suggestions!
Alice
---
POTTY TRAINING and NEUTERING
Hi Alice
More questions!!  No surprise, right??  I'm having one heck of a time housebreaking Enzo.  He is crate trained mostly…but he will pee in his crate with no problem at all.  We get up every few hours during the night to go out…but he doesn't mind hanging out in a pee filled crate!!  In the last couple days, I cut his space inside the crate to a minimum.  He can stand up, turn around and lay down with no problem….but no more extra space.  He still peed in there last night.  He occasionally pees in the house when he doesn't get his way.  For example, I shooed him out of the bathroom this morning and when I came out, there was a little puddle of pee on my bedroom floor right outside the bathroom.  Last night, when I put him on his tie down (His spot in the living room where he has his toys and a mat) he was whining and peed a small puddle after just coming inside from going pee in the yard.
Not sure what to do from here.  Should I start feeding him in his crate?  I already put kibble in there to get him to go in without issue.  I know he's testing me on this…I can just feel it!!
Also, I'd really like your thoughts on neutering.  In a couple of weeks he'll be 6 months old.  He's on a prescription GI dog food for his issues with giardia – and it's a slow grow puppy food.  My vet (who I love) is adamant that he "subscribe" to the slow growth plan because it's better for his growth plates and she does not want him overweight in any way while he's growing.  That said, he is about 40 pounds and I fear neutering him before 1 year will not allow his full growth potential.  Is it better for him to keep his male hormones for a year?  He has not shown any aggression to other male dogs – which he's exposed to weekly at puppy play and again at puppy obedience class.  He humps Zedar all the time, but she just snaps at him and walks away.  He hasn't started humping legs yet….I don't know about marking since he's a little pee-monster anyway.
I believe I made mistakes with my previous Rotties over the years and I'm just trying to do the best thing for Enzo.  Your expert advice is really important to me!!
As always, hugs and happy thoughts to you and your beautiful family,
Renee
Bless your heart.  Never fun when you have one that you struggle with on potty training!  I have experienced this in both my 2 legged kids and my dogs!  3 of my 4 kids practically trained themselves, but Korbin- I SWEAR I thought I was gonna have to send him to COLLEGE in PULL-UPS!!!!!!!!  We were at Circuit City one time and, TRUE STORY- he climbed up on one of the shelves while I was talking to a sales rep and POOPED IN HIS UNDERPANTS and it rolled out of his shorts and onto the shelf!!!!!!!!  I WAS MORTIFIED!!!!!!  He was 3 YEARS OLD!!!!!!!!!!  My girls were SLEEPING THROUGH THE NIGHT IN UNDERWEAR BY 2!!!!!!!!!!!!  I have also had pups that picked it up seemingly within days and others that I was READY TO PULL MY HAIR OUT!!!!!!!  NOT FUN 🙁  His sister has been AMAZING!!  When we went to the Regional and National Sieger in Tennessee, not only did she handle the drive like a dream, but she slept in bed with Dunjo and the girls and stayed in the hotel room while we were at show and did not have a single accident!!  Come to think of it, I cannot remember her ever having an inside accident and only a couple in the crate when she first started training!!  Maybe she needs to come and have a chat with her brother 😉  Ok, first thing I would suggest is to have your vet take a pee sample and check for a UTI just to be on the safe side.  Urinary Tract Infections are unfortunately as common in dogs as they are in us humans and can cause uncontrolled accidents or frequent urination.  If it is a UTI, it is a simple fix with a round of antibiotics; if it is not, then we need to decipher what he wants.  Maybe he just has an underdeveloped bladder for his age and cannot hold it as long, or maybe he just gets distracted playing outside and forgets to pee- Jahzara had the worst time with that!!  She would go outside and play for like AN HOUR and then go potty within 5 minutes of coming inside!!!!  Once you rule out any medical issues, I would go back to the beginning with potty training.  Go outside with him every time, give him treats and/or praise for going potty and then when he is inside, keep his leash clipped to your pants or belt so that it is IMPOSSIBLE for him to start to go potty without you seeing it.  Also be sure you are using Nature's Miracle or a similar product for clean-up to insure that you remove all traces and it does not smell like the place to potty for him.  They also sell pee sticks at the pet store that stake into the ground and have an attractant on them to stimulate the dog to want to pee there.  Maybe you can try teaching him to go directly there as well.  So, first vet check just to be sure, and then try some of these techniques.  Let me know how it goes and if we need to find a different approach for him.  Also, he may not understand that he needs to specifically signal you when he needs to go potty and by following you into the bathroom he may have been trying to let you know he had to go potty and then when you shooed him out, he left the present right there to let you know what he was trying to say 😉  Sometimes the pups need to train us as much as we train them.  Diesel has NEVER been one to "let me know" by barking or scratching at the door or ringing a bell, etc.  He would always just come and sit by me and slightly cock his head and I had to learn that this meant "take me out" 😉
LOVE that your vet insists on slow growth!!!!!!!  Could not be happier bout that!!!!!!!  WAY too many people get obsessed with having "the largest Rottweiler" and NO MATTER what his end size result will be, trying to force his body to do all of that growing too fast is a sure way to joint issues amongst other things!!  I have noticed with his sister that she has taken after Crom's bloodlines more with the slower growth and likely more medium sized end weight.  Crom's father, DT-VDH Champion, Multi CAC/CACIB, ES '02, SCHWZ.KS '02, O-KS '02 MAMBO VON DER CROSSENER RANCH, SchH III, IPO III, ZtP (05.00), AD, BH, FH II was one of the most well titled, recognized and respected German Rottweiler studs OF ALL TIME credited by many breeders with having the greatest impact on the Rottweiler breed was only about 95 pounds!  Very compact, but VERY correct!  Like I said before, that is probably one of the main reasons why Crom HAS NEVER PRODUCED A SINGLE PUP WITH DYSPLASIA- one of the many reasons he is FCI recognized as CHAMPION IN REPRODUCTION!!  I would much rather have a CORRECT, HEALTHY 100# male than a 130# dysplastic or sloppy dog 😉  And I know you feel the same way, and apparently so does your vet, so that is FABULOUS!! <3  I do also agree with you that on slower growing lines, delaying neutering does give the dog more time to grow and "fill out".  I absolutely do not have an issue with you waiting, however, continue to do what you are doing which is socialize him well with other dogs BUT keep an eye on him.  Once those male hormones come in, he may only be able to play with female dogs as males will become a threat or challenge.  As long as you are staying on top of the potty training, that will have no effect there.  Diesel is 11 and has had his "boys" for all 11 years and has NEVER marked in the house– well, take that back, he peed on my brother's Christmas tree when he was about 6 months old 😛 (my brother was not amused 😛 ).  Dunjo is 8 and also intact and although he did mark when I got him as he had never been an inside dog, it took me all of about 1 week to house train him and he has not marked since.
As always, LOADS of love to you all and GREAT BIG hugs and kisses for my little ROTT STAR!
Alice
---
AGE TO SPAY/NEUTER

---
REVERSE POTTY TRAINING?
Question: is is common for them to "reverse" potty train? I'll let him outside for up to 30 mins sometimes as I keep telling him to go potty. Then if he won't go, I'll bring him in and he will immediately squat right there! Ugh. Vico is such a sweet sweet boy otherwise… We fall in love with him more every day. Also, he loves baths. So much that I think he pees on himself in the crate on purpose, because as soon as I let him out, he runs and jumps straight in the bath tub!! And what different collars? He tries to get stubborn sometimes on walks and pulls away. Any suggestions would be appreciated.Vico says hi!
Allan
First, let me just say he is stunningly beautiful!  But I am sure you already know that!!  How absolutely adorable to see him perched up there in the cat condo!!  My only caution would be to be careful about him jumping out and try to avoid that so that you protect those growing bones and joints.
Hmmm….. For some reason, he has either not made the connection that you want him to go potty outside OR he is too smart and has figured out that if he goes potty outside, he is immediately taken inside and does not get the up to 30 minutes of play time outside.  So I will offer advise to cover both 😉  My first suggestion would be to COMPLETELY ignore him when you take him out.  As adorable as he is, do not interact and play with him…UNTIL he goes potty.  Once he goes potty IMMEDIATELY praise him and start play time.  If he has a favorite toy bring that out to play with as his reward.  It may take a few goes, but he will quickly put the 2 together and realize that the sooner he goes potty outside, the sooner play time can begin.  I would also suggest to AVOID AT ALL COSTS bringing him back in immediately after he goes potty.  Rottweilers are super smart, and puppies are certainly clever.  He is currently TRAINING YOU to give him longer outdoor play time.  EVEN IF YOU ARE IN A HURRY, take a couple of minutes to play with him after he relieves himself so that he unlearns that going potty = back inside and/or crate.  My second suggestion, just in case he is not being obnoxious 😉 and simply has not figured out that you want him to go potty OUTSIDE and not INSIDE, is to keep him tethered to you via a lead while he is in side.  You can hook the leash right on your belt loop.  This way he can not wonder off and go potty.  Of course the MOMENT you catch him in the act, scold him and take him outside to finish.  EVERY TIME that he goes to the bathroom inside your home and it is not corrected MIDSTREAM, he is training himself to go potty inside.  YOU CANNOT correct him AFTER!  Whether it is 2 seconds after or 2 hours after- once he has gone potty, he has moved on in his mind and taking him back to his accident and yelling at him in a foreign language that he does not speak and showing him a pile of poo or urine will NOT discourage him from repeating the behavior!  He has NO IDEA what you are saying or why you are showing him poop!!  If you were walking along in a park and I came out of no where and accosted you in a foreign language and pointed at a pile of poo, you would have NO IDEA what I was trying to tell you!!  (you might assume that I am calling you something unsavory in correlation with what I am pointing at!)  I know there are TONS or people out there that will tell you that shoving your dog's face in it is the way to go– BUT I can absolutely guarantee you that these are the SAME people that are still trying to potty train their dogs 2 years LATER and/or have dogs that are so petrified of the big bully that always sticks their head in the toilet that the dogs urinate the moment the owners walk in out of nervous appeasement!!  ALSO, in case you are not already cleaning correctly, IT IS IMPERATIVE that you use the CORRECT cleaner!  Dogs are scent motivated- this is how they recognize each other, find food, greet their owners, AND determine where to go potty.  You MUST use a cleaner that has enzymes to eliminate the odor and NOT JUST COVER IT UP!!  If you Febreze the spot to death, it may indeed smell like island flowers to you, but to the INCREDIBLY SENSITIVE nose of your dog, it smells like a bathroom with island flowers!
Final tip- BE CONSISTENT and make sure EVERYONE in your family is on the same page.  If grandma lives with you and she lets the kids have ice cream and cookies for dinner by mom insists on vegetables, the kids are NEVER going to learn to eat their veggies first!  Same with the pup- if you are consistent on when to take him potty but while you are at work, he is just permitted to run all over the house and go potty as he pleases, potty training will be a VERY long road for you!!  There are no shortcuts with training your puppy- you get out of it what you put into it.  If you put the time and energy and be fair but firm and consistent, you will have to work a bit harder initially, but then you will have a well behaved Canine Good Citizen that you can proudly take everywhere.  Without at doubt, the people who complain about ill behaved dogs as adults are the VERY SAME people that either expected the puppy to RAISE ITSELF or let the puppy do anything it wanted and chalked it up to "being a puppy."
LOVE it that he loves his baths!!  He will certainly love the water like his mom then!!  She has been in our pond nearly every day of her life!! LOL
Ok, walks.  Again, no shortcut and to teach him not to pull, expect to spend about 30 minutes to walk a block initially.  When you take him on a walk, as soon as he pull, put him in a sit.  As yo start to walk again, if he pull, stop and put him in a sit.  Again, you WILL have to repeat this OVER and OVER and OVER before the light bulb goes on that "if I pull, I do not really get to go anywhere."  Once he figures this out, you will obviously start advancing at a better pace 😉  but be prepared to be very patient initially.  REMEMBER- just like with kids, when you are frustrated- the shut down and have no desire to be there LET ALONE try to learn anything.  Puppies are the same way.  Tension in your voice or posture will either intimidate him or simply take all the fun out of it so that he has no motivation to please you.  Once he does learn to walk well on the lead, STAY consistent on the walks repeating the stop and sit if he reverts to pulling.  This exercise is also super useful when you encounter anything on the walk that might distract or trigger a response in your puppy- another dog, a bunny, a jogger, etc.  As soon as you see the other dog, jogger, deer, etc., put your puppy in the sit and give him the "leave it" command and having him focus on YOU instead of the distraction.  This will come in SUPER handy later when he is old enough and big enough to REALLY take you for ride without the foundation of good training done now.
LOADS of love to my baby Vico!  I had his sister Vega (now Harley) was here last week for boarding and she is such a beautiful girl as well!!  VERY proud of this litter!!  I CANNOT wait to see the gorgeous Vico when he is all grown up!!
Have a blessed evening!
Alice
---
SLEEPING
Hi Alice,
Quick question, Enzo is almost 6 months old and he still wakes up every 2 hours all night long.  He goes pee most every time.  I cut off his water at 6:00 PM, but nothing helps.  I've never had a pup this old not sleep through the night.  I'm so freakin tired all the time I'm ready to give him doggie downers!!  Any thoughts?
As always, many thanks.
Renee and Enzo
Sounds like he may be a bit spoiled 😉  You are correct, he should not still need to get up that often at his age- typical is 1 hour per month- so he should be able to go 6 hours at a time by now.  Ok, try this, wear him COMPLETELY out before bed- run him or play ball or whatever his favorite game is until he is literally too tired to even think about anything but laying down.  Then put him in his crate and LEAVE HIM THERE until the correct time to get up.  if you have take away food and water at least 3 hours before bed and taken him out a final time after those 3 hours, then he should at minimum not be full.  WARNING: it may take a few nights of doing this before he gets the idea!  So expect accidents and loads of protest!  But it should not take him too long to get over it- you just have to retrain him.  He has successfully trained you to his routine and now you need to train him to yours 😉
Let me know how it goes! 
Alice
---
TRAINING
Hi,
I know you most likely get a million e-mails regarding your website, etc. But I have to respond anyway. I find it refreshing that you have not dedicated your entire website to the status of your breeding program, but more the "greatness" of the breed.
I lost our Tasha almost a year and a half ago to osteosarcoma. And to this day I still am brought to tears when I think about her. She was only introduced to me when I met my husband 10 years ago. At the time, really having no knowledge of Rottweilers at all…and quite frankly, a little hesitant about her. But it was not long before she won my heart. She became "my dog." She followed me around the house, got up with me in the middle of the night when I nursed me own babies, and slept always beside my bed every night. She was truly the best dog that I have ever had. She has left a huge emptiness in our family and we miss her terribly.
Having said that, I have begun some research into getting another. It is frustrating for me because- she was my husbands dog first…and because he got her while he was in medical school (and had no intention of breeding her) He had no memory of her lineage. I don't really even know where to start. We would not be getting a dog for breeding purposes- just another member of our family. My 4 year old daughter still walks around with her stuffed Rottweiler "Tasha"- I think it may be time for us to try to move forward. Even though we have 2 other dogs- they all have different qualities. My 14 beagle is totally deaf and is not my protector. I need a dog that can make me feel safe again in my home as my husband is gone a lot. I have not felt that since she has been gone.
I've thought about just rescuing a young Rottweiler, but my husband said that our Tasha was such a good dog because he worked with her every day. I think they are are highly intelligent and very trainable dogs- but how old is "untrainable?"
Regardless, I just wanted to thank you. I found your website so refreshing and so close to my heart. I appreciate all of your dedication for this wonderful breed. Maybe someday we'll find a new member for our family from you!
Fondly,
Amy
Sorry for the delay in responding, I was in Germany, and then when I got back Ena had her puppies, so I have been SOOO busy!
Thank you so much for your very kind compliments.  Yes, my primary purpose behind the website is not to sell puppies, but to promote the breed and educate everyone that does not own a Rottweiler on what they are really like, and educate everyone who does own a rottie on how they should be cared for and trained.  I have been blessed to have several amazing dogs be a part of my life and the lives of my children, so I want to "pay it forward."
My deepest sympathies are with you.  Having lost a few along the way a well, I know all to well how much it hurts.  It feels like your heart has been ripped from you chest.  My last one to leave me was my Nova, and there was no consoling me for days.  They are a very special dog that touch your life in the way only a rottie can.  You and your husband will be in our thoughts and prayers.
Yes, when I was a police officer, I worked nearly an hour from where I lived, and I worked very long hours in rough neighborhoods (Washington D.C.) so it was very disconcerting for me to be so far away from my family if they needed me, but having rotties at home, I knew they were well protected and safe.
Trainability.  Just like poor breeding can affect the confirmation (physical appearance) of the rottie, it can also have a profound affect on the temperament of the Rottweiler.  Rescuing a Rottweiler is great and noble thing to do for some very deserving dogs, and I have a links to a local rottie rescues if you are interested.  But because you do not know the bloodlines, or how the dog was raised, I only recommend this for an experienced handler and never to a home with small children.  Environment can play a major role in the mental development of a dog, but so can pedigree.  We give great consideration in temperament in our breeding program, this is one of the reasons we like to use the German and European bloodlines.  In Germany, all dogs are required to take a mental test and a breed suitability temperament test before they are even considered for breeding.  This is why we can confidently offer a temperament guarantee on our pups, youths and adults.  There is no age or dog that is untrainable.  Some dogs are easier to train than others because of the level of intelligence, attentiveness and desire to please.  It is always easier to train from the time they are a puppy, but even an older dog can be trained once you find what motivates them.  Consistency and positive motivation will get you the most success.
If there is anything else I can help you with, please do not hesitate to ask.  
Best Regards,
Alice Velasquez
---
GUARDING/ DISRESPECT
Hello Alice, Ajax is doing great.  Couple questions-  what do we need to do to make sure he isn't showing dominance to our kids.  He is very good with Avery however a couple times he has not shown her respect.  Second question how do we teach him when outside people are at our house and kids our kids are present that these people are okay?  We know he wants to protect his kids however he needs to learn to calm down and let it be.  Thanks
I could not agree with you more!  In our kids and in our dogs, even when incorrect behavior is understandable, it STILL MUST BE CORRECTED.  ANY TIME there is an unwanted aggressive respones- even it if is just heckles standing up or body posture, for me, that is ALWAYS a behavior that requires an IMMEDIATE, SWIFT and DECISIVE correction!!  He must NEVER EVER think that even for a MOMENT he is allowed to reach that state of mine without your direct invitation or permission!  As you said, even though he most certainly means well, it can have terrible consequences for him and the child especially of the behavior goes unchecked and is allowed to escalate.  You have to put your big boy and big girl panties on for these issues and you have to be "mean" with him until he gets it.  Disrespect of the children CANNOT EVER BE TOLERATED because then you set him up for failure by allowing him to think his position in the pack is above the child.  Starting TODAY, you need to move him to bottom of the pack position, ESPECIALLY around Avery.  Meaning for now, he is not allowed to even look at her without your permission (she should have god-like status to him!)  If she wants to sit somewhere and he is near there, he needs to immediately vacate.  He cannot eat at the same time as her, etc.  It may feel like you are being over the top initially and even mean spirited, but trust me, you are not- this is EXACTLY how a pack would treat him!  The alpha and the alpha offspring would have the right to steal his kills, take his position away from him if he has a more comfy resting spot, etc.  He would greet them in a very appeasing manor and often go belly up every time they walk by just to show that he is trying to win favor.  Our domesticated dogs have learned from the time they were pups that if the go belly up, they will get tummy rugs, but in the wild, going belly up is the ultimate show if submission as it exposes the abdomen and throat.  You must also be VERY STRONG in your correction of him EVERY SINGLE TIME he disrespect her.  He cannot go through a doorway before her, he must wait for her before going down the stairs, etc. and he cannot have any furniture privileges while she is around- she is the queen and he is not worthy- that MUST BE your mindset if you will change his thought process.  Once he "gets it" then you can slowly start reintroducing the privileges.  The fact that he is protective of the kids certainly proves that he sees them as part of his pact and loves them dearly, his problem and it is not at all an uncommon problem is that he sees them as SIBLINGS rather than PACK LEADERS.  If you think about it logically, the way a dog does, you prepare his food, you prepare their food; you correct him, you correct them; you dictate when he can go somewhere, you dictate when they can go somewhere; etc. so sometimes a dog will logically assume that he is equal in pack standing to a child and he will still love and defend with his life his "siblings" but he will not respect them the way he would a pack leader the same way your children treat each other differently than they do mom and dad- if sister says 'I want the toy' brother will say 'no!' but if mom or dad says give me the toy, it is handed over.
Strangers.  The best way is to have him exposed to strangers as much as possible- walks in public, etc.  and if you have friends that are willing to help train, get some of his favorite treats and the "strangers" can give those to him every time they approach so that he learns that a stranger approaching does not necessarily have to signify danger.  I would also make sure you are practicing "good manors" with him.  He should be in a down stay when strangers are around and await your command and not take it upon himself to dictate interaction.  Depending on his level of protectiveness, your response should meet and exceed his reactions.  I.e. if he is just guarding/herding the strangers, then placing him in a down stay and making him remain there would be sufficient.  If he is showing any aggression, then that must be corrected swiftly and sternly!  He is out of Marsio and Marschall so I can tell you with 100% certainty that you will NOT break his spirit by being stern and you will NOT change his desire to be protective, you will only teach him that as pack leader, it is YOUR call not his.
Hope you have a blessed day and please let me know if those tips prove effective or if further training is required.  Biggest thing to remember is to BE CALM BUT FIRM AND BE CONSISTENT!!
Loads of love!
Alice
---
NIPPING
---
HERDING
Hi Alice,
Hope all has been well!  Things have been good here!
 
I have a couple questions about Febea's behavior I was wanting to get your opinion on.  She is great of course but just curious on a couple things.
 
She has always been quite the bully to the Golden Retriever, Katie, when they 1st go outside to run loose.  She'll let Katie get a head start running, then chase her down and bite at her back legs and tail.  (Seeing as how Katie was such a bully to other dogs when she was younger, it's hard not to find a little poetic justice in it but…)  We've tried to get her to stop – but to no avail.  It is a total game to her & she acts like Katie is her toy.  Do you have any suggestions?
 
The other things is when you're sitting down to pet her she HAS to have her hands on you.  It's kinda cute – like she's trying to hold hands with you – but I've always felt that was her way of somewhat trying to "posess" you so I don't let her do it to me – but she never stops trying.  Everyone else thinks I'm cook a roo, and that it's just her way of trying to "pet us" back – so they let her do it.  Do you have an opinion?
 
Merry Christmas & Happy New Year!!
---
PUP PRICING
Hey its  Matt again… I just had a few questions
1) If I wanted a dog that looked like DUNJO would that be a $1500.00 dog? (I'm sure it would be but thought i would ask)
2) I was interested in the "V Litter  DUNJO X KENZI" I'm finished with school in early may, is that when they would be able to go to a home?
3) I also unfortunately just had to pay to put a new transmission in my car so I'm low on funds for a deposit… would there be anything we could work out? (like a trade?) I don't know how old your kids are but I do have an extremely fun 1985 Honda Odyssey FL350 (needs some work but they sell for about $1500.00-$2000.00)
4) Do you offer any sort of payment plan? Its just a lot of money for me to just drop all at once. Food and vet bills would not be a problem but just this $1500 would hurt the pocket book till funds replenish.
5) Or what would work better for ME.. haha is if you could offer some sort of discount.
– I know you can and do make a lot of money from your breedings due to the caliber of dogs you have, but if you could do ANYTHING to try to help me out this dog is what I need in my life/family and I know that I could give it a wonderful loving home. I am picky about the dog i want and the quality but I'm just trying to make sure I get "MY" dog. I plan on getting involved in schutzhund and working with my cousin who is a K9 unit narcotics officer and trains his own dogs. I hope you can see things from my point of view I know this puppy would go to a great home where he would be loved and worked with everyday.
Sincerely,
Matt
Hi Matt,
You have been e-mailing me for over a year now, so I assume that you have researched around and found that the quality of pups and bloodlines we offer are not only some of the best in the country but some of the best in the world.  And I am sure that you have also discovered that some of the same bloodlines sell out of Europe for 3x what we ask.  
Your first question:  show/breed quality pups START at $2000 and can easily go up over $3000.  Dunjo is daughter of Akya, sister of the great AMBASSADOR VON SHAMBALA, direct descendant of world famous BALOU VOM SILBERBLICK.  Dunjo's sire is LIKE VOM SITTARD.  Dunjo has some of Germany's best bloodlines and is a Pink Papered total ADRK male, so even as a puppy you could not get him for anywhere near $2000.  As an adult, proven in the ring, proven as a producer and with the confirmation and drive that Dunjo has, you are looking at a six figure dog.
your second question:
Pups must be 8 weeks of age before they can go home.  Even though the mom will wean the pup earlier than this, those last few weeks of socializing they receive from their siblings and mom are of utmost importance in setting boundaries for behavior.
third question:
sorry, my kids are too young for anything of that nature.

forth:
yes, we will take any increment of payment provided the pup is paid for in full BEFORE you want to take it home.
fifth:
As stated in the beginning of the e-mail, our dogs/youth/pups are already well below what you would pay for the same dogs in Europe.  We try to keep our prices down because we want more of our pups in family homes rather than just show/breed homes, and when the prices are over $5000 each, nearly everyone will end up in a show/breed home.  I will not go any lower on my prices because I WILL NOT compromise the level of care, nutrition, training, etc. that my pups and adults have.  As I have said many times before, if you cannot afford a quality, well bred dog, then ADOPT from a shelter and give a deservind dog a forever home.  DO NOT simply go with a "cheaper" dog from a puppy mill.  I am sure you can find a breeder that dock the tails themselves with an old pair of kitchen shears or rubberbands, skips the shots and wormings, feeds Old Roy, has not shown or worked any of the dogs they breed, done any training or character evaluations nor even knows what confirmation and temperament they should display in order to be bred and certainly does not do any health clearances on any of the adults and has probably only paid a few hundred for each adult.  In this circumstance, I am sure they could probably sell you a puppy for $4-500 and maybe even give you a "deal" on that.  A year from now, however, when you have invested THOUSANDS trying to fix health and character issues that cannot be resolved, you can decide for yourself if the pup was really cheaper.  But as you keep coming back to me, I am also equally sure that you have looked at what they have available and realized that most do not even remotely resemble a real Rottweiler in physical appearance or temperament, and you probably even asked about health or temperament guarantees and found that they are NOT given.
And finally for your last statement:
HAHA loads of money!  that is why my hubby works 2 full time jobs because there is nothing but profit in the dog business- travel, training, vet bills, food, new adults (some over 40-60k+), vaccinations, heartworm, website, advertising, whelping, etc.–that all comes for free!  Here is a quote from my website, it is a few years old so some of the totals are off, but you can get the idea:
"How much money can I make breeding?"
(my reply)  "Well, I have sold my pups, youth and imports this year for a grand total of $17,000.  If you take from that my expenses: about $800/ mo. on dog and puppy food, treats and toys (about $9,600/ yr.); vet expenses on puppies (about $2000/ litter for prenatal care of the bitch, microchipping, vaccinations, de-worming, flea/tick preventative, heartworm preventative, and puppy check-ups); vet expenses of adults (about $250/ mo.–about $3000/yr.– for Frontline and Inteceptor, about $150/adult for annual vaccinations and check-ups; import and customs fees ($1000-$1500/ import);  So, lets see–that's about negative $2,250, but that does not include the extra expense of a sick puppy or adult, whelping supplies or the whelp box, items for the take home puppy care package (food, blankets, toys, collars, etc.), travel and entry fee expenses for the dog shows, my expenses of new imports for Guardian Rottweilers; nearly $1000 per adult to do all health clearances for breeding, the new couch one of the puppies ate, all the sleepless nights and hard work, and of course all the poop you can scoop!  So all in all–I guess that's probably why my husband works 2 full time jobs and installs carpet on the side!!
Hope this was helpful"
* EDIT- The above expenses are from several years ago, and although all the numbers have gone up significantly, unfortunately, so has the gap between the amount of money PUT IN to the dogs vs. the amount of money made on the dogs.  Between training, travel, show, handling, constantly working to improve our dogs and breeding program, additions and upgrades to Rottieopolis- there are always many more expenses than what the bank account will allow!  Whenever there is a litter where we have actually come out of the red, it is usually put immediately into one of the rescues we take in and rehabilitated as many come to us needing advanced training/socializing and often with hefty medical bills.  I have said it before and it deserves repeating- if you want to get rich quick by breeding, you are barking up the wrong tree 😉
---
NAMING THE PUPPY
I was just looking over the contract and I was wondering one thing. By what your contract states I don't even get to pick my dogs registered name, is this correct? If I am paying 1,500 for a dog I should be able to register its name as what ever I want as long as it abides by AKC rules and regulations for names. I have an AKC registered Chihuahua so I am familiar with certain types of names not being permitted. Is this one thing in the contract that can be worked around? I have a good solid name picked out for my Rottweiler.
The reason we give the registered name
1) all the pups is that litter start with the same letter, so when you call back 5 years from now, we still know exactly which litter your pup came from
2) If you ever do decide to show or compete in working events, you are walking into the ring or onto the field with a Rottweiler that has a well known kennel name which of course give you more credibility and
3) when you do show and your pup/adult places well, then Guardian Rottweilers gets credit for producing such a remarkable example of the breed.  All of GR puppies will be registered as "Guardian ____ Von Gottschalk."  The blank (____) corresponds to a name starting with which litter we are on.  We always start the names with Guardian as a strong reminder of what this bread is best at- loving, affectionate, protective and loyal- a true Guardian.  And then they carry my German name Von Gottschalk in honor of my my grandfather.  So, we have puppies like "Guardian Riddick Von Gottschalk" from the R LITTER or "Guardian Indira Von Gottschalk" from the I LITTER, etc.  I have followed the method of naming litters that Germany and all of Europe have used for naming their pups and litters.  This is also helpful for a breeder to know, for example, that my Diesel's sire is from CRNI LOTOS F LITTER so if I like that combination, I would look for another dog from the F LITTER;. or to know that BALOU's A LITTER produced some of his best offspring to date (AMBASSADOR, AYKA (mother of my DUNJO), etc.)  We always invite suggestion for each litter letter we are on, and of course you are always free to chose the call name of your dog which does not need to correspond with the registered name-i.e- if your pup is named Guardian Goliath Von Gottschalk, but you want to call him Bob, that is totally your discretion.
When we import a puppy, the registered name will already be given on the EXPORT PEDIGREE and cannot be changed.  These names are given according to which litter letter the breeder(s) in Europe are on and accompanied by their kennel name.  (I.E. the 3 males I just imported from De Baron are Beni, Bronko and Brando Se Ungo-Rot.  Uross chose those names as he was on his B LITTER and named with his kennel name "Se Ungo-Rot."
I hope this helps, and if you have any further questions, please let me know.
Best Regards,
Alice
---
DRINKING TOO MUCH WATER
Hi Alice.
Lately when Jaz drinks water she is throwing it up. I think it is because she is drinking it to fast. Have you ever encountered this and do you have any recommendations on stopping it?
Jaz also graduated yesterday from obedience class with flying colors.
Talk to you soon.
Joe
Hi Joe,
It is not uncommon, and you are right, it is typically caused by 2 things:  either the is drinking too fast and swallows too much air, or she is so thirsty that she is drinking too much and her tummy just can't handle that much.  Most of the time it is a combination of the 2.  There are a few ways to go about it.  First, try only putting a small amount in her bowl at a time–forcing her to drink only a little then waiting before getting more.  HOWEVER, you MUST remember to then give her more later as you do not want her to become dehydrated.  Also try getting her to calm down after hard play outside before she drinks.
Try these tips and let me know how things turn out.  Give her big kisses for me!
Alice
Hey Alice,
Great advice we gave her a smaller amount of water today and she has not thrown up since!
Thanks Alice
---
BITCH IN SEASON
hi,
Ok so up to now Dagan has been pretty easy to deal with as a puppy, nothing too far out of the puppy norm aside from the intelligence and independence. He has always been SO good about going outside to urinate. Recently I was glad when he started to hike his leg to pee considering when he squats he hunches up like he's trying to poop and ends up peeing on the back of his front legs. So you can imagine my excitement when he began to stop squatting. However, I have recently caught him several times trying to spray on items IN THE HOUSE. We've never had a male dog in the house before and my mom's farm dog was neutered when he was a pup years ago. I expected the wizzing on things outside, but didn't dream he'd do it inside. When I take him out to potty now he just does little tinkles here and there instead of the 2 minute long power pees he used to do, so I can't take him out and be assured that he has an empty bladder when he comes back in. He has become obsessed with the sniffing and peeing, adolescent hormones I know, but is there something that i can do? I'm sure you've run into this, especially having more than one male on your property. I feel like he's 3 months old again and i have to follow him around in the house so we don't have an "accident". Not good at 10 months. We're pretty sure Hanna has started her cycle. We've found random drops of blood but haven't seen it on her and Dagan has taken an extreme interest in her behind. It doesn't help that she frequently puts it in his face for him to inspect. So I'm sure his hormones are out of control. I don't want to make him stay out in the kennel or cooped up in the crate all the time, but he just can't be trusted. He's the first unneutered male I've had so any input would be helpful.
Thanks,
Teresa
Hi Teresa,
yes, you are exactly correct.  It is teenage hormones.  She is coming into season for the first time, so you need to really watch then next week because she is obviously WAY too young to breed.  The problem is, not only are the hormones a new feeling for him, but now with her advertising (that is what the blood is for) it is likely driving him nuts.  He is just trying to "advertise" back to her that he is ready, willing and able.  Meanwhile she is in season, the best thing to do is to confine him to the crate when you cannot watch him not only because of his desire to make it clear to her that he is ready, and to let any other possible males know that she is taken, but also because you do not want him to get her.  You would be amazed at how fast a couple can tie!  Another thing that will help is to take him for longer walks so that he will have plenty of new places to mark and hopefully empty the tank 🙂  Poor guy!  Give him a hug for me!
Alice
---
RAISED WATER BOWL
Andy and I bought a raised food & water bowl for Jewel but my Boss said that can increase her chance of getting bloat.  I thought it was better to use raised bowls for larger dogs.  Should I take it back or keep it?
Leah
That is an excellent question Leah.  Bloat is a very serious sudden onset medical condition that can effect any large breed dog because of the large amount of space in the abdominal cavity.
Raised bowl DECREASES the chance of getting bloat and is the best way to feed and give water.  What increases the chance of bloat is drinking or eating too much especially right before or after hard exercise.  When a large breed dog consumes a large amount of food and/or water and it fills their stomach up, that full stomach is then just bouncing around inside the abdominal cavity.  If the dog does hard exercise or running, it is very easy for the stomach to turn on itself and cause life threatening bloat.  When the stomach twists on itself, blood flow is cut off to the area that is pinched (like when the clown at the fair twists a balloon) so the tissue will begin to die.  If you EVER suspect bloat (hard abdomen, vomiting, lethargy) take your dog to the vet IMMEDIATELY!
I also ALWAYS recommend that if you are going to spay your female, ask the vet to tack her stomach to the abdominal wall while he is in there.  It is not much extra effort for the vet and not added stress for the female as she is already out, but it will prevent the stomach from ever turning on itself and causing bloat.
If you have any more questions, please fell free to ask.
Give our little pumpkin kisses for us!
Alice
---
ROTTIE LEAN
I have a silly question. why does my 5 month old rotti like to put her butt up against us? Sometimes she does while barking at nothing really.    Angie
Not at all a silly question Angie.  The "rottie lean" if done to strangers (i.e. those who come to visit and are accepted as ok, but not family) is done to displace the visitor and show dominance- i.e. I can claim any spot you are on. When done as the dog is backing up and barking, she is reassuring herself that she has back-up (you 😉 ) or can be a sigh of protection- i.e. Diesel will push me back out of the way when a stranger approaches so that he can make "first contact" and assert his authority with the stranger; and when done with family and pack members, it is a sign of affection- they love the constant contact. If you start to pay attention, I am sure you will see the subtle differences in the leans (just like tail wagging- sometimes it is done as a challenge, sometimes it means they are happy, and sometimes it means they are uncomfortable or on alert [usually when very stiff]) When my Diesel leans into myself or the kids, it is a very gently obviously affectionate gesture and he is wanting some lovin'.  When he leans into Mark, for example, (our contractor who is here almost daily for the last 3 months getting our kennels and whelping rooms built 😉 if Mark does not have his footing sure, Diesel will literally displace him and has made him stumble a few times. It is a very non threatening un-aggressive move that still conveys the dogs power and authority. He is saying "you're my friend and I'm glad you came and you can give me some lovin', but lets be clear whose house this really is and who is in charge. (If you are ever in doubt, let that person try the reverse lean- push back into the rott and she how firm he holds his ground! No growling, just refusal to give ground. Again he is saying, "mine.") Most of dog communication is done with very subtle body movements and gestures- a simple head held high can be the grounds for a fight in a dog pack.
---
PUPPY VACCINATIONS AND DEWORMING
Do you use an 8-in-1 shot and deworming at birth? A breeder is telling me that all professional breeders do it, I've never heard of it before. I thought it was dangerous to vaccinate before 8 weeks. I have no intention of buying anything from them but was slightly worried about the puppies they claim are top-quality.
That is the problem with back-yard breeders!  They are too lazy to research anything; too cheap to use a vet; and too greedy to care about the actual welfare of their puppies.  They would rather over-medicate the puppies than go to the effort of keeping a clean environment and taking proper care of the adults.  Please ask your vet about the hazards or deworming and vaccinating at such a young age, and if you think this other breeder would be receptive, please share the information with them- for the sake of their poor pups.
If there is anything else I can help you with, please do not hesitate to ask.
Alice
---
AGE TO NEUTER

---
WHAT'S IN A NAME?
Hey!  I'm curious about the "von gottshalk" designation for rotties and google is failing me.  Google brings up dogs with the designation but not the origin and history.
(Visited 609 times, 1 visits today)