2013 ADRK KLUBSIEGER
 Rottweil, Germany
** GUARDIAN ROTTWEILERS ** 2013 ADRK KLUBSIEGER- ROTTWEIL, GERMANY
Guardian Rottweilers takes FIRST PLACE KENNEL/BREEDER at 2013 ADRK KLUBSIEGER in Rottweil, Germany!!  It was such an amazing experience and I am so very honored to have competed with so my talented and dedicated breeders and handlers and some of the world's best Rottweilers!  HUGE CONGRATULATIONS to all the winners and participants!
Guardian Rottweiler Results:
"Bane" Guardian Gambit Von Gottschalk- VSP4
"Athena" Guardian Gigi Von Gottschalk- VSP
Guardian Rottweilers Zuchtgruppe (Kennel) FIRST PLACE!!!
Incase you do not know what the ADRK KLUBSIEGER is, it is a dog show that is held every year and it is the largest, most prestigious Rottweiler show in the world.  It is always held in Germany, although not always in the city of Rottweil- it was just an added bonus that the year we got to participate it was in Rottweil, the birthplace of this breed!  Breeders, handlers, trainers and owners from all over the world come to participate- Russia, India, Germany, Italy, Hungary, Serbia- EVERYWHERE!  This year there were over 500 entrants and it usually draws crowds in excess of 10,000!!  It is literally GORGEOUS Rottweilers as far as the eye can see!!  It is a 3 day event and there are 4 rings with up to 60+ dogs in each ring that run simultaneously from early in the morning until evening.  INCREDIBLE does not even come close to describing this event!!  What an absolute honor and privilege to have been able to attend.  For sports fans, this is like the Super Bowl, the Kentucky Derby, the Indy 500, March Madness, and the Olympics of the dog show world.  Dogs and handlers train for months and often years.  Just to go and see it live is…WOW… I do not even have words!!  Imagine if you get to go to the Olympics in person.  Now imagine if you not only get to go there, but you get to actually step onto the field where all of these incredible athletes from all over the world are going to be performing.  Now imagine you not only get to step onto the field, but you will get to actually be IN THE EVENT with the athlete that you idolize!!  THAT is how this was for me!!!!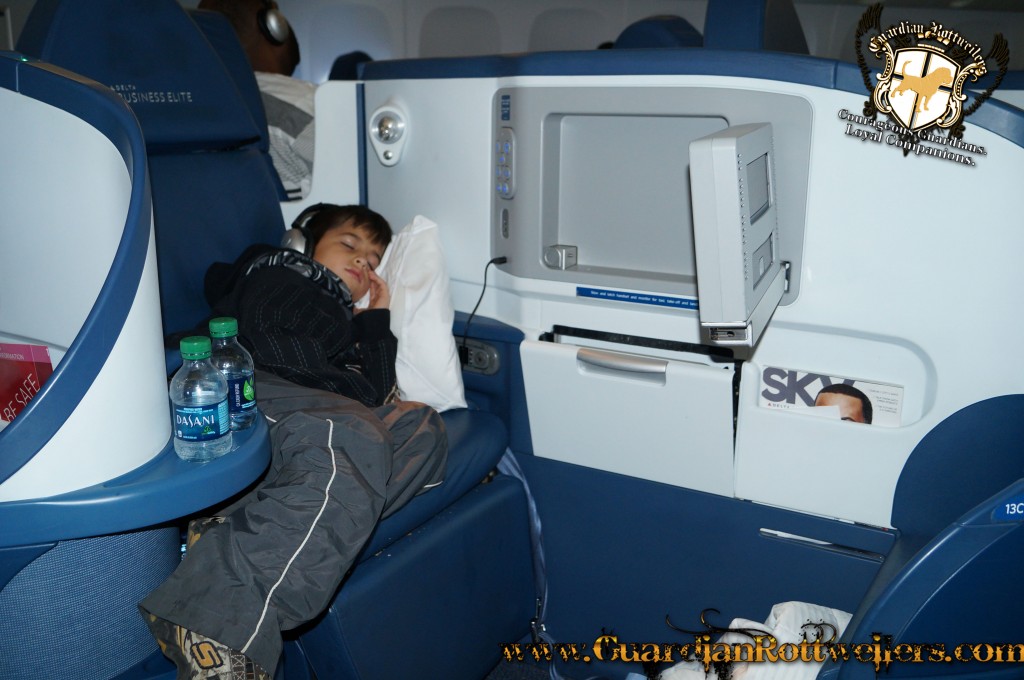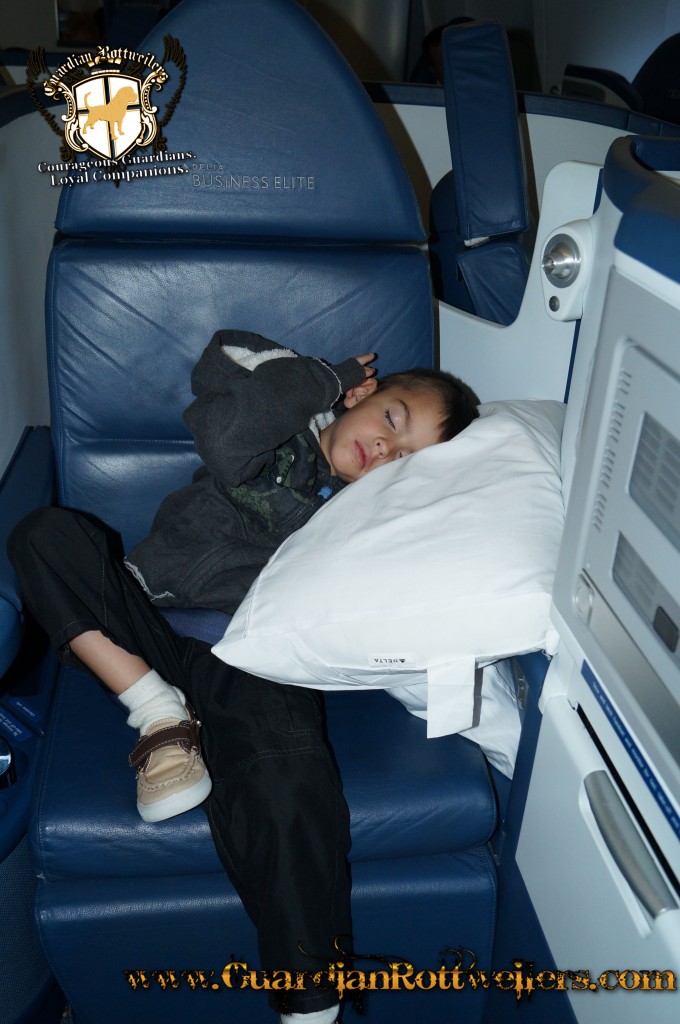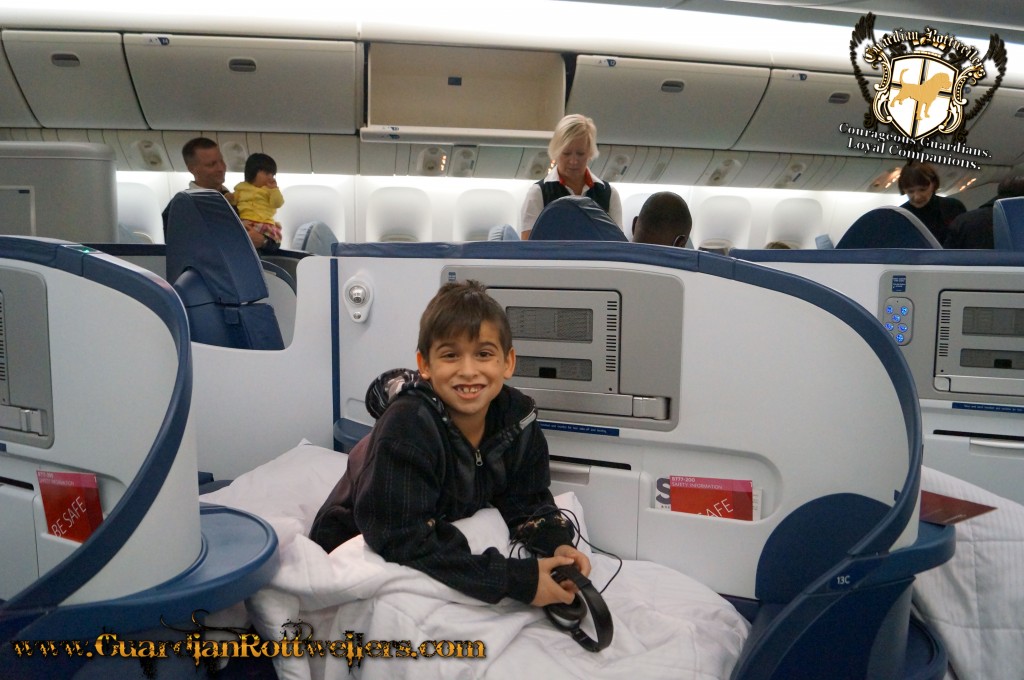 In the plane on the way to Germany.  How did my baby boys get to be so beautiful?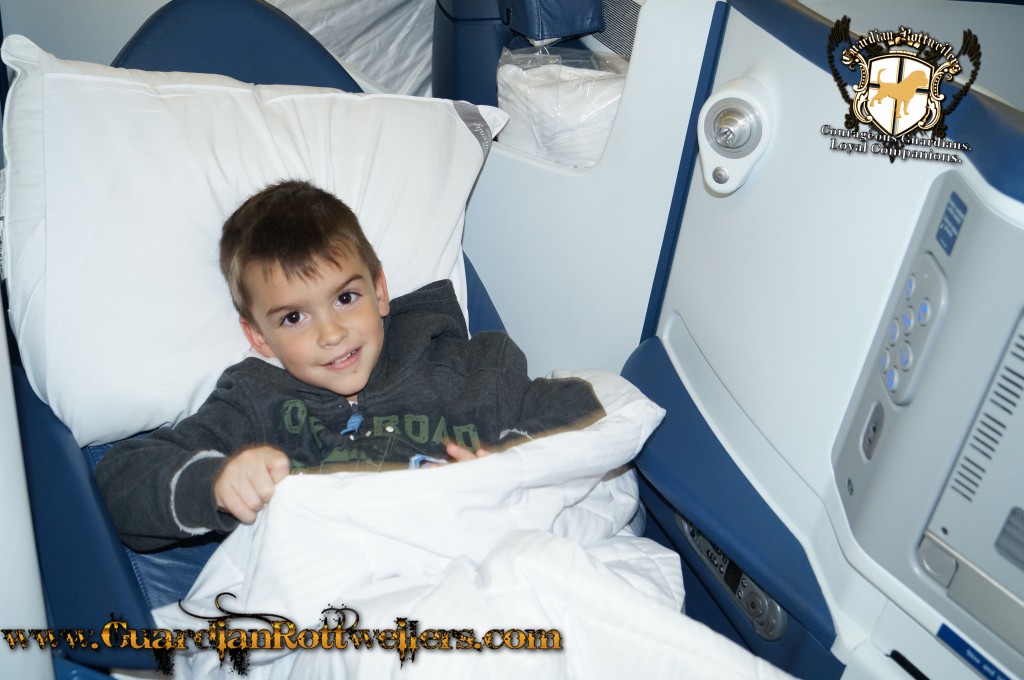 Everyone loved Geneva and she had more people wanting to take photos with her than a celebrity! lol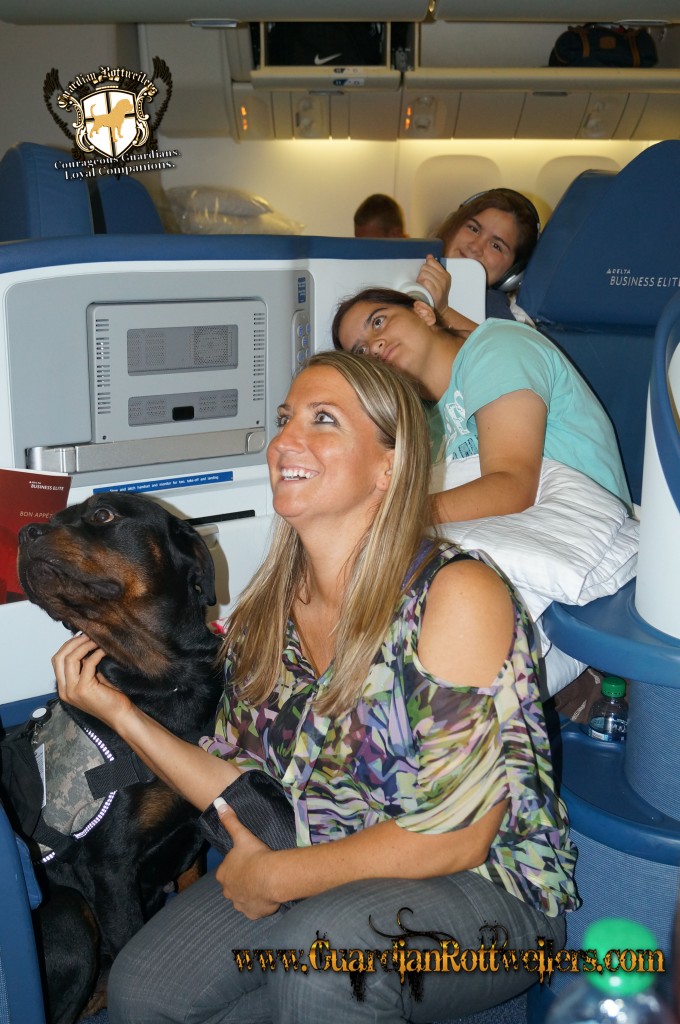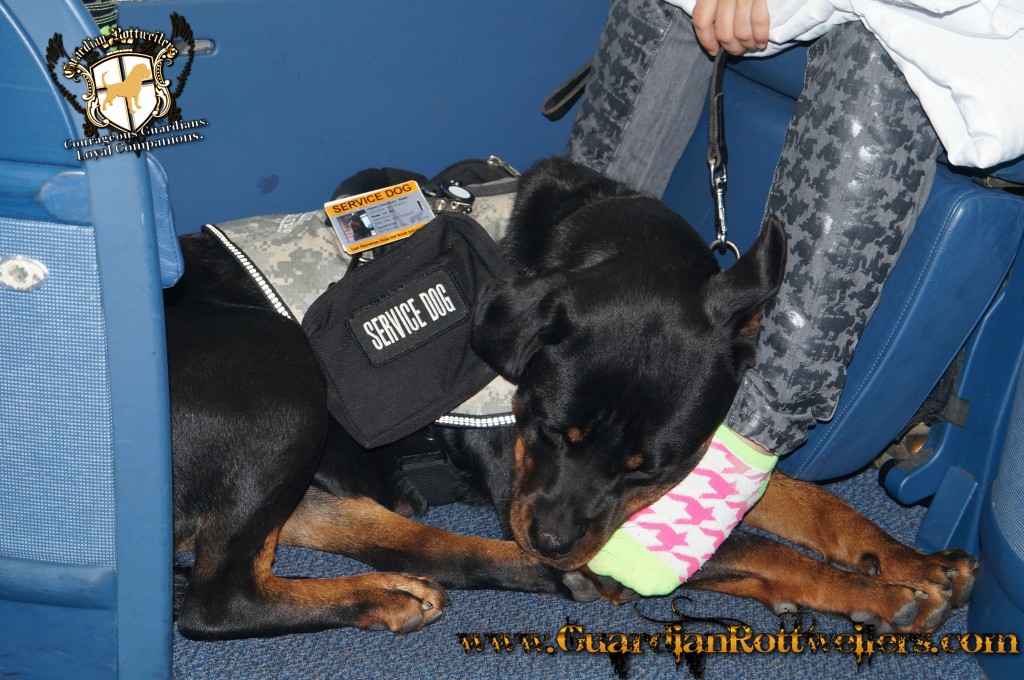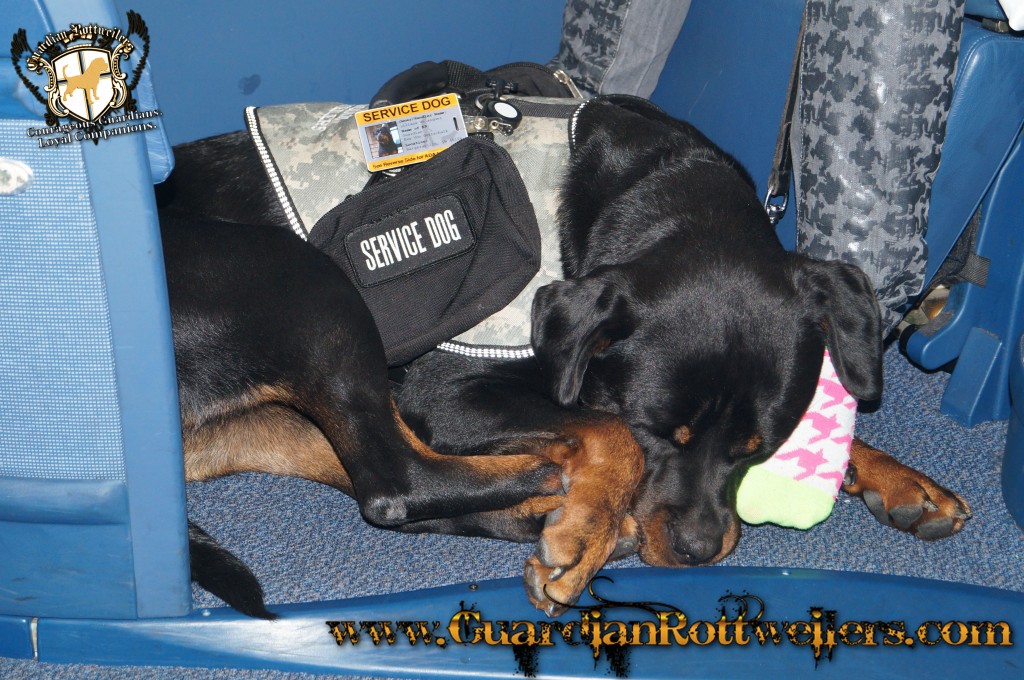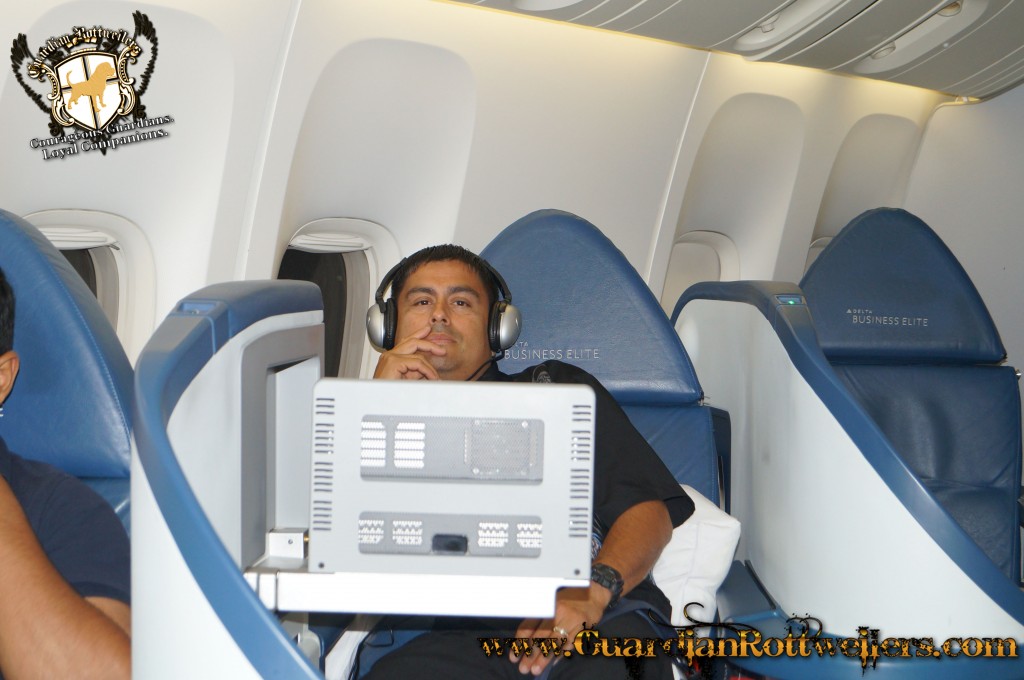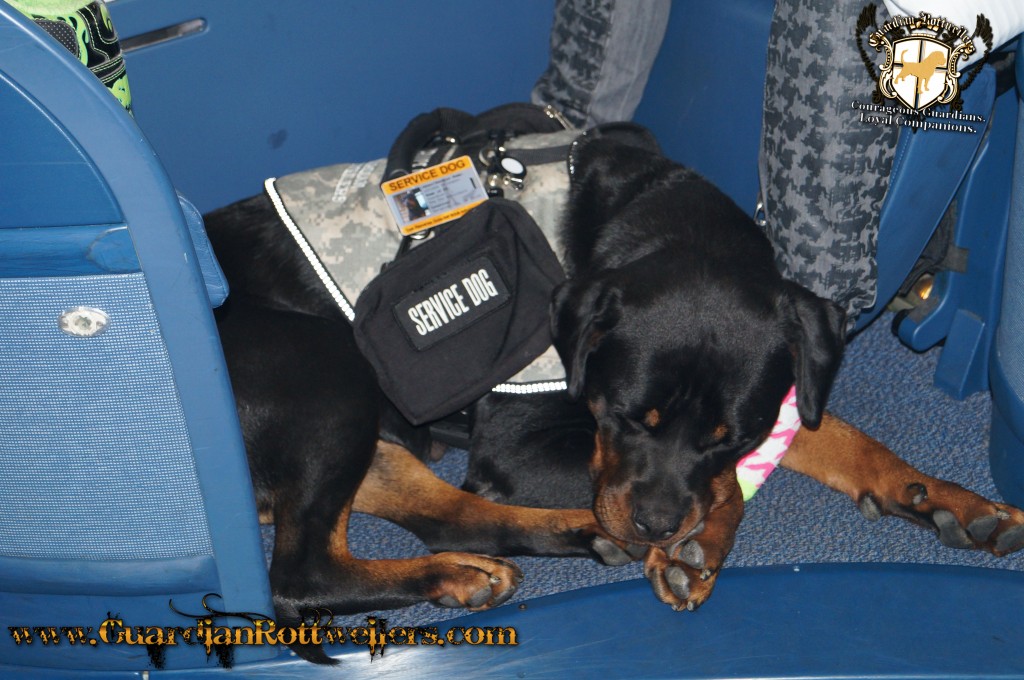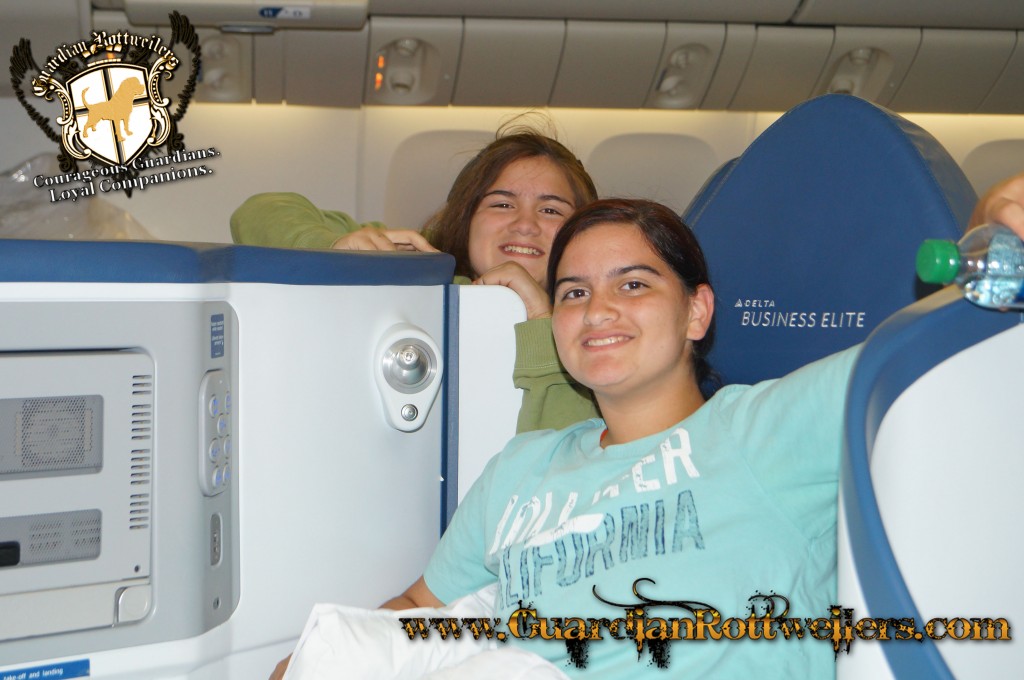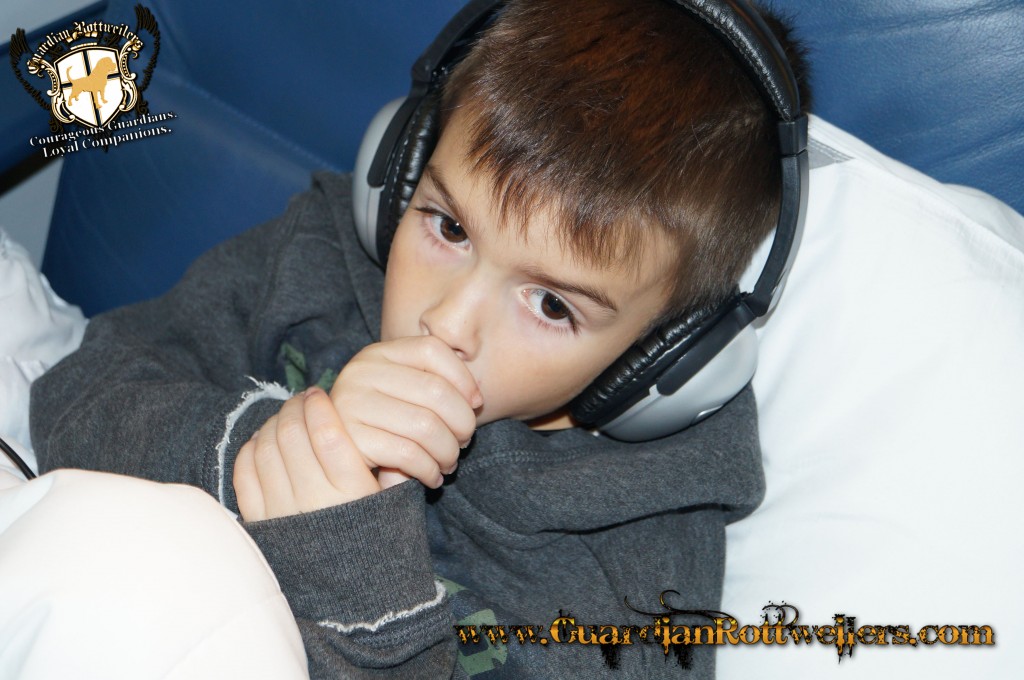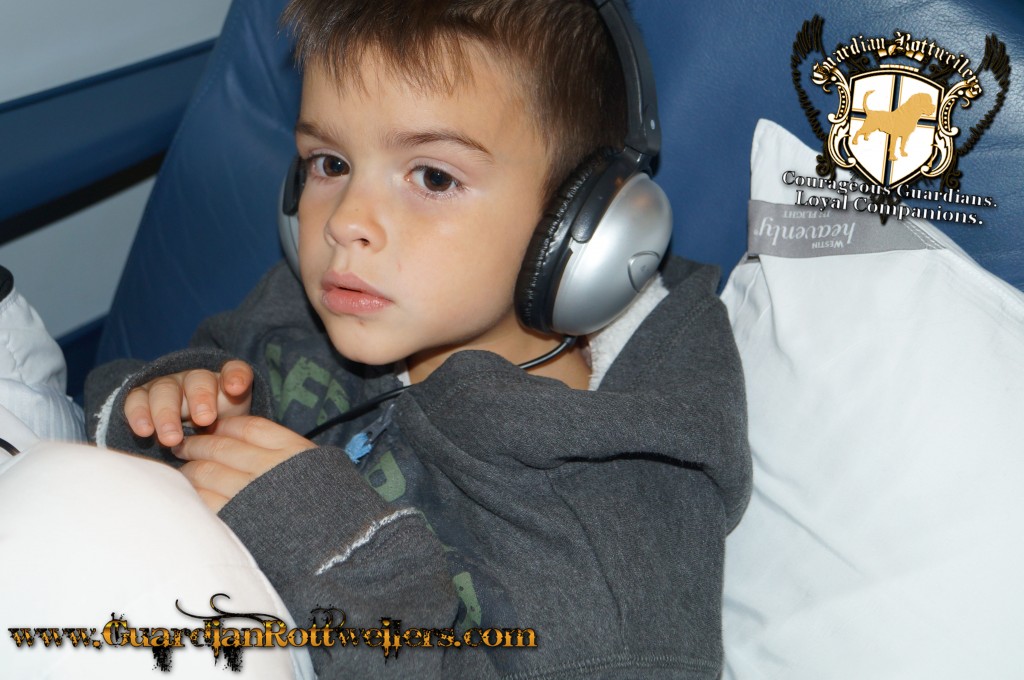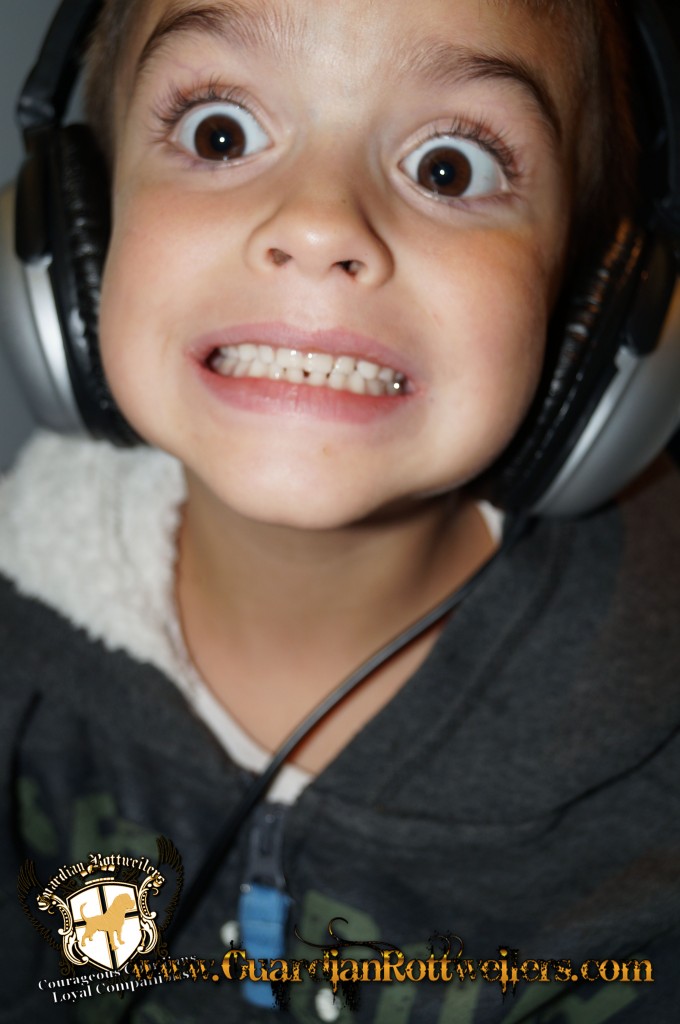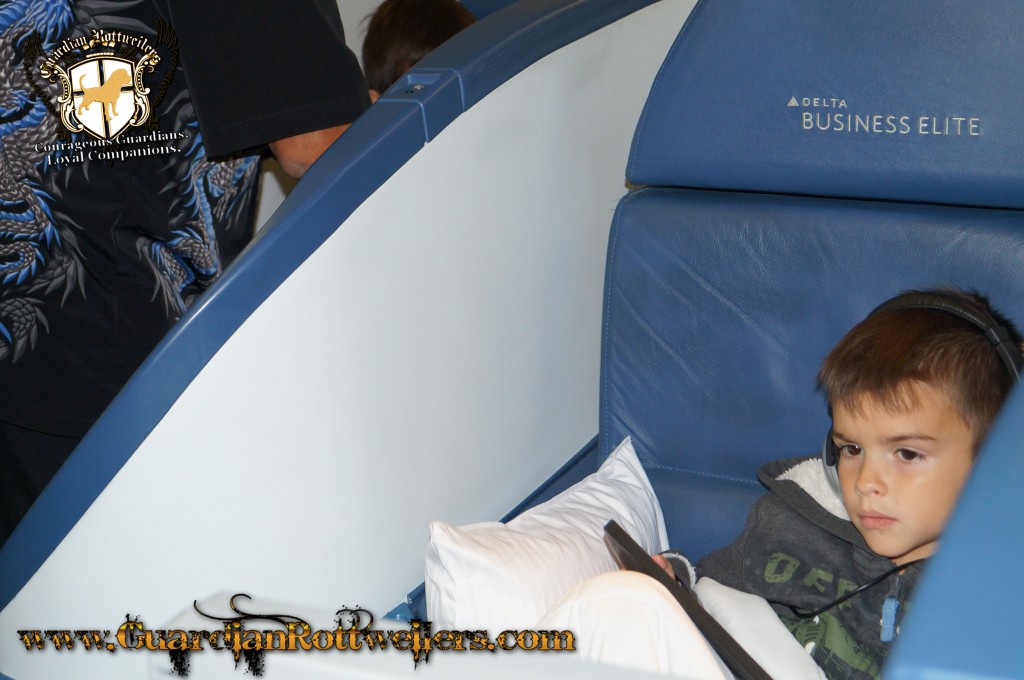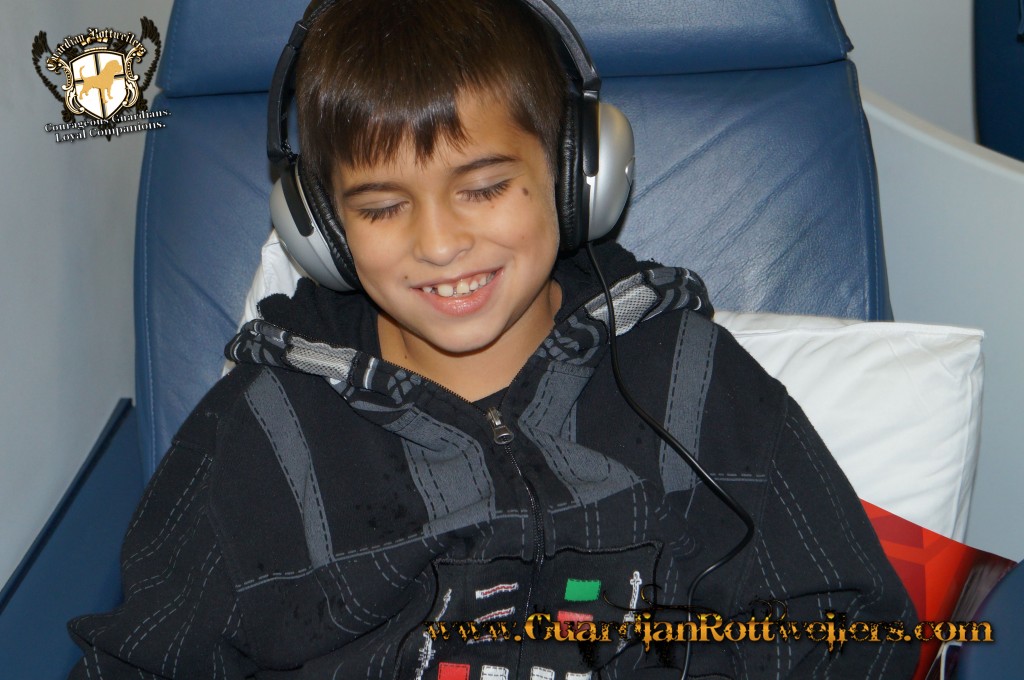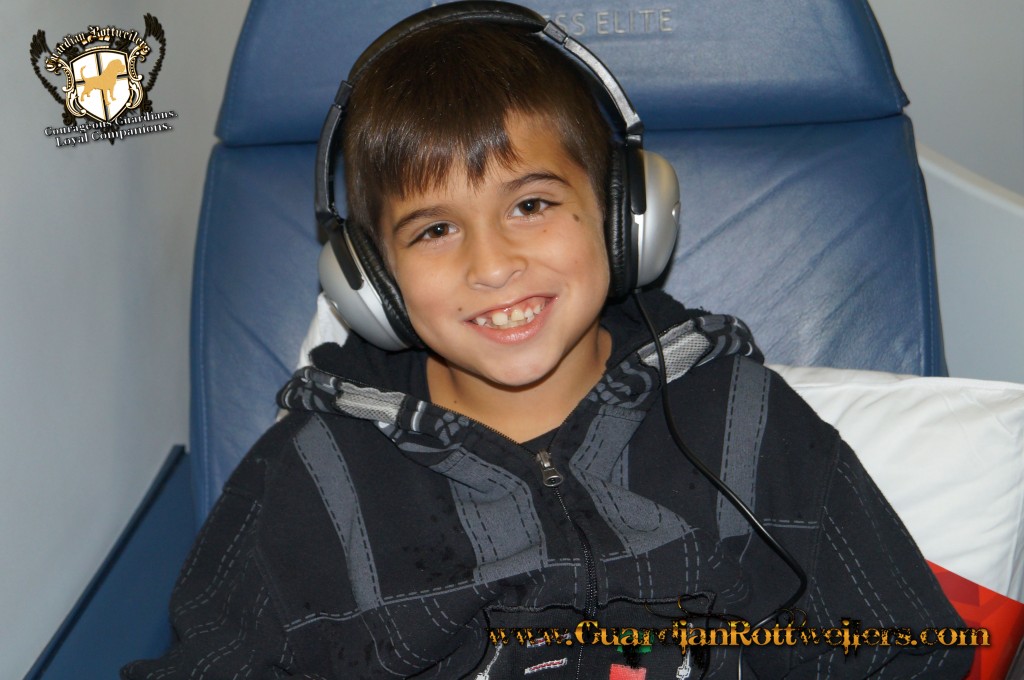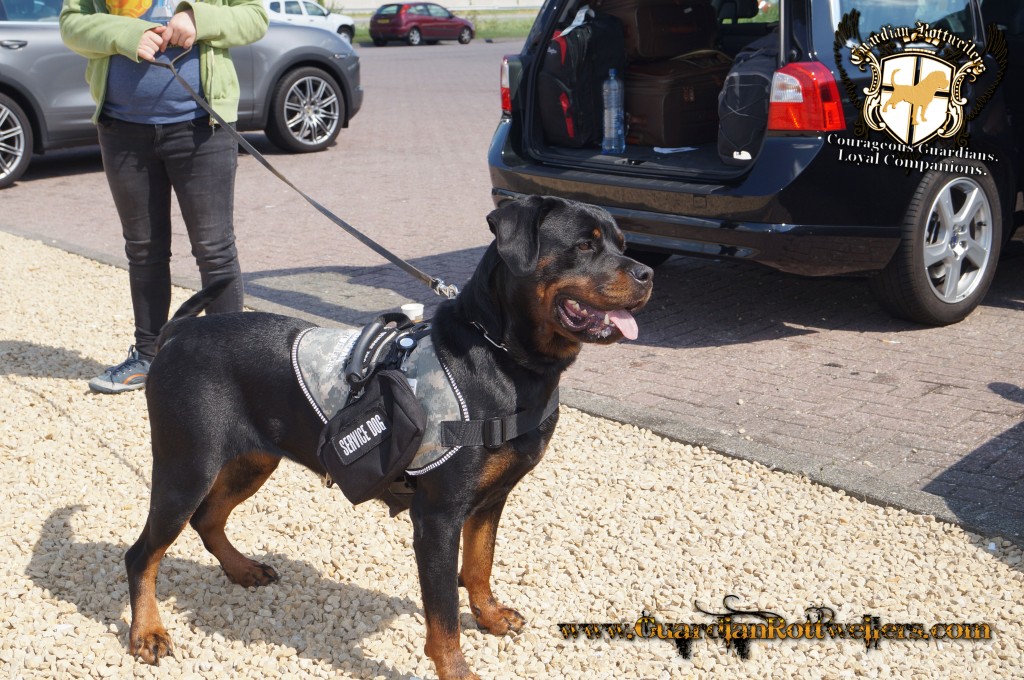 Whats more fun than a road trip??  A road trip between Germany and Holland!!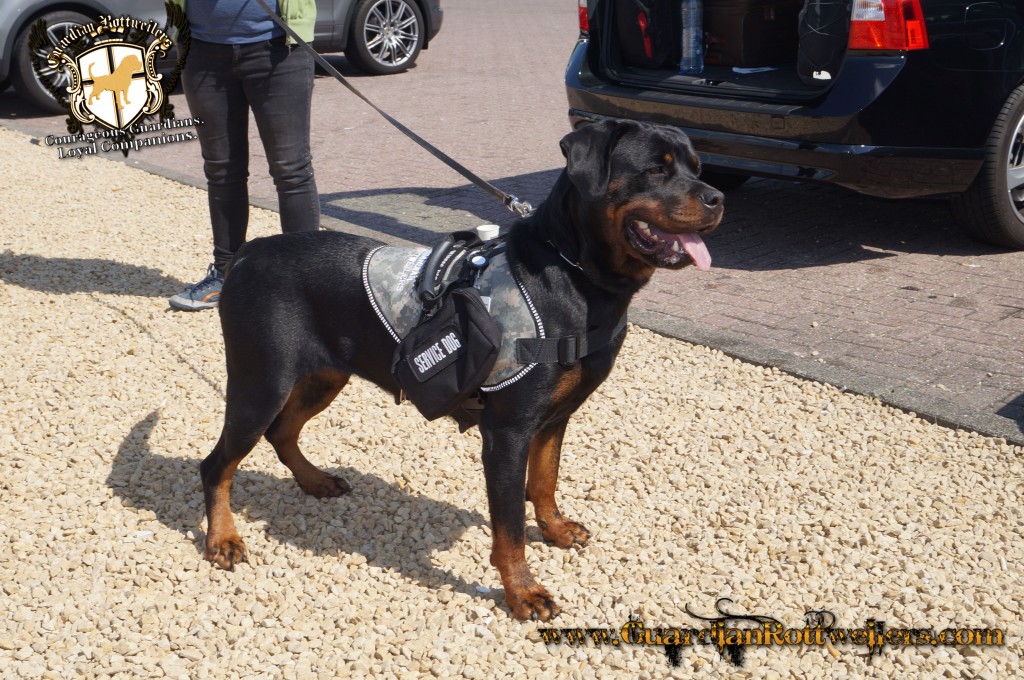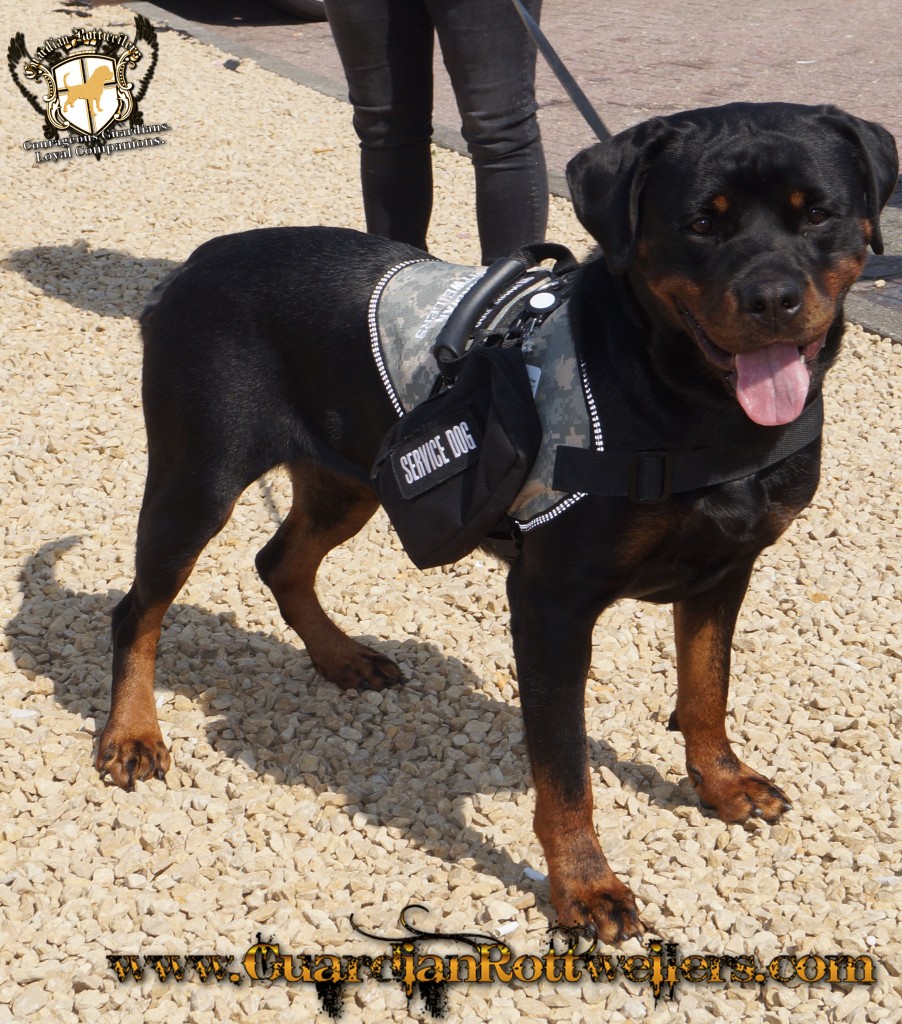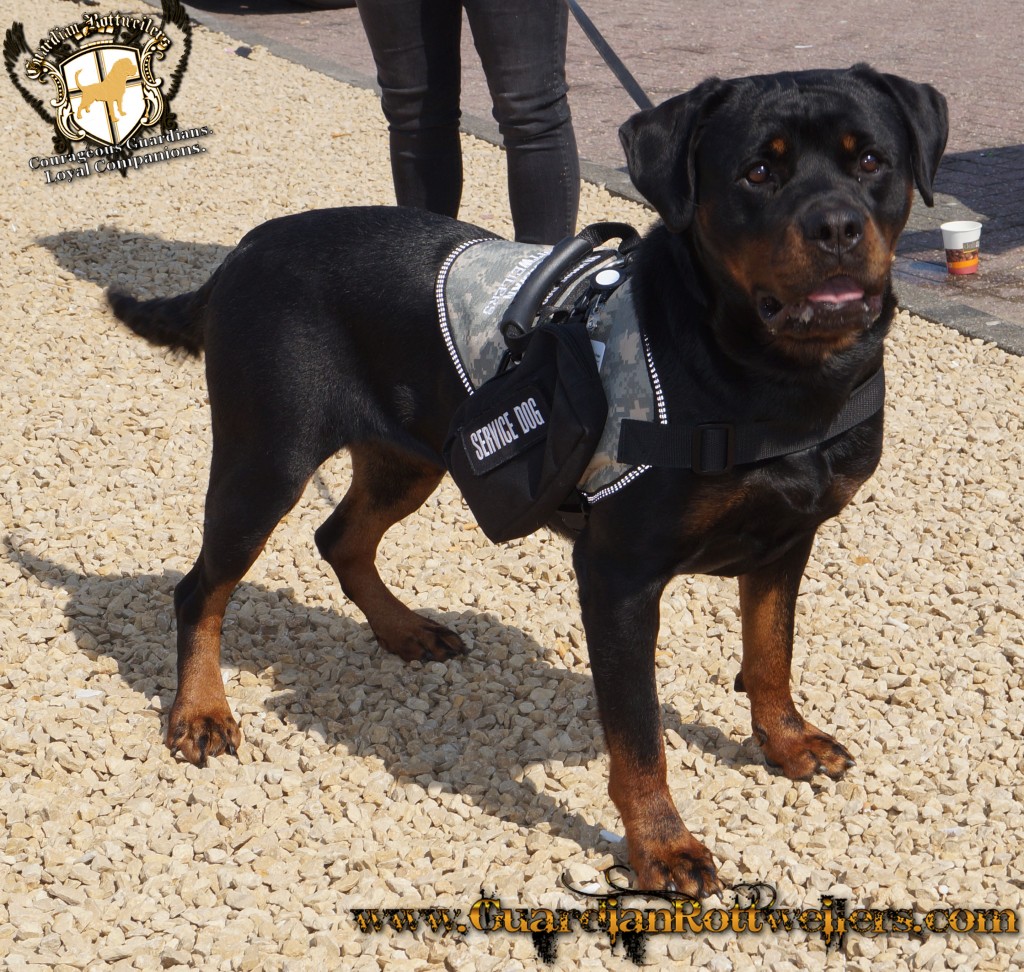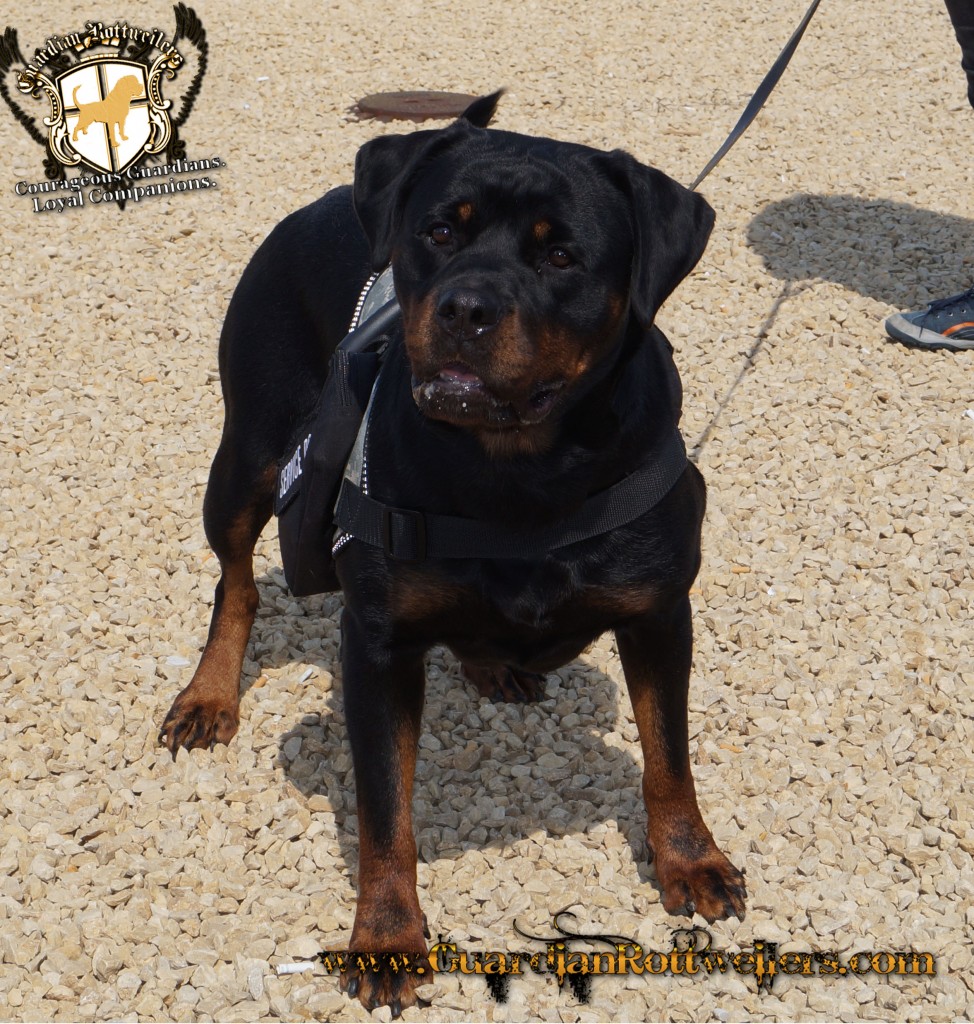 We stopped for some food from vending machines (YES!!  They have HOT FOOD available in vending machines at the gas stations!)  We have no idea what we are eating but it was pretty good!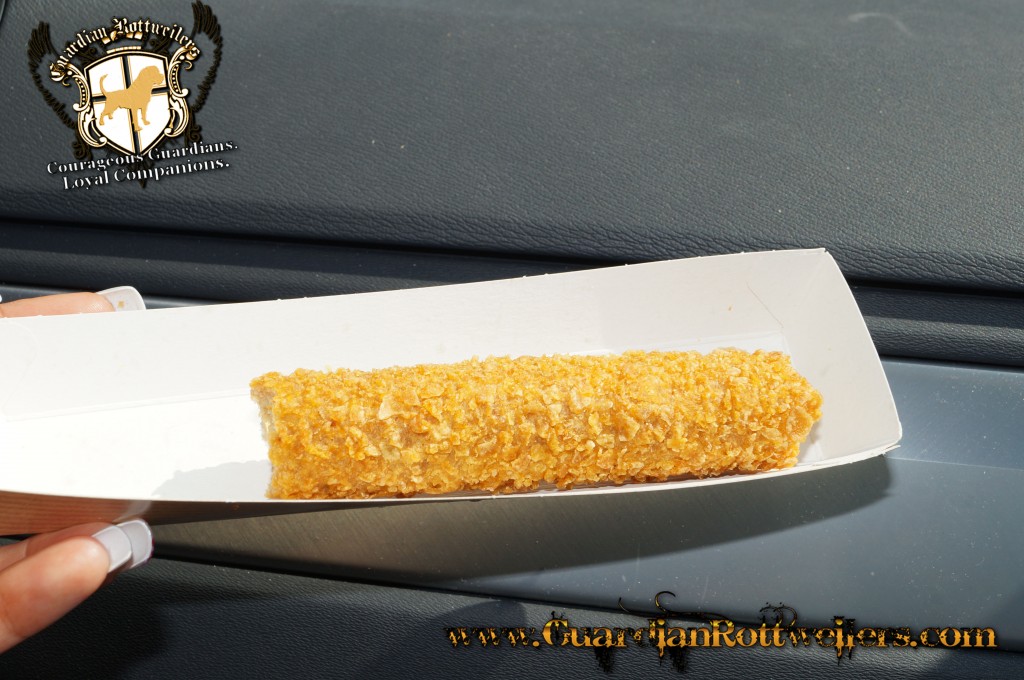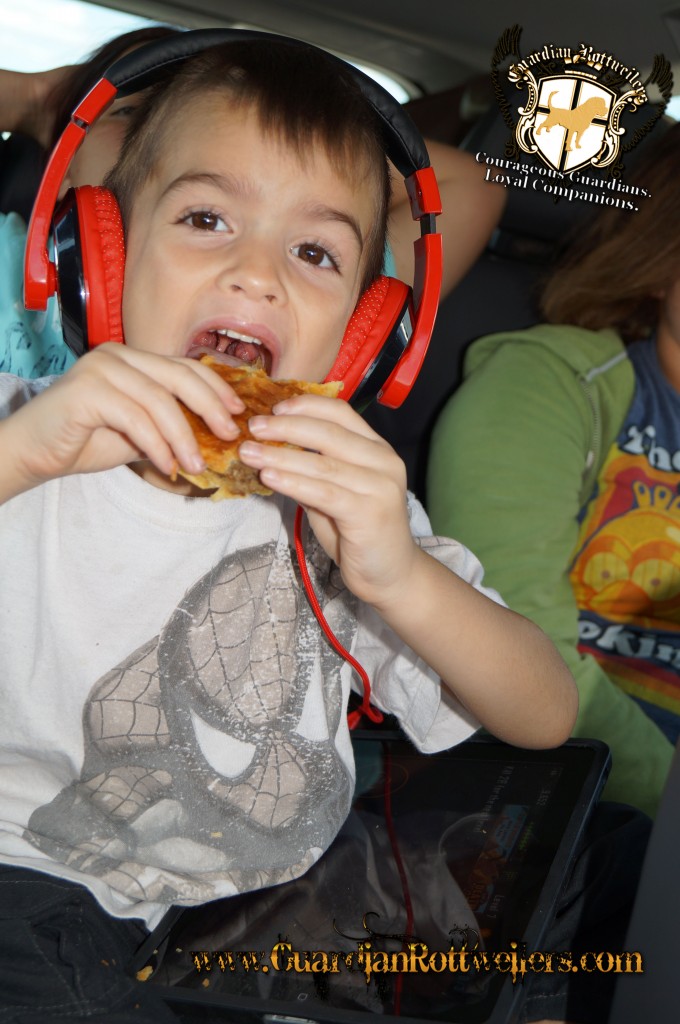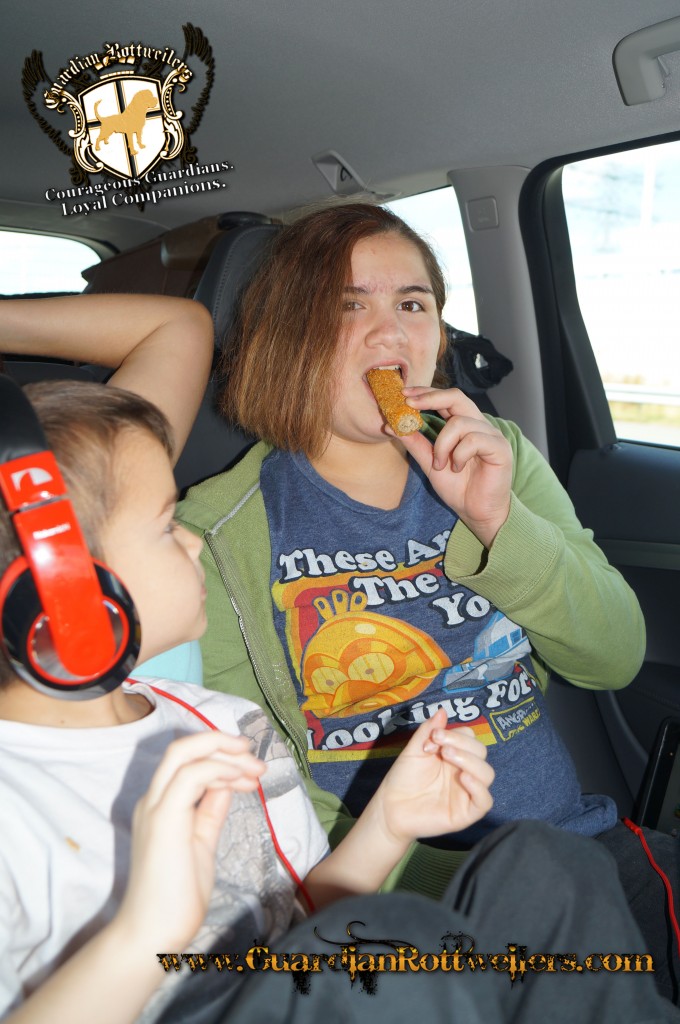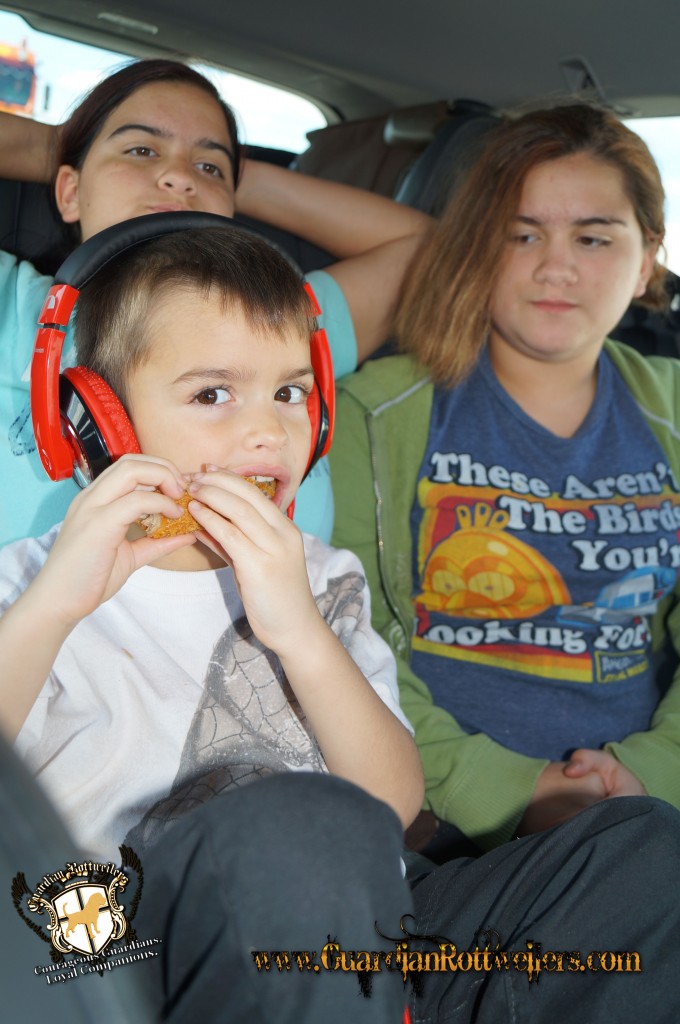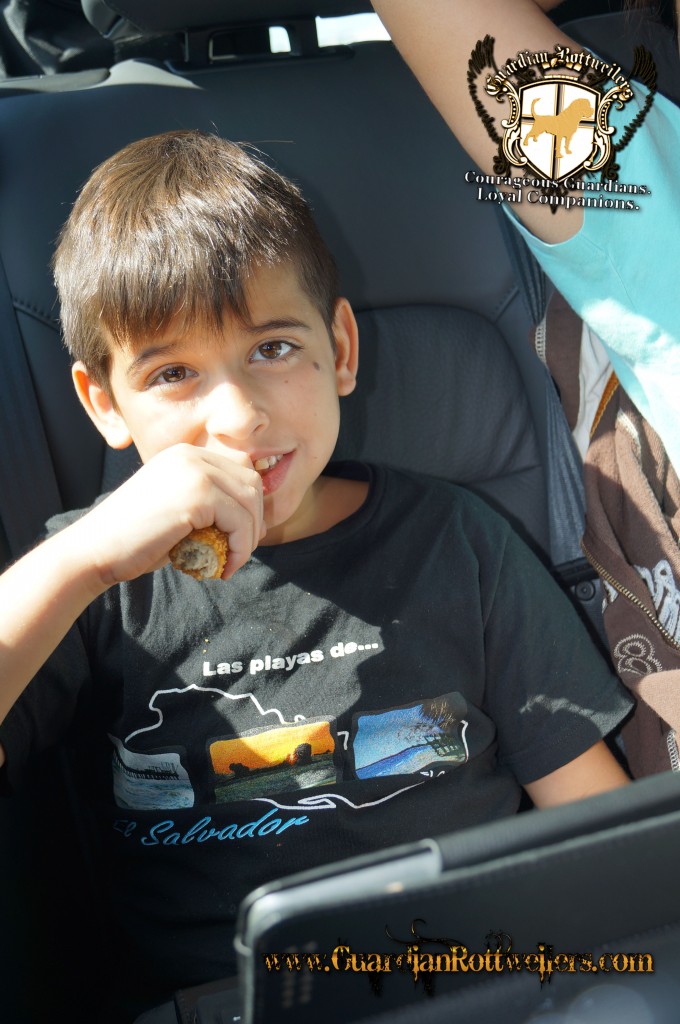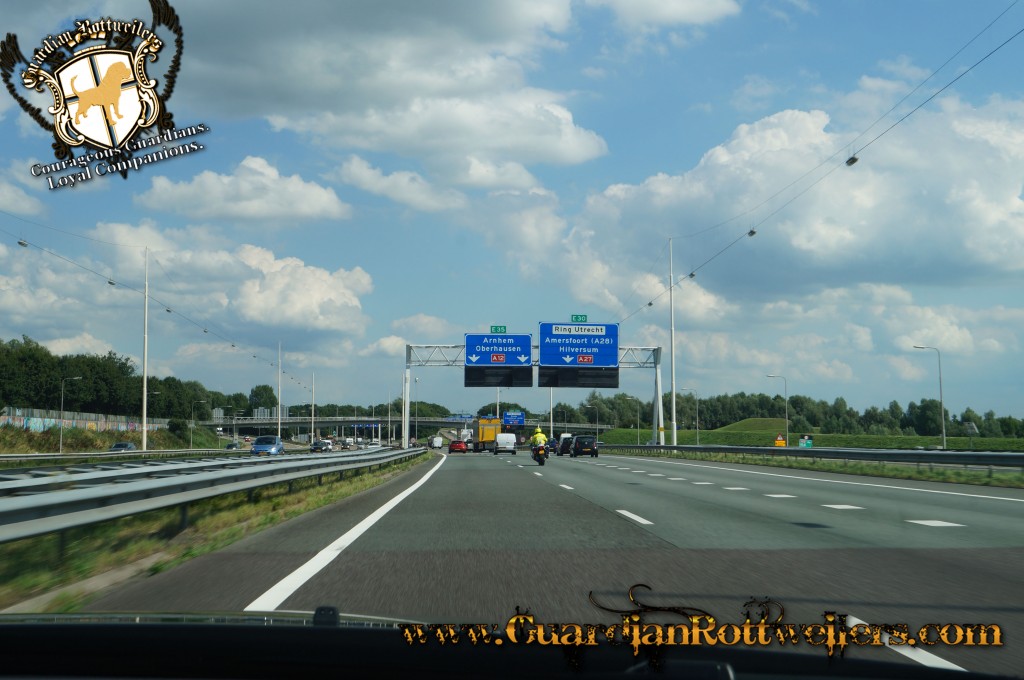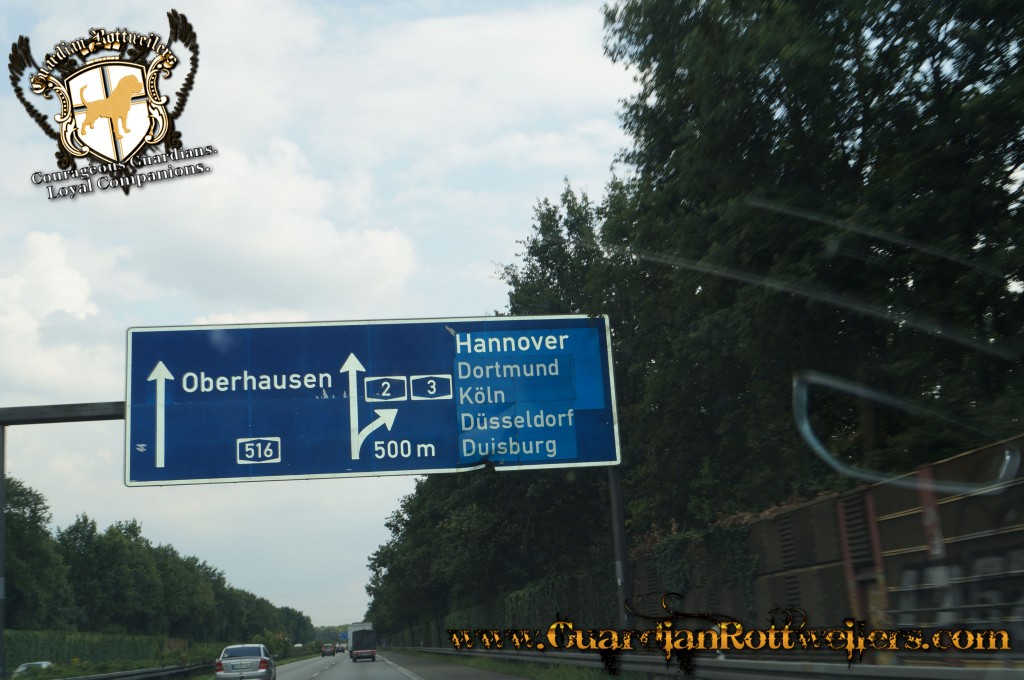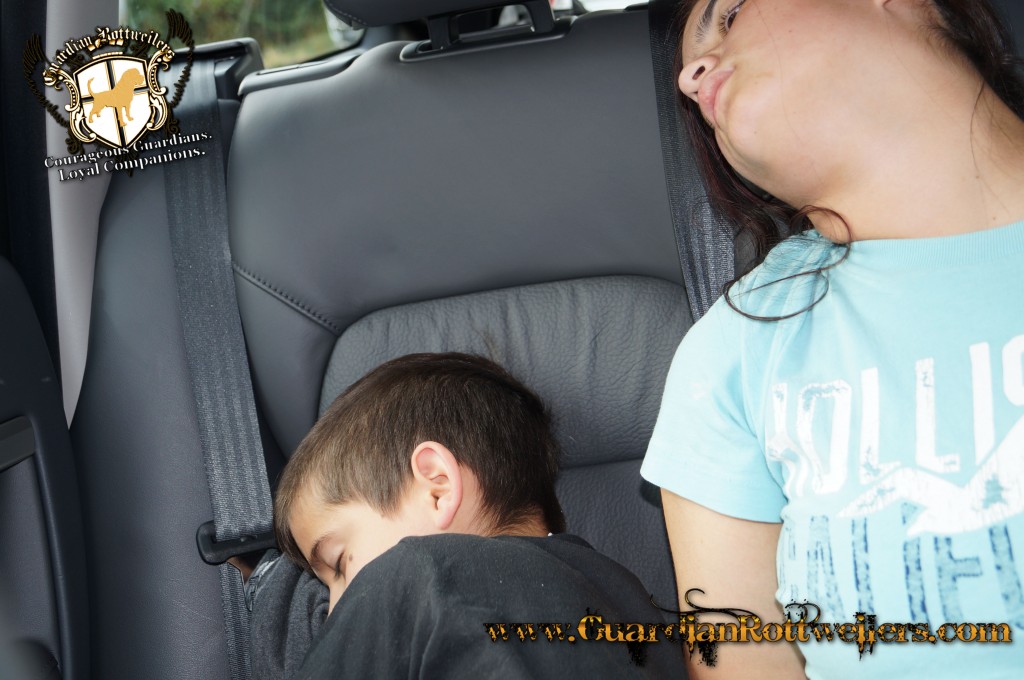 Everyone fell asleep so I guess Ethan has to drive!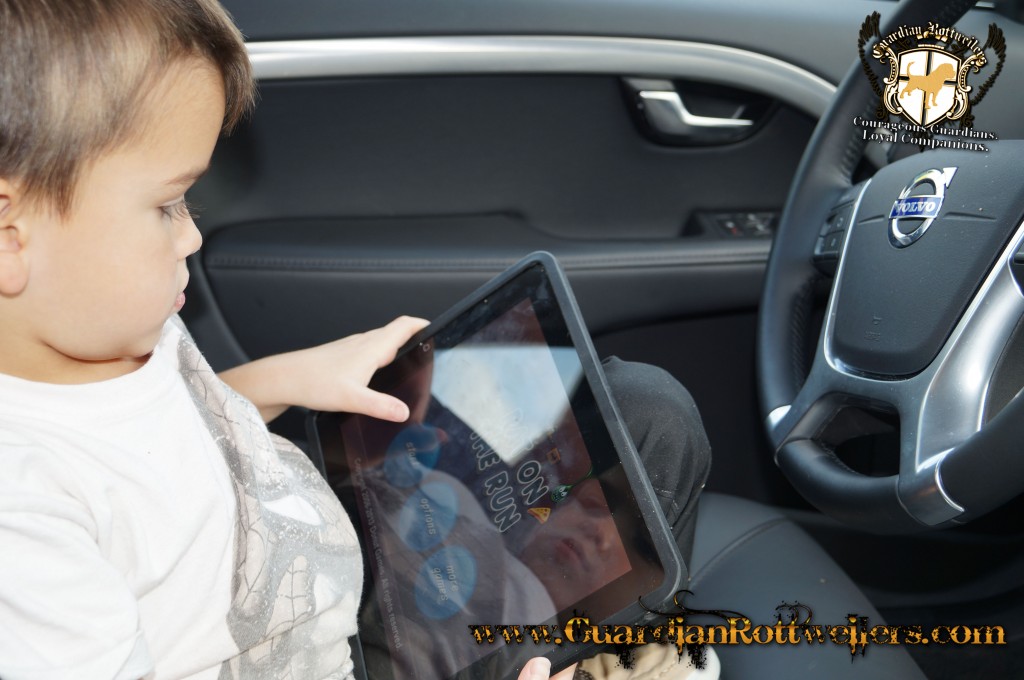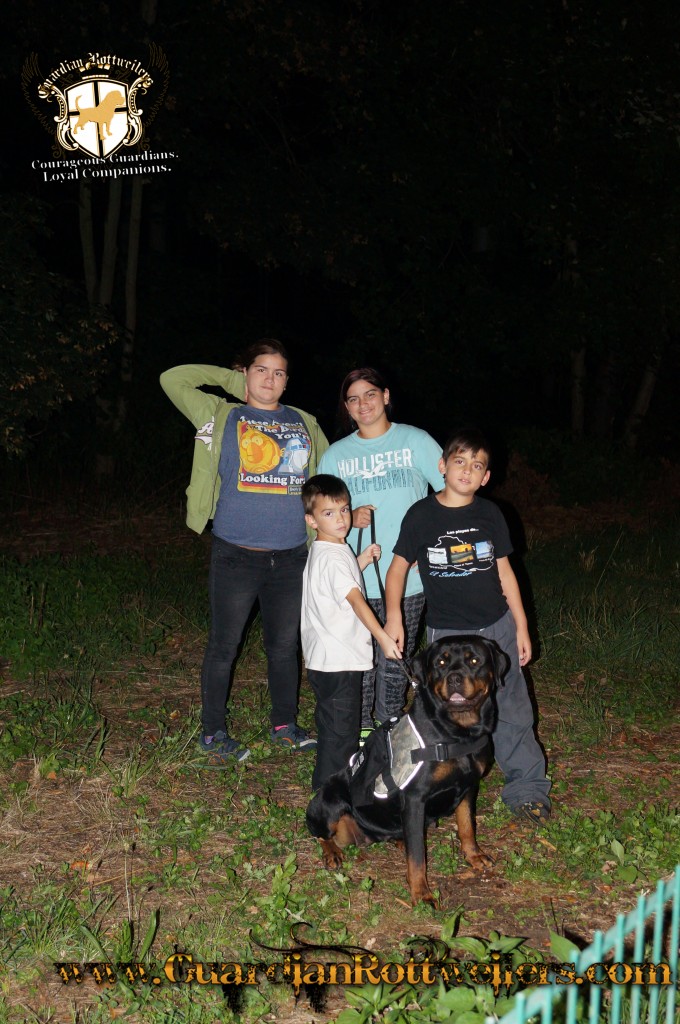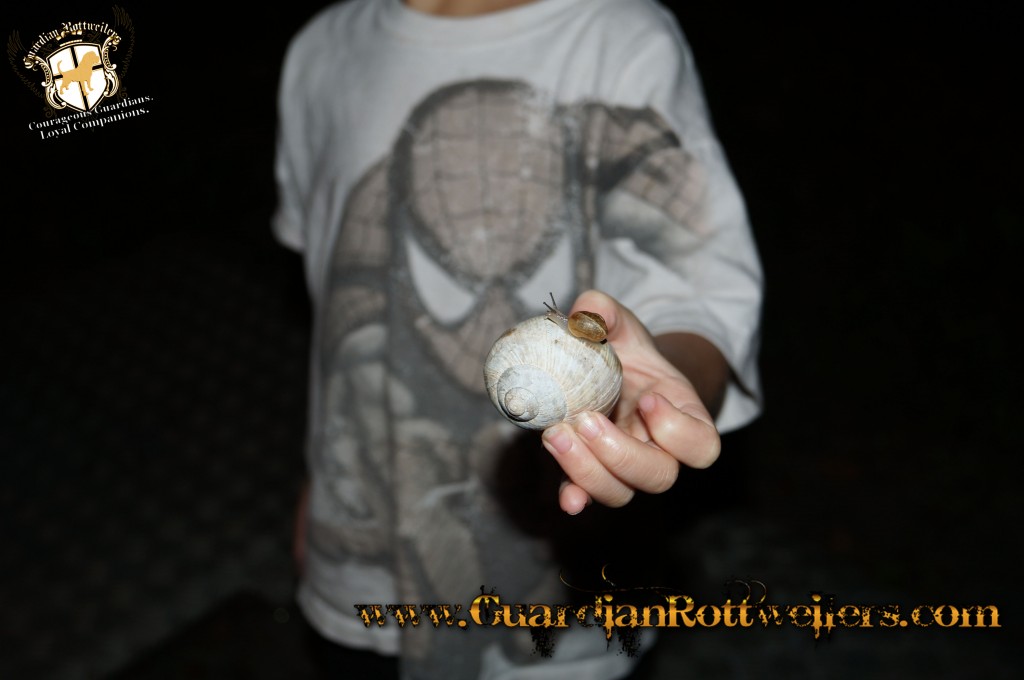 My kids will find critters EVERYWHERE we go!!  This one really amused them because it was a snail riding a snail 😉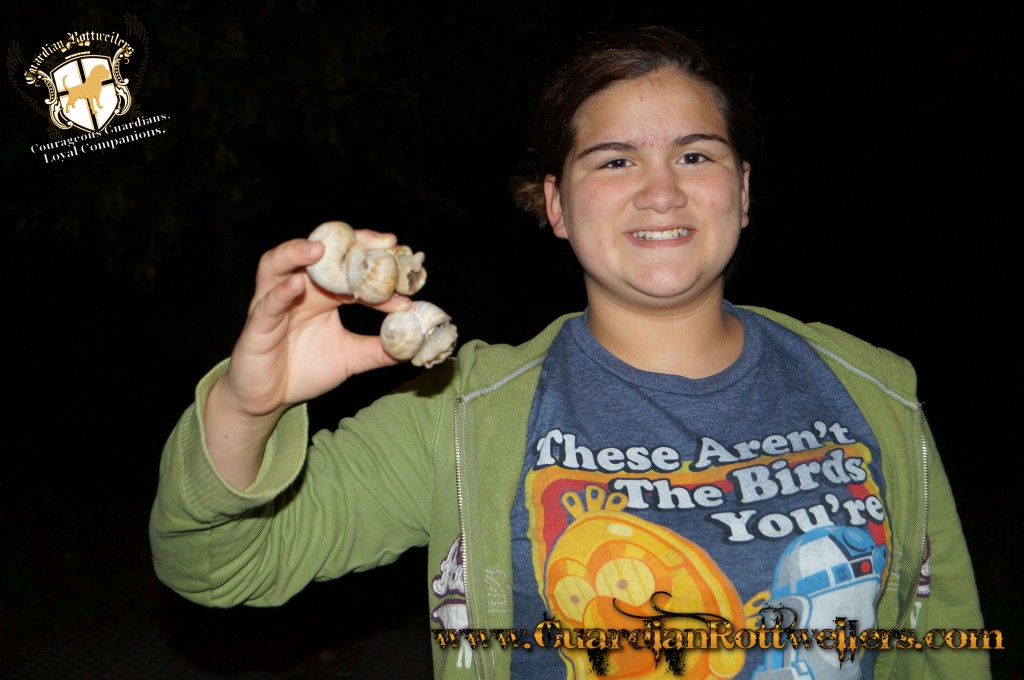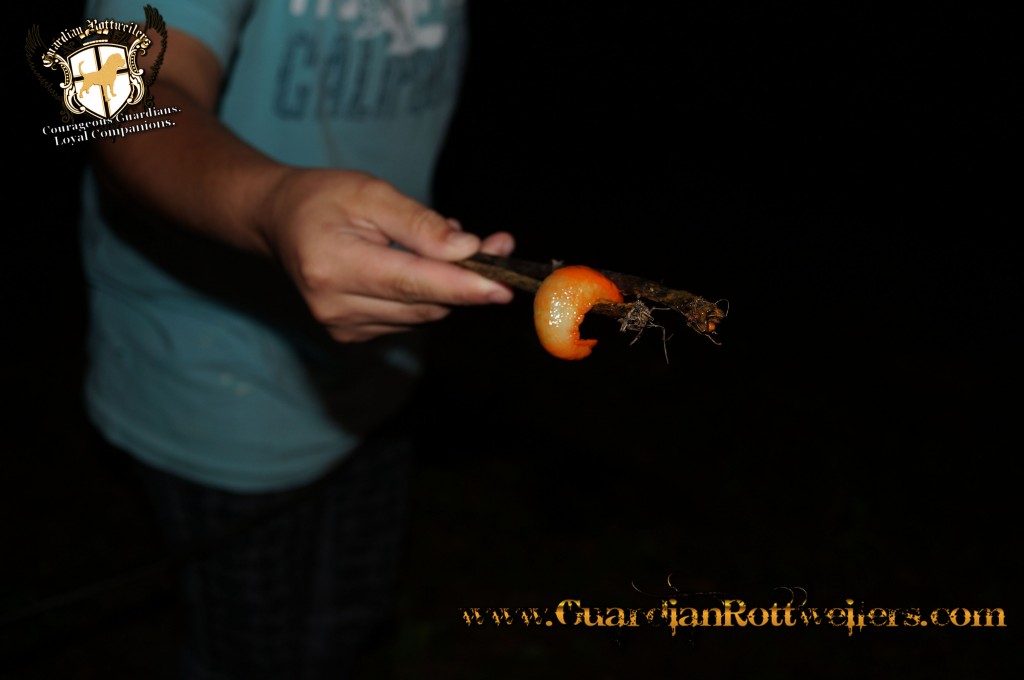 Bright ORANGE slugs!!  That's a new one for us!!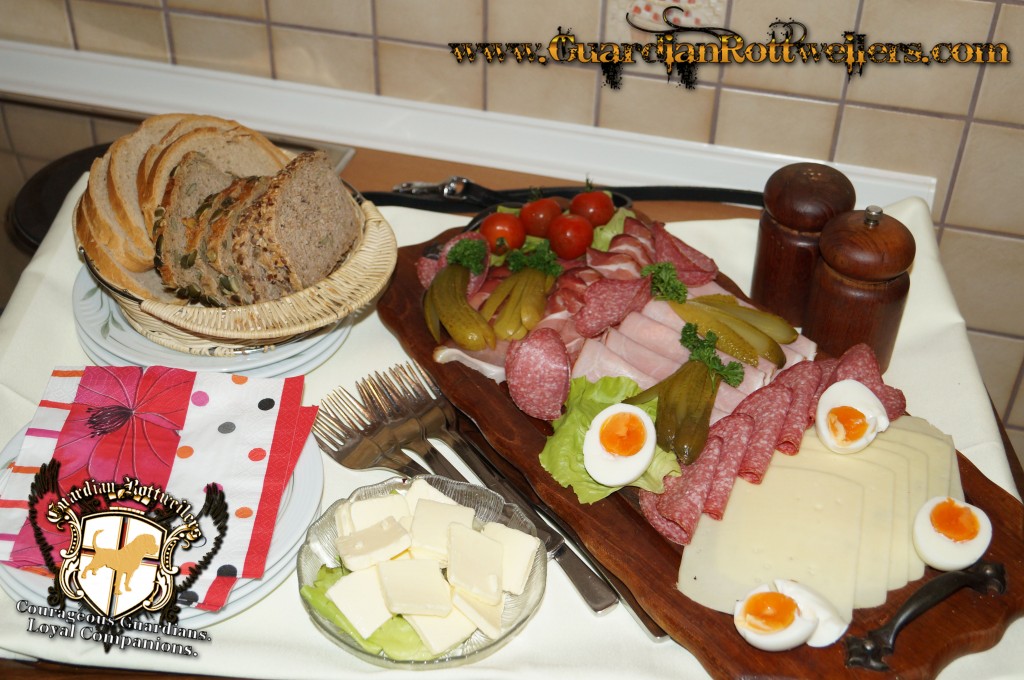 We stayed in this lovely hotel nestled in the Black Forest.  Could not have asked for a more gorgeous setting!!  When we arrived, it was the wee hours of the morning and the lovely people there prepared this tray of snacks for us even though it was in the middle of the night.  Such lovely people!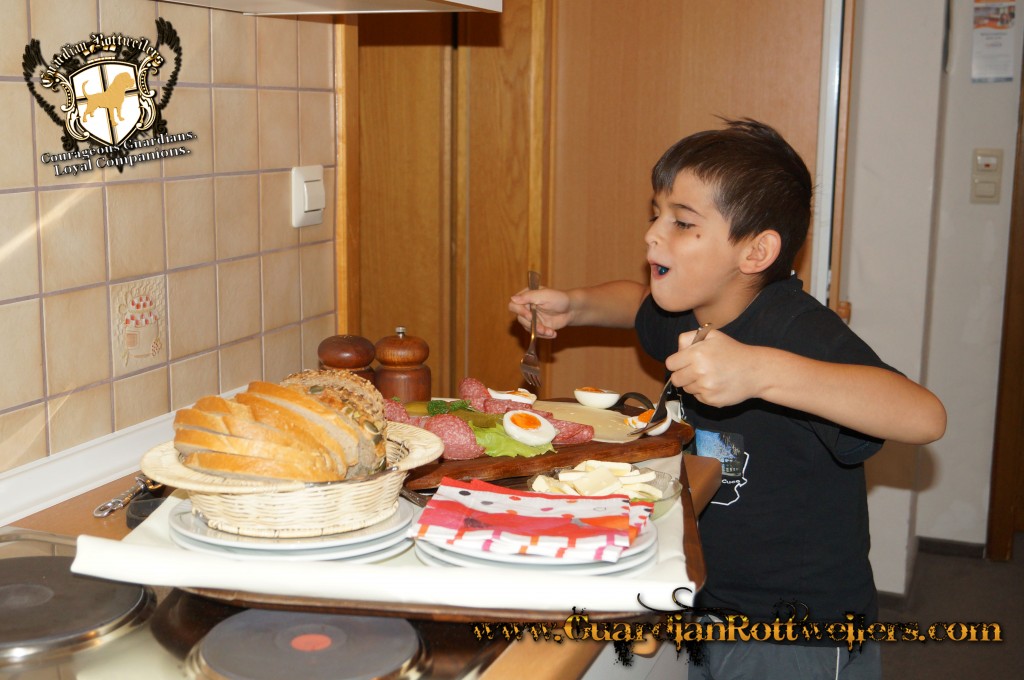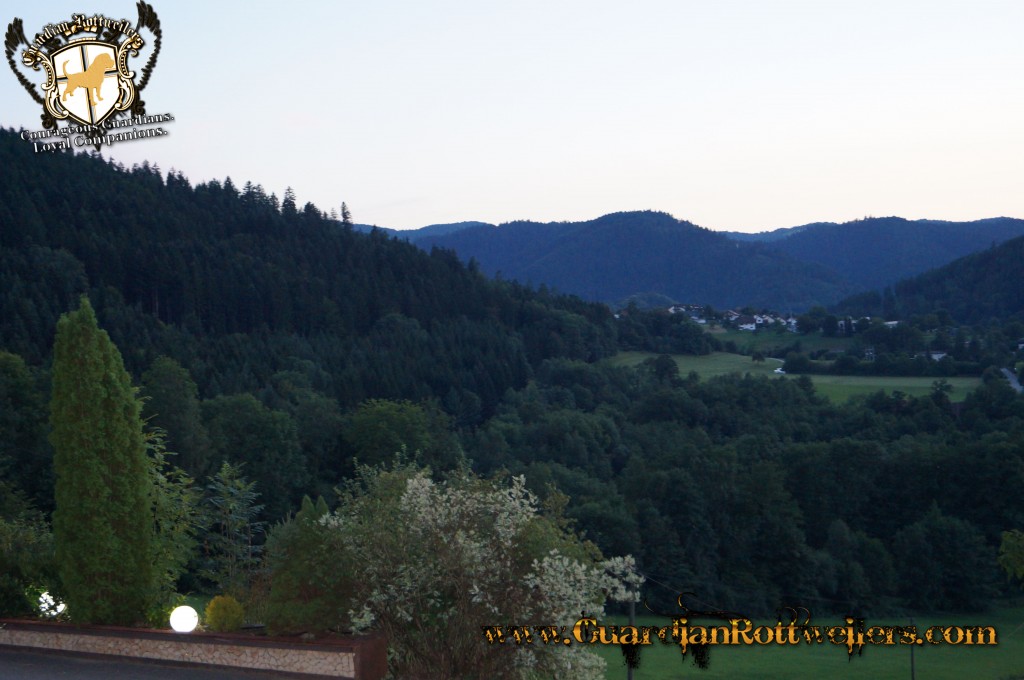 Some views from our hotel of the Black Forest.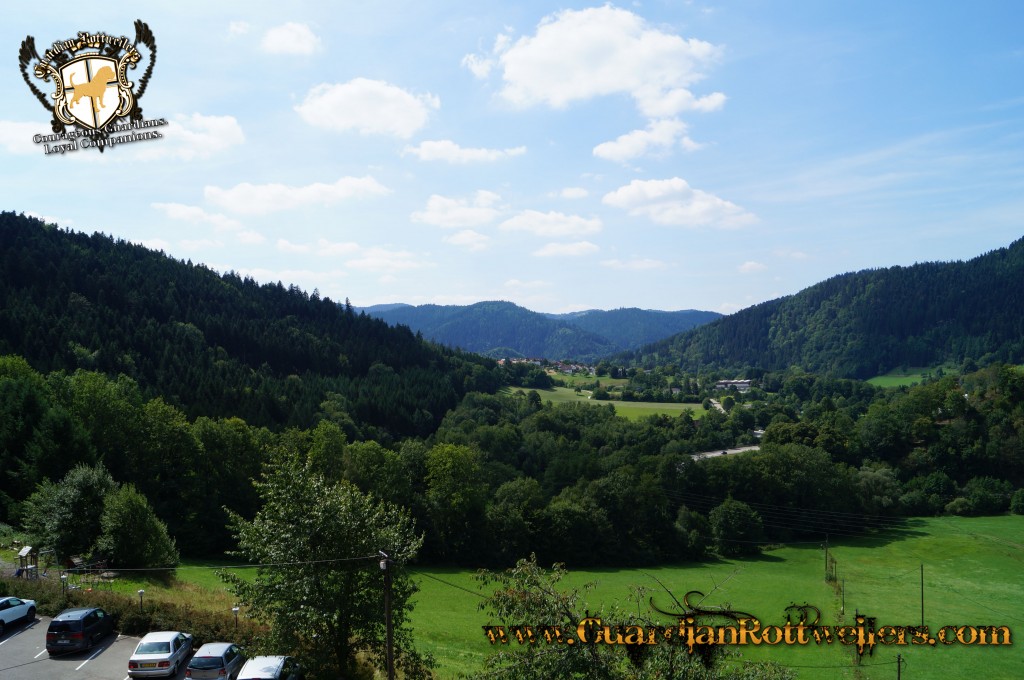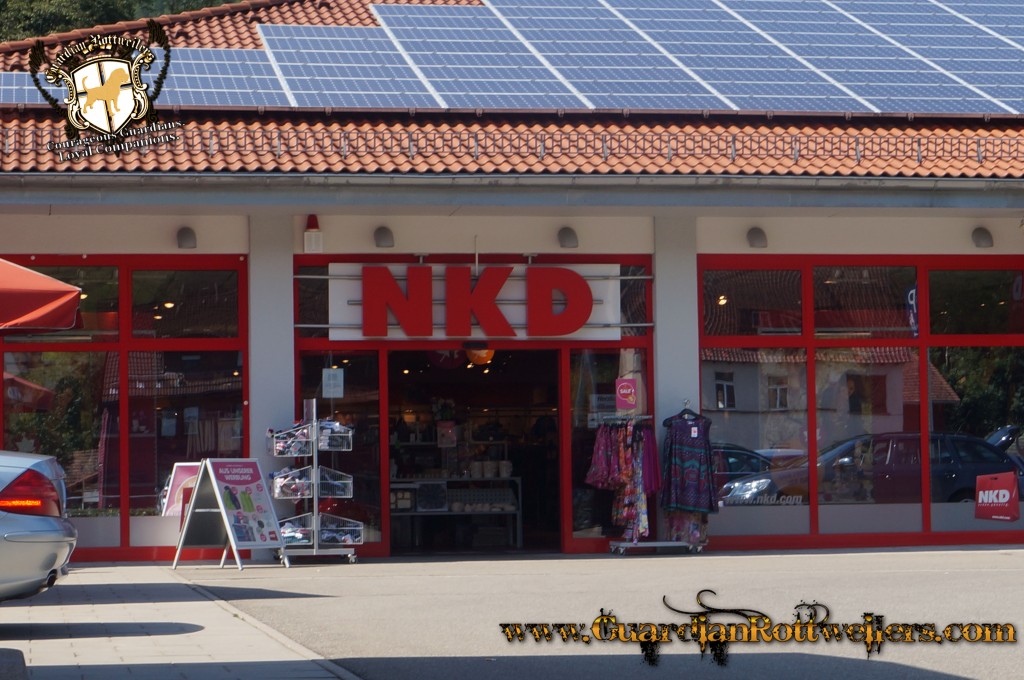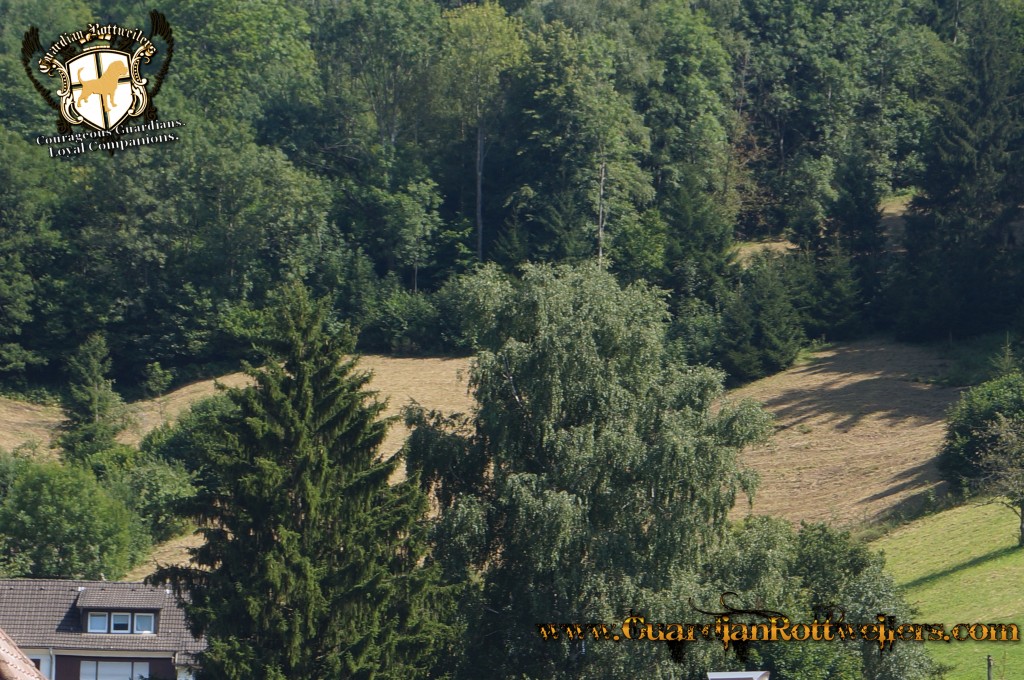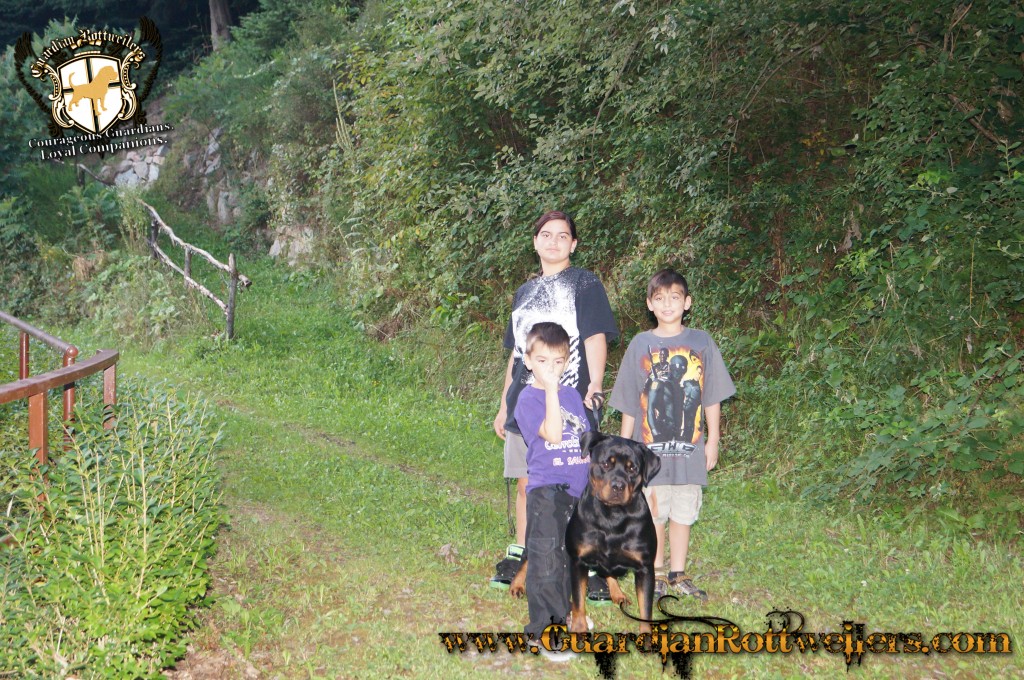 Poor Miguel had to make the 8 hour each way trip back and forth to Amsterdam not once, but twice to take care of import paperwork for the pups :/  Tahlia went with him so the rest of the kids and I had the arduous task of exploring the Black Forest for 2 days 😉 It was AMAZING!!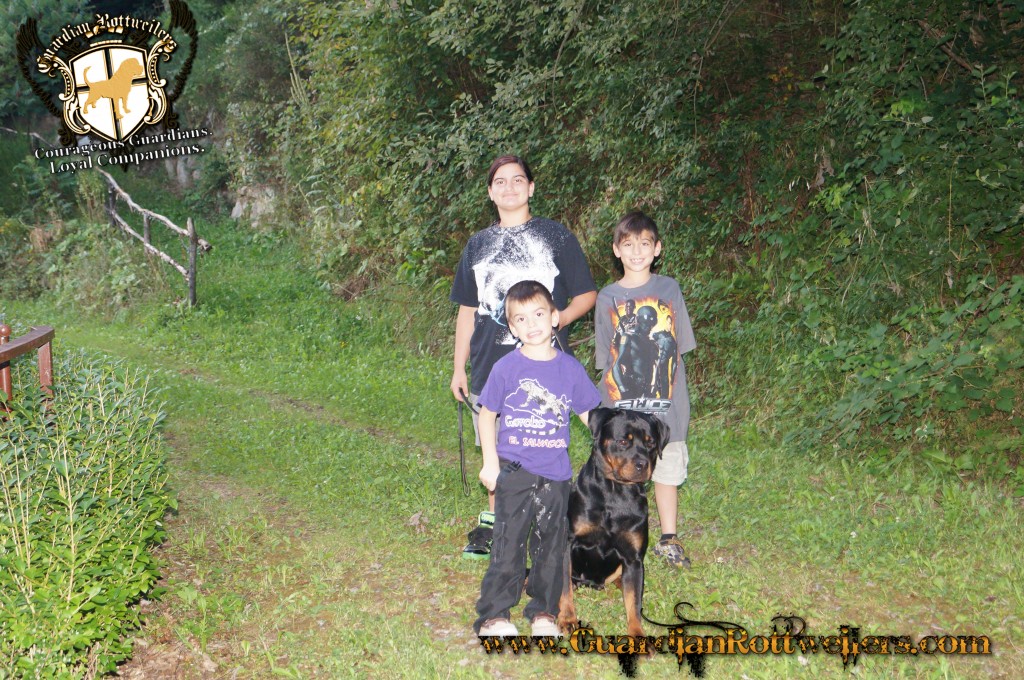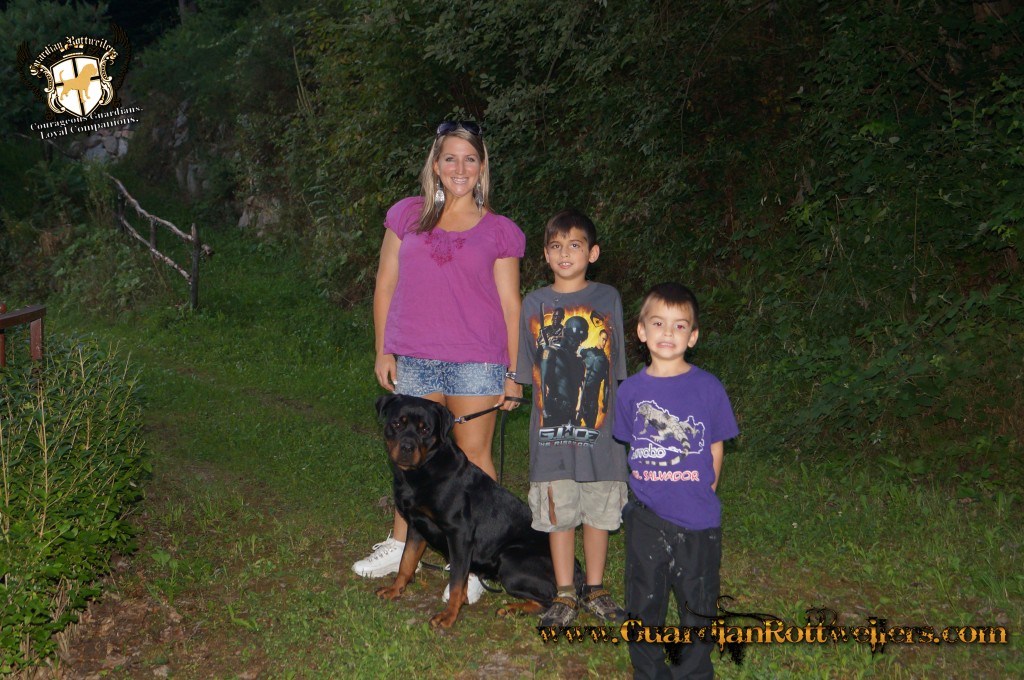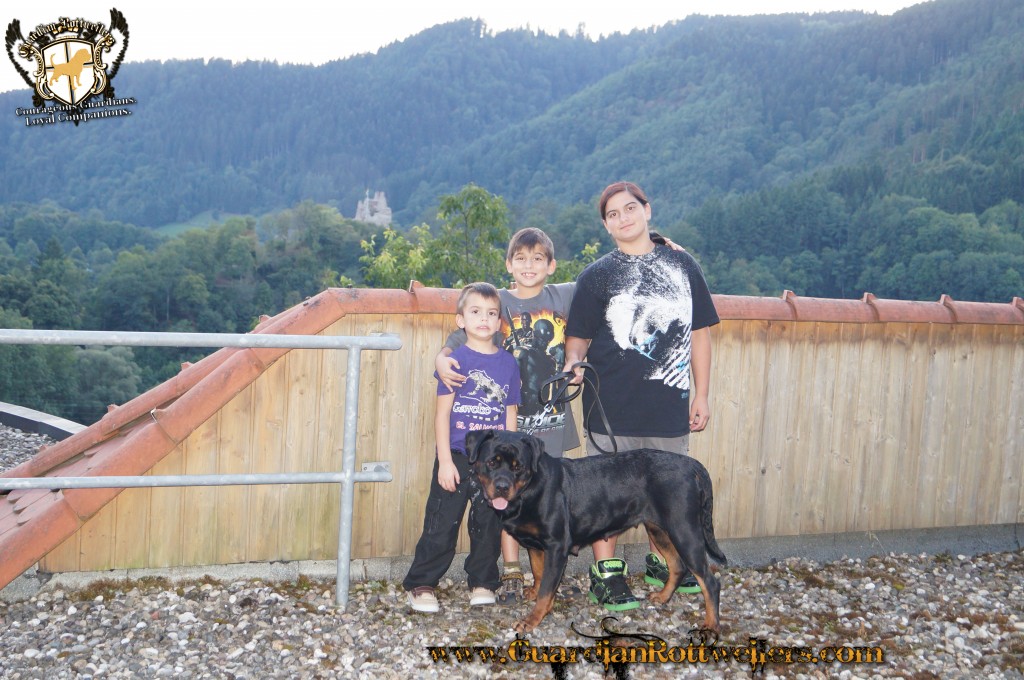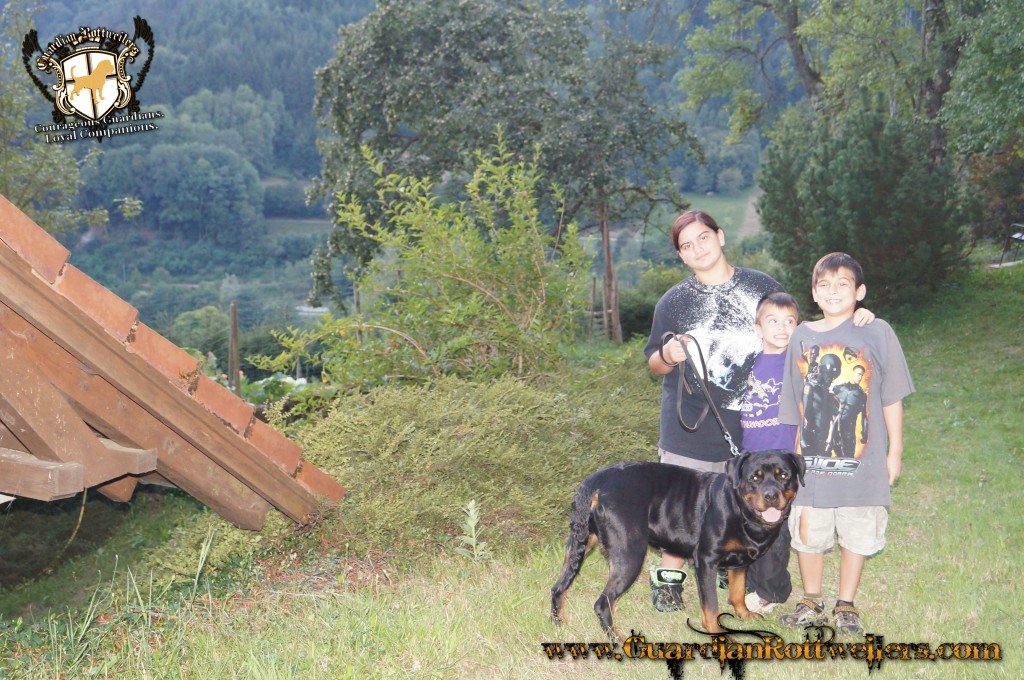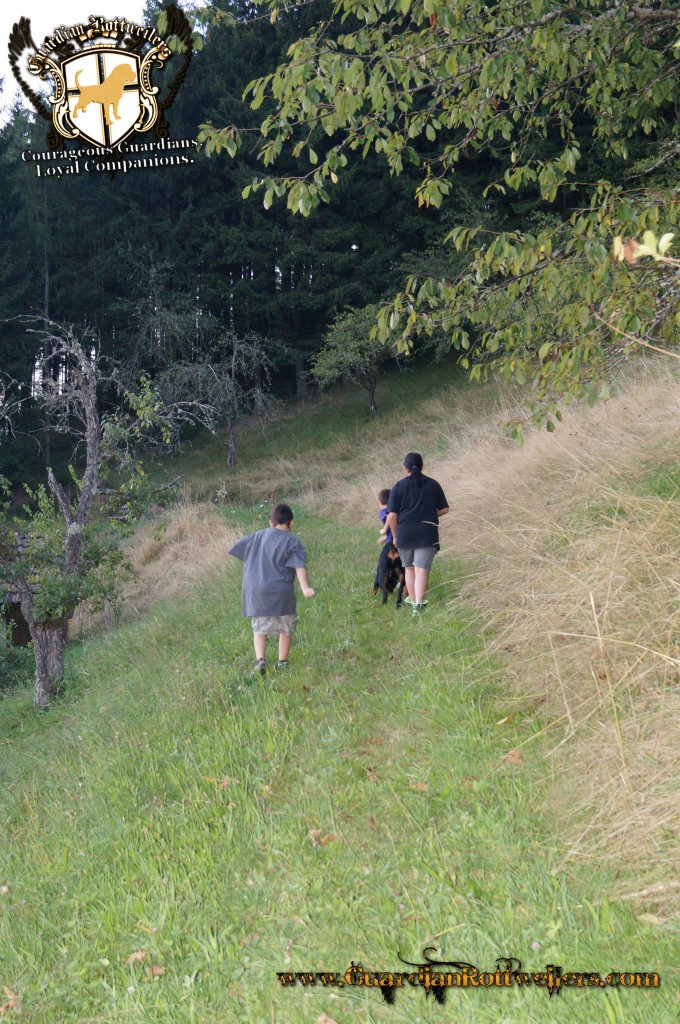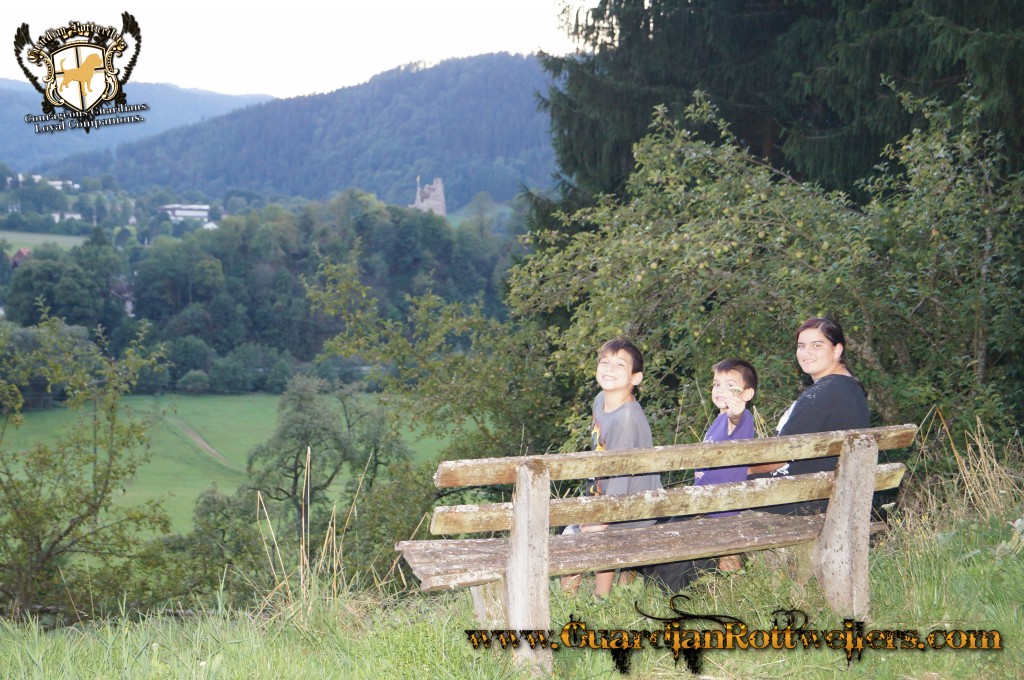 This was the absolute perfect place to put a bench- the view was just breath-taking!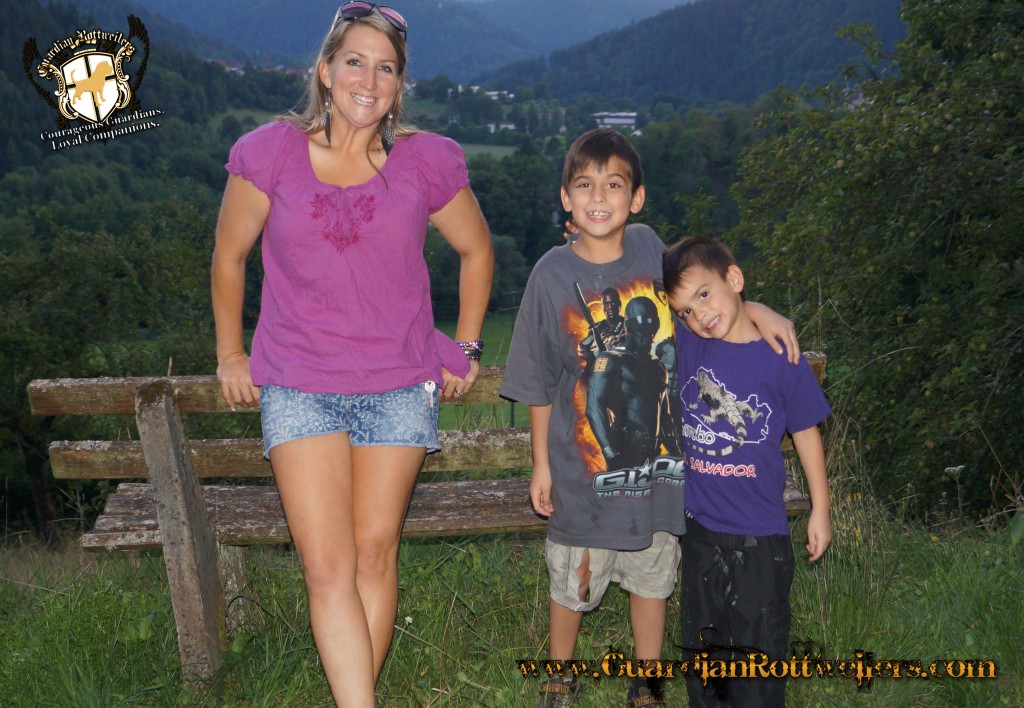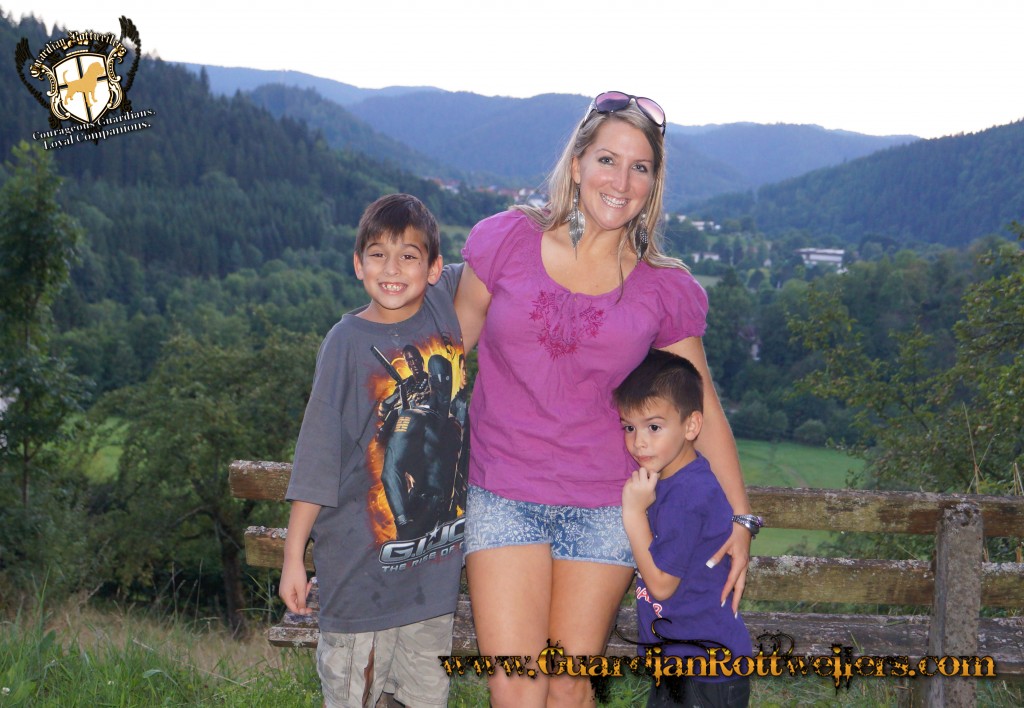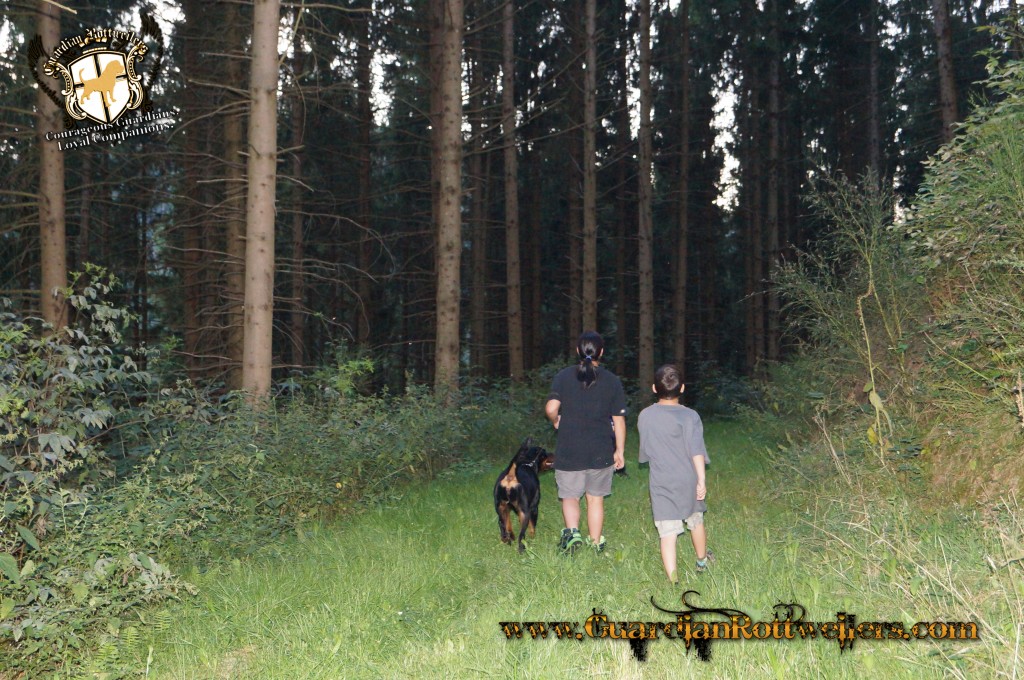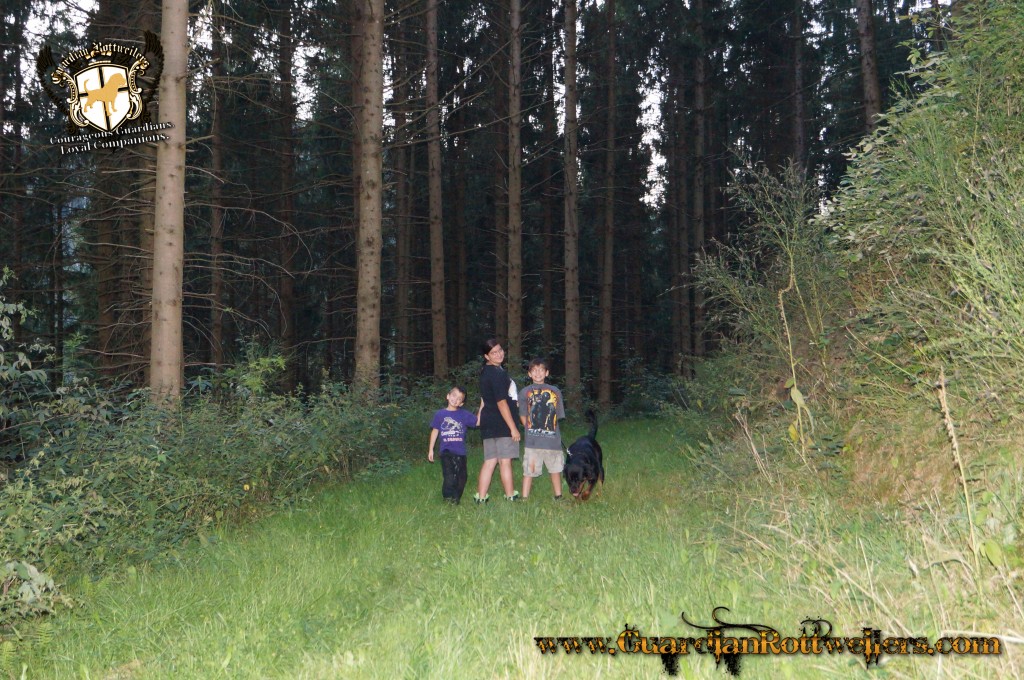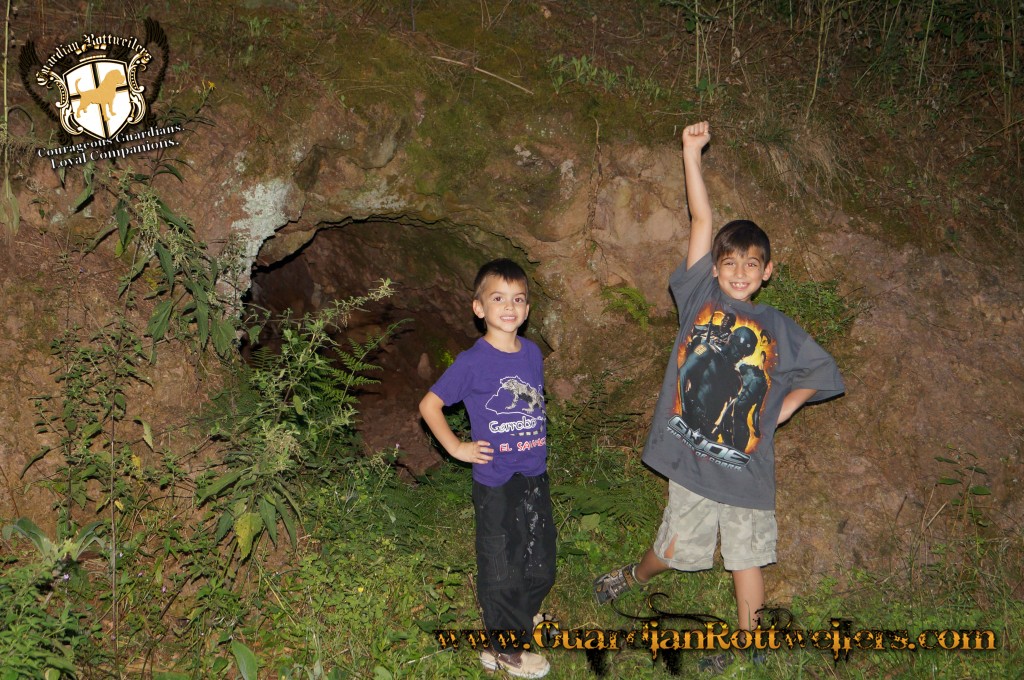 The cave of wonders!!  I TOTALLY wanted to go exploring inside, but we did not have a flashlight and no one wanted to come with! lol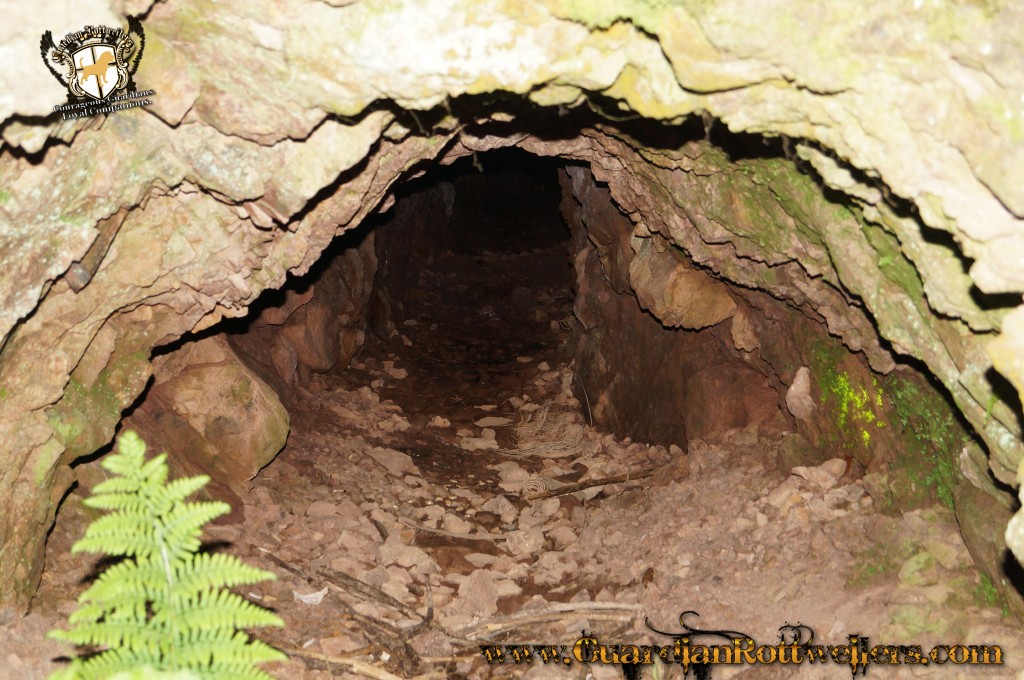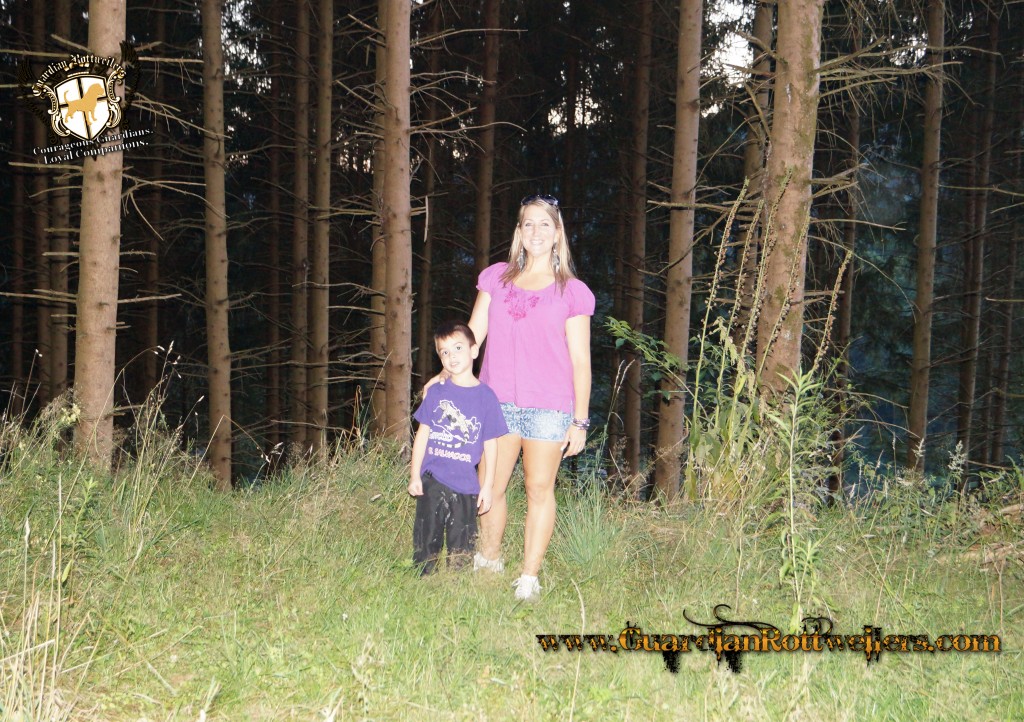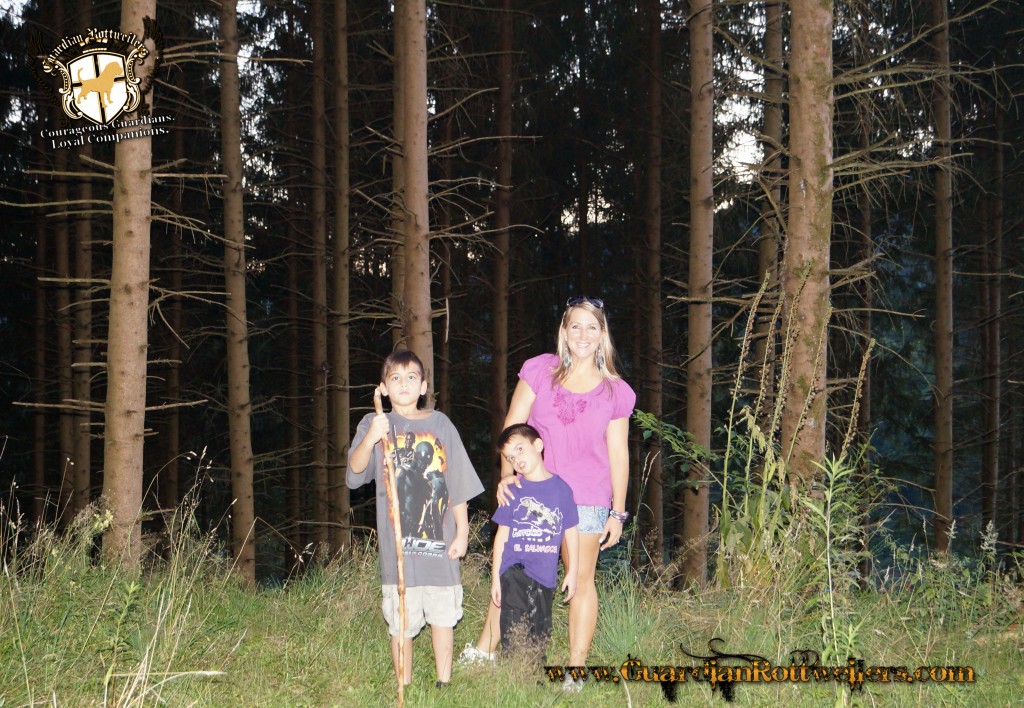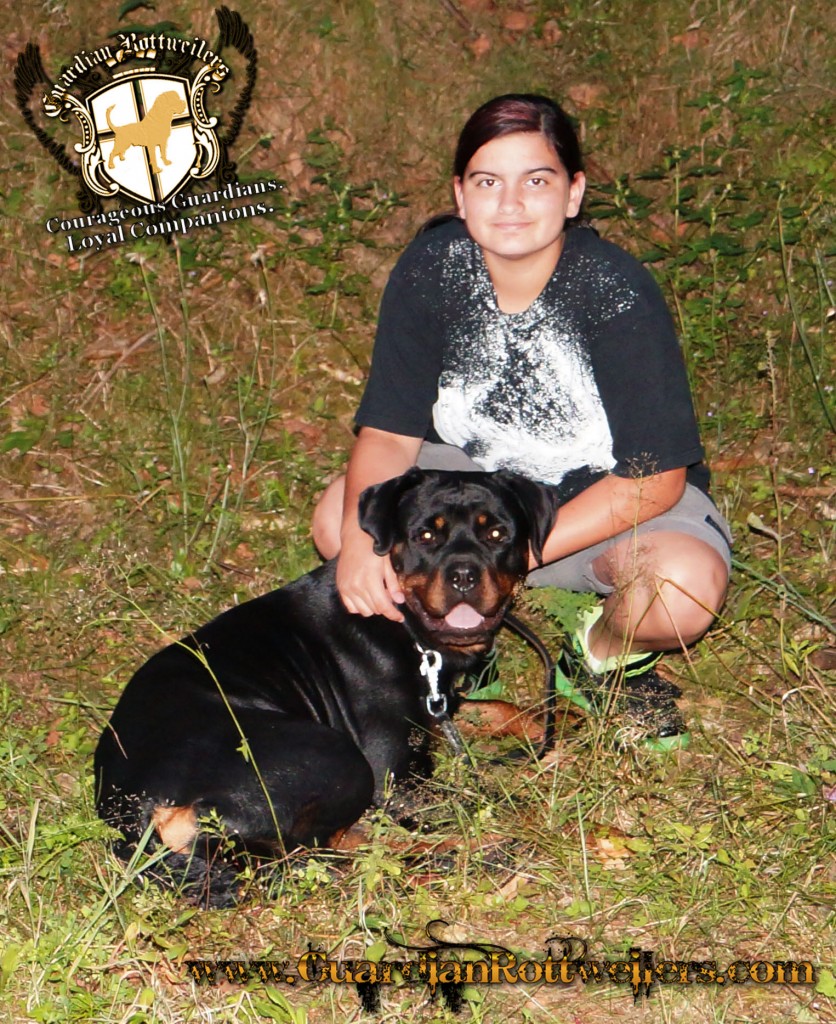 2 gorgeous girls- Liliana and Geneva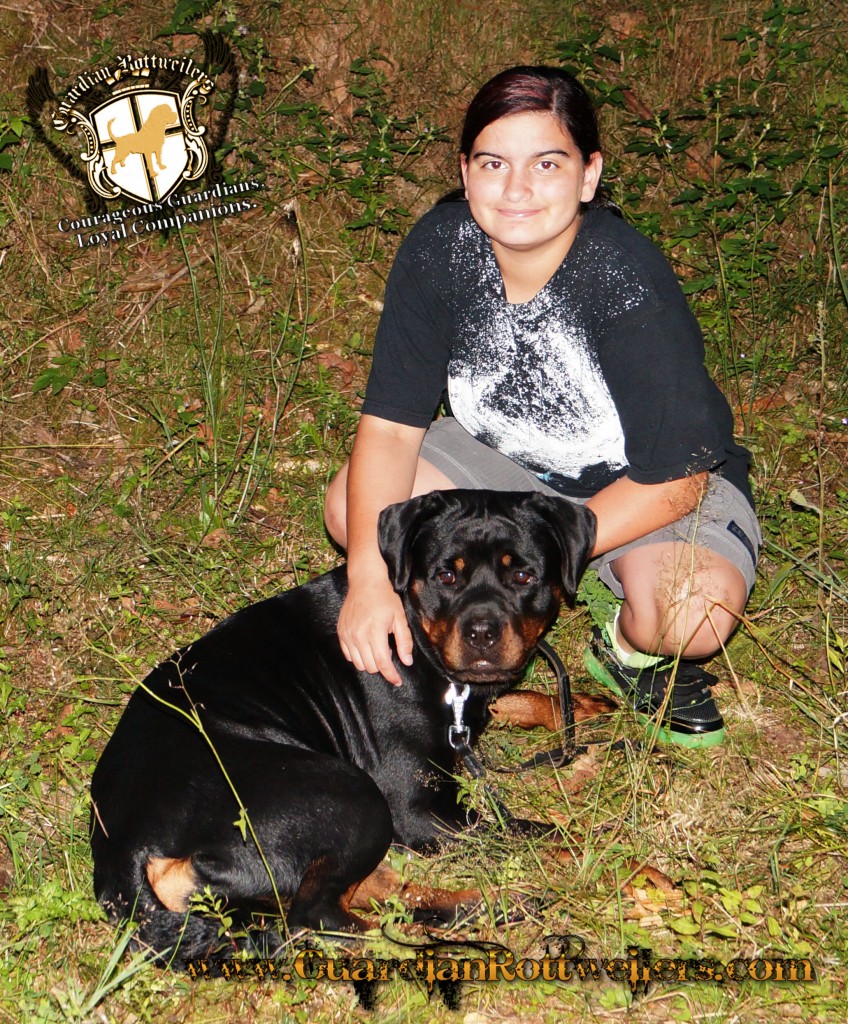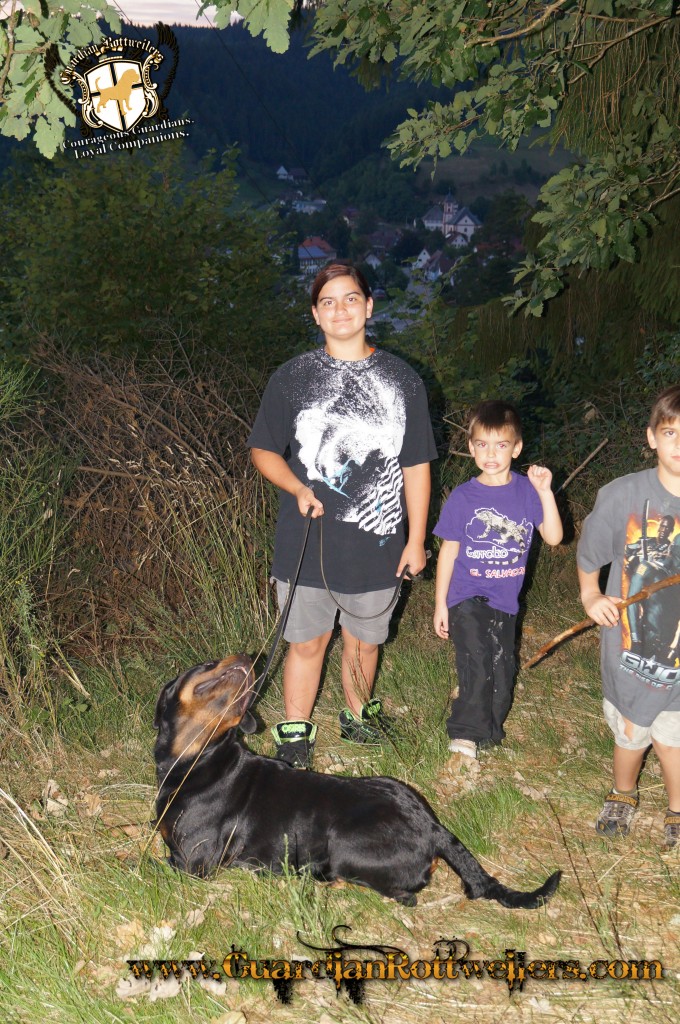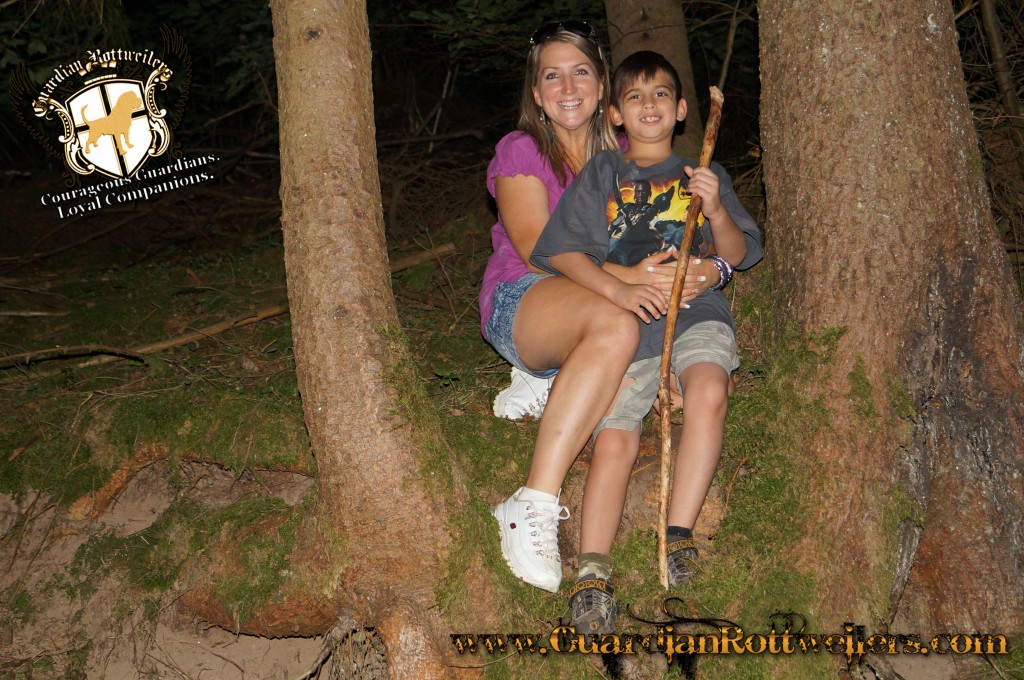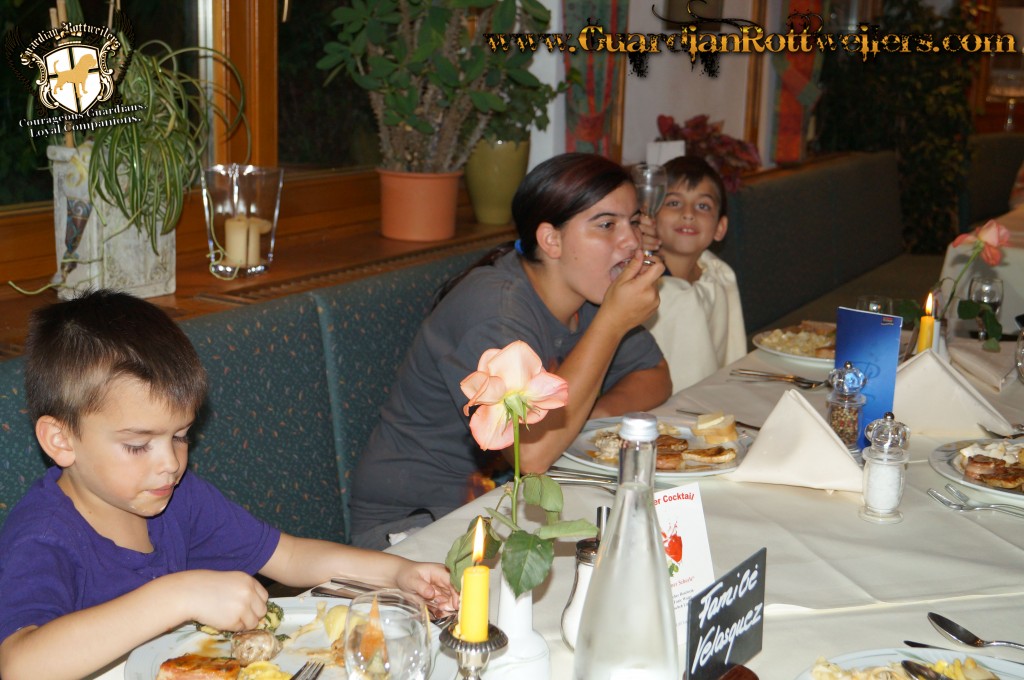 Breakfast at the hotel before a big day!!  Every morning, the hotel reserved this table just for us <3  Uros and Kale got there about the same time that Miguel and Tahlia got back from the second trip to Amsterdam.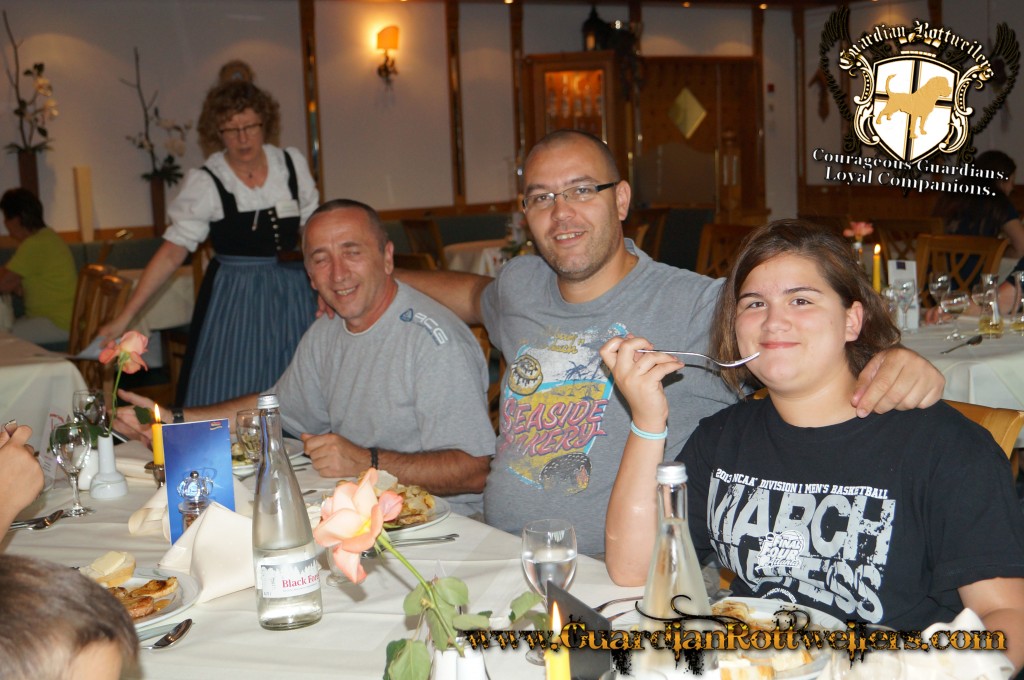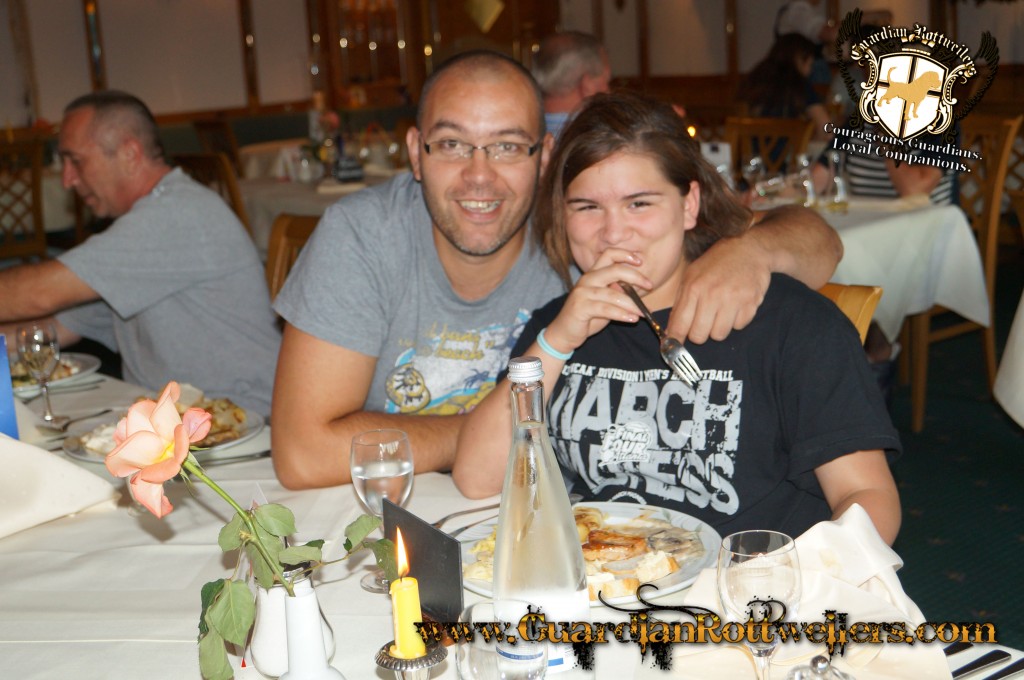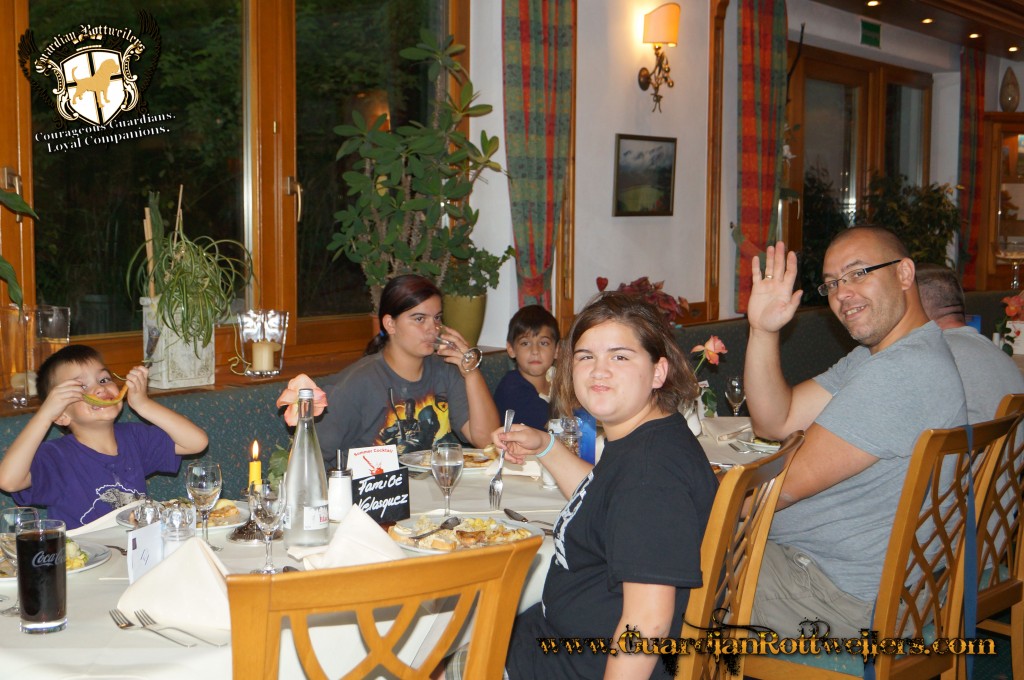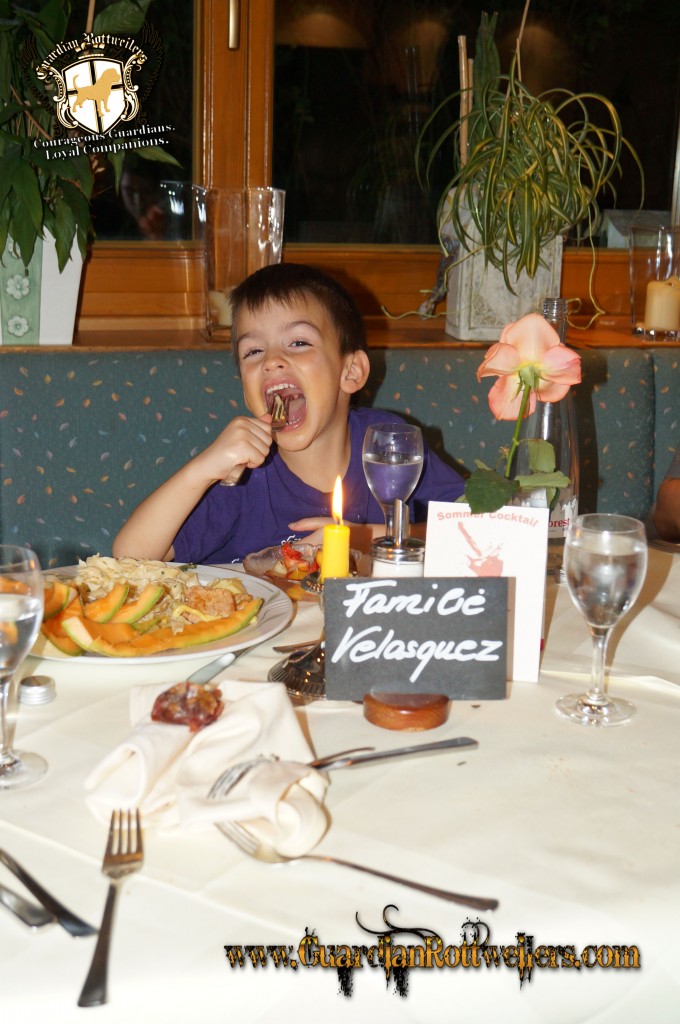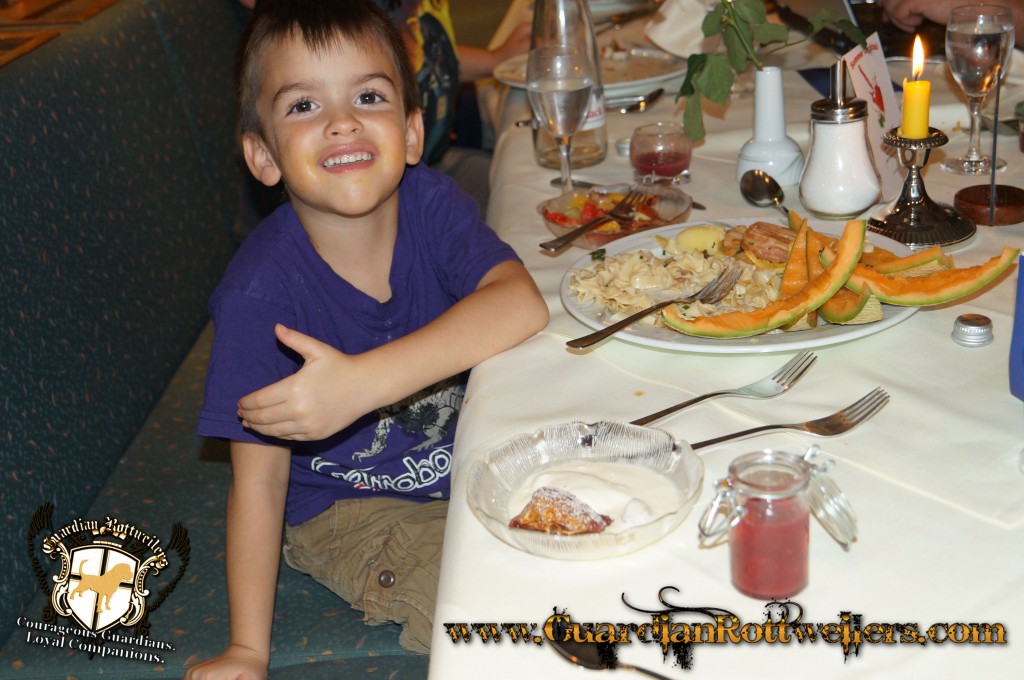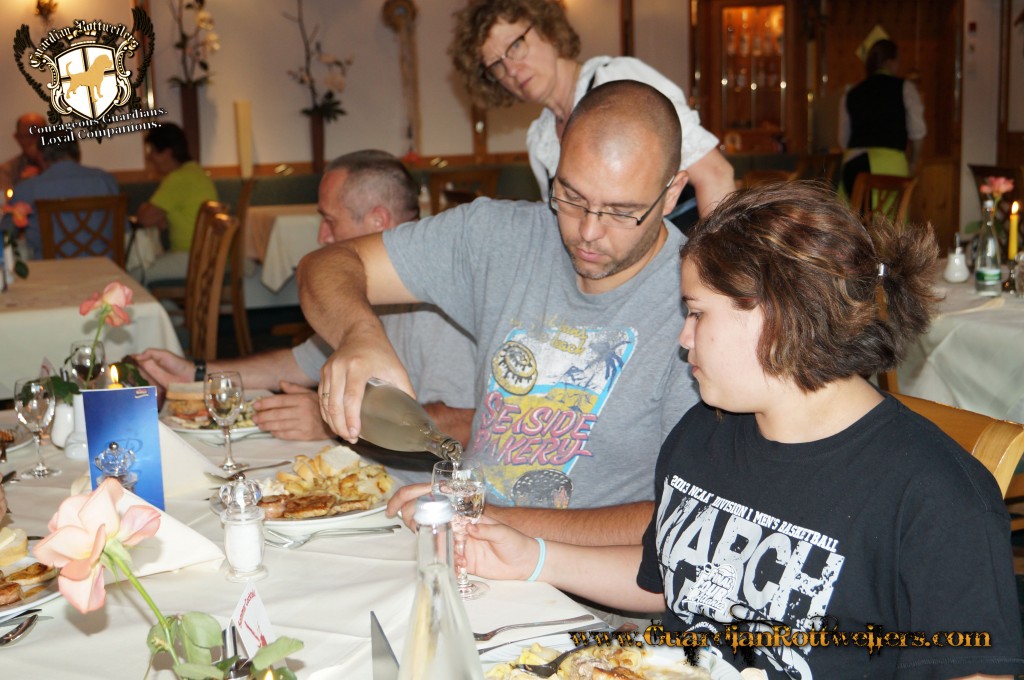 We are driving on Rottweiler Strasse (Rottweiler Street!)!!!  How freakin' cool is that!?!?!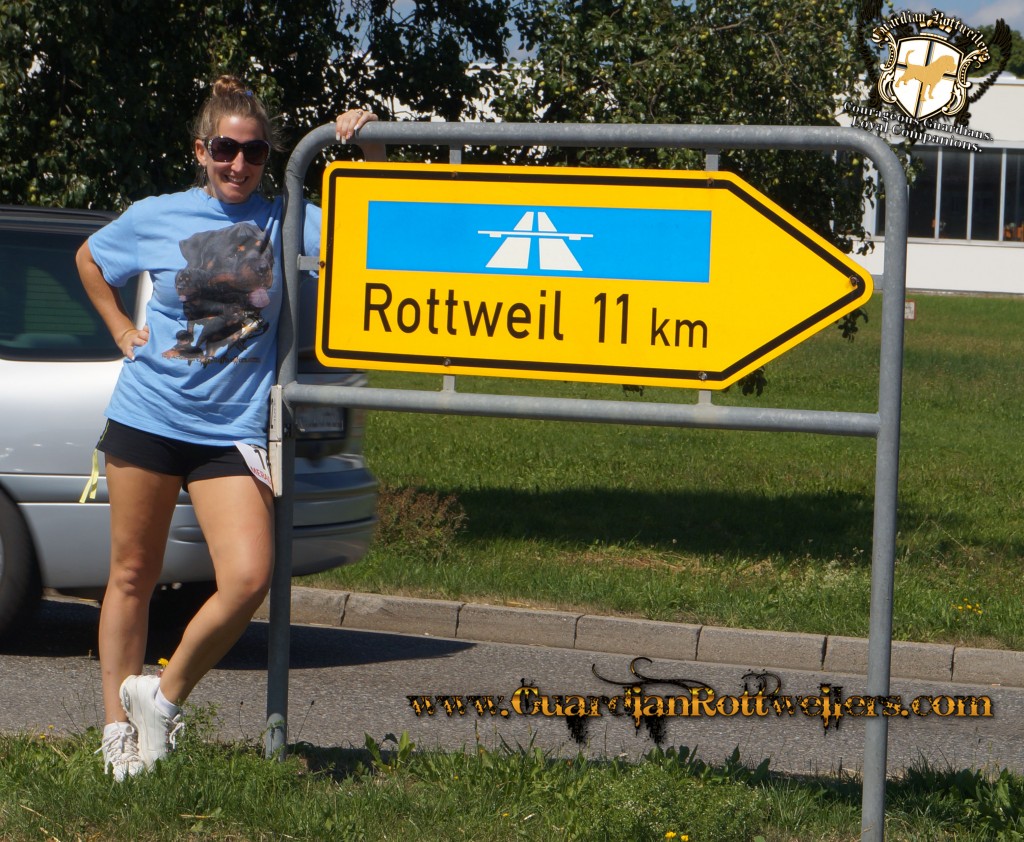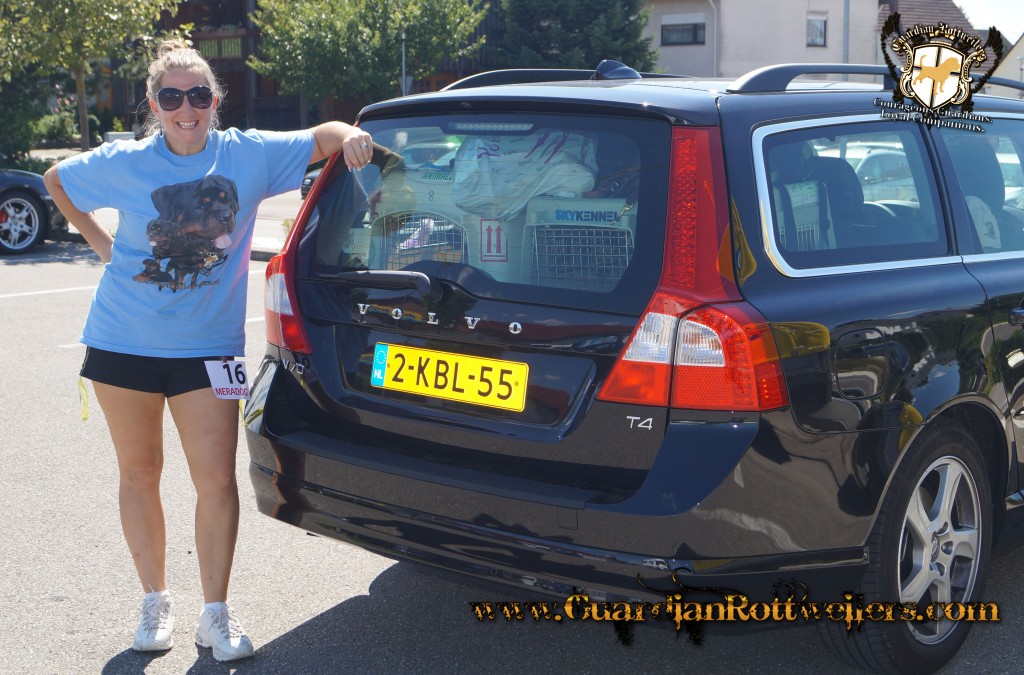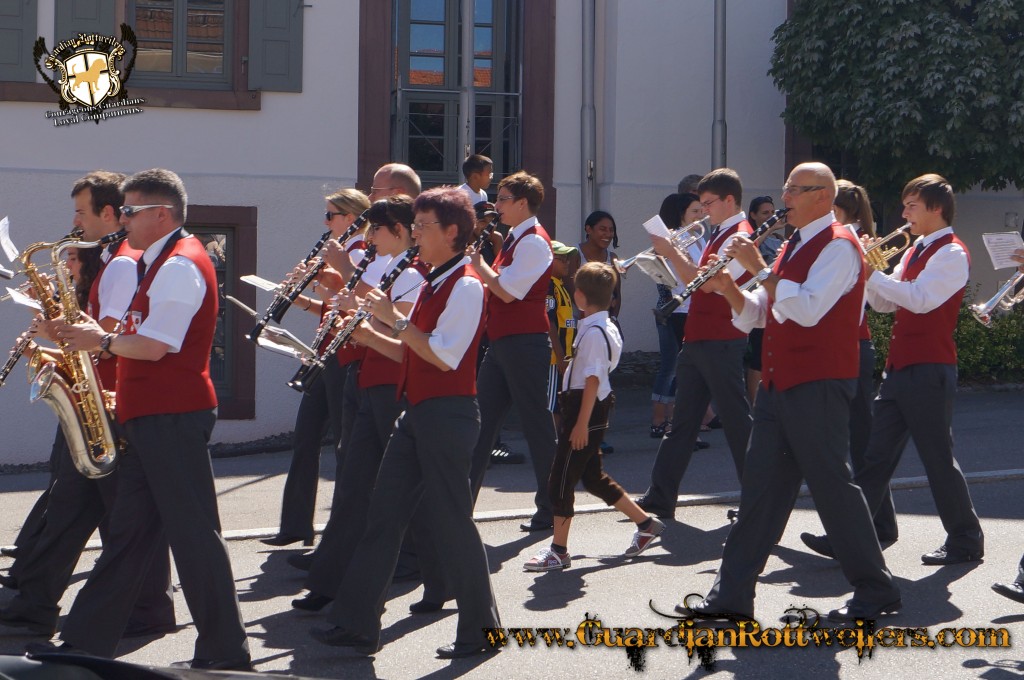 An entire city that celebrates this incredible breed- even parades!!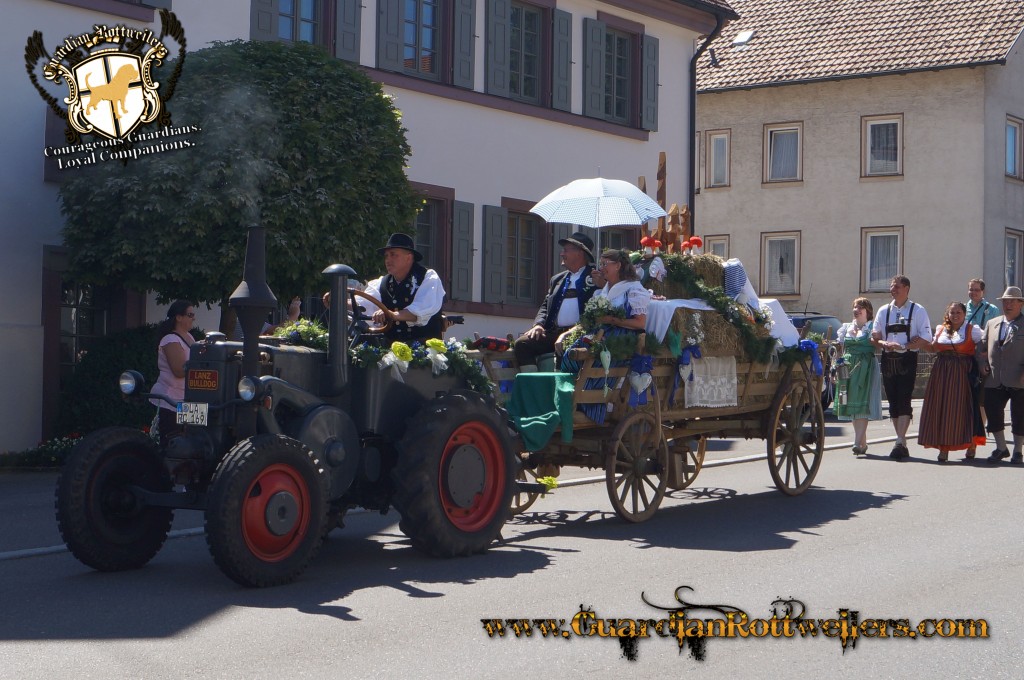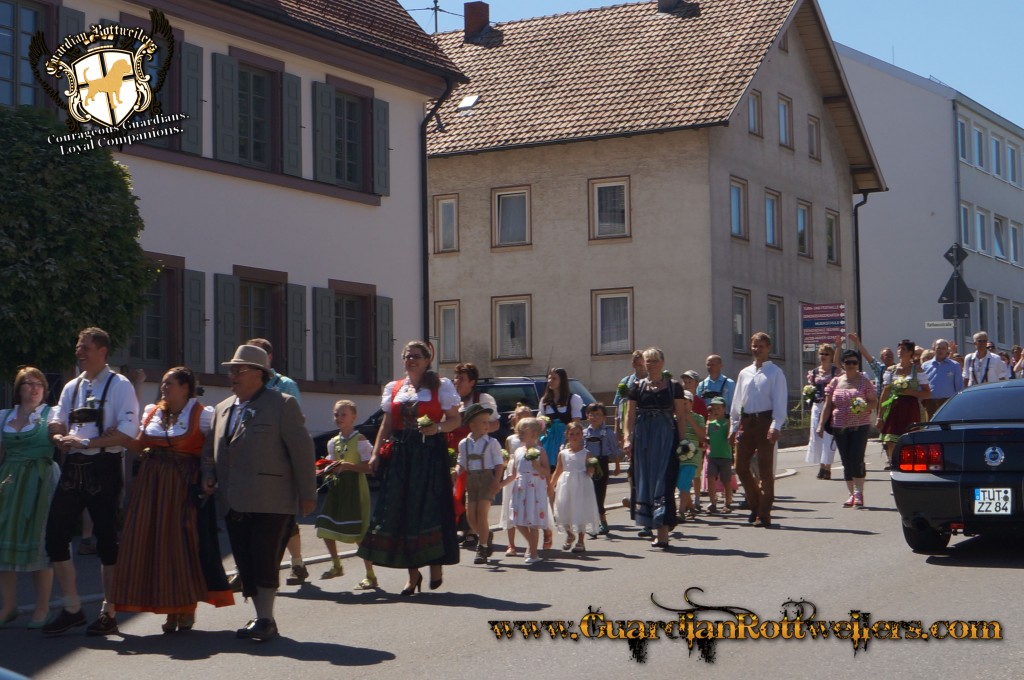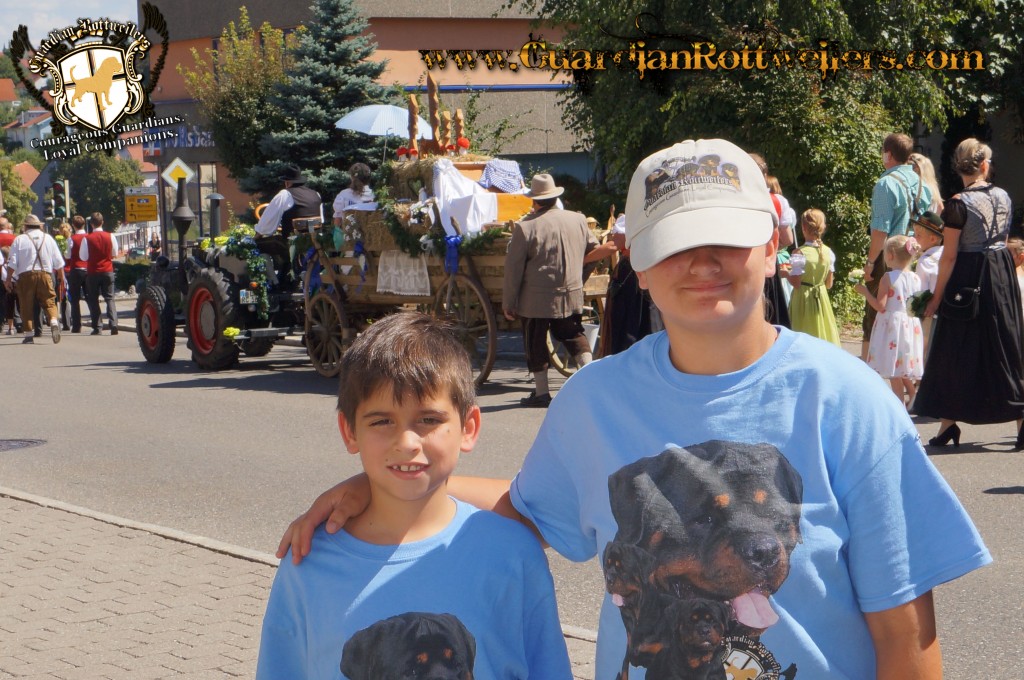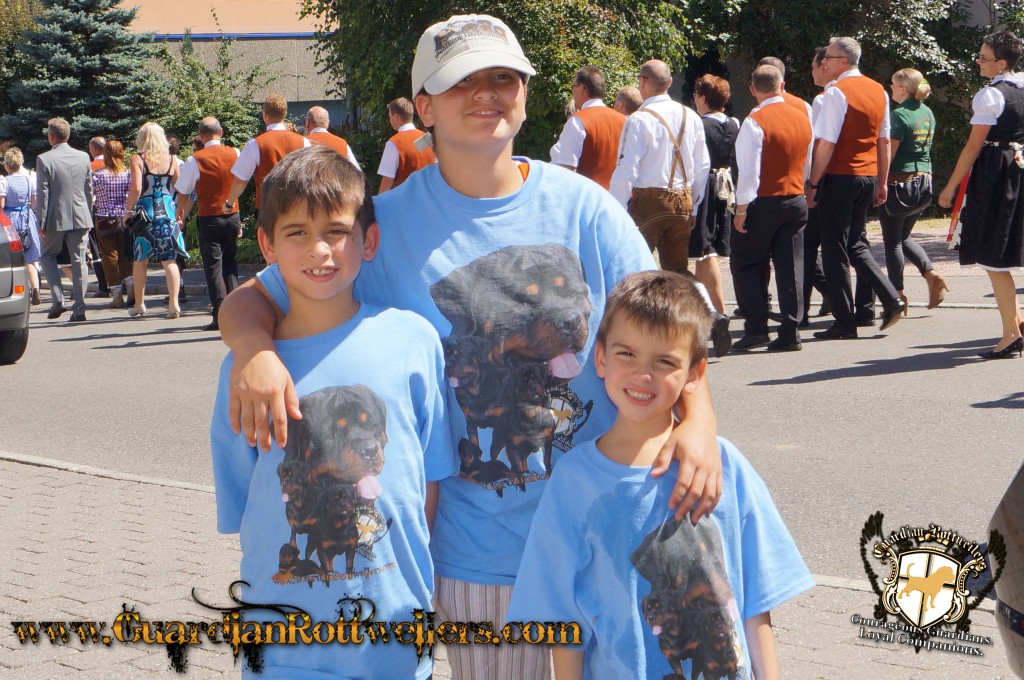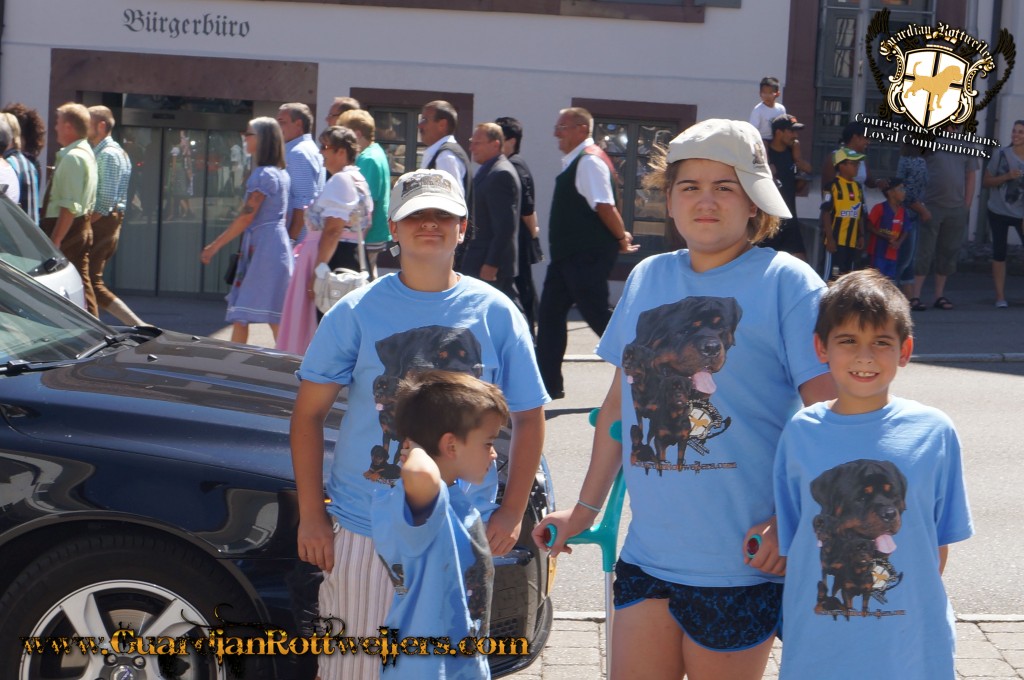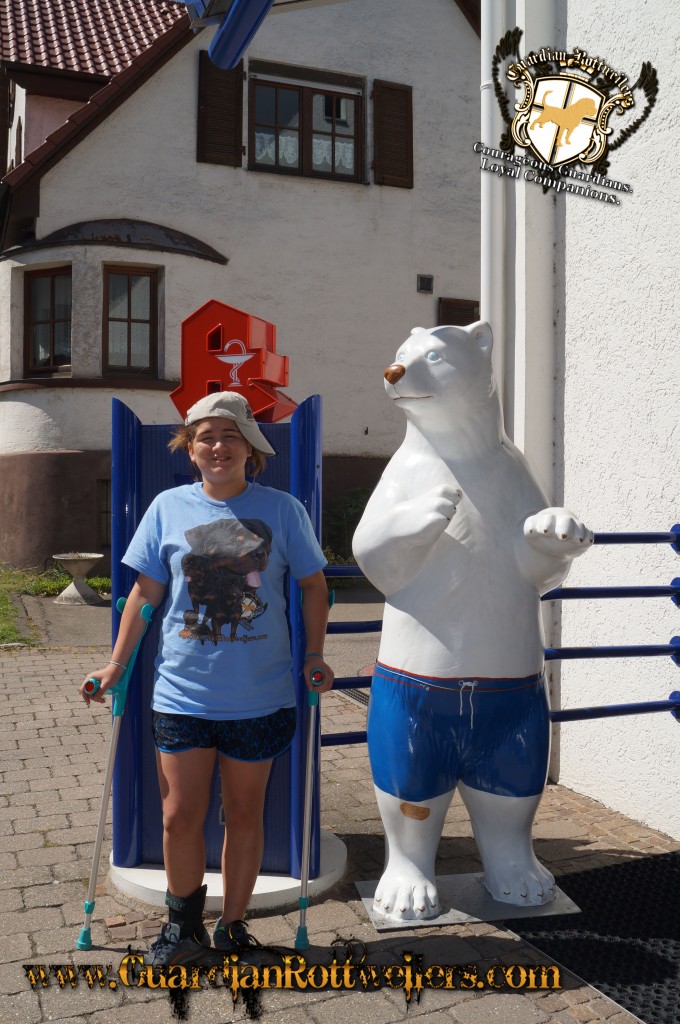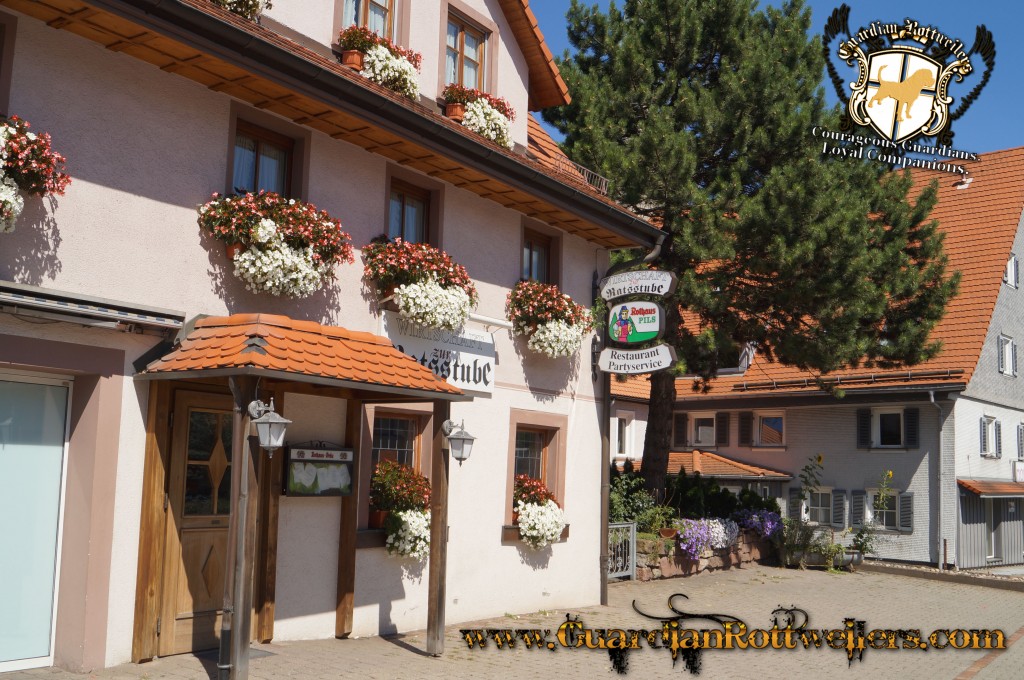 I loved driving around in this area.  Everything is just so beautiful.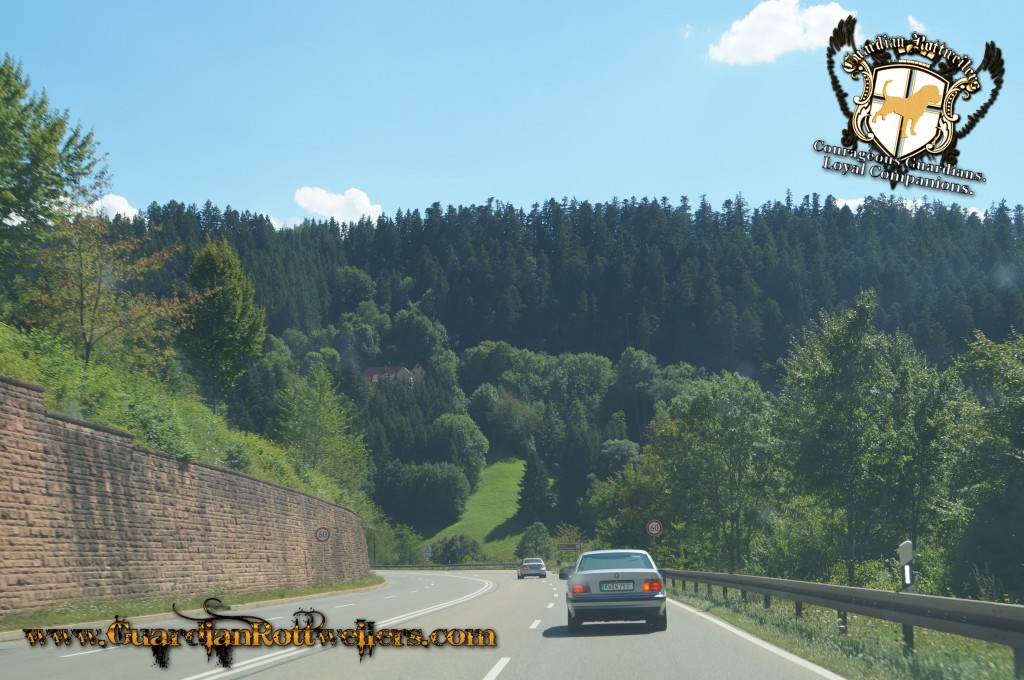 This AMAZING castle was just down the way from our hotel!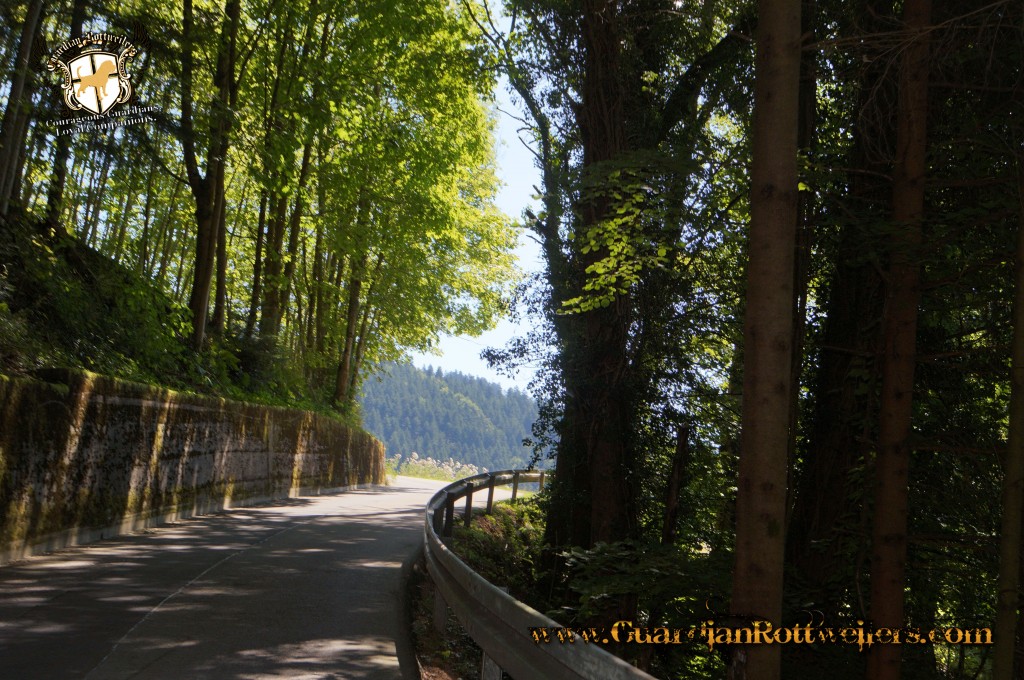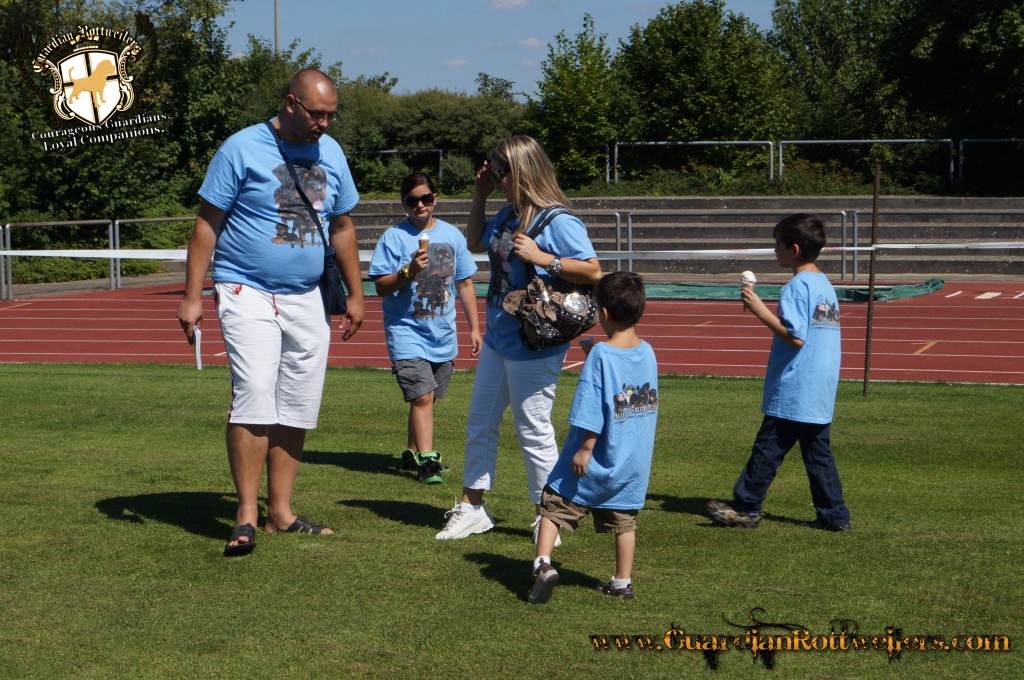 Kale took this photo just at the right time! LOL  It looks like we are doing the Hokey-Pokey: You put your left foot in…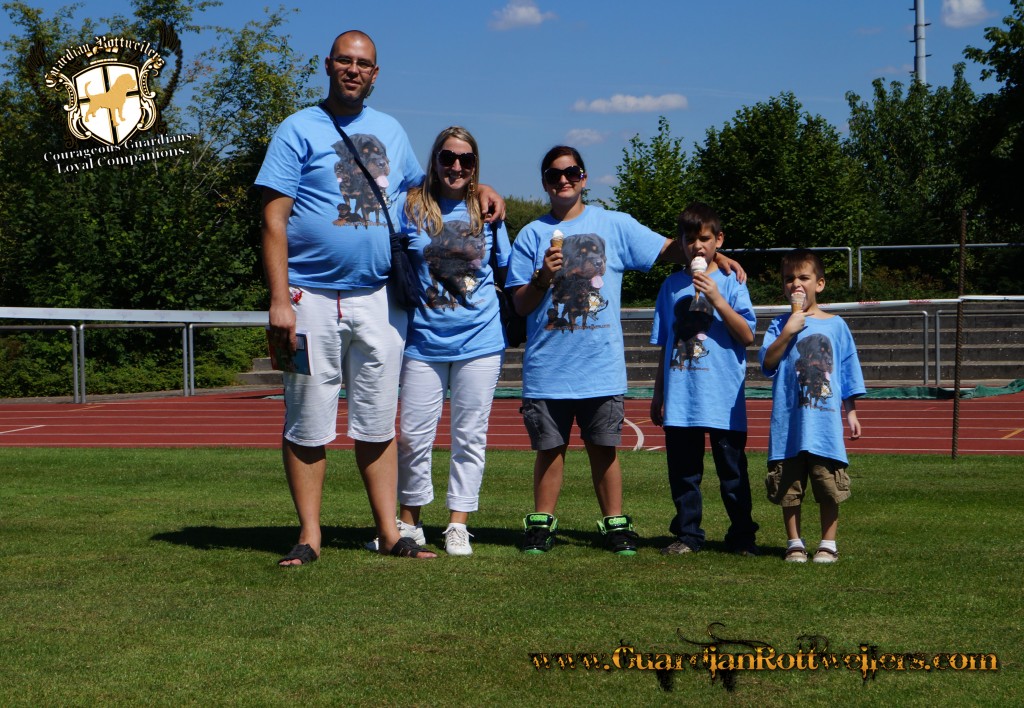 We went to go check out where the Klubsieger will be held at!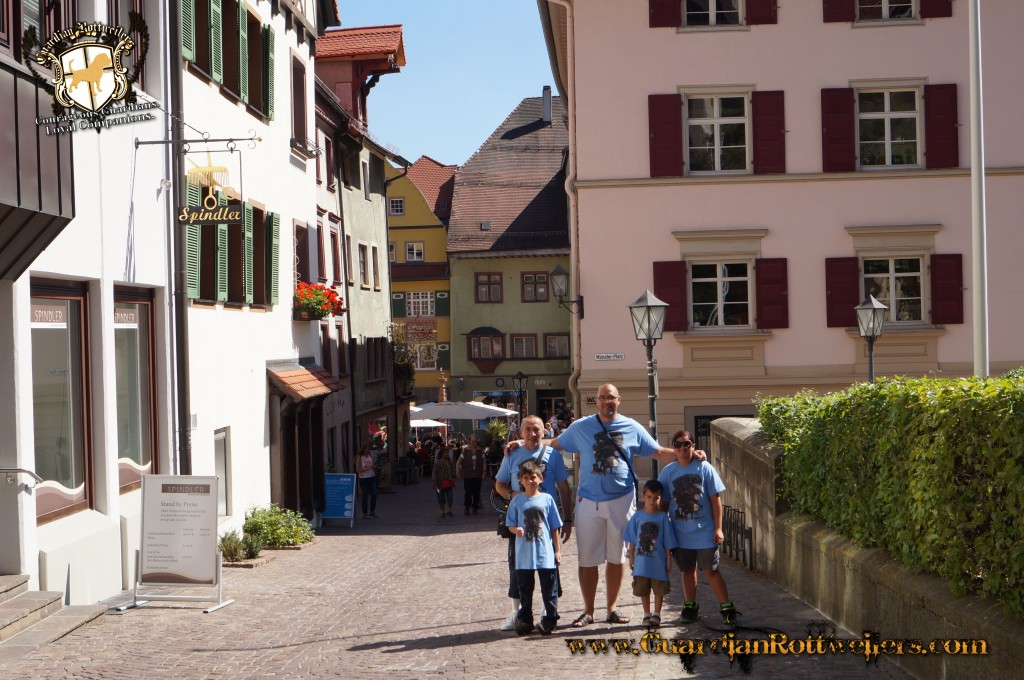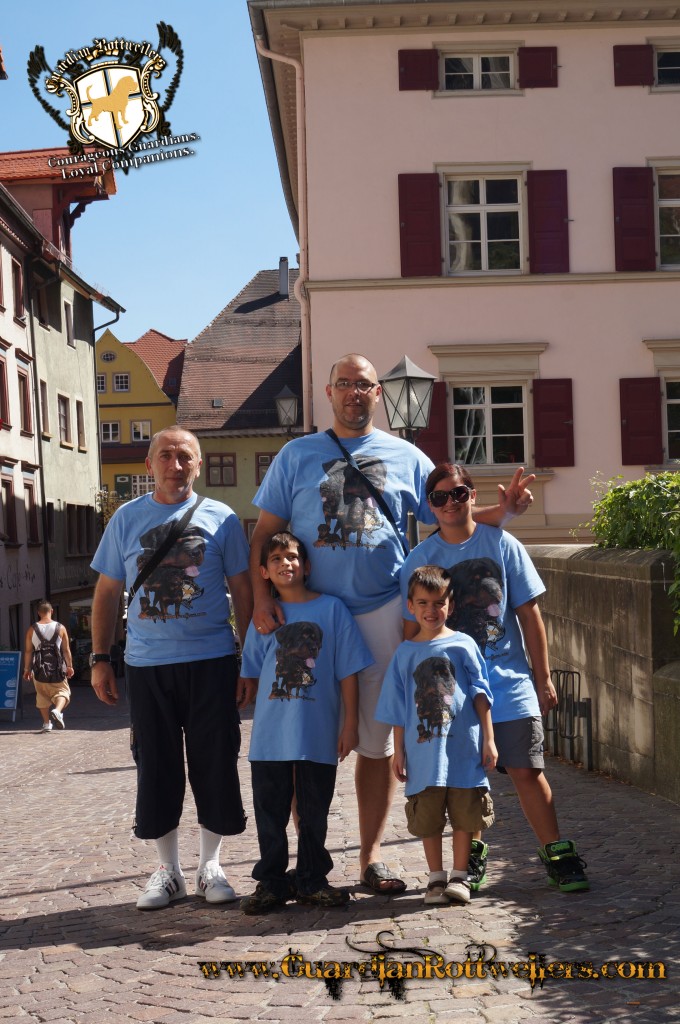 And of course walk around in Rottweil, Germany.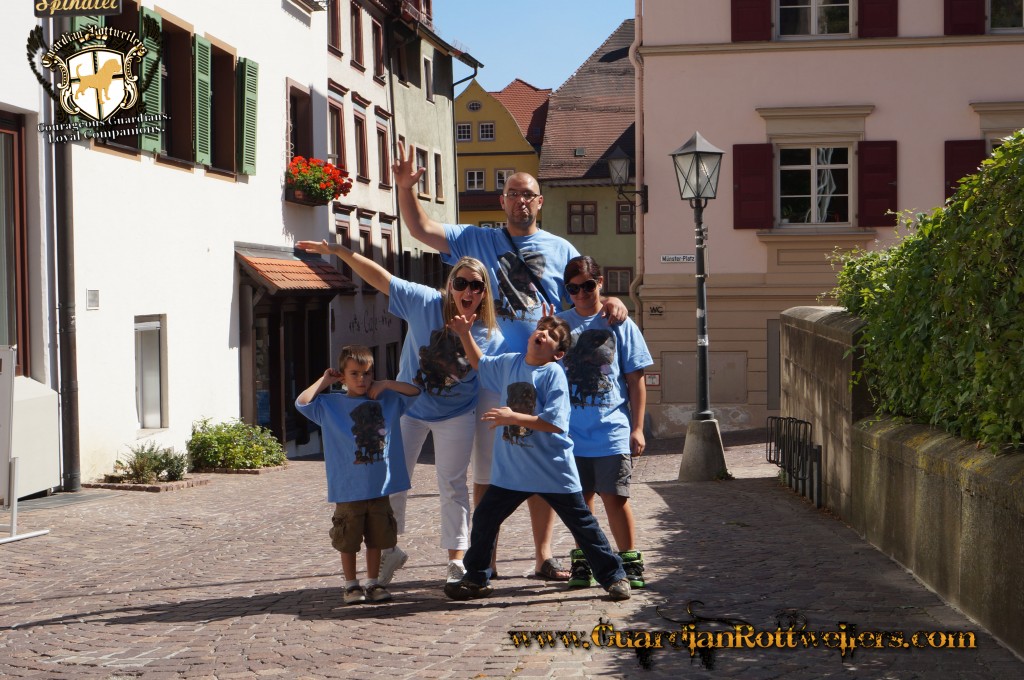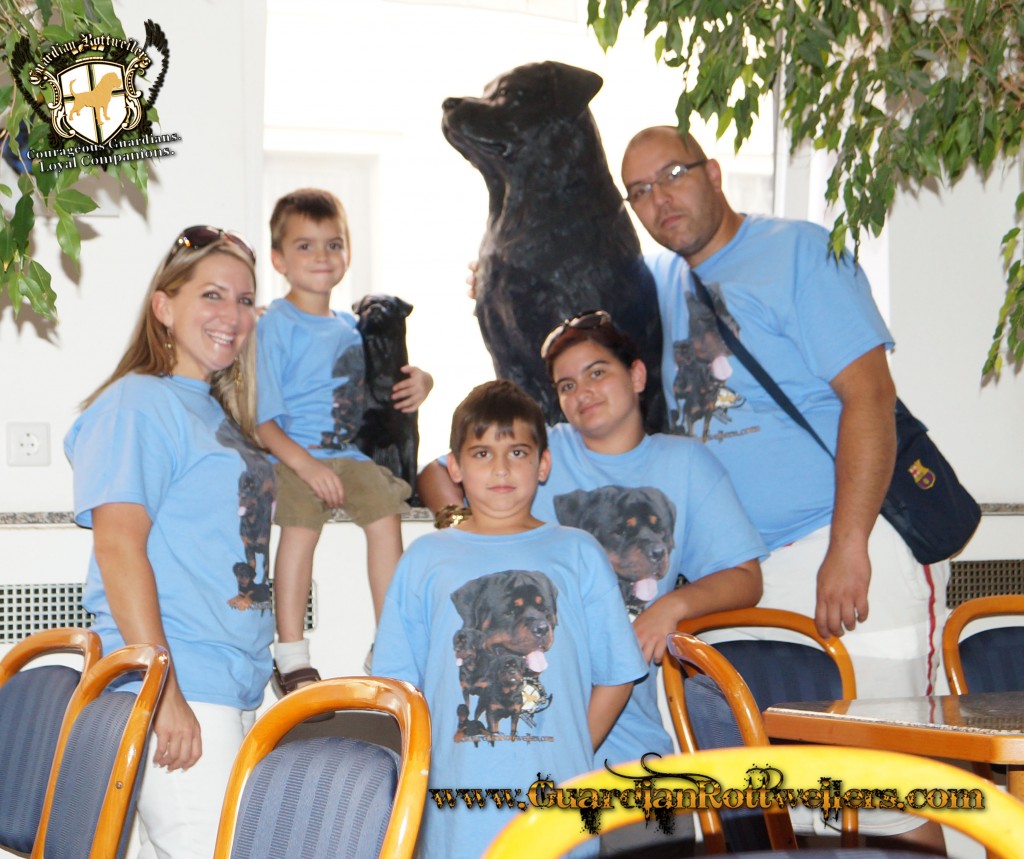 Even the little coffee shops have Rottweiler statues, sign and banners <3  Here in the US, the breed is so misunderstood and often feared 🙁  Here, it is revered and celebrated!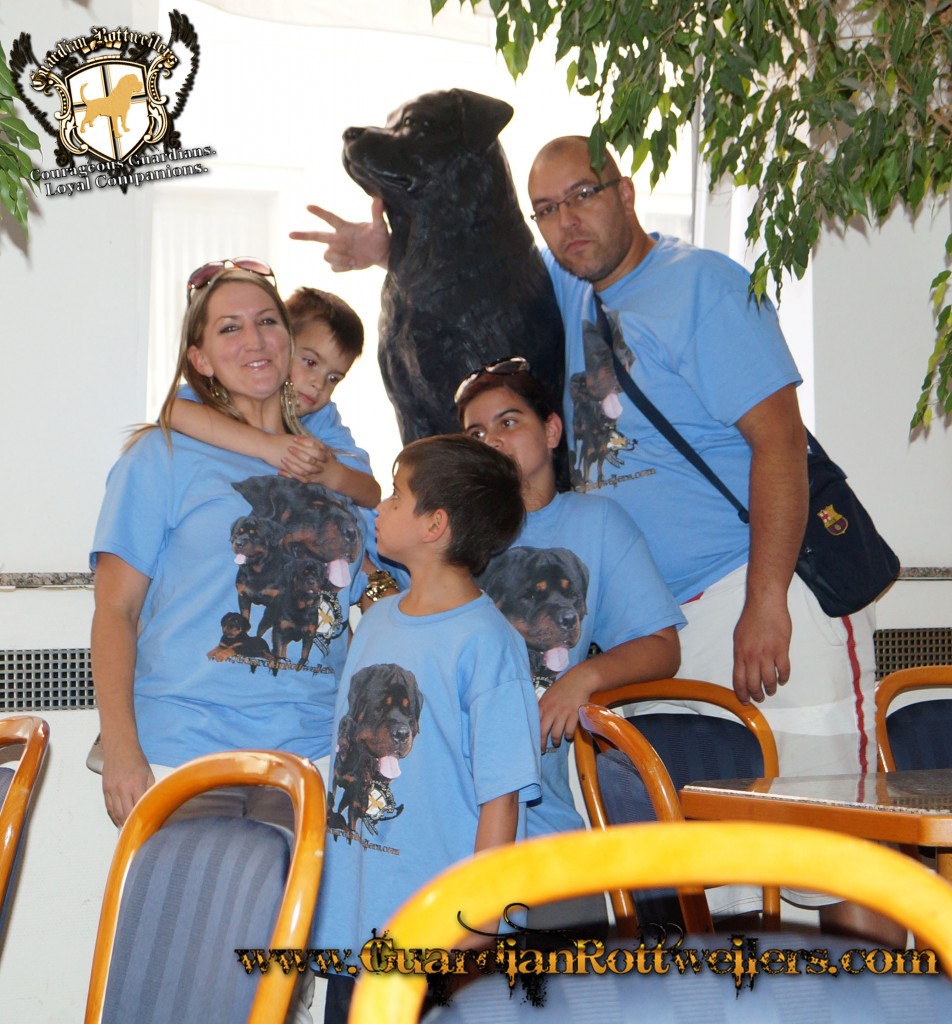 Kale and Uros <3  2 of my dearest friends <3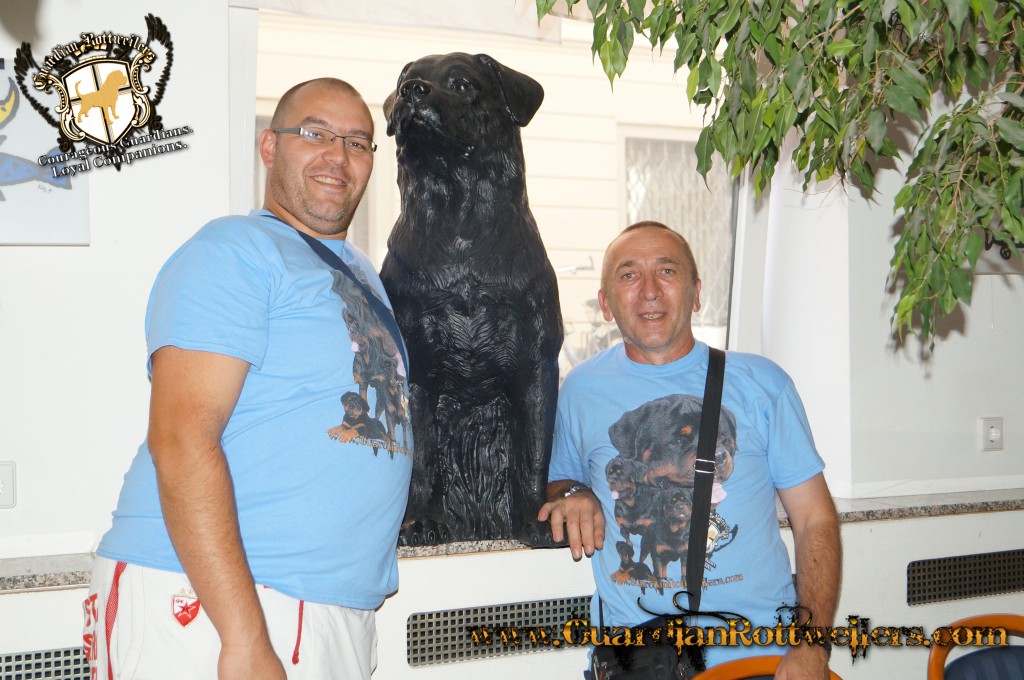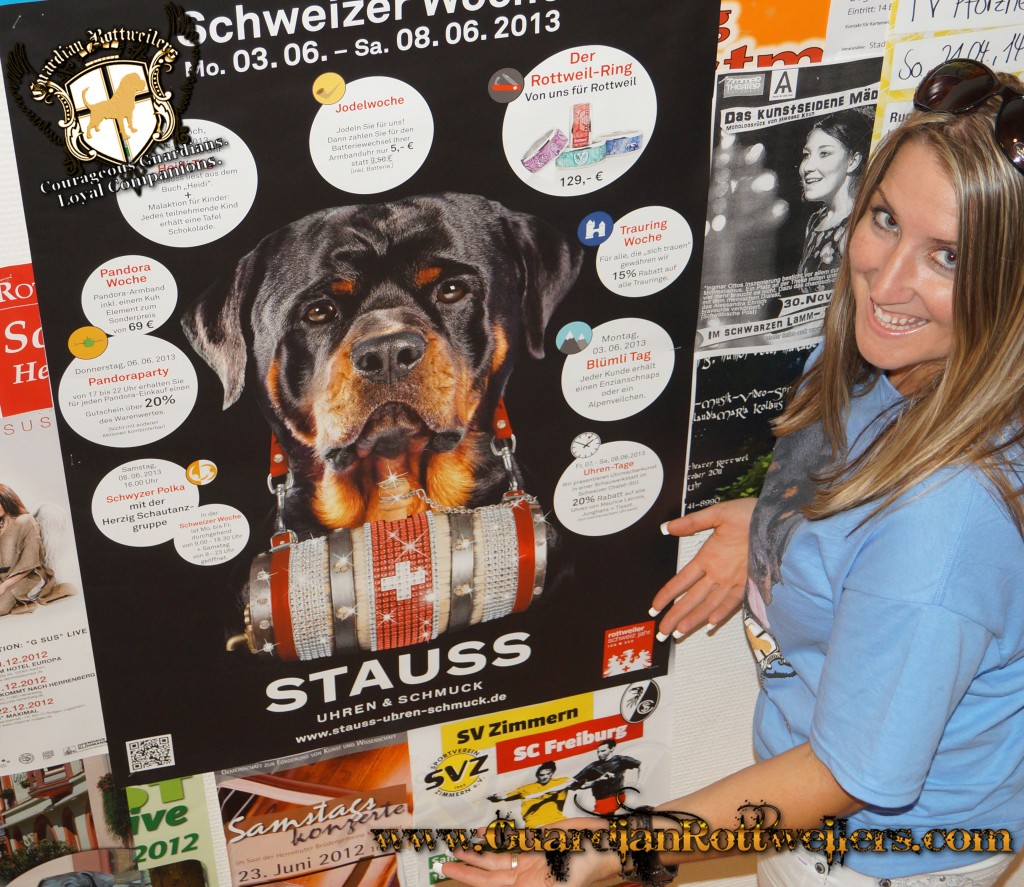 The owner of this place saw me taking a photo with the sign and then asked me something in German- I thought he was asking me if I wanted to take a photo of the poster so of course I said yes.  He left and I took this photo.  He came back with a tool to remove the staples and rolled up the poster and gave it to me!!!!!  SOOOO COOOL!!!  (you can find it now PROUDLY displayed in my office!!)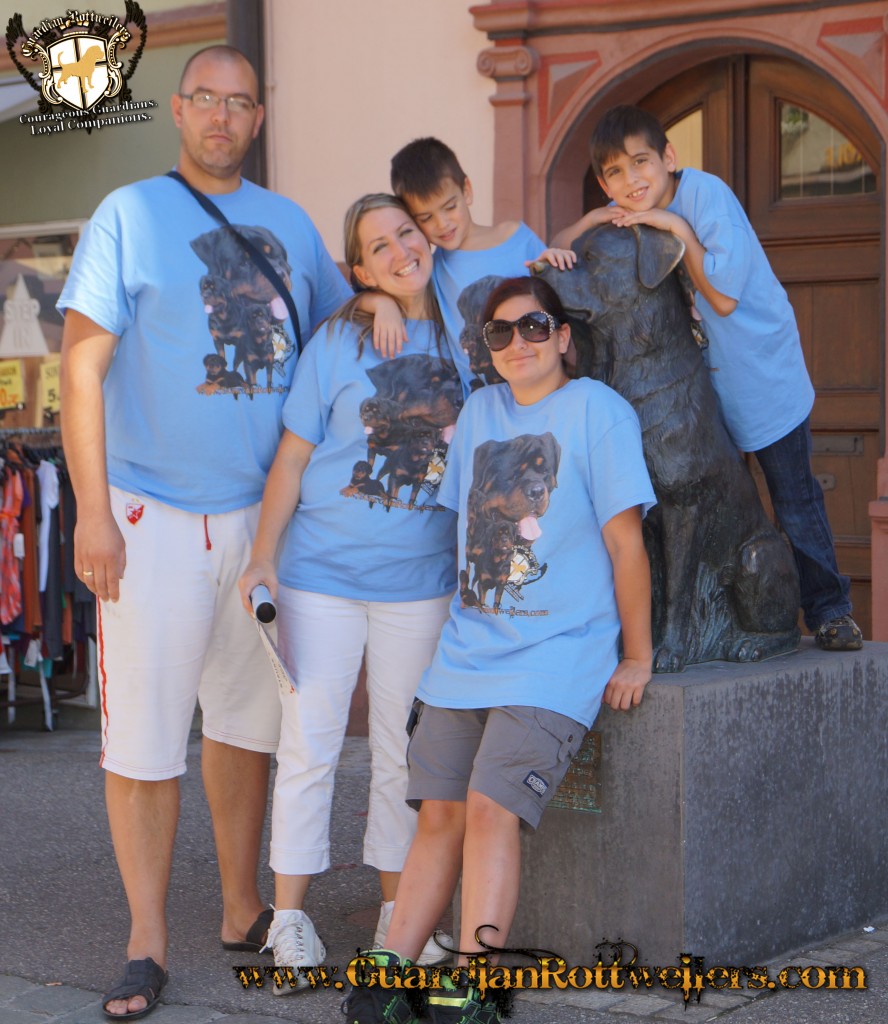 The world famous Rottweiler statue!!  Anyone involved with the breed dreams of the opportunity to come and touch this statue!!  LIVIN THE DREAM!!!!!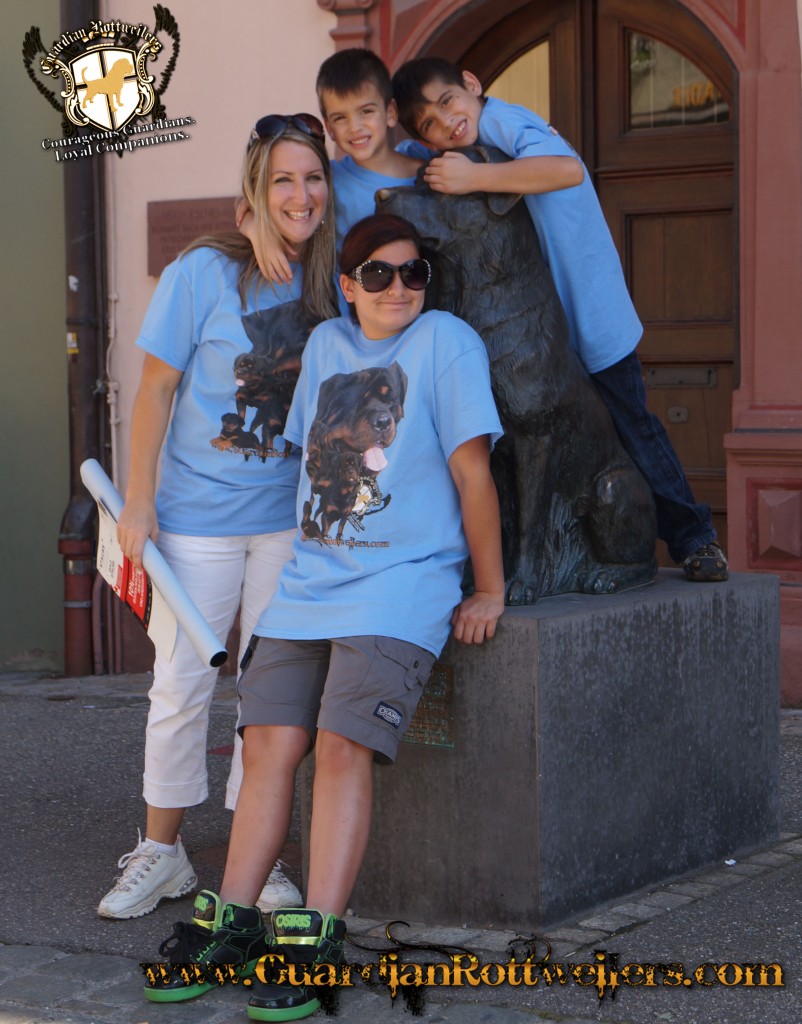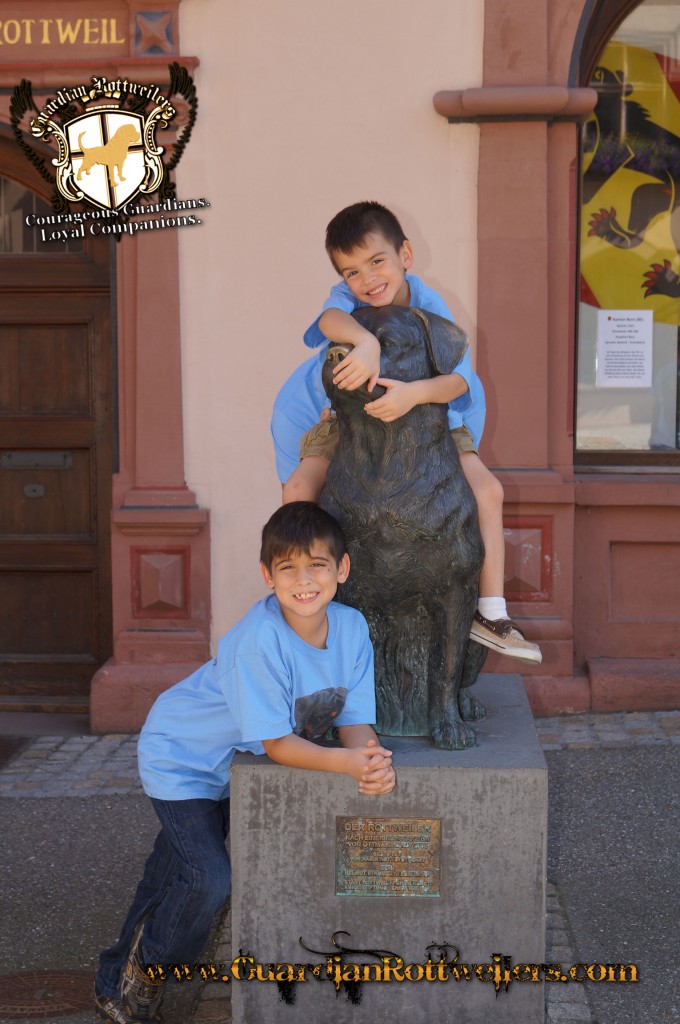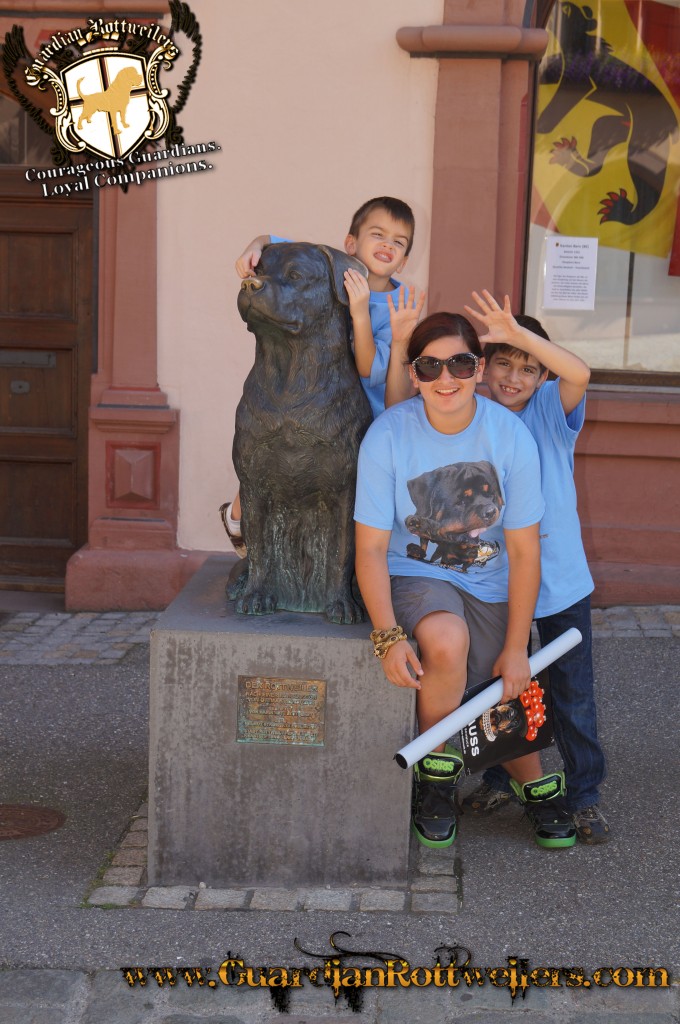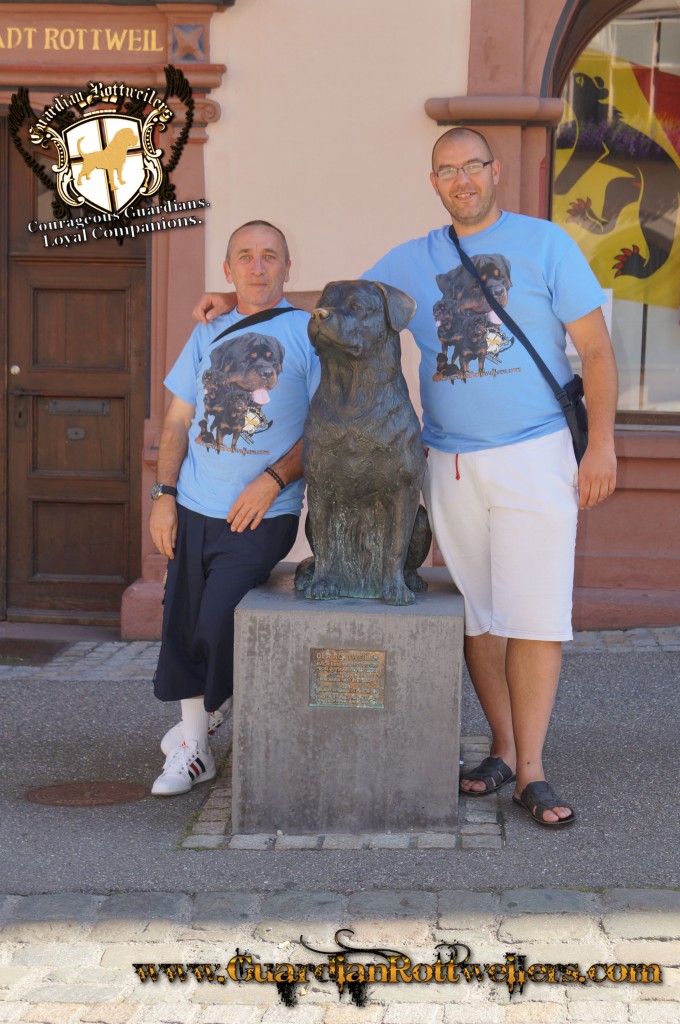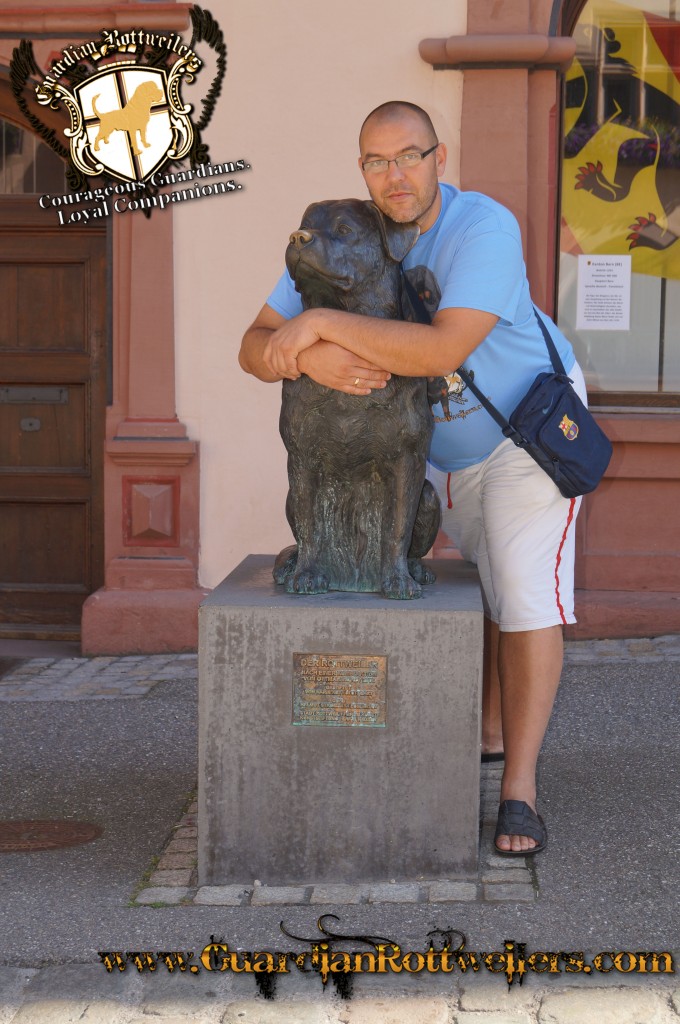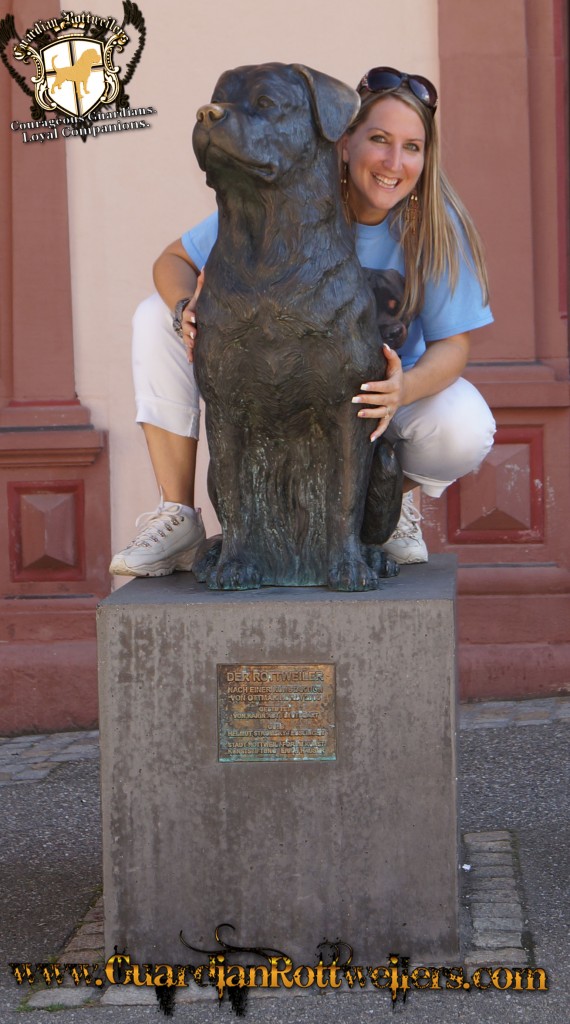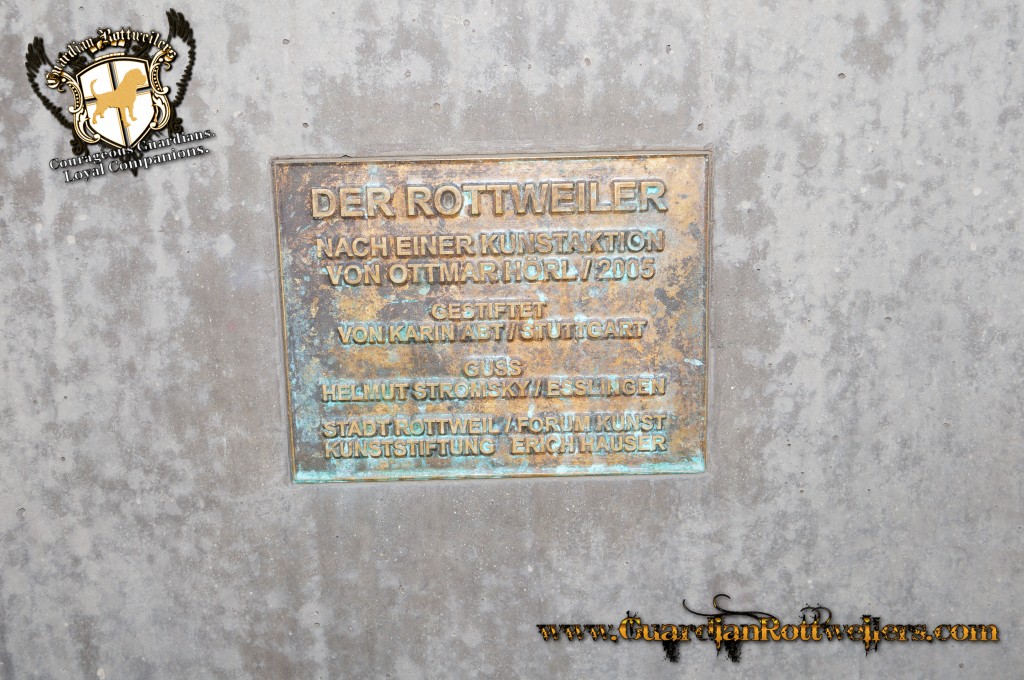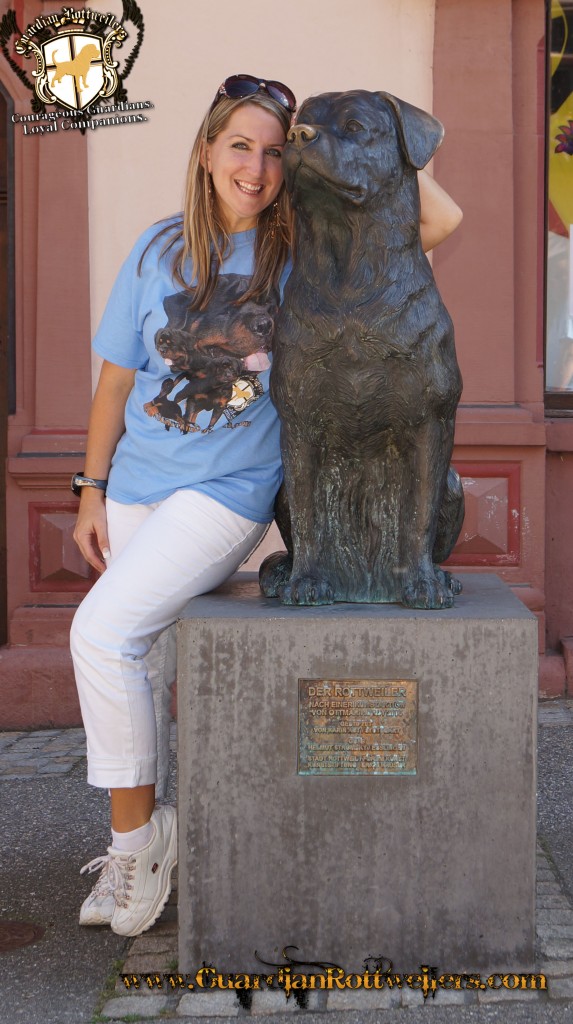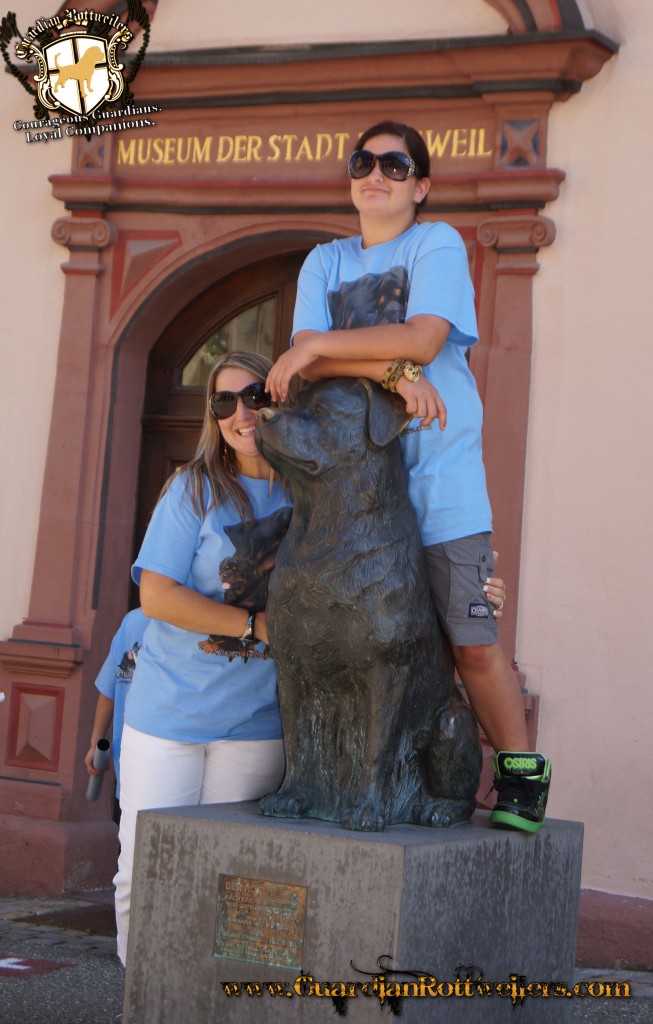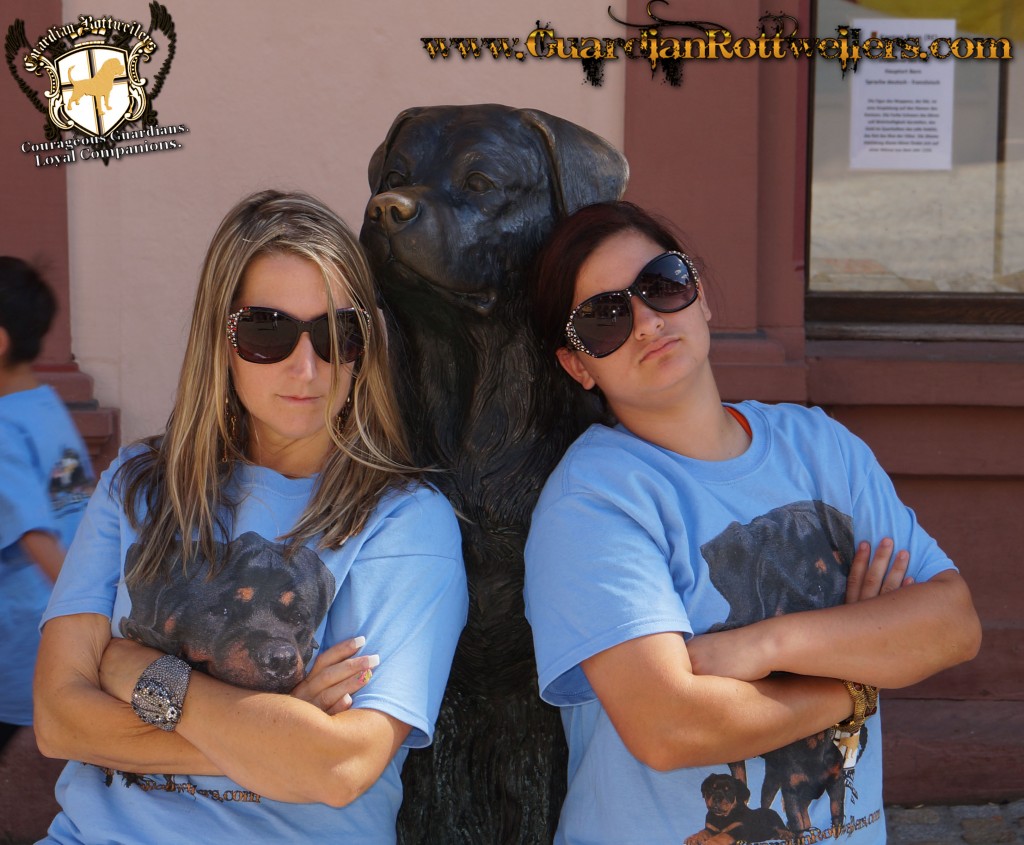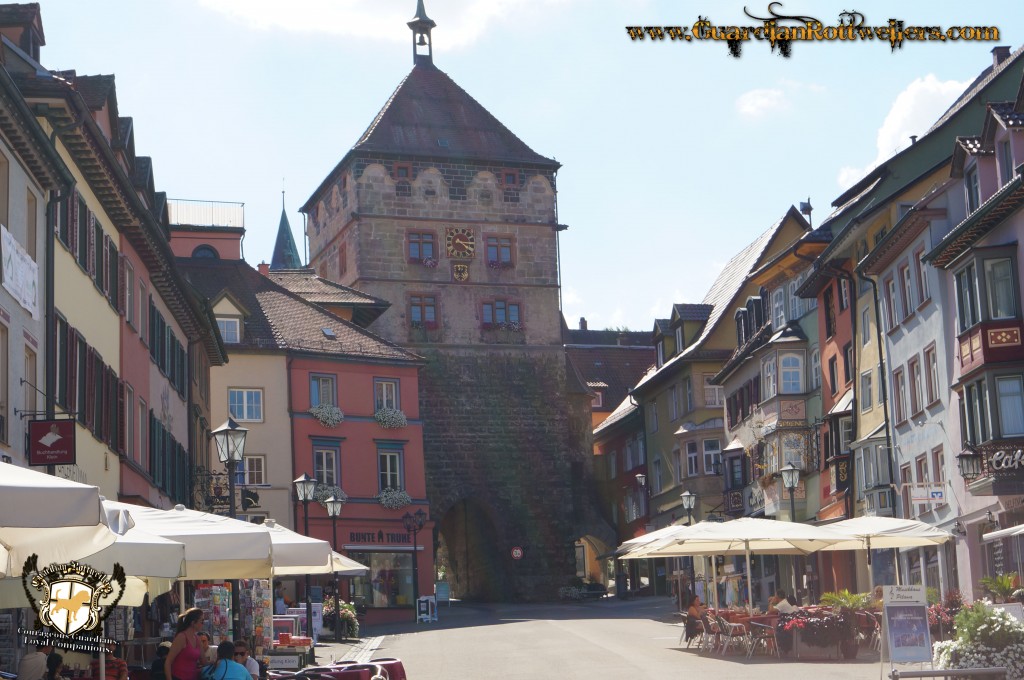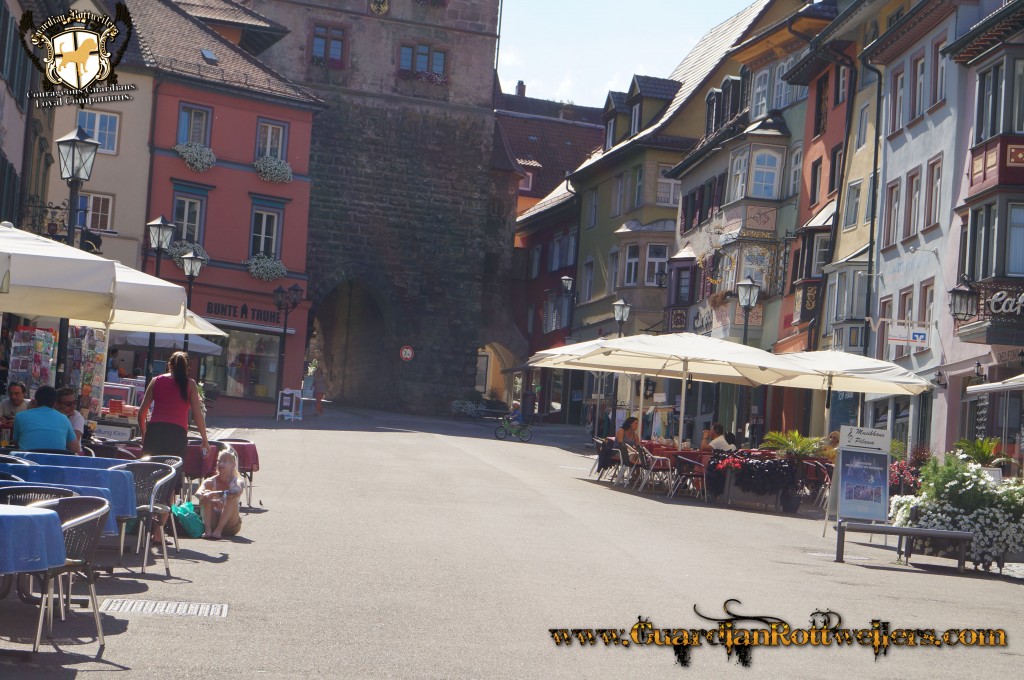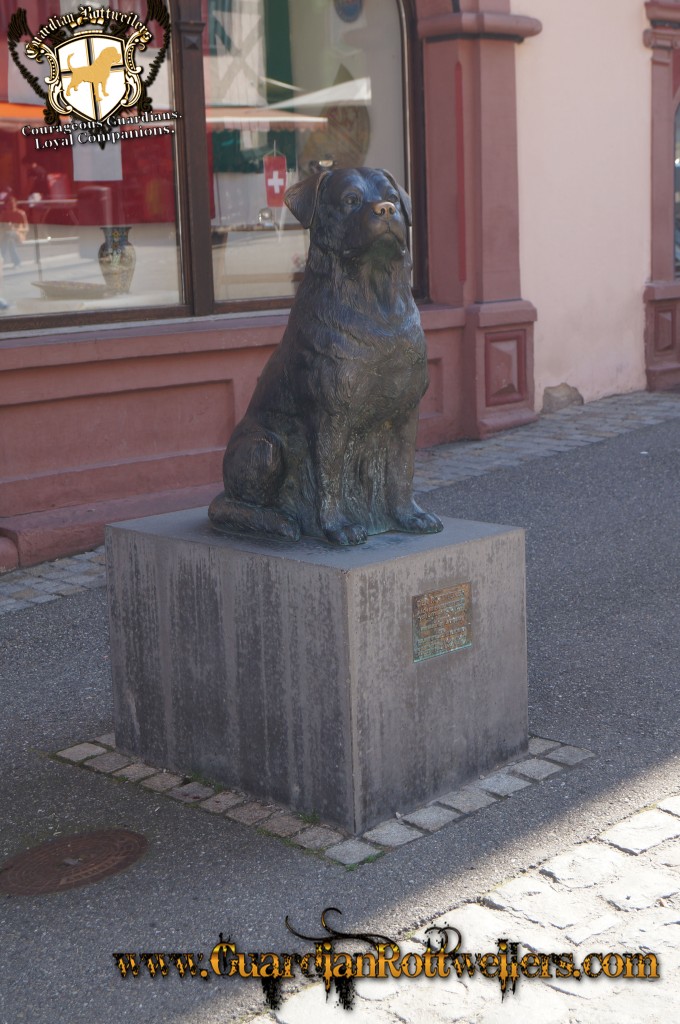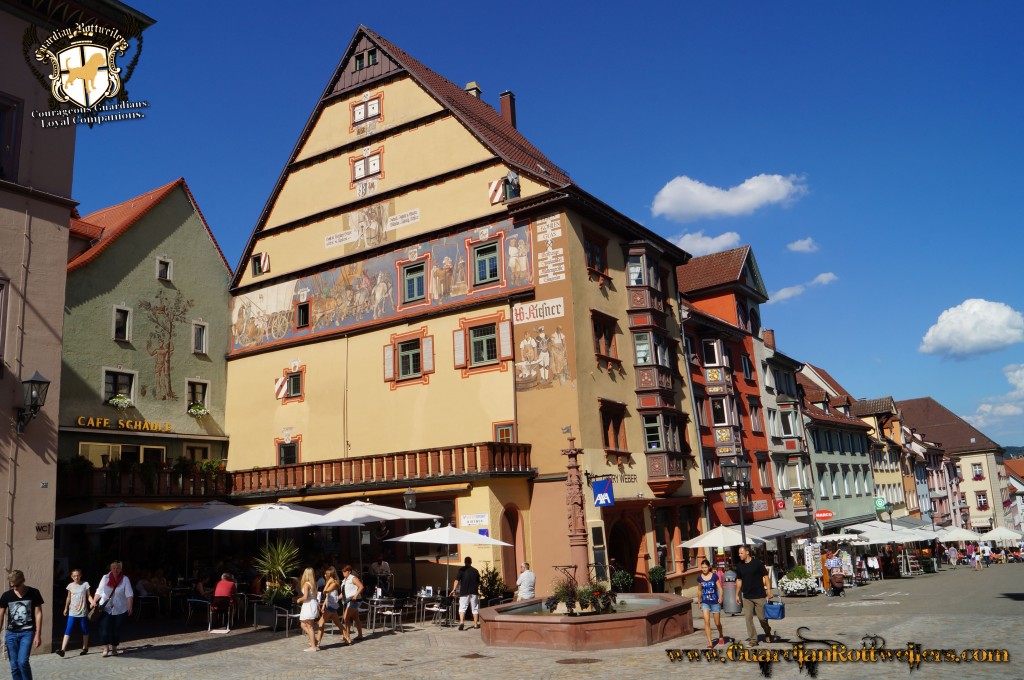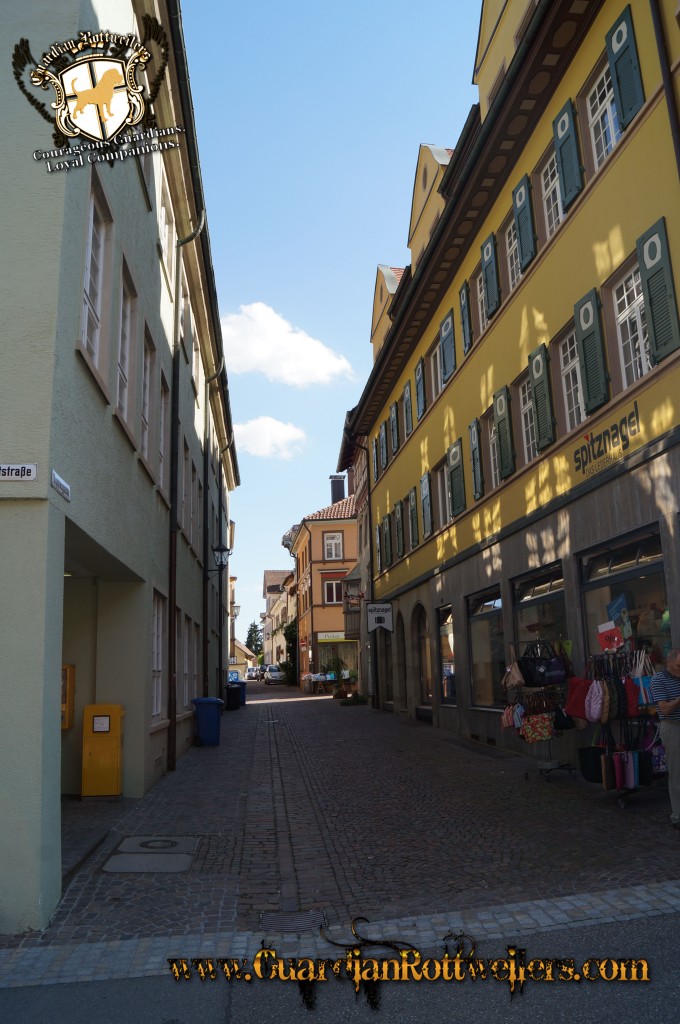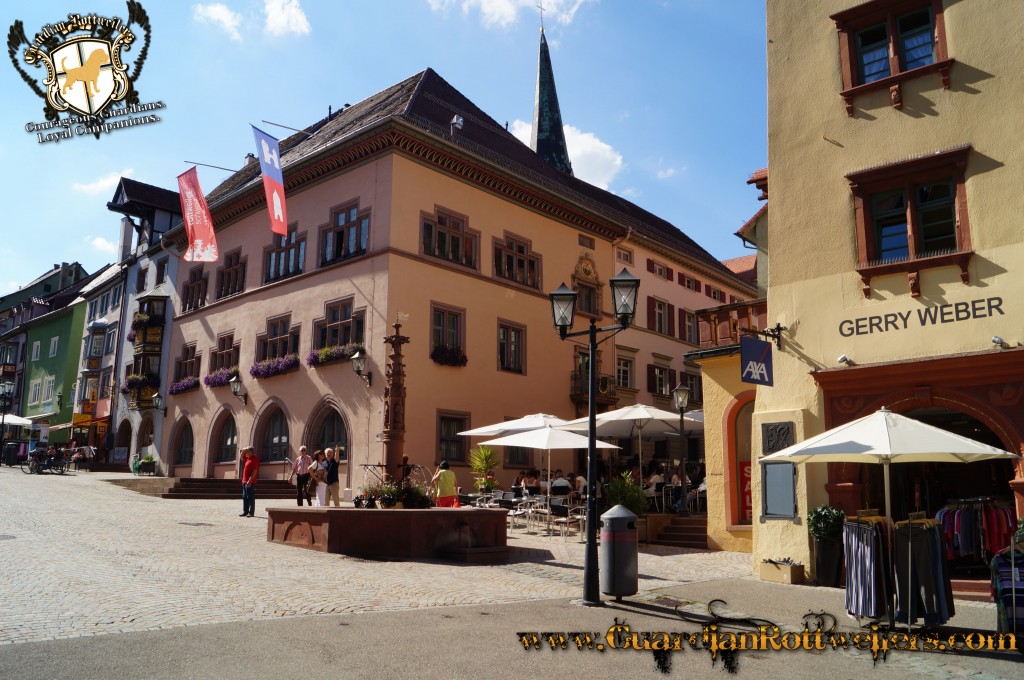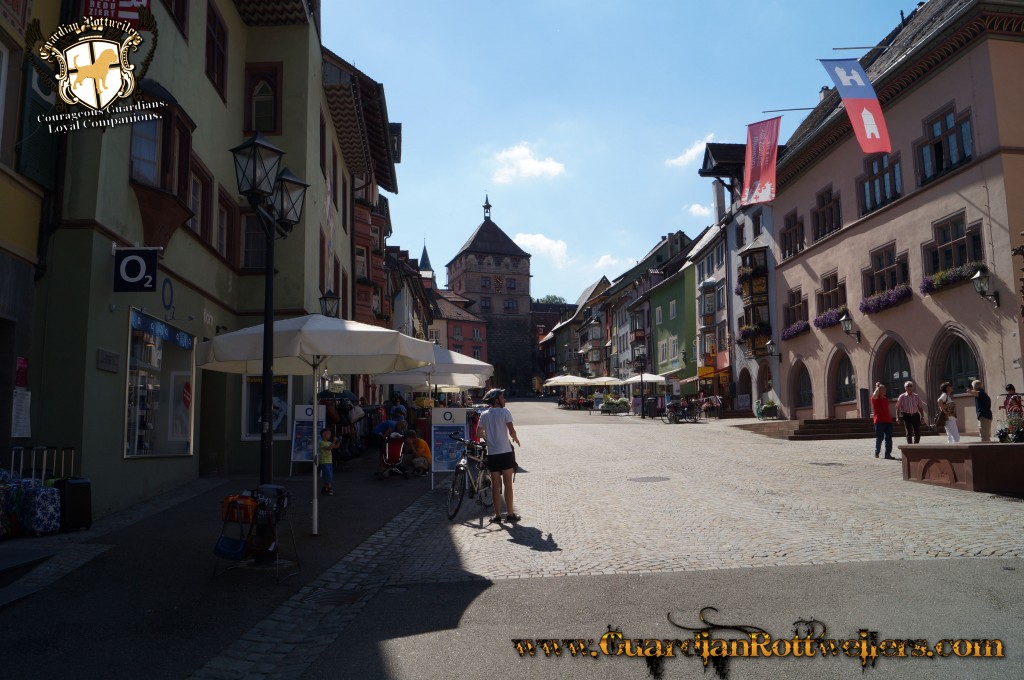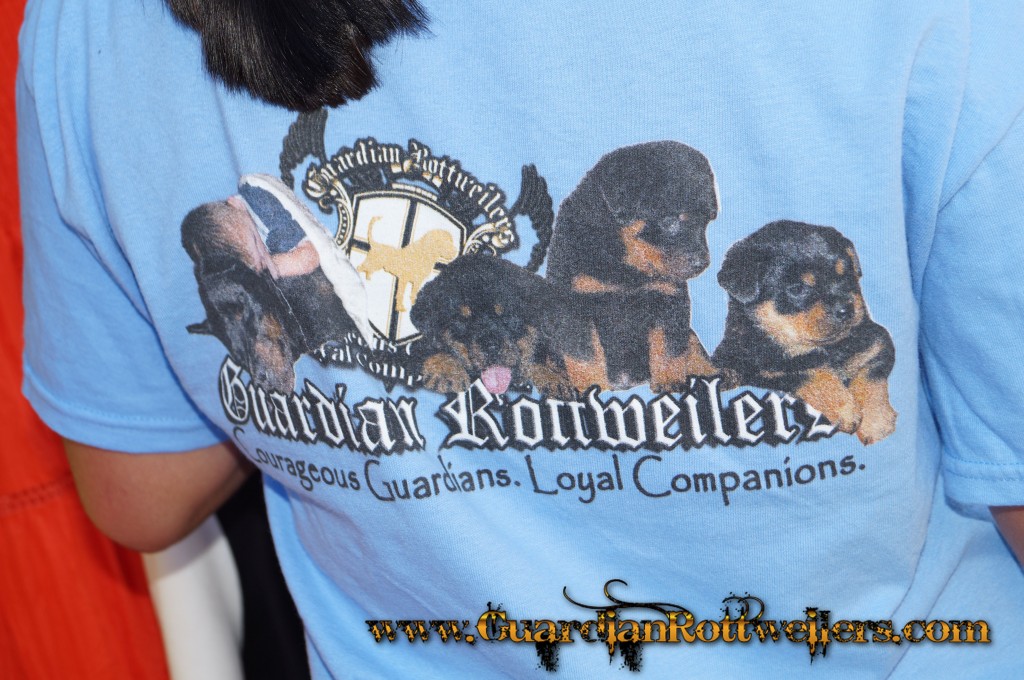 Leave it to us girls to find a sidewalk sale that we could not miss!! lol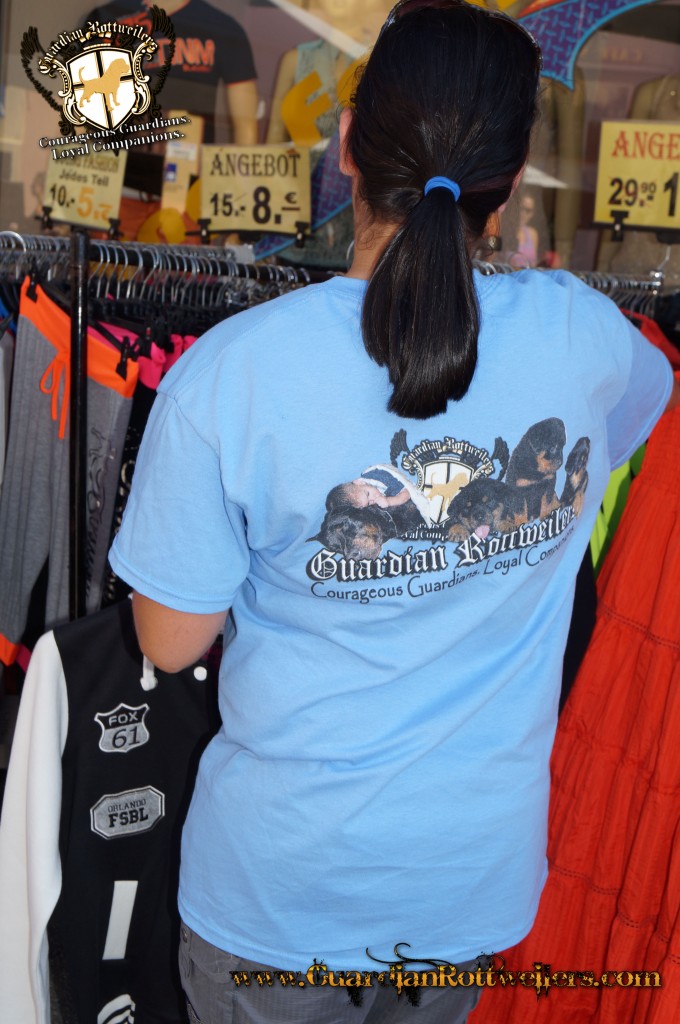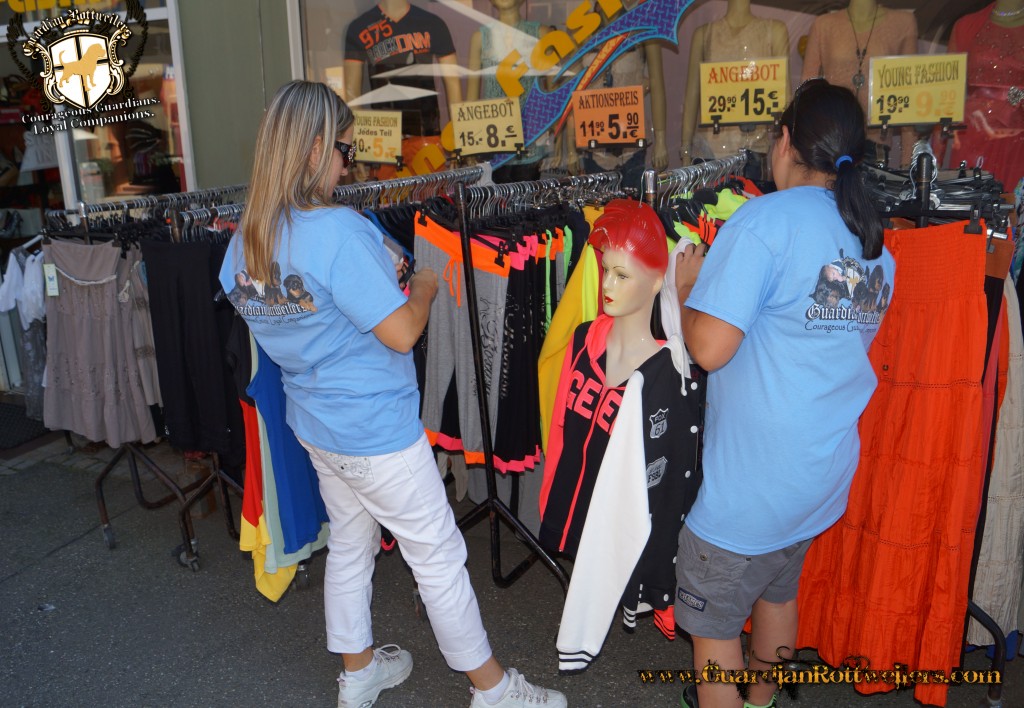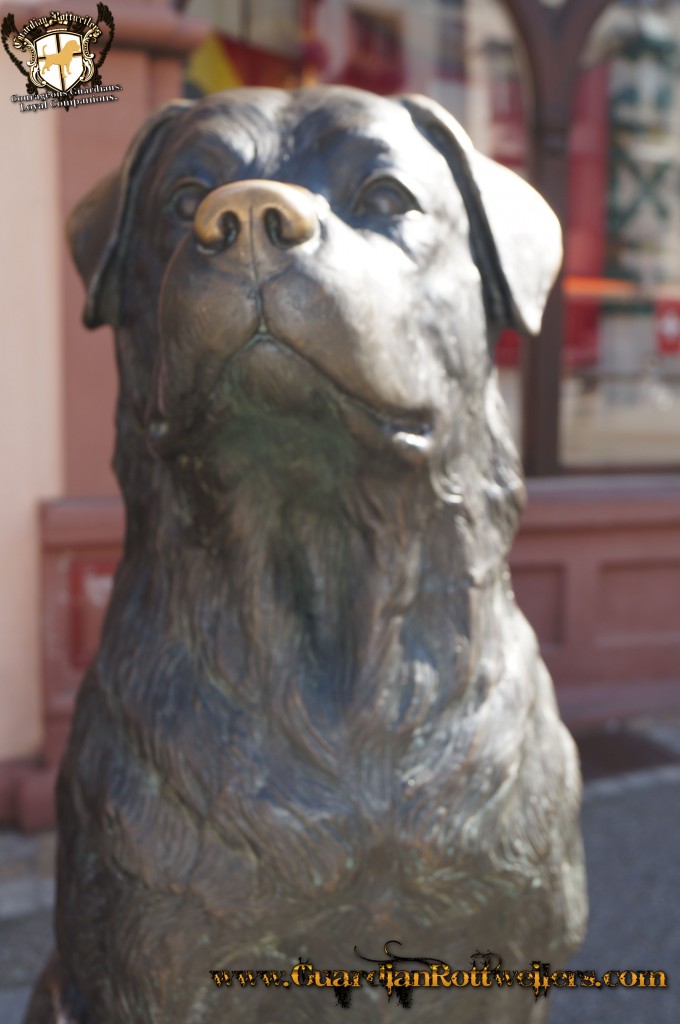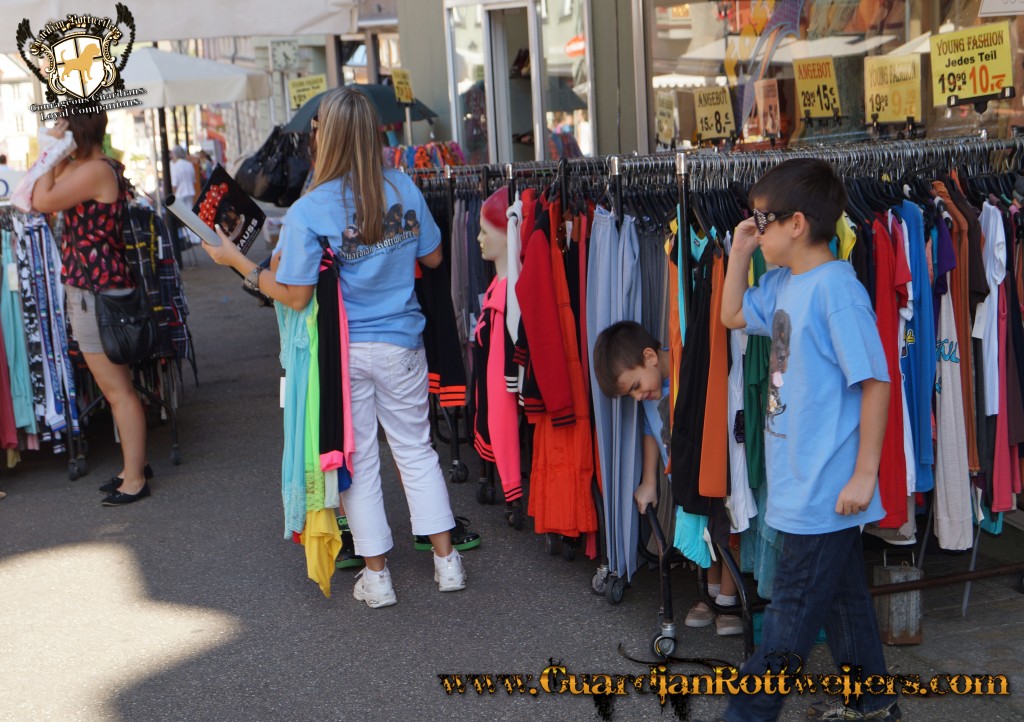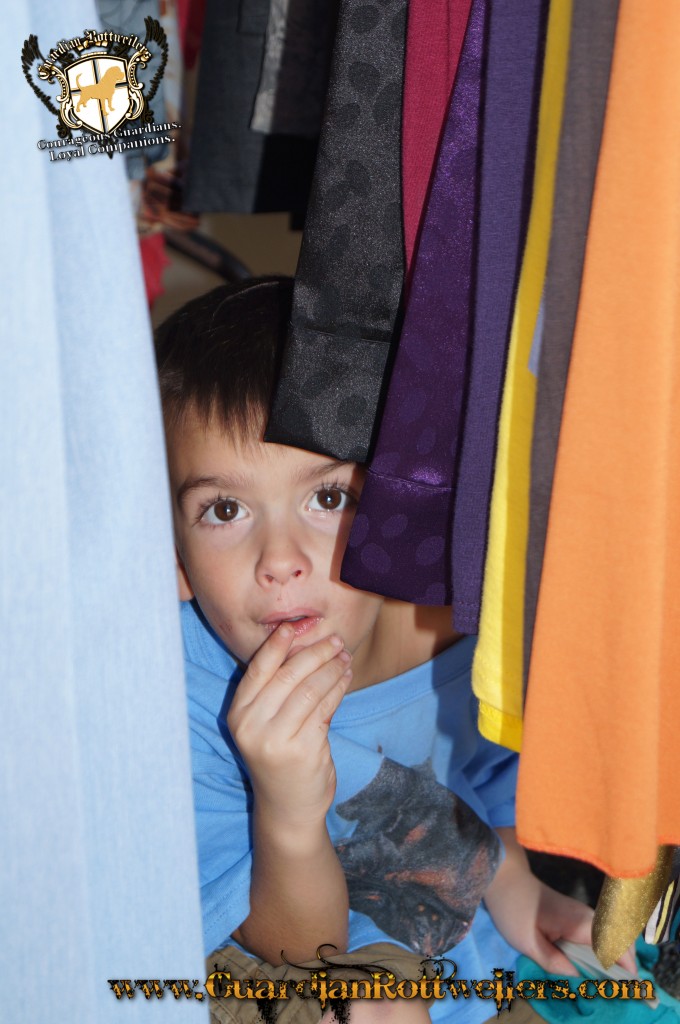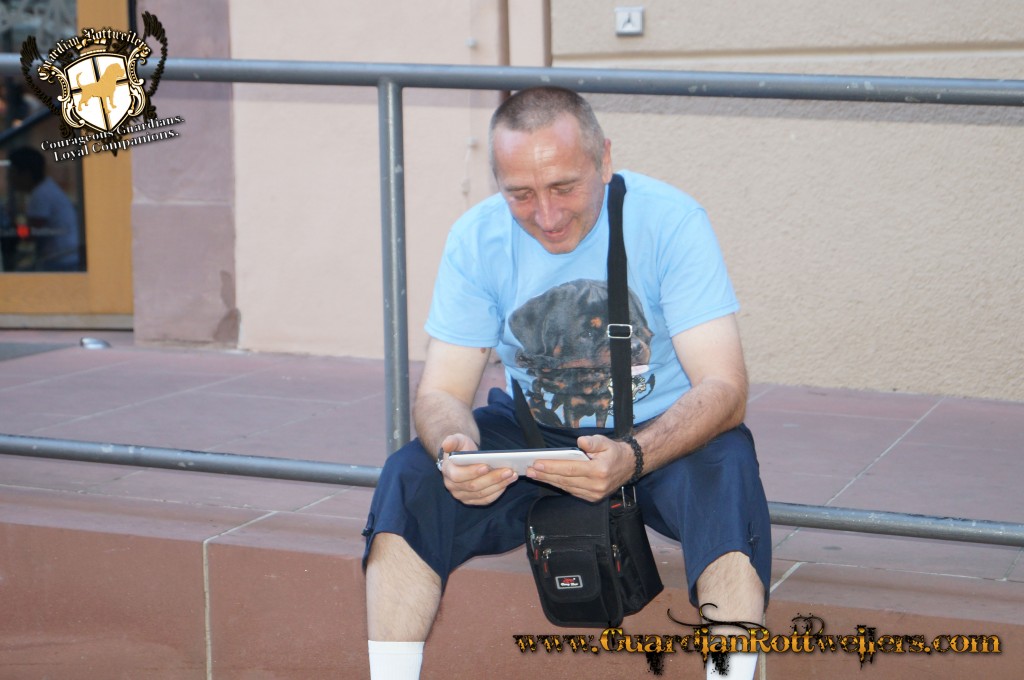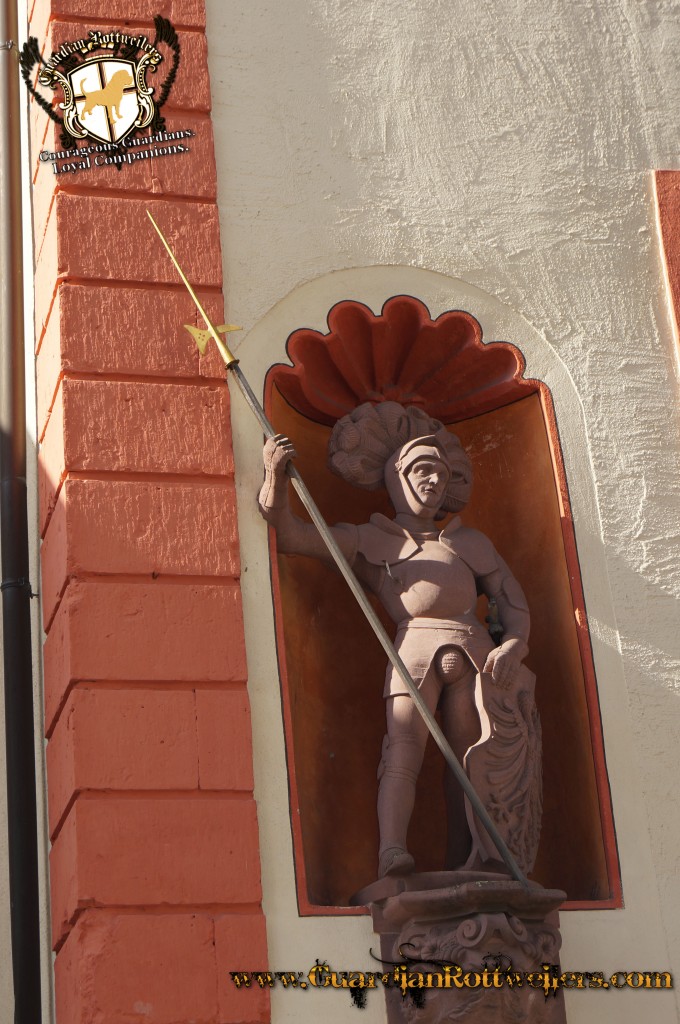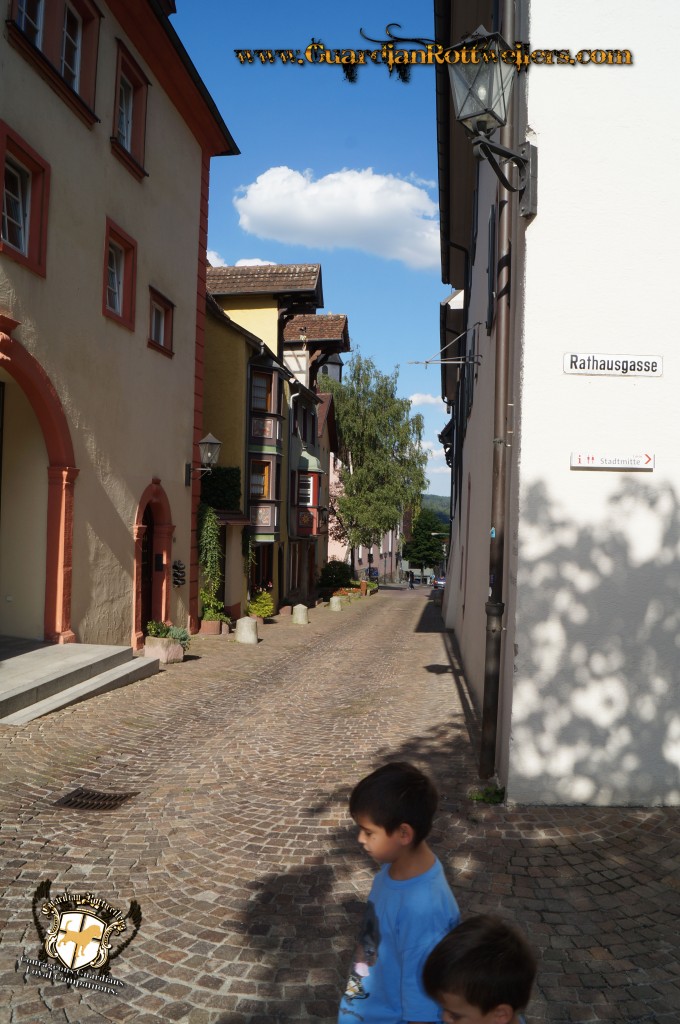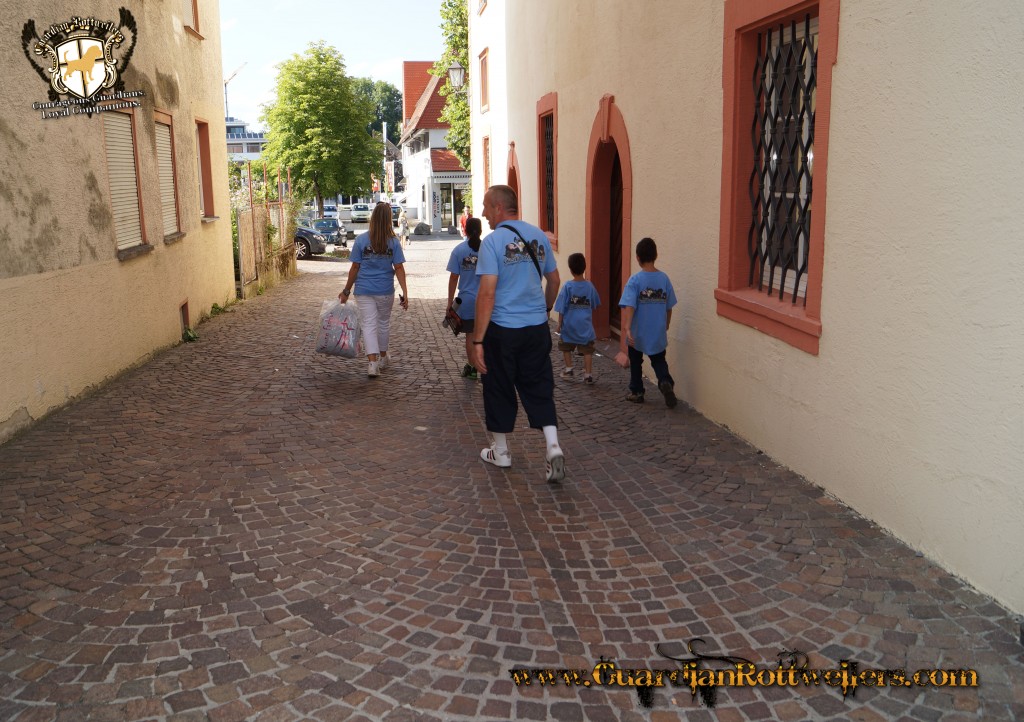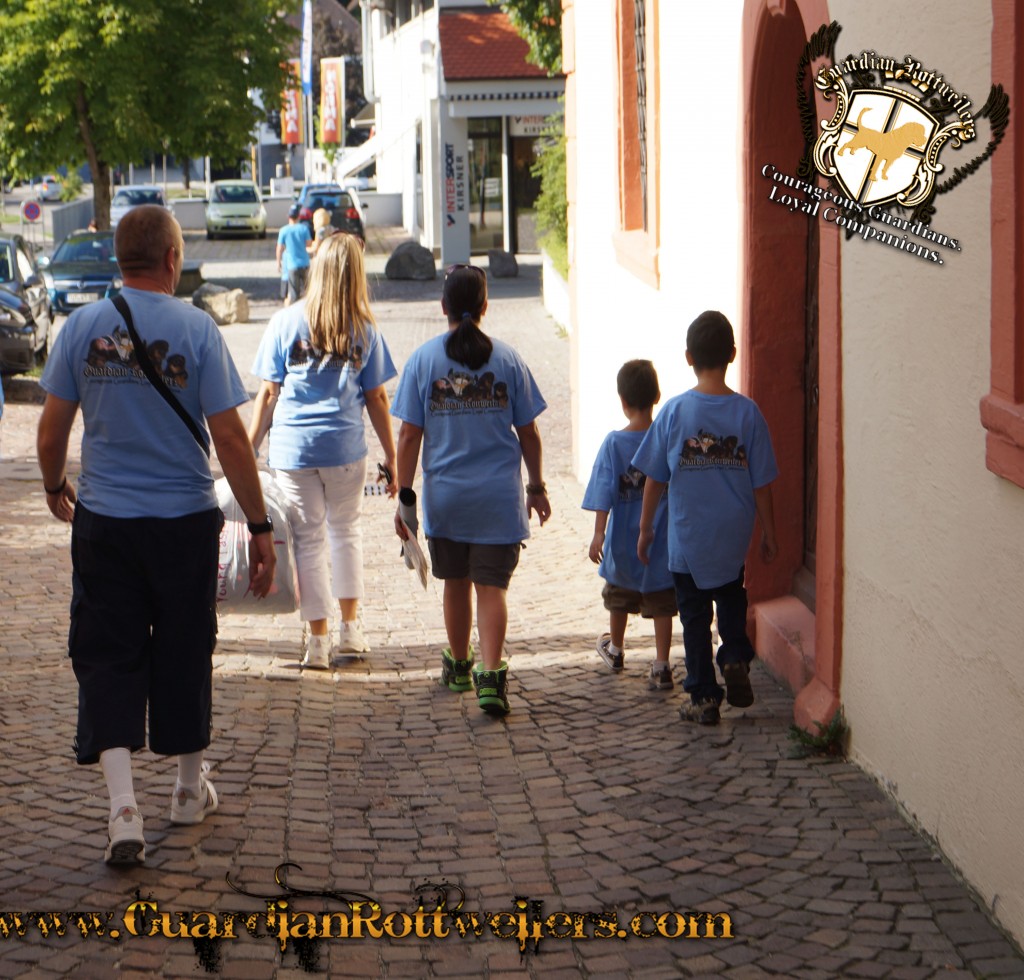 OMGOODNESS!!!!!!!!!  THE BIG DAY IS HERE!!!  I am ACTUALLY in ROTTWEIL, GERMANY, the BIRTHPLACE of my breed and not only am I going to get to watch LIVE, in person, the greater dog show IN THE WORLD, but I will be actually PARTICIPATING!!!!!!!!!!!!!  I will be on the field and in the ring with some of the biggest names out there- dogs that I have dreamed of getting the opportunity to meet- I will actually be IN THE RING shoulder to should with them!!  and with the best breeders, handlers and trainers from all over the world!!  No need for caffeine- I am SOOOOO STOKED!!!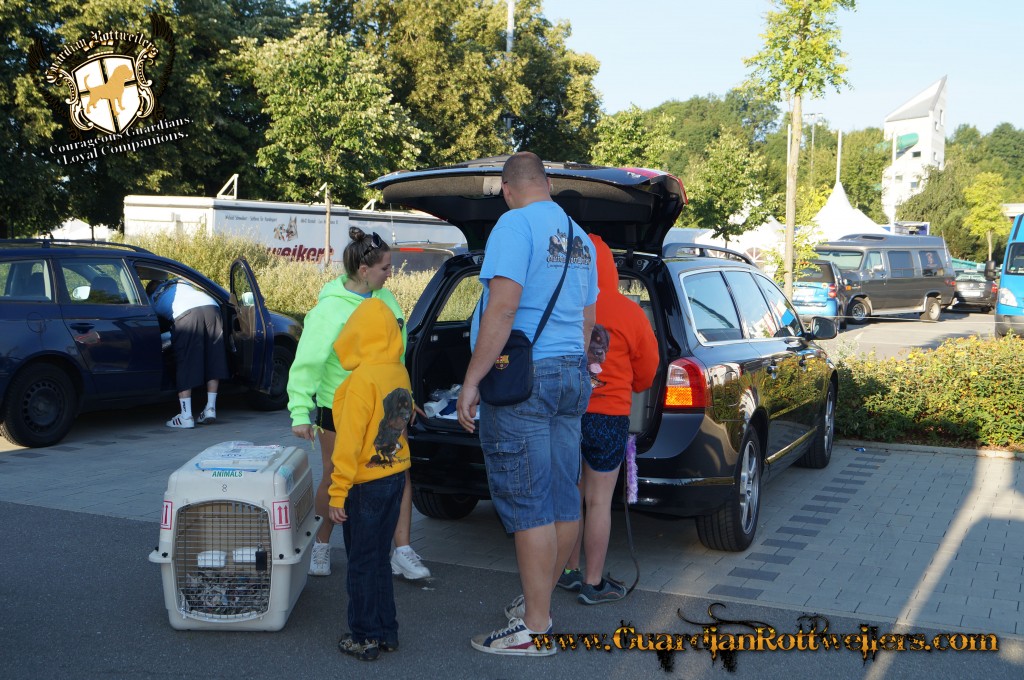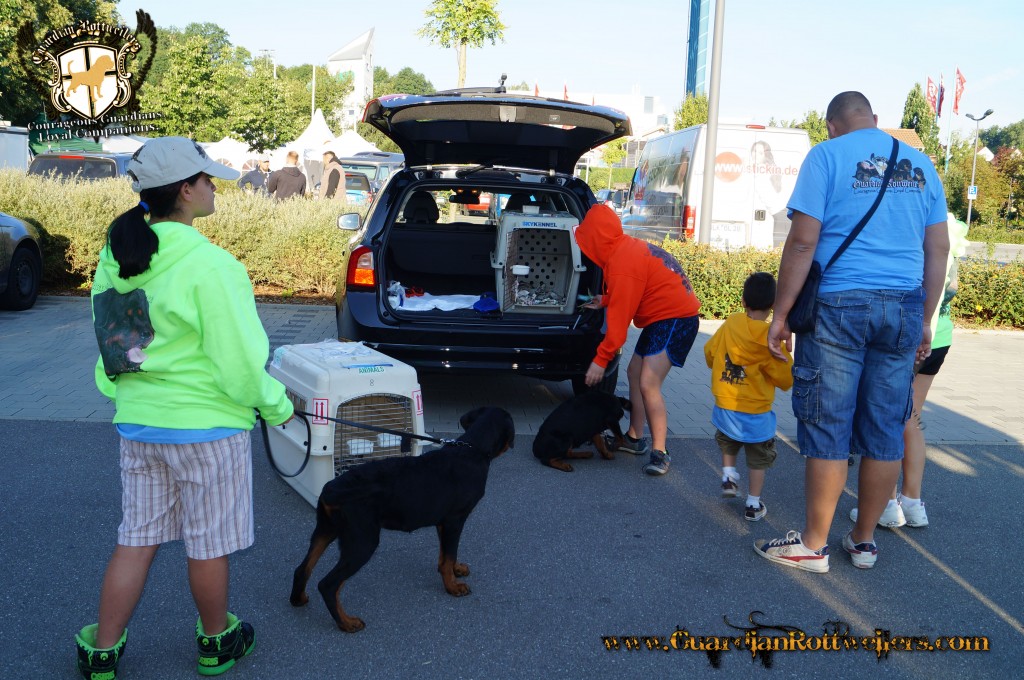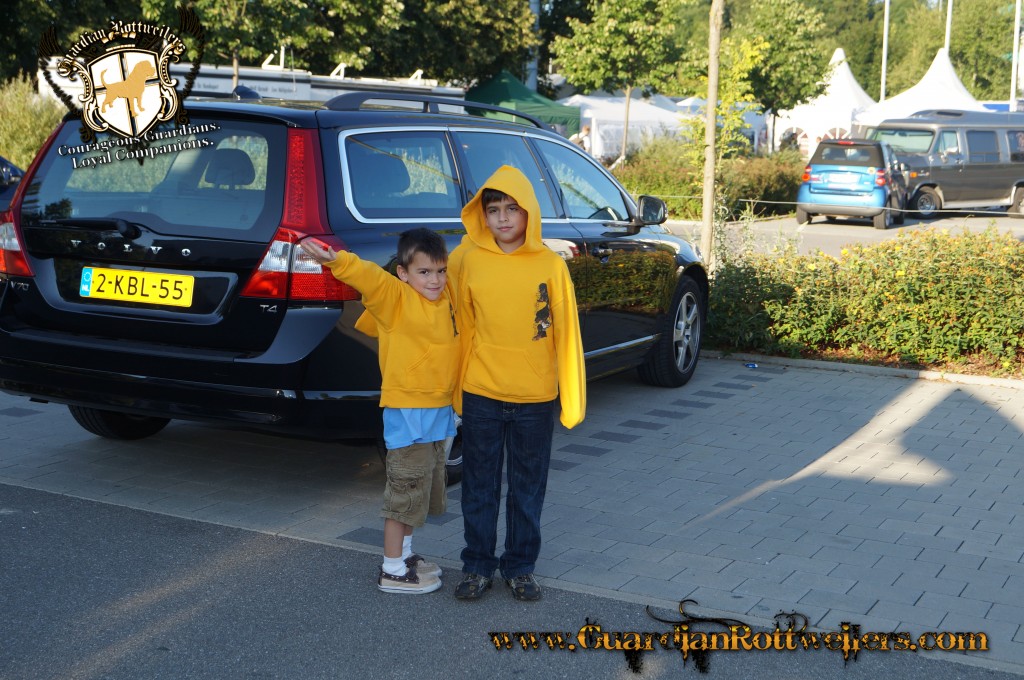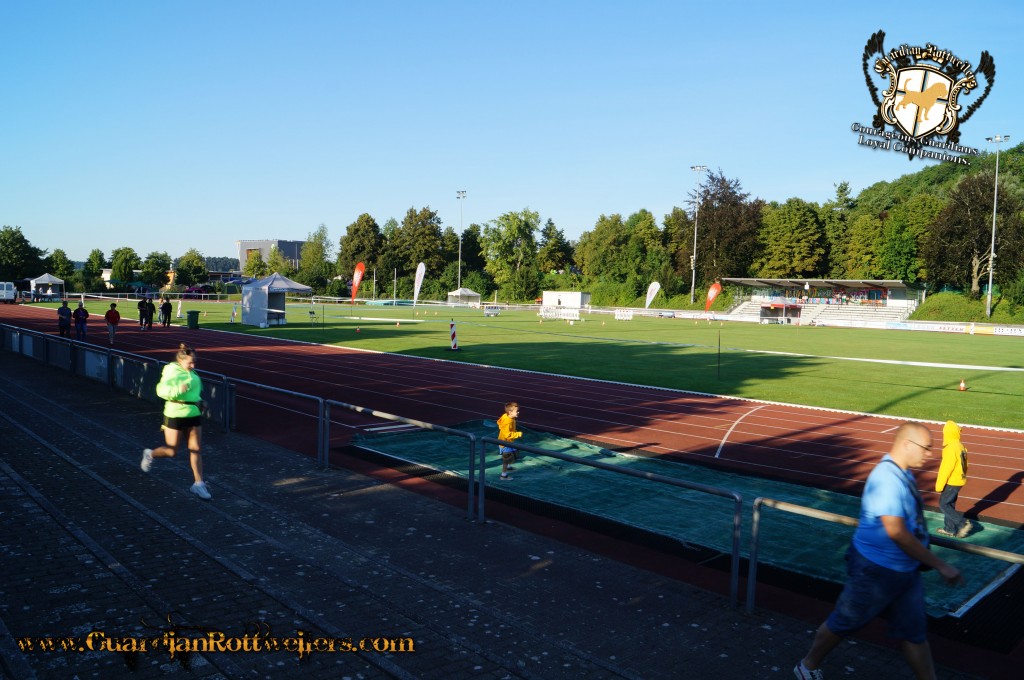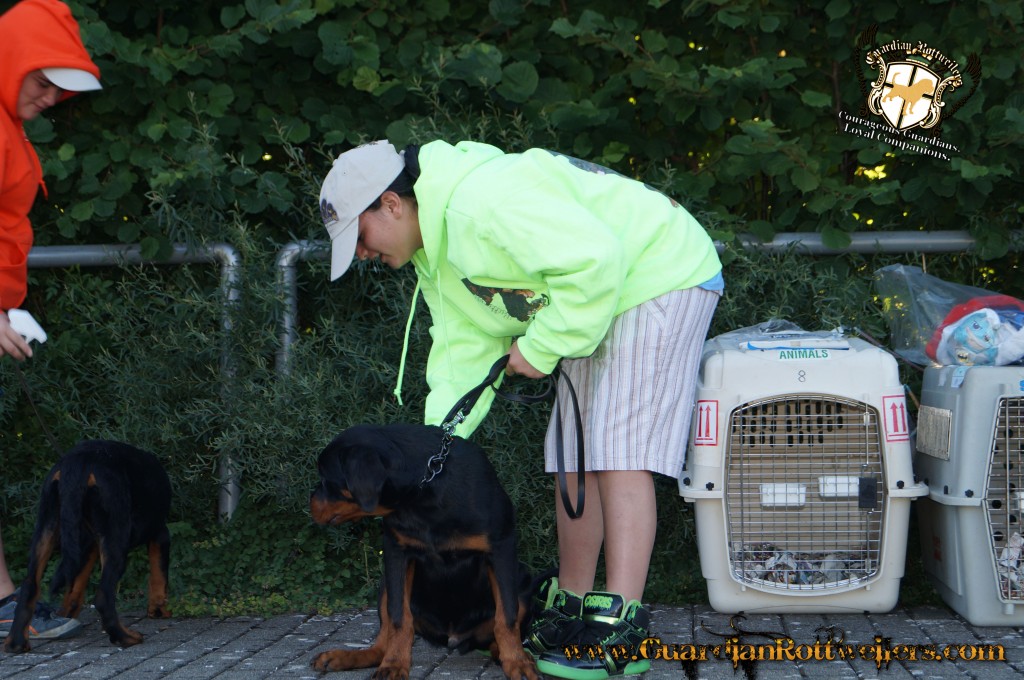 THAT'S ME!!!  Collecting my numbers and submitting my paperwork for my dogs IN THE ADRK KS!!!!!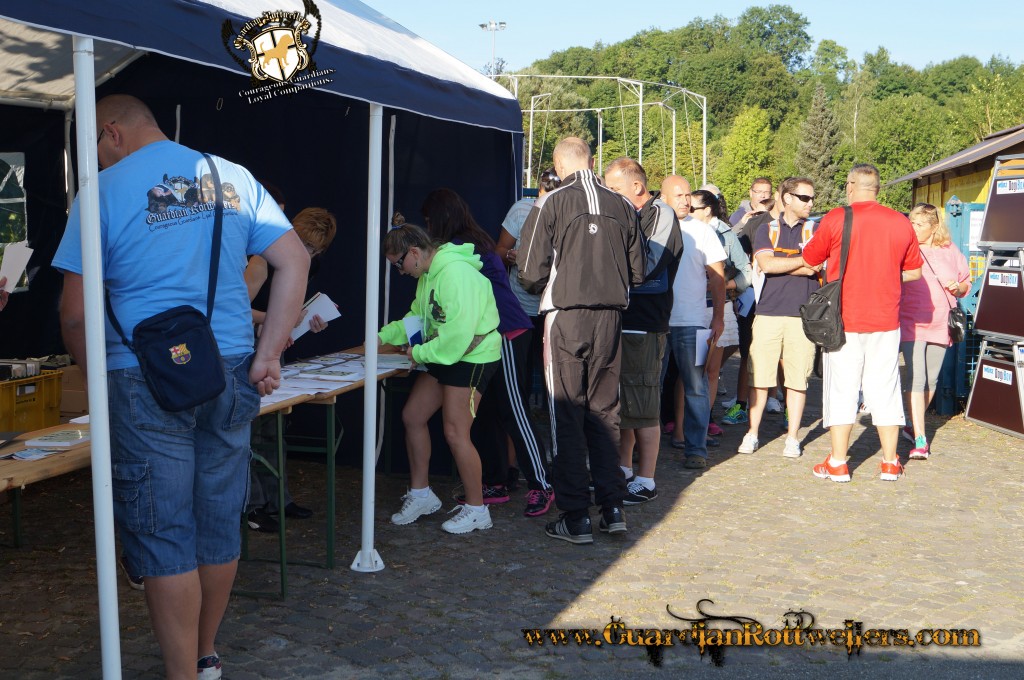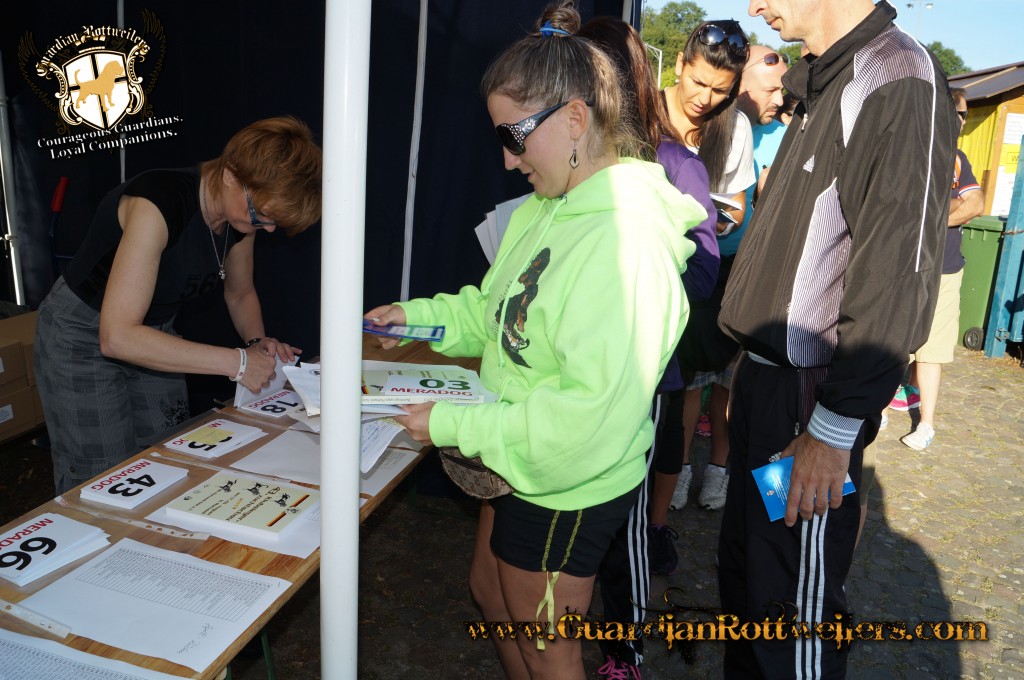 That is some random guy that just popped into the photo that Kale and I were taking! lol  LOVE IT!!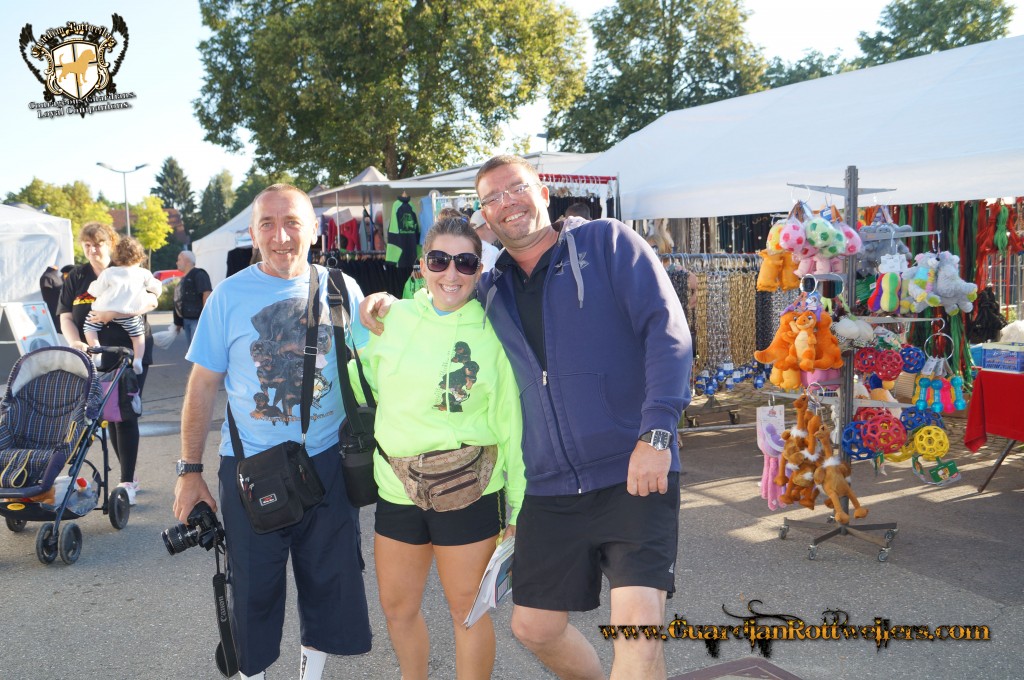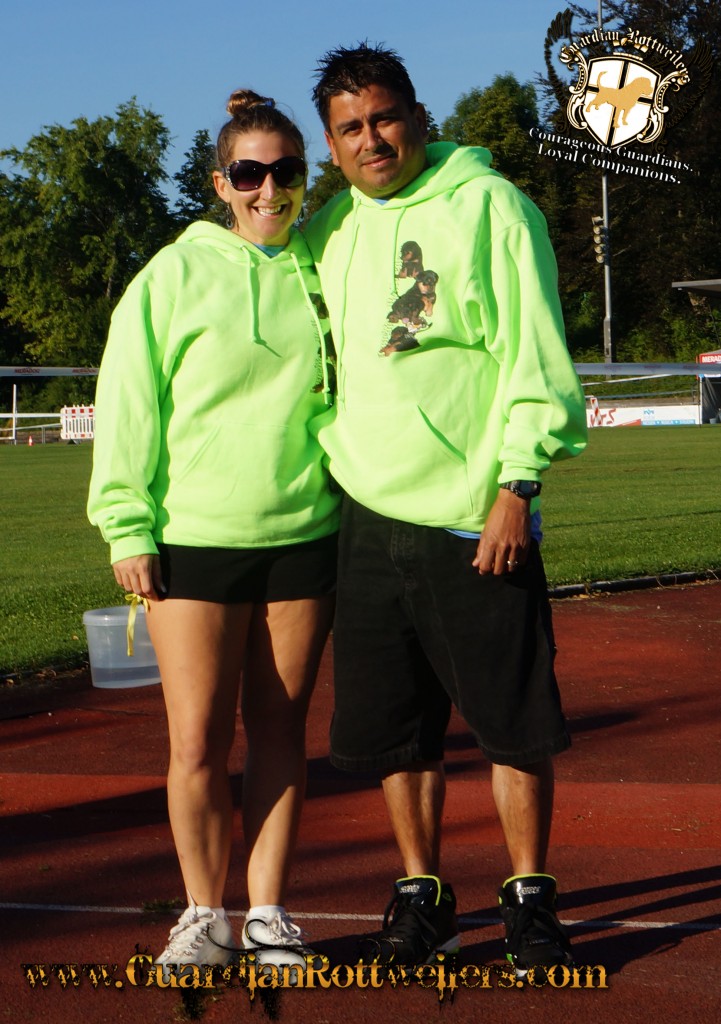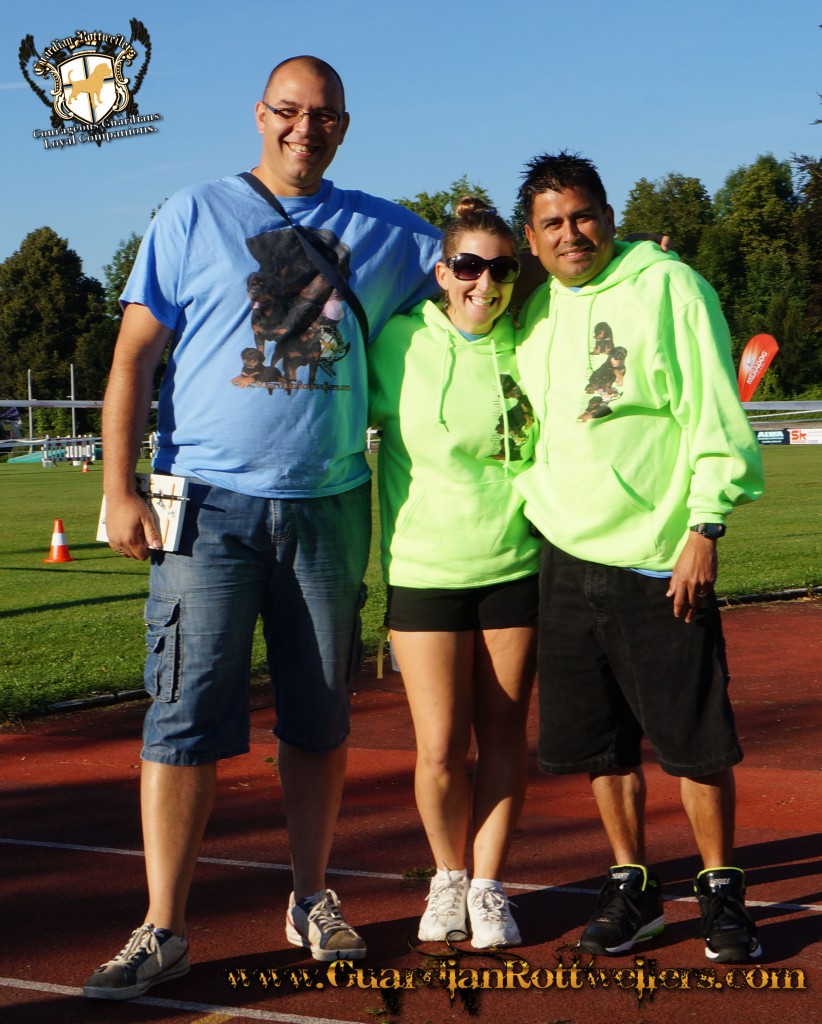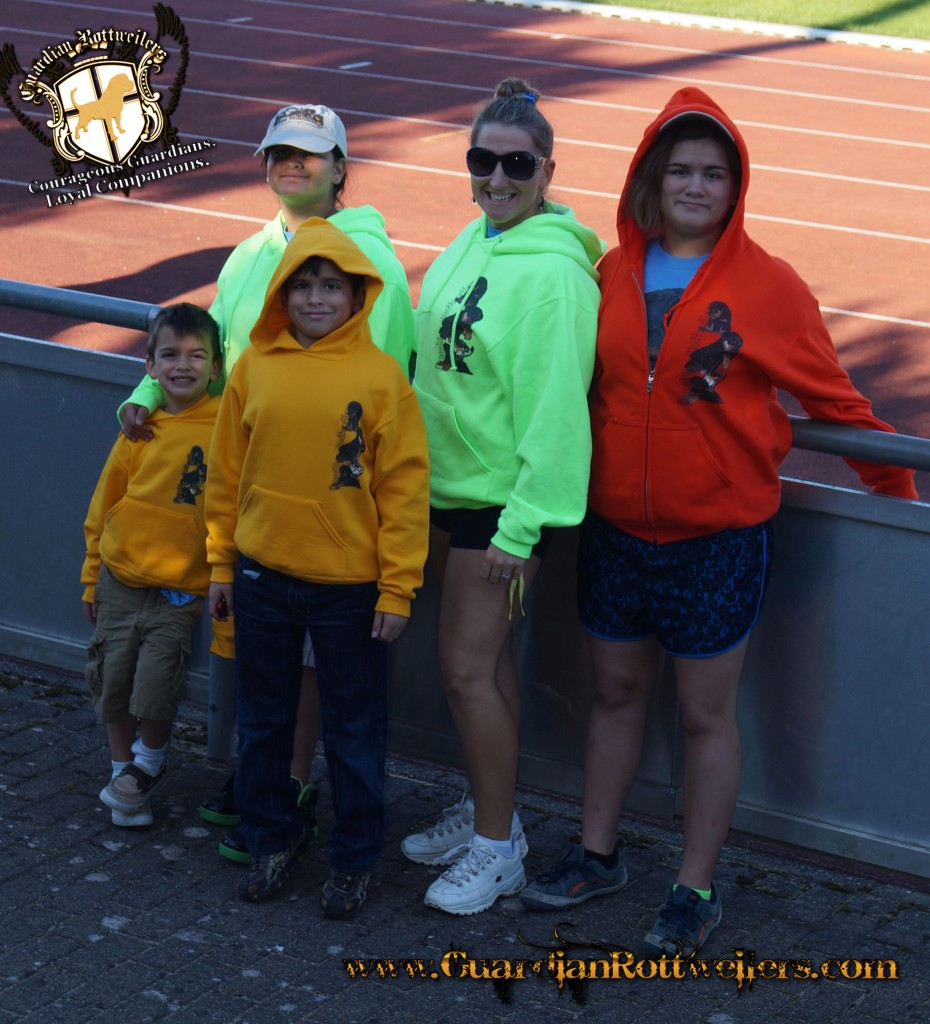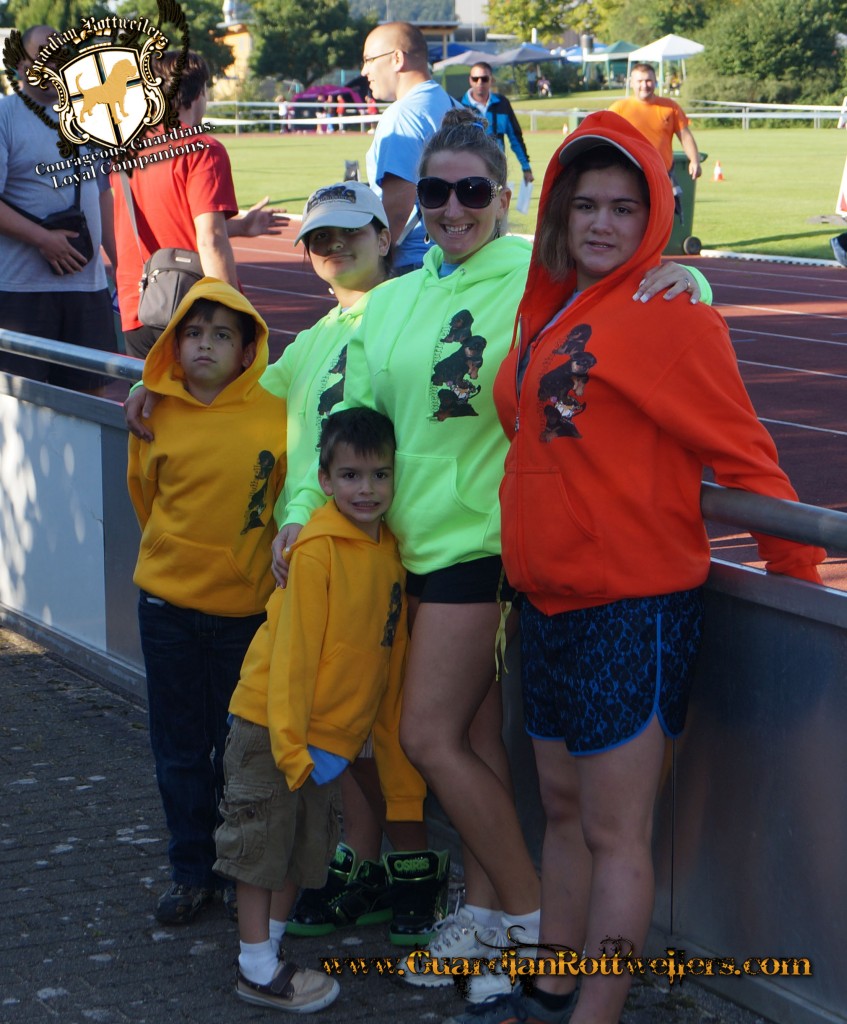 My sweet baby girl.  After Tahlia's accident, her leg has healed as much as it will- there is a chunk of muscle that will of course never regrow and the nerves still have not completely repaired themselves.  Her leg constantly has that pins and needles feeling you get when your arm or leg or foot falls asleep, and in addition to that fun, sometimes, she will get random "bolts of lightening" that shoot through her leg and sometimes it will just give out.
Tahlia was running onto the field to run her puppy that she has worked and trained so hard for this show.  Her leg gave out just as she was going over a curb and her ankle double over :/  She felt it "pop" and it immediately swelled up and started turing pretty colors.  It was at a very awkward angle and the medics were sure she had broken it and rushed her via helicopter to the hospital.  Thankfully, it was only dislocated and not broken.  They were able to reset it and gave Tahlia some "good drugs" according to her 😉 When I asked her how her ankle felt after she got back to the show, she responded with, "what ankle?" lol  They gave me the before and after x-rays (when it was dislocated and after they returned it to the proper position) it was a little freaky!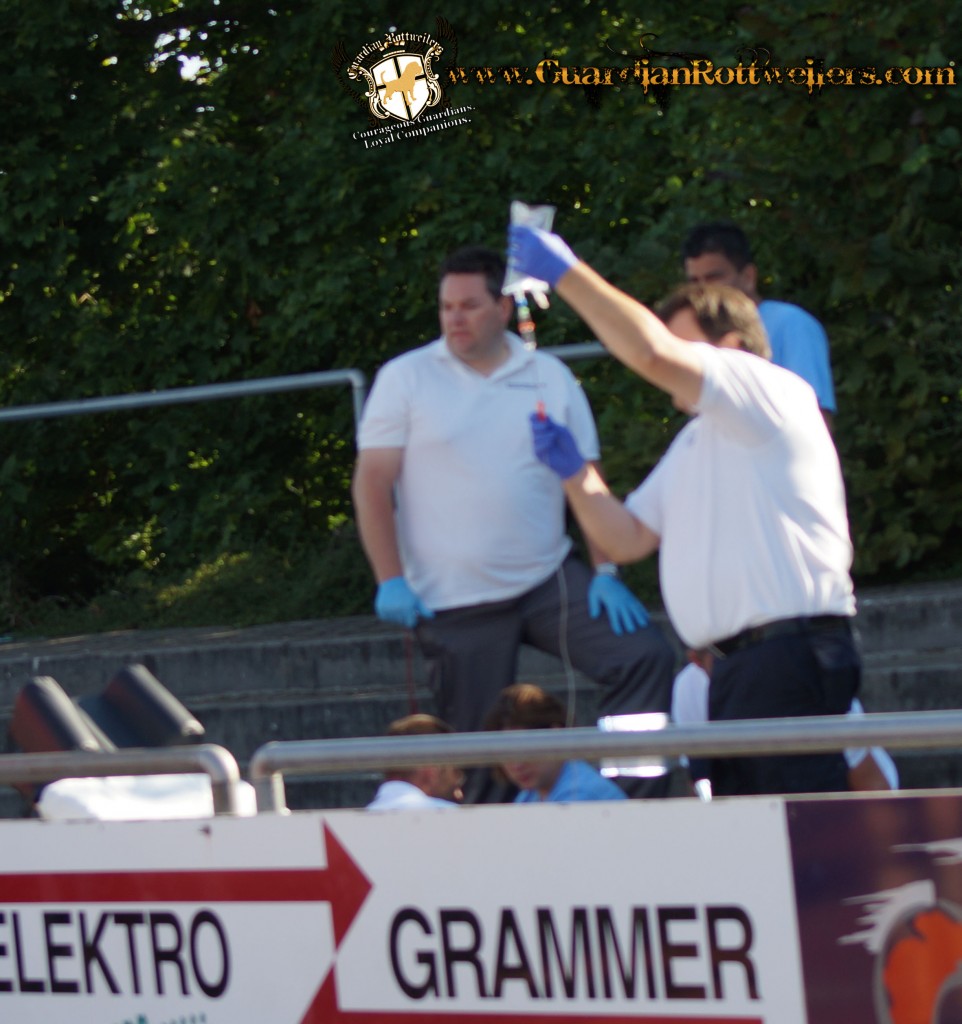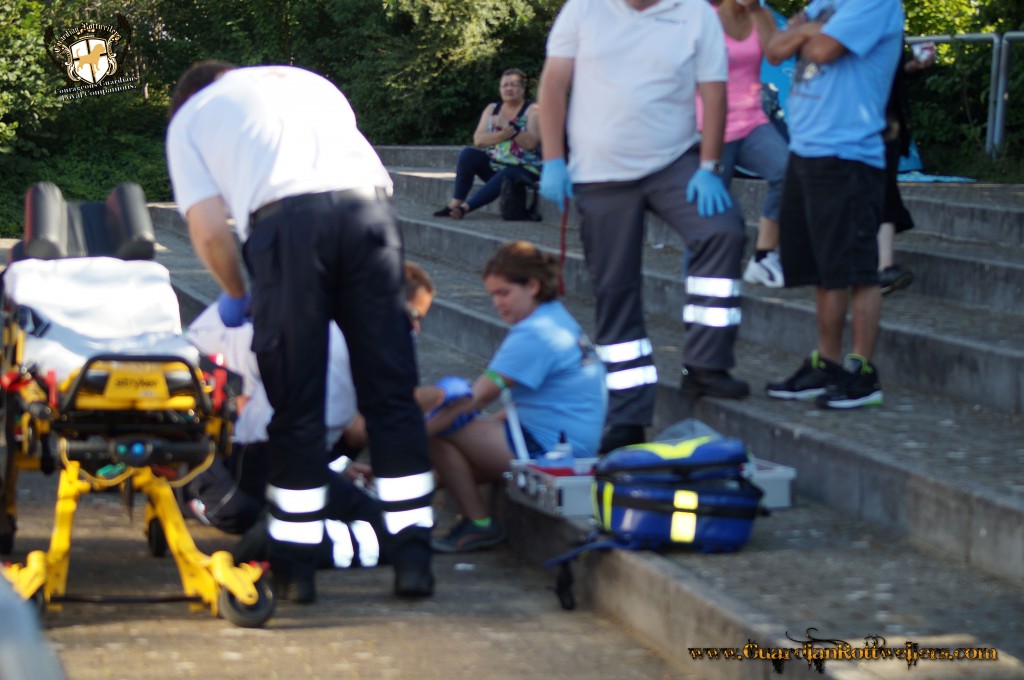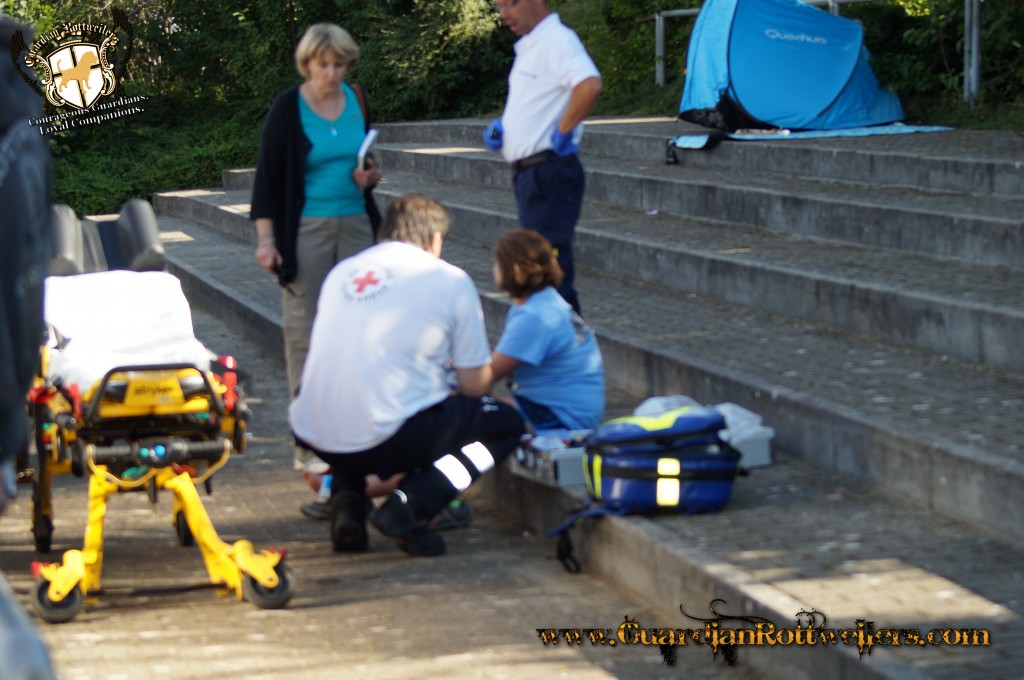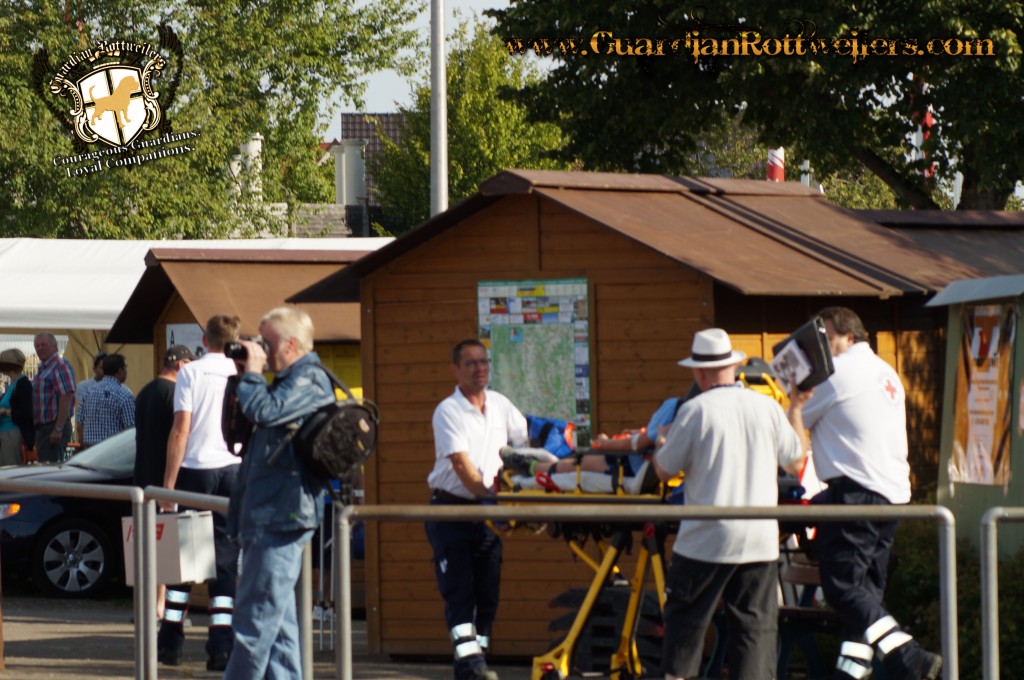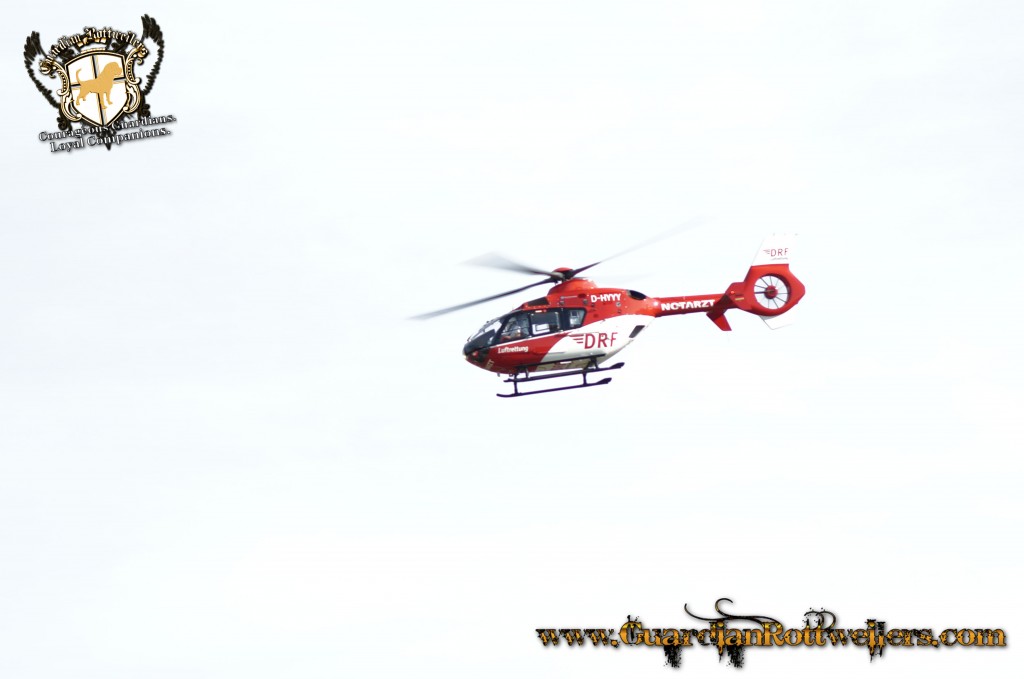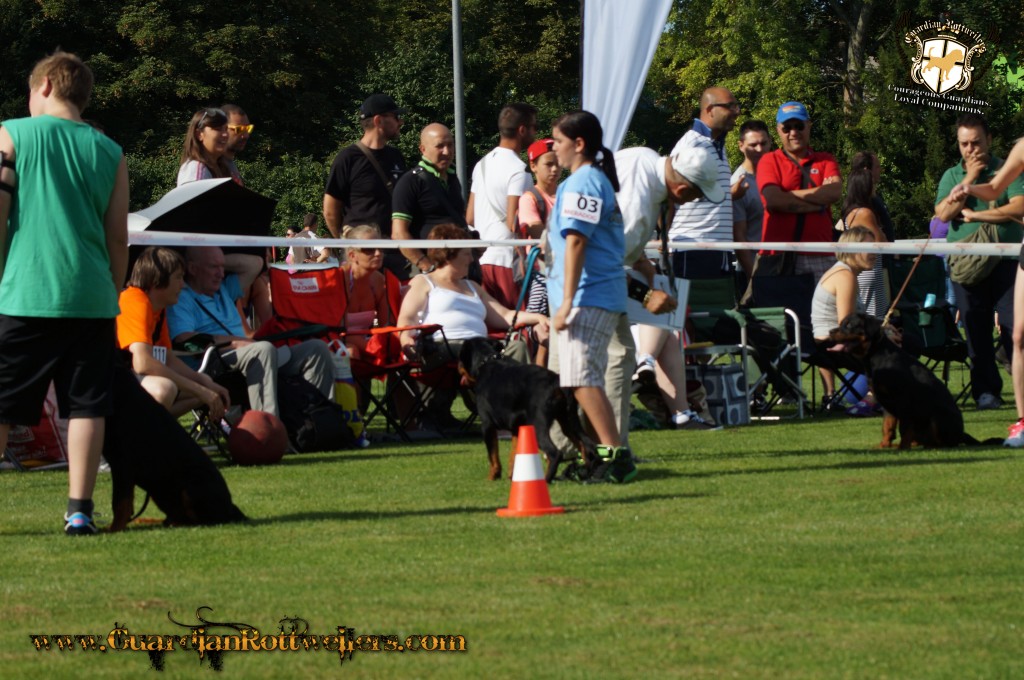 It was an impossible position when Tahlia got hurt- I wanted to go with her immediately and stay with her, obviously, but I also wanted desperately to run the 2 youth that we had worked so hard to train and get here.  So Miguel told me to stay and help Liliana run them and he would go to the hospital with Tahlia.  Tahlia was very disappointed that she did not get the chance to run the pup she worked all summer with, but ultimately very proud that Gigi got VSP- the highest rating a pup of her age can get!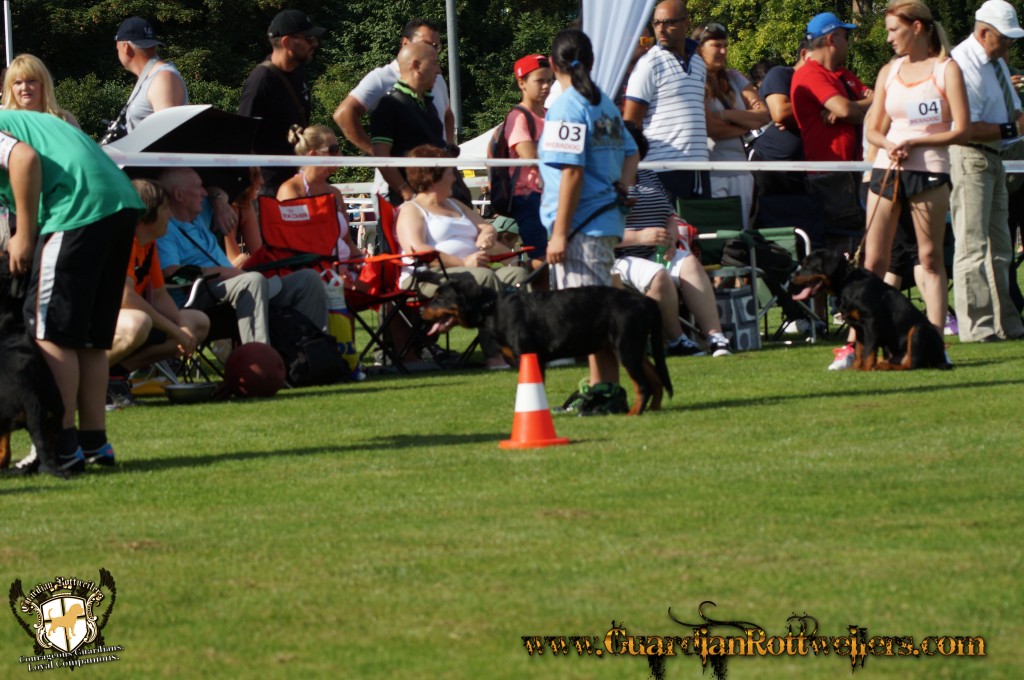 The ever so gorgeous Guardian Gambit Von Gottschalk!!  He got a VSP4!!  That means he was rated VSP (highest rating a pup can get!!) and he came in 4th place from all the other 4-6 month old pups!!  Most of the other pups in the ring with him were 6 months old and he was just barely 4 and he STILL rocked it!!  2 months is a HUGE difference in growth, body time and of course mental maturity, so I could not be more proud of Gambit and Gigi, and of course all the hard work of Liliana and Tahlia!!  Most kids spend their summer playing in the pool and sleeping in.  My kids spent their summer working and training for the show.  Really great kids and I am so very, very proud of them.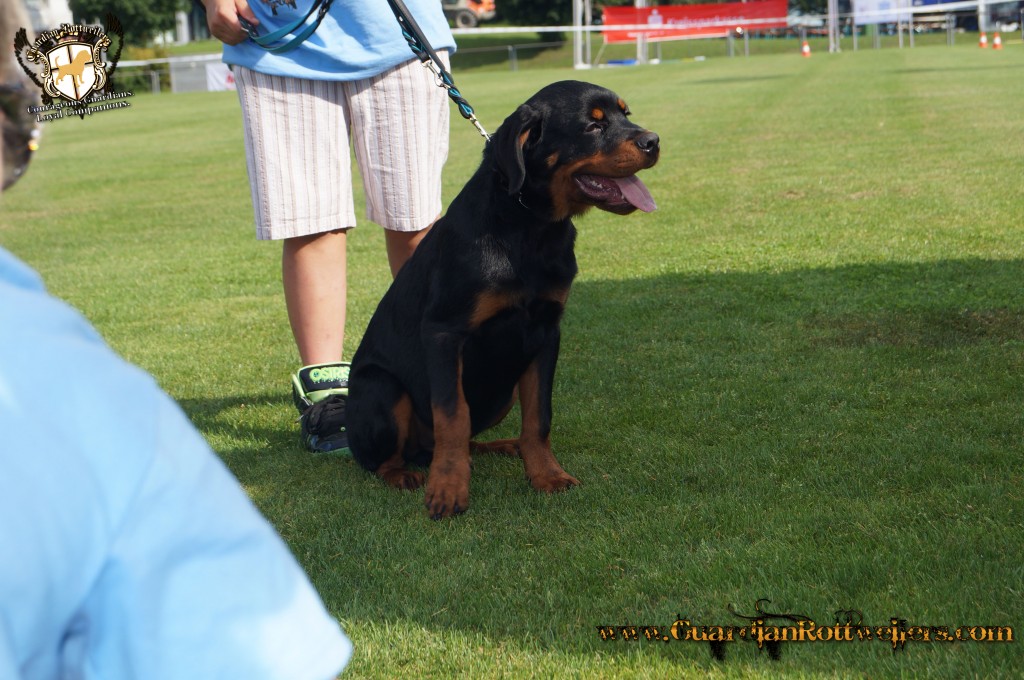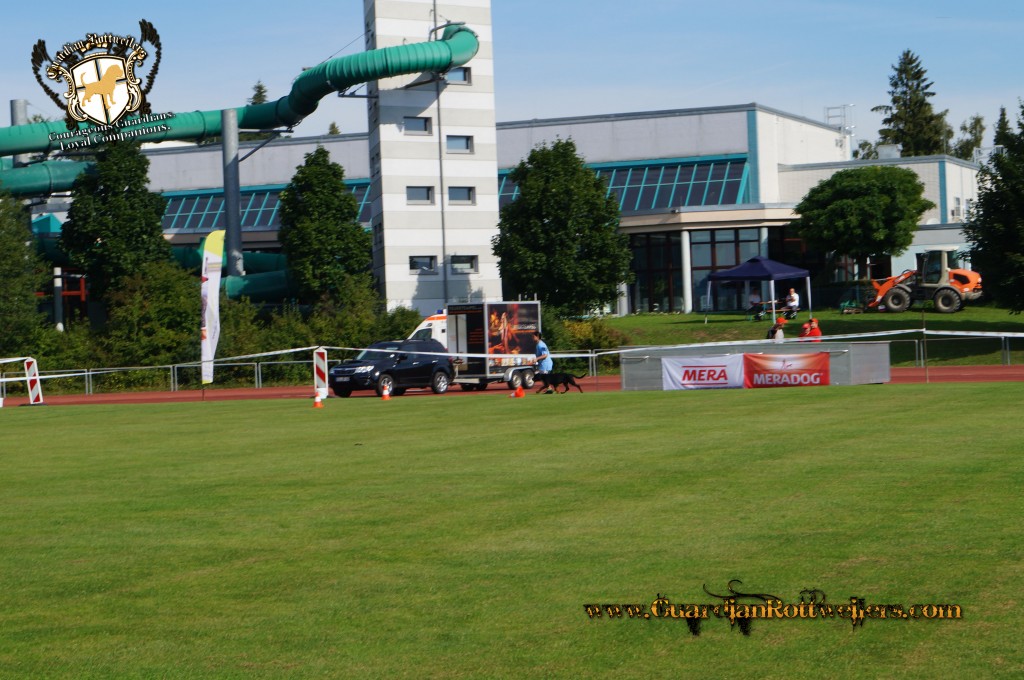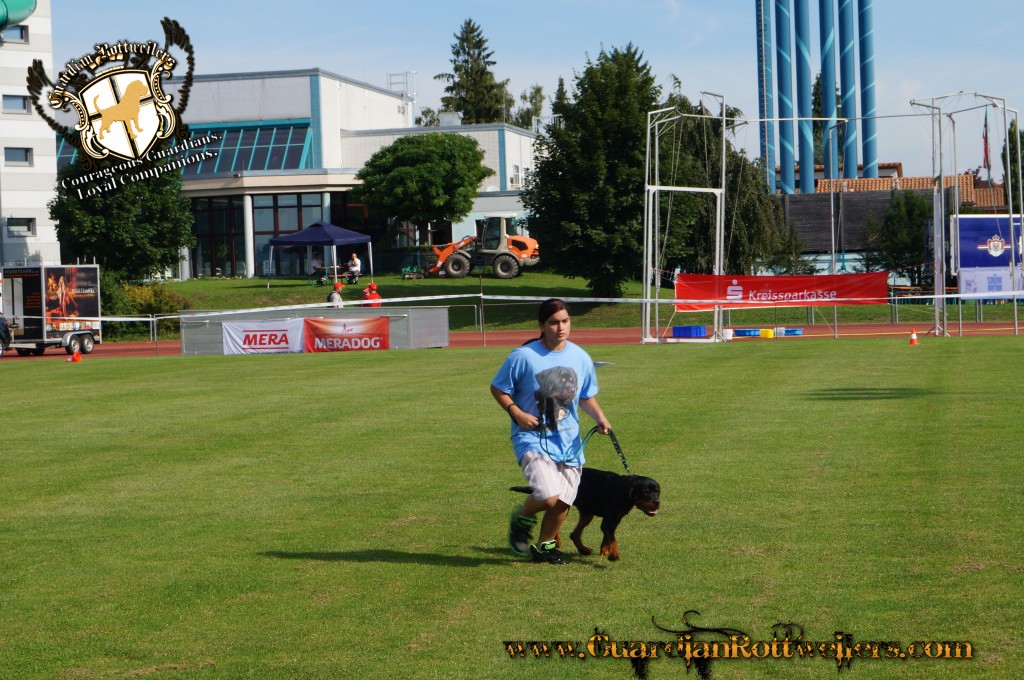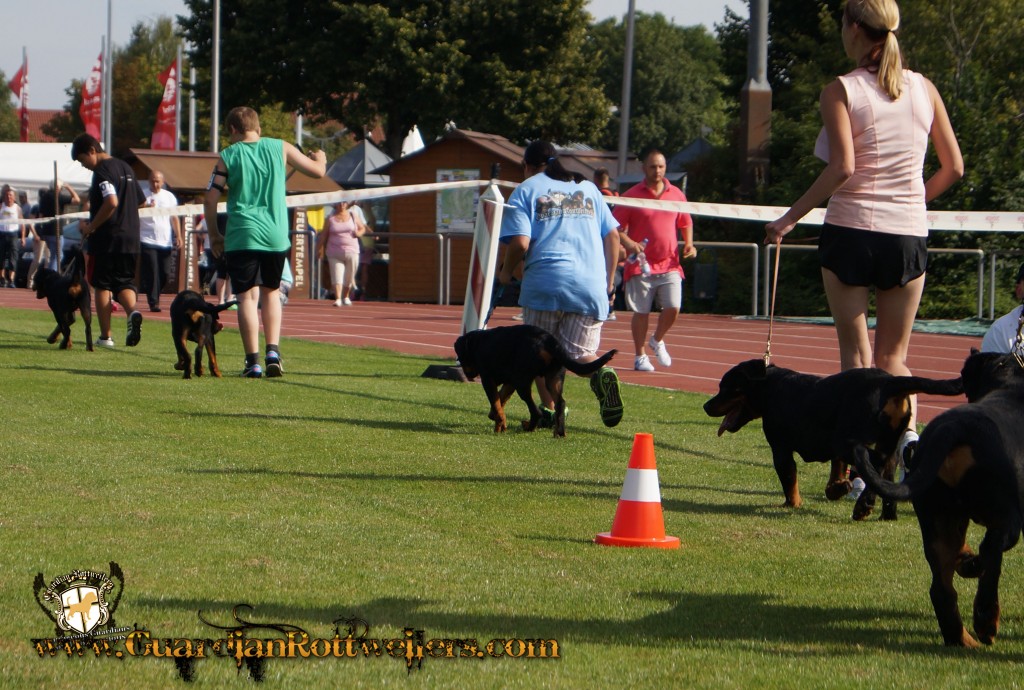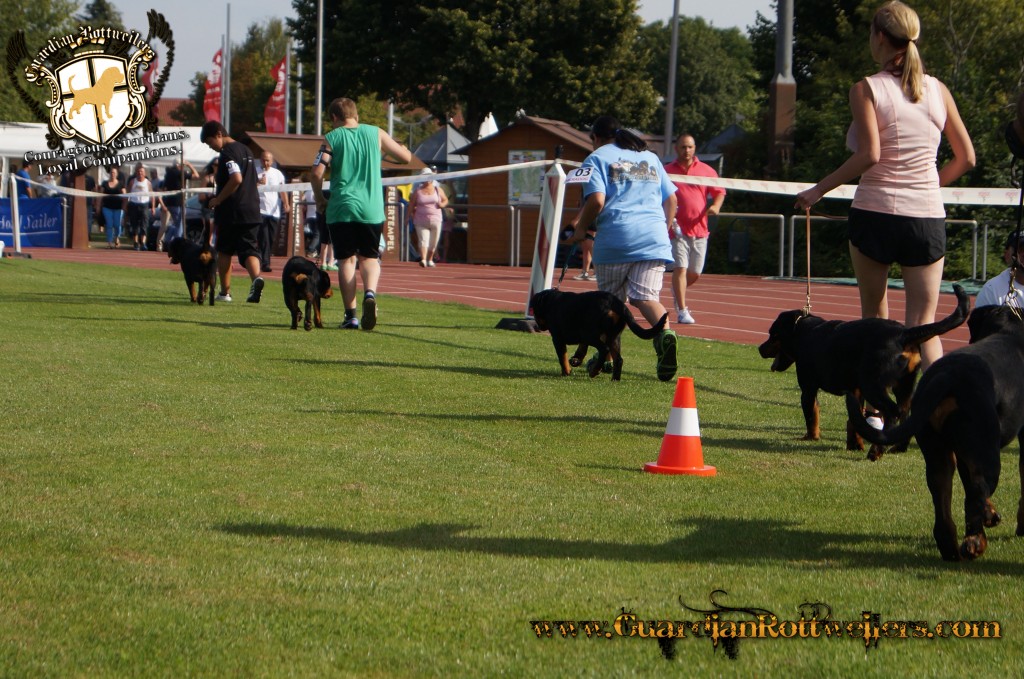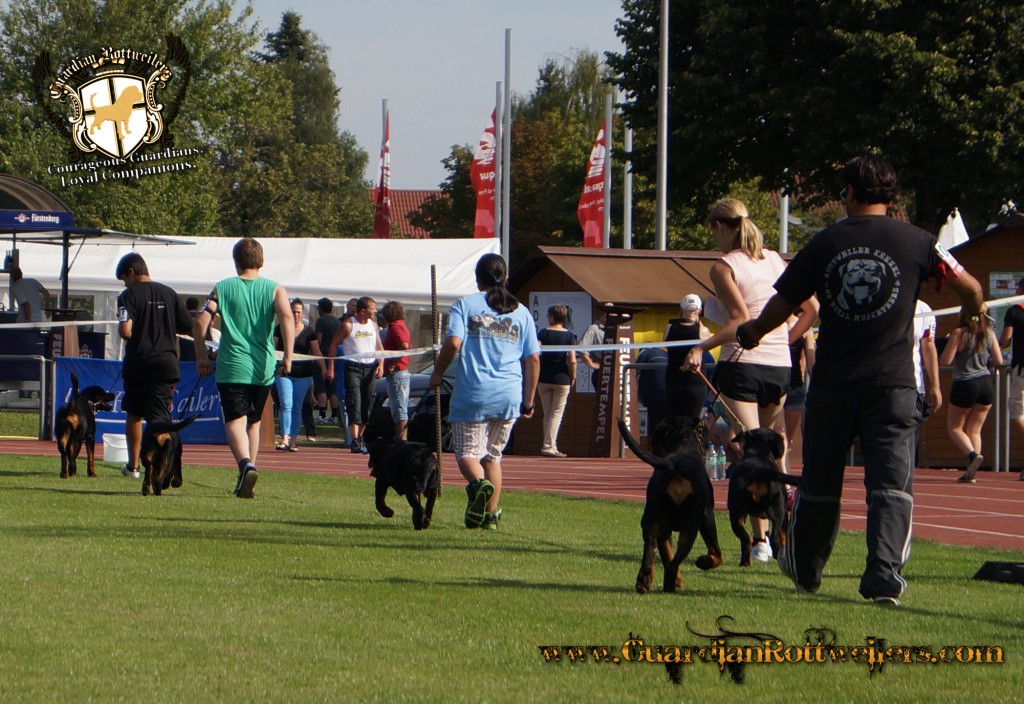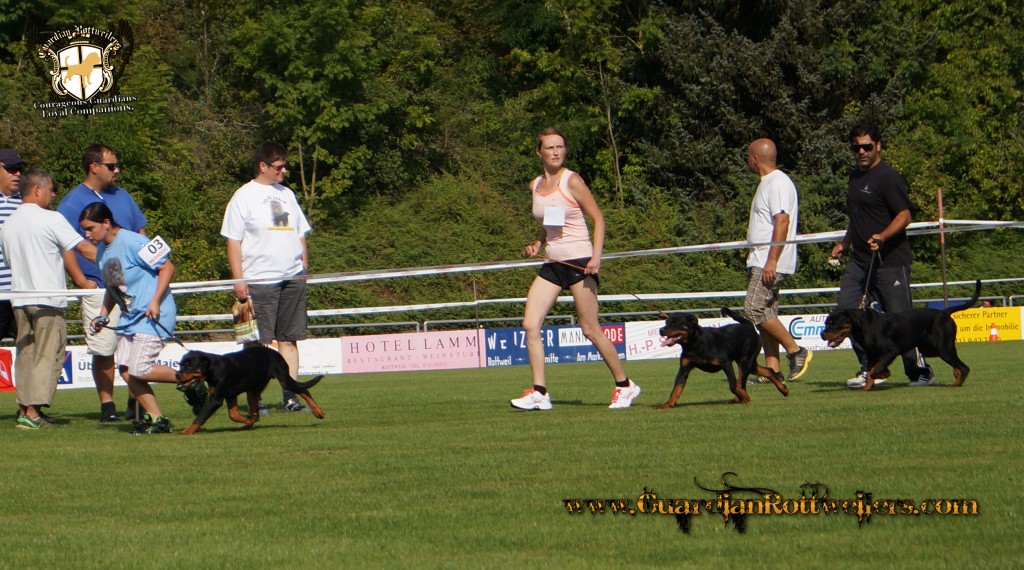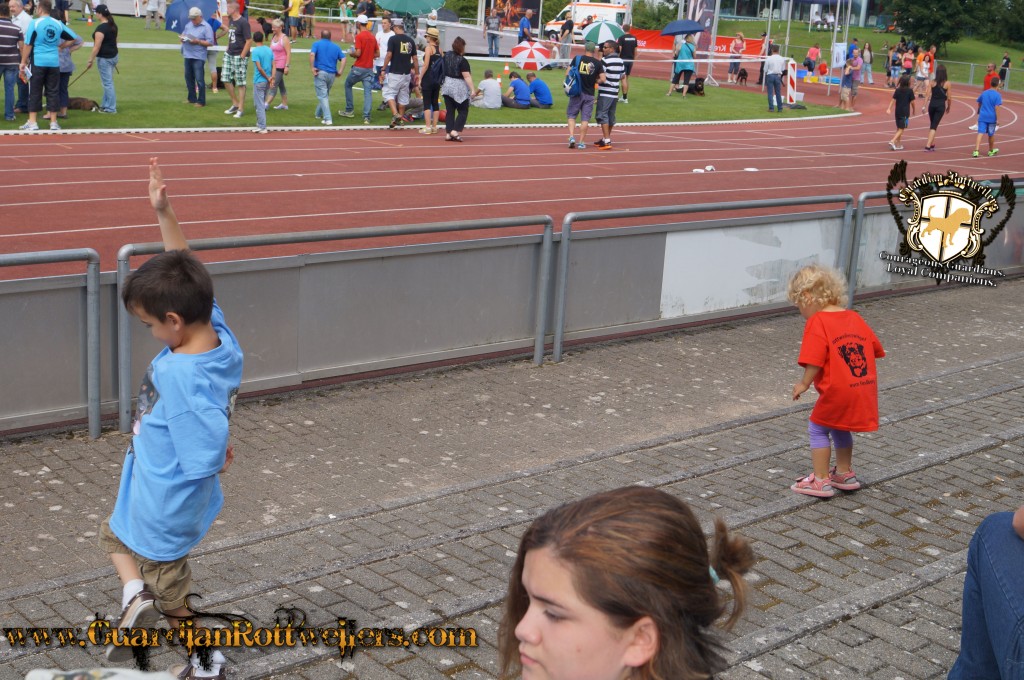 Ethan made a little friend in the stands <3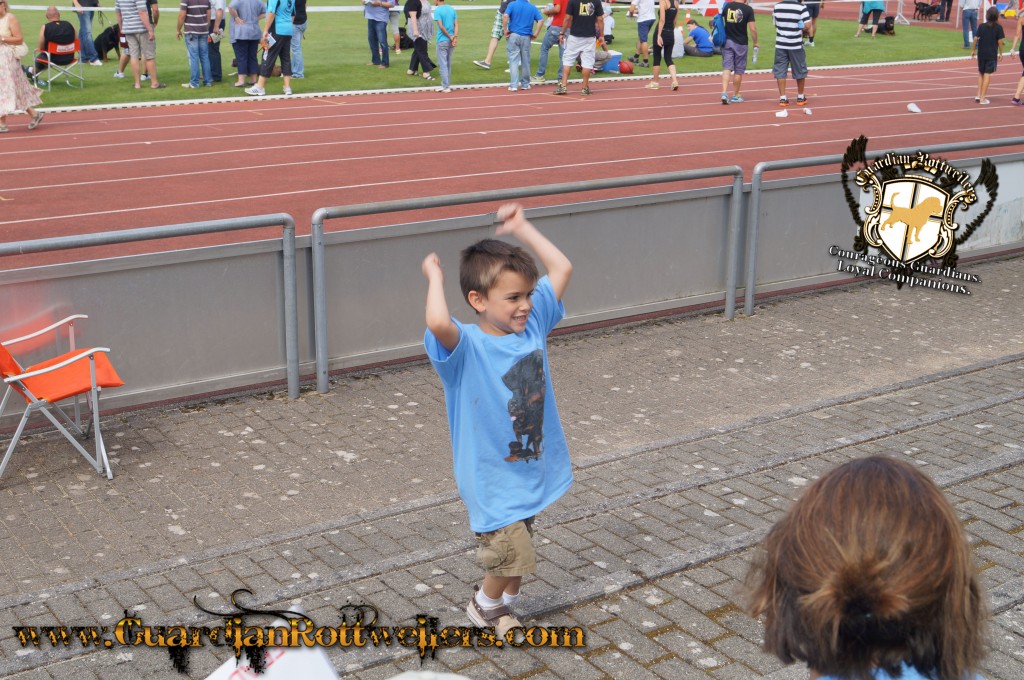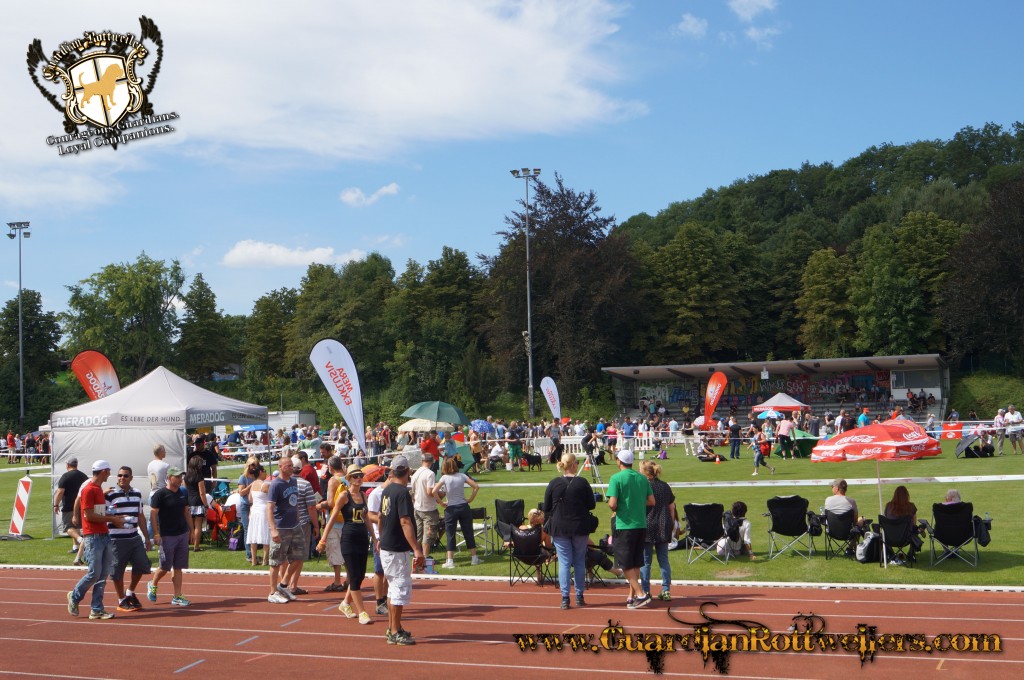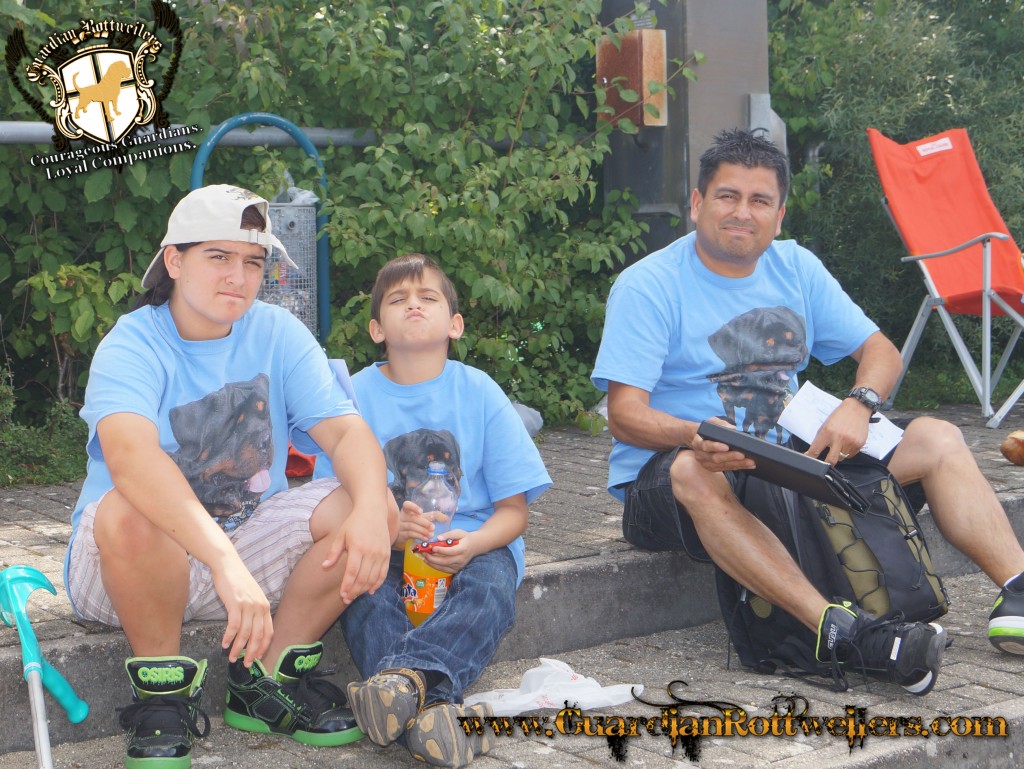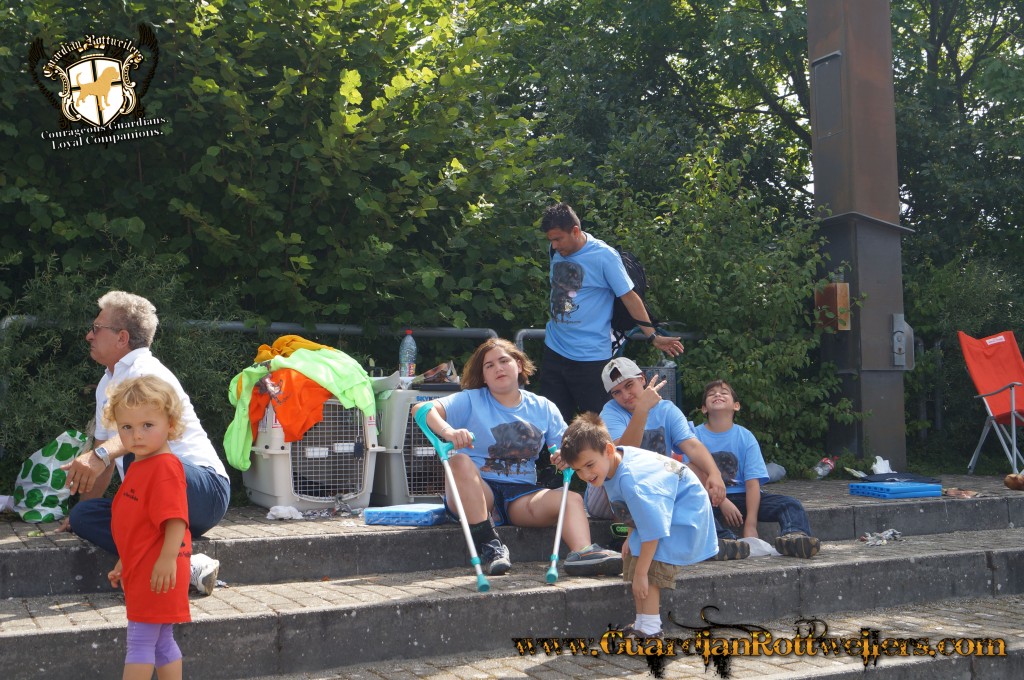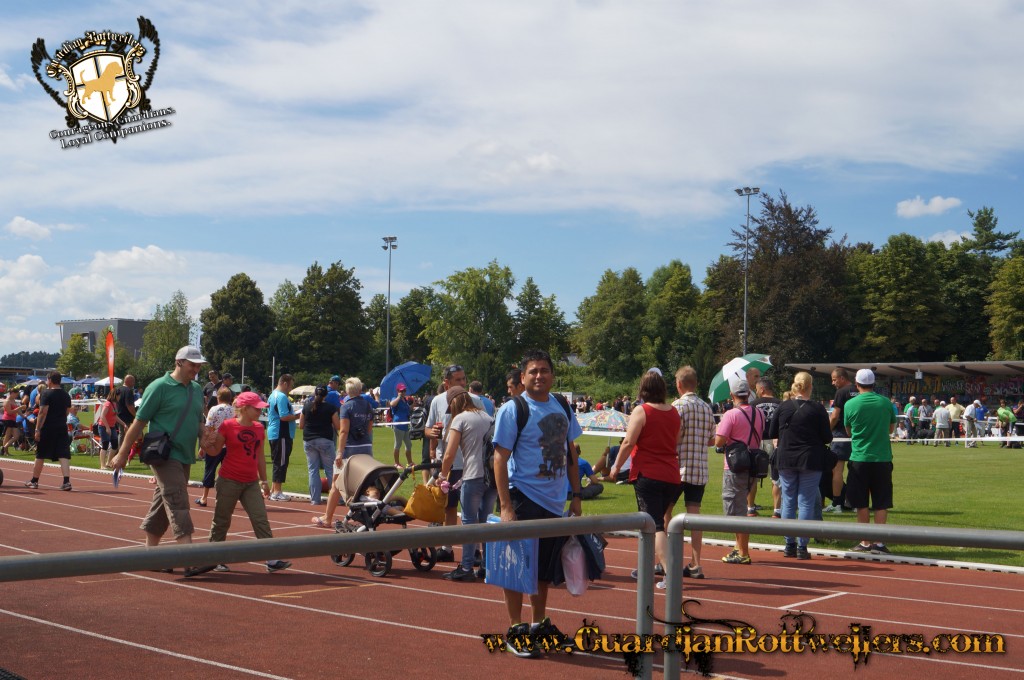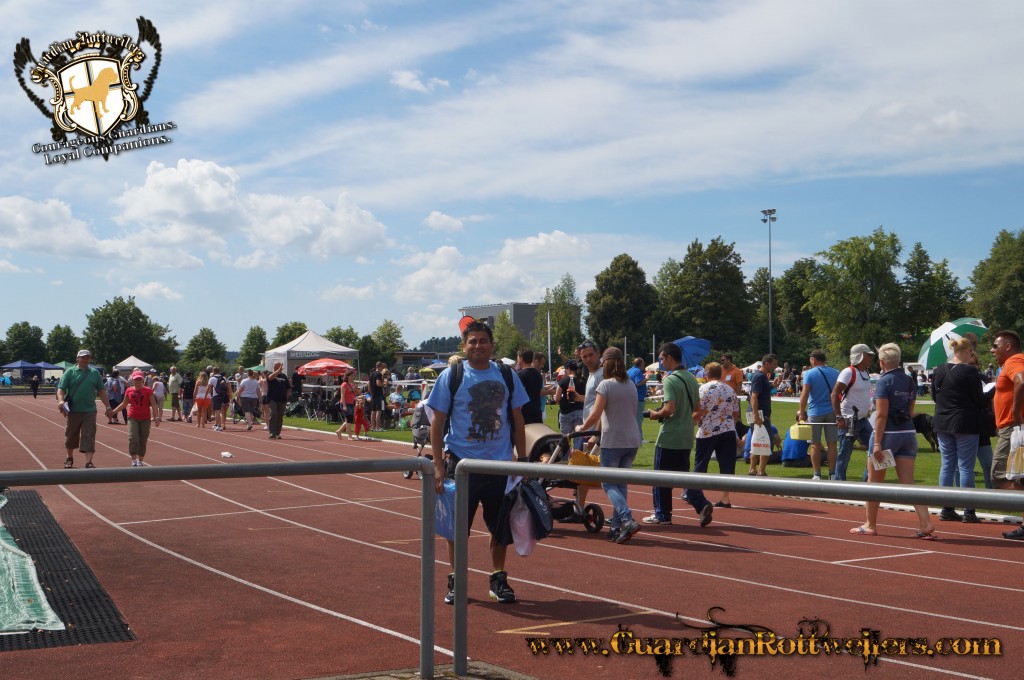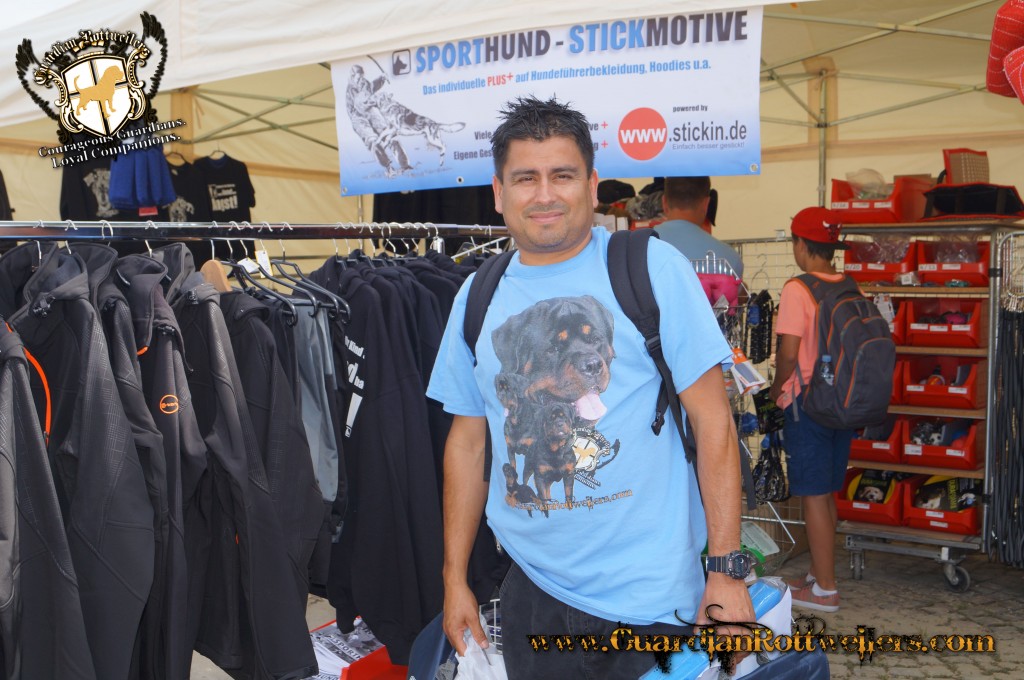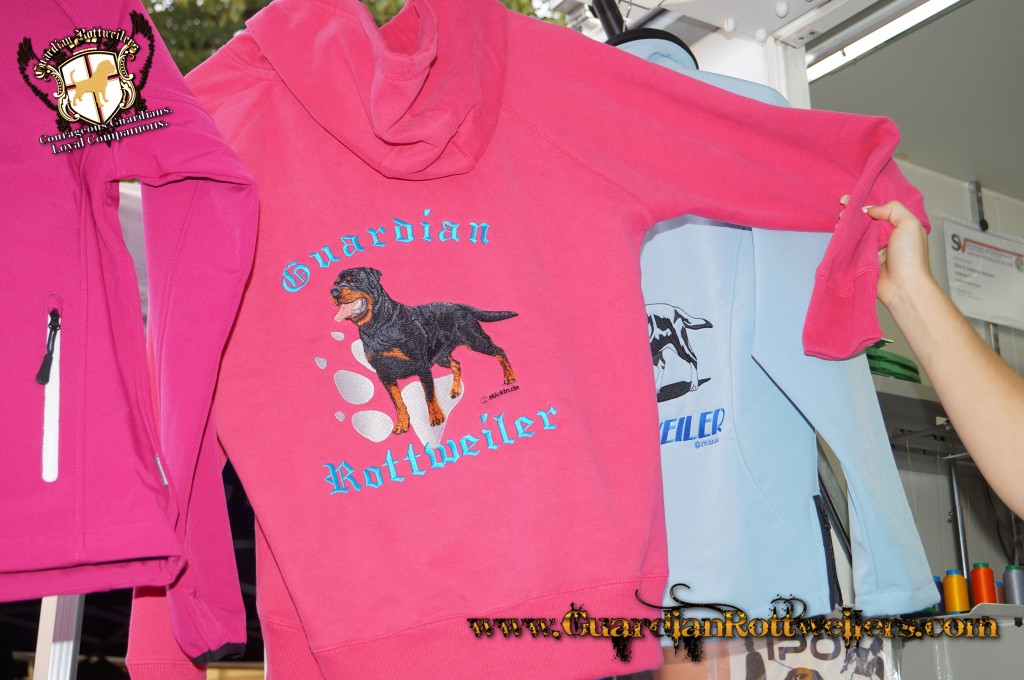 I custom ordered a hoodie at the show on day one and was able to pick it up on day 2 of the show!  How COOL is that!?!?!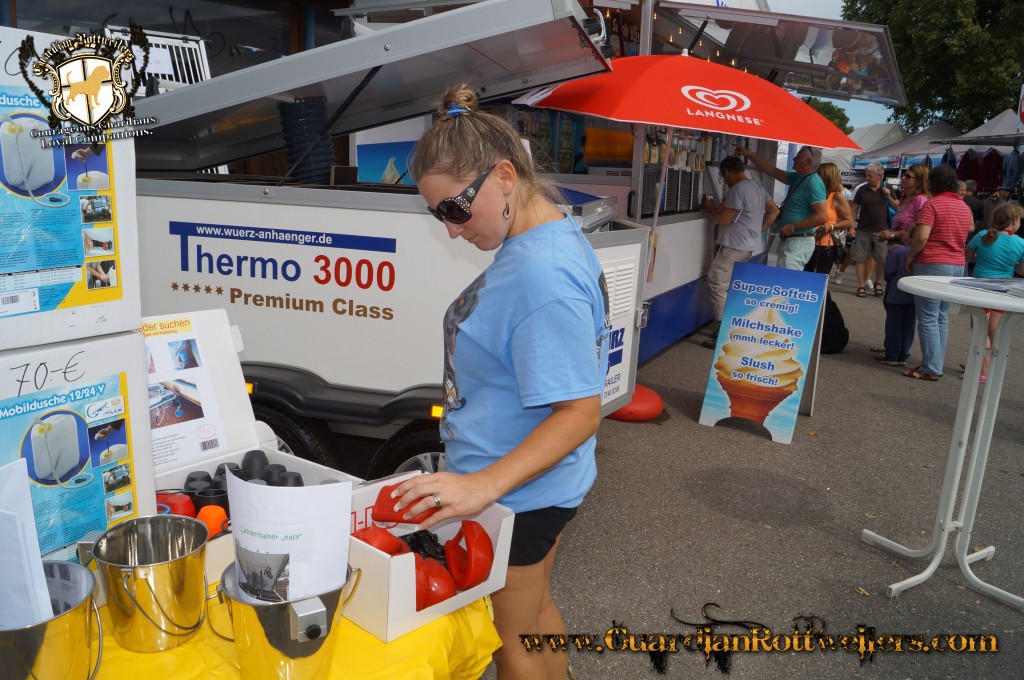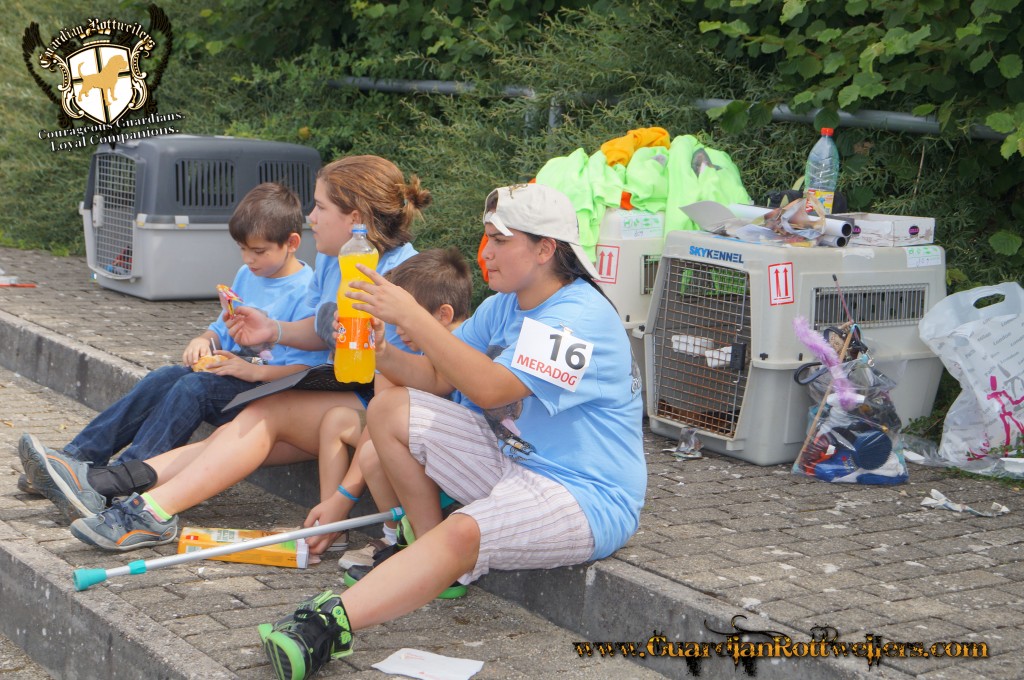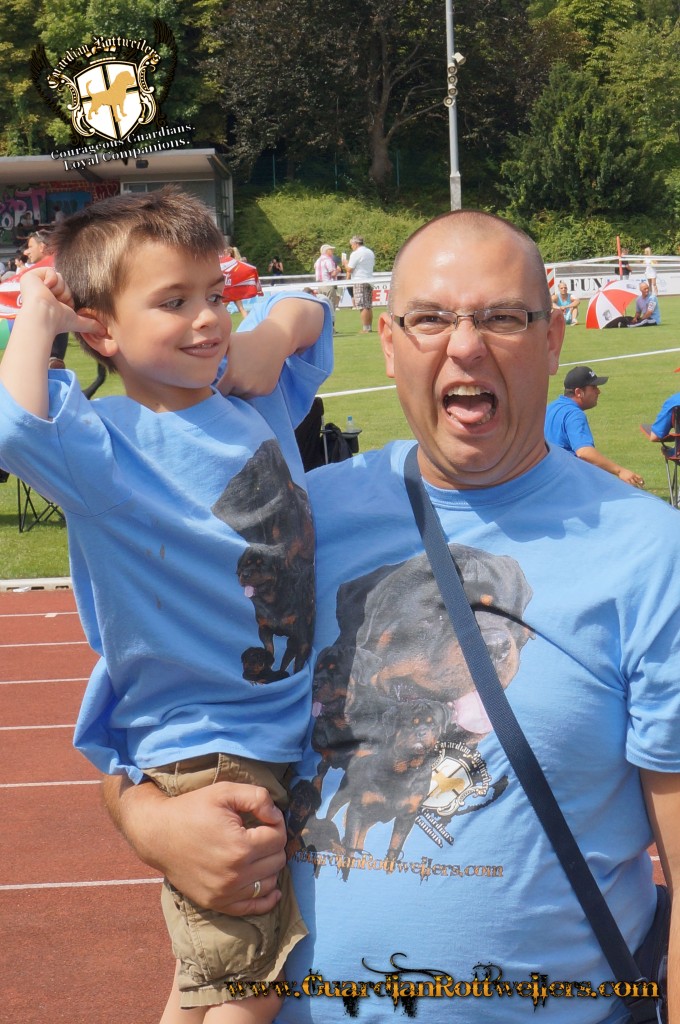 Ethan and Uros <3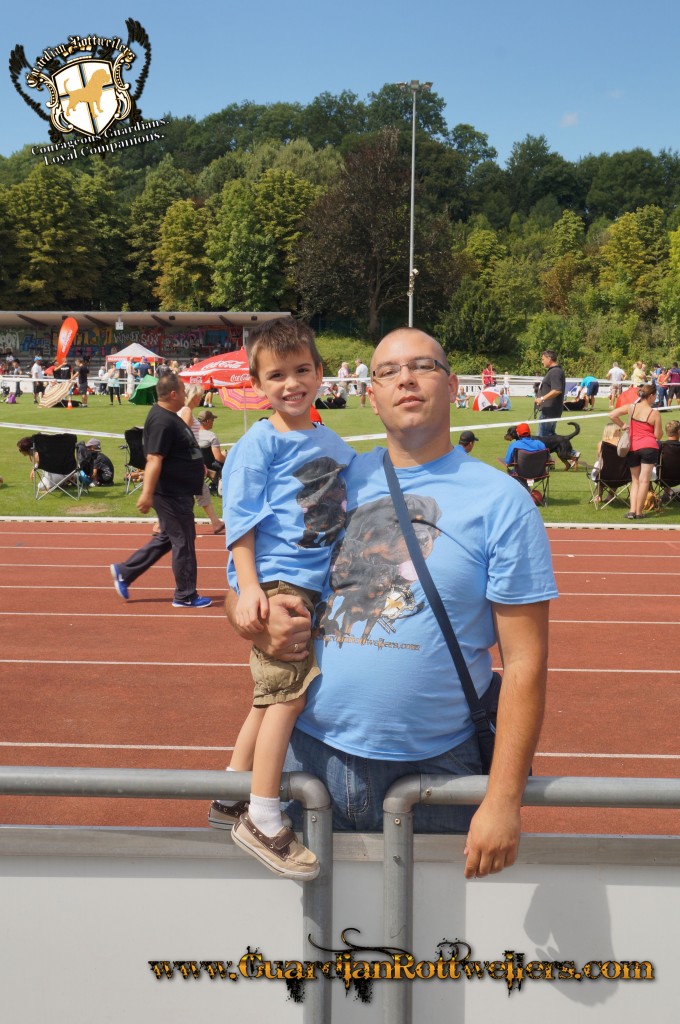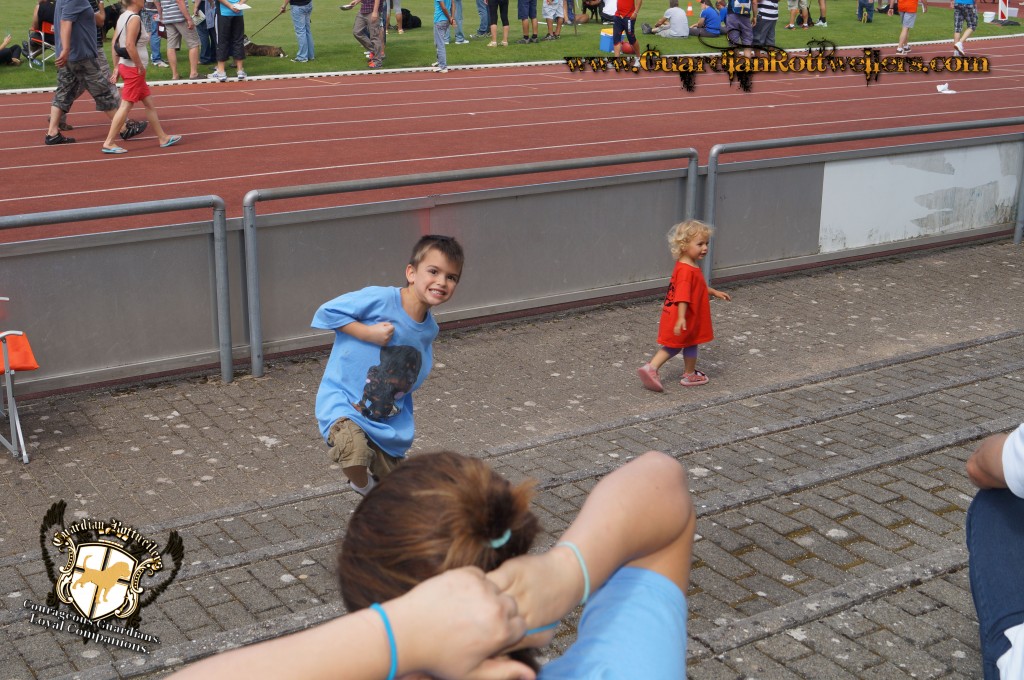 Korai-Bear and Uros.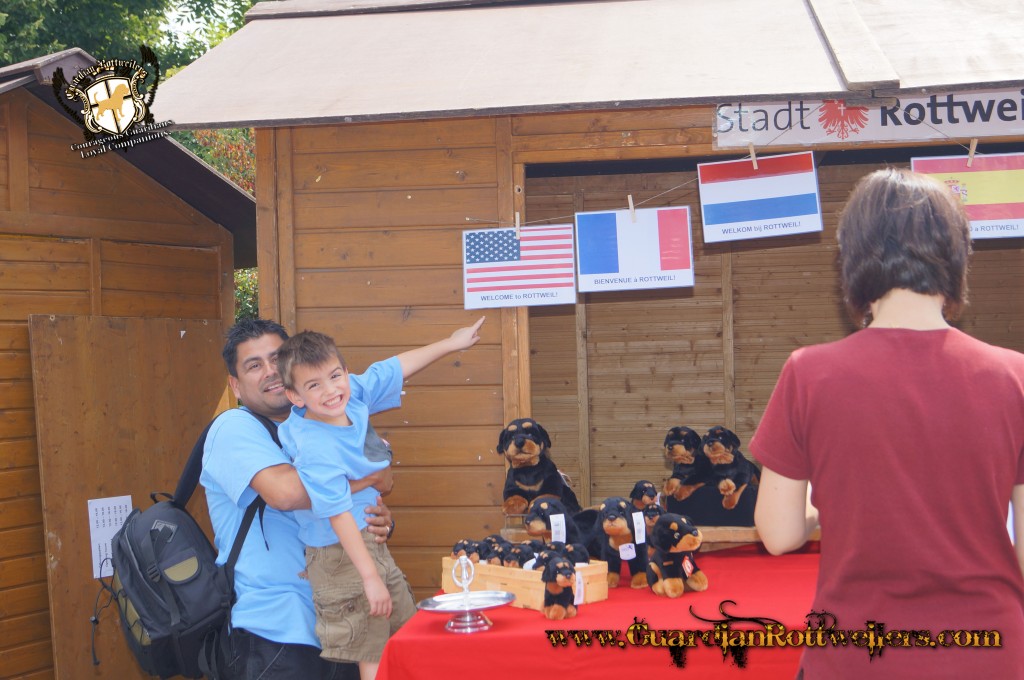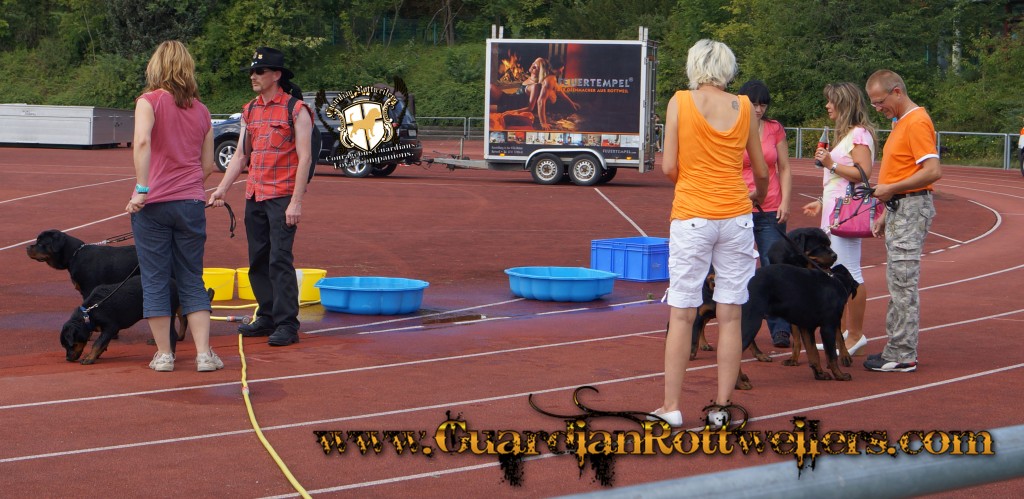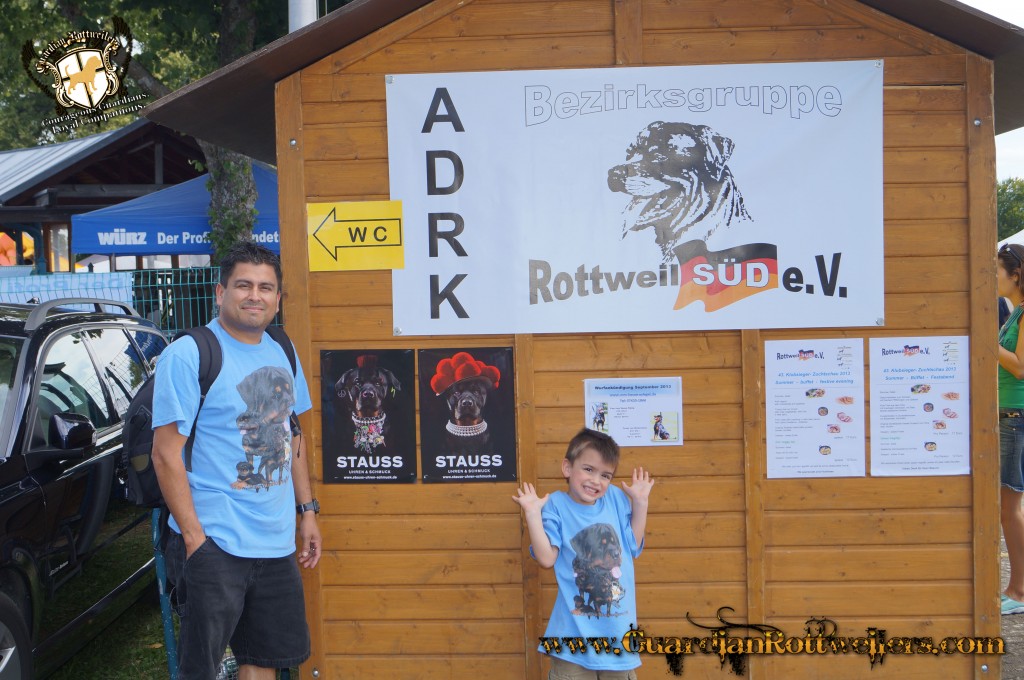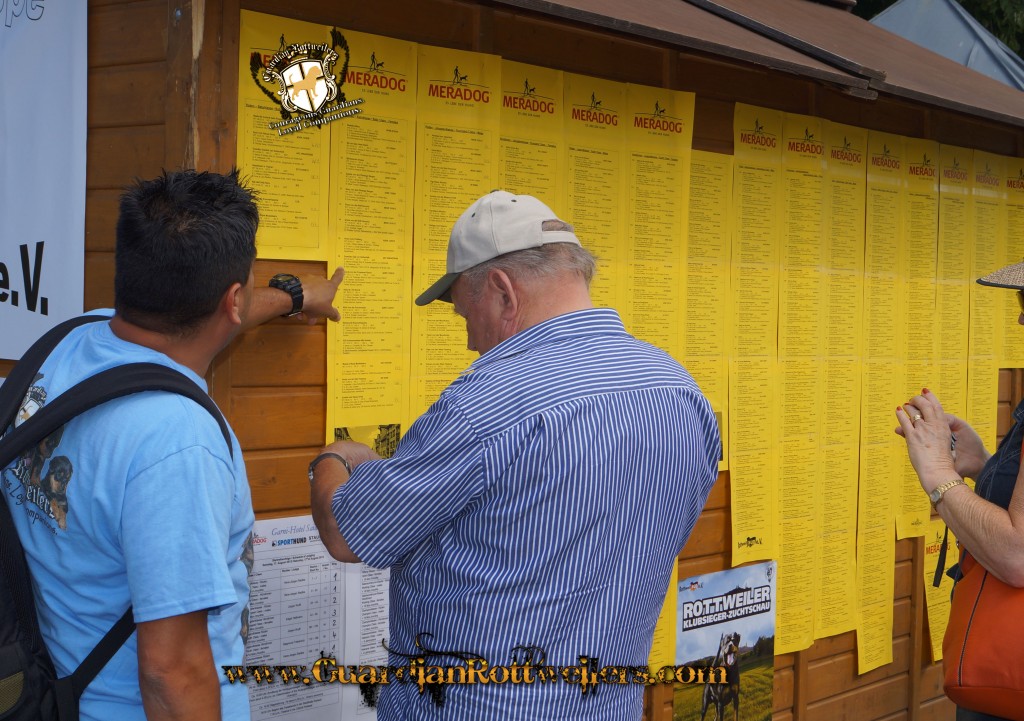 On this wall, you can keep track of what rating and place each dog gets.  Because there are 4 rings all running simultaneously, it is impossible to see everything, so this wall helps.  SOOOOO many exceptional dogs from all over the world and 3 of them are from Guardian Rottweilers!!!!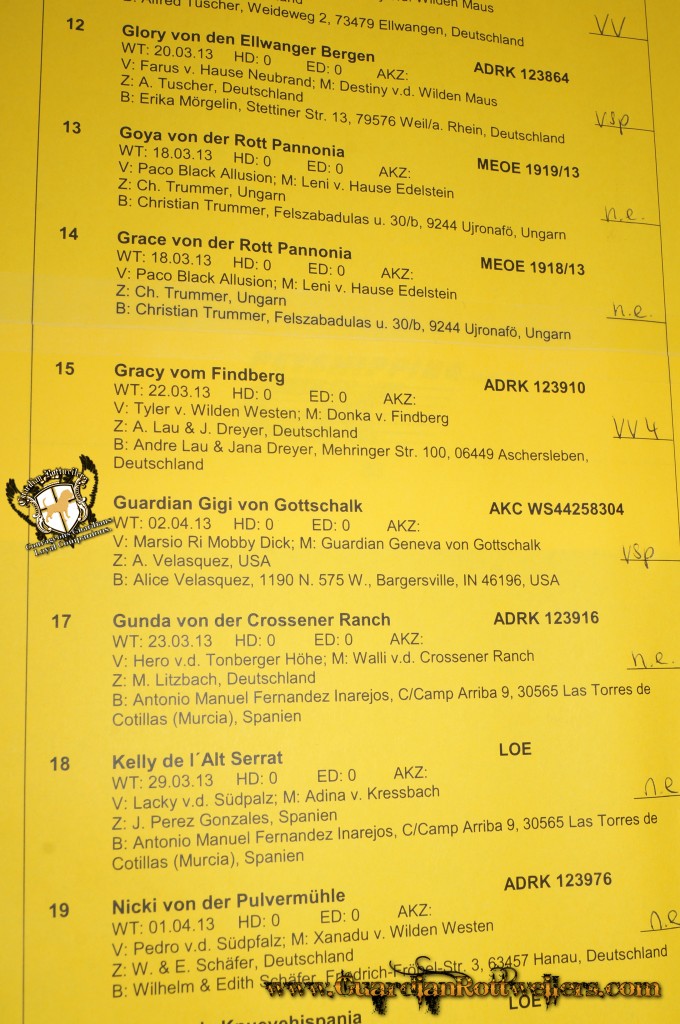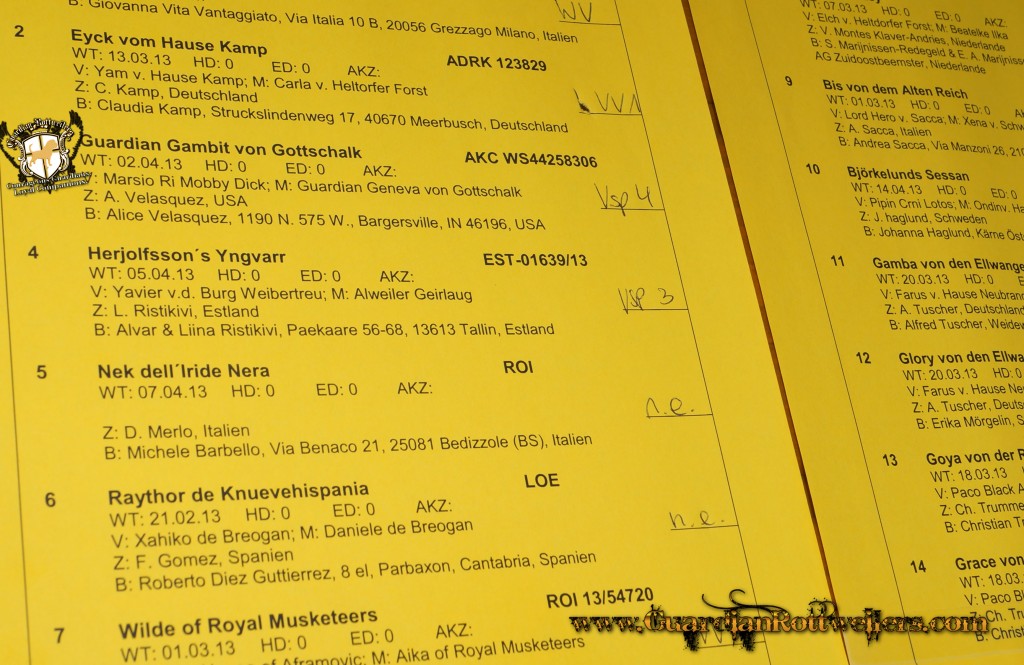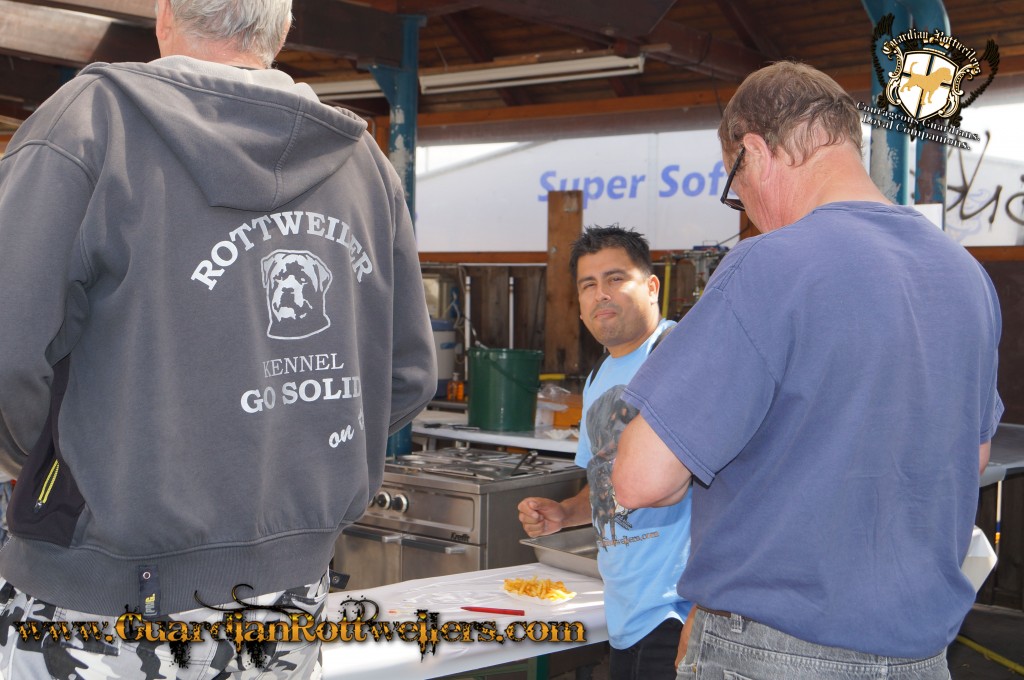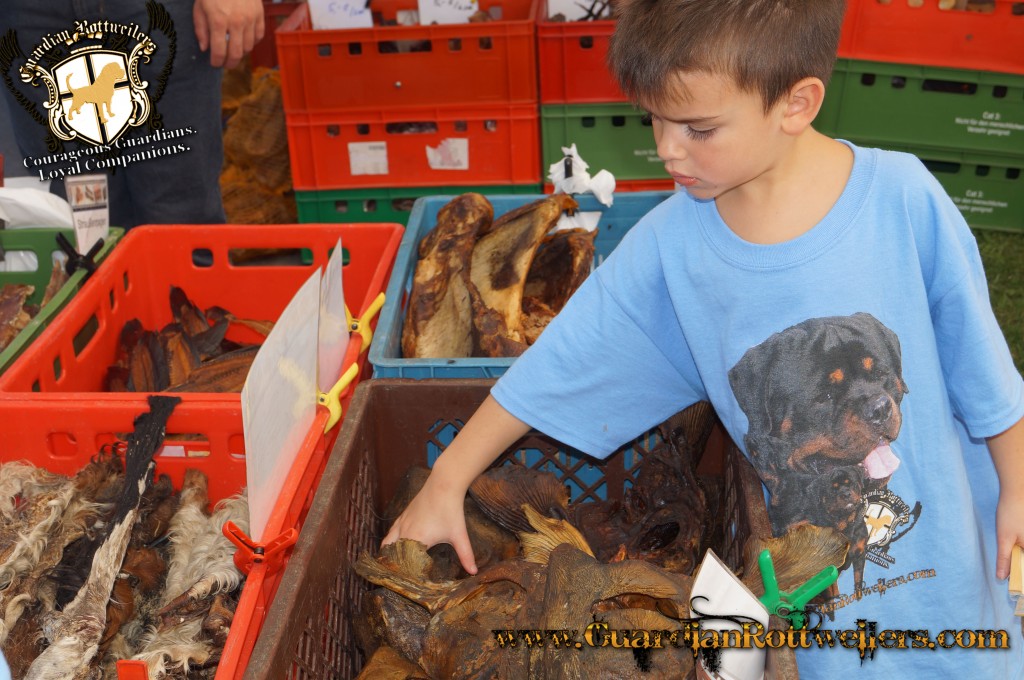 Normal kids would have been completely grossed out by all of the animal bits here, but not my kids, they were deciding what we were going to take back to the hotel for our dogs to enjoy!!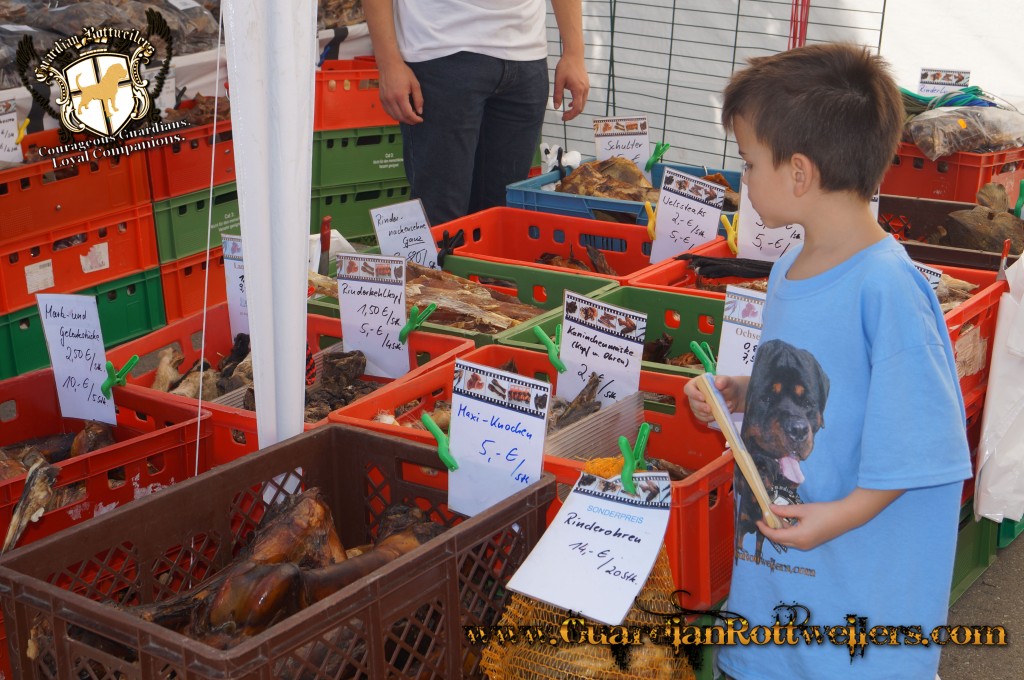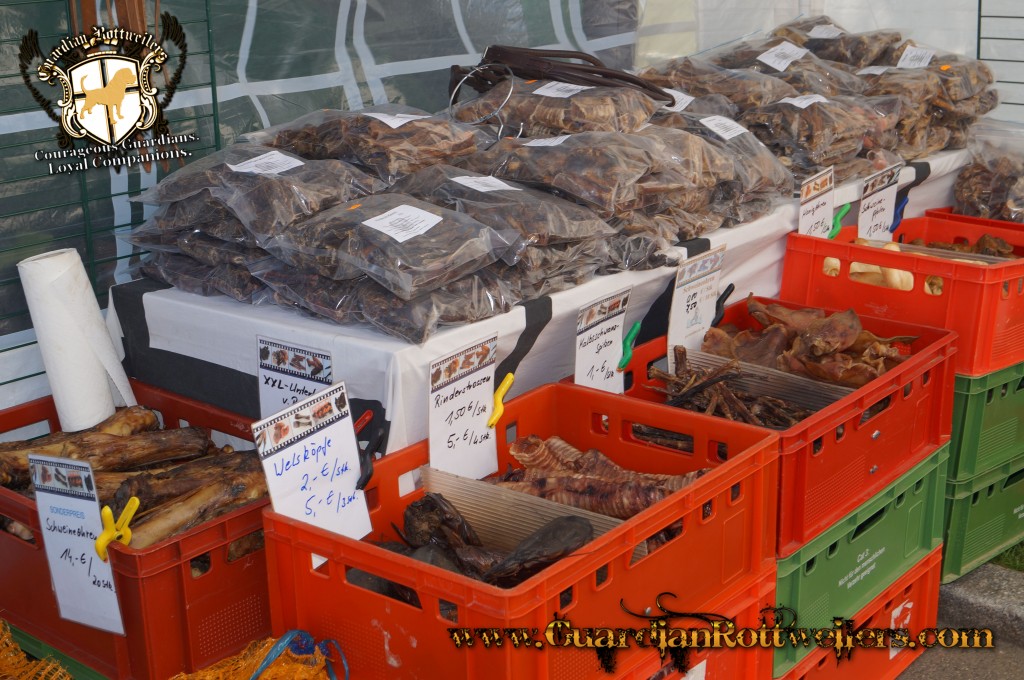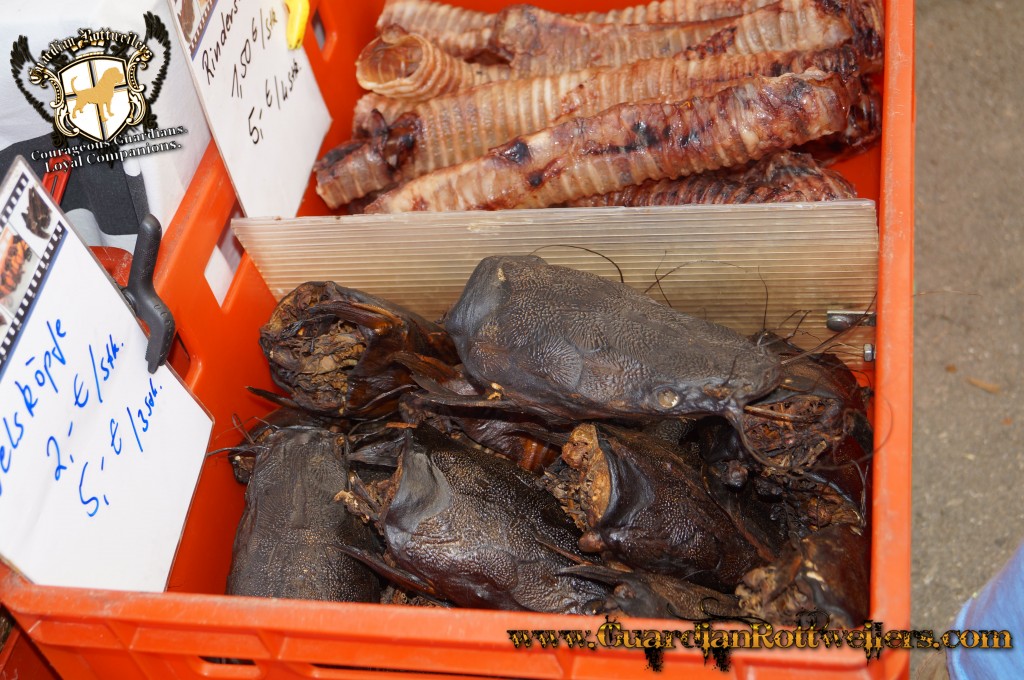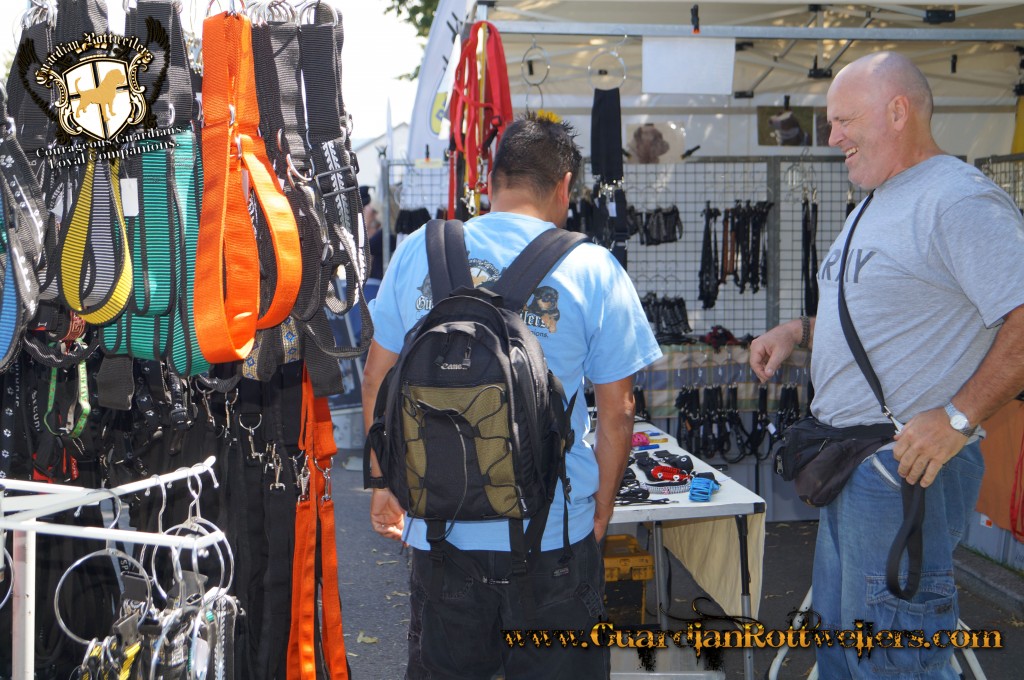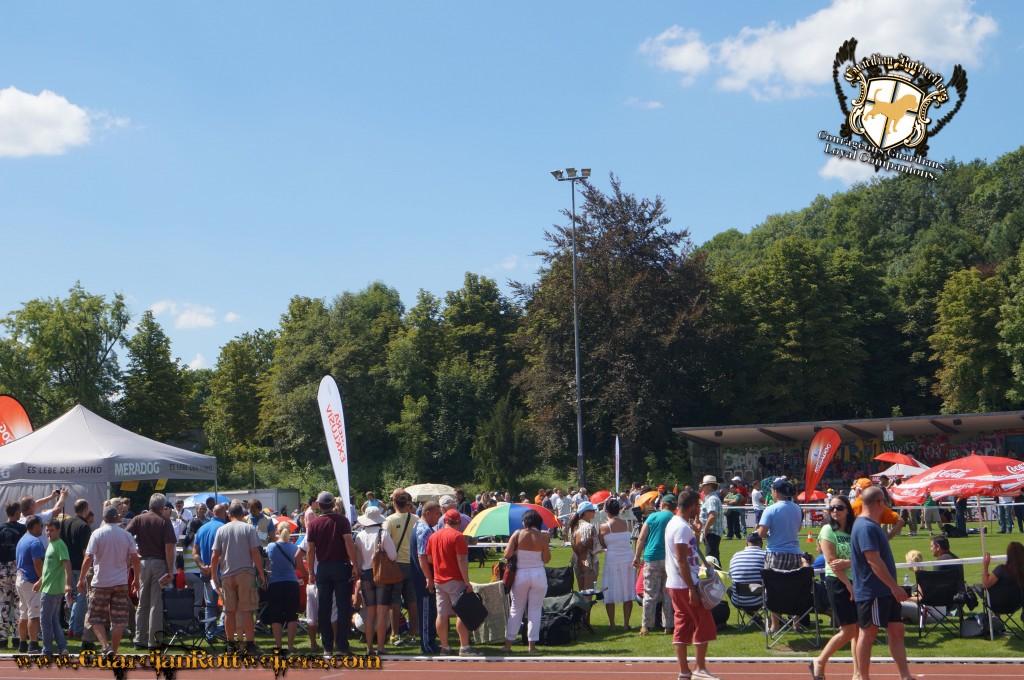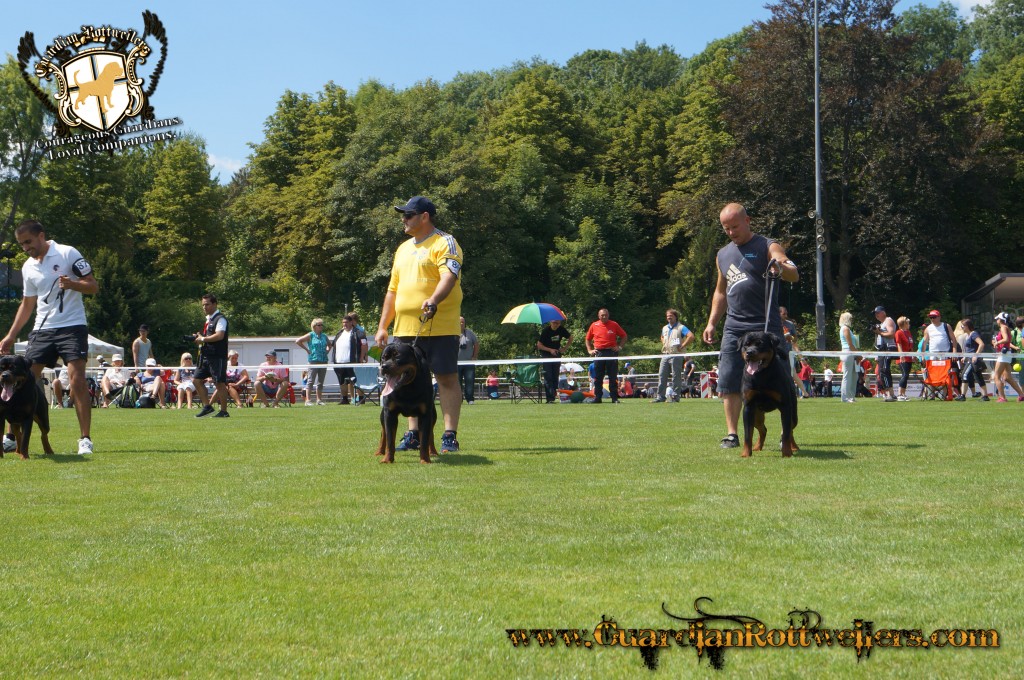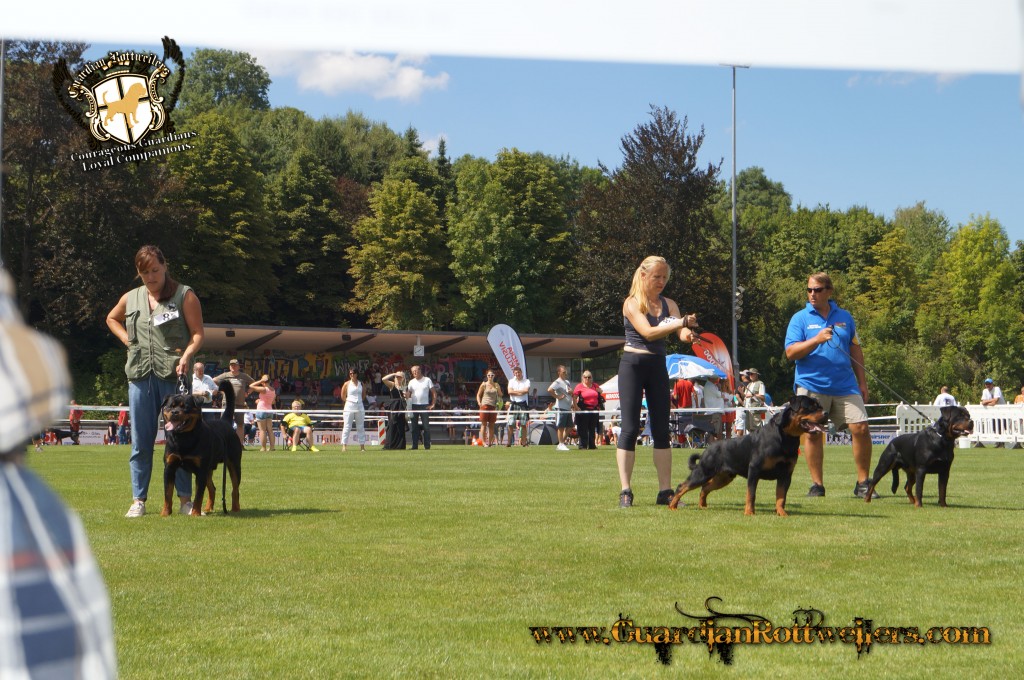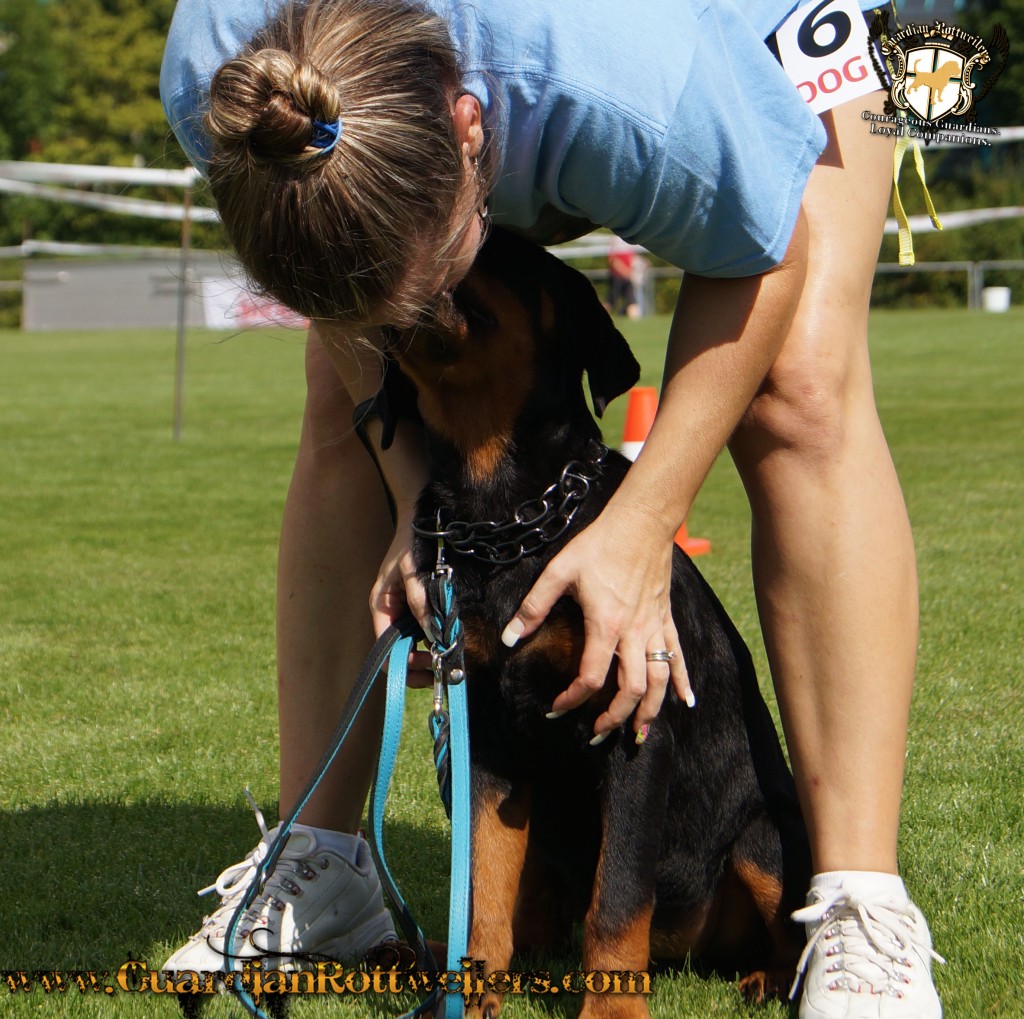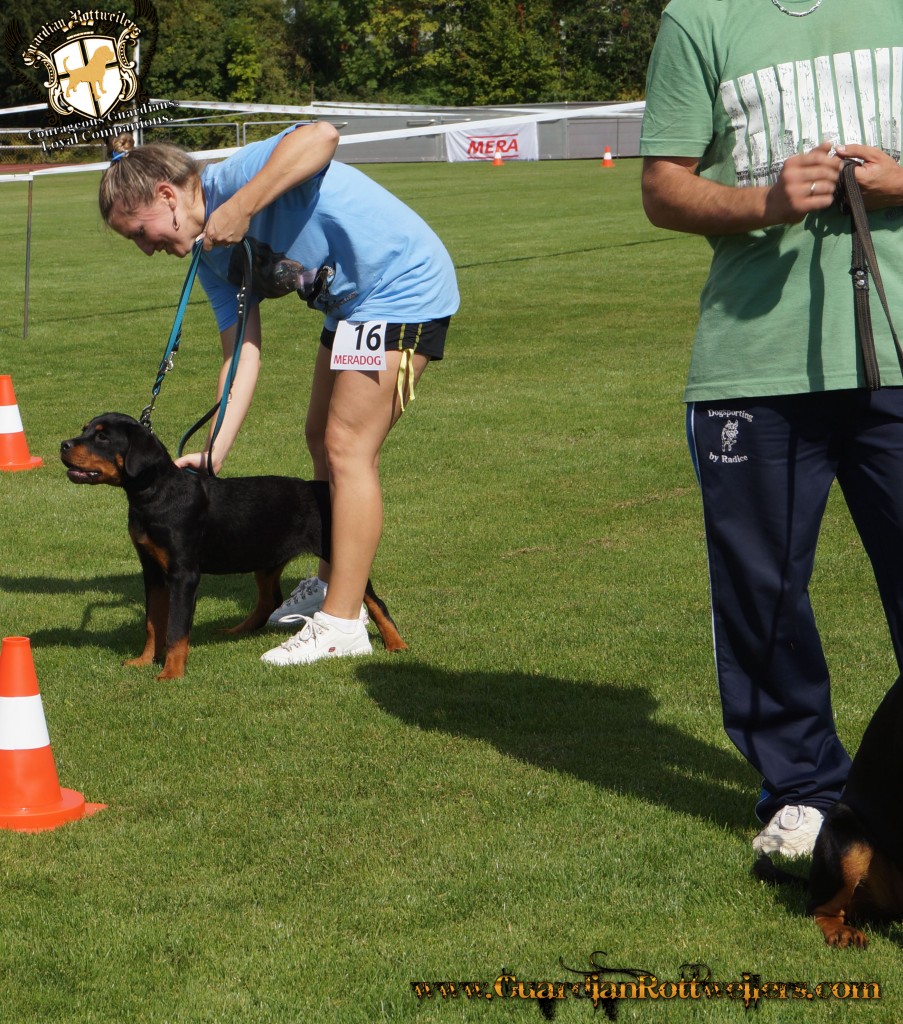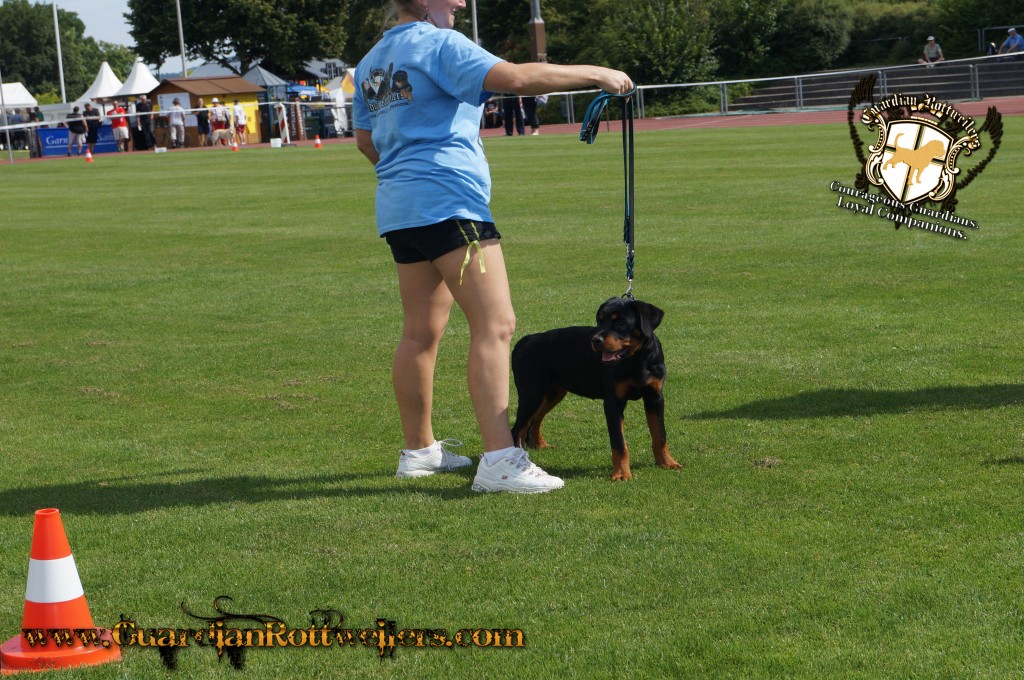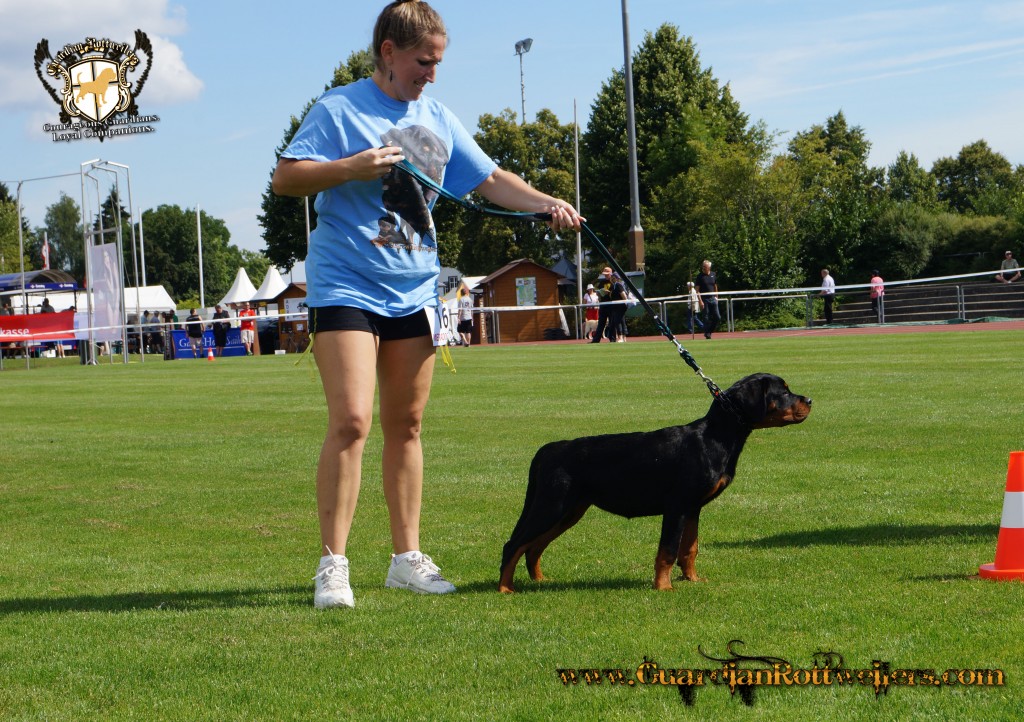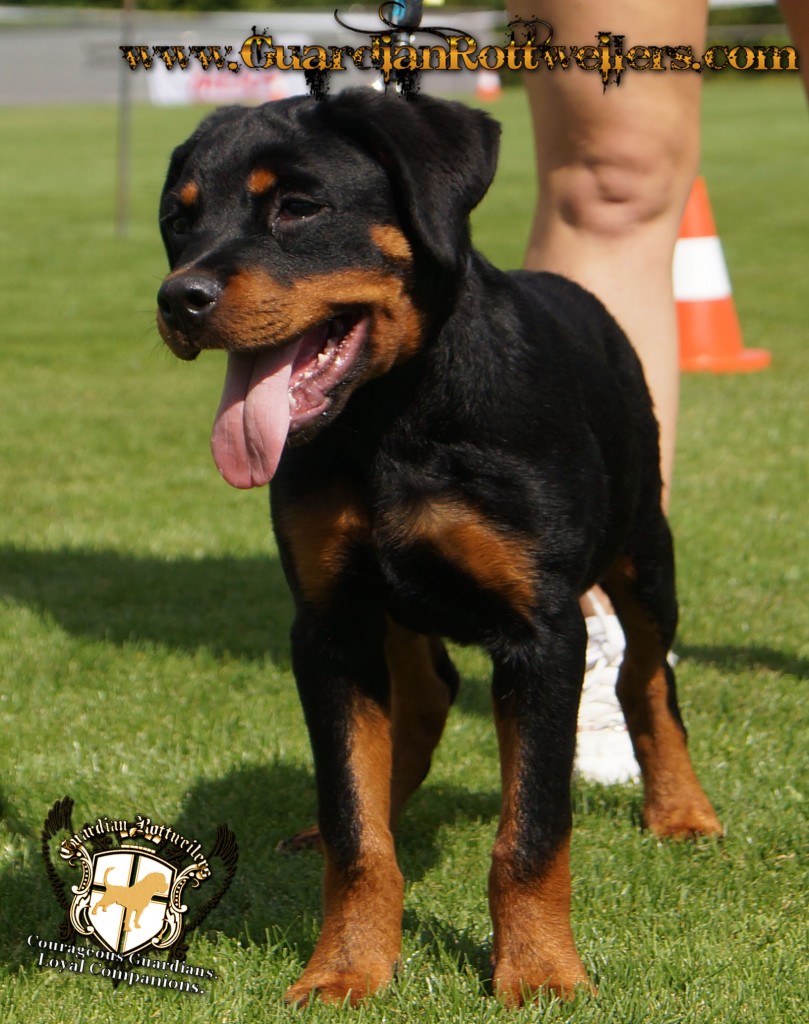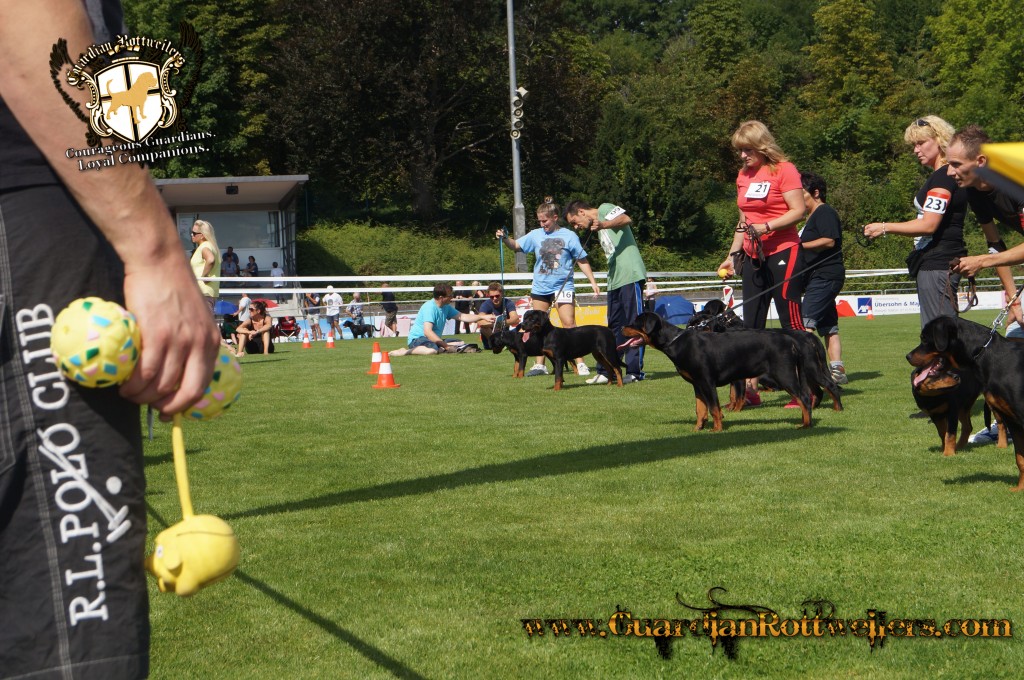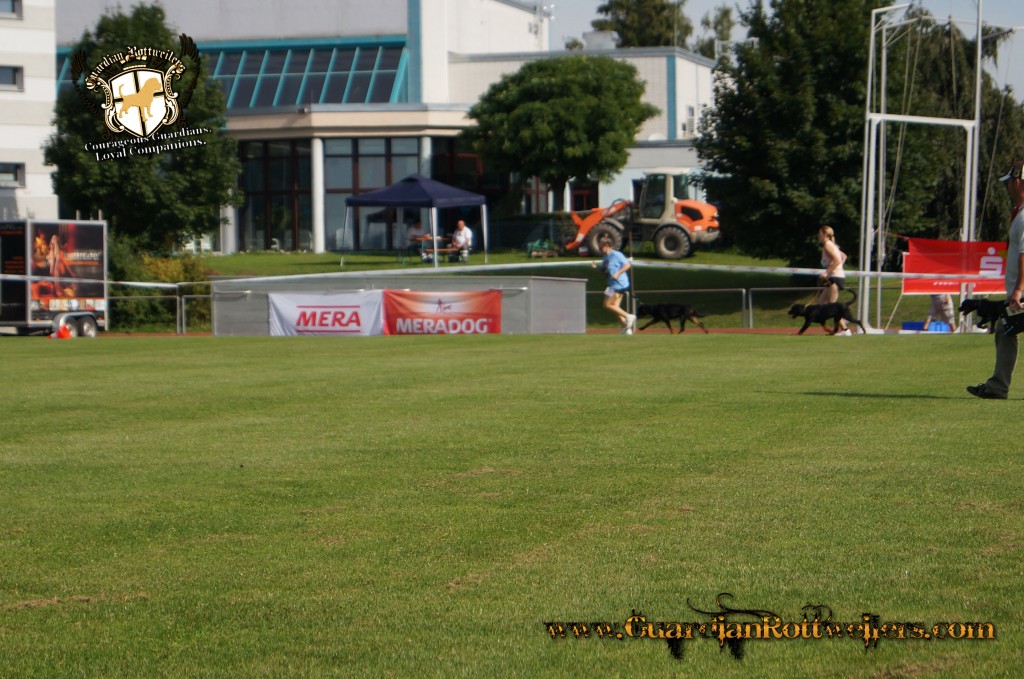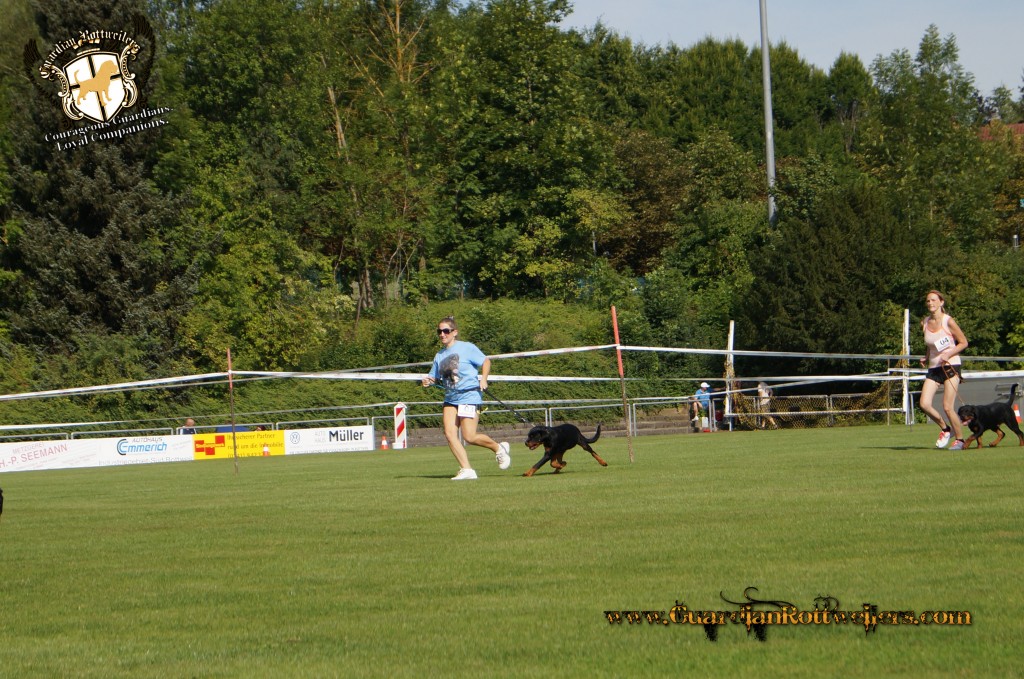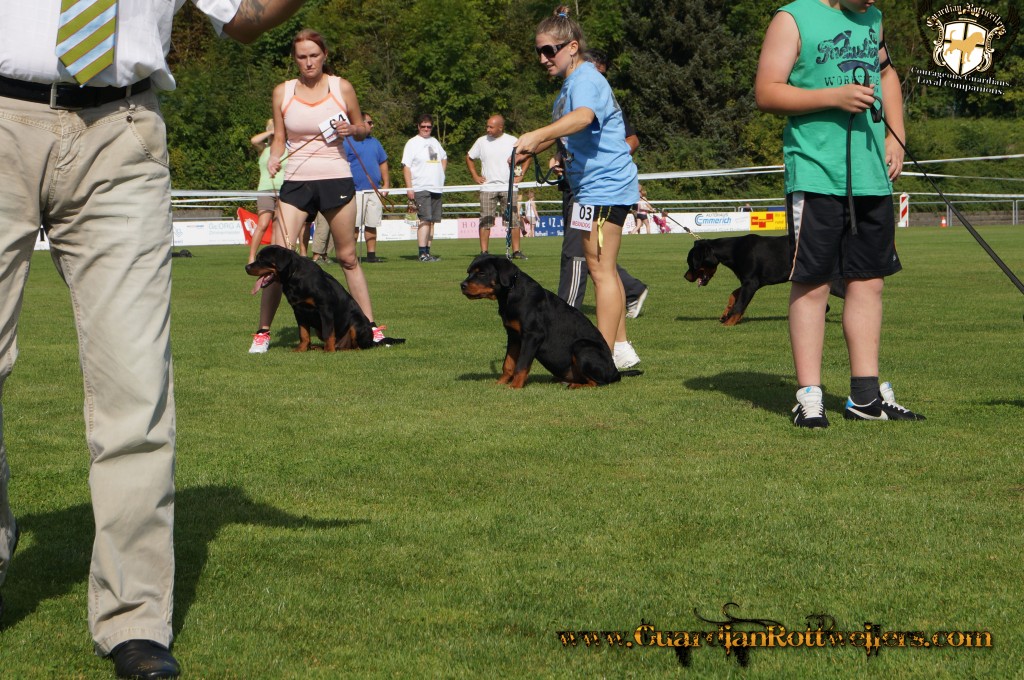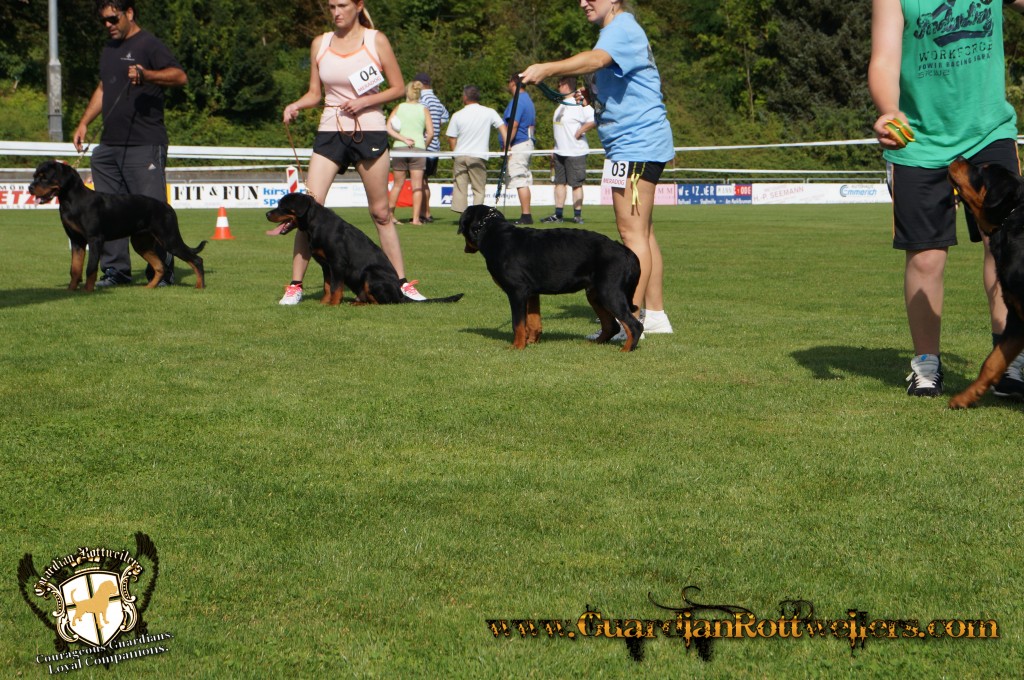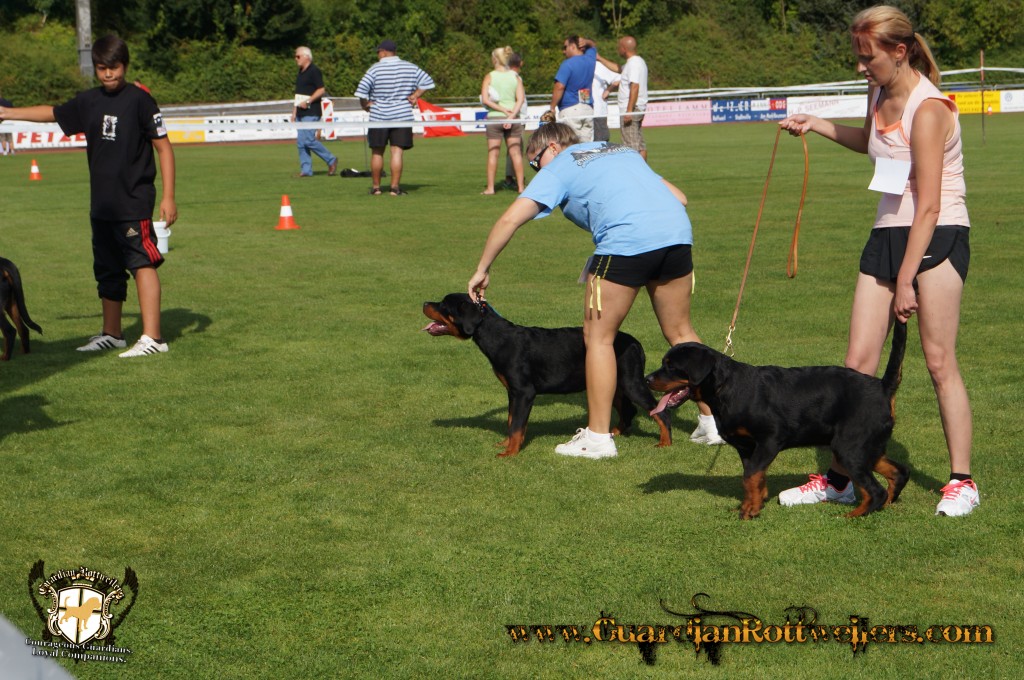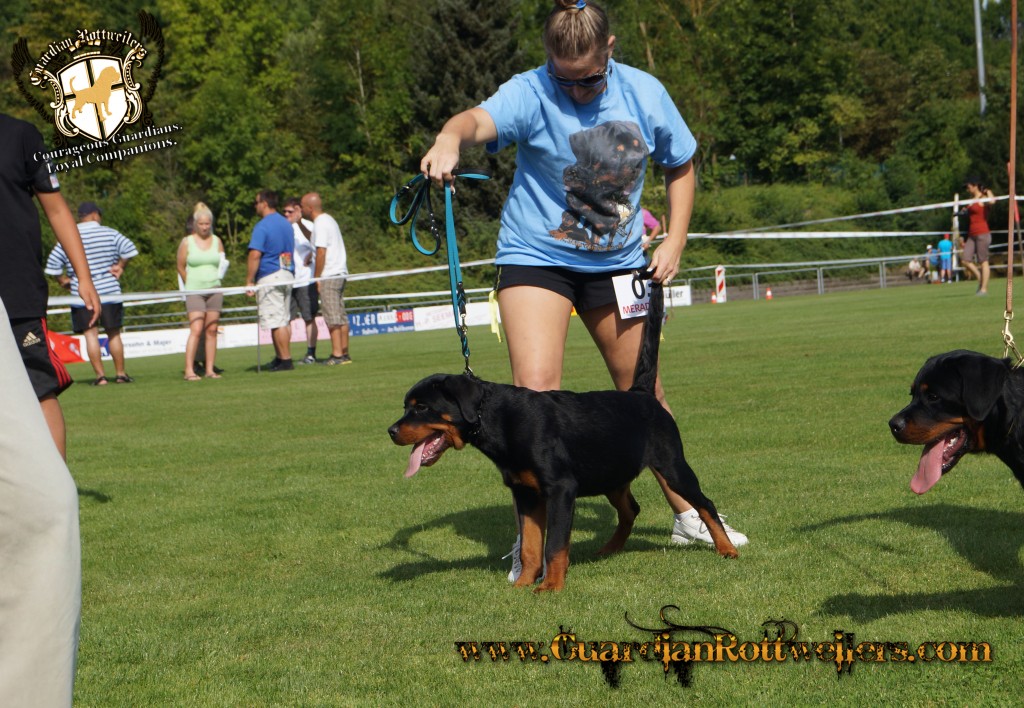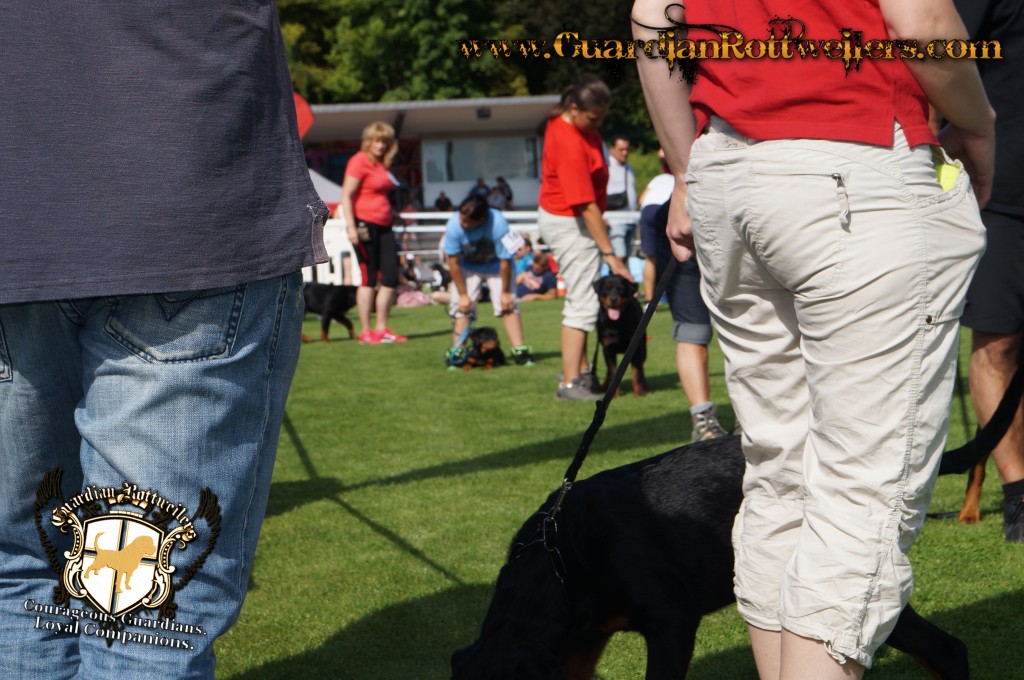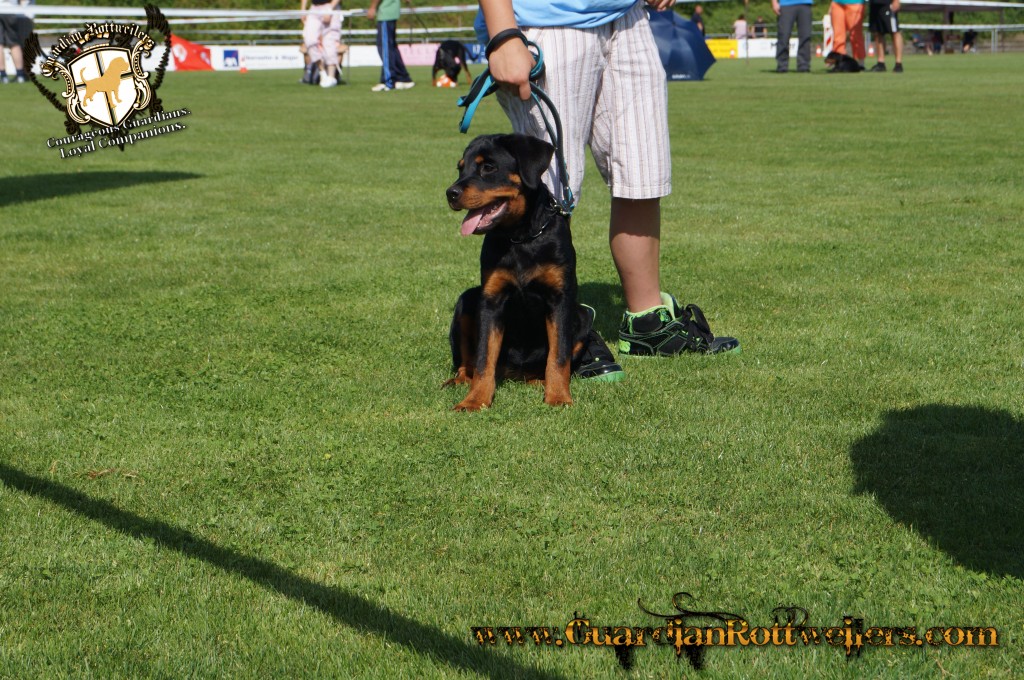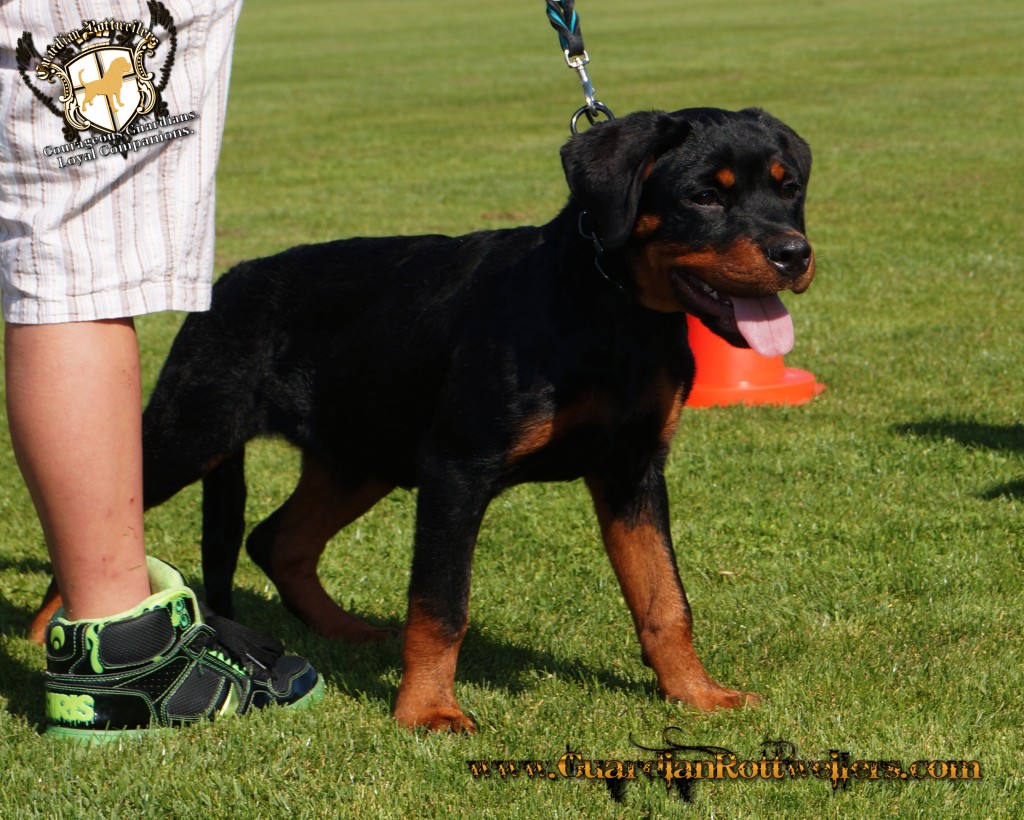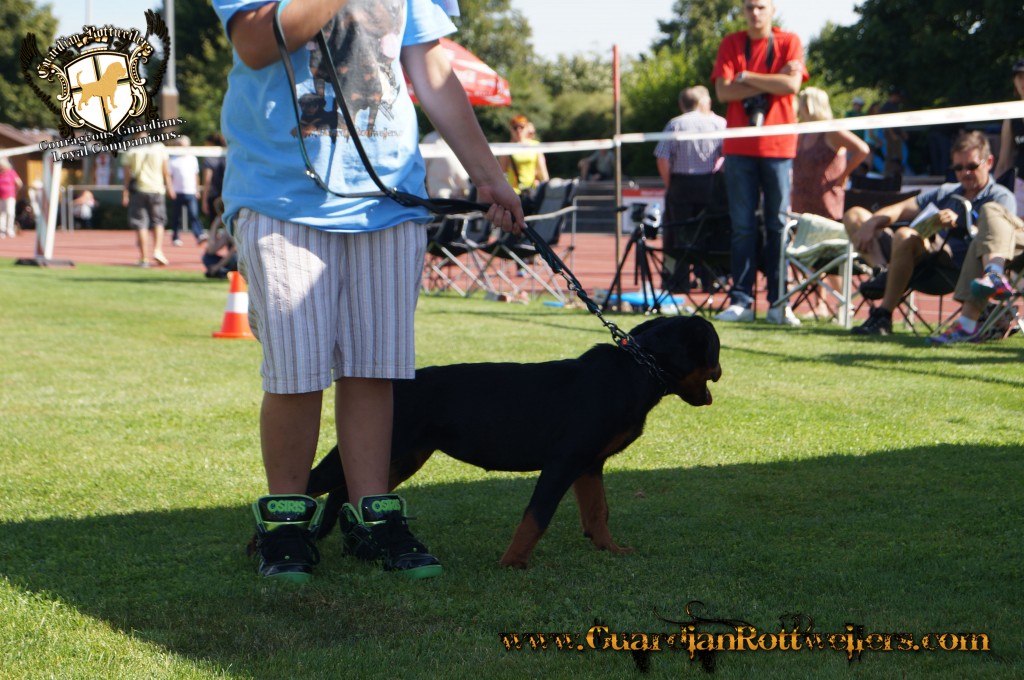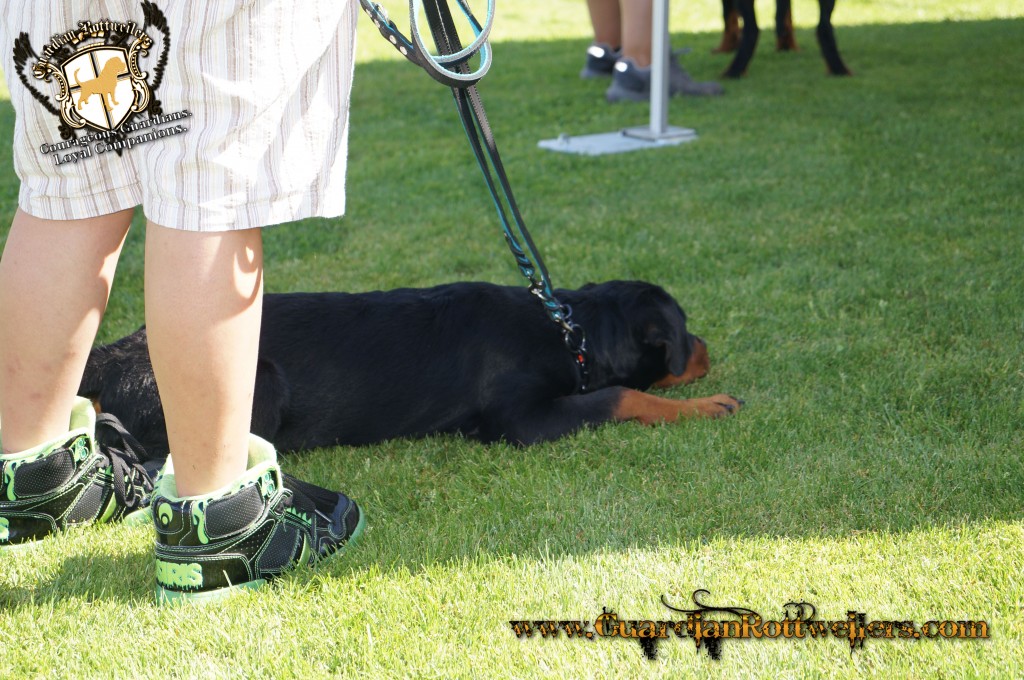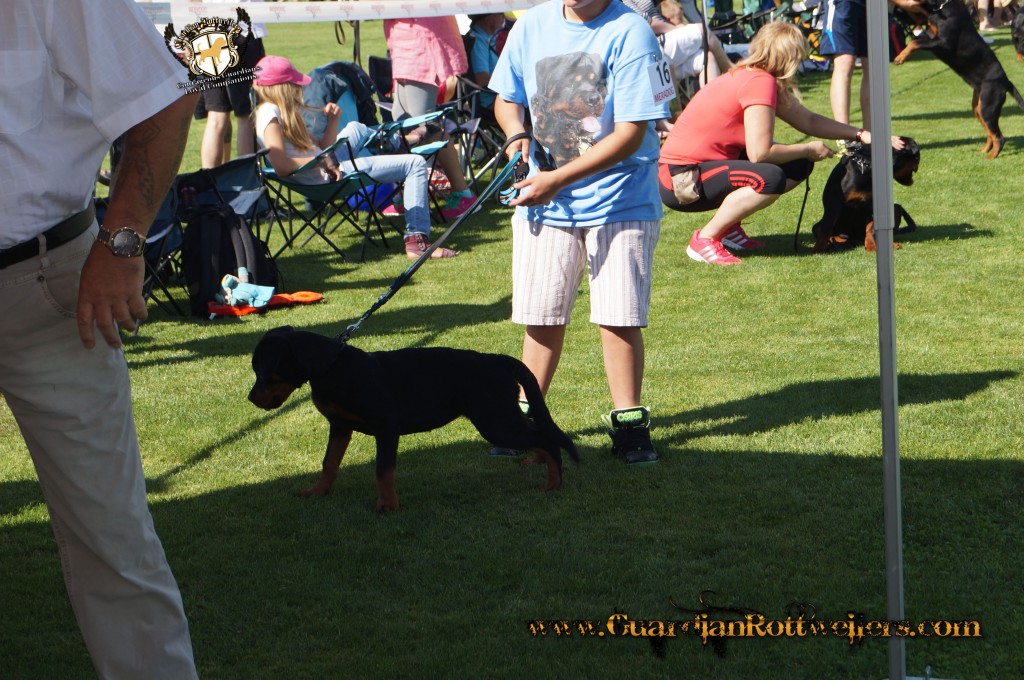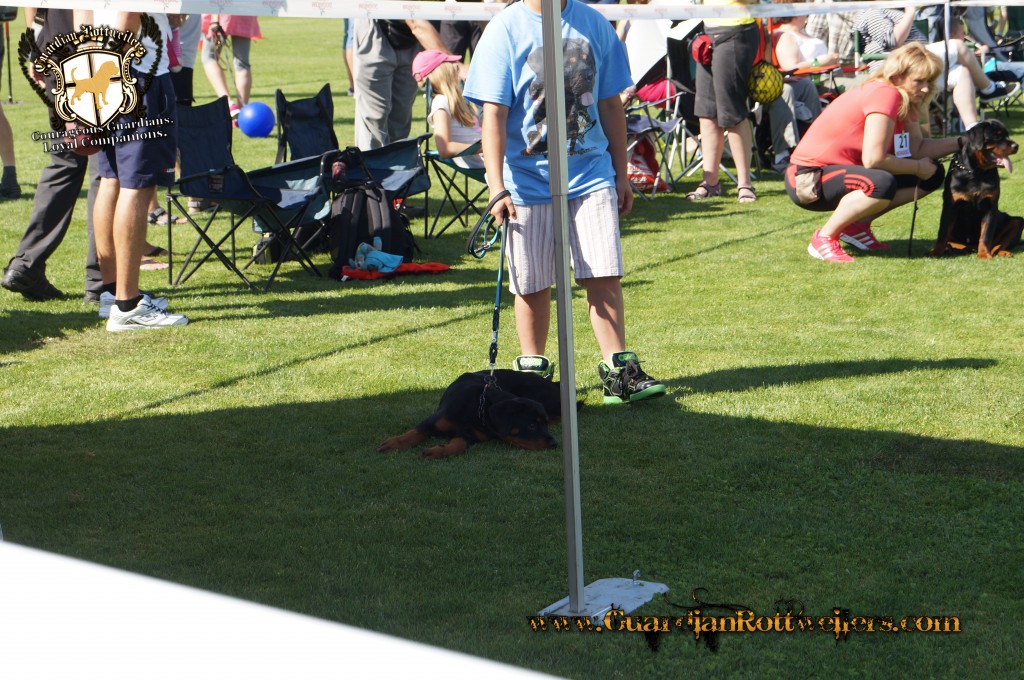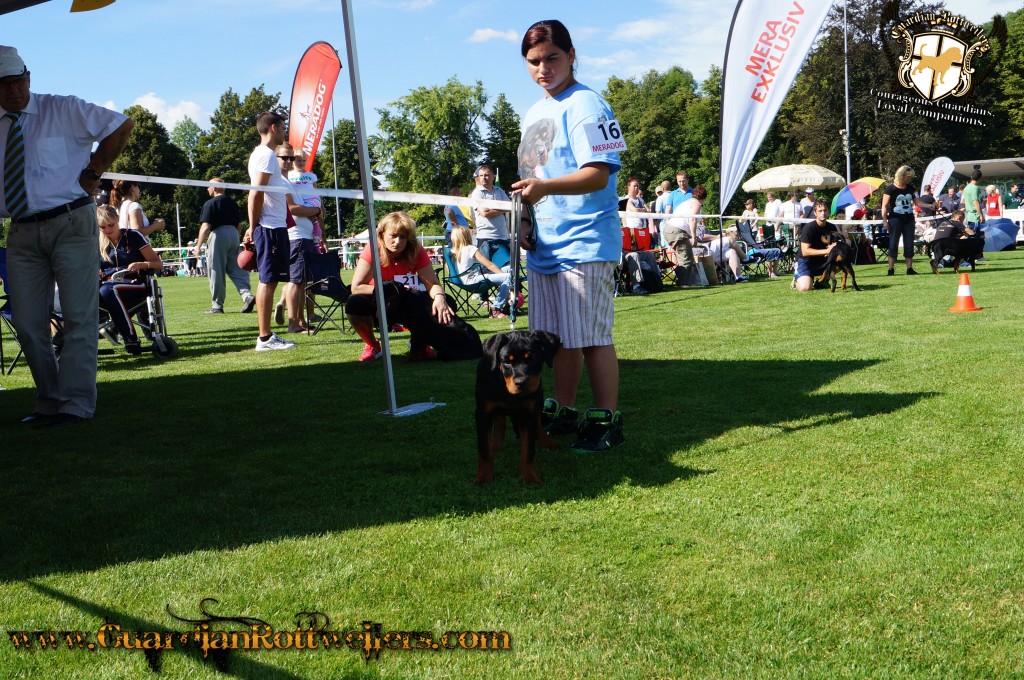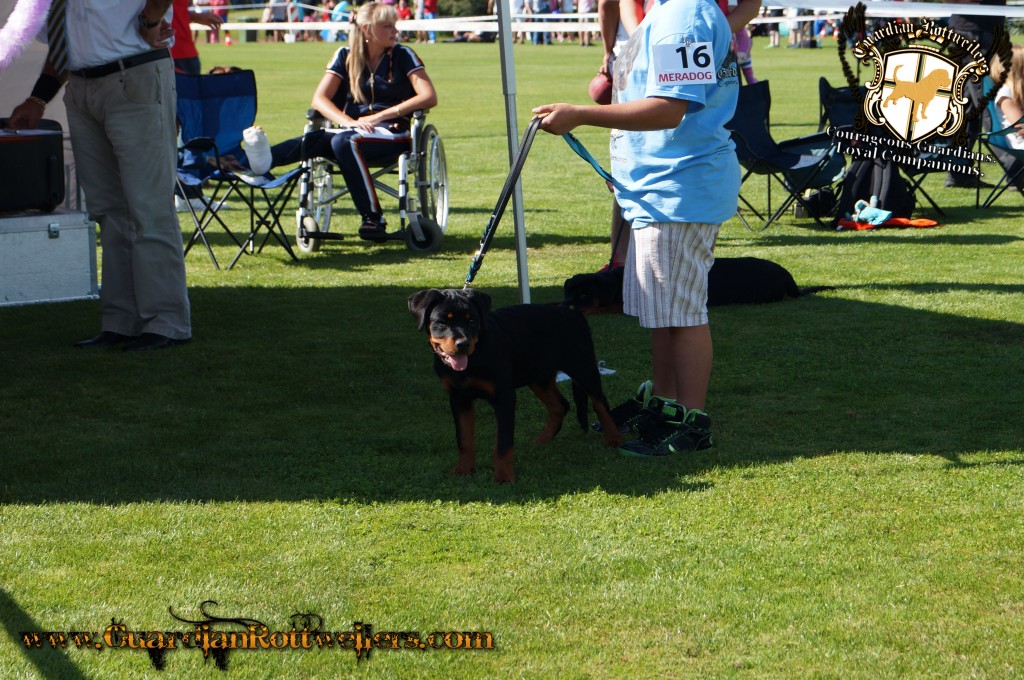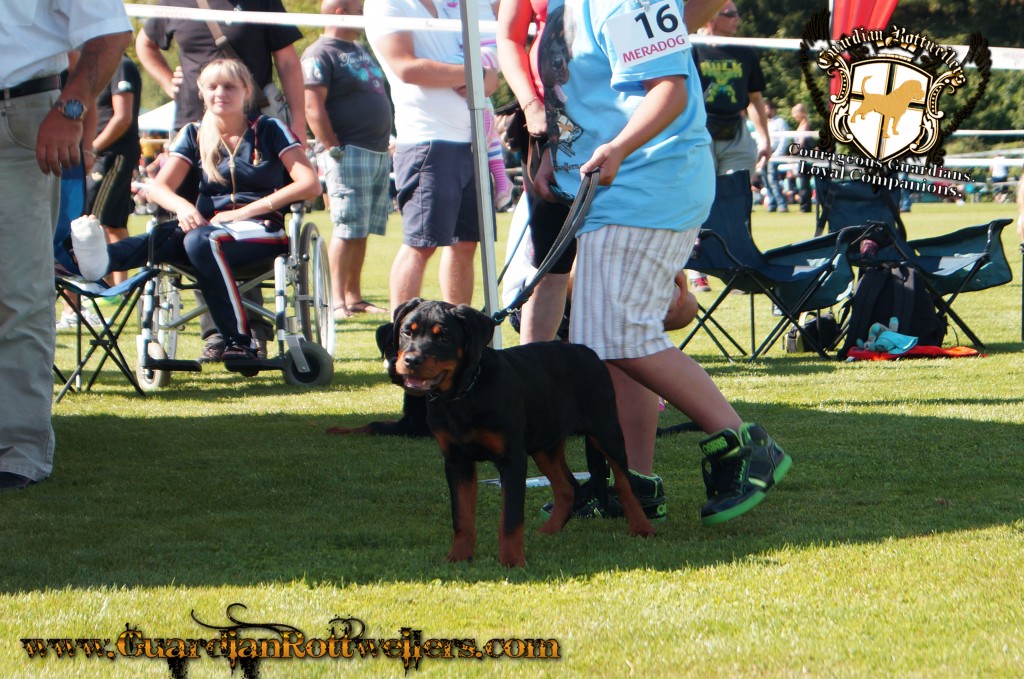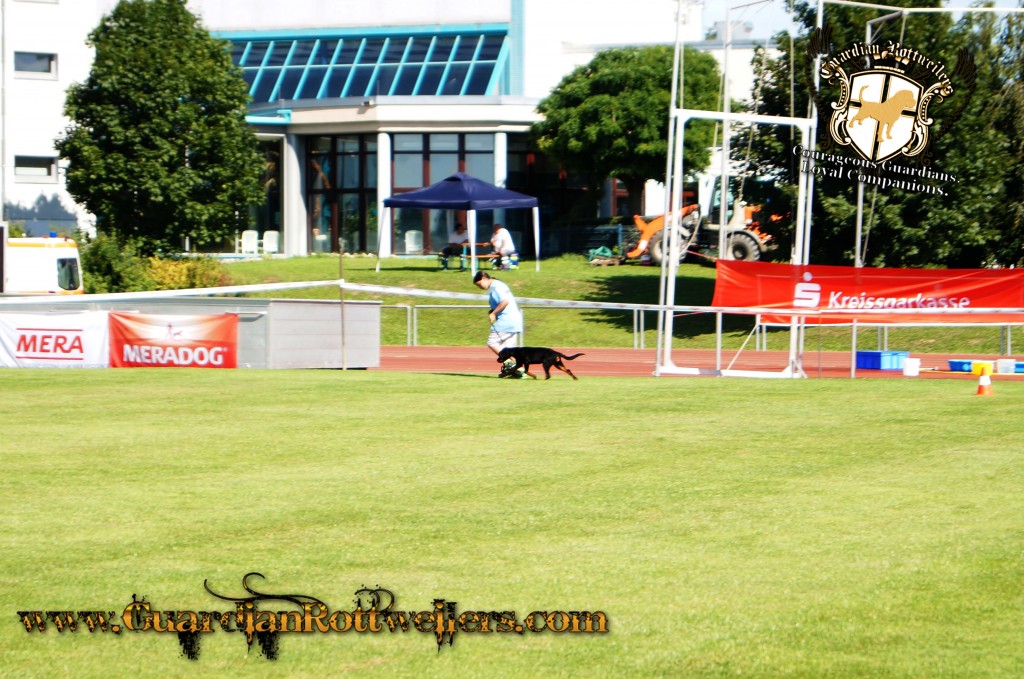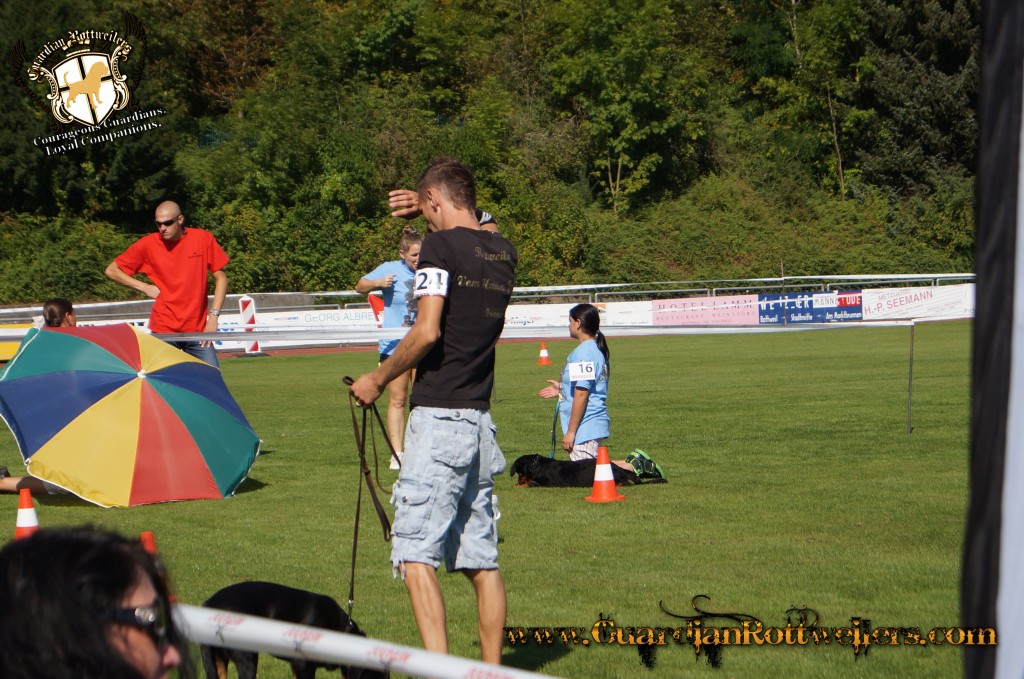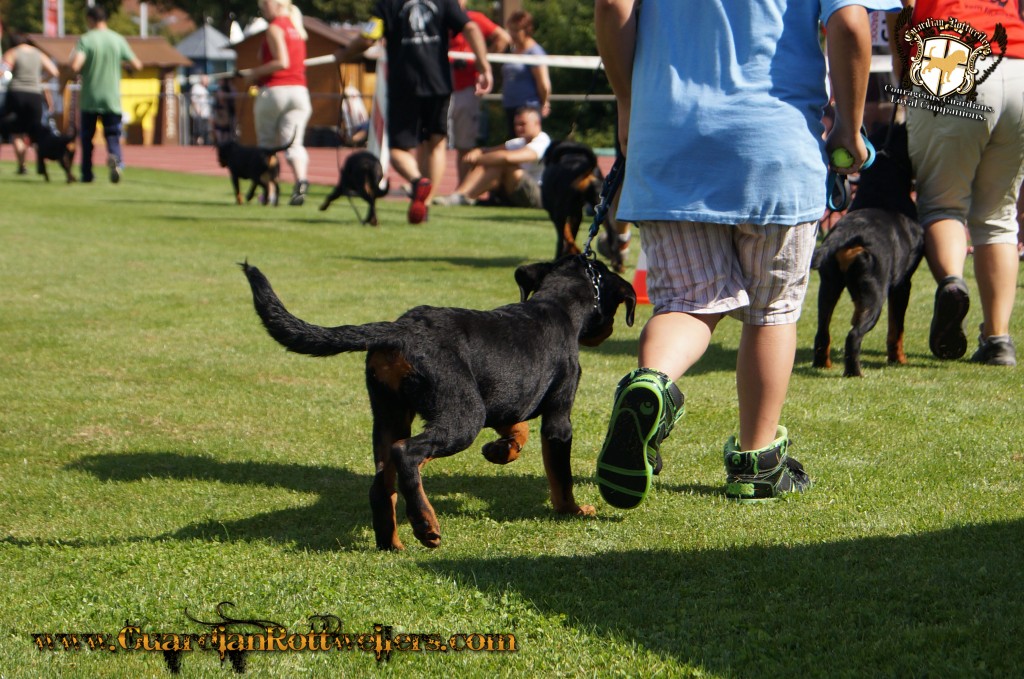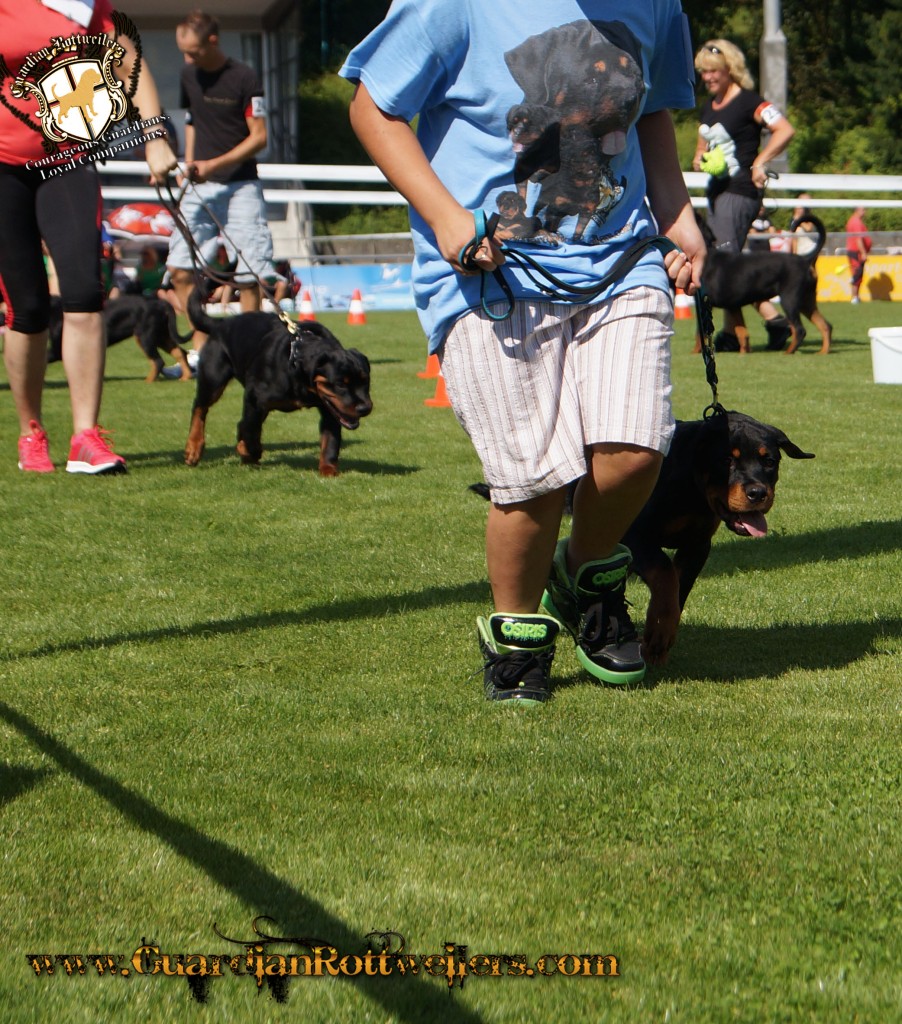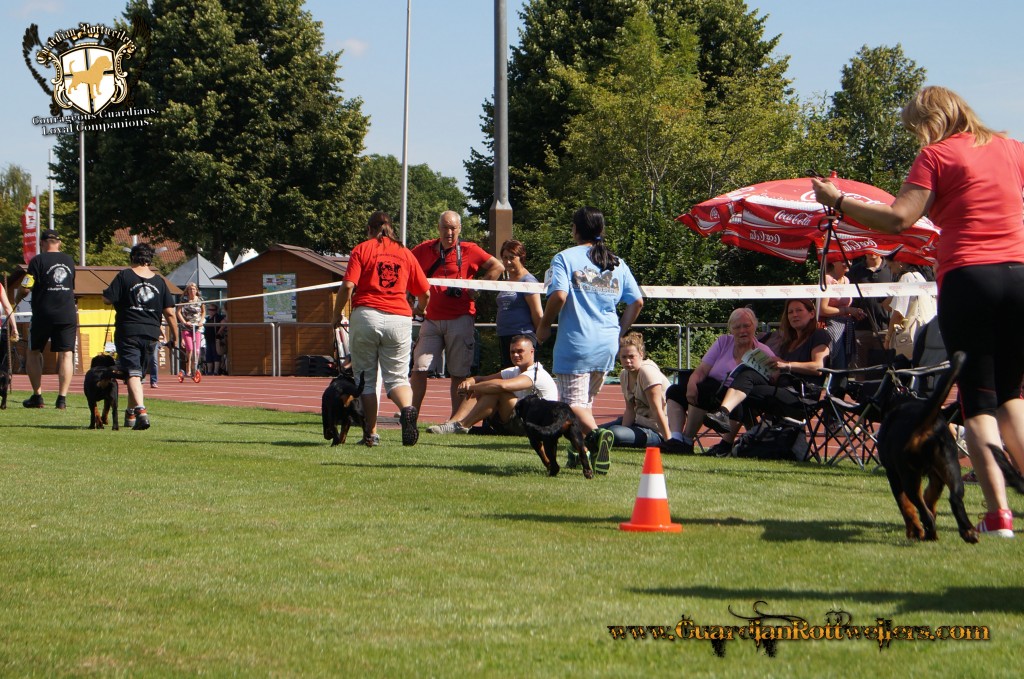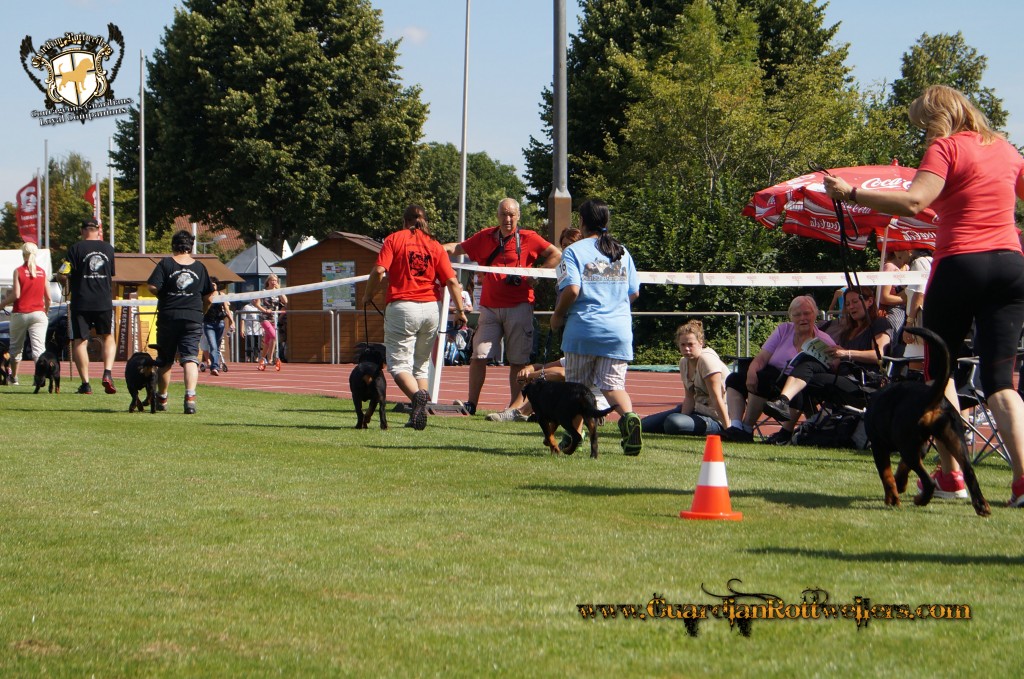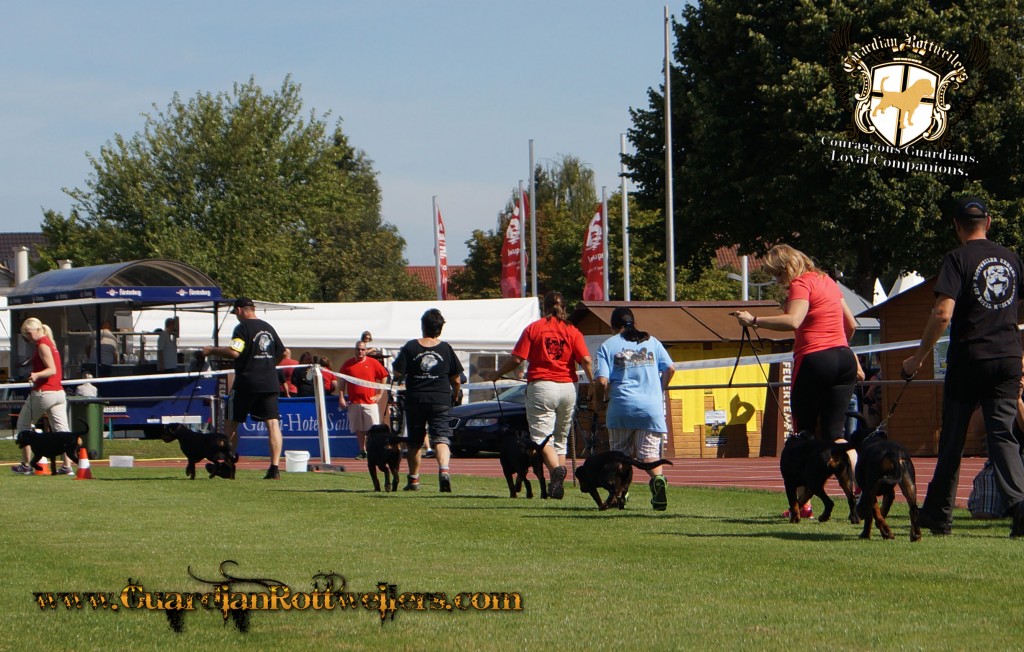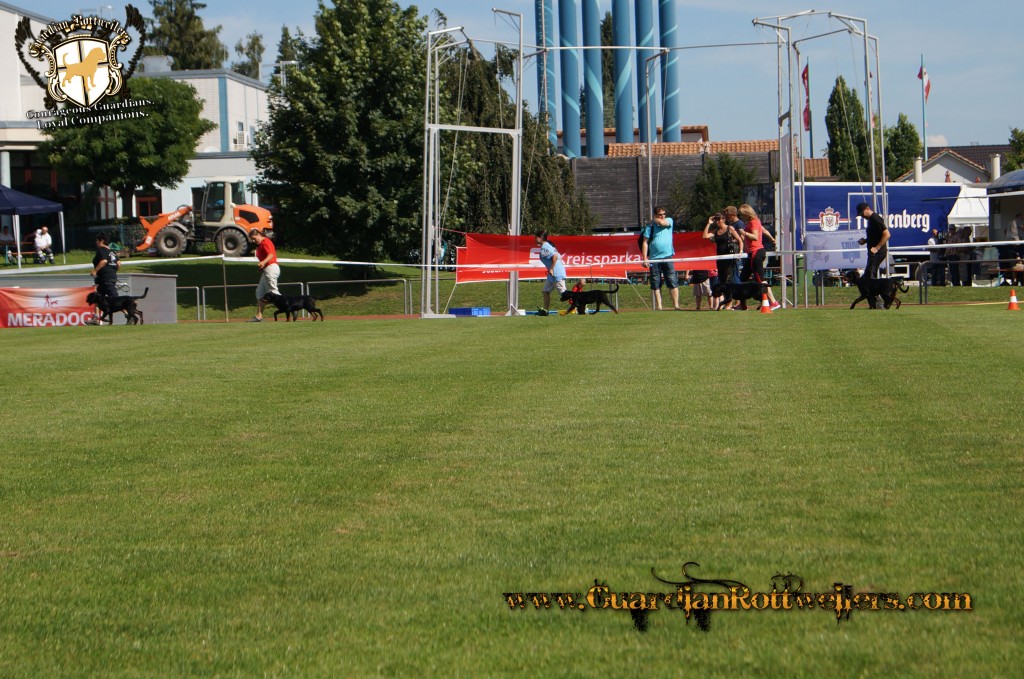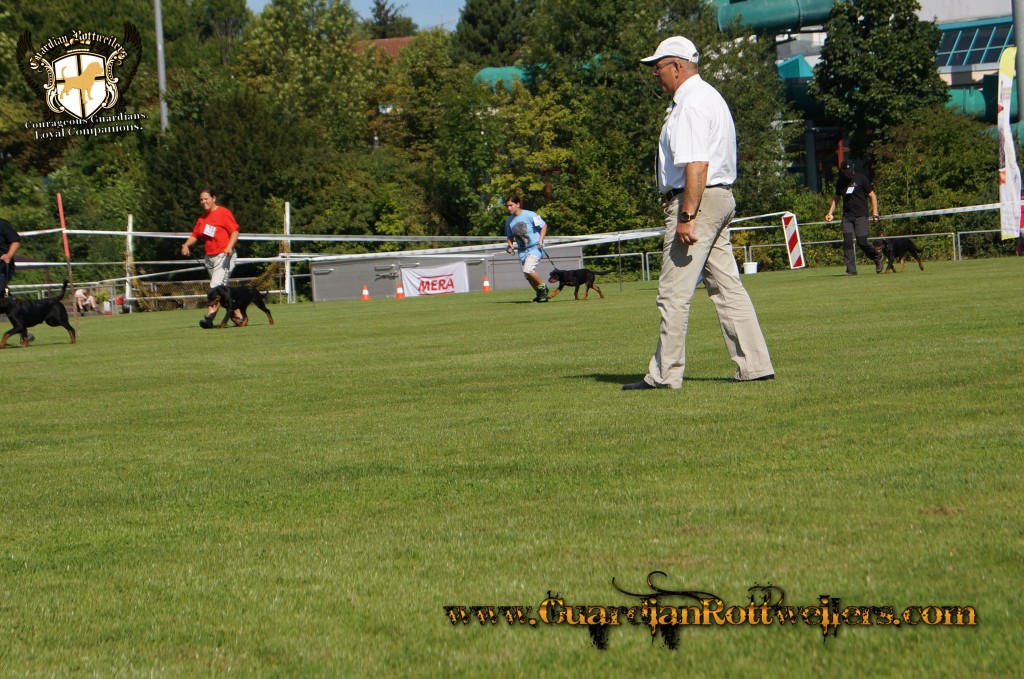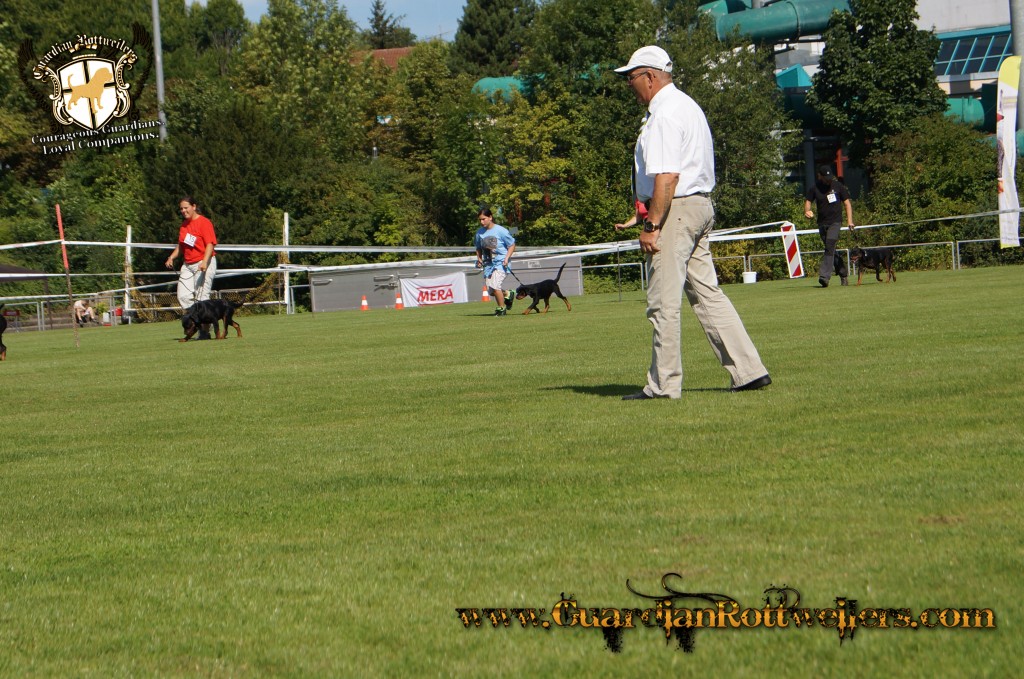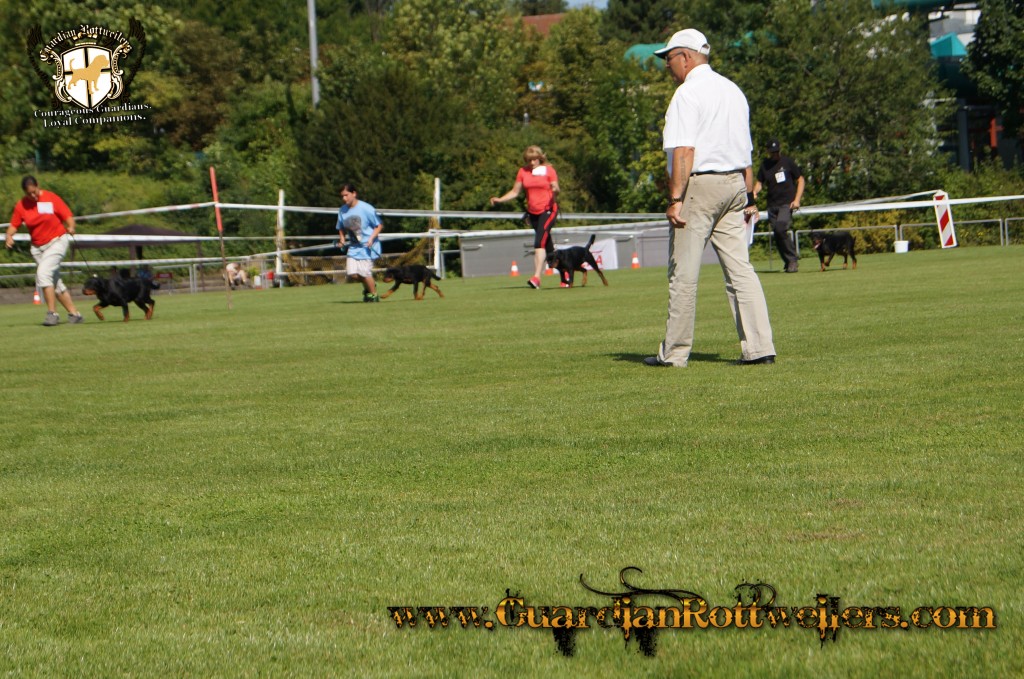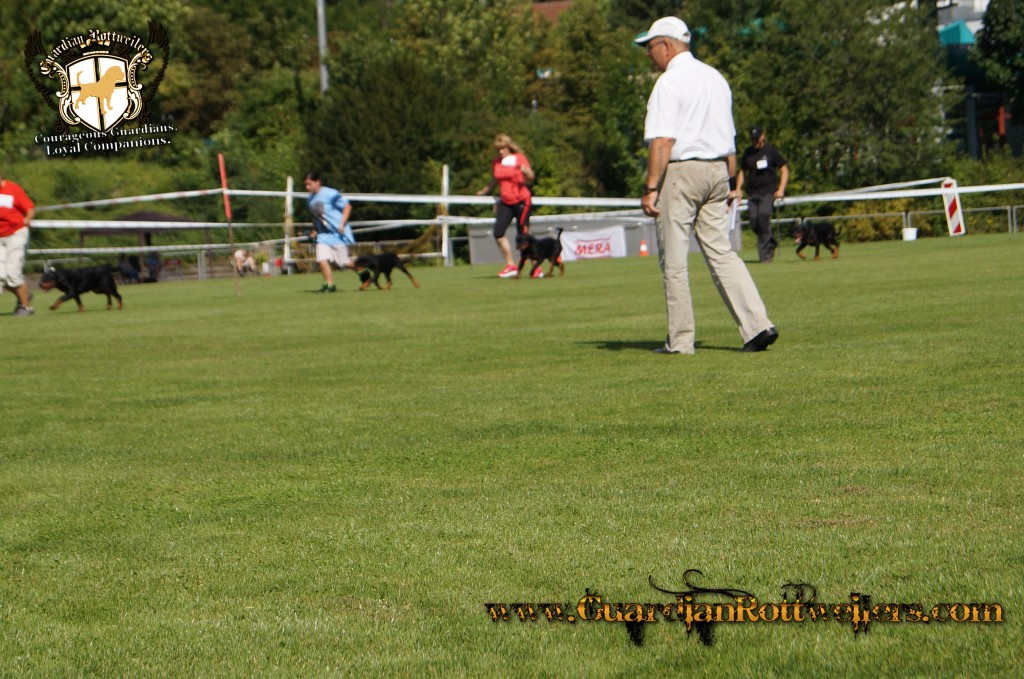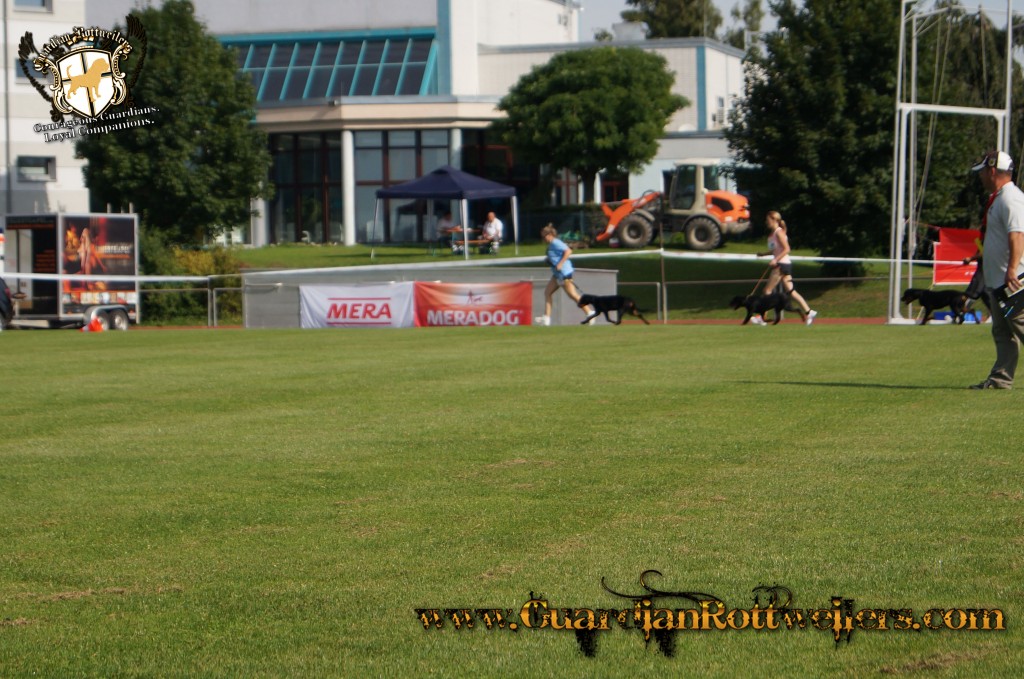 Gigi did SOOO GOOD!!  Very proud of her!!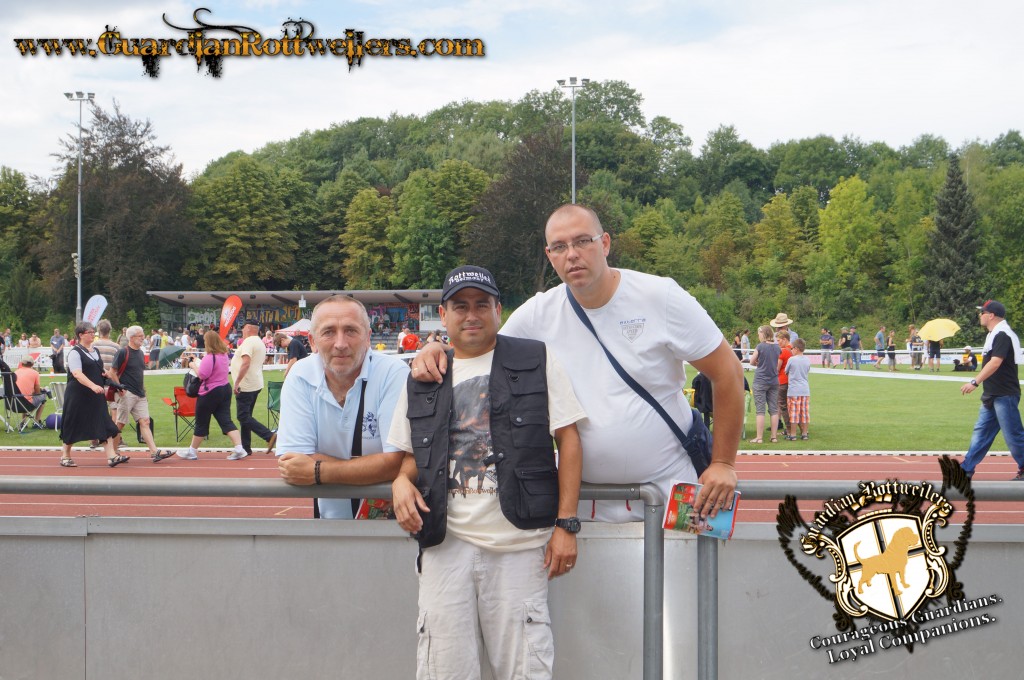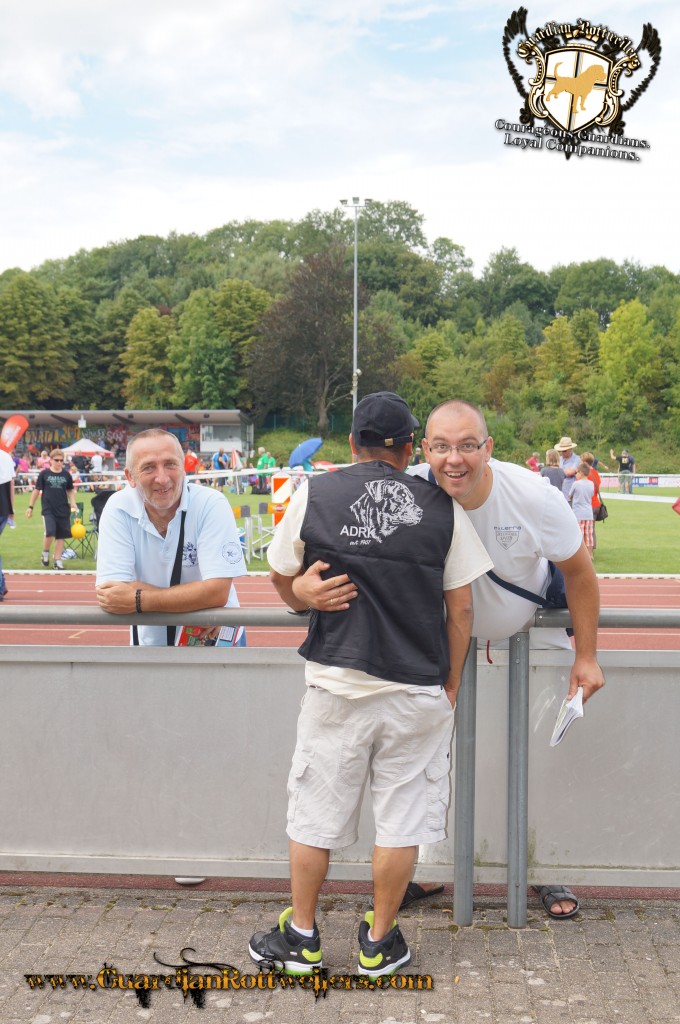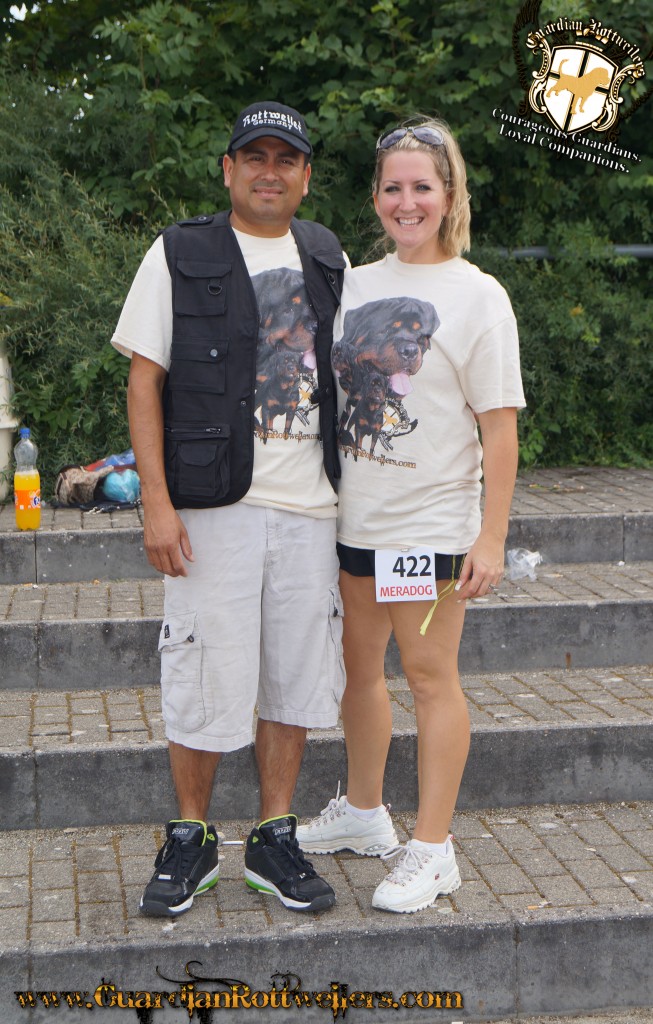 Miguel and I <3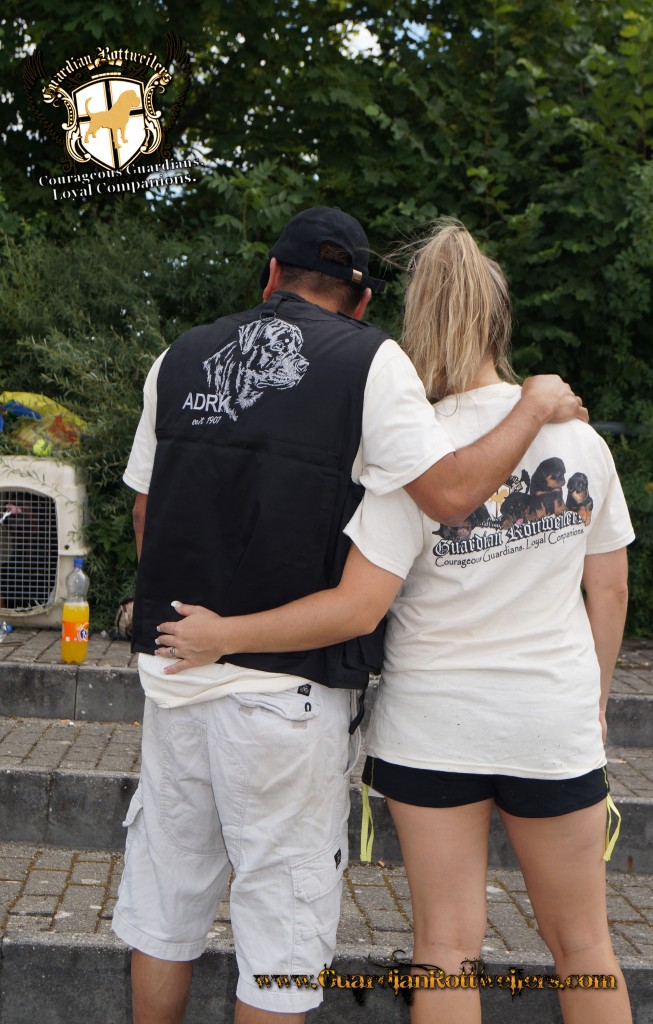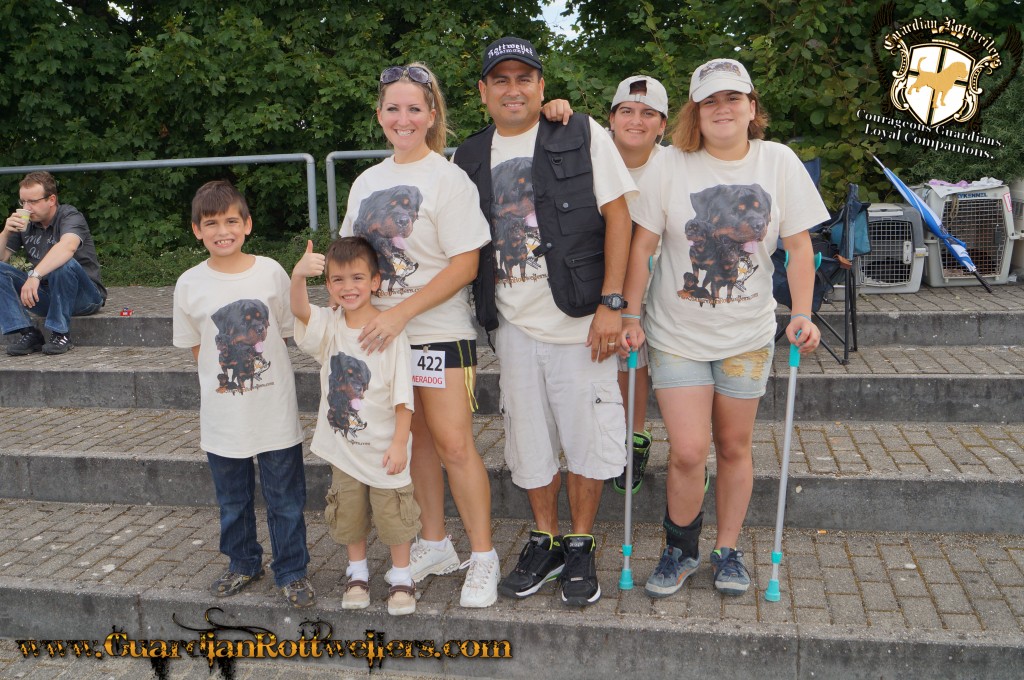 I am so very, very blessed <3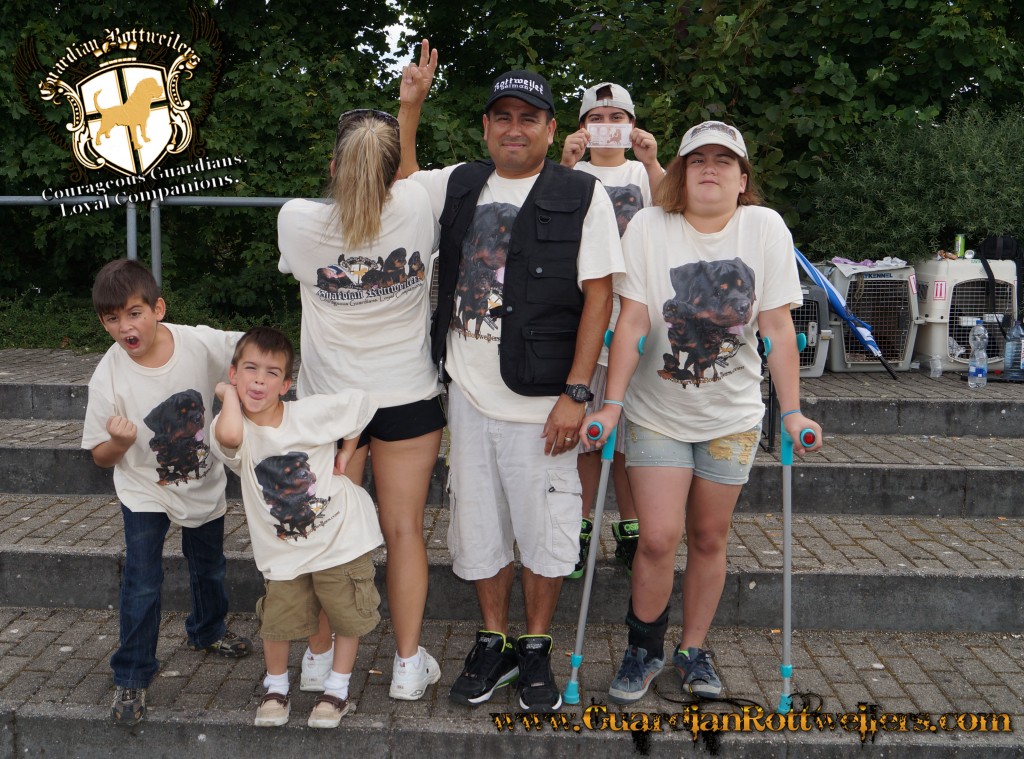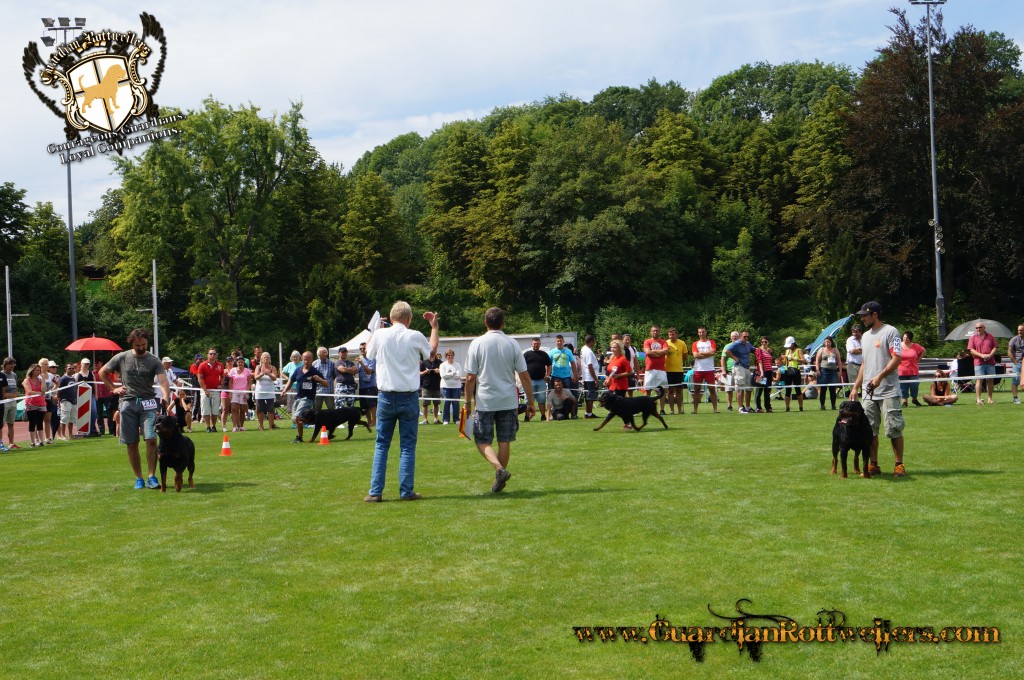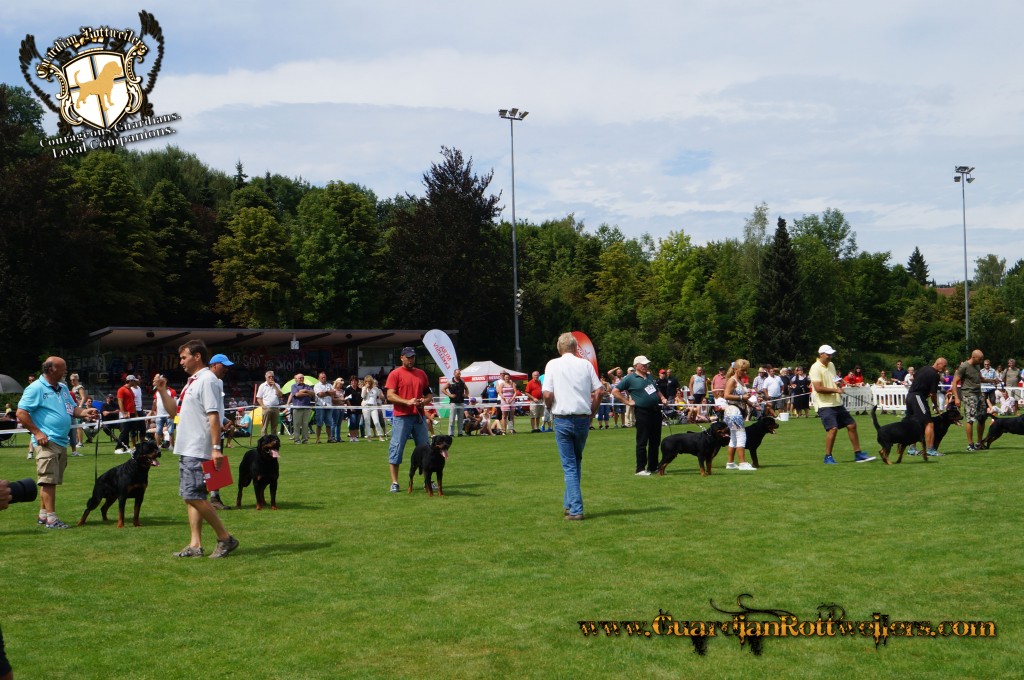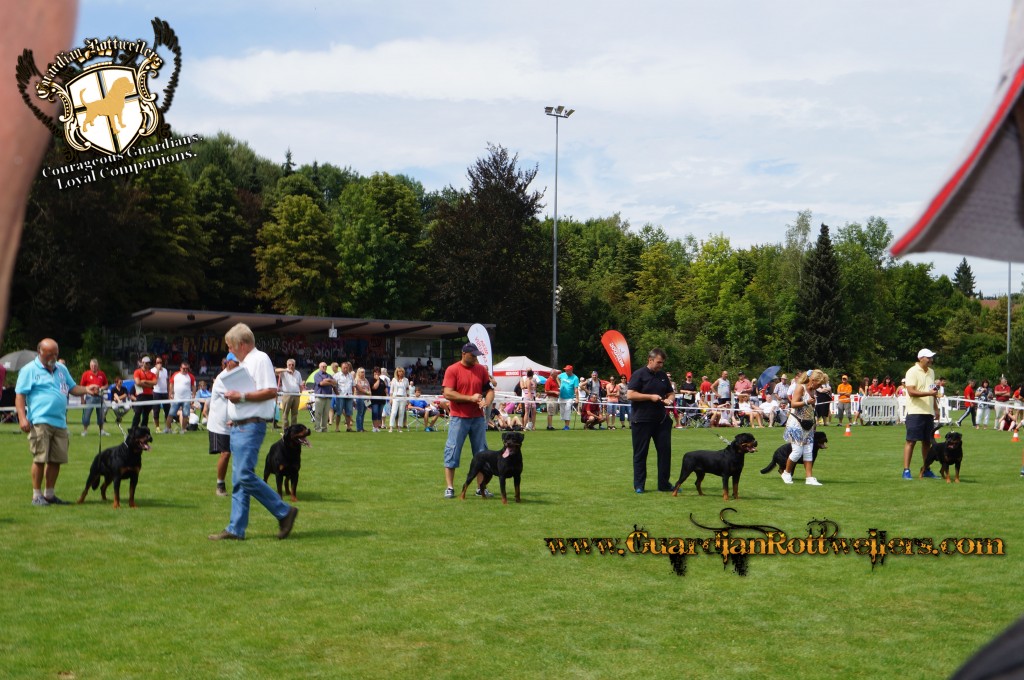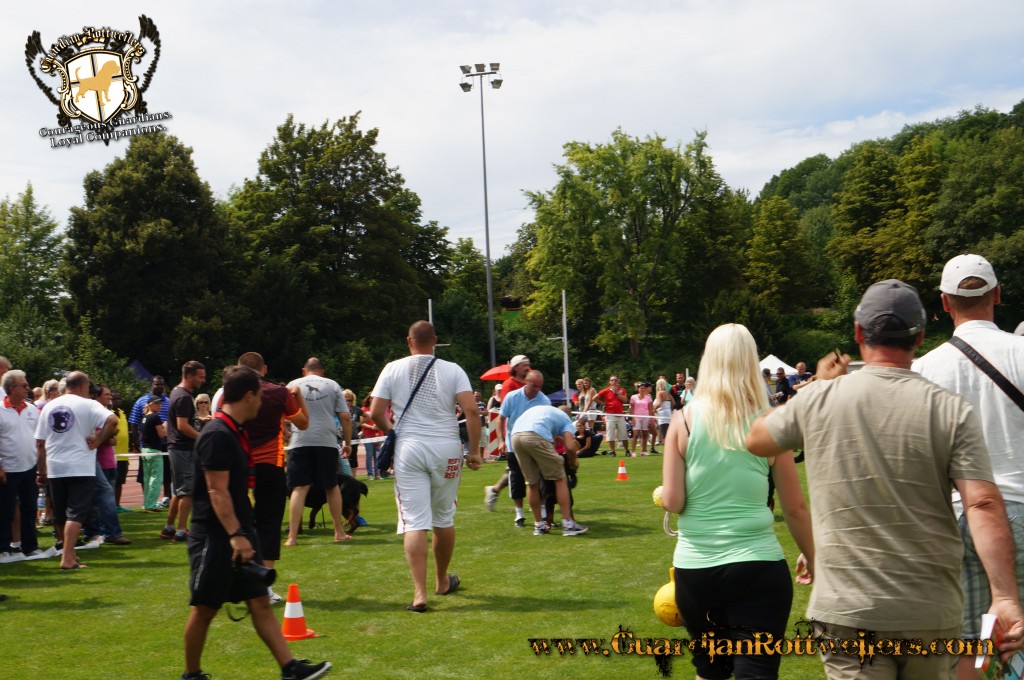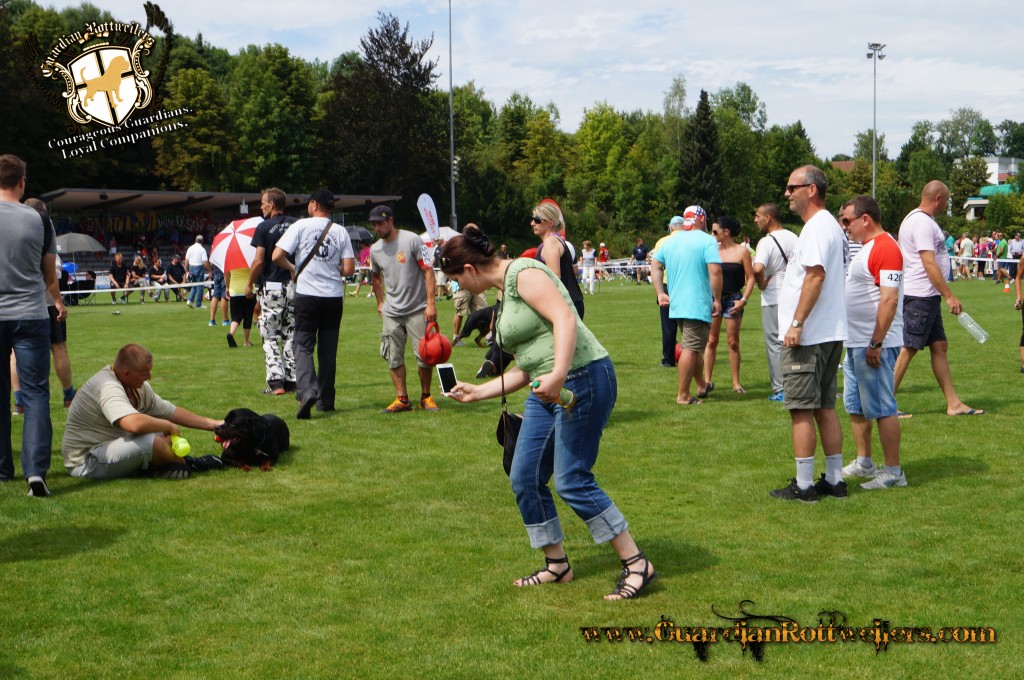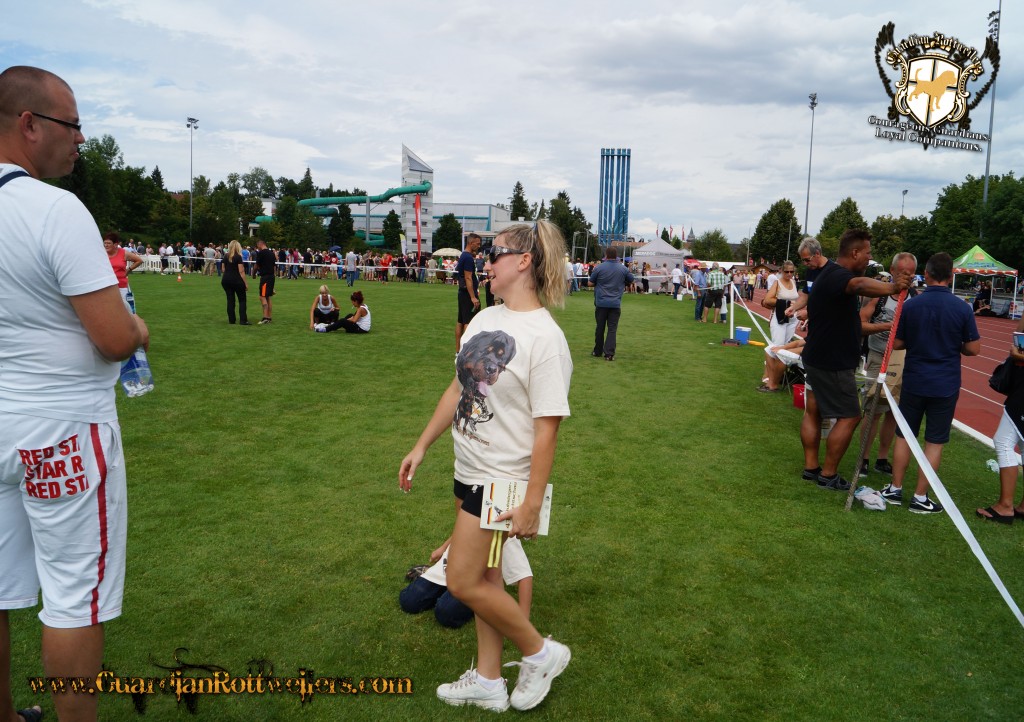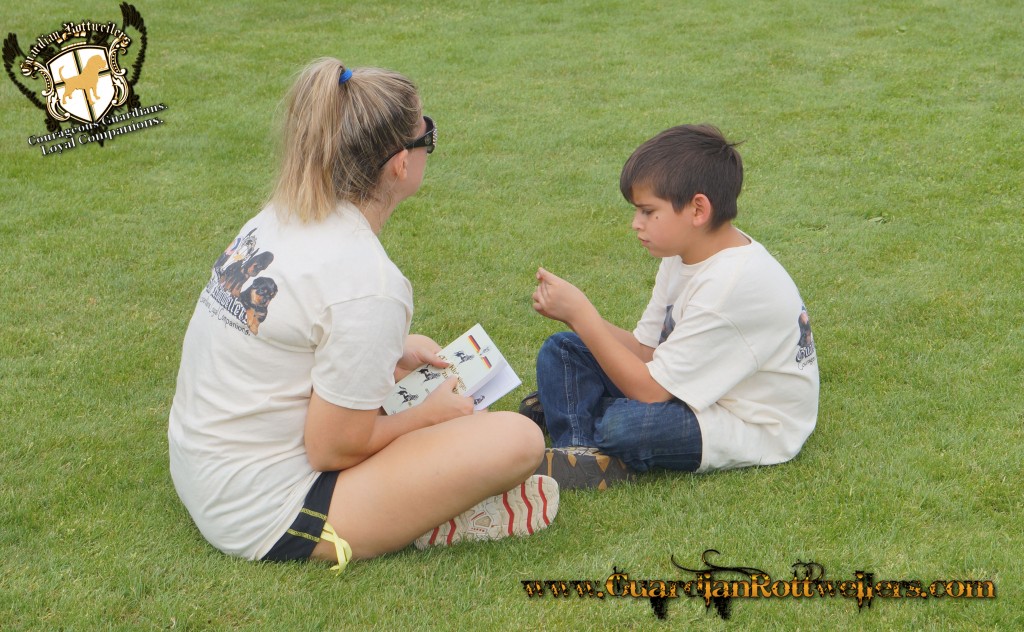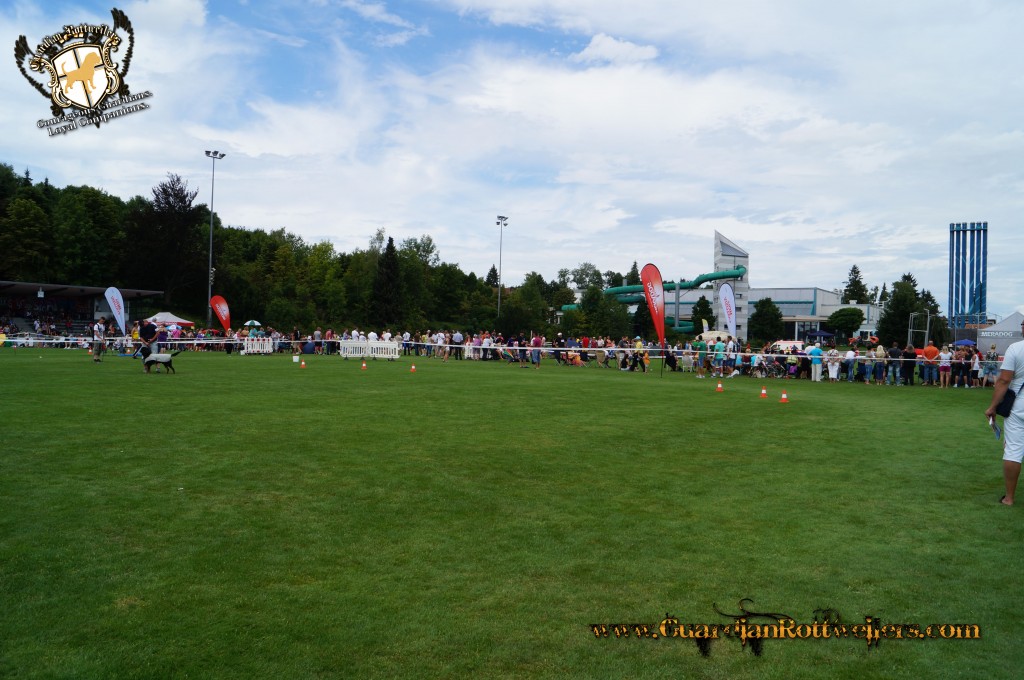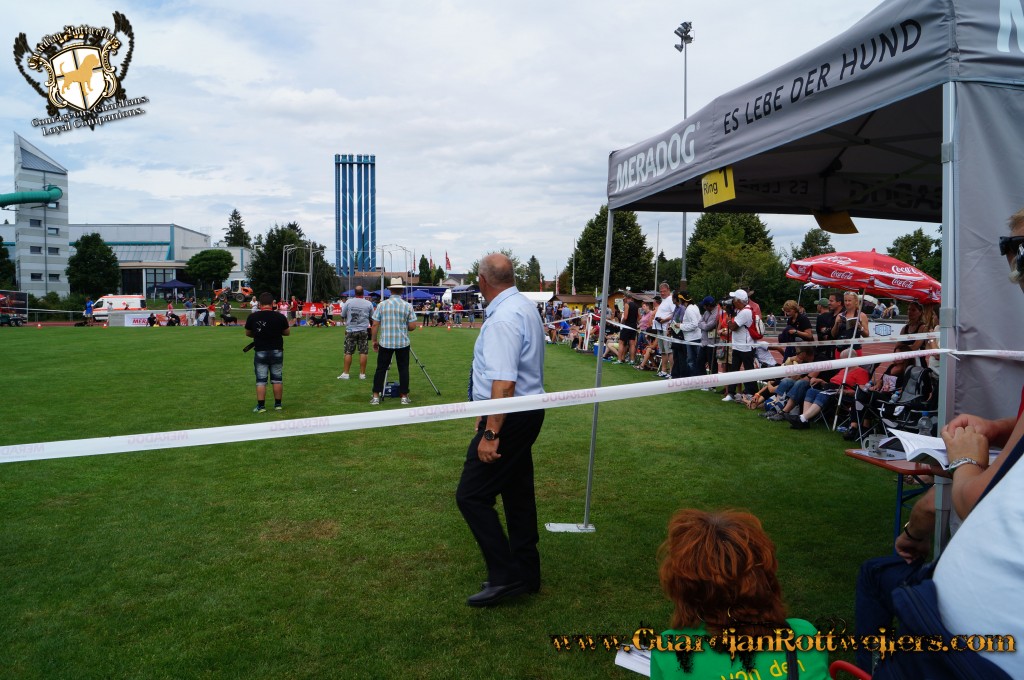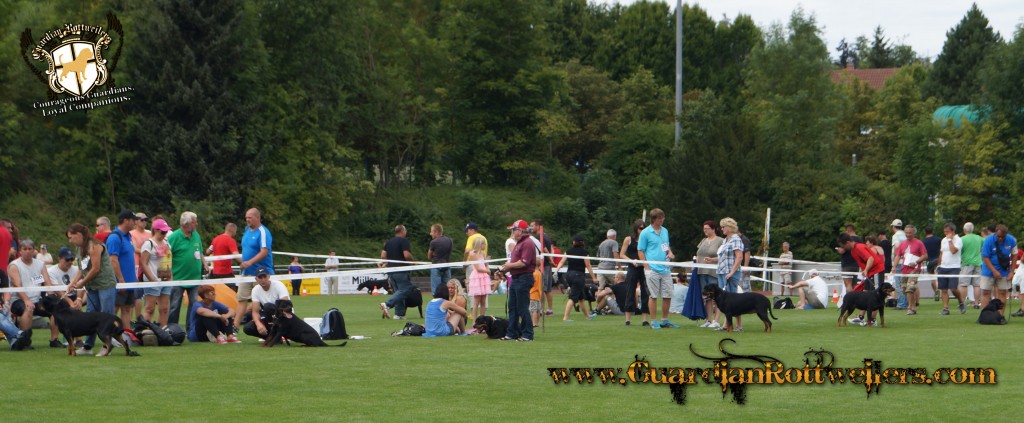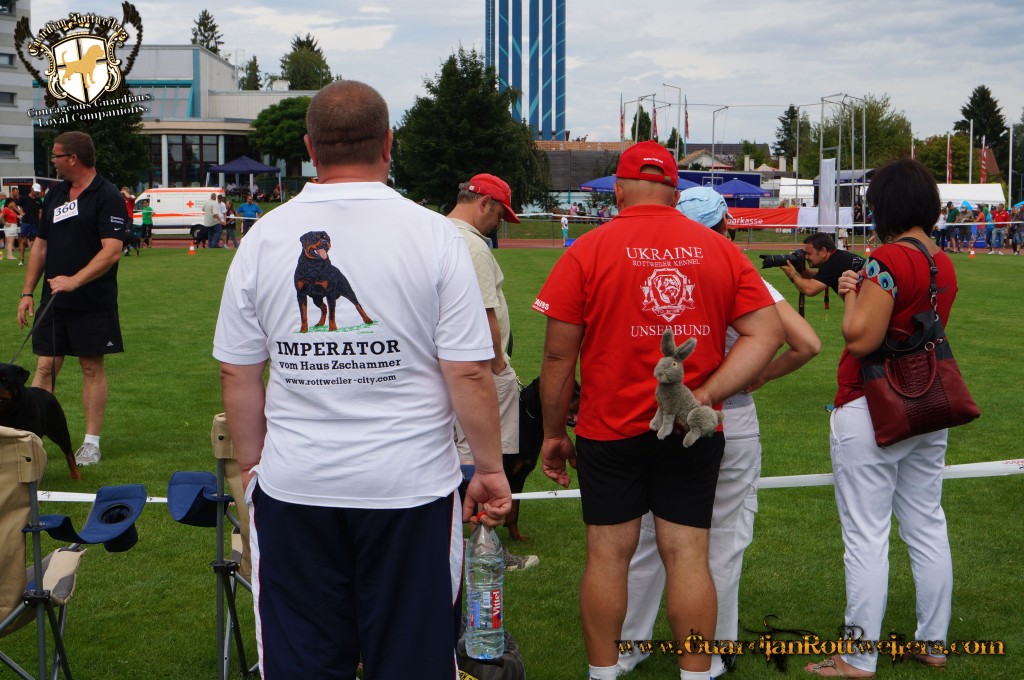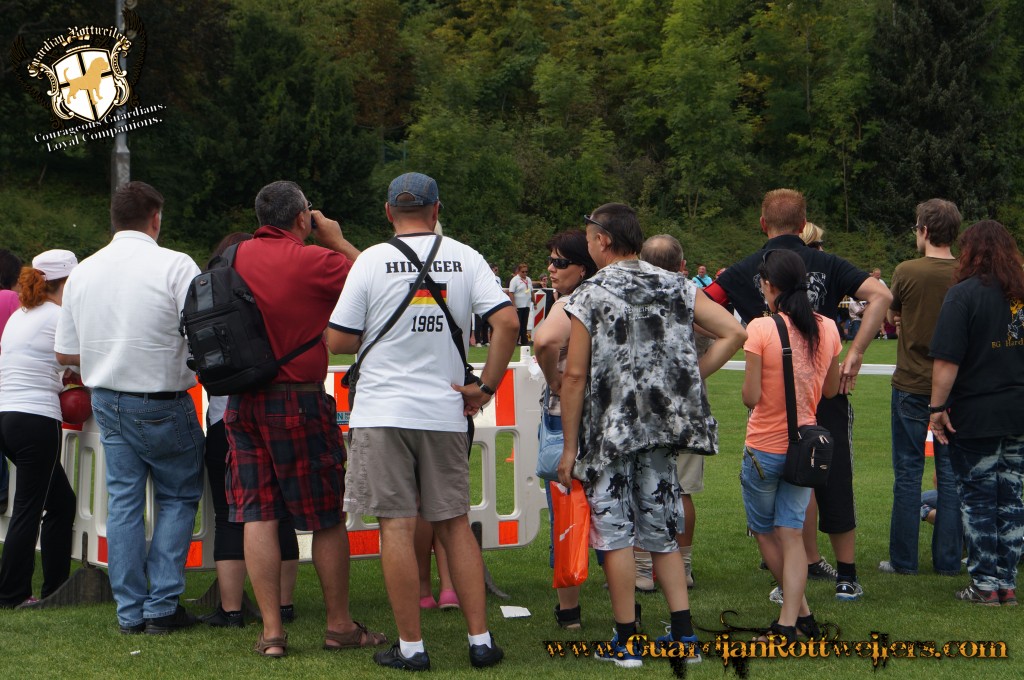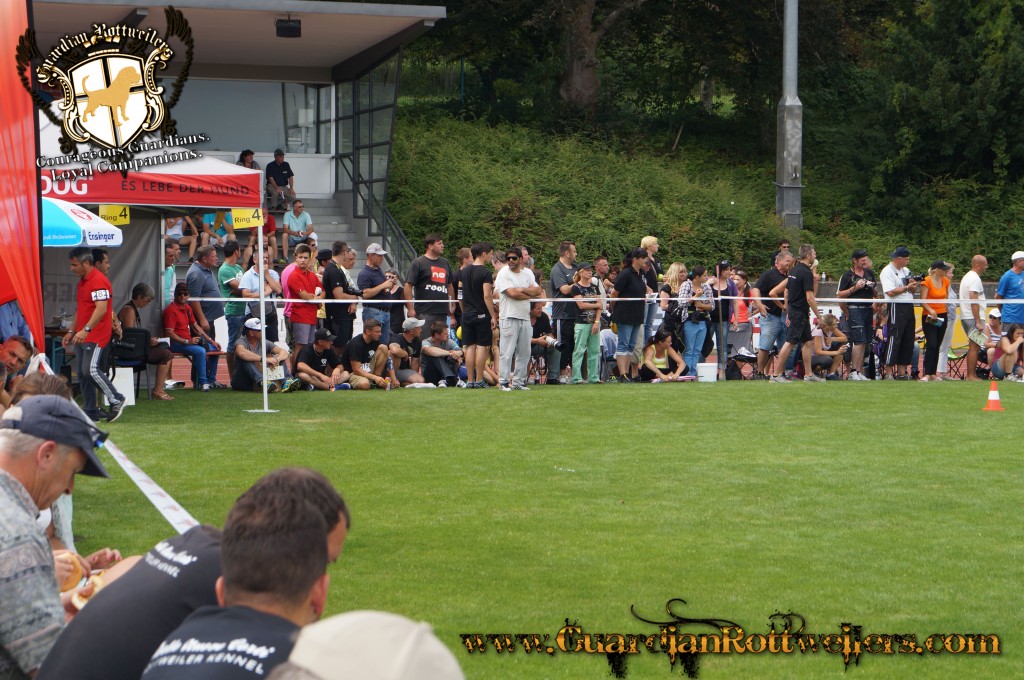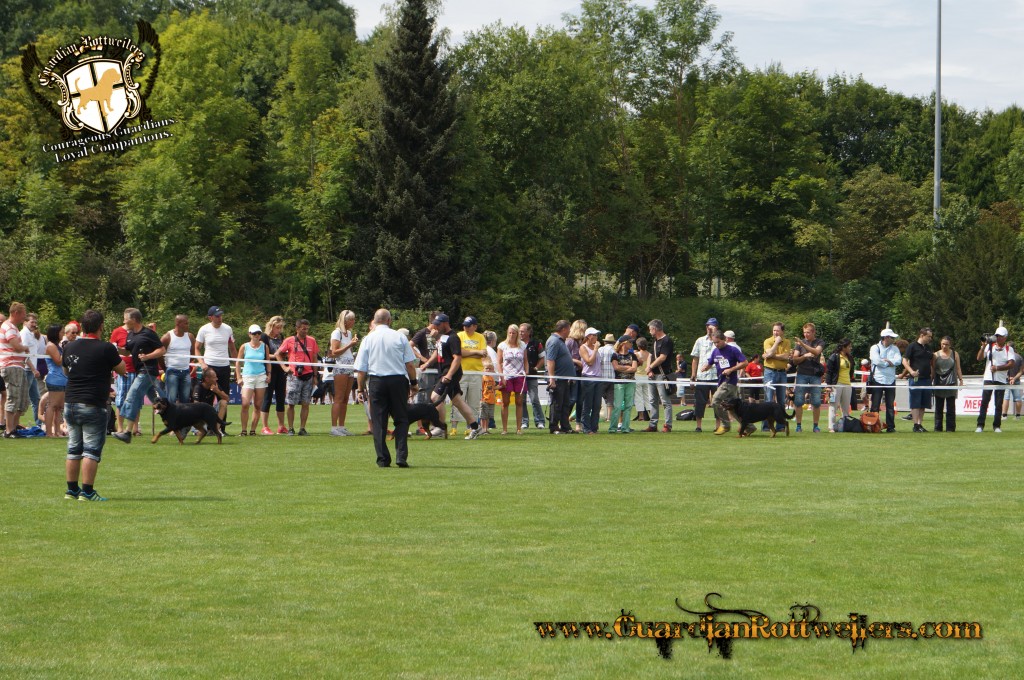 Time for KING Marsio to get his teeth checked before he can run.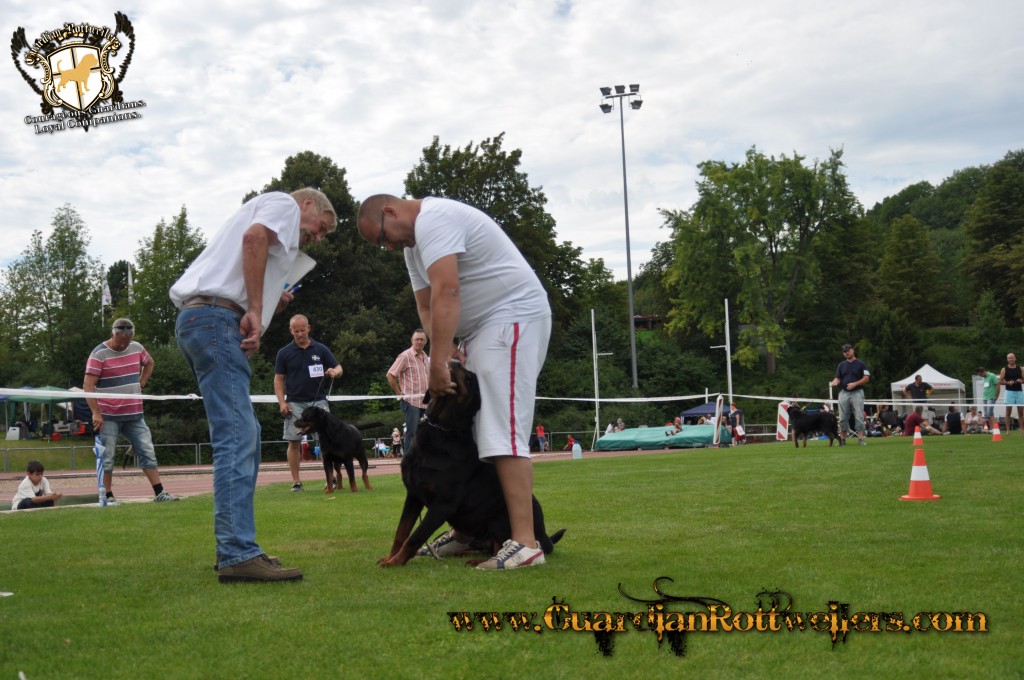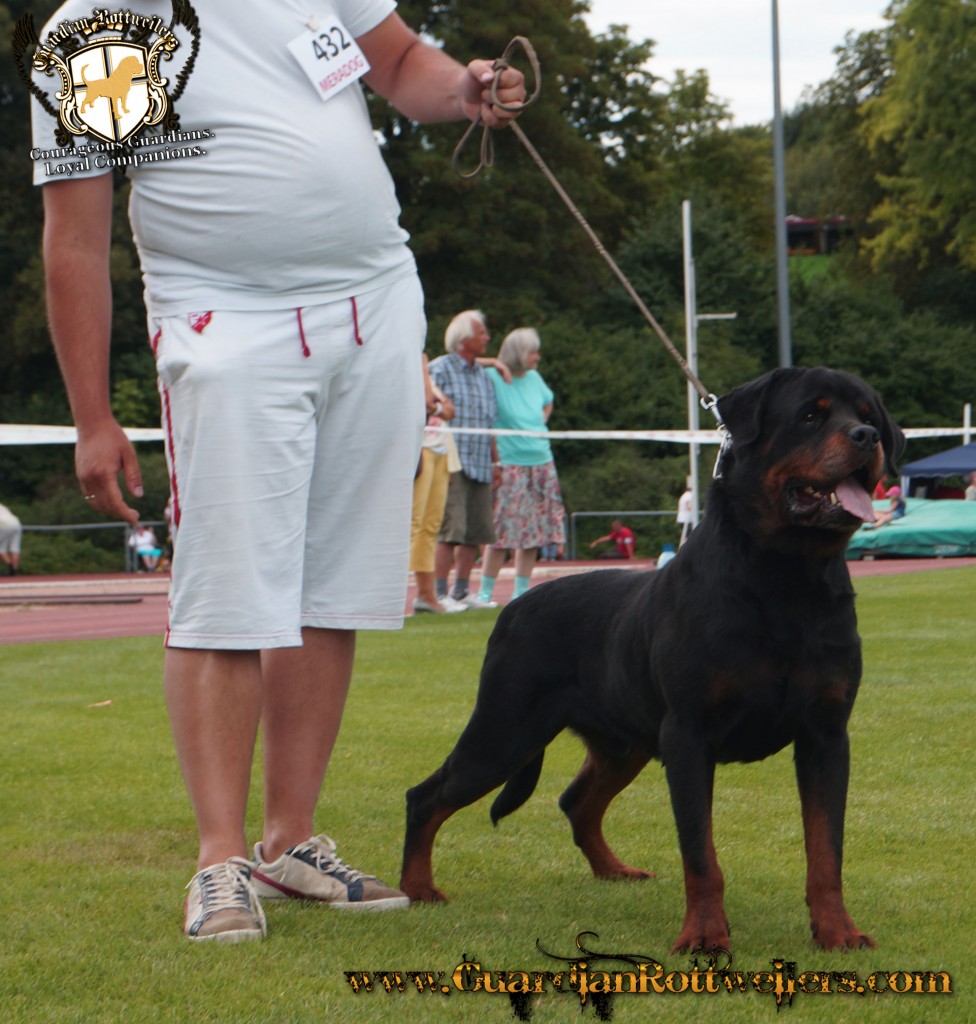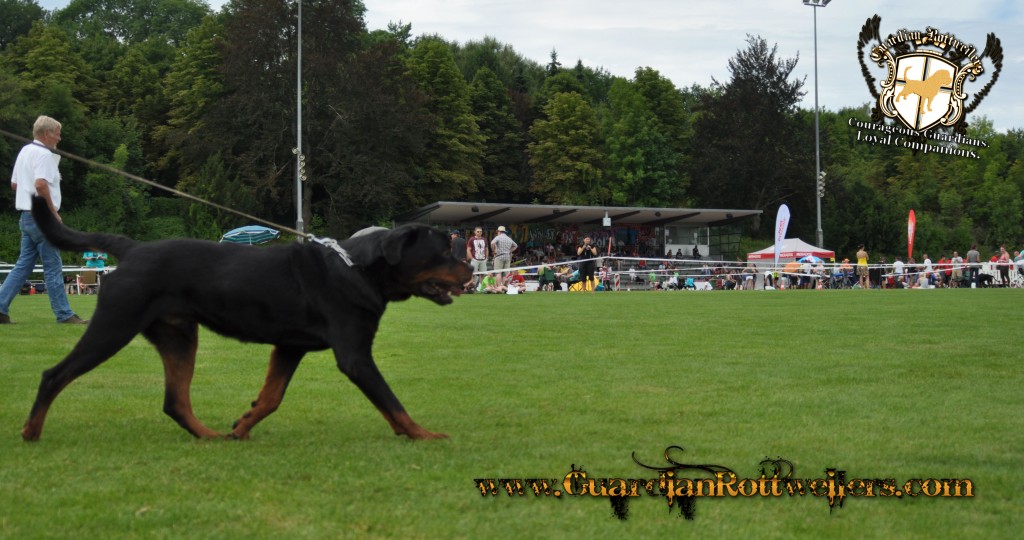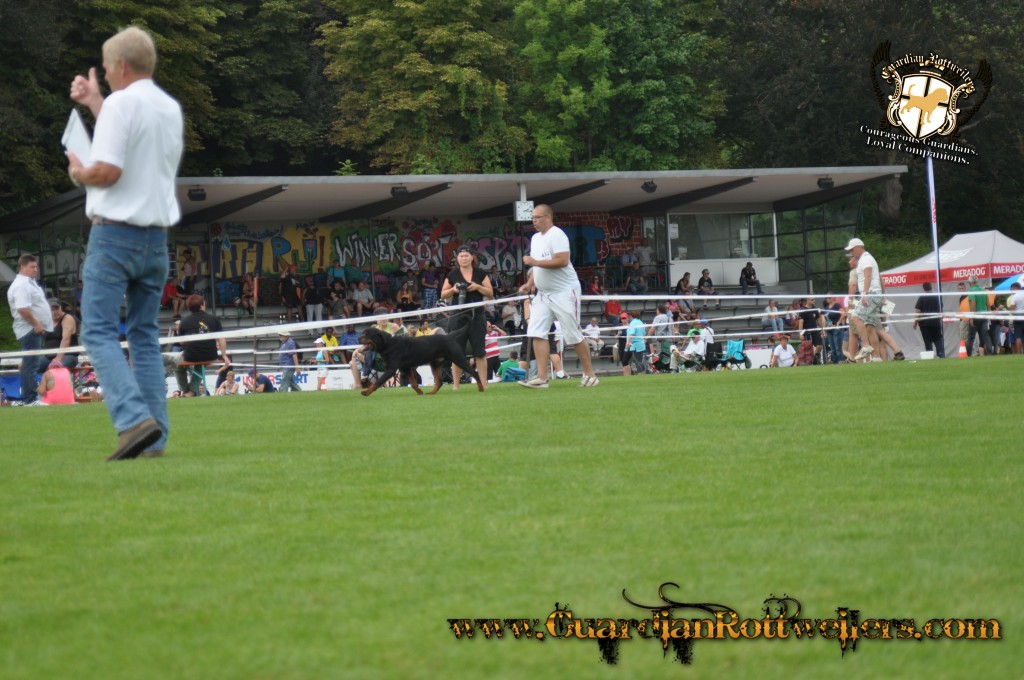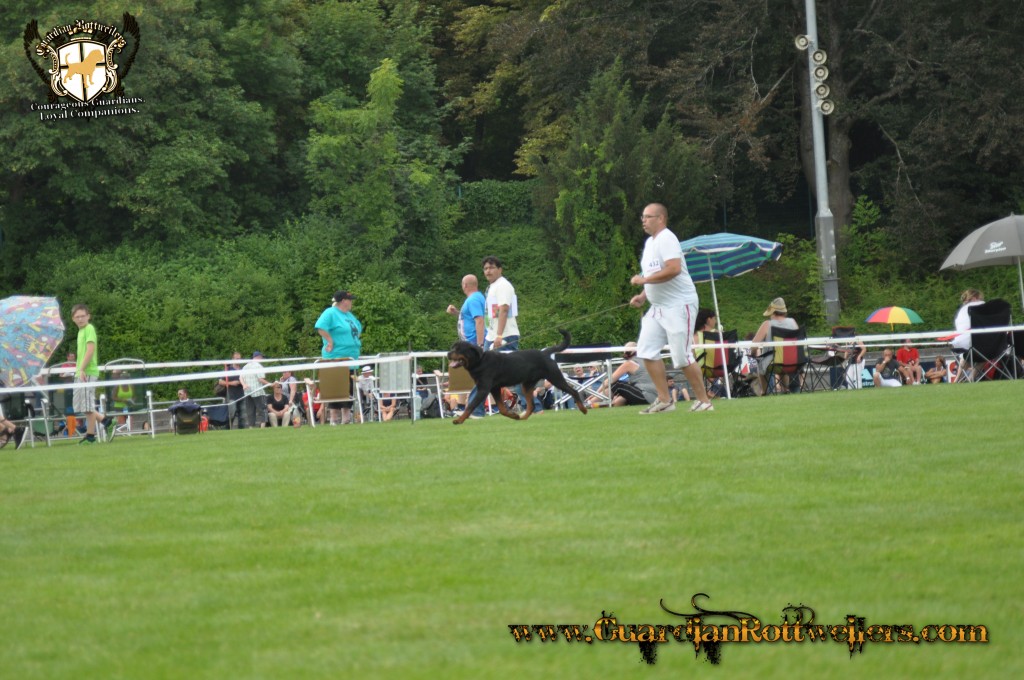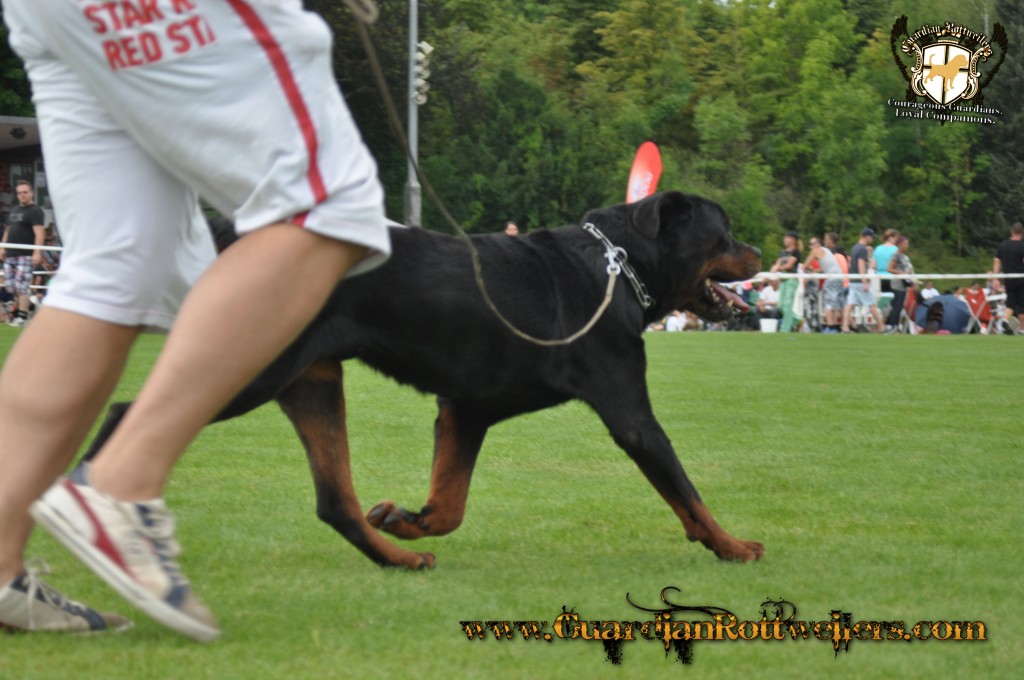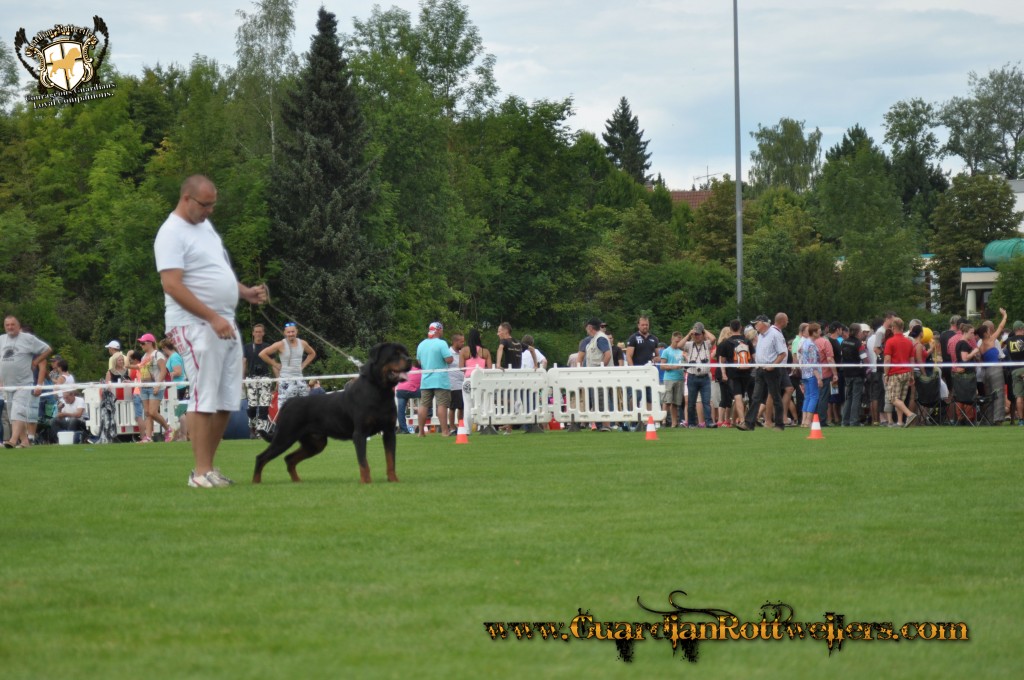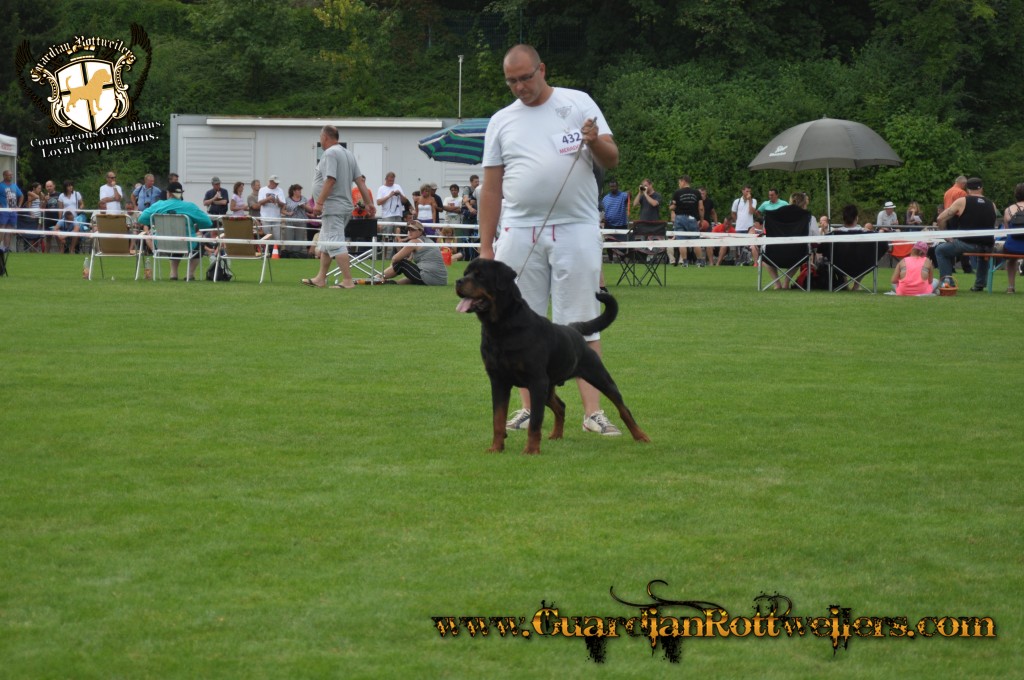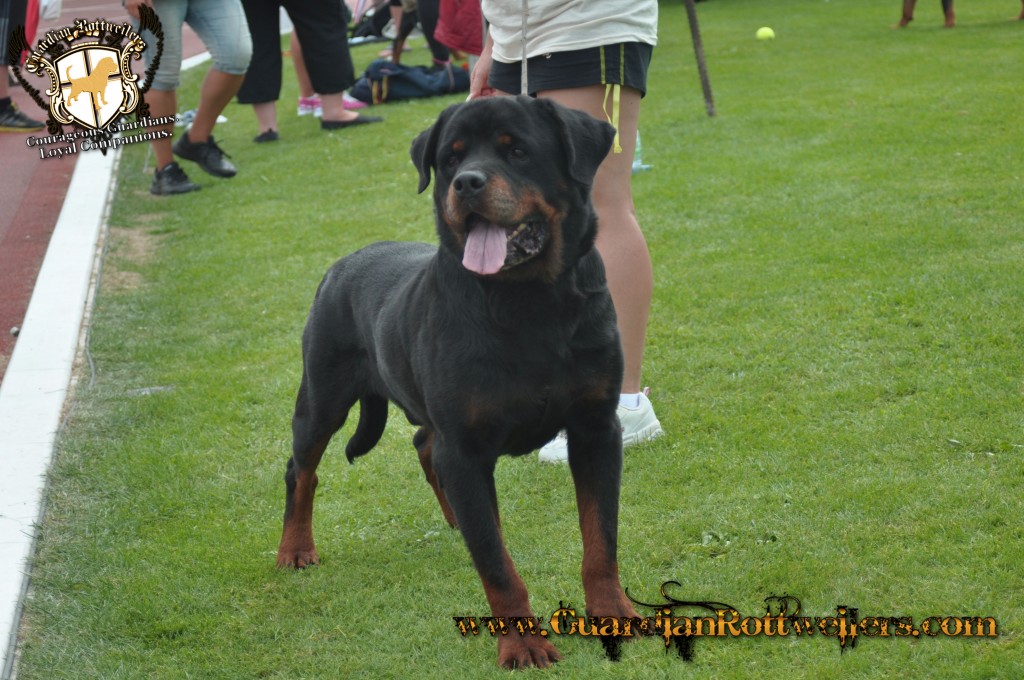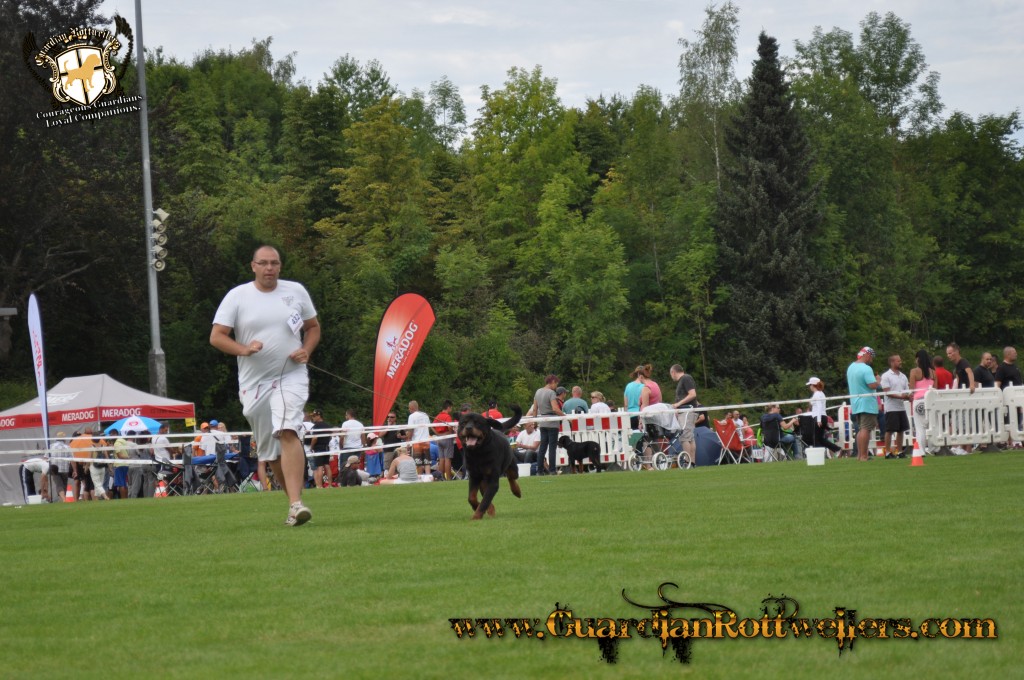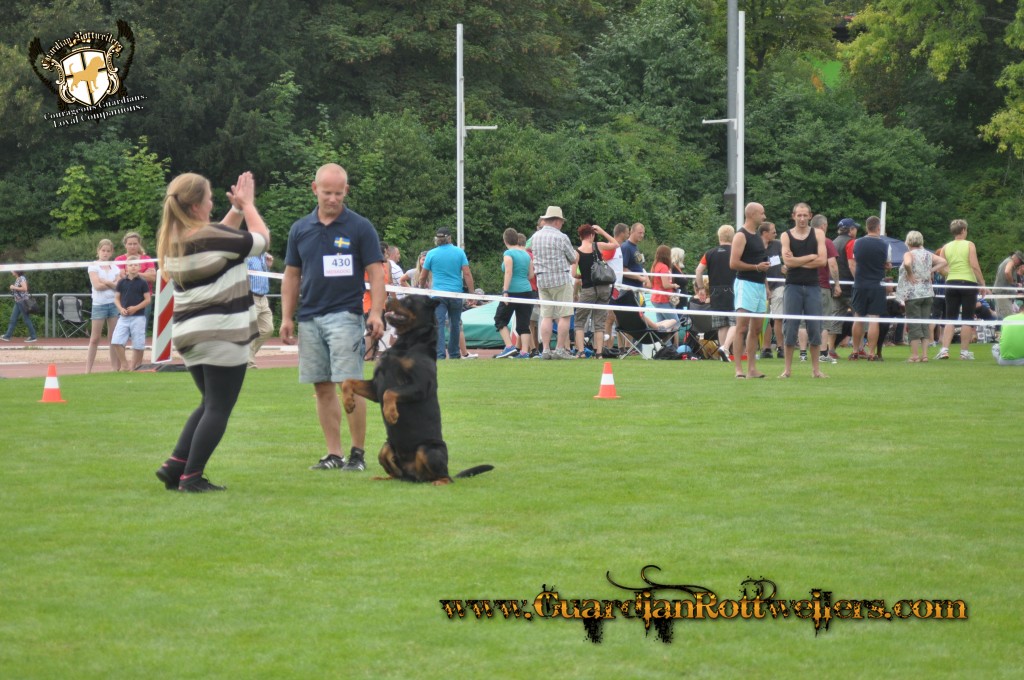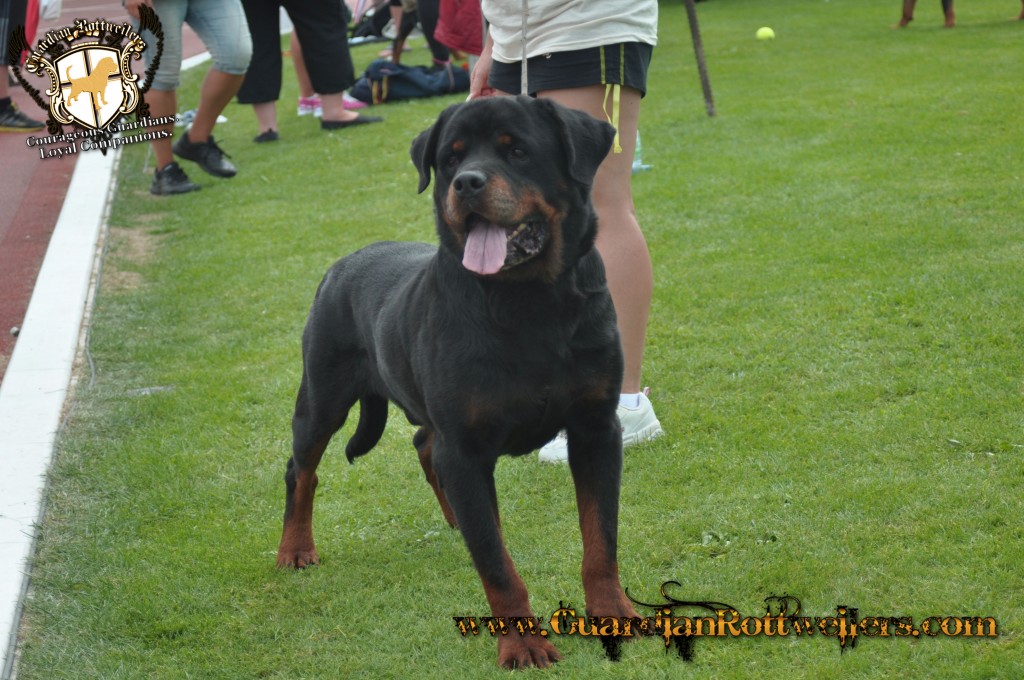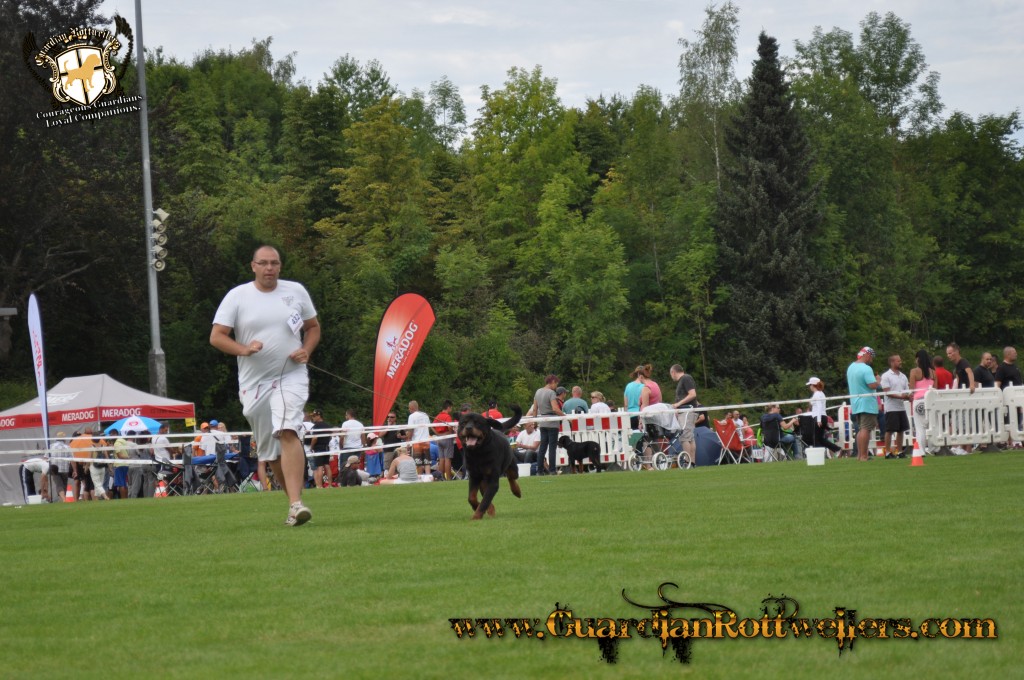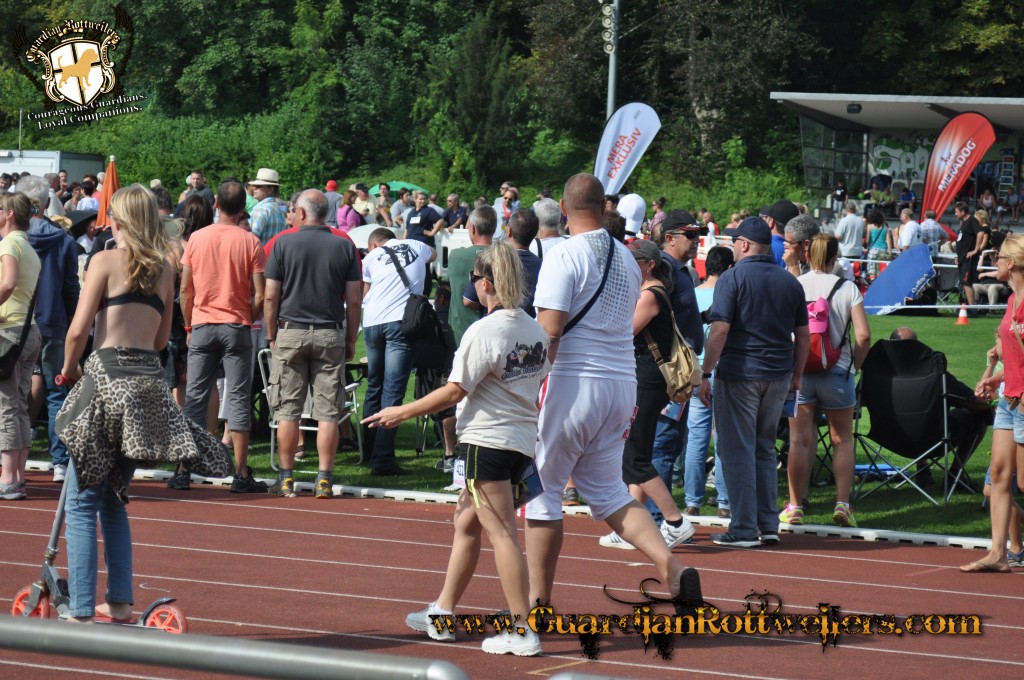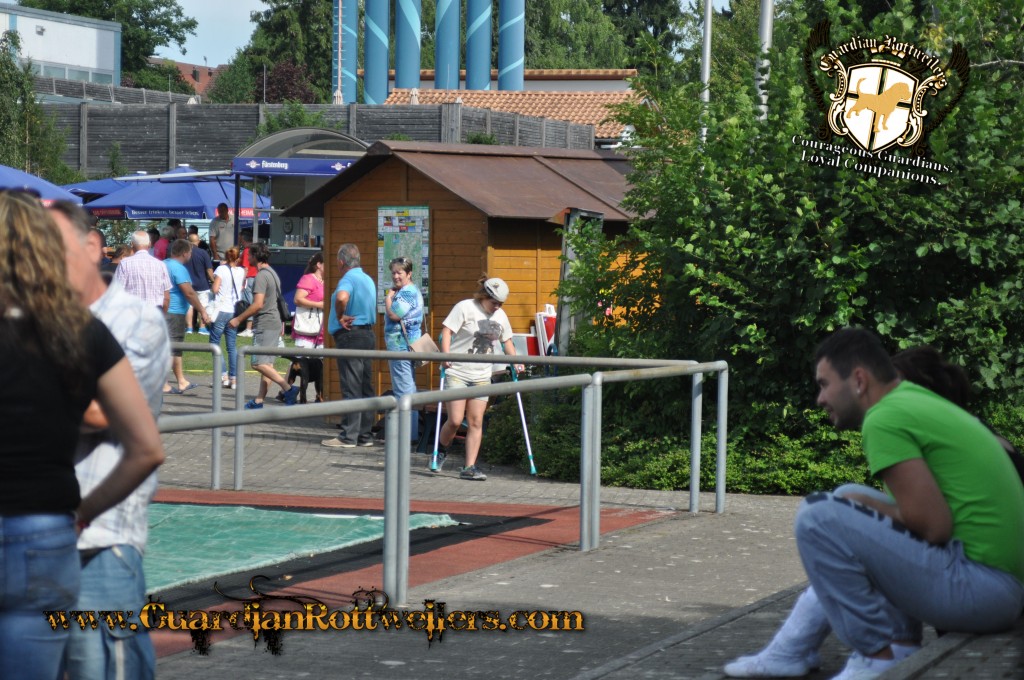 Poor Tahlia was such a trooper.  The crutches in Germany are very different from the crutches we use here, but she took it all in stride and bless her heart, she told me, "I am sorry if I ruined the day" <3  Sweet baby girl <3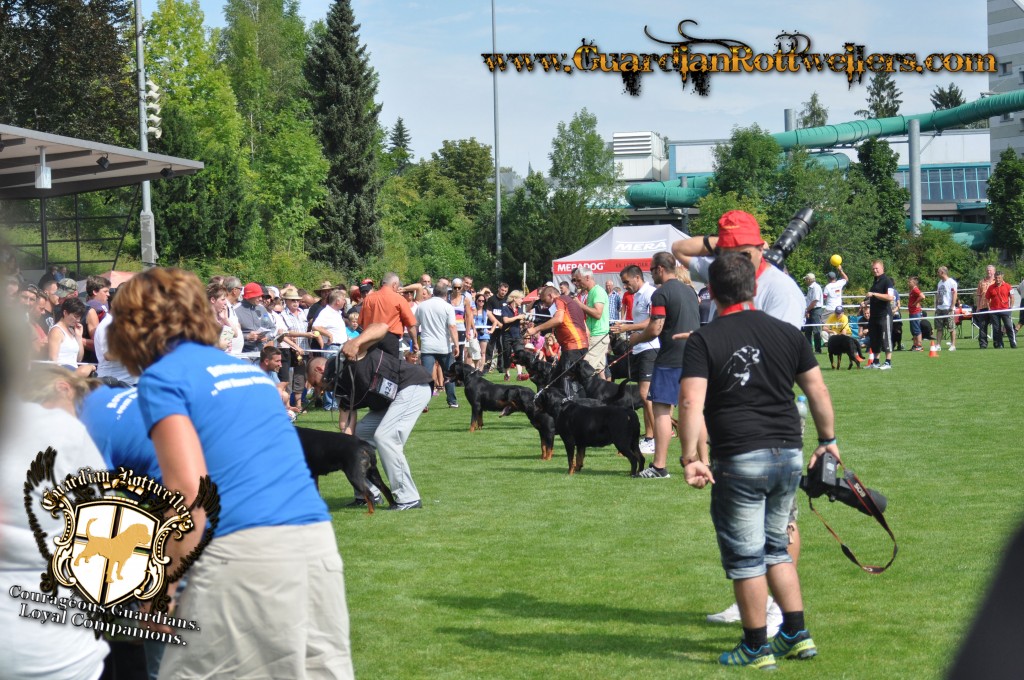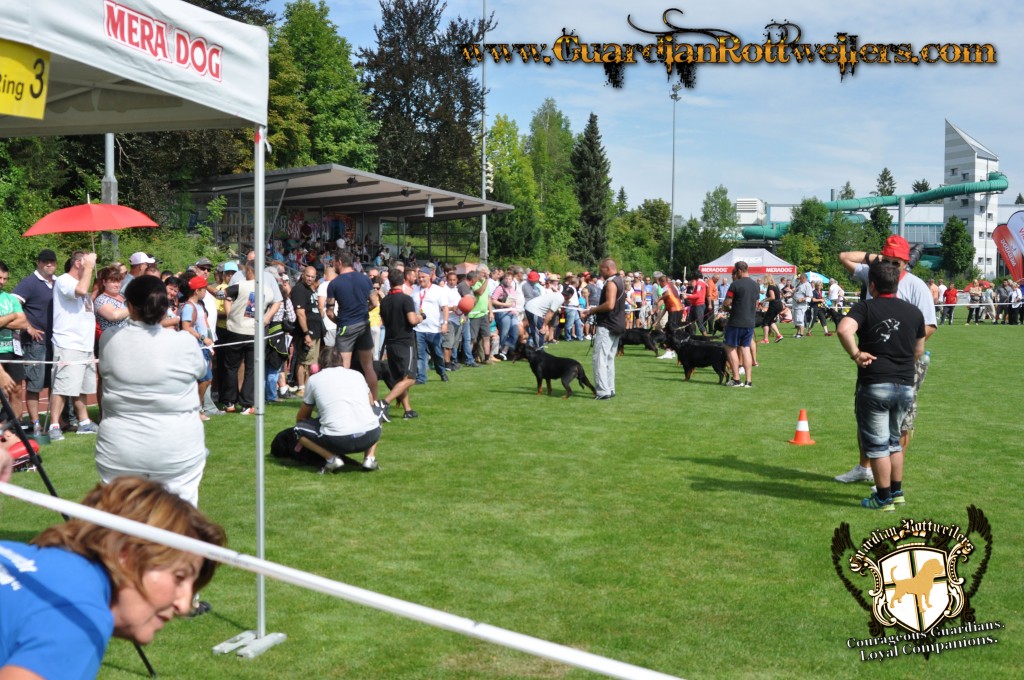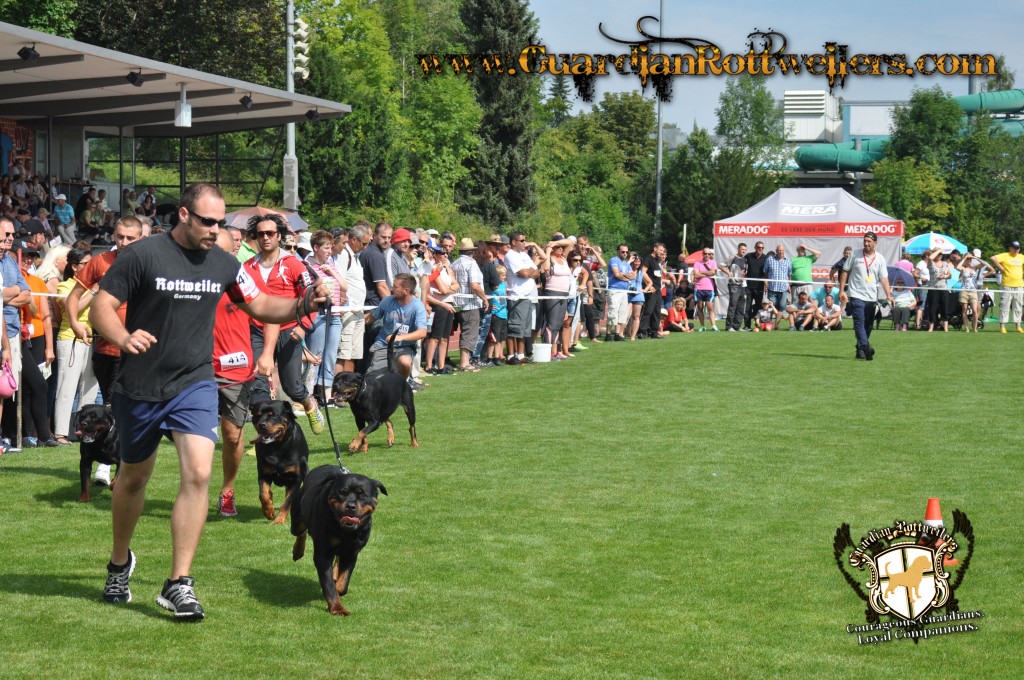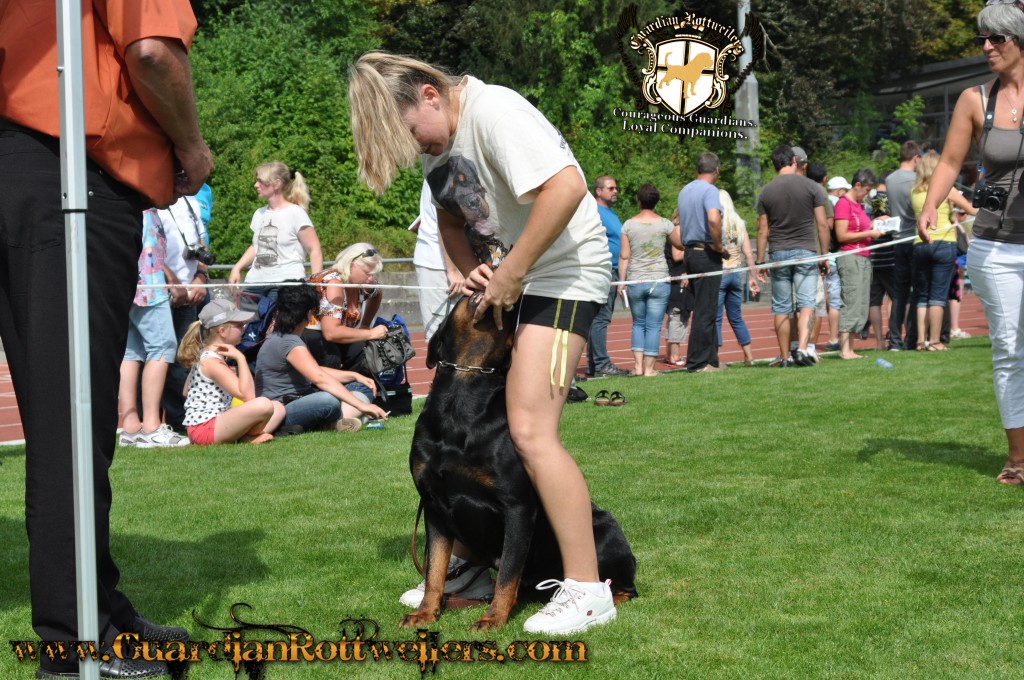 Time to check Geneva's bite.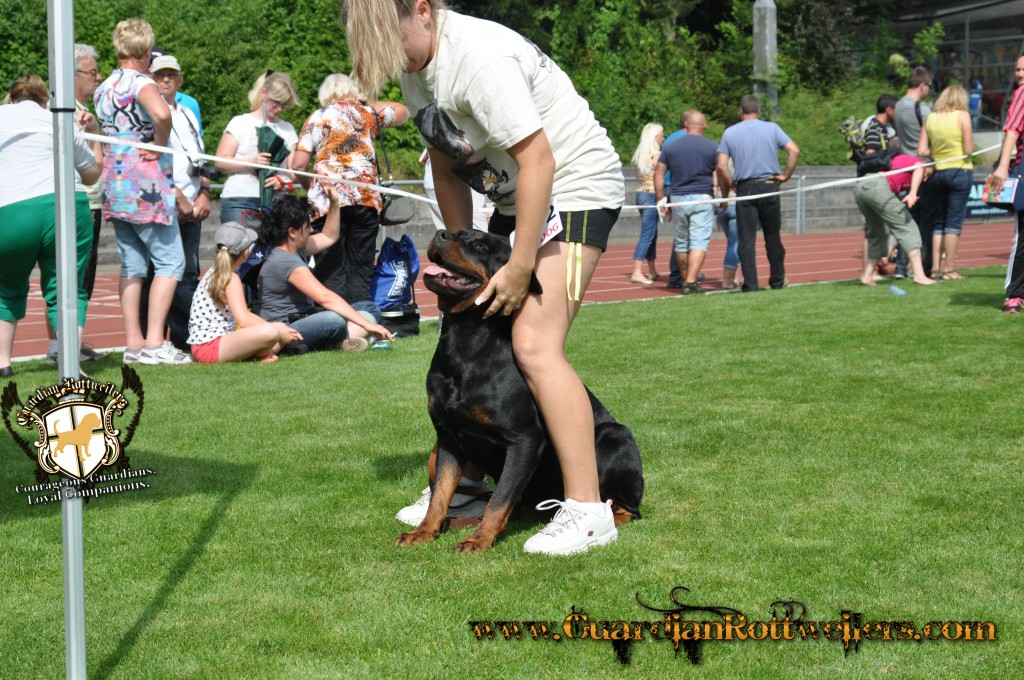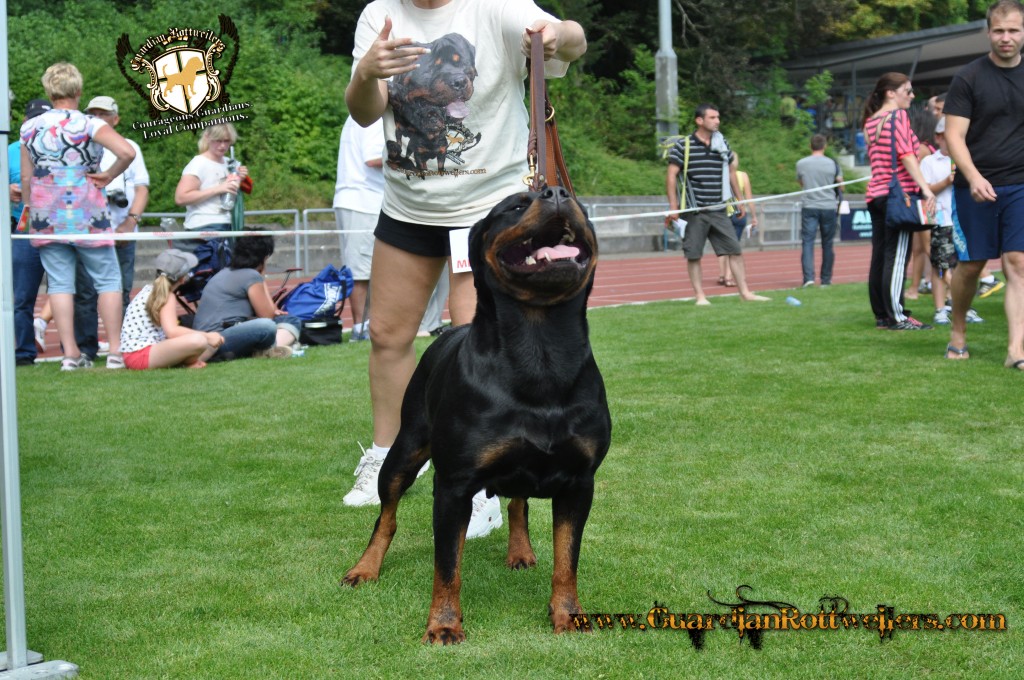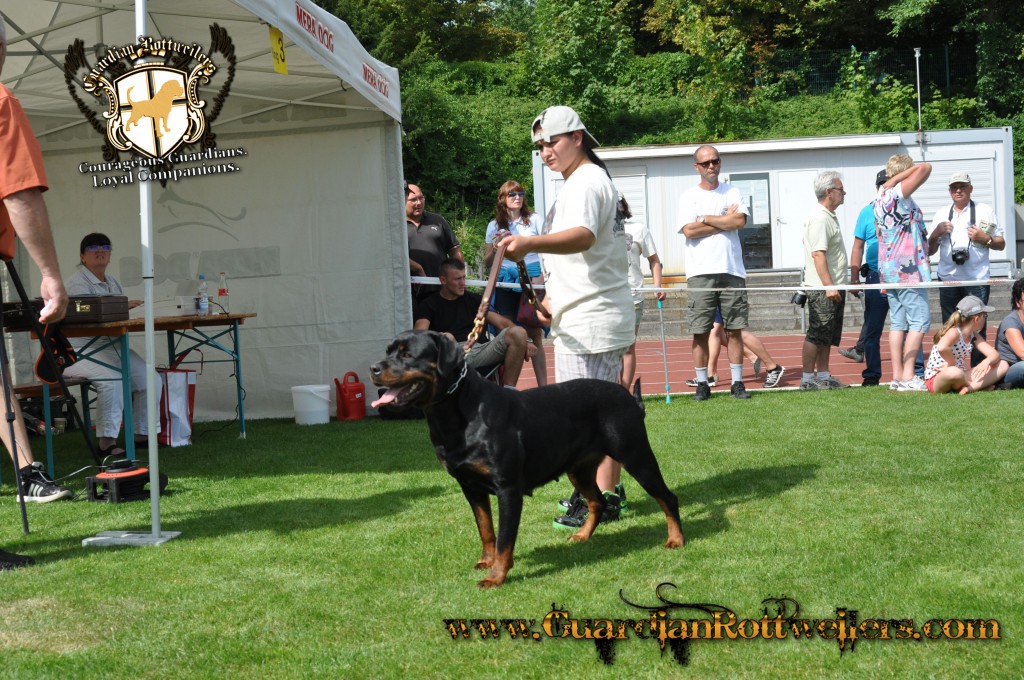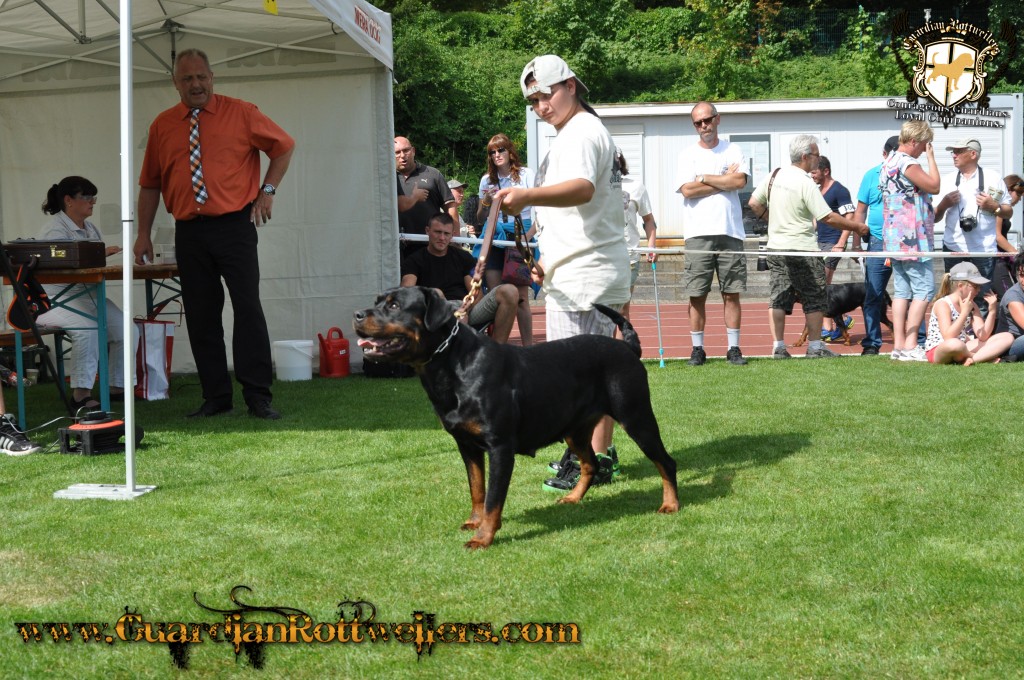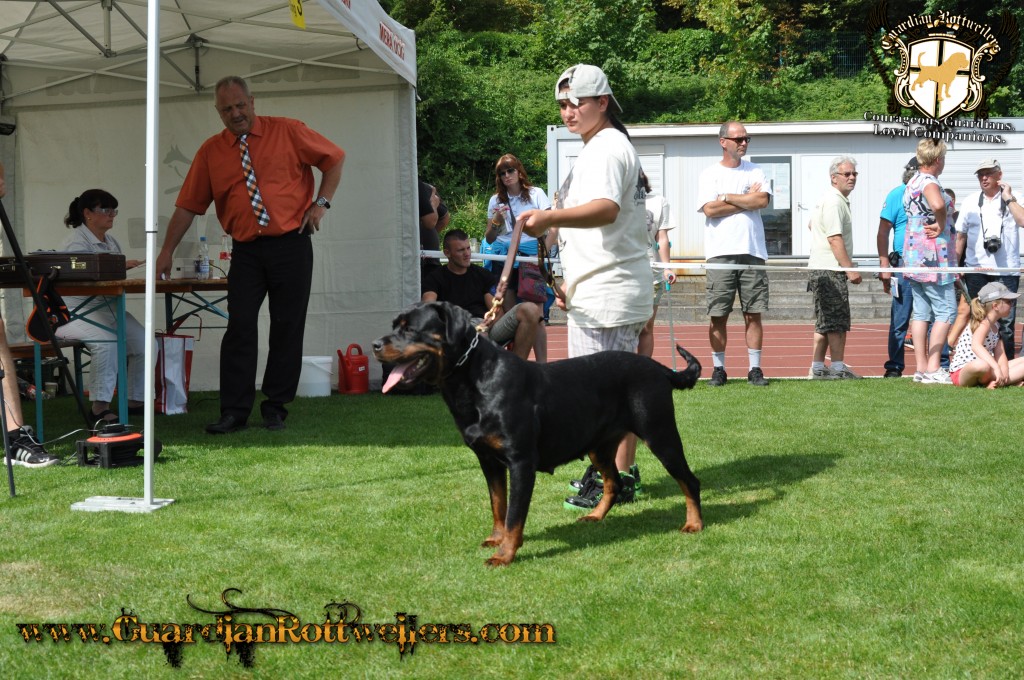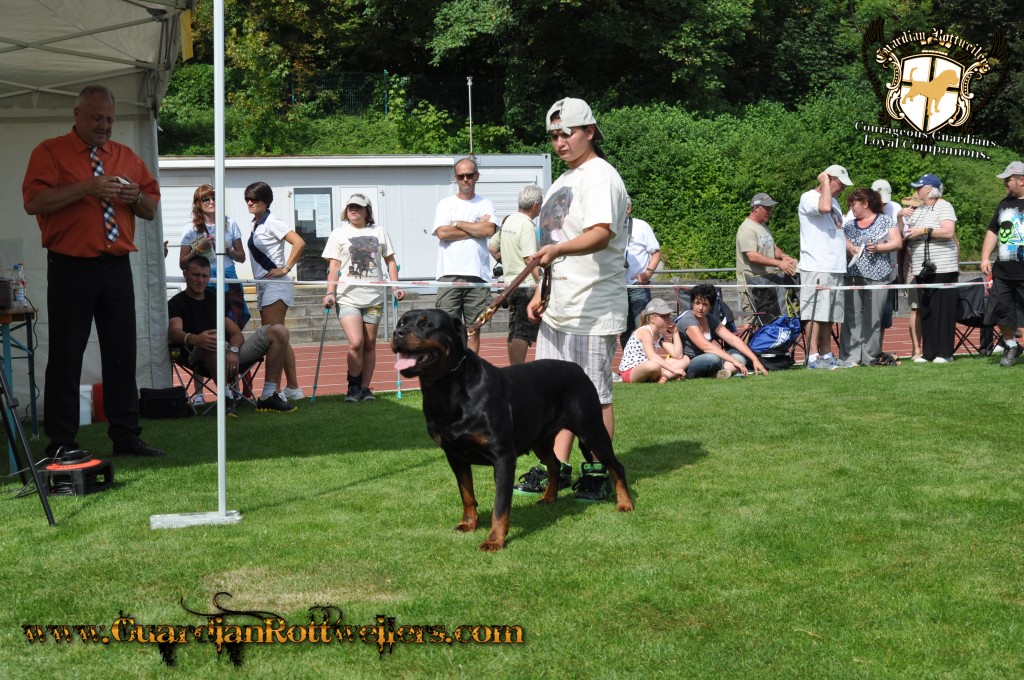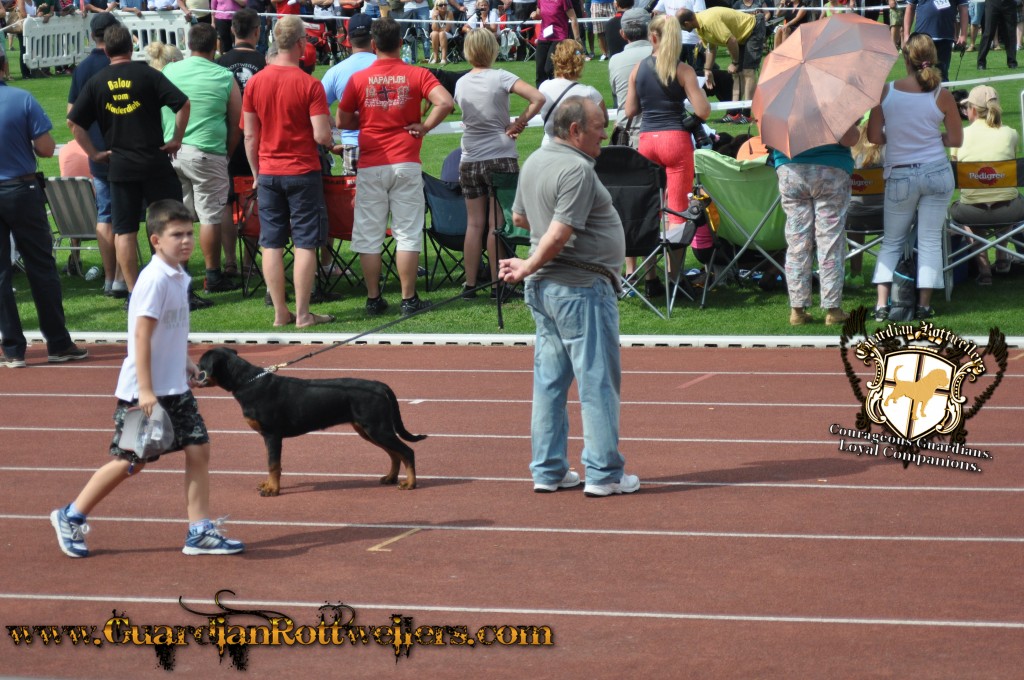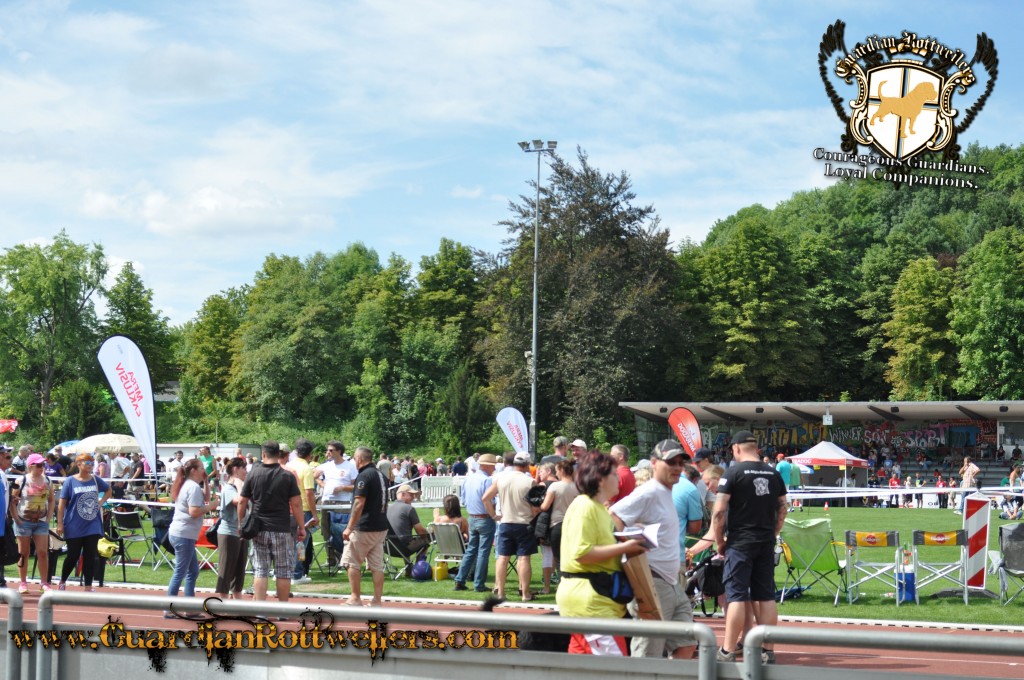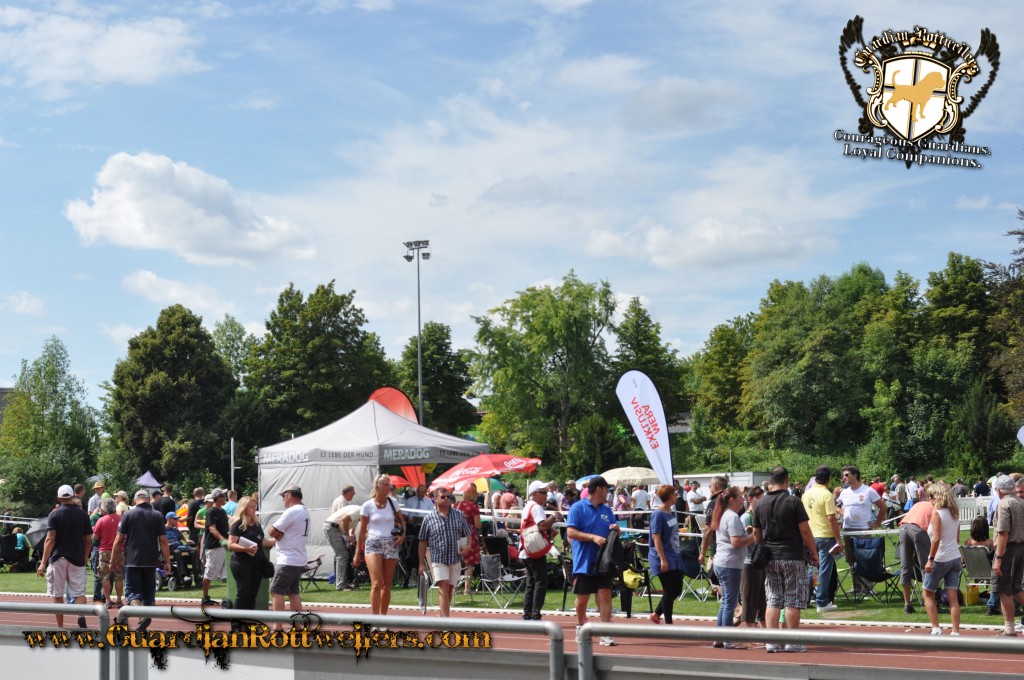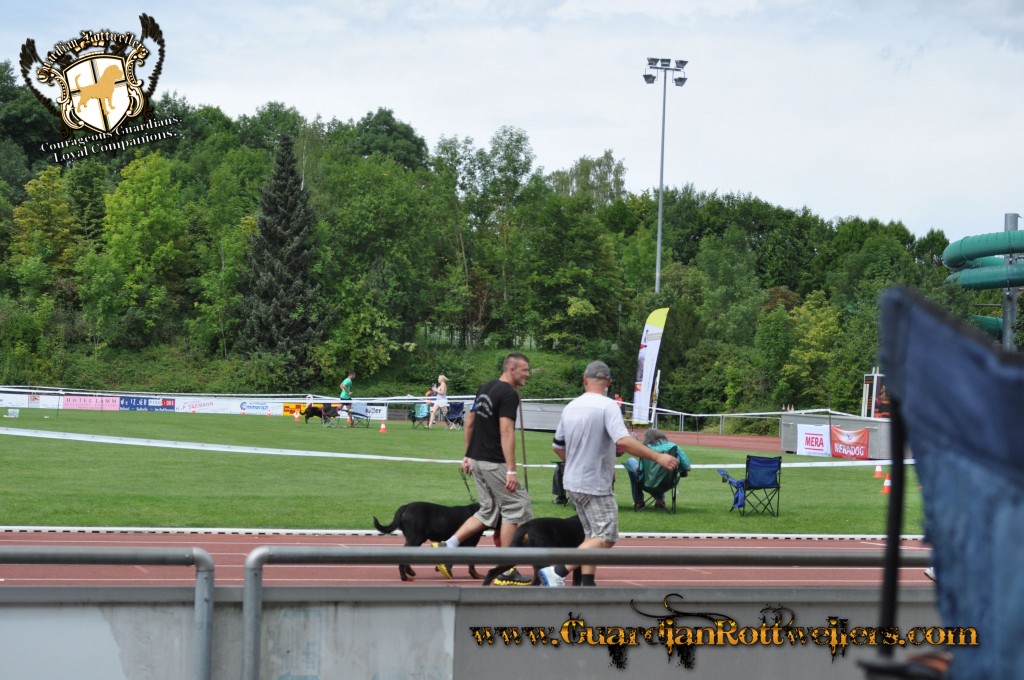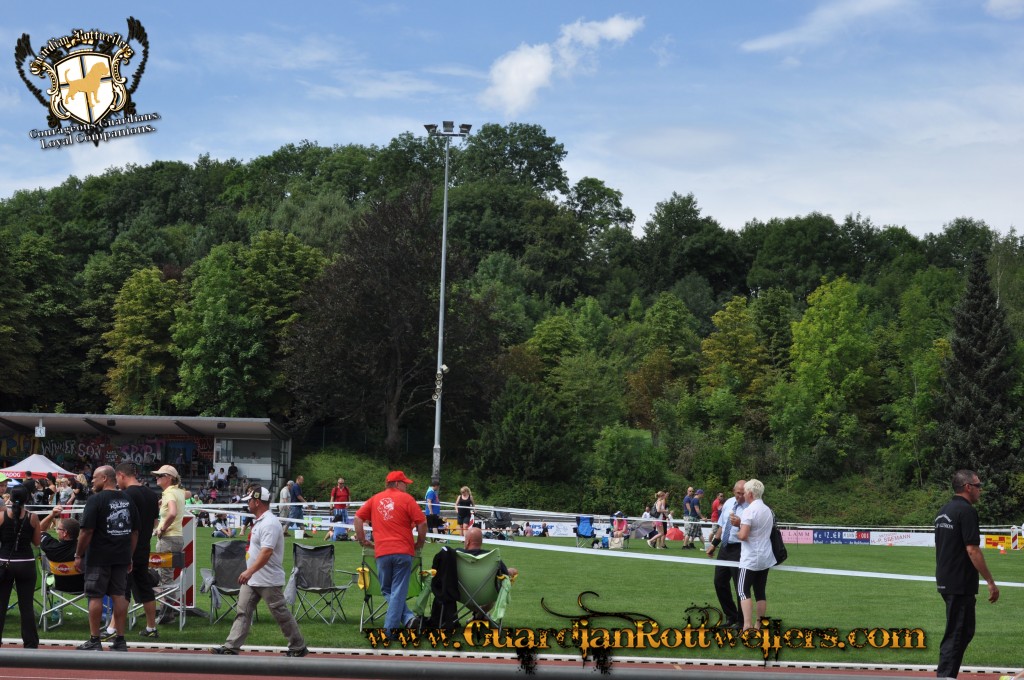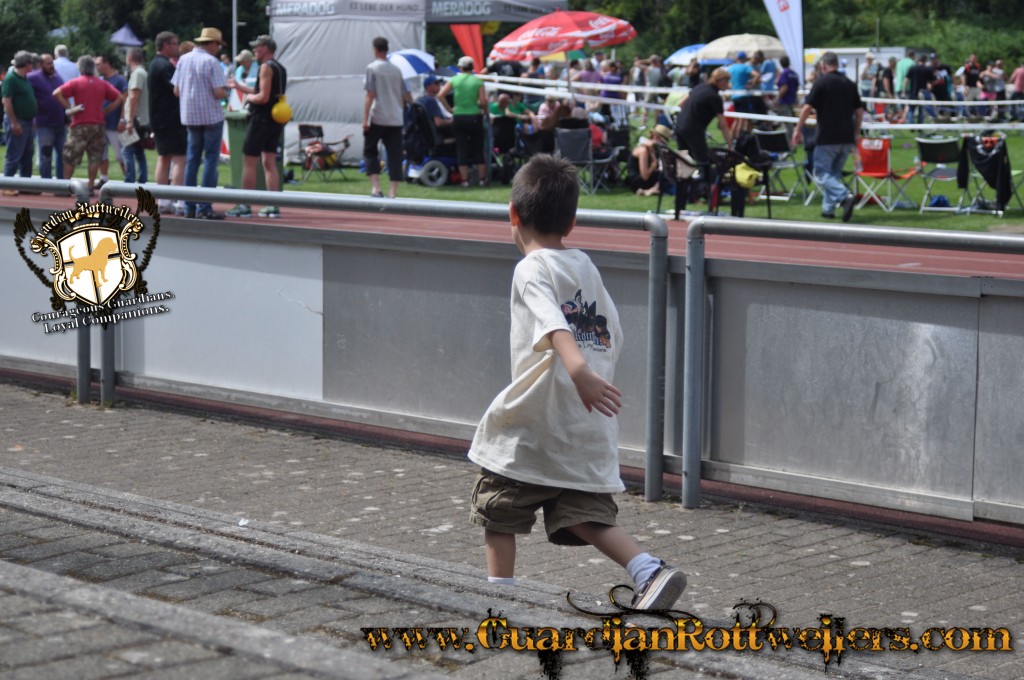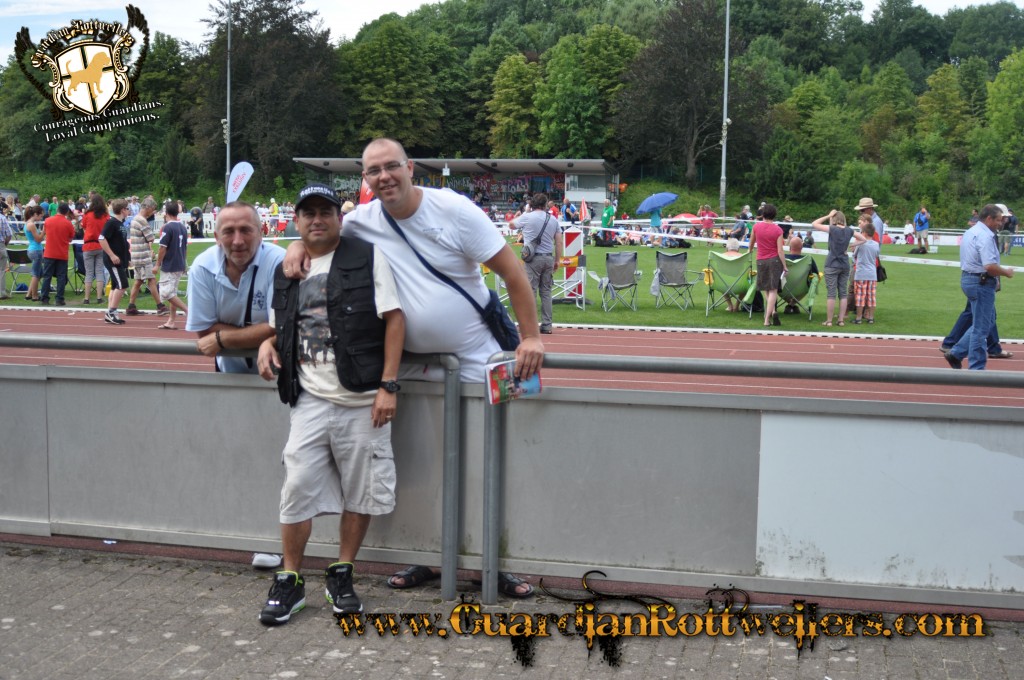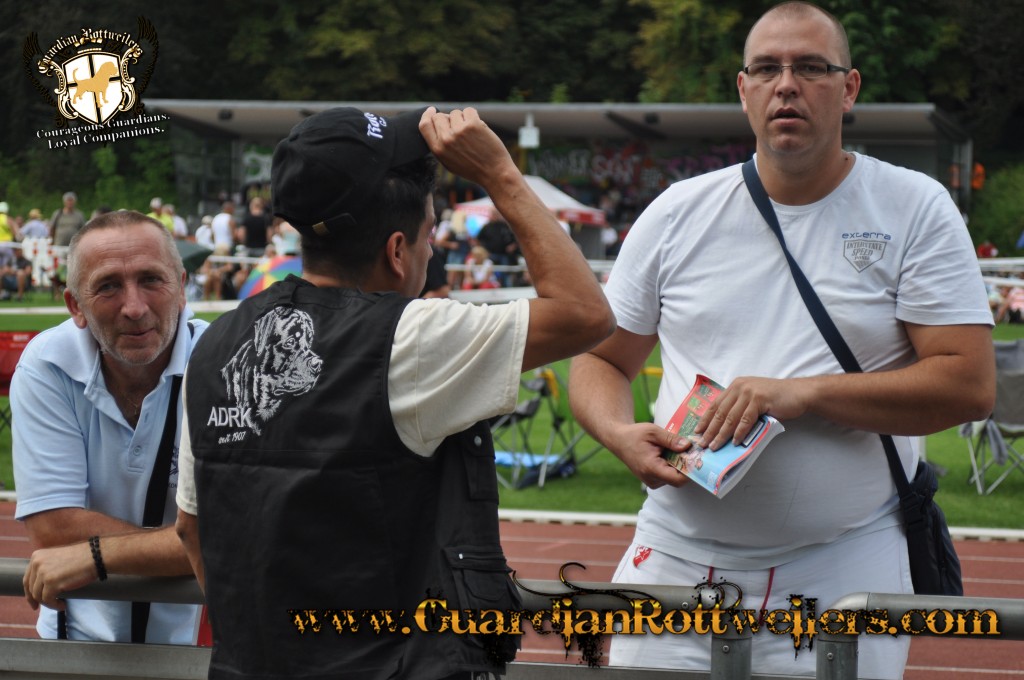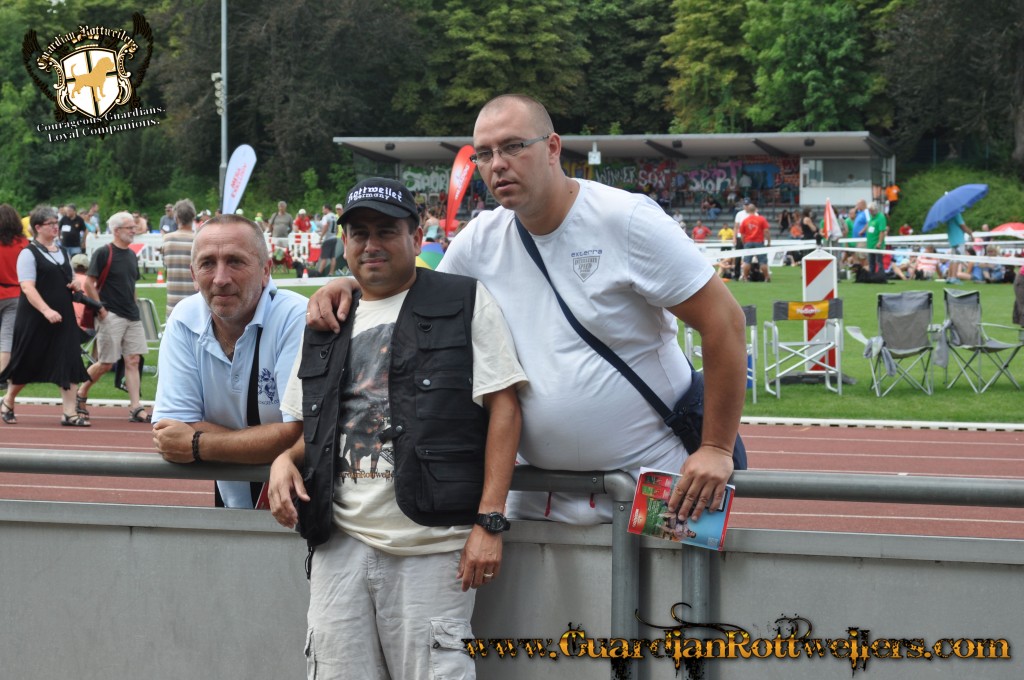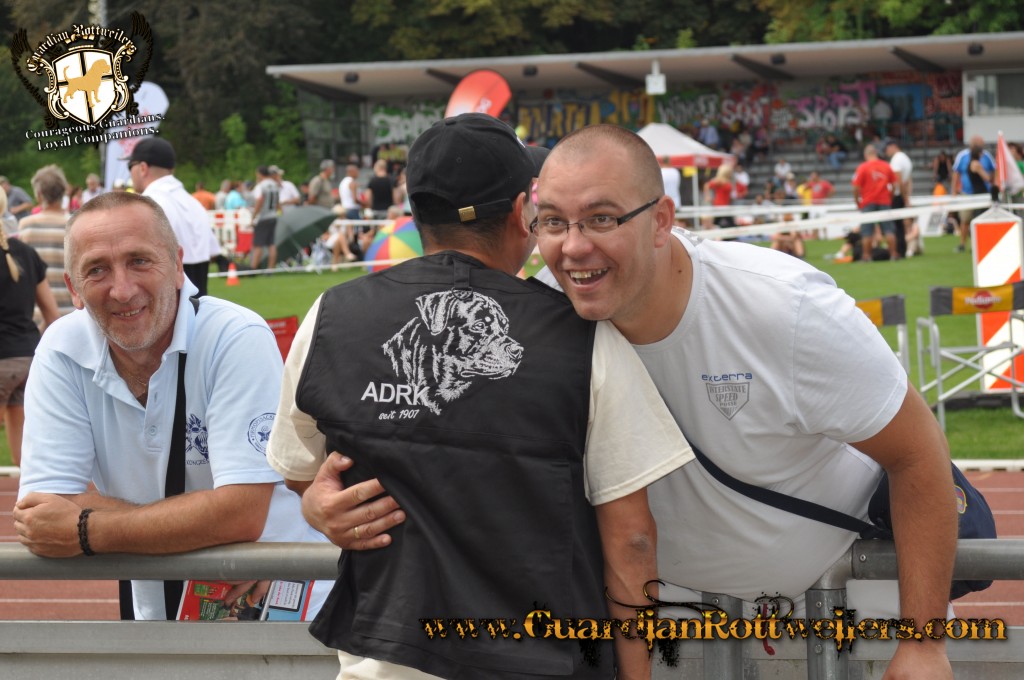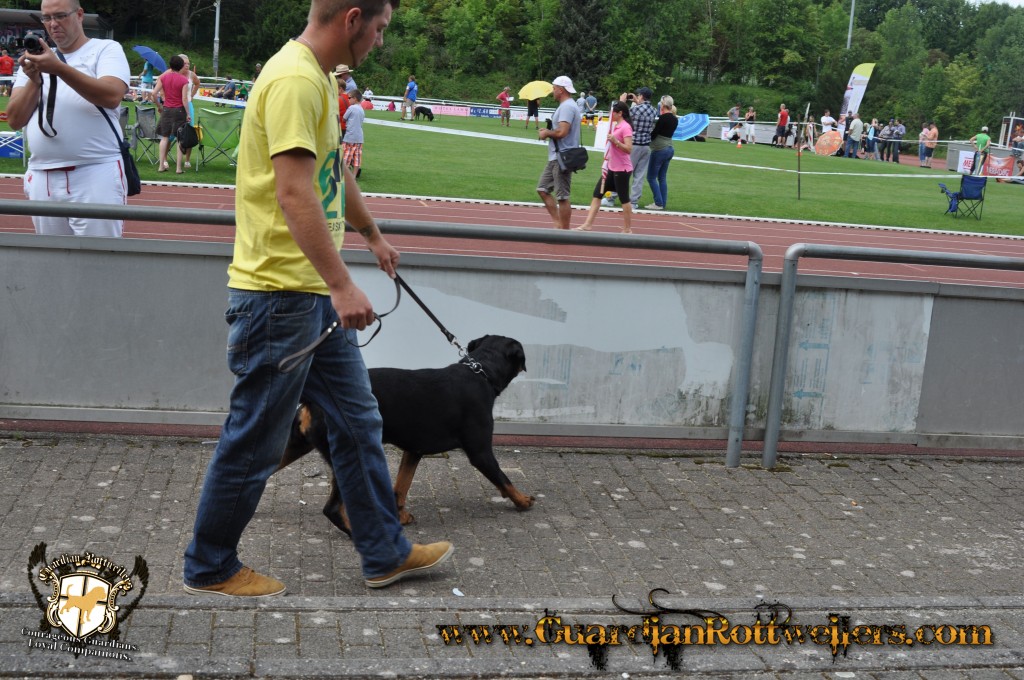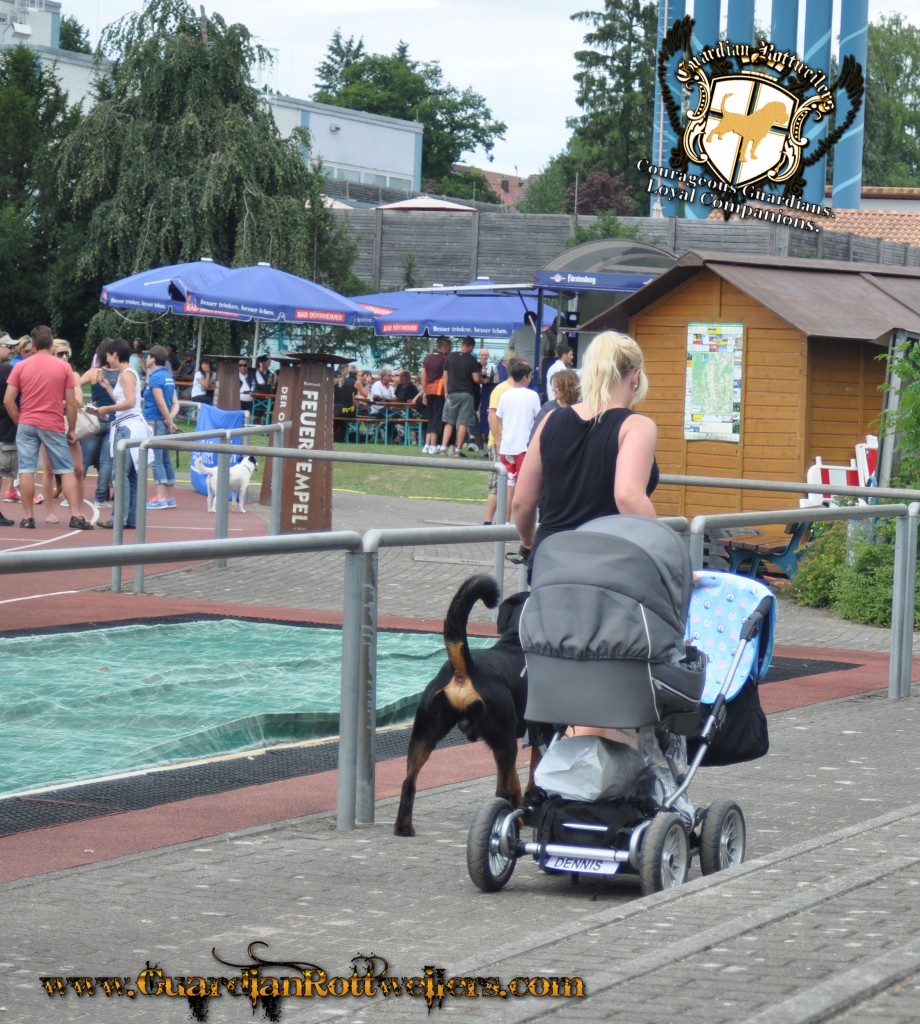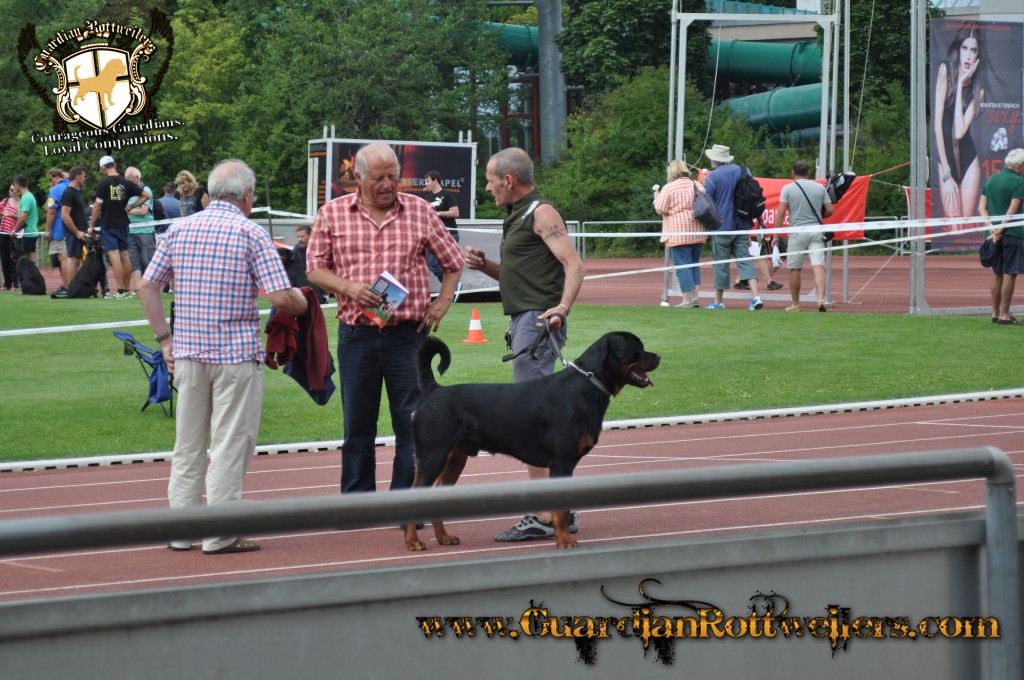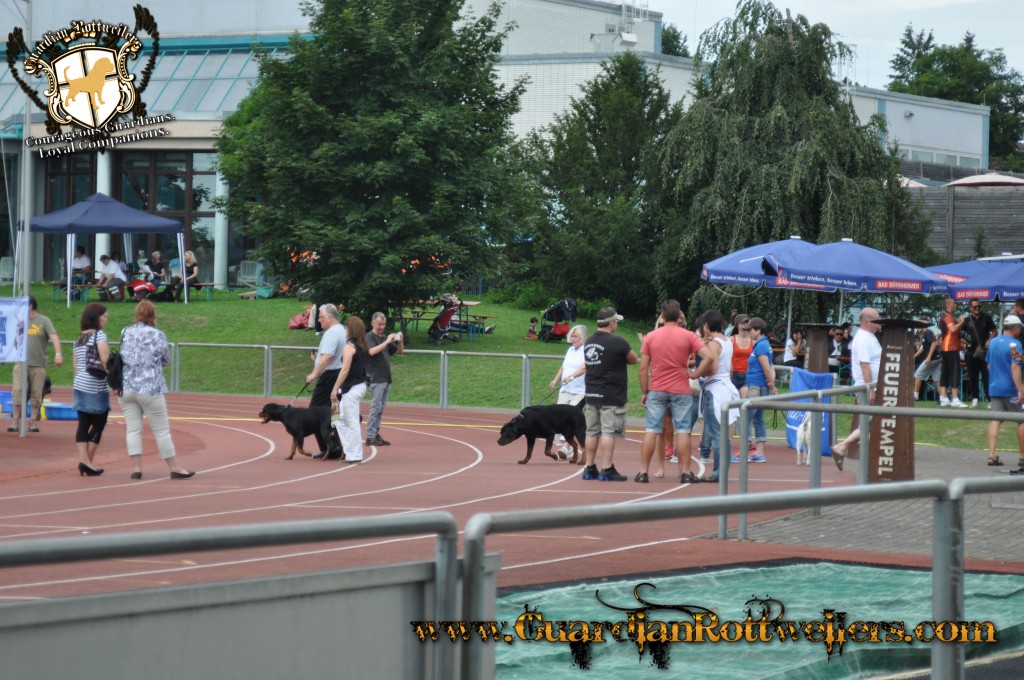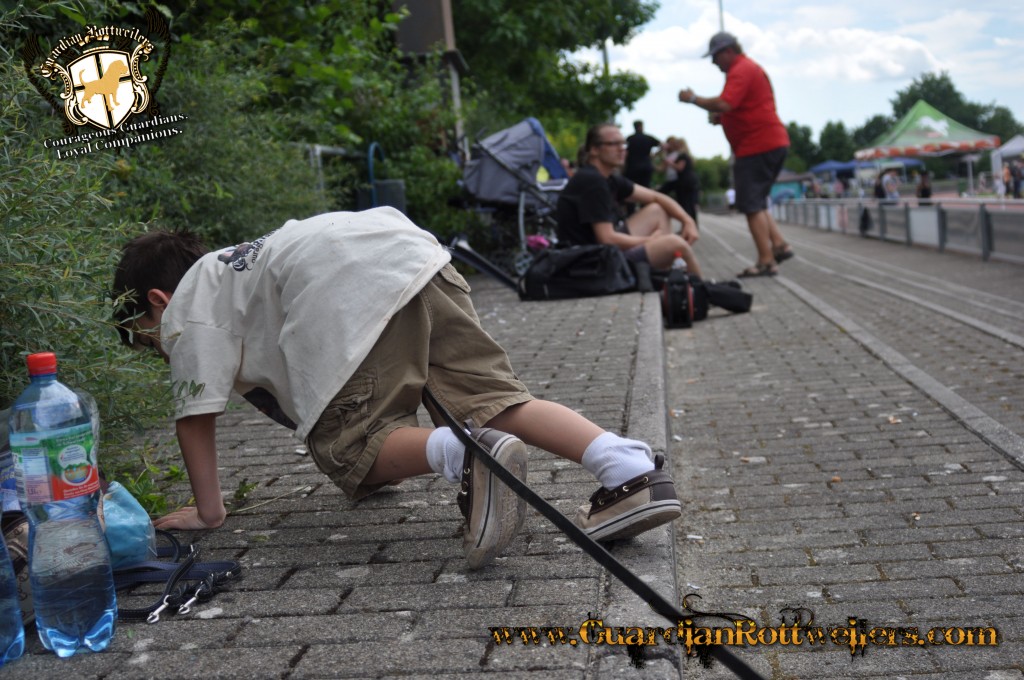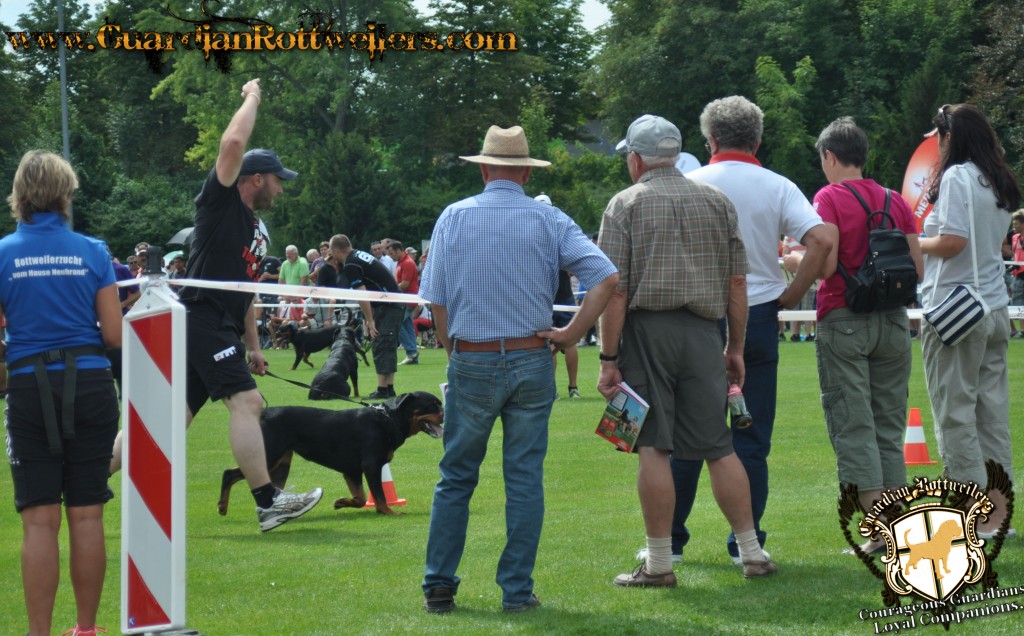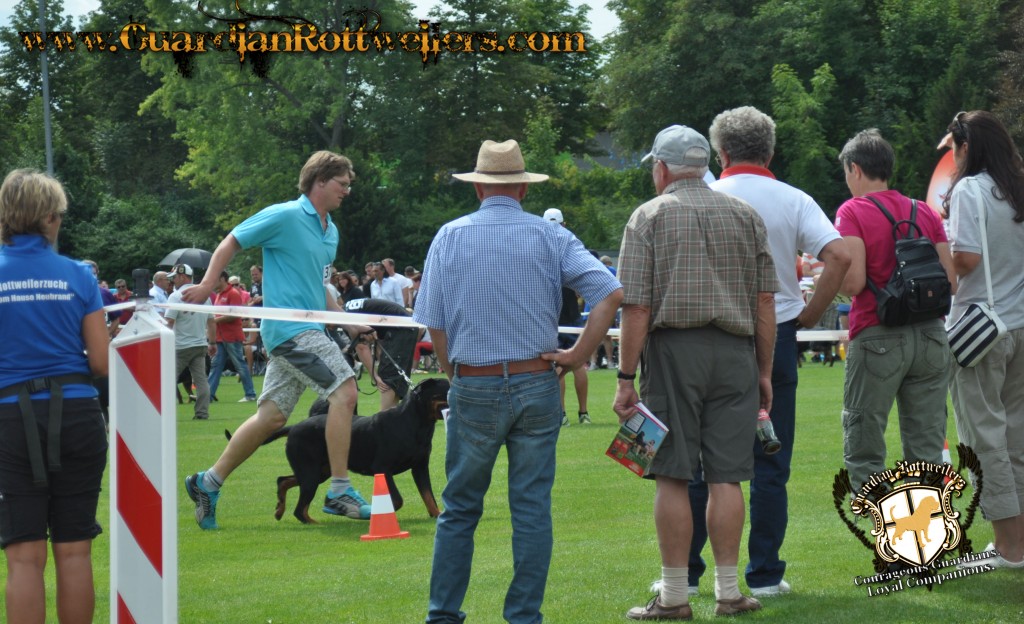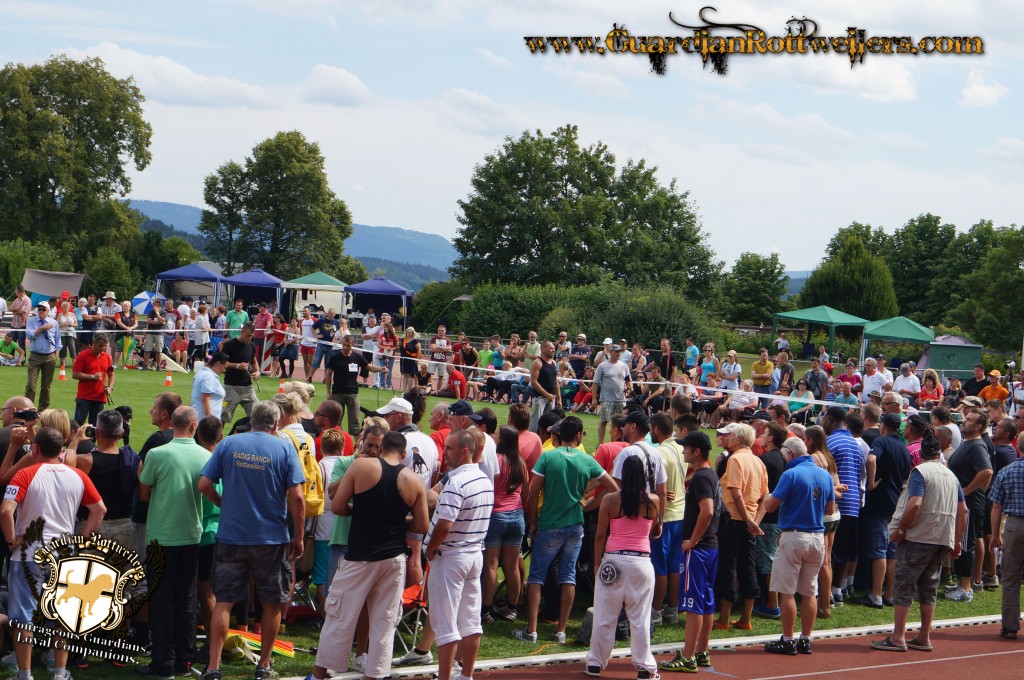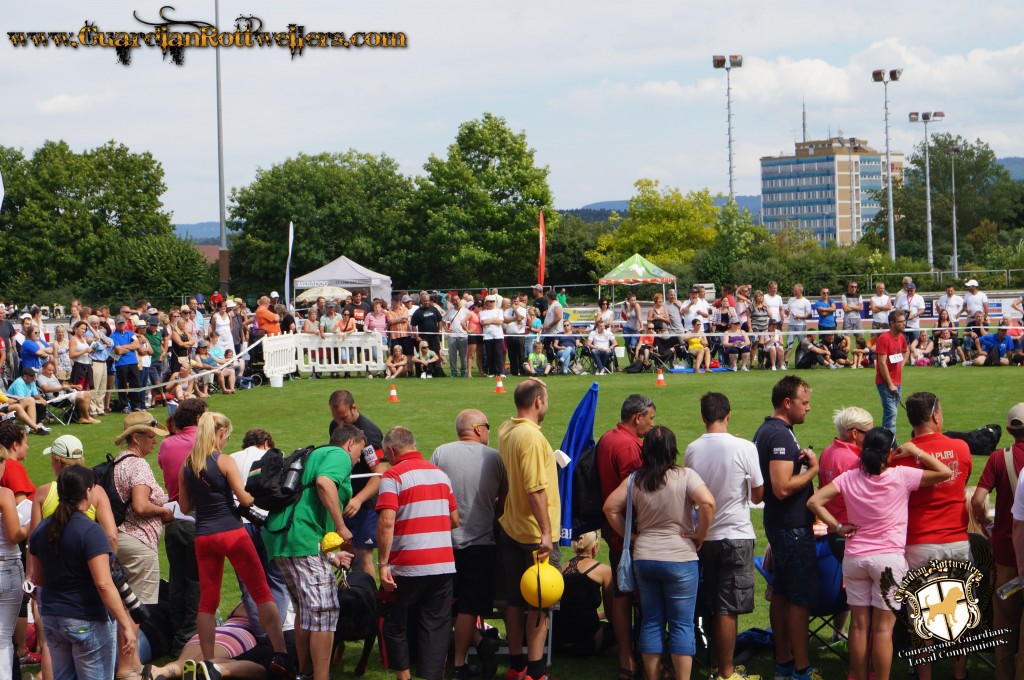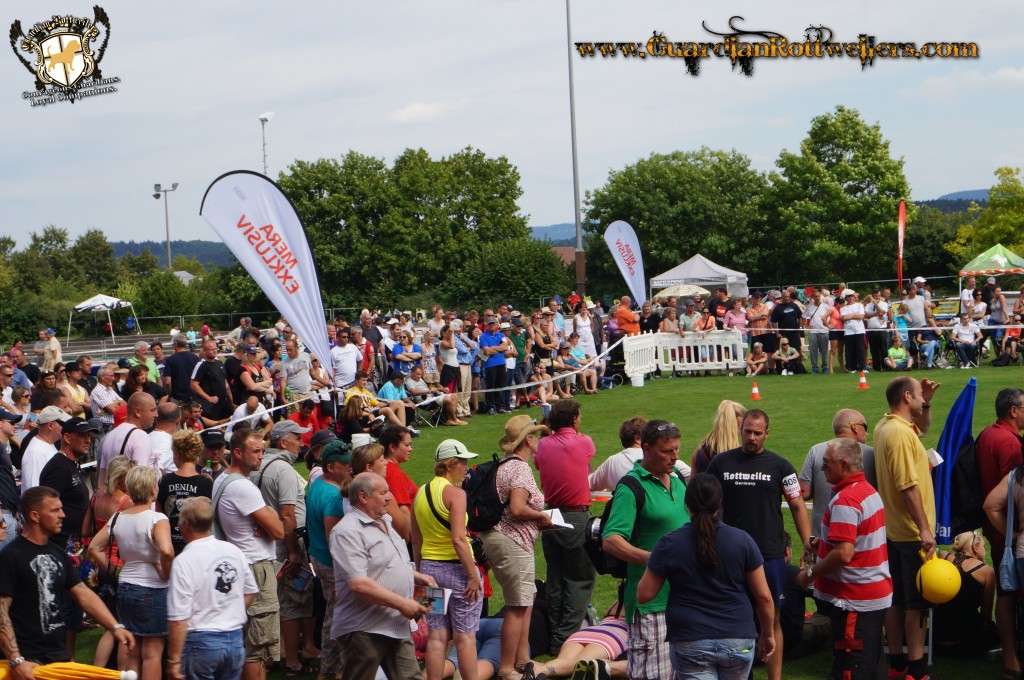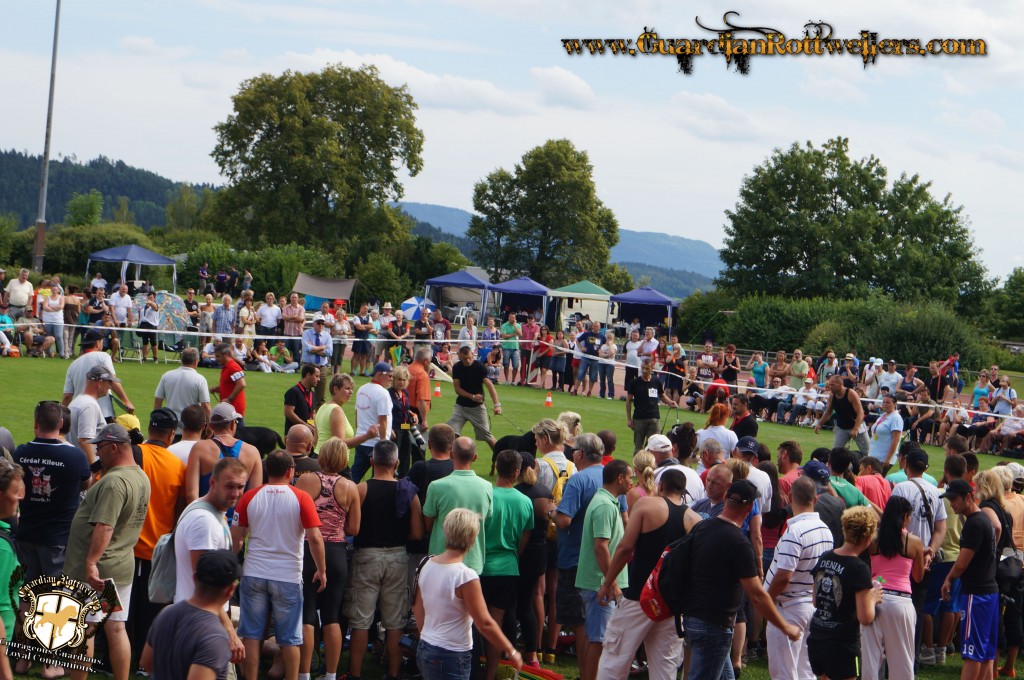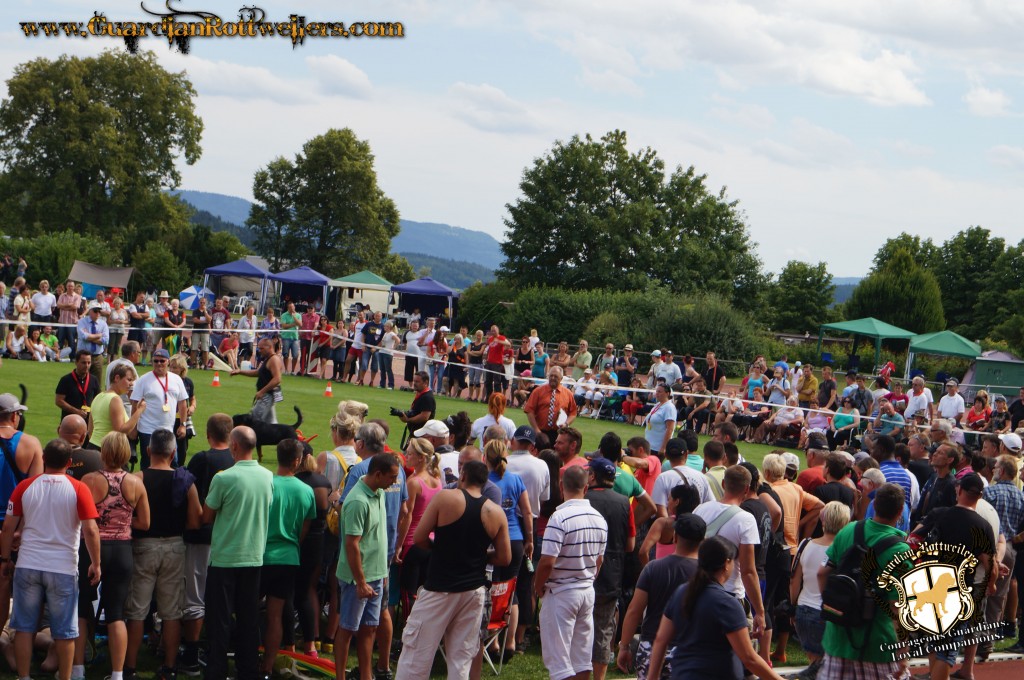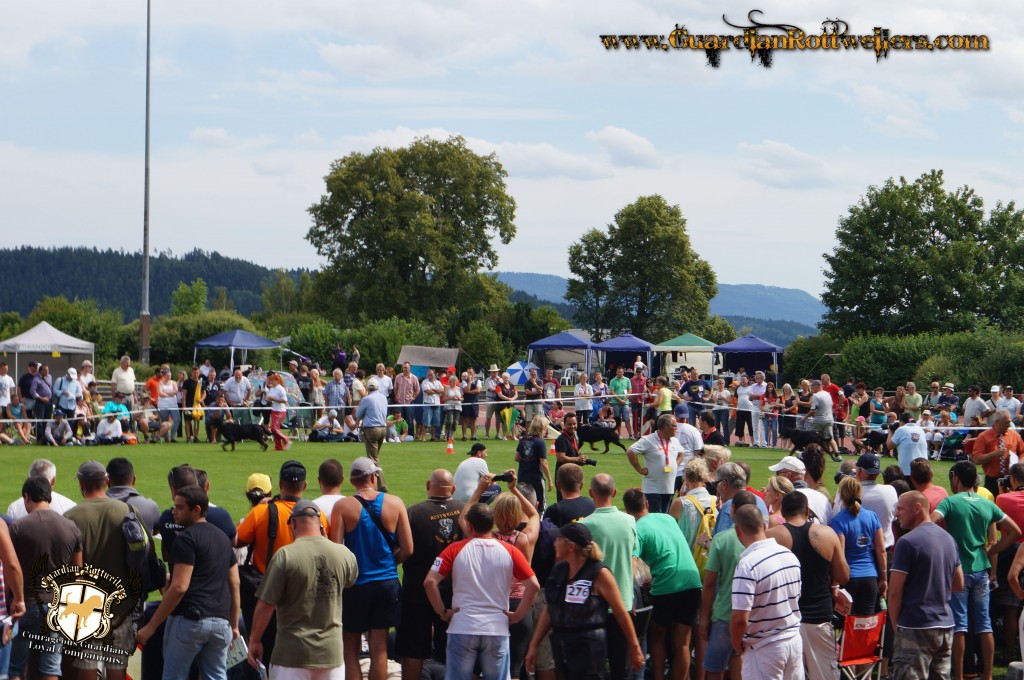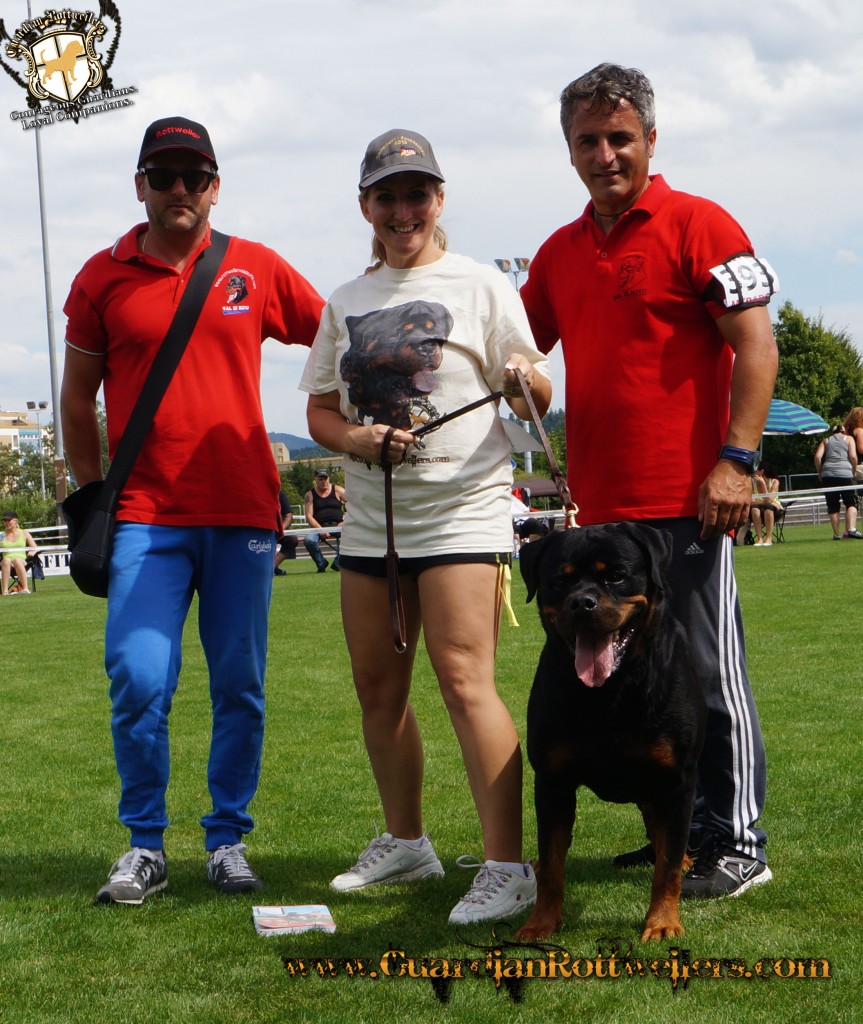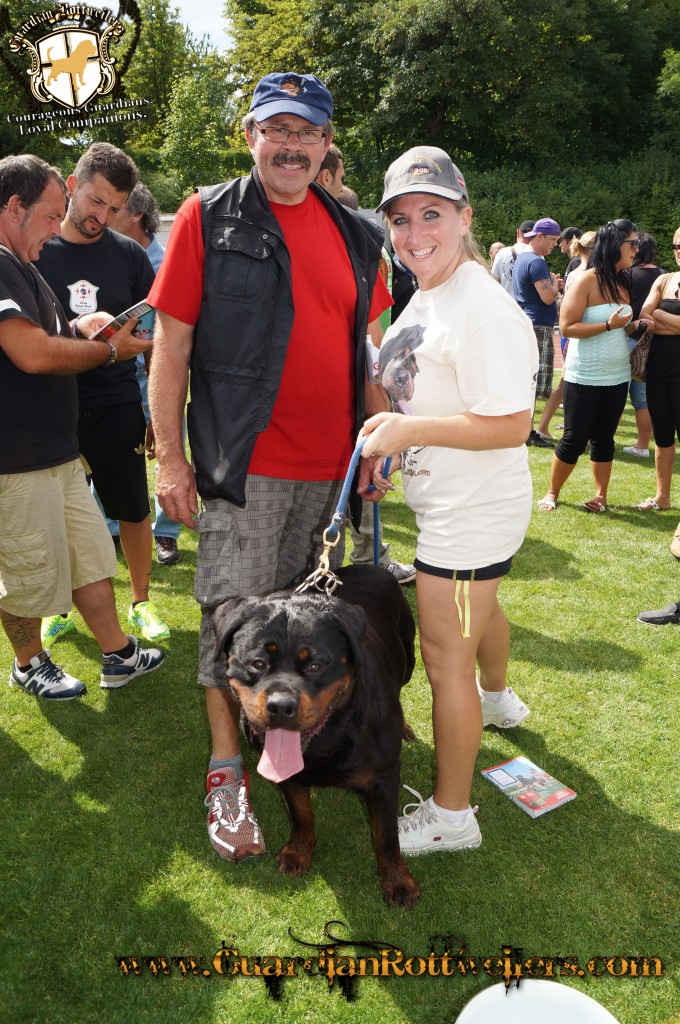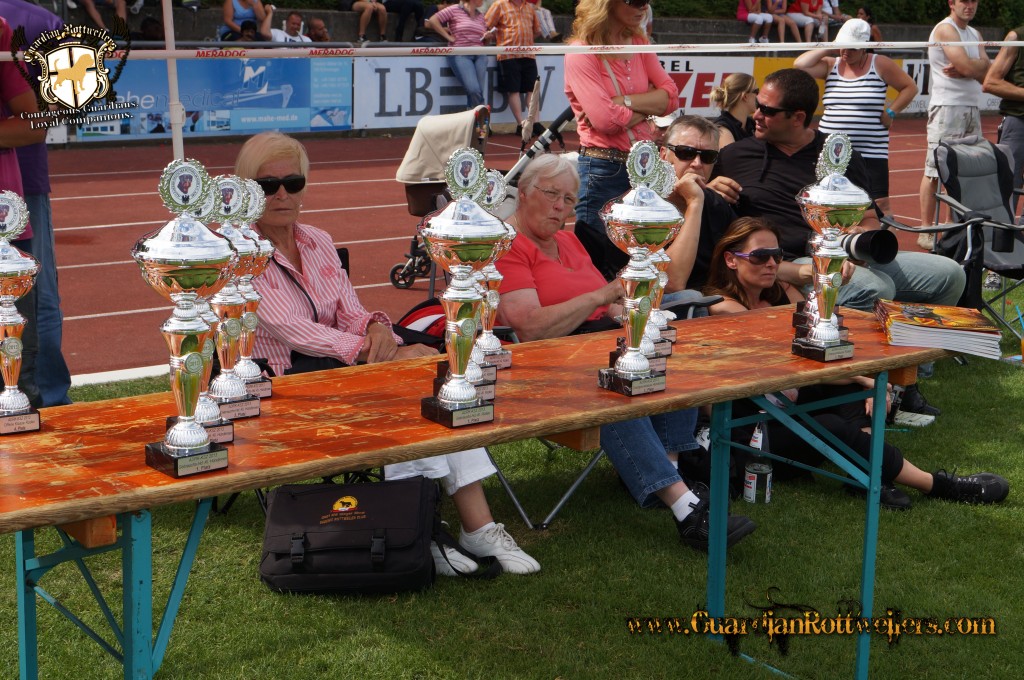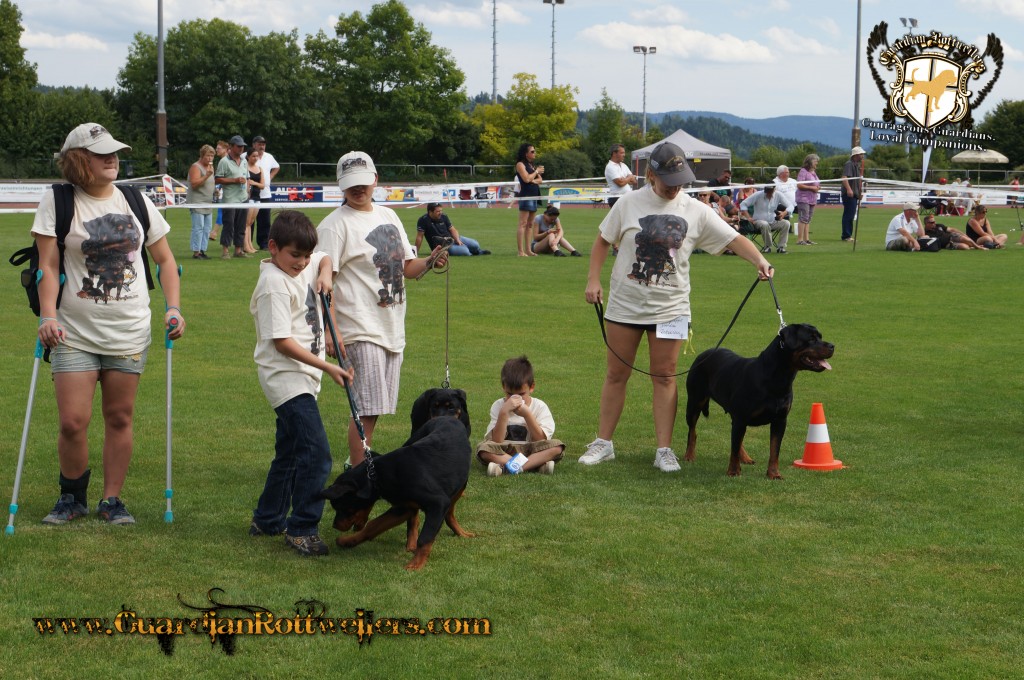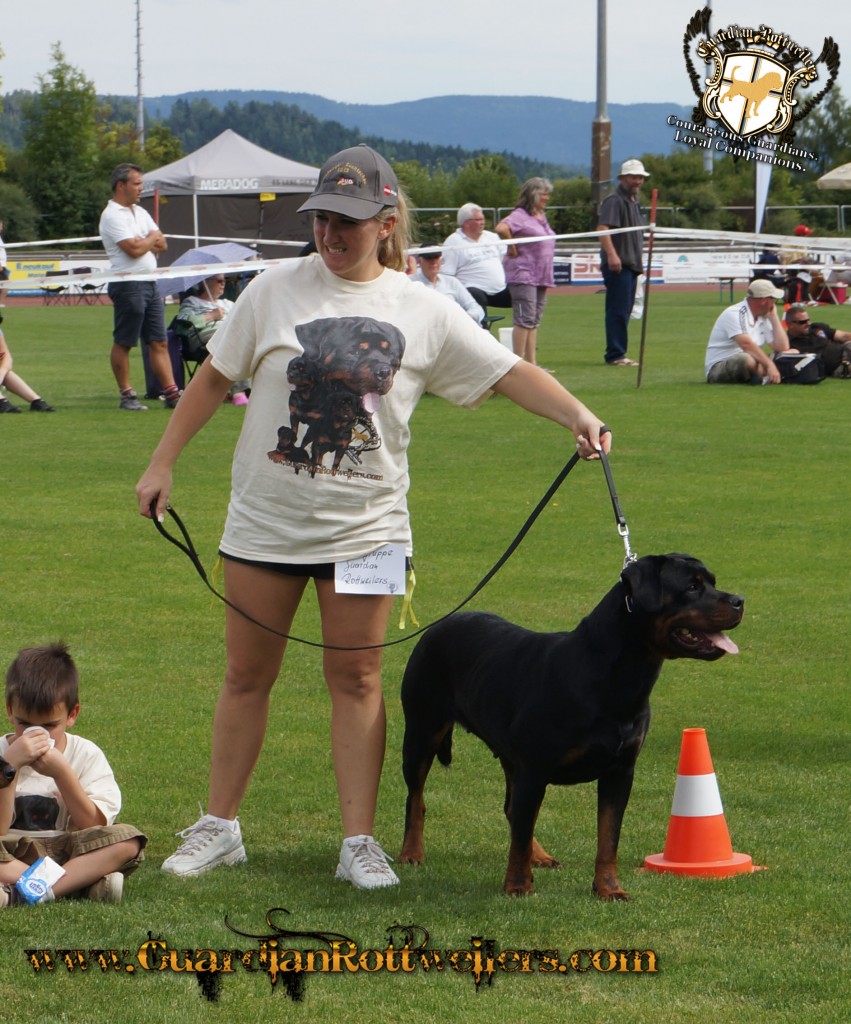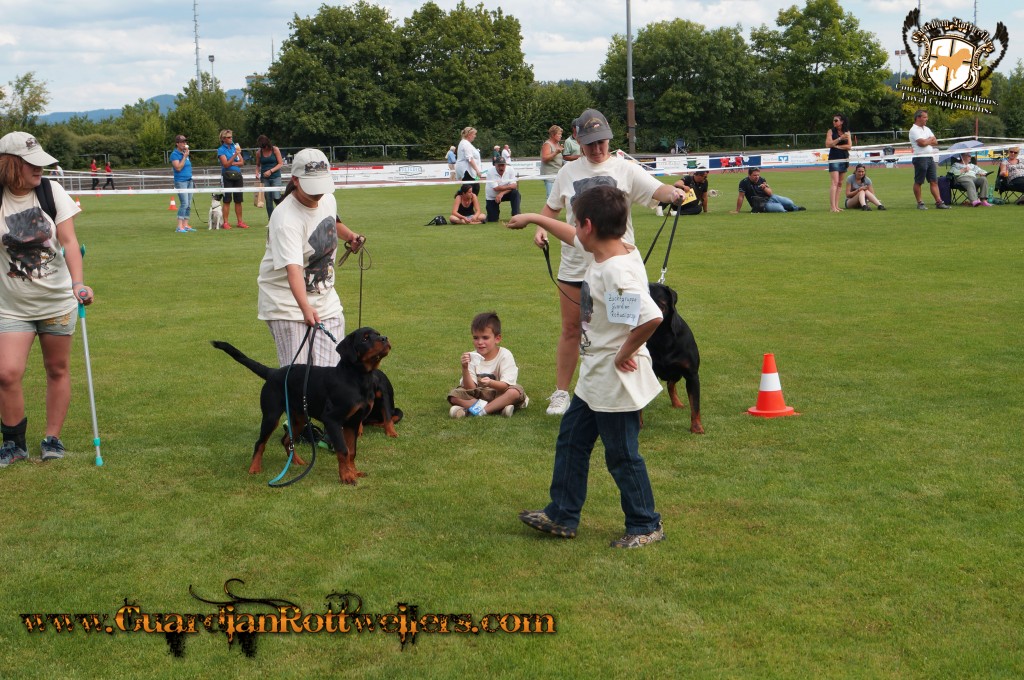 Trying to keep 2 young Rottweilers and 4 tired kids alert for the judging of the Kennel Class at the end of 3 very long days when it is super hot out was no easy task!  My sweet Korbi-bear sure did put all of his effort into it too!  He was tossing grass up, dancing, quacking, etc.! lol  Poor Ethan got a bloody nose- probably from the heat.  But despite being exhausted, hot and sweaty, all of the kids and Rotties were absolutely amazing!! No one gave up <3  Even Miss Tahlia on her crutches!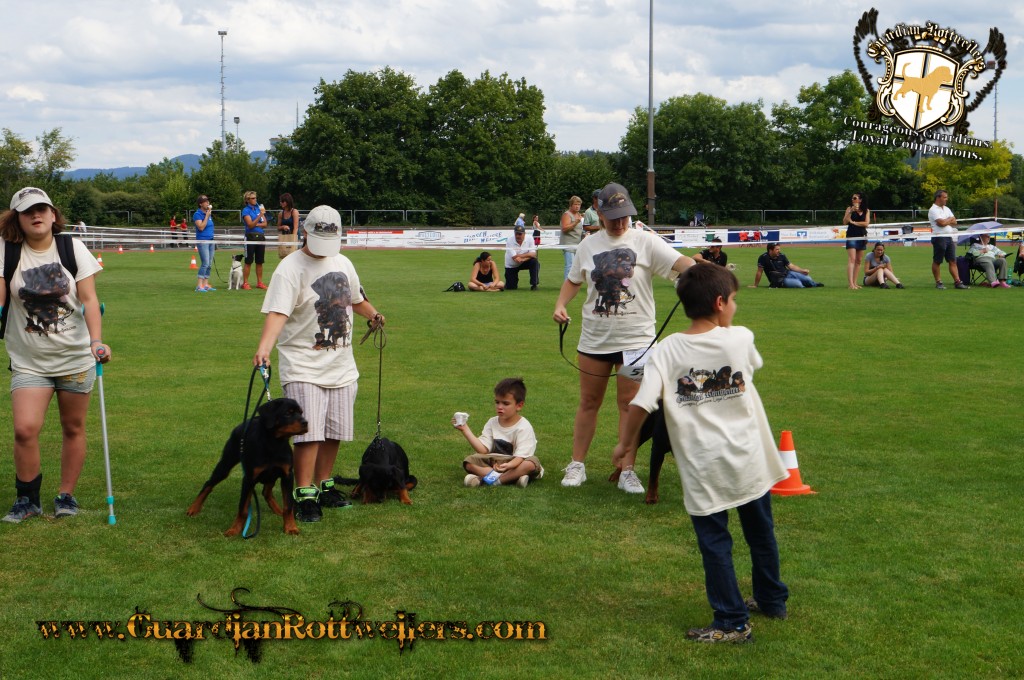 So many GORGEOUS dogs as far as the eye can see!!  SOOOO honored and proud to be included in this group!!
All 4 judges just the kennel class winners.
When the judge announced First Place Kennel Class, he was initially speaking in Germany and then he extended his hand to us and said "congratulations!"  We were so confused!!  We did not even know we had just won!!  What an INCREDIBLE feeling when the realization finally hit!!!!!!
This right here makes all of the hard work and effort so very, very worth it!!
Waiting to go back into the ring for "winners circle".  This is where all of the winners for that day get to go back into the ring and take a victory lap!!
I do not know who's smile is bigger- mine or Geneva's!!  She ABSOLUTELY knows she won!!
Two exhausted babies <3
Judges dinner IN ROTTWEIL, GERMANY!!  HOW COOL!!
Bittersweet- what a phenomenal trip in every sense, but sad to be leaving such a beautiful country and my dear friends.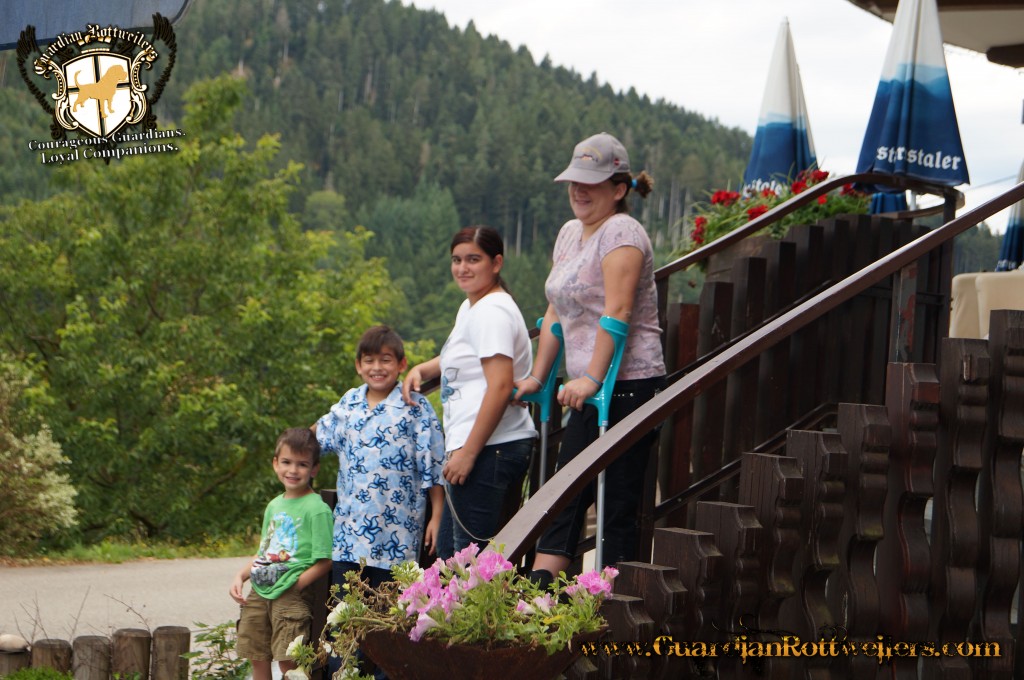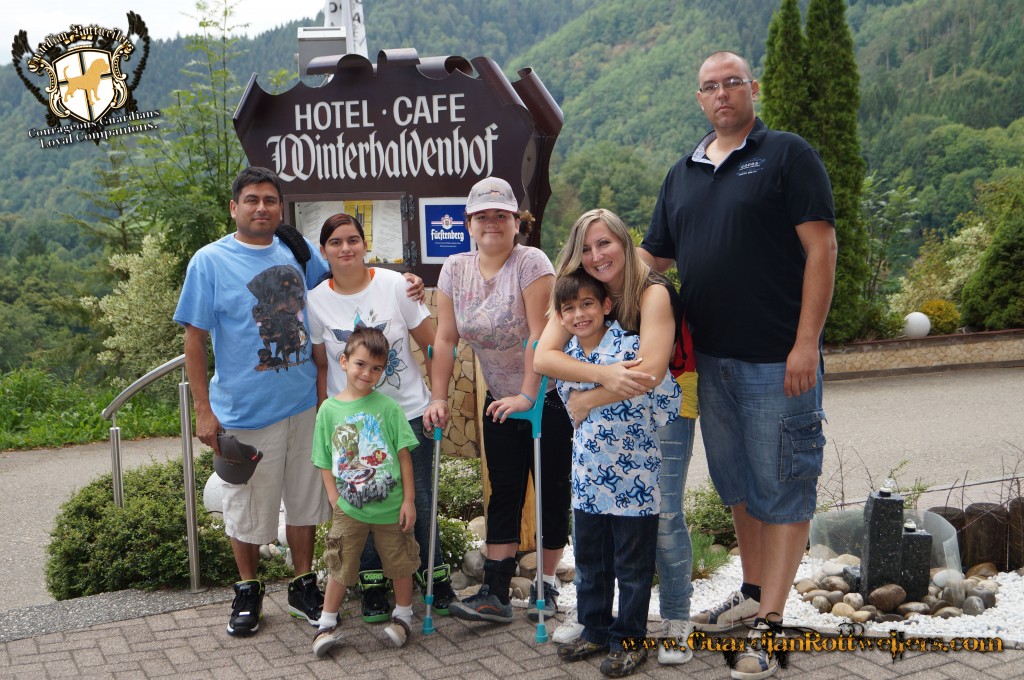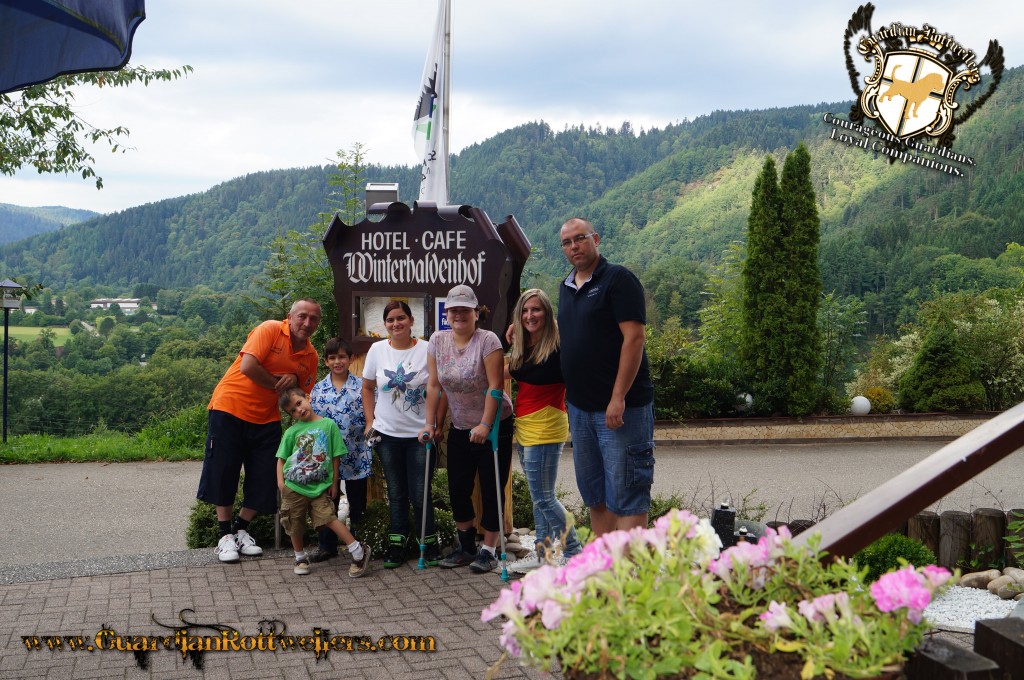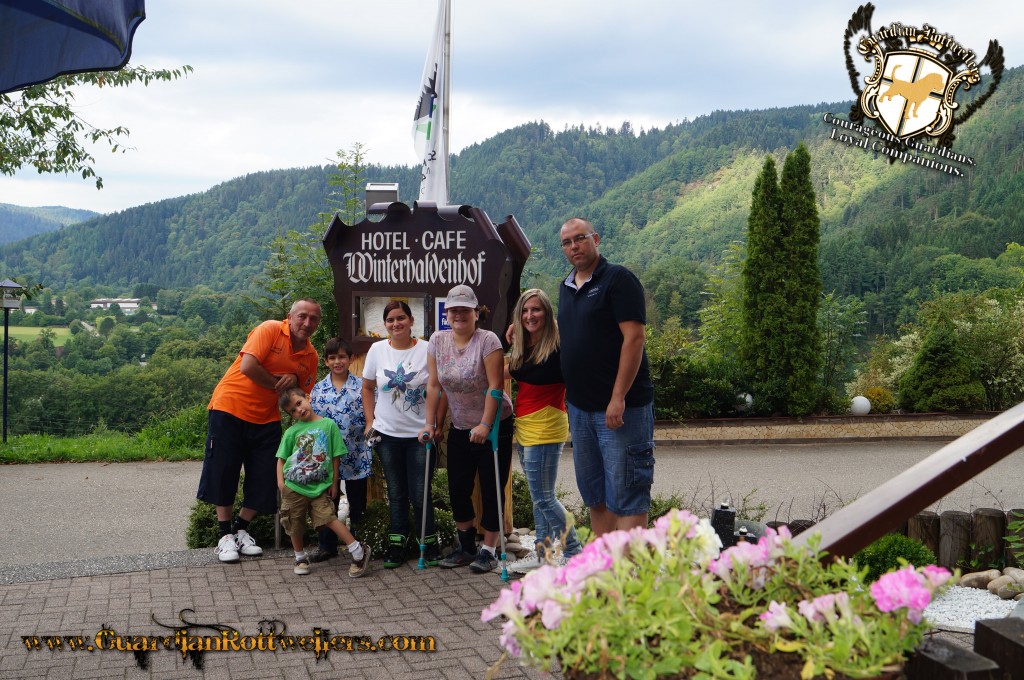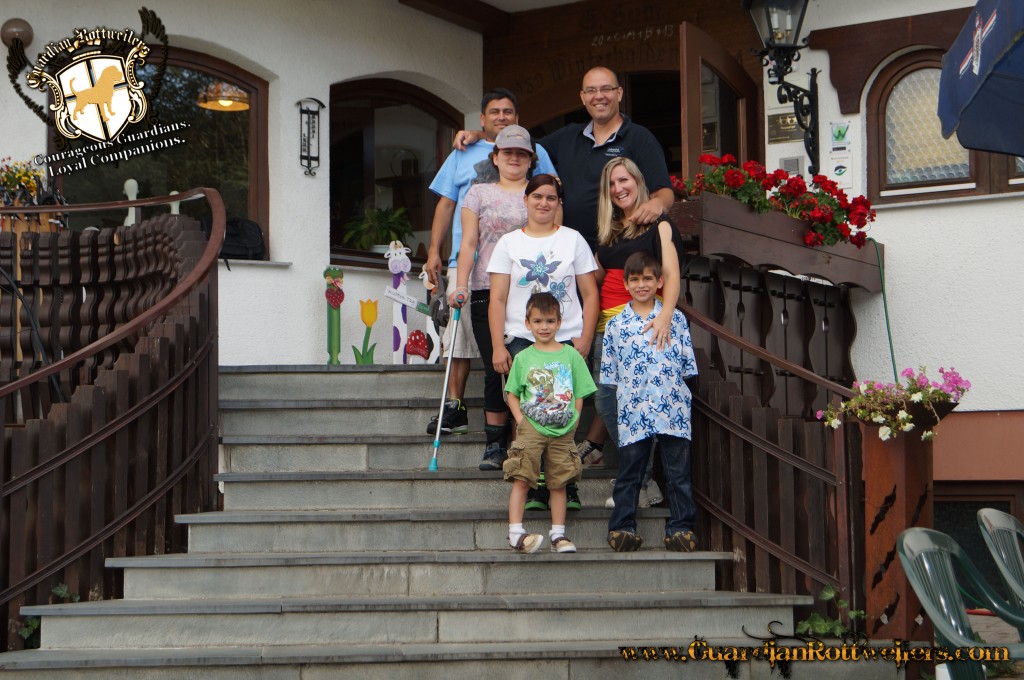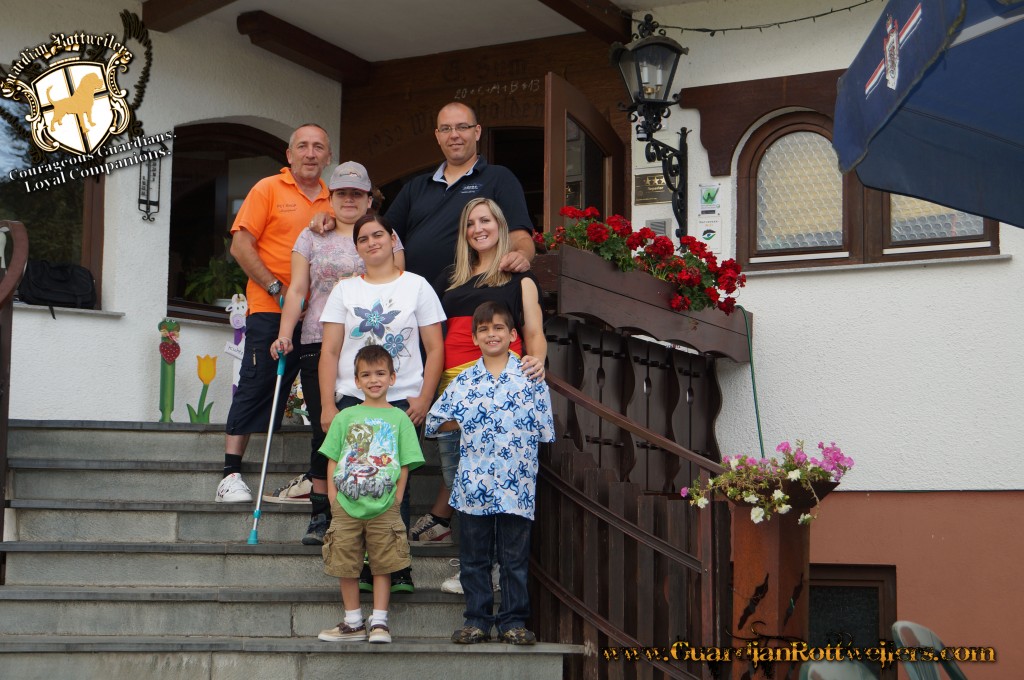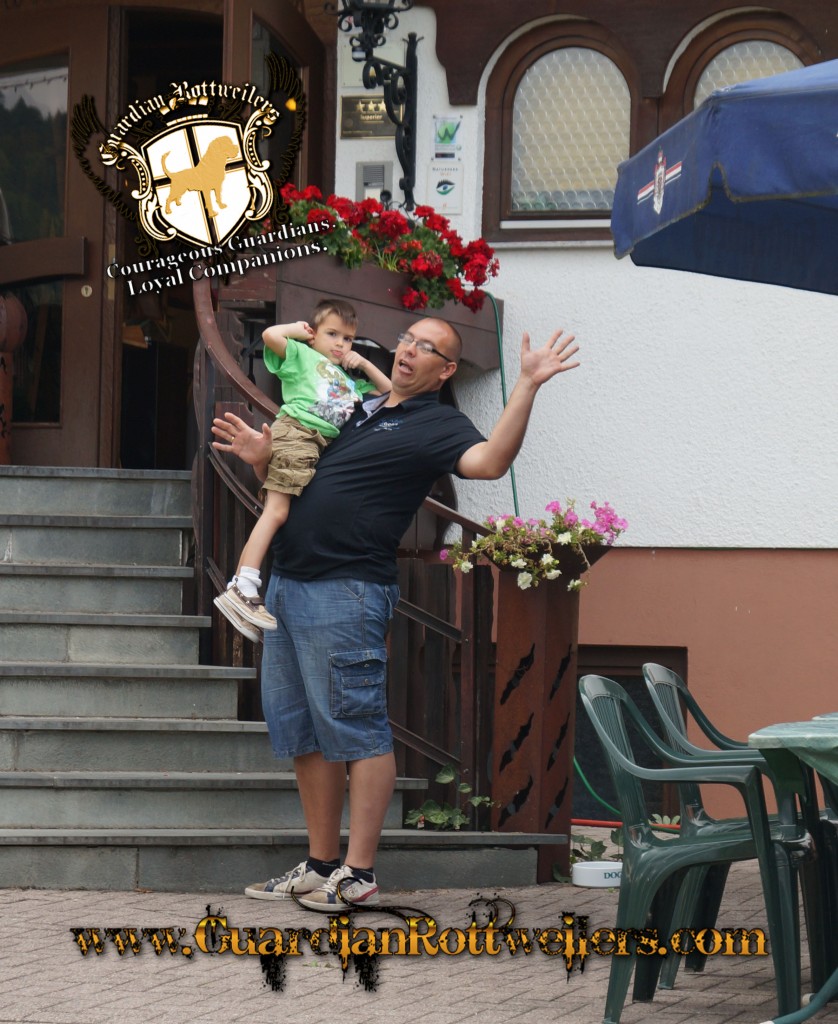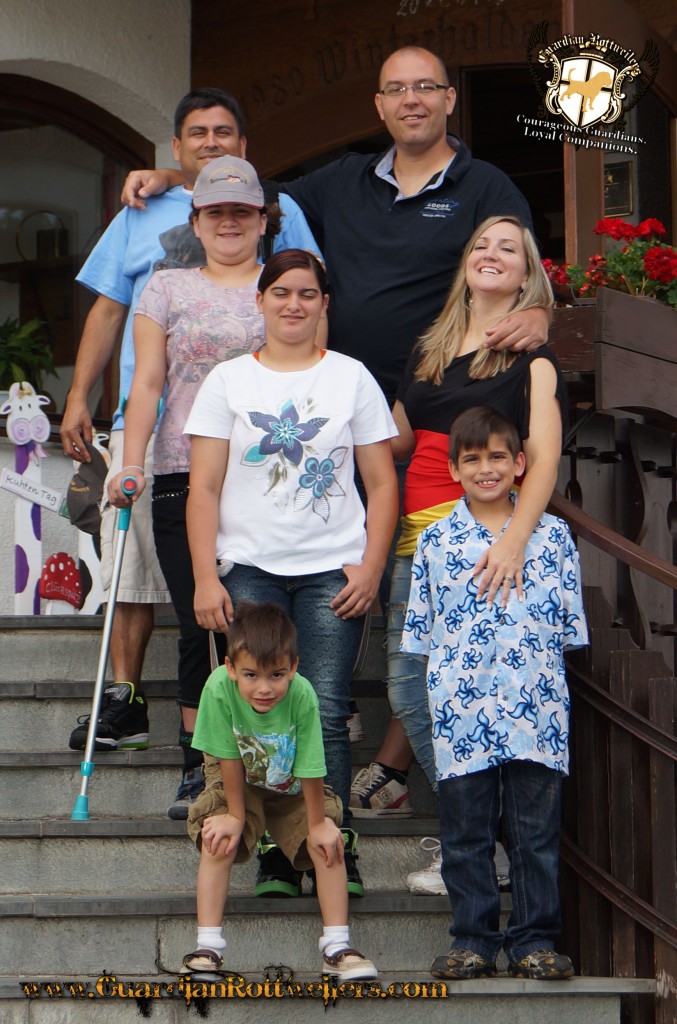 _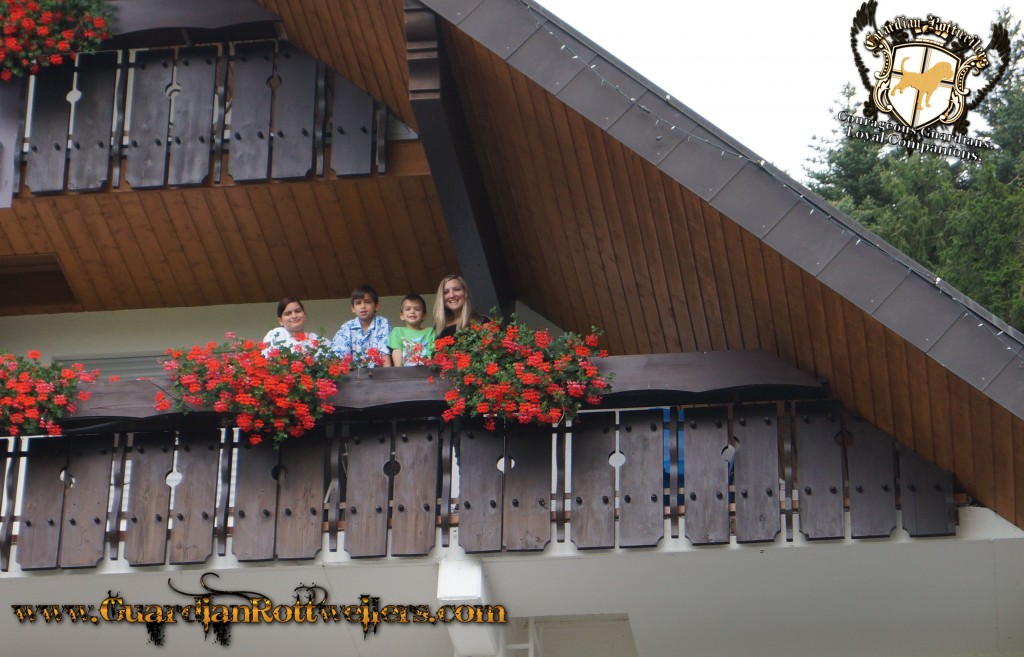 ___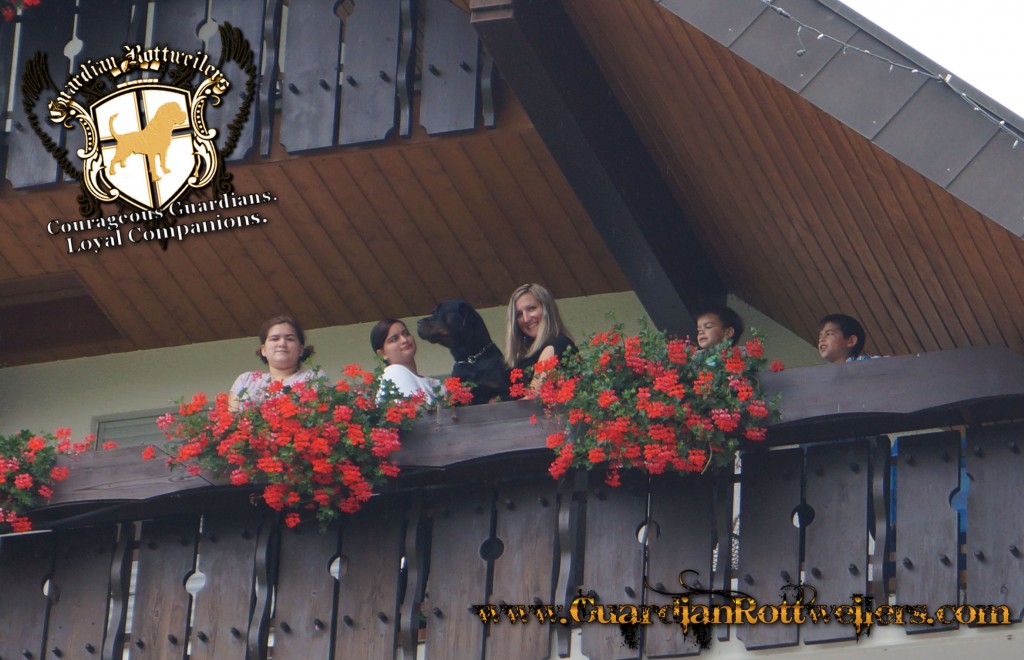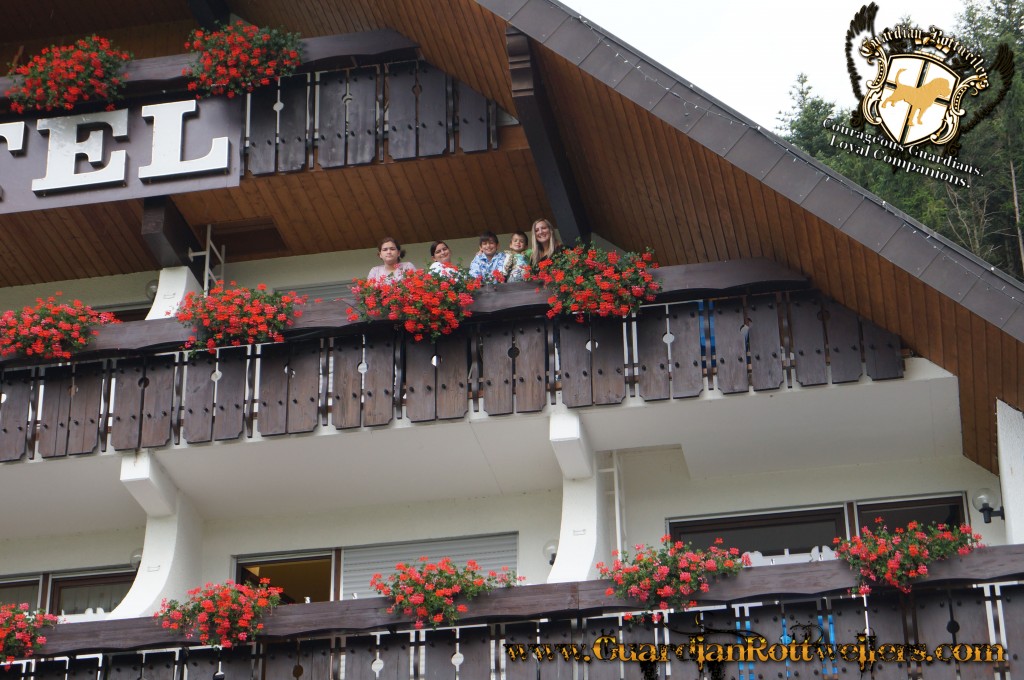 __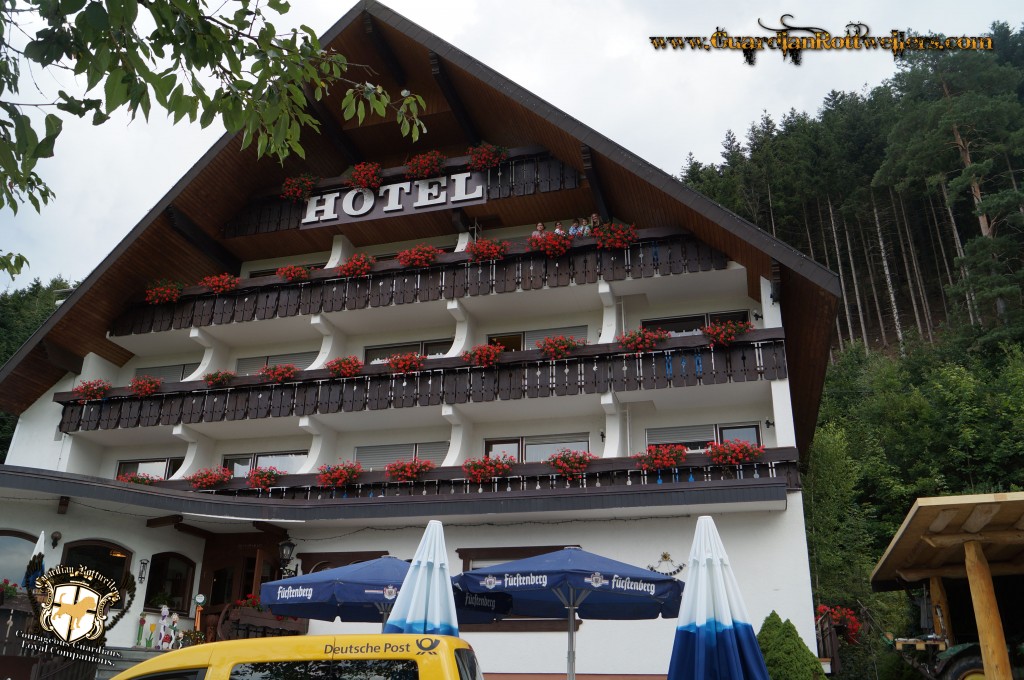 _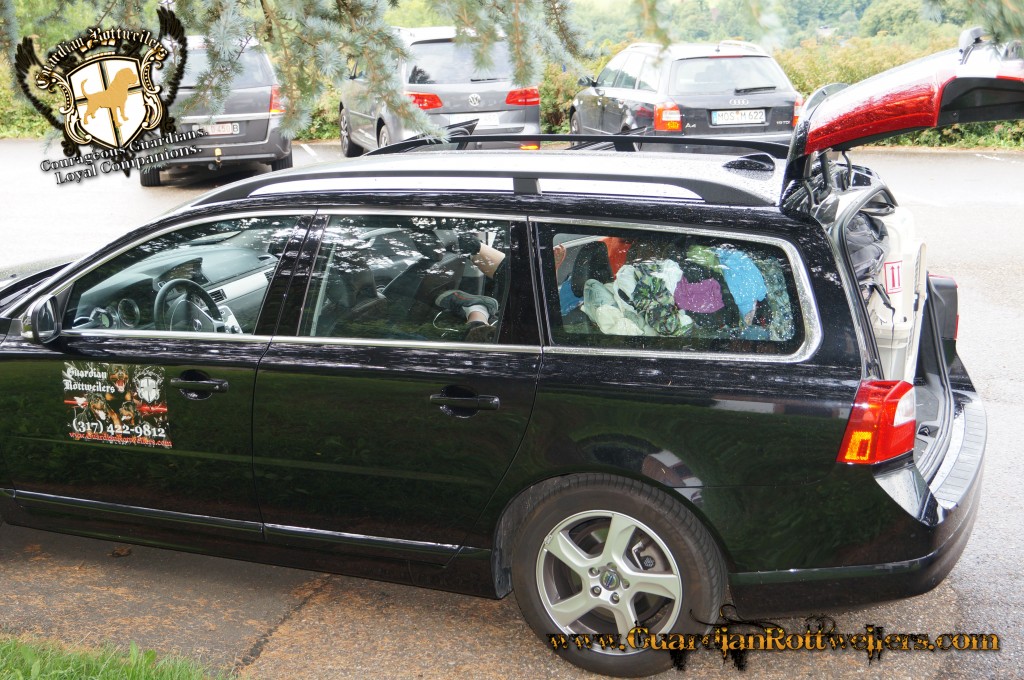 _

You know you are a mom when you can fit 2 adults, 4 kids, 3 crates, 3 dogs, and all of the stuff we brought and all of the stuff we bought into that car!!  We had to empty 2 of the suitcases (there were 4 suitcases and 3 back backs) and stuff all of their contents into every nook and cranny._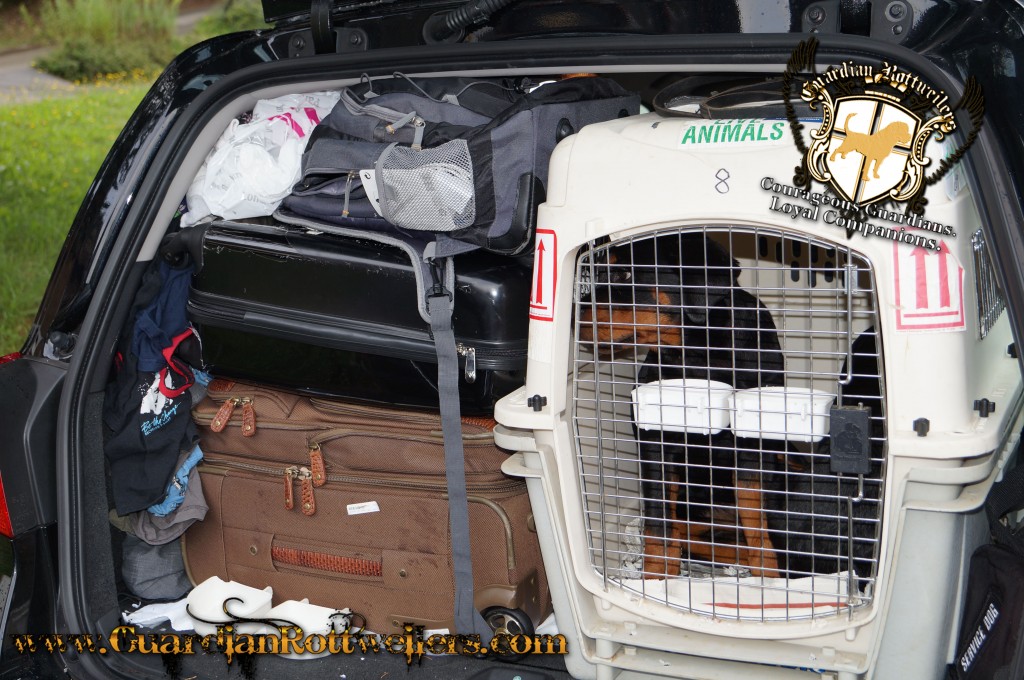 _
Airport hotel the night before our flight home.  That hot tub fest SOOO nice after the long, hard week we had all had.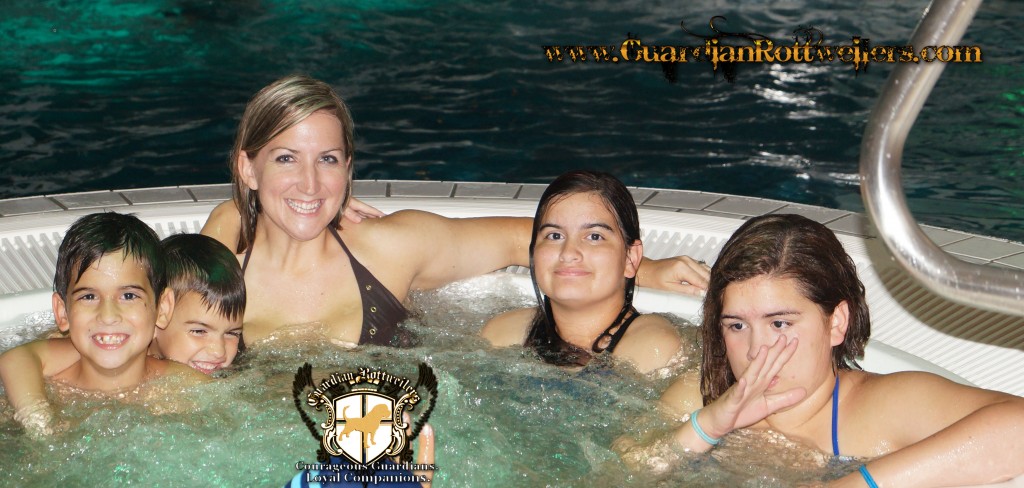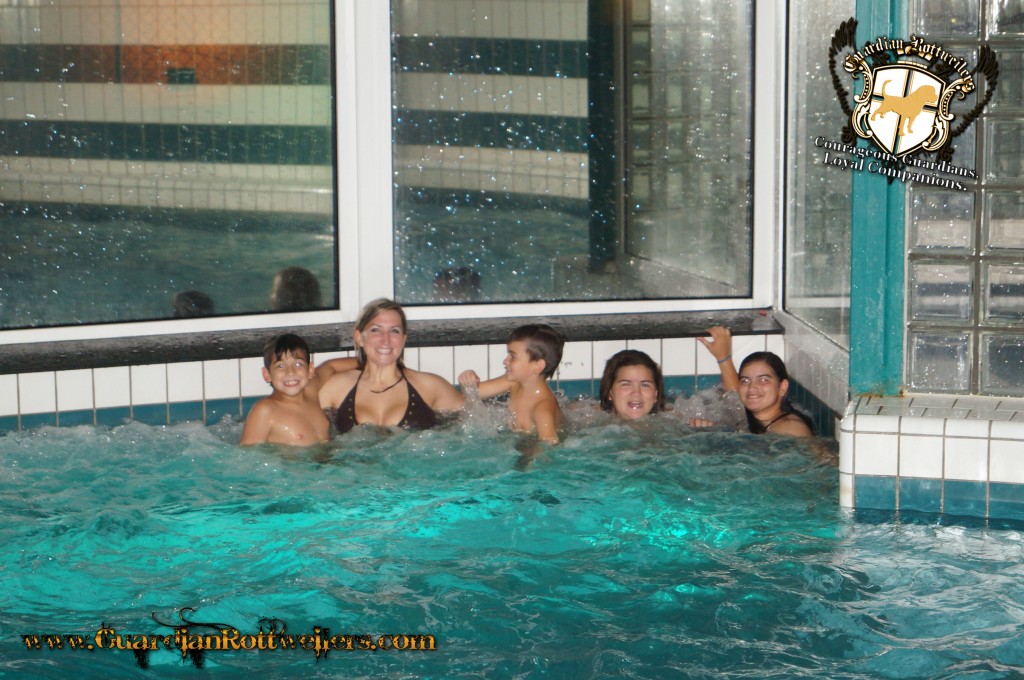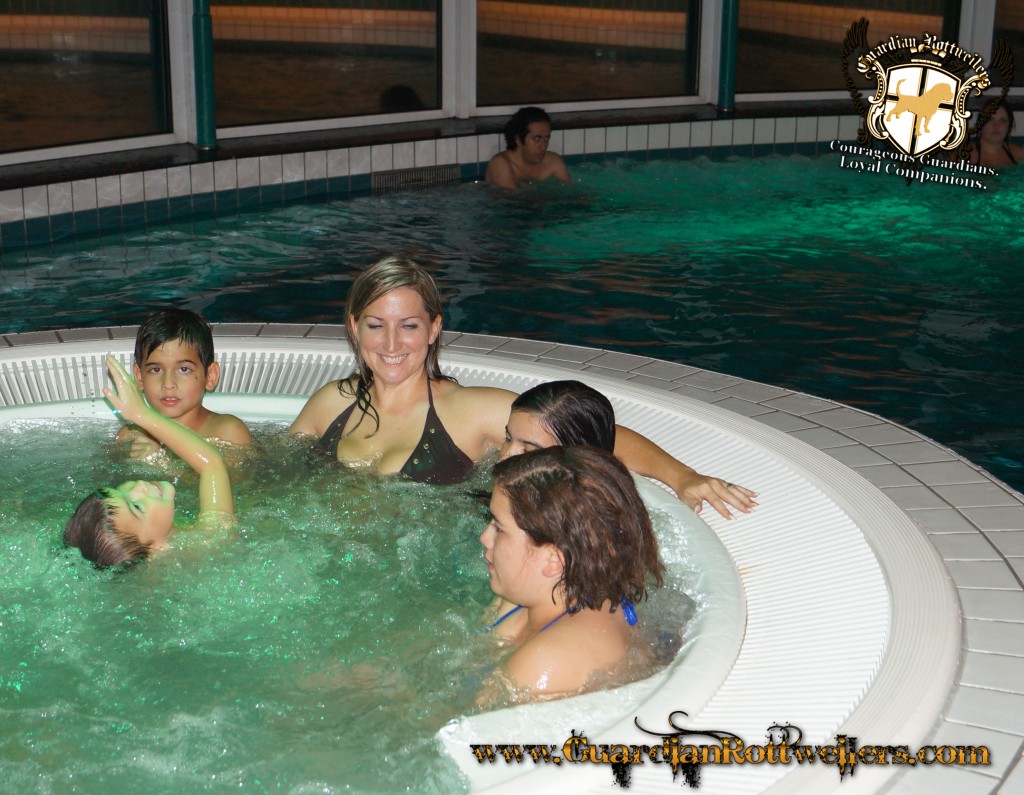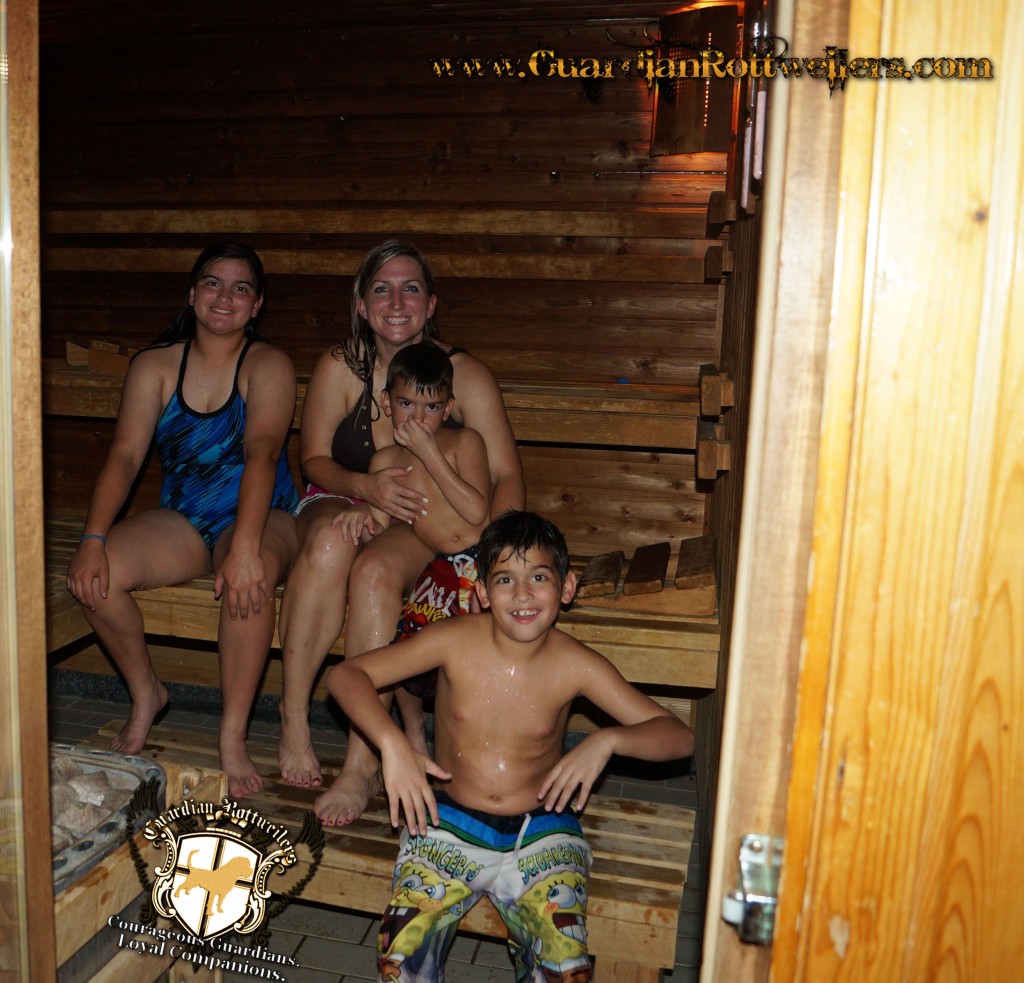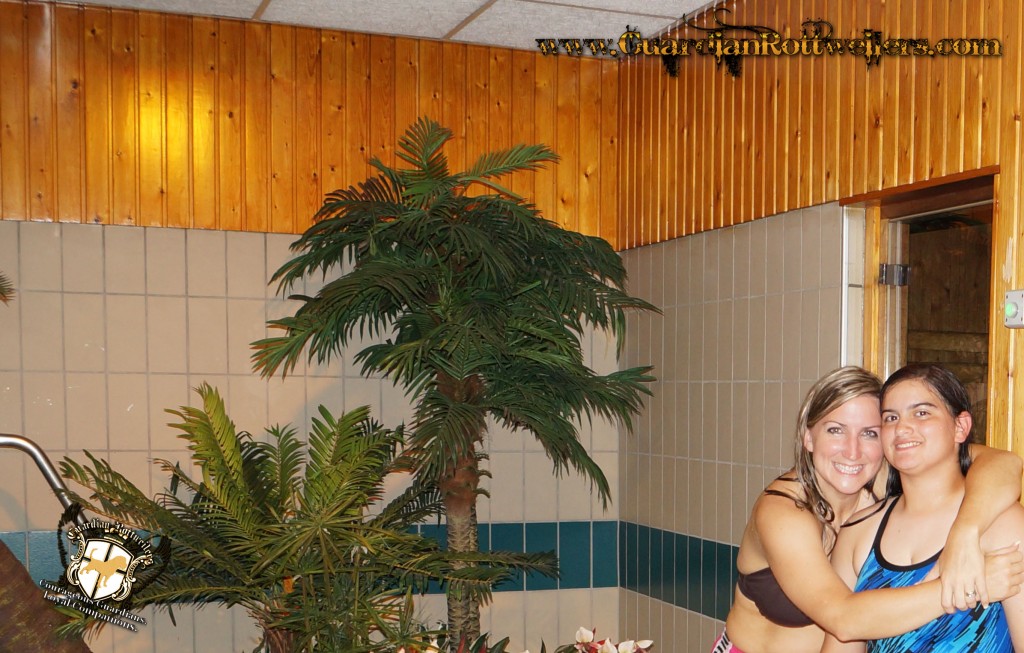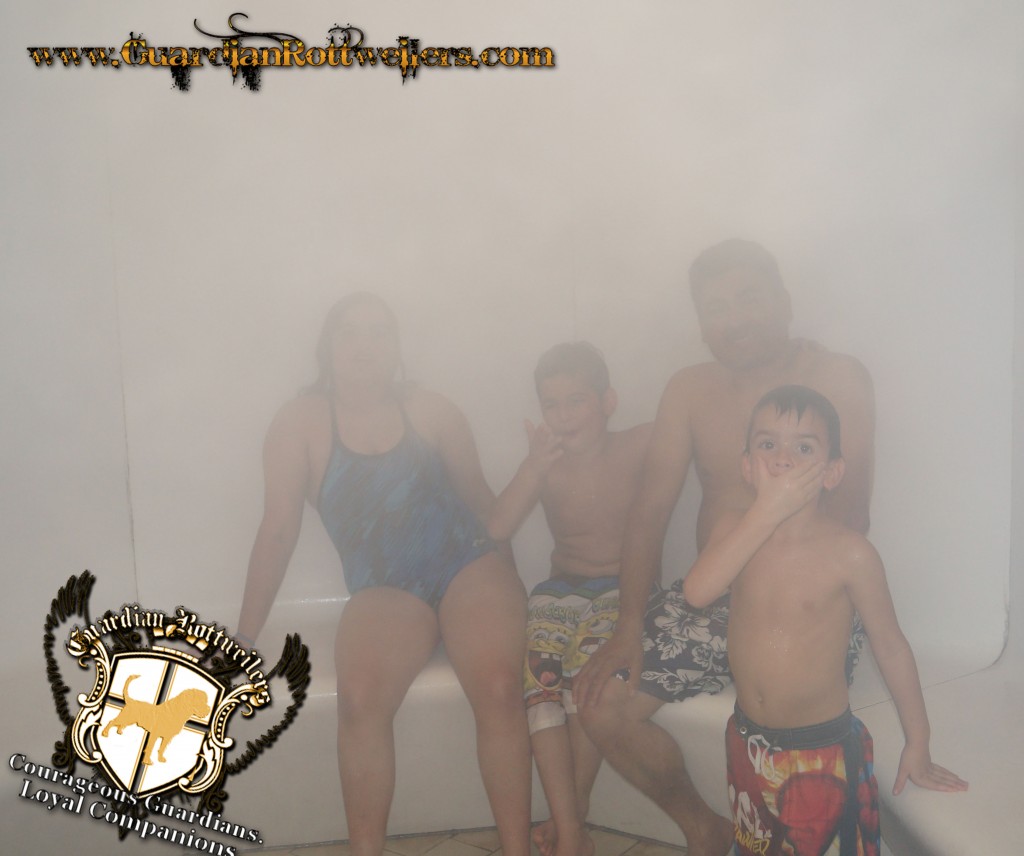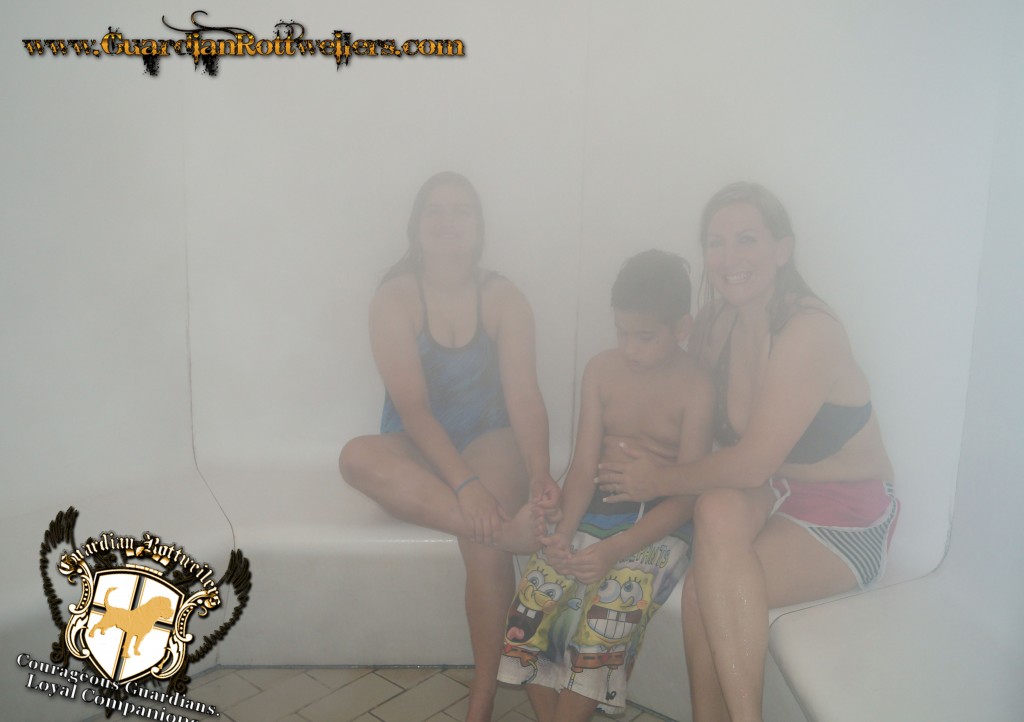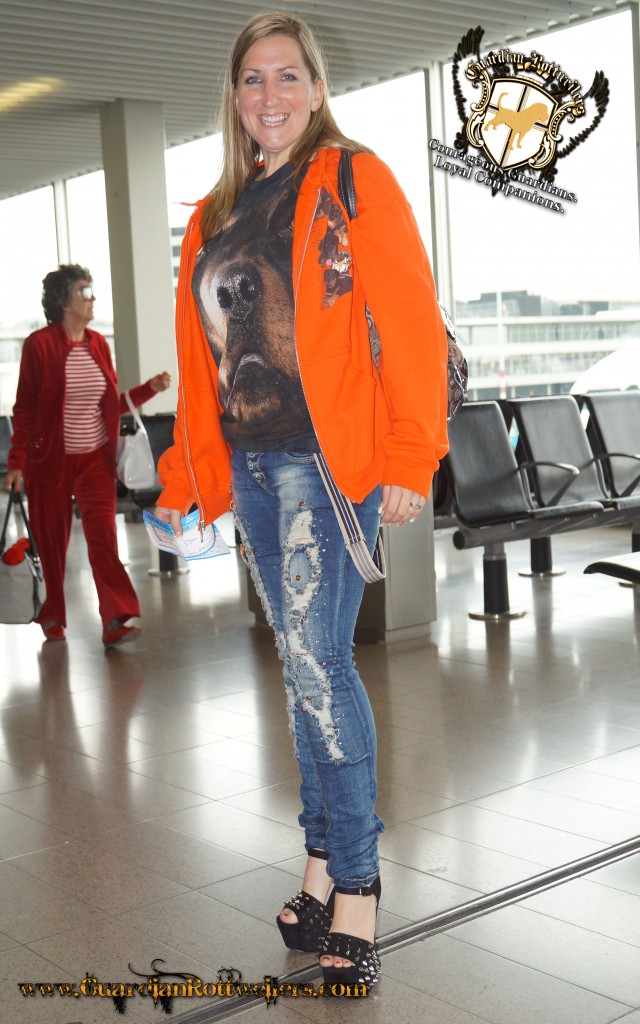 At the airport getting ready to head back home.  We are exhausted but our hearts are overflowing!  What an incredible, once in a lifetime adventure!!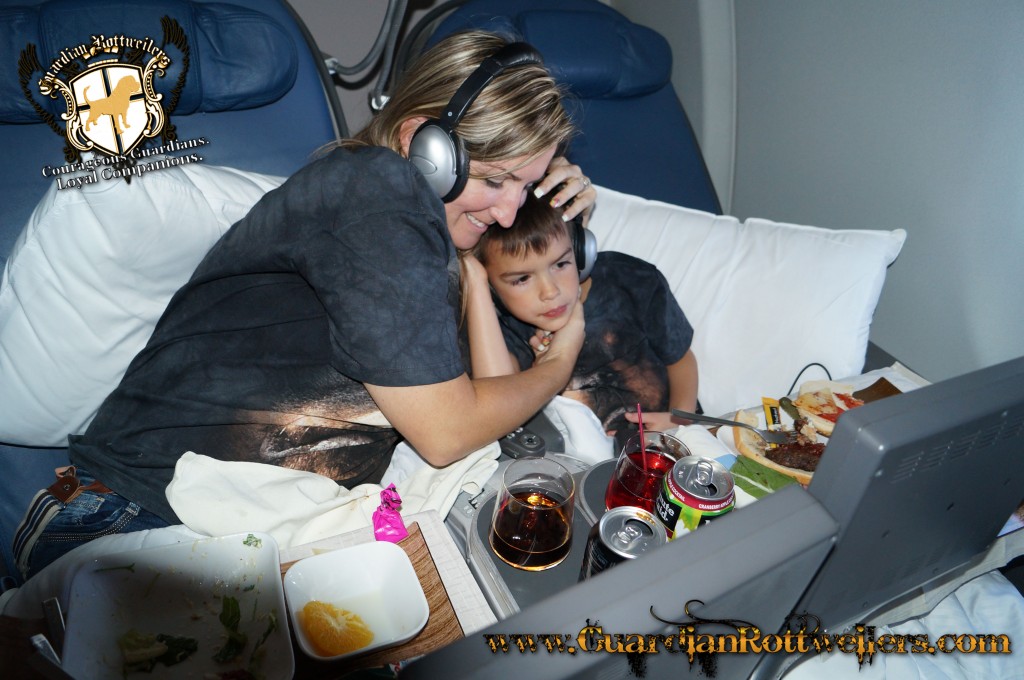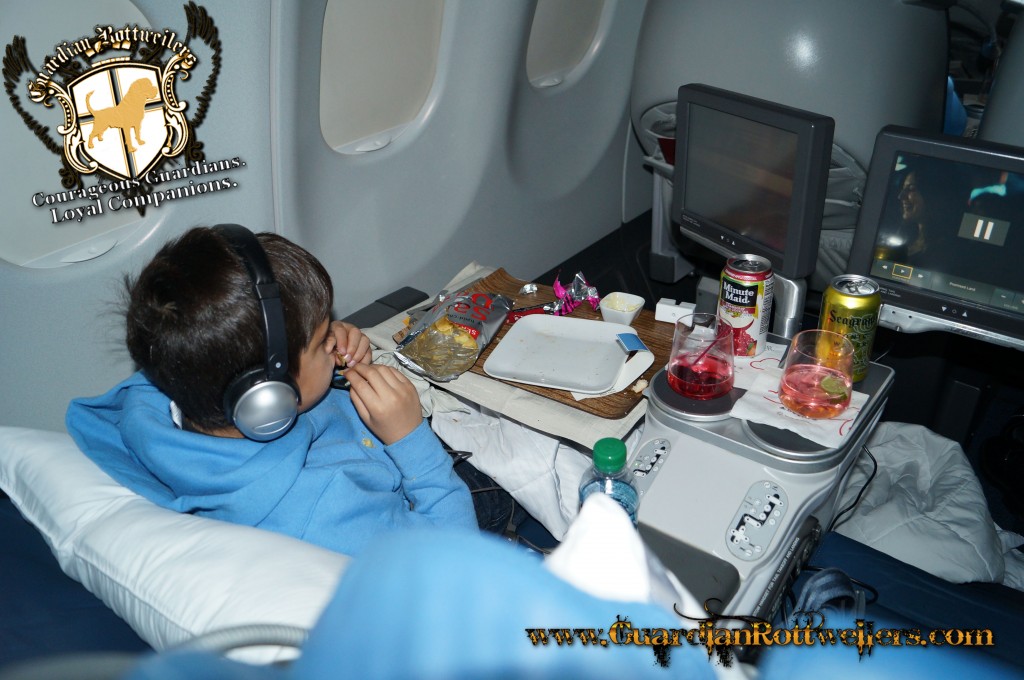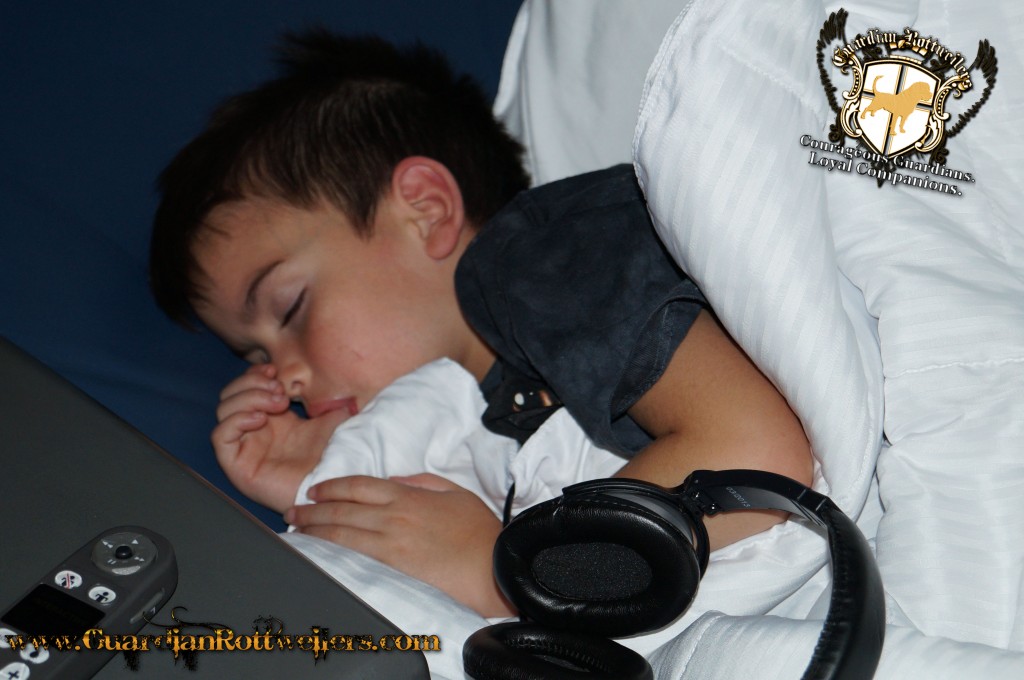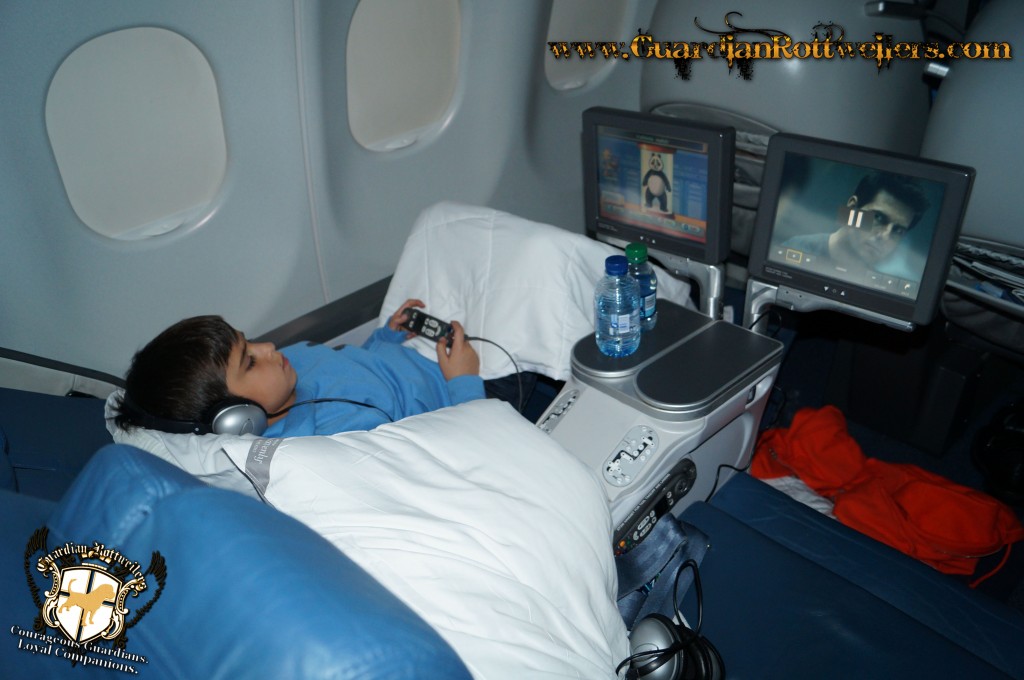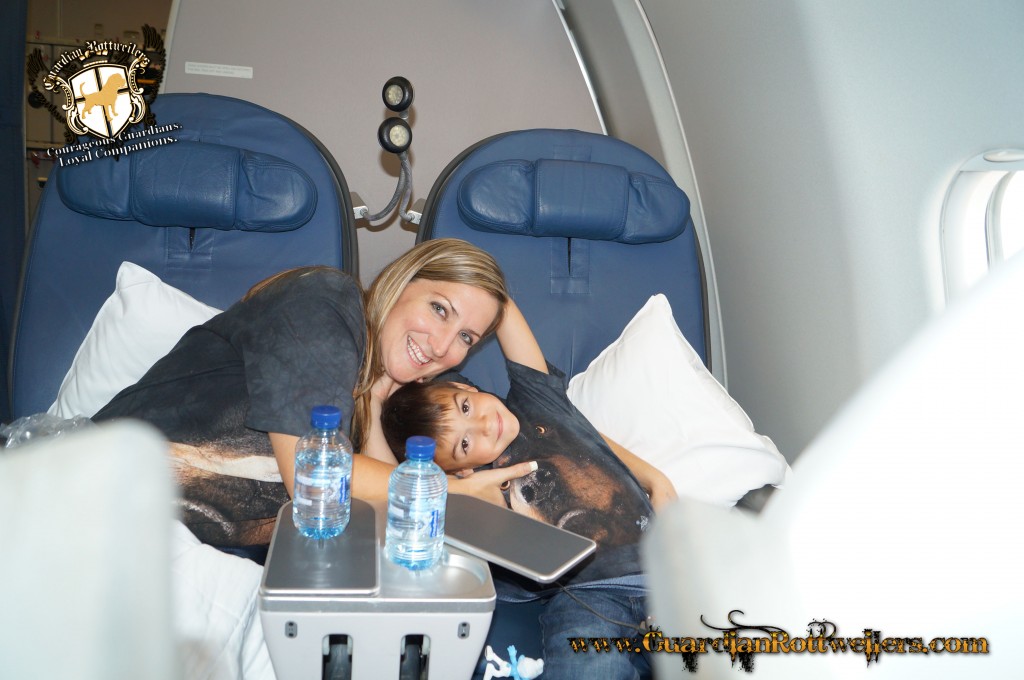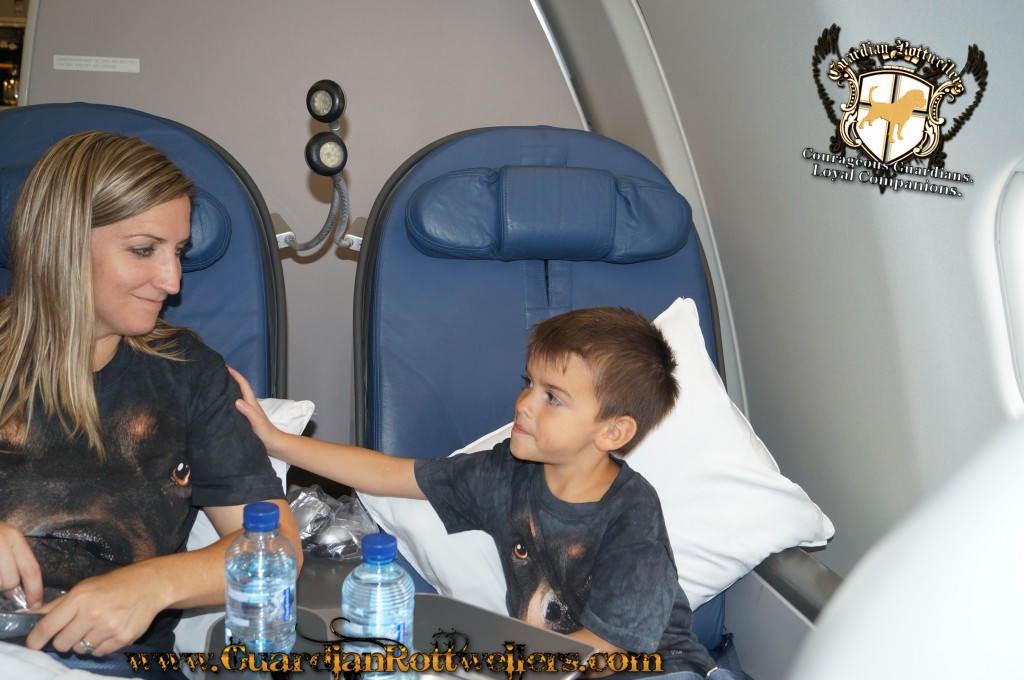 I think this is one of my favorite photos <3  What a great moment Miguel captured <3 I love this little boy so, so, so much <3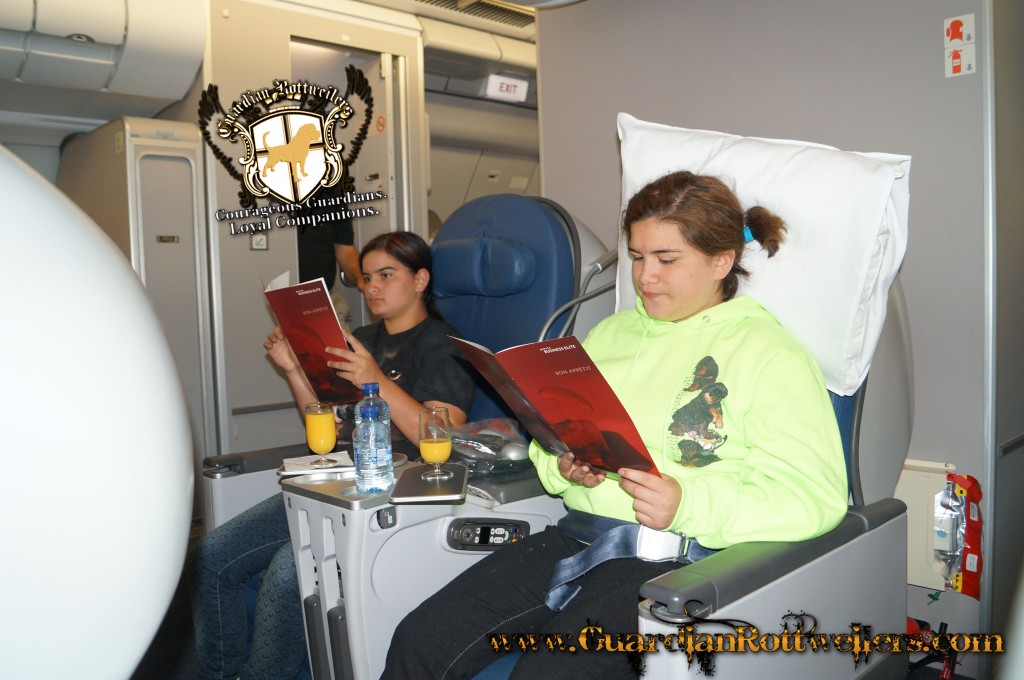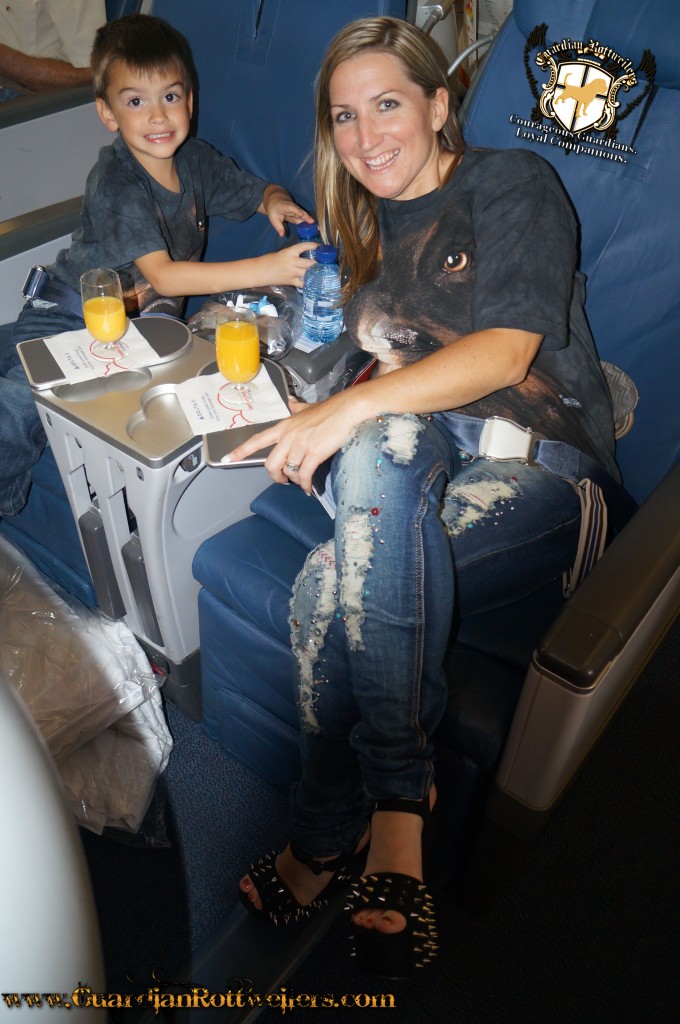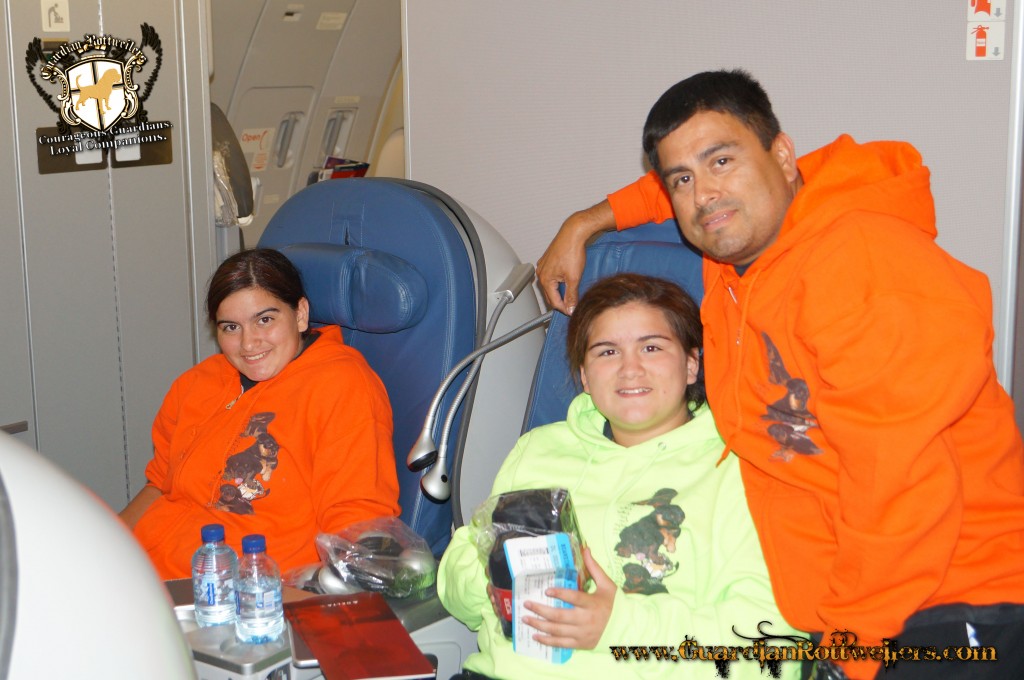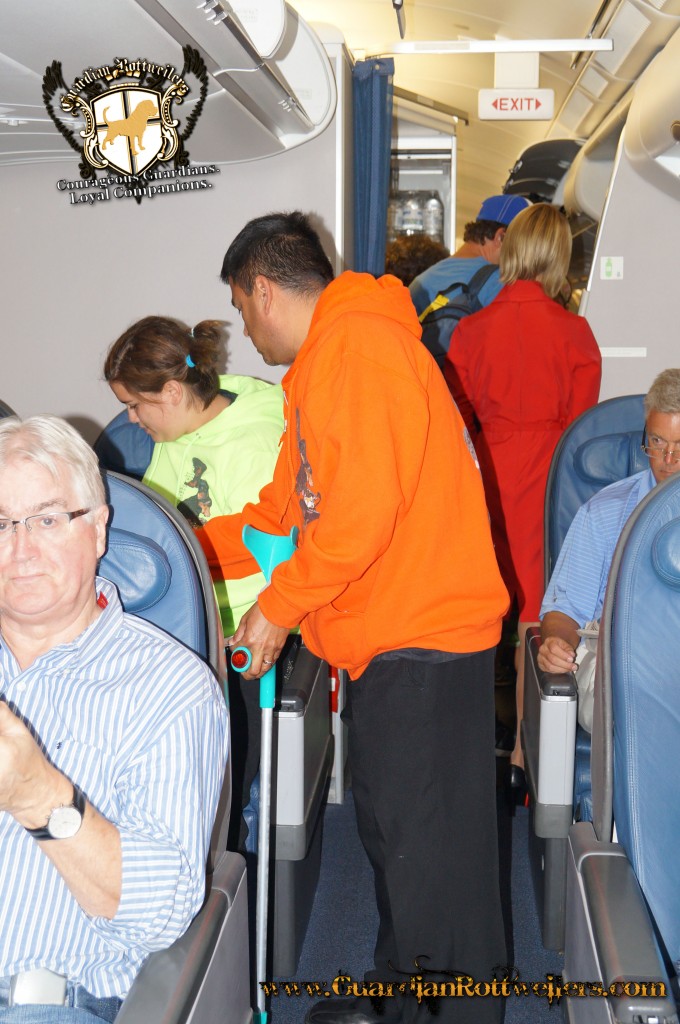 (Visited 103 times, 1 visits today)