Guardian Rottweilers started nearly 2 decades ago with a dream and a Diesel…
Well, I guess in all fairness, it started much before that.  Hello and welcome to Guardian Rottweilers!  Before my many travels began, I actually grew up here in Indiana.  This is where I first began working with animals at Boyce Animal Hospital in Muncie, Indiana.  But before I was old enough to even contemplate working for Mr. Boyce, I had quite the menagerie!  I was THAT KID- you know the one that always had something that followed me home (even if I had to drag it behind me!).  I had everything from lizards, salamanders, frogs and snakes to hamsters, ferrets, guinea pigs, sugar gliders and of course the expected cats and dogs.  I was always finding a wounded bird, a baby squirrel or raccoon, etc.  I was both fascinated by and infatuated with all types of animals.  But even from such a young age, none of my pets could hold a candle to either Duke, my brother's German Shepherd/ Rottweiler mix dog that I played on and with as a toddler or Mugsley, the Rottweiler we rescued when I was a young teenager.  My aunt Annette worked with a rescue group called "Action for Animals" and I was able to help feed and rehabilitate many abused, neglected or abandoned animals.  It both saddened me deeply that humans were capable of some of the things I saw and at the same time filled me with great resolve that I would one day make a difference. 

       When I graduated high school, I decided to follow in my family's footsteps and join the armed forces.  I am a veteran of the United States Army where I was a Combat Medic and Laboratory Technician at the DiLorenzo Tricare Health Clinic in the Pentagon, where I was stationed during September 11.  Such a terrible and tragic day that will be forever etched into my mind.
       Before moving back here to Indiana, I worked for the Department of Homeland Security at Washington Dulles International Airport and was part of the very first wave of Homeland Security Officers right after it was established.  I got the opportunity to work with some incredible individuals and most also had their own reasons for being where we were following September 11.  I later became a Police Officer in Northern Virginia.  Working closely with the K-9 department, my love and respect for these extremely intelligent, undeniably loyal and eager to please dogs grew.
        Having two children with a genetic bone disease, Osteogenesis Imperfecta, which causes their bones to fracture very easily, I did not take the pursuit of purchasing a family pet lightly.  Although I had grown very fond of Rottweilers, I had to ensure that if I brought an animal that big into any home with children, and especially in my case, that it would be safe for my family.  The more I worked with Rottweiler and learned about Rottweilers, the more confident I became in the breed's ability to not only protect his family, but also have the intelligence and genuine affection to be calm and gentle to my babies.  I became certain that the dogs I had grown up with and now worked with were not just exceptional dogs, but dogs of an exceptional breed.


I purchased Vincent Diesel Von Gottschalk in 2001, and my only regret was in not getting him sooner.  All of my children have grown up with Diesel and he is an indispensable member of our family.  He has carefully followed behind all of my babies as they learned to walk and served as a "baby-gate" at stairs or objects he considered dangerous.  He has been both a pillow and a couch, and as my children grew older, he became a step stool (as long as they shared whatever they were getting into!) and a pony.  Long before he was a stud, he was and is my baby boy.  Being well pleased with both the conformation and temperament of Diesel, I purchased two additional Rottweilers from world famous Jeneck lineage- Serenity Von Gottschalk and Decartz Alexis V Jenoak.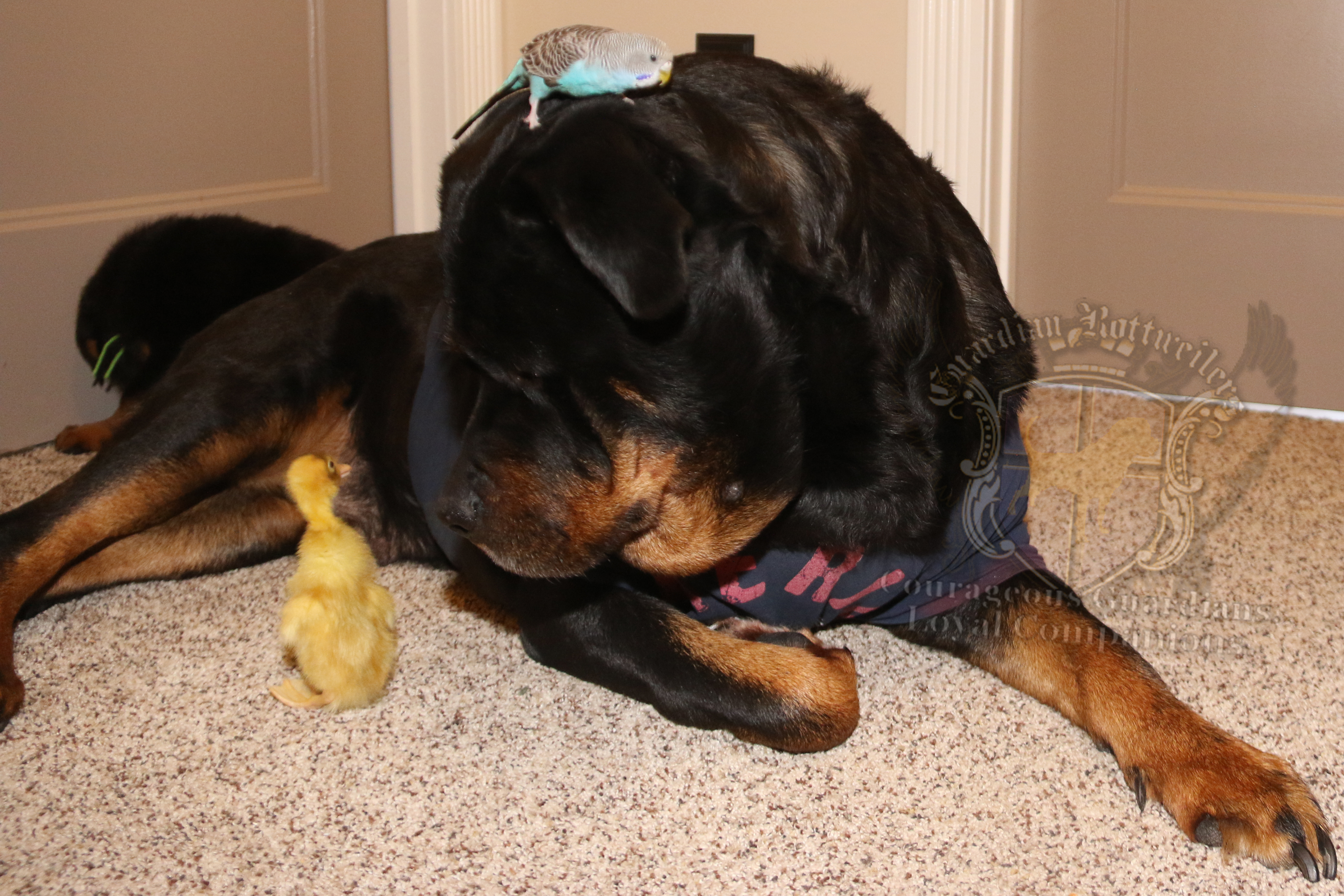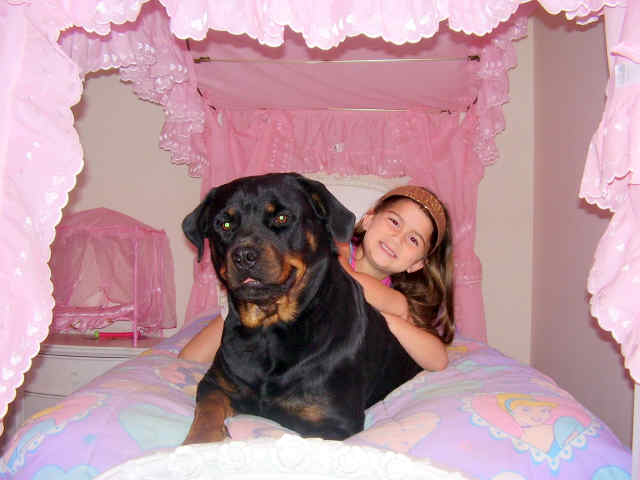 And where would I be without my right-hand man.  My husband, el amor de mi vida, is originally from San Salvador, El Salvador which is in Central America.  He came to the United States as a teenager for the same reason most of our ancestors did –looking for a better life.  He was shot at the age of 12 during a horrible civil (ok who decided to call internal country wars "civil"!?!) war in El Salvador, and came to the United States shortly after.  Working 2 jobs to support his family while attending High School and learning English all at the same time, he became the first member of his family to graduate High School.  He went on to spend the next decade and thousands and thousands of dollars to obtain something most of us take for granted–his citizenship.  I still claim that if they gave the rest of us the citizenship test, about 80% of the United States Citizens would be deported!  I had no idea who the 17th president was (I don't know if I can even name 17 presidents!) or tell you which amendments to the constitution deal with voting rights or how many members are in the House of Representatives!   It was all I could do to survive High School!!

          Due to indiscriminate breeding and poor handling/ training, the Rottweiler has developed a negative public image.  Here at Guardian Rottweilers, the preservation of not only the correct physical quality of the German Rottweiler, but his natural "guardian" temperament is of utmost importance to us.  It is our passion to restore the reputation of the Rottweiler as the faithful, loyal, calm, confident and intelligent companion that he is meant to be.  With our puppy contract, we guarantee not only the physical health of your puppy, but the temperament as well.  You will not find very many breeders as confident with their dogs.  We have studied the pedigrees of the dogs we breed back to the early 1900's with some of the original German Police dogs.  We have carefully selected each and every dog we use in our program to ensure offspring of the highest quality.  We are available anytime you need for health, diet, training, or any concerns that you may have over your new family member.  Whether you desire to improve your breeding program or want the best quality Rottweiler companion available, you will not find a better Rottweiler outside of Germany than a Guardian Rottweiler.
(Visited 173 times, 1 visits today)