*This Rottweiler is not owned by GR, but we may have worked with his/her owner, handler or breeder, incorporated him/her in our breeding program, trained or handled him/her or simply respect their contribution to a breed we love.*
Dora Schwarze Schild
Sire: Edy Flash Rouse
Dam:  Kaja Wunderling
KSS# JR 725501 Rw
HD- frei; ED- +/-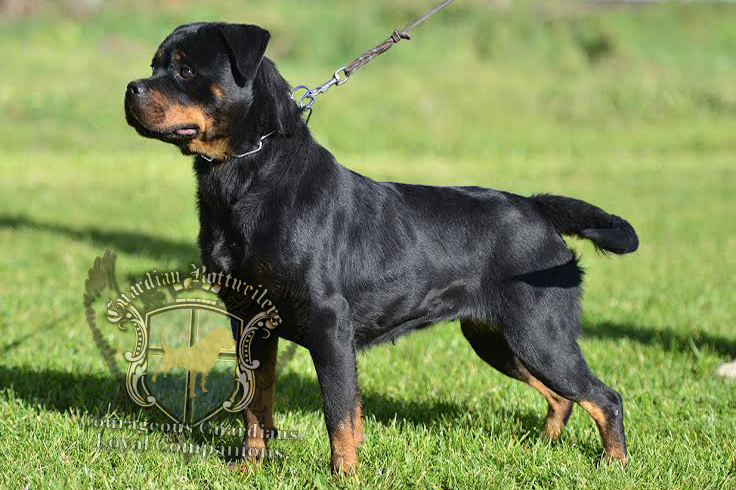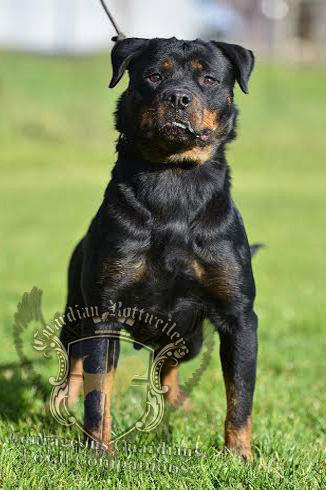 Dora is a lovely dark beauty.  She is the granddaughter of both Dack Flash Rouse AND Enkidu Crni Lotos!  She has a SUPER toppling and very short back- nice square frame that is hard to find anymore!  Dora has an excellent character with good drive.  She is very social and loves to please.  She gets along with all dogs, males and females- which is very rare for an intact female!  Dora really is just a wonderful girl and great ambassador for the breed.  She has a PHENOMENAL pedigree combining 2 of the most sought after bloodlines.  Her mom's side has:
* ADRK KS Ausland Jugenseiger 2010, Vice Youth IFR World Winner 2010, Vice Trofej Sieger 2010, Derby Winner 2010 Enkidu Crni Lotos
* 2x ADRK KS Ch. Gringo Vom Oberpfälzer Wald BH, VPG 1, AD, ZtP
* ADRK 105865 Dingo vom Grüntenblick SchH/VPG I, BH, ZtP (12.03)
* ADRK 106666 Bonny vom Oberpfälzer Wald  BH, VPG 3
* YU Champion, '04 & '05 Belgium Klub Sieger, '05 Dutch Klub Sieger, International Champion Ramzes Crni Lotos IPO-1, MAG test NL
and so many more!!
Dora's sire's pedigree is equally amazing!
* I.F.R. YOUNG WORLD WINER `07, VDH EUROPAJUGENDSIEGER '07, SLOVENIA YOUTH WINNER '07, BENELUX YUGENDSIEGER '07, HUNGARIA YUGENDSIEGER '07, F.C.I. EUROPA YUGENDSIEGERE '07, ADRK KSZ`07 V2 R-Anw., Dt.Ch.VDH Auslandjugendsieger Dack Flash Rouse
* International Champion, Russian Champion, Serbian Champion, Winner of Eurasia 2006, Champion of Poland, Polish rottweiler Club winner 2006, Winner of Ukraine 2004, 2005, 2006 ,2007 (National rottweiler championship winner), Best producer of National rottweiler championship of Ukraine 2005, 2006, 2007 Morro von der Scherau ADRK 106748 ZTP,AD
* INTER.CHAMPION VDH/SCGJ/SCG/BIH/CRO/VEJ-CH, F.C.I.Vice Europa Young
Champion 2003, ADRK Orlasieger 2004, Argentina F.C.I. International show ABSOLUTLY WINNER, I.F.R. WORLD WINNER 2006, ADRK KS 2007 V4, I.F.R World Show Argentina 2008 V1, I.F.R. World Show Belgium 2009 V1, F.C.I. EUROPA Champion +BOB 2007, Benelux winner'04/07 Gonzzo Earl Antonius
* INT/SCHWS/OST/LUX/DT.VDH CH; WJS`94; BS`97;BJS`94, O-BS`95`96`97, O-BJS`94; ES`97 Rick Von Burgthann ZTP; SchH3;IPO3
* Int./ Dt./ VDH-Champion, Europasieger 2002, Schweizer Klubsieger 2002 Österr.
Klubsieger, 2002 und 2003 Schweizer Champion Mambo von der Crossener Ranch VPG III, FH II, BH, AD, ZTP, IPO III
SOOOO many more AMAZING dogs in the pedigree of Dora!  It is literally the Who's Who of the absolute best German and Serbian bloodlines of the last 2-3 decades!!  Usually having one of these legendary Rottweilers in a pedigree makes for a super pedigree, but to have a pedigree where nearly every dog is a legend is incredible!
---
Dora's Sire:
Edy Flash Rouse
(Dack Flash Rouse x Sina Vom Elbschlosschen)
Born: 01.10.2008
JR 717738 Rw
HD B; ED 2
5CAC
RCAC 
3BOB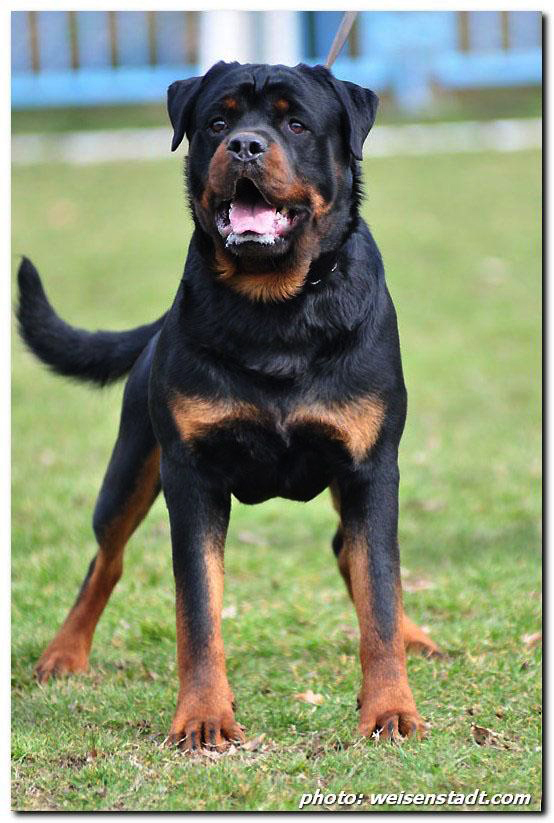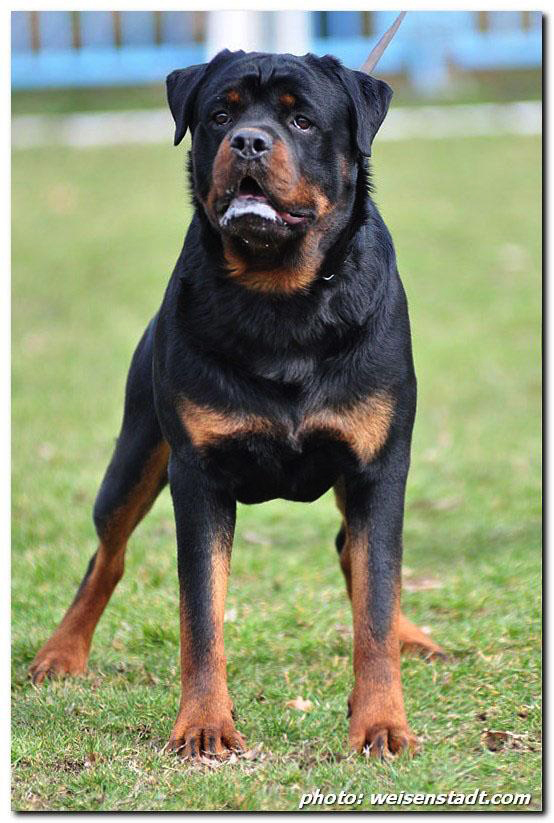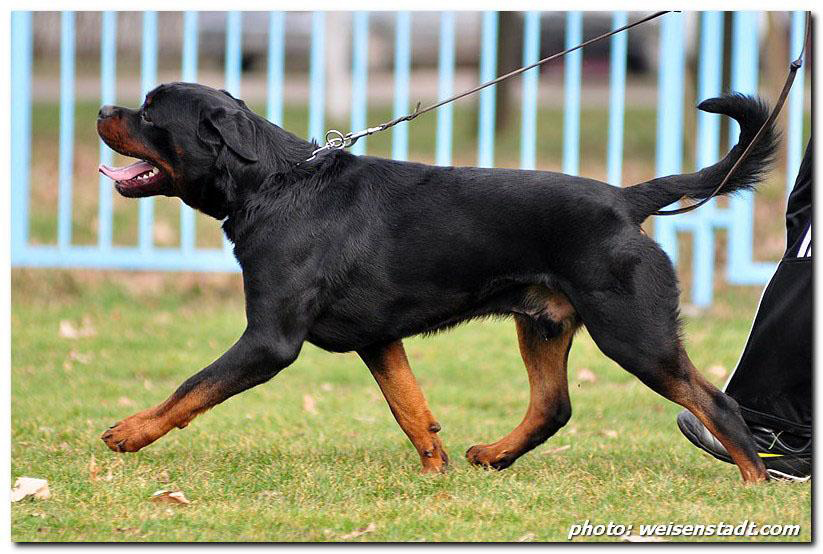 ---
Dora's grandsire (father of Edy)
JR 714424 Rw
HD +/-; ED +/-
I.F.R. YOUNG WORLD WINER `07
VDH EUROPAJUGENDSIEGER '07
SLOVENIA YOUTH WINNER '07
BENELUX YUGENDSIEGER '07
HUNGARIA YUGENDSIEGER '07
F.C.I. EUROPA YUGENDSIEGERE '07
ADRK KSZ`07 V2 R-Anw. Dt.Ch.VDH Auslandjugendsieger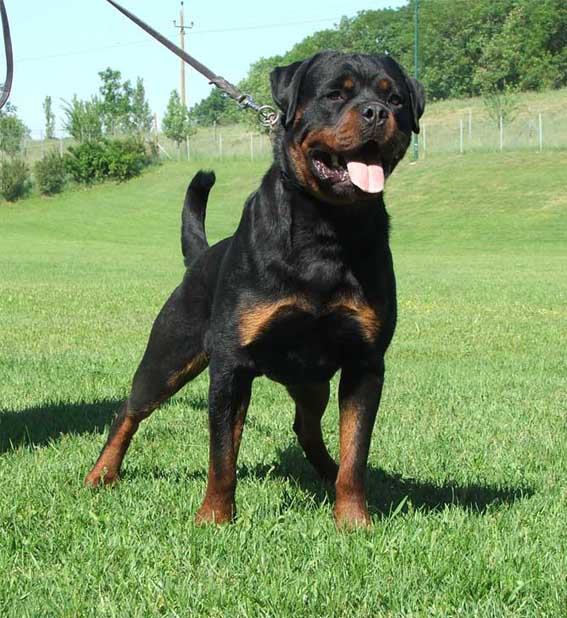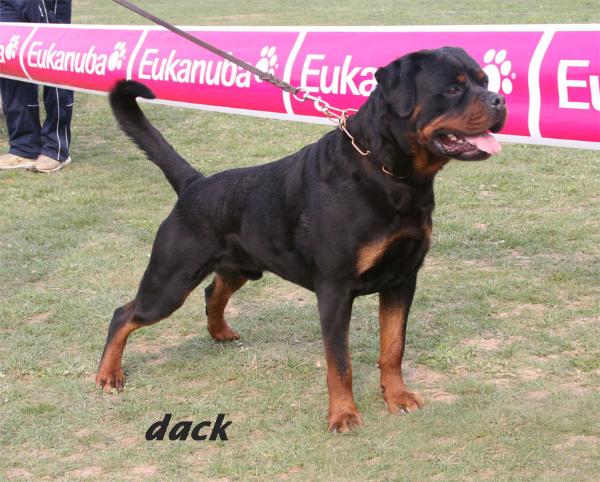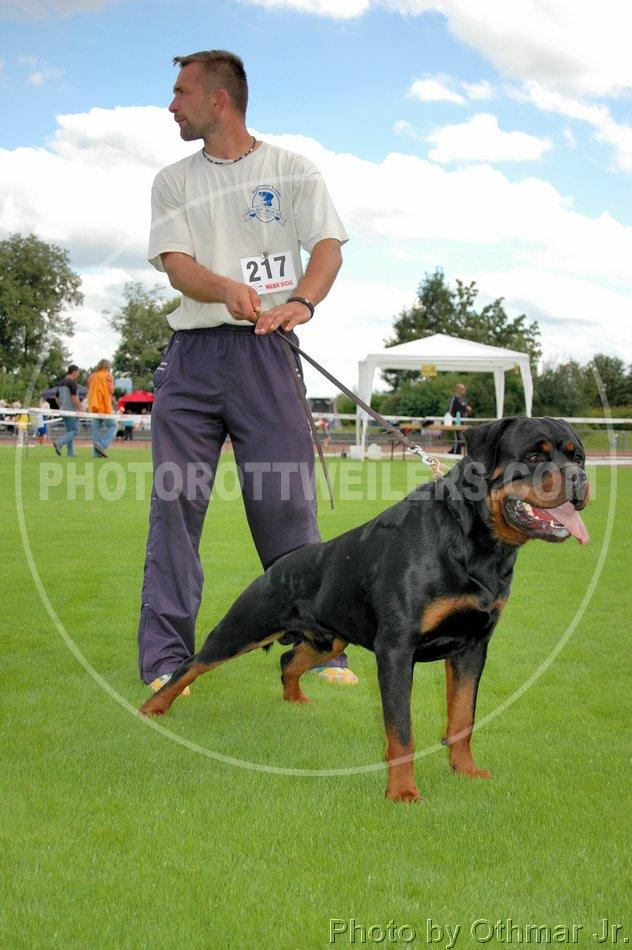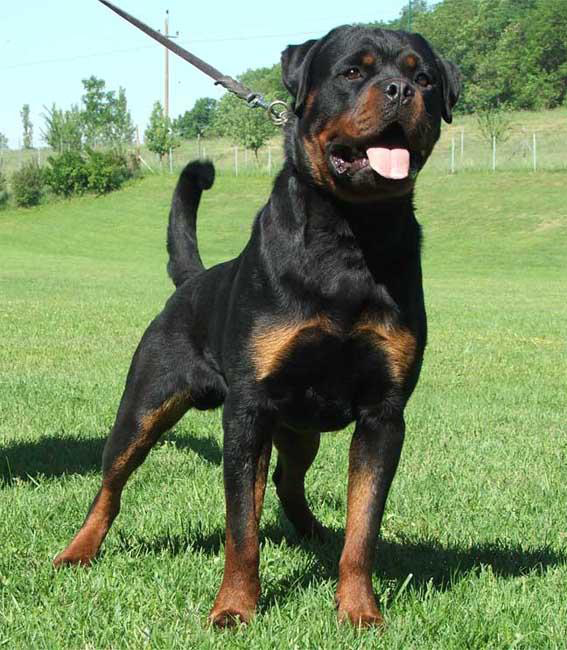 ---
Dora's grandfather (Kaja's sire)
ENKIDU CRNI LOTOS
Sire:  2x ADRK KS Ch. Gringo Vom Oberfalzer Wald BH, VPG 1, AD, ZtP
Dam:  International CH. Multi V-1, BOB, BOG Dela Kao Bumbarin IPO1
AKC DNA # V648254
HD: A; ED:1
OFA HEART # RO-CA5021/31M/C-VPI
Eyes: RO-361019
Youth Champion
Vice Youth IFR World Winner 2010
Vice Trofej Sieger 2010
8 x Best Of Breed
7 x BOG & BIS Part.
Derby Winner 2010
ADRK KS AUSLAND JUGENSEIGER 2010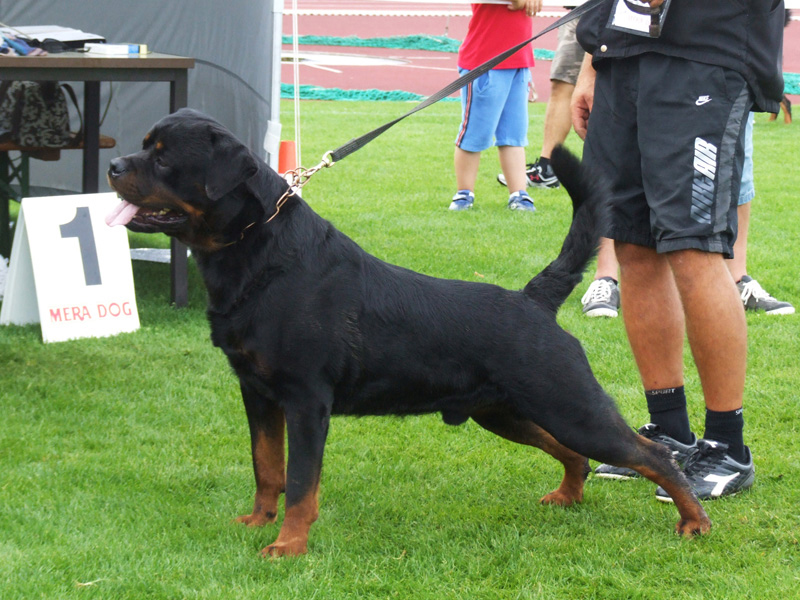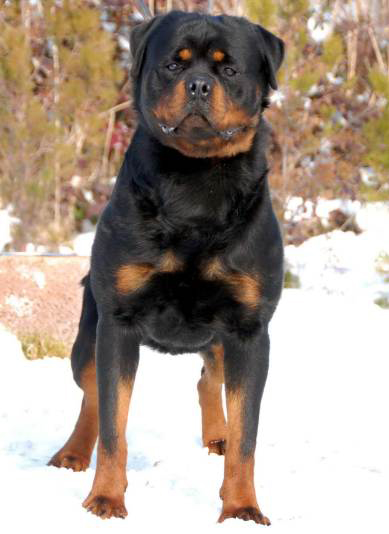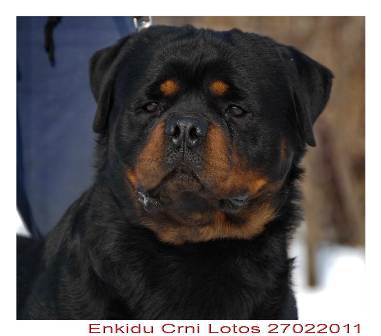 (Visited 53 times, 1 visits today)