Due to indiscriminate breeding out of either ignorance of the breed standard (not caring enough to lean the correct weight, height, type, character, health issues to be aware of, etc. associated with the breed) or indifference (knowing that the dog you are breeding is incorrect, in poor health or with poor character, and breeding anyway out of greed) combined with poorly chosen and educated owners (breeders who are more interested in money than taking the time to make sure that the families they are choosing for their puppies are both the correct families and have received all necessary health, training, socializing, etc. information), the reputation of the Rottweiler has been unfairly jaded. The Rottweiler is a powerful, intelligent, majestic, proud, courageous, affectionate and profoundly loyal breed of dog. I firmly believe that a well bred, well raised Rottweiler is without a doubt the absolute best companion.
Quality does not happen by accident. By breeding only pure German and European lines and concentrating not only on the conformation of our Rottweilers, but the temperament as well, the United States will be able to have what Europe has held sacred for generations. We strive to produce calm, confident, courageous dogs with an inherent desire to protect home and family. At Guardian Rottweilers, our dogs are our family. They are raised with our children and in our home. We have traveled to Europe and hand selected each and every dog we use in our breeding program. We personally met and handled the parents, the siblings, and when possible, the progeny of these magnificent animals. Each breeding is chosen with specific consideration to what each parent brings to the table and which bloodlines will produce the best possible offspring from the breeding pair. Every single dog used in our breeding program can be traced back to the first Rottweilers in Germany around 1907-1914!
Just because we have amazing studs already at Guardian Rottweilers does not mean that their genetic contribution will bring out the best in every single female. We will travel worldwide for the correct stud/breeding and typically plan our breedings generation in advance. Once born, our puppies are socialized with babies, children, other adult dogs, our kitties, and a variety of our children's and neighbors' pets including: chickens, bunnies, potbellied pigs and goats. Early neurological stimulation in newborn puppies is also critical for development. When the pups are of correct age, we individually evaluate every puppy for conformation and character.
The Rottweiler is not the correct breed for everyone. He is a strong minded, confident dog with a very balanced character. He is incredibly intelligent and can be stubborn. However, he is the most well rounded breed of dog capable of any job asked of him. You can find him in every venue of competition from conformation shows, to field/working, agility, carting, weight pulling and herding. He makes a wonderful therapy or service dog and works tirelessly in Search and Rescue, explosive detection, Police, Military and Personal Protection. Please enjoy the site and learn more about these magnificent and noble dogs.
The love of my life, my beautiful baby boy, my most beloved best friend, took his journey home on December 24th, Christmas Eve, 2016.  I am so blessed and honored to have had the privilege of having such a Courageous Guardian and Loyal Companion sharing the last 15 years of my life.  Diesel has raised all 4 of my kids and been the best friend of many other kids, kitties, bunnies, ferrets, and a myriad of other critters over the years to include Candy, the baby deer, chinchilla, sugar gliders, pot bellied pigs, chicken, turkey, peacock, orphaned baby bunnies, and many, many more.  He is the heart, soul and foundation of Guardian Rottweilers, and the standard I judge all others against.  I did my best to be worthy of your love and devotion, my dear friend, and anyone who met you is richer for it.  You are still my heart, my Diesel-dog, my Superman, and the most handsome young man I ever met.  Every morning when I wake and do not have your massive head pressed up against me, I must remind myself that you have an even greater job now, at the feet of our Maker.  I miss you more than you can imagine my treasured friend, and I will do my best to continue to be worthy of your devotion.  I love you with every fiber of my being Diesel.  Thank you.




We were recently interviewed by Lazhar, the owner and founder of Breeding Business, The Responsible Way, a website geared towards helping make sure breeders have access to the tools necessary to truly do best by their breed.  I get requests daily to allow different website to link to me or publish something of mine, but I very rarely concede.  Most of the websites are simply not websites that I want GR to be associated with.  But after spending sometime on Lather's website, I found that it was definitely a noble cause and could see the amount of time and dedication he had.  The link is to my interview with Lazhar.  I loved the questions he asked and I am honored to have been considered for an interview.
https://breedingbusiness.com/interview-alice-breeder-guardian-rottweilers/
We are so proud of our Junior Handler, Korbin, for his recognition in The Total Rottweiler Magazine! It was a rough year for him last year with a total of 6 surgeries :/ But my tough little cookie always perseveres with that beautiful smile of his that lights up every room he walks into. His patience and love shows through so clearly in his work with our Rotties too. Great Job Korbi-Bear <3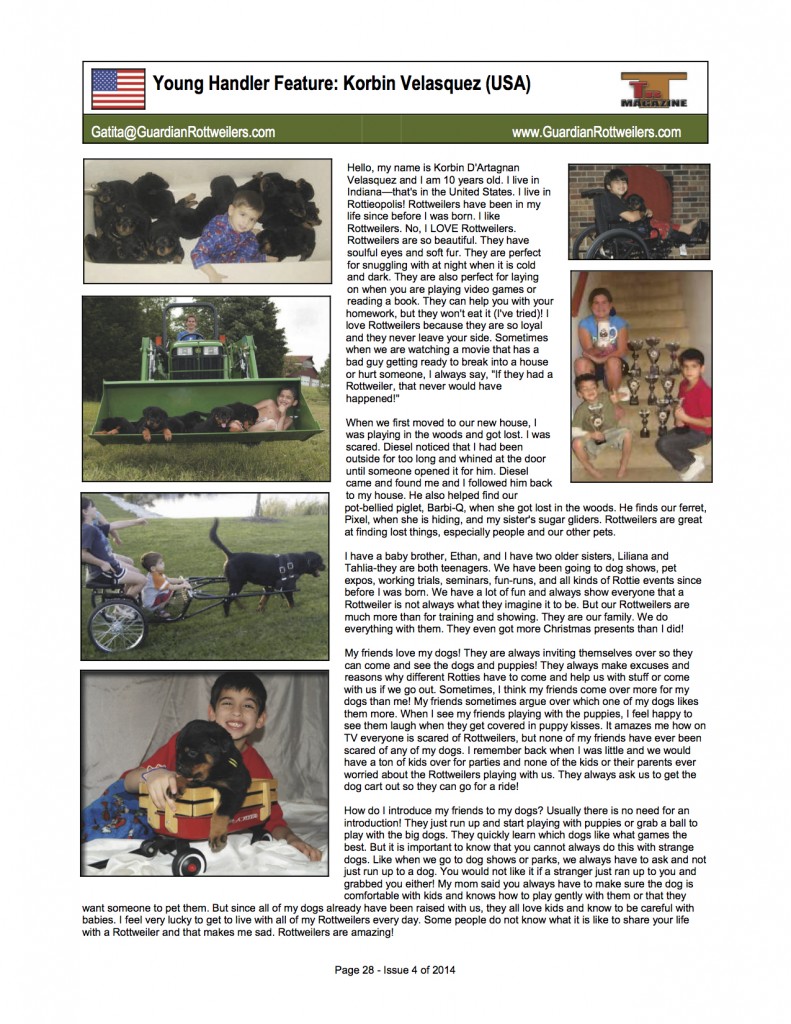 NEWS! NEWS! NEWS! NEWS! NEWS! NEWS!
COULD NOT BE MORE PROUD OF MY OCHO!!!
Ocho spent 9 months in Germany and Holland training with Hans and then another 3 months on tour in Europe with Uros and now I am SUPER excited to announce that OUR CHAMPION WILL SOON BE COMING HOME!!!!!!!
"Ocho" Guardian Warrick Von Gottschalk
(Irk vh Milsped X Zarah X Zarah von Wölpinghausen)
IPO 1; BH
Candidate for International Champion
Adult Champion of Bulgaria
Balkan Champion
Grand Champion
Multi V1 ( work class )
Multi C.A.C.
2x C.A.C.I.B.
THE BEST ADULT MALE x2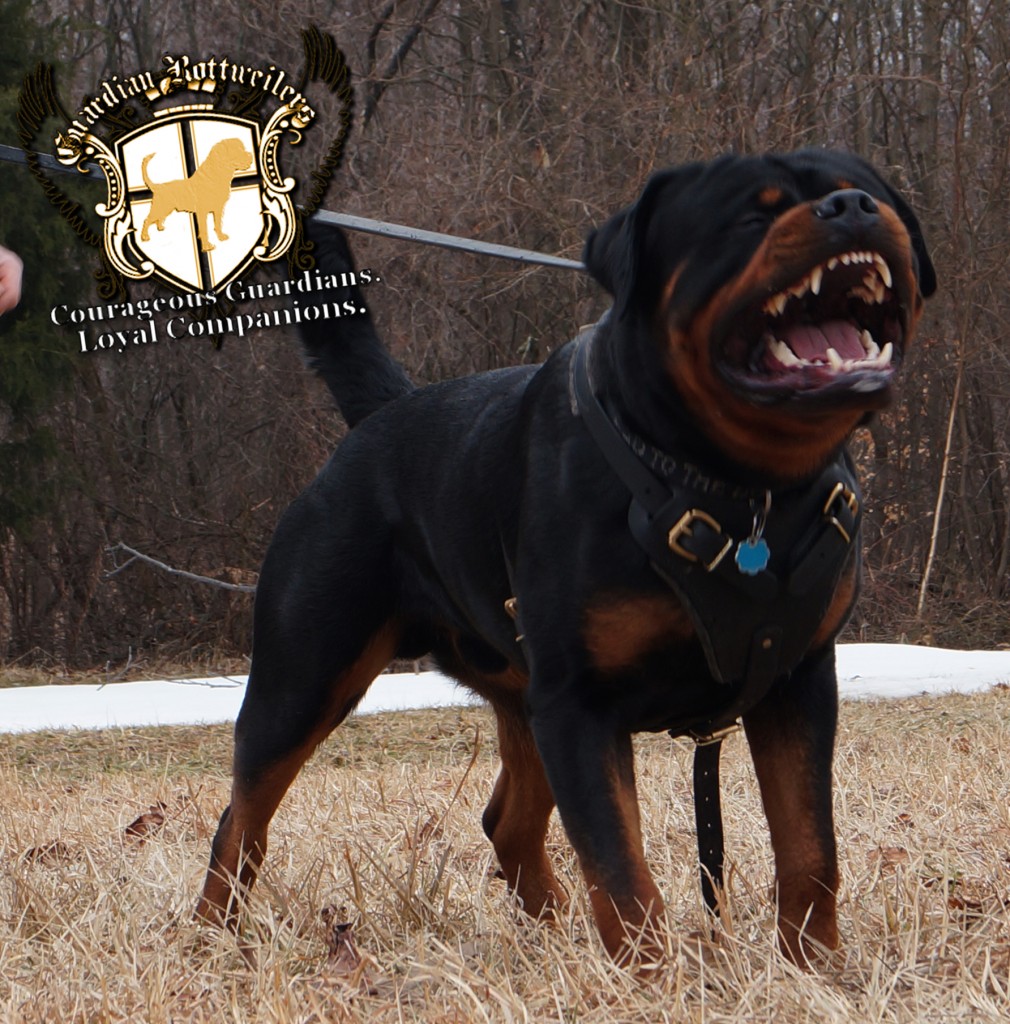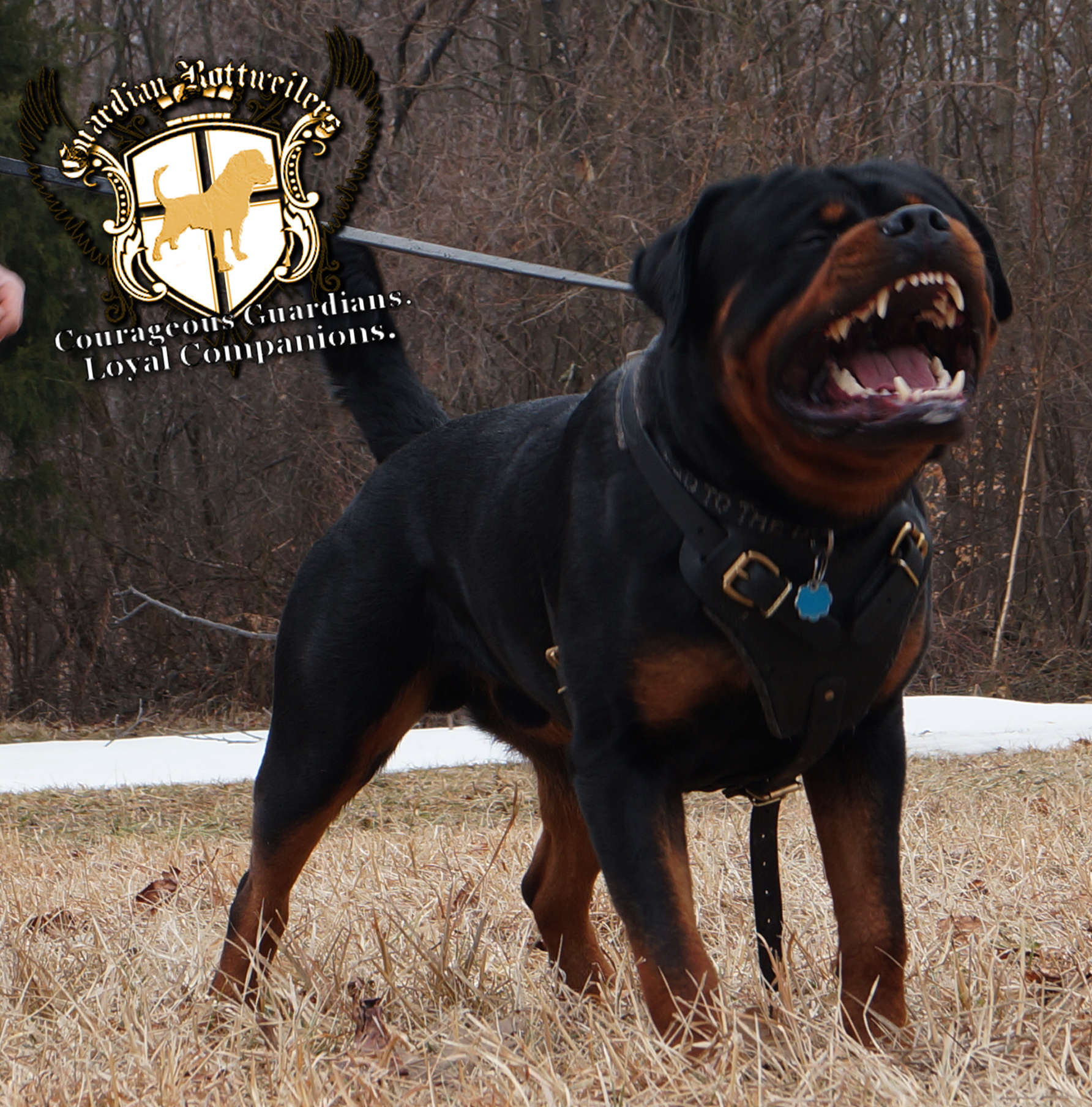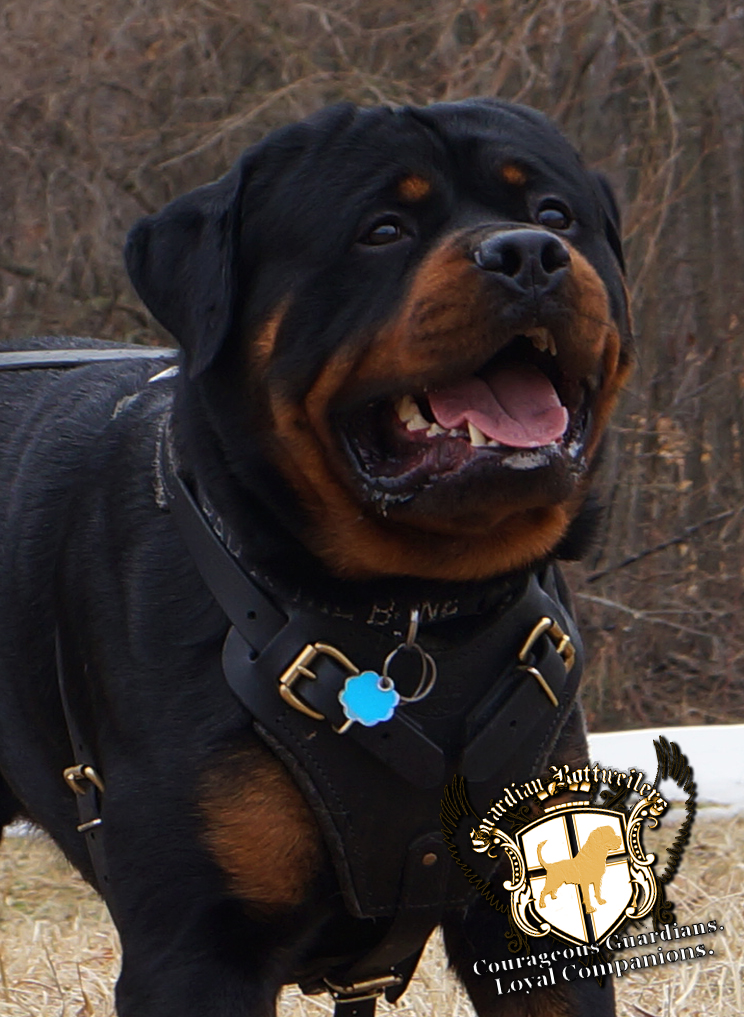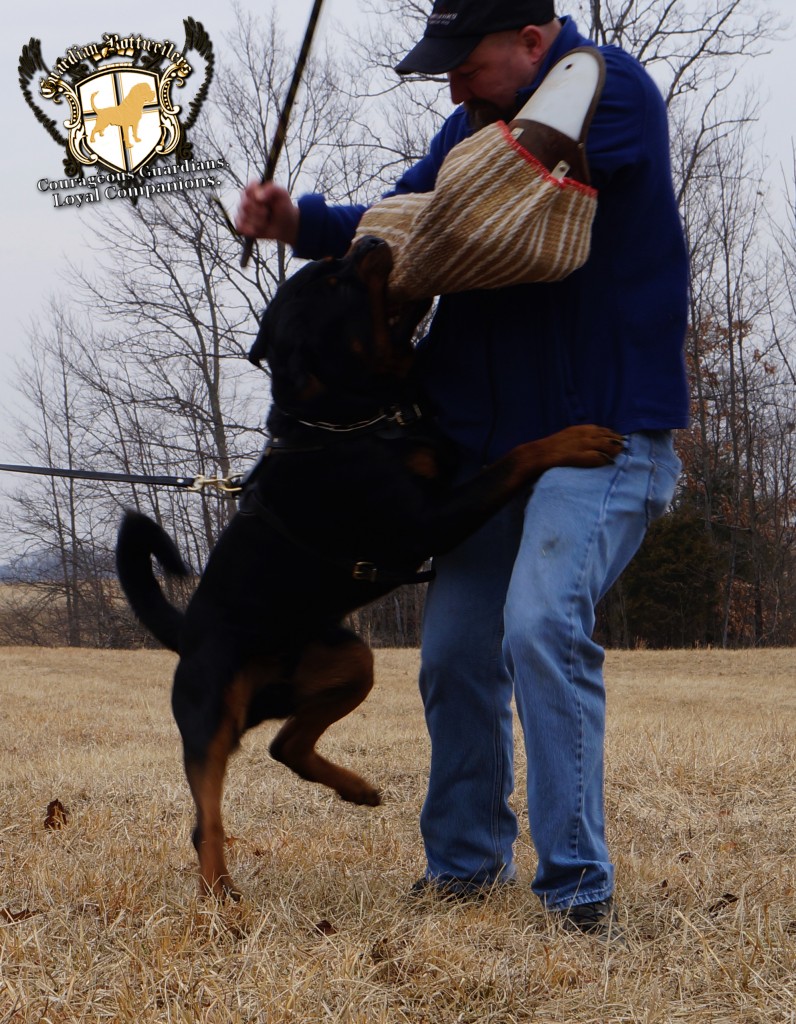 ---
Guardian Rottweilers takes FIRST PLACE KENNEL/BREEDER at
ADRK KLUBSIEGER in Rottweil, Germany!!
It was such an amazing experience and I am so very honored to have competed with so many talented and dedicated breeders and handlers and some of the world's best Rottweilers! HUGE CONGRATULATIONS to all the winners and participants!
"Bane" Guardian Gambit Von Gottschalk- VSP4
"Athena" Guardian Gigi Von Gottschalk- VSP
Guardian Rottweilers Zuchtgruppe (Kennel) FIRST PLACE!!!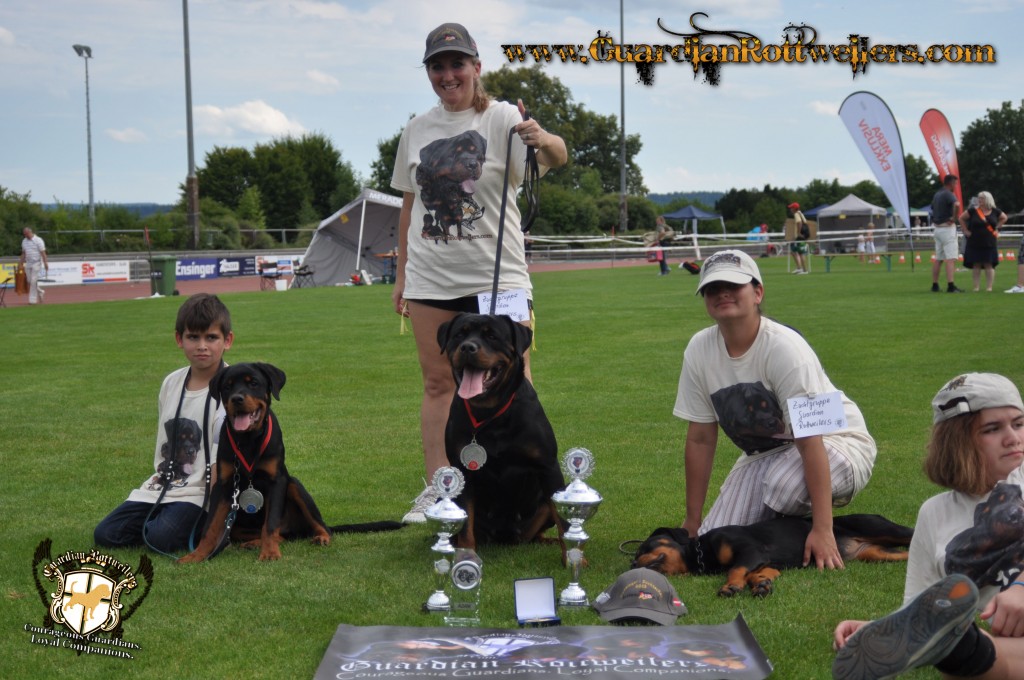 ** GUARDIAN ROTTWEILERS ** ADRK KLUBSIEGER- ROTTWEIL, GERMANY

Link to us? copy and paste the code below to your links page.
Link to us? copy and paste the code below to your links page.
<center><a href="https://www.guardianRottweilers.com/" target="_blank"><img src="https://www.guardianRottweilers.com/images/banner5.gif" border="1″ alt="Guardian Rottweilers" title="Guardian Rottweilers" width="728″ height="90″></a></center>
guardian Rottweilers, guardian Rottweiler, Rottweiler breeder, german Rottweiler breeder, german Rottweiler puppies, german Rottweiler puppies for sale, available german Rottweiler puppies, german Rottweiler pups, german Rottweiler pups for sale, Rottweiler pups for sale, Rottweiler pups available, german rotts, german Rottweilers, german Rottweiler breeder, Rottweiler, Rottweilers, rotties, puppies for sale