Ema of Nicola's Lion
Sire: Codex of Nicola's Lion
(Mauser of Nicola's Lion x Tisa von Hause Pista)
Dam: Gromada vom Grossen Tal
(Dino of Nicola's Lion x Arizona vom Grossen Tal)
Born: 05 November 2018
Microchip: 070000000081563
KSS: JR 79747 Rw
AKC: WS73507201
DNA: V976990
HD- ; ED-
JLPP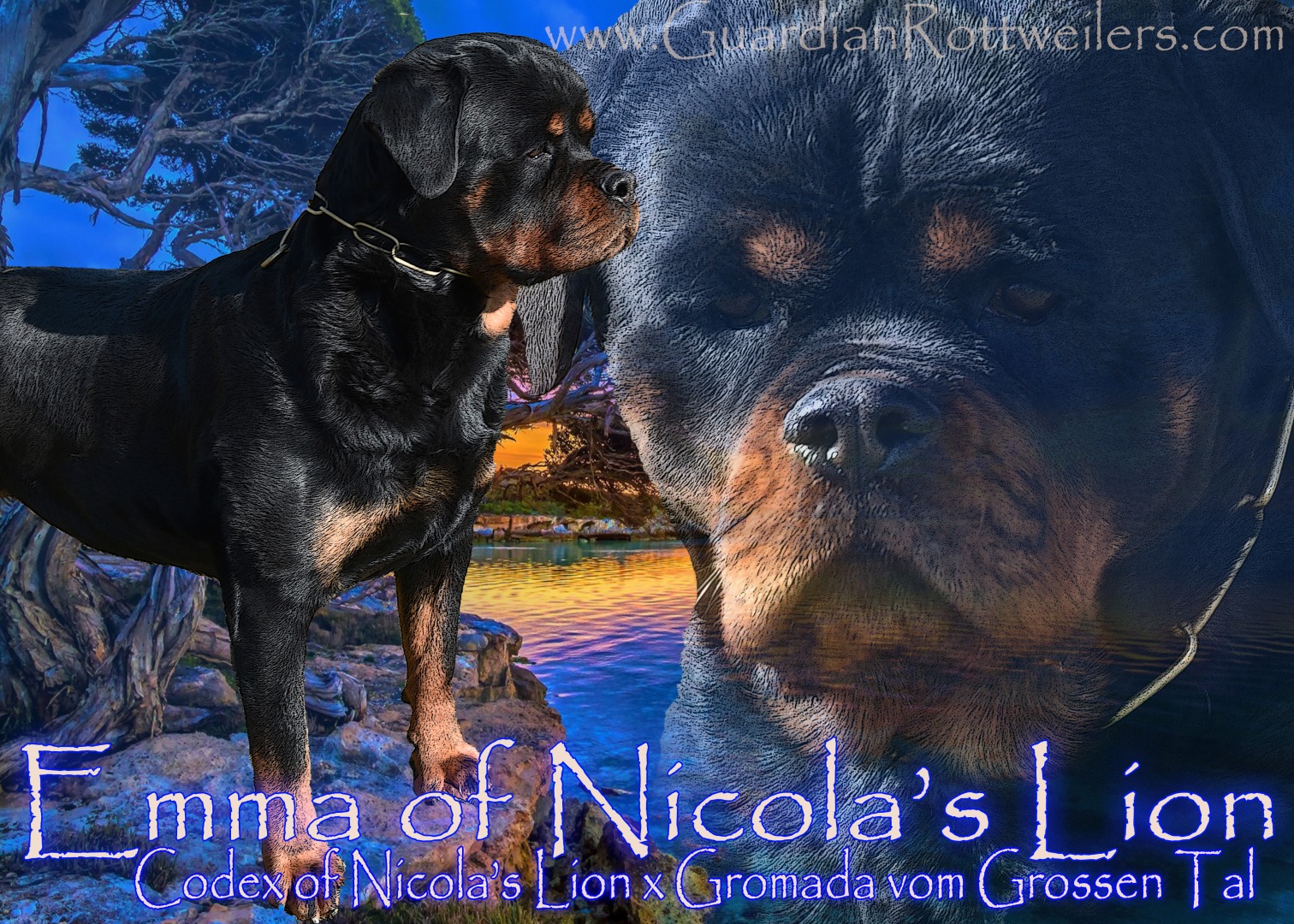 There are no words for how excited I am to have this incredible girl join our Guardian Rottweiler family!  I tried to buy her mother from Nikola for several years and I have tried to buy Emma since she was a pup!  Emma's pedigree is just full of some of my favorite Rottweilers- dog of substantial build and extreme bone, but even more importantly, Rottweilers of exceptional character- confidence, drive, intelligence and biddable, eager to please temperaments.  Mark my words, Emma will be doing great things at Guardian Rottweilers for this breed.

---
FULL BROTHER
Edison of Nicola's Lion
Sire: Codex of Nicola's Lion
Dam: Gromada vom Grossen Tal
HD-A; ED-0
JLPP negative by parentage
Heart- clear

FULL BROTHER
Escobar of Nicola's Lion
Sire: Codex of Nicola's Lion
Dam: Gromada vom Grossen Tal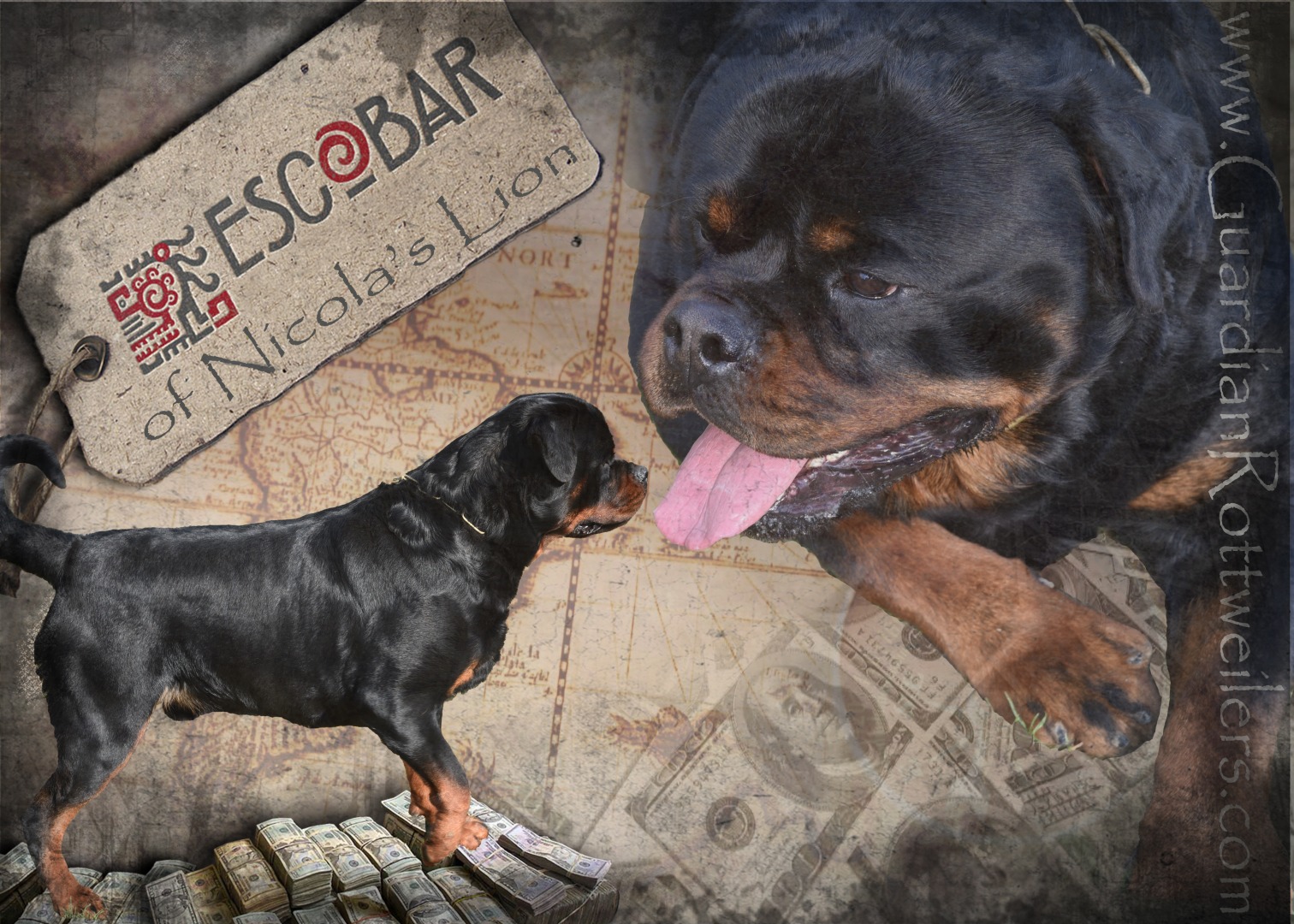 ---
SIRE:
Candidate for International Champion
Codex of Nicola's Lion
Sire: Mauser of Nicola's Lion
Dam: Tisa Von Hause Pista
Chip: 968000010530293
KSS: JR 74815 Rw
Hd- A; Ed-0
JLPP n/n
heart-clear
DNA
Champion Serbia
Multi V rated
CACIB
CAC
BOB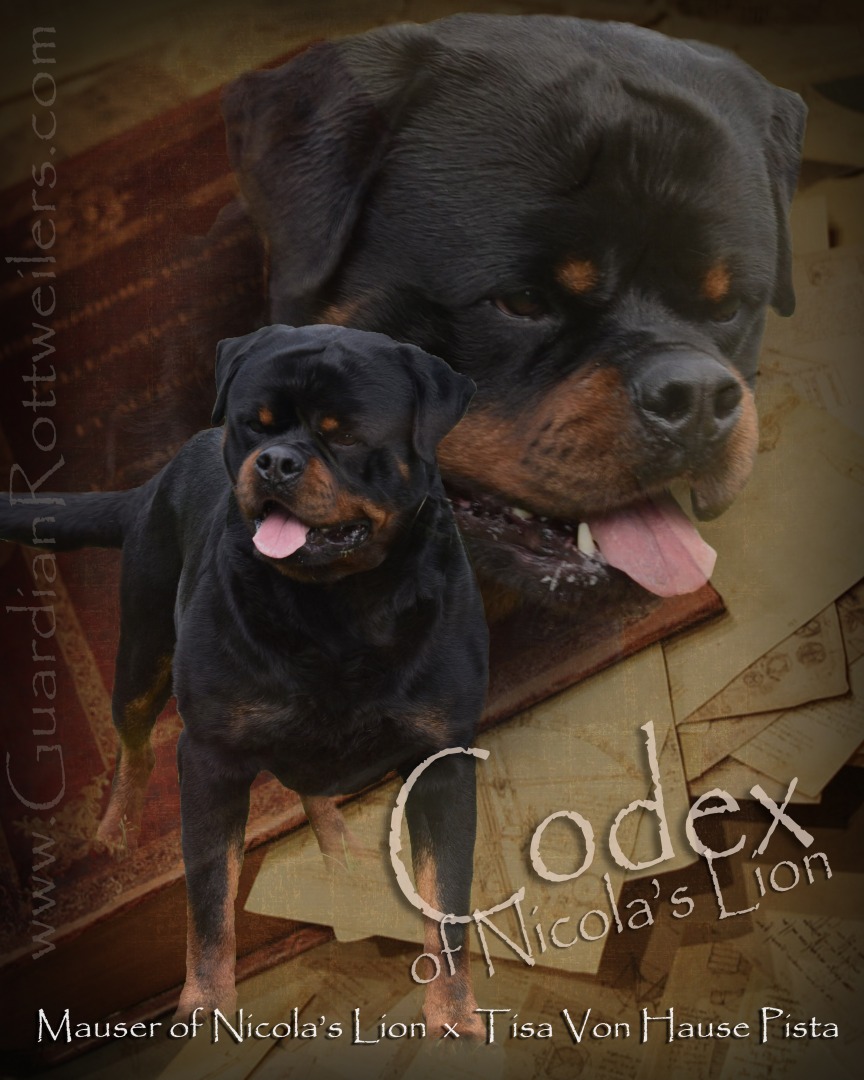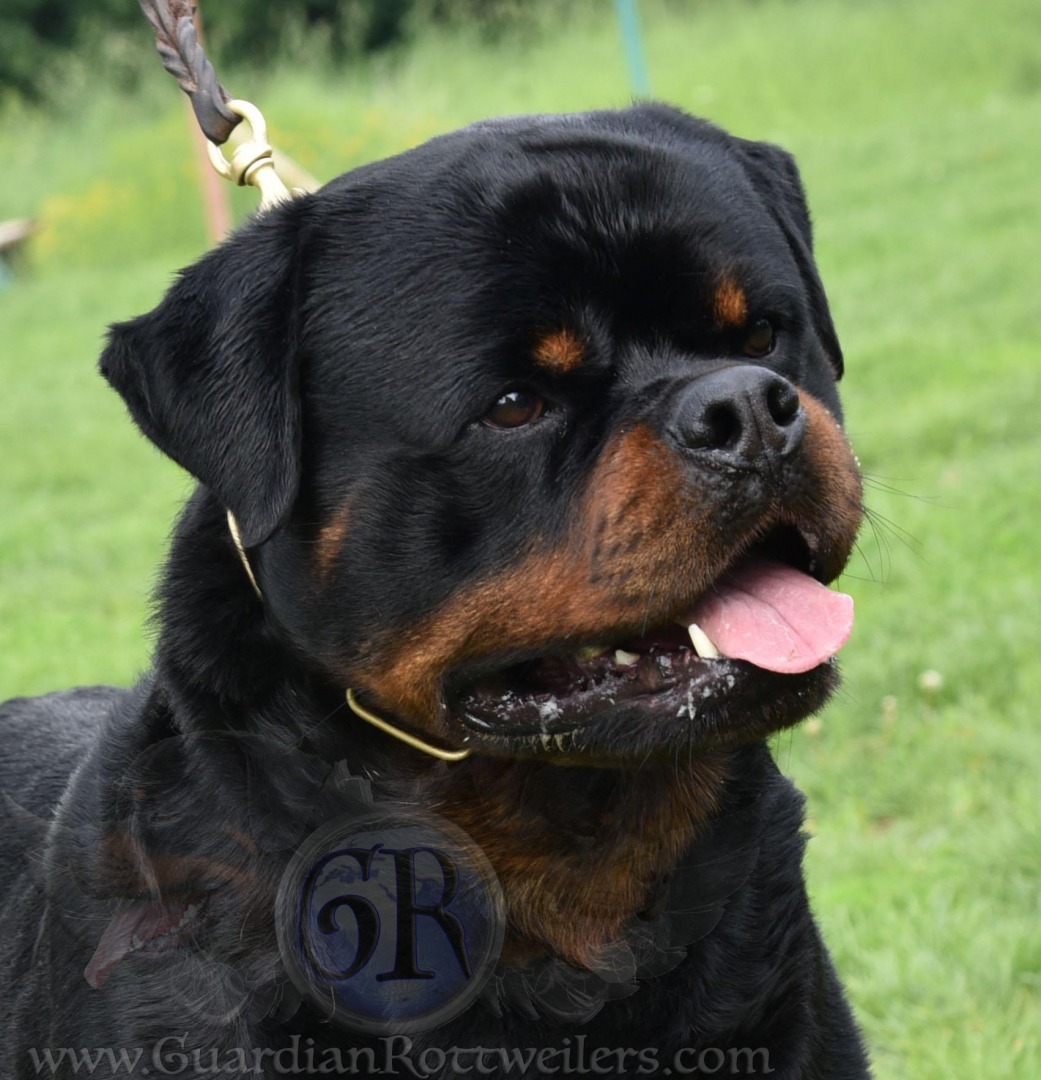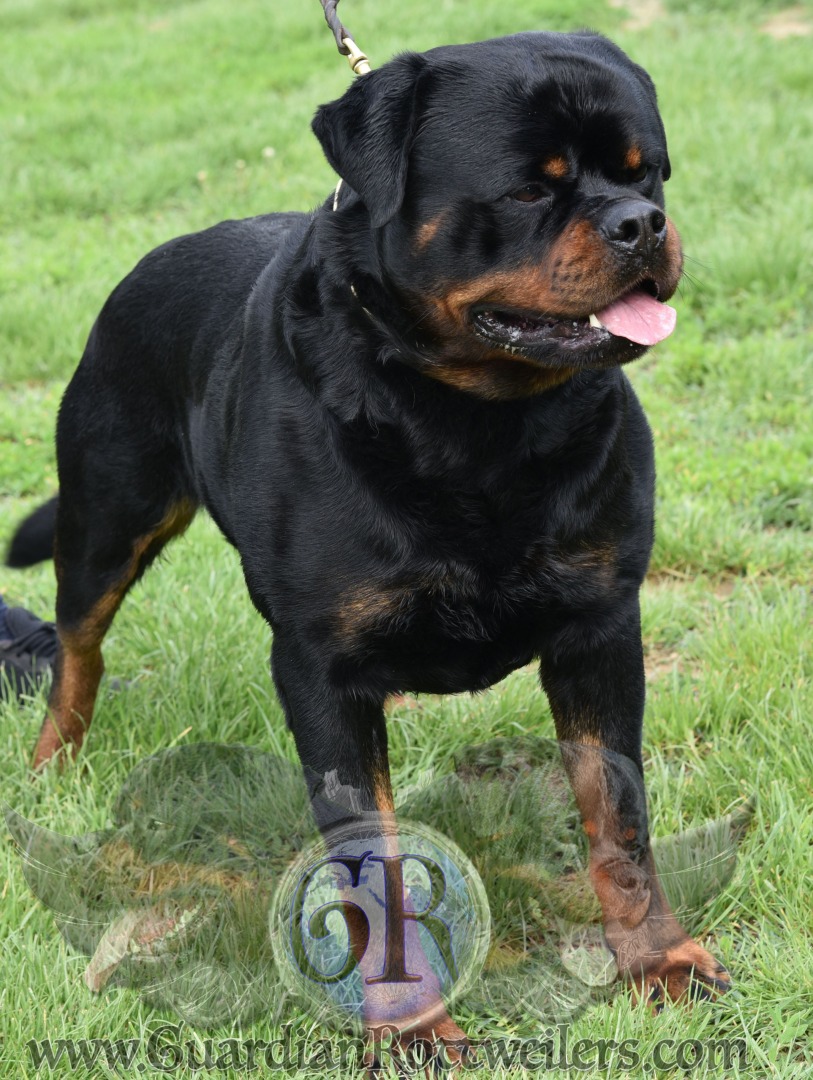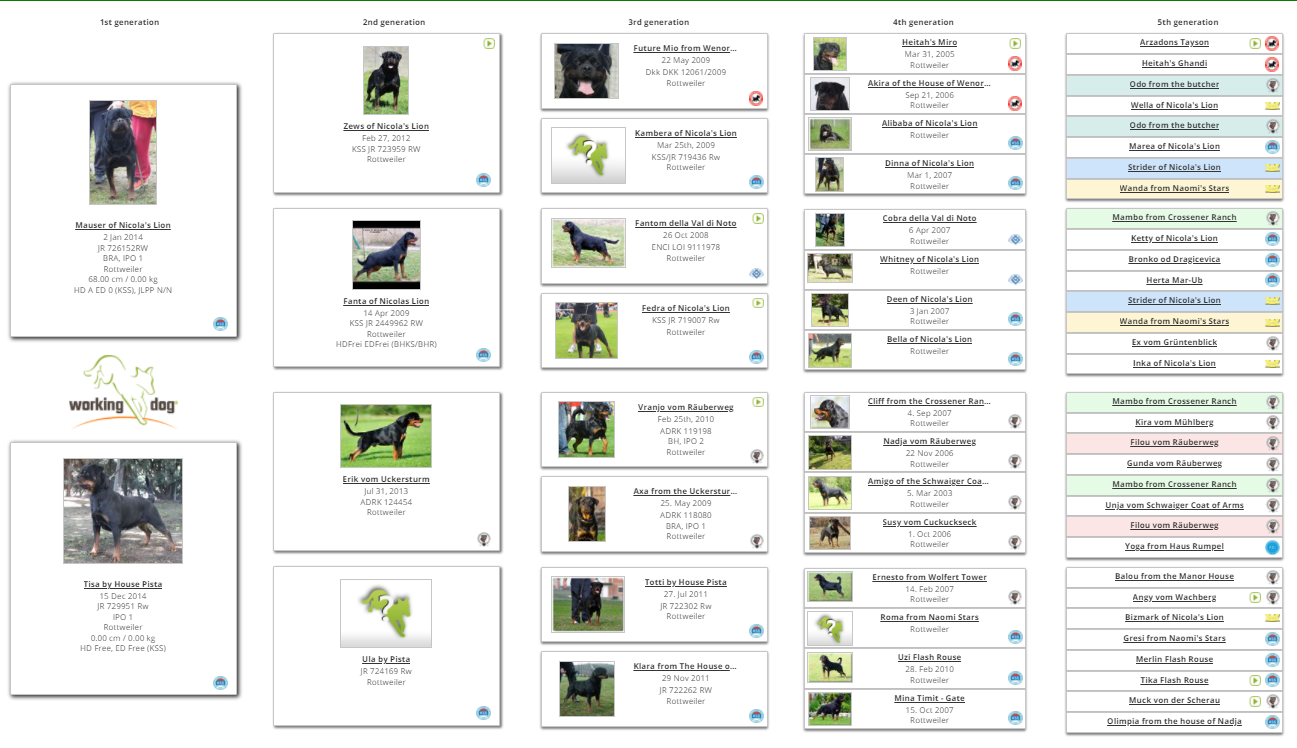 DAM:
Gromada vom Grossen Tal
Sire: Dino of Nicola's Lion
Dam: Arizona vom Grossen Tal
HD- A; ED-0
2.10.2016 Ajax Cup Winner- V4 Judge: Siegmund Trebschuh (ADRK)


Grandfather:
Mauser of Nicola's Lion
Sire: Zews of Nicola's Lion
Dam: Fanta of Nicolas Lion
HD-A , ED-0
DNA
IPO 1
JLPP – Free
Adult CH. SERBIA
Adult CH . BOSNIA
11.06.2015. World Dog show : V2 -Intermedia class (judge: Nicola Parrini)
25.07.2015. Clubsieger Belgium : V1- Intermedia class (judge Srdjan Knezevic)
26.07.2015. ADRK Nordseekutenshau: V1,JCAC – Young class (judge: Siegmund Trebschuh)
16.08.2015. Sremsieger show – Stara Pazova: V2- Open class (judge: Olga Grin)
28.08.2015. ADRK spec. rottw. show.: V-intermedia class (judge: Uwe Peterman)
29.08.2015. ADRK KS: V- Intermedia class (judge: Helmut Weiler)
19.09.2015. Balkansieger: V2, R.CAC -Intermedia class (judge: Zec Vladimir)
20.09.2015. Macedoniasieger: V1, CAC- Intermedia class (judge: Olga Grin)
04.10.2015. CACIB Gradacac: V1, CAC, CACIB , BOB – Intermedia class
04.10.2015. CAC Gradacac : V1 , CAC , BOB -Intermedia class
10.10.2015. CACIB OBrenovac : V1, CAC-Intermedia class(judge Gere Tibor)
17.10.2015. CACIB Pozarevac : V1,CAC, R.CACIB -Open class (judge Dragan Babic)
25.10.2015. CAC Debeljaca: V1-CAC-DERBY WINNER-Intermedia class (judge: Milenkovic Branko)
01.04.2016. Special.show.Senza Frontiere : V3,Open class (judge Olga Grin)
03.04.2016. Klubsieger Italy : V1 CAC, Working class (judge Olga Grin)
01.05.2016. Klubsieger Serbia : V1, AUSLANDSIEGER SERBIA Working class (judges: Stojadinovic Radisa and Siegmund Trebschuh)
20.05.2016. Klubsieger Lithuania : V2 ( judge Vinico Di Paolo )
29.05.2016 .Special show Kovin : V1 , CAC ( judge Dragan Babic )
25.06.2016 . Alten Festunf Sieger : V1 – Working class (judge Srdjan Knezevic)
21.08.2017 . ADRK – Klubsieger Germany – V – Working class (judge Uwe Peterman)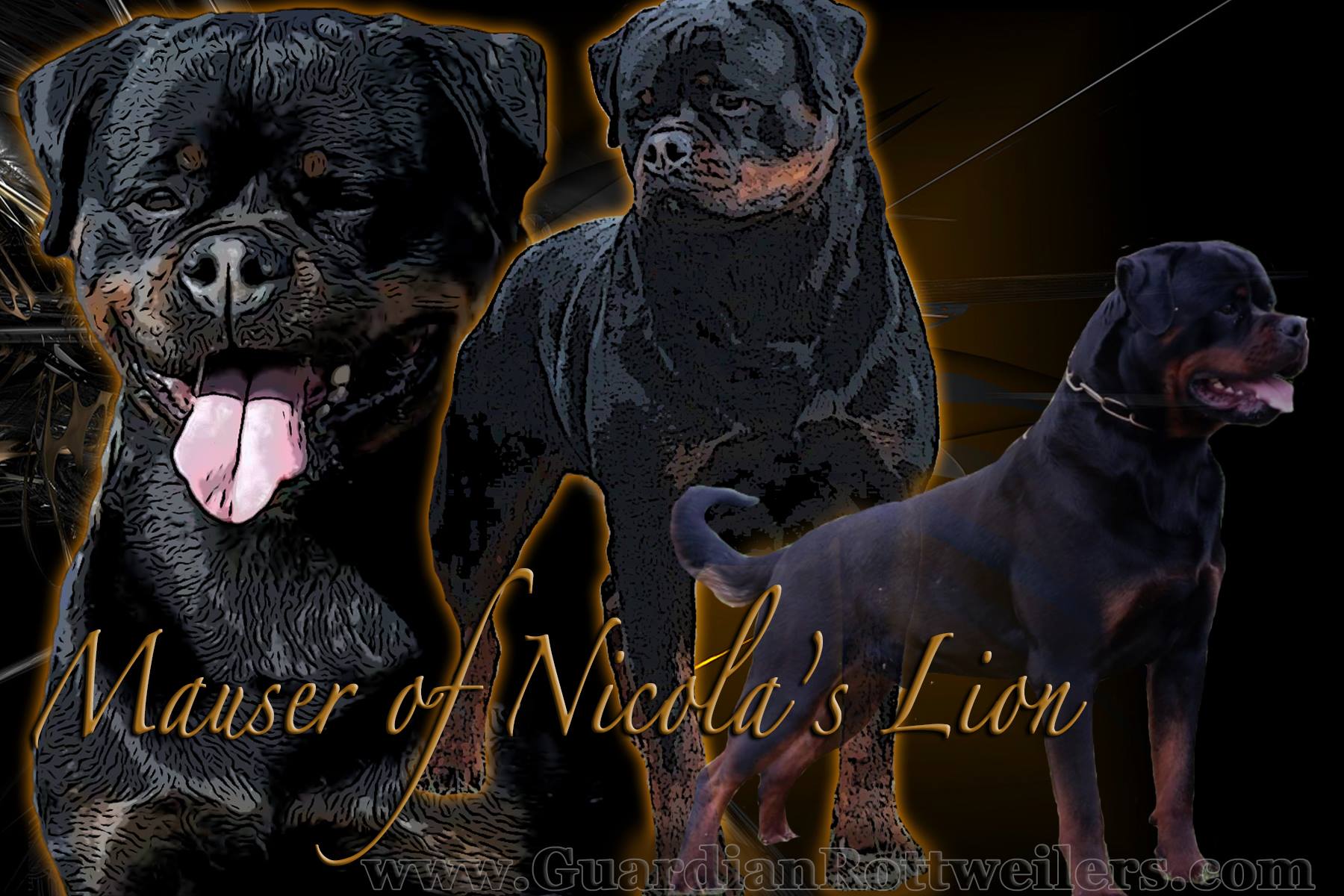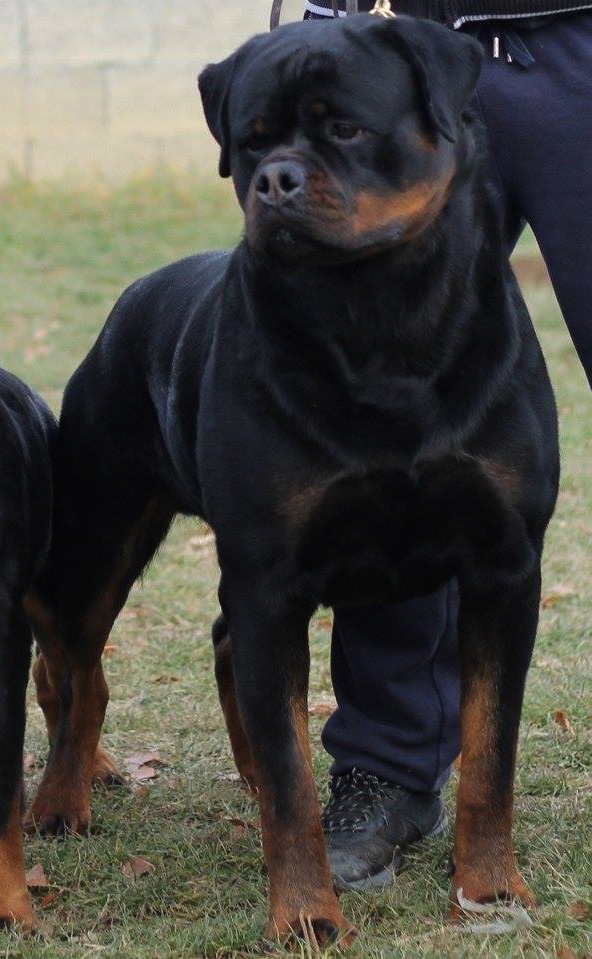 Dino of Nicola's Lion
Sire:  Fantom della Val di Noto
Dam: Fiona of Nicola's Lion
HD-A ED-O
IPO-1
DNA
JLPP – Free
Champion of Serbia
25.7.2015. KS Belgium: V3 (judge: Srdjan Knezevic)
26.7.2015. ADRK Nordseekutenshau: V1-Anw.Dt.Ch.VDH (judge: Siegmund Trebschuh)
16.8.2015. Sremsieger show – Stara Pazova: V1-CAC (judge: Olga Grin)
28.8.2015. ADRK spec. rottw. show.: V (judge: Lavrinovich)
29.8.2015. ADRK KS: V (judge: Hans J. Radtke)
19.9.2015. Balkansieger: V2-R.CAC (judge: Zec Vladimir)
20.9.2015. Macedoniasieger: V2-R.CAC (judge: Olga Grin)
12.9.2015. CAC Cacak: V1-CAC-BOB-R.BOG (judge: Nikola Angelkovski)
10.10.2015. CACIB Obrenovac: V2-R.CAC (judge: Gere Tibor)
17.10.2015. CACIB Pozarevac: V1-CAC-CACIB-BOB-BOG (judge: Dragan Babic)
25.10.2015. CAC Debeljaca: V1-CAC-BOB (judge: Milenkovic Branko)
31.10.2015. Radunid del Sud-Campaniasieger 2015, Italy: V2, RCAC (sudija: Anton Spindler)
01.11.2015. Radunid del Sud-Campaniasieger 2015, Italy: V1, CAC (sudija: Erika Stepanauskiene)
(Visited 341 times, 1 visits today)