Maks x Tajga boys!
Sire: Maks Se Ungo-Rot
(Dule Se Ungo-Rot x Bela Se Ungo-Rot)
Dam: F-Tajga Premium Selection
(Disco Premium Selection x Dea of Silver Fild Kg)
Born:  26 May 2021
Sorry, no pups available in Tajga's litter.
Bacardi and Blaze
Maks is over 70kg- one of the largest males I have been around, and yet, so very well built with fantastic anatomy.  Maks hails from some of my most favorite European bloodlines.  He is a 4-4-4-4 linebreed on legendary International Champion KING Marsio Ri Mobby Dick!  Marsio had over 200 show wins before he was 3 years old!  He placed in the ADRK KS and excelled in both working and show.  Marsio became world famous not just because of how exceptional he was, but more importantly, because of how he produced.  Marsio has more champion and grand champion offspring than any other male I know and his progeny can be found in just about every country.  Tajga's pedigree is equally packed- Russian superstar TK's Gladiator, Faryco Terezsky Dvur, Merlin Flash Rouse, Gil von hause Milsped, Astor Junipera, Dack Flash Rouse, Gringo von Grutenblick, Balou von Silberblick, Mambo von der Crossener Ranch, Uzi Flash Rouse, Cochise From Royal Breed, TK's Black Star… and that is just in the first few generations!!  Fantastic breeding and thank you again to my dear friend Uros Gulobovic for thinking of us with this litter!  When he bought pick female for himself, he immediately called me to see if I wanted the top 2 males!  These will be Maks first pups here in the US too!!
Sire:
Champion Maks Se Ungo-Rot
Sire: Dule Se Ungo-Rot
Dam: Bela Se Ungo-Rot
KSS: JR 75996 Rw
HD-B; ED- 0
Champion Macedonia
Champion Montenegro
Multi V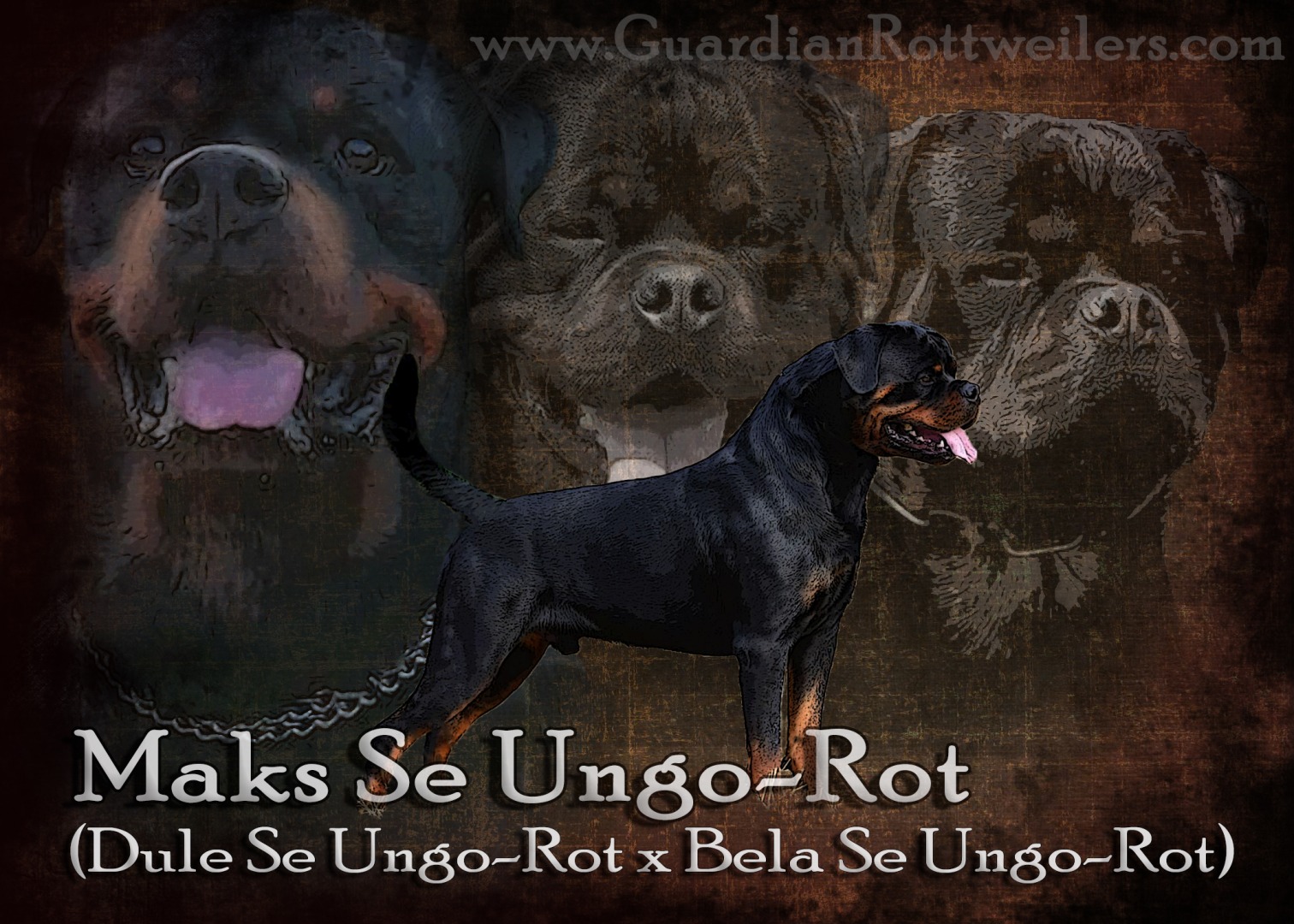 Dam:
Champion F-Tajga Premium Selection
Sire: Disco Premium Selection s/o TKs Gladiator!
Dam: Dea of Silver Fild Kg- d/o Faryco Terezsky Dvur!
KSS: JR 702698 Rw
HD-B ; ED- BL
Youth Champion Montenegro

(Visited 275 times, 1 visits today)