Guardian Rottweilers Z Litter
Sire: Eros vom hause Edelstein
(Roko vom hause Edelstein x Lotta vom hause Edelstein)
Dam: Iluzija From Salt City
(Mentor Timit-Tor x Fionna From Salt City)
Pups born 01 November 2021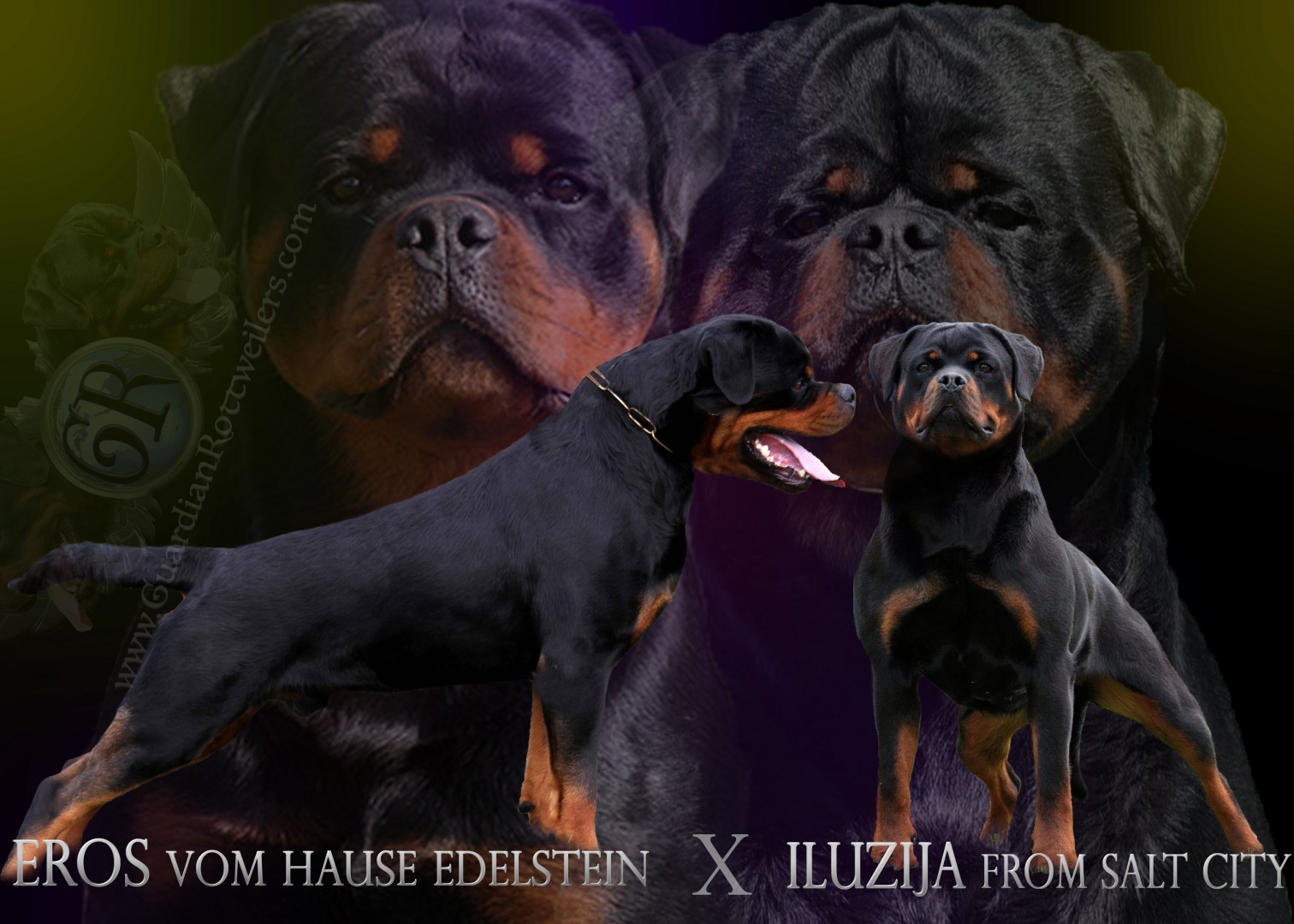 ---
Guardian Zayne von Gottschalk
I thought I would share a cute picture of Zayne, now known as Ernst. God made him so freaking cute and handsome so you don't get as mad with the peeing on the floor and eating your toes and pant legs. We love him so much!
The folks in around town freak out when he's out for a walk. My youngest even got free popcorn from the artcraft in exchange for the high-schoolers working to be able to pet him. 
I hope you and your family are doing well.
Take care!
Laura
---
Guardian Zakiah von Gottschalk
(and his sister, Guardian Cupid von Gottschalk <3 )
Hi Alice, hope all is going well for you and the family.  Just an update on Zakiah.
He is a true ambassador for the breed.   He finished his puppy class and is now in Obedience 1.  He has been asked to return to puppy class as a helper to other puppies who are scared and unsure how to socialize.  That in itself is a true compliment to him.  The trainer said upfront that She is not a fan of Rottweilers because of past incidents, now she just loves him and is very impressed with his ability to make others feel confident and have fun.  I'm thinking we may have the perfect therapy dog in him.
He walked into his first obedience class, looked around and checked out all the loud unsettled puppies, said hello to the staff, then sat down next to me and waited like a perfect gentleman.  He kept checking in with me trying to figure out what all the barking and fussing was about.  I am so truly proud of him and his cool and calm disposition.   When he is at home, his playful wild child side comes out, especially when outside with both Cupid and Leika my 9 yr. old boxer.   He still runs like the goat which is so funny, but when the action picks up, he runs like a dog.
He is still very much the snuggle bug.  He comes up to me each evening with those beautiful soul -searching eyes and wants to join me in the rocking chair for a snuggle.  Not sure how long he will be able to join me in the chair though.  He checked in at 50 lbs. this morning, so he is reaching the limit as to what I can lift.  He'll just have to figure out how to get up or I'll join him on the floor.   He is a quick learner, a thinker and watcher and so much fun to watch him thinking about things, tilting his head and watching what he is trying to figure out.   One night one of the pups got the zoomies and was doing circles around the tunnel toy and here is Zakiah just sitting there watching her run the circles.
I am so proud of Zakiah and love his gentle, playful soul.  He has been a perfect addition to our little pack.  His feet are huge, his legs are long and his heart is large, I'm sure he's going to be a very big fun -loving gentle boy.
I am wondering if there is any update on the papers to register him?
My best to you and the family,
Sue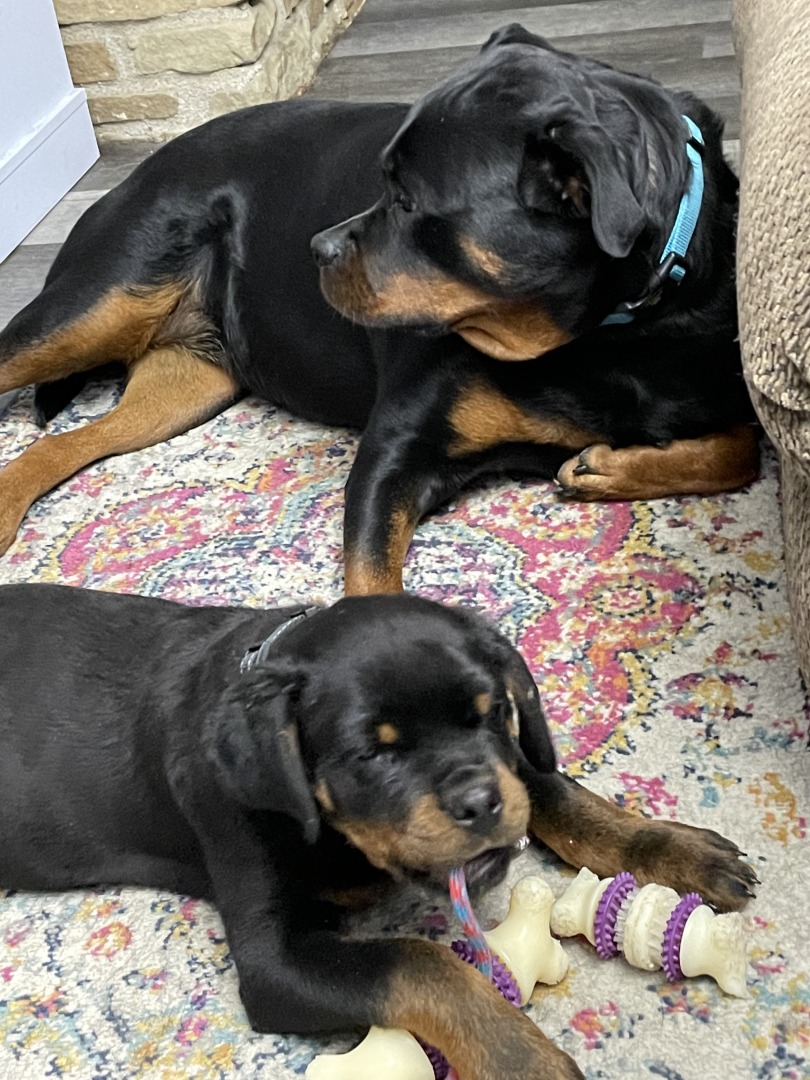 Zakiah has been accepted to start therapy dog training.  We haven't even finished our Obedience I training yet.   So, he will be dual enrolled, doing therapy dog training and Obedience II training.  I'm so proud of him.  I'm quite sure that I haven't even begun to see all he is capable of doing.  This boy has layers upon layers that he's just beginning to show me.  I love working with him and watching him play with Cupid and Leika.  He has such a seriousness about him while learning and then the silliness when he's playing.  He can be such a goofball.  I'm so truly blessed to be his human.
Sue
---
Guardian Zodiac von Gottschalk


Homemade Buffet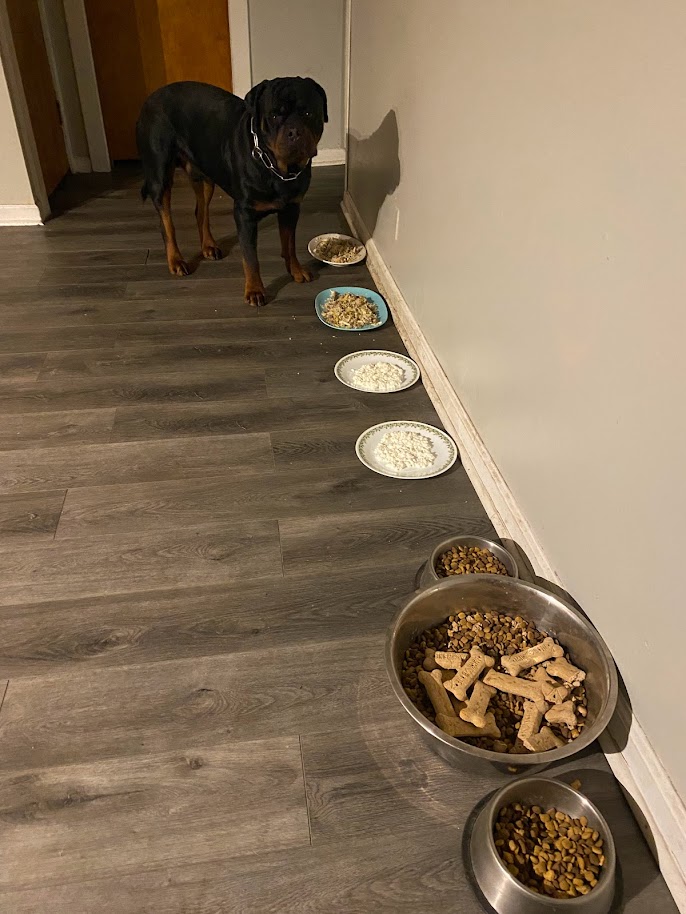 Video (24)
---
Guardian Guapo and Guardian Galaxi von Gottschalk
Alice,
(Visited 1,976 times, 1 visits today)