A well bred Rottweiler is not expensive, it is priceless.
We feed all of our puppies FROMM Large Breed Puppy, please click for more information.
SCROLL DOWN FOR AVAiLABLE PUPPiES!!
Please click on each breeding or the individual litter pages for more information on the litters, parents, slide shows and individual puppy photos.
---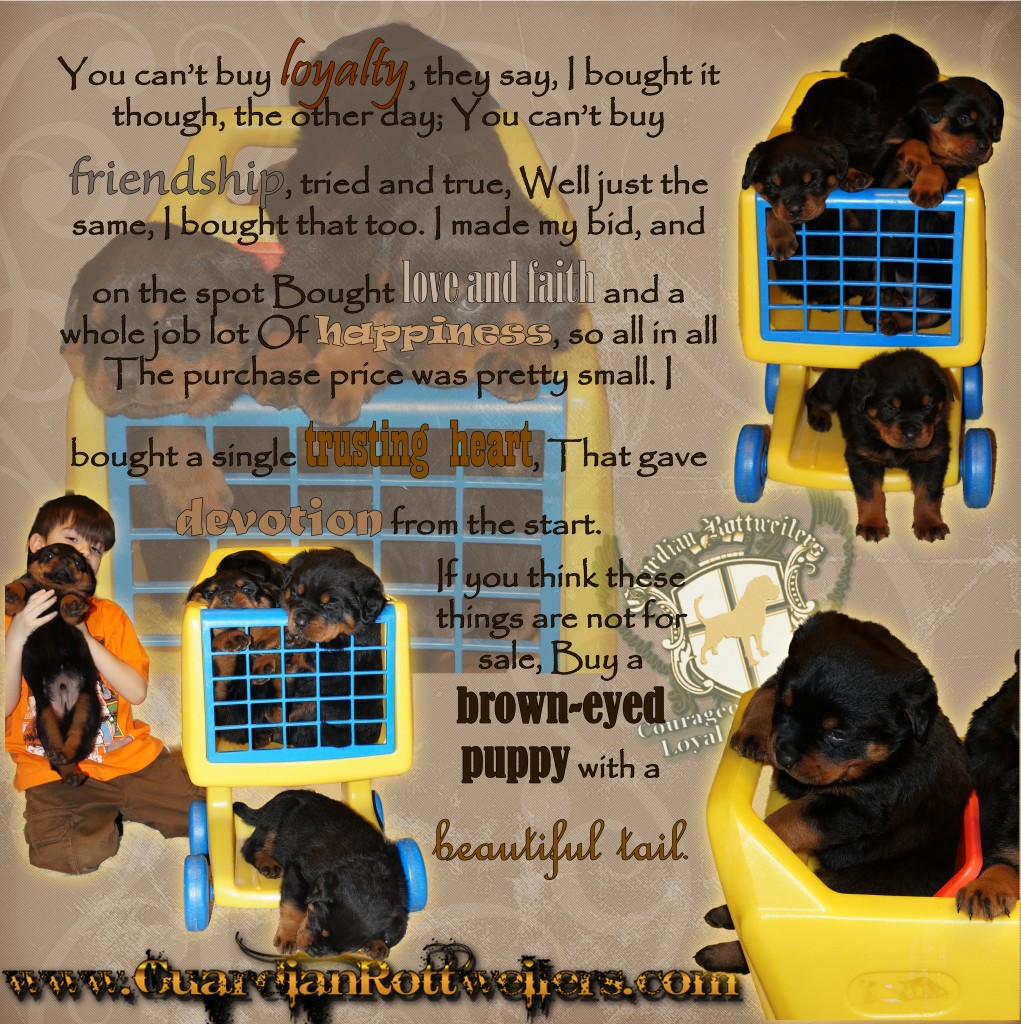 ---
GR's D Litter:
Harry Potter Se Ungo-Rot X Guardian Zarabi Von Gottschalk
Pups born May 30!  4 Males and 3 Females Available!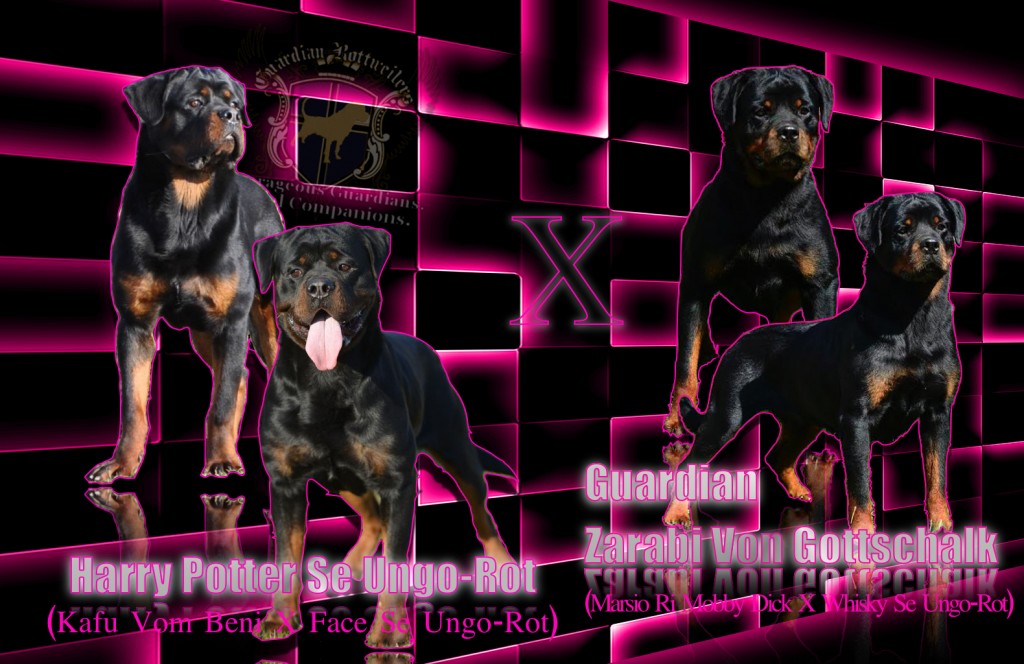 Our beautiful Zarabi is the daughter of beloved Whisky and has the same super sweet character with that "I want to be as close to you as possible every moment" mixed with that quirky sense of humor that keeps you smiling and often makes you laugh out loud.  I just love the character that Whisky gives to her babies and grand babies.
Harry Potter is this massive teddy bear of a boy seemingly oblivious to his intimidating stature.  He is indeed a gentle giant with such a balanced character.  He loves to play and has great drive, but can just as easily turn it off and lay gently in the lap of a small child.  I have such high expectations for these puppies, not just for the size and substance that will be inevitable with their pedigrees, but especially for the characters that are also a genetic given.
---
GR's E Litter:
Bull Se Ungo-Rot X Luna Se Ungo-Rot
Pups born June 05.  1 Males and 3 Females available!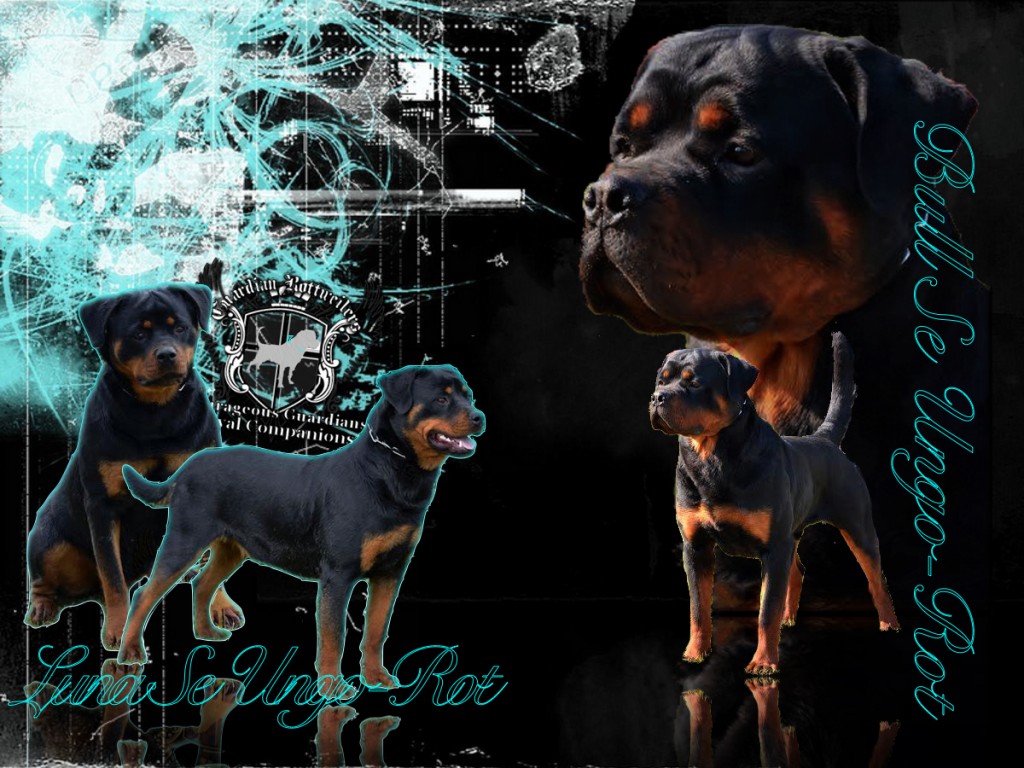 Luna is a beautiful, intelligent female from some of my favorite old German bloodlines.  Her Aunt, Whisky Se Ungo-Rot, has produced some of our best pups with champions in every single litter she whelped.  Bull and his brother Boda have take Europe by storm with not only their own physical presence, but the consistent quality of progeny they are producing as well.  Bull is a very large male with a powerful frame, very heavy bone and that distinguishing MASSIVE head of his!  I am expecting the absolute best character in this litter along with that heavy, stocky build we all love.  Bull is the son of Arlos Majestic Rott, SIEGER SHOW  LOZNICA, WINNER,YOUNG BEST MALE , YOUNG BEST DOG, 23.SUDPFALZCHAU  SIEGER, V1, CAC, JDG VICE  SUDPFALZCHAU SIEGER, Semberia Sieger, V1, Semberia Youth Club Winner, VI Split Croacia Sieger, V1,Best Young Males,Young Club Sieger, YOUNG CLASS YOUNGSIEGER,BEST YOUNG MALES,BEST YOUNG DOG, ADRK Klubsieger 2012 INTER MEDIA V9, 15.09.2012.  BULGARIA CLUB SIEGER- INTERMEDIA V1, 16.09.2012.  CAC   BACKA PALANKA- INTERMEDIA V1, CAC, BOB, ADULT CHAMPION OF SERBIA., 22.09.2012. MACEDONIA CLUB SIEGER  V1, 30.09.2012.  I MORAVA SIEGER  V1,AJAKS CUP WINNER,VICE MORAVA SIEGER, 6.10.2012.  Special show rottweiler derby 2012. Indjija V1,DERBY WINNER CLUB,WINNER MALES,BOB, 04.11.2012.CACIB  BEOGRAD V1,CAC, CACIB,BOB, 09.03.2014. CACIB BEOGRAD V1,CAC,CACIB,BEST OF BREED.  Arlos is one of the most winning Rottweilers in the last decade with Bull and Boda following in his footsteps and soon, Guardian Rottweiler's E Litter as well!

---
F Litter: Champion Bull Se Ungo-Rot x Grand Champion Guardian Eva Von Gottschalk
Pups born June 22.  2 Females and 5 Males available!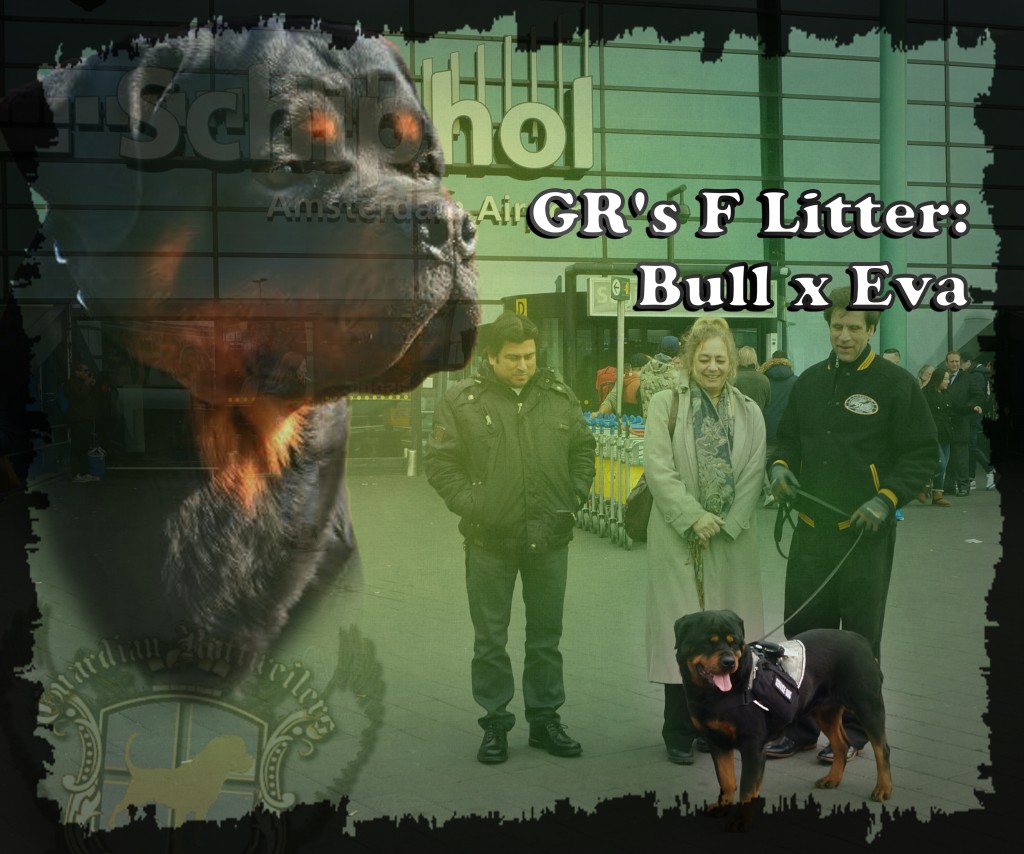 Eva is one of our females that needs no  introduction.  She has produced some of our best pups, including "Yurii" Guardian Yazra Von Gottschalk.  She has more bone and substance than most males and a large, strong had type.  She is the granddaughter of International Champion Marsio Ri Mobby Dick and the daughter of Candidate of International Champion Sango Se Ungo-Rot.  Bull has been quickly picking up recognition worldwide for the progeny he produces.  He is the son of the very titled Arlos Majestic Rott, son of Dt.-VDH Ch. Bundesjugendsieger 2009, Sudpfalzjugendsieger 2010, Donausieger 2011, BH AD ZtP VPG I IPO II Lacky von der Südpfalz, one of Germany's top producing males.  Lacky is the son of INT./DT.(ADRK)/DT.VDH-CH, VDH-ES'08, VDH BS 08, SchH/VPG III AD BH Amigo vom Schwaiger Wappen, who is the son of ZTP 28.05.00 in Zwickau-Planitz (Radtke), INT./SCHWZ./DT.VDH-CH ES'02 Ö-BS'02 SCHWZ.KS'02 Ö-KS'02'03
– SchH/VPG III FH II AD BH IPO III Mambo Von Der Crossener Ranch.  Those are only a drop in the bucket of all the phenomenal dogs in the pedigrees of Eva and Bull, and we expect something spectacular from this litter!
---
Please note, no deposit will be accepted without an interview and a completed GR Puppy Contract.  Checks and Money Orders are accepted for deposits or payments that will clear BEFORE the puppy is scheduled to go home, however, cash is required for final payments at pick-up or delivery.  Sorry for the inconvenience, but the few dishonest who have walked away out of state or out of country with a free puppy always ruin it for everyone else. Our contract has been duplicated whole or in part many times over the years, but copying our contract is not the same as copying our breeding program.  
Puppies will be given a thorough conformation and character evaluation at 6 weeks of age and we will determine if they are pet or show/breed quality puppies.  Each puppy will then be given their own individual web page that will contain a summary of our evaluation as well as photos and video of the puppy.  After this evaluation, puppy selection will be based on order of deposits received.  Please understand that your deposit never guarantees you a particular litter or puppy.  You could ask for a male from a litter and the dam gives birth to all girls; or you could ask for a pet quality female and our only females in that litter are SHOW quality.  HOWEVER, you will never be obligated to any particular puppy or litter and if the puppy you desire is not available in that litter, you can elect to wait for the next available litter where you will retain (or usually improve) your position on the waiting list.  We do not every want anyone to feel "obligated" into a puppy/litter.  That is not the correct way to start out a relationship that will hopefully last a decade or more and most importantly, that is not fair for our puppy.  Conformation photos will be taken when the puppy is of correct age (6 weeks) and will typically not be repeated in young puppies.  Please CLICK HERE to learn why we do our photos and evaluations at 6 weeks of age.
We believe it to be very stressful for a puppy when leaving his/her family for the first time and this is only made worse when stuck in a crate in the dark belly of an airplane with no one to reassure him.  Because of this, WE DONOT SHIP OUR PUPPIES!  We do, however HAND DELIVER puppies to most major airports.  We charge $300 for this service to cover the cost of the transportation of the puppy with us in the cabin of the airplane (in our lap most of the trip), soft-sided travel crate, and required health clearances for travel.  We do not charge for our time or travel.  It is an expense we are happy to shoulder if it means our babies arrive when and where they are supposed to as well as give us the opportunity to meet each and every family who will own a Guardian Rottweiler and ensure that our puppies go directly from the arms of someone who has loved them their whole lives and into the arms of someone who will continue loving them the rest of their lives.  All Guardian Rottweiler puppies come with lifetime breeder support and a lifetime GR Puppy Contract that guarantees the health, temperament and, on show quality puppies, a lifetime conformation guarantee.  We are able to stand behind our puppies with confidence because of our bloodlines, our experience and our standards.  We are the home of Courageous Guardians and Loyal Companions.
guardian Rottweilers, guardian Rottweiler, Rottweiler breeder, german Rottweiler breeder, german Rottweiler puppies, german Rottweiler puppies for sale, available german Rottweiler puppies, german Rottweiler pups, german Rottweiler pups for sale, Rottweiler pups for sale, Rottweiler pups available, german rotts, german Rottweilers, german Rottweiler breeder, Rottweiler, Rottweilers, rotties, puppies for sale