A well bred Rottweiler is not expensive, it is priceless.
WE NO LONGER FEED FROMM Large Breed Puppy.  It is a food that I have loved for years but I have had some integrity issues with my local representative for FROMM and I simply cannot do business with, let along feed my babies from, a company that I do not trust.  We have been transitioning to ANP- American Natural Premium.  I spent months looking for a food that was similar to all the things I loved about FROMM and am quite pleased thus far with ANP.  It is actually a "sister company" to FROMM that had split off believing they could do it better, and thus far, I must agree.  Everything is harvested, made and manufactured right here in USA and it is of course a holistic, premium food.
SCROLL DOWN FOR AVAiLABLE PUPPiES!!
Please click on each breeding or the individual litter pages for more information on the litters, parents, slide shows and individual puppy photos.
---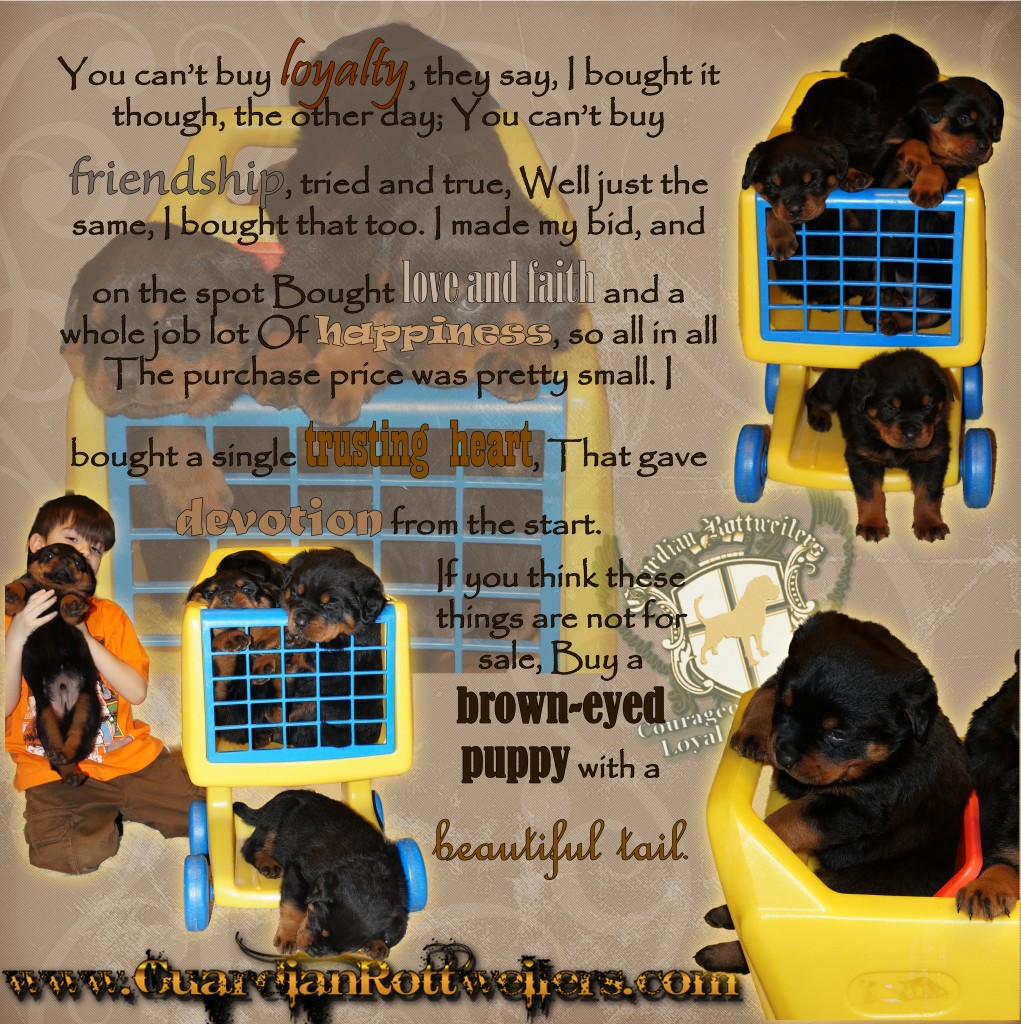 ---
Guardian Rottweilers Q Litter
Sire: "Kaos" Jergan Joep Von Den Hatzrüden
Dam: Guardian Xoana Von Gottschalk
Born 16 Jun 16.  1 males and 0 females available.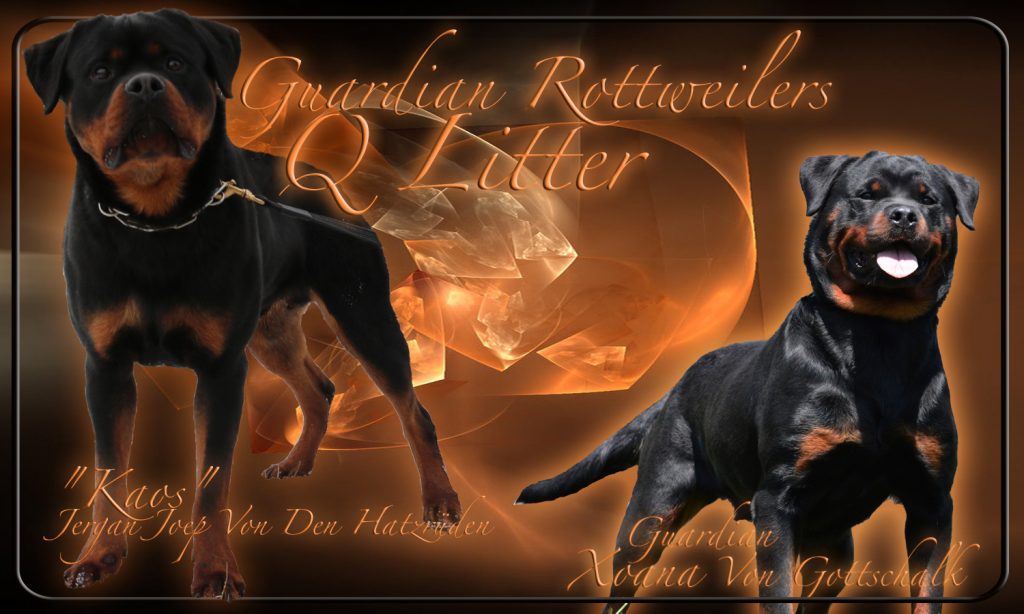 Xoana's Xceptional Gents!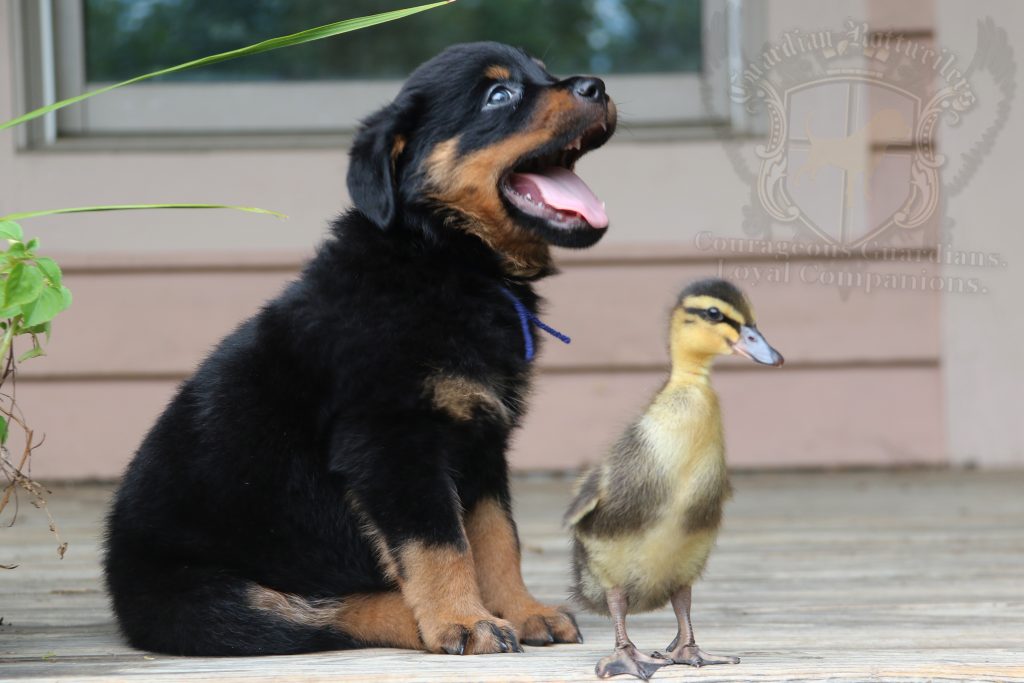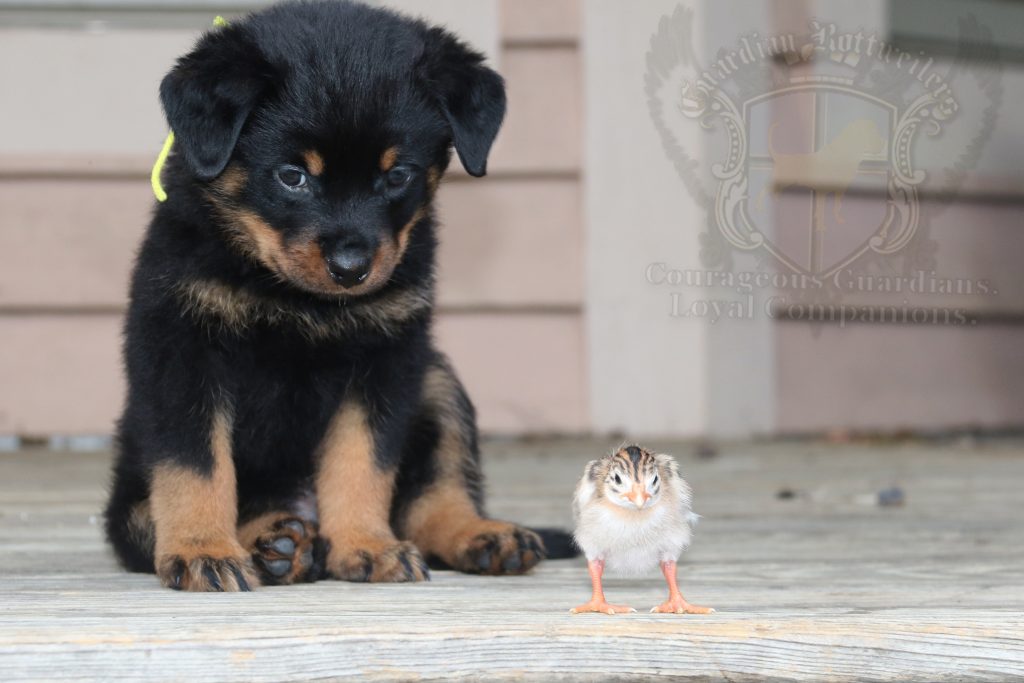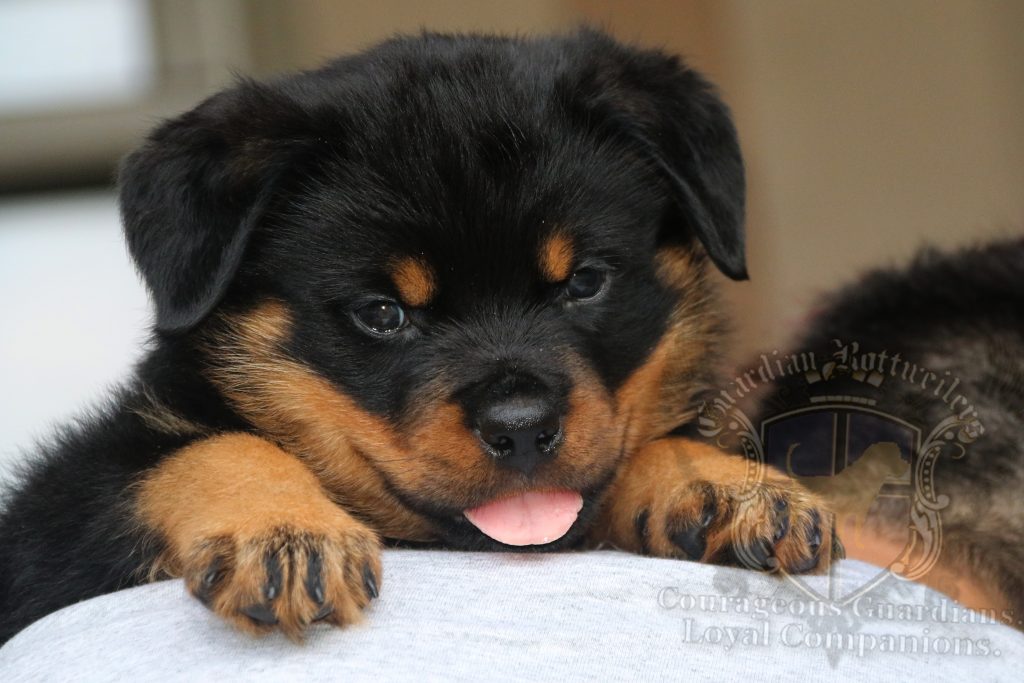 Durotan                 Medivh                        Lothar
RESERVED!           RESERVED!              RESERVED!
Xoana's Xtravagant Ladies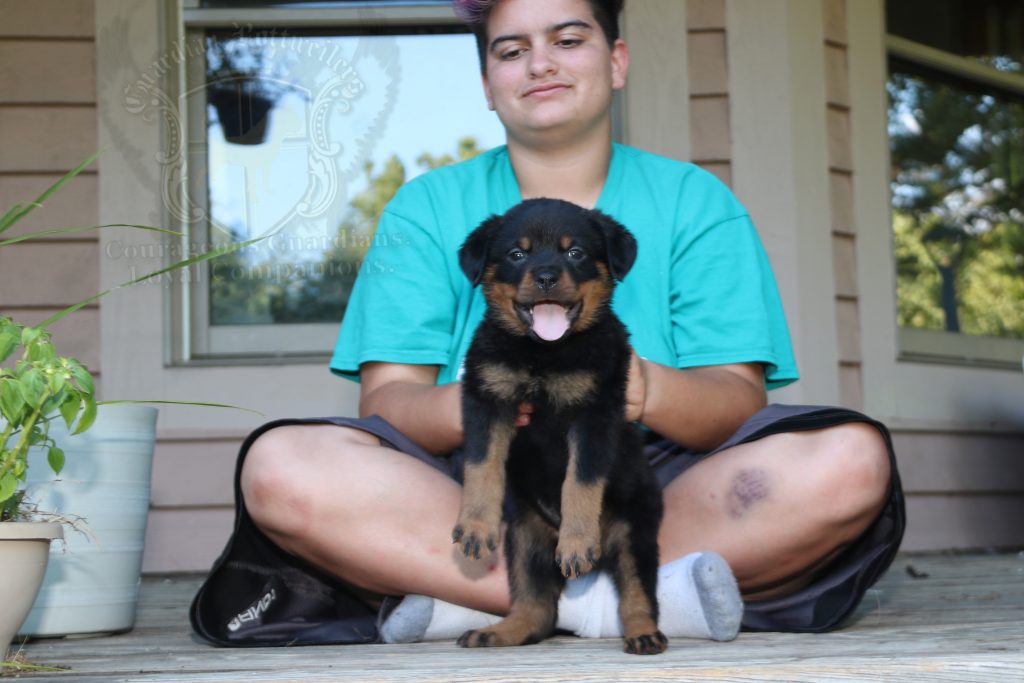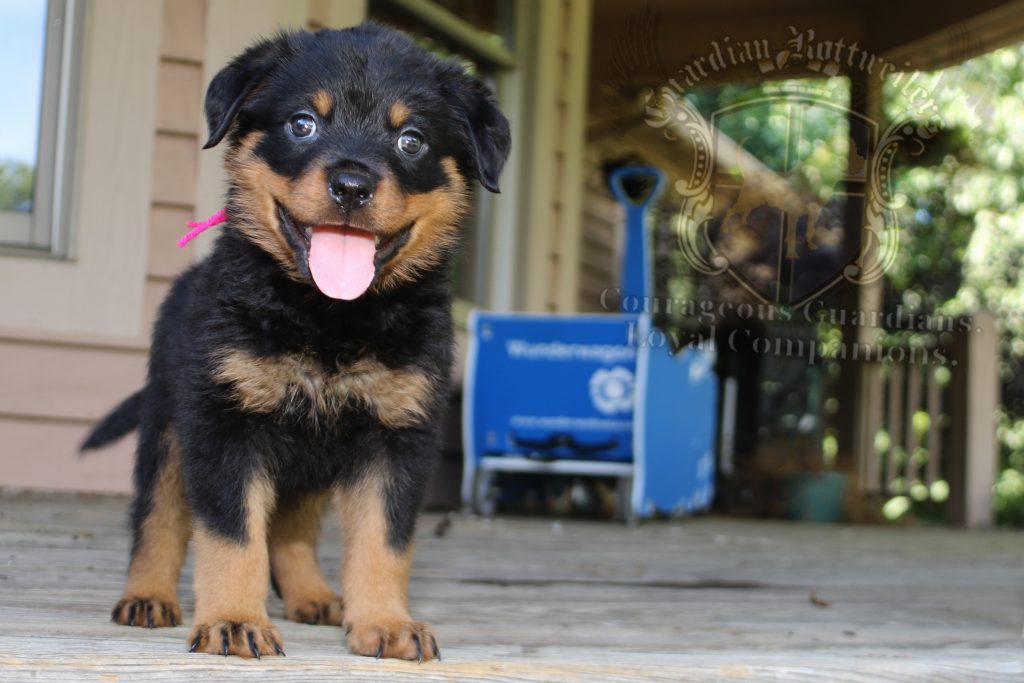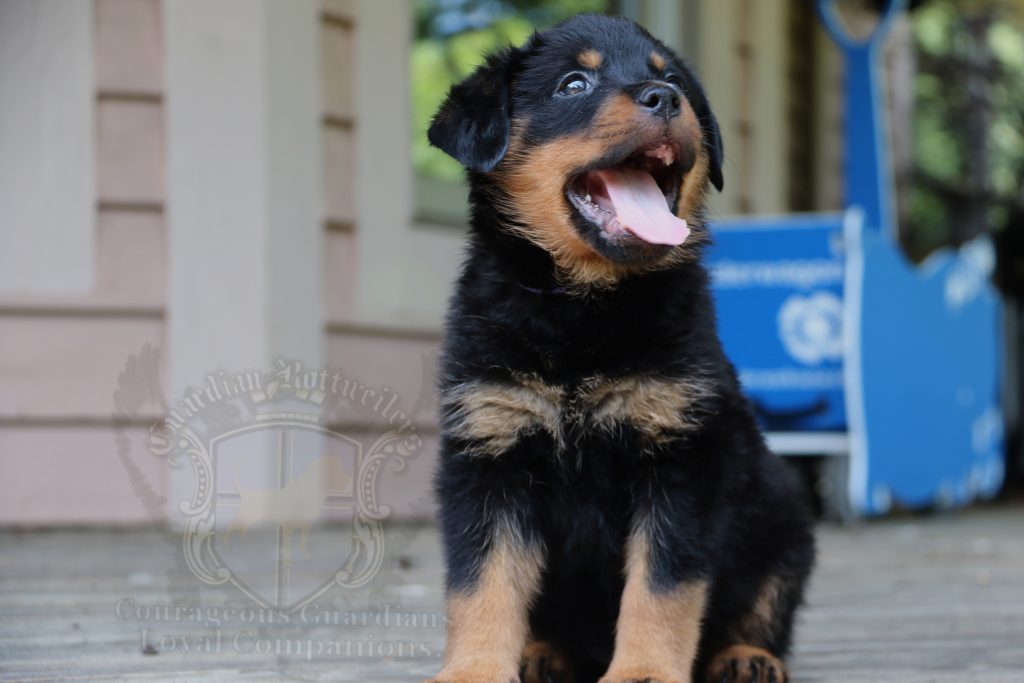 Garona                         Draka                          Taria
.  RESERVED!            RESERVED!            RESERVED!
---
IMPORT PUPS AVAILABLE!
Sired by LEGENDARY Champion Bull Se Ungo-Rot!
Dam: Can. for International Champion Alka Se Ungo-Rot
Born 01 July 2016
4 males and 2 females available
These pups have everything that you would expect with this pedigree- bone, substance, build, PHENOMENAL heads and of course OUTSTANDING character!!  Coats are SUPER short with very well defined markings and rich mahogany color.  They are outgoing, social puppies who loves to play about as much as they love to snuggle.  SUCH A CONSISTENT LITTER!!  From 8 pups, I fully intended to pick out my top 2-3 males and/or females, but came home with DOUBLE THAT!!  Probably would have looted the entire litter if the owner was not keeping 2 for himself! 
Price for the Import Pups includes all import/transportation from Europe to the US to include Customs fees, vet exams, export pedigree, international microchip, EU Pet Passport ("blue book").  AMAZING opportunity to own puppies of such high quality for less than it typically costs just to import them!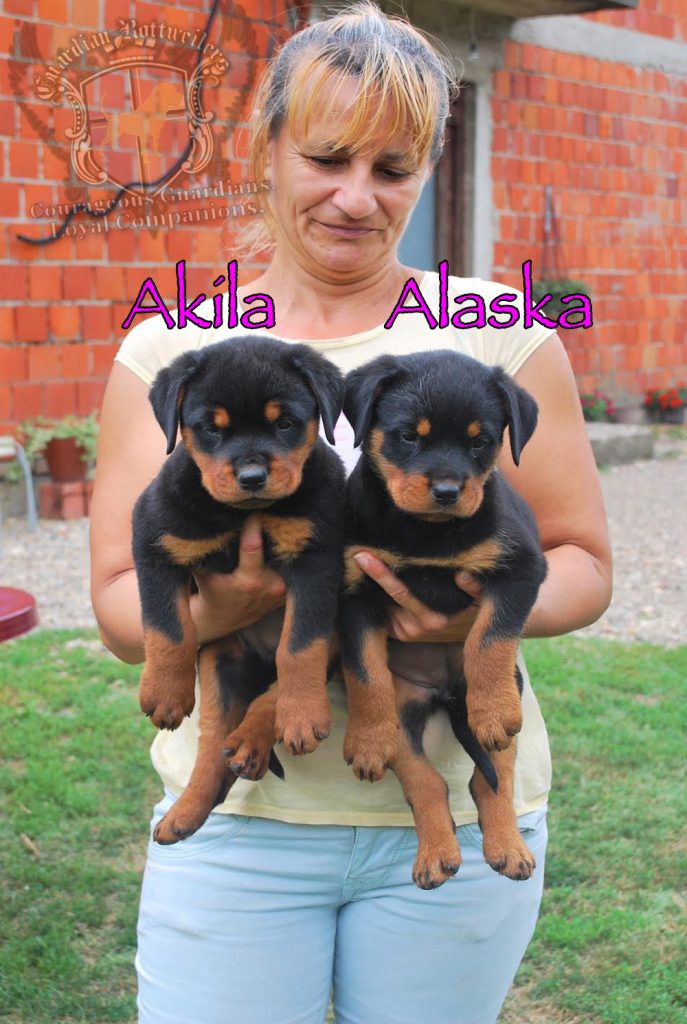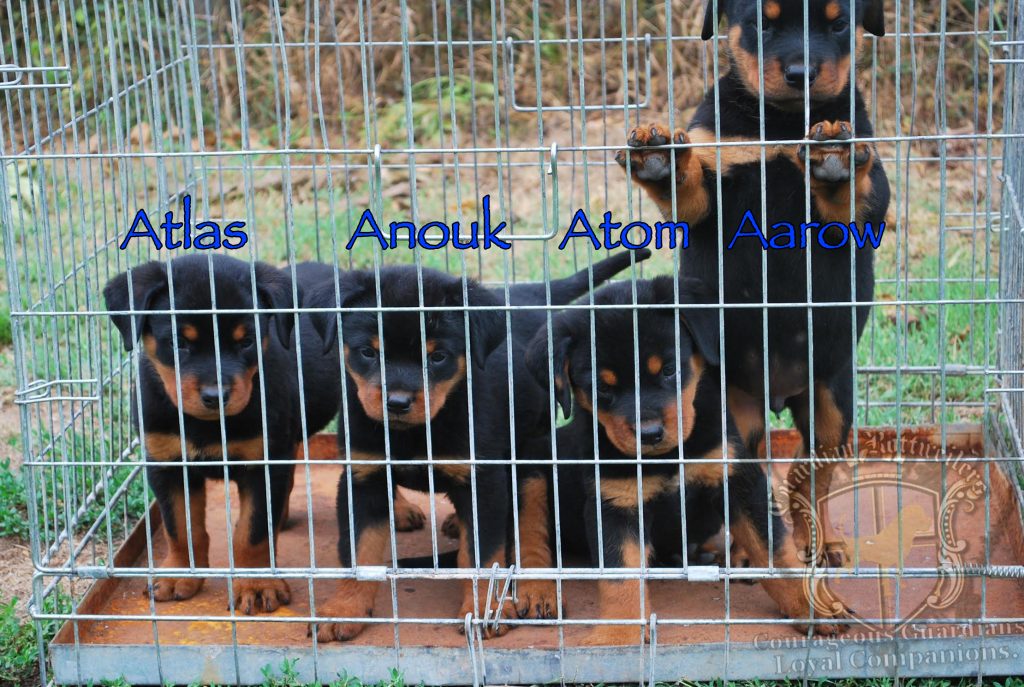 ---
Guardian Xoana Von Gottschalk is the daughter of Crom di Alaricus Rex, who, along with being our only male to achieve the highly prestigious title of "FCI Champion of Reproduction" due to the number of show and working offspring he has sired, was also the last direct descendent of LEGENDARY Mambo von der Crossener Ranch!  Mambo is, without a doubt, one of, if not the most instantly recognizable German Rottweiler Studs of all time.  He is credited for pioneering the "extreme head type" along with being a working machine from a line of Germany's best working dogs!  Xoana's mother is none other than Whisky Se Ungo-Rot, daughter of another German great, Henry von den Hassberghöhen!  Xoana's conformation, character, type and bloodlines bred to one of our most amazing German Imports to date, "Kaos" Jergan Joep Von Den Hatzrüden!!  We are expecting some super working prospects, superior health, confident, drivey puppies with compact, athletic, well muscled frames. 
---
Please note, no deposit will be accepted without an interview and a completed GR Puppy Contract.  Checks and Money Orders are accepted for deposits or payments that will clear BEFORE the puppy is scheduled to go home, however, cash is required for final payments at pick-up or delivery.  Sorry for the inconvenience, but the few dishonest who have walked away out of state or out of country with a free puppy always ruin it for everyone else. Our contract has been duplicated whole or in part many times over the years, but copying our contract is not the same as copying our breeding program.  
Puppies will be given a thorough conformation and character evaluation at 6 weeks of age and we will determine if they are pet or show/breed quality puppies.  Each puppy will then be given their own individual web page that will contain a summary of our evaluation as well as photos and video of the puppy.  After this evaluation, puppy selection will be based on order of deposits received.  Please understand that your deposit never guarantees you a particular litter or puppy.  You could ask for a male from a litter and the dam gives birth to all girls; or you could ask for a pet quality female and our only females in that litter are SHOW quality.  HOWEVER, you will never be obligated to any particular puppy or litter and if the puppy you desire is not available in that litter, you can elect to wait for the next available litter where you will retain (or usually improve) your position on the waiting list.  We do not every want anyone to feel "obligated" into a puppy/litter.  That is not the correct way to start out a relationship that will hopefully last a decade or more and most importantly, that is not fair for our puppy.  Conformation photos will be taken when the puppy is of correct age (6 weeks) and will typically not be repeated in young puppies.  Please CLICK HERE to learn why we do our photos and evaluations at 6 weeks of age.
We believe it to be very stressful for a puppy when leaving his/her family for the first time and this is only made worse when stuck in a crate in the dark belly of an airplane with no one to reassure him.  Because of this, WE DONOT SHIP OUR PUPPIES!  We do, however HAND DELIVER puppies to most major airports.  We charge $300 for this service to cover the cost of the transportation of the puppy with us in the cabin of the airplane (in our lap most of the trip), soft-sided travel crate, and required health clearances for travel.  We do not charge for our time or travel.  It is an expense we are happy to shoulder if it means our babies arrive when and where they are supposed to as well as give us the opportunity to meet each and every family who will own a Guardian Rottweiler and ensure that our puppies go directly from the arms of someone who has loved them their whole lives and into the arms of someone who will continue loving them the rest of their lives.  All Guardian Rottweiler puppies come with lifetime breeder support and a lifetime GR Puppy Contract that guarantees the health, temperament and, on show quality puppies, a lifetime conformation guarantee.  We are able to stand behind our puppies with confidence because of our bloodlines, our experience and our standards.  We are the home of Courageous Guardians and Loyal Companions.
guardian Rottweilers, guardian Rottweiler, Rottweiler breeder, german Rottweiler breeder, german Rottweiler puppies, german Rottweiler puppies for sale, available german Rottweiler puppies, german Rottweiler pups, german Rottweiler pups for sale, Rottweiler pups for sale, Rottweiler pups available, german rotts, german Rottweilers, german Rottweiler breeder, Rottweiler, Rottweilers, rotties, puppies for sale