A well bred Rottweiler is not expensive, it is priceless.
WE NO LONGER FEED FROMM Large Breed Puppy.  It is a food that I have loved for years but I have had some integrity issues with my local representative for FROMM and I simply cannot do business with, let along feed my babies from, a company that I do not trust.  We have been transitioning to ANP- American Natural Premium.  I spent months looking for a food that was similar to all the things I loved about FROMM and am quite pleased thus far with ANP.  It is actually a "sister company" to FROMM that had split off believing they could do it better, and thus far, I must agree.  Everything is harvested, made and manufactured right here in USA and it is of course a holistic, premium food.
SCROLL DOWN FOR AVAiLABLE PUPPiES!!
Please click on each breeding or the individual litter pages for more information on the litters, parents, slide shows and individual puppy photos.
---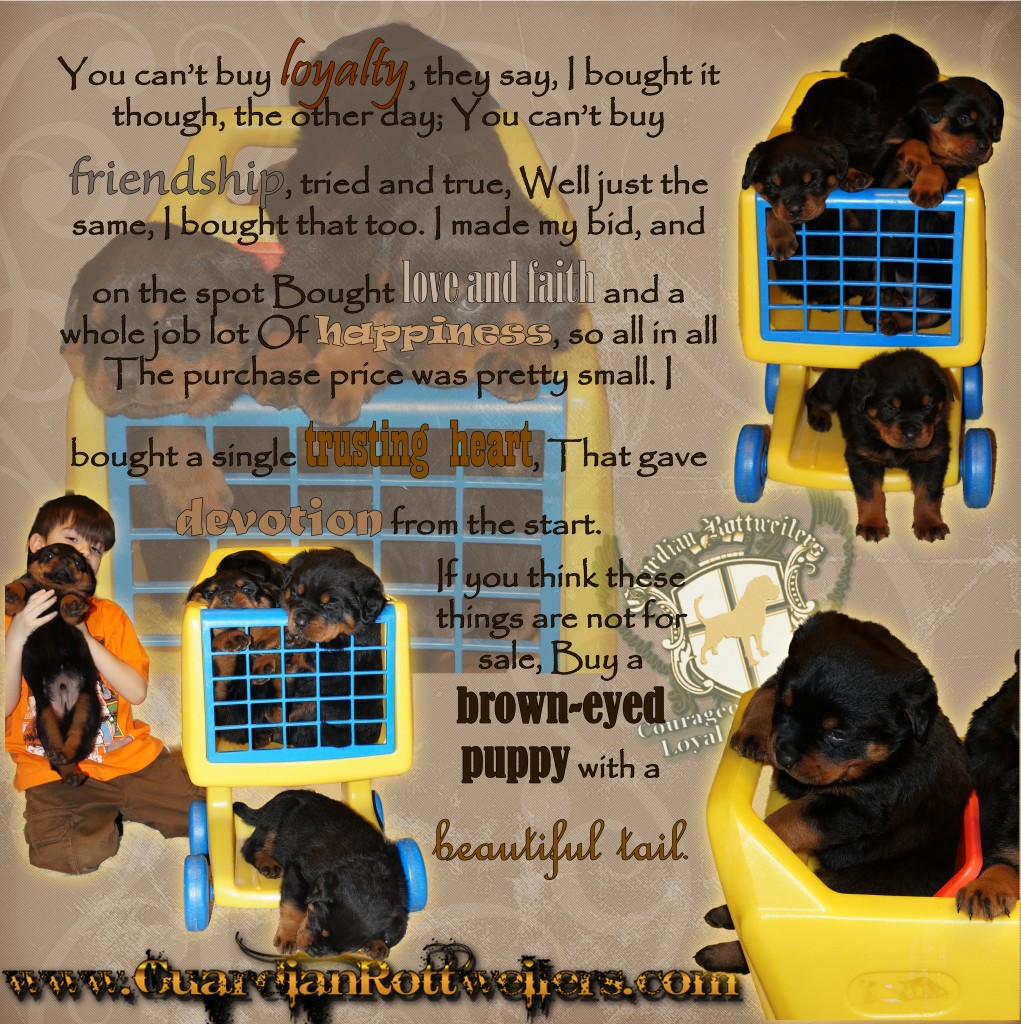 ---
IMPORTED ECCO PUPS FROM CZECH REPUBLIC!!
We have 4 Ecco pups available– the TOP 2 pick pups from 2 EXCEPTIONAL litters!  Price includes import from Europe to USA, Customs, Export Pedigree, Pet Passport, International (ISO) Microchip and all travel and import fees. EXCELLENT opportunity to own the first ECCO puppies in the USA!!

SIRE: Multi-Champion Ecco Se Ungo-Rot

BELISIMA BELA SE UNGO– ROT
(Pongo Se Ungo-Rot x Na Li Se Ungo-Rot)
1 male and 1 female available.  Born: 15 Feb. 2016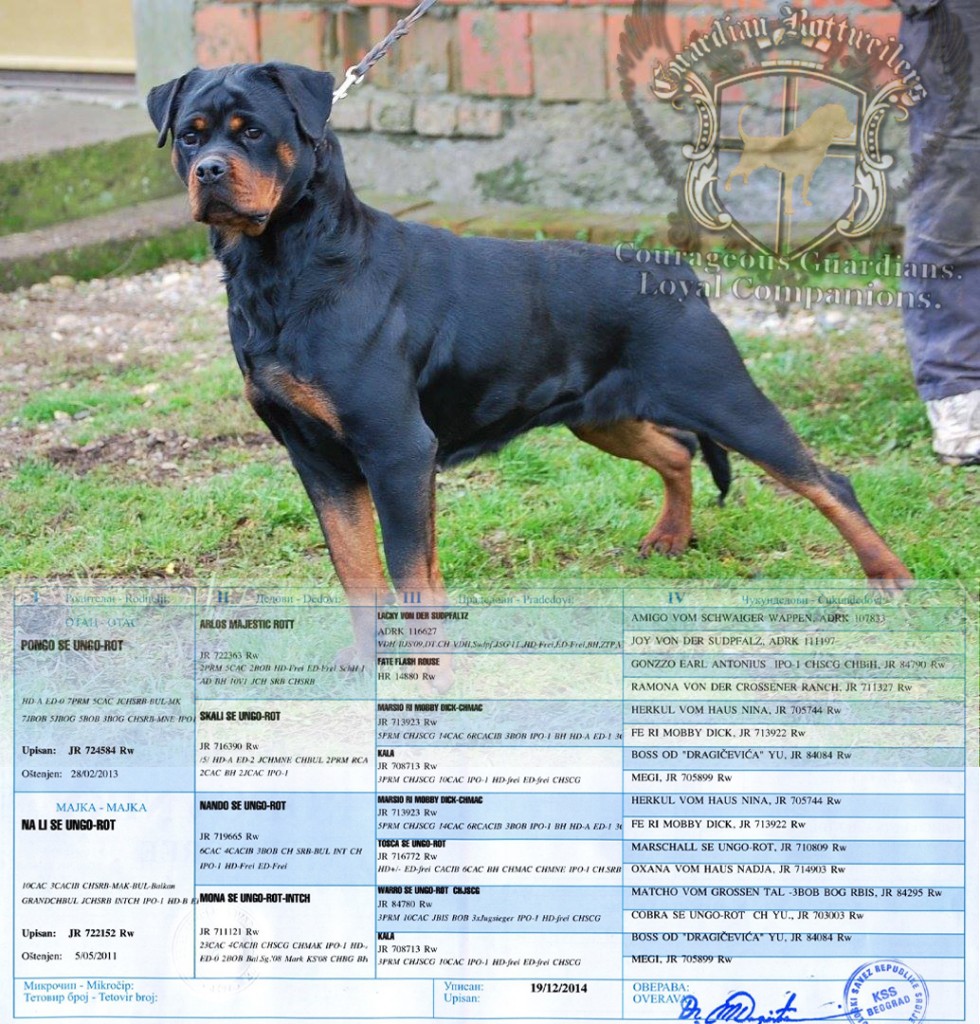 HD A ; ED 0 
YOUNG CHAMPION OF SERBIA
YOUNG CHAMPION OF BULGARIA 
YOUNG CHAMPION OF MONTENEGRO 
6 x YOUNG WINNER
2 x YOUGENDSIEGER
2 x C.A.C.
---
Guardian Rottweilers 3 Musketeers :
Sire: Ecco Se Ungo-Rot
Dam: Guardian Vlinder Von Gottschalk
Pups born April 7th.  3 males available.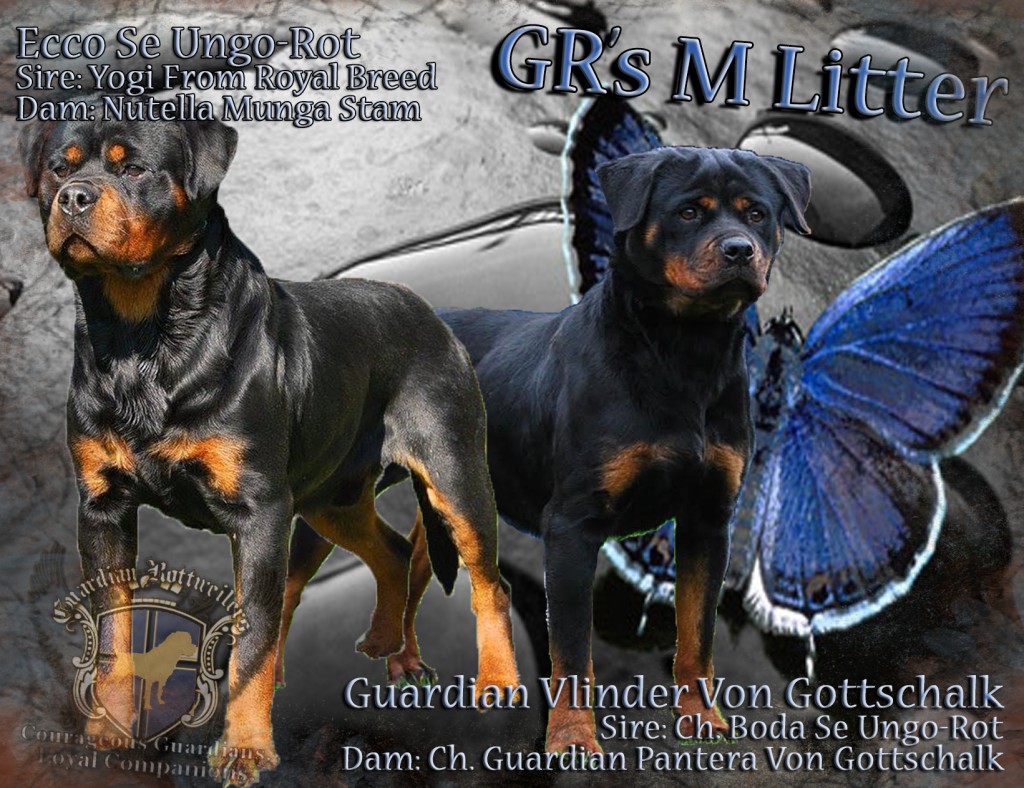 Our M Litter will be a line breed on Arlos Majestic Rott (Lacky vh Sudpfalz x Fate Flash Rouse) YOUNG CHAMPION OF SERBIA, SIEGER SHOW LOZNICA WINNER,YOUNG BEST MALE , YOUNG BEST DOG, 23.SUDPFALZCHAU SIEGER-V1,CAC,JDG VICE  SUDPFALZCHAU SIEGER; BULGARIA CLUB SIEGER-INTERMEDIA V1; ADULT CHAMPION OF SERBIA, MACEDONIA CLUB SIEGER  V1; I MORAVA SIEGER  V1, AJAKS CUP WINNER,VICE MORAVA SIEGER; Special show rottweiler derby 2012. Indjija V1,DERBY WINNER CLUB,WINNER MALES,BOB


---
Guardian Rottweiler's N Litter
Sire: Grand Champion "Kaos" Jergan Joep Von Den Hatzrüden
Dam: Can. International Champion Guardian Zarabi Von Gottschalk
Pups born April 26.  2 Males and 3 Females Available.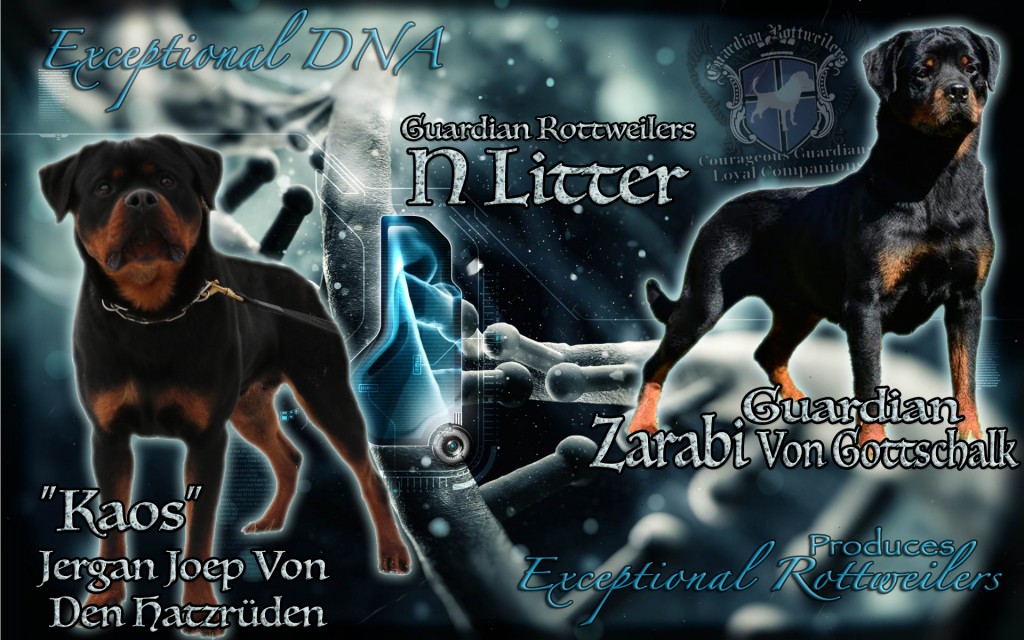 What an exciting breeding!  Candidate for International Champion Guardian Zarabi Von Gottschalk is the daughter of Champion Whisky Se Ungo-Rot and granddaughter of ADRK German Top Producing stud International Champion Henry von den Hassberghöhen- DT.VDH (ADRK) Champion ZTP 28.05.06 in Röthenbachtal (Hellmann) SchH/VPG III AD BH IPO III.  Henry is the direct son of DT.VDH Champion Akino von der Lauterbrücke KÖRUNG EZA am 09.11.03 in Düsseldorf (Wulff/Walter), KÖRUNG 15.09.01 in Lehrte (Fleige/Apel), ZUCHTTAUGLICHKEITSPRÜFUNG 24.10.99 in Metzingen (Spindler), SchH/VPG III AD BH IPO III.  Akino is the son of Ö-BJS'95 Mambo von der Teufelsbrücke KÖRUNG EZA 18.09.99 in Borken-B. (Spindler/Wulff), beide S3 unten fehlen (Zahnwurzel rechts sichtbar), KÖRUNG 14.09.97 in Metzingen (Apel/Radtke), ZTP 14.04.96 in Metzingen (Spindler), SchH/VPG III AD BH IPO III.  Just in case the titles did not speak for themselves, these are some of Germany's most impressive working males and an old, highly sought after German bloodline that has been proven time again.  Zarabi's sire needs no introduction.  International Champion Marsio Ri Mobby Dick  CH YOUNG SCG06, CH ADULT BULGARIA 06, CH ADULT SERBIA 07, CH ADULT MACEDONIJA 07, CACIB Athens GREECE 08, V15x, YOUTH WINNER 2x, CACIB 6x, RCACIB 11x, CAC 3x,BOB, BOG, RBOG, R.YOUNG BOG, BIS III PLACE.  Marsio has over 200 show wins and was still competing in ADRK KLUBSIEGER when he was 11 years old.  "KING" Marsio has produced countless Champions, International Champions, Grand Champions and very well titled working dogs.  He has progeny on nearly every continent and in nearly every country and is world famous for the consistency he produces, the balanced characters and extreme bone and substance.  
Whisky has produced some of our best Rottweilers and her daughter, Zarabi, has gone on to create her own legacy- producing males that are exceptional in every way and females (like Guardian Kashi Von Gottschalk) that rival just about any male. 
"Kaos" Jergan Joep Von Den Hatzrüden!!  Kaos is our newest German Import and we are thrilled beyond measure to have him!  He has one of the most impressive pedigrees I have ever seen- in every single measurable way!  His pedigree is full of large, powerfully build German Athletes!  Nearly every single Rottweiler in his pedigree has hard won working titles, most of the highest degree attainable.  In addition to gorgeous, strong, confident, intelligent and biddable dogs, they are some of the healthiest specimens this breed has to offer.  This strong German breeding between Kaos and Zarabi is sure to produce powerfully built Rottweilers with unparalleled character and conformation with a heavy emphasis on health.  You will not find a pedigree or breeding of this caliber anywhere in the world, and Guardian Rottweilers could not be more proud and honored.  
---
O Litter:
Sire: Champion Ecco Se Ungo-Rot
Dam: Ch. Guardian Pantera Von Gottschalk
Pups born May 2nd. 4 Males and 2 Females Available.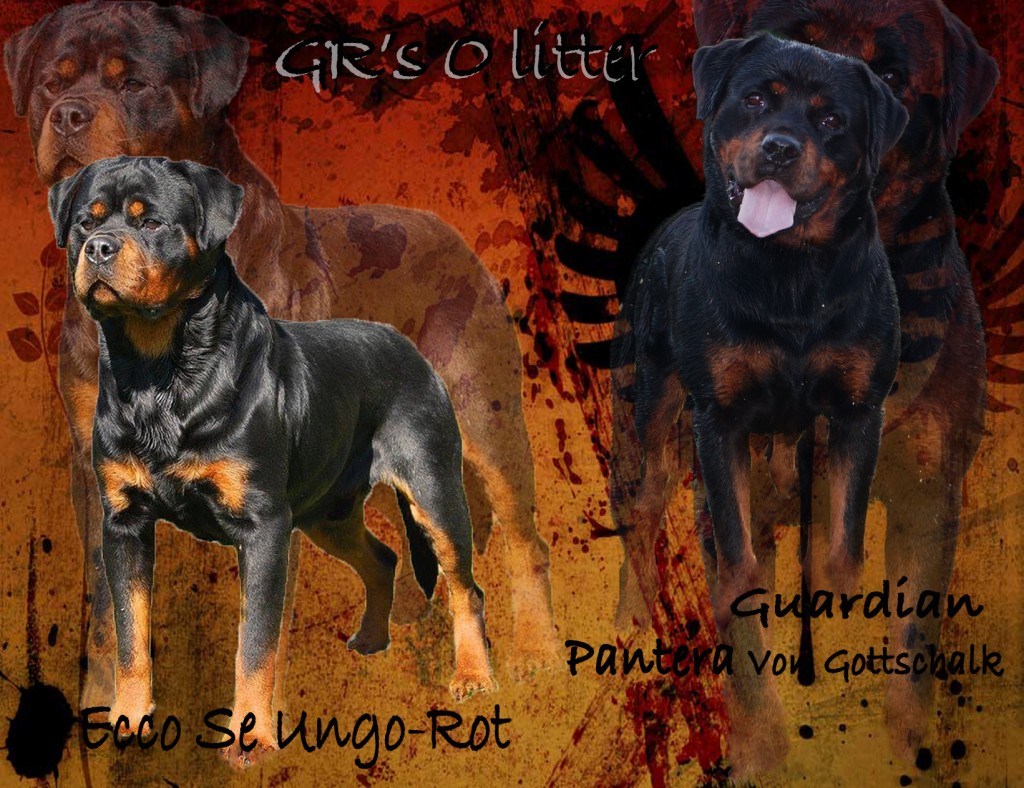 WHAT A BREEDING!!  Ecco has been very quickly climbing the ladder and dominating- not only in the ring, but in what he is producing!!  Yogi, Cochise, Kochiz, Fausto, Arlos, Lacky, Tito, Rex, Ramona, Gonzzo, Amigo, Kendy, Arzadon Tayson, Joy- AND THAT IS JUST THE FIRST 4 GENERATIONS!!!  It is absolutely no wonder why he produces what he produces!!  Ecco is literally the definition of perfection physically and mentally and with the genetics to continue producing!  So how exactly do you find a female that can compete with a male like Ecco??  Well, you start with the granddaughter of one of the most influential studs to the Rottweiler breed in the entire history of the breed, LEGENDARY MAMBO VON DER CROSSENER RANCH, and add in International Champion "KING" Marsio Ri Mobby Dick!!  Pantera is one of our best producing females with multiple home runs in every litter, and paired with Ecco– I am literally drooling!  If you think you are seeing something familiar in the pedigree of this litter, Grand Champion Guardian Vlinder Von Gottschalk is Pantera's daughter!!  With Vlinder's litter, you have an Arlos line breed; with Pantera's litter, you have Marsio and Mambo more up front in the pedigree.  Who will produce the next Auslandsieger??  Pantera or Vlinder??  What an impossible decision!!
---
Guardian Rottweilers P Litter
Lucky Black Seduction x Hana Von Megi Rott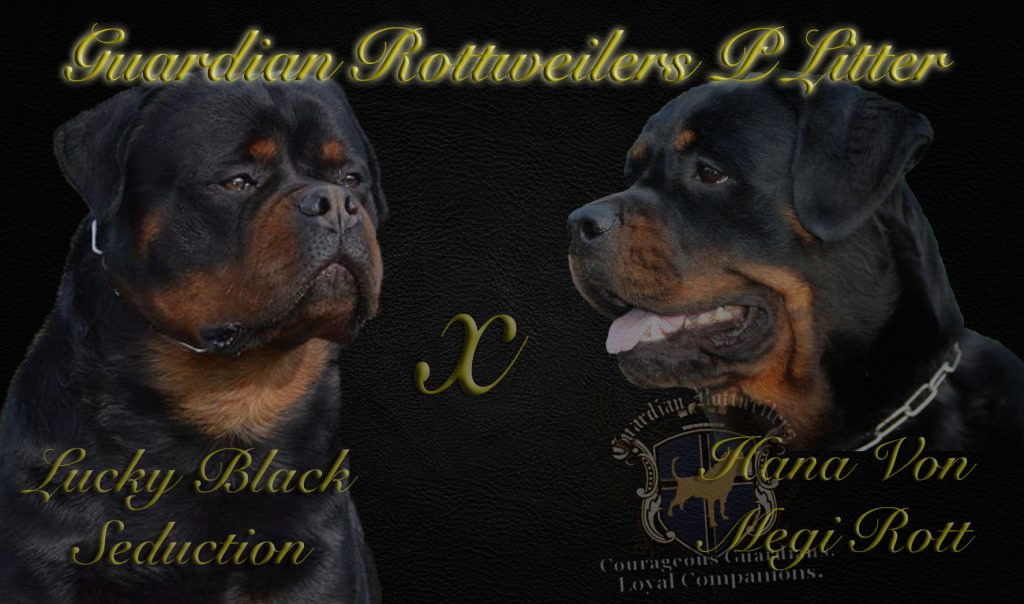 Lucky Black Seduction is the son of Lex vom Hause Edelstein.  Lex is crazy popular as a stud right now because of the extreme typey heads he gives his offspring, and the mark of any good stud is not only to produce himself, but the real goal is to produce even better with himself, and that is ABSOLUTELY what he has done with Lucky!!  Lucky's mom is the daughter of Monaco Vom Zica Maradona and combining the MASSIVE and EXTREME head Monaco ALWAYS delivers to his bloodlines along with everything Lex brings to the table and you end up with LUCKY!!  Lucky is a large and extremely powerfully built male with loads of bone and substance.  His stature and stance command respect and his head piece is unmistakable!  Combine that with the exceptional build of Hana Von Megi Rot, a large female with heavy bone and great big bear paws, and of course the pedigree she brings- Lacky, Arlos, Marschall, Kafu, Pongo, Mambo, Gonzzo- just to name a few and you have Guardian Rottweiler P Litter!

---
Please note, no deposit will be accepted without an interview and a completed GR Puppy Contract.  Checks and Money Orders are accepted for deposits or payments that will clear BEFORE the puppy is scheduled to go home, however, cash is required for final payments at pick-up or delivery.  Sorry for the inconvenience, but the few dishonest who have walked away out of state or out of country with a free puppy always ruin it for everyone else. Our contract has been duplicated whole or in part many times over the years, but copying our contract is not the same as copying our breeding program.  
Puppies will be given a thorough conformation and character evaluation at 6 weeks of age and we will determine if they are pet or show/breed quality puppies.  Each puppy will then be given their own individual web page that will contain a summary of our evaluation as well as photos and video of the puppy.  After this evaluation, puppy selection will be based on order of deposits received.  Please understand that your deposit never guarantees you a particular litter or puppy.  You could ask for a male from a litter and the dam gives birth to all girls; or you could ask for a pet quality female and our only females in that litter are SHOW quality.  HOWEVER, you will never be obligated to any particular puppy or litter and if the puppy you desire is not available in that litter, you can elect to wait for the next available litter where you will retain (or usually improve) your position on the waiting list.  We do not every want anyone to feel "obligated" into a puppy/litter.  That is not the correct way to start out a relationship that will hopefully last a decade or more and most importantly, that is not fair for our puppy.  Conformation photos will be taken when the puppy is of correct age (6 weeks) and will typically not be repeated in young puppies.  Please CLICK HERE to learn why we do our photos and evaluations at 6 weeks of age.
We believe it to be very stressful for a puppy when leaving his/her family for the first time and this is only made worse when stuck in a crate in the dark belly of an airplane with no one to reassure him.  Because of this, WE DONOT SHIP OUR PUPPIES!  We do, however HAND DELIVER puppies to most major airports.  We charge $300 for this service to cover the cost of the transportation of the puppy with us in the cabin of the airplane (in our lap most of the trip), soft-sided travel crate, and required health clearances for travel.  We do not charge for our time or travel.  It is an expense we are happy to shoulder if it means our babies arrive when and where they are supposed to as well as give us the opportunity to meet each and every family who will own a Guardian Rottweiler and ensure that our puppies go directly from the arms of someone who has loved them their whole lives and into the arms of someone who will continue loving them the rest of their lives.  All Guardian Rottweiler puppies come with lifetime breeder support and a lifetime GR Puppy Contract that guarantees the health, temperament and, on show quality puppies, a lifetime conformation guarantee.  We are able to stand behind our puppies with confidence because of our bloodlines, our experience and our standards.  We are the home of Courageous Guardians and Loyal Companions.
guardian Rottweilers, guardian Rottweiler, Rottweiler breeder, german Rottweiler breeder, german Rottweiler puppies, german Rottweiler puppies for sale, available german Rottweiler puppies, german Rottweiler pups, german Rottweiler pups for sale, Rottweiler pups for sale, Rottweiler pups available, german rotts, german Rottweilers, german Rottweiler breeder, Rottweiler, Rottweilers, rotties, puppies for sale