*This Rottweiler is not owned by GR, but we may have worked with his/her owner, handler or breeder, incorporated him/her in our breeding program, trained or handled him/her or simply respect their contribution to a breed we love.*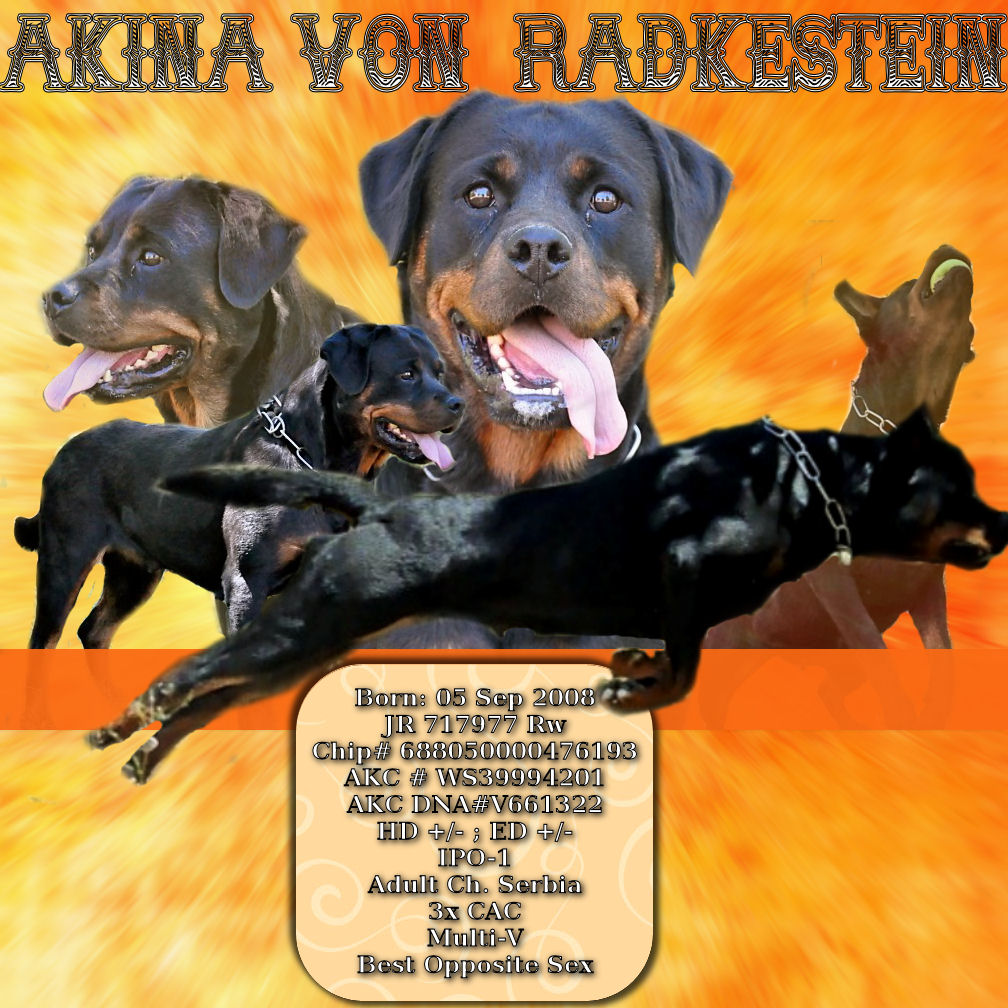 Champion Akina Von Radkestein
Sire: Axo von der Teufelsbrucke
Dam: Petra von Radkestein

Born: 05 Sep 2008
JR 717977 Rw
Chip# 688050000476193
AKC # WS39994201
AKC DNA#V661322
HD +/- ; ED +/-
IPO-1
Adult Ch. Serbia
3x CAC
Multi-V
Best Opposite Sex

Akina is a large female with an excellent frame.  She has a super solid topling and good angles.  Akina has a deep, well sprung chest and broad back.  Akina is an incredible athlete with outstanding stamina, and exceptional skill.  She can clear a 6′ wall with little effort, cart pulls as good as any male, and can run and swim all day!  She is a very intelligent, clever girl and I love to watch her work.  Akina is quite possibly one of the smartest bitches I have ever handled!!  She opens all kinds of doors, climbs like a kitty, and will figure out ANY obstacle that is put on the field!!  She loves to think things through and often surprises me!  Akina has an excellent character.  She is sweet and gentle yet still maintains good working drive and high courage.  Although strong and extremely intelligent, she still has complete respect for even the youngest handlers!  Akina loves to be with you and near you and is constantly looking for ways to entertain or impress you!!  Akina has an excellent pedigree, so it is no ownder she is such a pleasure to work with.

Dark, rich color and clean markings on a super short, tight coat.  Akina has a gorgeous feminine head with very dark eyes, black mouth pigment and lips, good stop definition and her ears are well set and well carried.
In one small pounce, Akina is to the top of this 6.5 foot fence and over it in lightening speed!  What an incredibly agile athlete!!  SOO impressive!! CLICK for video! http://youtu.be/Gjlkv65PEtg
Akina catching a few balls with the kids: http://youtu.be/Cpwcaz9viFk
In one small hop, Akina propels herself up a 4 foot wall as though she were hopping over a line in the ground!  Her movement is so effortless!  I could watch her ALL DAY!
She could just hop off the retaining wall, but she prefers to launch herself like a rocket!!  Akina has so much power and athleticism in her movement that she makes it look so effortless and graceful!
Even midair, she keeps her eye on the ball and has coordination that would rival any major ball player!!
She looks so intimidating and ferocious, but could not be more balanced, affectionate and sweet!  I so love my Akina!!
She gets so anxious waiting for one of the kids to throw the ball that she actually shakes!  SOO ADORABLE!!
I wish the camera had been back a bit further and faster on the trigger to catch all the aerial acrobatics!!
 AKINA PROGENY!!!!!!
LOVE this beautiful young female!  Thank you so much for sharing this video Mirko Krivokapic!
https://www.youtube.com/watch?feature=player_embedded&v=SY5XX5K5MnQ

Akina is sired by AXO VON DER TEUFELSBRUCKE, a powerful German male with a RIDICULOUS head piece!  AXO's pedigree is full of great German dogs and dams!  Akina's brother, AKSEL VON RADKESTEIN is an equally impressive male with incredible movement and his father's incredible head.

AKINA's SIRE:
| | | | |
| --- | --- | --- | --- |
| | Pedigree of Akina von Radkestein | | |
I. parents
II. grandparents
III. great-grandparents
IV. great-great-grandparents
(Visited 38 times, 1 visits today)