Guardian Rottweilers E Litter
Sire: Panther Vom Wilden Westen
Dam: Ava vom Hause Anroba
PUPS BORN ON CINCO DE MAYO!! (May 5th)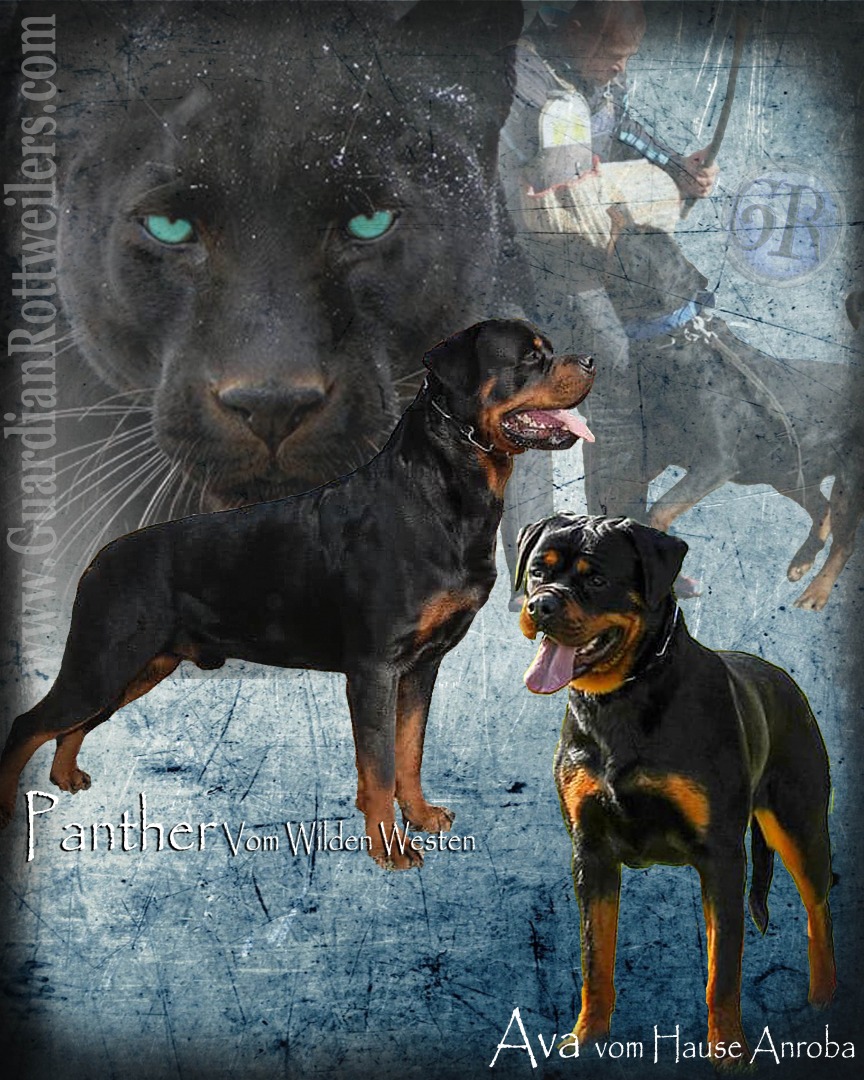 Courtesy of COVID19, this litter will be whelped in Slovakia by Ava's trainer and handler, Robert Bartovic.  The borders were closed right after she was successfully bred to Panther making travel back to the US unfortunately impossible.  Although I am sad that I will not get the opportunity of taking this journey with her, I know there are not more capable hands for her to be in than the man that helped shape her into the exceptional ambassador of the breed she is.Ava was the most successful show young bitch with the score of RTW Club Sk 1 and 2 place!!
Little baby Panther's are here!!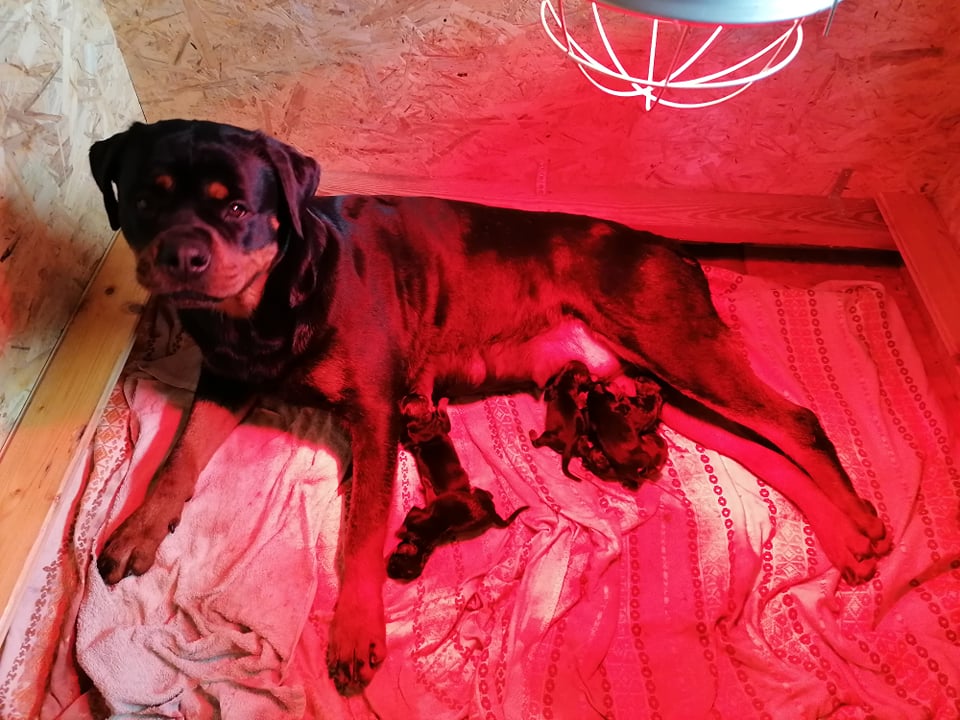 ---
"Belle" Dolly Vom Hause Anroba
Alice,
Good evening!  I hope you and your family are doing well!  How has your daughter's experience been at Anderson University (sorry, hope that was the right school, at least that is where I recalled she decided to go to college).
Also, I just wanted to update you about Bella.  My family and I are taking her to a trainer (at VonBernd K-9 Training Center) in our area who has experience with working breeds.  She is doing well with the training which is in its 4th week, and my wife Katie has spent time working with her there often.
Interestingly, one of the trainers indicated that the Rotties he previously worked with seemed not so smart.  Bella, on the other hand, is proving to be a really great student.  One of the teachers there (Sam Foltz) may reach out to you because he is so impressed with Bella.  I gave him your contact information.  Hope that is okay.
We are still dealing with some alpha issues at home, but things are so much better than in the first month.  Seems amazing that it has only been 2 months since she joined our family!
Bella goes with me to drop off and take my 3rd-grade son to his school each day, has been numerous times to a local farmers market, visited Indy and the local restaurants, and has spent time in our local Rural King store on several visits.  She is great with dogs (we walk our neighborhood several times each day) and is very friendly with people.  Bella sometimes gets a little excited around kids, but we are working on it and she is getting better each day.
I will send pics soon.  Bella's health is solid, and she is really growing–at about 54lbs now.  She will be 5 months on Oct. 5th.  She seems to be tracking the average male's growth rate at least from what I have seen online.  She lost 1 canine tooth and the permanent one is peeking out from her gums.  The other three puppy canine teeth are not yet budging.  Her mouth has to be driving her nuts!
I hope all of your litters, pups, and parents are well!  I have been checking your facebook page to gather updates and am very excited for Ava!  
Have a great evening, and please give my very best to your family!
Chris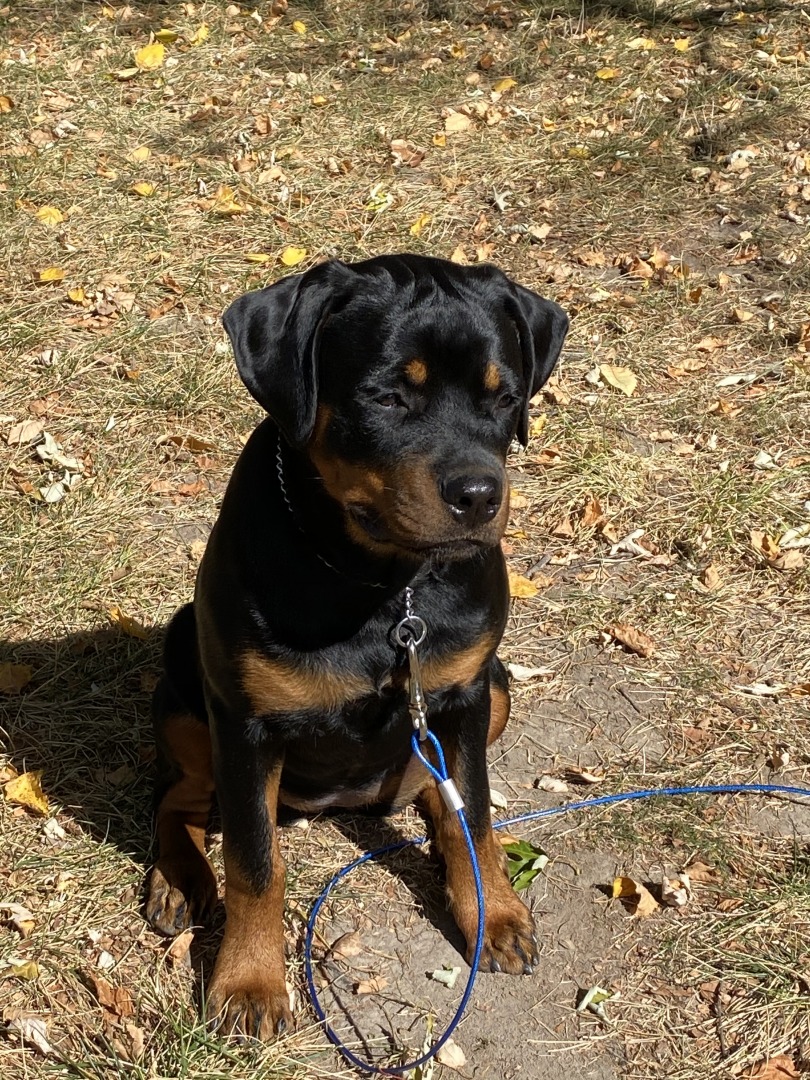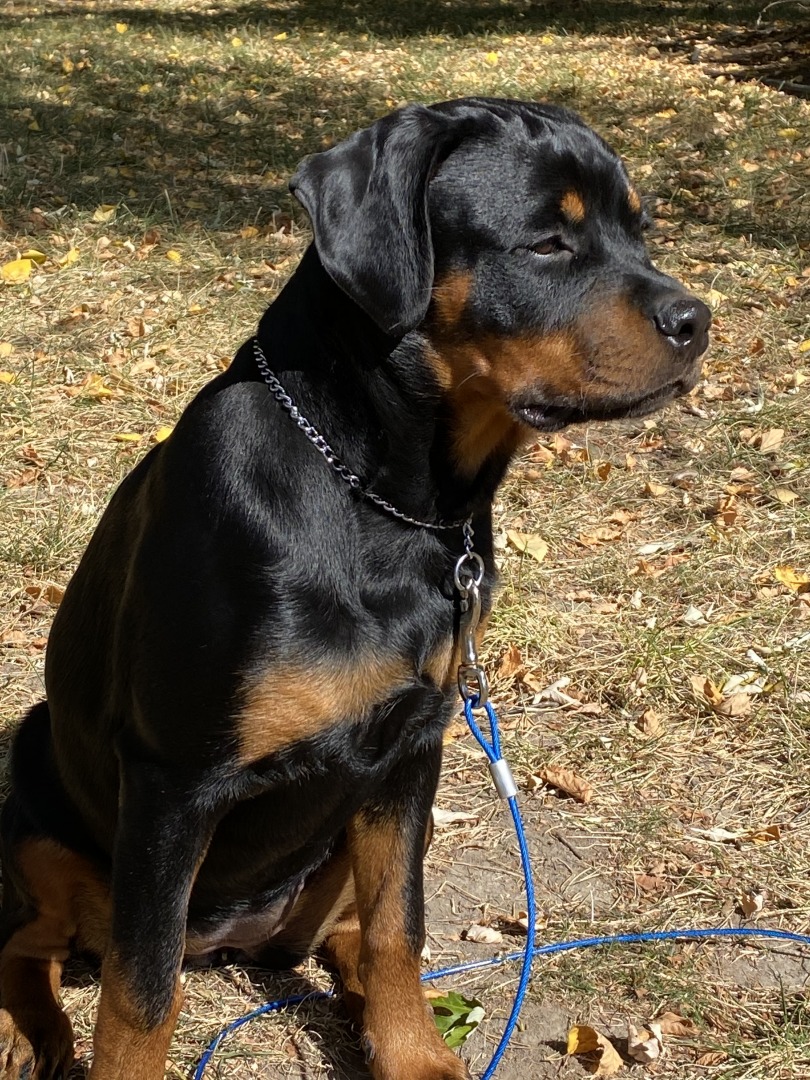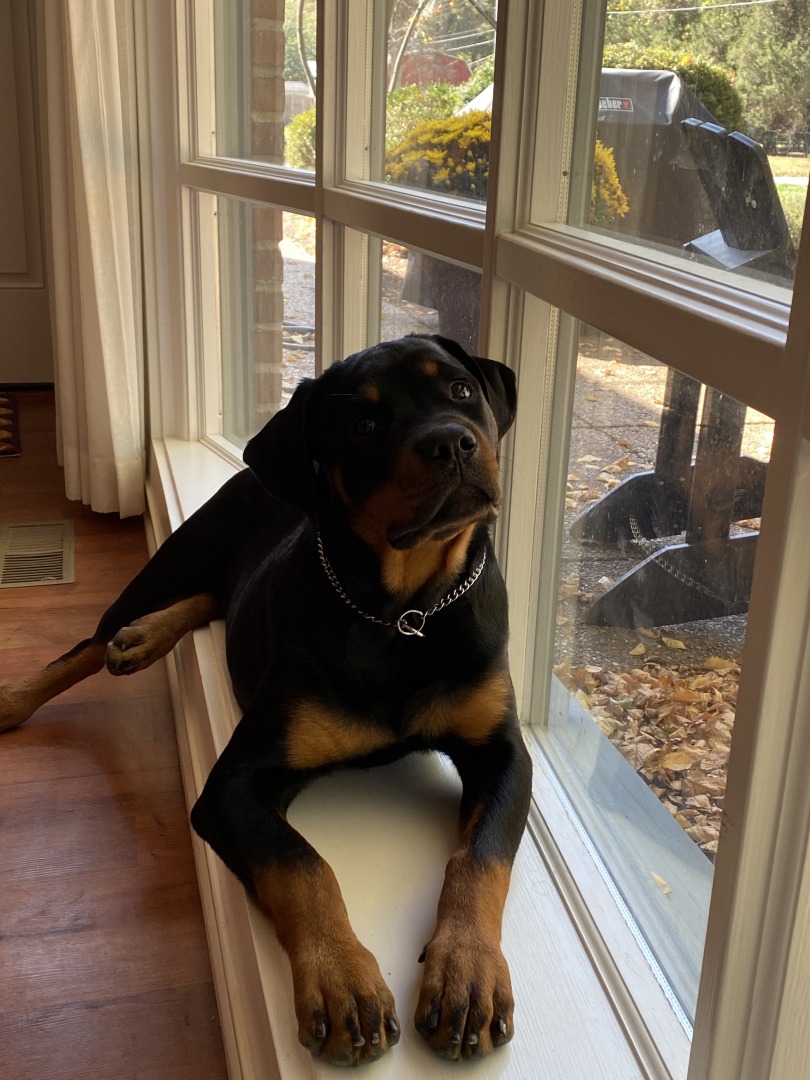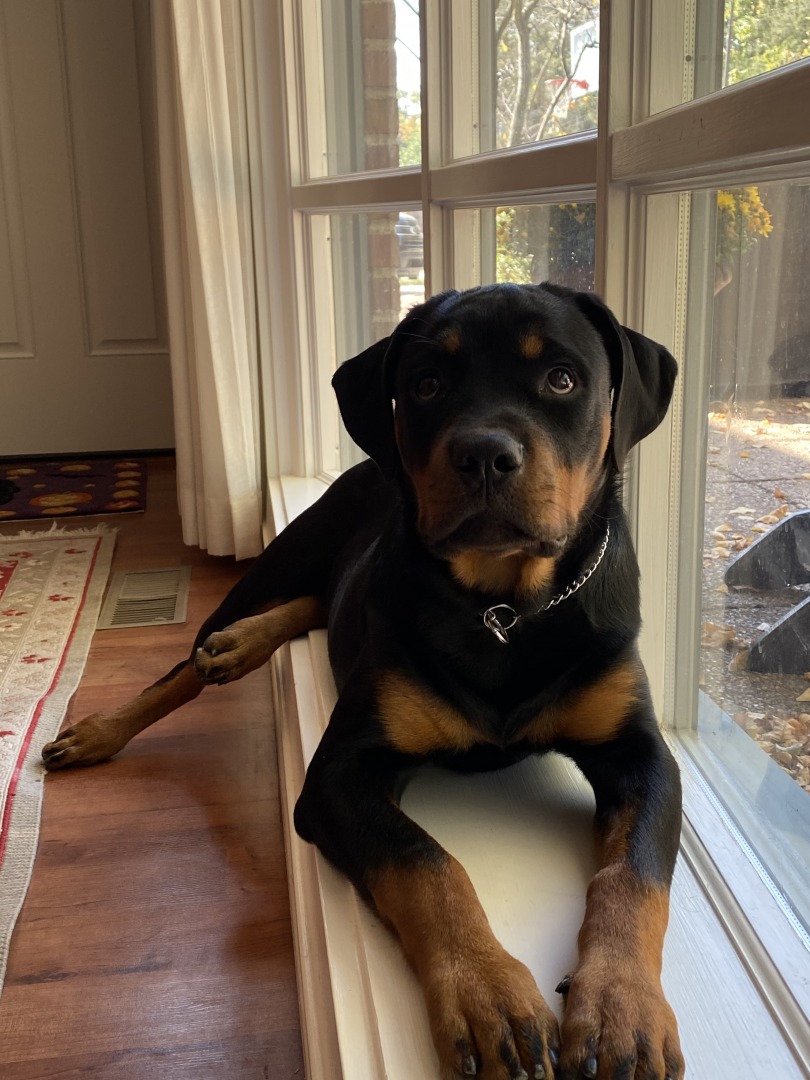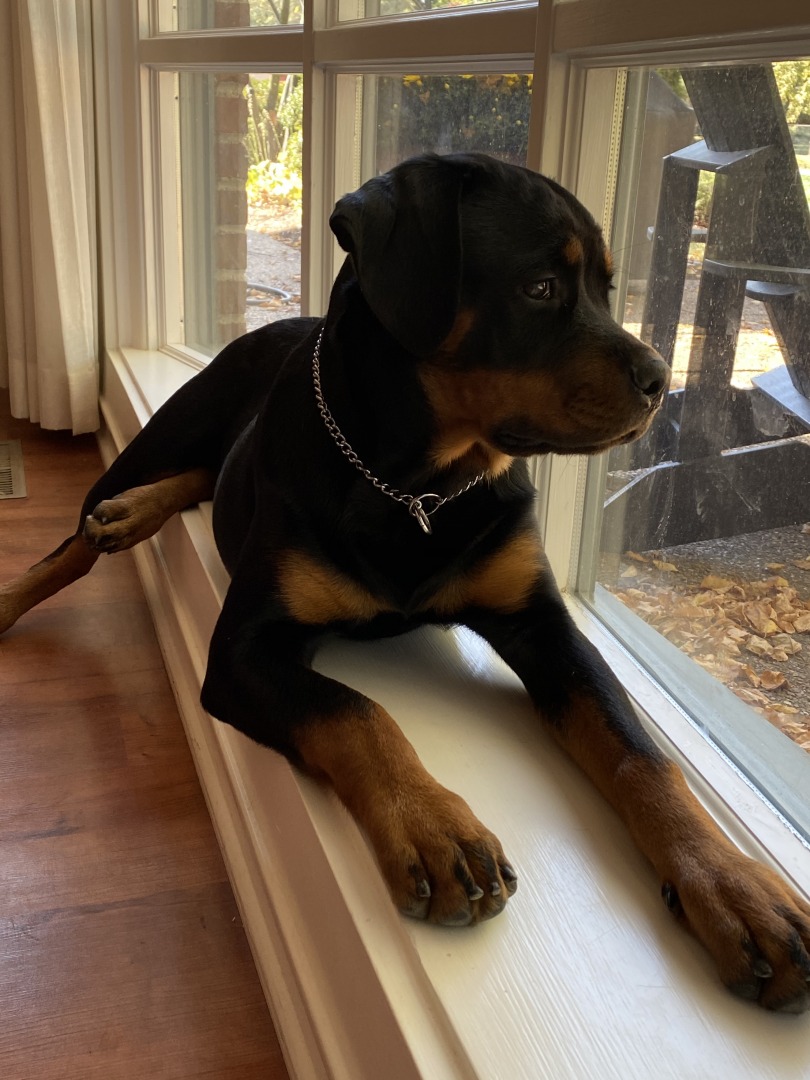 Alice,
I just wanted to share a few photos of Bella.  She turned 5 months on 10/5 and is so beautiful! 
I am still waiting for my fence!  Until then, we are only able to play with Bella in our backyard with a lead or leash.  Have a great day!
Alice,
We are so thankful for our Bella!
Chris
---
"Jersey" Dick Vom Haus Anroba
Hi Alice,

Thank you for responding, I really appreciate it! I can only imagine that travel is hectic right now let alone trying to get it all coordinated. 
Yes, even though he has the heart murmur thankfully he is still a happy, fun, and energetic pup! I am amazed at how big he is getting and it all seems to be happening so fast. I will definitely keep you updated on what we find out in the next few weeks after his echocardiogram. 
His training is going very well! He is a VERY smart and obedient dog! I am very blessed to have him. I have also been doing some swimming lessons with him at an indoor facility since he did not have much time to learn this summer. He starts Novice Class training in a few weeks but my trainer says he is already ahead of the class. 
That is wonderful to hear about Rotties loving snow! I have never had a dog, either my own or my parent's, that have loved snow. It will be a new adventure for me! I am very much looking forward to that! 
I hope you and your family also have a happy Thanksgiving! 
Here are some pictures of Jersey from August to October! 🙂
(Visited 13 times, 1 visits today)