Guardian Rottweilers E Litter
Sire: Panther Vom Wilden Westen
Dam: Ava vom Hause Anroba
PUPS BORN ON CINCO DE MAYO!! (May 5th)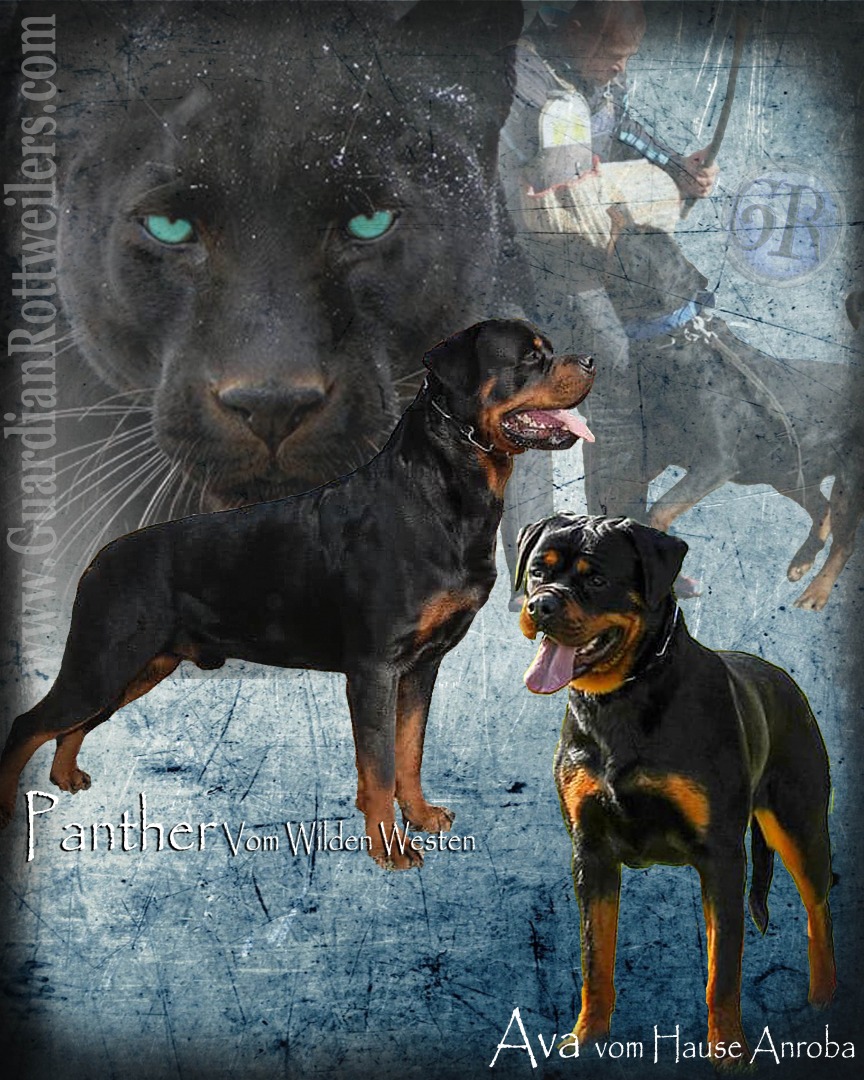 Courtesy of COVID19, this litter will be whelped in Slovakia by Ava's trainer and handler, Robert Bartovic.  The borders were closed right after she was successfully bred to Panther making travel back to the US unfortunately impossible.  Although I am sad that I will not get the opportunity of taking this journey with her, I know there are not more capable hands for her to be in than the man that helped shape her into the exceptional ambassador of the breed she is.Ava was the most successful show young bitch with the score of RTW Club Sk 1 and 2 place!!
Little baby Panther's are here!!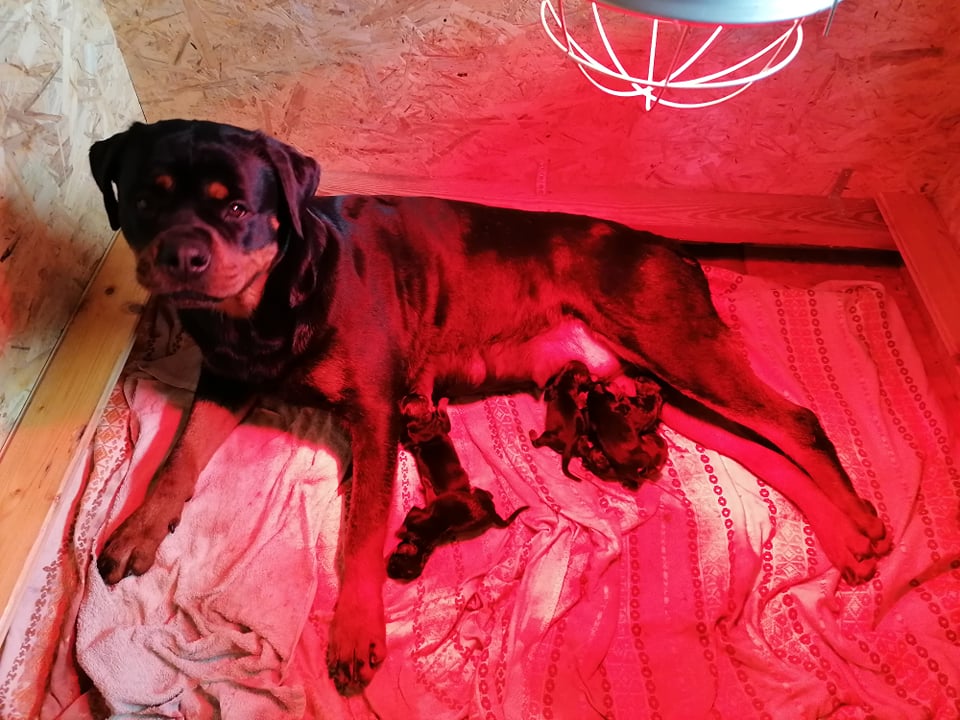 ---
"Belle" Dolly Vom Hause Anroba
Alice,
Good evening!  I hope you and your family are doing well!  How has your daughter's experience been at Anderson University (sorry, hope that was the right school, at least that is where I recalled she decided to go to college).
Also, I just wanted to update you about Bella.  My family and I are taking her to a trainer (at VonBernd K-9 Training Center) in our area who has experience with working breeds.  She is doing well with the training which is in its 4th week, and my wife Katie has spent time working with her there often.
Interestingly, one of the trainers indicated that the Rotties he previously worked with seemed not so smart.  Bella, on the other hand, is proving to be a really great student.  One of the teachers there (Sam Foltz) may reach out to you because he is so impressed with Bella.  I gave him your contact information.  Hope that is okay.
We are still dealing with some alpha issues at home, but things are so much better than in the first month.  Seems amazing that it has only been 2 months since she joined our family!
Bella goes with me to drop off and take my 3rd-grade son to his school each day, has been numerous times to a local farmers market, visited Indy and the local restaurants, and has spent time in our local Rural King store on several visits.  She is great with dogs (we walk our neighborhood several times each day) and is very friendly with people.  Bella sometimes gets a little excited around kids, but we are working on it and she is getting better each day.
I will send pics soon.  Bella's health is solid, and she is really growing–at about 54lbs now.  She will be 5 months on Oct. 5th.  She seems to be tracking the average male's growth rate at least from what I have seen online.  She lost 1 canine tooth and the permanent one is peeking out from her gums.  The other three puppy canine teeth are not yet budging.  Her mouth has to be driving her nuts!
I hope all of your litters, pups, and parents are well!  I have been checking your facebook page to gather updates and am very excited for Ava!  
Have a great evening, and please give my very best to your family!
Chris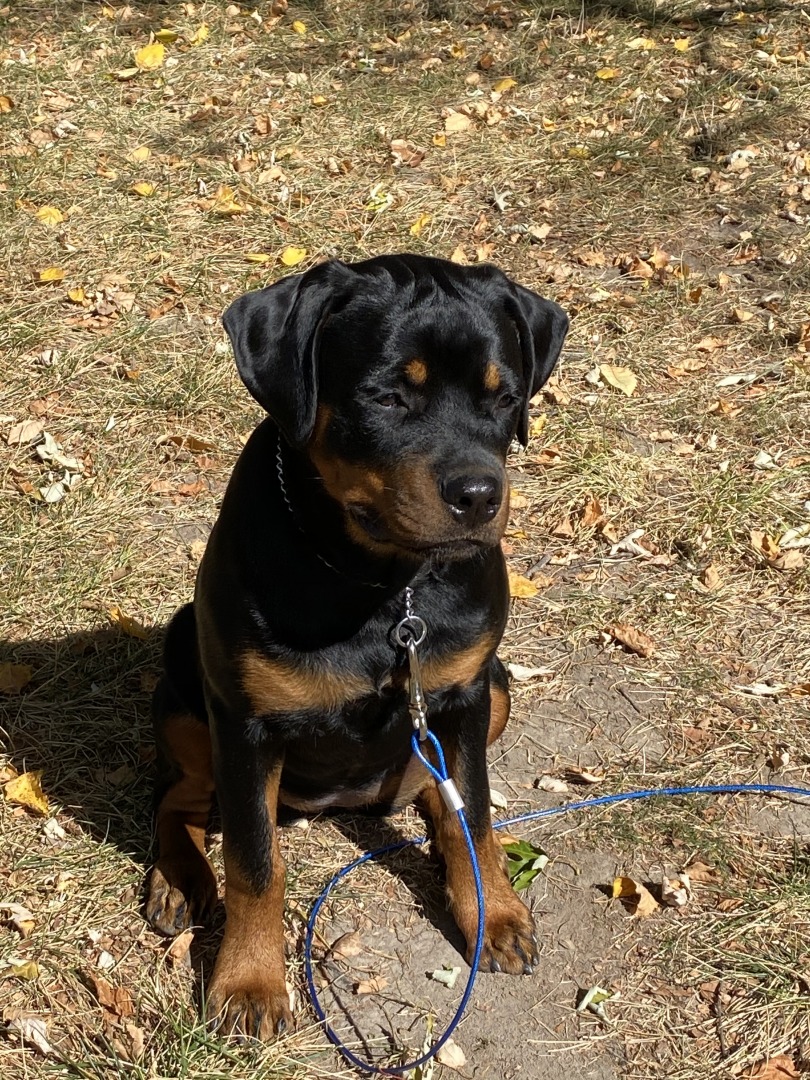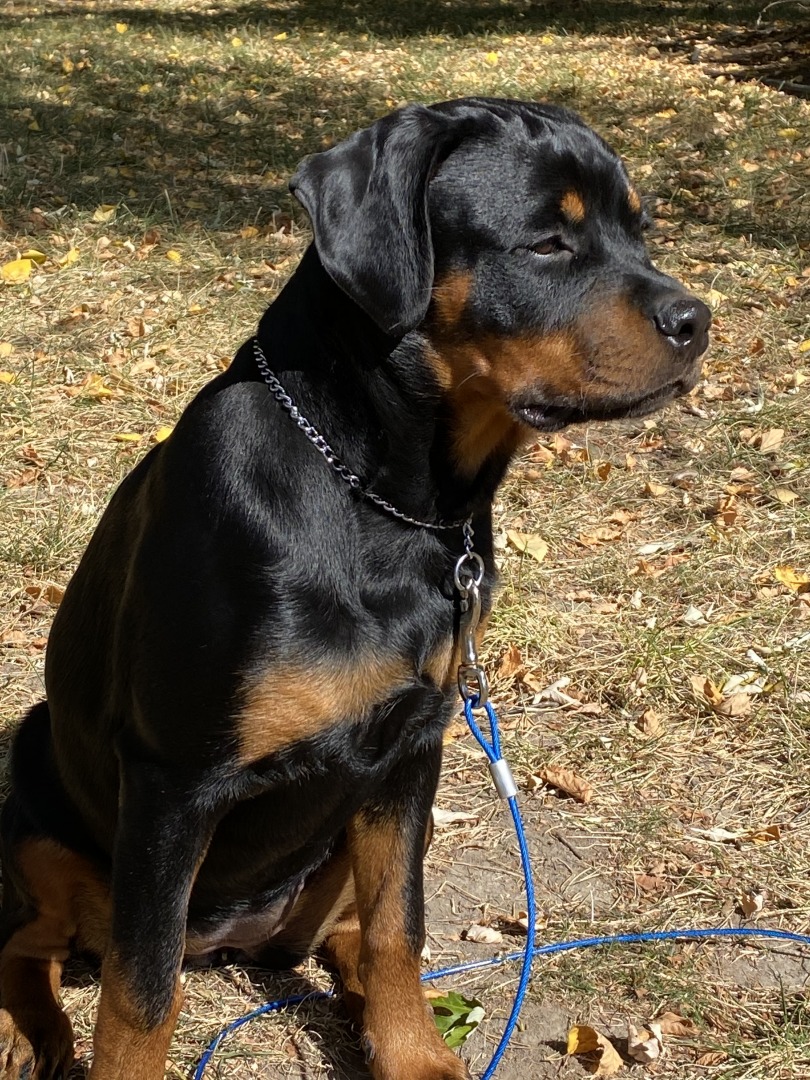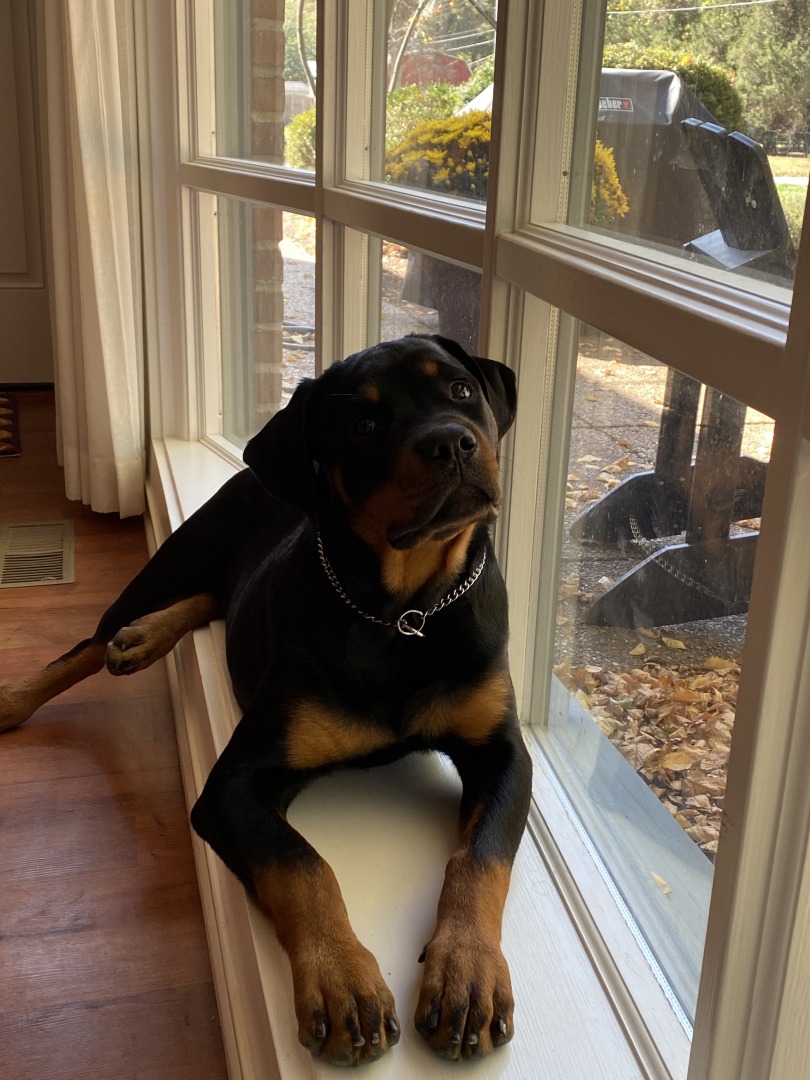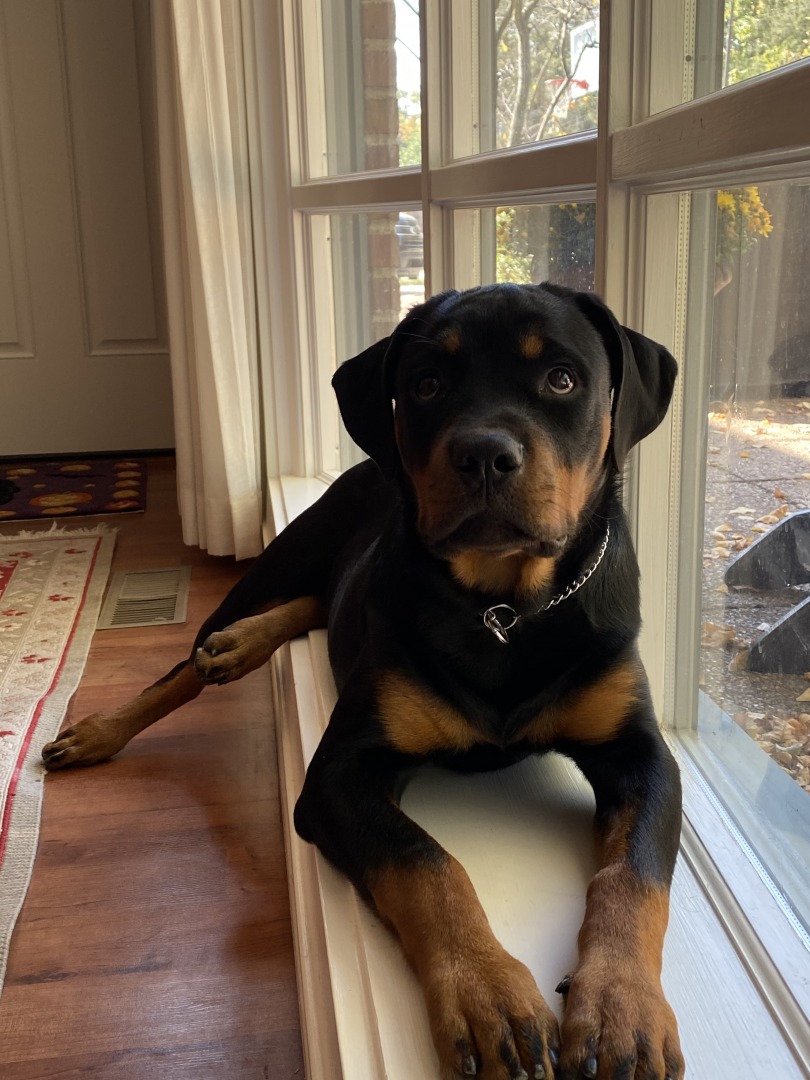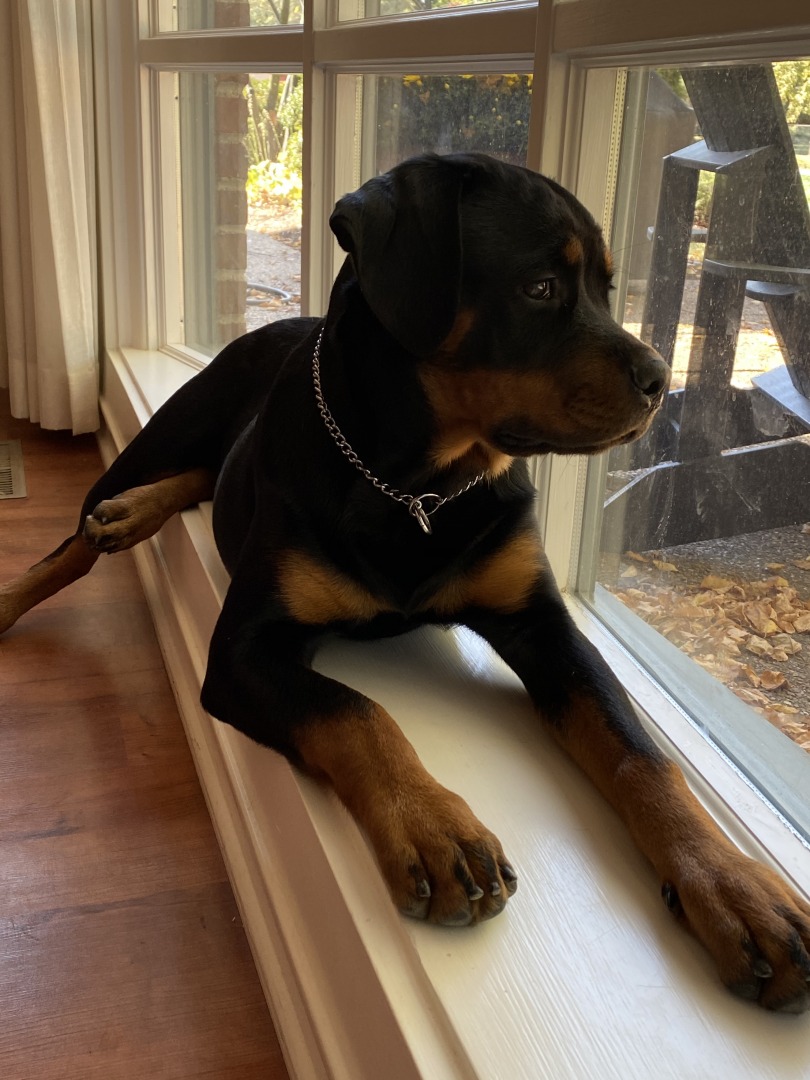 Alice,
I just wanted to share a few photos of Bella.  She turned 5 months on 10/5 and is so beautiful! 
I am still waiting for my fence!  Until then, we are only able to play with Bella in our backyard with a lead or leash.  Have a great day!
Alice,
We are so thankful for our Bella!
Chris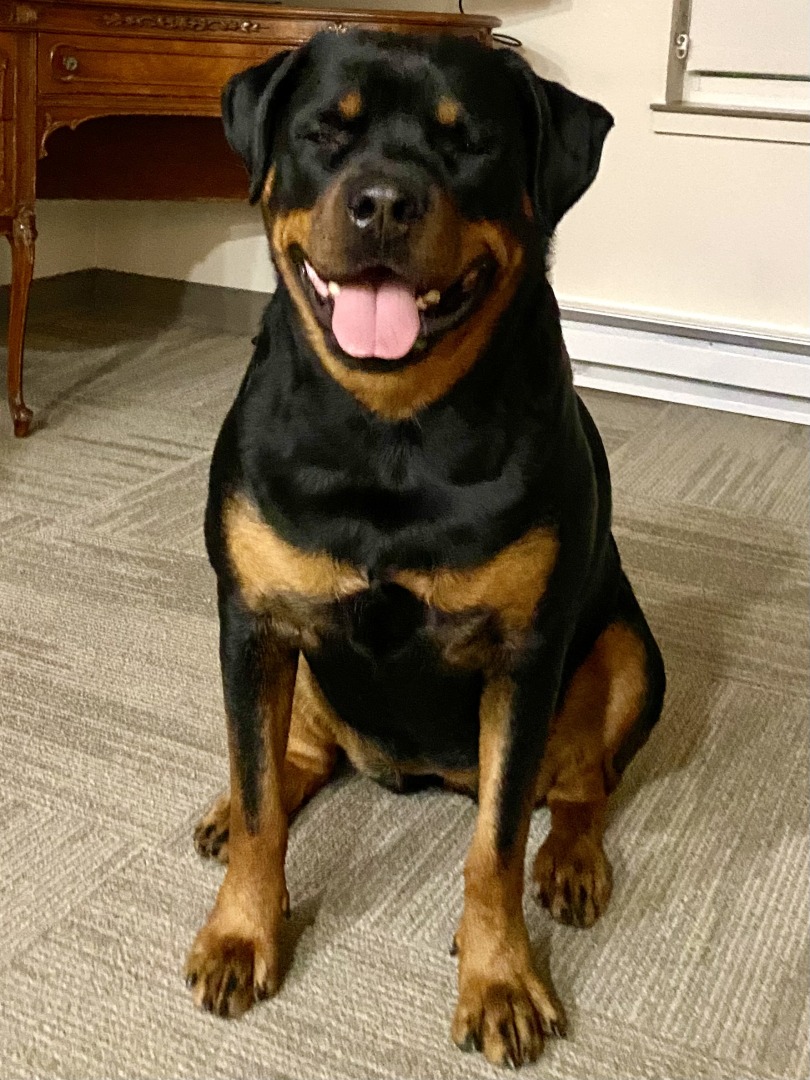 Alice,
Hoping all is well!  Attached is a photo of our Bella (Dolly) von Haus Anroba turning 2 today (5/5/22). She is about 110lbs and is happy & healthy!
We moved to Montana over the Holidays due to a job opportunity for me.  Hope to connect with you soon!
We may be in the market for a male in the next year or two.  🙂
Sending our best to you and your family!
Regards,
Chris
---
"Jersey" Dick Vom Haus Anroba
Hi Alice,
Thank you for responding, I really appreciate it! I can only imagine that travel is hectic right now let alone trying to get it all coordinated. 
Yes, even though he has the heart murmur thankfully he is still a happy, fun, and energetic pup! I am amazed at how big he is getting and it all seems to be happening so fast. I will definitely keep you updated on what we find out in the next few weeks after his echocardiogram. 
His training is going very well! He is a VERY smart and obedient dog! I am very blessed to have him. I have also been doing some swimming lessons with him at an indoor facility since he did not have much time to learn this summer. He starts Novice Class training in a few weeks but my trainer says he is already ahead of the class. 
That is wonderful to hear about Rotties loving snow! I have never had a dog, either my own or my parent's, that have loved snow. It will be a new adventure for me! I am very much looking forward to that! 
I hope you and your family also have a happy Thanksgiving! 
Here are some pictures of Jersey from August to October! 🙂
– Eric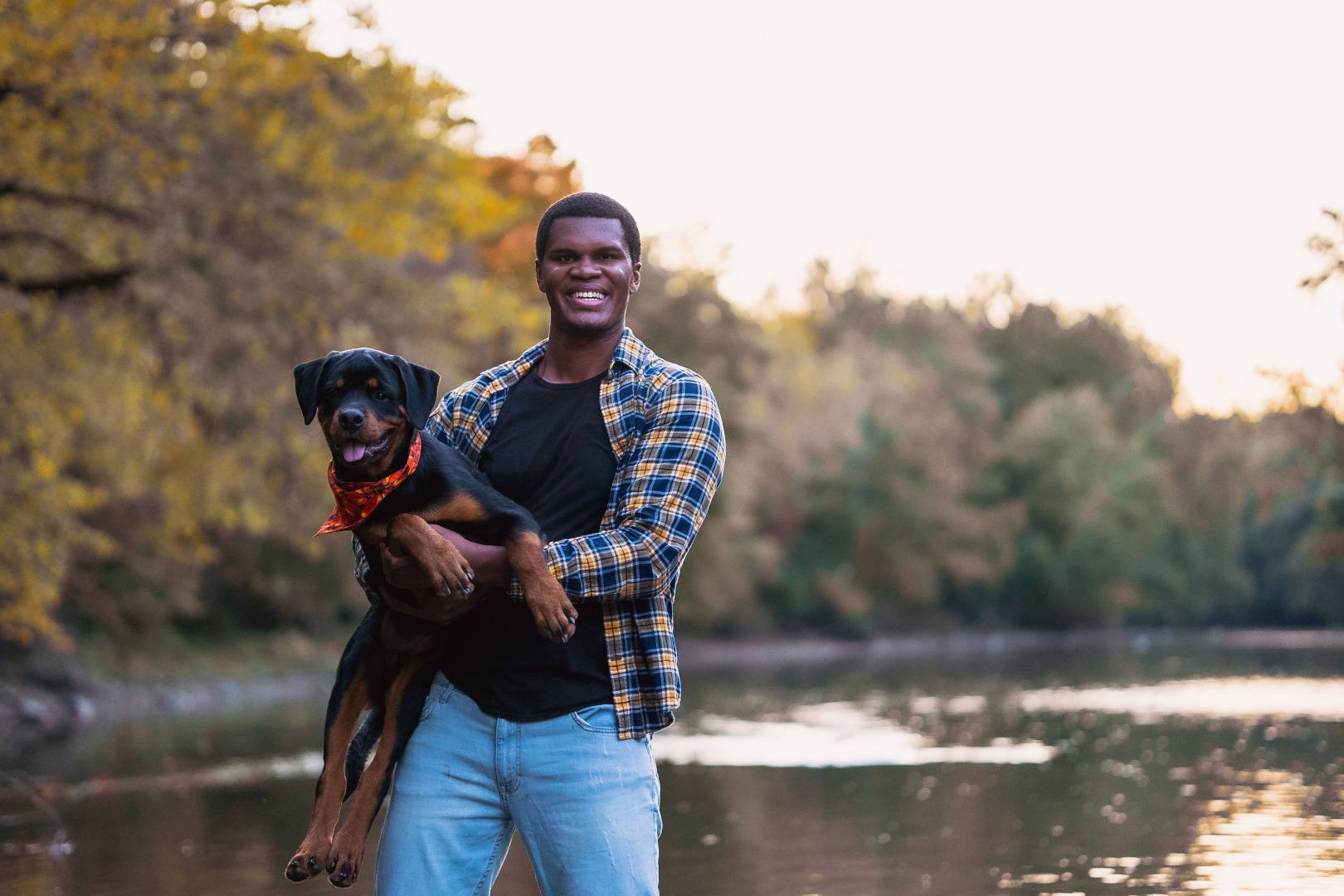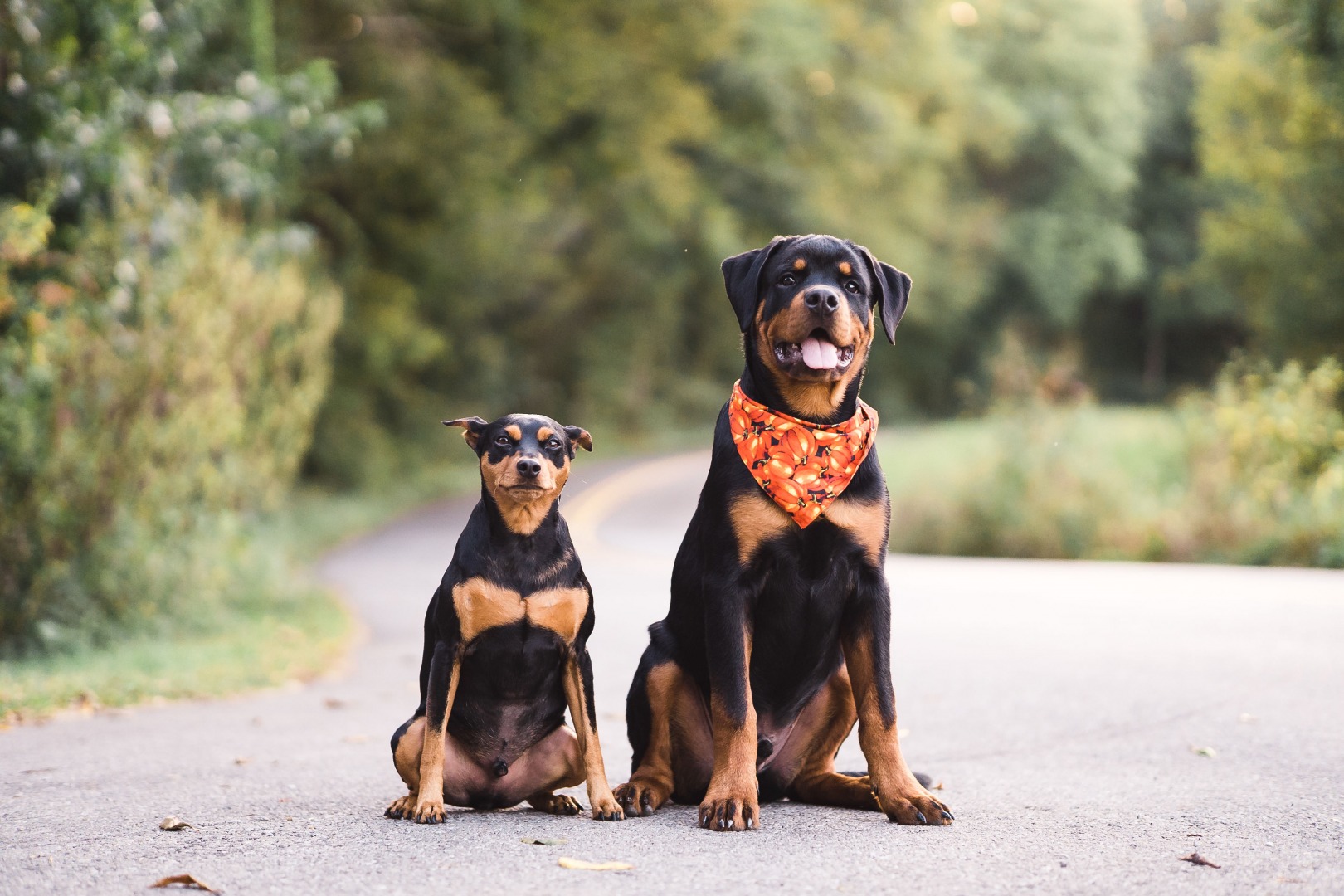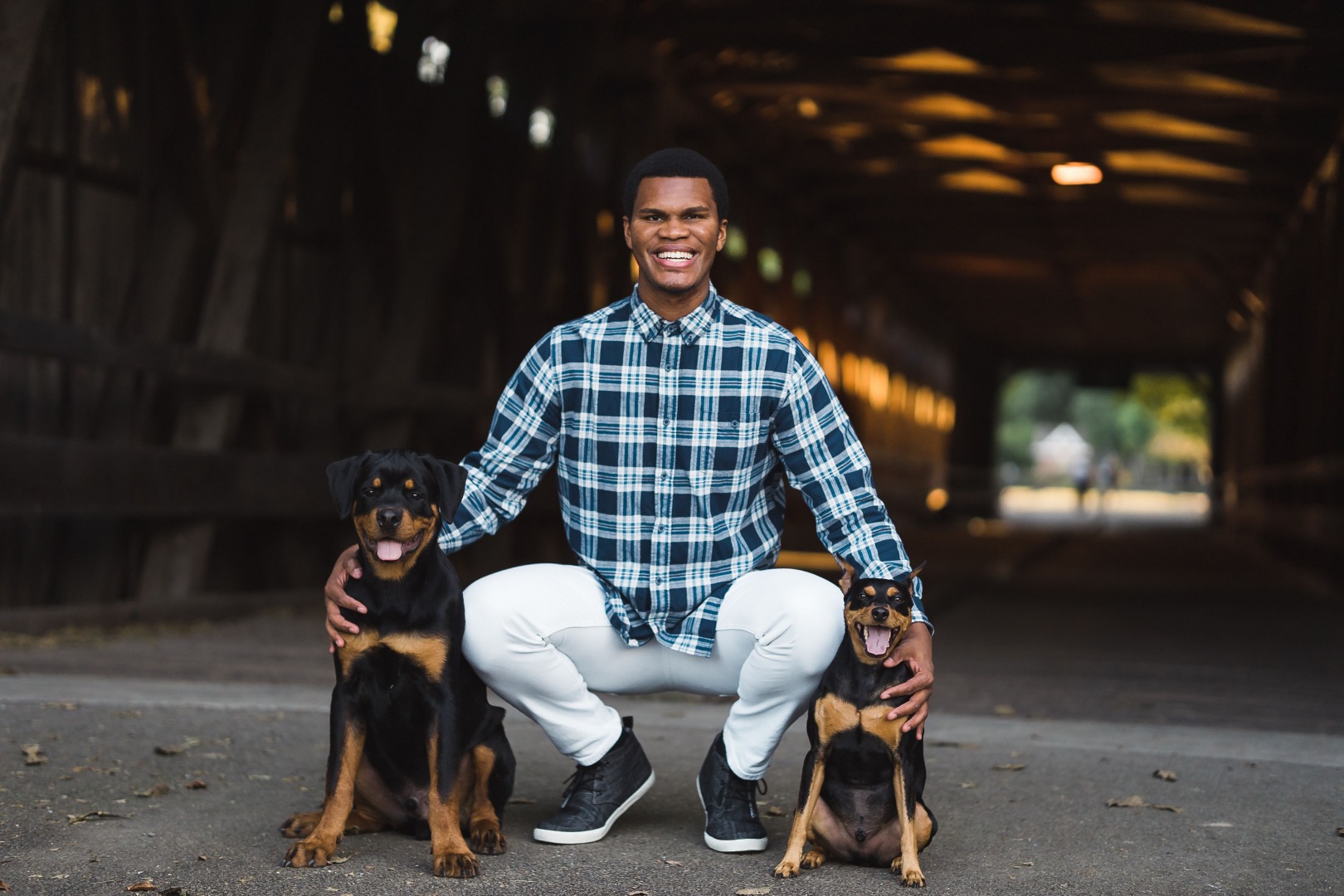 It's almost been about a year since we last spoke! I could go on & on explaining  how well Jersey my beautiful Rottweiler is doing well! He is just a great dog! He loved his 1st winter & enjoyed the snow so much! We played on a hill at a park & had so much fun!
He gets along well with my other dog & my mom's dogs. He is a giant cuddle ball full of love! He shows that he is truly a guardian the way he sits right beside me whenever I have guests over at my house. He is always around me showing his loyalty to me, which has impressed me the most knowing that he would do anything for me. I come home for work & I make sure he gets his 45 min of exercise daily. He also loves swimming and the water. He could swim for hours if I let him. He continues to grow up right in front of my eyes!
He is weighing in at 110 lbs at his most recent vet visit. The doctor says he has a great temperament & is very healthy. I go back to Purdue university next month for another echocardiogram to evaluate his heart murmur. They said this scan should give us more answers on if the heart murmur has grown in size and how it will affect Jersey long term.
He still goes to training about twice a month & is now in advance classes! He is also starting agility! People are amazed at a bigger dog doing so well & how obedient he is when he goes through hoops & obstacles! I love him so much & I've been getting accustomed to his rottie ways! I can't wait to see his full size but best believe I'm still enjoying his puppy days! Last but not least he is almost bilingual. He knows how to sit, stay, come & other commands in both German & English!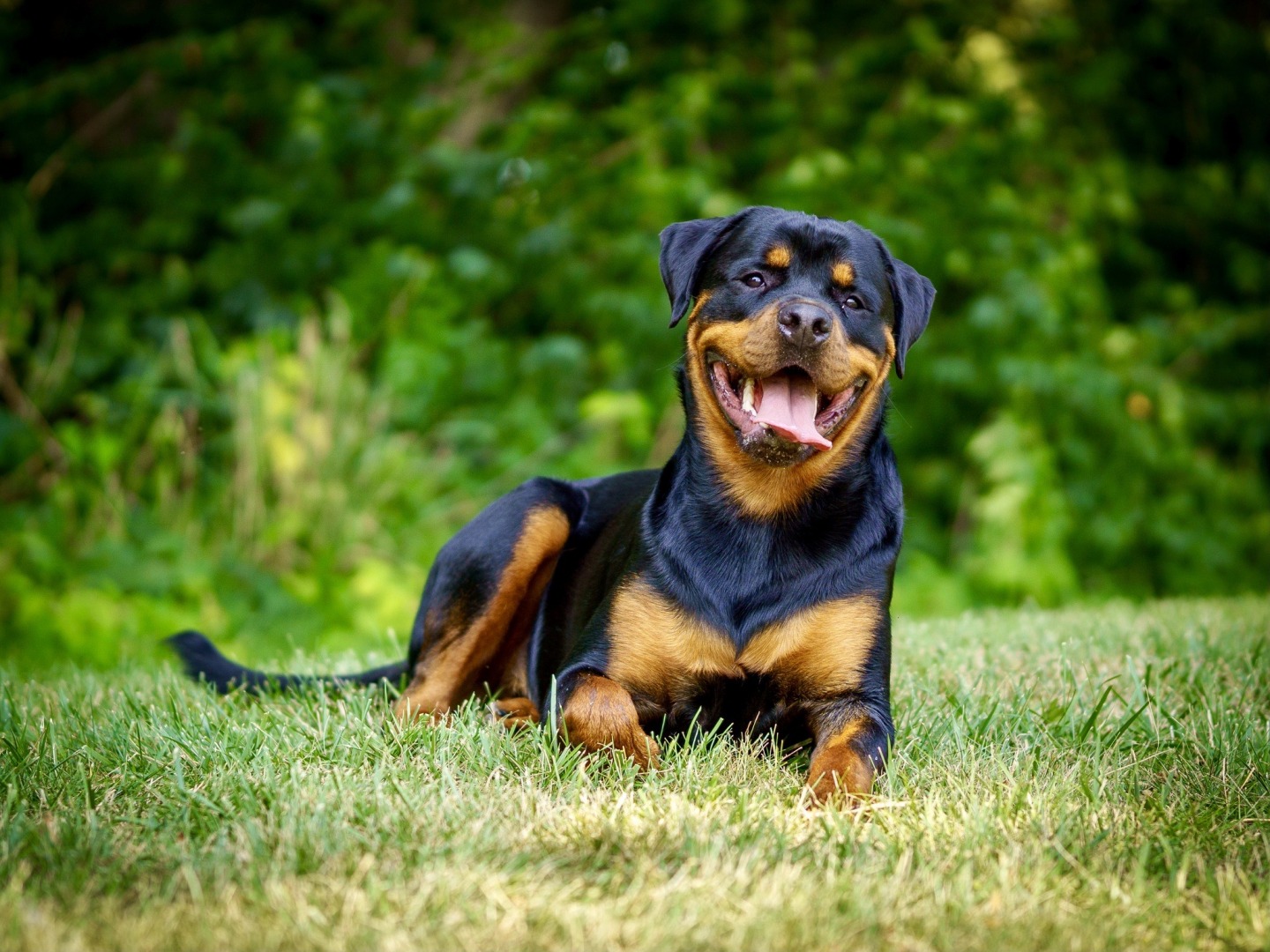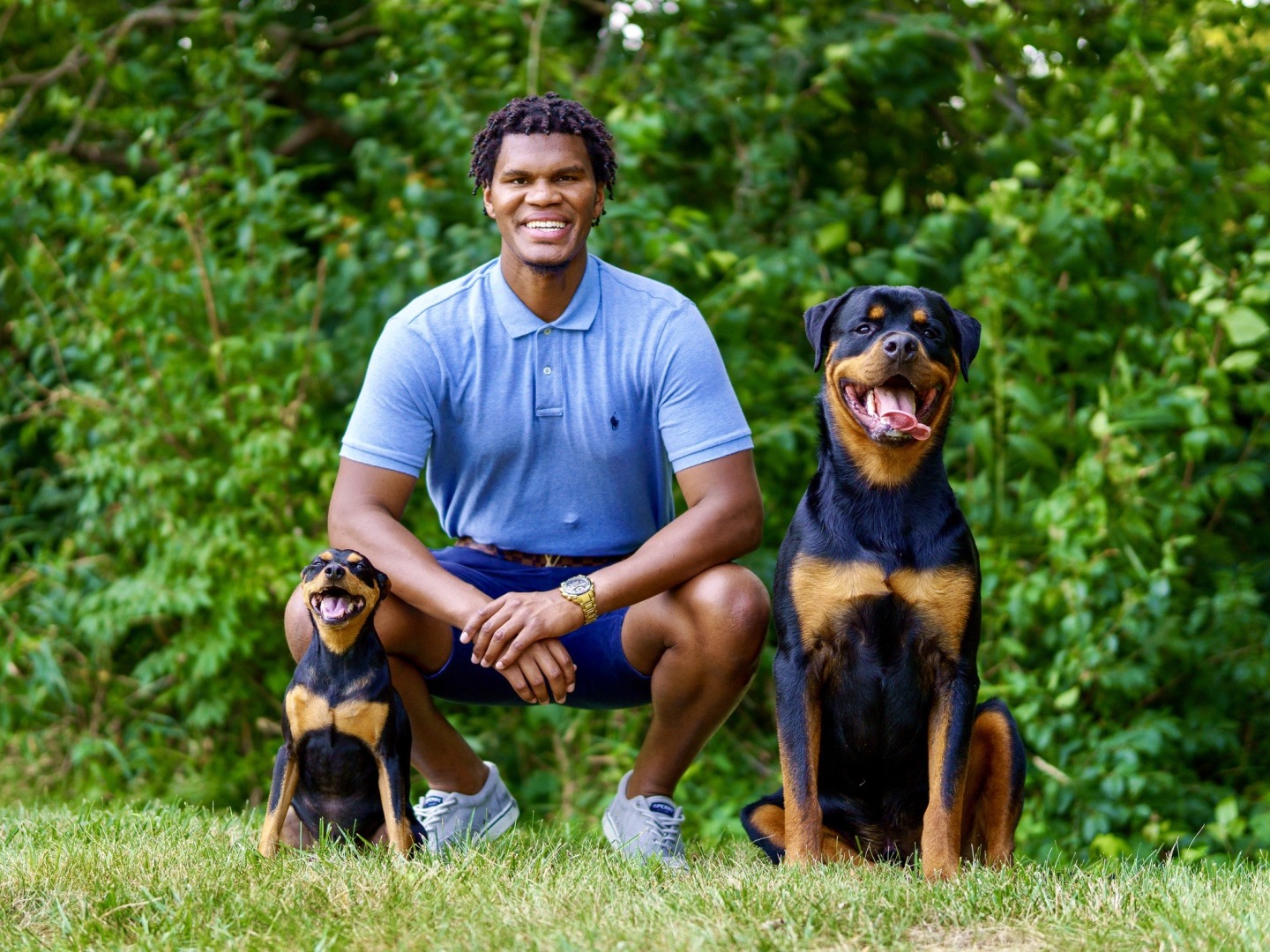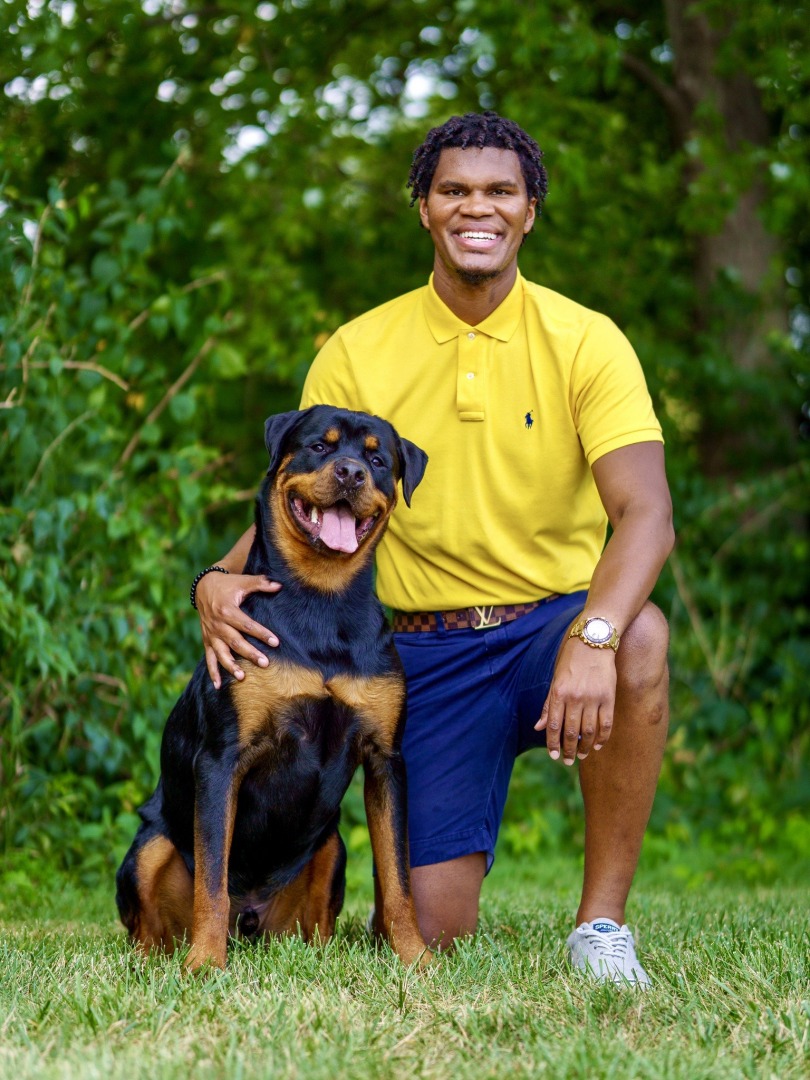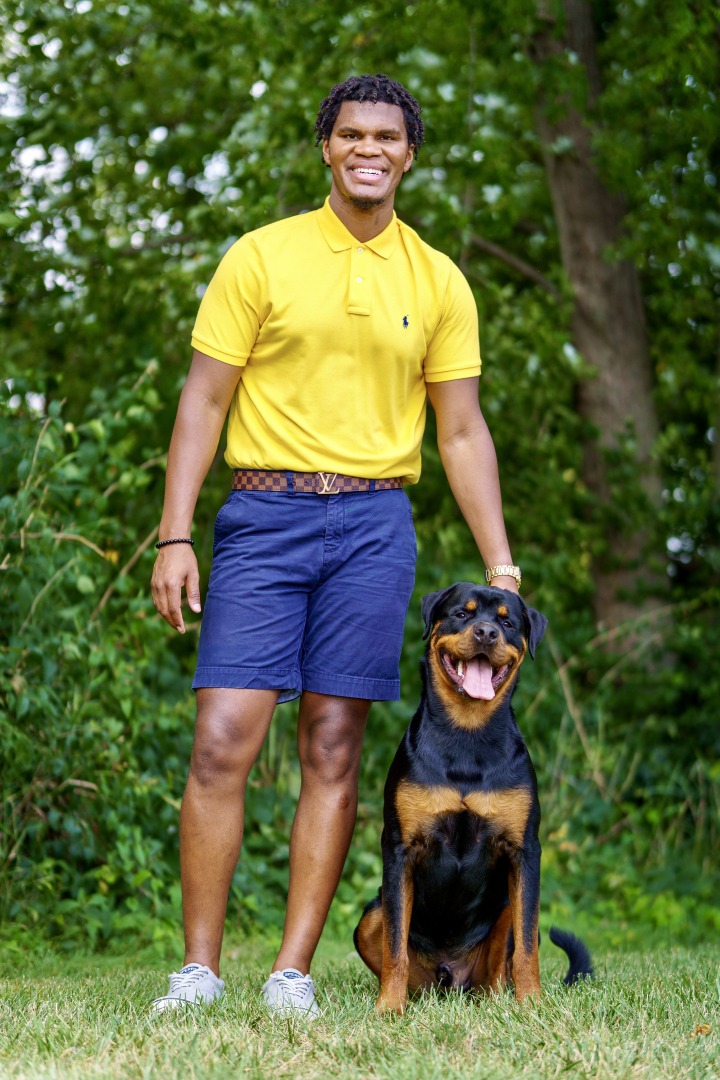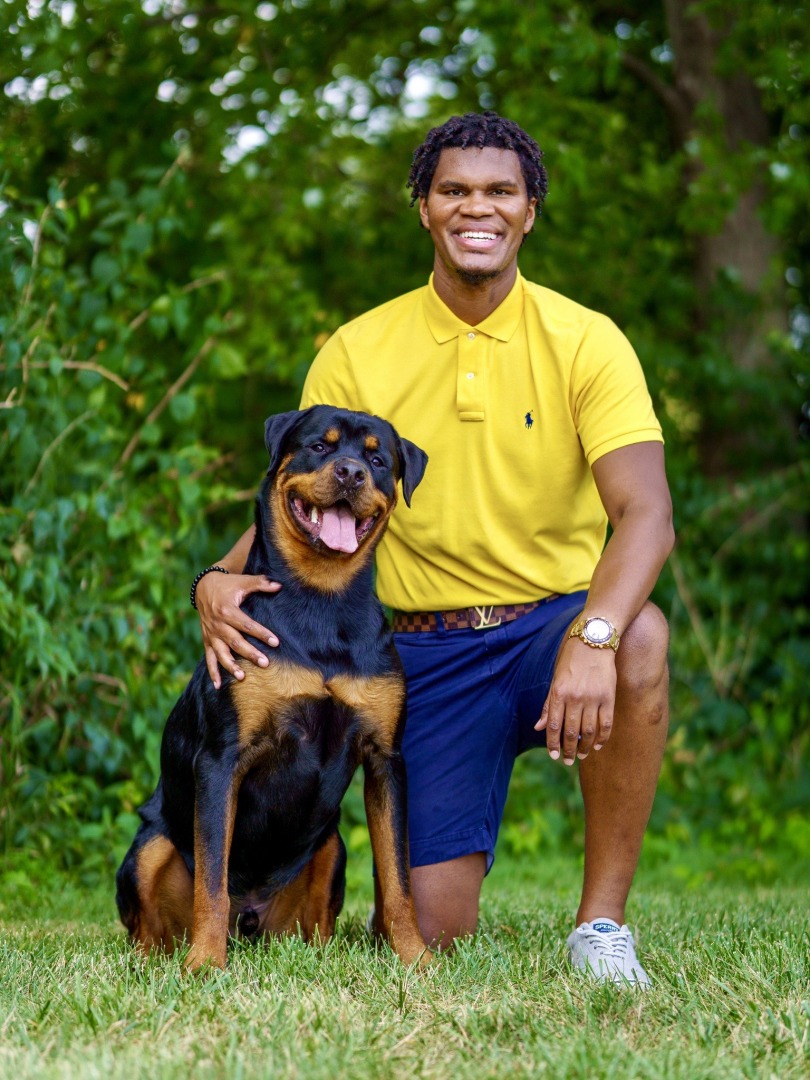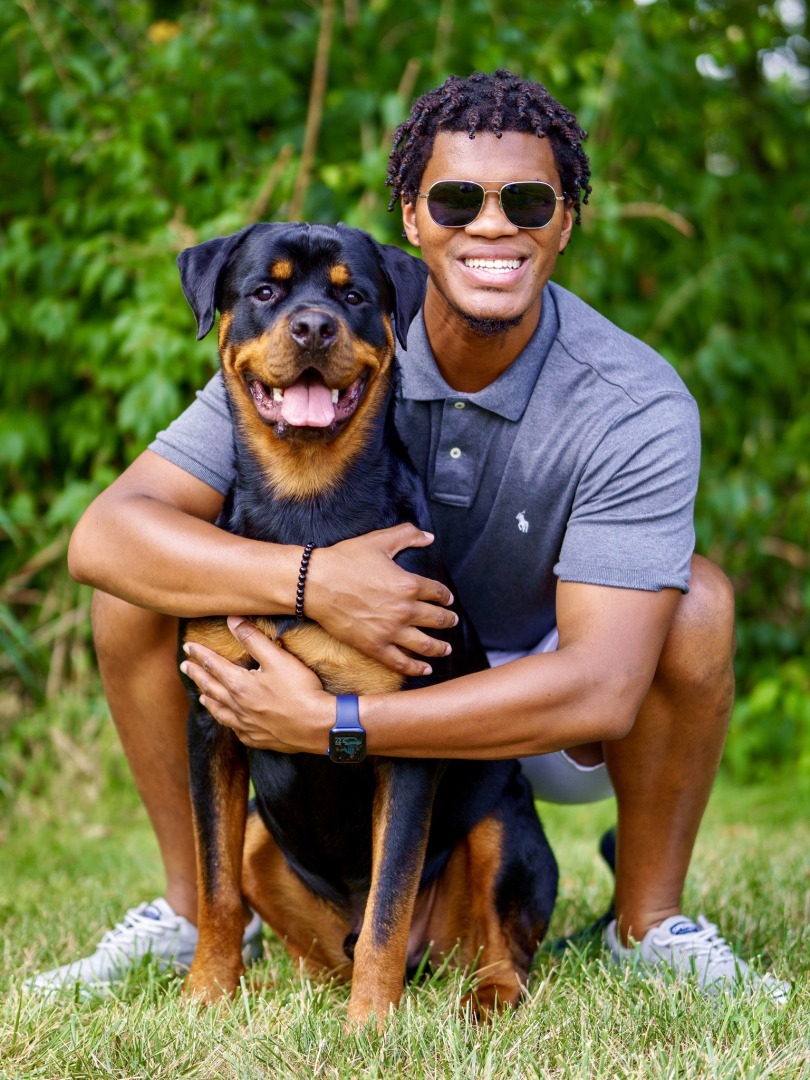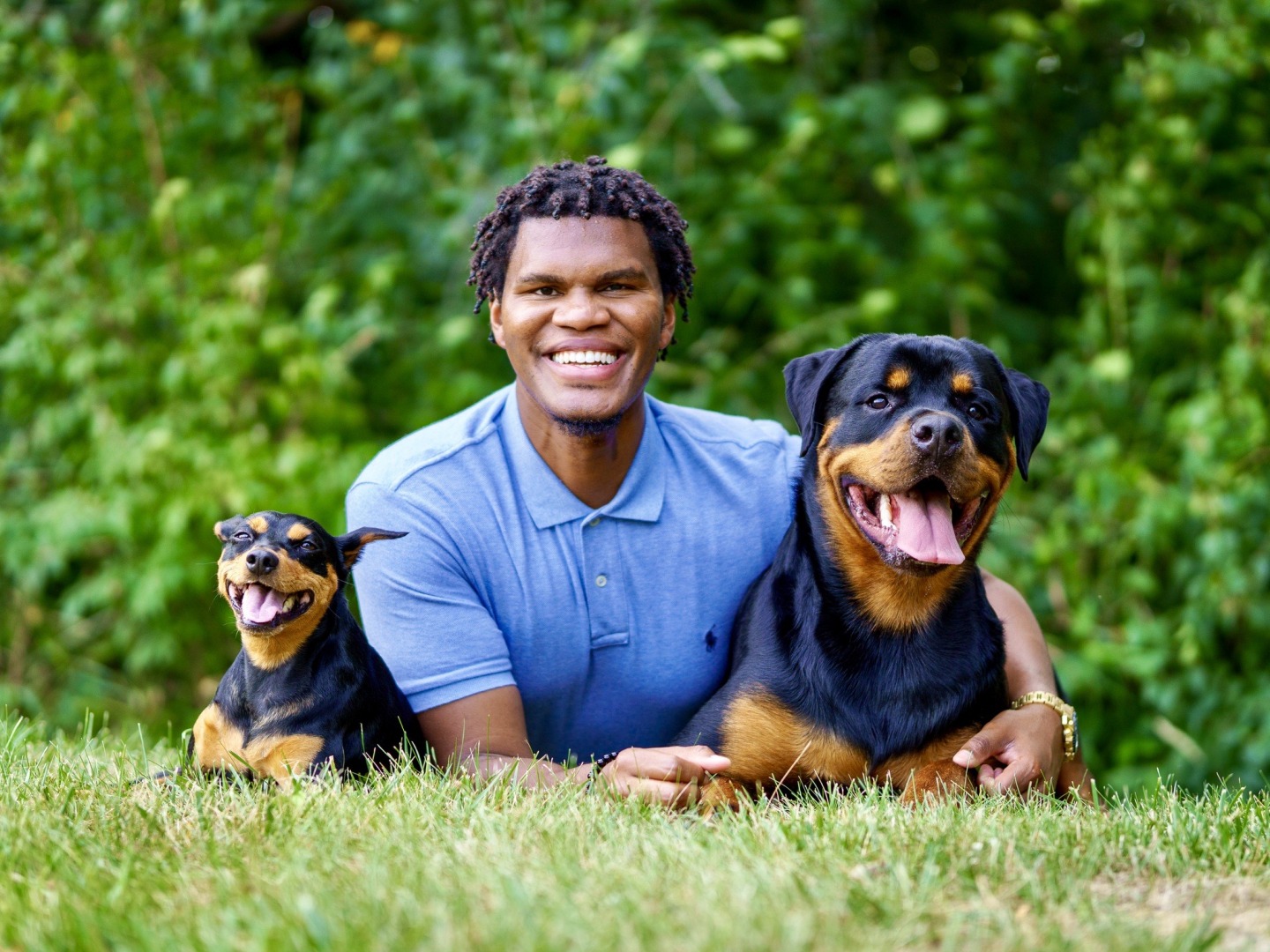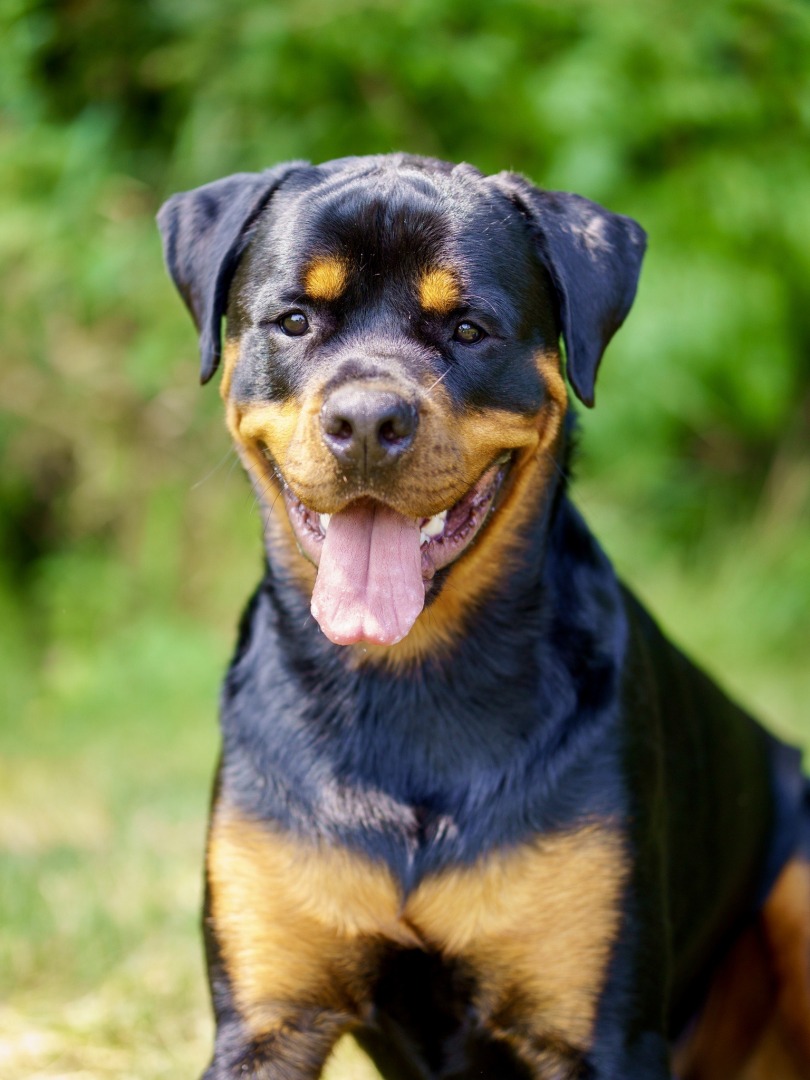 I hope all is well, it has been over a year now and I just wanted to give you another update on the last time we spoke! Jersey has been a blessing to me and we are just enjoying life together. It's unbelievable that he will be 2 years old in June. He is well behaved and officially done with advanced class. He still gets training to sharpen up on his commands here and there but he passed Puppy, Novice & Advanced top in his class. He loved his 2nd winter as much as he did for his first & enjoyed the snow so much! We played on the hill at a park that we always go to and randomly decided this year to start eating the snow & overall cover ourselves in it while playing in it!
He gets along well with my other dog & my mom's dogs. He is a giant cuddle ball full of love! I'm amazed that he shows that he is truly a guardian  of the house but a teddy bear when my friends come over to hangout. He shows me his loyalty to me, and it just never gets old. We still do exercise like agility, frisbee and walks to still get him out and about. I make sure he gets his 45 min of exercise daily and if he doesn't because of a work shift that lasts longer. The next day I spend more time with him to show him that I am sorry for working so hard and I spoil him with bones and treats. He also loves swimming and the water during the summertime.
He is weighing in at 130 lbs at his most recent vet visit. I can no longer pick him up and if I do, I may tear a hamstring while doing so haha. He is seriously still my 24 lbs baby boy that I brought home in my eyes still. I had gone to Purdue this past spring for a Purdue university  and the echocardiogram to evaluate his heart murmur. They said this scan was the same as his last checkup and they still want to see him closer to 2 years in age to get a better diagnosis for heart murmur for his long term health. Besides all of that I will like to send you pictures of my Jersey Vom listed below the email.
(Visited 29 times, 1 visits today)