Sire: Judas von den Golan-Hohen
Dam:  Greta vom Räuberweg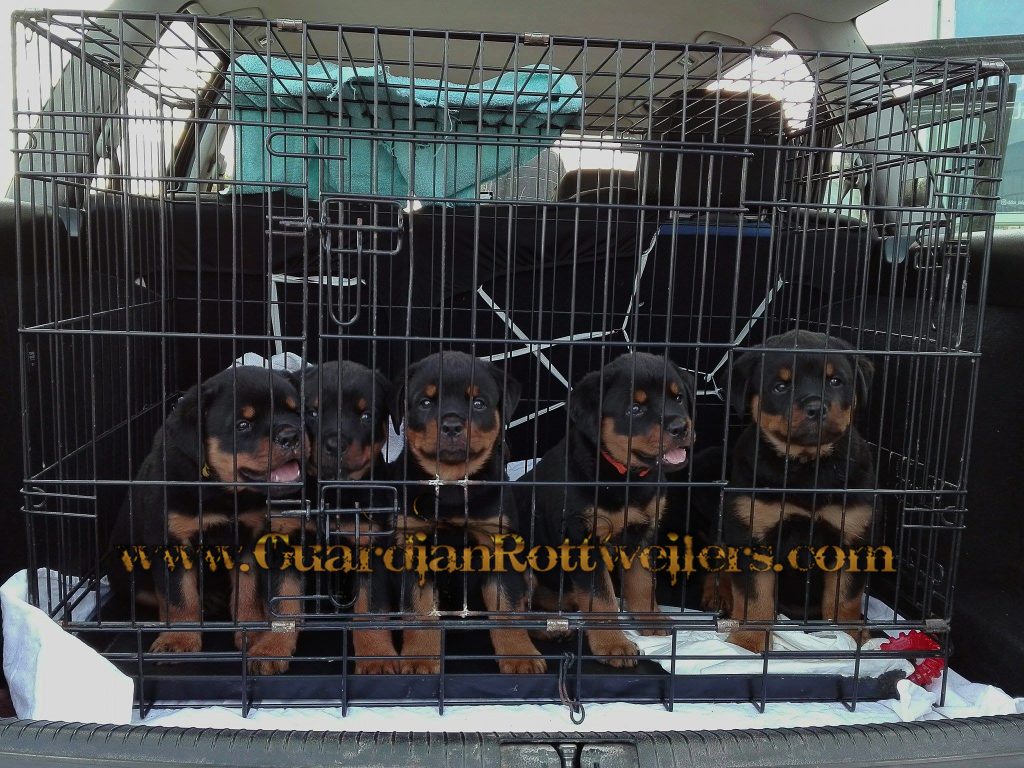 We are so excited to be importing pups of this quality!  Helena is a phenomenal breeder who understands how important pedigree is, but does not forget that how the pups are raised and socialized, ESPECIALLY during the early weeks is monumental to their growth and development.  She is the first European breeder I have come across that uses Puppy Culture https://www.puppyculture.com!  The amount of time Helena put into researching pedigrees and progeny to chose the perfect sire for this litter is evident when you see that, from a litter of 11, you have 11 puppies that could easily be pick of the litter!  After you meet the puppies, you can see for yourself that excellent choice in breeder are only the tip of the iceberg with Helena.  The puppies are well socialized, confident, affectionate, intelligent and biddable.  This was my first litter to import from Helena, and I truly hope it is not my last!  https://www.facebook.com/arokh.rott.9
Here is a video of Ranger, the male with the highest drive in this litter that went to a well respected trainer, Miroslav Tomic!
This video was taken on his FIRST DAY of training!!  How incredible is this little guy!?!?!

This is a 100% ADRK German breeding.  Sire and Dam are BOTH Pink Paper German Imports, and some exceptional German working lines!  If you do not know some of these dogs or some of these titles, please look them up!  Judas was ADRK KLUBSIEGER (Best dog in the world at the biggest, most prestigious Rottweiler show in the world!), as well as Sieger many, many times over.  He has a Gek?rt (Koerung)!!  This is no easy achievement!!  This is a LIFETIME breeding titled that is very hard earned!  He has every temperament test/character title he can earn in Germany and he has the highest level working title achievable (IPO 3)!  The line breeds in this litter are on some of the notable Rottweilers in the breeds history.  This is one of the highest caliber litters I have ever imported and I could not be more proud!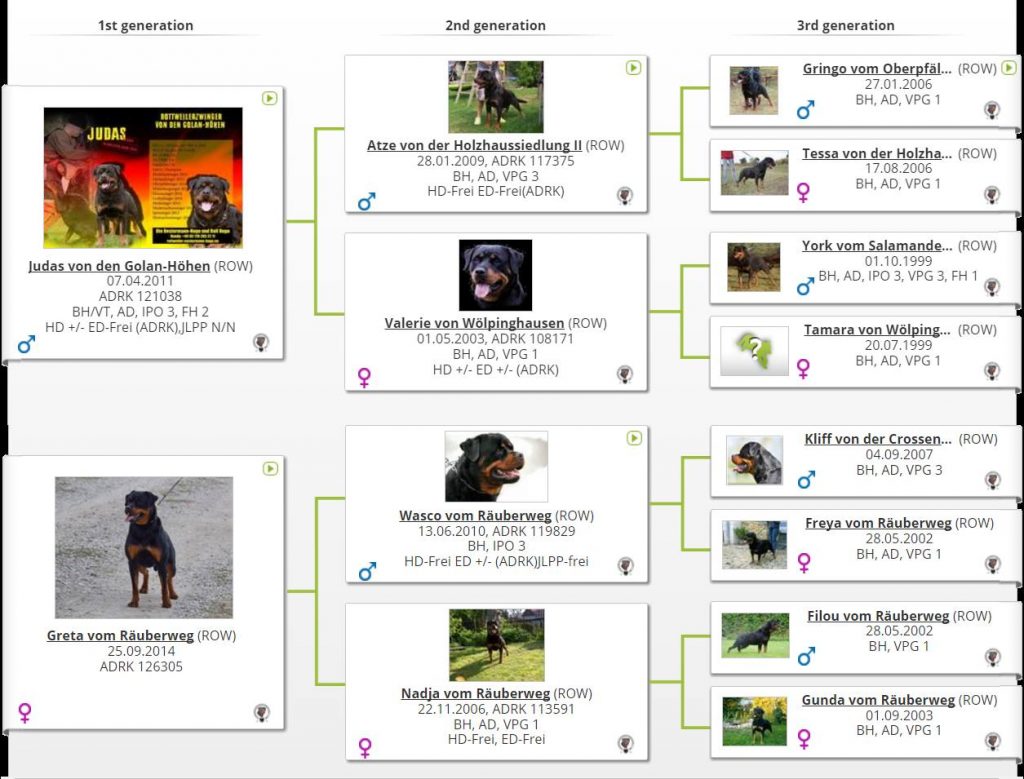 Sire:
JUDAS VON DEN GOLAN-HOHEN

Sire: Atze von der Holzhaussiedlung II – BH, AD, VPG 3, HD-Frei ED-Frei,
Dam: Valerie von Wölpinghausen – BH, AD, VPG 1, HD +/- ED +/-
HD+/-, ED-Free
JLPP-Free
BH, ZTP, AD
IPO3, FH2, Gekort (Koerung)
ADRK Klubsieger 2015
International Champion
Dt. ADRK Ch. (German Champion ADRK)
Dt. VDH Ch. (German Champion VDH)
Danish Champion
B?rdelandsieger
Salzlandsieger (2015)
Oberpfalzsieger
Wittenbergsieger
Dessausieger
Lechtalsieger
Heidesieger
Niedersachensieger (2014),
Spreesieger
Westsachsensieger (2013)
(Grandson of Gringo vom Oberpfalzer Wald and York vom Salamandertal!)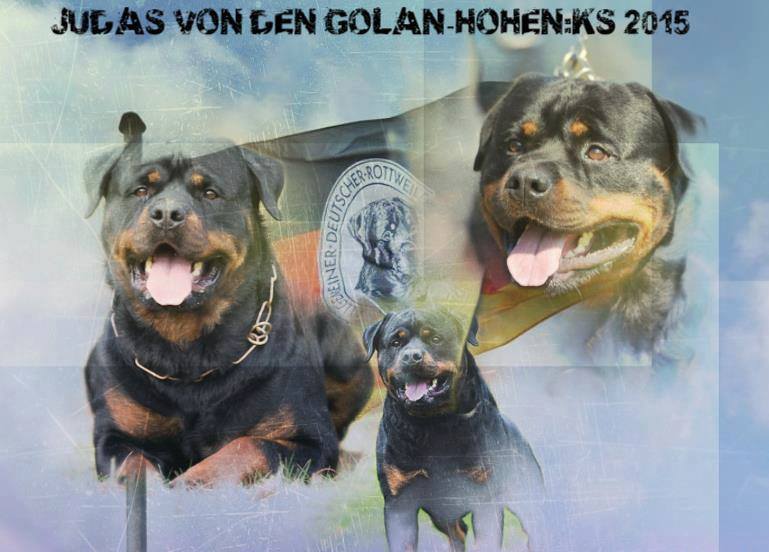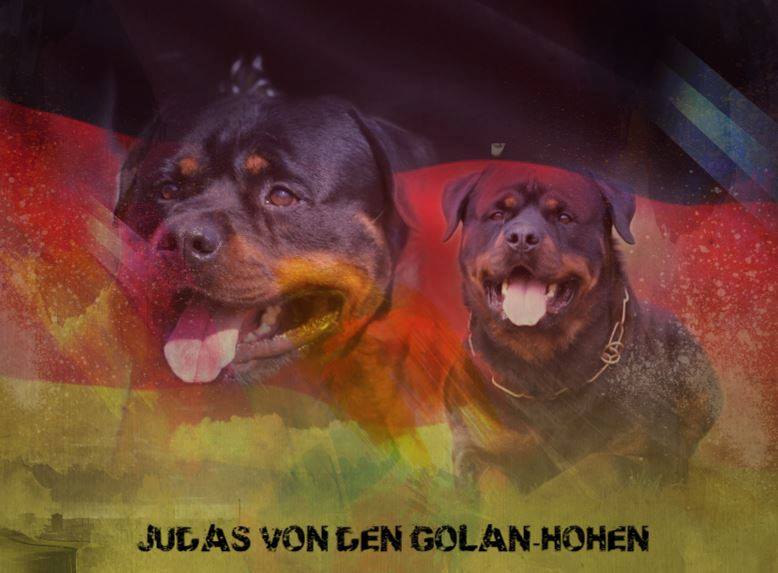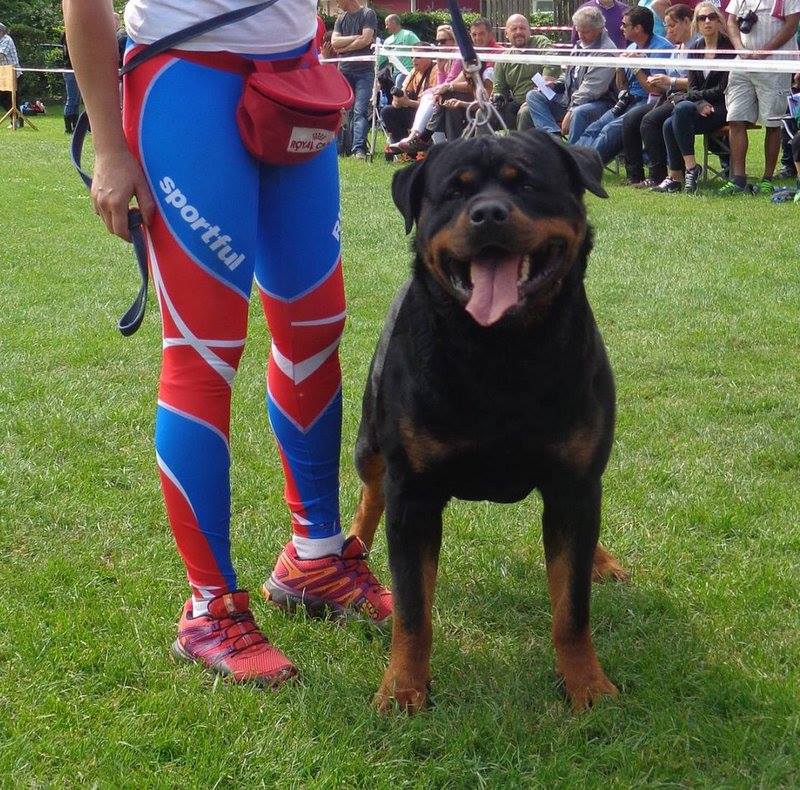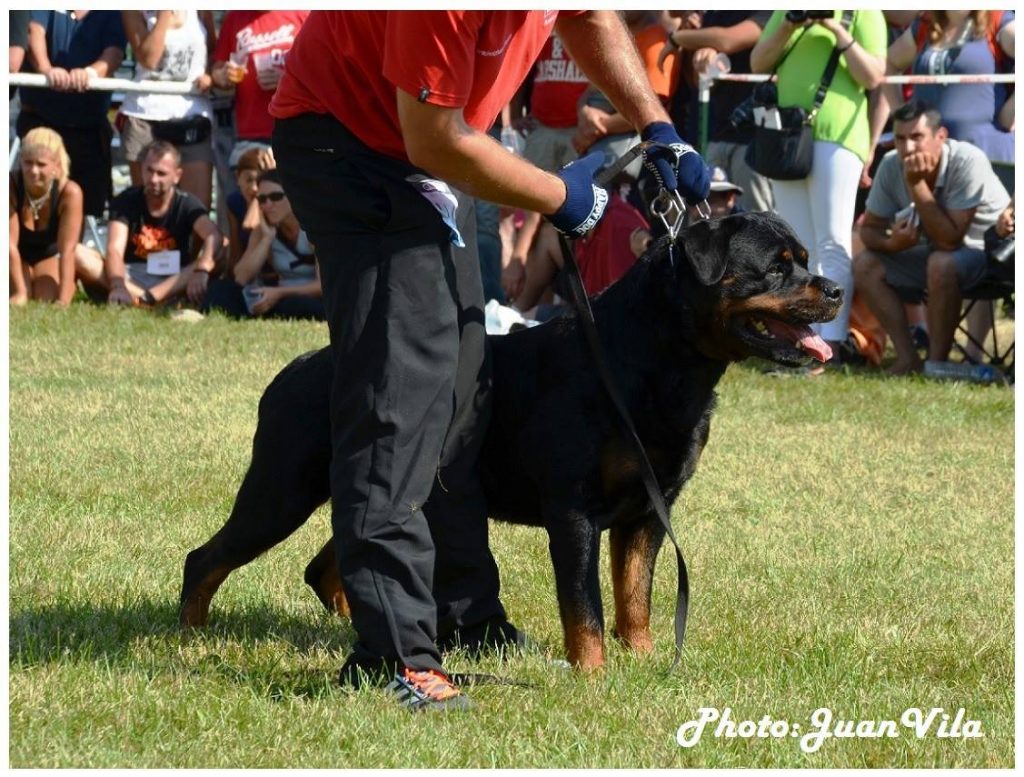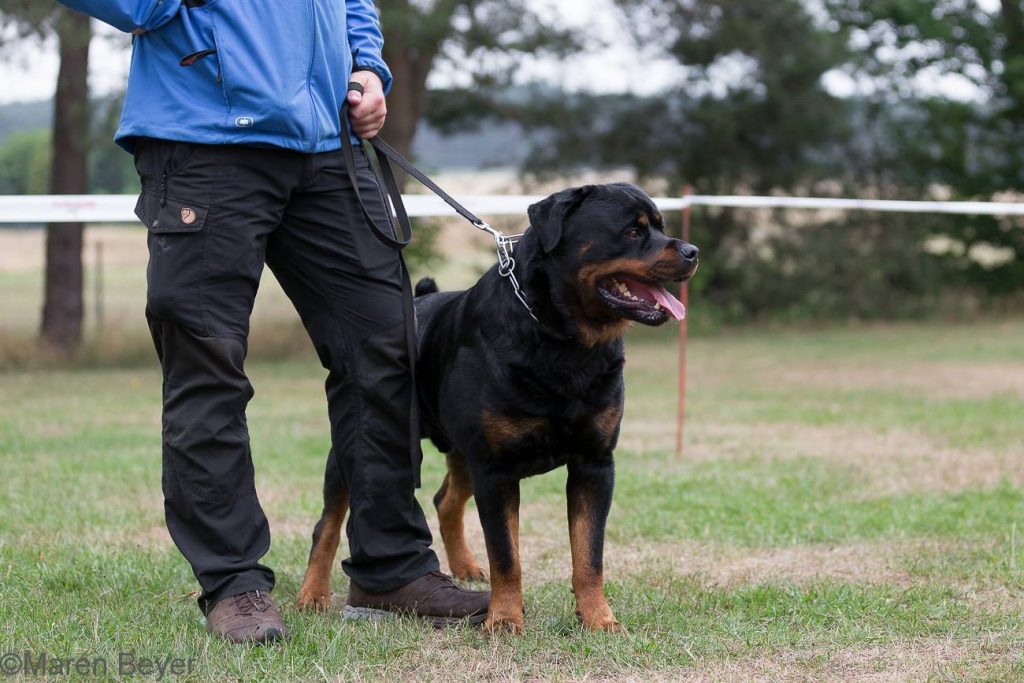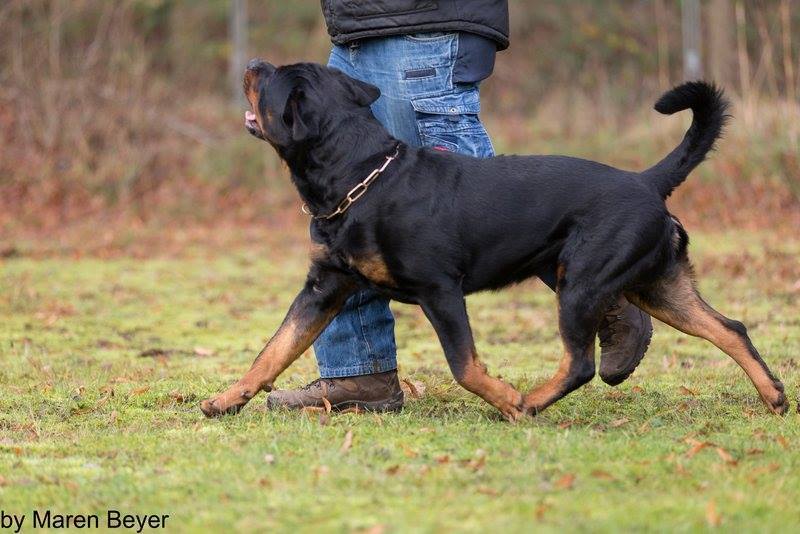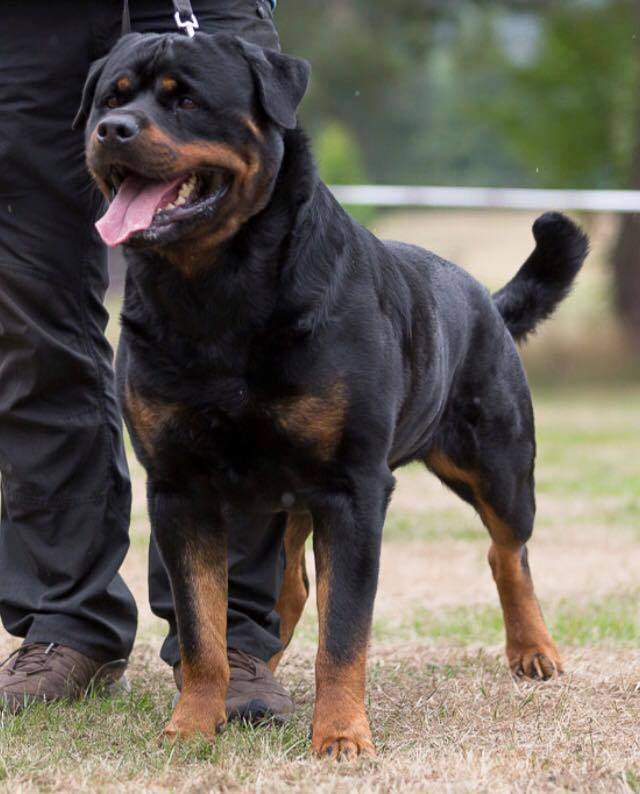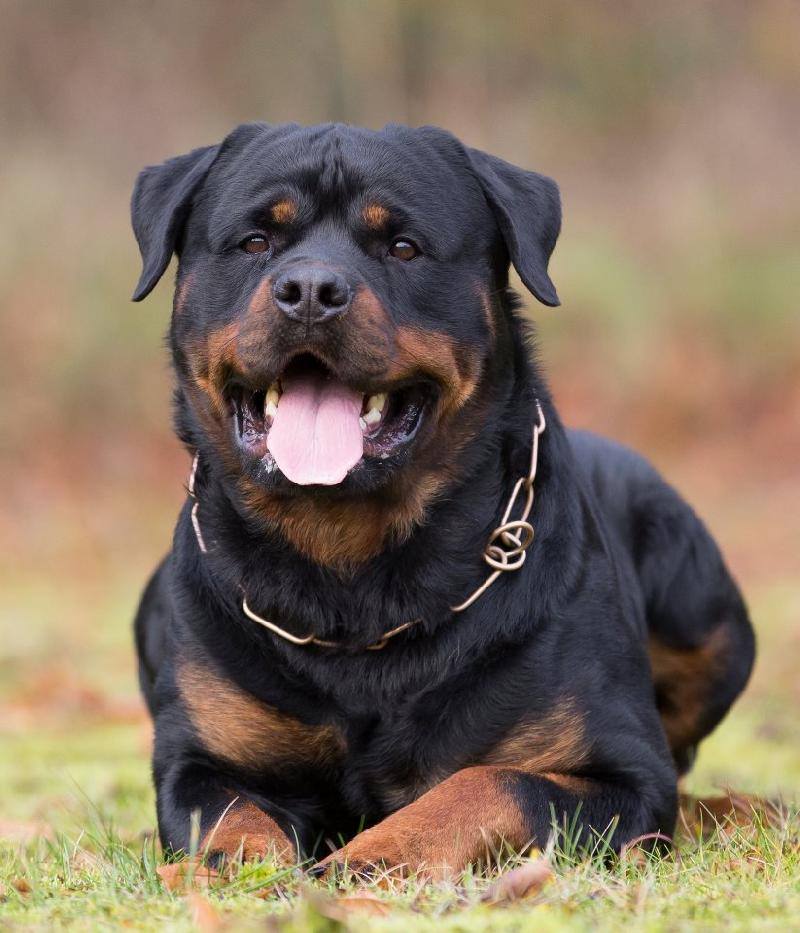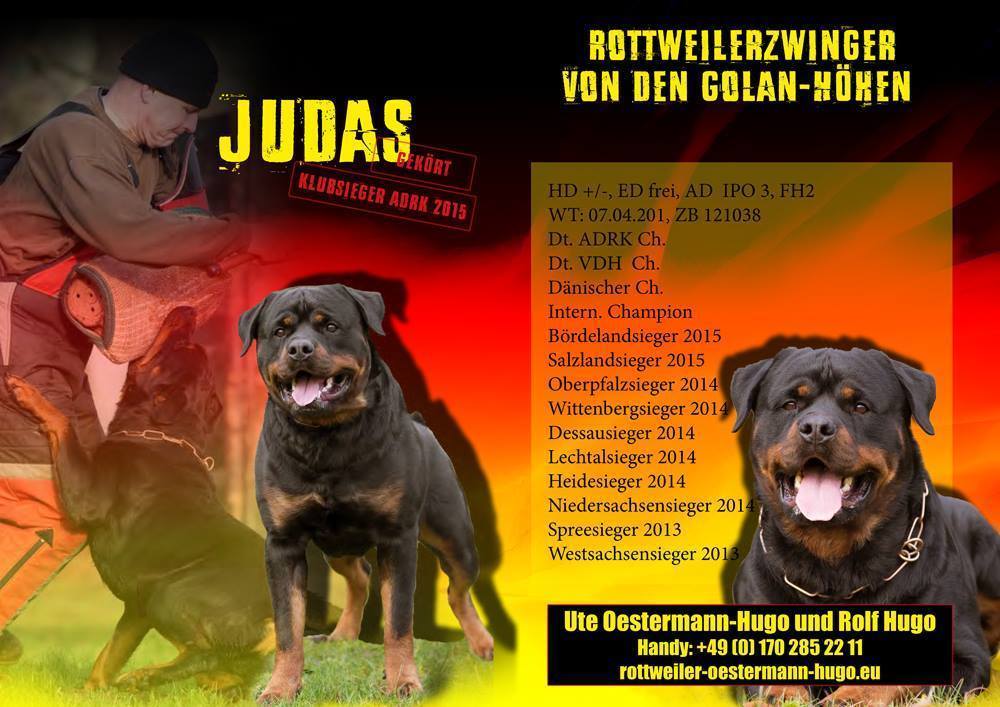 Dam: GRETA VOM RÄUBERWEG

Pink Paper German Import- ADRK 126325
Sire: Wasco vom Räuberweg
BH, ZTP, IPO3, Multi-V1, German Winner 2013, HD-Frei, ED+/-, JLPP-Free
(Kliff von der Crossener Ranch x Freya vom Räuberweg)
Dam: Nadja vom Räuberweg
BH, ZTP, IPO1, AD, HD-Frei, ED-Frei
(Filou vom Räuberweg x Gunda vom Räuberweg)
HD-B, ED-0
JLPP-Free
V-Rated
Granddaughter of Filou vom Räuberweg and Kliff von der Crossener Ranch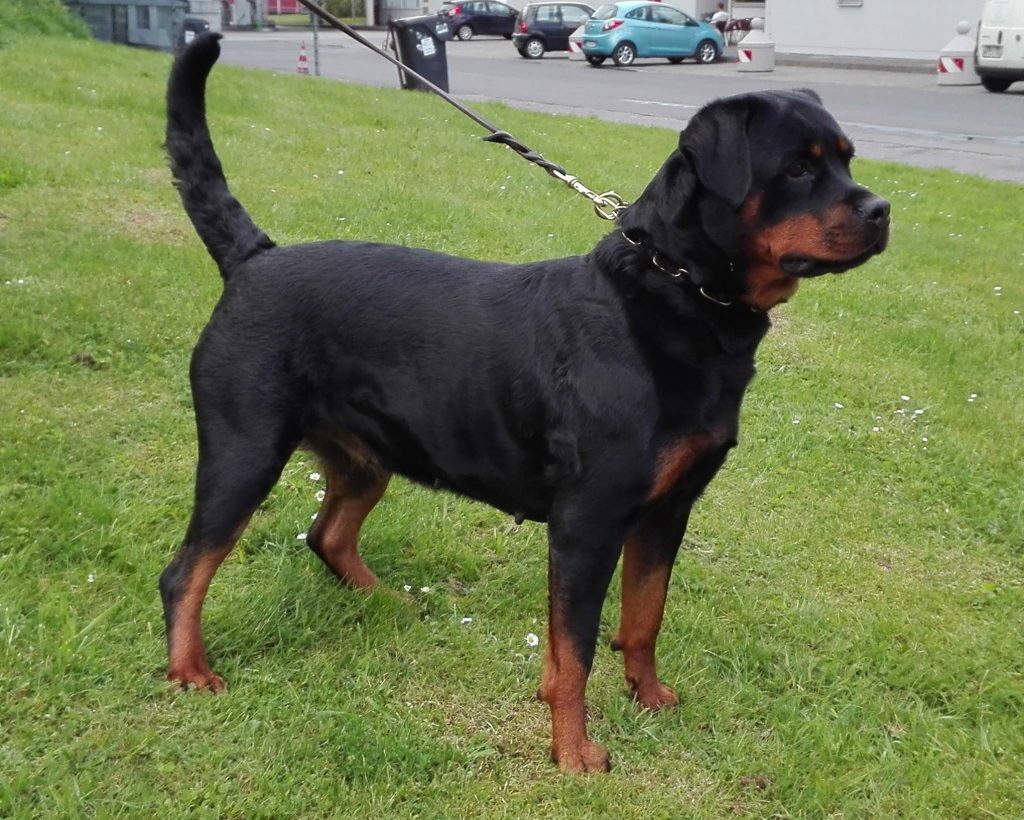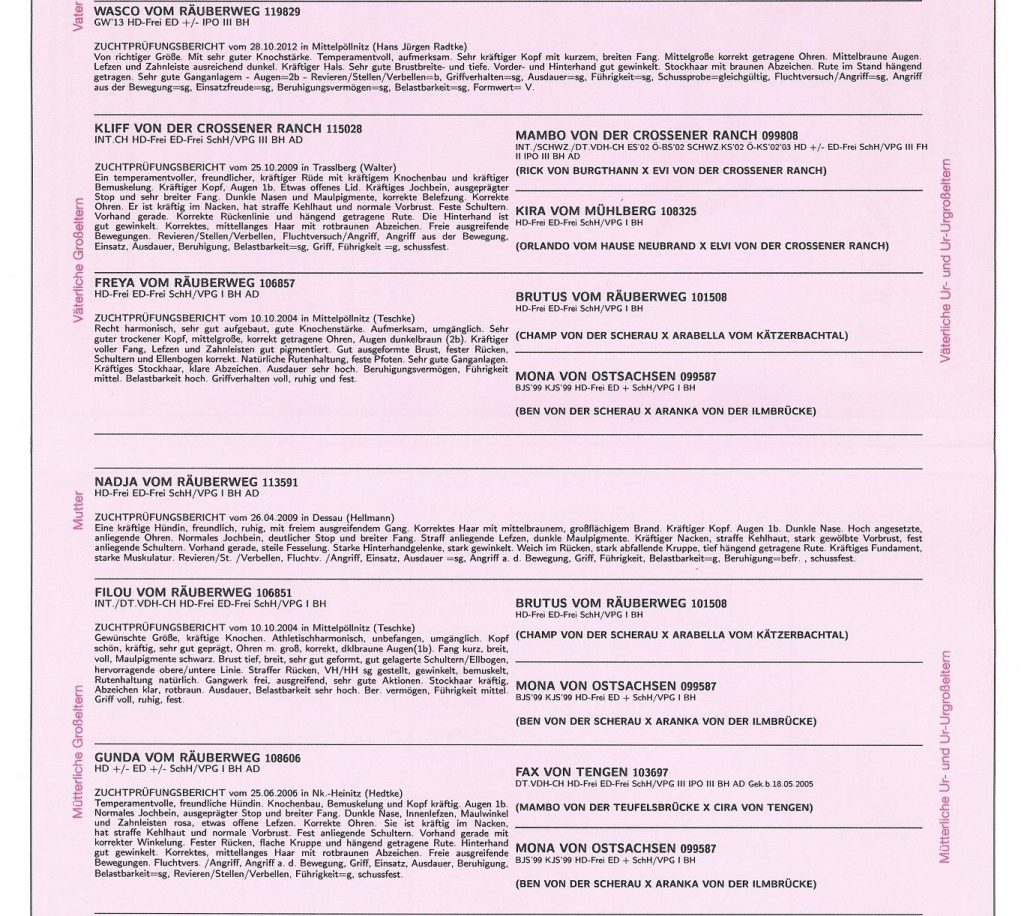 Greta Line breed:
Linebreeding – 5 generations:
3 – 3 Brutus vom Räuberweg BH, ZTP, SCHH/VPG I
?4 – 4 ?Champ von der Scherau V-1 BS 98′ BH ZTP AD IPO III SCHH III
?4 – 4 ?Arabella vom Kätzerbachtal SCHH I, AD, BH, ZTP
3 – 3,3 Mona von Ostsachsen BJS'99, KJS'99, SCHH I, BH, ZTP
?4 – 4,4 ?Aranka von der Ilmbrücke BH, ZTP, SCHH/VPG I
?5 – 5,5 ?Ferro von der Teufelsbrücke BH,ZTP,SCHH/VPG III,FH,AD GEK.B.EZA
?5 – 5,5 ?Matcho von Burgthann INTL/DTVDH-CH,Ö-BJS, BH, AD, ZTP, SCHH III, IPO III, FHII, GEKORT BIS KÖRUNG
LITTER LINE BREEDING: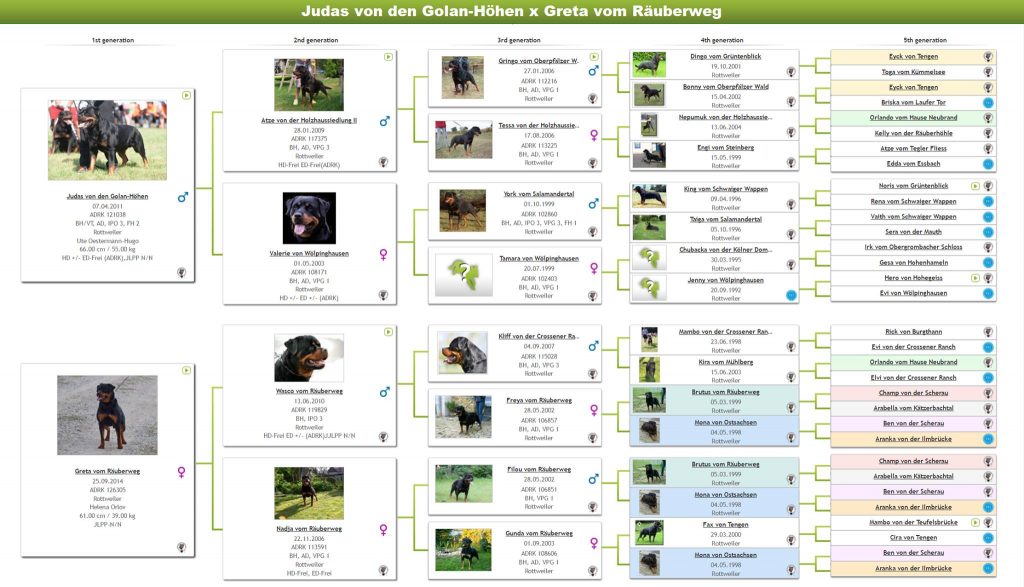 Linebreeding 5:5 on Orlando vom Hause Neubrand
Linebreeding – 7 generations:
5 – 5 Orlando vom Hause Neubrand DT.VDH-CH. Ö-KS'04 SCHH/VPG III AD BH IPO III (02.34%)
3X Rick von Burgthann INT CH,ÖSTER,LUX,VDH, KS BH, ZTP, AD, IPO III, SCHH III, GEK. KORUNG
3X Champ von der Scherau V-1 BS 98′ BH ZTP AD IPO III SCHH III (01.86%)
3X Cira von Tengen SCHH 3 IPO 3 ZTP HD-ED- (00.88%)
3X Noris vom Grüntenblick INT./DT.VDH-CH ES'93 SCHH III FH AD BH IPO III GEKORT BIS EZA
8X Irk vom Obergrombacher Schloss AD, BH, SCH/VPG3, GEKORT BIS EZA, KÖRUNG
5X Matcho von Burgthann INTL/DTVDH-CH,Ö-BJS, BH,AD,ZTP,SCHH III,IPO III,FHII,GEKORT BIS KÖRUNG
3X Doc von der Teufelsbrücke INT.CH, O-KS' 95, IF, SCHHIII, FH, AD, BH, GEK
2X Ken vom Schwaiger Wappen WS'94 ES'94 BS'94 KS SCHIII FH AD IPOIII GEK. 9-24-94
8X Benno von der Schwarzen Heide INT/AM CH WS90, ES90, SCHH III,FH,IPO III,ZTP,TT,AD,CGC
6X Chris vom Obergrombacher Schloss BS 1989 SCHIII AD GEKB 10190
---
Ronan Vom Drachenheim
Hello!! Everything is going great with our little guy! Other than crying at night (which we expected) he's his happy go lucky self and is bonding with us well! Name hasn't been decided, although we're oddly enough leaning towards "Rottie" ?
We have a vet appointment tomorrow afternoon so I will keep you updated after that.
Also I was wondering what toothpaste you use for your dogs? I read it's good to brush their teeth at least once a week, just curious what you do, thanks!
We are in love!!!
Kaite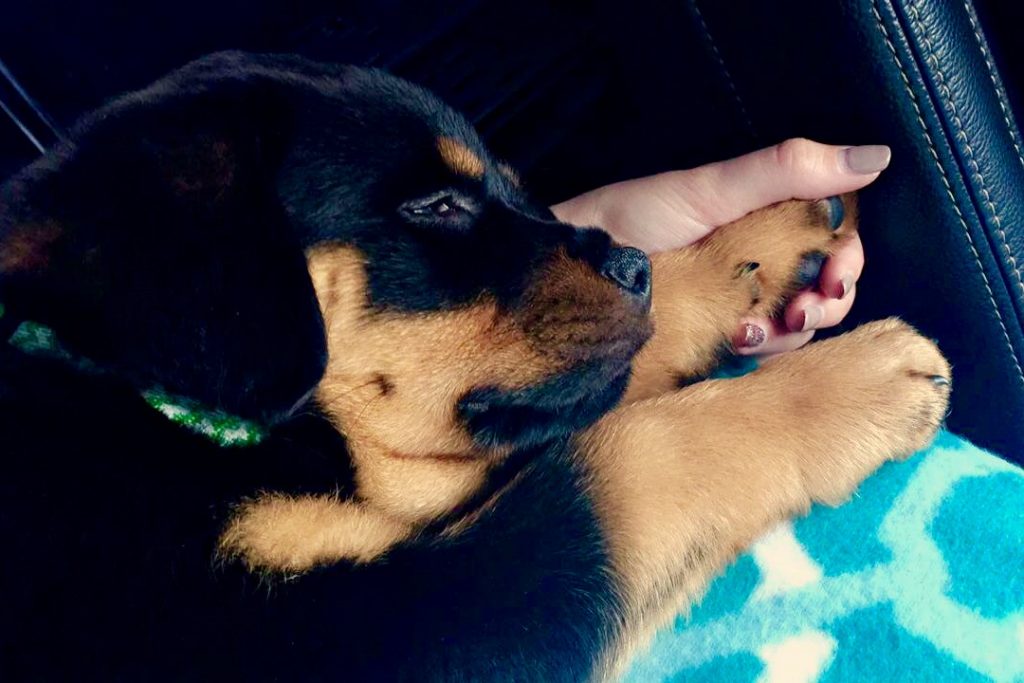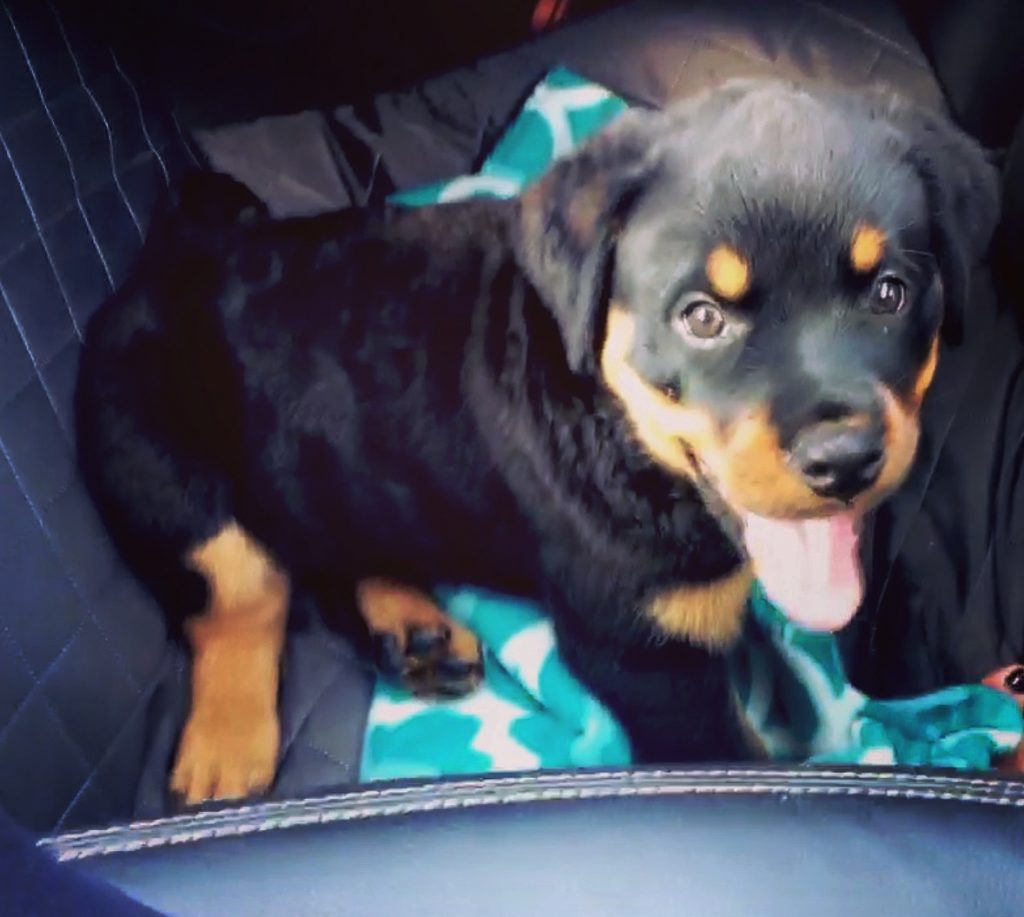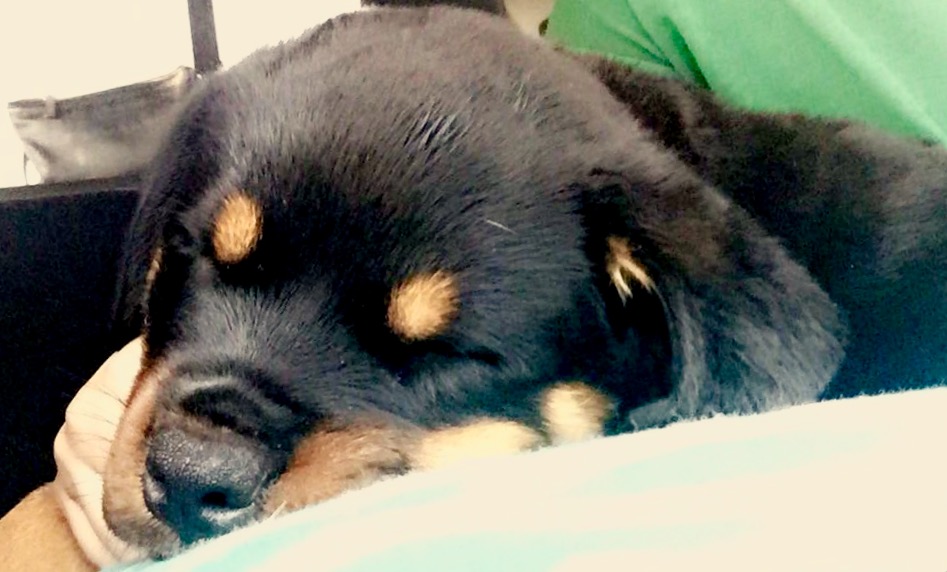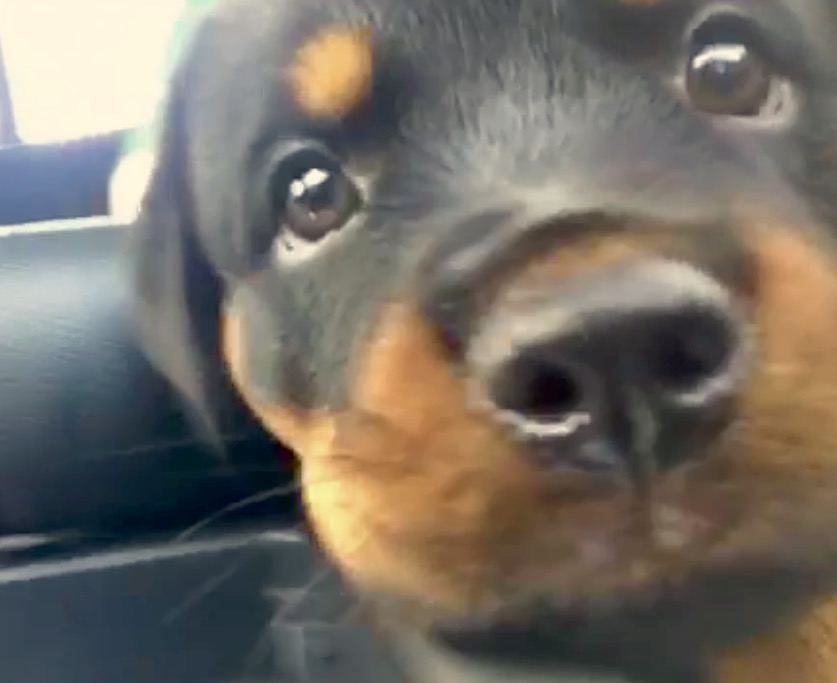 Thank you for the information!
We decided to name our baby Brazen! Brazen Head pub is the oldest pub in Dublin Ireland, and a place Brian and I loved visiting. It also means BOLD which of course our boy is!
We brought him to the vet, and the first dog that walked in after us our little baby started growling! Such a fierce little man!
Our vet was OBSESSED with him! She was Thrilled he had his tail, and after answering her questions about your policies she took your information. She said her dream has always been to own a Rottie of Brazen's caliber, and she said she was interested in possibly purchasing a retired stud male. She told us the first time we see our baby next to a typical Rottie, ours will look like designer and the other a knock off haha
He does have a parasite, Coccidia. We picked up and started his medication yesterday, Albon. I also started adding pumpkin to his dinner, and besides LOVING it, his stools do look better. He's learning very quickly and he's quite the little ham. We are in love <3
After speaking with the vet, at this point we are interested in neutering Brazen at around 3-4 years old. Our vet said he has a higher risk of cancers in his old age if he stays intact. However, she said there's no reason to do it at 6 months like some may recommend, and we can still breed him if we like. I was wondering what your opinion was on this. We are still interested in possibly breeding him down the line, we just want what's best for him.
I also had another question about crate training. After just a few nights, Brazen cries for about 10 minutes and then quiets down and sleeps, we no longer need to sleep next to his cage which is nice for everyone! He only cries to be let out x1-x2 a night. Usually we are asleep for 8ish hours (or try to be) so this seems to be normal to me. A friend told me not to let him out in the middle of the night or he'll get used to it and I'll have to do it all his life. But as far as I know babies can't hold their bladders for 8 hours…I just thought I'd get your thoughts on that.
Thank you again for our perfect little baby!!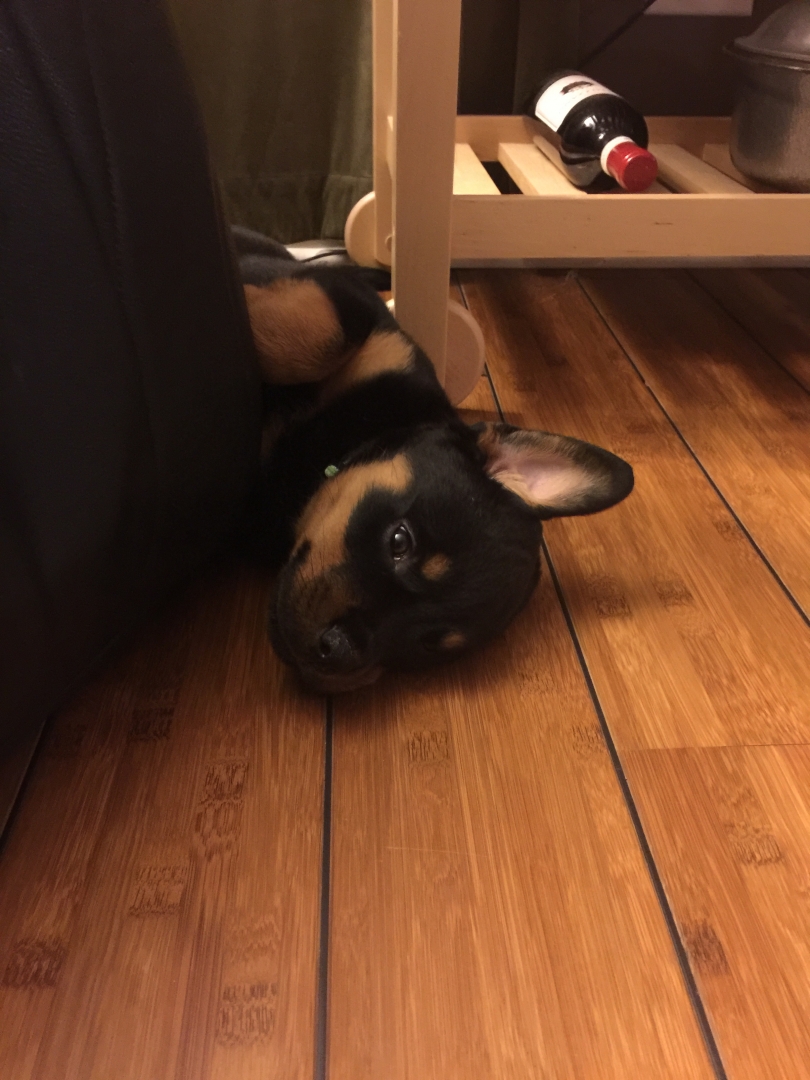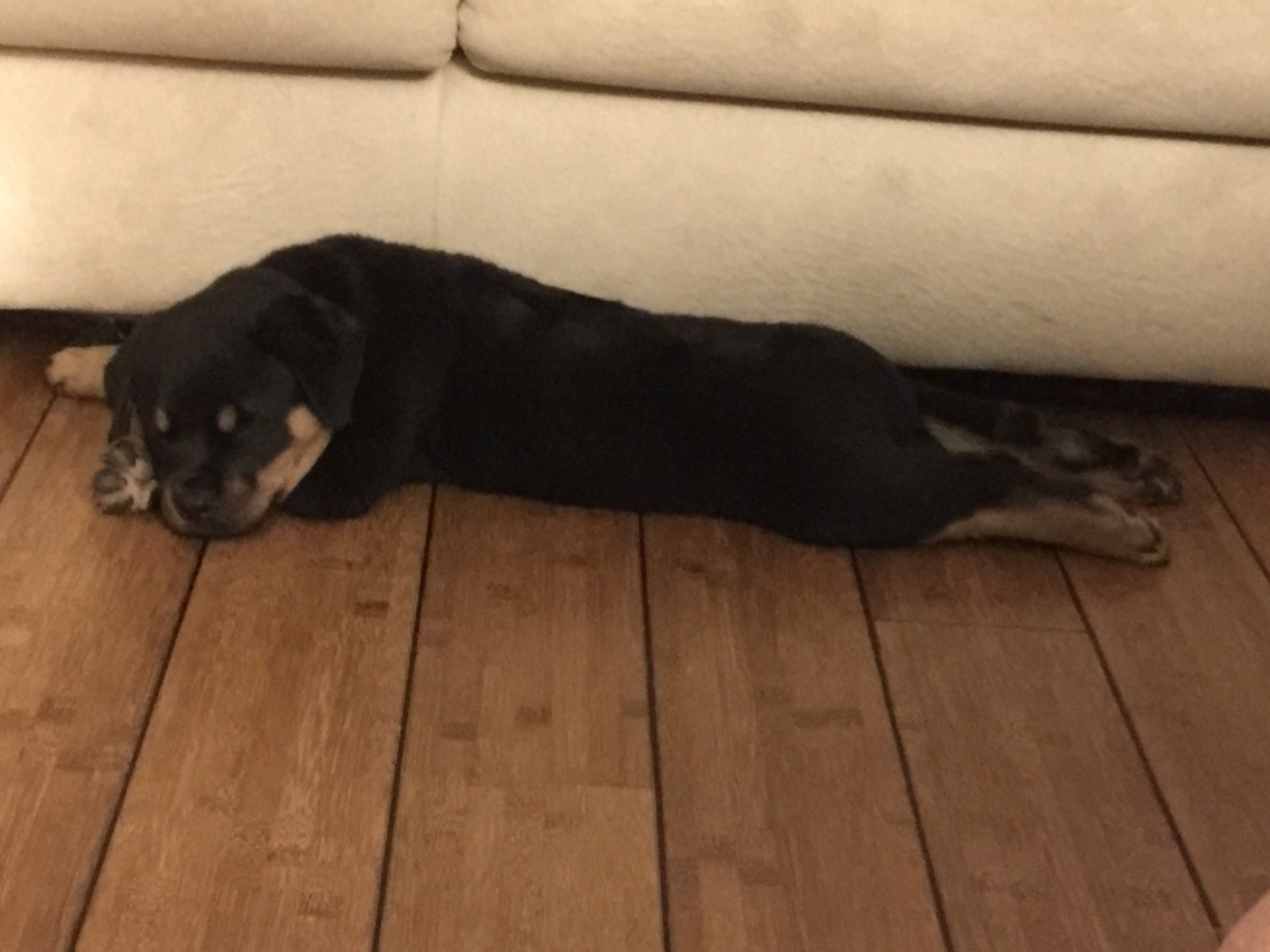 Hi Alice! Hope all is well!I LOVED reading about the new import puppies you got, and I was wondering if I could still be on the GR PUPdates email chain? We won't be ready for another puppy for awhile, but it would be great to still hear what's going on 🙂
Also I was wondering about Brazen's AKC Registration? I remember you saying there was a processes for things in Europe that would take awhile, and then we could start the process over here. I completely forgot about it until now! If you have any information about that, I would really appreciate it!!
Otherwise we are well! We are still interested in getting more information about breeding, if that is something you are still interested in doing. We are not planning on getting him neutered until he is 2-3 years old. He is almost 6 months old, so I was wondering if there was anything we should be doing now in preparation for a possible breeding 🙂
He is such a WONDERFUL boy and SO smart!! Thank you again for bringing him into our lives <3 HAPPY HOLIDAYS!!
---
Rickon Vom Drachenheim
Merry Christmas to you and your family
Rickon and Brent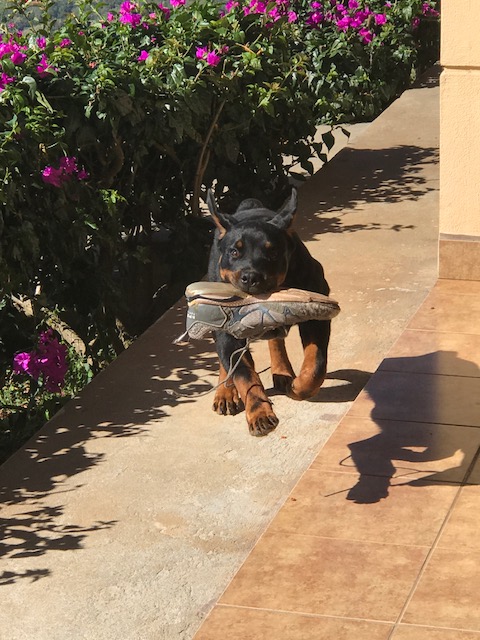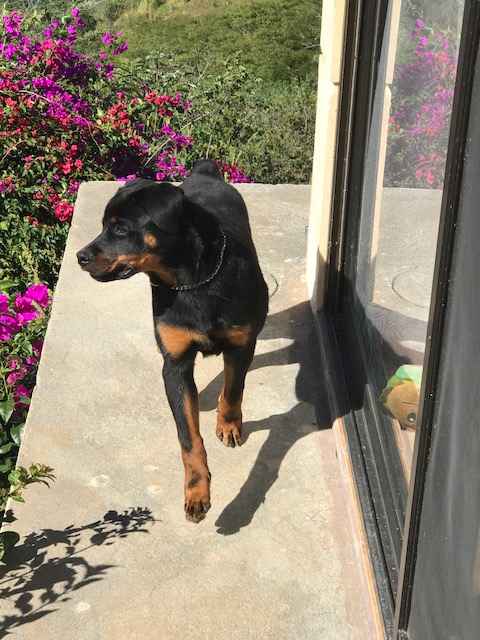 Hi Alice,
Rickon is doing great, getting big? Took this this morning. Raining season is just about to begin, has been very dry and hot this summer. I am looking at buying a coffee farm?? If I do I will move there and sell this house. It is an awesome place not far from here. Almost time for a new puppy!! I f buy the finca maybe I will get a new baby for the finca?? Hope your family is well,
Brent Rickon and Yadira
When we get a new puppy you have come back to CR and stay a few days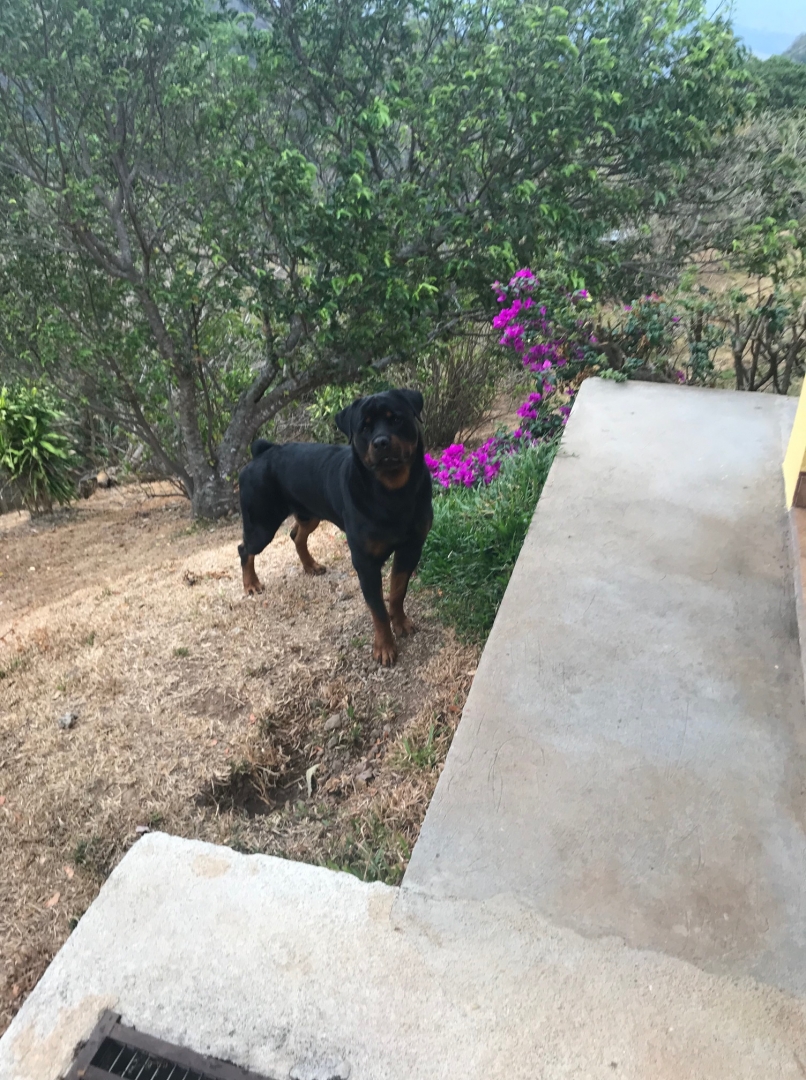 ---
"Simba" Reese Vom Drachenheim
Thank you very much for the prompt response, I'm learning it all slowly! I hope you had a happy new year! Here are some photos, his call name now is "Simba".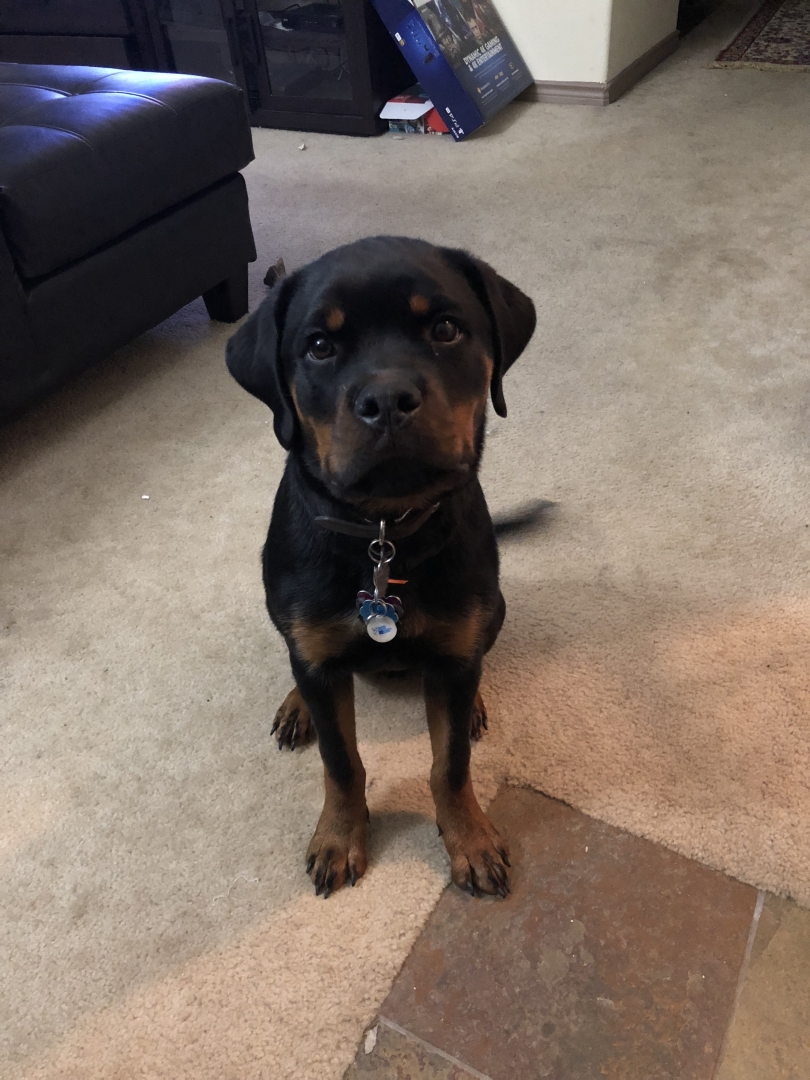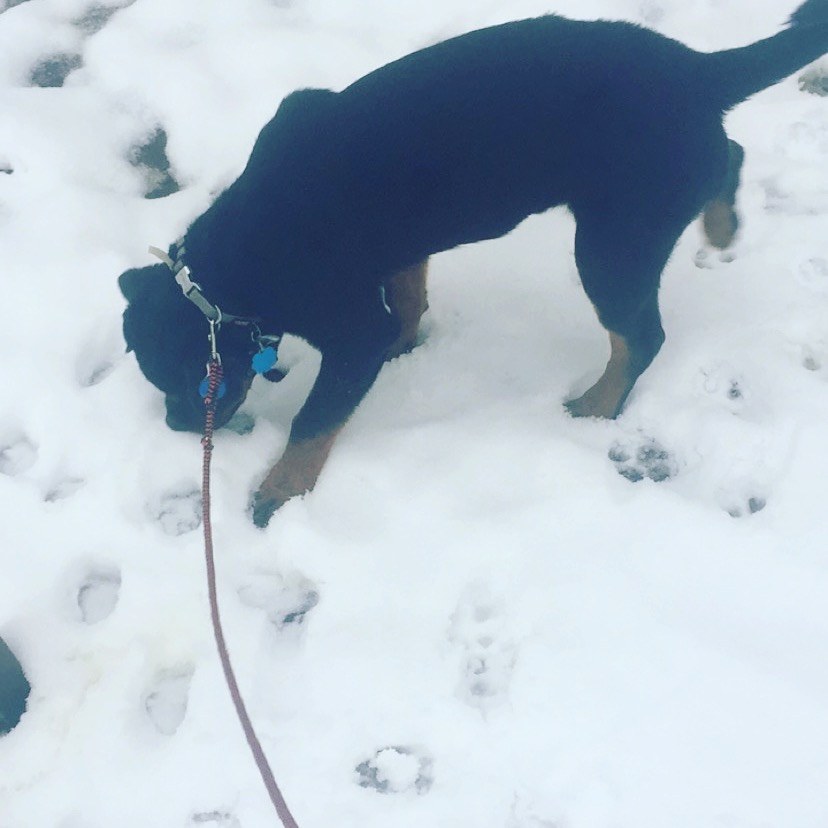 Hi Alice!
Hope all is well with you, it's been awhile!
I've had an issue with training today that kind of shocked everyone, I was wondering if you could shed some light or offer some tips (in the only rottie in the club right now).
We have been actively working on schuzhund training basically since we brought Reese ( CN is now Simba) home, and originally the only problem was he didn't bark at all. Luckily, that is no longer an issue- he has learned to bark when in protection training, but still doesn't bark when not needed (which is awesome, considering I have neighbors :D)
However, for the first time today, when he saw the whip during protection training, he got terrified, ran away from it and lay down behind me, then was hesitant to make a bite whenever the whip came out-his bite was also a lot less confident than normal. Have you ever experienced anything like this or know a way to work on it with him? He has normally been great with bite work and usually gets excited when the whip came out, it threw us all for a loop.
Thank you in advance, hope all is well!
Pic for attention.

Hi Alice!
Hope all is well. I was wondering if you could give me some tips about feeding. My pup is definitely not as interested in food as he used to be-still has the same energy but doesn't get as excited at feeding times as he used to. He also never seems to finish his food, which is really bizarre. What age is the best time to switch from puppy to adult food? I'm also concerned he is not growing properly, he seems to be behind on size compared to other rotties and his rear doesn't seem to be filling in. He seems to be plateaued at 80 pounds.
He looks fantastic James!  At least from the photo, the proportions look great!  His head is phenomenal!!  He will not be done growing until about 3 years of age, and you want to keep him on Large Breed Puppy Food until he is 2 years old.  The healthiest bloodlines, especially old German lines, grow slowly, giving bones and joints the great chance to develop correctly.  I have a Crom son that has been smashing it lately in working trials and dog shows alike.  His owner was very concerned for the first 2 years that he was smaller- also around 80 or so pounds.  He is now 3.5 years old, 112 pounds and just gorgeous.  Reduced appetite could be just slowing down from the rapid puppy growth, but it never hurts to rule any other issues out.  What are you currently feeding him?  Has there been any change in his diet recently?  Any change in treats/chews?  When was his last vet visit?  What did the vet say about his weight/size at that time?  If it has not been recent, I would suggest taking him into the vet for a well check up and taking a stool sample as well.  If he has picked up an intestinal parasite, one of the symptoms is reduced appetite and it is unfortunately quite easy to pick up intestinal parasites- chewing on a stick, eating dirt, digging in dirt and then licking paws, drinking from a mud puddle, etc.  But thankfully, even though intestinal parasites are easy to pick up, they are equally as easy to eliminate- a de-wormer added to food or administered directly to mouth.
Give him our love <3
Alice
(Visited 98 times, 1 visits today)