Vegas Vom Boki's Hause
Sire: Remo Timit Tor
(Srecko Timit Tor x Mema Timit-Tor)
Dam: Onda Fere Perfectum
(Doctor Timit-Tor x Adria Timit-Tor)
Born: 24 November 2020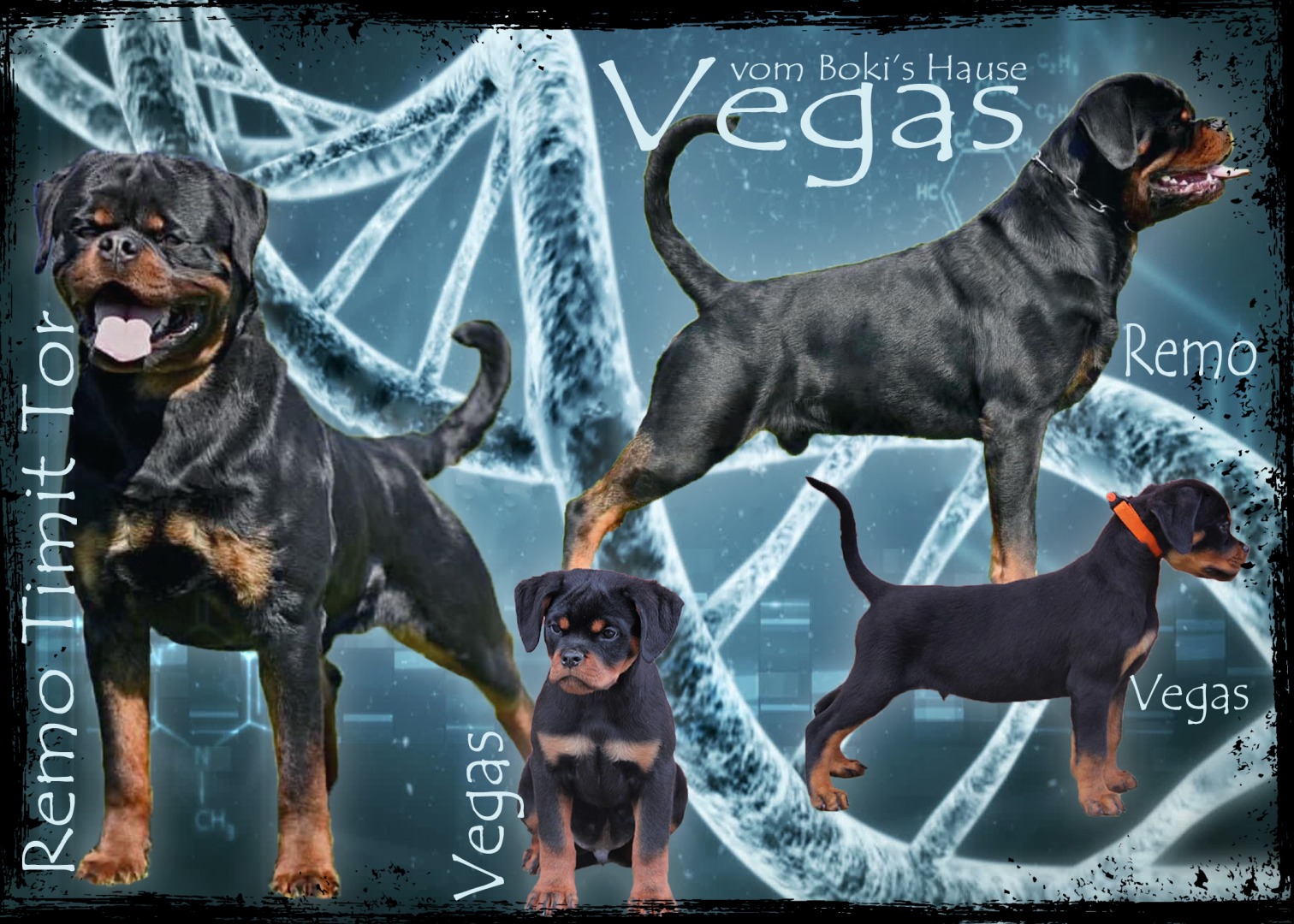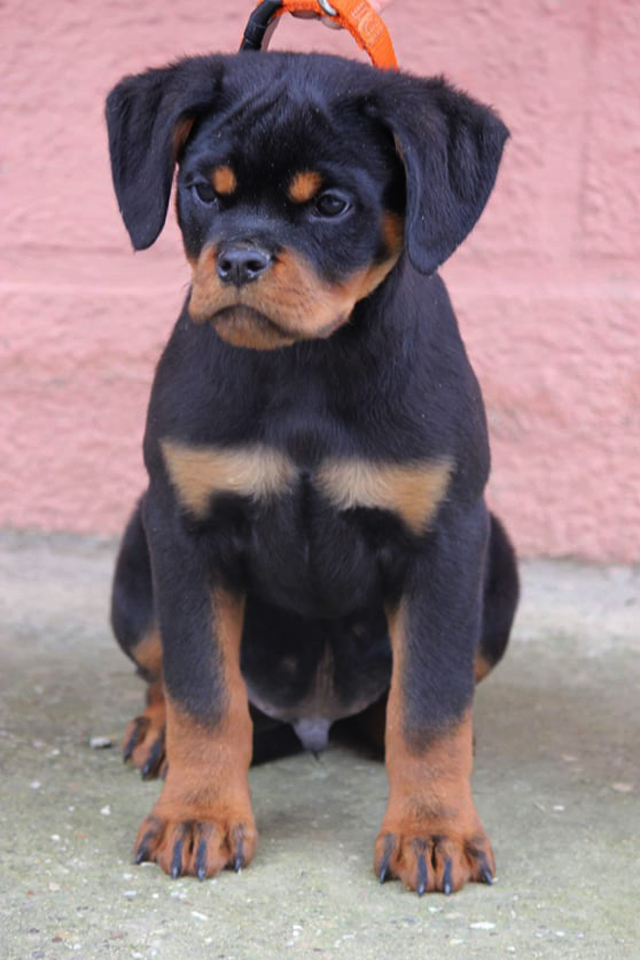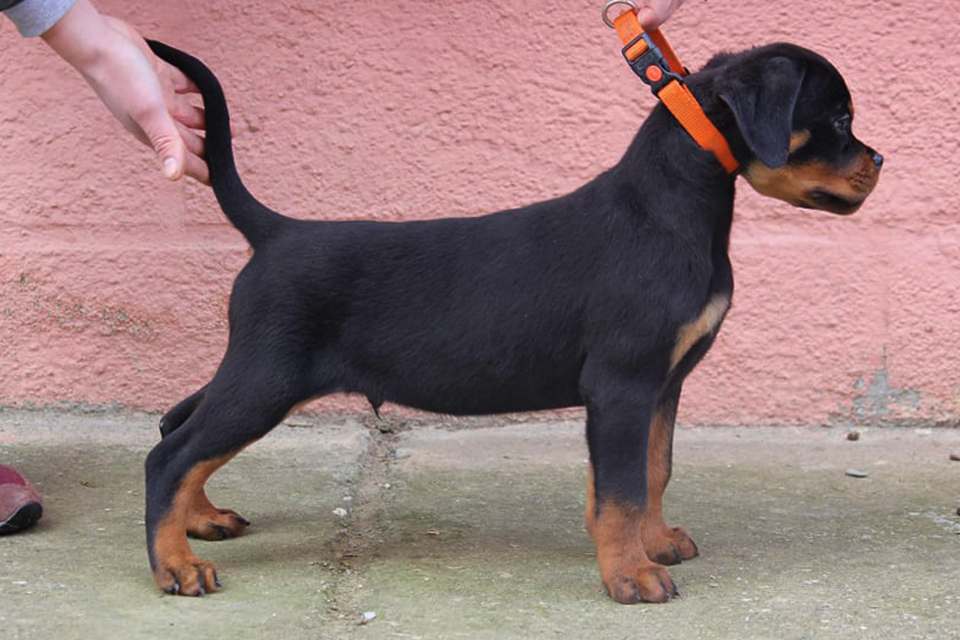 Sire:
Remo Timit Tor
(Srecko Timit Tor x Mema Timit-Tor)
HD- A ; ED- BL
DNA
JLPP- n/n
Junior Champion Serbia
Bulgaria Klub Sieger 2020- V-1, YOUNG CLUB WINNER and AUSLANDSIEGER!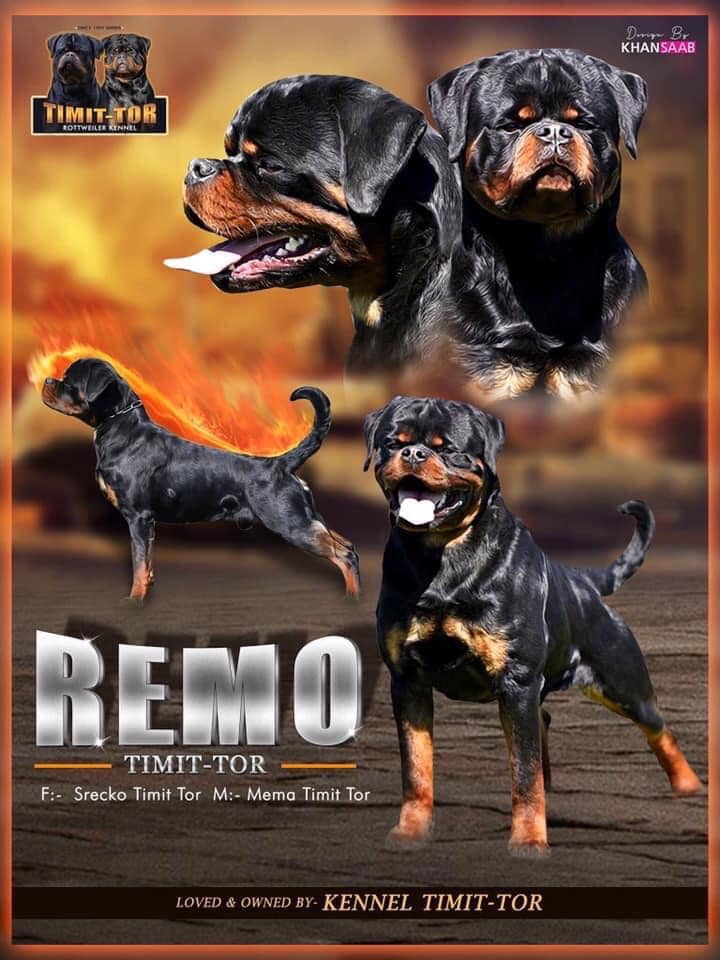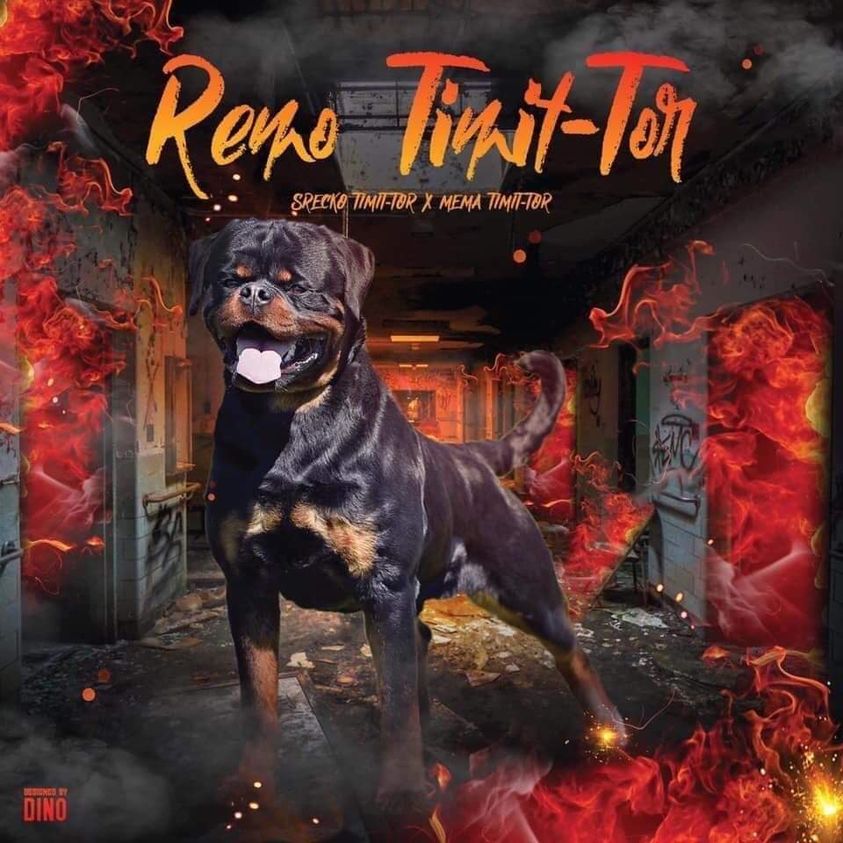 Dam:
Onda Fere Perfectum
(Doctor Timit-Tor x Adria Timit-Tor)
HD-A / ED-1
Puppy BIS
PRM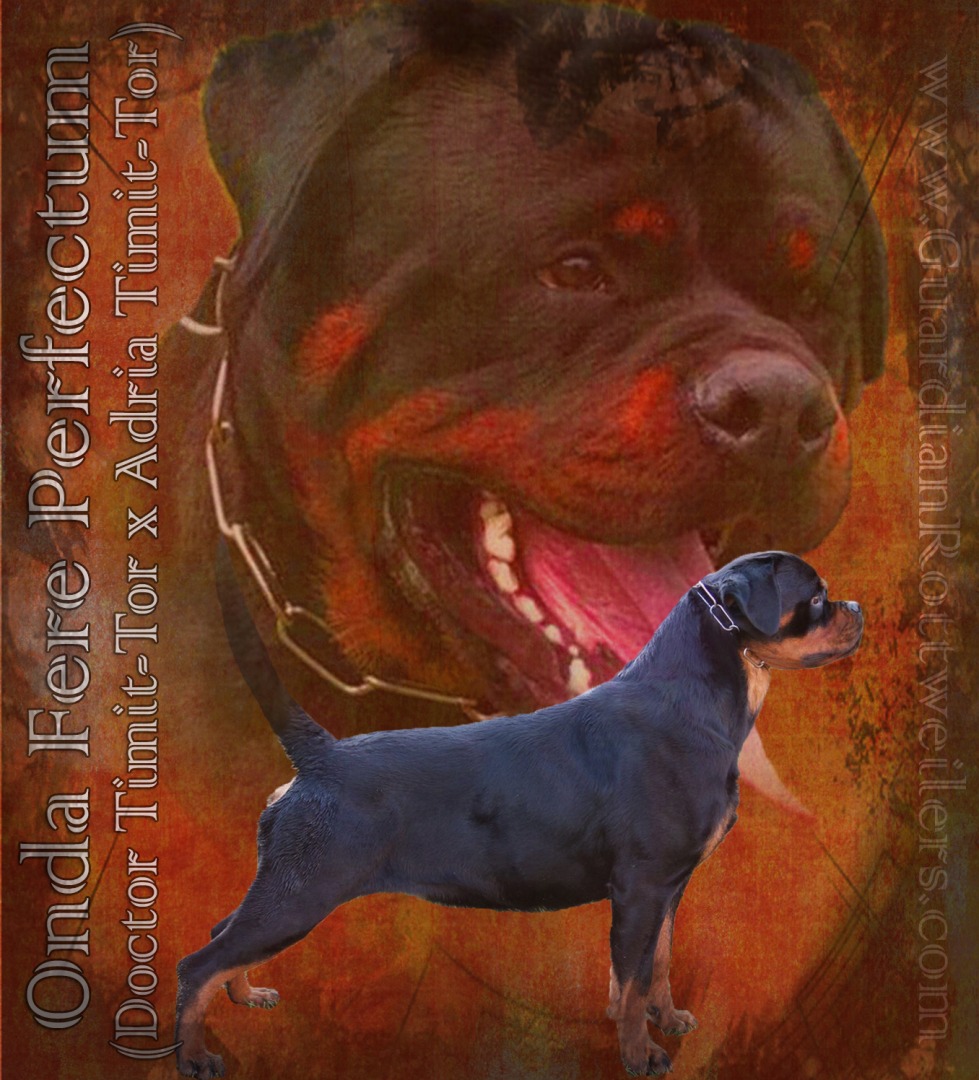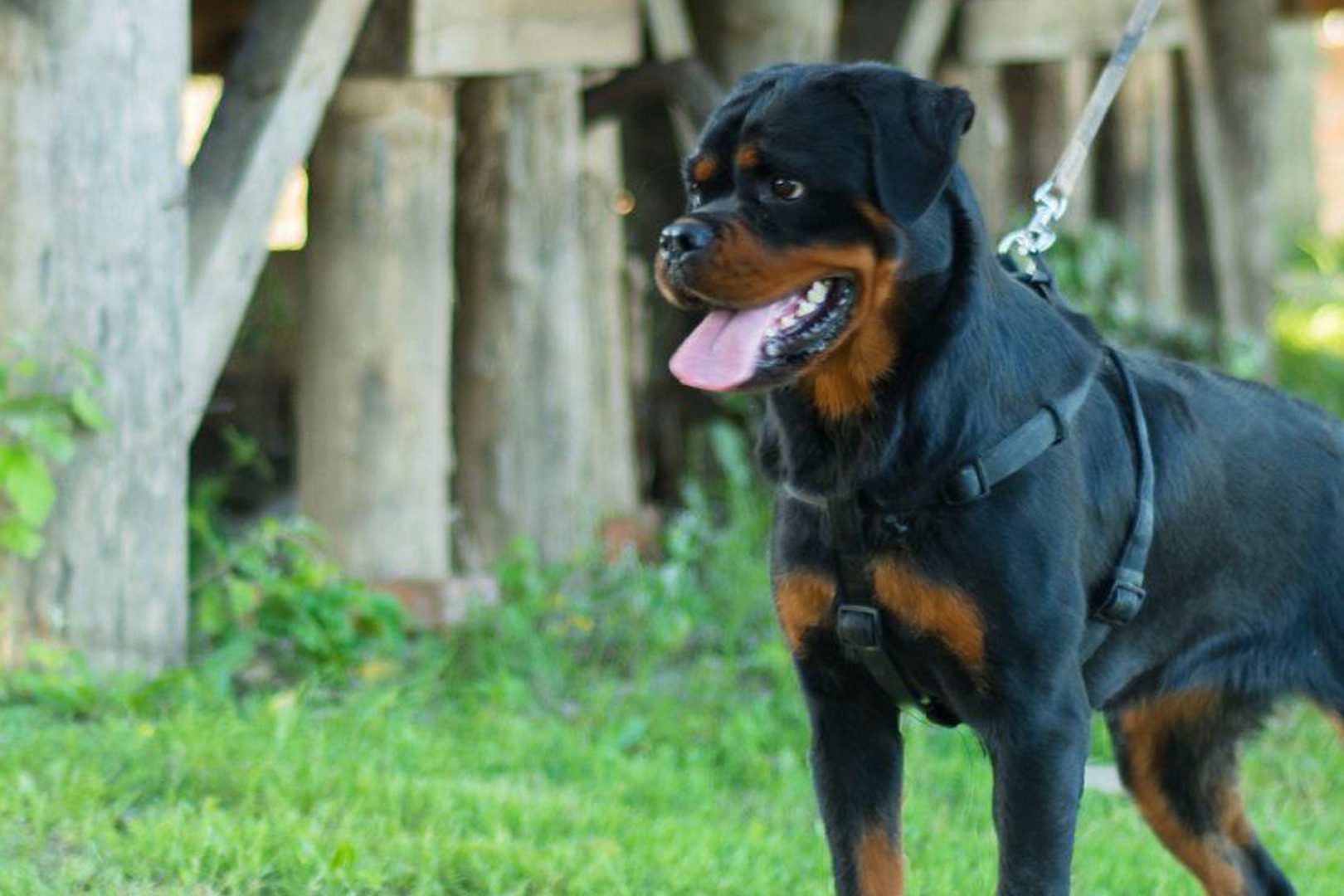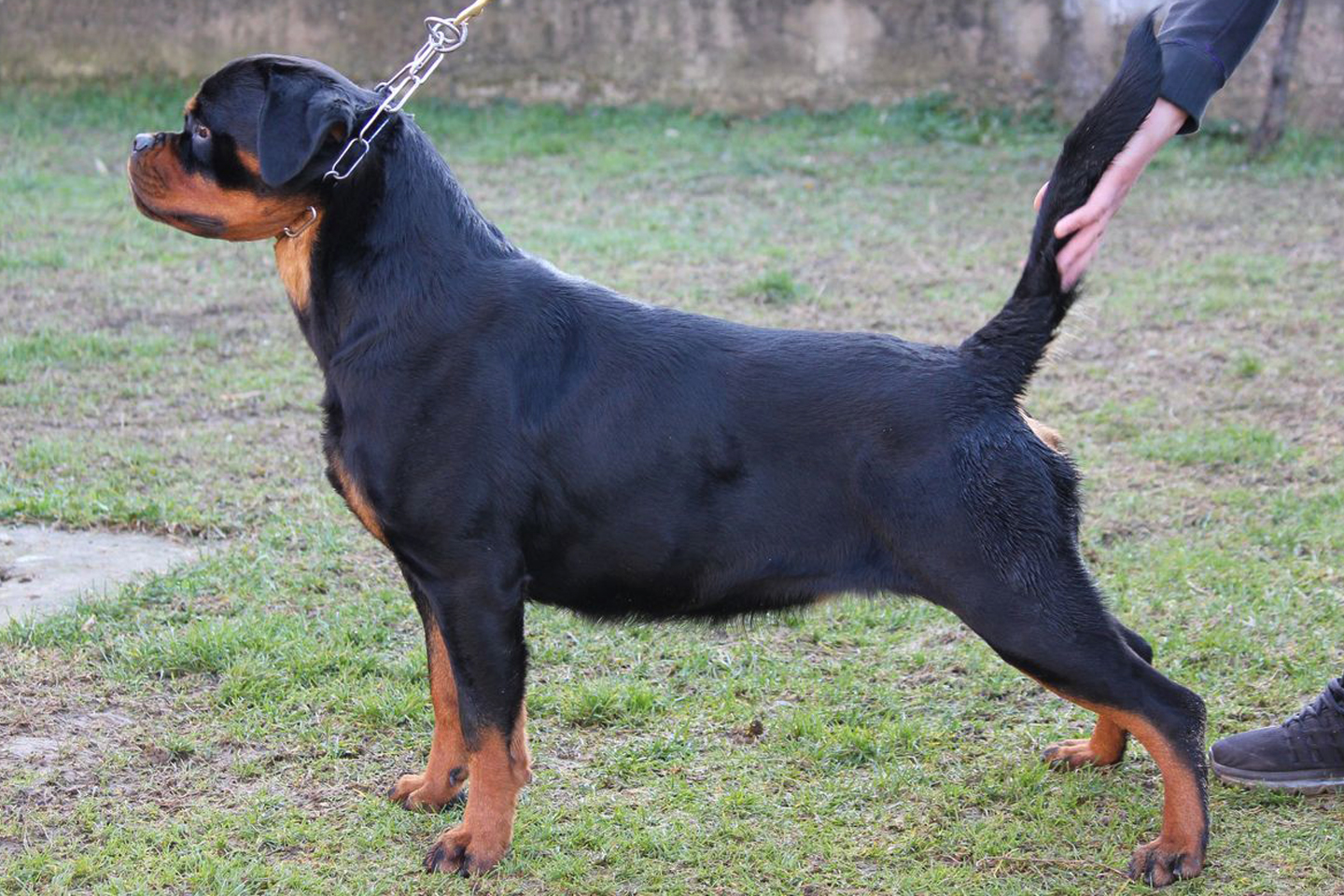 ---
Good evening and with all that's happened we hope to find everyone healthy and as well as can be for now. It was very hard to read this last pupdate as I couldn't read it all in one shot, a heartbreaker to say the least. We did want to reach out and give you and update on Odin a.k.a Vegas! He had a check up and is a healthy 55# bundle of lovin! Were not sure if he has seen snow before but a few days back he got a taste and had a blast in it! Hopefully the video will come thru to see this happy guy! He has to this point been such a blessing, keeping Salem the cat on his toes. It didnt take long for them to get used to each other and do well playing until Salem has had enough and hides u der a chair, then Odin cries till he comes back out
! Odin has definitely warmed up and has come out of his shell. Along with learning to ring the bell to go outside he will sit and laydown, "help" with the blanket when it's time to eat and sit as patiently as he can till his dish is set down. He has taken well to the raw diet and seems to enjoy it very much, we can tell by the jingling of his tag on the bowl as his licks it clean! As a surprise but not a surprise we had our nieces and nephews over and watched a 2 year old hold his attention and play till both were tired out! Along with that we had 3 infants as well and for his size you would be so proud of this gental giant! We watched him give kisses and snuggle with them ever vigilant as they slept all the while making sure he was touching them and they slept. As expected he did jump up and came to them any time they cried with kisses to calm. We tell him he is special and he is our special boy! He is finding his voice and will let us know if there is ANYTHING he hears while were sleeping lol. Taking walks and leash training are also going super, with little correction hes walks beside us with little to no pulling almost like he doesn't have it on. Were very happy to have him as our newest family member. One other thing he is learning that when the alarm clock goes off it's time to get everyone up not just me so this is our routine after I'm ready next stop is across the hall to see sister and give kisses. She doesn't always want them but he finds away to sneak them anyhow!  I hope the photo and video come thru if not we'll try and send more to share his progress.  One last note we wanted to check as the new wait list was up and I know we talked and were looking at next spring to for another baby when we picked up Odin and dropped off or deposit but I didnt see our names and didnt want to lose our place. When you have time if you can check on this and let us know that would be wonderful, we know you have your hands full now with all the new babies so no rush just when you have time
.  Thank you all for everything you do and be strong and keep faith that it will all be ok. The Lord is looking down on you with Rotties by his side blessing you! Have a blessed evening and a blessed tomorrow!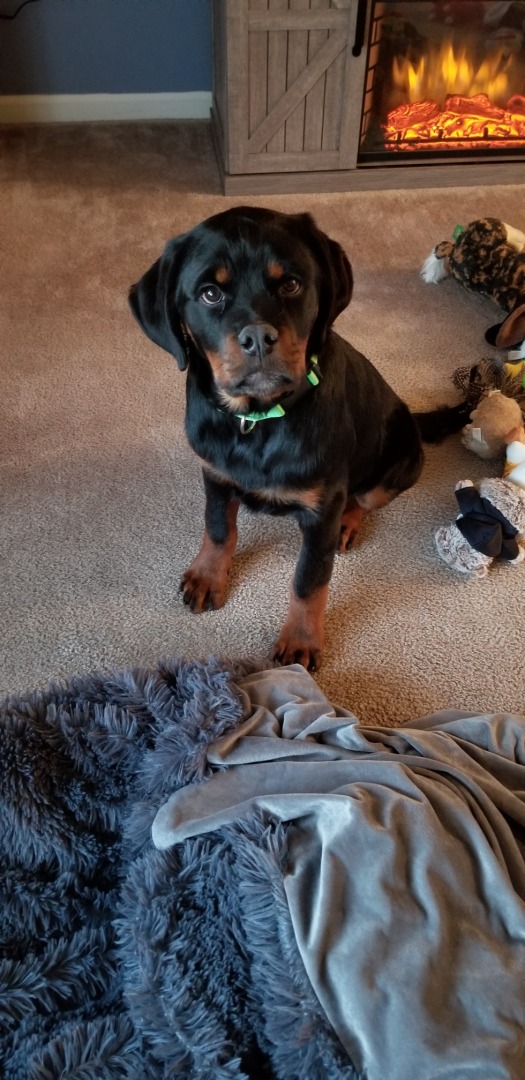 Goodmorning hope to find everyone doing well and Miguel getting better with each day were still praying for him and all of to make it thru this trying time.  Just wanted to give you a heads up on Odin he is feeling much much better and would be safe to say is back to 100%!! The vet didnt find anything wrong and all his tests came back clear so her guess was he may have had an upset stomach due to something he had gotten into or possibly eaten, but antibiotics did work and have him back ship shape.  We have seen you next litters and they are exceptional as always! As promised we would like to share with you some pics and video of Odin and feel free to use them if you would like we hope these will brighten up your day just a little and bring some good vibes and good hope to your family from ours!  Here he is napping on "his" bed, back to "protecting" mom from the vacum cleaner, his first snow from just a few weeks back, and for a laugh watching him chase his own tail he laid down after this must have been dizzy lol and finally in his best majesty this is him waiting patiently for trick or treaters! He was such a good boy that day and made a lot of new friends! Hope this brings some sunshine your  way!! Have a wonderful and blessed day
   Hugs and Love from the Pluta family.
(Visited 203 times, 1 visits today)