*This Rottweiler is not owned by GR, but we may have worked with his/her owner, handler or breeder, incorporated him/her in our breeding program, trained or handled him/her or simply respect their contribution to a breed we love.*
Hana Von Megi Rot
Sire: Pongo Se Ungo-Rot
Dam: Gina Von Megi Rott
Born: 01May14
JR 727055 Rw
AKC# WS52306501
HD A : ED 0
AKC DNA #V776750
Youth Champion of Bulgaria
Youth Balkan Champion
Grand Champion


Hana is a large, athletic female with excellent conformation.  Hana has excellent conformation with great bone and substance and an excellent head type.  She has dark eyes and dark mouth pigment, a correct scissors bite, and a short, full muzzle with deep stop.  Hana has a deep chest with excellent top and bottom lines.  Hana has good bone and is very well muscled.  She has rich, mahogany markings.  Hana has a very nice head with a full, powerful muzzle, deep stop and heavy top skull.  Hana has a super character- playful and happy all the time.  Hana is a lovely female- beautiful inside and out.  She has the absolute best character- very social and affectionate and gets along with everyone and everything.  Hana has excellent obedience, and just loves to please.  Hana has good drive and loves to play ball, but that drive is balanced with such a sweet nature.  Everything I would have expected from this pedigree.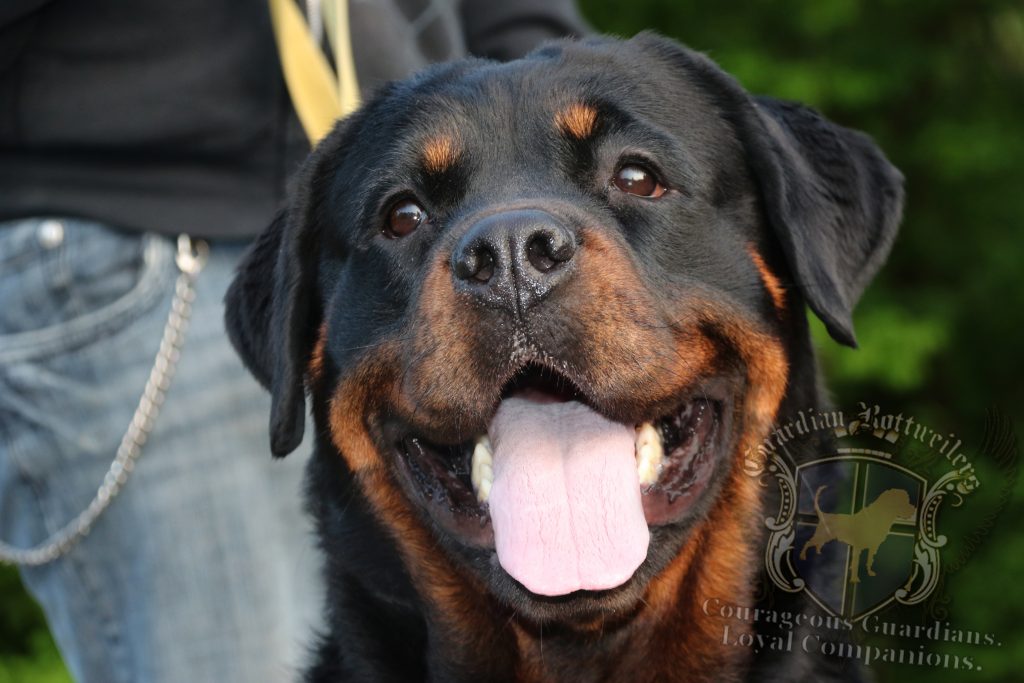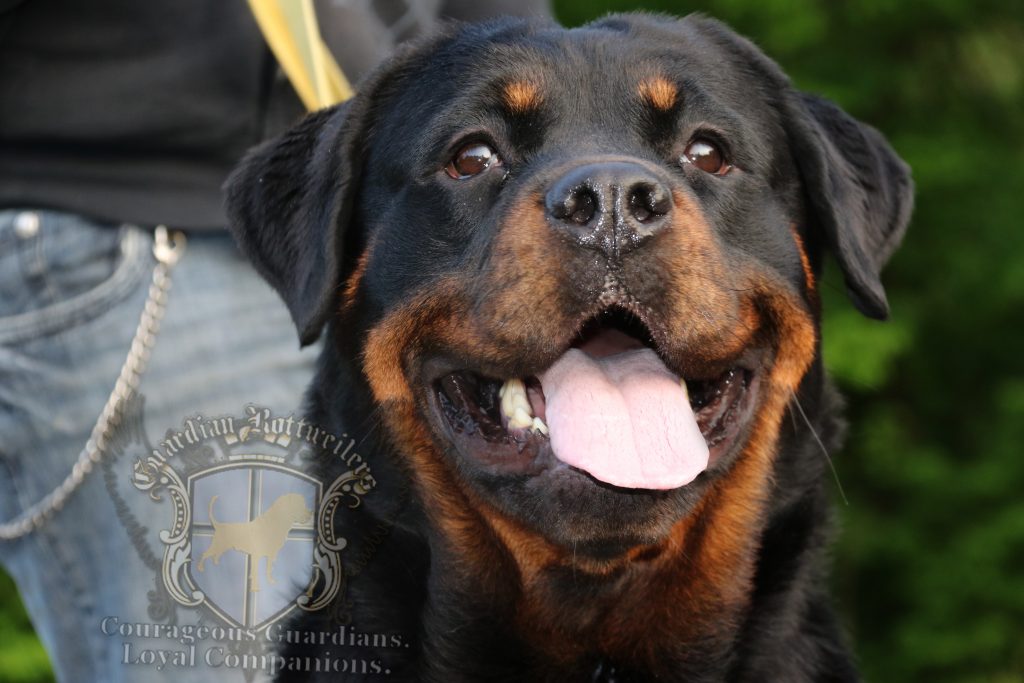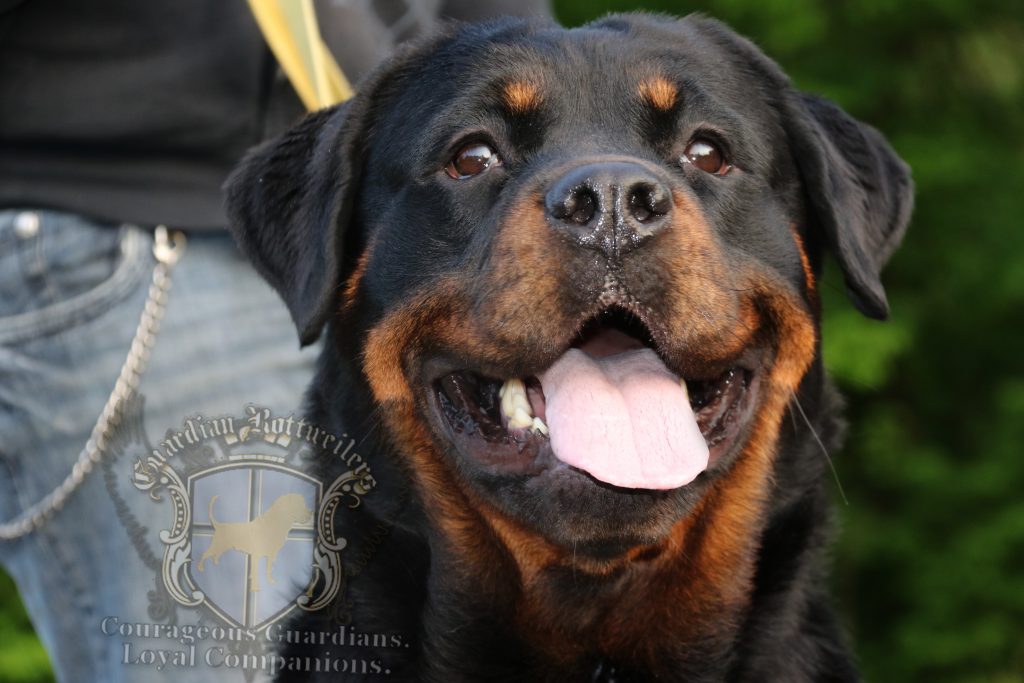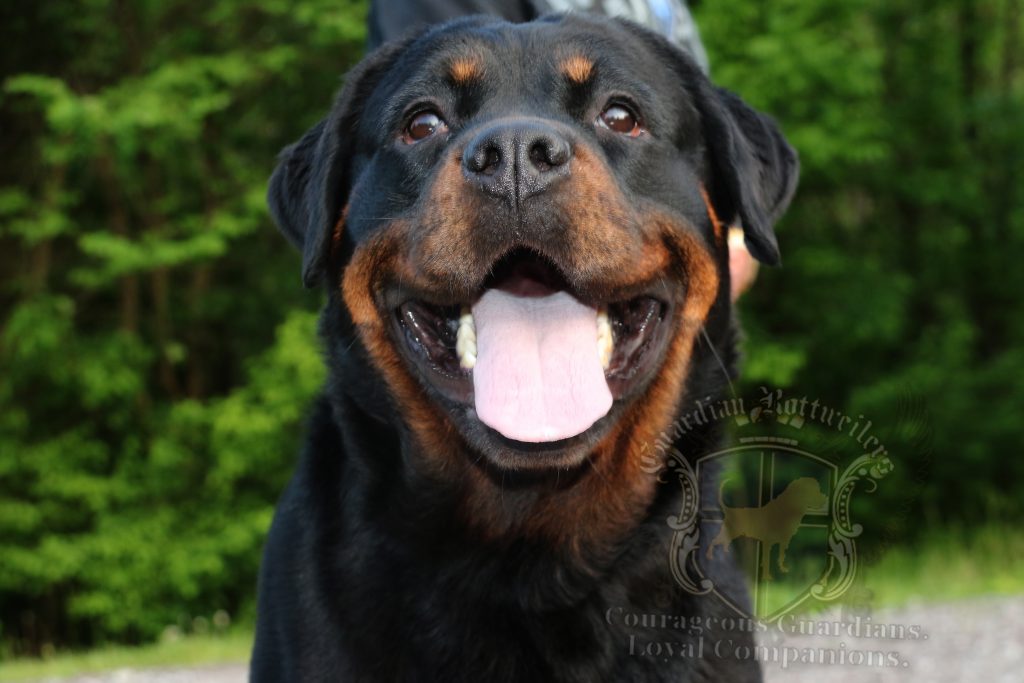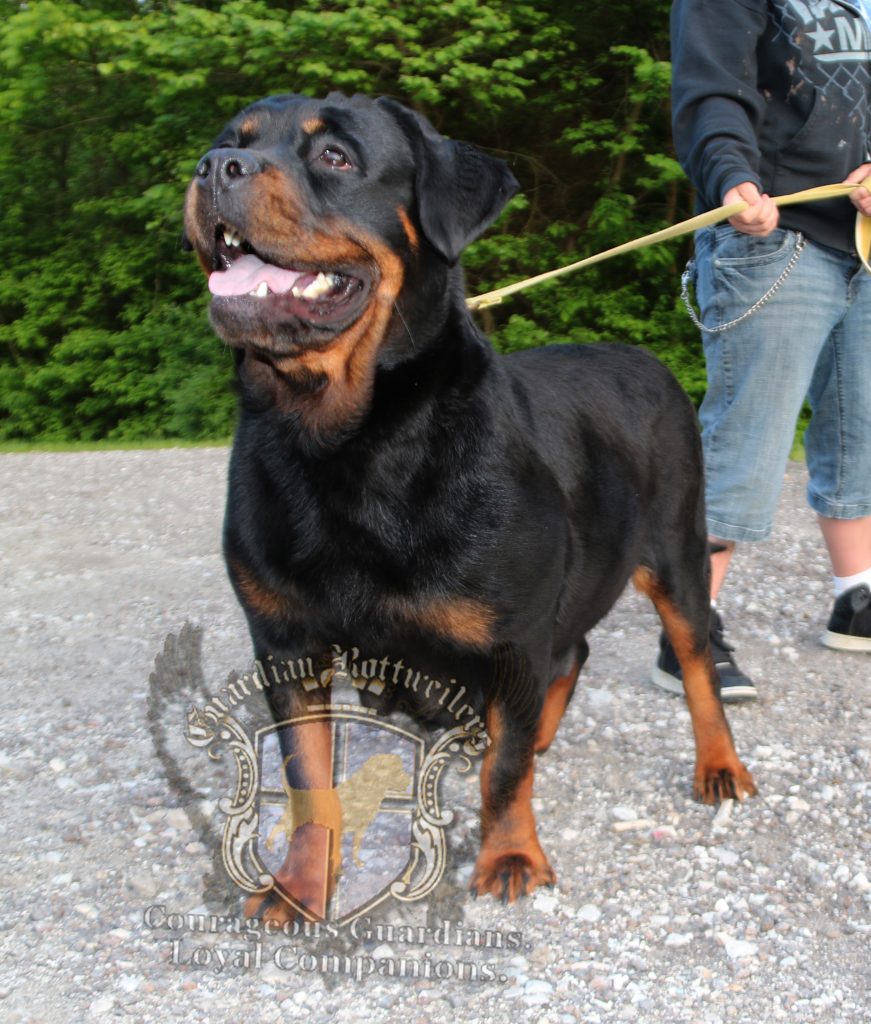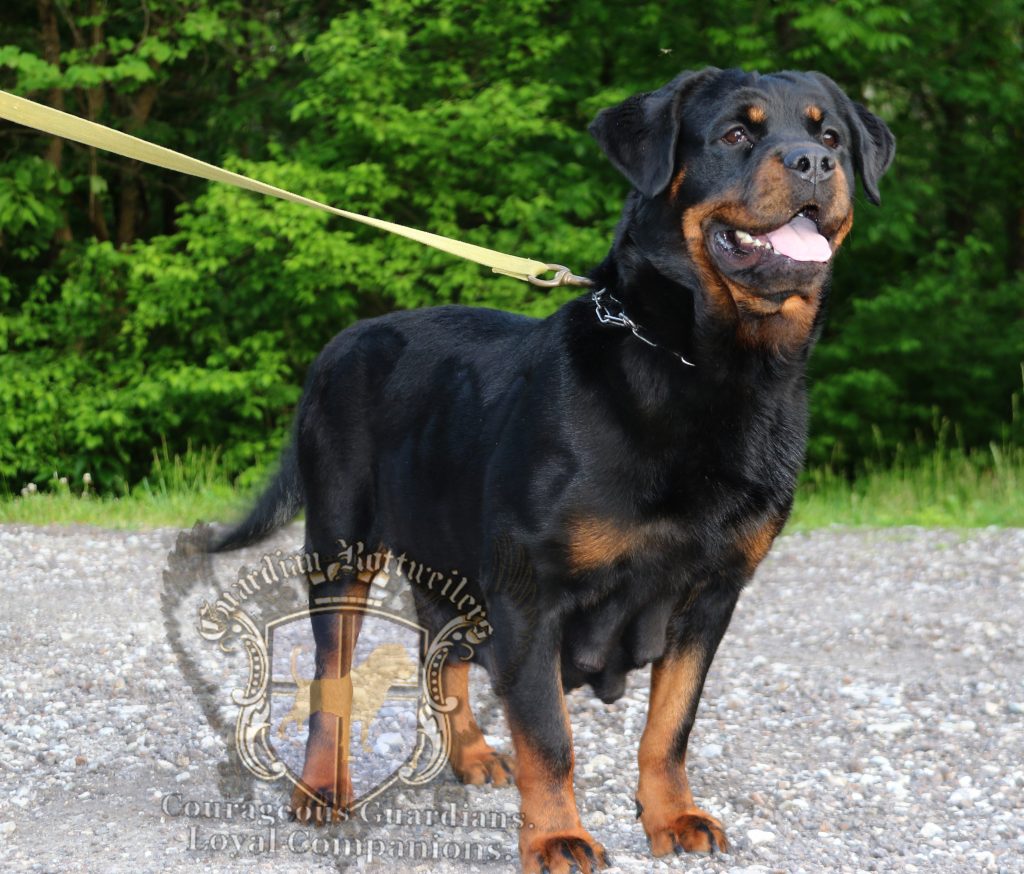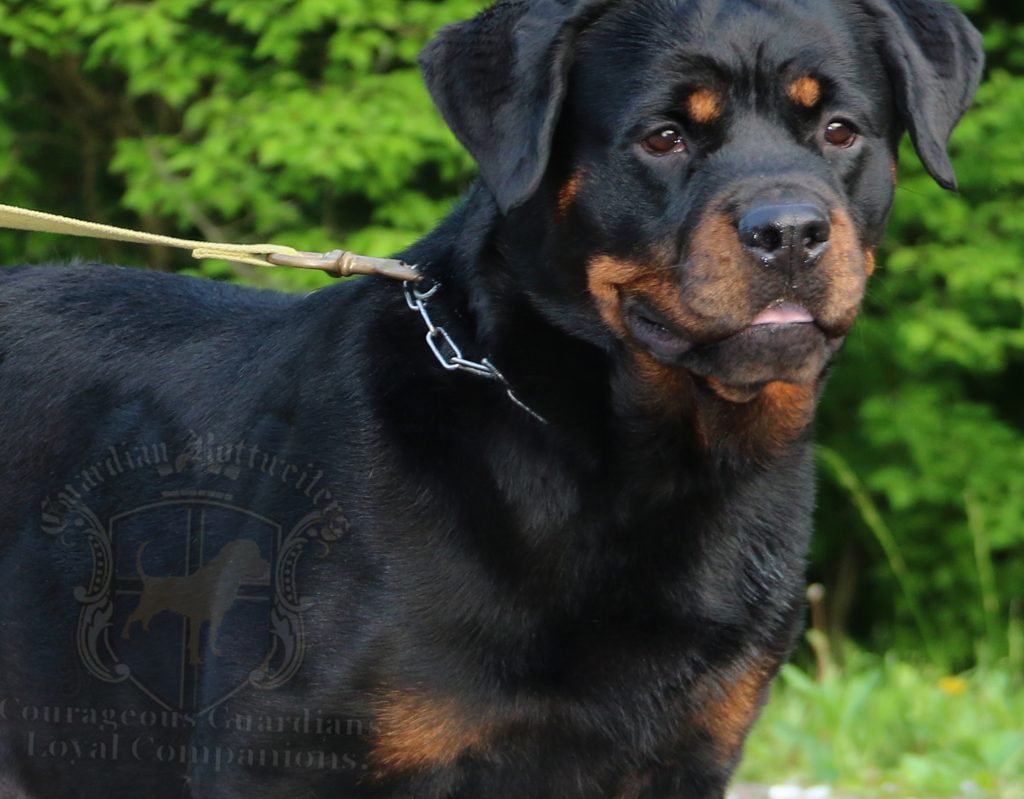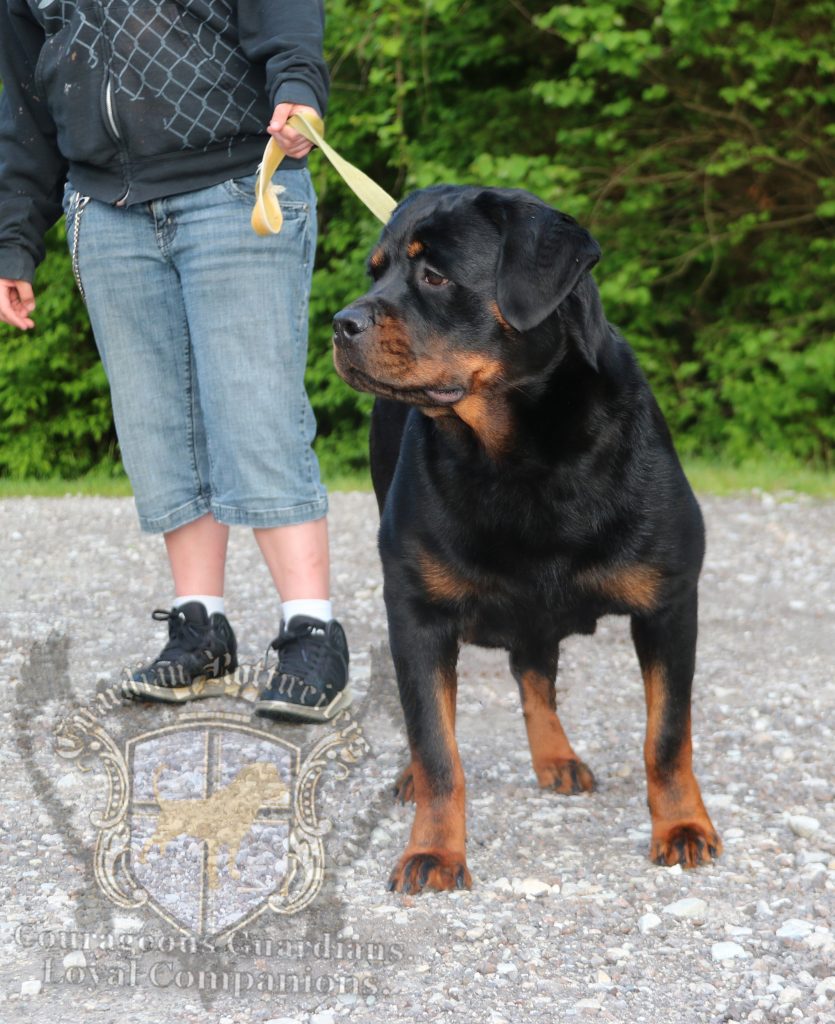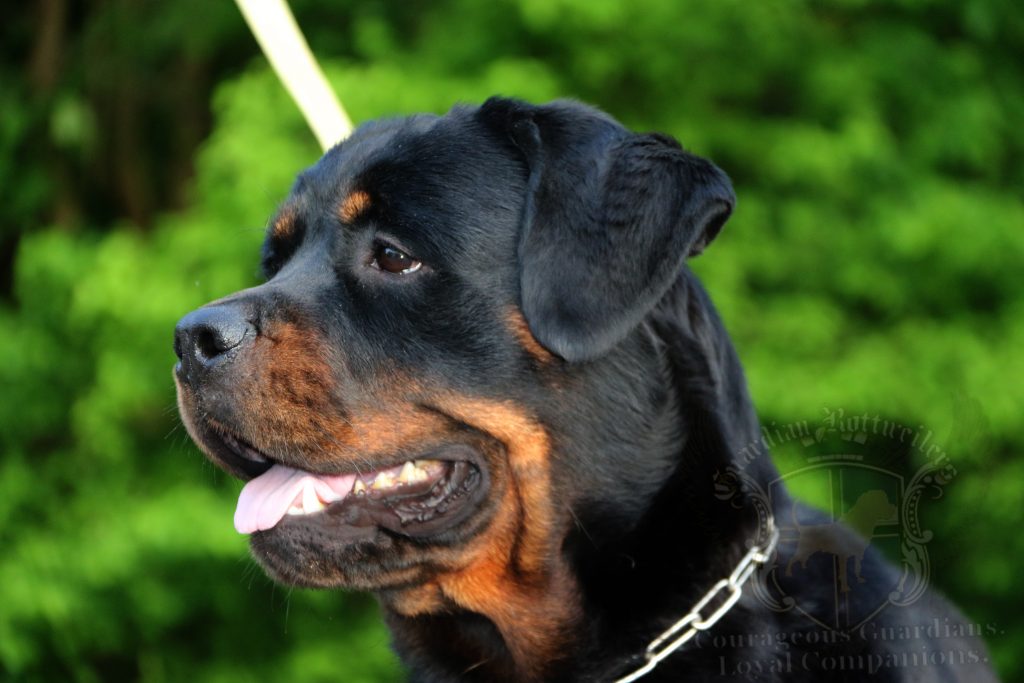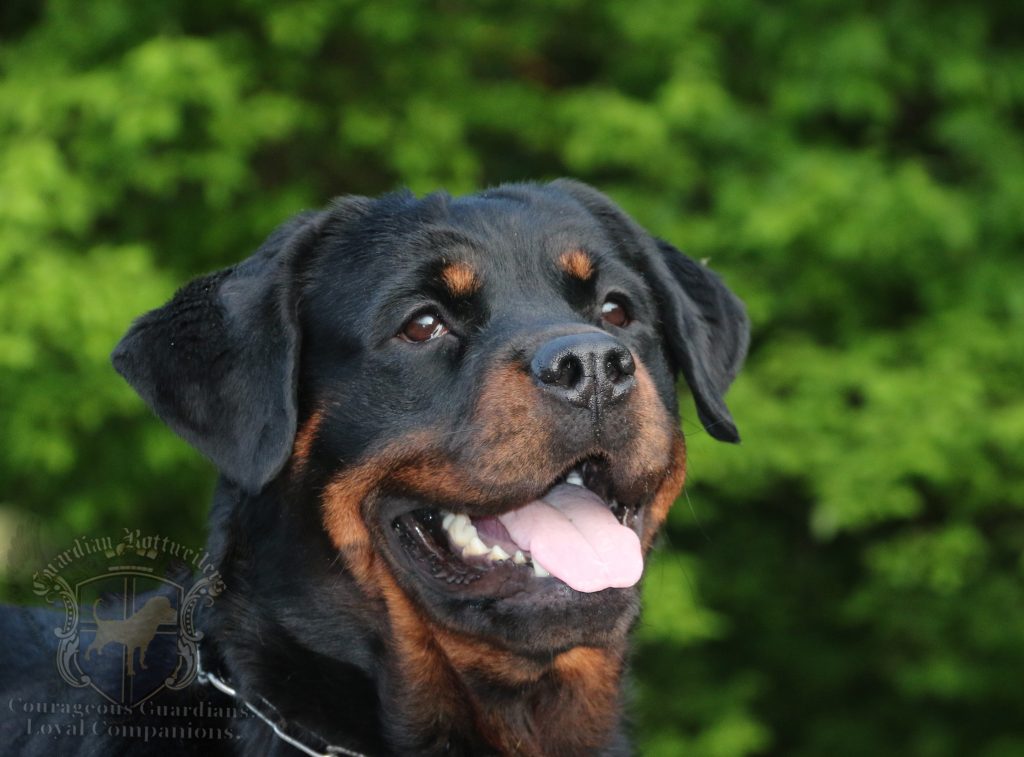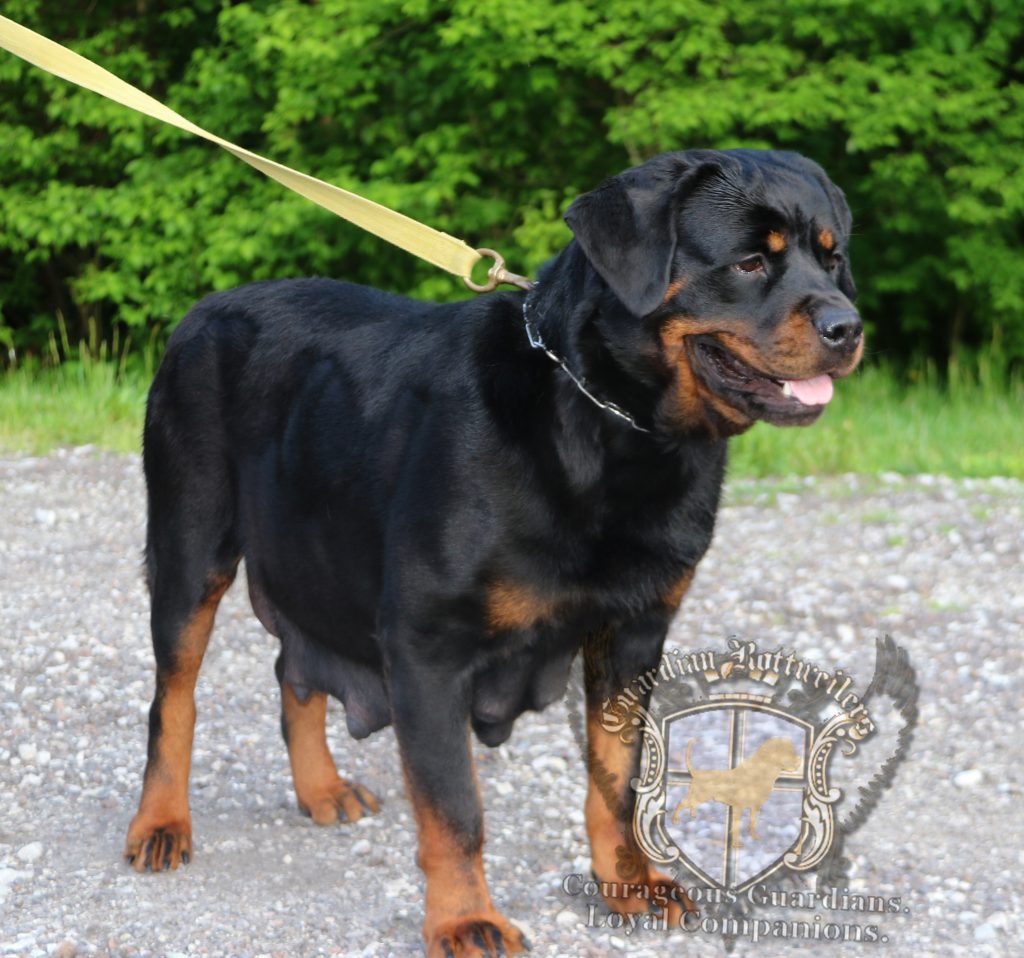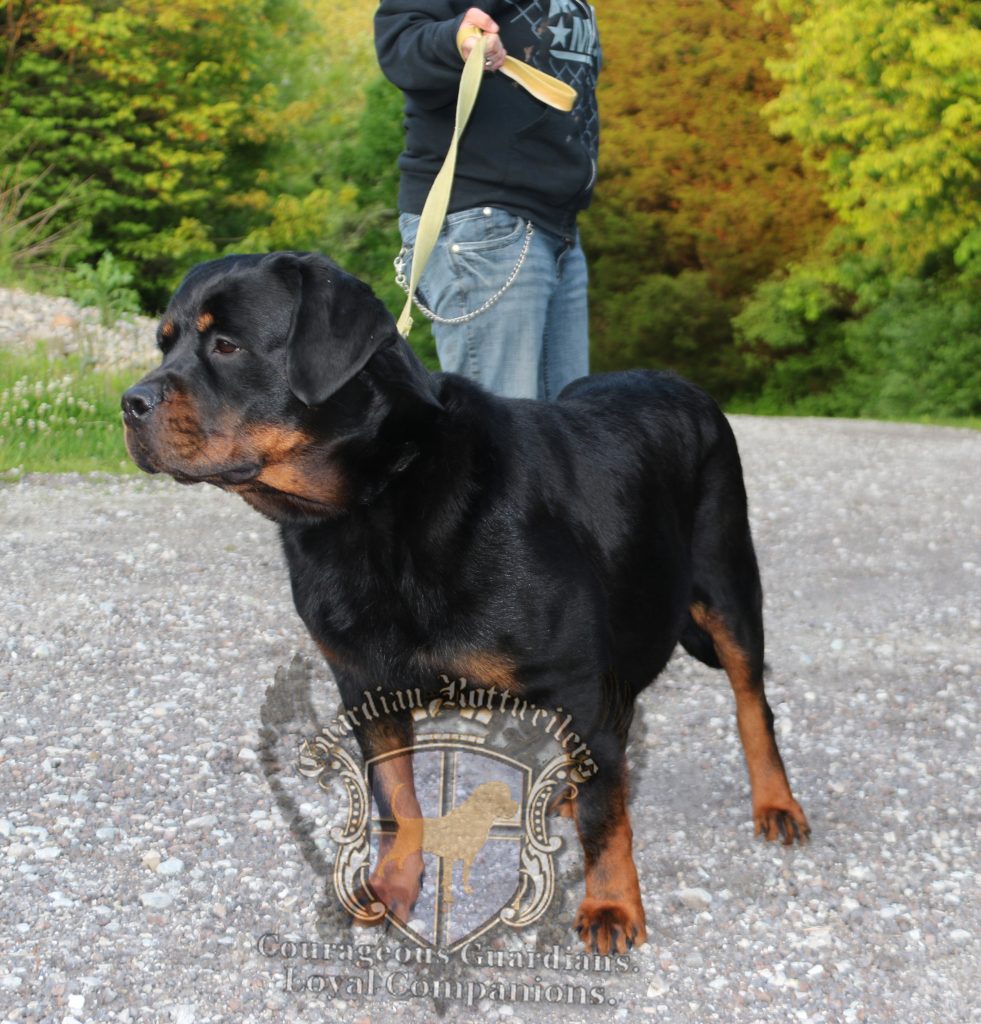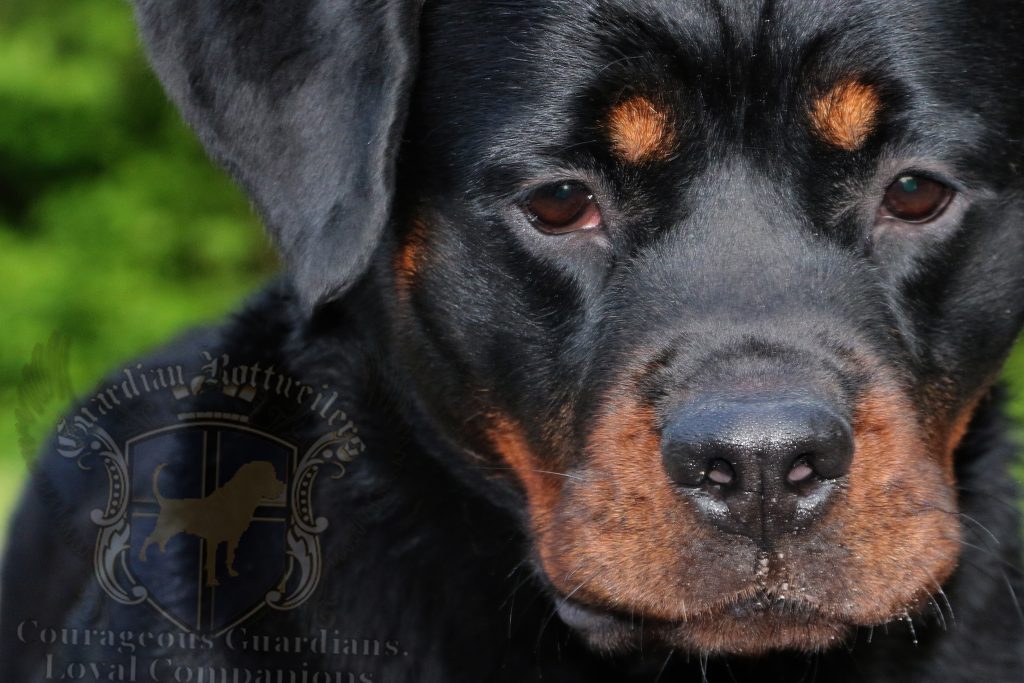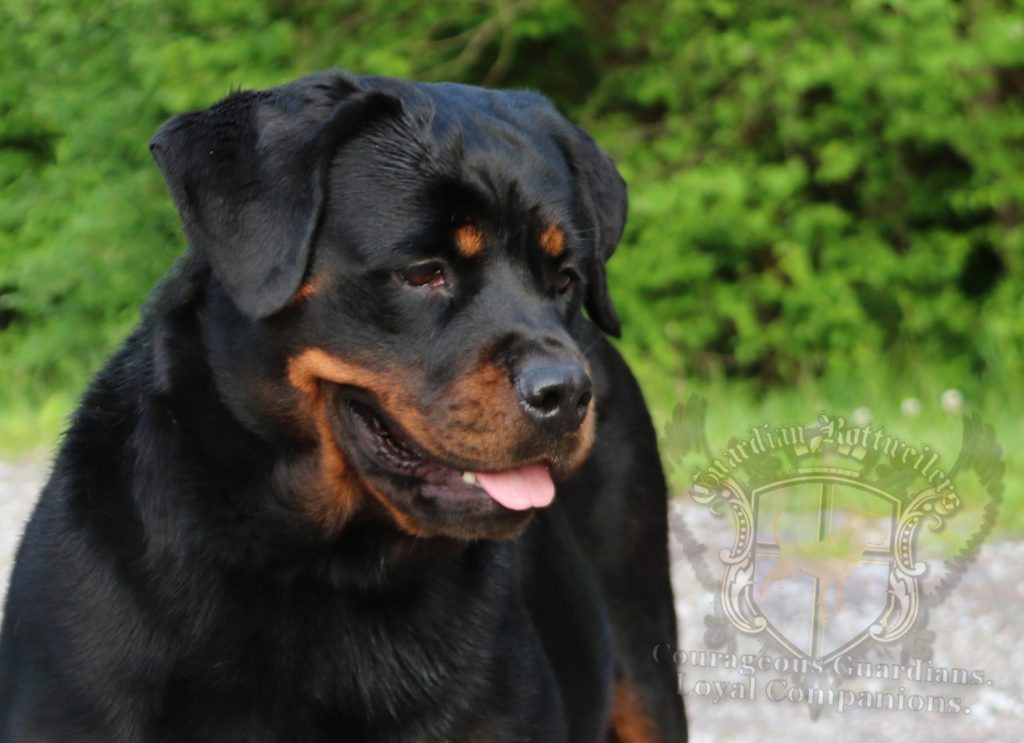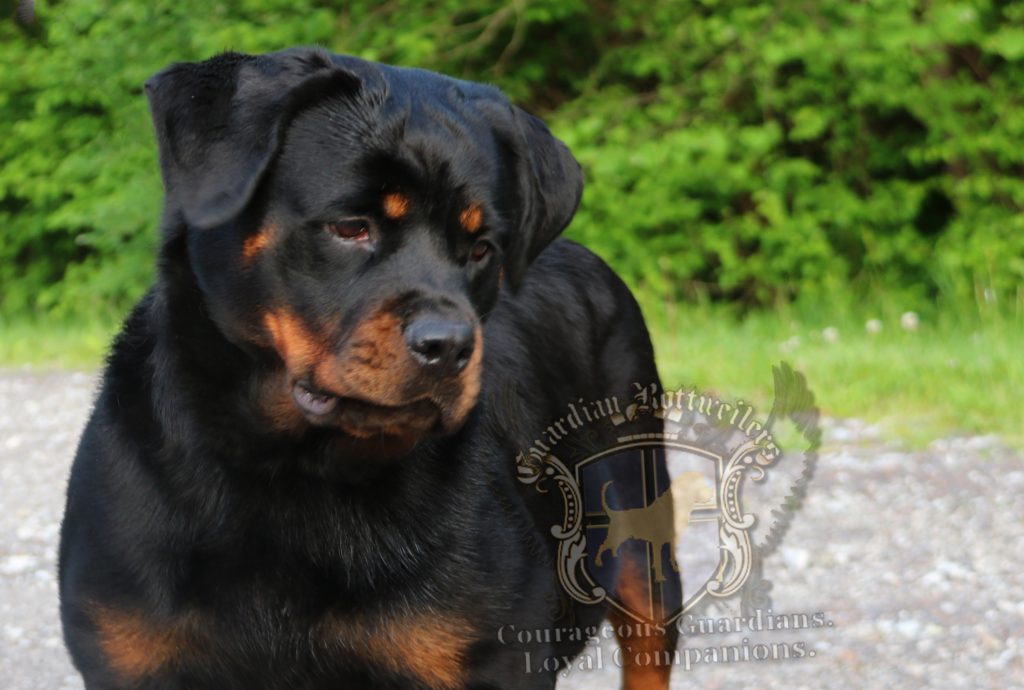 Young Hana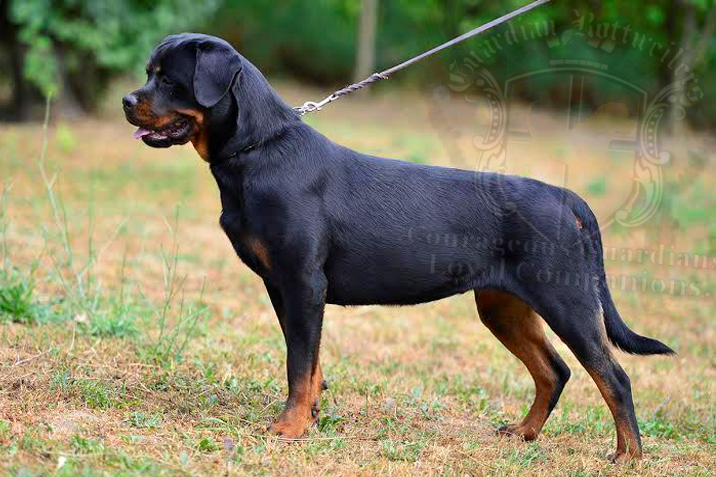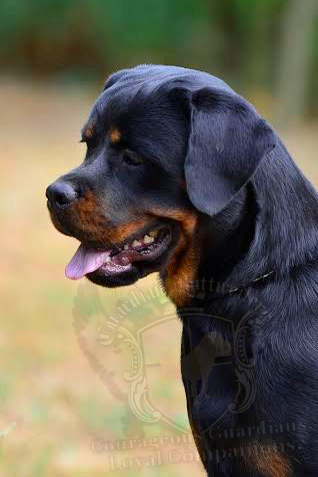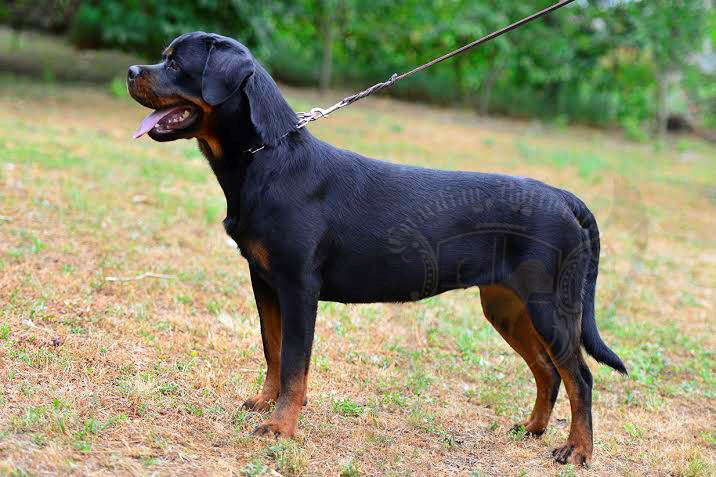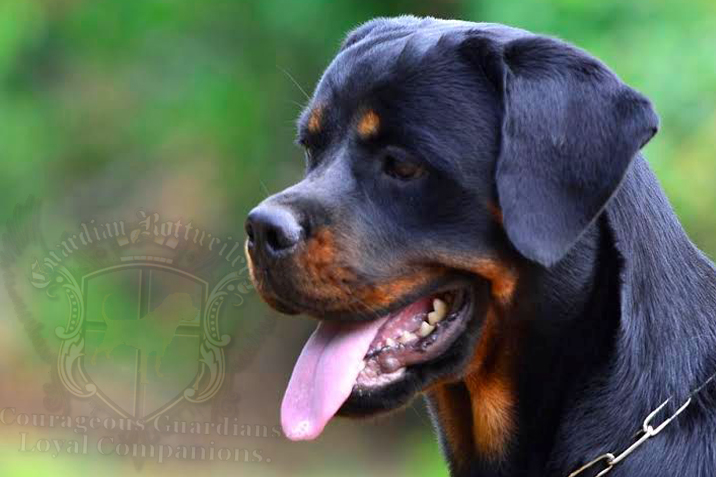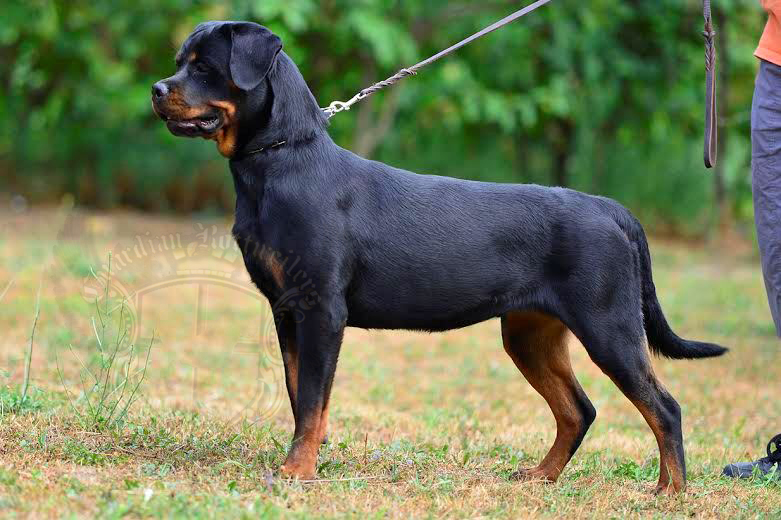 Here are some pics of Hana and her mom when she was about 8 months old- how adorable are they??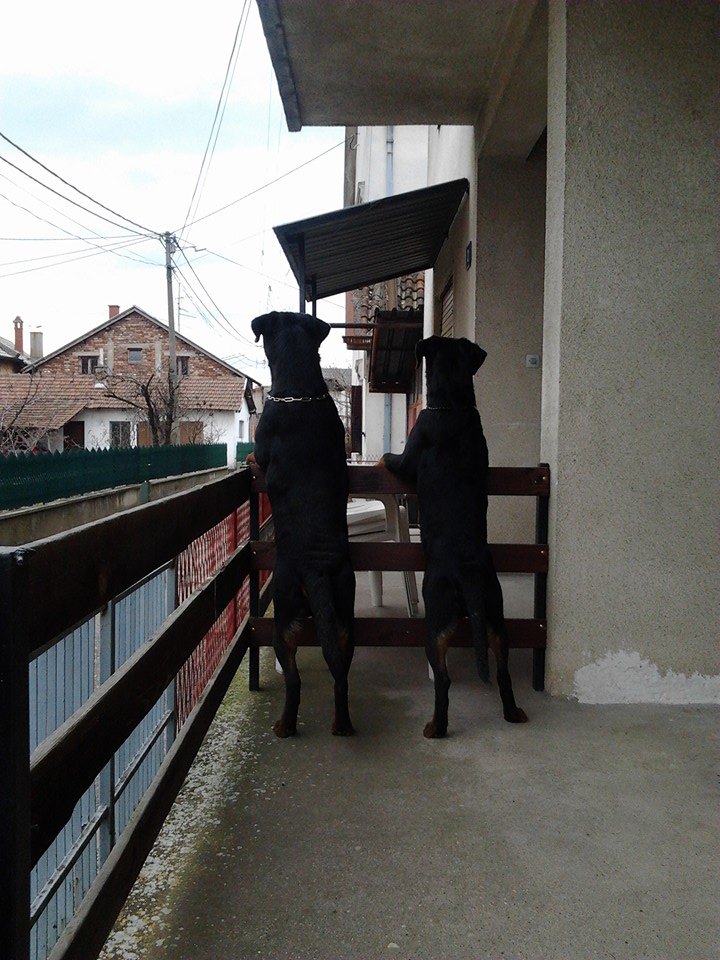 Gina, left. Hana, right.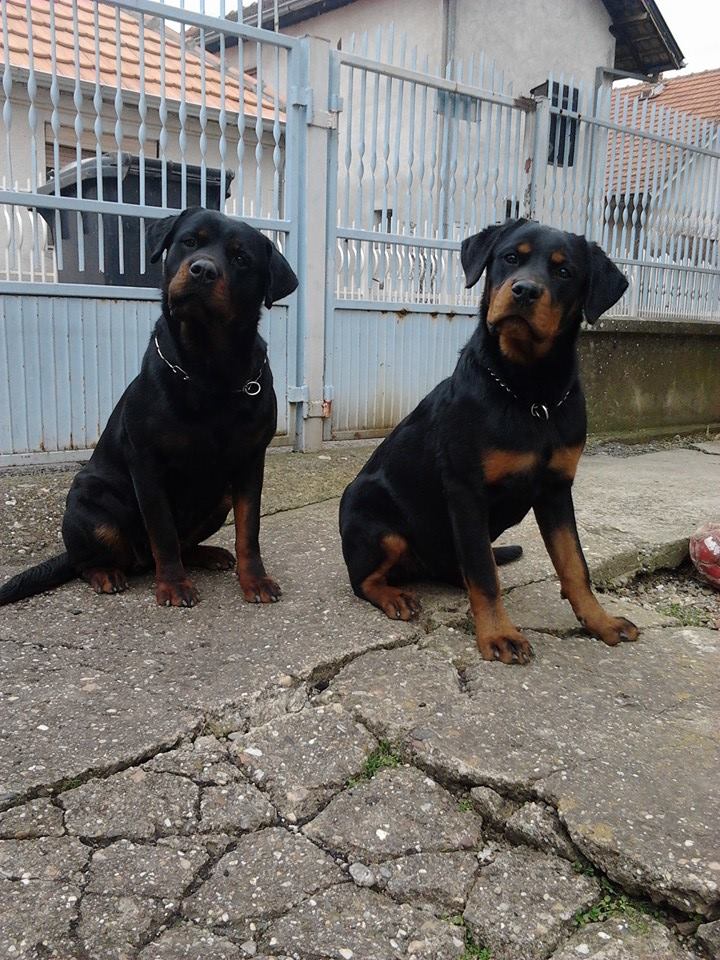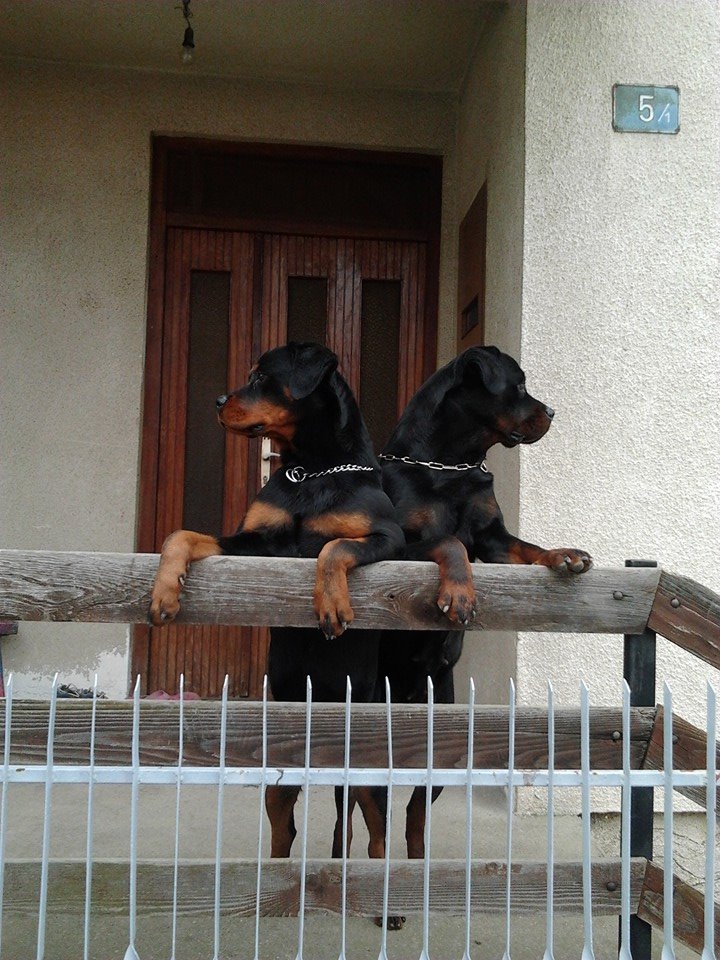 Here is a video of Hana's sister, Holi, at 9 months old.  They are so much alike in character and physical attributes!  What a great breeding!!


Hana's sire:
Pongo Se Ungo-Rot
f : ARLOS VON MAJESTIC ROTT
m : SKALI SE UNGO – ROT
HD – frei ; ED – frei
ADULT CHAMPION OF SERBIA
YOUNG CHAMPION OF BULGARIA
YOUNG CHAMPION OF MACEDONIA
YOUNG CHAMPION OF SERBIA
PONGO GOES V3 AT ARC ROTTWEILER NATIONALS IN THE WORKING CLASS!!!
7 x YOUNG WINNER
7 x YOUGENDSIEGER
7 x YOUNG B.O.B.
5 x YOUNG B.O.G.
2 x C.A.C.
3 x B.O.B.
2 X B.O.G.
B.I.S.
B.I.S. – III place
YOUNG B.I.S. – 3 place
V 2 – Reserve YOUGENDSIEGER – Speciality show Paracin 2014
C.A.C.I.B.SOFIA 2014 – BULGARIA – V 1 ; YOUNG WINNER ; YOUNIOR B.I.S. –
III place
C.A.C.I.B. BITOLA 2014 – Macedonia – V 1 ; YOUNG WINNER ; YOUNIOR B.O.B. ;
B.O.B. ; B.O.G. and finally BEST IN SHOW.
C.A.C. GORNJI MILANOVAC – Serbia – V 1 ; C.A.C ; B.O.B. ; B.O.G. and
finally BEST IN SHOW. – III place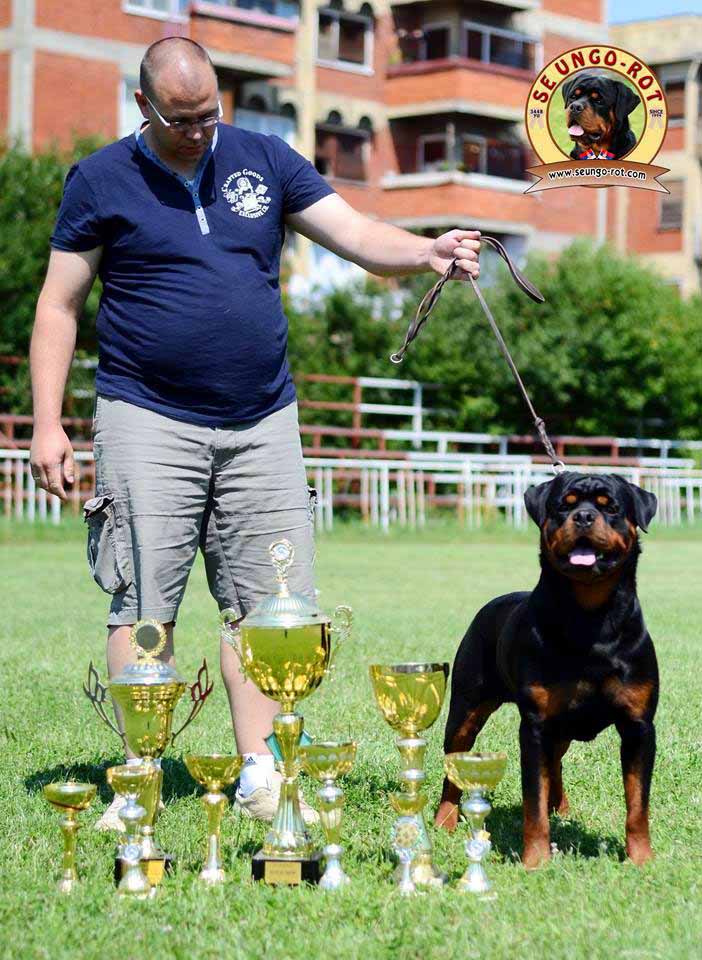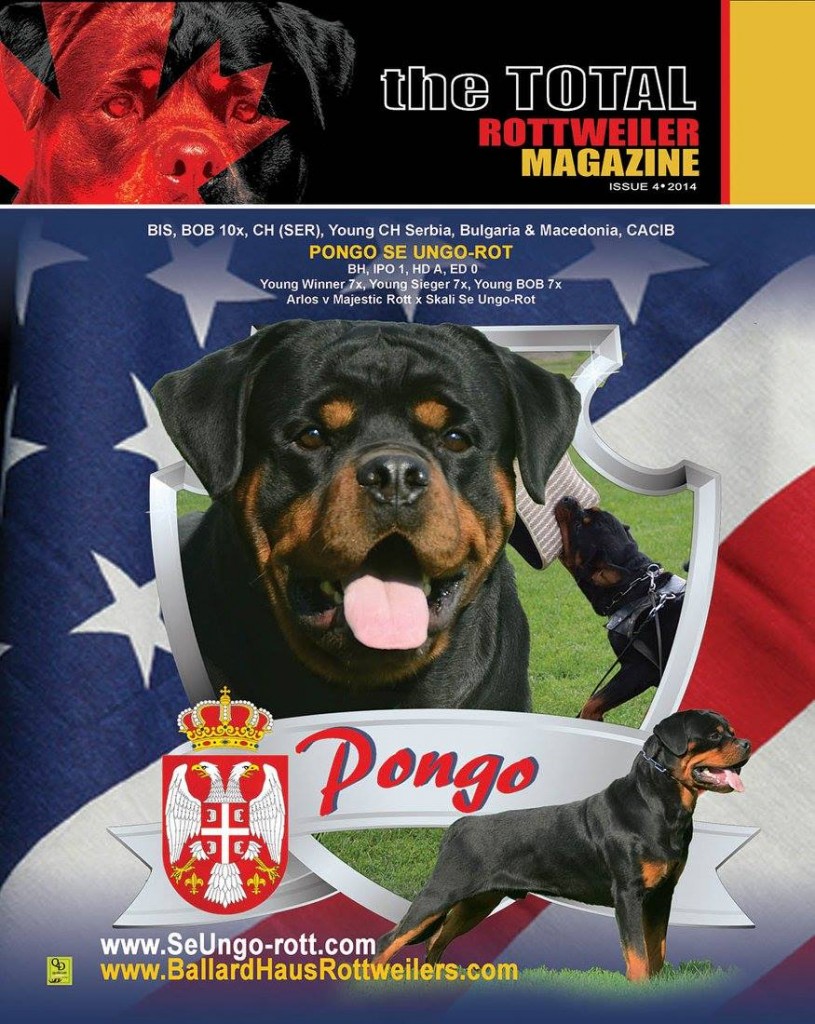 ---
Just a few more of the PHENOMENAL Rotts in Hana's pedigree: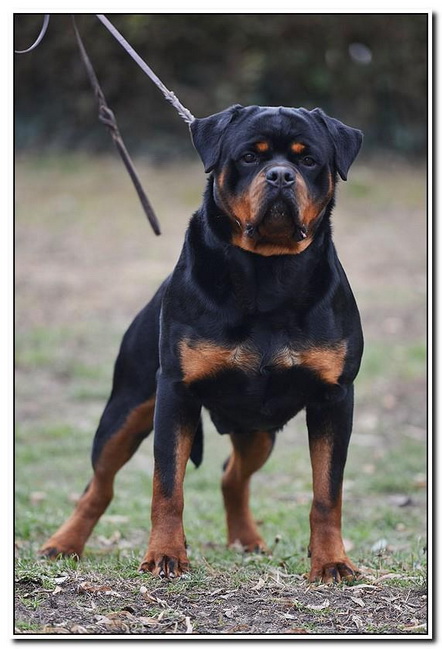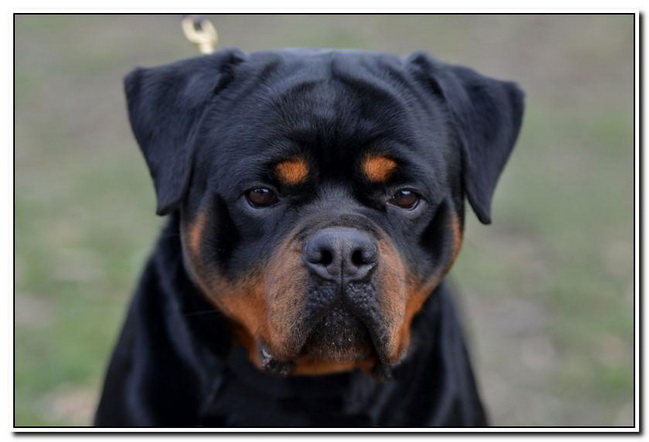 Arlos Majestic Rot
HD-A ED- O
Youth Champion of Serbia
Adult Champion of Serbia
SIEGER SHOW LOZNICA- WINNER,YOUNG BEST MALE , YOUNG BEST DOG
23.SUDPFALZCHAU  SIEGER- V1,CAC,JDG VICE  SUDPFALZCHAU  SIEGER
Semberia Sieger- V1,Semberia Youth Club Winner
VI Split Croacia Sieger- V1,Best Young Males,Young Club Sieger
YOUNG CLASS  YOUNGSIEGER,BEST YOUNG MALES,BEST YOUNG DOG
ADRK Klubsieger 2012 INTER MEDIA V9
15.09.2012.  BULGARIA CLUB SIEGER   INTERMEDIA V1
16.09.2012.  CAC   BACKA PALANKA  INTERMEDIA V1,CAC,BOB
22.09.2012.    MACEDONIA CLUB SIEGER  V1
30.09.2012.  I MORAVA SIEGER  V1,AJAKS CUP WINNER,VICE MORAVA SIEGER
6.10.2012.  Special show rottweiler derby 2012. Indjija V1,DERBY WINNER CLUB,WINNER MALES,BOB
04.11.2012.CACIB  BEOGRAD V1,CAC, CACIB,BOB
09.03.2014. CACIB BEOGRAD V1,CAC,CACIB,BEST OF BREED
---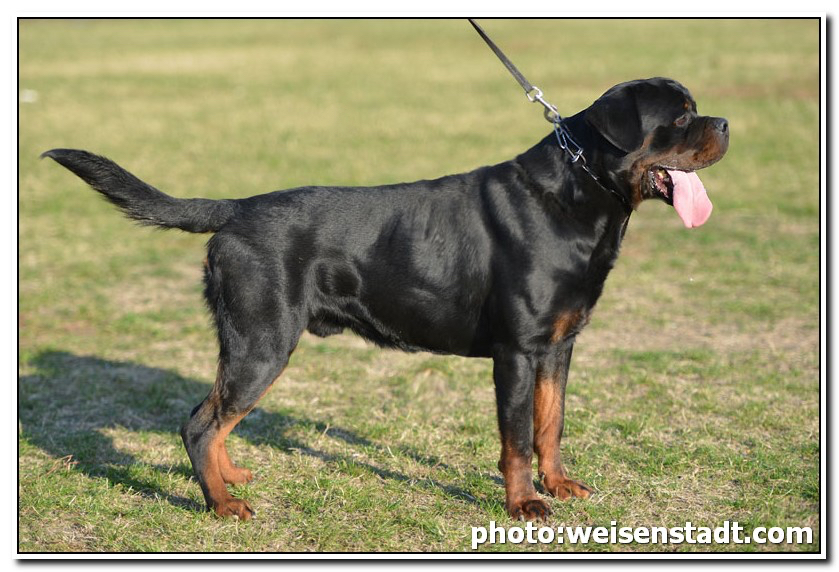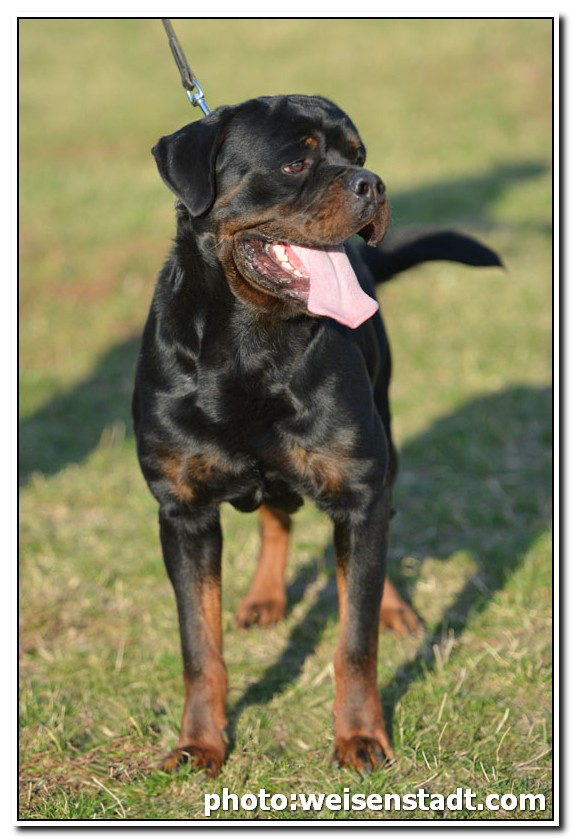 Harry Potter Se Ungo-Rot
(Kafu vom Beni X Face Se Ungo – rot)
HD – frei ; ED – + / –
BNRK 2011 – VV 1 ;
BIS BABY VOJVODINA SHOW- VV3
2 x YOUNG WINNER
2 x YOUGENDSIEGER
C.A.C.I.B. INDJIJA – YOUNG WINNER ; YOUGENDSIEGER
---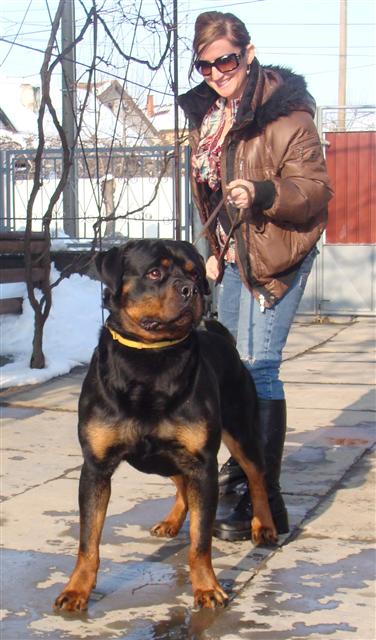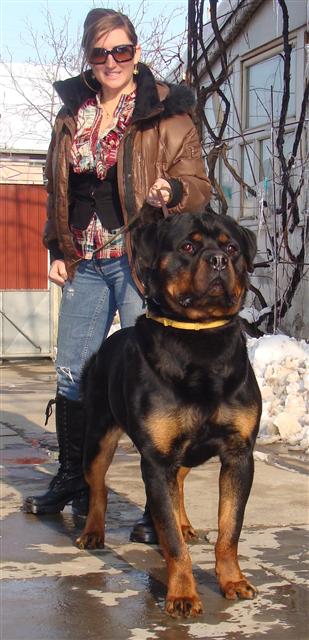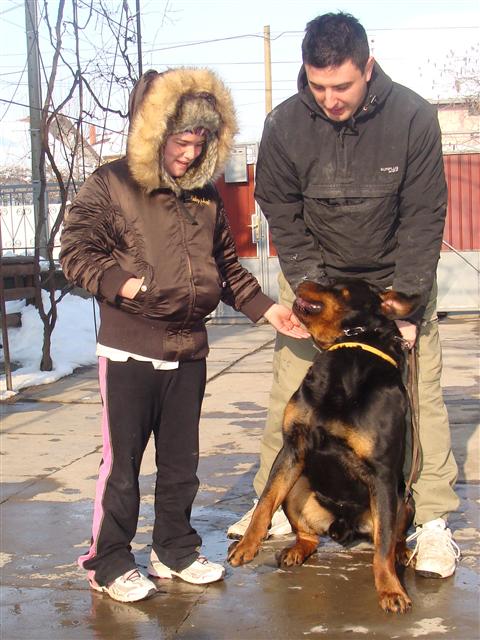 Kafu Vom Beni   
HD A ED 0
High: 66cm
IPO 1
Young Champion of Serbia
Champion of Serbia
3xV1 (Young class) 
3xV1 (CAC, Intermedia class)
3xCAC, 3xBOB, BOG II, BOG III
---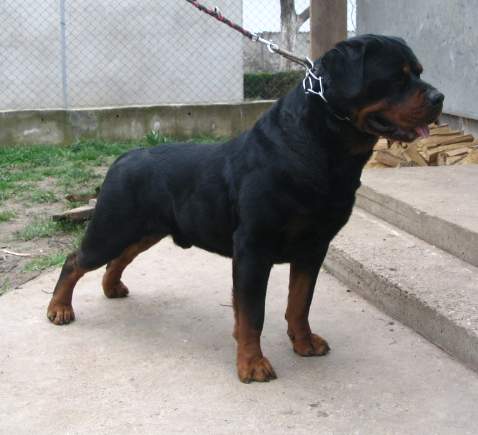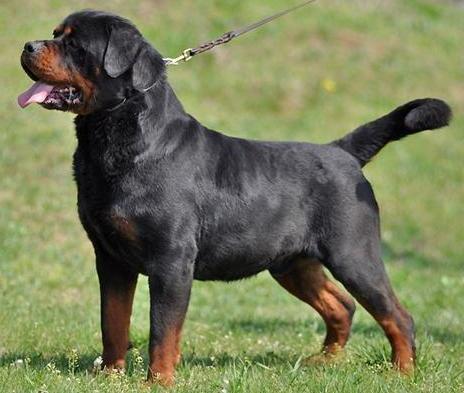 Candidate for International Champion
CH. Marschall Se Ungo Rot 
HD – A ( Frei ) ; ED – 2 ( + ) 
CH ADULT MACEDONIJA '07 
CH ADULT BULGARIA '07 
CANDIDAT for INT CH 
17. Schwarzwaldschau -Spezialzuchtschau – DEUTCHLAND – V 1 ; C.A.C. – 
( CH class – Judge : Mr. Edgar Hellmann- ADRK ) 
C.A.C.I.B. ;  2 x R.C.A.C.I.B. ;  7 x C.A.C. 
B.O.B. ;  R.B.O.G.
---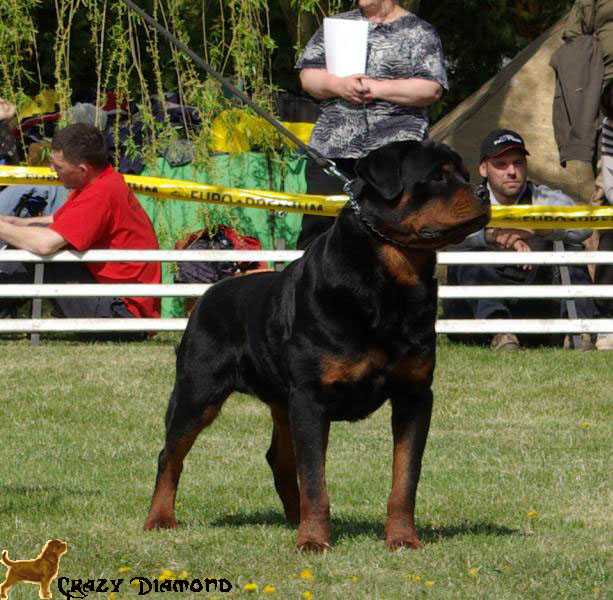 International Champion 
Marsio Ri Mobby Dick                  
HD-FREI, ED+/-                                                  
CH YOUNG SCG06 
CH ADULT BULGARIA 06 
CH ADULT SERBIA 07 
CH ADULT MACEDONIJA 07
CACIB Athens GREECE 08 
V15x, YOUTH WINNER 2x, CACIB 6x, 
RCACIB 11x, CAC 3x,BOB, BOG, RBOG, 
R.YOUNG BOG, BIS III PLACE
---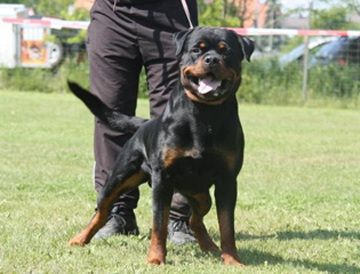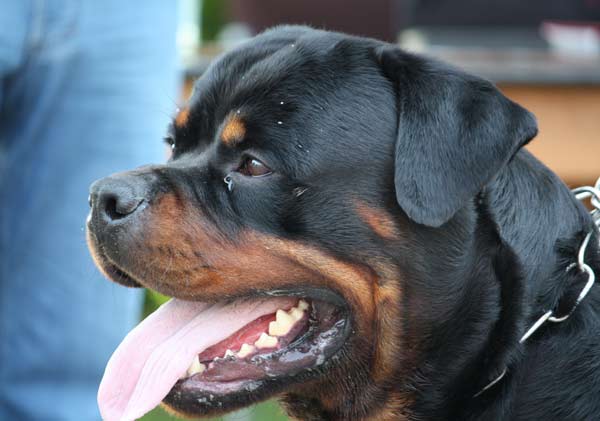 DT VDH CH
Lacky von der Südpfalz
BH, AD, IPO 3, VPG 1
ZTP
VDH Bundesjugendsieger 09, 
ADRK Südpfalzjugendsieger 2010
ADRK Donausieger 2011, Dt. 
CHAMPION VDH
---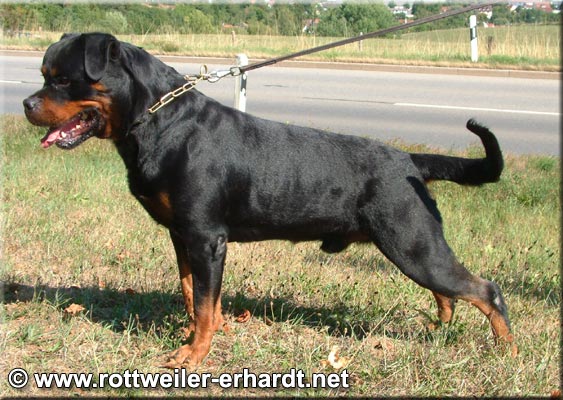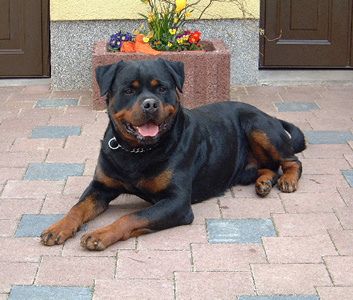 Int./ Dt./ VDH-Champion
Mambo von der Crossener Ranch
European Champion 2002
Swiss Club Champion 2002
SchH 3, IPO 3, FH 2, BH, AD, ZtP
HD +/-, ED Frei
ADRK 099808
---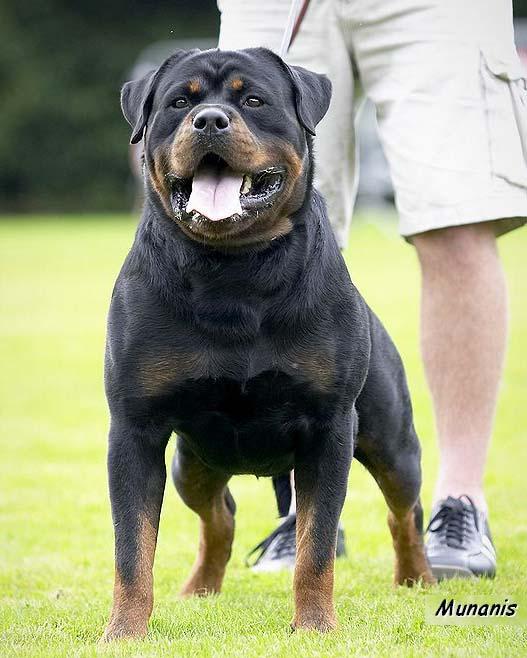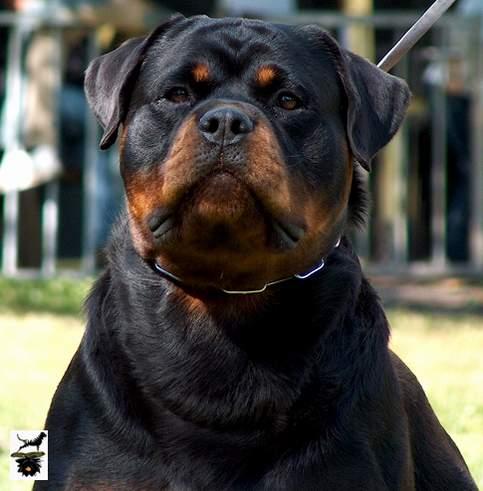 International Champion
IFR WORLD WINNER!!
Gonzzo Earl Antonius
VDH/SCGJ/SCG/BIH/CRO/VEJ-CH
F.C.I.Vice Europa Young 
Champion 2003
ADRK Orlasieger 2004
Argentina F.C.I. International show APSOLUTLY WINNER !!!
I.F.R. WORLD WINNER 2006
ADRK KS 2007 V4 
I.F.R World Show Argentina 2008 V1
I.F.R. World Show Belgium 2009 V1
F.C.I. EUROPA Champion +BOB 2007
Benelux winner'04/07
HD +/- ; ED +/-
SOOOOO many more phenomenal Rottweilers- and to have them all jam-packed into one pedigree!!  I cannot wait to see what this girl can produce!!
(Visited 95 times, 1 visits today)