Hi Alice,
Well we have had our boy a week and are completely in love with him. He is almost perfect! He really has not done anything bad. He wet on the floor once,,,,,,,I blamed Philip! He did chew on the corner of a piece of furniture for a minute. He walks great on a leash. He sleeps next to our bed on the floor and snores so loud.
The other night Philip got home from work in the middle of the night and be barked! John told him it was Ok and he went back to snoring. He rides in the truck so well. John brought him to the bank other day and he walked around like he owned the place for a minute and then plopped down in the middle of the lobby. I got two emails today from girls that work for me asking how he was and wanting me to know if we ever breed him they want one. I told John…Oh my word he is just a baby, they are pressuring him. haha.
Well, I hope you are having a good week. Herk is so good, I see why Danielle wants another
Have a good day,
Jill.
Herk (left) and Guardian Adara Von Gottschalk (right)
Hi,
Just wanted to let you know that Herk is doing well. He is such a good boy. He still has a little bit of diarrhea. He eats and drinks plenty so I think it is still from the change in food. I was giving him Omega 3 (for dogs) because his skin was still really dry, stopped it so I will give him a couple of days. He sleeps in our room on his pillow and between him and John the snoring is pretty funny.
He has only wet a couple of times on the floor not sure why. It is in the same place on the wood floor in the living room, he must smell something. He is about 85 pounds now. Just wondering, do you only feed your dogs dry food?
Well. I won't keep you. How are the puppies.
Have a great day.
Jill
Hope you and your family had a Merry Christmas. We want to, " Thank you" again for the best dog we have ever owned.We love him so much. He loves the kids, and I do mean loves them. I think already if someone tried to hurt them they would
have to come through him. Bill tried to tell me yesterday that I should be ashamed of myself depriving my grandchildren and not letting them take him home with them! He is so funny. Every time they come over they try and figure out a different way to take him home with them.
Yesterday, my niece and her husband came over with their 5 month old Great Dane puppy. They played and played. We also had Adara for a couple of days last week Danielle and Bill were away so today he is pretty bored with us. Last night John and I were on you tube looking at the pictures of his sire. He reminds me of him so much of him. Just wondering are we suppose to tape his ears down or something. They seem fine but I remembered you said something about that to Danielle. I really am not sure but it does seem like one of his eyes is a bit more round shaped than the other. It is noticeable so I am not sure if we would ever be able to show him, did you ever notice it? We will see how it looks when he is all done growing. 
Keep us informed on any Mobby Dick puppies, John still wants one. Or anything like Herc, a little older.  Would have to be a female.
Look forward to hearing from you.
Hi Alice,
Just wanted to share a funny story with you. Herc is huge! I am sure he is at least 115-120 lbs. We can not hold him and weigh him at home anymore. But, in saying that he is still such a baby! Today we were sitting watching TV and I had the washer running down stairs.When it started to spin Herc turned around and looked toward the basement. Philip was sitting on the couch with his fiance, and said, Herc who's that. Herc stood up really tall and then turned around and jumped on the couch between Philip and Rachel and hide his head behind Philip.
He is doing great. He is so cute and funny.We love him to death.
Well, hope all is going well.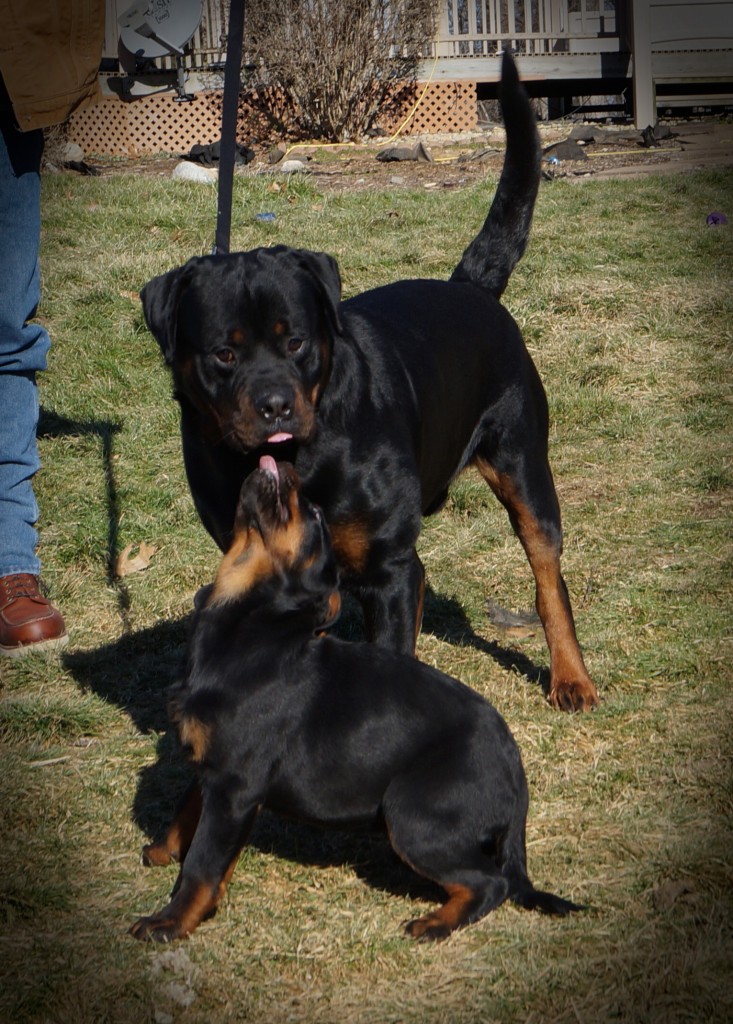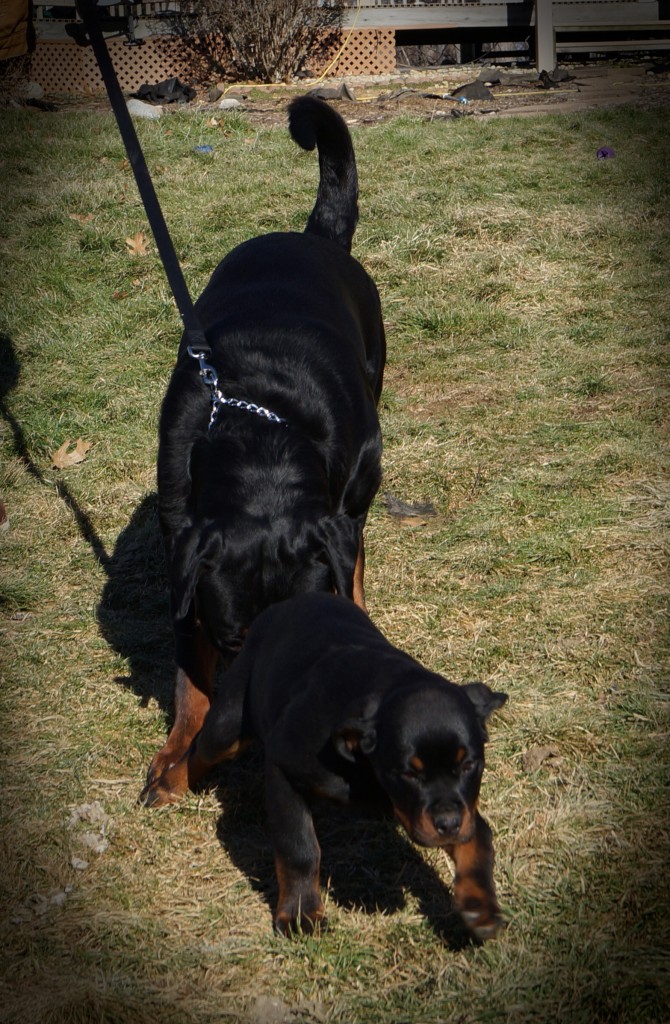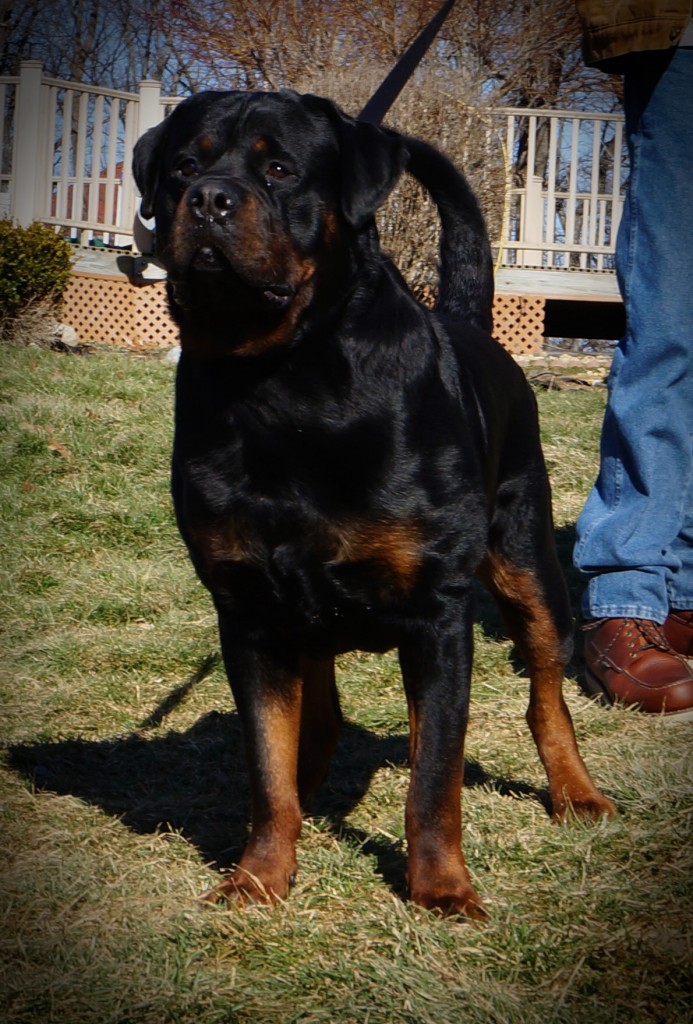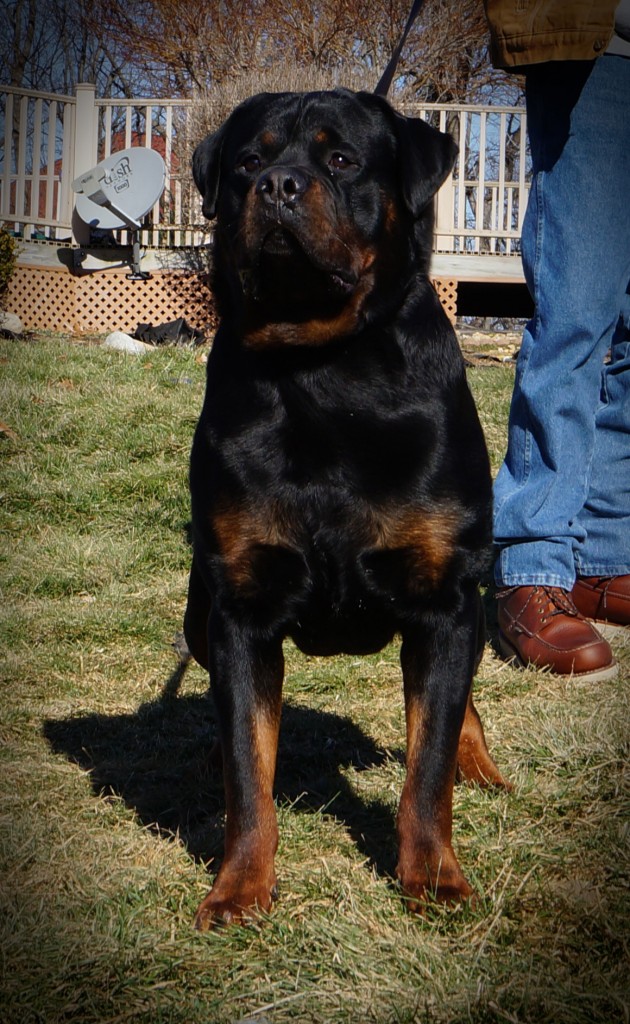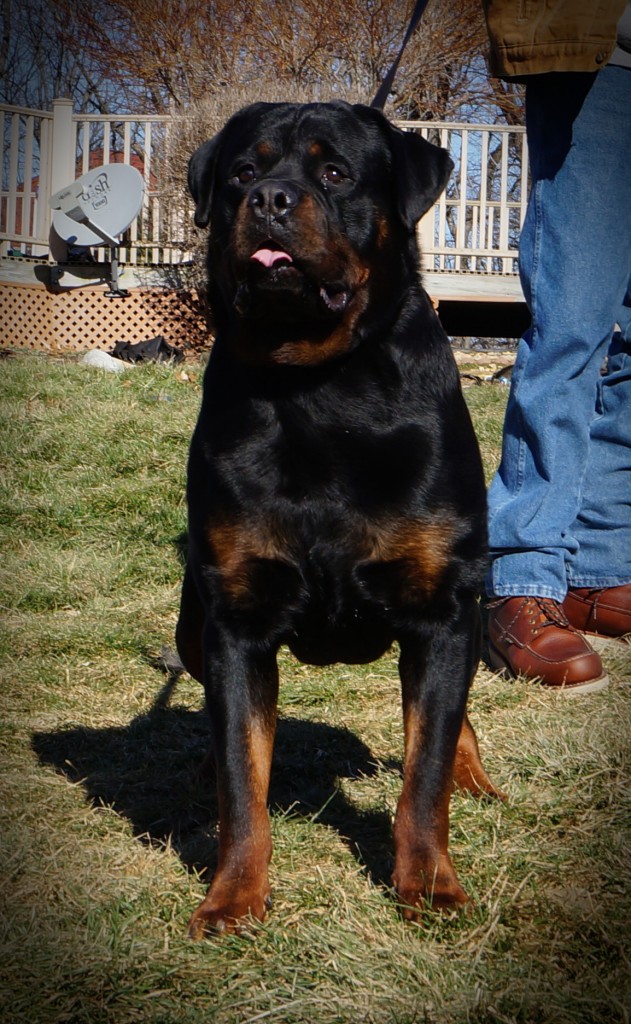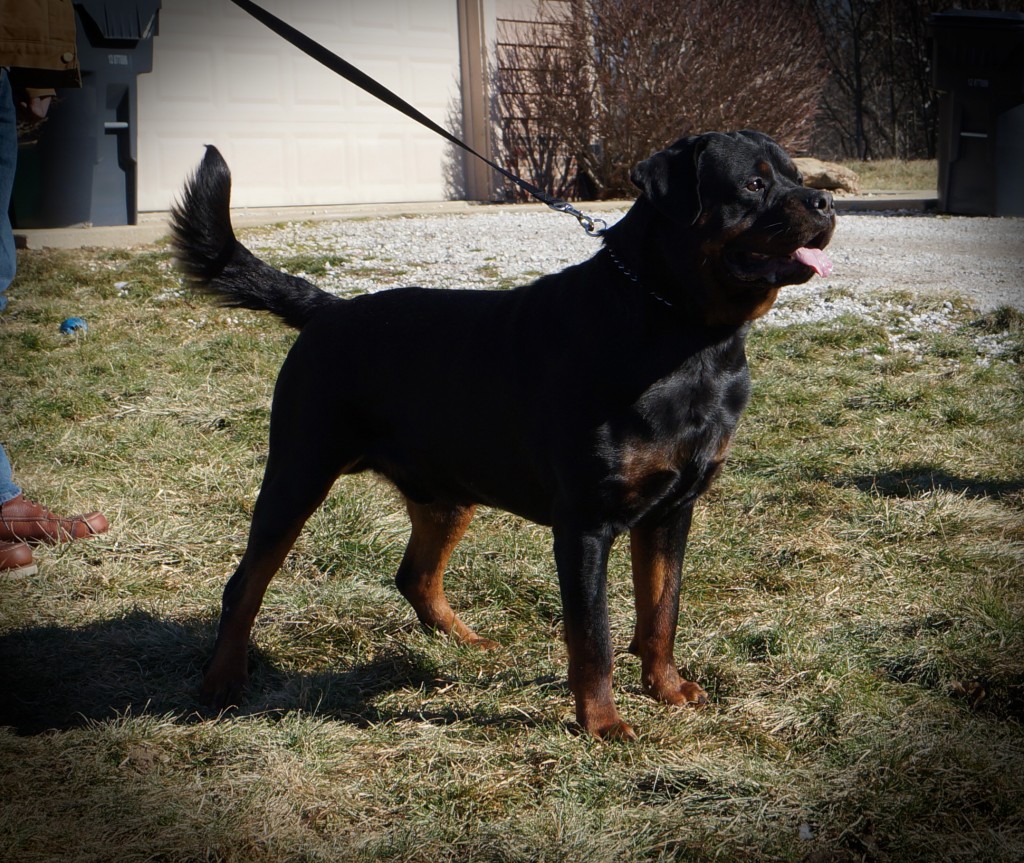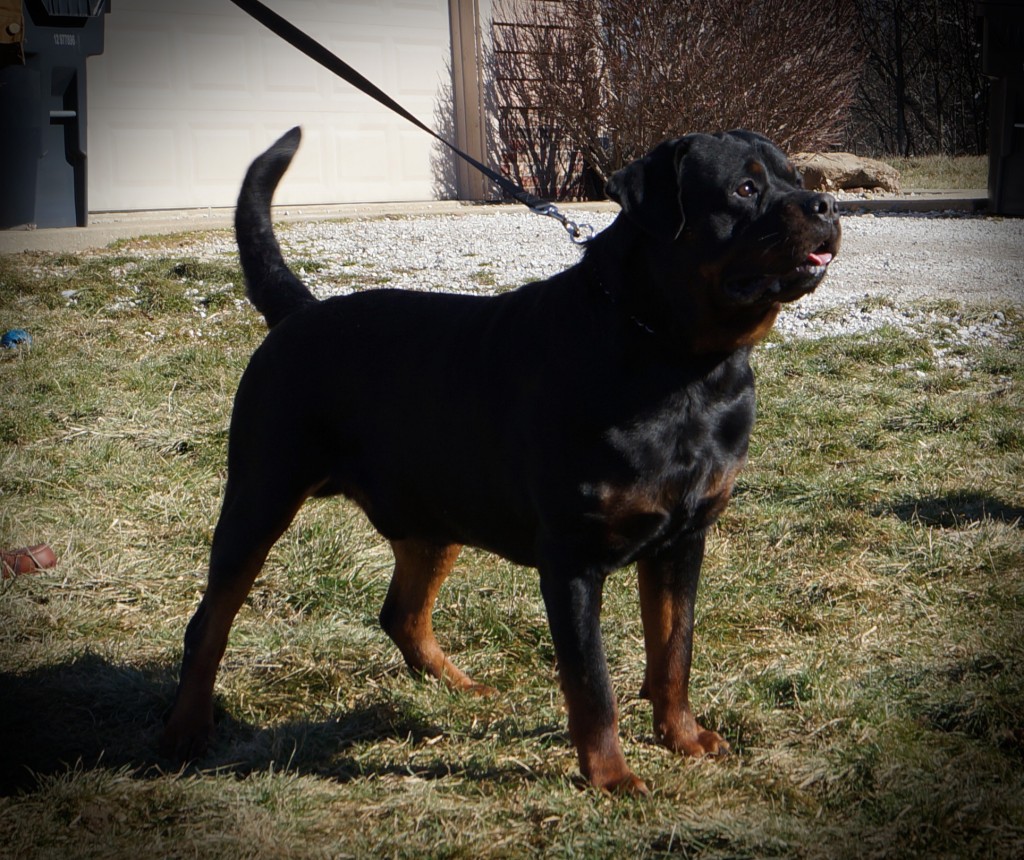 Hi Alice,
I am sure you get sick of hearing this but I love my dogs so much. I have been going through so much with my mom and everyday when I get home and see Herk and Raina's happy faces, it makes everything brighter. When Raina starts running to me from across the room and jumps up and the sofa and puts her head on my lap all is right in the world. On Sunday morning when I had slept very little and Herk decided he wanted to lay in our bed between John and I, it started my day off on a happy note. They are such a joy.
Hope this makes you smile because it does me, just thinking of it!
Jill
(Visited 44 times, 1 visits today)