Guardian Rottweilers E LITTER
Sire: Brabus of Kinders Royal Rot
Dam: Guardian Xoana Von Gottschalk
8 tiny reindeer born Christmas morning!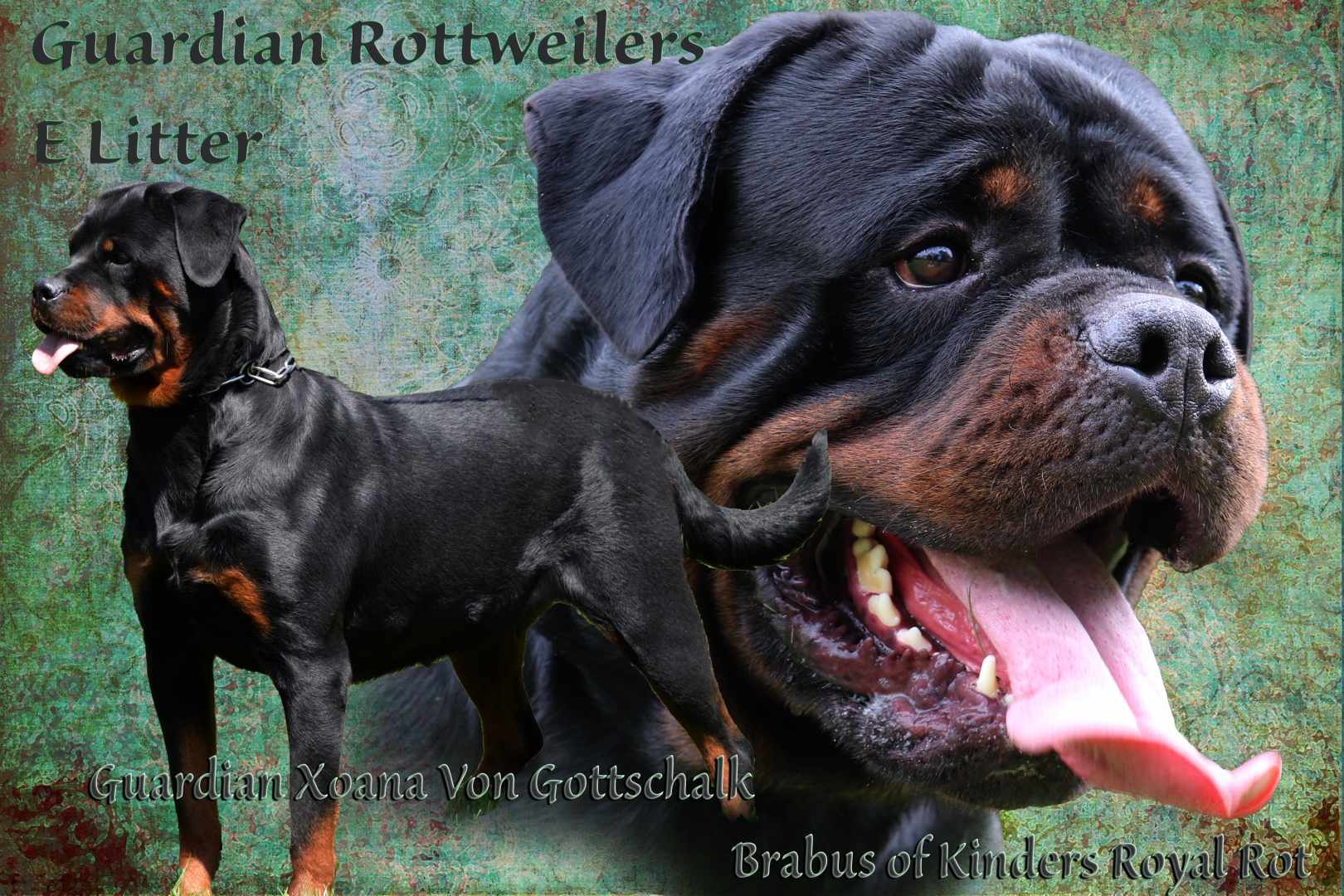 Xoana's Xtraordinary girls: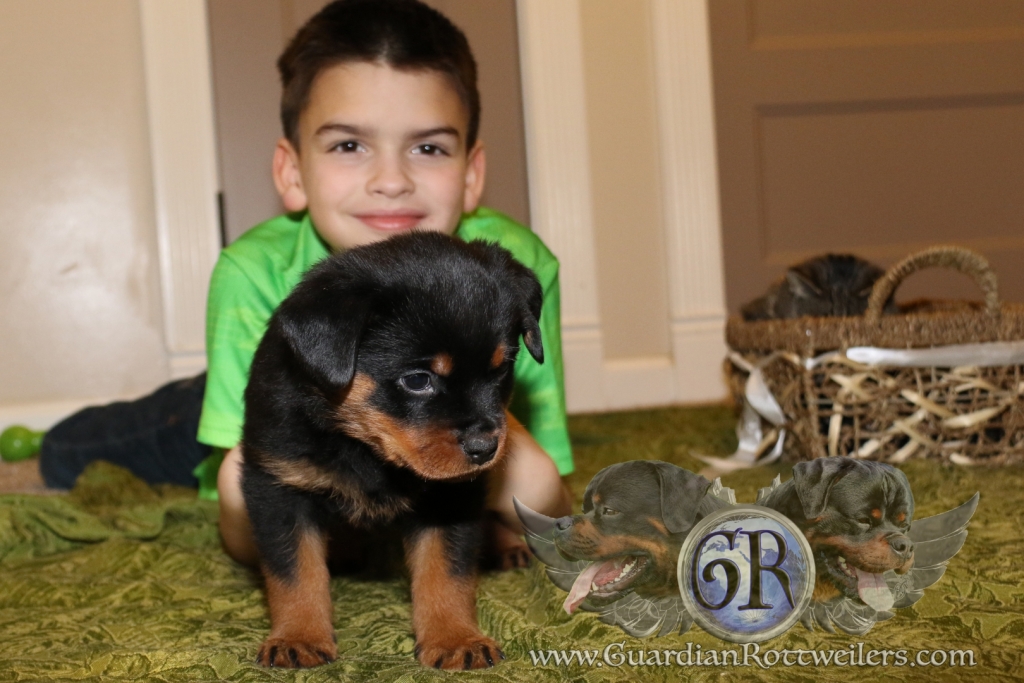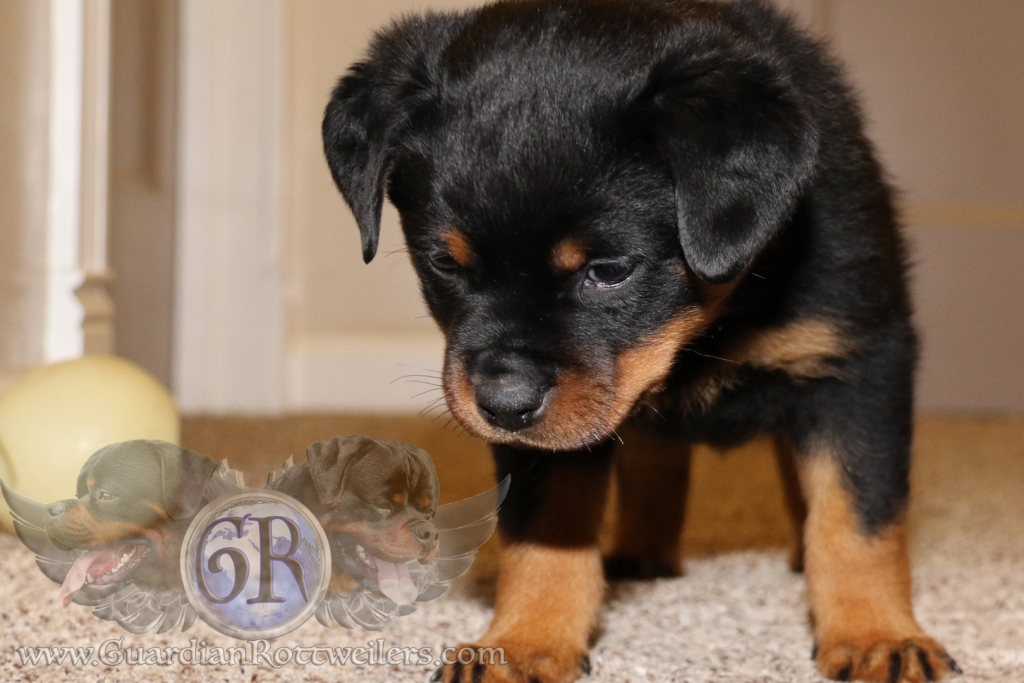 Comet                                        Cupid
RESERVED!                           RESERVED!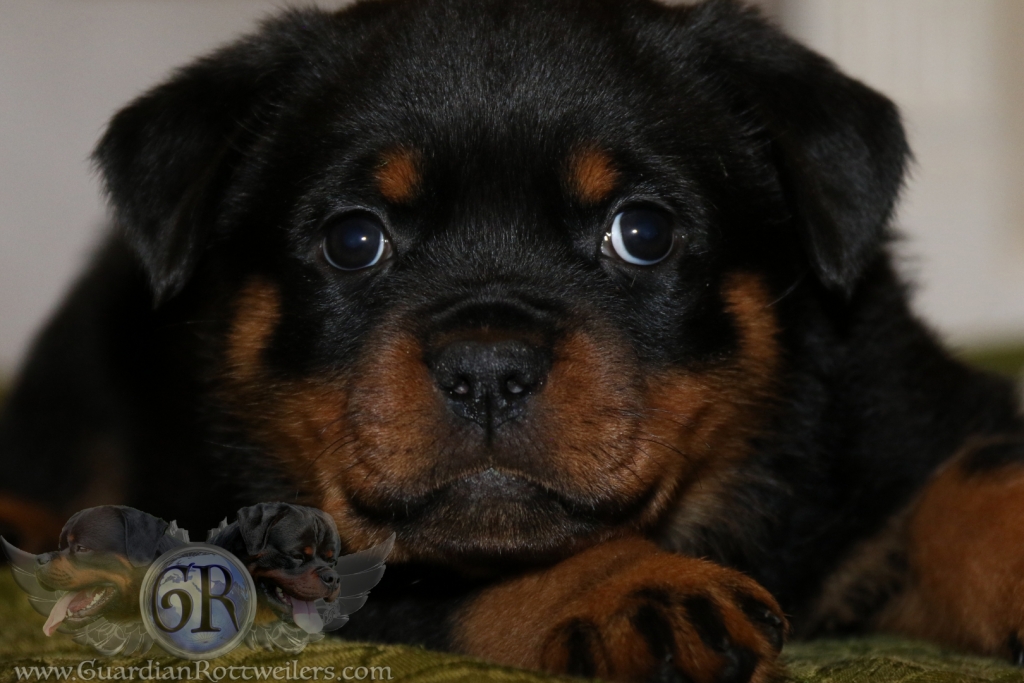 Dancer                                      Vixen
RESERVED!                           RESERVED!
Xoana's Xtreme boys: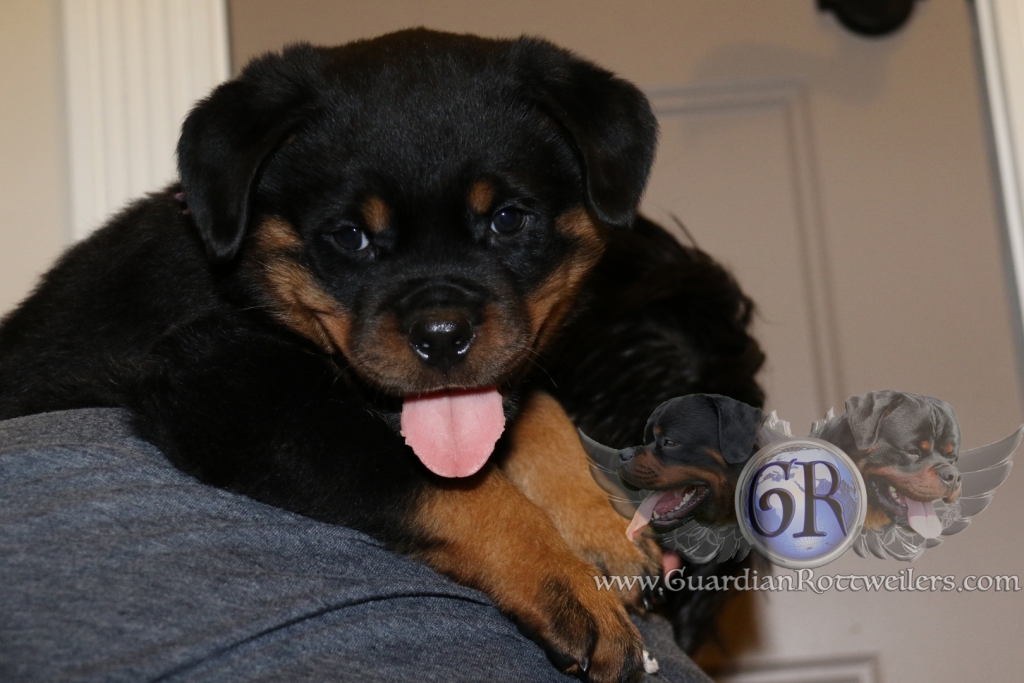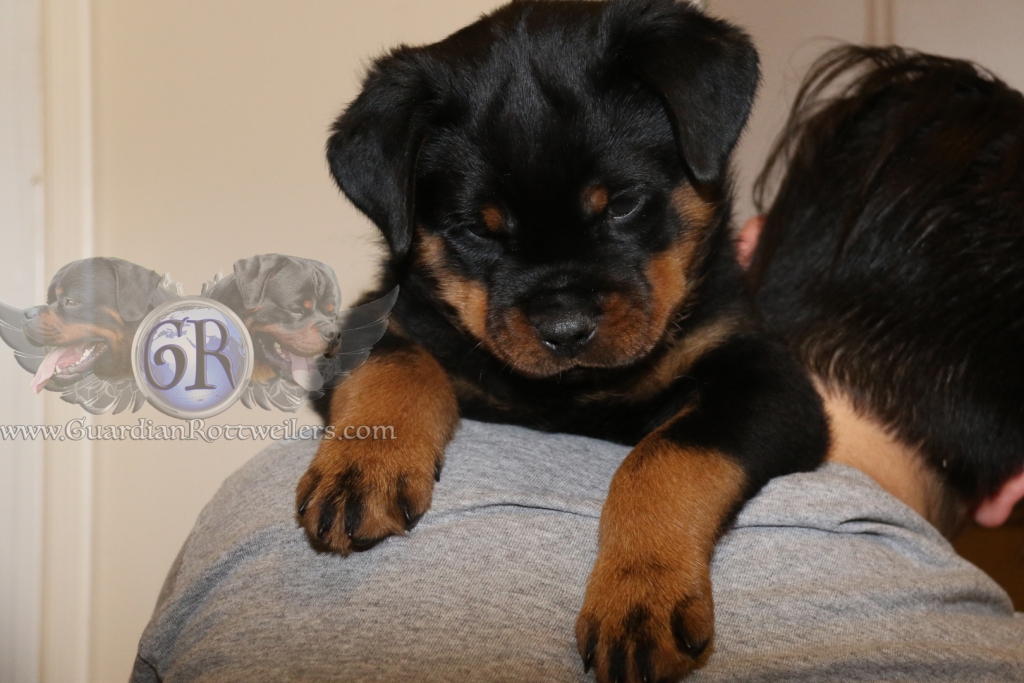 Prancer                                     Donner
RESERVED!                            RESERVED!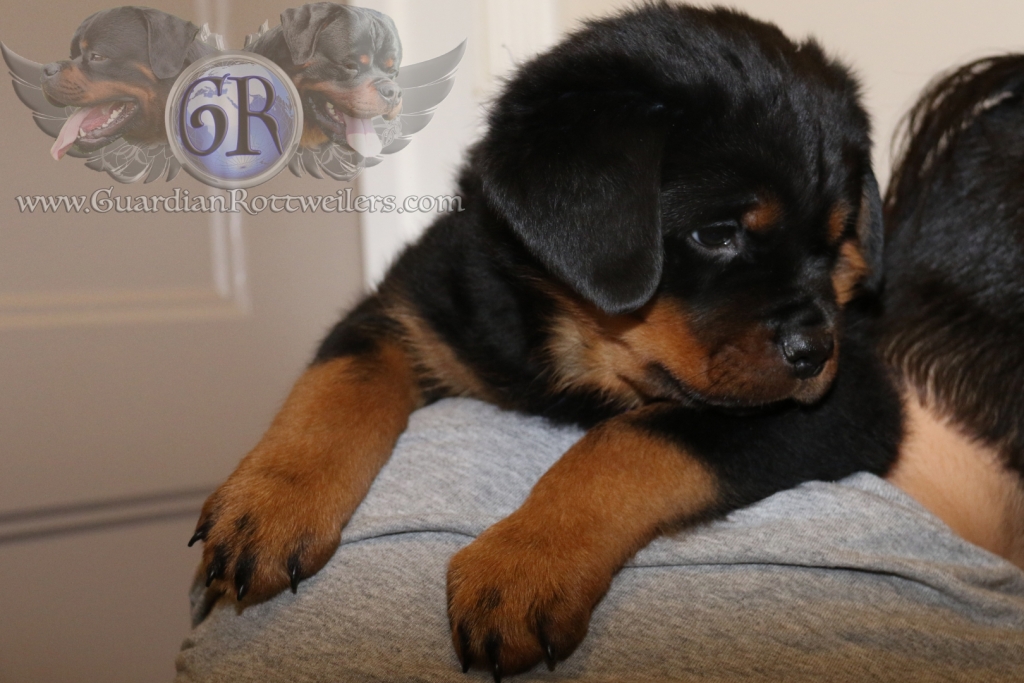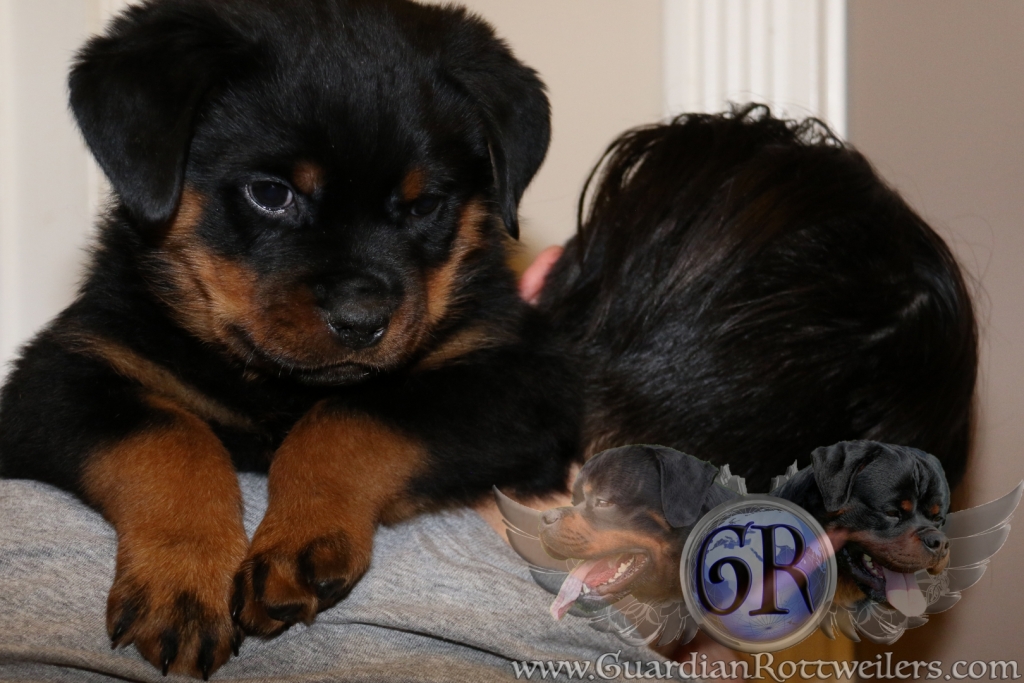 Blitzen                                      Dasher
RESERVED!                           RESERVED!

Xoana had been a bit restless for a couple of days so I knew she was close.  I sat wrapping presents (every year, I promise myself that I will not wait until the last minute to wrap again next year… and yet every Christmas Eva, I find myself up all night wrapping…) and Xoana just could not get close enough- sitting on me, pushing presents out of the way, etc.  Finally, I had to actually lock her out of my room to get anything done.  At about 11:pm, I could feel/hear her pacing back and forth at the door and panting and whimpering, and I just had this feeling in my gut that she was really in labor.  So I let her back in and had my husband take over the wrapping as I sat and snuggled her and rubbed her belly.  I could definitely feel that she had some good, strong contractions.  At 12:02 am, Christmas morning, our first little girl was born.  7 more perfect, healthy, beautiful babies soon followed <3  What a Christmas blessing! <3  Ethan is one of Xoana's favorites and he wanted to sit with us while she had her babies.  It was a long night, so he was only awake intermittently, but I know Xoana appreciated having her little buddy there.  <3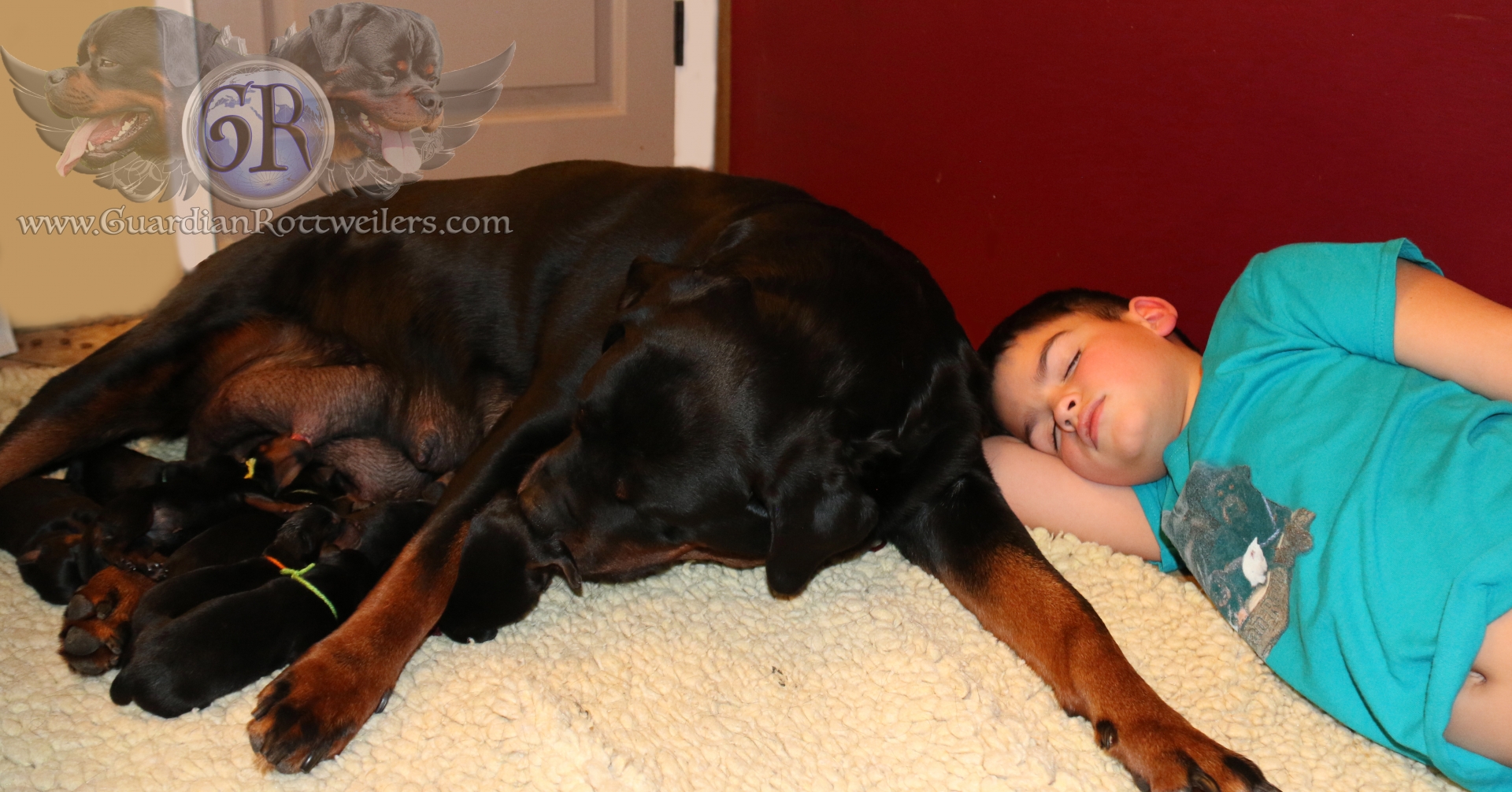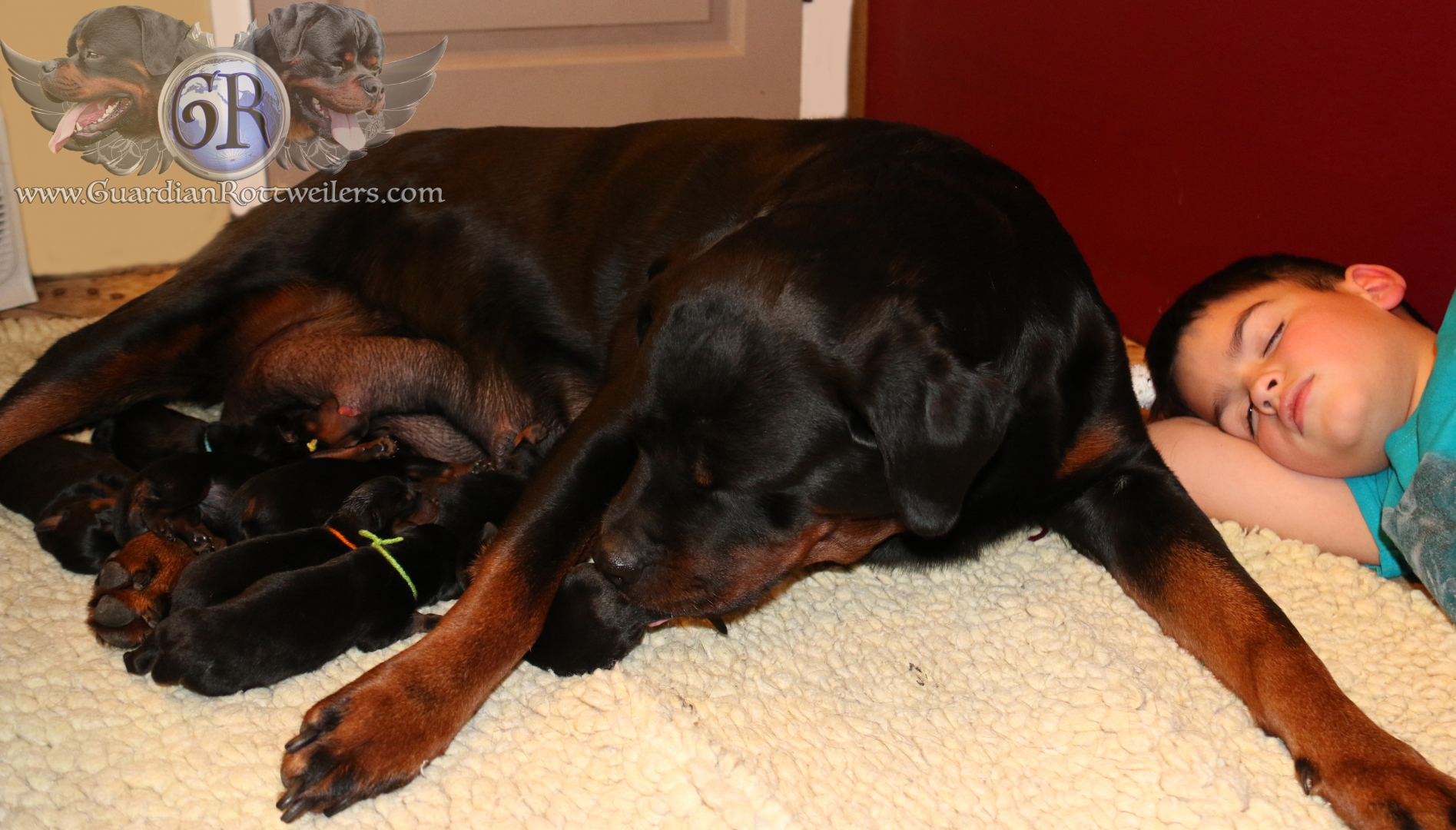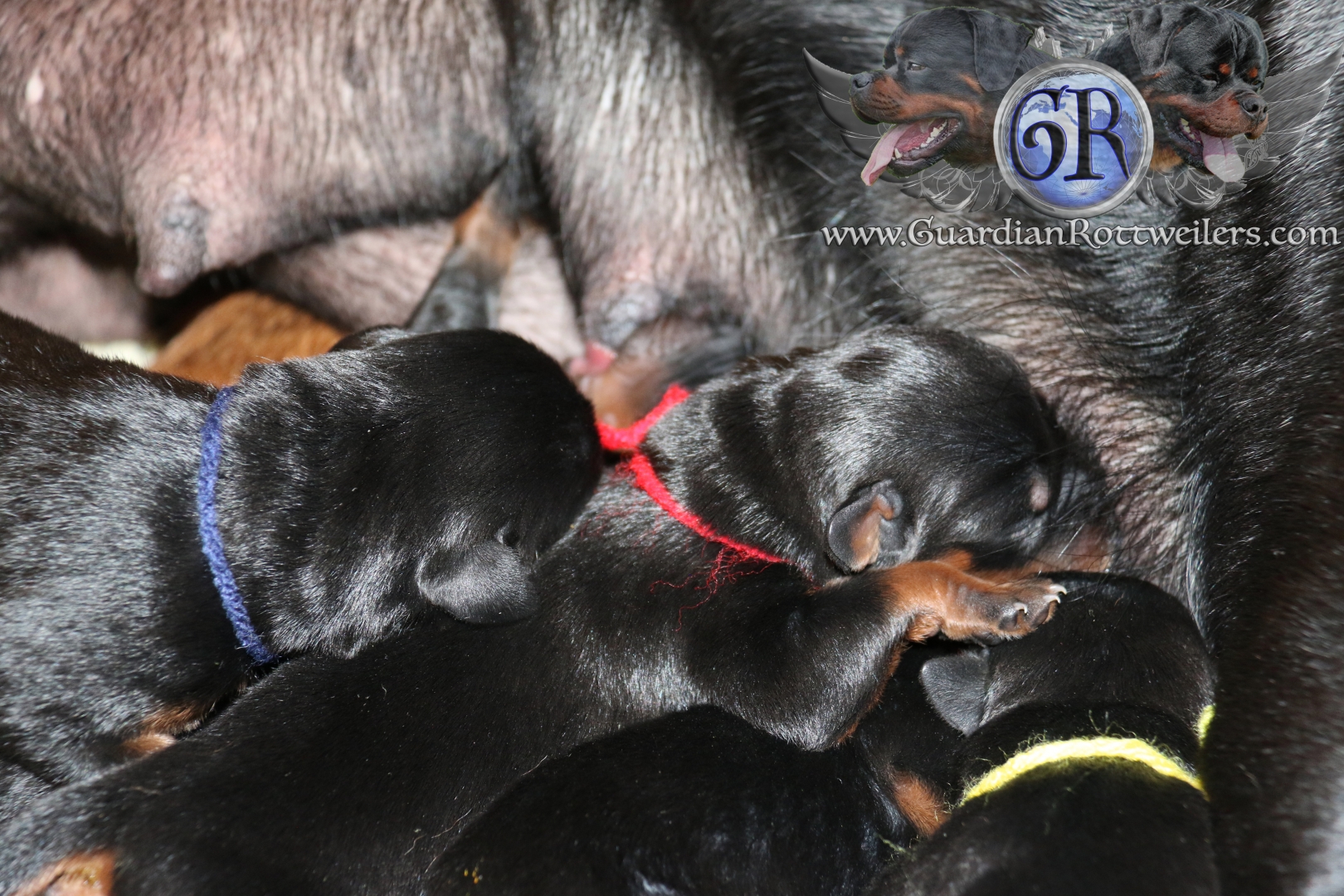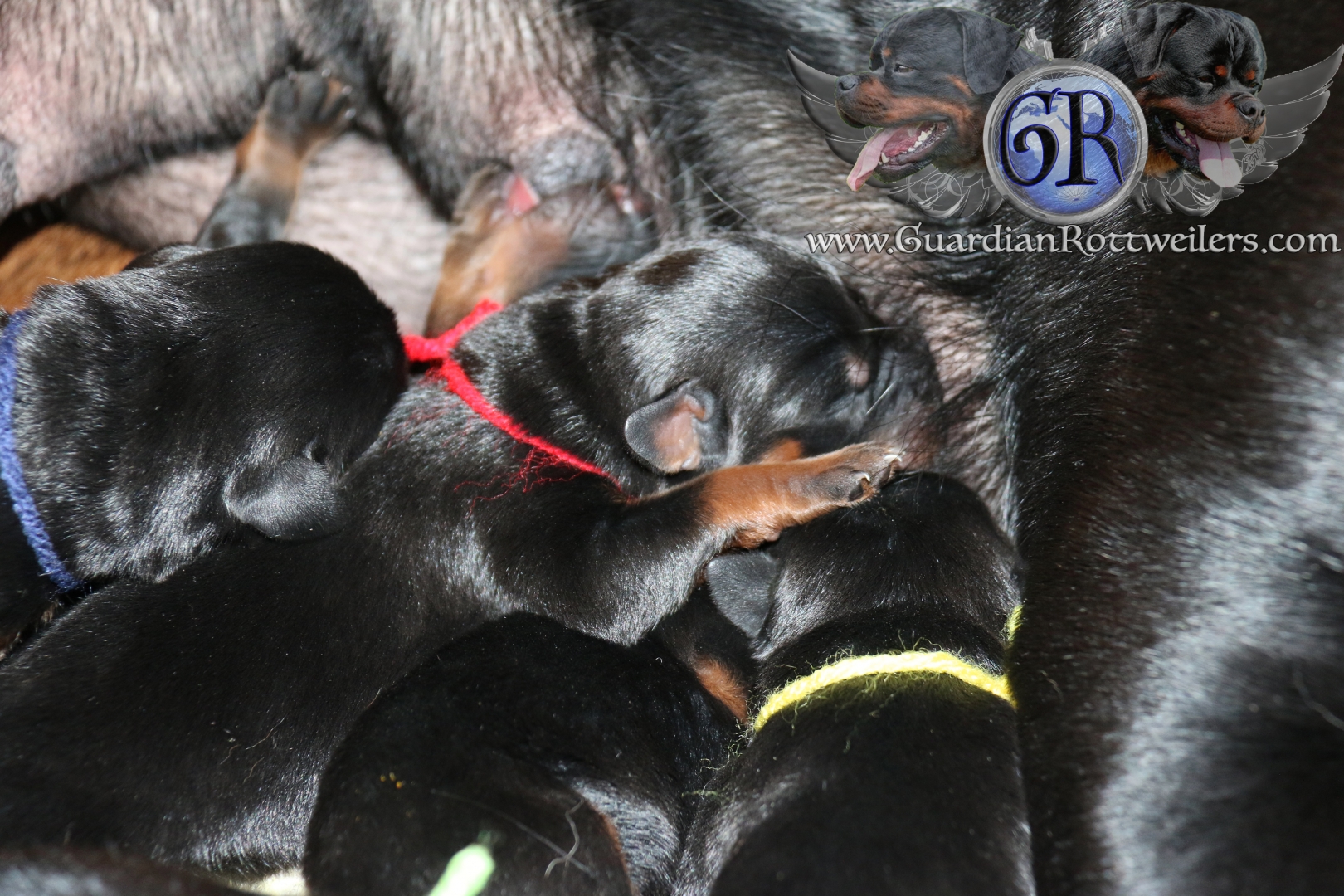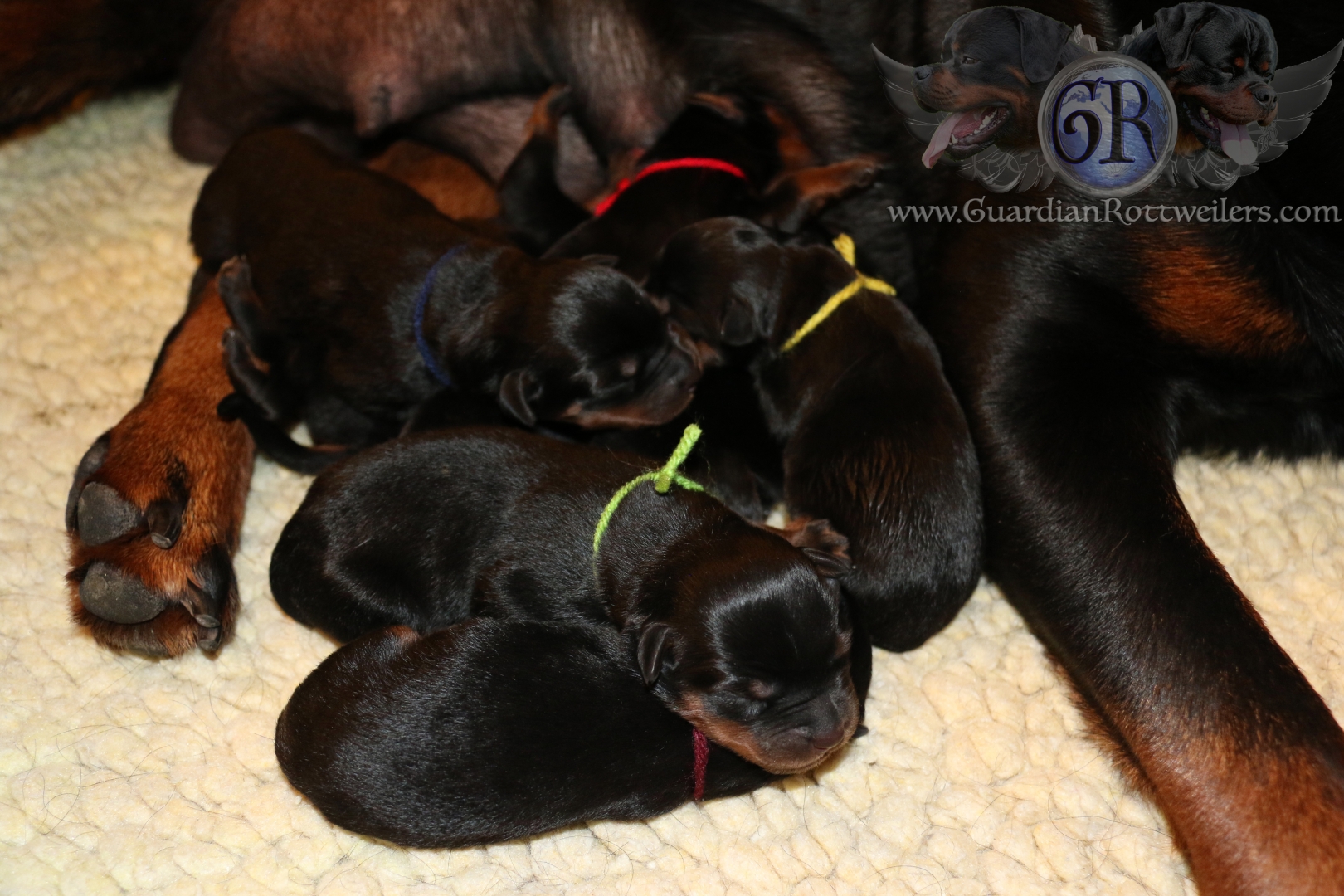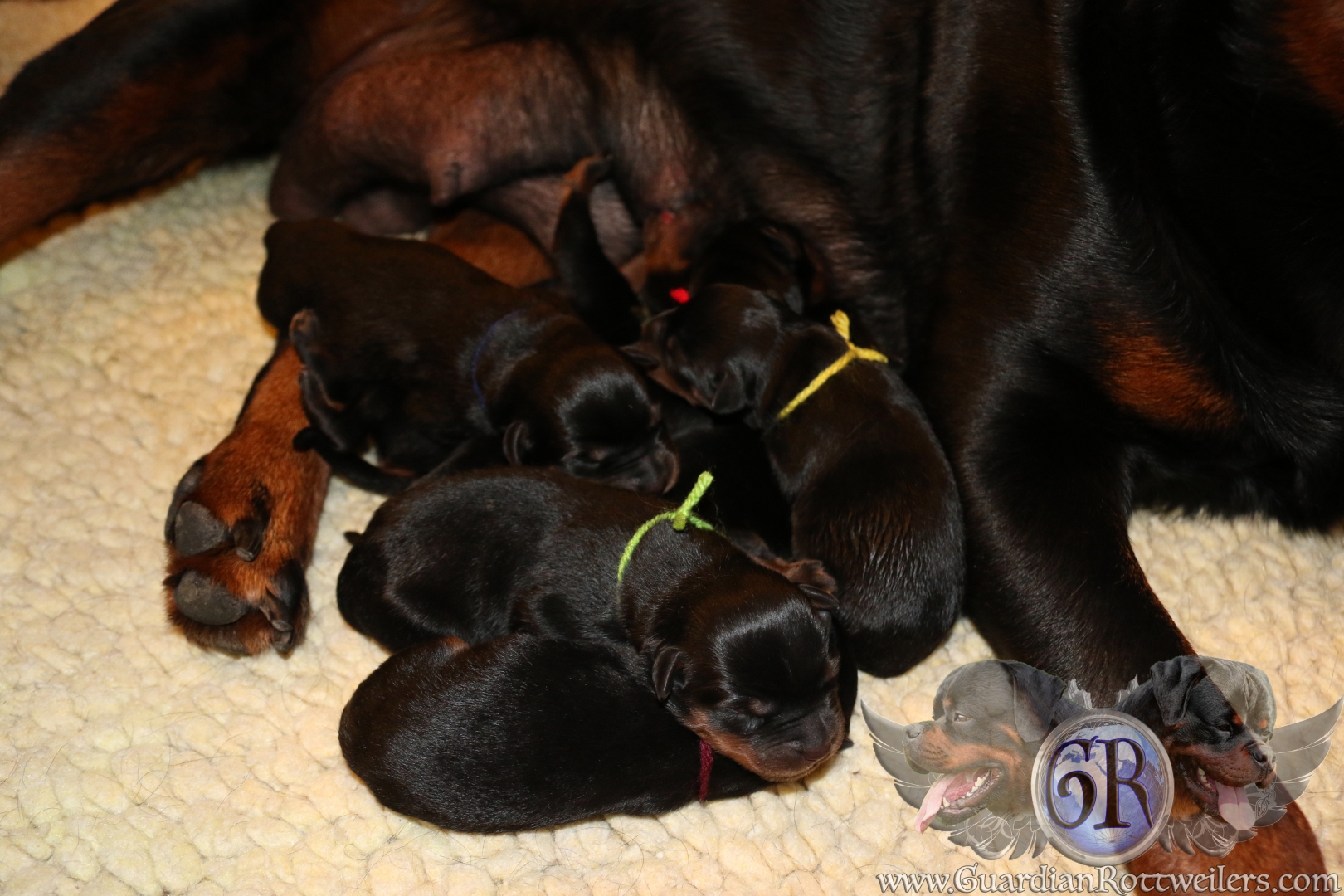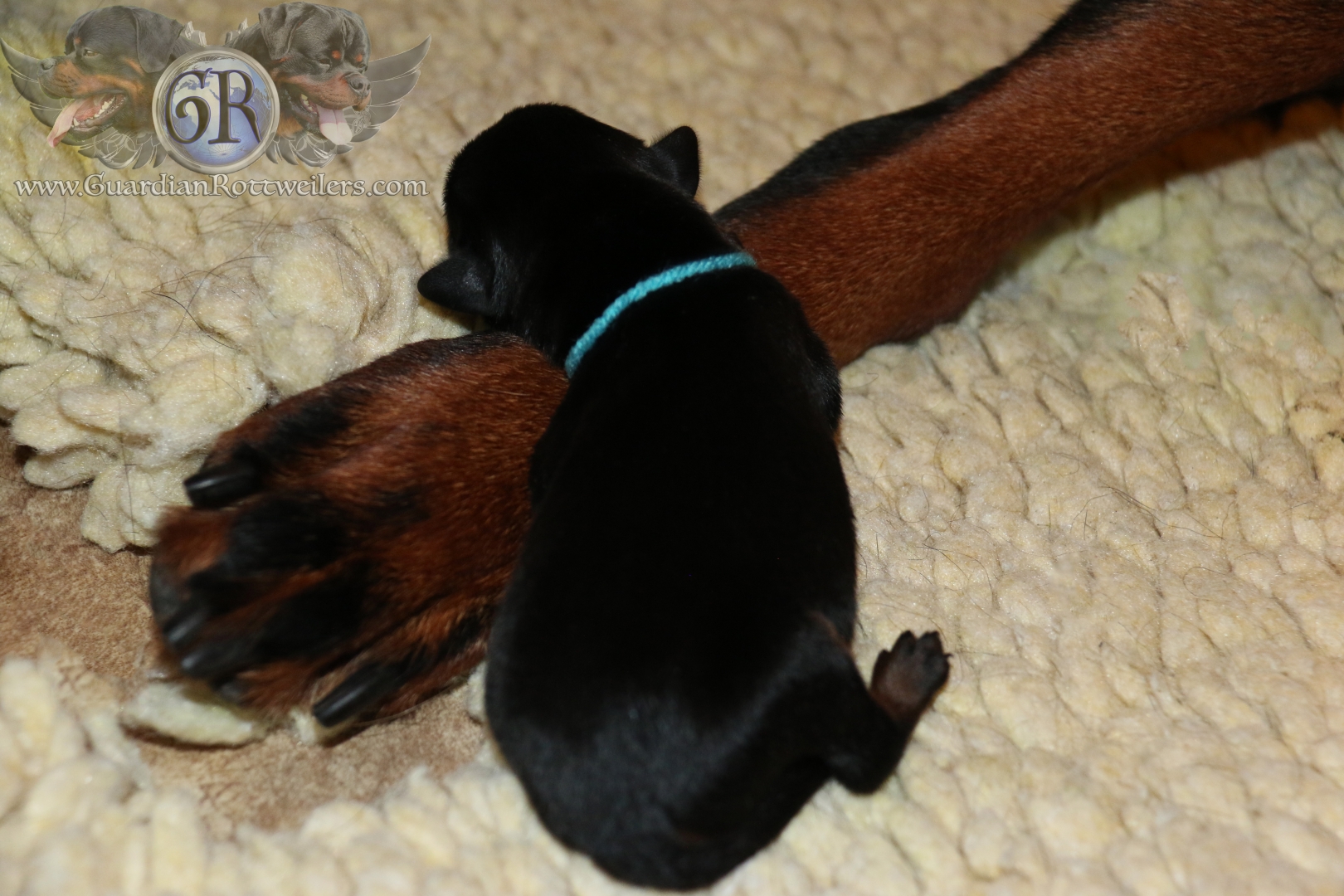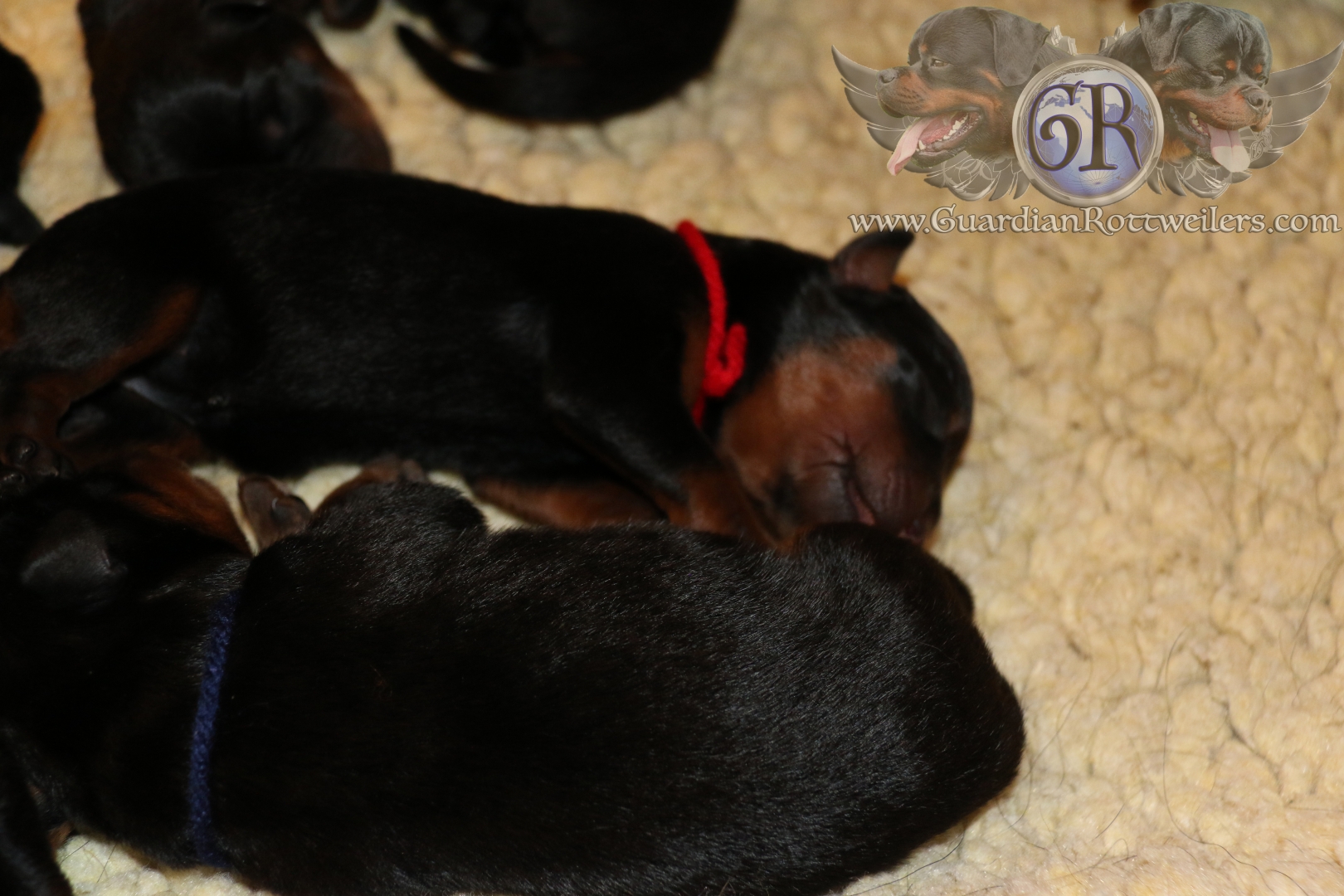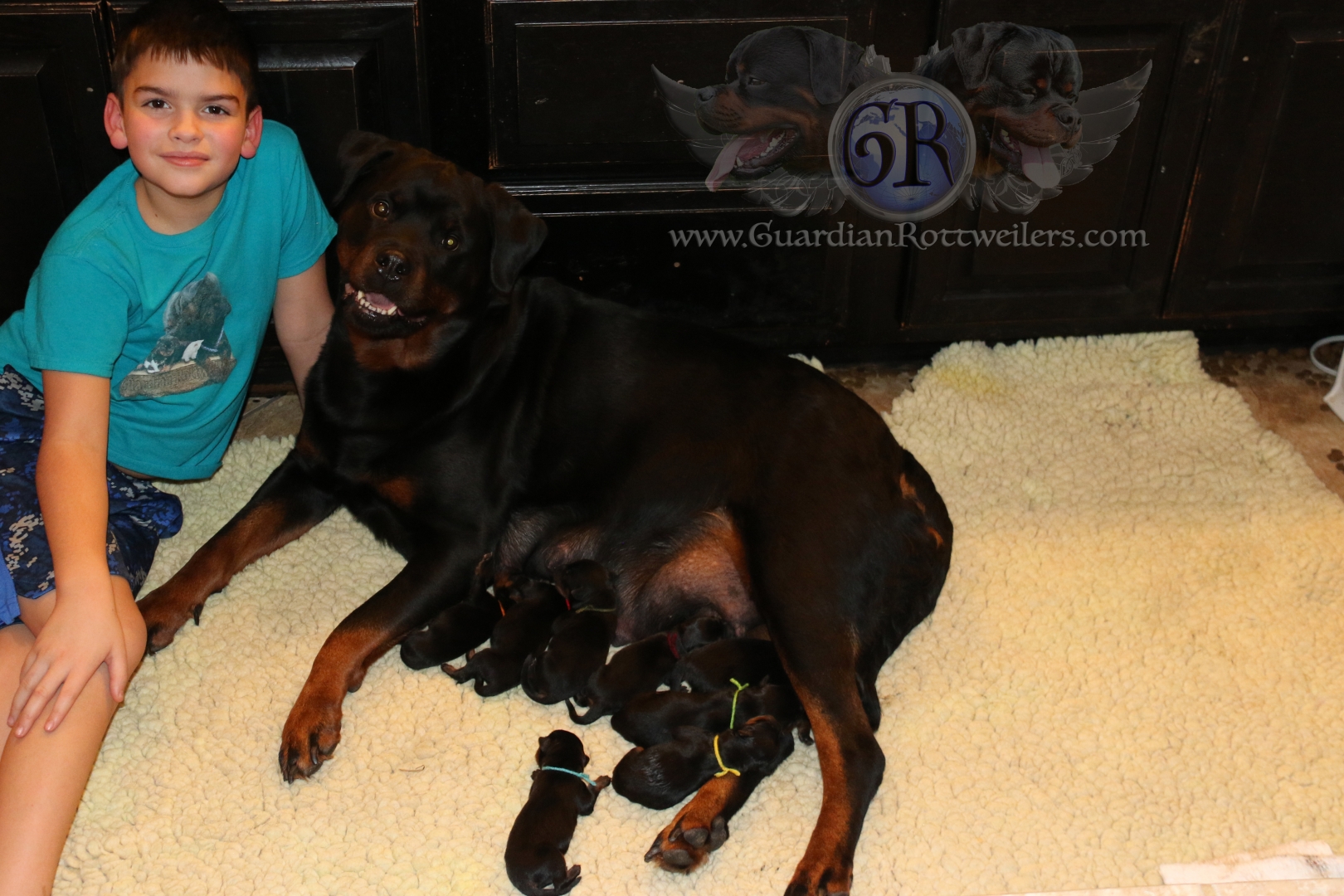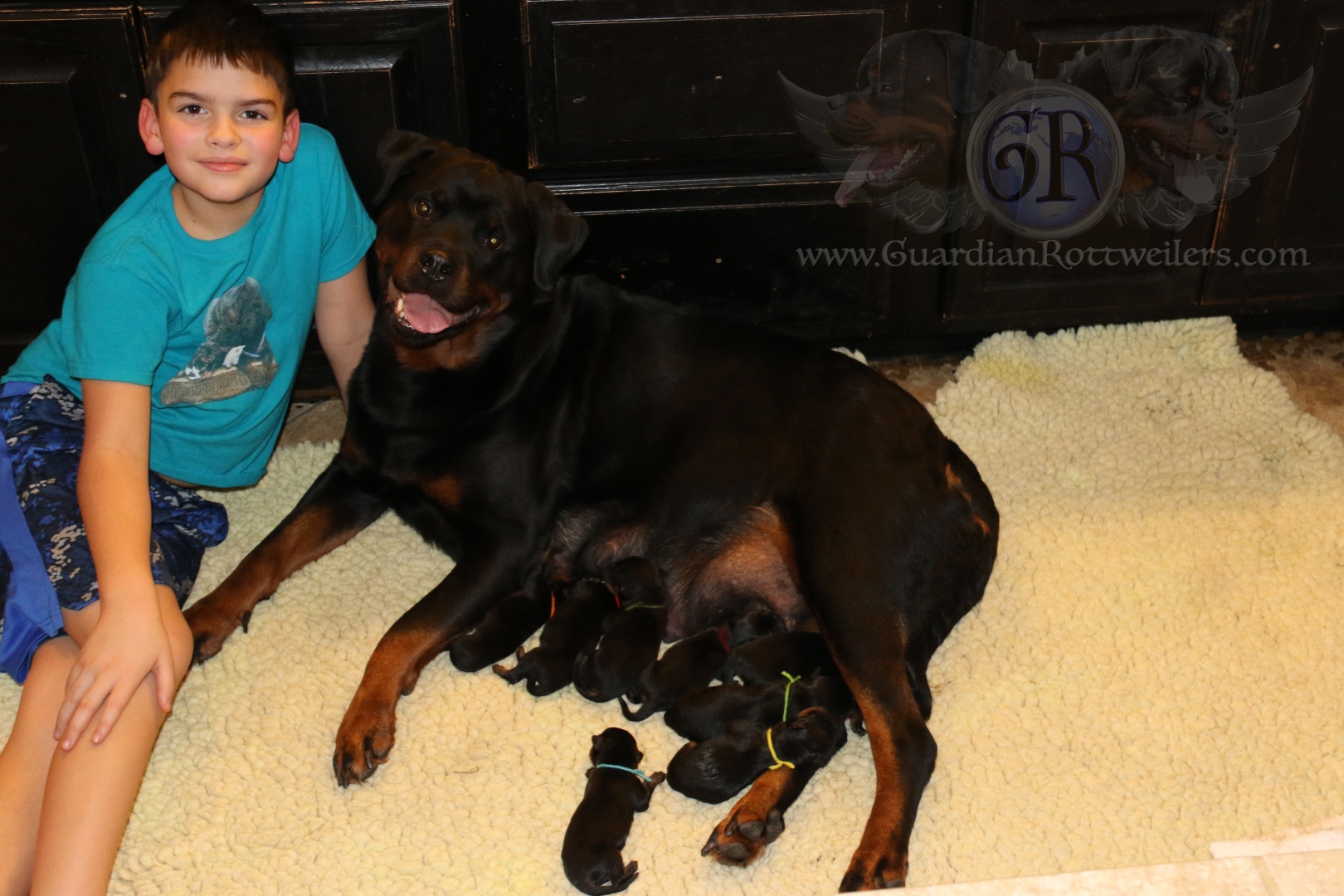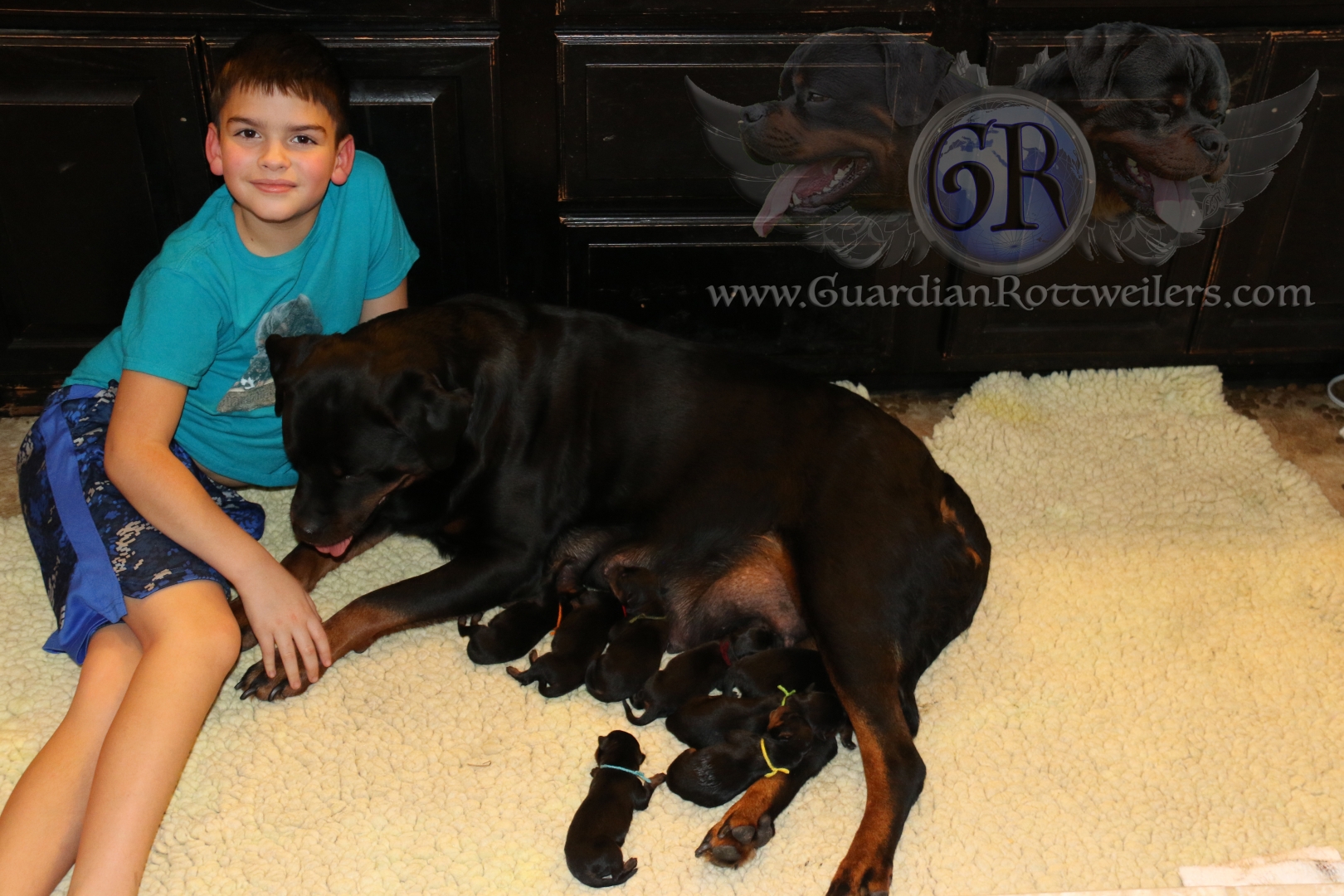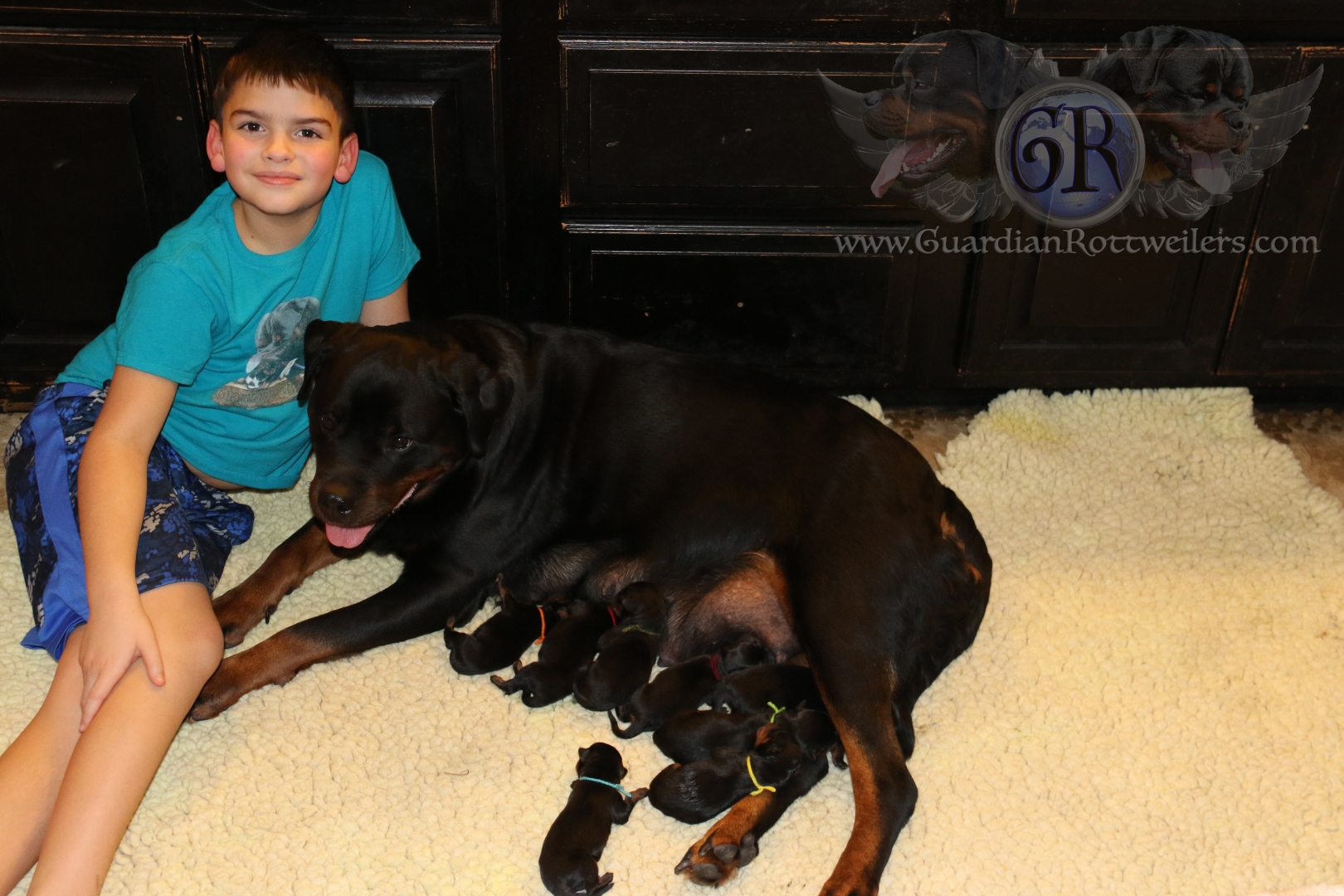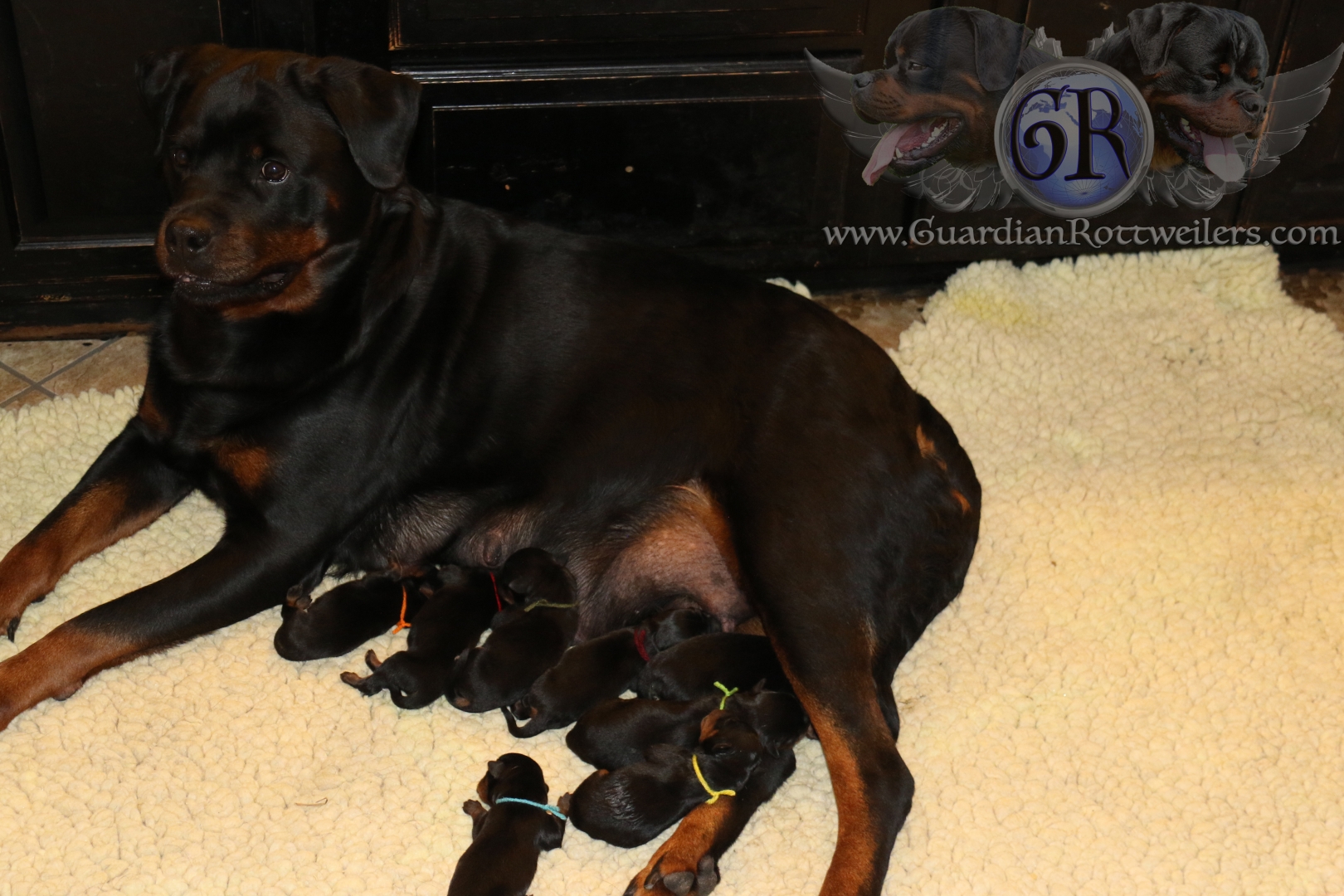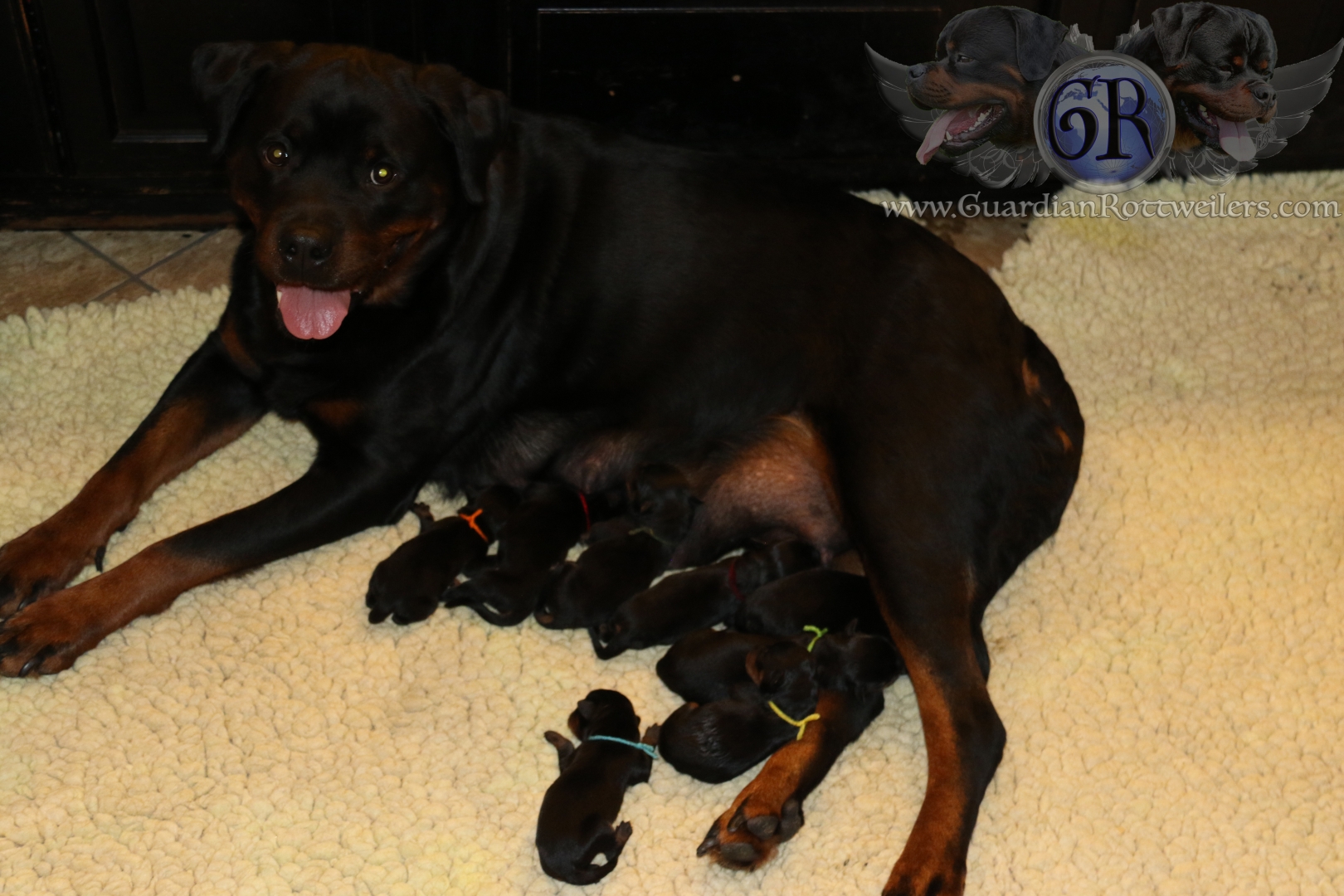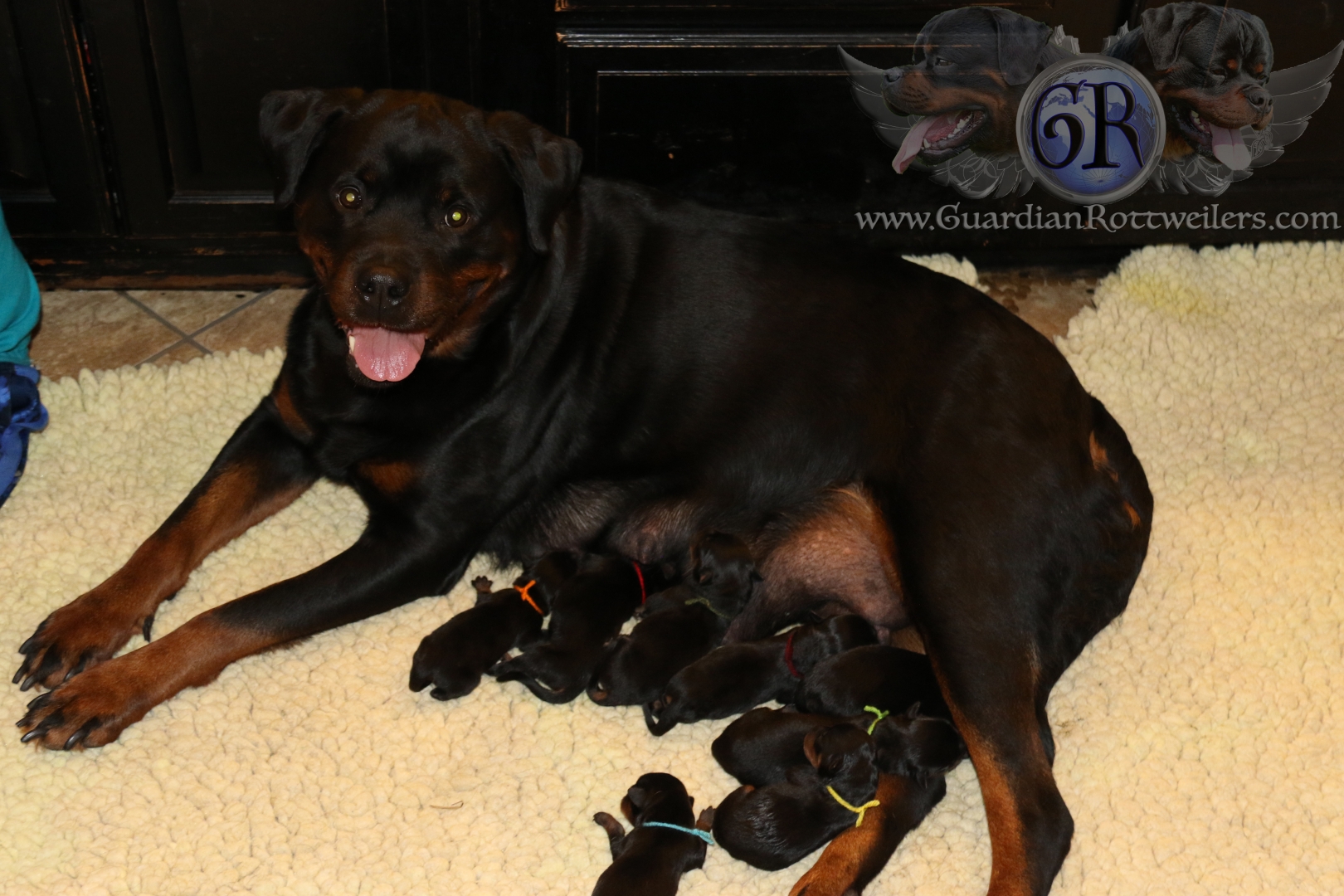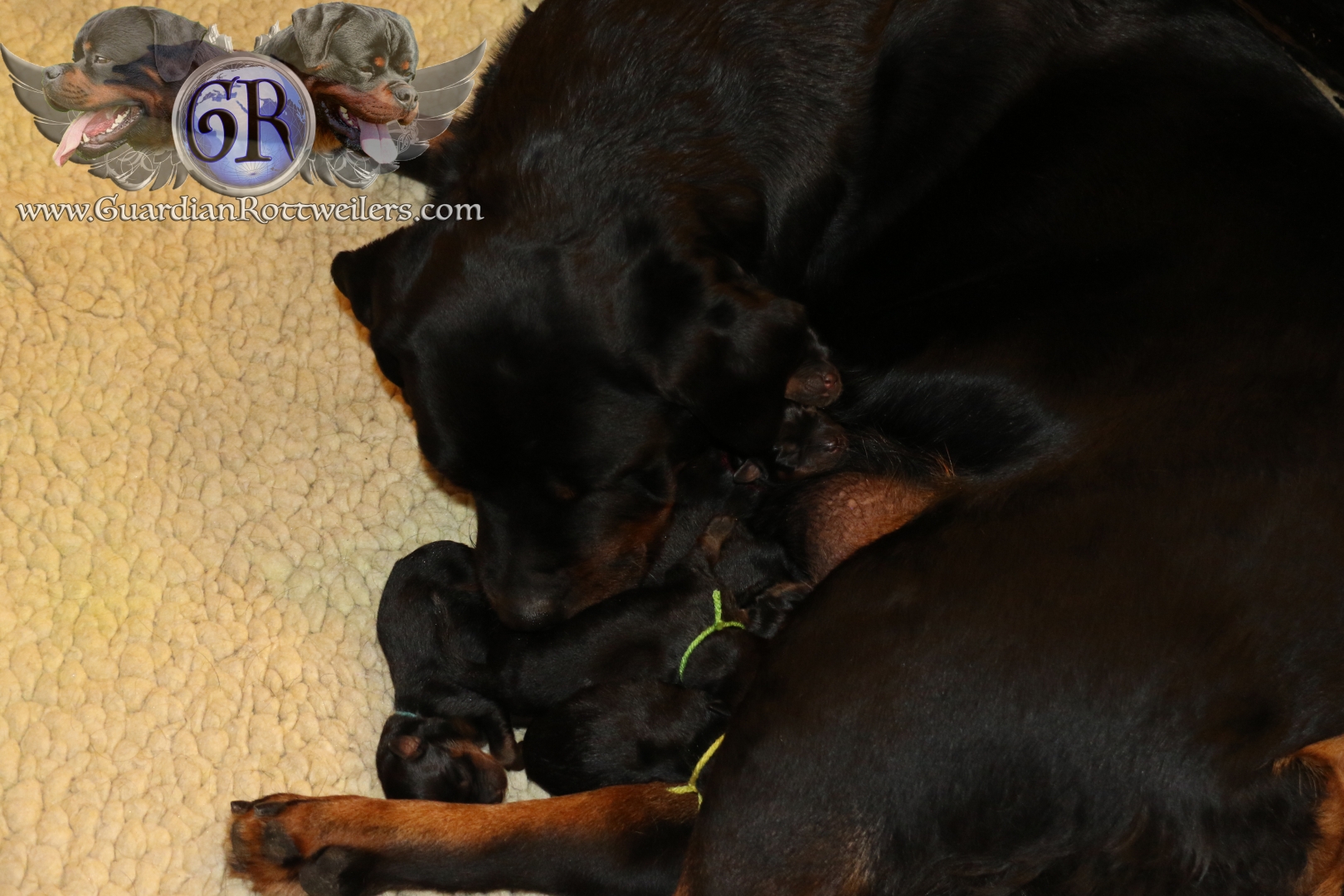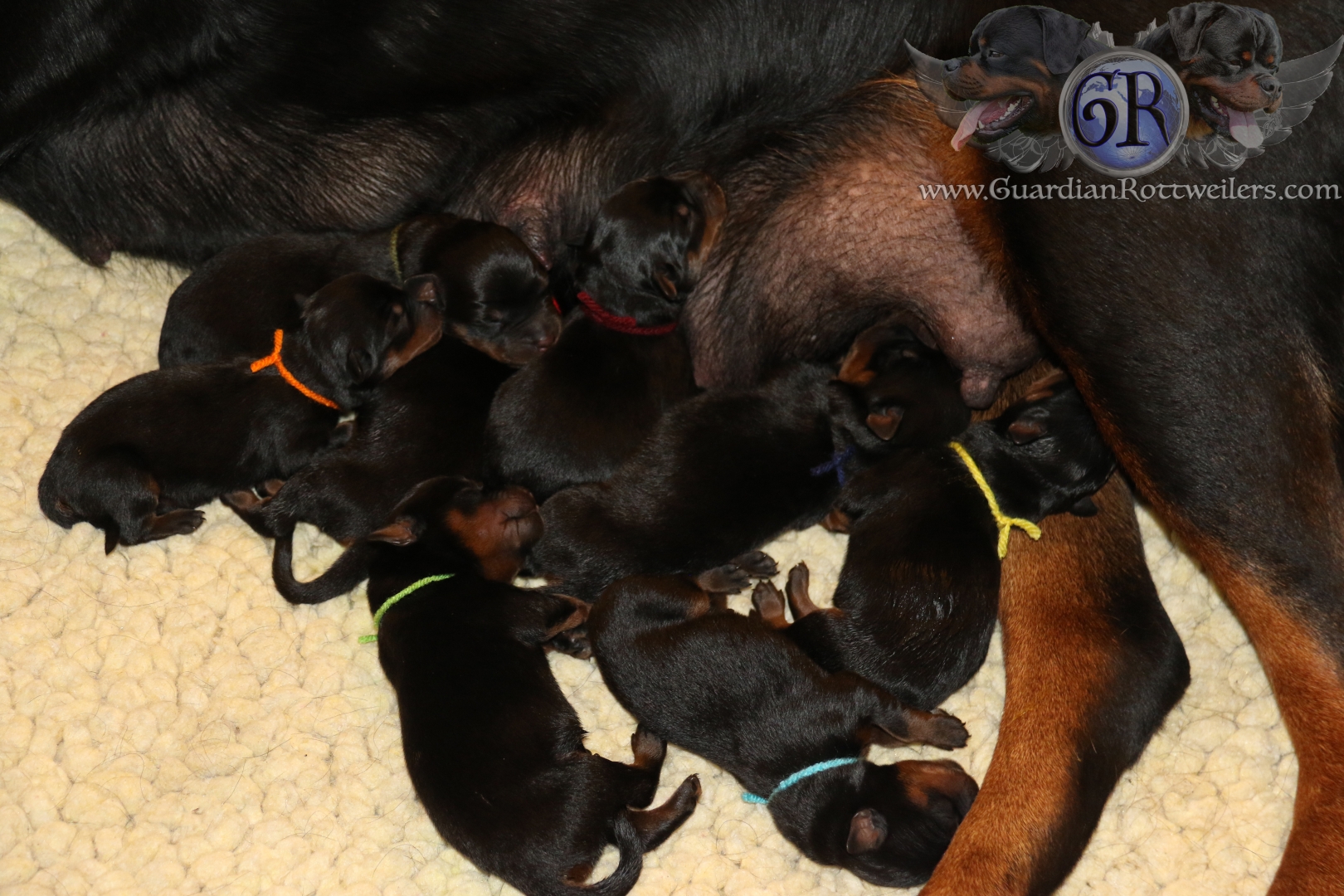 Xoana's little Reindeer at 4 weeks old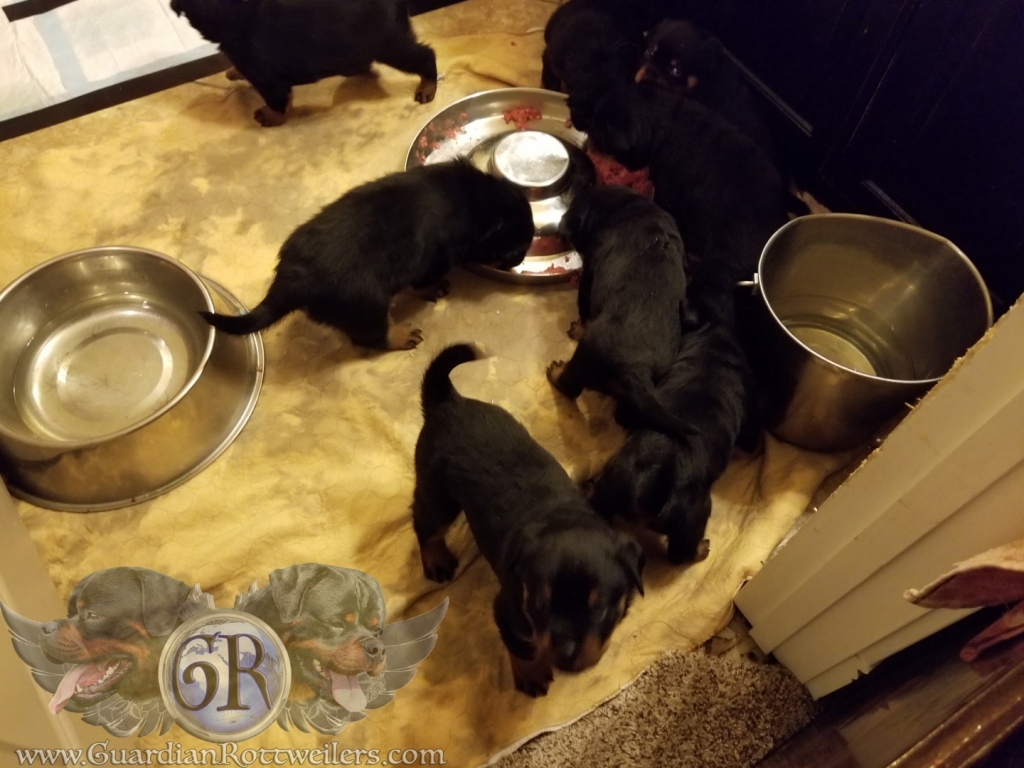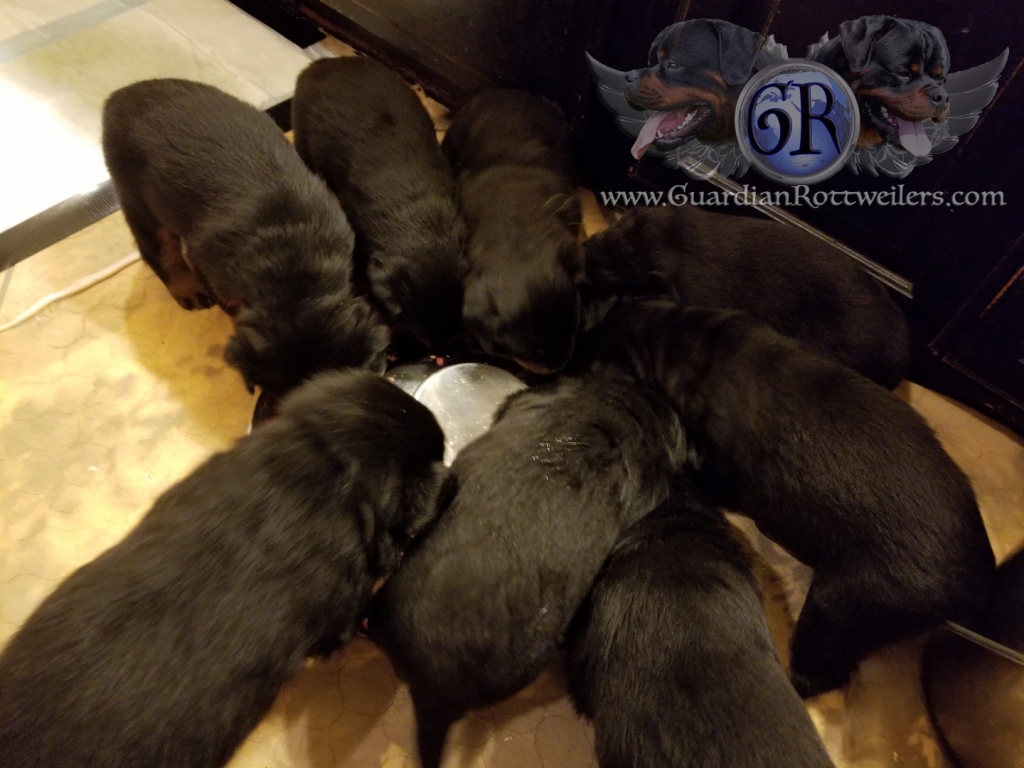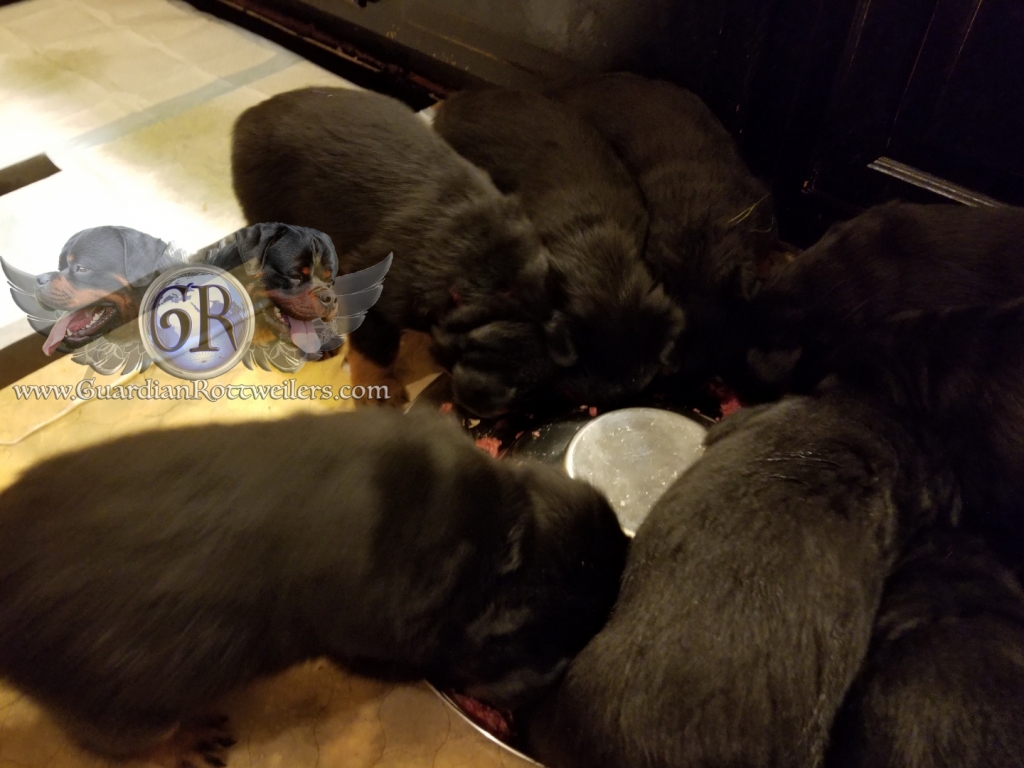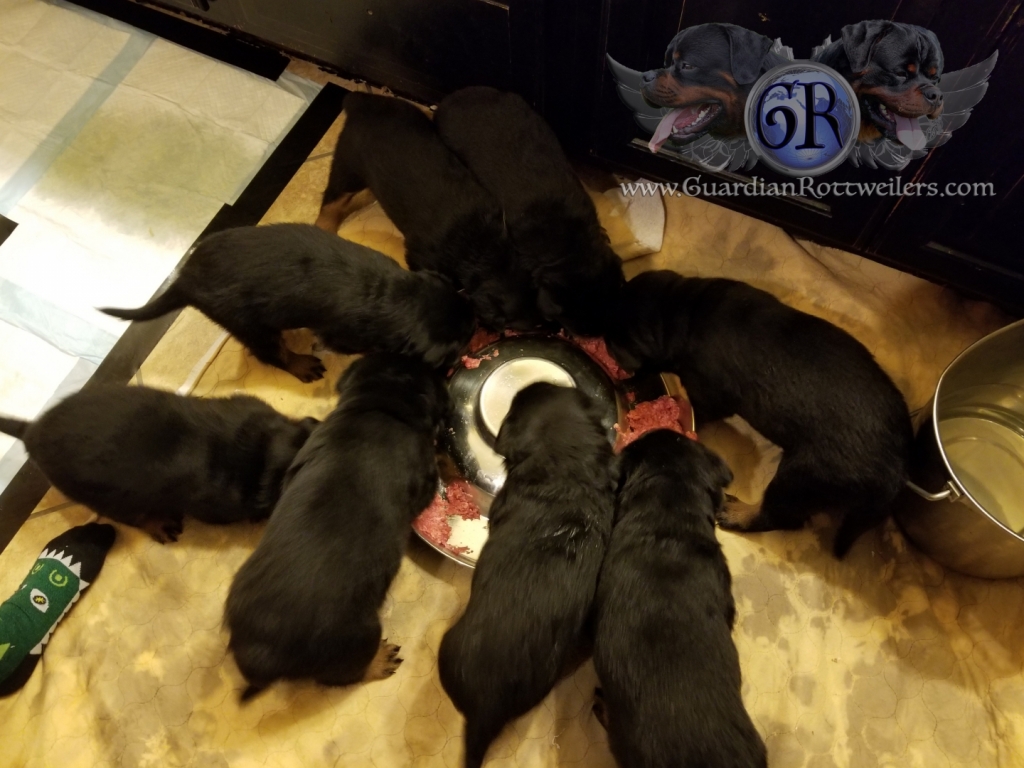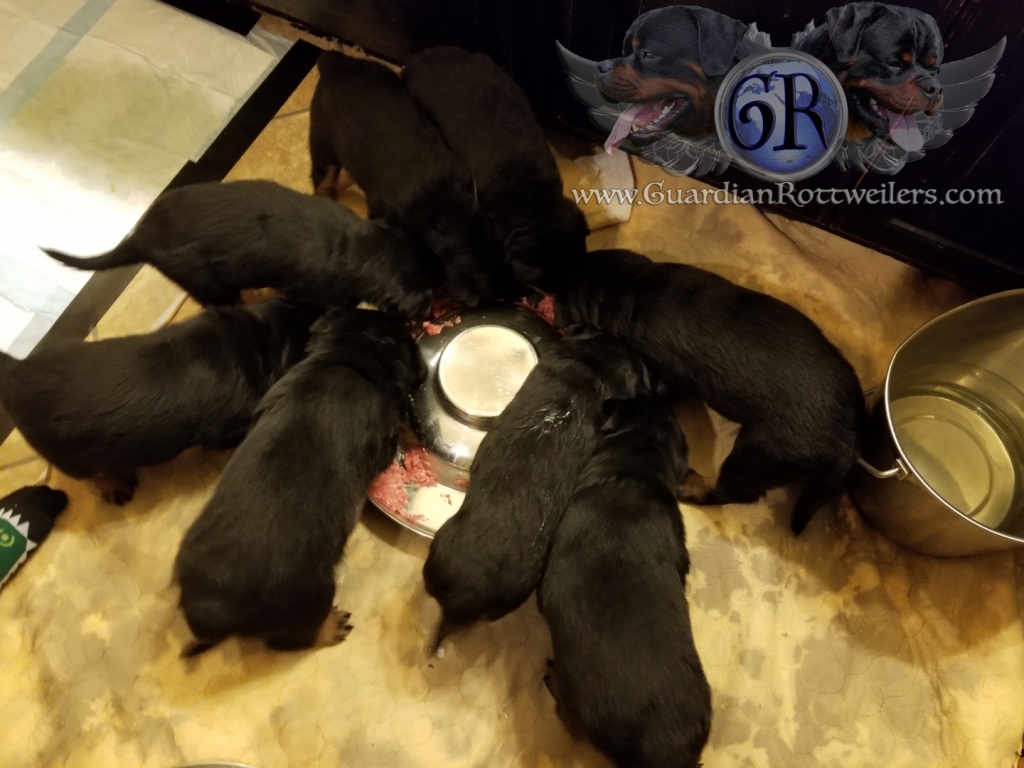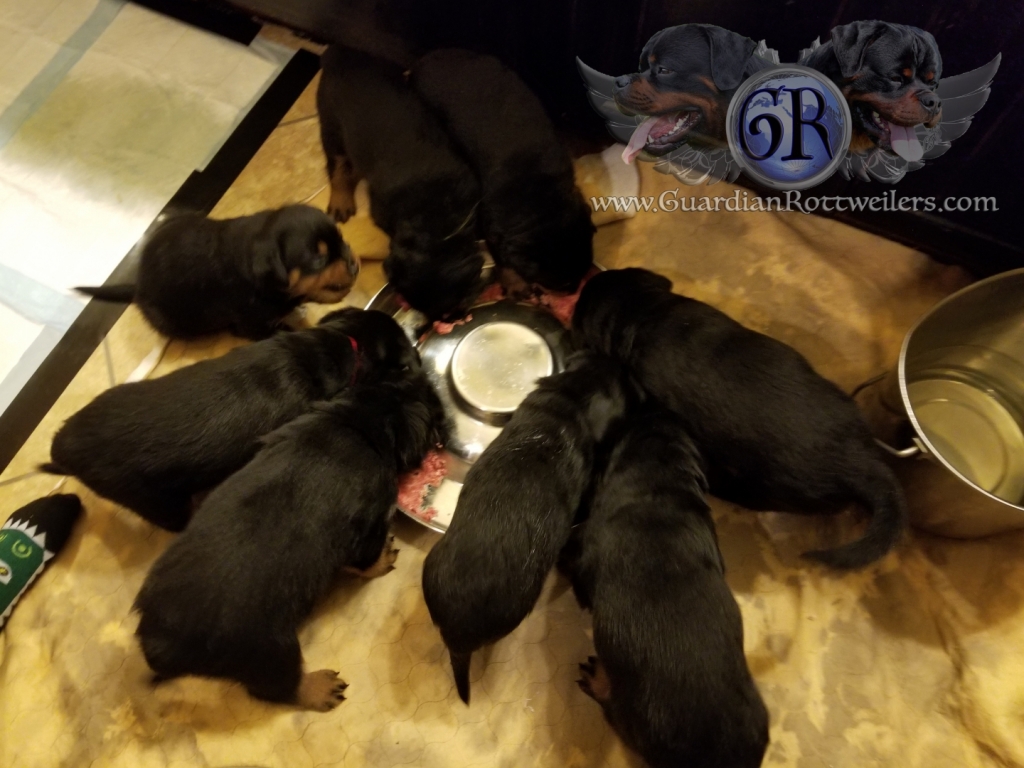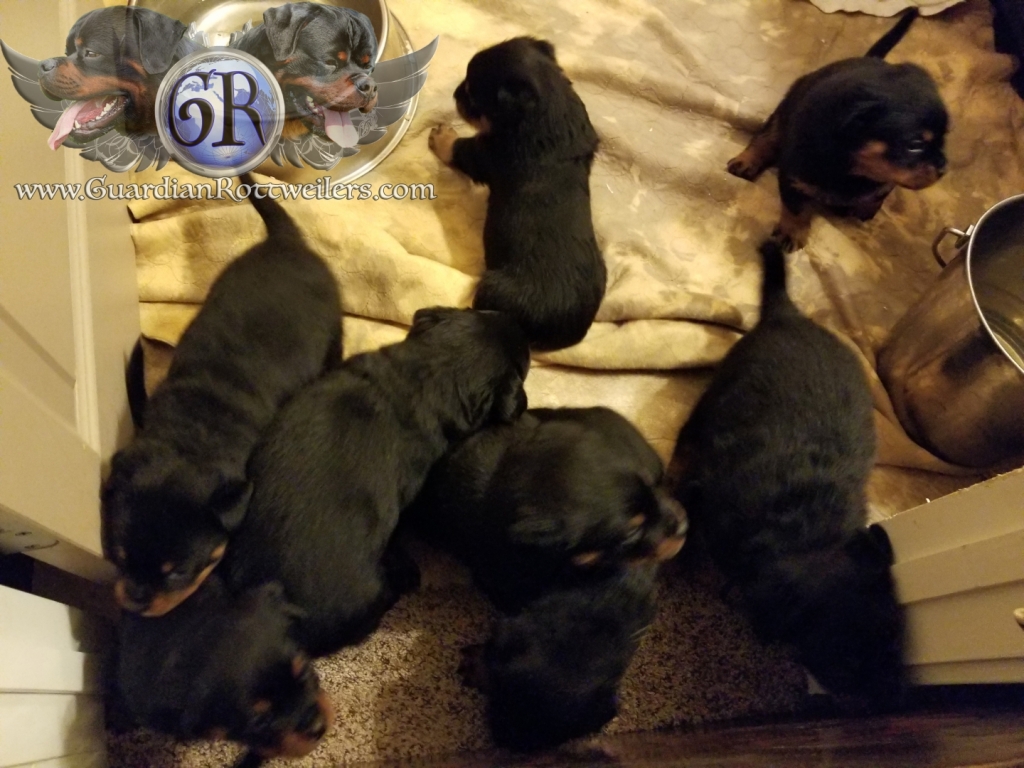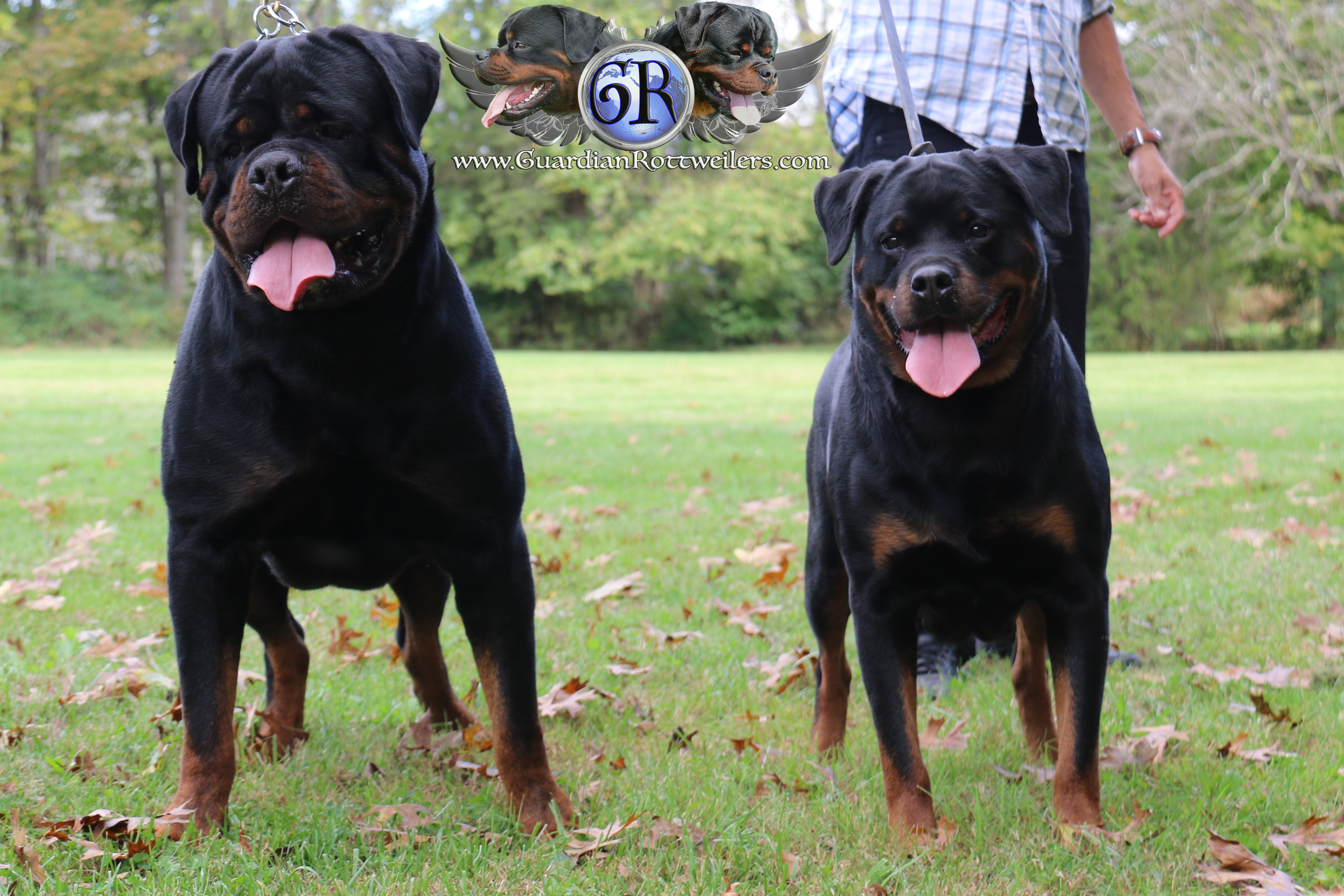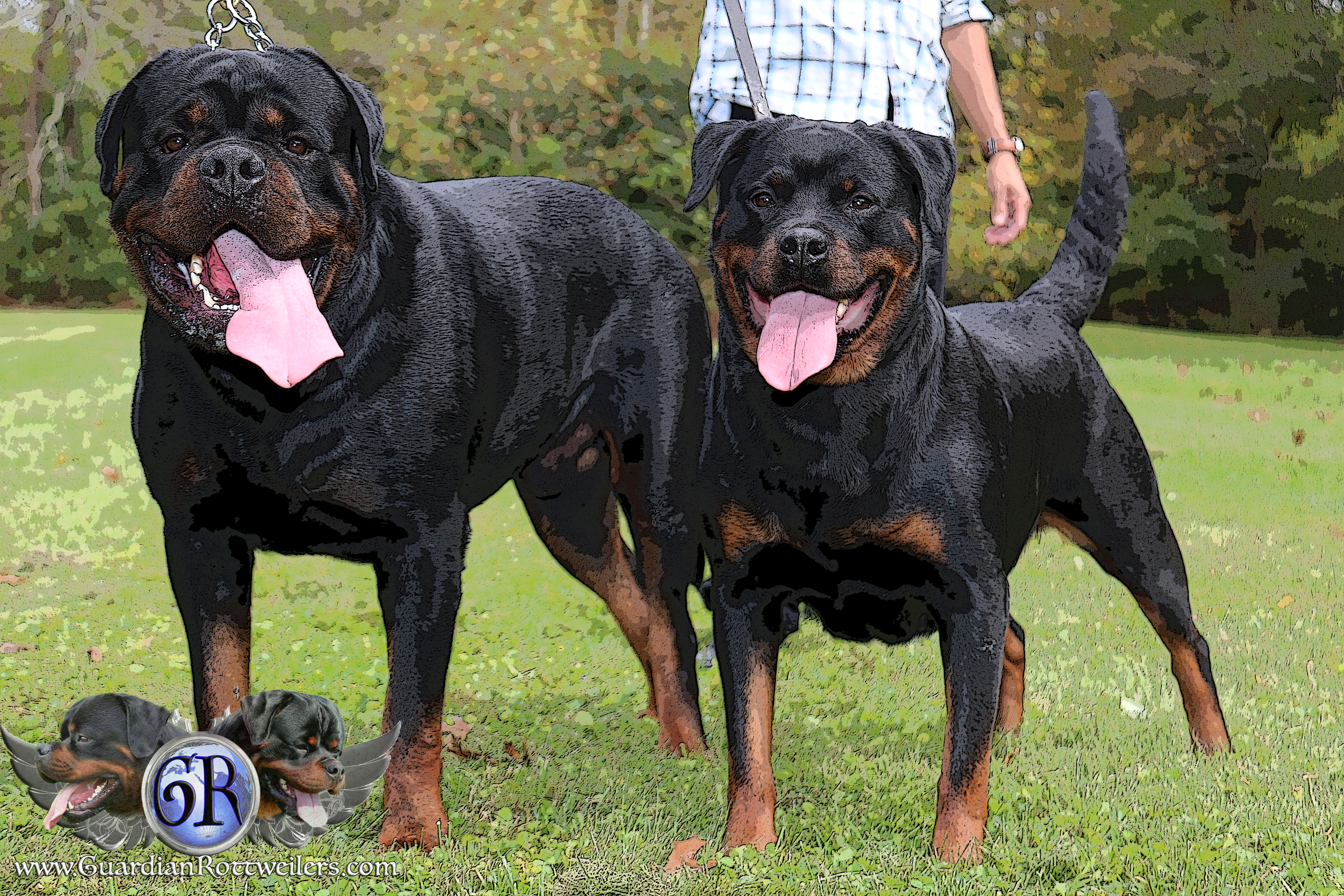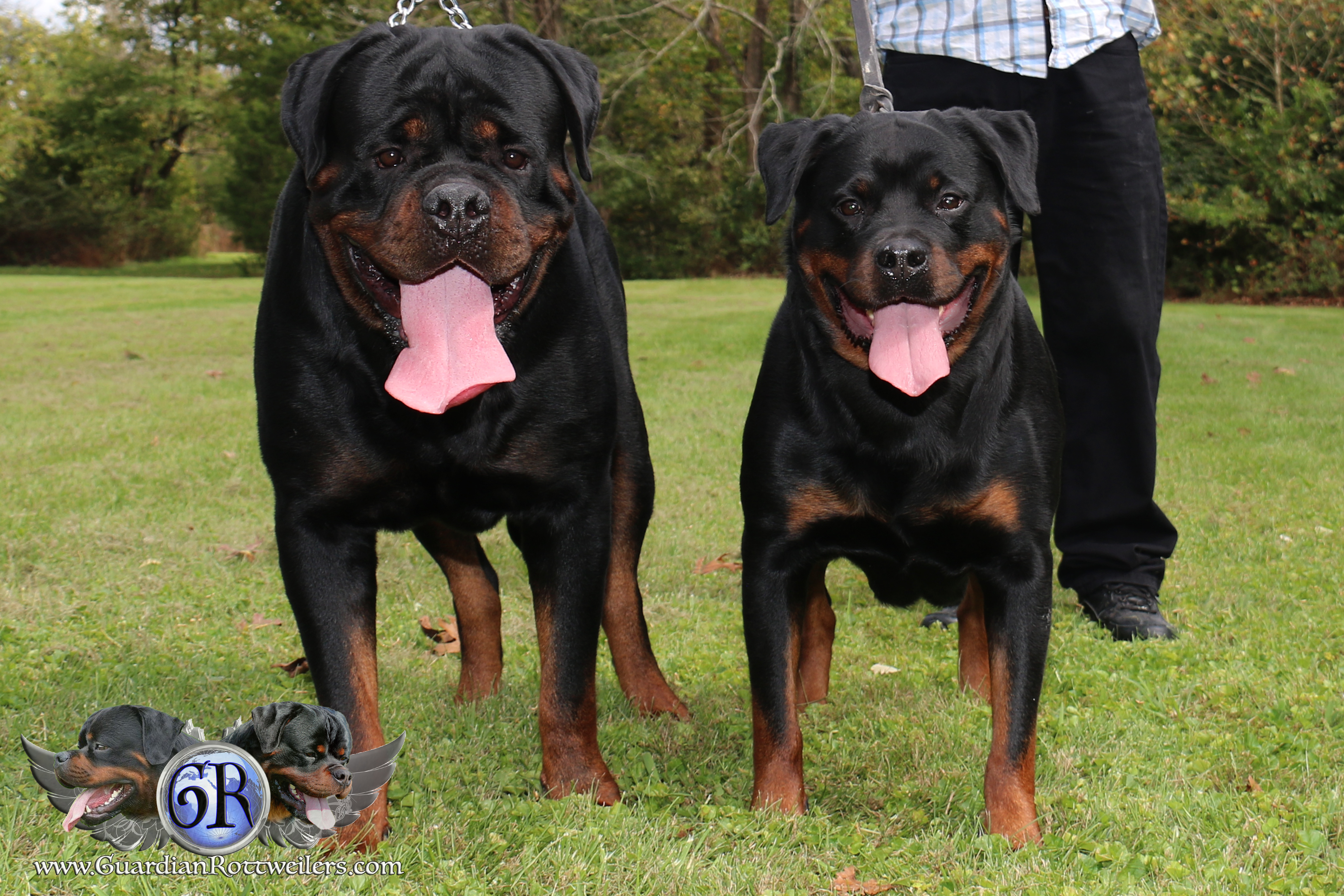 ---
"Schatzie" Guardian Cupid Von Gottschalk
Hi Alice,
Cupid is doing awesome.  She has mastered the stairs thankfully.  At her Vet visit she was 12.6 pounds.  She has become a little spitfire, she is so fast and she loves to jump and fly through the air.  I can see her thinking and figuring things out as well.  She is walking well on a loose leash, until she decides it time to run of course.    Our walks are not to far as of yet but she goes a bit further each day.   When the snow melts I am going to work with her getting used to a bicycle so she can run if she wants and gets the workout she needs.  She is loving the snow also.  I can't wait to see her in it next winter.  She is doing very well coming when called and she is working on the sit.  She still doesn't like it if I'm out of her sight.  She is taking turns with my
Leika
the boxer, on car rides to pick up my grandson after school. I can't take her out of the car at school (school policy)  but she seems to be getting lots of attention from other parents through the window.  We will start puppy classes soon to keep the socialization moving on and such.  I have also found a place where we can do drop in training also.   She is such a joyful addition to our family.  Thank you so much for breeding extraordinary pups.
Have a blessed day,
Sue
Hi Alice, Hope all is going well on your trip.
Just wanted to give you a short note about Cupid.
I have decided to call her Schatzie, which means little sweetheart.  What a girl she is.   She is for sure confident.  Size of the other dogs means nothing to her.  She hops right in with all the big dogs and goes about her business.  She is feisty, silly and such a joy.   She is already responding to the come command.  Potty training is progressing well also.  She loves her crate and she naps and eats in it very well.
Night times are better than expected.  She is sleeping through the night in my bed.  I had started with a box on its side so she could see me, but she pushes that on the floor and just sleeps on the bed.  She does move around a lot and is so funny as she just plops herself down.  One of her favorite things she does is thinking she can fly.  We have a lot of stairs which she hasn't mastered yet so she runs down the hill and launches herself.  Its only like 6 inches high but with her style she makes it look like a hurdle.  Today we had a snow storm so she is testing that out on her potty breaks.  She has her vet visit tomorrow and I'm sure she will do fine.
What an awesome girl she is.  Thank you so much.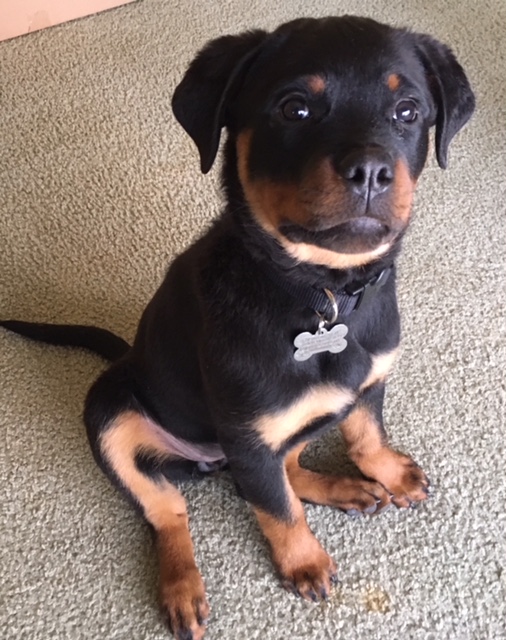 Hi everyone, Cupid here.  I'm doing awesome and enjoying my sister dogs here. My favorites include flying onto their backs and running away from or to get them.  I had another visit with my Vet today and I've gained 10 pounds in four weeks.  She said I was a sweetheart and very healthy.  I start school on April 12th but I'm learning the basics in the mean time.  The little boy here wanted to know what my backpack would look like cause everybody that goes to school has a back pack.  I get to go on lots of car rides and walks and I'm meeting lots of peoples and dogs.   I'm really a confident outgoing girl and I believe I can do everything I put my mind to.  There is so much to choose from though.  I'm such a good dog and I attract lots of attention wherever I go.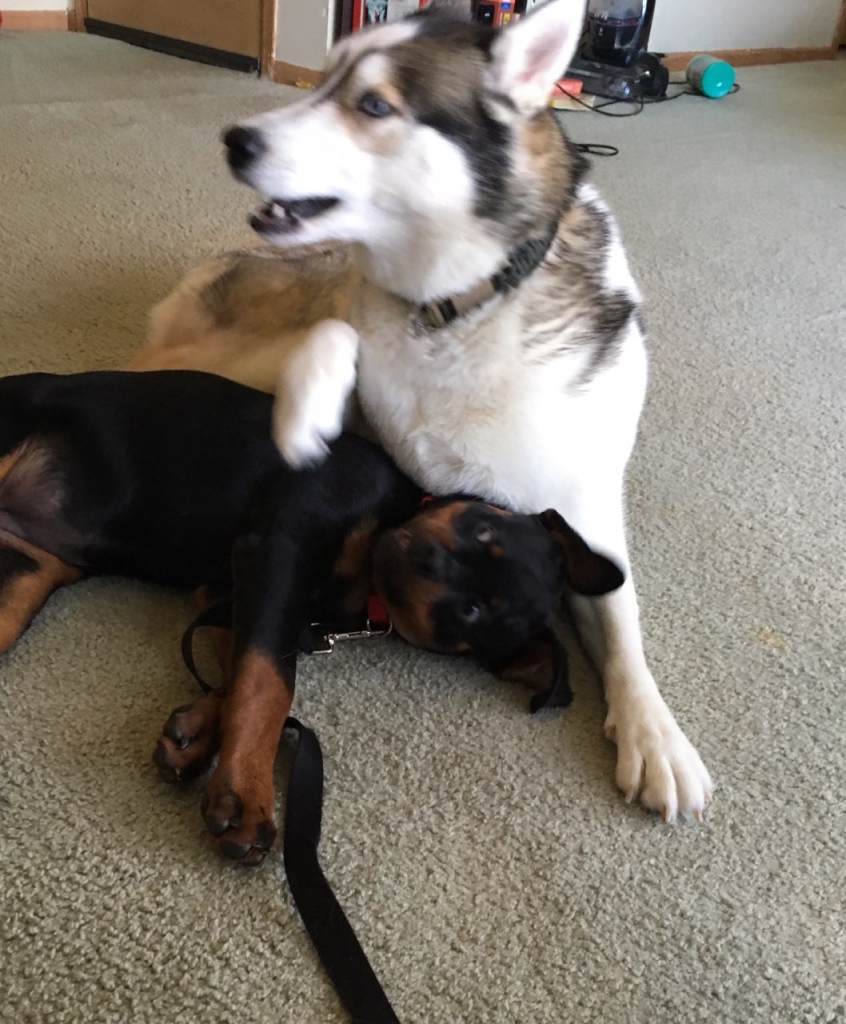 Hi guys Cupid here with another update. I've started school now and I've gone to two classes everyone says I'm beautiful and confident. Needless to say I'm a quick learner to I've got my set ,my down, my heel and my come all ,figured out, At least most of the time. The other day mom and I had a herd of deer run across in front of us while walking. And then we got back to the yard and the crazy goose try to check me out. It was flying really low. I get lots of playtime with my sisters and awesome walks with mom. I'm doing really well And I'll write again soon
Cupid's discovery of the end of her leash. Almost as good as last weeks discovery of her tail. I have never seen a dog spin so fast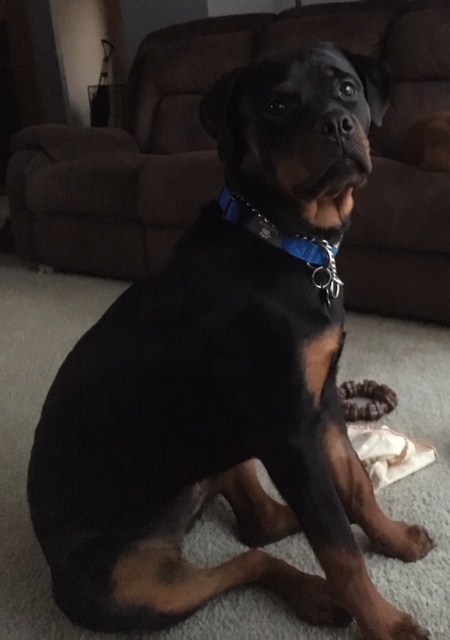 Hi everyone, Cupid here. Can you believe I'm 8months old? Mom caught me watching the new neighbors again. There have been lots of changes in the neighborhood and I have to stay on top of things.
Mom says we are moving too when the house sells. I've been watching her painting and even helping now and then. My favorite is to back my butt into a freshly painted wall or to put my head between railings. Needless to say I've had some interesting paint designs on my body. I also like playing in the water that comes out of the hose and putting my toys in the shower when Mom's in there. ( Cupid 's rule: There shall not be any closed doors between Mom and I). I continue to train Mom as she continues to train me. We have lots of fun training each other. I'll catch y'all again soon. All my lovies to the family. CupidHi Guardian Family it's Cupid with an update. I have been a busy girl. Today I passed my AKC STAR puppy test with flying colors. I'm continuing to go to school too. It's a great place to show off. And I love the peoples. I'm in a class with all older and bigger dogs and I continue to shine. I checked my weight at the Vets the other day and like all other times I've gained another 10 lbs., so I am 44 now.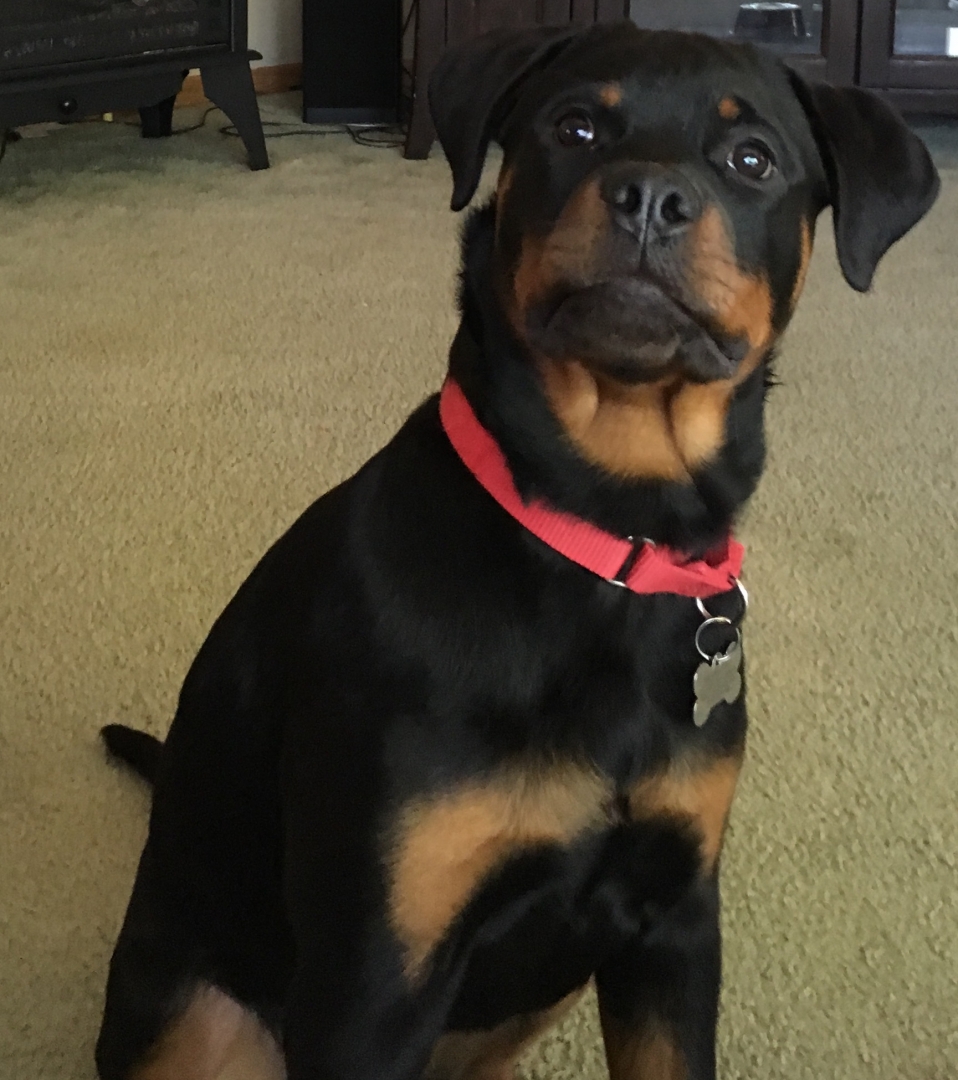 Cupid and I are wishing y'all a Happy Thanksgiving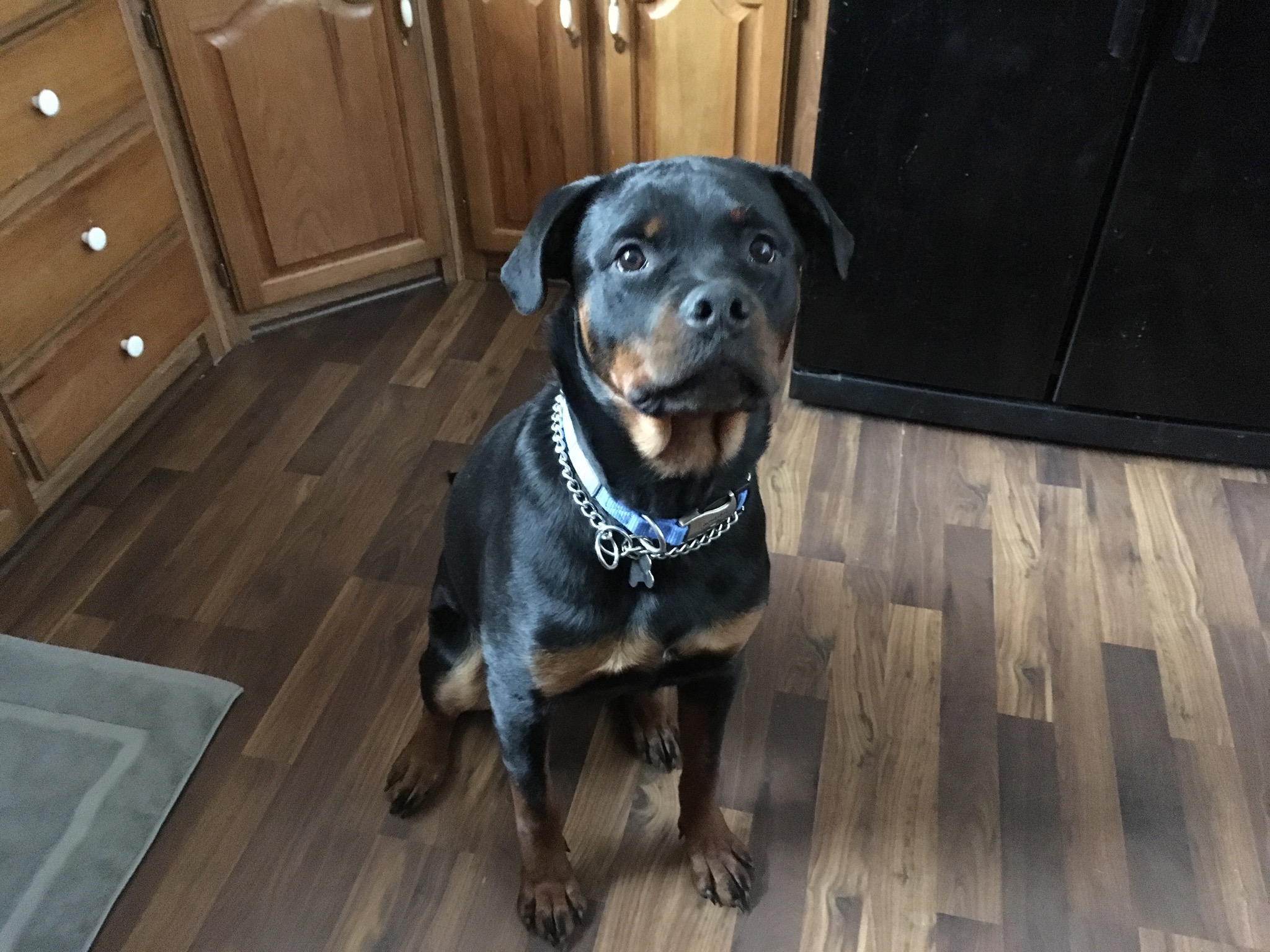 Cupid says hi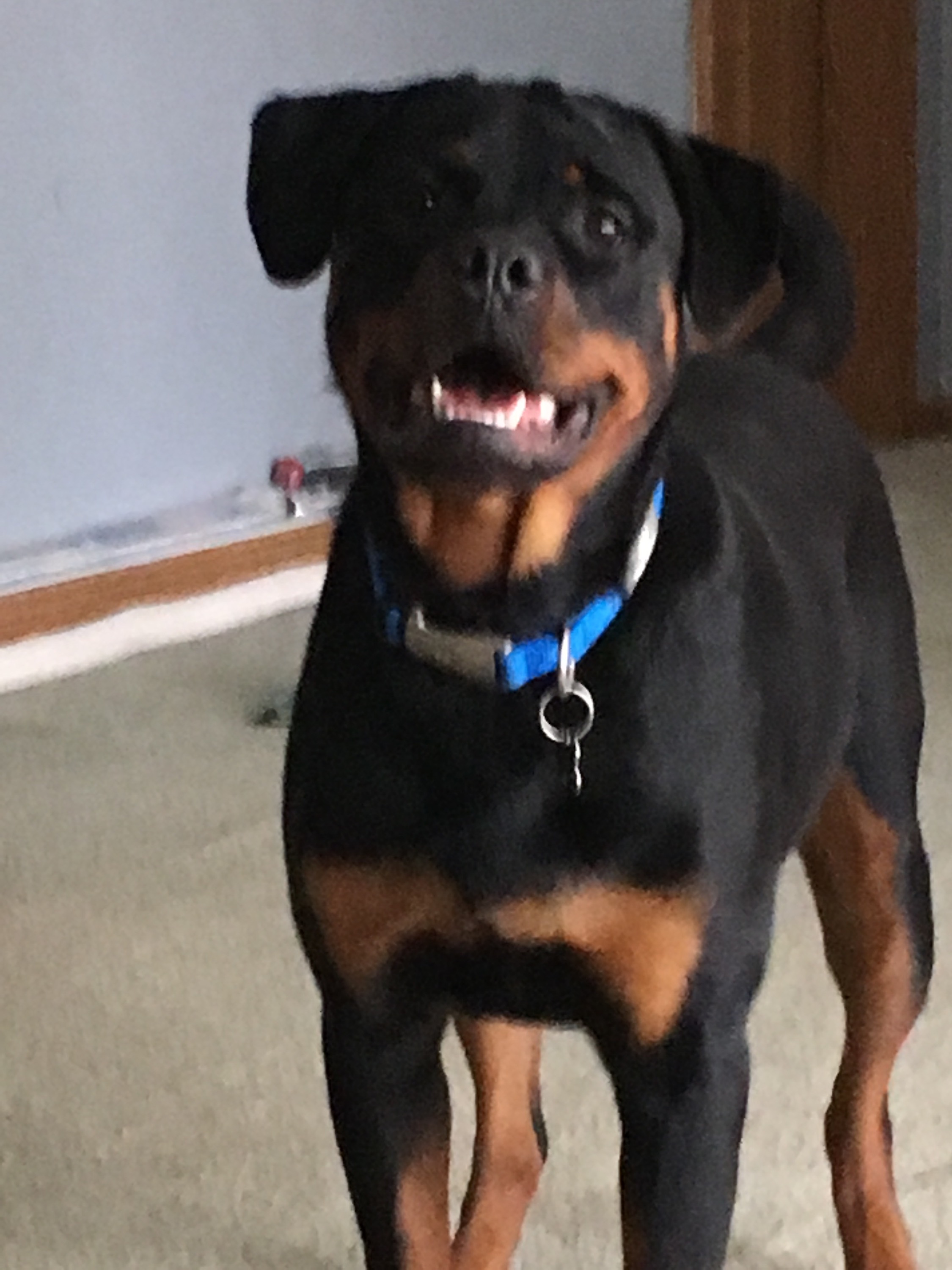 We were out on a walk today and Miss Cupid stopped traffic with her beautiful body.  The guy stopped and backed up and wanted to know where I got her, she was so beautiful (and with a tail)  I past the info along.   She really is the greatest dog I have ever had the privilege to love.  Her personality is the best.  I love it when out of the blue she appears in my lap just to say hi and get some extra love.  She is always at my side no matter where I go or what I might be trying to do.  And more curiosity that a cat.   Hope Teddy is doing well and your trip to Ohio was awesome.
Will do.  Cupid gets lots of compliments wherever we go.  She truly is beautiful inside and out.  Hope Korbin continues to do well and our love to your family as well.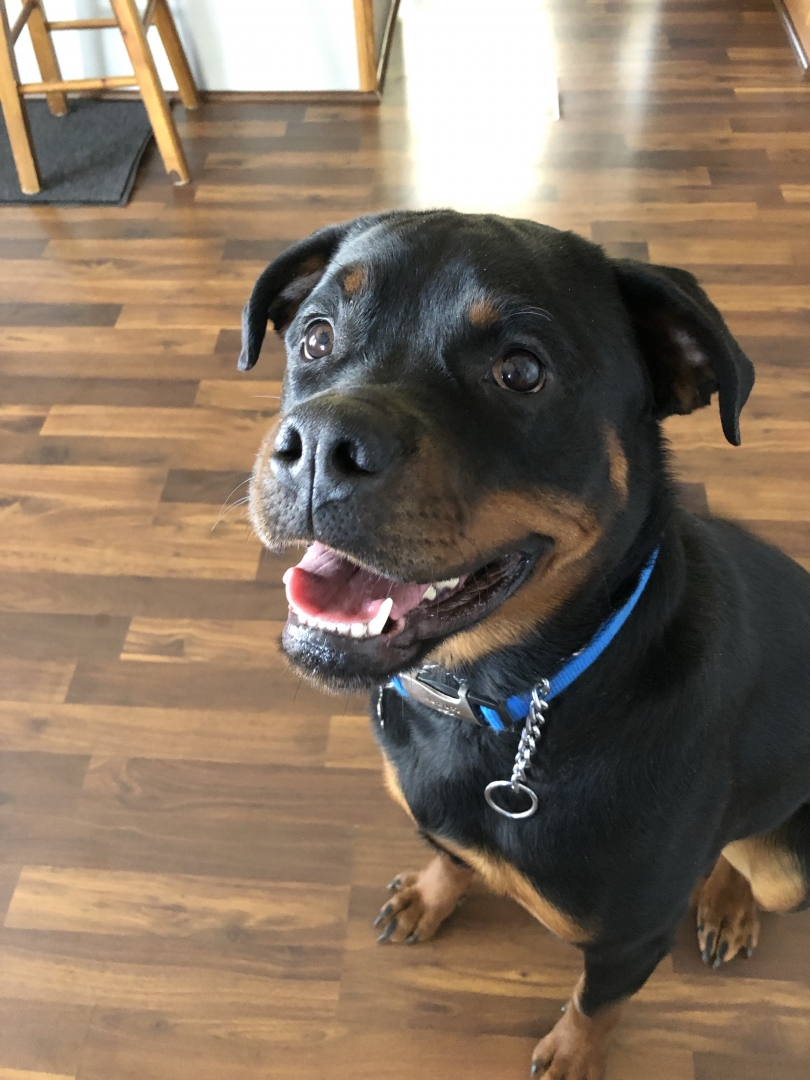 Neighbor hood watch.   As she sits underneath the sign that says Rottweiler on Duty.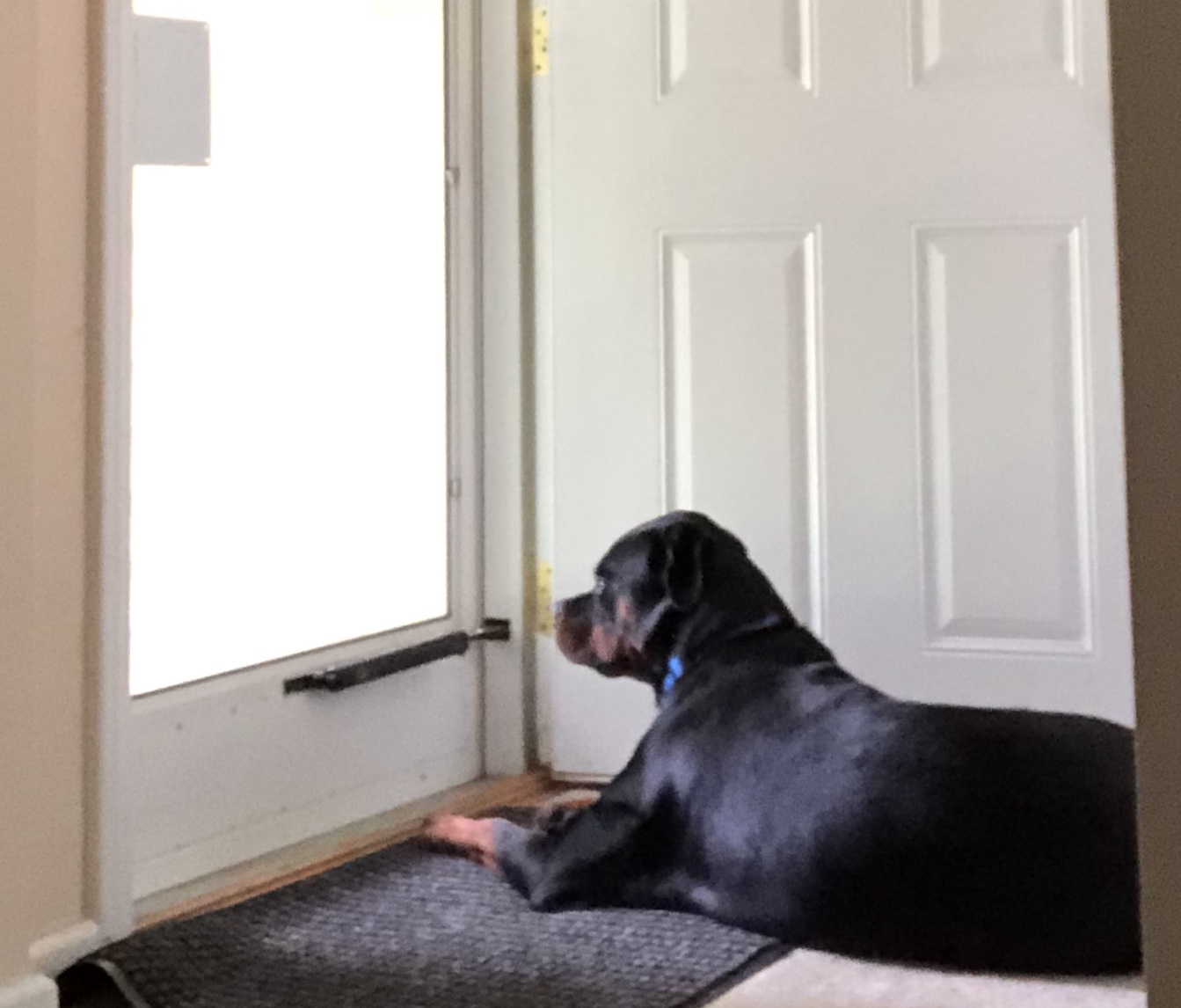 Cupid taking a break. She keeps me laughing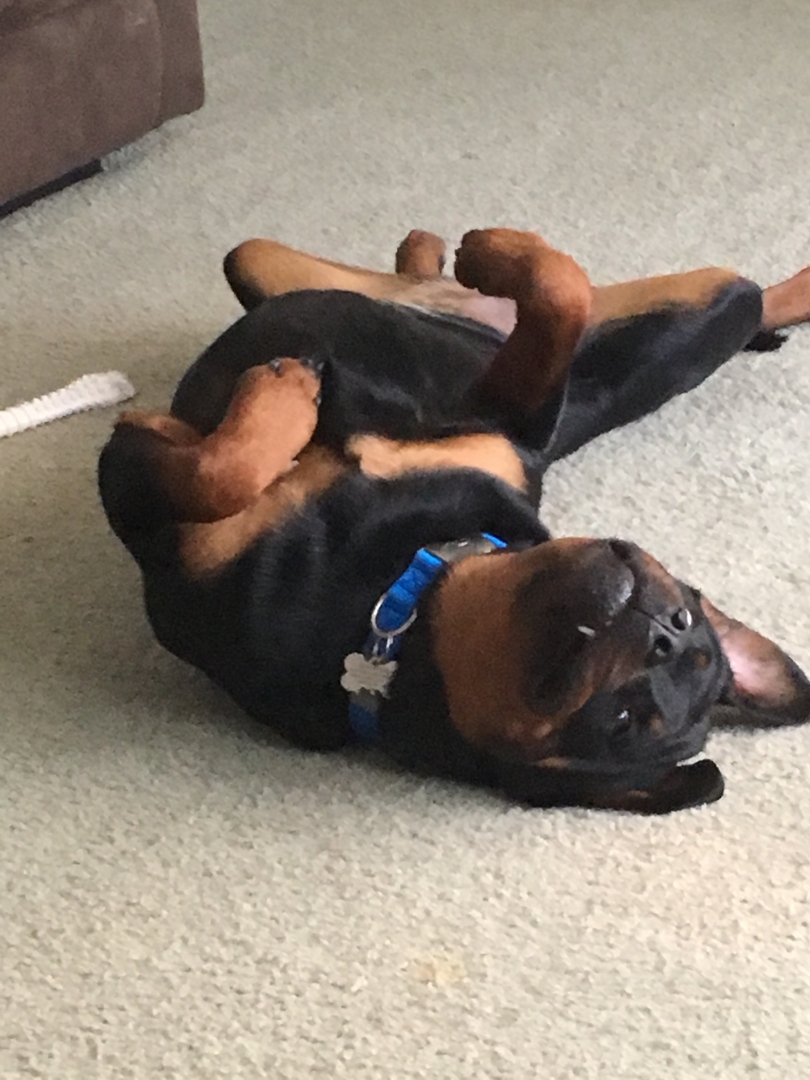 ---
"King" Guardian Prancer Von Gottschalk
Hello Alice
I just wanted to give you an update on Prancer. He is doing fantastic. I could  not be more happy with him. He is so smart. He is sitting,staying, shaking, laying down. He is so eager to learn. However we  keep training time just a few minutes at a time. I  have included some photos of him. He is becoming fast friends with our dog Lucy.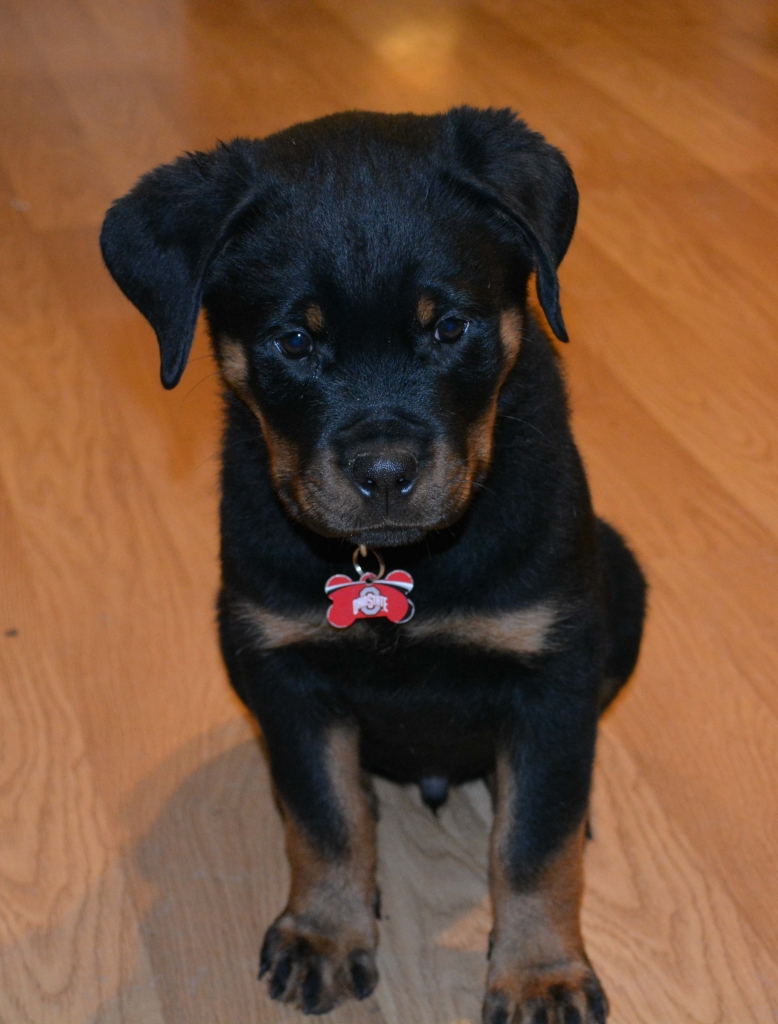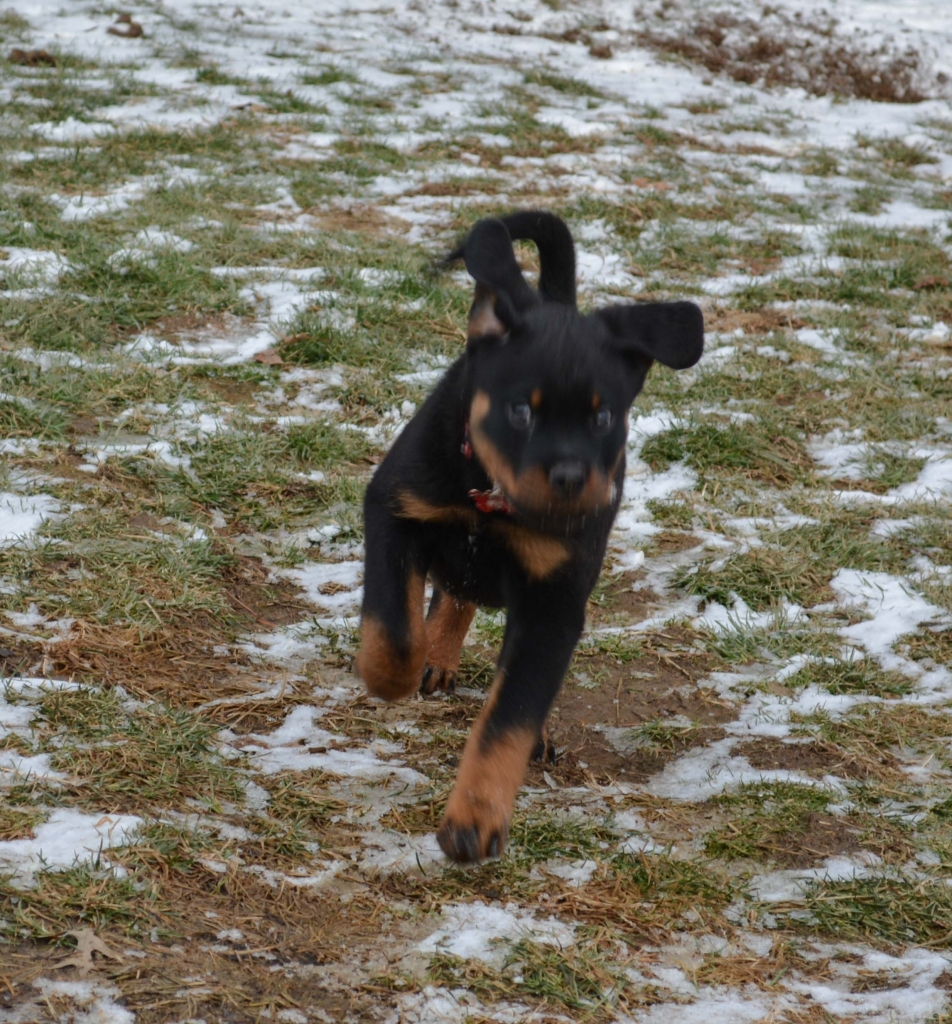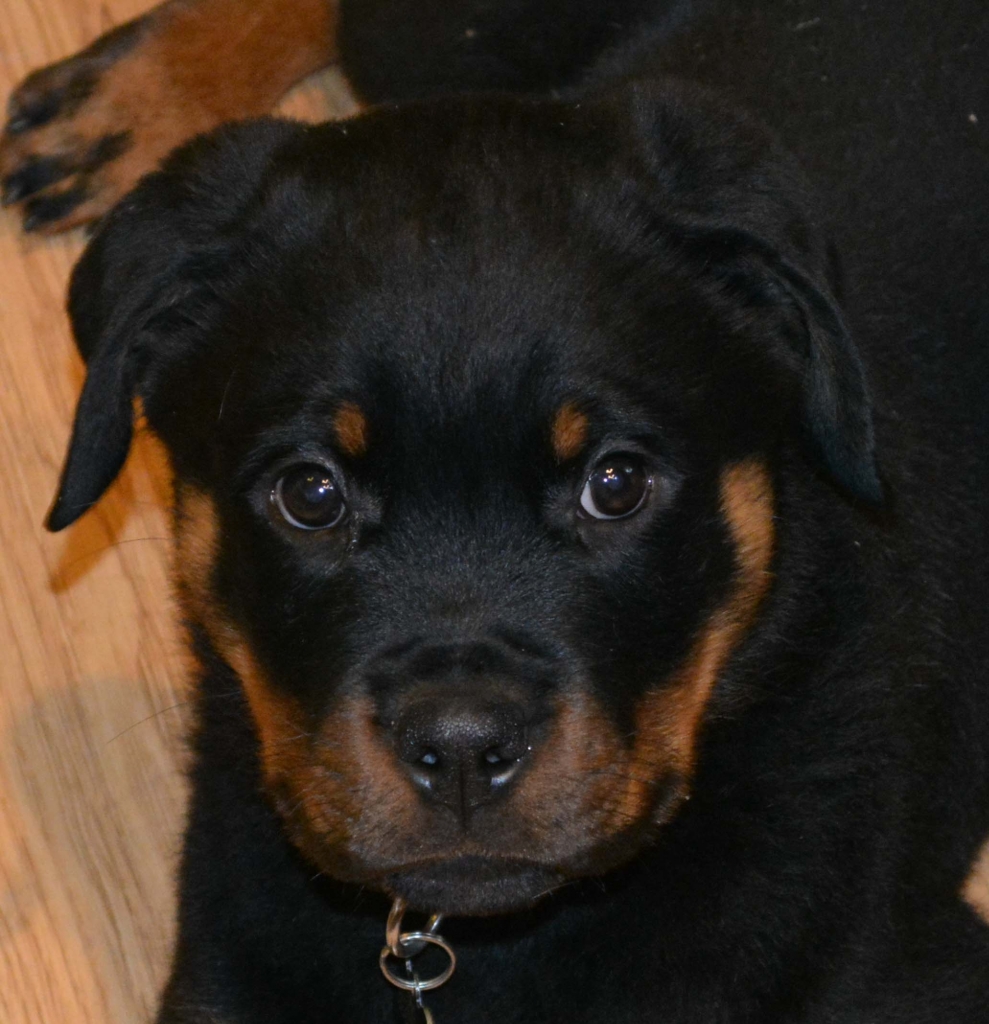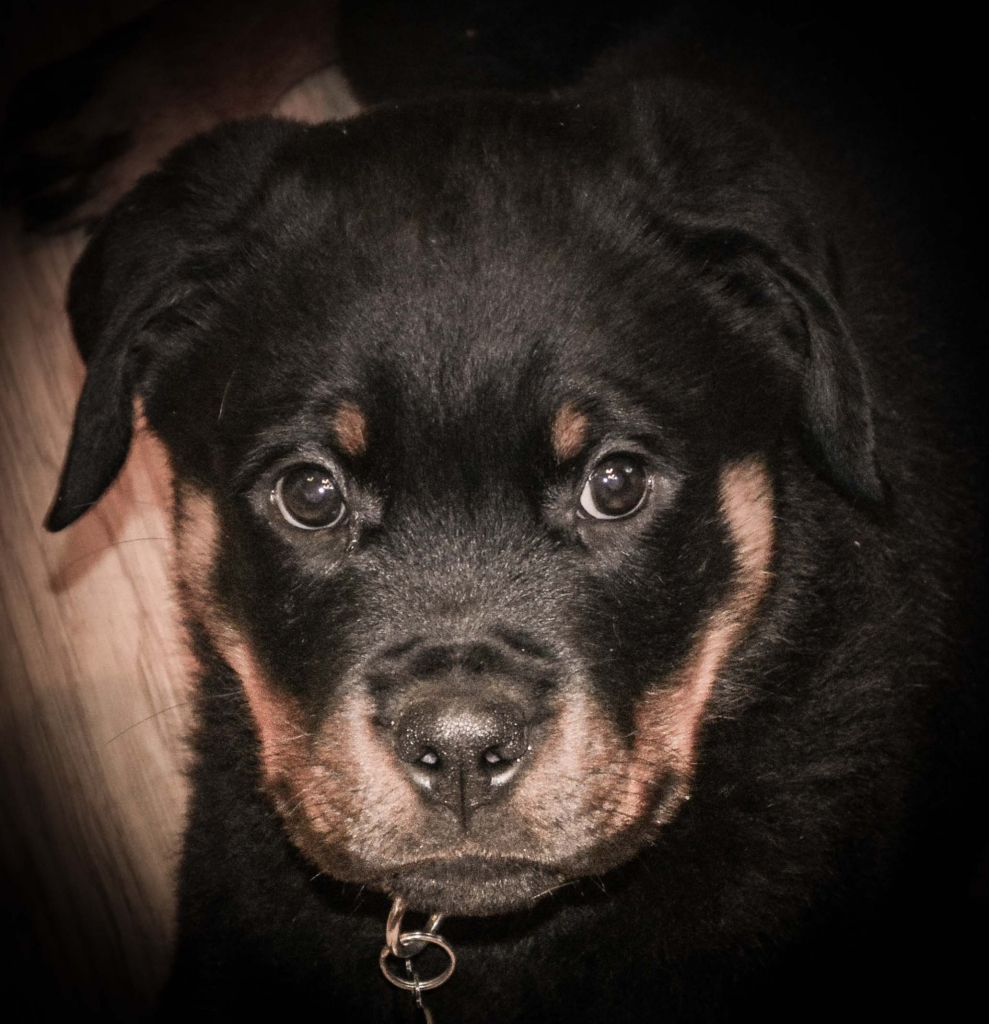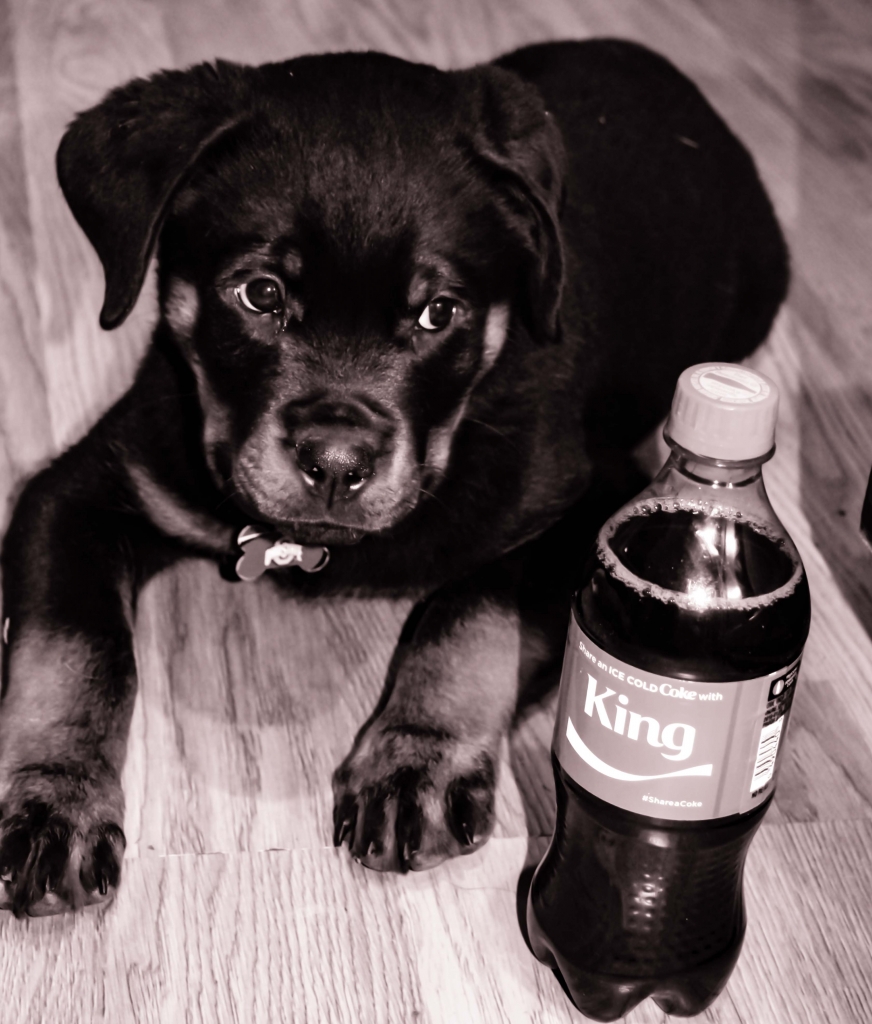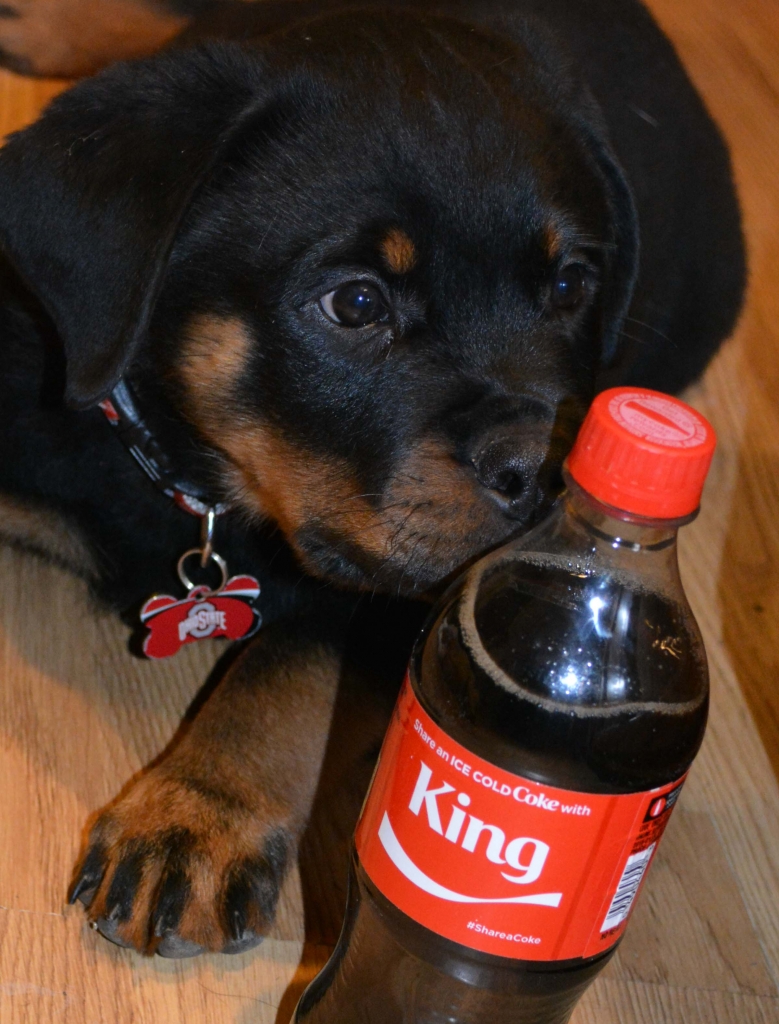 Those are great tips!I Thanks so much.He was at the vet yesterday for his 2nd round of shots. They love ? him .My boy weighs 25lbs already.
Hello Alice
I just wanted to give you an update on King. It was a year ago today we drove to Indiana to pick him up. We love him so much. He is absolutely beautiful. When i walk him. People stop be and tell me he is the prettiest Rottweiler they have ever seen. Some stop me and say. He looks just like a Rottweiler with a tail. LOL. I then have to tell them all Rotts are born with tails. His was never docked and will never be. He has the best temperament of any dog i have ever owned.  I just want to thank you for what you have done for this breed. I will always recommend you if someone ask me if I know a reputable breeder. I will never purchase from any other breeder. Thank you so much for my beautiful boy King. AKA Prancer. I have included some pictures for you to enjoy
Hello Alice
I see you are receiving Christmas photos from you Guardian Rottweiler babies. I just had to send you some of King. Merry Christmas.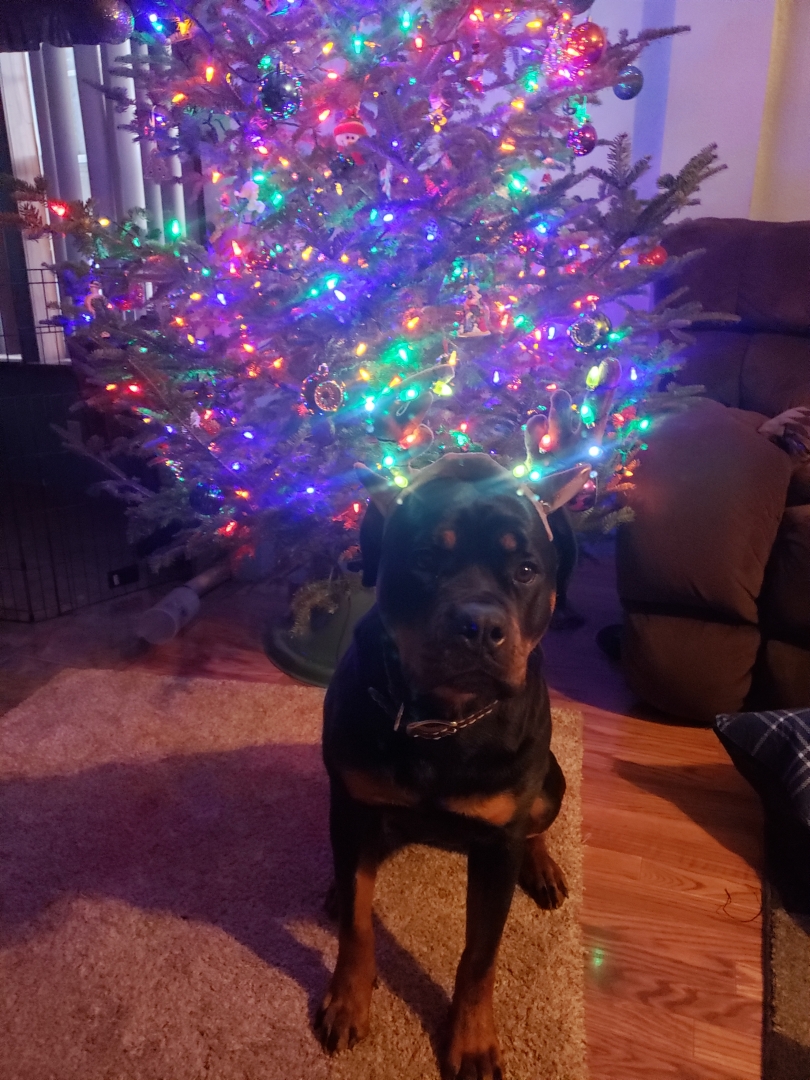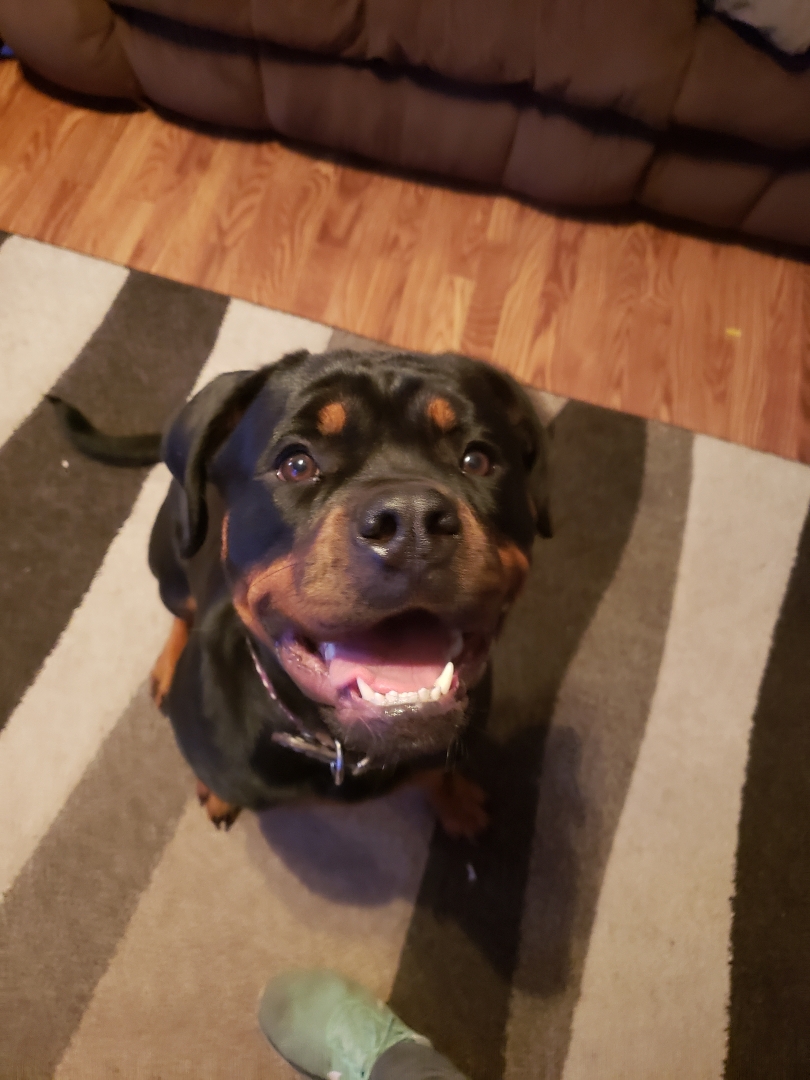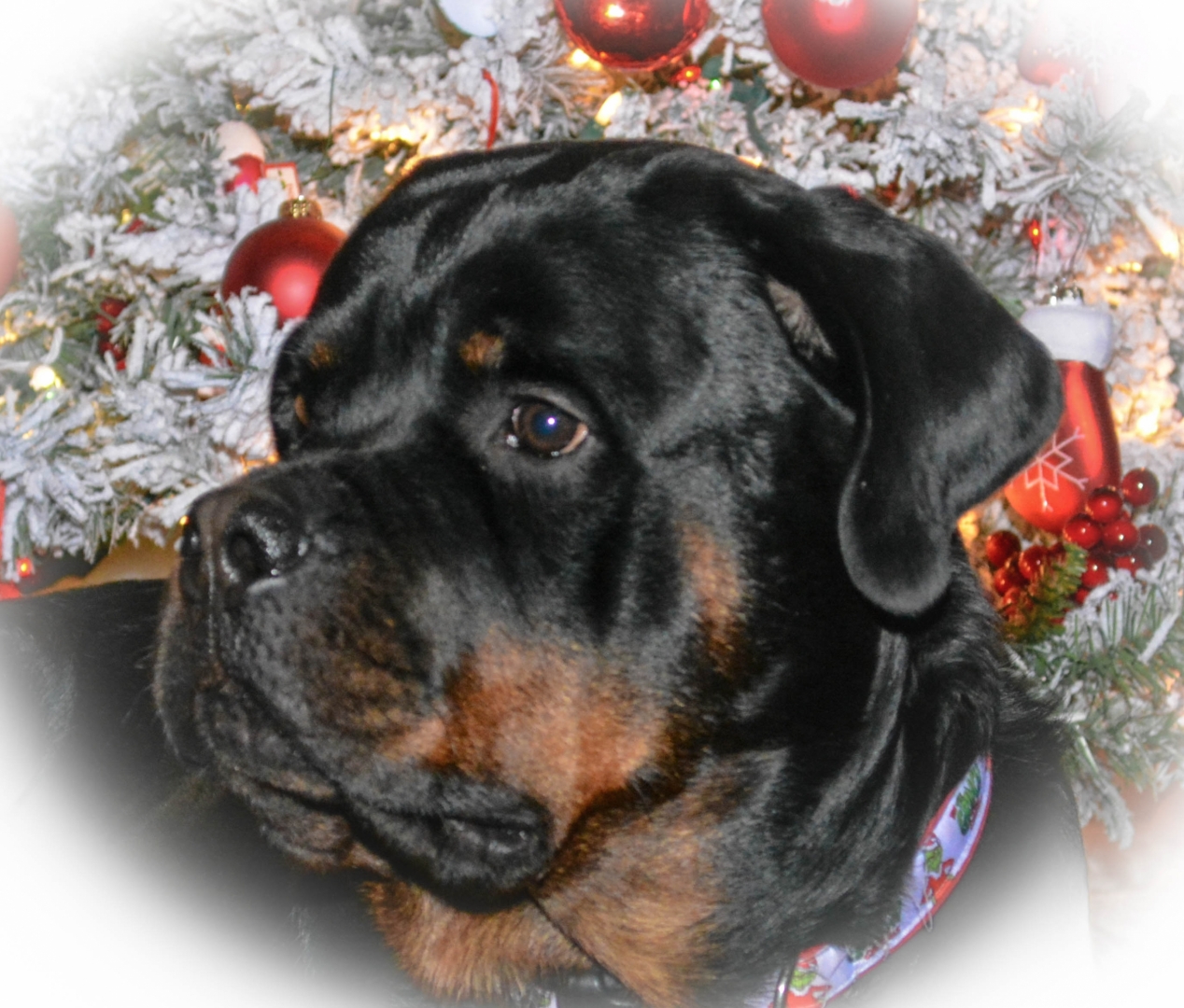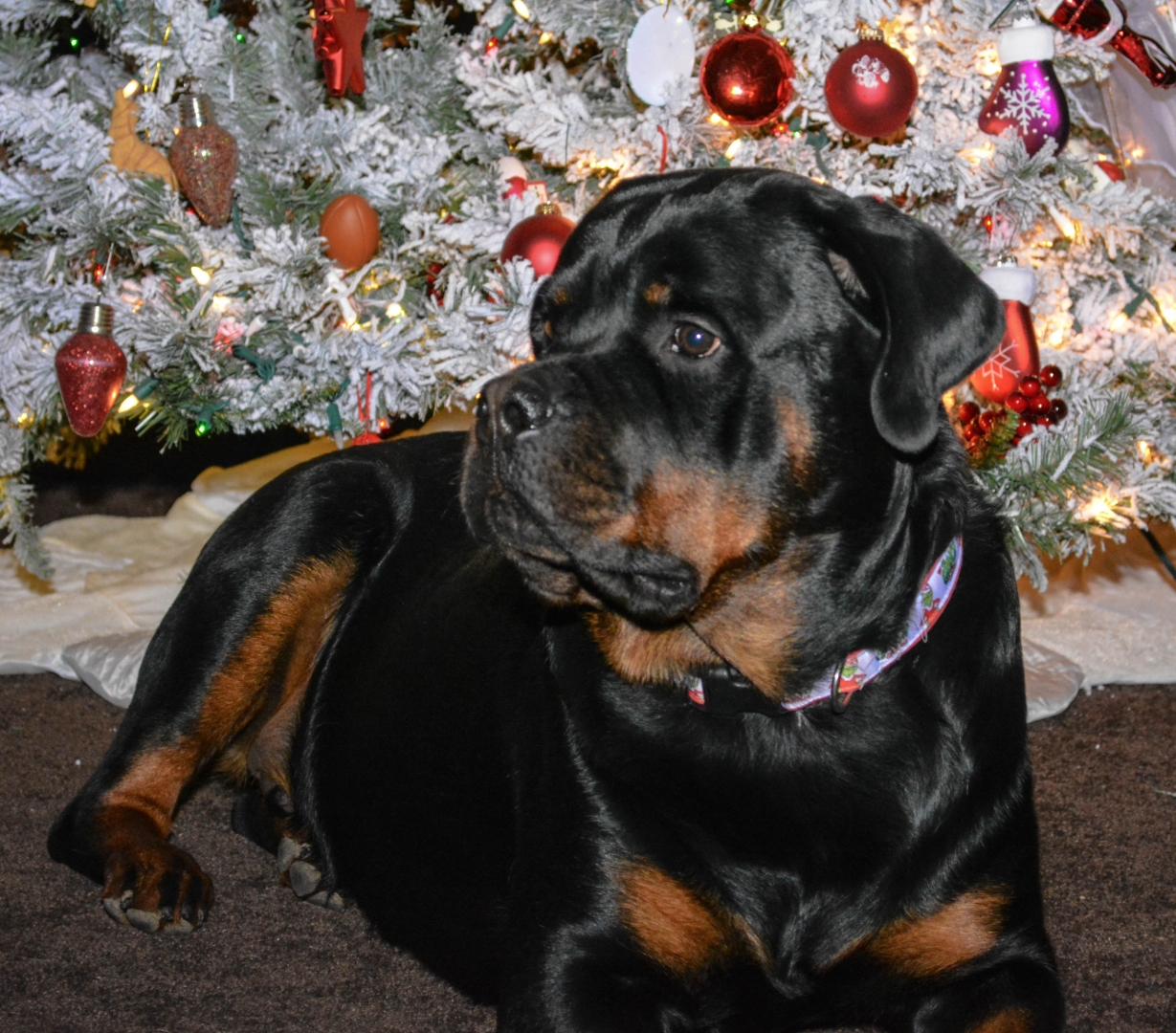 Hello Alice
I hope you and your family are well.  Love seeing the all the babies you have shared. I just wanted to give you a heads up. My sister who lives in VA ,her name is Tricia Wilson will be looking for a Rottweiler puppy in the next year. I have referred her to you of course. I appreciate any help and guidance you may give her. I of course told her the only breeder she needs to talk to is you. She will be looking for a pet qualify male. Thanks so much.
---
Guardian Comet Von Gottschalk
Hi Alice, we wanted to give you an update on the little darling.
We are completely in love, and she is a little treasure. She had a lot of fun playing in the snow while we shoveled this morning lol so I thought we would share. Thank you for everything!
The Pelletiers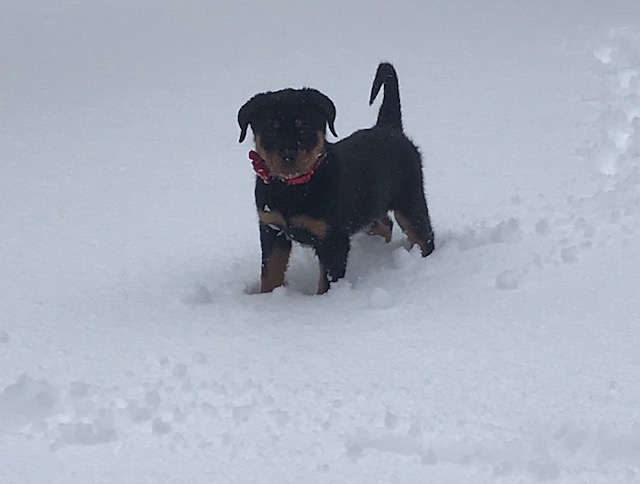 ---
Guardian Dancer Von Gottschalk
So in love already!! She is perfect!! What a personality.   Thank you so much!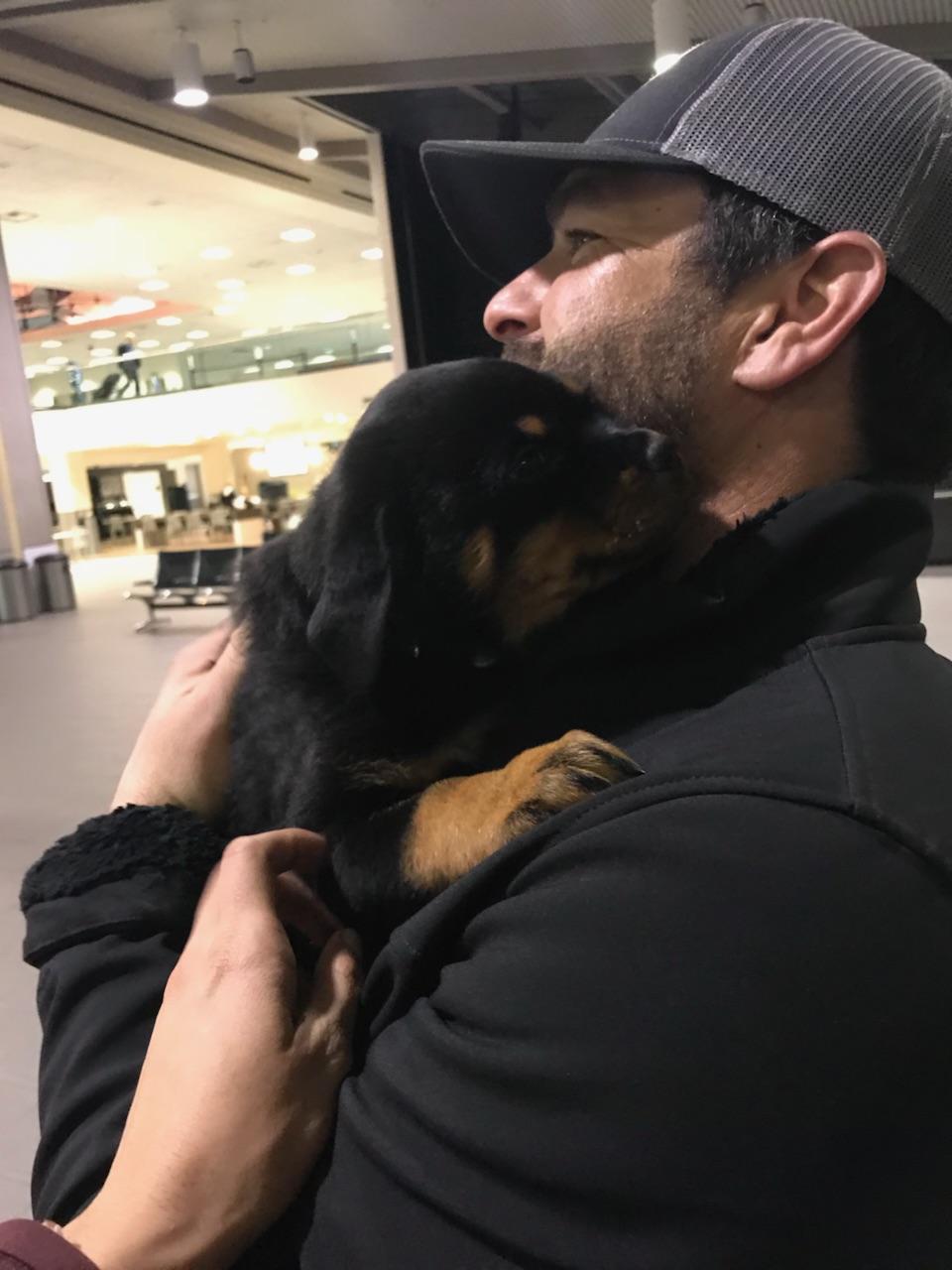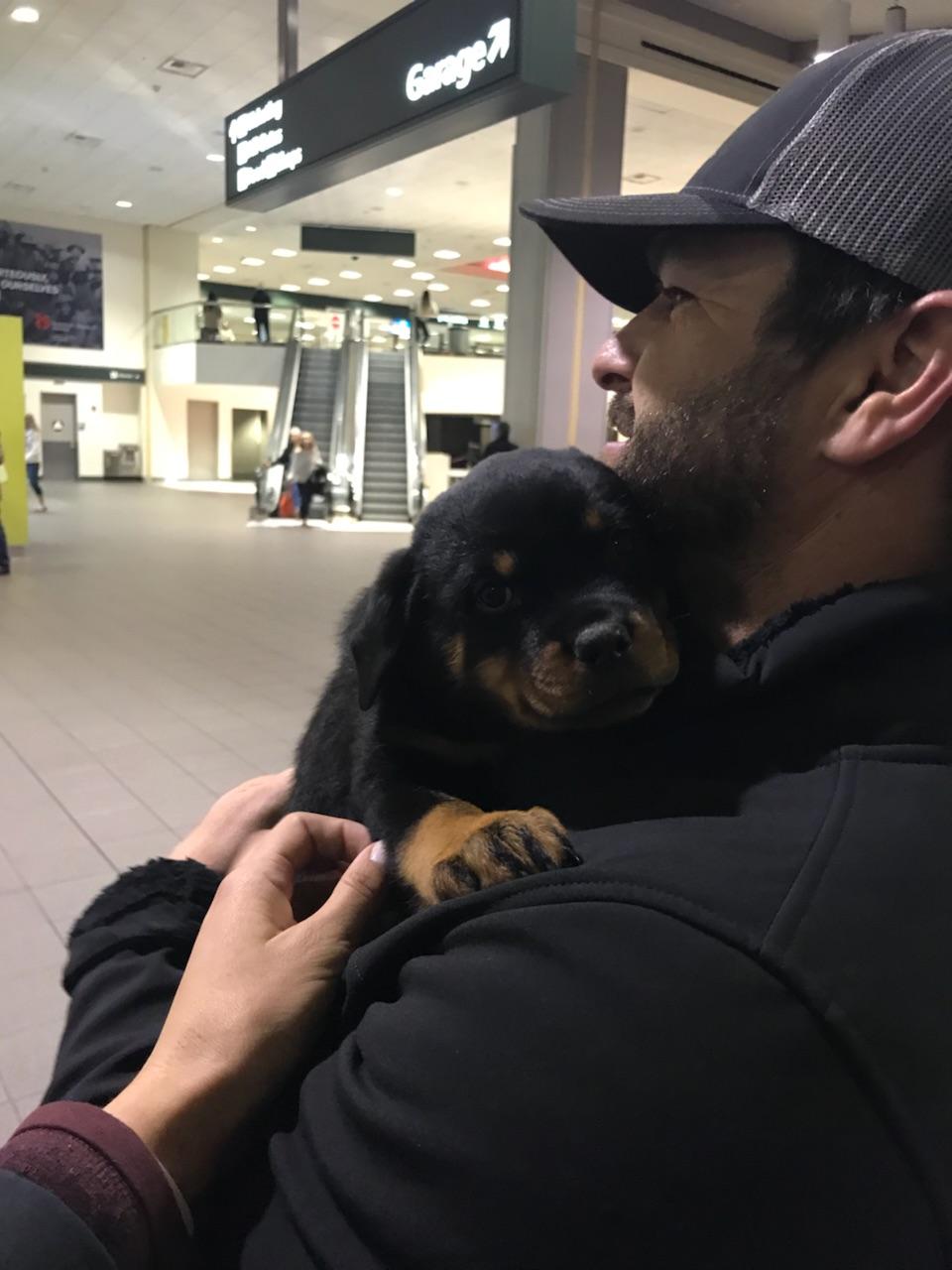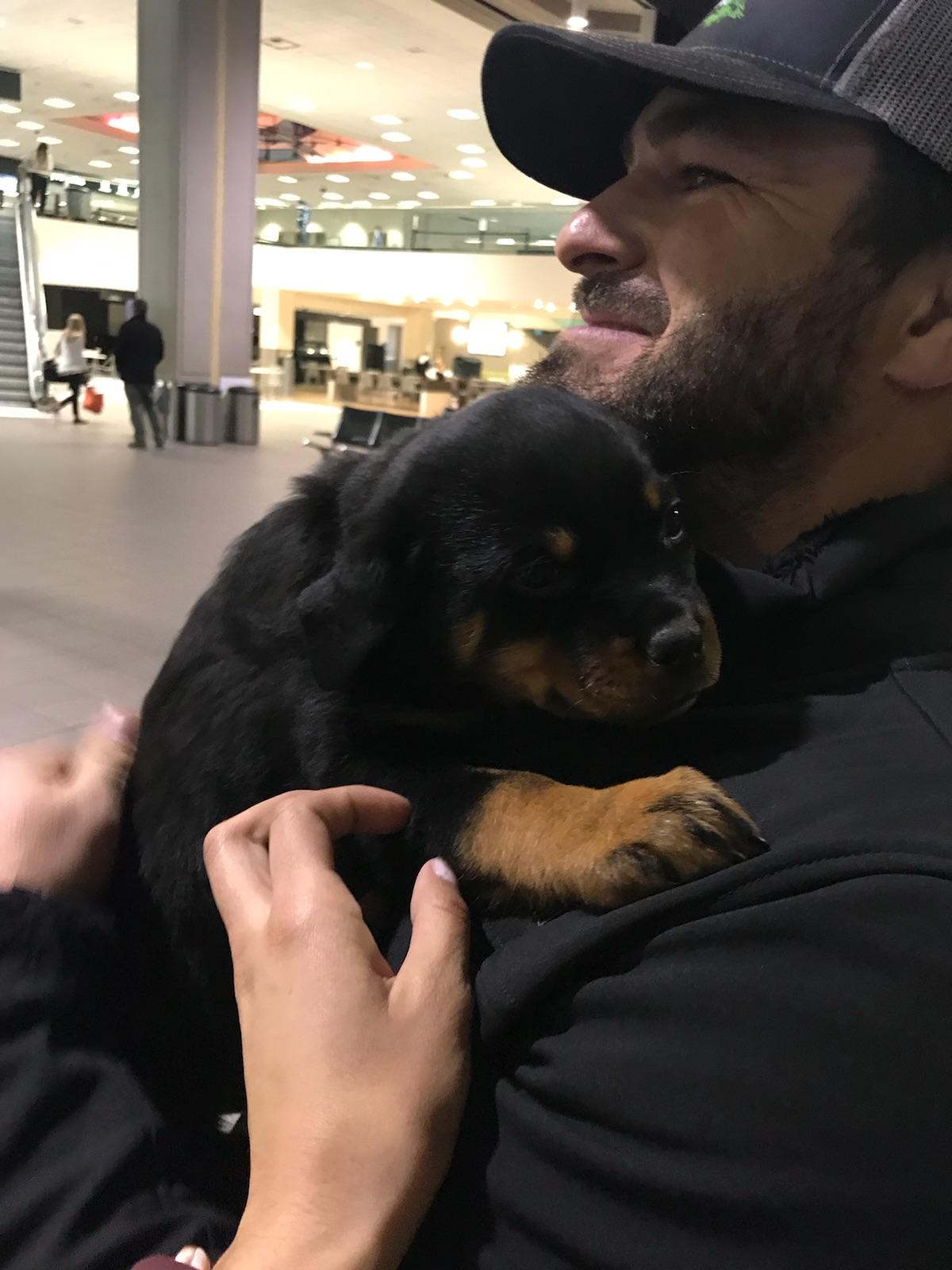 ---
Guardian Dasher Von Gottschalk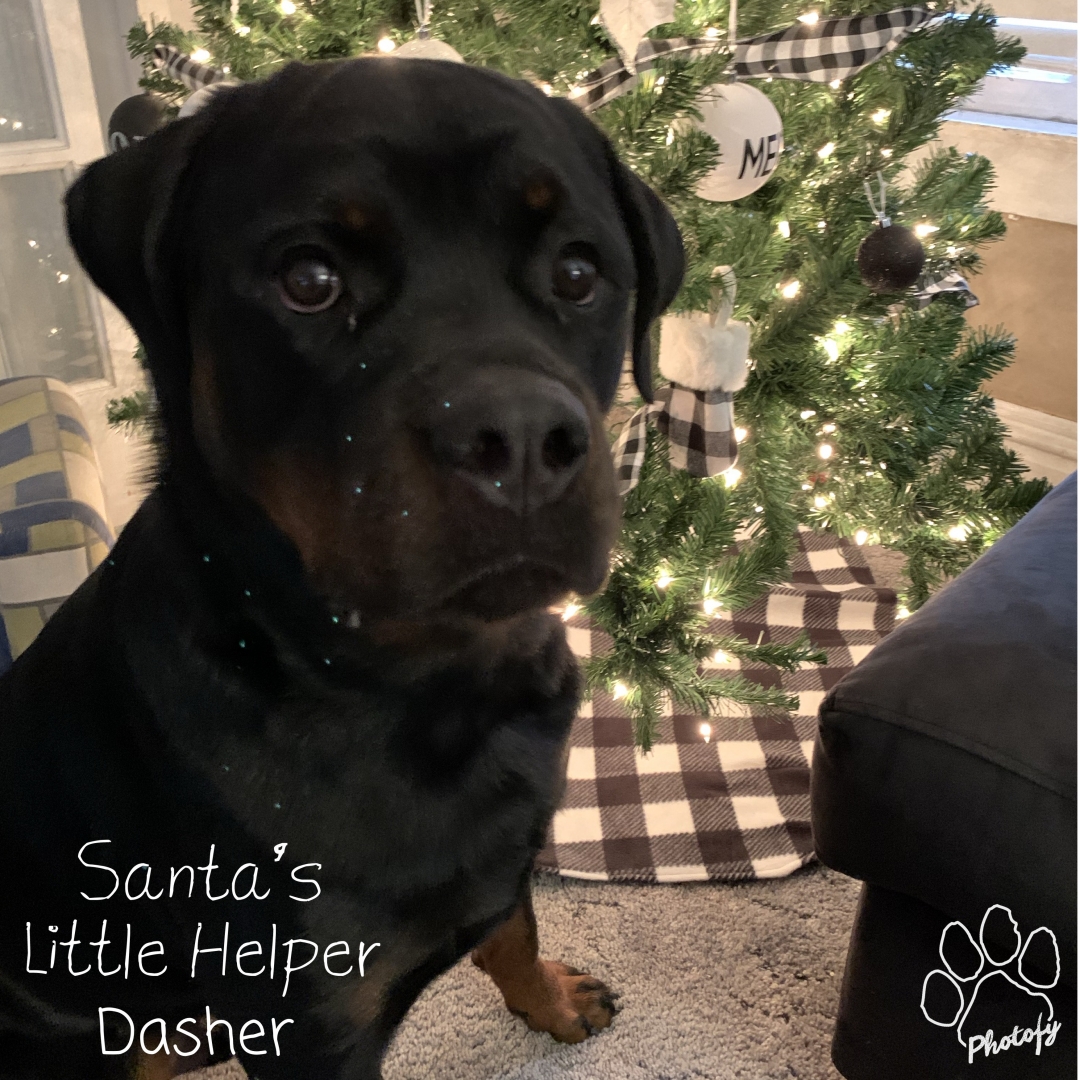 I thought you might like this picture of dash.  We will have matching pjs for Christmas for all of the kids including dash too . I will have to send you a picture of them all .   I hope your family is all doing good
Melissa
---
"Tank" Guardian Blitzen Von Gottschalk
Hi, Alice. I thought you'd like to see Tank as he approaches his Xmas birthday. He's an amazing boy, so sweet smart goofy and loyal, and ridiculously handsome. He's showered in love and attention and gives even more back. Not only from my family but many others in our community, as he goes everywhere with us—school drop off and pick up, soccer games, errands, hikes, vacation. He's a great ambassador of the breed, and gets compliments on his good looks and temperament all the time. We're fairly decent with instruction but he's so easy to train. From two months or so I could tell him to stay, and not go for his food, walk away out of sight and return to him patiently waiting to be released. And he's very agile for a big guy—a little over a hundred lbs and I think still filling out a bit. Loves a ball and can catch it over the shoulder, off a bunch, on the fly. And dove off the first dock he was on, and swam like a champ. A few photos to follow.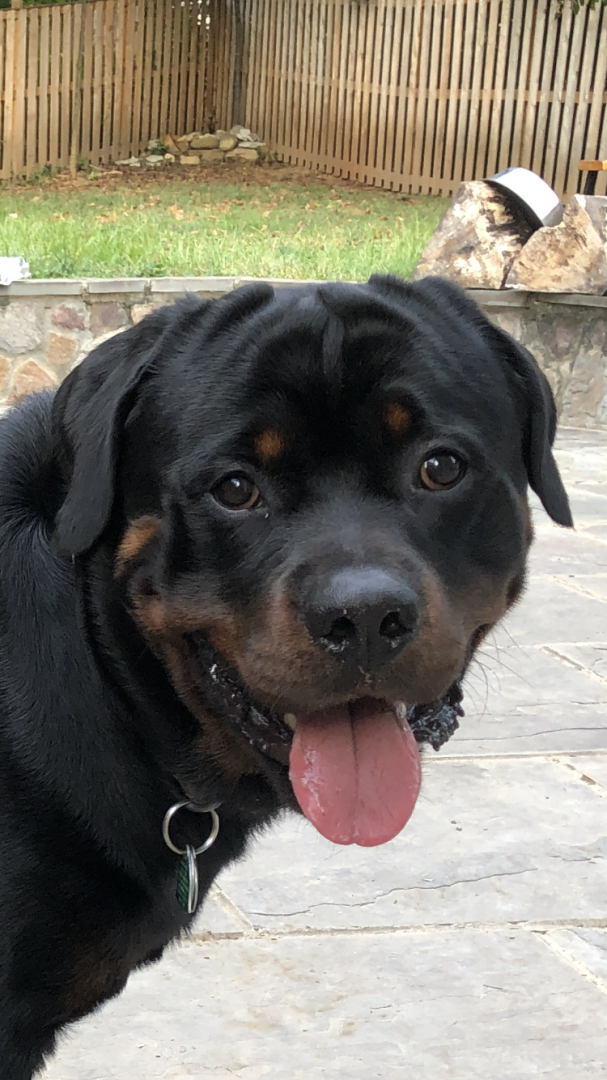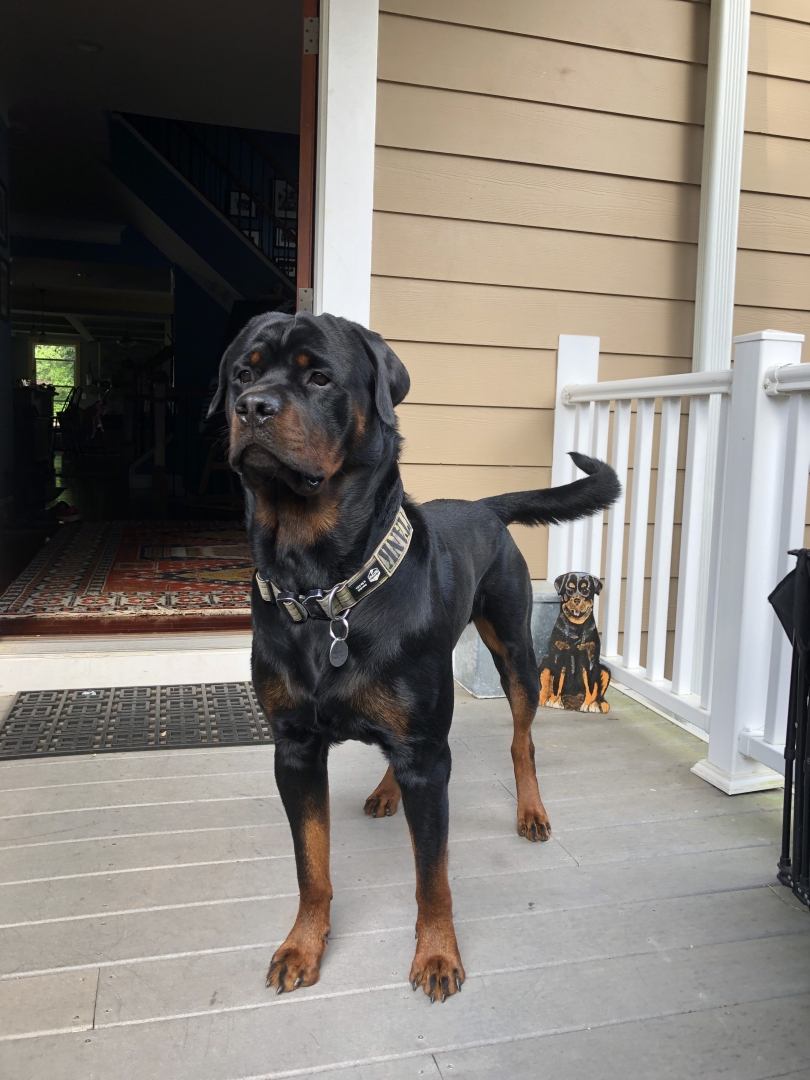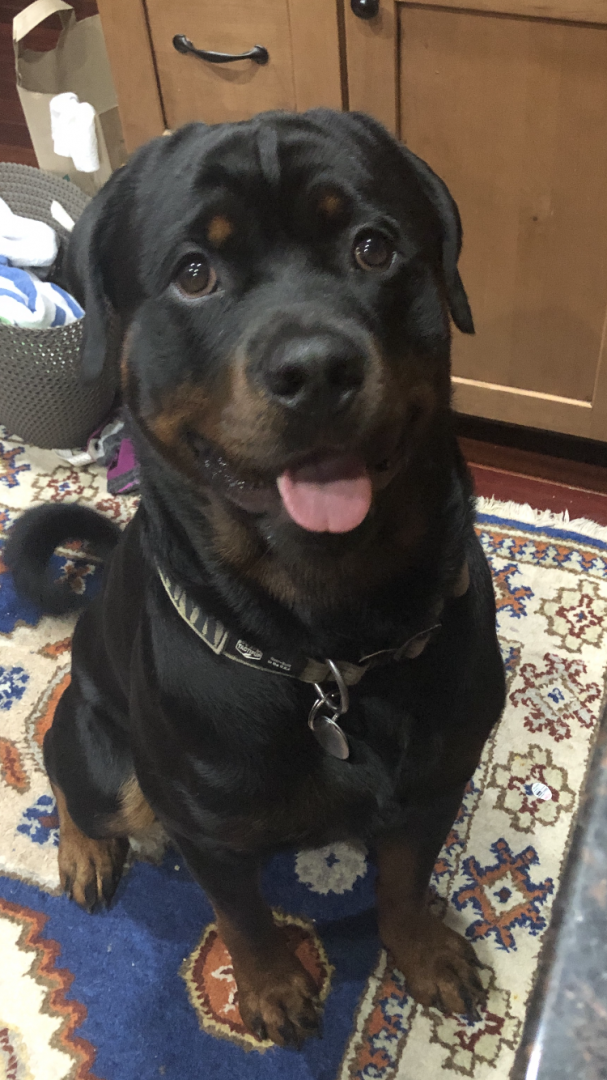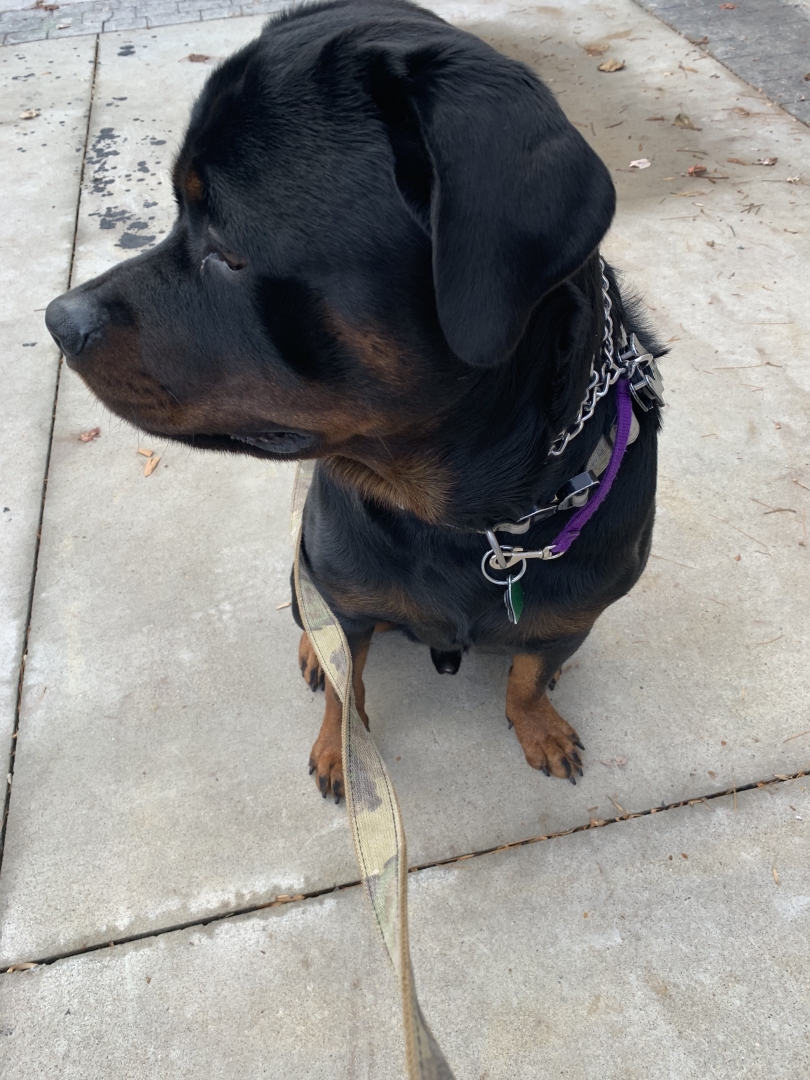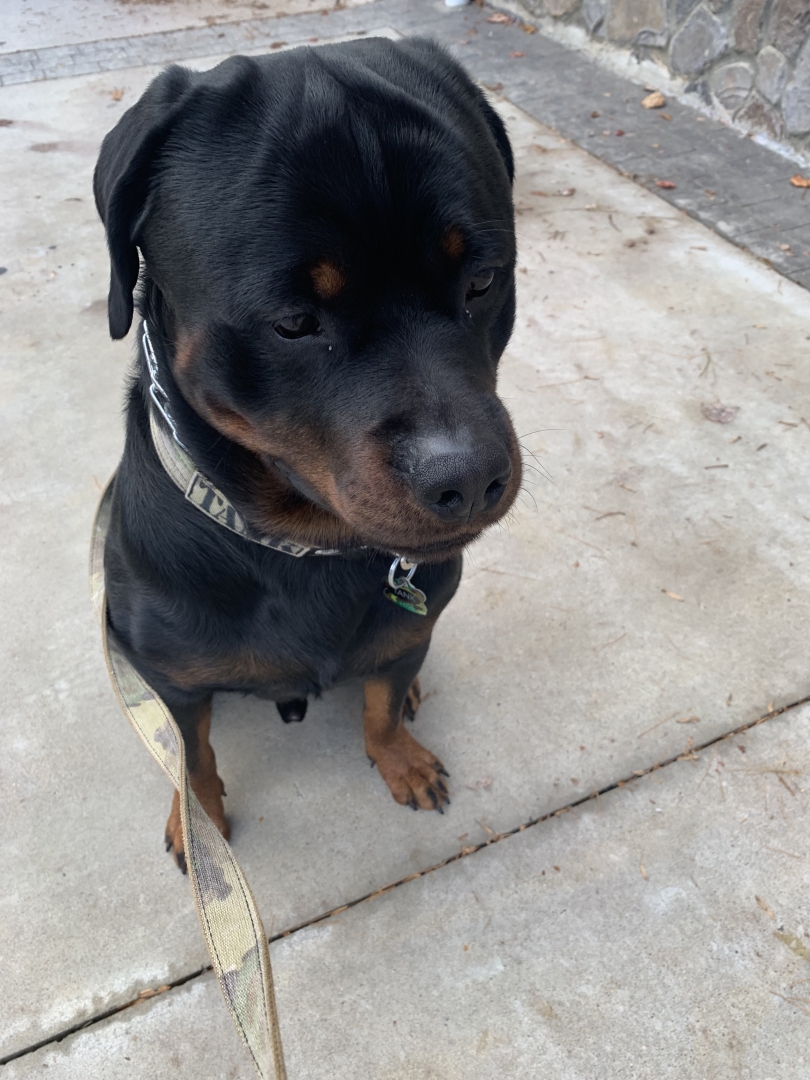 (Visited 54 times, 1 visits today)