Guardian Rottweilers M LITTER
Sire: Simba Se Ungo-Rot
Dam: Niki Se Ungo-Rot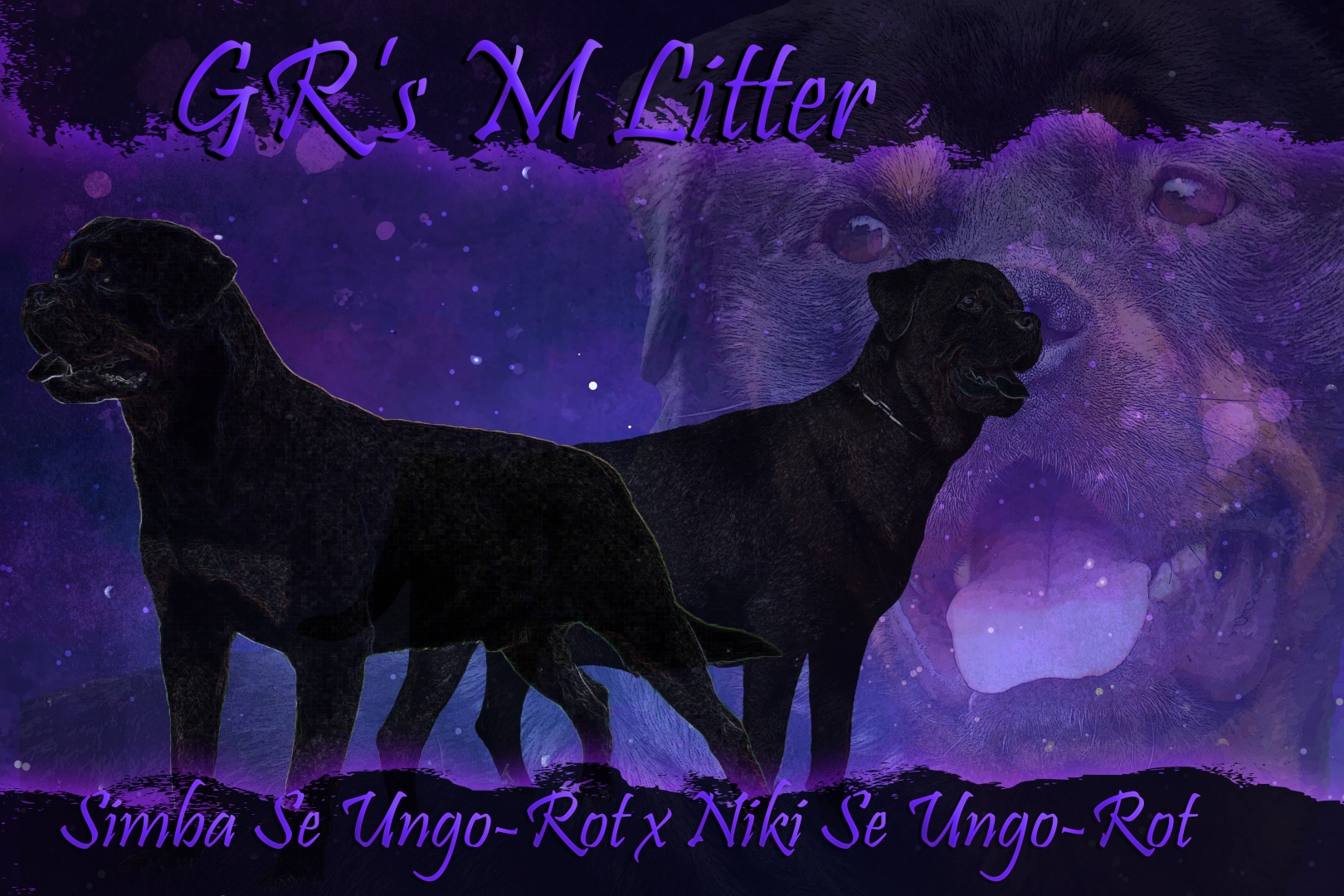 ---
Guardian Moana Von Gottschalk
Hi Alice
She is doing great!! Adjusting well, loves the family and her first night went really well. Our Ogie is keeping his distance and he does with most other dogs:). They get growled at but Moana hasn't received anything other than a fast reaction to getting away from something so little near him. Lol
We have taken a road trip and she traveled very well. You should be proud:)
Thanks the Frank family:)
---
"Lincoln" Guardian Manhattan Von Gottschalk
Thank you!! He is adjusting well.  Ate his food and drank a lot of water. We renamed him Lincoln after the town we were married in
Hey Alice, thank you for the quick response. I knew it took a little while but didn't know exactly how long. I've attached a couple pics from today's walk around the local pond. He is such an awesome dog. We are so in love with him!
Good morning Alice, hope all is well! Just sending over a few pictures of Lincoln (we changed from Manhattan as his call name) as he is coming up on 6months. Boy does time fly lol. He is doing awesome and is so loveable, we don't know how we lived without him!
Thanks again and look forward to hearing from you,
---
Guardian MacGyver Von Gottschalk
Just an update on Bella and T-rex (Jaja, and Macgyver to you)
Bella is almost 8 months old.  She is as "cuddly" as a dog could be.  She weighs 67 LBS.  Potty training is pretty much done.  Not that she never has an accident, but its less than once every couple weeks.  She is the smartest dog I've ever been around.  She sit's, stay's, and comes very well, so that's a win.  We enrolled her in a class young, and our trainer had a tunnel for the dogs to go through.  She first saw it at about 3 months old.  The trainer said "She wont go through it, but I want to introduce her to it.  I let Bella off the leash, and she ran back and forth through the tunnel multiple times.  She just sat back and said "Oh, I've never seen a dog do that at 3 months.  She wasn't a big fan of climbing the steps, but besides that, she was in a class with dogs her age, and had no business in it.  She was lightyears in front of everyone else.
T-rex was 5 months old yesterday.  He is finally starting to gain some height.  For the longest time he was wider than he was tall.  He is just the perfect image of a short POWERFULL dog.  I weigh 280 LBS, and I cant sit in my chair and play tug of war, he pulls me and the chair.  He weigh's 52 LBS.  He is not the cuddlier that Bella is.  He will cuddle up with the family, but he quickly tires of it, and needs his space.  He has no fear.  Our old rotty is 110 pounds, and the "bossy" type.  She tries to bully both of them.  Bella runs off, and T-Rex squares off ready for war.  T-rex's potty training is not going as well.  For some reason he in convinced he is not allowed to go outside.  He will be out for 30 minutes, and bark at the door to get in, rush in just to poop 2 feet inside.  You catch him and make him go back out and he just looks at you waiting to come back in to finish.  I blame this on us.  We tried crate training as soon as we got him, but he would poop inside his crate.  We didn't want to re enforce that behavior, so we got him a play pin (like you had) so he could potty on one side, and sleep on the other.  He would literally go out of his way to poop on one side, and go out of his way to lay down in it, which made us not know what to do.  He is now in a crate, and wont go in it, so we are making progress.
Does that weight, and "training level" sound about right for both?
Thank you,
Alan
(Visited 79 times, 1 visits today)