Guardian Rottweilers Z LITTER
Sire: "Ox" Bronko Se Ungo-Rot
Dam: Guardian Geneva Von Gottschalk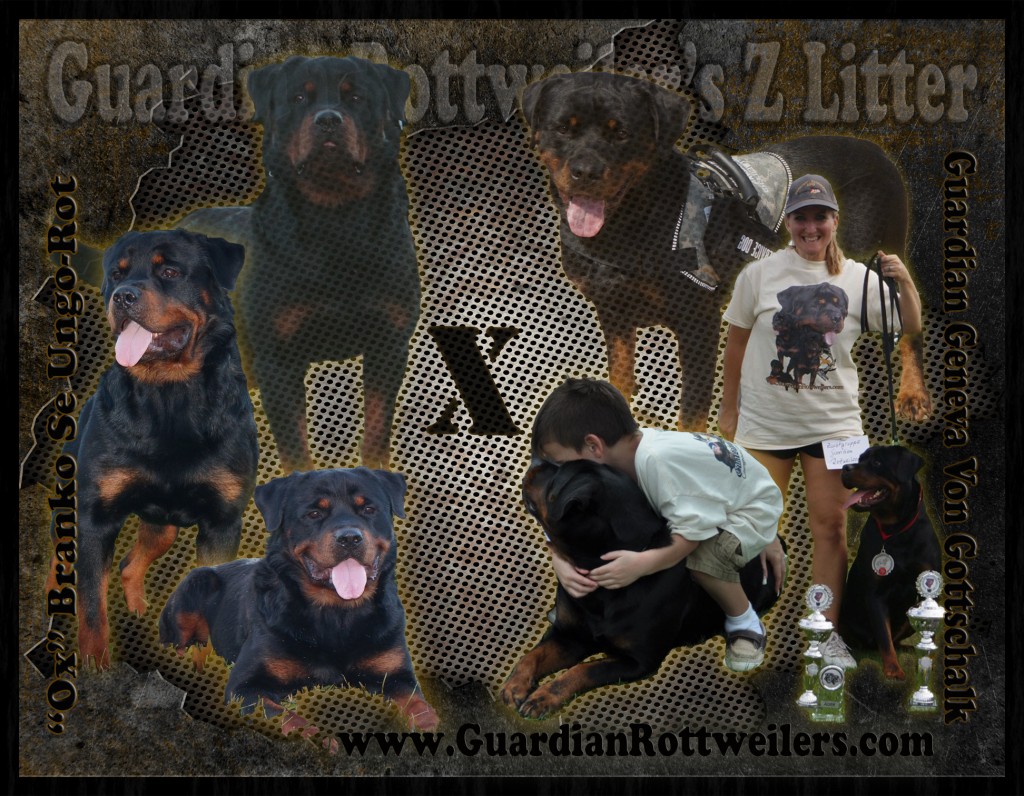 "Ox" Champion Bronko Se Ungo-Rot is a VERY impressive male with a powerful build- heavy bone and excellent substance. He is just really such a gorgeous boy!  Ox is the grandson of International Champion Marsio Ri Mobby Dick HD-FREI, ED/- CH YOUNG SCG06 CH ADULT BULGARIA 06 CH ADULT SERBIA 07 CH ADULT MACEDONIJA 07CACIB Athens GREECE 08 V15x, YOUTH WINNER 2x, CACIB 6x, RCACIB 11x, CAC 3x,BOB, BOG, RBOG, R.YOUNG BOG, BIS III PLACE.  Marsio has over 200 shows wins and has Champion and International Champion progeny in nearly every continent!  He is easily one of Europe's most influential studs of the last decade and his line ALWAYS CONSISTENTLY produces very rich color, loads of bone and superb temperaments- dogs with great drive and such a balanced, biddable character.  Geneva was bred to Marsio in 2013 and her progeny from that breeding along with Geneva are what secured us FIRST PLACE KENNEL at the 2013 ADRK Klubsieger in Rottweil, Germany!  Guardian Geneva Von Gottschalk is just amazing in every possible way.  She has incredible drive, LOVES to work and is just so eager to please.  She is so gentle and nurturing to all babies- 2 and 4 legged, and is just such an incredible mom.  Geneva enjoys playing with her puppies when they get older and will actively seek out toys to entertain them with.  Geneva has excellent conformation with a compact, well muscled frame, dark pigment, and rich markings.  She is the daughter of ADRK Pink Paper Import, Dunjo Von Shambala- quite easily one of the most INCREDIBLE Rottweilers I have ever handled!!  I have some great expectations from this litter and truly cannot wait to meet these guys!! These puppies are INCREDIBLE!!  BIG, STRONG, STOCKY little chunks!!  They almost do not have necks!  Just big FAT heads that widen into big broad shoulders!!  I am slightly obsessed with the FEET on these puppies!!!  One little foot is bigger than the end of my finger and they are only minutes to hours old!!!  SOOO EXCITED to watch these guys grow! <3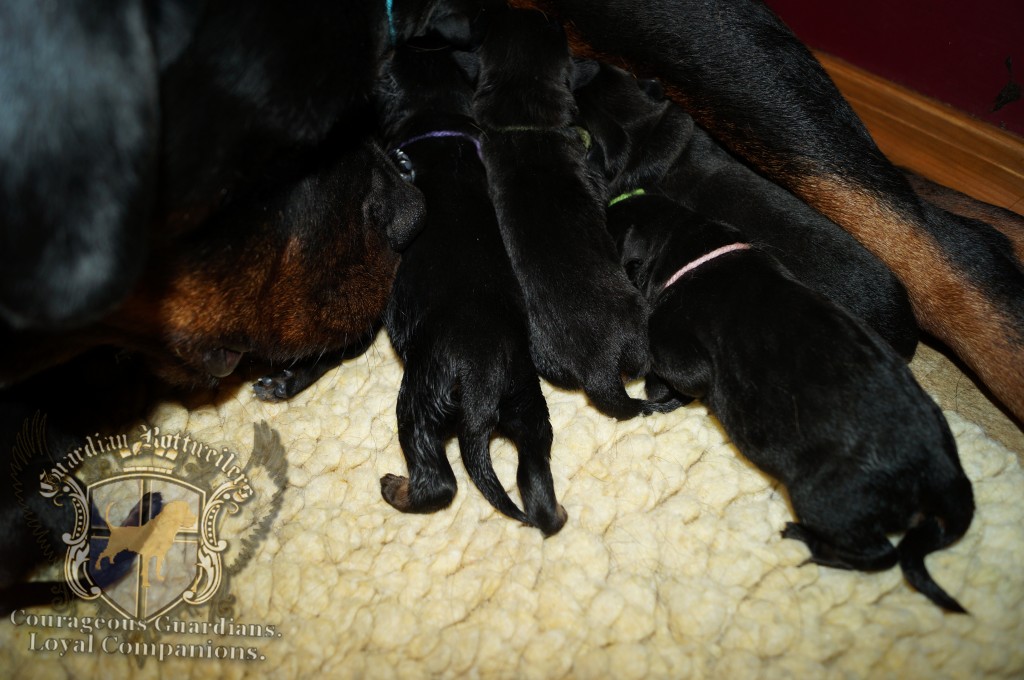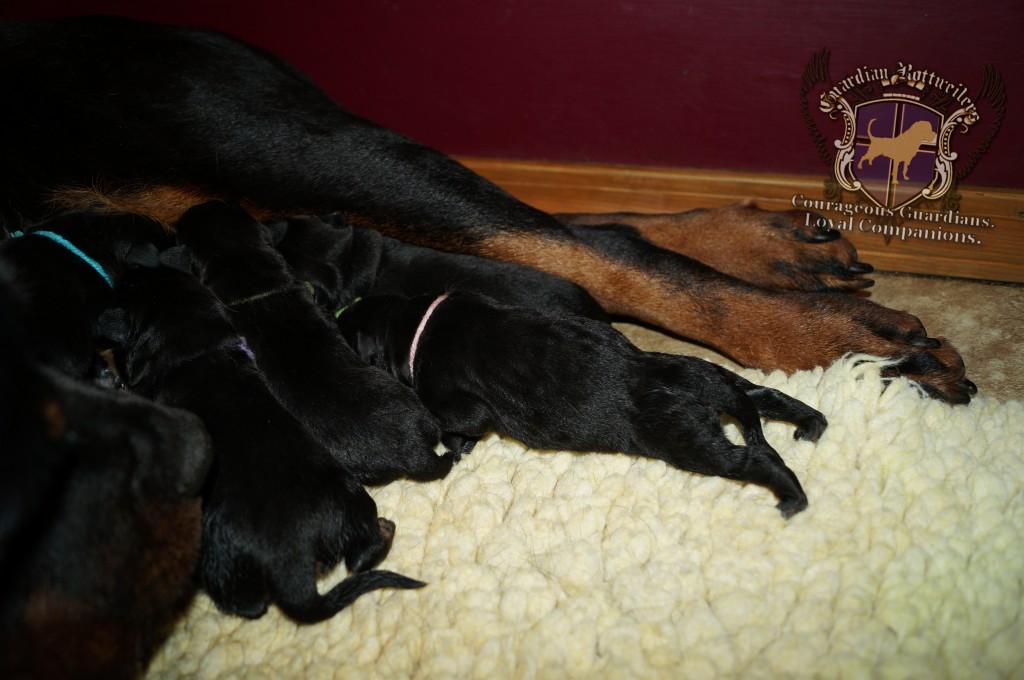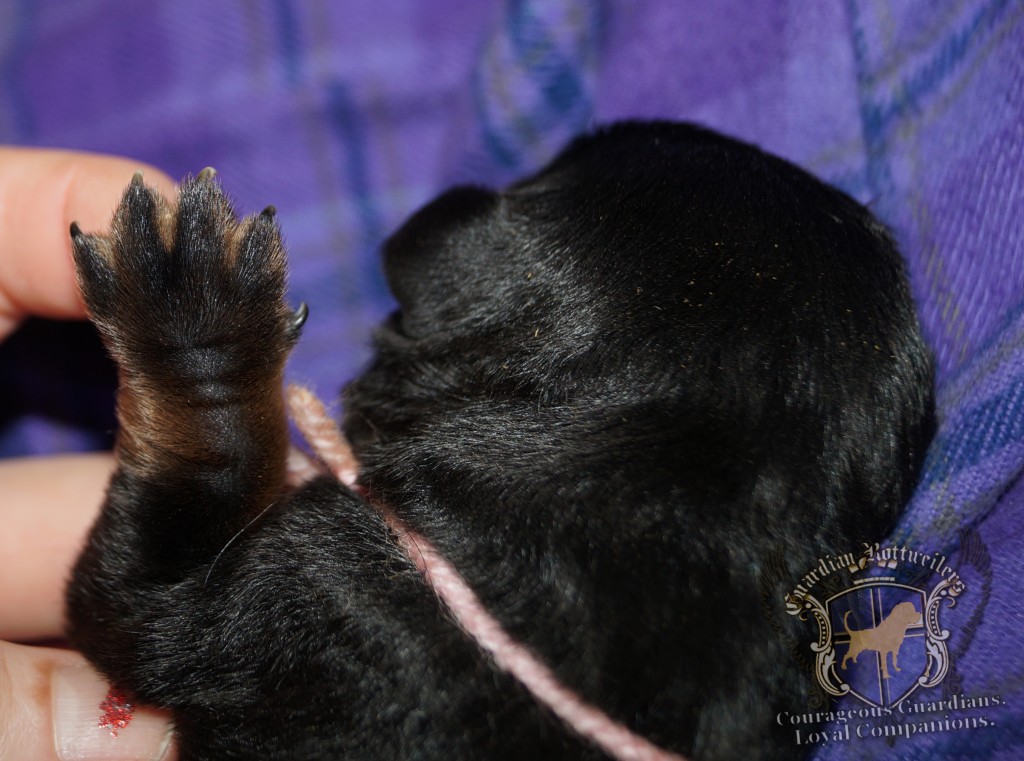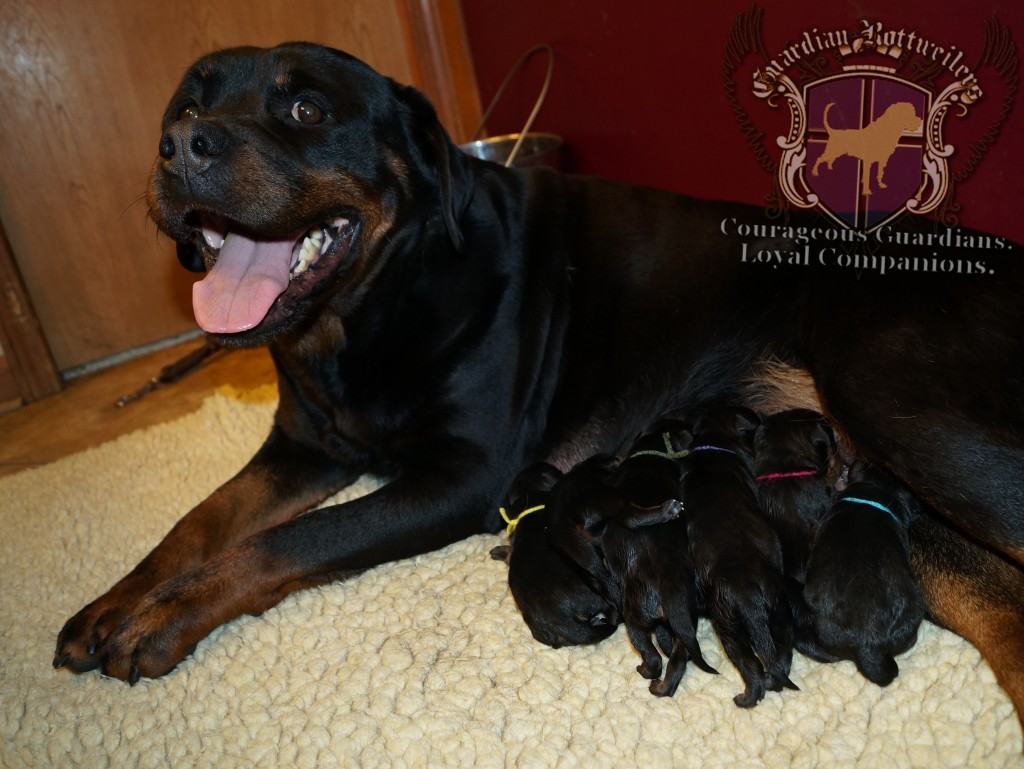 ---
Guardian Zeus and Guardian Zander Von Gottschalk  We went and met our vet today, he said we were a couple handsome dudes.  We are happy with our new human Mom and Dad, we are having a lot of fun, they cuddle us a lot.  Wanted to let you know we are doing really good????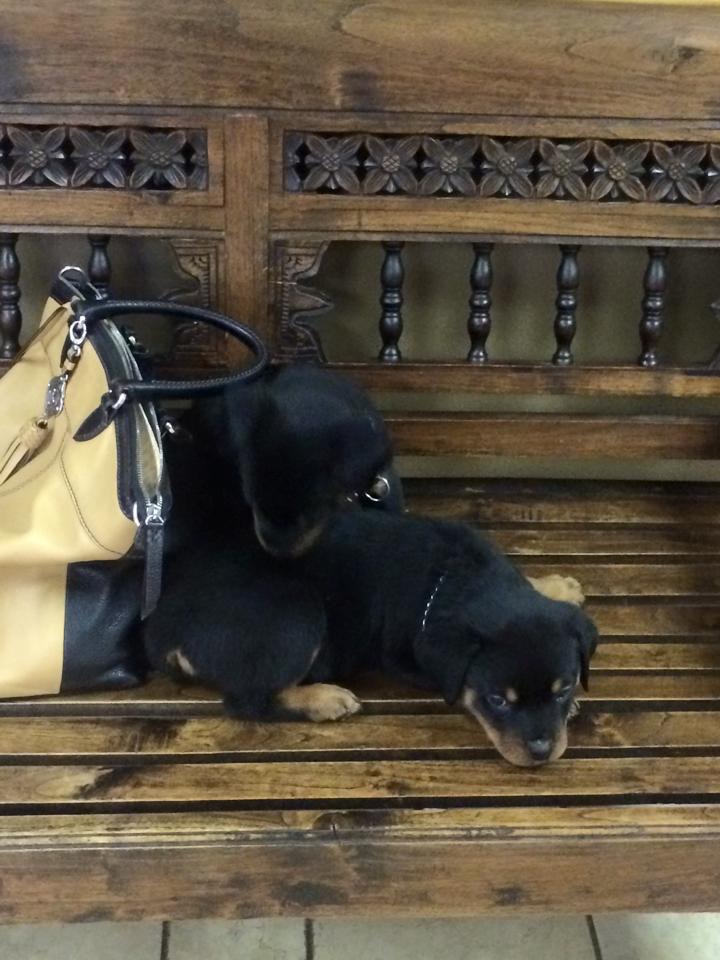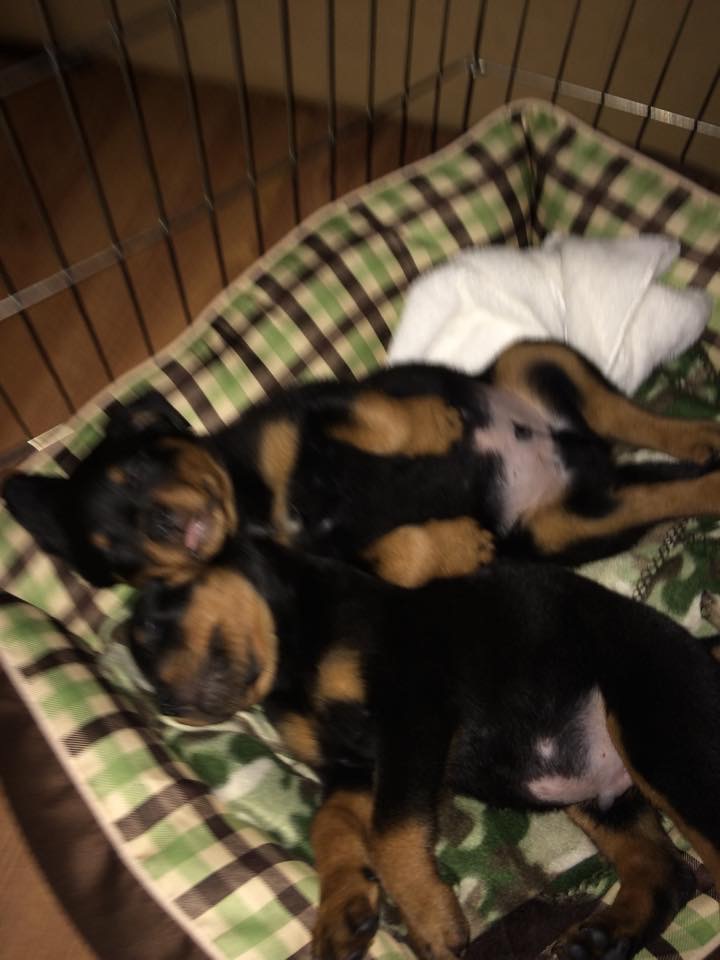 Our Mom and Dad lets us take naps in the chair with them sometimes, we really love our new home, and the kids here love us too???????? P.S. My human Mom and Dad are going away Feb 21 thru 28, can we come stay with you while they are gone?  My mom said we will remain on the same food you started us on.  Can't wait to see everyone! Hugs and kisses Zeus and zander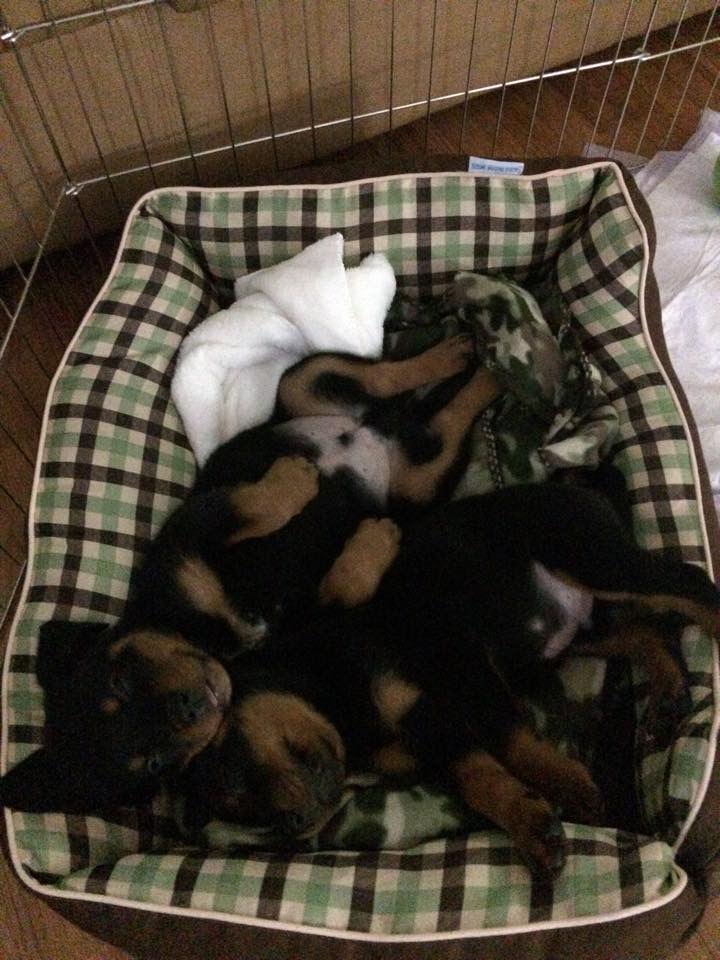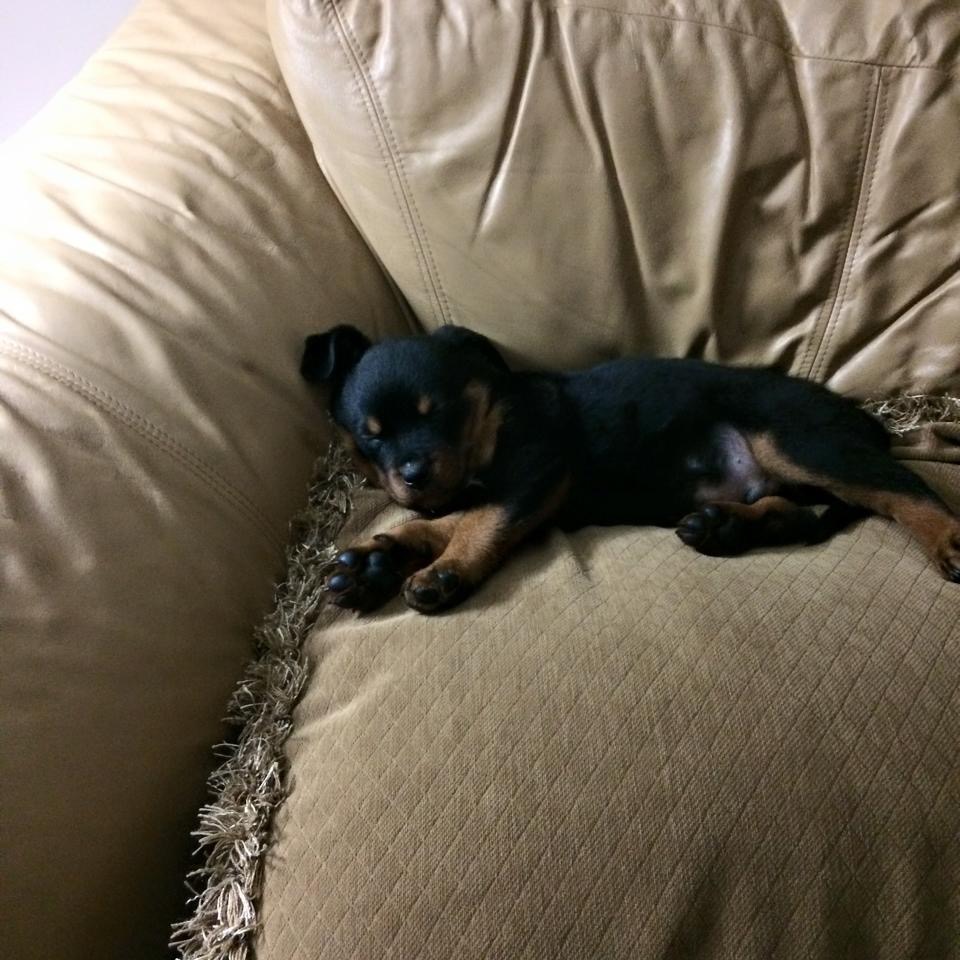 We love to go outside, we love to play in the grass and chase the kids around.  Mommie lets us play I. The grass as long as she is right there cause there are birds she call Hawks that may try to,take us away.  She lets us play on the porch and sometimes she puts a leaf on the porch so it blows around and we chase it. ???? Love Zeus and Zander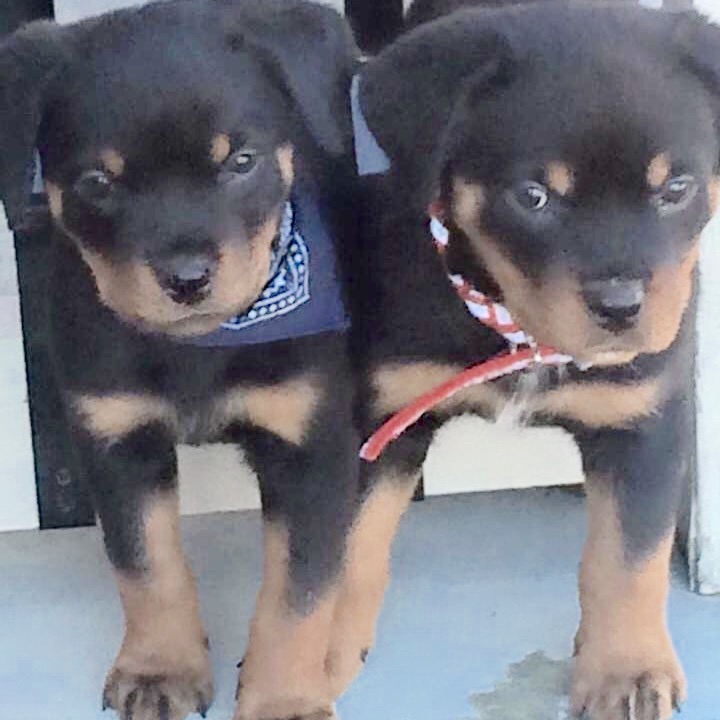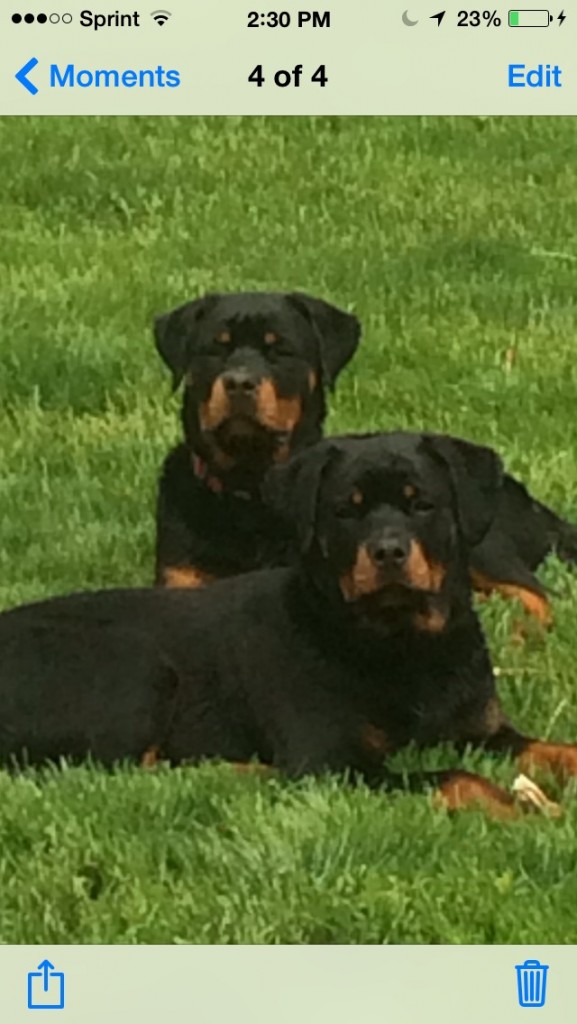 Hello Alice,
Wanted to share a picture I took of the boys today, they are so handsome, they are very good boys too!!  Their trainer REALLY loves them, hope you enjoy the picture.  I like sending them so you can see how happy I am with these boys.. <3
<3
Barbara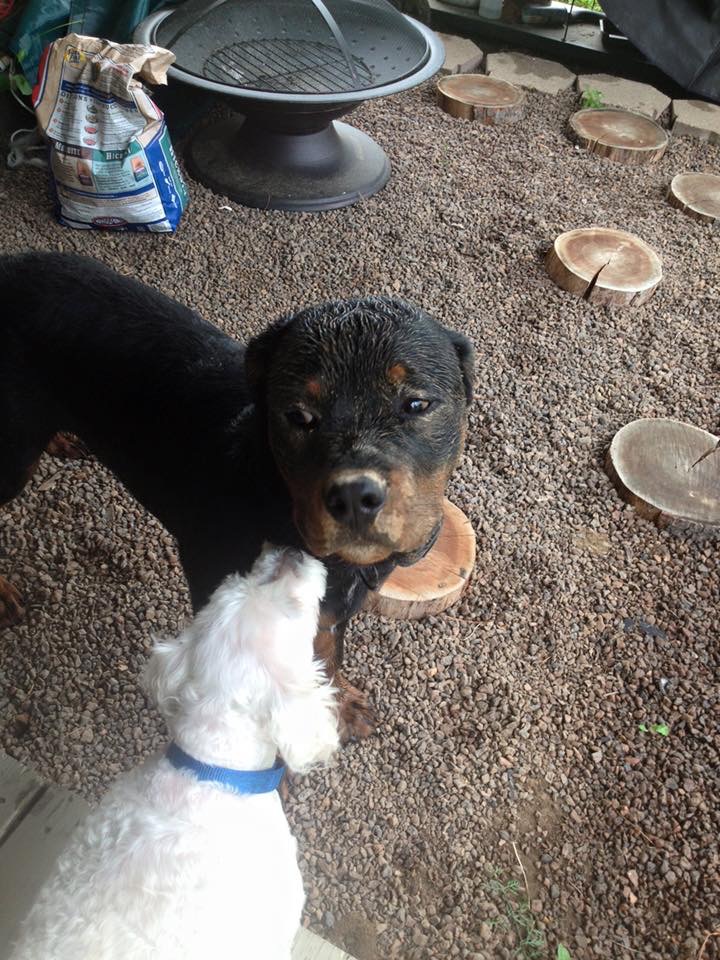 Zander and Zeus has recently discovered the lake, they love the muddy part???? choco the Maltese, my nieces dog is trying desperately to clean Zander up before Momma sees him, two baths in 8 hours
rs????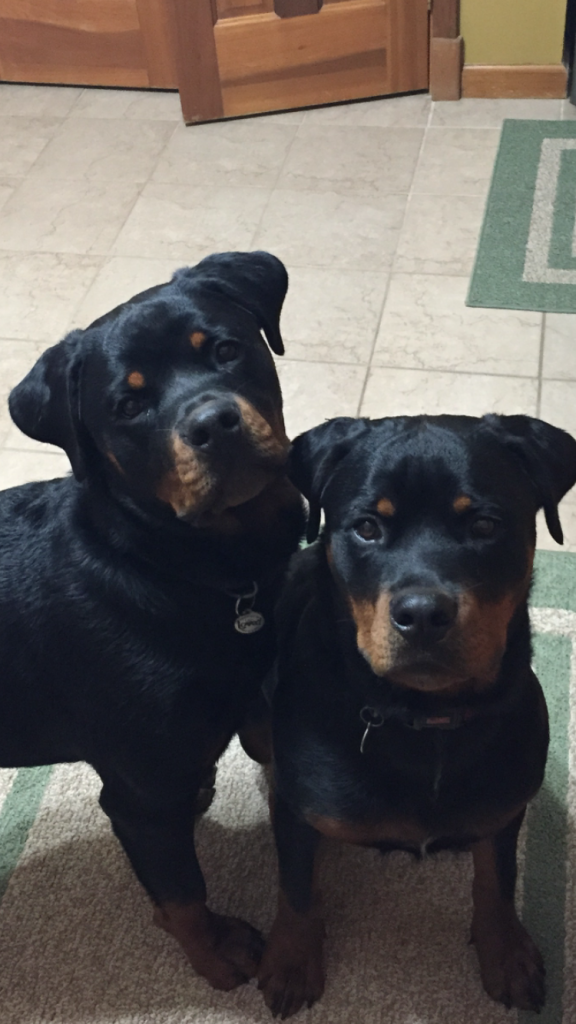 Alice, you are so correct, the runt Zeus is in the lead on size, he has turned into the most lovable one but most serious too.  Zander is goofy and bouncy but he is the dominate one.  Which is very confusing to me, but when Zeus gets his fill Zander listens.. 
Thank you on the compliment with them, their trainer loves them, he says they are perfect in size, no fat all
Muscle, they love swimming, and going bye bye.  They listen to the commands as if they were two years instead of 10 months.  
Where ever you end up, I will always want to get my fur kids from you
These two have certainly been a new experience for is, but man do we love them to piecea
---
"Yara" Guardian Zaria Von Gottschalk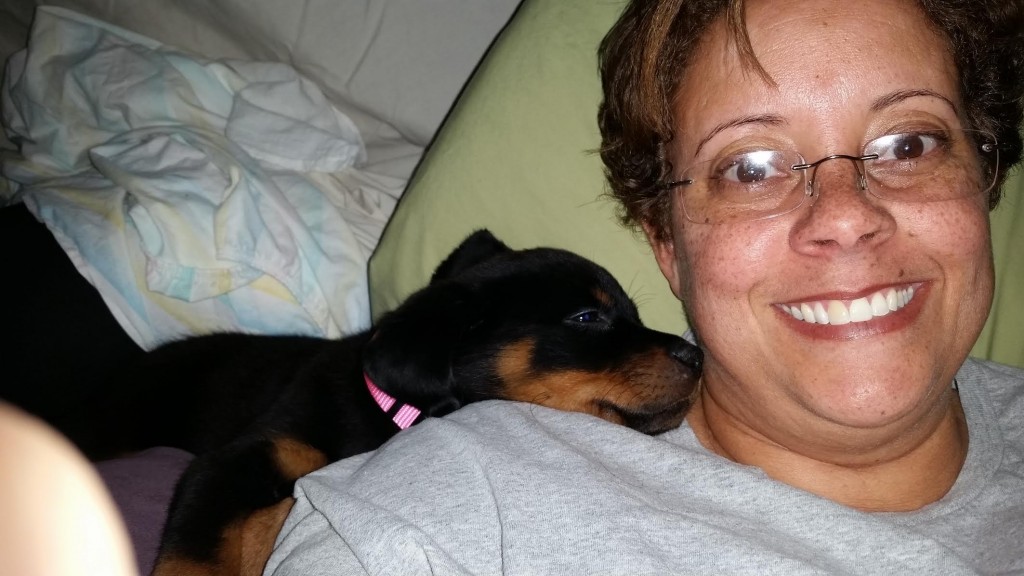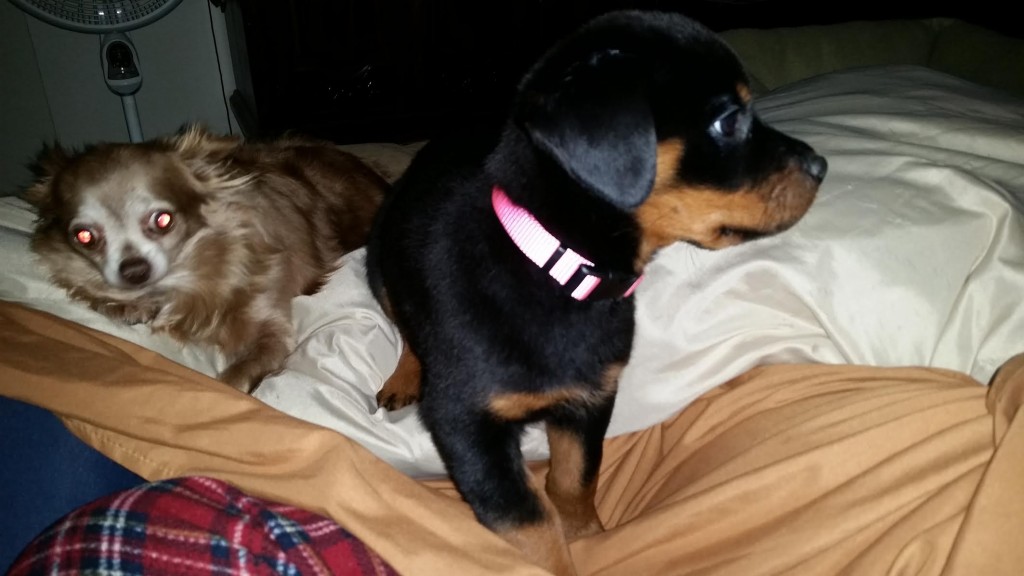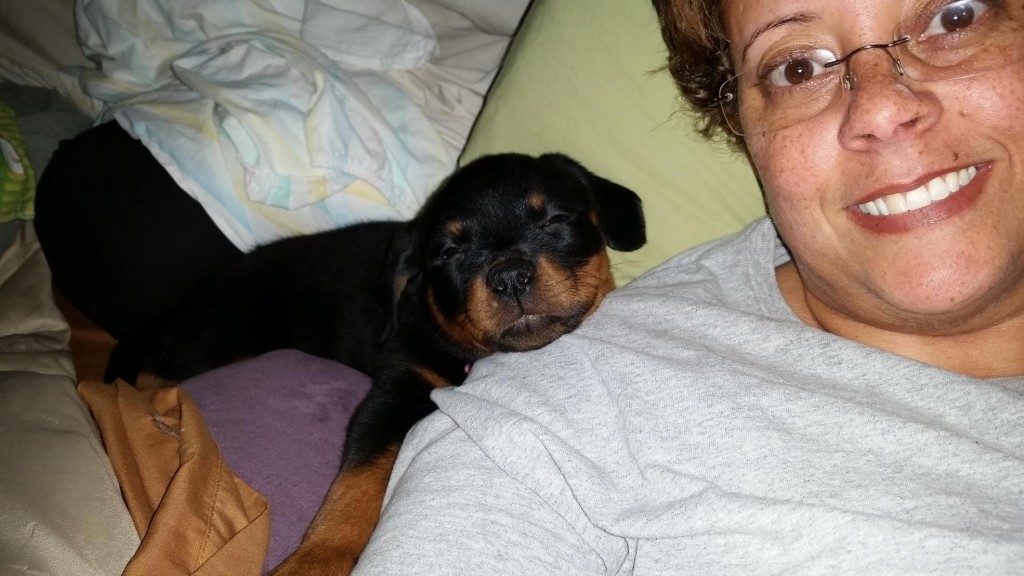 Zaria has had a day full of newness! Complete sensory overload. Airplane ride, new people, new smells, and a new fur family! All introductions went well! Roxy met her first on leash with my daughter holding the puppy. Happiness all around. Then came Naiyah. She didn't greet roxy so well when she arrived 2 years ago so i was a bit more cautious but she was happy as a clam this time around!
Ignore my neck! I was laying down AND smiling!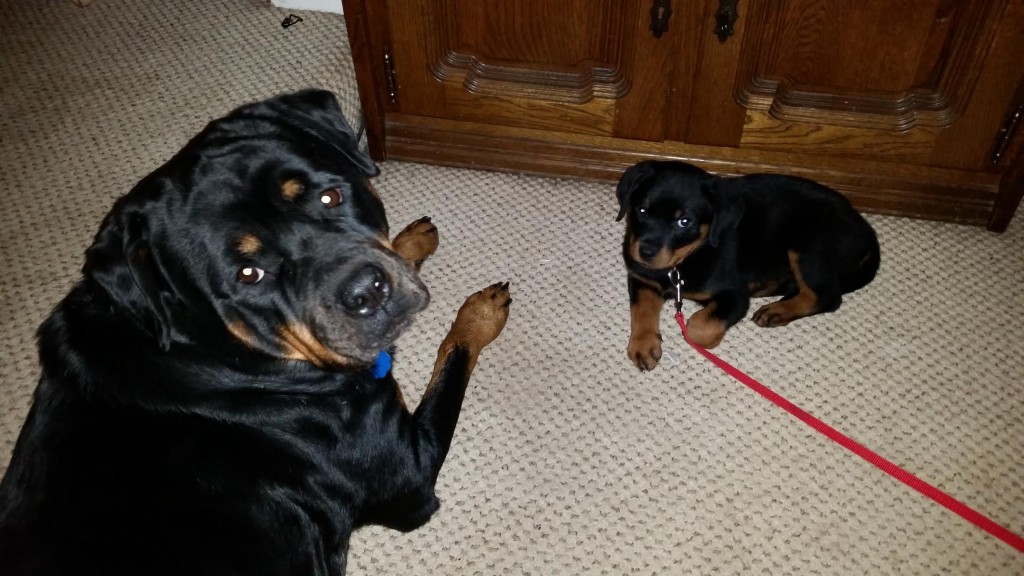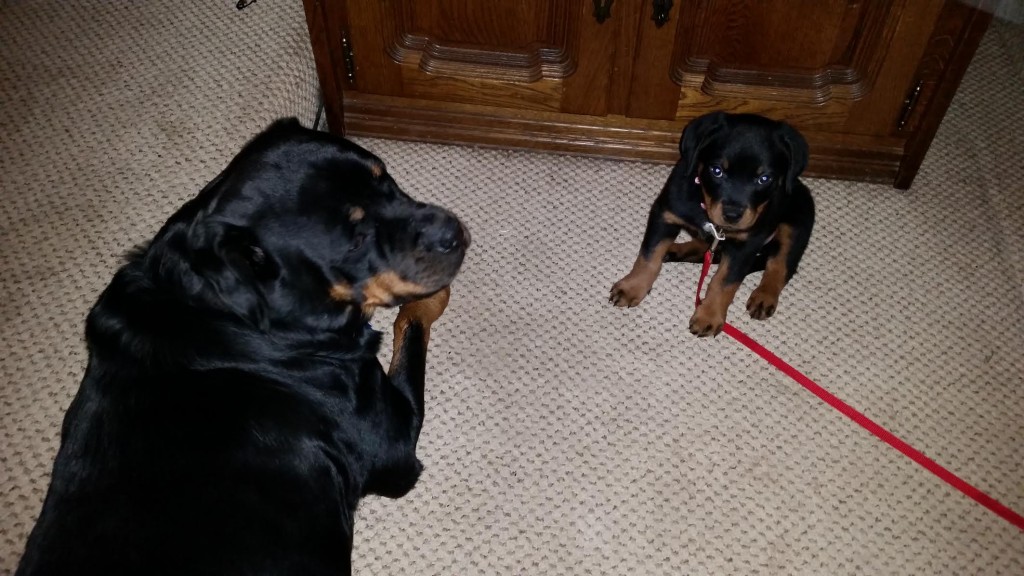 ---
Guardian Zoey Von Gottschalk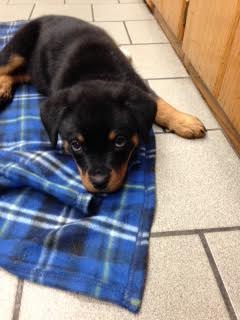 Alice just wanted you to see how Zoey is doing. What a great puppy and so smart. Her accidents are minimal now. She already holds it all night, she knows her name and is starting to understand basic commands. She is very loved that's for sure.
Lisa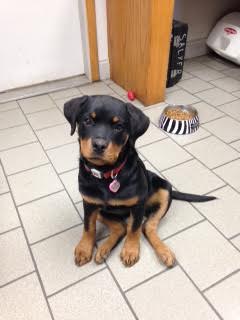 Look how big she is getting
Lisa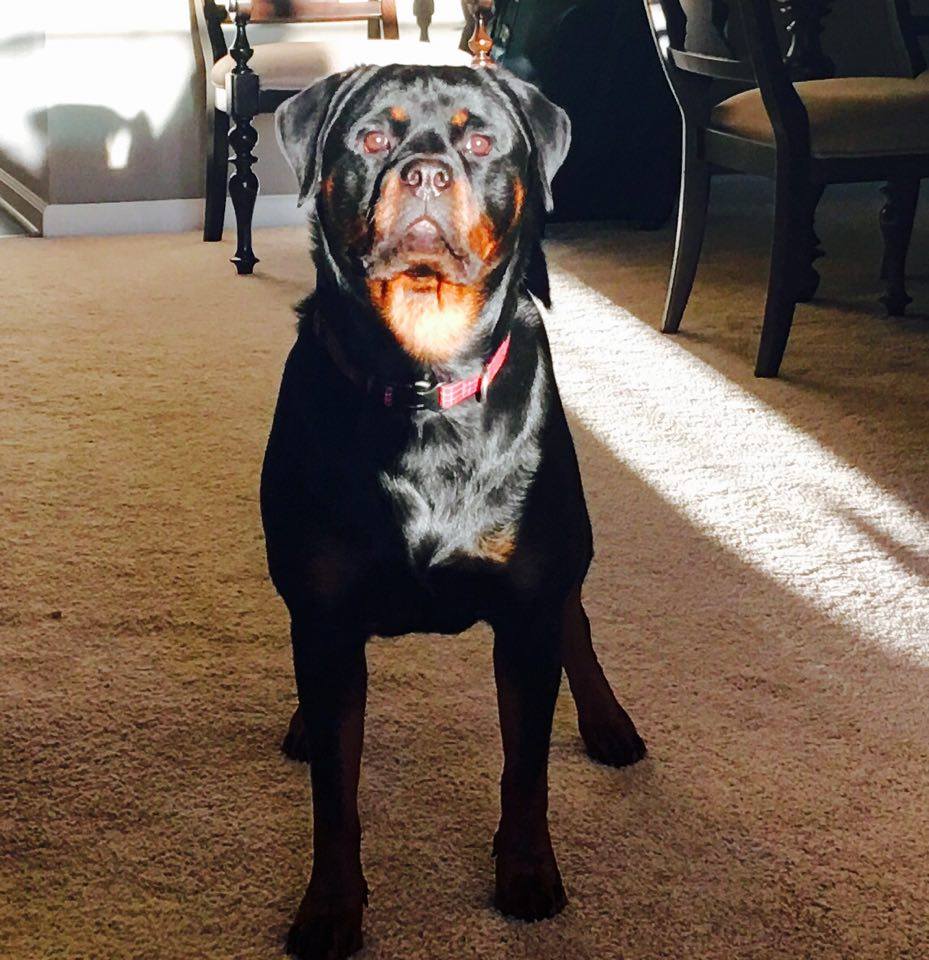 Zoey is the best!  Thanks Alice
---
"Duchess" Guardian Zenia Von Gottschalk
Hi Alice
 I thought it was time I sent you proof of the hardships in her life! We love her so much. We can't say no to couch naps. She literally will go to the couch and whine when it is nap time. Thank you again for blessing is with her! We will surely keep in touch.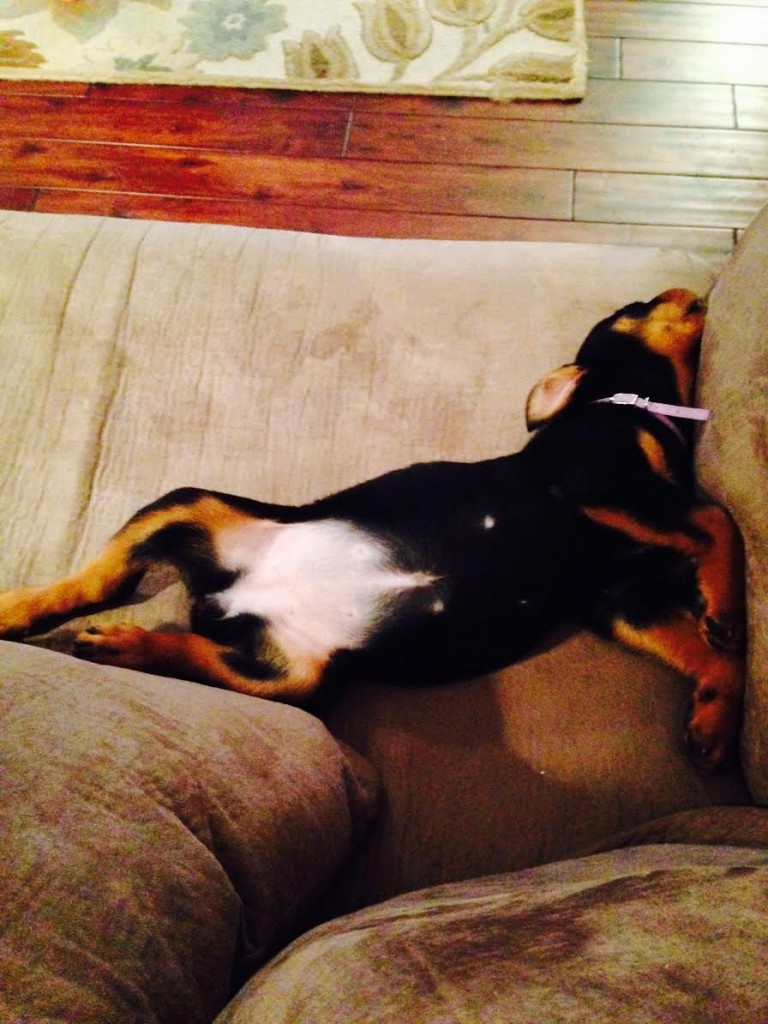 Good morning Alice!
My husband and I were talking last night about how much we love our beautiful girl and it reminded me that I haven't sent you a picture in a long time. So here is one of her on the couch…still
….with our youngest. She is so loved and adored! Thank you so much again for providing us with our fur baby!!! She is one of the lights of my life.
Casi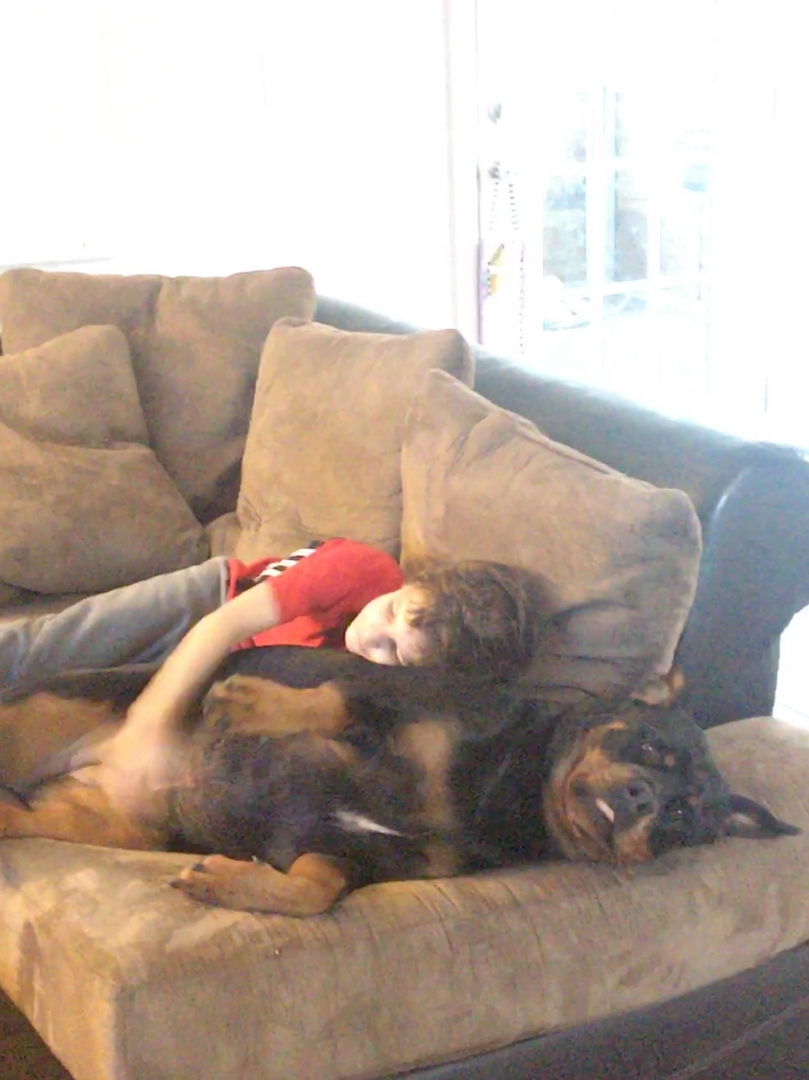 I'm glad you liked it!  She is everything to us… We've joked many times that a kid would go before she would
I think we are joking… Lol. Just kidding! But honestly, I used to suffer from night terrors as an adult- related past trauma and the fear of home invasion. I DON'T ANYMORE! Knowing that I have my Guardian at my side at night, sleeping  where she can hear her whole family and also see the front door… has removed my fears and anxieties. I am proud to say I now sleep through the night without those fears.
That being said, my husband and I were wondering about how long your wait list is right now? We have been considering bringing a Male Rottie puppy into our home. We lost our golden retriever last winter and are just now considering filling that void. We would go nowhere else but you! We are not in a hurry and figured if your wait list was months to years long for a male that we should probably get on it
. Just let me know. Thanks Alice!! I'm hoping you and yours are all well.
Casi
(Visited 10 times, 1 visits today)