Guardian Rottweilers D LITTER
Sire: Enkidu Crni Lotos
Dam: Ann Se Ungo-Rot
Ch. Enkidu Crni Lotos X Ch. Ann Se Ungo-Rot
A good breeder has the ability to critically look at his/her dogs, take into consideration the professional critiques from judges and evaluate what their dog or bitch brings to the table as an asset and what could be improved on.  In choosing a breeding pair, you want to accentuate the positive attributes in each dog and find a stud or bitch that will pick up the slack where his/her partner is lacking.  For instance, if you have a female with a good front and correct angles but a soft topline, then you need need a male that not only has a solid topline, but just as importantly, has a pedigree for a solid topline so that it will be passed dominantly to the progeny.  I LOVE a female like ANN who brings SOOOO much to the table and makes finding the correct male EASY!  Rather than trying to compensate for anything, I get to exaggerate everything that I already love!!  I really wanted to capitalize on her strong head type by finding a male that also entered a room head first 😉  I also wanted to emphasize her heavy, compact build with a stocky framed male.  Ann has beautiful, fluid movement (result of very correct structure- function follows form!), so I wanted to keep that by going with a bloodline that was well known for its movement.  Most importantly, the attribute that I love the most about Ann is her character.  Her pedigree is first rate for exceptionally temperamented dogs, so we definitely wanted to keep that with the male we chose.  The one thing that I did want to improve on with ANN was mouth pigment.  She has very correct, dark mouth pigment, but I LOVE a SUPER DARK COMPLETELY BLACK mouth, and this is an attribute that is easily lost in breeding and difficult to recover, so I really wanted a male with completely black mouth and gums and a pedigree dominant for that.  I interviewed several great males and reviewed dozens of progeny to see how these males consistently produced before finally settling on what I believe to be the perfect choice for my ANN.  CH. ENKIDU CRNI LOTOS is an INCREDIBLE male with an equally incredible pedigree!!  And what exquisite movement!!
Here is a video of mom!  <3 LOVE this GORGEOUS female!!  Our most titled Rottweilers and it is easy to see why!!


Here is a video of the pups at 22 days old eating semi-solid food for the first time!

Here are Ann's babies at 19 days old!  Such little butter balls!! <3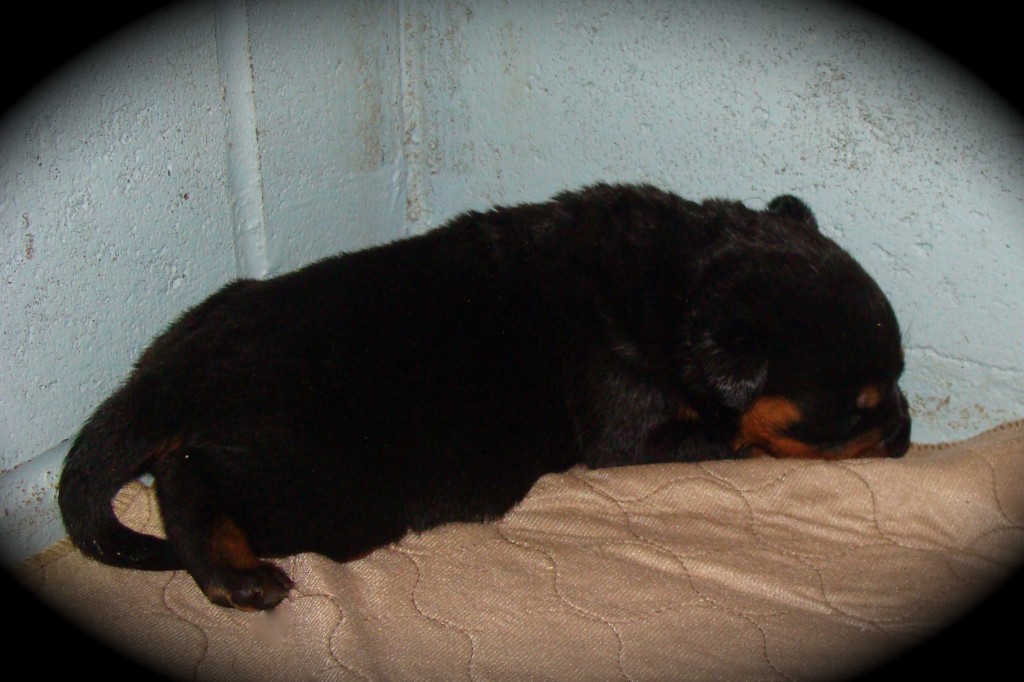 These little guys just got done eating for the first time!!  What a mess! 😉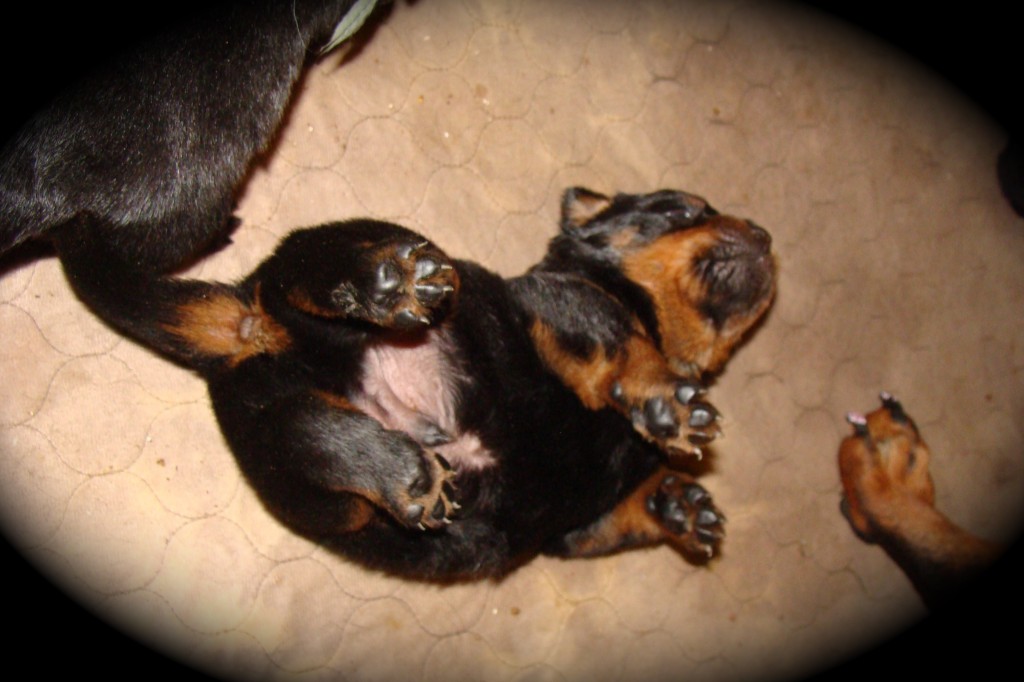 All snuggled up!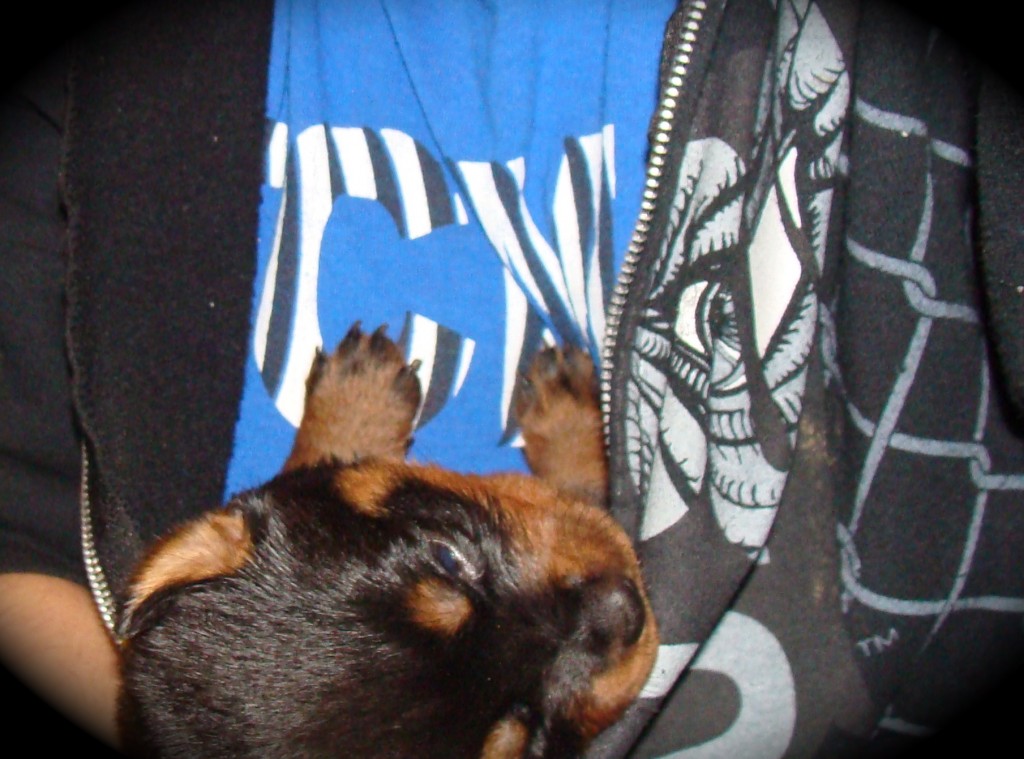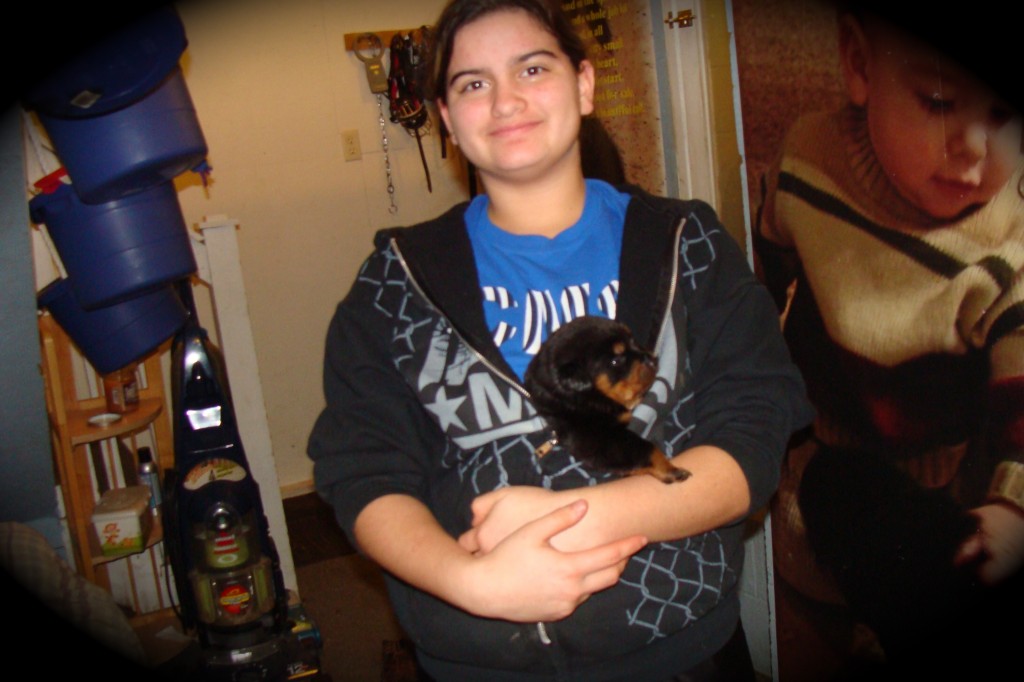 Passed out!!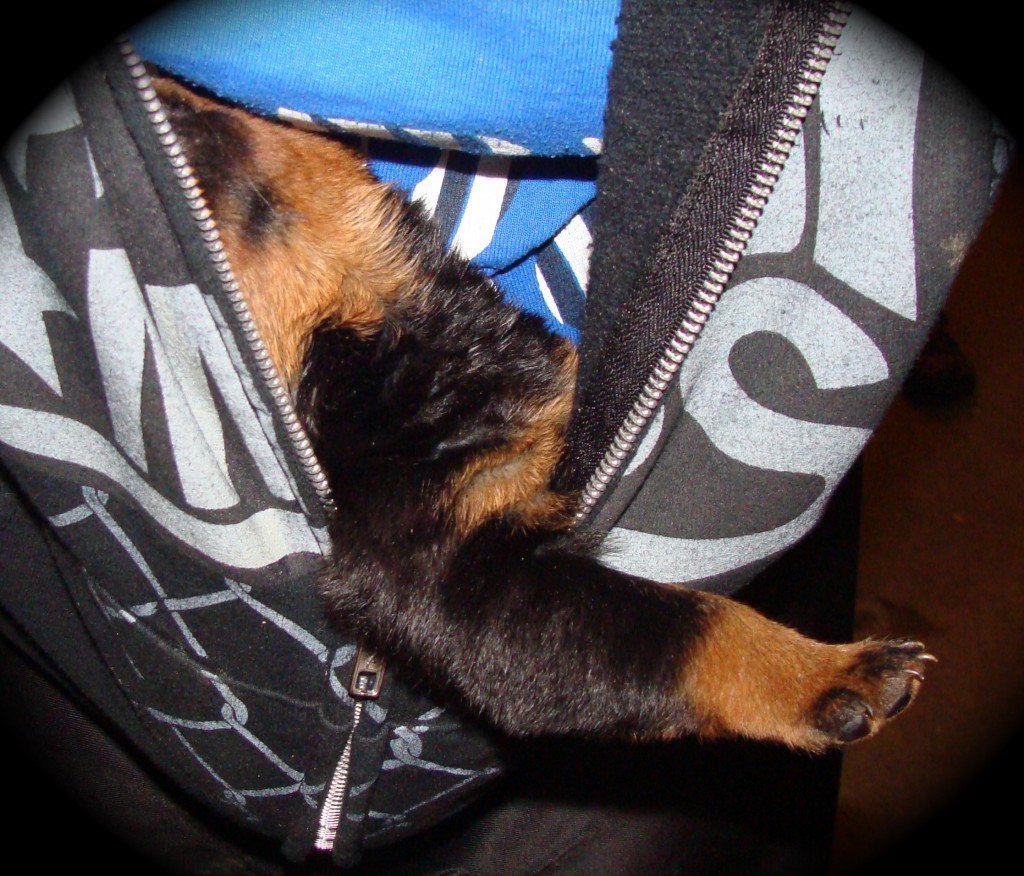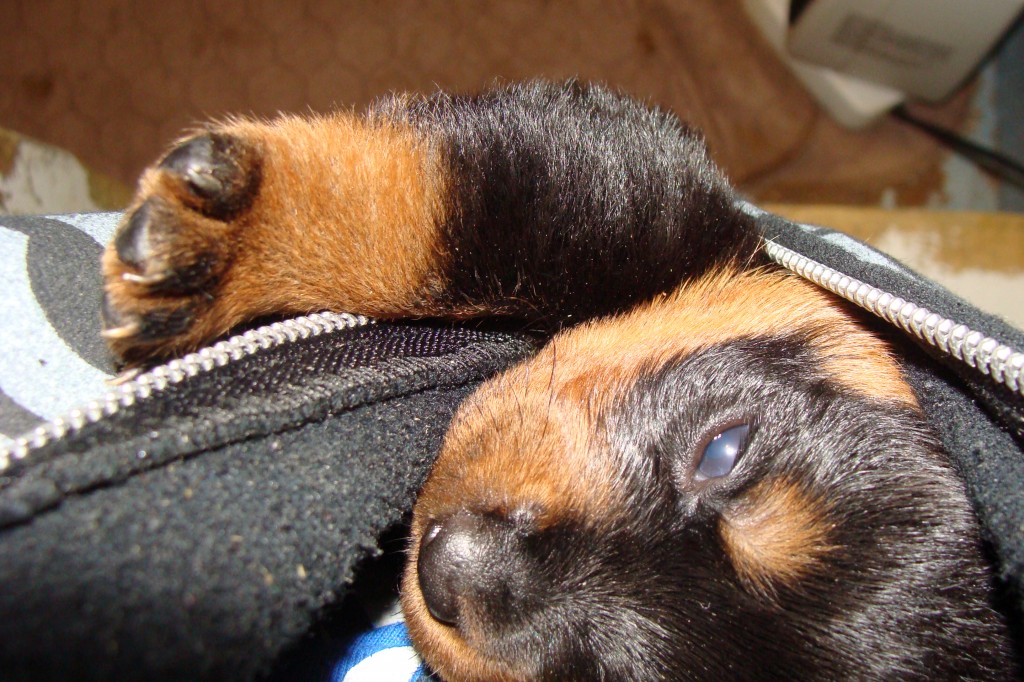 This little lady has a full belly, already got washed off and now wonders off for a nap.  Watch as her siblings join her one by one!
Now there are 2 full, clean, sleepy puppies!
Three full, clean, sleepy puppies!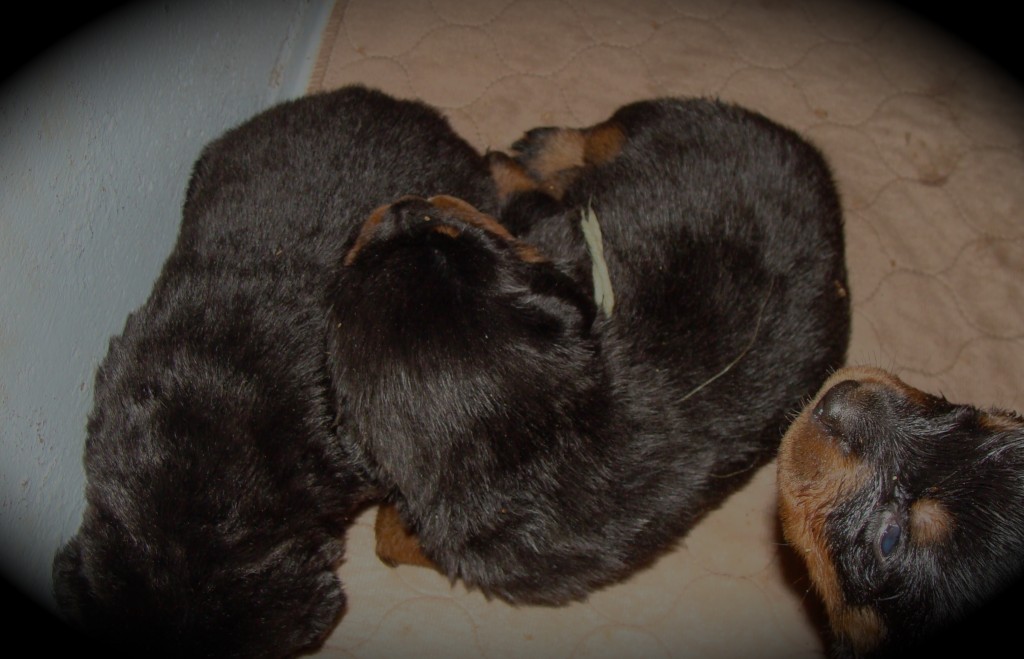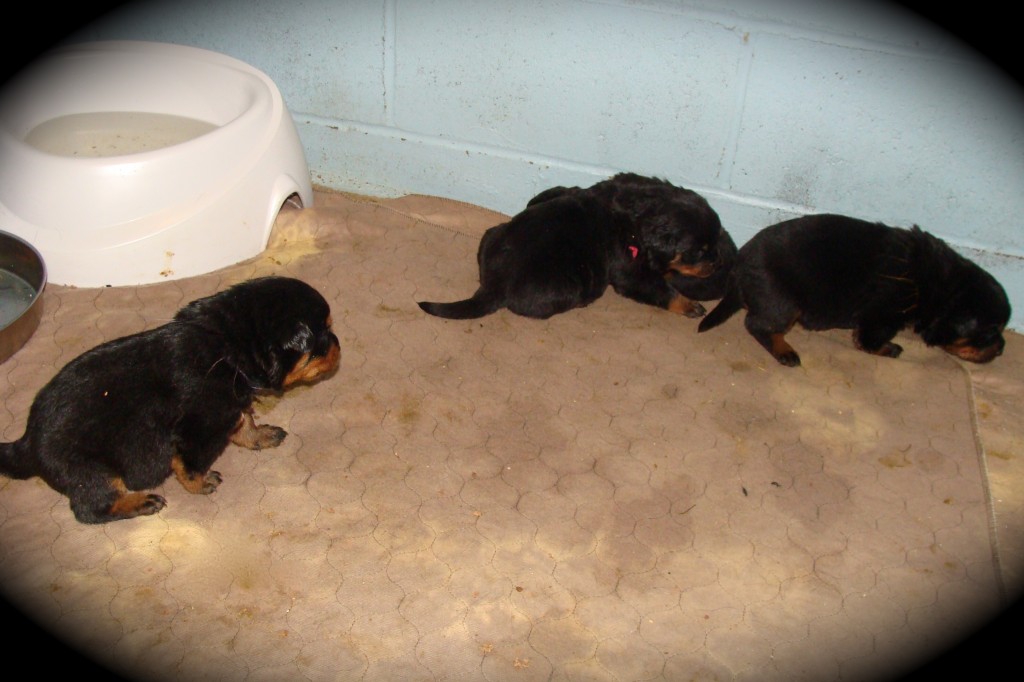 Four full, clean, sleepy puppies!
---
"Ollie" Guardian Denali Von Gottschalk
Thank you so much for the opportunity to add Denali to our family! We already adore him so much!  He is doing great with potty training…he goes as soon as we take him out!  He has already figured out so many routine things in our house and has already learned to play fetch with a tennis ball, bringing it right back to us. He has made friends with our other dogs, and took two relaxing walks on our property with us yesterday. He is sleeping very well in his crate, getting up to potty then going back in to sleep quietly! What a brilliant boy! We have taken lots of pictures and video and will post something soon on FB page. 
We took him today for his well visit evaluation. Our vet LOVED him! He, evidently, has Rottweilers and had so many good things to say about him being German bred and not American bred! He thought he was an gorgeous pup…he went on and on. He wants us to error in the side of caution and vaccinate every two weeks. Said he has seen too many Rott pups pass from parvo and recommends two weeks for them now. He said he is too special to not be careful with! He even didn't want us doing puppy classes until after all vaccinations because he said he didn't want us taking him anywhere where other dogs have been. He said at 20 weeks we could do that. He also wants us to be diligent with hand sanitizer for anyone who comes in contact with him. After this meeting I decided I loved our vet even more and I am thankful he is up on Rott issues. He even specifically told me just what you said about feeding and slow growth…and was glad to see his tail wasn't docked. 
So that's your update on our vet check! Like I said I will make a fb post soon! Taking other two dogs for vaccines now…a month and a half early but I am not taking any chances!
Oh, kids wanted his home name to be after the IU Bball player Victor Oladipo…so they are saying his name is Oladipo…but calling him Ollie. I promise, this will be one loved pup!
(Visited 20 times, 1 visits today)