Guardian Rottweilers R LITTER
Sire: Aron Timit-Tor
Dam: Guardian Xoana Von Gottschalk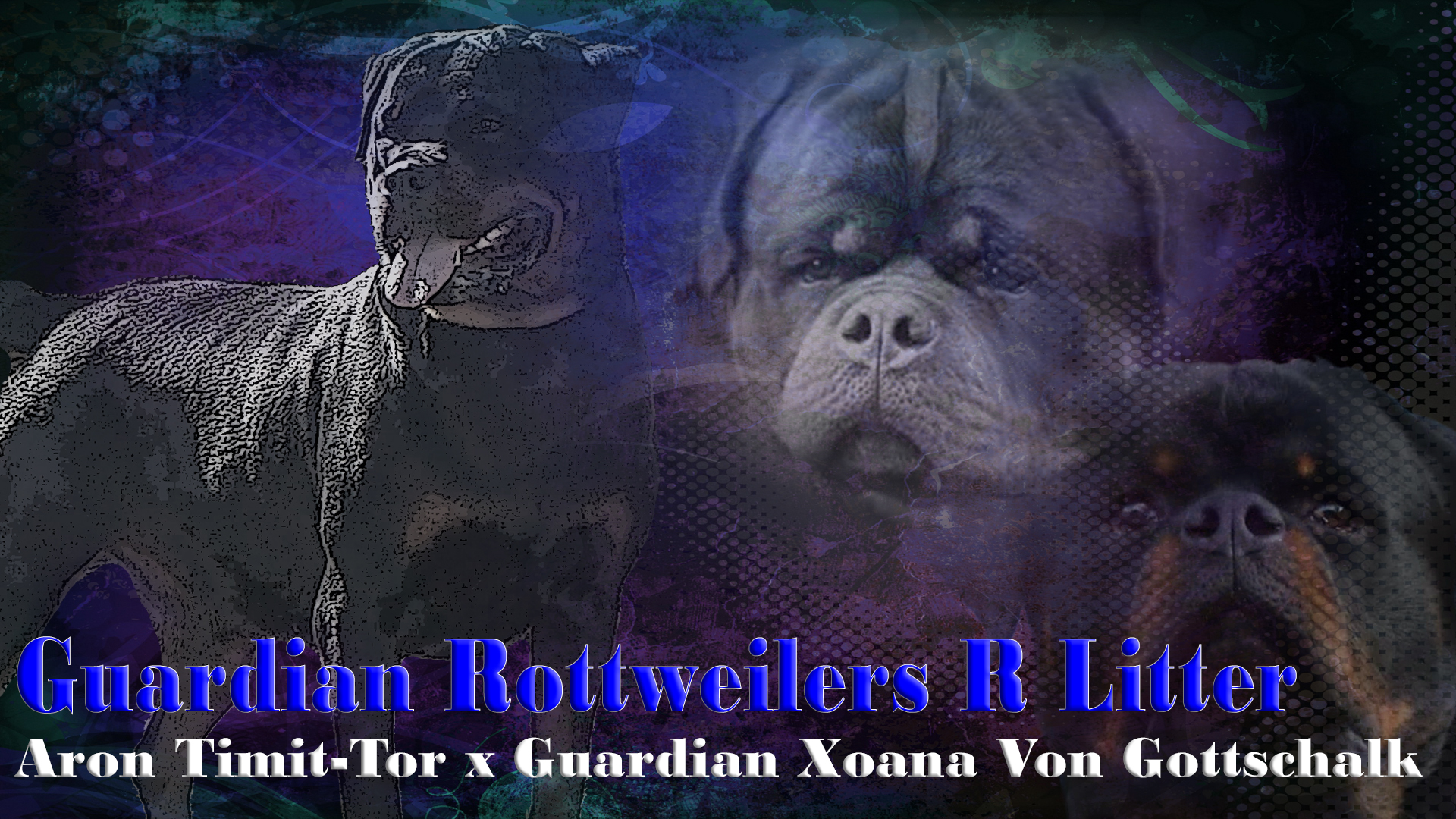 2 weeks old!
---
Guardian Radar Von Gottshcalk
Hi Alice. I hope this finds you well. Here is a picture of your little Radar. He's doing great and growing up so fast.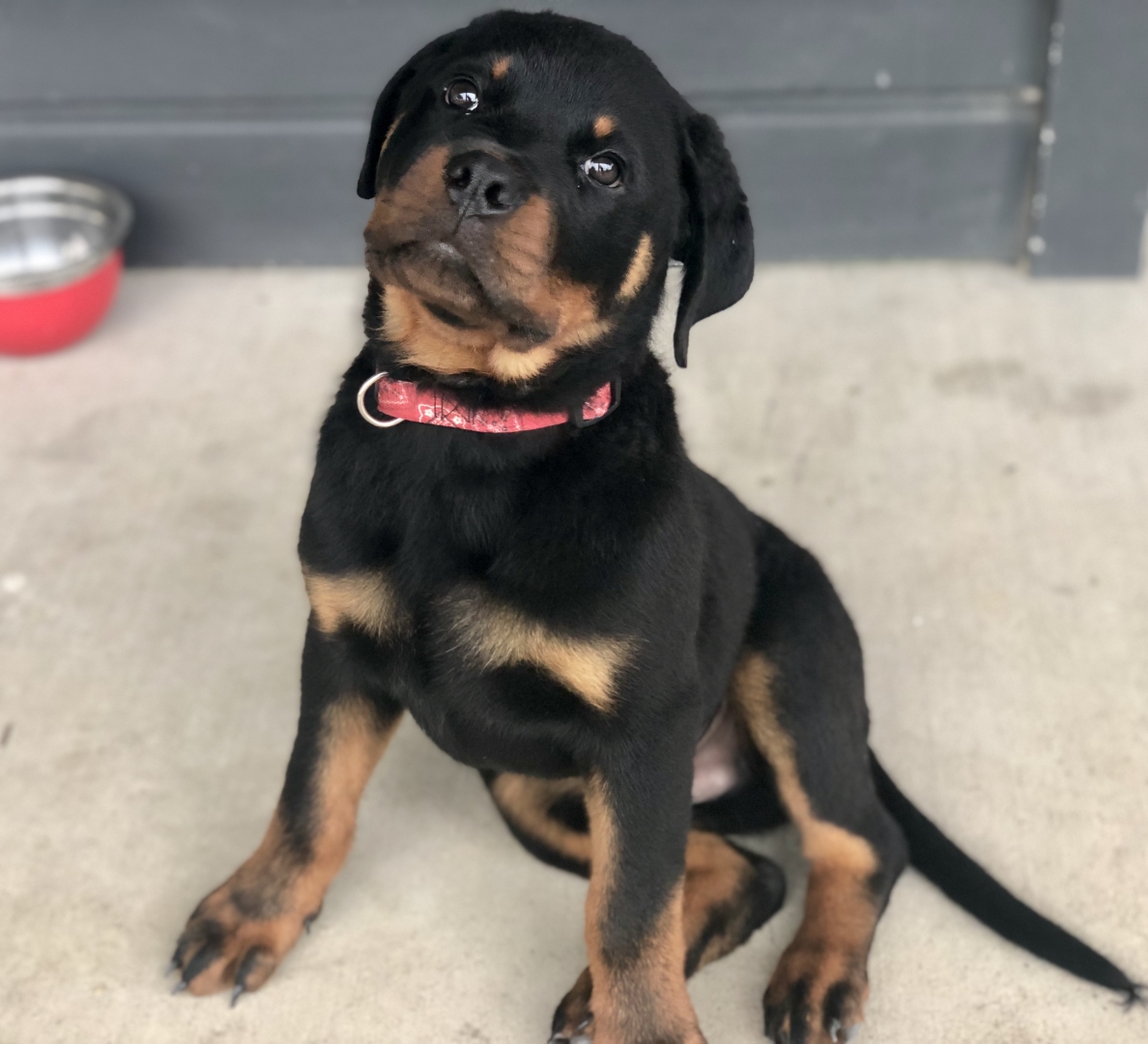 ---
"Grizzly" Guardian Rift Von Gottschalk
Hi Alice,
We love our Rottie!!  Thank you so much for entrusting us with one of your babies. I have attached a short video for May 5th. 2 days after we brought him home. I think you will enjoy it. Happy Mother's Day! 
Sherri
IMG_6477
click on the link for the best game of teamwork fetch ever!! <3
Hi Alice,
I am glad you enjoyed the video! Of course we love our boy!! How many times have you heard that from your happy owners?
He is 44 pounds now and the sweetest chillest puppy ever! Everyone is so surprised at his excellent quiet and calm temperament. I sing your praises to all of them.
Would you please add my name back to the puppy updates! I miss reading all about the activities, the puppy profiles and the show results.
Who knows… we might get another puppy someday!
Sherri
IMG_6979 (1)
Thanks for the update.  So glad Boca is back home!
Here is something to put a smile on your face. Grizzly (Rift) swims a lot. He has figured out that he is tall enough to touch in the shallow end. He walks on his hind legs and he really likes like a bear.
I sent the video in a separate email.
Hi Alice,
Grizzly (Rift) watches TV and interacts with the characters sometimes. He does not like Vanna White. Please see clip. He would only react to her turning over the letters. Not the wheel spinning nor the contestants. .
We watched Lion King last night and he watched it for about an hour and then went to sleep. I have included 1 clip from last night.
Thanks for including me in your pupdates! I really enjoy them and would love to adopt one od those big X boys but the timing is not quite right.
Merry Christmas!
Sherri
That is so awesome!  Yes, ours watch TV too, and each one seems to have something they react to 😉  Isis whines every time there is a baby, especially kittens <3  Eva and Zarabi both growl if there is a bad guy coming up behind someone; Crom would always react to old western gun fights… someone told me once that dogs could not really see what was going on on TV, they they just react to the movement, but I don't believe that for a moment!  Ours watch it with great interest!  Do I have your permission to share this on my fb page?  I have never really thought about getting video clips of any of my guys watching TV, and I just adore watching Grizzly <3  (and by the way, I am firmly convinced that he is only barking on Wheel of Fortune because he knows the answer 😉 )
Have an awesome day and give him a great big hug from his number one fan <3
Alice
lol, that is a good point. I didn't think of that…..of course, he knows the answer! AND, I believe he can see everything happening on the screen. He watches football too. He growls when there are animals fighting or people fighting. It is fascinating to us just to watch him watch TV. We have had several labs and German Sheperds and have tried to get them to respond to the TV over the years and they might look but pretty much ignored it. He laid on the floor and watched Lion King for an hour!! Amazing.
Yes, you can use anything I send to you, past or future, for your fb posts. He is the sweetest boy and loves everyone but I wouldn't want to be the one to threaten me or Steve while he is around. He has a ferocious bark and growl and a mouth full of pearly whites that should deter any mischievousness. Just the way we want it.
I hug our boy many times every day and I will give him a special one from you.
Love to you and your family and ALL your beautiful beasts. You are blessed and a blessing to so many.
Sherri
Video (1)
Video_1 (1)
Happy Birthday sweet boy!!!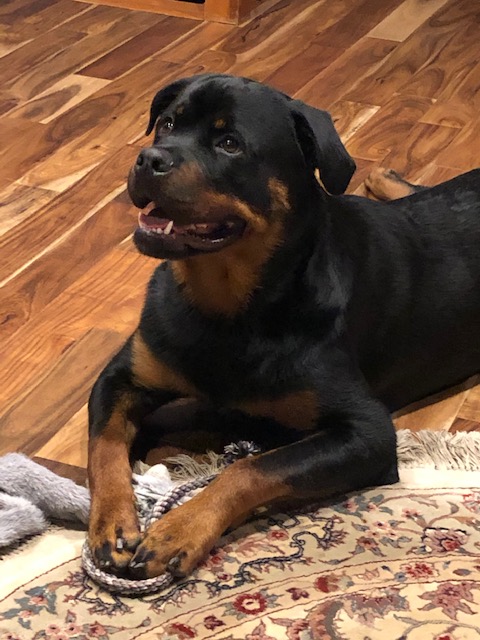 Here are a couple pictures of Grizzly. He is 2 years old now and the sweetest most loving dog I have ever shared my life with.
---
"Bear" Guardian Razor Von Gottschalk
Hi Alice,
I am writing to tell you how much we are enjoying Razor (aka Bear). He is a joy and everything you promised. See attached picture for my Guardian Rottweiler–right beside me every step of the way (he is sleeping at the foot of my desk chair). Bear is enjoying meeting family and friends. His human sister really wore him out in the yard this evening–she plays like a puppy and hopefully is a good replacement for Teddy!
No issues with his crate (I got him the next bigger size) and he is doing well with potty training. Sharp as a Razor! He seems to like corners and crawling into tight spaces so I think the crate suits him well.
All the best to you and your family,
Lois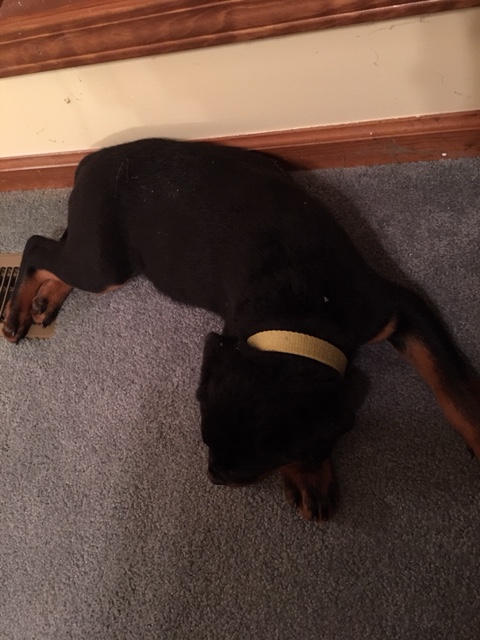 Hi Alice,
I have been following Korbin's progress on your Facebook account. I hope that his health continues to improve!
I am writing to share a great story about Bear (Razor). My daughter Emma came over to my house this afternoon to spend some time with Bear while I was at work. Bear ended up babysitting Emma as she took a much-needed nap in a living room recliner. Bear was on his best behavior since he knew that this situation was not typical. He sat by the door as I entered the house (instead of pushing to get through the door like he might usually do), showed me that Emma was asleep, and showed me that her shoes were on the floor (as if to say that he would really love to grab the shoes and run, but that he knew this situation was not normal). Bear stayed with Emma until she woke up–guarding so she could have that nap.
Bear is a really good boy. He is friendly with people and respectful with other dogs. We are out and around more now that he has all his vaccines. I am constantly pleased by his outstanding temperament, quickness to learn, and empathy to understand various situations. We are thoroughly enjoying having such a great companion.
All the best to you and your family,
Lois
Happy New Year Alice,
I have to share a Bear story with you.
Last night Bear woke us up at 2 AM barking urgently, which is very unusual since he does not bark much. What could be so alarming?
Bear and I play with the garden hose in the backyard, even in winter. I forgot to shut off the water to the hose at the connection outside the house. When the temperature dropped last night, the connection between the hose and house froze and broke. Water was running out of the spigot outside the house at full force. It could have been quite a mess, but Bear let us know right away (at 2 AM!) and we got it shut off. He really is guarding constantly.
I am sending a recent Bear picture–he is quite a handsome boy.
We are working on a Canine Good Citizen program and also playing treibball. Bear would really love to grab and puncture the exercise ball but settles for tackling it instead–trying to be a good boy.
I hope you and your family enjoyed the holidays and that 2020 is off to a great start for you.
All the best,
Lois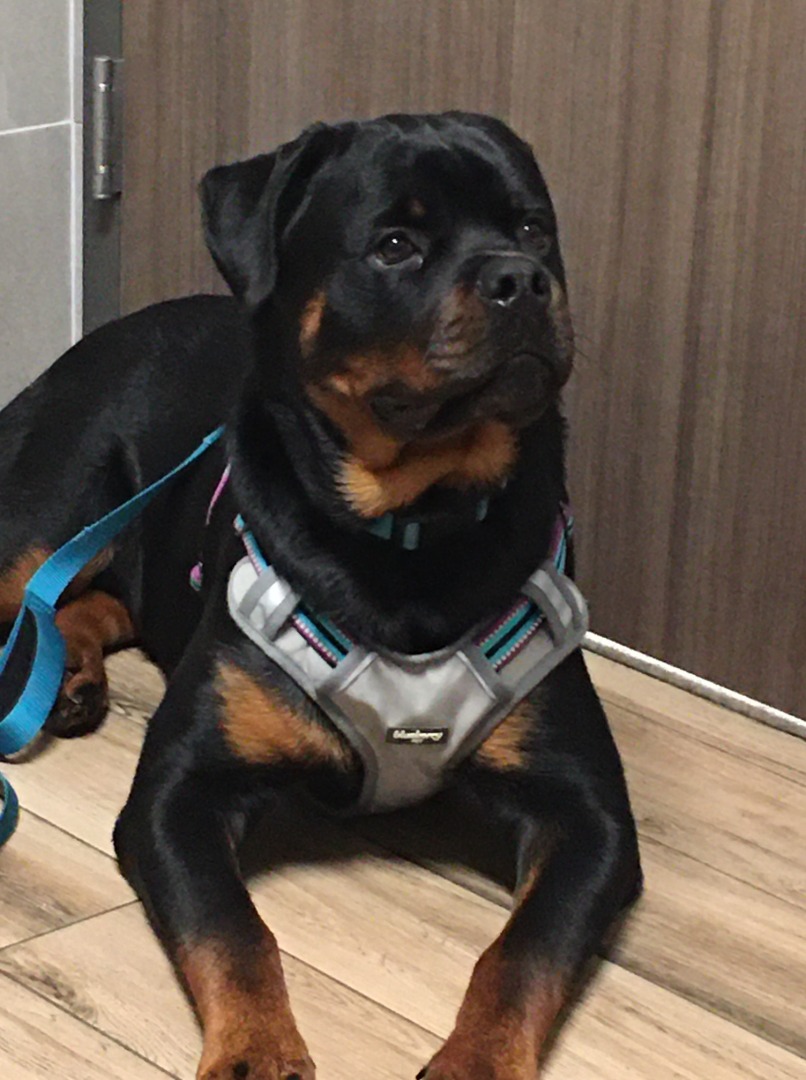 (Visited 108 times, 1 visits today)