Guardian Rottweilers E LITTER
Sire: Bull Se Ungo-Rot
Dam: Luna Se Ungo-Rot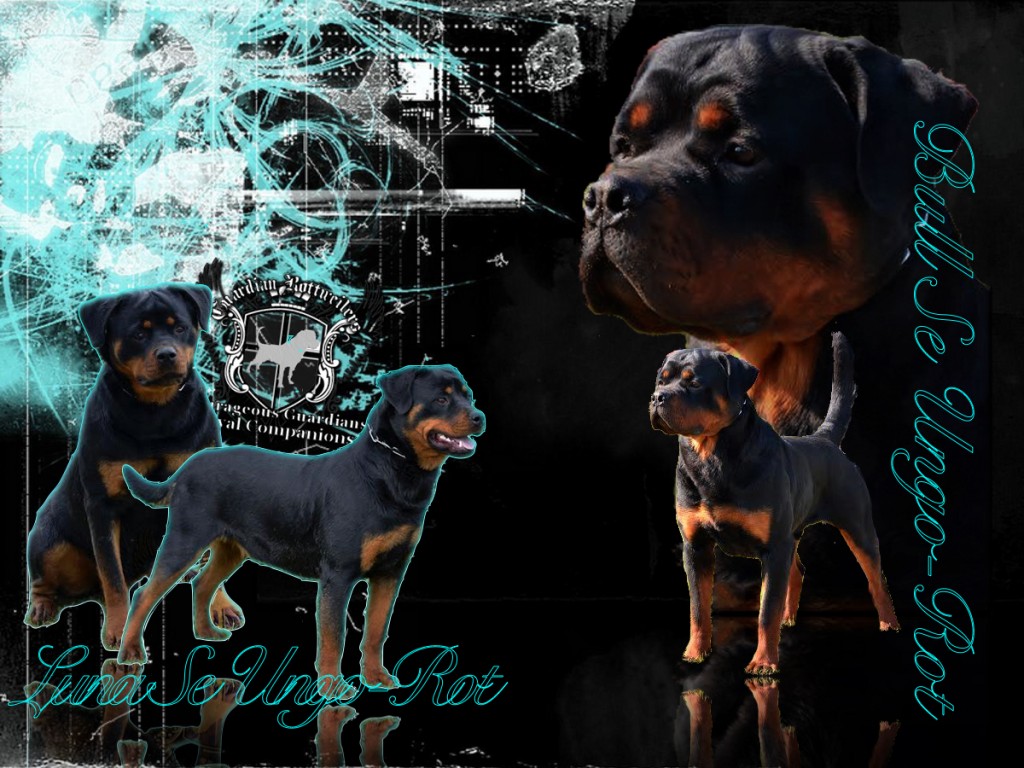 Luna is a beautiful, intelligent female from some of my favorite old German bloodlines.  Her Aunt, Whisky Se Ungo-Rot, has produced some of our best pups with champions in every single litter she whelped.  Bull and his brother Boda have take Europe by storm with not only their own physical presence, but the consistent quality of progeny they are producing as well.  Bull is a very large male with a powerful frame, very heavy bone and that distinguishing MASSIVE head of his!  I am expecting the absolute best character in this litter along with that heavy, stocky build we all love.  Bull is the son of Arlos Majestic Rott, SIEGER SHOW  LOZNICA, WINNER,YOUNG BEST MALE , YOUNG BEST DOG, 23.SUDPFALZCHAU  SIEGER, V1, CAC, JDG VICE  SUDPFALZCHAU SIEGER, Semberia Sieger, V1, Semberia Youth Club Winner, VI Split Croacia Sieger, V1,Best Young Males,Young Club Sieger, YOUNG CLASS YOUNGSIEGER,BEST YOUNG MALES,BEST YOUNG DOG, ADRK Klubsieger 2012 INTER MEDIA V9, 15.09.2012.  BULGARIA CLUB SIEGER- INTERMEDIA V1, 16.09.2012.  CAC   BACKA PALANKA- INTERMEDIA V1, CAC, BOB, ADULT CHAMPION OF SERBIA., 22.09.2012. MACEDONIA CLUB SIEGER  V1, 30.09.2012.  I MORAVA SIEGER  V1,AJAKS CUP WINNER,VICE MORAVA SIEGER, 6.10.2012.  Special show rottweiler derby 2012. Indjija V1,DERBY WINNER CLUB,WINNER MALES,BOB, 04.11.2012.CACIB  BEOGRAD V1,CAC, CACIB,BOB, 09.03.2014. CACIB BEOGRAD V1,CAC,CACIB,BEST OF BREED.  Arlos is one of the most winning Rottweilers in the last decade with Bull and Boda following in his footsteps and soon, Guardian Rottweiler's E Litter as well!
Luna's Little Lad: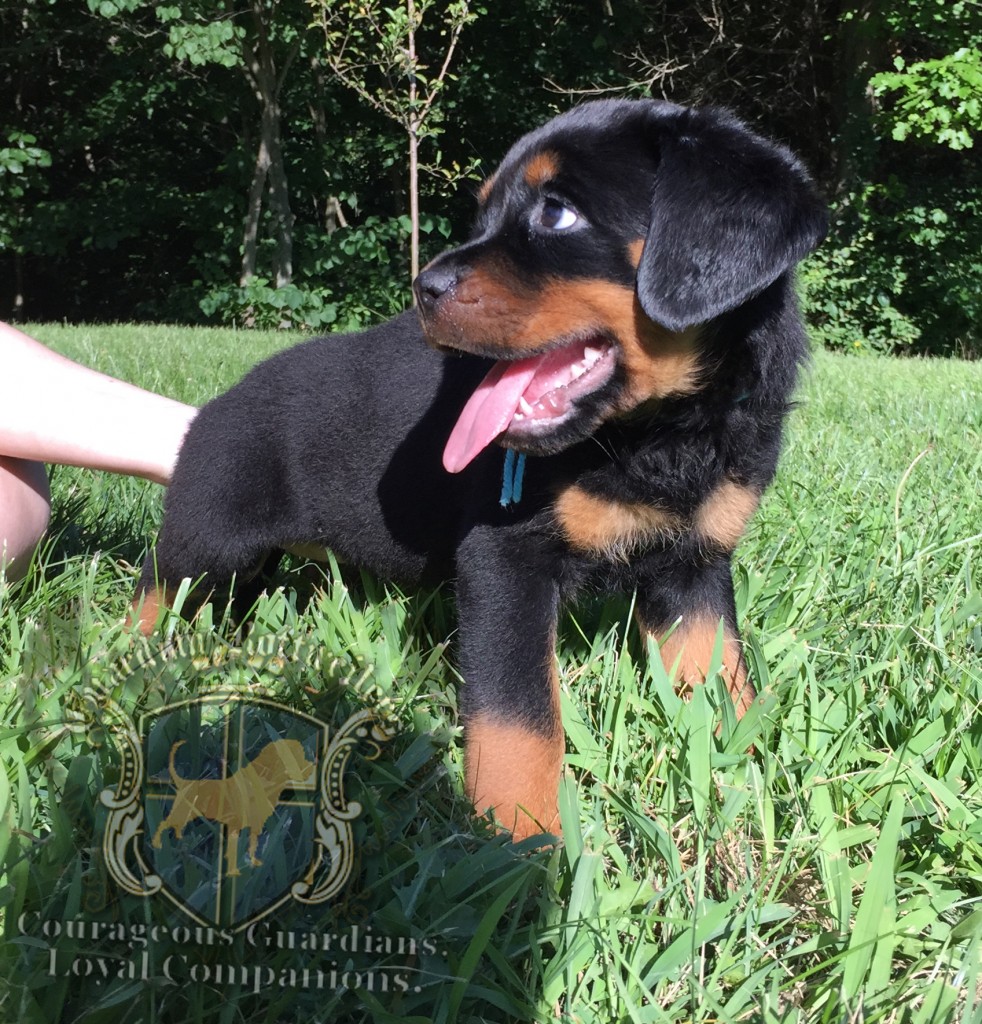 Everest
RESERVED
Luna's Luscious Ladies: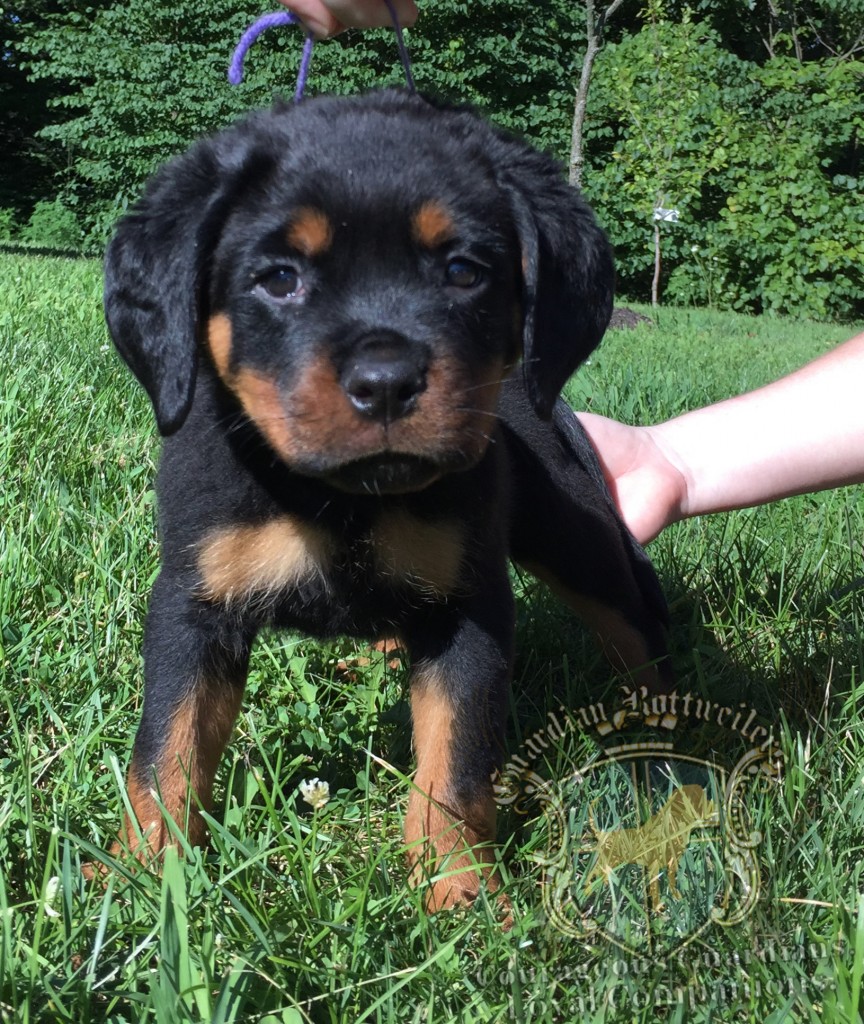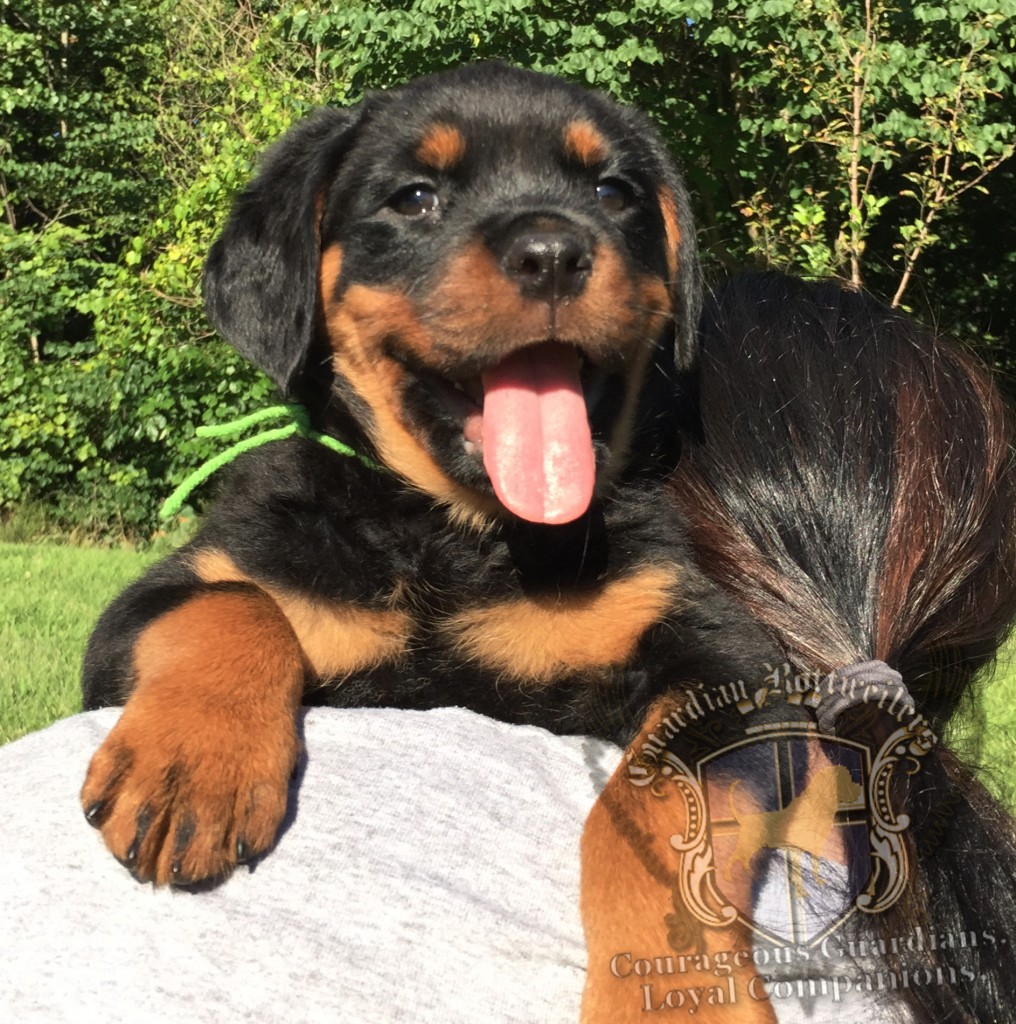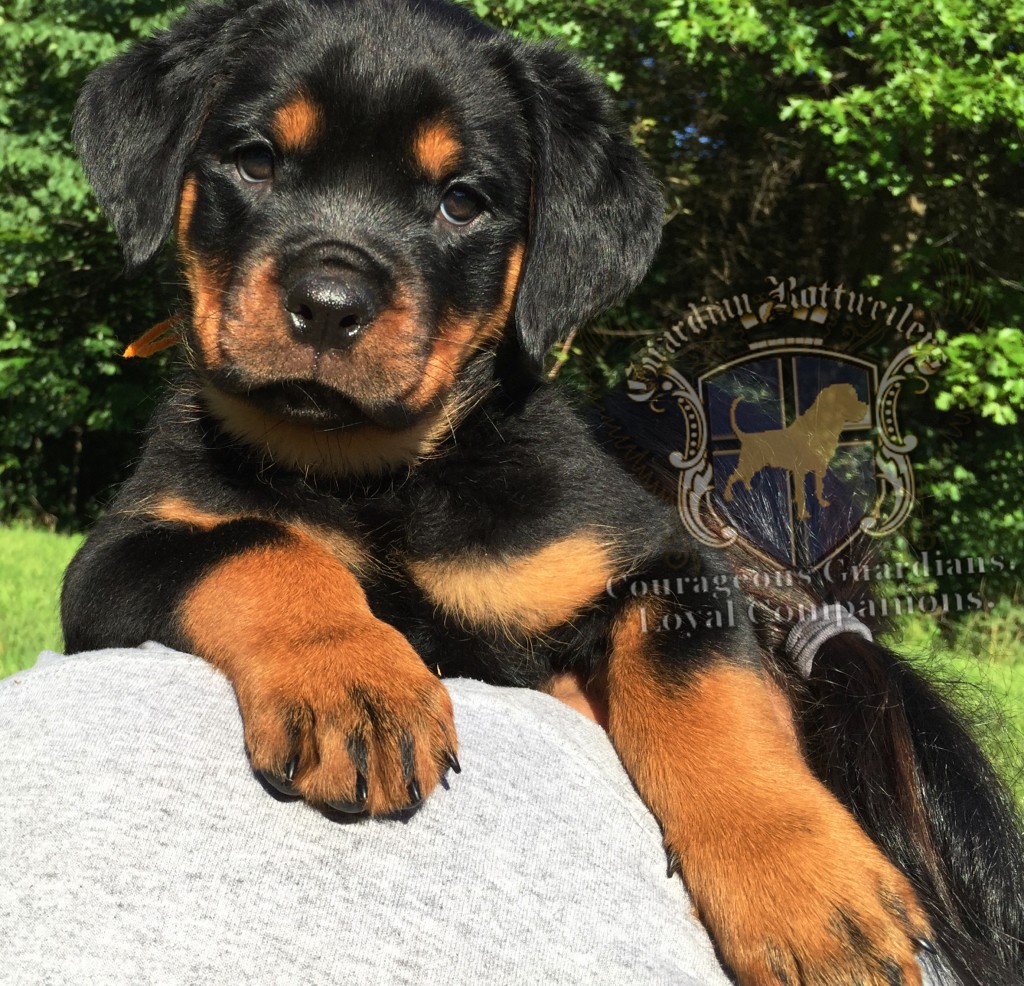 Emori                             Elektra                              Empire
      RESERVED                    RESERVED                    RESERVED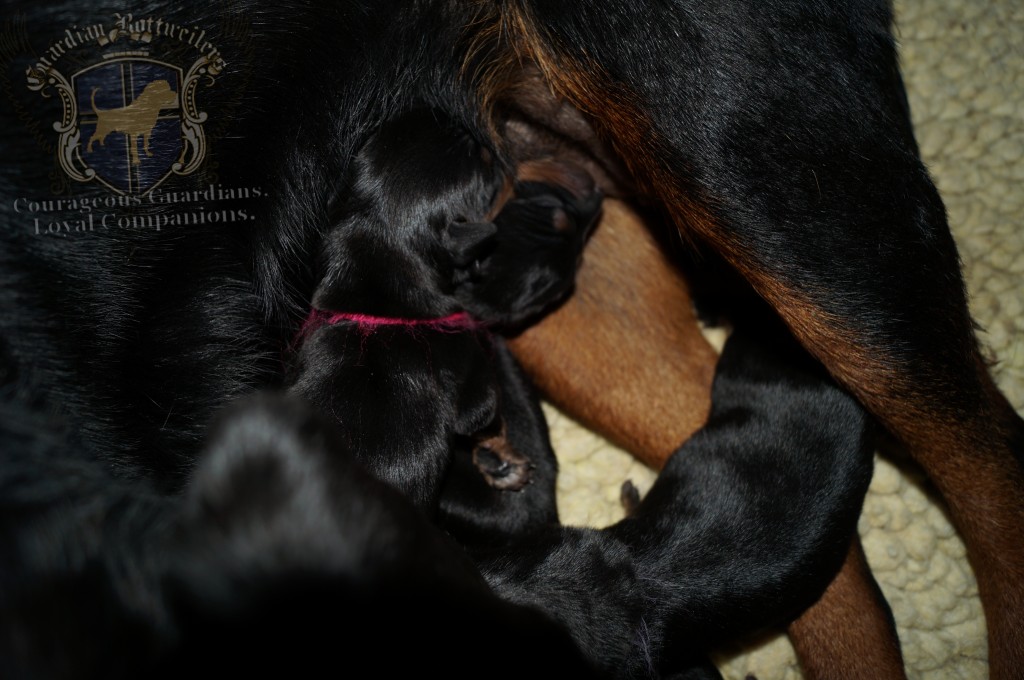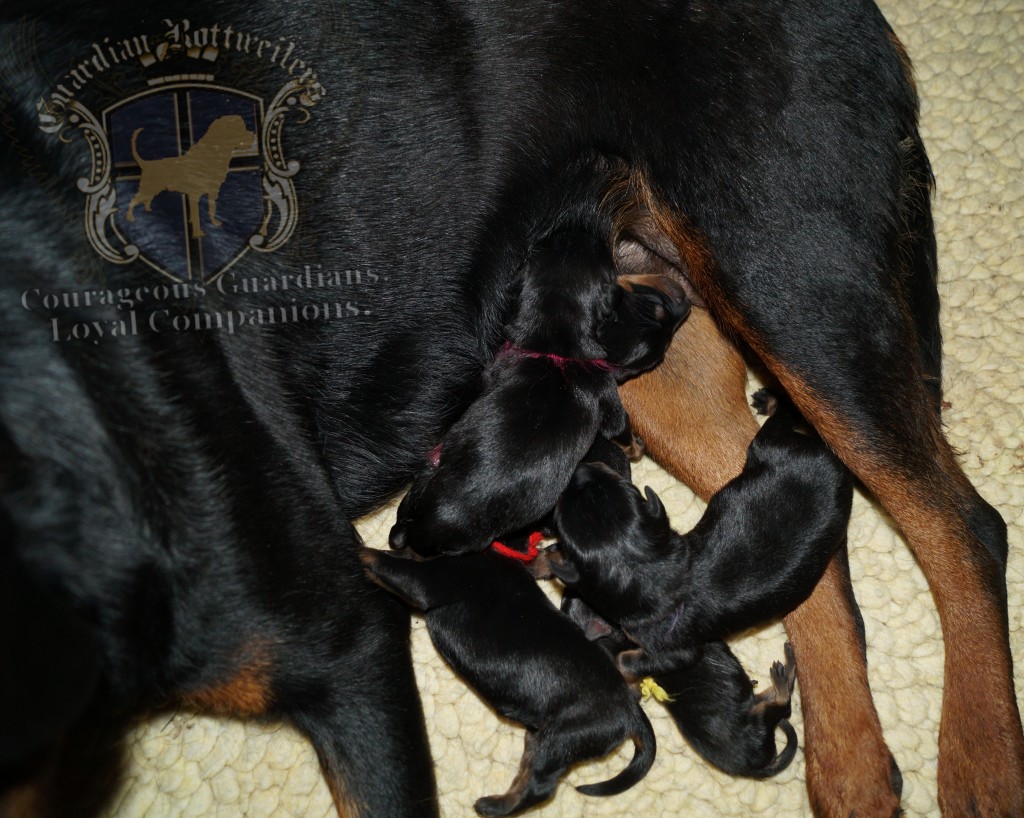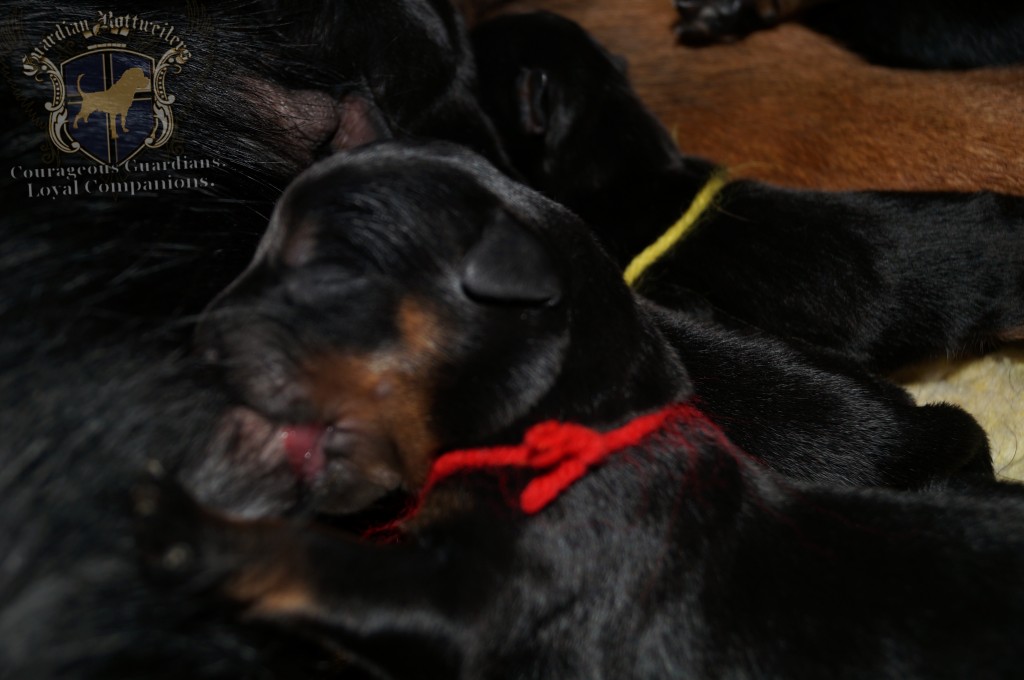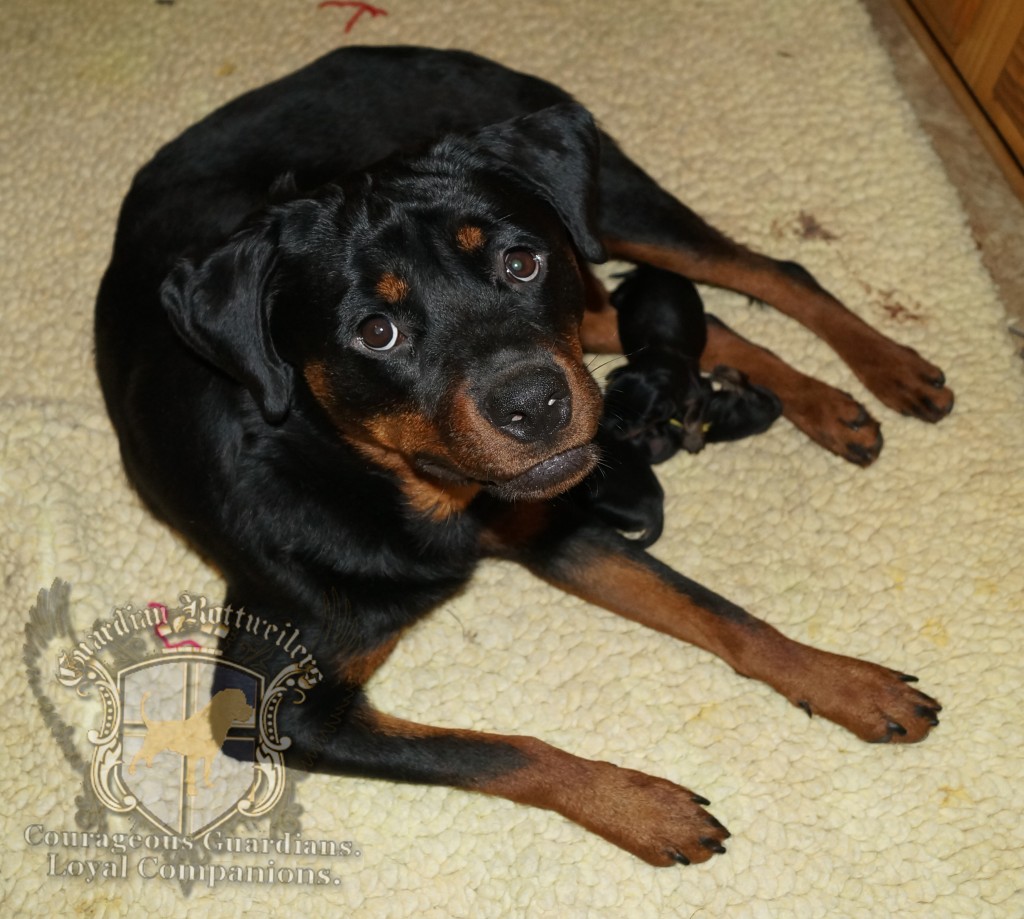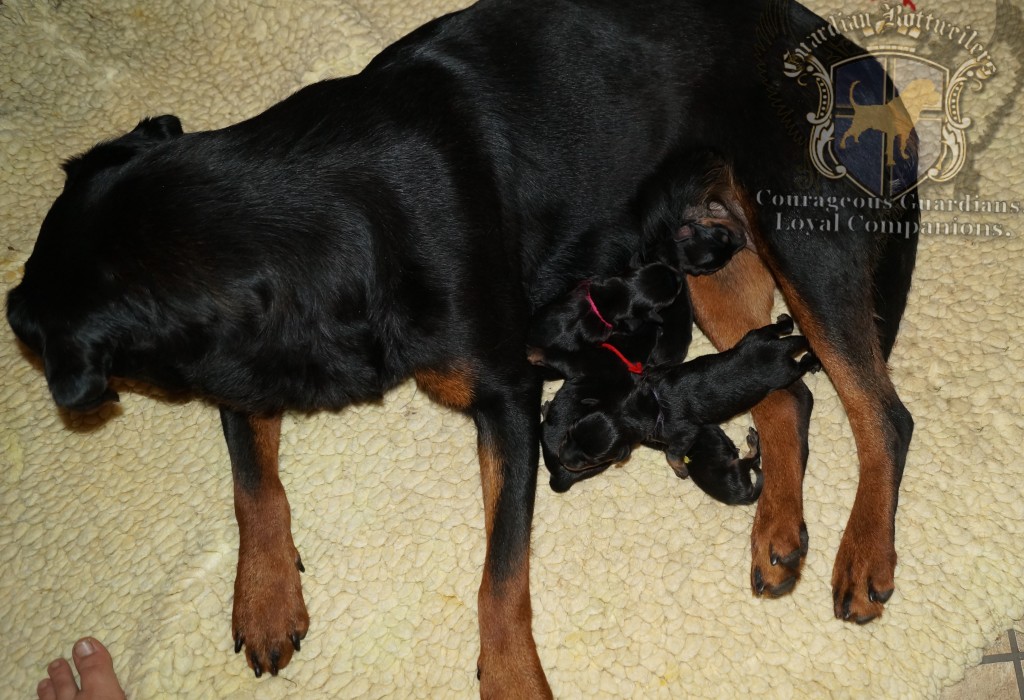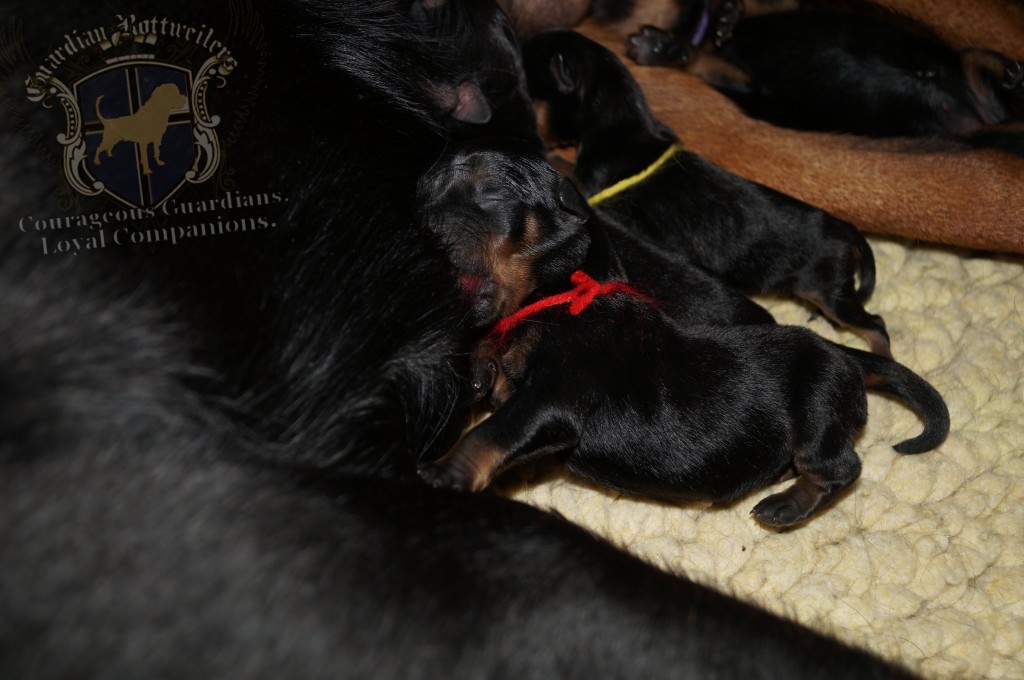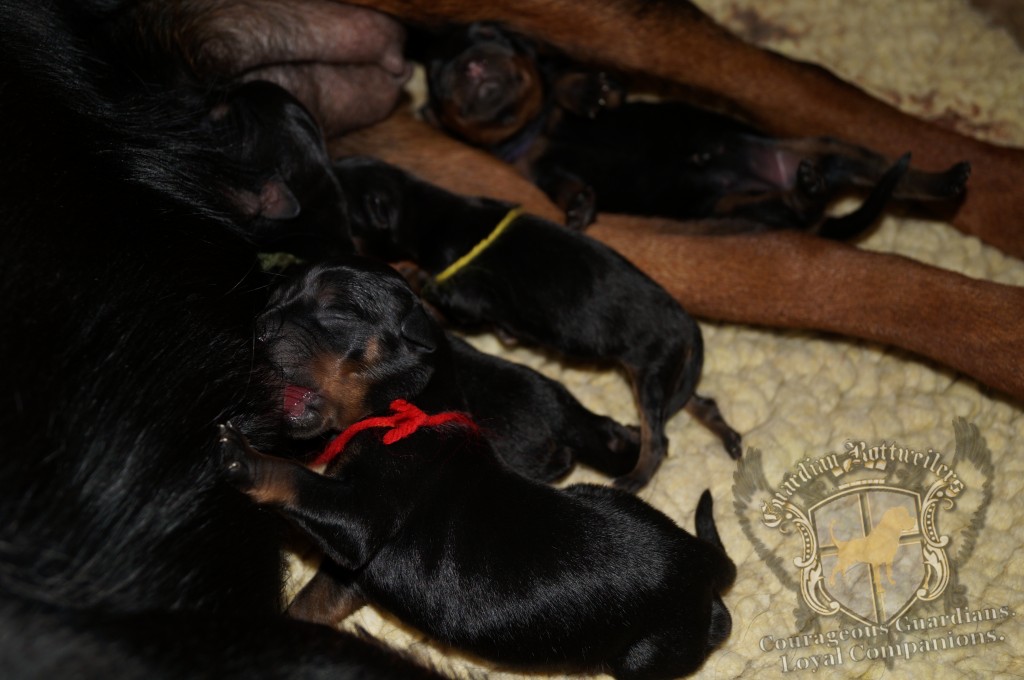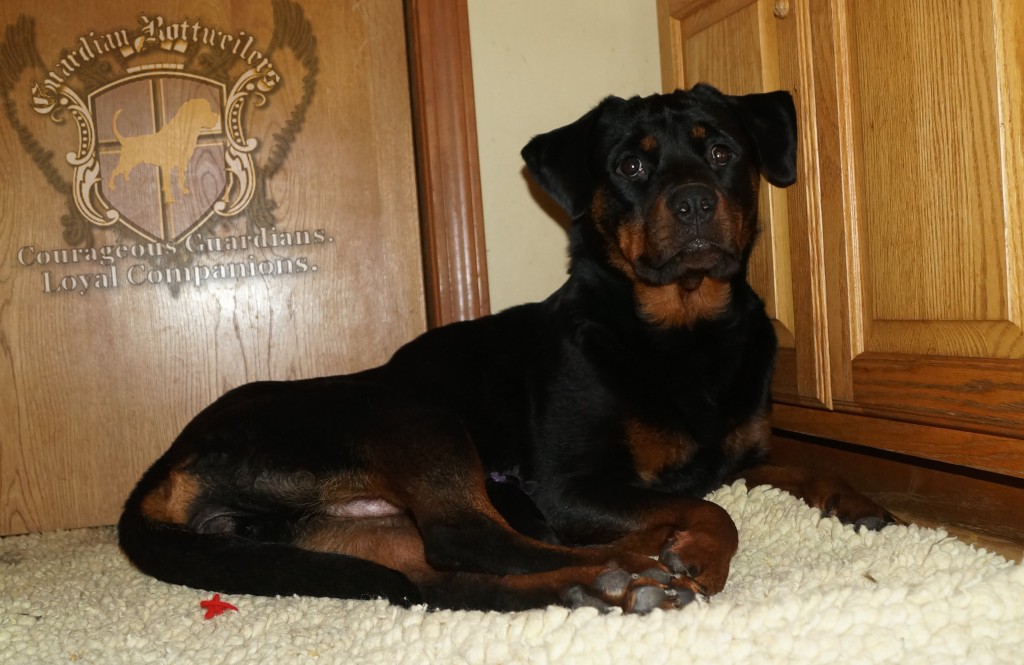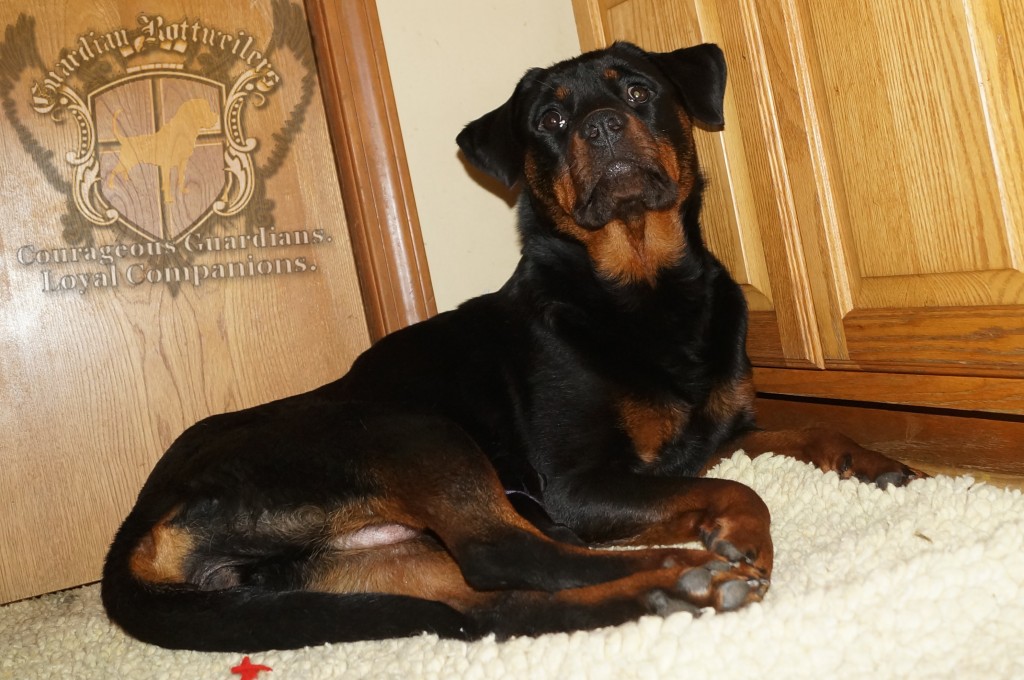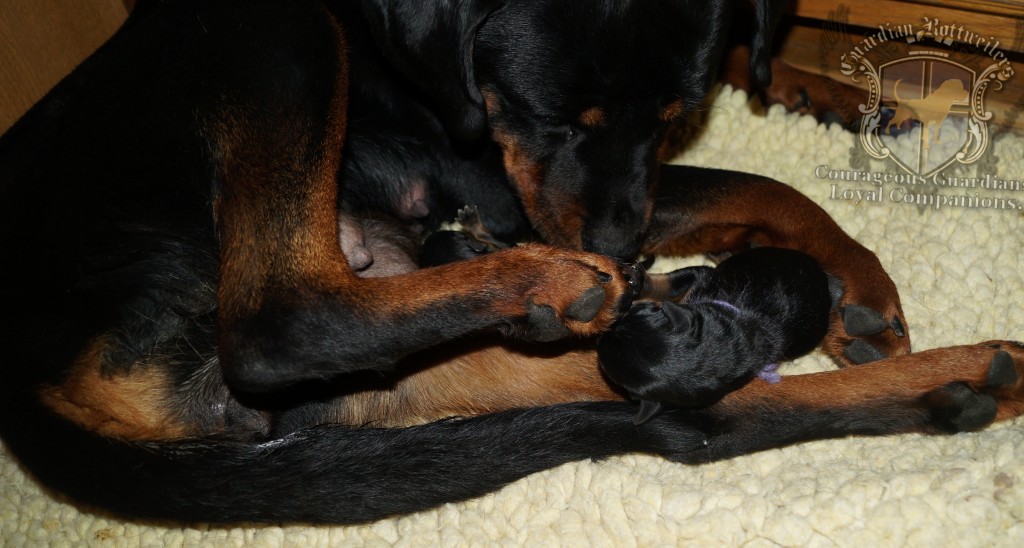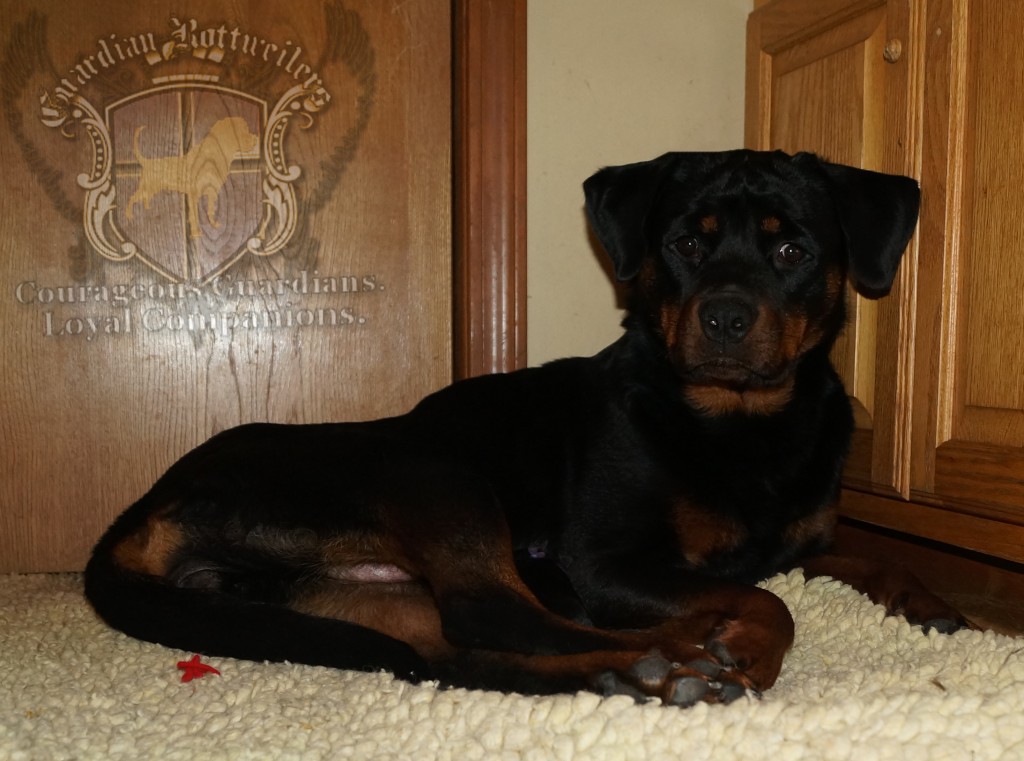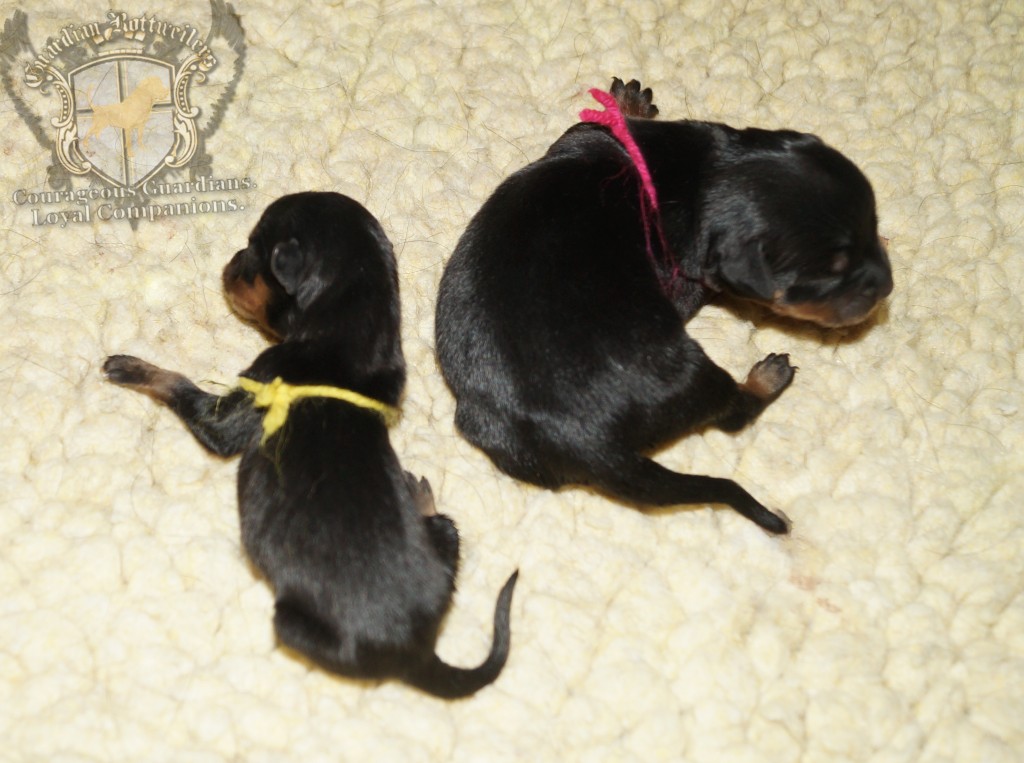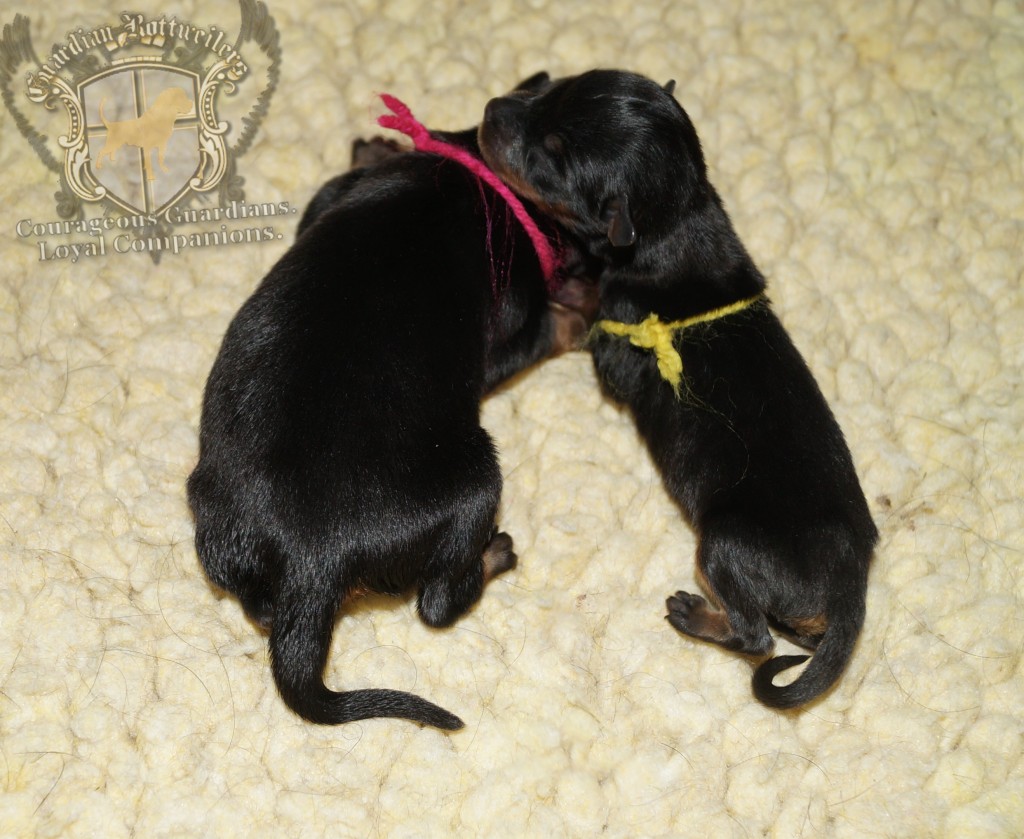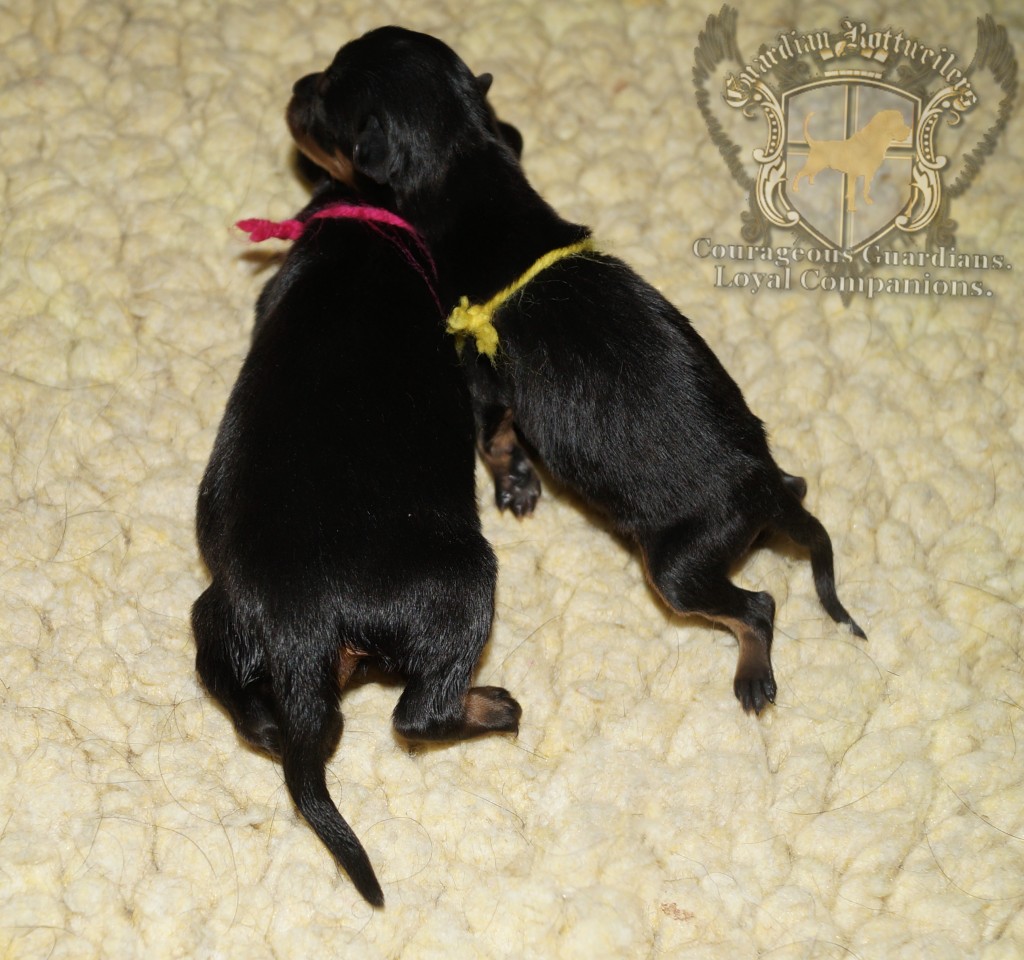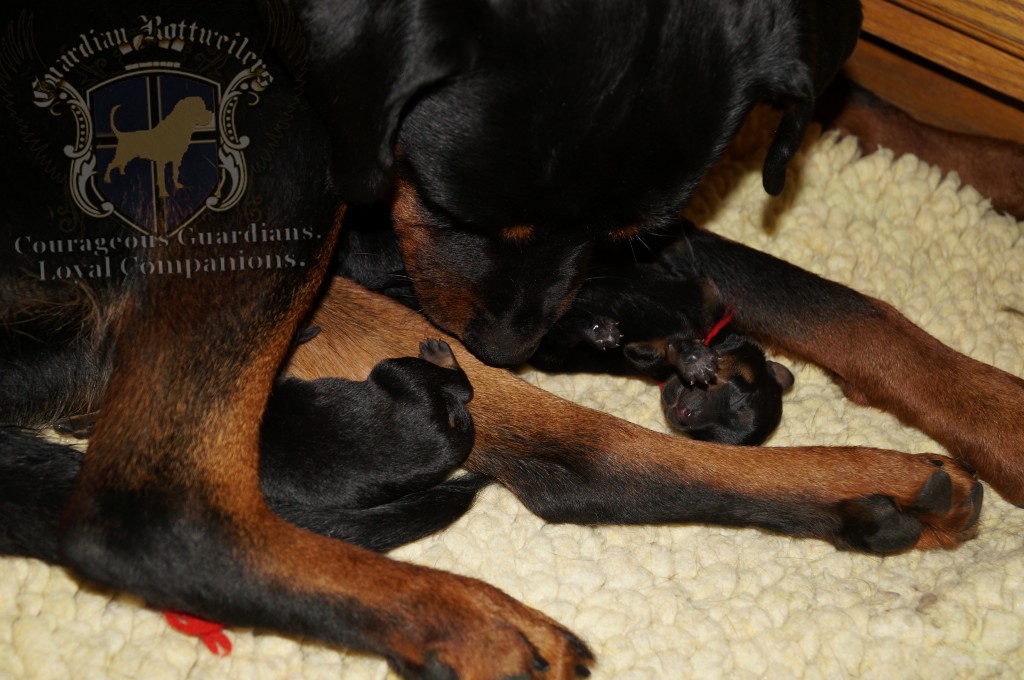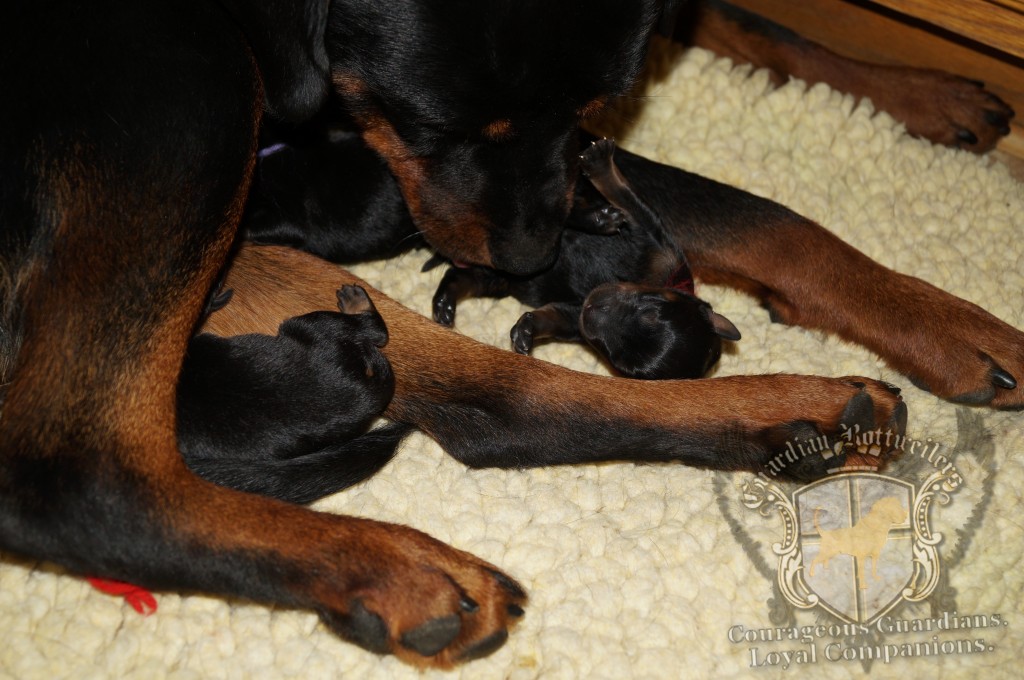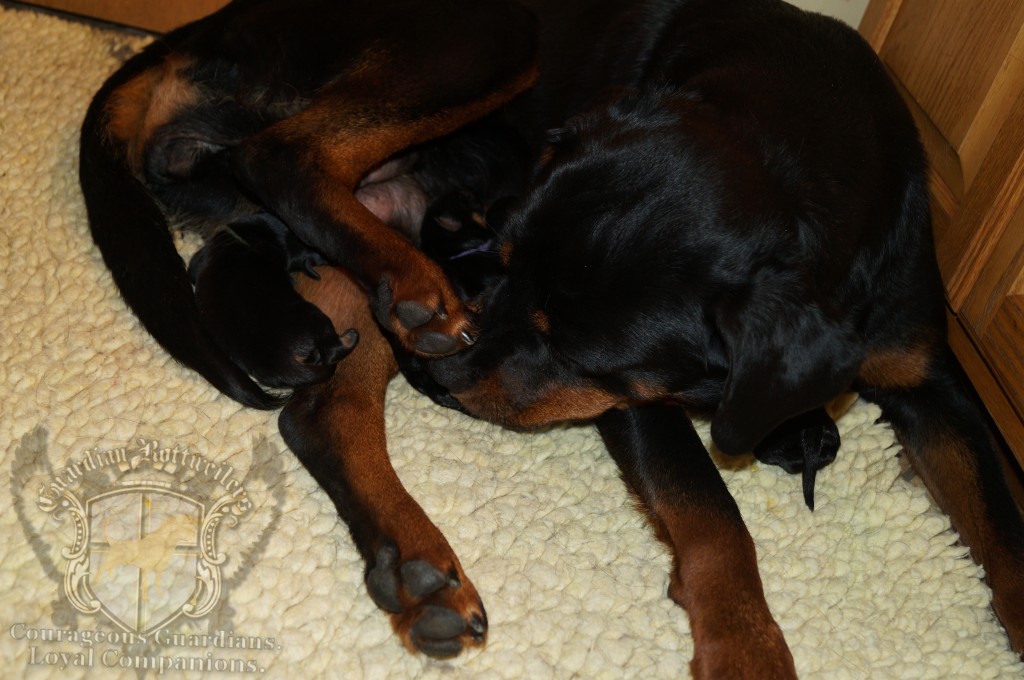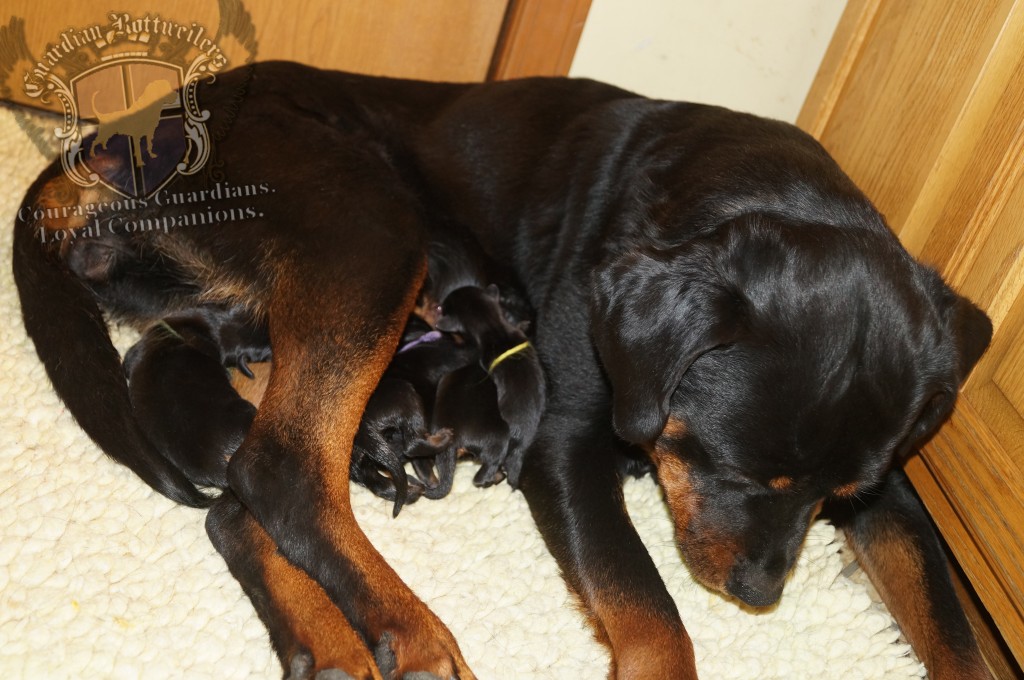 Luna babies at one week <3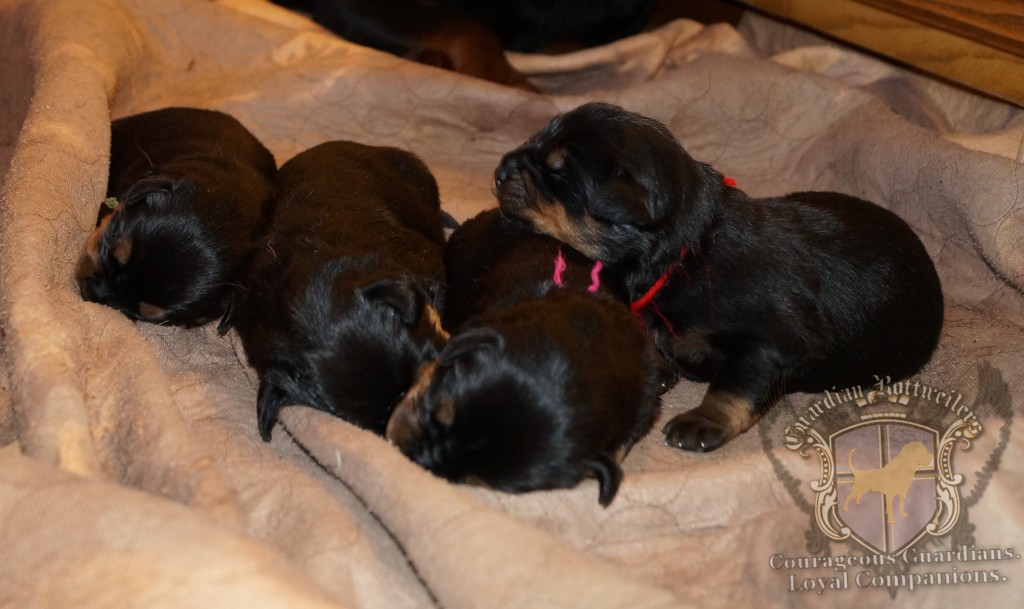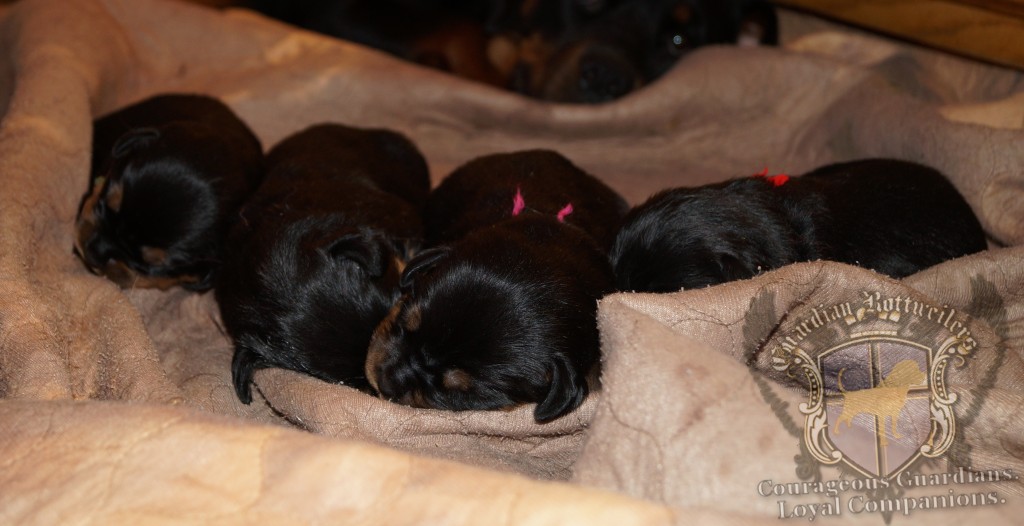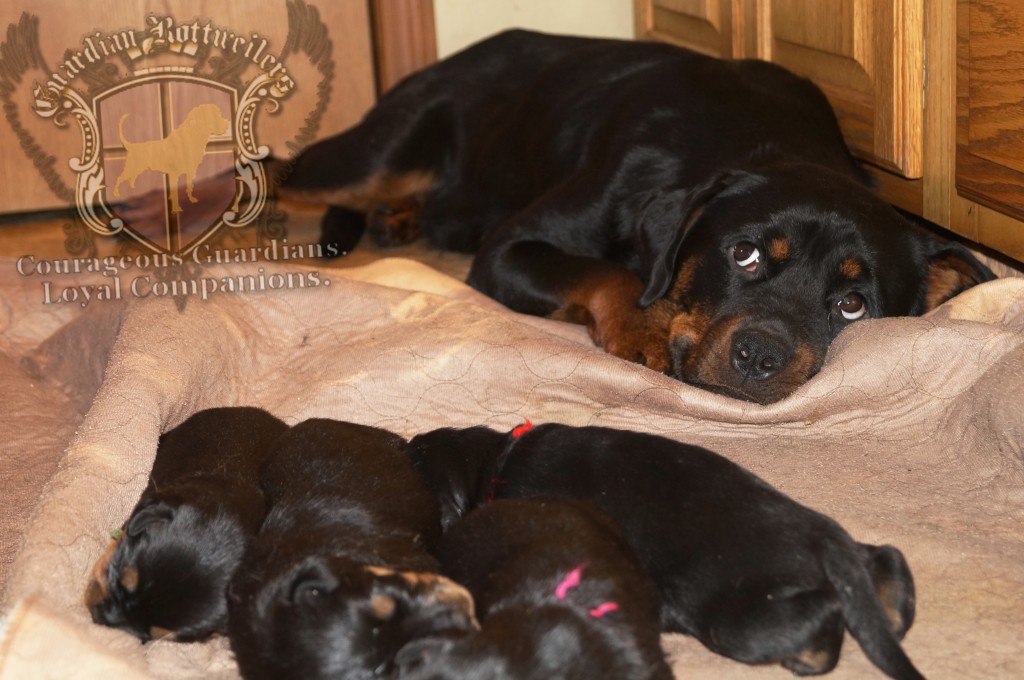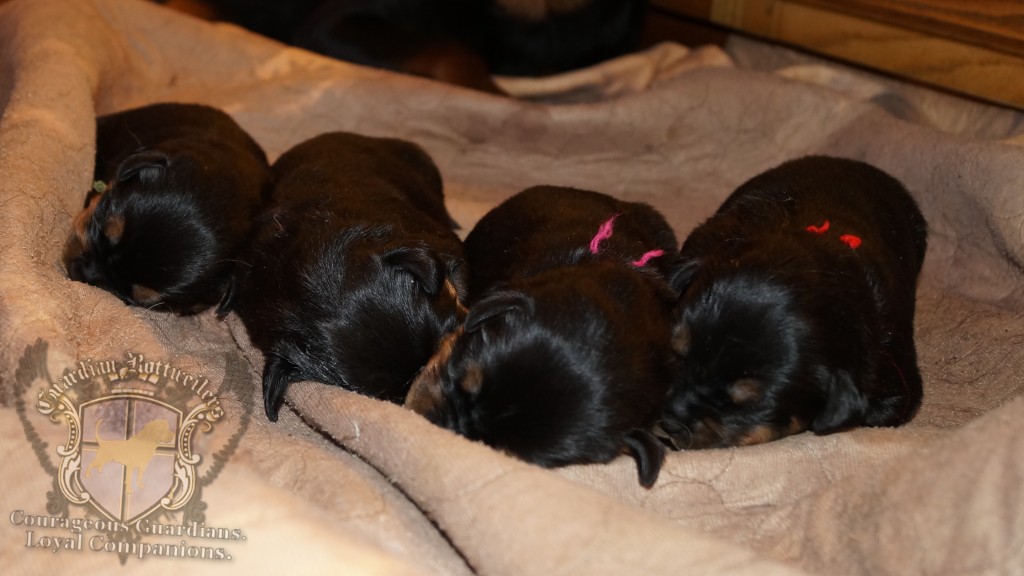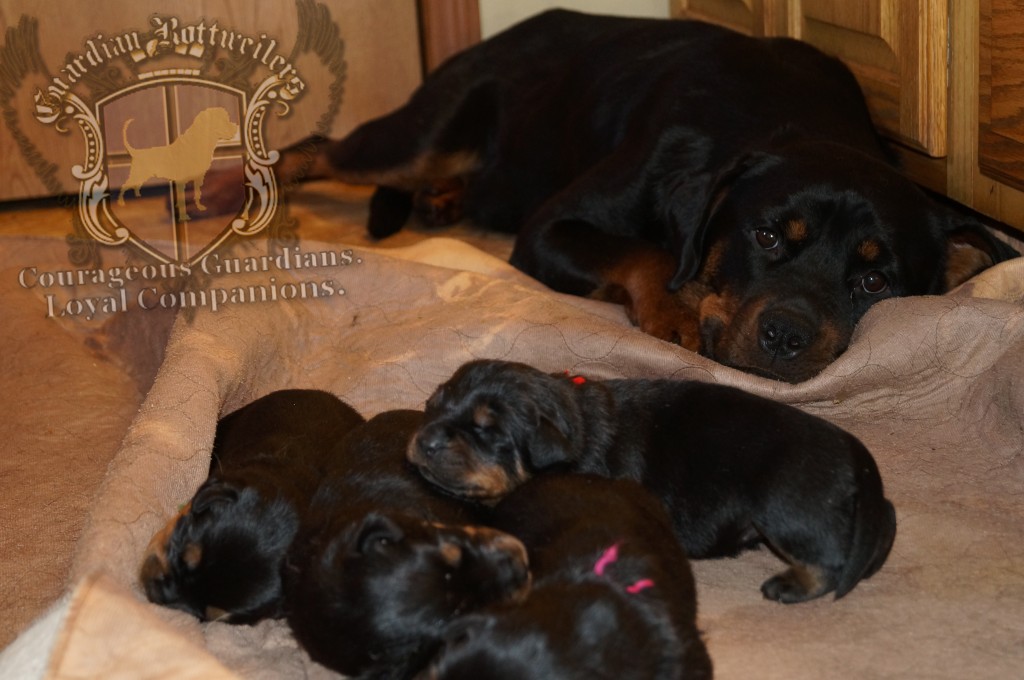 Luna babies 2 weeks old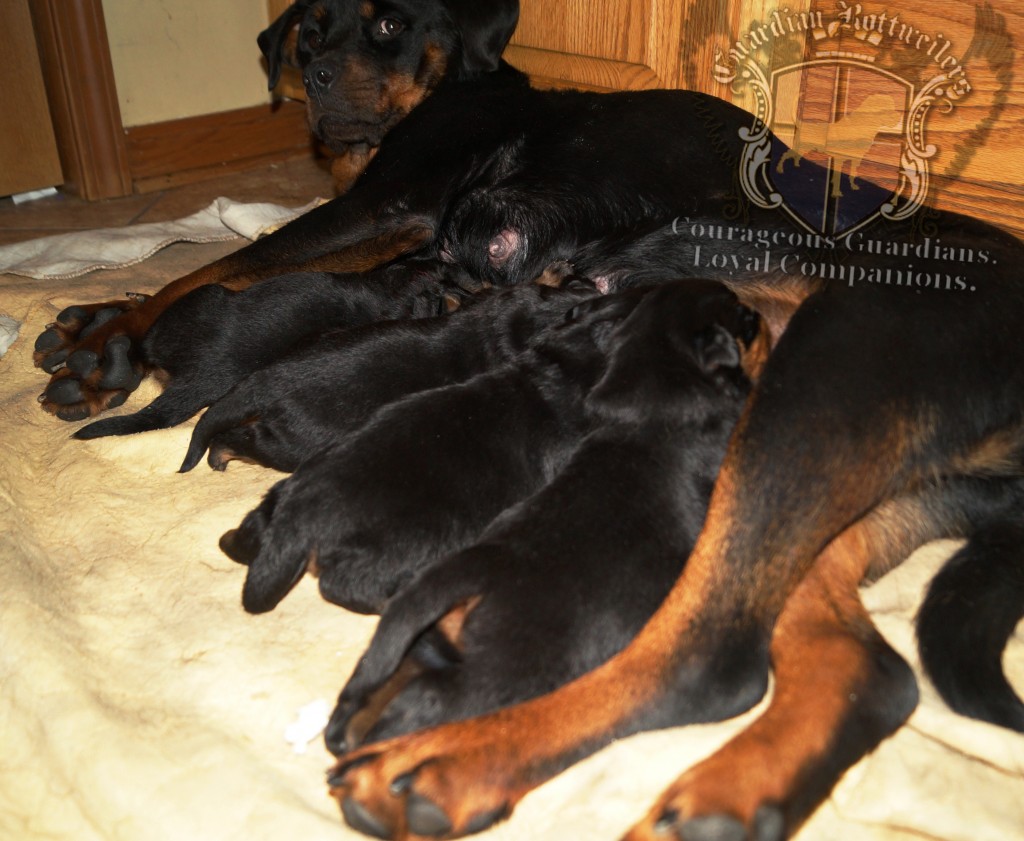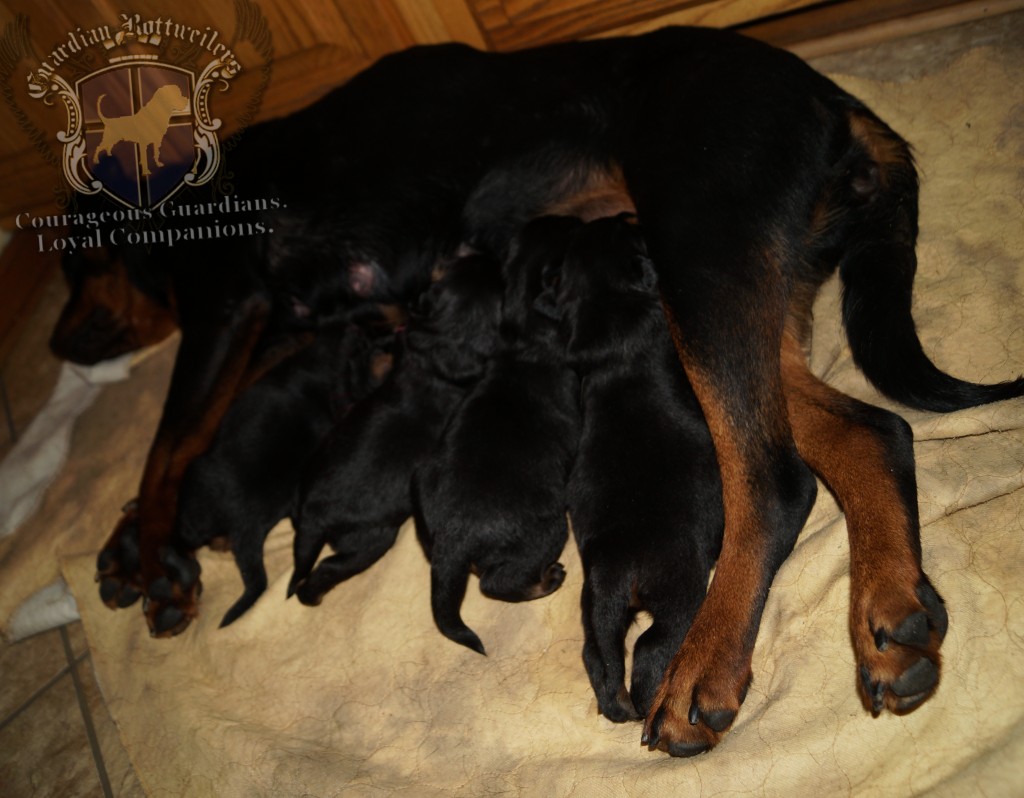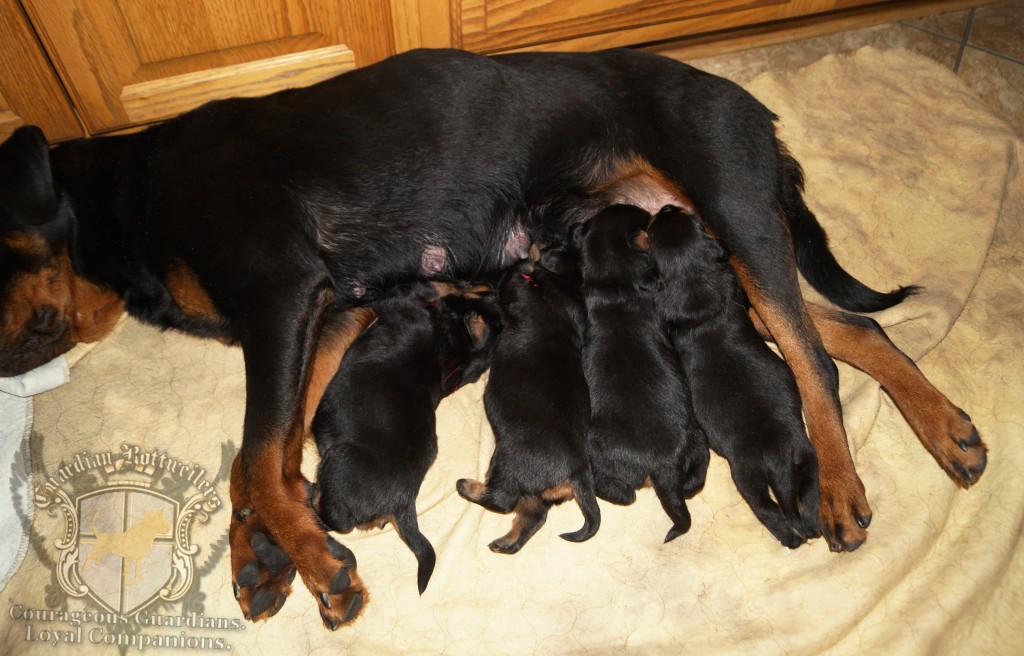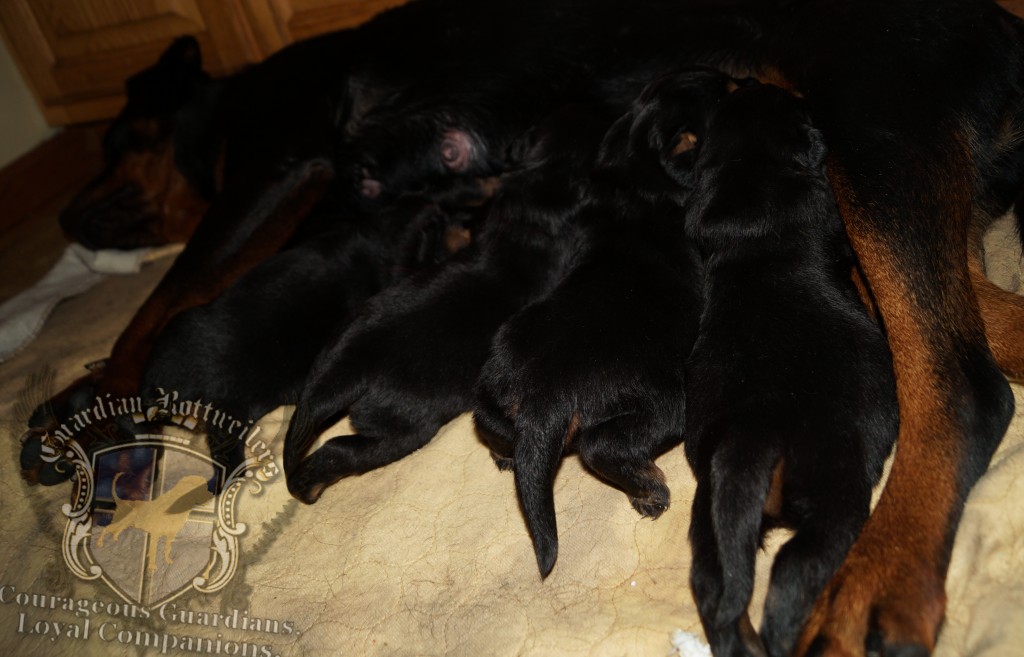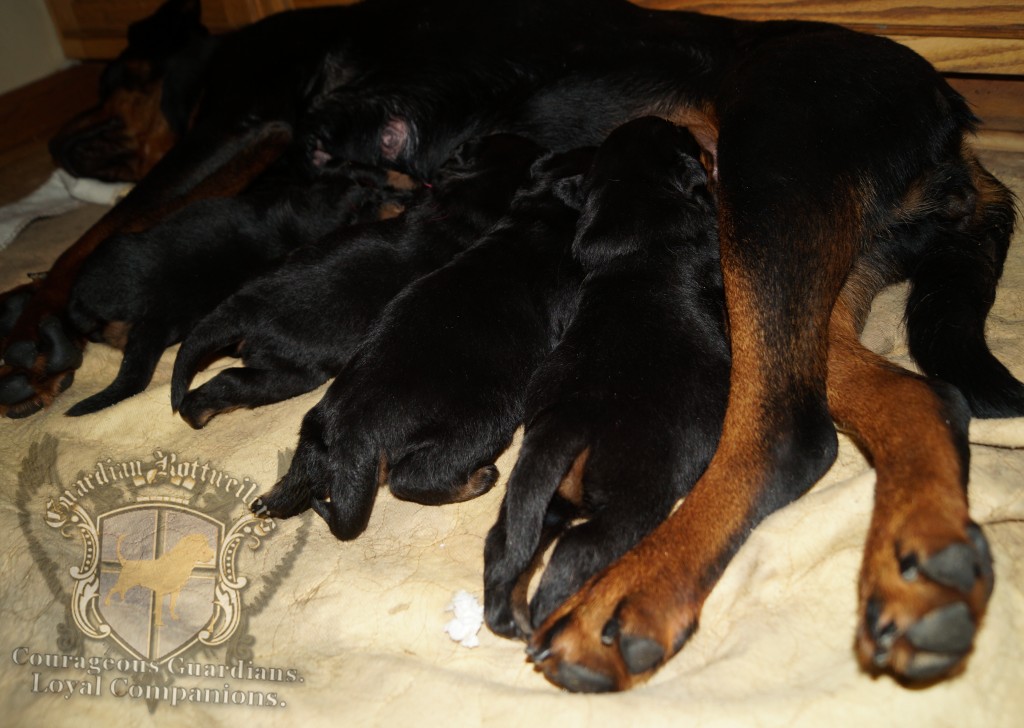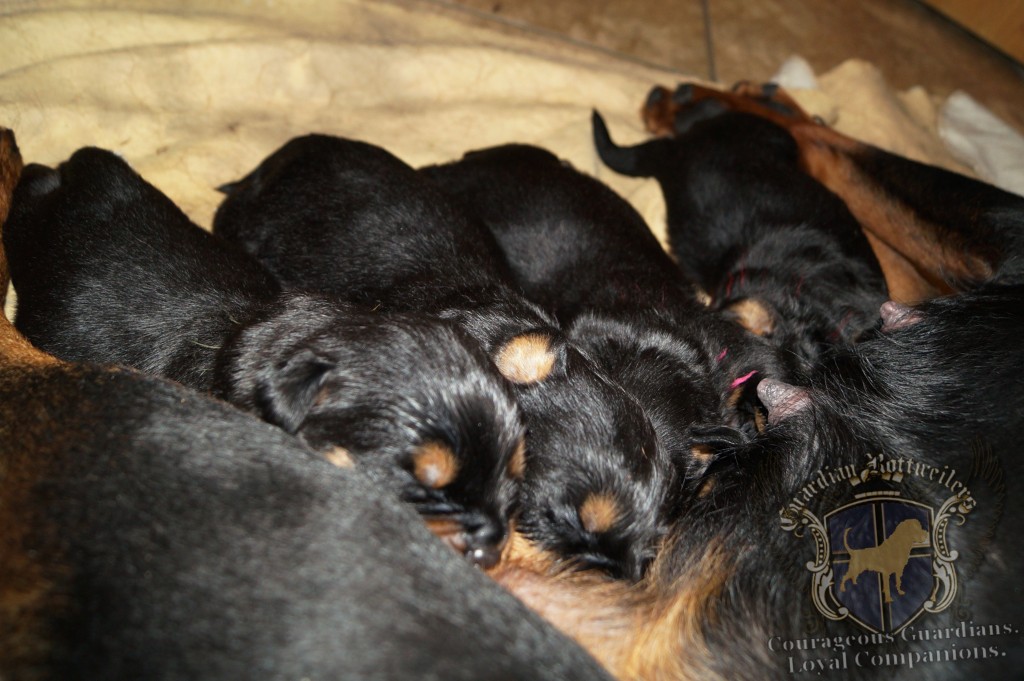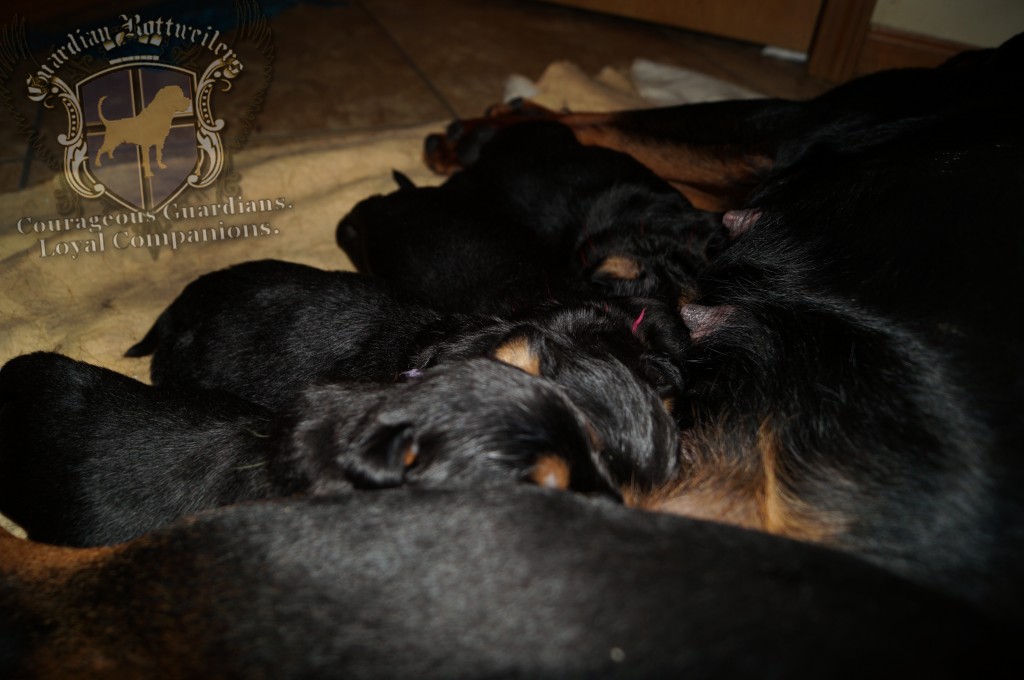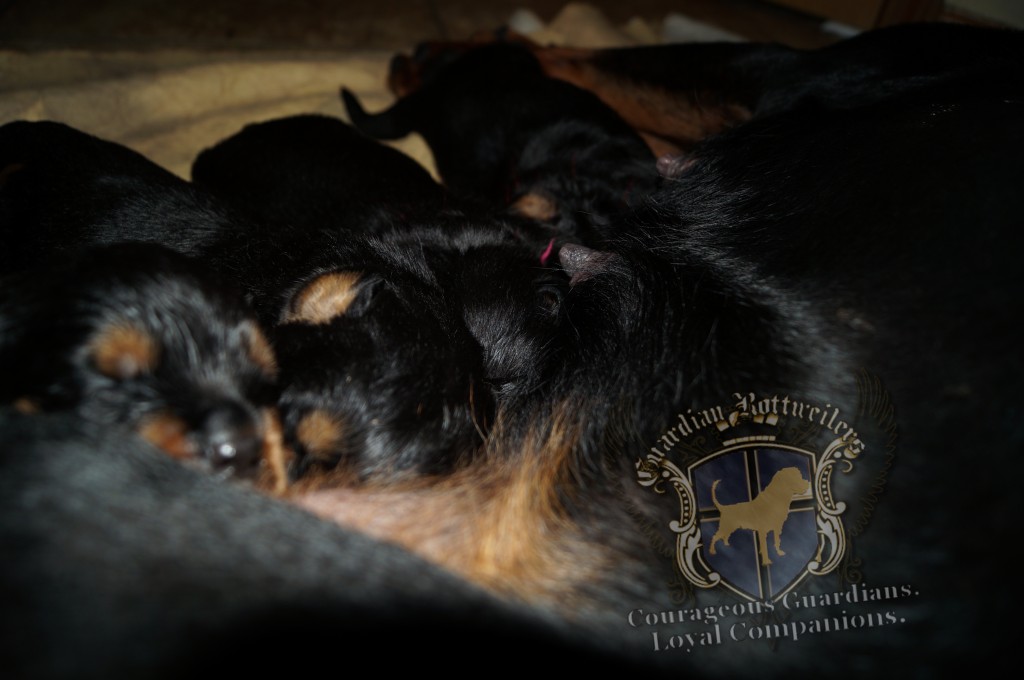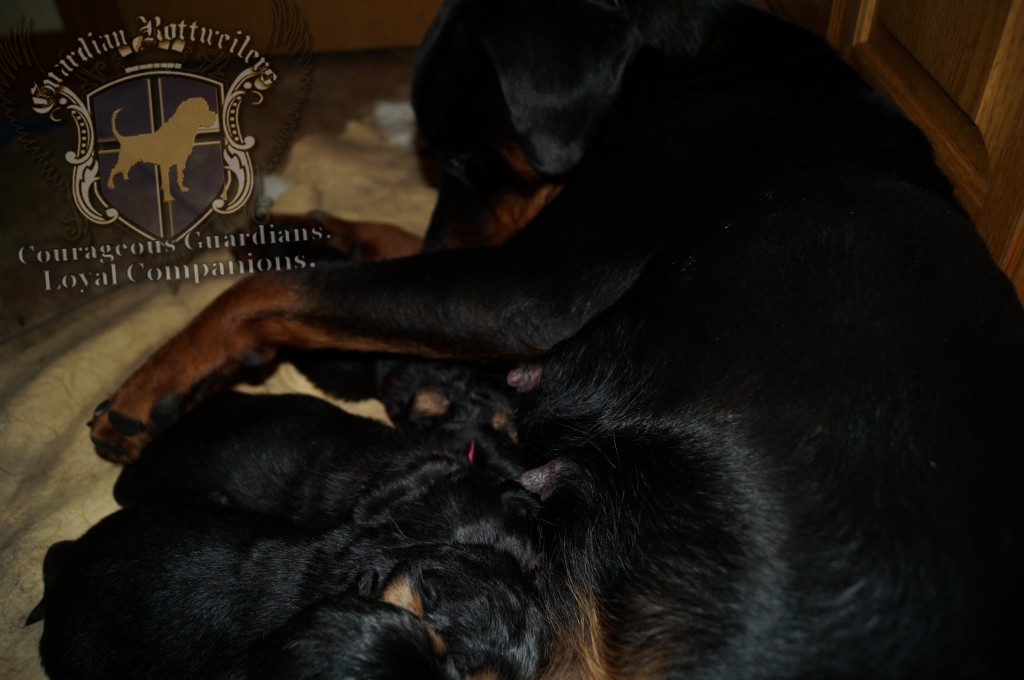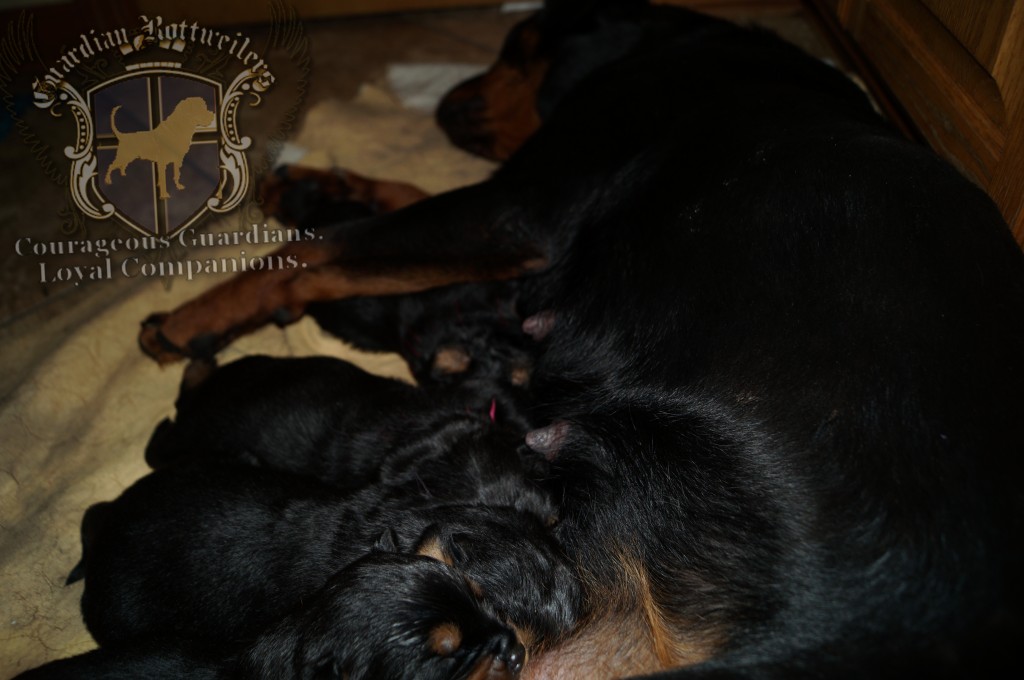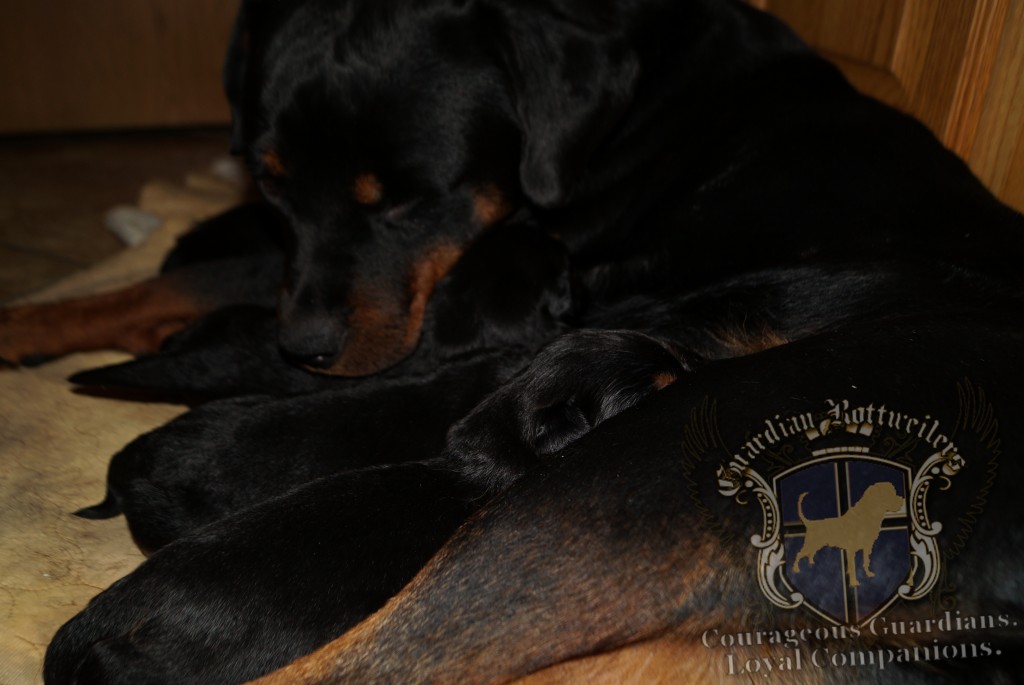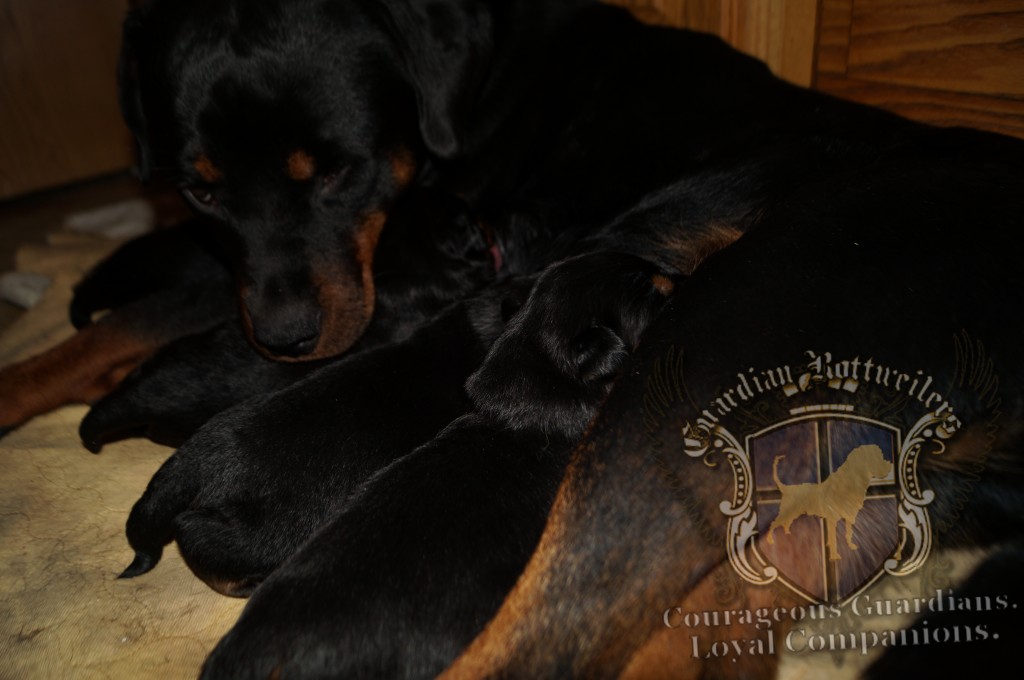 ---
"Emmy" Guardian Empire Von Gottschalk
My Dear Alice,
    Here are a few pictures of Peirce and Emmy waiting for the school bus yesterday. These two just LOVE EACH OTHER!!! I found him squeezed into a corner between the house and fence with Emmy standing between his legs giving him kisses a few minutes before these pictures were taken. He was grinning from ear to ear!!! Peirce insists on calling her Baby Emmy and telling everyone "she's my dog" he's very protective of her. I can't wait until she's 120 lbs and he's still insisting on calling her Baby Emmy. ????????
       Emmy and our German Shepard Gus are getting along tremendously. It took a while for her to talk him into wrestling with her, but he will now have a nice, gentle, noisy roughhouse session with her. The great thing is that he is really patient with her climbing all over him and crawling under his legs or chasing his tail. He will nicely but firmly let her know when she's gone too far but it takes a LOT for him to give a warning growl. We feel like he's teaching her a lot of patience and tolerance which is exactly what we all need. Emmy is already really good about not jumping up on the kids. Although she will lay on Peirce's chest or climb into his lap at any opportunity. Which is ok because she's gentle about it and when he cries out if she's too pushy she backs off immediately. Peirce is also gaining confidence knowing that he can set boundaries for her by telling her no and pushing her back, she always sits down and looks around like "oh dang it I got caught" when he does it, but he also only does it when there's a good reason. It's so great watching them bond!!!
       We took her to our vet for her rabies shot and Parvo booster and he fell in LOVE!! When I showed him Bull and Luna's pictures he just stared and goes oh that's true German lines. He asked for your card, which I gave him and I told him I'd let you know he may call, to which he responded please do. What is amazing about Dr. Youseff to me is that he actually had a rottie bite him in the face and hospitalize him for almost a month a few years ago. He was checking the dog out and it was licking his face when it suddenly turned on him. Despite that he holds no animosity for the breed. He respects and admires them. Other vets have been very negative about rotties to me, simply because they are rotties. Dr. Youseff was so kind and compassionate and complimentary of our Jolie when he euthanized her for us, and just doted on Emmy. After about 45 minutes of examining and playing with her he said "take her home before I make up and excuse to take her from you.
         Potty training is still a work in progress. She can and does hold it just great and has no problem getting through the night. She is also doing well with kennel training. I think that the biggest thing is that she doesn't want to take the time away from all the action/playtime to go out the doggie door and go potty. She's so exceptionally smart that I really think it's a don't want to thing versus a don't understand thing. At meal times we make the dogs sit and wait while we get there food situated and then say "ok" to give them permission to eat. She got it in 2 days and now goes to her spot and sits when I say places and pays full attention. She's very smart and capable, she just has to see its worth it. And so far pottying on her own is not as fun as playing. She's also figured out that if she starts sniffing we make her go out to go potty. So she will sit down and watch us then the next thing we know she's raised up a tiny bit and peed. We are getting there though.
       Jed said that on your Facebook page you were looking for some fosters for some of your adults simply due to all of the crap from the county and your neighbors. I know we are not a great choice because we are so far away, but if there is anything we can do for you please let us know, we would be truly happy to help.
      Again thank you SO much for our beautiful Baby Emmy!!!
Sincerely,
Jed, Marjorie, Isabella, Peirce, and Campbell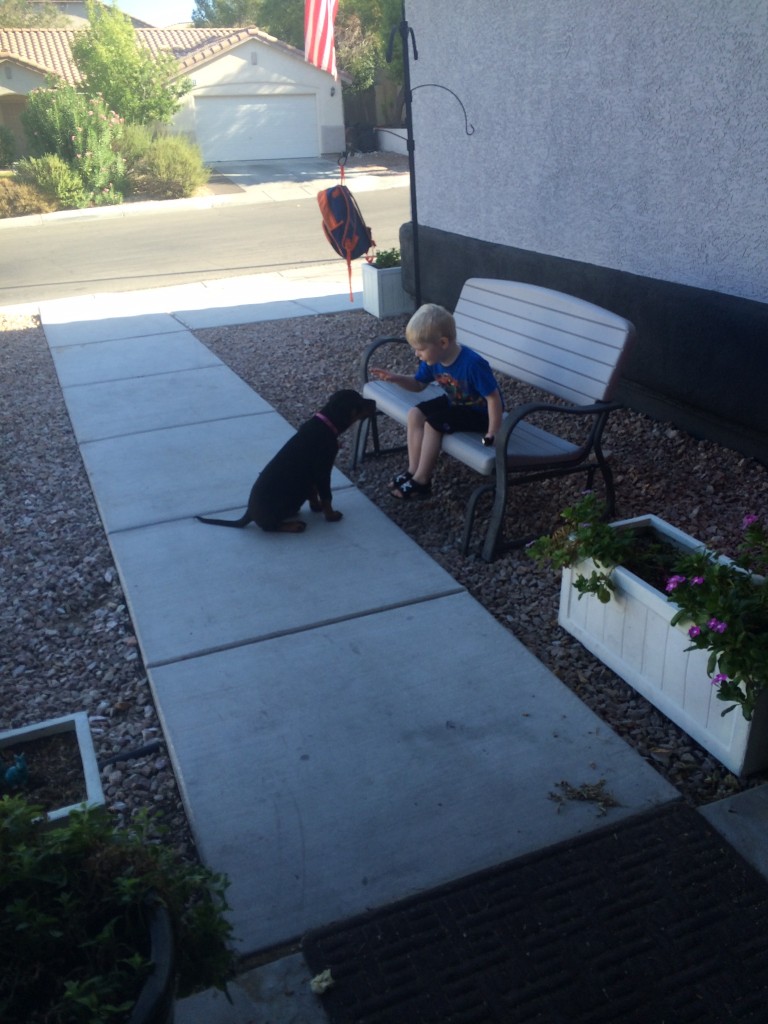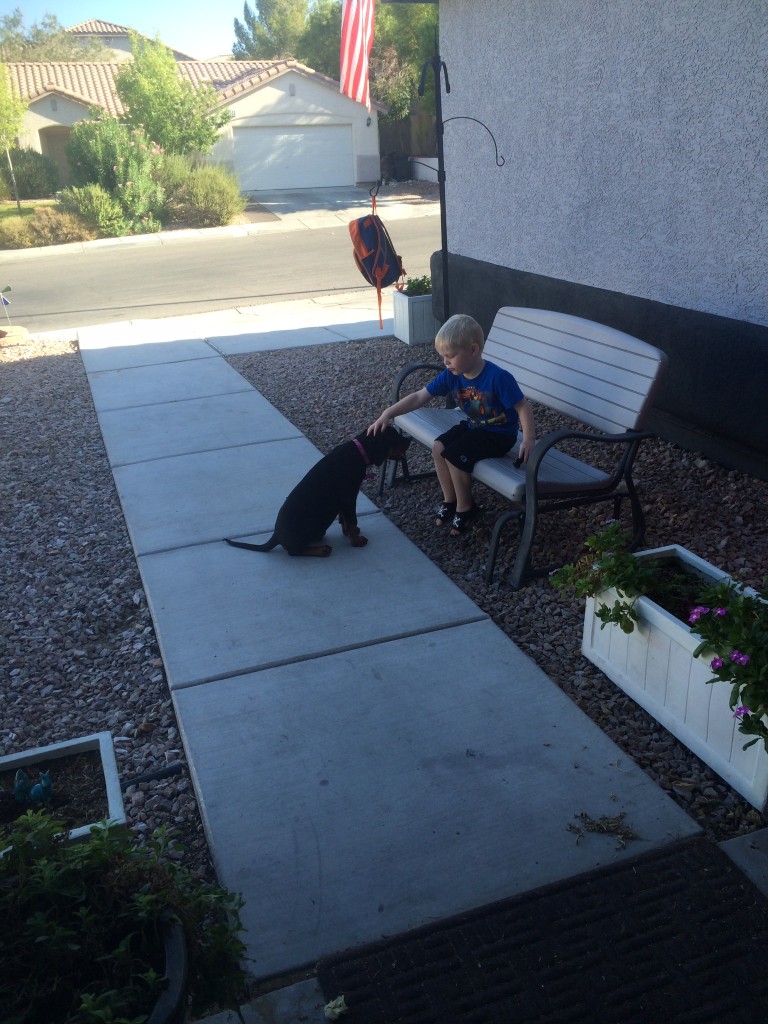 Emmy is doing great!!! Back to full health and ready to take on the world. We took her to REI and target with us yesterday and she was a perfect little lady. She got a lot of positive attention and was very well behaved. She was pooped after 2 stops so we will continue taking her with us on short errands as she grows up so that working is fun. I'm going to send you a picture and video that I just took 5 minutes ago so you can see for yourself how great she is. She is also doing great with potty training, no accidents for about a week now. As a matter of fact I just told her to go potty and she went right out the dog door.  We just love her so much!!
My husband wanted me to ask your opinion or advice on doing a raw or partially raw diet. 
Marjorie and Emmy
IMG_0017
IMG_0018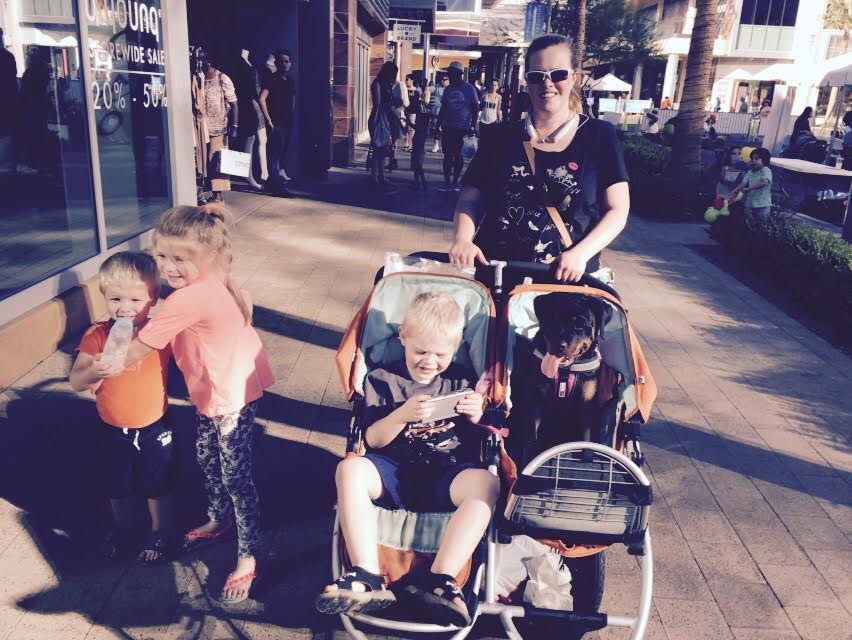 Dear Alice,
      Here is a picture of Peirce and Emmy from this weekend. We had a much longer day than anticipated and Emmy was pooped, so she quite happily hitched a ride in the stroller with Peirce. I would really appreciate your recommendations on how much exercise is good for her and what is too much. We do not want to over do it for her and especially not risk permanent injury by doing too much too soon. We've been taking her on errands to Costco or shopping and restaurants. We know that she needs exercise to help with all of her energy, otherwise she will jump on Gus and chase his tale all day long, but we don't want to over do it. We do not jog or run her and really curb any jumping that she does. Invariably there is some running and jumping when she's playing freely with Gus and the kids but we immediately taught her not to jump up on the kids so she usually just brushes up against them. She loves to play and wrestle with Gus, and he is very gentle and patient with her, he usually lays down to play with her so she can climb all over him. We've also taken her to the mall and worked on elevators and escalators, which she is doing great at. We are keeping a very careful eye on teaching her where to put her feet so she doesn't get hurt. On Saturday we went to a new shopping center and once we got there discovered  there was an art and craft fair and Farmers Market, lots of people and crowds. I gave you're info to several people, miss Empire drew a crowd and everyone LOVED her. However when I took her for a walk on Monday she immediately started dragging and trying to stop. After some encouragement, and not letting her tackle my friend's dog she got going and did a nice little walk. At a little less than midway on our 3 mile route I put her in the stroller basket and she was quite content to stay there. Because she has done other walks of a mile or so before and done great and wiggled out of being carried, or strolled, I'm trying to determine if she is really too tired, or if she got used to riding on Saturday and decided she likes it. When we put her in the stroller at first on Saturday she initially tried to get out as she has in the past, put we treated, praised, and gave affection to get her adapted to the stroller as we knew she was tired. By the time we got back to the car she was loving the ride, and attention from Peirce and pretty much everyone who saw her. Please give me your thoughts on the best way to proceed.
       We are also working on socialization. She is great with Gus however last week while on a walk through our neighborhood we stopped to chat in the front yard with friends and their dog came out, on a leash, and was VERY timid and nervous. Emmy kept lunging at her,  her behavior did not appear to be completely playful we definitely felt that she was aware of the weakness and wanted to assert dominance over this weaker female. I have started walking with a friend who brings her 8 month old Bouvier to help socialize both of them and teach them polite introduction and how to keep working (walking at heal) with a new or unfamiliar dog around. We do not want to take her to dog parks because when we have done parks in the past it's a roll of the dice weather you get a good group or bad group of dogs. The final straw for us was the Pit Bull puppy who would fake submission to sneak up on adult dogs and literally go for the throat. His owner was bragging to me that his puppy was going to kick my adult male Rottie's butt and how his dog was the tuffest dog around. 2 seconds later his shy little puppy truly did try to take out Pops. The owner was cheering the encounter and did nothing to intervene, just issued a challenge to any owner who wanted to take him up on it. I'm not willing to risk Empire's socialization with dogs I've not seen, and their a$$hole owners. Any suggestions you have would be greatly appreciated as we obviously want to ensure that she does not try to assert dominance over other dogs while we are out with her and she is working. For now our plan is to socialize with friends who have good tempered dogs.

Thank you so much,
Marjorie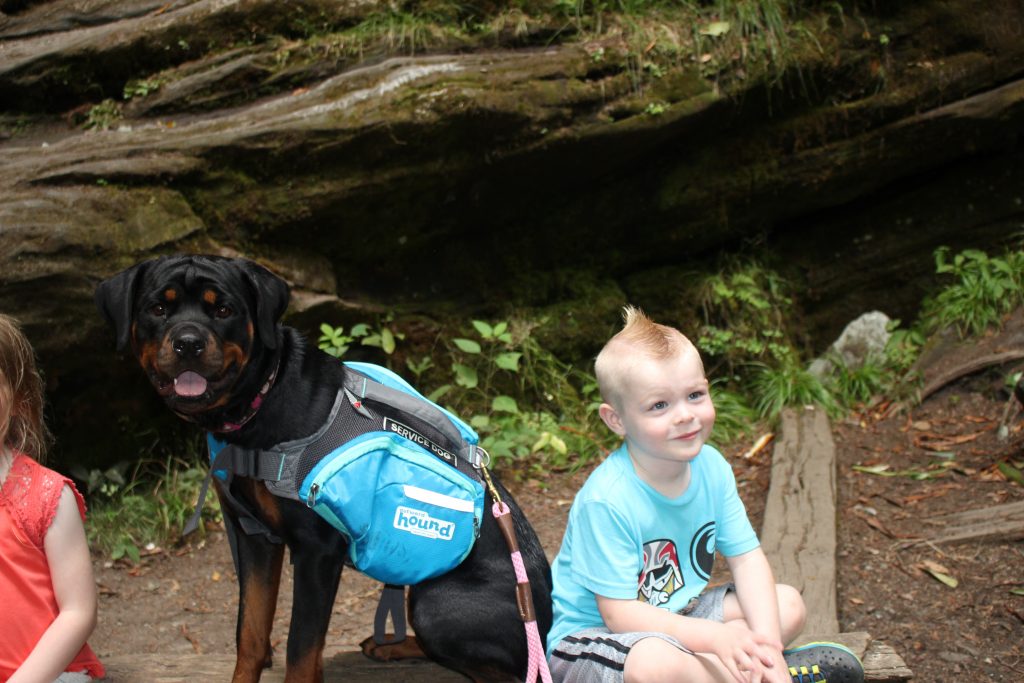 Hi Alice,
We are on vacation in North Carolina for 2 weeks. Emmy has been absolutely fabulous and has been a tremendous help for and with Pierce. I'll send you a few more pictures of our incredible and gorgeous girl, thank you SO much for helping us bring such a wonderful girl into our family. If you would like please feel free to share or post these pictures of one of Bull and Luna's babies at 1 year old.
Love,
Marjorie
(Visited 50 times, 1 visits today)