Guardian Rottweilers P LITTER
Sire: Marsio Ri Mobby Dick
Dam: Sindy Nine-Rot
International Champion                               Ch. Sindy Nine-Rot
Marsio Ri Mobby Dick                                  HD-b, ED- 1
HD-FREI, ED+/-                                             Champion of Serbia         
CH YOUNG SCG06                                         IABCA International Ch.
CH ADULT BULGARIA 06                              Multi V1 Rated
CH ADULT SERBIA 07                                    BH, IPo1, CGC, TT
CH ADULT MACEDONIJA 07                         CACIB, 4xCAC
CACIB Athens GREECE 08
V15x, YOUTH WINNER 2x, CACIB 6x,
RCACIB 11x, CAC 3x,BOB, BOG, RBOG,
R.YOUNG BOG, BIS III PLACE
---
"Derek" Guardian Proteus Von Gottschalk
Here are some pictures of Guardian Proteus
Von Gotschalk aka Derek Jeter. I just could not be happier with him. I need to find a good trainer in this area.
Best regards,
Stephen, New York
---
"Bristow" Guardian Peyton Von Gottschalk

 Alice,
     Hello from the NW Suburbs of Chicago!  We've been meaning to send you an email sooner but we've been busy busy busy with the puppy!  First off,
everything is going great!  Bristow (aka Peyton), has been to the vet a handful of times now (most recently Monday).  The vet LOVES her and says she's doing fantastic.  She's already up to 21 lbs, and he guesses she'll be about 30 when we go see him again at the end of the month.
     Bristow has been out and about with us all over.  She comes to our little gym with us on the weekends and is an absolute star.  Everyone always asks how she is doing and comments about how big she's getting, and how big she will be eventually! She's learned a few commands already, but once in a while she'll get distracted by something and it's hard to get her attention when she's so focused on something else.  She was a "natural sitter" and that's by far her best command, and she's getting better at walking on a lead every day.
      I've included a few pictures for you.  Hope everything is going well, and it seems like you'll be drowning in puppies again soon enough!!
~Josh, Heather, & Bristow
Hey Alice!
     Hope everything is going great over there at the new "Rottieopolis"!  Sorry we've been a bit incommunicado, but better late than never, right?  Bristow (Peyton) is doing great, as
always.  She's constantly getting compliments on how "pretty" she is, her ego is completely out of control by now.  
     Bristow is coming up on 2 years old soon, and I wanted to start looking into teaching her how to draft/cart.  The first things I know I need are a good harness. Any suggestions on where I can find one, and how to make sure I get a good fit?  Also, are there any resources out there, either online or in book form that would be a great place for me to start in regards to teaching her commands and
getting her comfortable with everything?  I think she'd really love it, and to be honest, it'd be a fantastic way to poop her out on a daily basis!  Not to mention being able to have a good presence in the neighborhood being known as the people who have the dog that gives out free rides to kids!
I've attached a couple pictures from last year (and one from the aftermath of the blizzard we had this year), hopefully I'll have some more recent ones for you soon!

-Josh, Heather & Bristow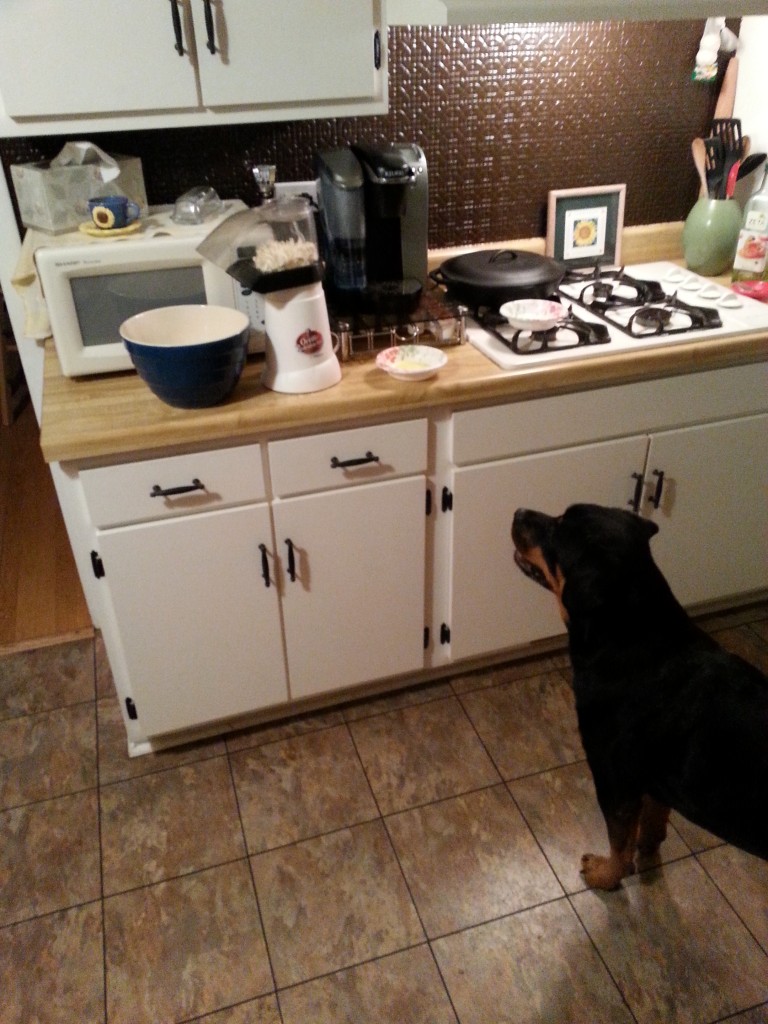 Hi Alice!
I know the updates are few and far between, but I'm trying to get better!  I last contacted you regarding Bristow (Peyton) and possibly having surgery on her rear left leg, and I thought I'd let you know how it turned out.
We ultimately decided to put off surgery.  Over the summer she would avoid putting weight on the injured leg, but would still run and play and do as much as she has always done (even though we tried to prevent it as much as possible!).  The only time she would visibly limp would be after a particularly long walk, and even then it was only slight.
Towards the end of the summer she stopped limping completely, and lately I've noticed she doesn't favor the rear leg much at all anymore.  When we had her looked at, the vet said she either had a partial or full tear. We're not doctors, but we're pretty sure she suffered a partial tear given the fact that her mood and energy level never changed, nor did she ever hesitate to run or chase when she wanted to.  We made sure to keep her back leg mobile, and take it through the full range of motion by hand for a few times each day, similar to what we would have done for rehab had she gone through surgery.
Ultimately we think we made the right choice given that she is happy and as energetic as ever.  We'll always pay attention to the leg during long days of lots of activity, and perhaps she might have issues further down the road, but so far, so good!
Other than that, she has been spectacular! Her birthday is coming up (we just celebrate it on Halloween, since the day we first visited you for our interview was Halloween, and you told us the pups had been born the night before).  Heather and I have started our own business over the last year and she very much has been a part of that.  We opened our own CrossFit gym and in a few weeks we'll be moving into our own brick & mortar space.  We had the landlord change our lease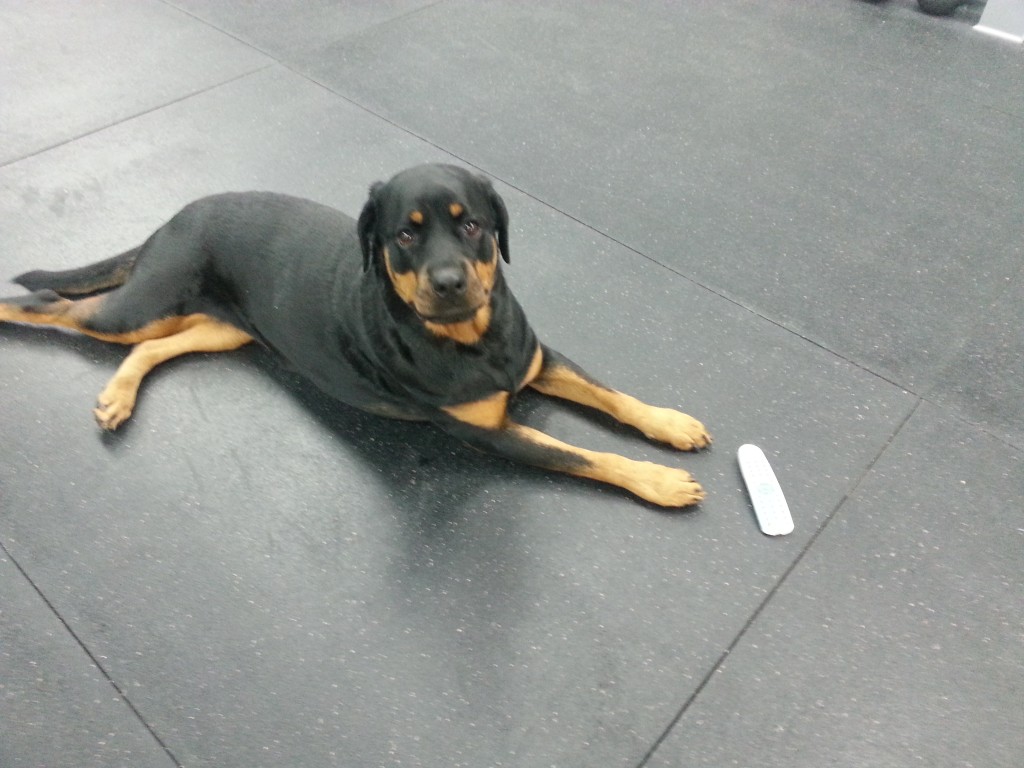 specifically so dogs could be allowed on the premises!  As always, she continues to change people's mind about the bad reputation of the Rottweiler, and we've even had a few people start inquiring on where they can find one just as nice as Bristow!
I've attached a few pictures.  Hopefully in the future we can make a trip down to Indiana for a visit!
---
Guardian Pangea Von Gottschalk
Hi Alice,


Just wanted to report that after one week our baby girl is still a bundle of joy!
She is just so-o-o-o beautiful! and growing like a weed.
She is very affectionate and fun to play with.
We can't say enough good things about her.
When she saw *fire* (fireplace) for the first time it was amusing to watch her reaction.  She is very alert.  She always makes us smile, ok, not exactly always!
Melanie
Rockbridge, Ohio
 I LOVE this photo of Pangea standing her ground against this massive cow!  Only a pup and already a rottie!!  (Pearl, the cow, was only making sure Pangea did not get to close to her new calf)
Hi Alice,
Thought you might enjoy pics of Pangea taken this a.m.  She's an awesome puppy and doing well.
Melanie, Ohio
Hi Alice,
Hope all is well for you, your adorable kids and lovable rotts.
We let Pangea run around outside all night right now (while the chickens are penned up).  She has NO PROBLEM catching a flying chicken in mid air!  She is the most fun to watch when we go on rides around the homestead as she taunts the cows.
Hopefully, we'll get her professional training started soon.  
Melanie
Hi Alice,
Your new home in the country looks so wonderful!
Pangea is still plenty full of energy at 2, but we are now ready for our second Rott.  Would you please let us know when a puppy with her sweet looks becomes available?  We will still have to schedule a spaying for Pangea beforehand.  She does not like going to the vet and has thrown up on every trip.
Our younger son's friends recently came with their dogs to romp and play in the "100-acre woods" and Pangea loved them – a neutered male pitbull, and a long-haired bird dog (who spent most of his time in the pond).  Pangea is used to putting up with our older blue heeler, M'Aussie Blue who picks on her and lets her know that the back porch is hers.  Pangea gets the bigger front porch (and the "porch cat" to chase).
Pangea loves the cows and goats, well, she loves trying to herd them.  She does well with her commands as long as she isn't trying to play with us (which she prefers over sitting or staying).  Even though she loves to jump, she is very settled around our 6 and 10-year old nephews and even smaller daughters of my cousin.  Well, except for that dino tail, it's always moving!  She is a very happy girl.
Just know that when life is hard, I draw strength from your life experiences and our beautiful Pangea reminds me every day not to give up hope.
God bless you and your little ones and your hubby,
Melanie
---
"Damen" Guardian Primus Von Gottschalk

---
"Lucy" Guardian Pandora Von Gottschalk
Alice,
I hope you are doing well.  I just wanted to touch base with you to let you know that
Pandora is doing wonderful.  We could not be more happy and in love with her.  She is very well behaved, and her coat looks beautiful (I spend a lot of time keeping her clean and well groomed).  Attached to this email is a picture of her which is being used for labeling the table's at our wedding (each table will have a picture which has a number on it so people know where to sit).  As you can see in the picture, she is beautiful.  Everyone loves her!  I truly think that she is the most beautiful Rottweiler that I have ever seen (and everyone tells me this when they first meet her).
Hillary and I are getting married on November 6th, and we are going away for 1 week for our honeymoon. We are worried about leaving Pandora for 1 week (it will be the first time that she has not spent the night with us), but fortunately she is staying at Hillary's mother's house while we are gone (her mother has a beautiful black lab which is Pandora's best friend).
Pandora is approaching her 1 year old birthday in a few weeks.  She has gradually put on some size (I have not had her weighed in a few months but I think she is around 70 to 77 lbs right now).  I still have her eating Fromm Large Bread Puppy Food.  You mentioned that we need to keep her on this for 2 years.  Pandora seems a little undersized and she is not a huge eater.  Do you think we should continue to keep her on the Puppy food for another year, or should we start to gradually switch her over to regular food?  If we switch her to regular food, should we use Fromm Large Bread Adult Food?
Sorry for bothering you and hopefully we can come check out your new home sometime soon.  I know Pandora would love to come play with some of her family.
Take care,
Jamison
Hi Alice,
This is Hillary and Jamison who are the proud owners of Pandora. We are thinking once again about getting another dog (puppy) in about a year. We want a friend for Pandora and we are moving to a house with a yard. Will there be any liters in about a year? We want another girl with a tail as well. Pandora has just been so amazing and she has the best personality. We want a puppy who will learn from Pandora. Jamison and I want to bring Pandora to your new place and see it and talk about a puppy. I hope all is well. Pandora is GREAT!.
Just like her mom, could not get her out of the water!

(Visited 48 times, 1 visits today)