On February 13th, 2020, our Puck made his way over Rainbow Bridge.  He takes a piece of our hearts with him.  There are no words adequate to express the amount of love and admiration I have for this Ambassador.  You will be greatly missed Pumpkin head, but you will always be here with me.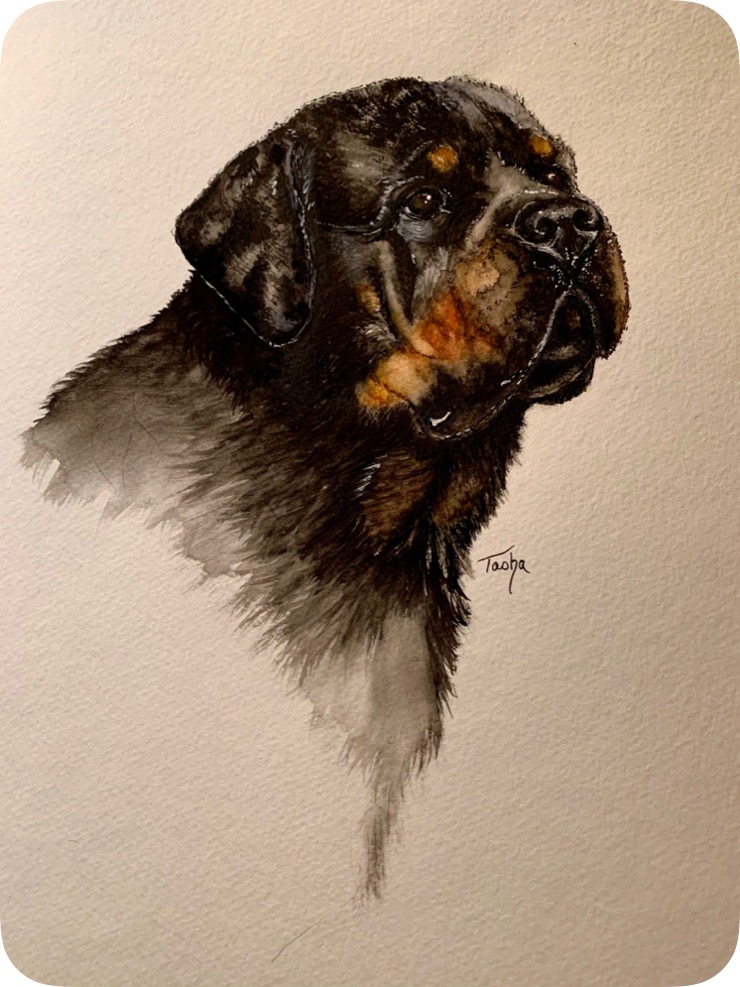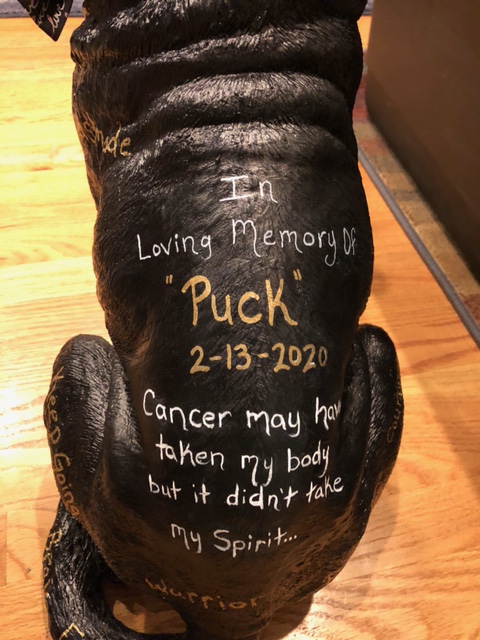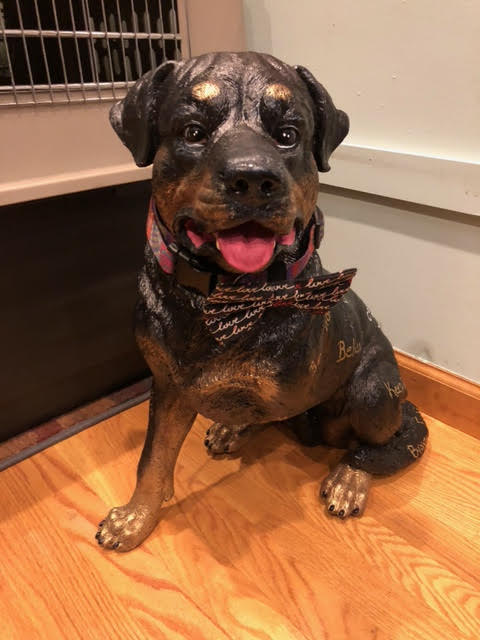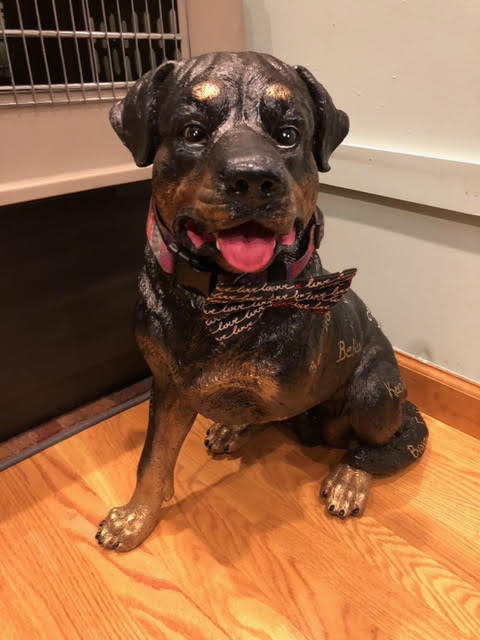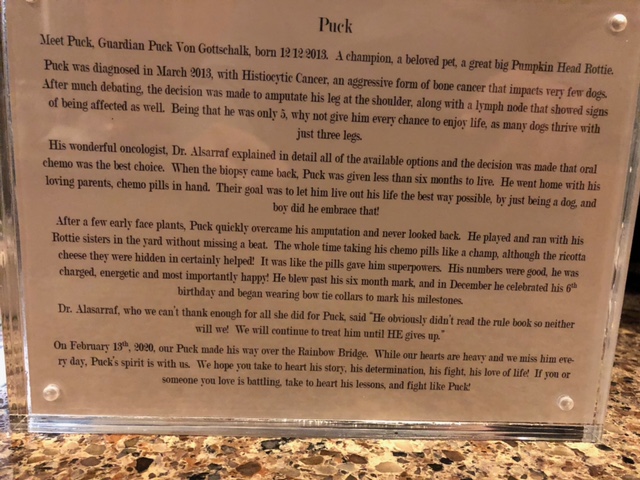 We have a dog display in town through a local art gallery. People sponsor dogs and artists paint them. Our friend asked if she could do Puck and the day she finished, was the day I told her Puck passed away. We both cried! 
While Covid postponed the dog display, Tasha felt Puck needed to be home with us until he could be presented on Main Street! He is by Yamaras crate and Gubal visits him daily!
I get the same looks from Gubal! He climbs in my lap nightly, just to say, I'm here, gives a kiss and then returns back to his spot next to the couch! 
I can take better pictures of the statue if needed. Let me know. 
Natasha Iwanski is the artist. She does commissioned pieces! In fact she also drew the picture I gave to you of Puck! She's amazing!!
(From his mom)
Hello!
I'm glad I was able to talk to you today without too many tears. I went to Pucks page today after we talked and just wanted to add:
Although Puck was diagnosed in March, we believe he was stricken with cancer in January before his symptoms presented themselves more often. The timeframe doesn't matter as nothing would have changed the aggressiveness of the Histiocytic  cancer. While he had 10 rounds of oral chemo, each month he amazed his oncologist with his attitude and willingness to fight. He was given less than 6 months when we amputated his leg in April. Unfortunately, in December, we had to say goodbye to one of our other Rotts who was not only our buddy but Pucks as well. I think this was a heartbreaker for him. While he has his little sister Yamara at home, Kamino was the big sister who showed him the ropes. His January oncology visit showed his levels continuing to be outstanding, and we had another round of chemo. Unfortunately about 3 weeks after his chemo he began to present signs of fatigue and pickiness with food. We fed him whatever he wanted and whenever he wanted. 🙂 The last week, he was sleeping more, eating less and had no interest in playing. He became a bit distant as well. in the past couple of days he also became winded when he exerted himself telling the mailman he was still here. Unfortunately we knew times were changing.
Last night, he didn't eat and was drooling more. This morning, he was a bit lethargic and not very responsive, telling us he was giving up and was ready to move on, with our help, over the rainbow bridge. He snored like his usual freight train and slowly passed away.  We are heartbroken that our pumpkin head freight train is no longer here with us but know that he fought a heck of a fight, changed the bell curve for dogs with cancer and left a mark in the oncology world.
Thank you for all you do for the breed and for allowing us the time we had with Puck!
Hugs, Kisses and slobbers to all!
Joe and Noreen
Our beloved Puck was diagnosed with cancer and had to have his arm and shoulder amputated.  He has stayed true to himself throughout the whole process and there are no words to express how proud I am of his courage and character.  There are equally no words in any language adequate to express my love and gratitude for Noreen for the care and love she has given our Puck.  I know that I owe his success through this process to her.  Here is my Puck, my Superman, not just kicking cancer's butt, but doing it in fashion and ready for Halloween!!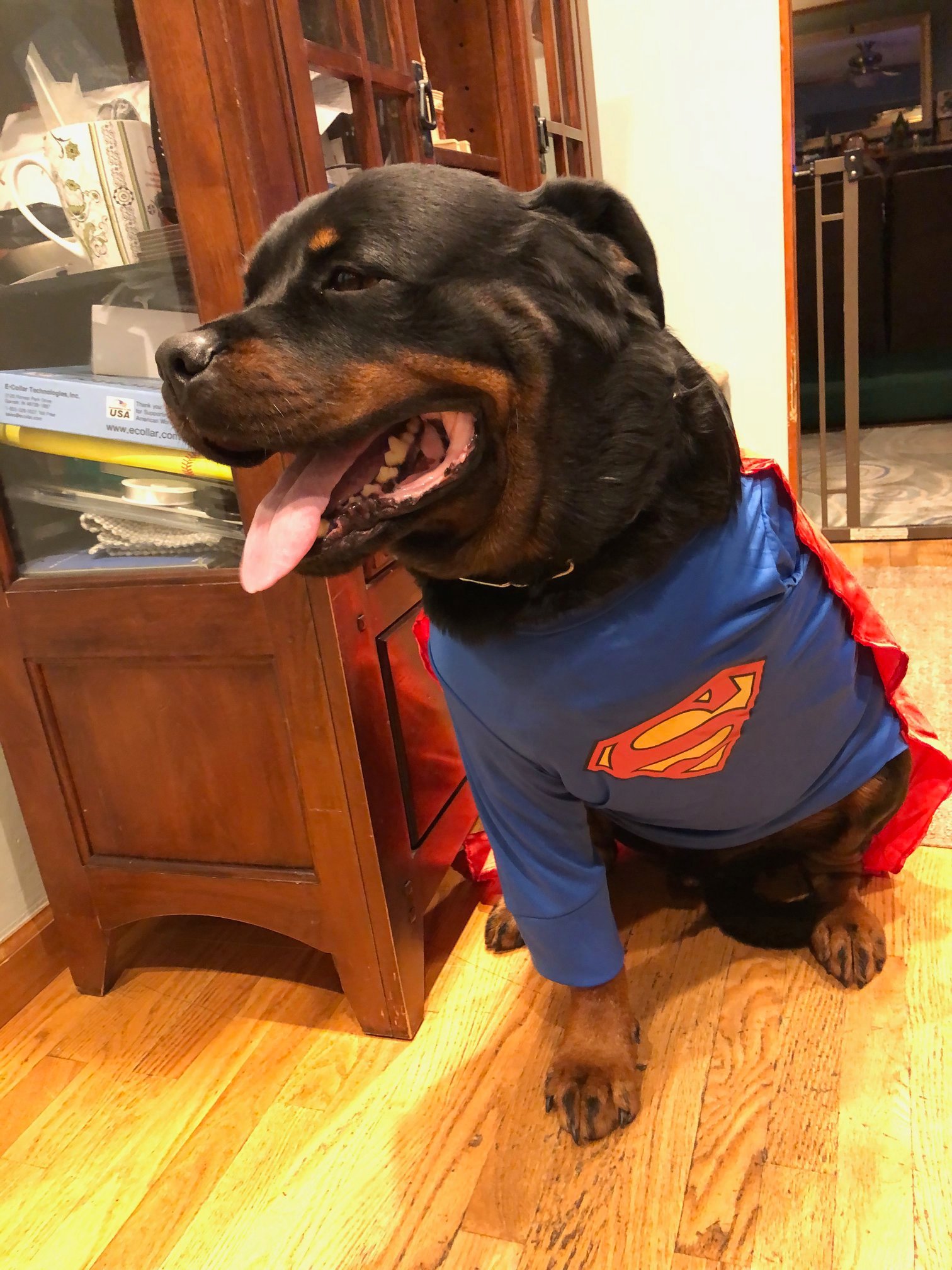 Hello!
So far so good! We are heading to the oncologist tomorrow for another round of chemo. It will be #7 and since he is holding his own, we will continue until told otherwise. I trust his oncologist 200% as well as my own vet so, it's in Pucks hands
In late January, we noticed he would come from his crate with a limp every now and then. It would not be consistent so it was hard to make an appointment and actually present the problem to the vet if he wasn't showing signs. We added an orthopedic bed to his crate to see if that would help. He was still the same Puck, chasing and beating on Yamara and doing his usual routine. He didn't loose his appetite or appear to be in any pain so it wasn't a major concern. February went on and rarely did we have any symptoms. Fast forward to March. He began to limp a little more so we took a video and went to the vet who is also a canine PT. She couldn't pin point what was specifically bothering him and wanted to conduct x-rays under anesthesia. Since he had eaten that morning, we didn't feel safe to knock him out so we scheduled another appointment. On March 29 (the day before my 50th birthday so I'll always remember!) we knocked him out and the sack of potatoes they had a series of X-rays done. In the xray, we could see the bone around the wrist area appear to be honeycomb like, showing signs of cancer. After we reviewed, looked again and had another doctor look, the diagnosis was confirmed of bone cancer. While at the vets office, we contacted a wonderful oncologist who had an appointment the next day. When we presented to her the next day and it was confirmed. We discussed options of letting it take it's course and let him be a dog for an unknown amount of time or amputating his leg at the shoulder. We decided amputation would be best since he was only 5 and that many dogs live with 3 legs. Hes a tough big pumpkin head and we felt he deserved the chance we could give him. We met with the surgeon and scheduled his procedure, which took place quickly. Upon amputation, a biopsy was also performed. Two weeks later we received the devastating news to that the type of cancer that Puck was dealt was not only of the bone but it was a type that less than 1% of dogs get. (name to follow when I look it up!) His leg was removed as well as a lymph node which presented signs. We wondered if we did the right thing at this point since he was given at the most 6 months to live. We took him home, harness in hand, and prepared the house for what was best for him, not to worry about his other 4 siblings including a 1 year old pup! He got his own room which has 3 fish tanks and a couch in it since he likes to watch the fish. His Dad slept on the couch with him just in case. Puck learned to do the 4 stairs to the yard and shortly after the procedure, he began to chase the pup around the yard, of course with the vets blessing. They told us, let him be a dog! While he had a few face plants, he learned that 3 legs is better than nothing!
We opted to do oral chemo as IV is harder on the heart. Since Pucks Dad, Crom, passed suddenly, we discussed with the oncologist the fear of the unknown and his heart. She explained completely every step and what we can expect, still giving him possibly 6 months to live. We took him home with our chemo pills in hand. He took them like a champ and we later found while he liked peanut butter, it was messy to add pills to and he started to pick up on it. We then began using Ricotta cheese. He would get his 4 pills in a scoop of ricotta cheese with no issues! He didn't have any side affects of the chemo just a day or two of being lethargic. Nothing else seemed to bother him. He still behaved like a dog every month! He played, some days ate like there was no tomorrow and continued to play, some days amazing us as to his level of energy and playfulness.  We now subsidize his kibble with some freeze dried organic kibble, a scoop of ricotta cheese, ground organic beef, roasted chicken and sometimes organic eggs. We increased his proteins with the hope that will help him as well.
We have made it to his 7 month alive day as I write this. As the oncologist said, "he obviously didn't read the rule book so neither will we!" We will continue to treat him until HE gives up.
Hope this helps! I will send the types of cancer after his appointment tomorrow.  Fingers crossed we will continue to go down the right path!! I'll keep you posted on our superman!
Love to all!!
Noreen
Guardian Puck Von Gottschalk
co-owned with Noreen Mahoney
Sire: Ch. Crom di Alaricus Rex
Dam: Ch. Guardian Isis Von Gottschalk
Born: 12 December 2013
AKC#  WS45811001
Chip# 956000009317189
HD-A (Frei)  ED-0 (Frei)
Champion Montenegro
Balkan Champion 2016
National Champion Bulgaria
Grand Champion Bulgaria 2016
Multi-V1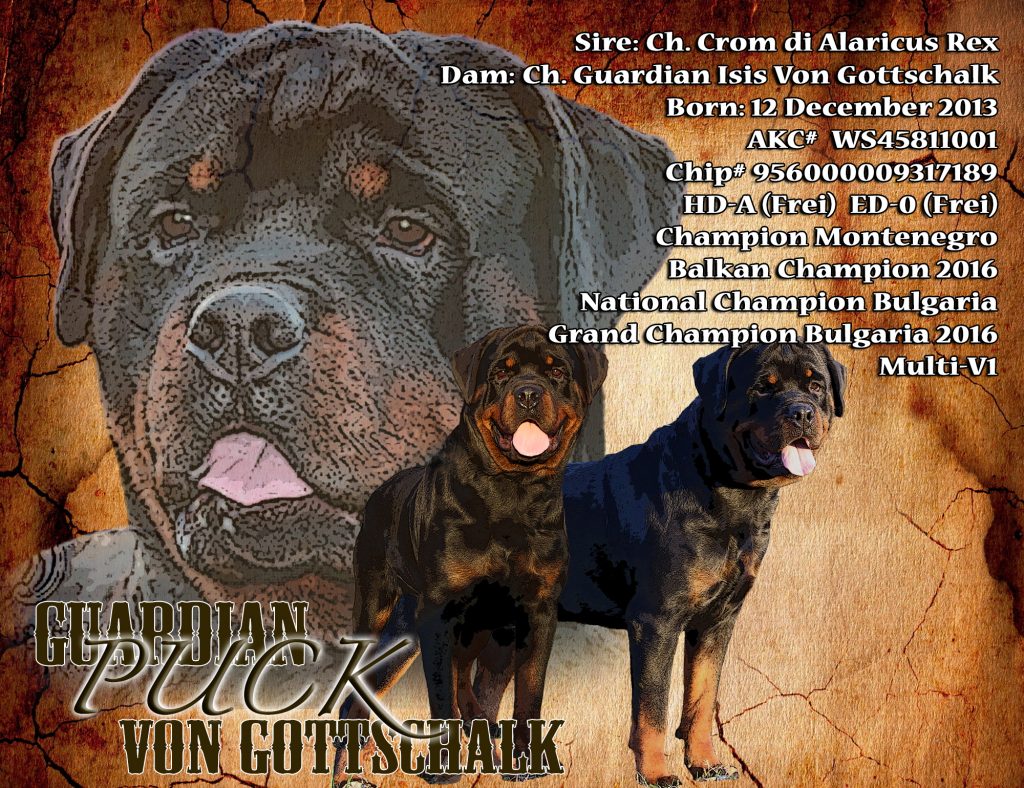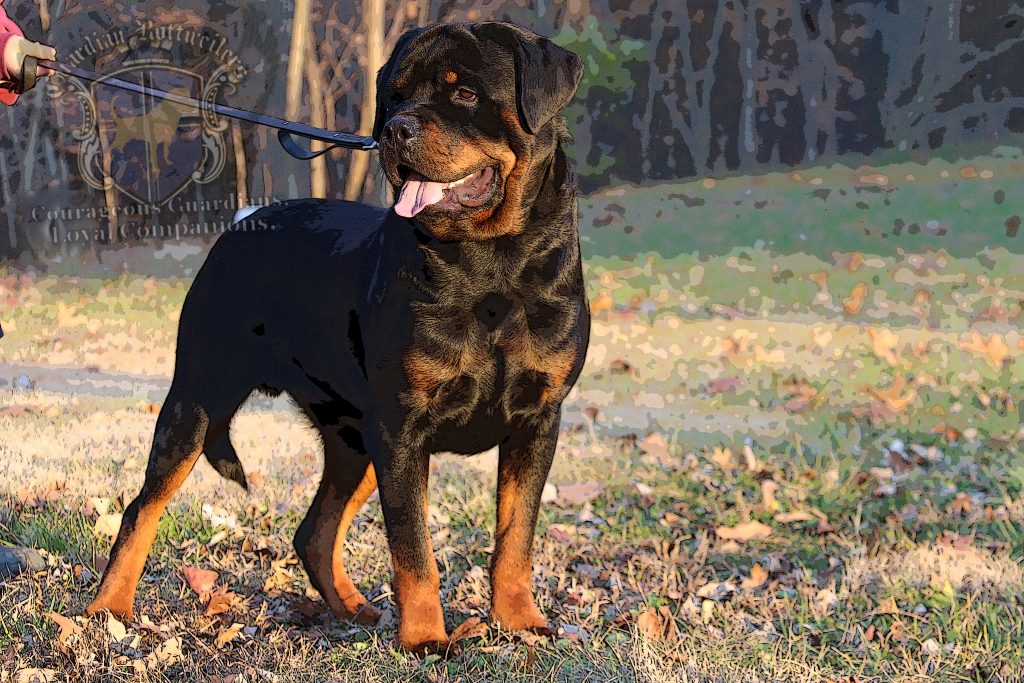 PUCK!  He was impressive as a pup at just a few weeks old and only continues to grow more impressive.  Puck has excellent bone and substance and a great mix of his mother and father's conformation.  Puck's head is unmistakably Isis-Plinda-Kafu.  Isis has proven herself to be an exceptional producer with each litter somehow even more phenomenal than the last!  Her strong, dominant genes insure heavy bone, tons of substance and unforgettable head pieces on every puppy she produces.  Puck takes after his mom in character too.  Gentle, sweet, a bit of entertainer and loads of affection.  Puck's sire had his fair share of contribution to this exceptional male as well!  Crom di Alaricus Rex was an Italian import and one of the last direct sons of LEGENDARY Mambo von der Crossener Ranch HD +/-, ED -, VPG III, FH II, BH, AD, ZTP, IPO III, International/Dt./ VDH-Champion, Europasieger 2002, Schweizer Klubsieger 2002, Ö-Klubsieger, 2002 and 2003 Schweizer Champion, ZTP 28.05.00 in Zwickau-Planitz (Radtke).  Crom was not just a prodigious representative of the breed mentally and physically, but such an extraordinary producer that he earned the prestigious title of FCI Champion in Reproduction!   I see so much of my Crom in Puck.  The heaviness in his topskull, that rich color, that extreme Mambo stop definition… but mostly, I see hid dad in his character.  He got his gentle, affectionate nature from mom (although Crom was my great big teddy bear too- and gave some of the best bear hugs I have ever had <3 ), but his drive and workability remind me so much of my Crom on the field and of course his sire, the great Mambo.  Mambo maxed out his working titles to the highest possible level.  He was a BEAST on the field and the Rottweiler world will probably never see another Mambo.  But his legacy lives on in my Puck.  Could not be more proud to have produced such a remarkable boy.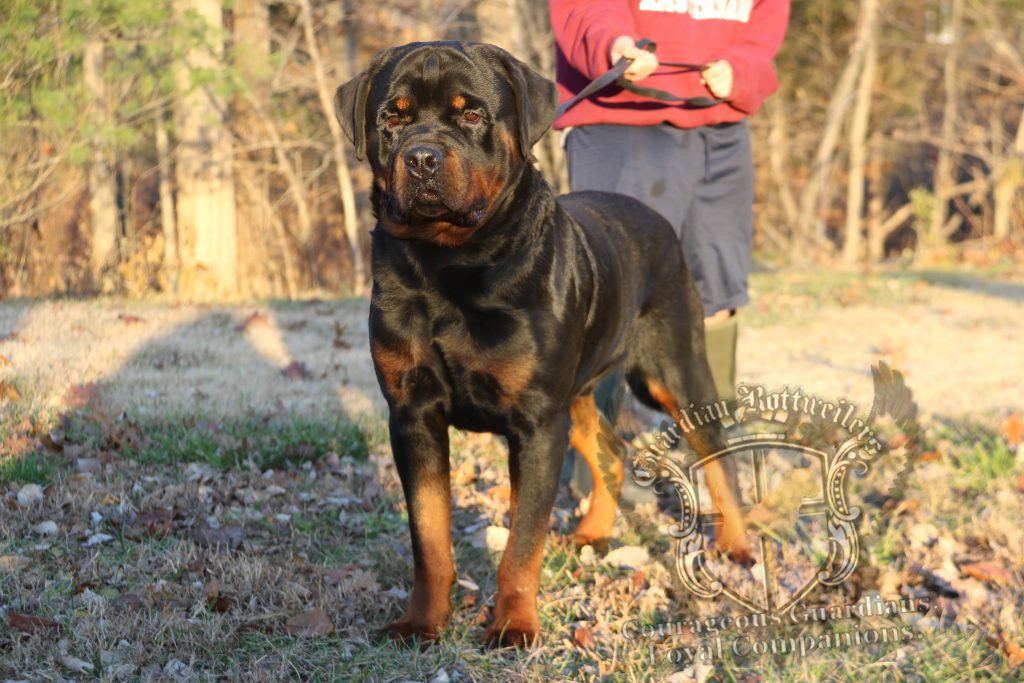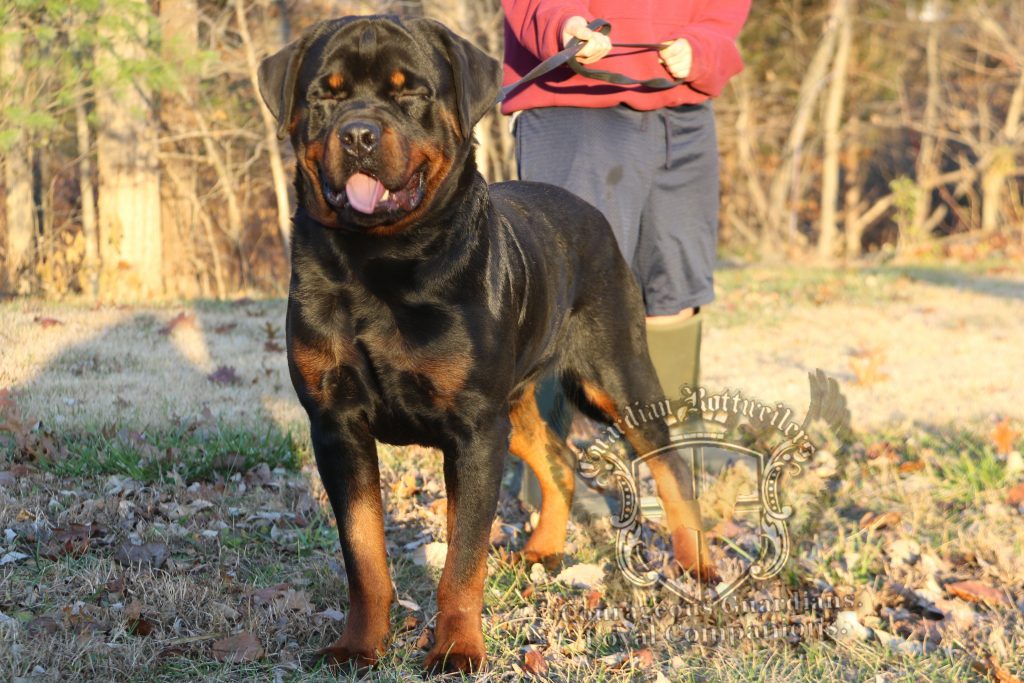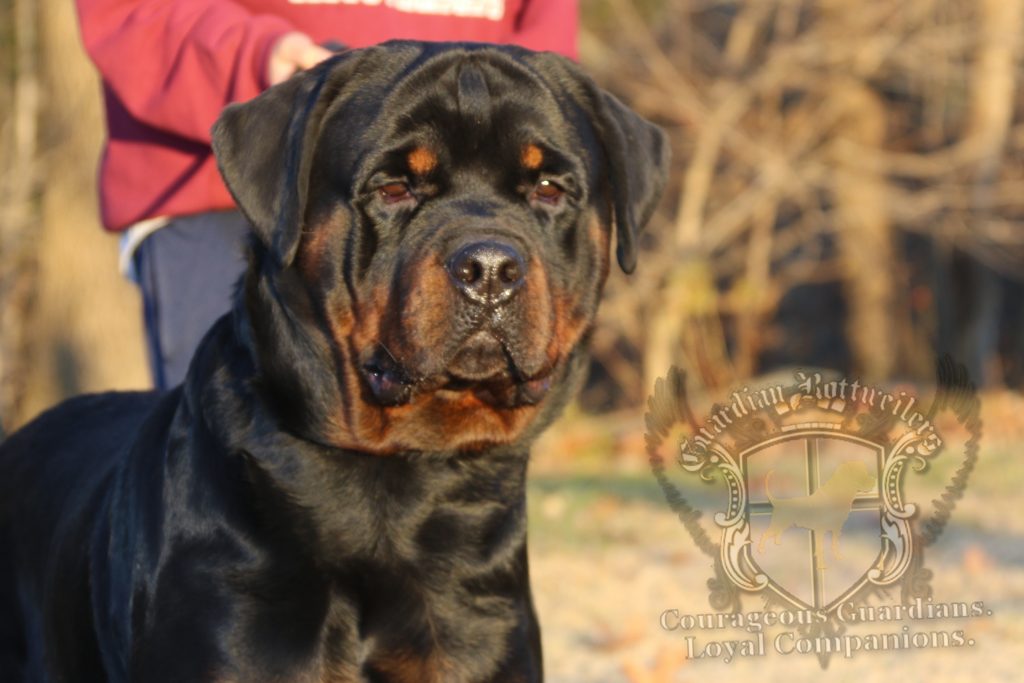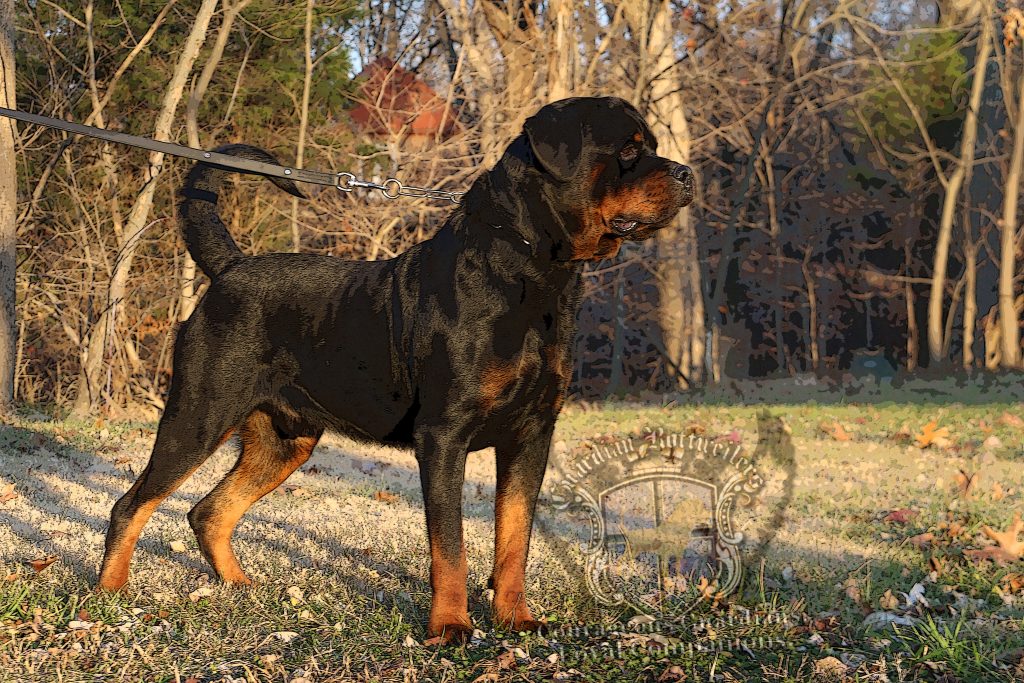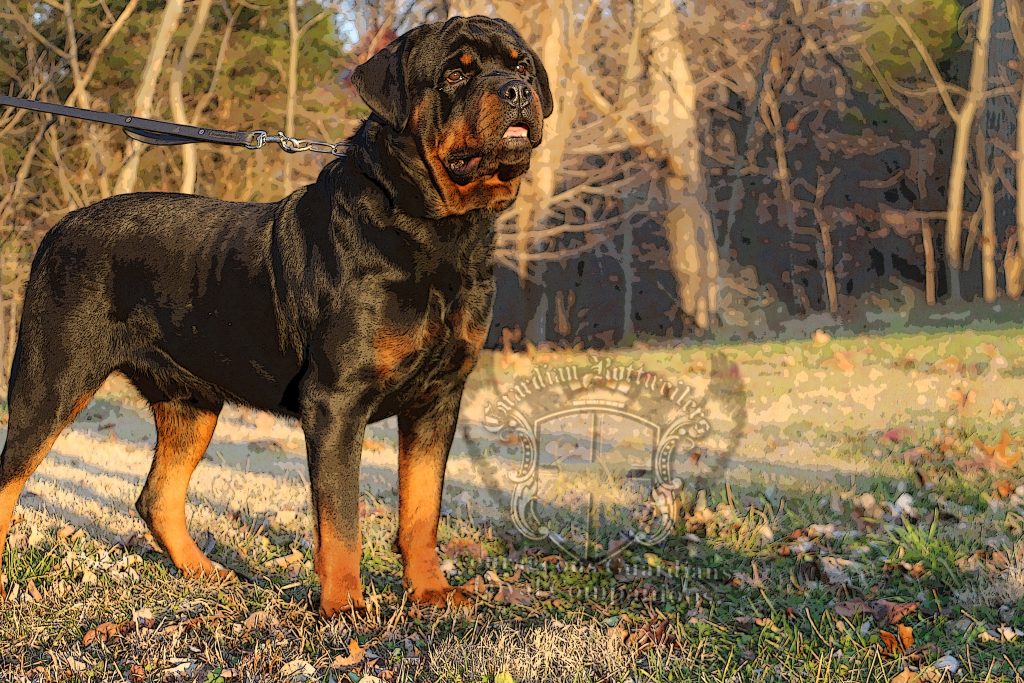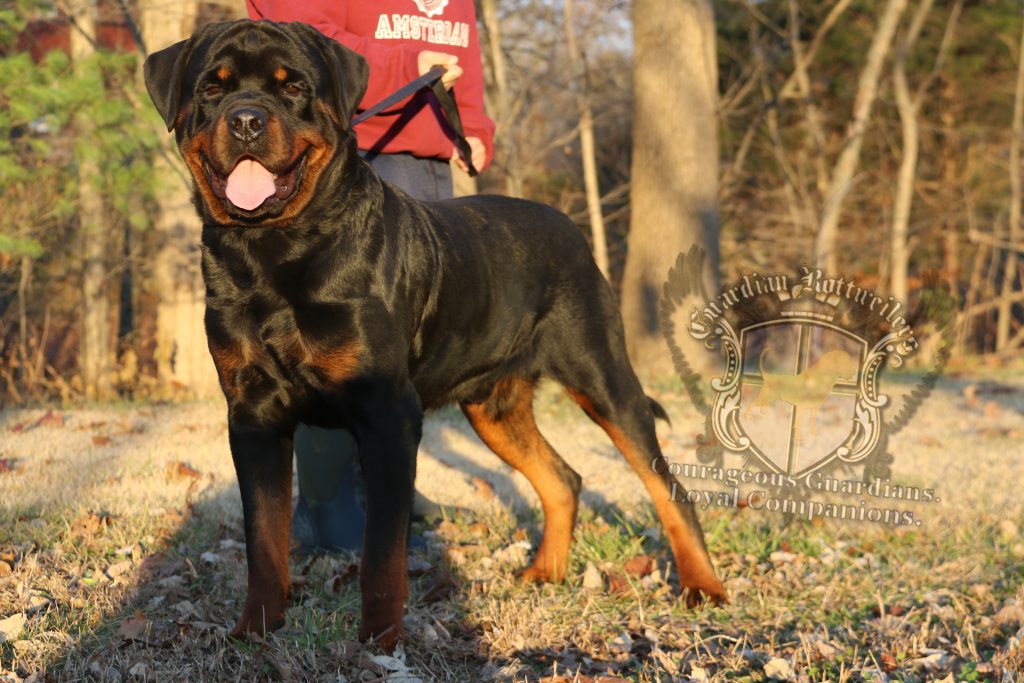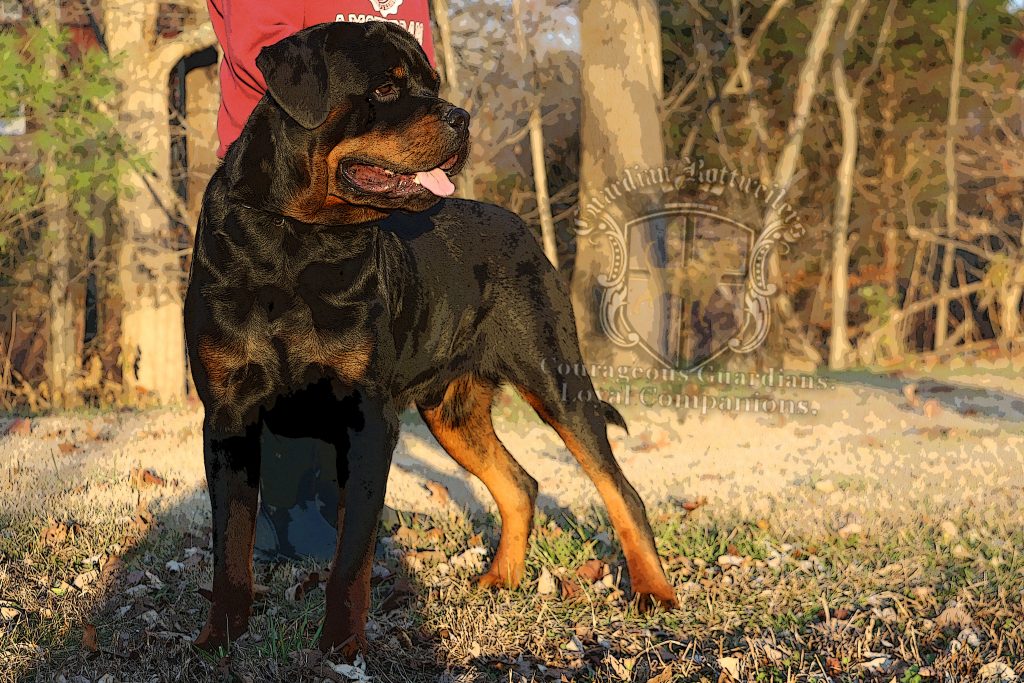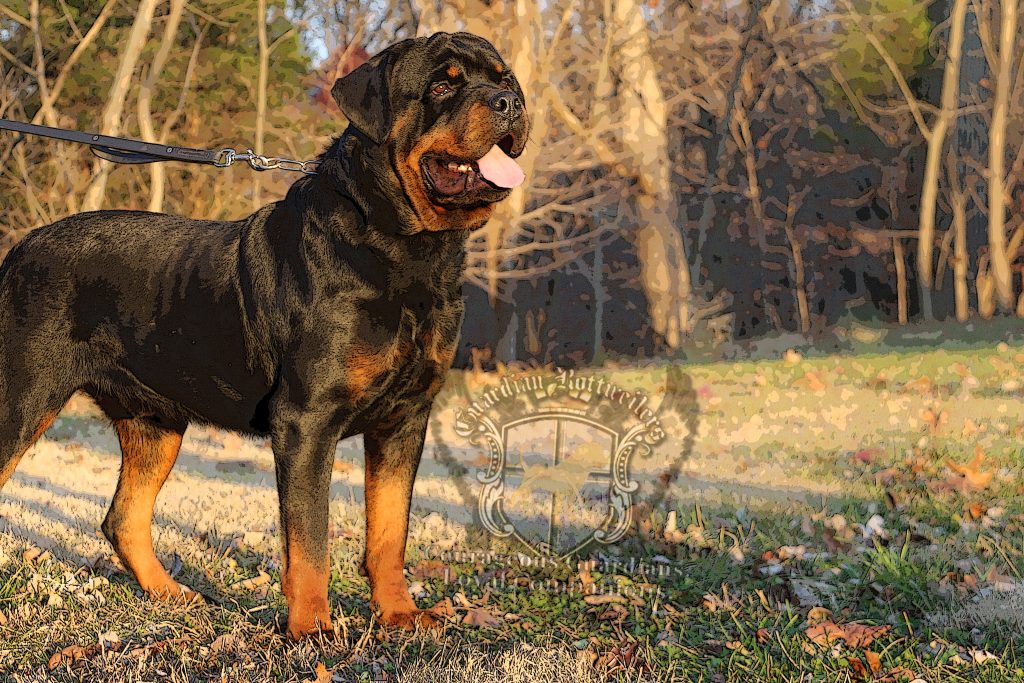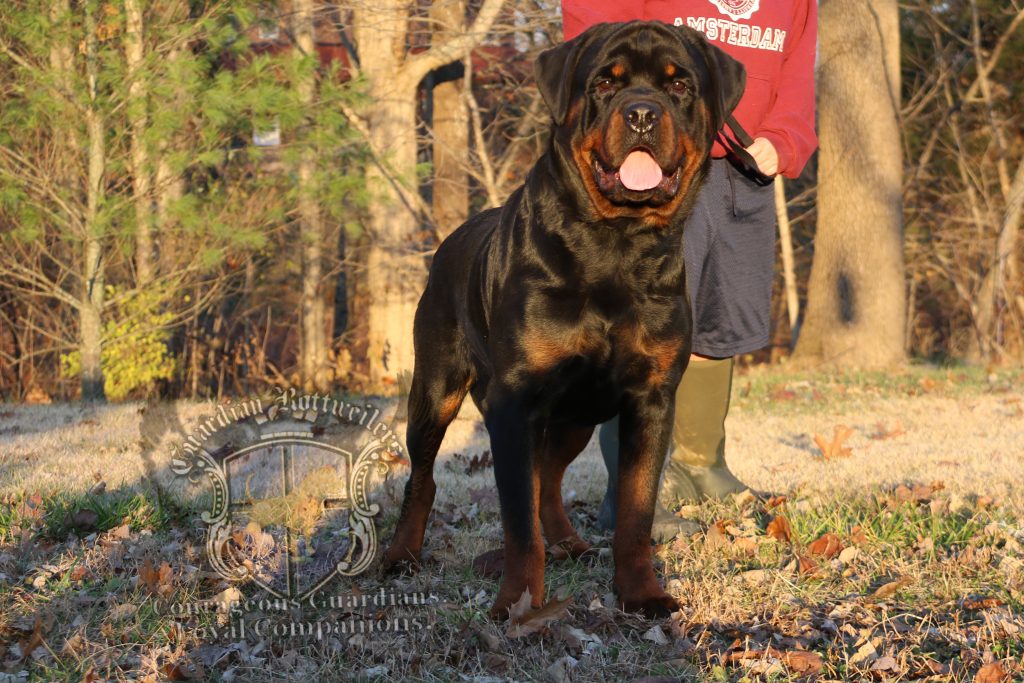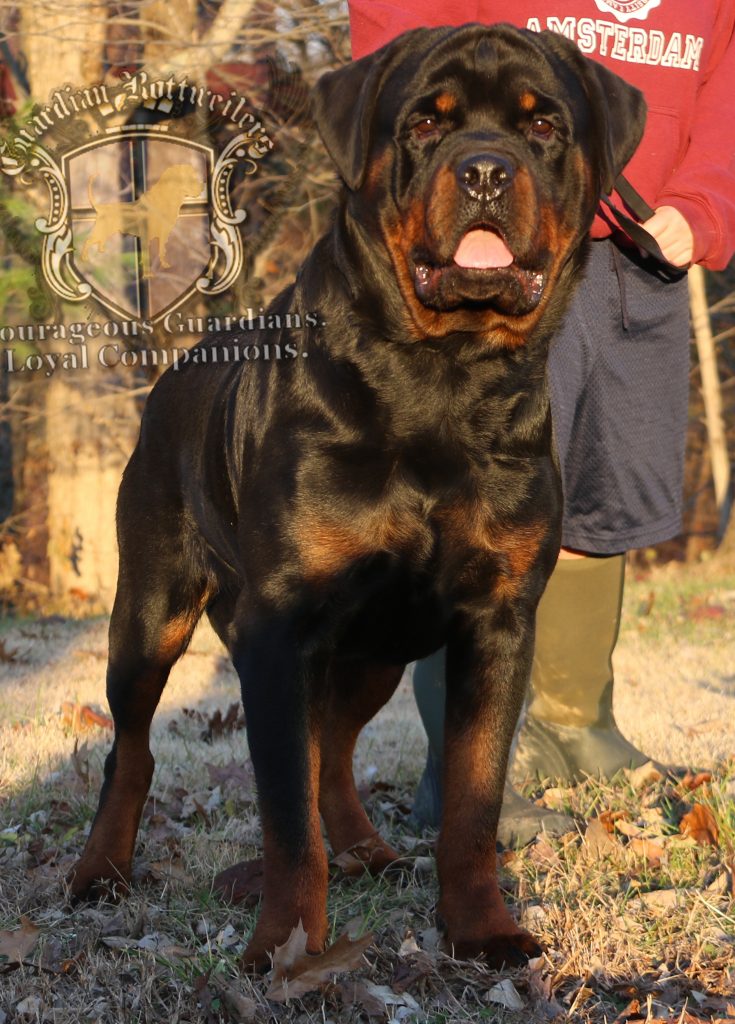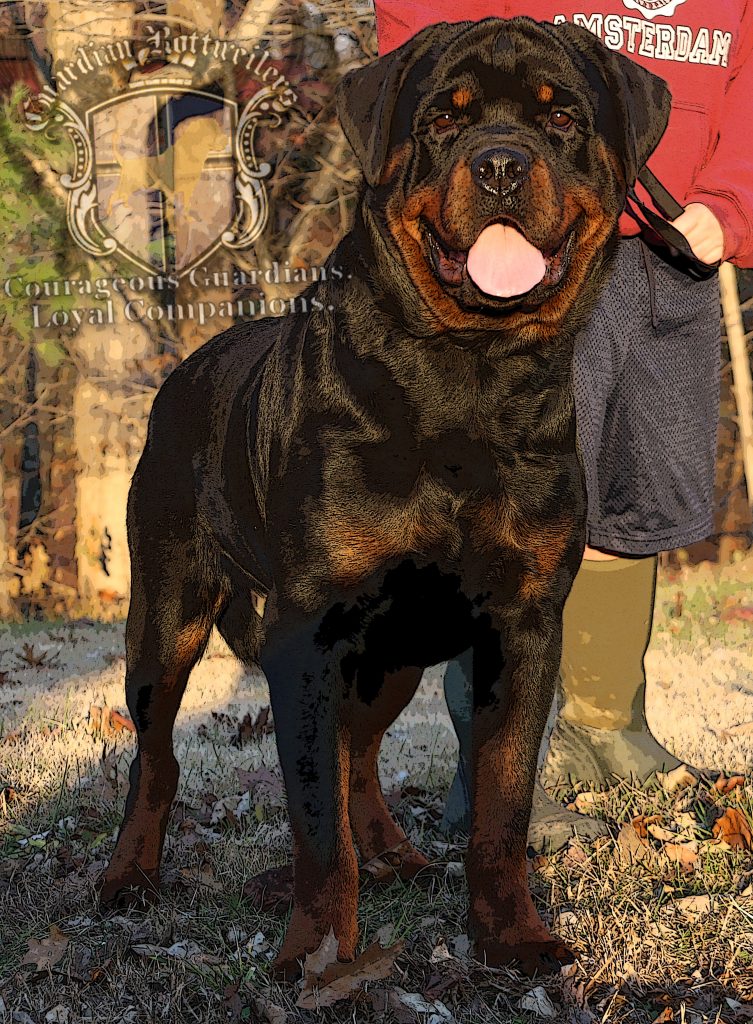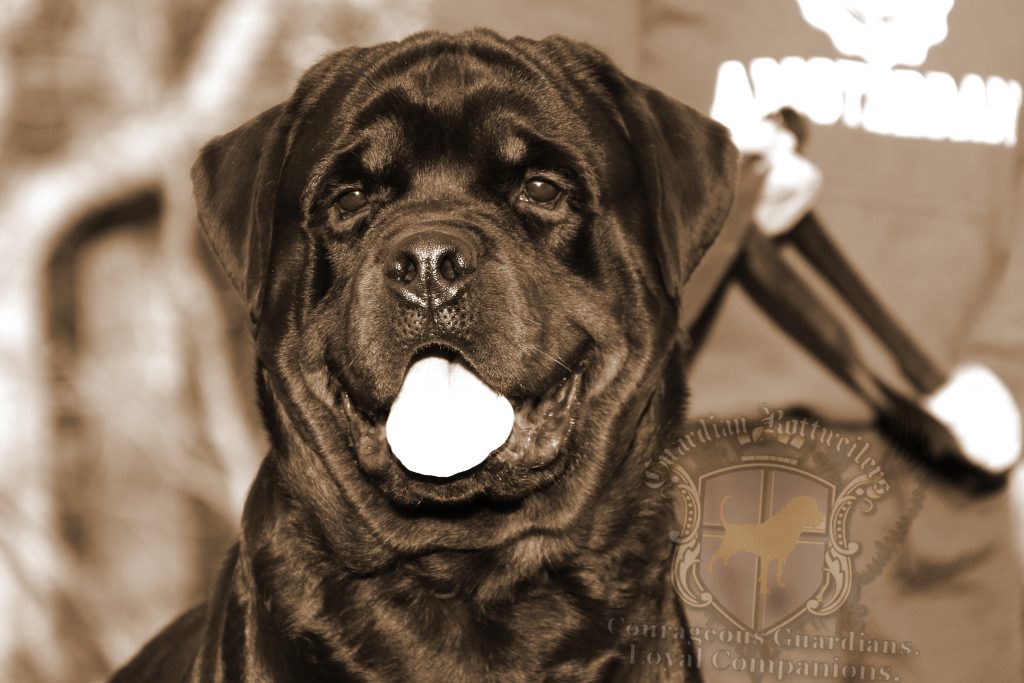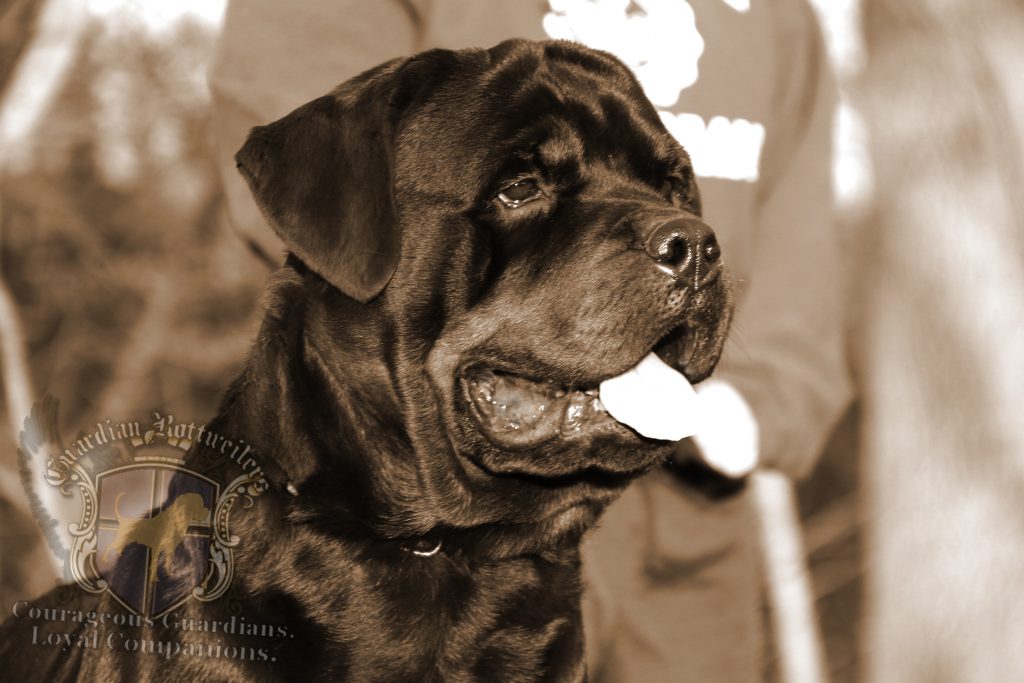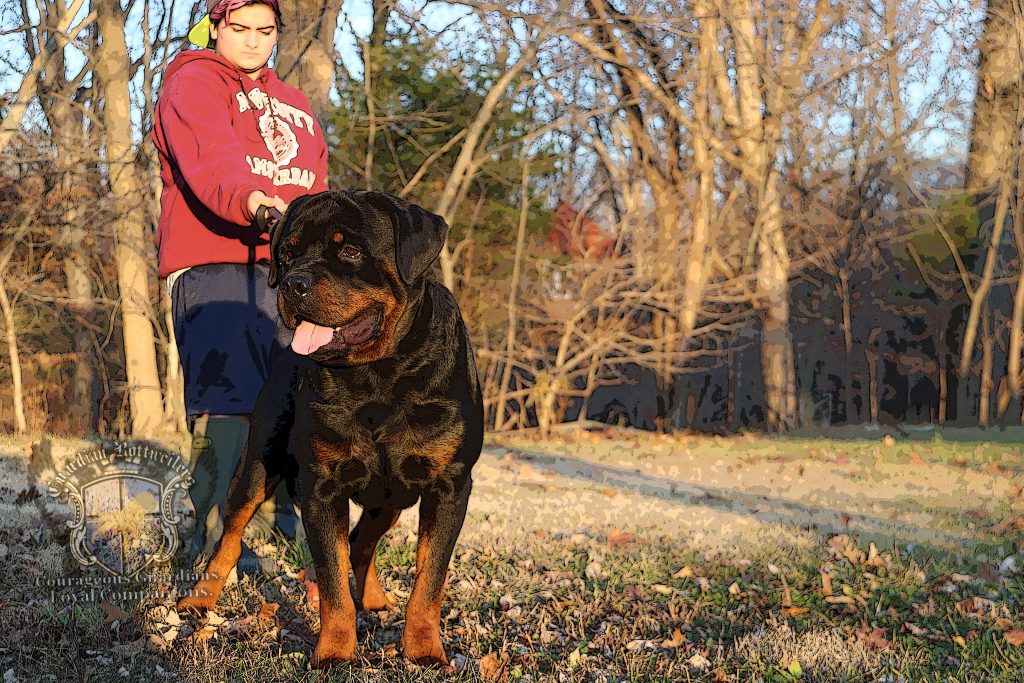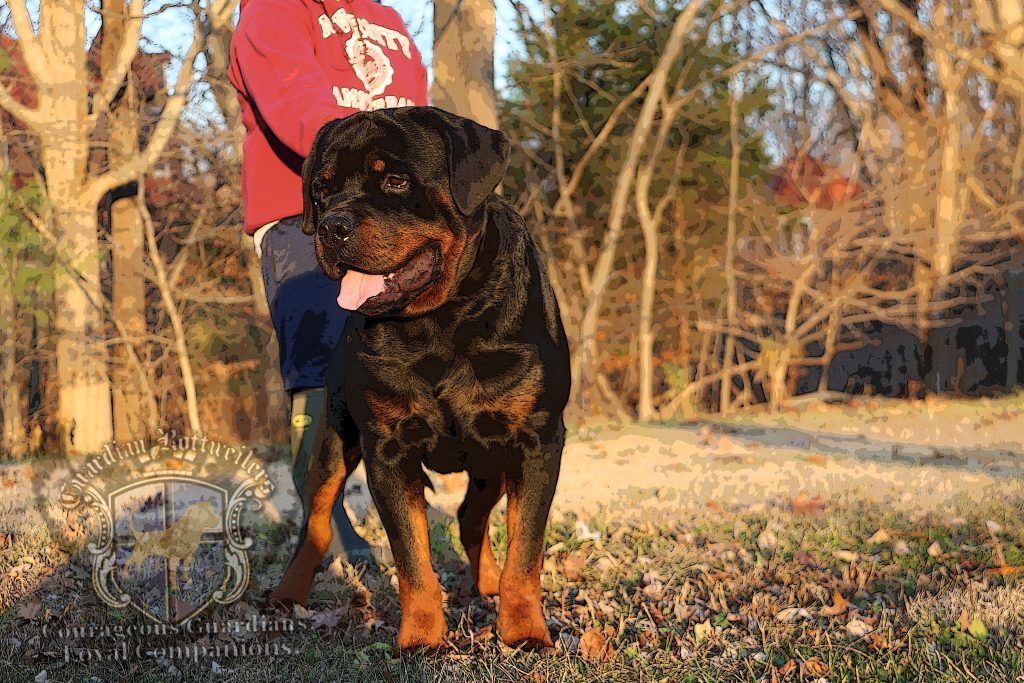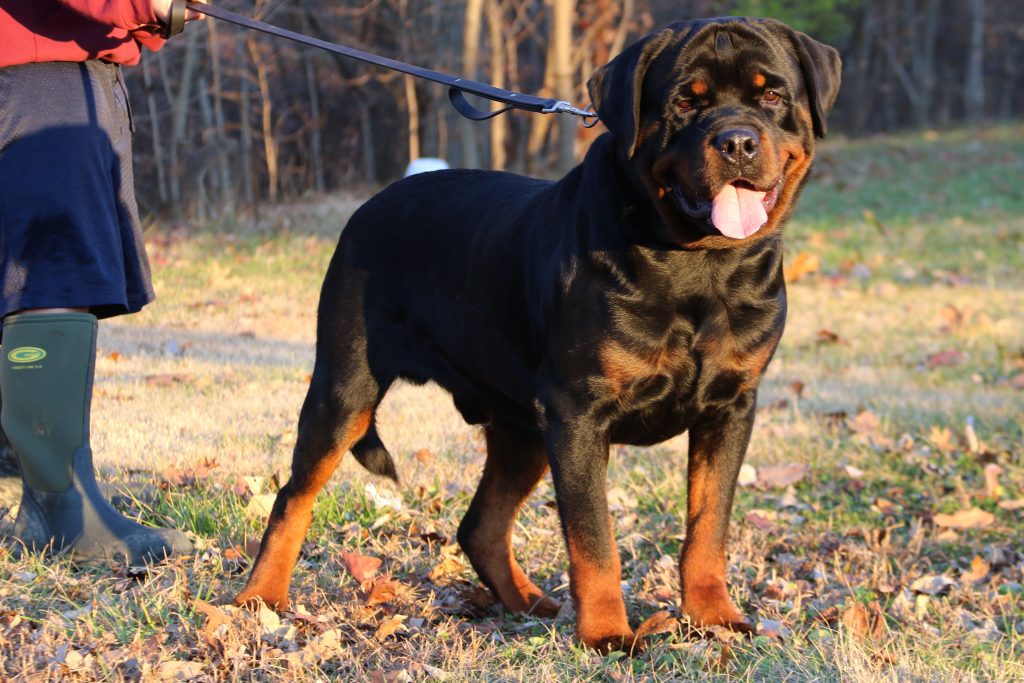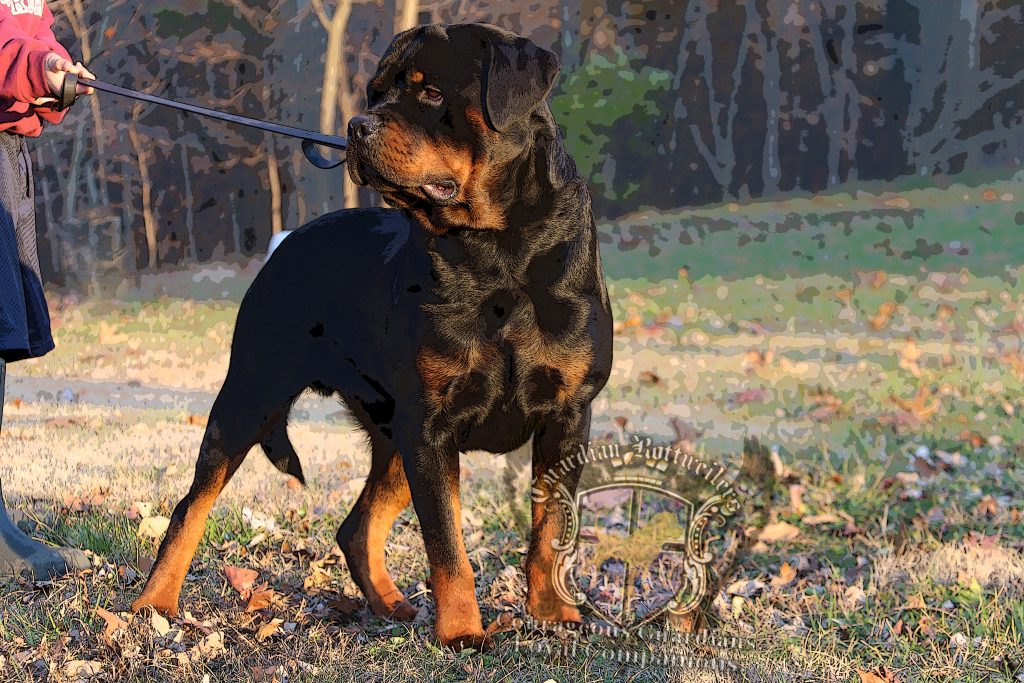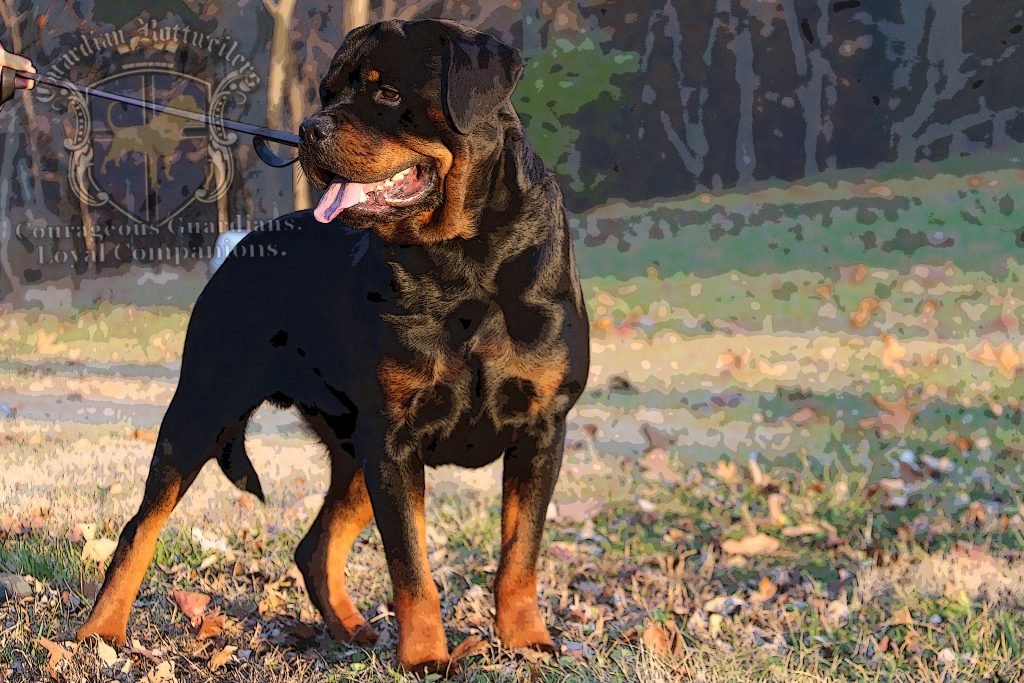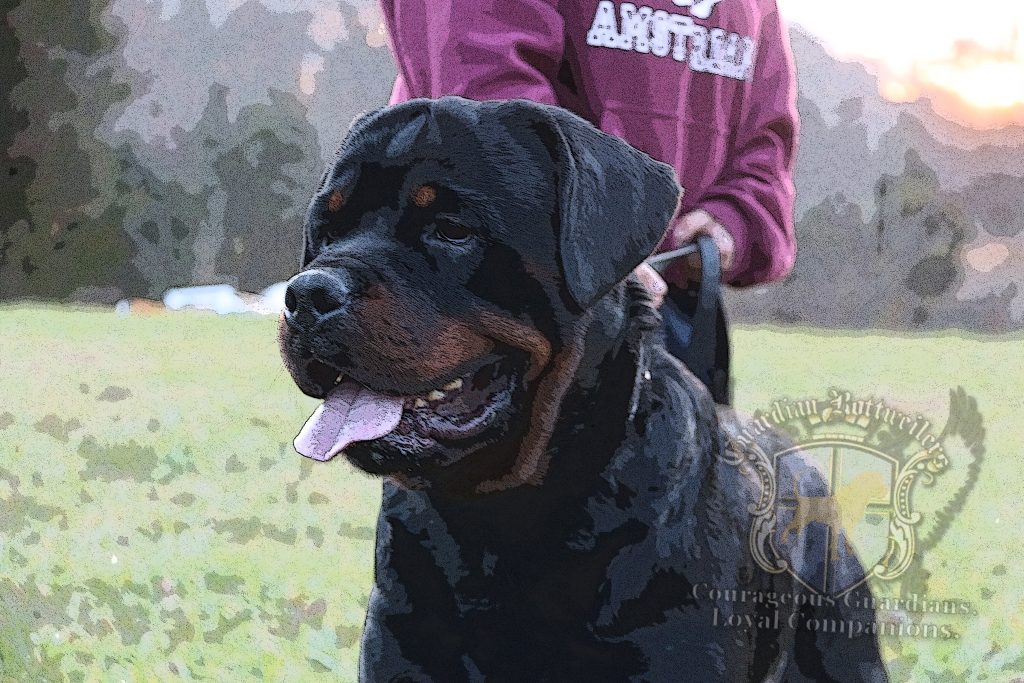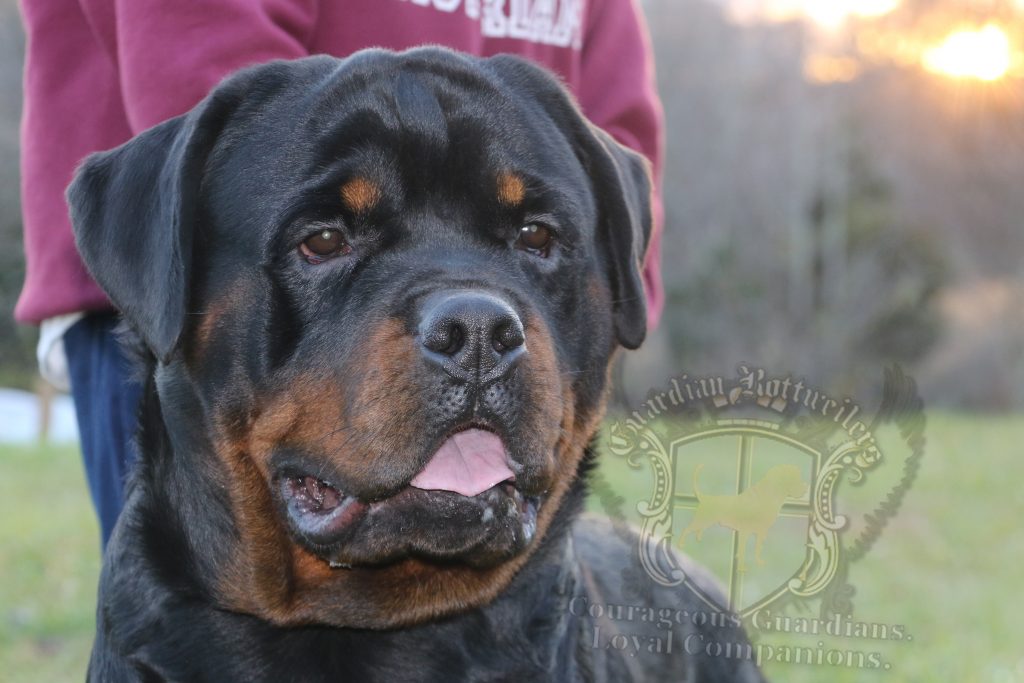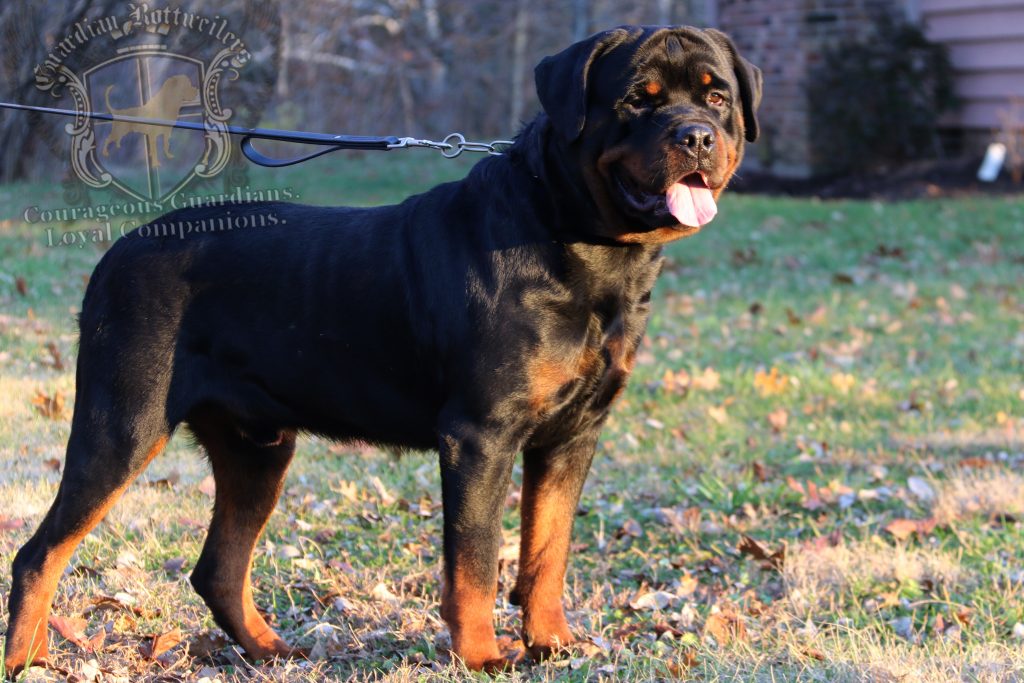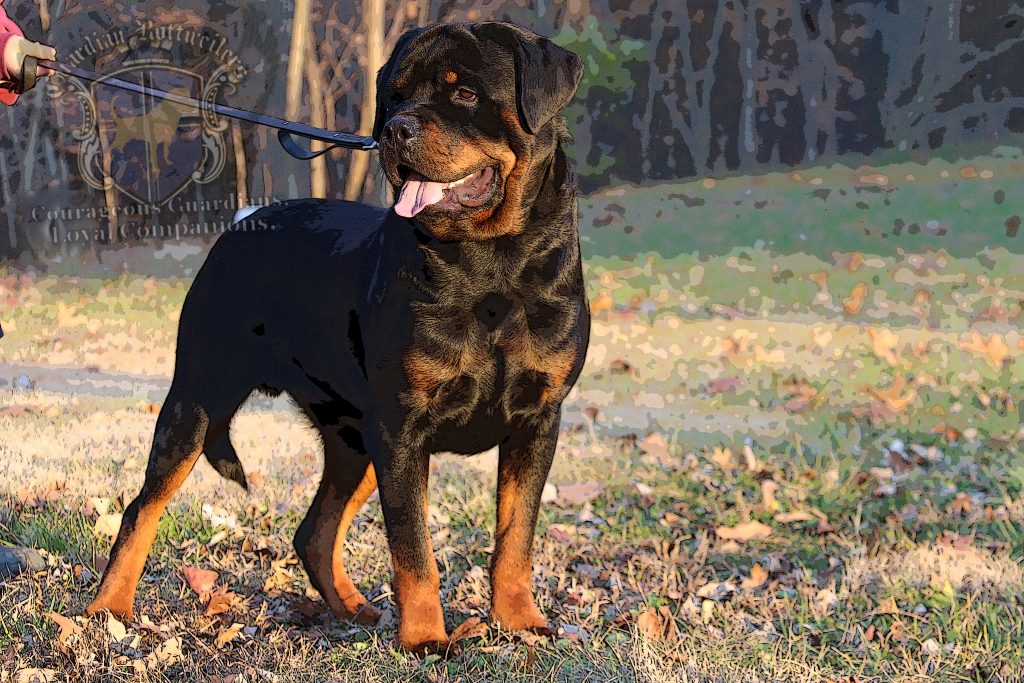 Q: How do you keep a 120+ pound Rottweiler out of the drivers seat when on a road trip?
A: You don't.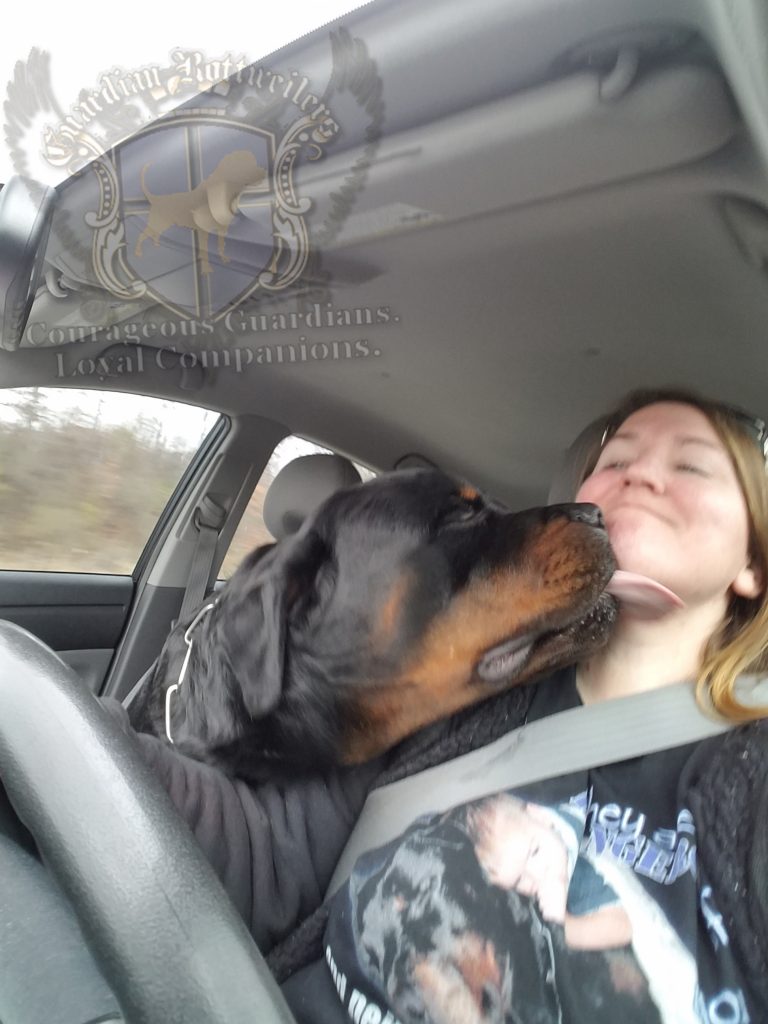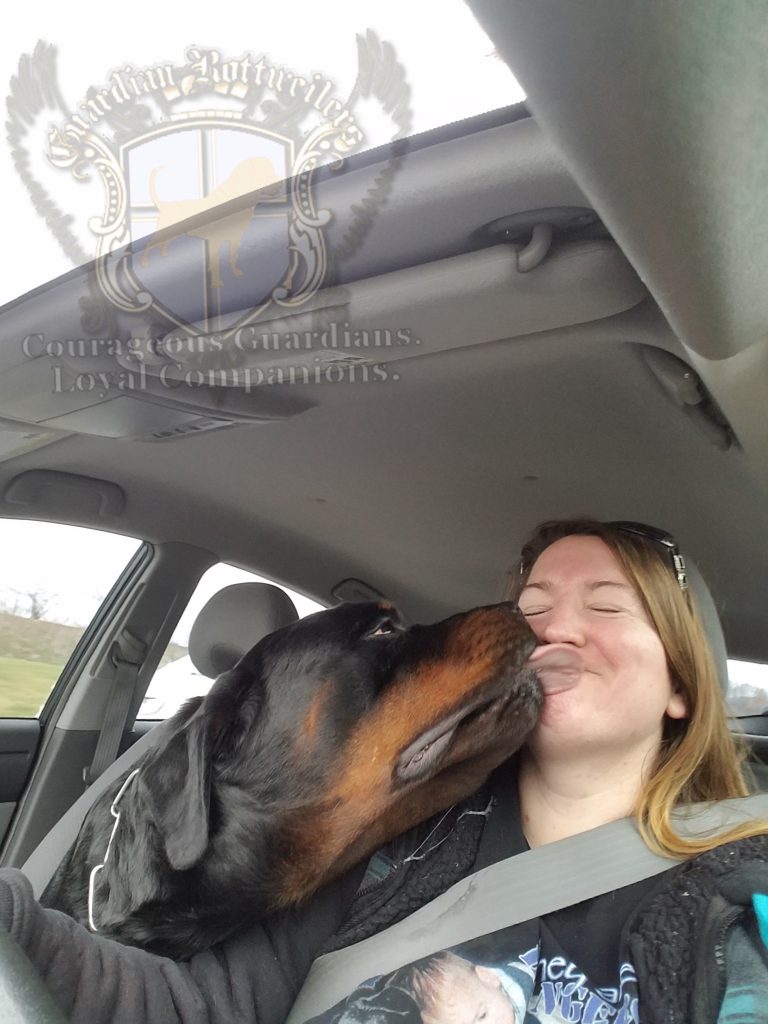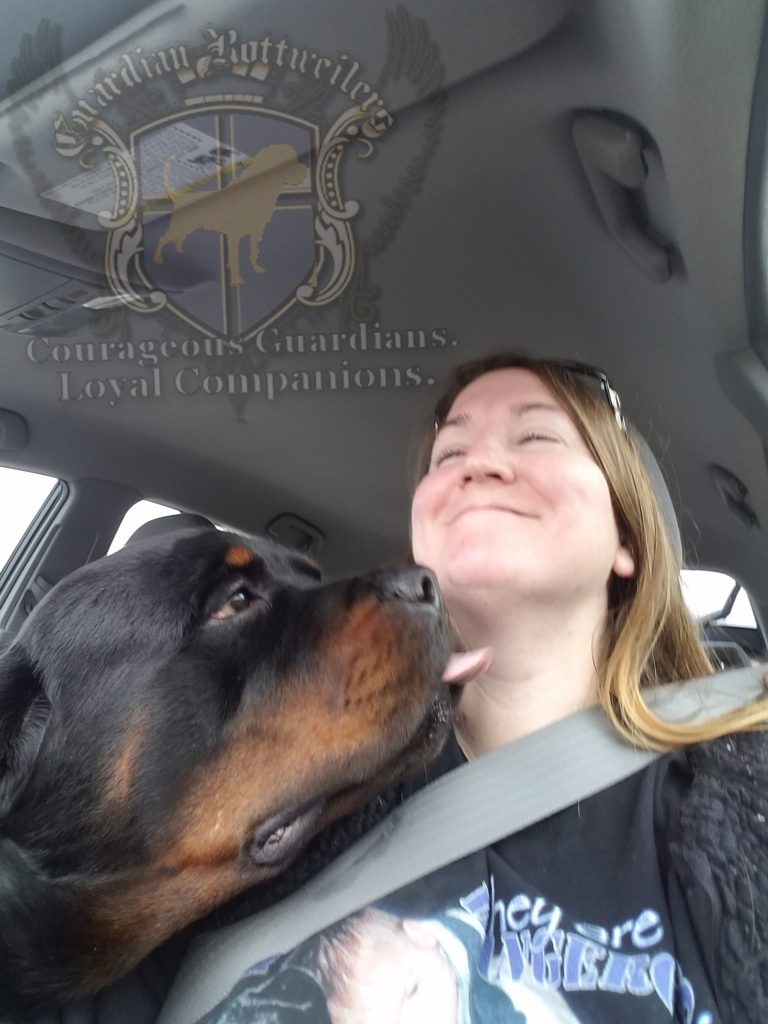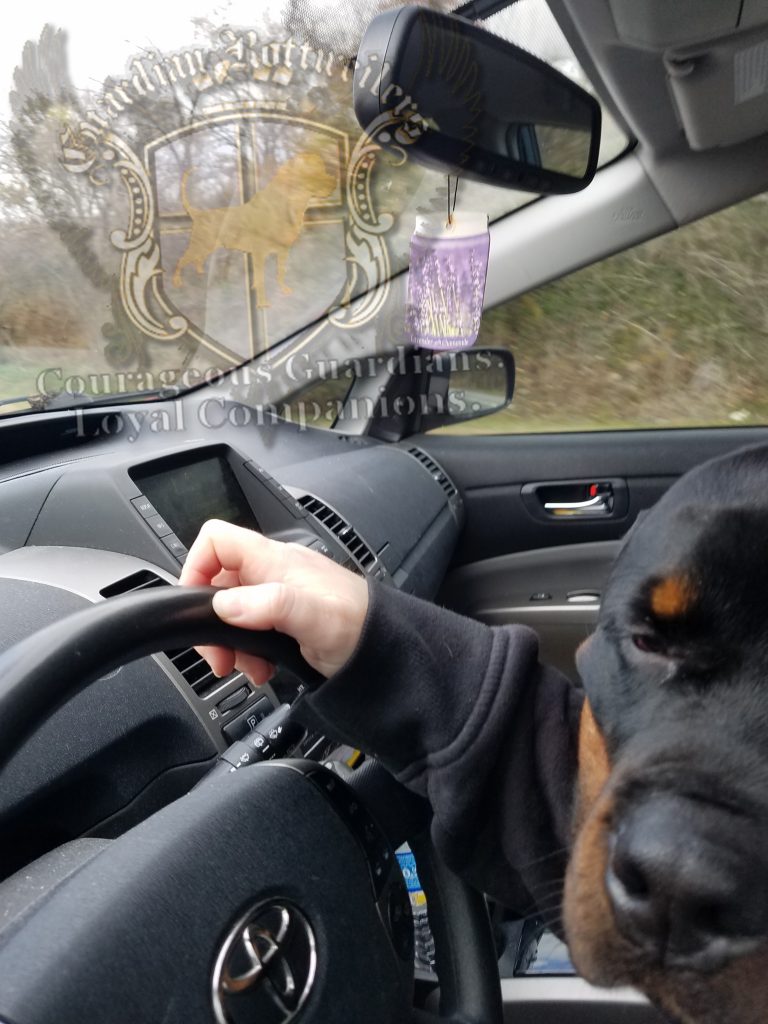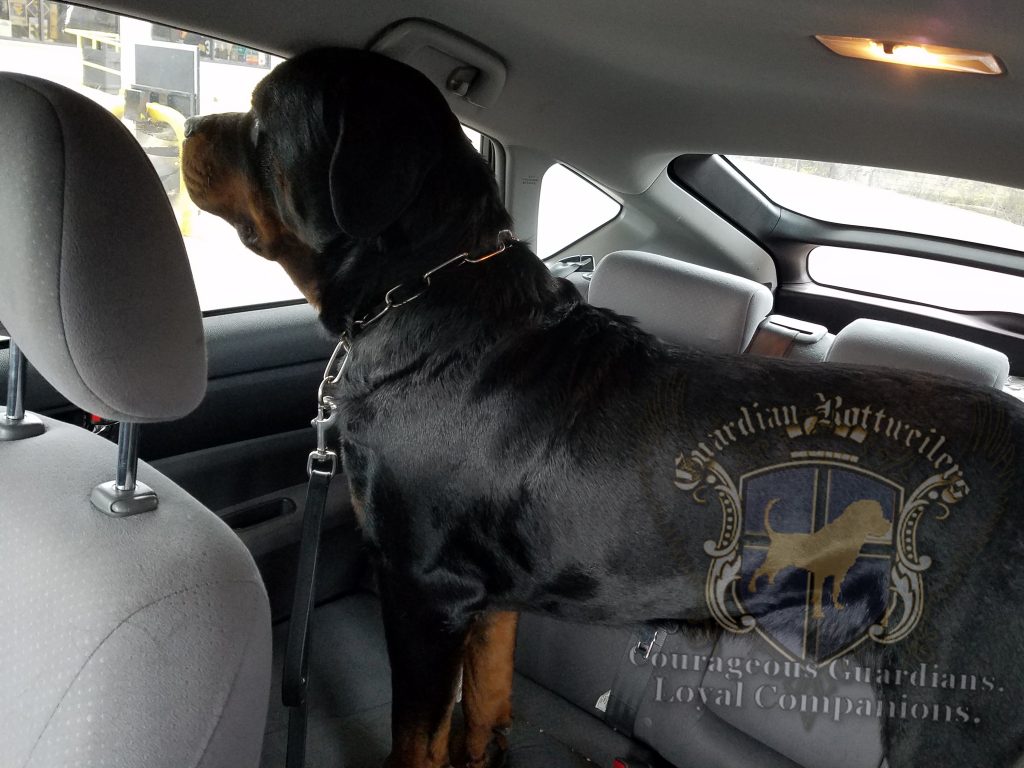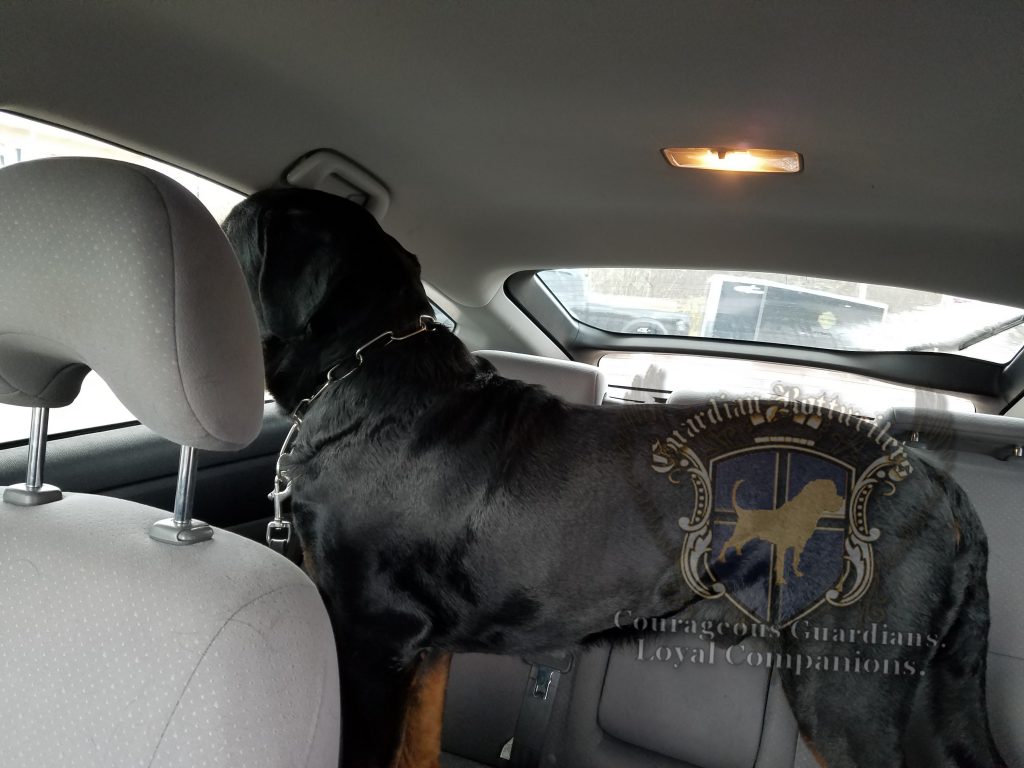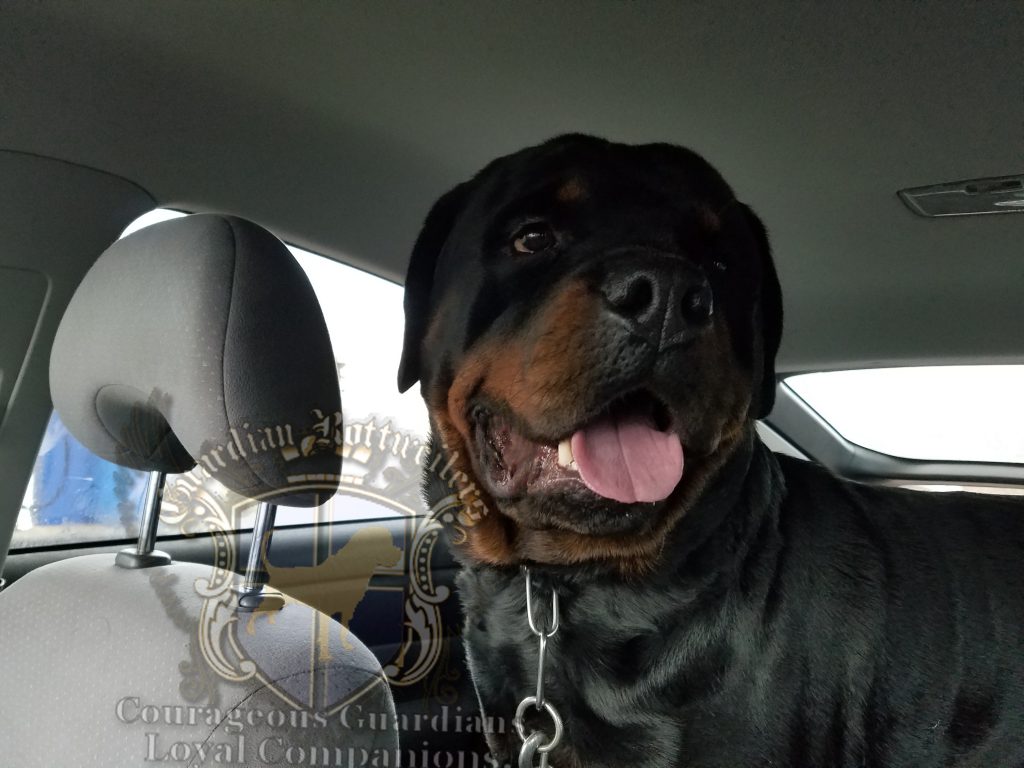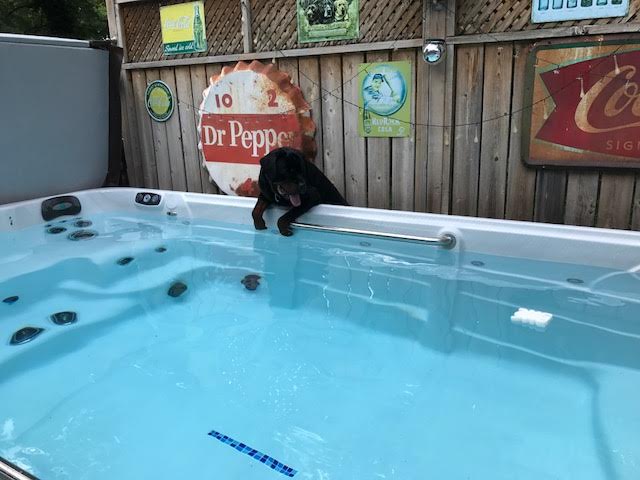 He wants the sponge in the spa 😉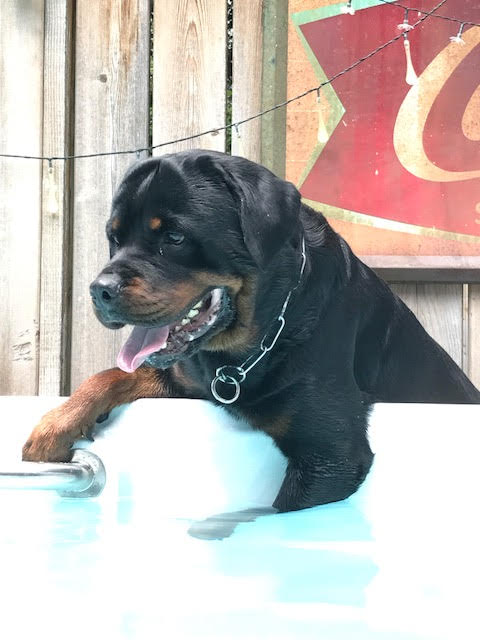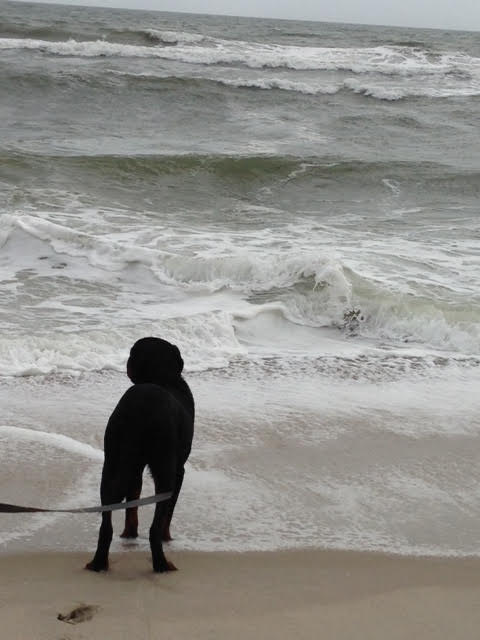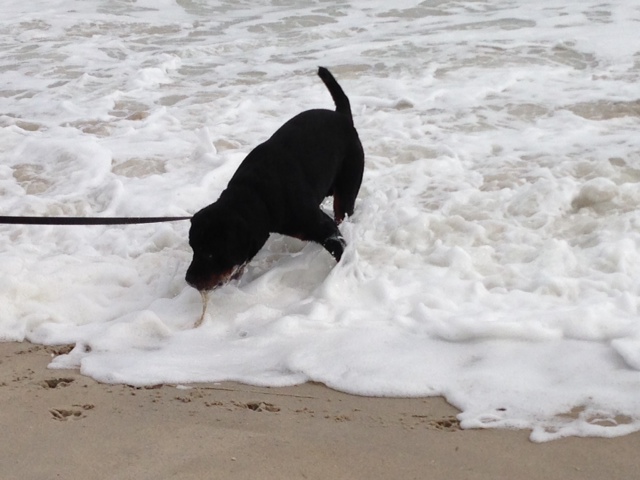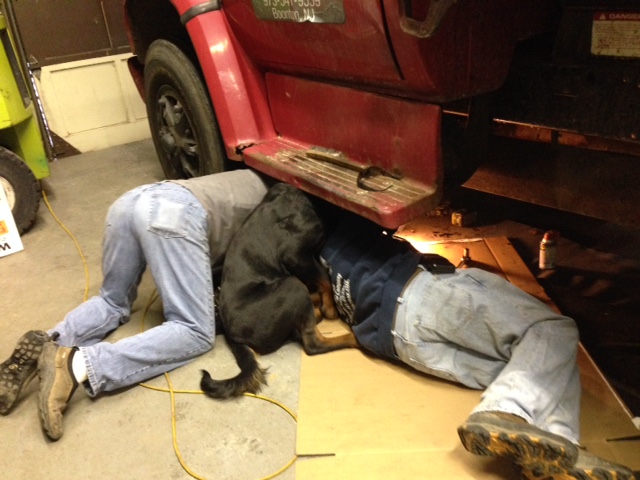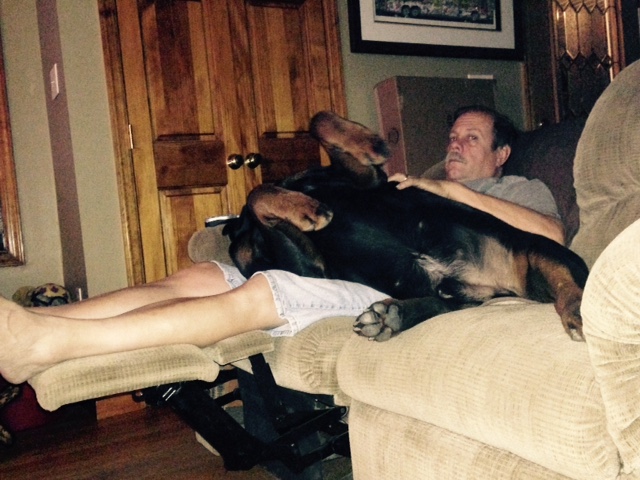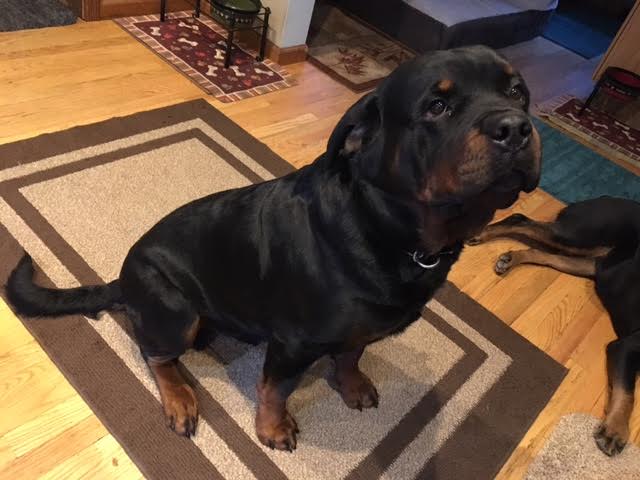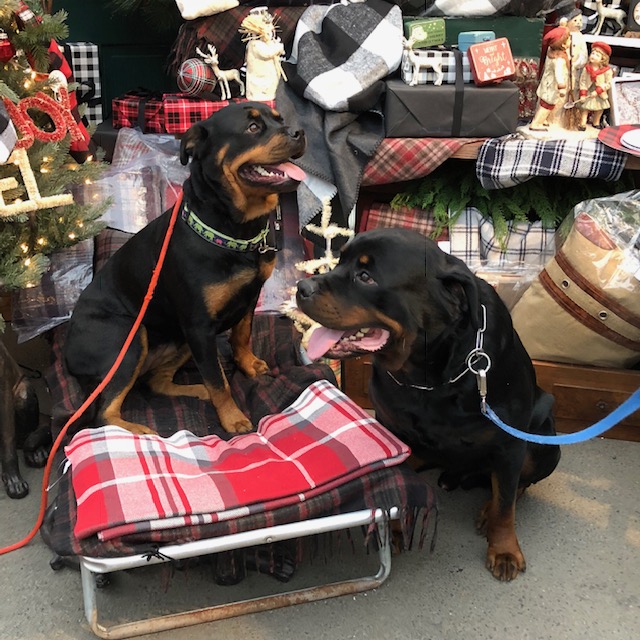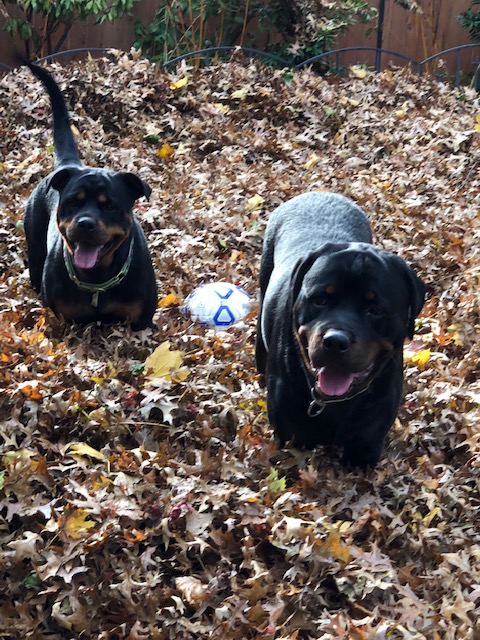 nor_roc_enterprise_608
Here are some pics of young Puck (8 months) <3
Pukc is a character for William Shakespeare's play, A Midsummer Night's Dream.  The character was a clever and mischievous sprite that loved to entertain himself and those around him.  Puck is the perfect name for this adorable teddy bear!  He gets quite proud of himself for accomplishing small tasks and is irresistibly charming!  His character is the perfect mix of his mother and father and he is such a ham!  Our Puck is a GORGEOUS Rottie with an INSANELY amazing head!  He is very broad in the topskull with a very deep stop.  His muzzle is very full and powerful.  Puck has smaller, very typical Mambo ears.  He has rich, dark color and well defined markings.  Puck is a stocky, heavy puppy with a wide frame and very broad back.  His tail is correctly set and correctly carried.  Puck will come with FULL REGISTRATION and we have super high expectations for this little show stopper!
(CLICK on pedigree to enlarge it)

Guardian Puck Von Gottschalk's breedings, click thumbnails for more information
(Visited 118 times, 1 visits today)