The Avengers Litter
Sire: Guardian Atlas Von Gottschalk
Dam: Guardian Pantera Von Gottschalk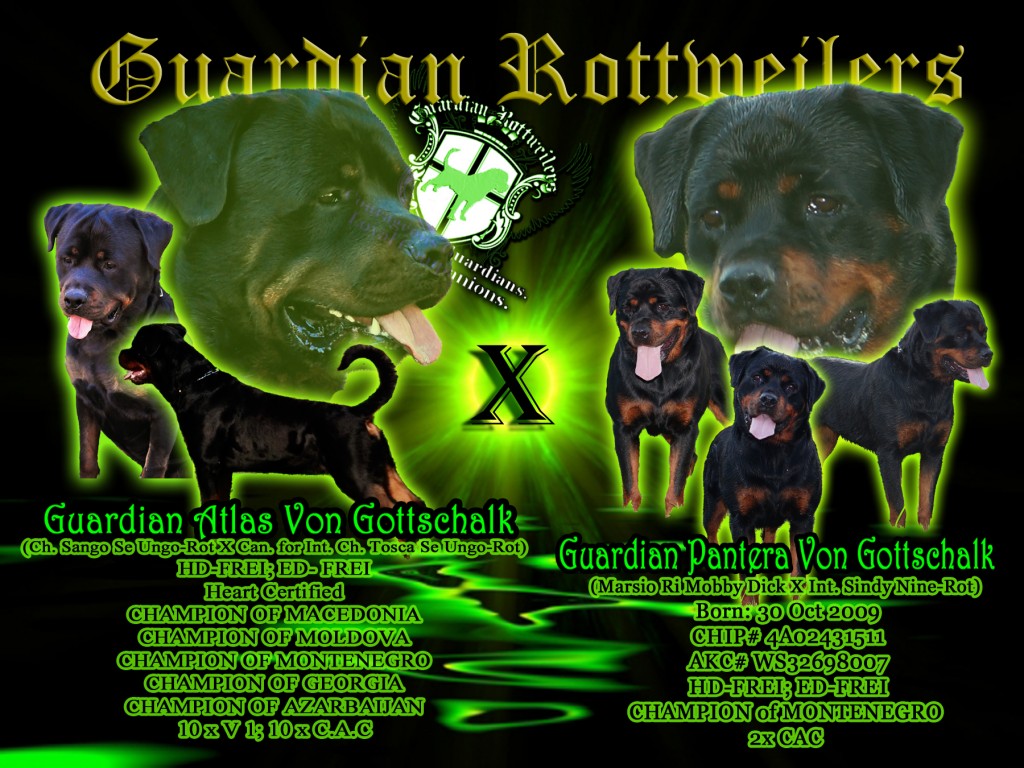 My kids have decided that rather than just the A LITTER, these 4 beautiful, AMAZING boys needed something a bit more special.  So, this A LITTER will be the AVENGER litter!  All 4 boys in this litter will be named after one of the AVENGERS!  Champion, warrior names for our future Guardians!  What could be greater than a Guardian Avenger??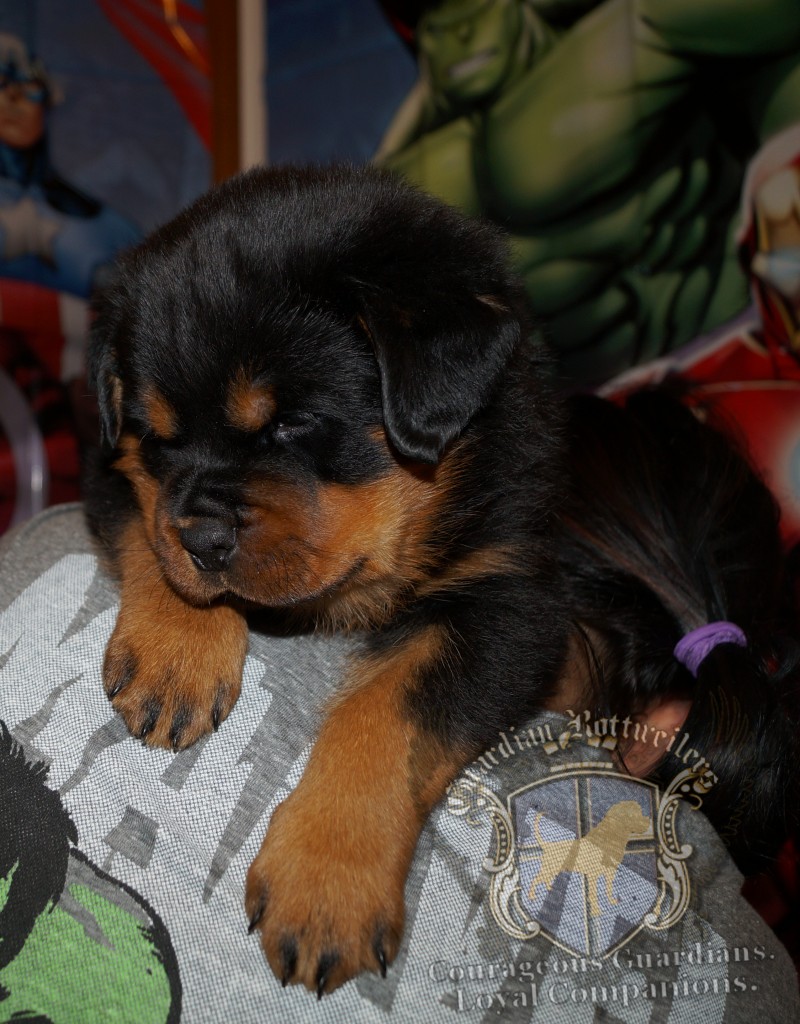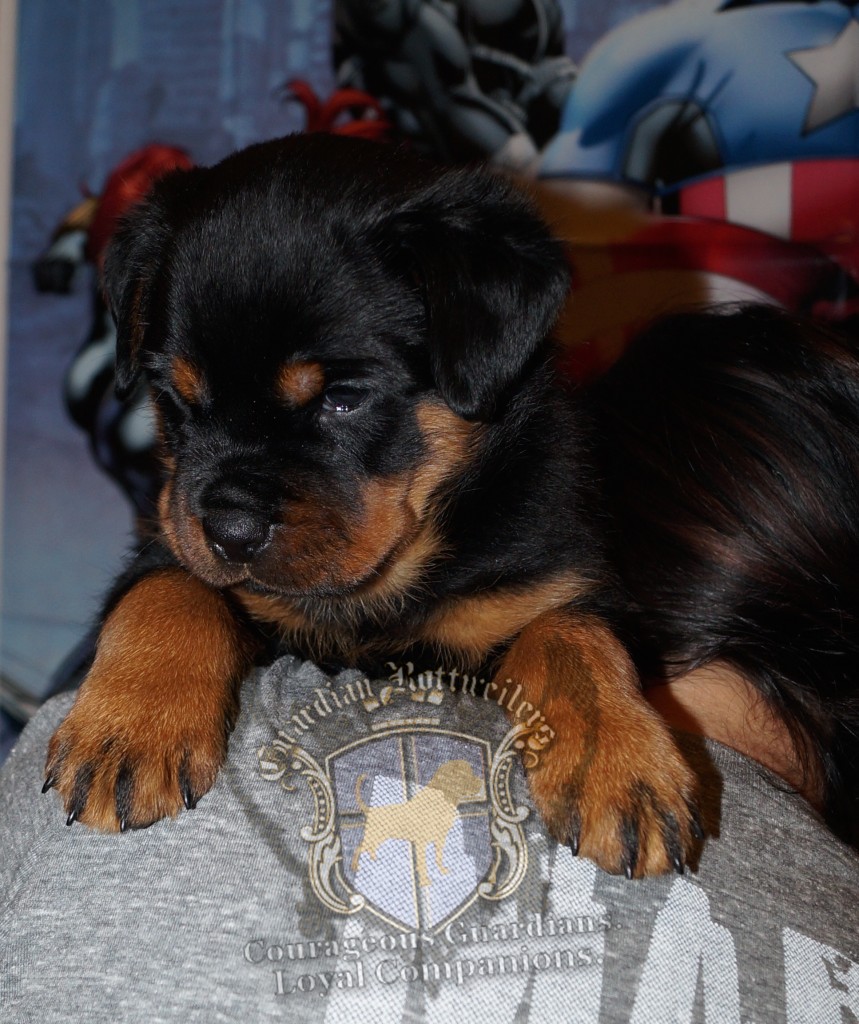 The Incredible Hulk                              Captain America
SOLD to Gus, Chicago!                     SOLD to Jacob & Mary, Alaska!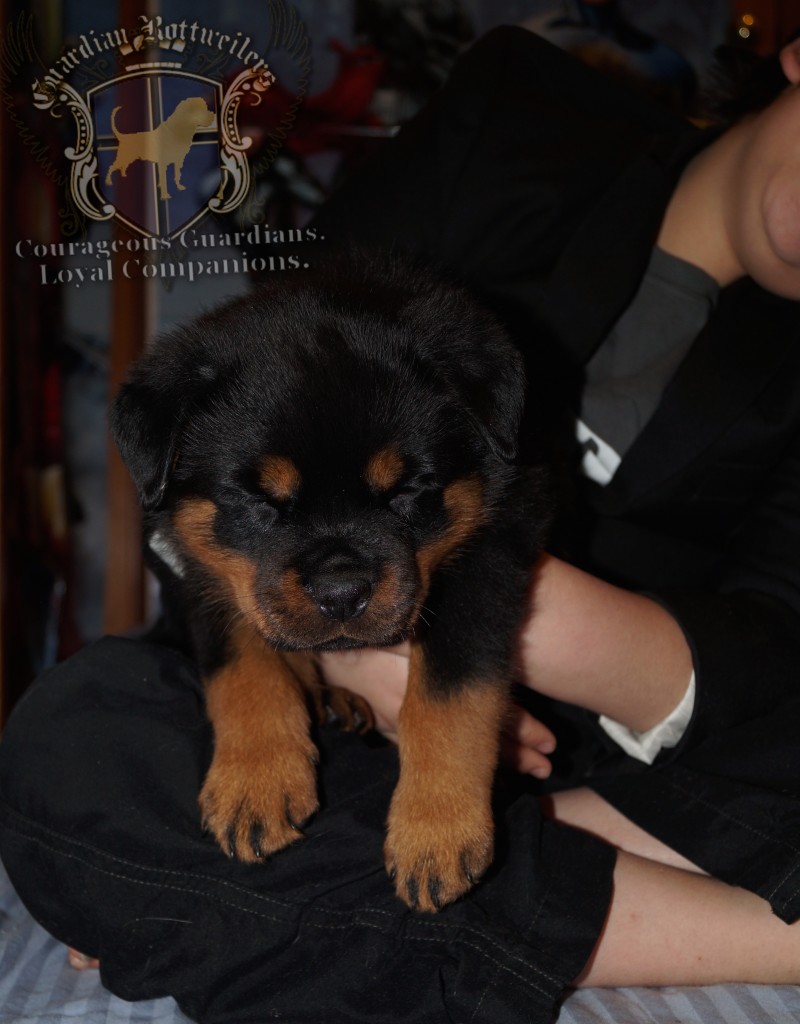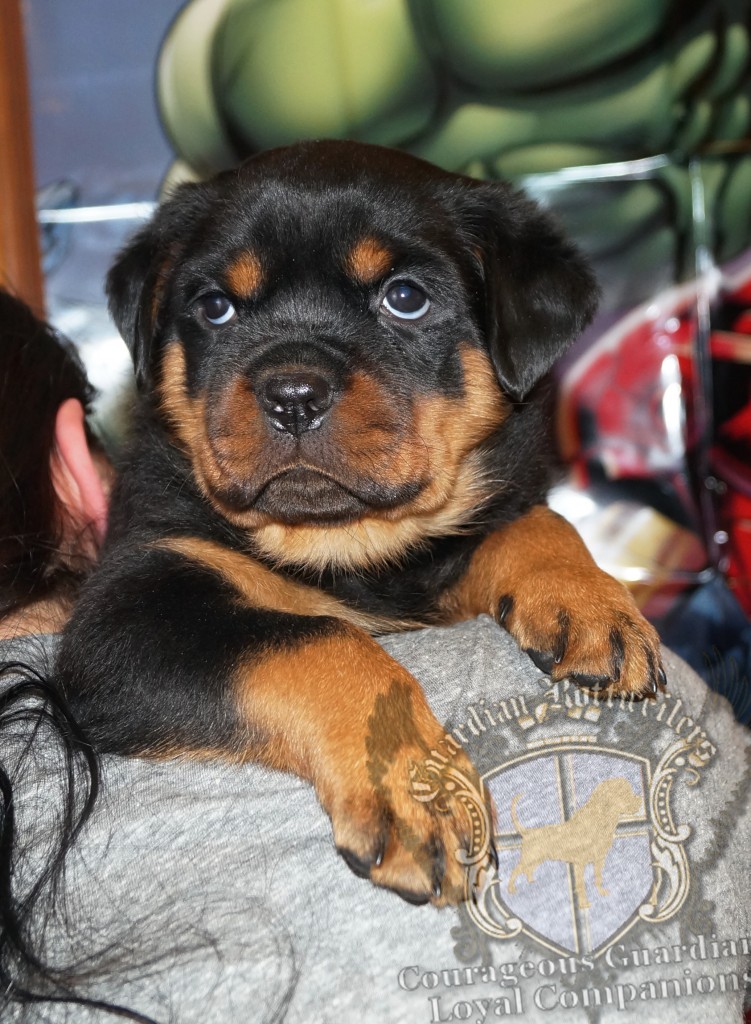 Nick Fury                                             Ironman

SOLD to Jared, Kentucky!            SOLD to Michael & Theresa, Indiana!
Guardian Atlas Von Gottschalk is one of our most requested studs and with good reason!  He has produced some absolutely phenomenal puppies!  He always give excellent bone and substance and that typey head of his with that massive topskull and short, powerful muzzle.  Atlas has an incredible pedigree with some of my favorite Germand and Serbian lines.  His sire is International Champion Sango Se Ungo-Rot MACEDONIAN CH '09, SERBIAN CH '10, 6x YOUNG WINNER, 4x J.B.O.B., 6x C.A.C., R.C.A.C.I.B., C.A.C.I.B., 3x B.O.B..  A large, powerfully built working male sired by International Champion Marsio Ri Moby Dick CH YOUNG SCG06, CH ADULT BULGARIA 06, CH ADULT SERBIA 07, CH ADULT MACEDONIJA 07, CACIB Athens GREECE 08, V15x, YOUTH WINNER 2x, CACIB 6x, RCACIB 11x, CAC 3x, BOB, BOG, RBOG, R.YOUNG BOG, BIS III PLACE.  Marsio not only has over 100 wins under his belt including a V3 and V9 at ADRK KLUBSIEGER, but has become world famous for the progeny he produces and the consistency in which he passes on the traits we love most about him- his rich mahogany markings, that massive head of his, all that BONE, but most importantly, his incredible character.  He is such a balanced, biddable dog that loves to work as much as he loves to love.  Atlas' mother's side is equally impressive.  His dam, Candidate for International Champion Tosca Se Ungo-Rot, MONTENEGRO CH '09, MACEDONIA CH '09, Candidate for CH ADULT Serbia, C.A.C.I.B.; 6x C.A.C., has produced Champions in EVERY SINGLE LITTER she has had!!  An accomplishment few can claim!  The sire of Tosca, Candidate for International Champion CH. Marschall Se Ungo Rot CH ADULT MACEDONIJA '07, CH ADULT BULGARIA '07, CANDIDAT for INT CH, 17. Schwarzwaldschau -Spezialzuchtschau – DEUTCHLAND – V 1 ; C.A.C. -(CH class – Judge : Mr. Edgar Hellmann- ADRK) C.A.C.I.B. , 2x R.C.A.C.I.B., 7x C.A.C., B.O.B., R.B.O.G.  Marschall is also famous for producing heavy boned, stocky Rotts, surely a tribute to his sire, Brando Von Keleman CH Yugoslavia, Youth Winner, 4X R.CAC, 15X CAC, 4X BOB!  Brando's sire is FLIP CRNI LOTOS, out of the famous Beni X Bessy combination that also produced my DIESEL's sire, FOX CRNI LOTOS!!  
This will be a MARSIO line breed as Pantera is the daughter of International Champion Marsio Ri Moby Dick!!  If you go to Guardian Pantera Von Gottschalk's page and scroll down to the bottom, you can see the type of puppy she produces!  The influences of her father's bloodlines and her dam's bloodlines are prominent.  Pantries' dam, International Champion Sindy Nine-Rot Champion of Serbia, IABCA International Ch., Multi V1 Rated BH, IPo1, CGC, TT is the daughter of Champion Cuno von der Tonberger Höhe ADRK 111373 Champion of Serbia, IPO III, is the son of DT-VDH Champion, Multi CAC/CACIB, ES '02, SCHWZ.KS '02, O-KS '02 MAMBO VON DER CROSSENER RANCH, SchH III, IPO III, ZtP (05.00), AD, BH, FH II.  Mambo is widely held as the pioneer of the "extreme head type" and is credited as being one of the single most influential German studs in the last decade!
Knowing how incredible both of these phenomenal Rottweiler produce individually, I truly cannot wait to see how they will produce together.  Marsio line breeds have produced some exceptional dogs including our own Ch. Maxximum Se Ungo-Rot, IPO-I, Ch. Serbia, Ch. Macedonia, V3; V2; CAC 2x; CABIB; RCACIB and our Grand Champion "Wolf" Guardian Zev Von Gottschalk Balkan Champion, Champion of Bulgaria, Champion of Montenegro, 4x CAC, Multi V-Rated and Champion "Kitty" Guardian Zaza Von Gottschalk!
Pantera's Phenomenal Puppies at 15 days old!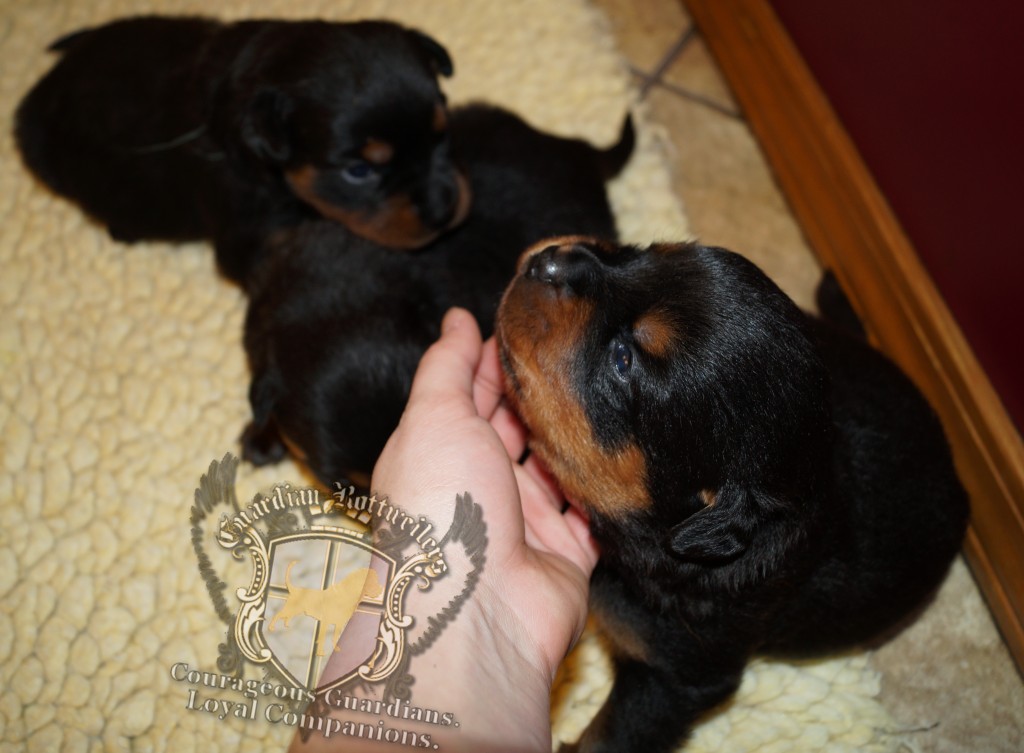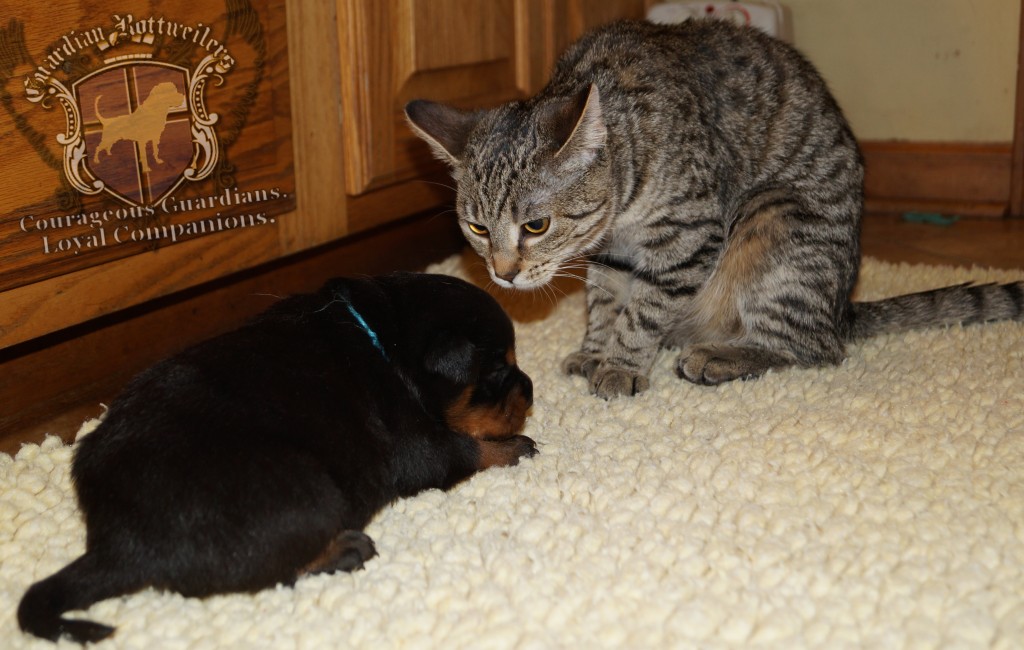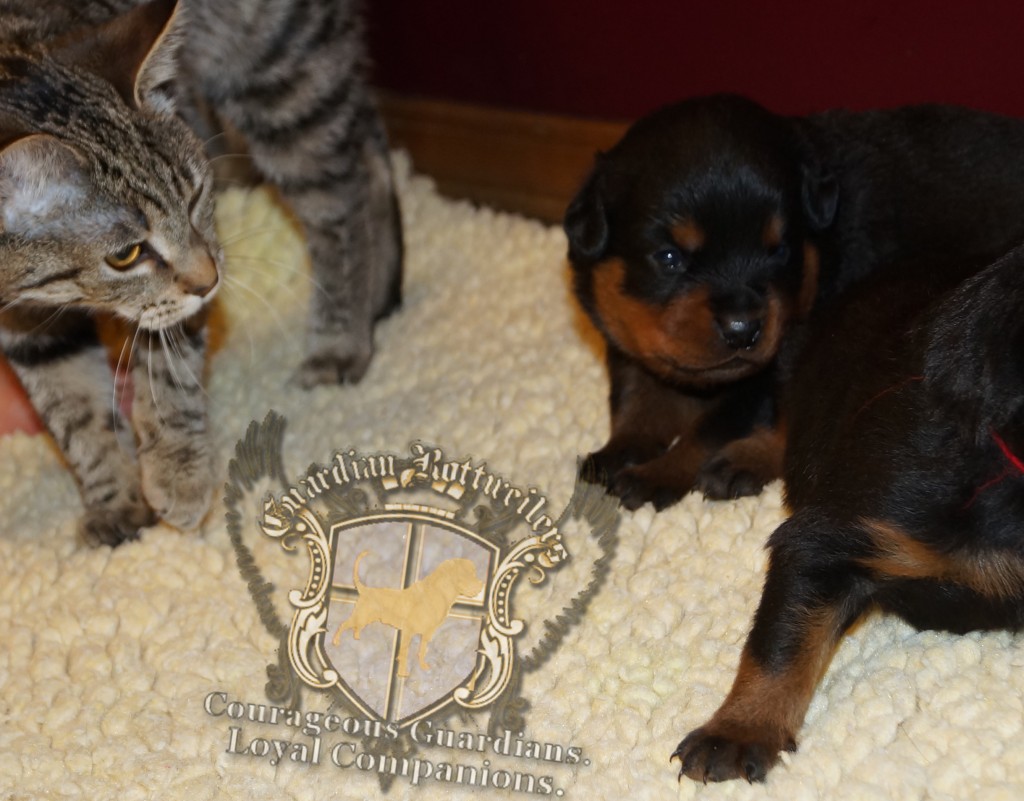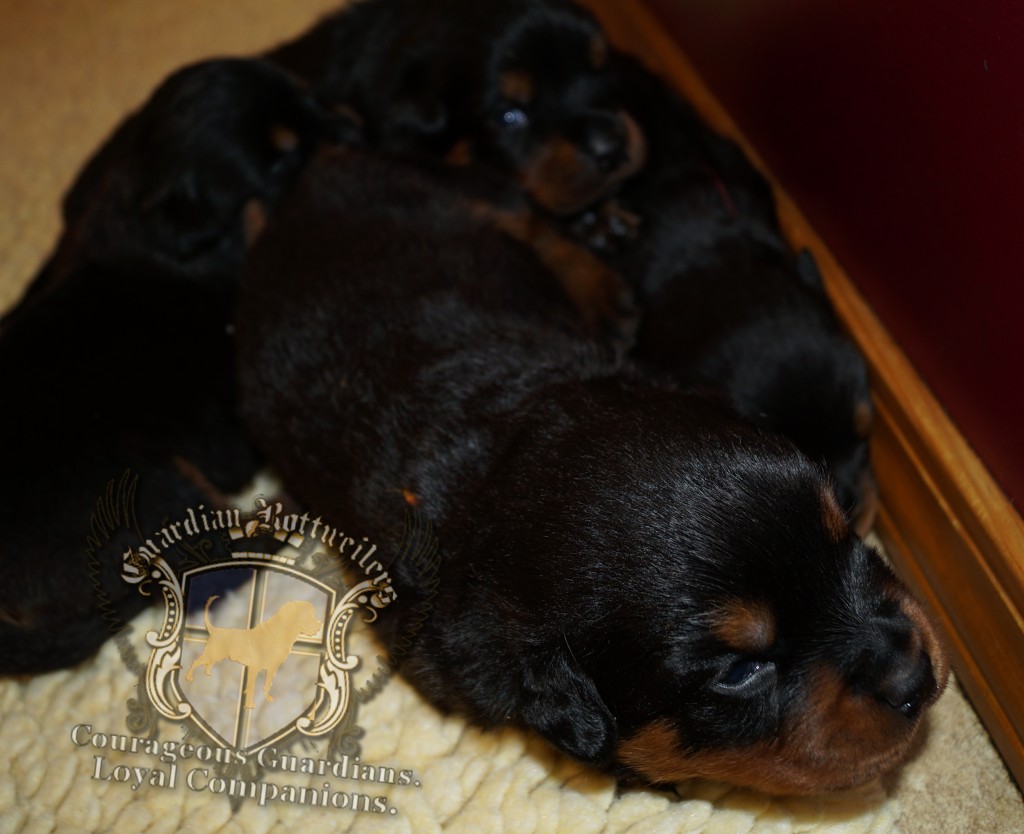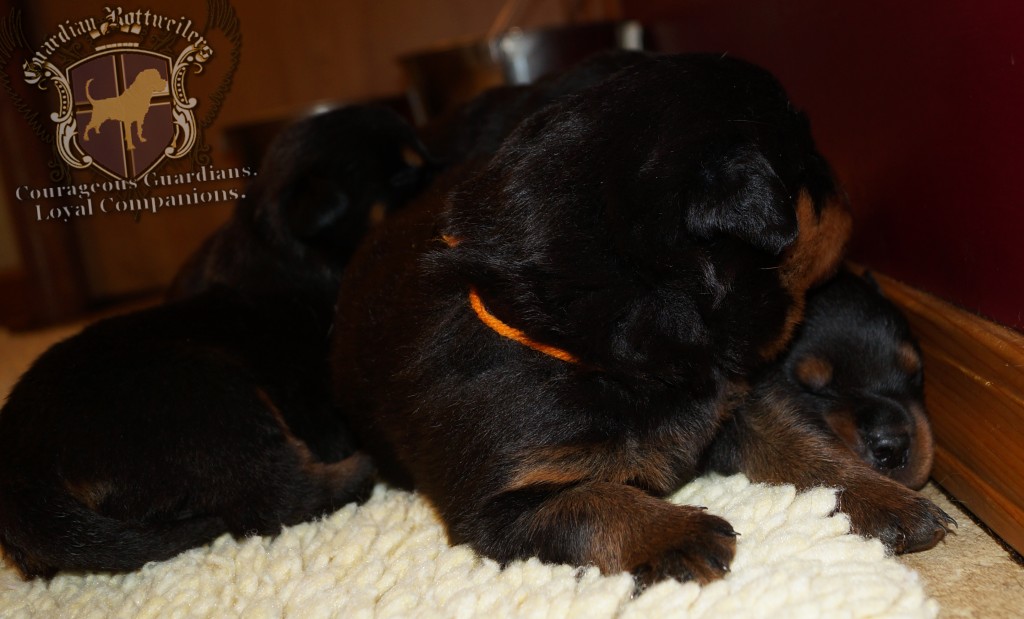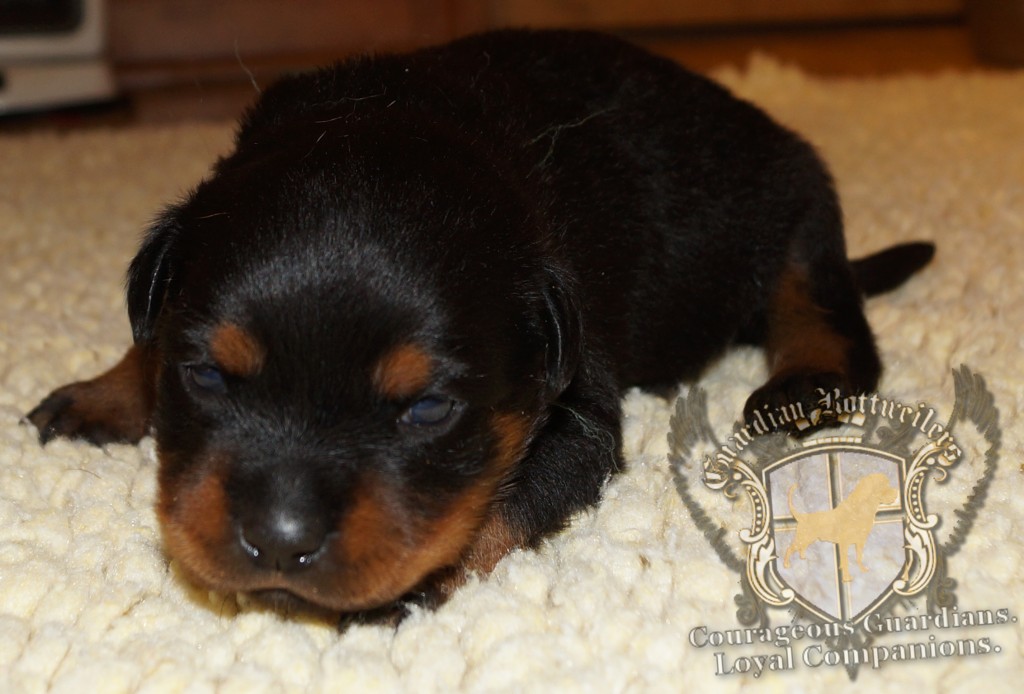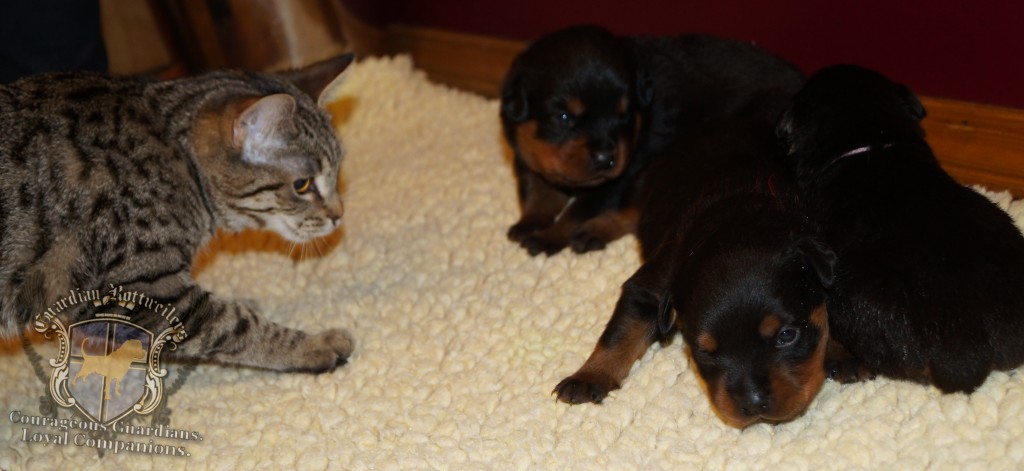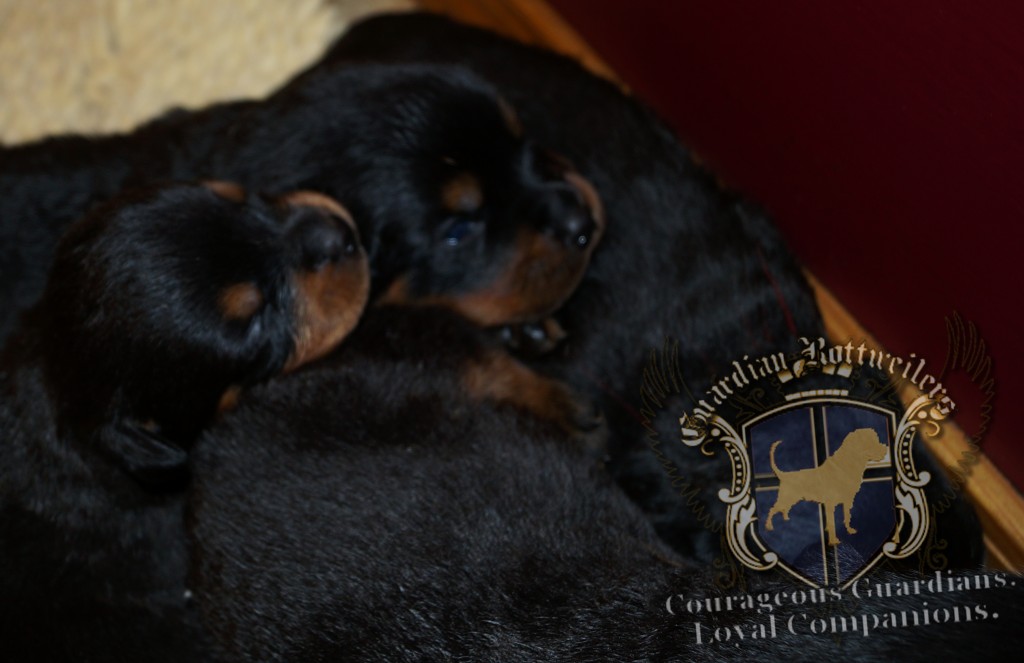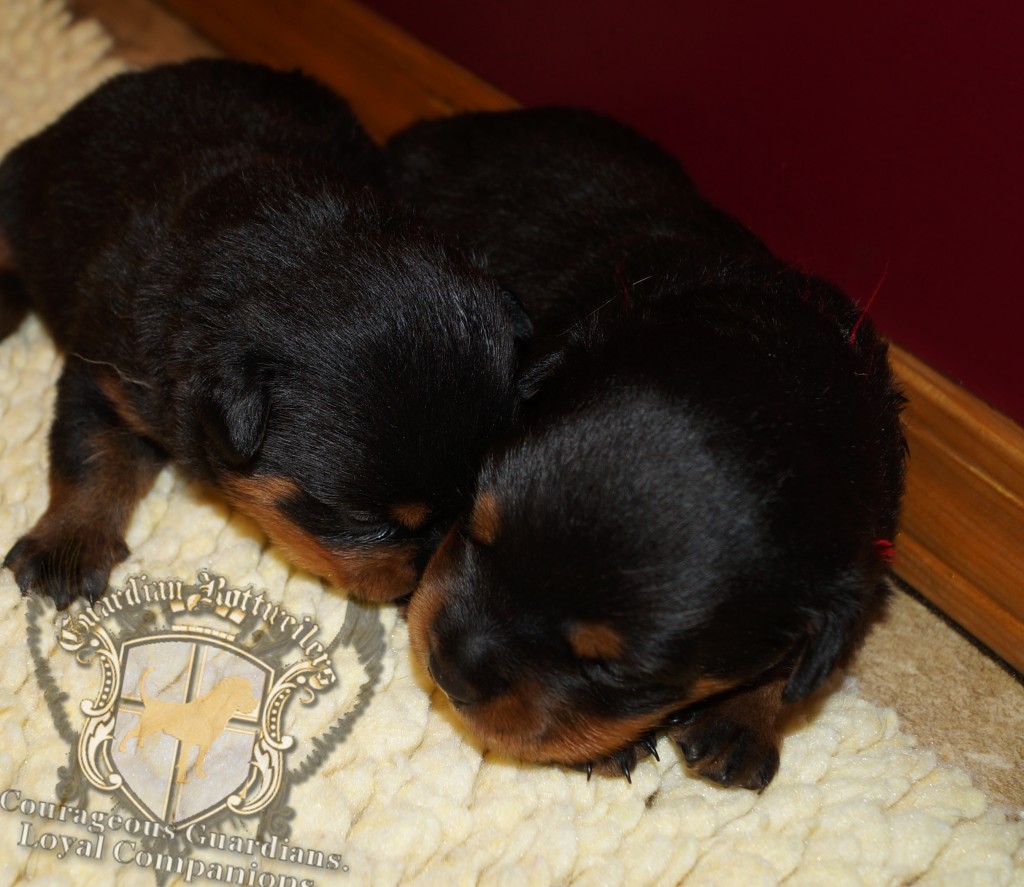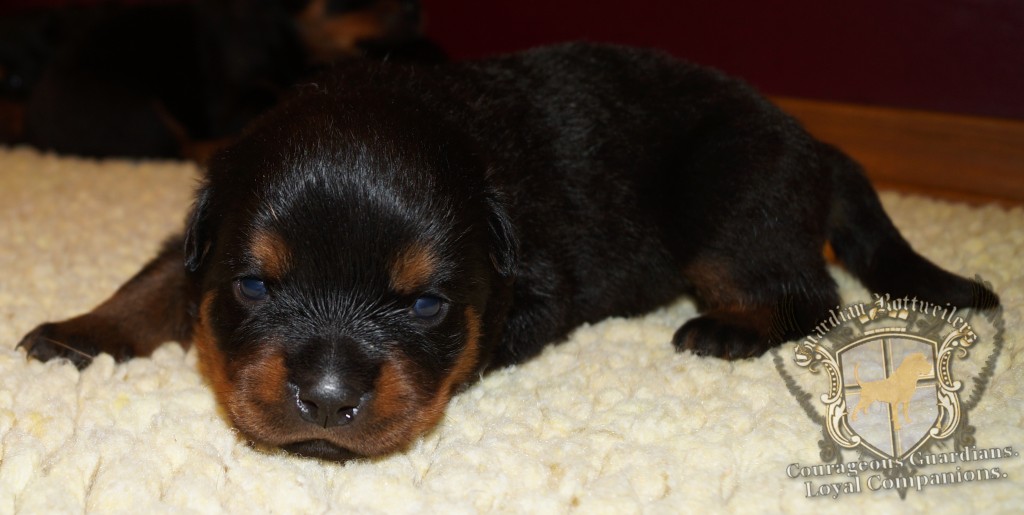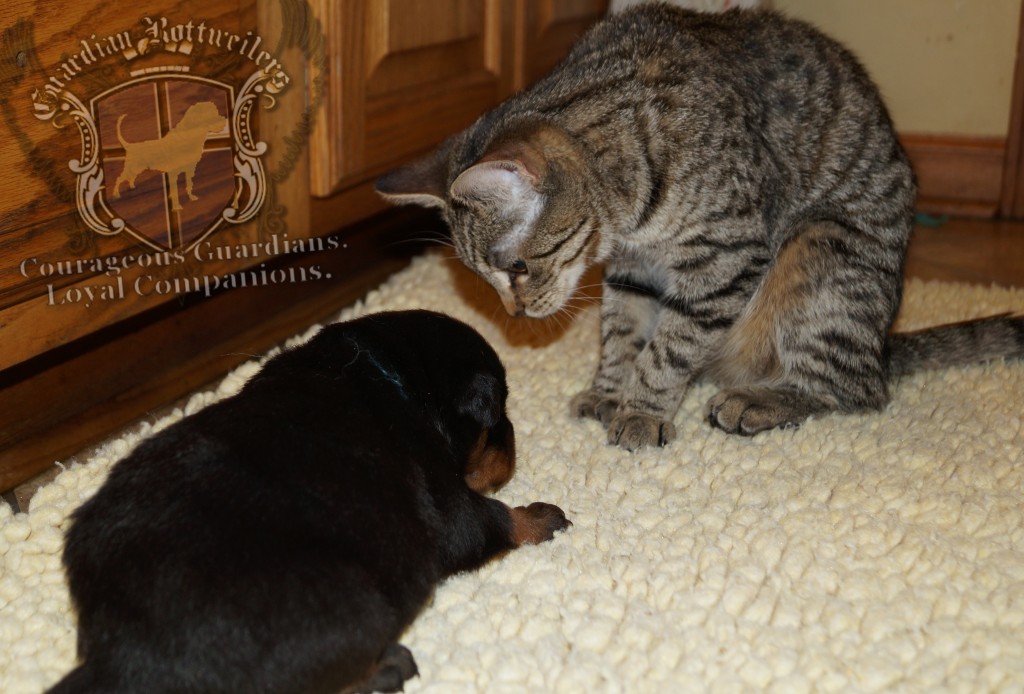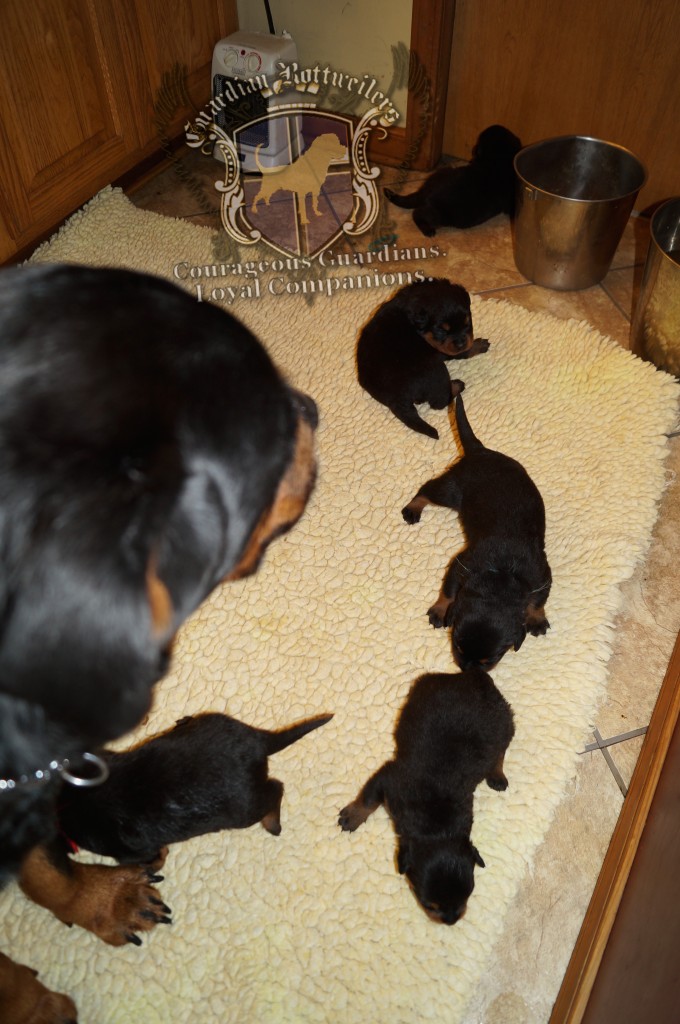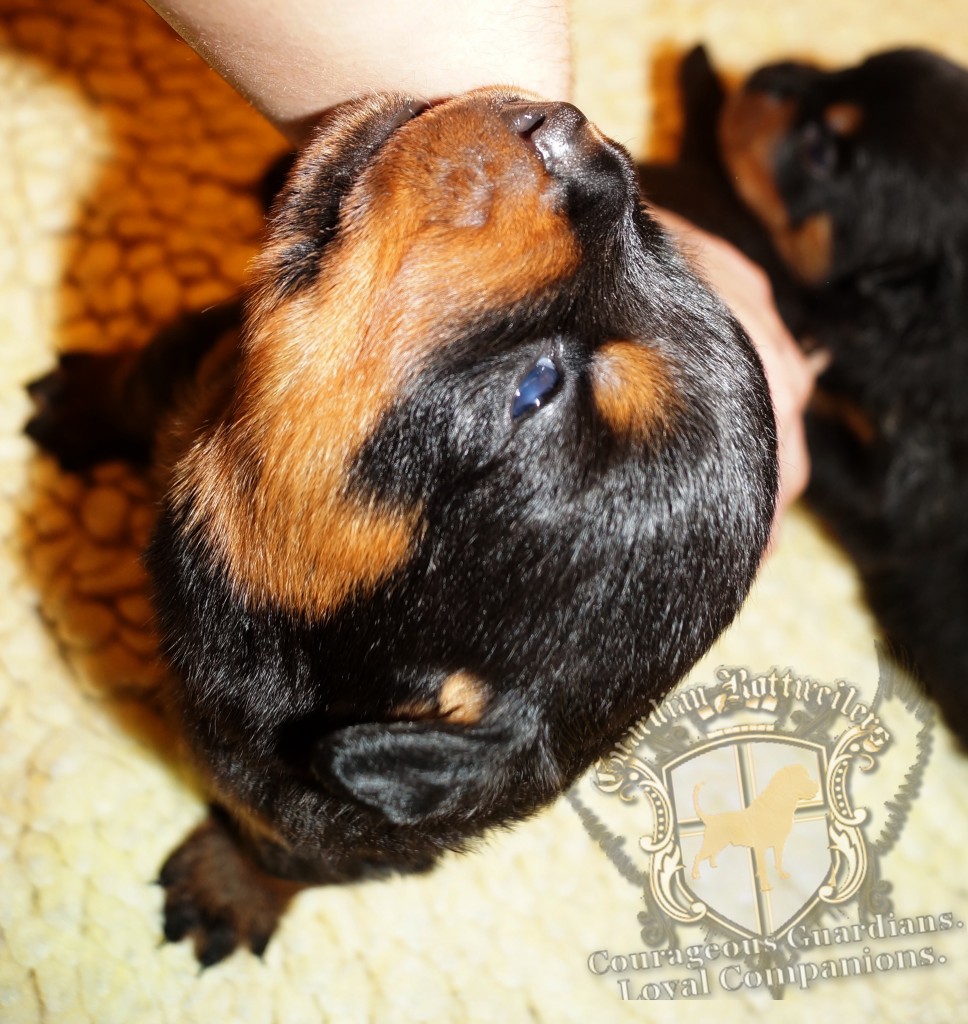 Our Guardian Avengers at 28 days old- first time with semi-solid food!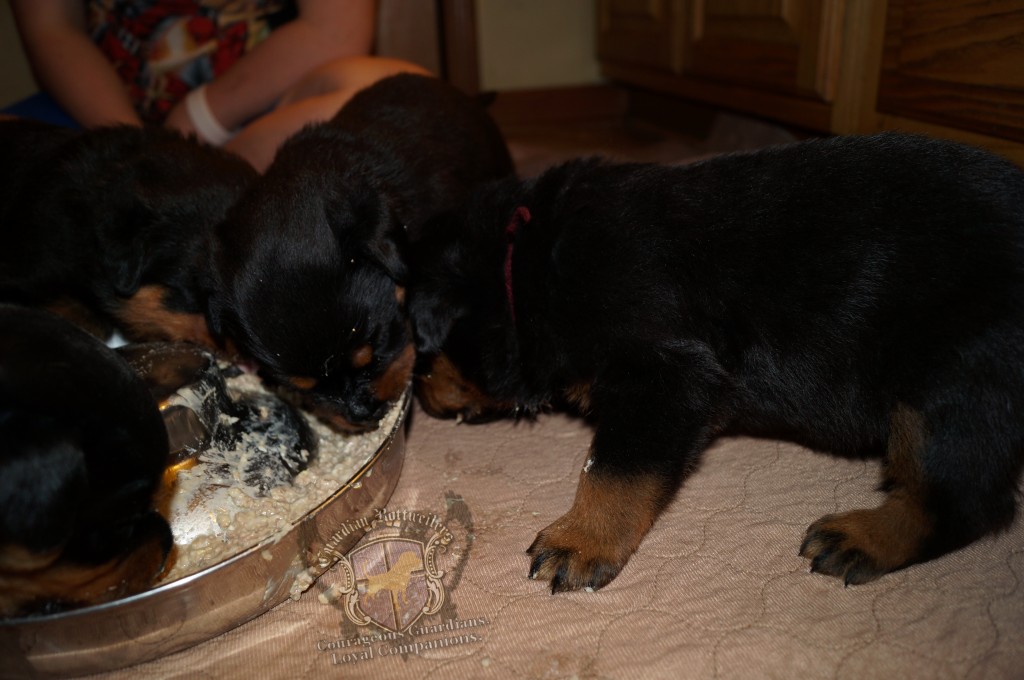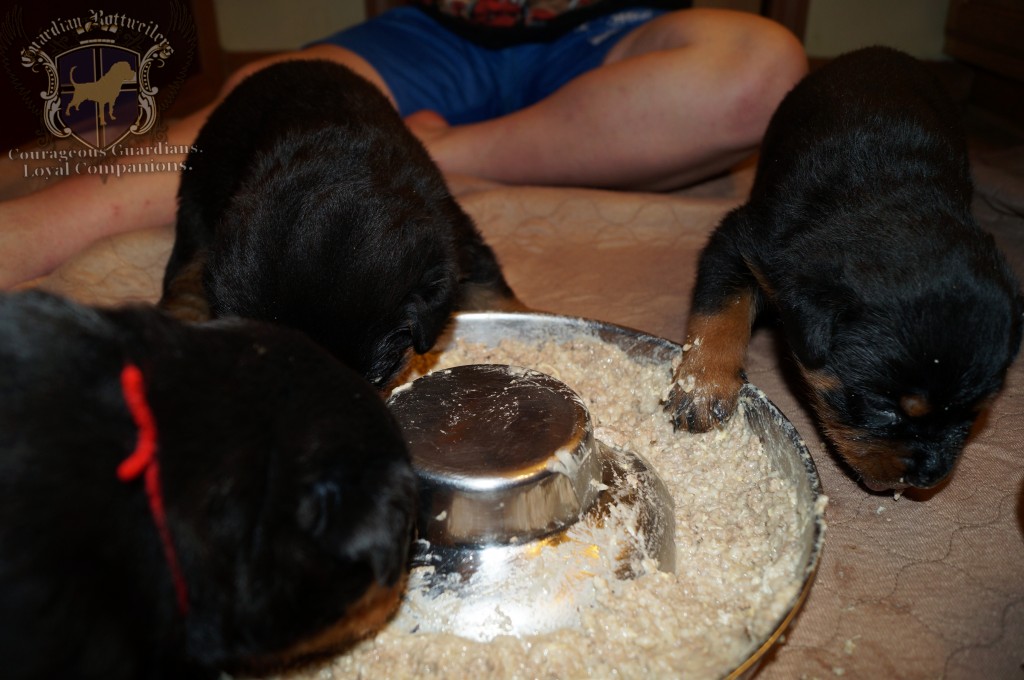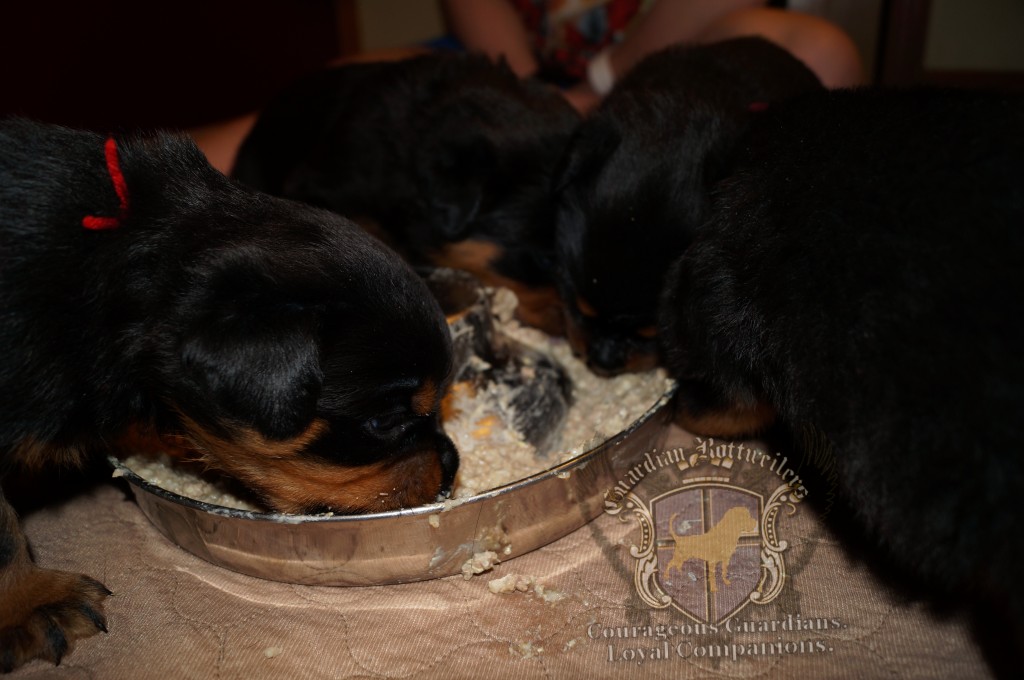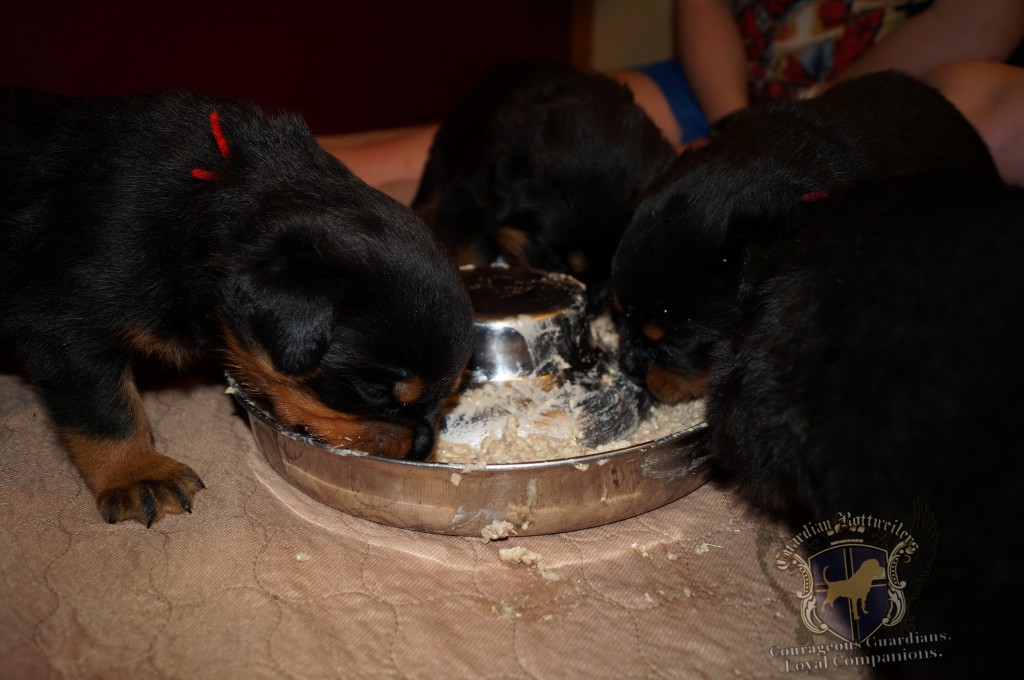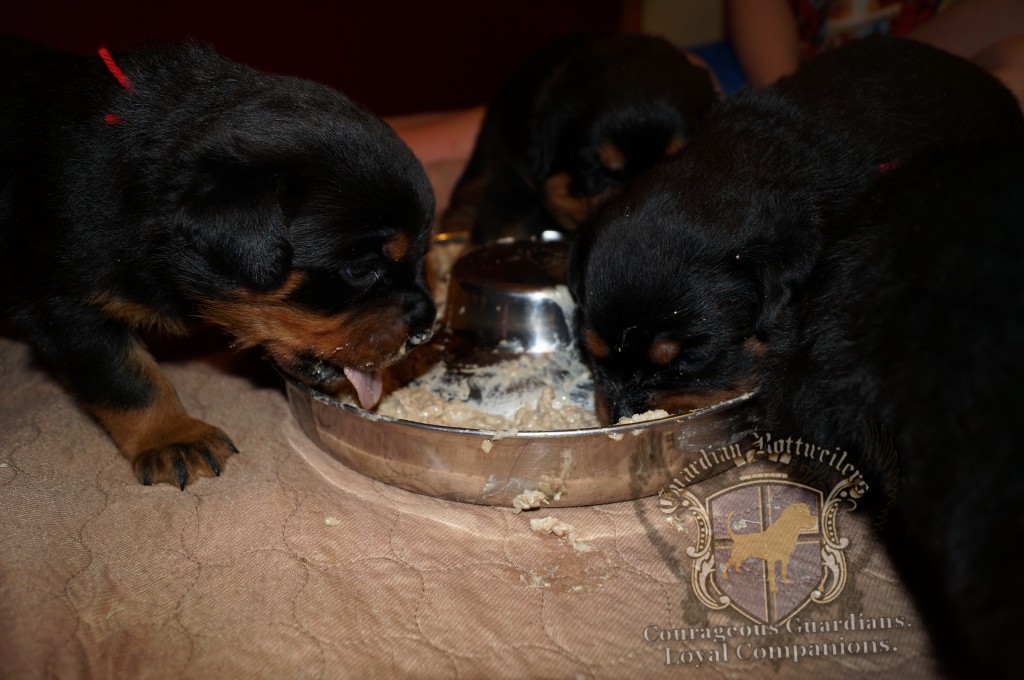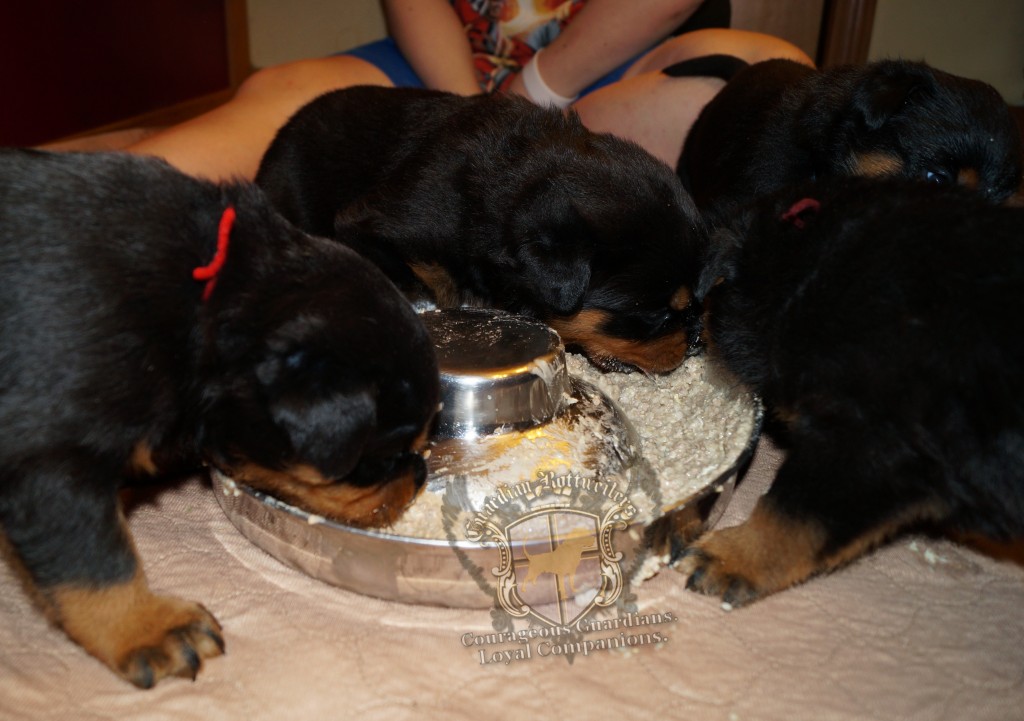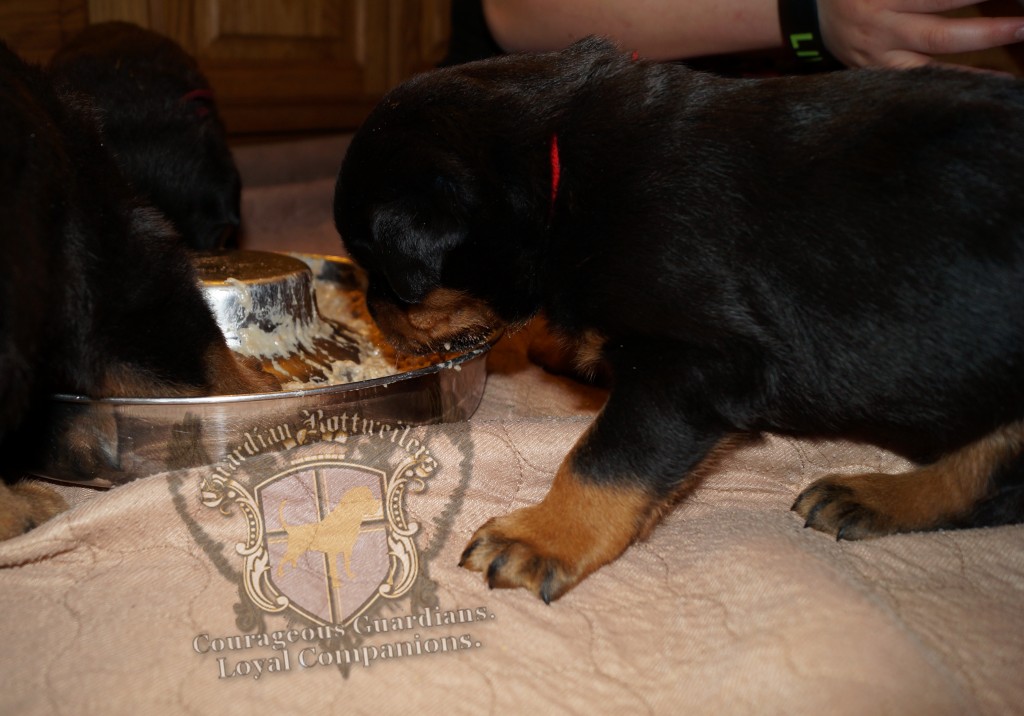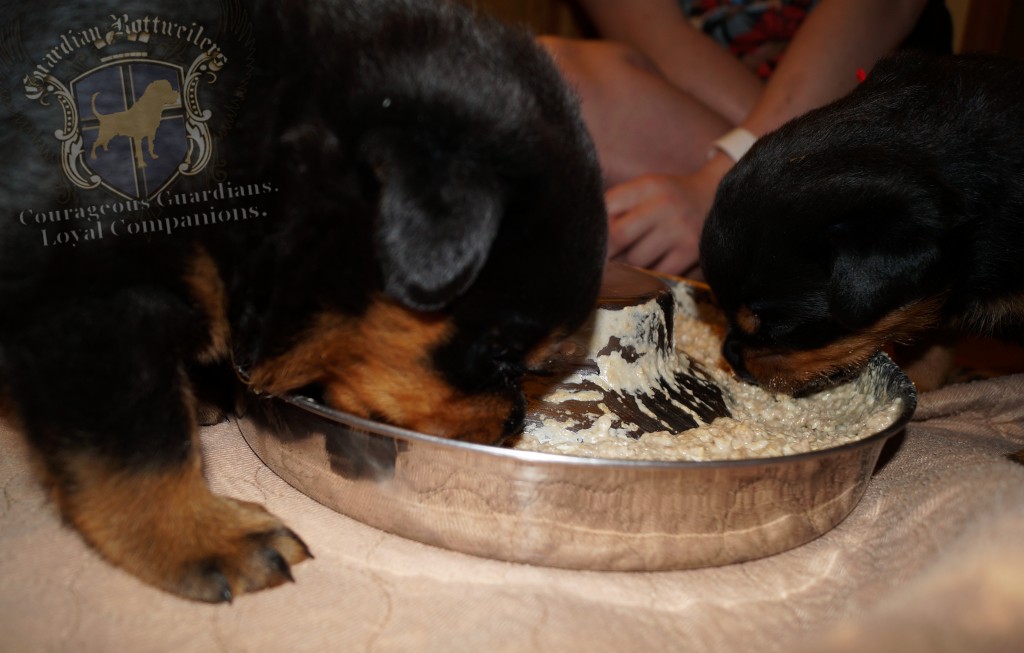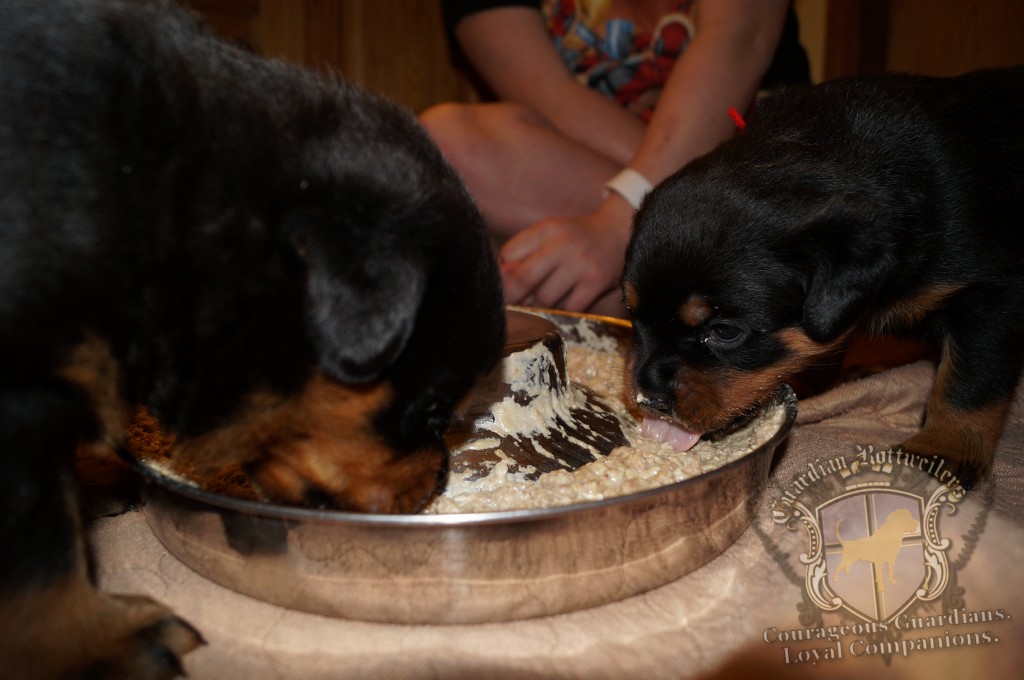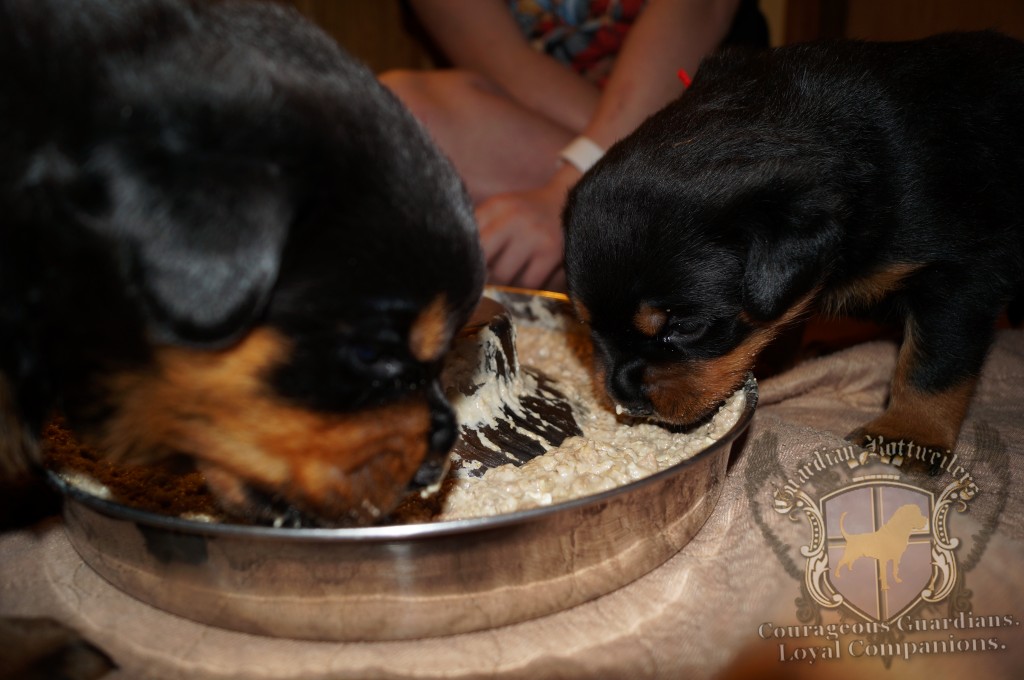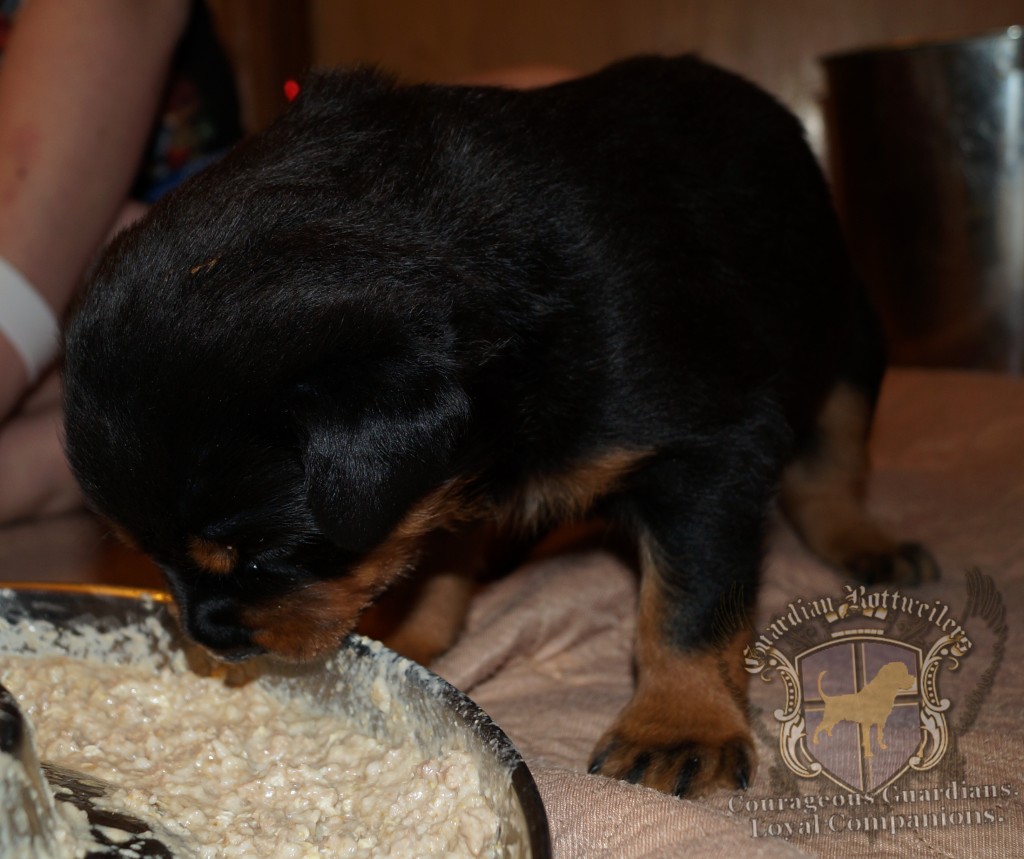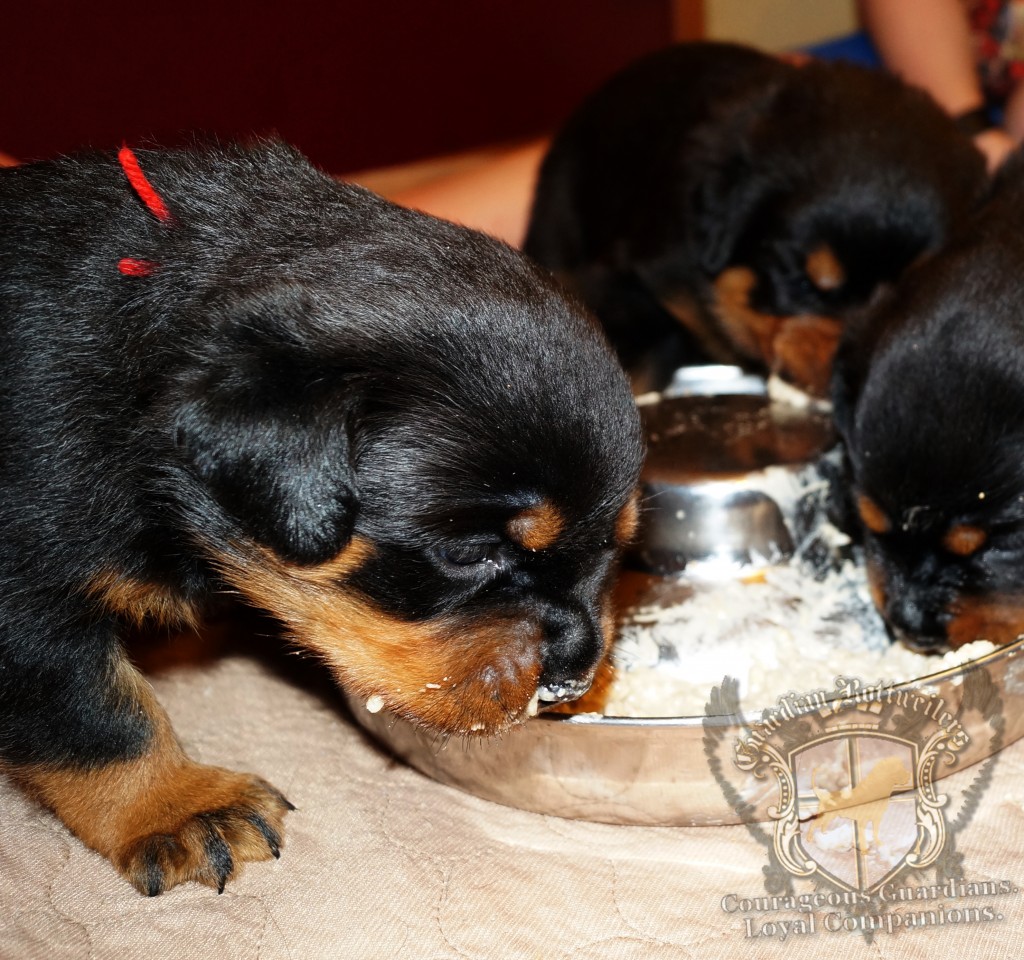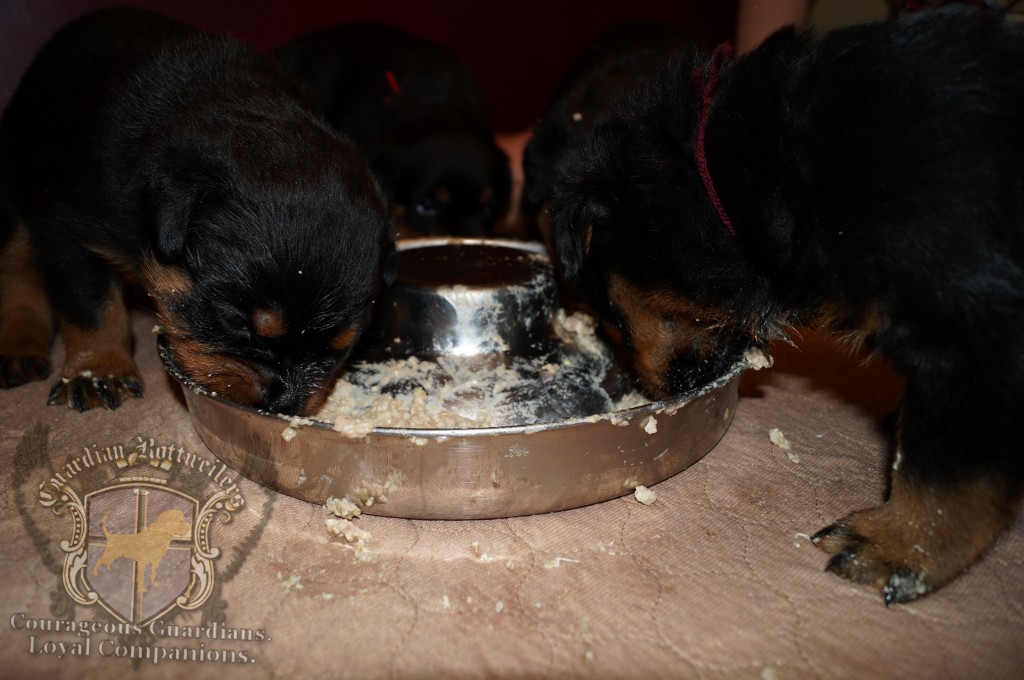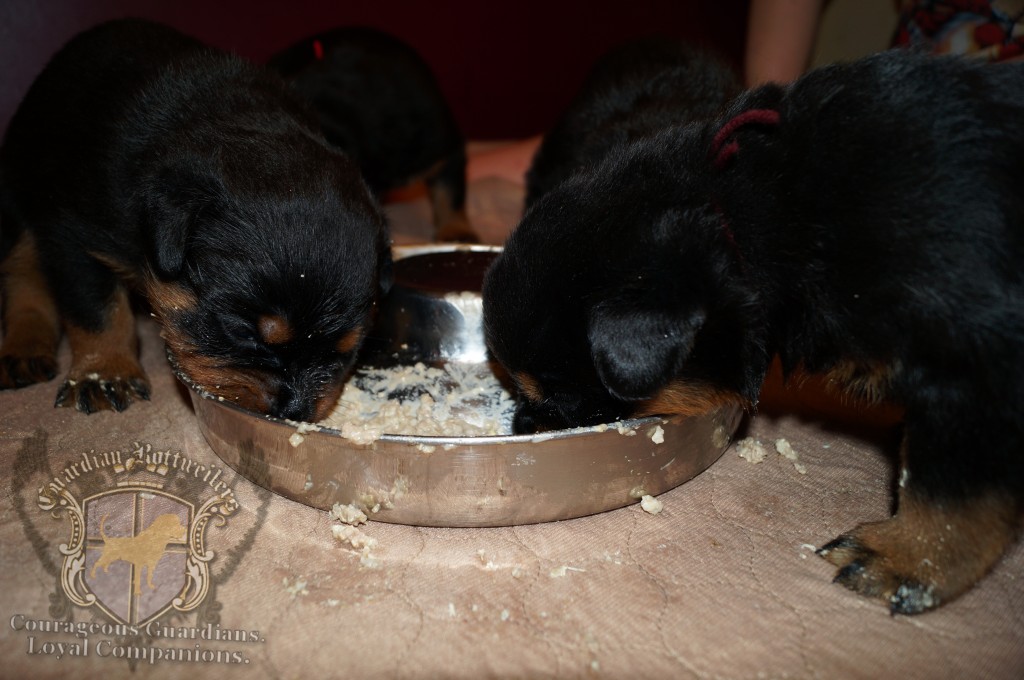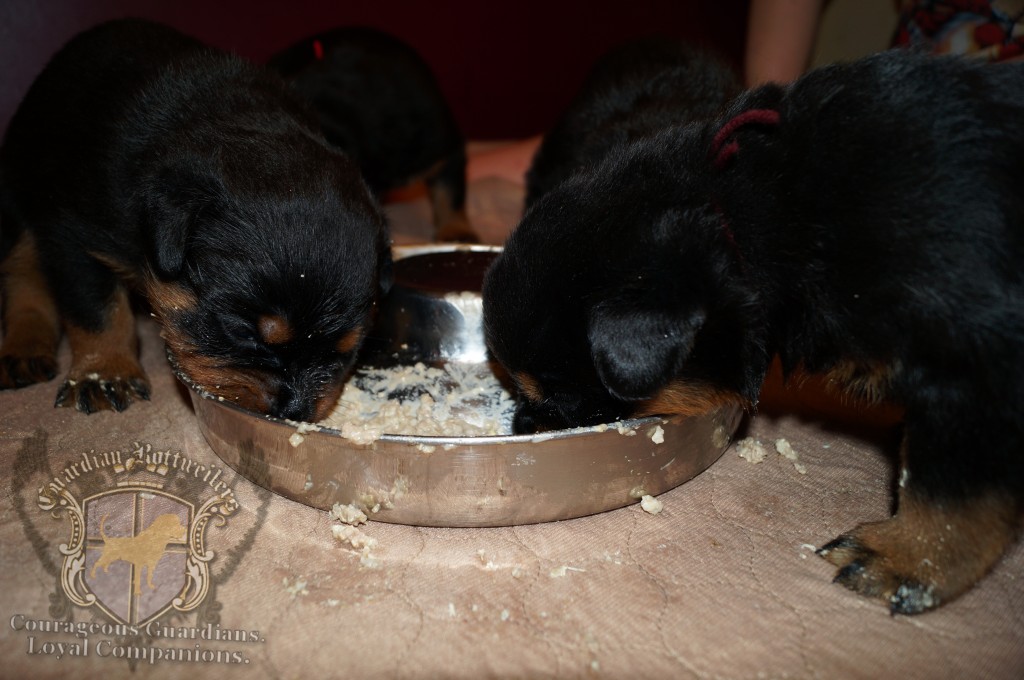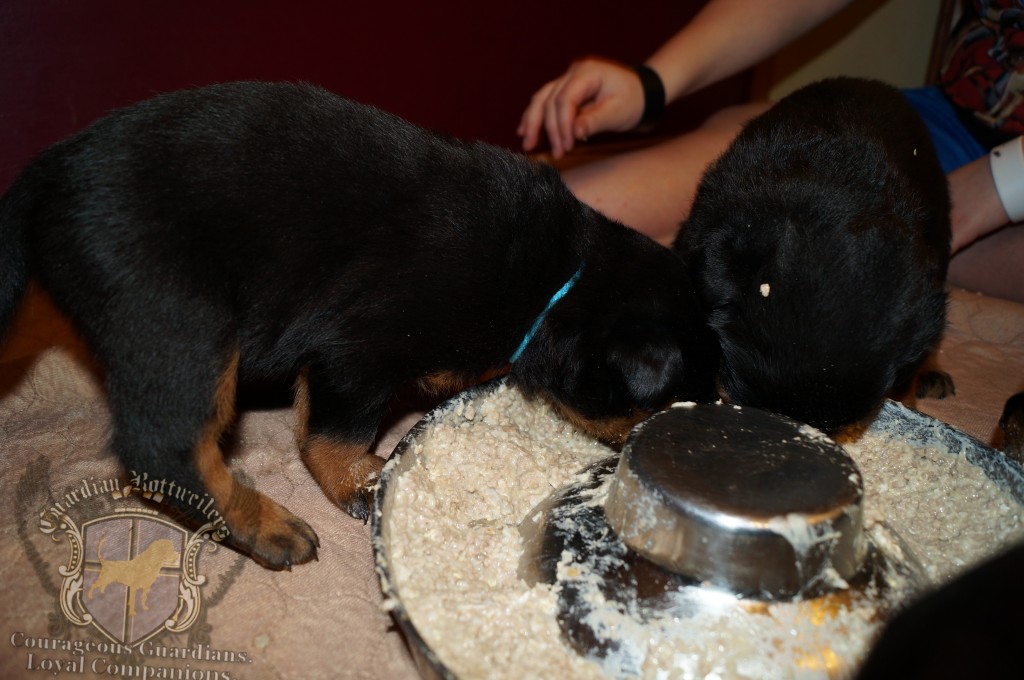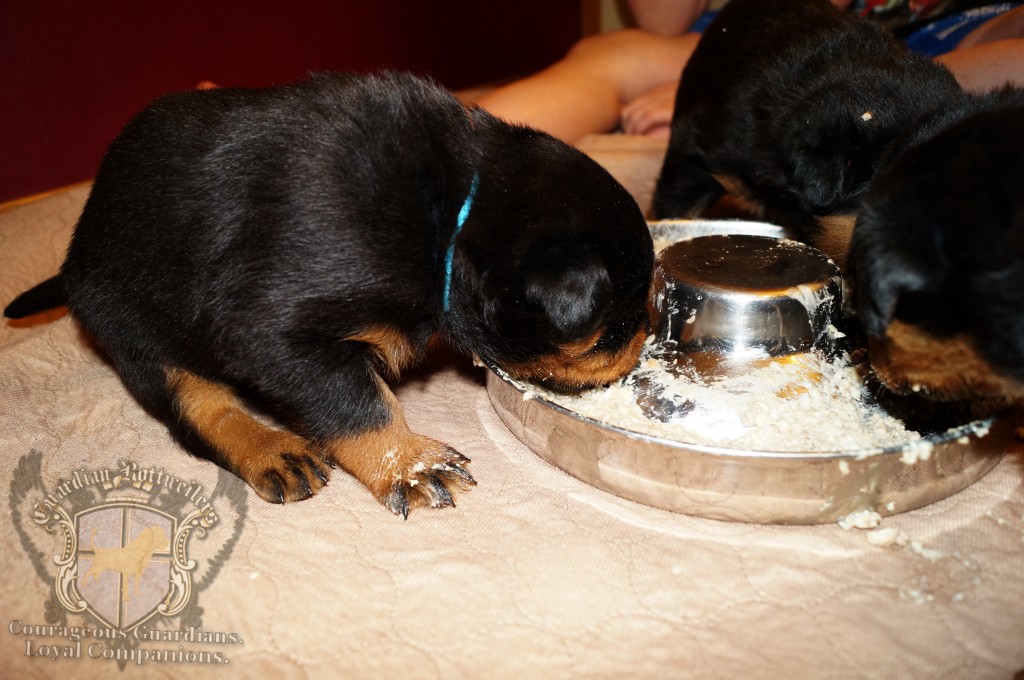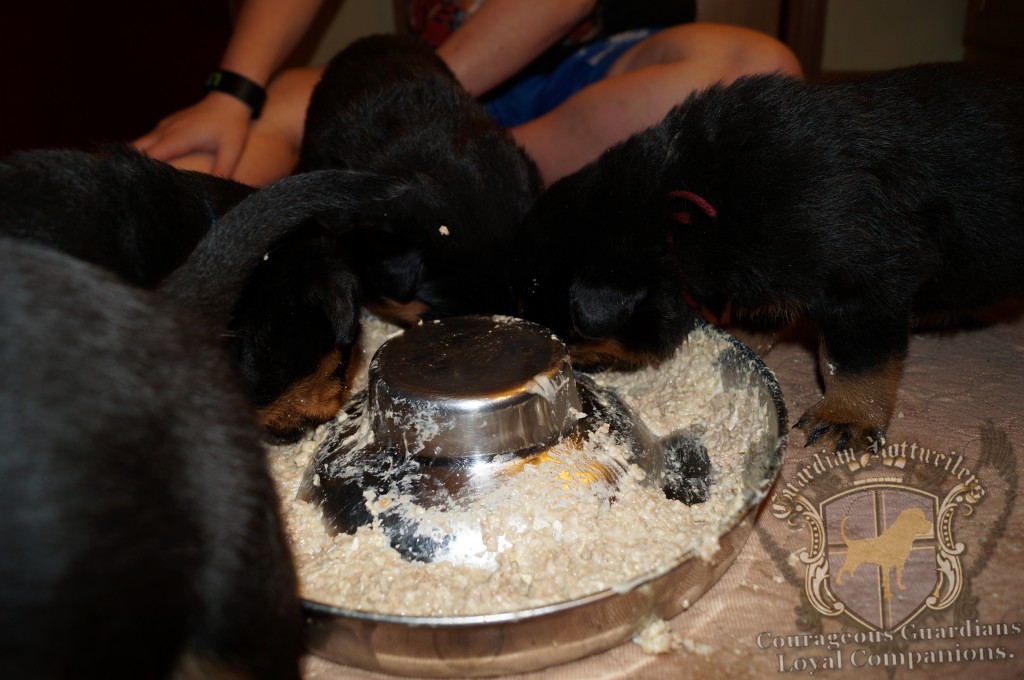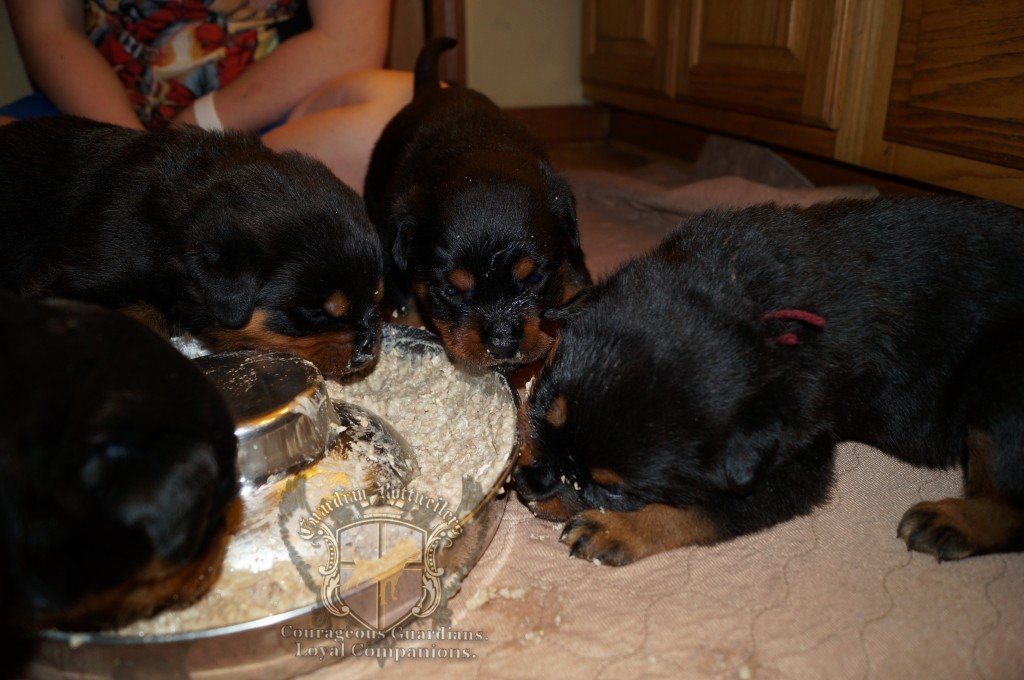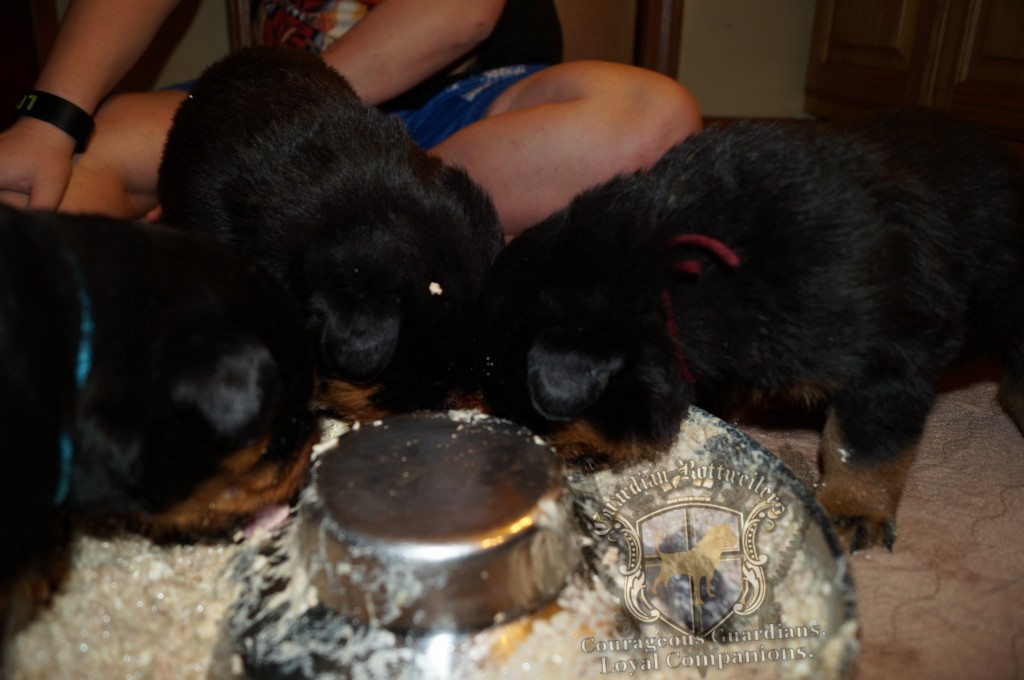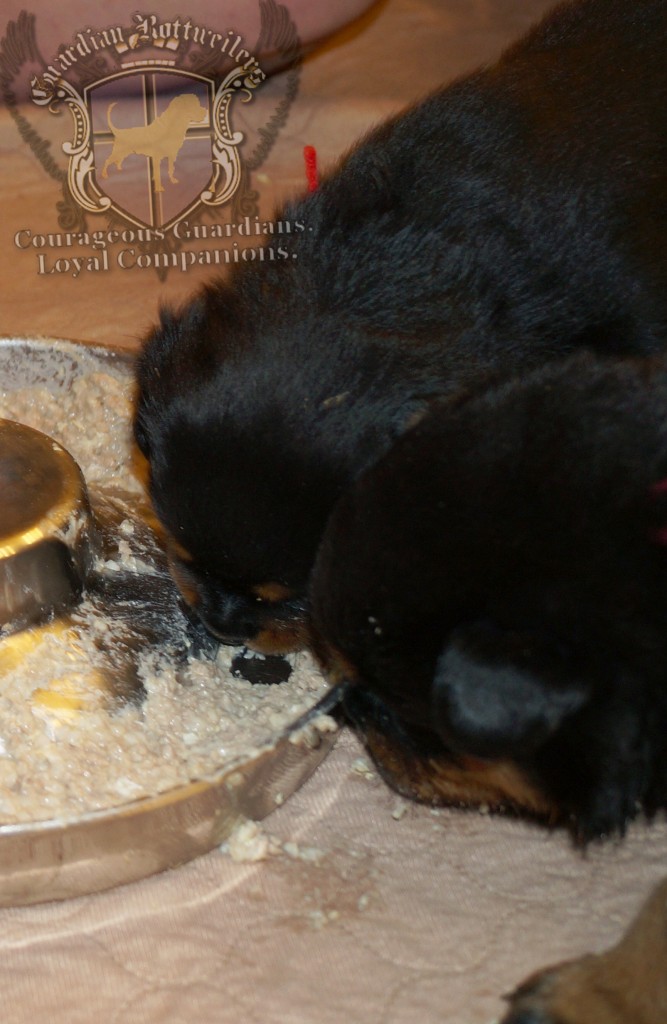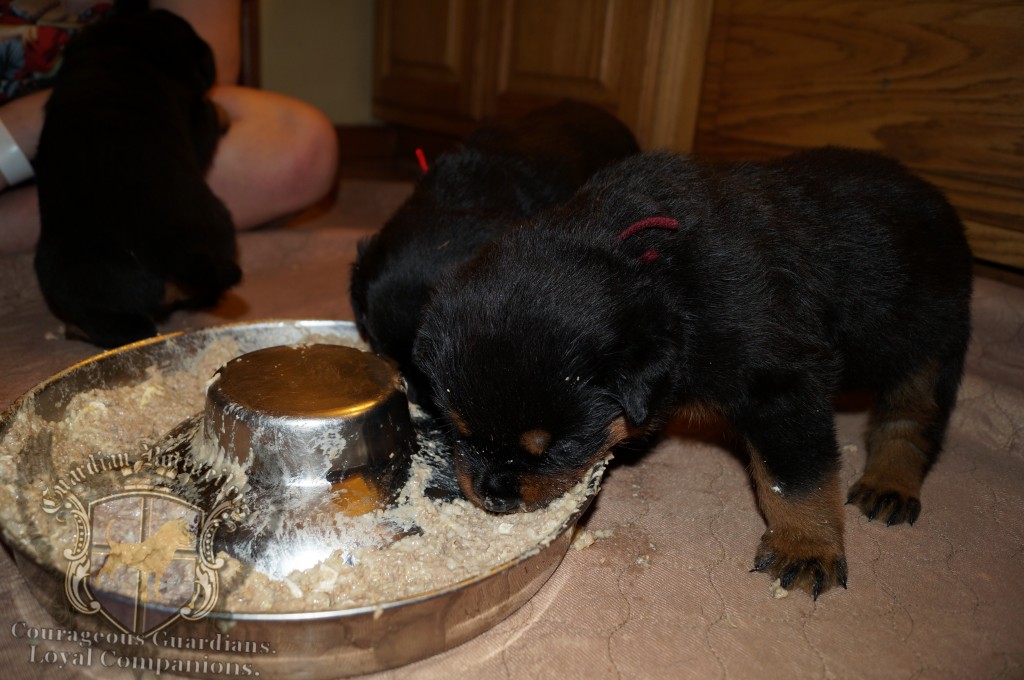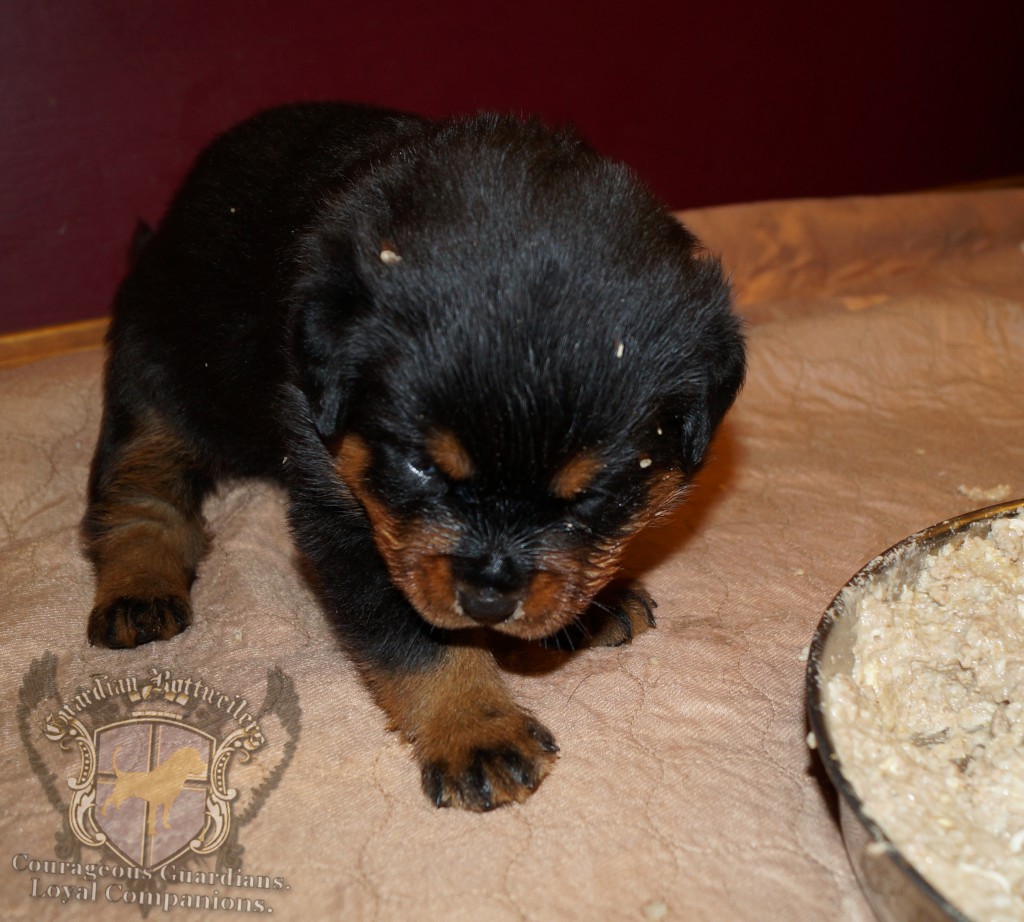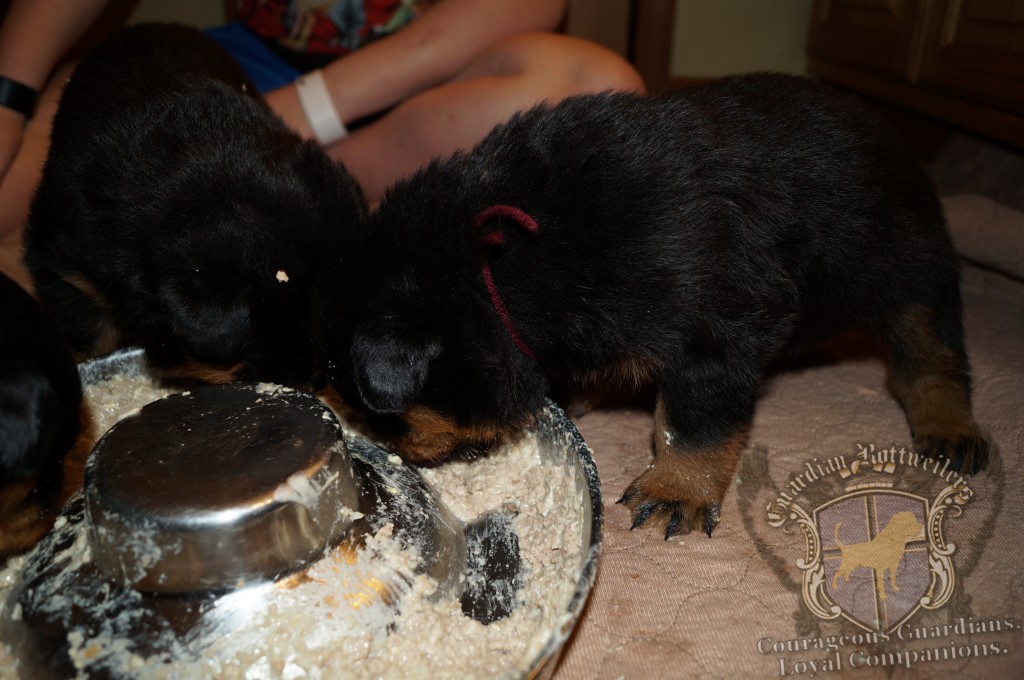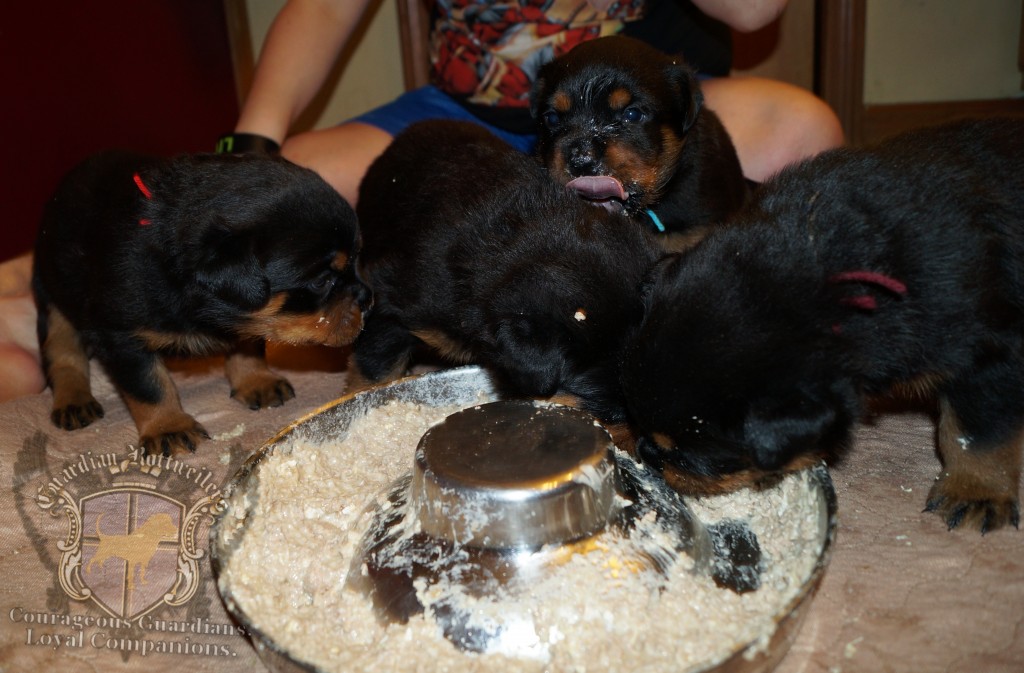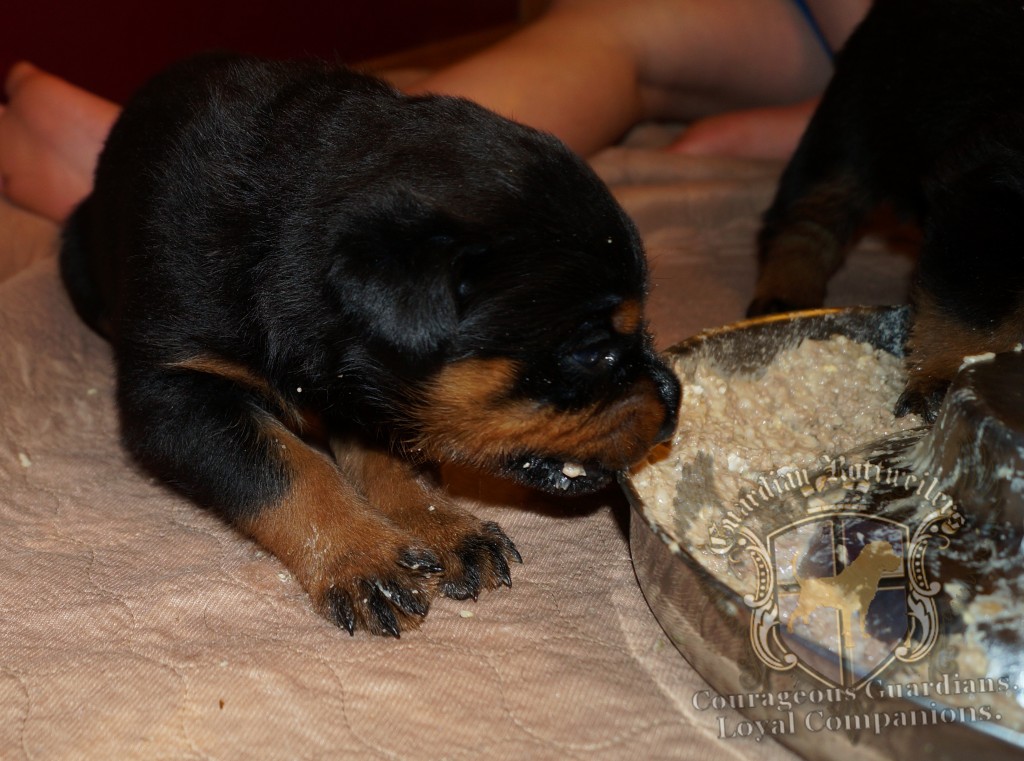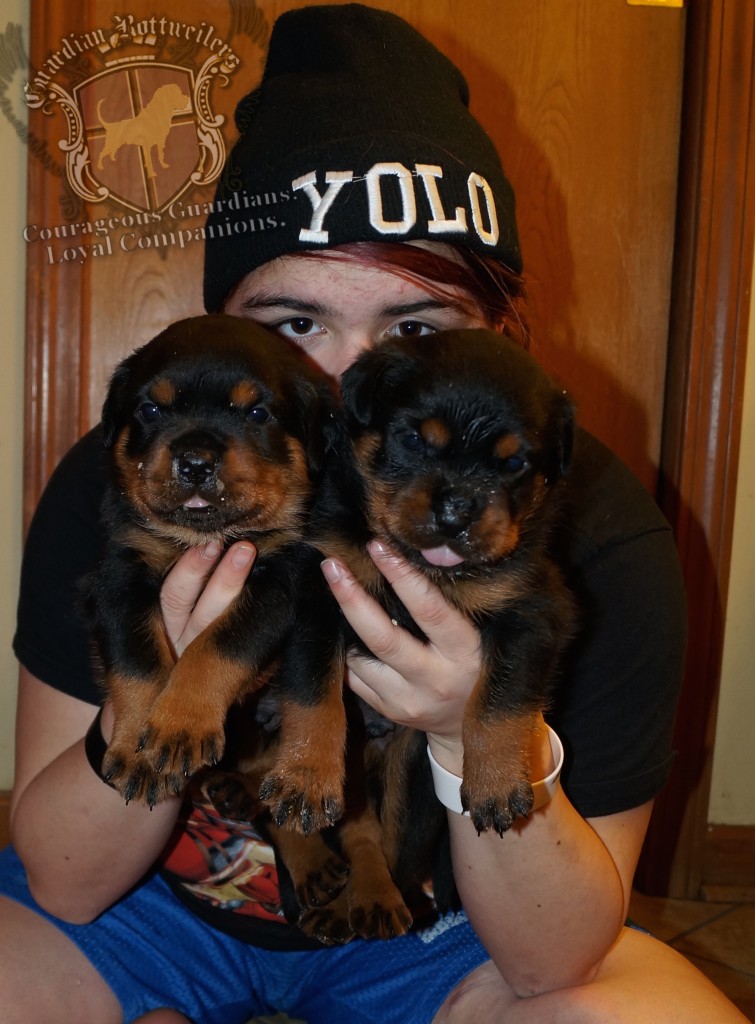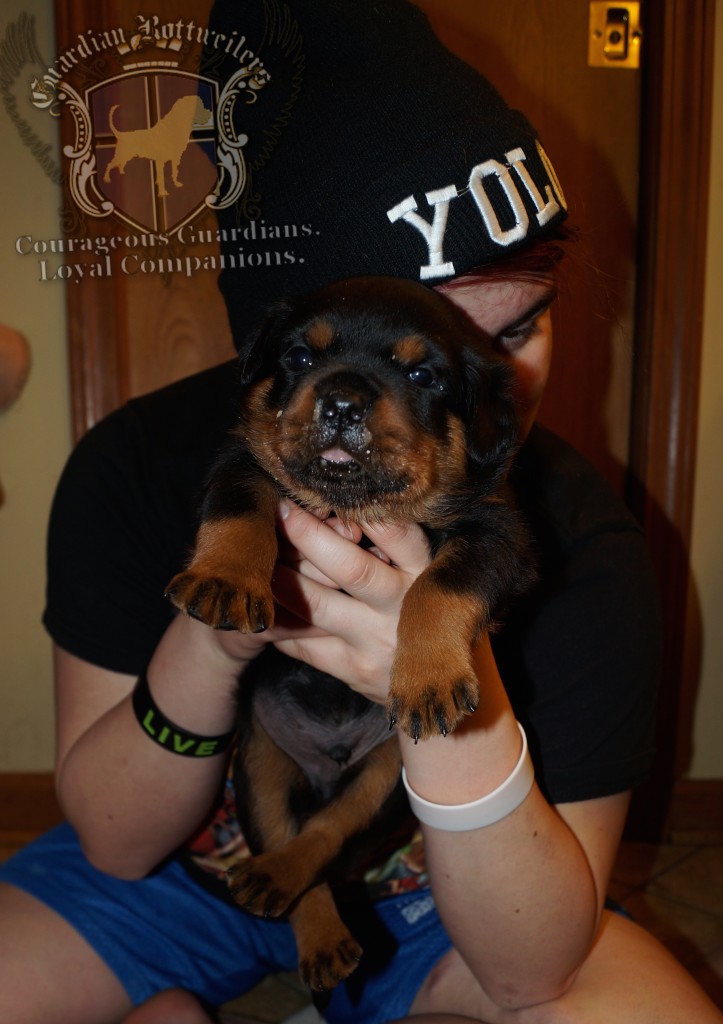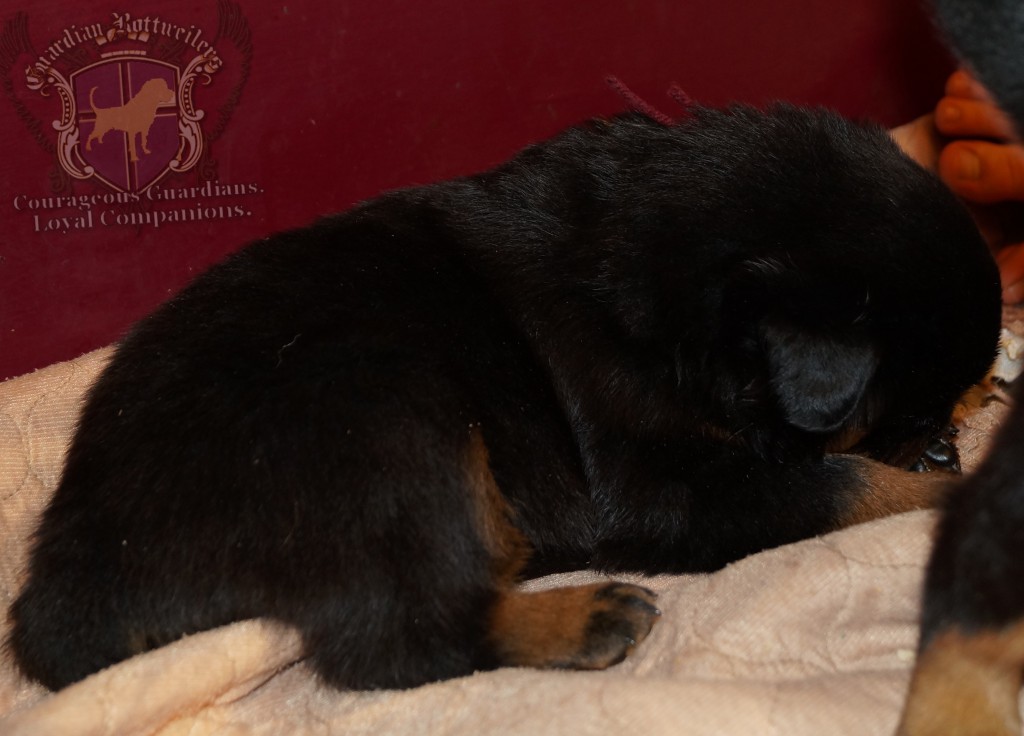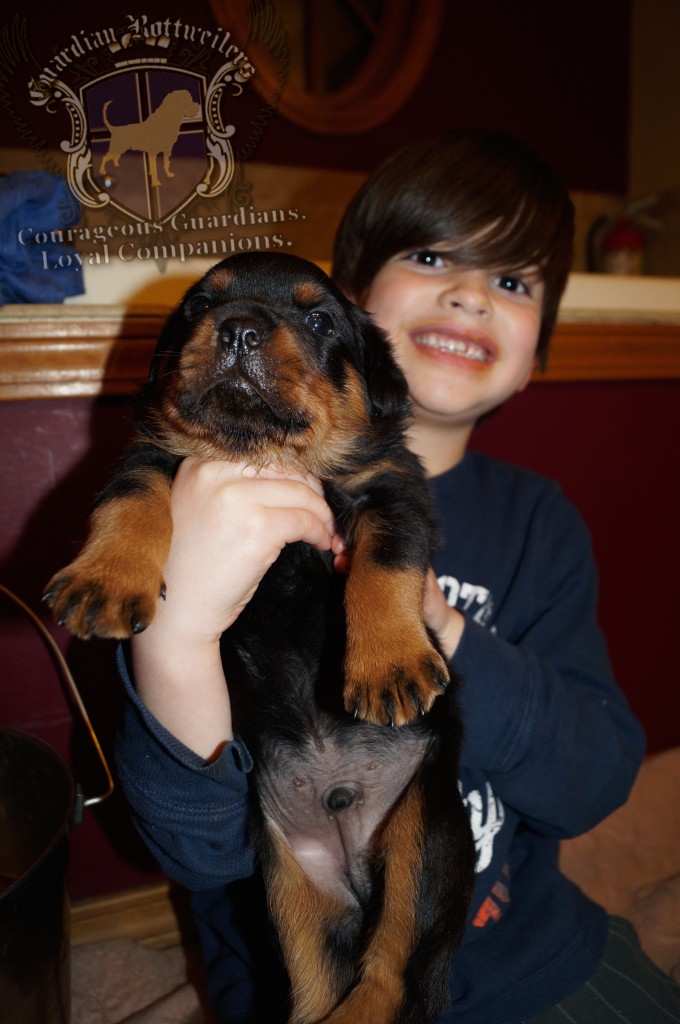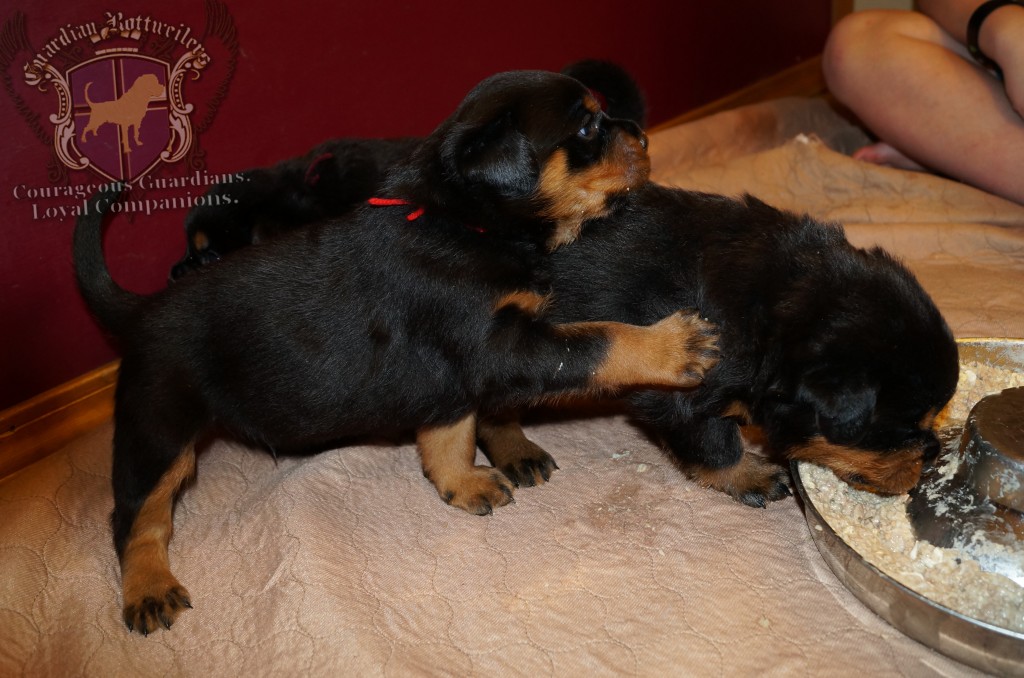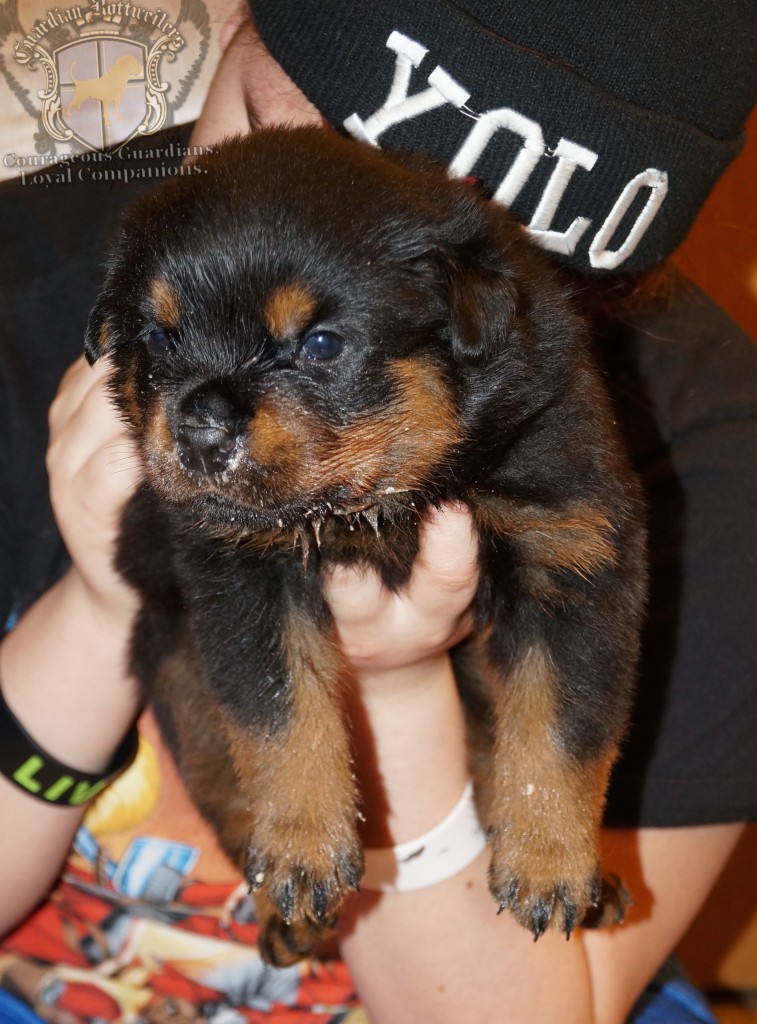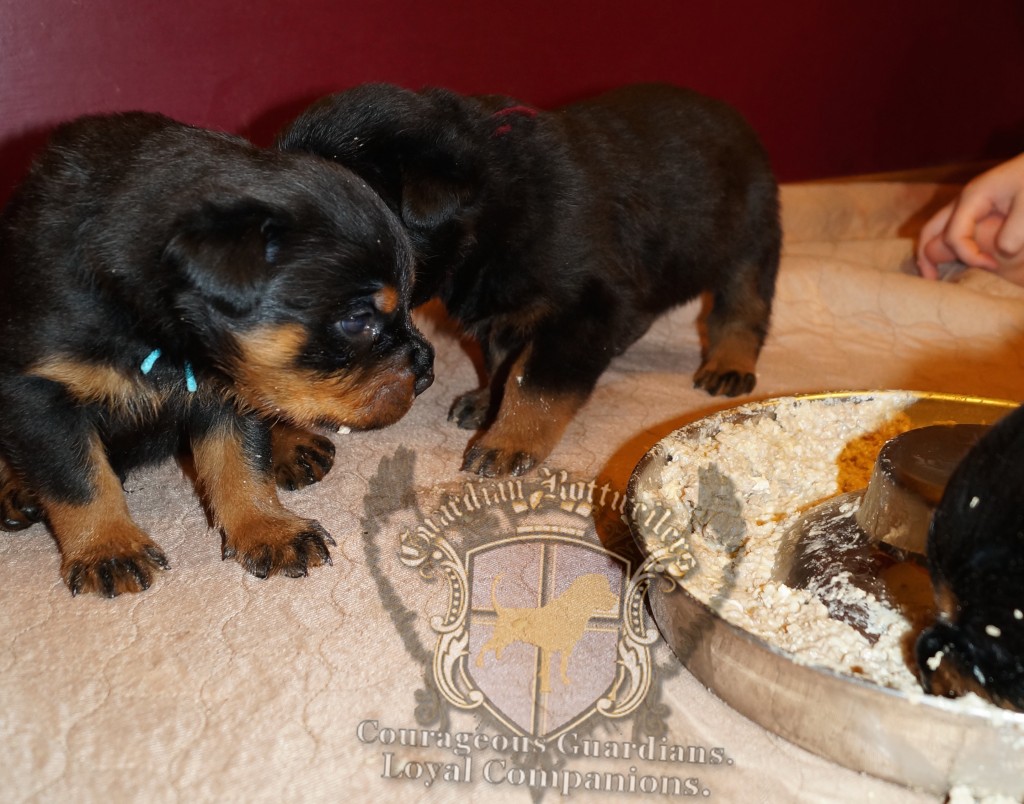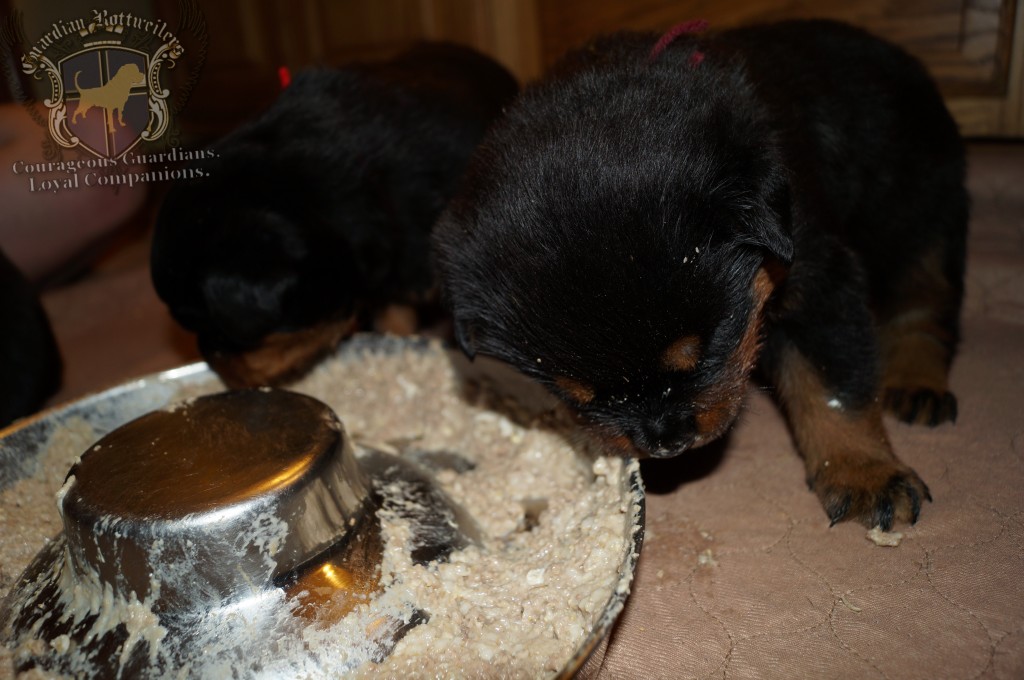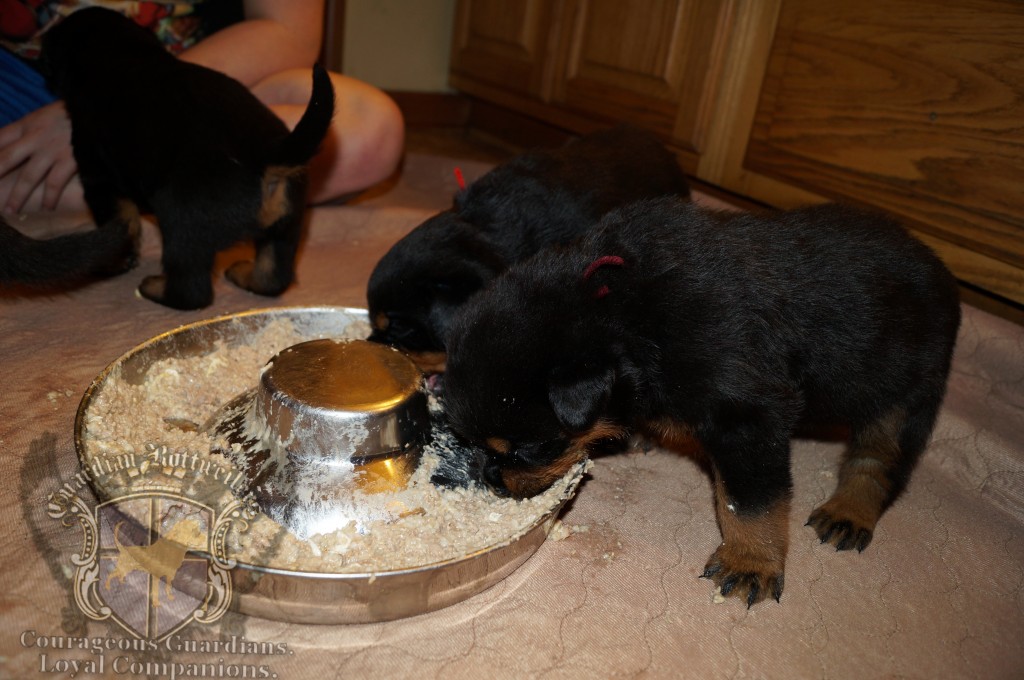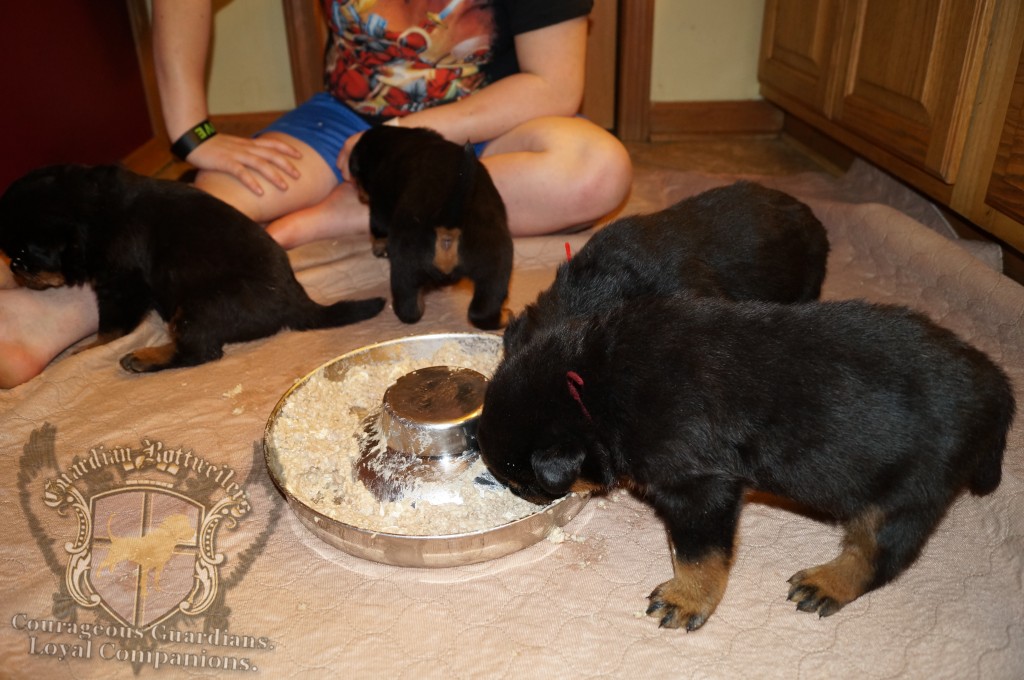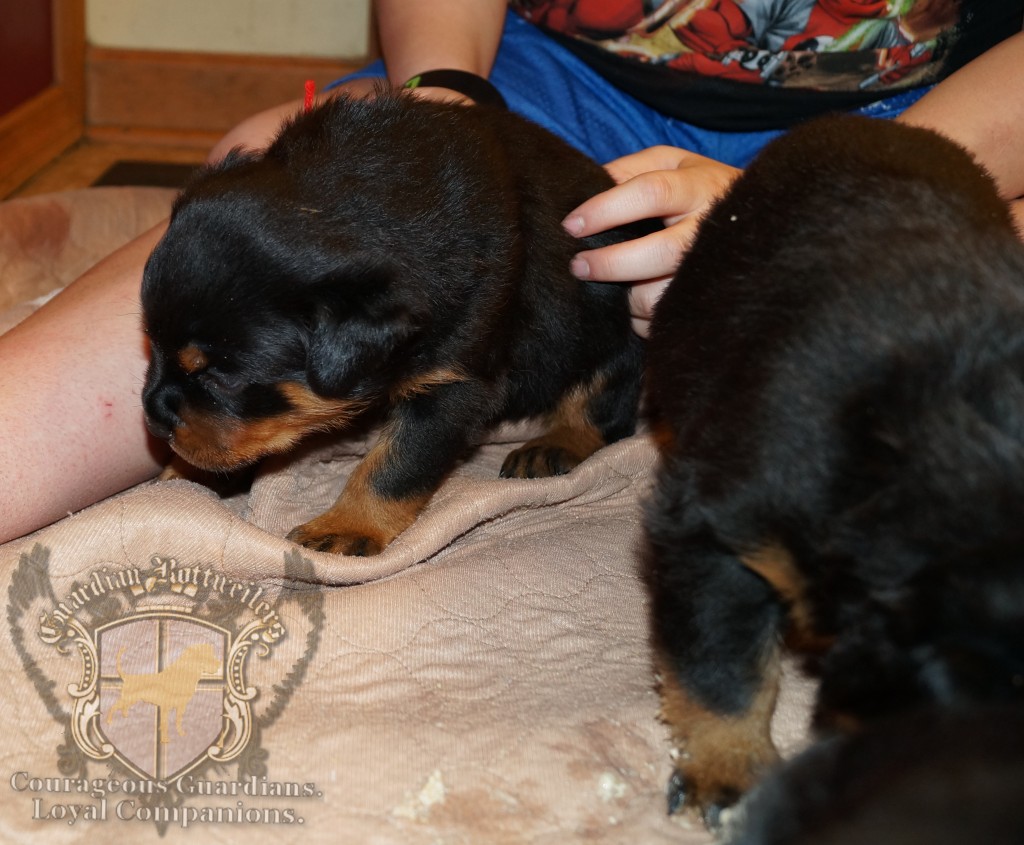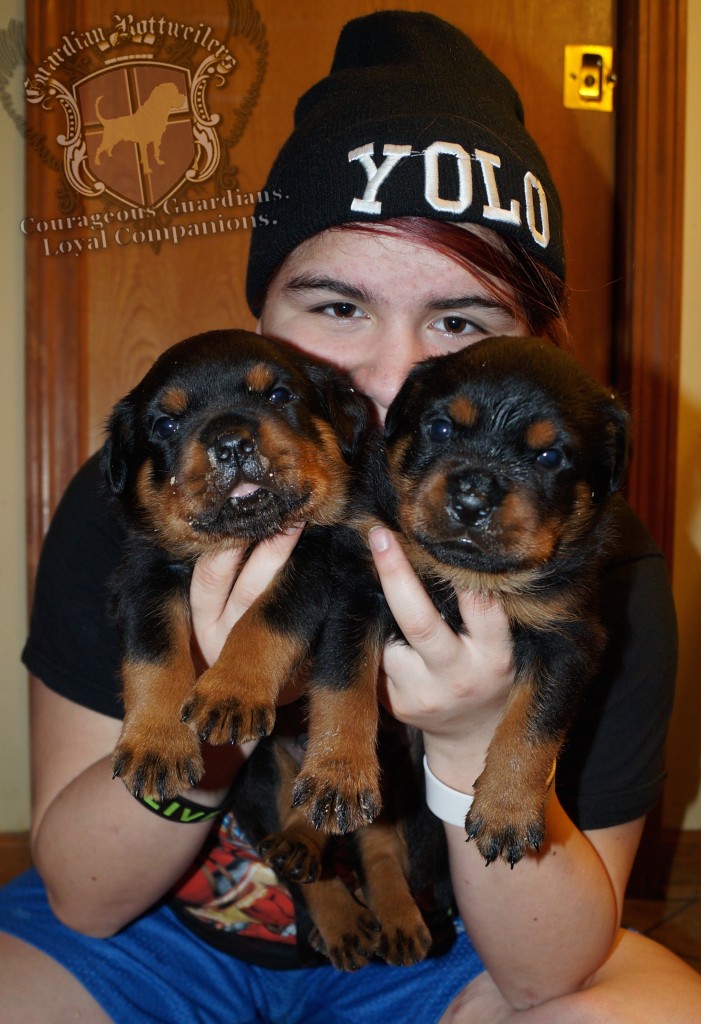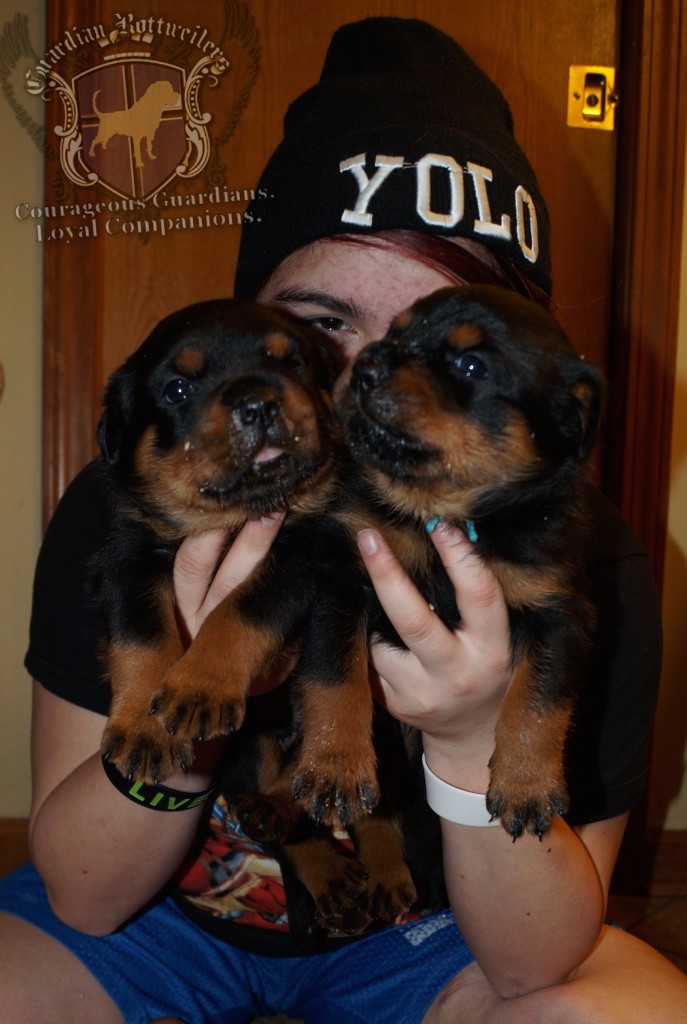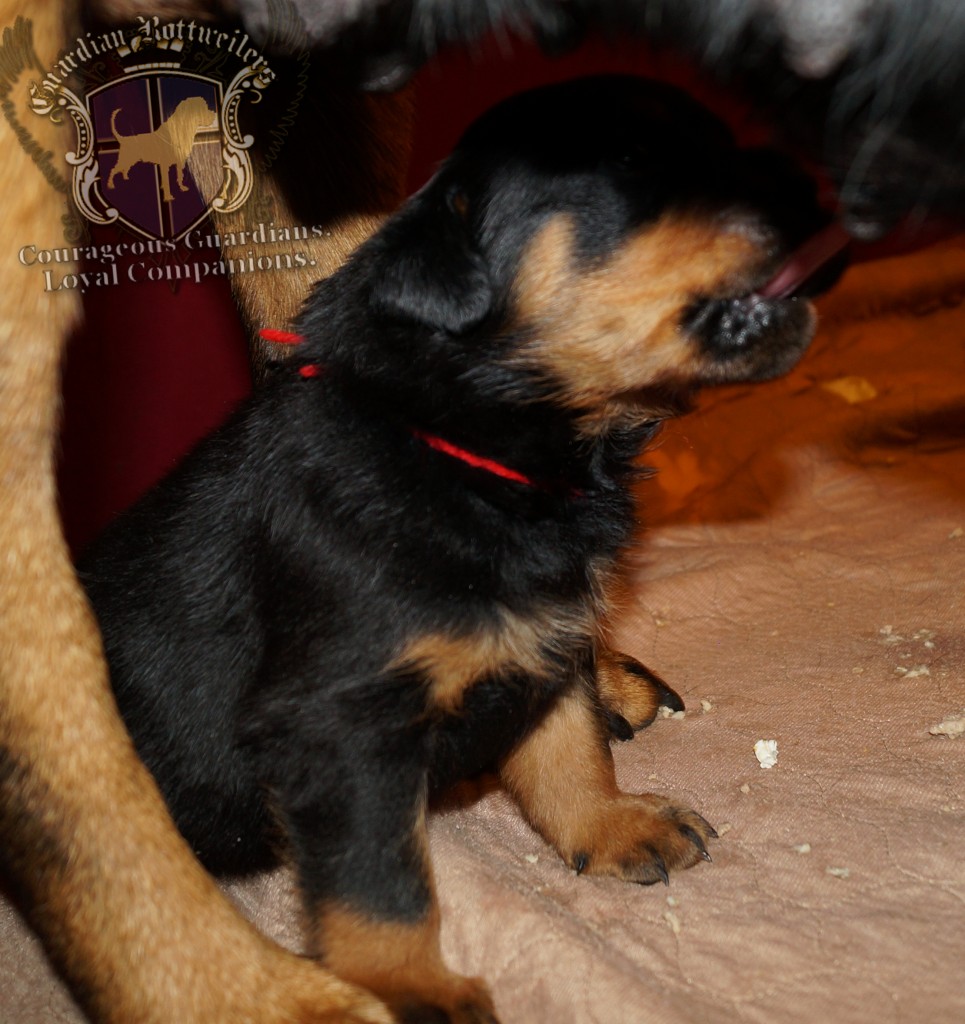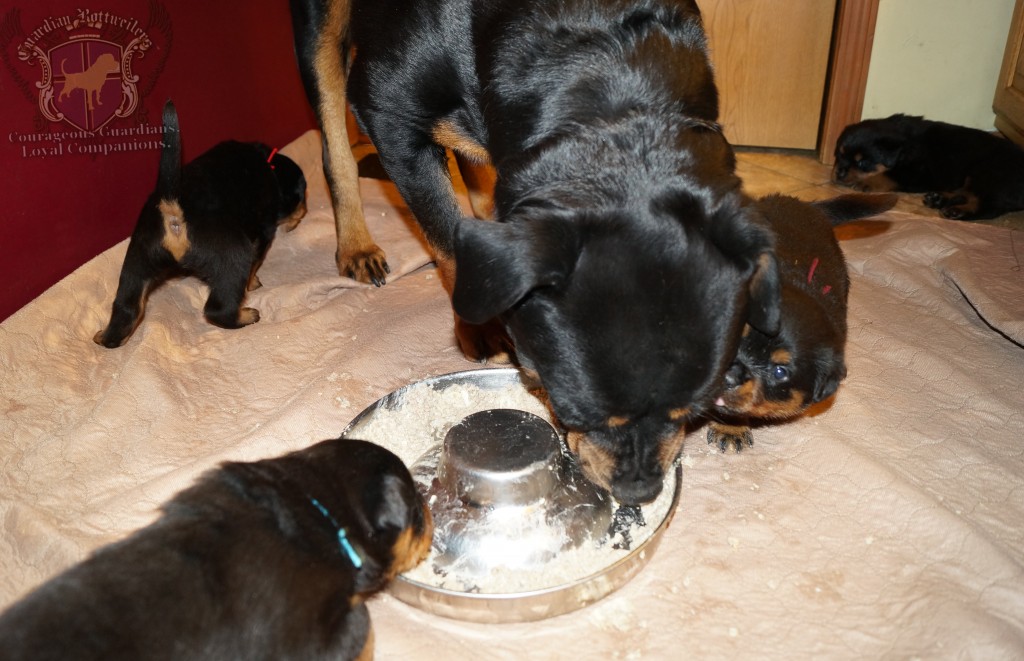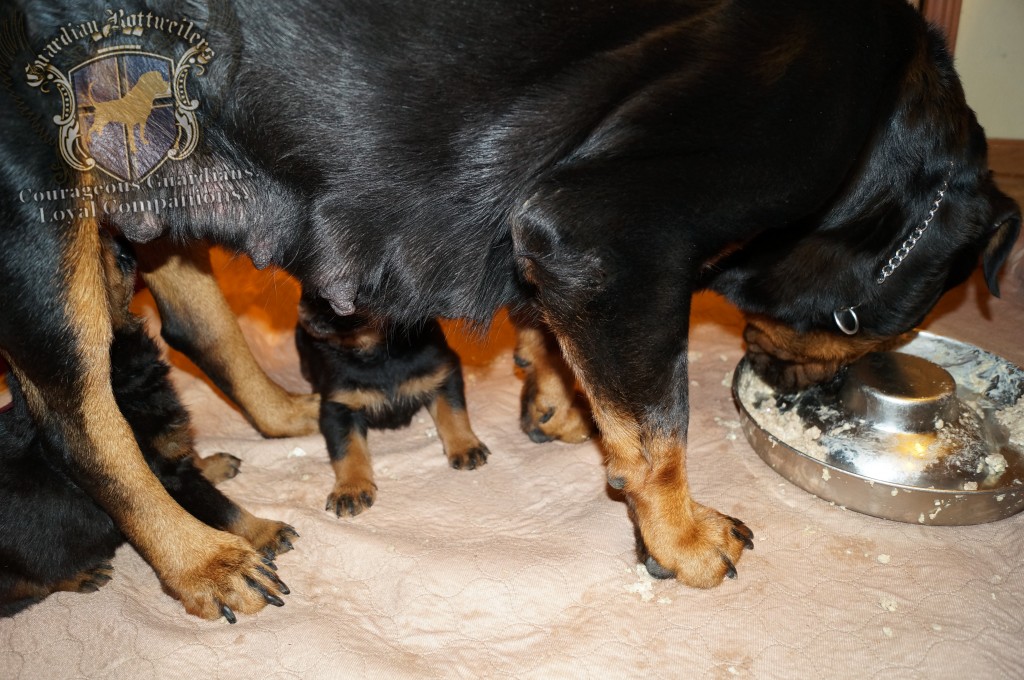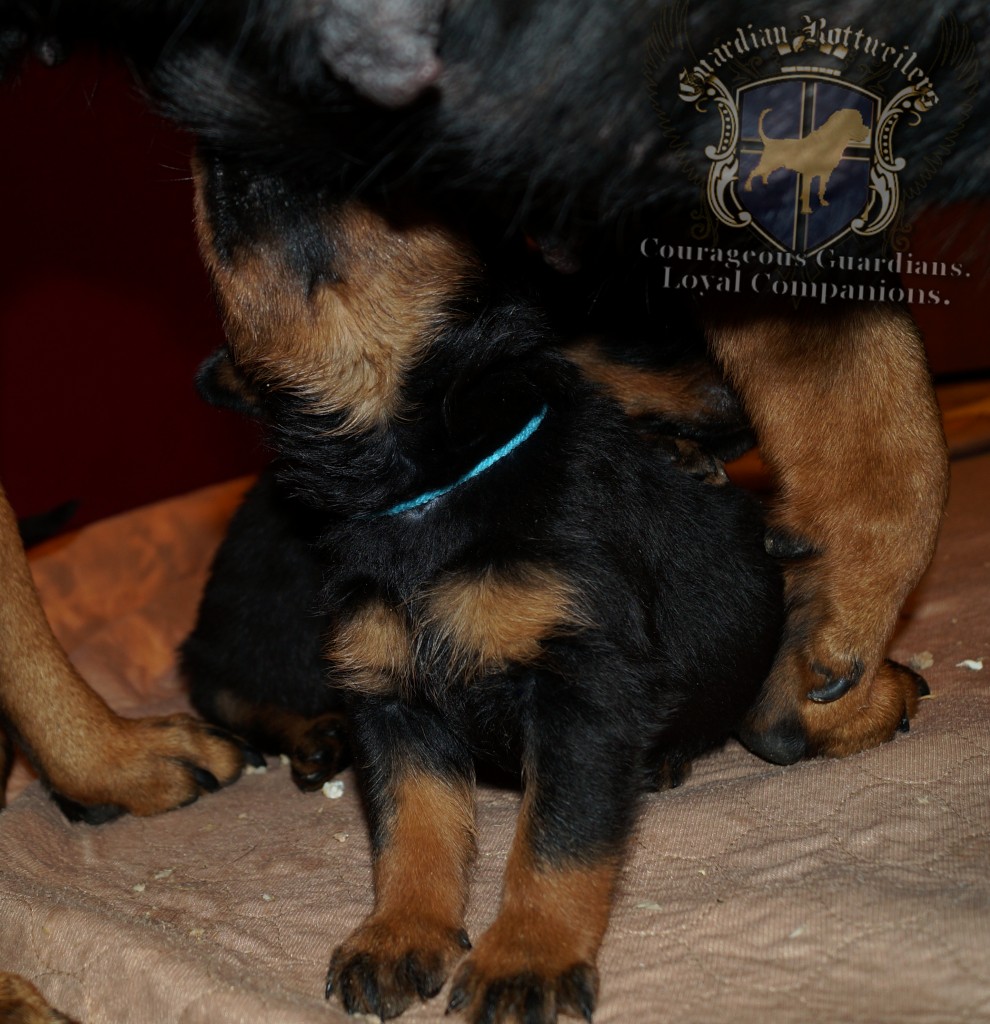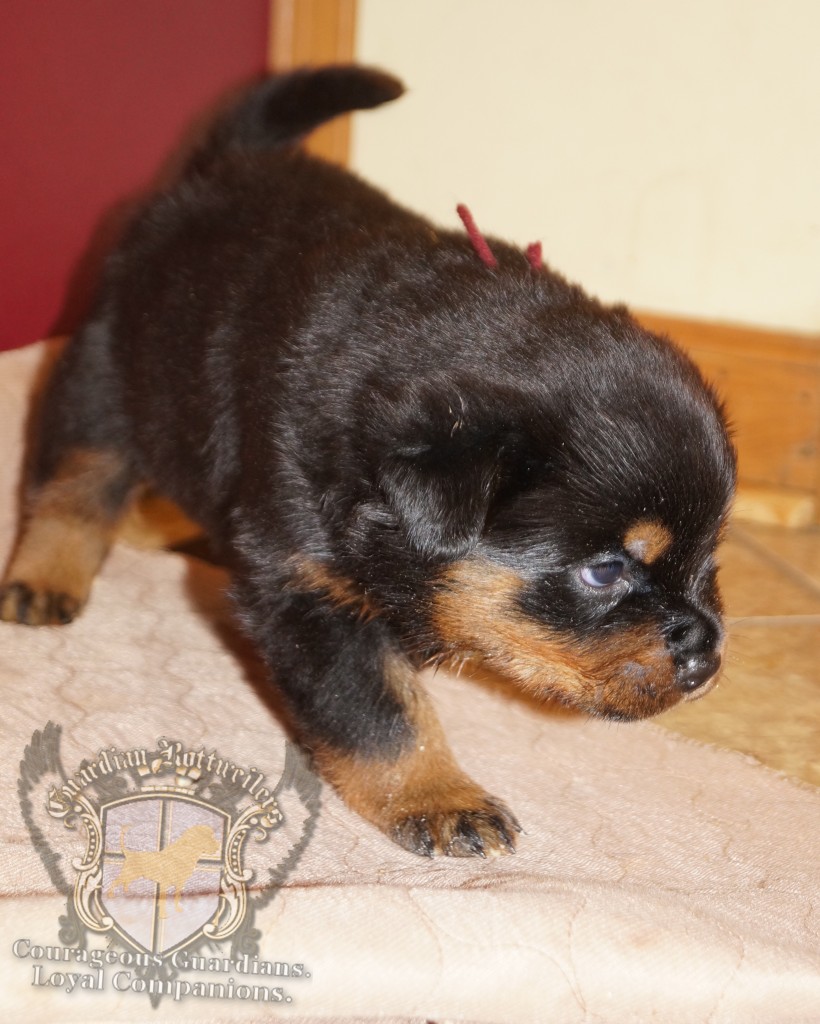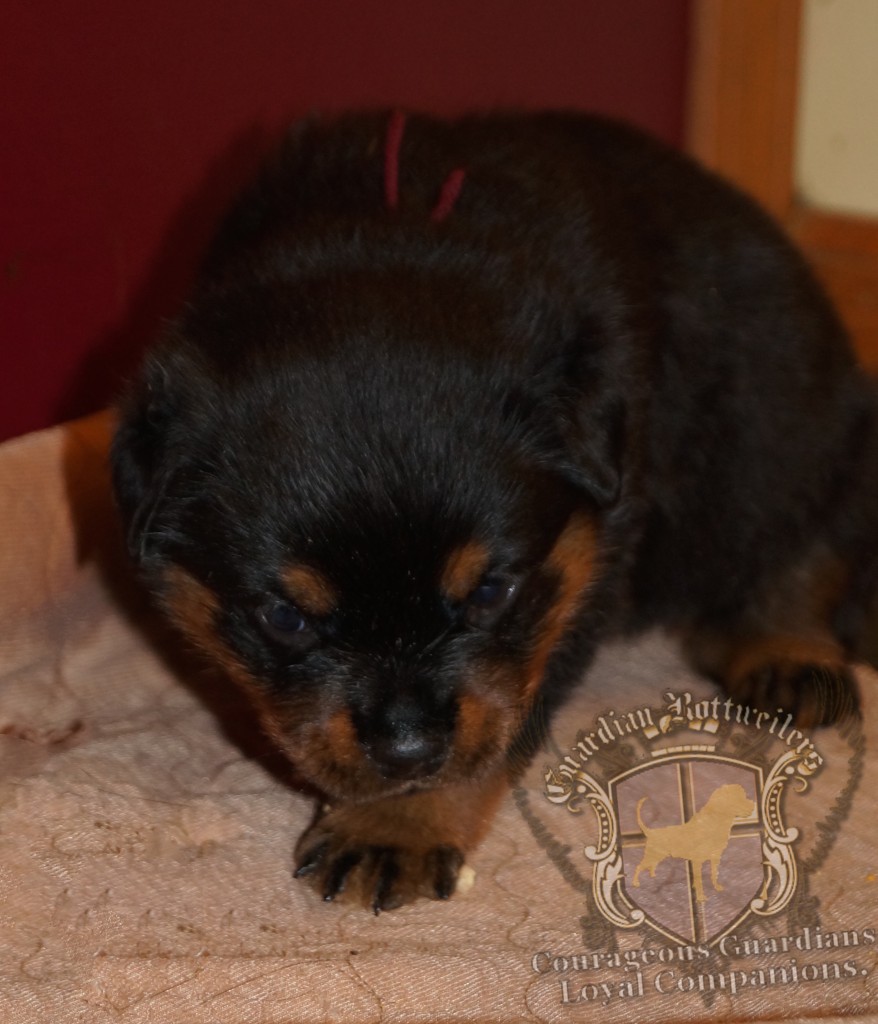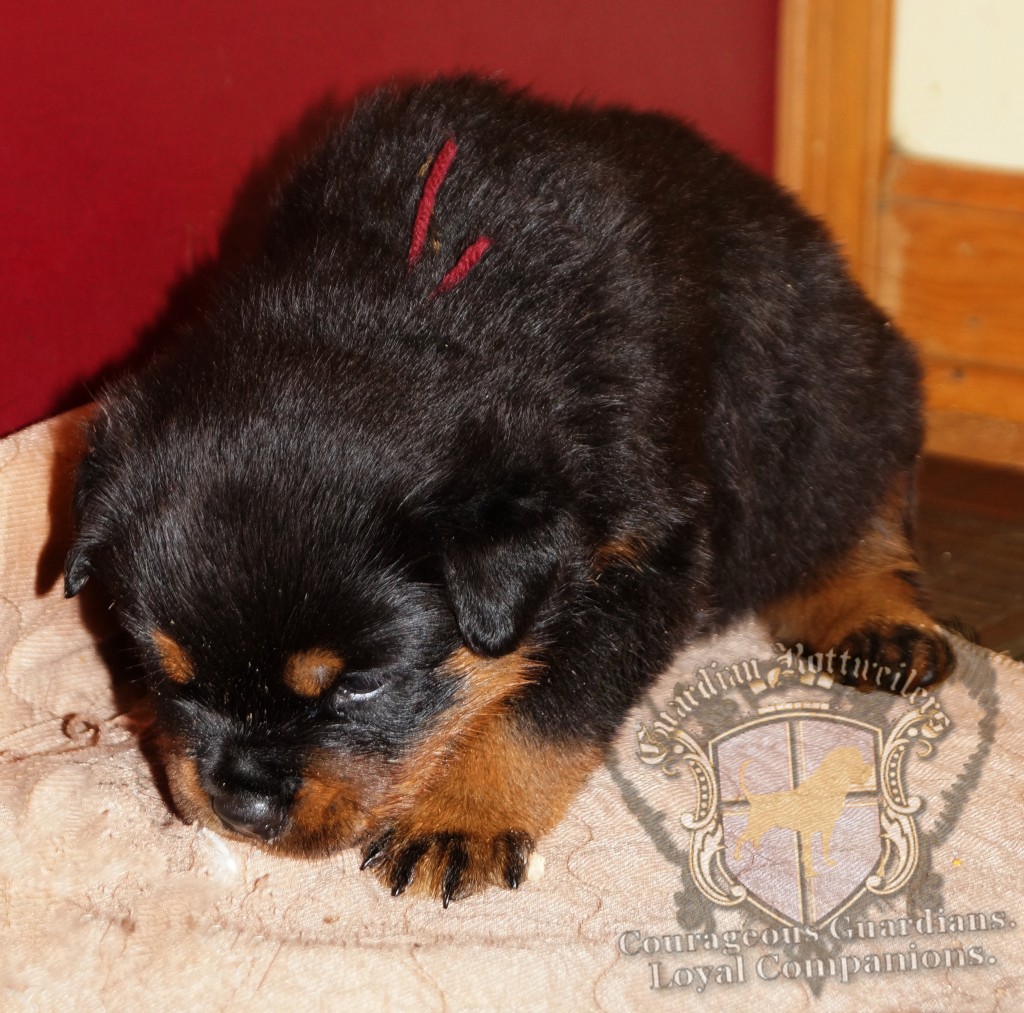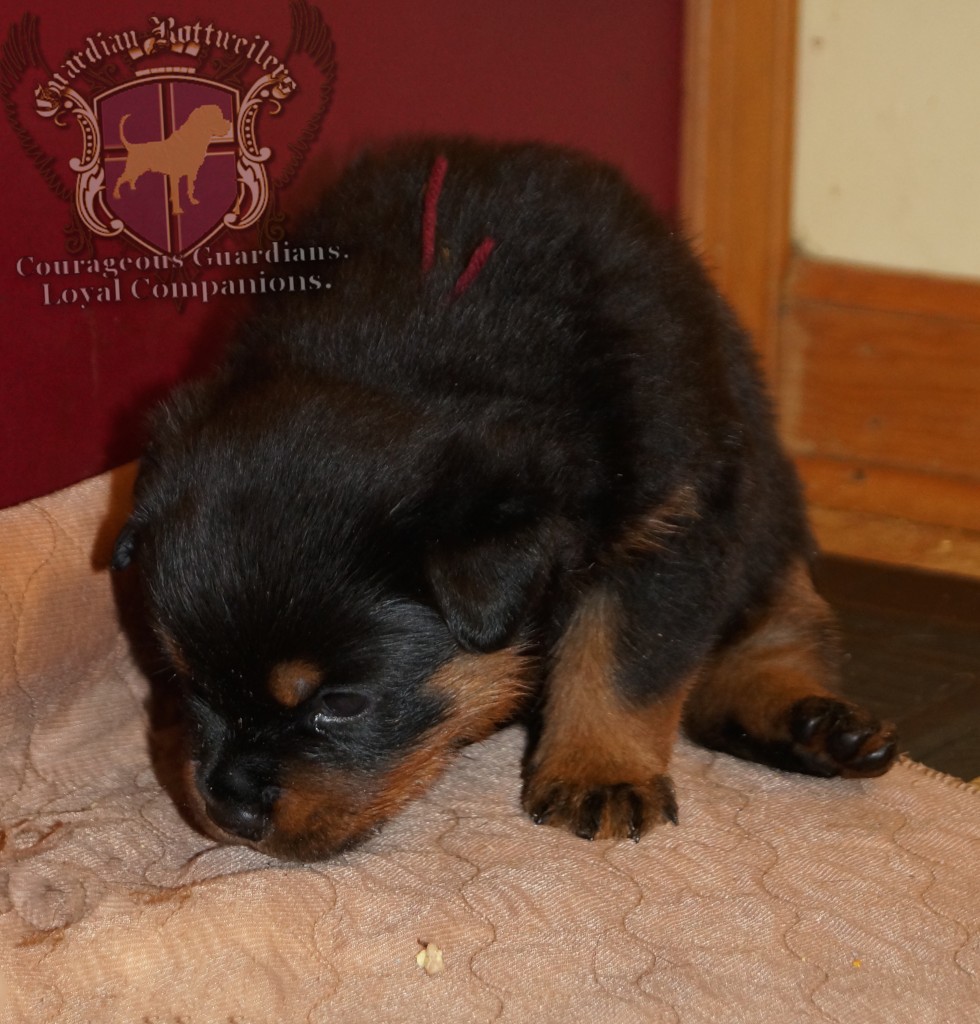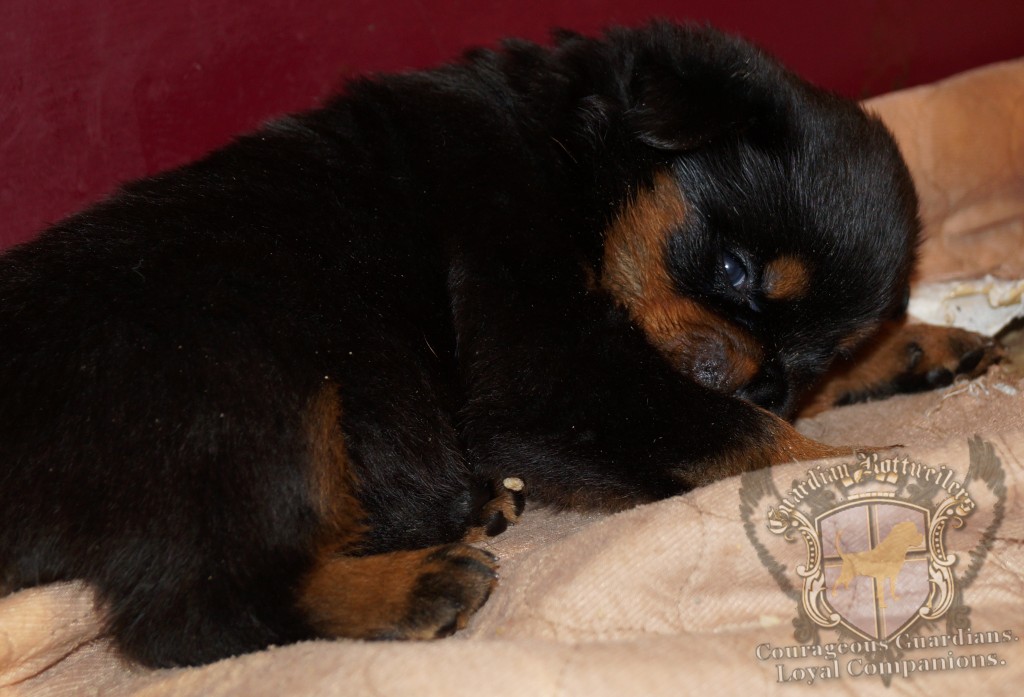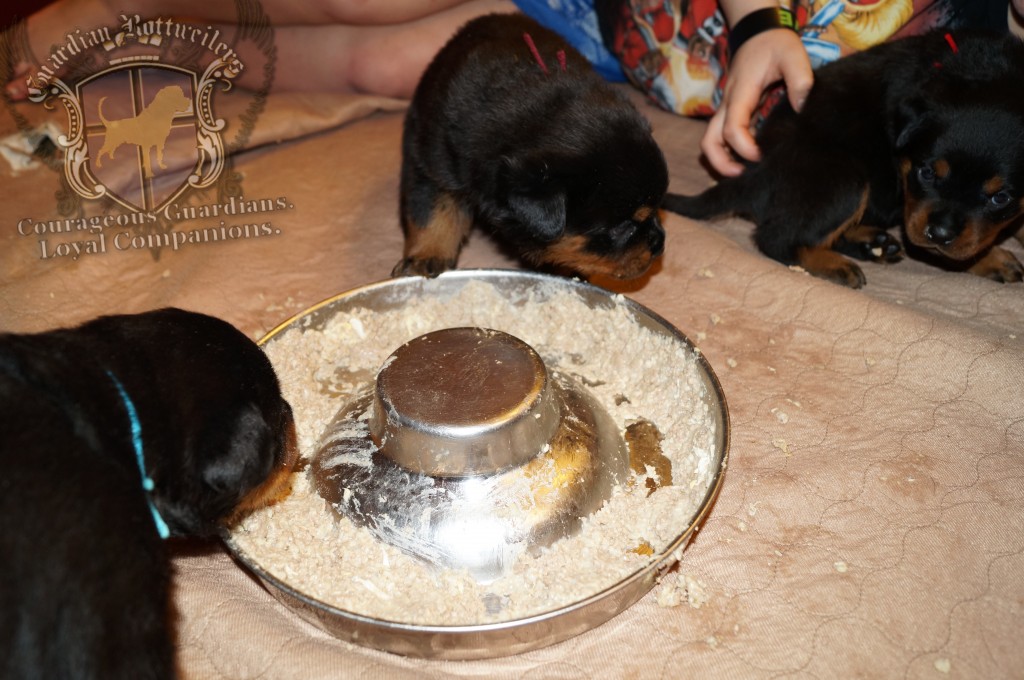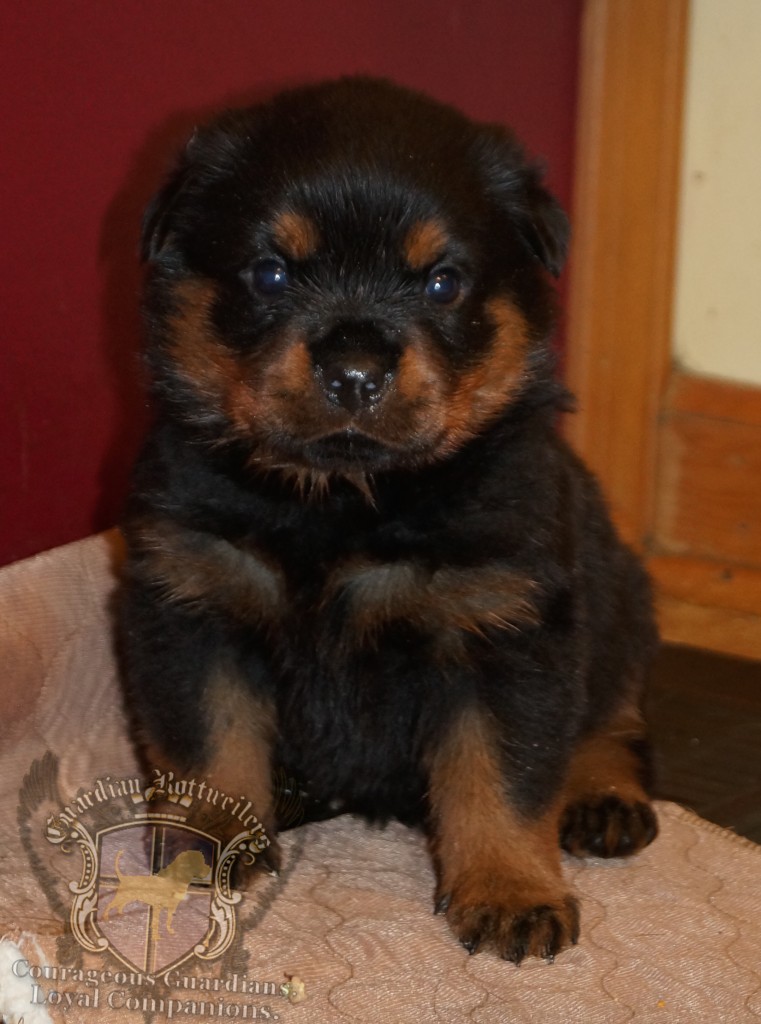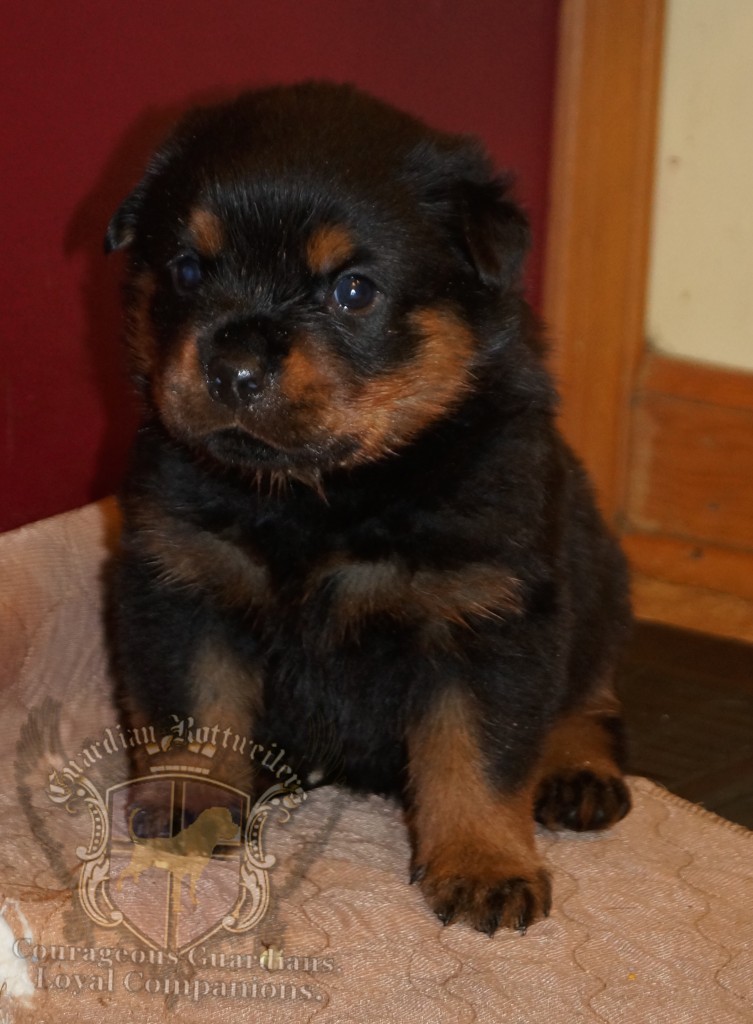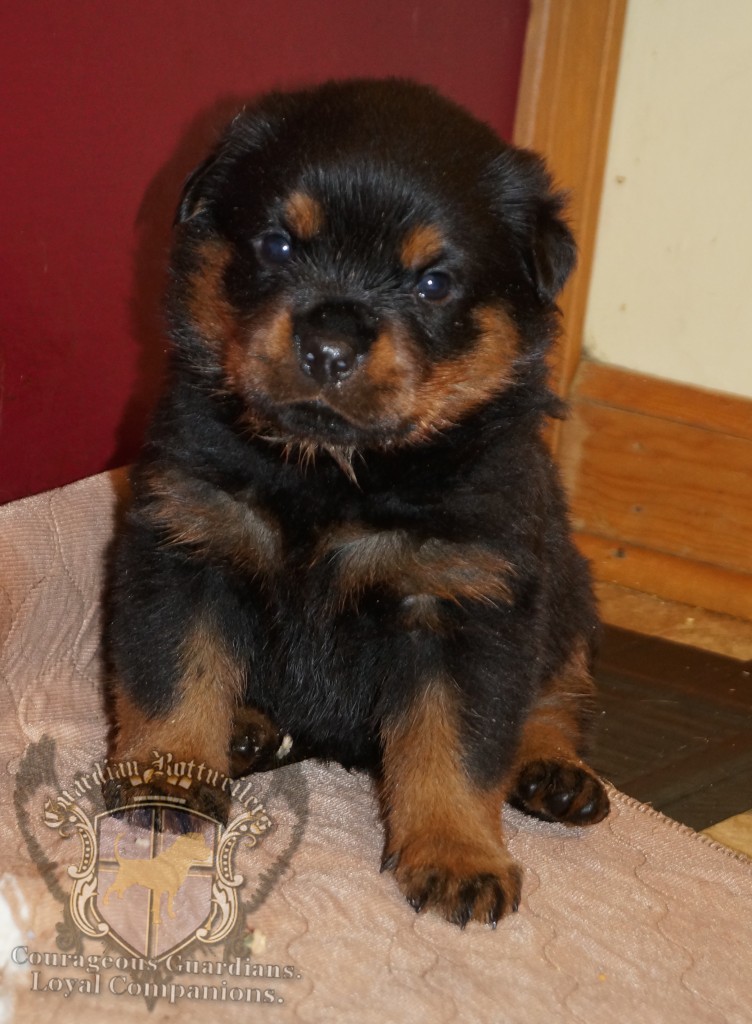 ---
Hi Alice!
I called earlier but I think it may have been a little late for you guys. I just wanted to thank you for our new puppy! And thank Miguel for bringing him especially with his crazy day of traveling! We haven't completely decided on a name yet for him yet but we have narrowed it down 🙂 He is so pretty and snuggly! Haley and him were a lil feisty to begin with. First he was scared of her, then he was trying to get milk, and then he was acting tough growling at her. lol She's doing good with him for the most part. Just have to be careful since she is so big and he is so fragile. I also forgot how lovely crate training is lol their whine and cry is just too sad not to cave. But good thing I have Jacob here or he'd be in bed with us already!
Thanks again! Take care & God bless<3
The Nowaks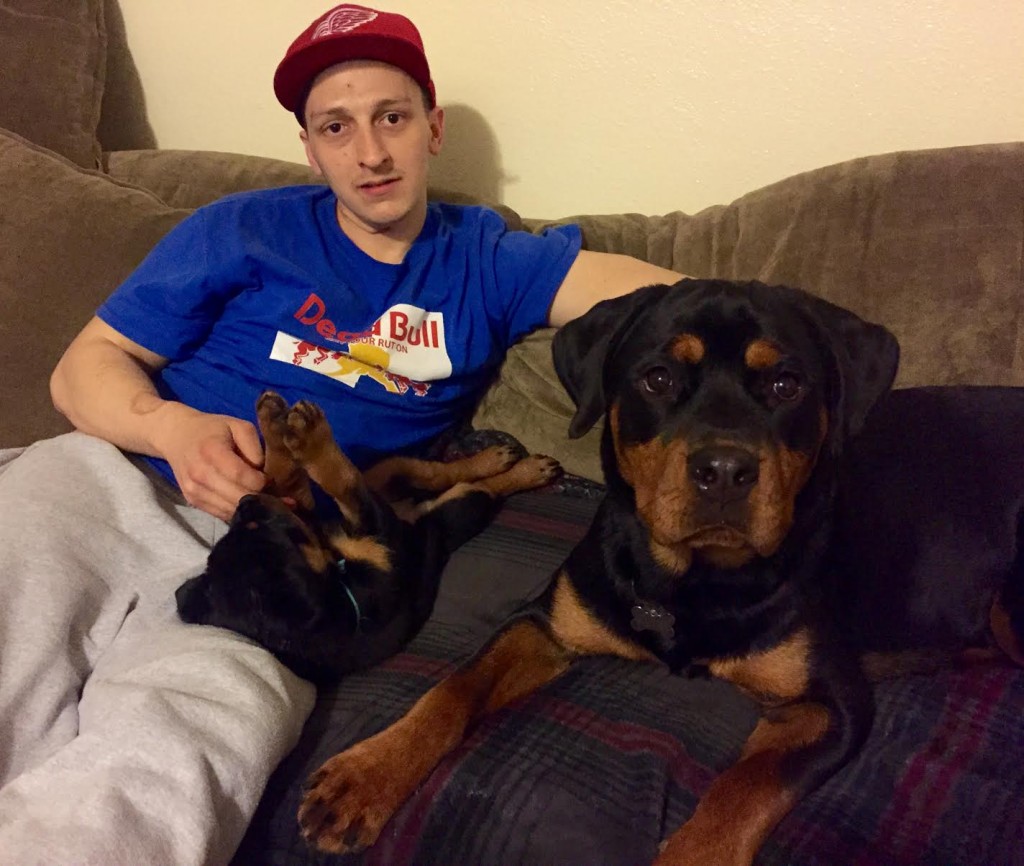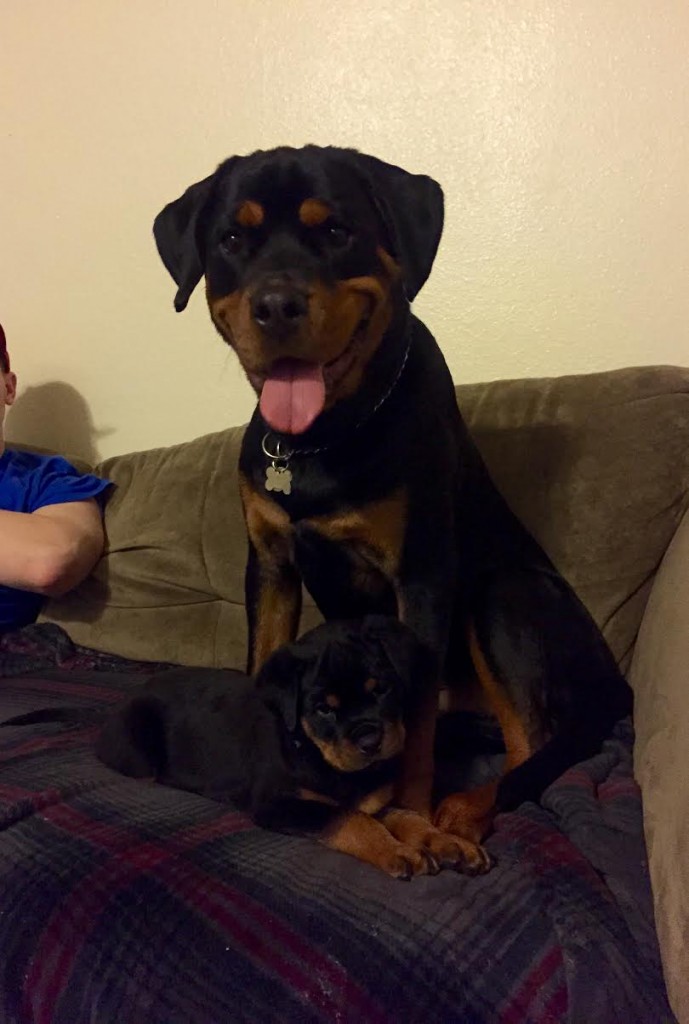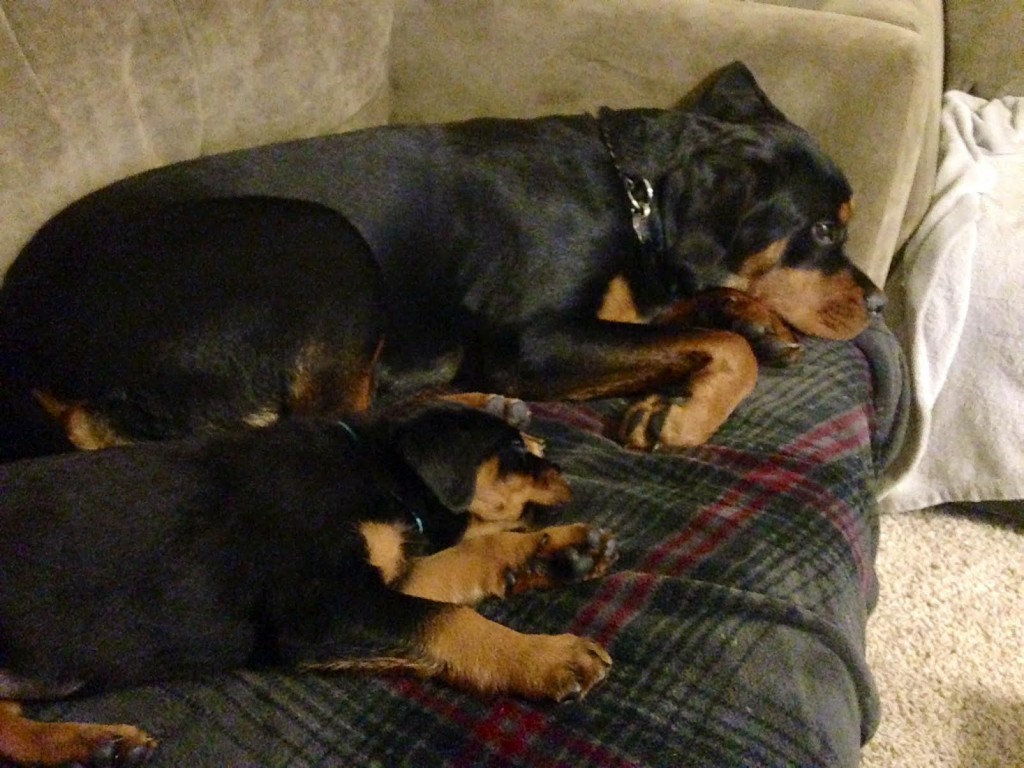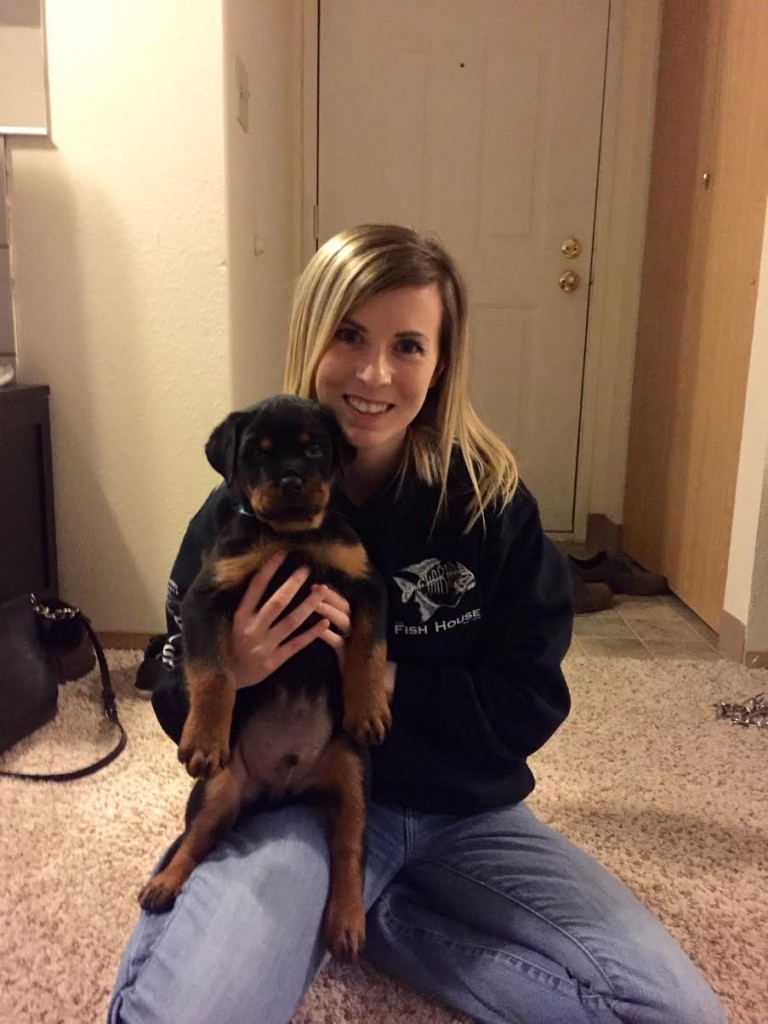 ---
"Diesel" Guardian Ironman Von Gottschalk
Thank you Alice for the holiday wishes and a very Merry Christmas and a blessed new year to you and your family.  Attached are pictures of Diesel at 10 months of age.  He is now 11 months and turns one on January 9th.  He has such a strong drive, always needing to be close to you and gets very bored easily.  We crate him at night and when we are at work.  When visitors come over we have to crate him as he gets very excited and can be uncontrollable as he wants to give the visitors puppy kisses and to SIT on them.  He has received advanced behavior lessons using the E Collar from K-9 Off Leash of Indianapolis.  We need to be more consistent with his training, but you know how that goes when both work.  He now weighs close to 95# and the Vet said he has another 20-25 to go.  He is still intact and I don't want to neuter him until puberty. We did have to have a tumor removed from the edge of his right ear which the Vet laser.  It was benign, thank God.  I got to watch the operation too.
Anyway, sorry for the rant.  Hope you enjoy the pictures.  Have a very Merry Christmas and a blessed and prosperous new year.
Michael, Terry and Diesel Kura
Thank you so much for the photos and updates <3  He is GORGEOUS!!  I can see so much of mom and dad in him, but that smile is definitely my Atlas <3  I have to keep this brief because I am leaving in a few hours for Europe, but I really wanted to address a few things in your email.  Yes, with the working lines he has on both sides of his pedigree, he will be a very intelligent, driven young man and will need to be sufficiently stimulated both mentally and physically.  If he is boring, then he needs more play, training and interaction.  Find some games and activities he loves- check with local clubs to see if you can get him started in some other activities- working, tracking, herding, etc.  Also, his right ear might need to be taped- in the photo of him smiling, it looks as though it is carried correctly, but in the other photo, the fold looks to be in the wrong position.  Please see this page for more information on taping.  https://guardianrottweilers.com/the-rottweiler/conformation/ear-taping/  It is not necessary and does not harm his function/health in any way, it is just aesthetics, so do not feel obligated to fix it if you do not want to.  HOWEVER, the most important thing that I wanted to address was you putting him up when guests arrive.  This is destructive to his training.  Not only does it teach him to be even MORE excited/out of control when people get here knowing he will only have a few moments to interact with them, but, more importantly, it DOES NOT ADDRESS THE POOR BEHAVIOR.  You need to work with him more extensively on his basics- sit, down, stay, leave it, etc. THEN you need to gradually start introducing distractions- treats, kids, toys, etc. while still asking him to remain in the down stay and leave it.  Once he has a good grasp on that, then you need to have friends who are willing to help out (even if it is just you 2 taking turning coming in and out the door).  But you need to have them come over, tell them to COMPLETELY IGNORE him, put him into a down stay, or create a barrier/bubble around the door or living room that he is not permitted to penetrate and make him stay outside that area and/or in a down stay.  IT WILL TAKE TIME- he has had nearly a year to practice INCORRECT behavior, but he is still very young and very correctable.  Please look at my page Q&A  https://guardianrottweilers.com/puppy-tips/q-a/  for some more tips, and please also consult with your trainer, but whatever you do, DO NOT EVER IGNORE BAD BEHAVIOR, you are teaching him it is ok.
Thank you again for the photos and updates.  He looks very healthy and happy <3  Please give everyone there my love <3
(Visited 30 times, 1 visits today)