Guardian Rottweilers Y LITTER
Sire: Baster of Silver Fild KG
Dam: Guardian Eva Von Gottschalk
Candidate for INTERNATIONAL CHAMPION
Baster of Silver Fild


SISCIA YOUGEND SIEGER 2011




MACEDONIAN YOUGEND SIEGER 2011




VOJVODINA YOUGEND SIEGER 2011




PARACIN JUGENDSIEGER 2012




BALKANSIEGER 2012.




SEMBERIA SIEGER 2012




TURKISH SIEGER 2012




SIRMIUM SIEGER 2012




HD + / – ; ED + / –




IPO – I




YOUNG CHAMPION OF SERBIA




YOUNG CHAMPION OF MACEDONIA




ADULT CHAMPION OF SERBIA




ADULT CHAMPION OF MONTENEGRO




ADULT CHAMPION OF BULGARIA




ADULT CHAMPION OF MACEDONIA




6 x YOUNG WINNER




5 x YOUNG B.O.B.




20 x C.A.C.




6 x C.A.C.I.B.




17 x B.O.B.

Grand Champion
Guardian Eva Von Gottschalk
Born: 15 April 2010


AKC# WS35194405




CHIP # 956000002422402




Heart Cert- clear




HD-  /ED-




BALKAN WINNER 2012




CHAMPION of BULGARIA




CHAMPION of MOLDAVA




CHAMPION of GEORGIA




BALKAN CHAMPION




GRAND CHAMPION BULGARIA




GRAND CHAMPION MOLDAVA


4 x C.A.C.
2 x R.C.A.C.

For the cutest puppy video EVER click here! http://www.youtube.com/watch?v=GVfNoNVb9ww

What an EXCEPTIONAL litter!!  Grand Champion EVA is such a strong, powerfully built female and Vice IFR World Champ BASTER is such an incredible male!!  Baster's sire, ASTOR v. JUNIPERA, IFR WORLD CHAMPION has been extremely popular world wide as a breeding stud not just because of his own build, conformation and character, but because he consistently produces dogs like Baster!!  This litter will be the TOTAL PACKAGE!  BUILD + STRENGTH + BONE + SUBSTANCE + EXTREME HEAD TYPE + DRIVE + CHARACTER = GUARDIAN ROTTWEILERS' Y LITTER!!!!
            


Puppies at 3 days old!
---
Guardian Yuk0 Von Gottschalk
We are the same person who got Yuko, which until this moment we haven't taken our eyes off and our jaws are already tired smiling with happiness. We wanted to thank you and your husband miguel for bringing Yuko to DC. Yuko was shy at first and was just quiet and observing. But after a few minutes, he started to walk around, smell the whole house and came back to us and sat with us. We fed him already and boy he loves to drink water. but can you believe it? this puppy is so smart. He learned how to sit after ten times we showed him. We thought it was just a coincident But then he started to do it again and again. He is so smart. We are so happy. My son couldn't be happier. He keep saying that today is his happiest day. Thanks for the opportunity of having such a great pedigree dog. 
Gilanie and Jhay
---
Guardian Yamila Von Gottschalk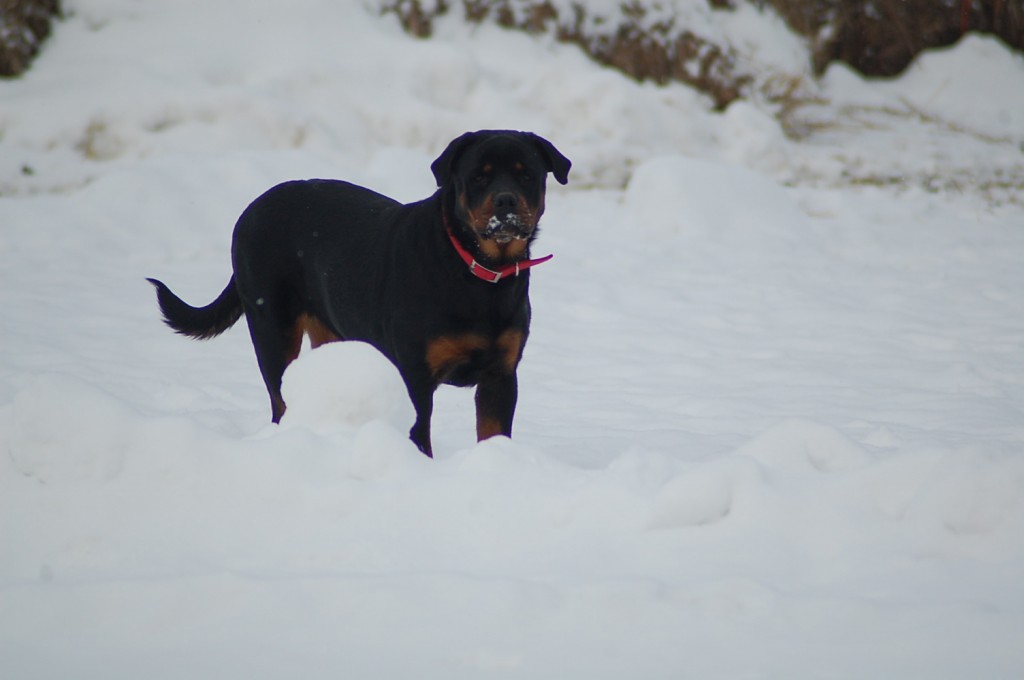 Hi Alice,
Just wanted to give you an update on Yamila aka "Mia".  She is absolutely amazing!!  Spoiled already and knows it lol.  She went to her well puppy check today and passed with flying colors.  The vet fell in love with her.  She also made a special visit to my work and started her first day as a therapy dog.  As I told you I work in two nursing homes – one for the elderly and the other with disabilities.   We went to the later and you should have seen their faces – smiling from ear to ear.  She was wonderful – cuddly and gently.  Her feet never hit the ground lol as I carried her in and you can only guess where it went from there.  Alice, I have to tell you that she's everything I ever dreamed of.  Her personality is amazing and she isn't afraid of anything.  She has really taken to the farm here and is doing great on the potty training.  Thanks again for everything.  Hope all went well with the Dr appt and please tell Miguel thank you for the personal delivery! 
Gina
---
"Ruby" Guardian Yafira Von Gottschalk
Just thought I would let you know how things were going.  Mo is an absolute joy!  Sharp, loving, quick learner!  I've even thought of changing her name to Angel, but Mo it is.  Adapting to crate beautifully, gets up once during night, and we go to bed early.  Dry crate so far each night or when we have had her in it for shorter periods.  She loves to go outside and run and explore, very fun she is.  She is good with Bryan too.  She may make a good therapy dog for him.  Not sure what training therapy dogs get.  One question, she has growled at me over chew toys, I take them away and let her know it is not ok.  She also growled at a dog in the Pet Supply Store.  No real socialization going on yet but will work on this right as soon as possible.  Any recommendations on this growling?
(SEE Q&A PAGE FOR TIPS ON NIPPING THAT IMMEDIATELY! 
Although it is completely normal for a puppy learning his/her place in a pack to test the waters, it cannot be tolerated.  The other adult dogs in his/her pack would also correct any unwanted behavior and remind him/her to be respectful, and his human pack must also so that he/she can grow up with good social skills)
Loving her!

Ruby loves going to farmers market!  She's an angel!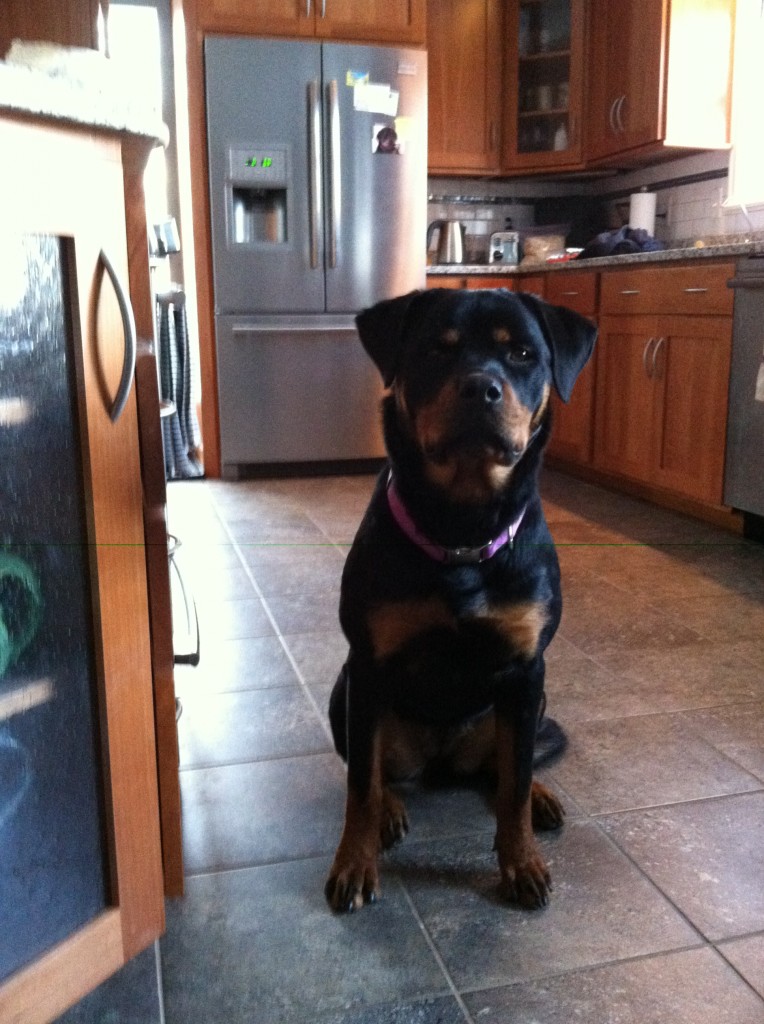 Ruby has got to be one of the most beautiful Rottweiler's. I have been taking her to a trainer he is so impressed with her.  We have not yet spayed her due to the uti problem but she is doing great.  After a heat cycle we will spay her.  I just couldn't ask for a better dog!  This exceptional picture of Ruby was hand painted by her owner!!  SO MUCH TALENT!!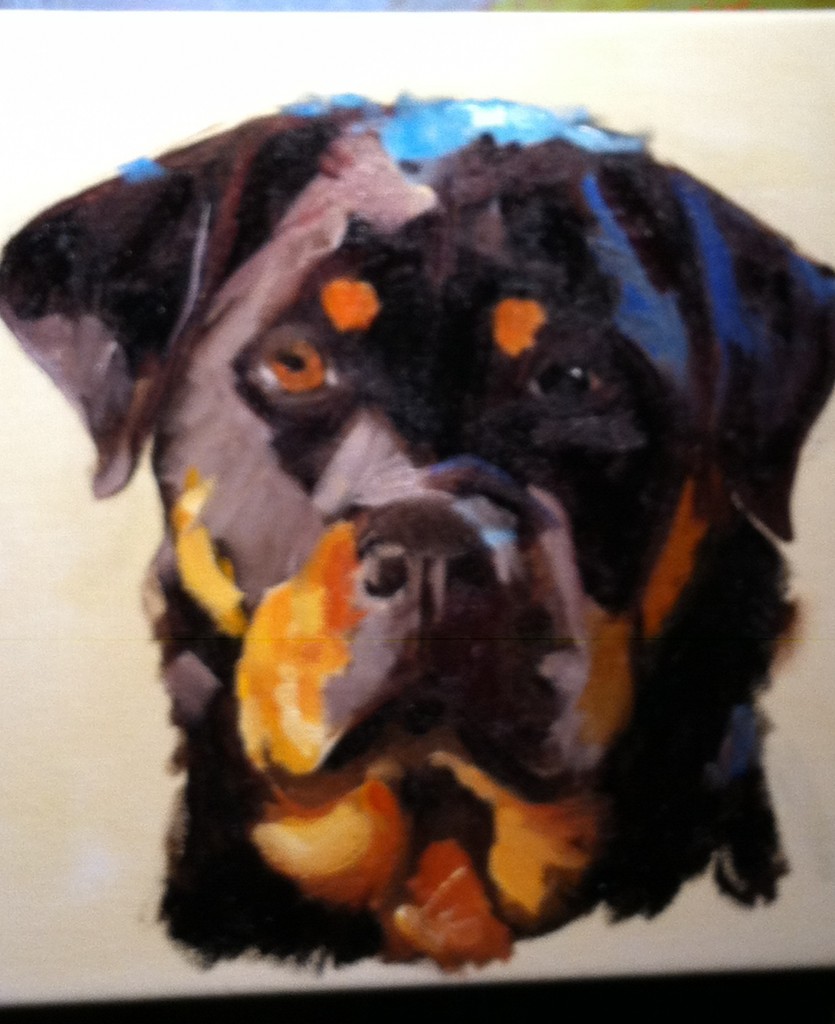 ---
"Roxy" Guardian Yasmina Von Gottschalk
We LOVE HER!! We have renamed her Zoe. She does GREAT on leash!  She is getting to know all her new housemates and is getting along fine! She did pee in
the car.
How much do you feed her and how often? How often is she used to going outside to pee?
Here are some pics! 

Hi Alice! First I wanted to update you on Roxy (aka Yasmina). She is doing awesome! I took her to the vet on Friday and she is 82 LBS!!! She isn't even 9 mos old!! She is a BEAST! She is also so well mannered and calm! She hasn't been to obedience school and already knows MOST commands. SHe listens MOST of the time but not all. She is a puppy tho! She is really so laid back! She will be going to obedience school before summer to fine tune what I have taught her. Anyway, she will be a year soon and I really want to start looking for a male for mating. I don't want to even consider mating Roxy until she is at least 2 yrs old so I have time to carefully choose a male. I really would like one sometime during the summer so that by the time Roxy is 2, the male will be at mating age. I really like Maxximum se Ungo Rot but any male that is build like a BEAR would be awesome! Roxy is a beast by HERSELF so a large male would be AWESOME! Not just for puppies but for intimidation factor being that it is just me and my 17 yr old daughter. NO ONE will even THINK of coming into MY home invited or not with these BEASTS! LOL! Anyway, I just wanted to let you know that I am interested in a male in the next 6-12 mos. So put me on the waiting list! Thanks Alice!
(Visited 15 times, 1 visits today)