Guardian Rottweilers I Litter
Sire: Edison of Nicola's Lion
Dam: Gita From Salt City
Pups born September 6th!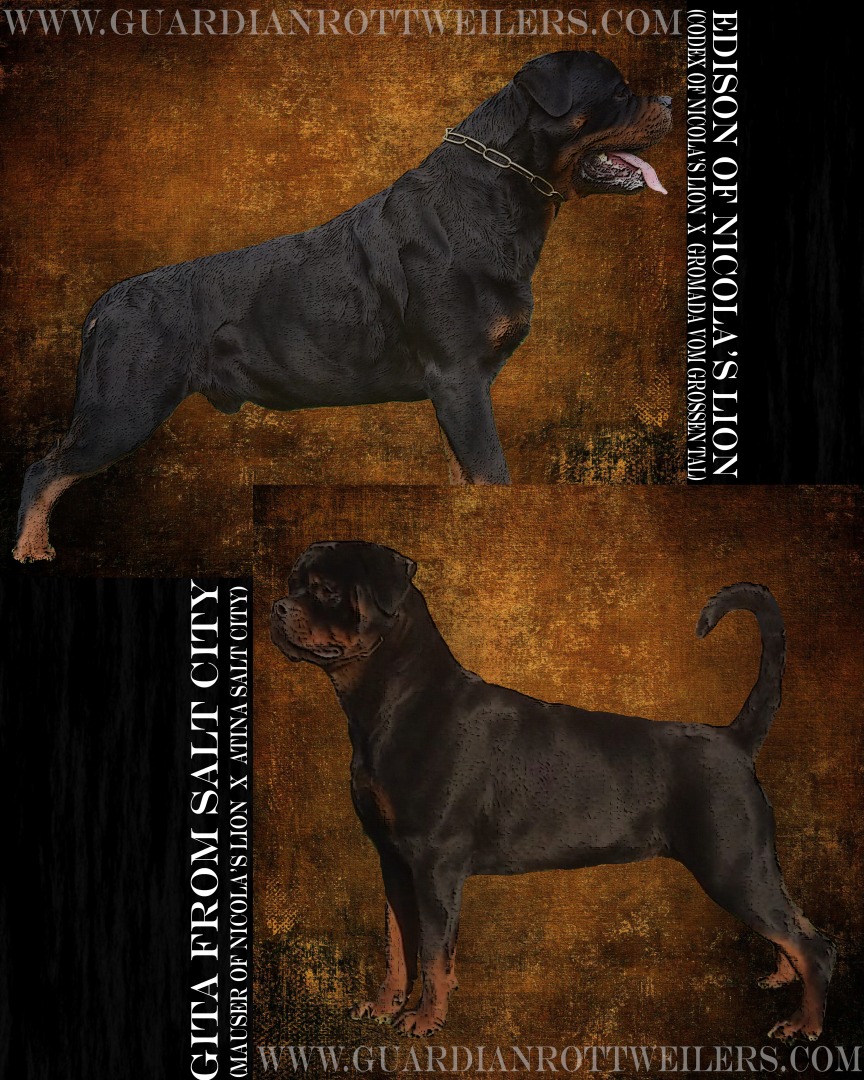 Gita's Giant Gent:
Inferno
RESERVED!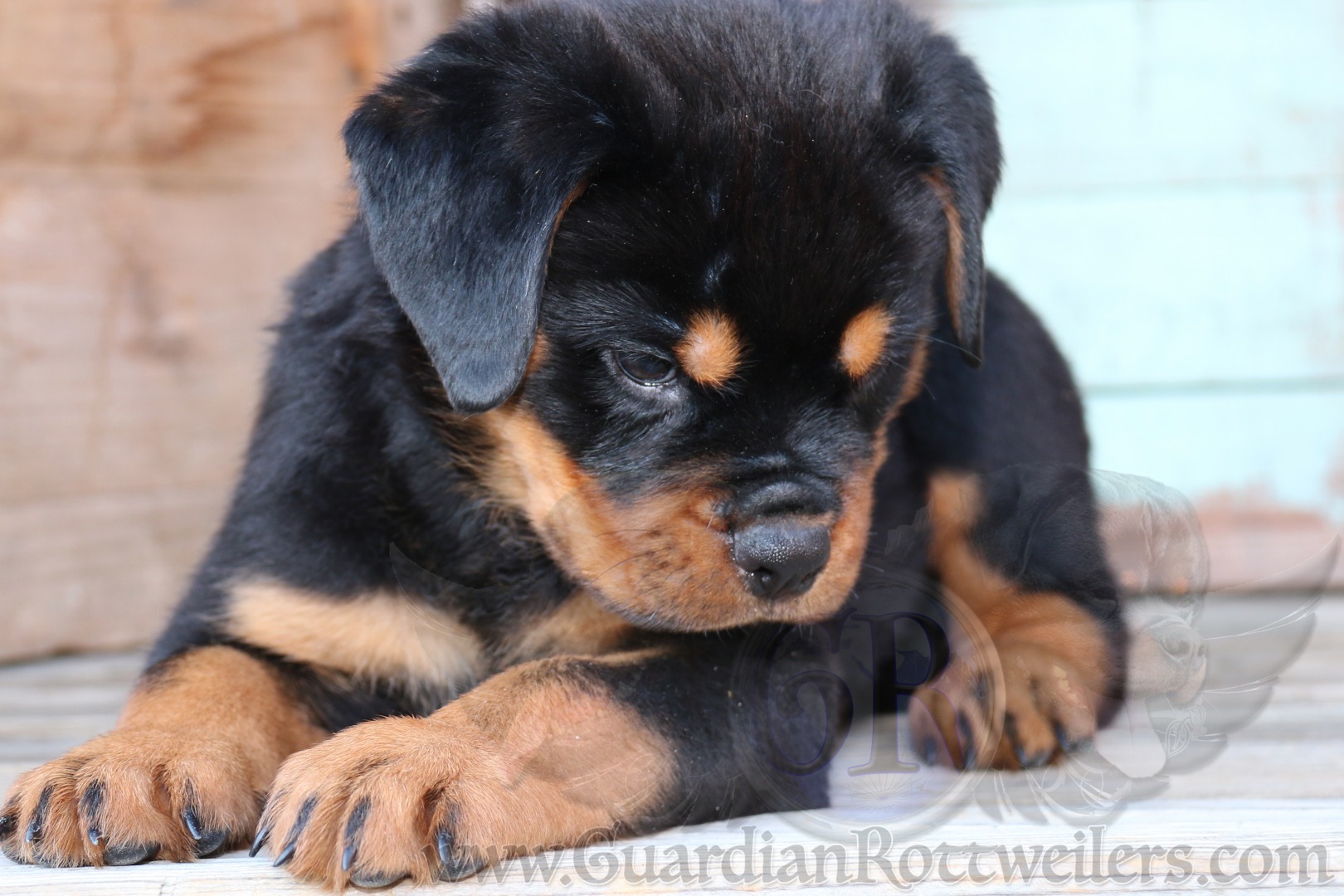 Gita's Gorgeous Girls:
Izel
RESERVED!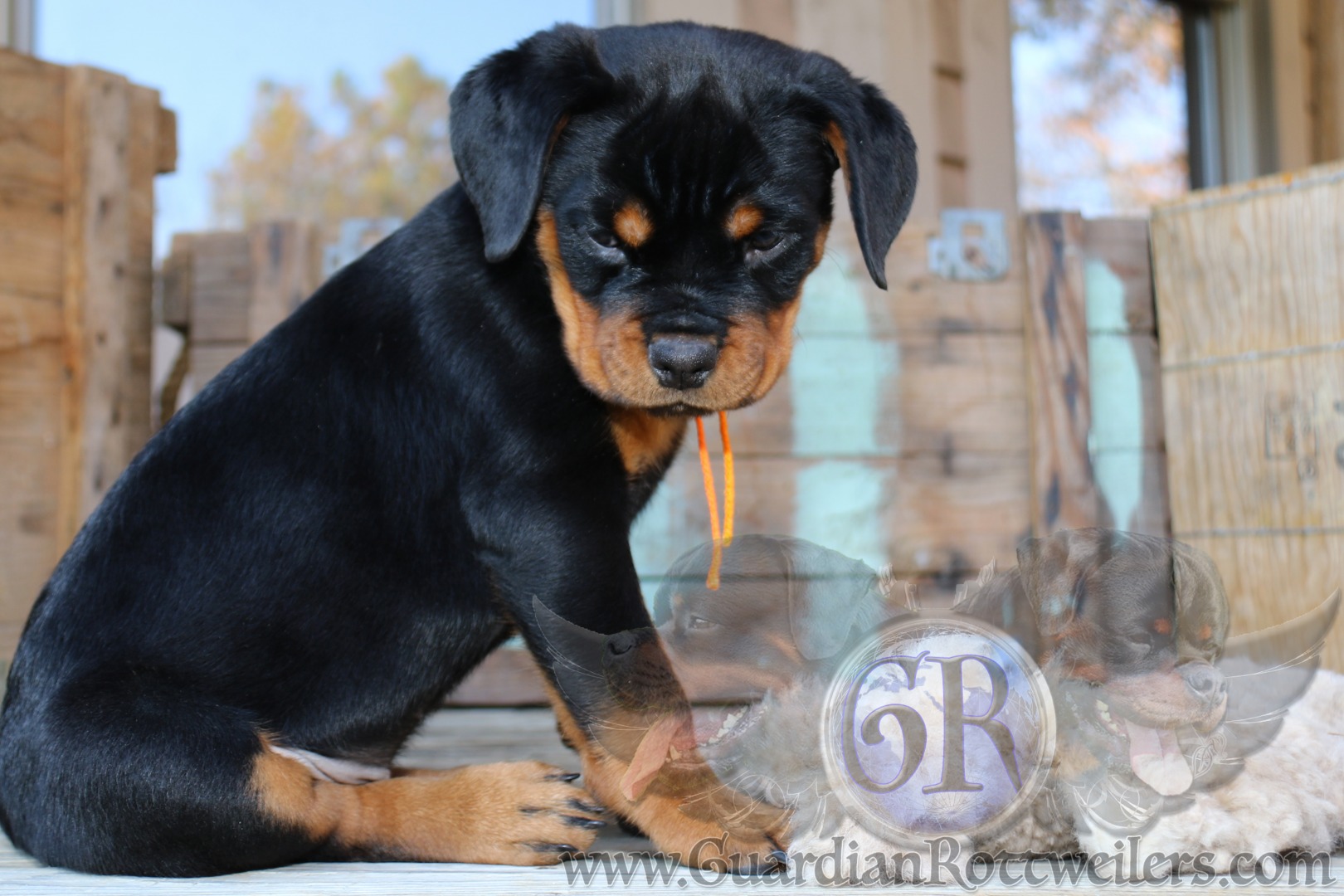 Infinity
RESERVED!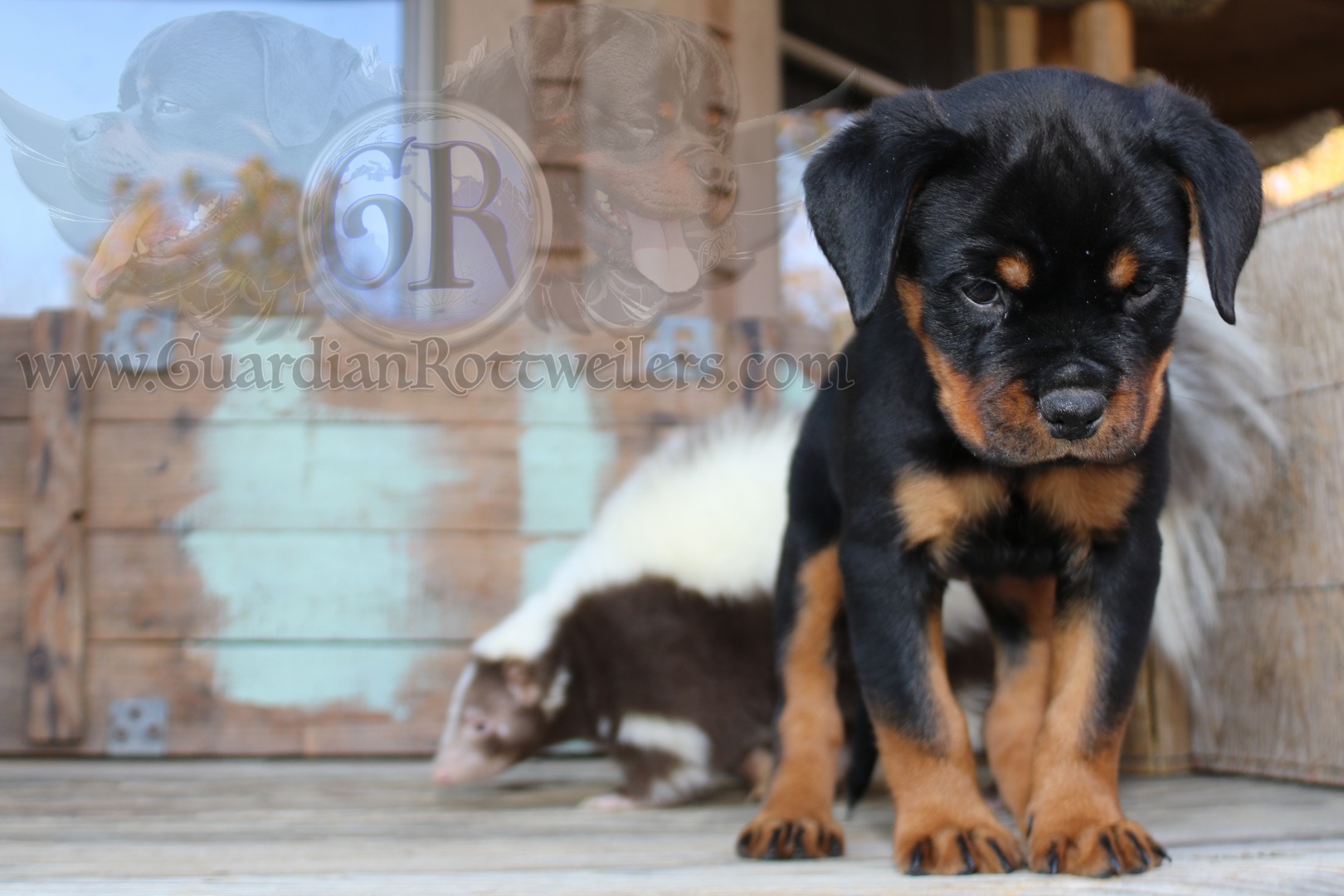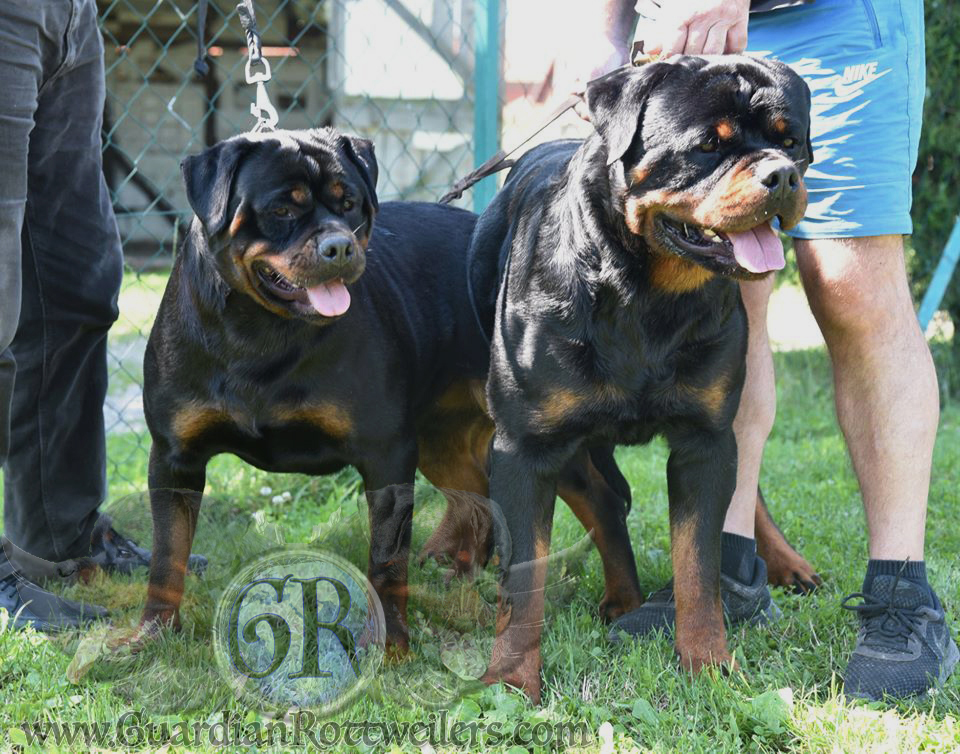 Gita's gorgeous trio was born on September 6!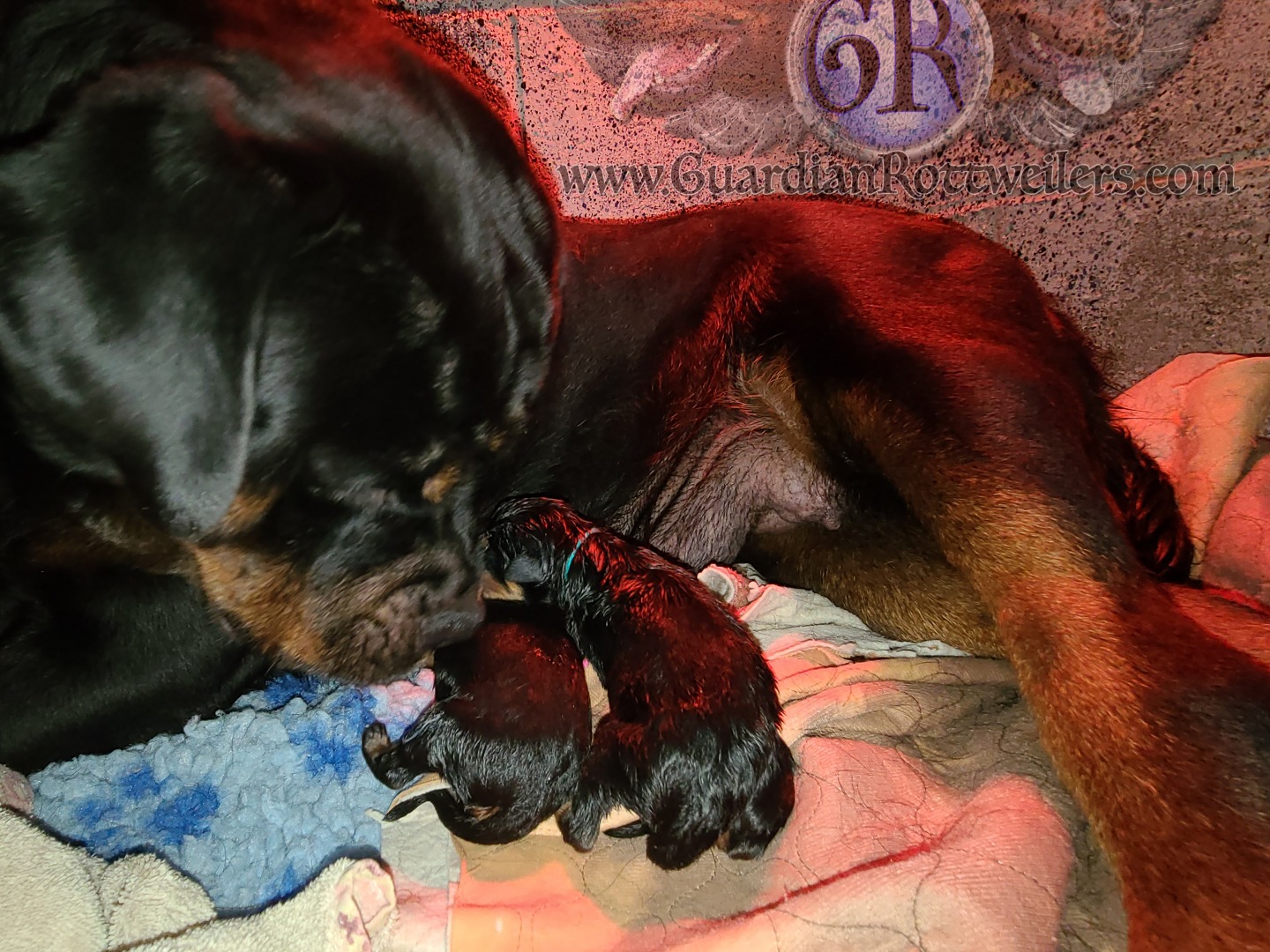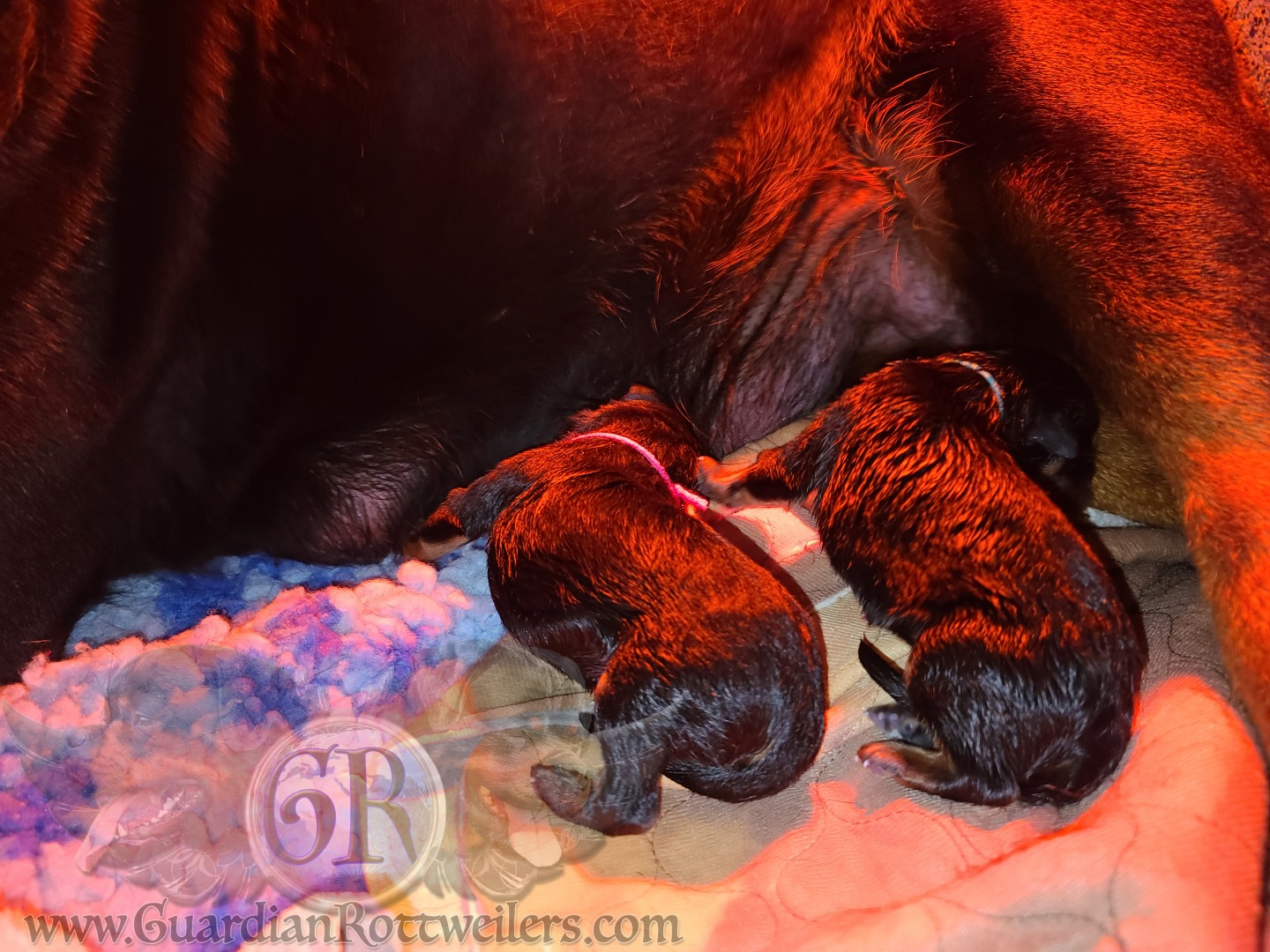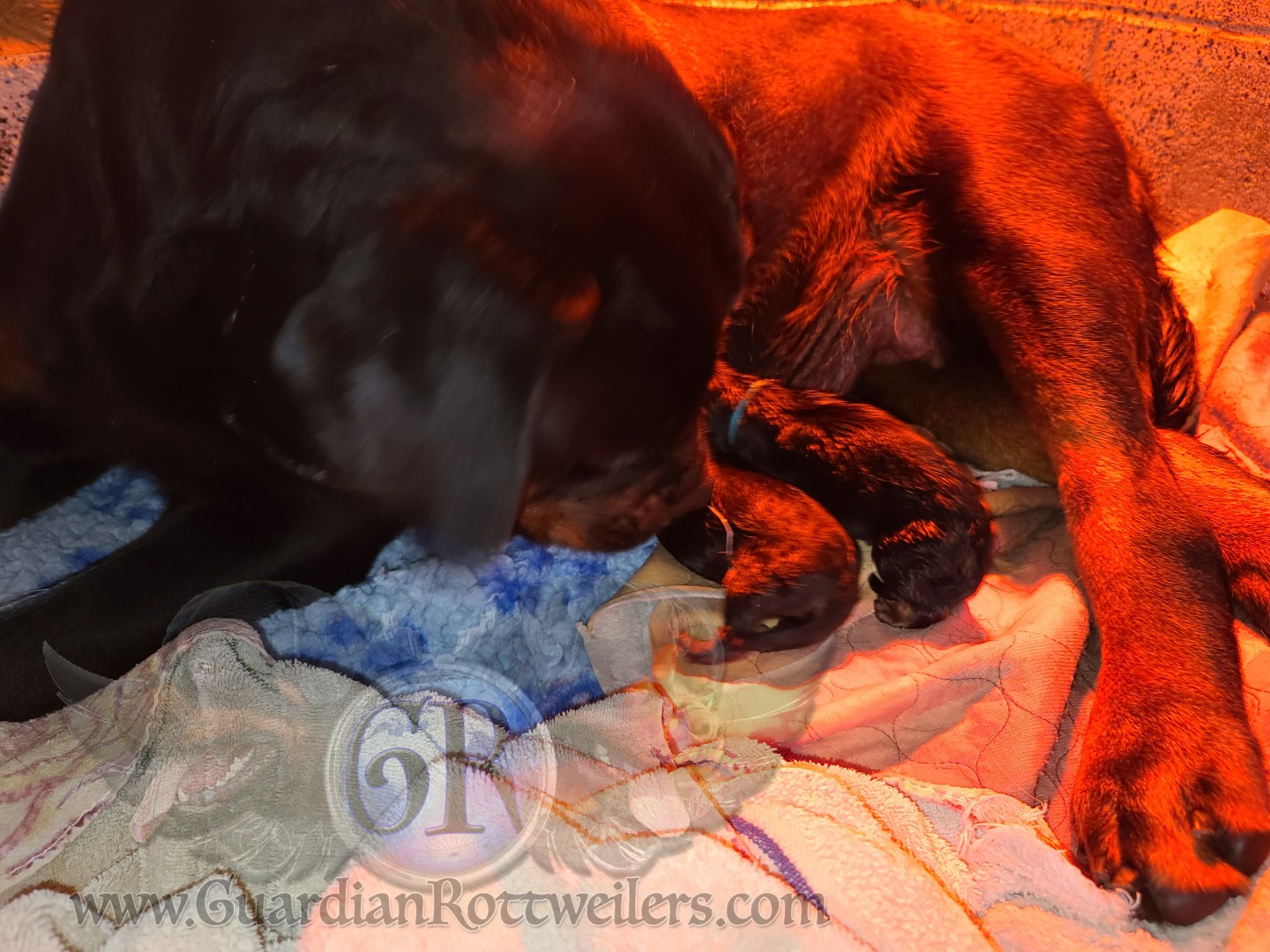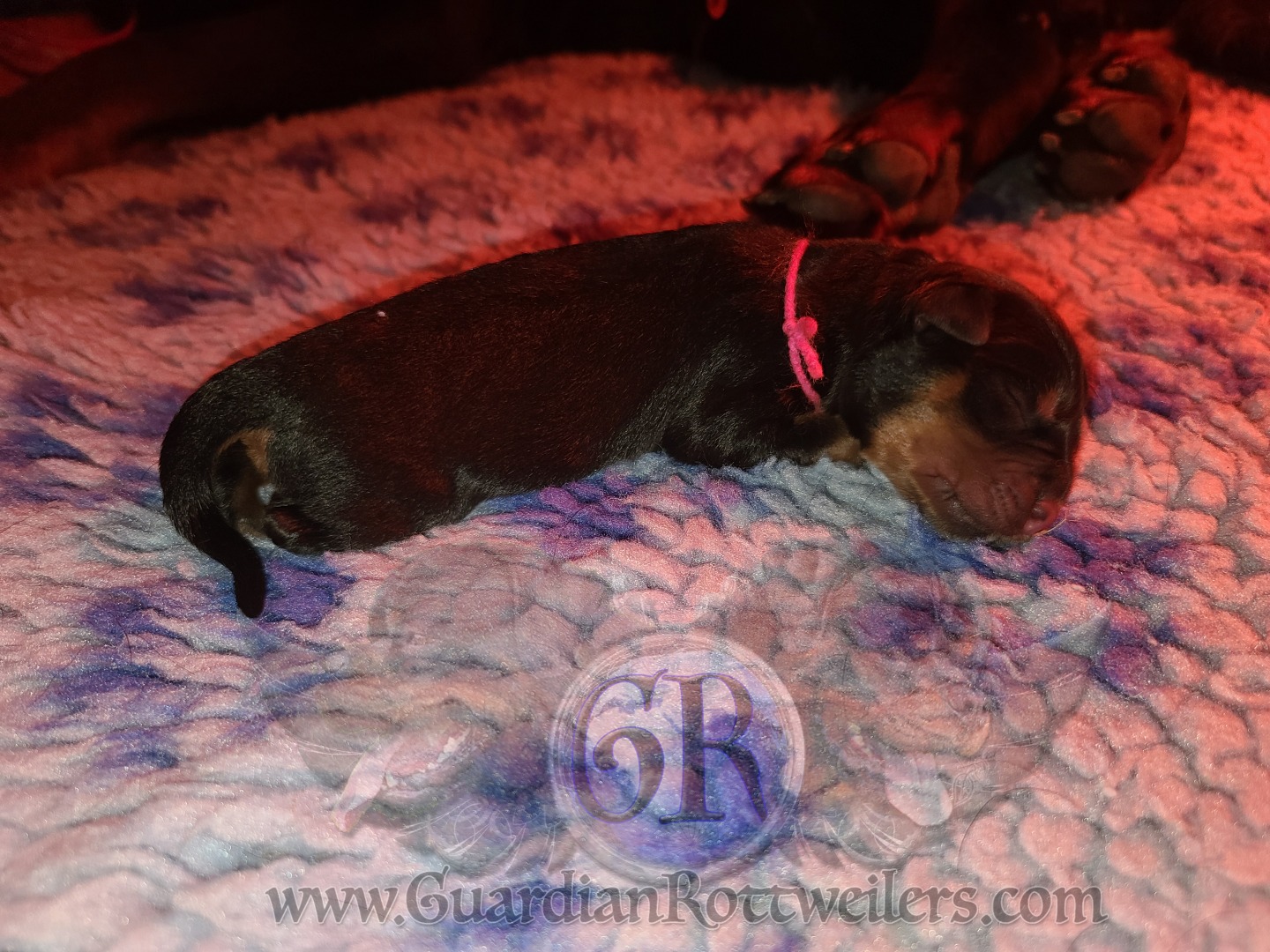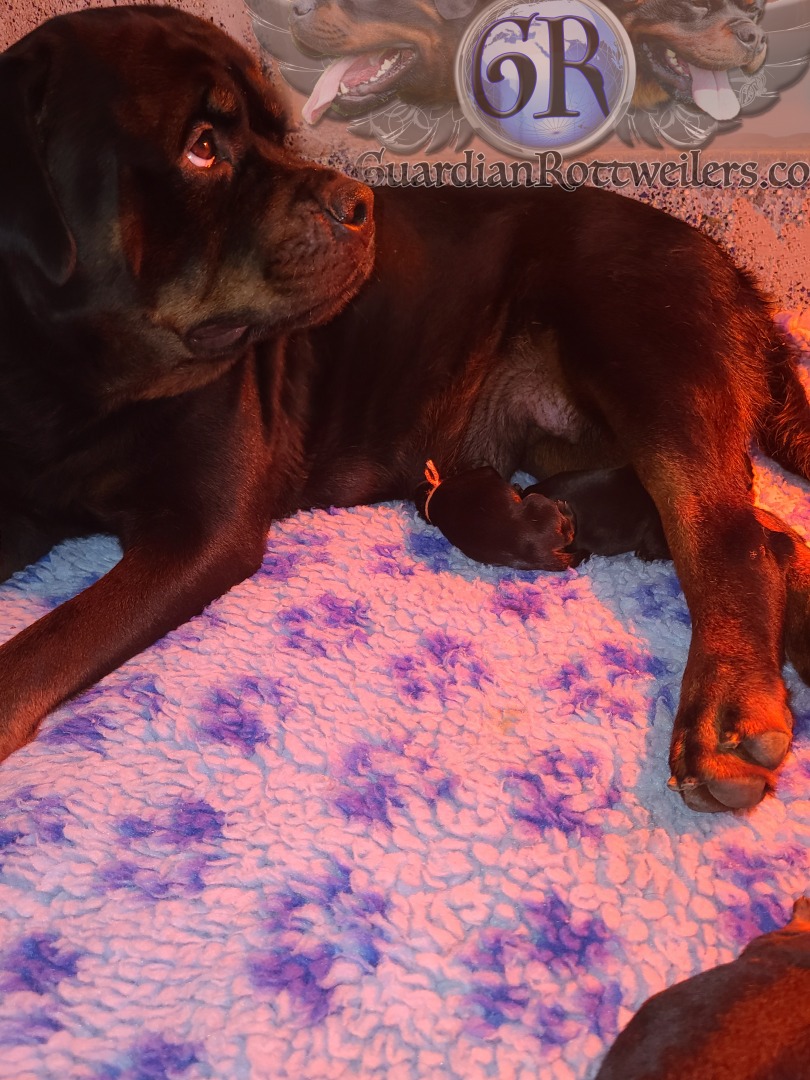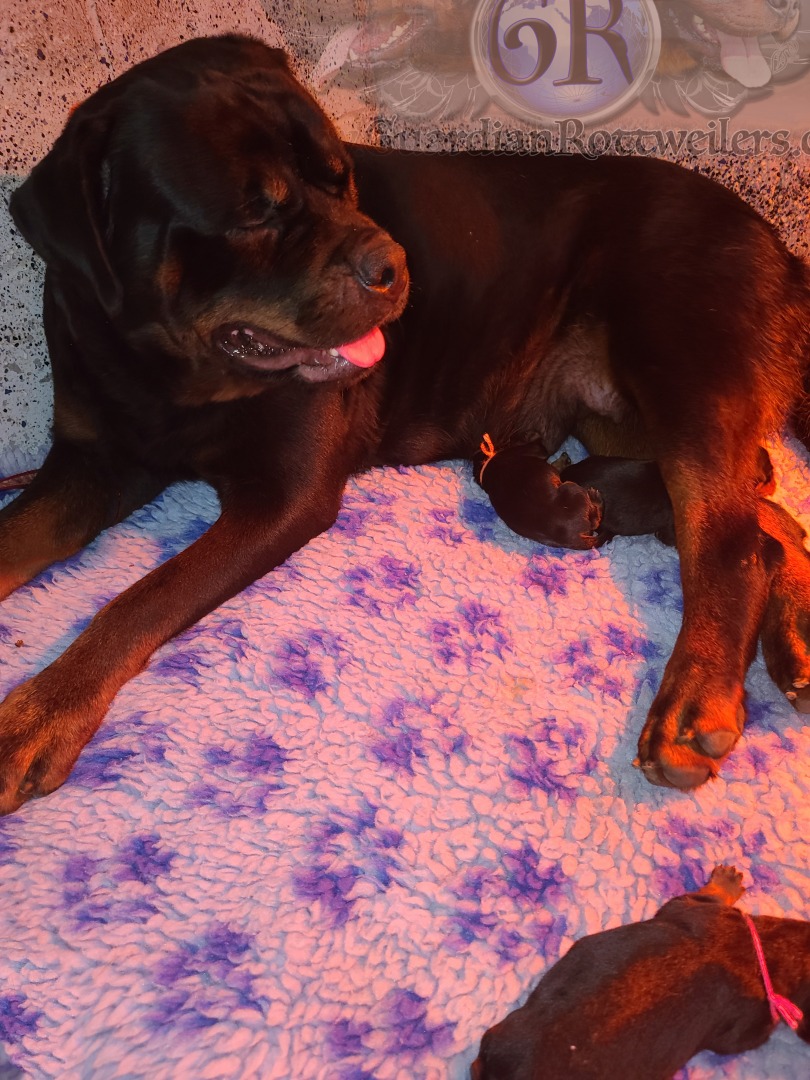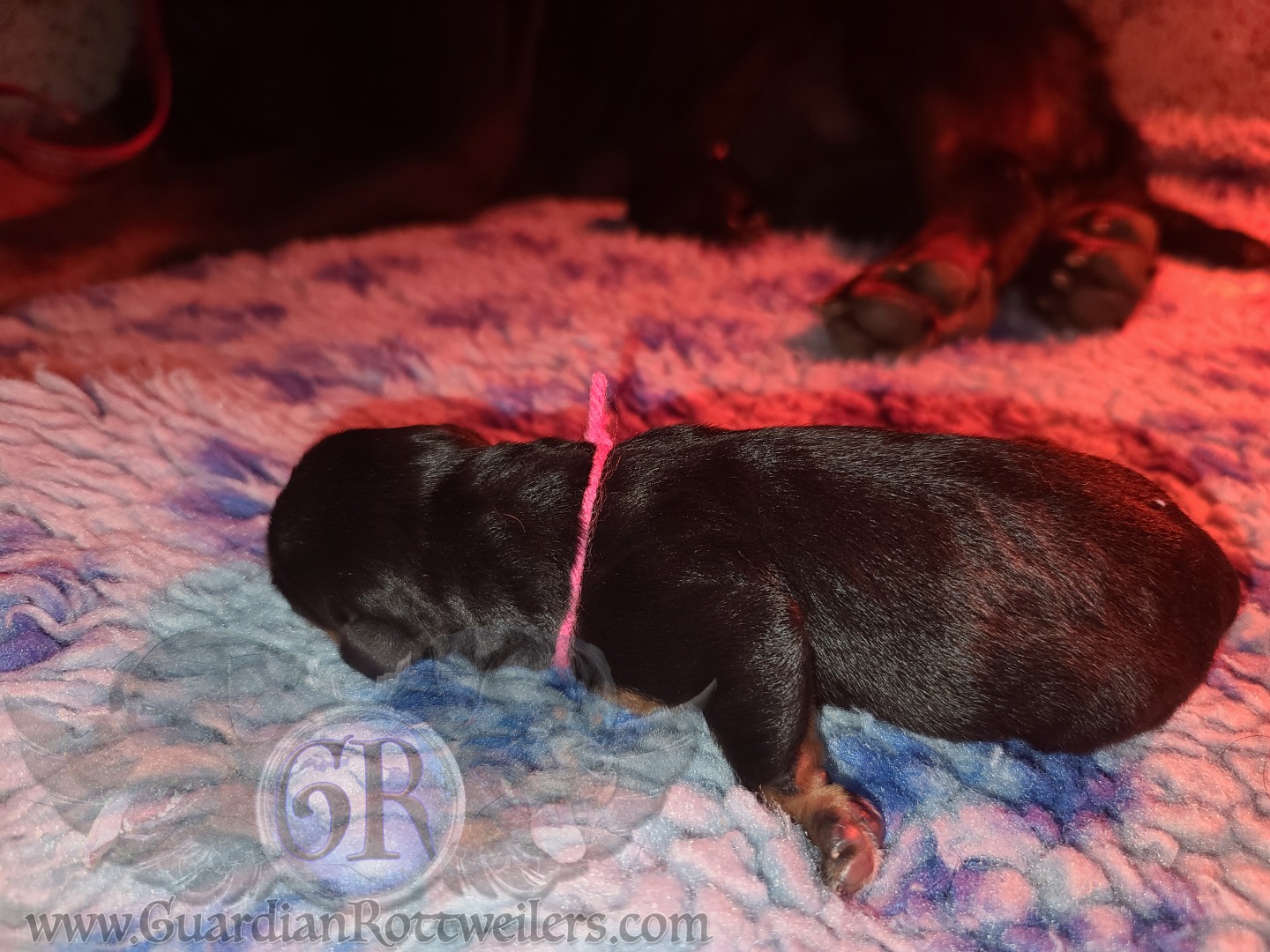 ---
Guardian Inferno Von Gottschalk
Hi Alice,
I just want to first thank you for blessing my family with a beautiful Pup!  My daughter has just been thrilled out of this world, I don't even think I need  to buy Christmas gifts this year lol.  Ok I might be going a little far but you get the point!  I have a Vet appointment later in the evening today so will let you know how it goes.  In regards to the Heartworm Med, I couldn't remember if I was supposed to give this to him now or wait? He is such a greedy little guy, I mean he totally destroys his food! Well Once again, thank you very much for your time this weekend!
Brian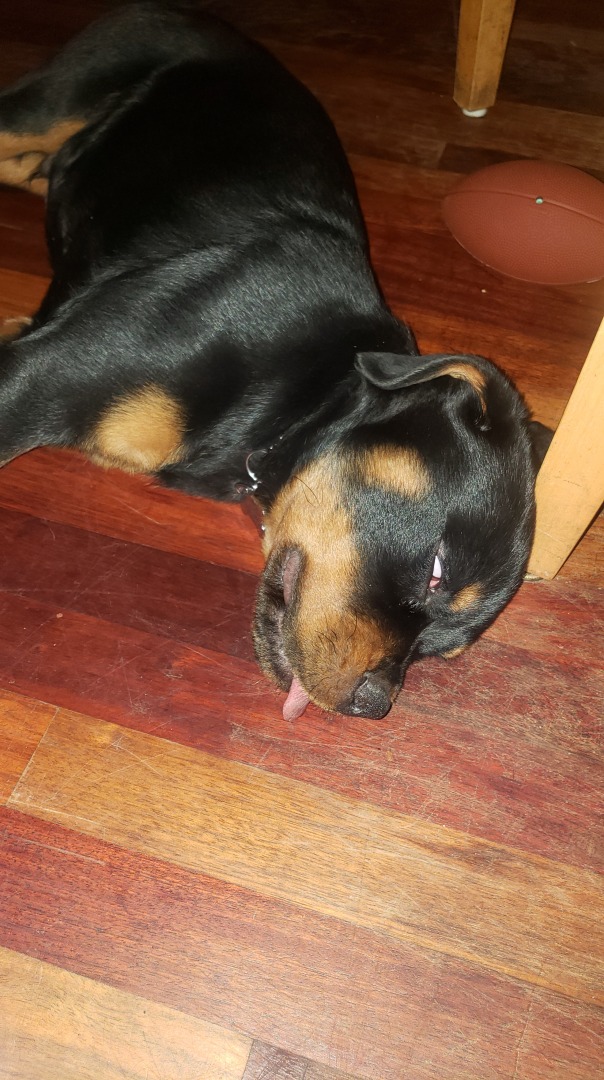 Hi Alice,
Sorry, I missed this email, I was in process of sending you an email to let you know I sent 400.00 via zelle yesterday  when I realized I had an unread msg.  Yes, I have either been putting the veggies in the Vitamix or boiling them prior to giving to Inferno.  He is right at 33 lbs now, is this pretty good weight for 3 months in your opinion?  I was attaching a couple shots of him having fun, but looks like only one video will attach. He has play dates with my moms 3 year old Husky, and my dads two year old boxer. He has figured out that if he goes for my moms husky tail, he can take her down lol. The pic attached is how he usually is after a play date, tongue out, eyes half open, and sounding like and over weight man snoring lmbo. So priceless  He also has dates at my sisters house with there 7 month old cat.  Inferno is so calm and collective, and the cat is like what the heck is a dog doing here.  So the cat follows at a distance and post up in doorways, Every time inferno walks pass a door way the cat gives him a combination of paws to the face.  Inferno just looks at him and in my opinion laughs lol.  !!!!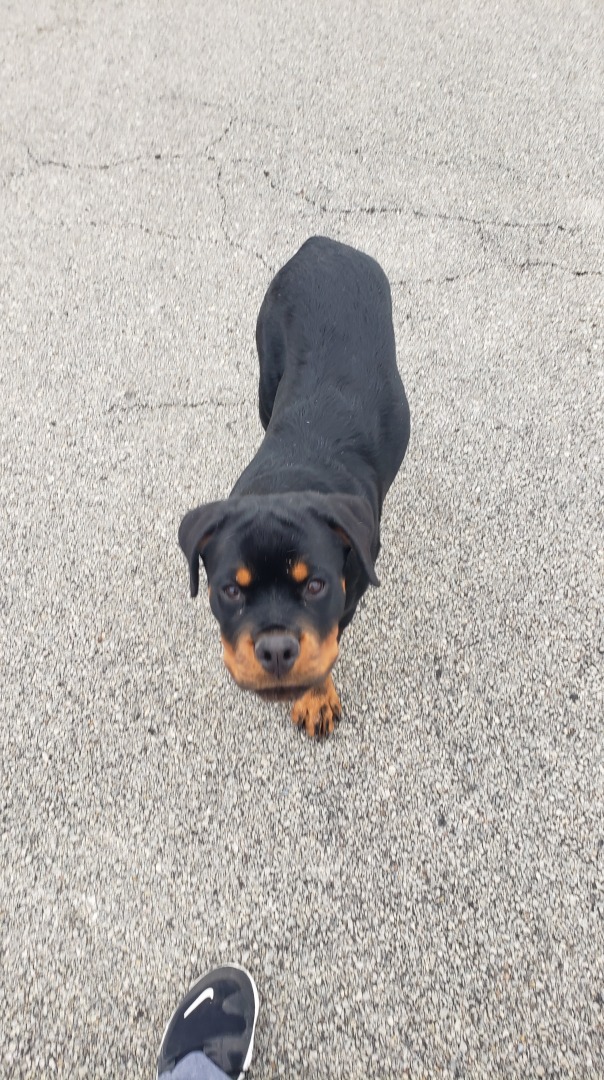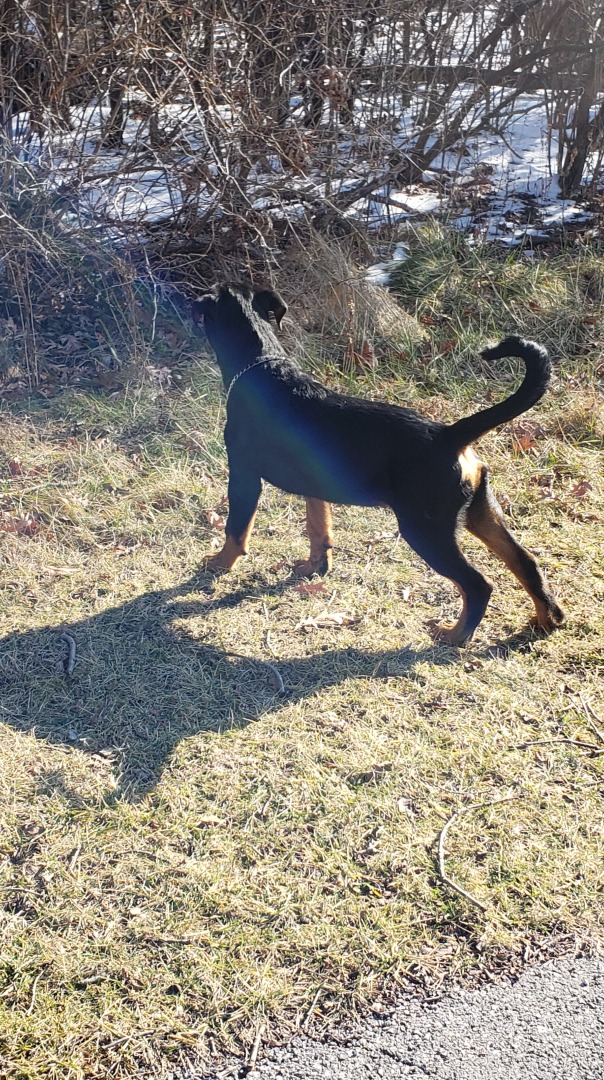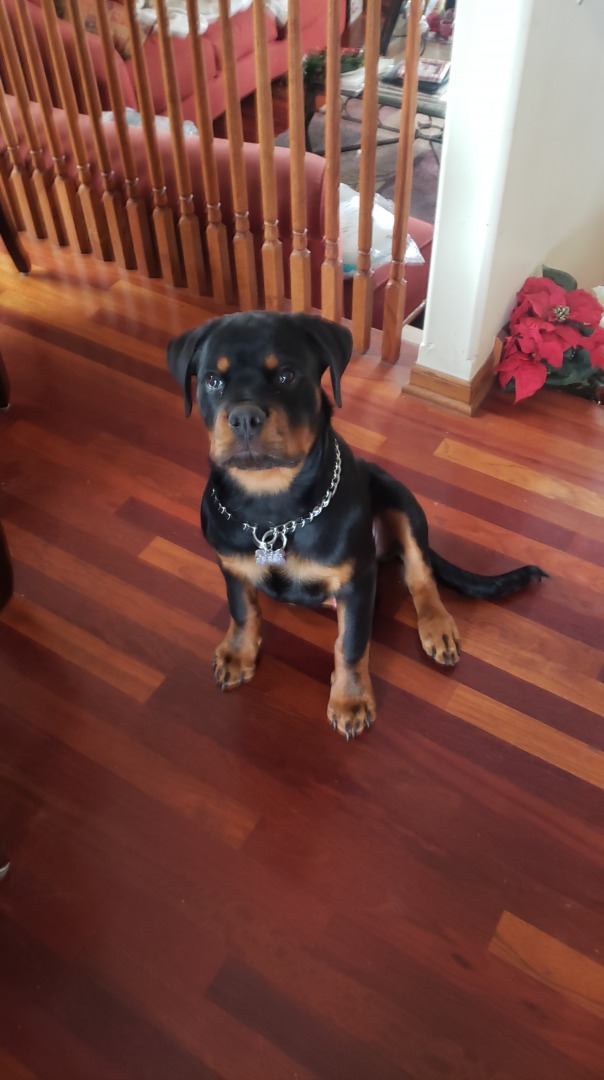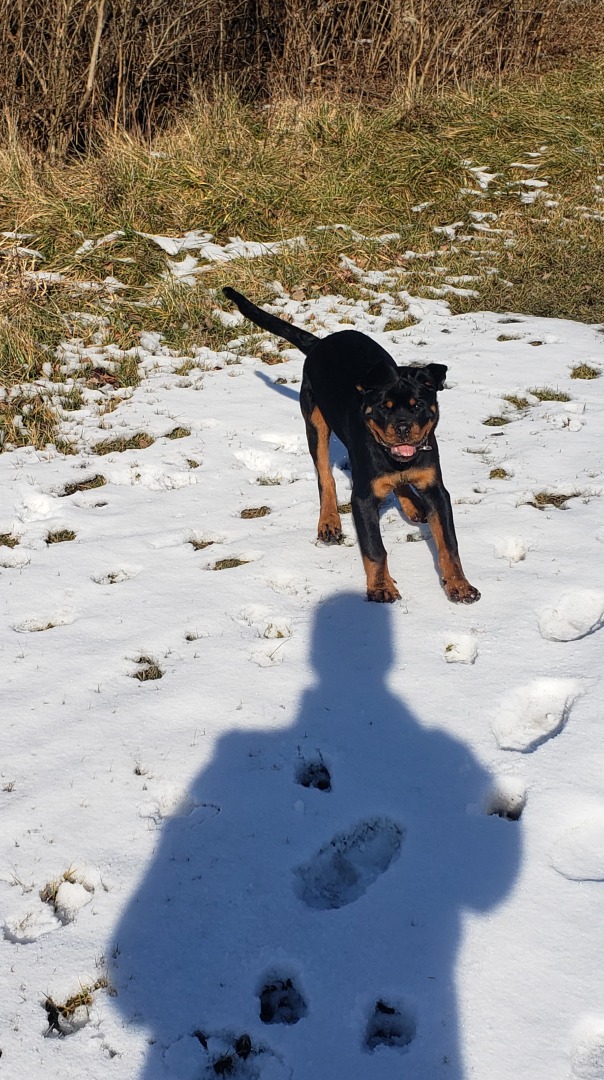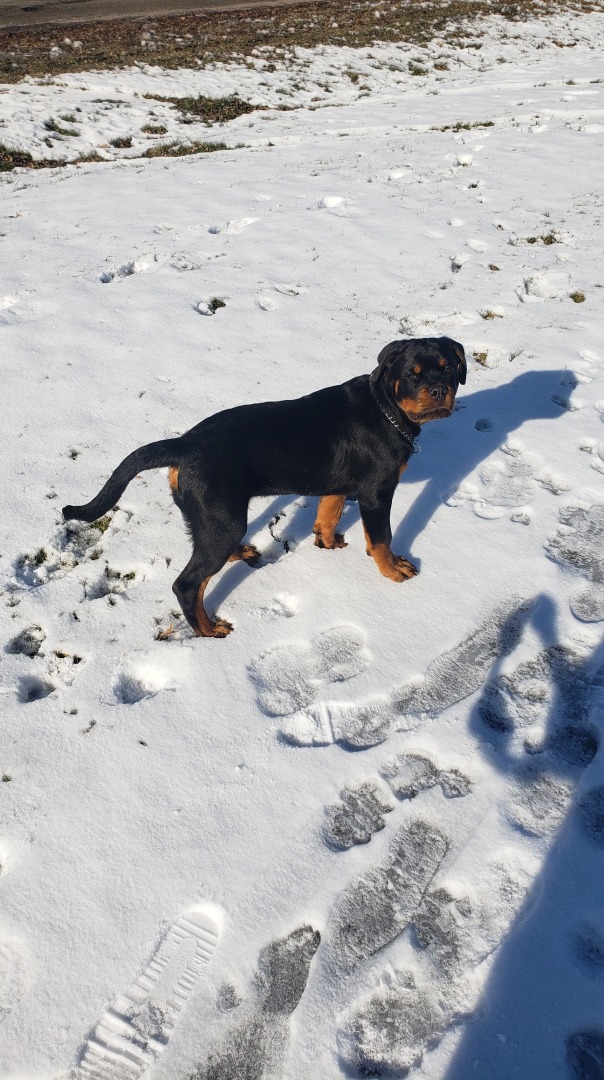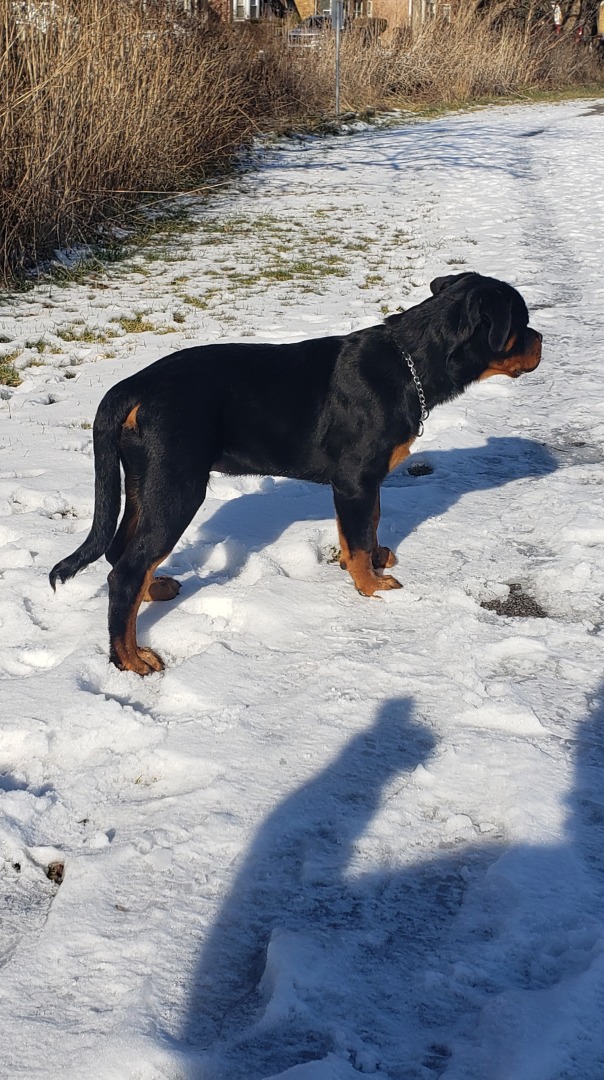 Hi Alice, How are you?  Hope all is well with you and the family!  All is well here, I just wanted to send you a few shots of inferno, He is getting big!!!  He is doing great, a really smart boy and just full of energy!  I have been wanting to link up with the club to get involved with some activities but the Job and visiting schools for my daughter has really consumed my life lol. I'm hoping to be able to link up with a local club in the next month though. We have been through basic obedience training and tested out of it and now we are in advanced training.  He picks up really well and very correctable.  He pretty much goes where ever I go that is pet friendly.  When we go to my daughters track meets, I always take him and without fail, someone is always coming over like I been watching you all and I just can believe how laid back your dog is, he is just laying their without any problems lol. I say yes, but he's a killer to the blowing leaf, bag, box, wheel, shovel, and random stick lol. Here's a few shots I recently took, oh and a video of our daily trail walk where he just has to have something in his mouth to walk with lol.
Hi Alice,
How are you, hope all is well with you and the Family!! We are all well this way.  Every now and then I just get in a mood to send you pictures of the magnificent job you did with the pairing to create such a cool pup!! Well I think I better stop saying pup now at 100lbs huh lol.  Seriously I must have the coolest buddy in the south suburbs of Chicago lol.  Inferno really thinks he is Human, just look at him sitting on the stairs with my son!  I know your busy with all those Rotties, just wanted to send you a couple recent pics.  Also, when would be a good time to move him from three meals a day to two, should I wait until he Is one years old?
---
Guardian Izel Von Gottschalk
This dog is the best!!!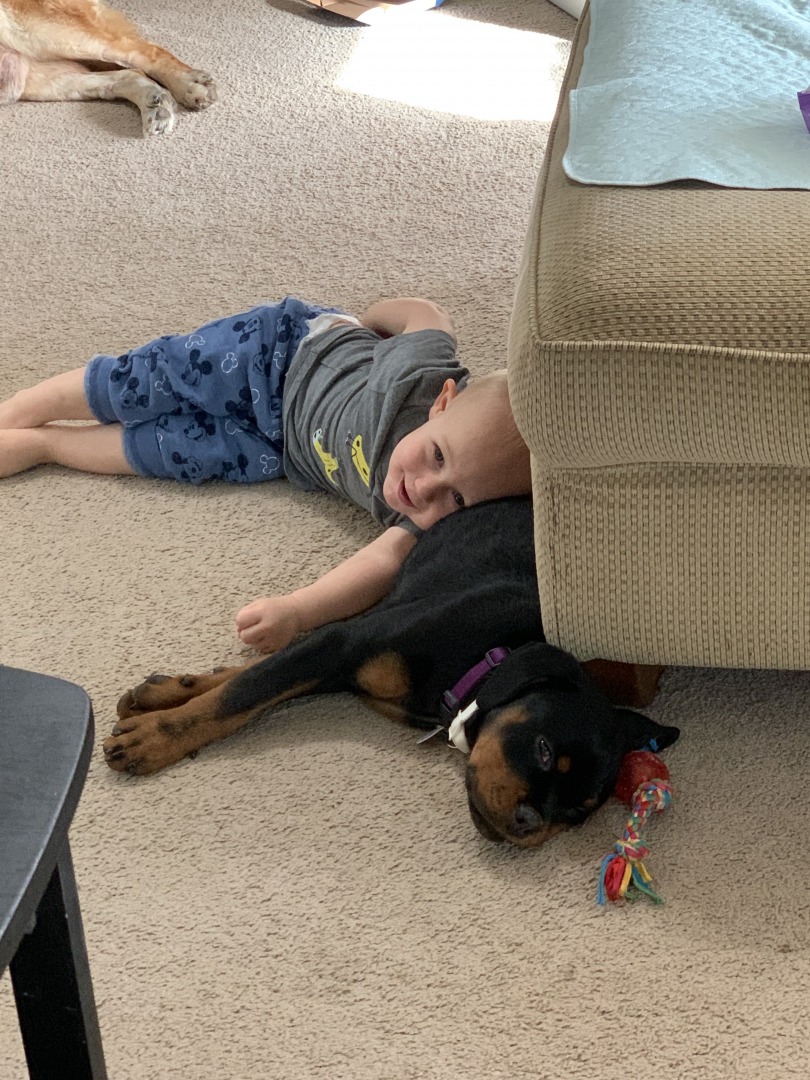 Hi Alice!
I hope all is well! We are living a blessed life with our family's new edition, but unfortunately our 14.5 year old shepherd has now gained his wings :((  We are devastated, but just as upset as us is our Rottweiler.  She clearly misses her friend. We are interested in another Rottweiler and had such a great experience with your family last year. Please let me know if you would be willing to work with us again and if so what the next steps would be (another interview, etc). Although the two dogs were friends, the two pictured below are obviously the best friends! They are legit inseparable, even in his sleep my son scoots toward her!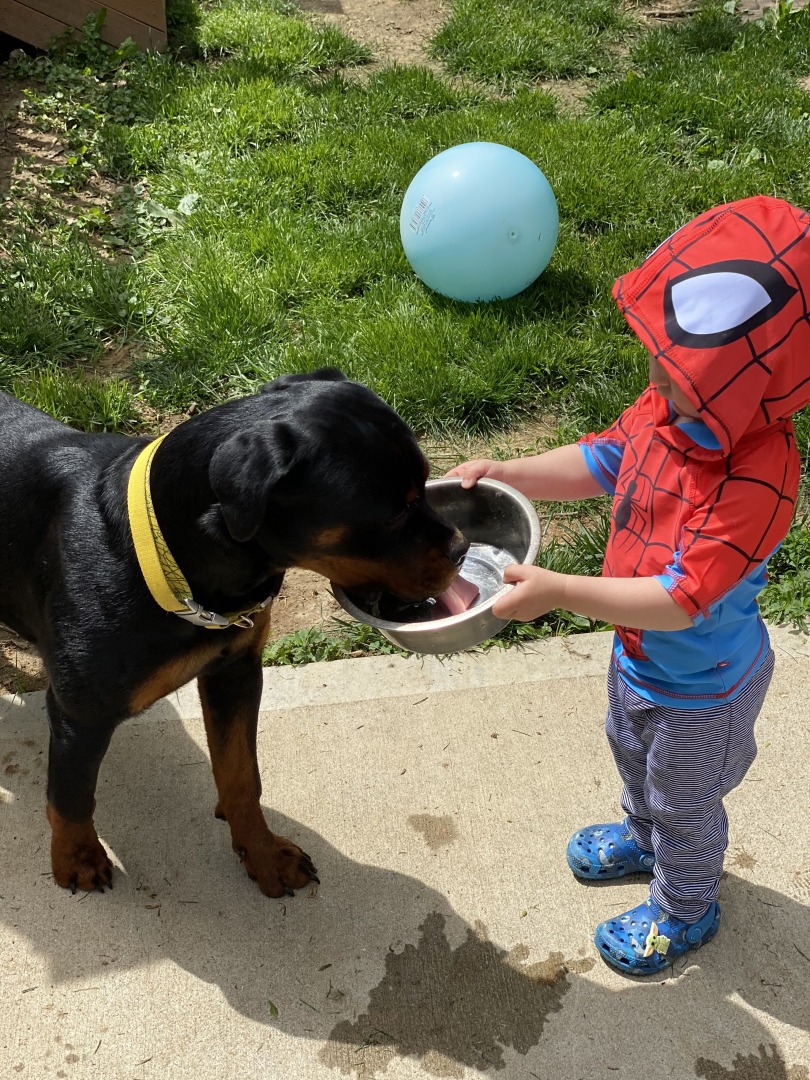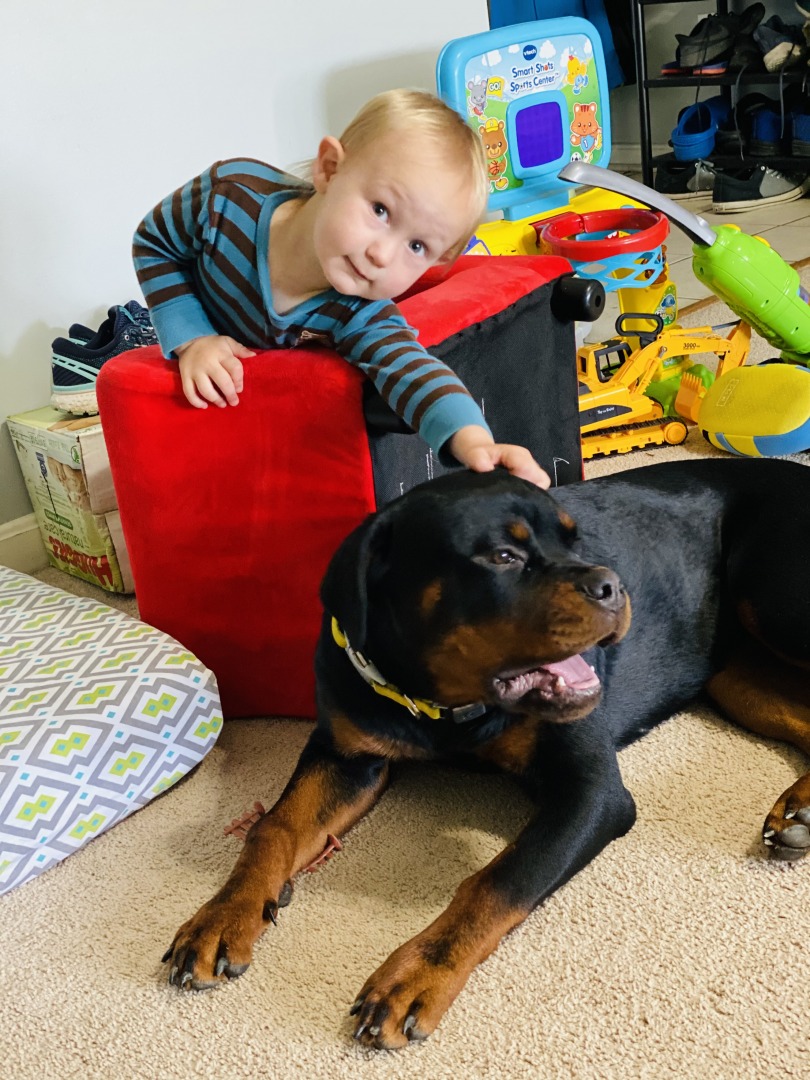 Congratulations on all the babies! I've got my eye on a couple and I hope they get to us!
In the meantime I just knew you would love this story- my two year old son figured out how to unlock our front door (needless to say now we have a high latch/lock) and let himself out. Luckily we have five acres and he didn't make it far. But he didn't make it far because Izel followed him barking her head off. She stayed right next to him and alerted us with her barking. He is undoubtedly her baby and she is his protector. What an amazing addition to our family you have given us!
No need to apologize love!! We know your busy, and I told her that as well. I can't imagine how many emails and calls you have to field. I told her it would be worth the effort to get one of your beautiful babies!
I work with her, so I don't know her personally real well. She is a super hard worker and always wants to see pictures of my babies so I think she will be a good mama- but I knew you would interview and make sure for your babies!
I had family stay with us this weekend and they were all in love with Izel and Sparrow. And our kids were so proud to introduce them!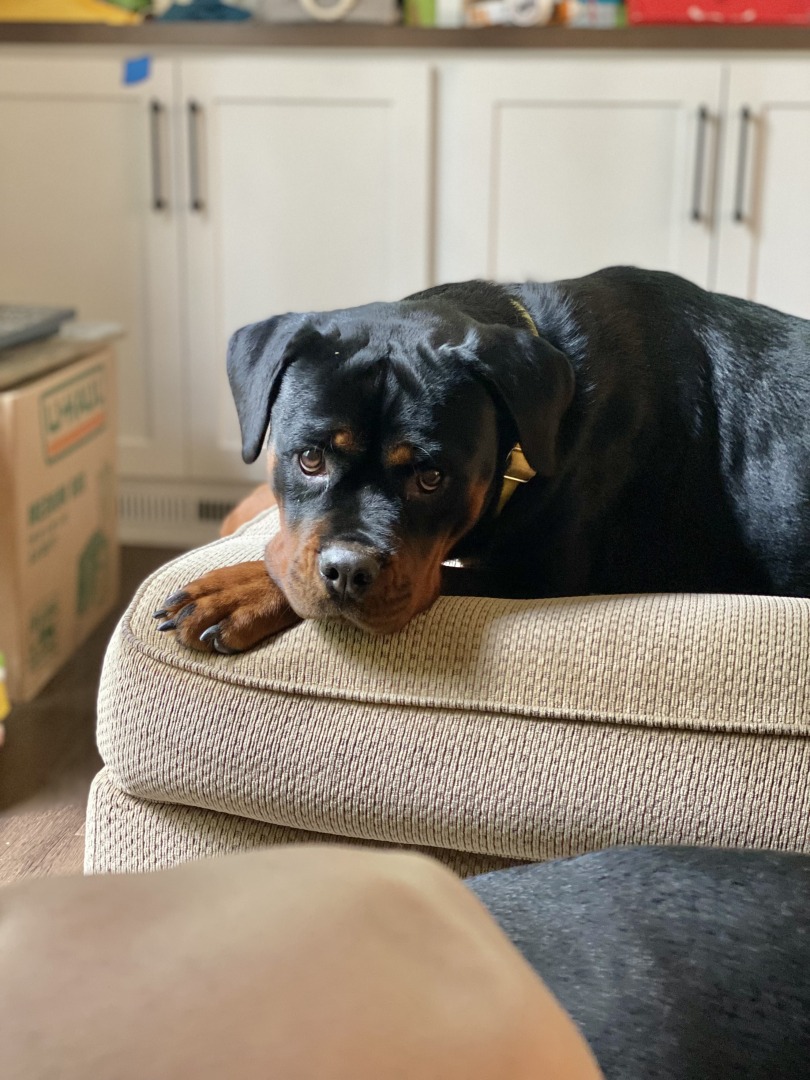 Oh wow! That is a remarkable story! We were considering marking off parts of our property with an invisible fence.. not now!! Izel doesn't seem interested in leaving her people anyway and I was always worried about something else getting in and hurting her. Guess we'll be fencing a portion for when it's necessary!
Girl, Sparrow is freaking adorable. He's stolen everyone's hearts already, including Izel. She's acting like a mama. I don't think I'll ever own another breed again!!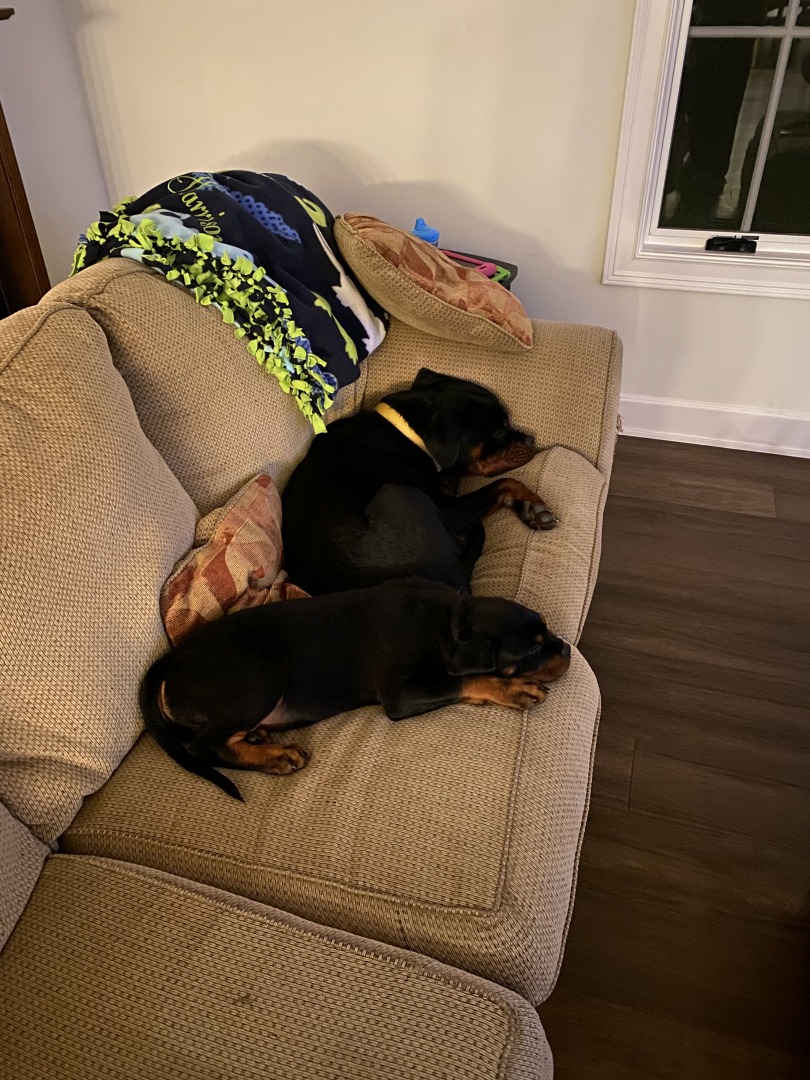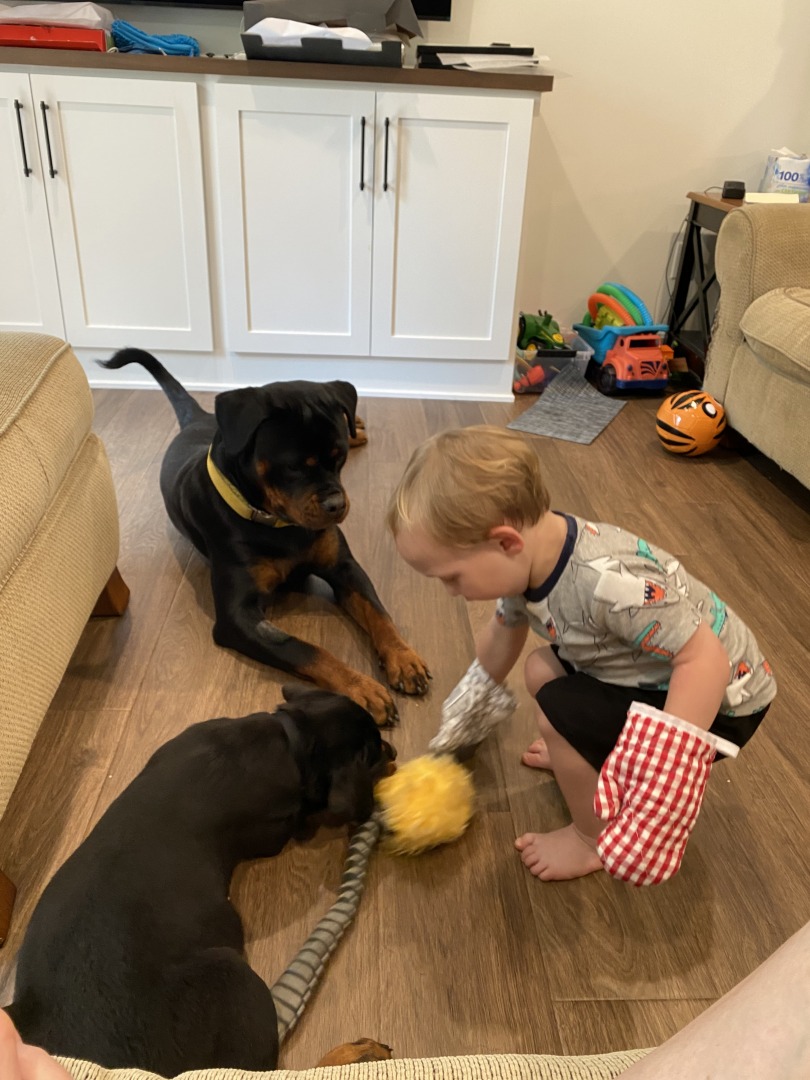 Sparrow and Izel are rocking it here at the Cummins' household. They've got us wrapped around their paws… we got a new couch and I was all "no dogs on the new couch!" Then you can see day #2 pictured below 
 Couches are just more comfy with puppy snuggles!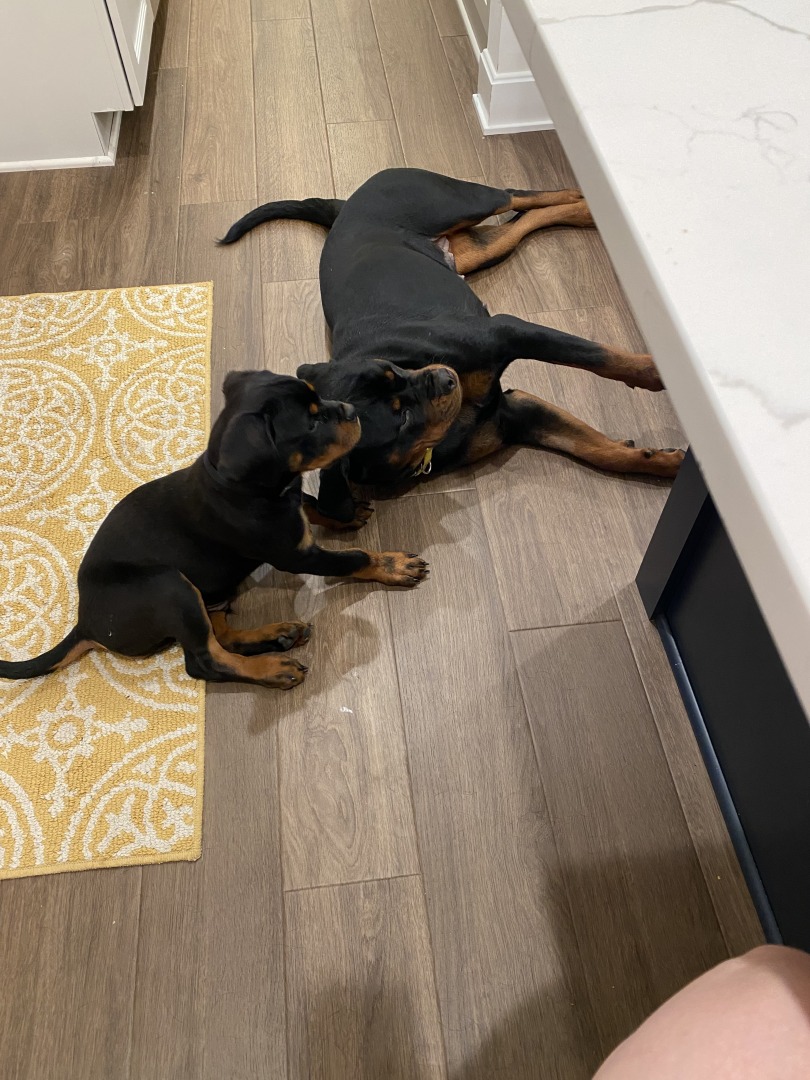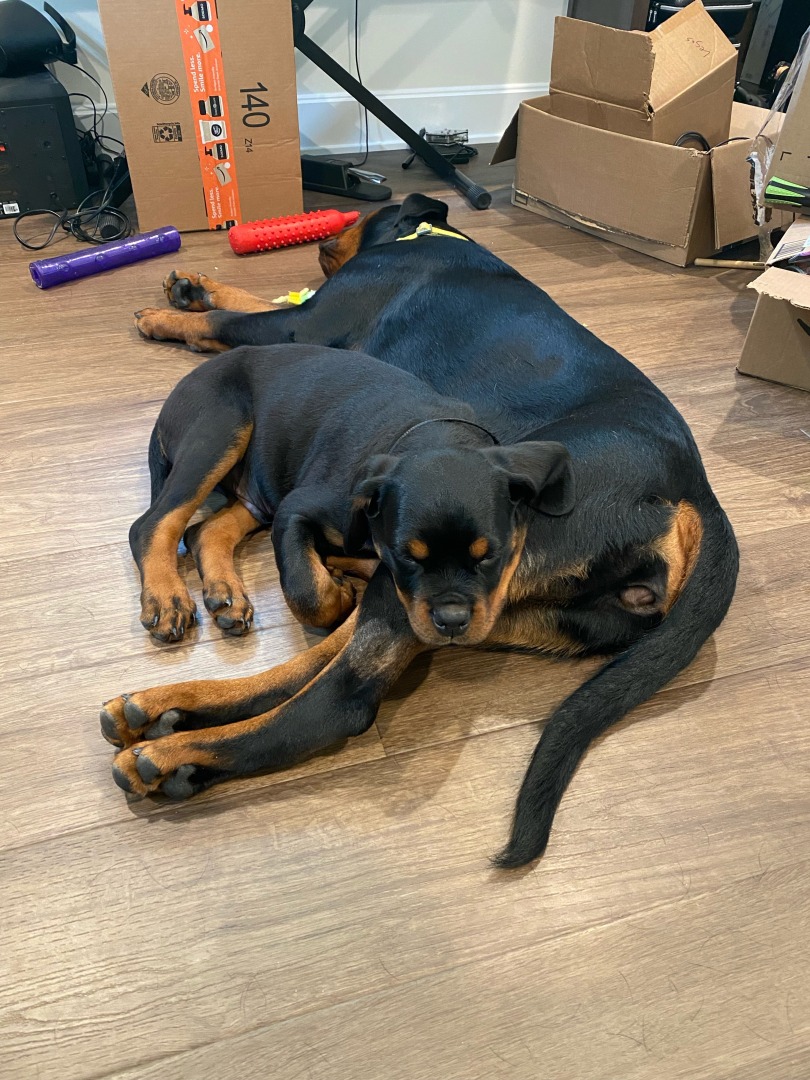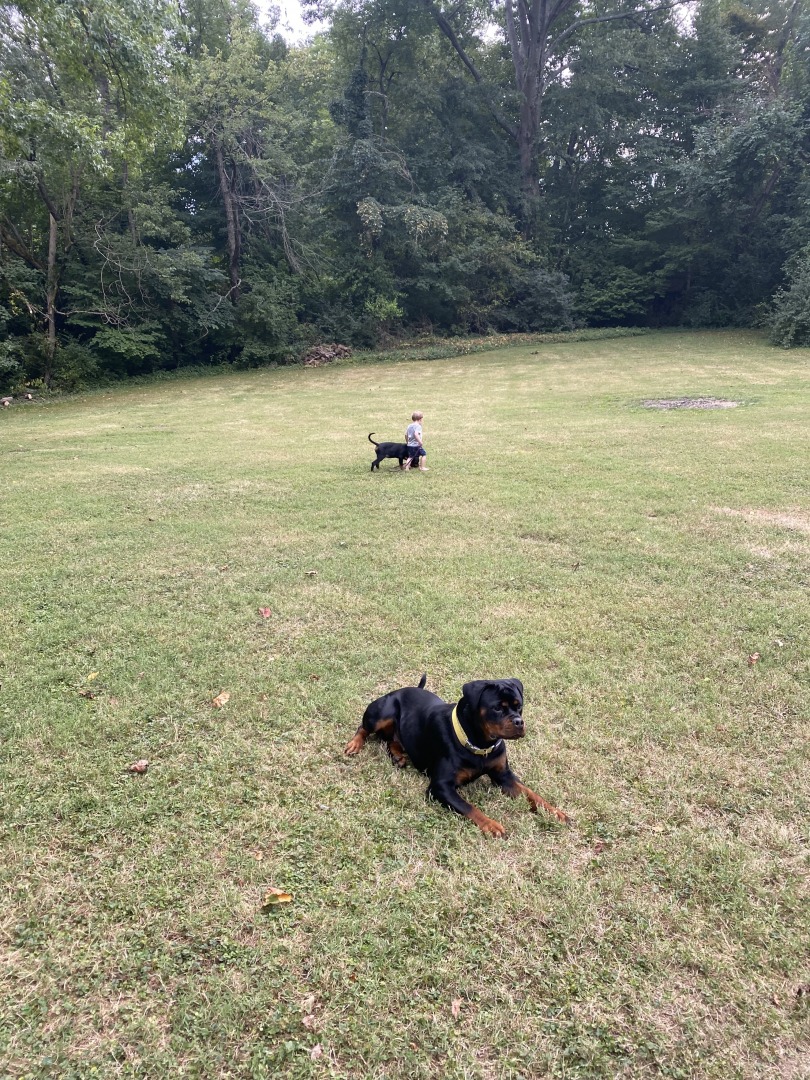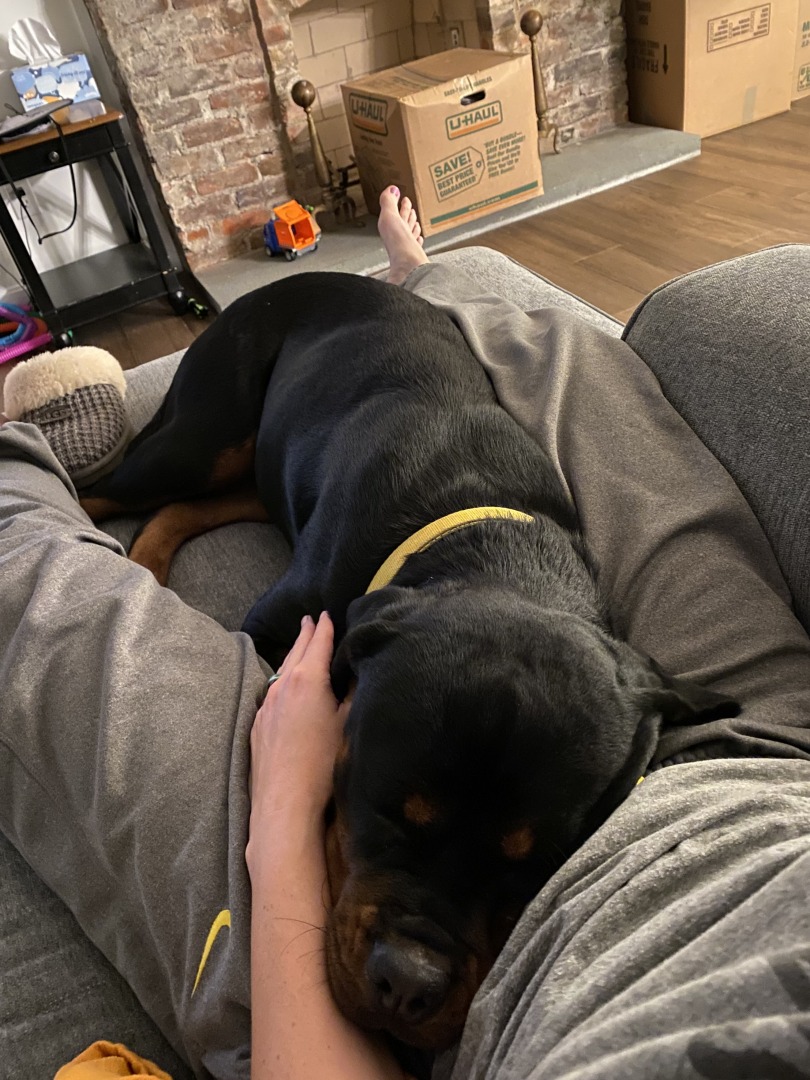 Just coming by to say Hi and I hope your husband is doing well! Let me know if you need anything!! Here is Izel and Sparrow on this lovely Saturday morning just waking up snuggling!! They each have their own bed but lay together haha!!
Danielle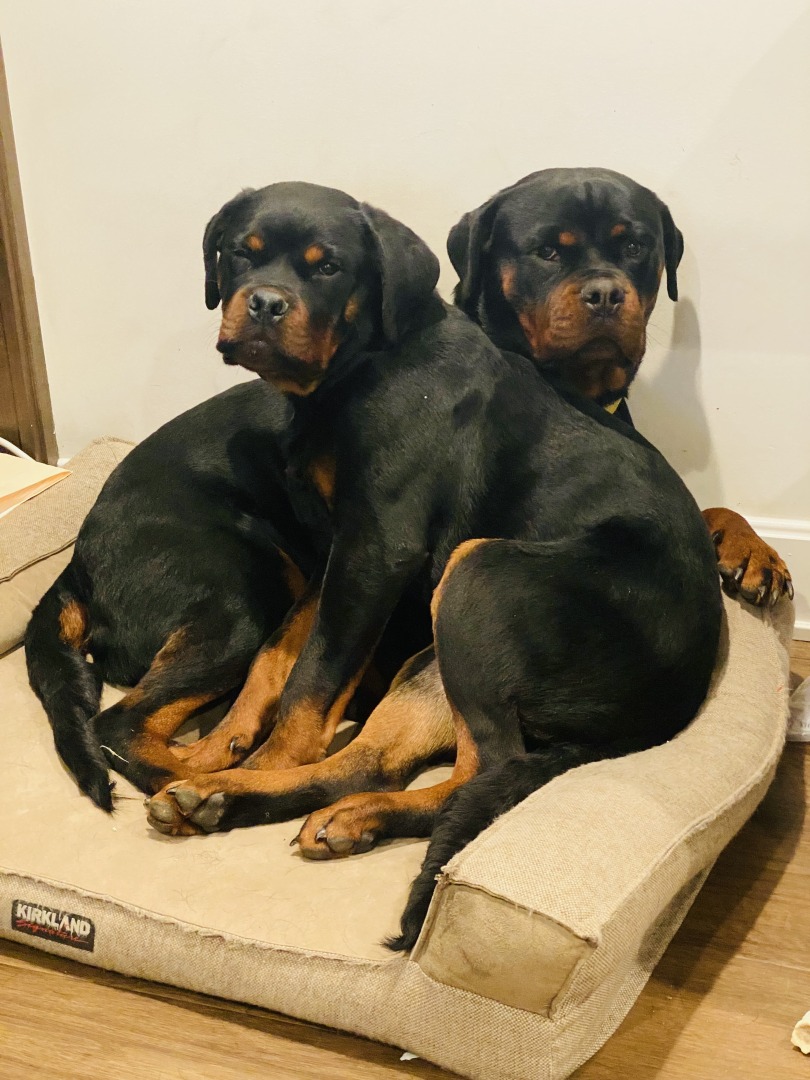 ---
"Andi" Guardian Infinity Von Gottschalk
Hi Alice,
Congrats on the new pups – I saw Yazmine and Yuri on your website and wow are they gorgeous! (Although not as beautiful as Andi in my totally unbiased opinion ) Just wanted to give you a quick update on Andi and let you know she is coming along really well. She just had another vet appointment and is ear infection and giardia free! She was 23 lbs and the vet said she looked great.
She's such a sweet and smart little pup – within two weeks of being home she knew 5 commands and was basically potty trained. She's definitely on the timid side when it comes to anything new, but we're taking it slow and making progress. At home she's so confident and happy-go-lucky that I know we'll get there in the rest of the world with time.
From day one she has absolutely adored my older dog. They'll wrestle, play tug of war and chase, and then plop down on the floor and snuggle in together for a nap. It's adorable to watch.
I just saw your Facebook post about people dumping elderly dogs at the shelter to make room for an impulse Christmas puppy. I just don't understand people sometimes. I want you to know that Andi had my heart from the minute you handed her to me. She is so loved and always will be. I only hope we have as long together as you and your Diesel <3
Hope you and your family are all doing well & have a very merry Christmas!
(Visited 140 times, 1 visits today)