Guardian Rottweilers P LITTER
Sire: Lucky Black Seduction
Dam: Hana Von Megi Rott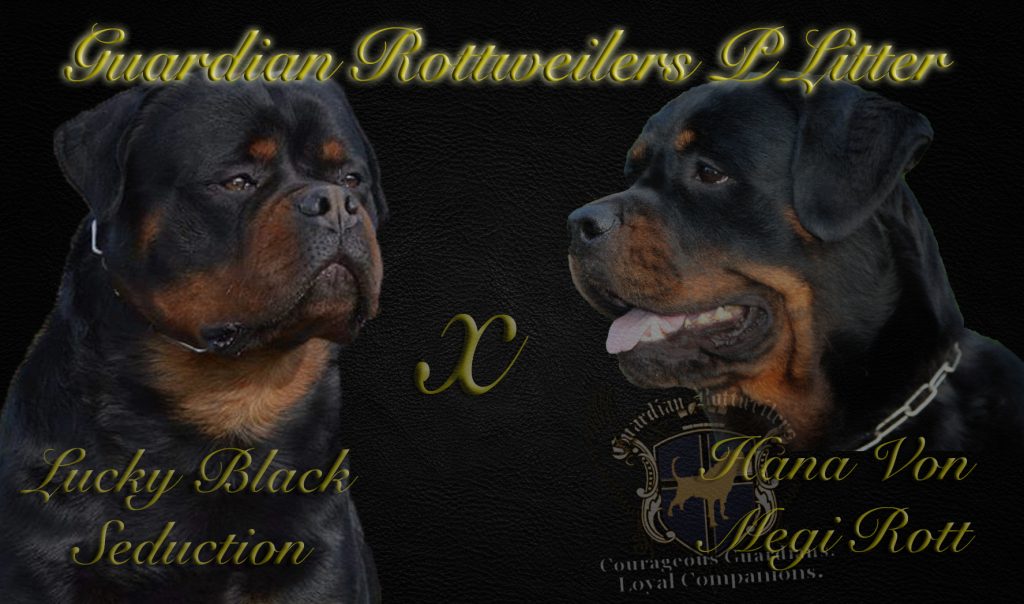 Lucky Black Seduction is the son of Lex vom Hause Edelstein.  Lex is crazy popular as a stud right now because of the extreme typey heads he gives his offspring, and the mark of any good stud is not only to produce himself, but the real goal is to produce even better with himself, and that is ABSOLUTELY what he has done with Lucky!!  Lucky's mom is the daughter of Monaco Vom Zica Maradona and combining the MASSIVE and EXTREME head Monaco ALWAYS delivers to his bloodlines along with everything Lex brings to the table and you end up with LUCKY!!  Lucky is a large and extremely powerfully built male with loads of bone and substance.  His stature and stance command respect and his head piece is unmistakable!  Combine that with the exceptional build of Hana Von Megi Rot, a large female with heavy bone and great big bear paws, and of course the pedigree she brings- Lacky, Arlos, Marschall, Kafu, Pongo, Mambo, Gonzzo- just to name a few and you have Guardian Rottweiler P Litter!
In case you did not notice, my kids decided to make this the Peter Pan litter <3  Initially, one pup was going to be Pan, one Peter, on Pixi, etc. so they all had P names as well, but the kids though that their personalities were better suited for the names given <3  Enjoy!
(Some of the dogs in the pedigree of this litter!)
Lucky Black Seduction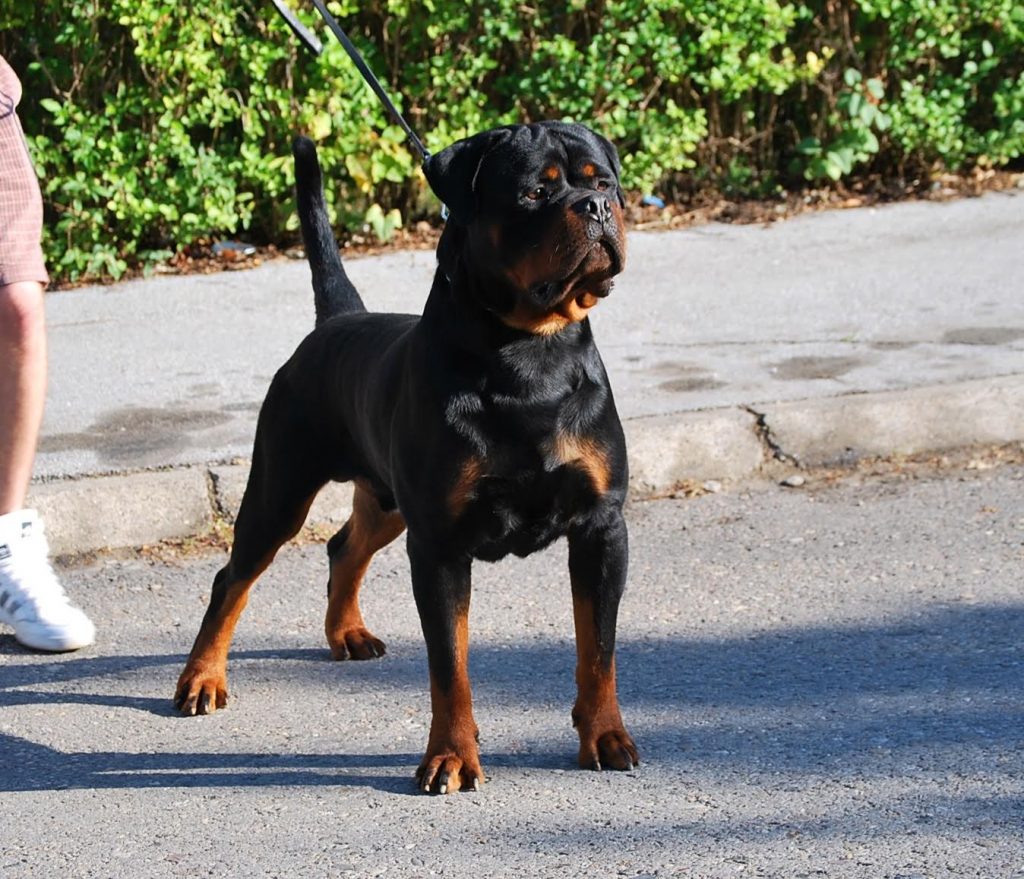 Lex vom Hause Edelstein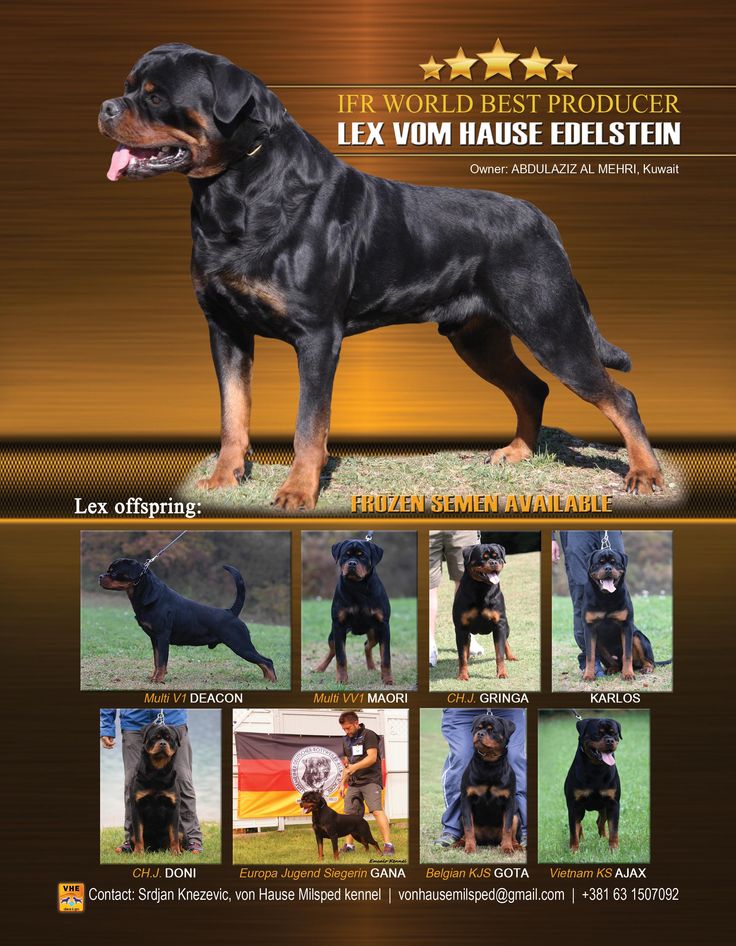 ---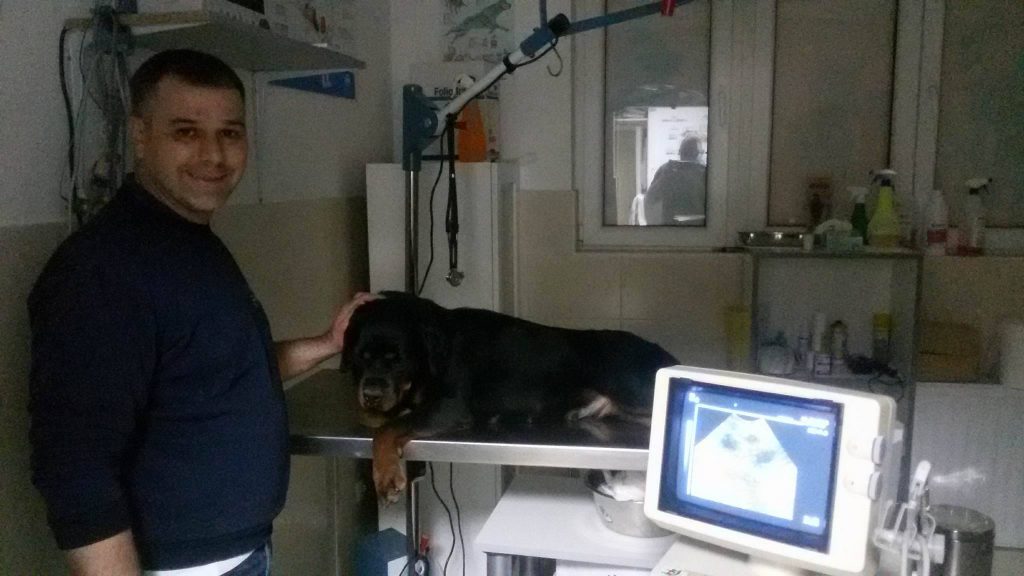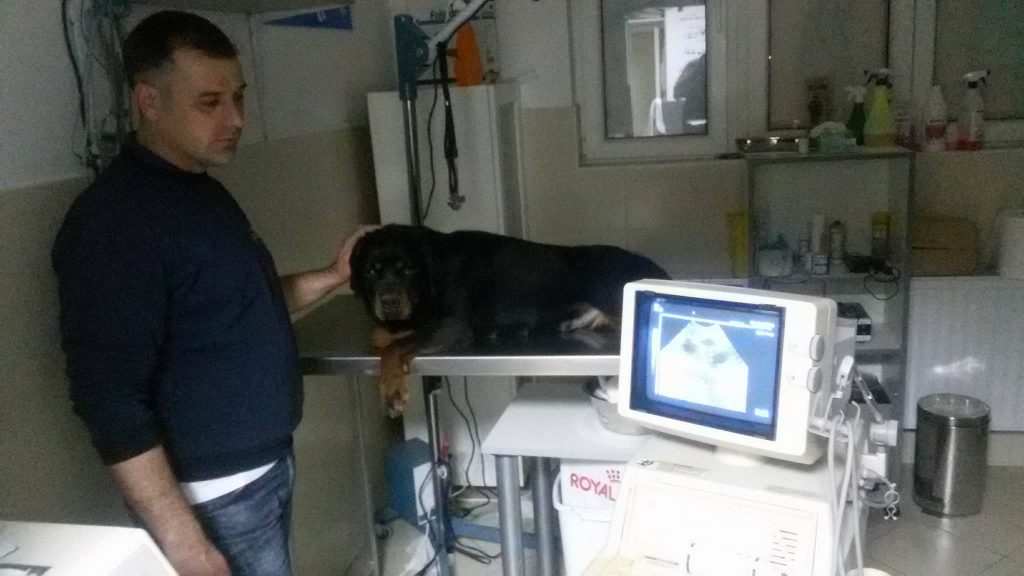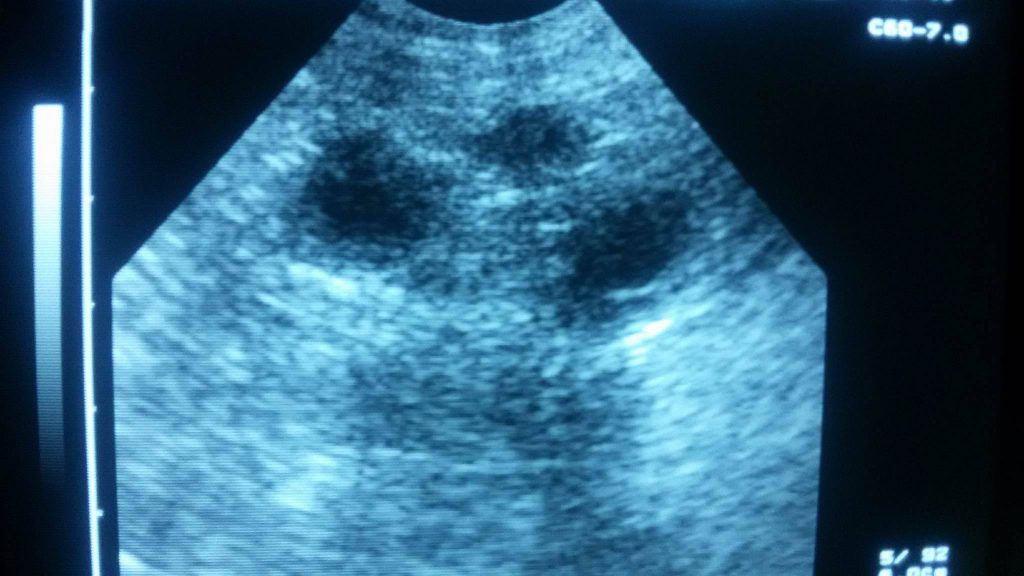 Proud mama and beautiful babies <3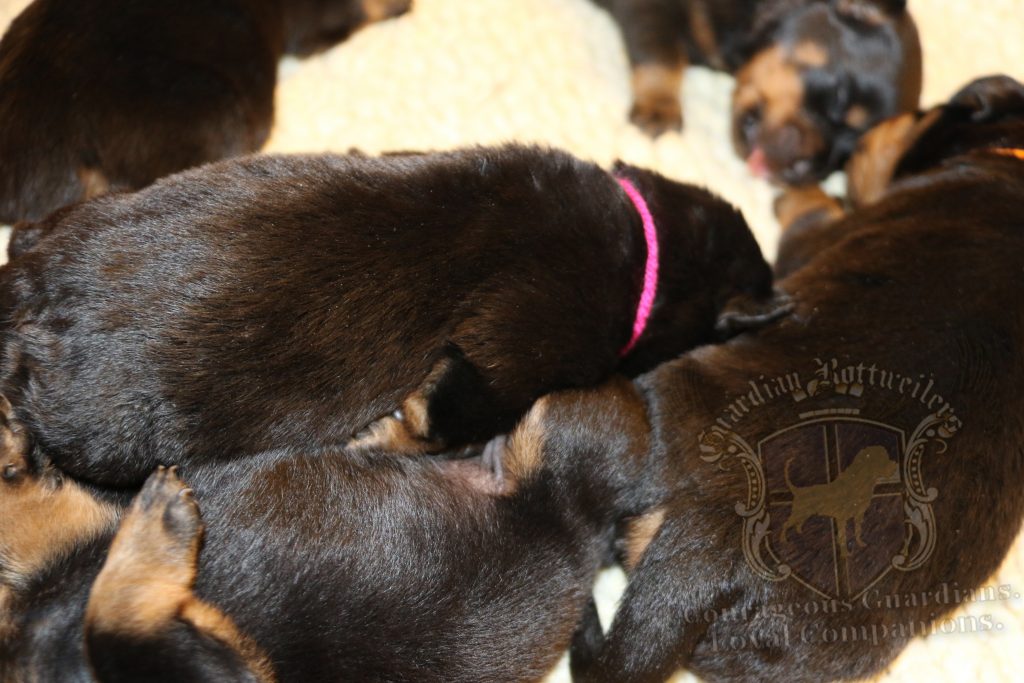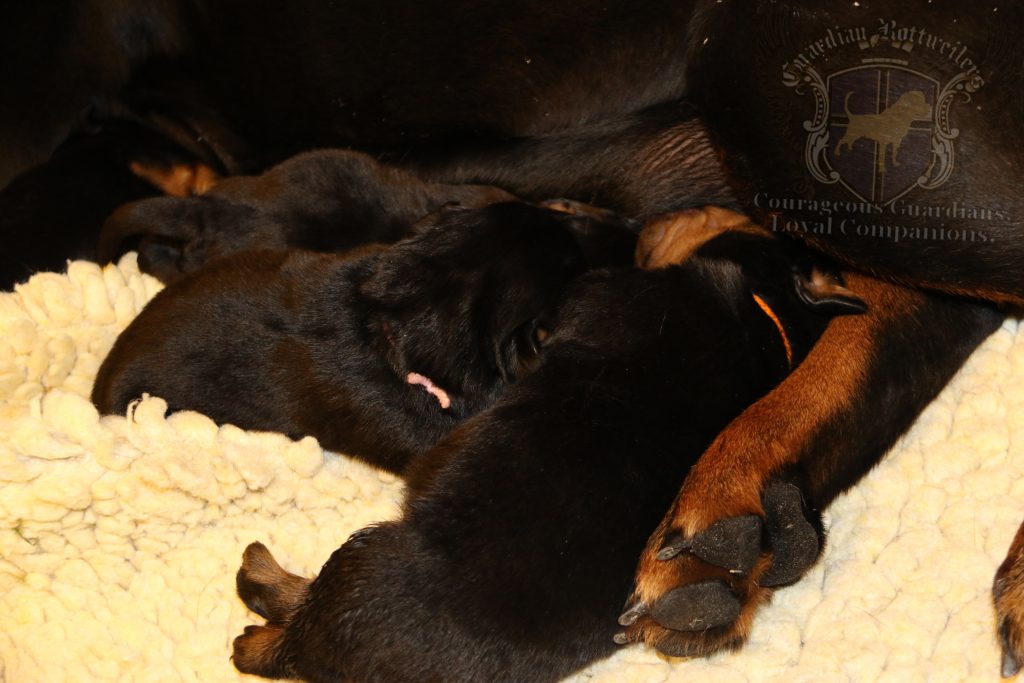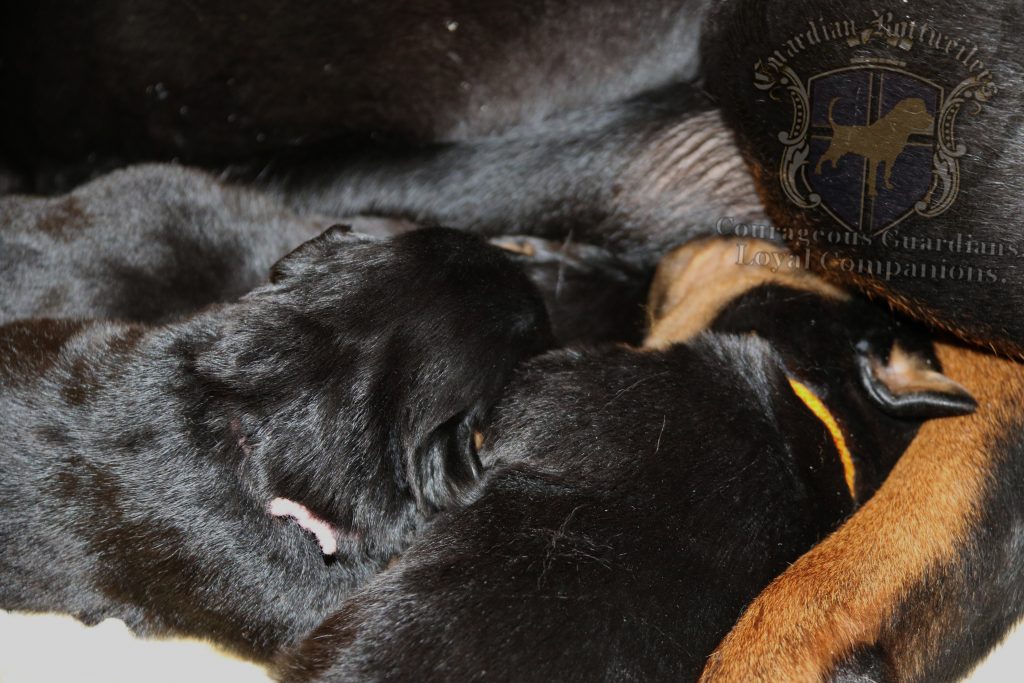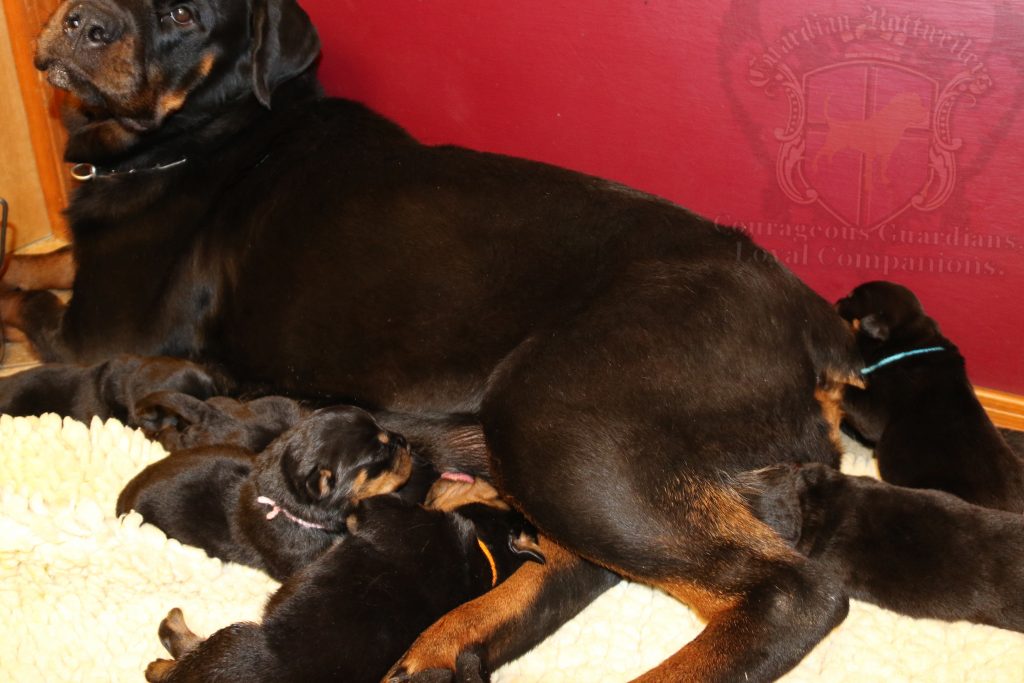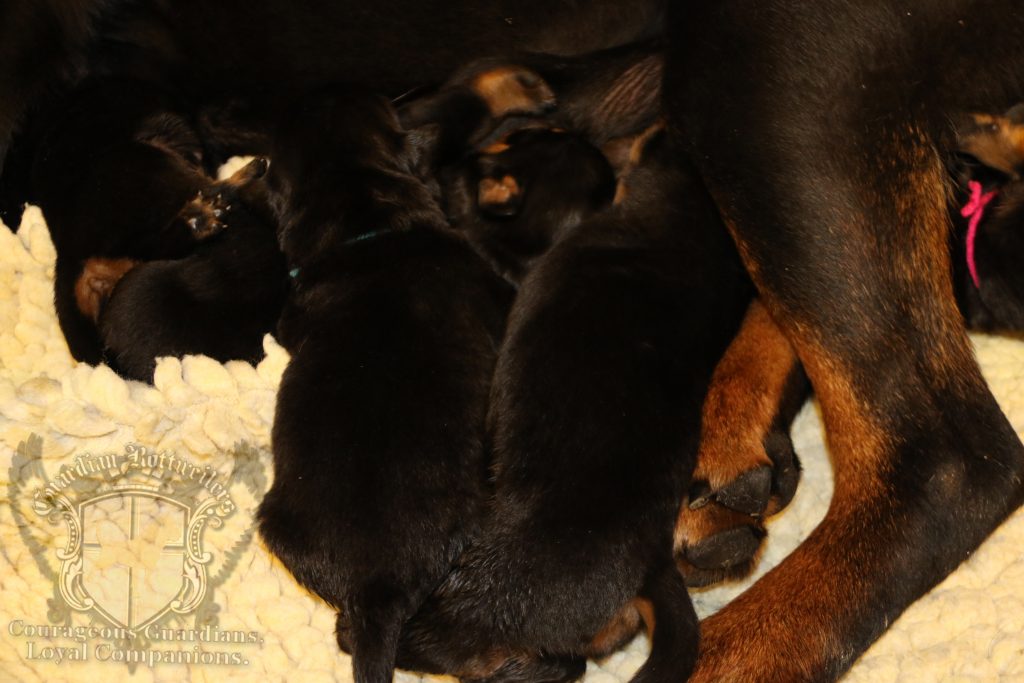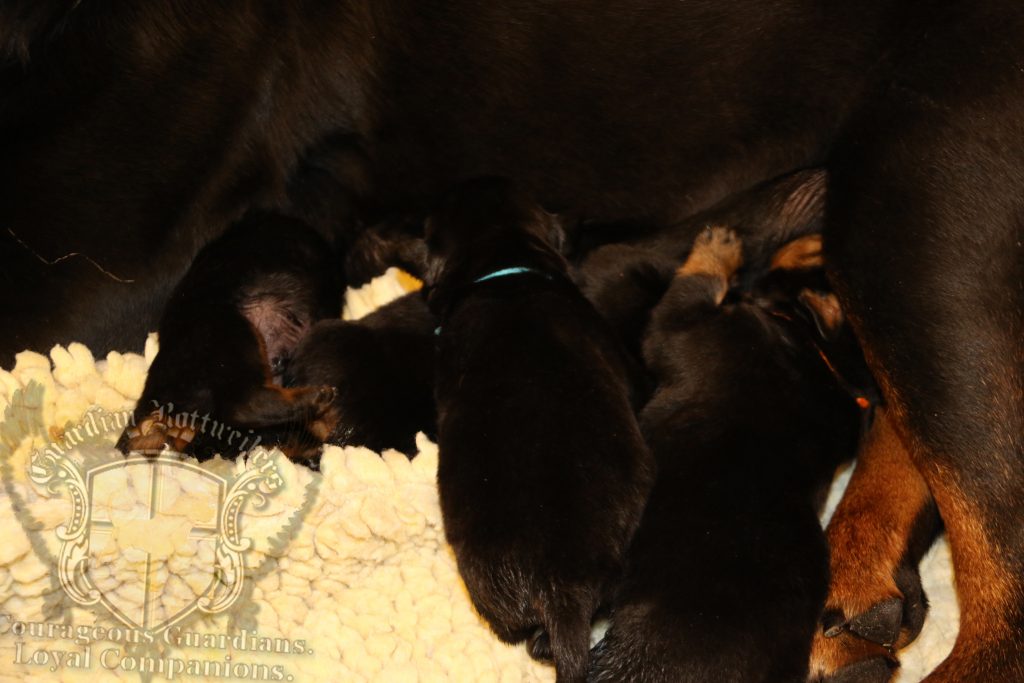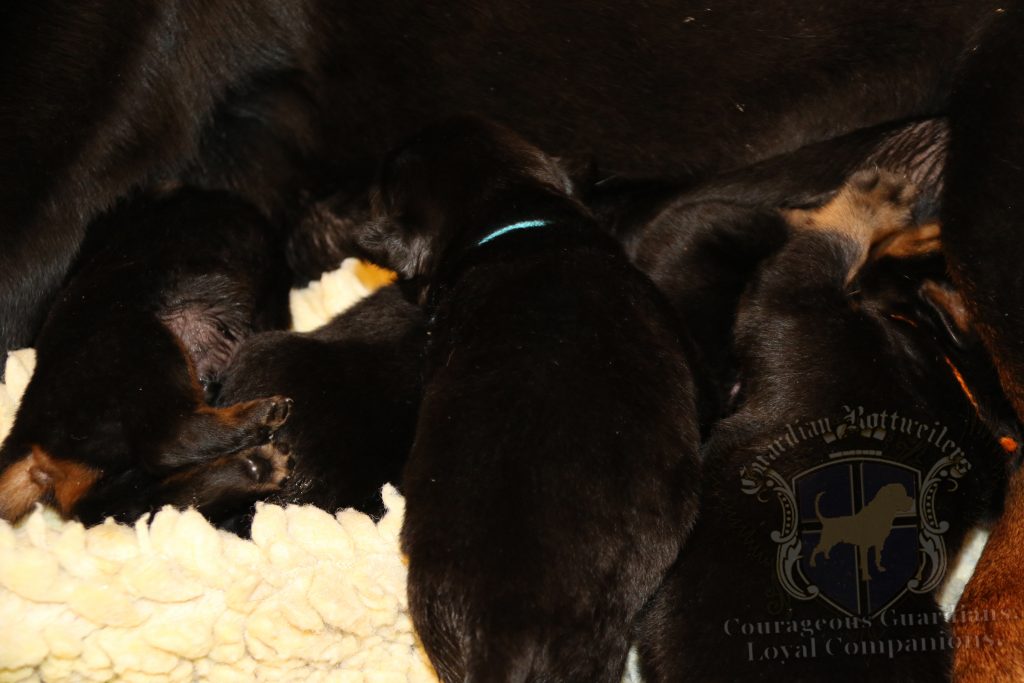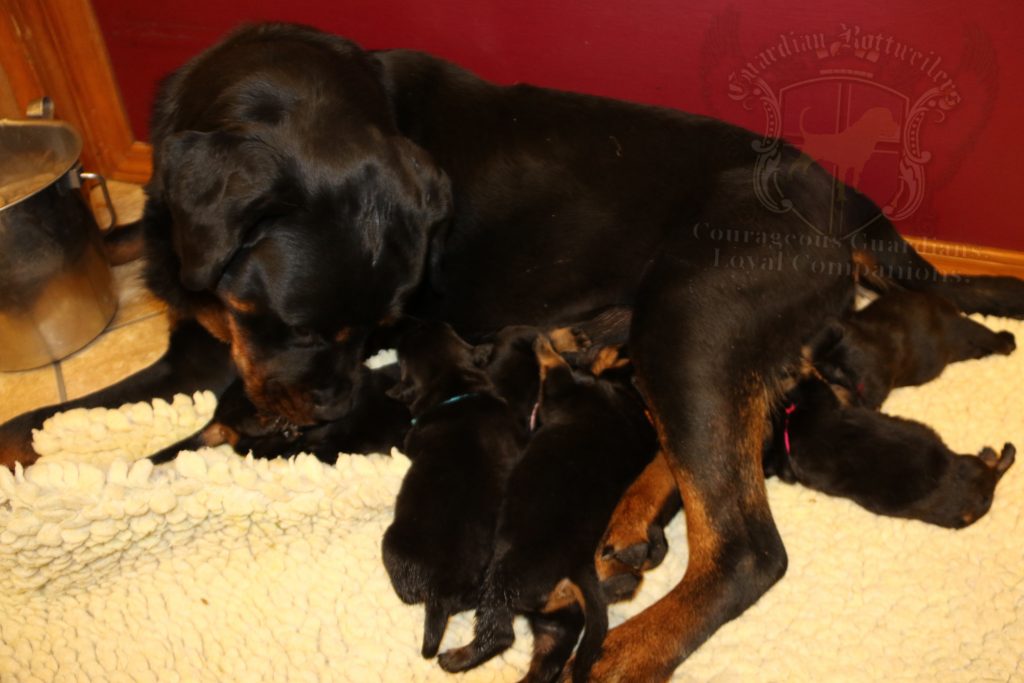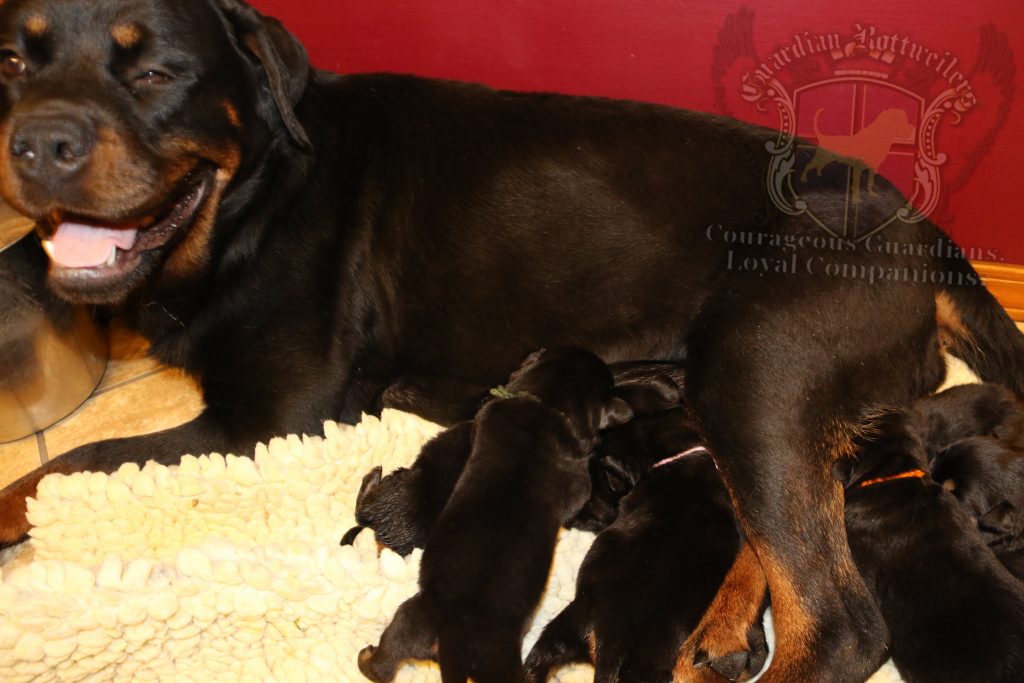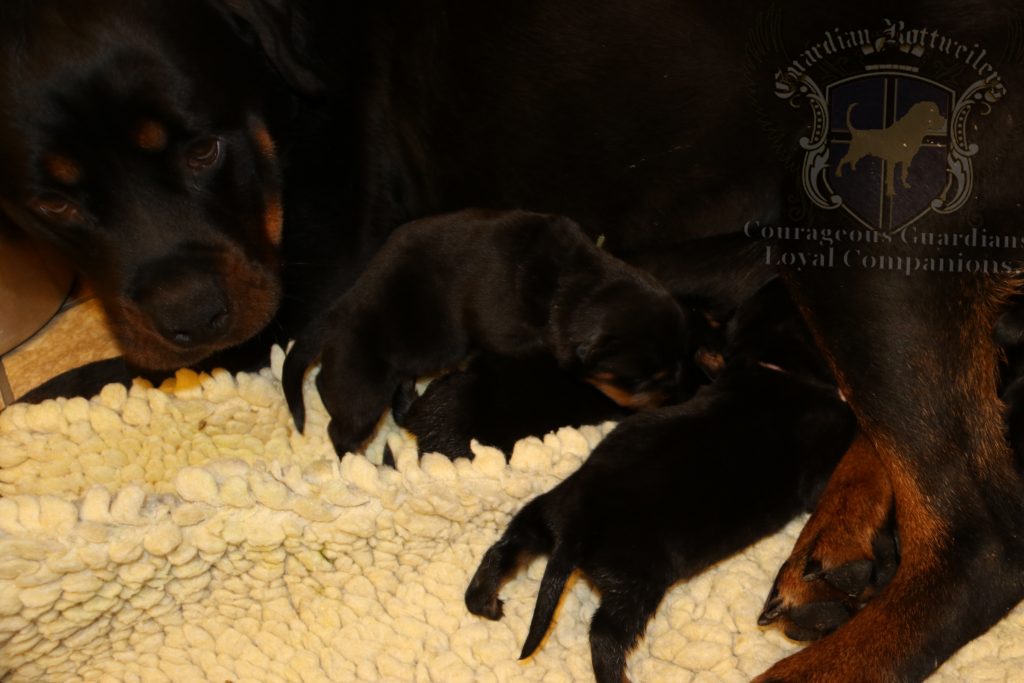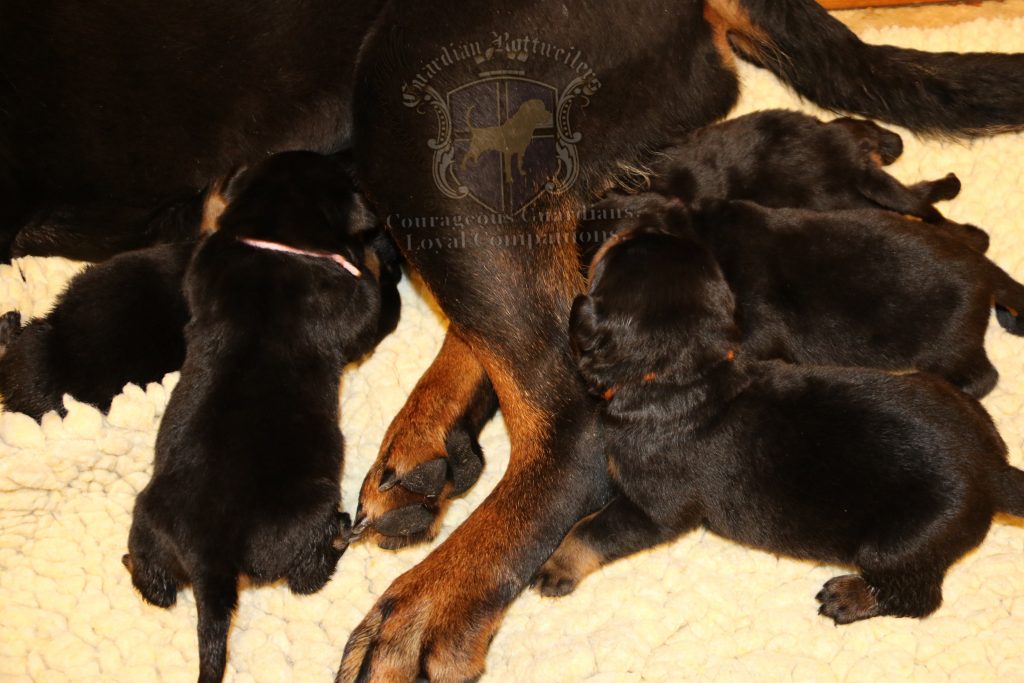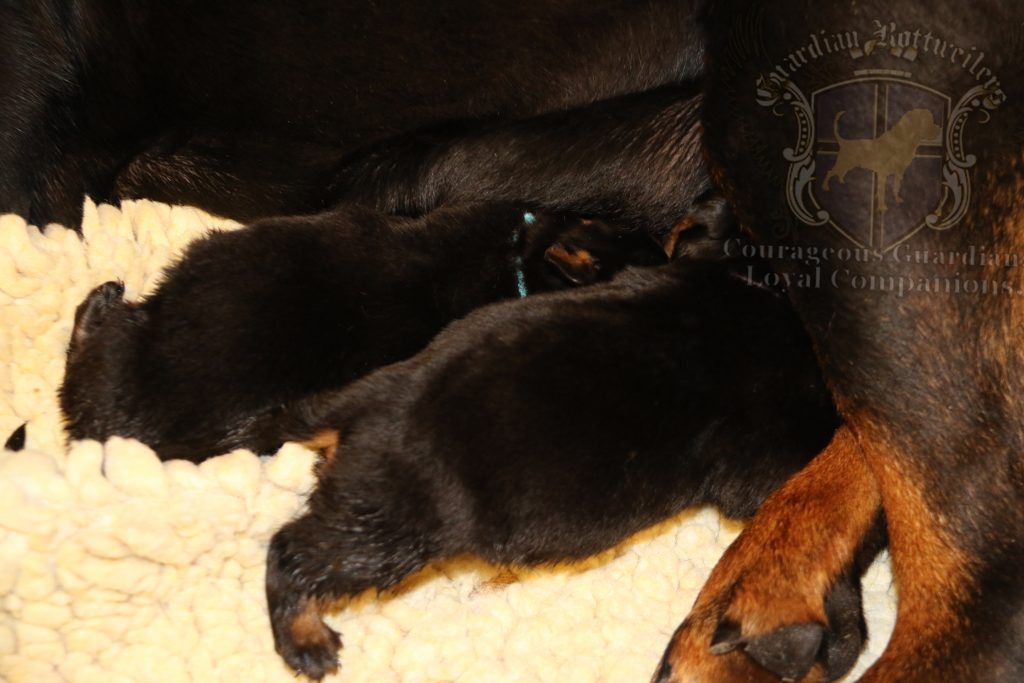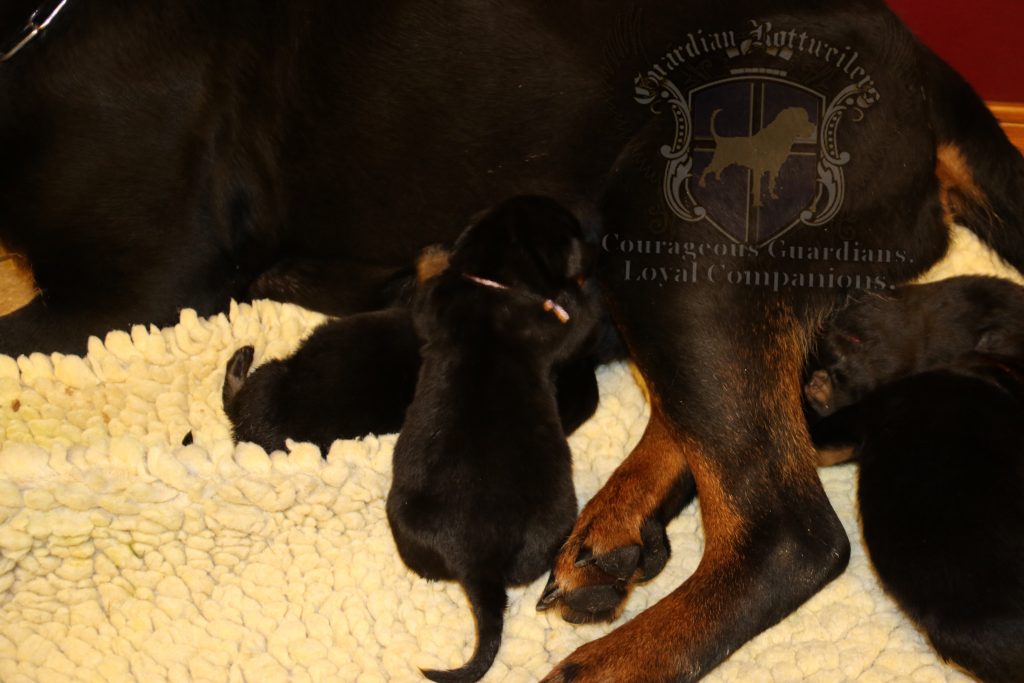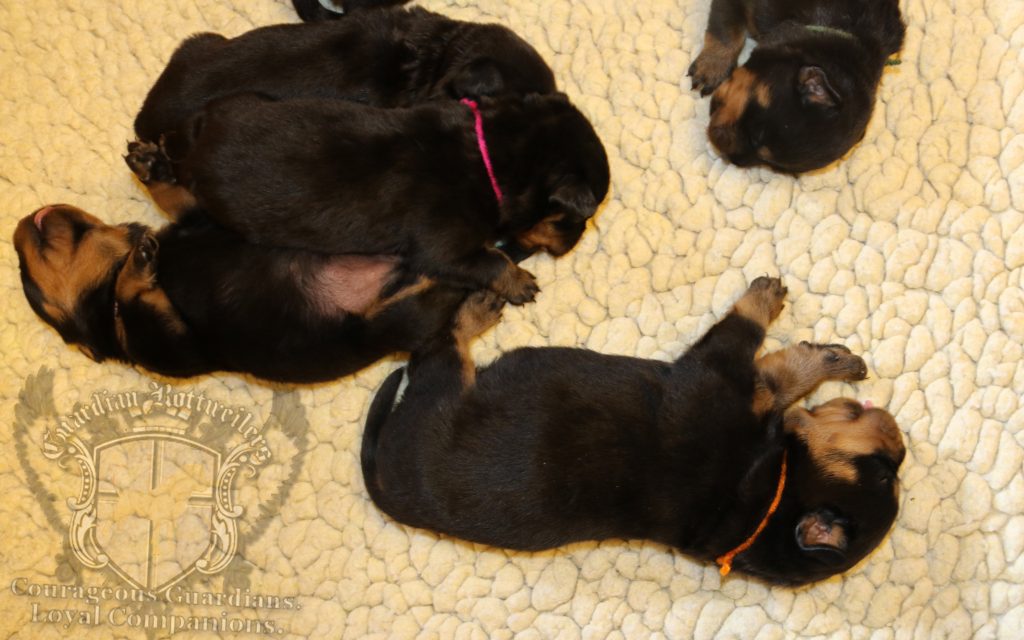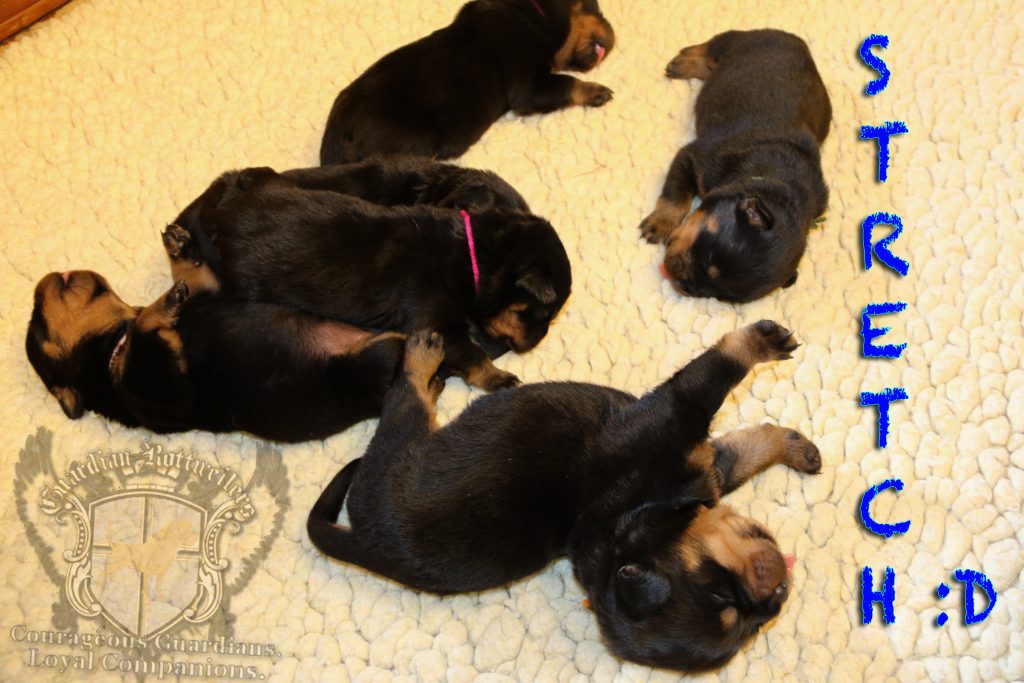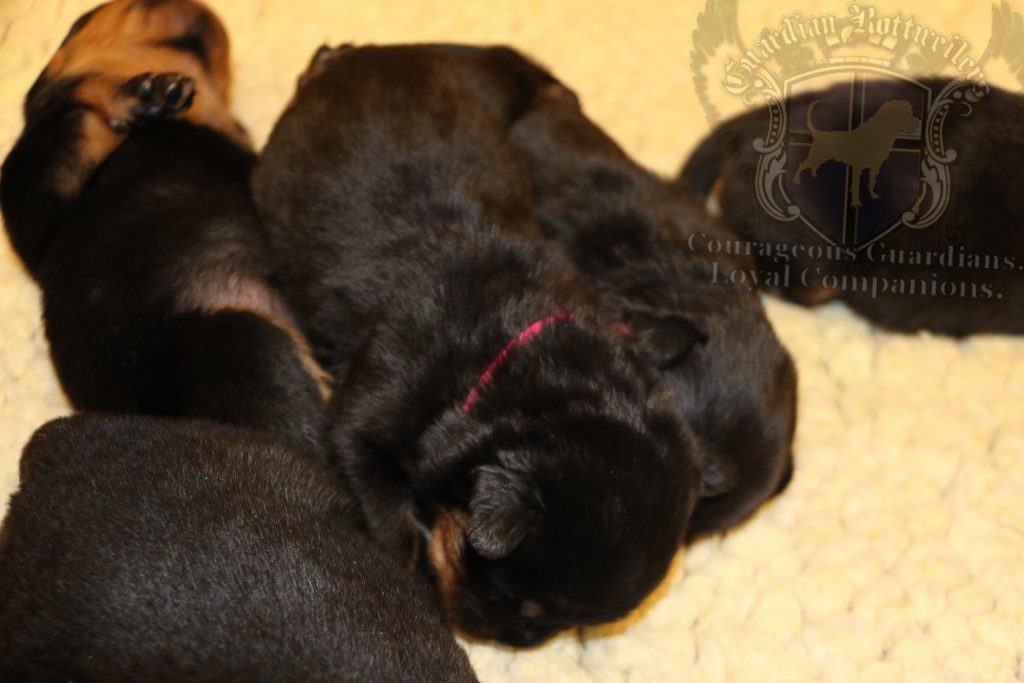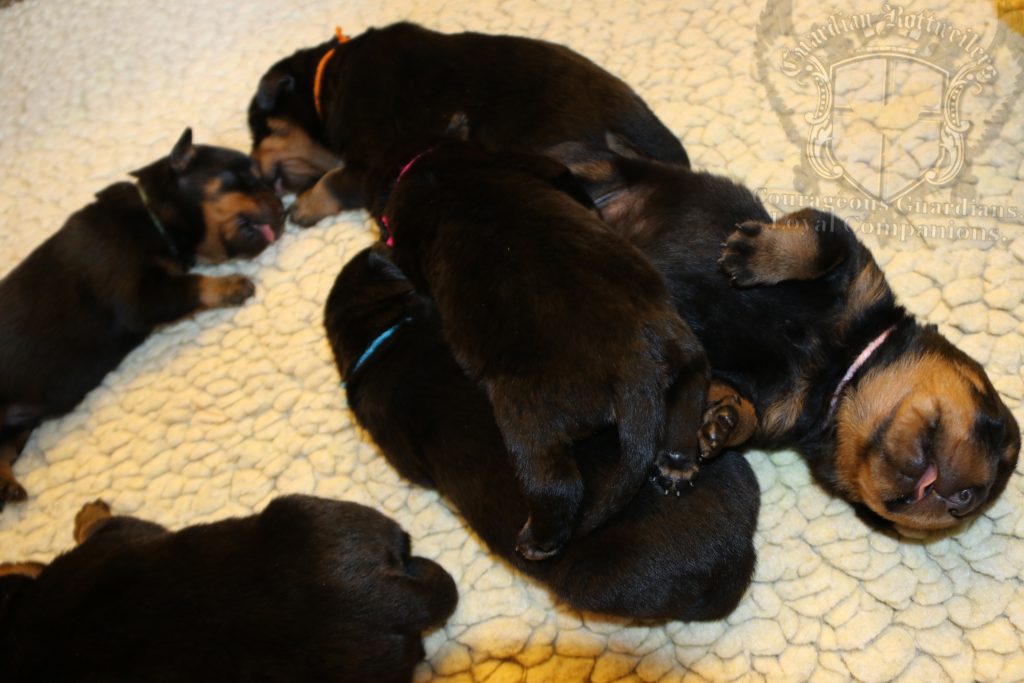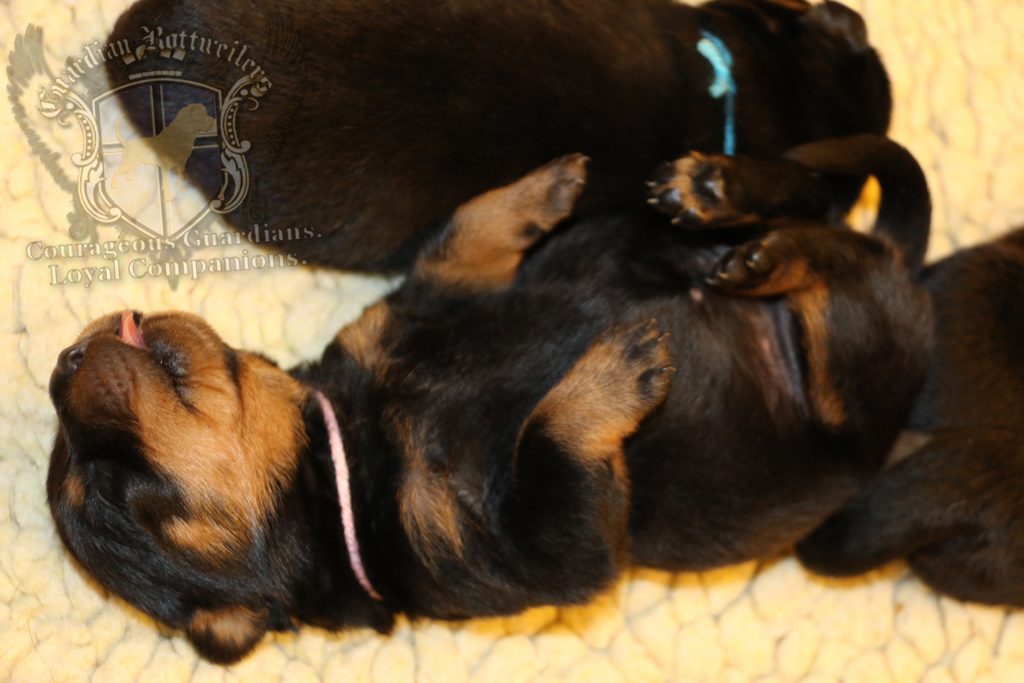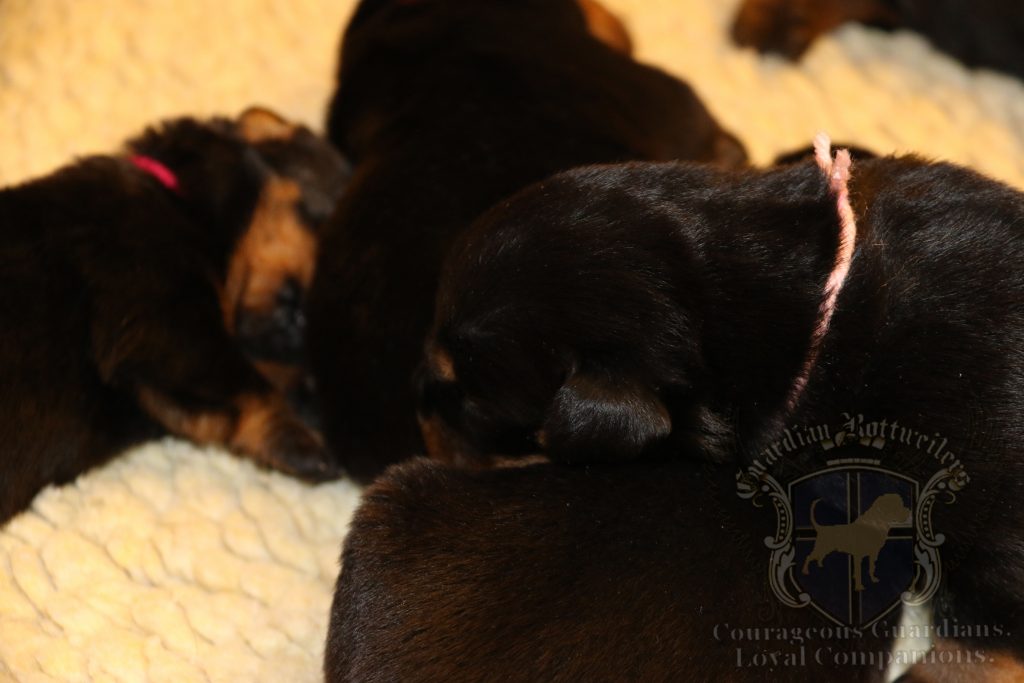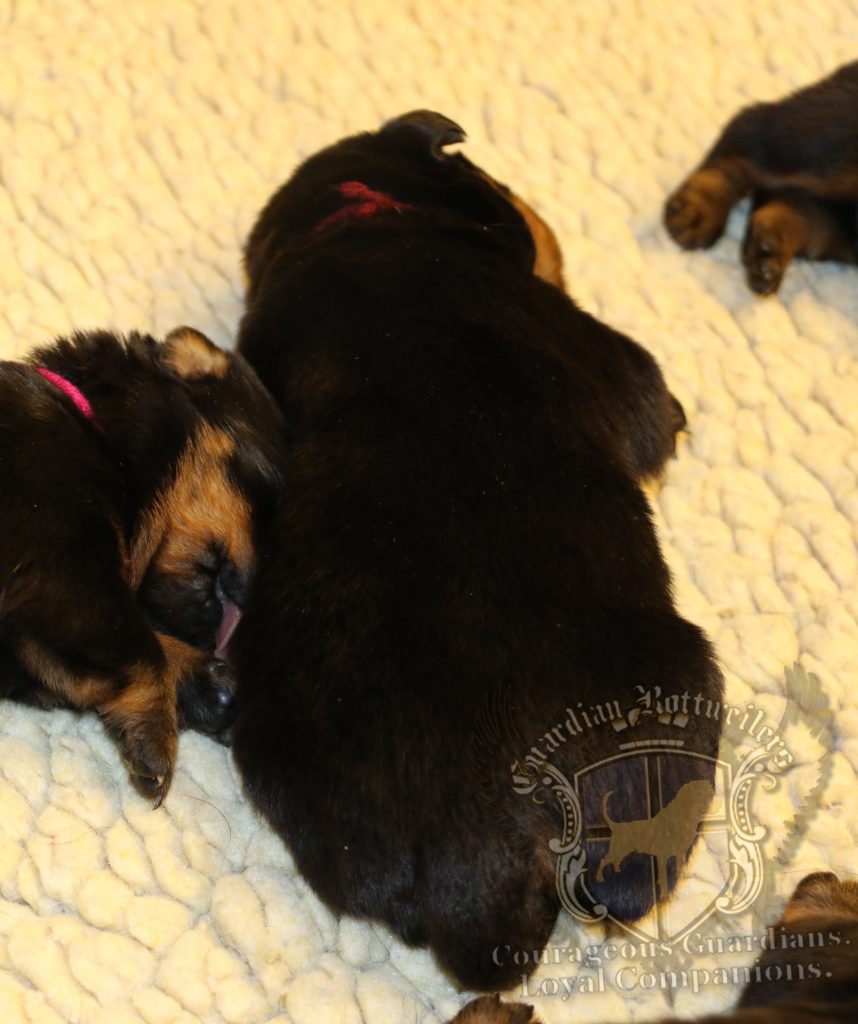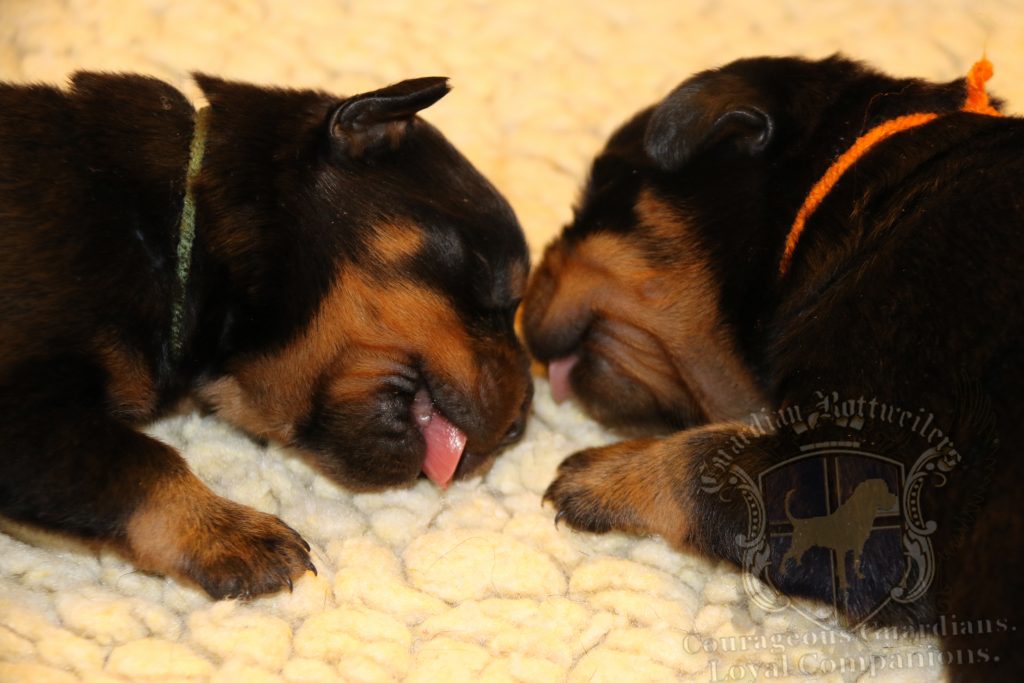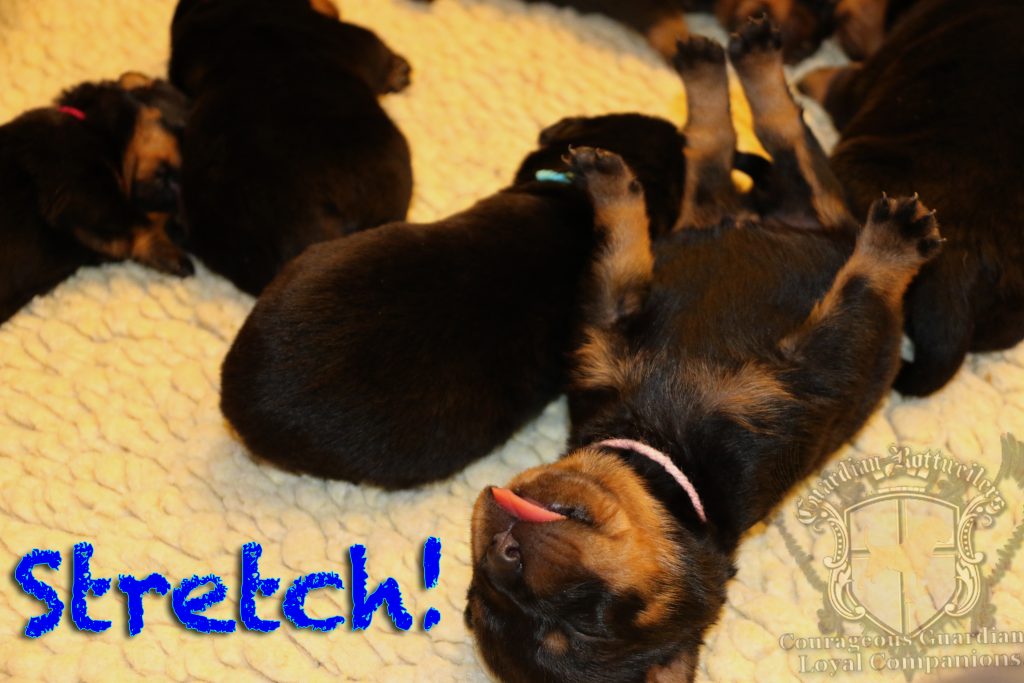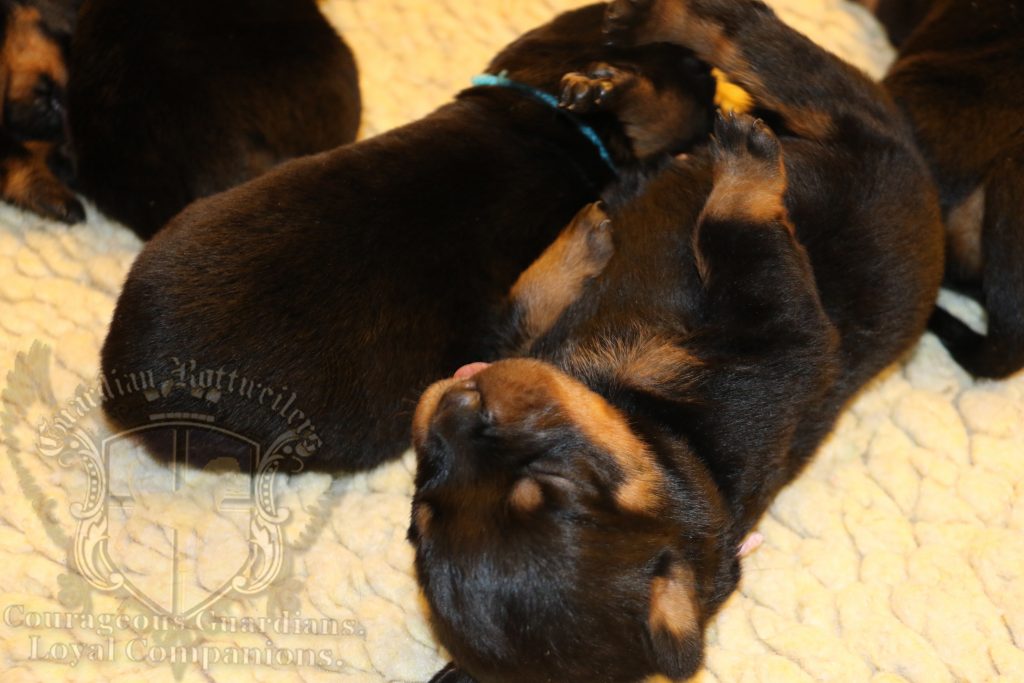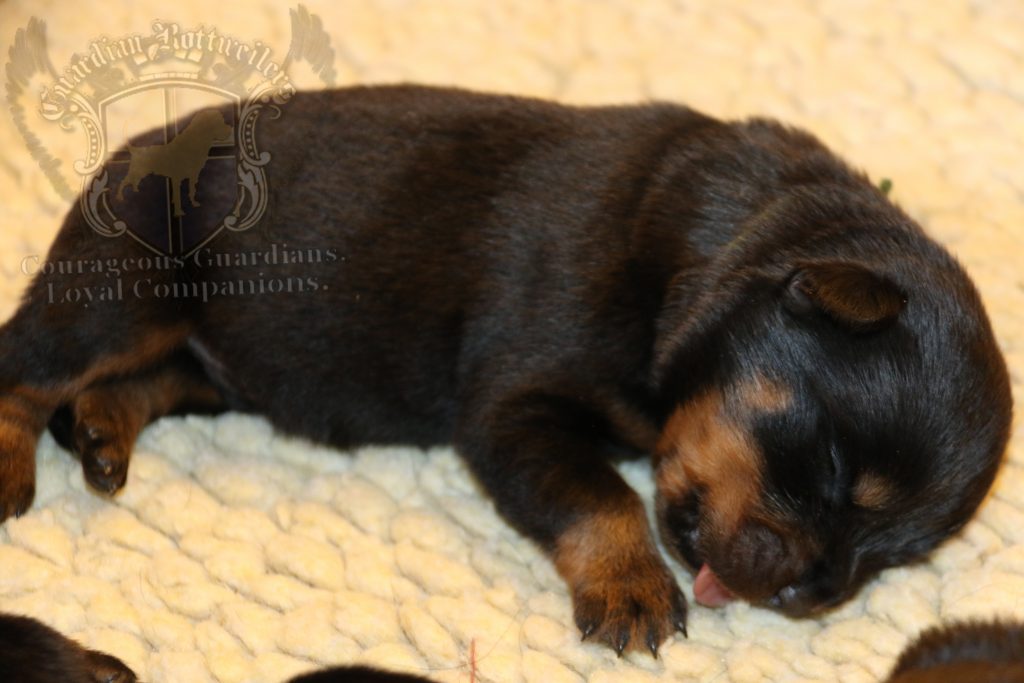 ---
Guardian Tink Von Gottschalk
Alice, she weighed 7.6 pounds at her first vet visit. When we went back one week later she weighed 10.6!!! :-0 That was on Friday. She has gained weight since then. How is she stacking up against her siblings?
She has a bad habit of playing while outside and peeing almost immediately when we come back inside. :-/ But we're working on a new strategy.
She's got a growl on her! Did she do that when she was with you? She can sound like devil spawn, lol. It's adorable. But the biting frenzy that comes along with it wont be adorable for long so we're working on that too. She has no idea, or simply doesn't care, that she's about 10 times smaller than Bear. She is feisty! And already has Bear (and us) thinking she runs the house.
Loving having her with us! <3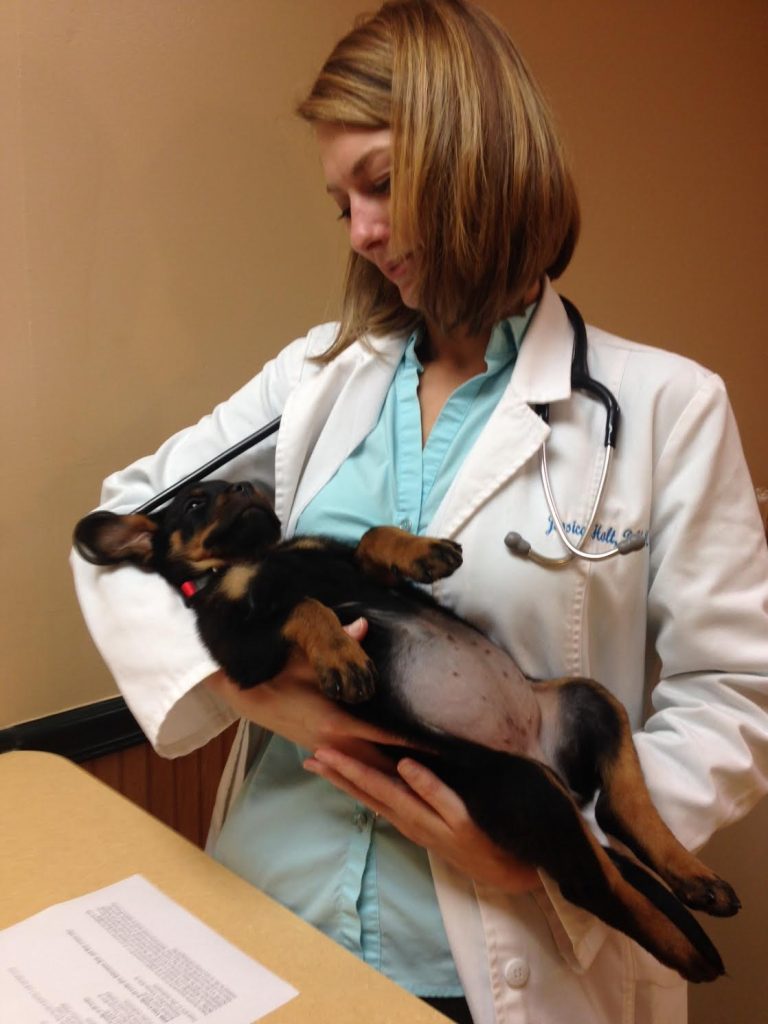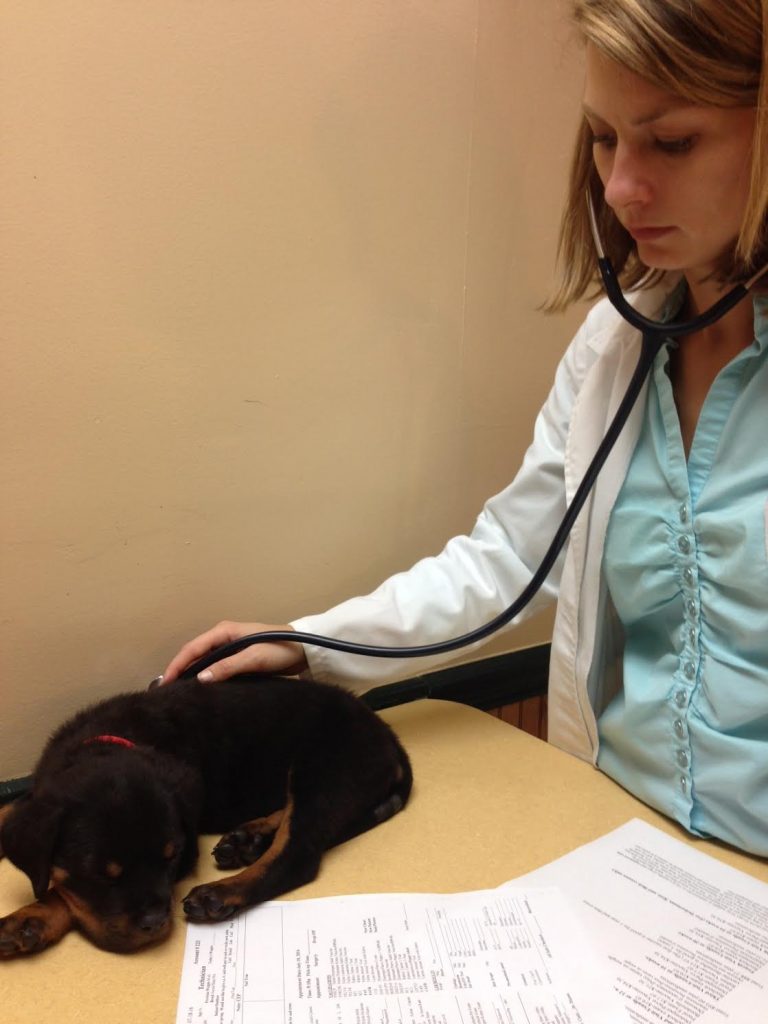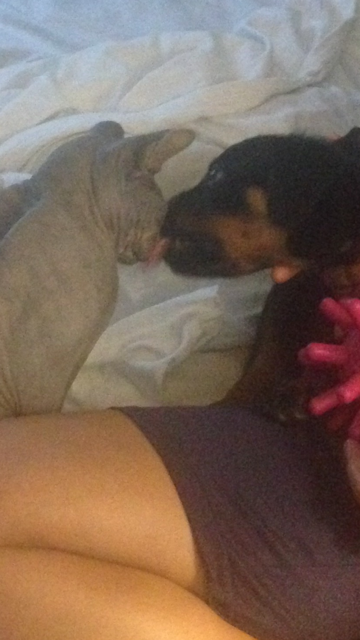 Bear and Xena are doing so great together!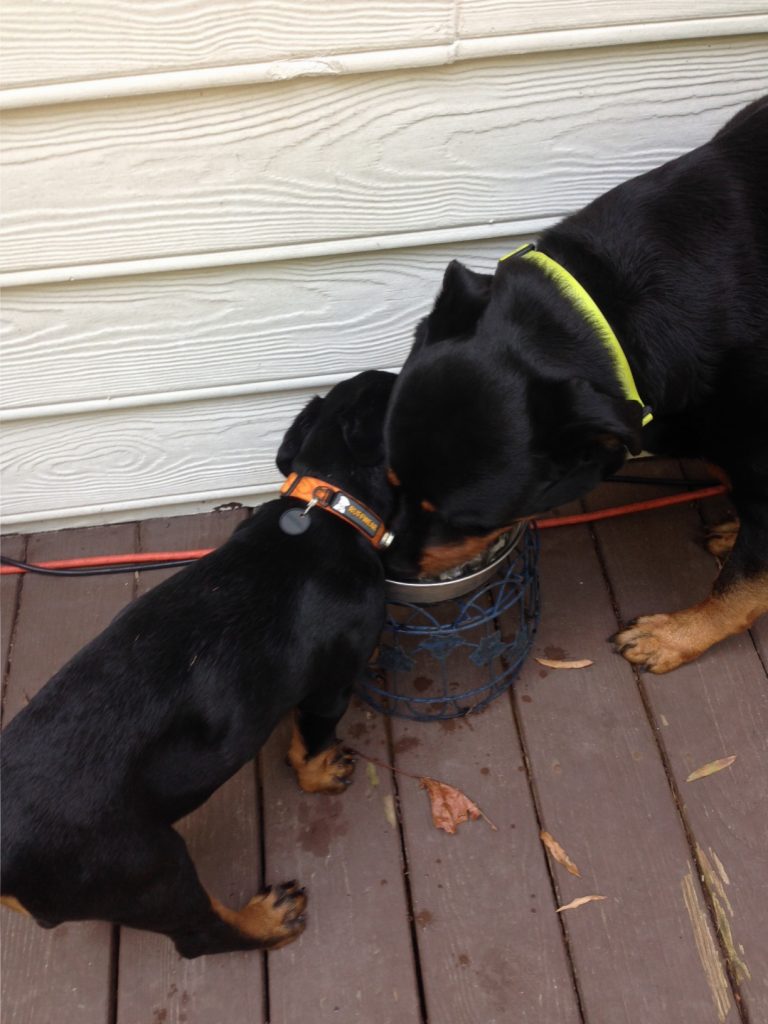 Hi Alice– we wanted to shoot you a note along with a photo of our two babies.
I doubt anyone would know that Xena was the runt of her litter. She sure isn't a runt now! She weighs 83 pounds.
She is still a snuggle bunny. She won't even get out of her crate until we sit down and give her some loving. <3
I would love to get in touch with some of the other folks who adopted from Tink's litter. Especially the other female. Any chance of that?
You have blessed our home with two amazing dogs and we are forever grateful. When we're ready to add another baby to the family you'll be hearing from us again!
Audrey and Melanie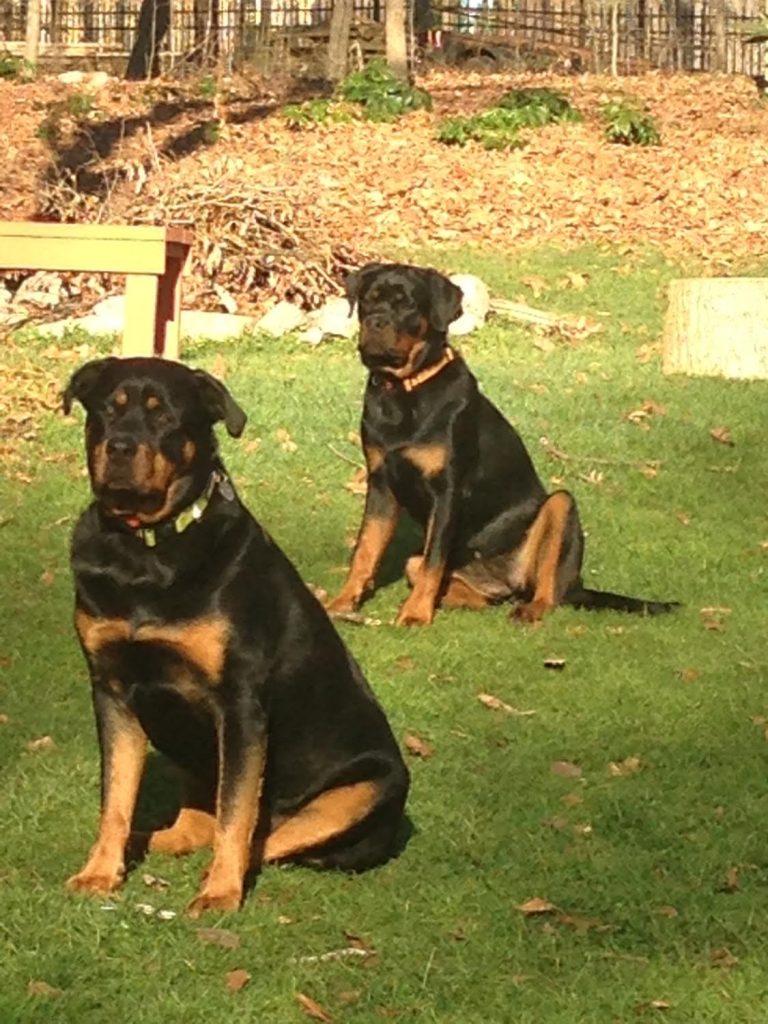 Thought you might be interested in seeing what a beauty Tink has become. From the runt of the litter into this gorgeous warrior. Her name is Xena now.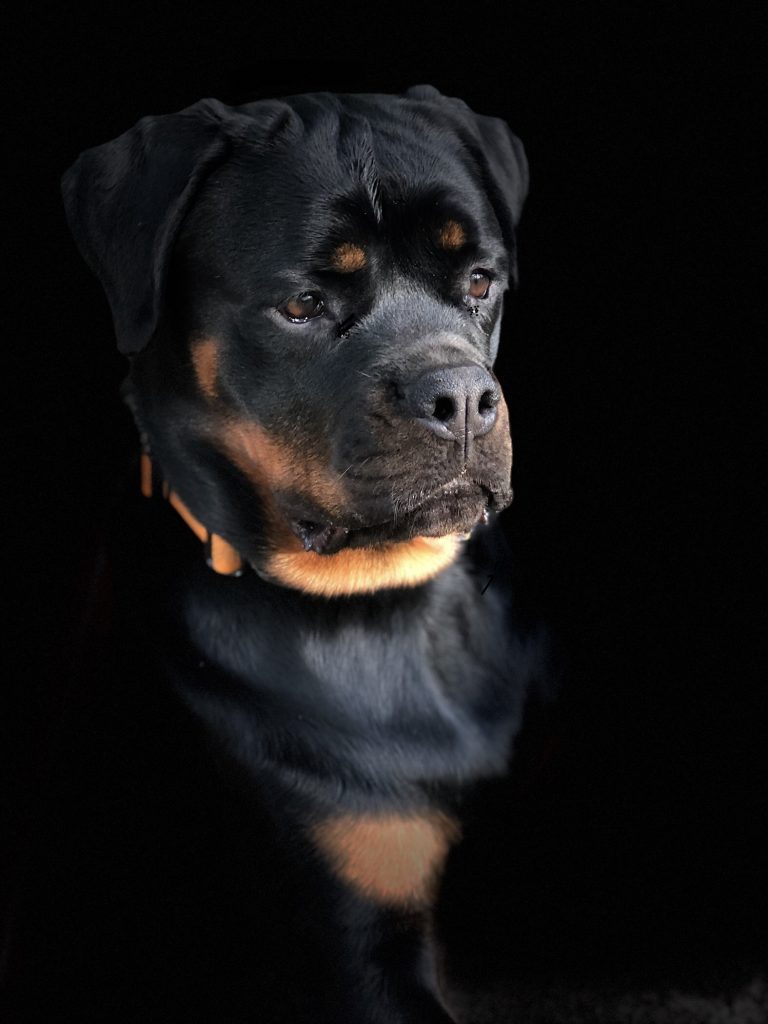 ---
"Loki" Guardian Nibs Von Gottschalk
He is doing awesome. He is such a smart lil guy.  But when he is done, man is he done. He will flop down anywhere and take a power nap. When he wakes he goes out to potty and its game on and hard! He is a bundle of energy and we are keeping him busy learning new rules and tricks. ?. When he plays he plays rough and tough, but when he wants loves theres nothing better, he is such a sweetie.
He loves his new big sister Lucy and will even cry for her when she goes to far away from him in the yard. He is so playful that she gets annoyed at him sometimes so we have to distract him. She has even caught on to the trick of tossing a ball for him so he will leave her alone. Shes always been a smart girl. She is teaching him so much as well.
Again, my love and many Thanks to you and your family for such a wonderful new family member. God Bless you all,
Erica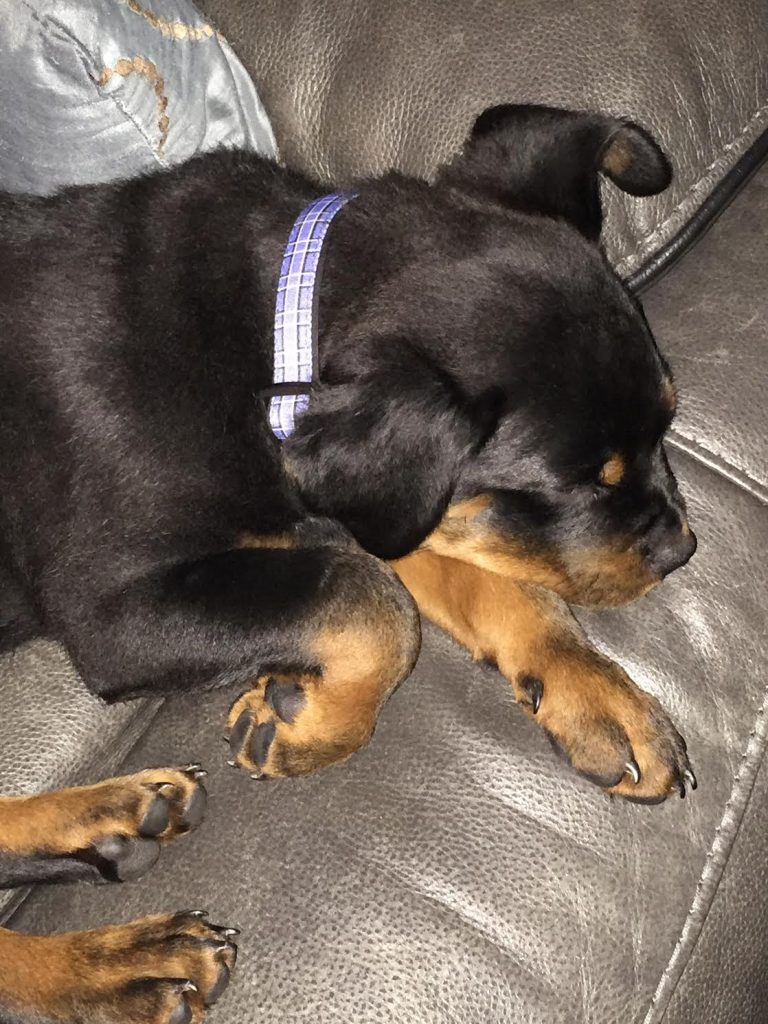 Just wanted to let you know how well  he is doing.
He is so fast and smart. He is learning sit and his name so fast.
Our Vet also gave him a clean bill of health. He  was such a good boy as they poked and prodded him.
All shots are up to date.
You truly are a blessing Alice, he is loved so much already. He is just perfect. Thank you so much.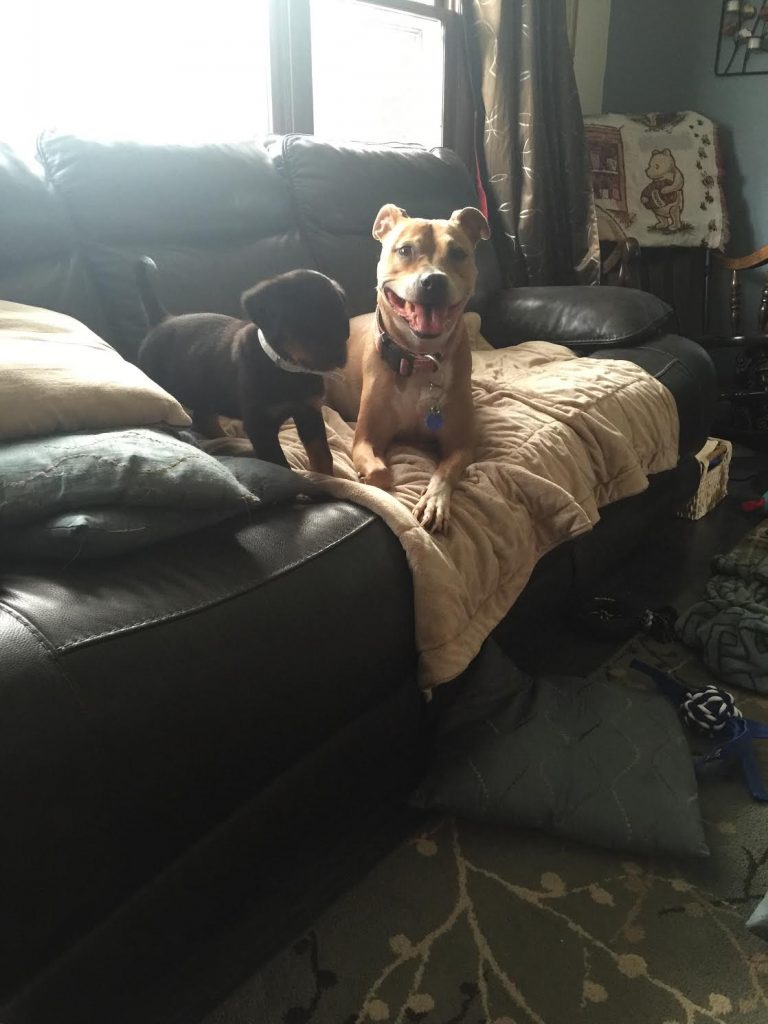 Loki yesterday loving the fall weather and trick or treat as Batman.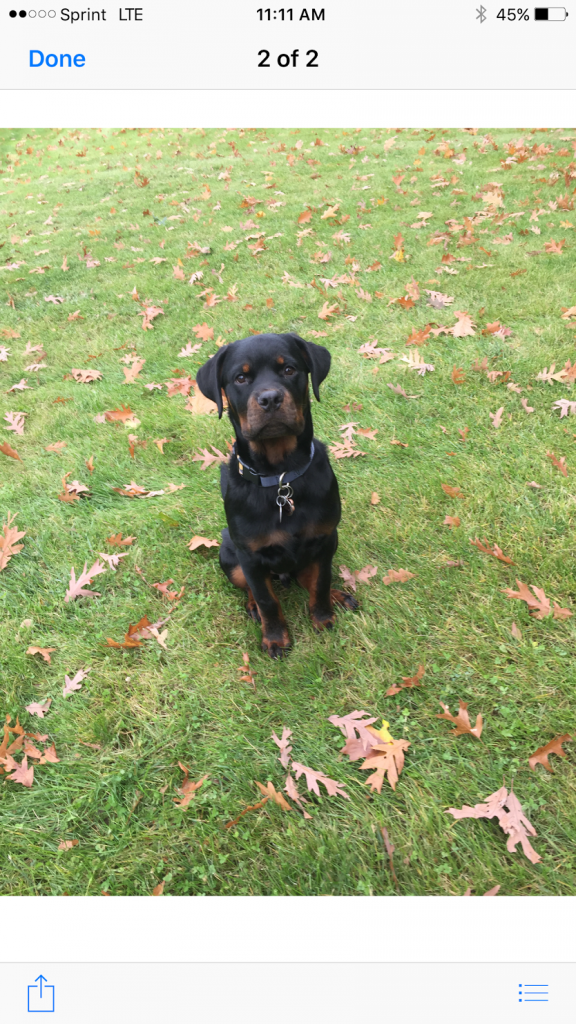 Update. He loves to help me with anything and everything.  He has even come to love bath time so much that he has even jumped in during my shower time. We are quickly correcting that behavior. Oh and the dishwasher door probably wont handle 100 lbs so we are correcting that behavior as well.  He is such a brave, proud, and loving boy and is doing very well.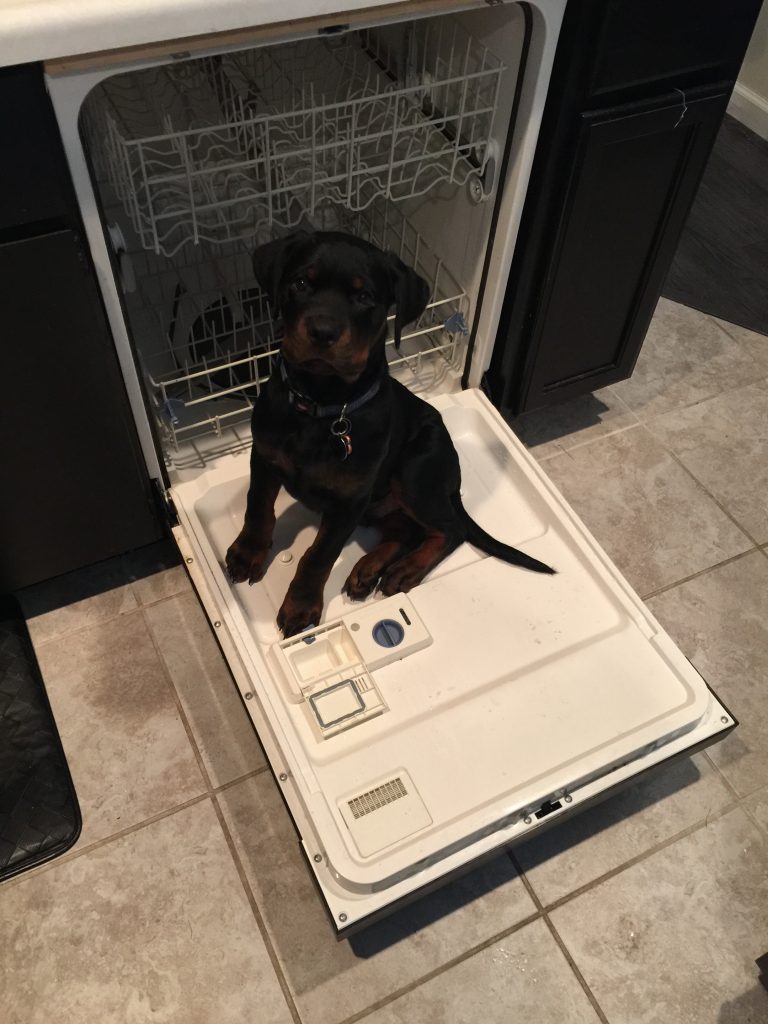 I hope this message finds you and your family well and in good spirits since the loss of your dear Diesel.  I was so saddened by that news. Tom was unable to read the post in full as he teared up. He loves our fur babies so much and said he knows the hurt and pain you felt. The news took him back to his dog Nikki who was almost 16 when she let go. She too was an extremely huge part of his life. 
I'm sorry and I don't want to upset you or make you sad today. 
I just wanted to give you an update on Loki.
First off, he is an awesome pup. I didnt know if I could ever love another dog how I loved My Lycan, but let me tell you Loki has my heart in every way. He has become my life as if I birthed him myself.  He is so smart and funny. He passes all vet exams with flying colors. I am watching his eyes closely and sometimes he looks as if they are puffy, but most days they look fine. I haven't made any special appointment for the vet to look at his eyes, since there doesn't seem to be a problem, I figured we will have him look at them at his next scheduled appointment which is in February. 
We did have him neutered, as wonderful as he is and I am sure he will grow to be amazing and maybe we all will regret it one day, but he was always planned to be our family member, never to be bred or shown. He did awesome. He came home like nothing happened. 
He will start a training coarse next week, he already knows so much just from Tom and my informal training.  
I am also looking into bite work, just as a fun hobby for him. He loves to play. I don't know much about it yet, but you know me, I will research the crap out of it until I am comfortable and feel like an expert. Lol
 I also have to tell you this, he has these keys, chew toy keys. One is red, one is yellow and one is blue. Well Tom plays with him and calls it "his lessons" and I kid you not Tom  will hold them up and tell him which color key to get and Loki will pick the right color.  No one believes it until they see it. It cracks me up every time. Its awesome. After he amazes people, I tell them that Loki should be reading at a 3rd grade level by spring. Lol. 
Well thats about it for now, again I will never be able to thank you enough for what you do. 
Sincerly,
Erica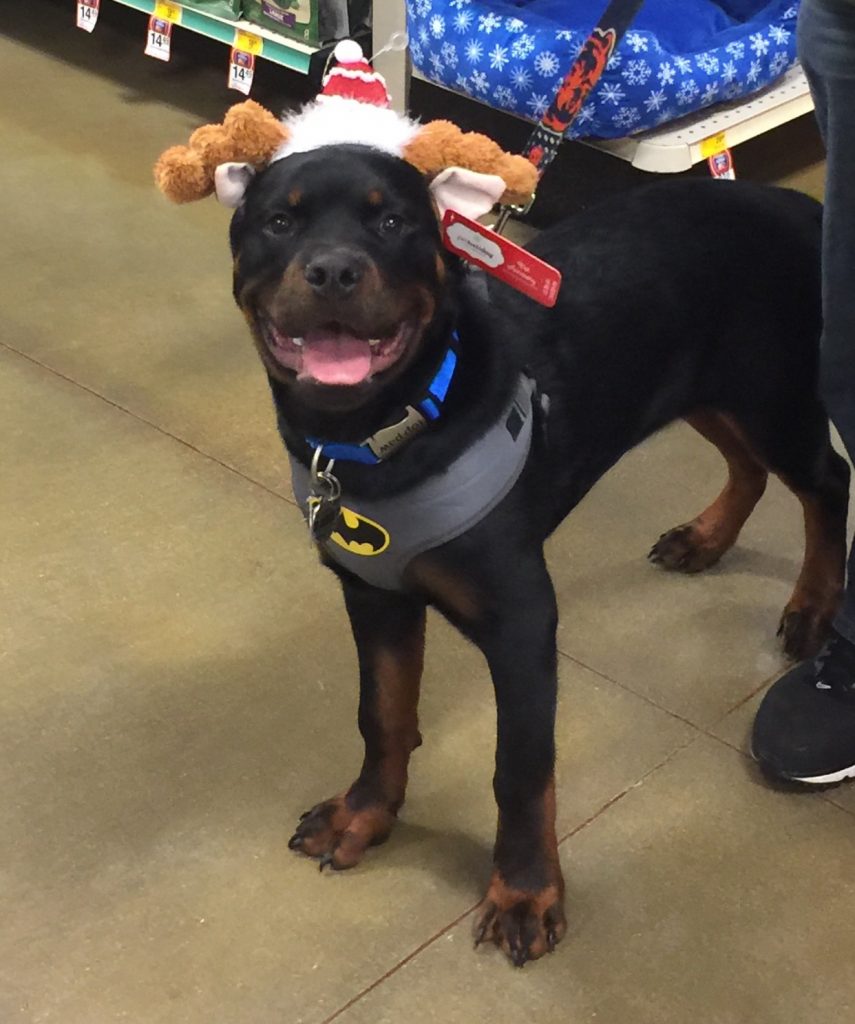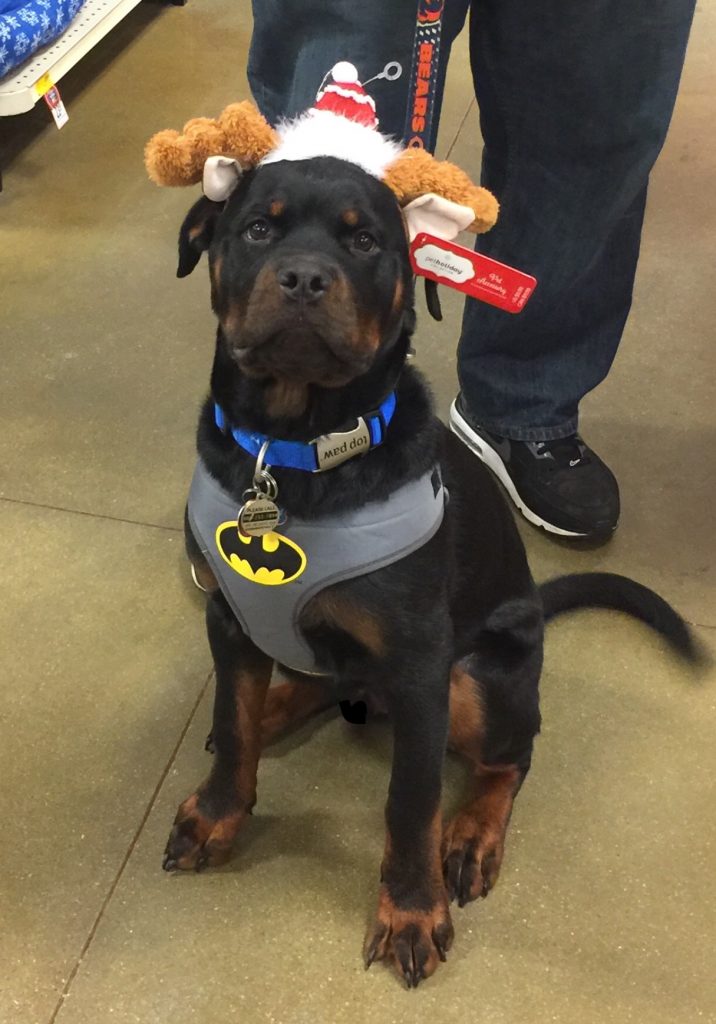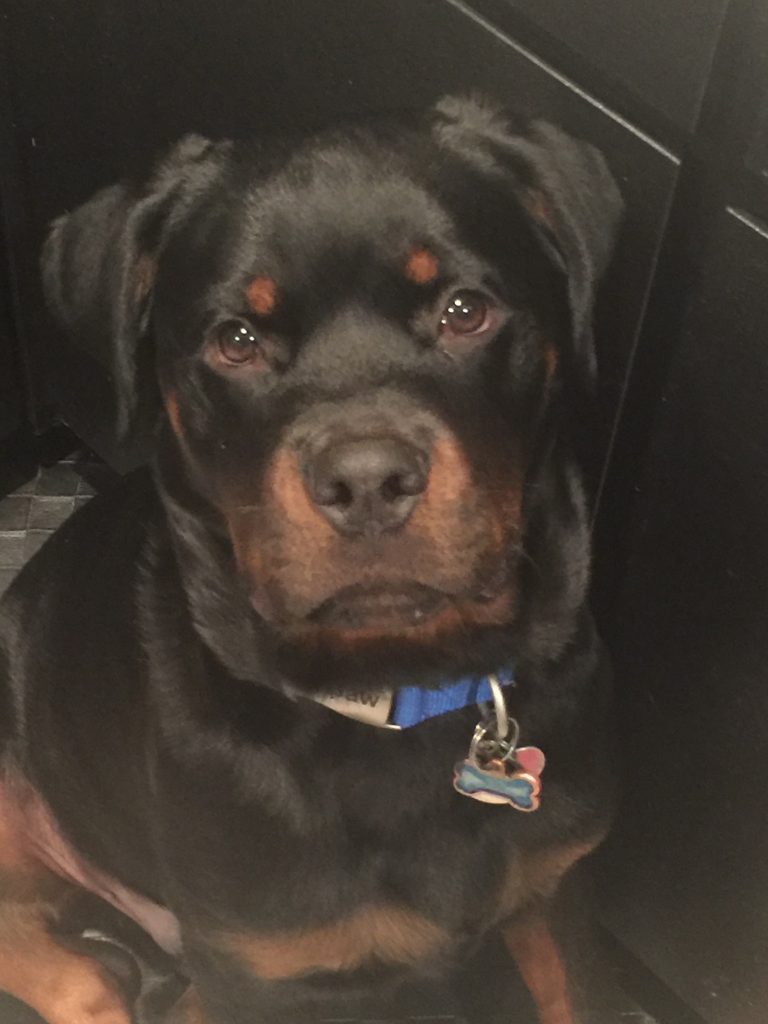 He is absolutely a puppy to be reckoned with 🙂  He is such a great example for the breed. In public he is charming and cool and collected. We were in petsmart and a german Shepard pup about his age was growling and mad when he saw our dogs, I tell you, it was the funniest thing, our pit got really nervous and hid behind Dad, so I was nervous to see how Loki would react to this pup. Alice I was so proud and chuckled to myself when Loki laid down at my feet so cool and acted like that dog was not even there. No fear, anxiety, just calm and cool. I think the german Shepard parents were a little embarrassed. Loki laid down as if to say, I'm cool, aint scared. He aint gonna do nothin.  I realized that he will be a true guardian and we are so lucky to have him.
Thanks again,
Erica
P.S. The batman costume is now retired as he is growing and his chunk O butt wont fit in it any longer.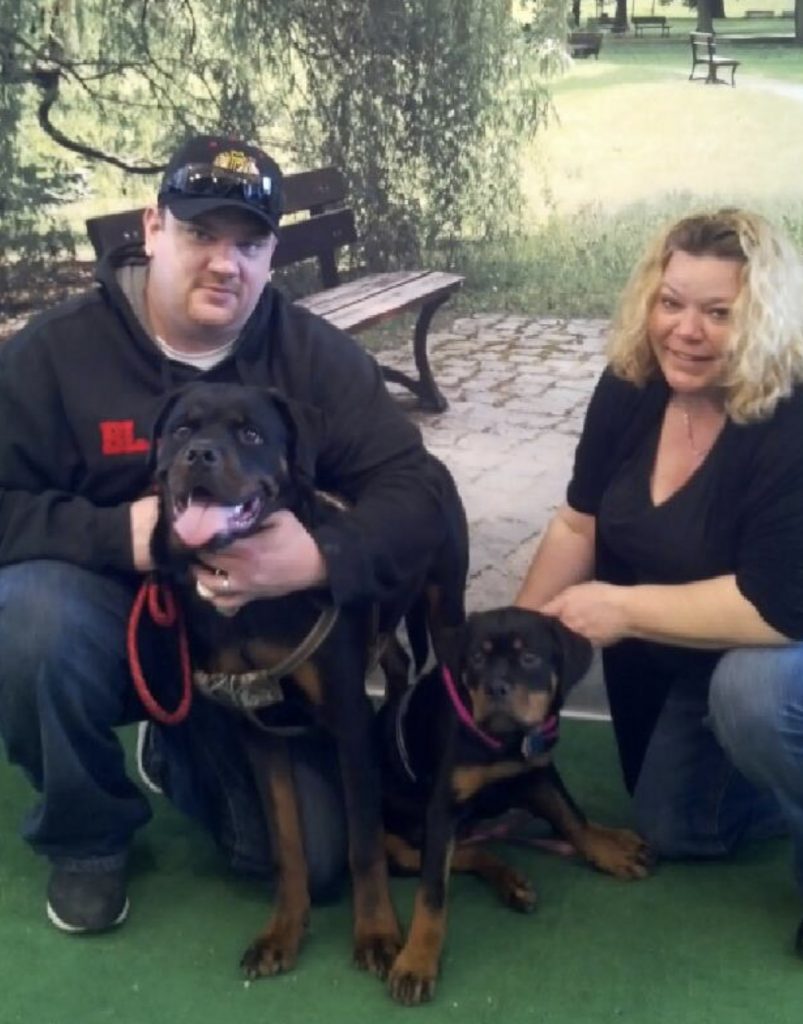 Loki and Sara at dog days Bass Pro shop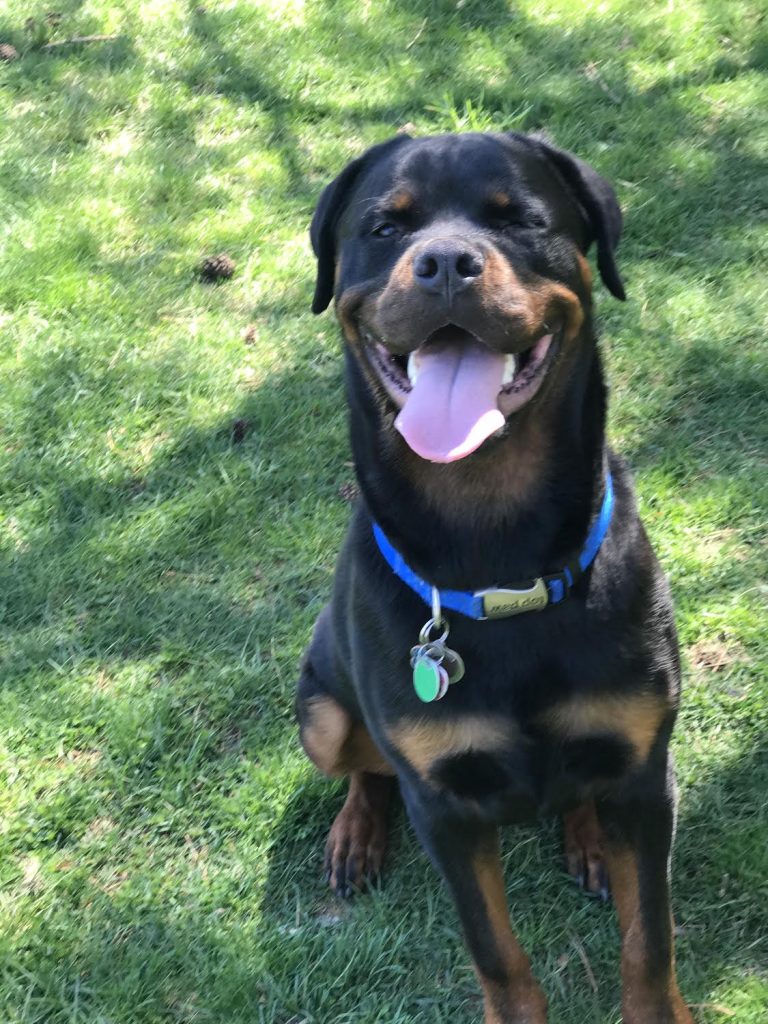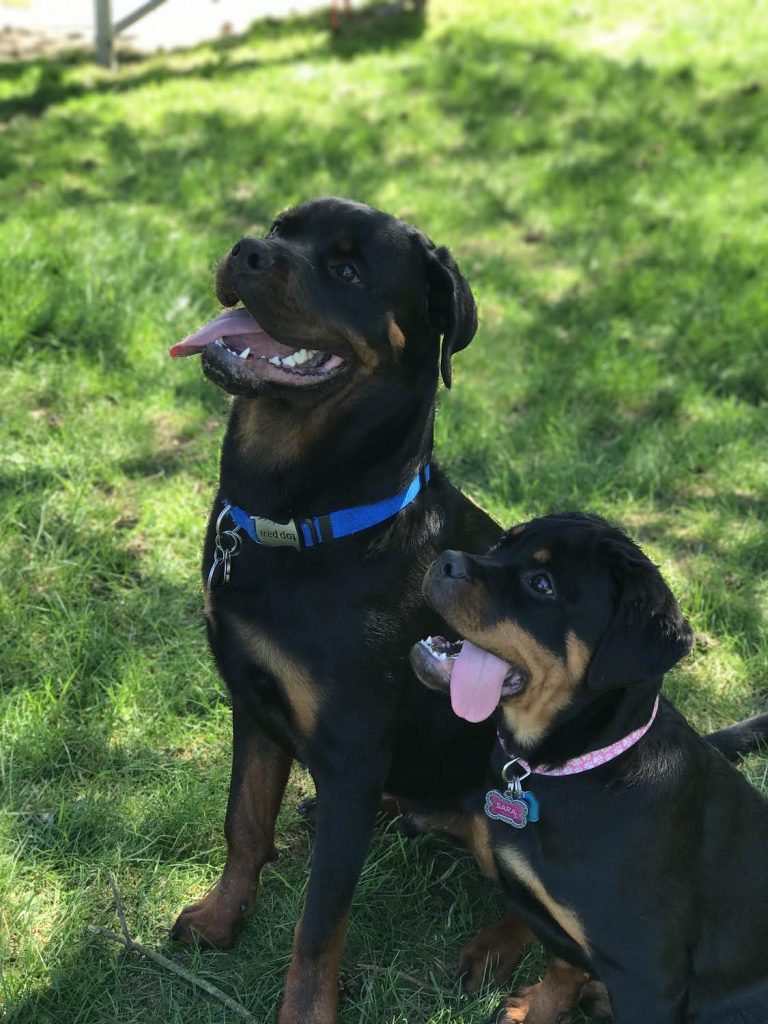 Loki and Sara are great. They had a great Christmas. We welcomed our new grandson Xavier in June. We call him Eggsy. My Guardians have taken very well to him and are now his guardians. ?. Loki is very much worried about each sound or cry he has. Sara just can't stop kissing him.
They are amazing me each day. We are experiencing heavy snow storms up here, and the furbabies are in love with it. They dive and play and for about 3 minutes I have all white dogs.  However being as over protective as I am they are not allowed to play in the extreme cold for more than 10 minutes. The pout like little kids when Mom makes them come inside. Trust me they get their share of play time. Hope all is well on your end. Just wanted to drop you a line and send some pics.
Best New Year wishes,
Erica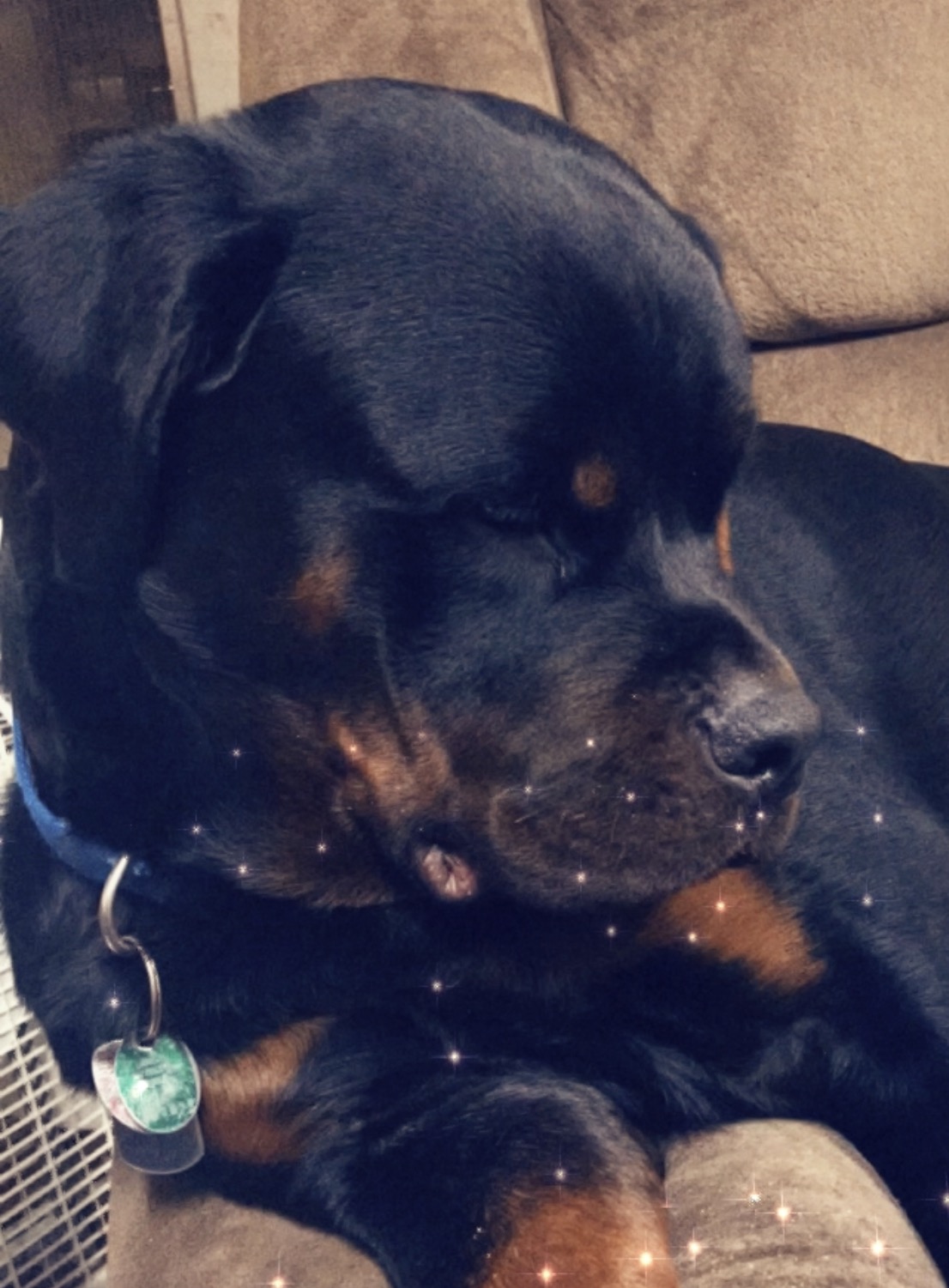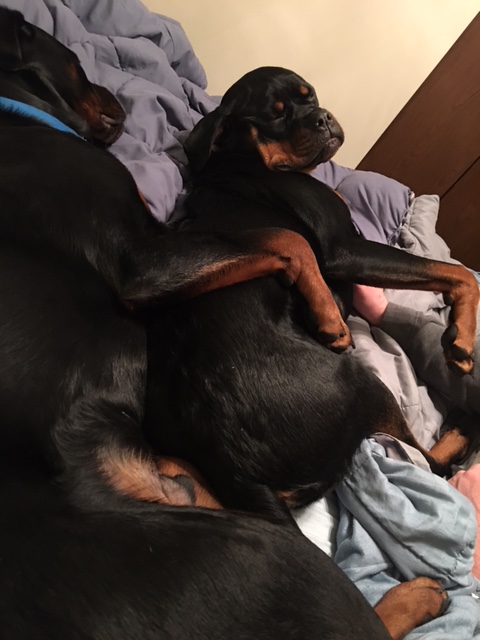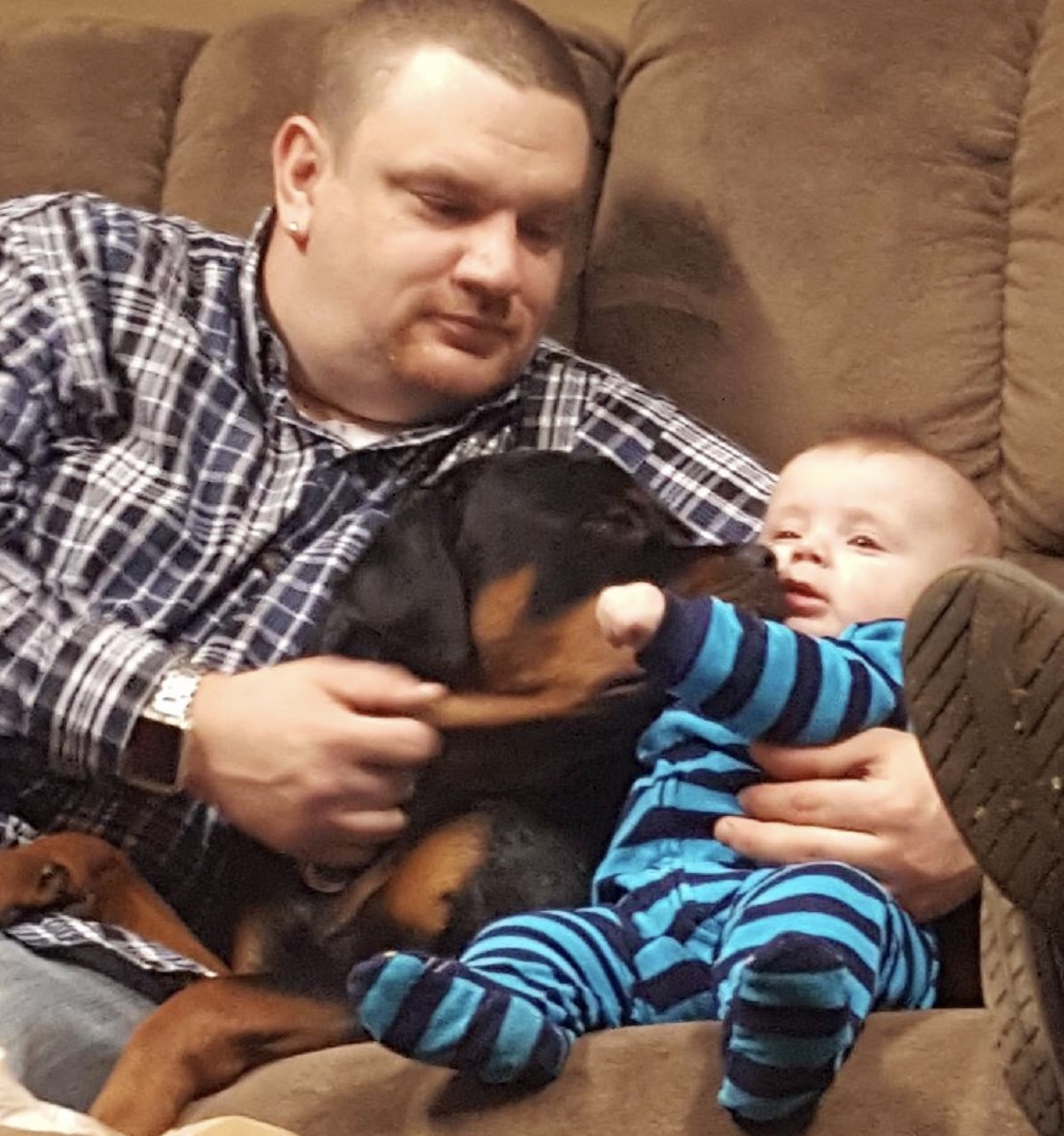 ---
"Ruger" Guardian Croc Von Gottschalk

Alice,
Just two quick pictures of the babies.  Ruger is such a happy little love bug.  He cries when he needs to go out and if I don't move quick enough Miss Fiji gets in on the noise to make sure I'm coming.  She seems to absolutely adore him.  He still seems a little cautious of her but on Sunday started approaching her.  She actually laid down on her side and lifted her leg for him.  I swear it looked like she was inviting him to nurse.  He is a talker and grumbles at his toys when playing.  Night and day difference between him and her when she was his age.  He is all over you loving and kissing, Fiji just wanted you to throw the toys or play tug, no time or tolerance for affection..  He likes to pick the biggest toy he can find to play with and did grab ahold of one of Fiji's big stuffed toys.  She however doesn't quite get that he's so tiny and can't hold his own with tug.  She tried to play with him and ended up just pulling it away from him.  He takes a correction very well and it only needs to be a mild verbal one.  (Another MAJOR difference).  When you correct him he stops and sits down like a little stuffed teddy bear and looks at you like "I'm sorry".  I swear he looks like he's going to cry.  Re-direction also works very well with him. 
Yesterday she played in her pool, went for a long walk around the property, started playing fetch with her Jolly ball and then took it to the pool and played in there for about an hour more.  I was trying to let her get tired out so that she could be with Ruger.  She went full blast on her own accord for close to three hours and you can see from the picture that she looks a little tired.  First thing when she went in the house was to go to his crate and check on him.  He was sound asleep but woke up a few minutes later and cried and she went running to him.  She lays down to "meet" him, cleans him and nudges him.  That part is really good.  Then he starts to move and play and she tries to pounce and play with him….  Not so good.  It has only been two days so I'm really not concerned.  She has shown nothing but love and affection for him and I am confident that she will be his protector (not that he will need one)
Hopefully I will be sending you a combined picture in the next week or so.
Hugs and love to all.  Special kisses for our Zarabi.  I still miss her so.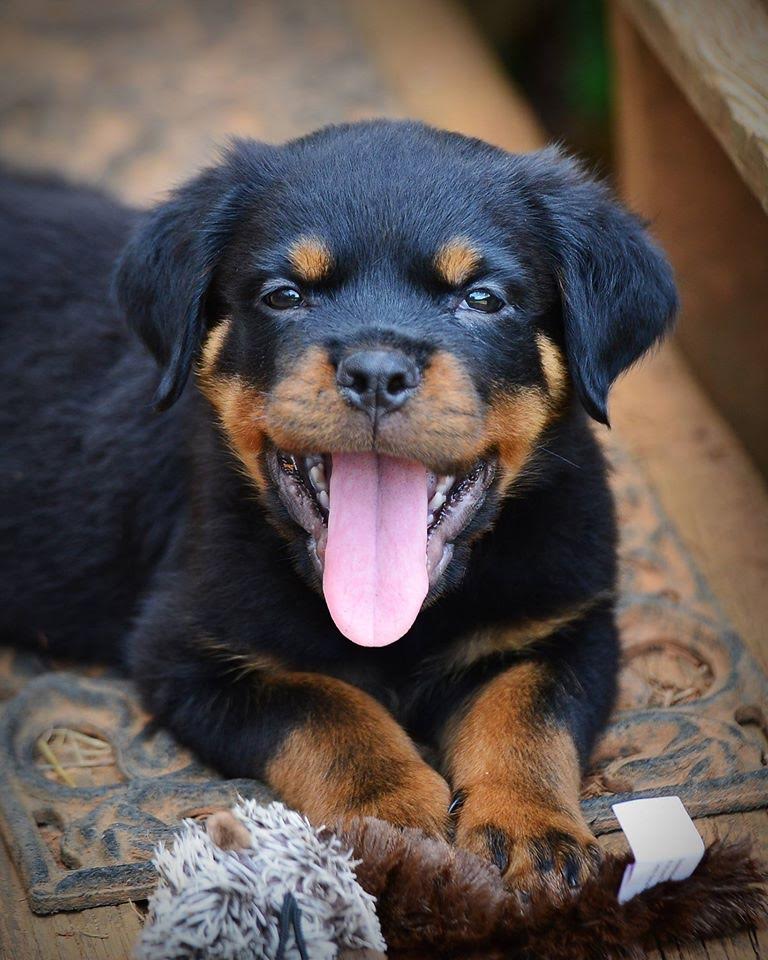 Hello Alice,
Just wanted to send you a couple pictures of our little man.  They were taken around 11 to 11 ½ weeks.  I meant to weigh him last night but ended up forgetting before I put him to bed.  On Monday he weighed in at 17.6 pounds.  His feet have gotten huge over the last week (actually I think they grew overnight Wednesday to Thursday of last week).  He has gotten really dark on his legs as you can see from the pictures.  He is coming along well with his potty training and performs sitz pretty reliably.  He has also learned heir, and plotz, and is in the process of fully understanding "look" and "aus".  I have also introduced "geh aus" and "geh rein" with sitting and waiting at the door before he can exit or enter.  He has no problem with the sitting, just with the waiting for the next command (lol).  He is a smart little man and loads of fun.  He always has to be on your lap or laying on your feet if you are standing.  When he is playing he will retrieve his toy and come running back to you, jump on your lap and lay down to chew on his toy.  He is doing the puppy biting thing but seems to correct pretty well and can be re-directed to a toy or antler most of the time.
As far as he and Fiji……Where to begin.  They are eating breakfast and supper pretty much nose to nose (but with a pen panel between them).  Neither one of them acts the least bit uncomfortable with the other being so close.  I actually sit on the floor with them and they take turns licking me in the face in between bites.  It is as if they think the whole family is eating together.  They have been together quite a few times but we are still keeping Fiji on a leash as she is just SO intense.  We have been leaving Ruger loose with both of us present and they have yet to move away from each other.  The whole time Ruger is jumpimg, crawling, biting on Fiji.  He has tried to nurse on her several times and she scoots away from him.  This last time they were together I think she was starting to get frustrated by his jumping on her and she actually put a paw on him to hold him down and then started mouthing him.  She has yet to growl, snap, or even really try to get away from him.  I am very surprised at her level of tolerance with his antics.  It wears me out just watching him bouncing all over her.  We have stepped in a few times on her behalf as he thinks nothing of launching his whole body over top of her head or jumping onto her belly when she rolls onto her back.  She is comical in that she stays laying down when interacting with him and then when he jumps on her she scoots away.  I was afraid she would be as tough on a puppy as she is hard with everything she does but instead she is letting him get away with everything.  I hope she starts setting some boundaries for him sooner rather than later.  I am planning to leave them both loose together this weekend with a 2 foot drag leash on Fiji (just in case).  I wish you could see her and actually put your hands on her.  She is just so powerful.  I wish a picture could really capture how well muscled and strong she is.  At 14 months she rivals many adults I have seen both male and female.  And of course she is as beautiful as ever.  We have to get this lady into the show ring.
I've also included a picture of Fiji when she was playing in her "pool".  She was 13 months in the picture.
I hope everything is going well for all of you.
Hugs and love to all.  Special hugs and cuddles for my Zarabi.  Her birthday is rapidly approaching.  Please give her special kisses from me.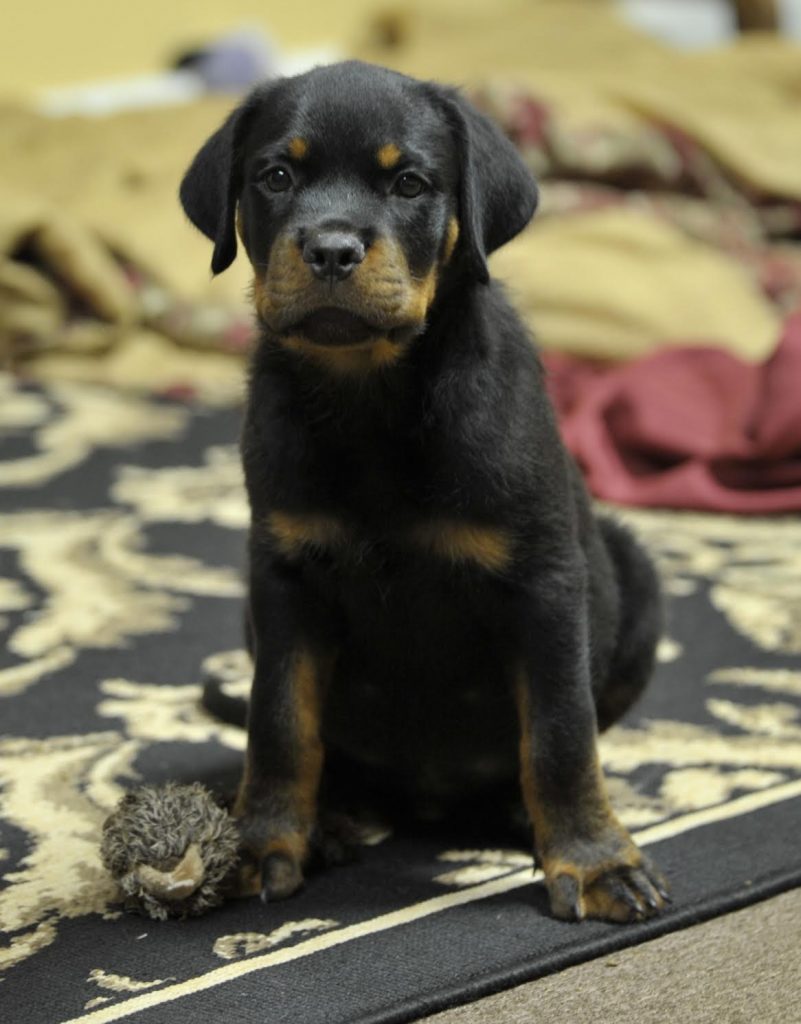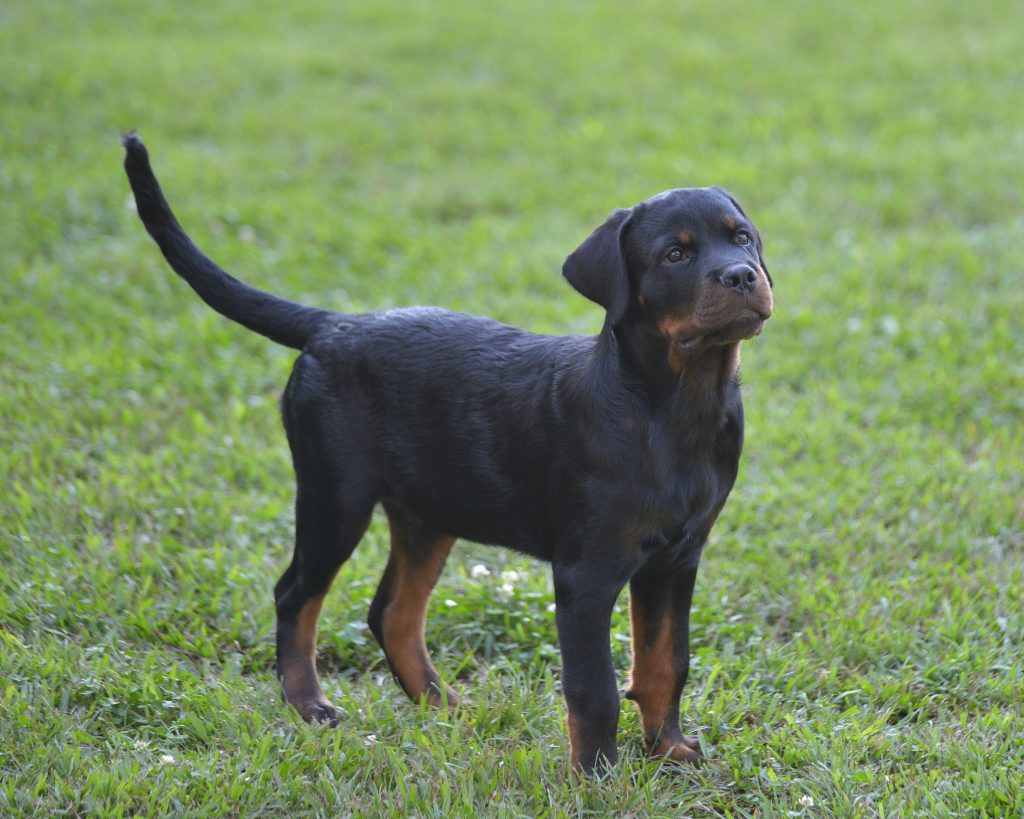 Happy 4 month Birthday to the Peter Pan litter.
I am attaching a few pictures of our little man playing outside yesterday.  He celebrated with a box of Blue Moon.  He now weighs in at 36 pounds and is doing well.  He still isn't great about peeing as he seems to not fully go when he is outside.  He seems to be too anxious to get back inside and play.  We continue to work on this.  He is also still ruling the house.  Miss Fiji still has not corrected him.  I started correcting him after our last conversation and he has stopped "attacking" her legs but the jumping on her back or belly when she is laying down has not stopped.  I can usually call him off of her by telling him to get a toy but it is difficult to correct him when they are in these positions as he is snapping away at her as she is mouthing at him.  My right had suffered the effects of my efforts the other day (I know not real smart on my part to put my hand between two snapping jaws). I've tried to tell her all she has to do is stand up and the little guy will fall off…lol.  Fiji is just mouthing him and seems to want to hold him still so she can clean him and love him but he is a total wiggle worm and will not give in to her.  She has over the last couple days stopped letting him push her out of the water bowl but he is pretty insistent and when she didn't give in the first time he grabbed her butt.  I corrected him and he hasn't done that away.
He is a major cuddle bug when he is not tearing around the house playing.  He still loves to bring his toys or antlers to your lap and plops down.  He is so cute with the noises he makes when he can't quite get things the way he wants and since he is now getting to big to be completely on my lap he grunts and moans while he is trying to make himself fit and then finally gives in to just keeping half of himself on me.
As you will see from the pictures he is growing nicely.  He has also gotten a bit darker since the last pictures.  The front of his front legs are completely black now going all the way down onto his feet and his chest has gotten a bit darker as well.  He has big feet, long legs, and a big mouth.  My goodness it doesn't look much smaller than Fiji's at this point and he loves to carry multiple toys around in it.
Hugs and love to all.  Special cuddles for my Zarabi.
Hey Alice,
Just a quick line with some recent pictures of my babies.  In the pictures Fiji is 24 months and Ruger is 13 months.  He is bigger than her now and has the size to back up his "big dog" attitude…lol.
Hugs and love to all.  It has been crazy here.  I will catch up with you soon.
---
"Freddy" Guardian Pan Von Gottschalk
Hey Alice!
Let me start by saying just how gorgeous pan is!! (his name is now Freddy lol) pictures didn't do enough justice! He has the most precious face and we LOVE his personality! Nutella is our wild and crazy little girl and Freddy is our calm and mellow little guy! Nutella didn't take to him quite as I had hoped. I'm not sure if it is jealousy or excitement (maybe a little both) but she is a bit rough when she plays with him, although he is pretty good at holding his own with her! As of this afternoon it seems as though The "newness" is beginning to wear off. She isn't quite so intent on pouncing on him every 2 seconds lol. I know, with a little more time, they will be best buds and eventually make the most beautiful puppies!
---
Guardian Tiger Lily Von Gottschalk

Hi Alice, I hope you're doing well.
My condolences to your family and big hugs to Tahlia for the loss of Serenity- I know all too well the pain you all feel  🙁 she was a lucky dog to have you all as her family.
Tiger Lily has finally completed her Laparoscopic Spay,  Gastropexy & double cherry eye surgery successfully.
Attached is the documentation for the spay and Cherry Eye surgery.
Please put us back on your waiting list for a future puppy.
I look forward to see what you have in the Pipeline.
Tiger Lily is definitely a very special dog- and blessed to be with us.
I'm ready for the kiddos to get back to school and re-organize myself from the summer's chaos.
(Visited 40 times, 1 visits today)