Prime is full brother to Guardian Puck Von Gottschalk and is a very special boy for me.  I love it when he comes to train.  He reminds me so much of his dad and he has my heart.
Guardian Prime Von Gottschalk
Sire: Crom di Alaricus Rex
Dam: Guardian Isis Von Gottschalk
Born: 12 December 2013
AKC# WS45811003
Chip# 956000009324626
Photos of the gorgeous Mr. Prime at about 6 months old


Prime reminds me so very much of his daddy- he has since he was just a few weeks old.  Prime has his father's signature head type and those sweet, teddy bear eyes that somehow peer right into your soul.  Prime also has his father's super dark mahogany markings with that rich red undertone.  He has a super short, sleek, tight coat and such elegant lines.  Prime has excellent rear angulation and a very nice front.  He has a great character- very affectionate and outgoing and loves to give great big bear hugs just like my Crom.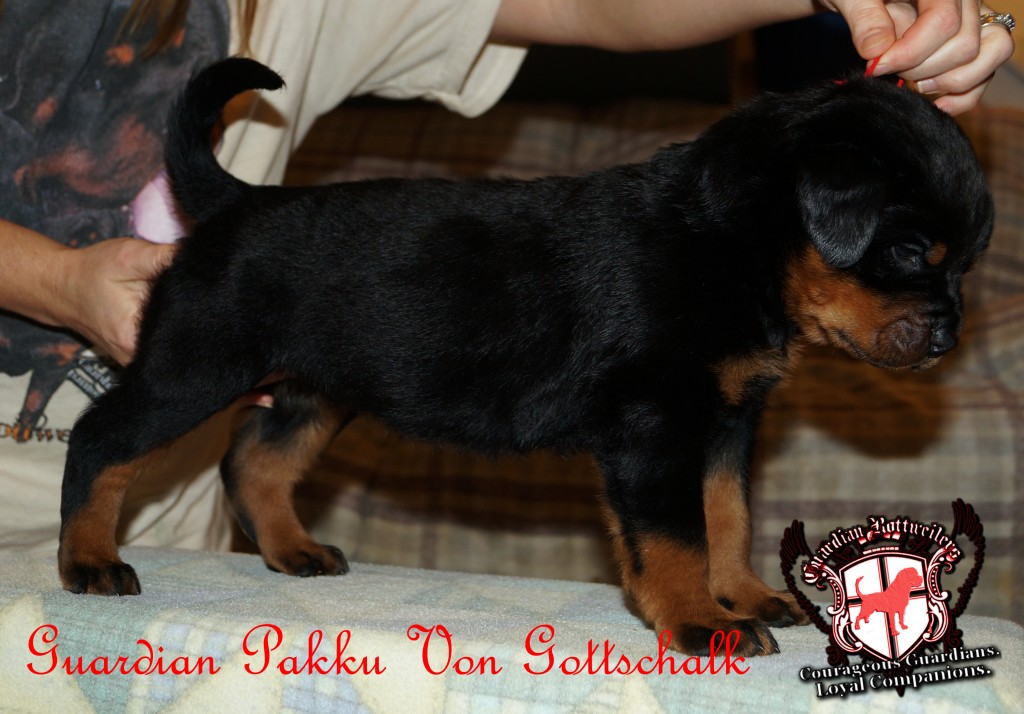 Pakku is a waterbending master from the Northern Water Tribe in Avatar, The Last Airbender- a series of books and movies that my kids have loved for years.  Pakku is portrayed as a great leader and powerful warrior.  Our little Pakku is a beautiful, compact male with heavy bone and a stocky frame.  He has a shorter, plush coat with rich color and clean markings.  Pakku has a strong head with heavy topskull and good stop definition.  He has a short full muzzle with dark lips and gums.  Pakku's ears are well set and carried.   Pakku is a playful, curious puppy and loves to snuggle up with the kids when they read to him.  He will come with FULL REGISTRATION and has tons of potential!
(Visited 22 times, 1 visits today)