Guardian Rottweilers O LITTER
Sire: Faryco Terezsky Dvur
Dam: Guardian Geneva Von Gottschalk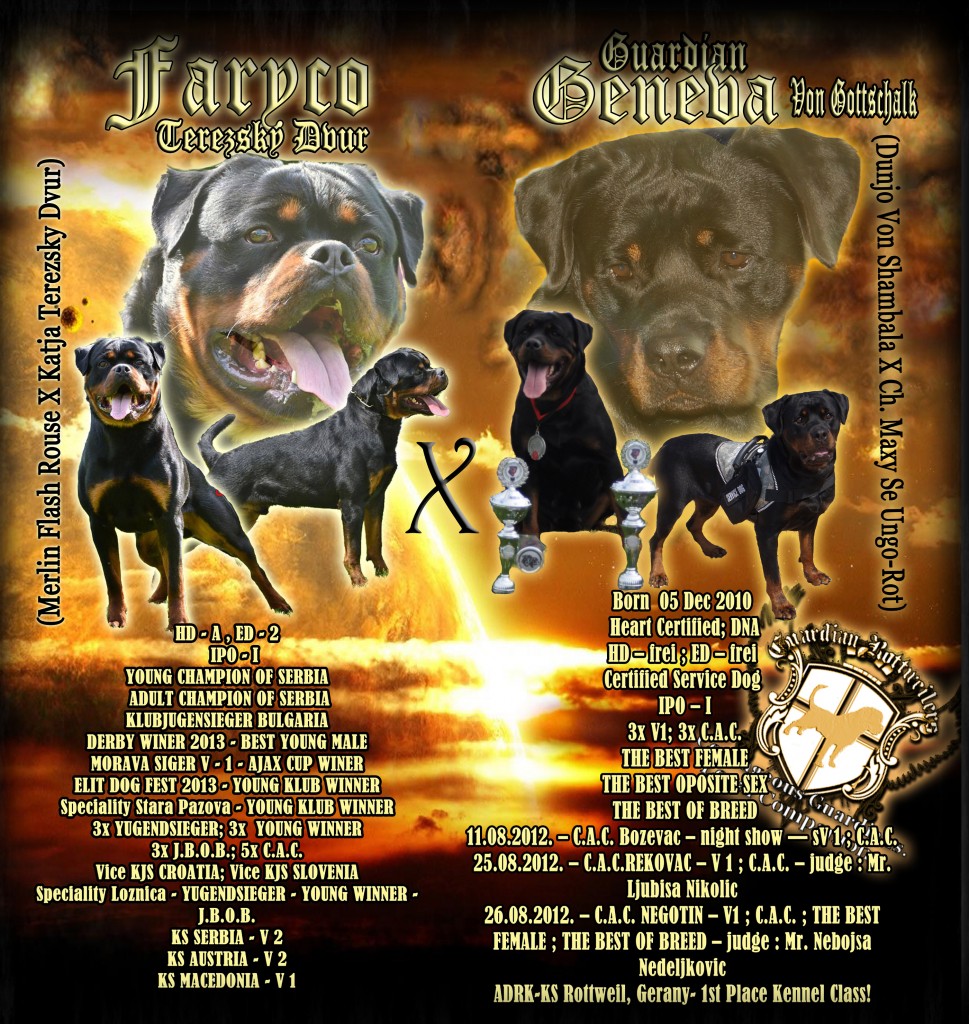 Sire of this phenomenal litter is
RUSSIAN SUPERSTAR, FARYCO TEREZSKY DVUR!!
HD – A , ED – 2   
IPO – I
YOUNG CHAMPION OF SERBIA  ADULT CHAMPION OF SERBIA
KLUBJUGENSIEGER BULGARIA DERBY  WINER 2013 – BEST YOUNG MALE MORAVA SIGER V – 1 – AJAX CUP WINER ELIT DOG FEST  2013 – YOUNG KLUB WINNER
Speciality Stara Pazova – YOUNG KLUB WINNER
3 x YUGENDSIEGER
3 x  YOUNG WINNER
3 x J.B.O.B.
5 x C.A.C.
Vice KJS CROATIA
Vice KJS SLOVENIA
Speciality Loznica – YUGENDSIEGER – YOUNG WINNER – J.B.O.B. KS SERBIA – V 2 KS AUSTRIA – V 2 KS MACEDONIA – V 1
The dam is a GORGEOUS young lady who is not only an exceptional Rottweiler, but proven to be an exceptional producer!!  Geneva and her progeny secured a FIRST PLACE KENNEL CLASS WIN at the 2013 ADRK KLUBSIEGER in ROTTWEIL, GERMANY!!
Guardian Geneva Von Gottschalk
AKC# WS36062806
Heart Certified
DNA
HD – frei ; ED – frei
Certified Service Dog
IPO – I
CHAMPION of SERBIA
Multi V-1;   3x C.A.C.
The Best Female
The Best Opposite Sex
The Best of Breed
11.08.2012. – C.A.C. Bozevac – night show –  open class – V 1 ; C.A.C.
25.08.2012. – C.A.C.REKOVAC – open class – V 1 ; C.A.C. – judge : Mr. Ljubisa Nikolic
26.08.2012. – C.A.C. NEGOTIN – open class – V 1 ; C.A.C. ; THE BEST FEMALE ; THE BEST OF BREED – judge : Mr. Nebojsa Nedeljkovic
ADRK KS 2013- Geneva and Progeny- 1st Place Zuchtgruppen Klasse!!!
We have VERY HIGH expectations for this litter!!  I am expecting a ton of character with great drive.  I expect strong head type and with Faryco and Geneva pedigrees!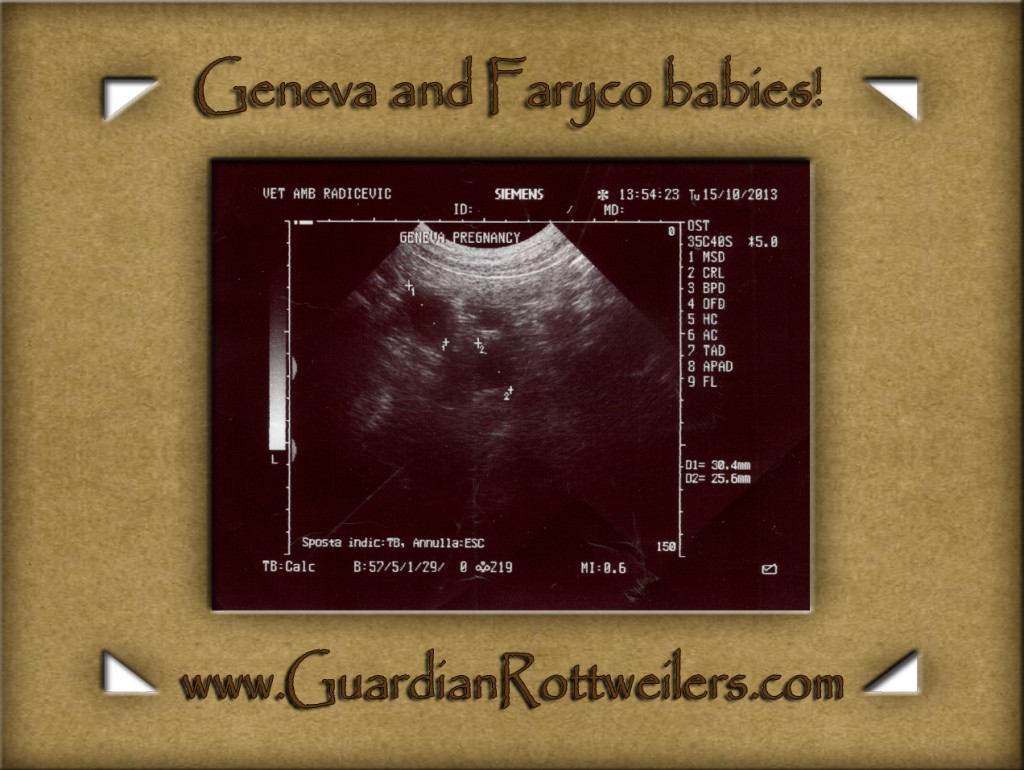 ---
"Bella" Guardian Ocean Von Gottschalk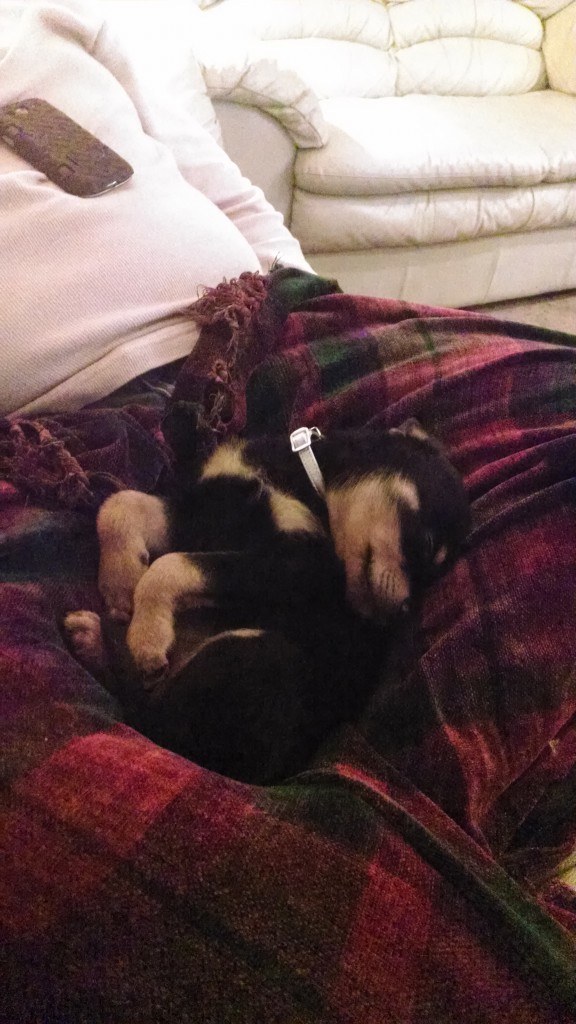 She is doing great. She was up last night several times had to poop a lot but seems a little better today. Never stopped eating,drinking and playing like crazy! She slept from where we stayed just past Cleveland all the way home
We are home and she seems happy to explore without me worrying so much she might have an accident on the floor like in the hotel. We are still doing the pads, we have several inches of snow on the ground and while she likes the snow she gets cold real fast. I tried to take her on front on the walk where there is no snow but she was not interested in that either.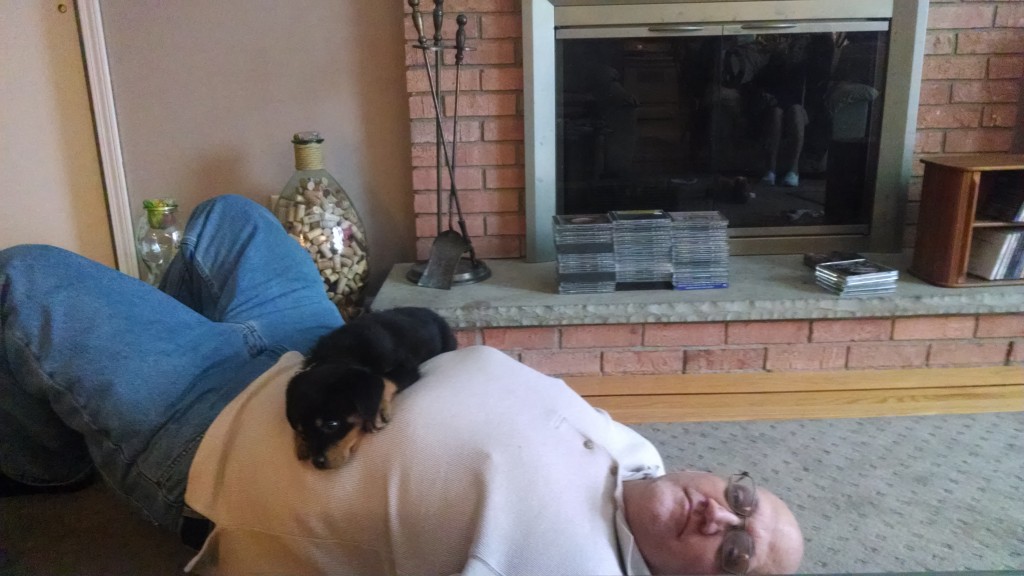 This dog is amazing, she is playing fetch and bringing the ball back, she is coming when called and sitting in front of me, the only problem is I have to find a time when she is not at my feet to call her :). 
We have a 55″ inch TV that she sits and watches with us! 
She races with me around the house and when she gets ahead of me stops, sits and waits. 
I took her to work at lunch and she made many friends. She gets very upset and wiggly if the person that just said a quick hi to her does not want to hold her and receive a face/ears full of puppy kisses. 
I found a good toy that she loves, http://www.loyalbiscuit.com/online-store/dog-toys, I got her the medium Tug me Toy which is twice as long as she is, it is made in Maine. My thought was your kids could make them for you if any of them are into crafts all they are made of is braided polar fleece? They would be easy to make, the only issue is where the polar fleece is made.  
Becky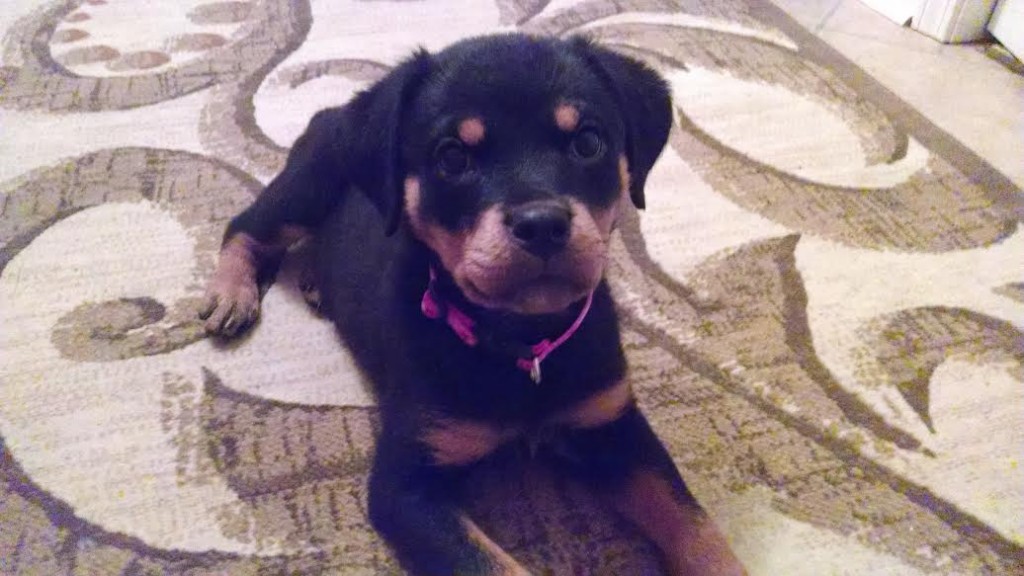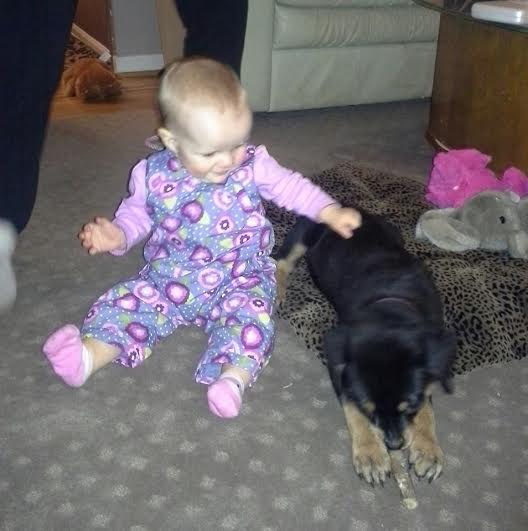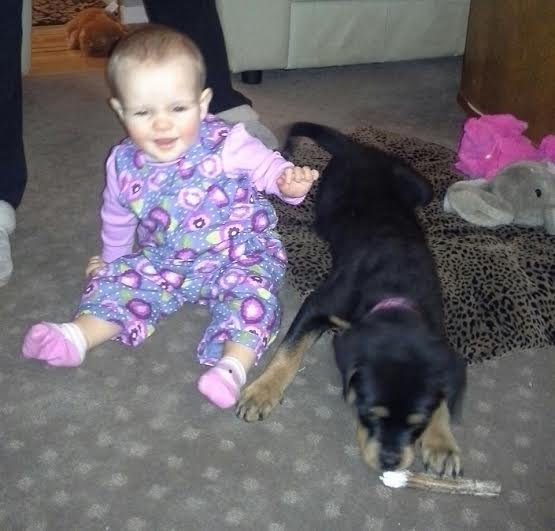 Who does this remind you of? She had a busy weekend we made a trip to my favorite pet store (she spent her time there on the counter on a blanket) brought home a new ball, my dog walking buddy came to meet her and bright her a wubba then two more friends came to meet her by then she was pooped! Today her favorite lily(my granddaughter) came to see her, more pictures are in the next email.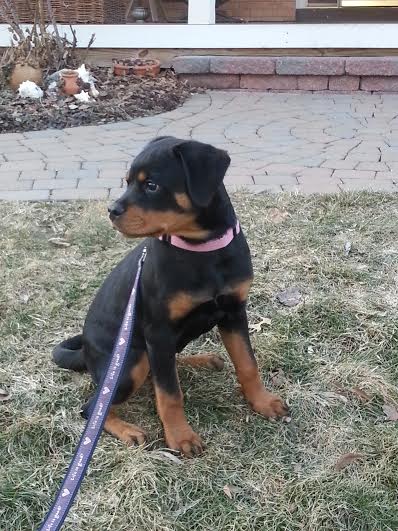 Thank you for your response.
Bella is perfect and petite, you can feel every rib but can't see them. Petite is a good description of her. I started to cut out her evening meal but the vet said now is when she will grow like crazy so I kept it up. She always has all the dry she wants and she will eat it, but her meals are mixed damp with a little canned. All Fromm….She never stops moving so for now her weight is not a problem. 
She is so cute she loves to hide things, she must think Ron and I will get them? Just now we (she and I) were looking for a little orange ball I bought her, all of a sudden she comes prancing out with it…She hides the bully sticks too, I know I just gave her one and I know she didn't eat it she chews on them forever but we can't find it. All of a sudden she has three of them. We watch her she hides them in her toy box to go back and get them 10 minutes later. Last night she hid one between the "fireplace tools".
She knows "leave it" if she chooses to do it is another thing! She will do it with the lesser exciting things. She is good at "out" and "wait", she has not learned "drop it" yet nor does she let me have it willingly so I do a lot of sweeping her mouth which is good too! We had our one disagreement about a bone and now she doesn't care any more. I am glad I did it so young because she wasn't happy with me but I reacted fast and stern.
I understand now why people say that winter is hard to get a puppy! I will look we will get though it and a new rug when done!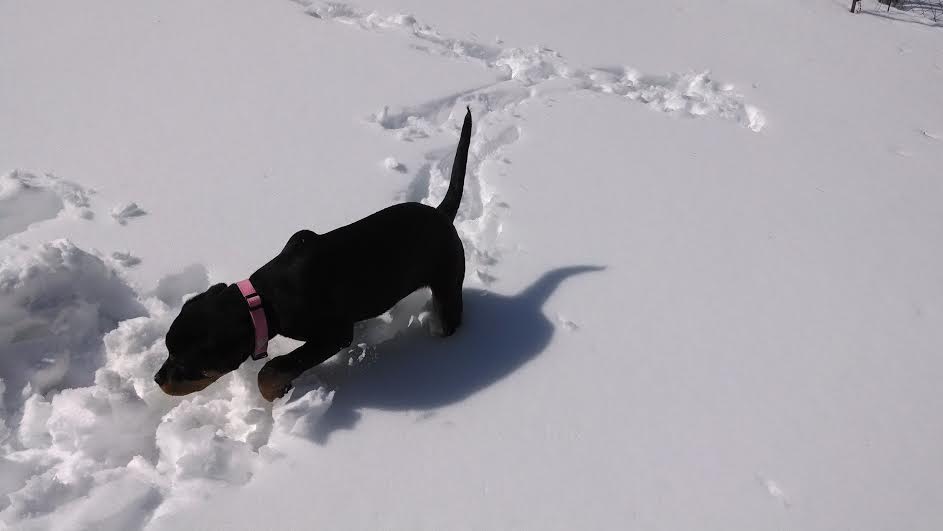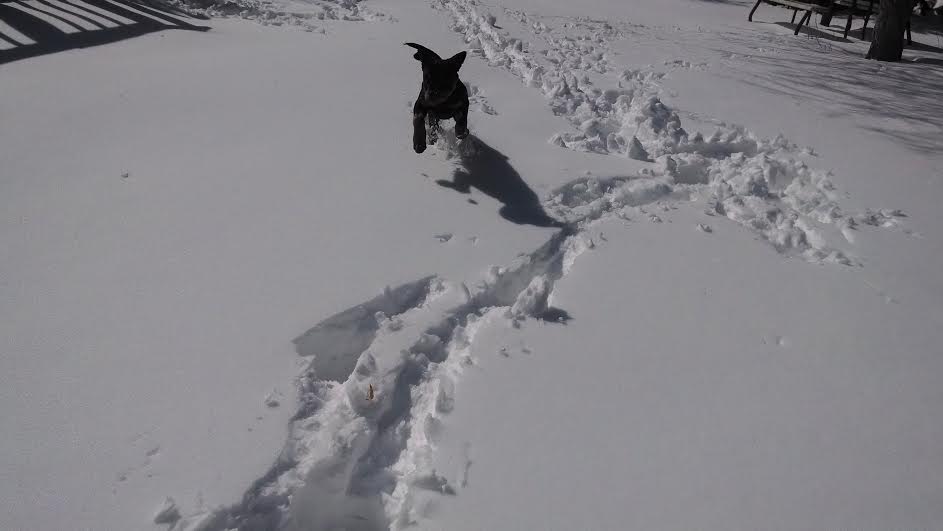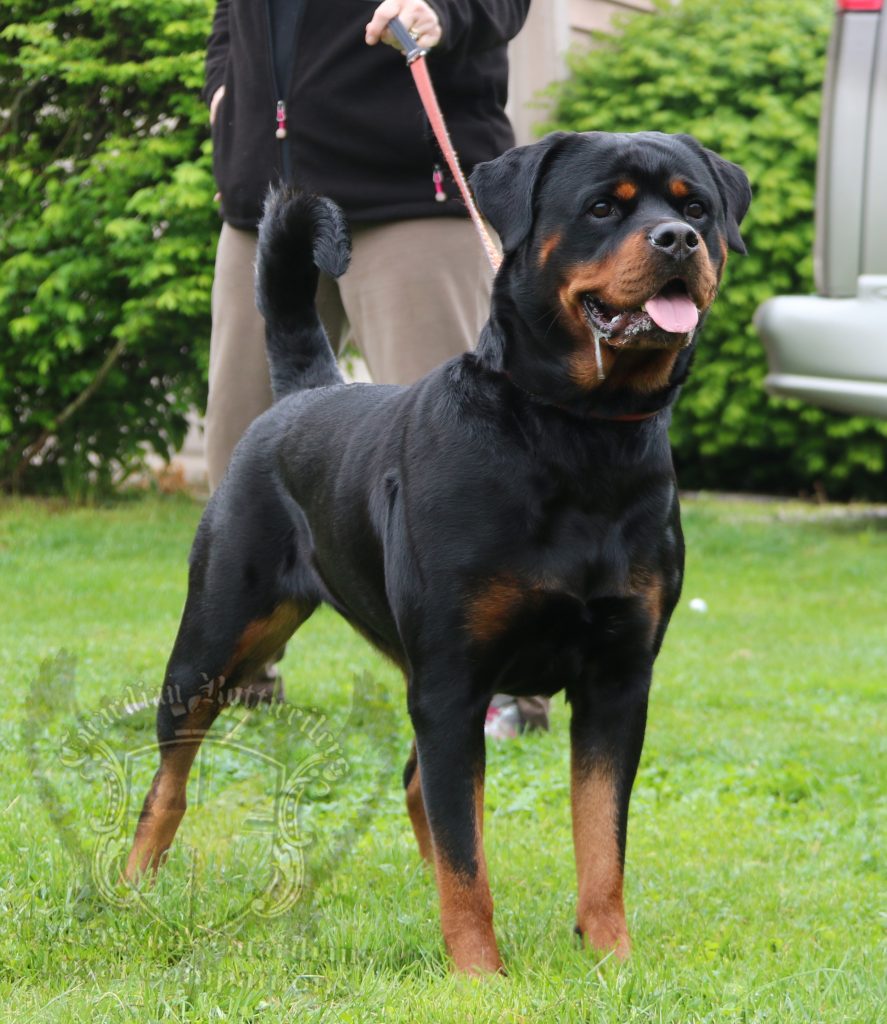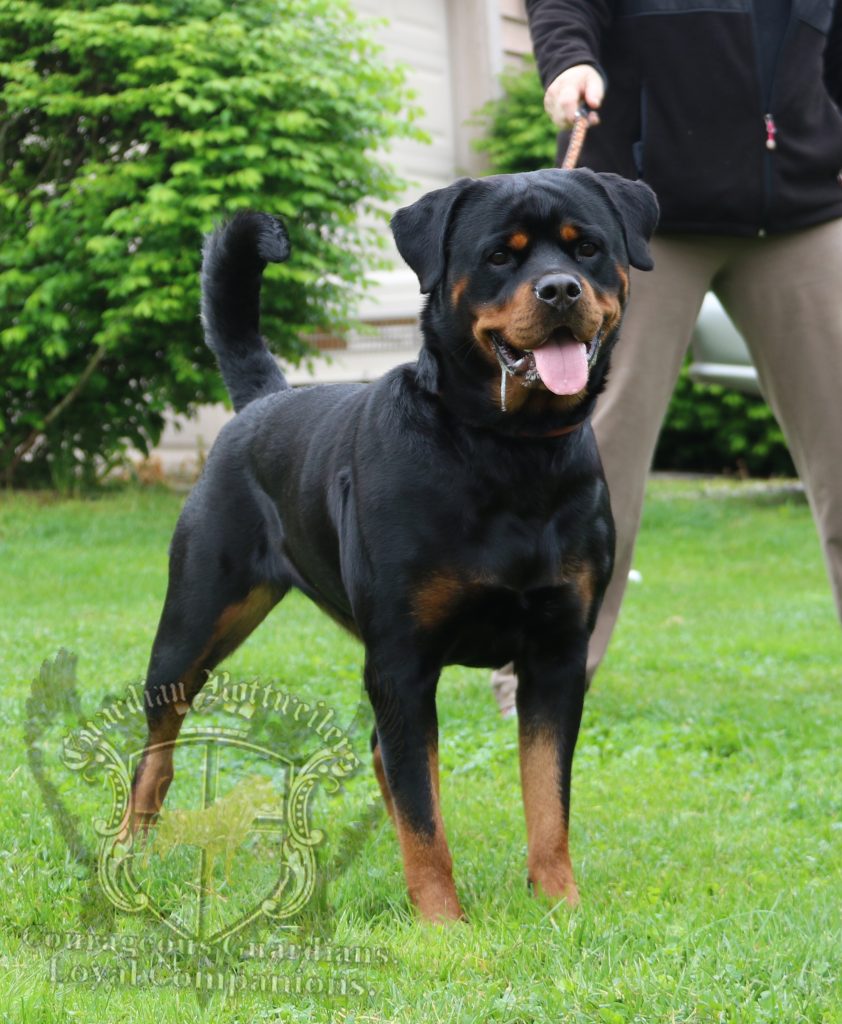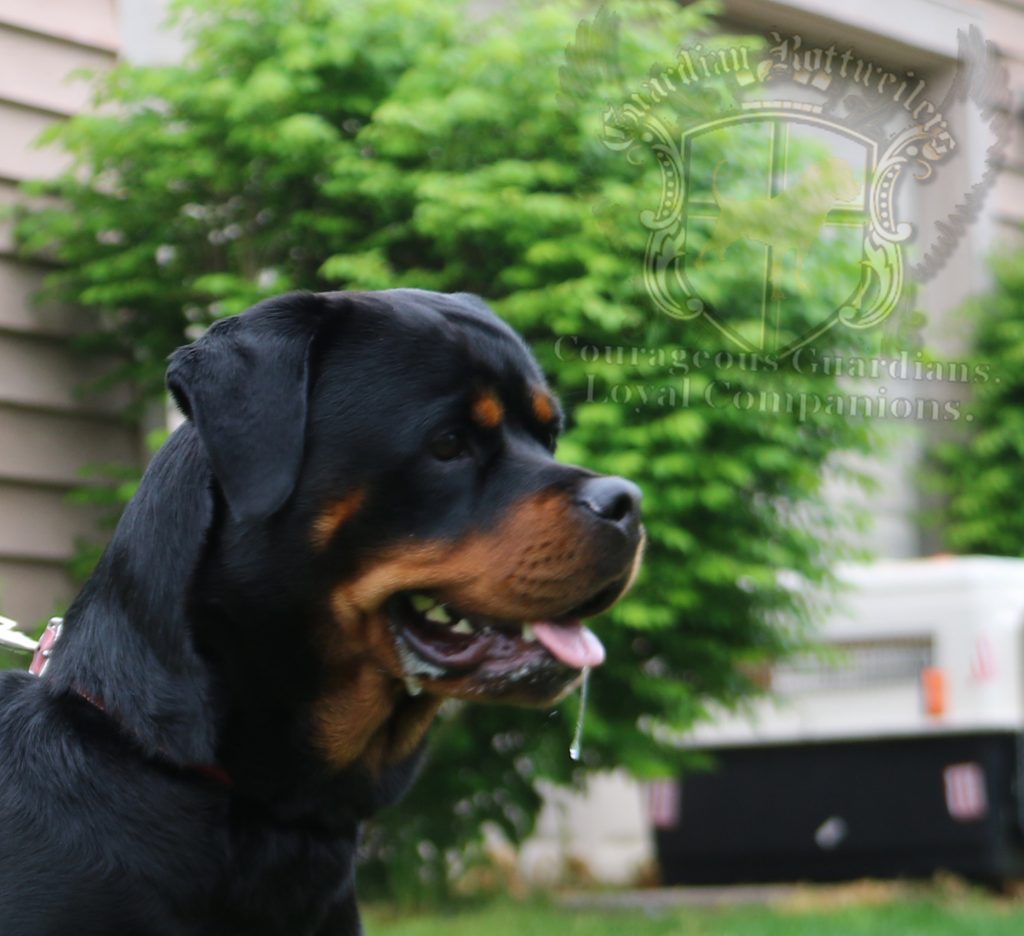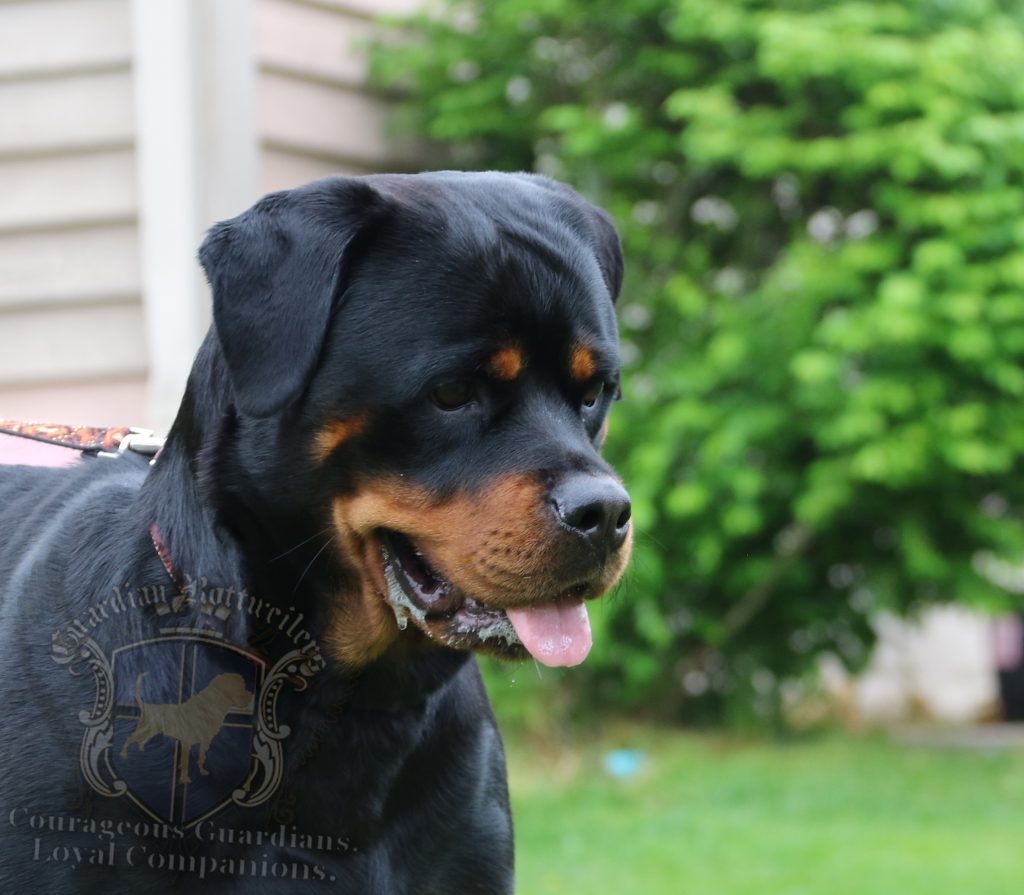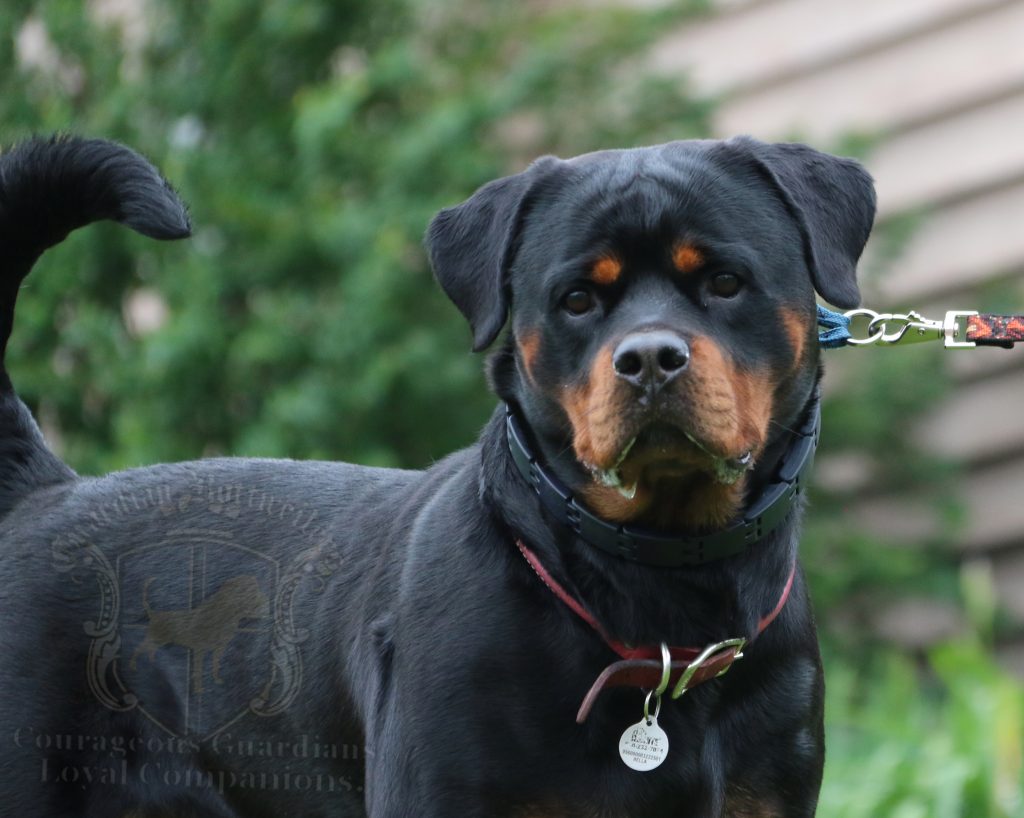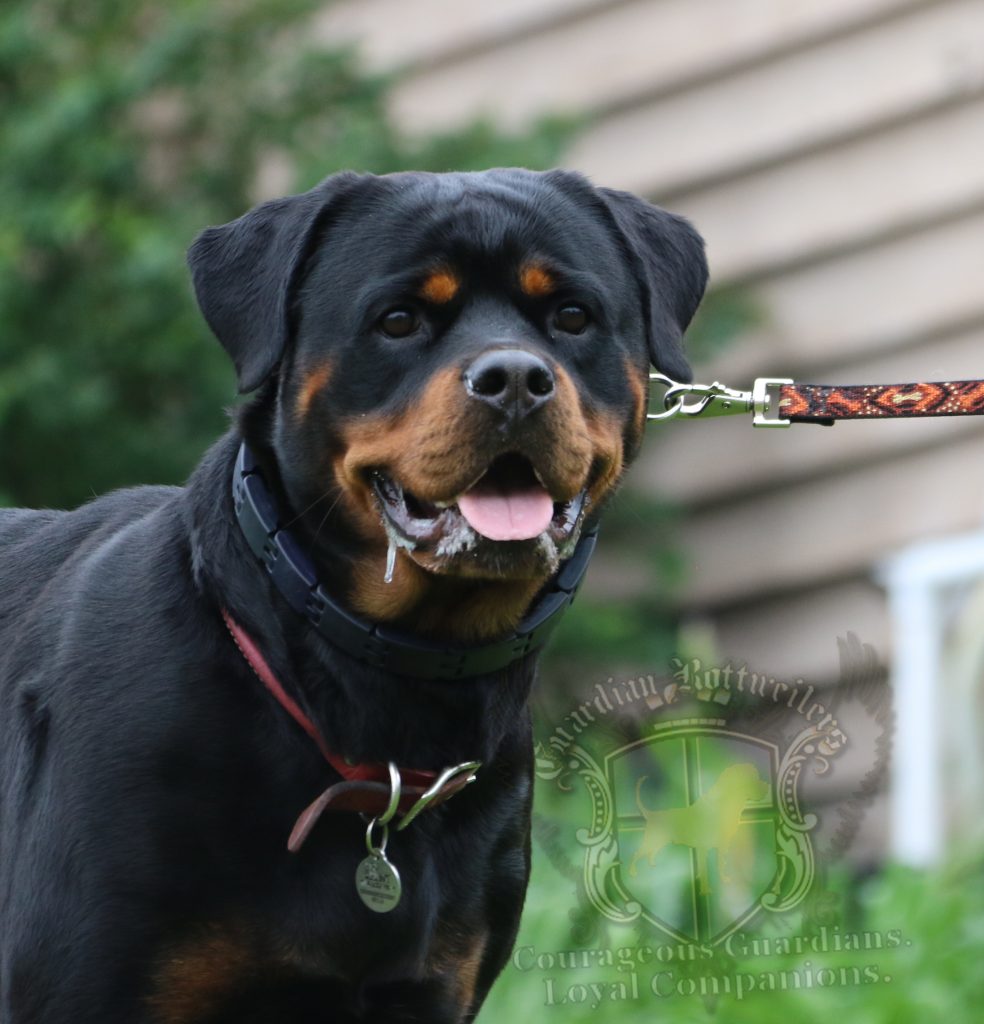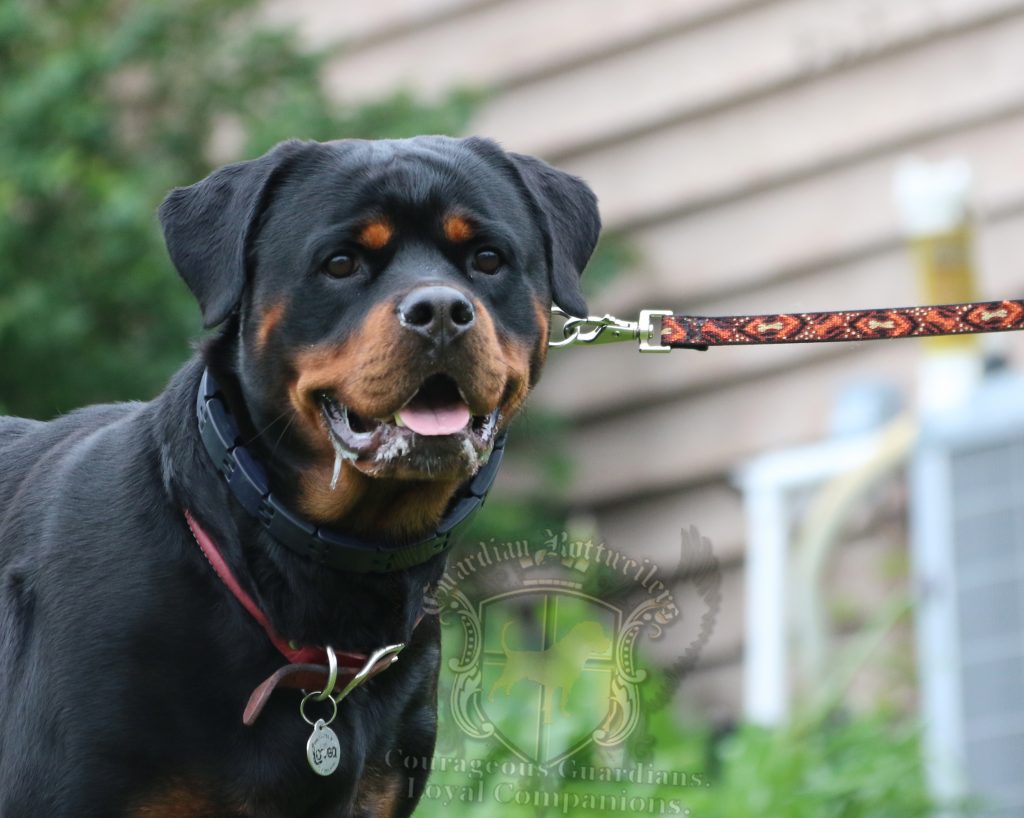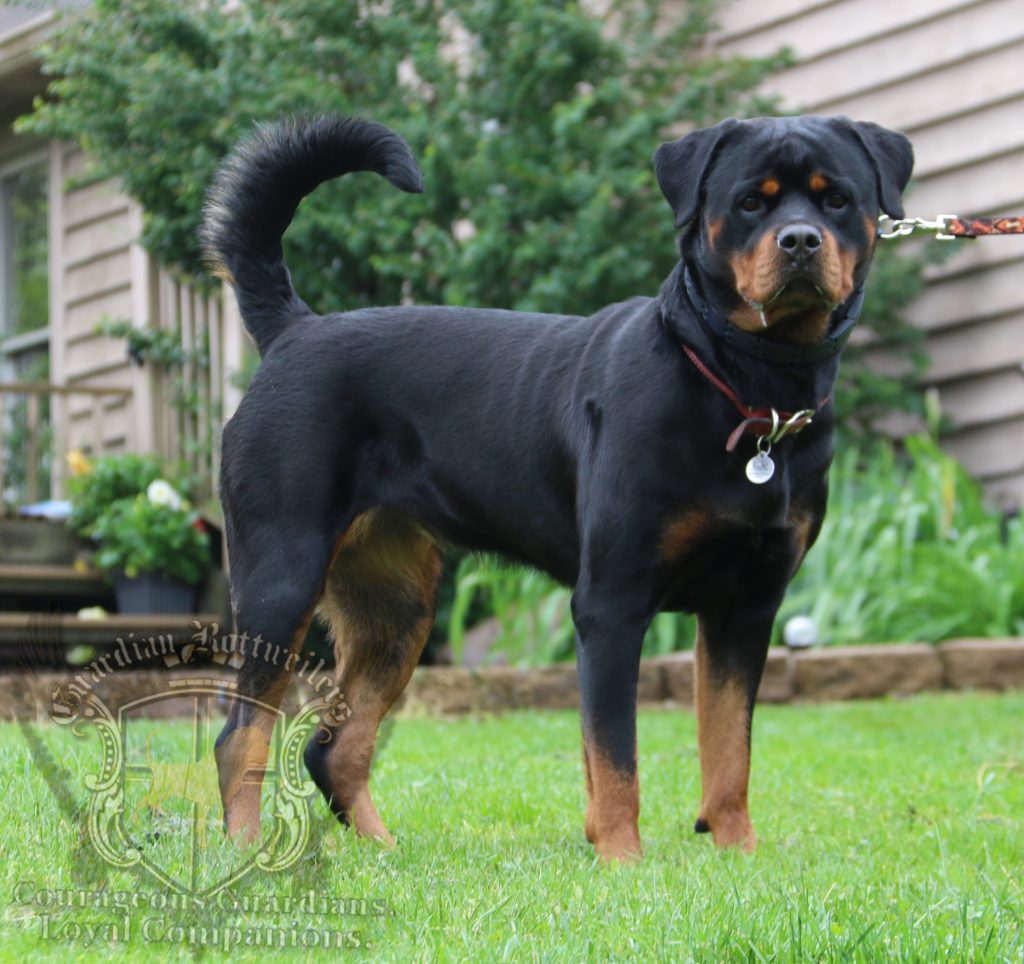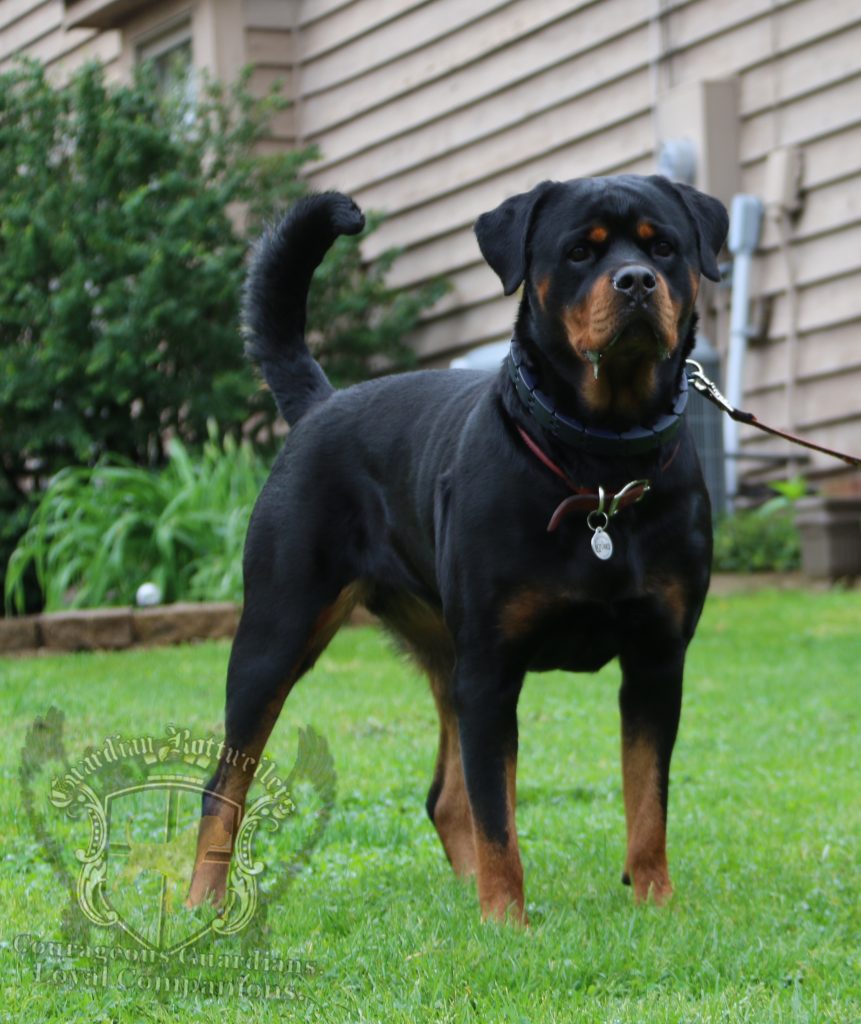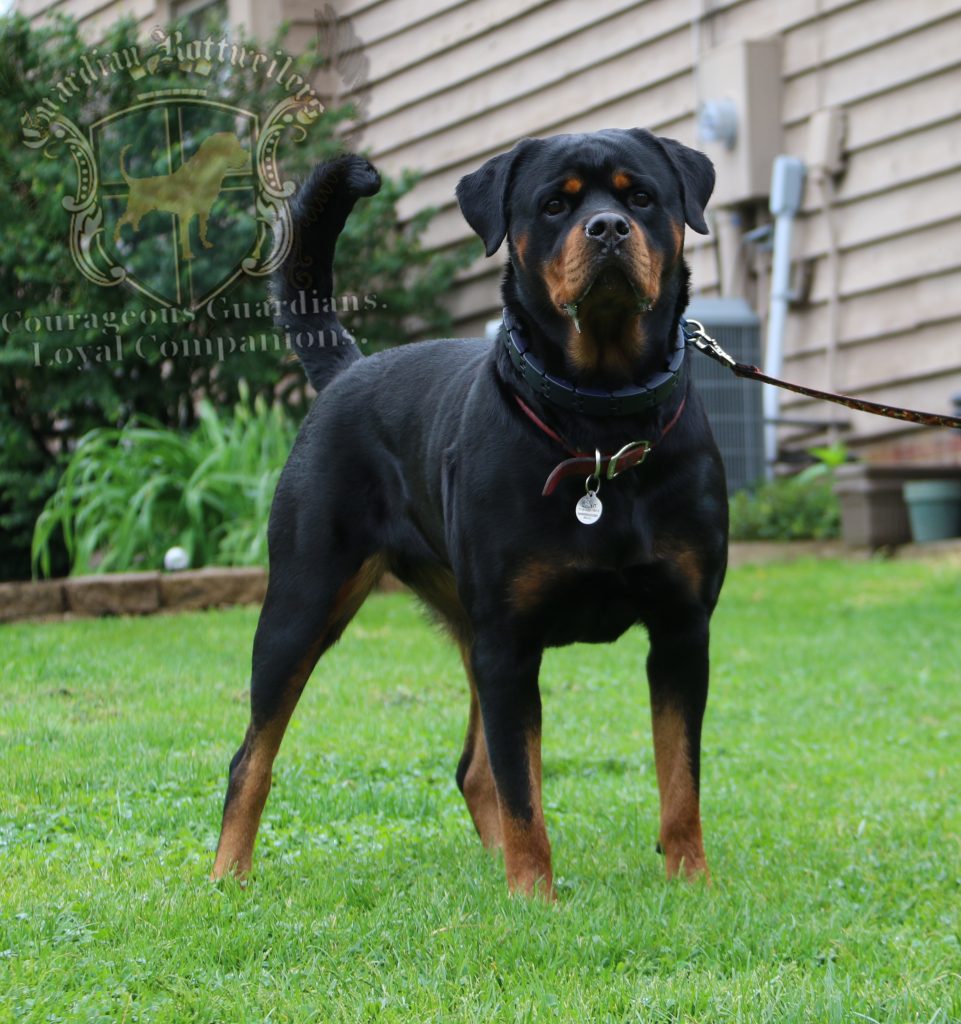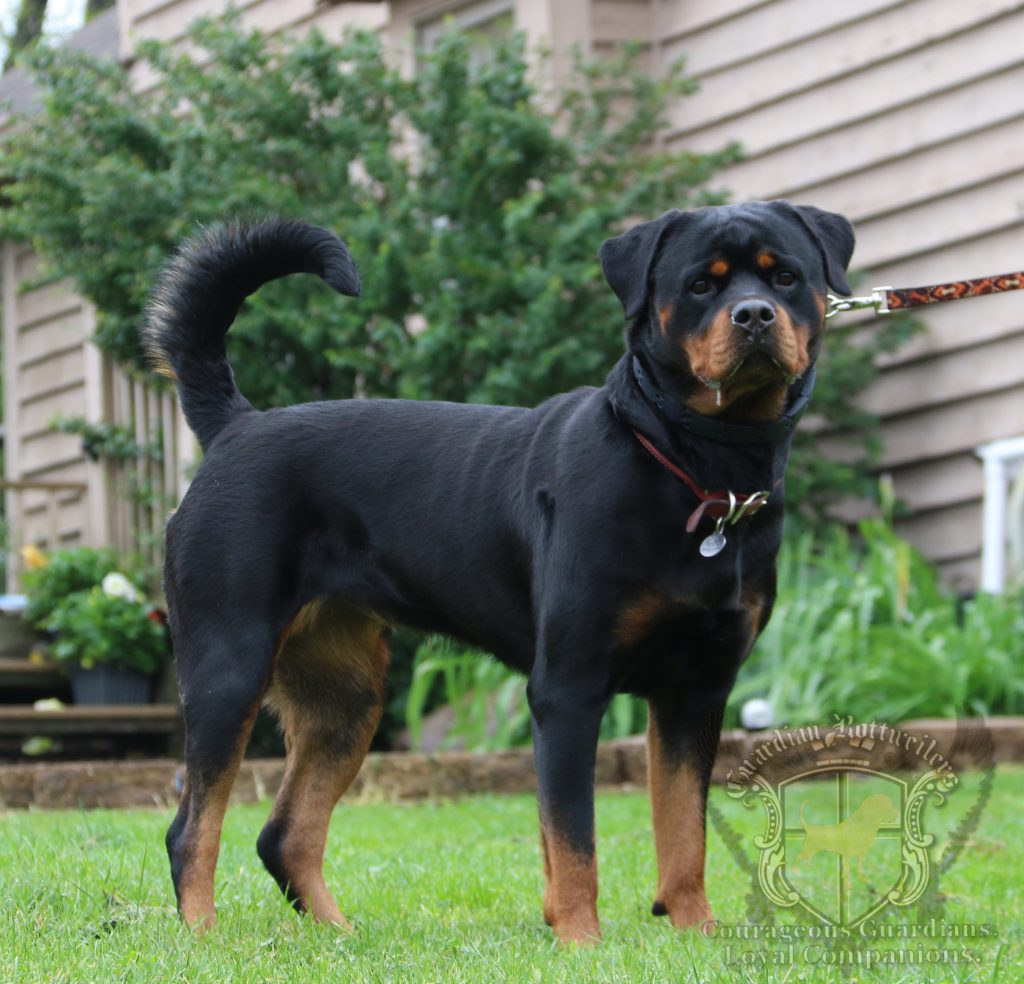 Bella Ocean after a playday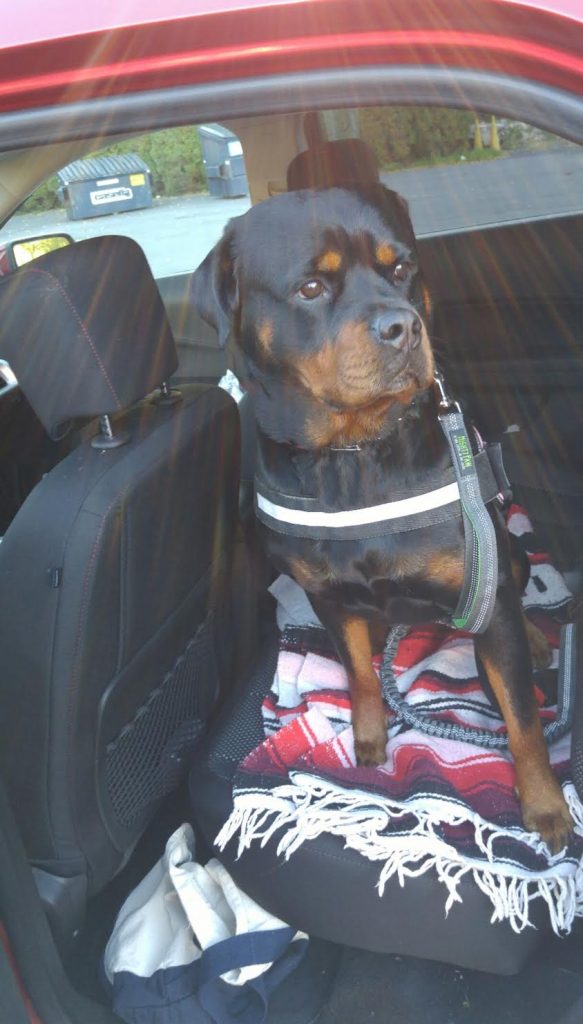 ---
Guardian Oreo Von Gottschalk
He is doing absolutely amazing! So smart and loving!!  Oh yes of course! He absolutely perfect!! Oh and knows he's a baby he's taken over the babies boppy! Lol it's his favorite place to sleep.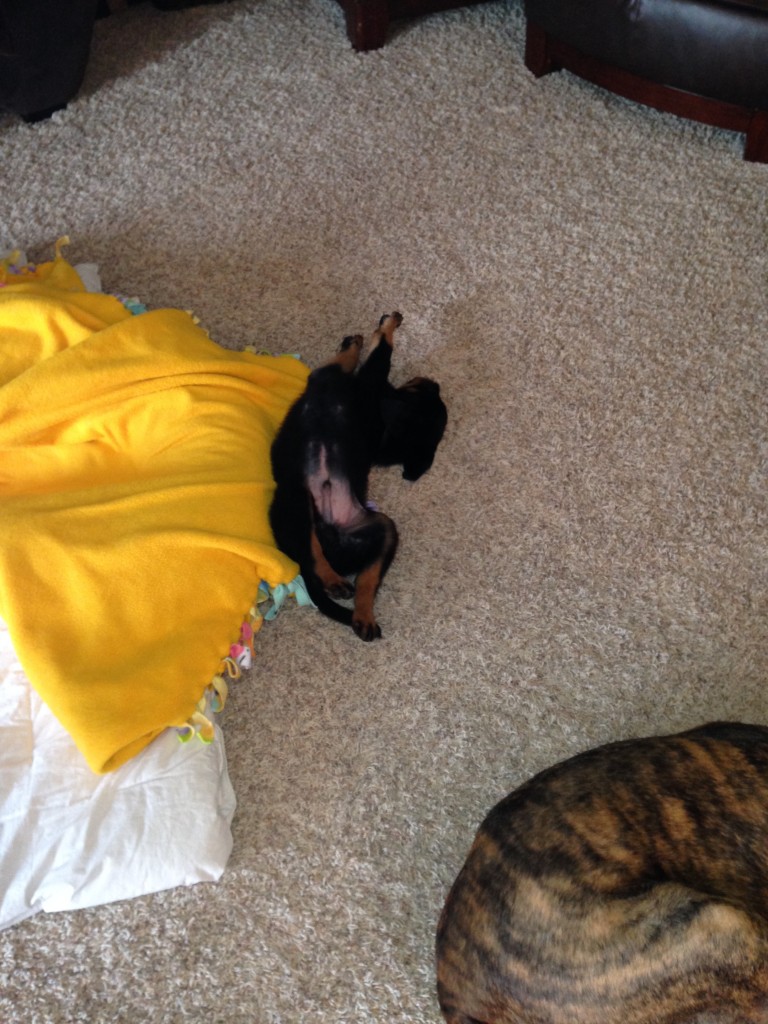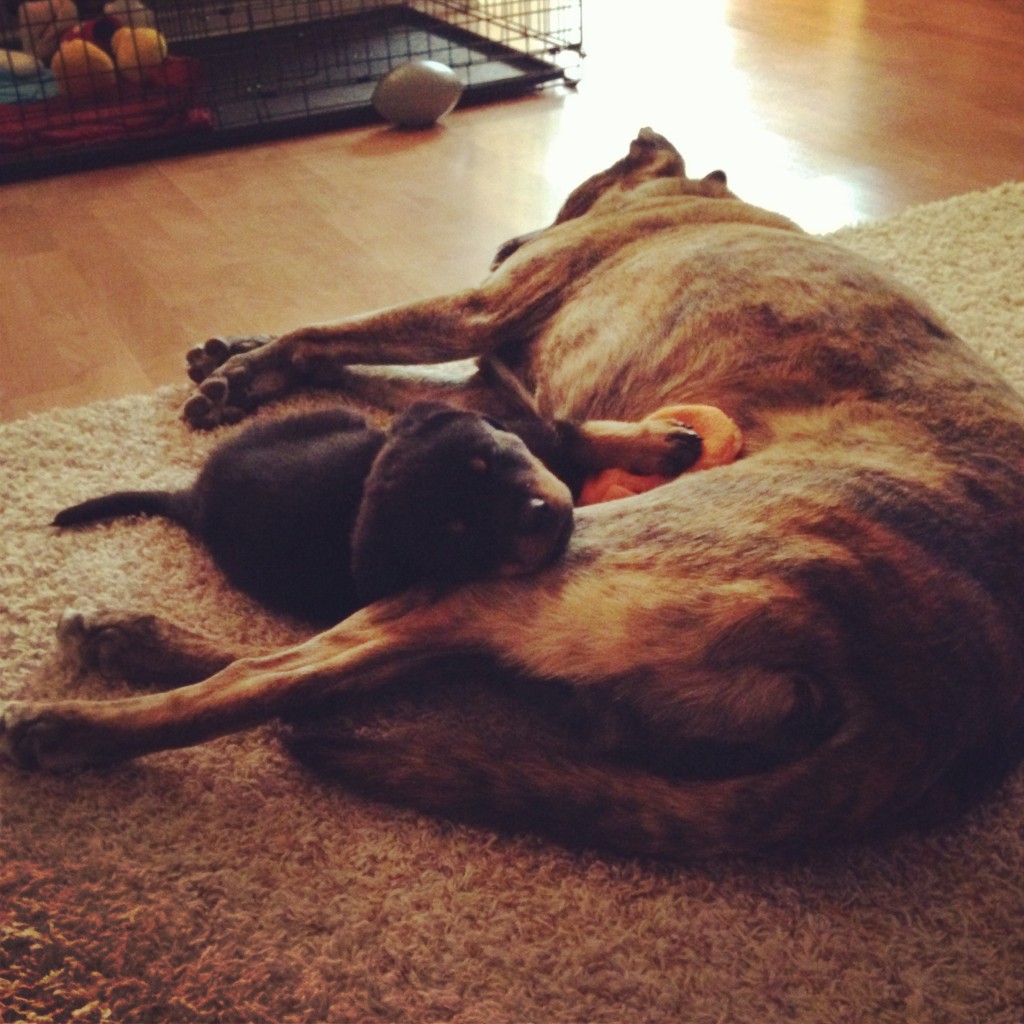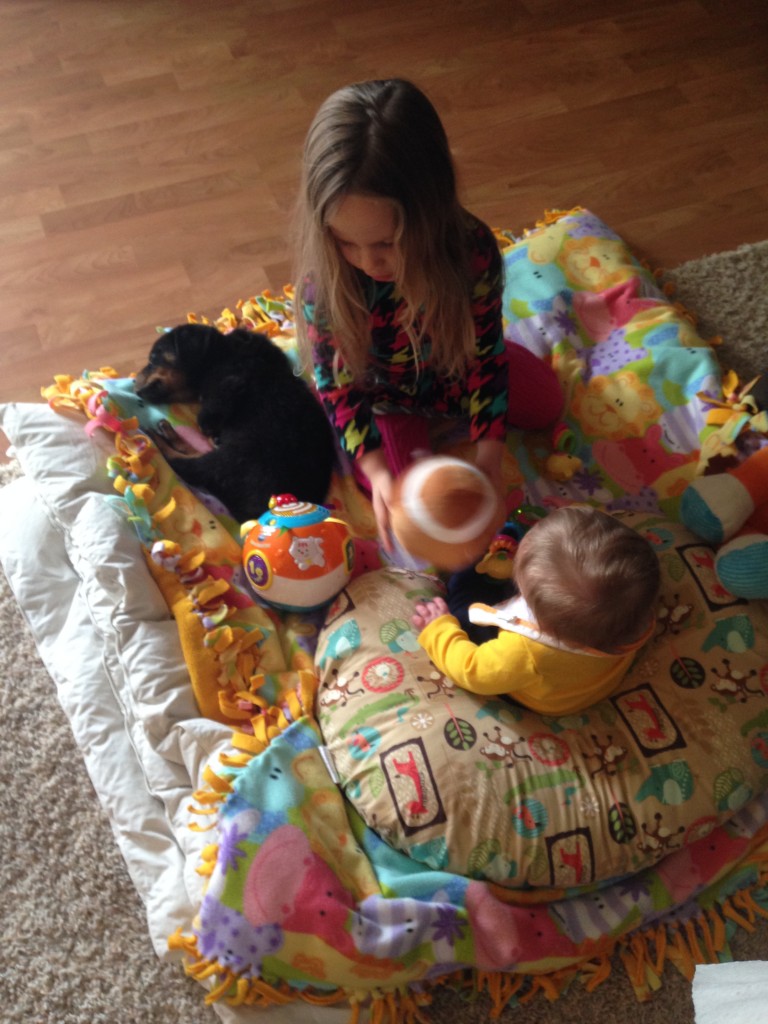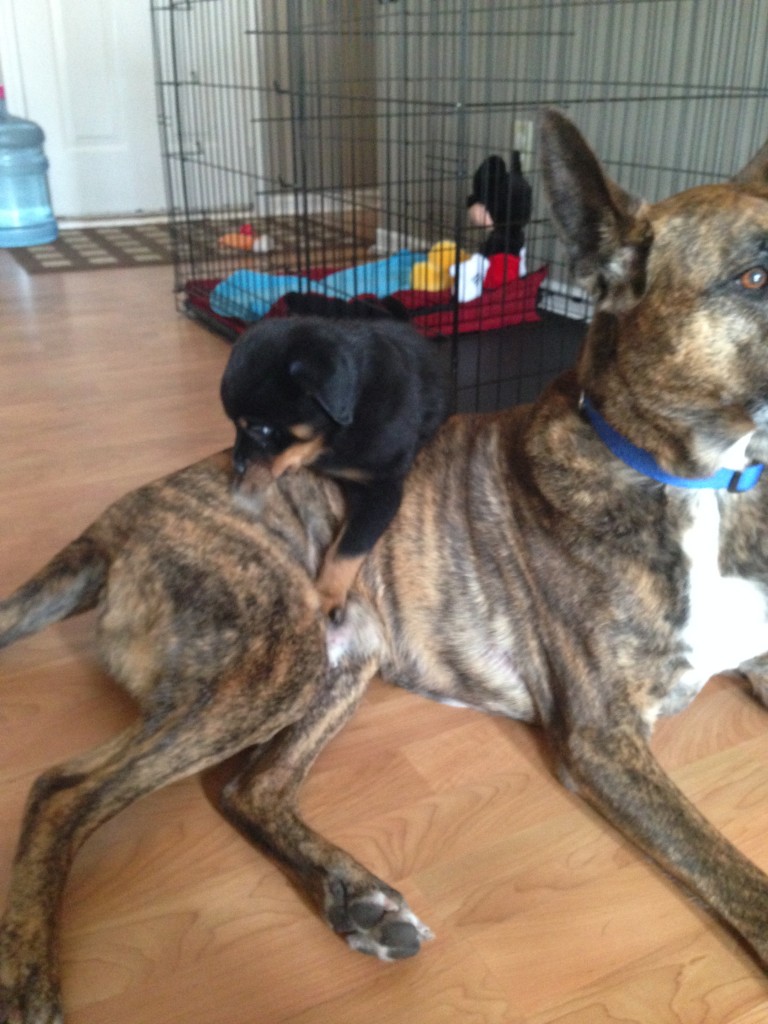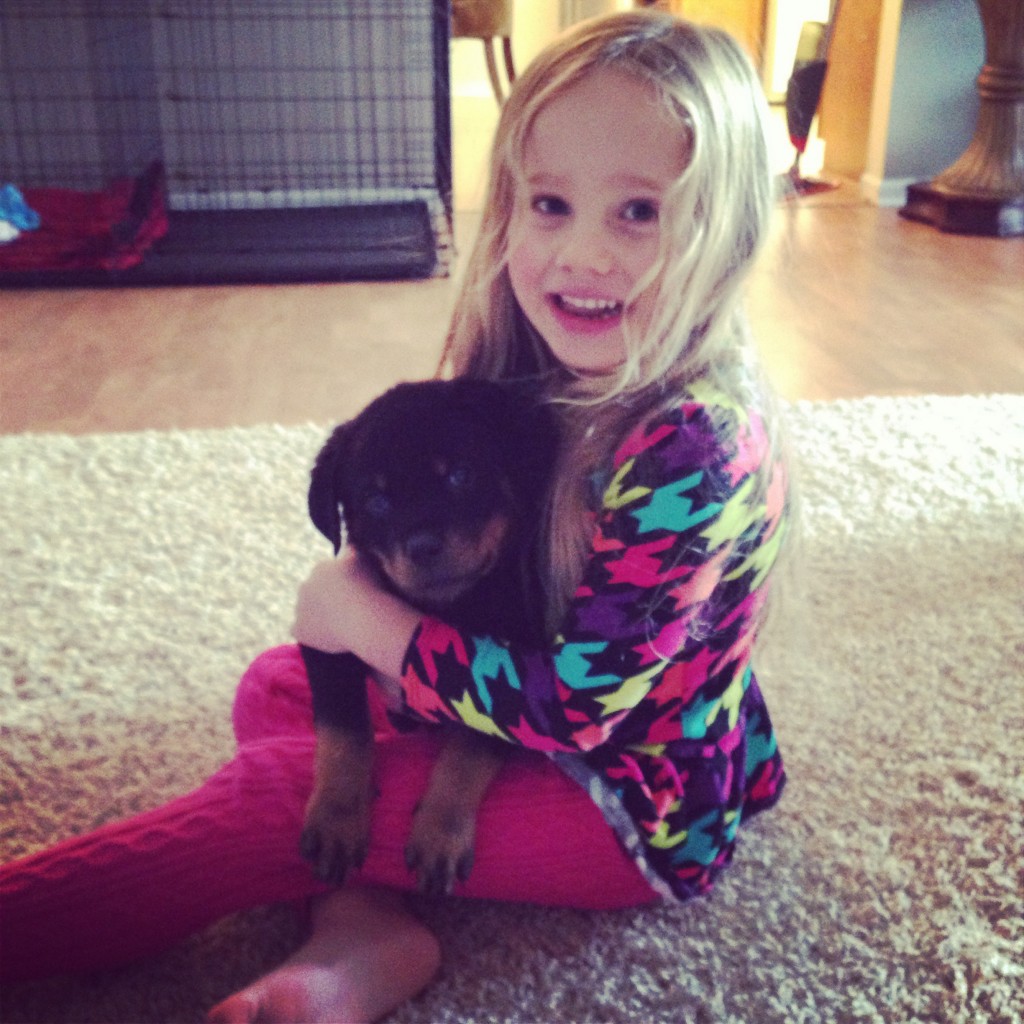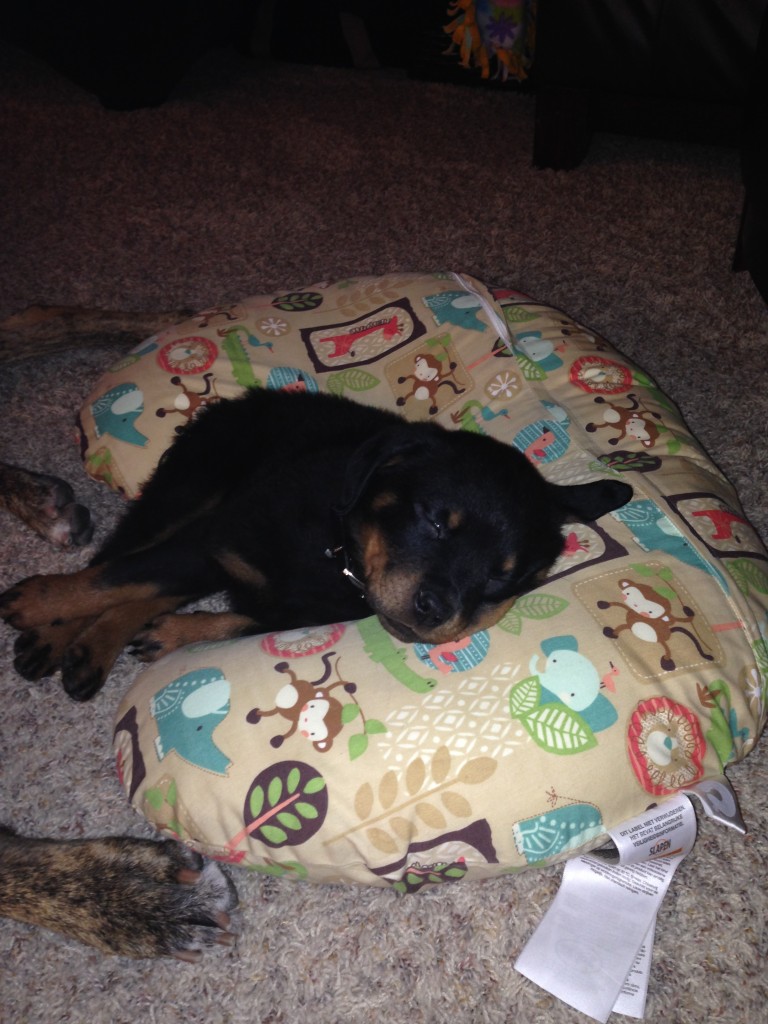 ---
"Piper" Guardian Oasis Von Gottschalk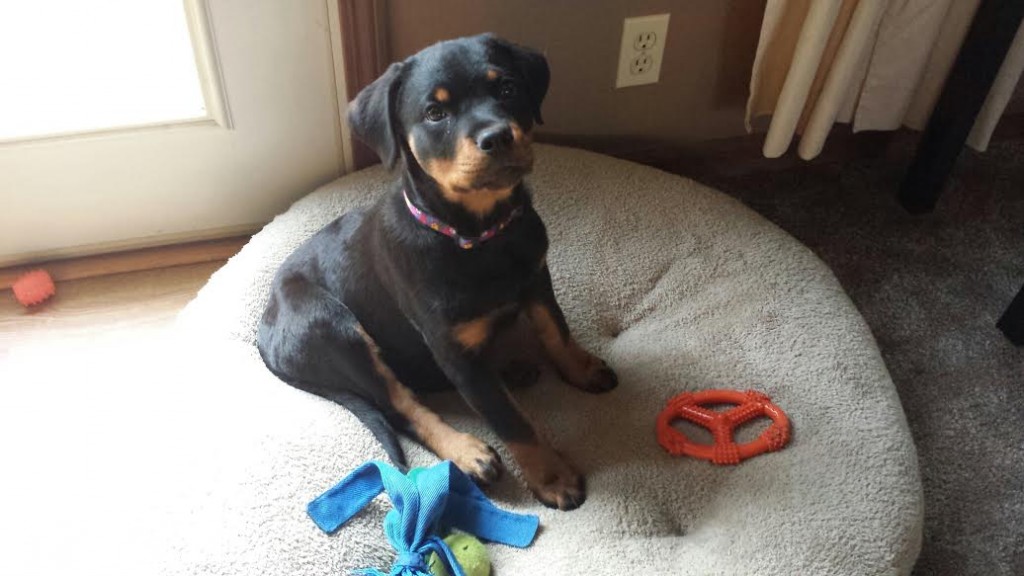 Hello Alice
Here is a photo of Piper day before she turns 4 months old. Finally found a puppy class for her on Sat although I,m not too happy with it.  How is every thing there?  Any shows coming up in this area?  Did you sell all your other puppies?  Do you hear any more about Piper's(Oasis) dad?
Have a wonderful week and again we thank you
Charlie and Kristen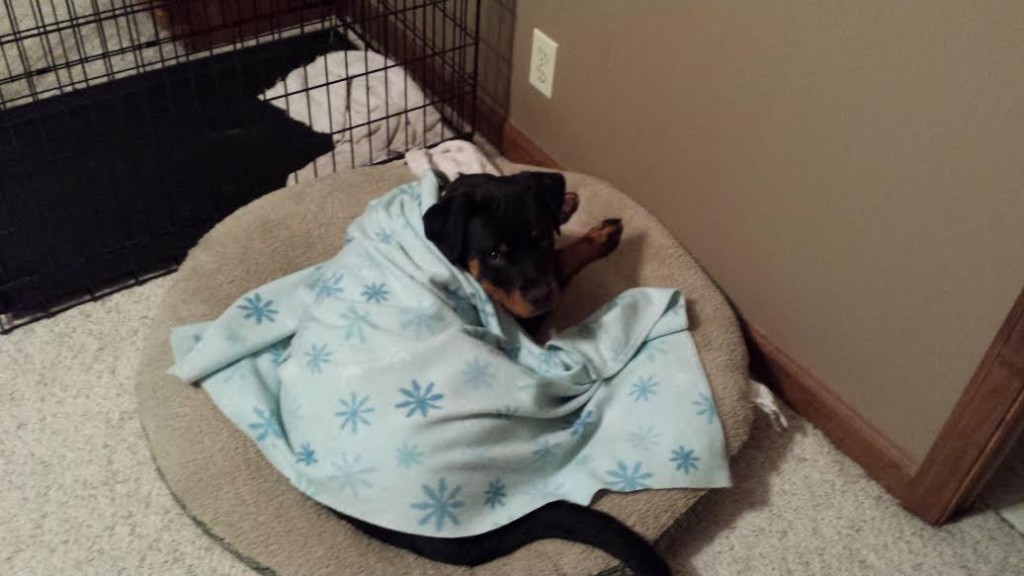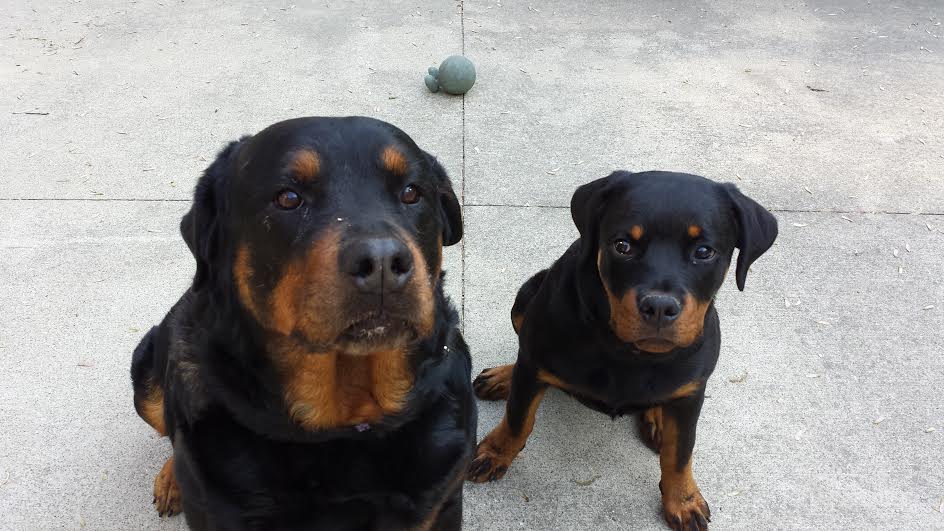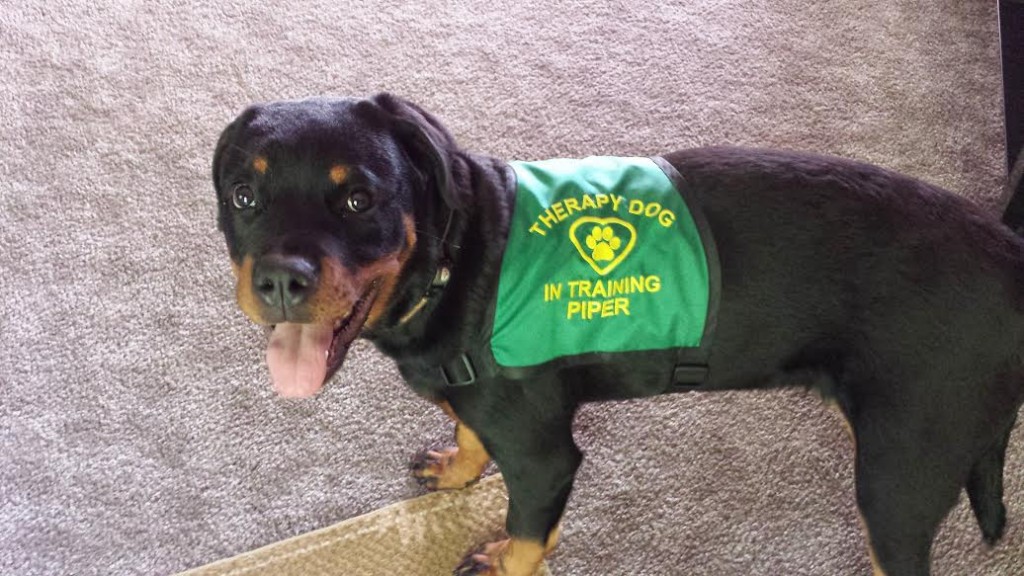 Hello Alice
Congratulations on getting the tee shirts to be produced. I don't think you will have a problem selling them to new prospective puppy owners.  Just to let you know Piper has graduated from intermediate obedience class and  is signed up for advanced class. She now weighs 73# last Saturday the 28th of June. Could you tell me who the dogs are on the t-shirts?
Have a great week,
Charlie and Kristen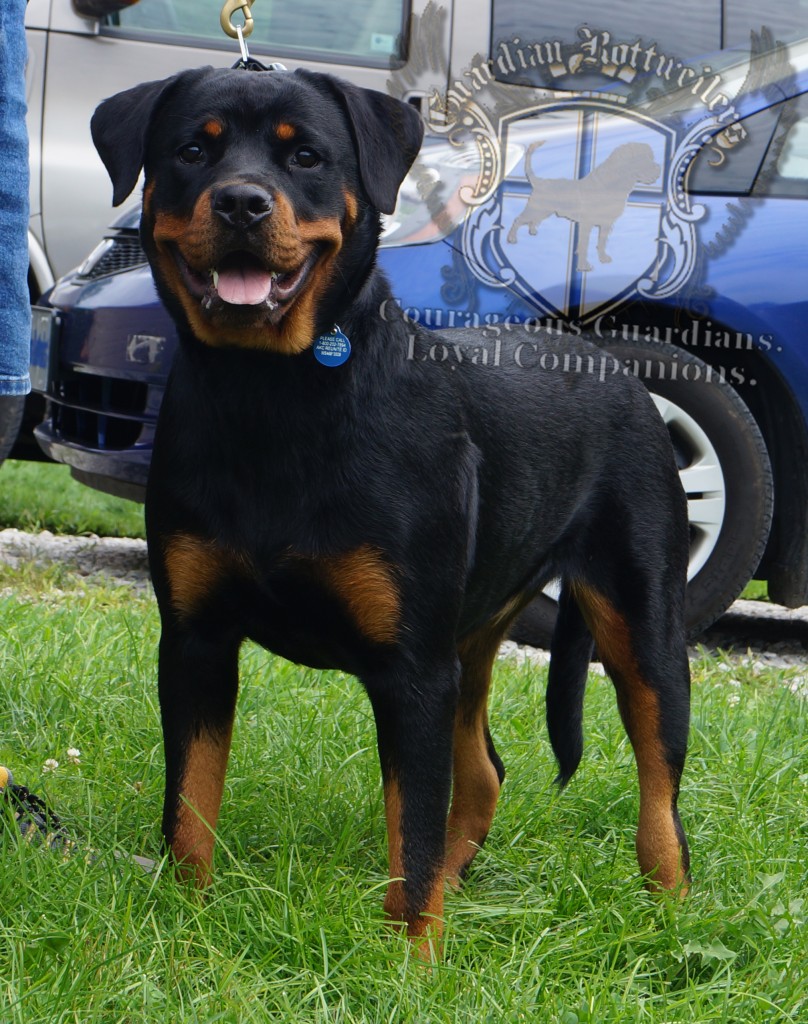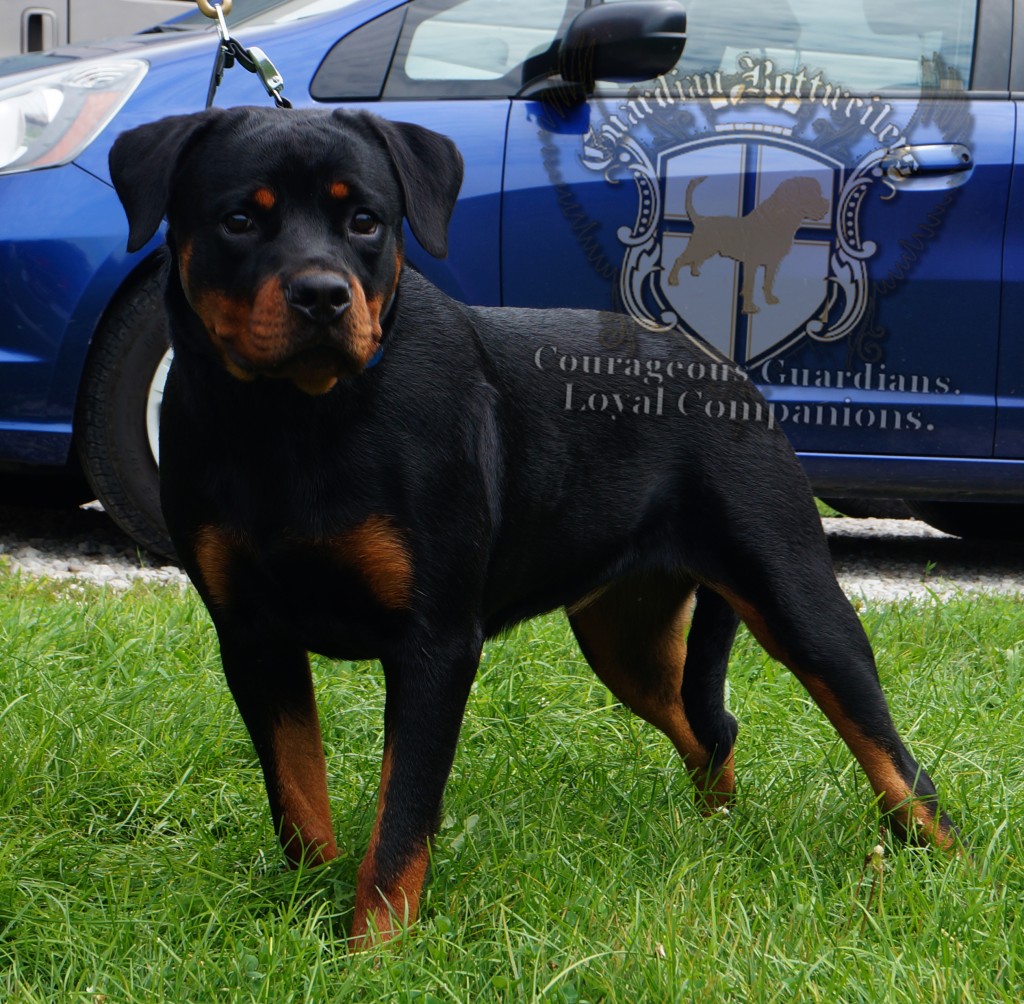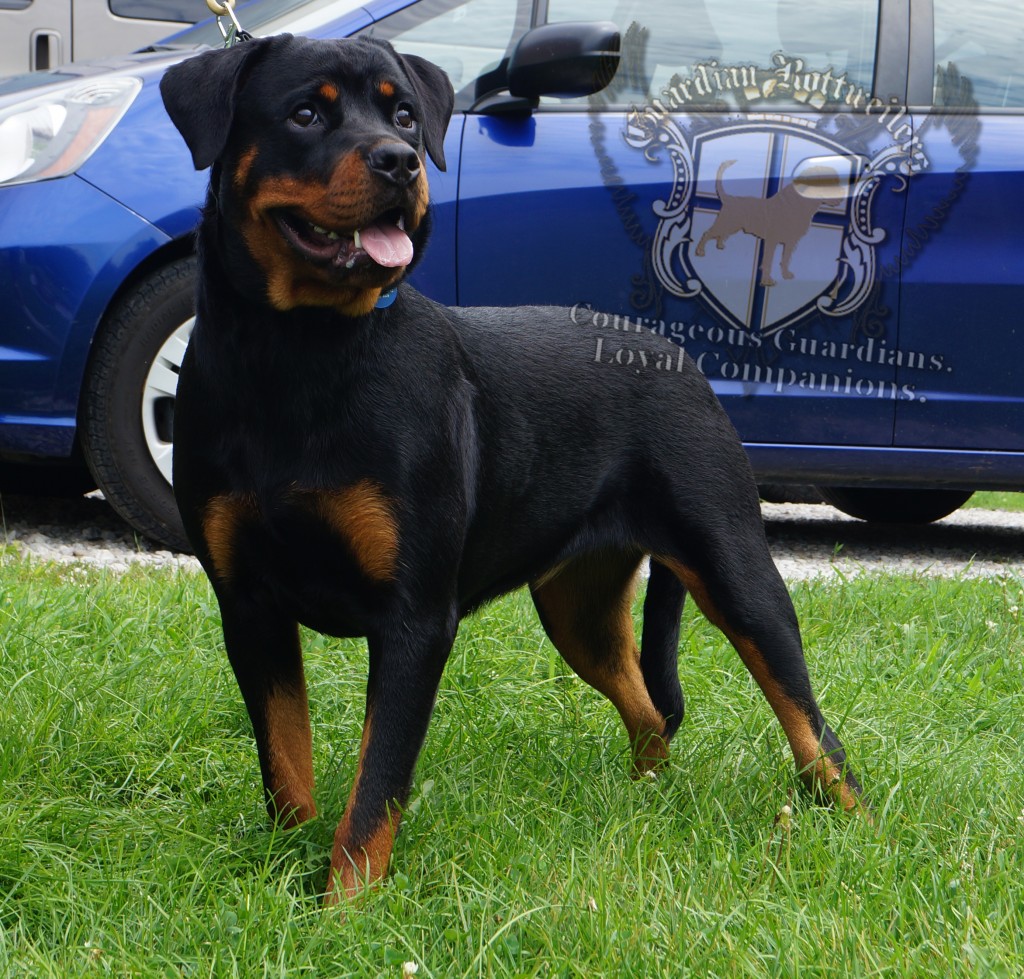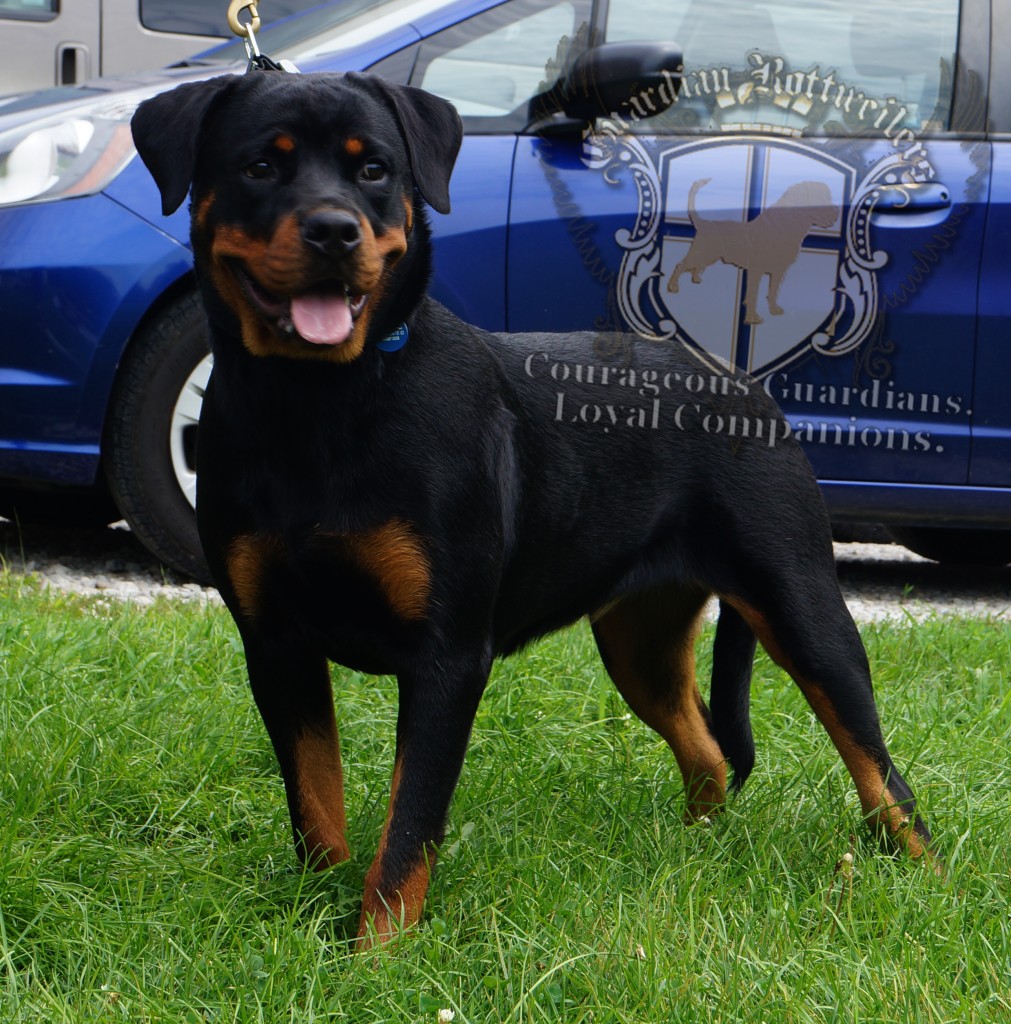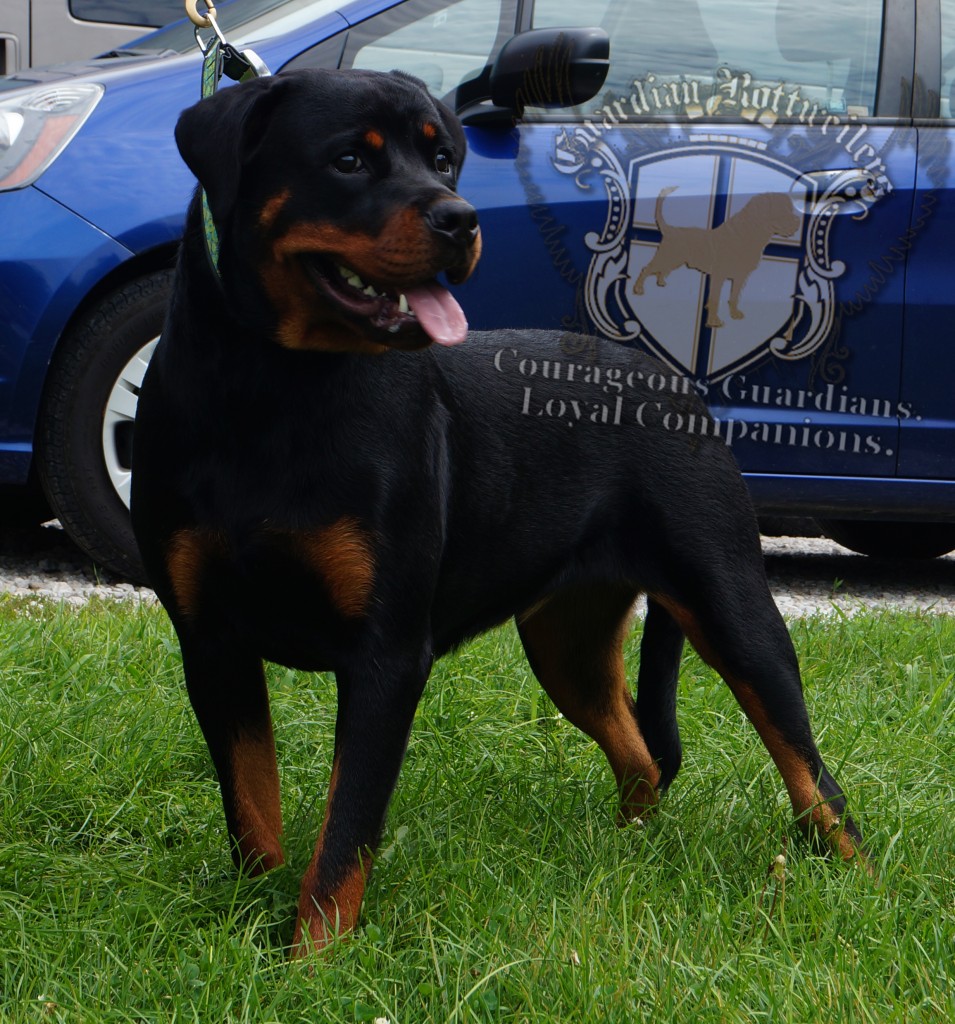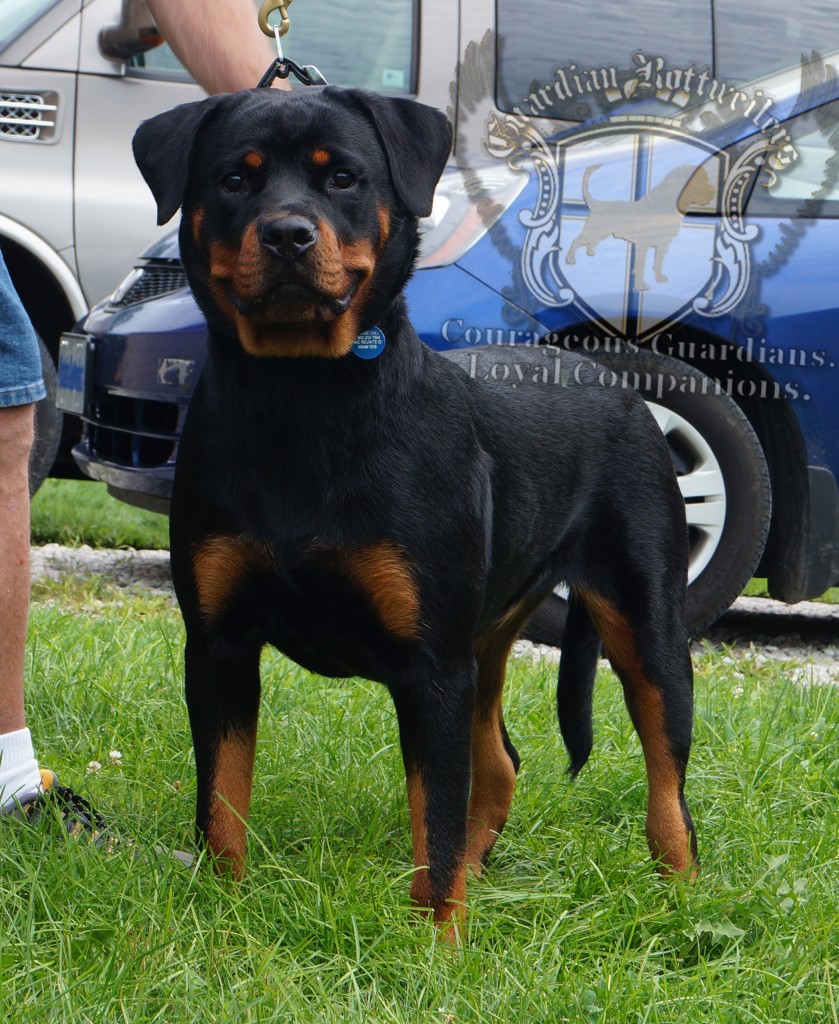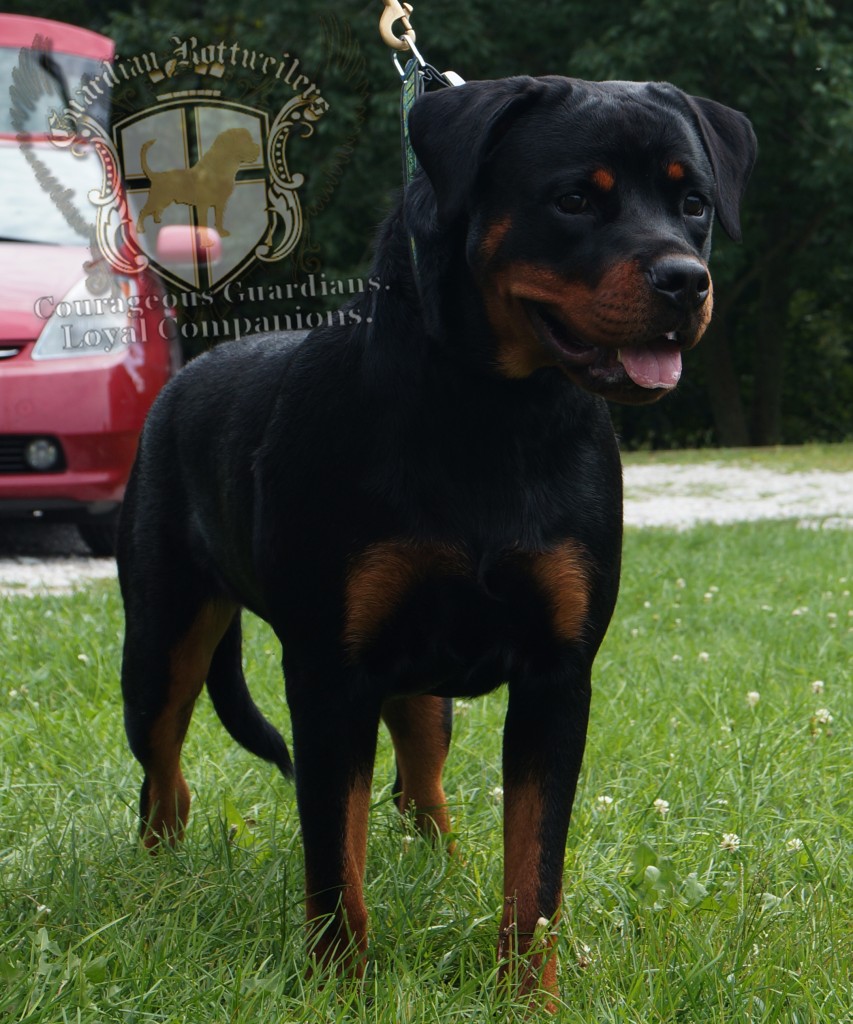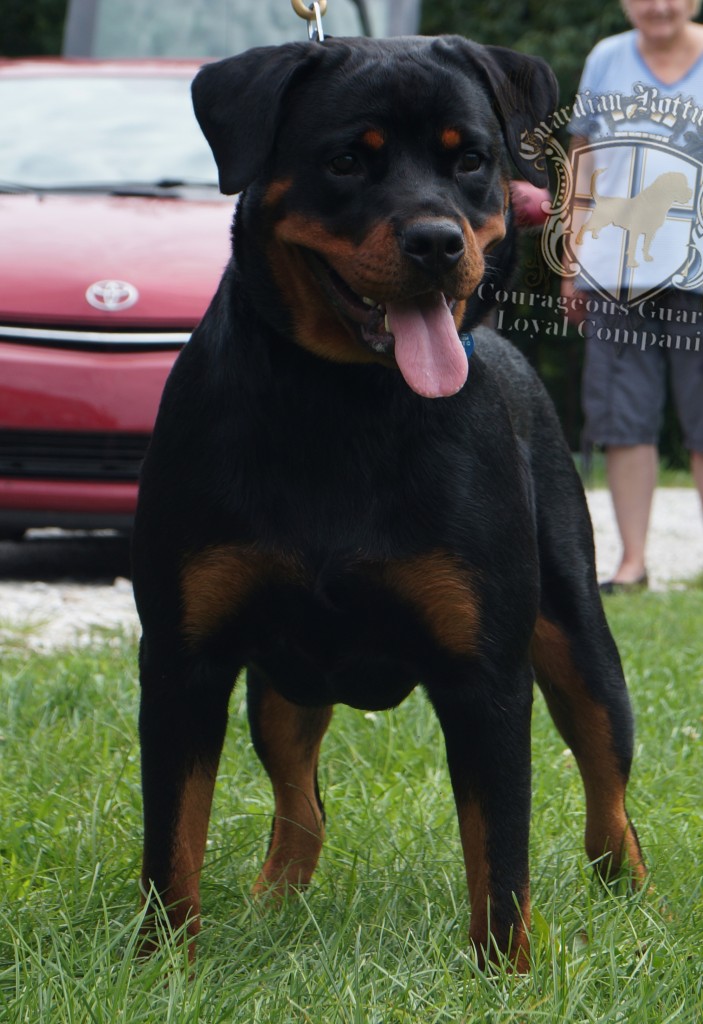 Piper took 4th place. She could care less about baiting.  Here is her critique: 10 month female, good size, good bone, a little bit heavy, beautiful head, brown eyes, correctly carried ears, broad and deep chest, slightly soft topline, good front angulation, sufficient rear angulation, correctly carried tail, good markings, sufficient movement, could use more drive in the rear. The photographer hasn't sent us the photos of the show yet. She was supposed to send them via email. I have a ton more photos of both Piper and Parker if you would like more and to see them all. It was 88 degrees there.  The little canopy enclosure worked great at the show and had a bunch of inquiries about it. 
Do you think that Piper can be taught/trained to respond to baiting?  Do we need to be working with Parker on baiting?
After the show we took a walk and a couple of squirrels got Piper's attention real quick, I needed those in the show. 
In the hotel there was probably 30-50 Rottweilers; I did not hear 1 bark the whole night; nobody even barked as they passed each other in the hallways. The only exception was other small breeds.
You can use that statement in your defense at the hearing. Sorry we can't be there on Tuesday. Good luck and you are in our prayers. 
I would like to do another show with Piper; your thoughts. I talked to the judge through the interpreter and told her that I wanted Piper as a therapy dog and she asked me why I had her in the show then. I wanted to see how well she would do, I responded. She said she needed more drive. 
Let me know
Charlie and Kristen
PS Parker was a hit at the show, she is a cutie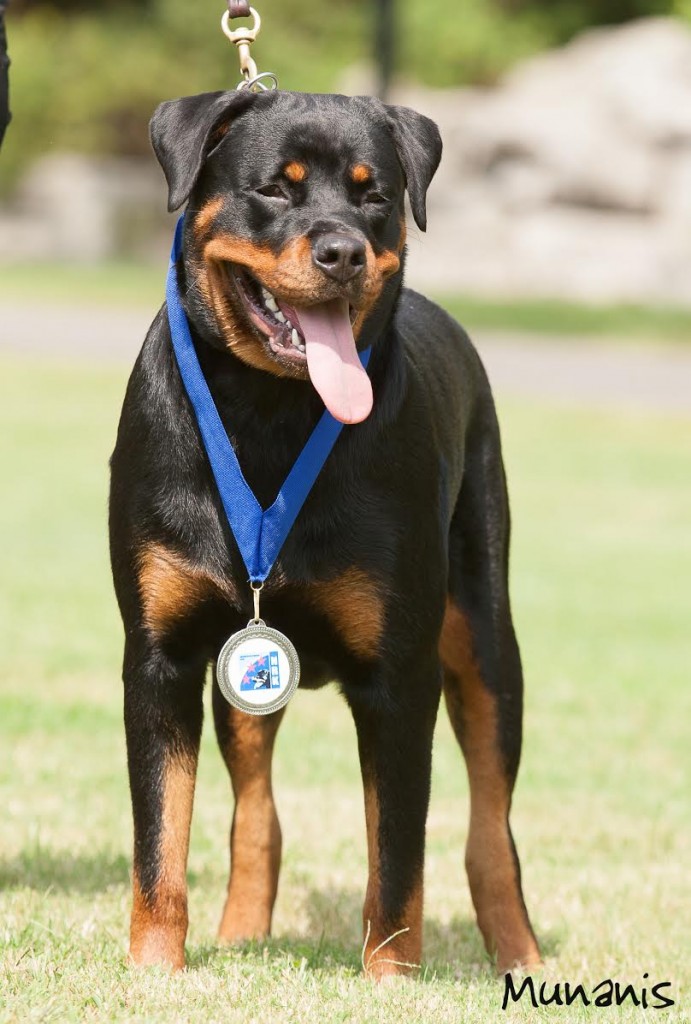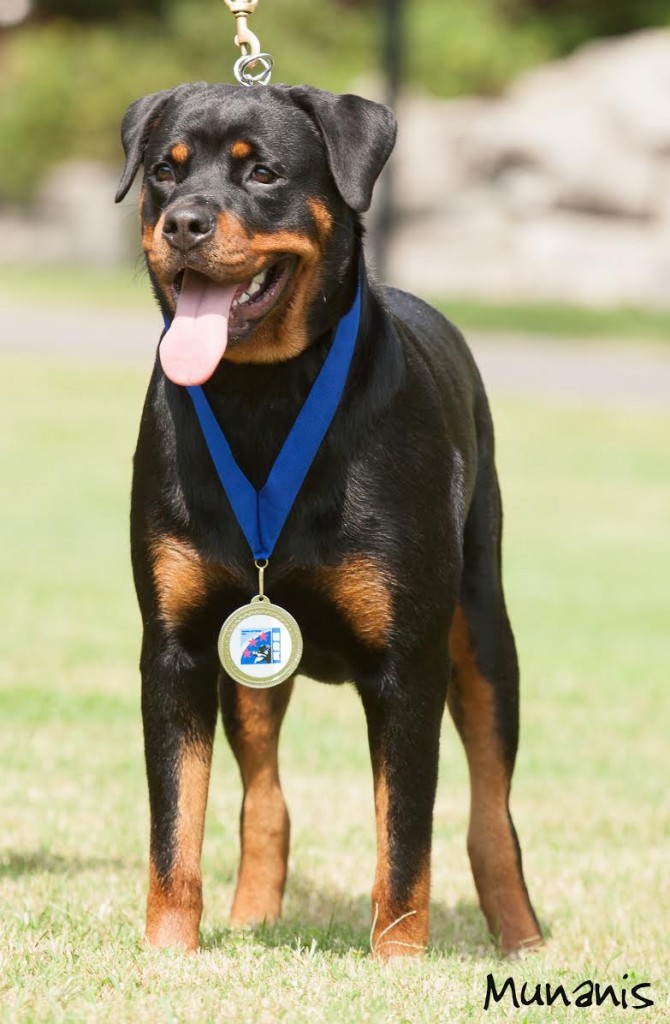 (Visited 67 times, 1 visits today)