Guardian Rottweilers L LITTER
Sire: Bull Se Ungo-Rot
Dam: Guardian Eva Von Gottschalk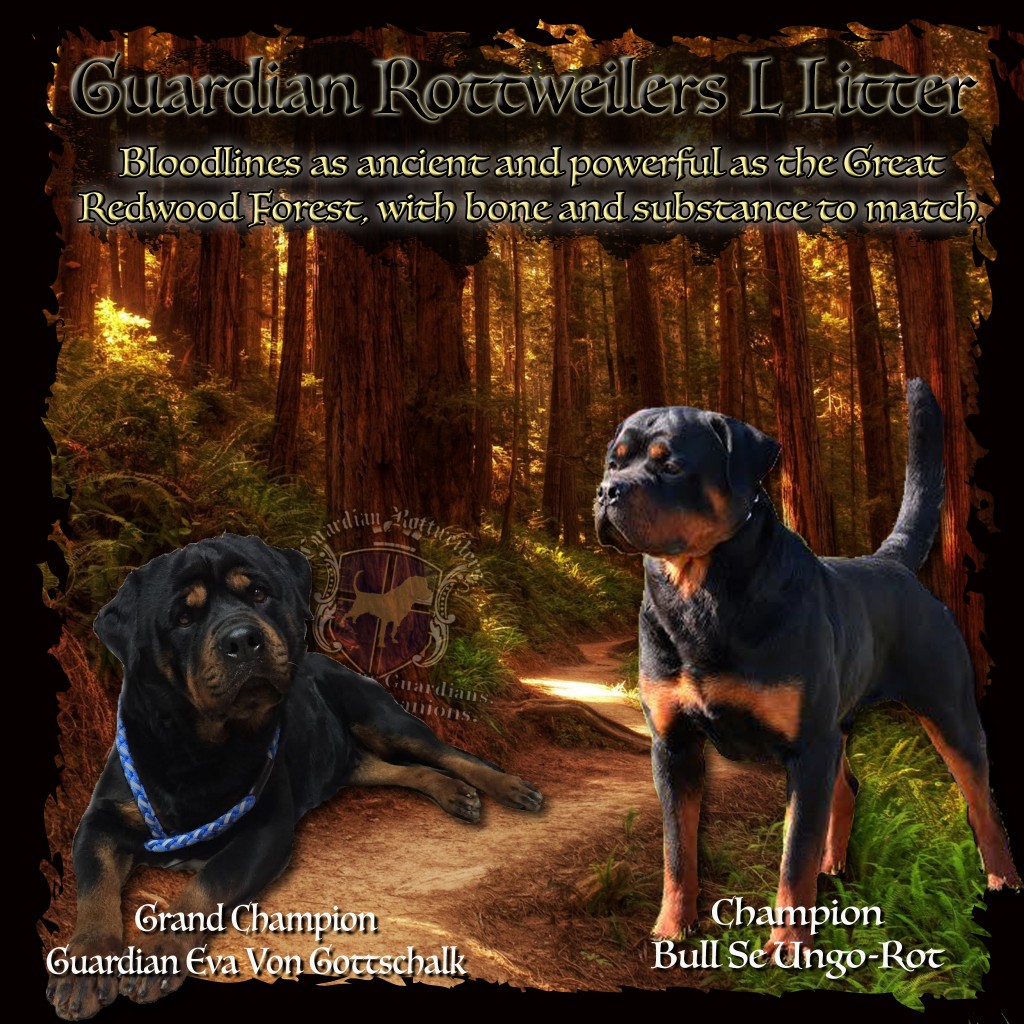 This is a repeat breeding from our highly coveted F LITTER from last year.  This breeding last year yielded gorgeous, confident, drivey puppies with tons of bone and substance, strong heads and excellent conformation.  I am super excited to meet our newest Bull x Eva babies!
Eva's Extraordinary Gents: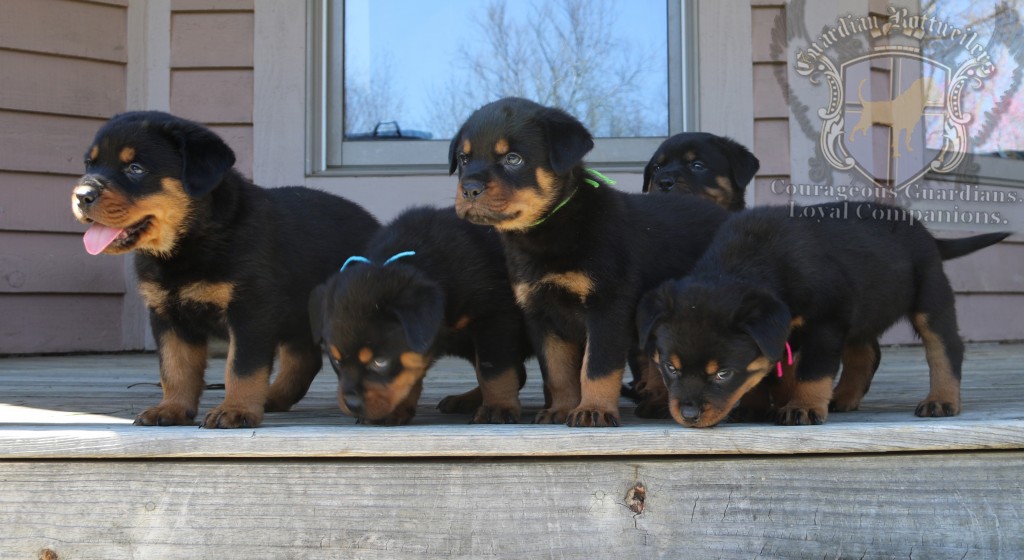 Click here or on photo for more photos and a video of all 5 males!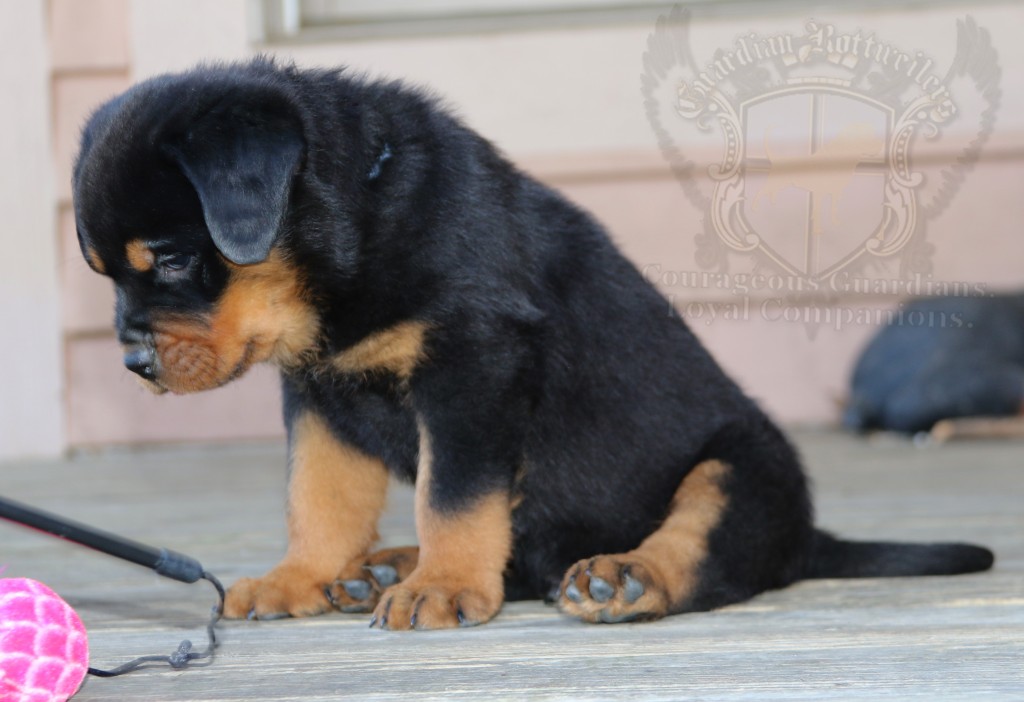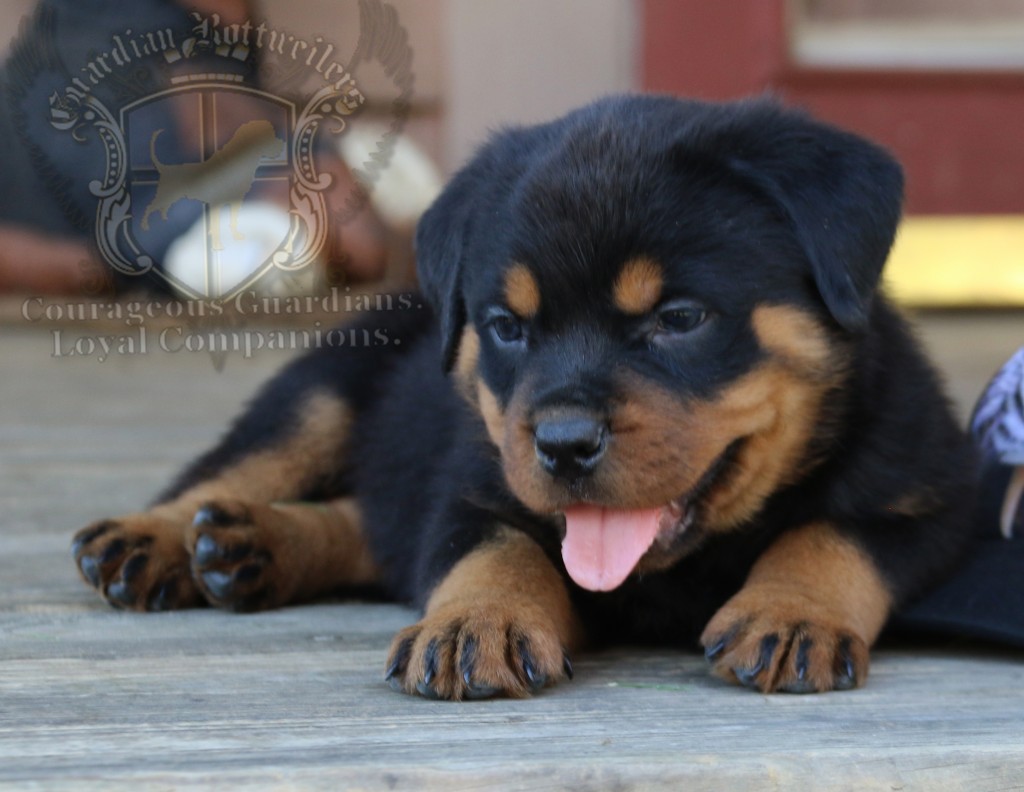 Lycan                              Lazlo                           Link
RESERVED!                 RESERVED!            RESERVED!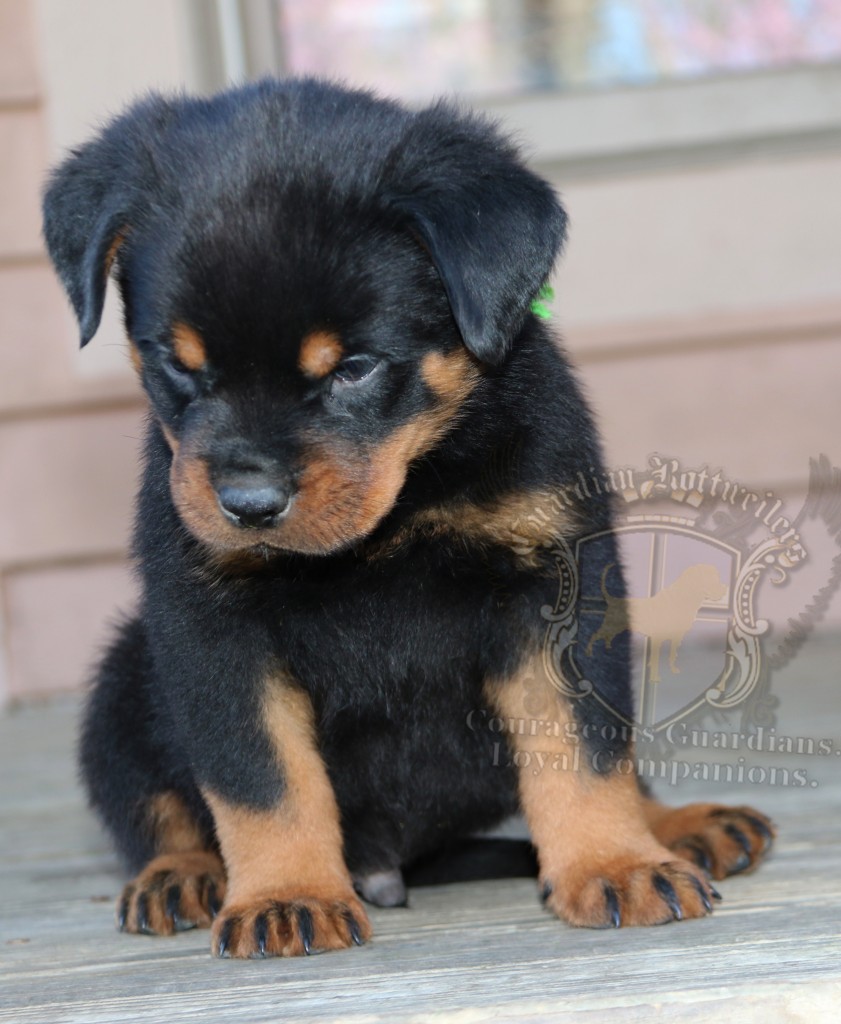 Legalos                     Levin
RESERVED!           RESERVED!
Eva's Exceptional Ladies: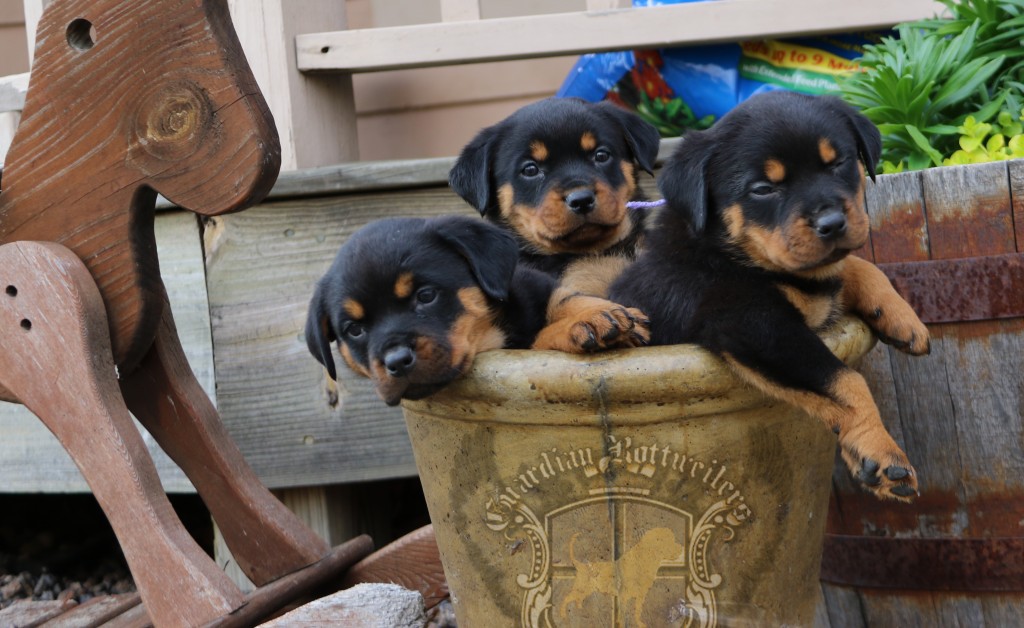 Click here or on photo for more photos and a video of all 3 girls!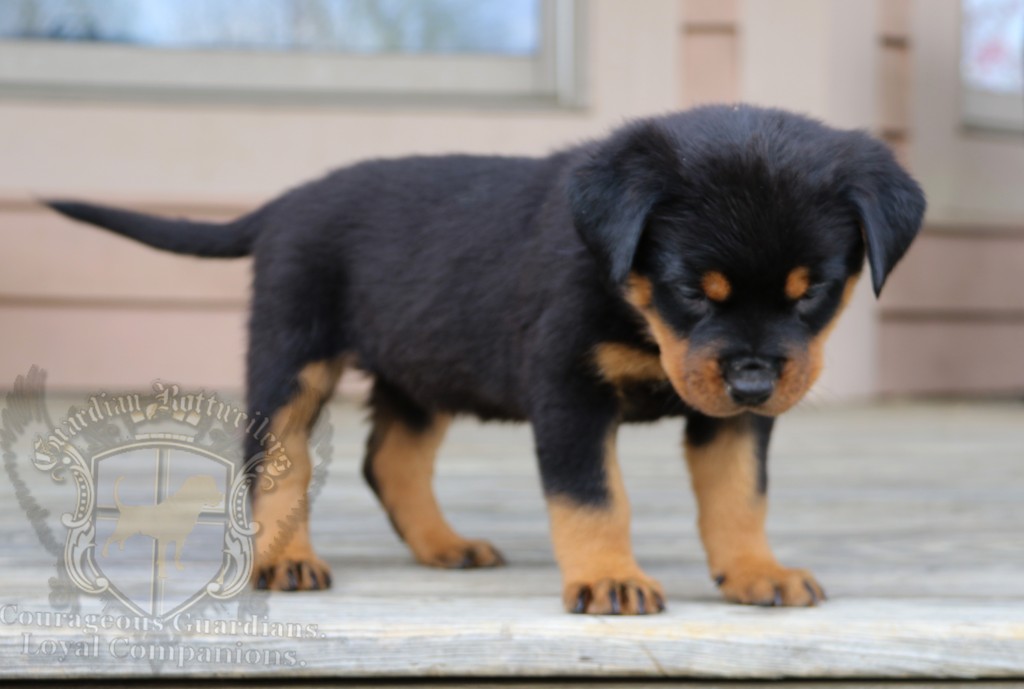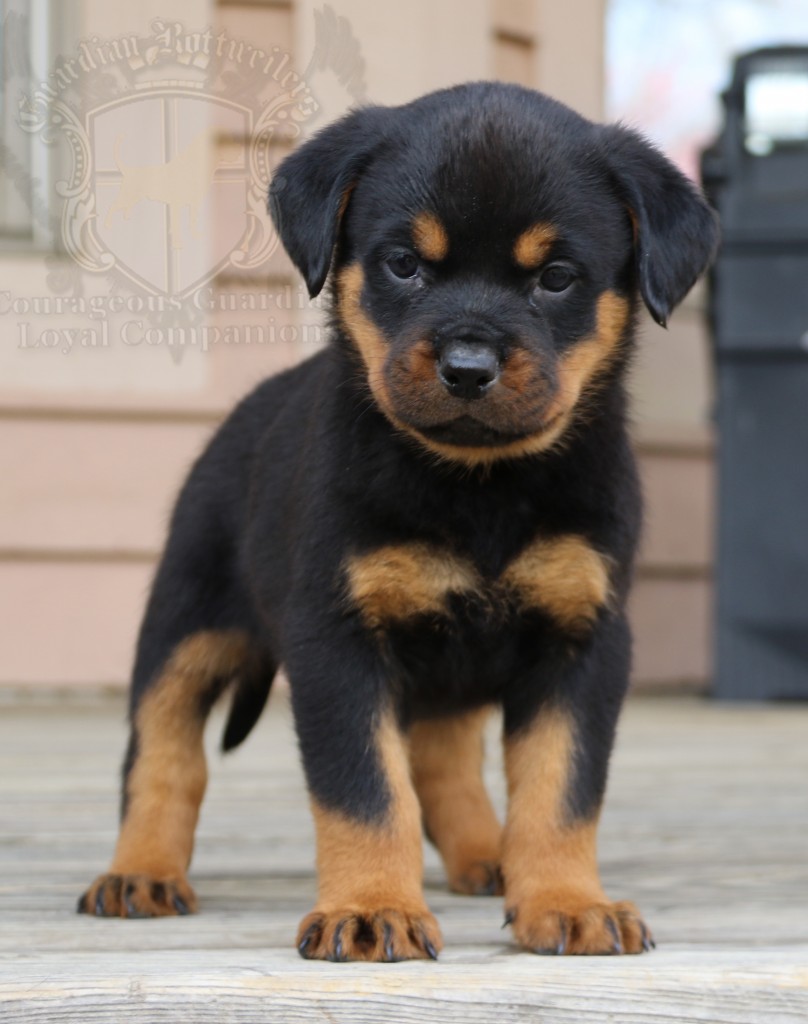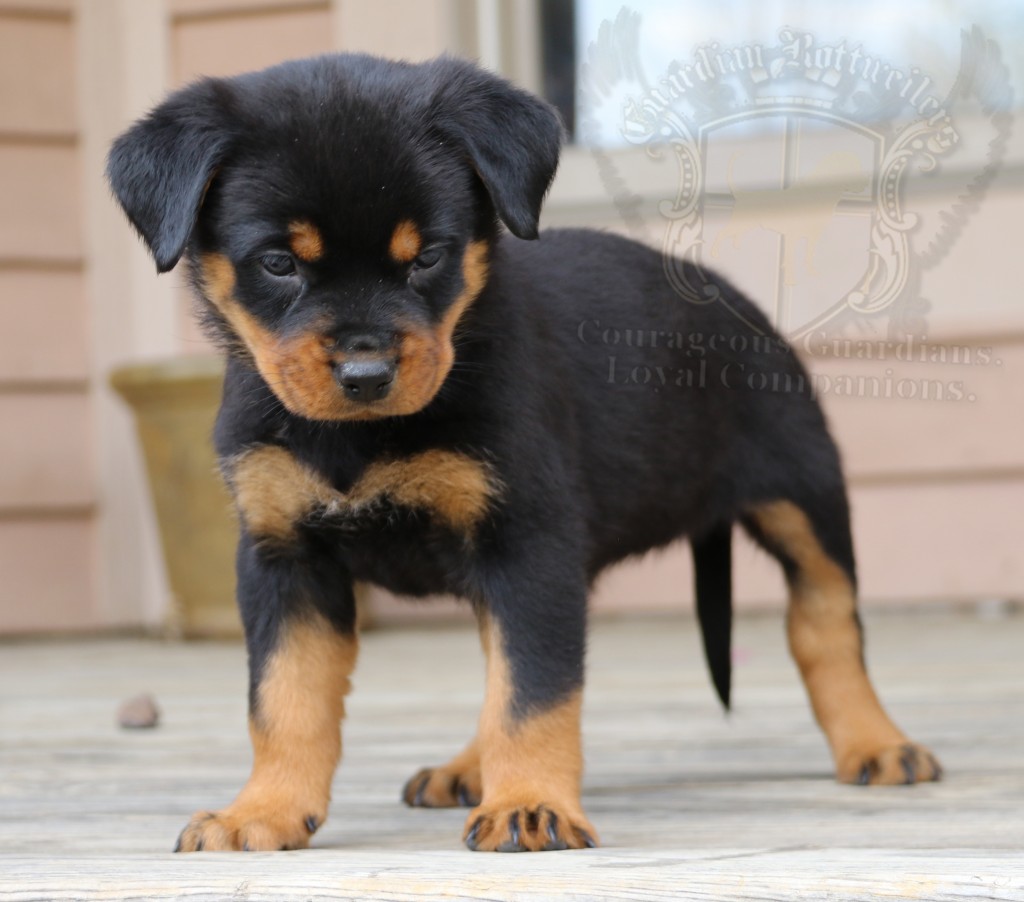 Layla                                  Lucy               Laava
RESERVED!                 RESERVED!  RESERVED!

My beautiful Eva in first stage of labor <3  Soon we will have little baby Evas!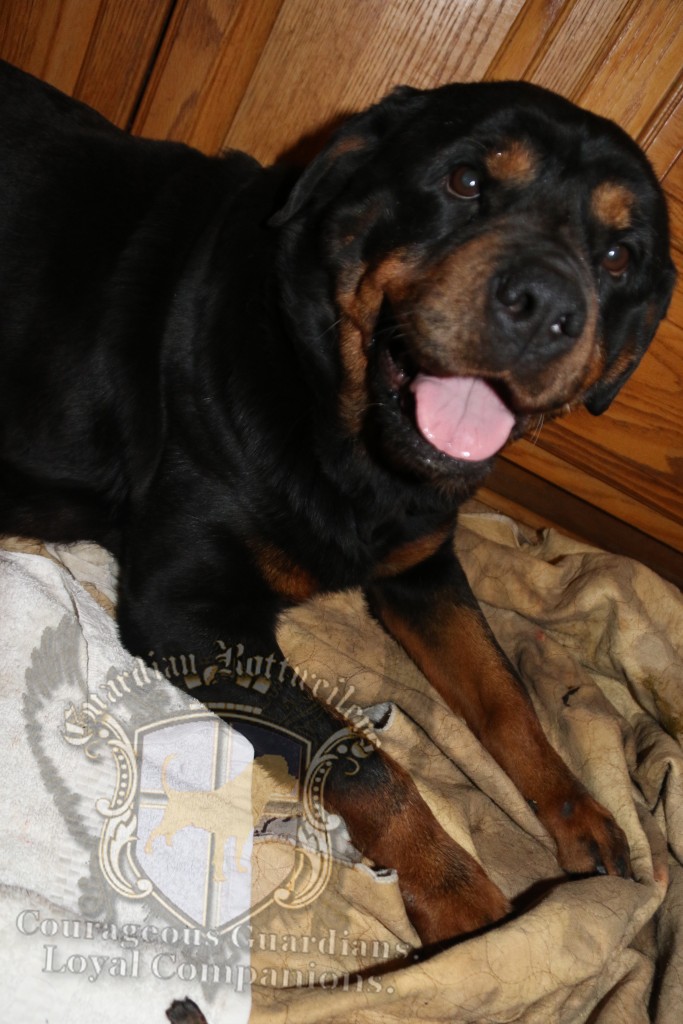 First little boy born <3  Big and strong and health and very loved by his mama and me <3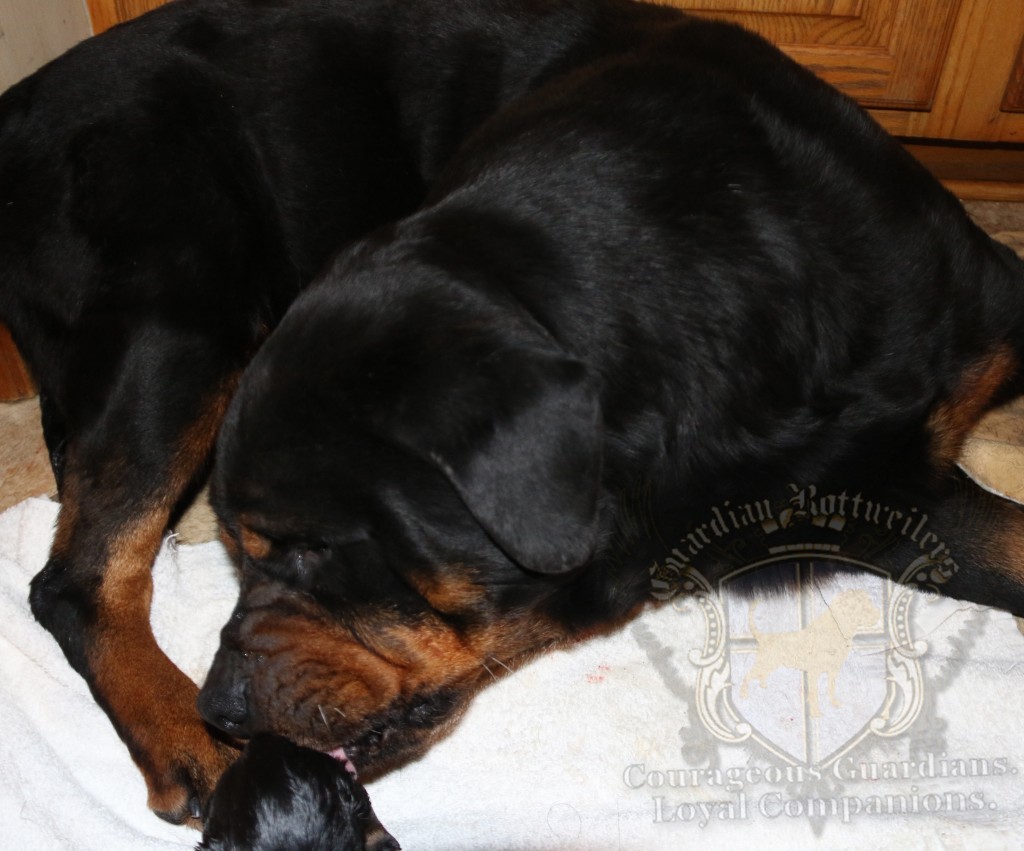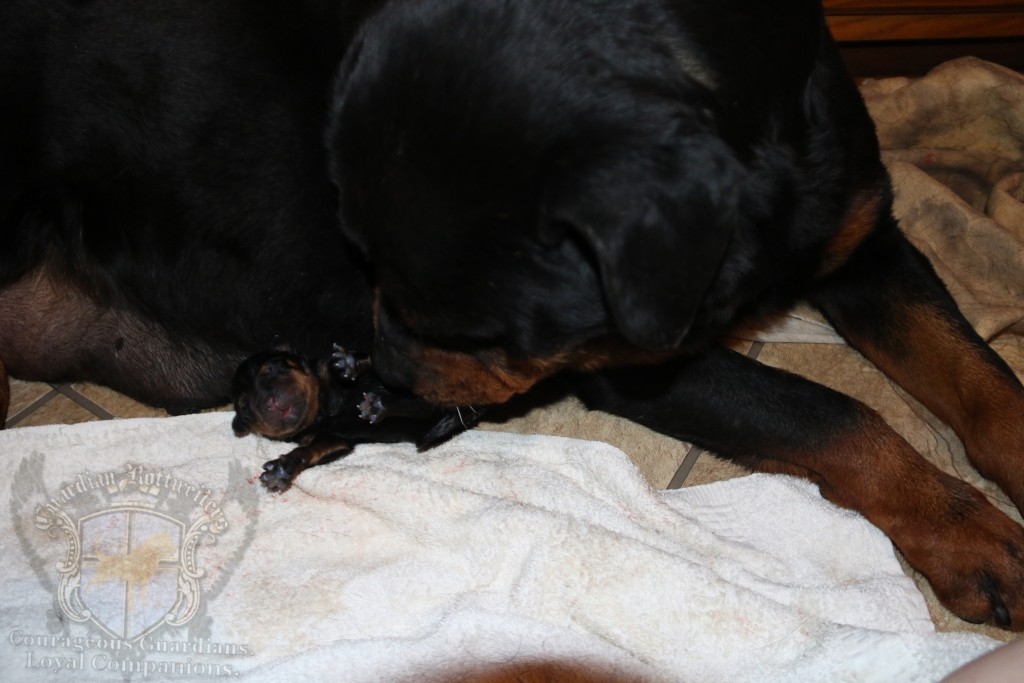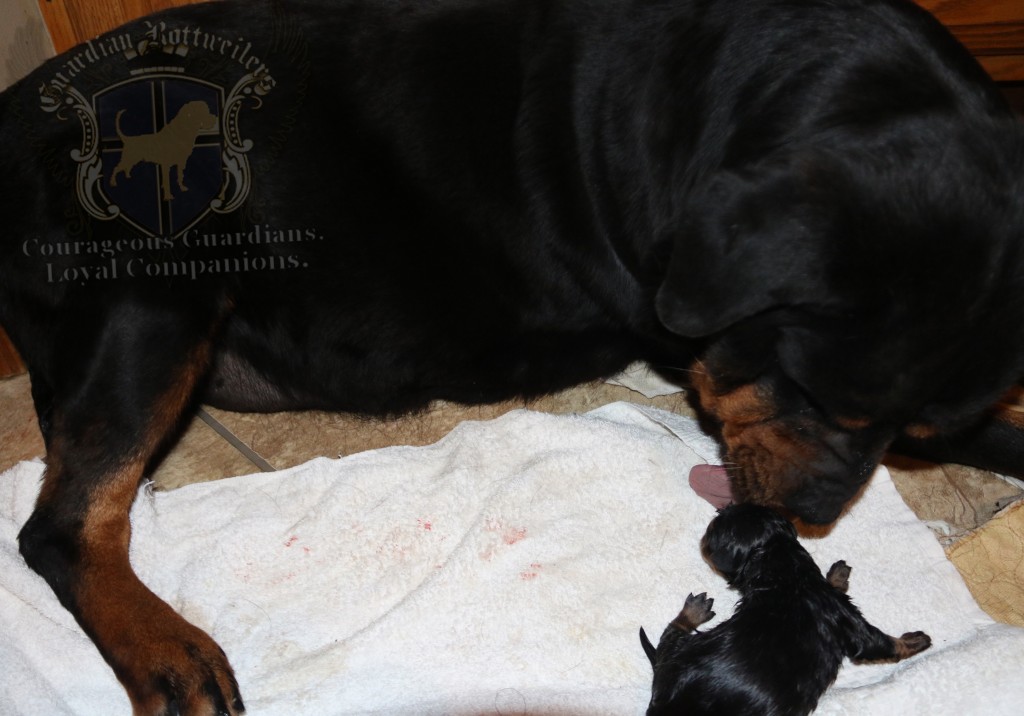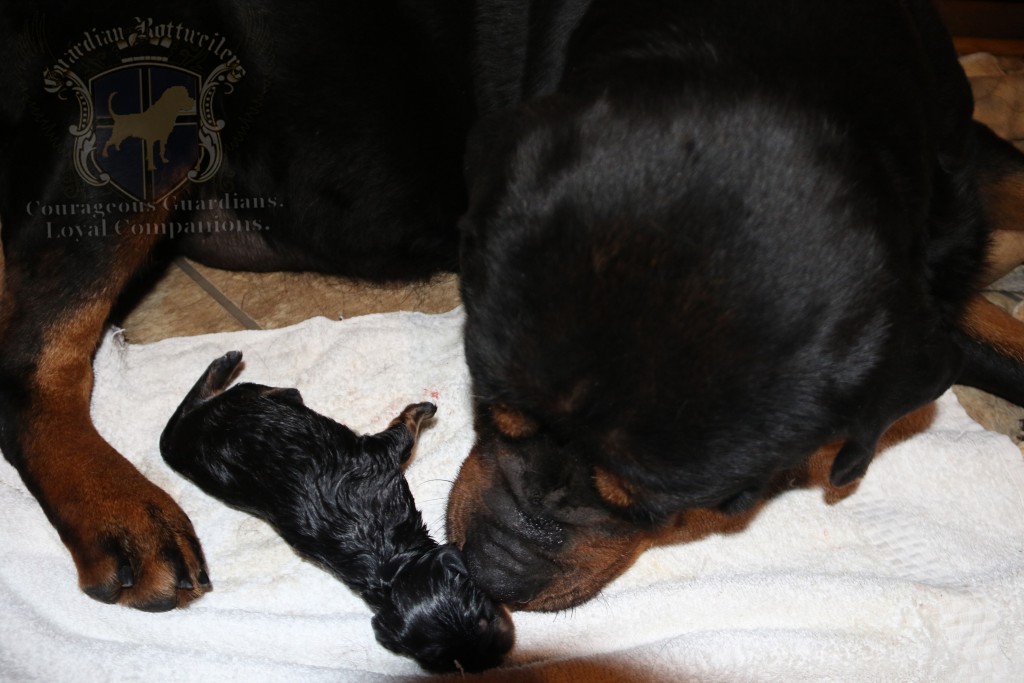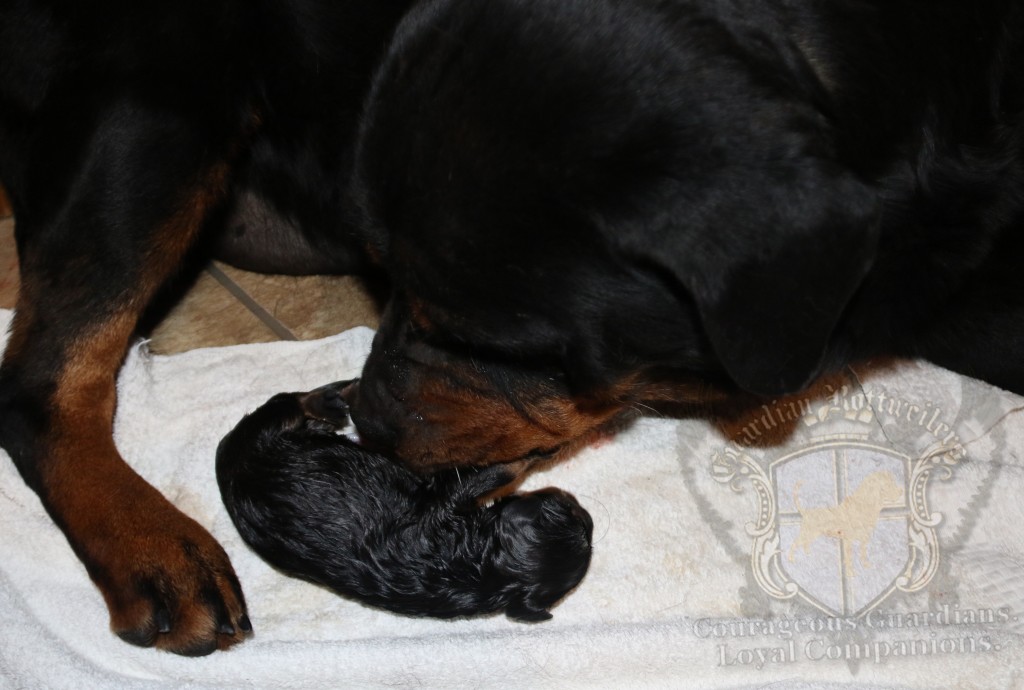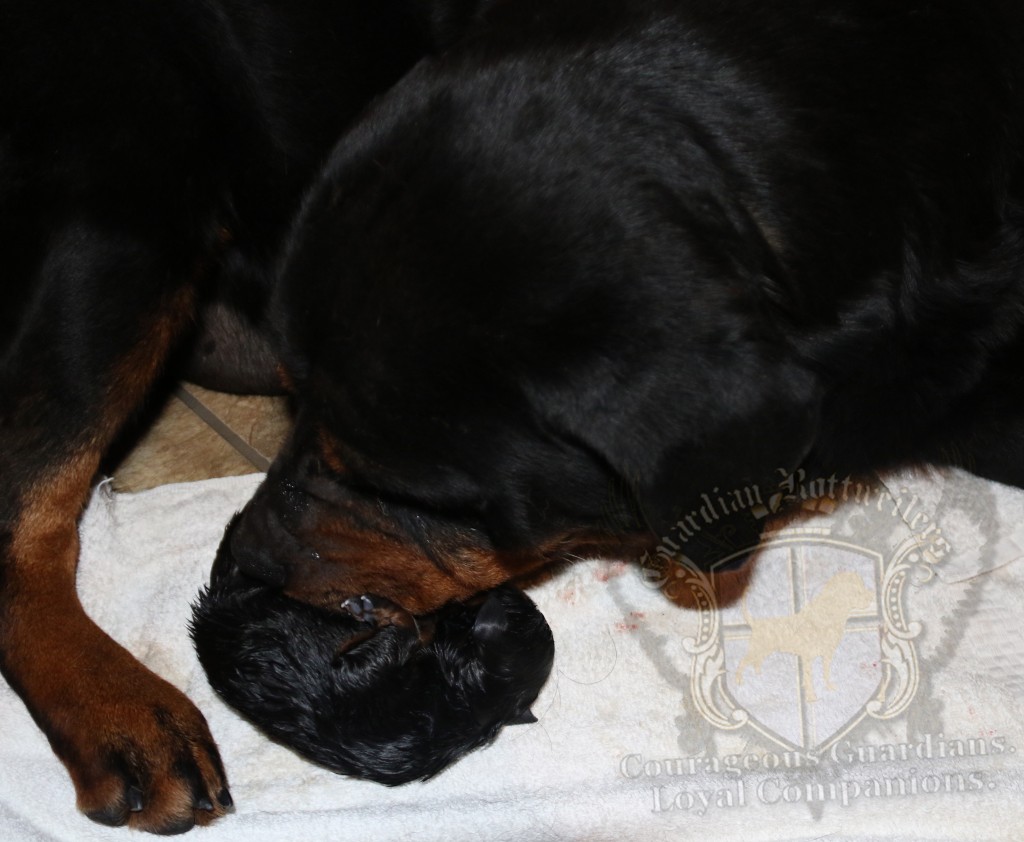 One plus eight makes 9 <3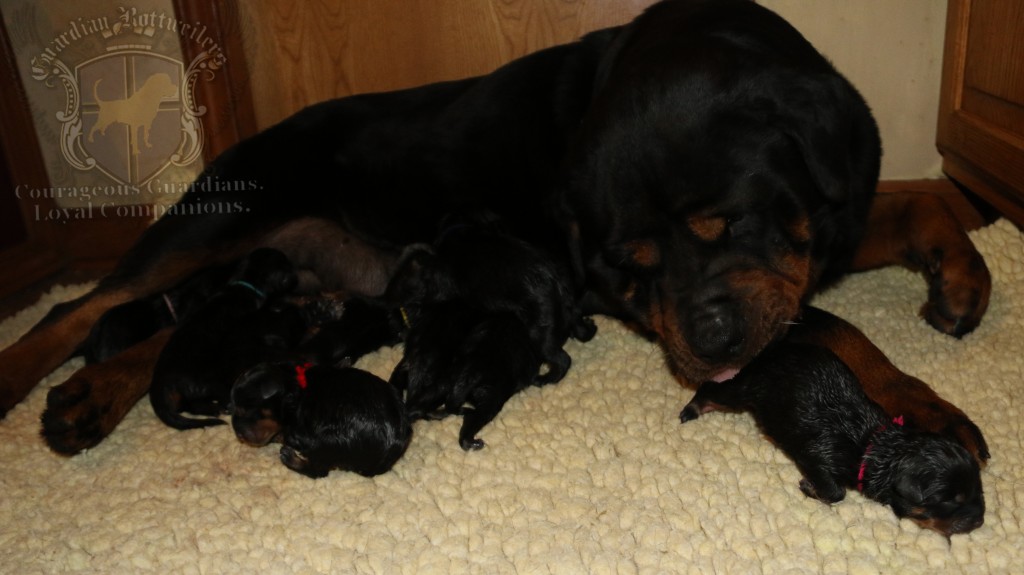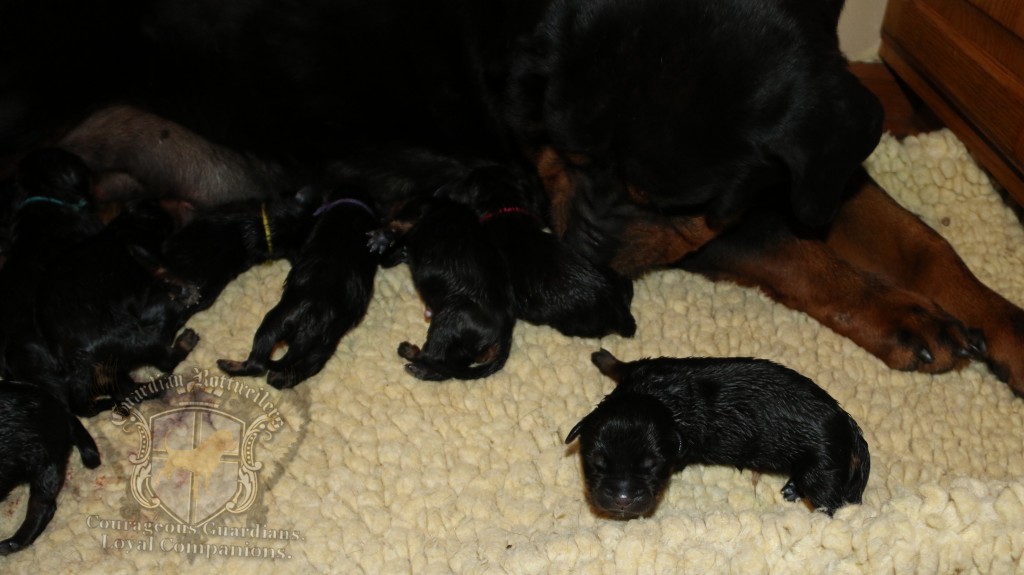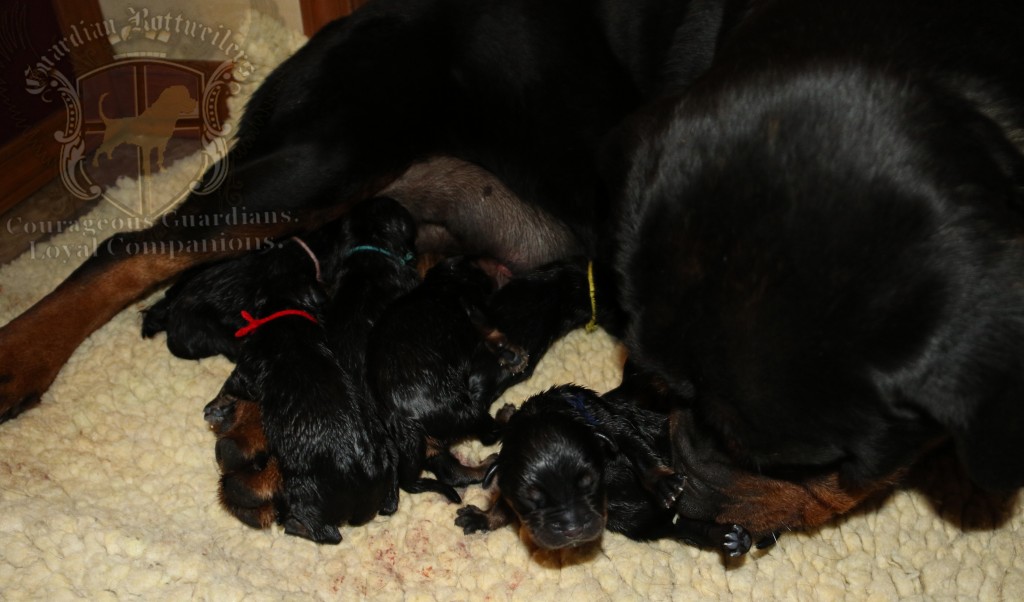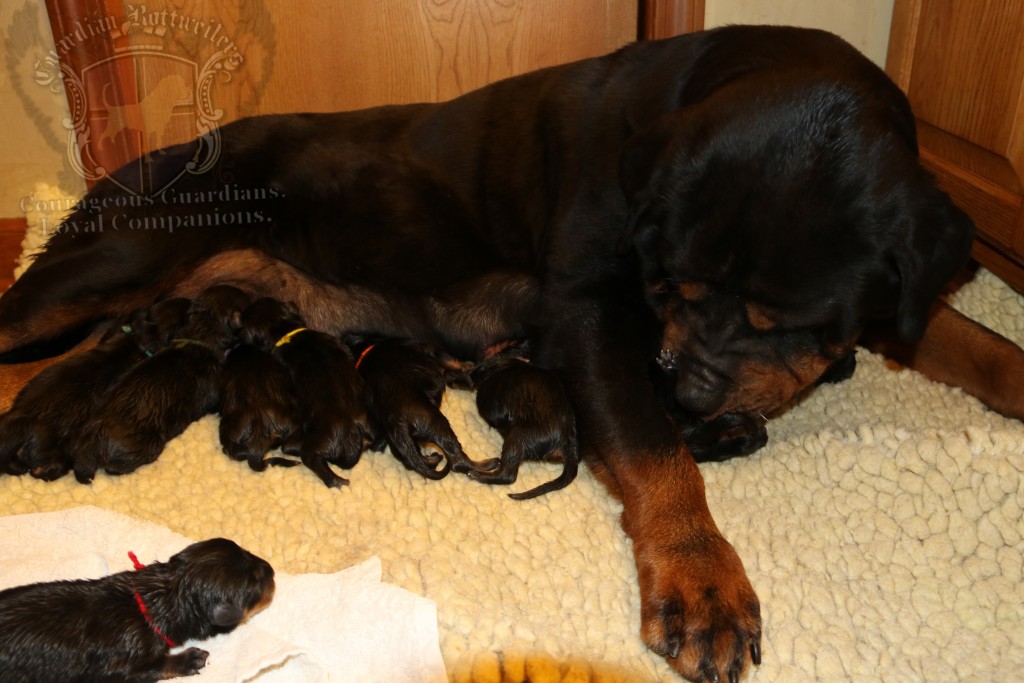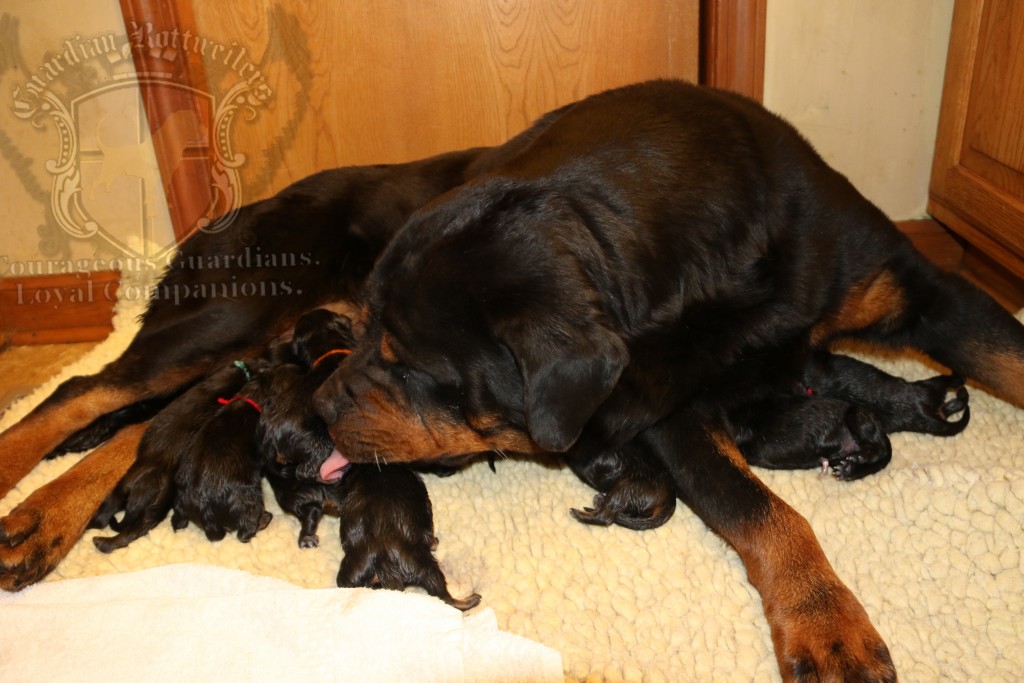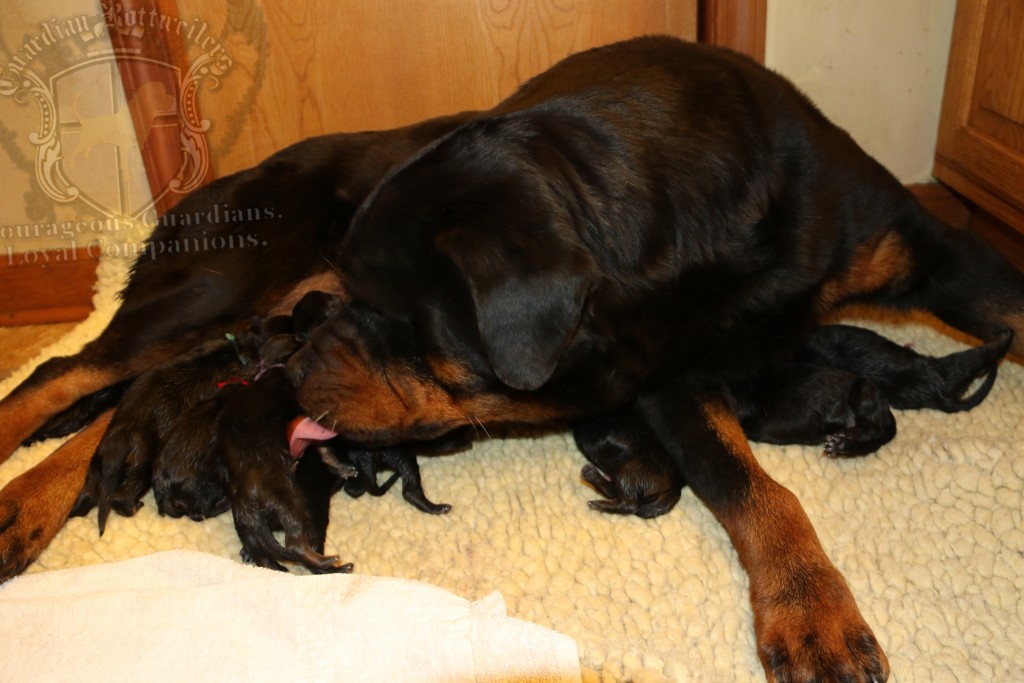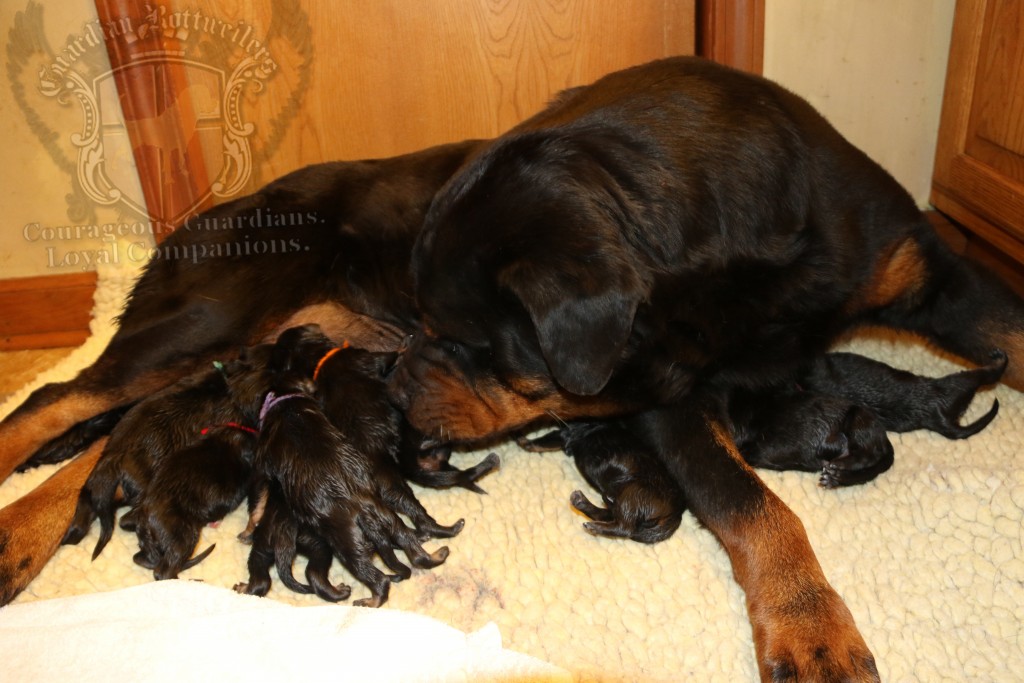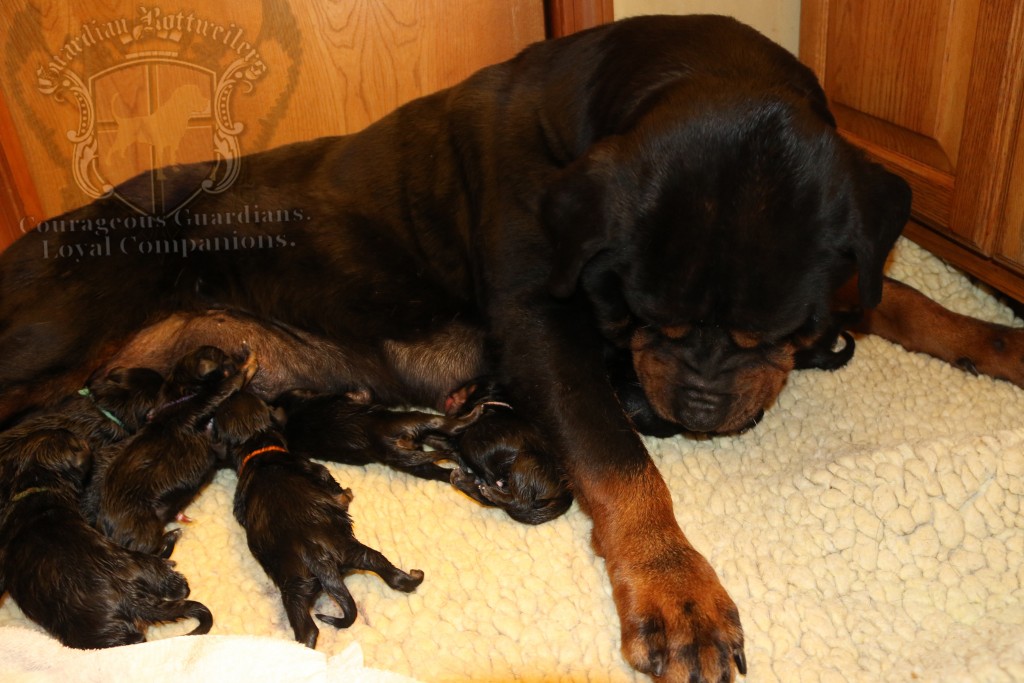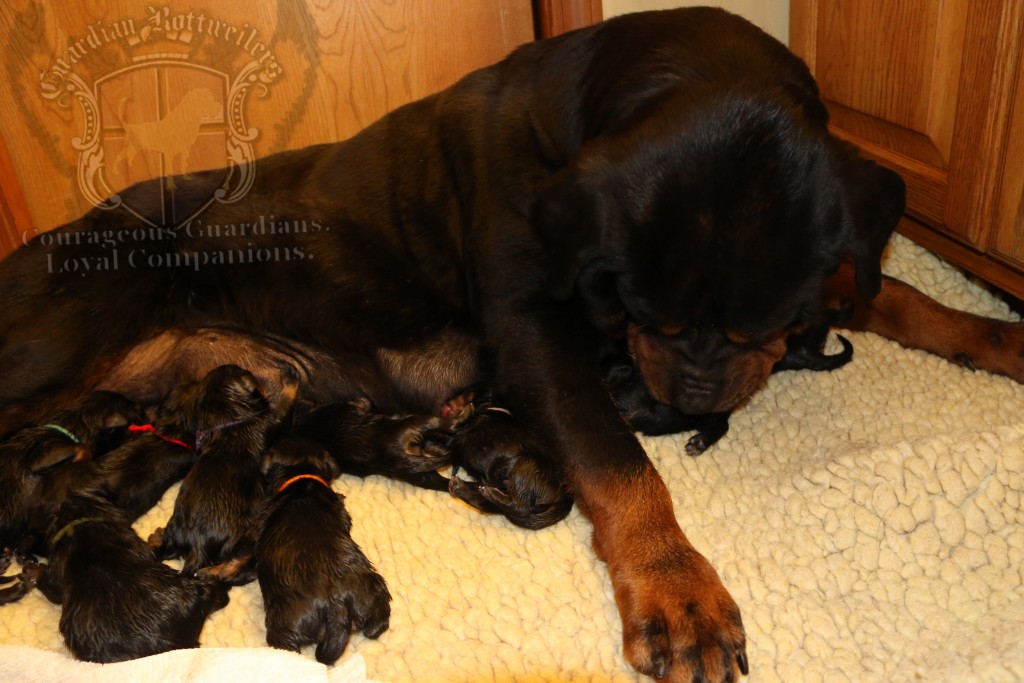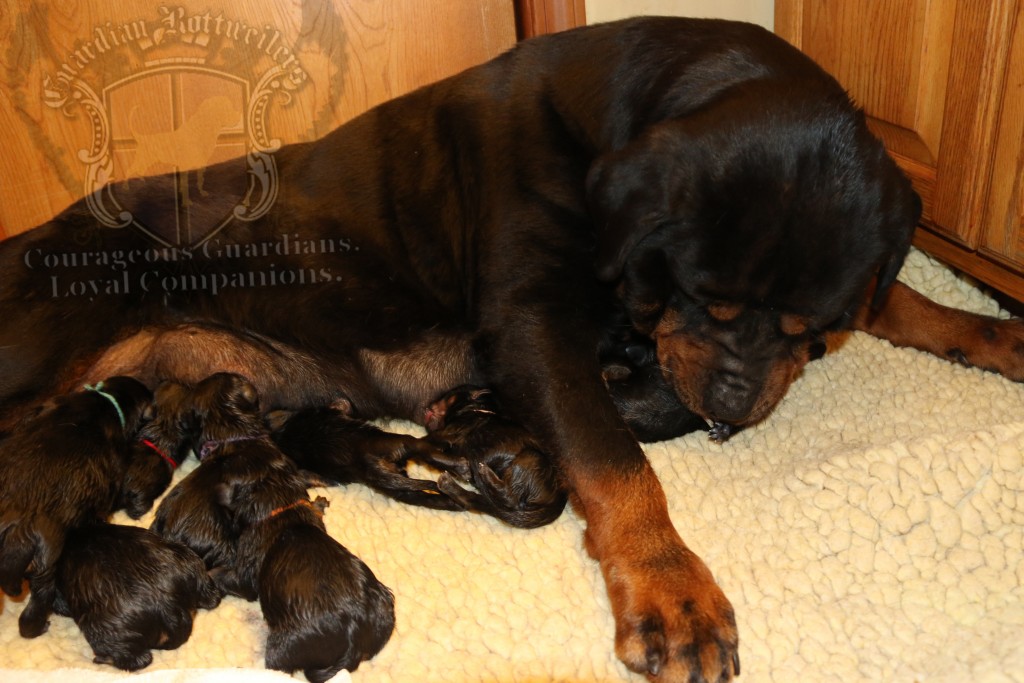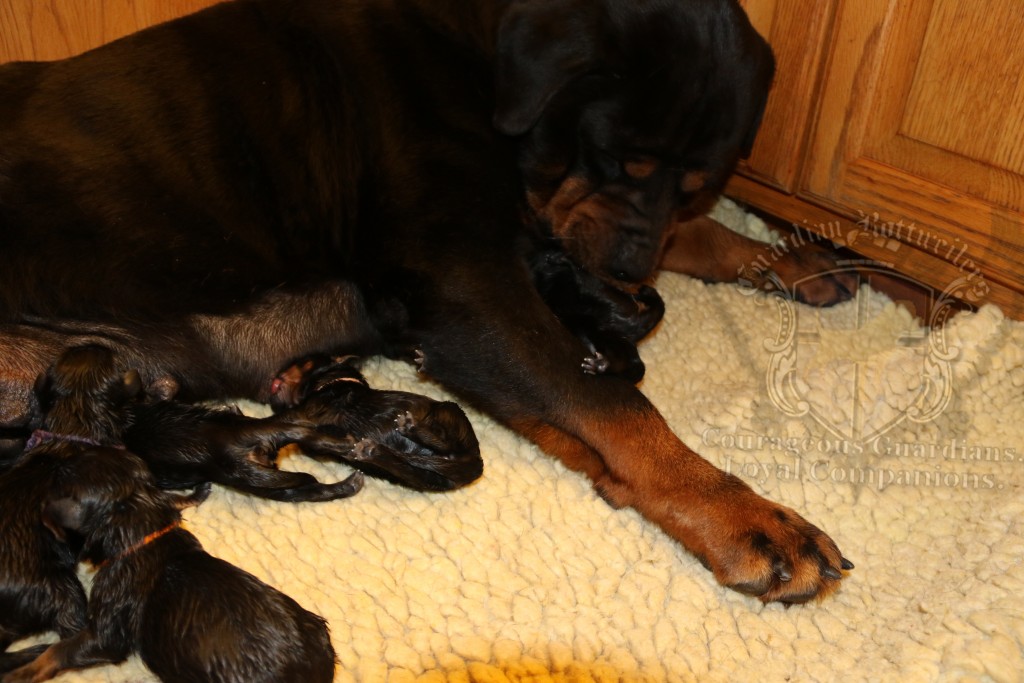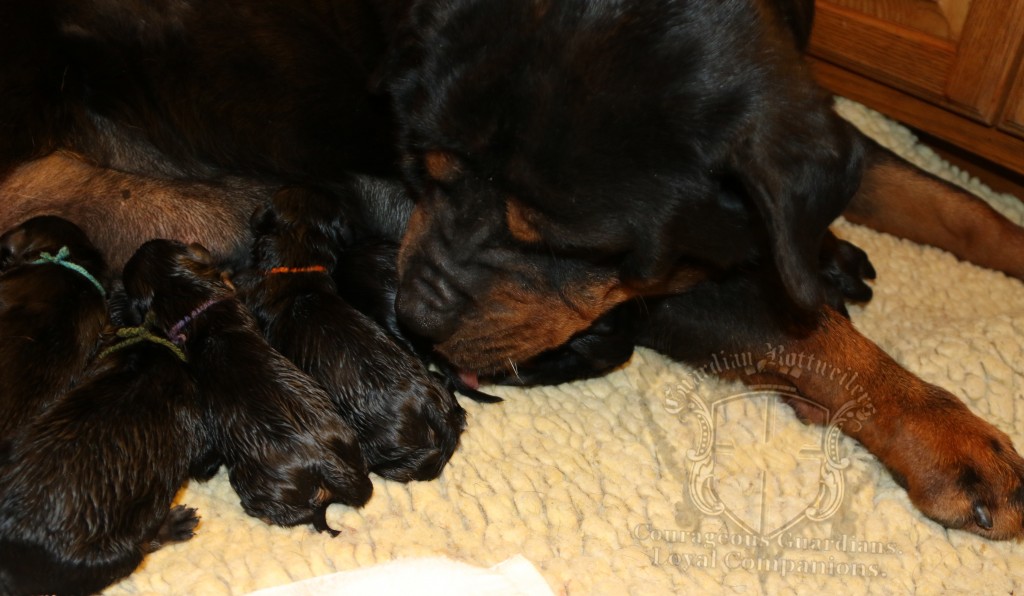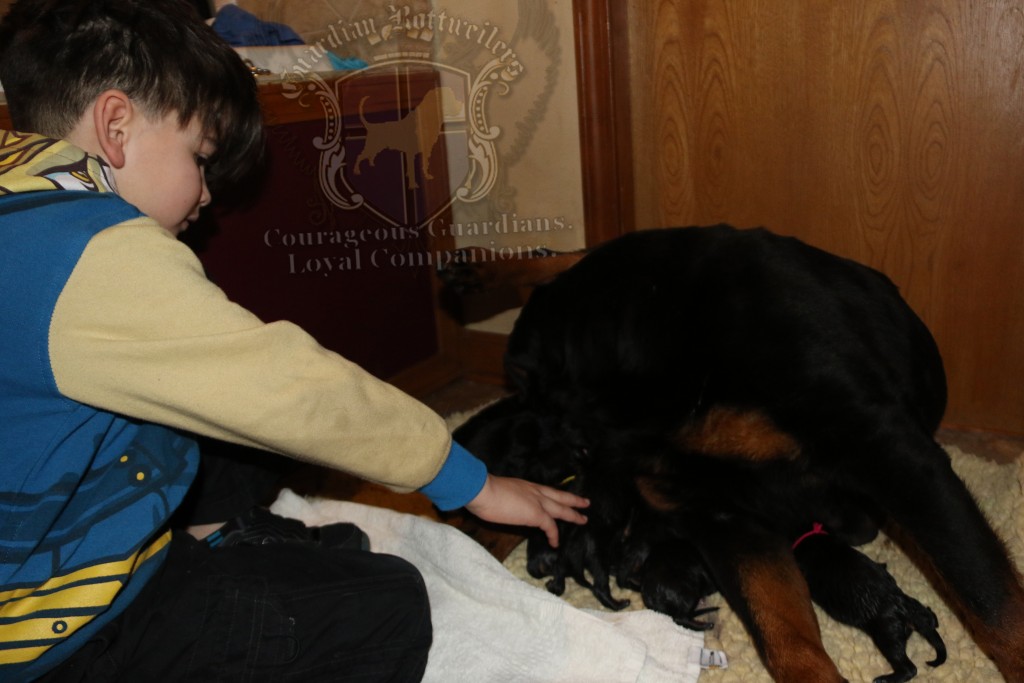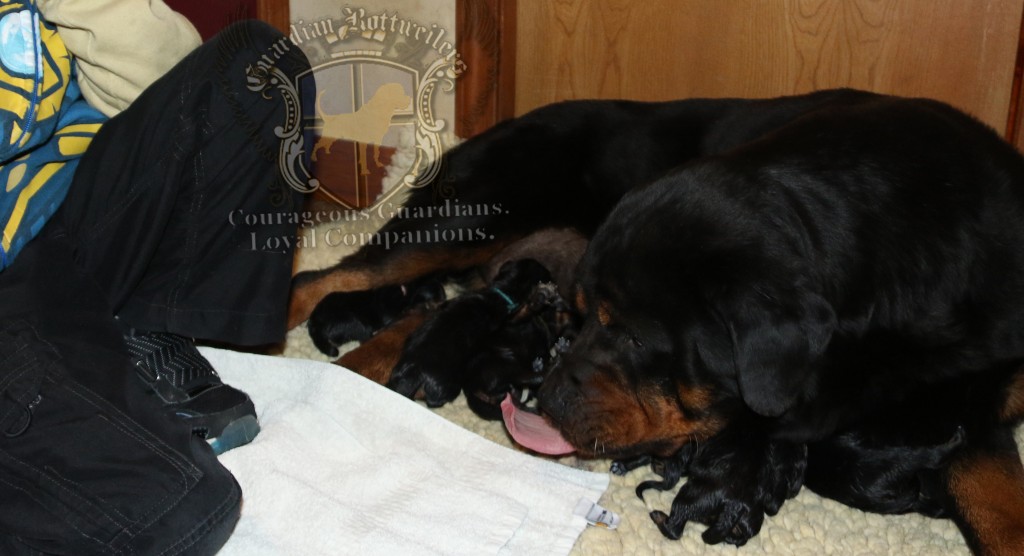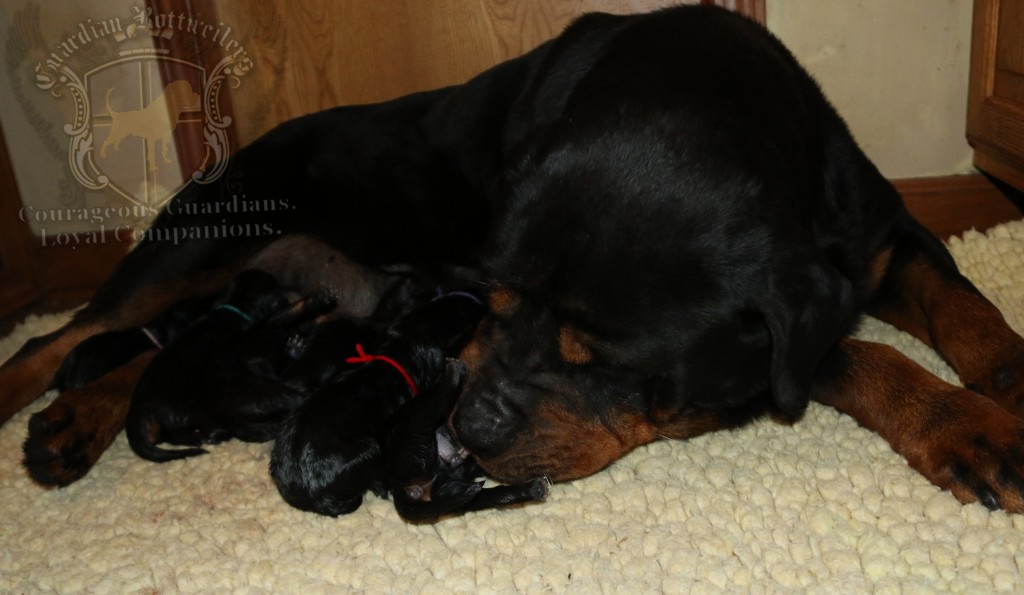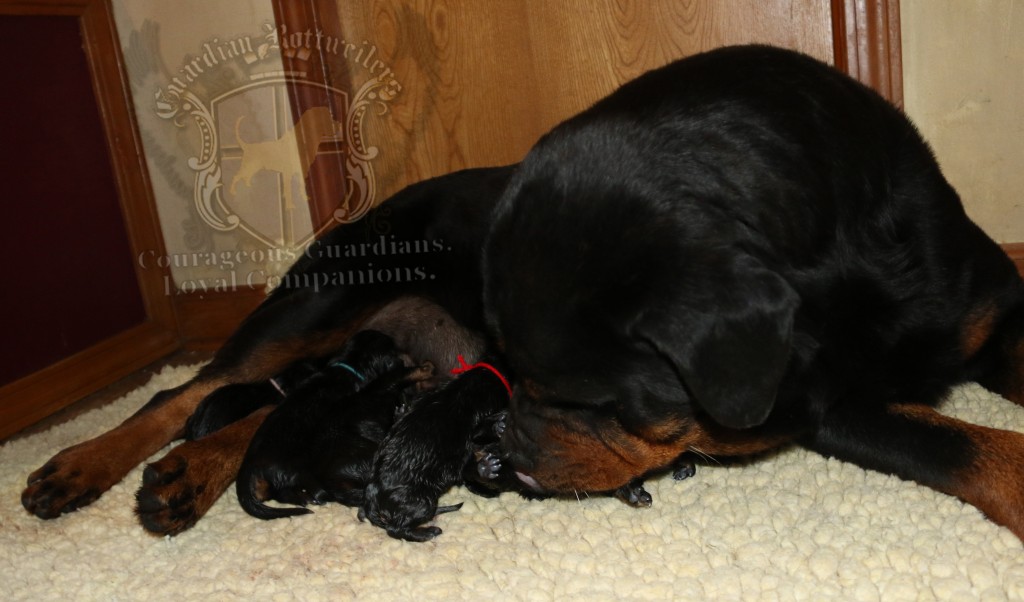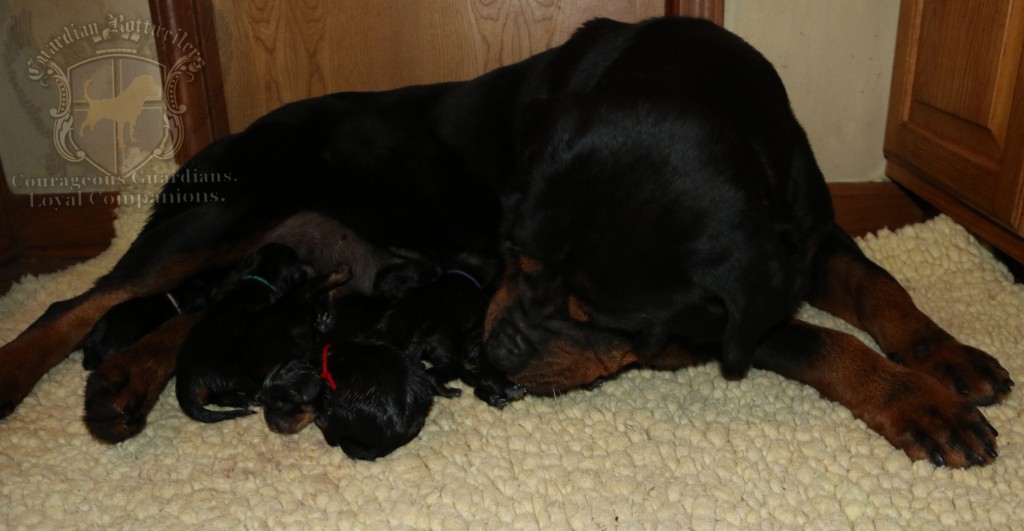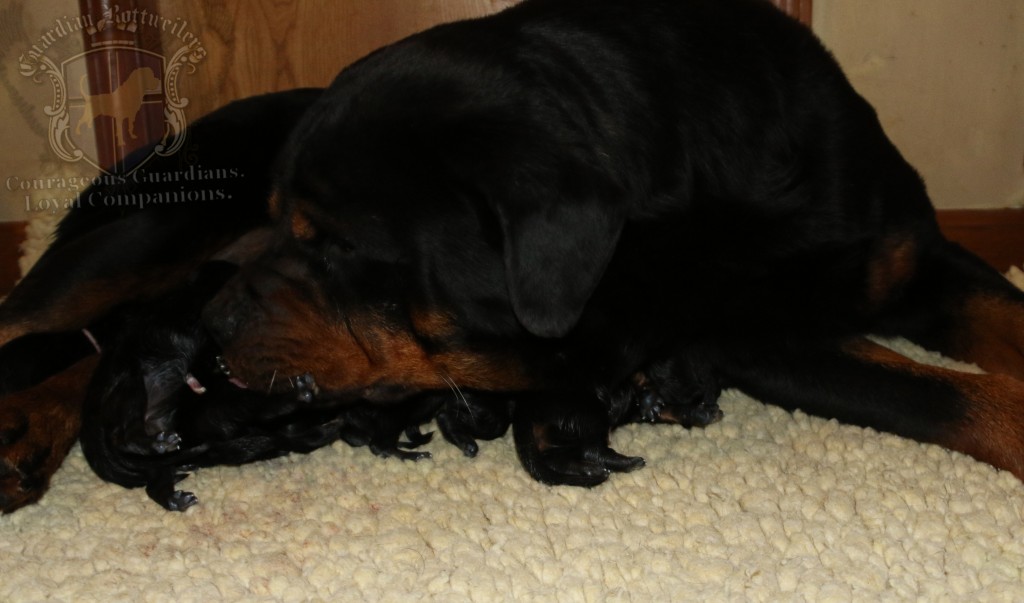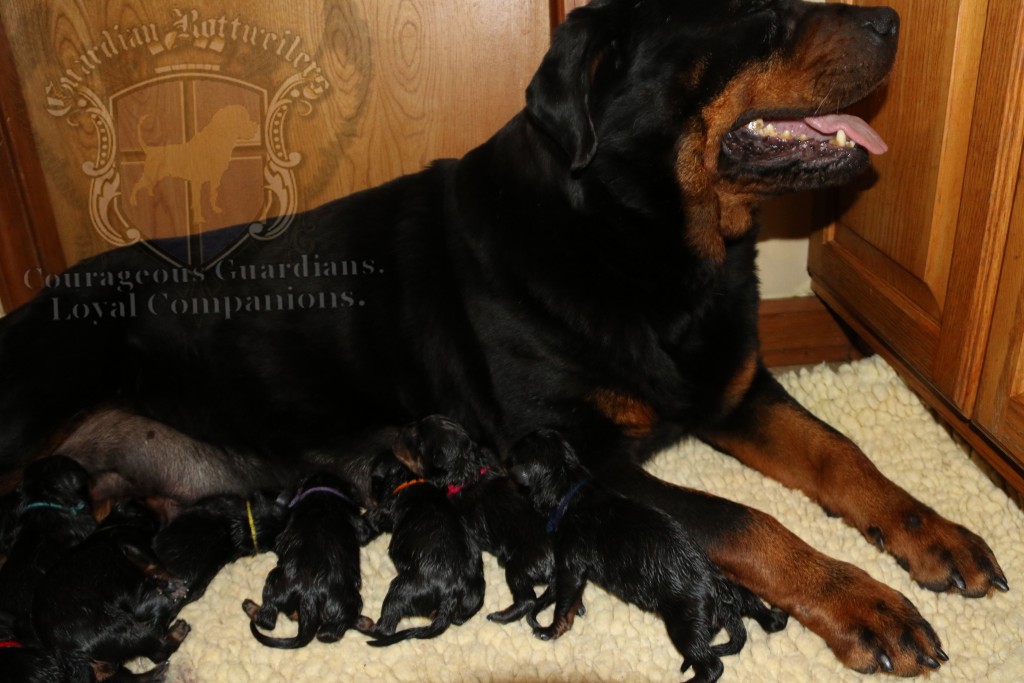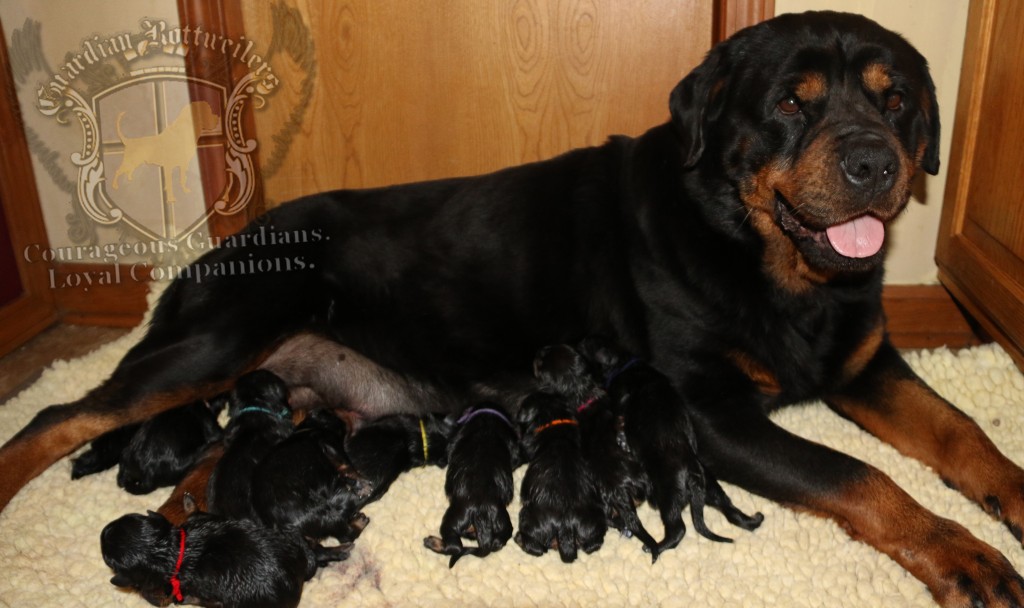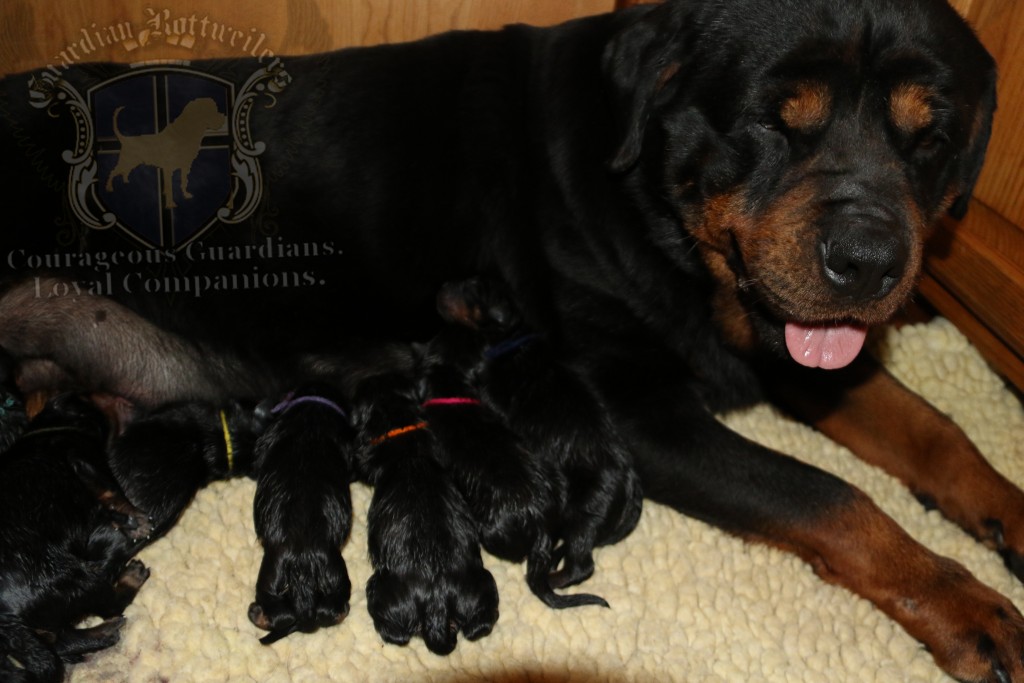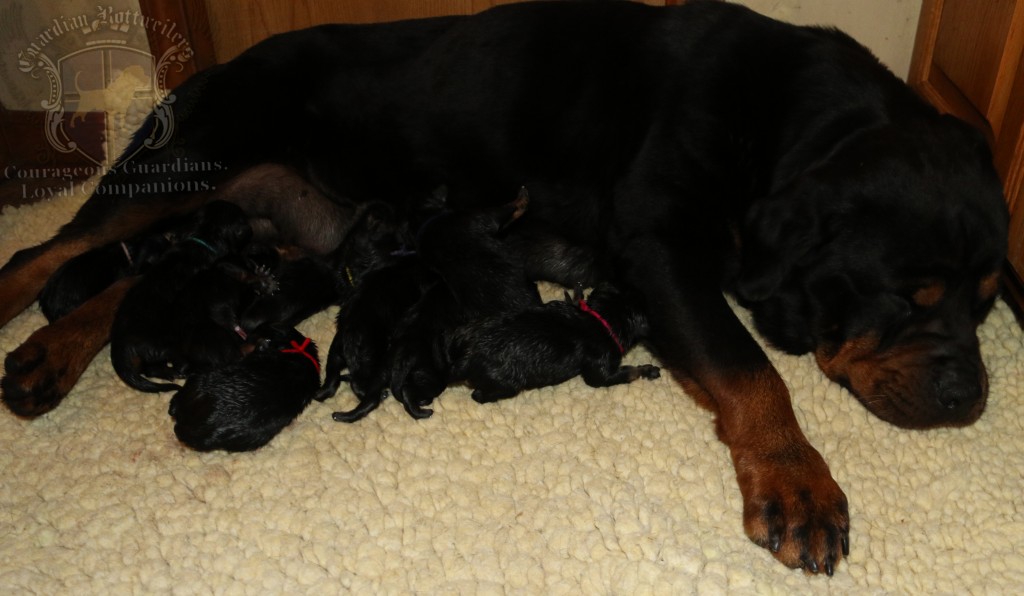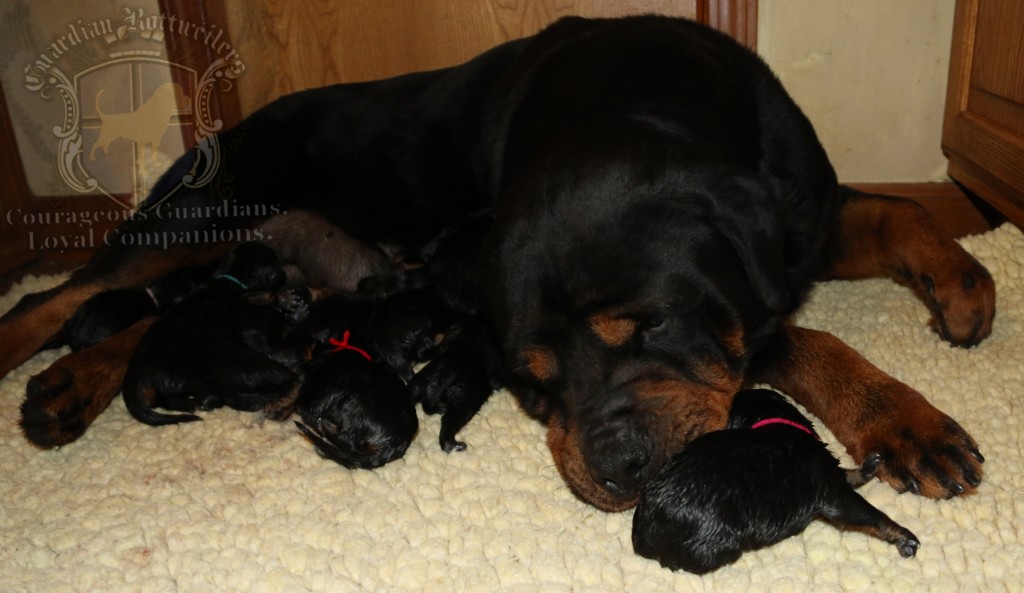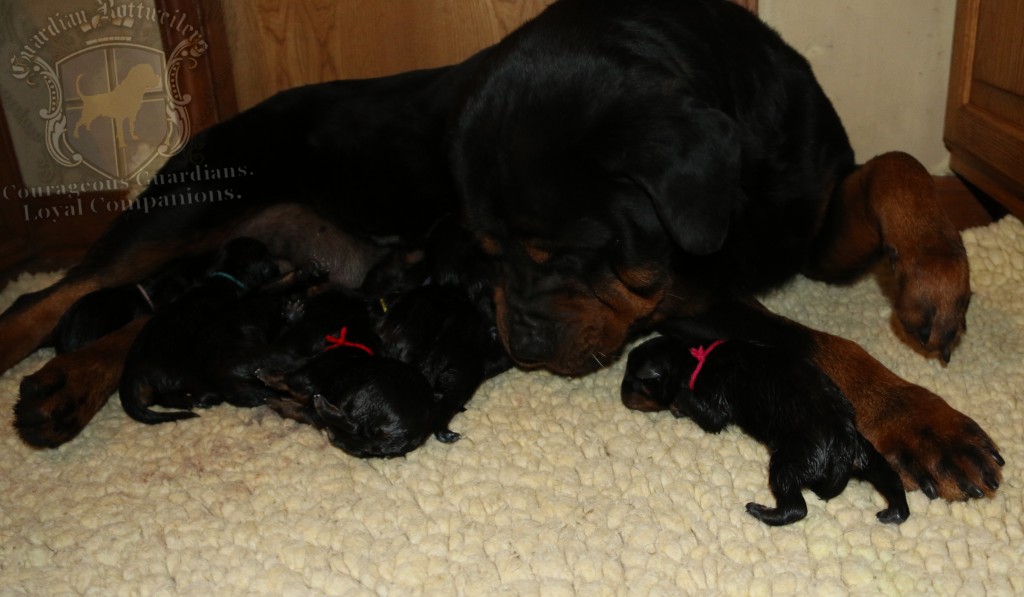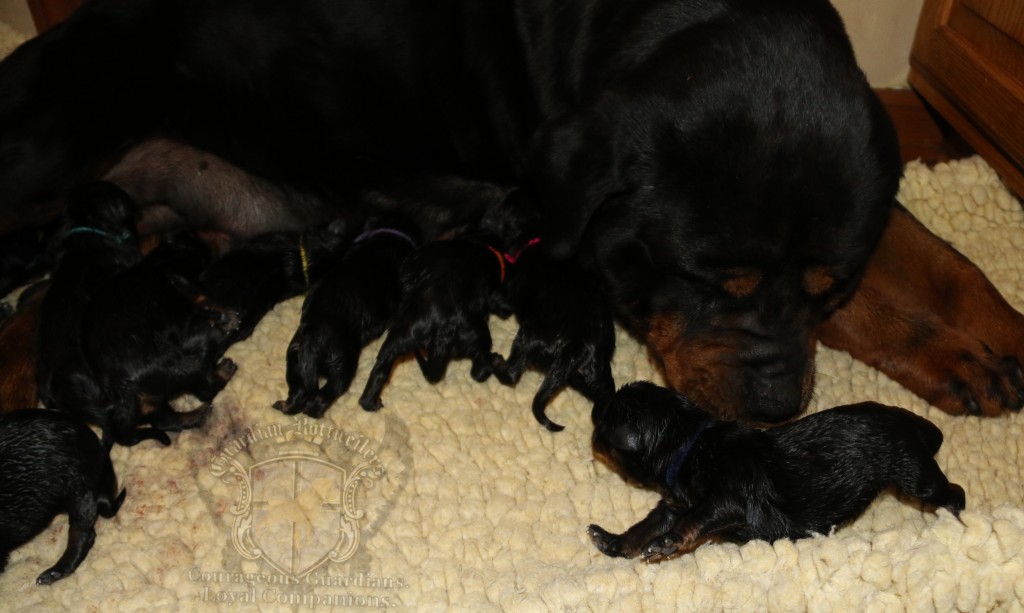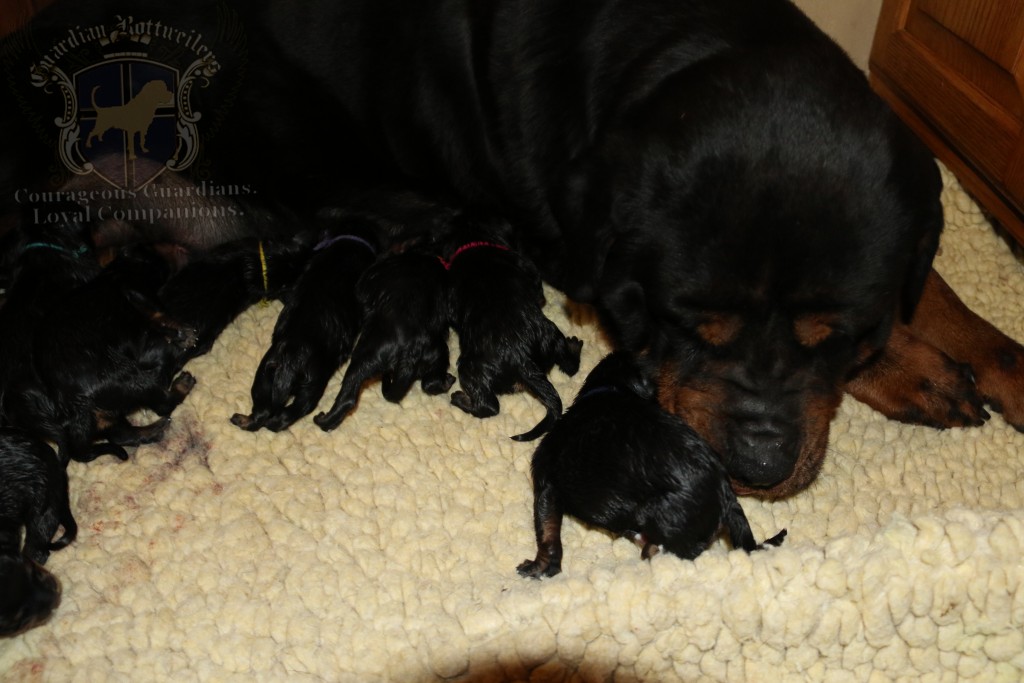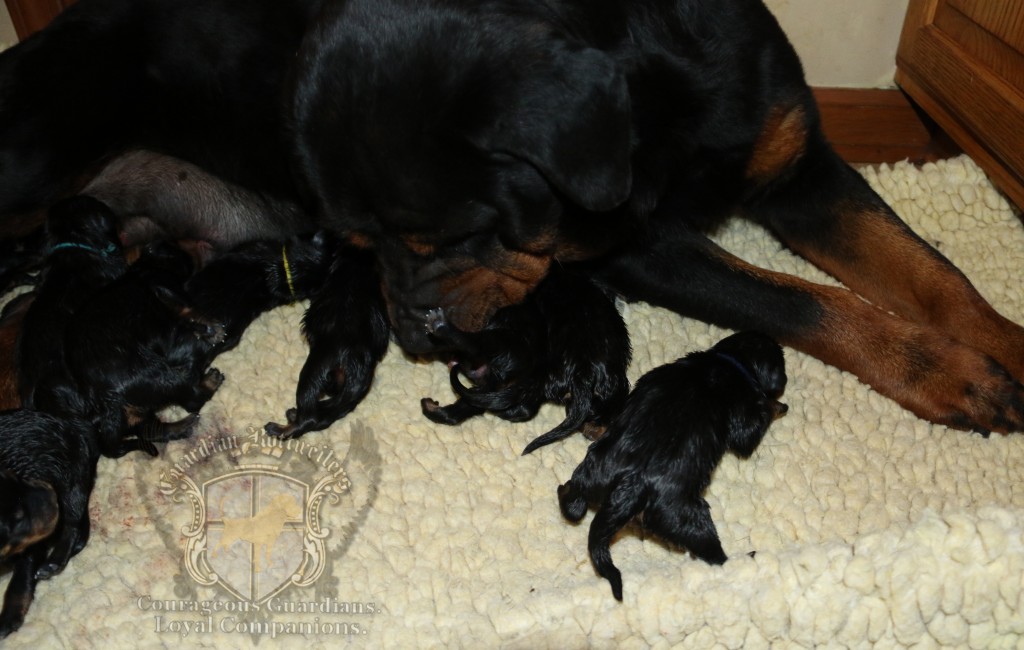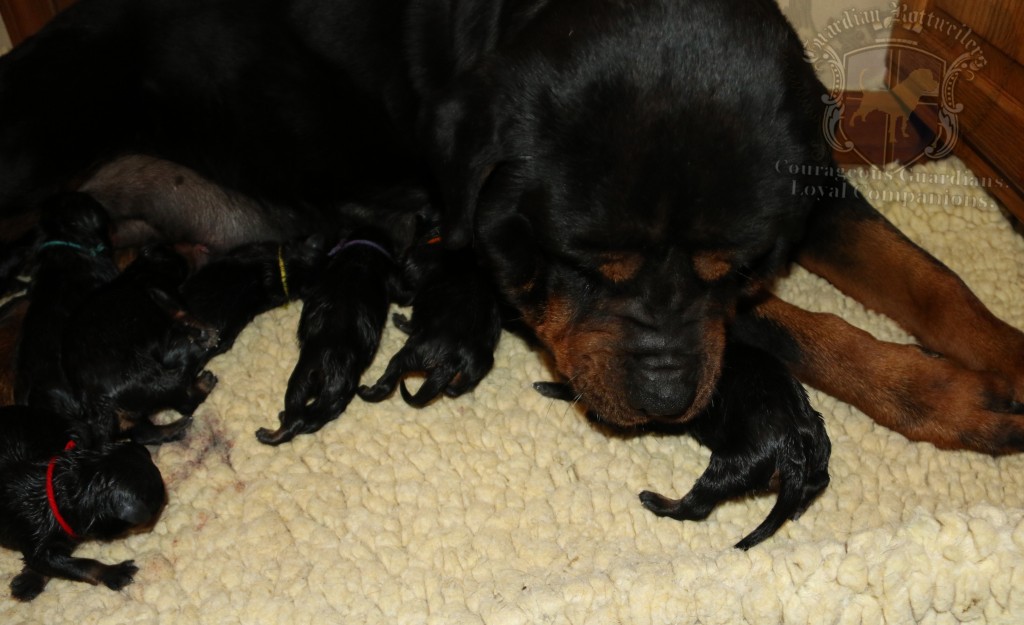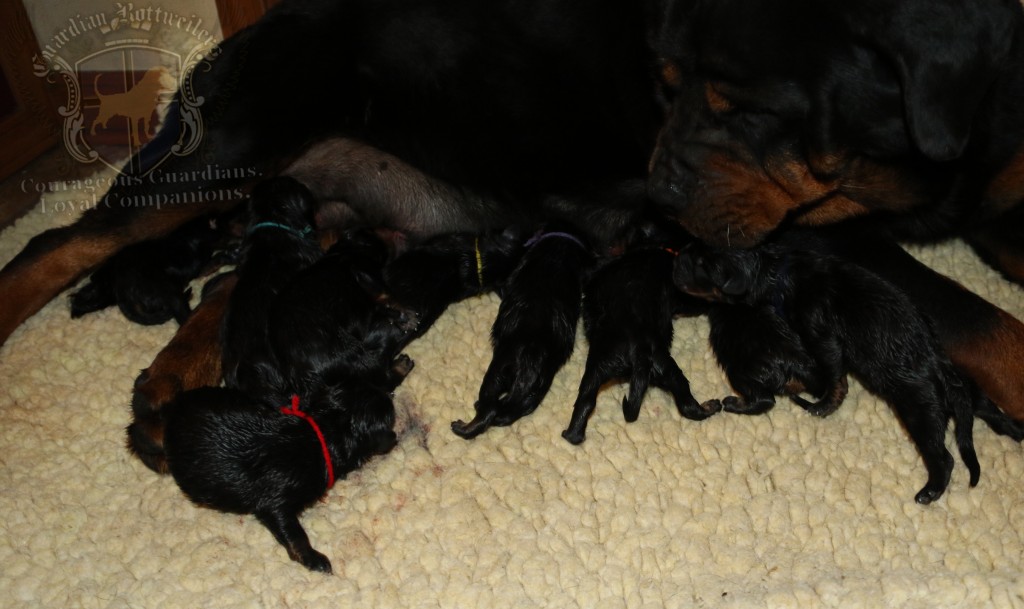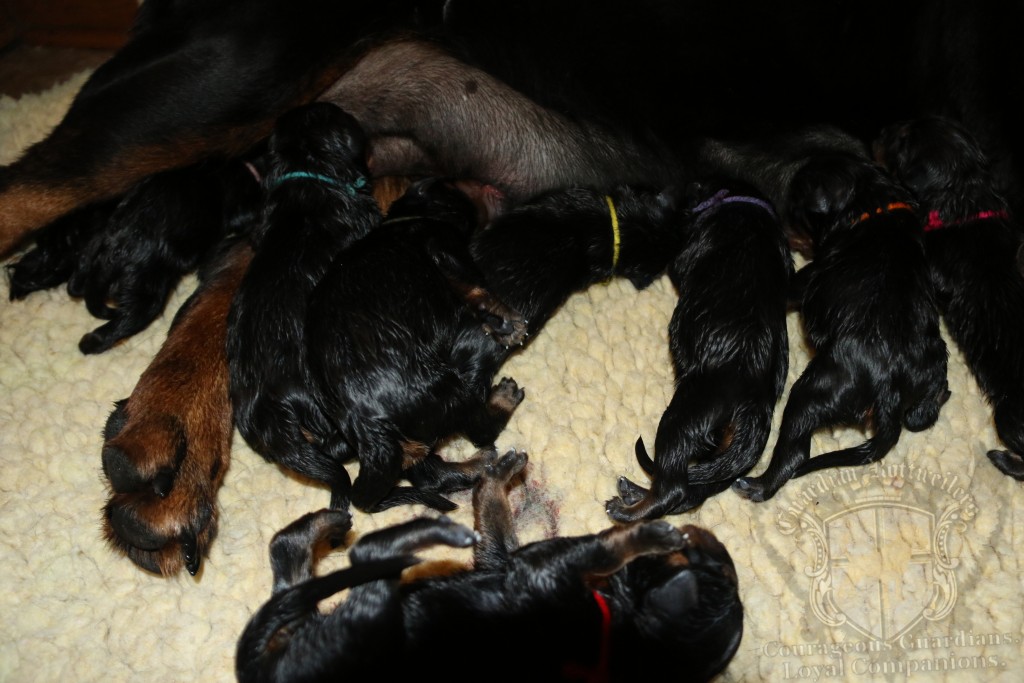 Eva babies first vet visit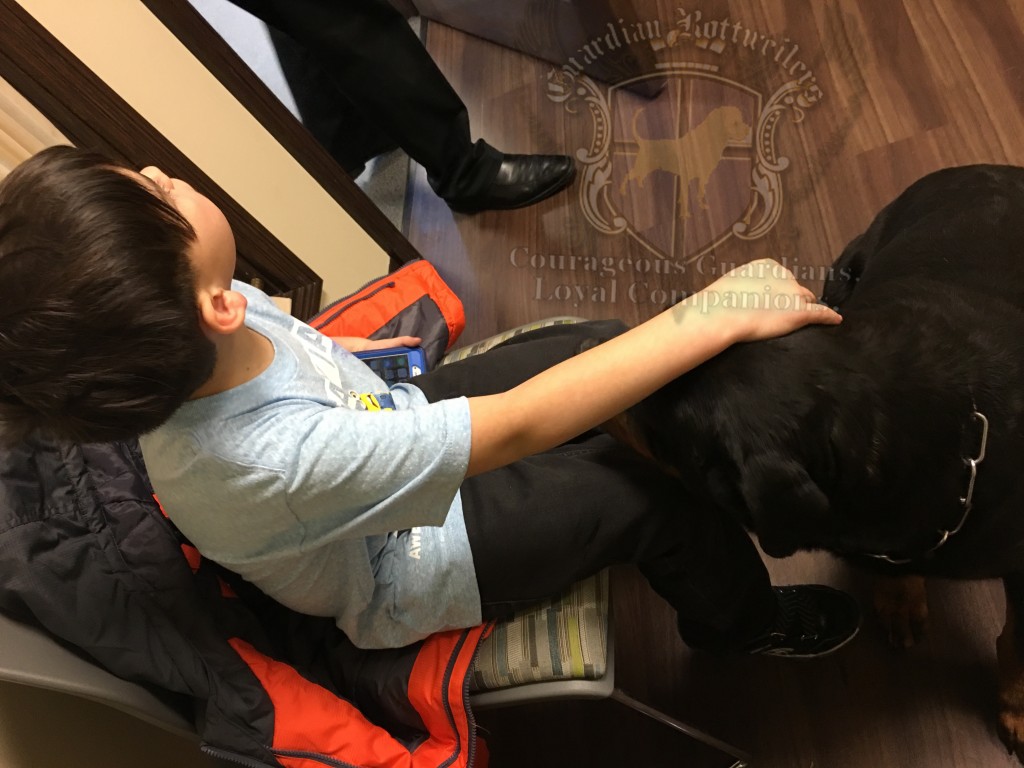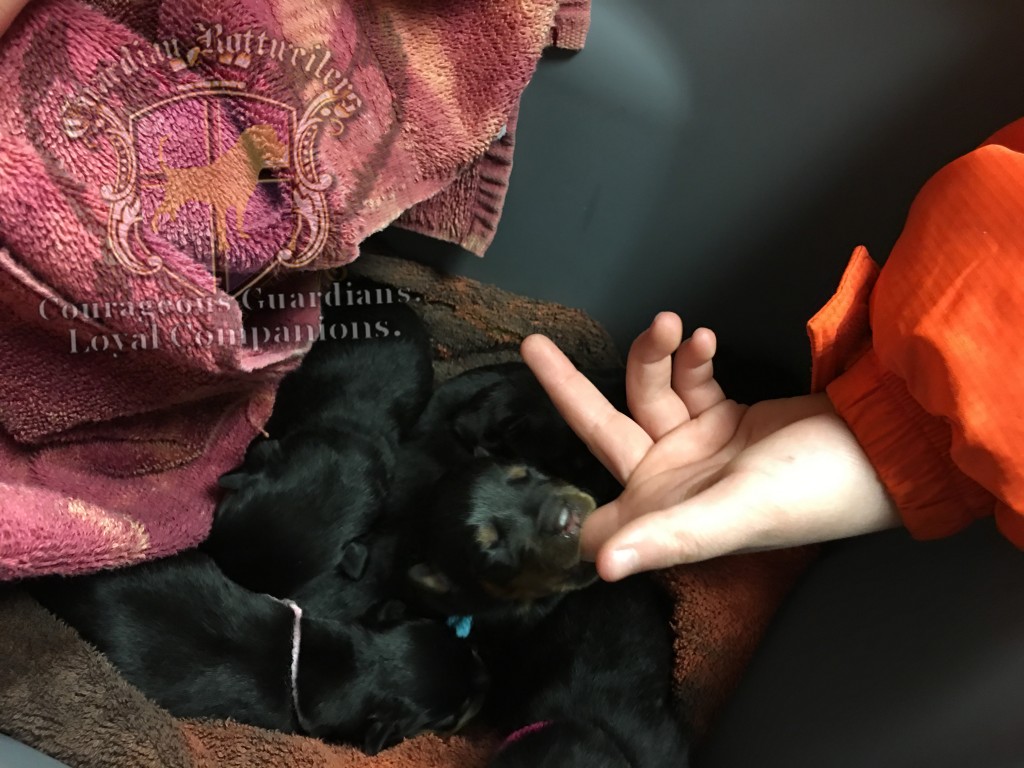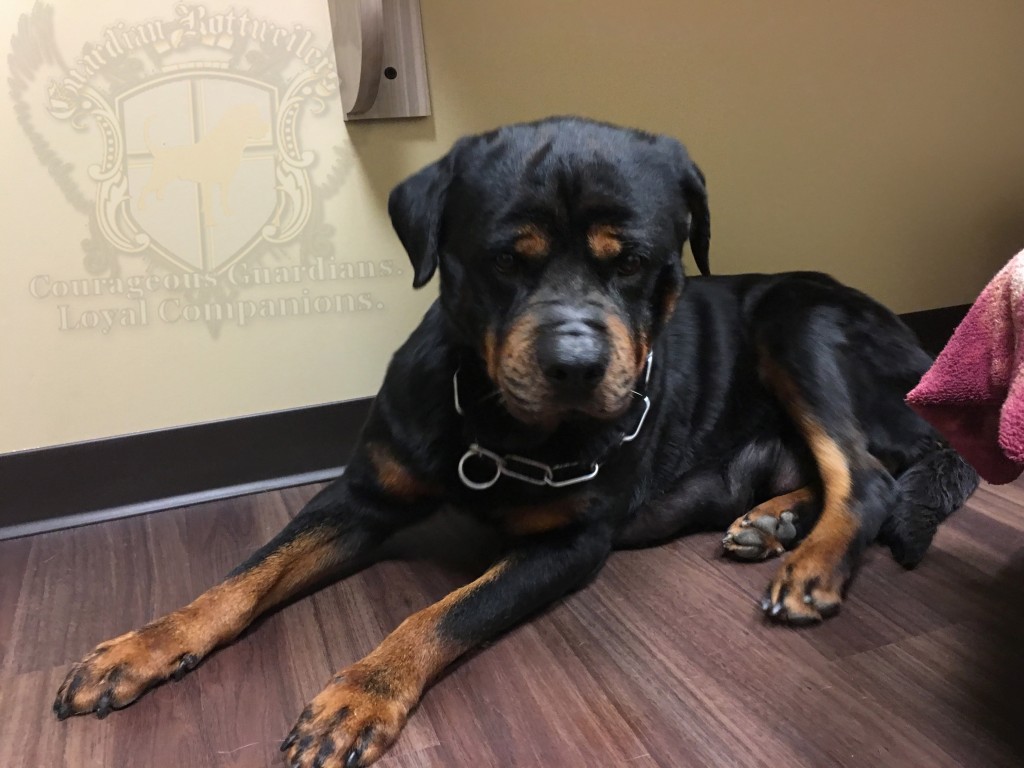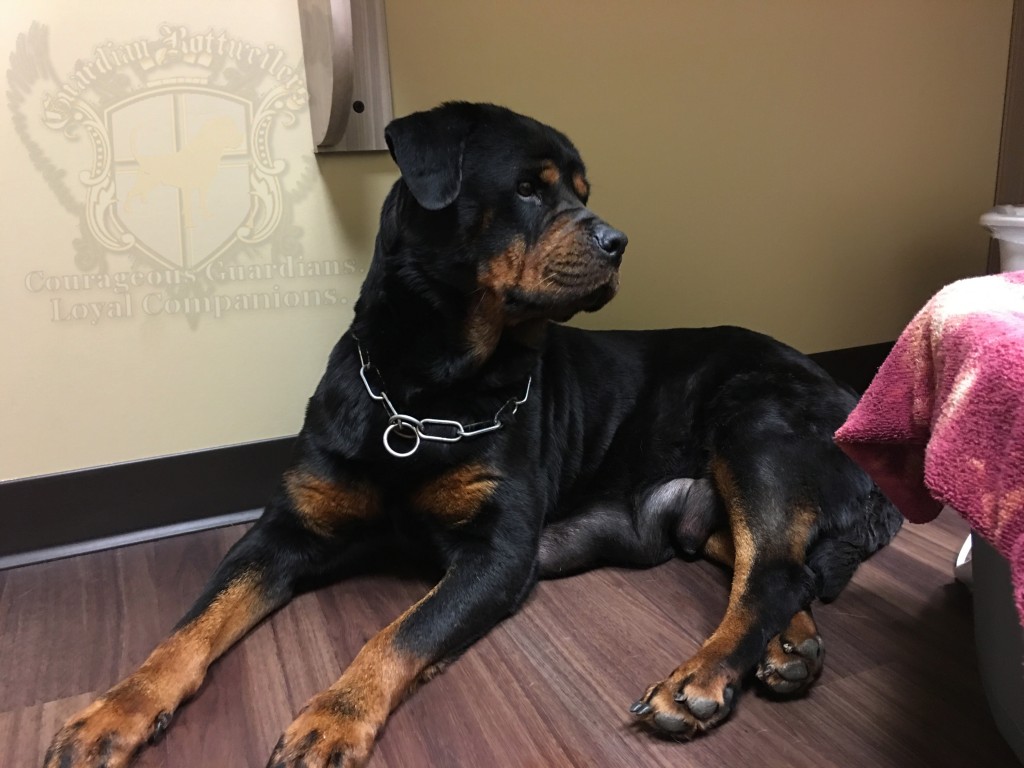 Just had 9 babies and still just absolutely GORGEOUS!!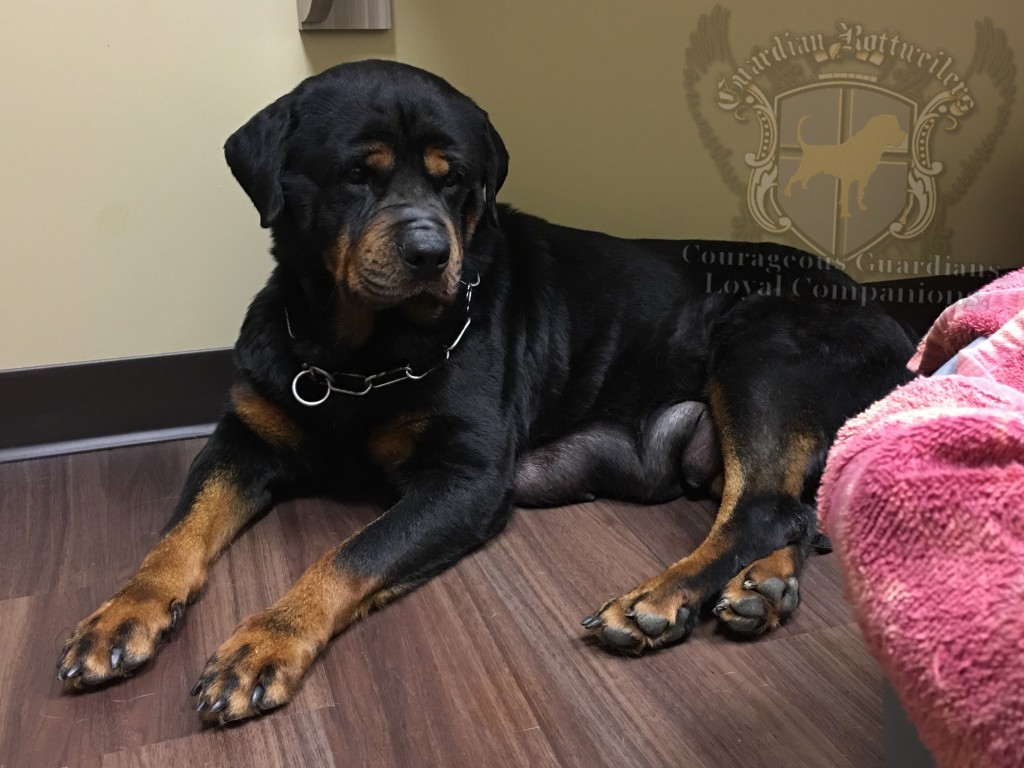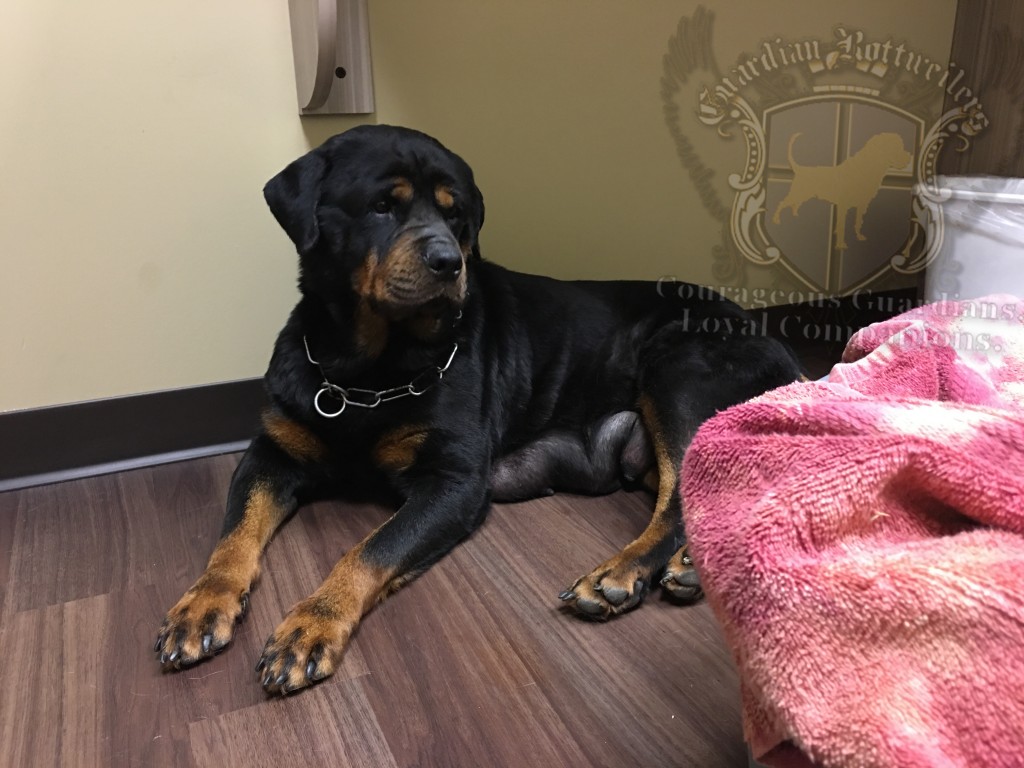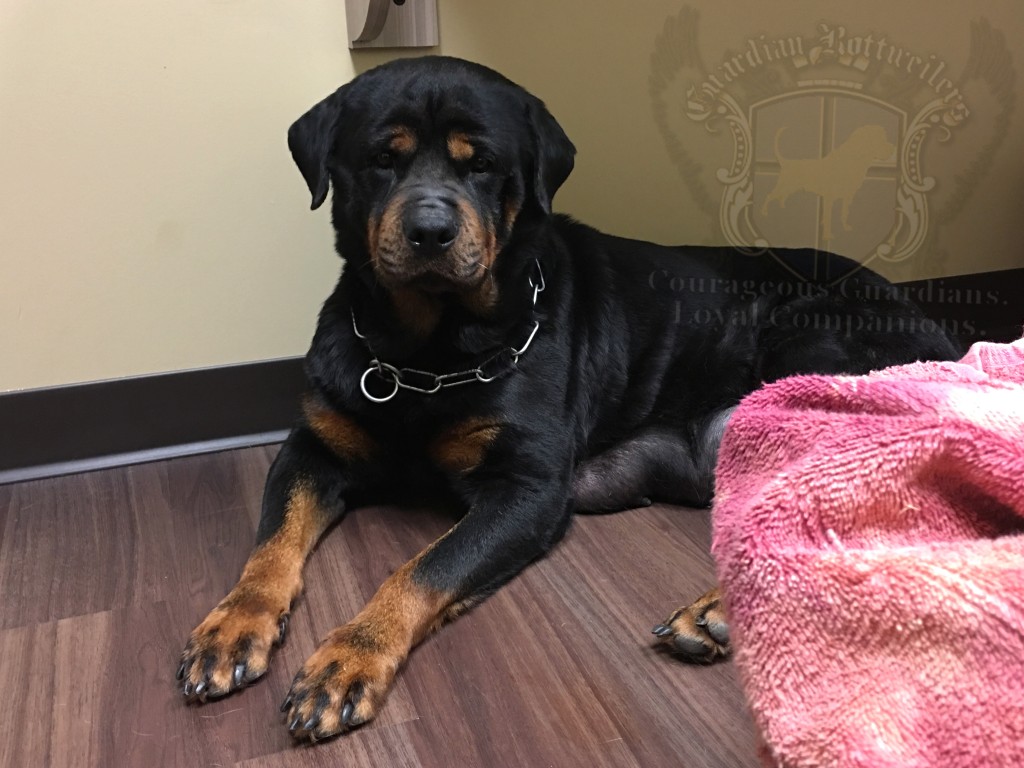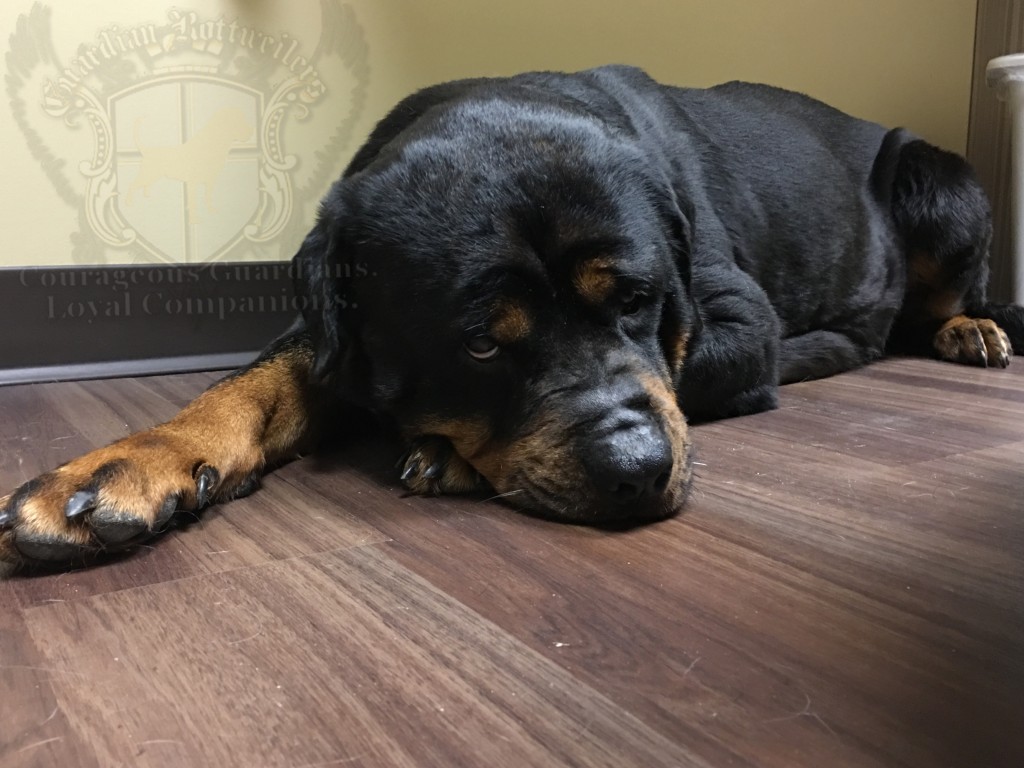 Being a mom is hard.  And exhausting.  I think I will take a nap.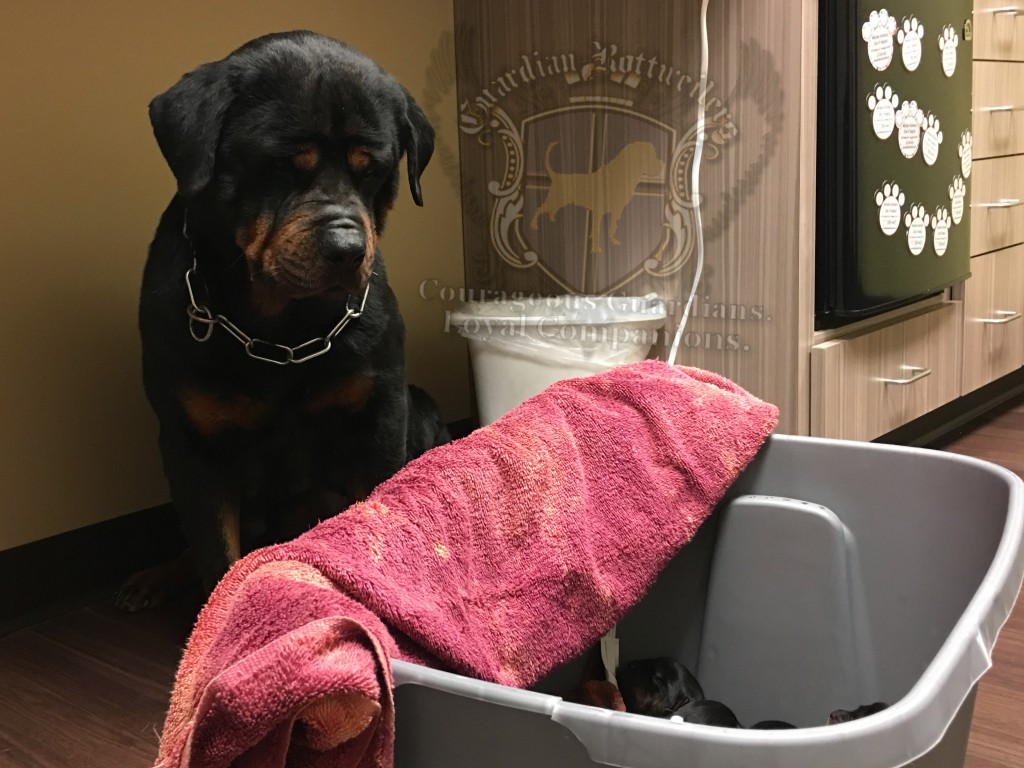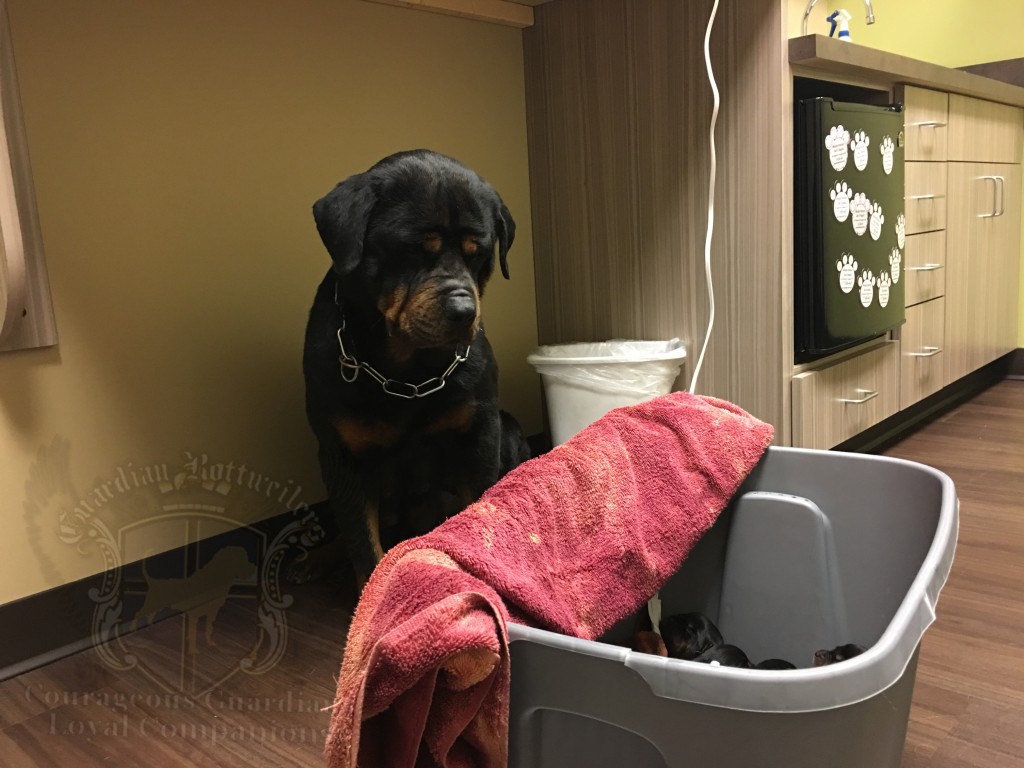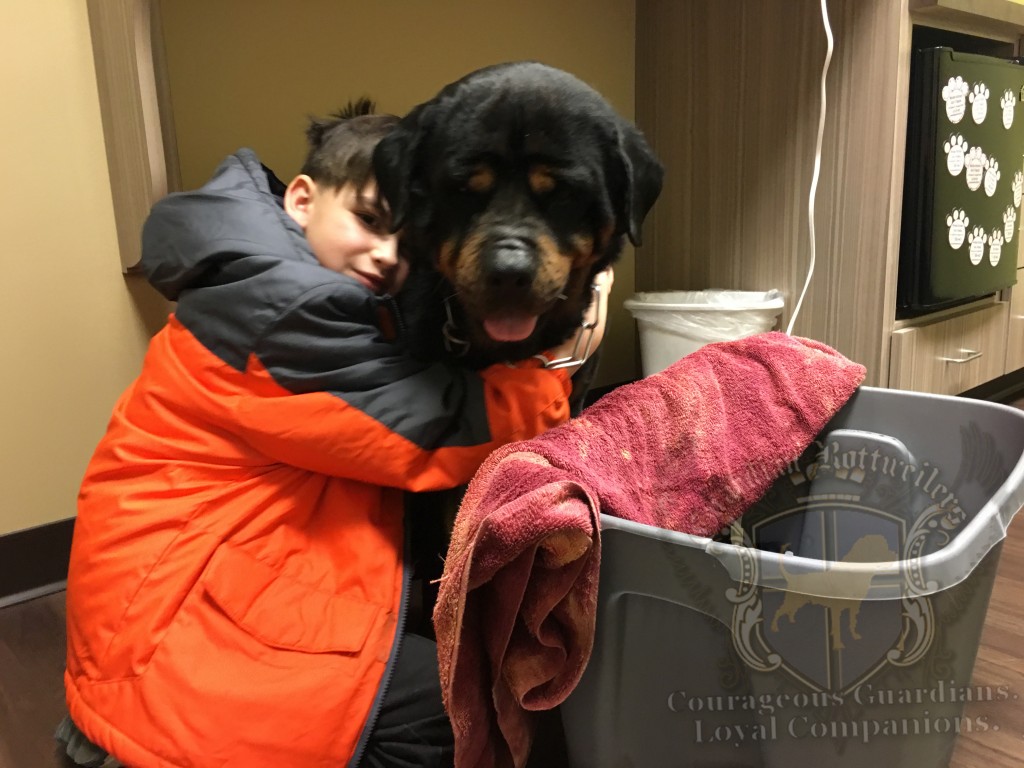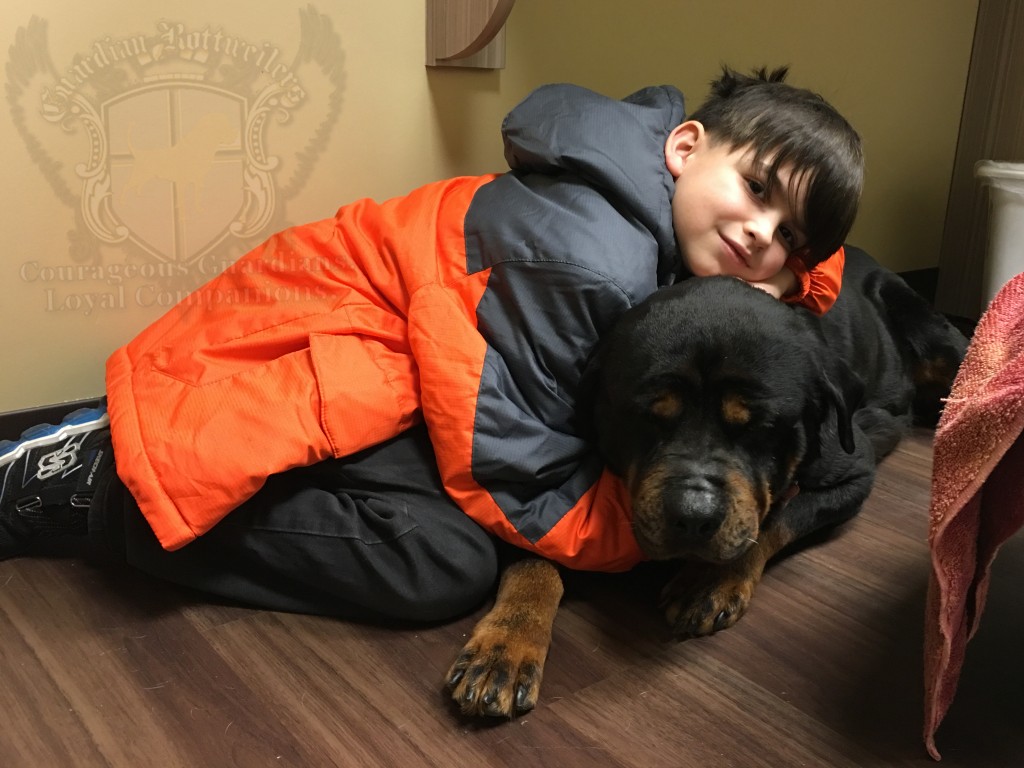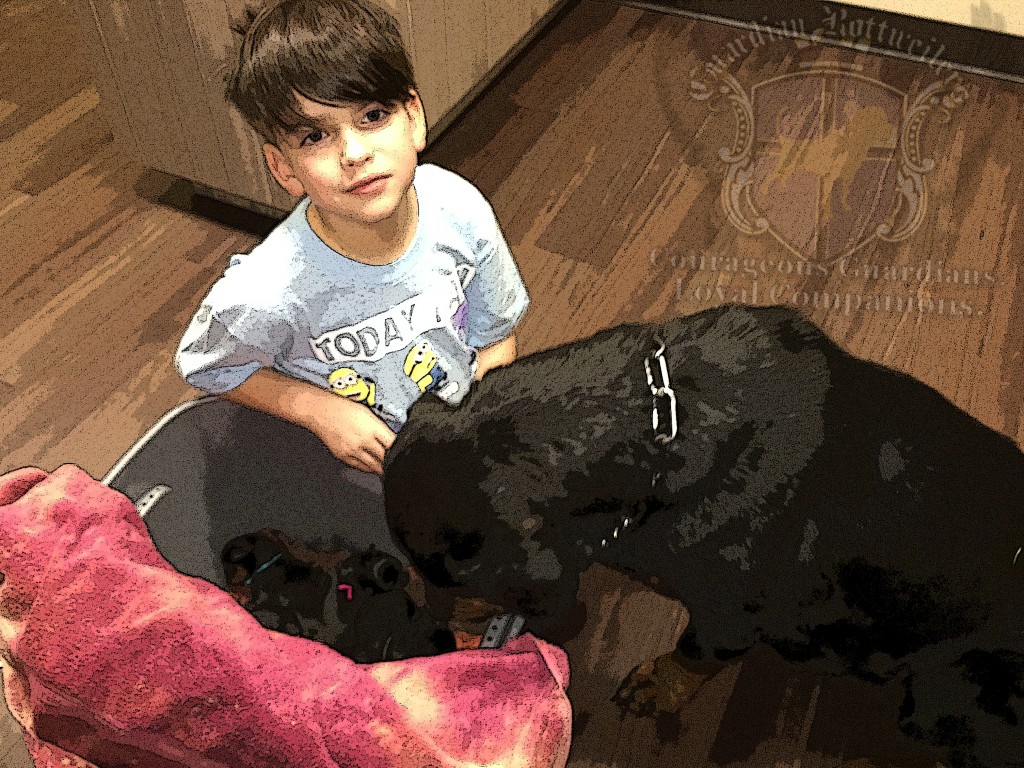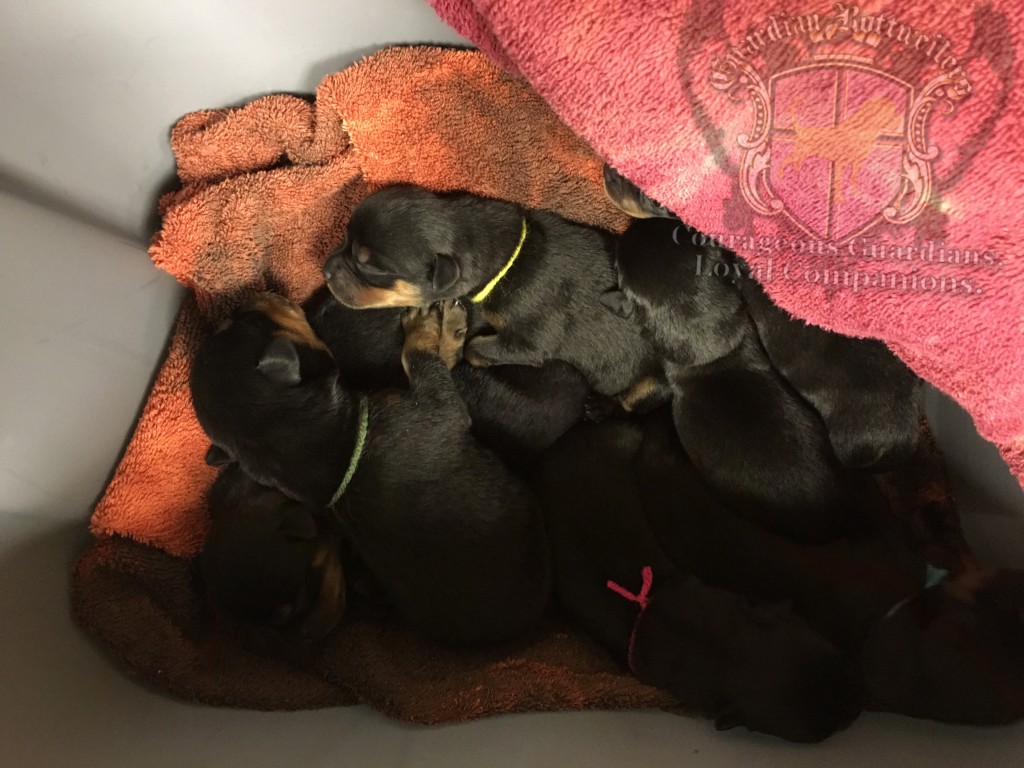 L Litter 10 days old <3  LOVE these eager little fuzzy bears <3  So sweet and already have me COMPLETELY wrapped around their paws!!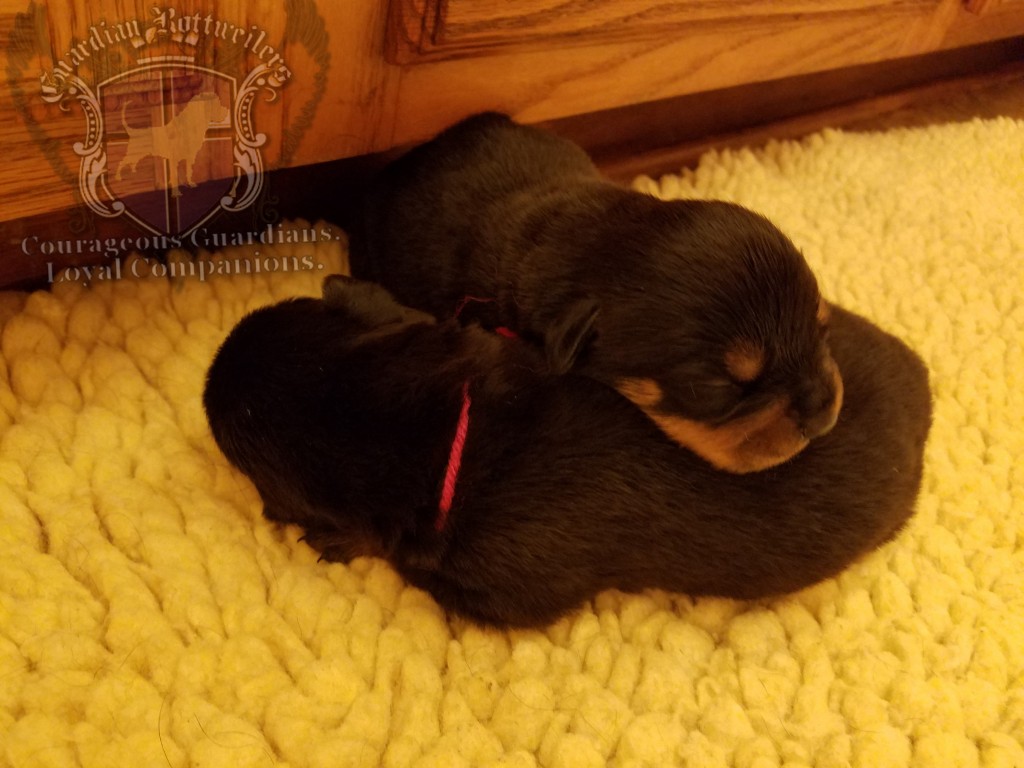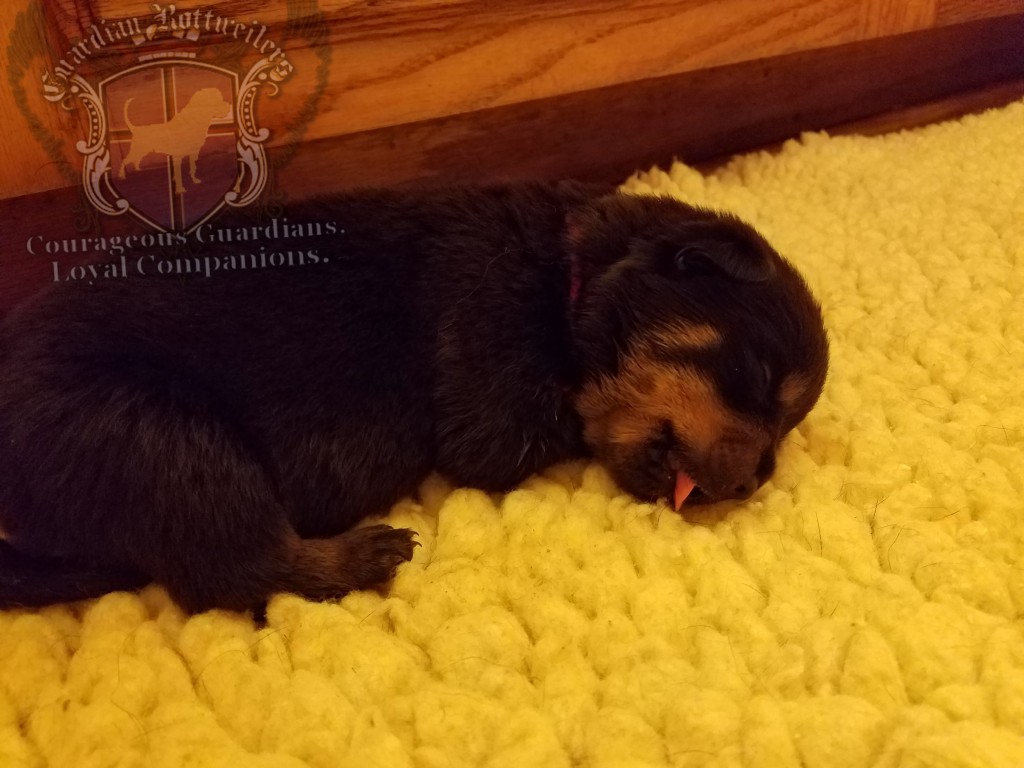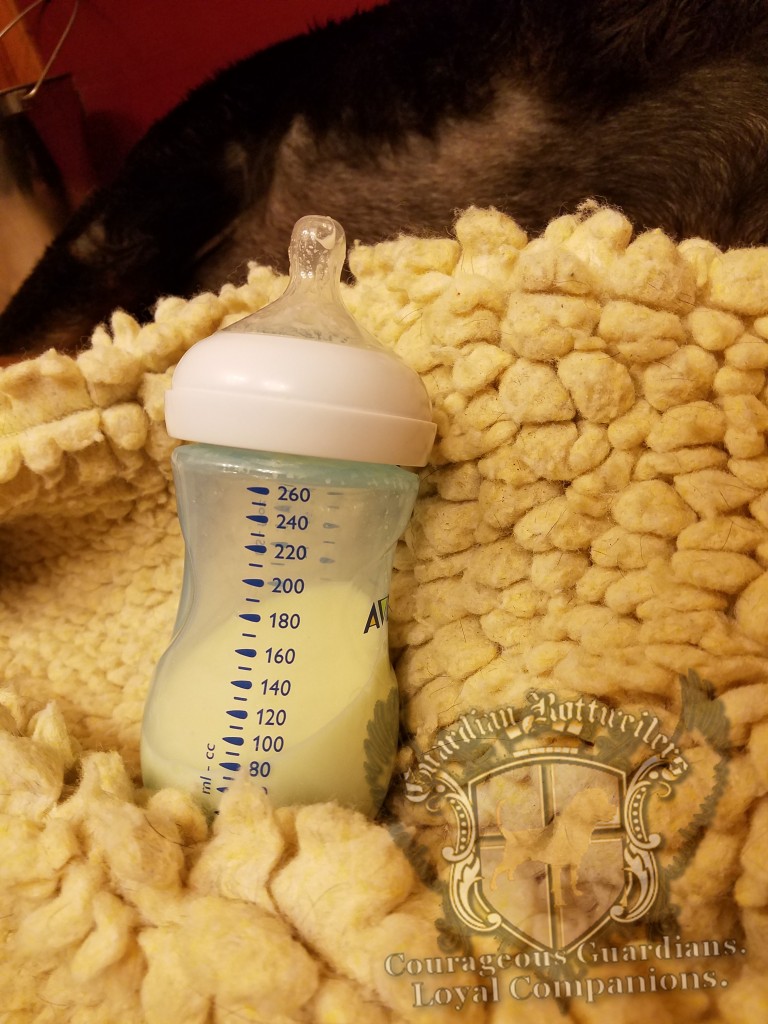 2 puppies ate that much milk!!  They are eating me out of goat milk and yogurt! lol  Hungry, hungry hippos!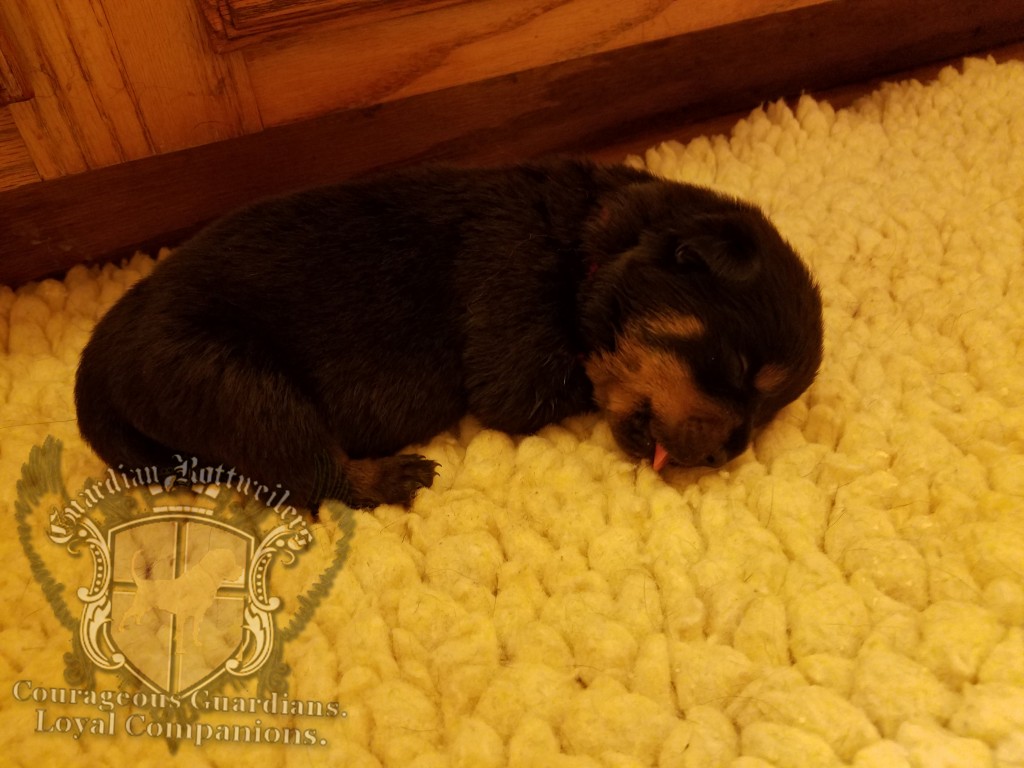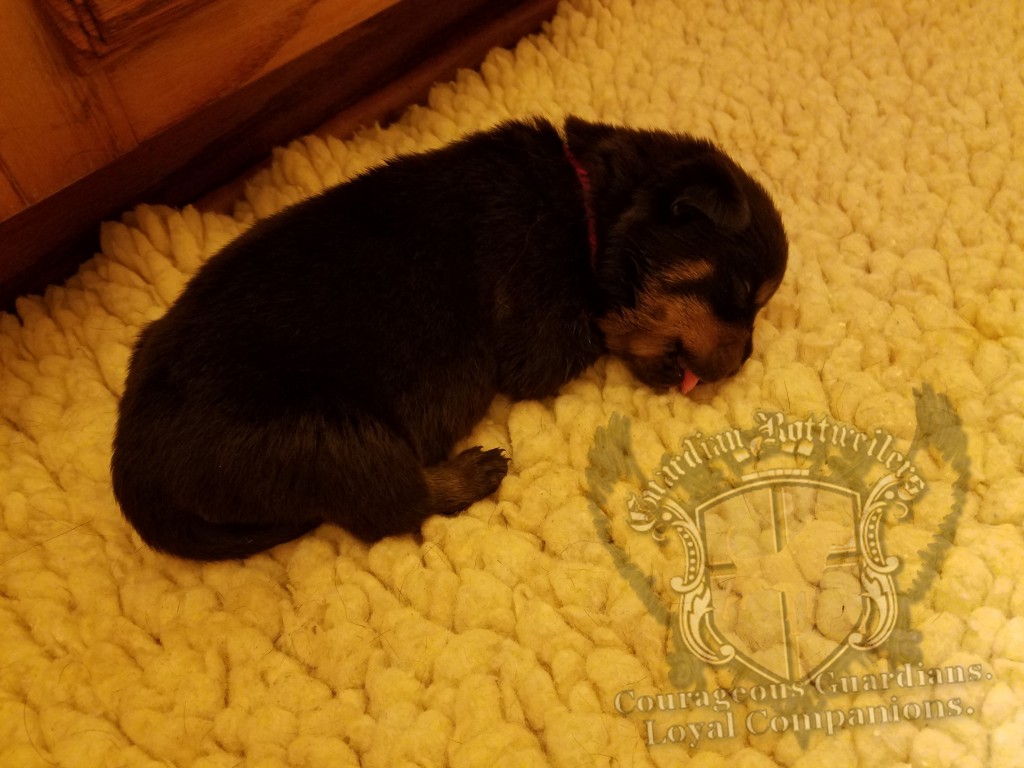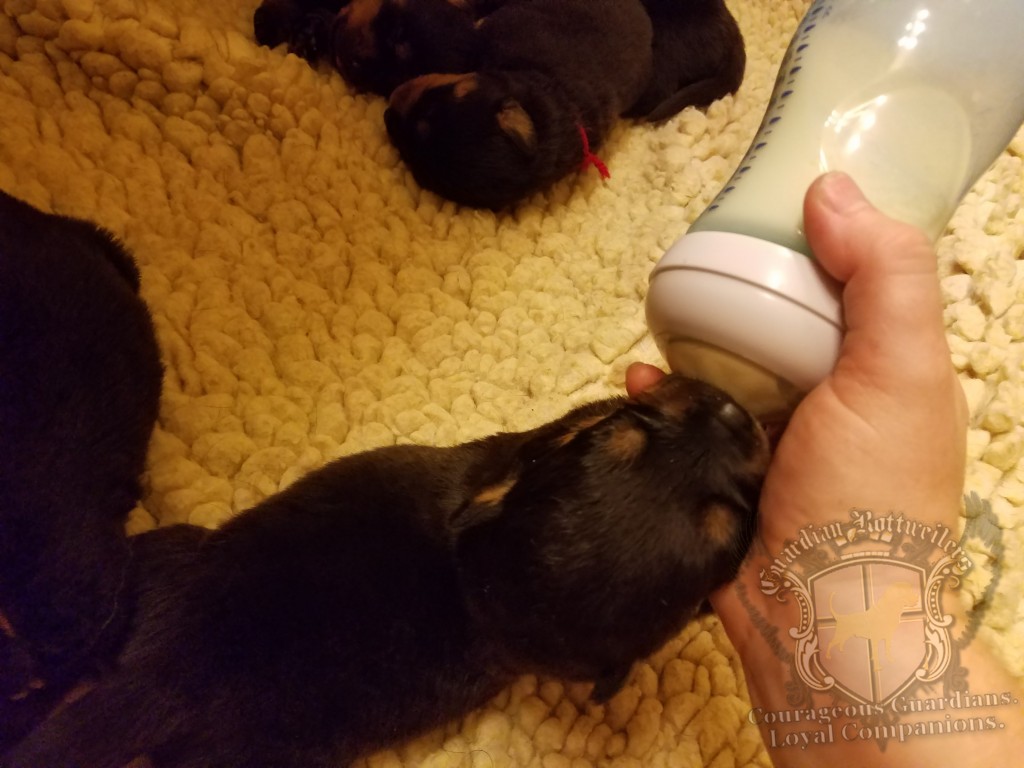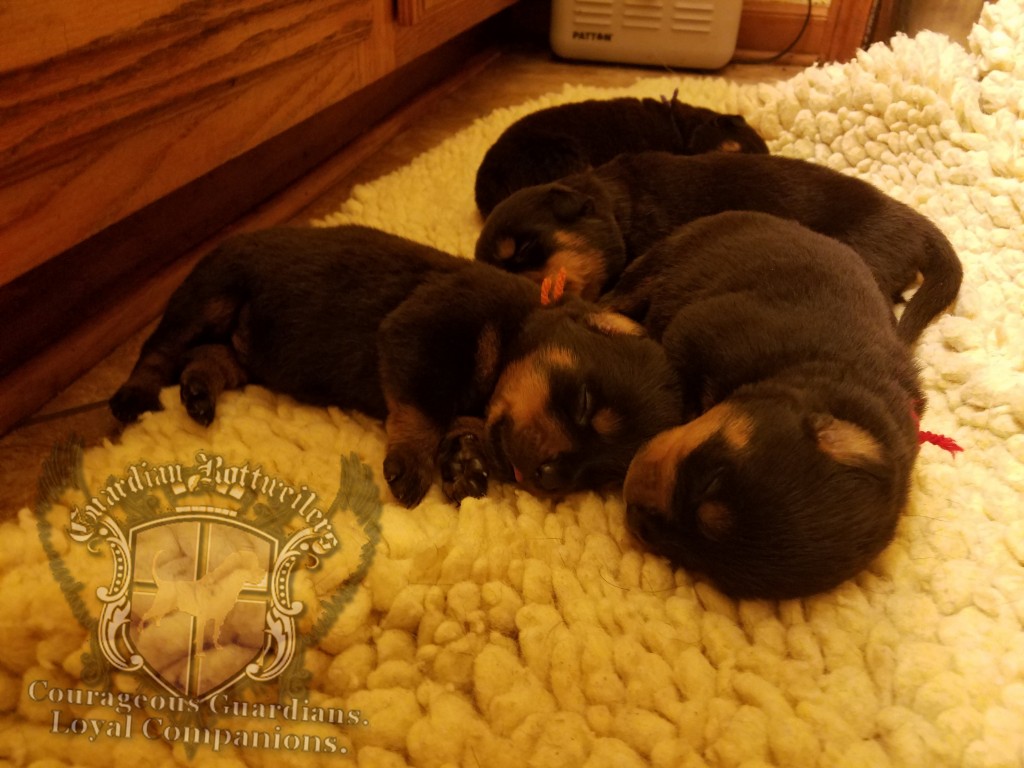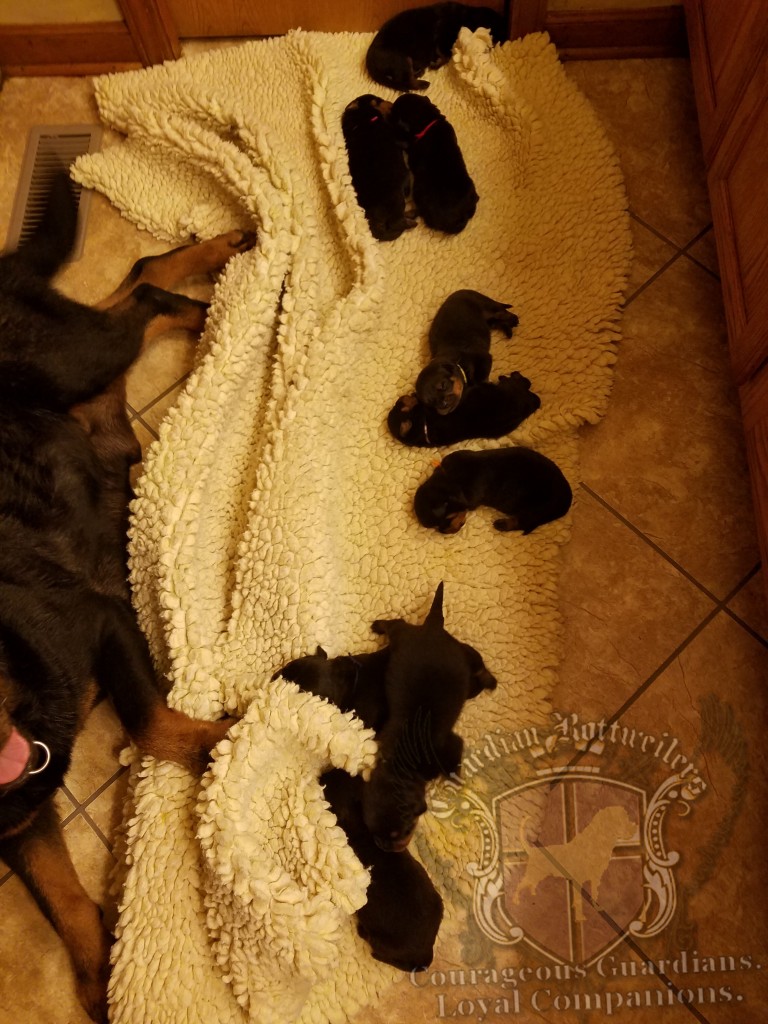 Eva and I have a love-hate relationship with the whelping blanket.  It is a very thick, heavy imitation lambs wool and quite toasty, so she loves to lay on the cool tile floor since we keep the room rather toasty for the newborn puppies, but I hate it when the puppies end up on the bare floor; so I straighten, she slides, then I straighten again, then she "accidentally" slides again…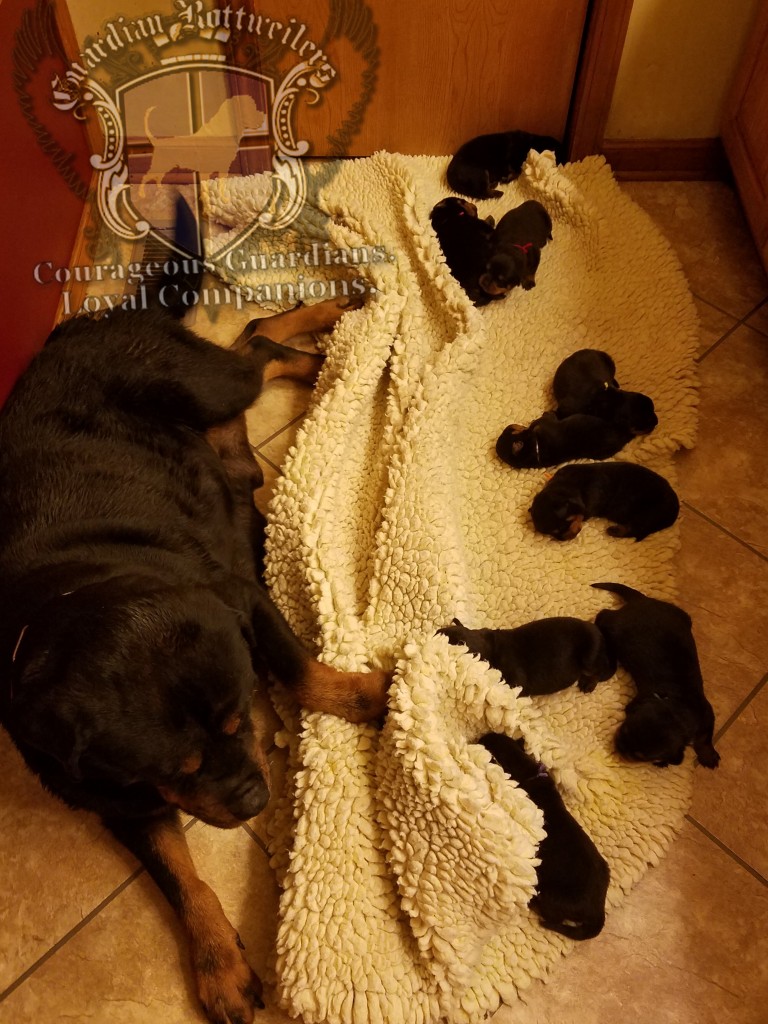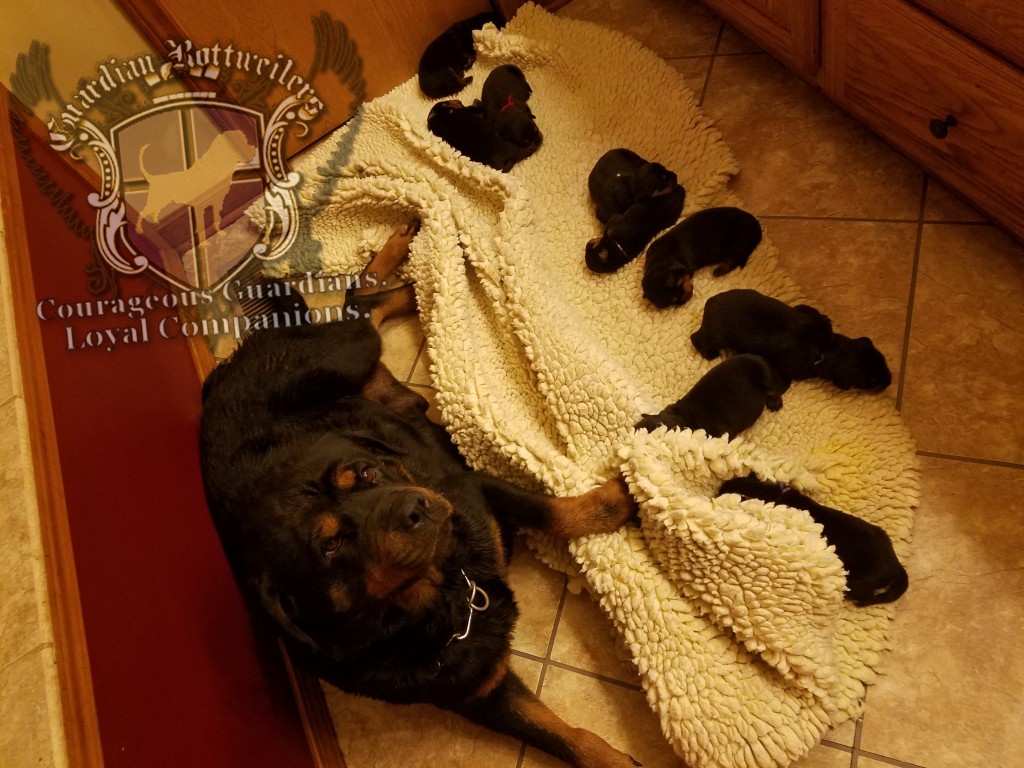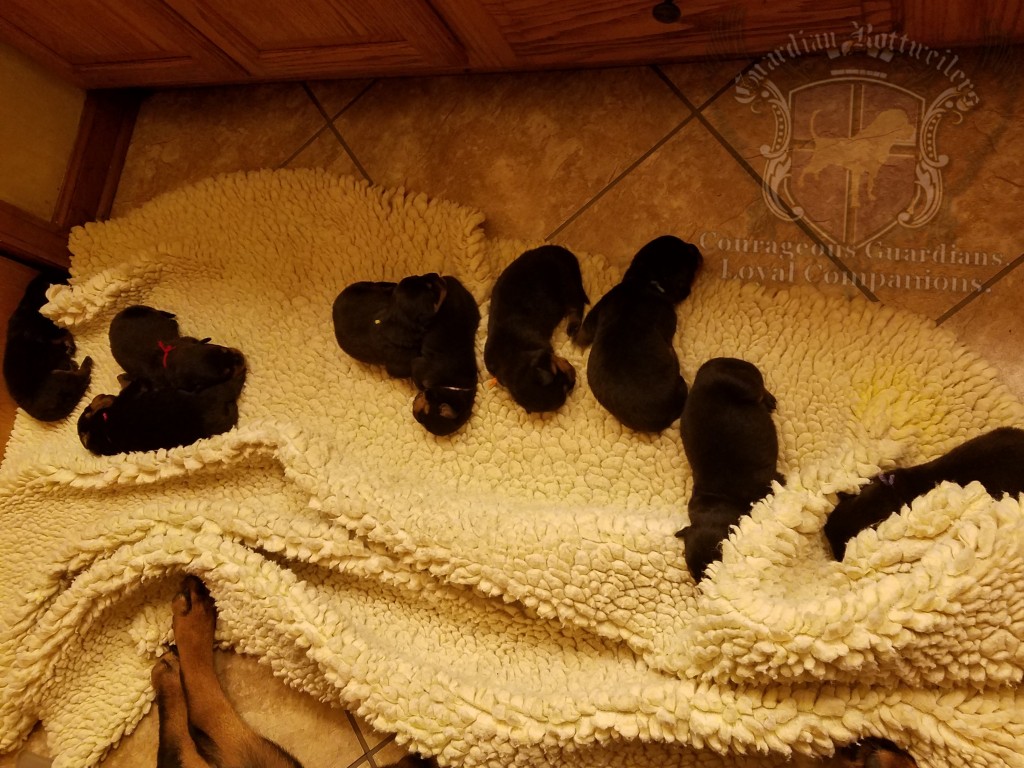 Eva babies 3 weeks old- First Semi-Solid food!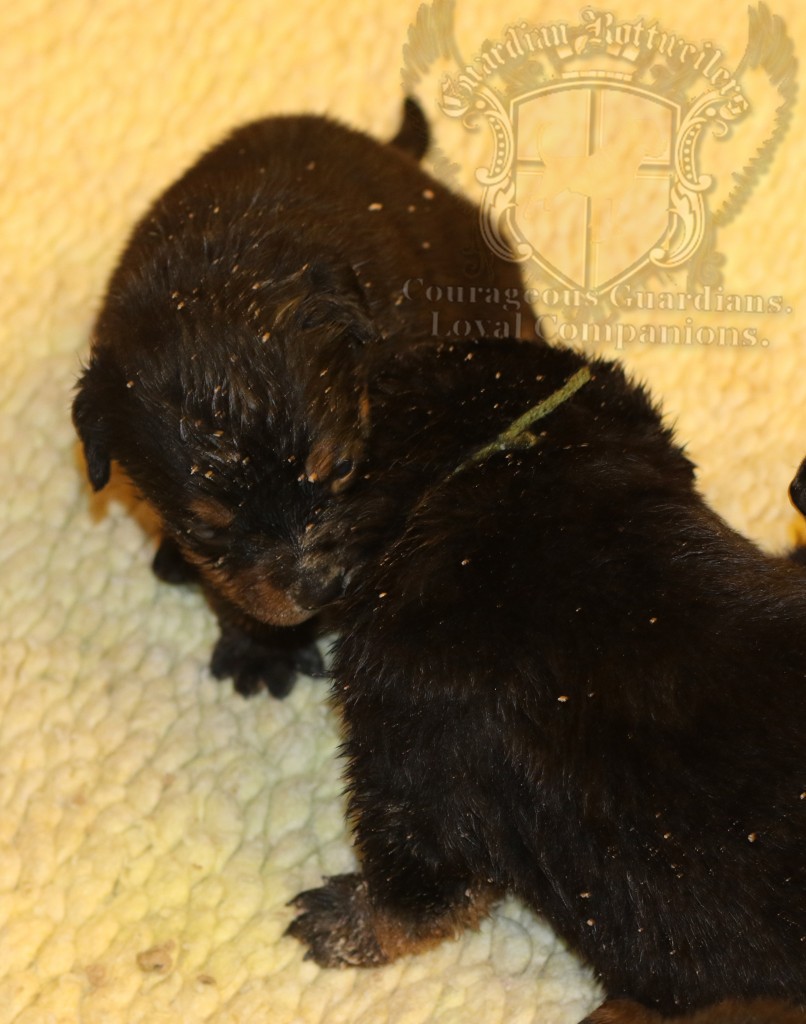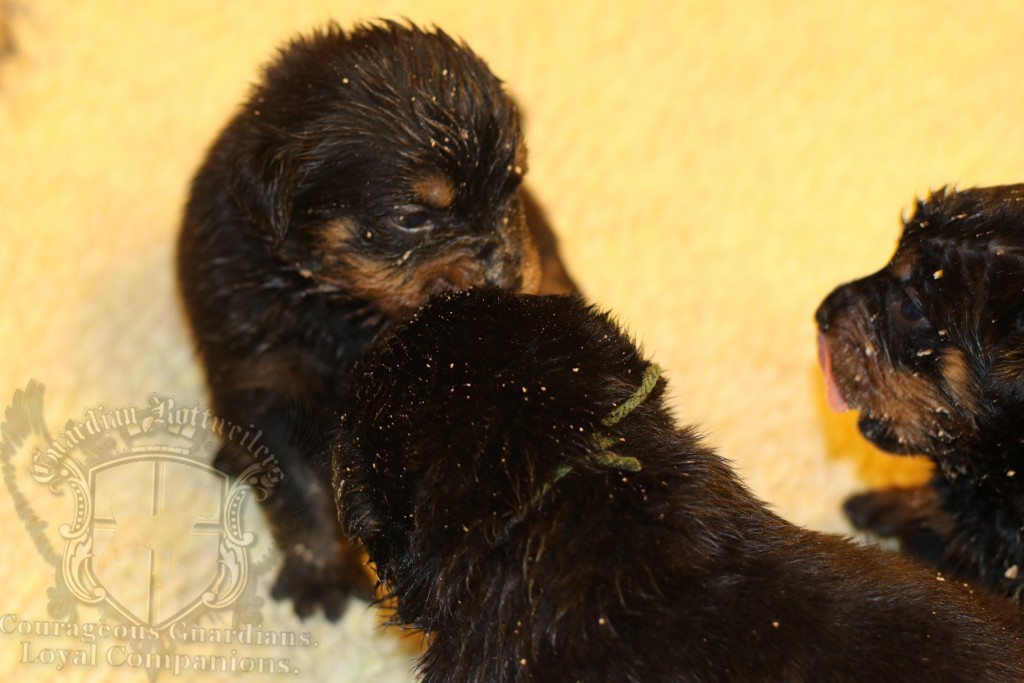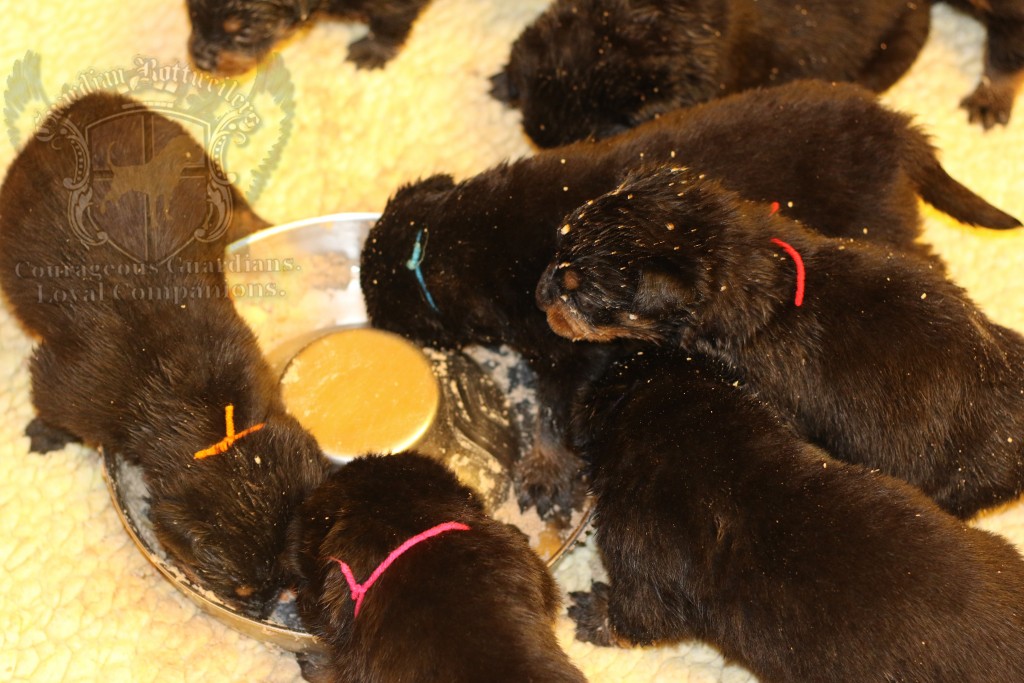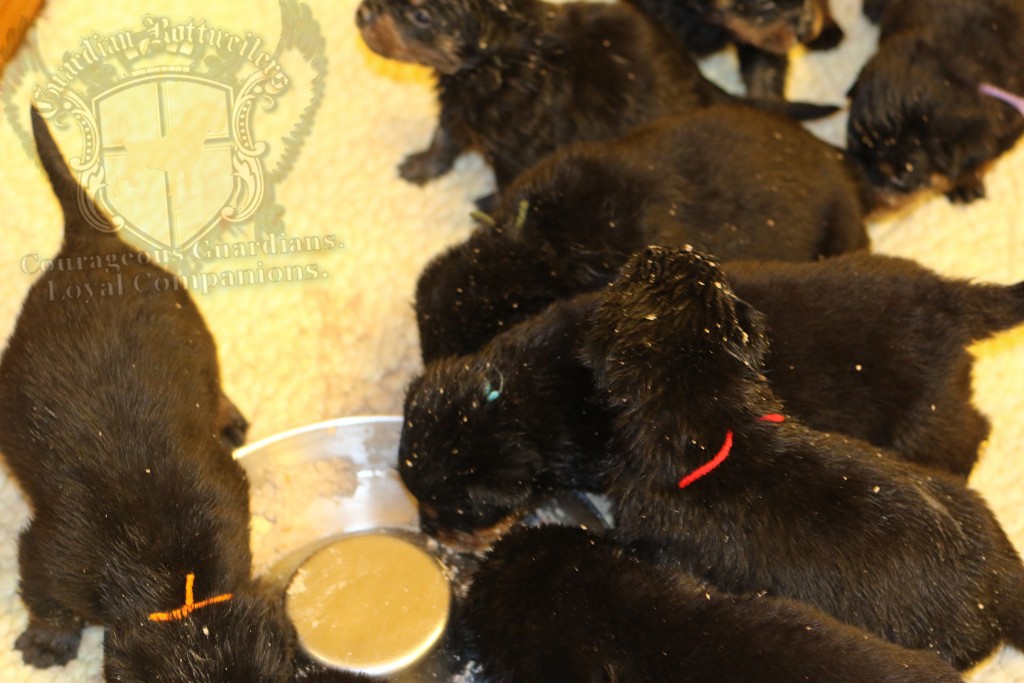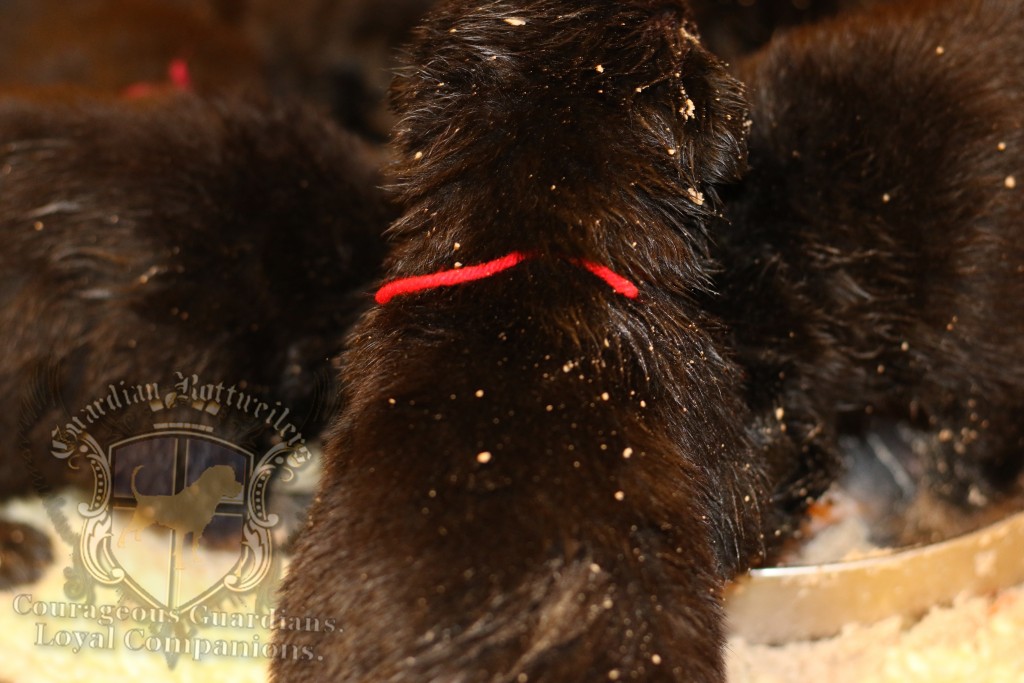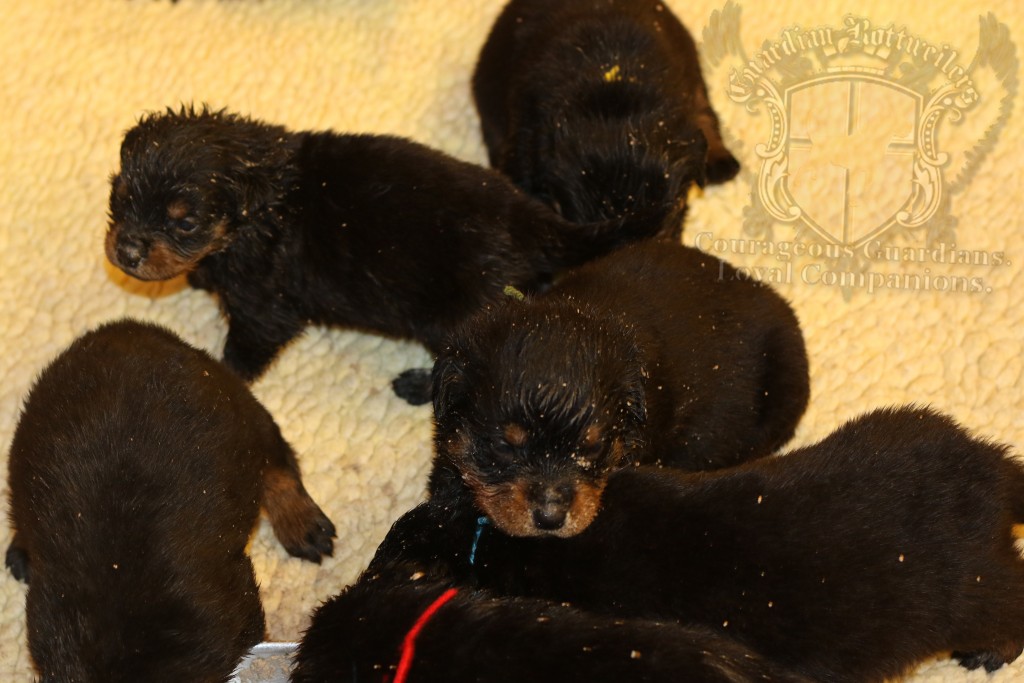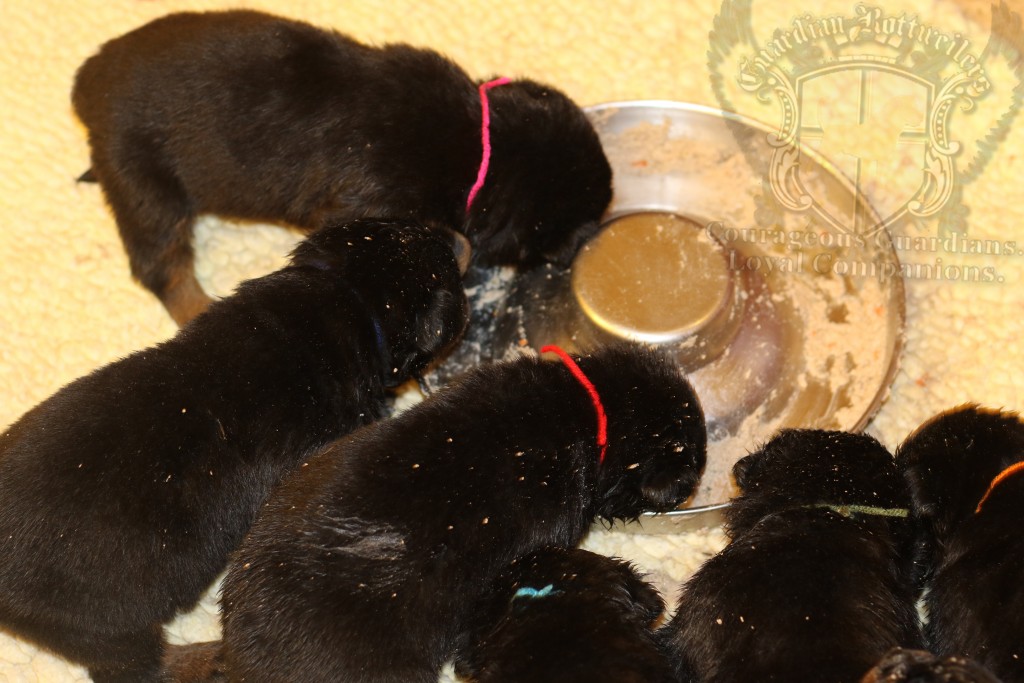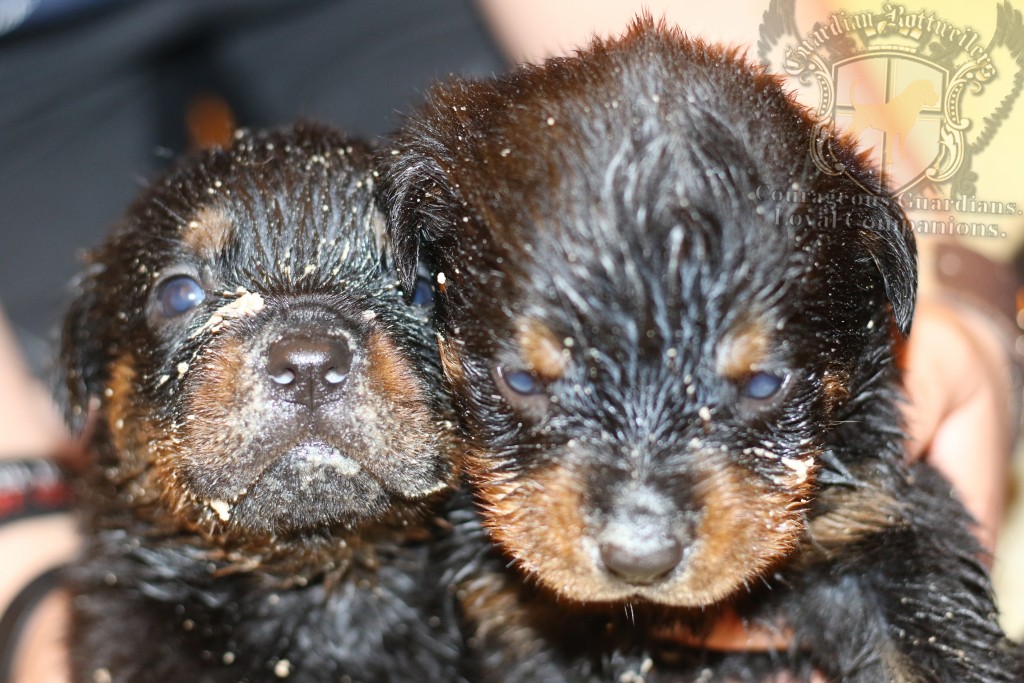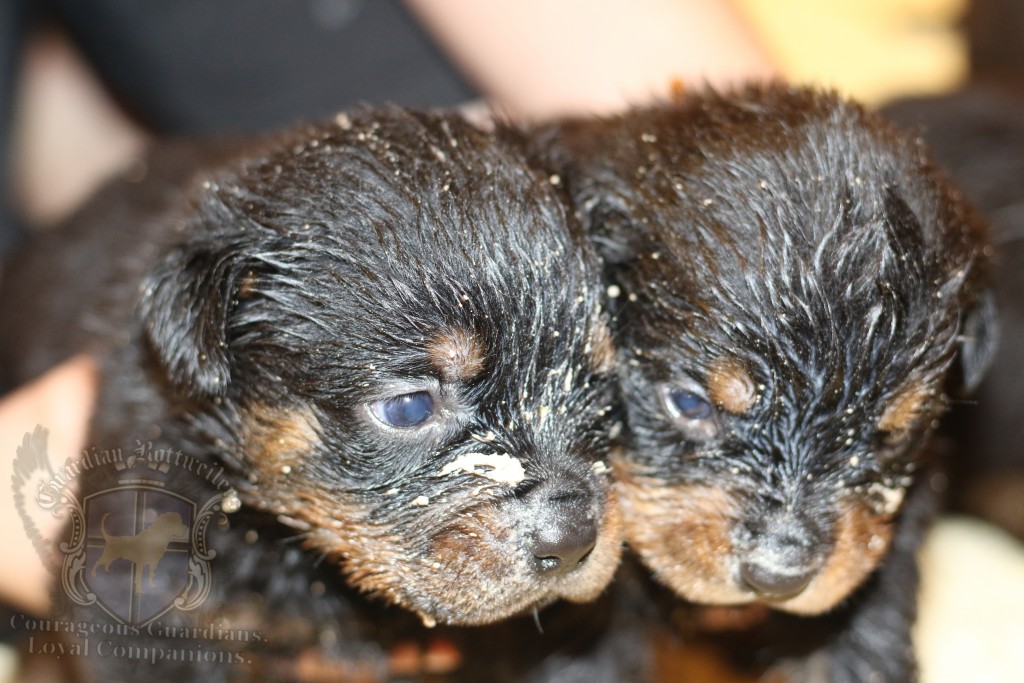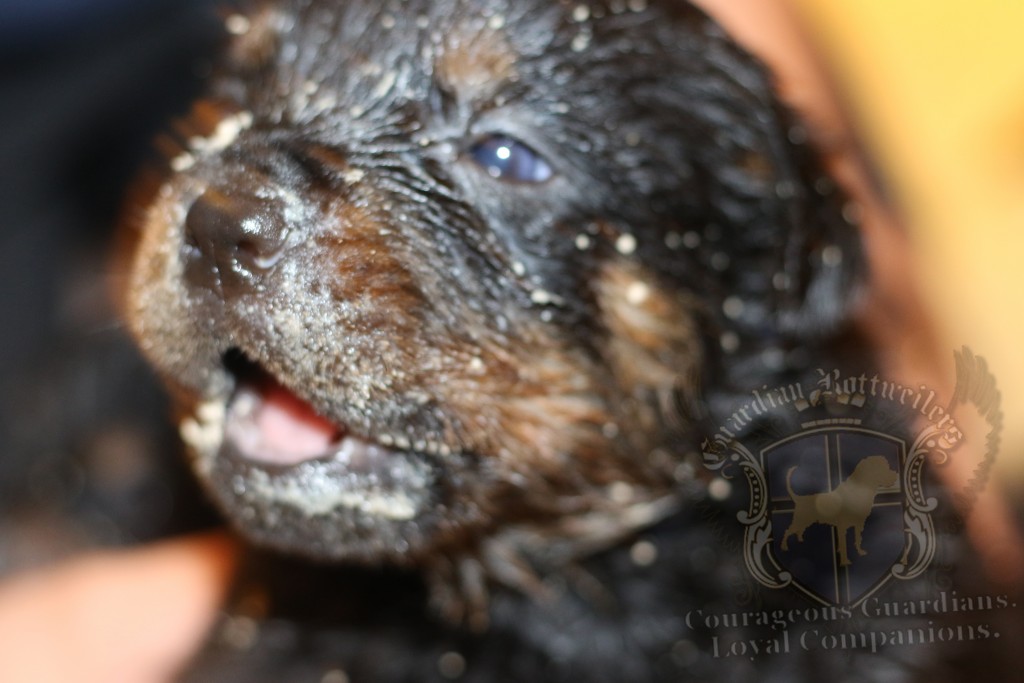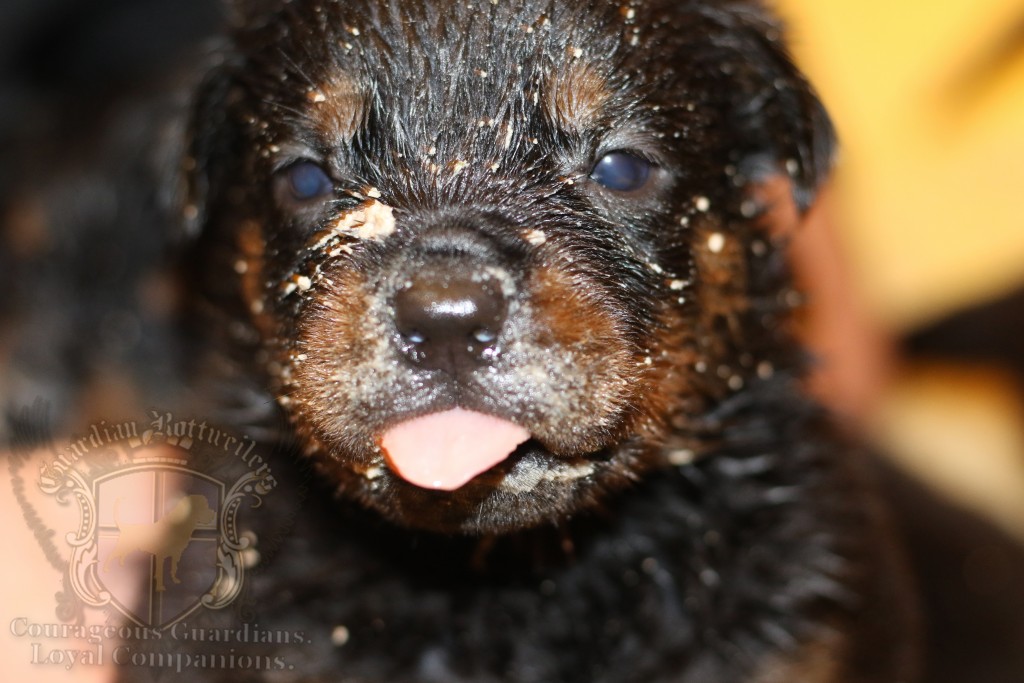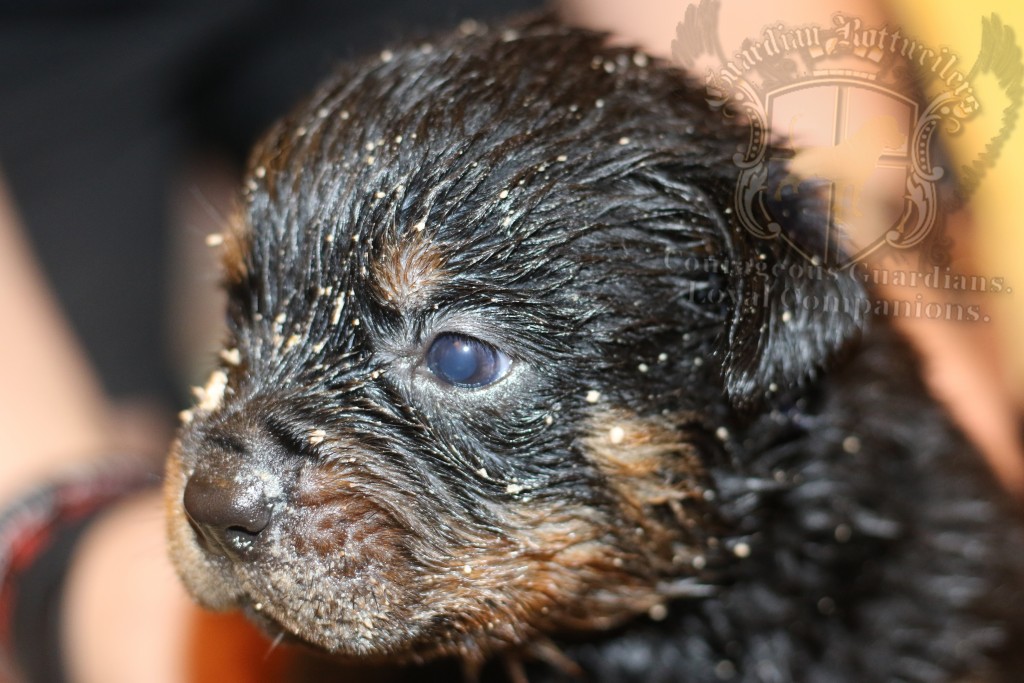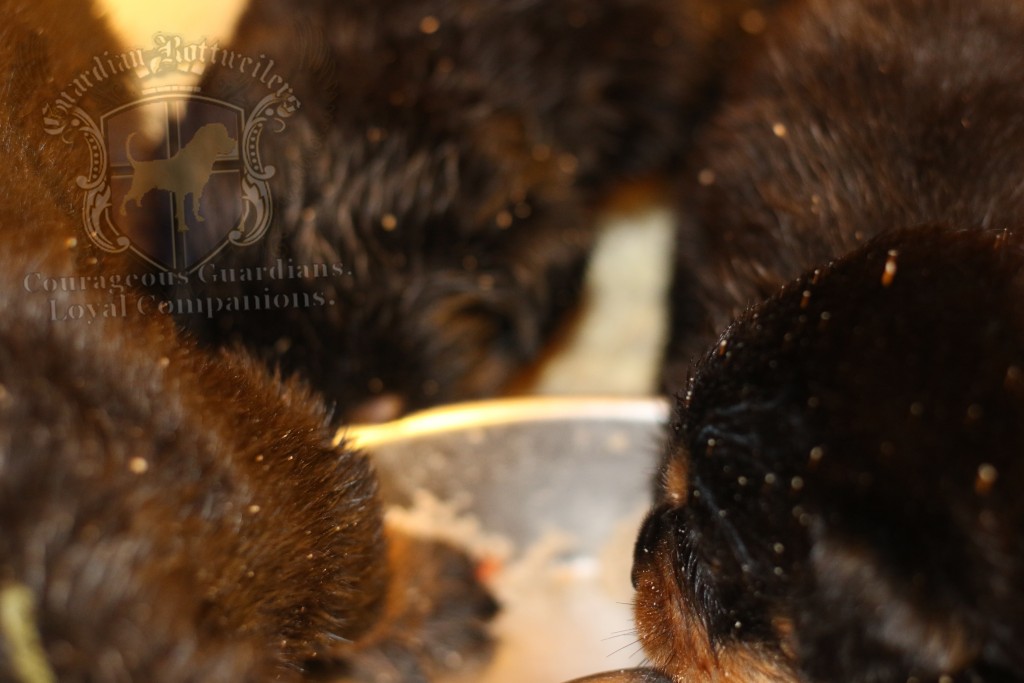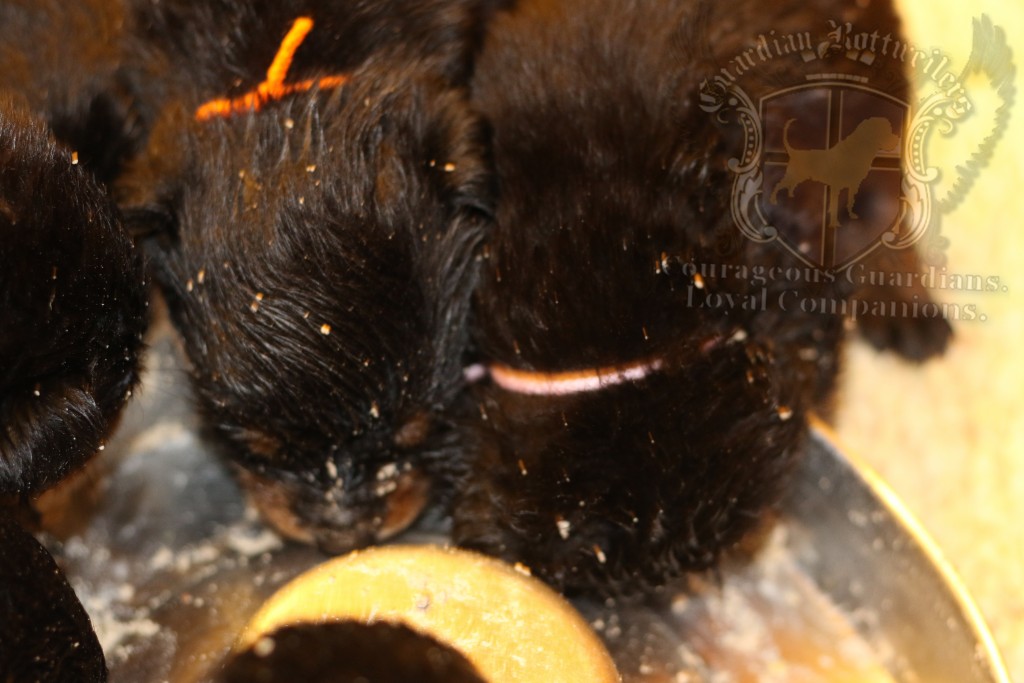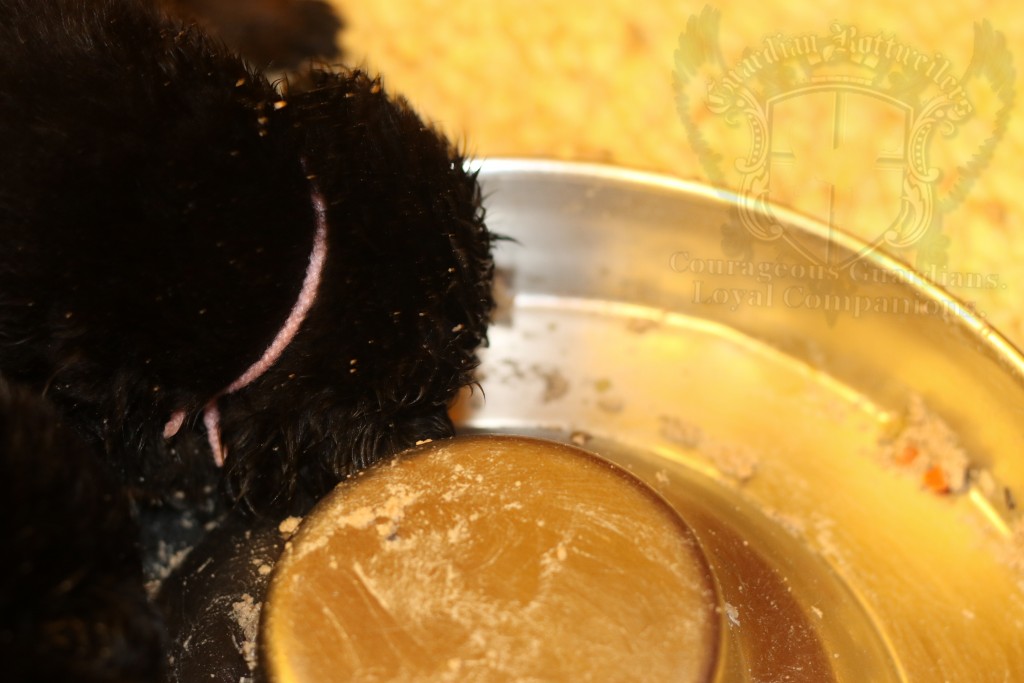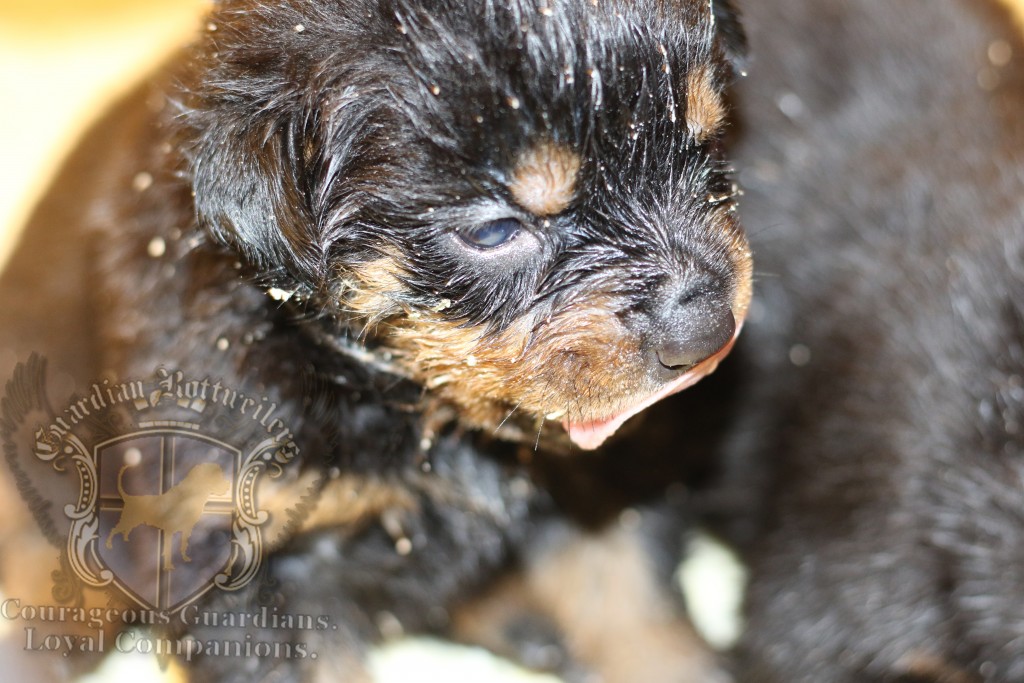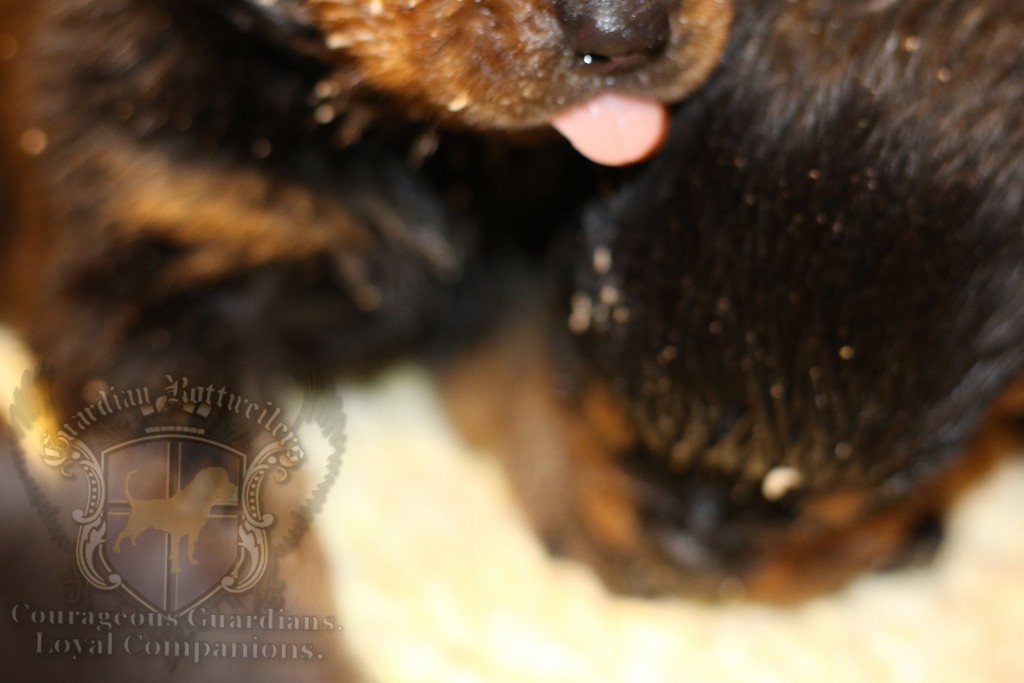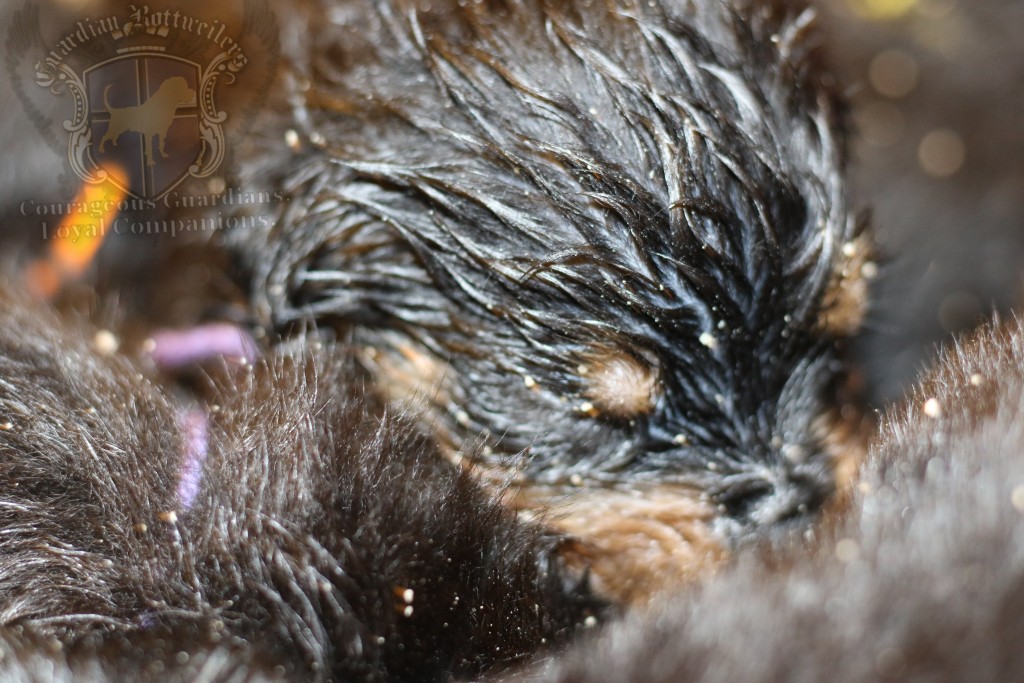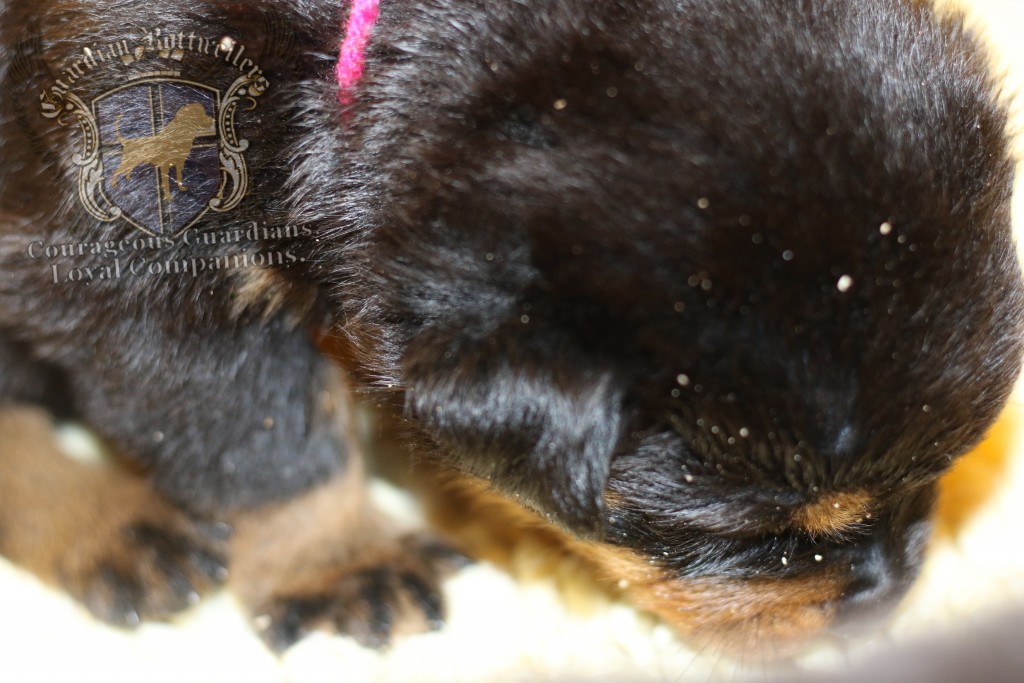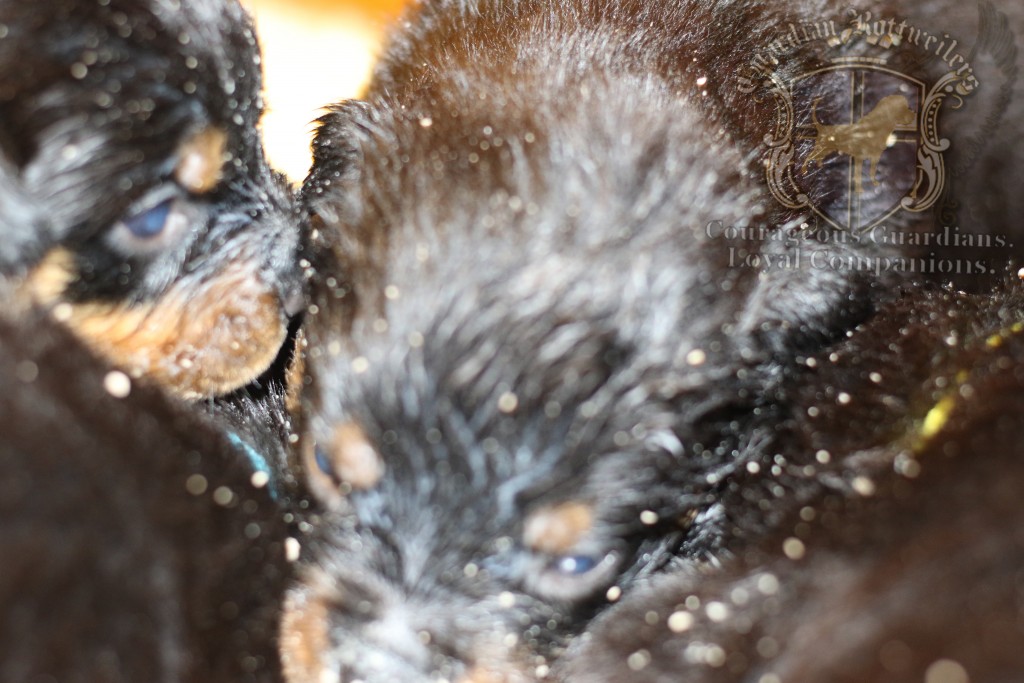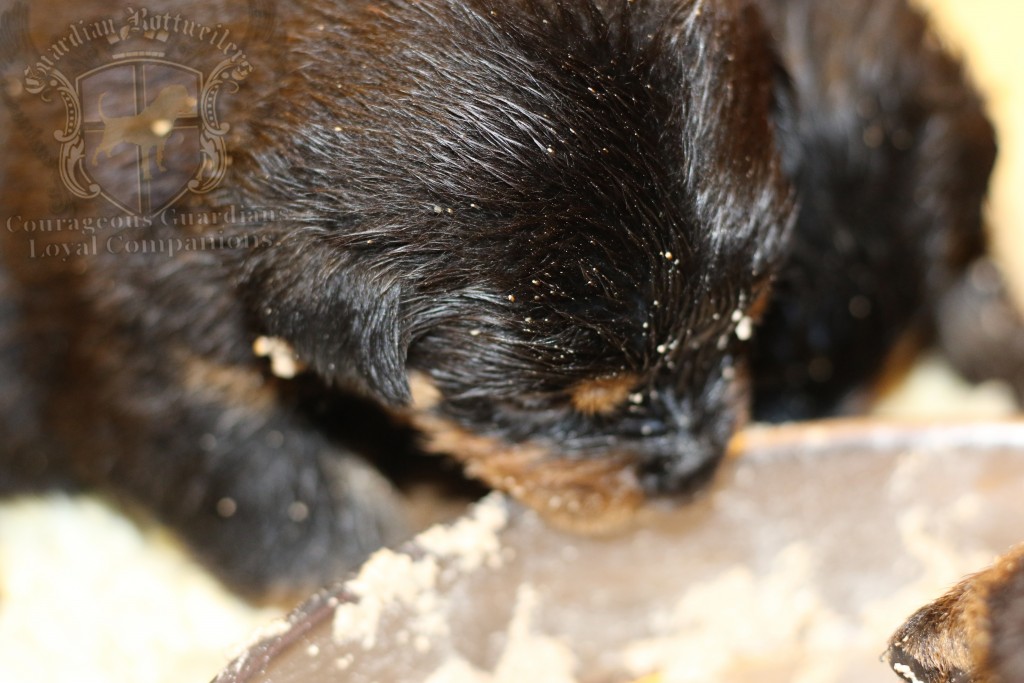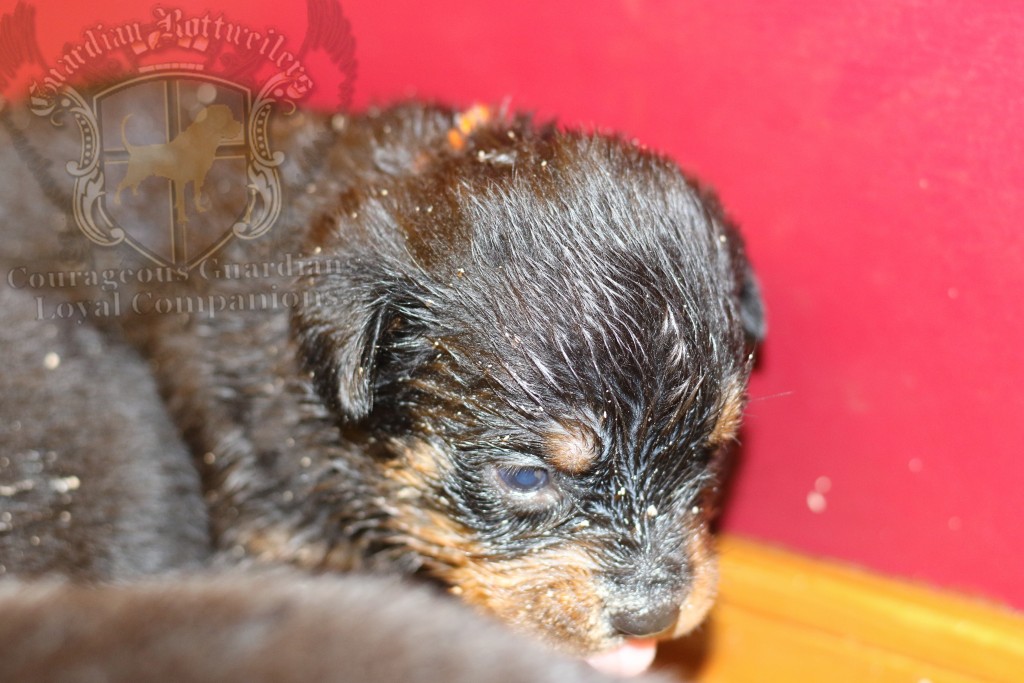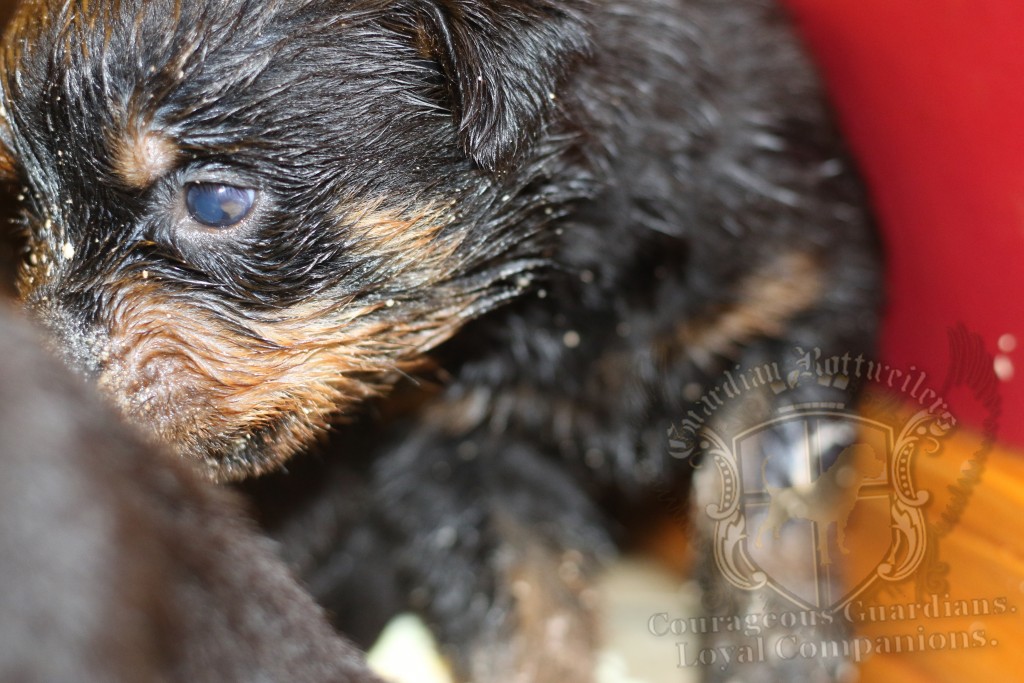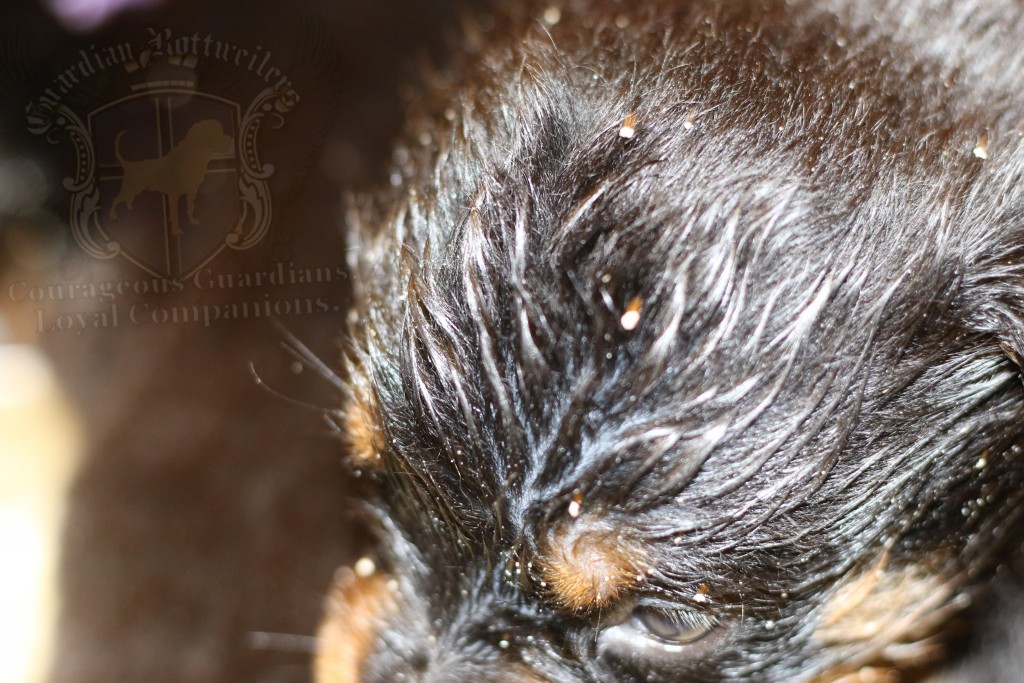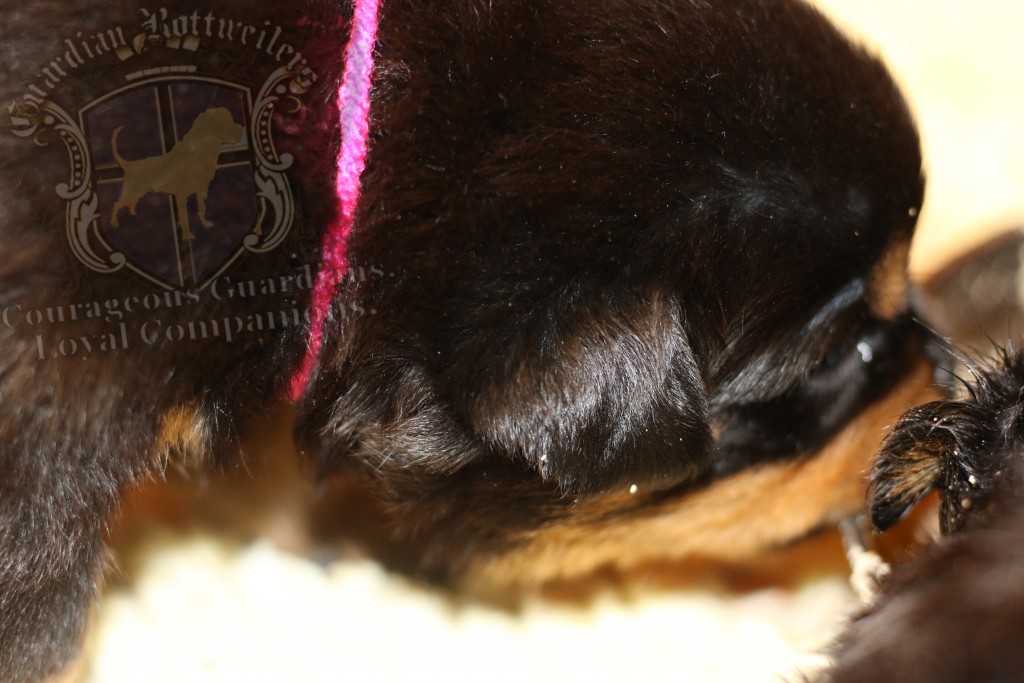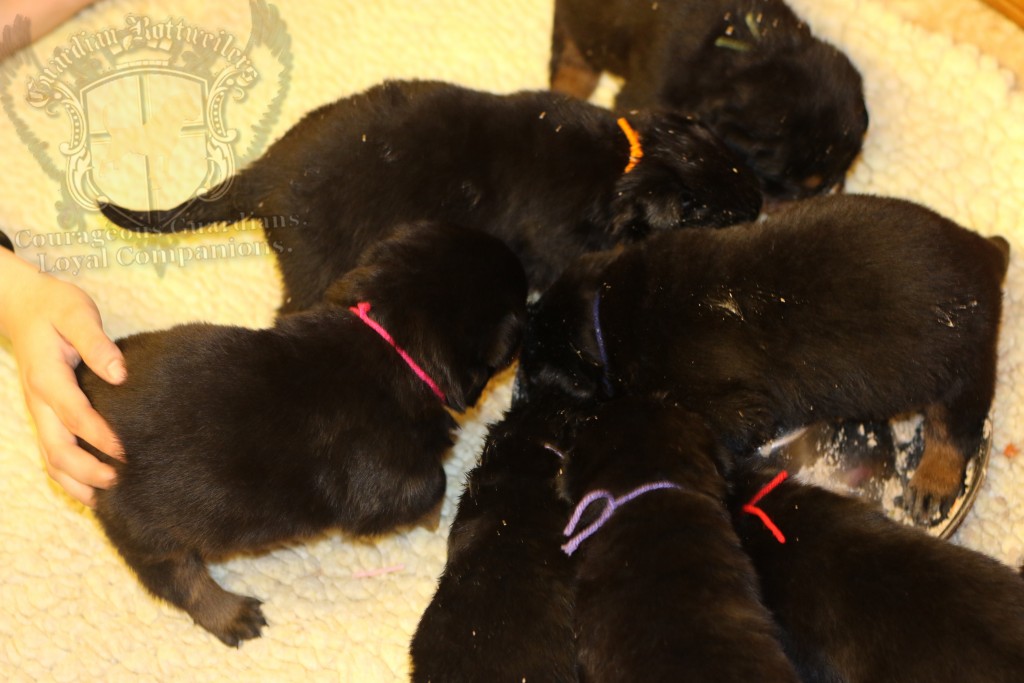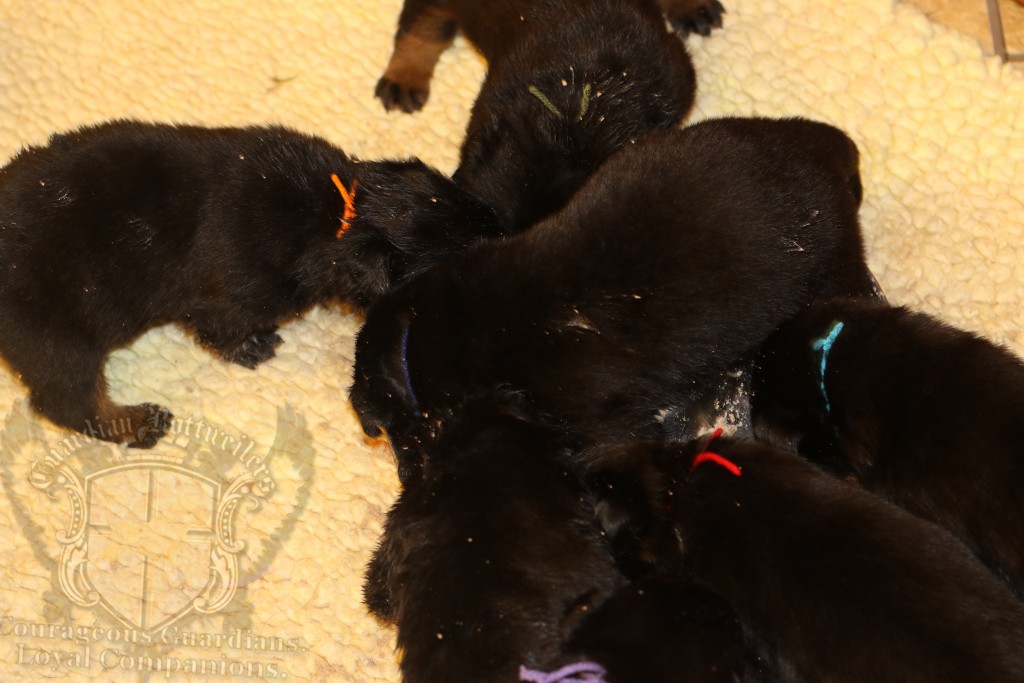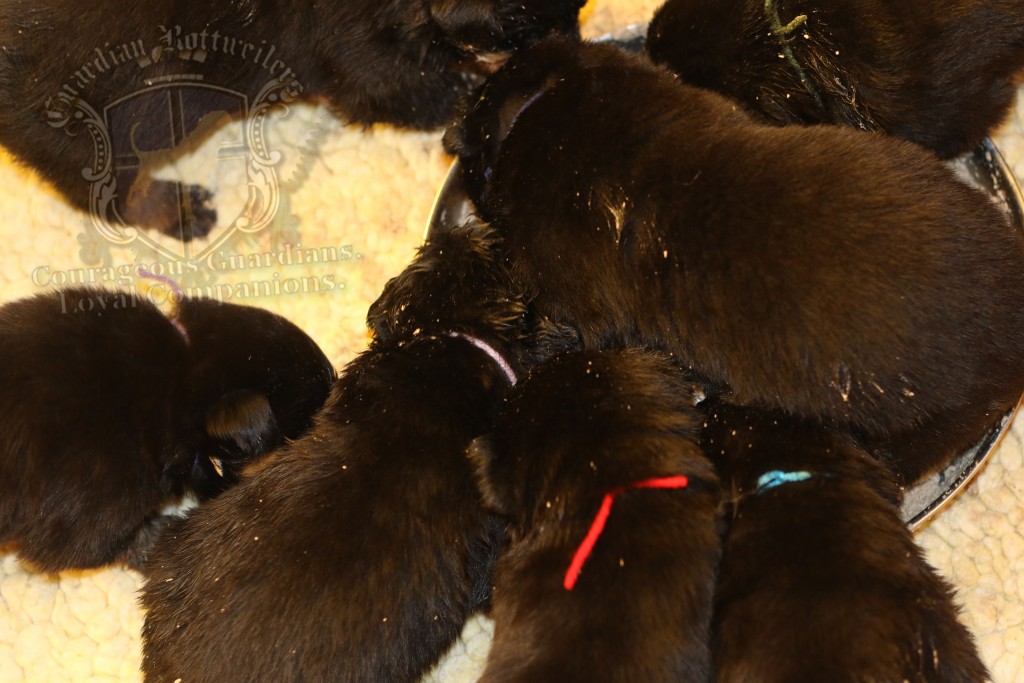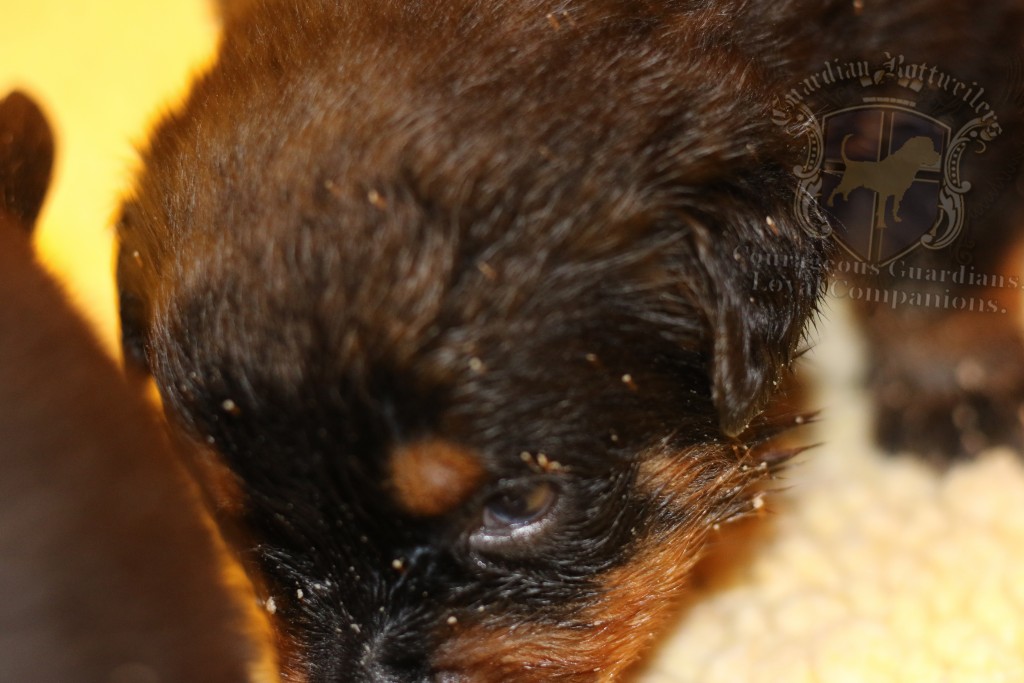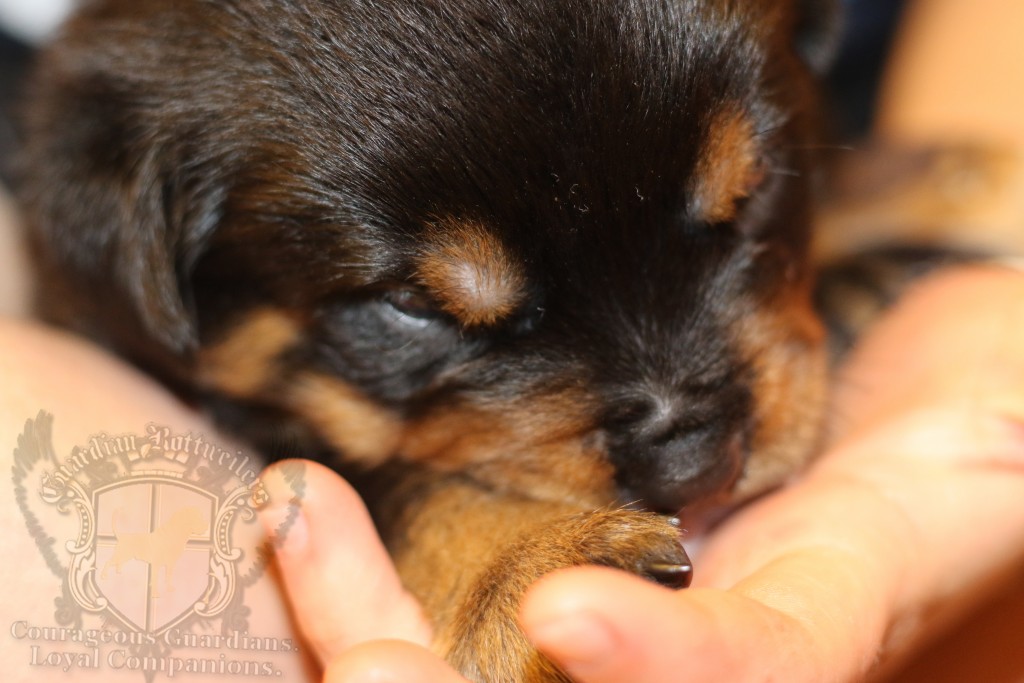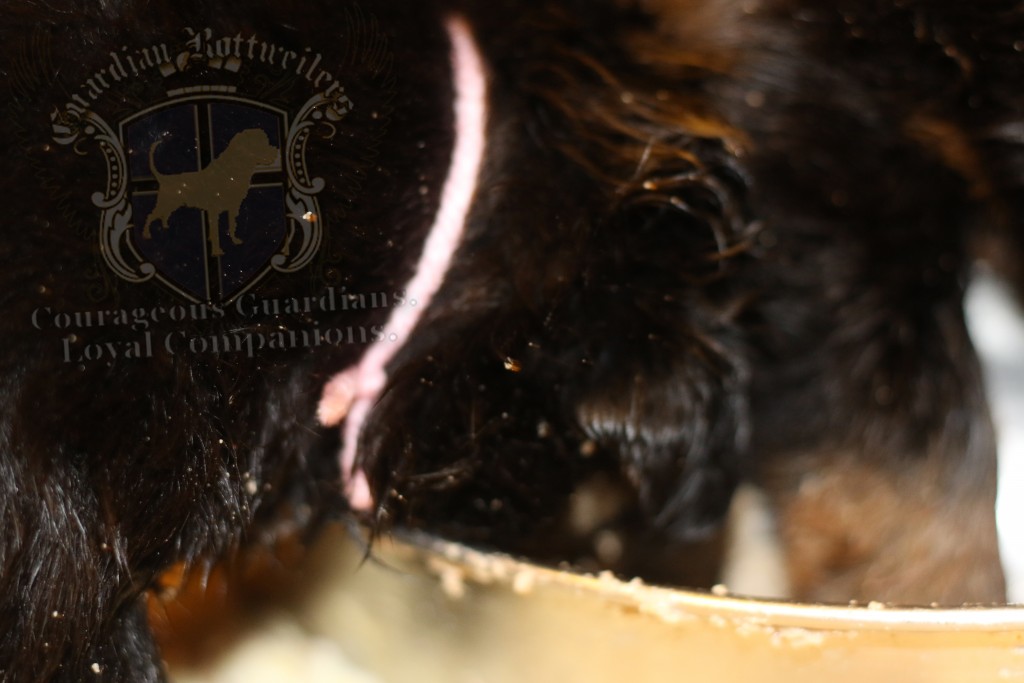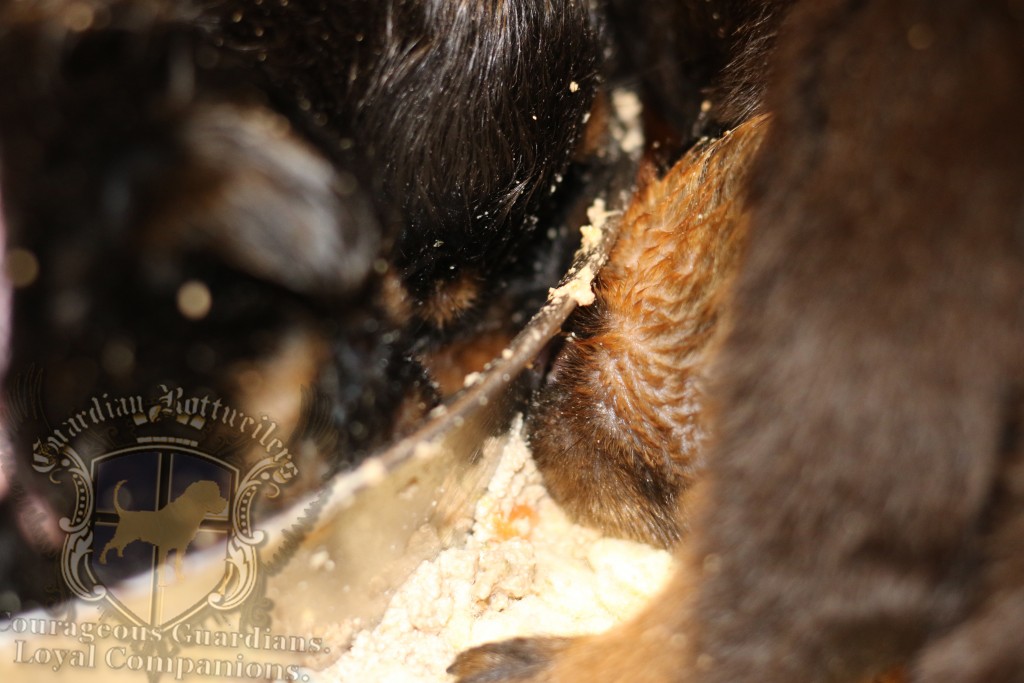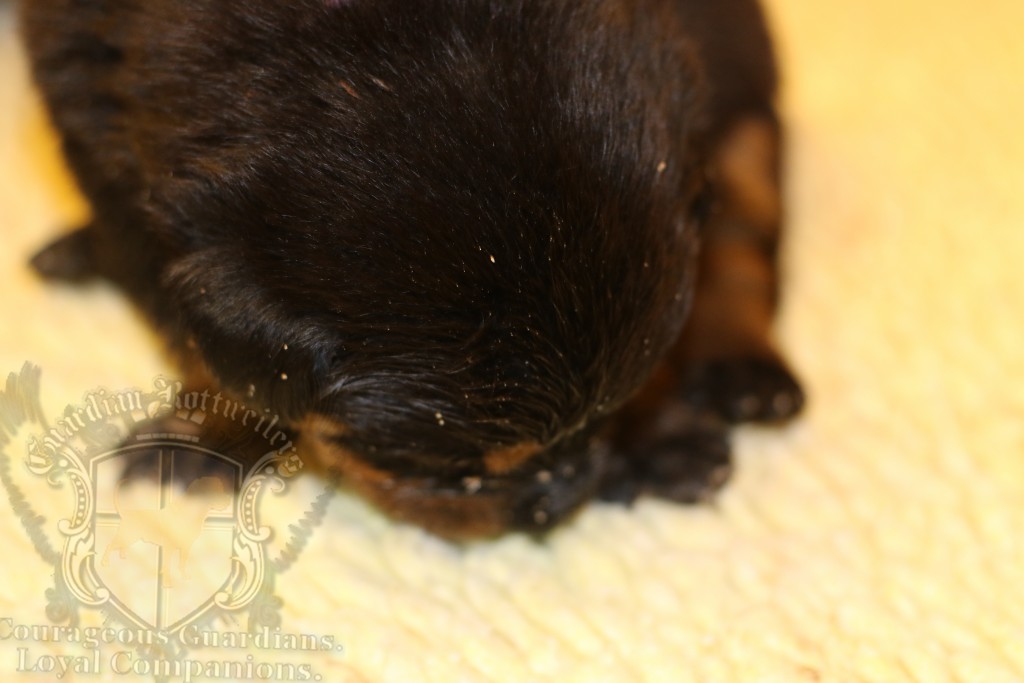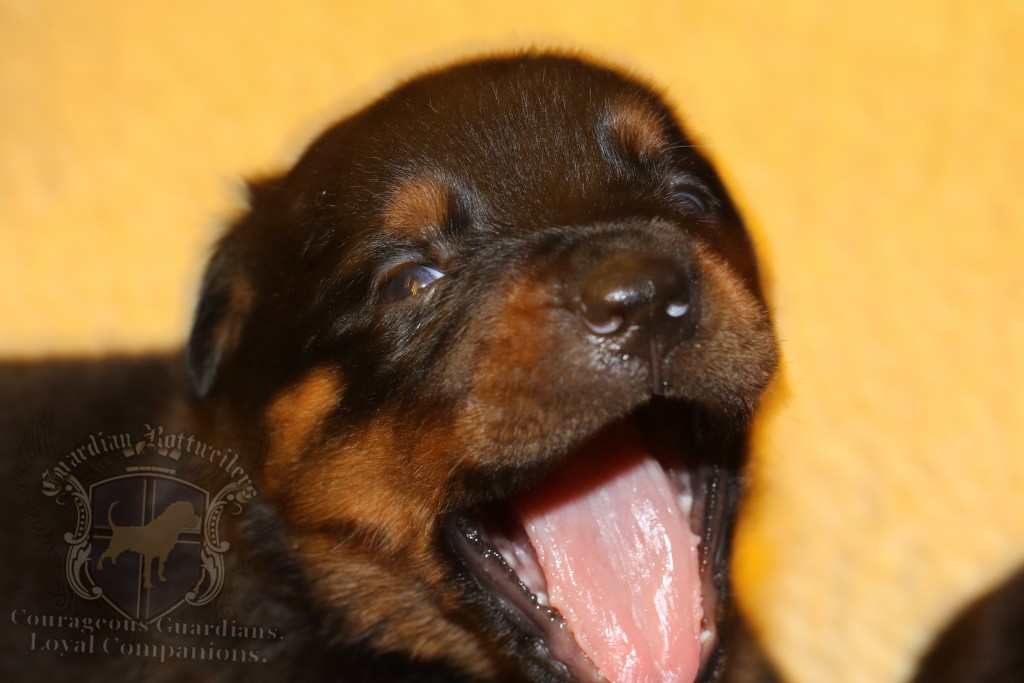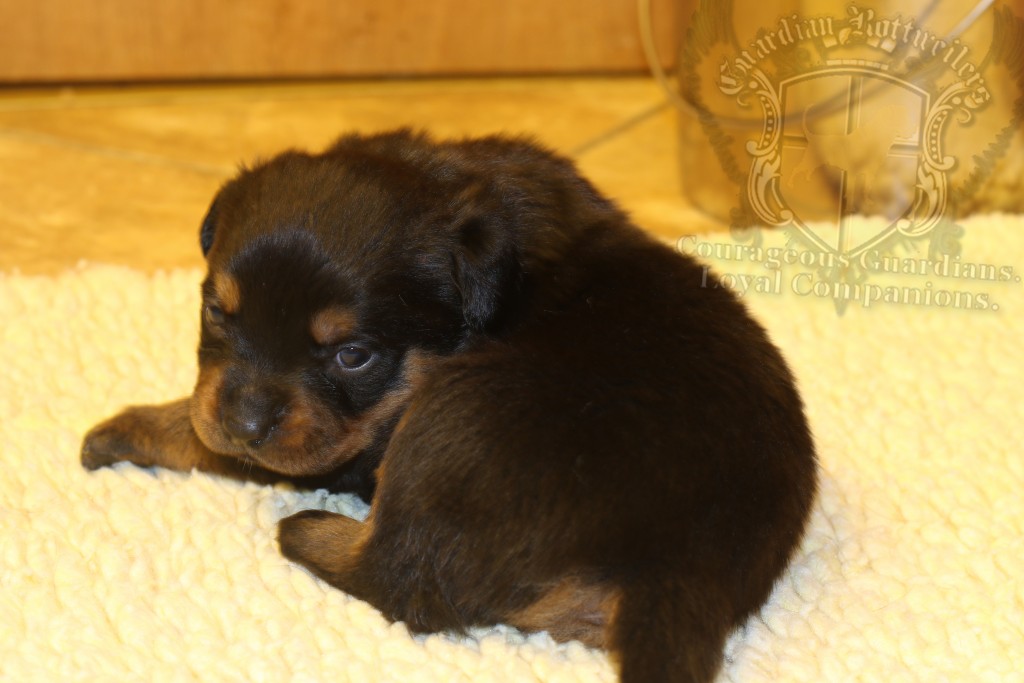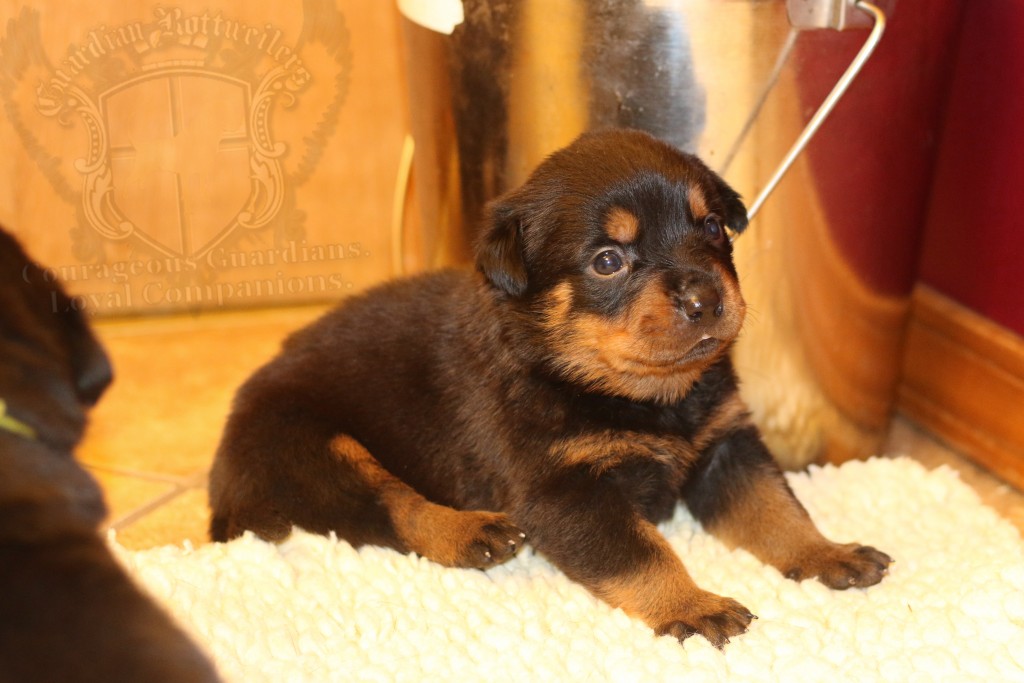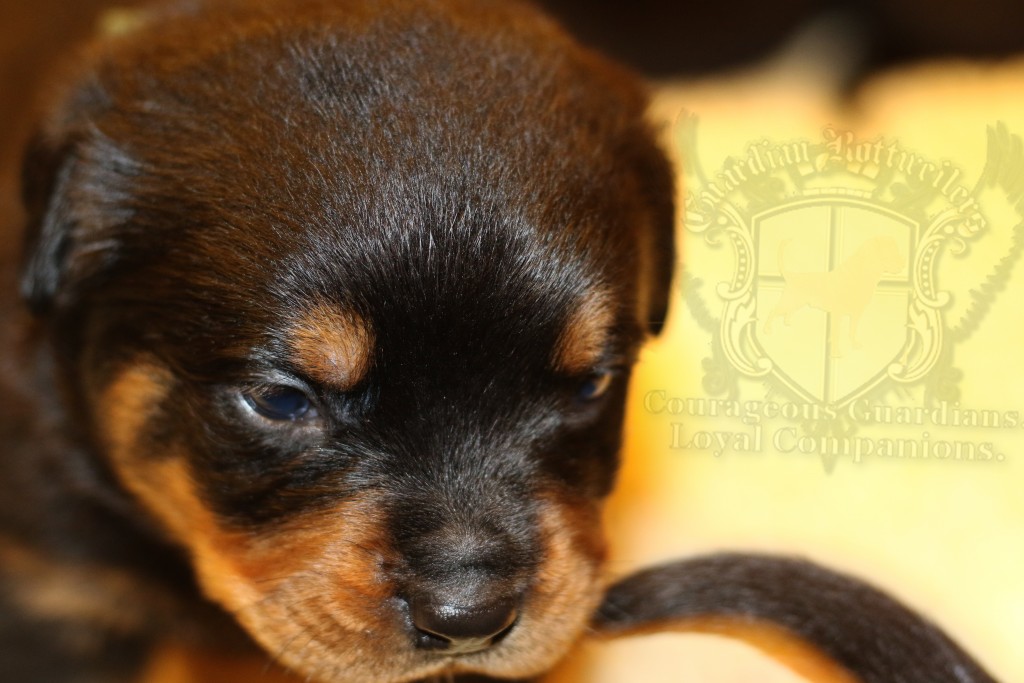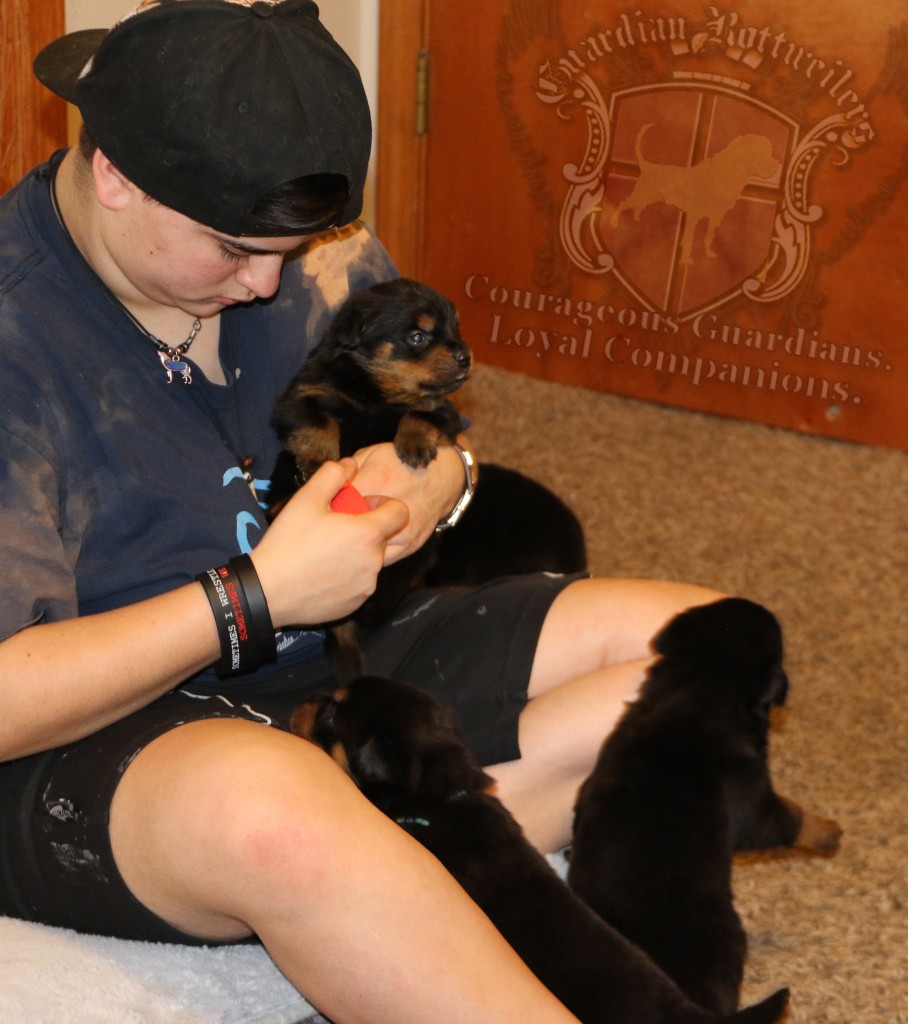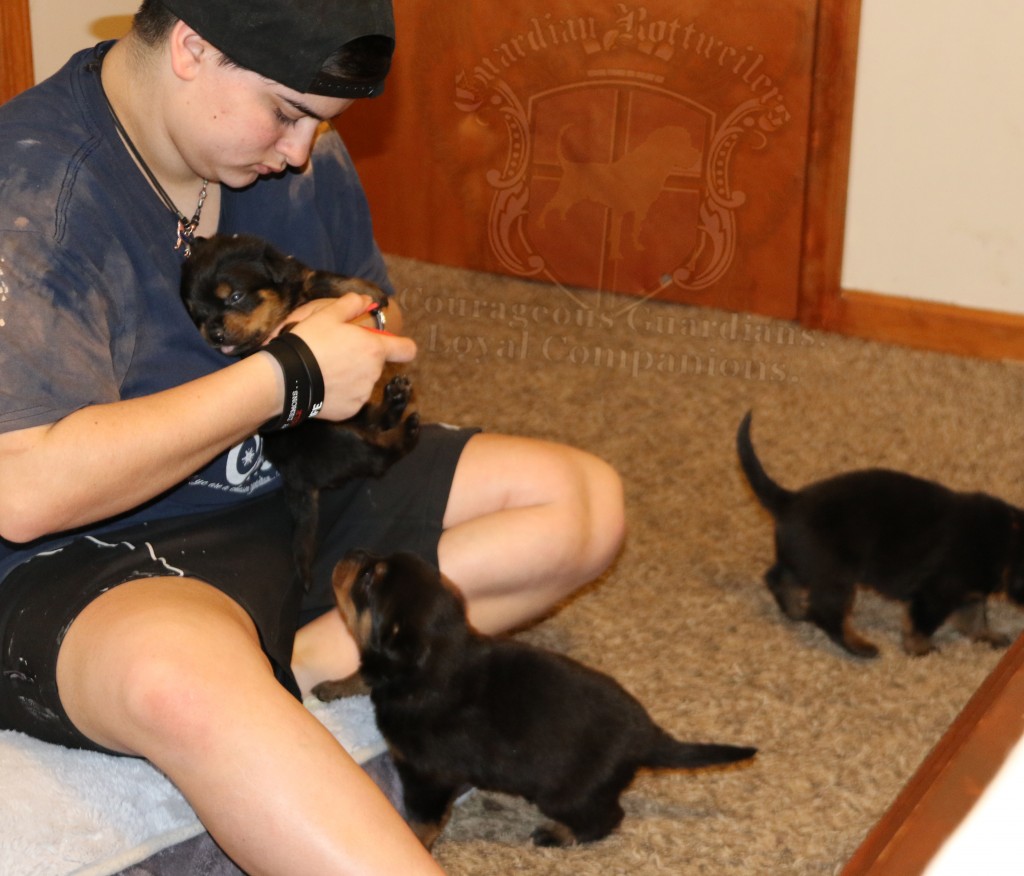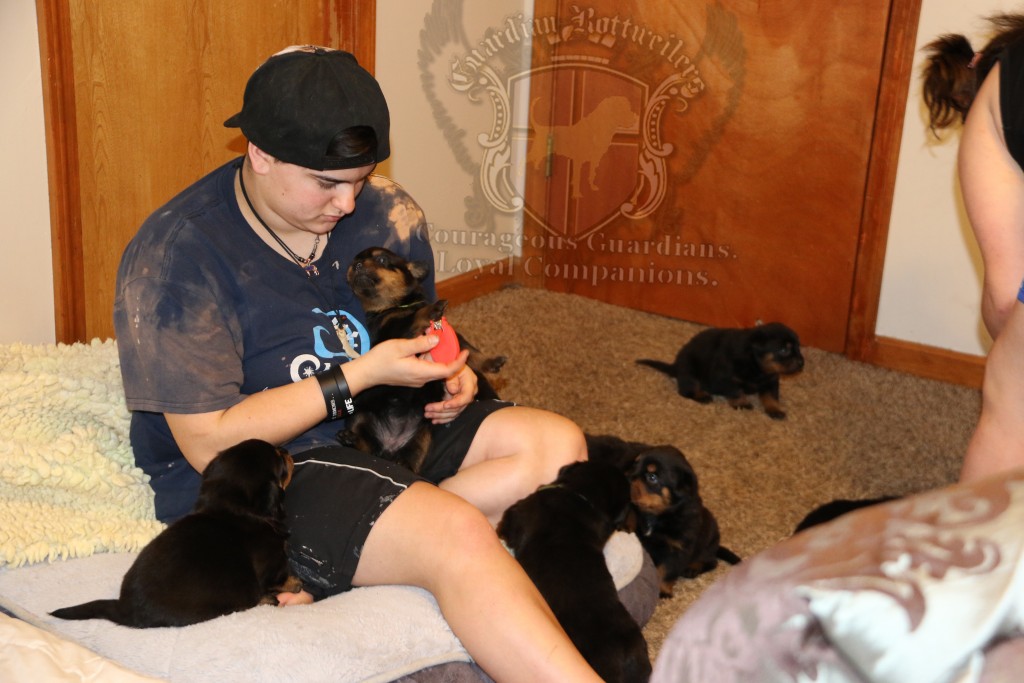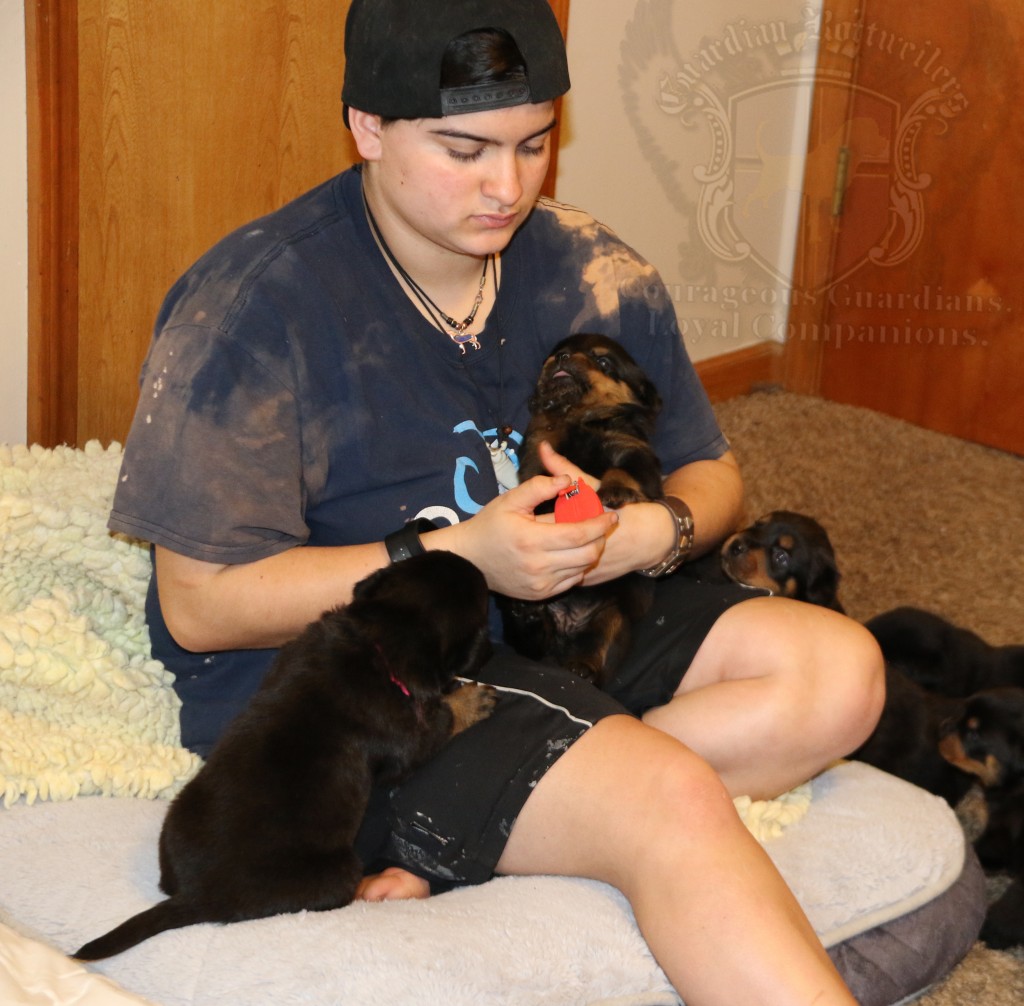 Eva's babies- 4 weeks old- meeting our bestest friends, The Clarks.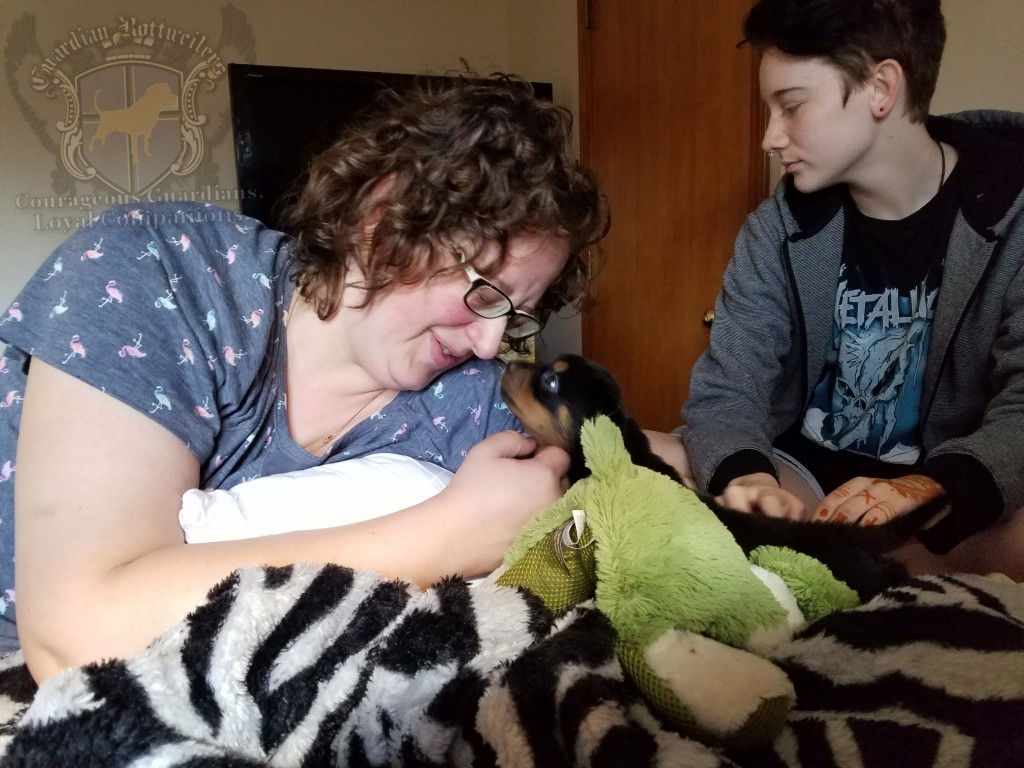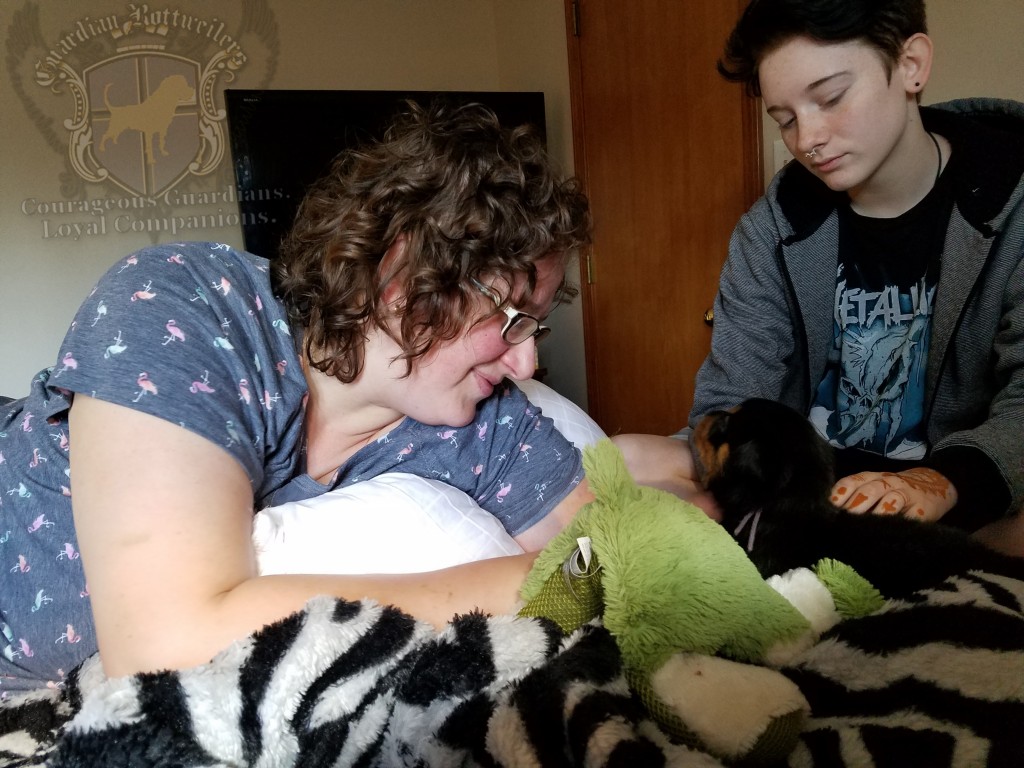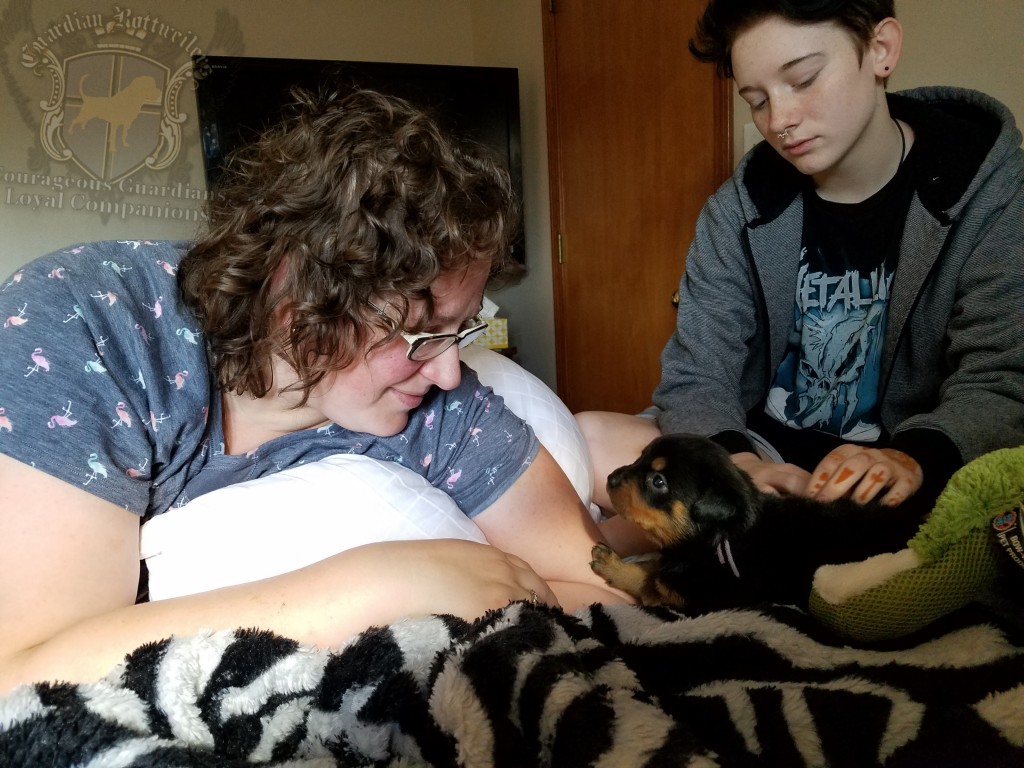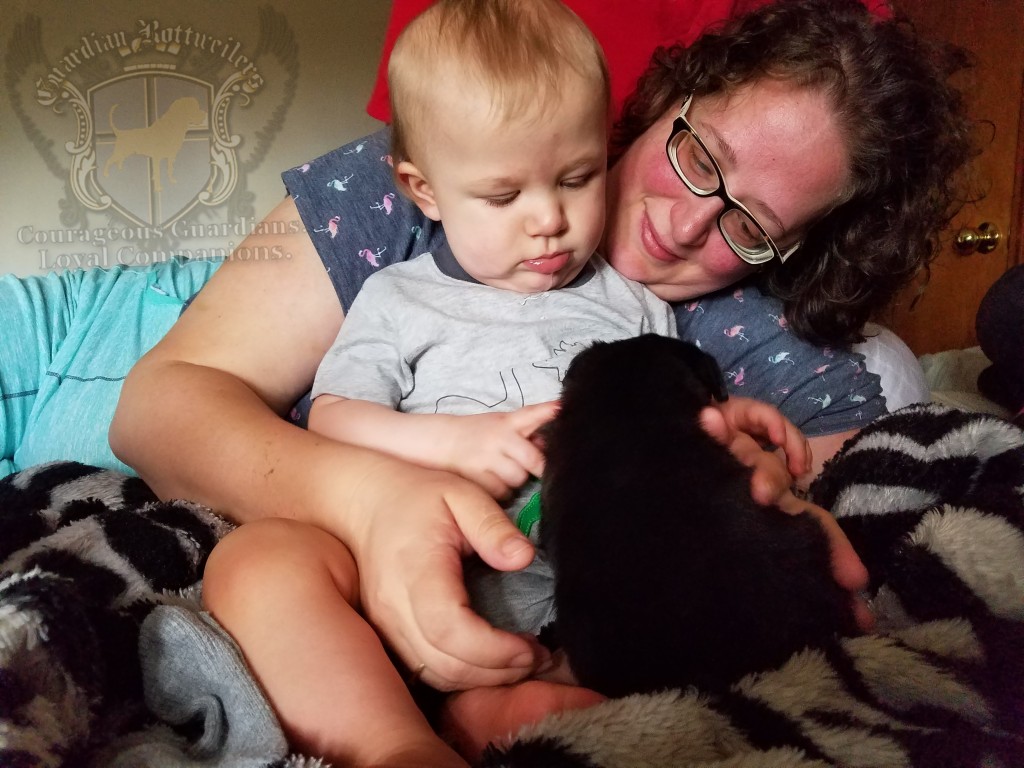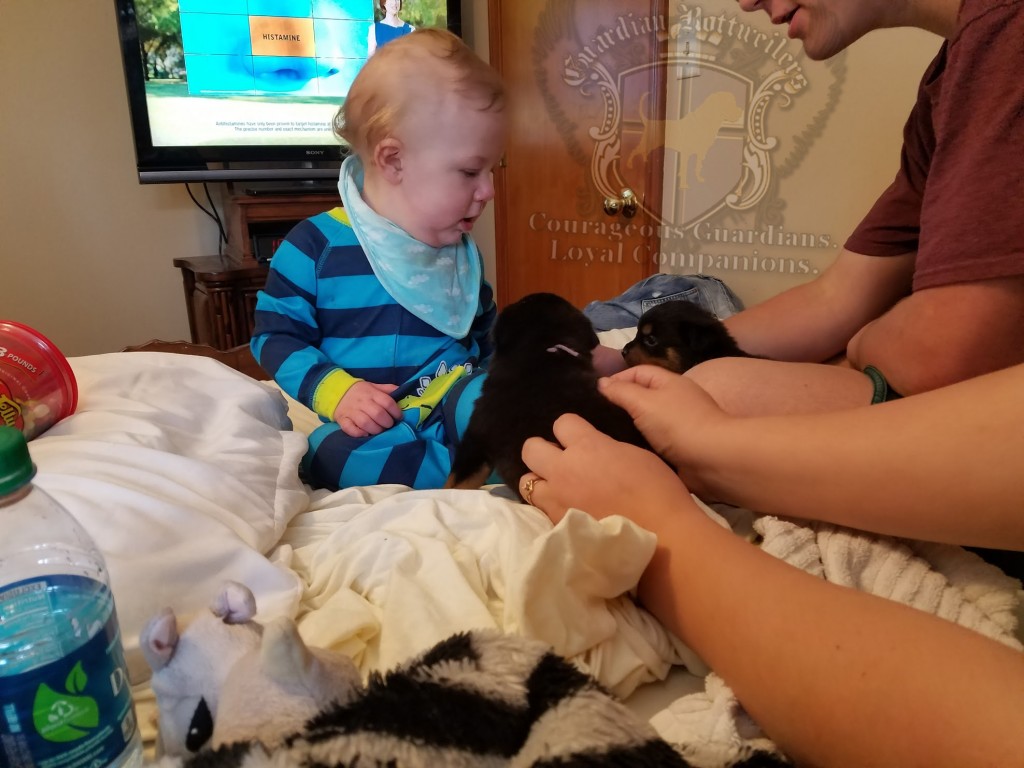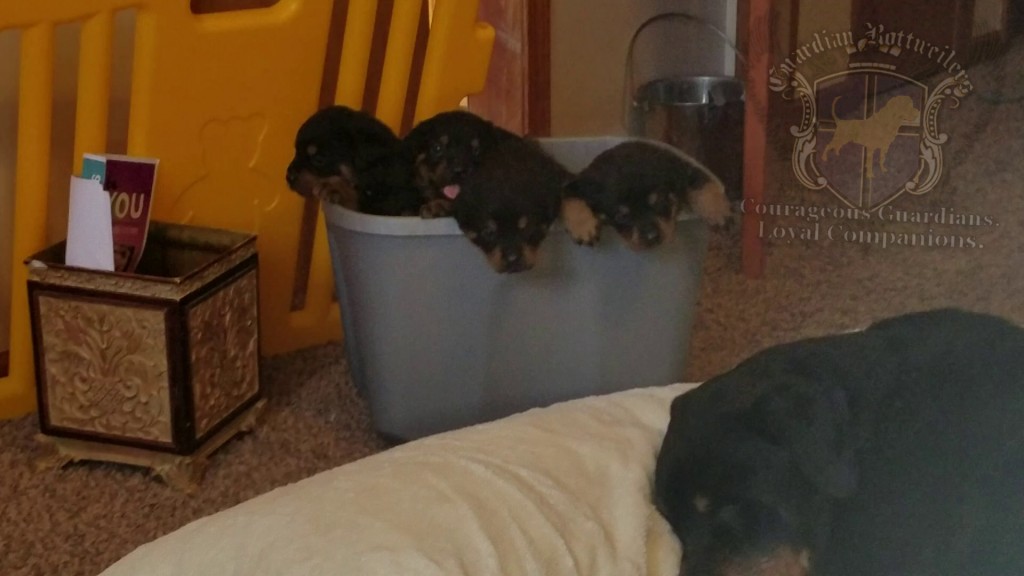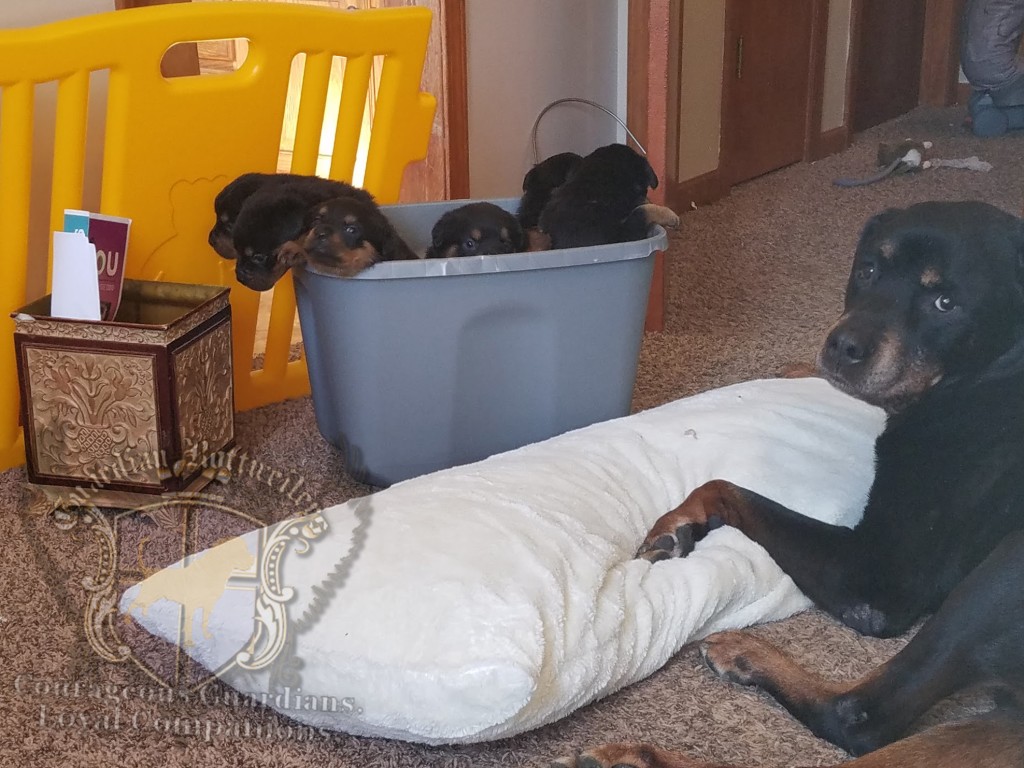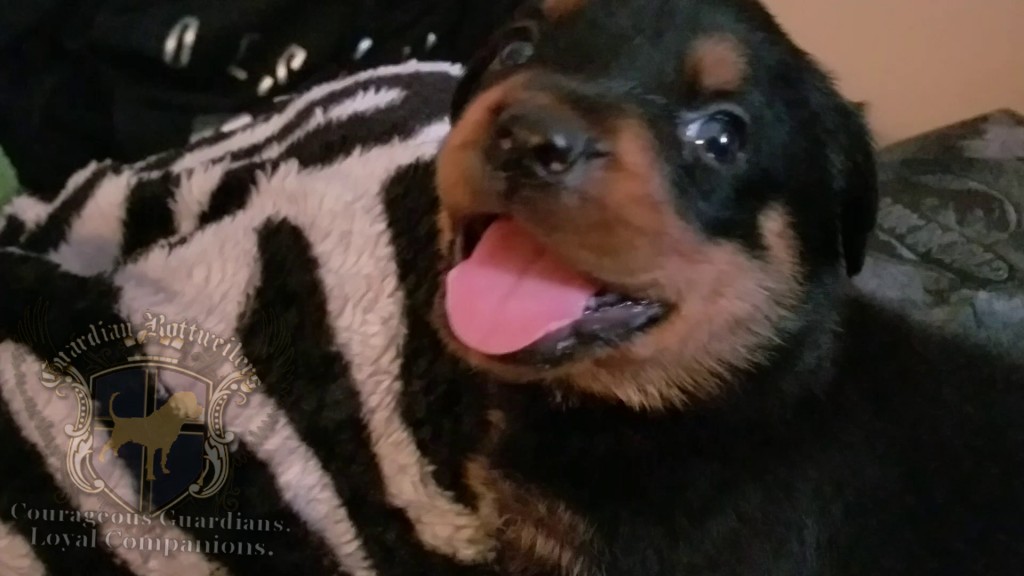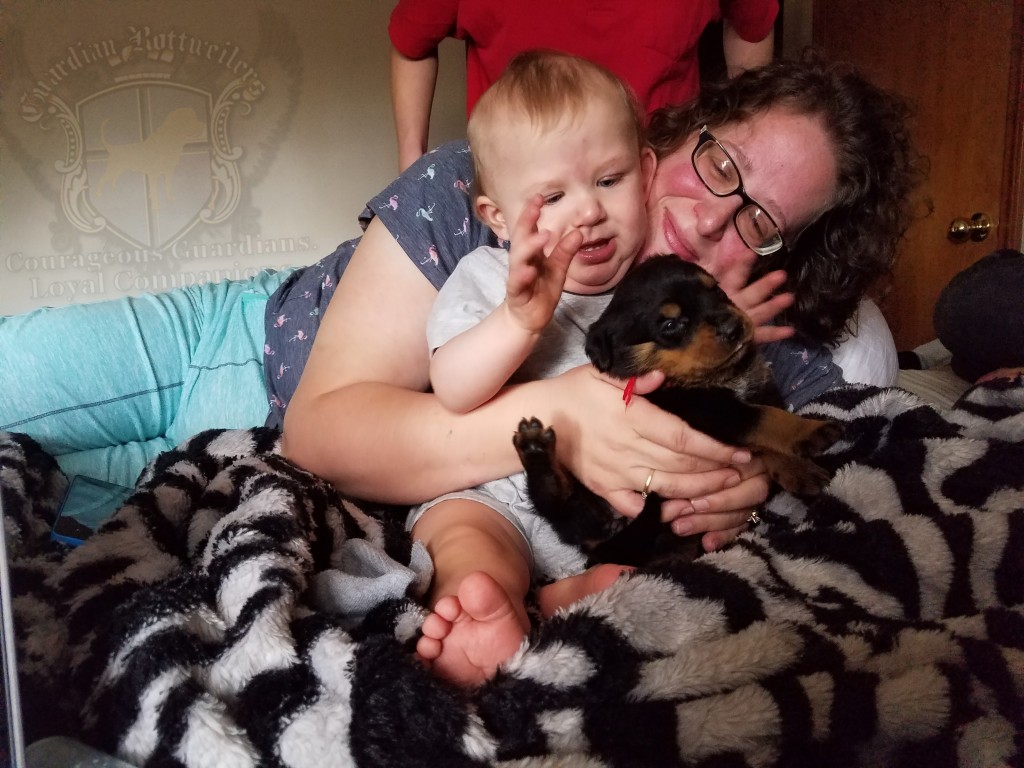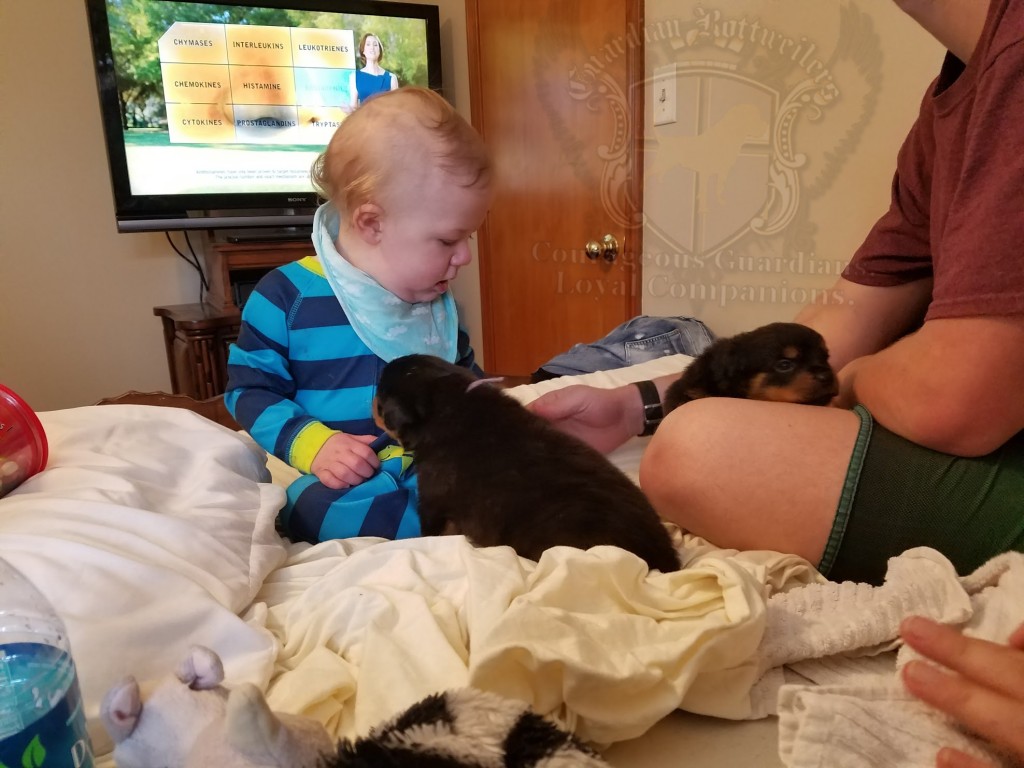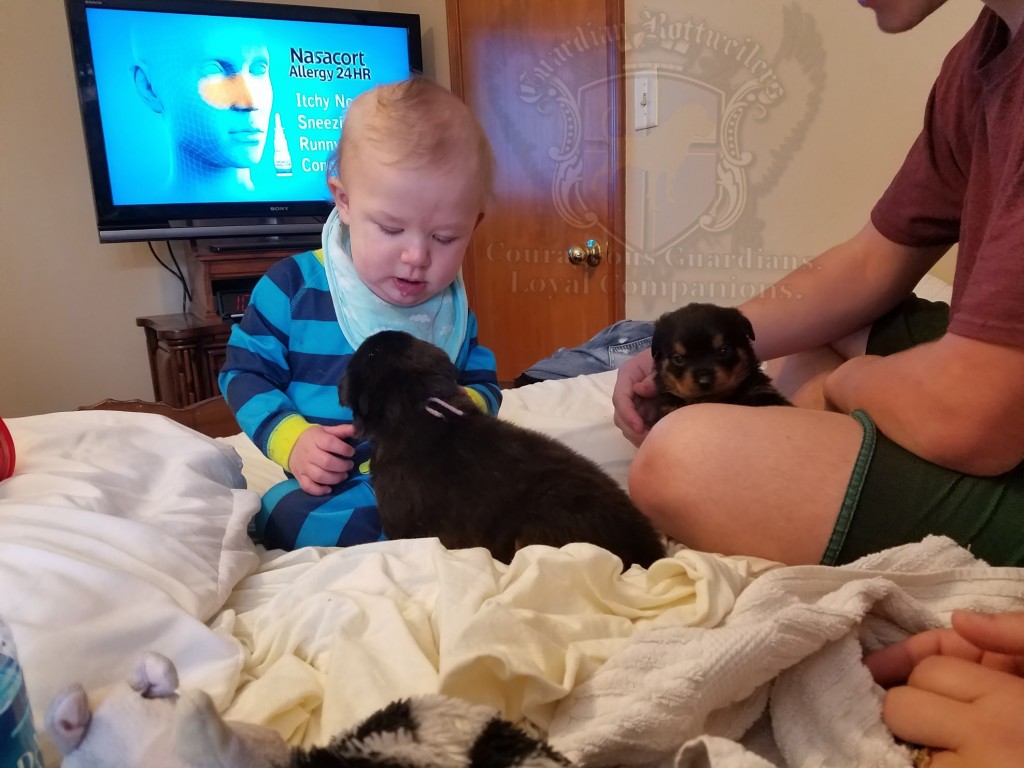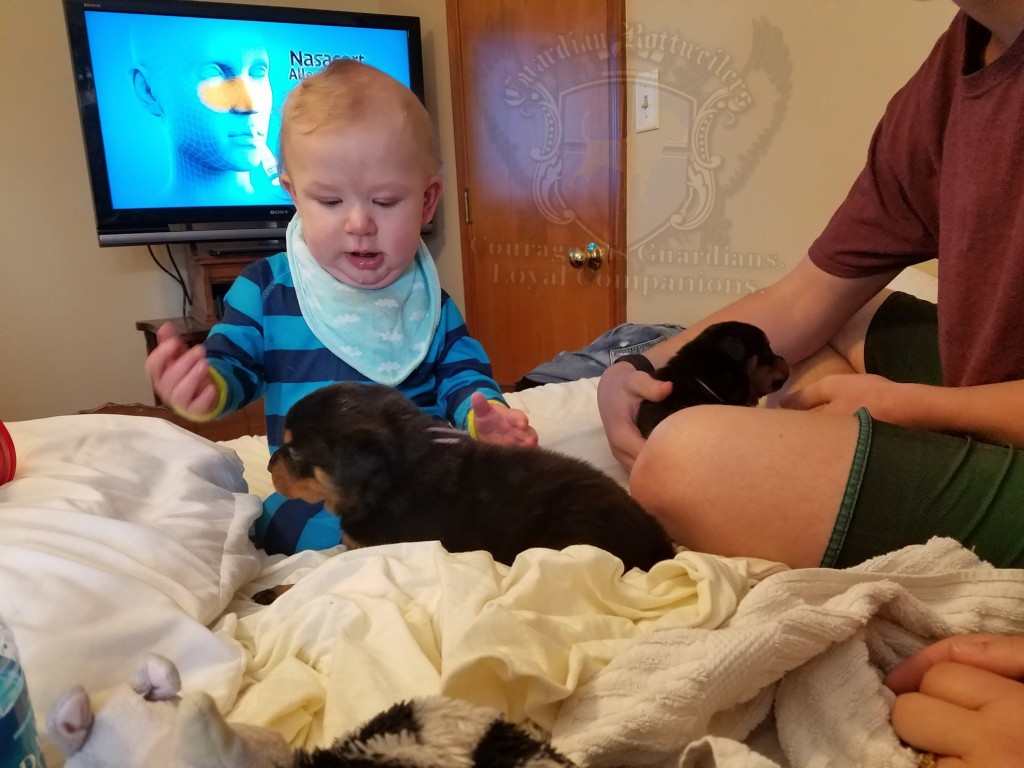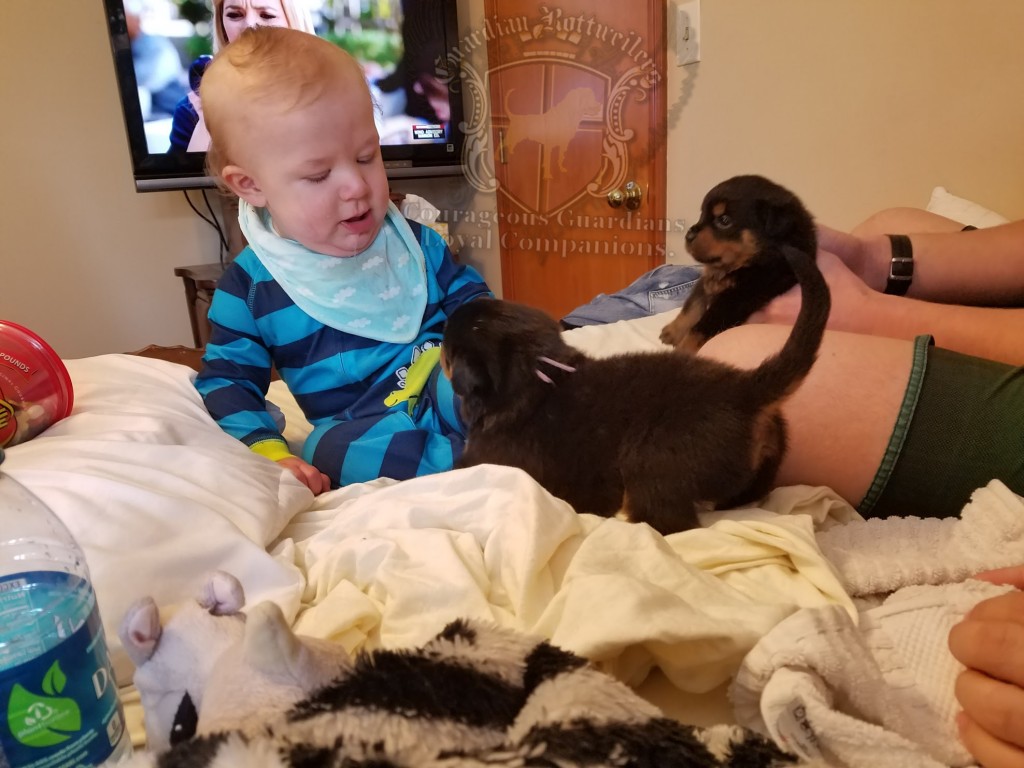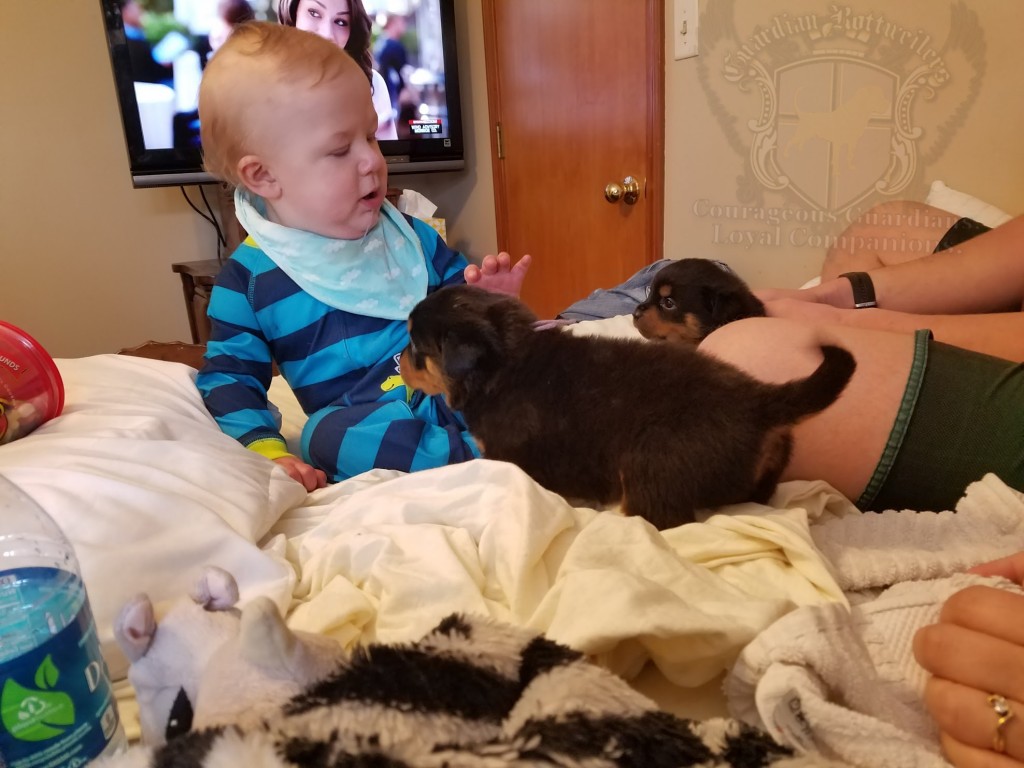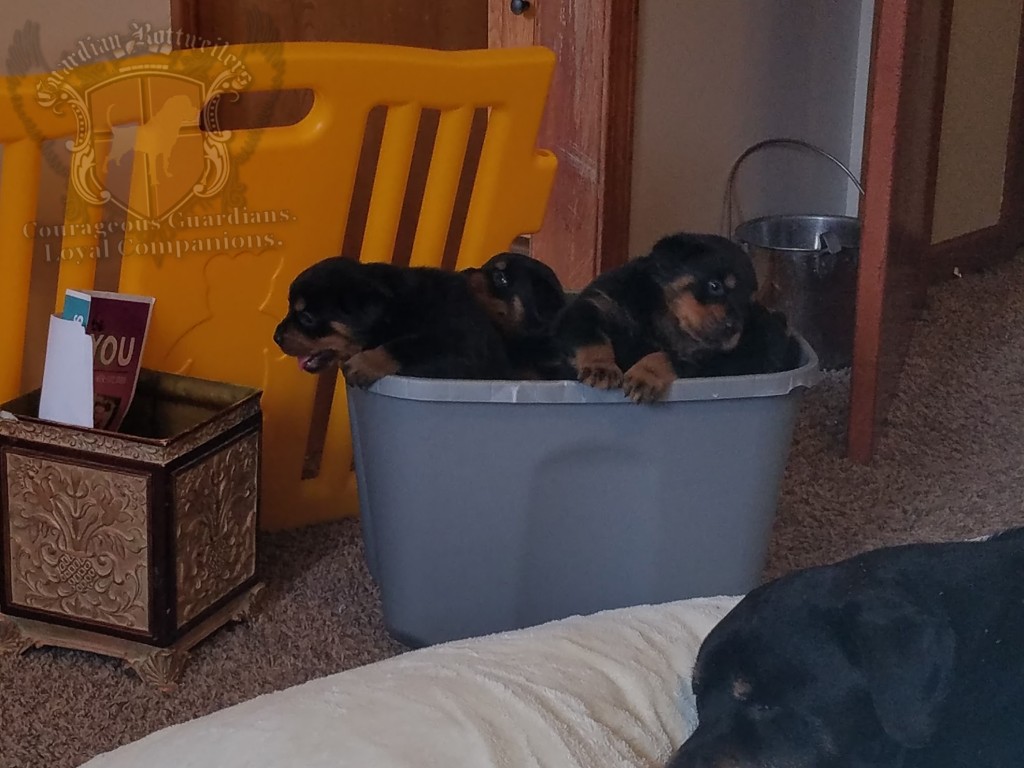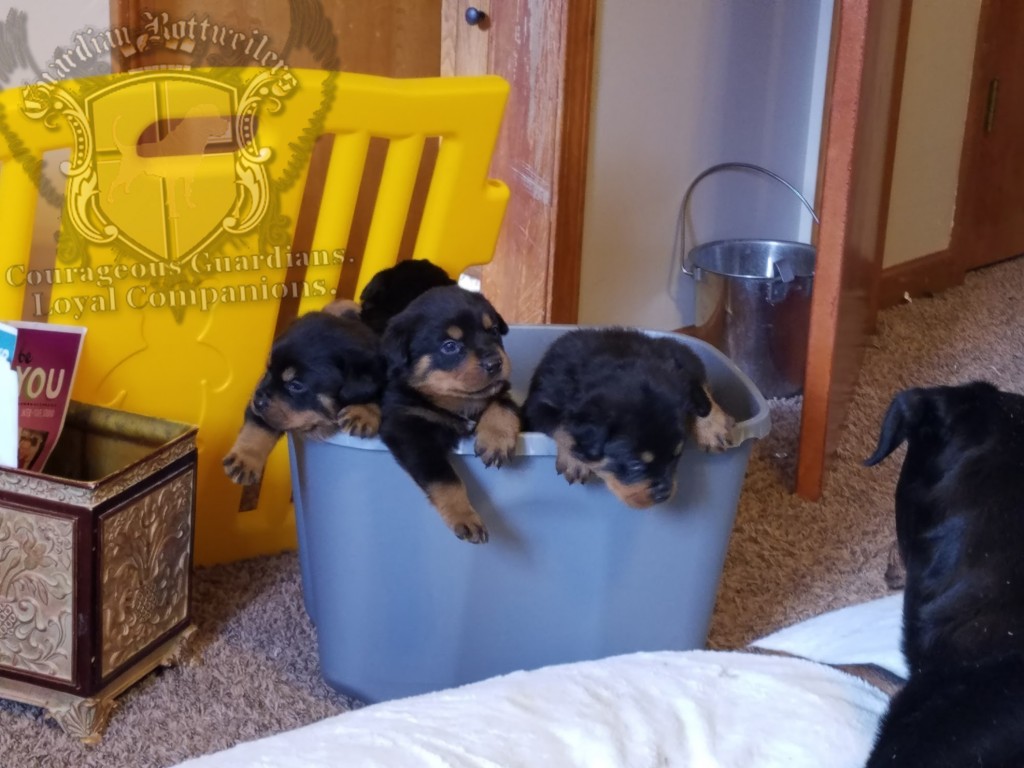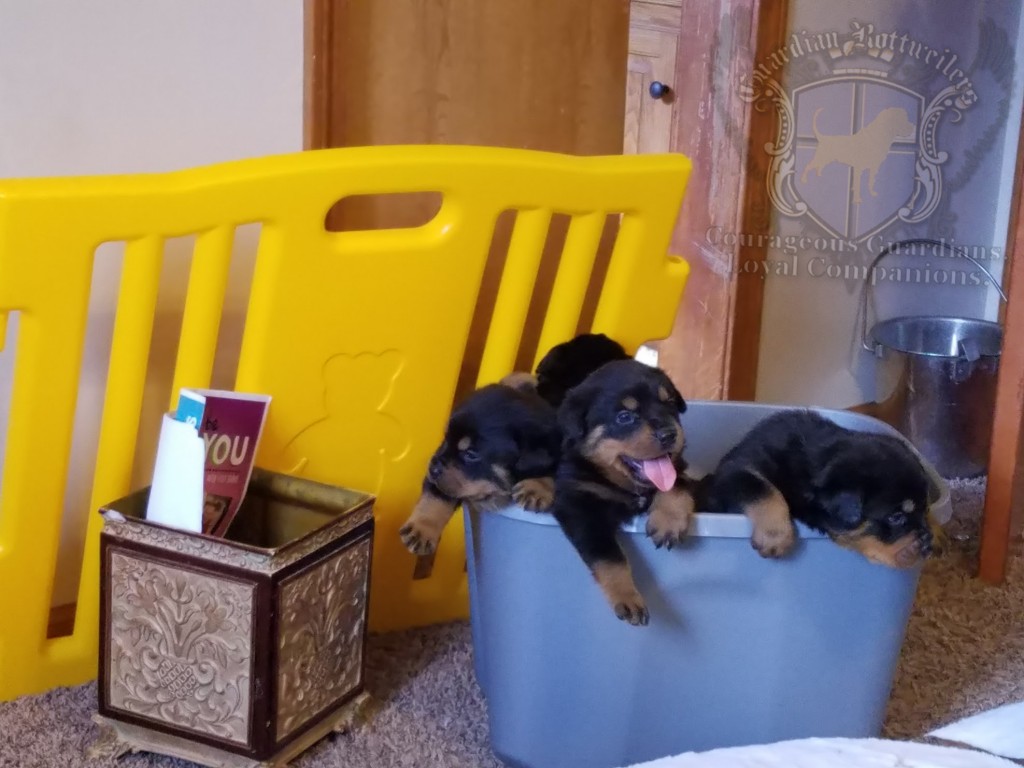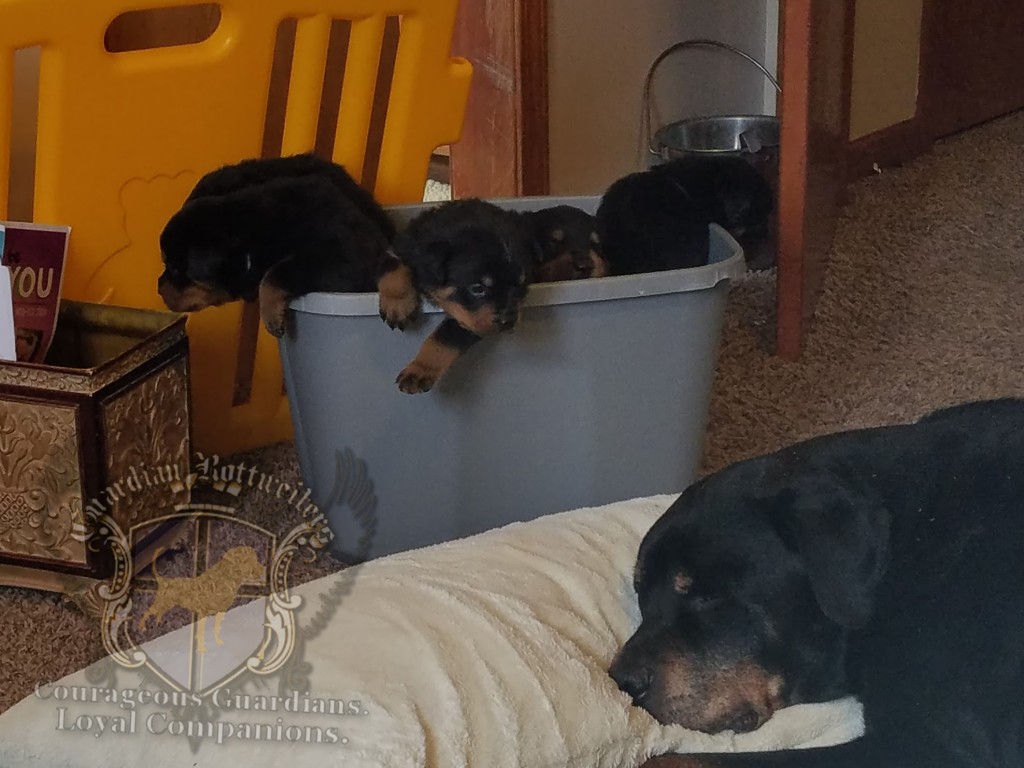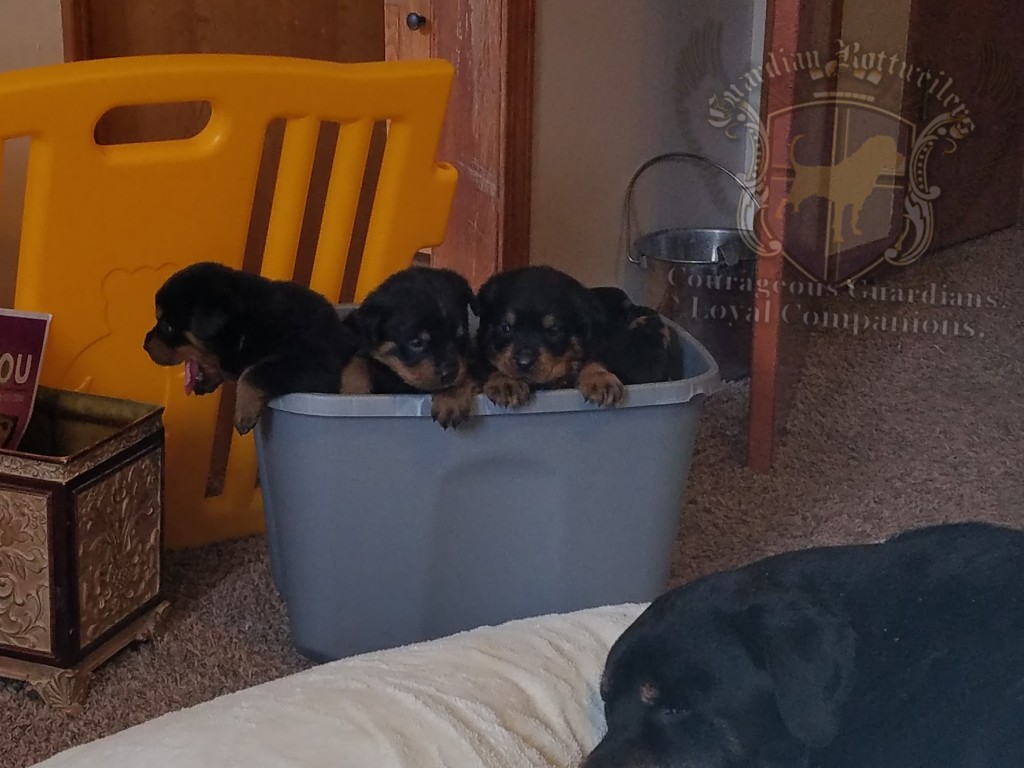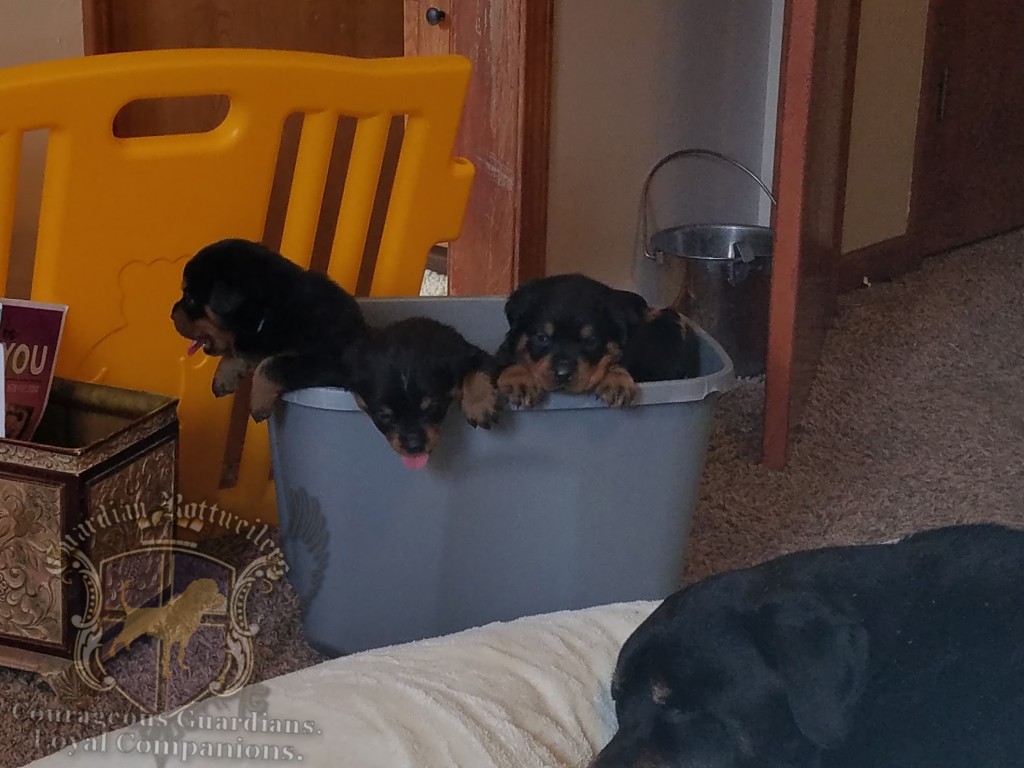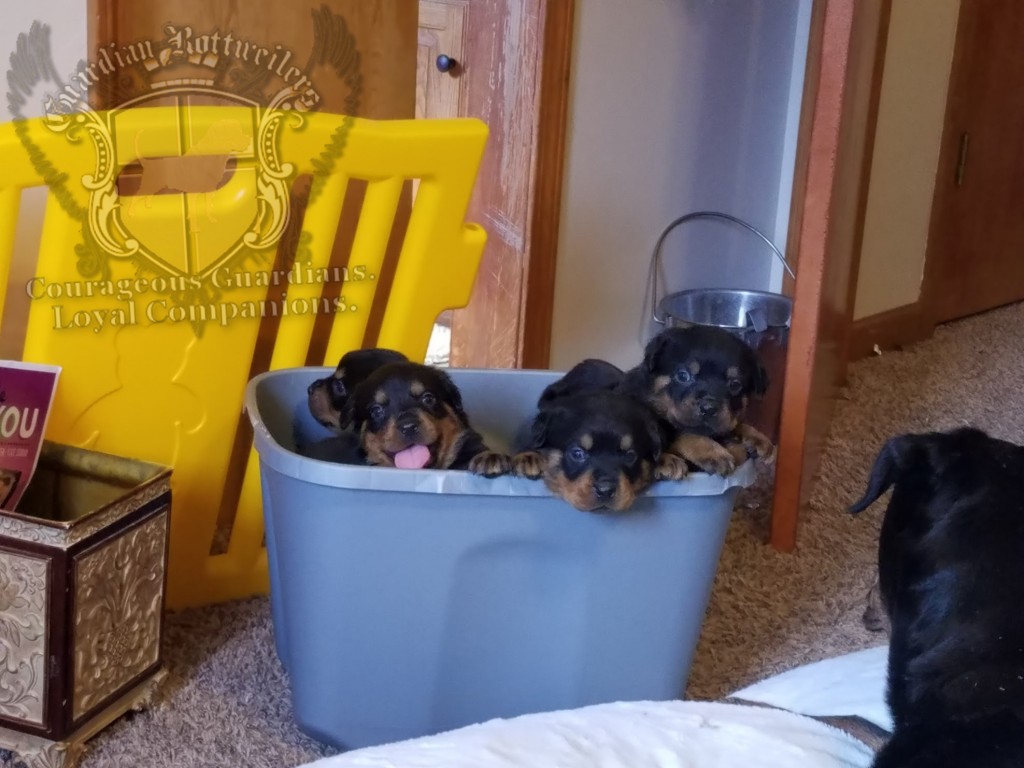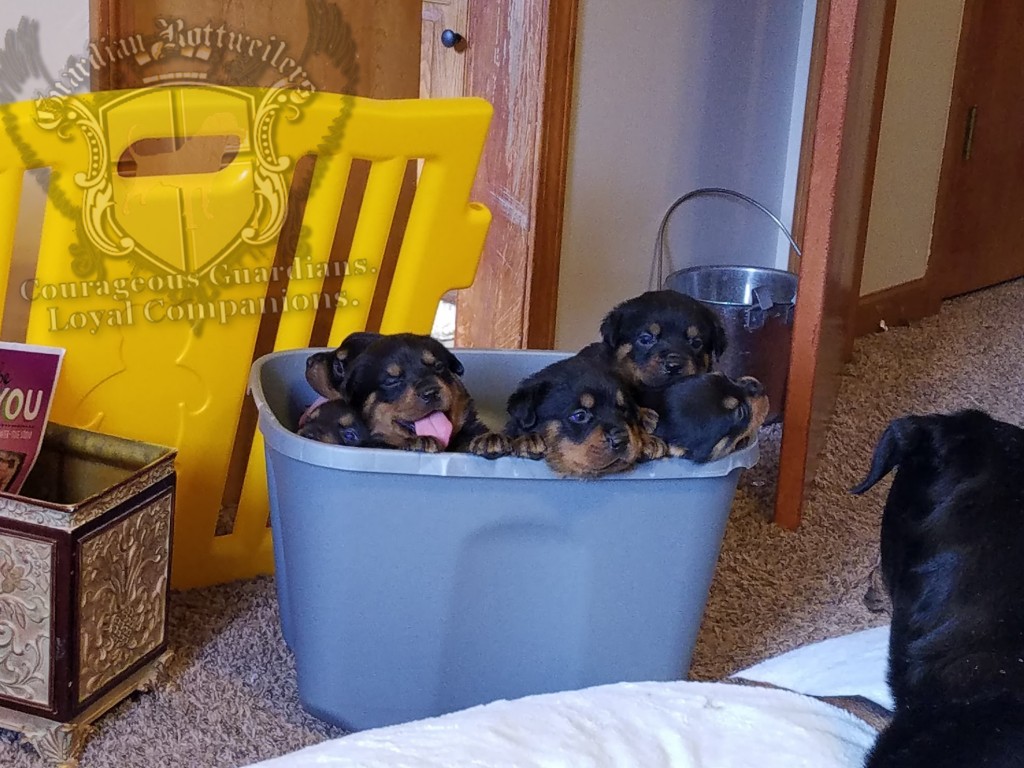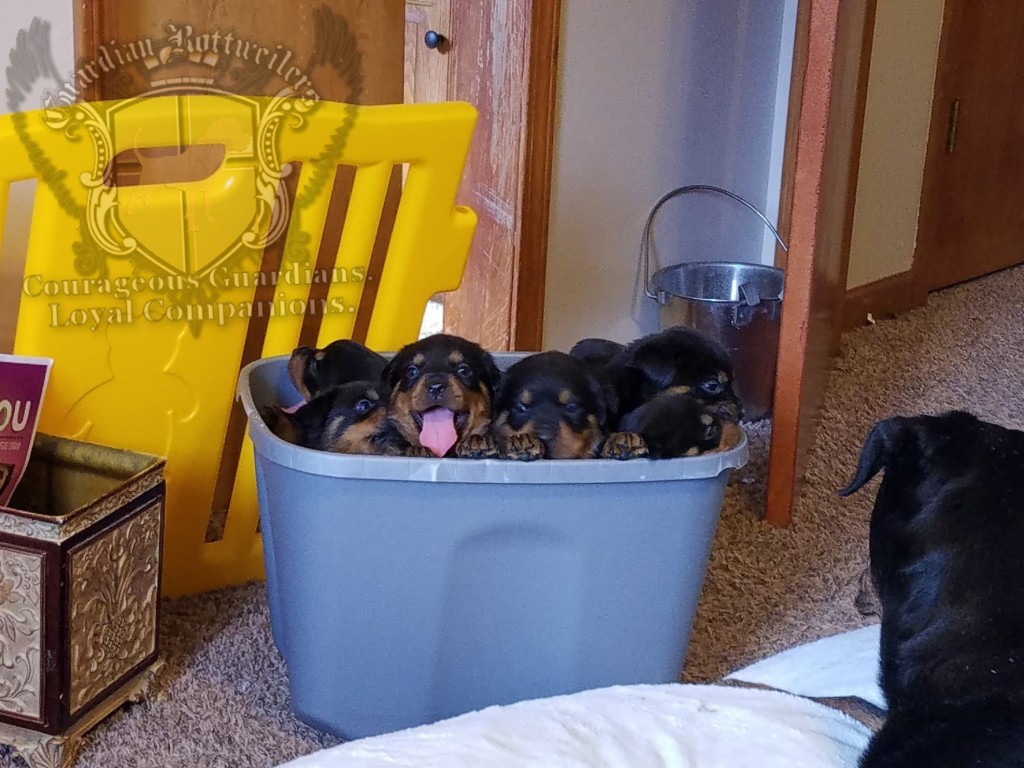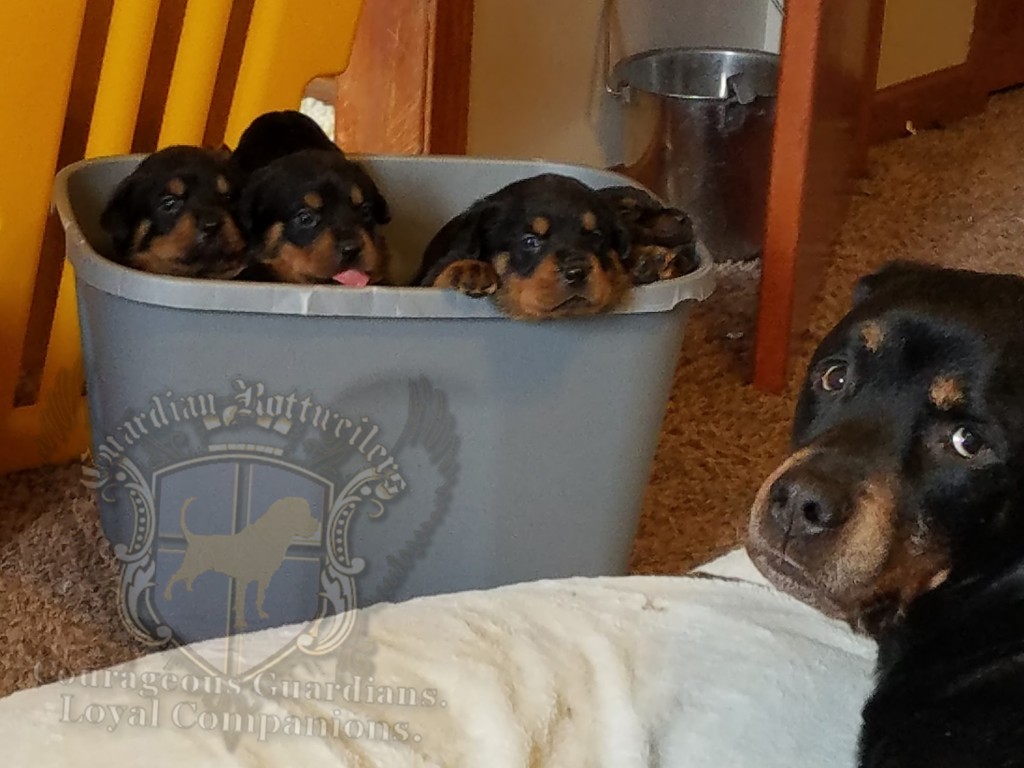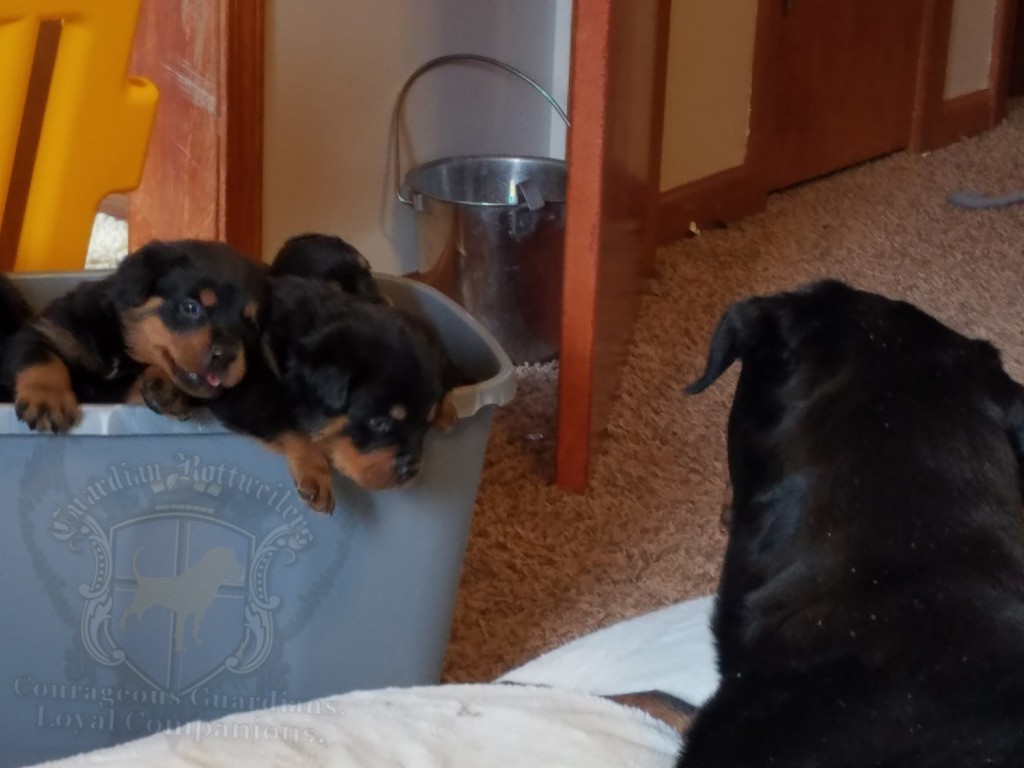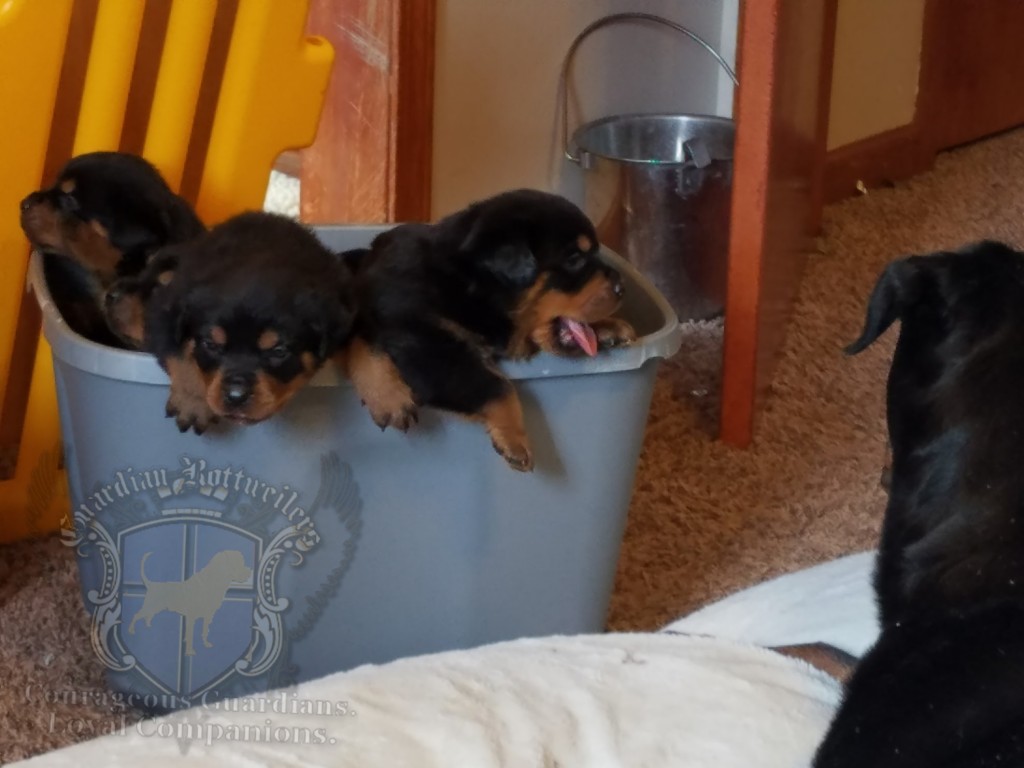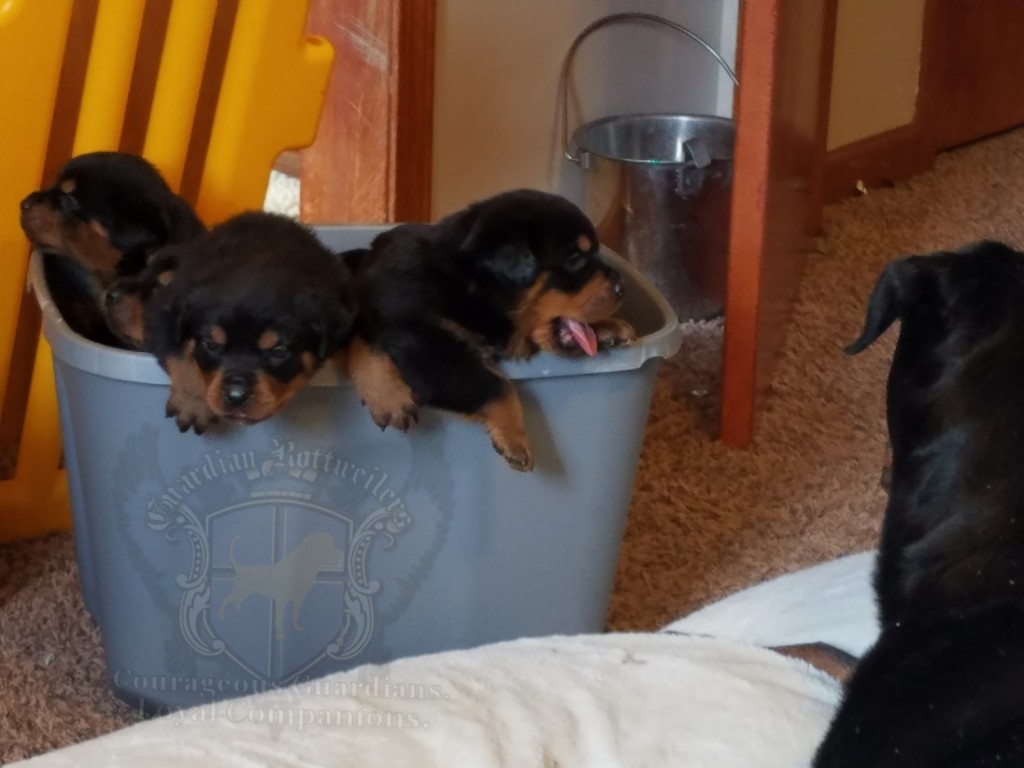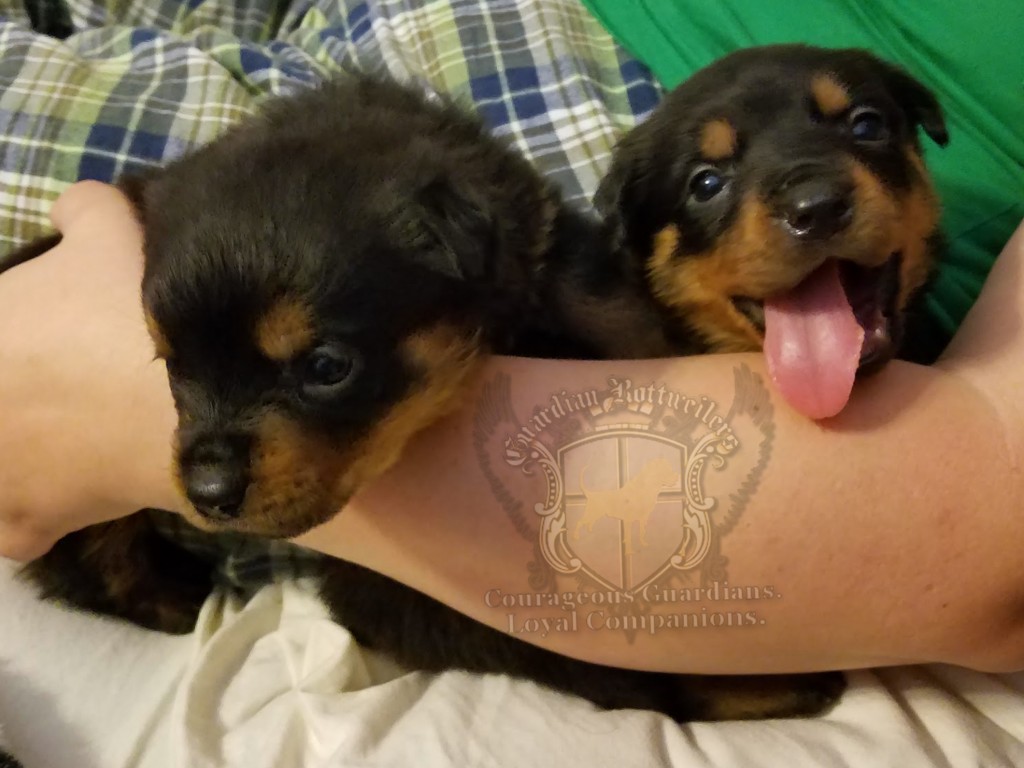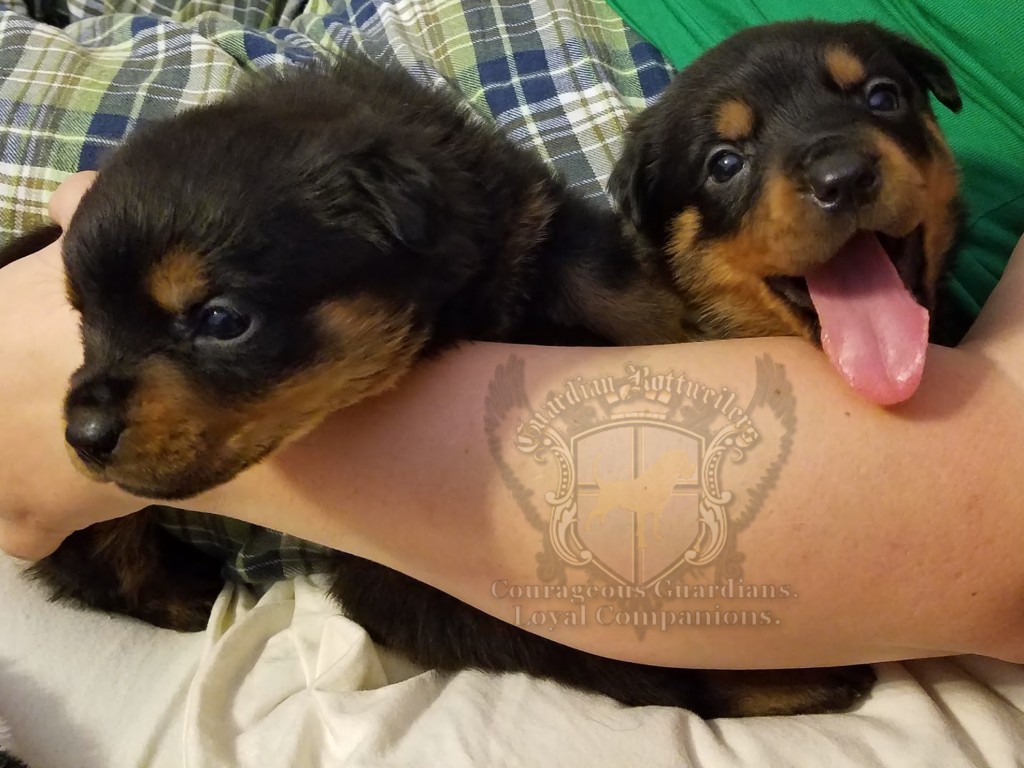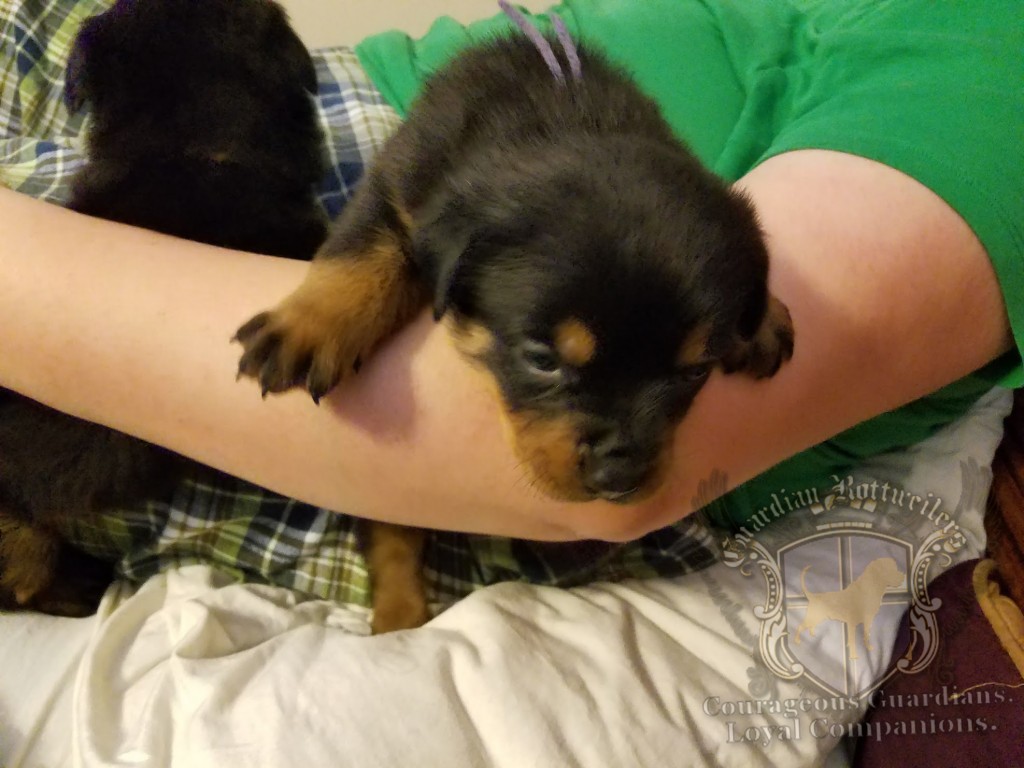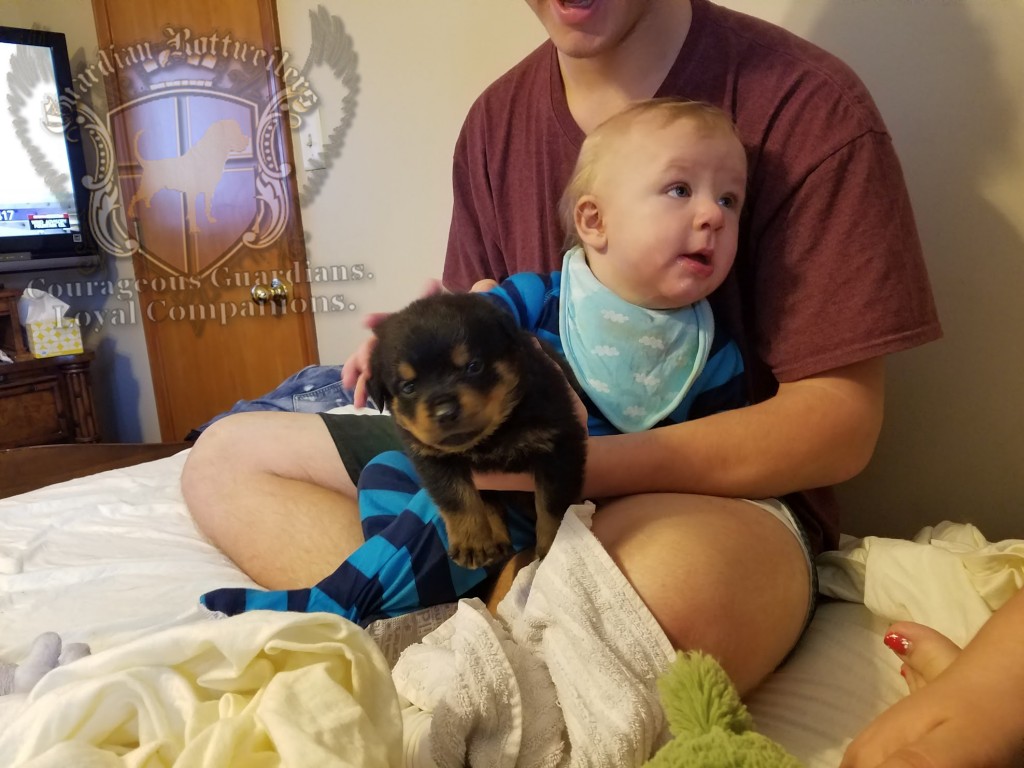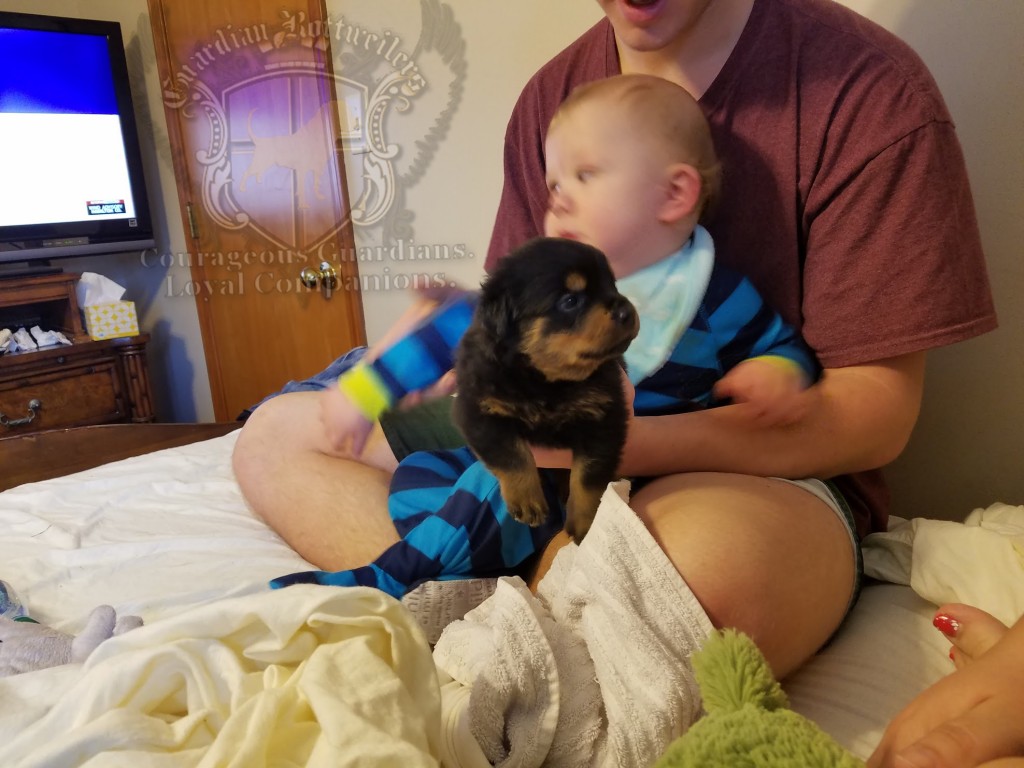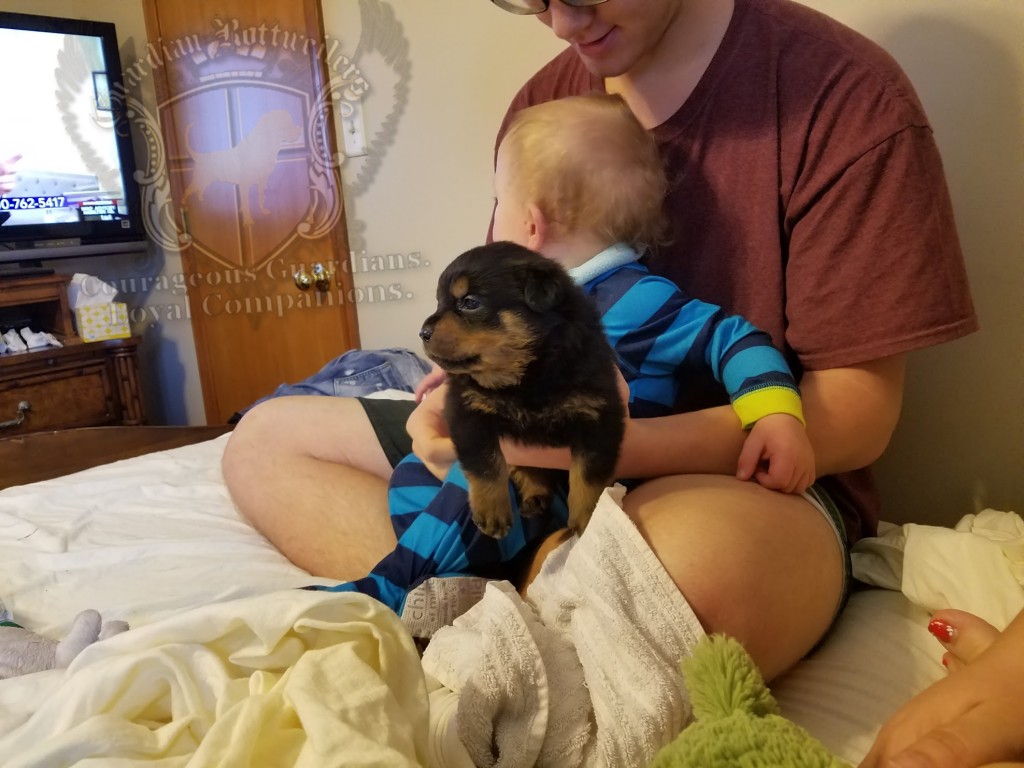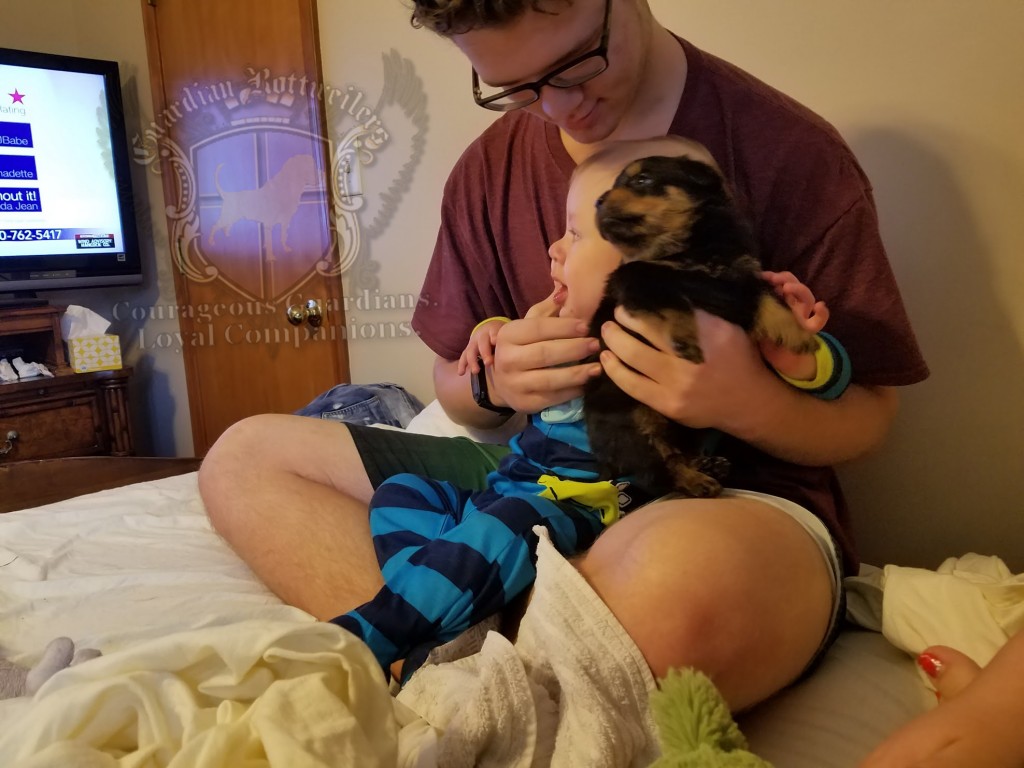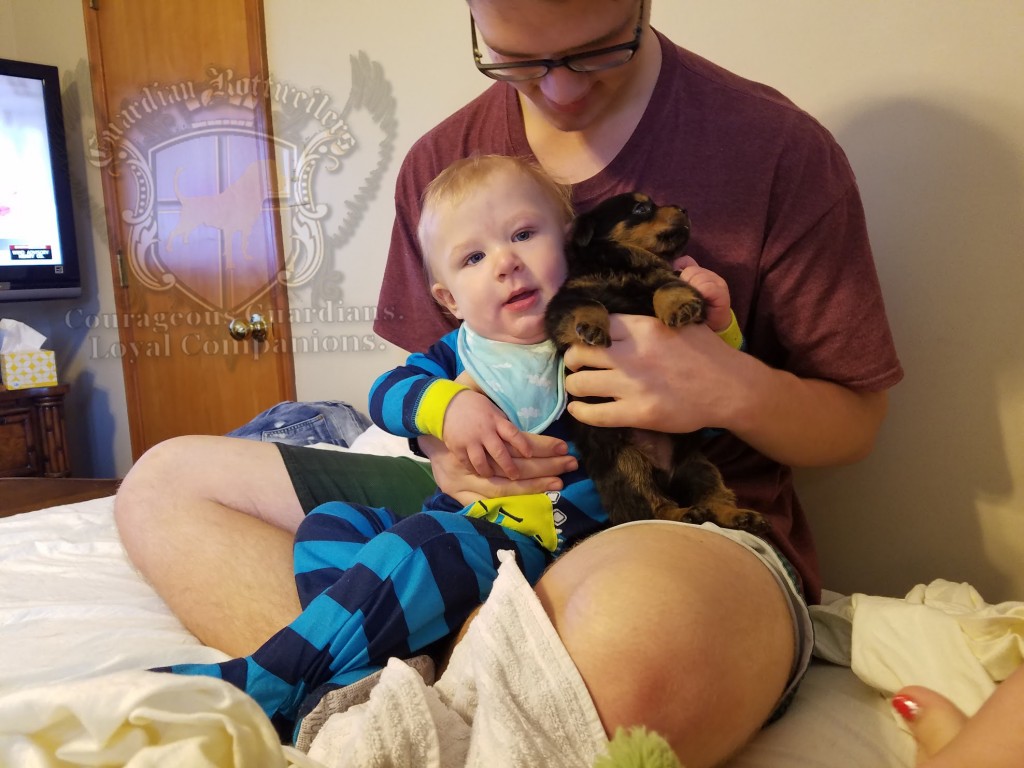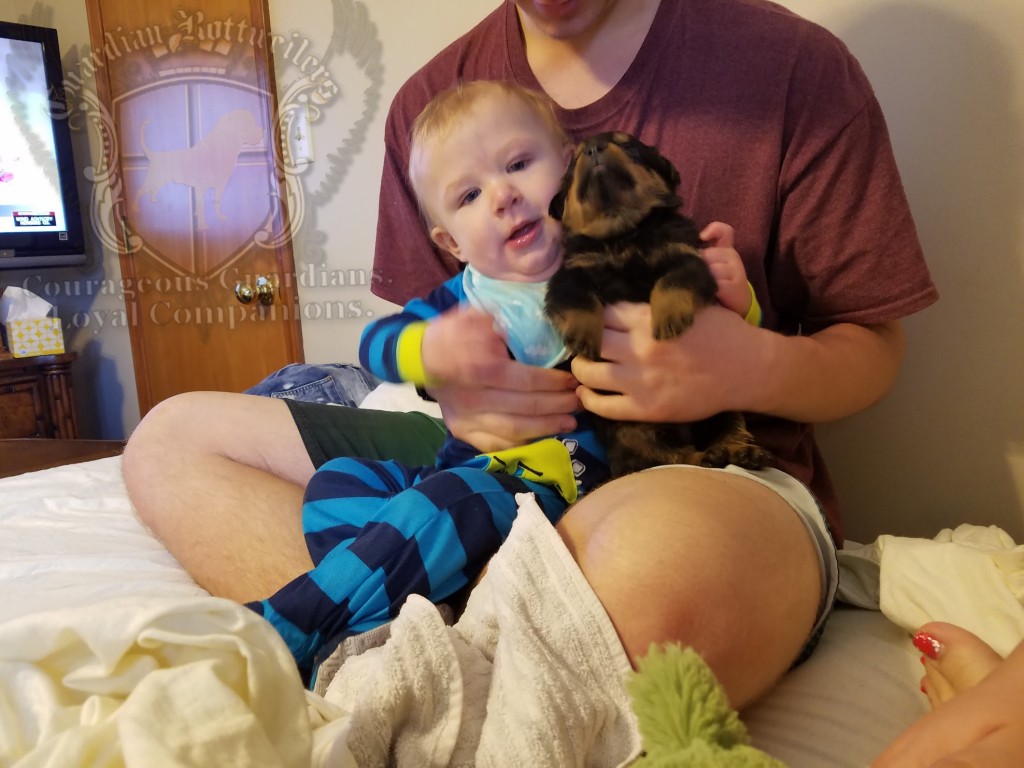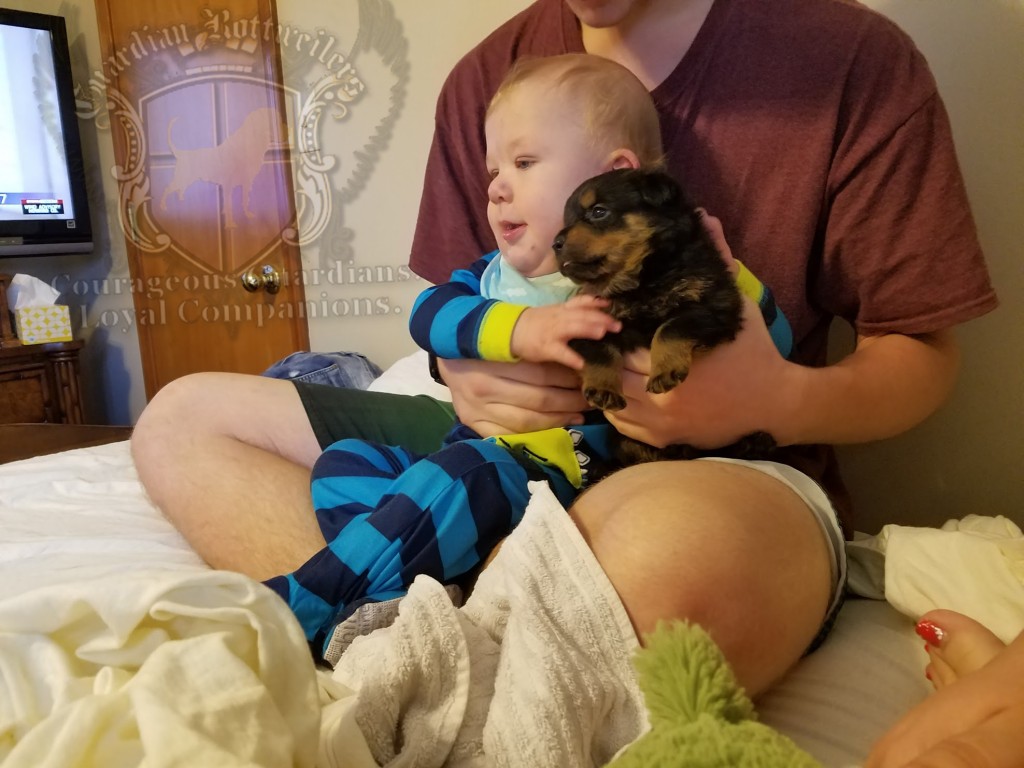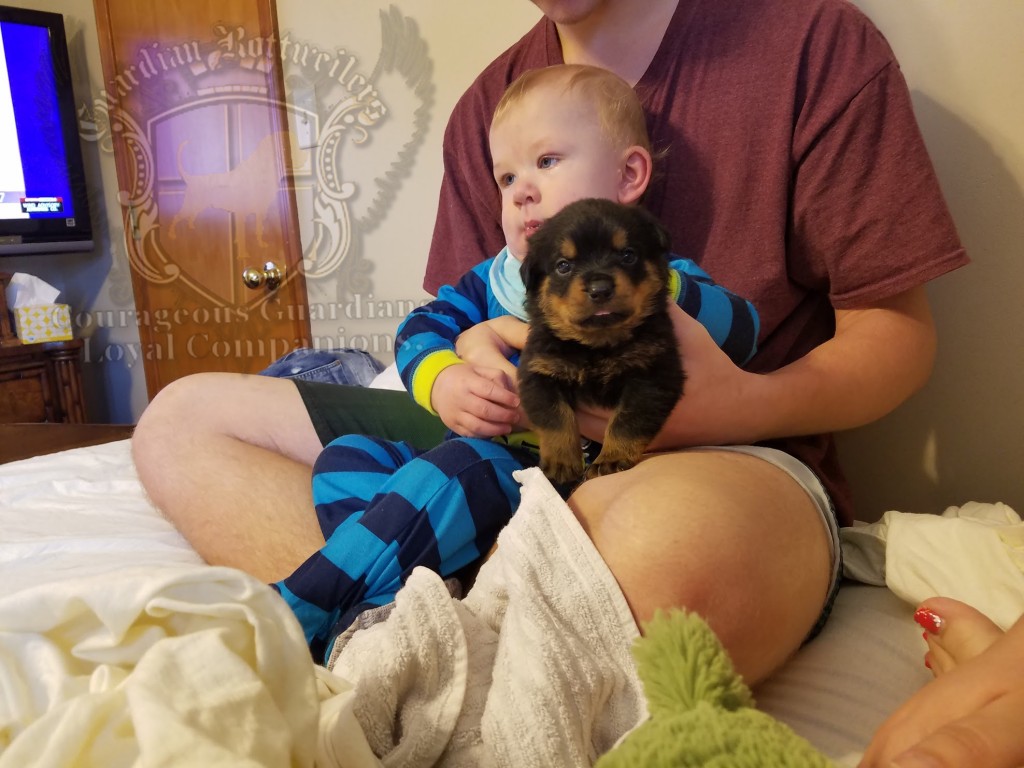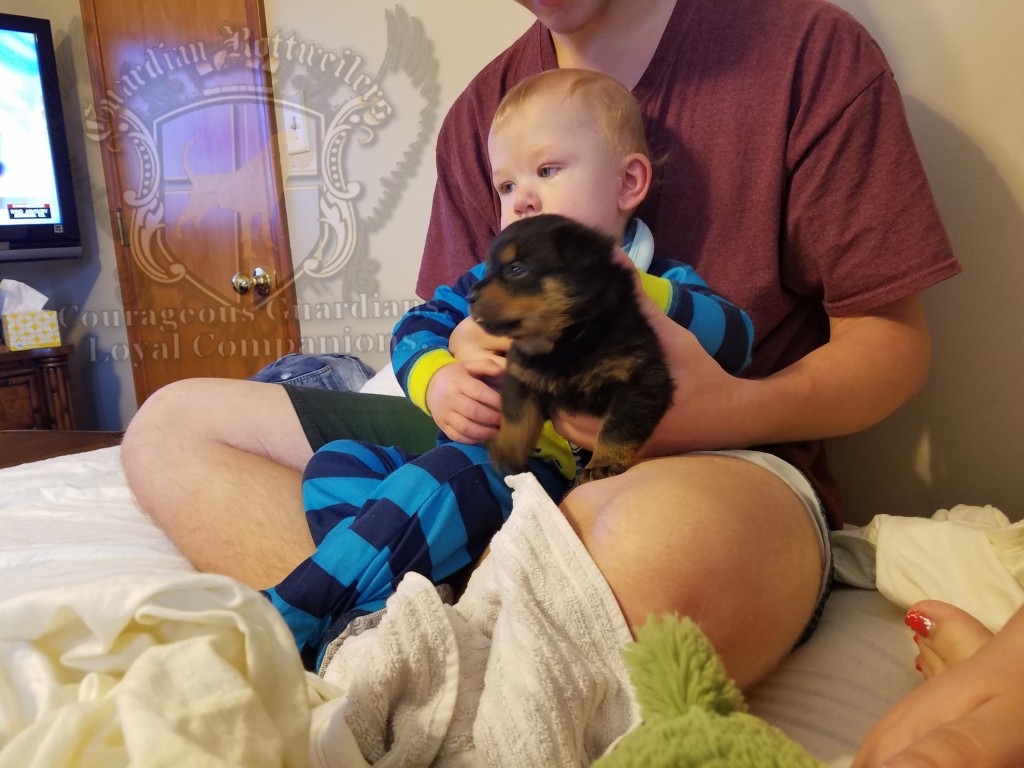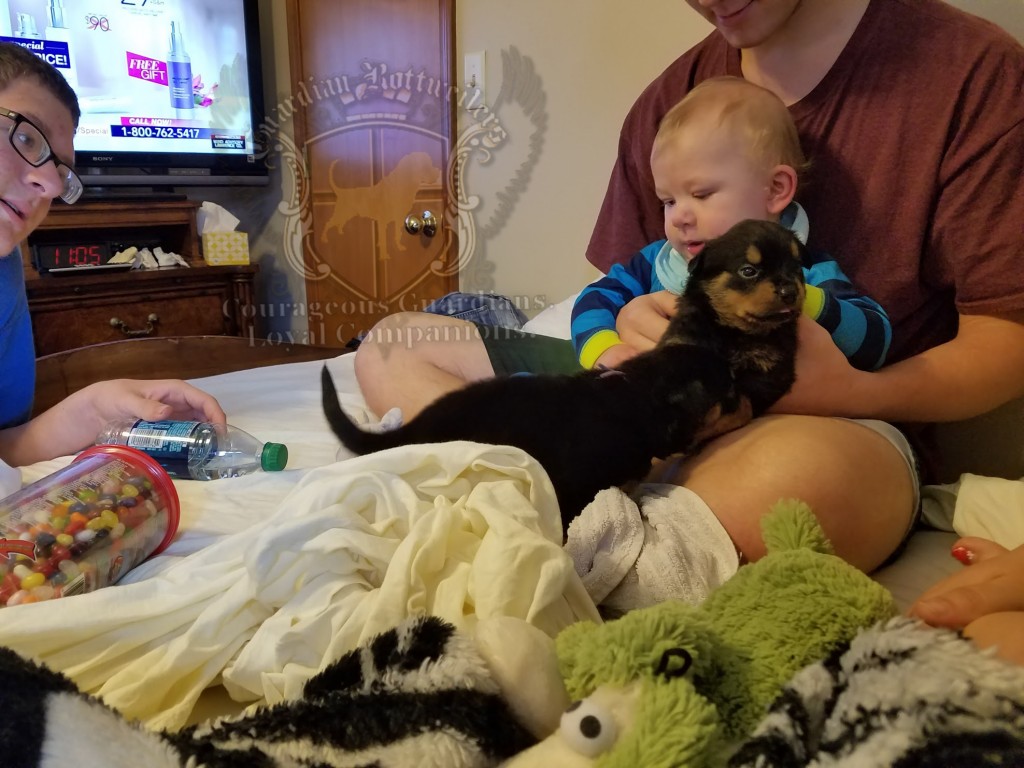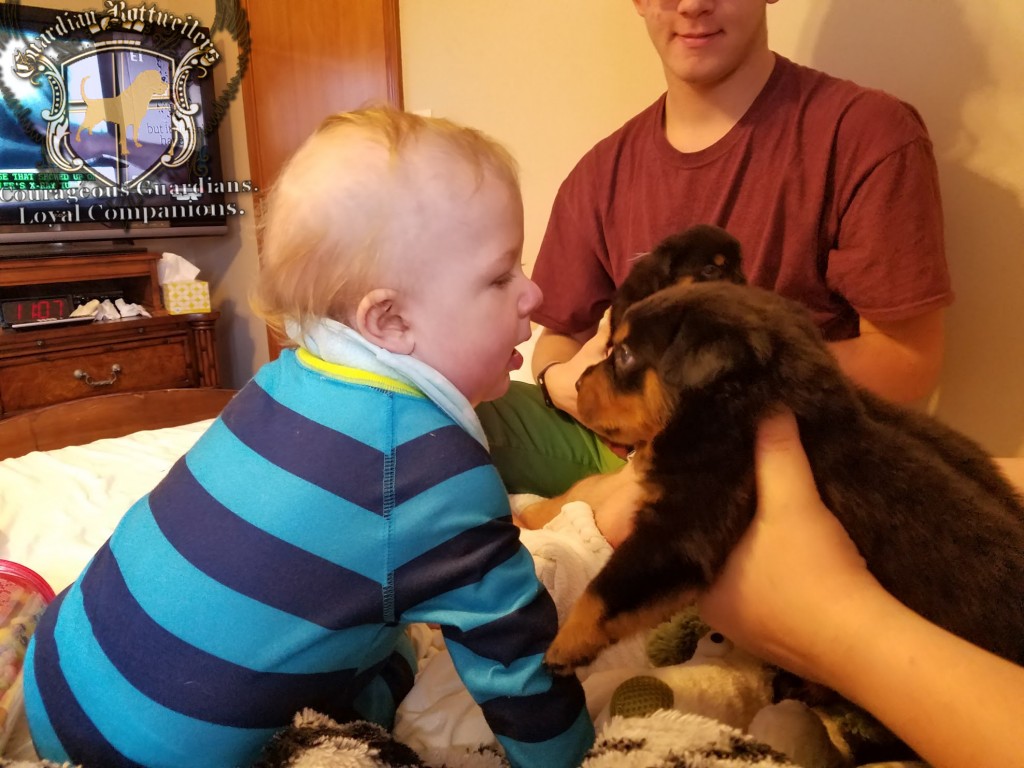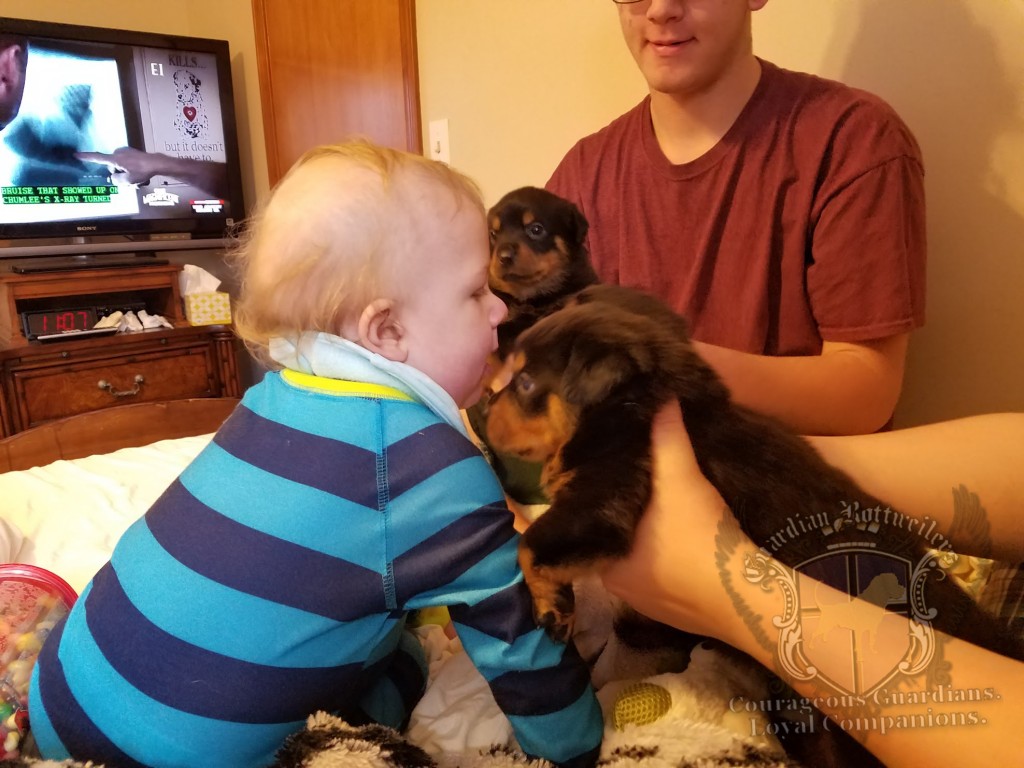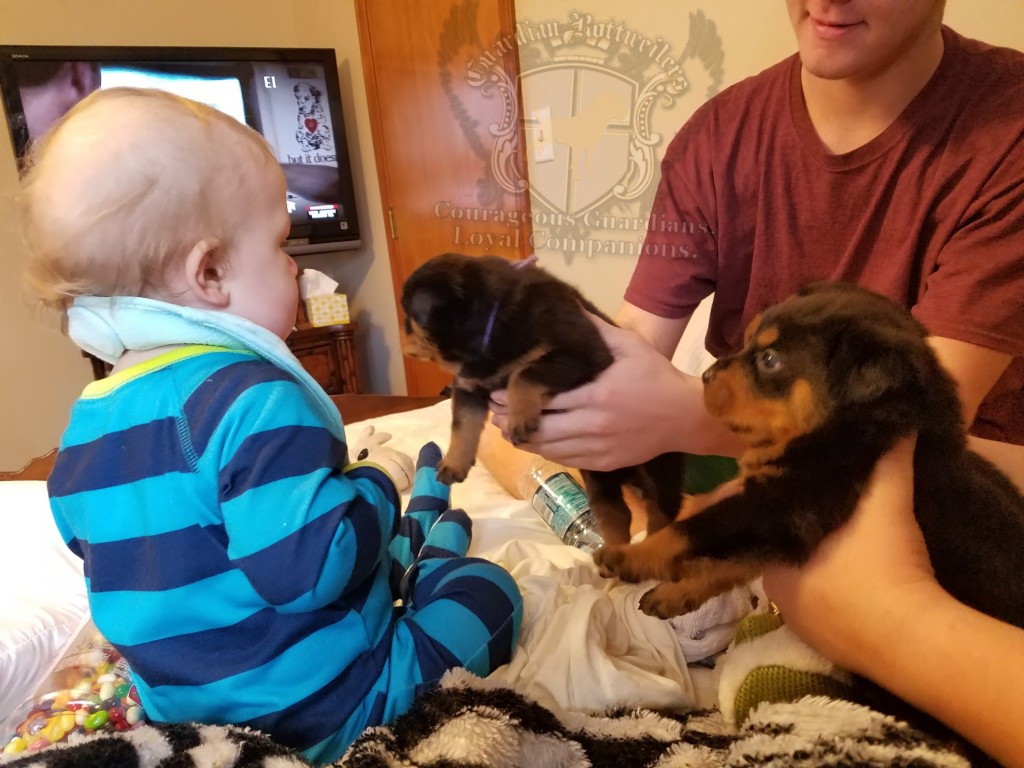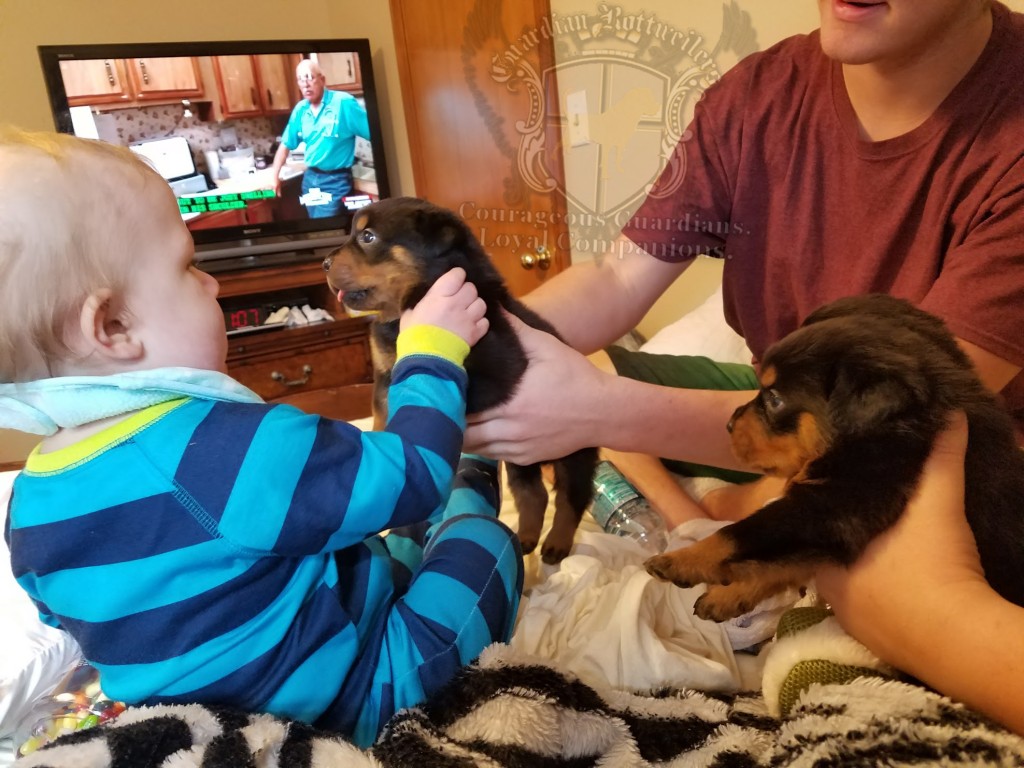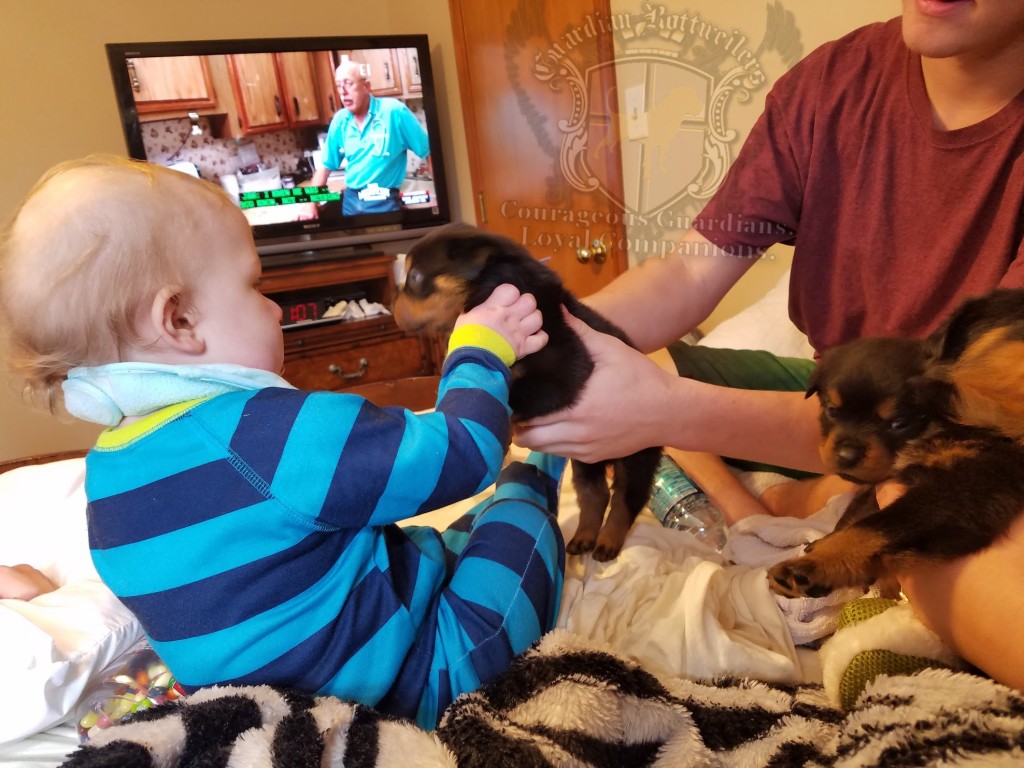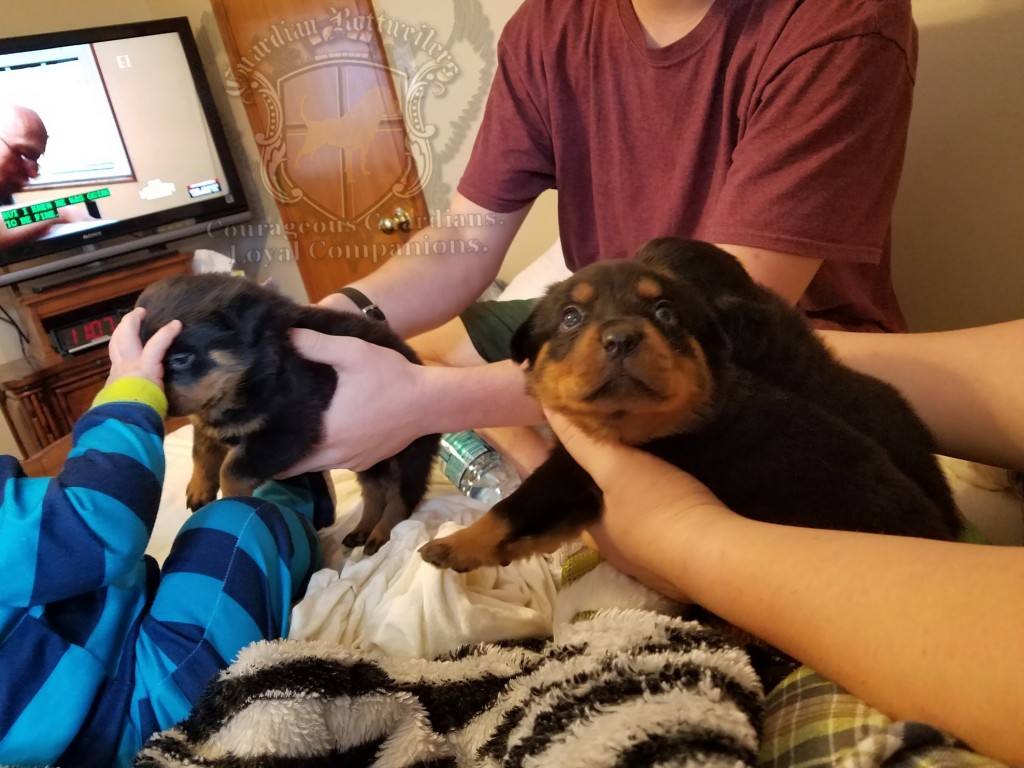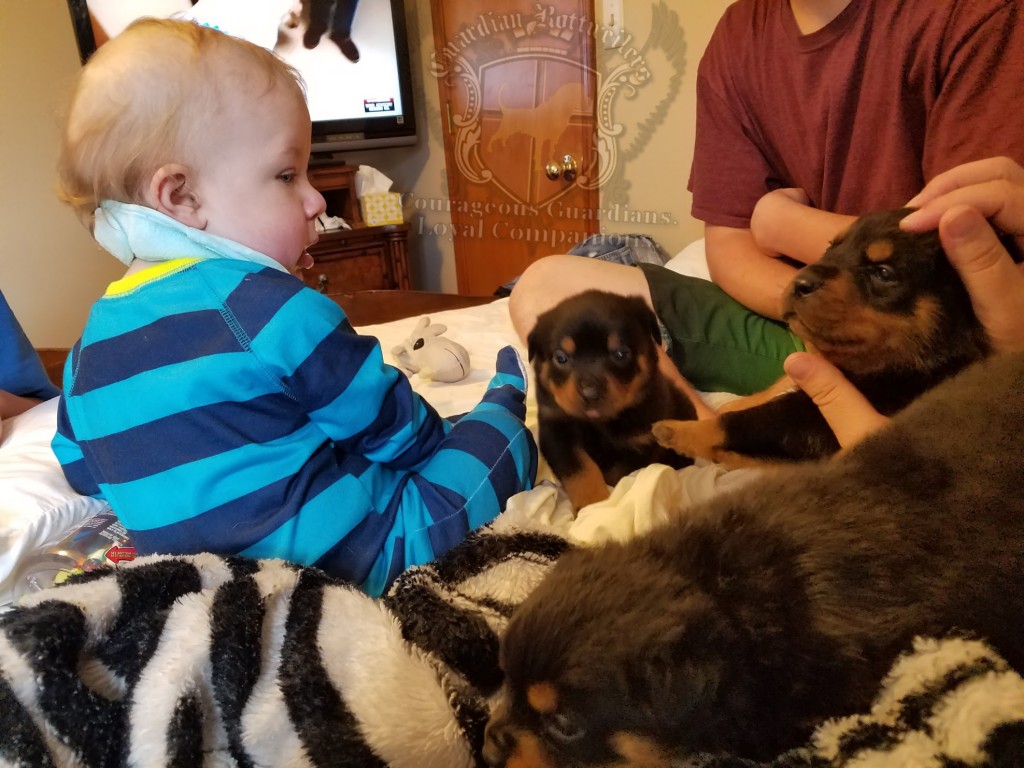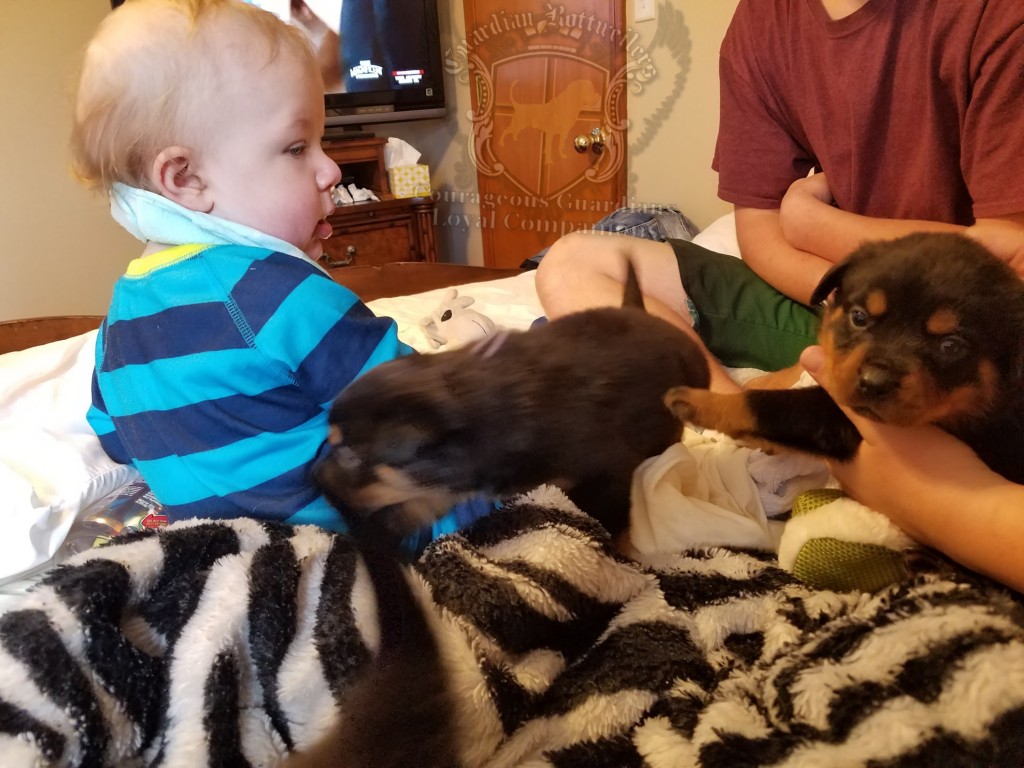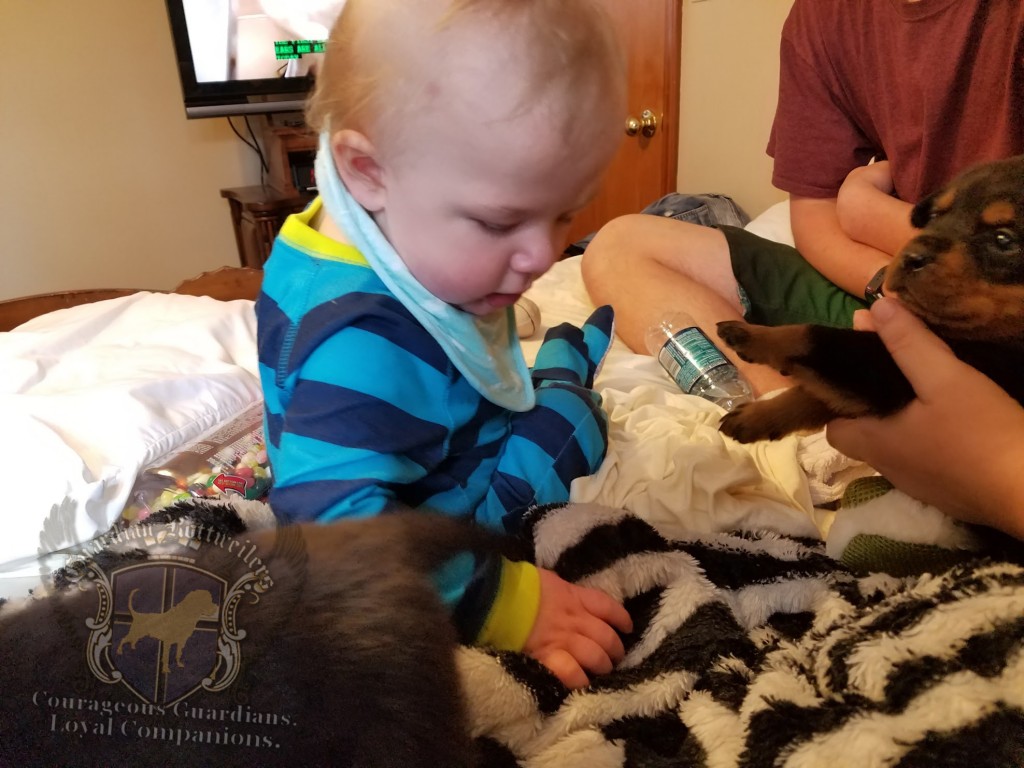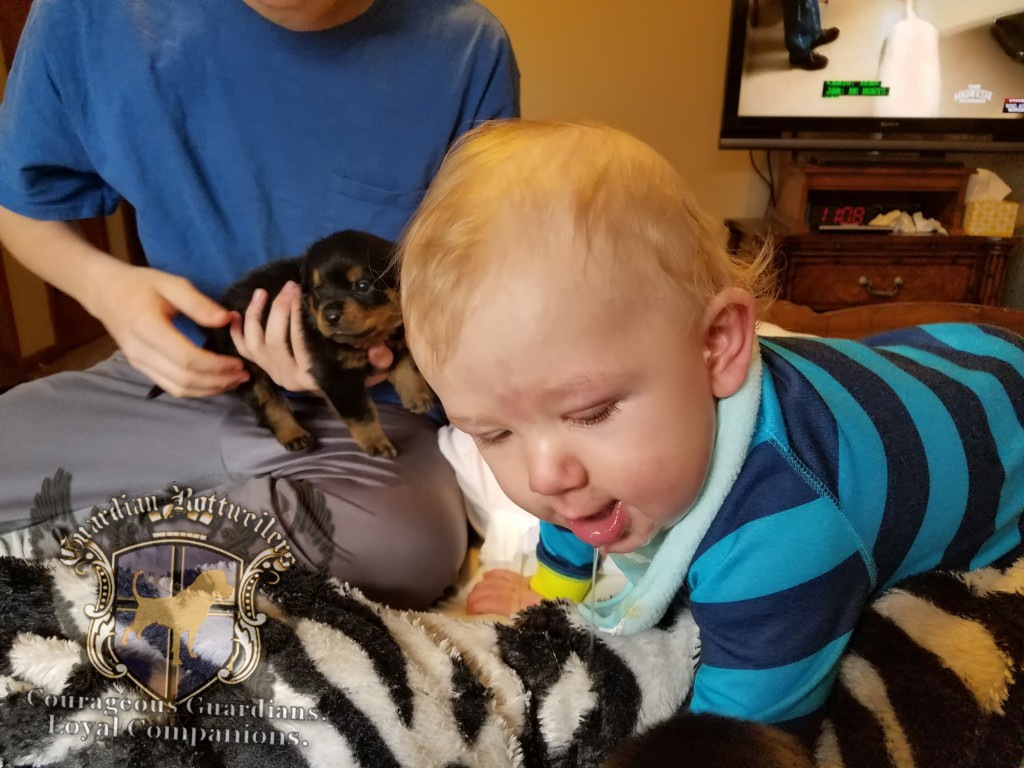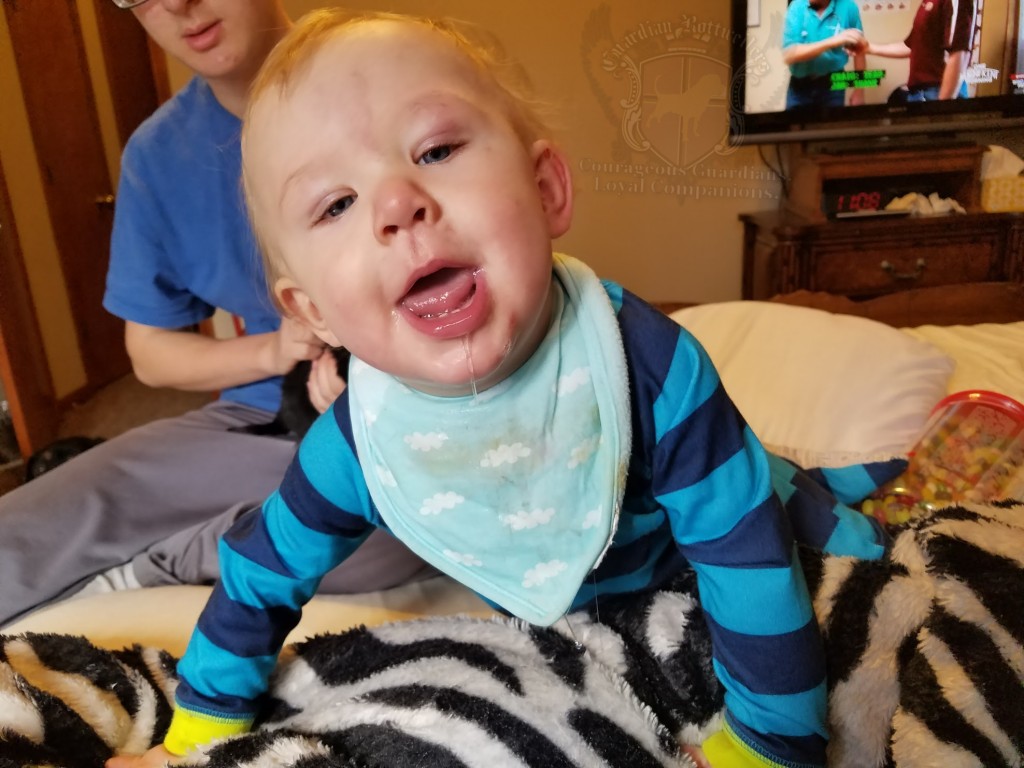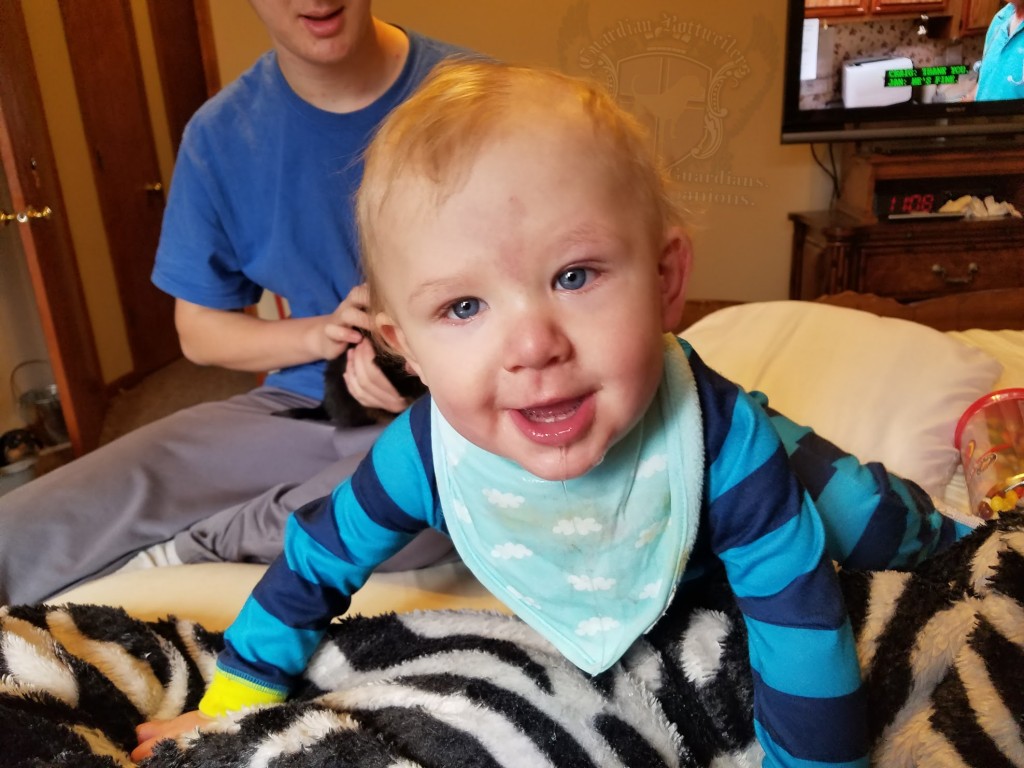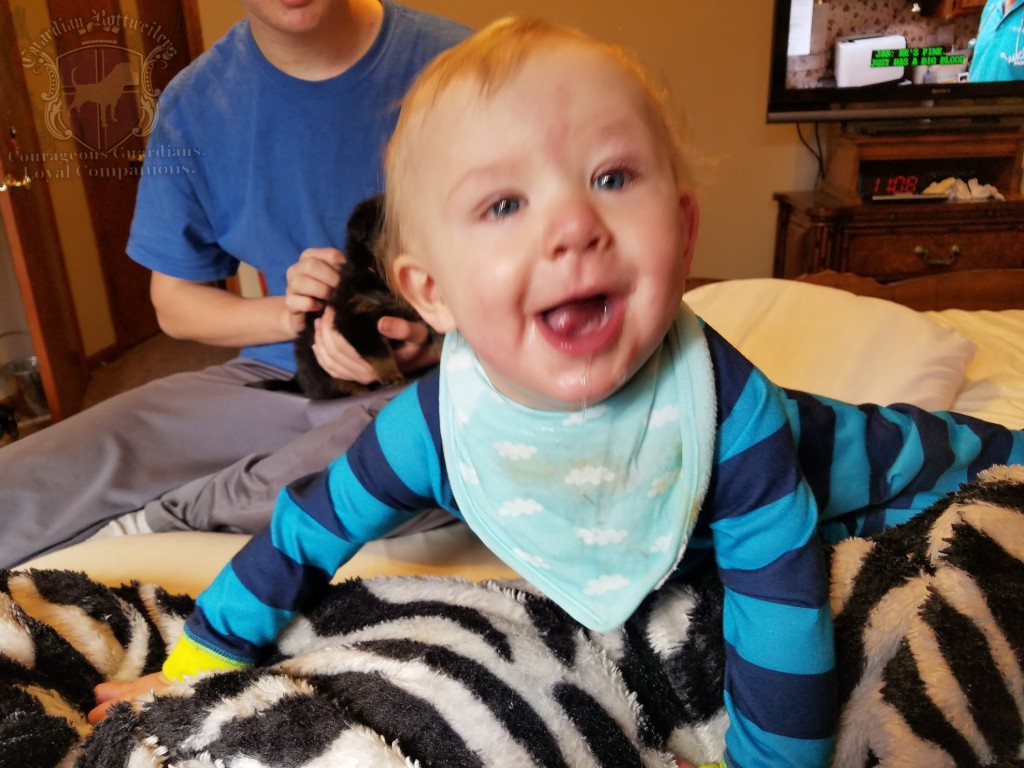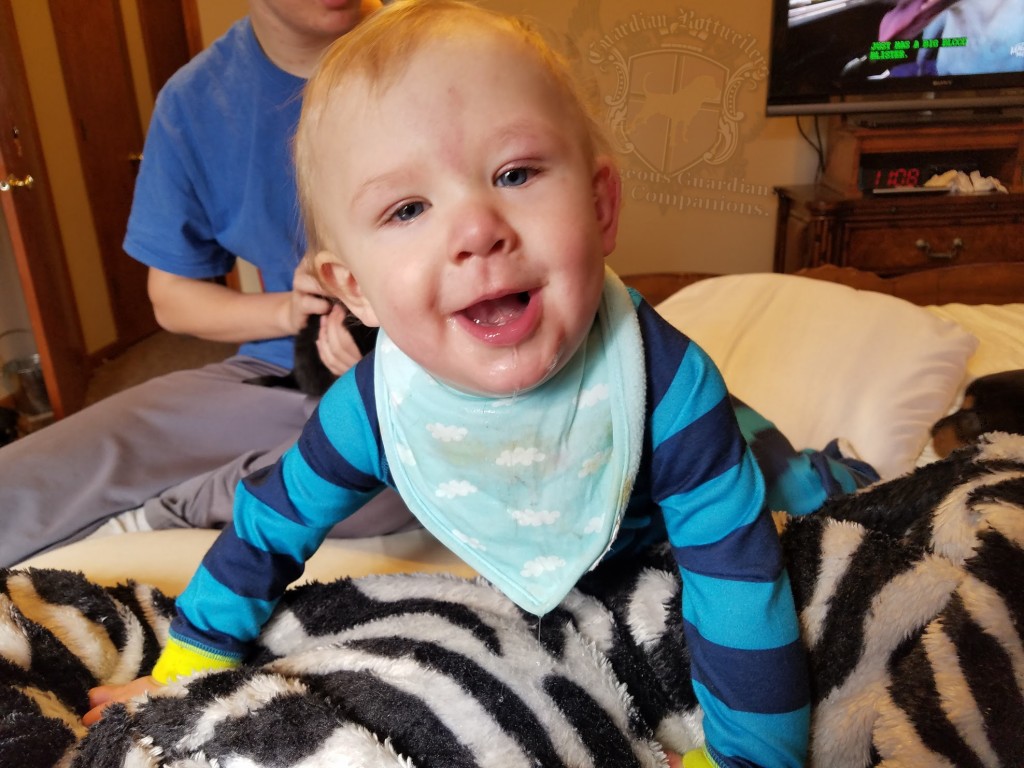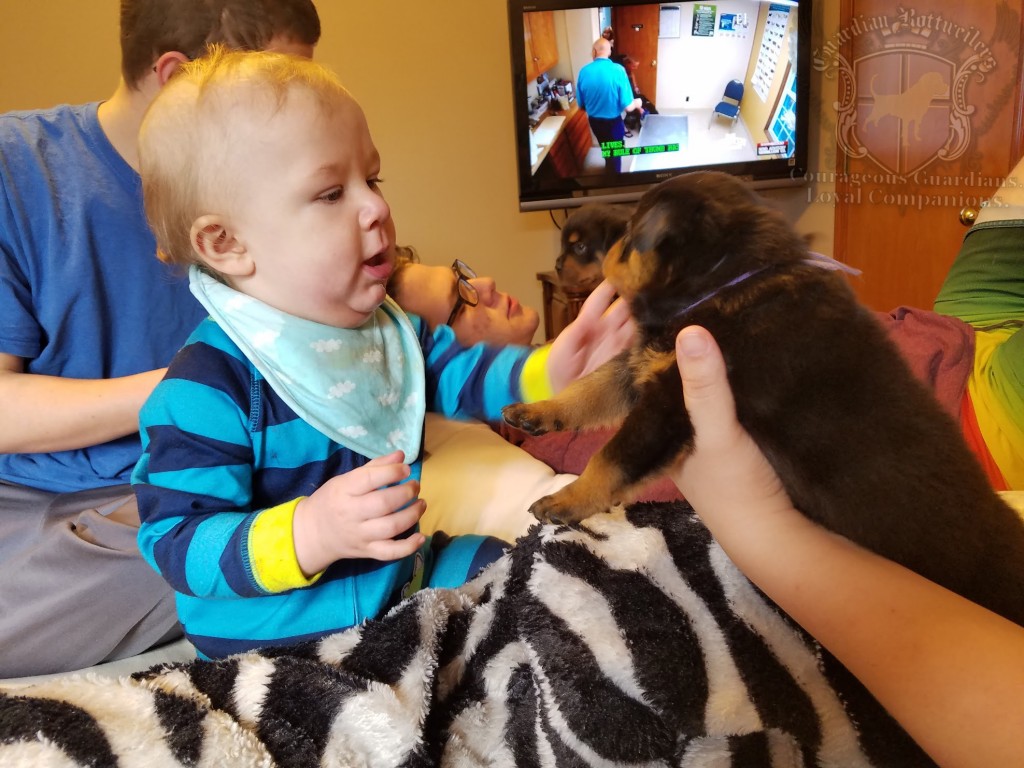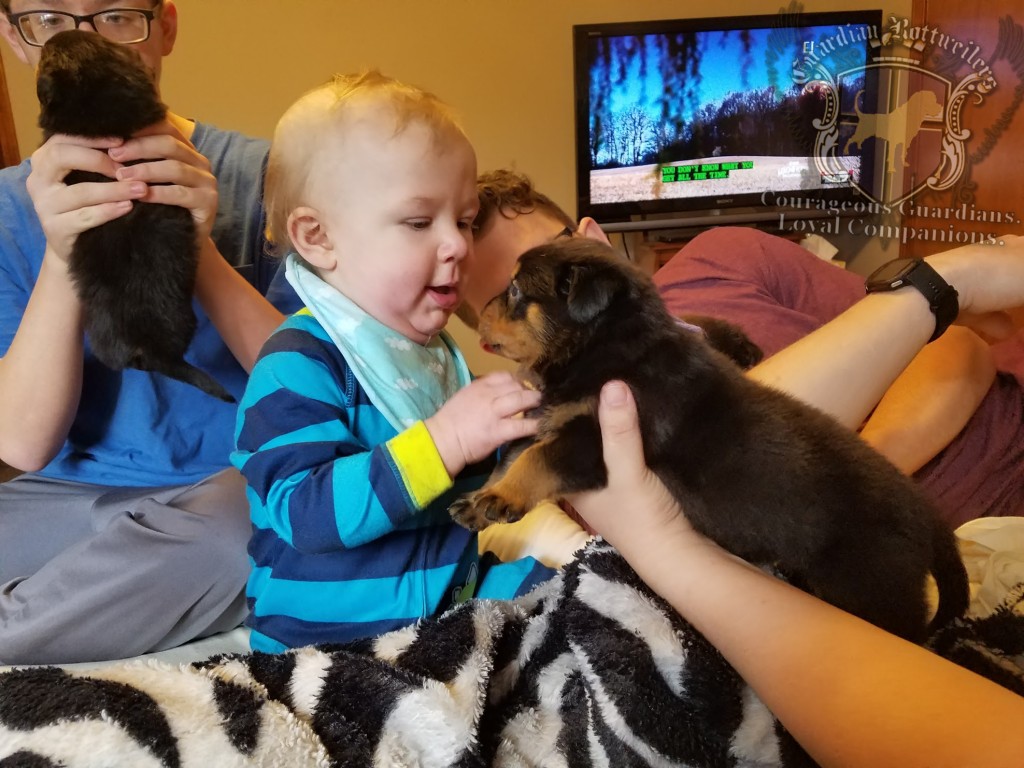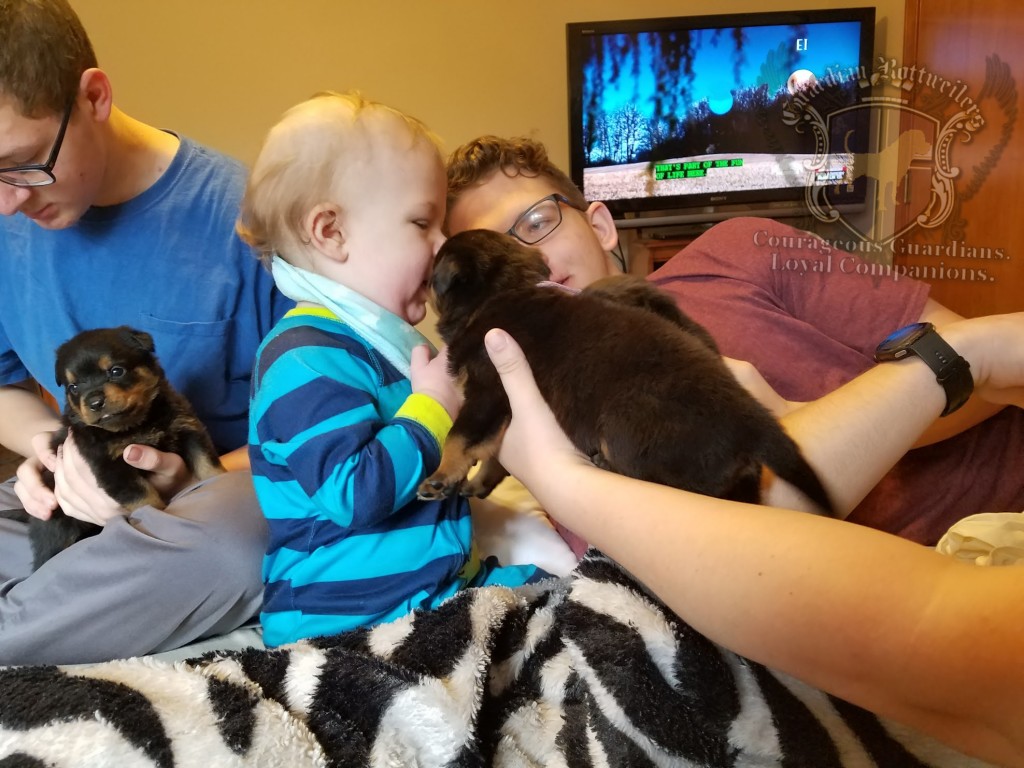 ---
"Naberius" Guardian Levin Von Gottschalk
Click on links for videos!! <3  The first one is Neberius meeting Baily, the monkey, for the first time and getting a proper groom-greeting <3  And the second is him meeting some more of his pack for the first time <3 
FullSizeRender    and   IMG_7241
---
Guardian Lucy Von Gottschalk
Dear Alice, Miguel, Ethan and All, it's day two with Lucy and I tried her off leash with the rest of the clan. All is going well between everyone. I'm attaching a picture of Lucy and Georgia playing tug with a rope… Lucy sure has been spoiled and I won't mention any names Ethan…thank you all again for such a loving well adjusted puppy who knows she was loved to pieces before getting herself spoiled here in her new home.. God Bless the house of Velasquez! My best to you all, Dave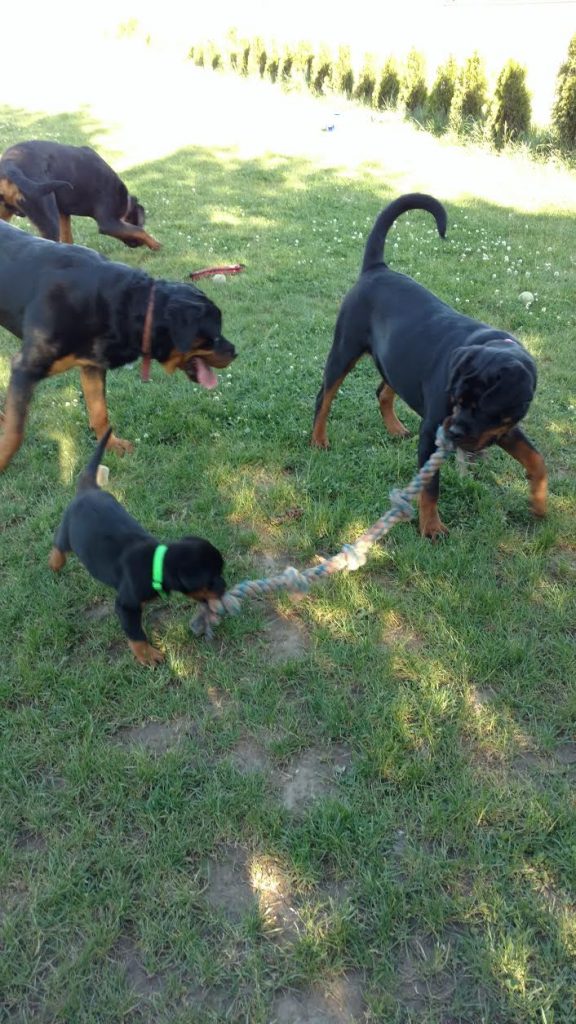 Dear Alice, I regretfully need to inform you that you made a huge mistake in letting me have Lucy, and as far as that goes, Georgia and Dack also.. Lil Lucy is more than you informed me of, so much more I would have to turn this into one of those ' my kids are smarter than your kids' boring diatribes. She is the Jewel of the party here. Plays with the big boys n girls with no fear whatsoever, biting tails n legs, jumping up on them, giving them the 'bark'  telling them off then runs under my chair like I'm going to stop all the things she instigates from happening… Then charges back out and does it all again. She is quite the character and then some. And loving, can't describe her in this department enough to be adequate, she's just loaded with it! And she's always on alert… There is one thing she does and it's something I haven't seen before, not that I have seen much, she loves to look at her front paws buried inside her water dish. She could go for hours doing this if I were to let her. She don't splash it around, rarely take a drink, she just sits there and looks at her feet, seemly being amazed or just thinking I need a pedicure and this guy don't get my message…..I don't know what she is thinking but it's her thing I guess… I have seen dogs put their feet in but this is different… Just makes me love her more..she is so smart too….of course you knew that, I'm sure everyone of your fury offspring can attain being called that given the breeding program you have… All this to say, with every puppy I have bought from Guardian Rottweiler's, I wouldn't trade any for any money, they are that spectacular of this wonderful breed. Now compare them to the pup I bought in Arizona with all his 'bloodlines' , there is none. I wished I never committed to him, it is more than night and day difference between them. I live Cody too but he is not one I want to have offspring from. I know your busy so no reply needed.. I just thank God with my heart I found you and your breeding program..
My best to you and all your family and your fury family, Dave.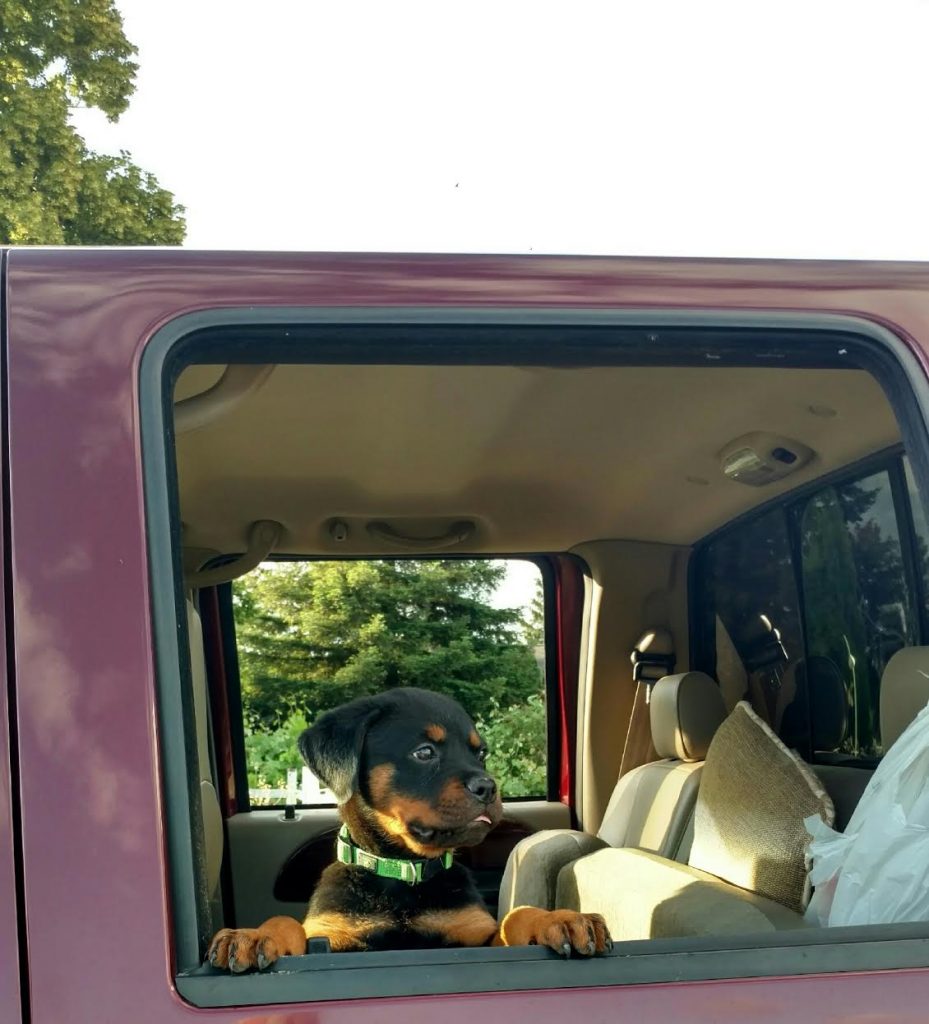 Oh, look, there goes the last guy who tried to get in, wait a minute, he feeds me, oh what have I done?
Hi, I am attaching a photo of these two girls, they are like best buds most of the time… Lucy is such a joy as is Georgia. But Lucy is so fearless and playful, Georgia is too but it is like they have a special bond between them unlike the others I have here.. don't know how else to explain it. Thanks again for such special remarkable Rottweilers, unlike all I've ever seen or owned before.
My best, Dave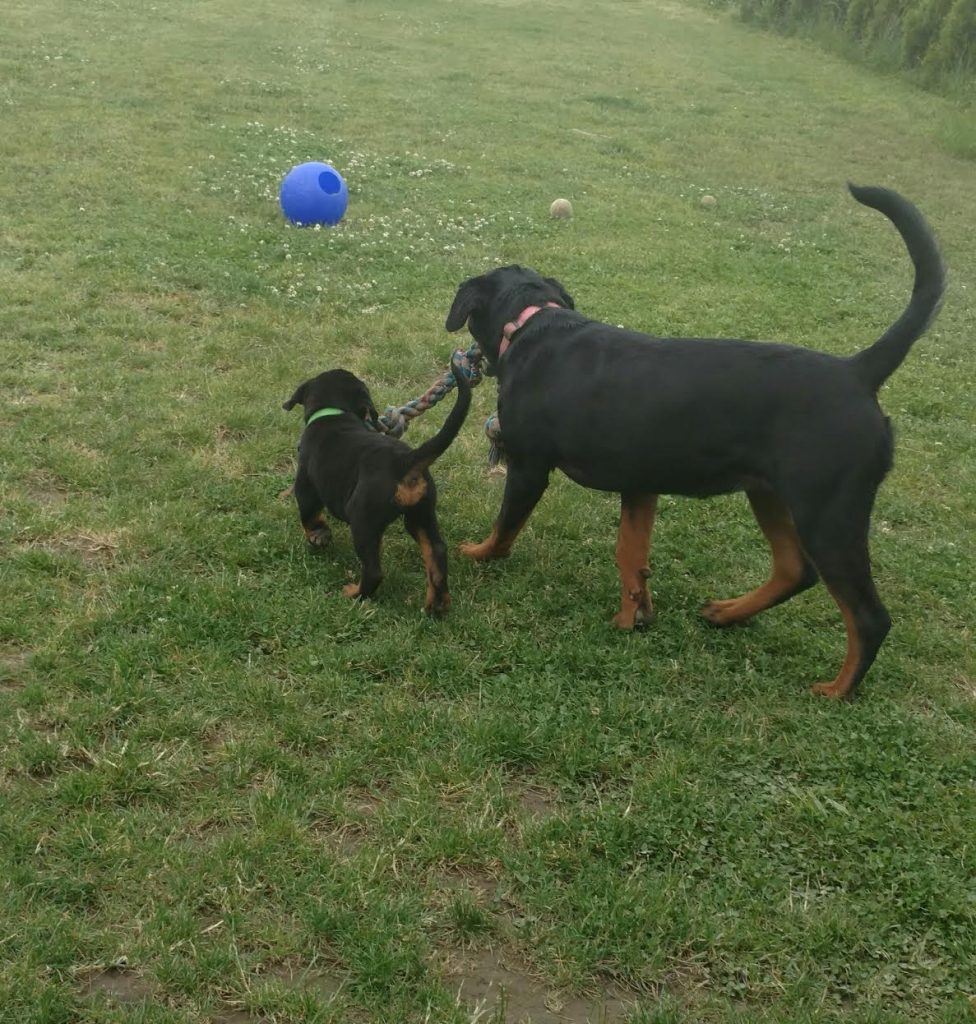 ---
"Winter Bingo" Guardian Layla Von Gottschalk
Good morning!
I wanted to send you a quick update to brag a little:) 
Yesterday miss Winter had a big day!  She was invited into the gym to hang out with us while we worked out.  The trainers were drooling over her.  She came right in and laid down next to us.  Everyone leverytime we moved, even if it was two feet,  she was right there with us!  Amazing. 
After the gym, we took her to get first day of puppy kindergarten.  WOW! She is so smart!!!! There were at least 12 pups there and she excelled in every exercise! 
She's amazing,  thanks again for such a lovely dog.
She has also been riding around in my truck with me for work and she does great. You'd think she's been riding around in a truck for years already!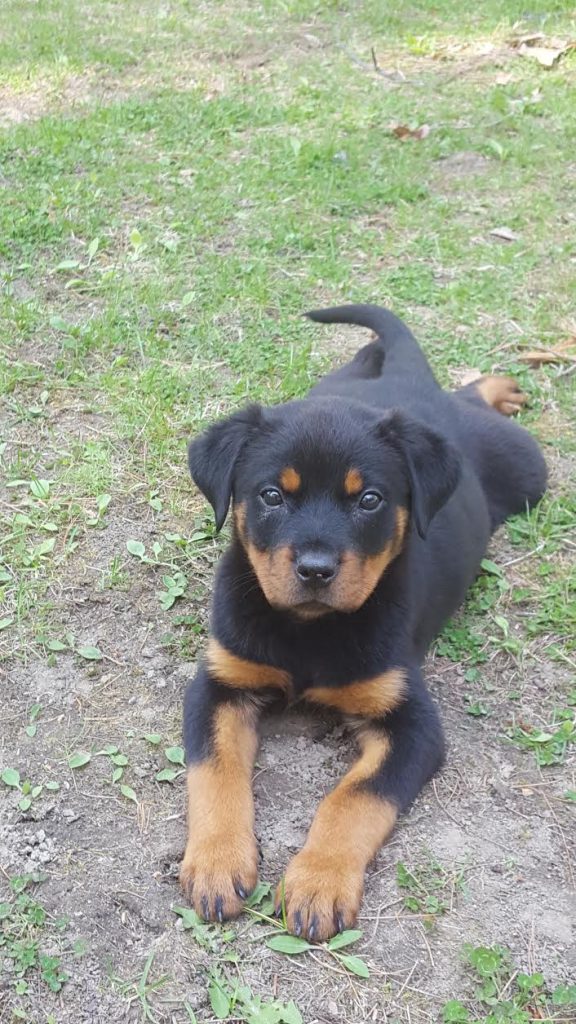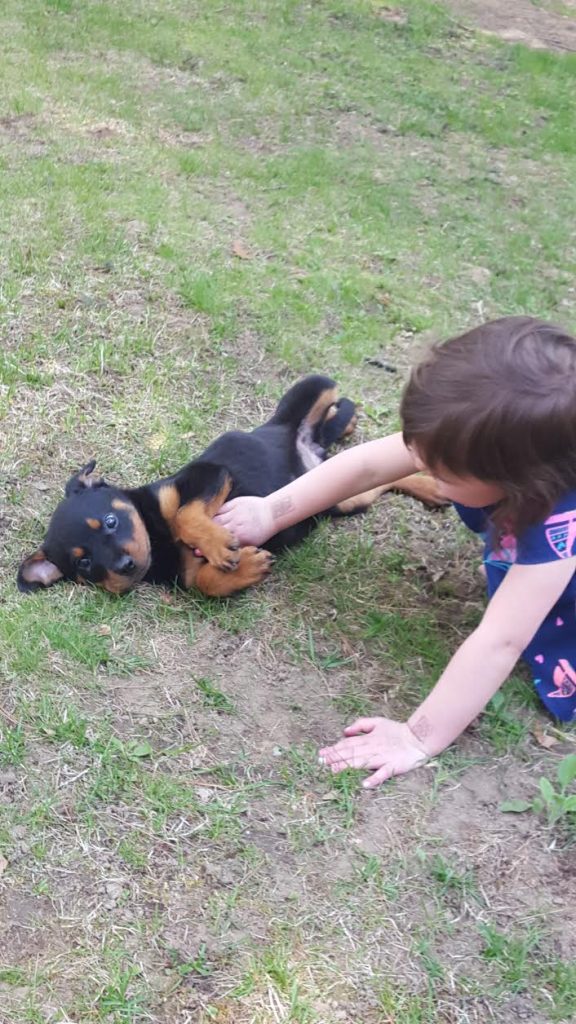 Thank you thank you thank you for getting back to me. We really appreciate it!!!! We're getting family pictures done next week…I'll send you some!! Here are a couple from our walks this week….We couldn't leave the poor girl home! (The kids were at school…we didn't leave them home! LOL)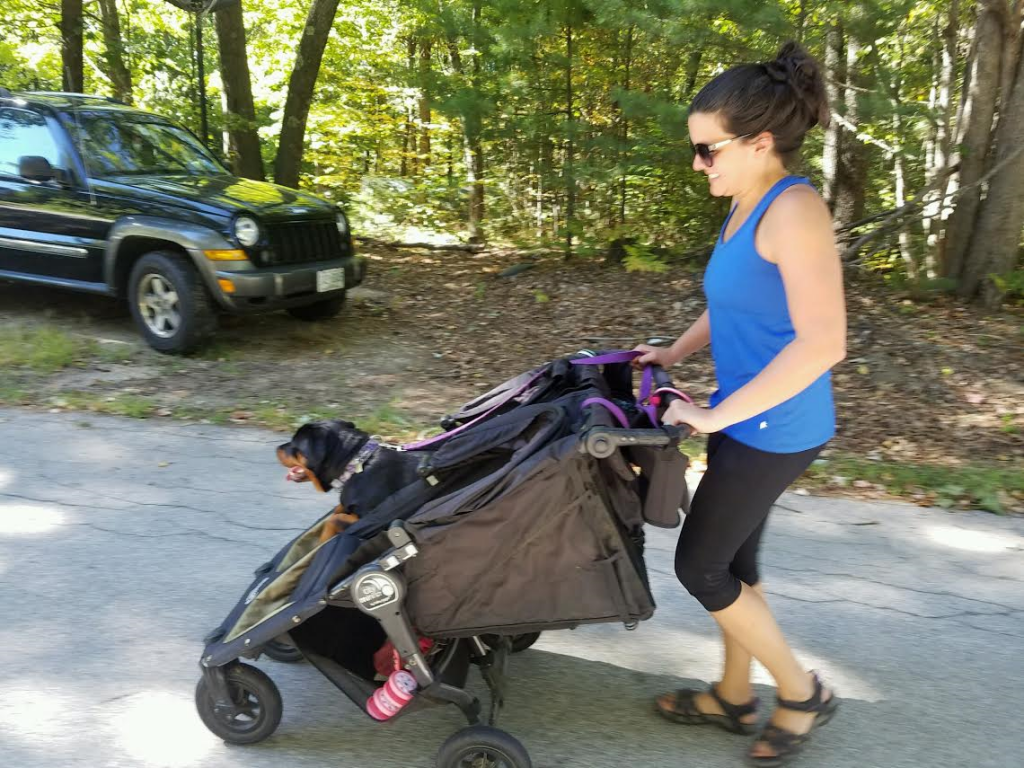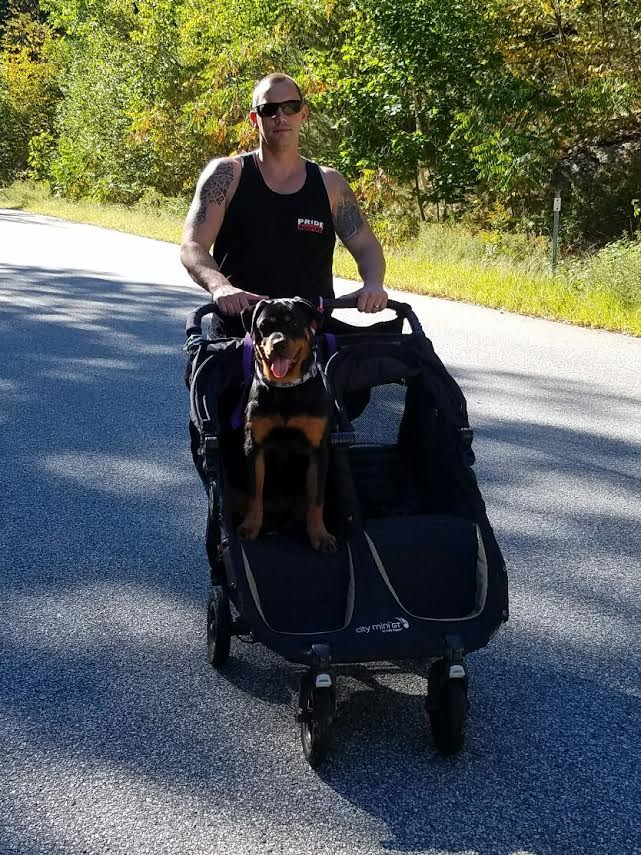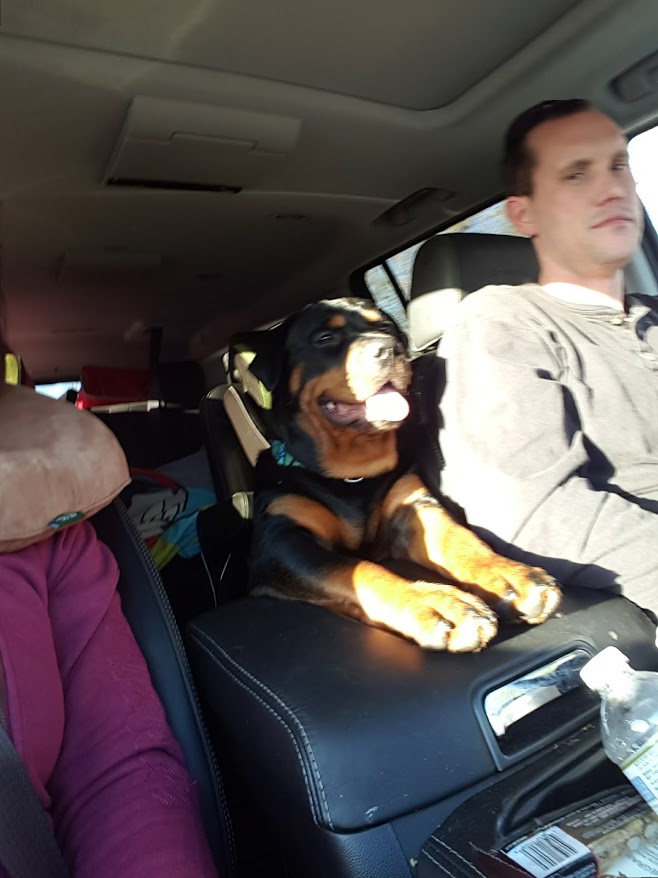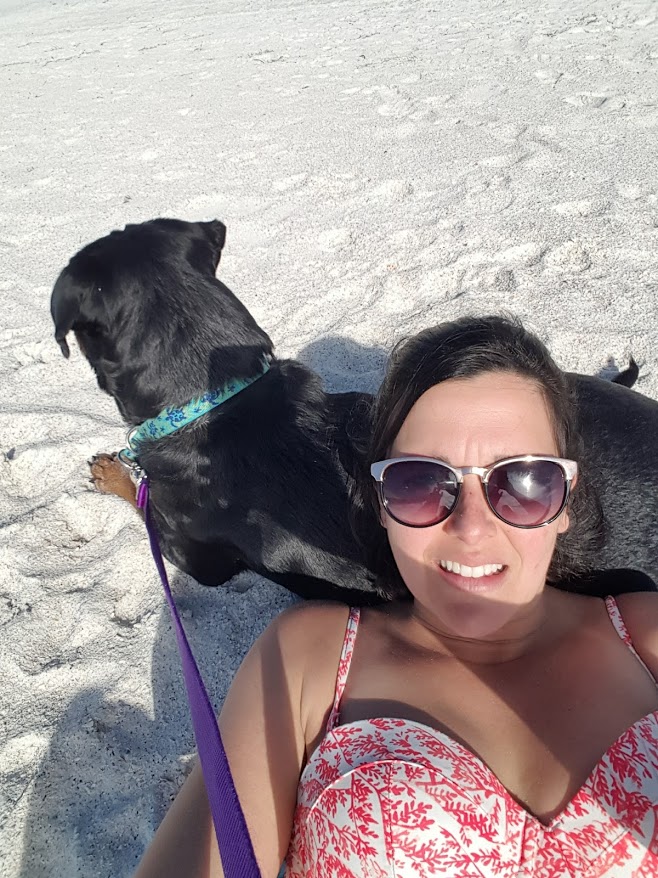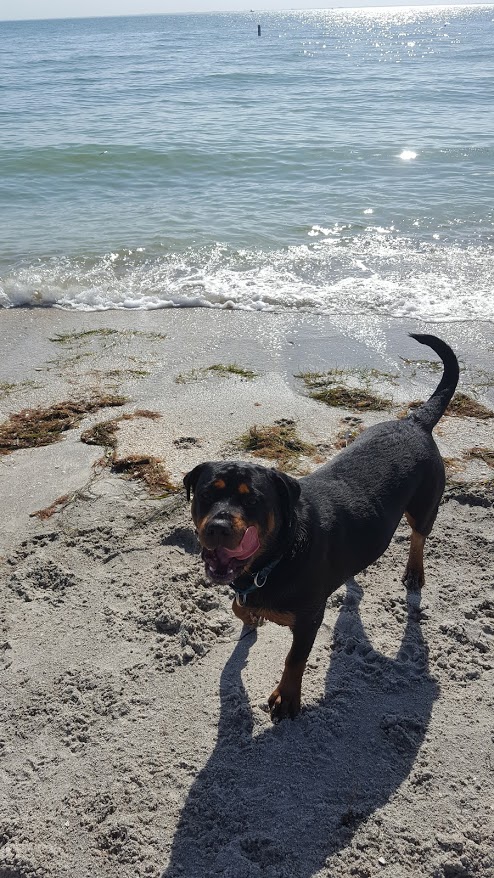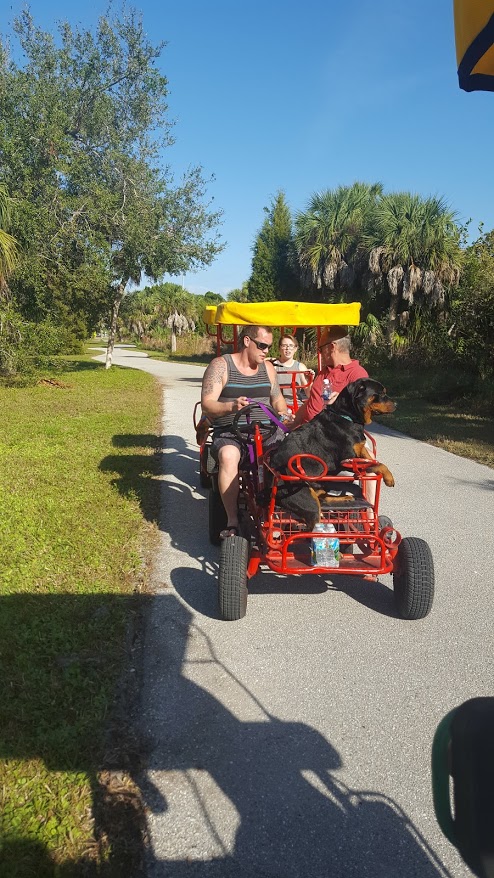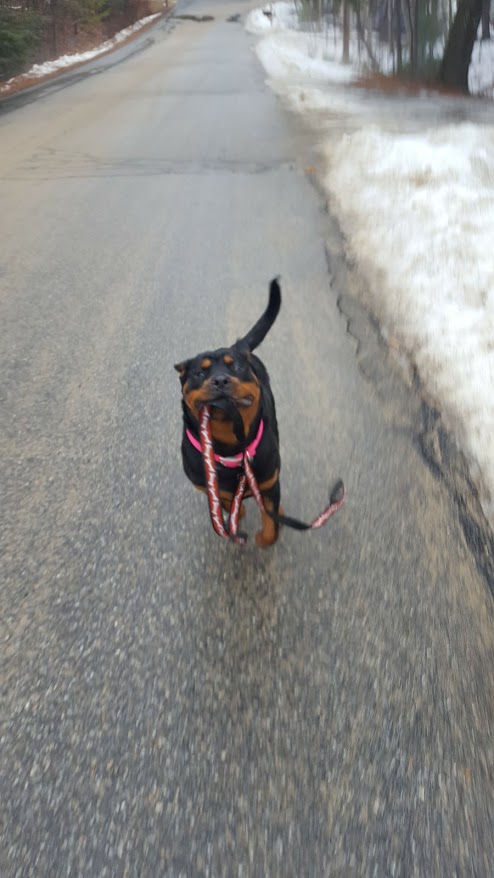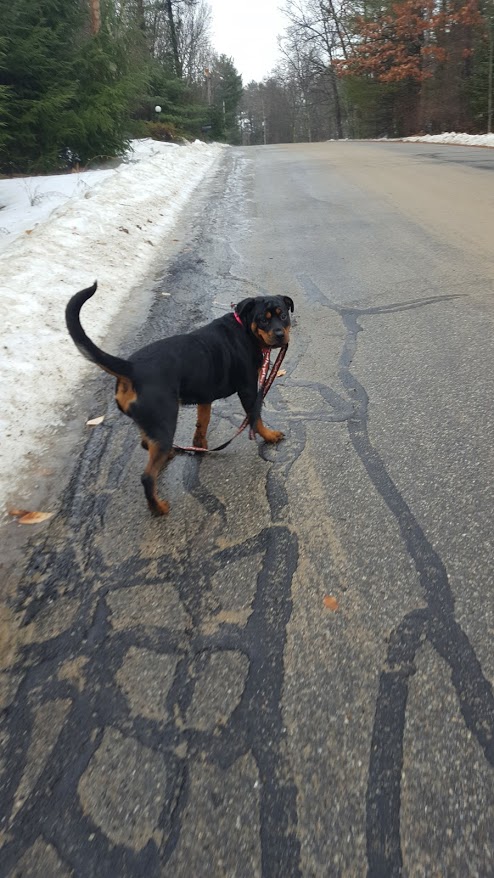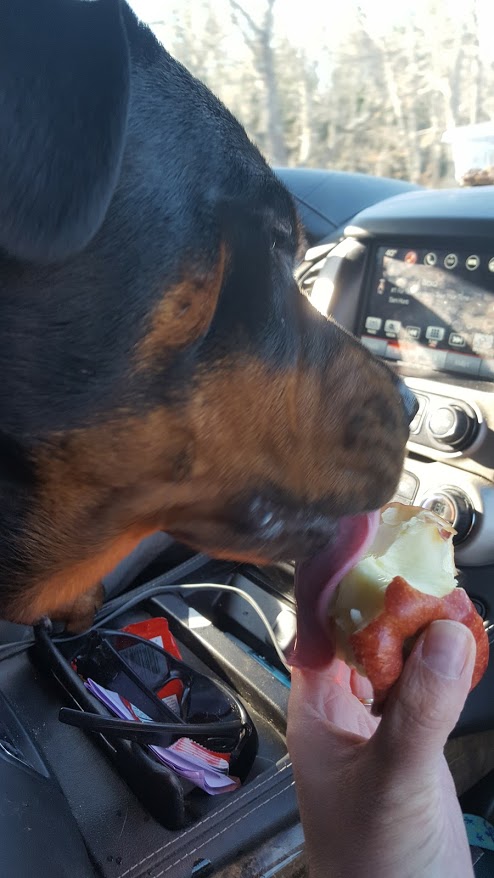 Thanks for getting back to me! I'm so sorry about Diesel, it's heartbreaking. It's been 4 years since we lost our Spikey girl and we still randomly will cry (I think that that will never go away) . Winter Bingo is fantastic! She still has a limp however x-rays don't show signs of anything going on so we're hoping for just a growth thing! We have her on a raw/home cooked diet which has seemed to work. Our holistic vet is absolutely in love with her and she knows it. She loves right up on her when we go in there. I just got her a massage before the holidays to help with the limp which she loved!!!! She is a momma's girl and I'm so in love with her! We just did a road trip to Florida with her and found an awesome dog beach which she enjoyed oh so much! I actually gave out your name to two people while we were in Florida who fell in love with her! I'll share some recent pics with you!
Good to know about the waiting list. I'm going to have a more serious talk with Dave and I will let you know! I didn't think that we would stand a chance so I'm thrilled that we may!!!!! I'll keep you posted.
Megan
Winter aka Layla is absolutely amazing. We couldn't have asked for a better dog. We are always complemented on how beautiful she is and how well mannered!
She is amazing with our kids, esp our daughter, they are the best of friends. She is such a love bug. Every morning she lays in bed with me until I get up ( I should actually say she lays on top of me until I get up!)
We would love to have her have her own litter some day, but of course would like you to look at her and see what you think. I became friends through Instagram with Django Rot who is a pup from the D litter Harry Potter X Zarabi. He is lovely. You are so good at what you do!!! :):)
I've attached some pictures for you. She loves to hold our hand while we drive! Look close at the one of us in the car!
Megan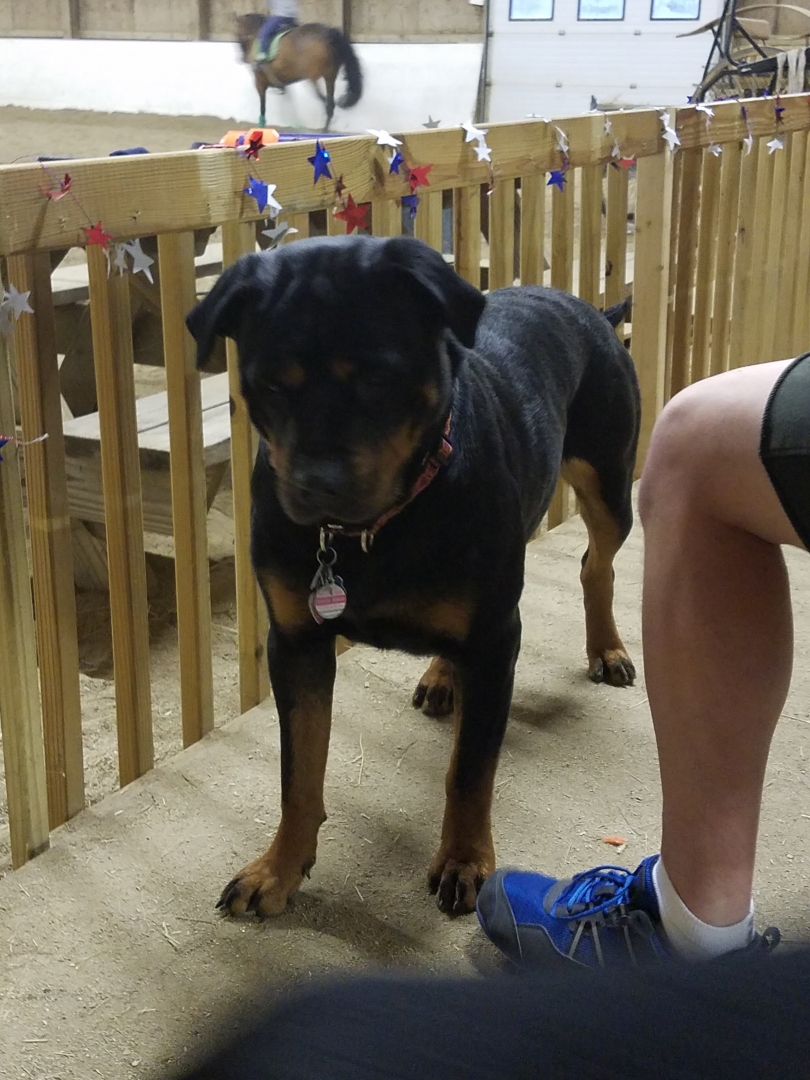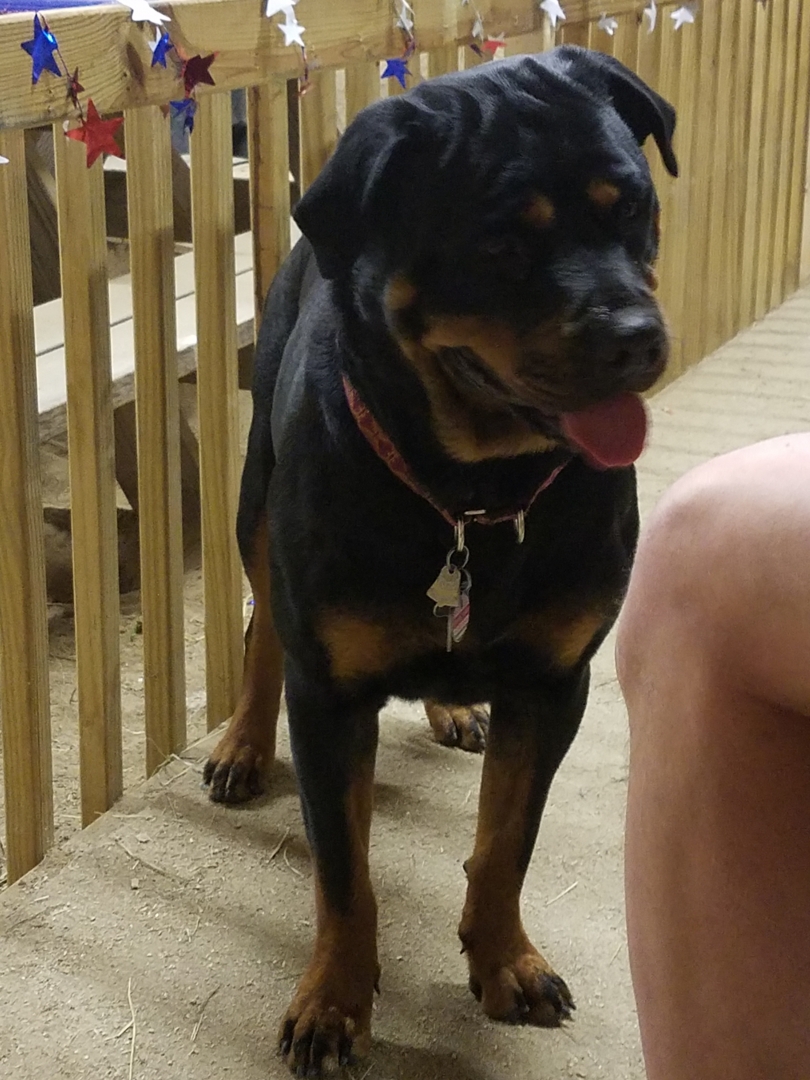 Hello,
I hope that things are going well for you.
Our girl is doing great. We've been visiting the chiropractor and getting some laser therapy which seems to be doing the trick to cure her limp! FINALLY!!!!!
I was wondering if you could send us her papers? We still haven't received them.
I attached a picture of her at her appointment today!!!
Megan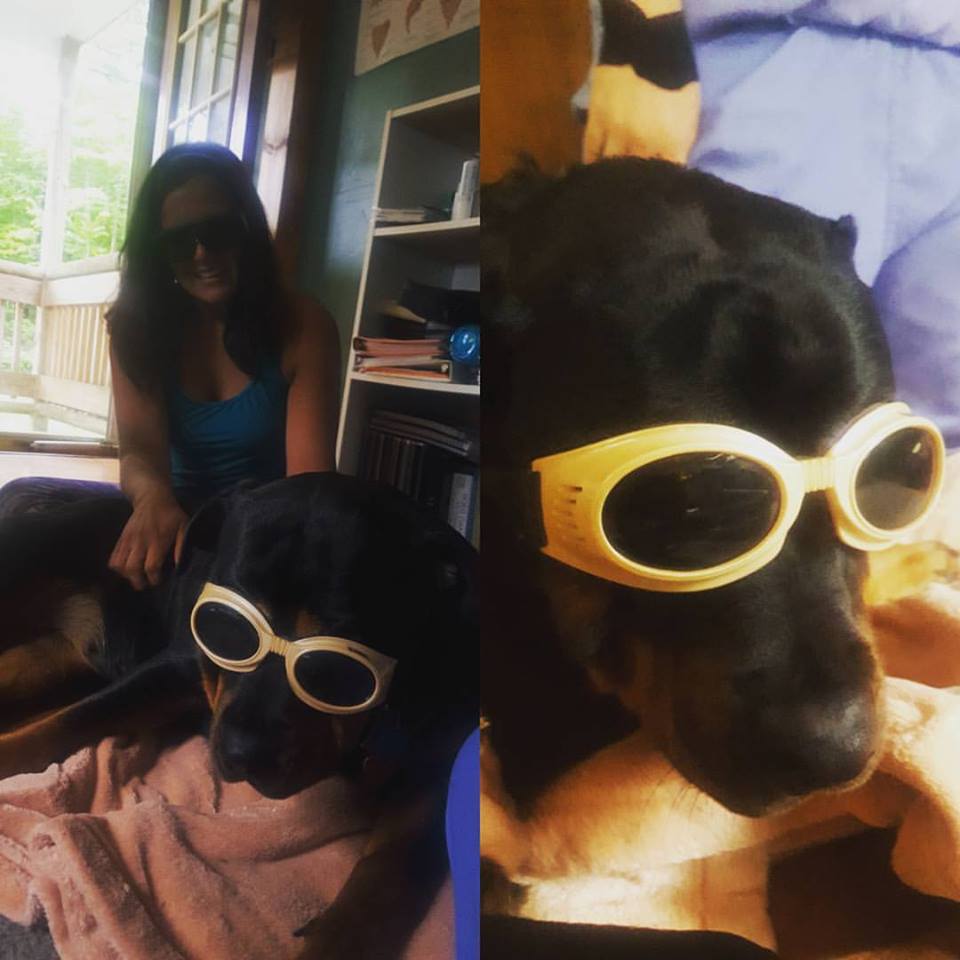 ---
Guardian Laava Von Gottschalk
Hi Alice!
Maria and I just wanted to send you a picture of our Lola on her 2nd birthday!  She's a goof and we love her so. She is doing well, still an occasional chewer, but only my bedspread or the bathroom mat! She is a lovey, good with kids, and determined to get the squirrels that dare to come inside her fence or sit on top to tease her.  Finding the muddiest spot in the yard is her specialty! She has stayed in the 80# range and is in no way a glutton about food. There is always food in her bowl but she never overeats. She prefers to graze throughout the day instead of chowing down all at once. And she loves her treats in her kong.  She is more than willing to let my daughter's 18 month old hug her or lay on her or play in her water bowl! We have had no health issues other than the allergic reaction to vaccinations. We just get a shot of benedryl before hand and she's been fine. We get a kick out of her communication skills..she is quite the "talker".. she squeaks, she grumbles, she barks (at squirrels and school buses for some reason). She loves to ride in the car. She is fairly well trained on a leash, I'm sure she would be perfect if we were perfect about our training routine! She is fine with Maria's friends and our family that she is aquainted with, a little leary and protective (but not aggressive) around strangers, just as she should be. Her ears are out there, but we don't care! Thanks again for providing us a treasured family member. We adore her. Hope all is well in your part of the world.
This is what Bull and Eva gave us last year!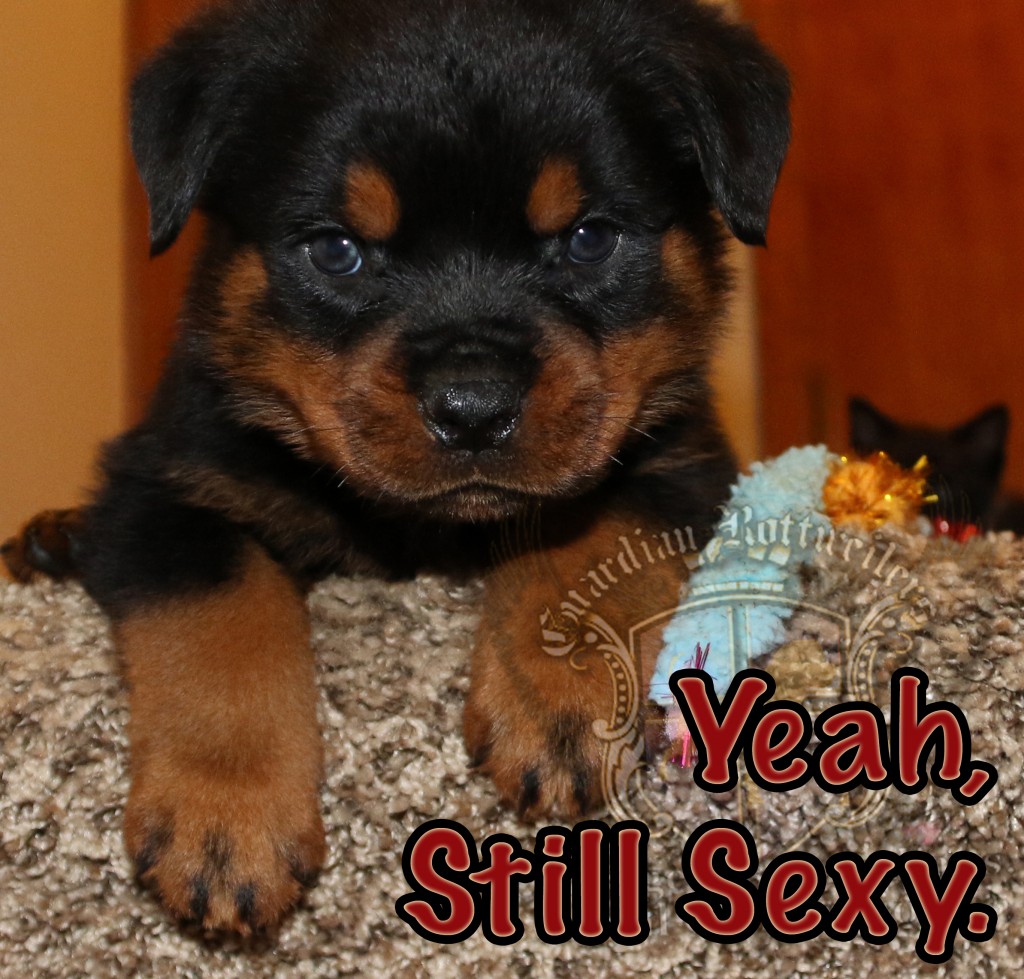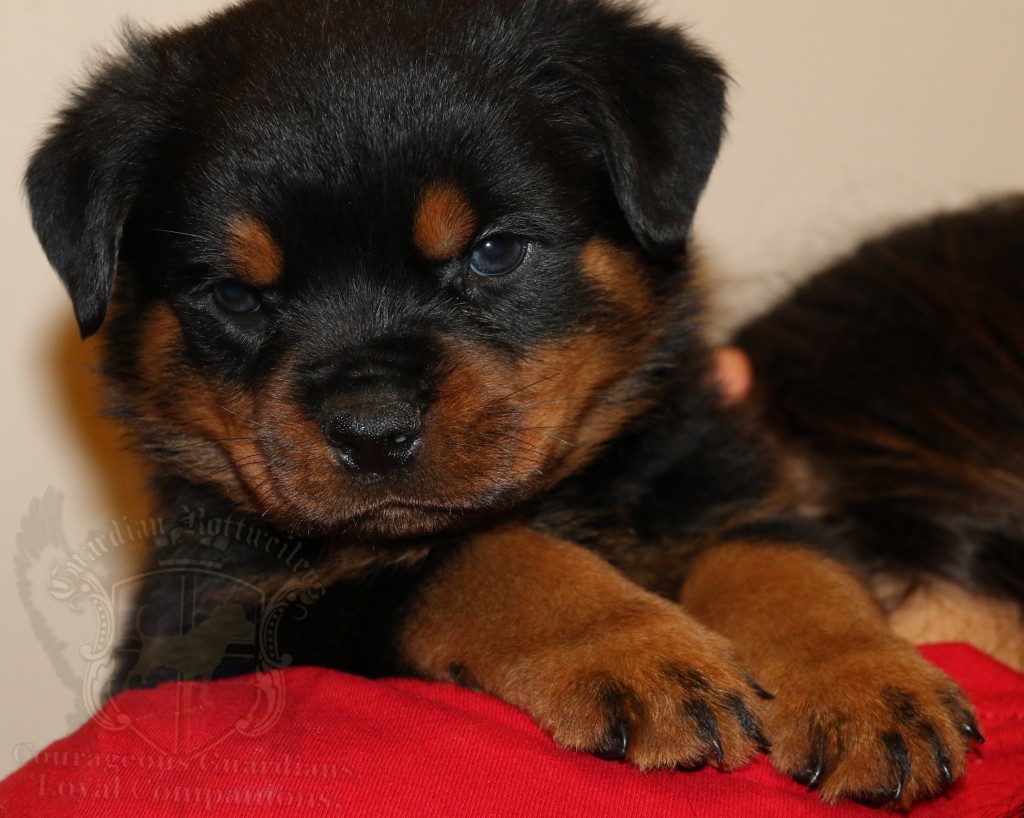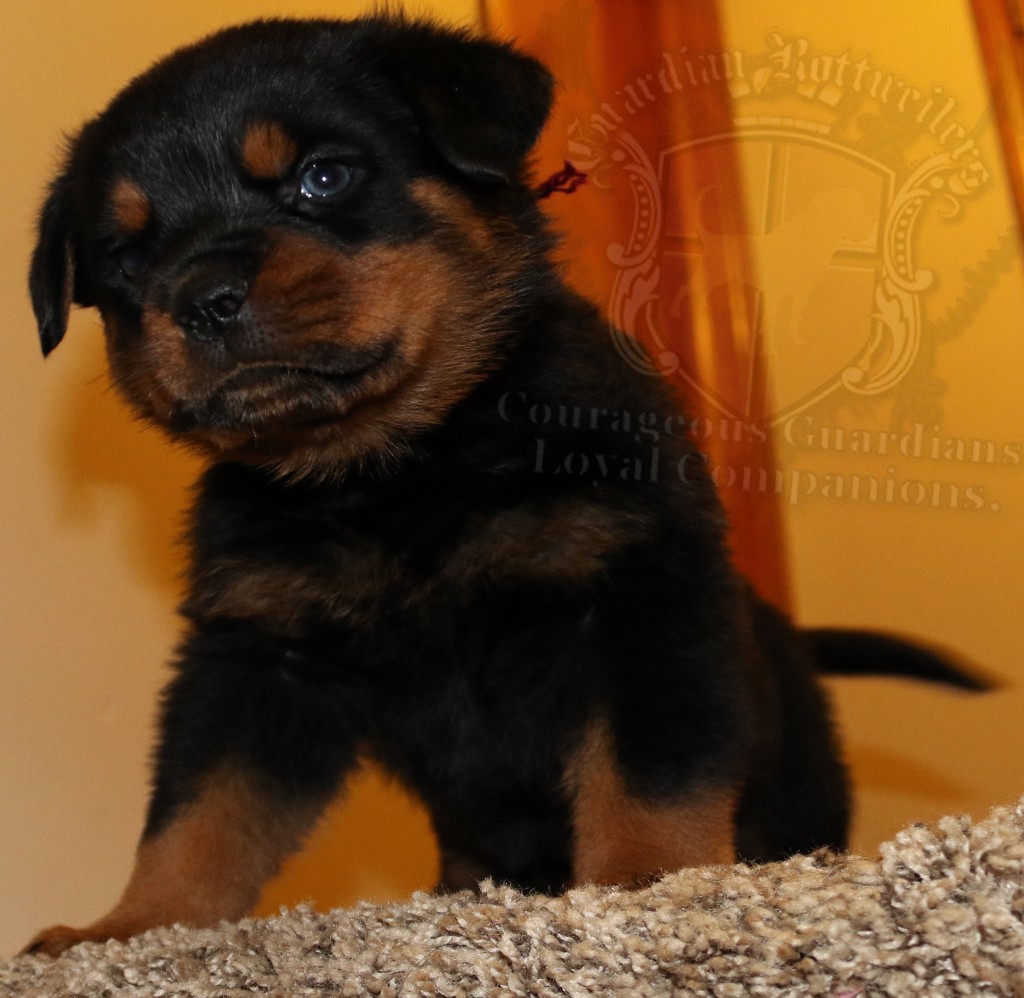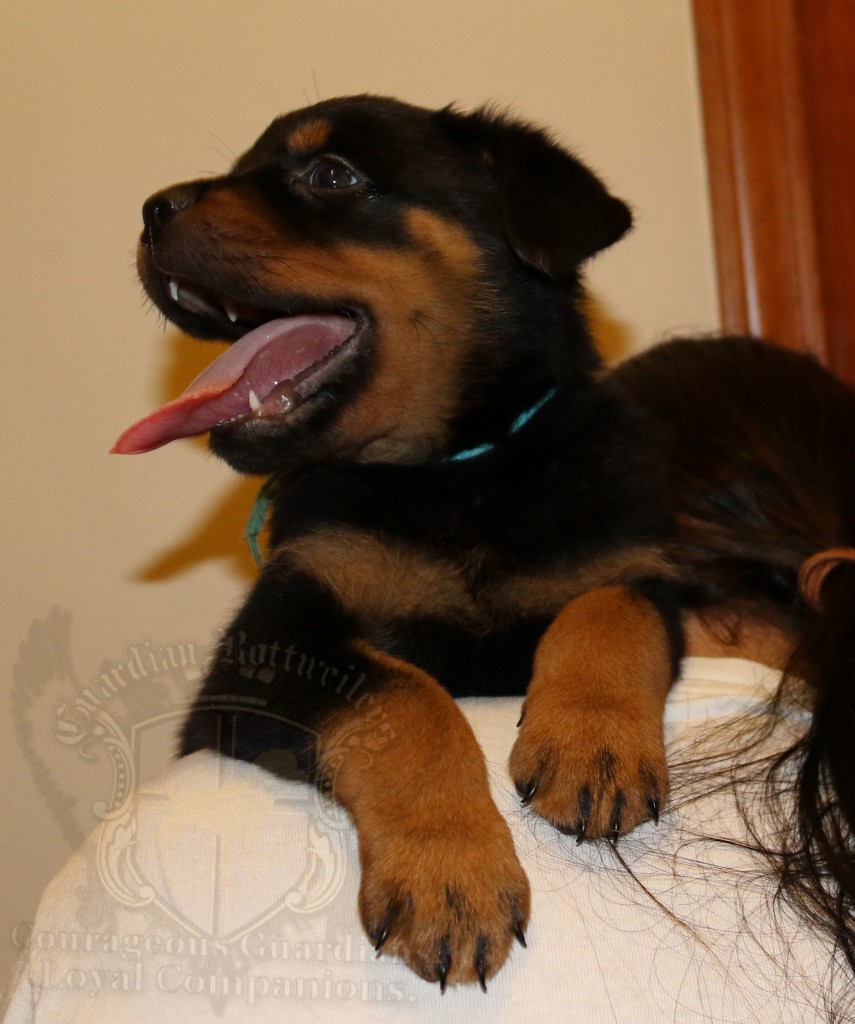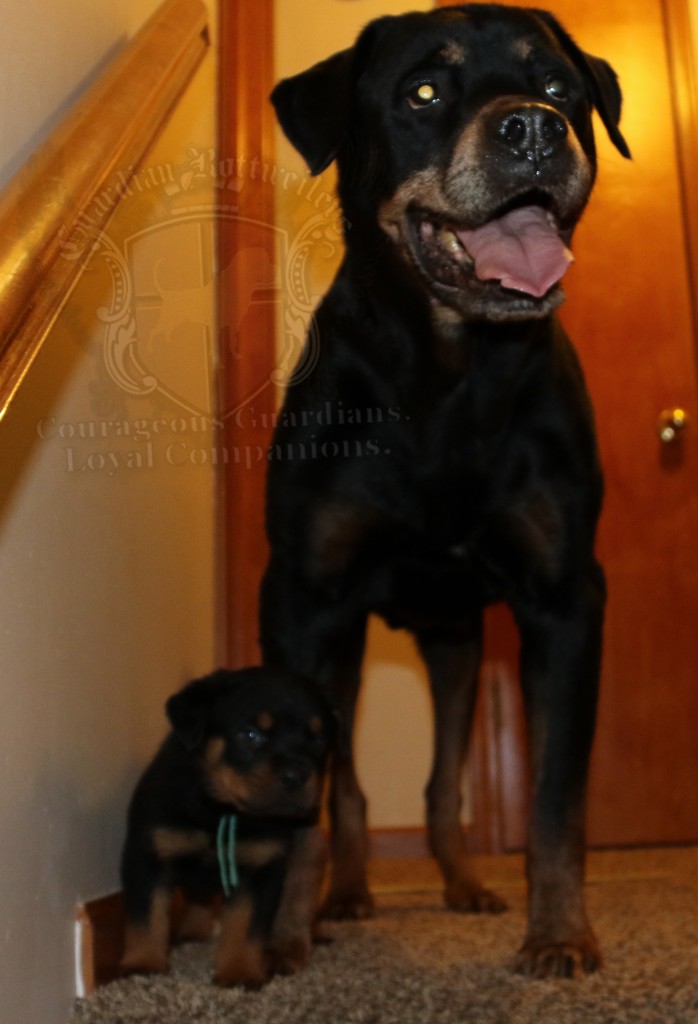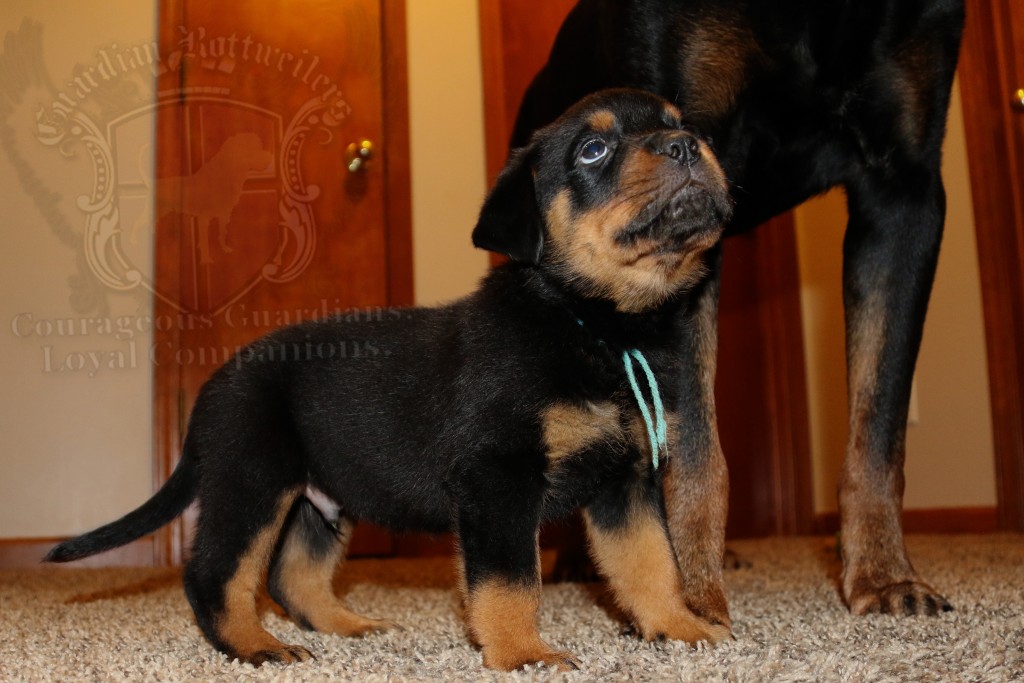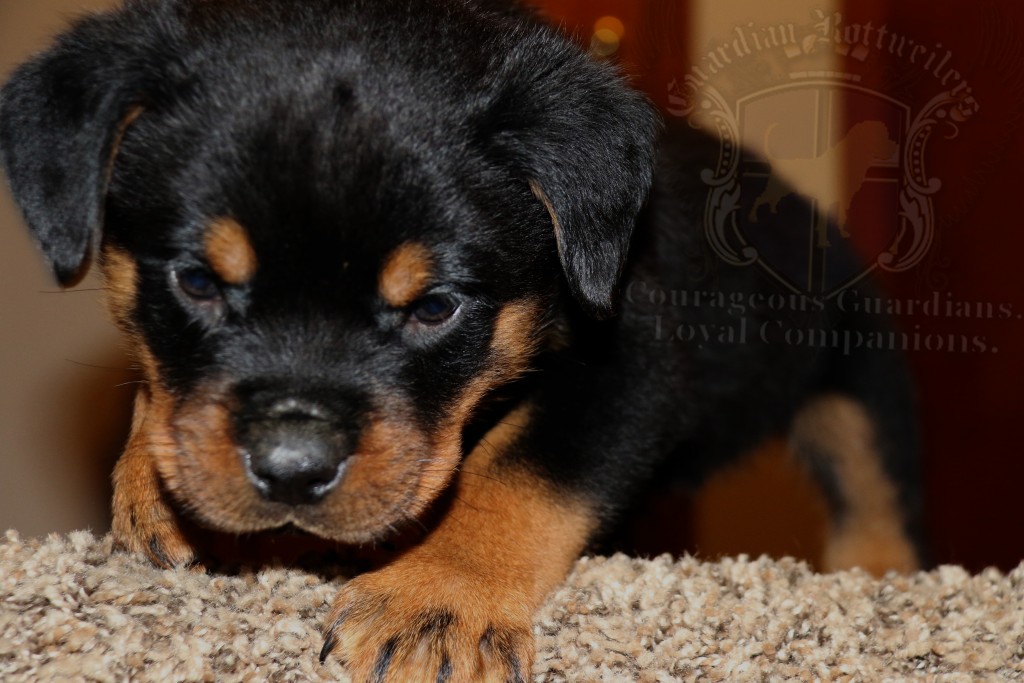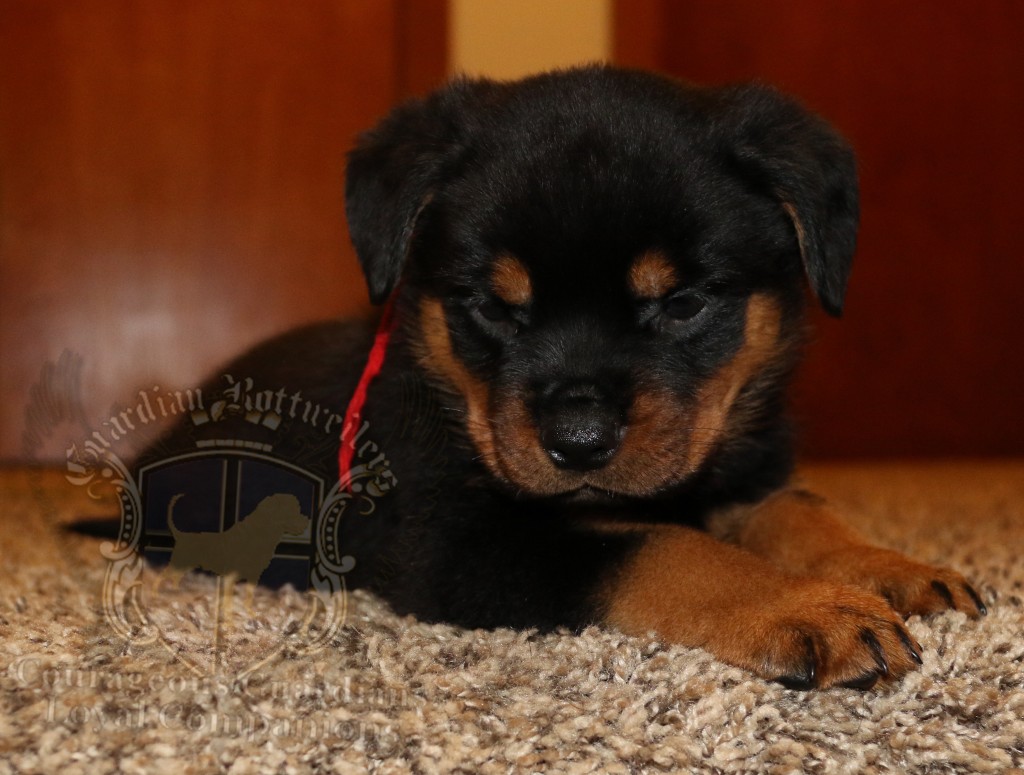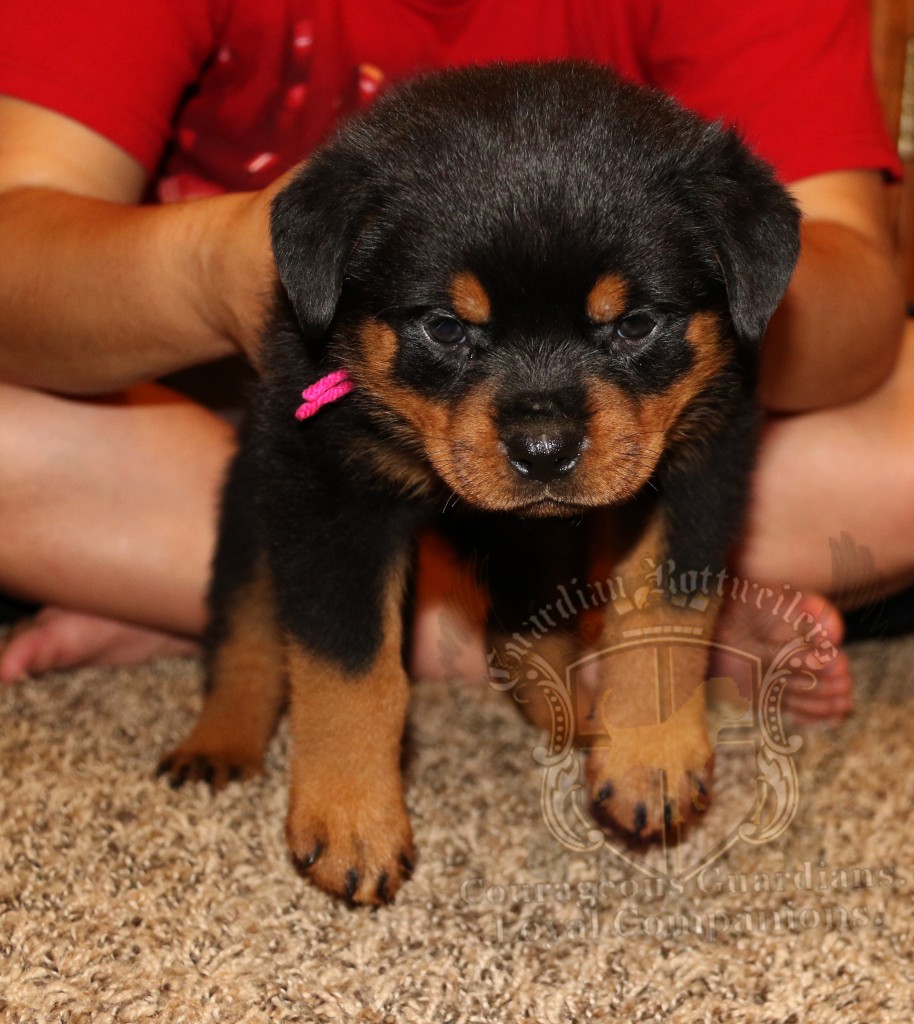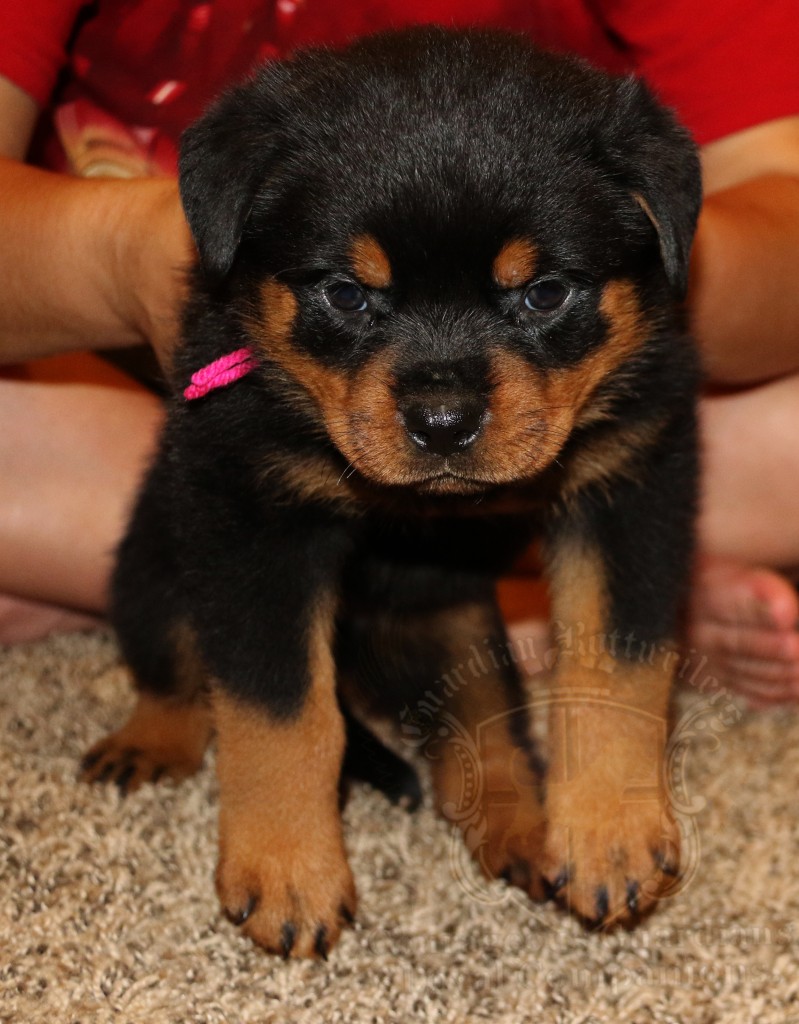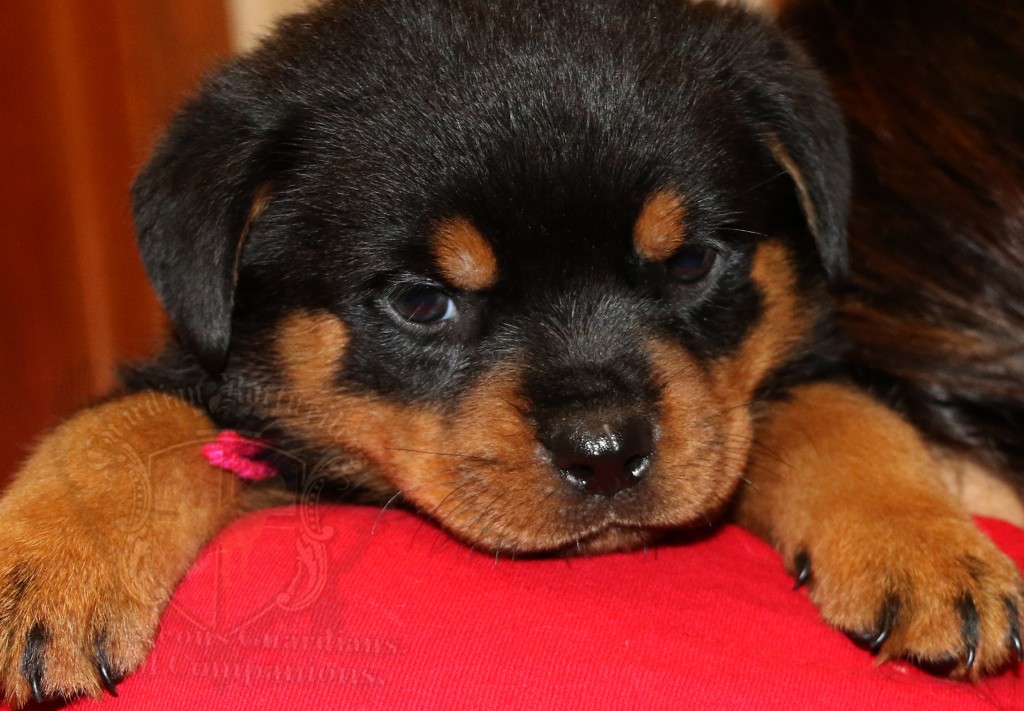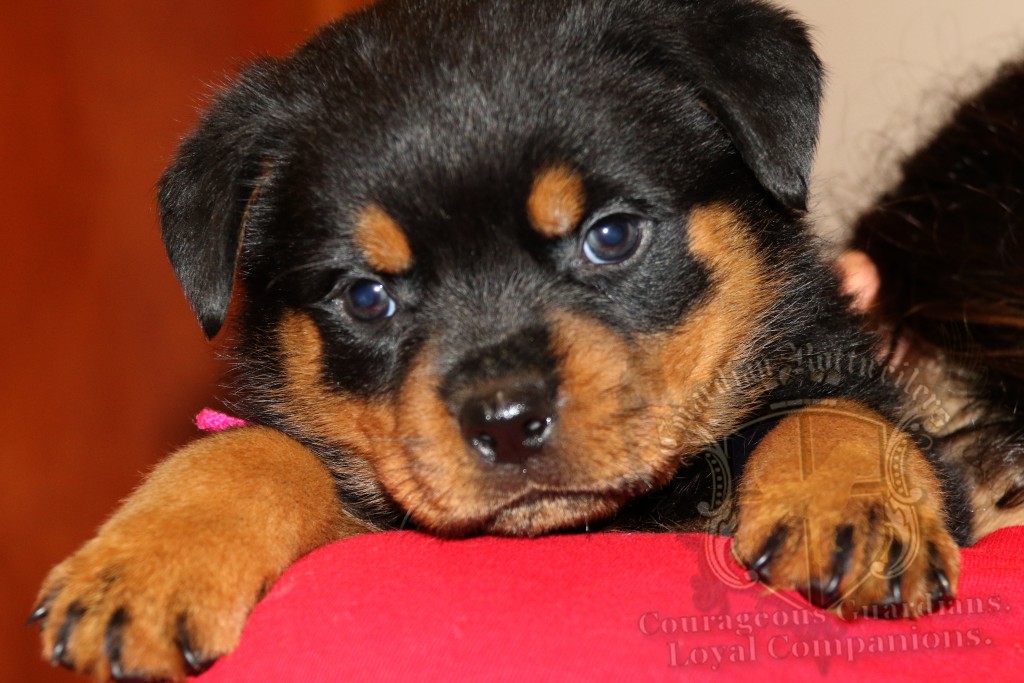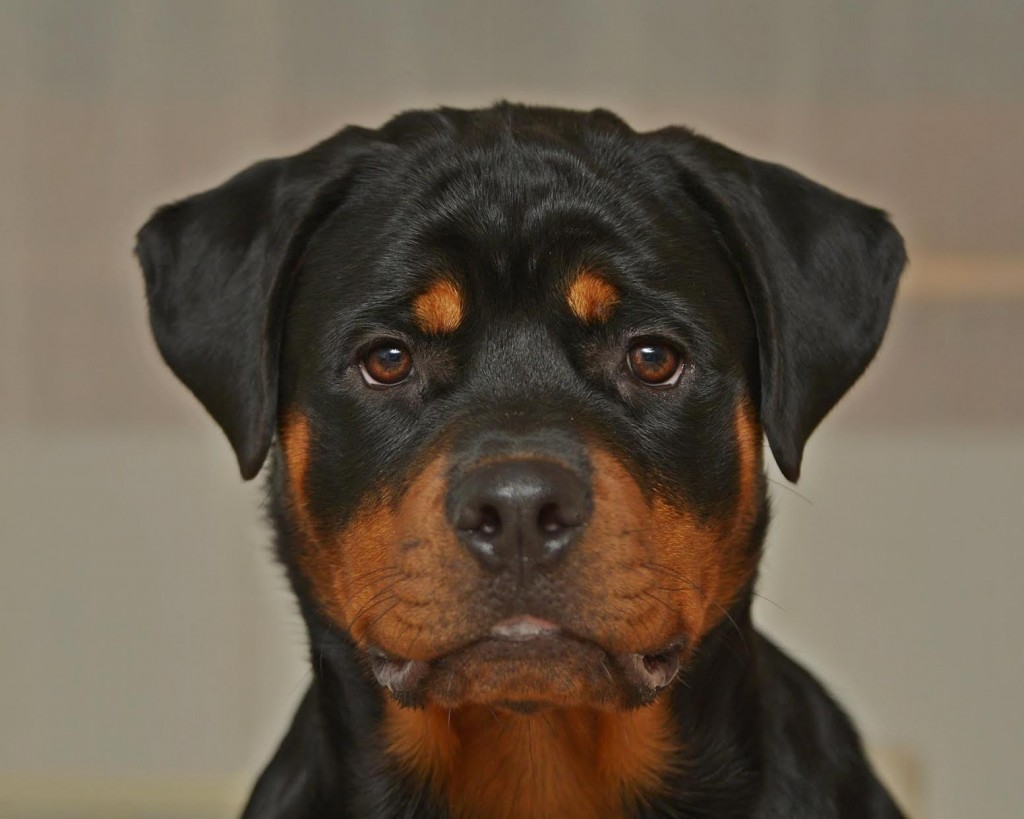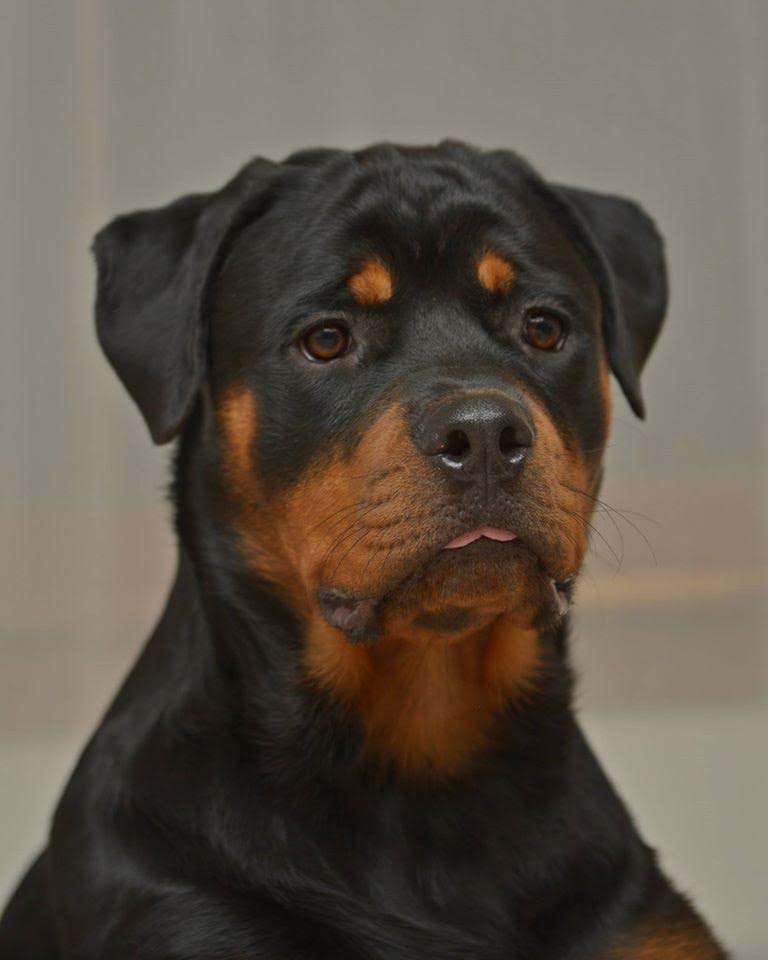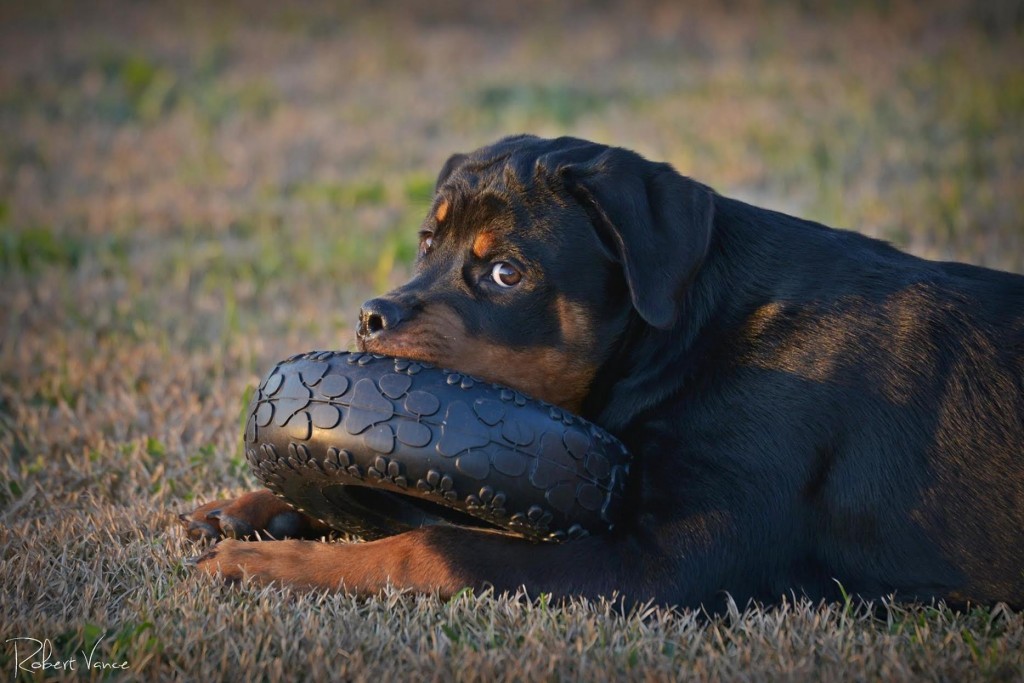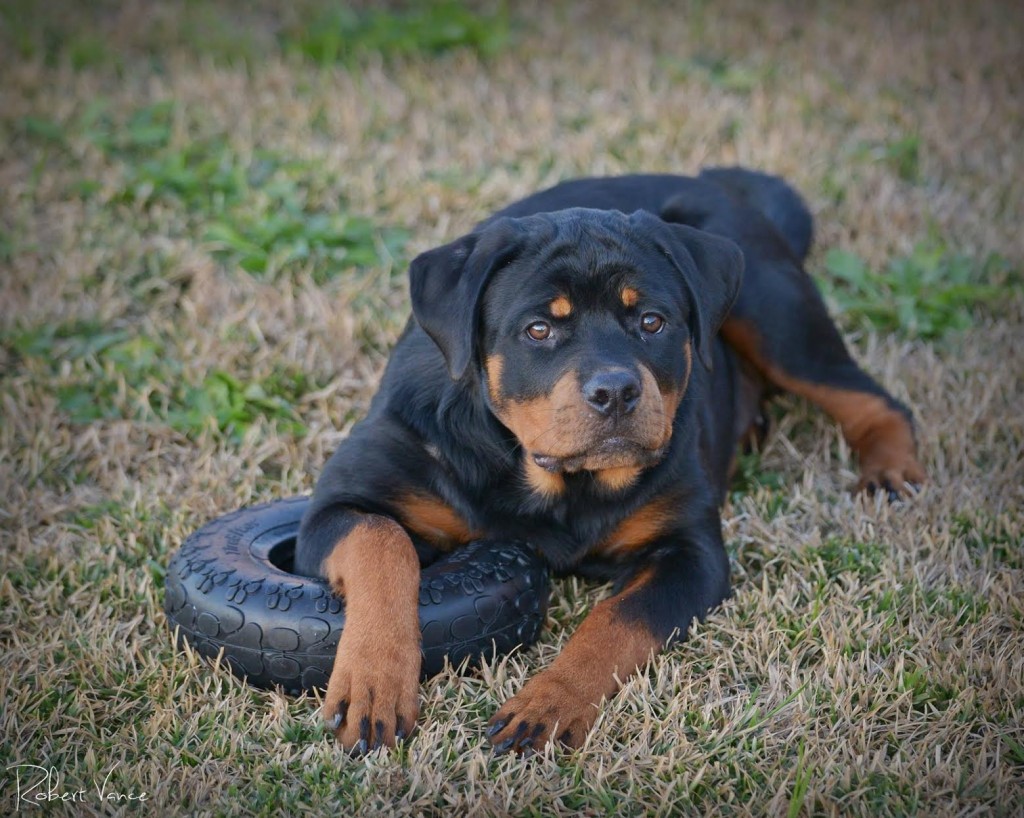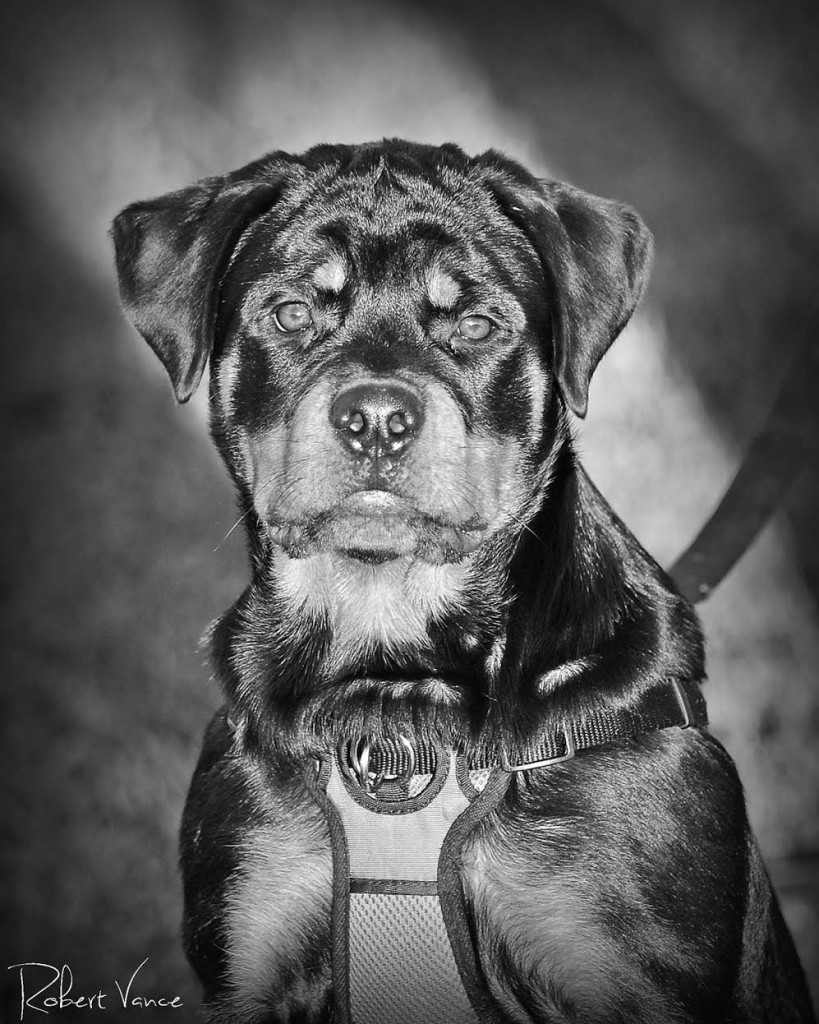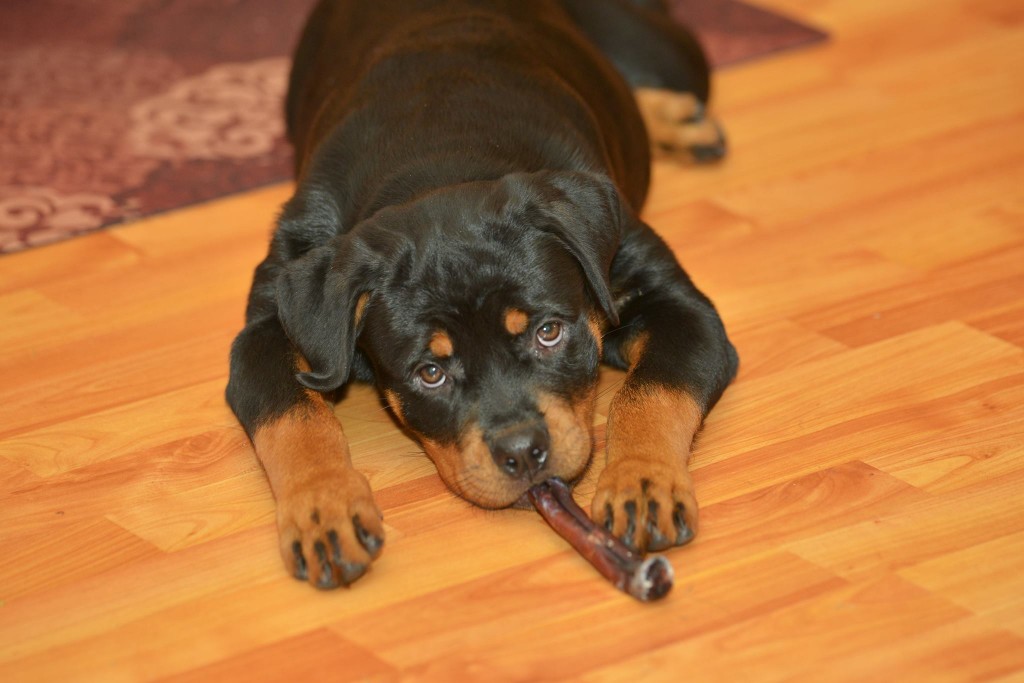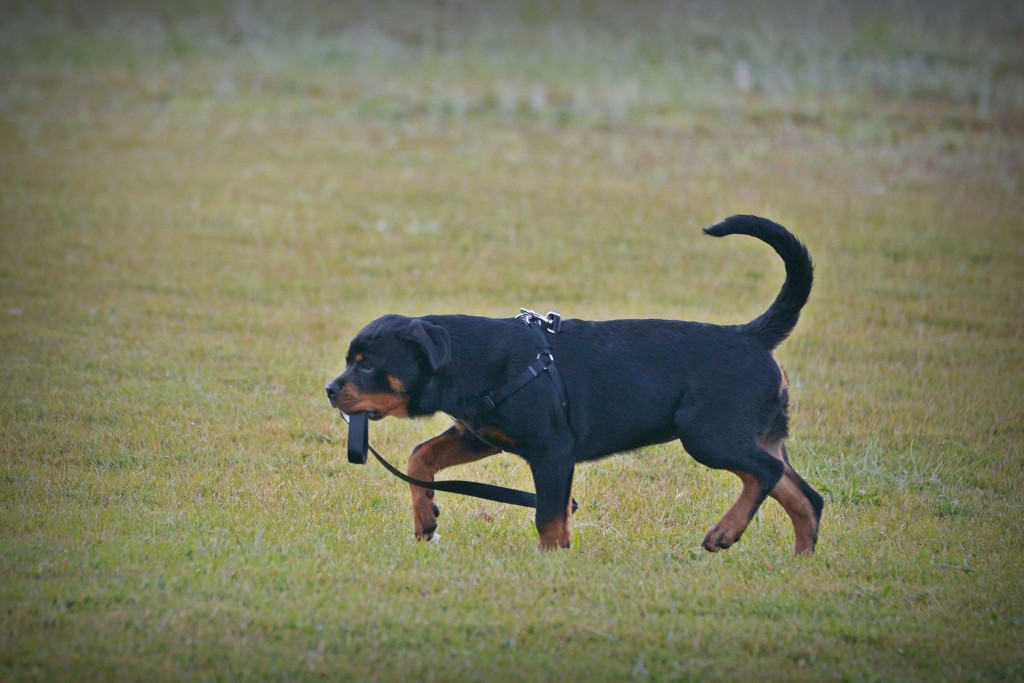 (Visited 17 times, 1 visits today)