Guardian Rottweilers L LITTER
Sire: Guardian Atlas Von Gottschalk
Dam: Ann Se Ungo-Rot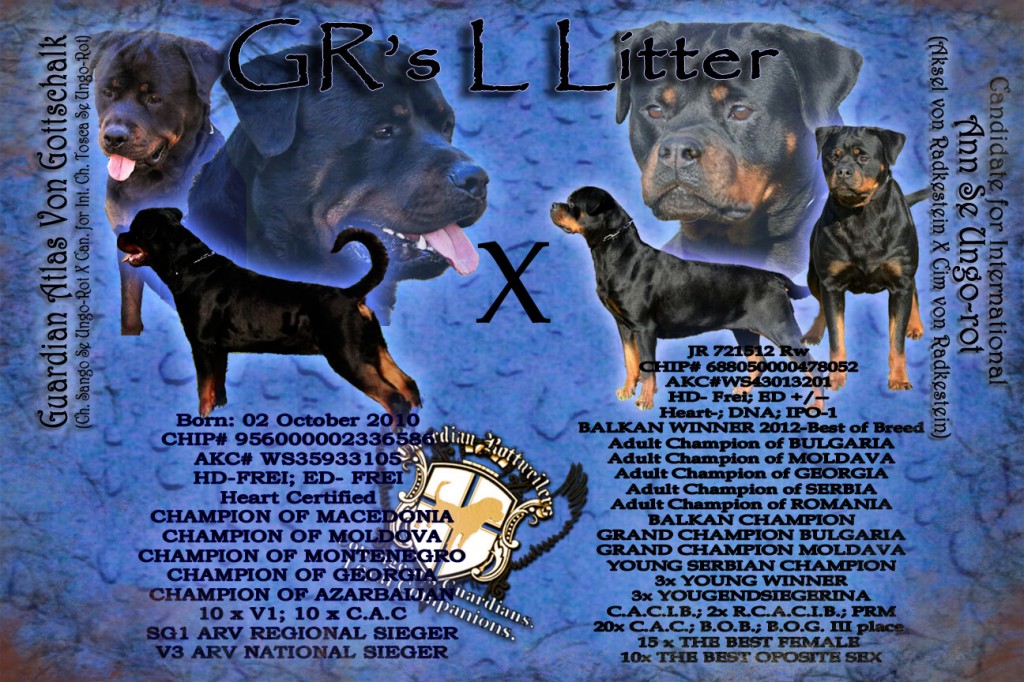 We expect EXTREME head type on this litter and hope for some good working prospects.  Ann has the strongest head type of all our females with INSANE ball drive.  Atlas is a Marsio grandson with a very large head with a short, full muzzle and a hard, but balanced character.  Both dogs are extremely intelligent and we expect a lot in the temperaments of these pups!
I LOVE the physique of these puppies!  They are compact with heavy frames and very muscular, athletic builds.  I really expect great things from these puppies and think they will be incredibly well chiseled adults.  They have a super short, velvety coat that will translate into a short, tight coat as an adult- perfect for showing off their rock hard bodies! 
---
Guardian Lakota Von Gottschalk
Hey Alice
Been meaning to send an update with pics, sorry. We'll get some out to to you guys ASAP.
He's a little mush and is doing great. We call him Titan. The kids adore him and he loves them right back.
I think he'll wind up being like our last dog, a 100 lb lap dog. The cat is finally warming up to him. She'll come up to him now, but only on her terms. She was best friends with my Rotti/Mastiff mix. It was so funny seeing them sleep together, shes 15 lbs and he was 140.
We're still working on house training, its coming along.
Its all good.
Thanks again, take care.
Mike 
Hey Alice,
Sorry we didn't get these to you sooner. As usual there was a miscommunication between Michael and I. He thought I did it and I thought he did it. 🙂
I'm including some from his first day here too, when we surprised the kids. Also, this morning when he was enjoying the leaf pile in the yard that Michael is trying to get cleaned up. The kids absolutely love Titan! He is such a sweetie and so good natured.
Thanks again for everything. Hope all is going good with you all.
Take dare,
Debbie
P.S. Mike read somewhere about taping their ears down. We're not sure what they should look like at this age/stage. What do you think?
(https://guardianrottweilers.com/the-rottweiler/conformation/ear-taping/)
---
"Lilly" Guardian Laila Von Gottschalk
Hi Alice,
I hope you are doing well. I just wanted to give you an update on Simba and Lilly (laila – Atlas x Ann). We've had her a week and half now and her and Simba are getting along so well! She really holds her own and can run with the big dogs if ya know what I mean. What I haven't gotten used to yet is how sweet she is! She just loves curling up in my lap or snuggling up at bed time. It's pretty much the opposite of how Simba was when he was little.  He would bite me and Russ every chance he got and don't even bother picking him up unless you want to get whapped in the face with a claw or your nose bitten lol (thankfully he's a sweetie now), so it has been a nice change with a new puppy.
She is surprisingly confident and protective already. Simba is super laid back and only barks if he absolutely has to. She barks at anyone who gets near us or even if the wind blows. We will have to teach her when it's okay to bark so that we aren't scaring everyone away when she is an adult.
I'm thinking Lilly's ears may need to be taped. They definitely look funny and are flapping away from her head all the time. I've tried massaging them every chance I get but it doesn't seem to be helping much. Remind me again the best way to this and how long it should stay on?
Lastly I wanted to give you an update on Simba's loose stool issue… we have found the cure! I talked with my vet and she wrote a Rx for Royal Canin – Venison and Sweet potato. I got on chewy.com (the fabulous website I get all my dog food and toys from – they ship for free and within a couple days!) to place the order and it was a whopping $90.00 for a 17 lb. bag!!! I was in shock. So i did a little research and found a brand called Natural Balance L.I.D. (Limited Ingredient Diets) with Venison and Sweet Potato. It's ingredients were extremely similar to the Royal Canin, I don't have to have a Rx, and the best part is it's only about $50 for a 27 lb. bag. Simba has been on it for a month now and, for the first time since we got him, he has firm stool! I never thought I would be so excited to watch my dog poop! haha He's also way less gassy which is a huge bonus for everyone. I just thought that, if you have other clients who have a rottie with loose stool or digestive issues, you may tell them this brand has worked for us so far. Here's a list of the ingredients:
Sweet Potatoes, Venison, Potato Protein, Pea Protein, Canola Oil, Dicalcium Phosphate, Potato Fiber, Flaxseed, Natural Flavor, Calcium Carbonate, Sodium Chloride, Choline Chloride, Taurine, Natural Mixed Tocopherols, Vitamin E Supplement, Iron Proteinate, Zinc Proteinate, Copper Proteinate, Ferrous Sulfate, Zinc Sulfate, Copper Sulfate, Potassium Iodide, Thiamine Mononitrate (Vitamin B-1), Manganese Proteinate, Manganous Oxide, Ascorbic Acid, Vitamin A Supplement, Biotin, Niacin, Calcium Pantothenate, Manganese Sulfate, Sodium Selenite, Pyridoxine Hydrochloride (Vitamin B-6), Vitamin B-12 Supplement, Riboflavin (Vitamin B-2), Vitamin D-3 Supplement, Folic Acid
Anything jumping out at you as a red flag? I'd love to hear your thoughts! I promise to send pics soon!
Warmest Regards,
Chelsea

---
"Dex" Guardian Lex Von Gottschalk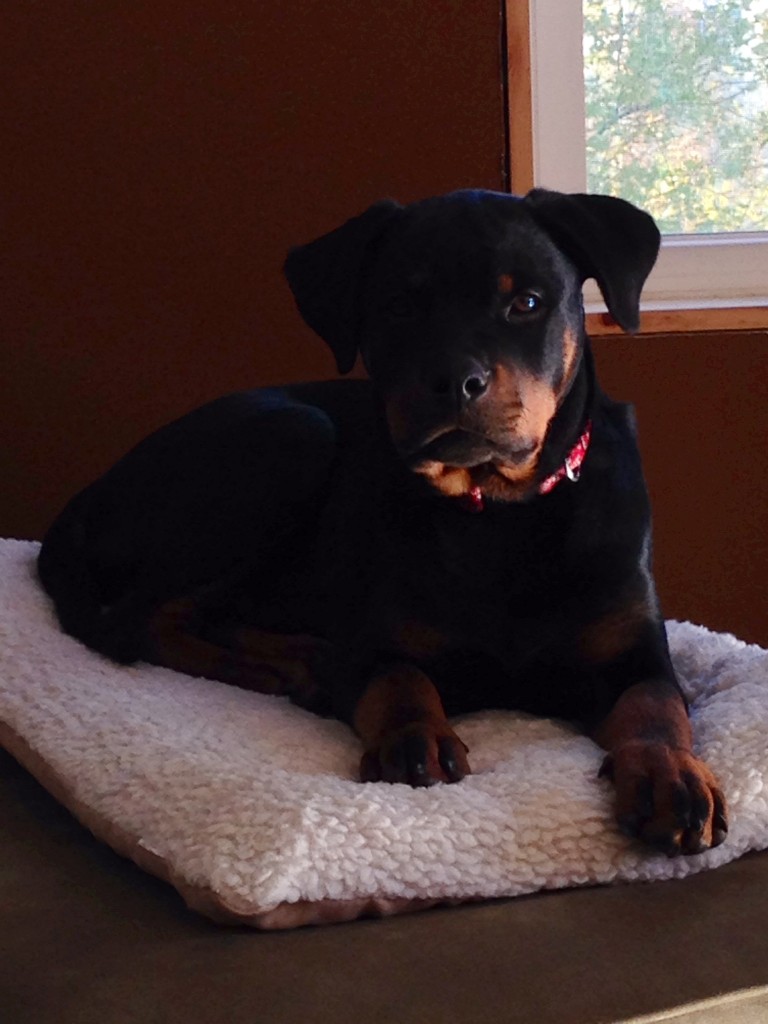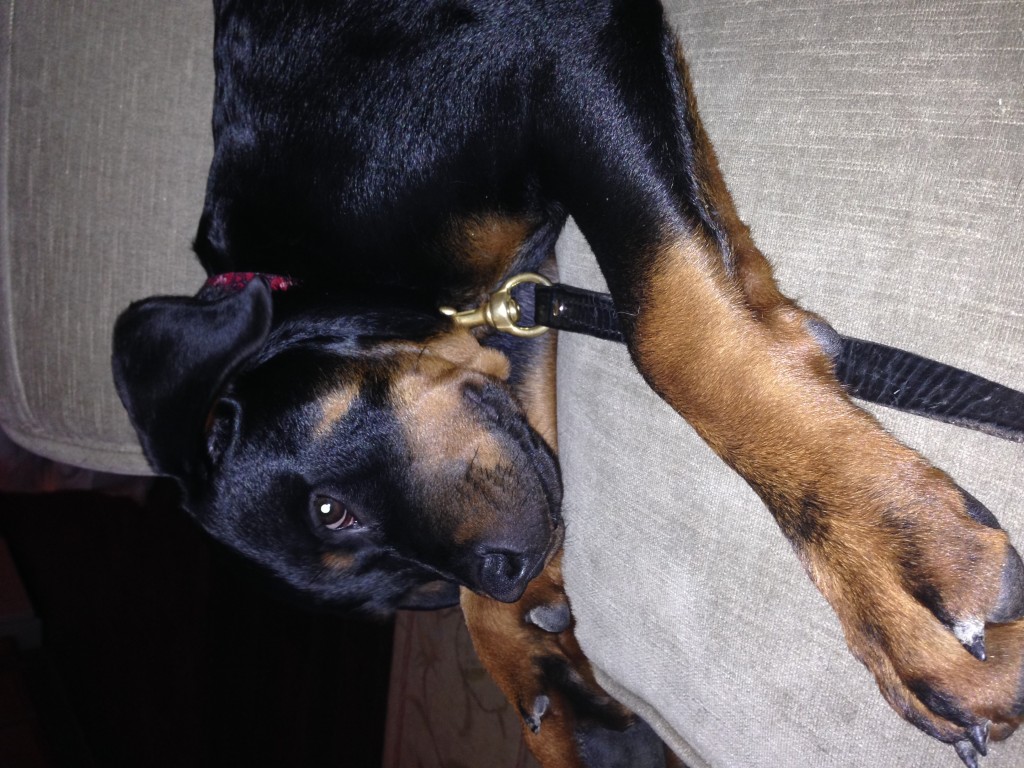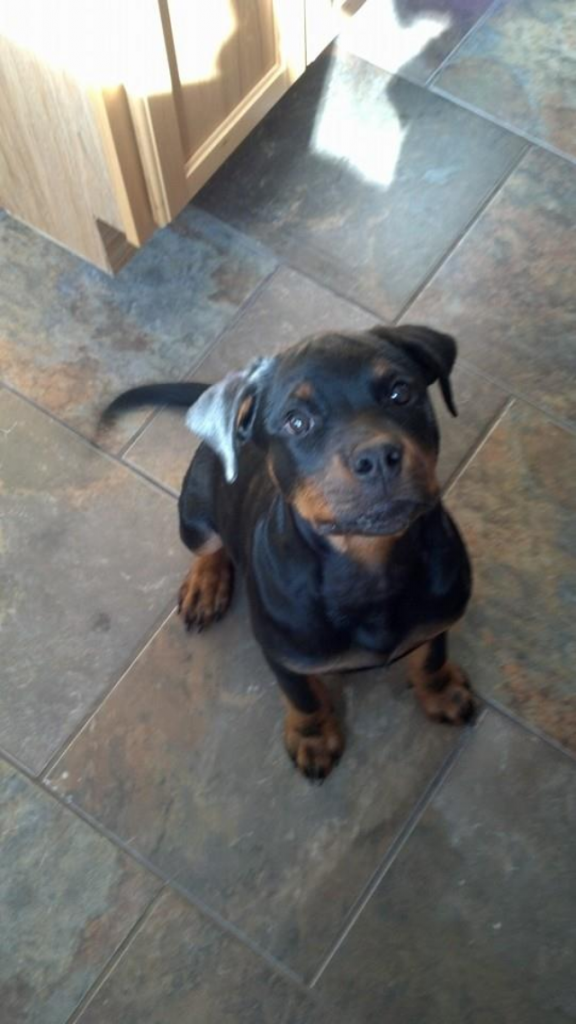 Hi Alice!!!
Wanted to let you know Lex is doing great! He is the star of his puppy class and we get compliments all the time!! He is super attentive and a quick study. Growing fast and catching up to his older adopted sisters!!!
---
Guardian Lenox Von Gottschalk
WHAT A POSE!!!!

---
(Visited 34 times, 1 visits today)