A pup in this litter was diagnosed with ichthyosis.  This is a debilitating and devastating disease that causes a thickening of the foot pads and scaling in the skin.
"Ichthyosis is a very rare skin condition in dogs that is the result of a recessive genetic mutation. The mutation prevents the outer layer of skin from developing properly. Affected skin is rough and covered with thick, greasy flakes that stick to the hair. The term "ichthyosis" comes from the Greek word for fish, as the skin of these dogs resembles fish scales. In addition to the flakes and scales on the body, there may be areas of thickened skin with increased pigment, as well as thickening of the foot pads."
This very basic explanation of the disease does not begin to describe the ordeal the family and their dog have endured.  Because this is such a rare disease, we unfortunately learned about it with and through the family that has had to battle this heartbreaking and life changing disease. PLEASE DO NOT THINK THAT JUST BECAUSE YOUR DOGS/LINES ARE 'STRONG AND HEALTHY' THERE IS NOTHING TO WORRY ABOUT! I have owned, handled, bred and trained 3 generations on both sides of this pedigree (mom and dad, grandparents, great grandparents and great-great grandparents) and they have been very healthy, strong bloodlines. If you are a breeder and have 1 or both of these bloodlines in your breeding program, please DNA test for this disease before breeding!  Genetic testing will reliably determine whether a dog is a genetic Carrier of Ichthyosis. Ichthyosis is inherited in an Autosomal Recessive manner in dogs meaning that they must receive two copies of the mutated gene (one from each parent) to develop the disease. In general, carrier dogs will not show any symptoms- so there is no way to "look" at a dog and determine if they are a carrier.  But if 2 carriers are bred to one another, there is a risk of having affected pups. Each pup that is born to a breeding where both parents are carriers have a 25% chance of inheriting the disease! Please do not risk it!  A simple genetic test can prevent a breeding that may produce a pup that will have a lifelong battle with this chronic and progressive disease. Here is a link to more information on ichthyosis.  https://www.embracepetinsurance.com/health/ichthyosis I would give anything to take away the suffering of this family and my beautiful baby.  Please take heed to our hard learned lesson and do a DNA test on both of these lines. 
Guardian Rottweilers V LITTER
Sire: Guardian Puck Von Gottschalk
Dam: Guardian Xoana Von Gottschalk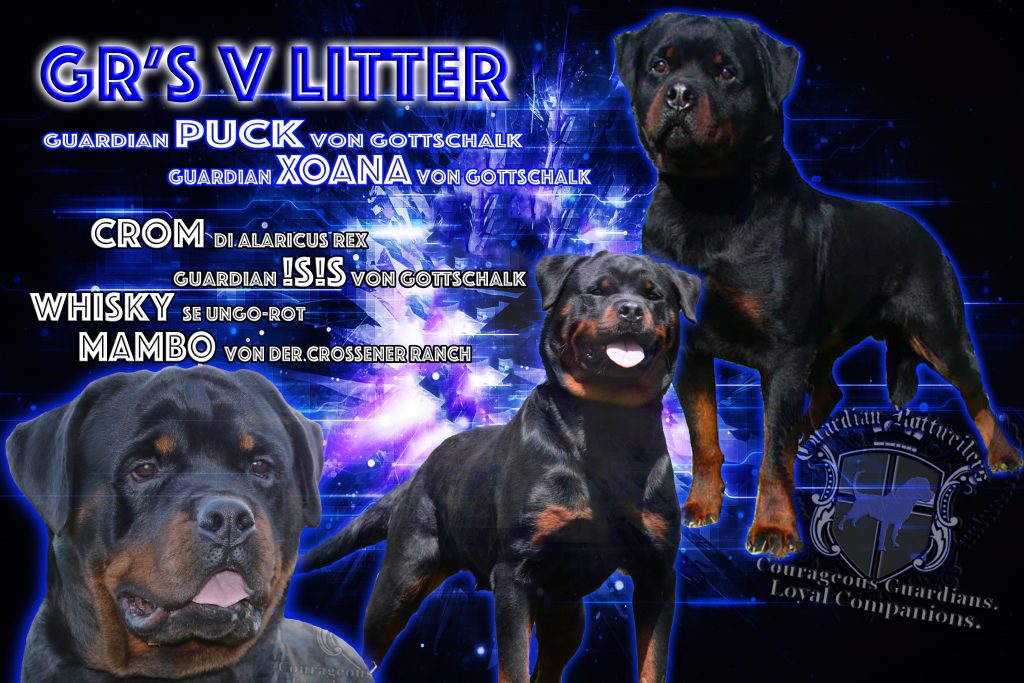 I cannot put into words how excited I am for this breeding!  Champion Crom di Alaricus Rex was not just one of the best producing studs, earning the prestigious title of FCI Champion in Reproduction, but he was also a very treasured friend.  Crom was a direct son of Mambo Von Der Crossener Ranch, arguably one of the best producers in the world to date- famous world wide for his typey progeny and that unmistakable head type.  Mambo is one of the most line bred dogs in the breed with breeders hoping to capitalize on his strong type that remains consistent generations later.  Crom was, without a doubt, my most favorite Mambo kid ever.  He was a beast on the field, a 'Rott' star in the ring, but most importantly, he had a bombproof temperament.  Crom was noble and majestic, ferociously protective of all he loved, funny and clever, and so very affectionate and loving.  He had this way of pulling you in for a hug by wrapping his paws around your shoulders and tucking his head under your chin- it felt as though you were being embraced by a human, but with the unconditional love that only a Rottie could give.  
Crom's final gift to me was a litter with my Isis which resulted in some of my finest pups, including Puck.  Puck is an incredible male with all the bone and substance Isis has grown famous for producing with Crom's type and temperament added as a bonus.  Character is everything you would have expected from an Isis and Crom baby, and then some.  He is this fat, pumpkin headed beast built like a rhino who thinks he is a kitten!  Puck has spent the last couple of months on tour in Europe and, just like his dad, has completely rocked it.  Besides being just a phenomenal Rottweiler all around, Puck is very special to me.  
The mom, Xoana, is a pretty spectacular female as well.  She won her first trophy at her very first show on the day she was old enough to compete (4 months of age exactly!)  She captivated everyone, especially the judge who thought her character was one of the best he had seen!  She was raised and trained by my oldest daughter and is just fantastic in every way.  I can always count on Xoana for anything and everything- biddable, happy, eager, confident.  I have waited 3 years for this breeding and and I cannot wait to meet these babies!!
Xoana's Gorgeous Girls:
Xoana's Magnificent Males:
---
"Boomer" Guardian Vex Von Gottschalk
Boomer Vex Von says hello!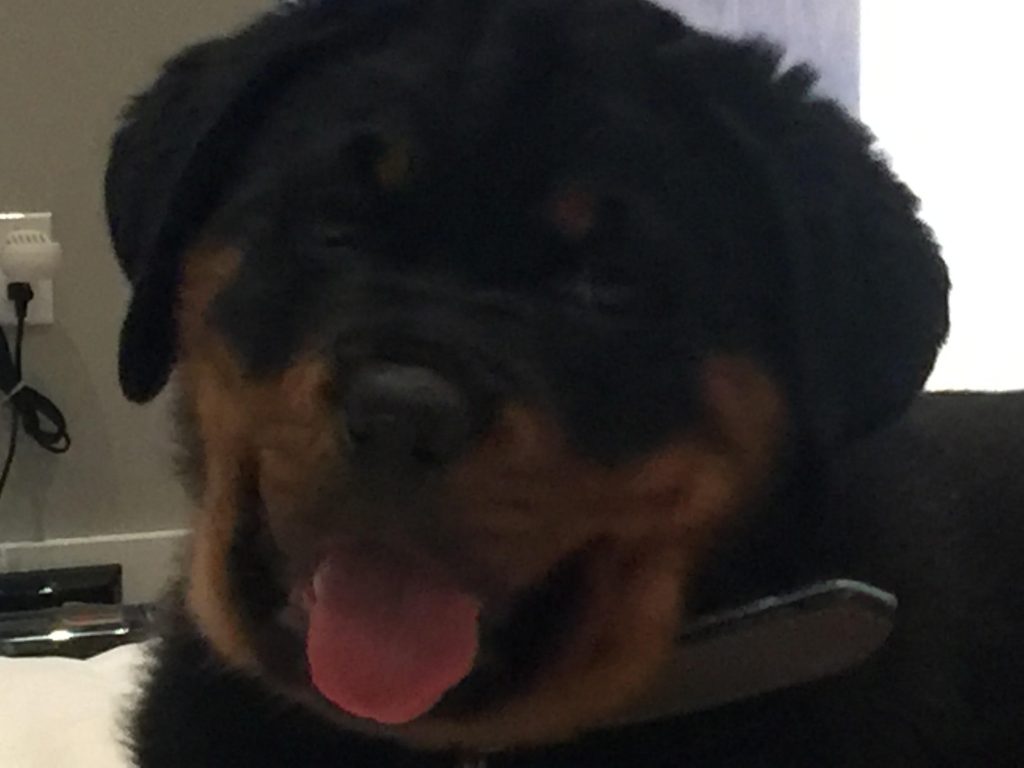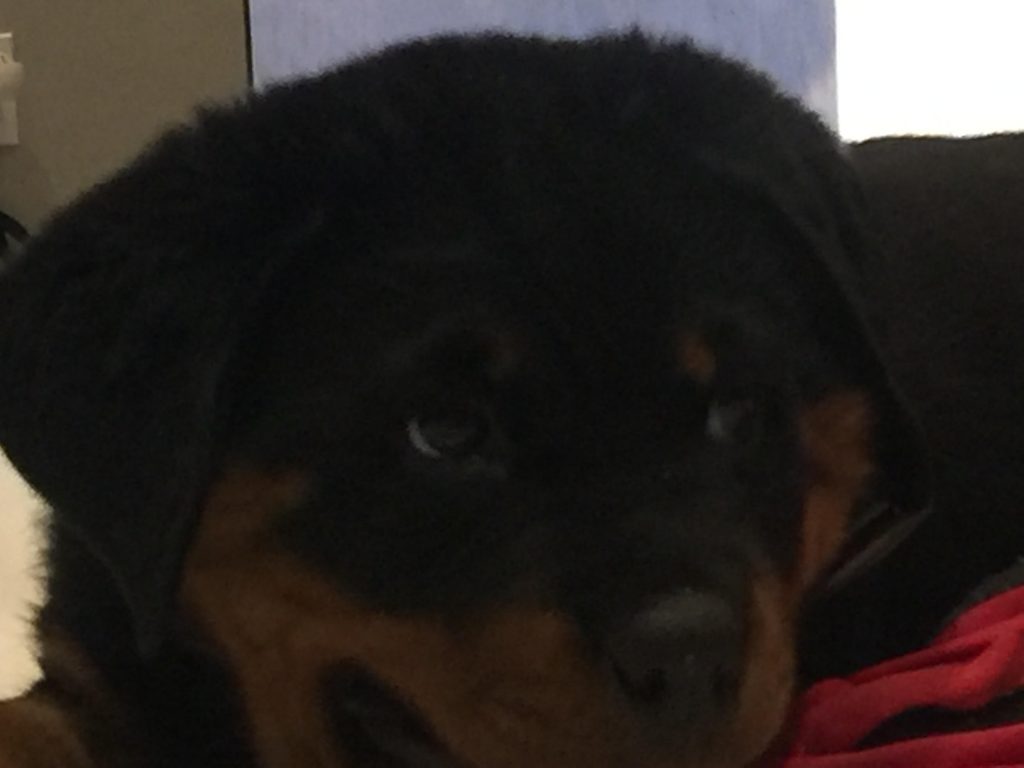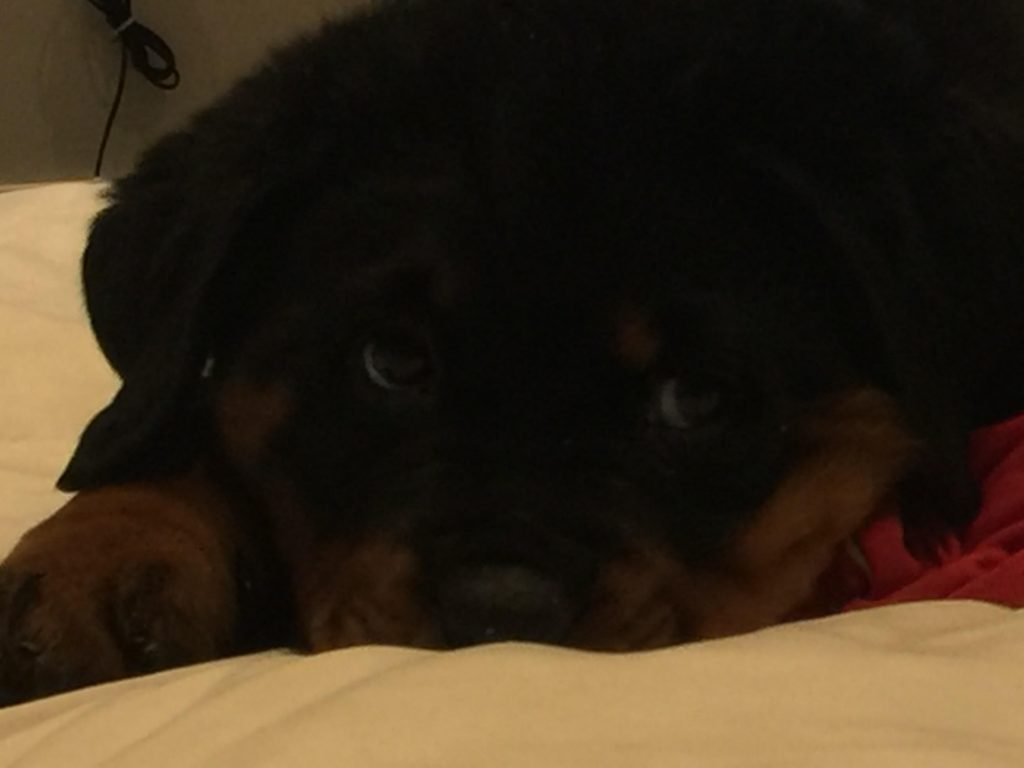 Hi Alice,
Sending you love and hugs from Boomer. He is an amazing puppy, he's so intelligent it makes my head spin. He's fully potty trained, he barks and goes to the door, when he wants to go. He knows about 10 commands, he enjoys mental stimulation. Let me tell you how smart he is, when he whines because he doesn't want to be in the crate at night, my husband says go nite nite and he does exactly that and begins to snore. Now I don't know how my husband taught him that but he does it every time.
He loves to chew everything in site, so he has lots of toys to redirect what he chews. We are blessed that he has not torn up our expensive furniture, but we really watch him while he's out of the crate which is about 90% of the time when we're home.
He still whines when my husband leaves for about 1 minutes and then he whines while I'm getting dressed. Once we leave he instantly quiets and goes to sleep.
We have cameras and can see him while at work.
My husband is in and out since his office is in our home, so he's never by himself more than 3-4 hours at a time.
He goes to church with us in Sunday's and stays in my husbands office during service. Not once has he barked or cried.
He had his 2nd vet visit last week and was 25.8 pounds and I think he's about 2 pounds heavy today. He's very healthy, always wants to learn, he's has adapted to our sleeping schedule and is just an extraordinary puppy.
He gets a little attitude when corrected, but clearly knows who's the boss. He always wants to please and he is my husbands shadow.
I have been giving him some omega oils for his coat, since he has dandruff and have seen a great improvement.
He goes to the vet on May 12th to get his final shots and he can finally get out and about with other puppies.
Everyone at the Vet hospital he goes too, runs to his room to see him and how big he is. They said they have never seen such a large head and well proportioned body on a Rottweiler. They were also dog trainers and showed their dogs and said Boomer is extraordinary.
I love him with all my heart but I think my husband has me beat. That's his shadow and he doesn't let my husband out of his site.
This puppy right here is precious and I can't wait to enjoy all of his new adventures and stages.
I hope all is well with you and Boomer Vex Von sends his love. Thank you for this wonderful gift, I know we paid for him but money can't buy what we have in this puppy. May God continue to bless you and your family and may you keep producing these amazing love bugs!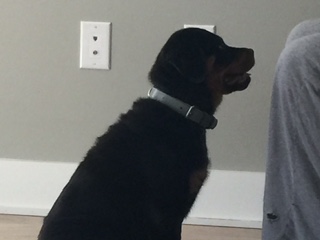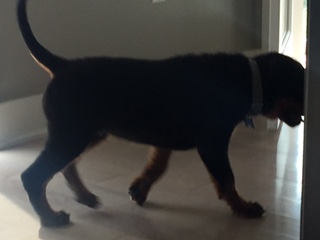 Here's some better ones at 11 weeks old. He grabbed the top of my husbands water bottle. And a few of him going to sleep!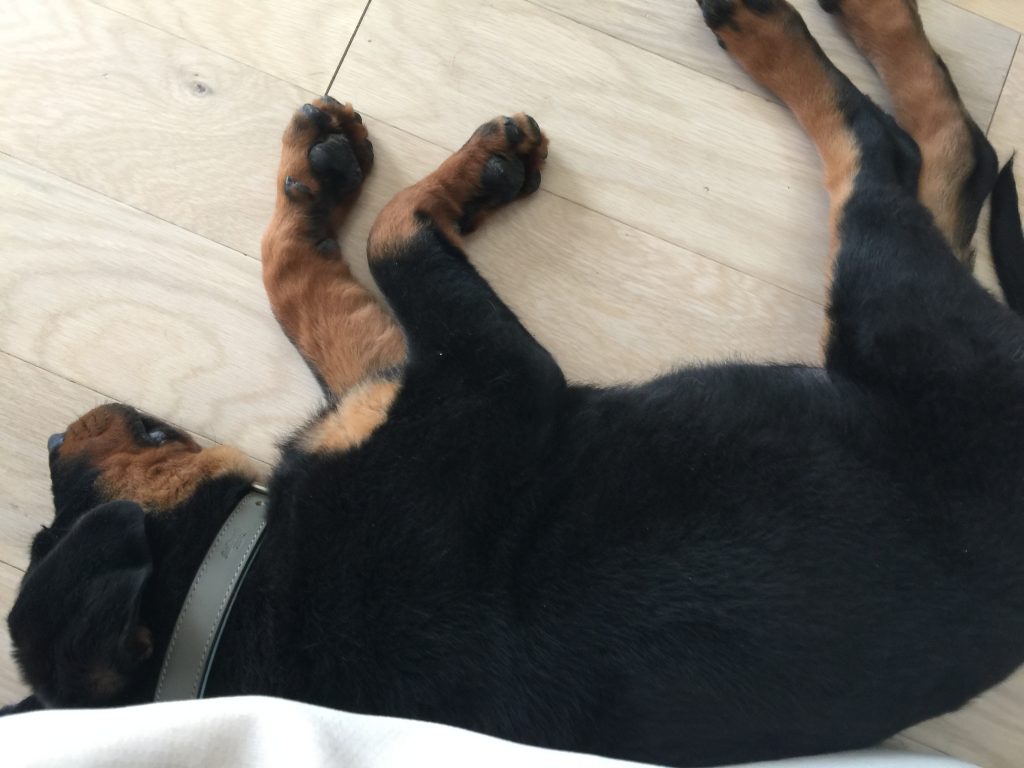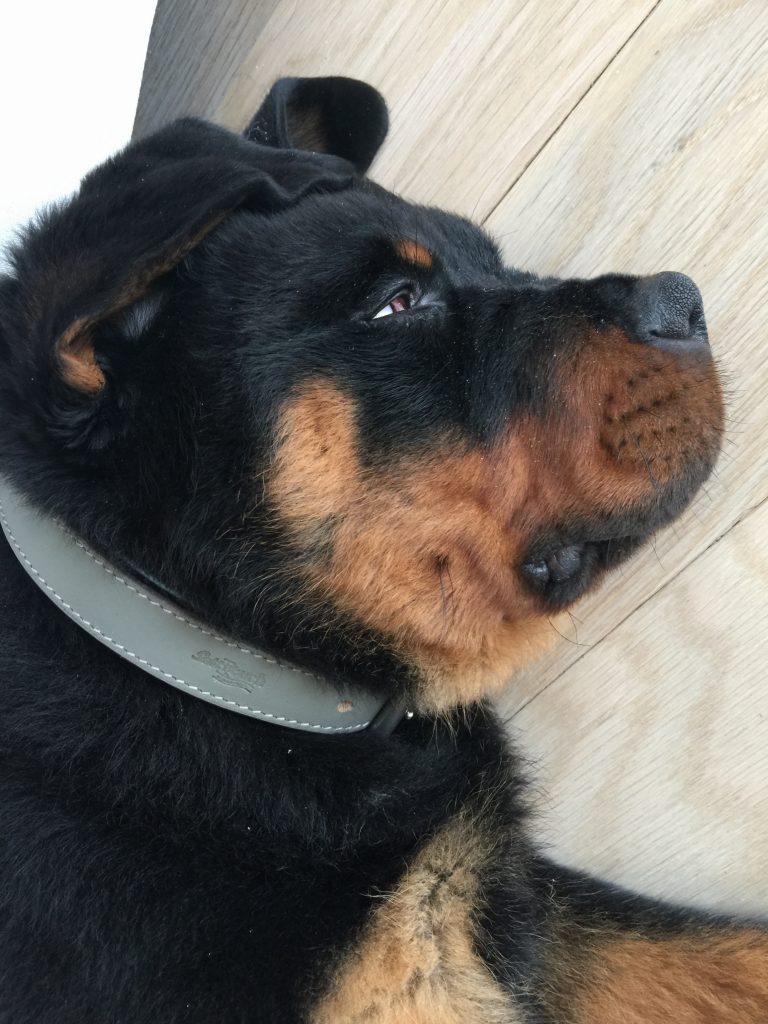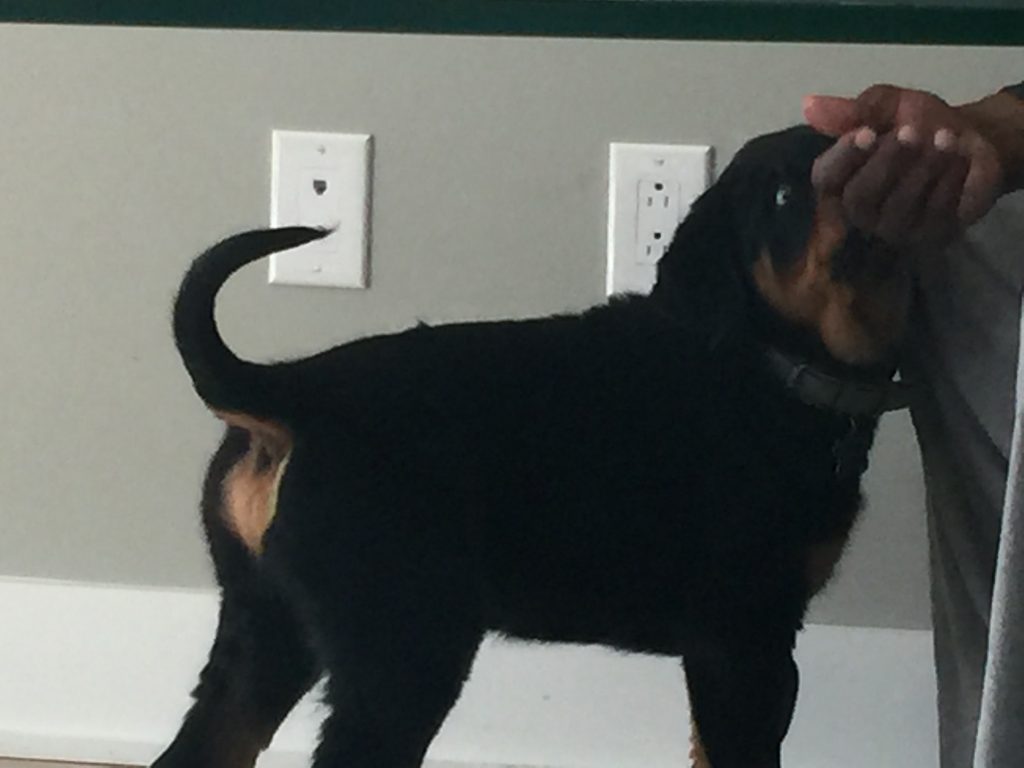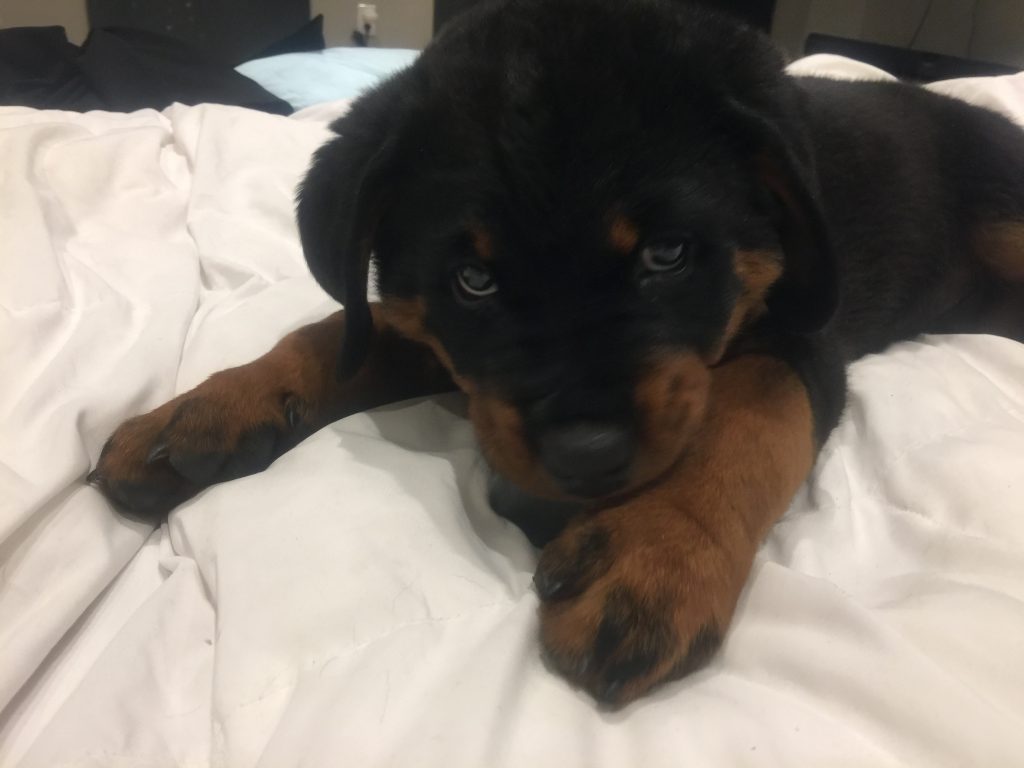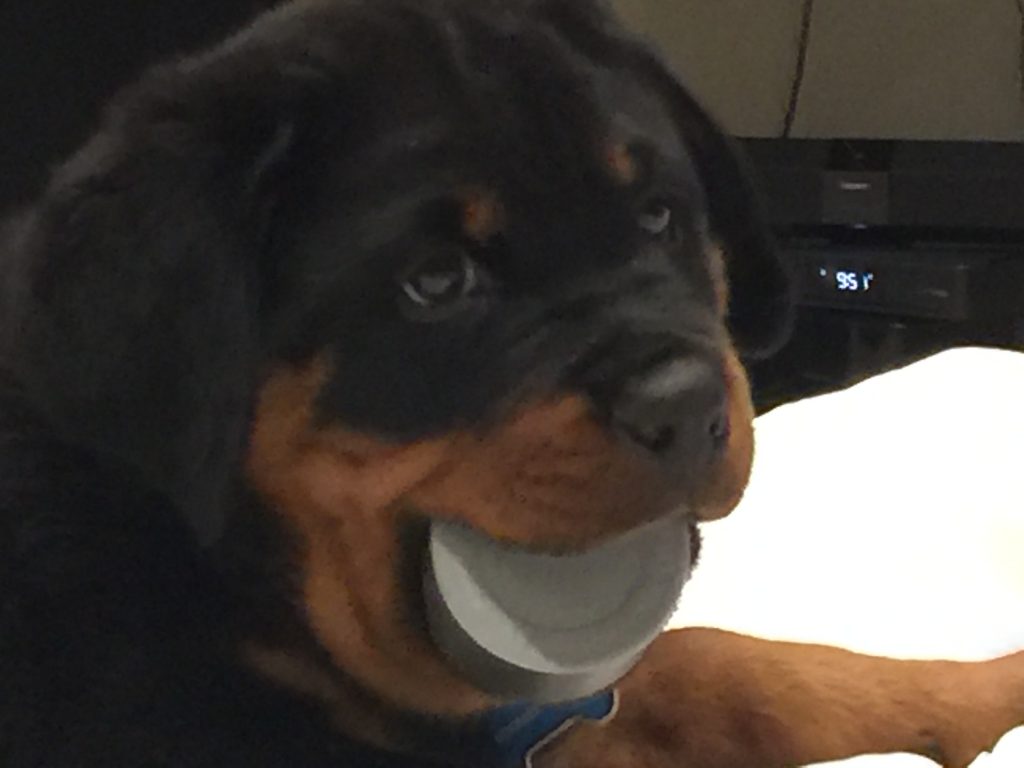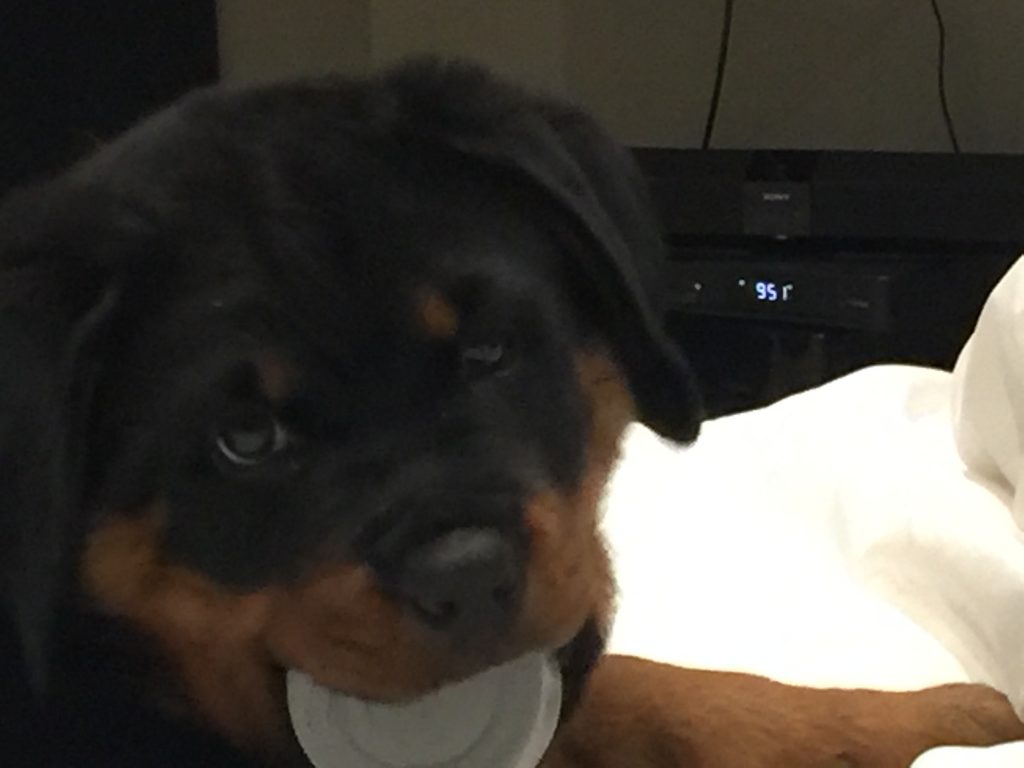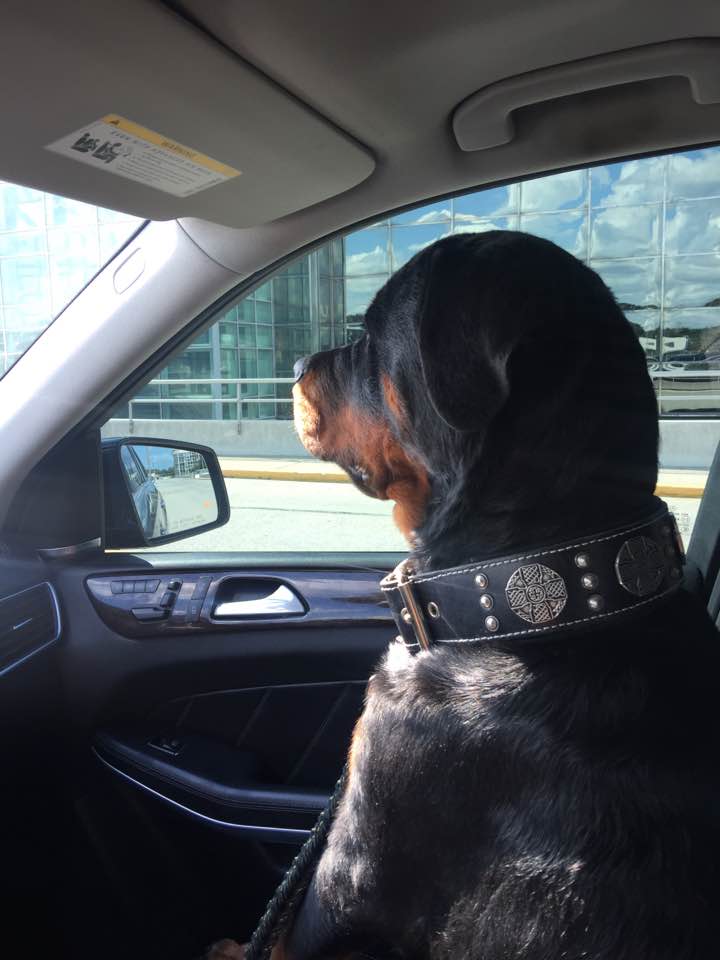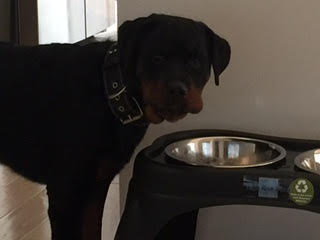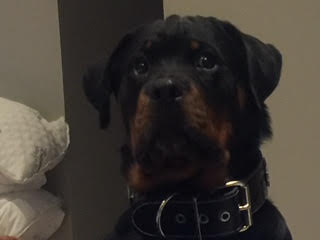 He's huge at almost 6 months and is the most lovable dog I've ever seen. Everywhere he goes, he makes an impact on everyone.
---
"Anna" Guardian Velma Von Gottschalk

Hi Alice,
We took Velma to the Patterson Veterinary yesterday and she got her second set of shots, doctor said everything looks good.  By the way we renamed her Anna!  
Almost have her house broken 95%, she learns really quick!!  Sure knows what treats are already.
Sincerely,
Sandy & BoB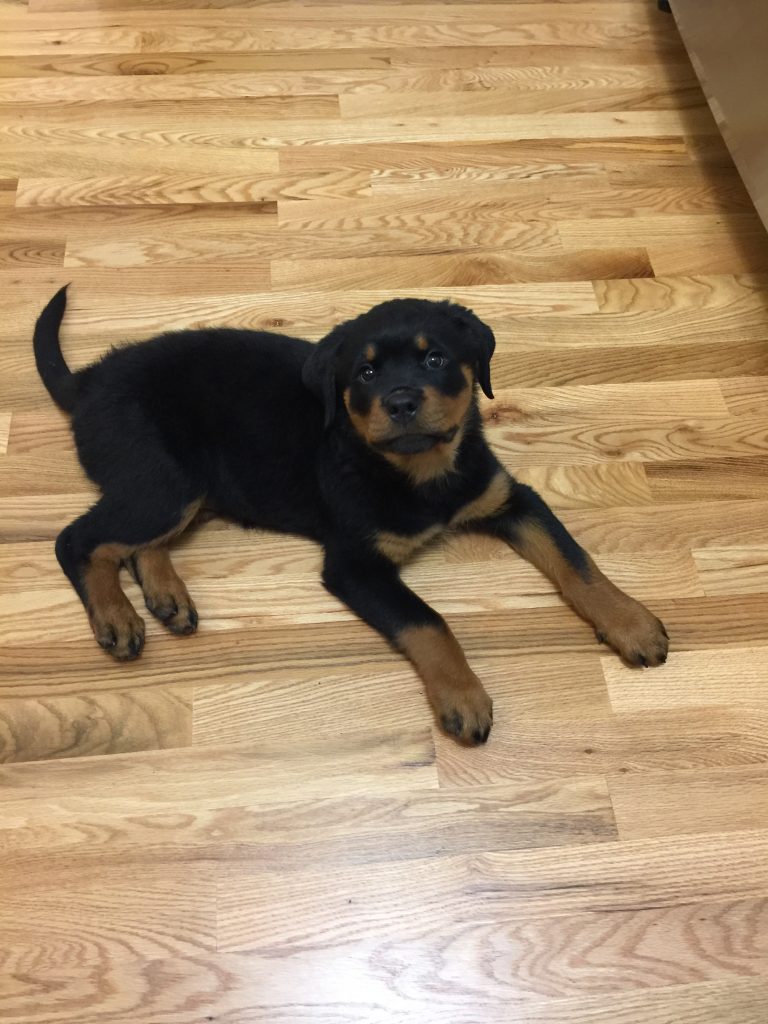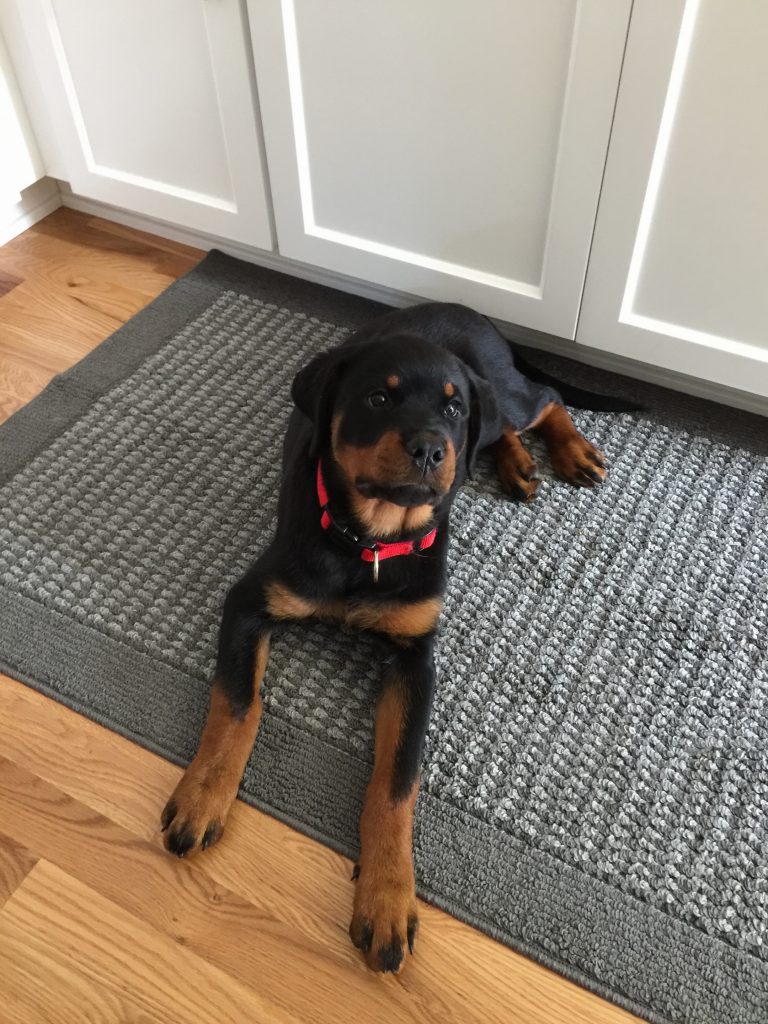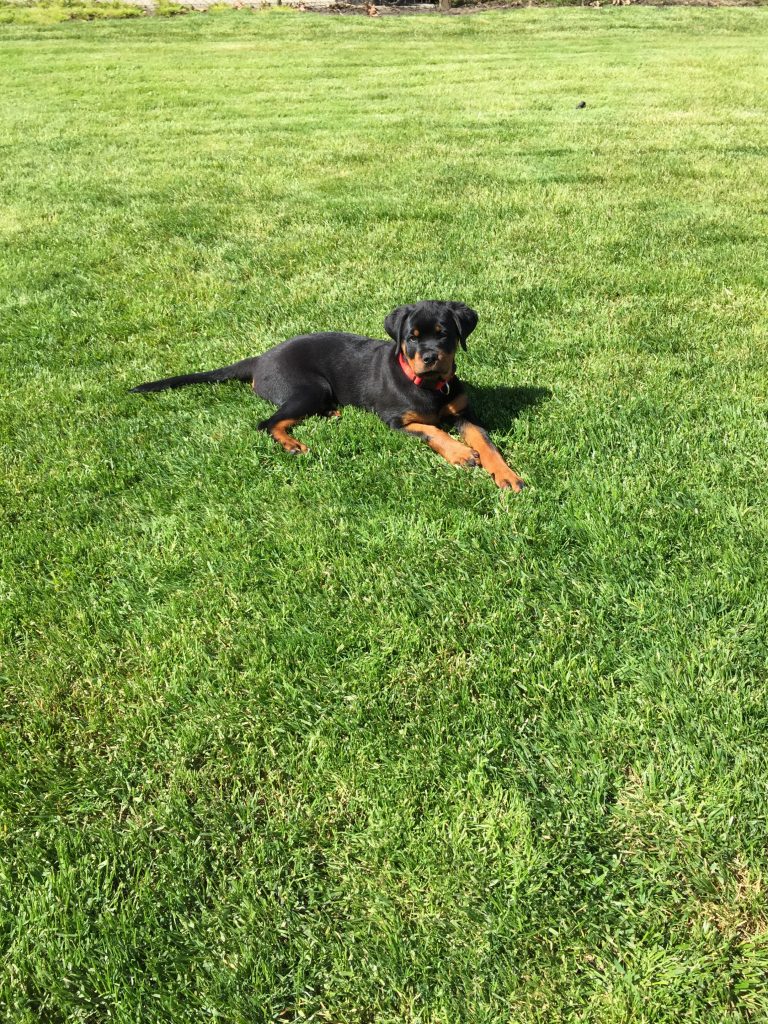 Anna, just graduated from Puppy Class!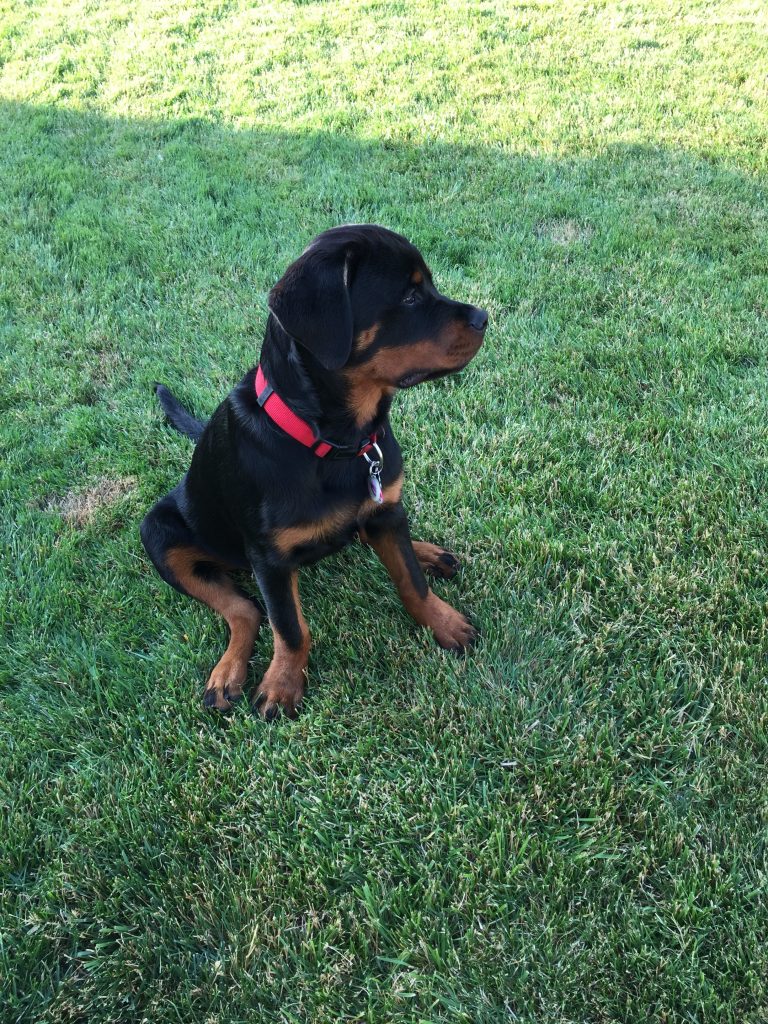 Anna is doing good, learning really quick 🙂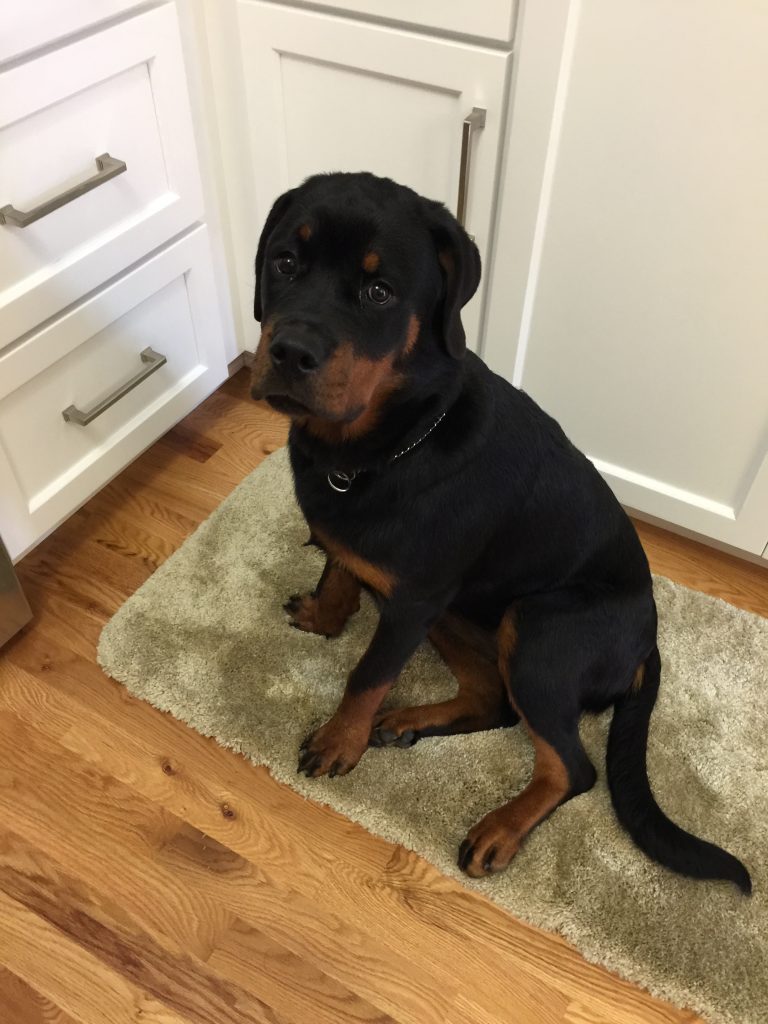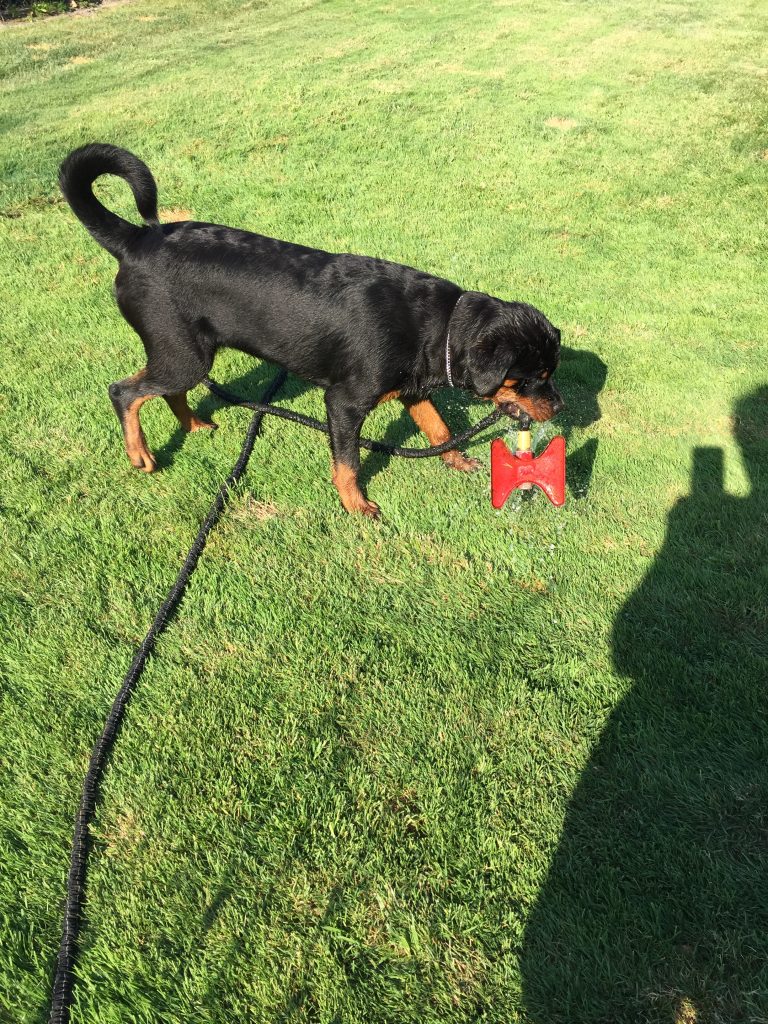 Anna playing with sprinkler, loves the water!

Hi Alice,
Bob and I want to wish you and your family a Merry Christmas and Happy New Year!  Thought you would like a picture of Anna @ 10 months.
Sincerely,
Sandy & Bob
---
"Bronx" Guardian Vyper Von Gottschalk
Thank you again for your fast response. He is doing great! We have made huge progress with the puppy biting and growling at us. 
Here is cute picture of him from earlier today. He also had his vet appointment today and is 19lbs. Doctor said he is doing great. We are SO in love with him!!!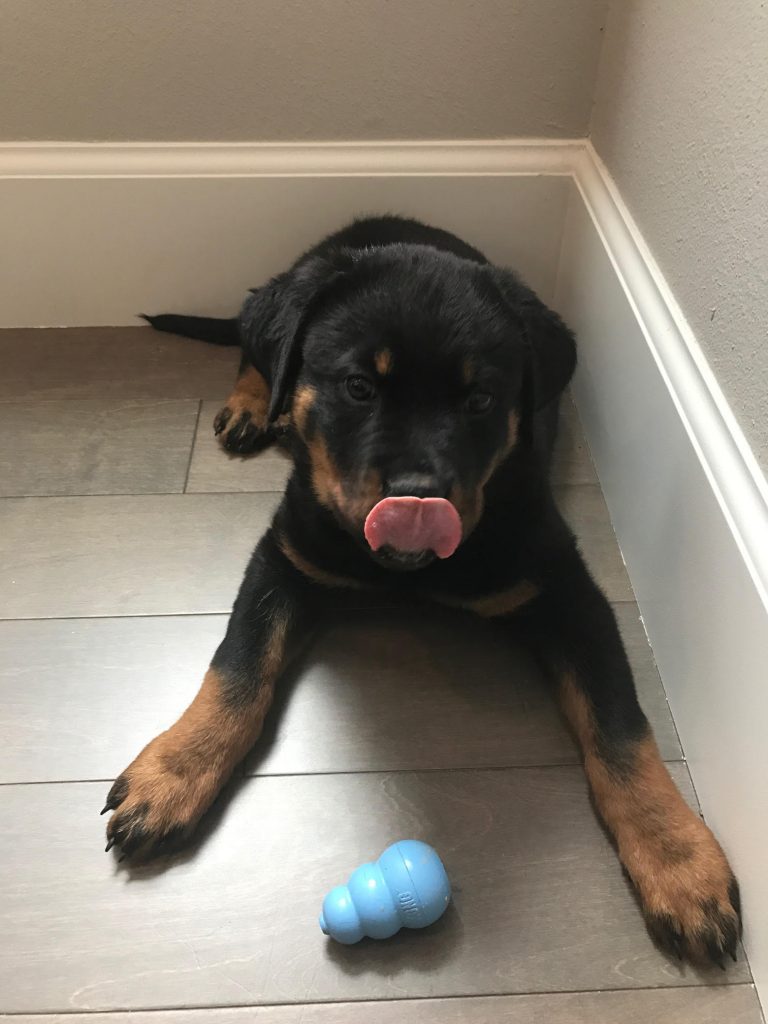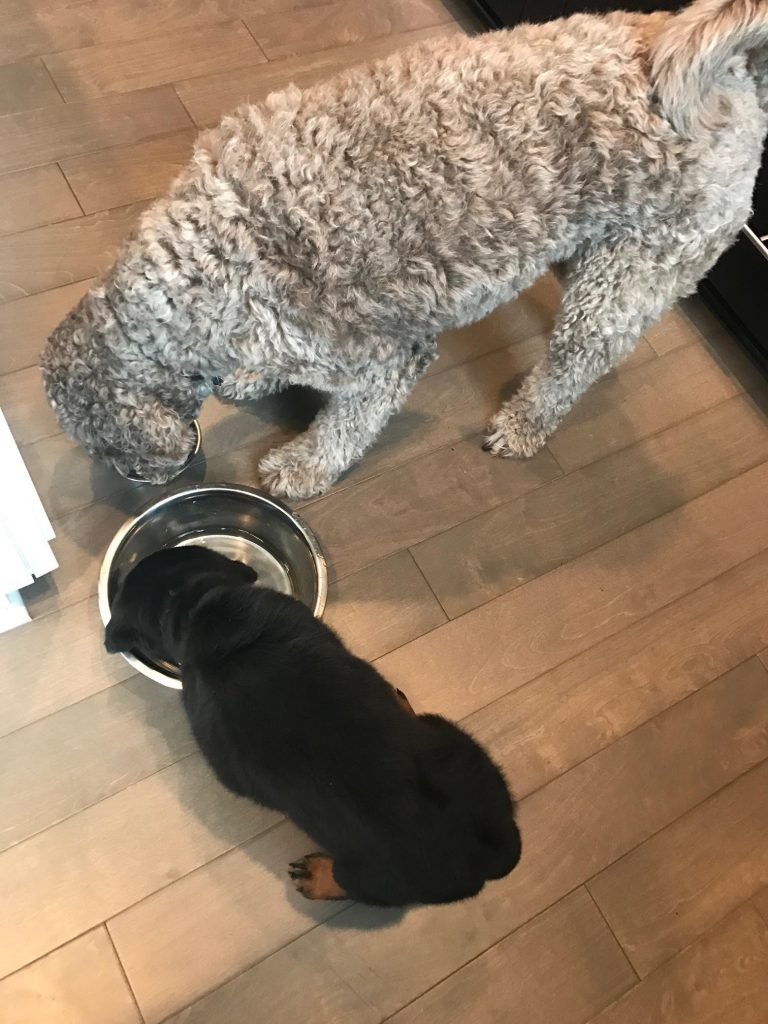 Hi! We wanted to send you a 13 week picture of Bronx. He is so amazing!!!
We hope you are all doing well!
Thanks again,
Jen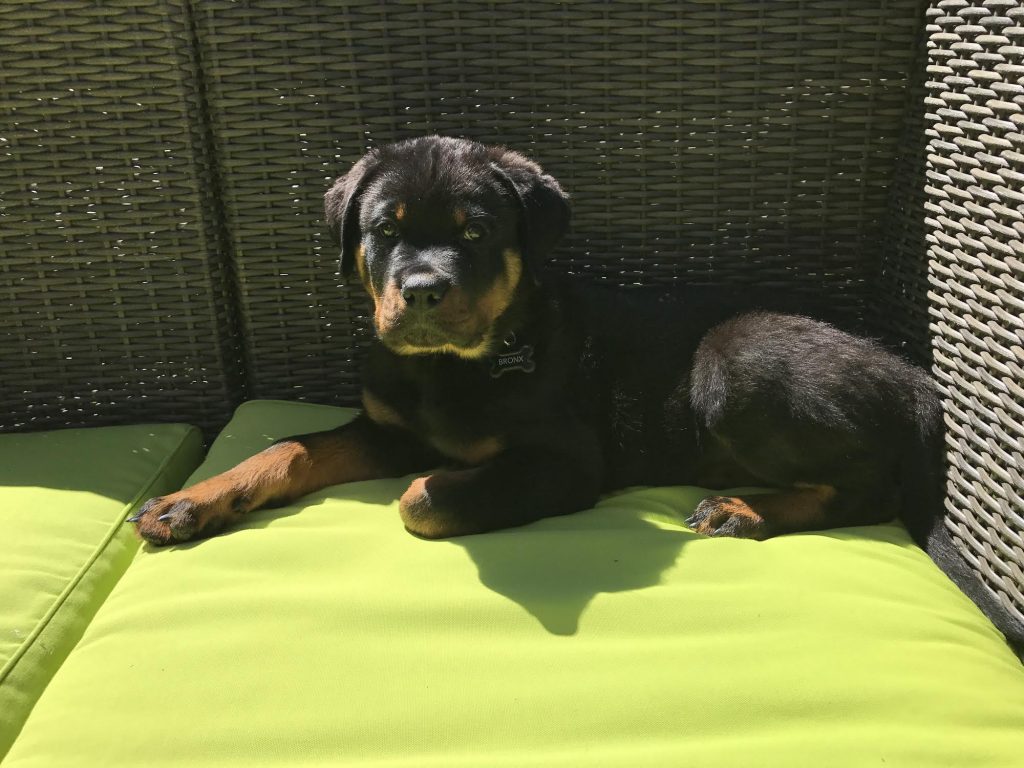 Hello,
We wanted to send you a quick update on Bronx. He is so amazing! He just finished his first full puppy class, of course he was the star student. He is crazy smart. He also took his first family trip to Washington two weekends ago. He loved the hiking and wading in the water with his family.
Here are a couple of photos of him.
Thanks again,
---
Guardian Valerie Von Gottschalk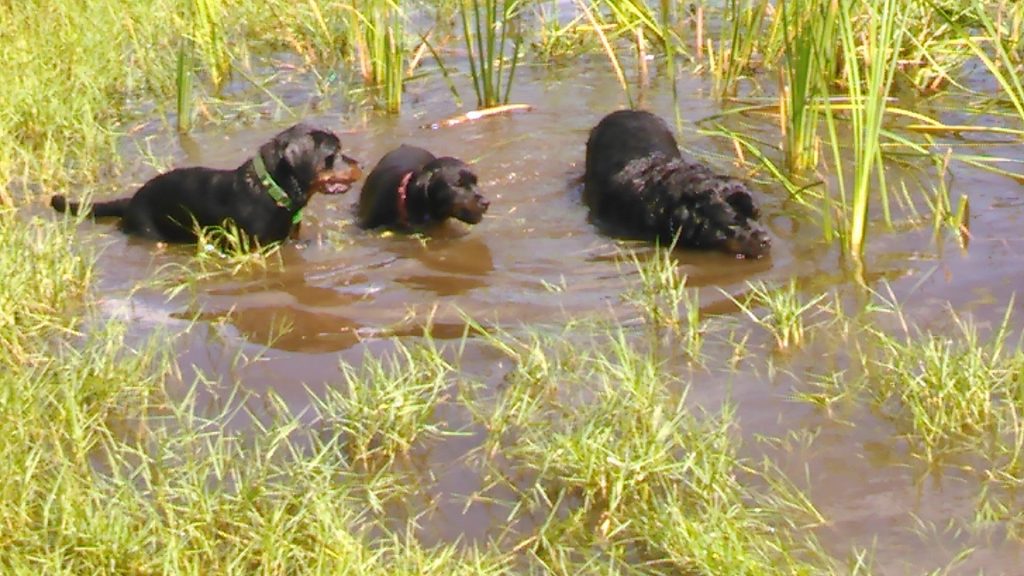 Girls awards for puppy class graduation  (click here to see award!)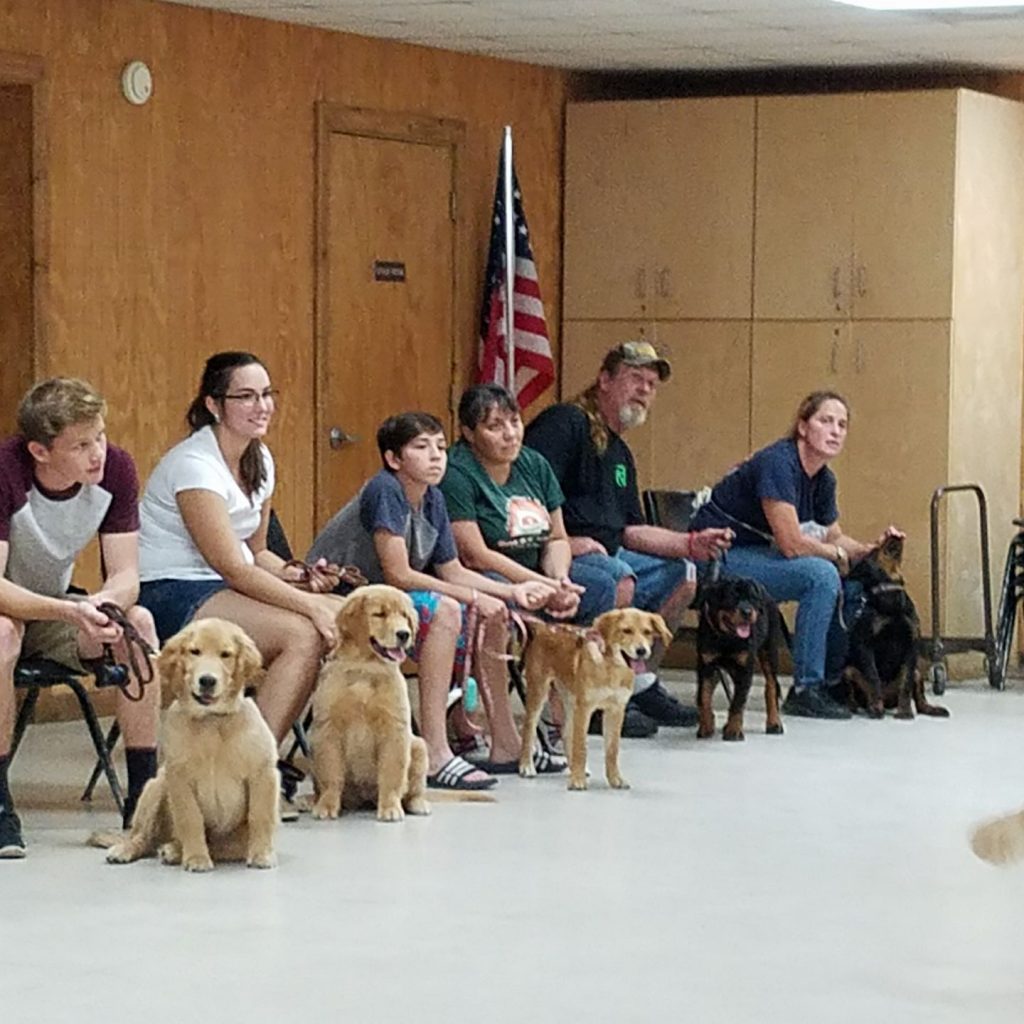 Alice,
Good afternoon! Here are some pictures from Valeries birthday! She is doing real good and very smart.
Best regard,
Jenny & David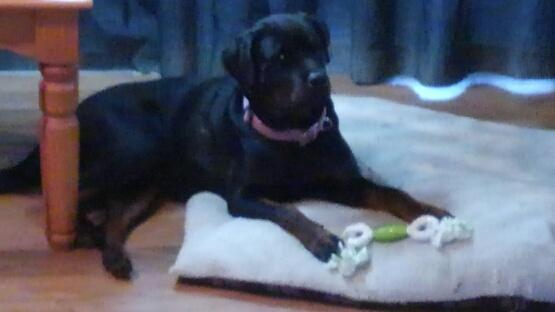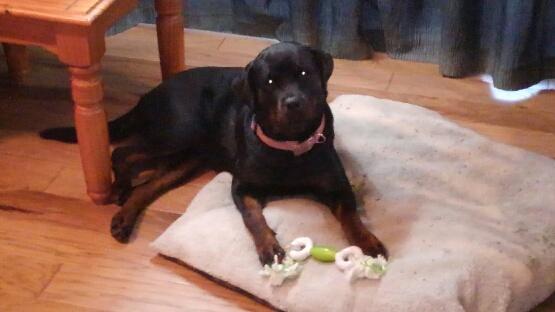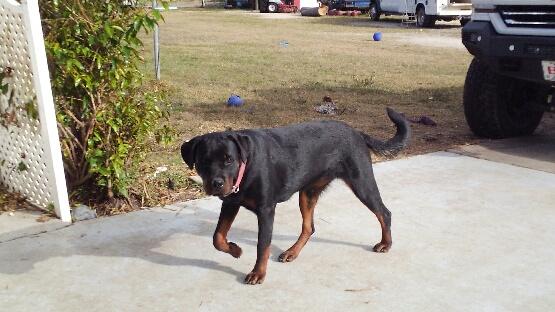 ---
Guardian Venm Von Gottschalk
Hello Alice!!!
I just wanted to check in and tell you that Venm is doing great!!!
He is more loving and playful than we could've imagined.
We would like to say thank you very much and keep in keeping on. You guys are doing great!
With that being said, we are considering purchasing another Rott from you..
We would love another Rott of the same high pet quality that we have now.
I look forward to hearing back from you soon,
Joe
 Hey, Alice!  We just wanted to reach out to you and tell you that our pups are great!!! Venm is definitely OUR dog. Very loyal to us, loves us, and is skeptical of anybody he doesn't know. The way he should be. 
 Rava is very Sweet, a great listener and very loving. All while being a great rough housing sibling for Venm.  Uber….let me tell you…this dude is a straight up DUDE!!!! Wow!! He is very impressive looking. Very!  Extremely calm and very playful.
     We are overwhelmed at his demeanor every single day!!
     They are all great!!!  Also, we have bought 10 acres of land for our family and will begin building our house soon.
      This is Joe , BTW.  One condition of moving to the "country" was that we could have more Rotts from you.  I believe Diablo is Uber's Dad.
       Whenever you breed him again, we would love to be in consideration for another male from him.
     Also, we prayed for a great recovery for your son and your family.  You are blessed!   One day at a time and 
#controlwhatyoucan  Hope to talk to you soon.
        Joe and Shannon
(Visited 30 times, 1 visits today)