Guardian Rottweilers B LITTER
Sire: Dunjo von Shambala
Dam: Akina von Radkestein

Dunjo von Shambala x Akina von Radkestein


I am SOOOO excited about this breeding!  We have been planning this litter for over a year!  These will be EXCEPTIONAL pups with SUPER DRIVE!!  If you are looking for a great working dog with INSANE ball drive, high confidence, extremely intelligent, loves to work and is drop dead gorgeous- then THIS IS THE LITTER!!!!!!  I have handled some of the greatest Rottweiler worldwide over the last decade and a half and I have NEVER had 2 dogs that loved to work more than these 2!!  Akina is by far the most clever and extremely intelligent dog I have EVER worked with!  She will solve any obstacle or puzzle put in front of her and has INSANE athletic skills!!  Dunjo is THE DEFINITION of ball drive!  He has a 7.5′ VERTICLE JUMP, will do ABSOLUTELY anything for his ball, works TIRELESSLY, and his MUSCLES have MUSCLES!! And what I love most about this BEAST- he has so much power and drive and yet is still so gentle and affectionate!  My youngest son, Ethan, has been putting Dunjo through his routines since Ethan was 3 years old!  Not only does Dunjo have so much love and respect for Ethan to be ever so gentle and obey EVERY SINGLE command, BUT, he is also infinitely patient and happy to "help" by anticipating what Ethan is asking for if he forgets what the correct command is!!  I LOVE these 2 dogs SOOOOO much!!  They both have SO MUCH HEART!!  Please click on the links below for some little videos of Akina and Dunjo.
http://www.youtube.com/watch?v=ApzH8yWHs2Y
http://www.youtube.com/watch?v=Gjlkv65PEtg&feature=relmfu
| | | |
| --- | --- | --- |
| Dunjo von Shambala | | Akina von Radkestein |
| | | |
| | | |
| --- | --- | --- |
| |  Dunjo von Shambala | |

 litter day:
2004-10-24
 show assessment:
Multi V Rated; V3 2x
 ranking:
NHSB
 ranking level:
MAG Test FE
 worth index number:
 height:
65
 weight:
49
 sex:
m
 breed:
Rottweiler
 description:
BH, AD
 breed register number:
, AKC WS30316201
 HD:
HD-A, ED-FREI; DNA # V570234; Heart Cert. # RO-CA5094/76M/P-V
 owner:
Alice Velasquez
 description:
ADRK Studbook #110433
AKC # WS30316201
DNA # V570234
TATOO #110433
CHIP # 956000002523287
Heart Cert. # RO-CA5094/76M/P-VPI AD, BH, MAG test FE, Holland
Multi-V
V3 ARV National Sieger
Rated Dunjo has CRAZY drive and is in incredible athlete. He is rock solid with excellent muscle substance. Dunjo is extremely intelligent ahd I have yet to reach the limits of what he can learn!

| | | |
| --- | --- | --- |
| |  Akina von Radkestein | |

 litter day:
2008-09-05
 show assessment:
Ch. Serbia; 3x CAC; Multi-V; Best Opposite Sex
 ranking:
KSS
 ranking level:
 worth index number:
 height:
60
 weight:
43
 sex:
f
 breed:
Rottweiler
 description:
IPO 1
 breed register number:
717977 Rw
 HD:
HD – frei ; ED +/-(KSS)Heart Certified- NormalAKC DNA
 owner:
Alice Velasquez
 description:
KSCG=Kinoloski Savez Crne Gore, Montenegro KSS=KINOLOSKI SAVEZ REPUBLIKE SRBIJE, Serbia
JR 717977 Rw
Chip# 688050000476193
AKC # WS39994201
AKC DNA#V661322
HD +/- ; ED +/-
IPO-1
Adult Ch. Serbia
3x CAC
Multi-V
Best Opposite Sex
Akina is quite possibly one of the smartest females I have ever worked with!  She has high drive and exceptional athletic abilities!
| | |
| --- | --- |
| line breeding about 5 generations | |
number of considered generation: 5
| | | | | | |
| --- | --- | --- | --- | --- | --- |
| | dog | pedigree of sire | | pedigree of dam | |
Face von der Teufelsbrücke
4
4, 4
Noris vom Grüntenblick
4, 5
5
Benno von der Schwarzen Heide
5, 5
5, 5
Bea von der Teufelsbrücke
5
5, 5
| | |
| --- | --- |
| Pedigree of Guardian Rottweiler's B Litter | |
| | | |
| --- | --- | --- |
| | Pedigree of Guardian Rottweiler's B LITTER: | |
---
Guardian Beowulf Von Gottschalk
Hi Alice,
Just wanted to take a moment, to say thank you for everything! The little guy is beautiful, his markings are excellent and most of all the kids are over joyed and my wife and I are thrilled. We love him to pieces. There is a saying that the best things in life are worth waiting for and that could not be any more true than today. Even though he will not fill that void in heart totally for my late Diesel but he will most definitely help. I know that I feel a
lot more up beat than I have been in a long time. My life has not been the same since he past in April but at least the year is ending on a good note. I attached a few pictures of the little guy and also though I would share a few pic of my "diesel". God Bless everything you are doing for the Breed, Thanks again!
Regards,
Jorge 
HI Alice,
The little guy is doing awesome! He is just over the top, I love him! I find myself wanting to come home now that I have a little buddy to come home too. The house had been so empty since my Diesel pasted. I just wanted to let you know that I have an appointment with the vet for Saturday at 1 pm. Which I'm sure the little bundle of joy will pass with fling colors!
Hope all is going well,
Regards,
Jorge
P.s My father fell in love with the little guy and was thinking of getting one himself. Do you have any up and coming litters???
---
Guardian Blossom Von Gottschalk
We loved the name Bailey you had so we named her Bailey.  She is doing awesome!!  So smart!!
When will be the next litter after this one coming up?  That is a more realistic timeline for us.  Let me know if you know.  Thx!!
Brian
---
"Ninja" Guardian Berzerk Von Gottschalk
Hey Alice!
"Ninja" is doing very well! Despite our long trip, he cried very little and didn't soil the crate once. We stopped approximately every 2 hours so he could relieve himself and stretch his legs. It worked out perfectly!
Sleeping in his crate (alone), for the first time, was a bit more challenging for him. He fussed, whined, and fell asleep (in that order) several times throughout the night, but we survived it without incident. Once again, he did not soil his crate and continued to relieve himself outside. I'm sure the trend won't last and there will be accidents, but it's great for the moment. 🙂
This morning, I gave him 1/2 cup of Fromm and he ate approximately 80% of it and drank water. I intend on feeding him 1.5 cups of Fromm daily (1/2 cup per meal) in accordance with the daily recommended serving size on the bag. Do you agree with that?
Lastly, I purchased a puppy size tennis ball for him and he definitely enjoys playing with it. I witnessed a mini Dunjo & Akina during our play time … great ball drive! At the moment, we are bonding and I'm giving him lots of love, affection, and attention; We are going to have a wonderful life together! Another thing he's discovered is the ceramic tiles lining the front of the fireplace.  After our play time, when he's worked up some heat, he likes laying flat on his stomach on the tiles because they are cool.
Alice, thanks again for being such an awesome Breeder, adhering to the highest standards! Now, if you could only add some Guardian Rottweiler apparel (t-shirs, sweat shirts, hoodies, fleece jackets, etc.) to the website, I would love to share (with the public & at future Schutzhund trials) the pride I have in YOU and your litters! Just sayin … LOL
Thanks for the follow-up!
Lee
Note: Ninja ate ALL of his lunch serving! LOL
---
"Oskar" Guardian Benji Von Gottschalk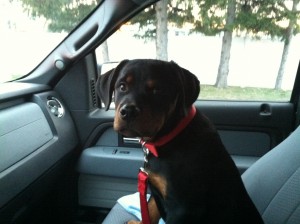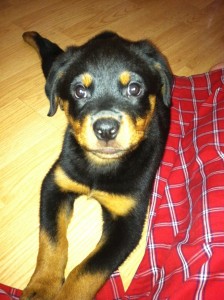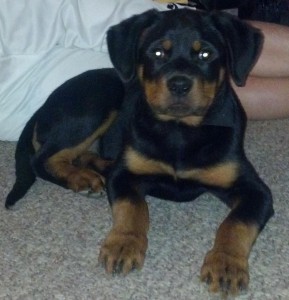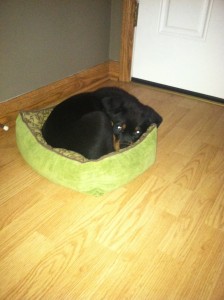 Hi Alice. Here are some photos of Benji.  He is my little buddy, for only a little while longer since he is now 55 pounds.  He is a bundle of energy and full of love.  
Thanks for a great pet, friend, and member of the family.
(Visited 53 times, 1 visits today)