Guardian Rottweilers G LITTER
Sire: Rolex Vom Hause Pista
Dam: Hana Von Megi Rot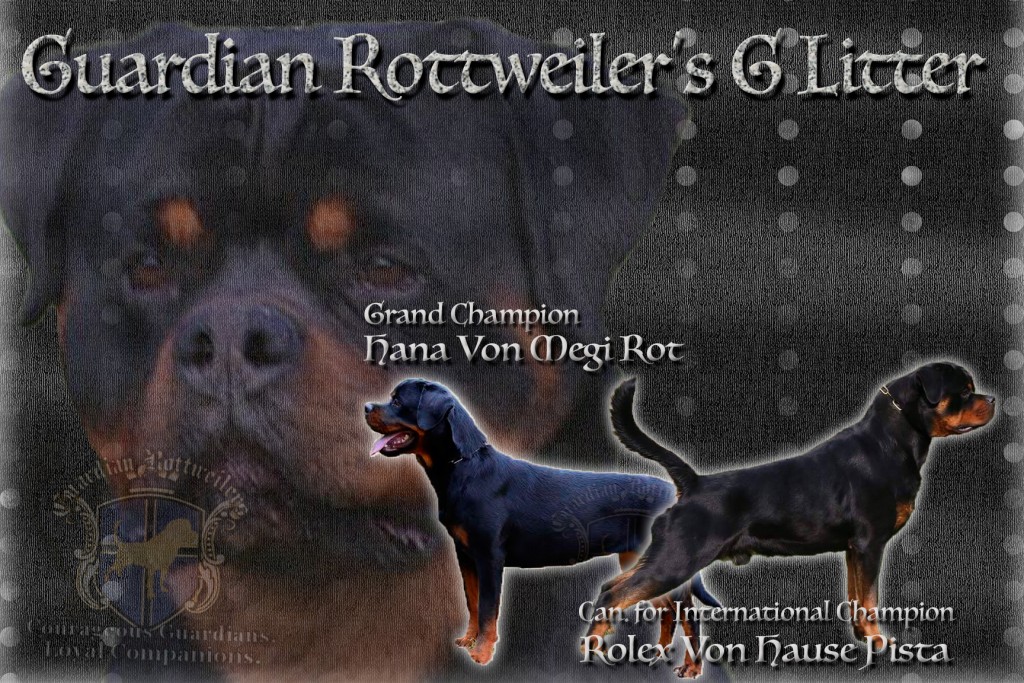 Many thanks to Uros Golubovic for the opportunity of this exciting litter!!  Candidate for INTERNATIONAL CHAMPION Rolex Von Hause Pista YOUNG CHAMPION OF SERBIA, ADULT CHAMPION OF MONTENEGRO, BALKAN CHAMPION, GRAND CHAMPION, 3x YOUNG WINNER, 3x YOUNG BEST OF BREED, JUNIOR BEST OF GROUP, JUNIOR BEST OF SHOW, 2x CAC; 2x CACIB is probably the most famous son of Anw. Dt. Jug. Ch, VDH Ch.,  Poland Champion, Rik Darrel, and produces that same typey head that Rik became famous for throwing.  
Grand Champion Hana Von Megi Rot YOUNG CHAMPION OF BULGARIA, YOUNG BALKAN CHAMPION, GRAND CHAMPION is the daughter of none other than Pongo Se Ungo-Rot ADULT CHAMPION OF SERBIA
YOUNG CHAMPION OF BULGARIA, YOUNG CHAMPION OF MACEDONIA, YOUNG CHAMPION OF SERBIA, 7x YOUNG WINNER, 7x YOUGENDSIEGER, 7x YOUNG B.O.B., 5x YOUNG B.O.G., 2x C.A.C., 3x B.O.B., 2x B.O.G., B.I.S., B.I.S. – III place, that handsome boy that graced the cover of Total Rottweiler Magazine!
This breeding brings
DT VDH Champion Lacky von der Südpfalz,
Champion Arlos Majestic Rot,
Champion Harry Potter Se Ungo Rot,
Candidate for International Champion Marschall Se Ungo-Rot,
International Champion Marsio Ri Moby Dick,
Champion Kafu Von Beni,
ANW. DT. Jug. VDH Ch. Poland Champion Rik Darrel,
ADRK VDH Jugenchamp Hero von der Tonberger Höhe,
ADRK Auslandjugend Sieger Dack Flash Rouse, even LEGENDARY INT./SCHWZ./DT.VDH-CH ES'02 Ö-BS'02 SCHWZ.KS'02 Ö-KS'02'03 SchH/VPG III FH II AD BH IPO III MAMBO VON DER CROSSENER RANCH together for one incredible breeding!!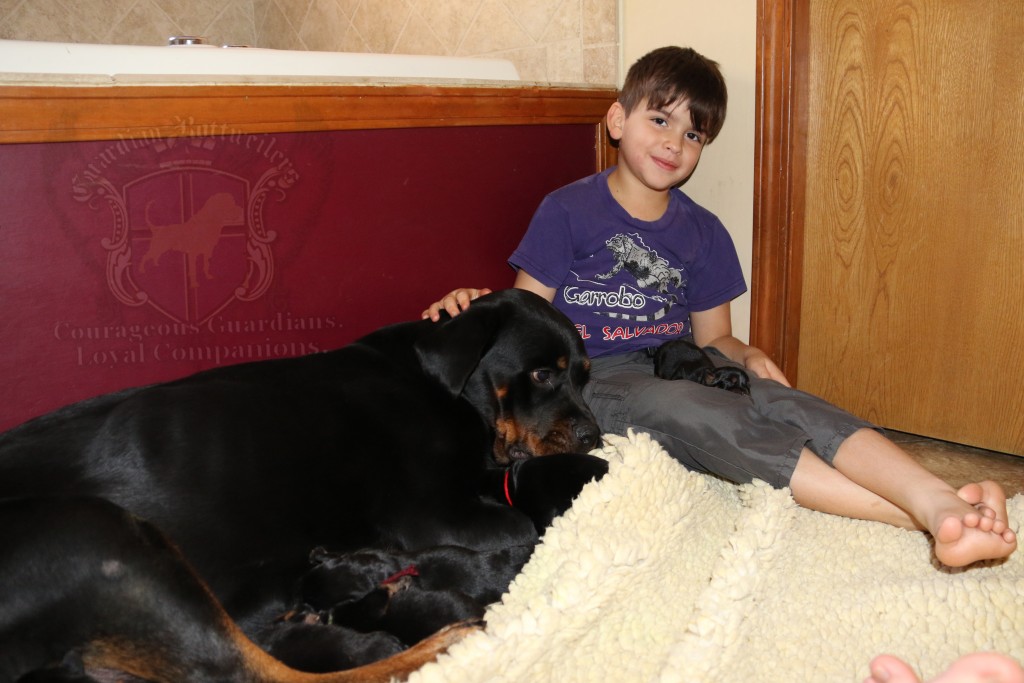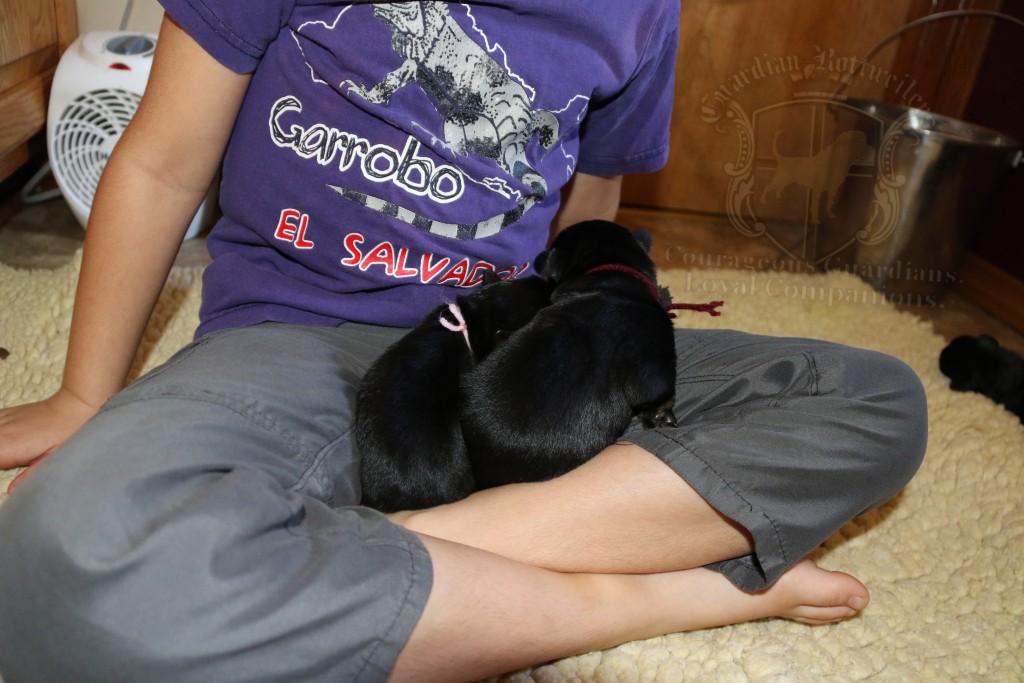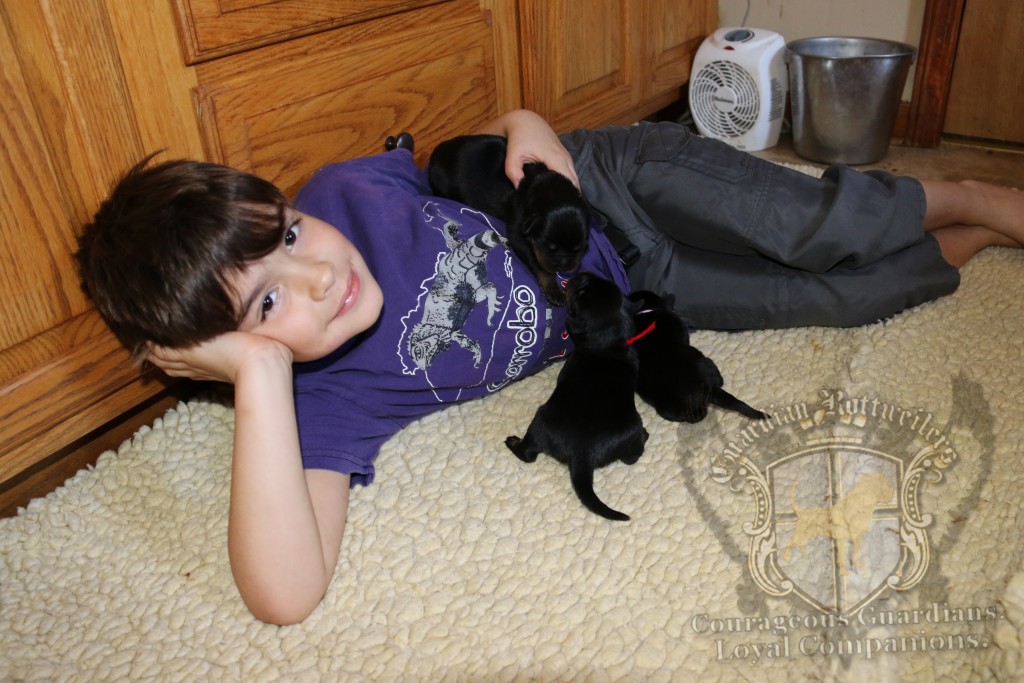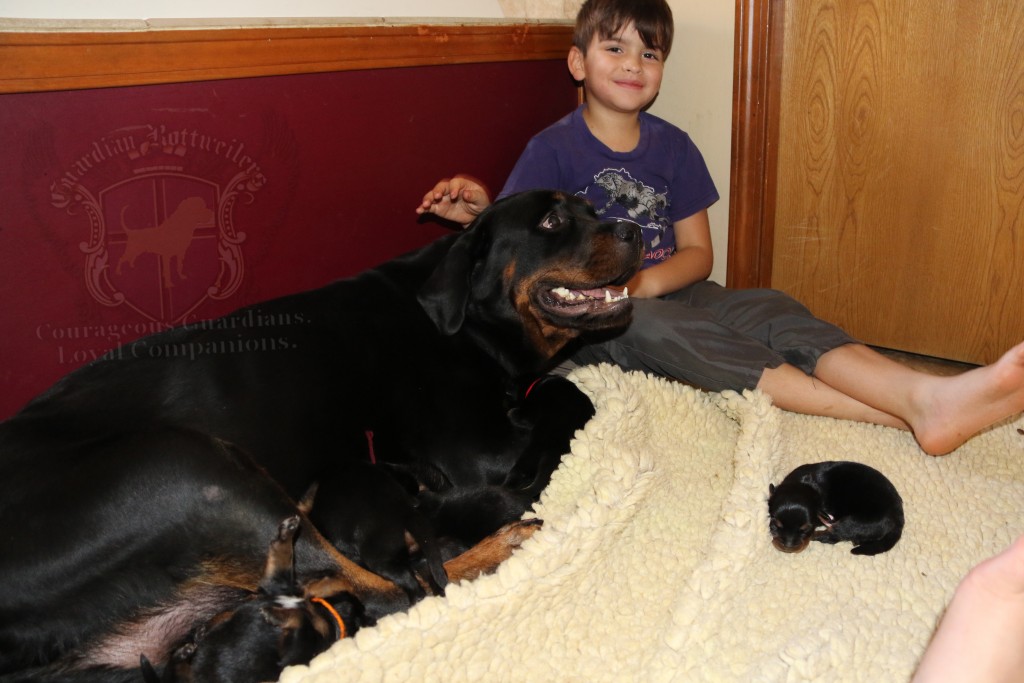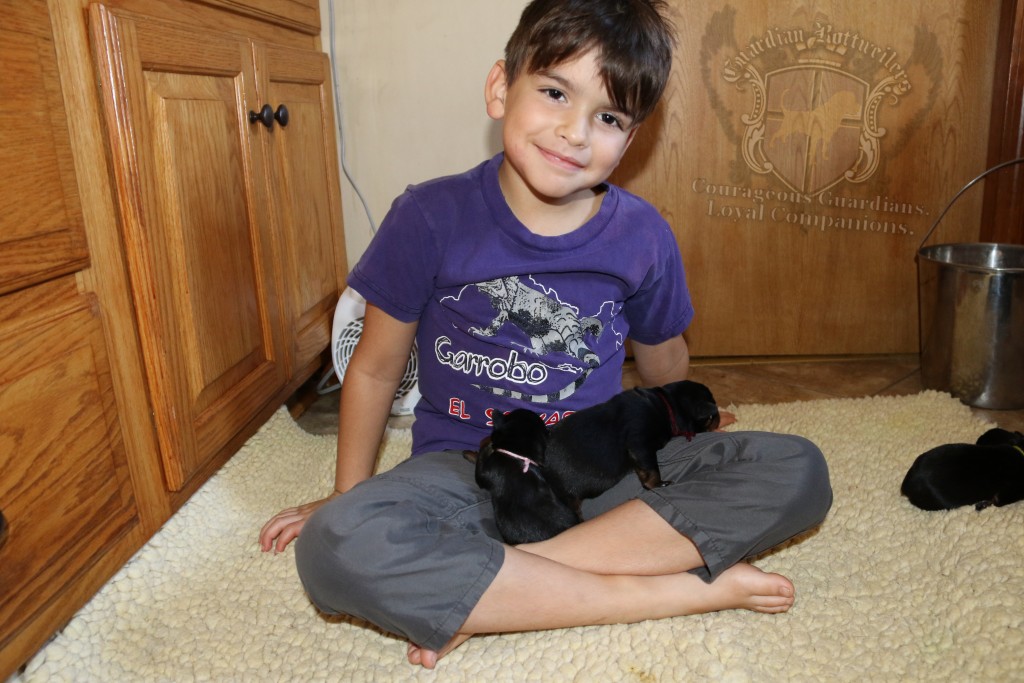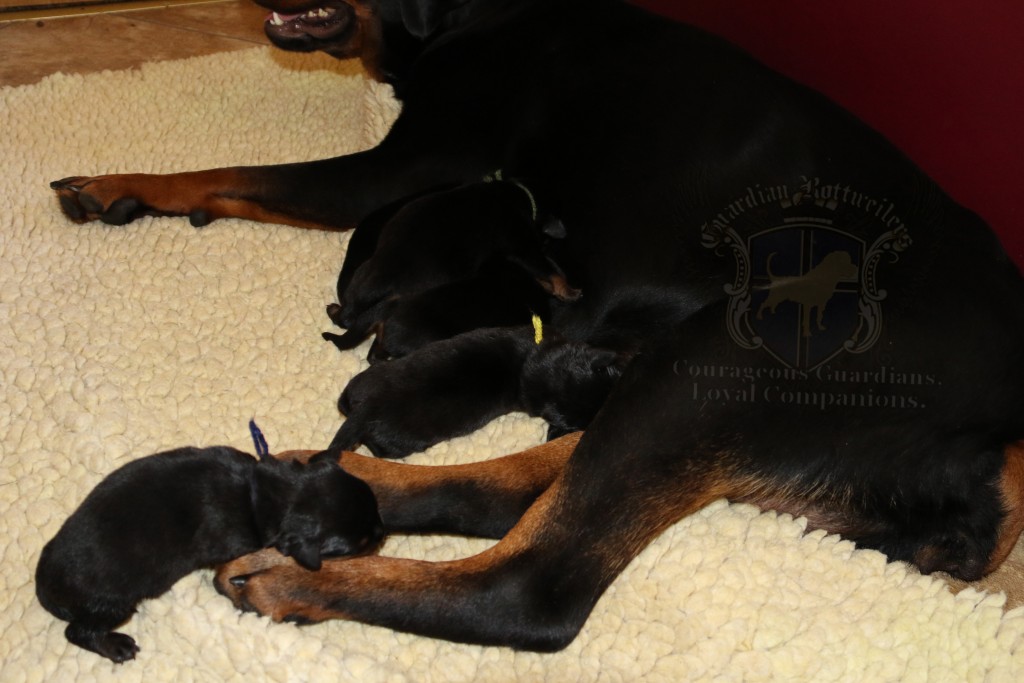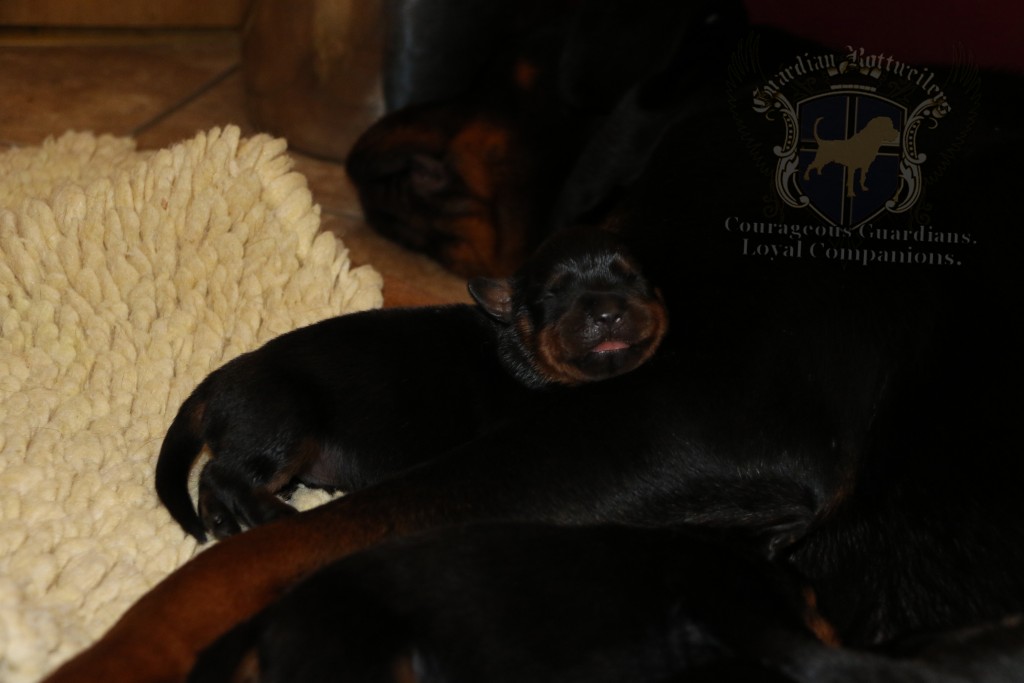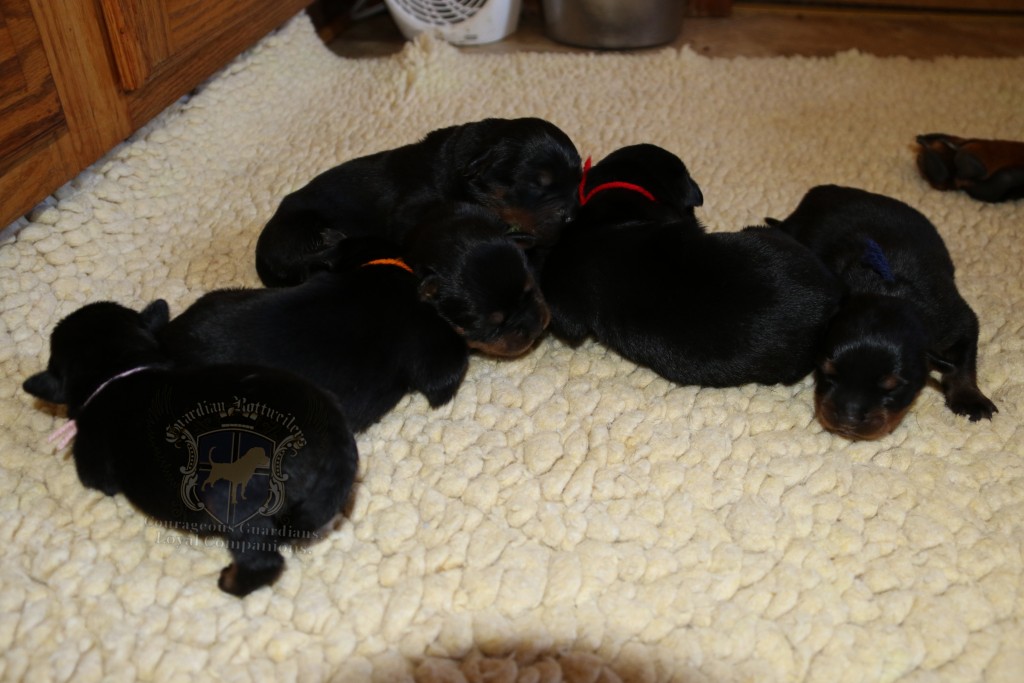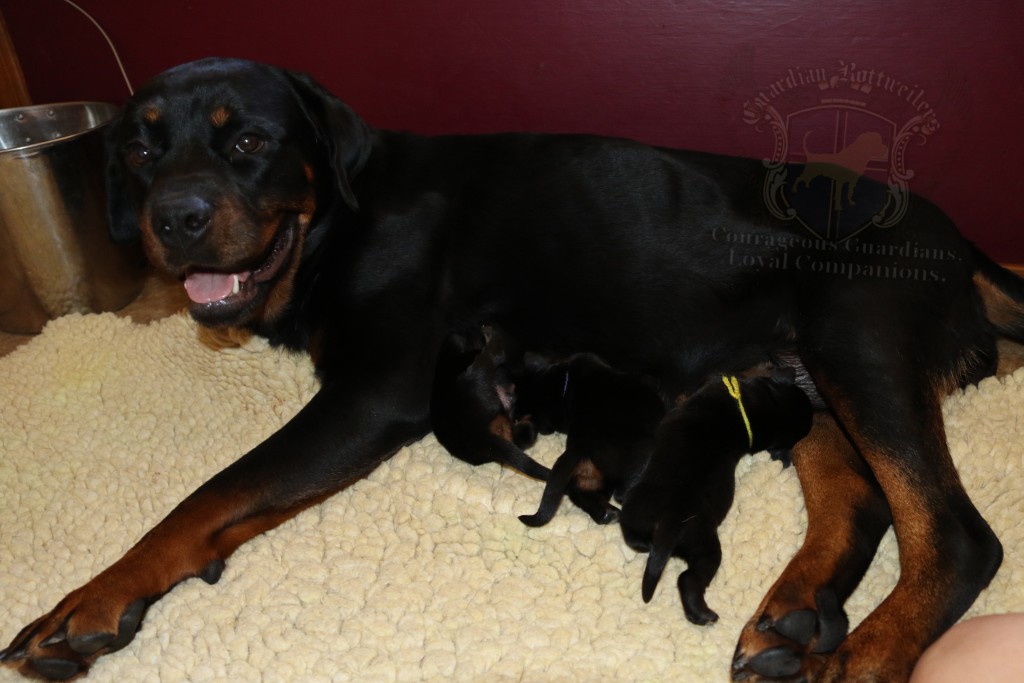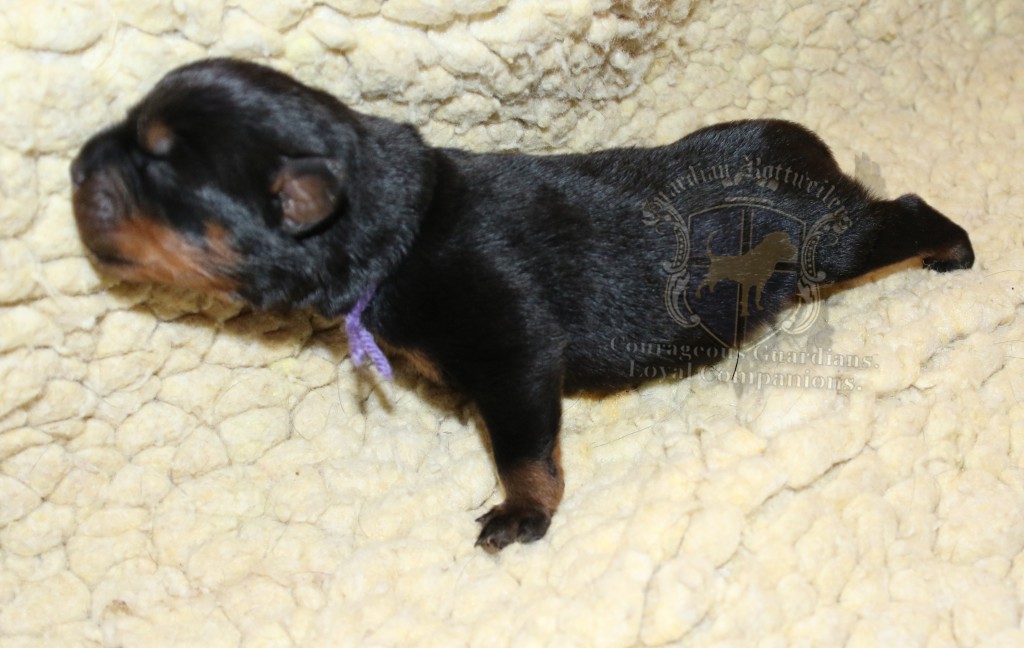 Hana and Ana (the kitty) have a special relationship.  Every time Hana wants to go potty, she sits and waits by her room door and will not come until Ana comes in.  I swear that Hana has hired Ana as her baby sitter!

3 weeks old!  First Semi-Solid Food!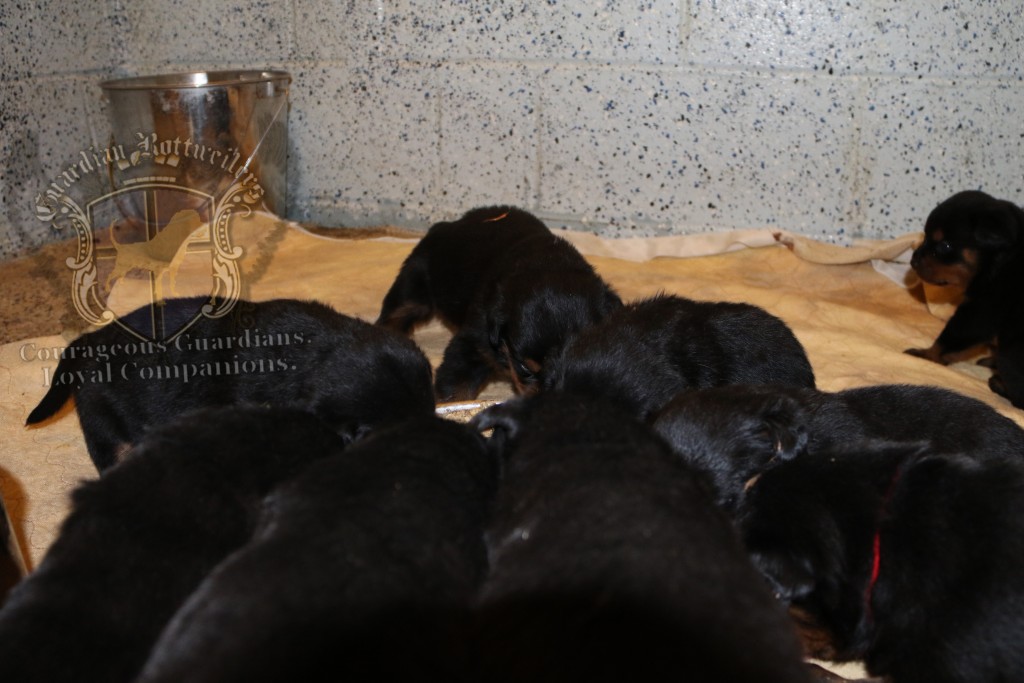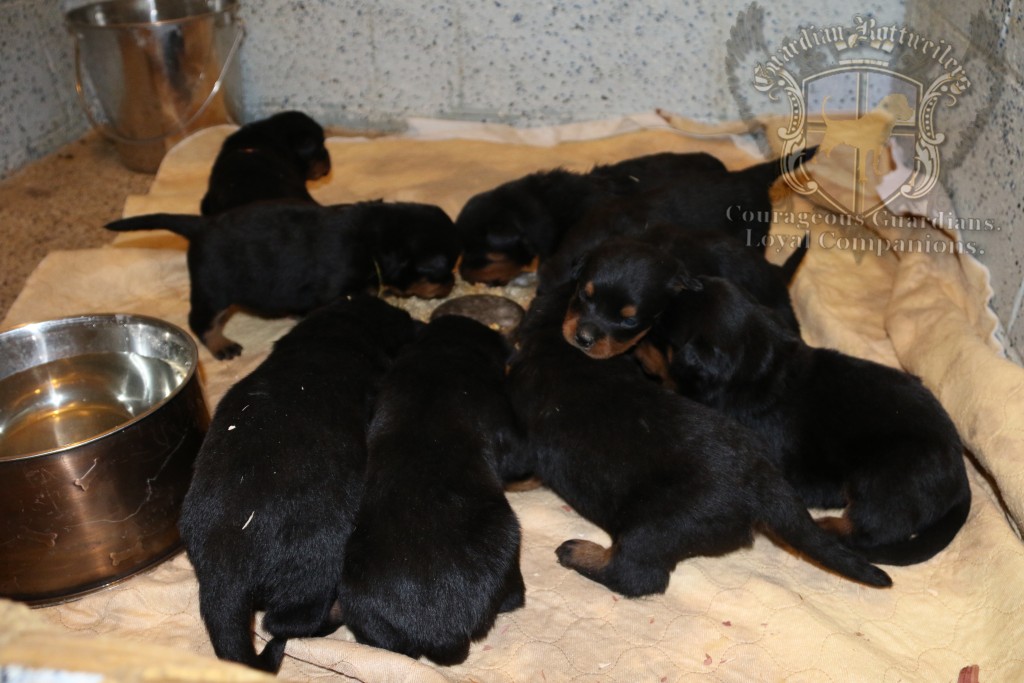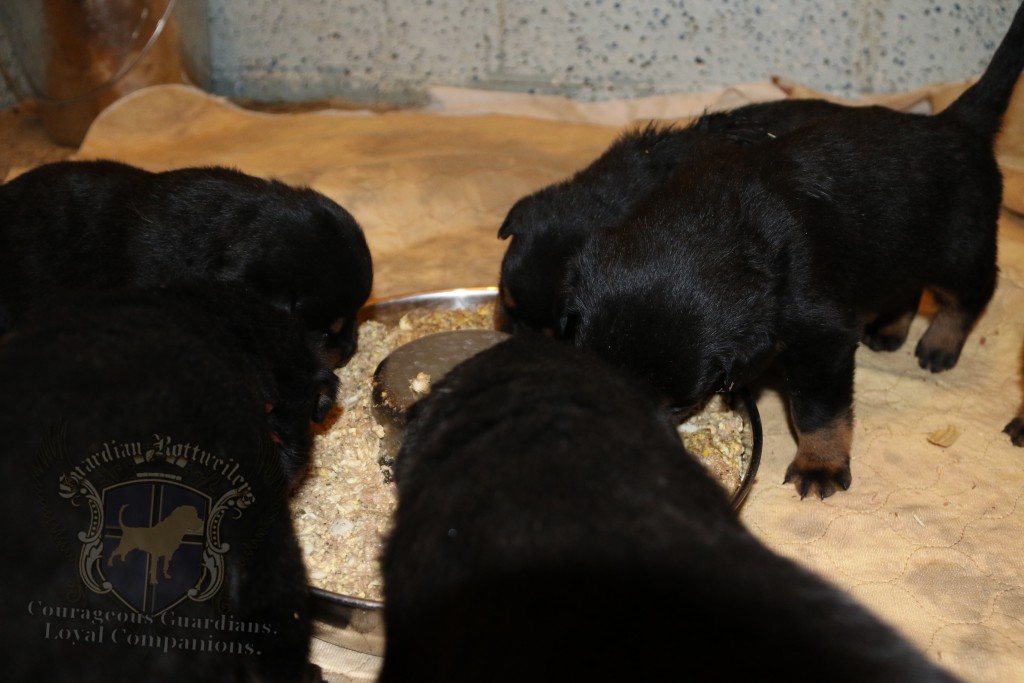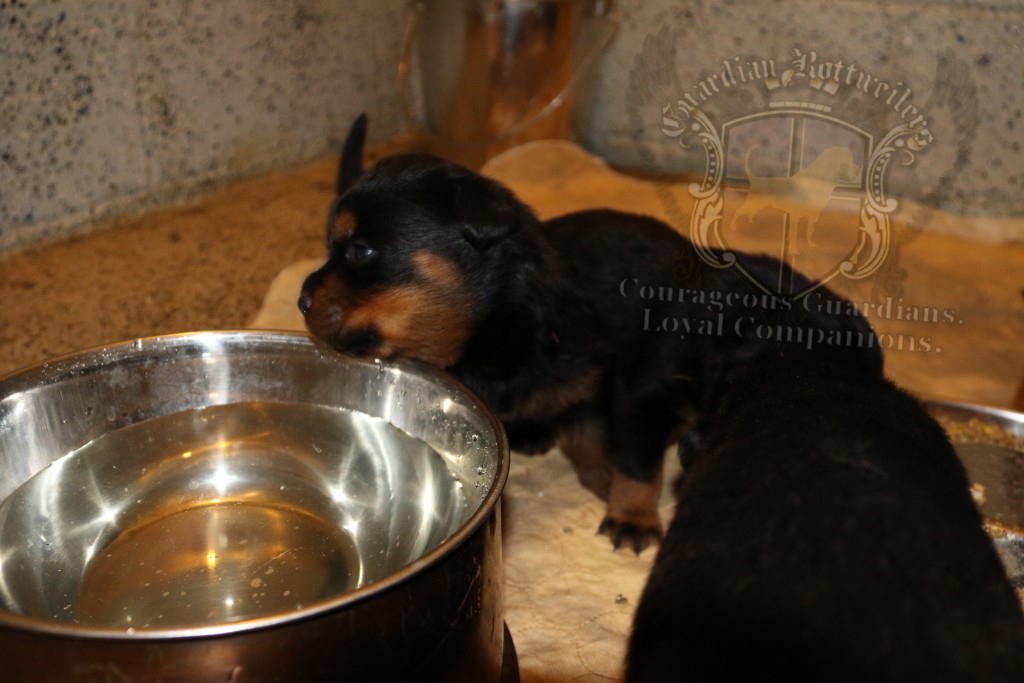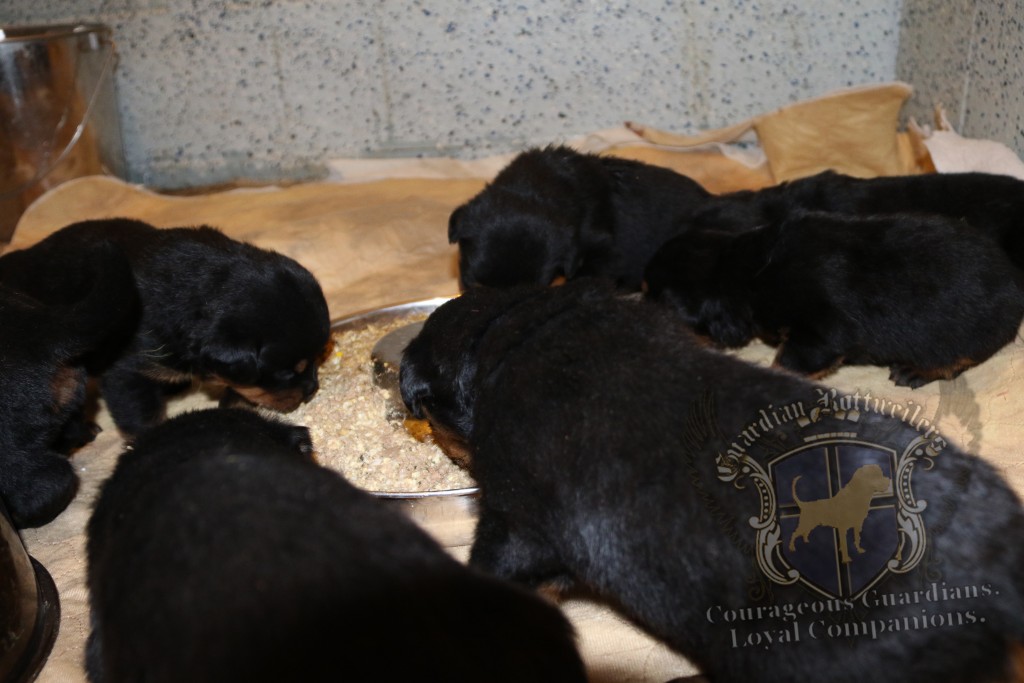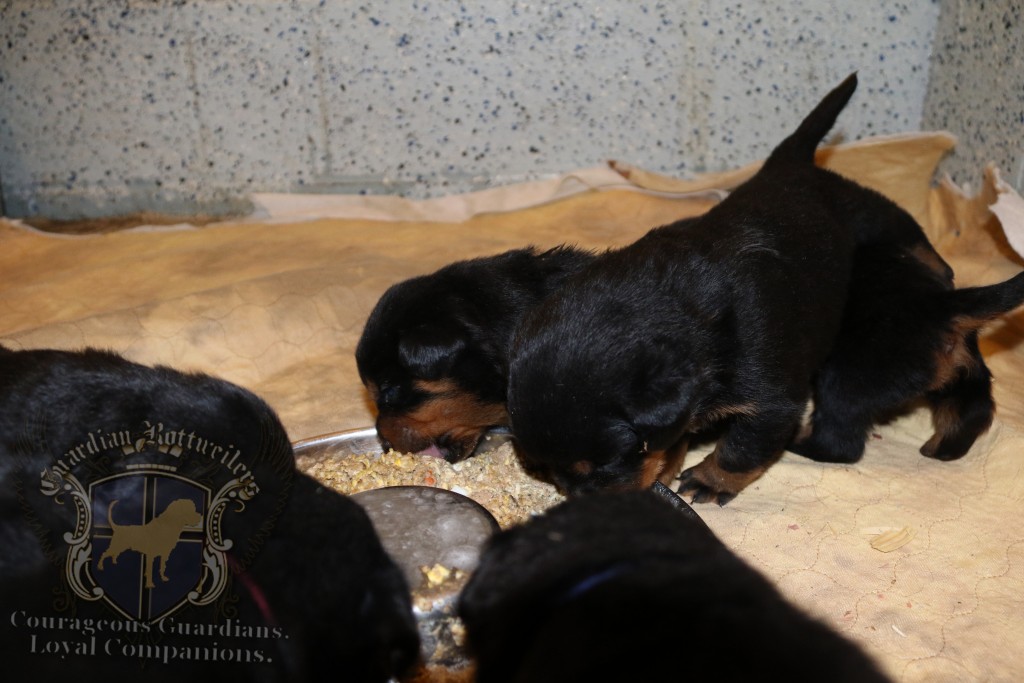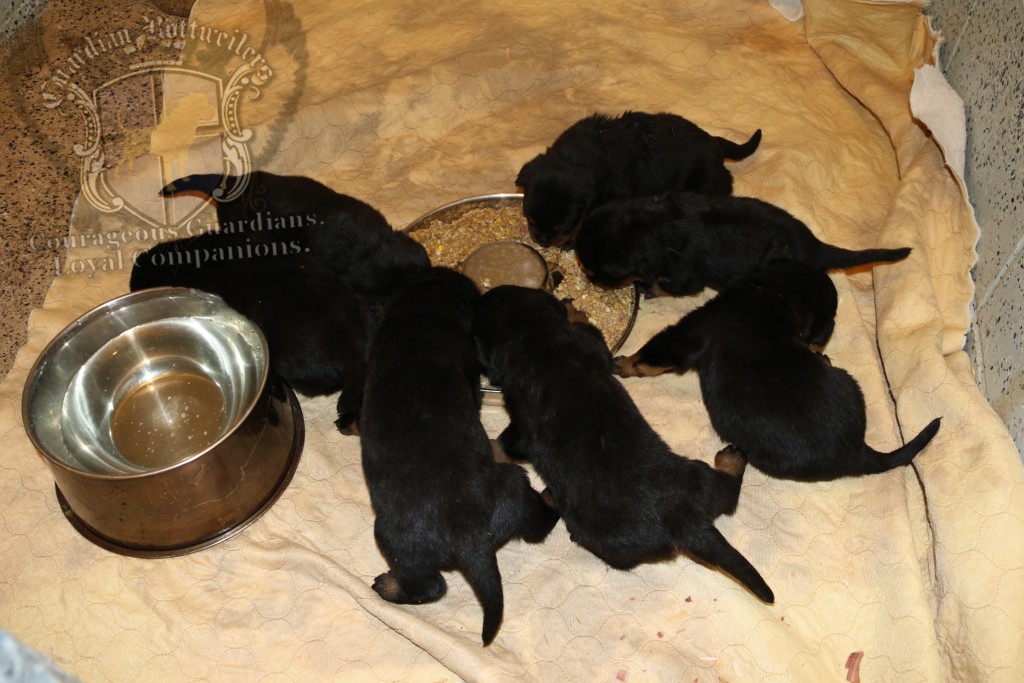 ---
Guardian Griffin Von Gottschalk
Hi Alice,
Merry Christmas. I'm sorry I didn't get back to you sooner. We all made it back to Rapid just fine. Loved your Christmas.  letter and photos. Mark has decided that he didn't like the name Angus or any of the other names I picked out.  So, Griffin remains his name. His first doctor's visit will be this week. Griffin had some issues with different dry dog's food at first but his tummy is getting used to a couple now. We should have bought a big bag from you before we left. I am going to try to get the duck and pork shipped to us if I can find a better rate. Otherwise he is getting along quite well with all the attention from Christmas break. He is starting to let up with the biting and of course has lots of new toys.  I just wanted to send you a few pictures with two of my grandkids. Have a safe holiday. 
Love
Mark, Natalie, and Griffin
---
Guardian Georgia Von Gottschalk
Hi all, went to the vet's today for shot and check ups..all three of them love going cause they get so much attention, which actually I think all the staff get spoiled by three loving pups all at once. They make me shine in the vet's eyes because they are so loving and obedient. It's a win win going in. Dack surprised us all, he is 43 lbs then Cody came in at 37.5. Next that little chunky Georgia weighed in at 18 lbs. She was 12 a week n half ago…its such a blessing with these three. Hopefully you are all having a great awesome day. Merry Christmas, Dave. Attached is Dack n Cody taken by the vet And a picture of Georgia asleep at my feet.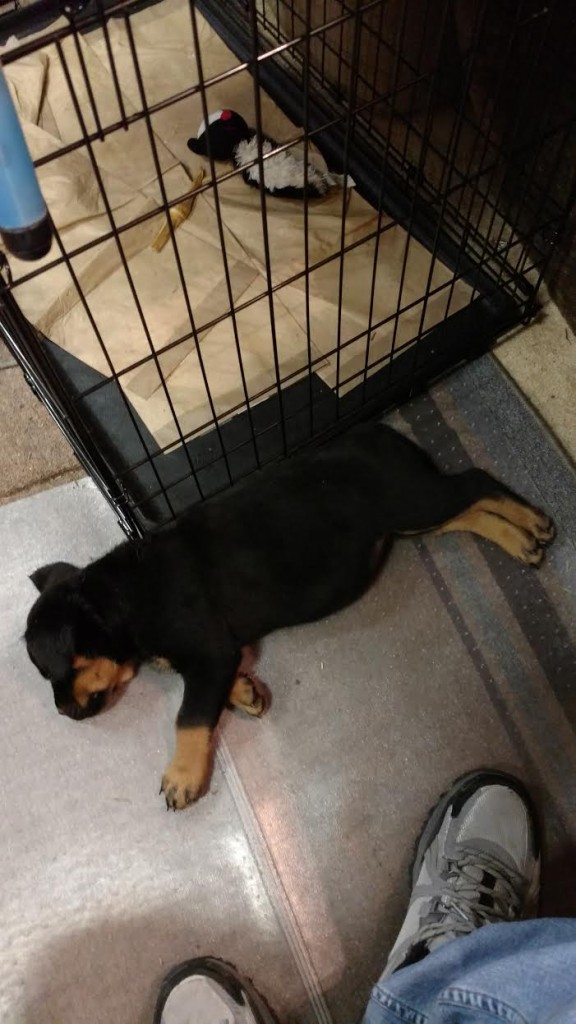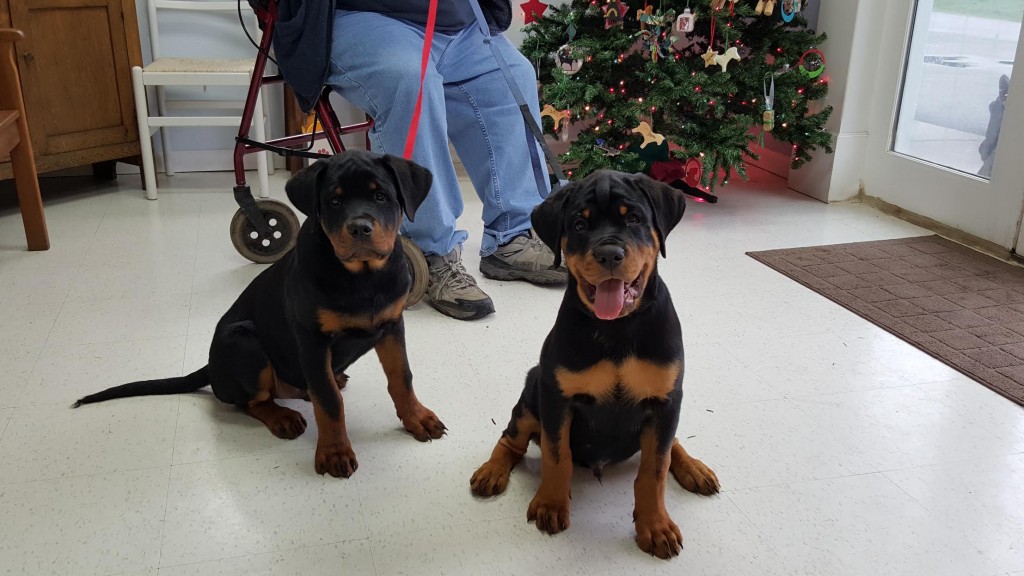 ---
"Magic" Guardian Gator Von Gottschalk
He's great & he has the best love that a puppy could have , just stubborn on his leash, any tips on walking him, he continues plopping down & wont move
(Visited 40 times, 1 visits today)