Guardian Rottweilers G Litter
Sire: Aron Timit-Tor
Dam: Guardian Qi'ra Von Gottschalk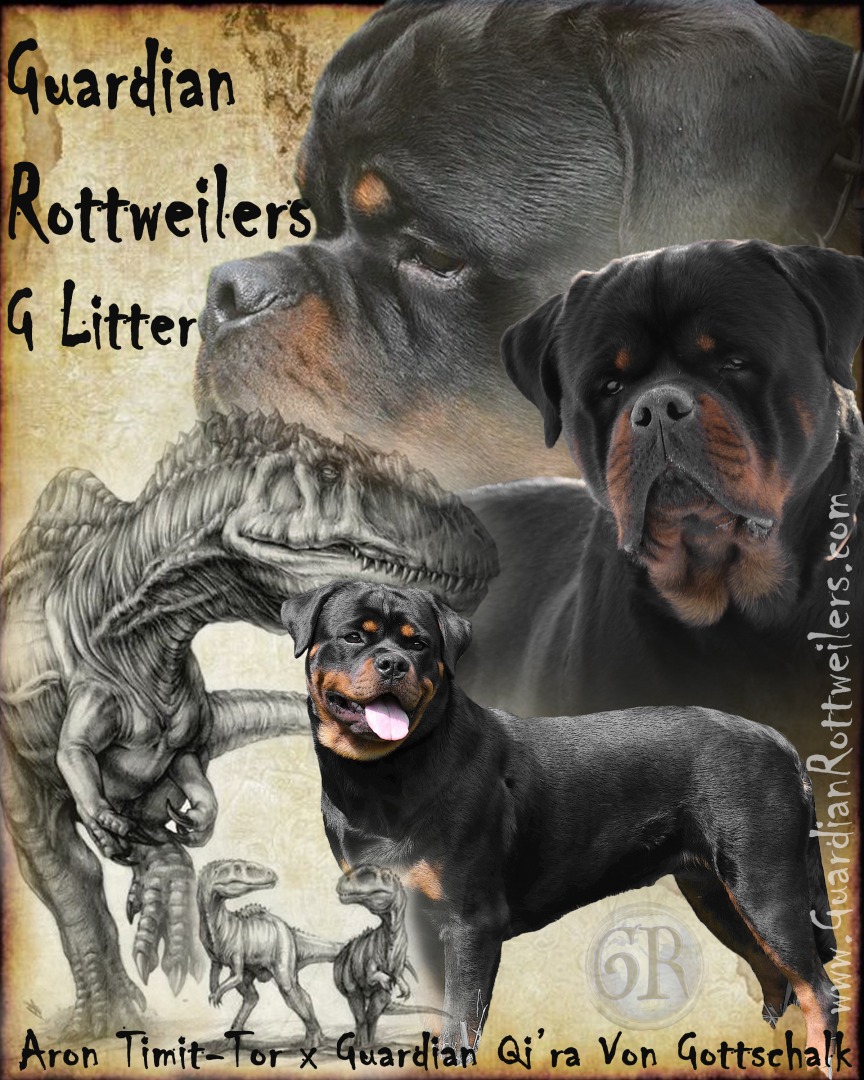 Gamba
RESERVED!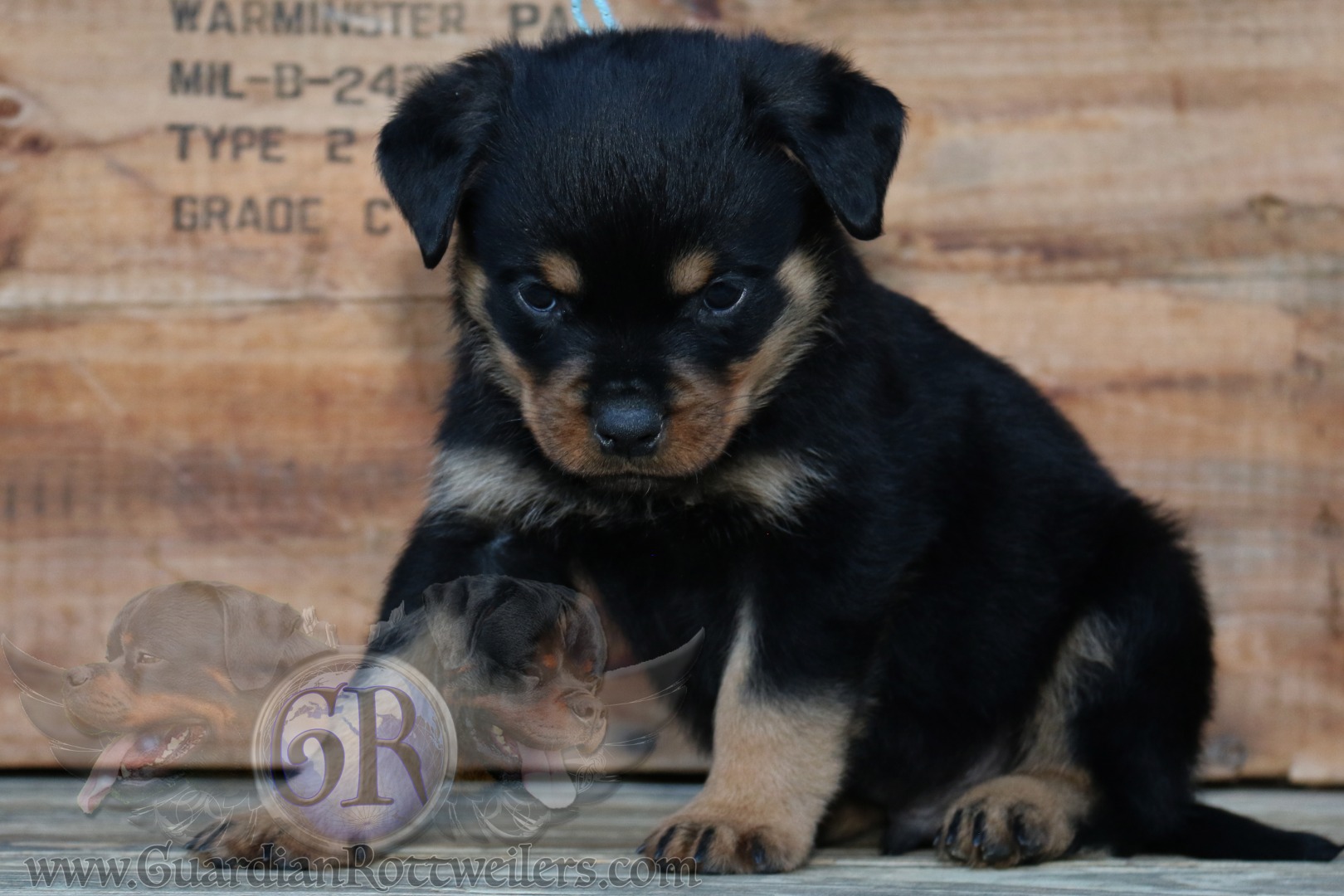 Goku
RESERVED!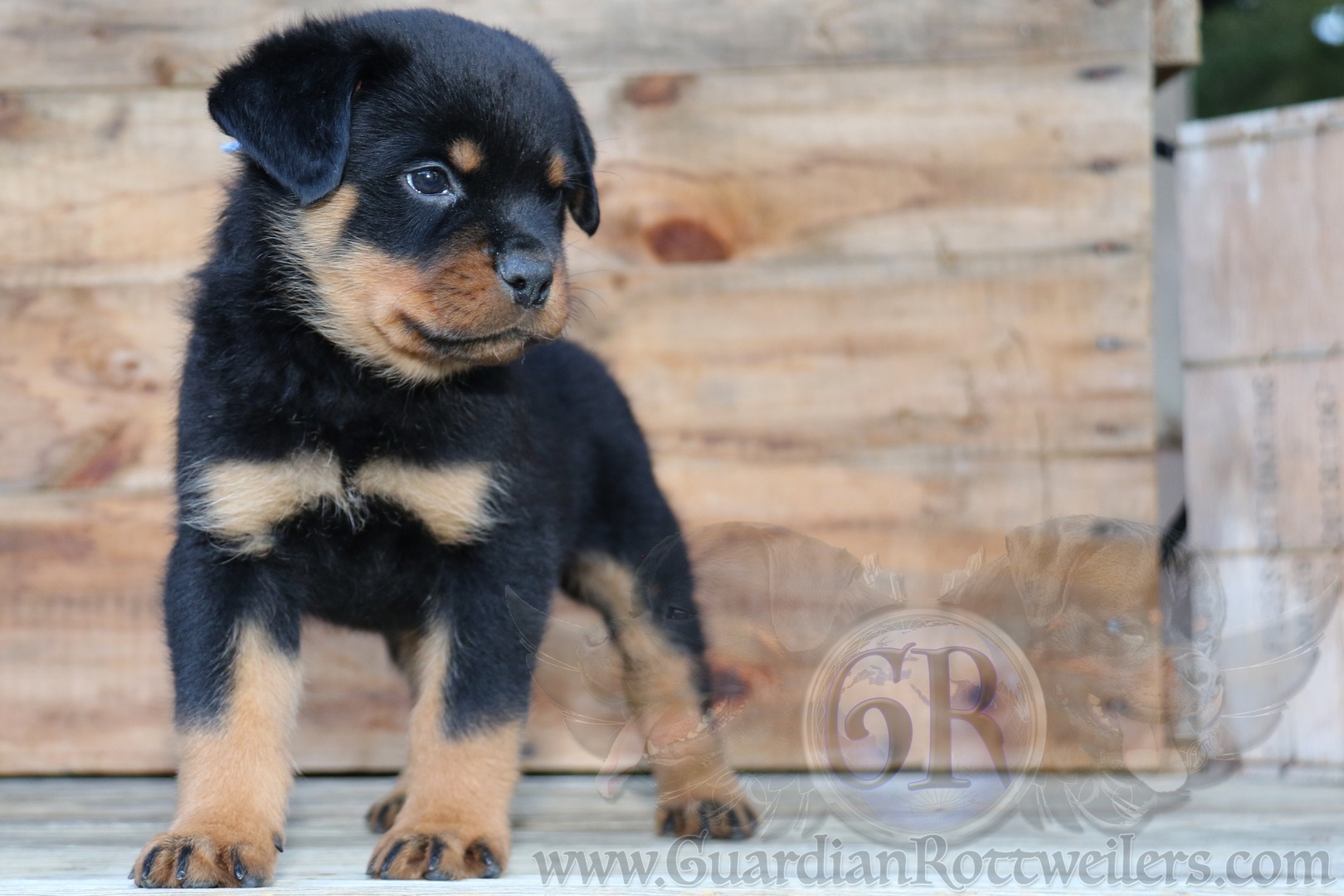 Gladiator
RESERVED!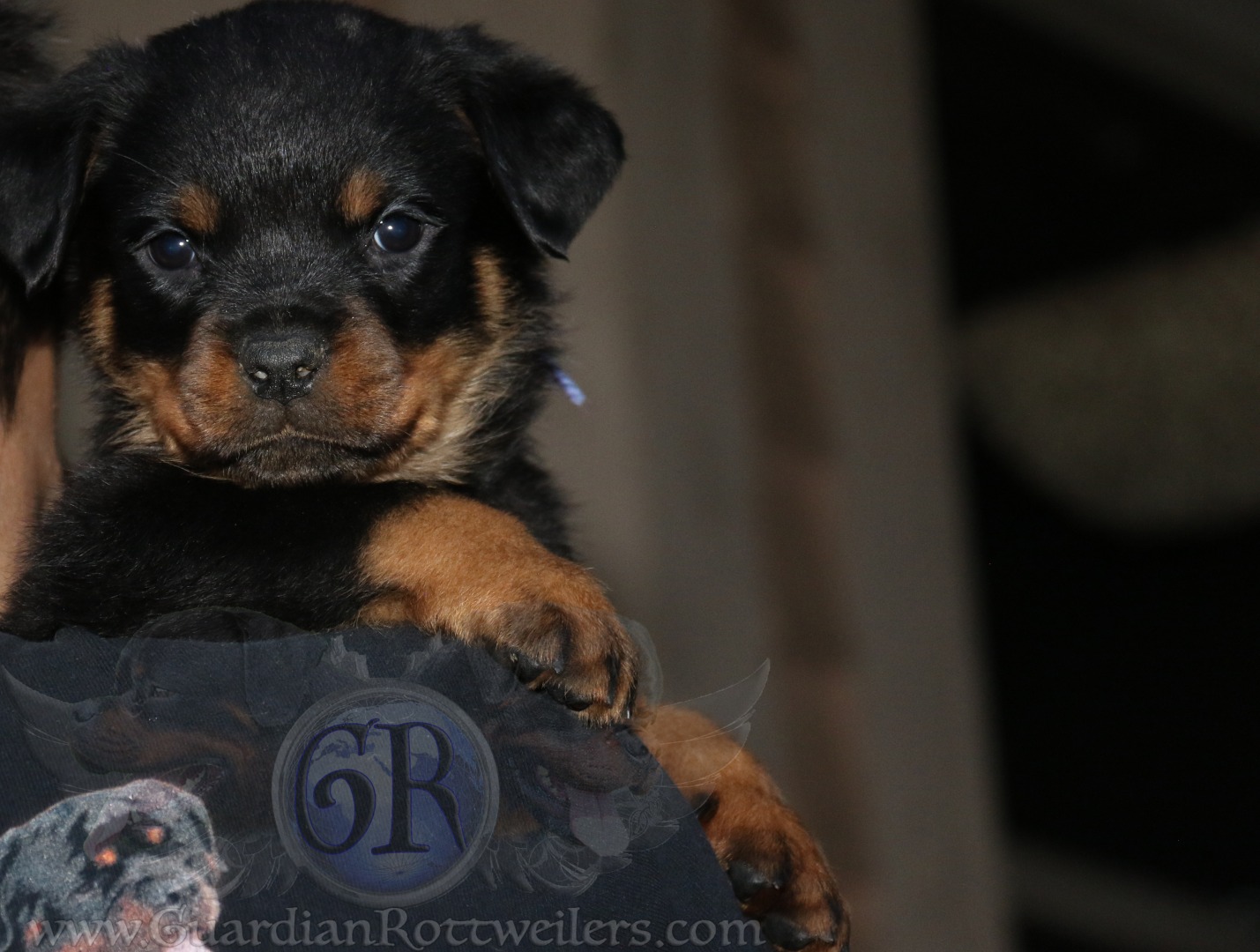 Glacier
RESERVED!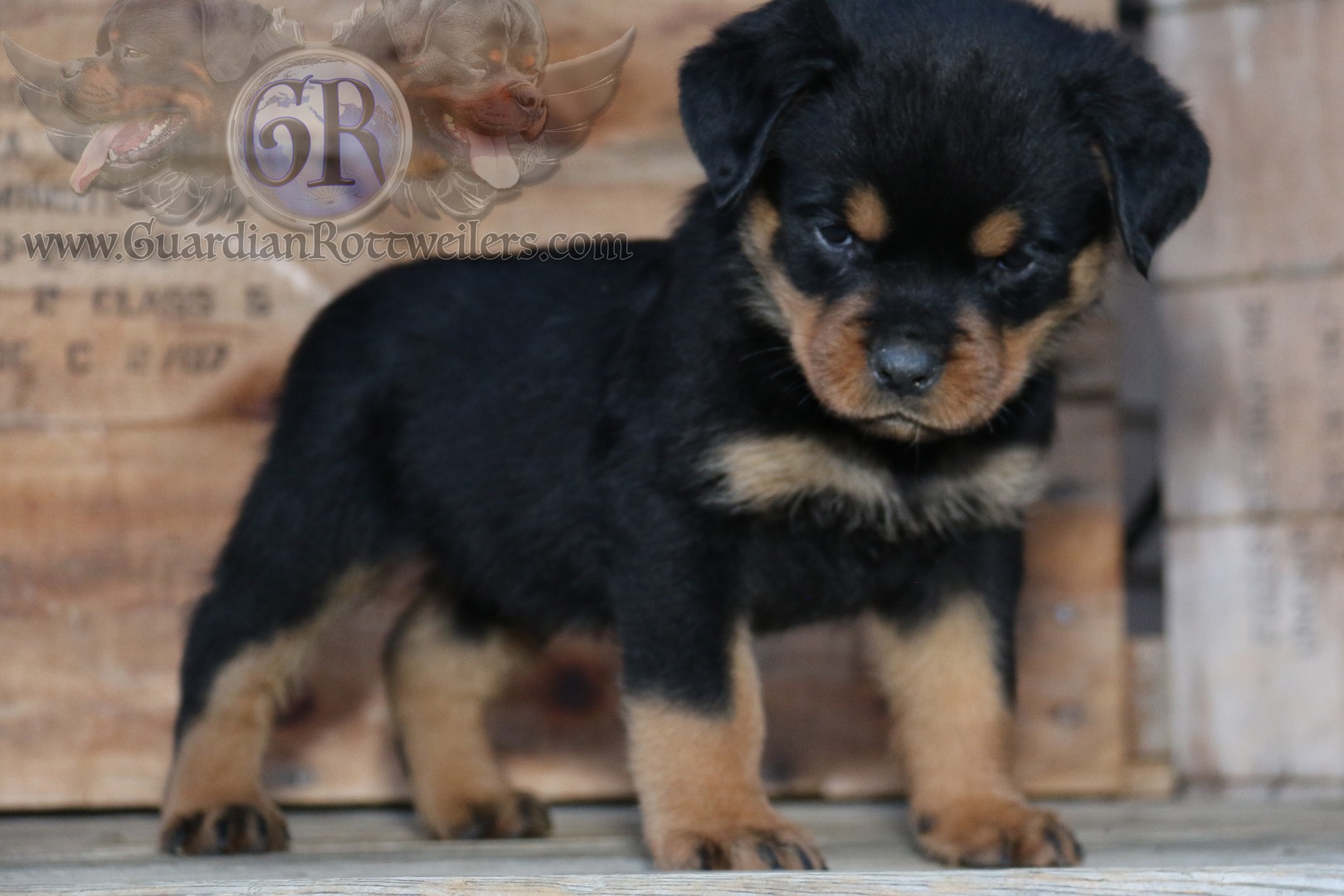 Griffyn
RESERVED!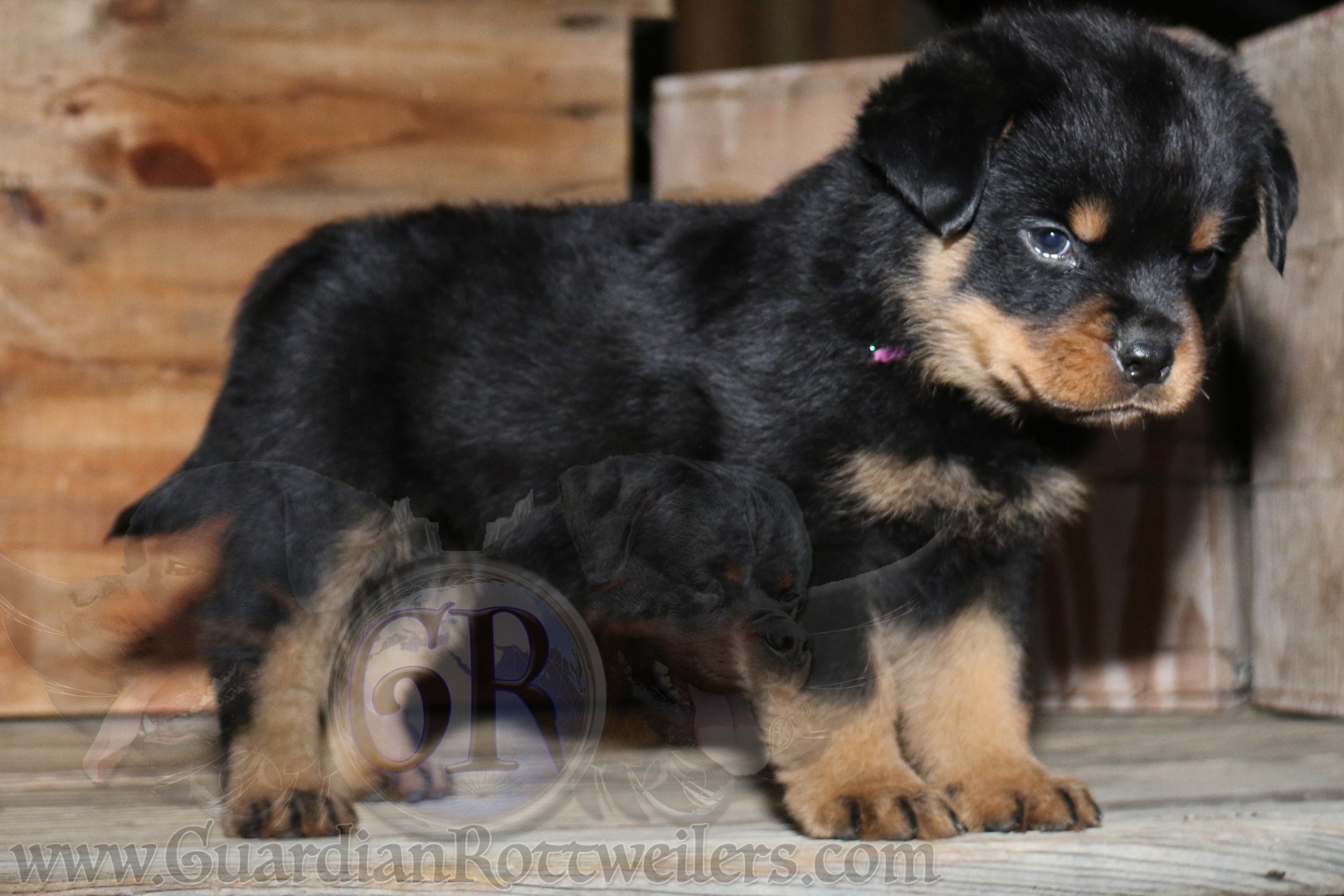 Qi'ra's glorious girls: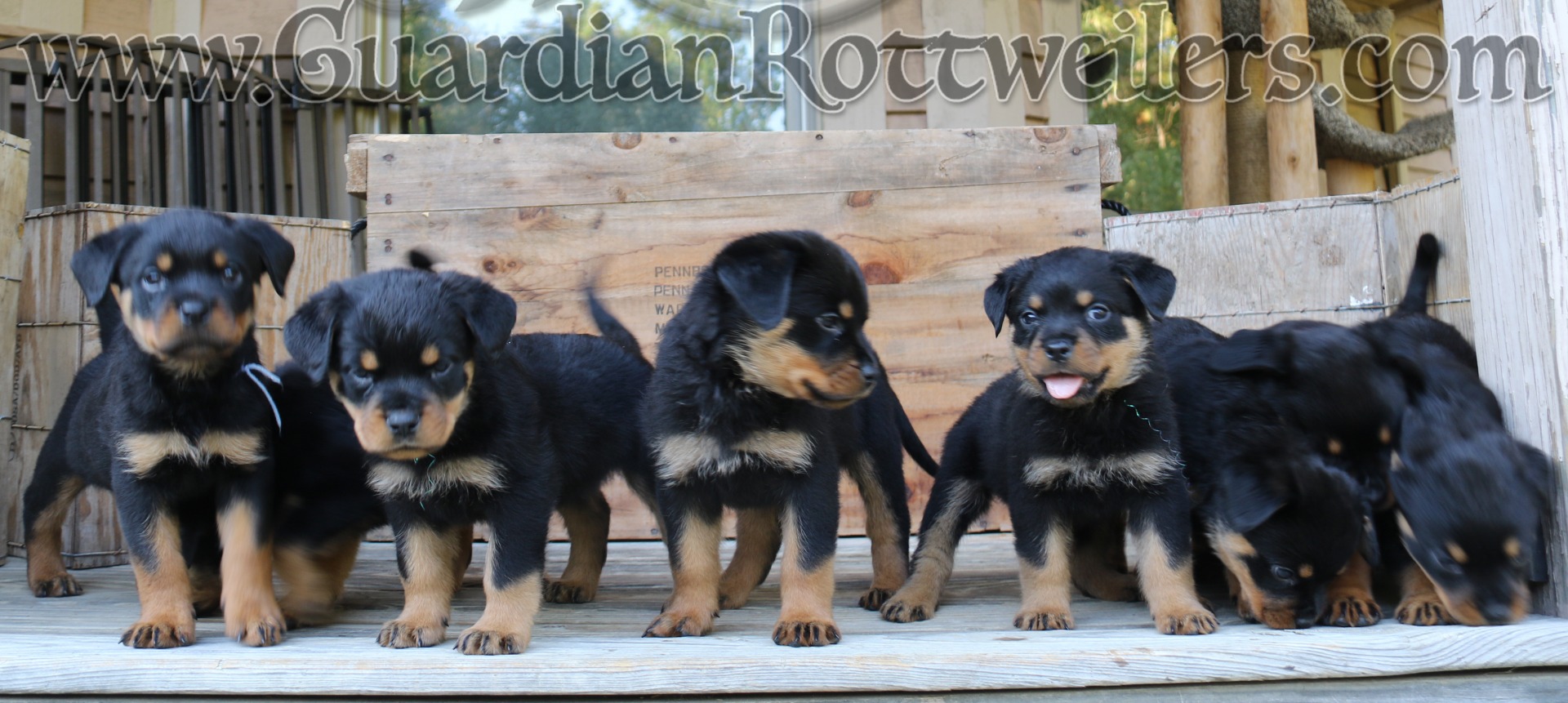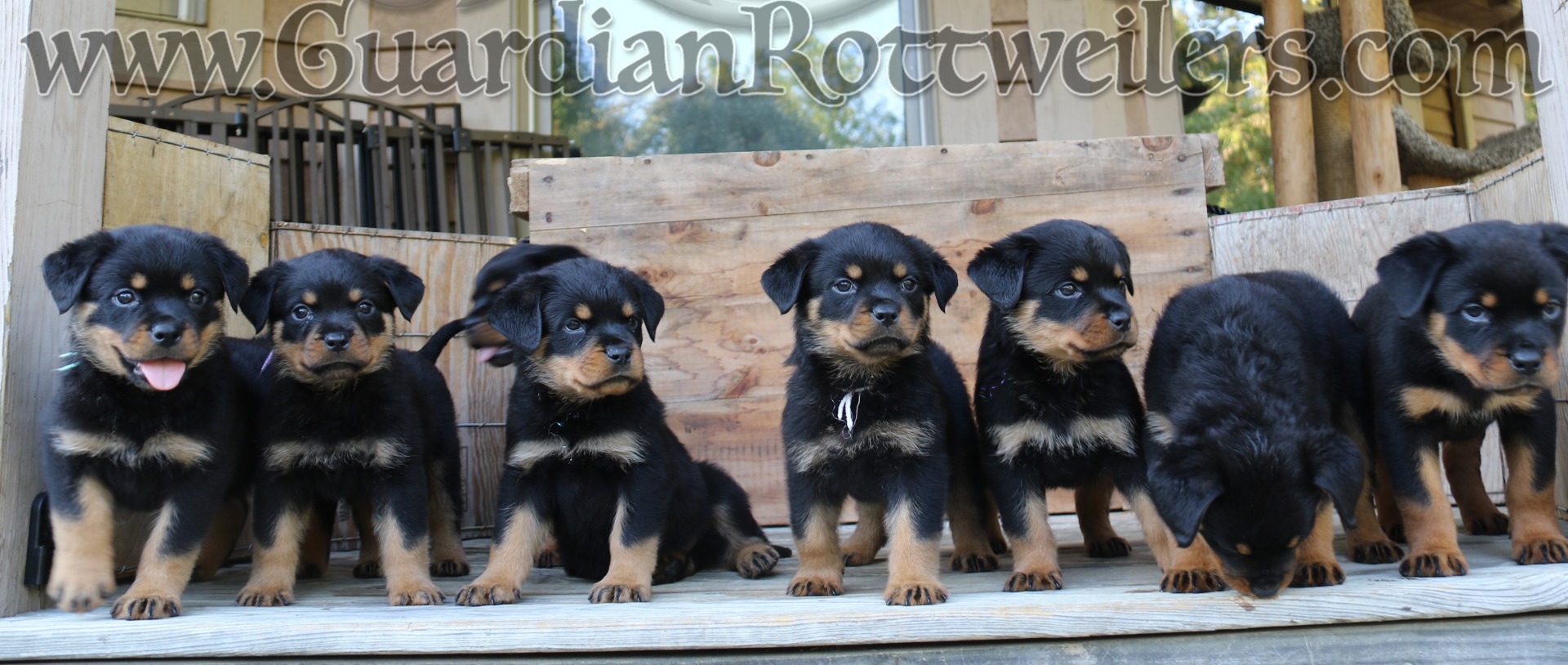 Gabrielle
RESERVED!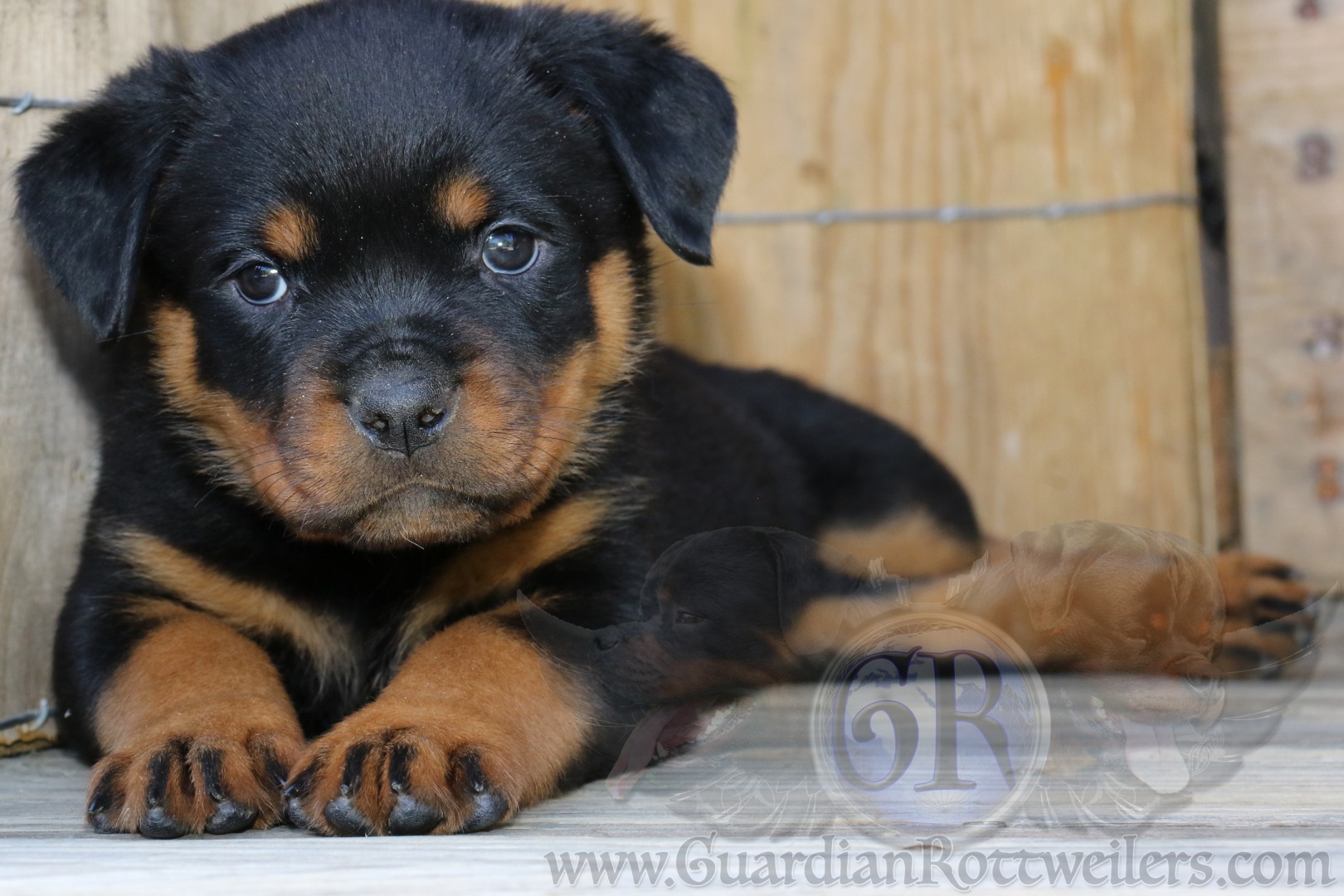 Galia
RESERVED!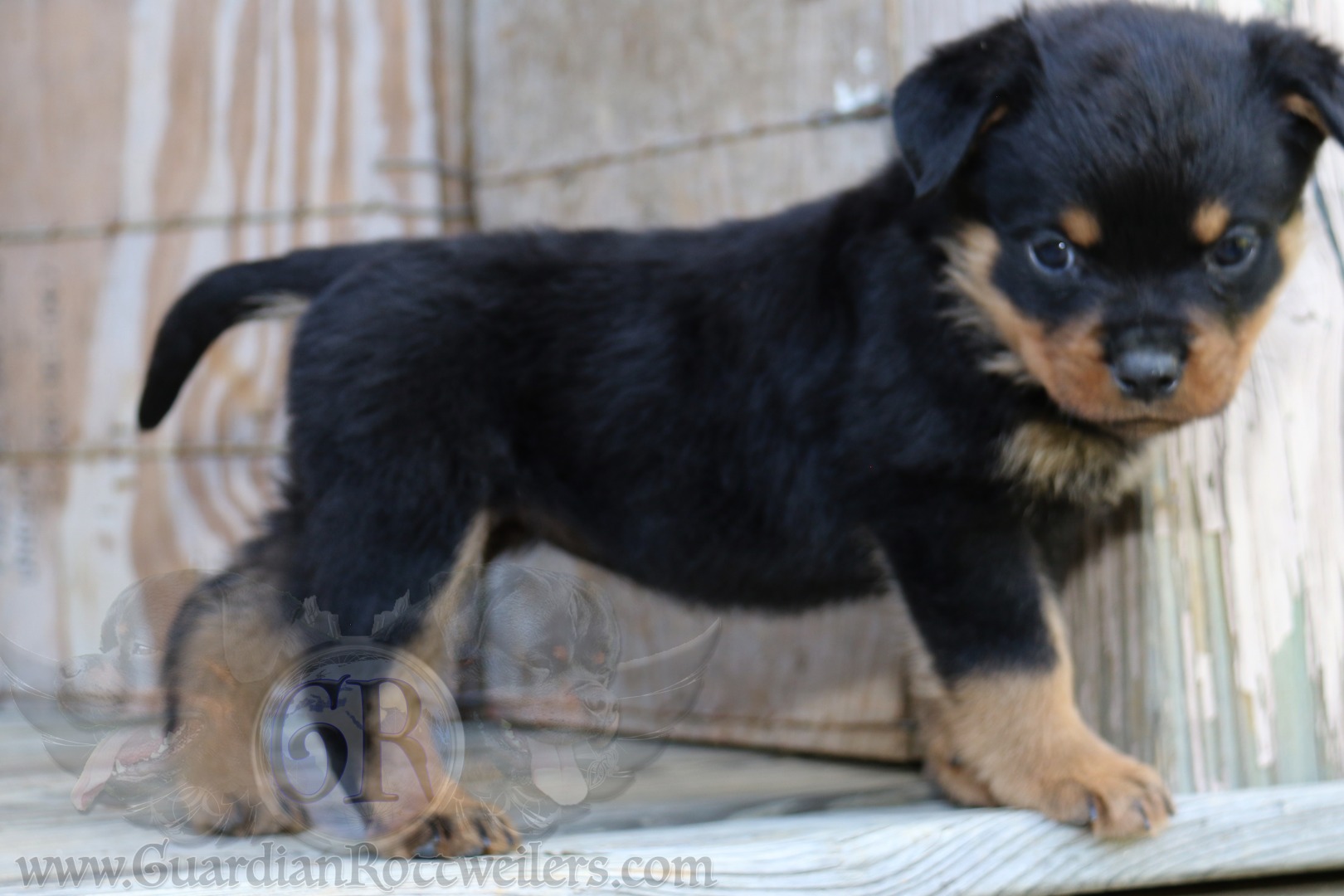 Gracie
RESERVED!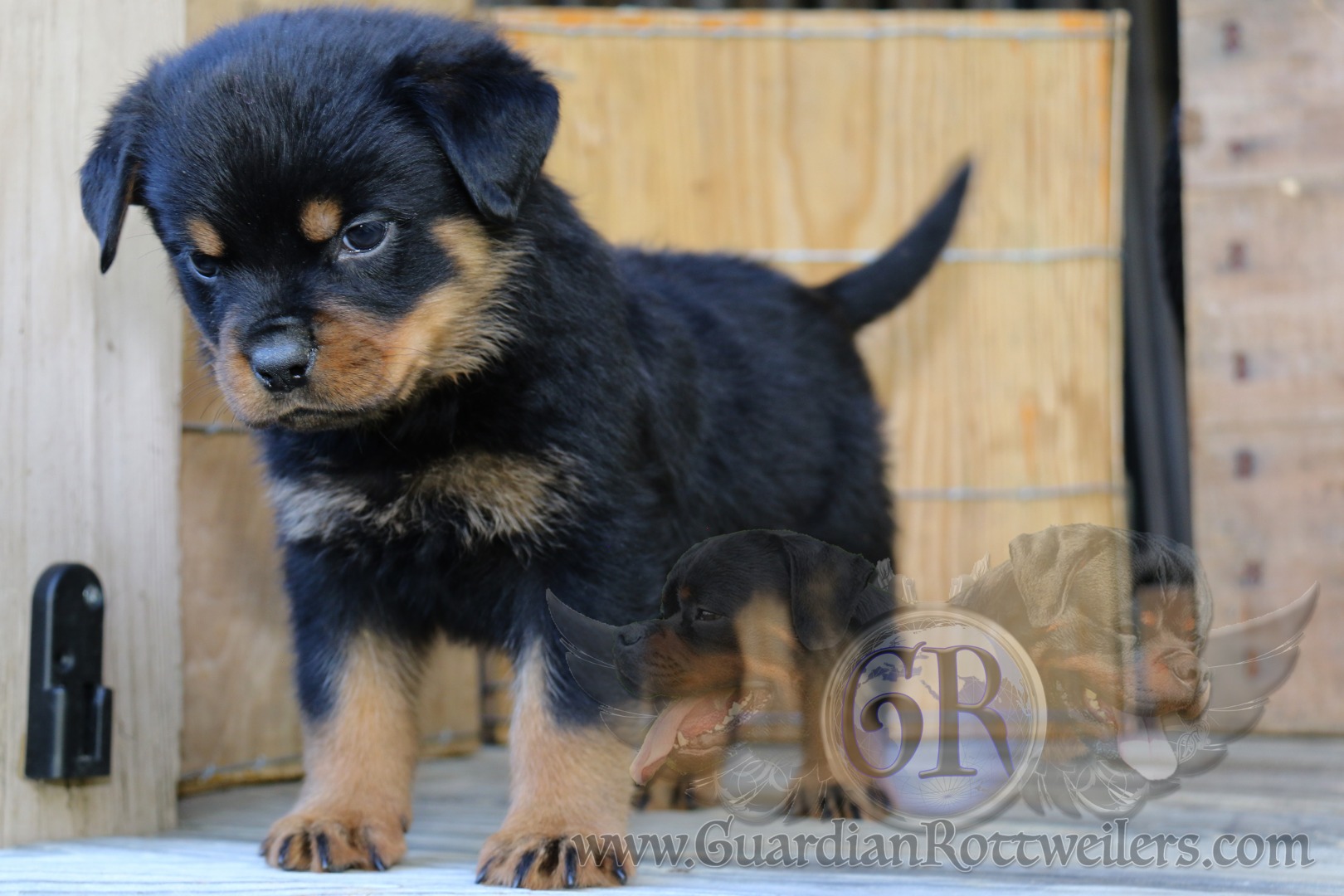 Gwendolyn
RESERVED!

Gizelle
RESERVED!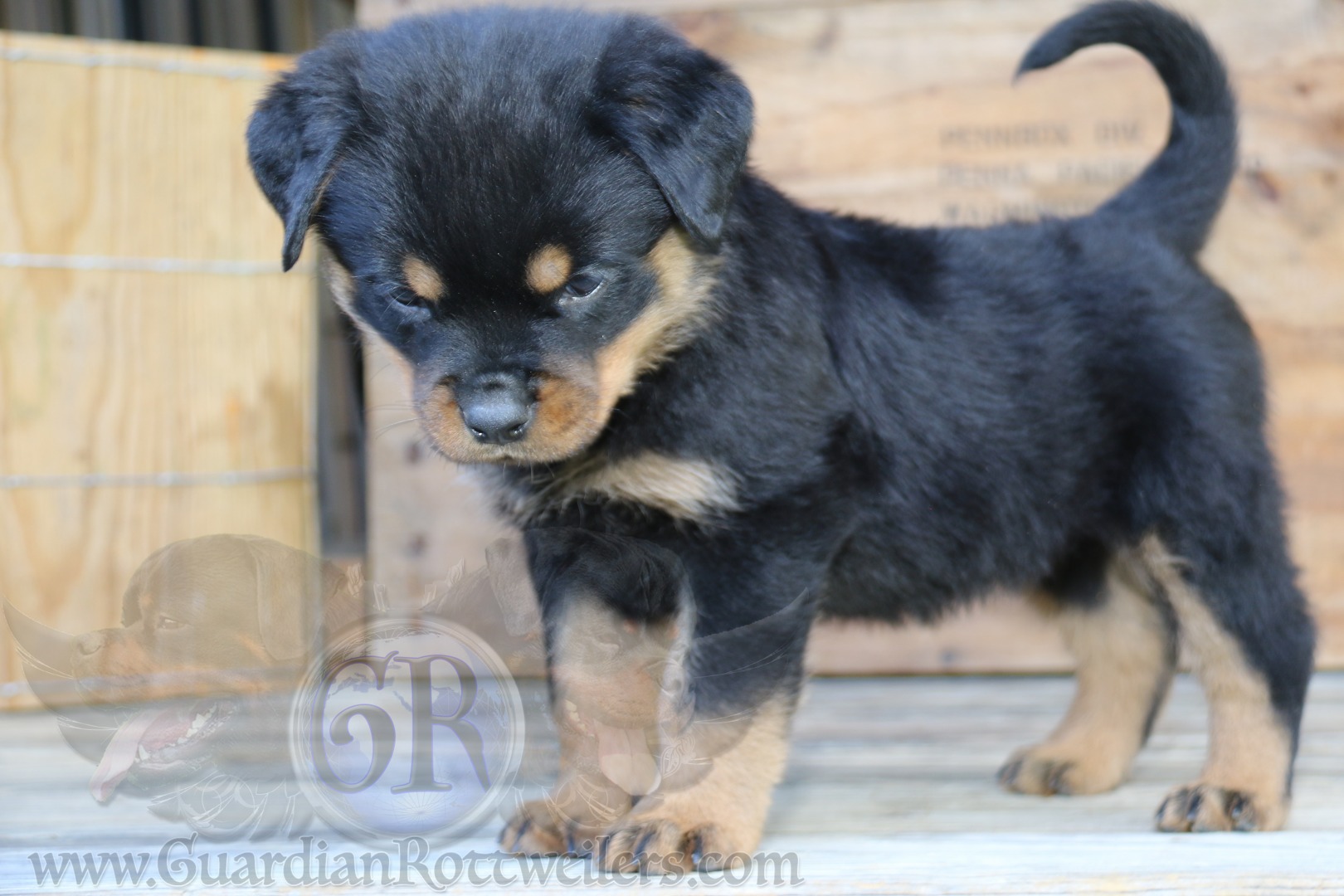 Gypsie
RESERVED!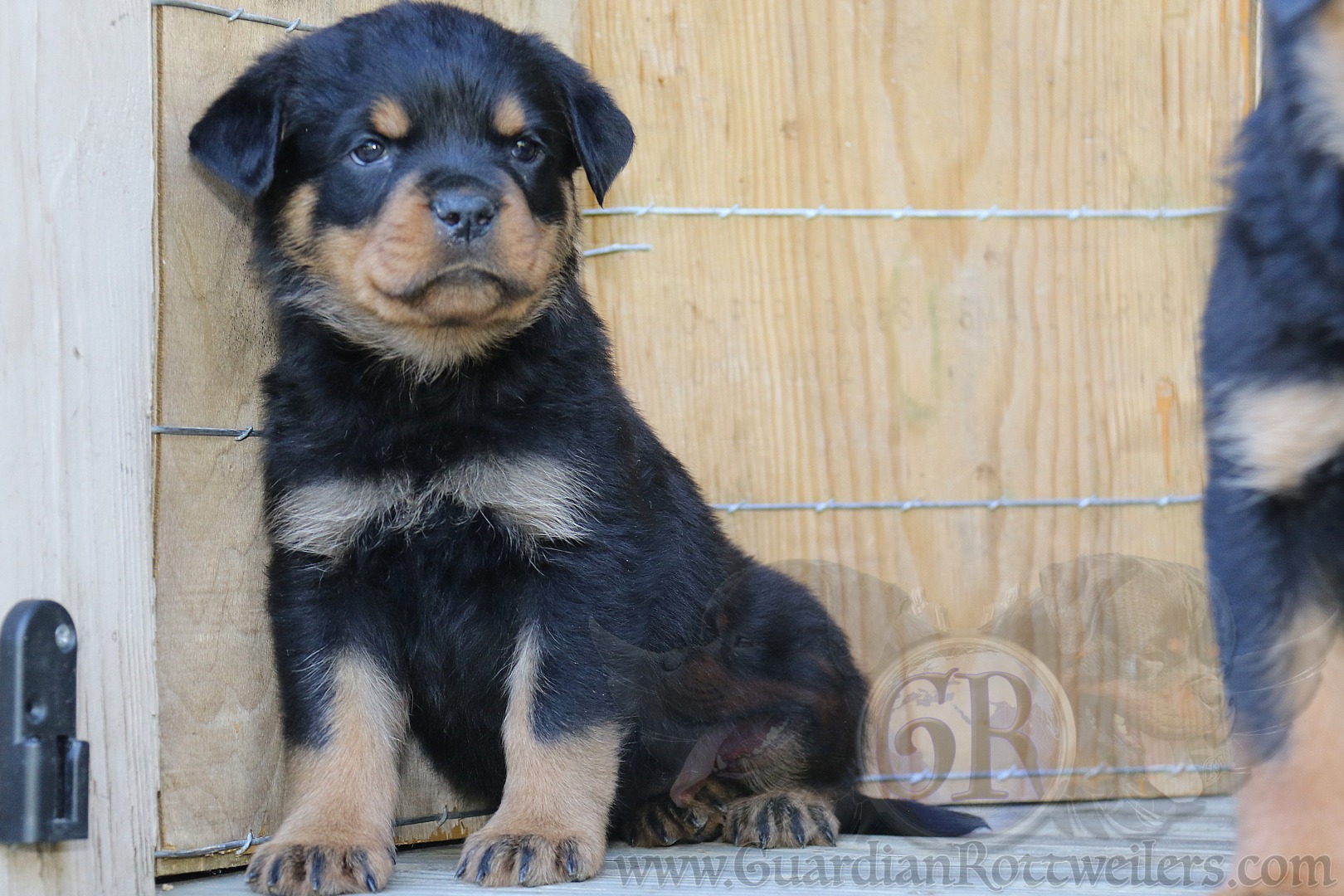 Giana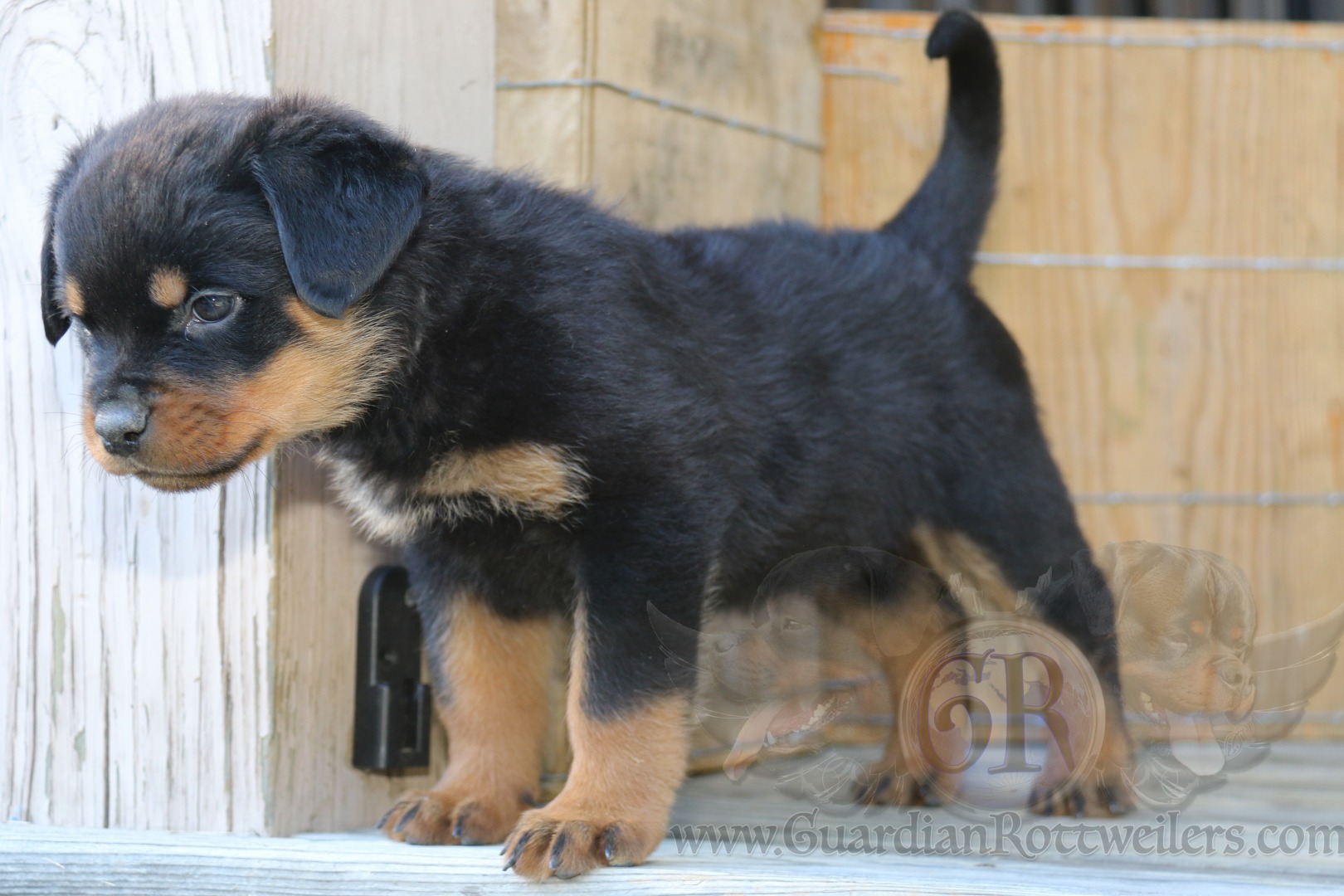 I really cannot put into words how giddy I am for this breeding!!  Both of these Rottweilers are just absolutely exceptional ambassadors for the breed.  Ethan has raised and trained Qi'ra so well and her temperament is bullet proof!  Ethan has been there for Qi'ra from the moment she was born, just as he sat with me all night with Isis when Qi'ra's mother, Guardian Illusive Von Gottschalk, was born, and snuggled up in my lap 9 years ago to welcome Qi'ra's grandmother, Guardian Isis Von Gottschalk.  Three generations of just some of the most incredible Rottweilers with the absolute best temperaments.  Isis has raised and trained her granddaughter, and I cannot wait for her to meet her great-grandbabies!  Aron Timit-Tor also has simply the best temperament.  I can trust him in any situation and know he will make mama proud.  Aron is a massive male- 131 pounds, but if you think his head is big, you should see his heart.  This will be a line breed on Doctor Timit-Tor (he will be the grandfather on both sides of the pedigree for the pups).  I am expecting beefy meatheads with balanced, biddable personalities.  But to be clear, the line for this litter starts BEHIND me!

Our beautiful GLitters were born on 05 August 2020!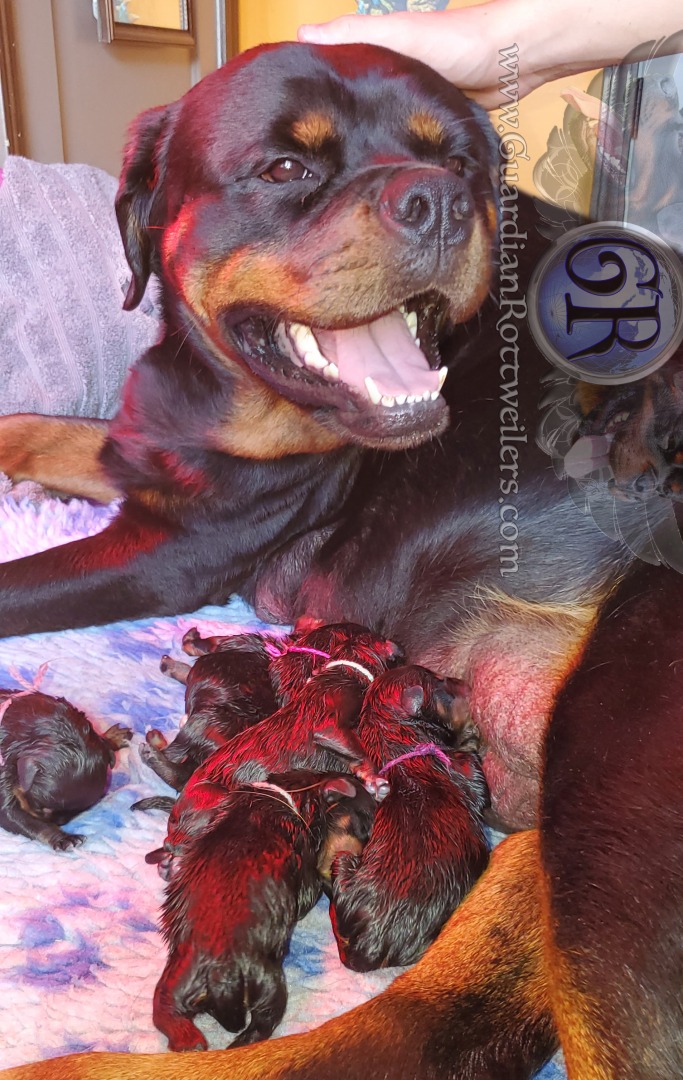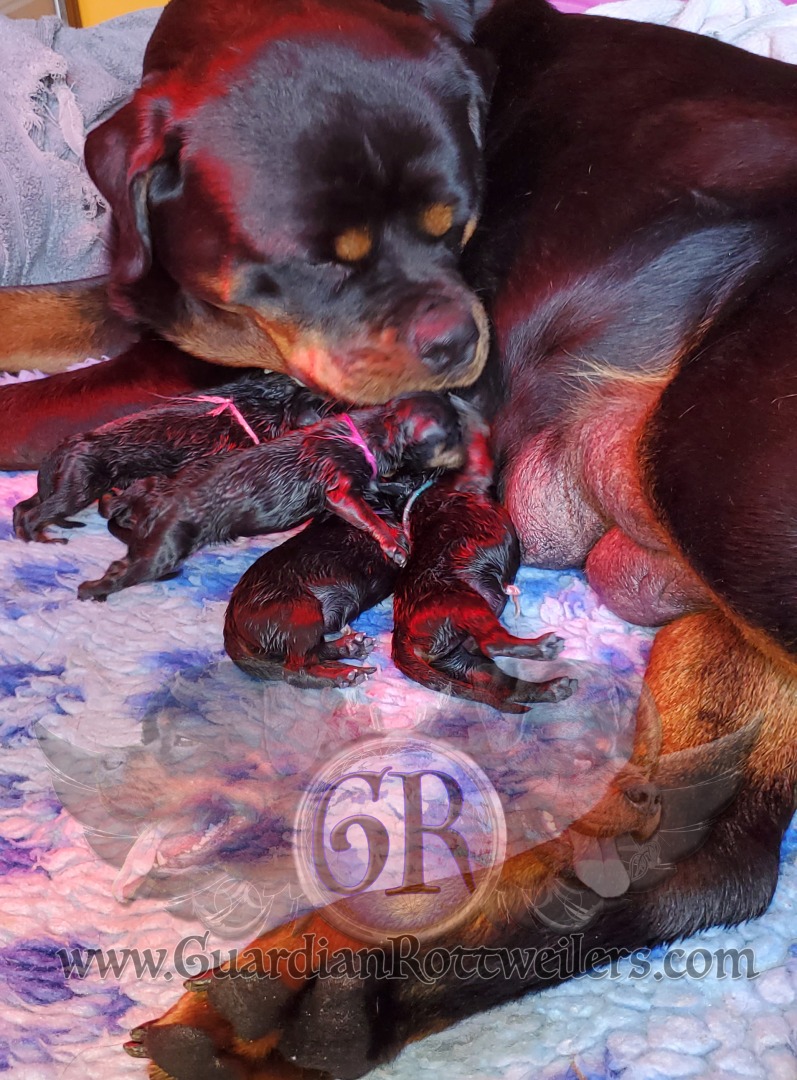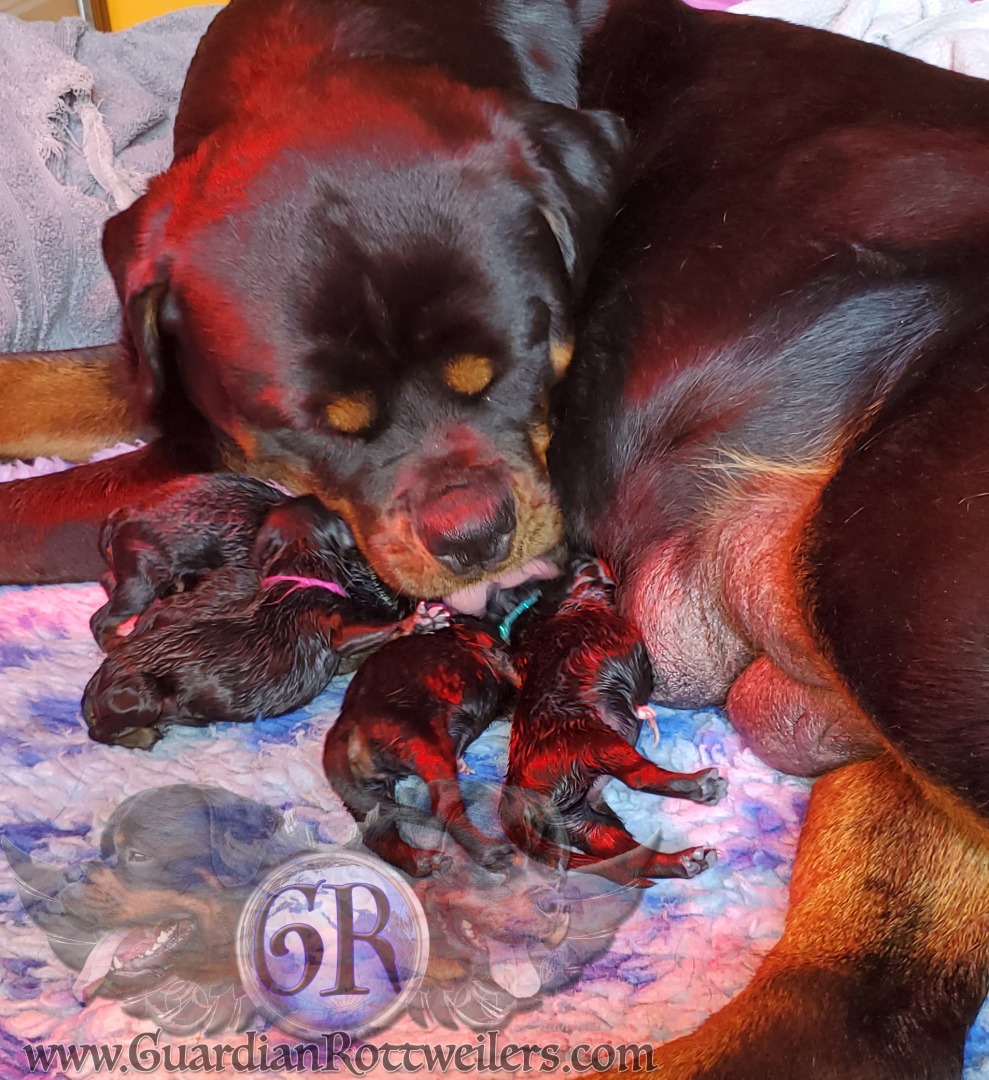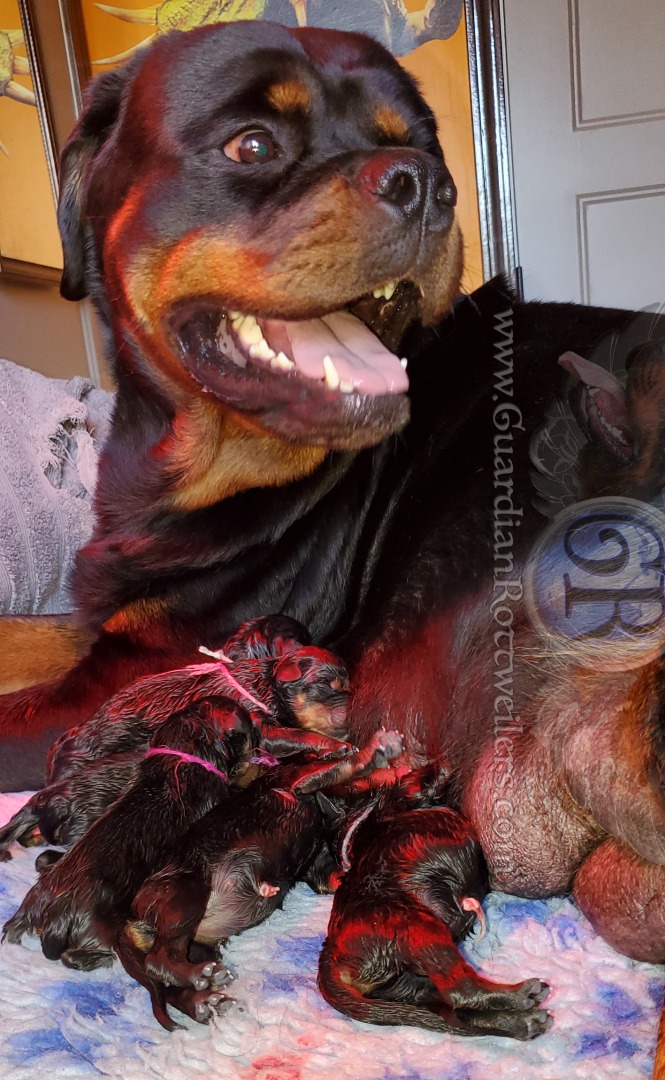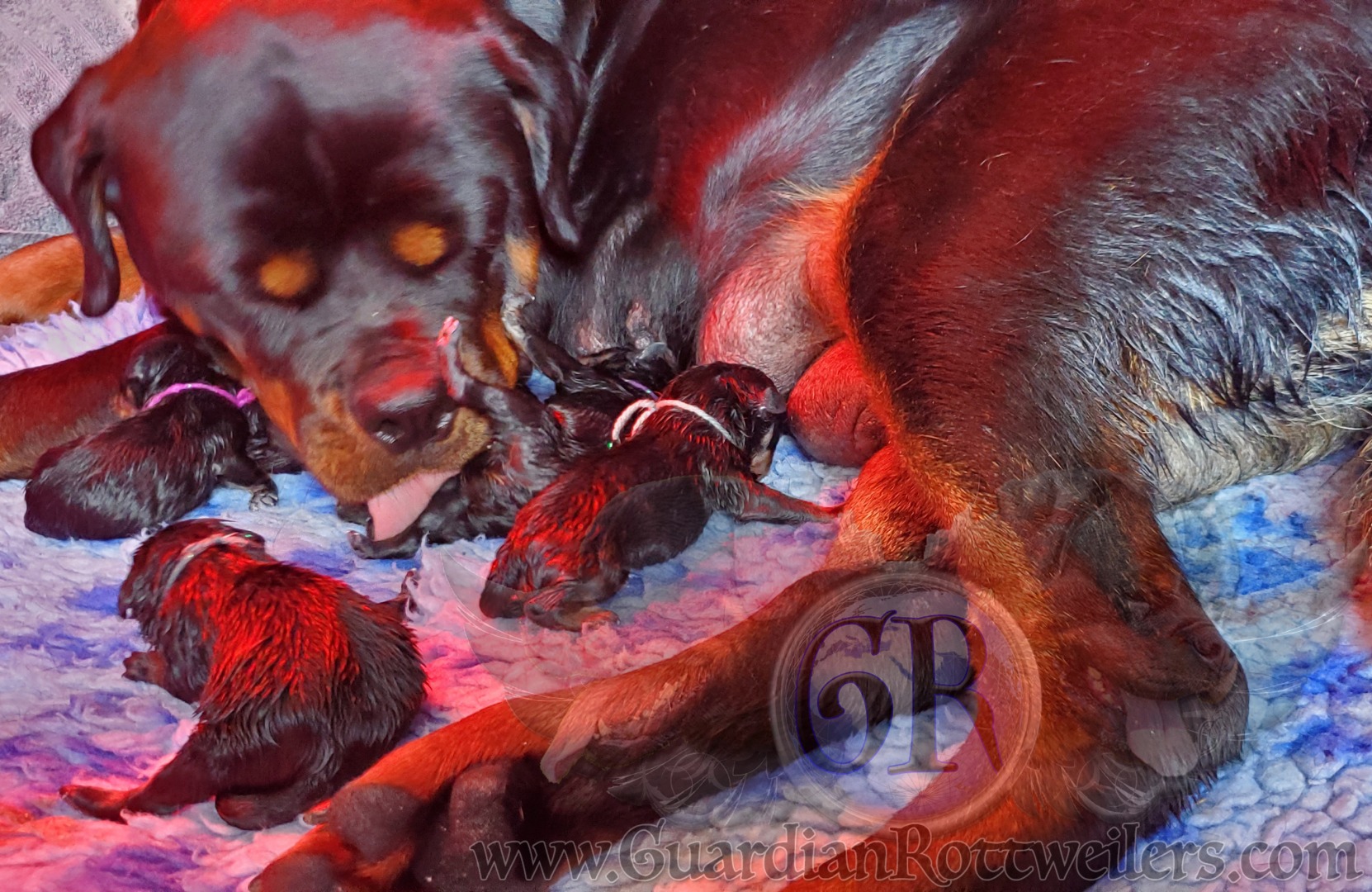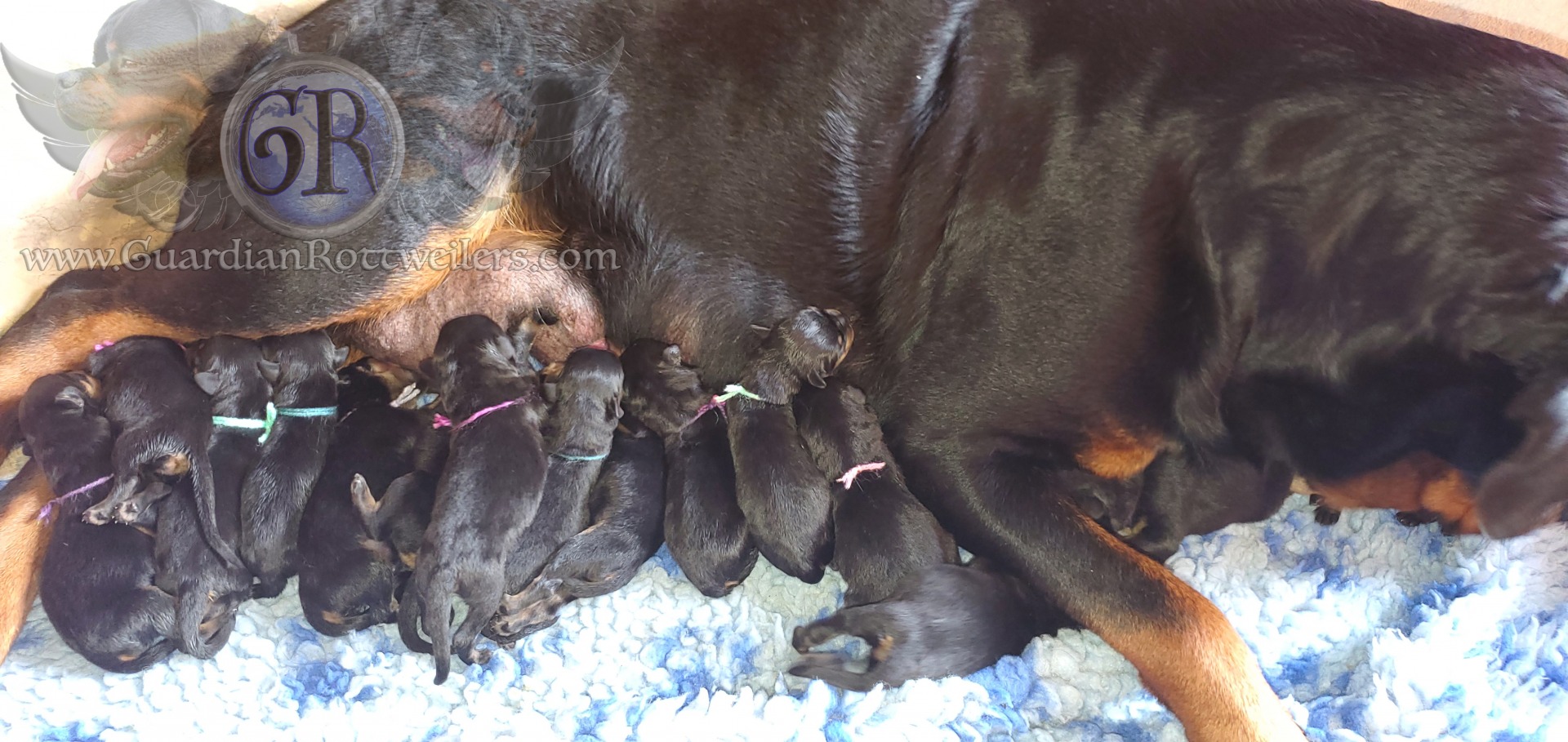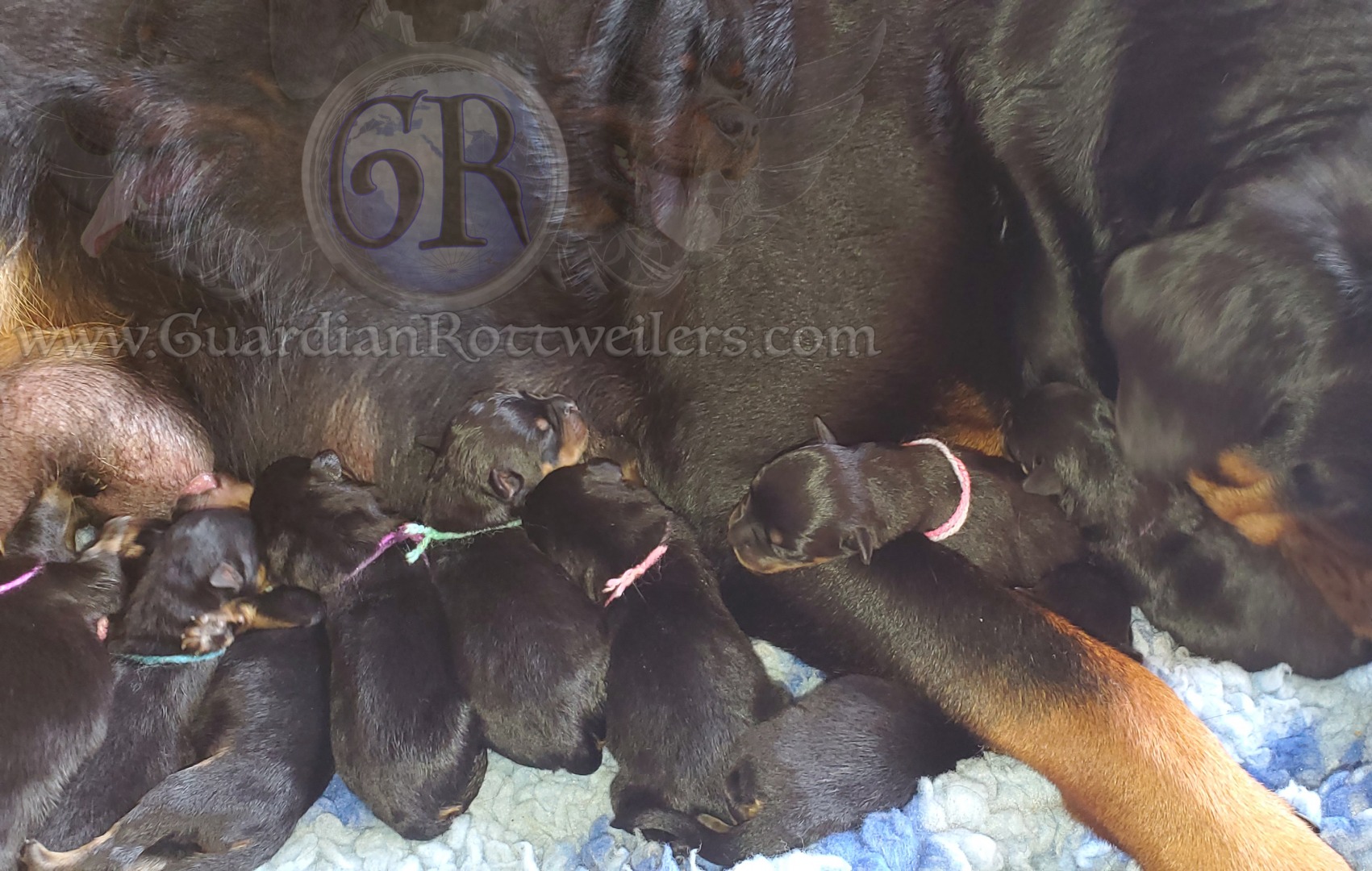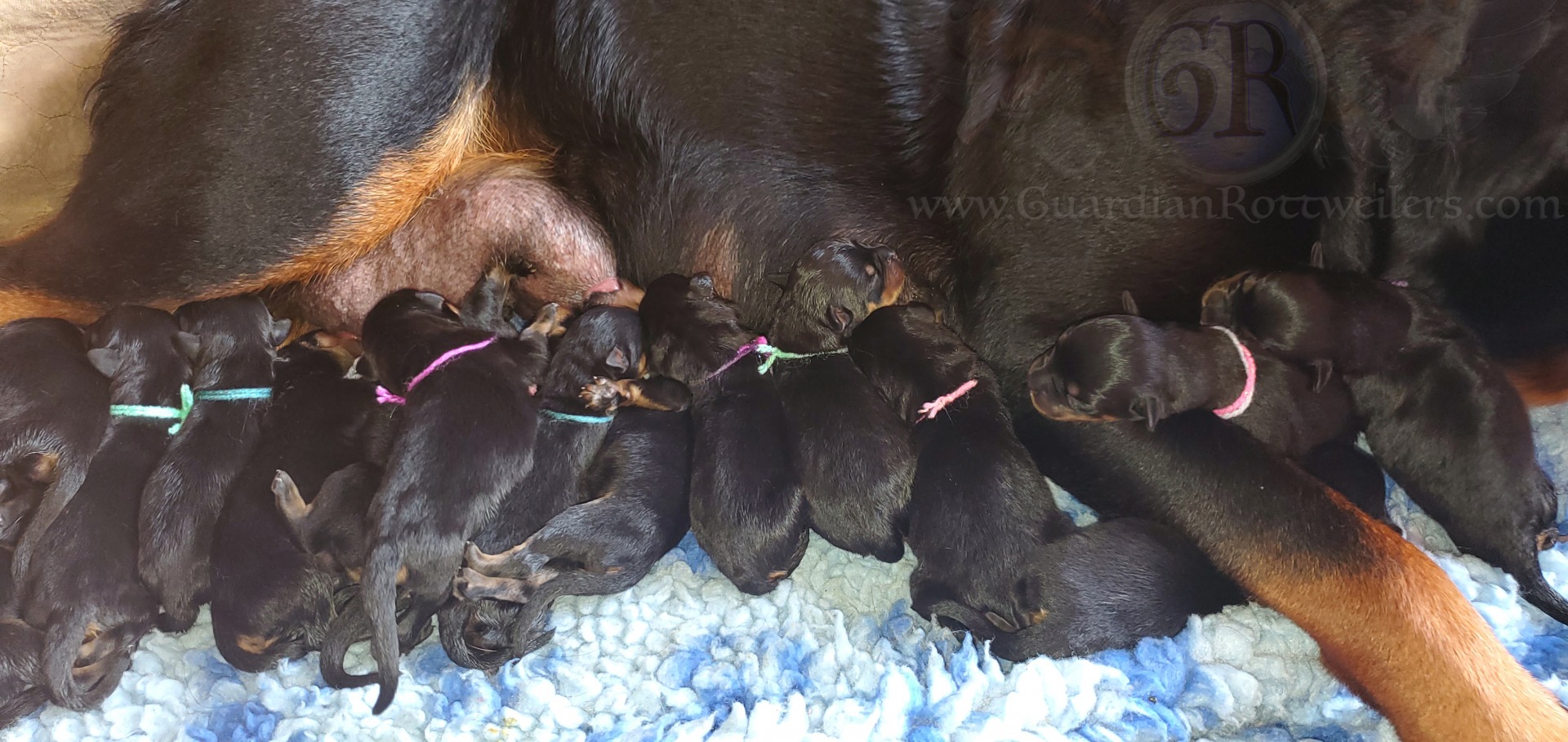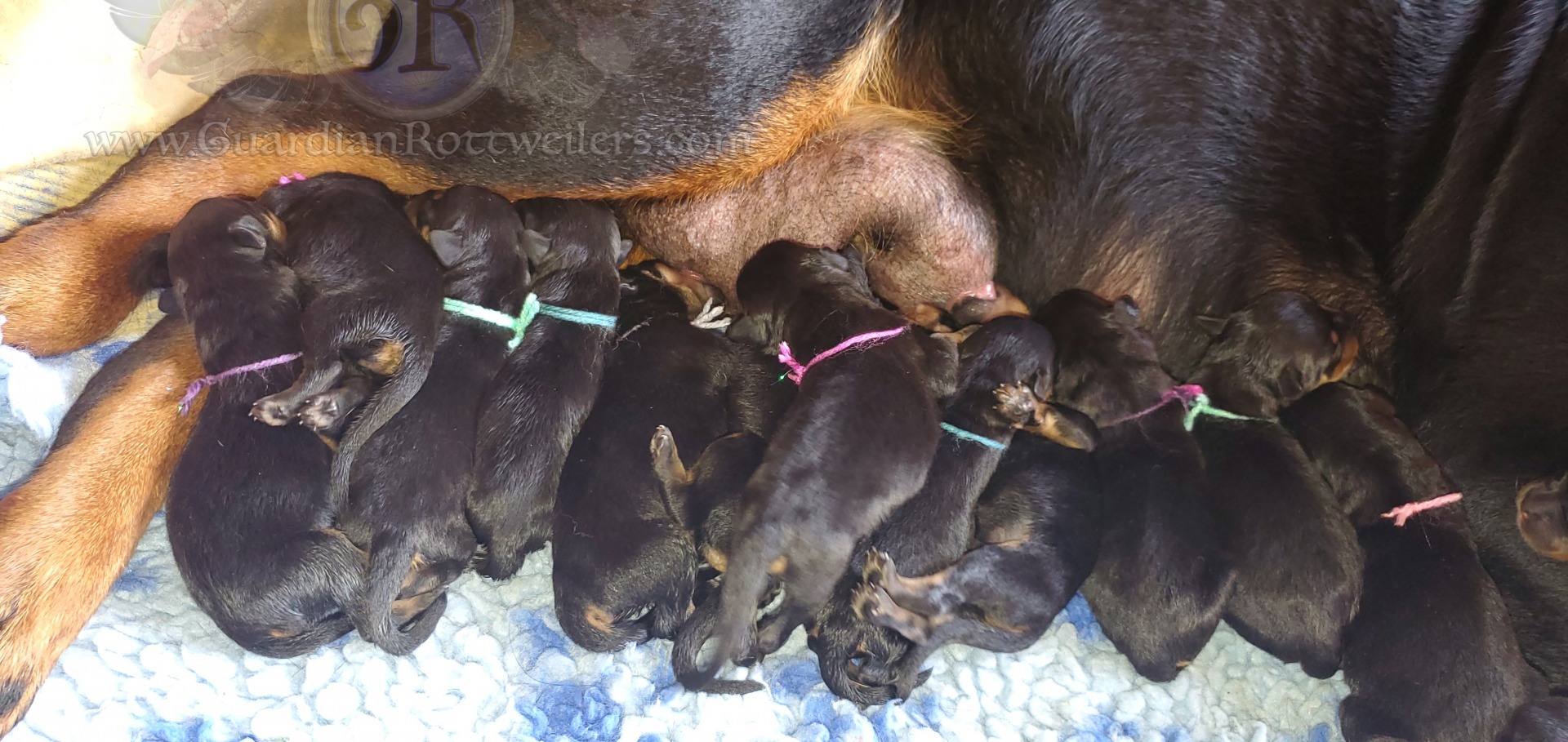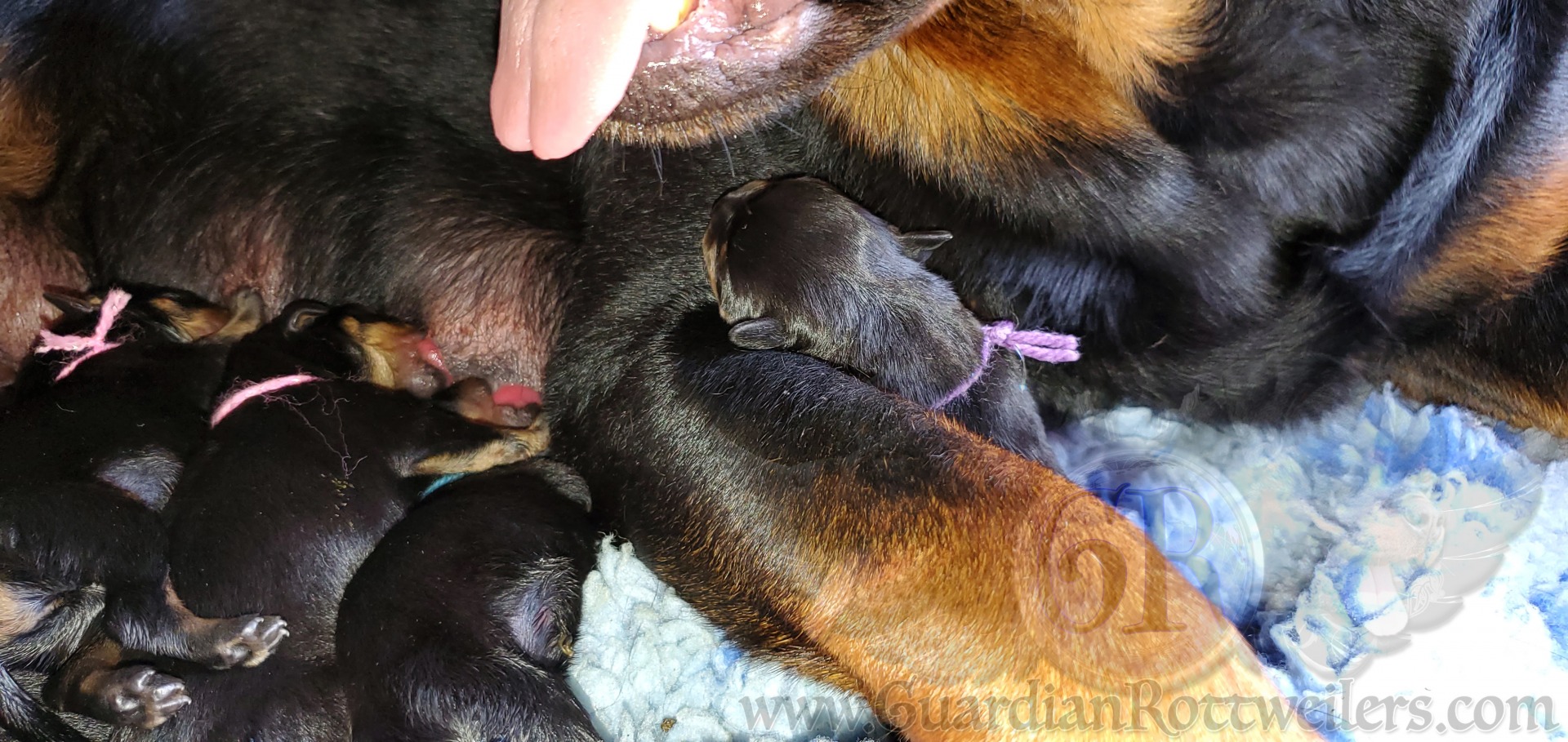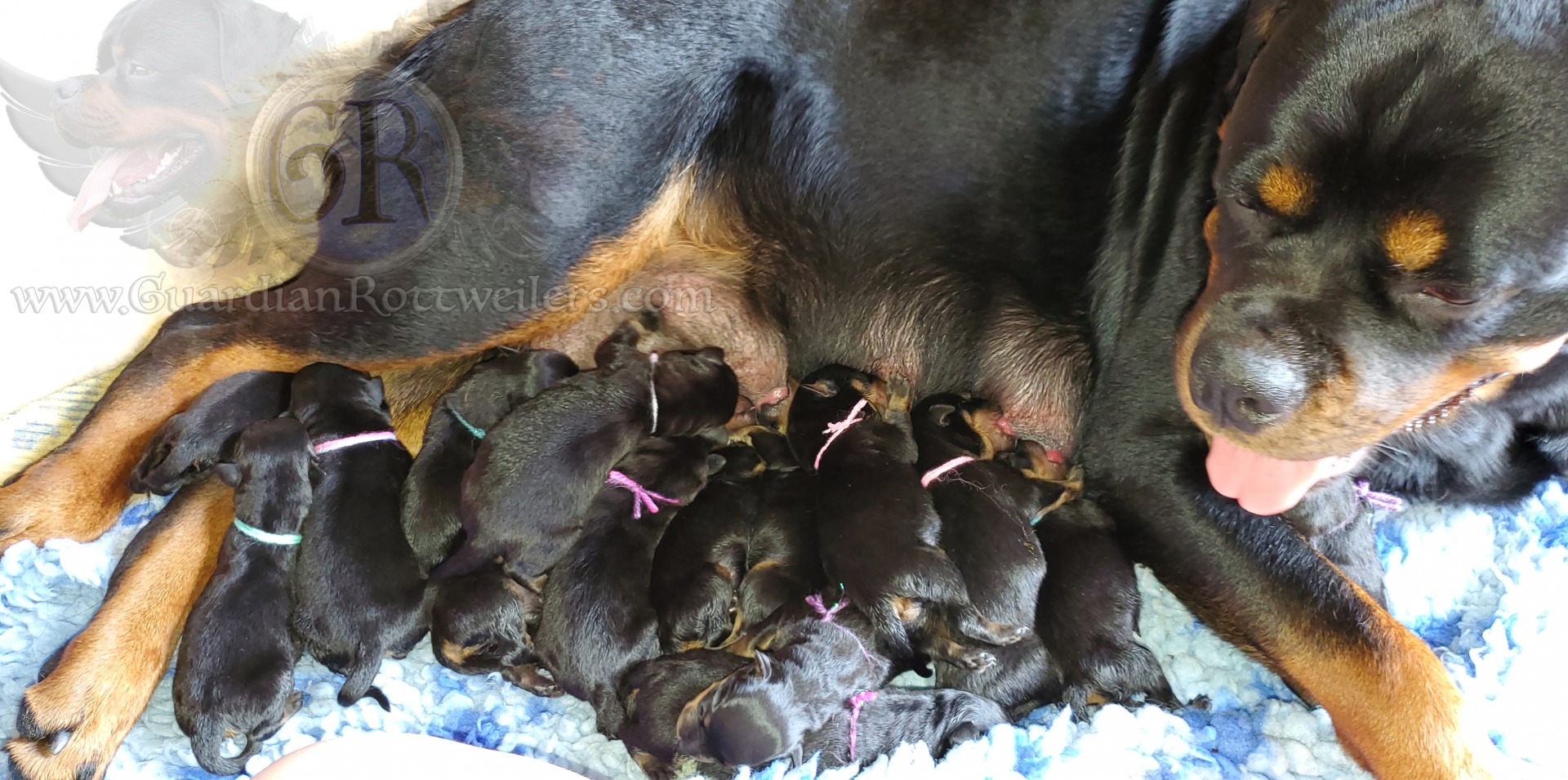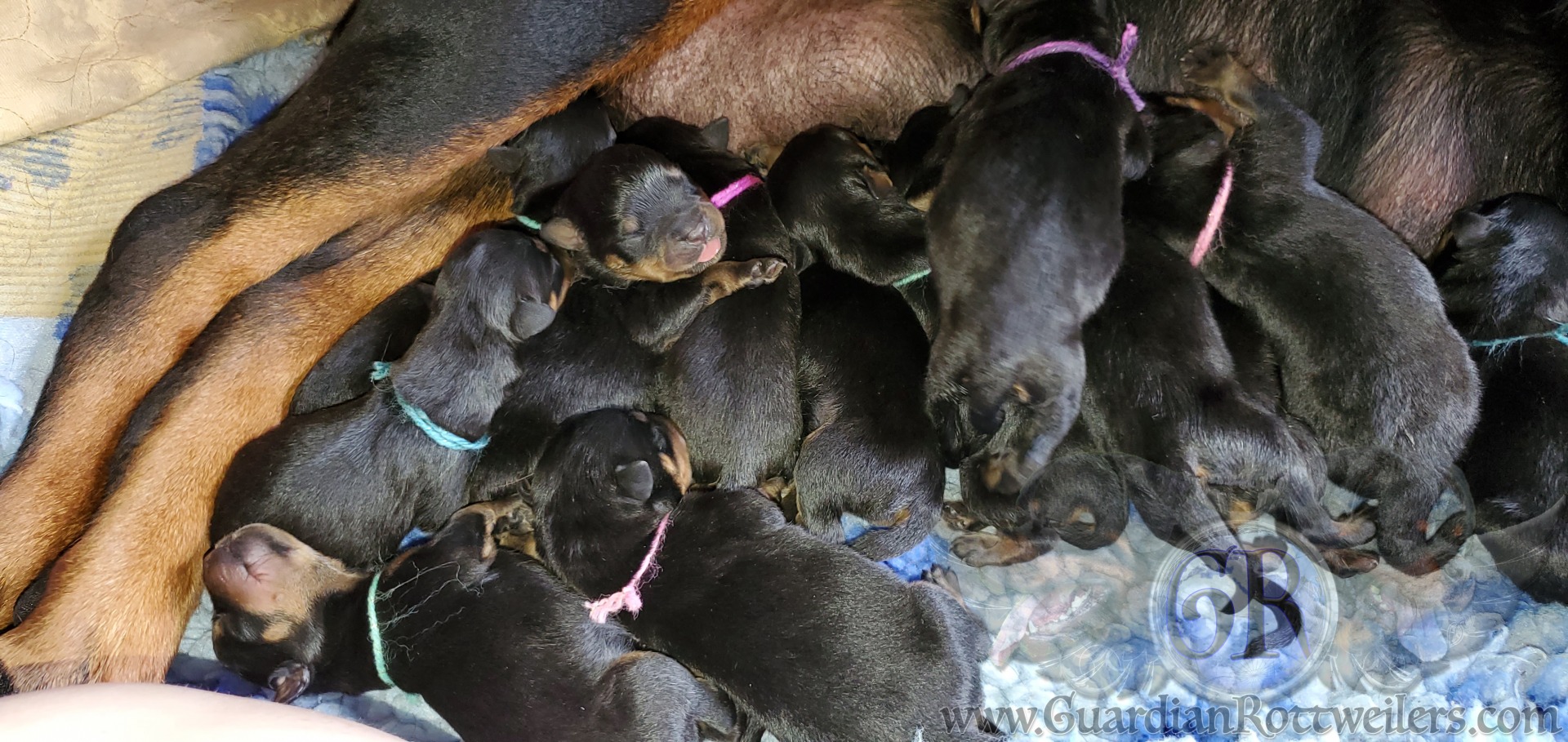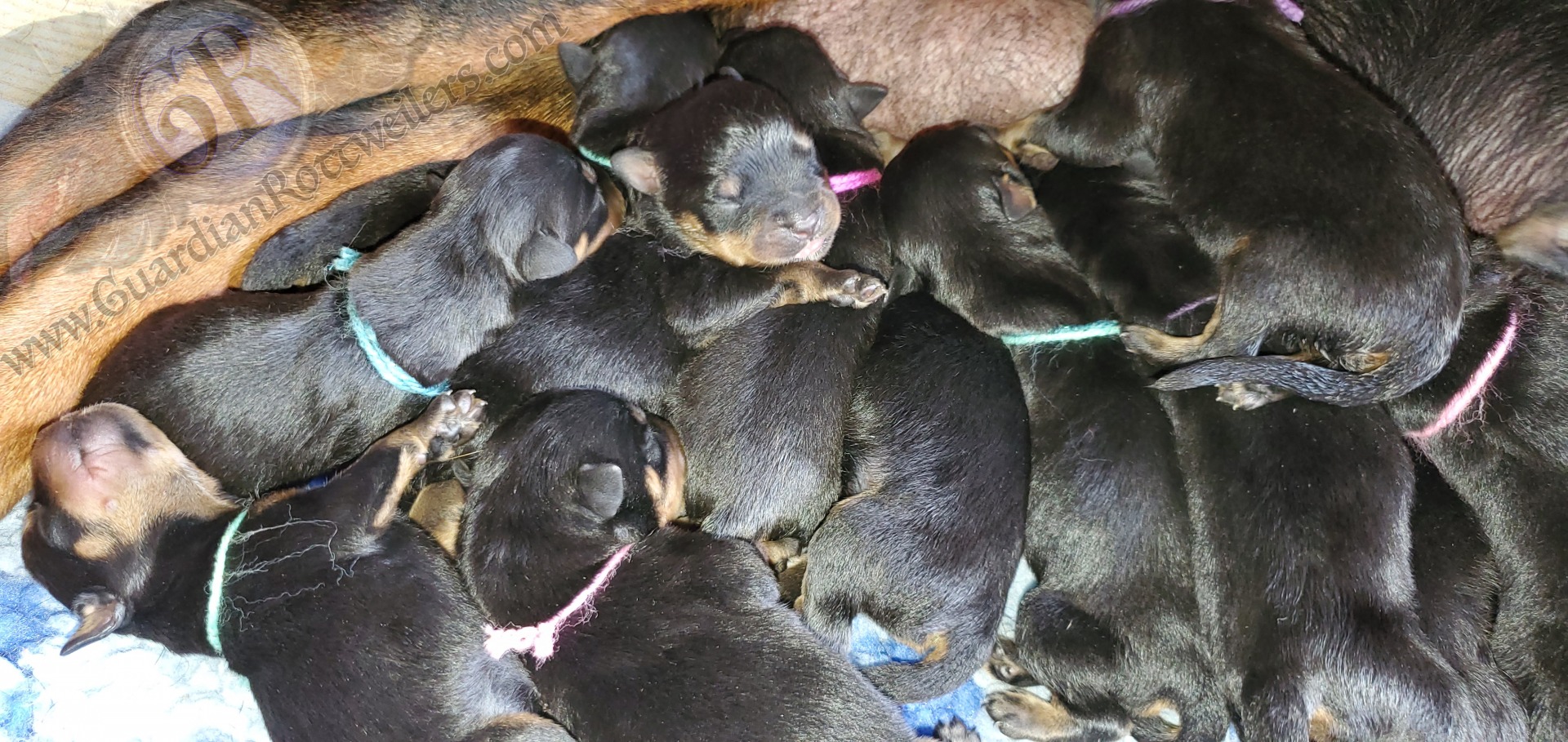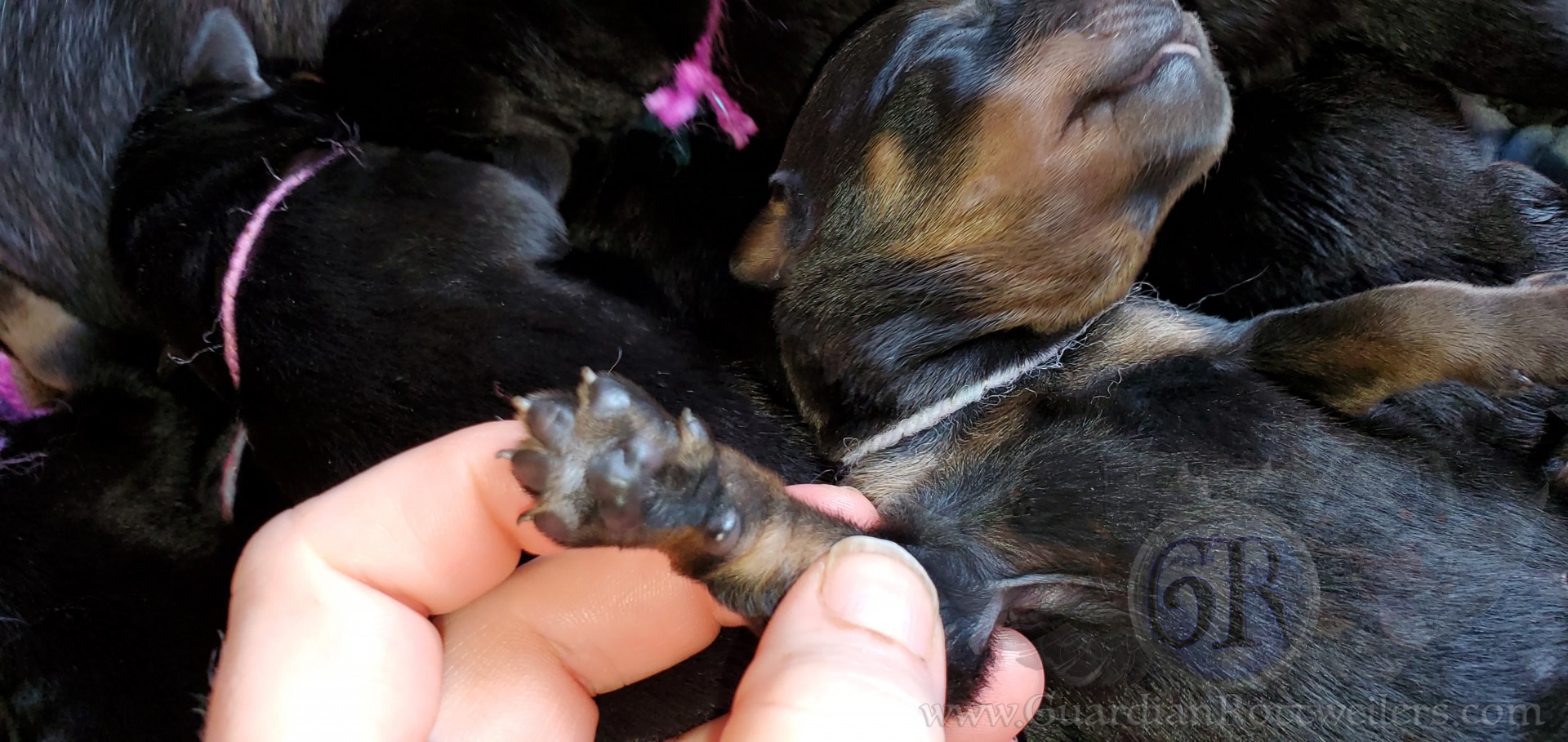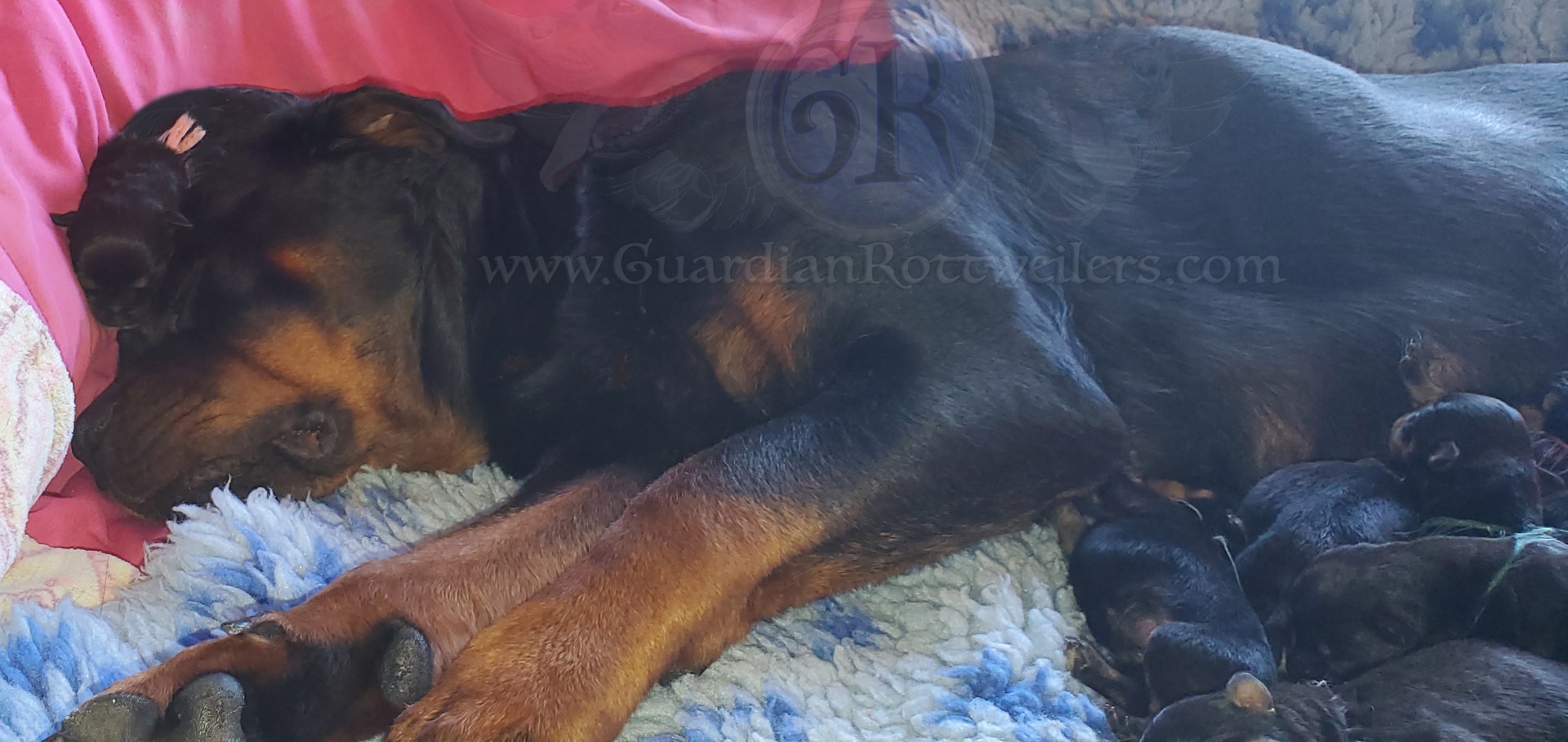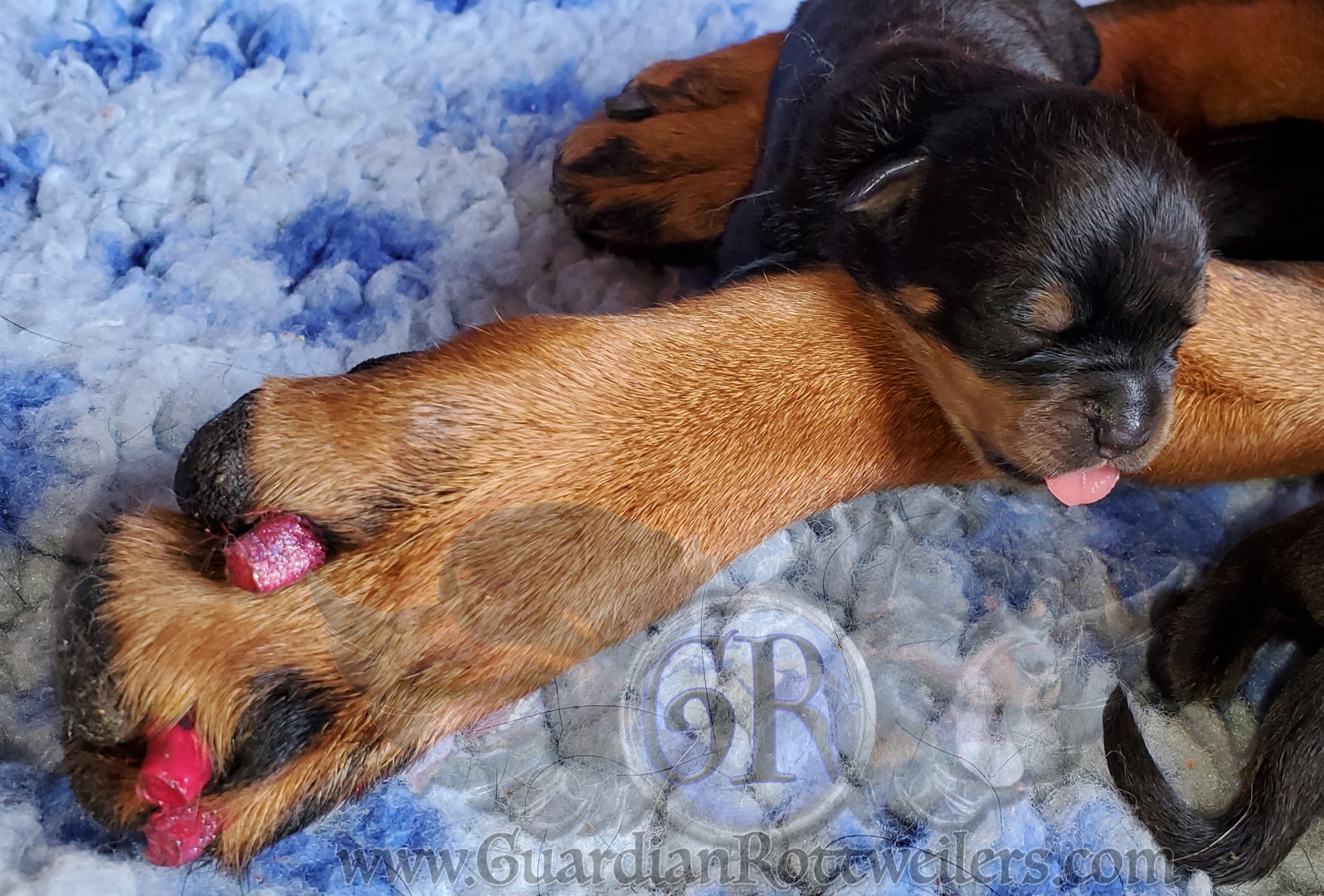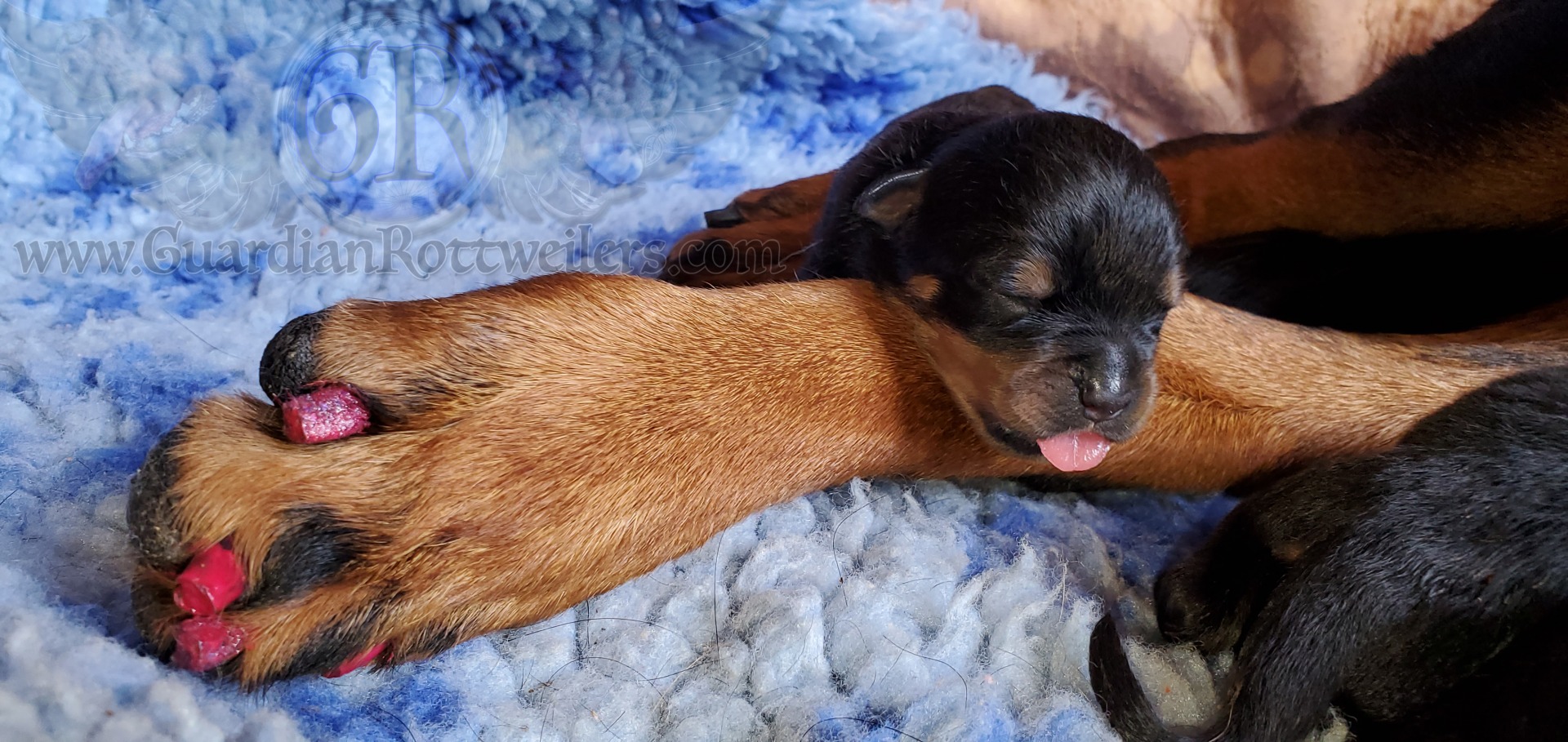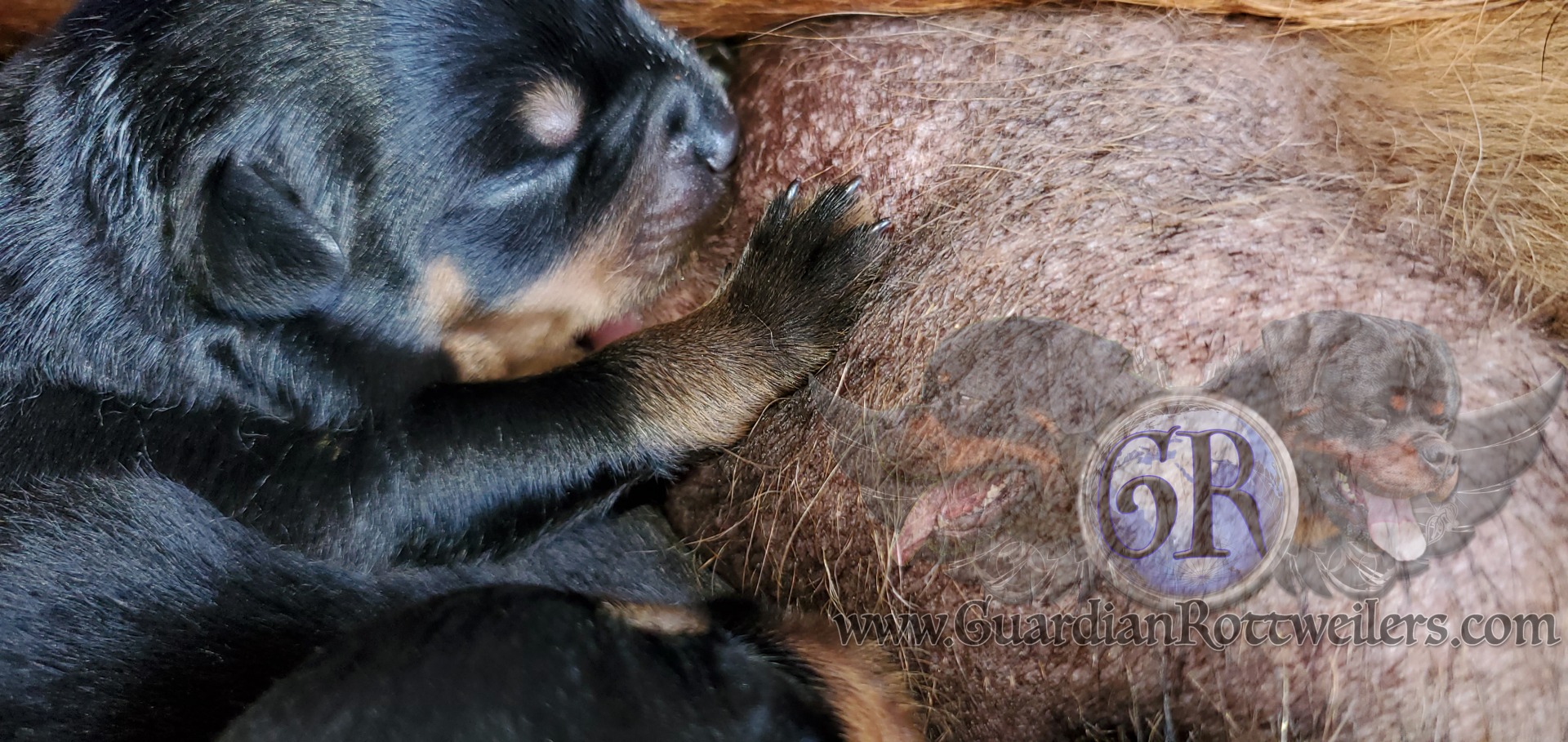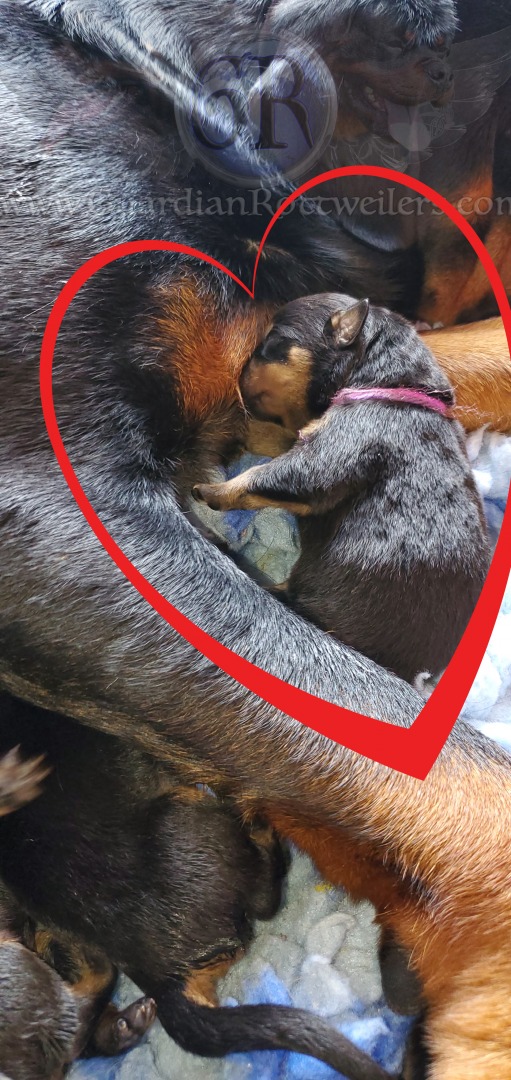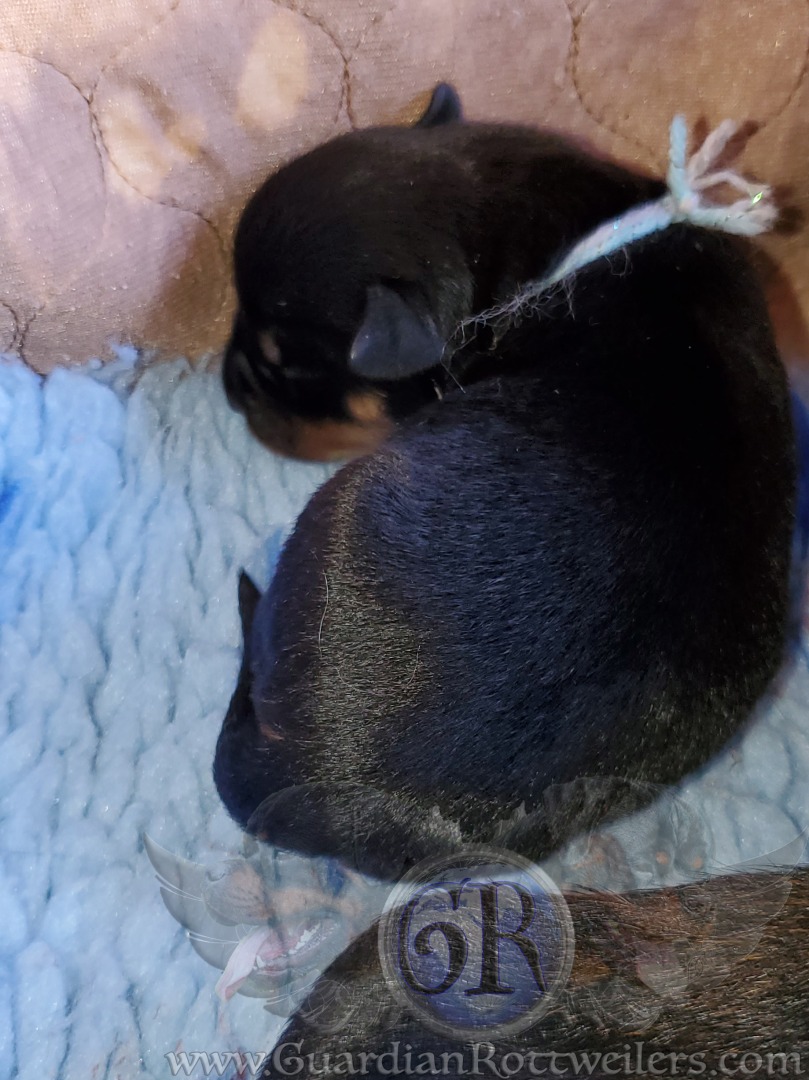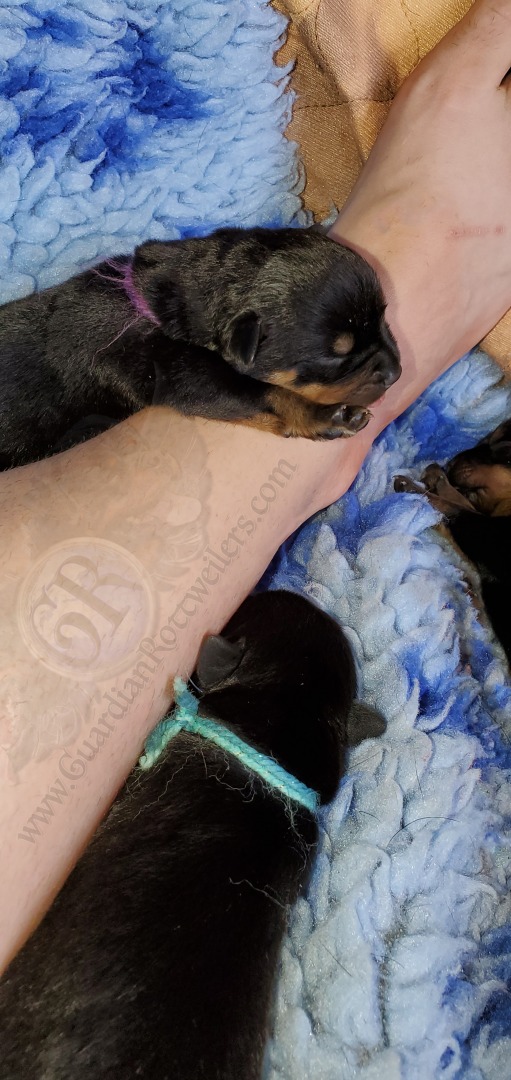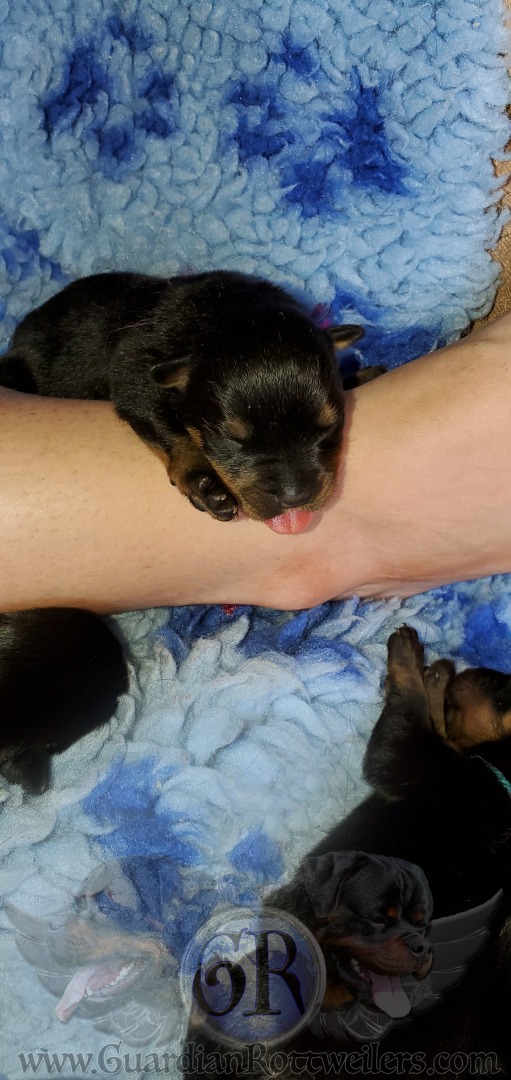 ---
"Sonya" Guardian Gracie Von Gottschalk
She has been such a blessing to Aaron and I. Thank you for such a wonderful little girl! She's getting big and wow is she stubborn 
Potty training is coming along ok. We decided to keep your vet as our own. She goes for shots and check up on November 6
. Will keep you updated. Thank you so much for your hard work!!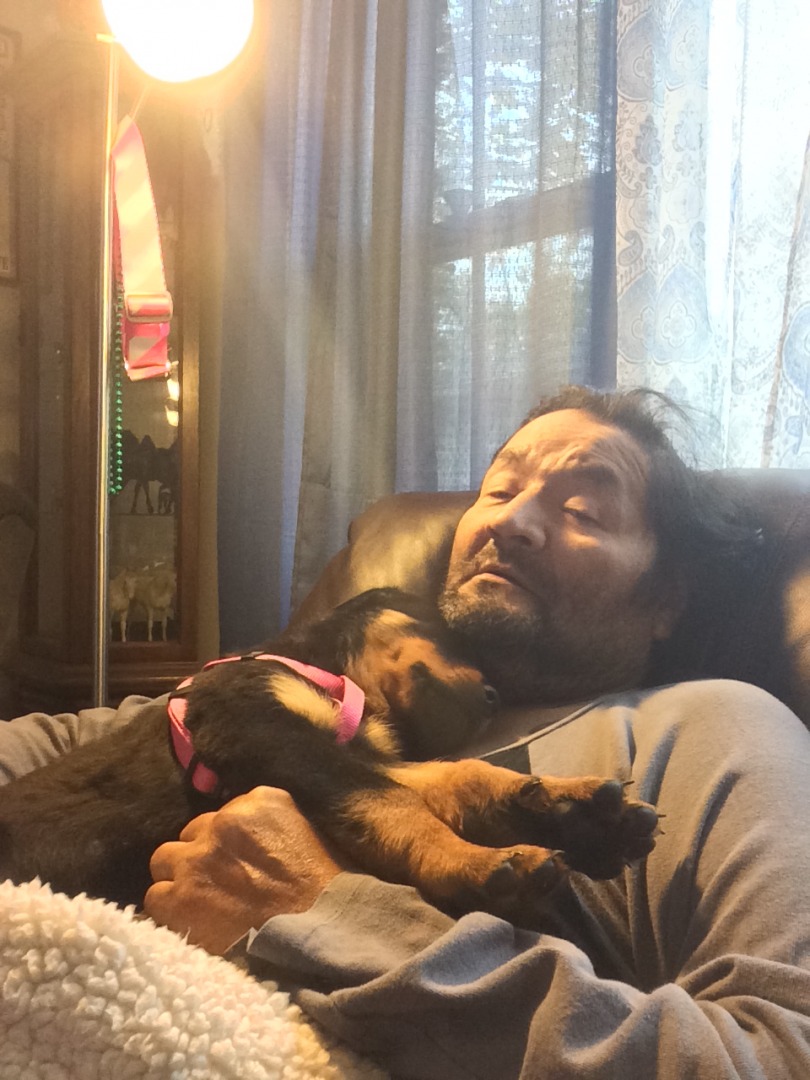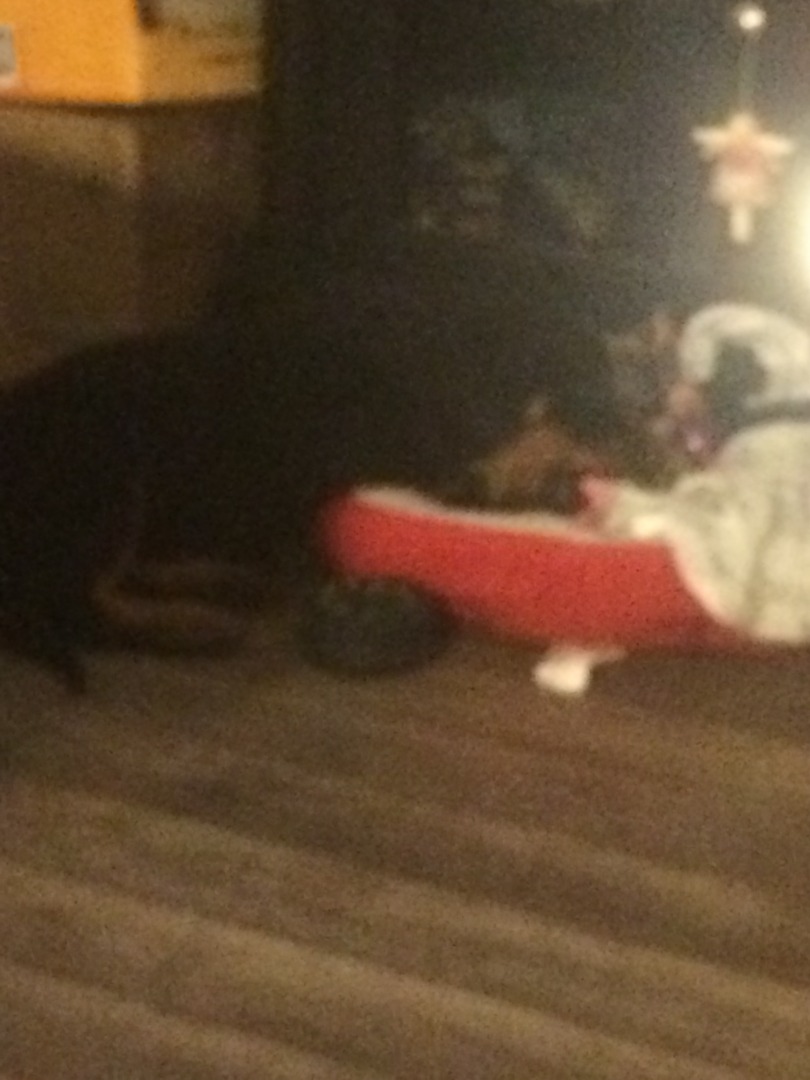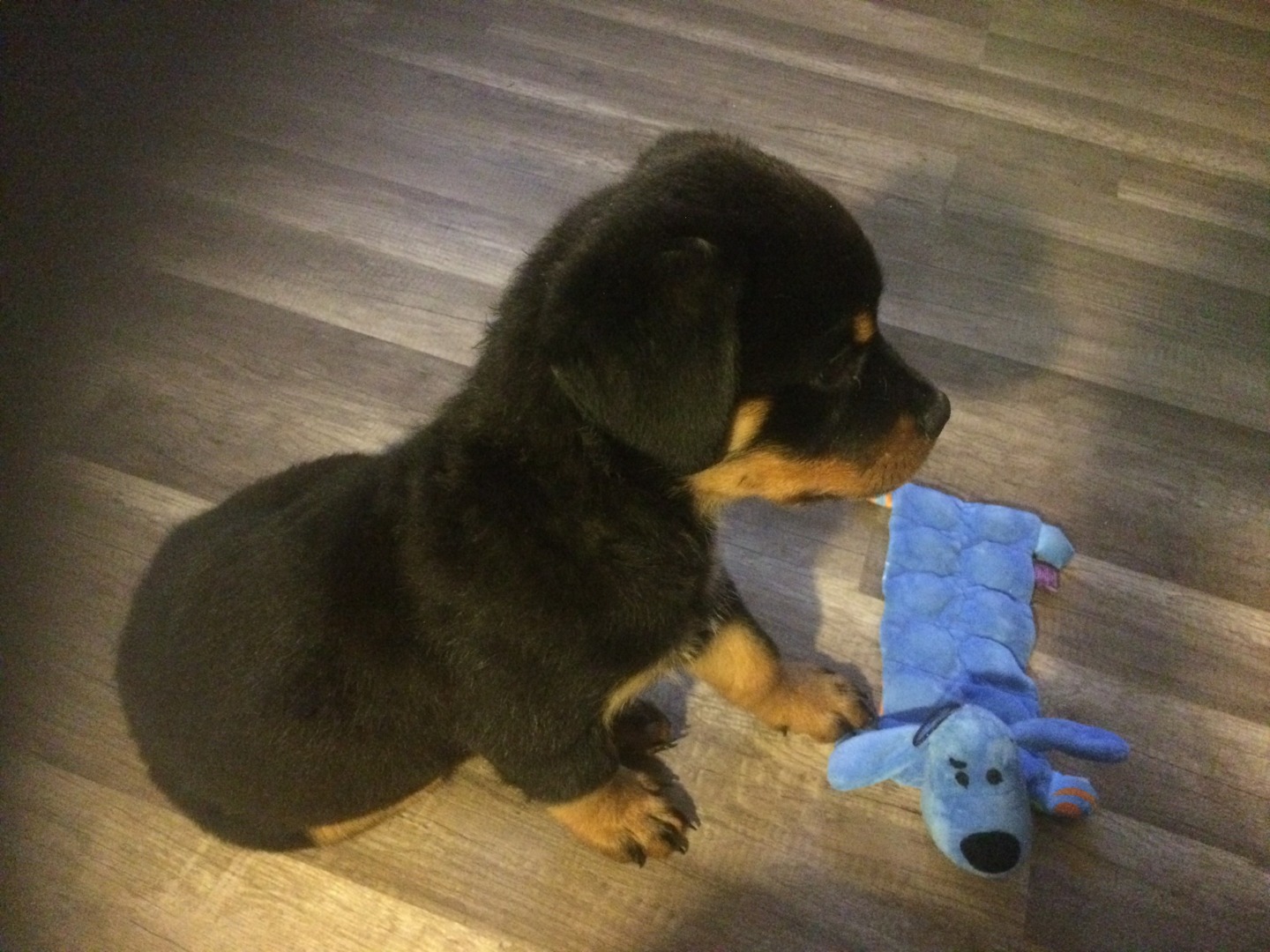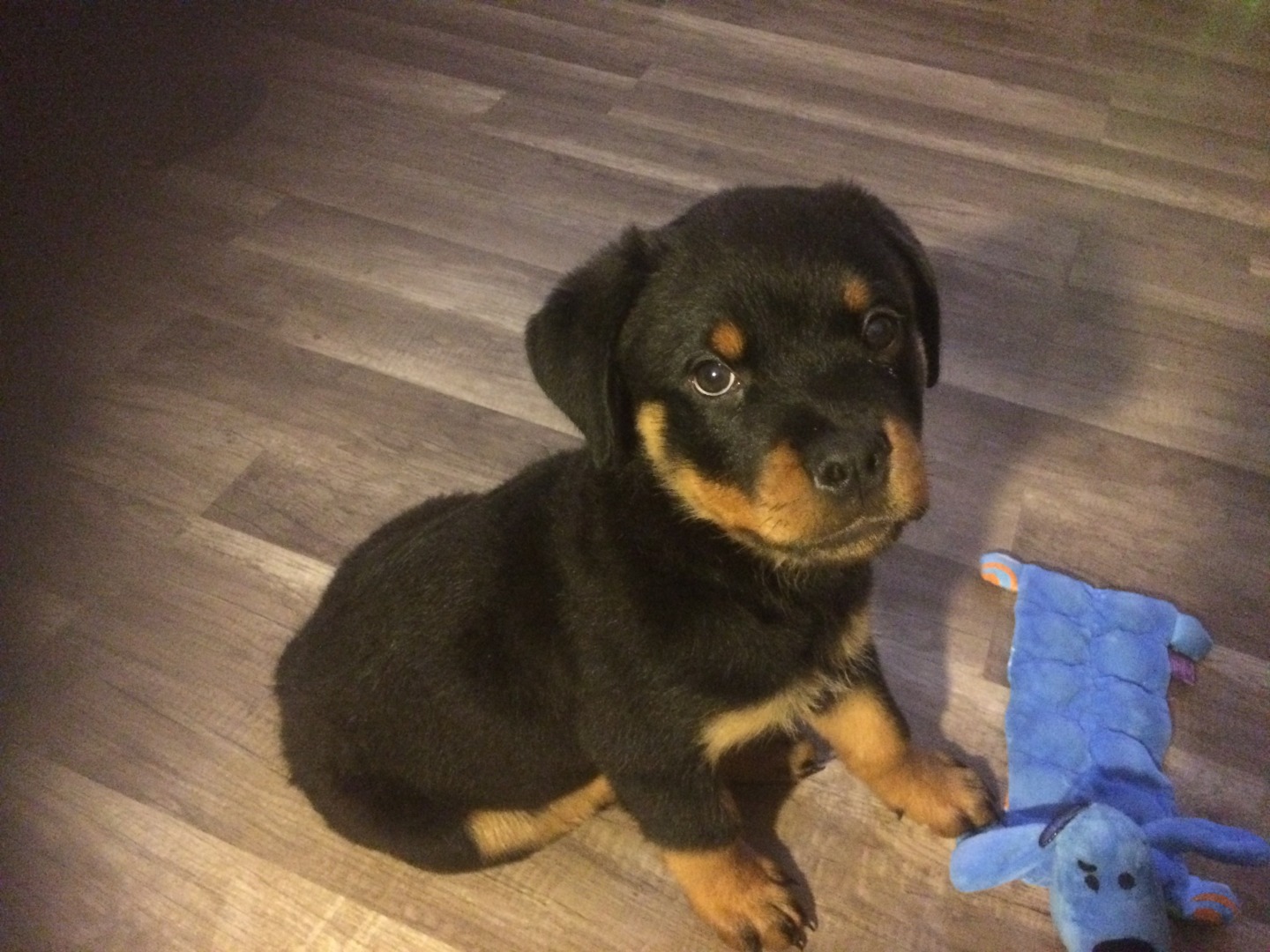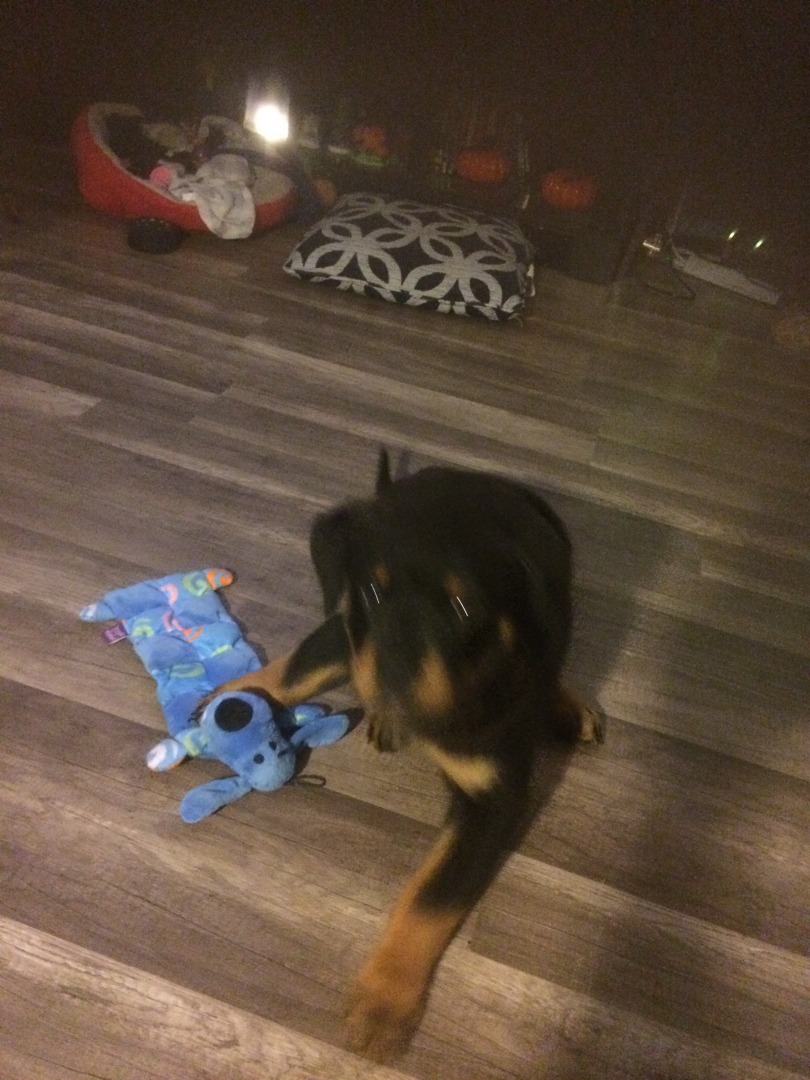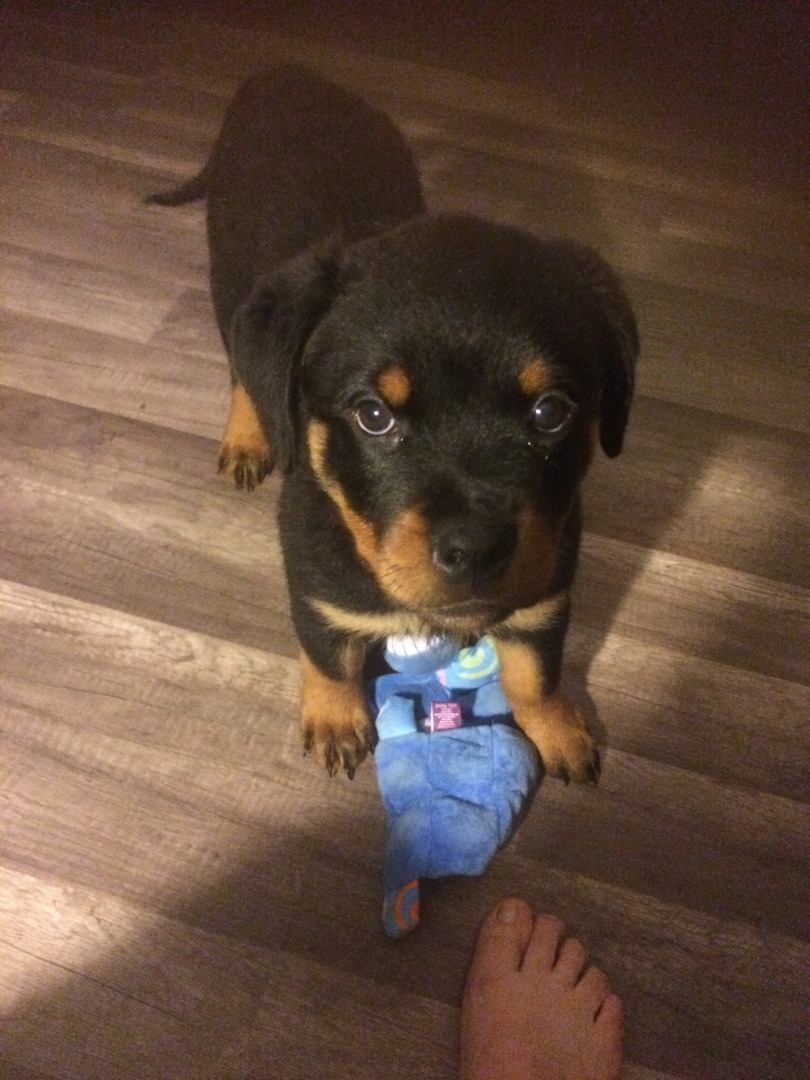 So this is our big girl! She sleeps weird with an eye usually open. She burps and passes gas like no other. She does great on our daily walks except she's a little scared with real loud noises or cars going by. I still walk her. She meets new ppl then will lay down beside me and wait for me to start walking again. We are over the moon crazy about her and have gotten so many compliments on her. I even gave out your business name to one lady. Her son is looking for a Rottweiler. Well hope all is well with the family. May God bless you!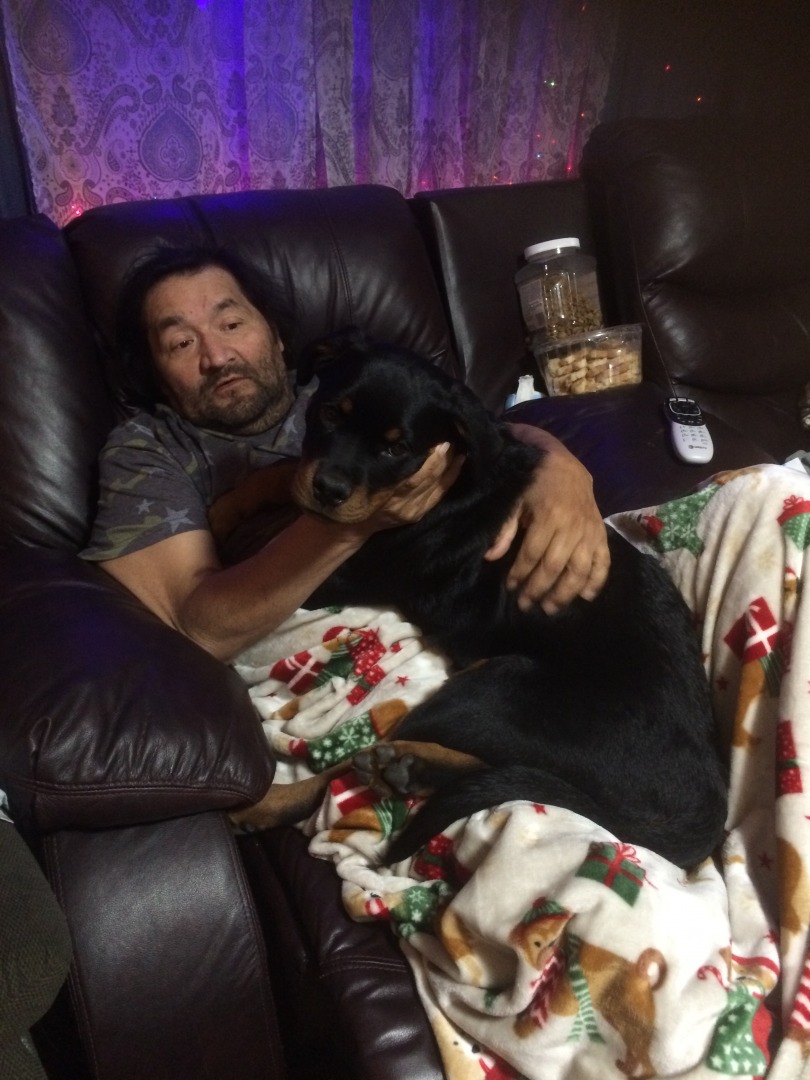 We were just coming back from the vet. They gave her a clean bill of health and she's done with all shots until next year. She's 40.9 lbs  and growing the way she should. The one tech knew her from when you brought her in. We always get compliments on her! We're thinking about getting another Rottweiler next year from you. She has been such a blessing! Thank you! Merry Christmas 
This was taken yesterday!! She's getting so big and looks amazing! People go crazy when they see her. We get so many compliments on her. Thank you for caring!!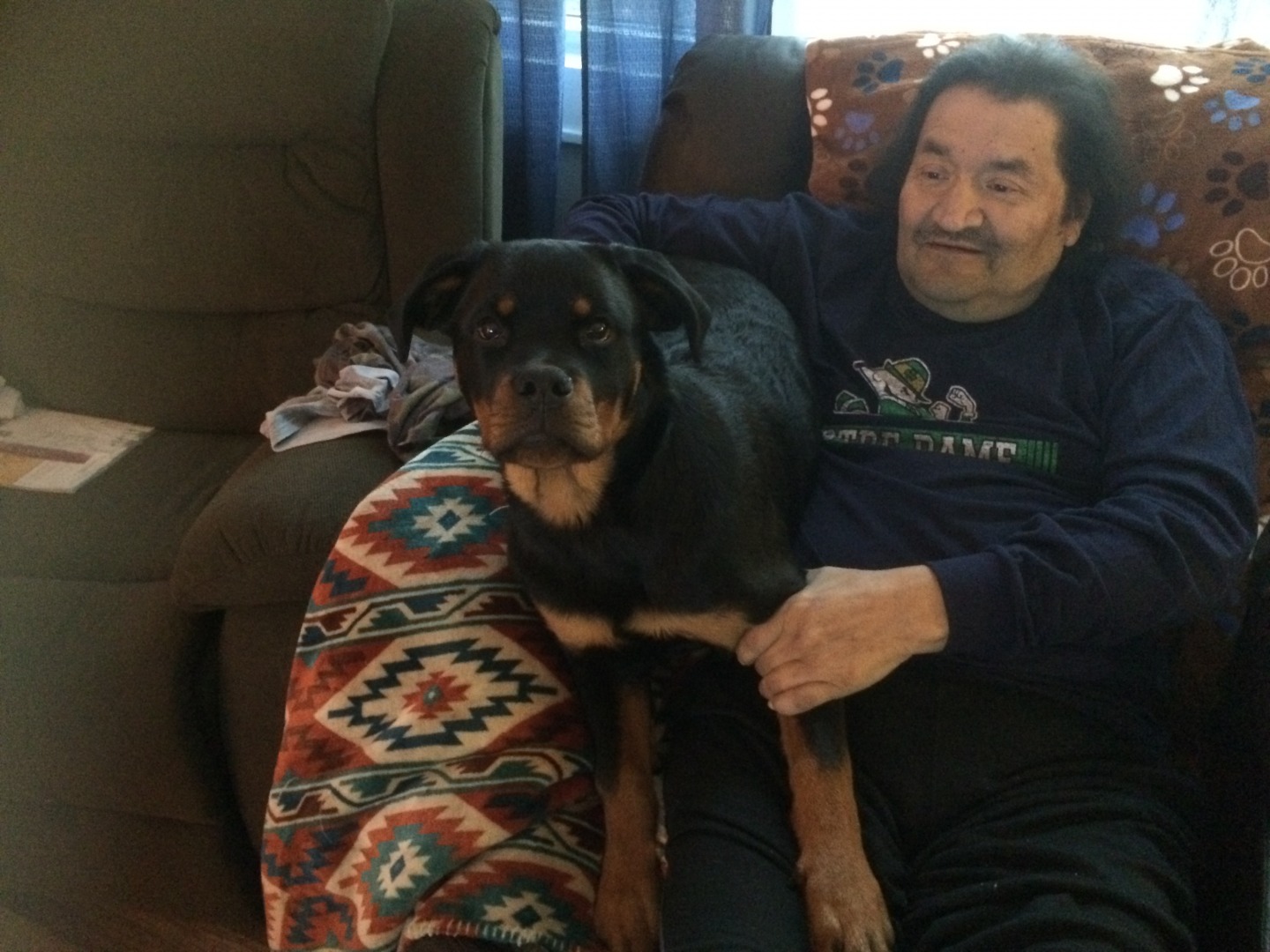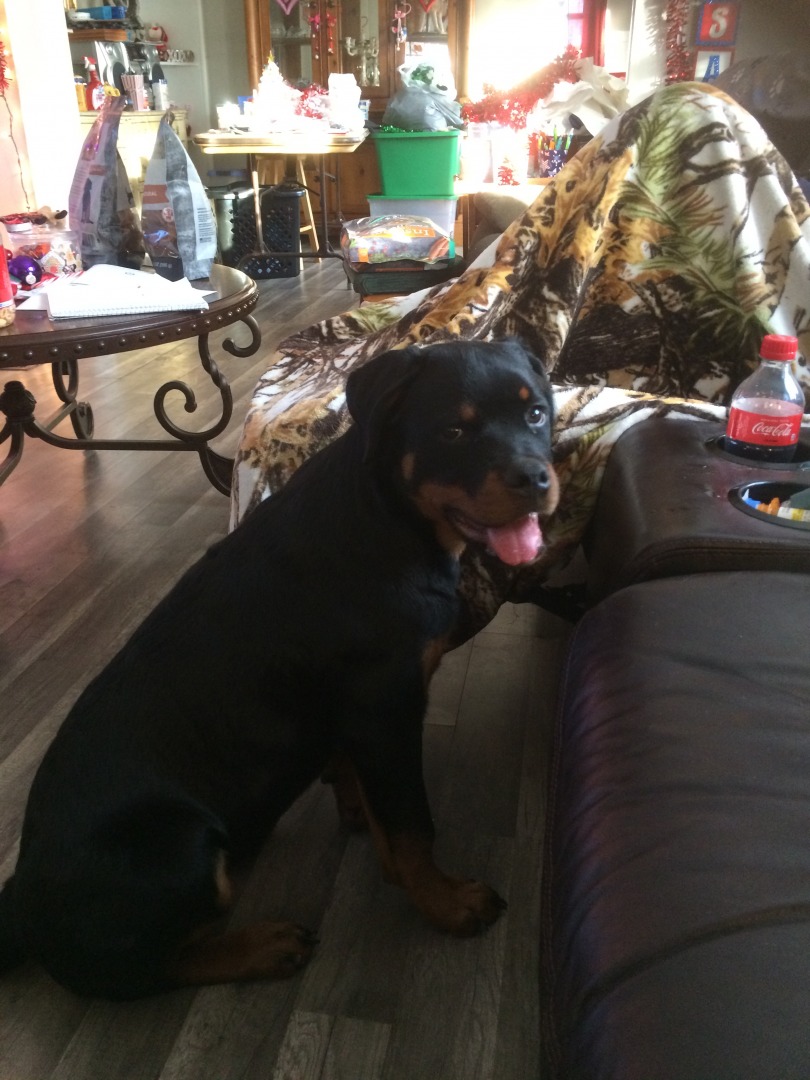 She loves her chocolate covered strawberry!
The first pic was taken last week. She was ready for her bath. I ask her if she's ready for a bath and if she is she'll go get into the tub and 
 at me like this.
?
?
? The second pic was last week also but we're in the Starbucks line waiting for her pup cup. She goes crazy for those things
?
?! God bless you and have a wonderful week!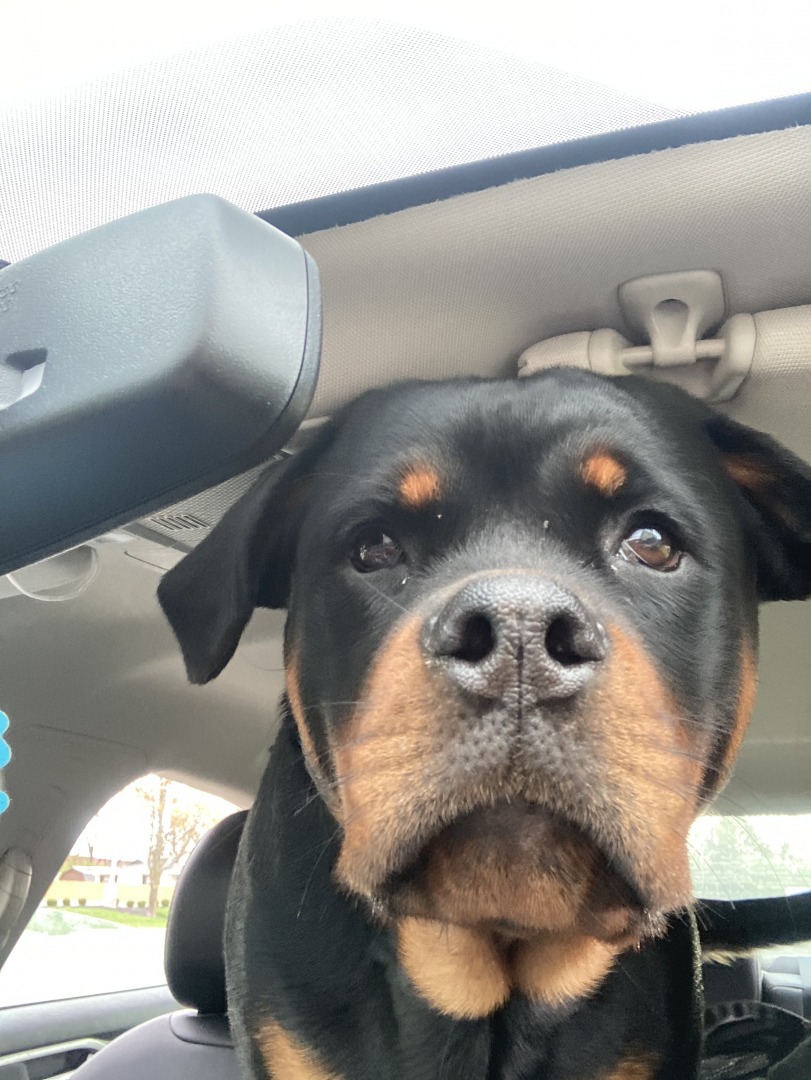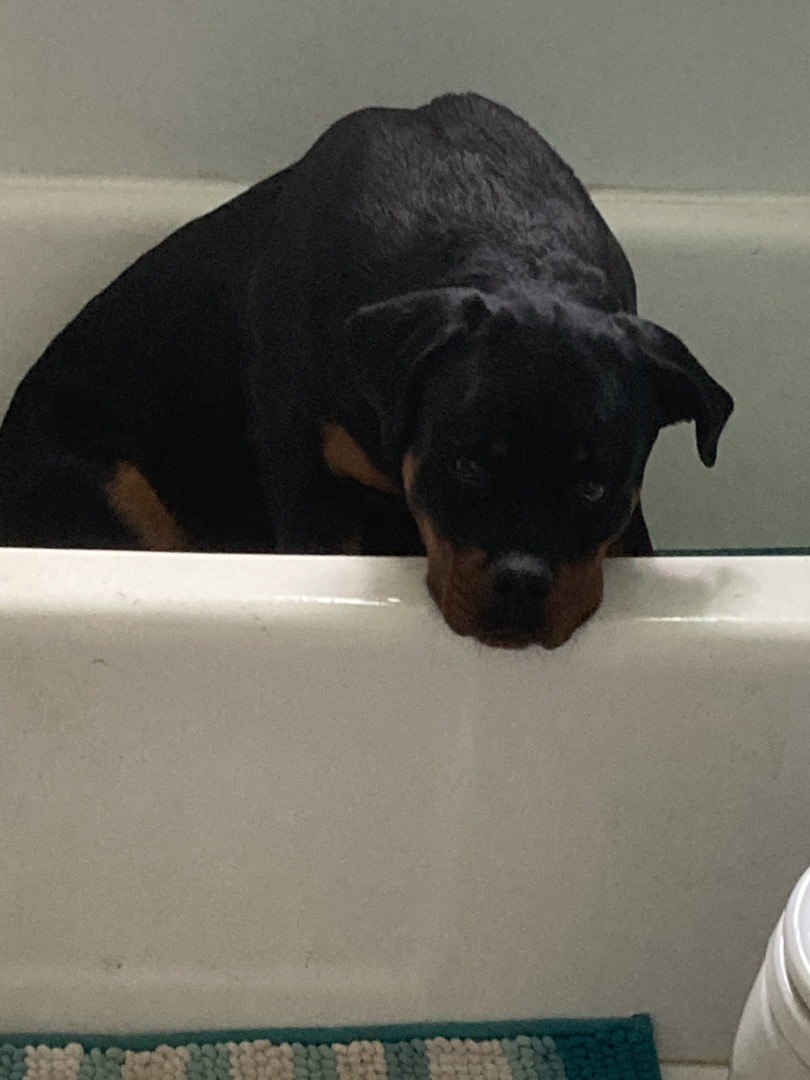 I just can't thank you enough for taking the time to create such wonderful creatures! She has really taken up to the lil guy! He's more relaxed! We went for his first pup cup this morning and they both did great! May God bless you and your family!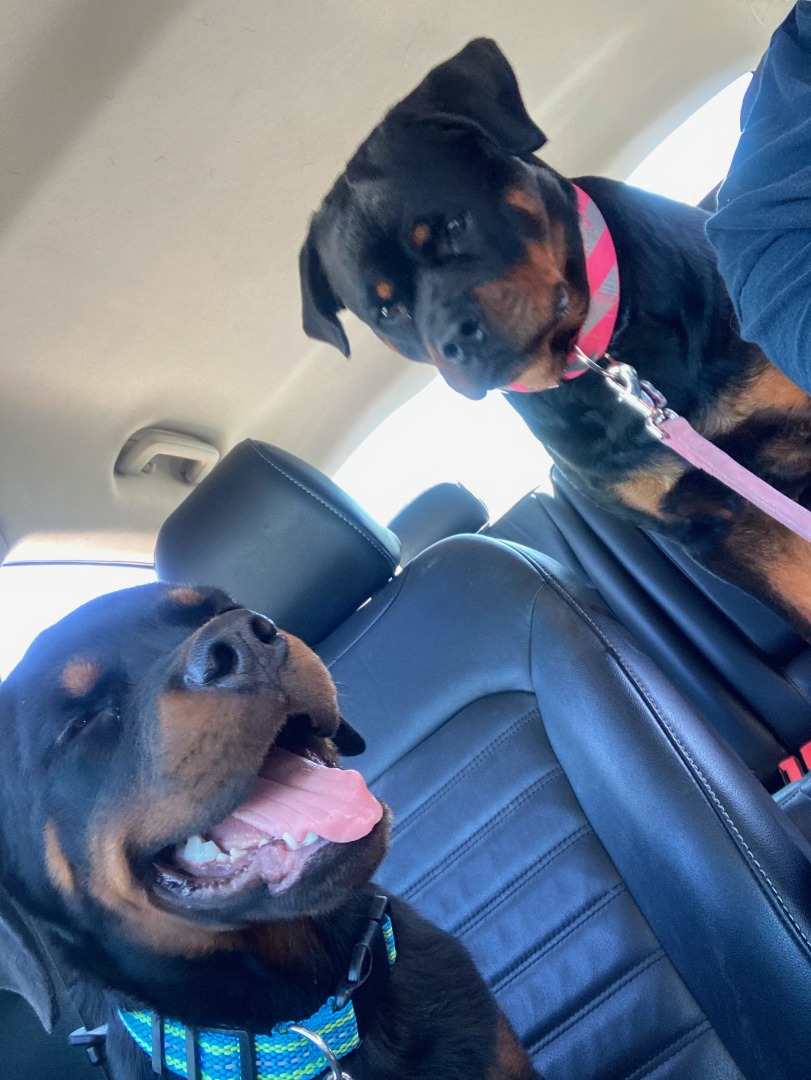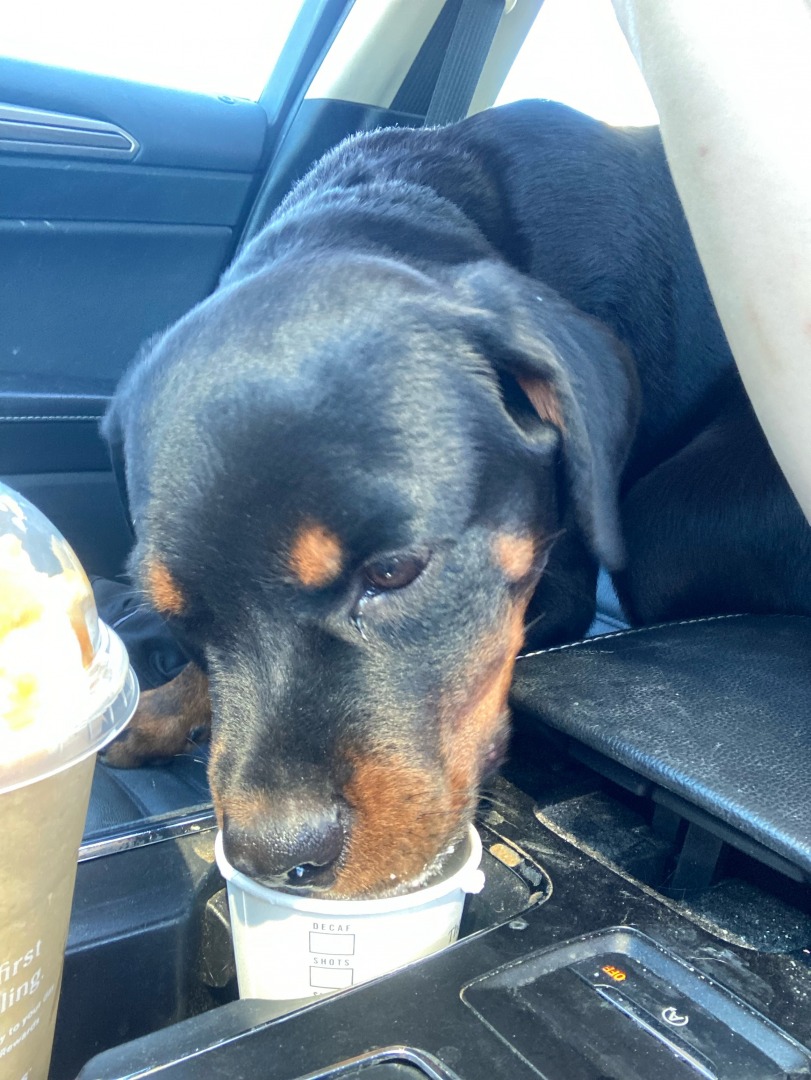 My family has been thinking about your family. Hope your husband is doing well! I thought I would send you a pic of my zoo 
! I wouldn't know what to do without these 2 clowns! We'll keep you in our prayers! I'm a nurse and if you ever need anything don't hesitate to ask! I'm here for you! Have a blessed day! Shelby C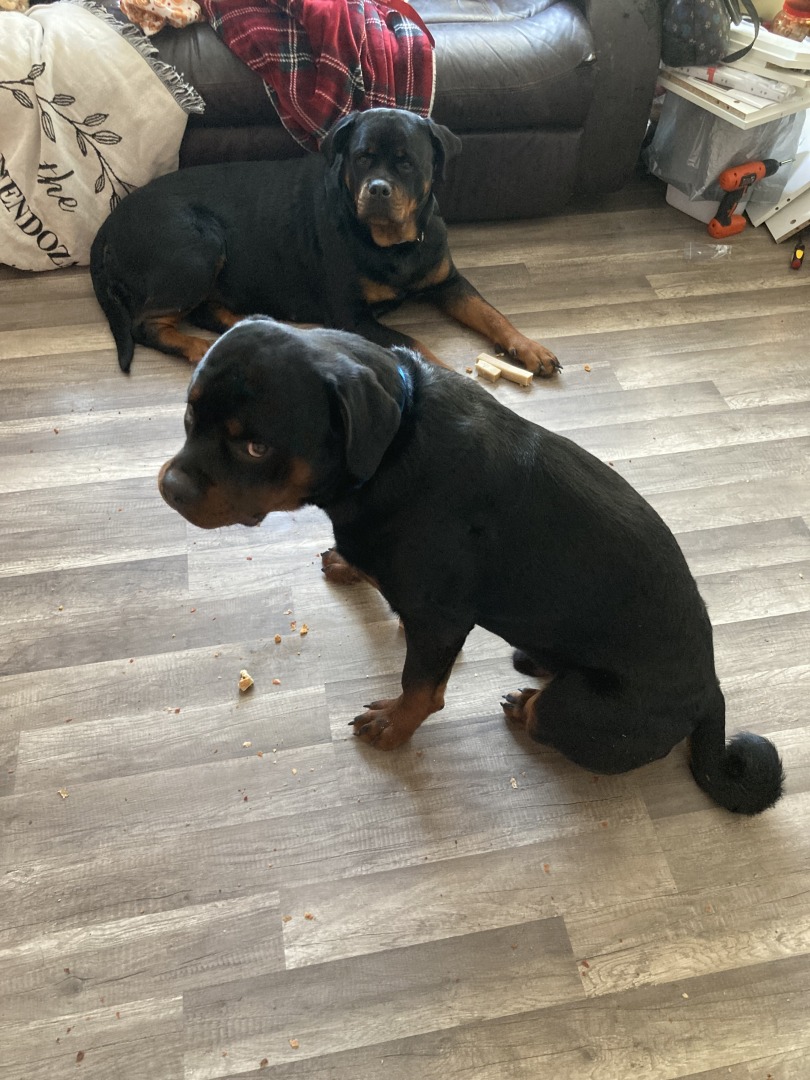 This is Sonya(Gracie) now! She just turned 2! She is the sweetest girl! We love her so much!! Thank you! Hope all is well with your son and husband! God bless!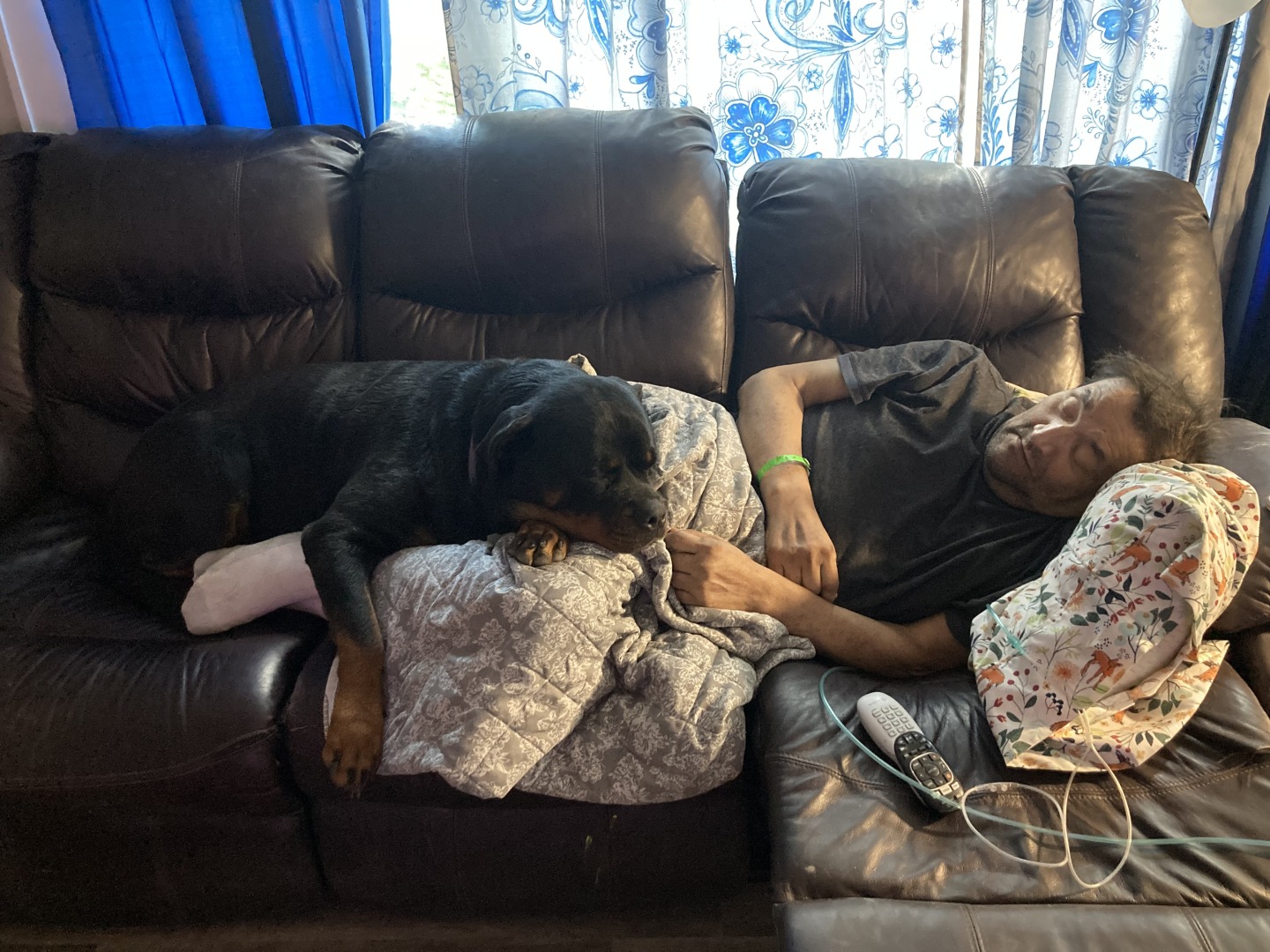 ---
"Kayla" Guardian Gizelle Von Gottschalk
Hello there!
I hope you and your family had a great Thanksgiving and got to spend time together.
I am interested in showing Kaya (Gizelle) but wasn't really sure how old they sre when they start. Or what to do to prep them. I was also wondering how to get her registered to get papers.
Any tips would be appreciated!
Some quirky facts about our cutie pie…. she LOVES the water. She enjoys coming in the shower with me, and soaking in the bath with my son. She also loves sucking on ice cubes. She finds it soothing. She is going to be in heaven when we get back up to the cabin and have some lake time.
Thank you for your help!
Katie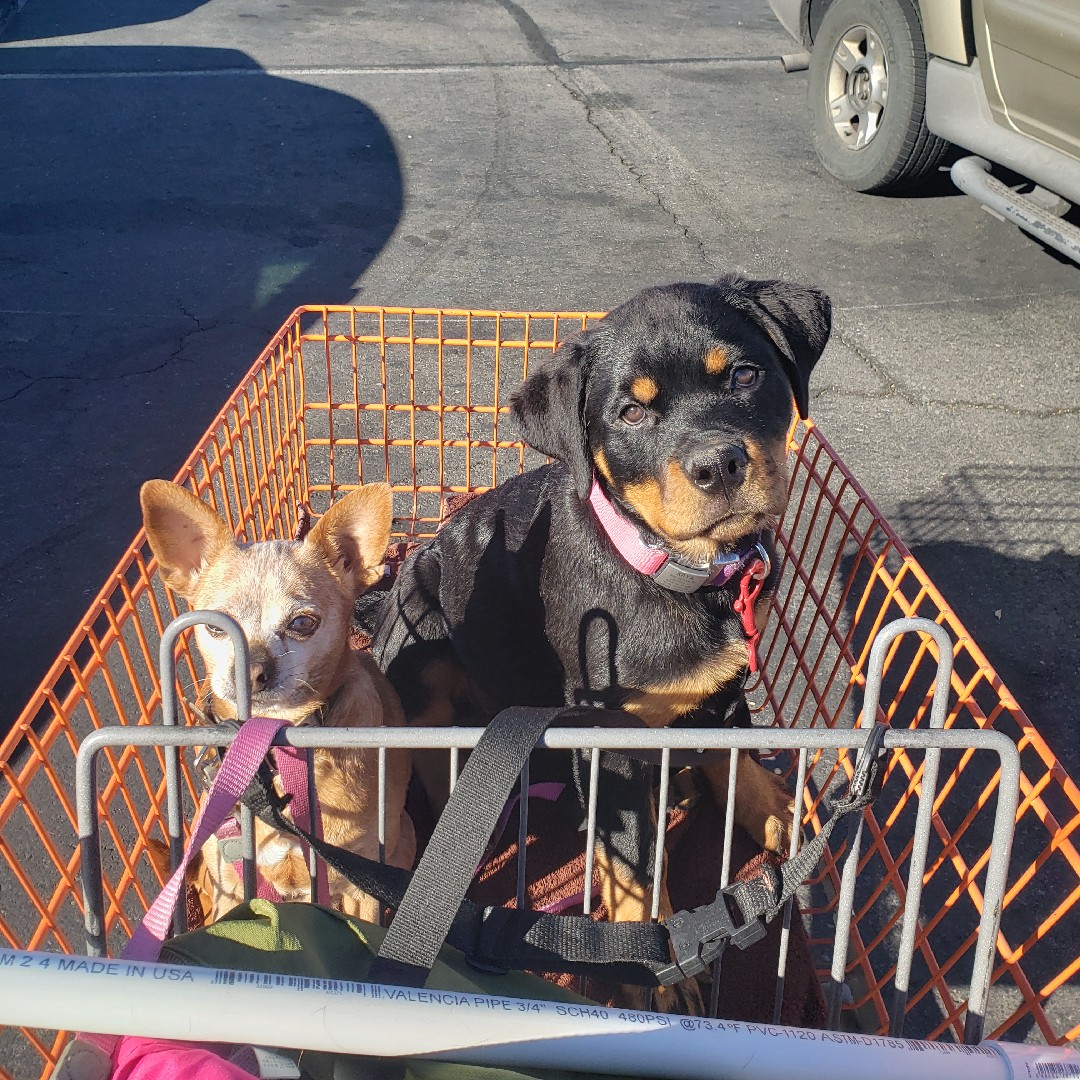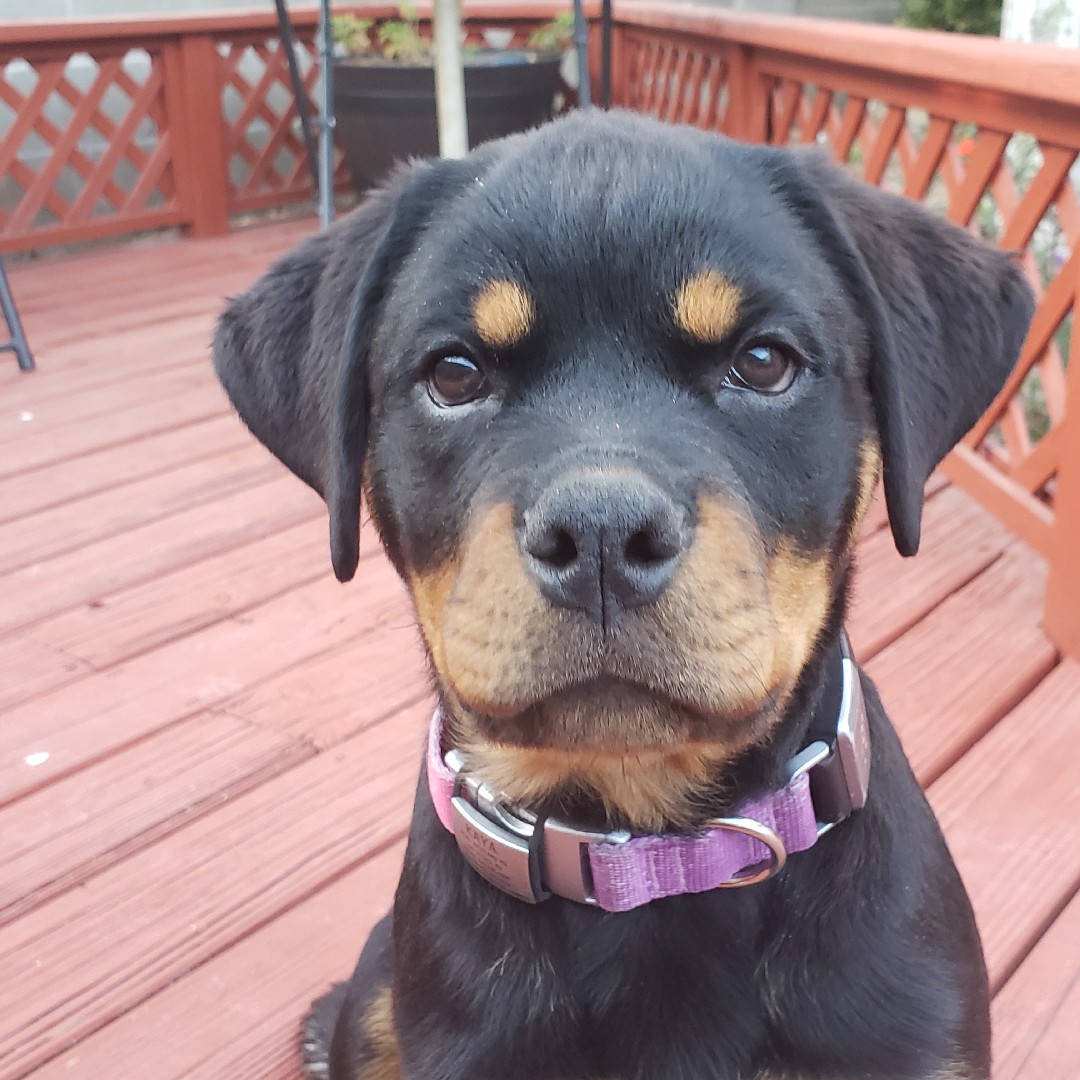 Good Morning!
At what age are you comfortable introducing pups to other dogs? My vet said not until a week after her 4th vaccine. I always thought 3rd vaccine for dogs we know and 4th for things like the dog park. We do have a lot of parvo here.
Btw- Kaya (Gizelle) is a doll and so smart! I sent some additional photos and videos to your messenger.
Katie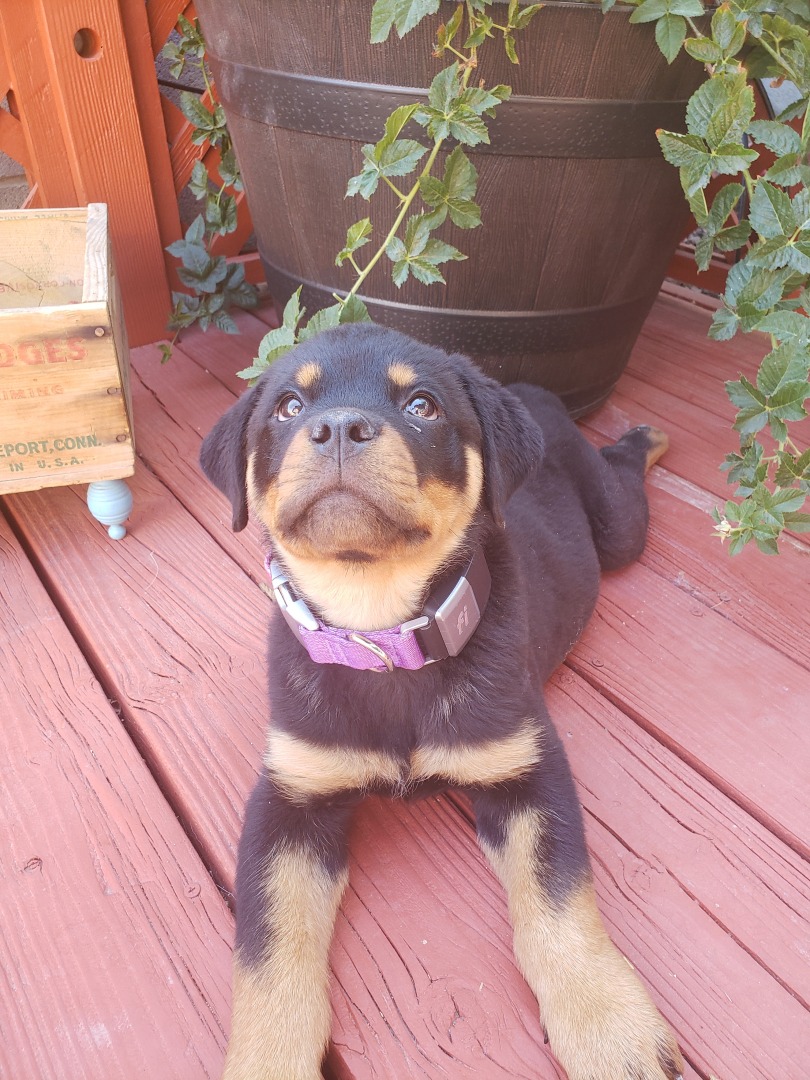 Thank you for the info! I have created an account on zooza. I am also trying to join my local kennel club that hosts shows. But I think they are AKC so I will look into the handler. Is she registered with AKC ? If not, do I need to?
We just started taking our little love to the park, and she is having a ball socializing with a few other dogs as well as practicing some distance with our training. Not sure how the quality of this video will be, but we practiced heel from a distance! Yesterday she learned how to stay at my heel while turning. She did great at it today! So proud of her.
Hugs and kisses from Kaya <3
Katie
---
"Bandit" Guardian Glacier Von Gottschalk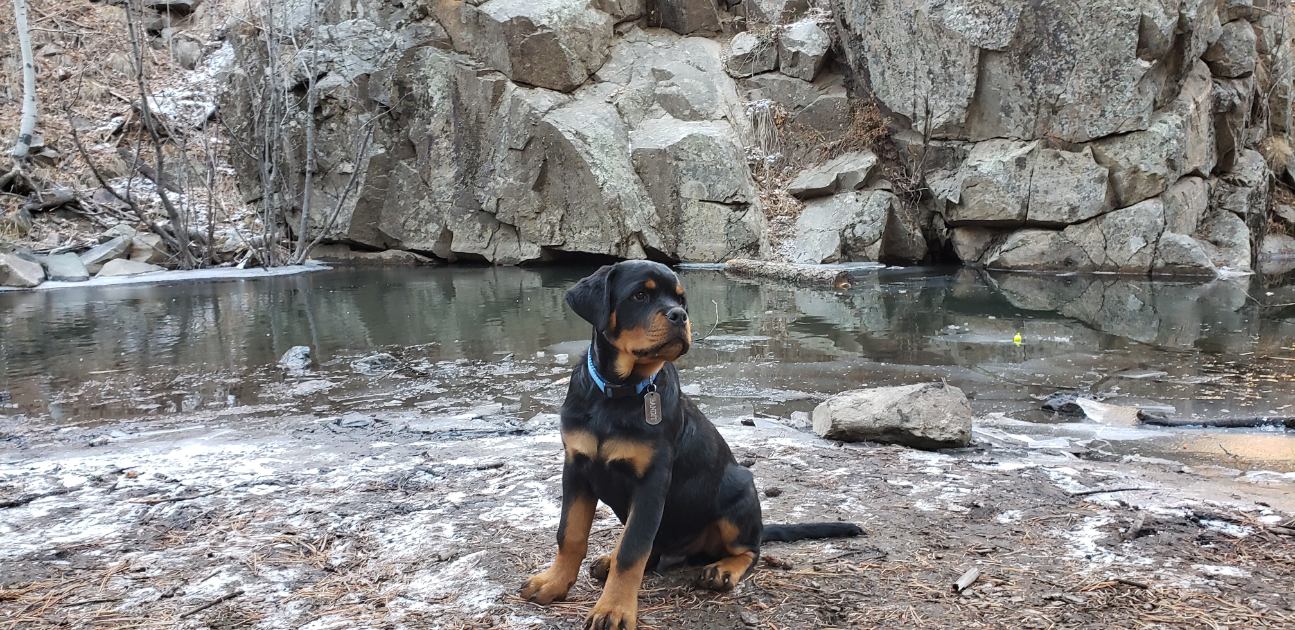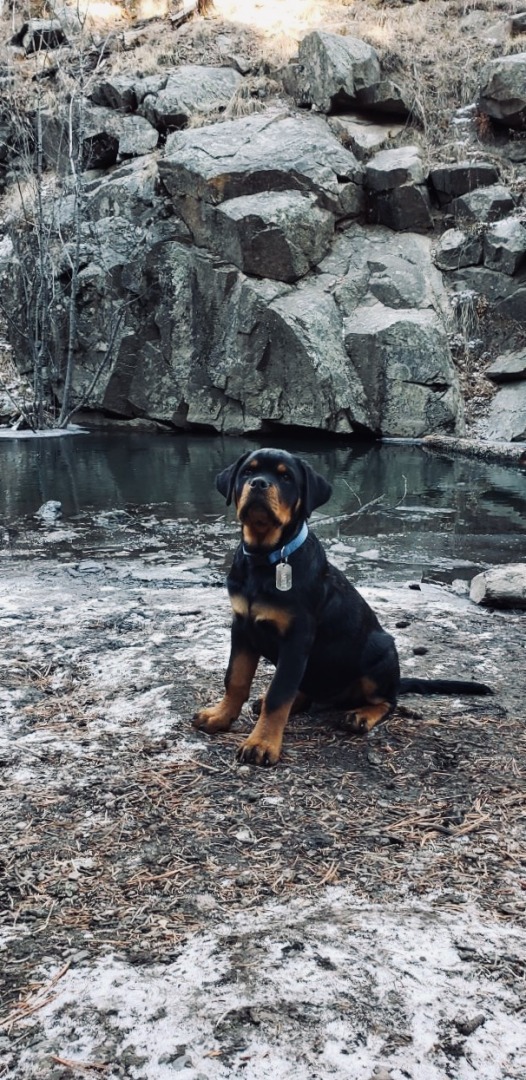 Hi Alice
I hope your holiday was amazing!!! I have a few questions for you 
 Bandit is amazing We are so happy with him!!  What kind of Chewys do you recommend? Also, he has dandruff and we have tried a different dog food now to see if that helps. Any recommendations on that? And one more question! What do you suggest to do about growling? I know it's totally fine when we are playing. But he does have a habit of growling at my youngest when he hugs him when he's lying down or when he's eating. He does not test anyone else but my smallest. I've heard to allow them to growl as they are warning you before they bite. But then I hear it's not ok especially when they are eating. I'm so confused. I know you'd know what to do as a mother and an expert with this breed. Thank you Alice 
---
Guardian Gitana Von Gottschalk


Hey Alice sorry to hear your family caught that funk. We had a great holiday hope you enjoyed yours as much as possible. I'm not trying to pester you I was just beginning to wonder. Take care and look forward to speaking with you again . Here she is almost 5 months and 46lbs. She's doing great and is incredibly smart.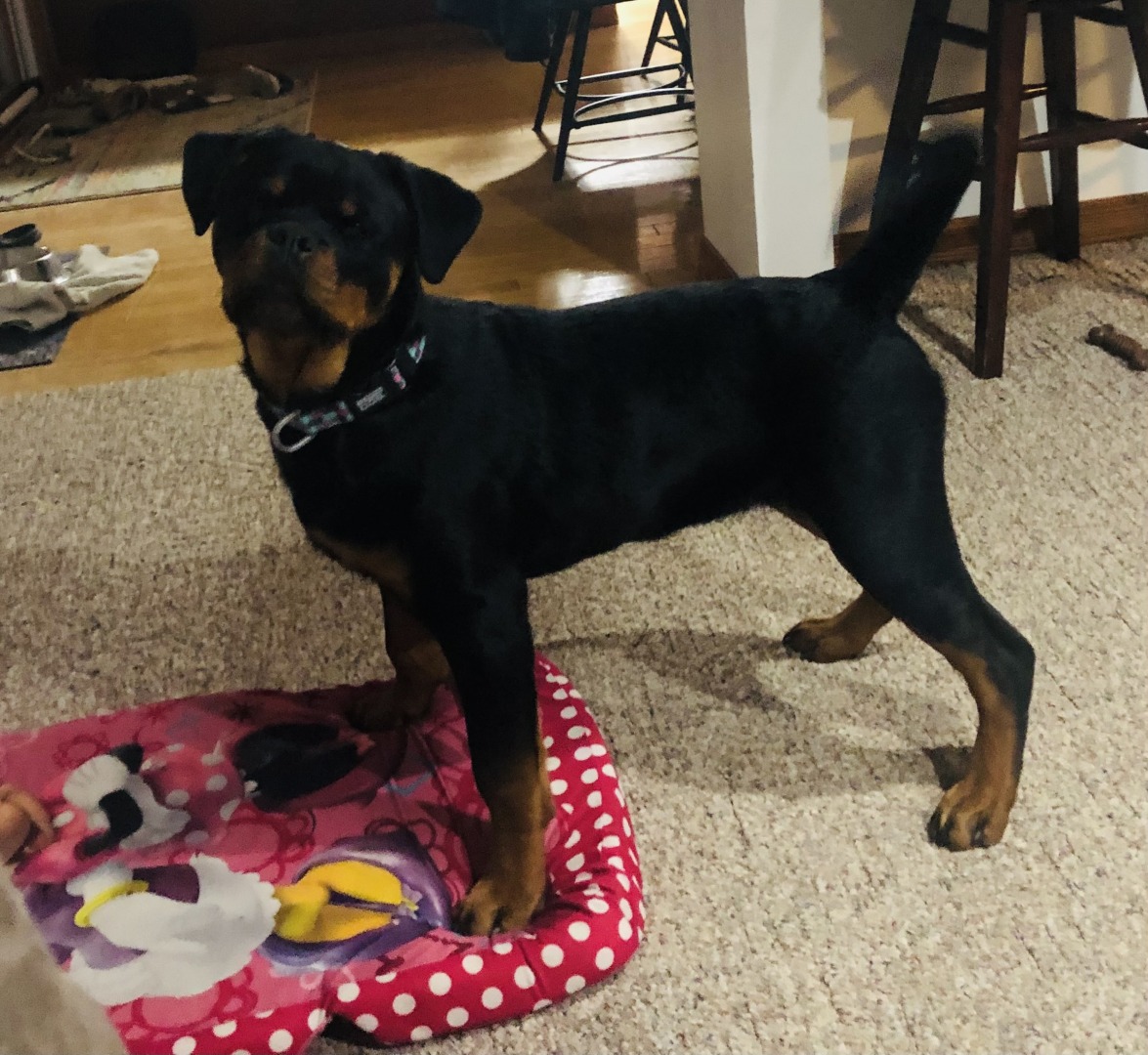 ---
(Visited 209 times, 1 visits today)