Guardian Rottweilers R LITTER
Sire: Guardian Atlas Von Gottschalk
Dam: Guardian Lola Von Gottschalk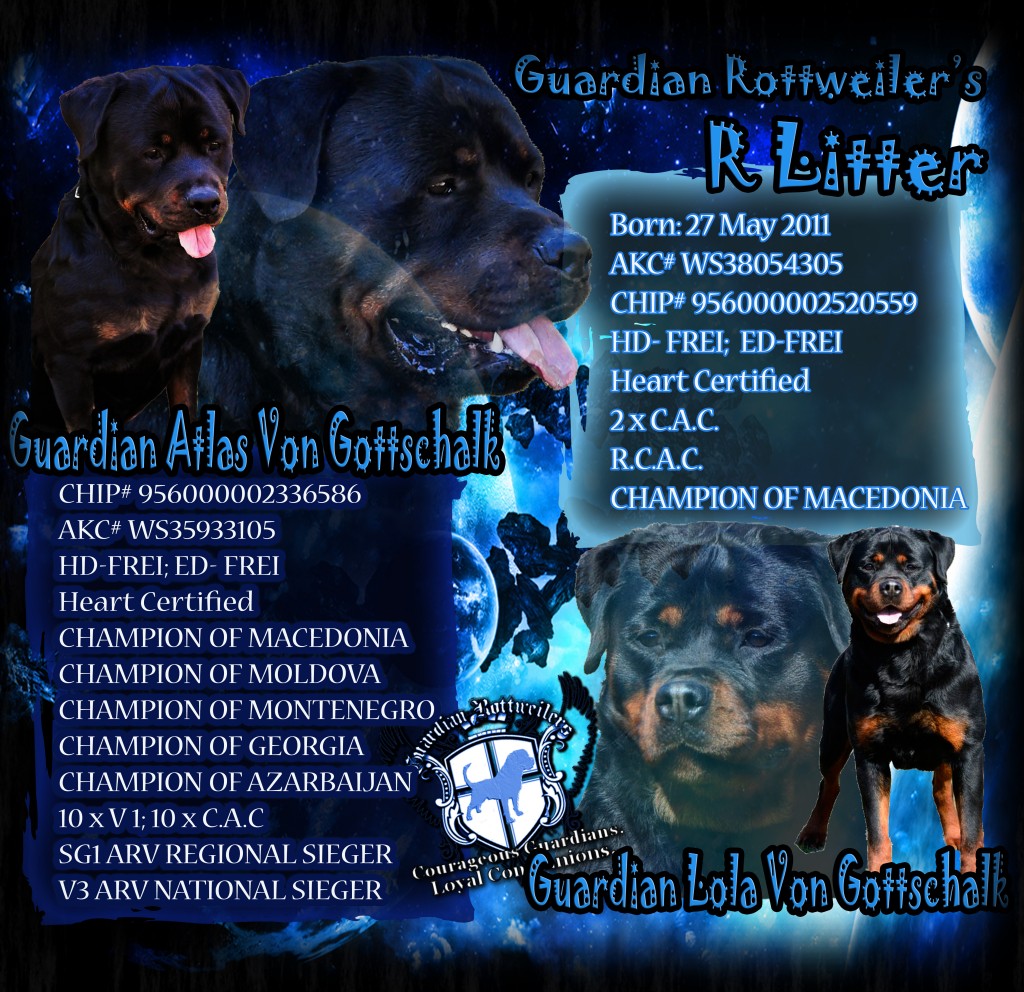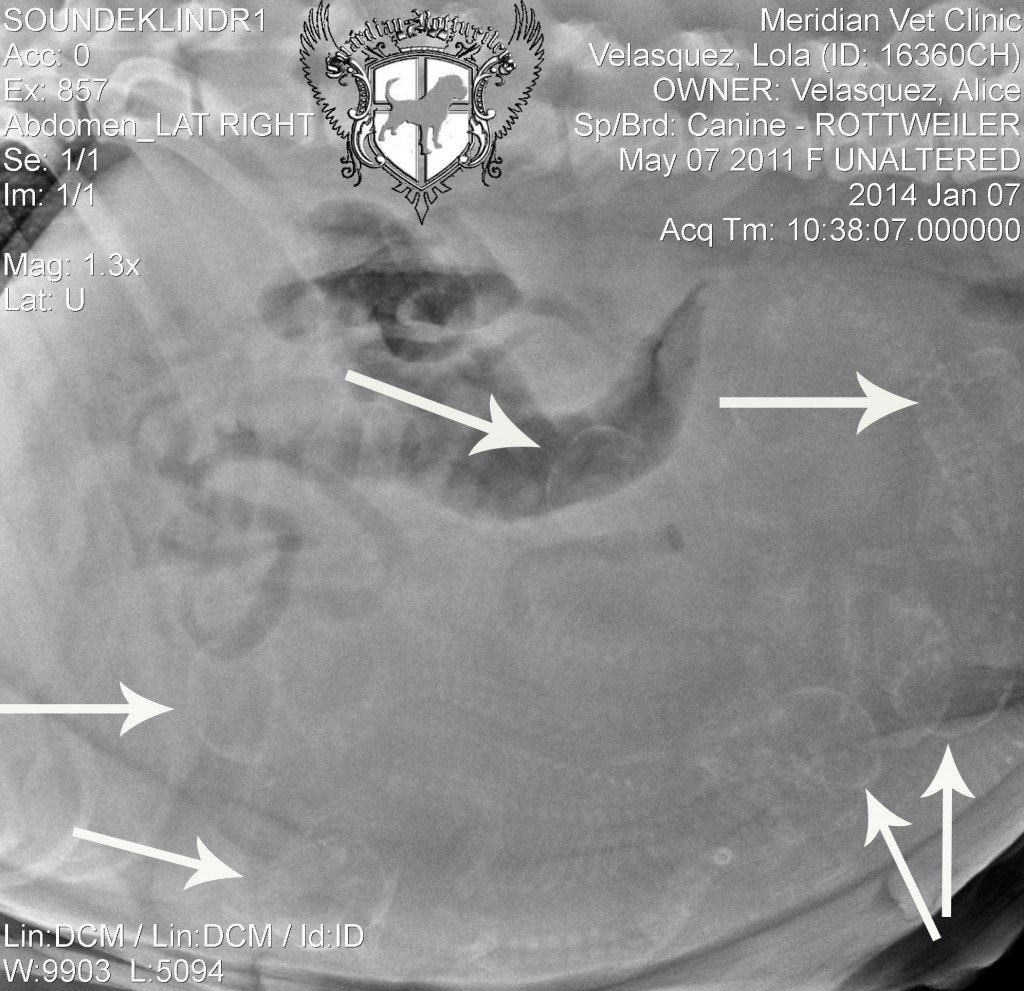 I never grow bored of looking at the x-rays and ultrasounds! <3  It is so amazing to see the itty-bitty babies inside mommy's tummy!  As though we have gotten a sneak peak of the miracle in action!  The calcification of the skeletal system is one of the last things in the development of puppies and you can only see them on x-ray during the last 10 days (give or take).  If you look for small circles (skulls) and the spines and rib cages, you can count the babies! <3 
---
Guardian Raleigh Von Gottschalk
Alice I seriously can't tell you enough how much I love my baby! She's so amazing and I know a lot of it was your breeding! She went on spring break to the beach with me and was such a trooper on the 9 hour car ride (I seriously thought she might be dead at one point because she sleeps so hard haha).  And everyone who met her fell in love. I can't wait for her to keep growing into the fantastic dog I know she will be. Here are some pics I thought you would enjoy: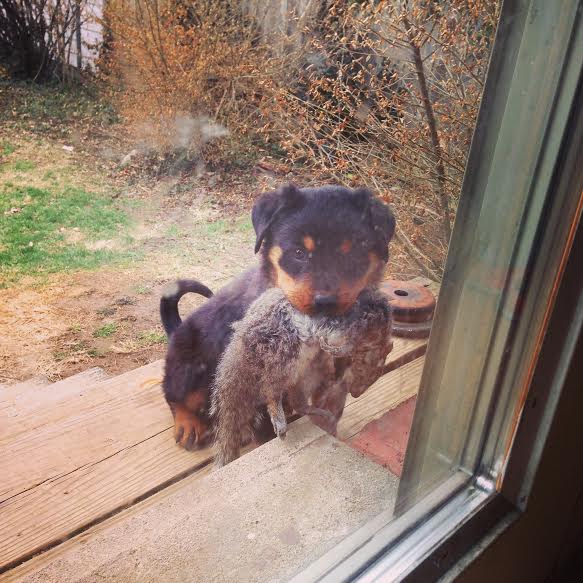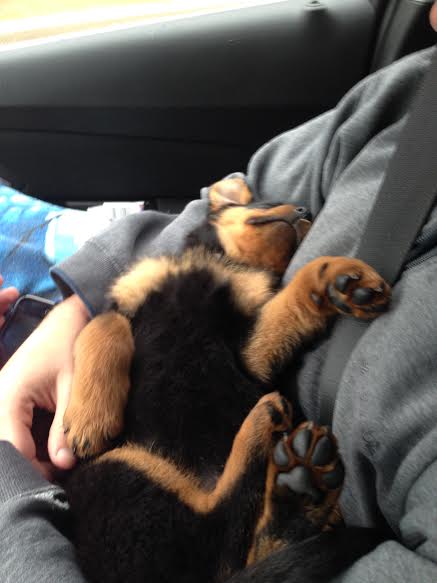 She found the cats stash of dead animals under the stairs and was so happy!           Loves sleeping on her back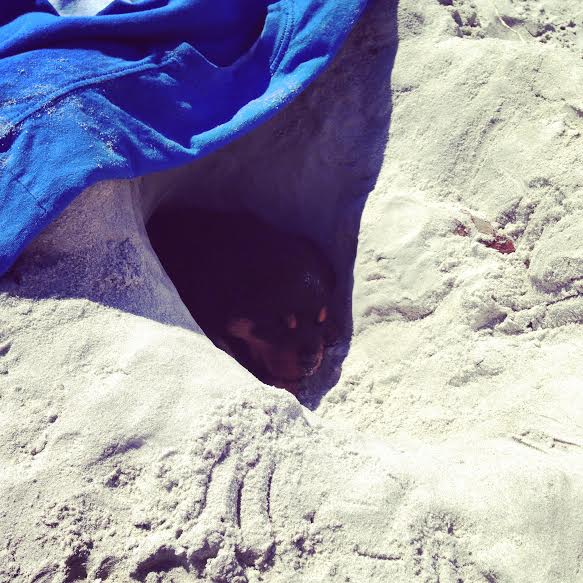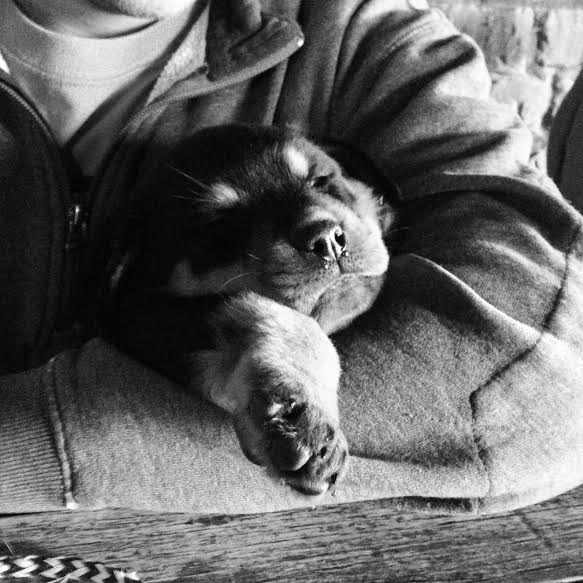 Keeping cool in her hole on the beach                                                                                          Such a chubby face!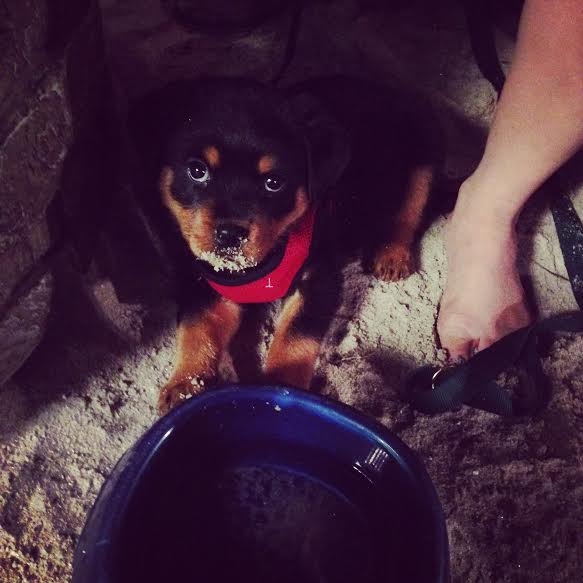 Always had a sand mustache!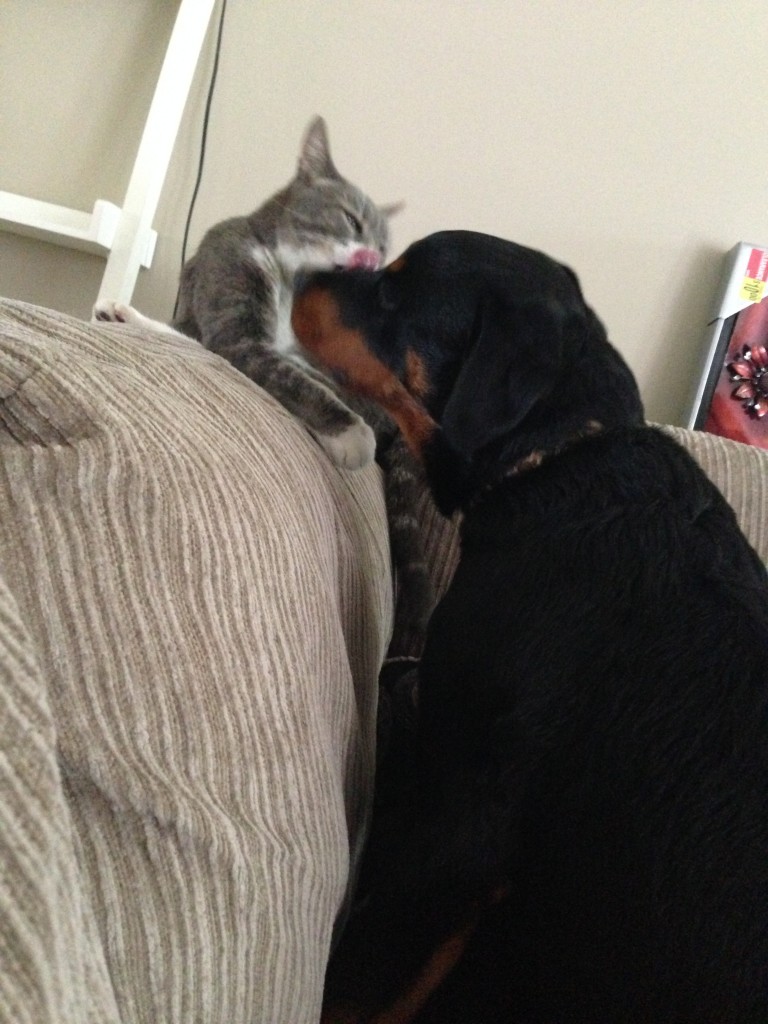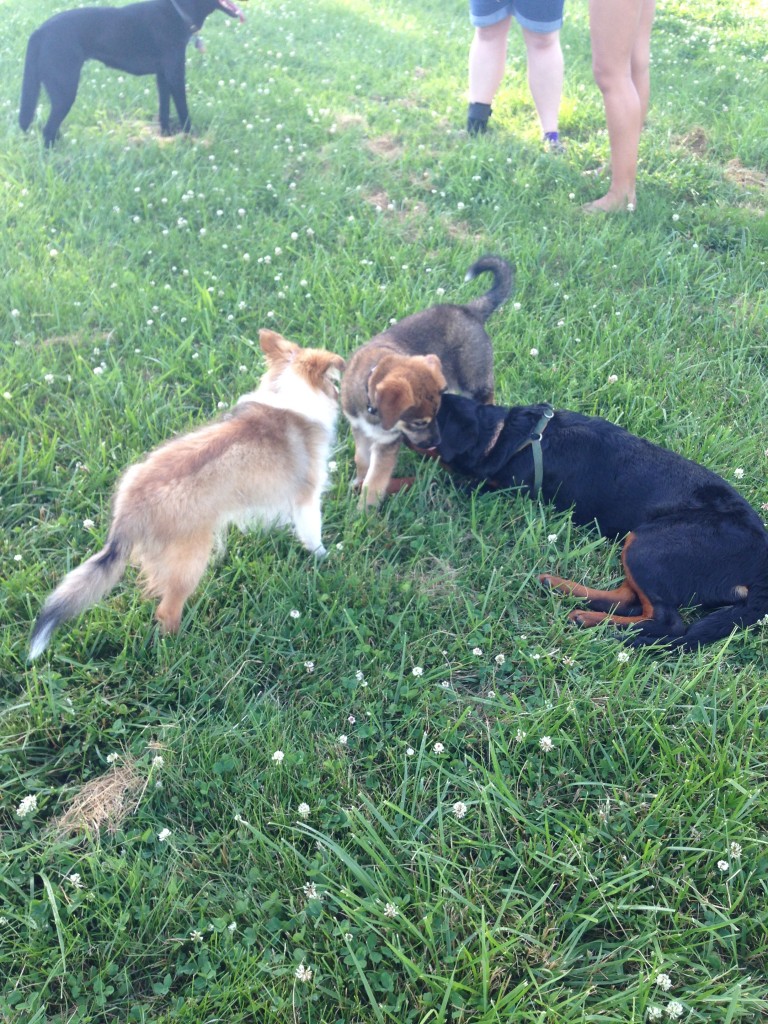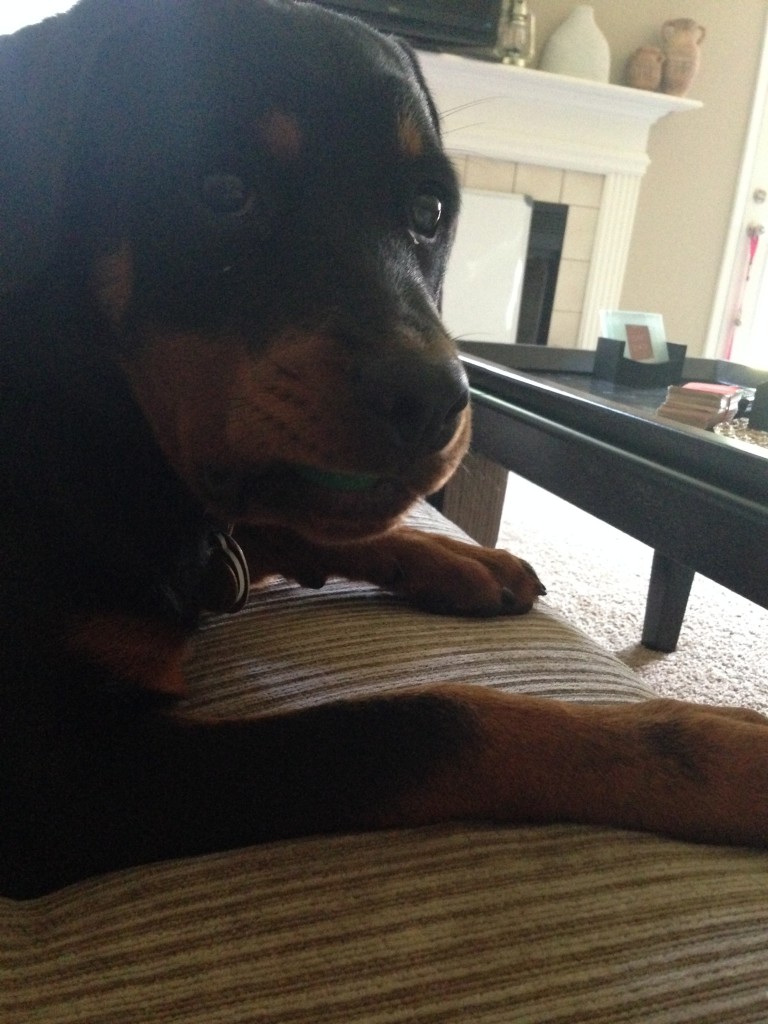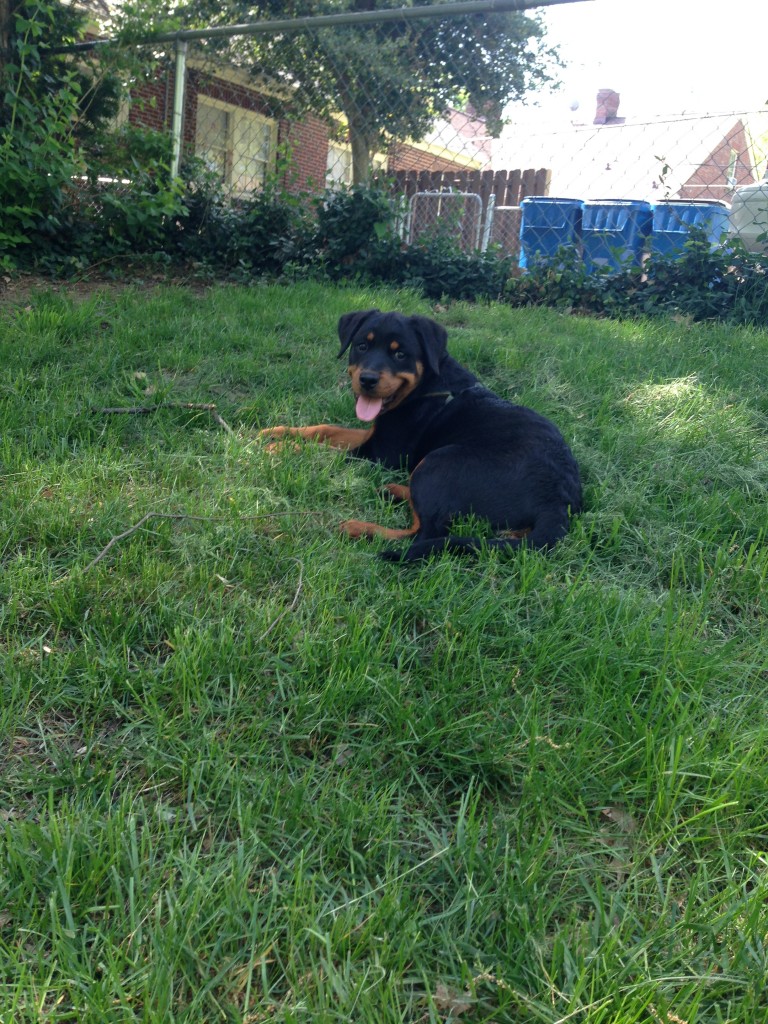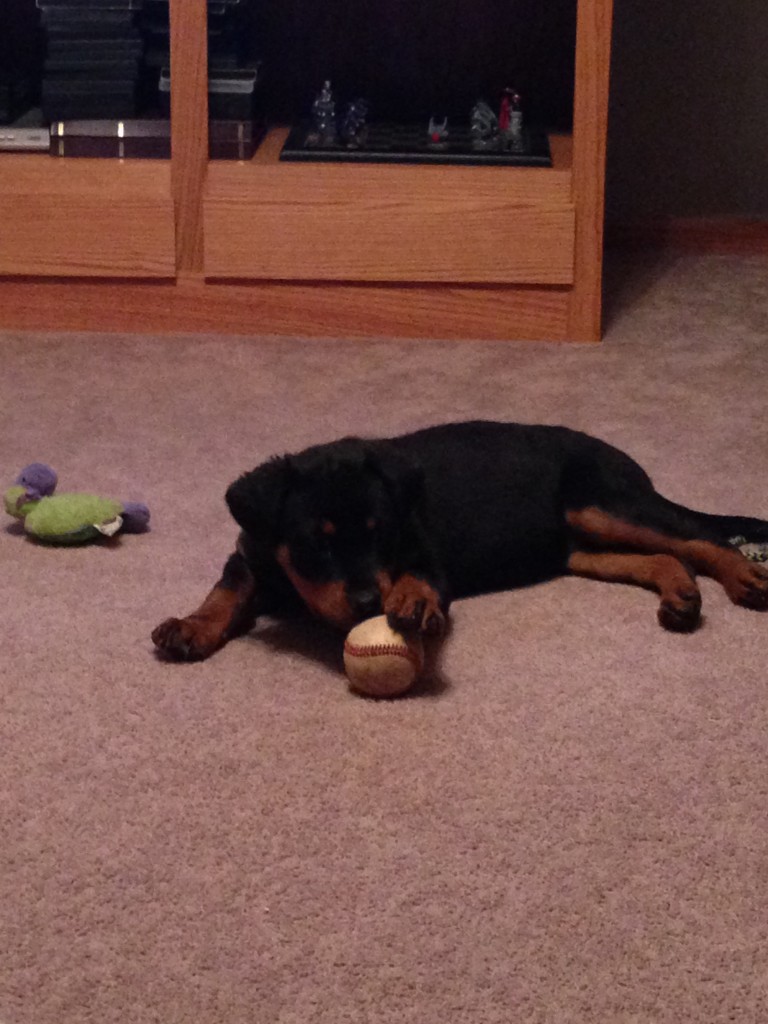 Raleigh update! She's doing great, taking everything in stride, even her first bath! And she's already practicing to be a champion lapdog. Hasn't went potty yet (unless she dribbled as she followed me around the yard haha)though she has ate and drank quite a bit. I'm assuming that's just some adjustment anxiety but you wouldn't know she's nervous by looking at her 🙂
Hey Alice,
I figured it's about time for another update on Raleigh. She has been going to rehab once a week for her elbow and there's definitely been improvement. She's still gimpy but it doesn't stop her from having a great time playing with all her friends. And she loves the water treadmill tank. She cracks everyone up at the vets office by chasing her tail in there. And she is still slaying everyone's hearts with her big ol sad puppy eyes (my trainer compared them to the precious moments dolls haha). I did have a question about weight. She seems to have plateaued around 70 lbs for the past month or so. I'm really happy with her weight based on how she looks (which I know is more important than number), she is trim and I obsessively make sure I can feel her ribs every day haha. But just wondering if you think she will pick up some more weight til she is 1 1/2-2 yrs old because 70 is pretty low for breed standard, correct? And as always here are some more pics!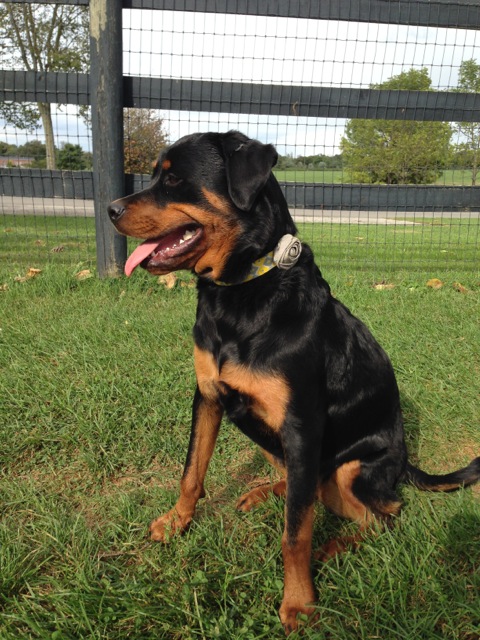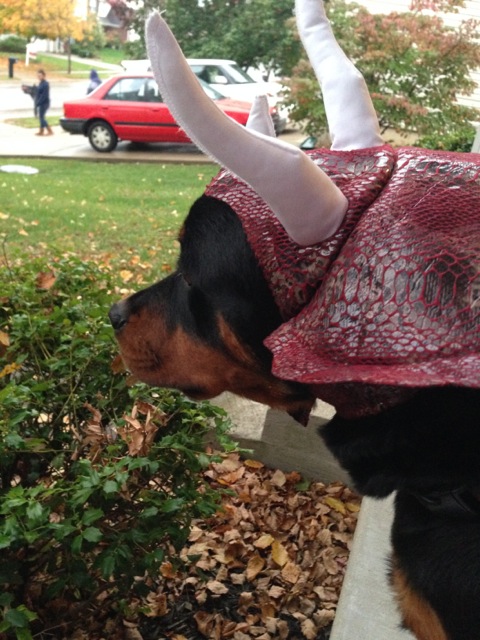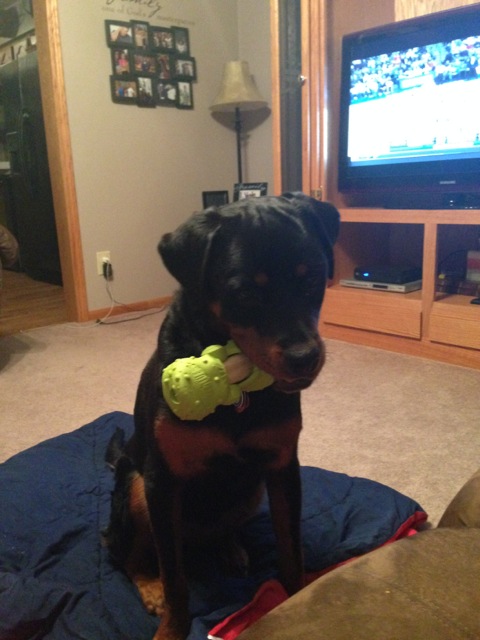 Hey Alice,
Not so fun update on Raleigh….
So when I was on Christmas break at my parents, she was playing with my cousin (jumping back and forth) on carpet and her back legs slid out from under her and she fell on her hip. She was a little sore, but was still wanting to run/play on it so I thought she just bruised it or maybe stretched/pulled something. So I rested her but a week later when I came back from break she was still not getting better so I took her into my vet. They did X-rays and turns out she actually broke her hip! The vet was pretty shocked she was able to run on it and squat to go to the bathroom (which she was doing fine) and also her femur was not displaced at all. She thought she might be able to heal on her own but we also consulted a surgeon and he recommended surgery. She actually broke off the growth plate at the end of her femur making it a capital physeal fracture, and apparently they could only be able to pin it in place if surgery had happened within days. Since we were past that point she ended up getting a total hip replacement this wednesday. She's doing great so far and definitely doesn't believe she should have her activity restricted. She never ceases to amaze me with how well she tolerates pain and also how unlucky she is when it comes to these injuries! The vet affectionately called her my "lemon" haha. On the bright side the x-rays showed her hips looked great, no dysplasia and even if they would have it we basically did prophylactic surgery on them anyways. It's gonna be a long 8 weeks of recovery, especially since she is loving the snow we just got 🙂
Anyways, just wanted to update you, and here's a pic with her poor little shaved butt and her sling: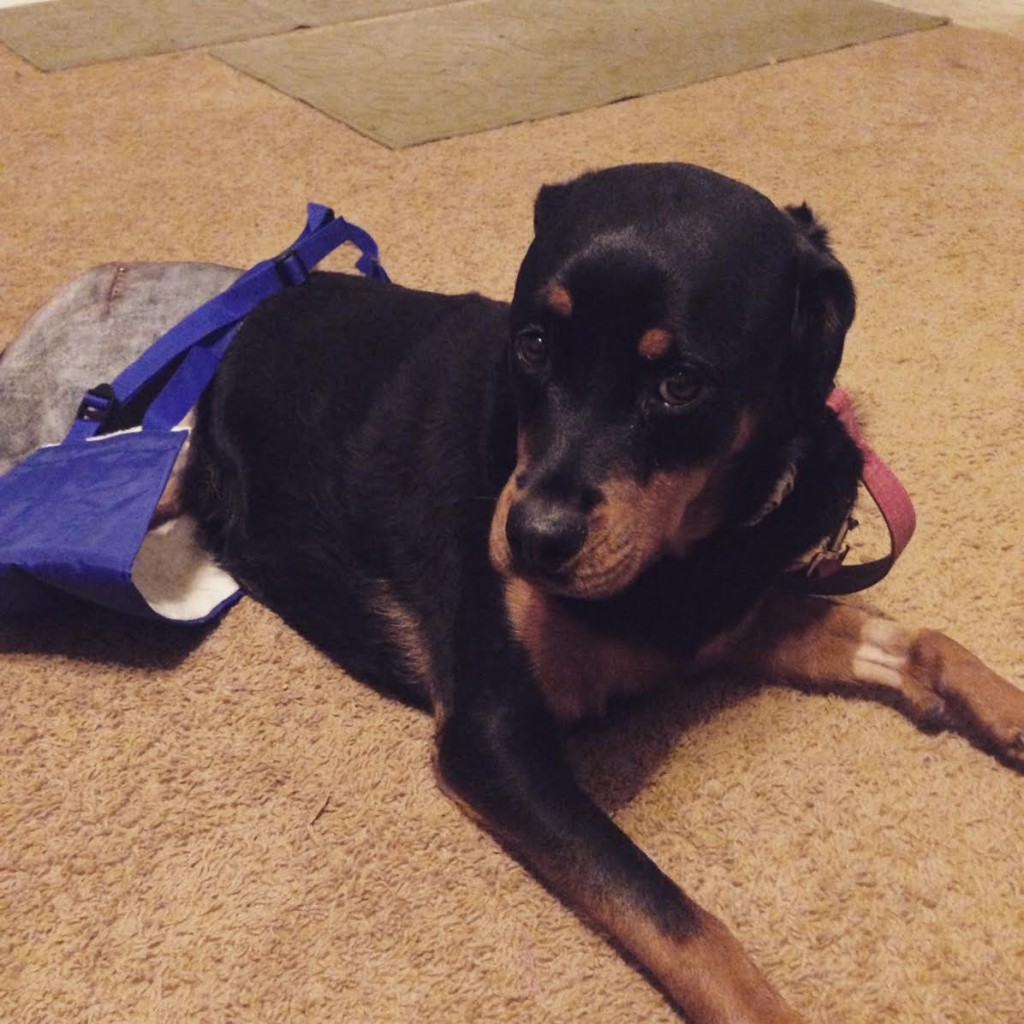 Hey Alice,
Just wanted to update you on Raleigh. Her hip has healed up nicely and she had a bit of a growth spurt recently and is holding steady at 82 pounds. She looks pretty filled out to me so I bet this is about where she will stay. She is such a happy dog and seriously every person who sees her comments on how gorgeous she is! She's moving about the best I've seen her since her elbow issues. She still has flare ups every now and then but she loves running around with her brother and doesn't let anything stand in her way haha. We are still working on getting her comfortable with kids, so if you have any tips in that regard I would really appreciate it. Unfortunately there aren't many kids I know well enough to use them unless I'm at home with my family. She likes them if they are still, she will lick them a lot. But when they are moving she just stares at them and you can see in her eyes she's just wondering what these strange things are doing and why they are so floppy! And a lot of parents seem to skip the "strange dog etiquette" portion of their child's education. I can't count the number of times she's been ambushed by screaming children. Even though the poor thing is terrified she has never growled or snapped. Which I would probably do if I was in the same situation. I could go on for days on that issue haha its become a huge pet peeve. But anyways here's a couple pics and short video from our walk today (the dogs keep me sane with frequent study breaks as I study for my first board exam haha).
Kelsey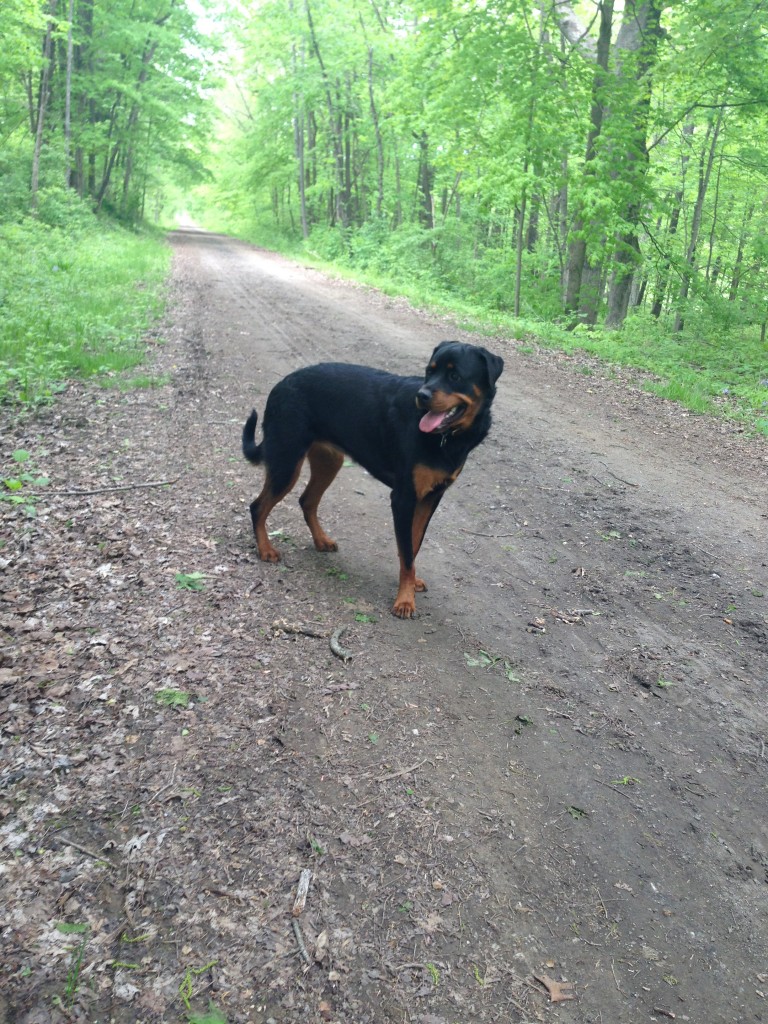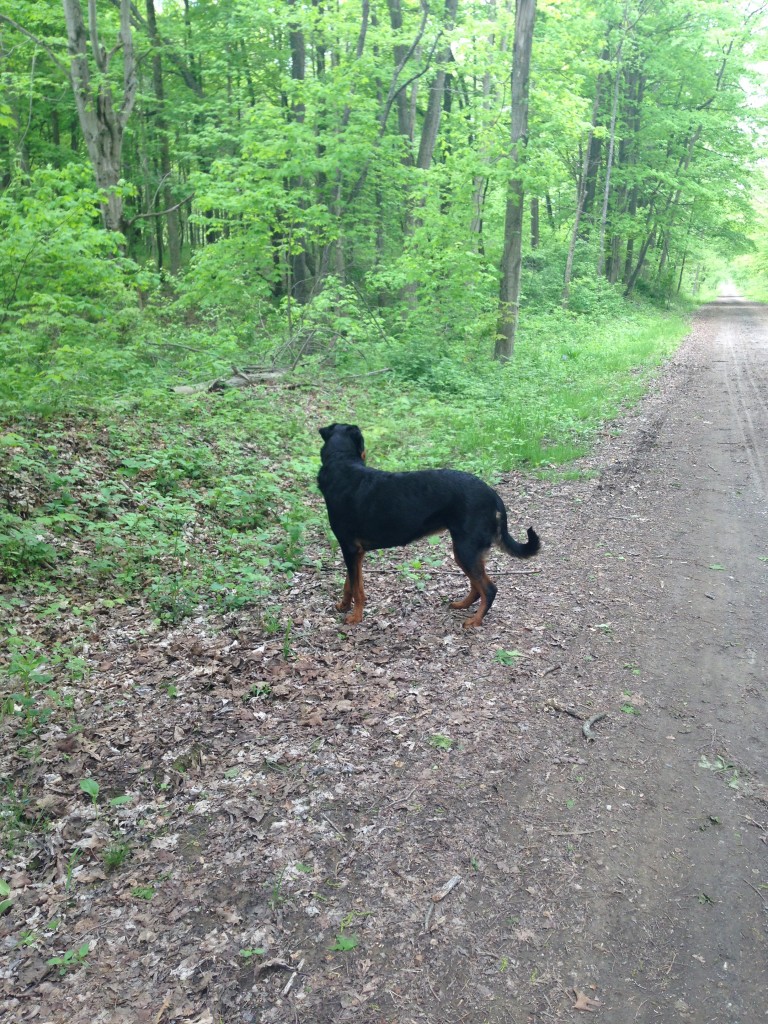 Click here for a 
Video
---
"Genesis" Guardian Rumor Von Gottschalk

Hi Alice..just an update on Genesis.  She's a good girl and blessing to our family. Here's a pic.. I'll write more later….
Rick
---
"Sigmond" Guardian Rojo Von Gottschalk
Hi Alice,
I thought this would warm your heart. I left on an emergency trip with my dad failing after surgery. Sigmund (Rojo) did not take his paw off of me the whole drive…he was asleep in every one of these photos. And he also learned how to adjust the fan so it's blow full blast lol. I'd turn it down he'd look over at me and use his paw to turn it back up. Cutest photo his head backward toward the vent for an hour he snored in that position 🙂
I love him!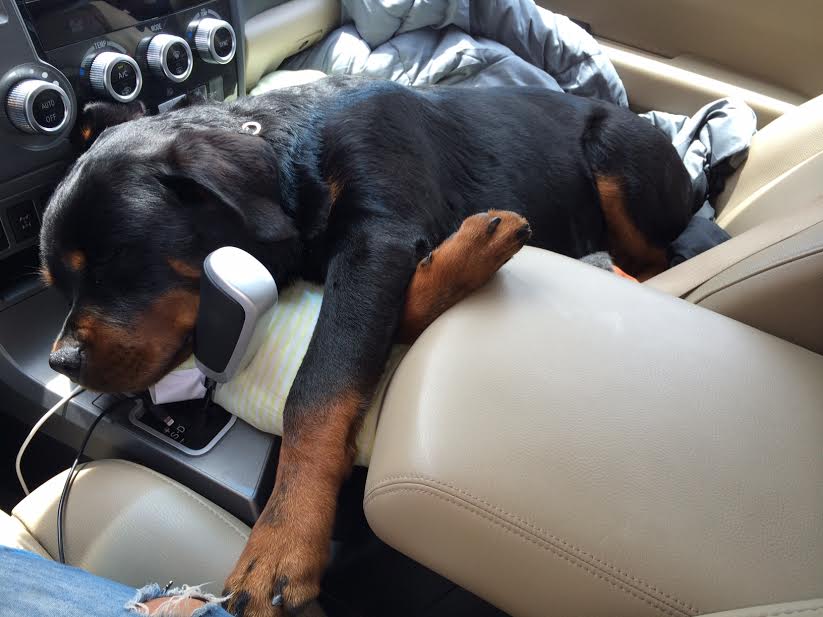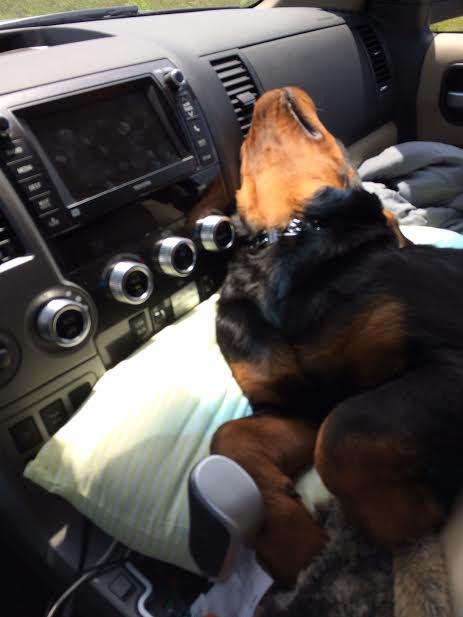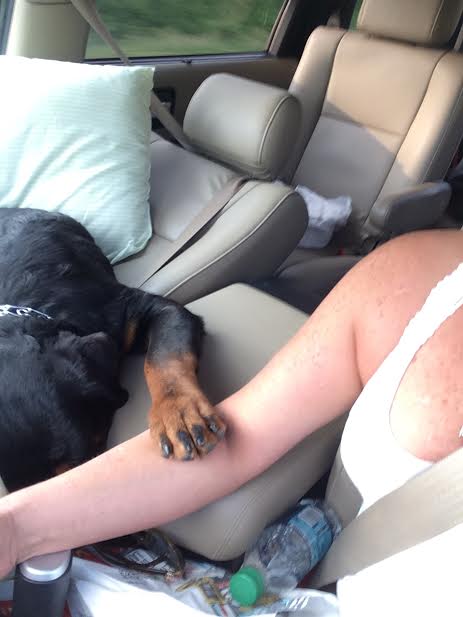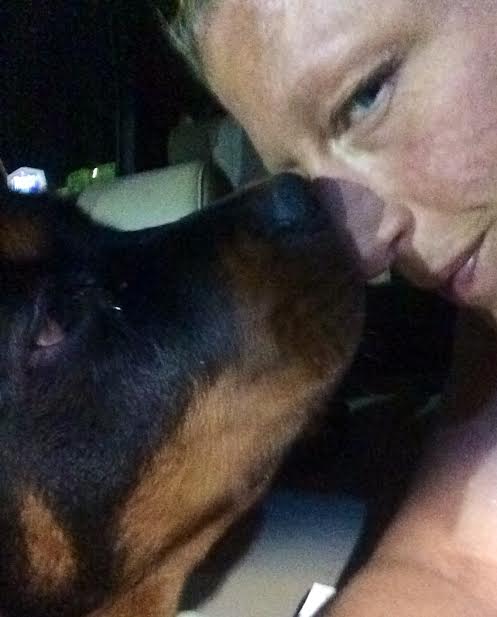 Amazing, he's sensing and alerting to my seizures now. We are working with his trainer to help him with a gentler approach but just a gift from God…and your work!
He is such a good boy never ever bites but the last two times I've had seizures he has opened his double locked house (crate) using his tongue to flip up and his teeth to move the lock over. My daughter got it on film the last time. He then runs to me pins me to the floor and holds his mouth on my left arm. He doesn't bite just applies a strong hold.
He's changed my entire life. We are so grateful to you.
XOXO
Sarah and Sigmund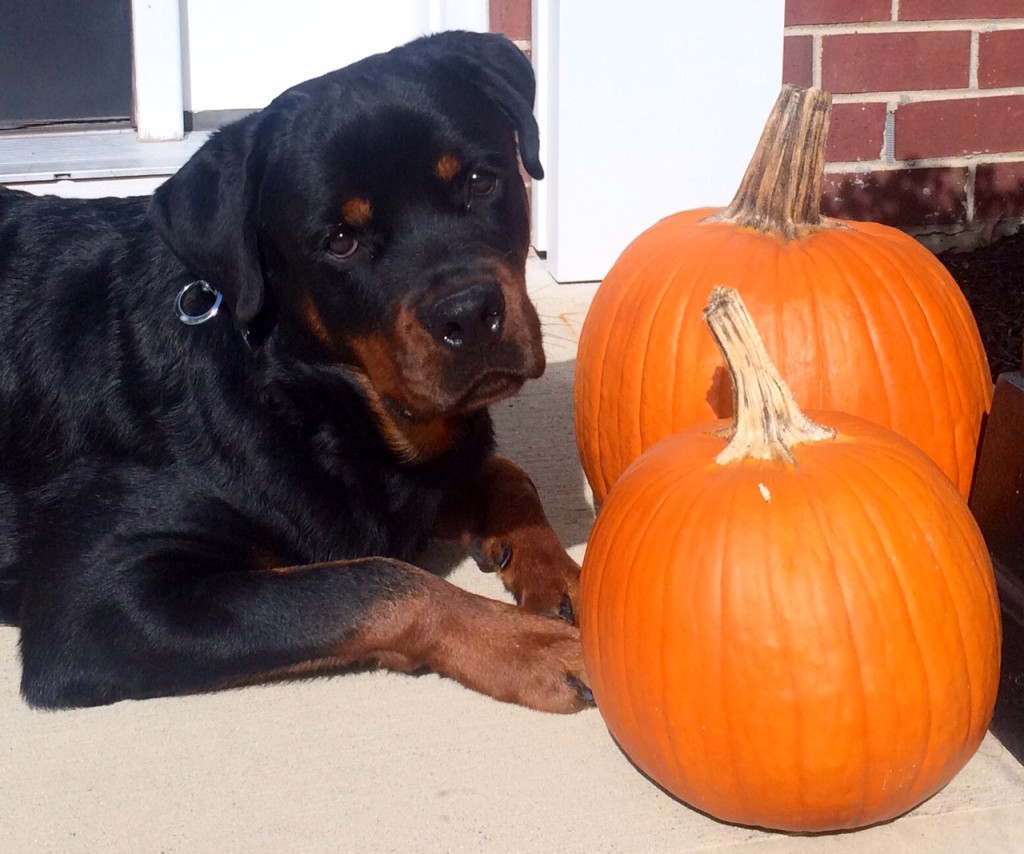 Sigmund from your R Liter 🙂 in his sunny spot. XO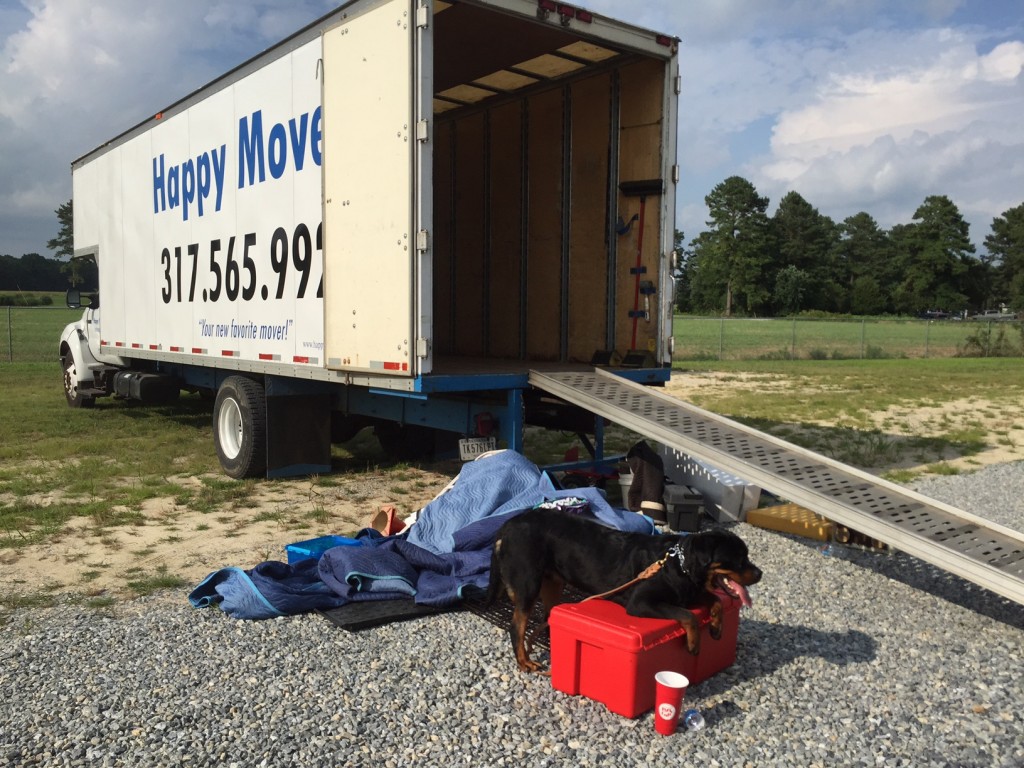 We made it to Delaware 
 thought you'd enjoy these photos of Sigmund  supervising the movers loading "his stuff" into the storage unit 
Hi Alice,
I just wanted you to know Sigmund is happy and healthy in our new home <3 we have a five acre dog park in our neighborhood so he can run and play off leash. His favorite thing to do is lay in the sunshine and watch the ocean.
Merry Christmas to you and your family <3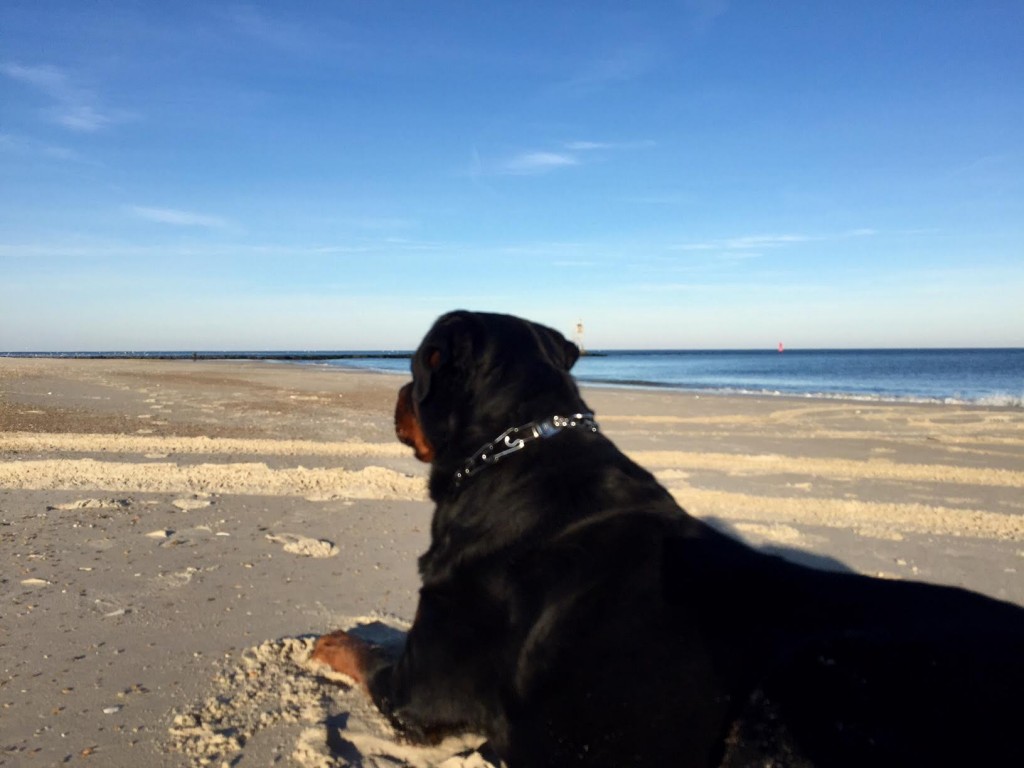 Sigmund's 2nd Birthday we are so grateful and blessed you decided to let us make him part of our family ??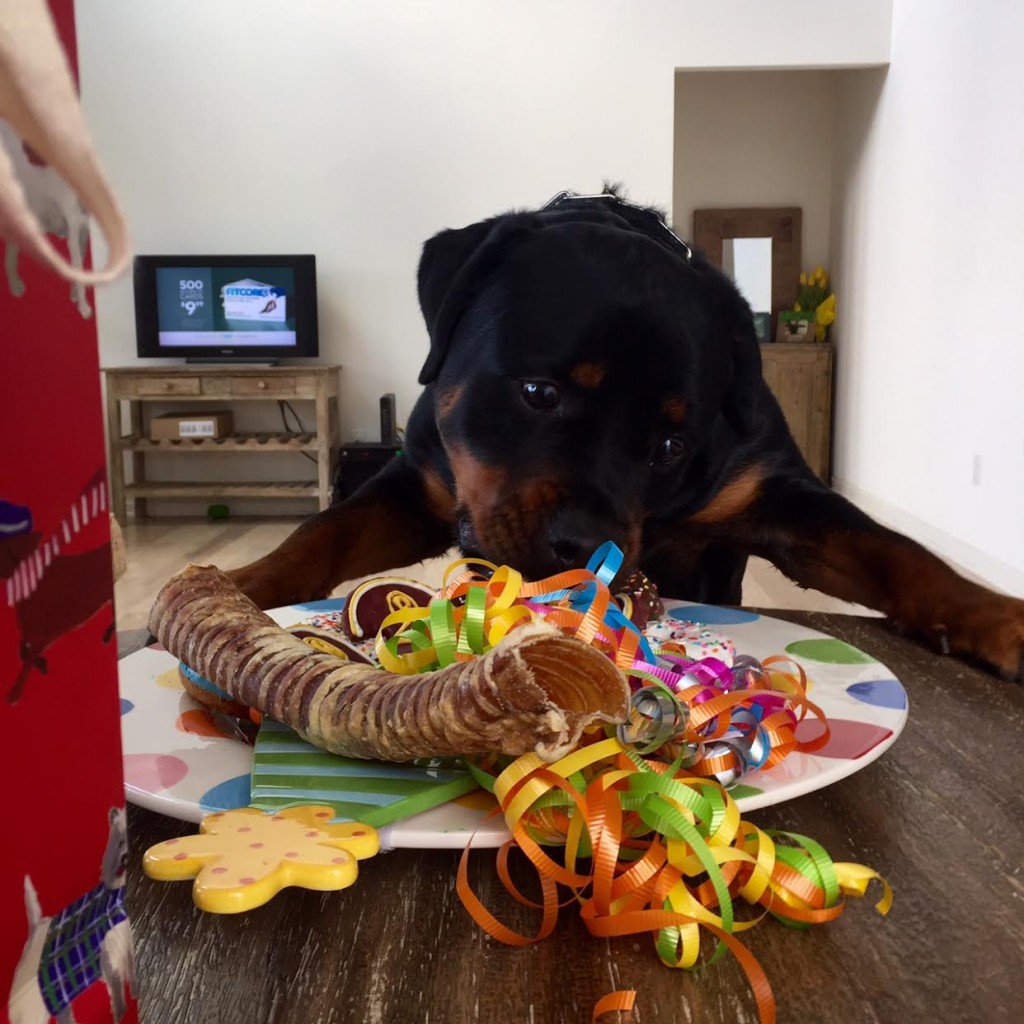 Hi Alice,
I've tried calling you a few times …..I'm selfishly glad you didn't answer because I'm not sure how I'd get through the call without crying. I'm so sorry you lost your love, your best friend, your Diesel.
I don't know how I'll ever get up again when that day comes for me. We celebrated Sigmund's (Rojo's)birthday this week and I Had to take a minute and tell you how much I love and appreciate you for your decision to let me bring him home. He has been the best gift and the biggest blessing I've ever been given in too many ways to tell you.
He has loved me through heartbreak, brought my child into her own and helped her in so many ways, he alerts to my seizures before they happen, he has protected me when an intruder came into my home and I was sick and defenseless. He is my best friend, he is my world and I knew the minute I saw him we belonged together. I know allowing me to bring him home was a difficult decision, thank you for listening to your heart. I know you love all your babies and I know you realized we belonged together
I'm so sorry about your Diesel….I don't know what to say nothing can ever fix that hurt. I can only say he will be there faithfully waiting when you join him in heaven .
I love you, thank you for this gift you've given me. I don't know what I would do without Sigmund. He had a big steak for his birthday then swiped my rotisserie chicken off the counter (not good!) but I wasn't going to fight him for it just prepared myself to clean up after his upset stomach in the morning I swear he could eat listened plates and live lol he must have a cast iron stomach the way he swipes digests and expels stuff he shouldn't!!!!!!!
Prayers for you …..hopefully seeing one of your baby's happy and loved in his birthday will make you smile.
Xoxoxo
CLICK BELOW FOR A FANTASTIC VIDEO OF A LITTLE GIRL AND HER PUPPY! <3 
IMG_3624
(Visited 24 times, 1 visits today)