Guardian Rottweilers P LITTER
Sire: Goliath Timit-Tor
Dam: Ina Saetta Negri Rott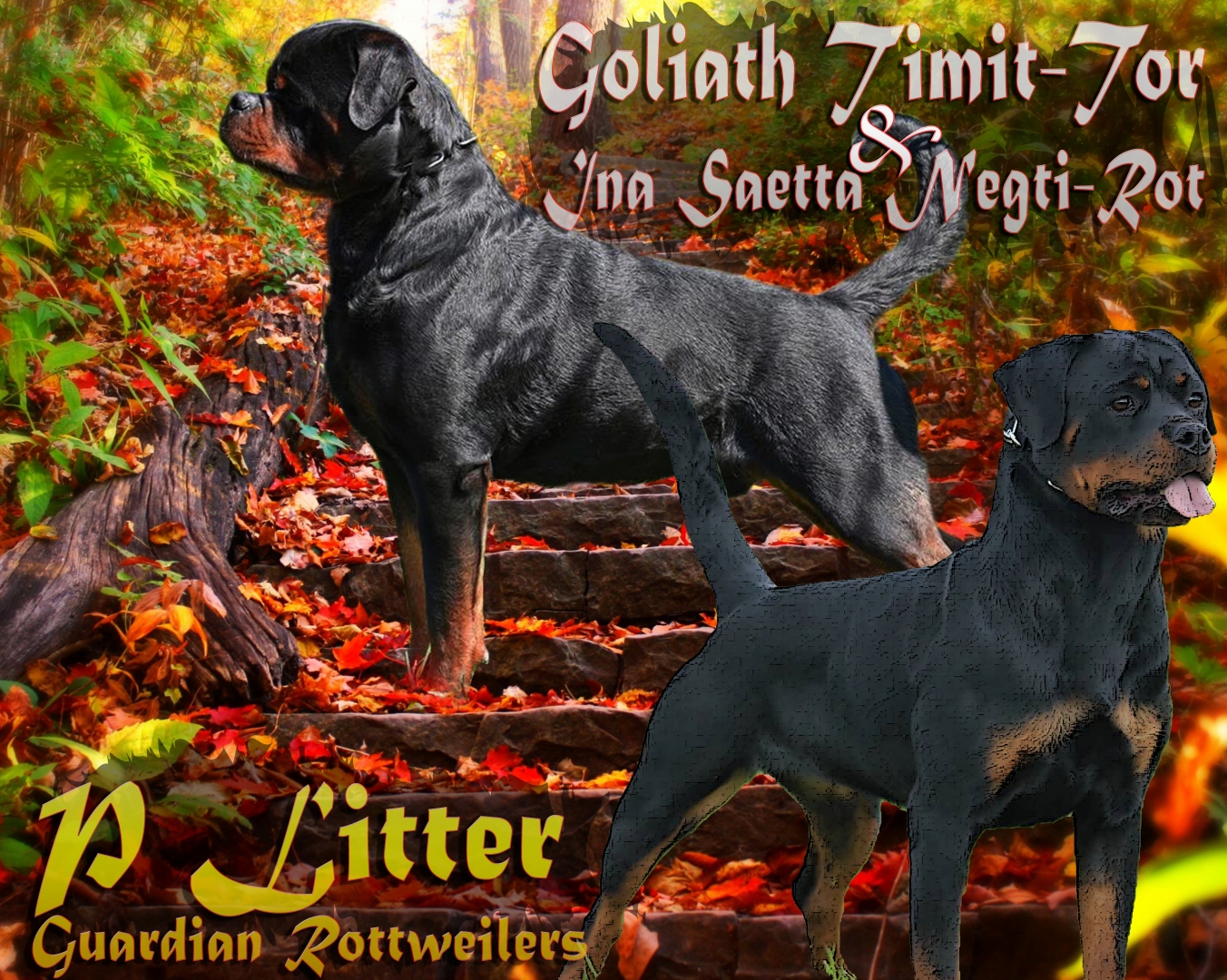 Goliath has gained world wide recognition for the incredibly well built pups he is accustomed to producing- very strong bone and tons of substance with powerful builds.  My last Goliath litter was our N Litter out of our very well titled Guardian Hex Von Gottschalk.  I kept back young Naji for myself and cannot wait to get him in the ring this coming year!  Mom, Ina, has a pedigree just PACKED with some of my favorite Rottweilers of all time!  I love how balanced this breeding is and I am so eager for these pups to be old enough for evaluations.  I am expecting very well built pups with exceptional overall conformation and very correct type.  Character should be social and biddable.
---
"Maximus & Mina" Guardian Paco and Polaris Von Gottschalk
*NOTE* Although cherry eye is not as common in this breed (Mina is only the 2nd one of my pups, that I am aware of, in 20+ years) it is still an important topic to be aware of, especially as the head type trend in this breed shifts towards a more extreme and more molosser head type.  Cherry eye occurs in both cats and dogs and is a prolapse of the nictitating membrane (also called the 3rd eyelid).  It is more common in brachycephalic breeds, like Old English Bulldogs and Boxers, but can occur in any breed. I am so grateful to Matthew and Theresa for such thorough updates and helping educate me more that what I can learn from reading medical studies and attending seminars.  It is always my goal to soak up as much knowledge as I can about this breed and everything associated with it so that I can do better and be better for them.  I will be putting a page together on cherry eye and will link it here when it is complete. 
Hi Alice,
It looks like you have a lot of puppies that will be going home soon. How exciting! You must also be so busy. We are so sorry to hear about your accident. We are happy to hear you are all okay and we are praying for you and your family.
Here's a few updates:
They just turned 6 months! They got to try a puppuccino as their treat and they loved it! They also graduated a puppy class and will start the beginner class in 2 weeks.
Maximus
Maximus is so big! He's almost 80 pounds. He loves treats, especially liver and rawhides. His favorite game is still tug of war with a rope- he can't get enough of it! Maximus loves to climb onto the bed for cuddles but he mostly sleeps on a cot at the foot of our bed. He's a very good protector and has a deep bark now. He loves sticking his head out of the car window and getting belly rubs 🙂
Mira
Mira is leaner than Maximus but she's getting big too, weighing 65.9 pounds! She is very inquisitive and likes to explore. She can now carry 2 tennis balls in her mouth and still loves to chase them. Mira enjoys sitting on the couch to chew her toys. She enjoys running with Matt sometimes when we walk them. She prefers sitting in the front seat and making mommy sit in the back 🙂
We'd also like to let you know Mira developed cherry eye in both eyes. She just had surgery on 5/14 and it went really well! She doesn't like to be in the cone but she is starting to walk and drink water while wearing it. She is so good with her eye drops and just sits there while you do them. While she was under anesthesia, they also did the Penn Hip eval for her. The vet said the X-rays look good but we are waiting on the official report. We will do that for Maximus later on.
Photos below!
Hi Alice,
We hope you and your family are doing well. Just some updates! They're now 9 months old! They both love getting puppuccinos at Starbucks and love to make new friends, two- and four-legged, when we're out. We've started daily joint chews on both of them, which they enjoy.
Maximus:
Maximus is doing well. He is almost 100 pounds! He is still very much a puppy, just a BIG one now! He has come a long way with training. He still tries to pull on leash (and he's quite strong) but is learning 'heel' and is very treat motivated. Maximus loves to cuddle and lay on Matt's pillow. He will chew anything but especially enjoys CET chews and antlers. He particularly likes to chew things while leaning against us or using our legs as a table.
Mira:
Mira is good as well. She's about 79 pounds now. She's smaller than Maximus but she definitely runs the house! She is sometimes mischievous and sneakily gets around the baby gates we have set up. She is also doing much better with training, just gets distracted sometimes. Mira loves to be loved by anyone she meets and thoroughly enjoys chest and butt rubs. 🙂  She reminds us of a cat sometimes in the way she pounces on tennis balls. She just started her first heat cycle on 8/6 (driving Maximus nuts but she's diapered and we separate them) but we plan to spay her around 1 year.
We've had some struggles with Mira's cherry eyes. After both were repaired, it came back in the left eye and was fixed by a specialist, but of course the other returned AFTER that surgery. Apparently she had excessive cartilage in her left eye that was pushing on the gland. We are doing eye drops 3 times a day until we can find a good time for another surgery for the right eye.
Here are some recent photos! We look forward to hearing from you soon!
Theresa and Matt
They are big! Literally every time we go anywhere we get so many compliments on how beautiful they are and how well-behaved. We're really curious about how their siblings are doing, particularly Pasha since we were between him and Maximus.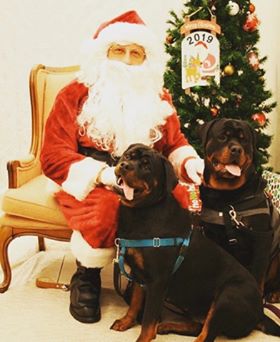 Hi Alice,
We are very sorry to hear about your friend's mother. We wish both you and her the best.
We are very excited to get another beautiful puppy from you in the future. As we mentioned in the last email, Maximus and Mira have really changed our lives in the best way 🙂 We got the payment via Zelle. Thank you so much! And please keep us on the PupDate list; we love getting those emails. We attached a bunch of recent pictures of our puppies; they are such good sports in putting up with all of Theresa's photo shoots.
Best,
---
"Odin" Guardian Prime Von Gottschalk
Hi alice,
Primo, now named Odin, (the girls named him from the Nordic god, Thor's father 🙂 ) is doing great.
We had two visits to the vet and the 2nd round of shots done.
He has  crossed 16lbs
House breaking he is a champ. Except one accident the first day in dis crate and a coupe, very small ones the next couple of days, he has had zero, sleeps through the night. And he is a training sponge. He is already mastering all the basic obedience, sit, stay, down, pillow, crate, come and fetch, some clicker, and walking on and of lease.
Sometimes I forget that he is only 12 weeks old.
His curiosity is both wonderful and a problem as he finds ways to get easily in trouble, chewing what ever he finds. But that is to be expected. some nipping, again to be corrected but in the in the most part he get his boundaries and knows how to calm down.
So in summary, so far, great 
.
One question I have is about the registration
I have not received anything yet and I though something should have come by now ?
Also, at what age he can have egg yolk ?
Best
---
"Shelby" Guardian Panda Von Gottschalk
Alice,
All is well with Panda, aka Shelby, and her new big sister Victoria.  They even eat together.  Even though Shelby can walk under Victoria right now, Shelby stands her ground.  Those puppy teeth can make a bulldog jump straight up in the air, which is not a bulldog thing to do.  They have a great time together and both sleep very well.
MaryAnne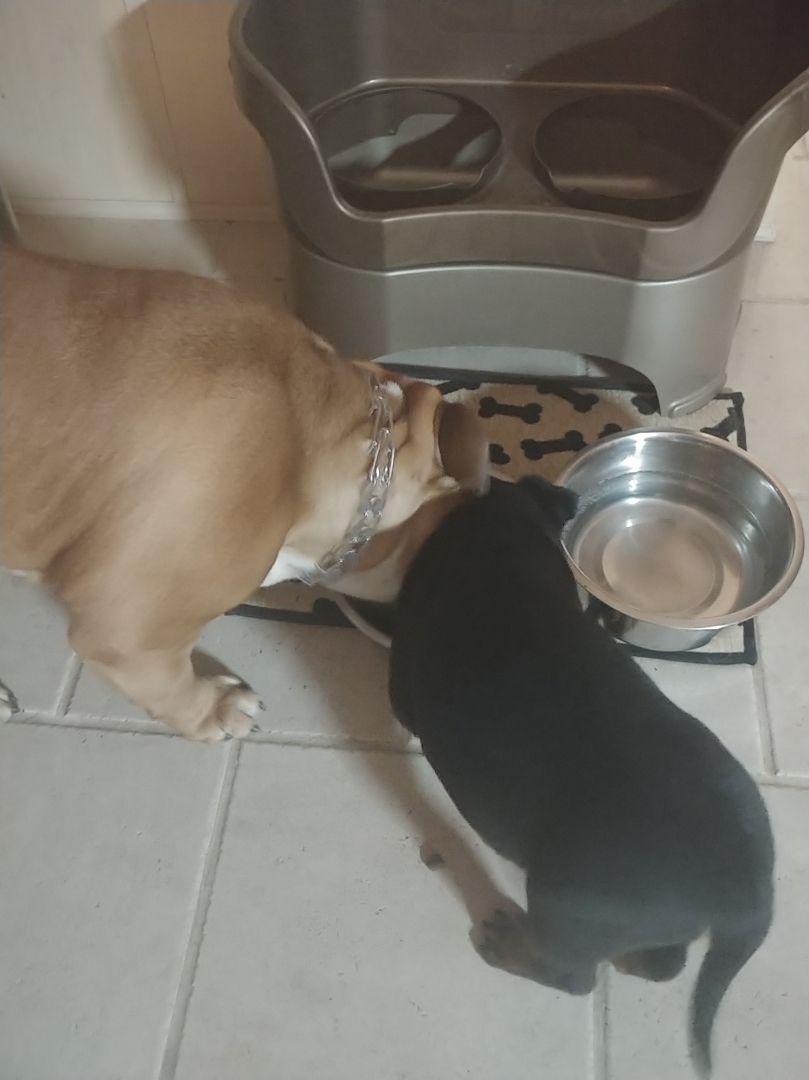 ---
"Weller" Guardian Pax Von Gottschalk
Alice,
Weller has been doing amazing.   He is growing like a weed and has definitely made himself at home.
All is great!
Zach
Just wanted you to see a pic today of Weller.   He is 32 lbs and absolutely amazing.
He is so handsome
Zach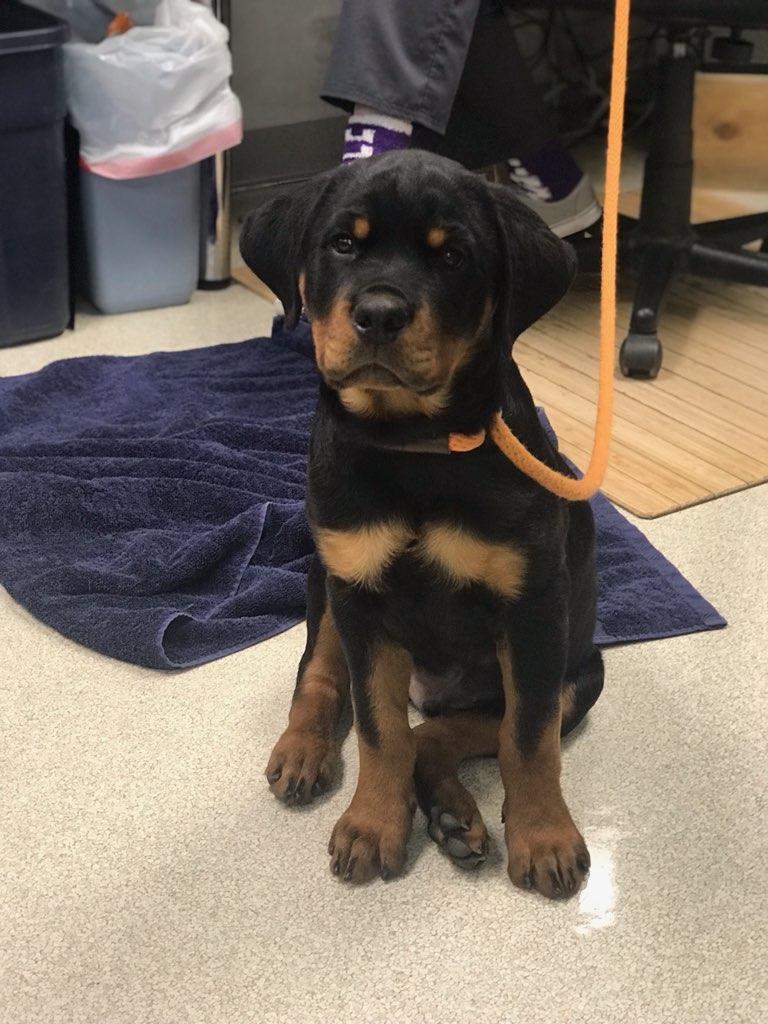 Alice,
Here is Weller (Pax) at 10 months old. He is so handsome.
---
Guardian PJ von Gottschalk 
Thank you so much Alice I have moved to Florida maybe that's why. Again thank you so much. Max is doing well he is 130 pounds now.
Video (19)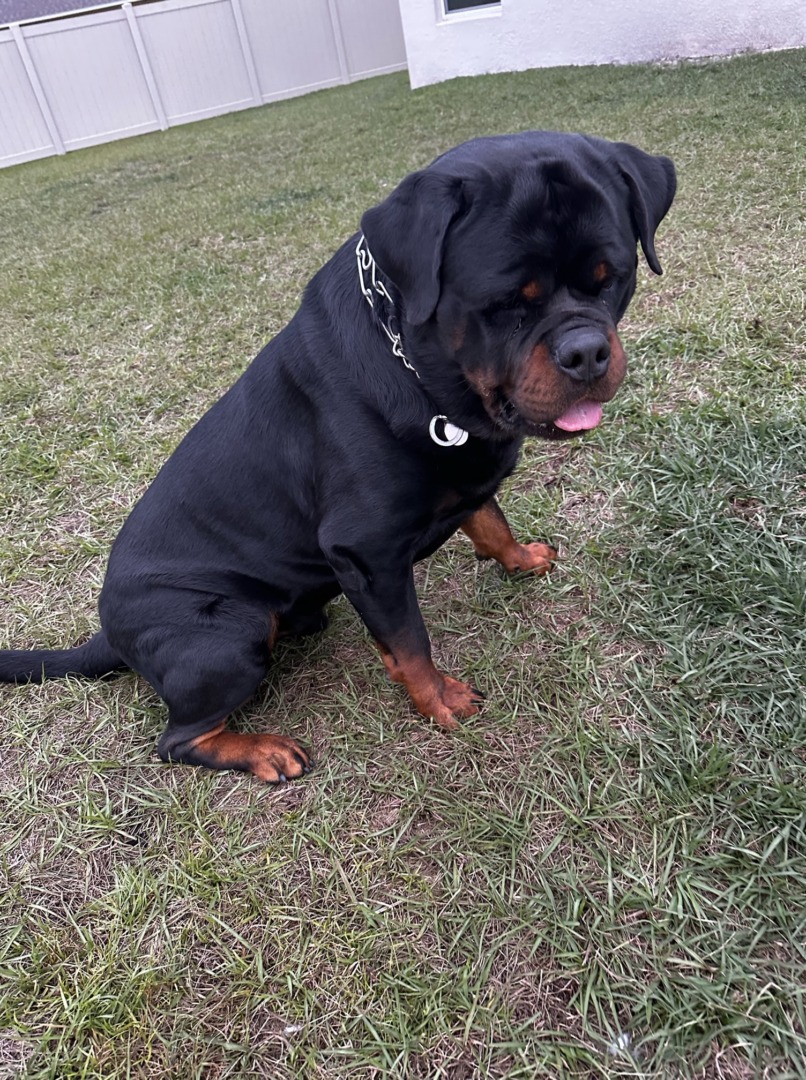 (Visited 71 times, 1 visits today)