Guardian Rottweiler's X LITTER
Sire: Crom Di Alaricus Rex
Dam: Whisky Se Ungo-Rot
FCI Champion of Reproduction!

Ch. Whisky Se Ungo-Rot


Sire: Henry vd Hassbergerhohen


Dam: Mona Se Ungo-Rot




Born: 7 Sep 2008




JR 717784 Rw




AKC # WS35181001




HD-A; ED-B 




CHIP # 688050000619718




AKC DNA # V613731




Heart Cert. # 




YOUNG CH of SERBIA




ADULT CH of BULGARIA




IPO – I




PARACINSIEGER – V 1




3 x YOUGENDSIEGERINA




4 x C.A.C.
If you have been holding out for a litter with exceptional head pieces, this is CERTAINLY the litter you were waiting on!  Both parents bring such incredible pedigrees for strong head, thick, compact build, heavy bone and exceptional substance!  And we expect even greater things from the characters!!  Crom is such a strong minded, hard working, intelligent and drivey male with such a sweet "mama's boy" disposition, and Whisky is hands down everyone's favorite snuggler!  She will literally DIVE into your lap belly up!  LOVE me some Crom and LOVE my super sweet Whisky girl.  Such high expectations for this litter!
Please see what other breeders are saying about this litter:
"Alice you are really lucky woman and breeder, this combinations, this pedigree Germany breeder don't have …Fenomenal combinations, fenomenal dogs in pedigree, famouse MAMBO , HENRY , one of the best female in EUROPA MONA SE UNGO-ROT, then his father WARRO brouther of famouse WOLF who been SG 4 and AUSLANDSIEGER, THE BEST FOREIGN DOG in KS in Rotweil a go 9 years….what to say ? I am litlle jealous…:)))" FCI Rottweiler Judge
"This lines Mambo and Henry is phenomenal combinations and how I see all puppies have a lot of things phenomenal , all things what now many breeder wants in his kennels , congratulations my dear Alice!  to make super nice puppies like this litter need both parents ,I always give 51 % on mother side and 49 % on father side…..And one more thing this litter,this puppies have pedigree what now you can not find on Germany and on all World…a lot of phenomenal dogs and famous dogs are in this pedigree…Bravo" Se Ungo Rot Kennels, Serbia
"a Crom di Alaricus Rex son at 14 months old…he is Eros von der Herash- http://www.herash.it/PhotogalleryPage/Eros.htm   i really see many many resemblance with my E-litter and your X litter…i am ready to bet another Eros is born.. but he is born in Indiana now.  here ERIK other brother, few motnhs old http://www.herash.it/PhotogalleryPage/Erik_file/Erik1.jpg  E litter was very special and LOOK at X litter Guardian Rottweiler…. 🙂 " Von Der Herash Kennel, Italy
"Little CROM !!!  so so short muzzle! very nice boy! much compliments my friend 🙂 "
"much compliments dear Alice Velásquez!  Crom make good litter with lovely Whisky se Ungo rot- good mix between Ch. Mambo von der Crossner Ranch lines and Henry vd Hassbergerhohen- very, very good, but we don't must forget to tell compliments at Whisky breeder Uros Golubovic Without his breeding selection there's not this wonderful pups!"
CLICK HERE for a video of these chunky monkeys eating semi-solid food for the first time!!  http://youtu.be/0hIA2EmTqqs
---
"Thor" Guardian Xiovan Von Gottschalk
Just wanted to share how well he is doing. He is sooo smart and picking up on everything so fast!! Here are some pics from his first visit to the park for
socialization!! Love the one of him after the park…he was wore out! He was a big hit with the kids(the pic with all the hands). We sure love him!!
Here are a couple of pics from Thor's first day of school! Definitely wore him out!
Hello Alice! Just wanted to Send a quick update and pic of the birthday boy! He is sooo amazing! He is extremely smart and picks up training so quick! He is also super sweet but definitely not a pushover. I believe he is the perfect rottweiler 🙂 The pictures do not do him justice but he was a little Impatient!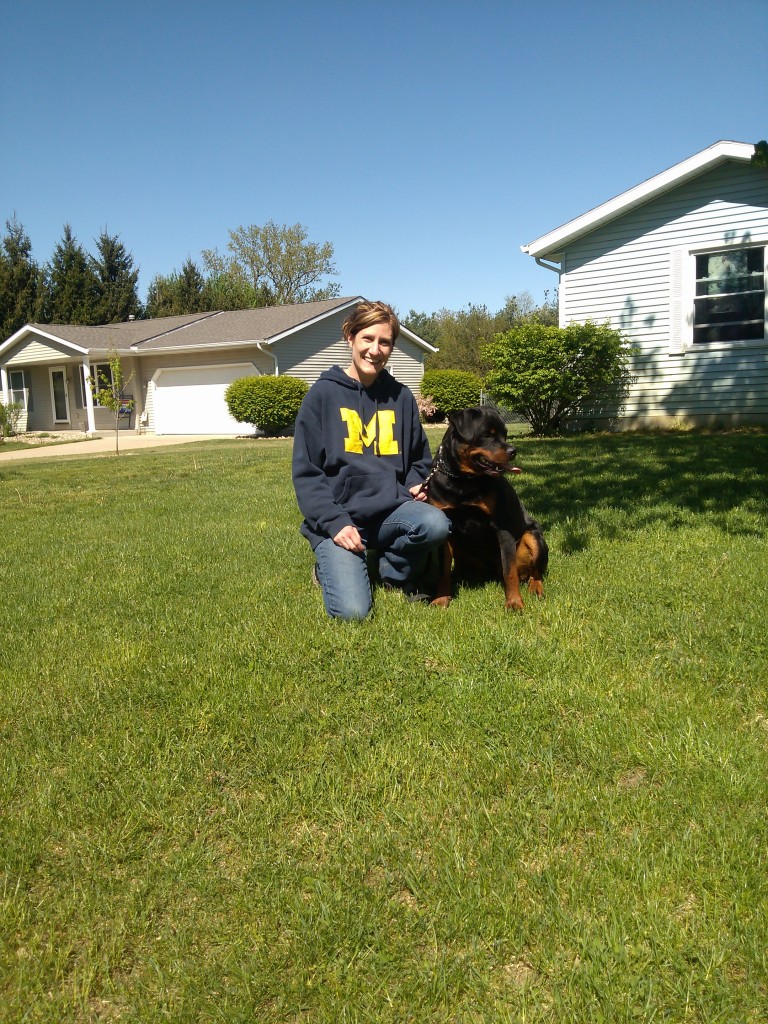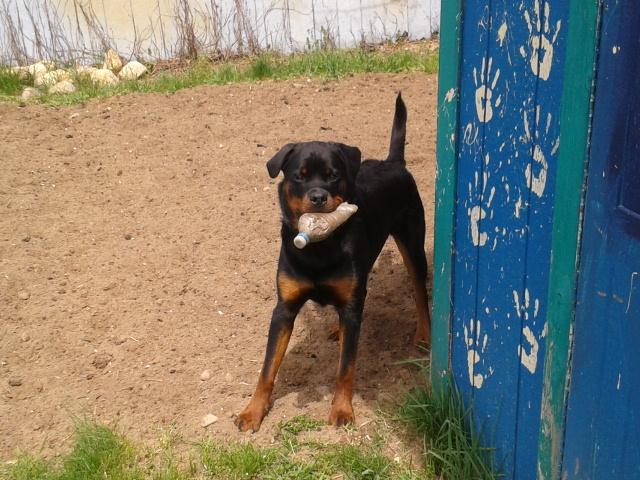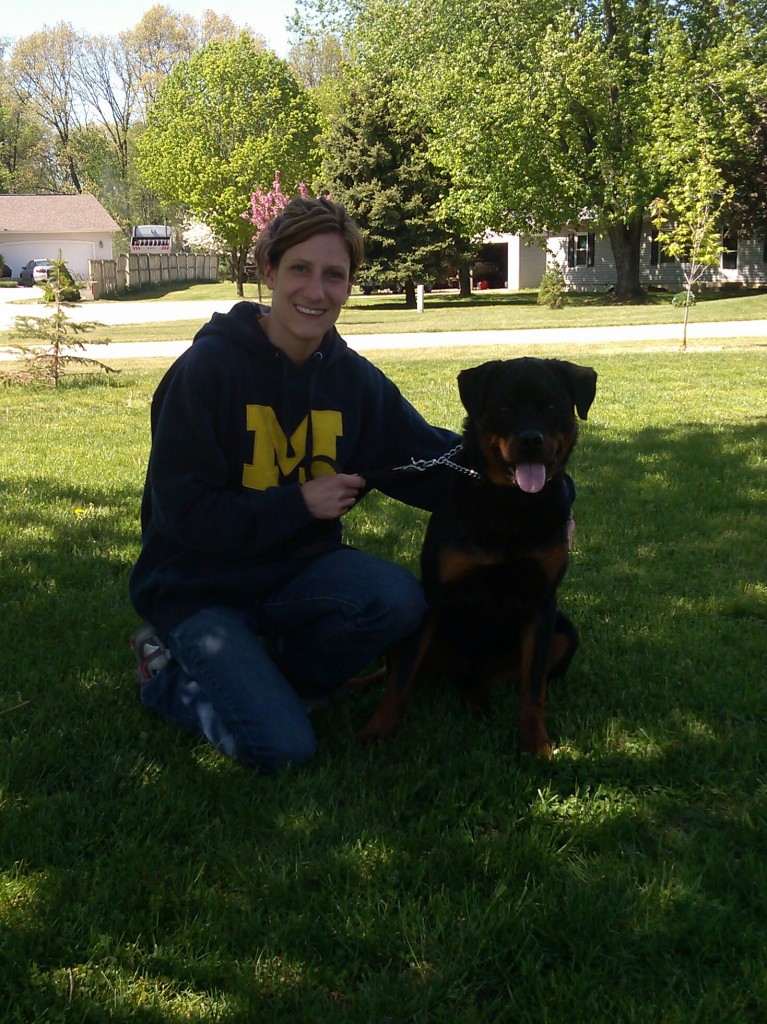 I just thought you would get a kick out of these! He is so loved and spoiled! Thank you for what you do!! God Bless You Alice! 🙂 In the one picture, they are painting his nails 🙂 He loved the 4Th of July bow!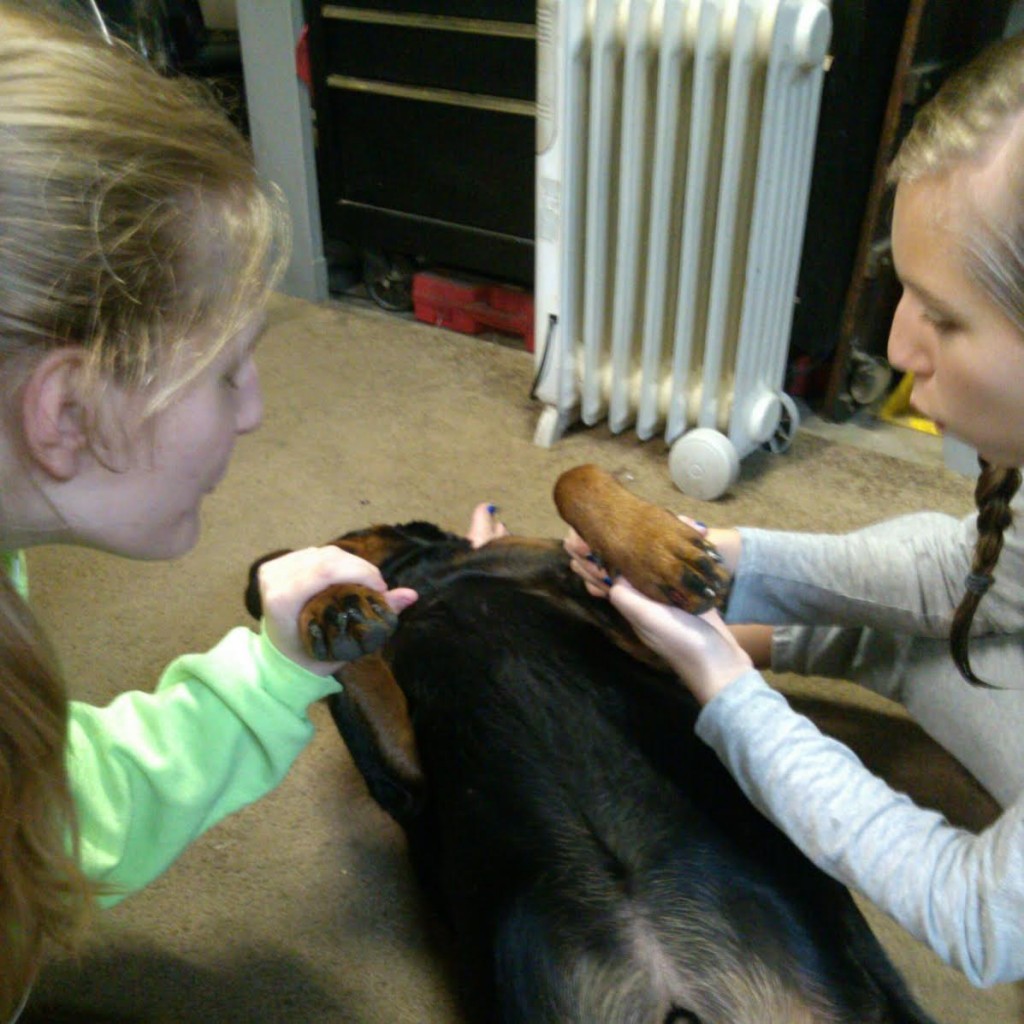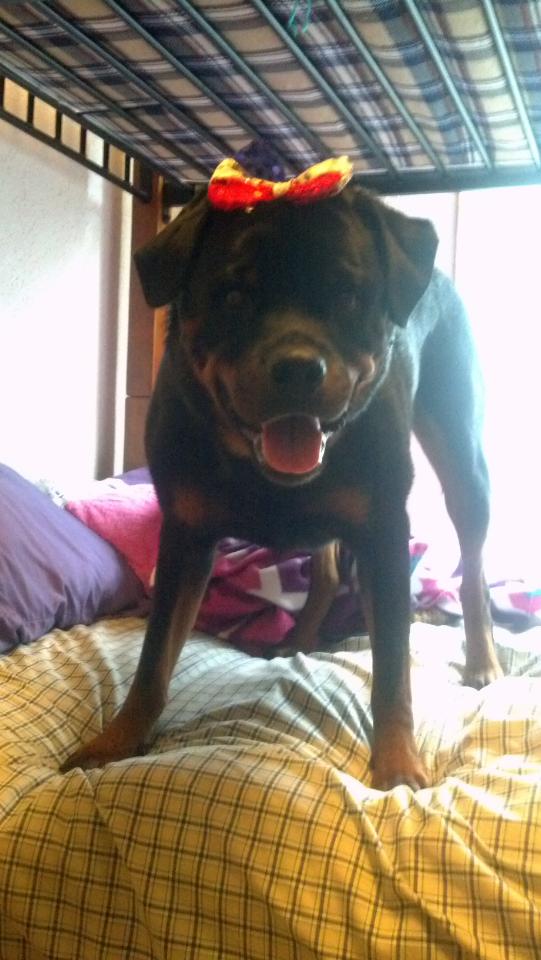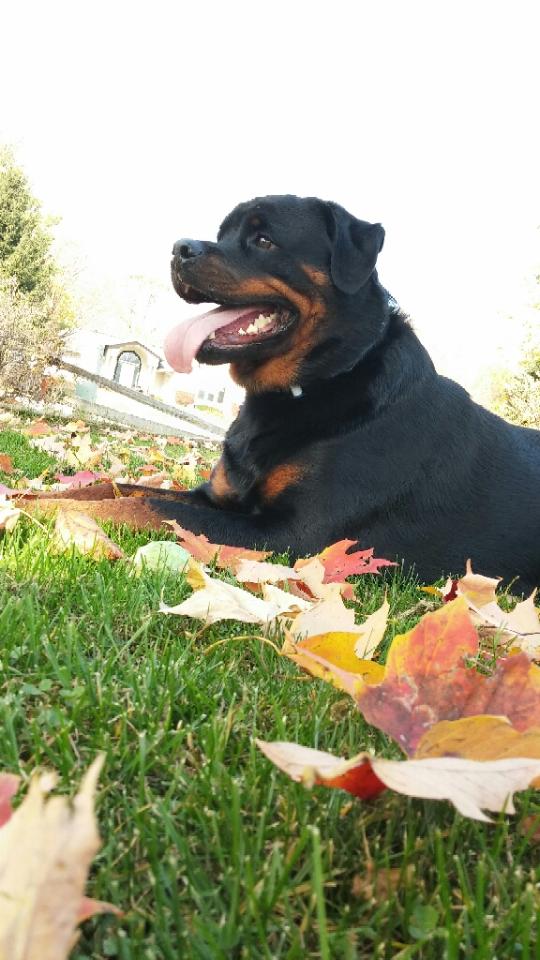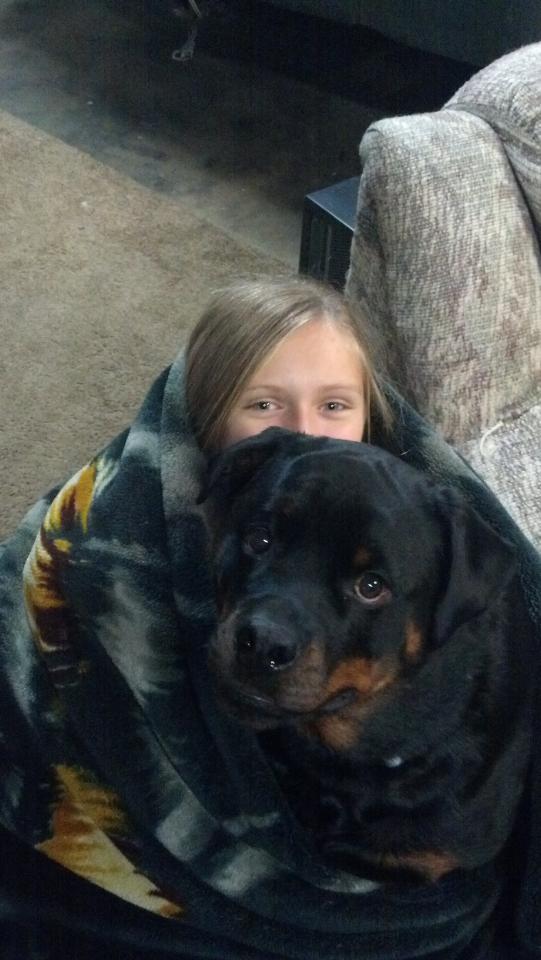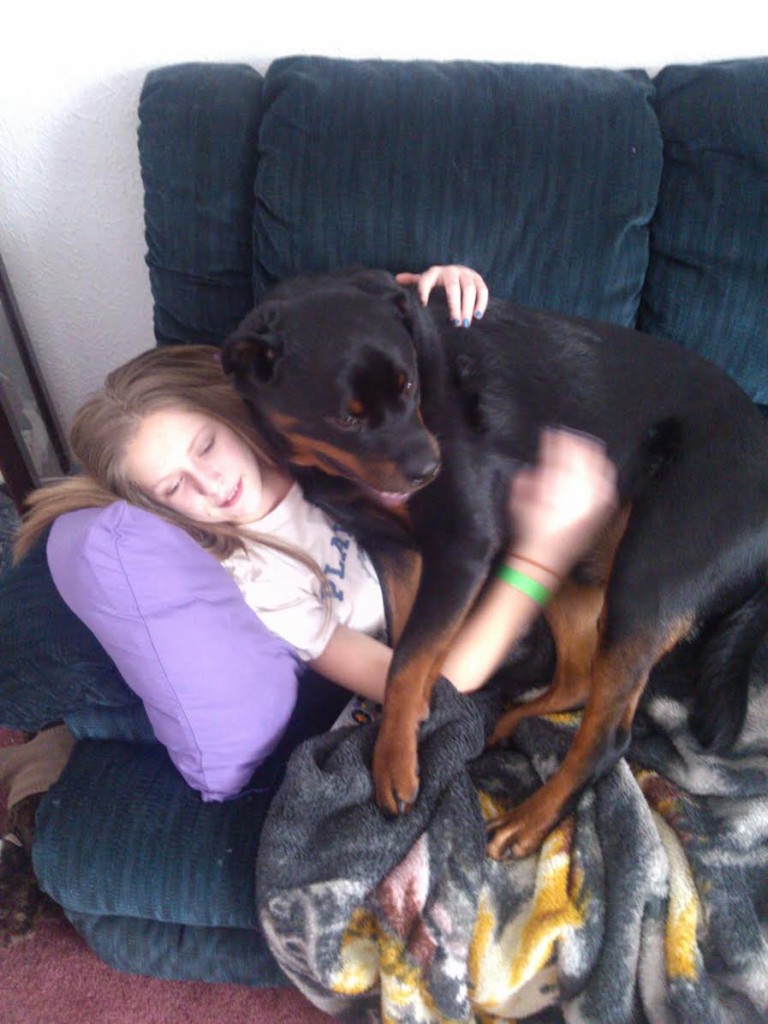 Thank you so much! Can't state how much I appreciate you and what you do! Not just for all animals but humans as well
He patiently waits for the cats to eat then goes in for clean up. He loves to look at the cows! Doesn't bark or whine but just looks at them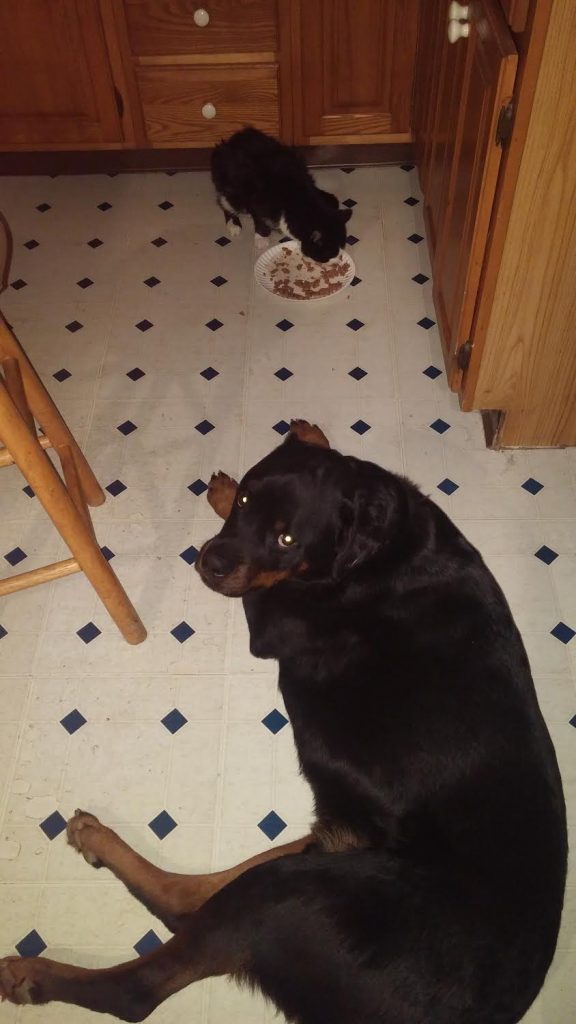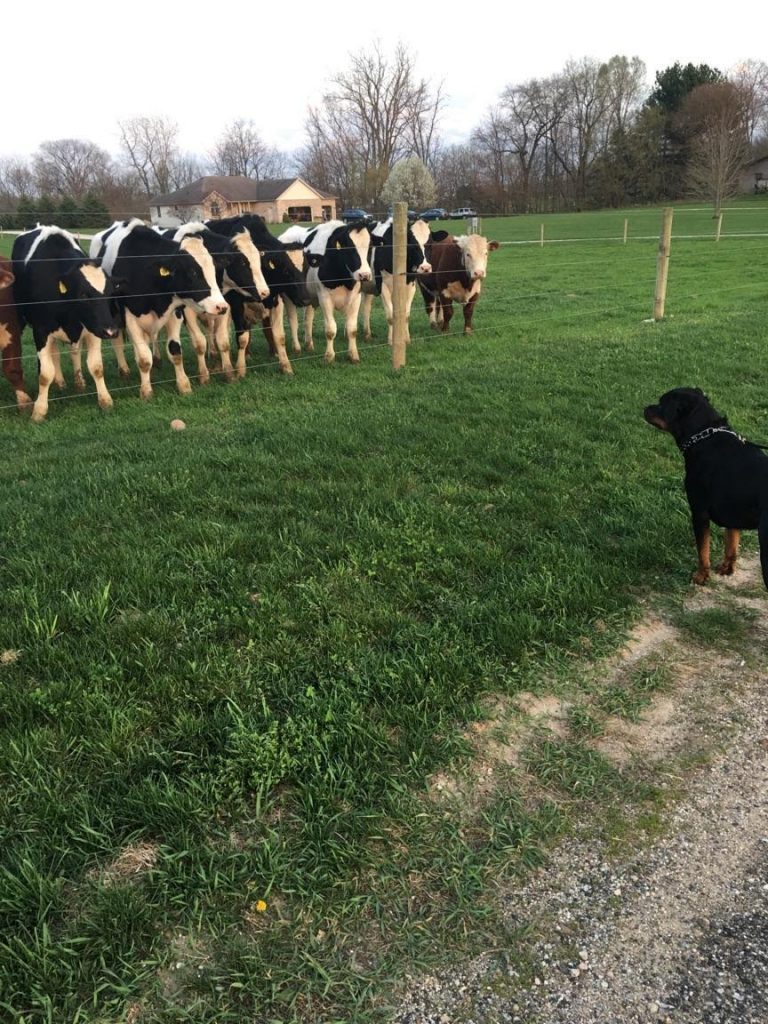 ---
Guardian Xerxes Von Gottschalk
Hello Alice,
Here is a picture of Xerxes. Hope everything is going good.
Mario
---
Guardian Xcalibur Von Gottschalk
Hi Alice,
Here are a few pics of my little Love Bug!!  He is small, but he is mighty!!  So much charm and personality that people just fall in love with him.  He is not afraid of anything and is so incredibly quick to pick up commands. 
Thank you for being an amazing breeder and bringing this litter forward.  I just can't say enough about his personality!!
I hope your daughter is much improved.
Take care,
Renee
Hi Alice,
I took these this morning as Enzo was lying in the sun.  Super nice head shots!!  He is such a handsome boy.  I had to send these as he is really starting to look like a "big boy" now.
Take care,
Renee and Enzo
Hi Alice,
Enzo and I had a big day today.  First day of obedience class (real obedience, not puppy class), went to Home Depot, Petsmart and See Spot Run (local doggie bakery).  This guy can go anywhere and literally be around anyone.  He is such a pleasure.  Several non-Rottweiler types at Petsmart learned a lesson about what a
well bred Rottie is all about today.  He's gentle with children (even though he has only met my friend's child twice) and is just a little love bug with people.  One lady who said she was deathly afraid of Rottweilers because of their reputations got a big face lick and she just about squealed with delight at his personality.  My female, Zedar, is sweet as heck with everyone also…but people don't gravitate toward her like they do with Enzo.  He has a way about him that is confident but pure sweetness.
I know I sort of "gush" about my boy.  I thank you (and your friend who actually interviewed me) for allowing me to have this very special guy. 
I hope Tahlia is 100% or close to it and all of your family – human and canine – are healthy and happy.
Take care!!  J
Hugs and puppy kisses!!  Here's "baby" Enzo doing one of his favorite things – napping with me in the family room.  Eating is his top favorite activity!!  This guy is growing like a weed now…he's fully house trained, does really well in obedience, and is THE SWEETEST dog in the universe.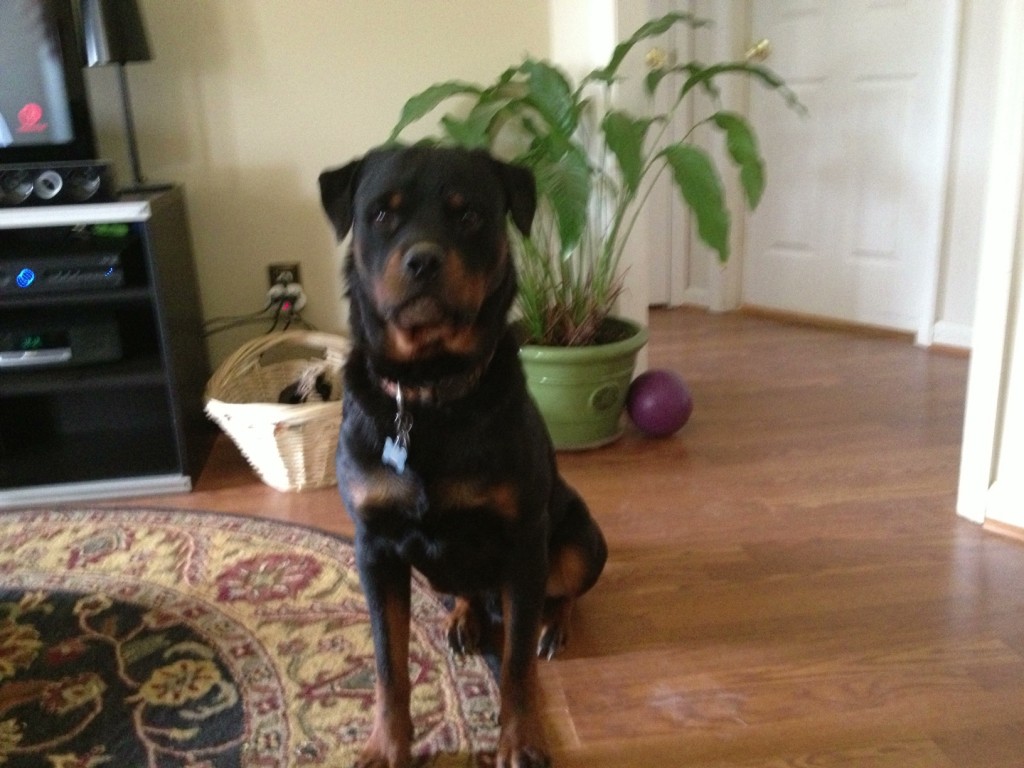 He wanted to send puppy love to his sissy and your whole family.  Thanks for all the great help you've given us since we met.  May 2013 be the best year ever!!!!
Just took this picture of Enzo (Xcalibur) and had to send on to you.  He gets more precious every day.  He's SO unbelievably sweet.  Everywhere we go he gets love from everyone!!  He is my constant companion when I'm not working.  Honestly Alice, I've had several "top notch" Rotties, but none have matched the steady, reliable, sweet temperament of this guy!!  I hope everything with you and your family is going great.  Hugs and Rottie kisses to everyone.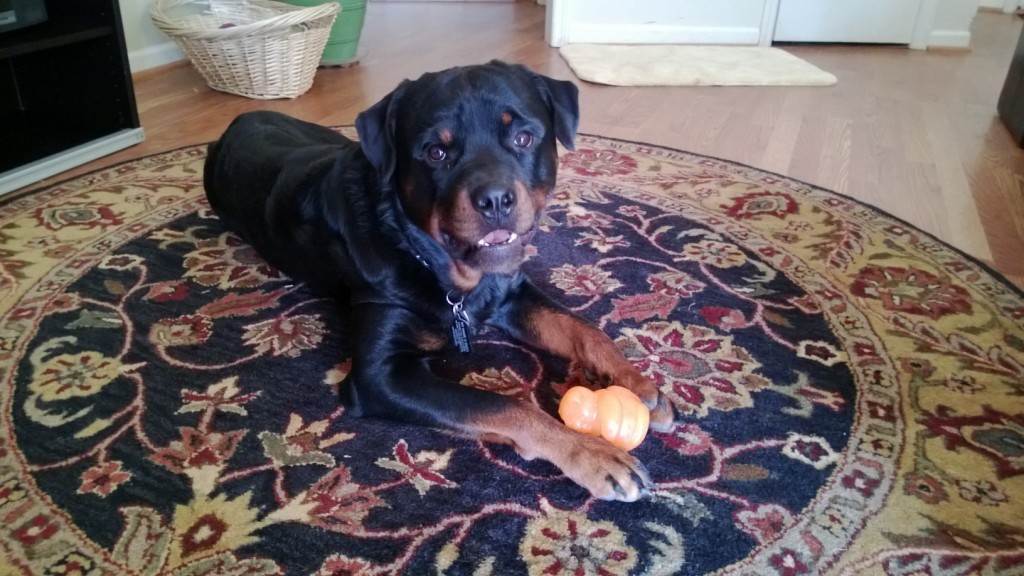 Enzo just got back from a full month of board and train and his obedience is now really good.  His heeling is a work in progress though!!  He won the hearts of all the kennel and training staff.  They even started him in agility because he picks things up so quickly.  What a love.
Just thought I'd share the newest pictures.  Enzo on the floor with one of his toys and the other is my female, Zedar out in the backyard.
I hope you and your 2 foot and 4 foot family members are all healthy and doing well!
Love,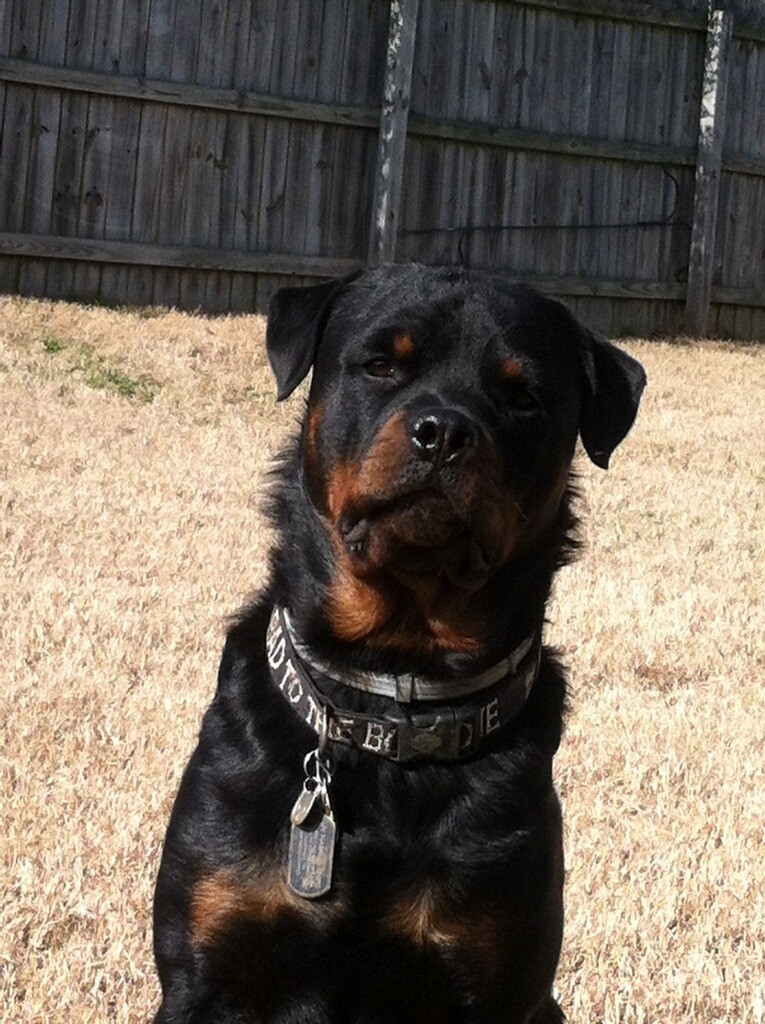 Renee, Enzo and Zedar
Hey Alice,
Took some pics of Enzo with my phone in the yard today.  I was surprised at how much he has grown!!  A little over 18 months and he doesn't really resemble a puppy anymore.
He's an awesome boy!!  Handsome, smart, sweet….couldn't ask for anything more from an animal.
As always, thanks for letting me take him home and BIG Enzo love and kisses to you and yours!
Renee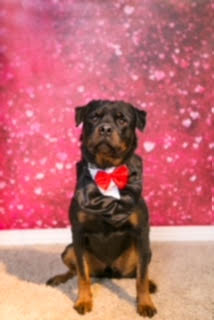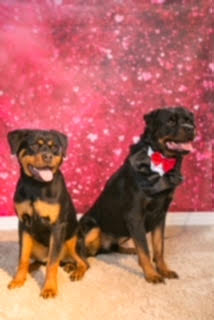 I swear, Enzo looks so much like his Daddy in the single photo!! He's so beautiful 
.  And that mischievous "little" Bijoux. She is constantly getting into everything and is the funniest clown around. She LOVES people and food. Maybe food first 
. Everywhere we go people are drawn to her. Even people who are afraid of Rotts.  Bijoux seems to know and she'll approach them and immediately put her cute butt on the ground right in front of them and give them those heart fluttering Bijoux eyes.  This is the first time I had ever had pics done with a pro photographer and it was so fun. It was for one of my favorite rescues and I was only going to buy 2 prints….but I could not resist and had to get the rights to the digital images too.
Just had to share. It must be fun for you to have people stay in touch and share their babies as they grow and change over the years.
We love you,
The Kids and the Person who buys the Food and Toys.
---
"Simba" Guardia Xander Von Gottschalk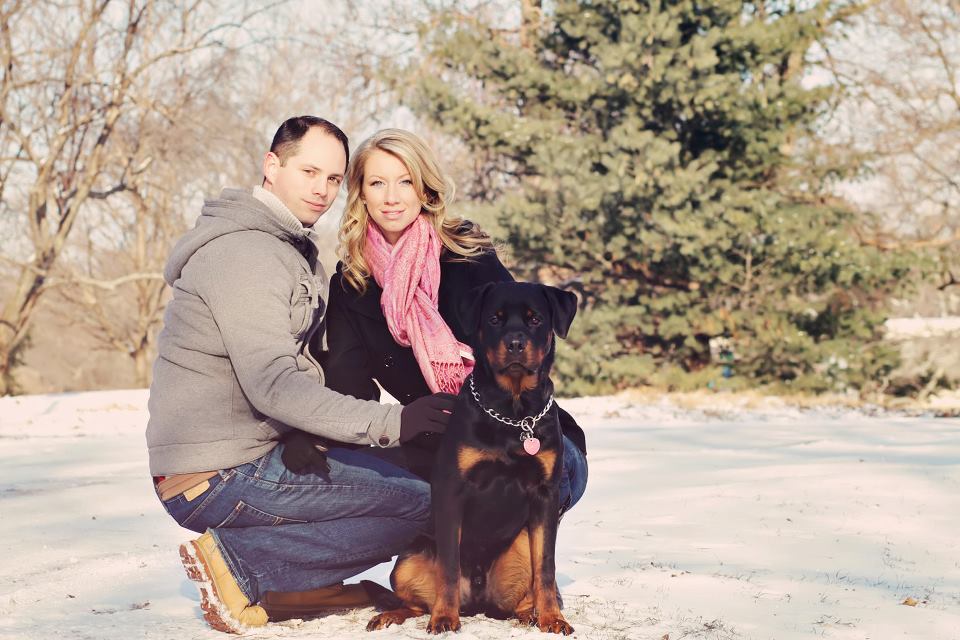 Hi Alice,
I wanted to share this photo of Simba (Crom x Whisky). This was one of our engagement photos taken in January. Simba is 8 months old and looks so handsome. He loves posing for the camera 🙂
I hope you and your family are doing well! First, I wanted to provide you an update on Simba (Guardian Xander Von Gottschalk, May 14, 2012, Whisky X Chrom). He is doing great! Weighing in at 65 lbs. at just over 7 months and eating like a horse! He is extremely smart and takes on new commands like a pro. He gets multiple forms of socialization whether it be at doggy day care (typically twice a week while my fiance and I are at work), the dog park, or visiting with my family and their dogs. There is a local kennel that has weekend agility classes that we are thinking about enrolling him in once the weather is nicer.  🙂
Last week, he started lifting his leg to urinate which seems to be the first sign of "marking". My vet has stressed that now would be the best time to neuter Simba, however, we are contemplating using him as a stud for other breeding programs. I have no education in breeding dogs except for the little internet research I have done so far. It would be really great to get your input on the correct way to do this. If you have any information to help us out when it comes to what steps we need to take (including what age is best, how many times per year, how to advertise that he is available, any extra vet visits, etc.) it would be really appreciated. Simba comes from great blood lines and I would like to at least explore the possibility of extending those! 
Thanks in advance for your help!
Merry Christmas and a Happy New Year!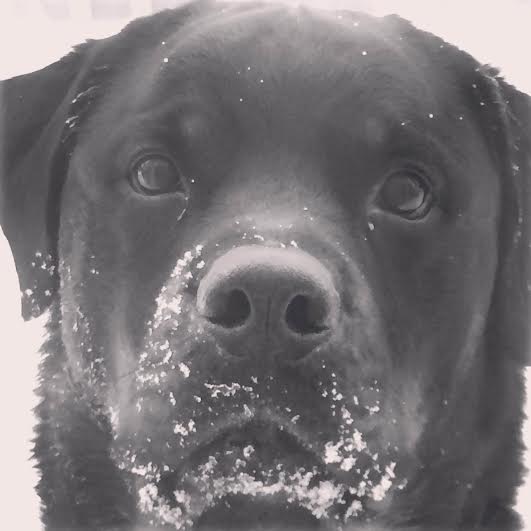 Hi Alice,
Just wanted to send you some photos of my babies! Our boy Simba (Xander: cromxwhisky) is the bigger one with dark markings and Lilly (Laila: atlas x ann) is the smaller one with tan markings. Both are doing really well and we love them sooooo much. Simba is so smart and knows every trick in the book. Lilly is such a sweetie and we've thought about training her to be a therapy dog. She's almost 7 months old now so it may be too late to start. Every time we go on walks we always get compliments on how great looking and well behaved our dogs are:-) I feel like we are changing the public's opinion of Rottweilers one tail wag at a time 🙂 . Anyway hope you and you're family are doing well!
Sincerely,
Russ and Chelsea
---
"Gus-Gus" Guardian Xodus Von Gottschalk
Alice, thank you for the update.  We wanted you to know how delighted we are with Xodus (the girls have nick named him Gus-Gus or Gus).  We had a great weekend with family.  He and Veleska (Vella) had a great time playing and running around.   We had some ridiculous heat with indexes around 105 so much of the afternoon they rested in the air conditioning or played in a pool in the shade.  They are great travelers and it's amazing how fast they are learning.  I can clearly see the loyalty, love, and dedication Vella has for our family and Xodus had quickly become attached to us as well.  We are very greatfull for everything you have done.
Ryan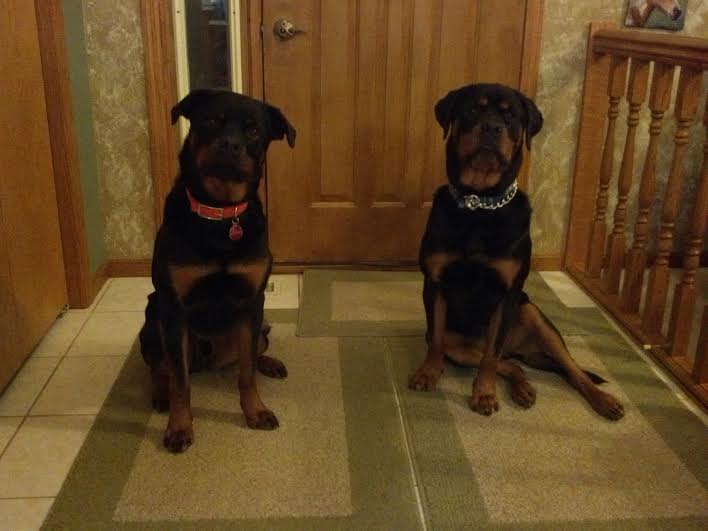 Hi  Alice,Thank you so much for checking in.  We currently have Vella on Adequan 1.5ml injections.  We started out giving her one shot a week for a month.  We are now down to 2 shots this month.  After this month, we will be down to 1 shot a month.  We are also slowly weaning her off of Rimadyl.  So far we are seeing positive results!!!  The true test of her pain will be as we get busier this spring and summer.  We will still try to keep her quiet but as you know how hard it will be to keep a 24 month old pup on the down low!   So far we see no limping or favoring of her rear legs or hip while being on Adequan.  She still walks tenderly sometimes and slightly on her tip toes in the back but she is looking much better!  She plays with her BFF Gus-Gus (Guardian Xodus) all the time however we try to limit the all-star puppy wrestling.  Fingers crossed!  J
-Kelli 
Attached is a current picture I snapped quickly for you.  On the right is Vella and on the left is Gus-Gus.  Love my babies!  Best dogs ever!
---
Guardian Xoana Von Gottschalk  (click her name to go to her webpage)
VP3 ARV National Sieger
VP3 ARV Regional Sieger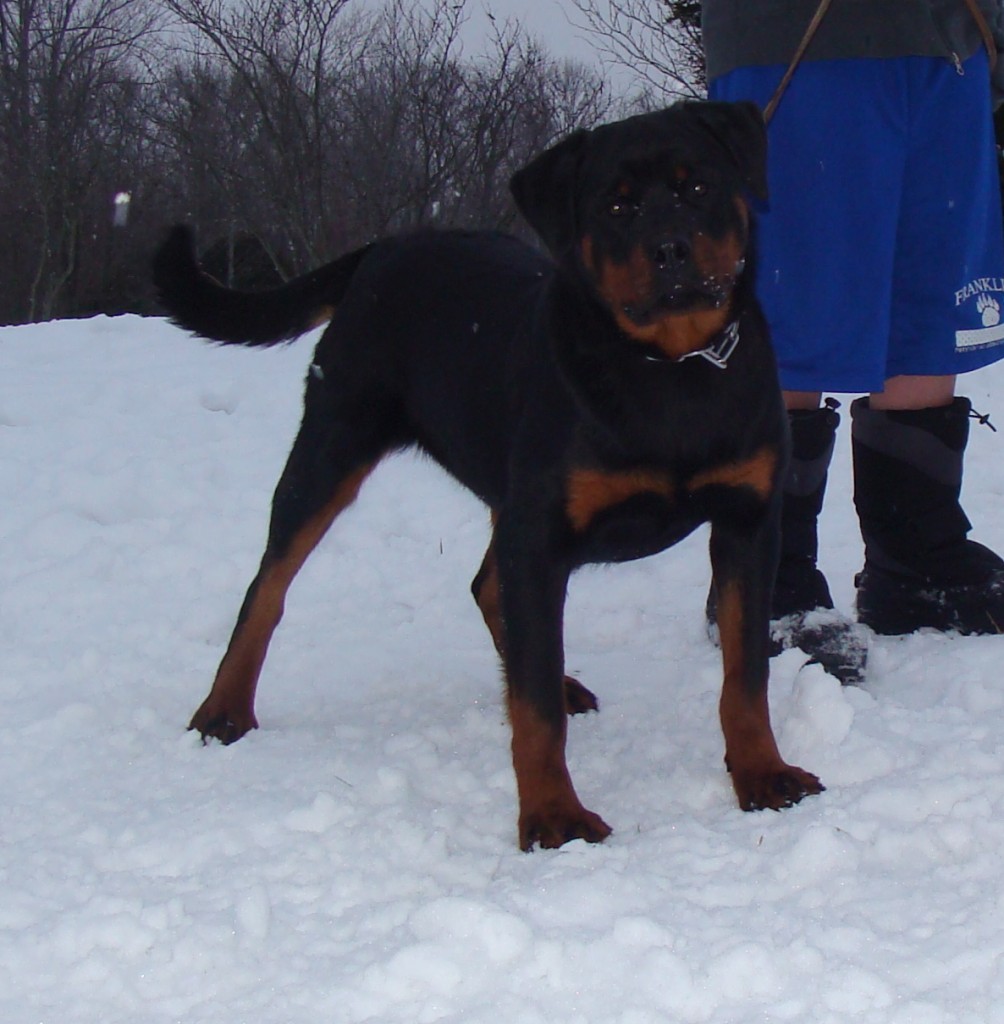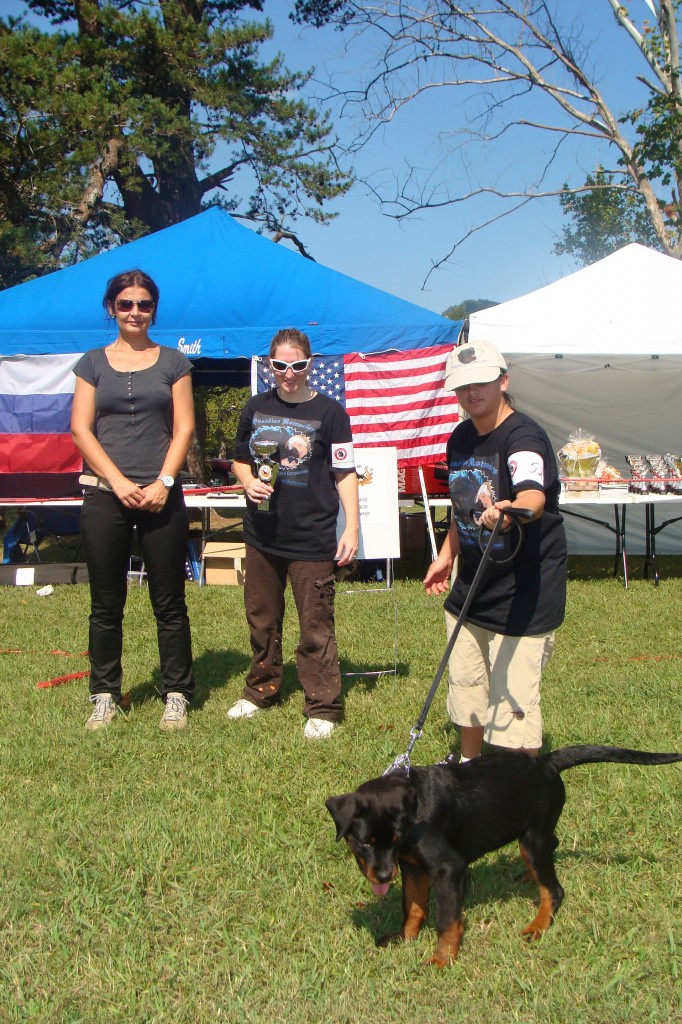 ---
"Lux" Guardian Xiao Von Gottschalk
Just a little update, Xiao aka Lux has finished her basic training classes, we're a little late with the actual class but have been teaching her commands from the beginning.
Tonight was graduation night, at the end there was a little competition, Lux won 2 out of the 3, and she's signed up for the next level classes and the CGC.
We met a Crom x Whiskey puppy that is in the puppy play classes Zeus, and he is a cutey with a giant head!
---
"Denali" Guardian Xila Von Gottschalk
I am trying to get in contact with the owners of Guardian Rottweilers to let them know that they are the best dog breeders ever!  We bought a Rottweiler from them (4 years ago-ish??) and she has been nothing but what they advertised!  She is amazing…we gave her the name Denali but I believe her real name is Xali….Whiskey and Crom were her parents…forgive me for not knowing right off hand….I have the paperwork in a lock box so I cannot look it up.  
I just want the Guardian Family to know that our house was broke into two weeks ago….we live in a nice area and it was a complete surprise that this happened.  We actually live in the subdivision where the Terre Haute Country Club is….for instance we live 1.5 miles from the Country Club.  All though the thieves were not apprehended our precious Denali kept them away.  However, they did stab her and we were lucky enough to get her to emergency surgery.  When my wife got home with our four kids Denali came to them and made sure they were ok.  She then went on a parameter check of the house to make sure the thieves were gone.  Denali had her two drain tubes removed last Friday and is getting her staples removed today.  I have attached photos…thank you guys for such a great family member!!  She truly protects our kids.
Michael and Tracie Wittman
.
(Visited 37 times, 1 visits today)