Guardian Rottweilers F LITTER
Sire: Bull Se Ungo-Rot
Dam: Guardian Eva Von Gottschalk



Beautiful Boys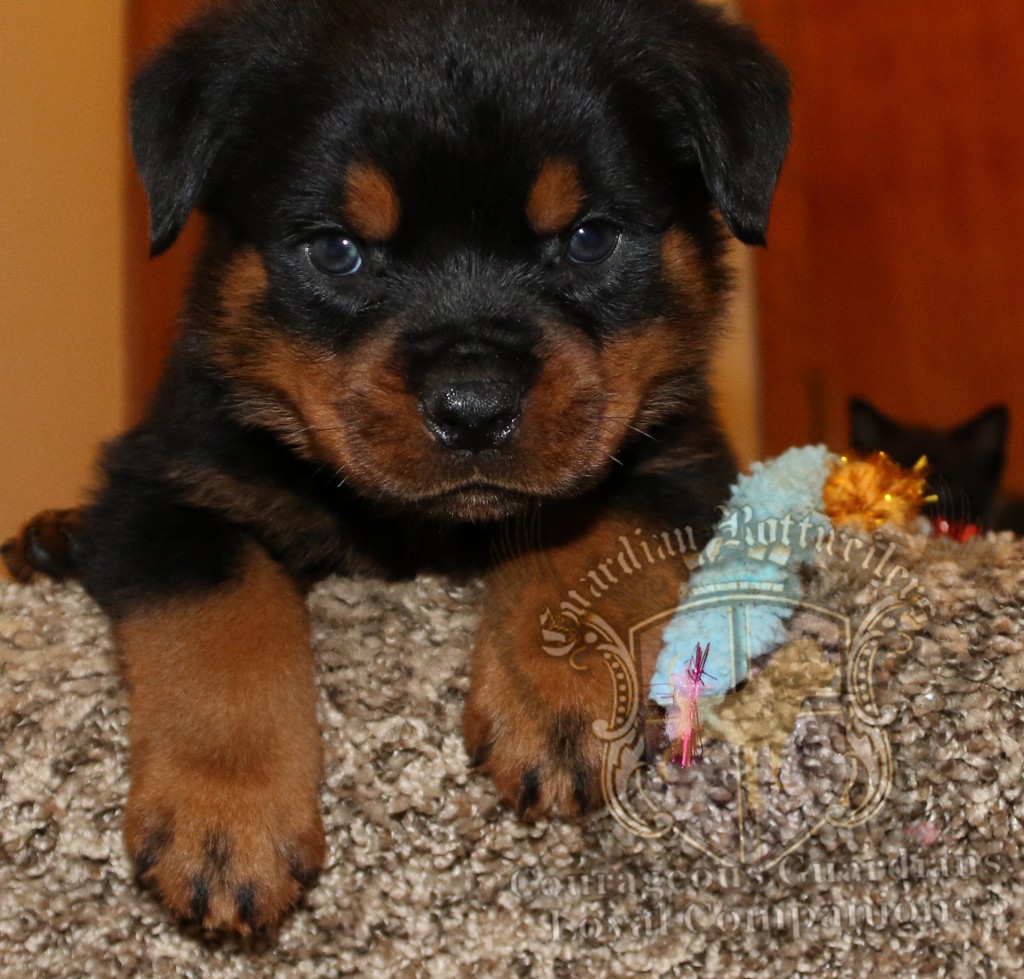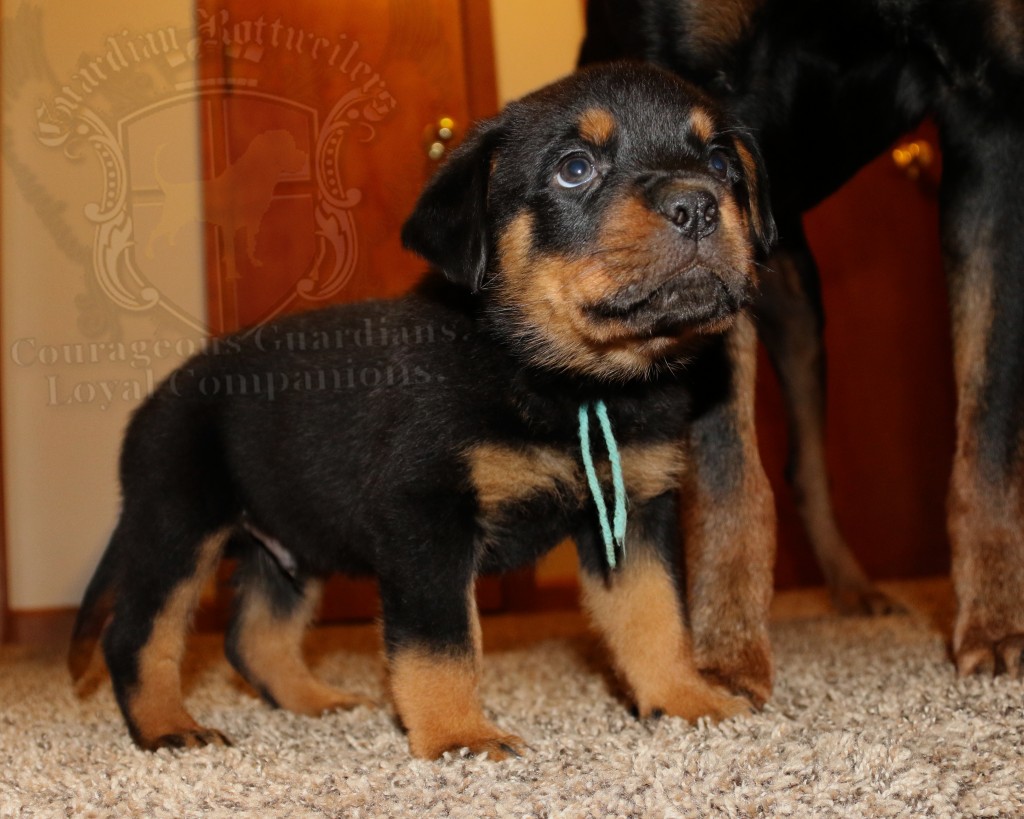 Flash                                                 Flame
      
---
Alice,
Hope these put a smile on your face.  The one with the Dukes Mayo was at 6, 6½ months.  The jar is plastic and was empty and she was under constant supervision when she was playing with it.  The others are from just the other night as she was waiting for us to come to bed.  She stands with her front feet on the bed patiently (yeah right) waiting for me to get into the bed so she can get her night time lovin before she lays down and chews her bone a few minutes then off to snoring like a lumberjack.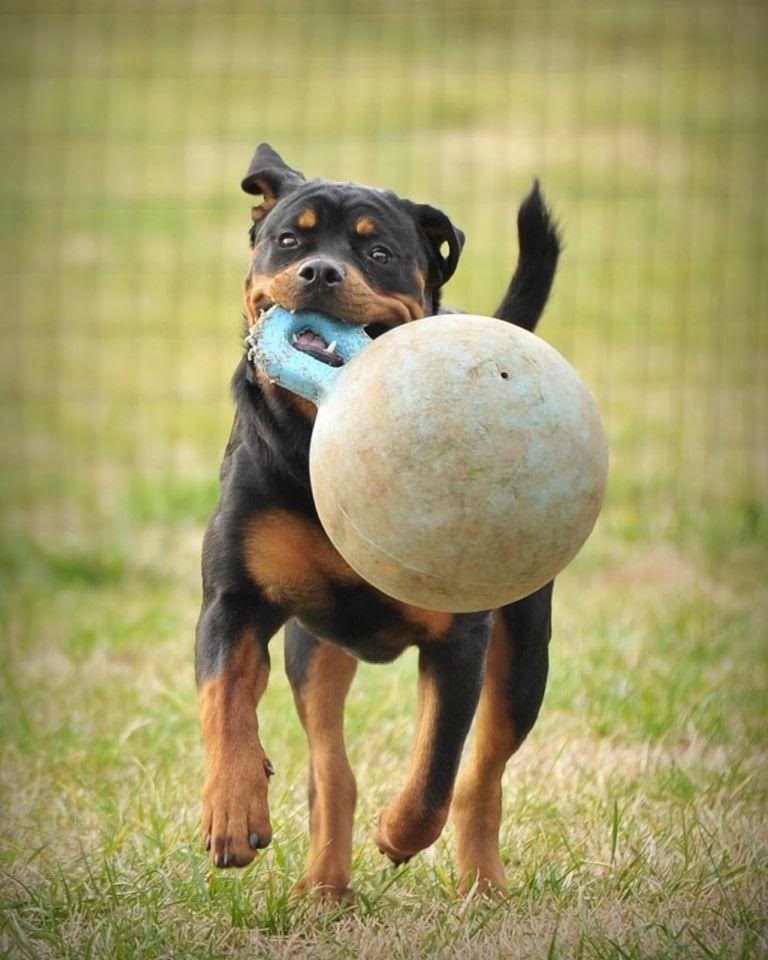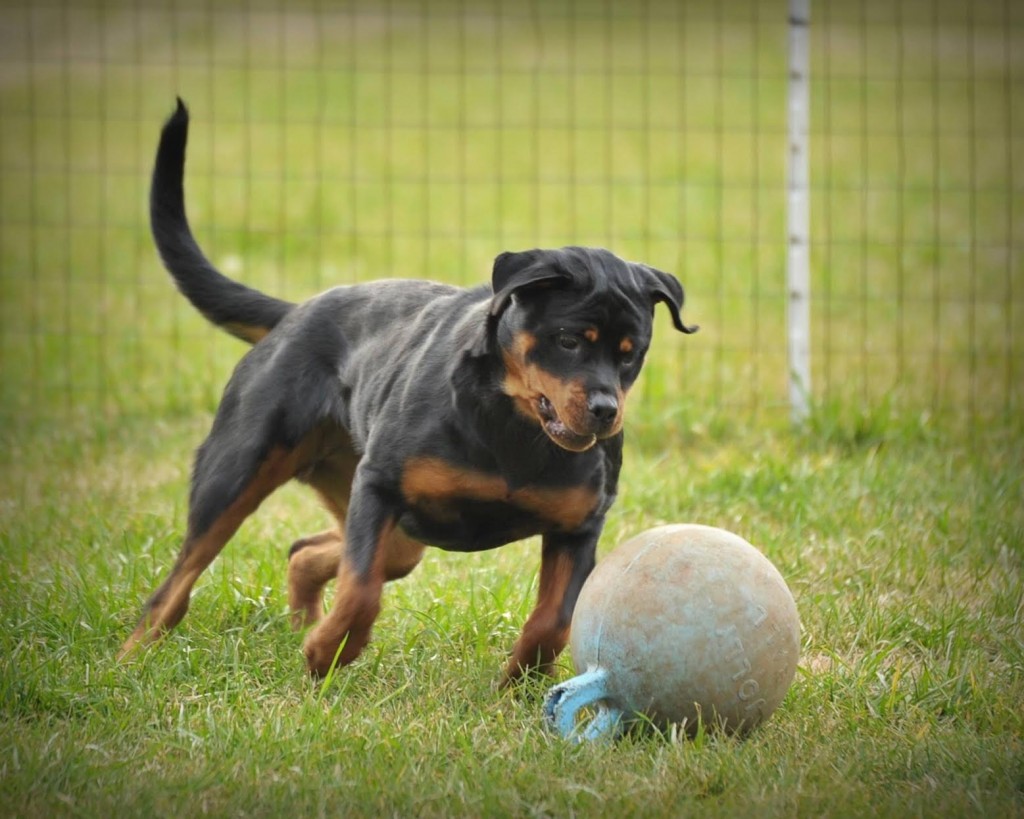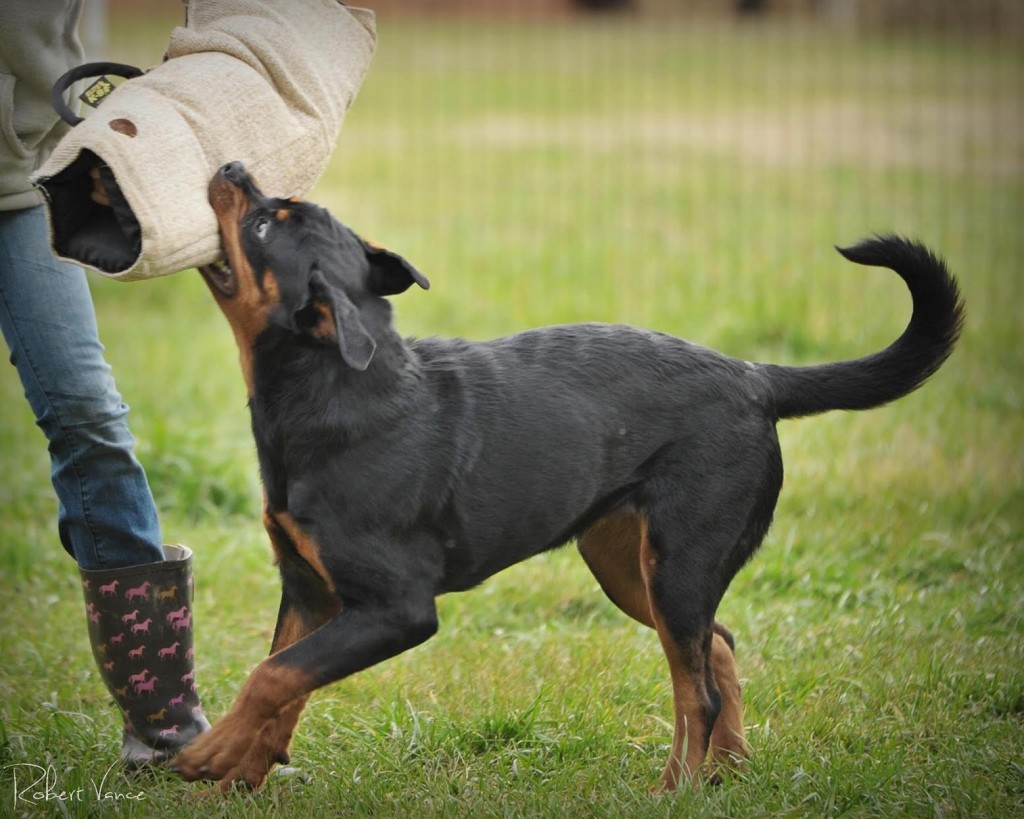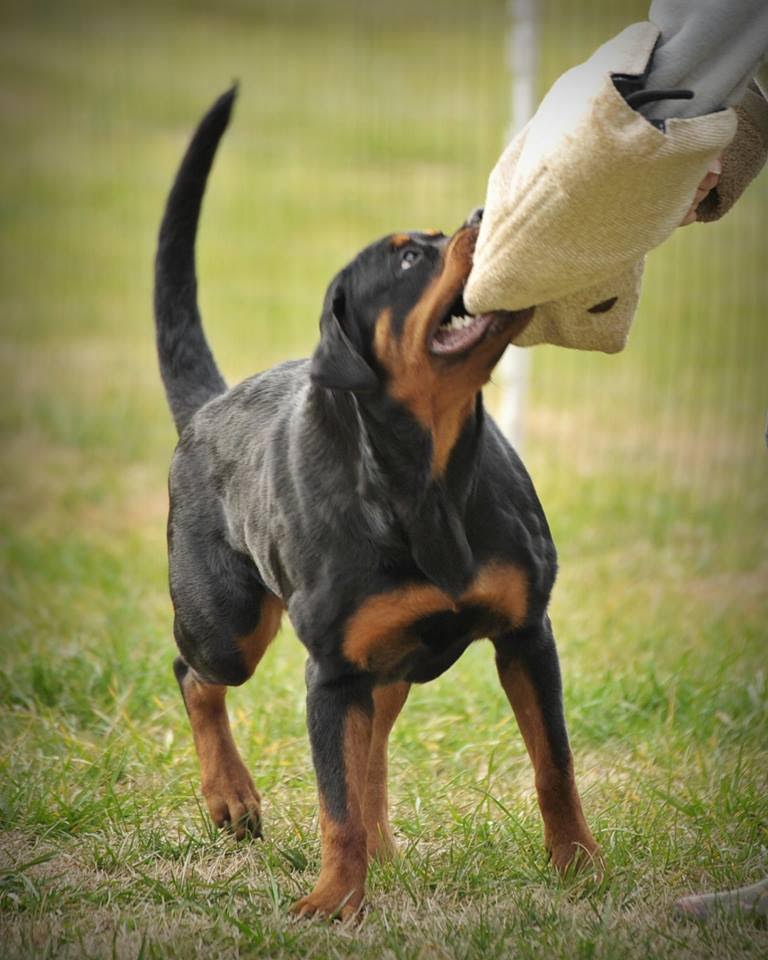 Hi Alice,
Hope you had a good trip to Italy and are home safe and sound.
I couldn't help myself on Saturday and had to call to check on Zarabi on the off chance that someone might be there to pick up the phone.  I hope she is re-adjusting well and is happy.  We are missing her terribly.
On a lighter note, I was able to "work" with Miss Fiji this weekend and all I can say is WOW.  I broke out the puppy bite sleeve Thursday night and let her play with it.  On Sunday we practiced her getting a grip on it.  I don't really know what I am doing so we were basically just having fun and I was trying to focus her bite to the correct spot on the sleeve.  At least two times she got me through the sleeve.  Robert took a bunch of pictures ( I am attaching a few) and in every one of them you can see her eyes are watching me.  The jolly ball she is playing with is an official horse one not the smaller dog size.  She is just soooo awesome.  She is very powerfully built and is made to work (physically and mentally).  She really enjoyed herself and was very focused.  I do have to admit that you cannot do any cleaning with her around though.  If it moves, she's going to get it lol.
If it is at all a possibility, of course most of it will be up to mother nature, and there happen to be lots of boys in the Eva x Bull litter I would love 2 of them.
Hugs and love.  Special hugs and kisses to our Zarabi.
Alice,
Wow.  I am so excited that we did get Zarabi back to you in time.  That is awesome news.
Did you get my email about Zarabi and Fiji's paperwork.  I must have put Fiji's registration paper in Zarabi's envelope.
Now, on to Miss Eva's puppies……I told you I would pick the Dark blue(navy) or Hot Pink puppy not even knowing it was a boy…..Sounds like he's going to be the male version of my little girl.
Our Fiji turns 9 months tomorrow.  She is just too smart.  I have to keep making up things to teach her so that bright mind doesn't get bored and into trouble.  Most recently she has learned to "touch" (put her paw in your hand), "bump" touch my palm with her nose, spin (to the left or right) and to file her own front nails on a scratch board.  She has verbal commands and hand signals for everything that she is/has learned.  We have also been working on targeting her bite and getting quicker platz (she likes to be a little lazy about it). Her dominant side seems to be her left.  Don't know if that means anything or tells us humans anything about them or not.
Glad to hear everything is looking up there with the babies.
Hugs and love.  Special hugs and kisses to our Zarabi.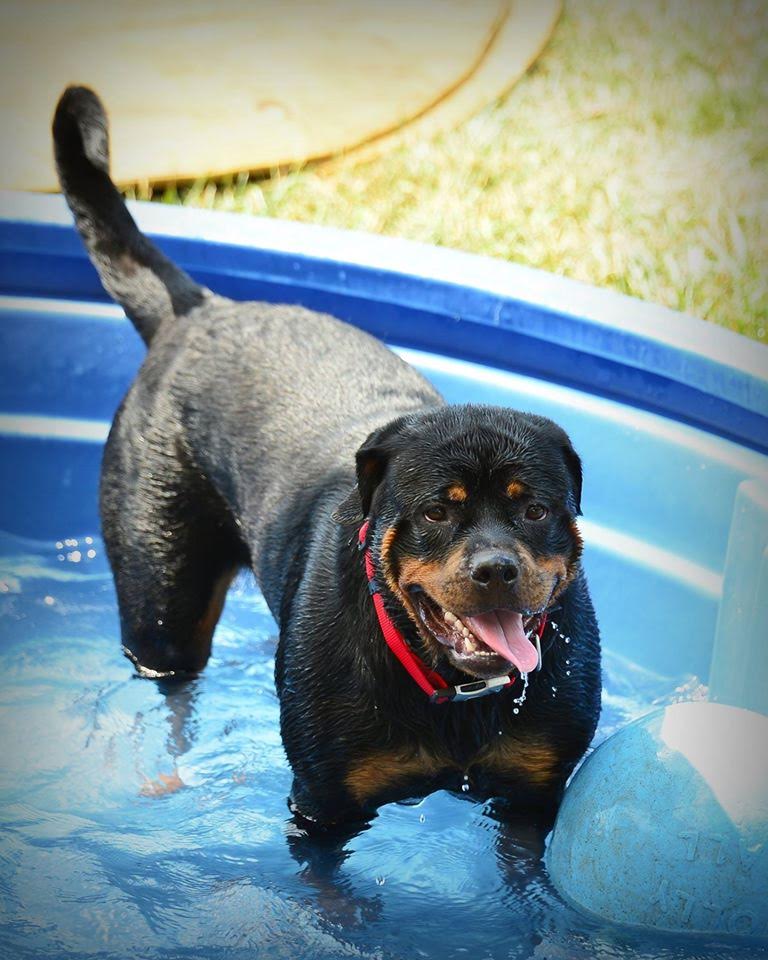 Hello Alice,
Just wanted to send you a couple pictures of our little man.  They were taken around 11 to 11 ½ weeks.  I meant to weigh him last night but ended up forgetting before I put him to bed.  On Monday he weighed in at 17.6 pounds.  His feet have gotten huge over the last week (actually I think they grew overnight Wednesday to Thursday of last week).  He has gotten really dark on his legs as you can see from the pictures.  He is coming along well with his potty training and performs sitz pretty reliably.  He has also learned heir, and plotz, and is in the process of fully understanding "look" and "aus".  I have also introduced "geh aus" and "geh rein" with sitting and waiting at the door before he can exit or enter.  He has no problem with the sitting, just with the waiting for the next command (lol).  He is a smart little man and loads of fun.  He always has to be on your lap or laying on your feet if you are standing.  When he is playing he will retrieve his toy and come running back to you, jump on your lap and lay down to chew on his toy.  He is doing the puppy biting thing but seems to correct pretty well and can be re-directed to a toy or antler most of the time.
As far as he and Fiji……Where to begin.  They are eating breakfast and supper pretty much nose to nose (but with a pen panel between them).  Neither one of them acts the least bit uncomfortable with the other being so close.  I actually sit on the floor with them and they take turns licking me in the face in between bites.  It is as if they think the whole family is eating together.  They have been together quite a few times but we are still keeping Fiji on a leash as she is just SO intense.  We have been leaving Ruger loose with both of us present and they have yet to move away from each other.  The whole time Ruger is jumpimg, crawling, biting on Fiji.  He has tried to nurse on her several times and she scoots away from him.  This last time they were together I think she was starting to get frustrated by his jumping on her and she actually put a paw on him to hold him down and then started mouthing him.  She has yet to growl, snap, or even really try to get away from him.  I am very surprised at her level of tolerance with his antics.  It wears me out just watching him bouncing all over her.  We have stepped in a few times on her behalf as he thinks nothing of launching his whole body over top of her head or jumping onto her belly when she rolls onto her back.  She is comical in that she stays laying down when interacting with him and then when he jumps on her she scoots away.  I was afraid she would be as tough on a puppy as she is hard with everything she does but instead she is letting him get away with everything.  I hope she starts setting some boundaries for him sooner rather than later.  I am planning to leave them both loose together this weekend with a 2 foot drag leash on Fiji (just in case).  I wish you could see her and actually put your hands on her.  She is just so powerful.  I wish a picture could really capture how well muscled and strong she is.  At 14 months she rivals many adults I have seen both male and female.  And of course she is as beautiful as ever.  We have to get this lady into the show ring.
I've also included a picture of Fiji when she was playing in her "pool".  She was 13 months in the picture.
I hope everything is going well for all of you.
Hugs and love to all.  Special hugs and cuddles for my Zarabi.  Her birthday is rapidly approaching.  Please give her special kisses from me.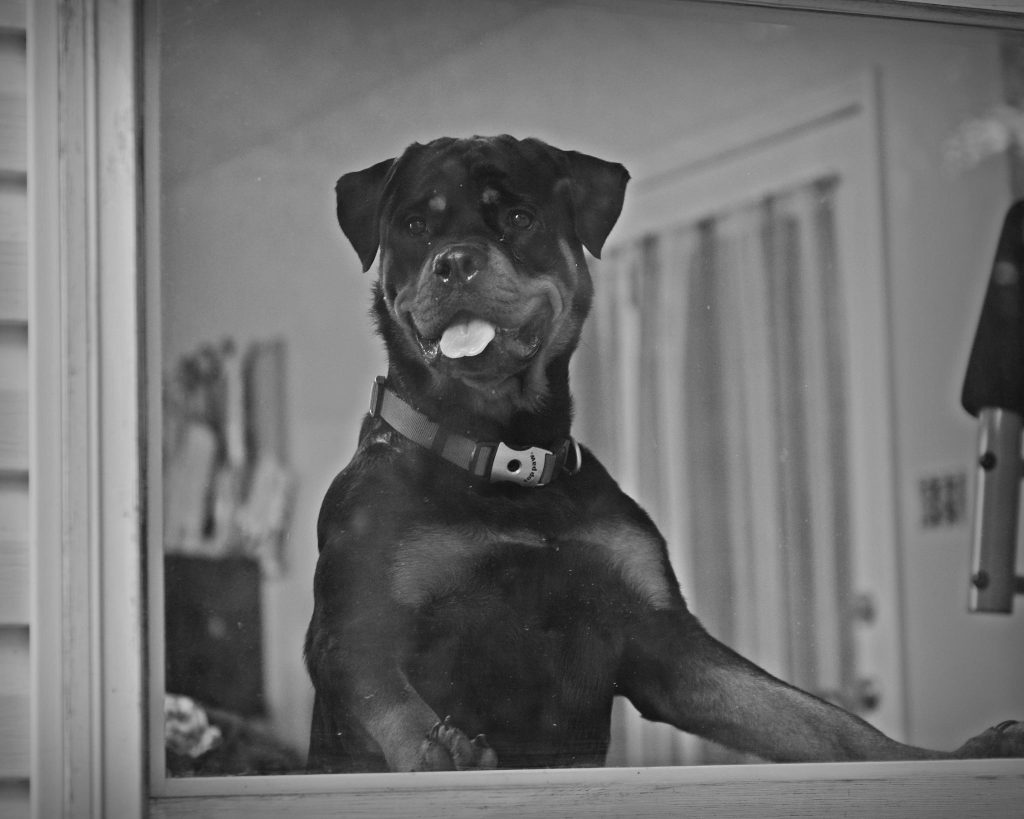 Good morning Alice,
Just a quick note in with a recent picture of my beautiful girl.  Miss Fiji is now 16 months old and is getting accustomed to living free in the house 24/7.  She has gotten into a few things but nothing terrible as of yet.  She is not allowed in the bedroom when we are gone.  The pillows are just too big of a temptation for her yet.
The attached picture is the last window she can get to as she watches me leaving for work every morning.  She is just too cute.  She starts at the door with me then moves from the side lights to the dining room windows and finally ends up at the office window on the end of the house.  She stands there watching until my vehicle disappears down the driveway.
Hugs and love to all.  Special hugs and kisses for my Zarabi.
Cynthia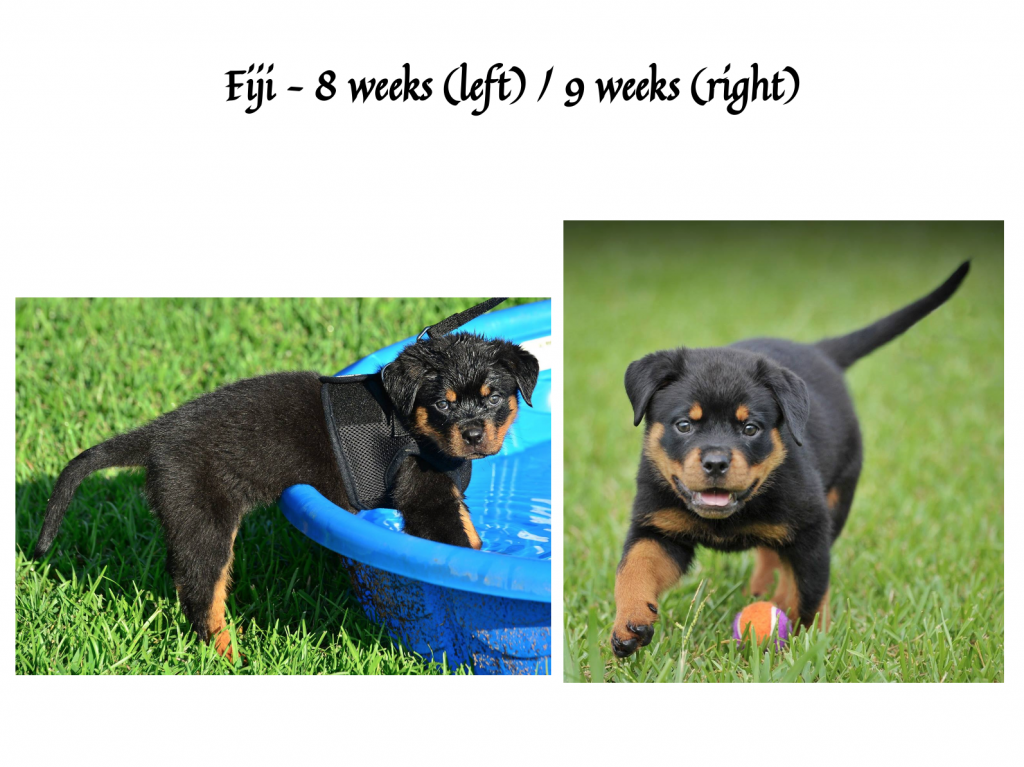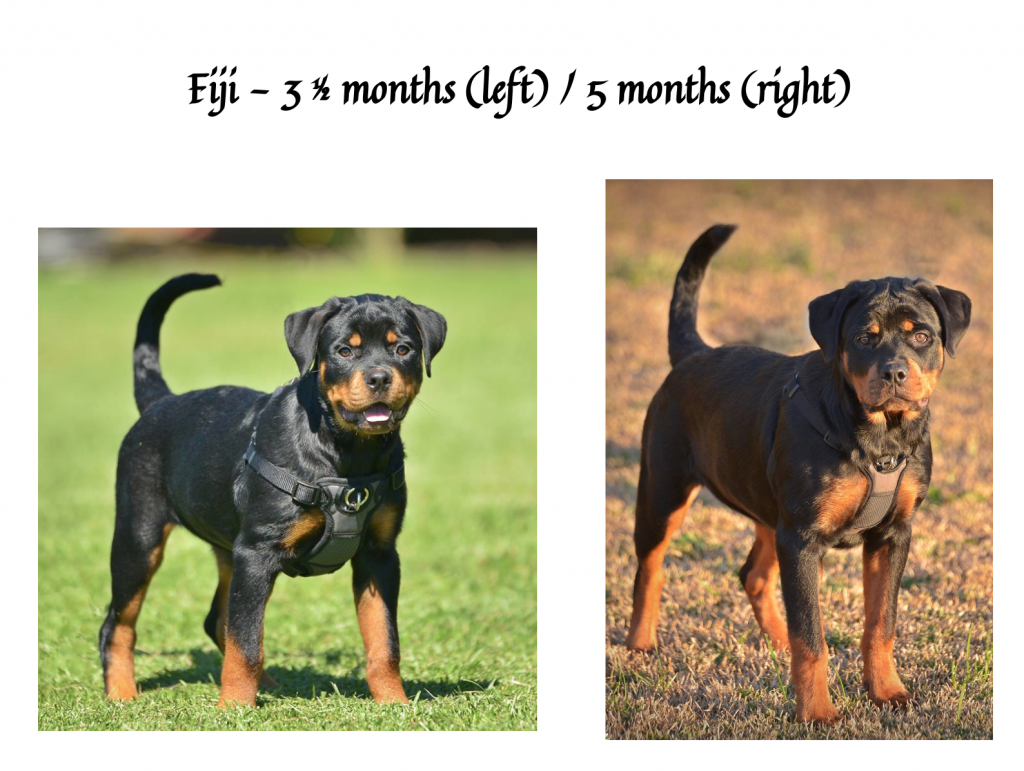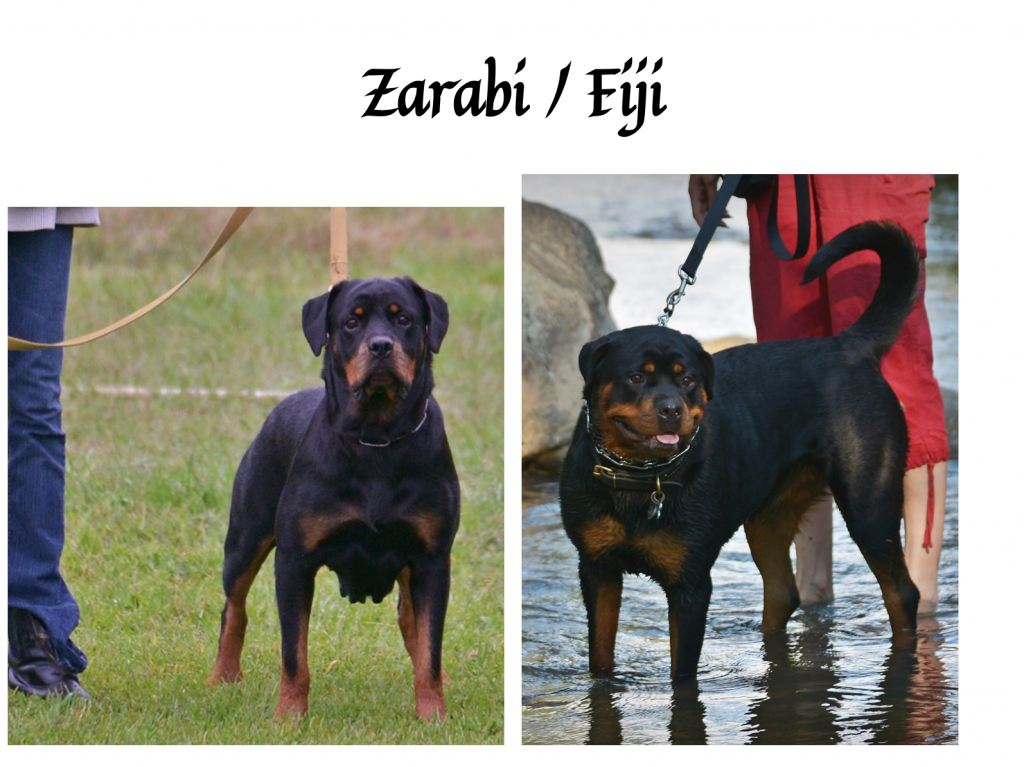 Fiji 8 weeks to 11 months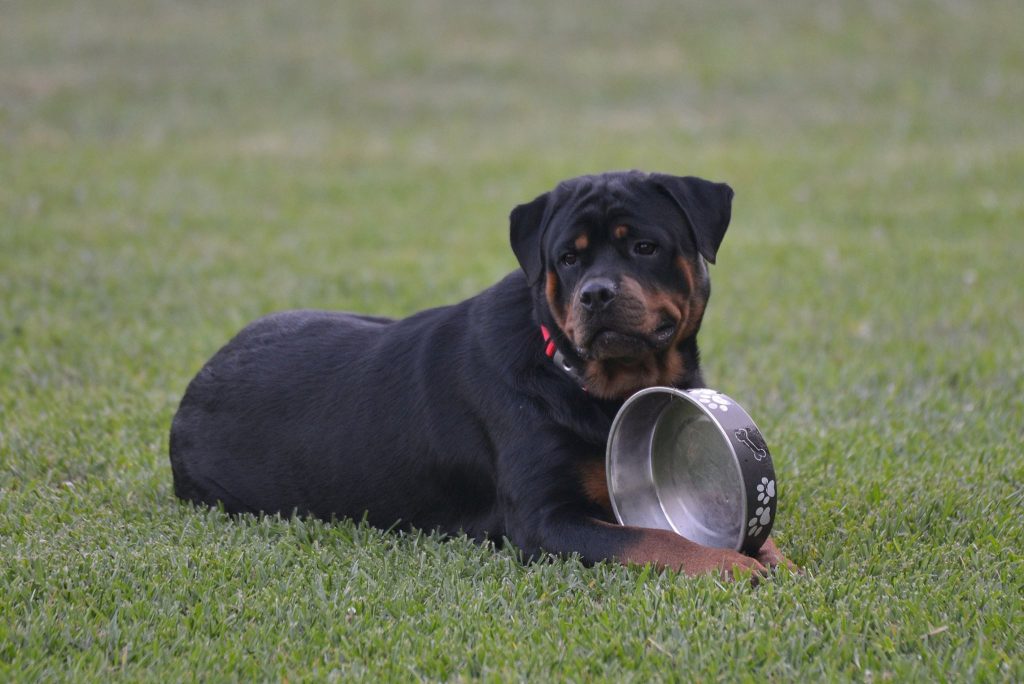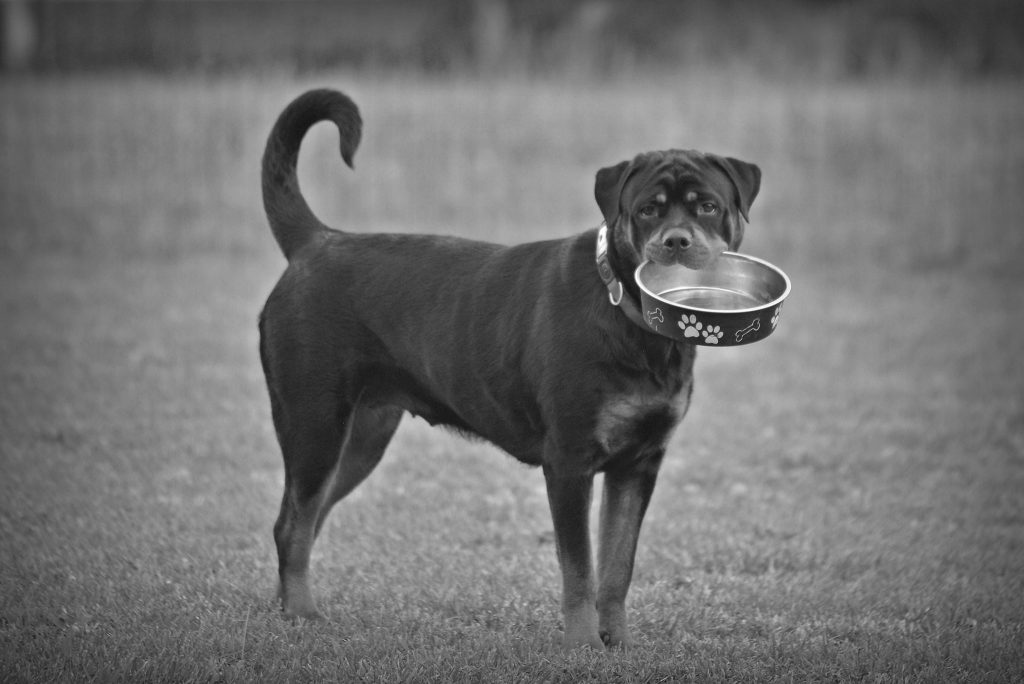 Fiji- 12 months


16 months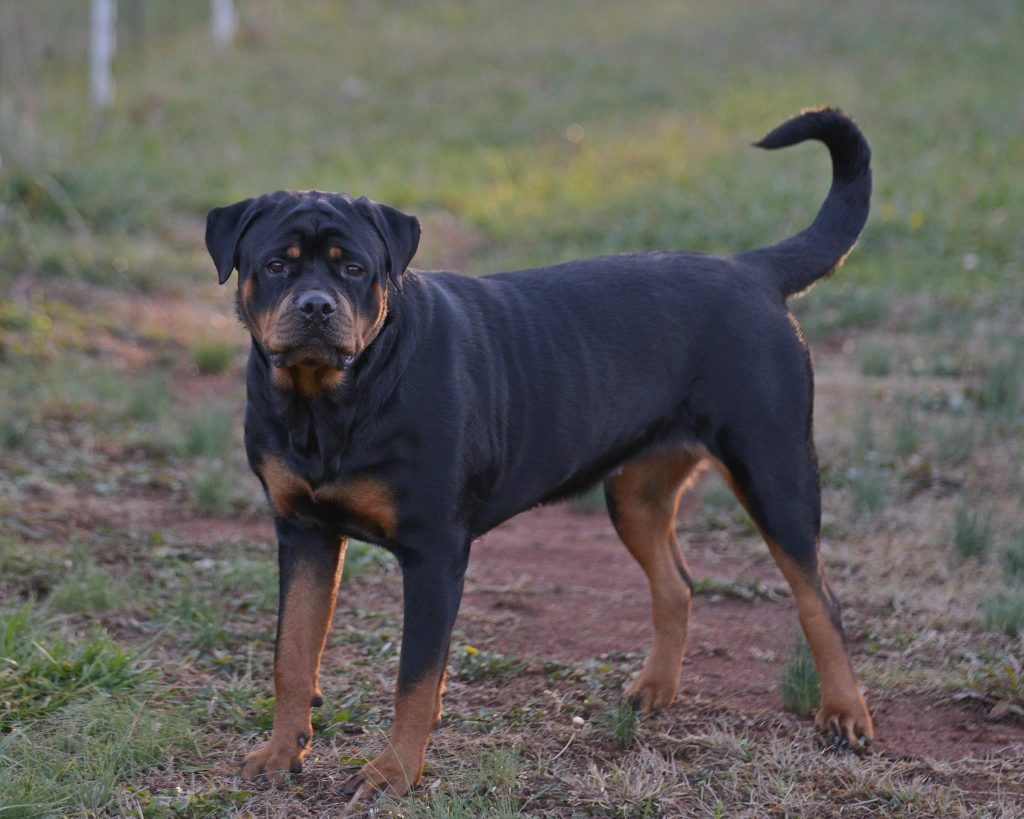 Fiji 18 months
Good morning Alice,
Today my baby girl is 18 months old.  Happy Birthday to all the "F" litter Bull x Eva puppies.
I am including a few pictures of her so you can see my beautiful baby.
We are planning on showing both Fiji and Ruger at the AIRK Eastern Carolina Rottweiler Klub 2017 Sieger Show on March 18th and 19th in Jacksonville, NC.
Since I have never shown a dog before I need to get together with you and find out exactly what they need to be able to do and what I need to know (lol).  Also, I pulled my folder to send in Fiji's paperwork and I do not have a registration paper for Ruger.
It would be awesome if you could bring Miss Eva to the show????  I know they probably wouldn't be able to "meet" each other even though they are mother and daughter but hey, you never know.
Ruger's hormones must be kicking in.  He is being such a pest to Fiji and she is finally starting to put him in his place.  She may have waited a bit too long as he is VERY strong.  When then play tug he drags her 100+ pounds across the floor and boy does he know how to use his weight to push her around.  He would be a good herding dog, he has those moves down pat.  Having loads of fun with them and they are coming along nicely.  Now if they could just learn "no chase in the house".  Rainy days turn the living room into a race track/obstacle course.
Hugs and love to all.  Please give Eva a special treat today on Fiji's B-day for giving me such an amazing baby.
Special hugs and cuddles for my Zarabi.
Hey Alice,
Just a quick line with some recent pictures of my babies.  In the pictures Fiji is 24 months and Ruger is 13 months.  He is bigger than her now and has the size to back up his "big dog" attitude…lol.
Hugs and love to all.  It has been crazy here.  I will catch up with you soon.
---
Guardian Flix Von Gottschalk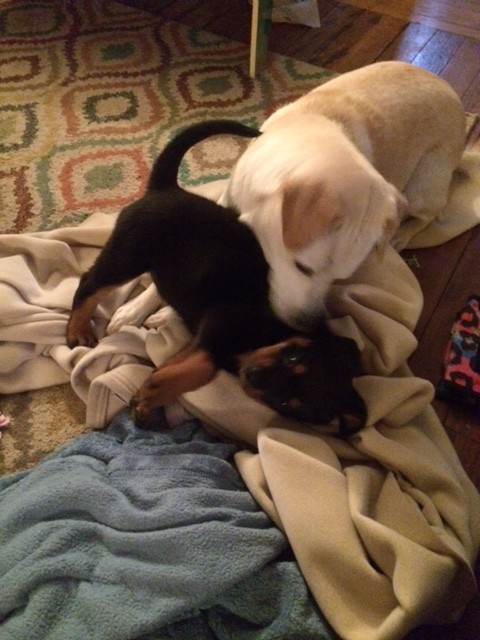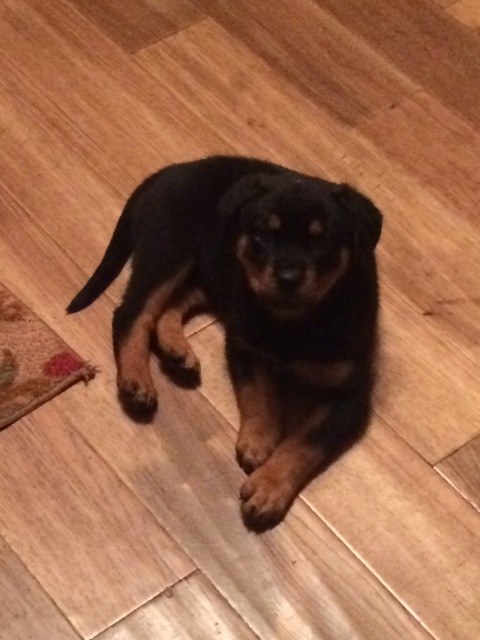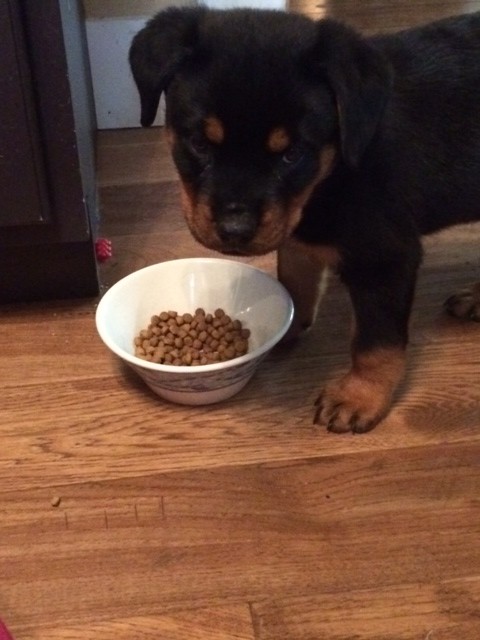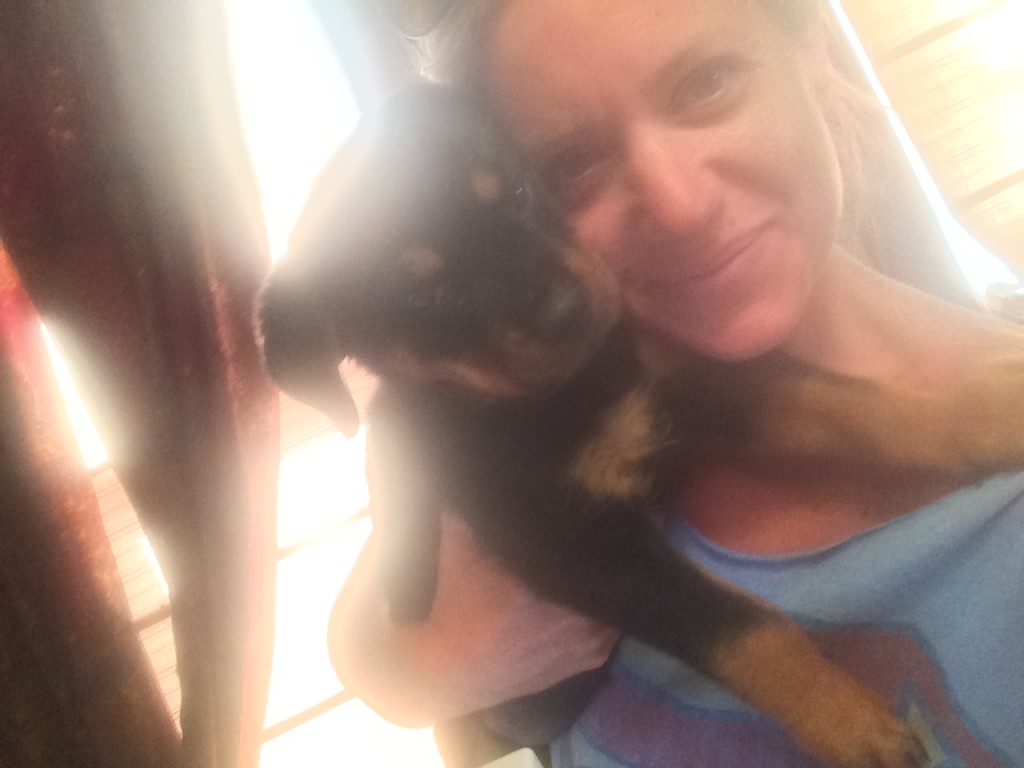 Omg. She is such a doll!!!! Doing great. Our dog shiloh took to her right away. The cat just stared blankly for an hour. Lol!!! She just looooooves her belly rubbed. Seems to be very submissive. Just rolls on her back immediately. Lol. We love her so much!
---
Guardian Fiji Von Gottschalk  
Good morning Alice,
Just wanted to send you some pictures of my little lady playing yesterday on her 5 month birthday.  She is a solid, tough, bold, beautiful and very confident 51 pounds as of last Tuesday.  The biting for your attention has stopped and she has gotten a lot better about the biting when she is playing.  The only thing that works is "sitz" if she does get a hold of you.  I carry a "fire hose" material type toy in my pocket for her and as soon as we get outside she reaches into my pocket for it and then off she goes to do her business.  When she is done peeing she brings the toy to me for fetch until she has to go pooh.  She is on a very good schedule and is learning to use the potty bells on the back door.  Her most recent antic is jumping on the couch and then pulling a superman off the rolled arms before you can get to her.  I think we fixed that yesterday with some of that clear carpet runner turned upside down laid over the couch.  Pascha, my previous male, couldn't stand those pointy little plastic things and so far she hasn't decided to really try them out.  We will see if my $6 fix will work on her.  I have to admit I was a bit concerned about how bad she was and not being able to cuddle with her due to the constant biting when she was smaller.  I would have loved to be able to cradle her in my arms and hug and kiss all over her but that would have resulted in a torn up face.  She is now giving awesome kisses in the morning and before night night.  We cuddle when she gets up and before I put her to bed.  She also will give kisses and come lay on your lap.  She has no possession issues and will gladly share any of her toys or food with you.  She concentrates and focuses deeply when you are "working" with her.  You can see her focus in some of the pictures my husband took.  I had given her the stay command and then walked behind him or next him and she is just waiting for Momma to reach in her pocket for a treat or give her release command.
Hope everything is going well.
I do need to talk to you sometime soon.
Alice,
Cute picture of Fiji from this past weekend trying to decide if she was done playing.
Did you get a chance to put us back on the list yet so that I can get the "Pupdates" ?  I was looking at the pictures of those tiny precious angels.  If I was making a pick right now I would go with the dark blue or the hot pink (that's what color Fiji was).  Well on second thought….lol.
Hope all of the babies are doing well.
Hugs and love to all.  Special hugs and kisses for Zarabi.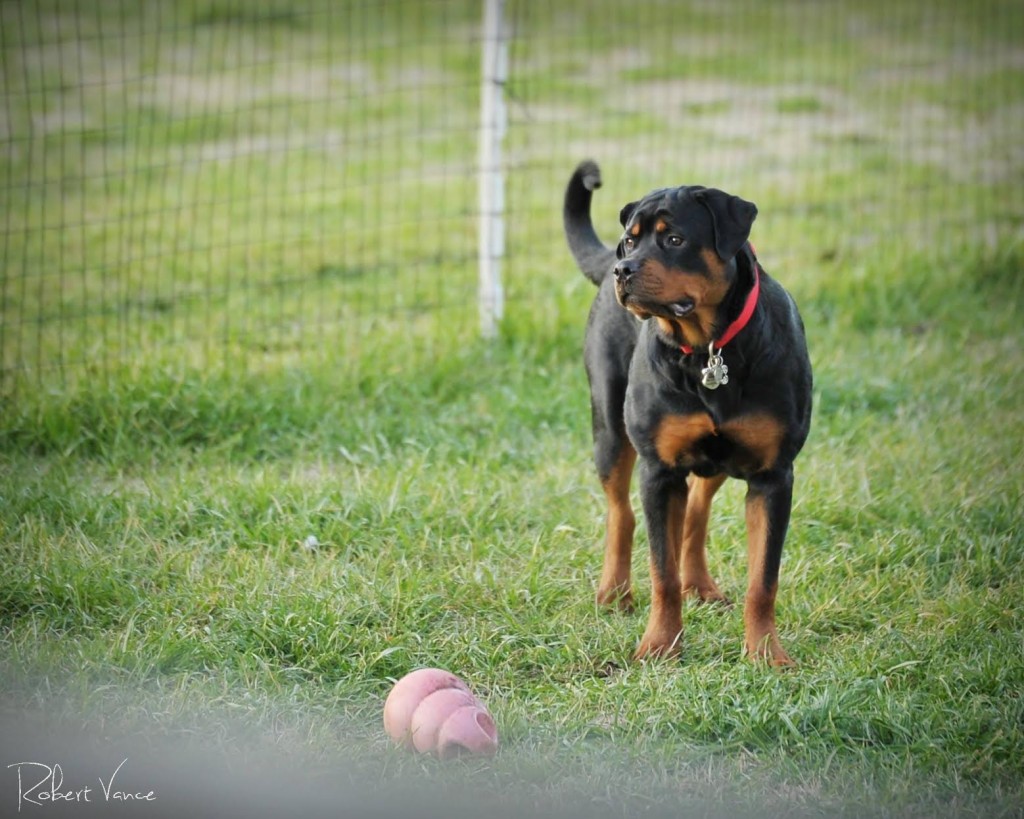 ---
Guardian Flash Von Gottschalk
the stairs to my office, the stairs, the truck seat, my bed, he plays with toys ( or office paper) loves to let them hang over the edge of where he is and play till they drop, funny rottweiler, god bless alice ! thank you for my buddy

hello miss, Flash birthday last week, letting you know he is wll and happy, always a shadow puppy, does all commands cept come here, he is in flash time, he is very well loved,  never raised voice at, sleeps on bed (spoiled bad dog), goes with me every where i go, this week we try out doggie day care, cut his [neutered] last month, didnt want to ,but peeing on my stuff and alll was the ticket, ya know reasons for waiting,  but,,,,, hope your family is happy , we are, take care lady, god bless you and yours!
(Visited 35 times, 1 visits today)