Guardian Rottweilers G LITTER
Sire: Marsio Ri Mobby Dick
Dam: Guardian Geneva Von Gottschalk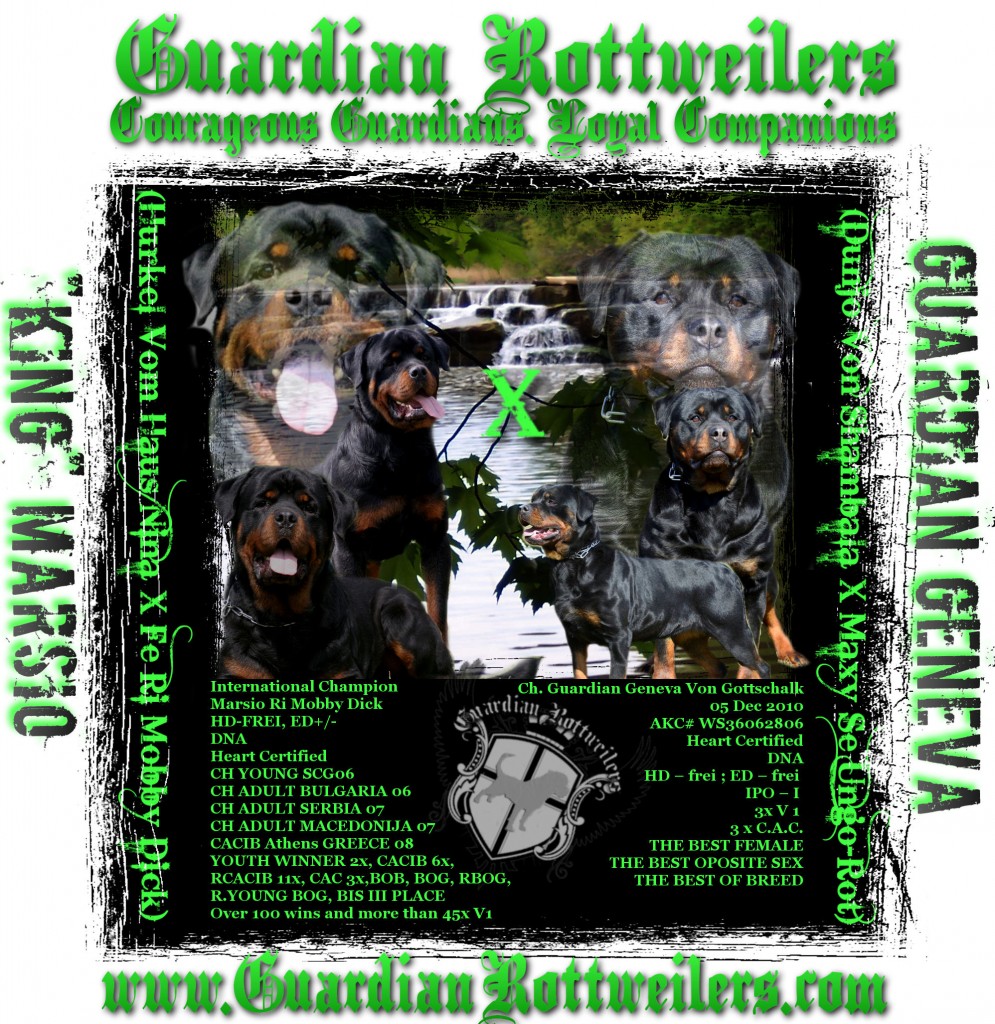 A good breeder does not take a bitch in season and mate her to which ever male will mount first!  The job of a breeder is to find the best pairing for each dog/bitch to ensure the absolute best offspring.  Geneva is an EXCEPTIONAL female in every way!  She has more bone and substance than most males, a MASSIVE, CORRECT head, dark pigmentation, excellent angulation and super movement.  As gorgeous as she is, Geneva's most attractive attribute is her character!  LOVES the ball, just like dad, but still so sweet and gentle and LOVES kids more than anything!! <3  REALLY wonderful character!  After she passed all her health clearances and proved herself in the show ring, we started contemplating with whom to breed this Beauty.  I wanted to not only highlight her attributes, but also make sure it was a male that was up to her extraordinarily high standards.  Most importantly, I wanted to keep the character that I love about her strong in her pups.  Marsio's bloodline has been crossed many times with GREAT success on Marschall's lines (MARSCHALL SE UNGO-ROT, son of BRANDO VON KELEMAN– who is sired by FLIP CRNI LOTOS, brother and littermate to my DIESEL's sire, FOX CRNI LOTOS!).  Both lines are know for incredible bone and phenomenal character.  With Geneva being the daughter of MAXY, one of MARSCHALL's BEST DAUGHTER'S TO DATE, AND! having the added benefit of Geneva's BALOU linebreed and LIKE v. SITTARD, sire of the One and Only DUNJO VON SHAMBALA, I truly believe this to be a litter for the books!!!  We flew Geneva to Germany and my very dear friend Uros then drove her all the way to Serbia for a live cover breeding with the LEGEND that is KING MARSIO!!  VERY excited and CANNOT wait to meet these pups!!!!!!
     
 If anyone has seen the State Farm commercial where the elderly fishing gentleman dangles a dollar tauntingly in front of a woman and thought it was funny, well my kids thought it was funny too and decided to make their own version of the commercial! 😉  Enjoy!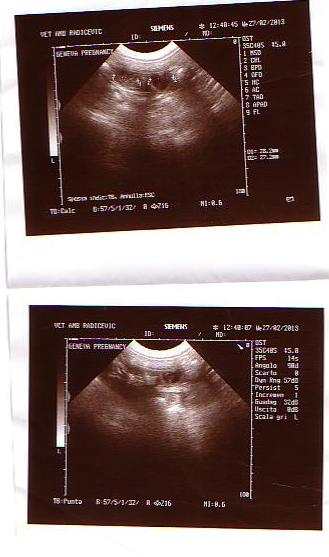 Here is her ultrasound at 32 days pregnant! <3  Little tiny bear cubs in the making!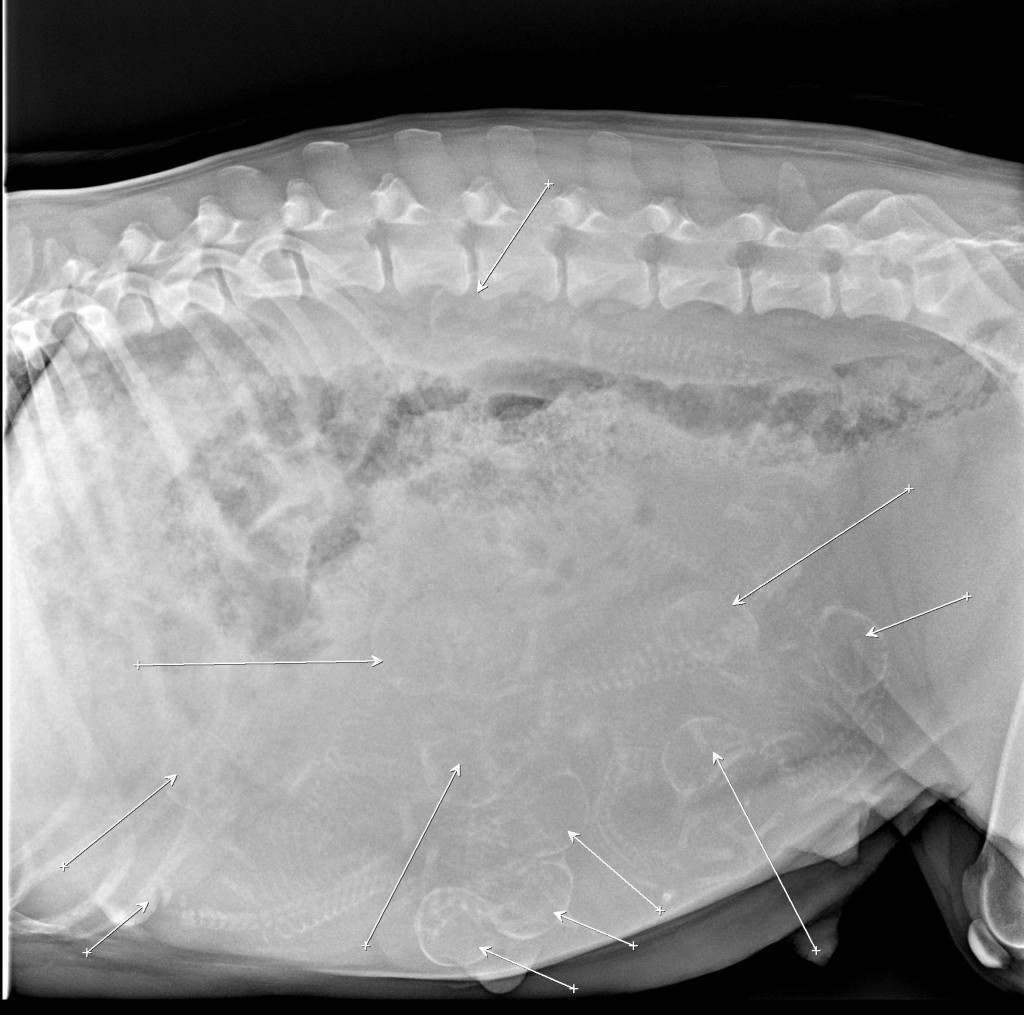 Here are those little bear cubs 3 weeks later!  Ossification is one of the last processes of the developing fetuses, so these little spines and skulls can only be seen in the last 10 days of the mother's pregnancy.  Ultrasound is great for confirming pregnancy, but not very accurate in pup count as the pups are constantly moving 😉  This is why we follow up with an x-ray for a more accurate pup count.  Still not 100% accurate- what looks like 2 pups can just be the backside of the ribcage of another or there could be another pup hiding behind a sibling, etc.  But it is the most accurate method we have and will help us in determining if mom is truly done with labor or just stalled and needs some help.  We will x-ray again on the check-up mom and pups get immediately after labor is finished and everyone is stable.  The follow up x-ray ensures they follow the Marine code and do not leave a man behind 😉
Dr. Jeff Udrasols was kind enough to point out all the skulls for us- this mama has a full belly!!  There is not ANY wiggle room here!  Even tucked up by her spine!  Poor mama!!  Fingers crossed that the 11 doctor Jeff sees is the final count and that there are not any more hiding!!  11 is quite enough!!
Geneva had a large, healthy litter of 10.  We repeated the x-ray to see if #11 was retained, but she was empty so it was likely a pup that moved or the back shadow of another pup.  Mom and pups are doing super!  She is such a wonderful, gentle, careful and nurturing mom <3  She reminds me so much of her mom, Maxy, as a mom.  Please enjoy the video <3 

Here are my 10 little chubby babies at 20 days old!  SOOO ADORABLE!!
***PEDIGREE!! PEDIGREE!!  PEDIGREE!!  PEDIGREE!!  PEDIGREE!!***
There are just so many exceptional Rottweilers in the pedigree of these puppies!!  Some of the world's best dogs and bloodlines!!
 
| | | |
| --- | --- | --- |
| |  Marsio Ri Mobby Dick | |

 litter day:
2005-08-17
 show assessment:
Multi and International Champion
 ranking:
???
 ranking level:
???
 worth index number:
???
 height:
66
 weight:
55
 sex:
m
 breed:
Rottweiler
 description:
IPO-I
 breed register number:
713923 Rw
 HD:
HD-FREI, ED+/-(by D.NOVAK ); DNA; Heart- Normal
 owner:
Uros Golubovic
 description:
KSS/JR = KINOLOSKI SAVEZ REPUBLIKE SRBIJE, Serbia INTERNATIONAL CHAMPION  EUROPASIEGER 2007 – SG 3            HD-FREI, ED+/- ( by Mr. D.NOVAK )                                                   CH YOUNG SCG06 CH ADULT BULGARIA 06 CH ADULT SERBIA 07 CH ADULT MACEDONIJA 07 CACIB Athens GREECE 08 V15x, YOUTH WINNER 2x, CACIB 6x, RCACIB 11x, CAC 3x,BOB, BOG, RBOG, R.YOUNG BOG, BIS III PLACE

| | | |
| --- | --- | --- |
| |  Guardian Geneva von Gottschalk | |

 litter day:
2010-12-05
 show assessment:
Best of Breed; Best Opposite; Best Female; 3x CAC;
 ranking:
???
 ranking level:
???
 worth index number:
???
 height:
59
 weight:
41
 sex:
f
 breed:
Rottweiler
 description:
IPO1
 breed register number:
WS36062806
 HD:
HD – frei ; ED – frei (KSS); Heart Certified; DNA
 owner:
Alice Velasquez
 description:
HD – frei ; ED – frei, (FCI KSS- Serbia) IPO – I 3x V1 3x C.A.C. THE BEST FEMALE THE BEST OPPOSITE SEX THE
line breeding about 6 generations

| | | | | |
| --- | --- | --- | --- | --- |
| dog | pedigree of sire | | pedigree of dam | |
Noris vom Grüntenblick
4
5, 6
Cita vom Sittard
4
5
Nemo vom Granitkopf
4
6
Falko vom Grüntenblick
5
6
Addi vom Herrenholz
5
6
Benno von der Schwarzen Heide
5
6, 6
Gamba von Barrenstein
5
6
Simmy vom Schwaiger Wappen
5
6
| | | |
| --- | --- | --- |
| |          Pedigree of Guardian Rottweiler's G LITTER | |
---
Guardian Goddrick Von Gottschalk (formerly known as GATOR)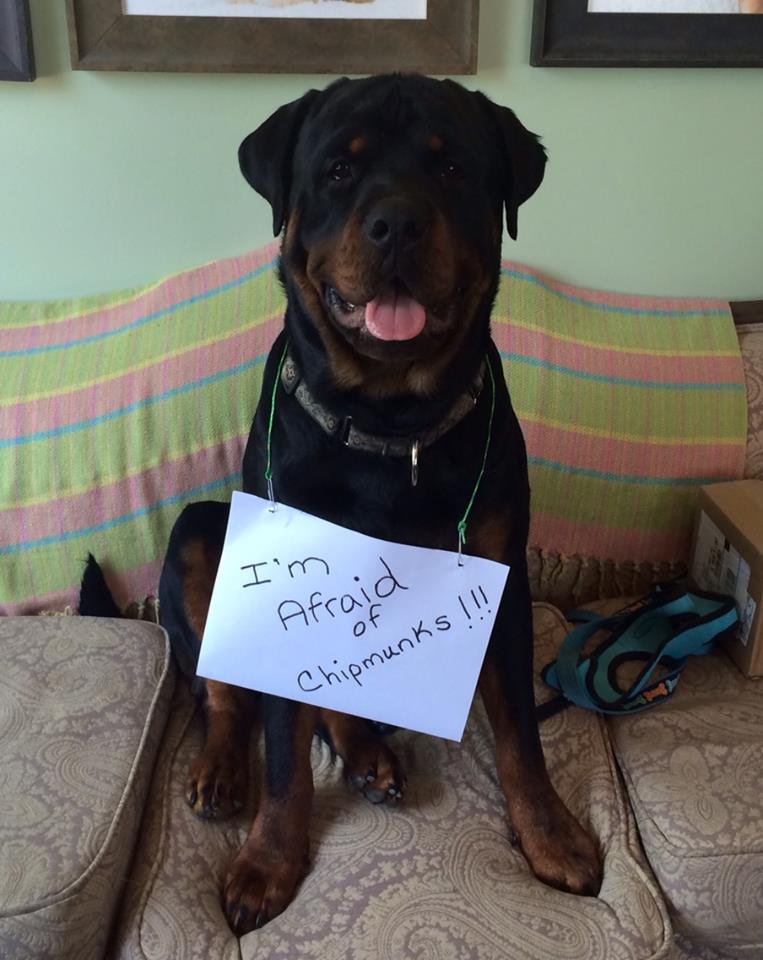 Hey Kiddo,
Just wanted to let you know how much the family LOVES Godrick!!! What a great little guy. Potty training is going well and he knows his name. Chewing EVERYTHING in site but bought LOTS of toys and Bully sticks. He LOVES the Stella and Chewy's raw. My vet says he is GOREGOUS!!! Still have a little more of the dewormer to go. Alice, Russ WAS SUPER IMPRESSED with your set up-BEAUTIFUL. You should be VERY proud of what you have accomplished!!!! We LOVE Godrick!!  Thank you again for letting us be his family!! More updates and pictures to come!! xoxoxo Melissa
---
"Jake" Guardian Ghost Von Gottschalk
Alice,
We are in LOVE with Jake!!!!  What a great little Boy!  He was awesome on his first night and couldn't have picked a better pup.  Thank you so much for all your time and we so appreciate your patience with our decision making.  Jake already has a piece of my heart and he follows me like a shadow.  Just when I thought a dog couldn't get better than our Kelsey (lab), along came Jake.  Thank you SOOOOOO MUCH!!!!
Adam and Rachel
---
"Diesel" Guardian Gatsby Von Gottschalk
I just wanted to give you an update on Gatsby (we call him Diesel, in honor of your boy :)). He weighs in at 14 pounds and is just a complete joy to have. He's such a little love puppy, as he always has to be touching one of us and follows me everywhere. It's become a regular routine–every morning when I make my breakfast, he'll come up and lay down on my feet. He completely adores his big brother, Solomon, and is always pouncing on him and wanting to play. Solomon takes it like a champ 🙂
Everyone who meets him just falls in love with him. In fact, several of my friends who thought that Rottweilers were cruel and vicious have changed their opinions about the breed after meeting Diesel. Several people also have wanted info on where we got him. I, of course, gave them your website link.
Diesel attended his first puppy kindergarten class last Saturday. According to my dad, he was one of the more obedient pups there 🙂 He is so smart and eager to please, taking to his training excellently. He is nearly potty trained–accidents are pretty rare now. We've had a couple incidents of resource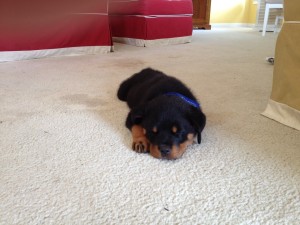 guarding in the first week or two, when he threw a little tantrum once in a while if one of his toys was taken away. Thankfully, they were isolated incidents, and we immediately corrected them as soon as they happened, so he's learning his place in the pack. Overall, he's a fantastic puppy, and we're so excited to watch him grow. Thank you for breeding such an excellent puppy!
Annie

P.S: I'll try to attach some pictures soon 🙂
Hi Alice!
Hope you are all doing well. Just thought I'd give you an update on Diesel (Gatsby). He is 7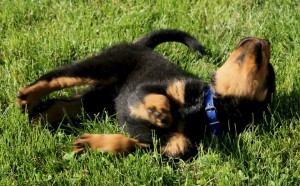 months old and nearing 70 pounds. We could not be more pleased with him. He is so even-tempered and calm, but still has that playful puppy side that everyone falls in love with 🙂 He absolutely loves to play ball and frisbee (that must come from Dunjo!), and is such a little cuddler. He loves to make new friends, but is always very alert when meeting new people that we don't know. He is incredibly observant and notices things well before I do, and has started sitting in front of me whenever he sees something strange or unusual. 
Diesel graduated from both his puppy kindergarten class and novice class at First Friends.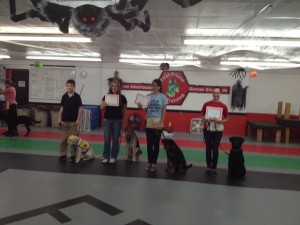 He's such a quick learner, and seems to really enjoy his training.  Tomorrow, we're going to take him and Solomon to a Halloween party there 🙂
After talking to both our vet and our trainer, we've decided to wait until he's 8 months to neuter him. He is just such a wonderful puppy.   I said, we just love him to bits. Here are some pictures of him. 
---
"Dagny" Guardian Gisele Von Gottschalk
Hey Alice,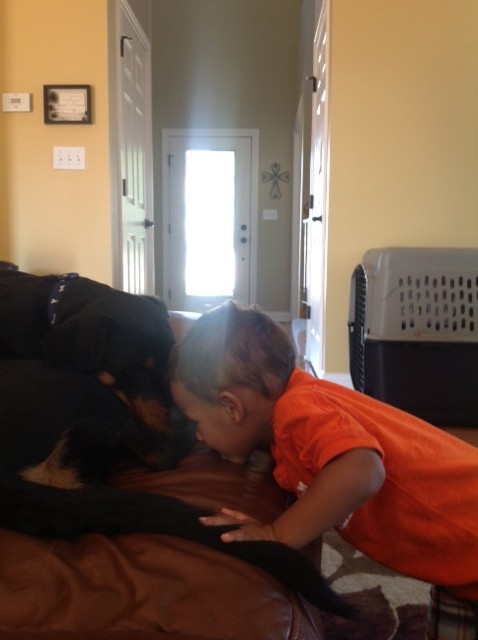 I received the registration papers. Thank you for that.
She is doing great. So smart, easy to train. The way she plays with a ball is amazing for a pup. I throw, she sprints and fetches, and brings it back to my feet.
She's great with the kids even though she is very, VERY high drive. We all love her!!! Exercising her in the winter is gonna be a task.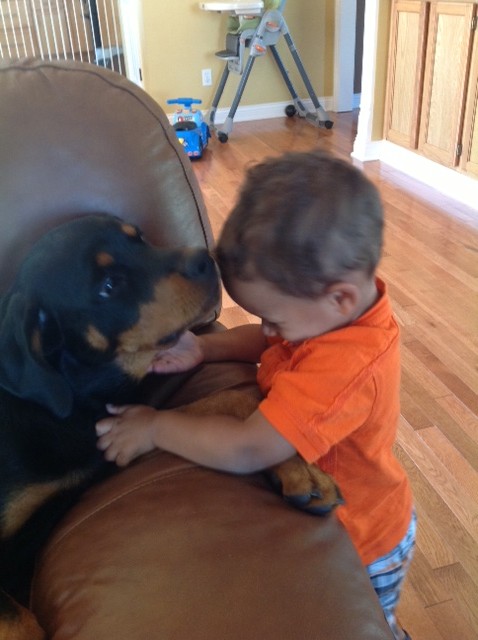 I did check the GR site while you were in Germany. I haven't checked it recently. I'll be sure to do that soon.
Here's a couple pics of my youngest, Grayson, with Dagny….
They are best buddies!
Hope all is well,
Scott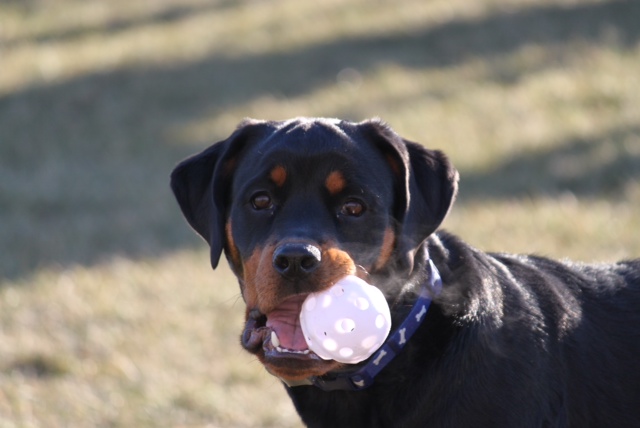 Hey
Alice,
Hope your having a great holiday season and getting ready for a Merry Christmas.
I just wanted to send you some recent photos of Dagny. She's doing great and proving to be a great dog. Her temperament is fantastic. Excellent with our two rowdy boys. Our youngest is two and he treats her like a jungle gym! He climbs all over her and Dagny loves it at best and tolerates it at worst. She is a very patient girl. Still loves to fetch and she's great at it.
Hope you enjoy the pics. Feel free to use them on Facebook if you like!
Take Care,
Scott
---
Guardian Gypsy and Guardian Giovana Von Gottschalk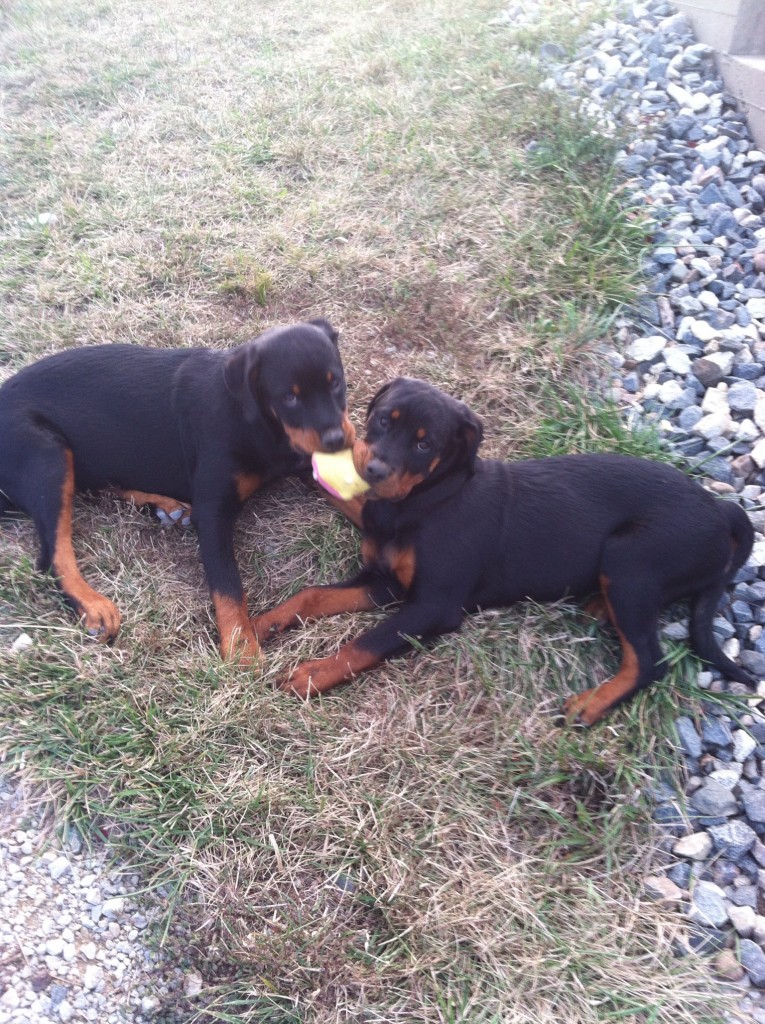 Hello Alice, 
I was so happy for you all when I seen your website.  That's awesome that you had Giovana and Gypsy siblings and mother there. Looks like you all had a great time.  Very pretty there. 
I sent you a picture of our girls I just took today.  They are just the best dogs.  So loving and smart.  They caught on to being house broke really fast.  I already taught them to come, set and lay down.  They follow me everywhere I go.  I still have them on Fromm dog food (which they love). Giovana weighs 40 lbs. and Gypsy's 35.  They have a busy month planned ahead they're going on a camping trip to Alabama, they start obedience classes and it will be time to get them spayed.  We're really working on socializing them.  They have a really nice place in Madison IN down by the river that I take them to walk so they can meet a lot of different people and dogs.  They really liked it. 
I have all the registration info filled out and ready to send in. I have it on my desk I just keep putting it off with everything going on but I will send it out real soon.  Numbers on Giovana's WS44258302 and Gypsy's WS44258301.  That's what numbers I see on the papers to register them if that's the right ones. 
I do have one question to ask you.  Have you noticed their ankles popping or cracking when they walk?  Gypsy's does sometimes so I do have her an appointment to go see her vet.  Thursday.  They do play so hard together sometimes.  So funny to watch them. 
It was so nice to hear from you.  Thank you for thinking about us.  Hope you and your family are doing well. 
Hi Alice, 
I just wanted to update you on Gypsy's visit it the doctor today. It was all good news he said the popping and cracking was just from growing and would go away.  He did X-rays so everything looked good.  She weighed 46 lbs and Giovana weighed 52.  We love them so much just the best natured dogs ever, her vet. (Dr. Sloan) thought so too.  I couldn't remember how much their mom and dad weighed. 
We are hoping to bring them up to see you this winter. 
---
Guardian Gaia Von Gottschalk
We went to our first show last weekend.  Skokie Valley Kennel Club hosted it in Rosemont, IL, suburb of Chicago.  I entered her in puppy sweeps and conformation.  This was the first for both of us and I really just wanted to see how it would go.  As soon as I walked in the sweeps ring the judge, Dale Hafner asked if I knew what the standard was and how did I expect the judges to judge her with a tail? So he looked her over and gave me a few pointers since it was my first time in the ring.  I believe it was by default since we were the only Rott in the ring that we had a first prize, we were called back a half hour later for a best in sweepstakes, again I'm not sure how they judged that.  Onto conformation with Dr Anthony d Dinardo, 2nd place out of 2 and last in line for best of breed.  Gaia is a little leaner than the other Rott in her age.  Even the adults seemed big, and not in a muscular way.  I spoke to the judge assisting him, she said she was a beautiful dog  with nice feet and asked about the breeder and said "This is America".  She also mentioned that the standard could eventually change, and directed me to a UKC judge that was working the superintendents table.  So after talking to him I might register her with UKC, but the shows aren't as plentiful.   There's an international show in Chicago around February, I might see if the judging varies at all for it, how can AKC have an international show and expect the dogs to be cropped?  After seeing all the dogs many overweight, and the general attitudes of the people there, I'm not really all that impressed with AKC, and figure they just want your money regardless of the dog.
On a positive note, she's on track to be a certified therapy dog with TDI, by late spring early summer.  She has such a great temperament.  And people seem to really like her.
Rachel
Thanks for the quick reply.  I did get a chance to watch the short clips and Ruby looks like a very good dog.  After talking to my husband and reassessing the work we still need to do with Gaia, I think we'll wait to get another dog.  Once she's a bit older and we're finished with the TDI training, then we'll probably be ready for the work needed in bringing a new addition into the family.  It would probably be unfair to Gaia at this time to not have our full undevided attention.  She really has been a wonderul addition and I'm doing everything I can to spread the word that a well bread Rottie is a great dog.  Whoever does end up with Ruby will be very fortunate to have a Guardian Rott. 
I included a few recent pictures of Gaia, she loves playing and exploring everything.  We had a gutter come down this morning, thankfully she wasn't outside, but she's going to town on the huge ice blocks that fell out of it. 
---
"Athena" Guardian Godiva Von Gottschalk

Dear Alice,
    Hope you and your family are well?  It is with heavy hearts and tears in our eyes that we are writing to you.  🙁 Athena AKA Godiva Von Gottschalk will be 10 years old on 12-5-20!  Oh what a life we have had with her.  We can say with all certainty Athena is the BEST DOG or as we know her 4 legged daughter we have ever had. As Ashley my wife says " I remember when I first saw her pic on line, I just knew she was the meant for our family."  Athena is the best Guardian for us. From the moment we brought her home, she has been and forever will be part of our family.  About 6 months ago she was having issues with her back leg.  After a visit to the vet we found out she had developed arthritis in her back knees, with meds and some weight loss we had it under control.  Then 3 weeks ago her back leg started to swell, another visit to the vet, more tests, more meds.  The test came back inconclusive and we would have to wait.  This week we took her back and more tests. 🙁  Unfortunately the worst news we could have received, cancer…  We have been working trying to figure out when it would be time to let her go.  With the new meds its to help make her comfortable and help slow down the cancer.  Athena has had lots of adventures!  She has been to FL 3 times hoping for a forth in January.  She's been camping at Indiana beach twice, even to Nashville TN!  Least of all she has "helped" move 2 times mostly watching and taking things out of packed up boxes LOL, and need we say the 9 trips to the Christmas tree farm to see her adoring fans and of course Santa because he needed to know what to bring for Christmas!  We are sure like most Babies she is the best to take naps with and snuggle, and as of late we try hard not to show our pain but she soaks up tears and gives back kisses.  All my wife has to say is I am going to take a nap and she runs to the bed.  She Loves her 2 legged sister Payton who she's grown up with, sadly she's taken the news harder than even us.  She loves to play tug of war and Athena would always protect her sister, even from mom and dad,(playing of course) 🙂 Even with everyone Athena loves, she gets so excited when mama and papa come to the house.   Last Christmas we got a new addition in the form of a little black mischief monster named Salem for our daughter Payton.  We were not sure how Athena would act she has never shown aggression towards other cats or dogs ever.  When we brought Salem home she did not disappoint and welcomed him in to her home just very curious. They have gotten close and almost every morning they give morning kisses to each other.  We are probably asking a lot from our prayers asking for one more Christmas.  If these new meds help we can get that and just a little more time with her.  If the meds don't help we may need to make the the decision sooner.  I could just keep going on about how great Athena is and how it will not be the same without her.  We are planning to get another puppy from you of course, this coming year.  That will have to be something we will have to talk about and see when we are ready as I'm sure you understand why.  We really just wanted to tell you Thank You from the bottom of our hearts for the best fur baby ever!  When the time comes to say fare well never good bye and she will cross the rainbow bridge to wait for us we will let you know. She will have friends and family forever with her.
Love,
(Visited 18 times, 1 visits today)