Zarabi has been one of my favorite girls to work with and train, however, she has more than earned a glorious retirement!
Candidate for International Champion
Guardian Zarabi Von Gottschalk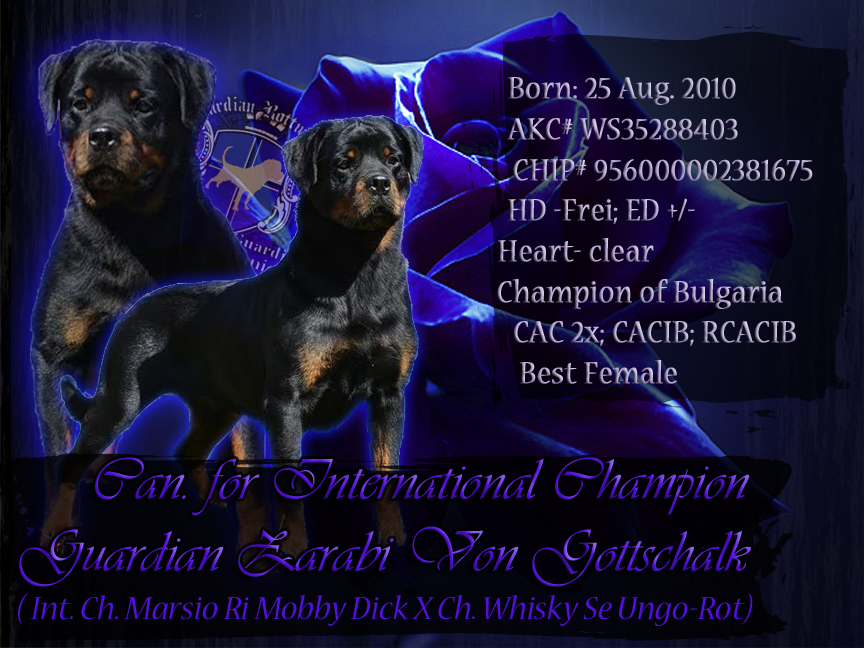 I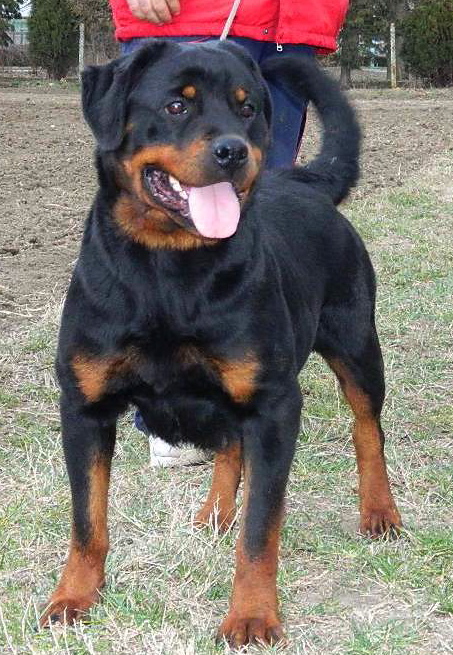 Sire: Marsio Ri Mobby Dick
Born: 25 Aug. 2010
AKC# 

WS35288403
Zarabi is the daughter of International Champion Marsio Ri Mobby Dick- an incredible, balanced male known world-wide for the quality of his offspring.  Her mother is our beautiful, endearing Champion Whisky Se Ungo-Rot.  Whisky has an incredible pedigree and such an intelligent, affectionate character.  Our Zarabi has gotten the best of both worlds!  Great confirmation- black mouth pigment, very dark eyes, rich mahogany markings, very good bone and a strong head piece.  Zarabi grew up here at Rottieopolis playing with pot belly pigs, chickens, bunnies and of course the kids before she was sent to Europe to be professionally trained and compete internationally.  Sending off a lovely youth full of personality and then bringing home such a gorgeous, professional adult is so rewarding.  I cannot thank our dear friend Uros enough!  Having Zarabi's infectiously bubbly personality back here at Rottieopolis again is so great!  Now the only thing missing is her partner in crime, Eva!  Eva has not finished her training and showing yet, but we hope to have her back this summer!  What a feeling of pride in my Zarabi for doing so exceptionally in Europe and for growing up into such an incredible ambassador for this wonderful breed.
(Visited 25 times, 1 visits today)