Guardian Rottweilers Y LITTER
Sire:  Ecco Se Ungo-Rot
Dam:  Guardian Eva Von Gottschalk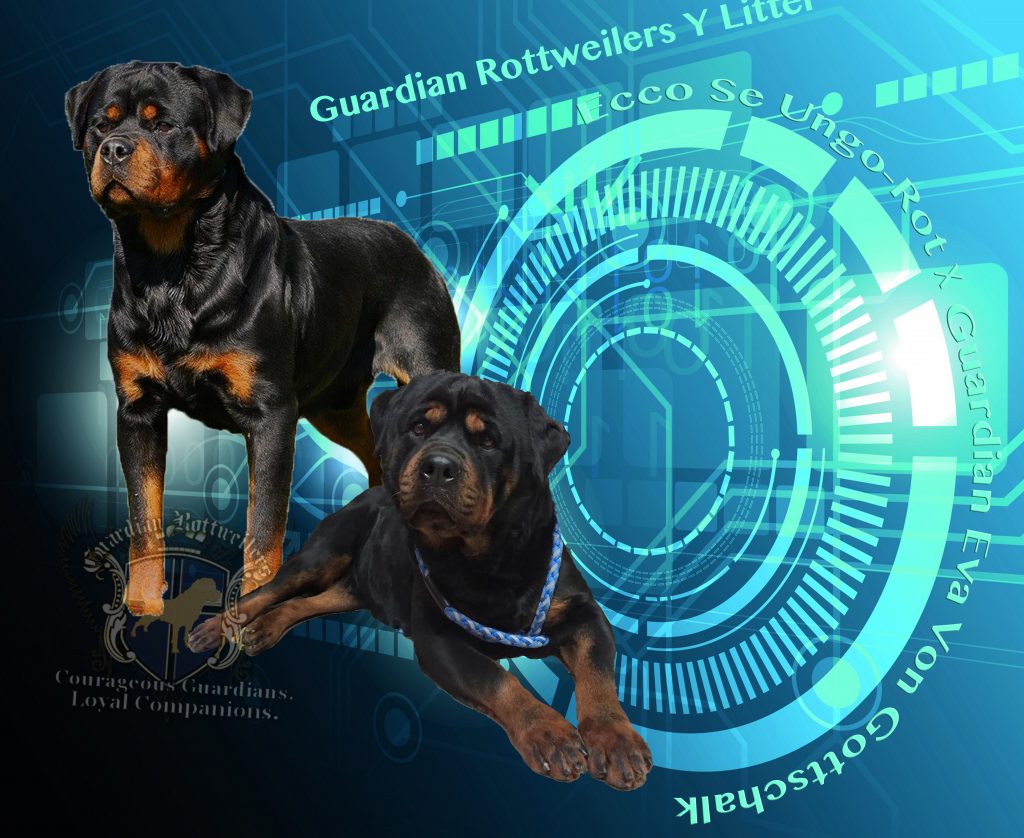 Guardian Eva Von Gottschalk has proven to be one of our best producers.  Her breedings with my favorite Arlos son, Bull Se Ungo-Rot, has given me some absolutely exceptional pups, so with an Arlos and Cochise grandson, I am expecting these pups to rock my world!!  Ecco is know for the typey pups he produces, always giving substantial bone and substance along with that Ecco character- clever and biddable and ever so sweet.  Eva is a registered Service Dog with a bombproof temperament and one of our most powerfully built girls.  So very excited to meet these babies!
Eva's Gorgeous Girl


Yamara


Eva's Beautiful Boys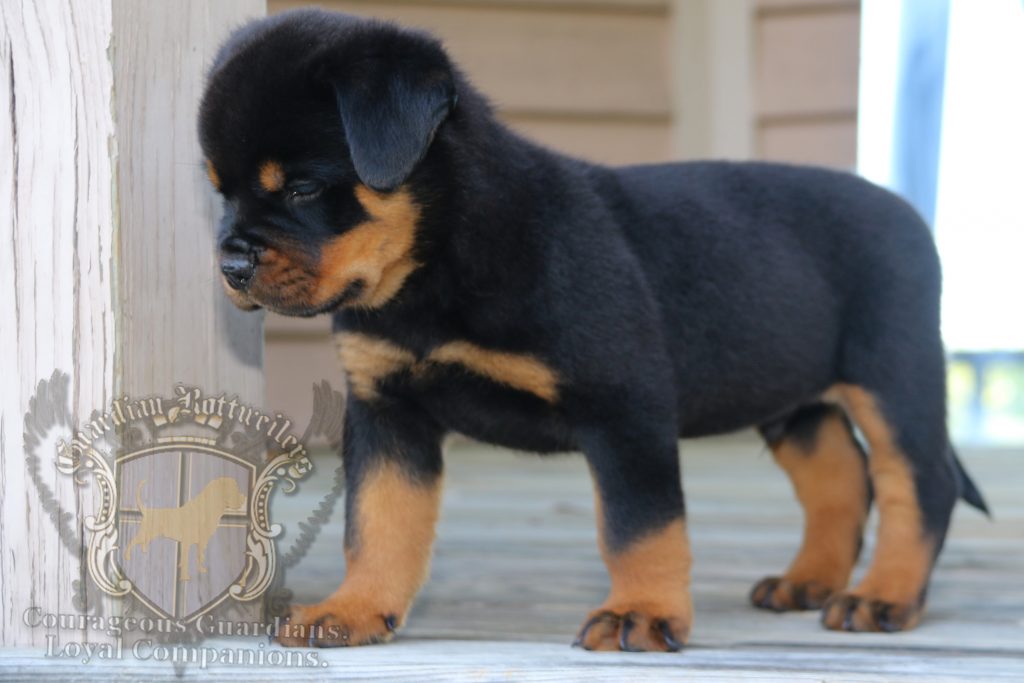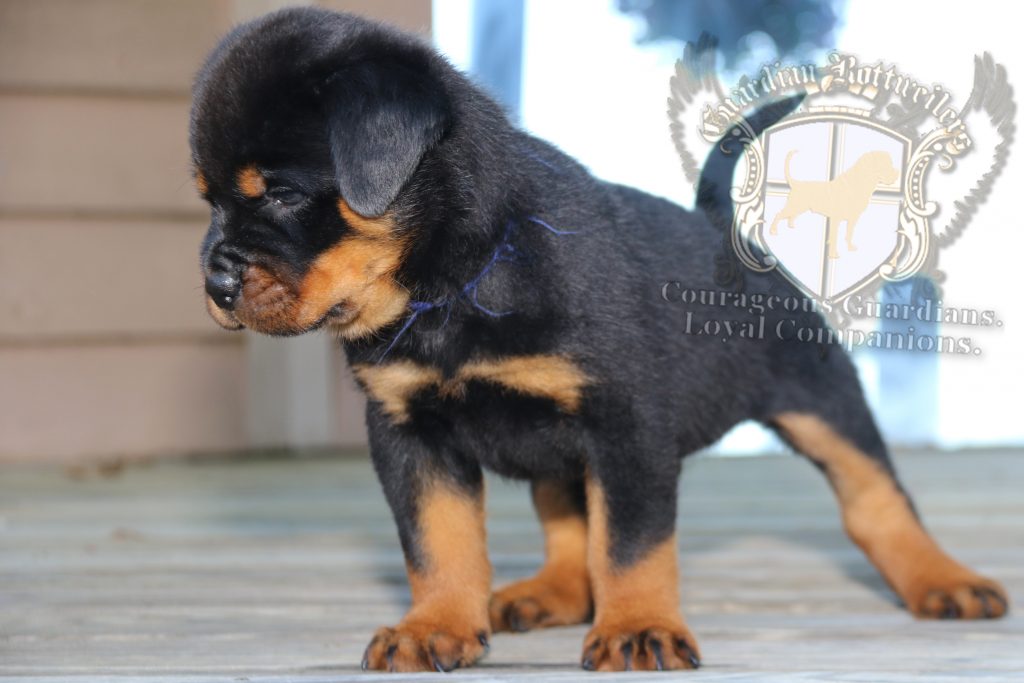 Yogi                                 Yasper



Eva babies 4 weeks old <3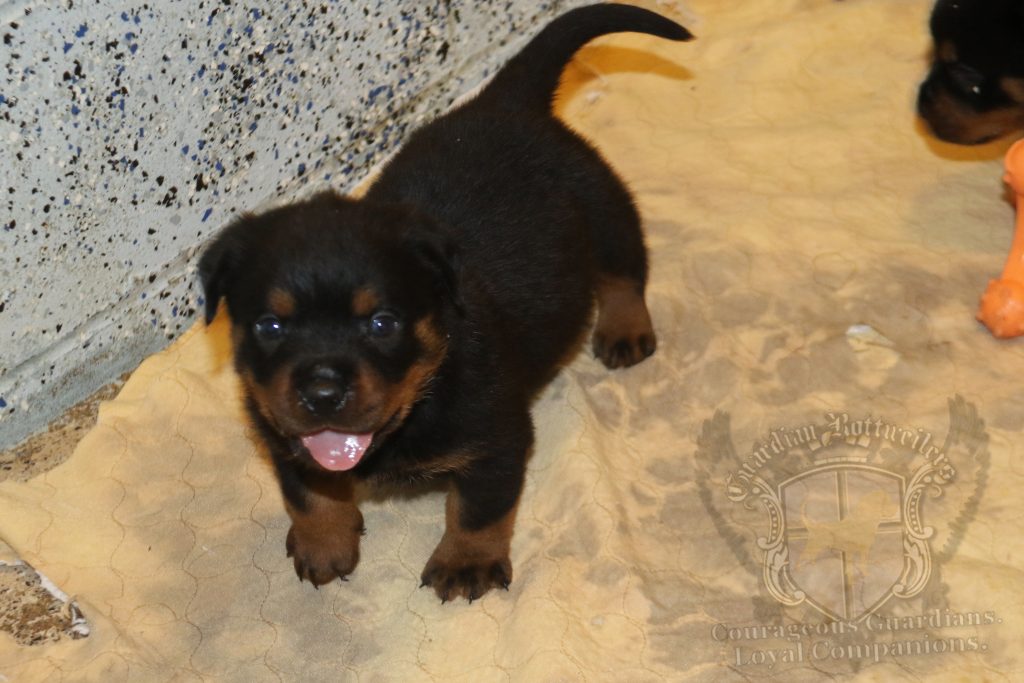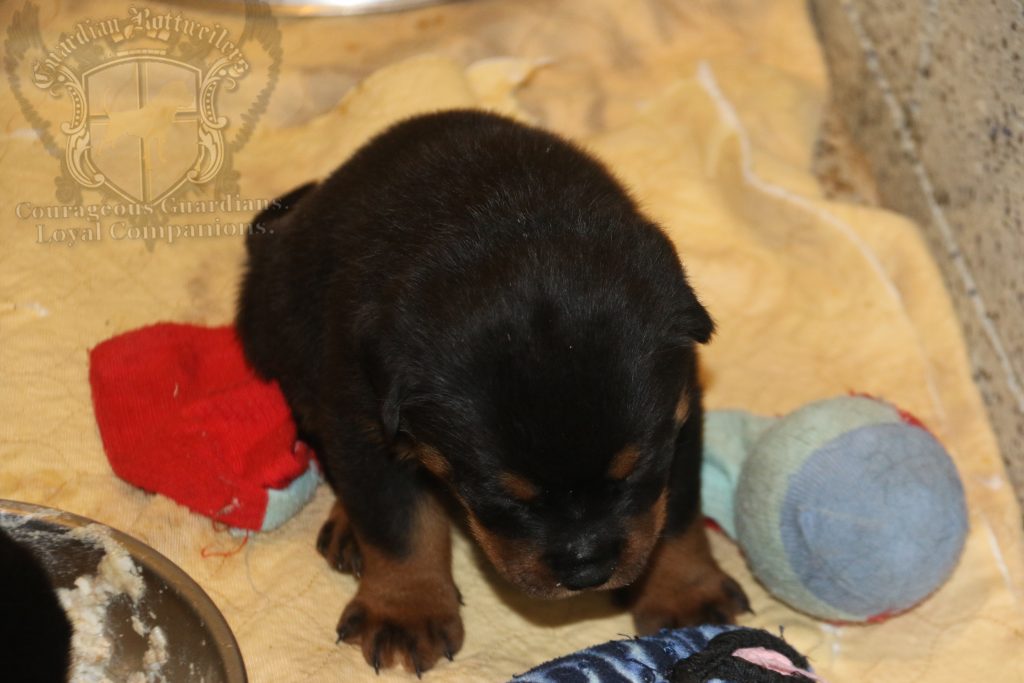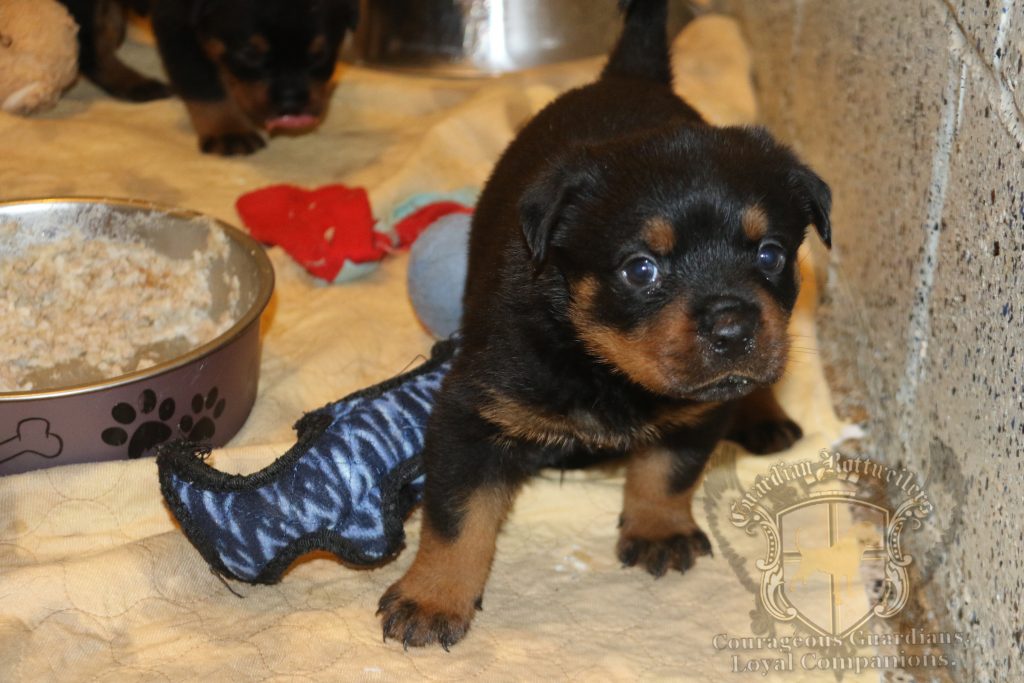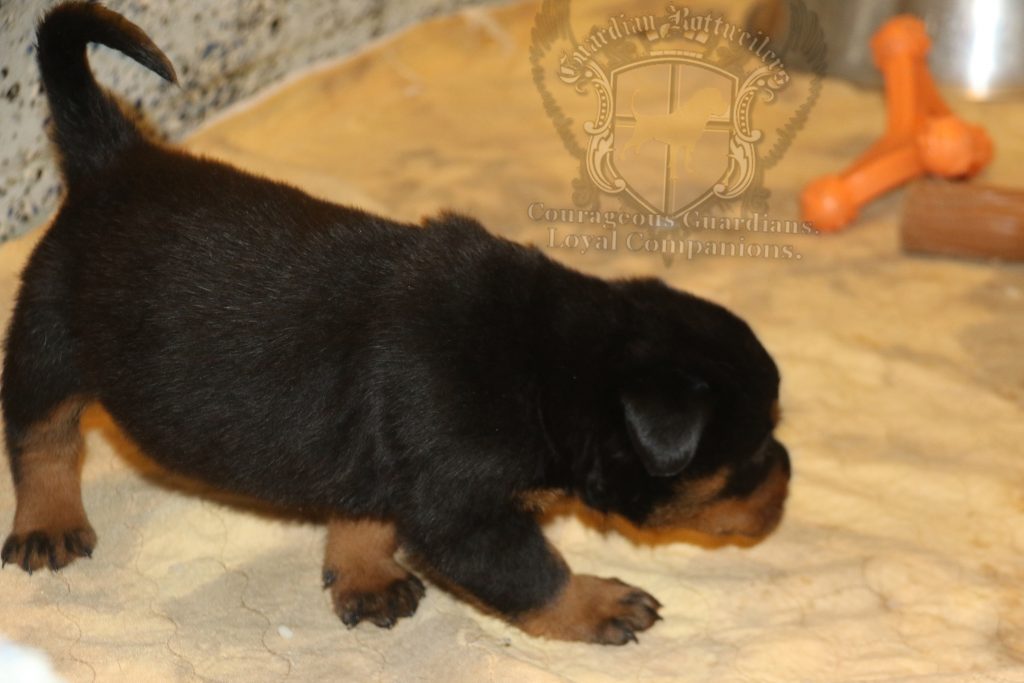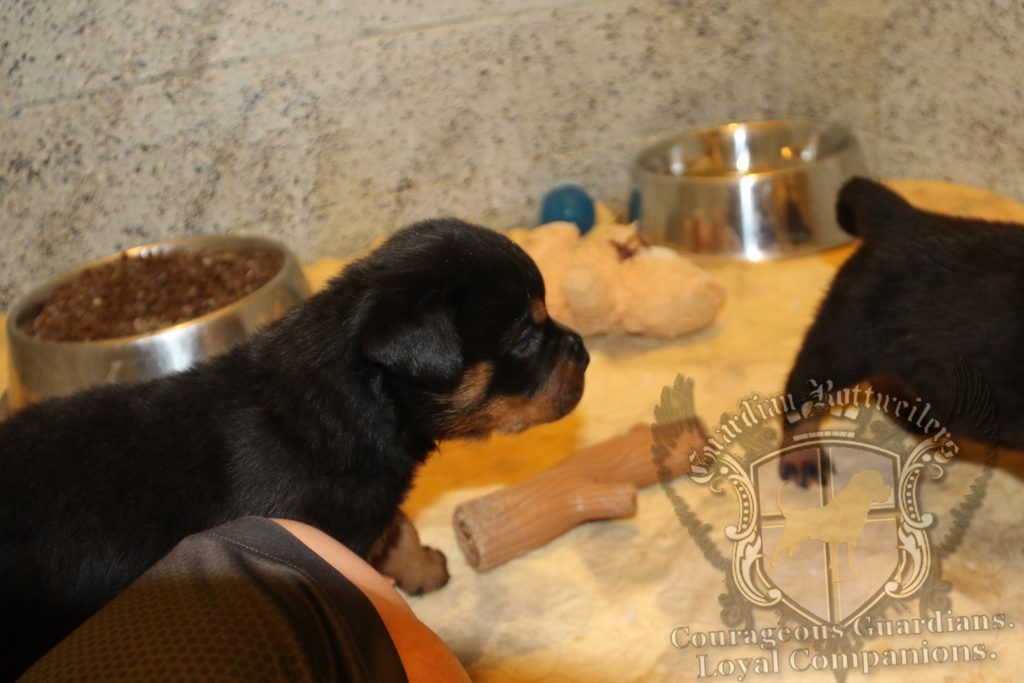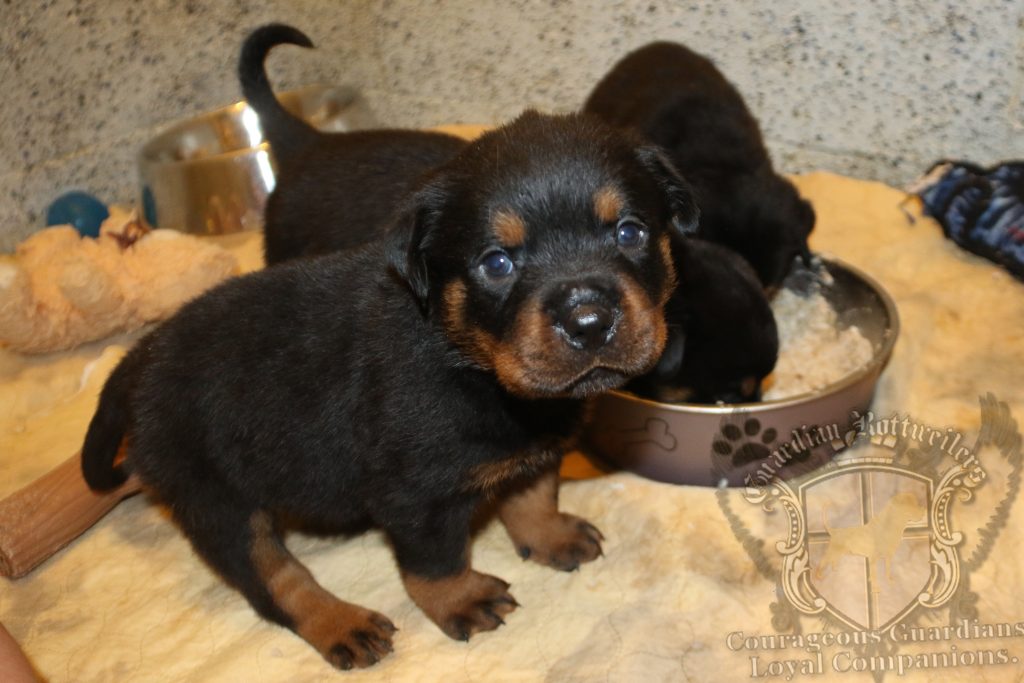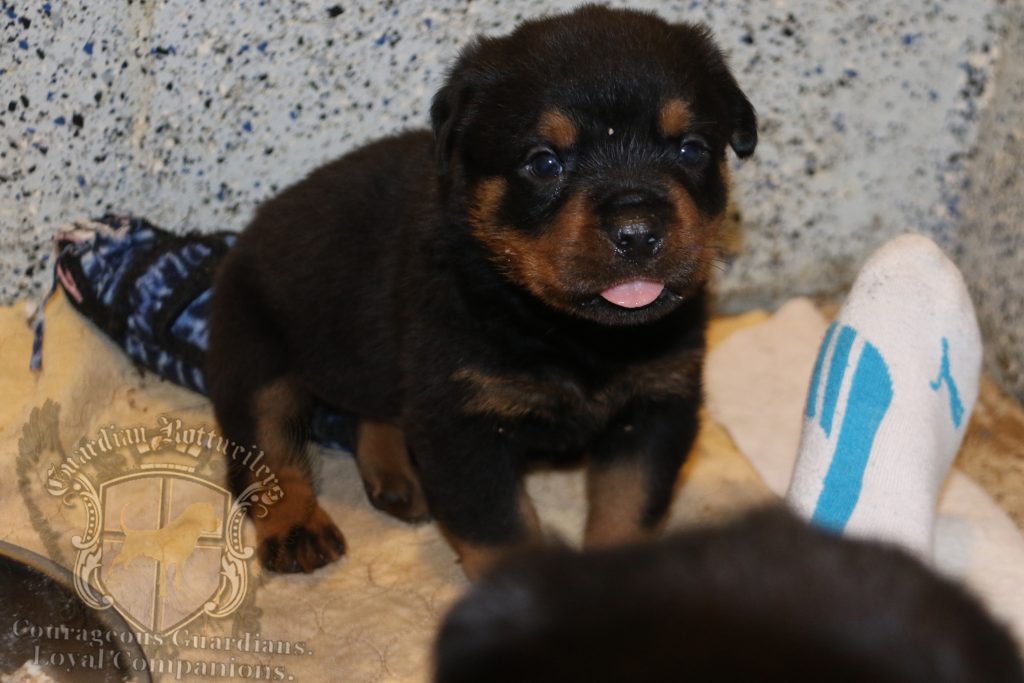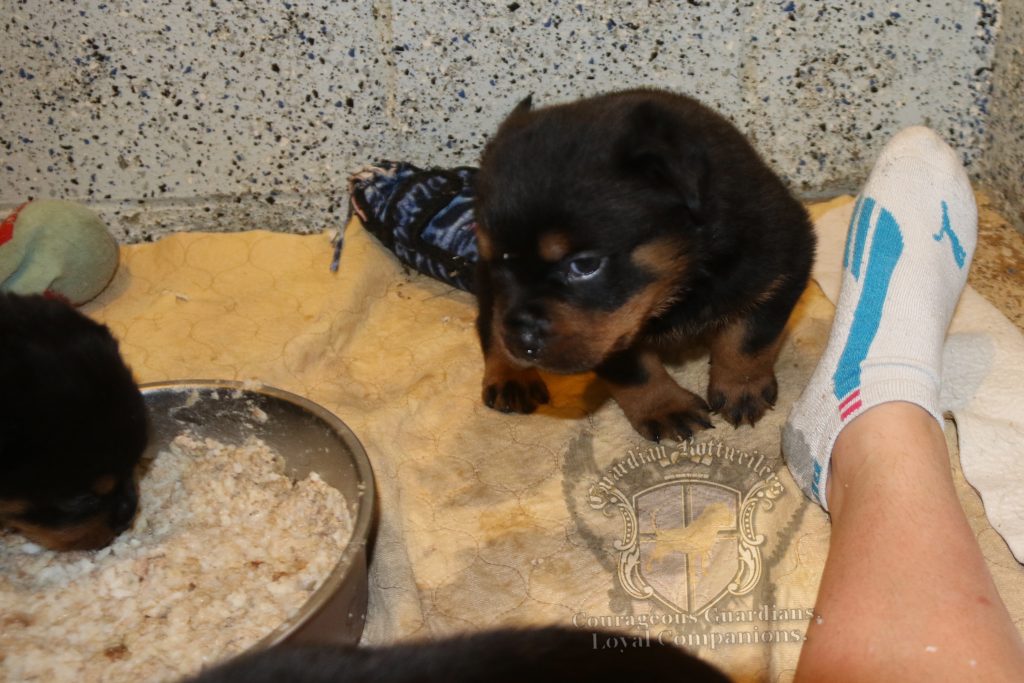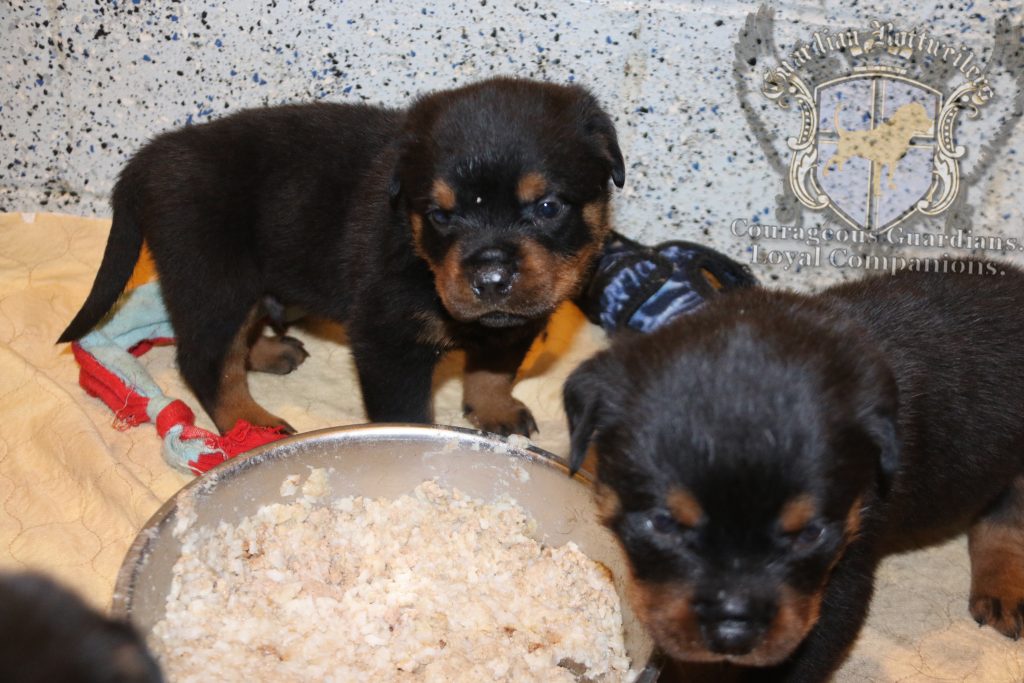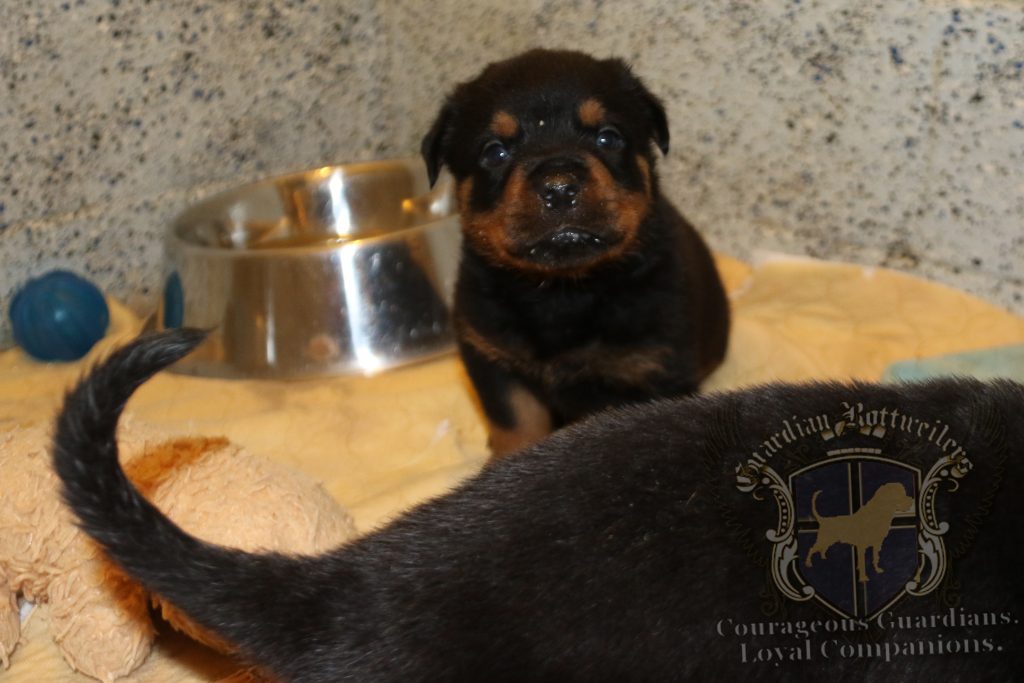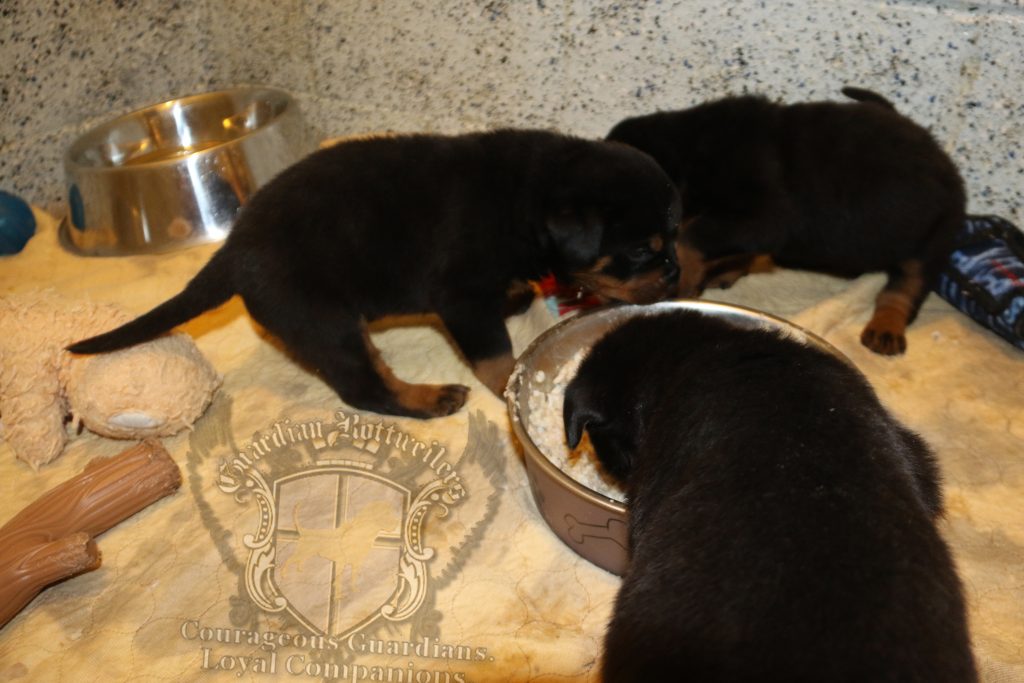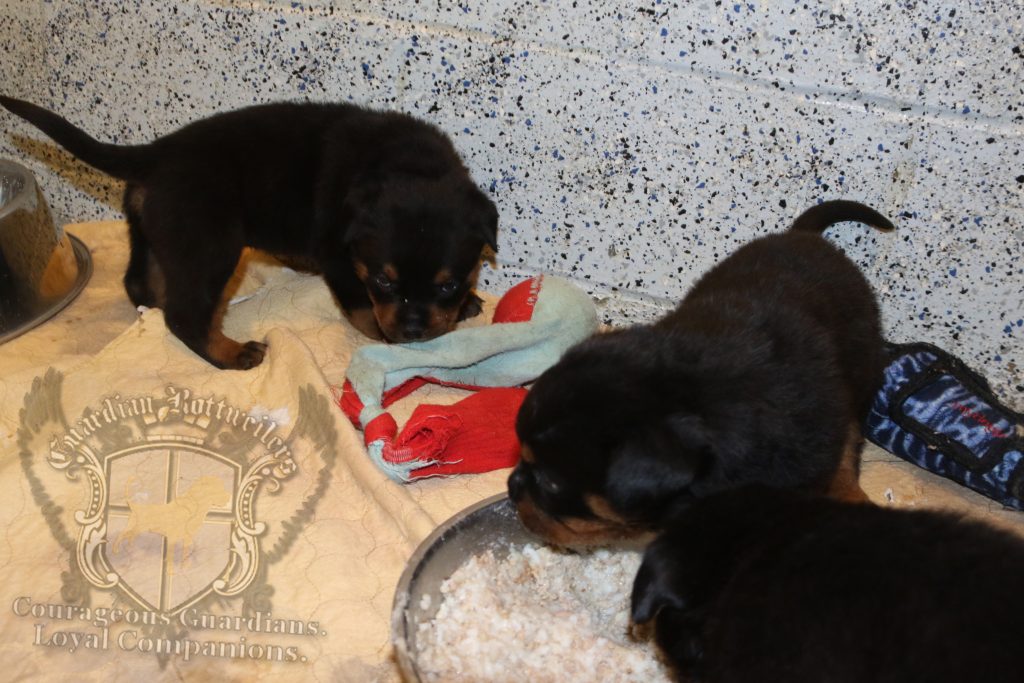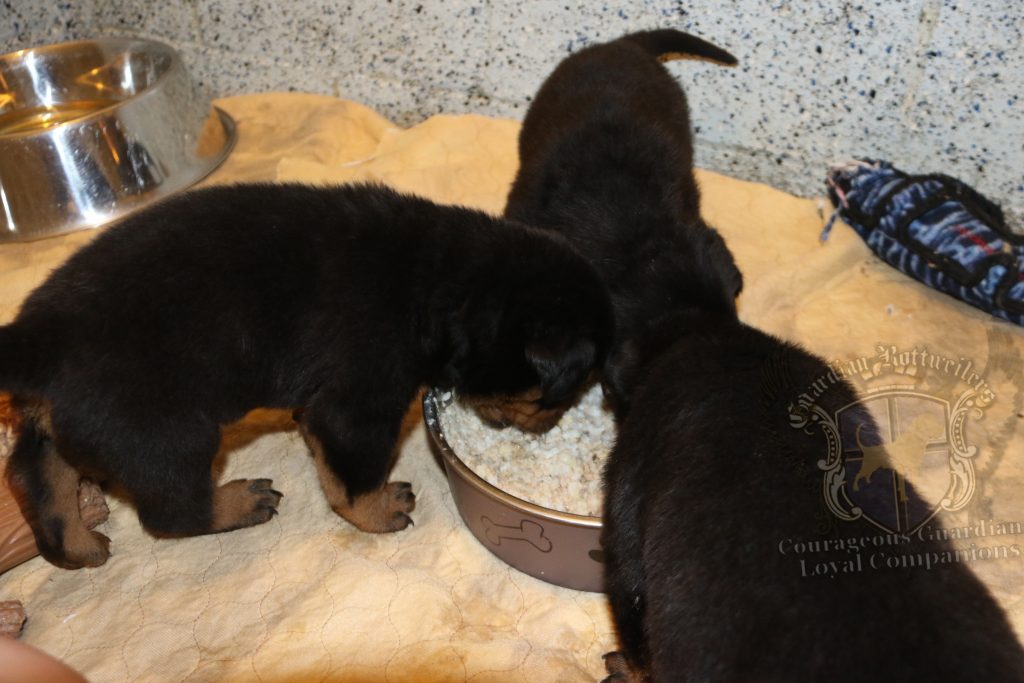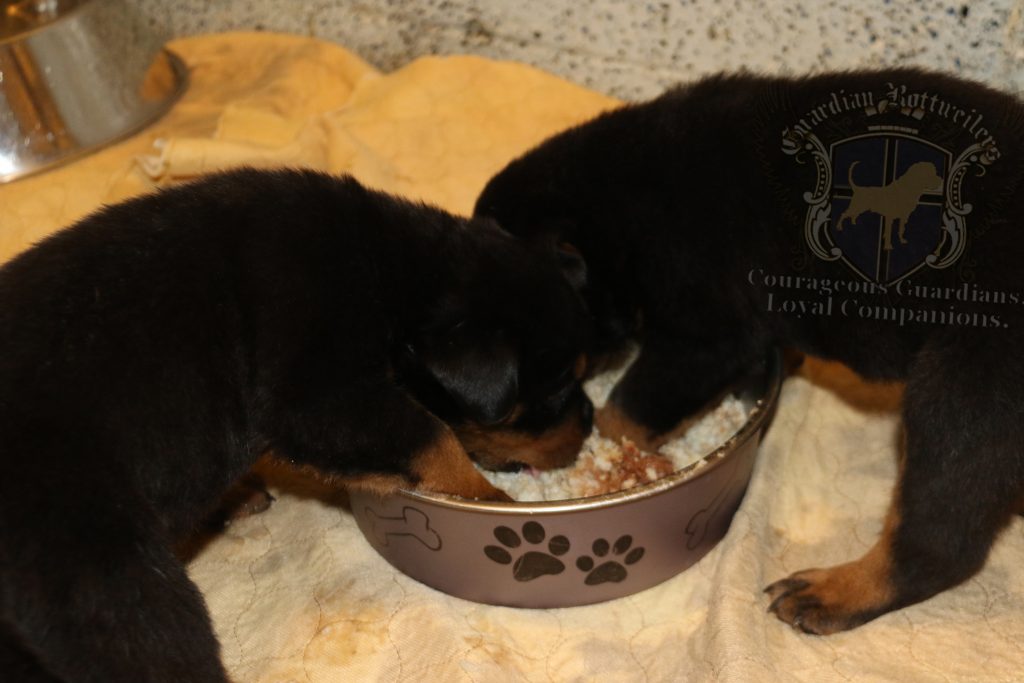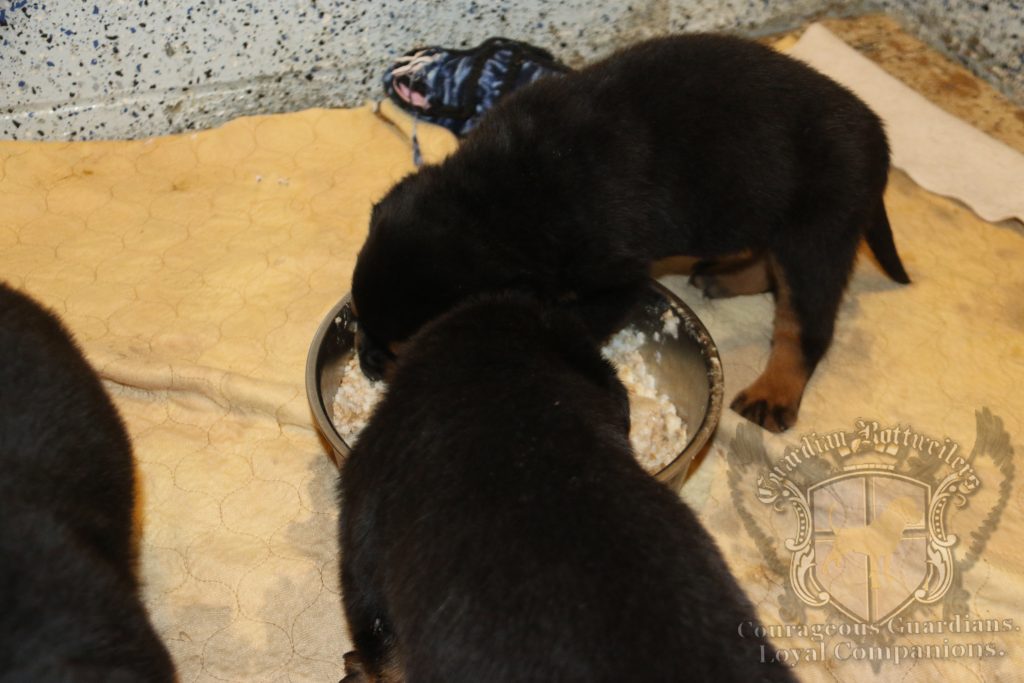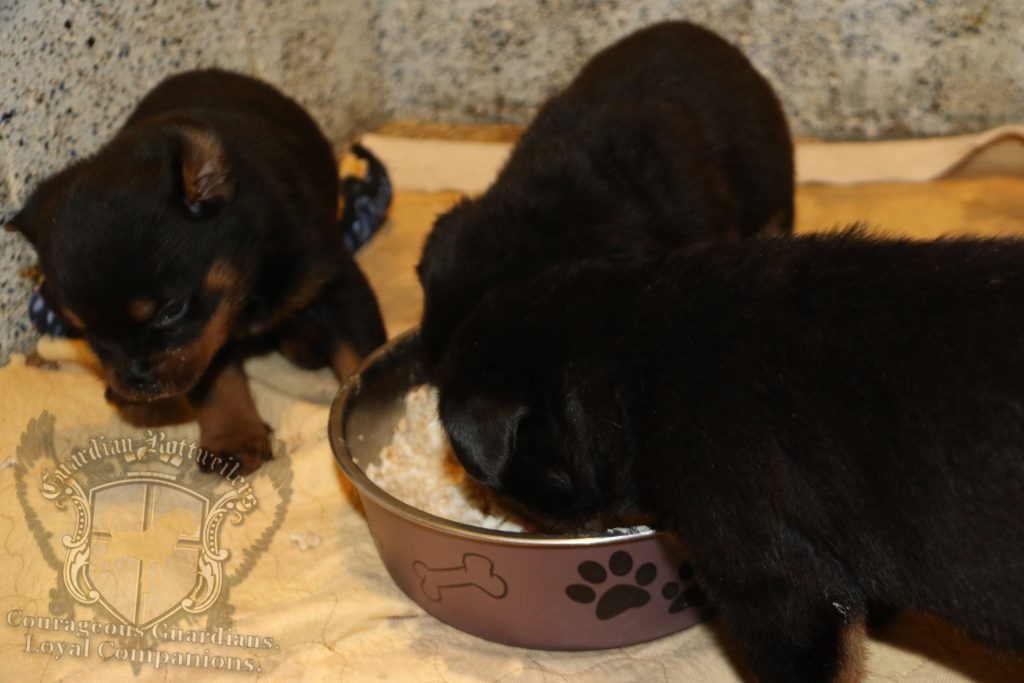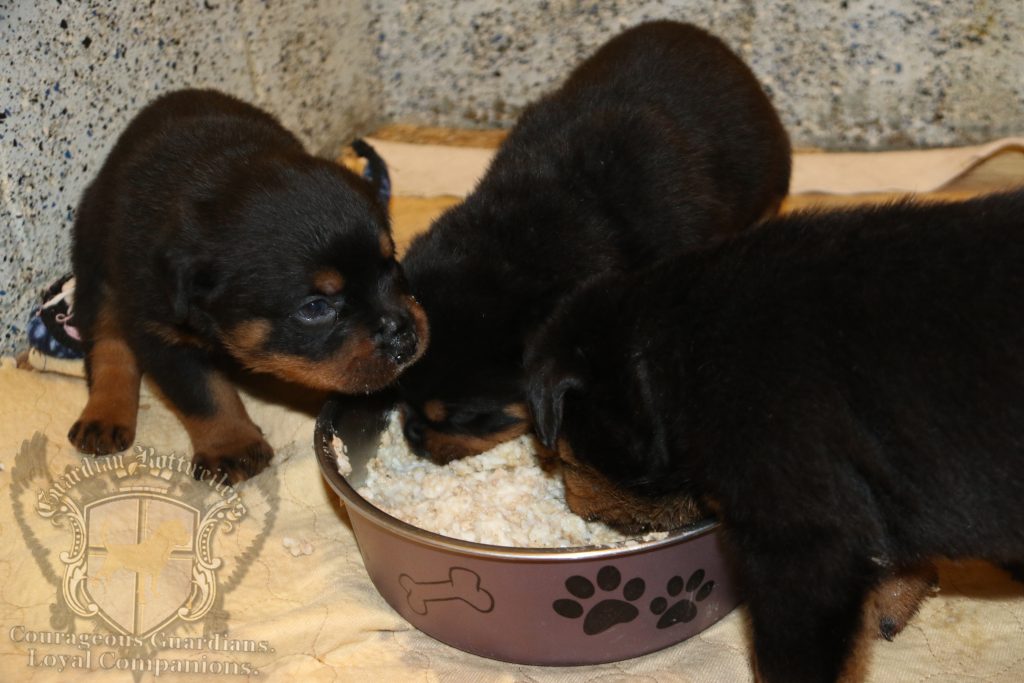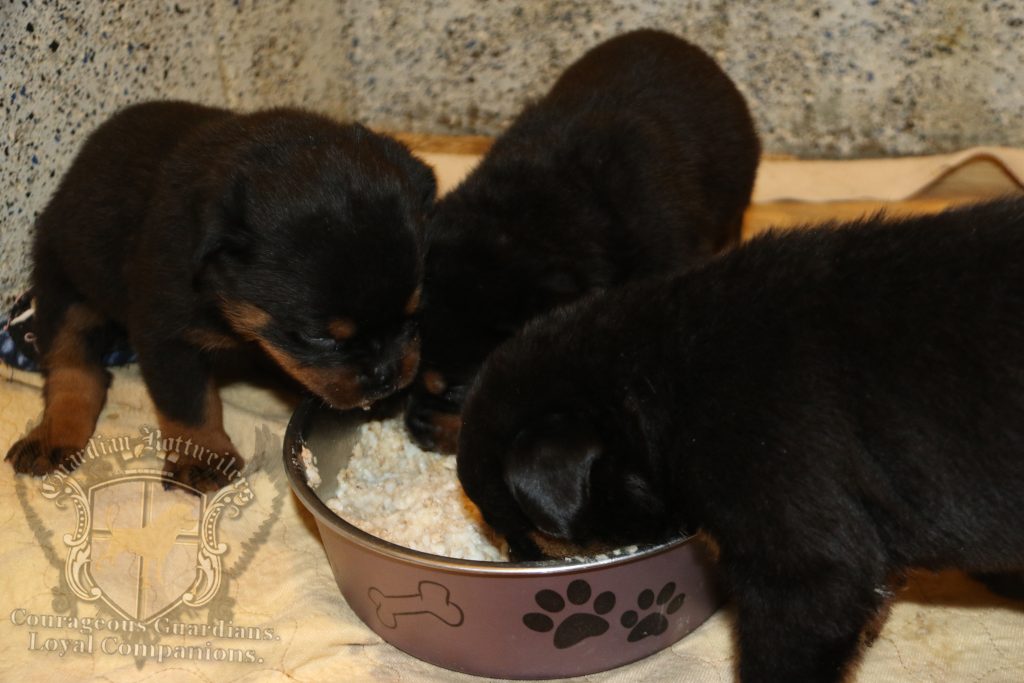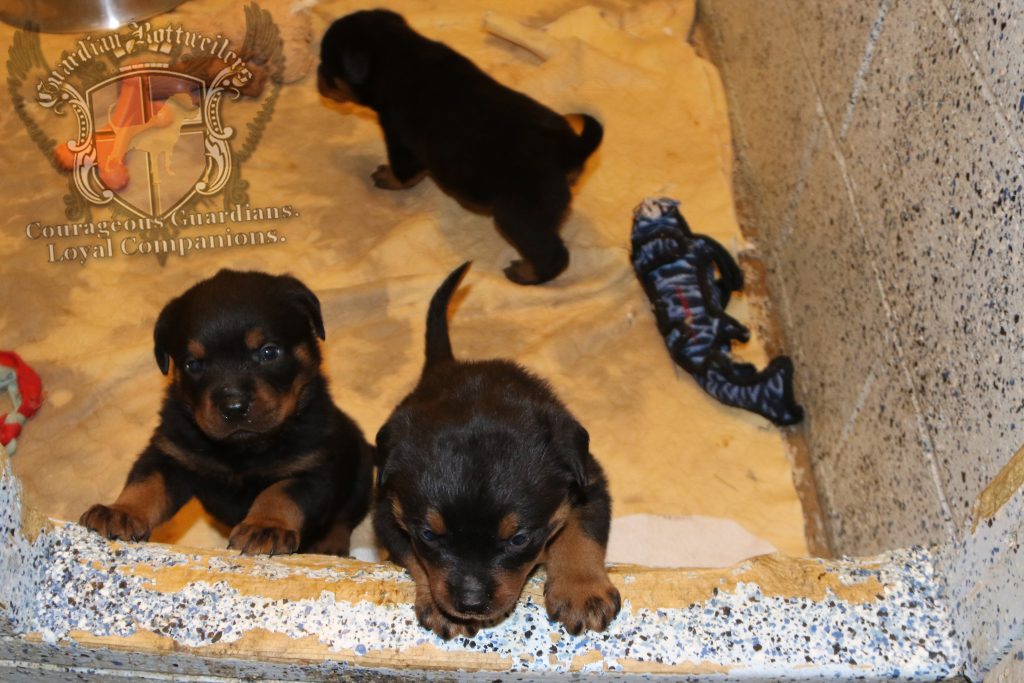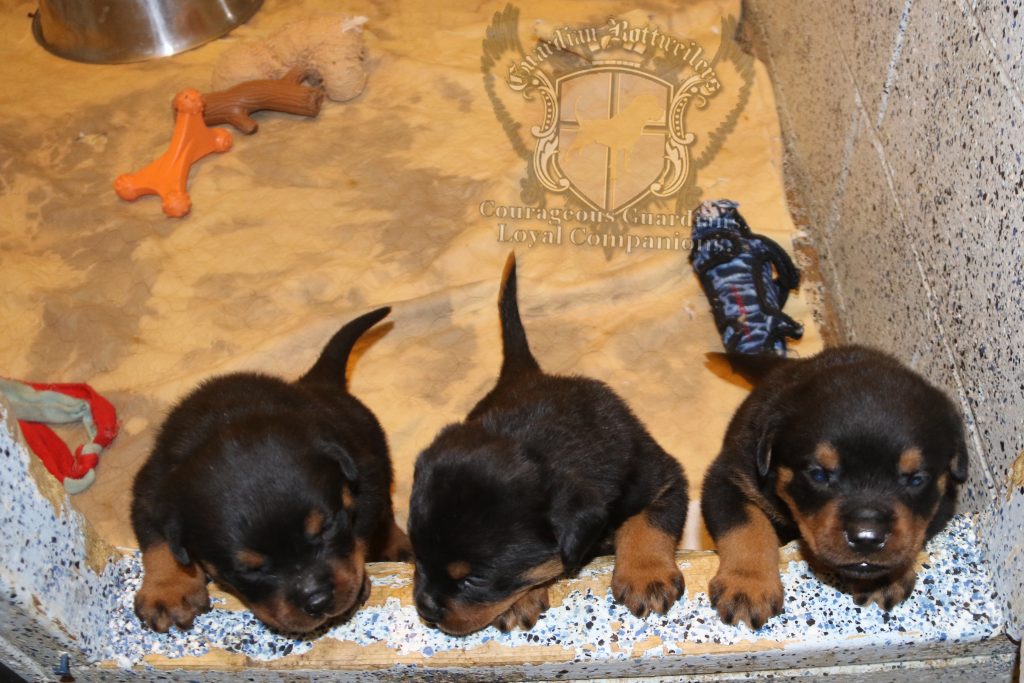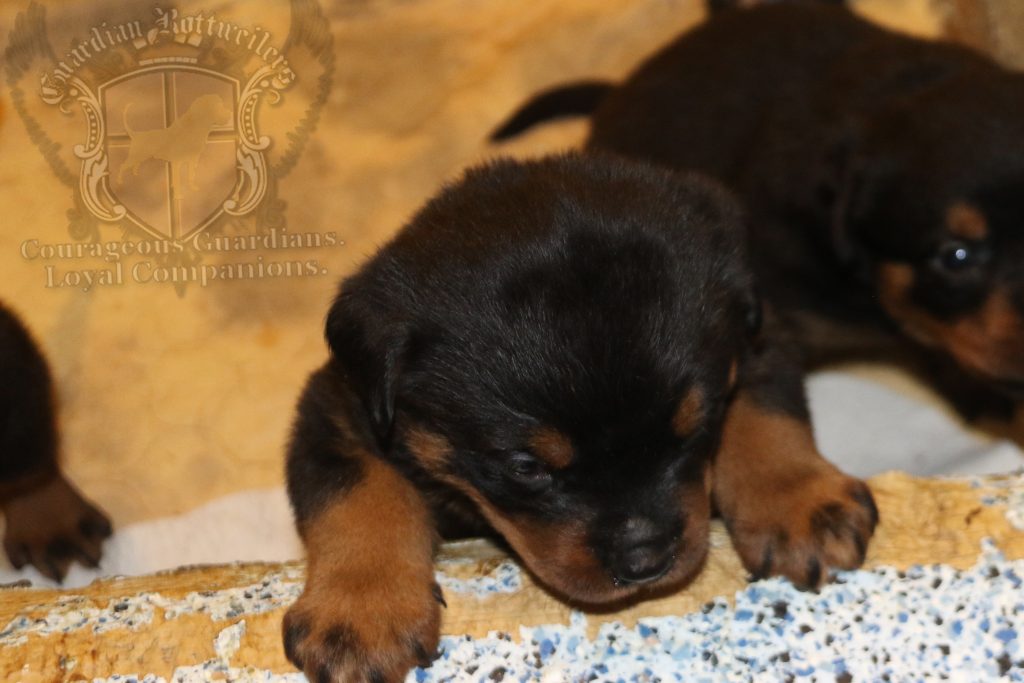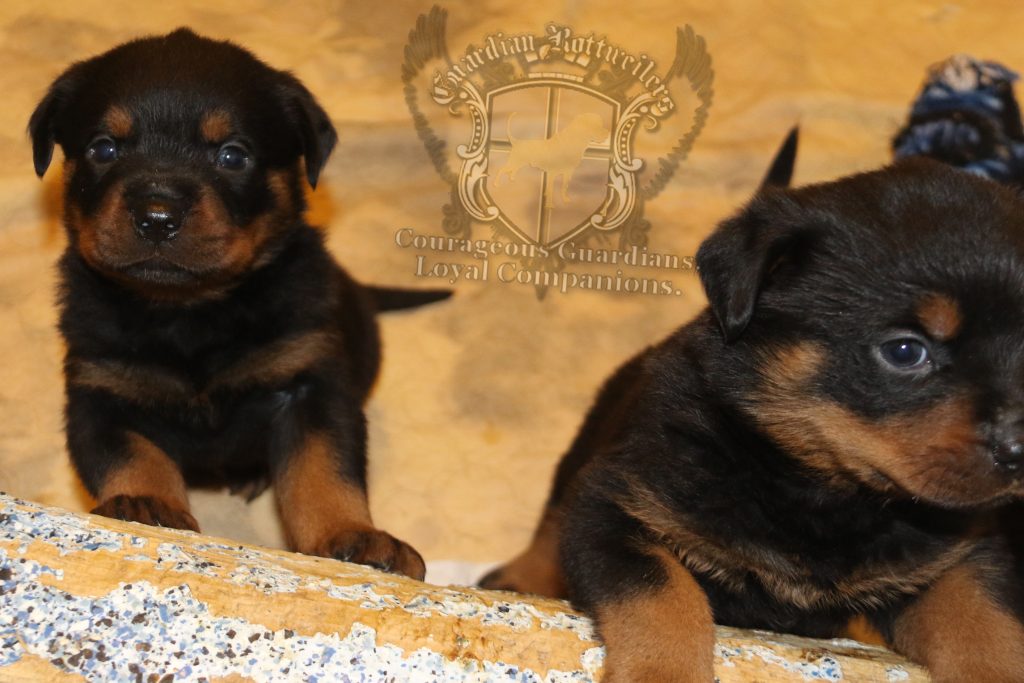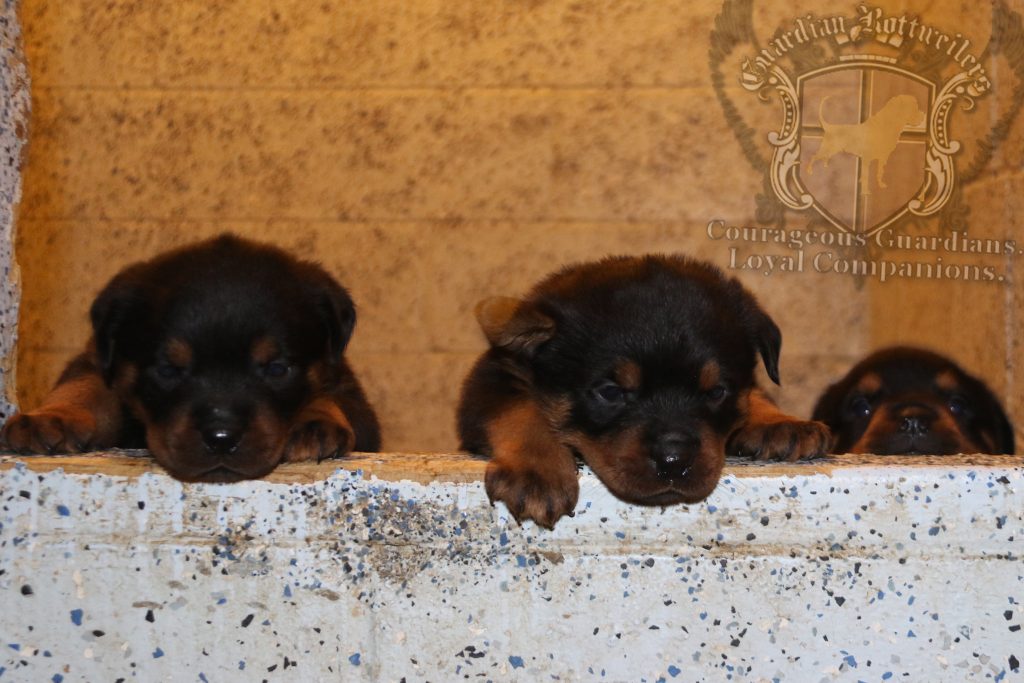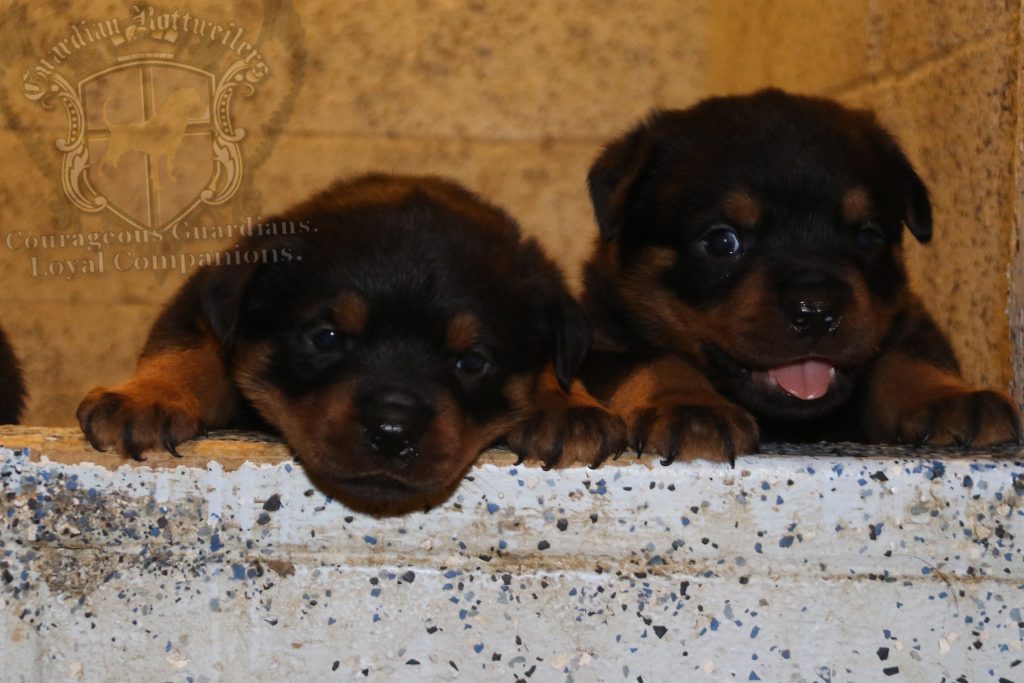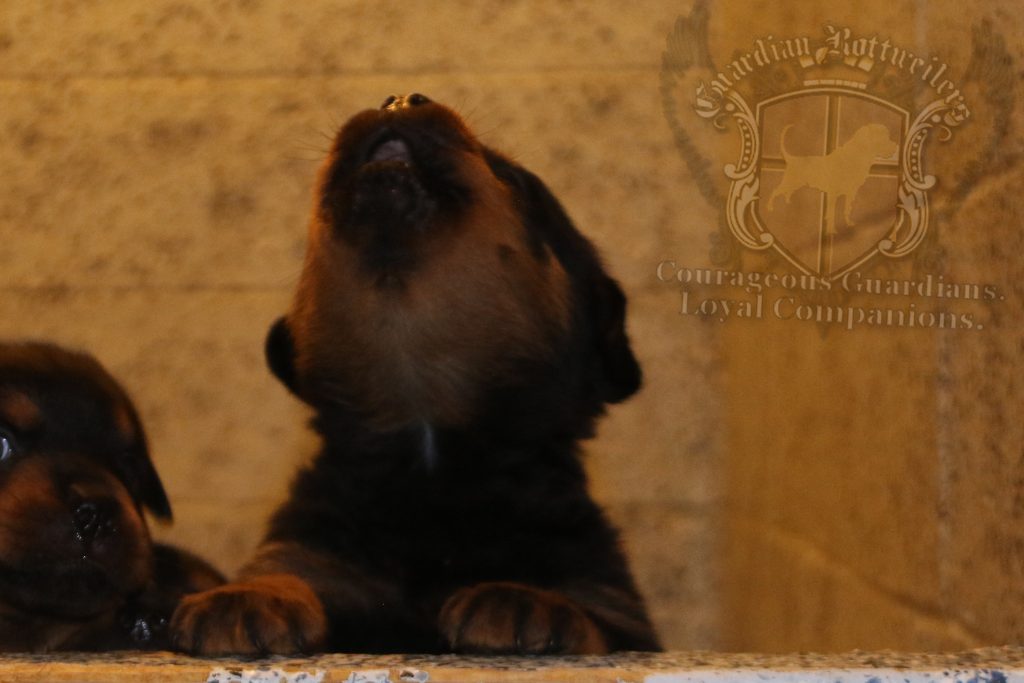 Eva babies with Aunt Geneva <3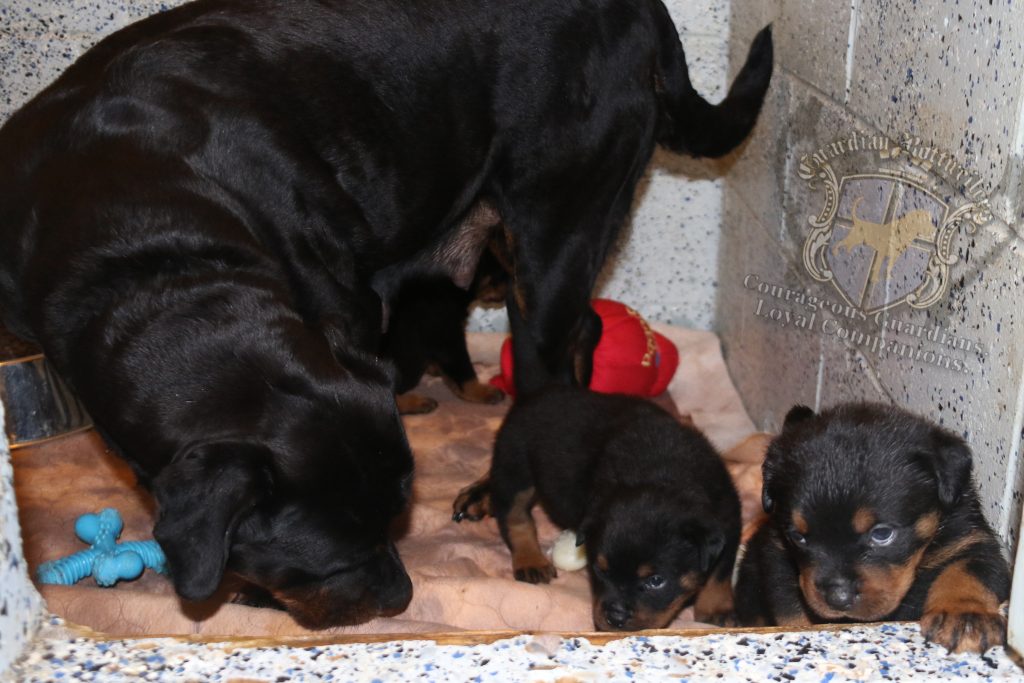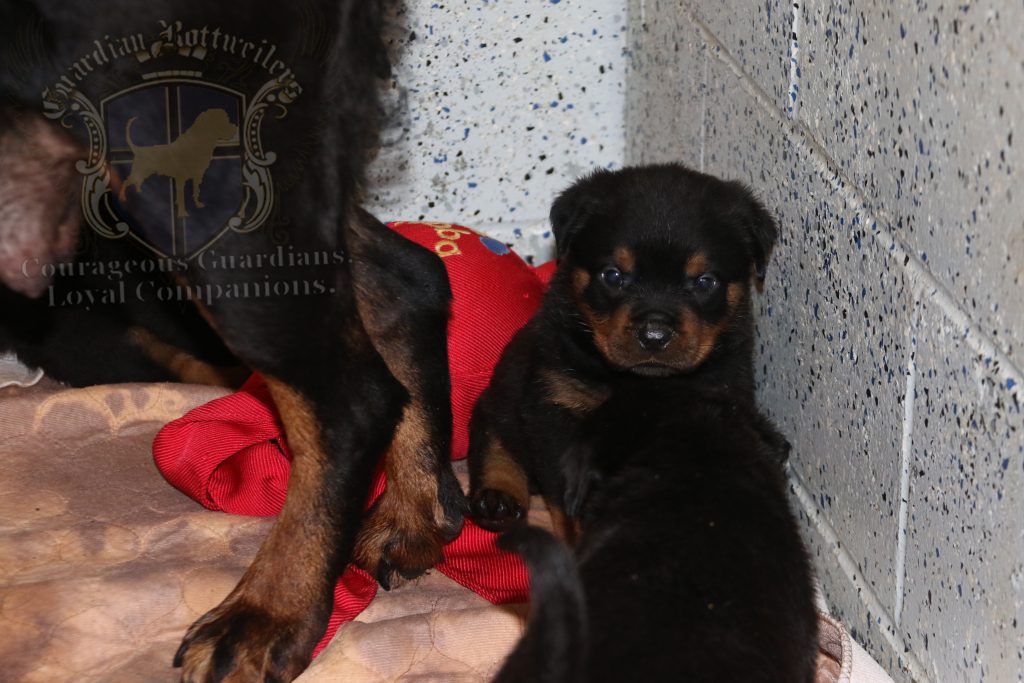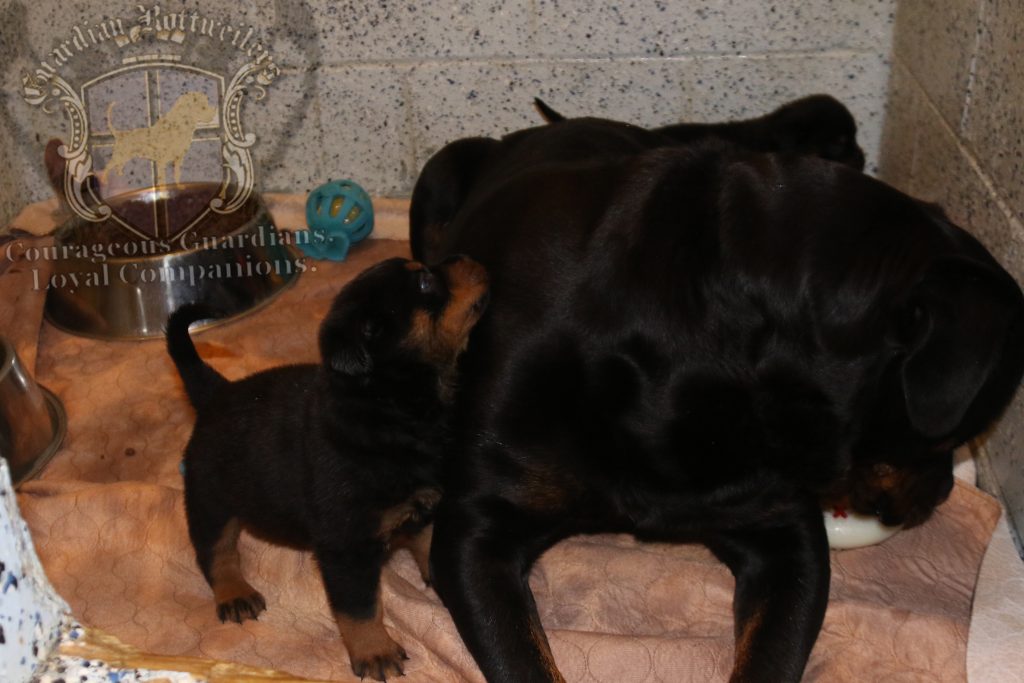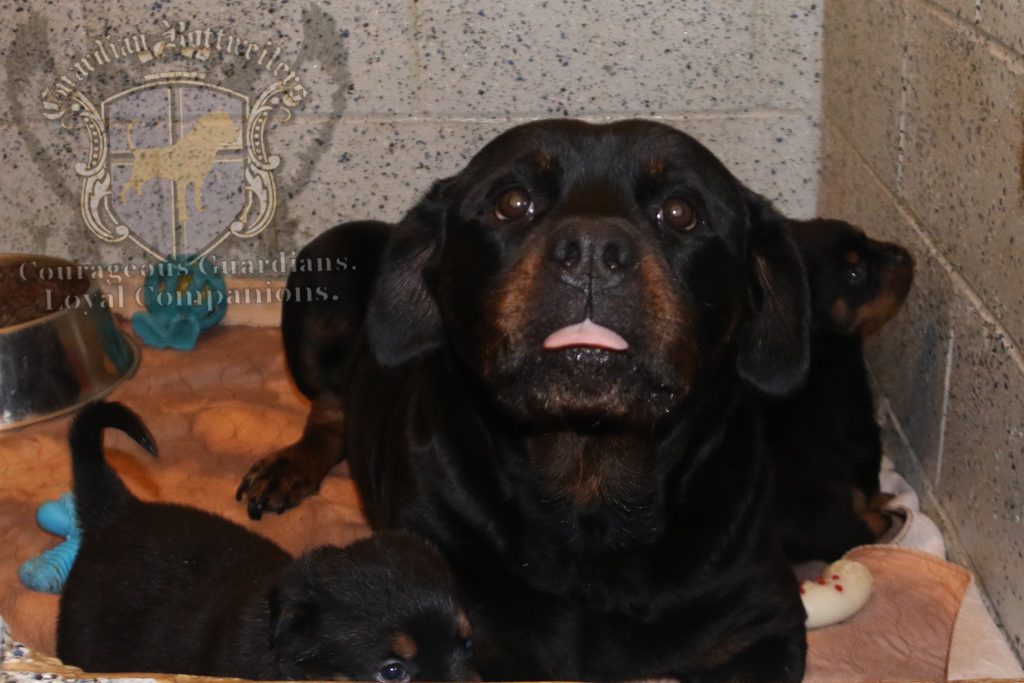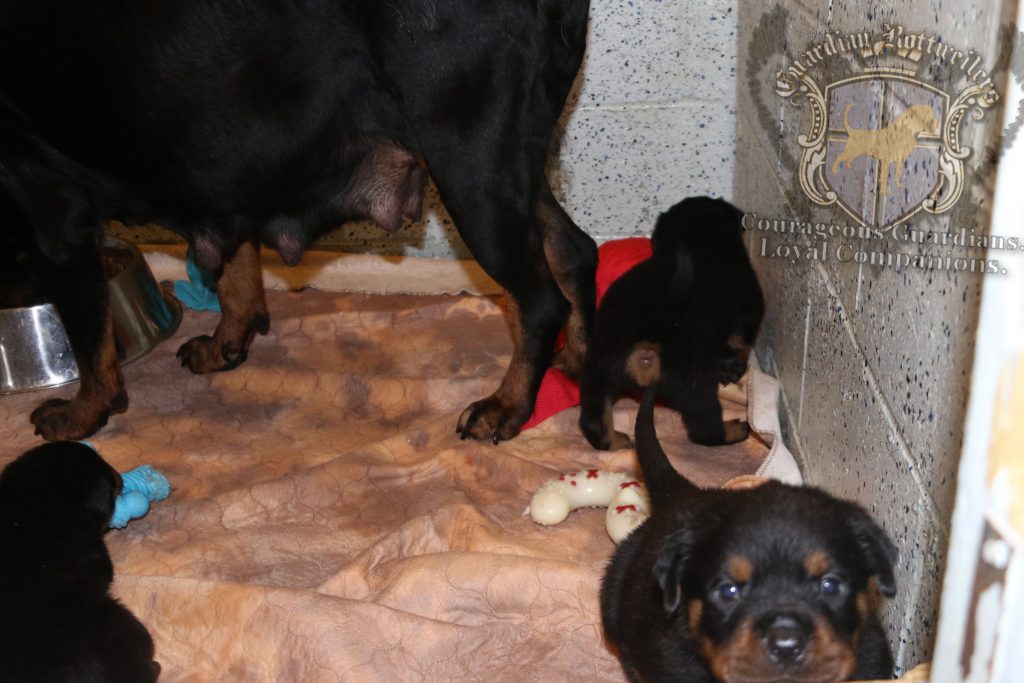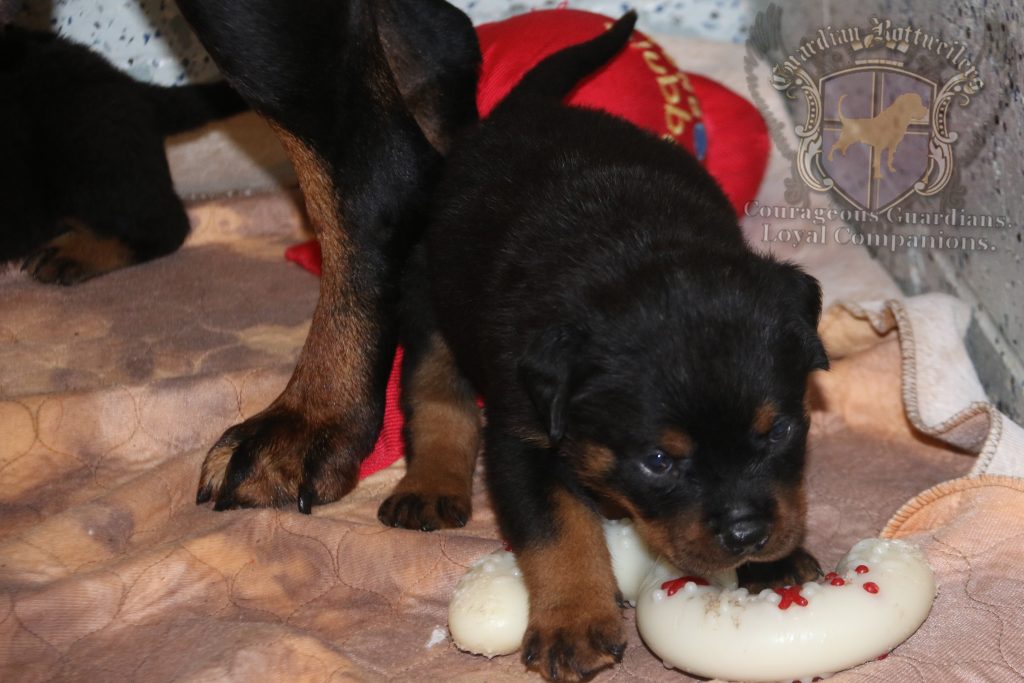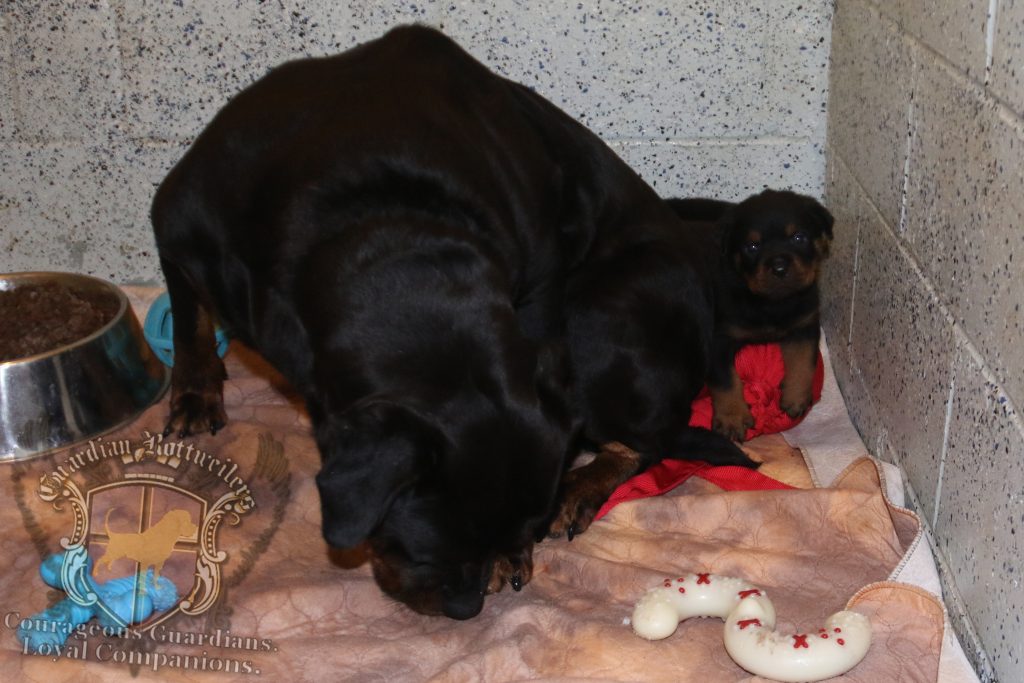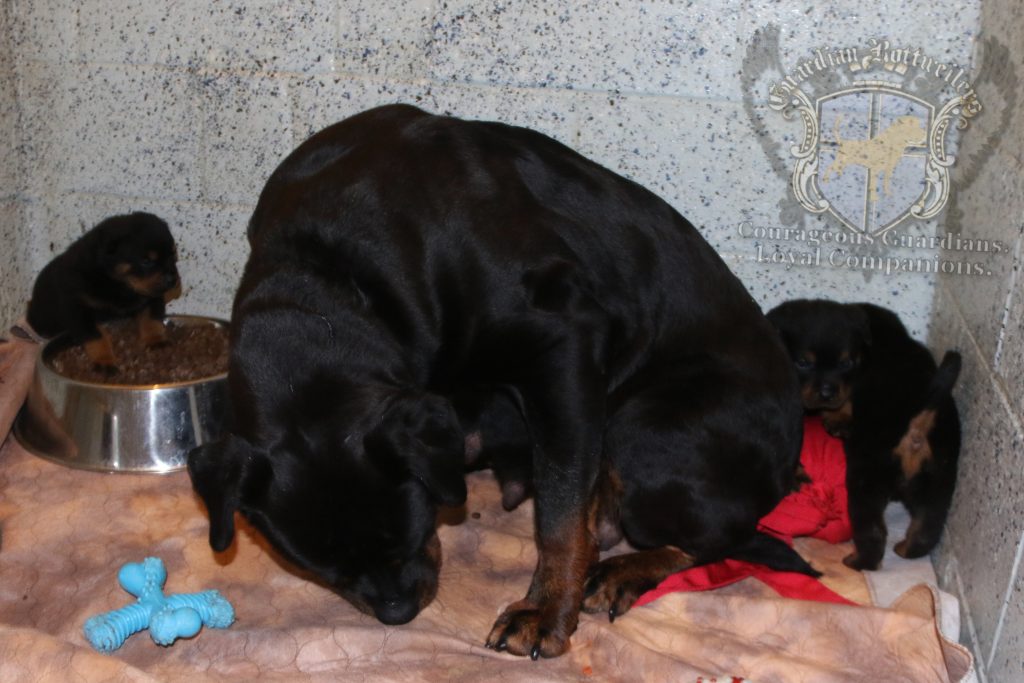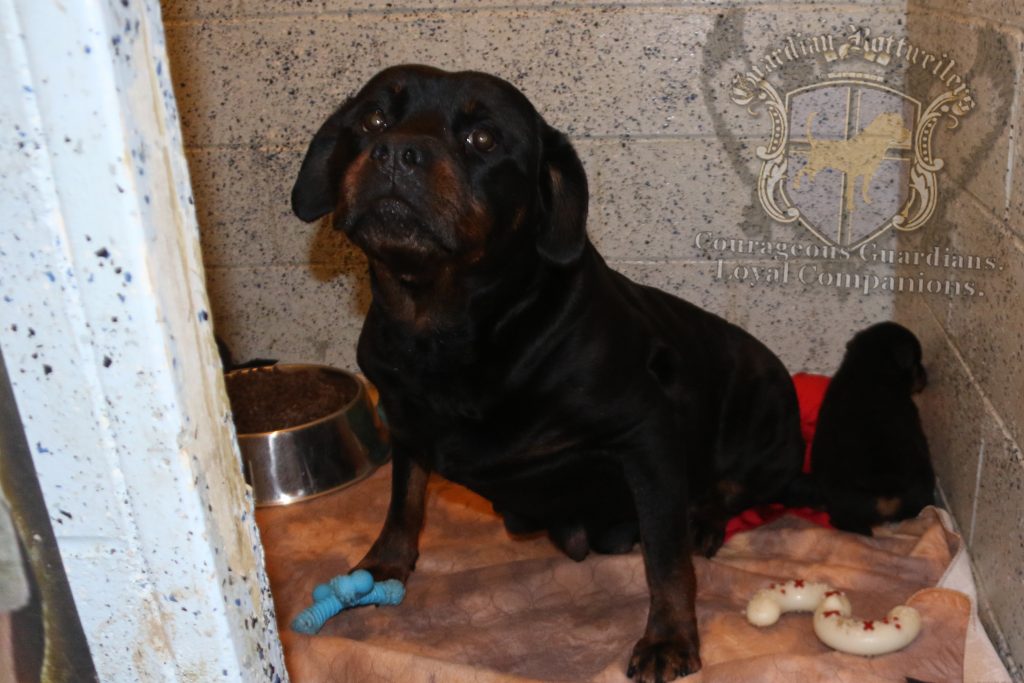 ---
Guardian Yamara Von Gottschalk
Guardian Yamara Von Gottschalk playing with her big bother Guardian Puck Von Gottschalk <3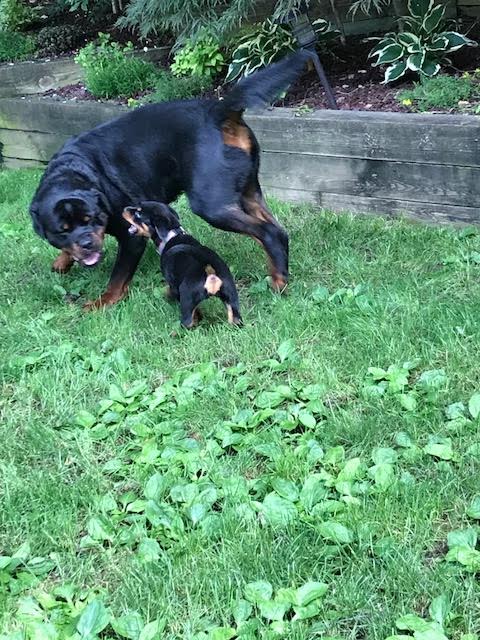 Click here for a short clip of miss Yamara! IMG_4622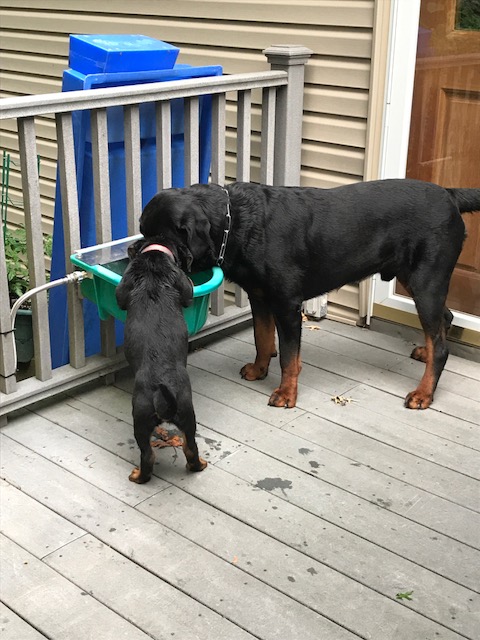 Absolutely! Yamara and I just returned from Florida. She was great! Played with a GSD that is 10 days older than her for 10 days! Played, went into and out of the baby pool 100 times and dug in the sand and went out to dinner every night with us. She met a lot of people and didn't bat and eye! She just sat and got her scratches!
She is also growing like a weed!
THANK YOU!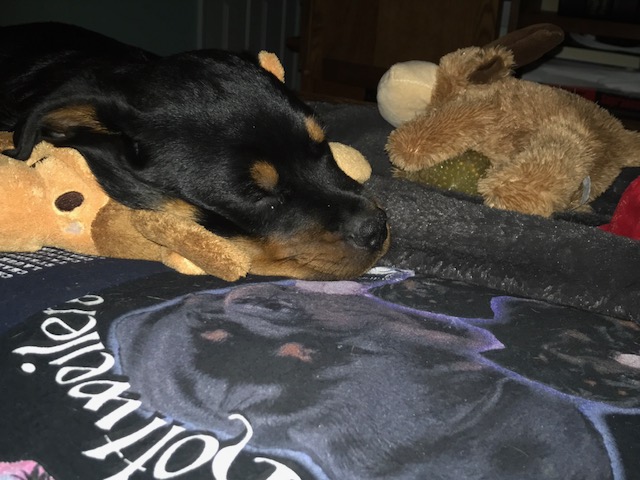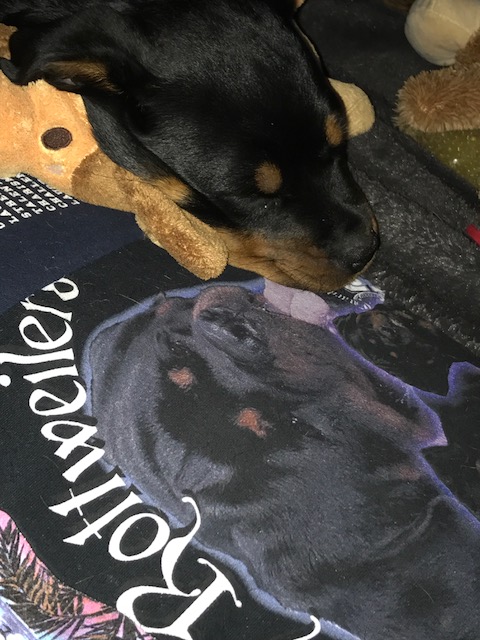 Comfy with her Guardian!
IMG_5207  (click for video)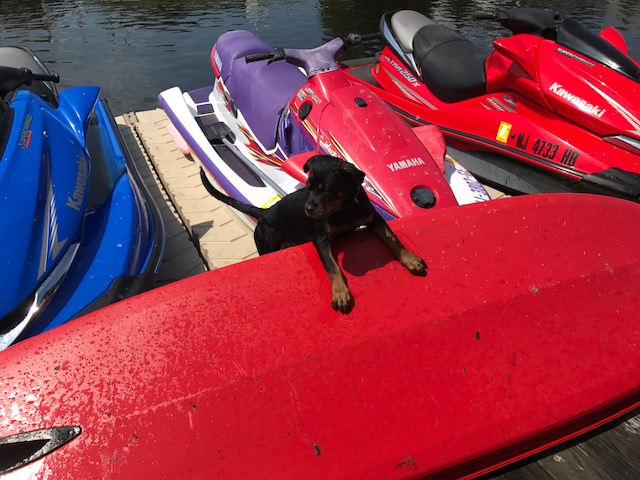 IMG_5234 (click for video clip)
I thought this picture was adorable. We are coming back from the shore and they have the back of the truck to sleep but they stay holding paws!
It's a two hour ride and puck just settled down next to her ?
Have A Great Day!
Noreen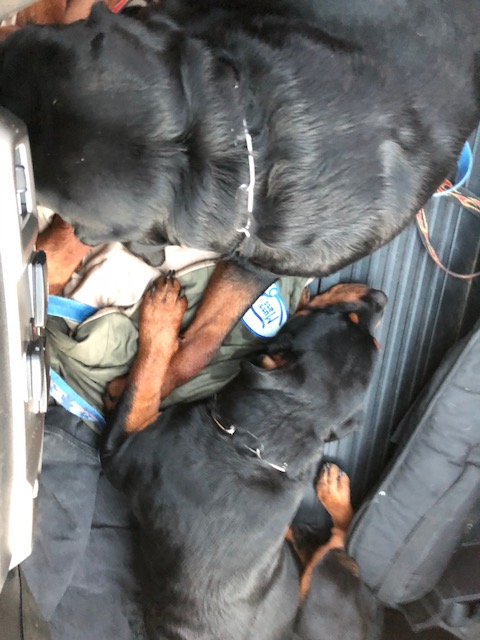 ---
Guardian Yogi Von Gottschalk
Hey Alice do you know this handsome pup.  Yogi is so great stays by my side smart snore a lot LOL LOVE HIM SO MUCH.  Was checking to see if you had received the AKC registration papers yet.  How is your wonderful family pray everyone is doing well.  Talk to you latter keep in touch let me know about the papers.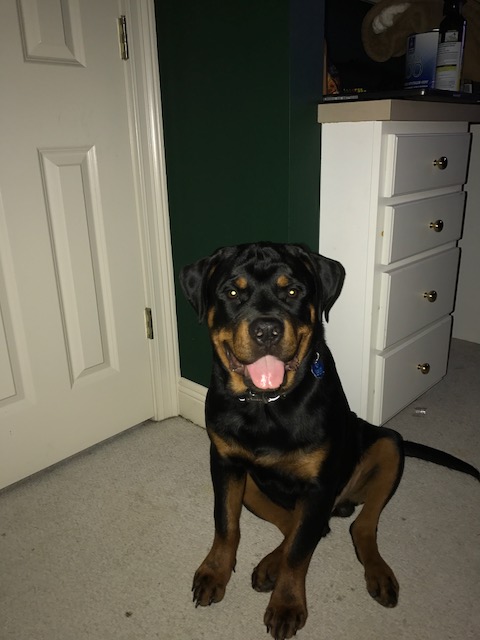 Yogi Von Gottschalk at 9 months old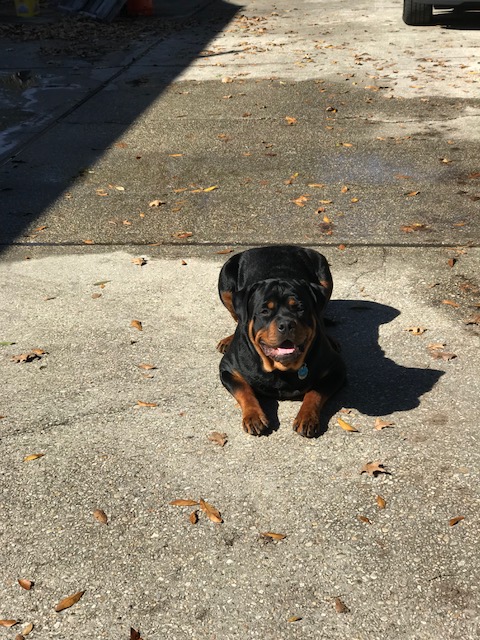 Hope this email finds you and your family safe and well. Ya are always in my thoughts because of your dedication to the Rottweiler breed I consider myself a very blessed human being. Yogi is such a joy I know he is a dog but I consider him my child my buddy my very good friend. Where ever we go and who ever we meet Yogi has been an ambassador of the breed. I can't say enough about his temperament an his love of people. One day we were at the farmers market and there was a four year old baby girl that wanted to pet Yogi so Yogi sat down and she proceeded to pet him then she sat down Yogi laid down put his head in her lap gently and they got to know each other for about 15 minuets people stopped and watched and were amazed how gentle he was with the child. I am deeply grateful Alice for allowing me to care for one of your beautiful animals. Thank you!!!!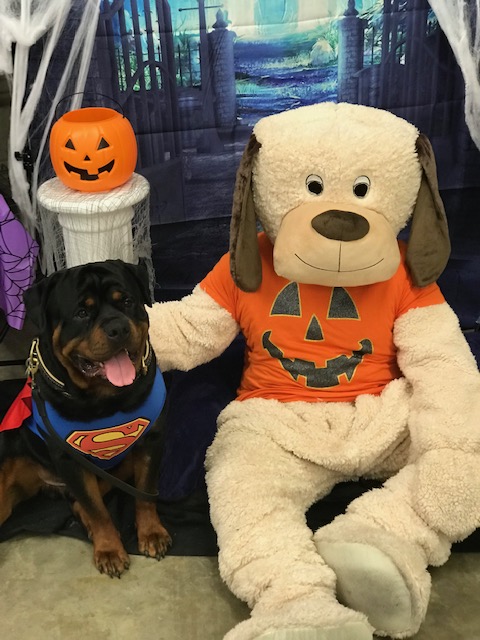 Hey it's been a while since we've talked I hope your wonderful family is doing well.  Yogi what can I say we have grown so close he is a healthy 115lbs and a bull in a china closet.  You can see the wheels turning in that big head of his when he looks at you he loves watching the animal channel I get compliments on him all the time best dog I've ever had.  How is the weather I hope ya are staying warm. Keep in touch one day I hope to make it up there and bring Yogi with me.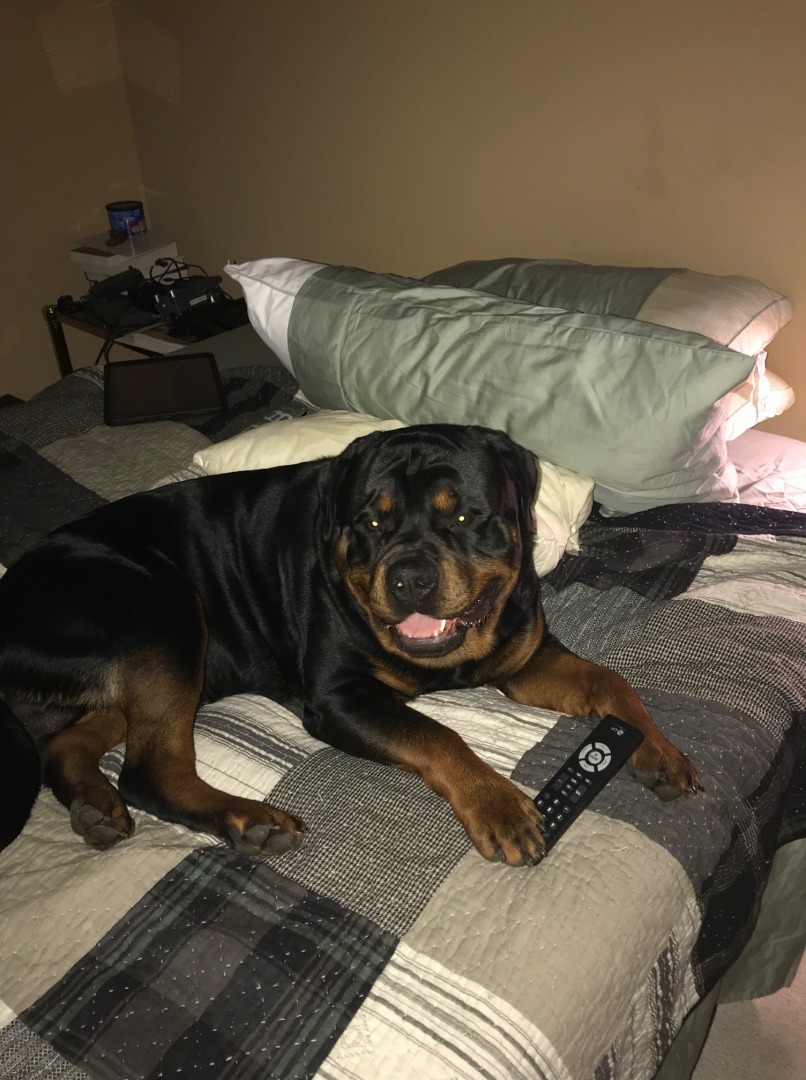 ---
Guardian Yasper Von Gottschalk


Alice, I just wanted to shoot you a pic from Yasper's 1st Bday celebration yesterday. He smiled all day long. The day was filled with treats, gifts and so
much fun!! Alfonso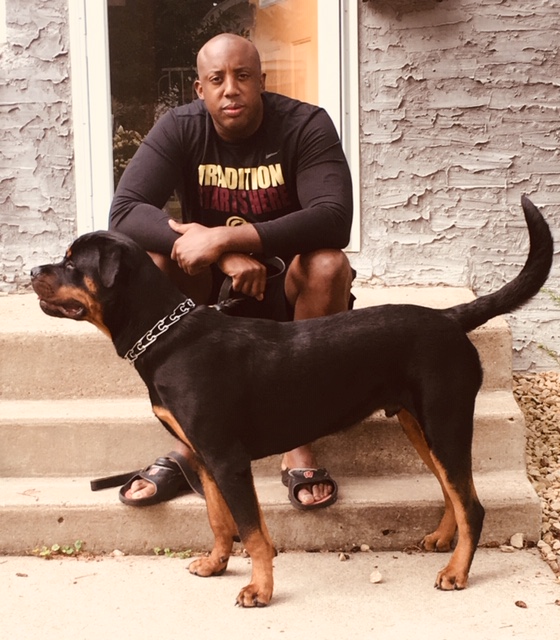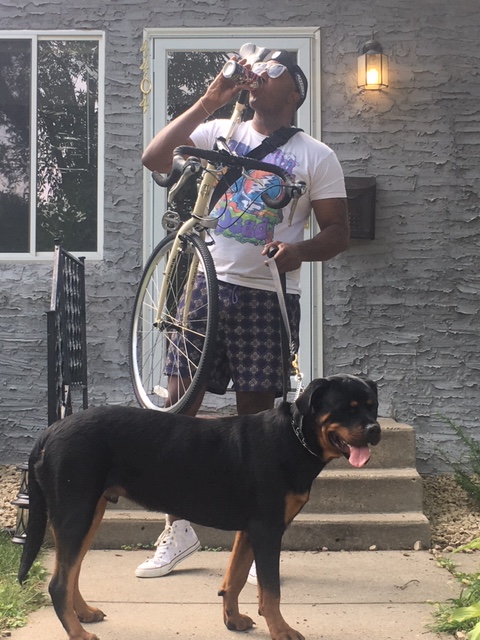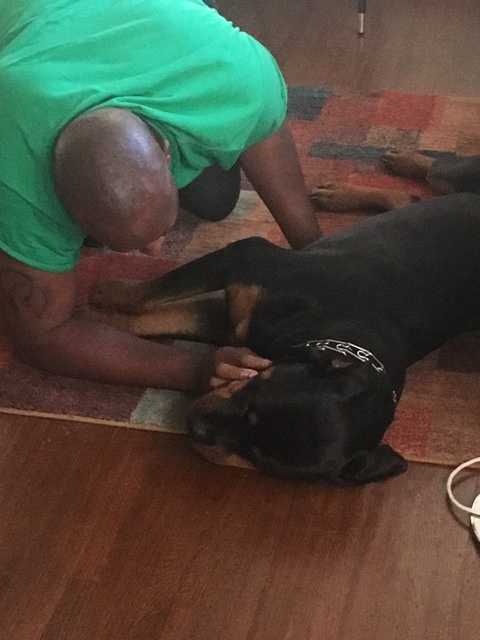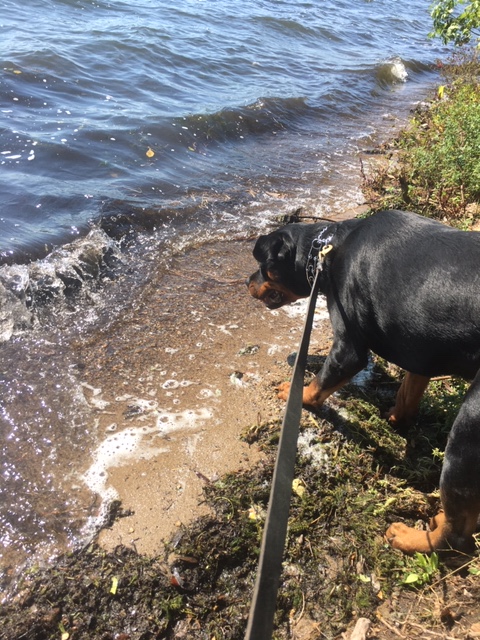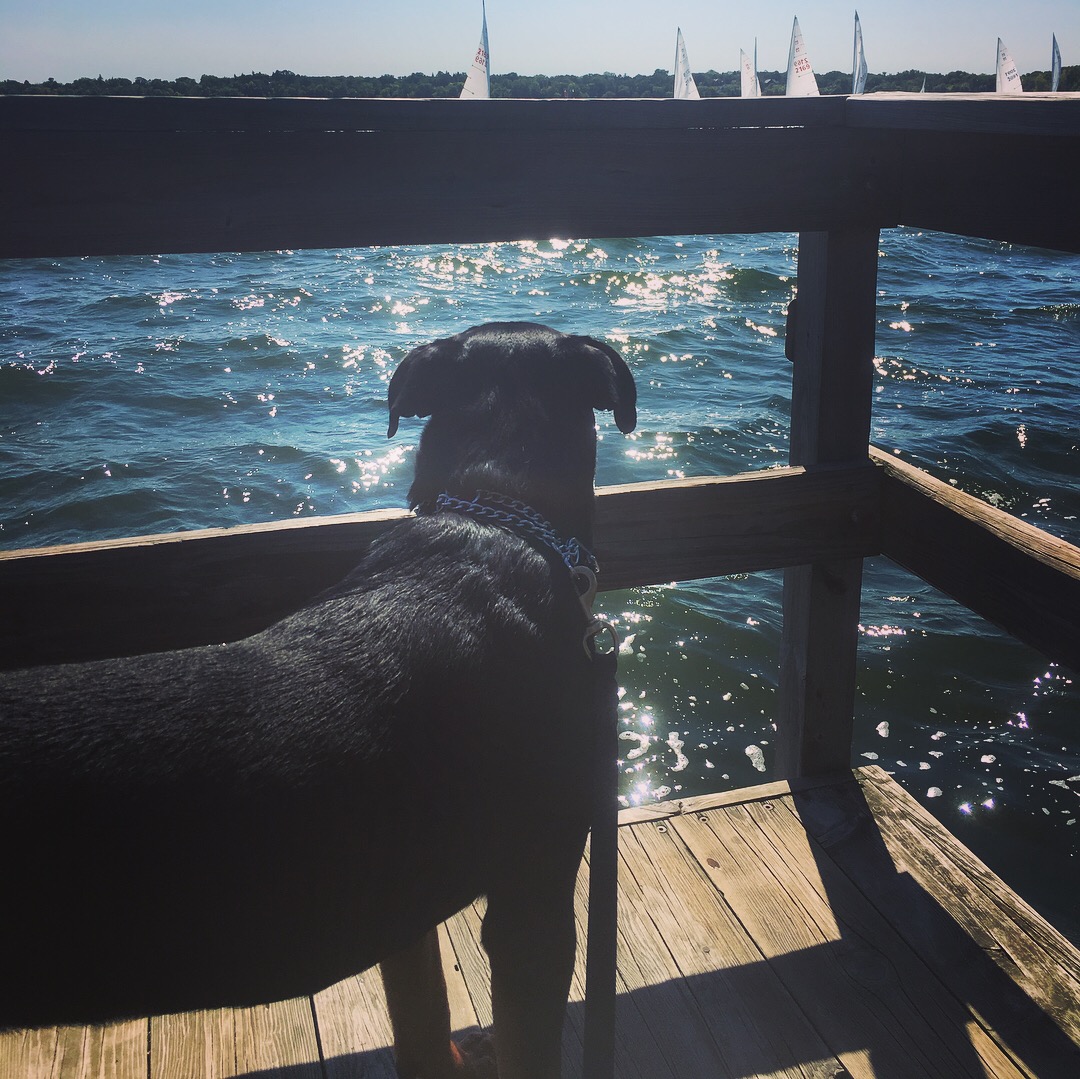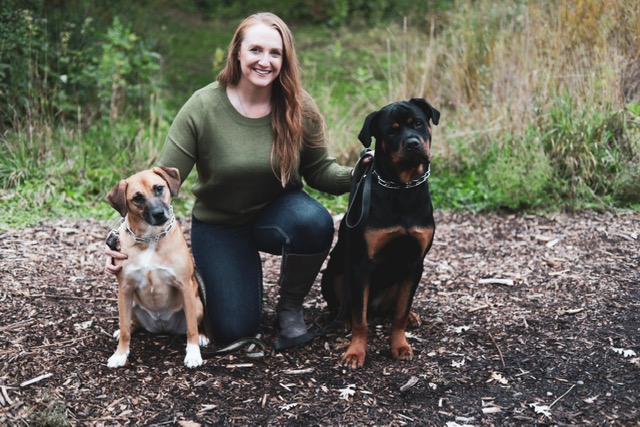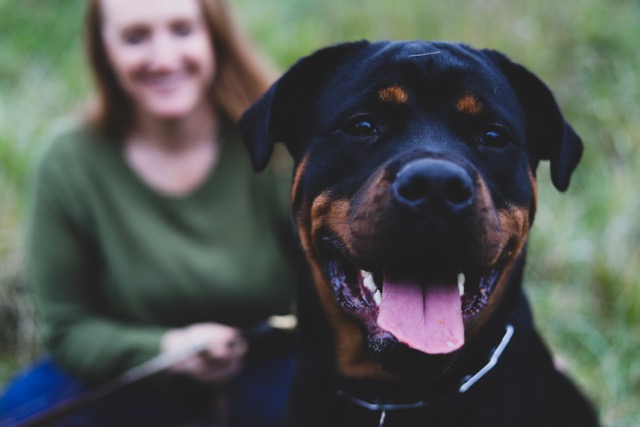 Alice
Good morning! I wanted to send you some new pictures of our precious baby boy Yasper. He is so amazing and we love him so much. He loves his best friend Tally. They snuggle, wrestle and play constantly. He is exactly how you described – genuinely sweet – loves to work (he loves his walks we go on two a day) he is protective of his family and super goofy as you can see with the pics. We took him to the lake for the first time this summer and he loved it! Alfonso and I are so blessed and thankful for such an amazing rottie. Thank you for all that you do. We will definitely want another one and we both have said the only rottie we will get is a guardian Rottweiler! Enjoy the pics!
By the way he gets into this stance on his own often / such a handsome boy!!
Regards,
Nicole and Alfonso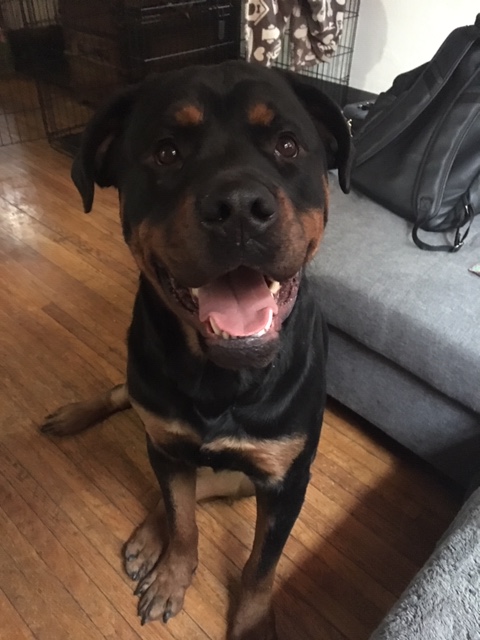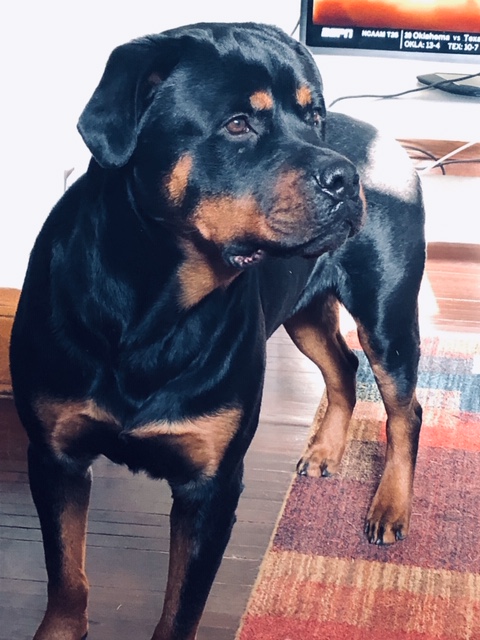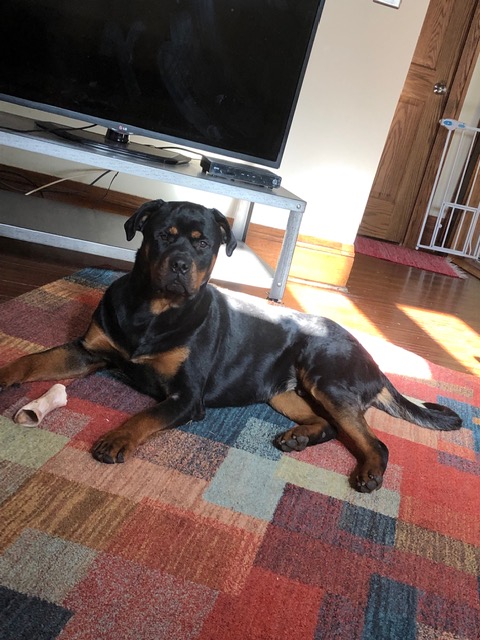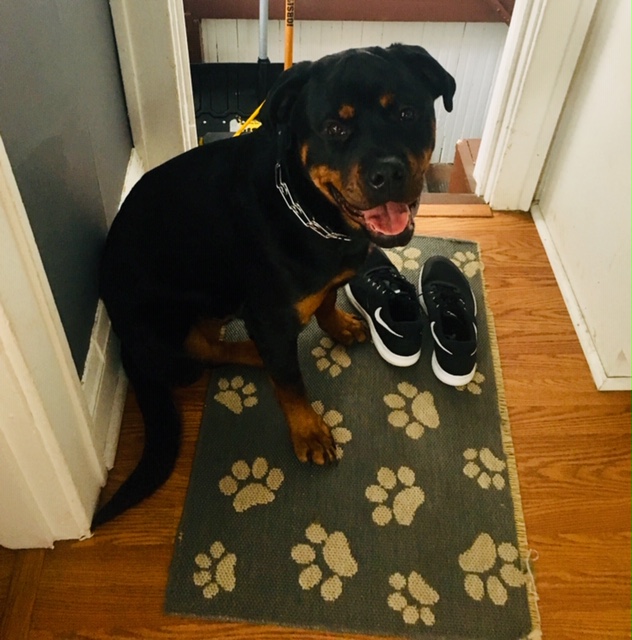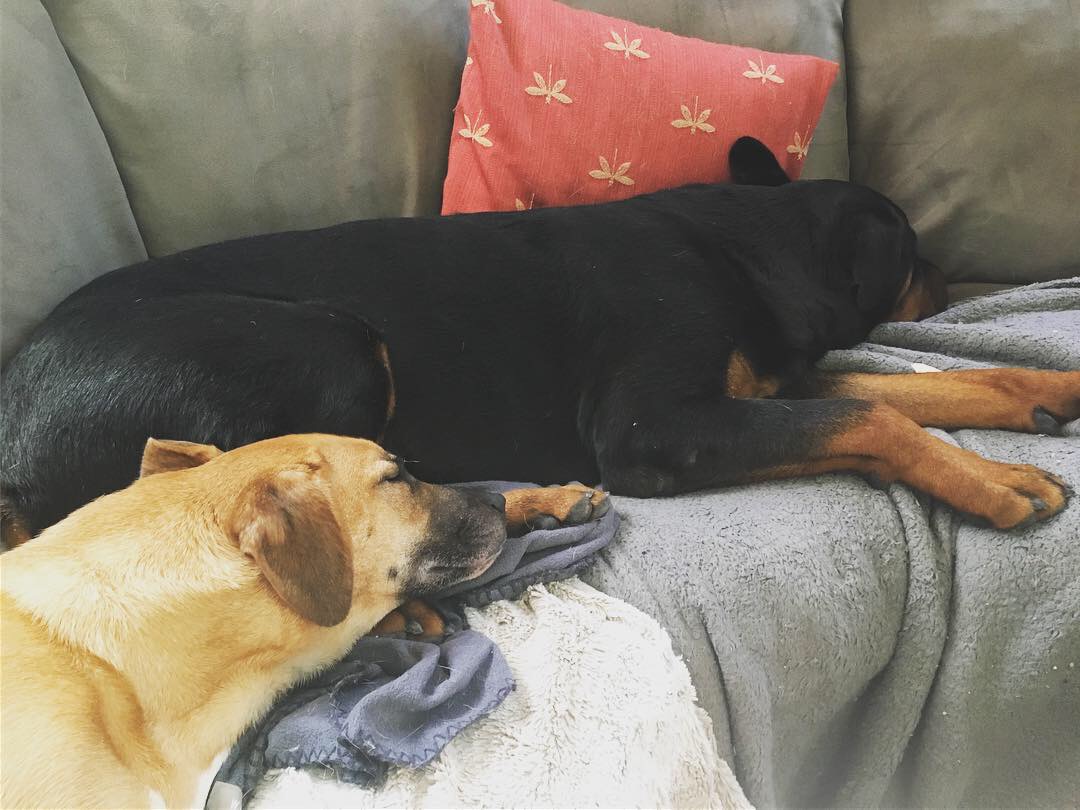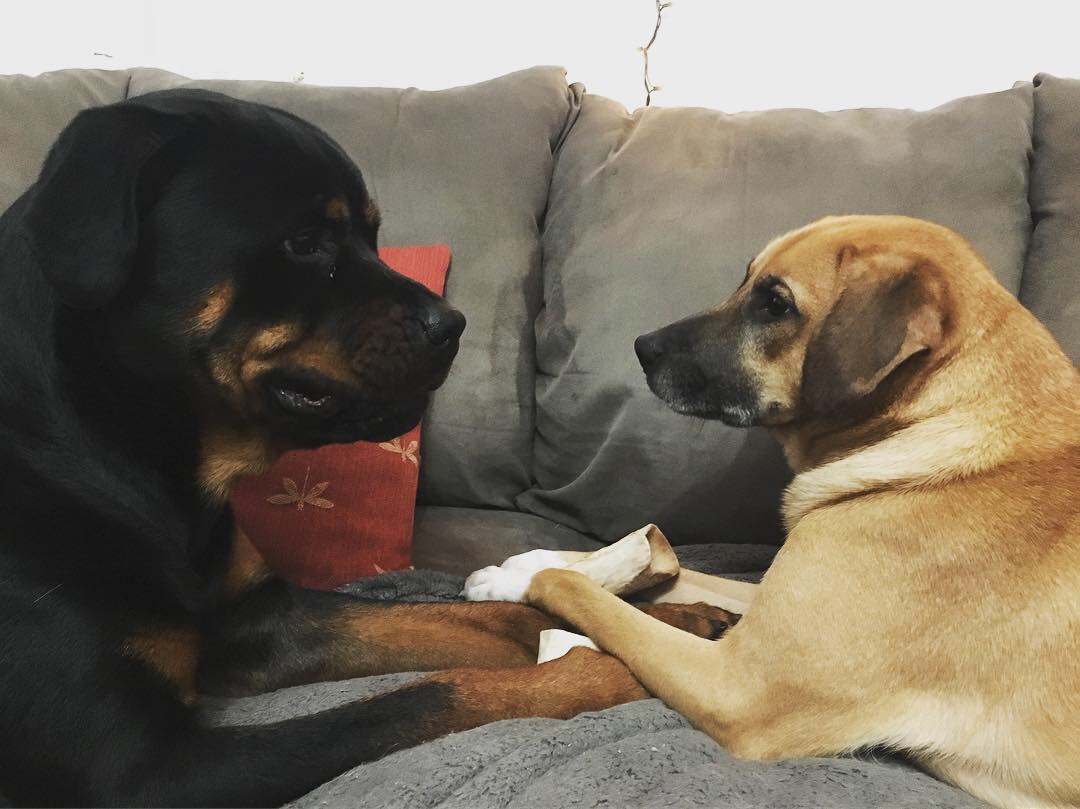 Hey Alice
Just wanted to send an update to me and my sweet Yasper. We moved to Buffalo, NY! I got a really good coaching job so we headed west late June. We have been here 5 weeks and we love it. Yasper has adjusted well and loves being right by a lake. He even came to basketball camp where the girls all fell in love with him and his silly personality. We have worked a lot on off leash commands and he's so good – also he loves to play fetch non-stop. Here are some photos of this silly boy / he loves to sit on my bed and look out the huge windows – I call it neighborhood watch. Lol
I also added a pic of Yasper and his best friend who is a 5 year old little girl – her name is Habib and he loves her so much!
Nicole and Yasper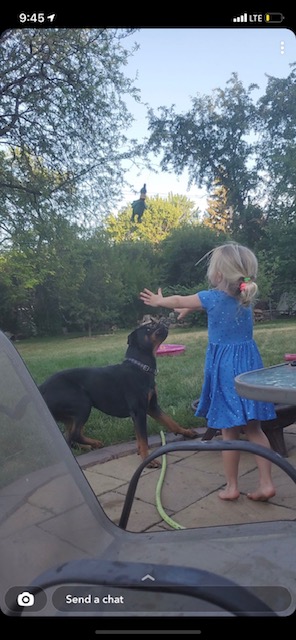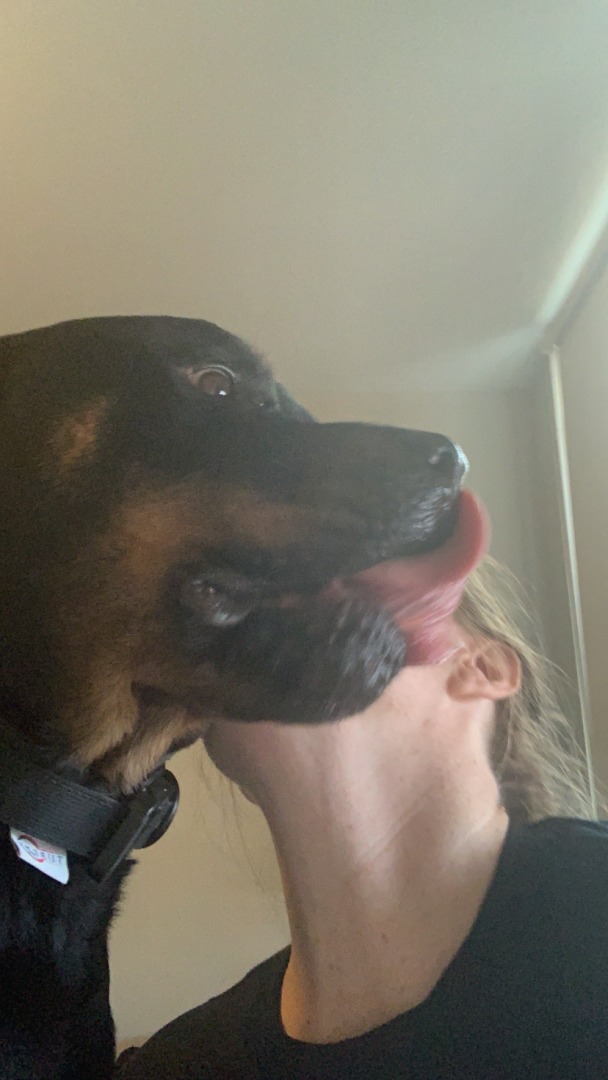 Alice!
Merry Christmas from the Bullock family. Yasper and Tally had a great holiday – two very spoiled pups! As you can see Yasper is always smiling. Love this precious boy so much. Very thankful!
Nicole Yasper and Tally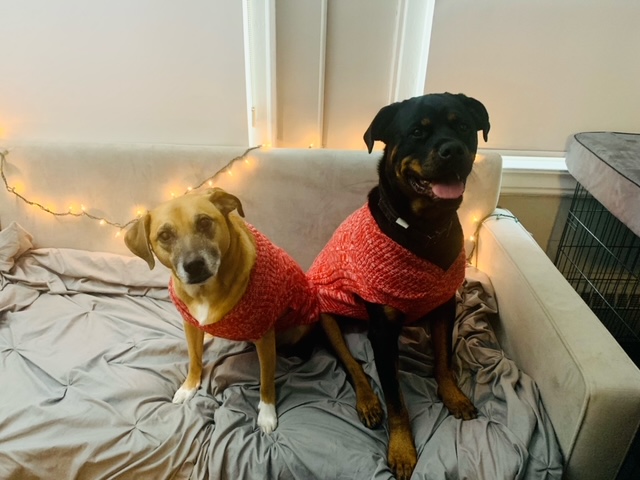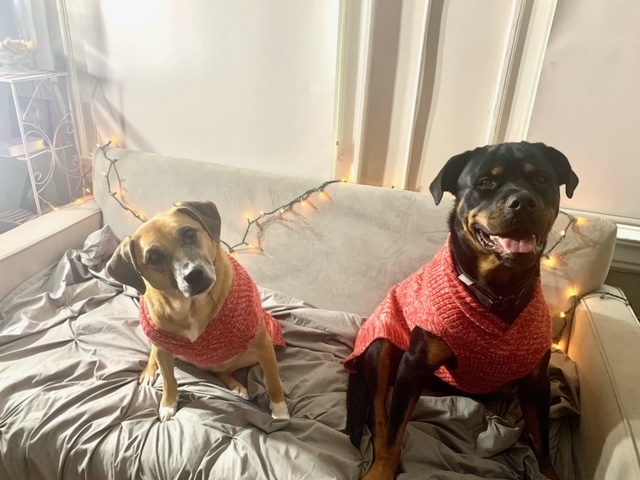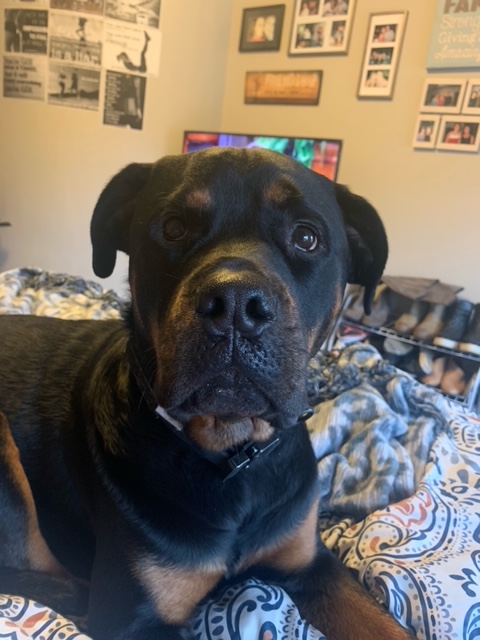 (Visited 103 times, 1 visits today)