Guardian Rottweilers Q LITTER
Sire: "Wolf" Guardian Zev Von Gottschalk
Dam: Whisky Se Ungo-Rot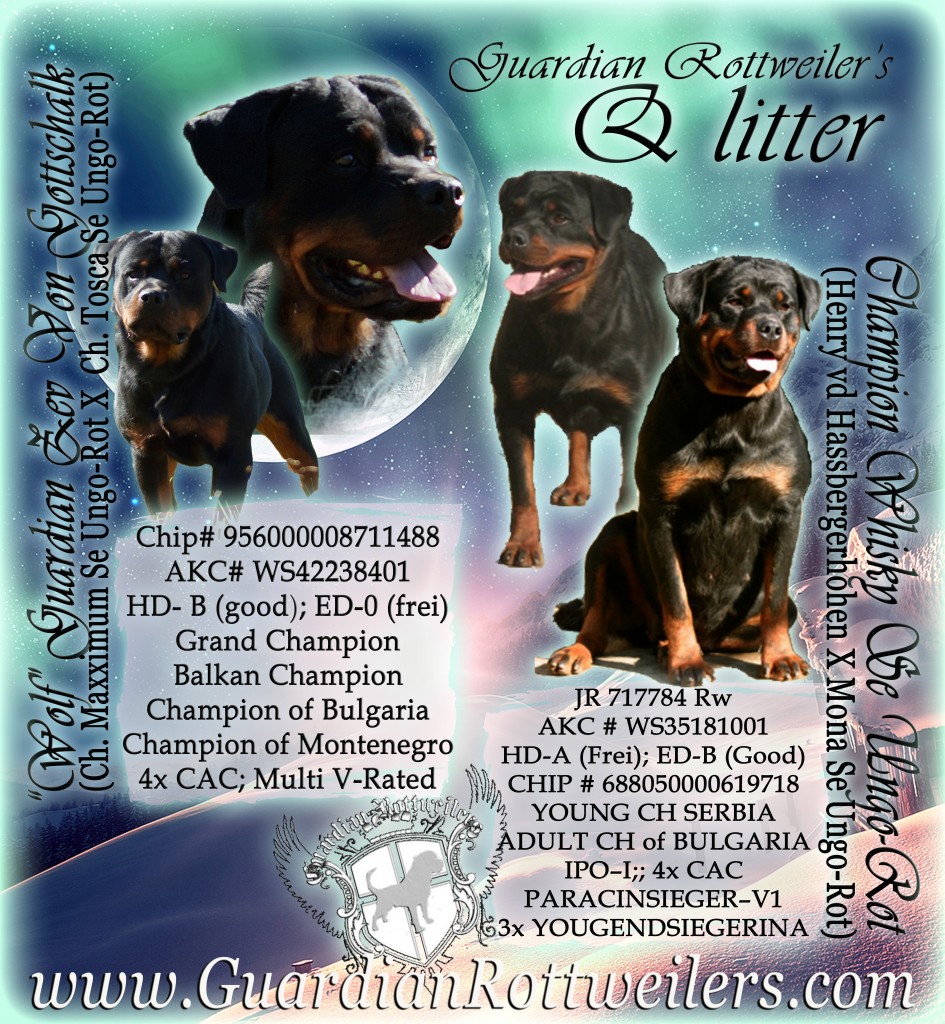 ---
"Onyx" Guardian Qango Von Gottschalk

Good evening Alice I just wanted to let you know we made it home safely.  Qango is doing amazing. After being a big boy and potting outside I brought him in and gave him a tour of the house. He waited for me to walk into each room and call him before he entered. After he ate he's been stuck to my hip and very feisty. His toys already have felt the wrath of a puppy lol. Honestly its very hard to tell he's new here. I also want to thank you for your hospitality today. Its not often someone brings in a complete stranger and opens up there house like you did I do truly appreciate it and trust me everyone I know is hearing how awesome you and Miguel are not only as breeders but as down right great people to be around. Again thank you so much for everything. I would gladly go through the whole ordeal again for this amazing Rottweiler pup. I'm thinking were going to keep the name Qango as his registered name and onyx as his call name.
---
"Axel" Guardian Quicksilver Von Gottschalk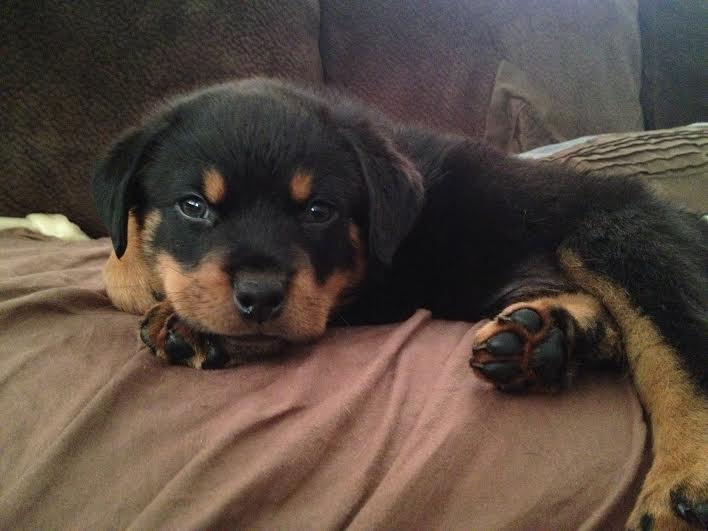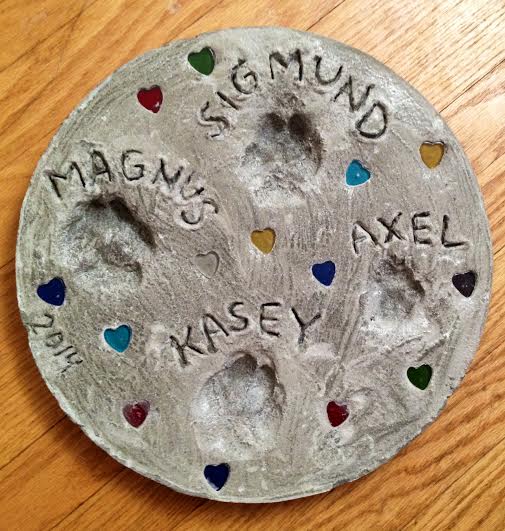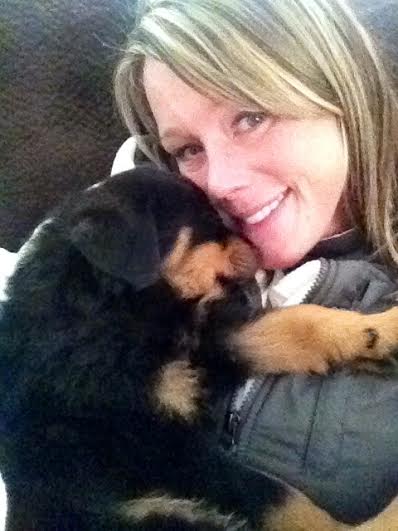 Axel is such a little lover!! So confident, smart, and sweet!! We love him so much already! <3
As for our sweet little girl, she is doing fine.  She is completely adjusted to her new home and is working hard to try and make us believe she is in control.  Her legs are strong now and she tries to jump up on everything.  When we try to tell her she can't do something, she'll bark at us and try to bite something (foot, couch, speaker wires, etc.).  At bedtime, we have her up to six hours in her crate with no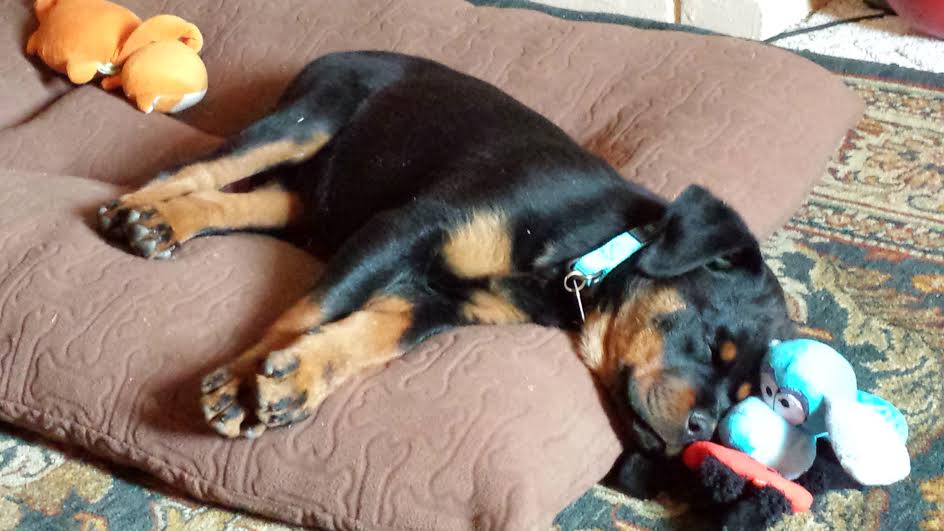 accidents and during the day when she is following us around the house, she has only had three accidents in the house all week.  I attached a couple of pictures of her.  Two are of her napping with her toys.  She is not a fan of her crate and prefers to sleep on the floor near us during the day.  One of the pictures is of her performing one of her favorite naughty tricks…stealing my slippers. 
Every day is a new adventure watching her grow and attempting to stay ahead of what she is planning next.  The only thing we know for sure is that we love our mischievous little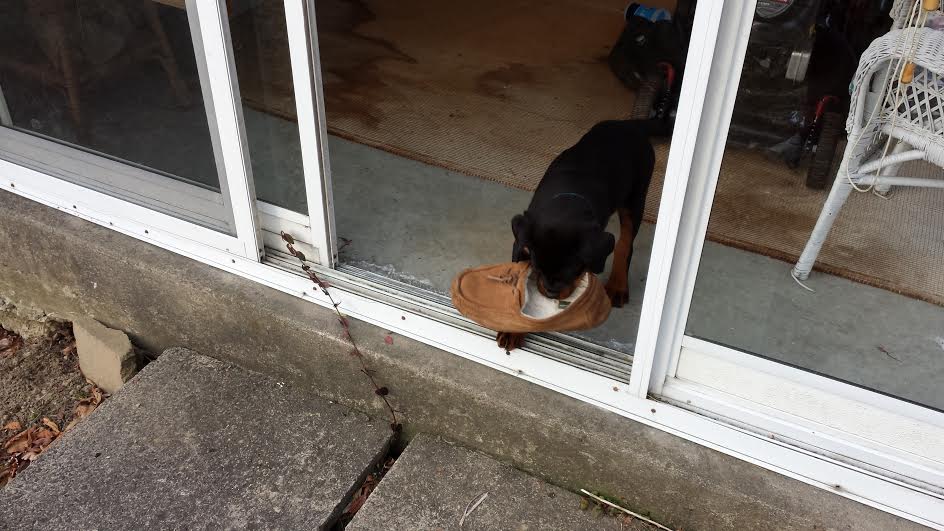 girl so much.  A good dog is a tired dog.  She gets two walks a day, rain or shine, and play time in the yard when the weather permits.  We have been living in our house for ten years and never knew anyone in theneighborhood.  Now it seems that we know everyone.  People know Daisy by name.  The neighborhood kids and parents like to see and pet her and she knows all of the friendly dogs. she has been playing with a mini doberman punchier, 2 American bull dogs, and once the shots are completed, will be playing with the neighbors pit bull and our friends Black mouth cur,.  and in 3 weeks she will be going to doggie day care where she will be playing with a pack of dogs.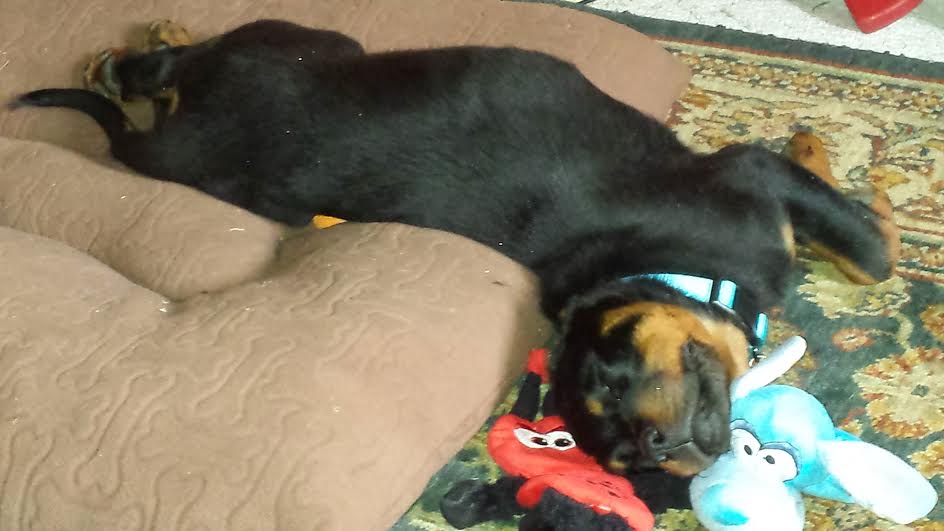 ---
"Zeus" Guardian Quantas Von Gottschalk
Here are some recent pics of Zeus.  He just passed his Intermediate training class at Petsmart and the trainer (she LOVES Zeus) suggested we consider getting the CGC certification.  The search for the right trainer/tester begins…  I still want to get him into Schutzhund but the two somewhat local clubs have not yet gotten back to me.
IMG_20140702_070235151 he is snuggling with Genna before summer school
IMG_20140702_201229098 is graduation from intermediate obedience at Petsmart.  There were 4 other dogs in his class – a pug, a shepherd, a chihuahua, and something else really small but not sure what it was.  They all got along great.
IMG_20140703_202334303 is Genna trying to ride him.  He liked it but I think it spooked her when he actually started to move.
0607142000b is my mother with him.  She is terrified of dogs, especially big black ones, but not Zeus!
0705141320, 0705141320a, & 0705141439 is the July 4th picnic (again at my mom's).  Notice how Zues, the only Rottie in the group, is the only one trusted off his chain.  And he loved the slip and slide and the hose.
0502140720a You may not want to share but we thought it was funny.  He saw the cat go up there (to get away from him) so he thought he could do it too.
I got confirmation that the shirts exceeded the minimum and will be going in to printing.  Congrats.  Even my mom ordered one!
Let me know if we can do anything in regards to the hearing.
Thanks,
Brendon
(Visited 19 times, 1 visits today)