Guardian Rottweilers E LITTER
Sire: Crom di Alaricus Rex
Dam: Whisky Se Ungo-Rot
Ch. CROM di Alaricus Rex      X      Ch. Whisky Se Ungo-Rot
I NEVER get tired of looking at these ADORABLE little babies on x-ray!  Ok, if you have never seen one before, you are looking for small faint circles (these are the skulls) followed by spine and ribs.  I had my vet point some of them out.  I just want to scoop 'em up and hold 'em already!! <3


This pair produced so PHENOMENALLY that we simply HAD to repeat the breeding!!  Whisky's sire, Henry von den Hassbergerhohen DT.(ADRK)/DT.VDH-CH, Ostschweizer Sieger'08 SCH/VPGIII BH AD ZtP IPO III, ADRK 108836 DOB: 10/5/2003 HD-Frei ED-Frei is an incredible German stud with hard to find old German working lines!  Henry is sired by Akino von der Lauterbrücke DT. VDH-CH.BH, AD, ZtP (10.99), SchH III, IPO III, Gekort bis 15.09.03 DOB: 10/16/97, ADRK 97842- a massive, powerful German male prominent in some of the most respected and revered bloodlines in all of this great breed's history!  Akina is sired by Mambo von der Teufelsbrücke O-BJS '95, SchH III, AD, BH, IPO III, GEKORT bis EzA, ZtP (04.96), DOB: 4/22/94, ADRK 86919, HD+/- an equally impressive male and just as well known and respected as the other world famous MAMBO, sire of my Crom, Mambo von der Crossener Ranch, DT-VDH Champion, Multi CAC/CACIB, ES '02, SCHWZ.KS '02, O-KS '02, SchH III, IPO III, ZtP (05.00), AD, BH, FH II, DOB: 6/23/98, ADRK 99808, HD+/-, ED- who is of course sired by Rick von Burgthann OSTERR/LUX. CH, WJS '94, BS '97, BJS '94, O-BS '95, '96, '97, O-BJS '94, SCHWZ.KS '96, FCI ES '97, INTL/DT.VDH CH, SchH III, IPO III, BH, AD, Gekort bis EzA 14.09.99, ZtP (07.95), DOB: 4/24/93, ADRK 84080, HD-, ED- and the grandson of Doc von der Teufelsbrücke INTL/VDH CH., IFR SGR '95, '94 '95 '96 Klubsieger Top Stud Dog, SchH III, IPO III, FH, BH, AD, GEKORT bis 08.05.95, ZtP, DOB: 6/10/89, ADRK 75025, HD-!!  I could go on ALL DAY about this pedigree combination!!  I was super excited about it last year when I decided to breed them the first time and after seeing first hand the results, I am even more excited this time!  Our young star this summer was Guardian Xoana Von Gottschalk.  Handled and trained by our junior handler, Liliana, Xoana has taken home a trophy in every show she has entered!!!  I have such high expectations for this litter and CANNOT wait for these pups to be old enough for their evals!!
Here is a video of one of the puppies at 10 days old drinking homemade formula from a bottle! (I think he likes it)

Here are the pups at 20 days old eating semi-solid food for the first time (a mix of pureed salmon, chicken, lamb, whole organic yogurt, egg yolk and goat milk.  Think they like it 😉 )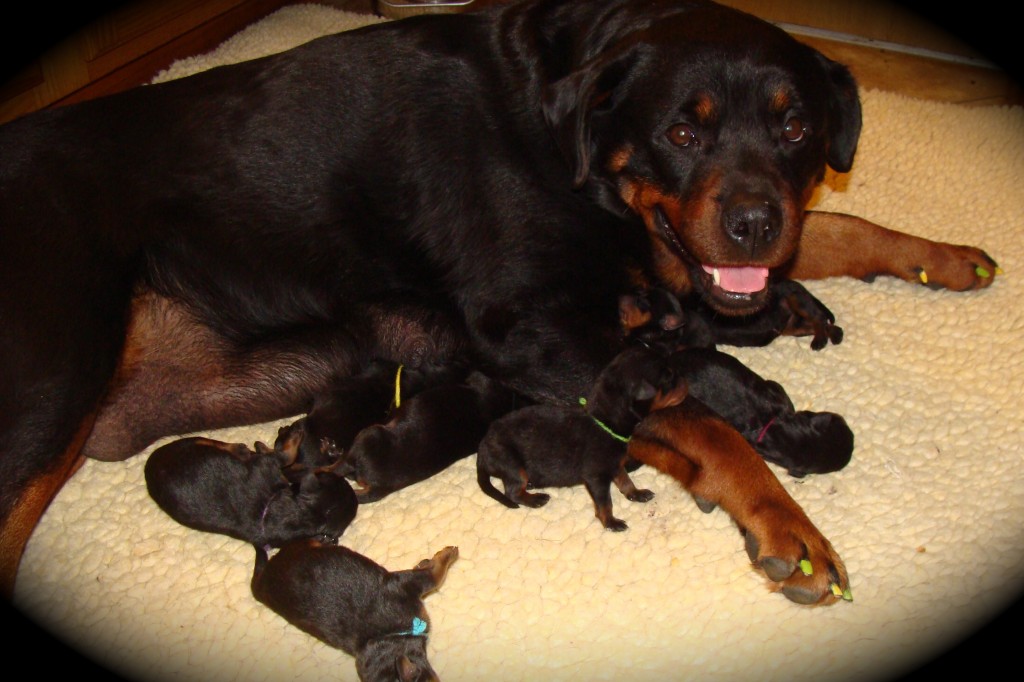 Happy and proud mama! <3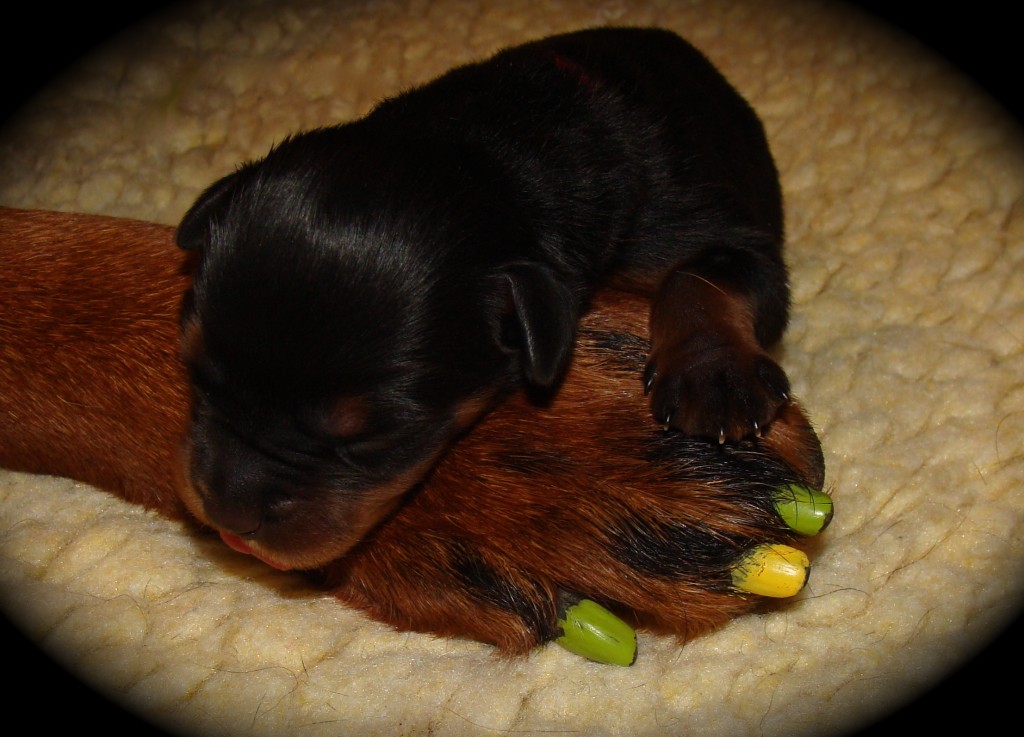 These are some of my most favorite photos ever!  There is something so special and symbolic with mom's massive, protective- strong but gentle- paw with her daughter's tiny little paw resting so safely and secure on top.  These photos, at least for me, just really capture everything I love about this breed and these exceptional Rottweilers.
Here are the puppies at 10 days old!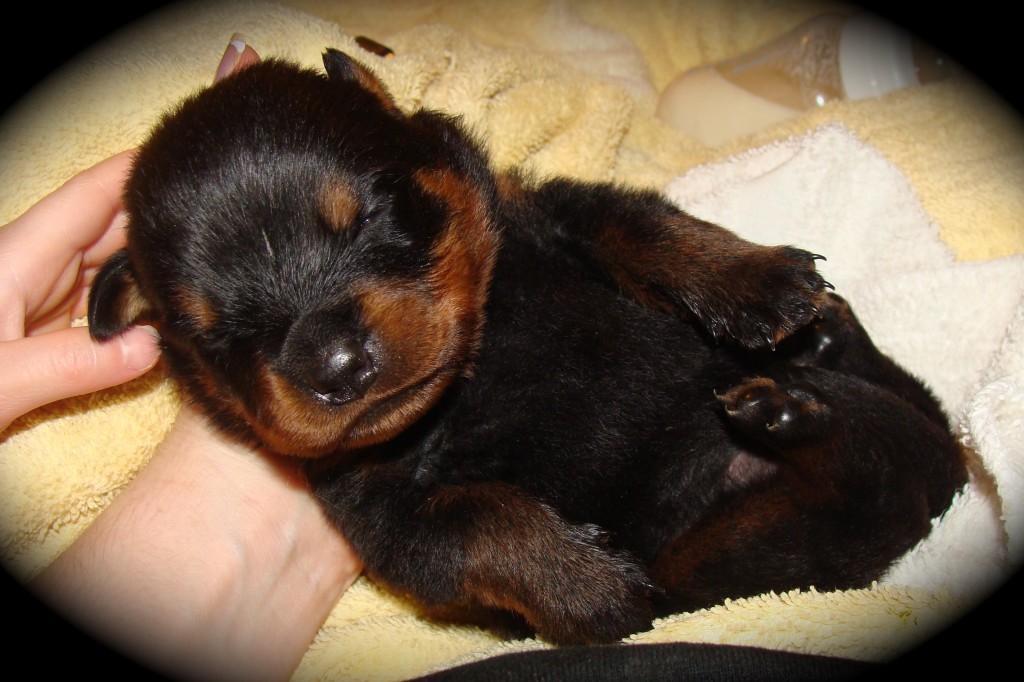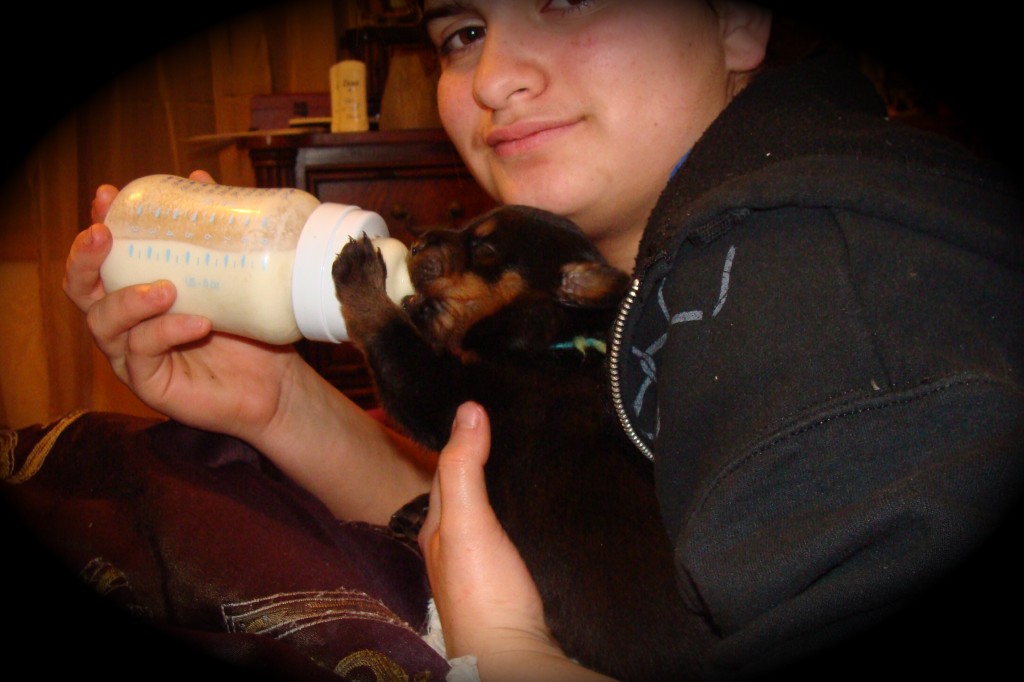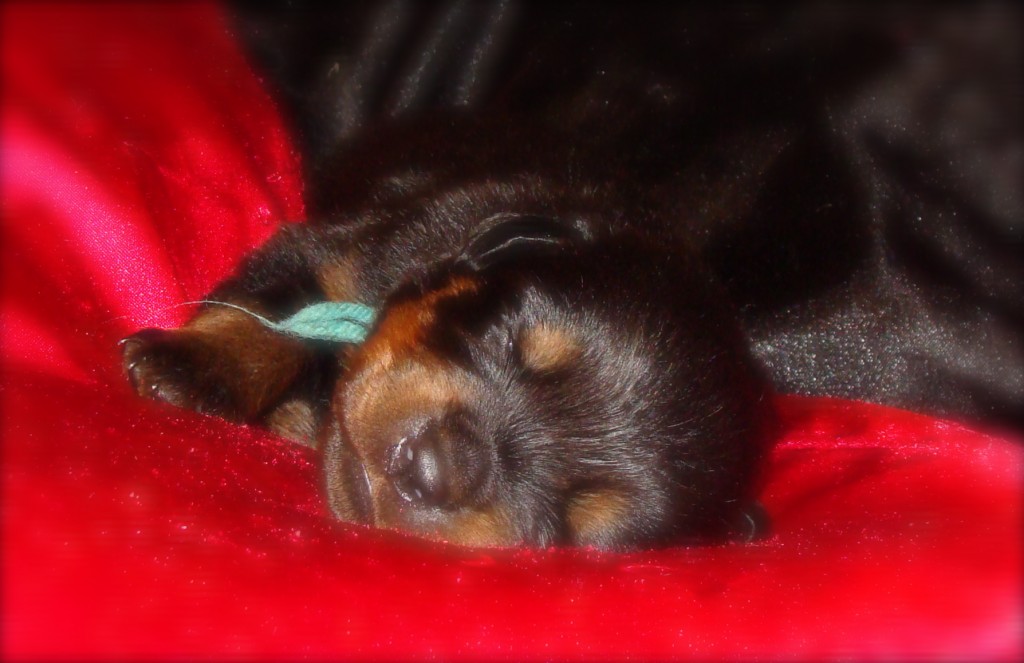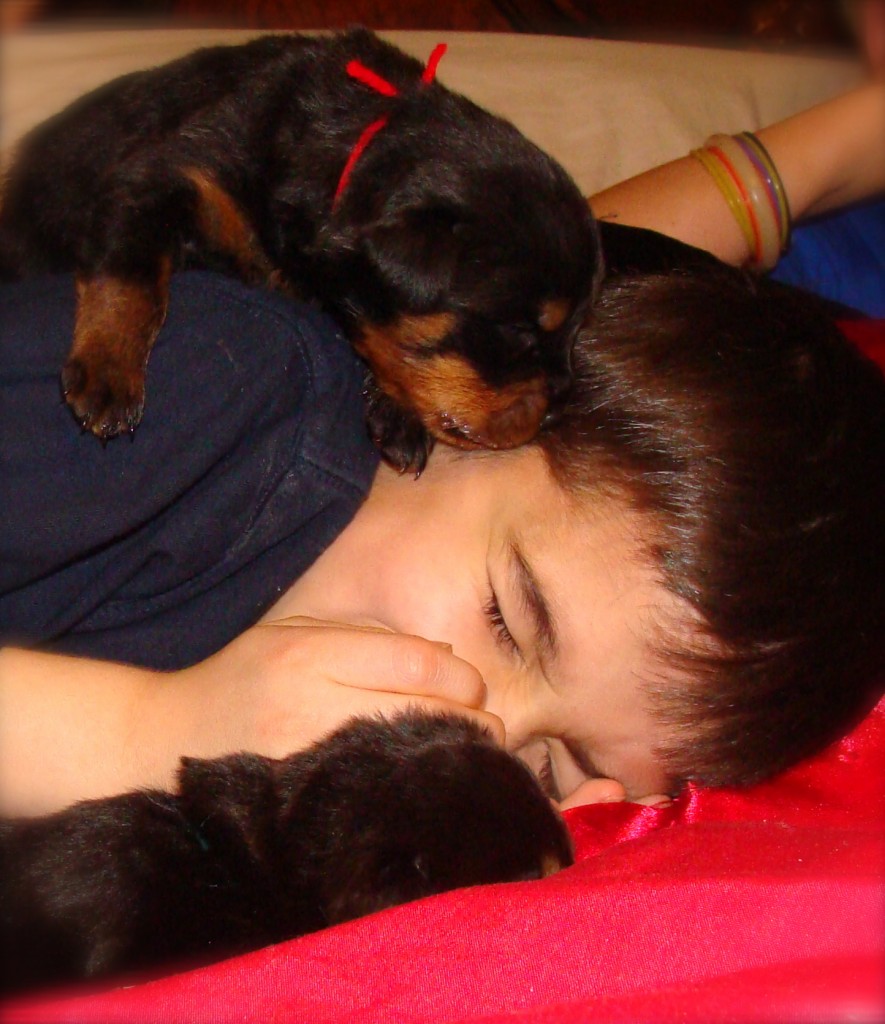 Pups at 20 days old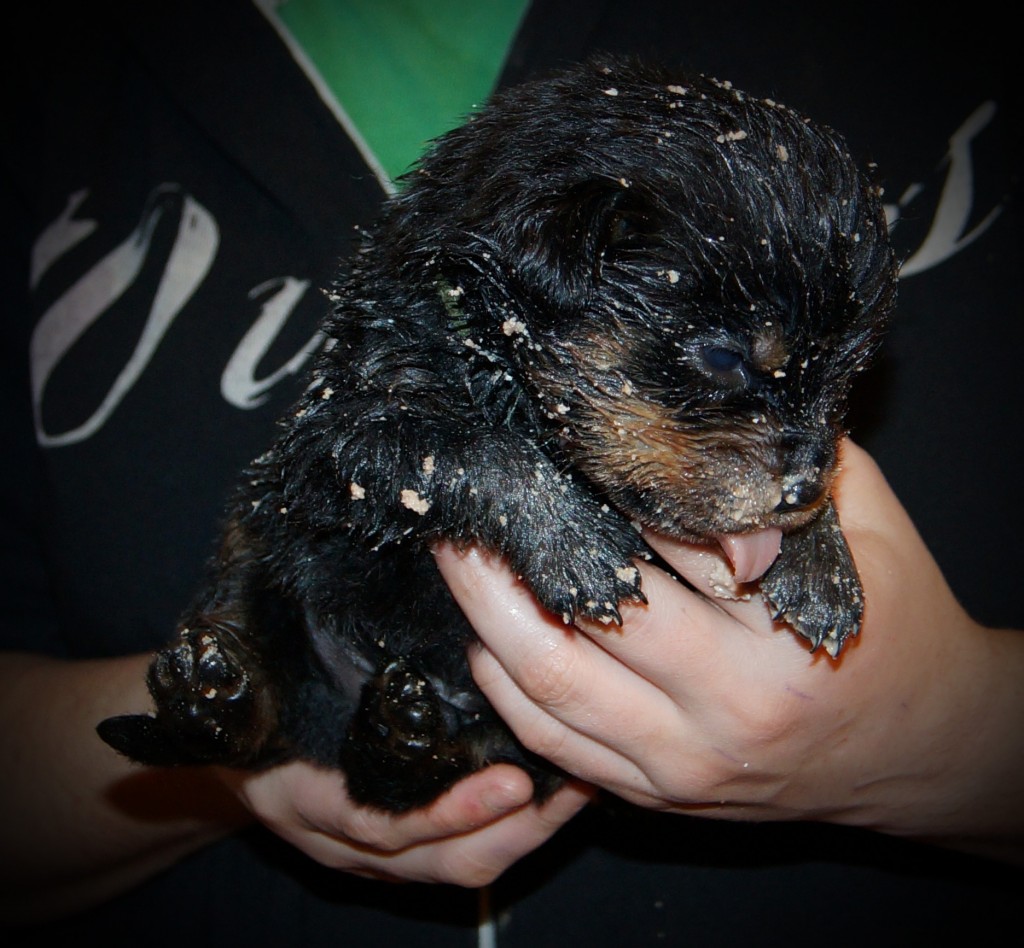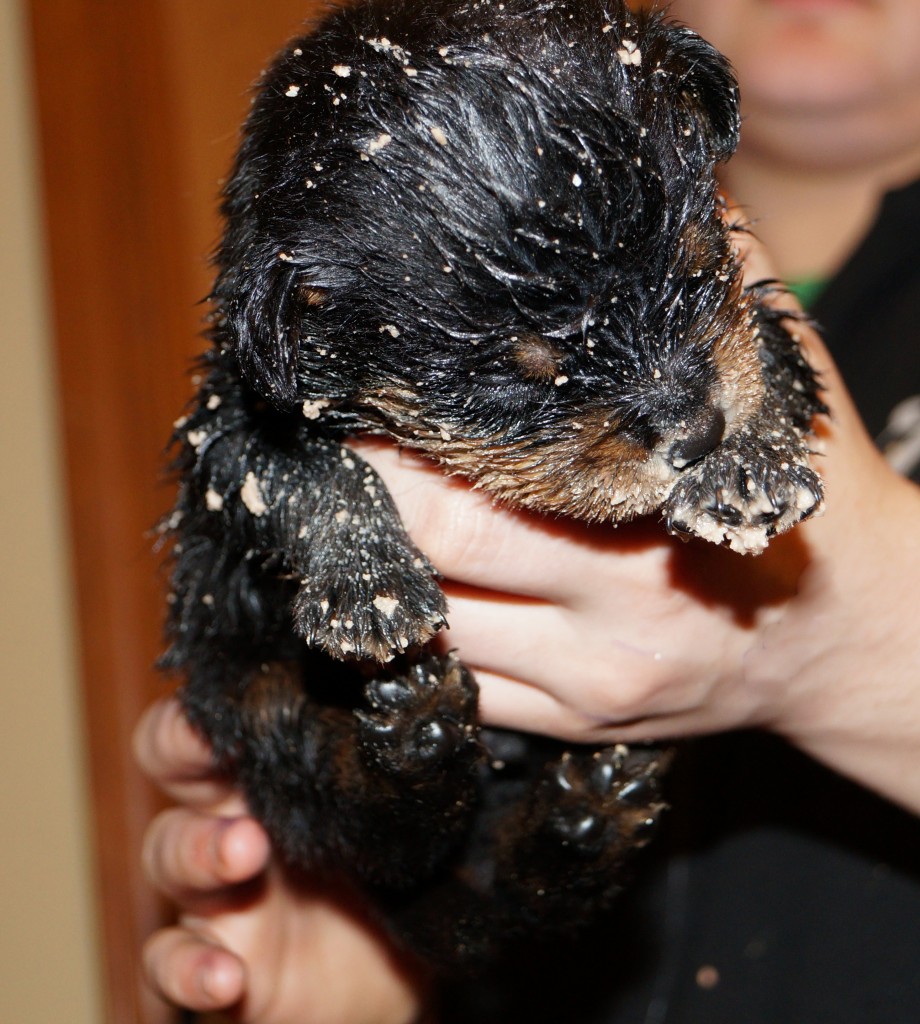 ---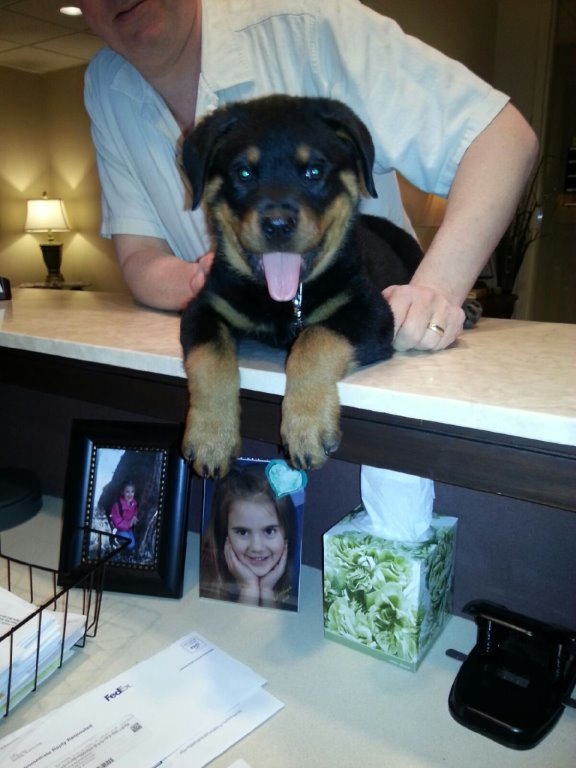 THANK YOU!!
---
Guardian Edna Von Gottschalk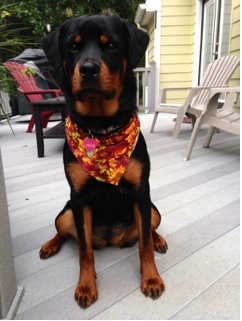 Alice,
I finally had an opportunity to read your email.    Thank you sooooo much!  I will let you go for a while as I know you must be busy, and things have definitely improved with miss Edna!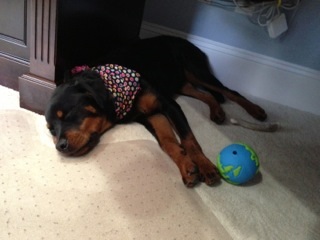 She is amazing; praise the Lord!  She already knows to down and she will do it without the command when we have a toy she wants in our hands and we then praise her and give it to her. And she is sweet and funny!!   Everyone is so impressed by her.  I tell you now that when the proper time comes, we want another Crom and Whisky baby!
I hope your travels went well.
Blessings,
Sorelis
---
"Zeus" Guardian Eclipse Von Gottschalk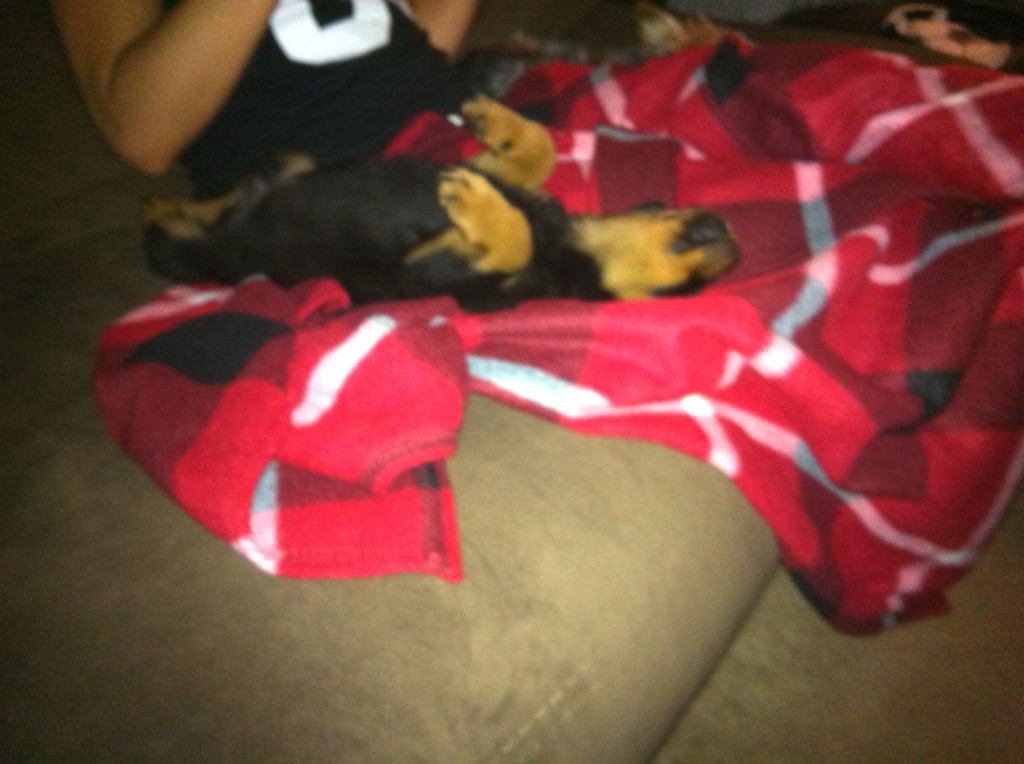 I thought this was hilarious! We just got done playing and he feel asleep like this!
Just thought you would like a recent picture of him!
Have a nice Sunday!
Tim
---
"Donato" Guardian Edge Von Gottschalk
Hi Alice,
I hope this email finds you well!
I attached the photos this time, the pics were on my cell phone so when I sent them before I guess it wouldn't come over on email. Let me know if you can't open the attachments for some reason.
Donato is doing great!  I taught him to sit on the sixth try, and a high five!  Sometimes he lays but we're still working on that as well as house breaking him 🙂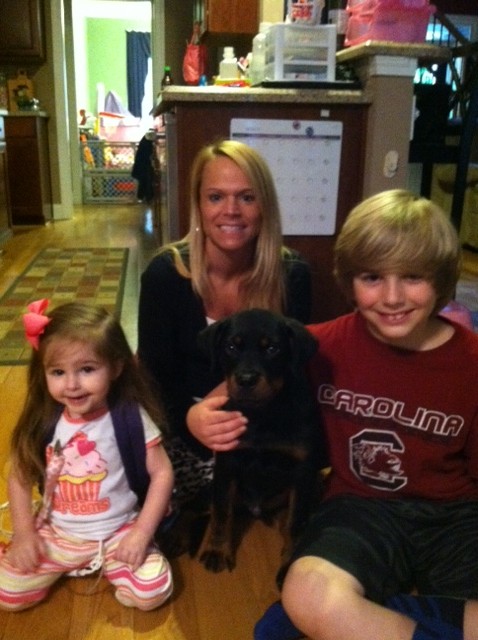 I hope all is well with you, your family, and the furry friends!
Just wanted to give send you some 4 month old pics of Donato.  He's so AWESOME!  We all love him soooooo much!  Everyone that meets him always comments about his temperament and how he's such a great looking pup!  
He went for his 12 week check-up/shots on 4/1 (a little late) and 16 week final shots on 4/22 (exactly 16 weeks).  So he's good to go until April 2014.  I attached a copy of proof of shots for your records as well.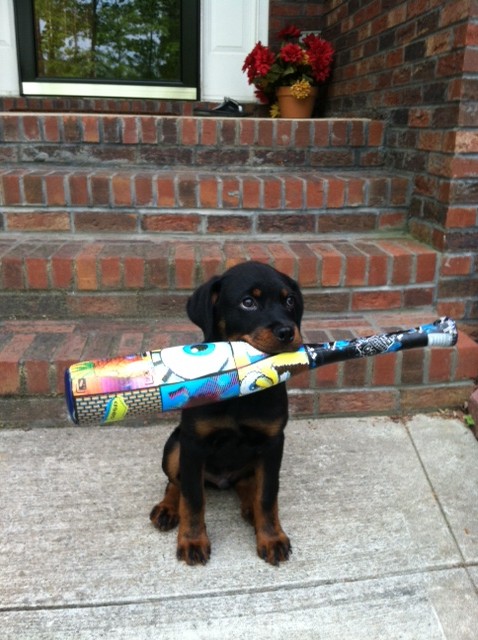 He's growing like crazy, weighed him today and he's 25 lbs exactly (one day shy of 17 weeks old).  Is that where he should be at that age?  Also, how much does Crom and Whiskey weigh?  People always ask me that question and I have don't have the answer for them.
Lots of love from the Wise family!
Greetings from SC!  Just wanted to send a quick update on Donato at 5 months old (5/31/13). He's up to 38 lbs now and is such a good boy, housebroken, and soooooo smart!  LOVES to play ball, and he's a silly boy too!  His personality is really coming out.  He knows the difference of being able to play rough with myself and TJ, yet so gentle with the girls (especially Jaylyn).  We couldn't have asked for a better companion.  Couple of pics over the last month are attached.
I hope you and the family are doing well, will be in touch with another update soon.
(Visited 20 times, 1 visits today)