Guardian Rottweilers G LITTER
Sire: Kesius Kley Vom Zecwald
Dam: Gunda Se Ungo-Rot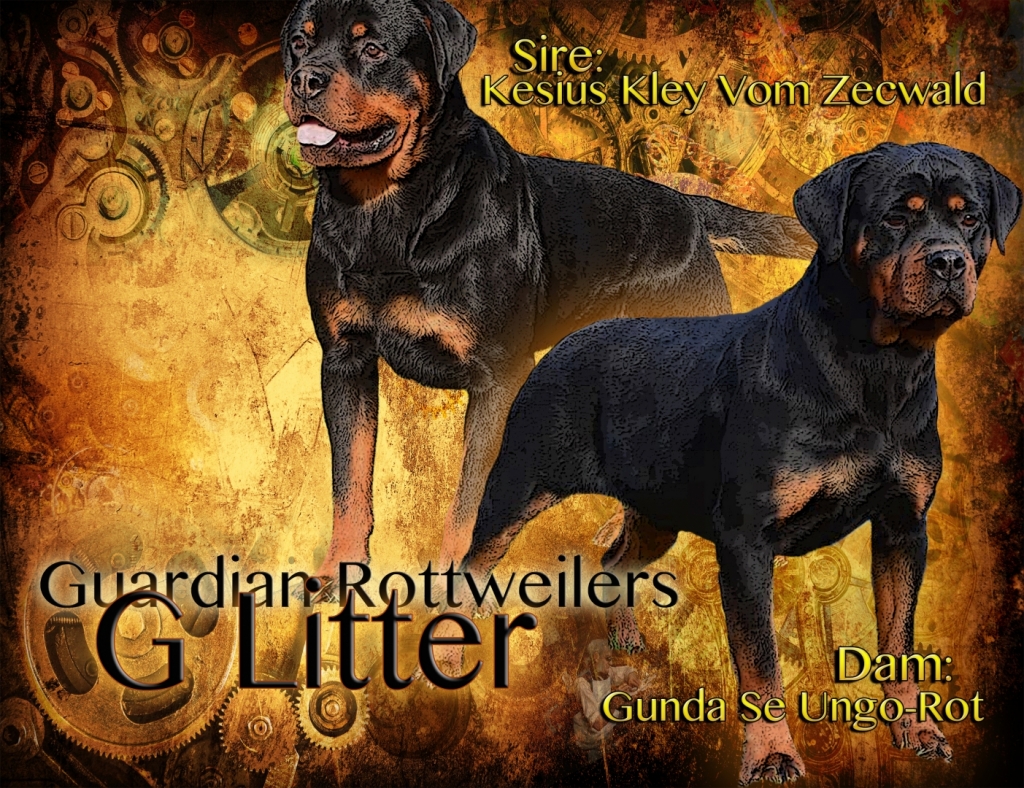 Kesius Kley Vom Zecwald
HD A ; ED 0
YOUNG CHAMPION OF MONTENEGRO
YOUNG CHAMPION OF BULGARIA
GRAND CHAMPION
BALKAN CHAMPION
YOUNG MNE CHAMPION
5x YOUNG WINNER
4x YOUNIOR B.O.B.
3x YOUNIOR B.O.G.
JUNIOR BEST IN SHOW II place
is a large, powerfully built male with an excellent frame and heavy bone.  He has a very typey head with heavy influence from both Edge and Hero.  His character is also reflective of the hard working lines on both sides of his pedigree.  Kley has great drive, is very biddable and eager to please, and such a socialite!
Kley is the direct son of Edge vom Carrabba Haus, 
ztp sch3 bh
2016 USRC Northeast Regional Sieger Show Judge: Helmut Weiler – V1 & Seiger Male Class
2016 RKNA Northeast Regional Breed Show, SE & ZT-Judge: Siegmund Trebschuh V1-Seiger & Best of Opposite Sex
2015 USRC National Sieger Show – Judge: Uwe Peterman National/Regional Award Ipo1
2015 RKNA – SCRC RKNA Seiger, ZTP, SE & Korung Judge: Mick Svaljek V1 Seiger & Best in Show
2015 RKNA Fall Breed Show – Judge: Uwe Peterman – Best in Show
2015 USRC National Sieger Show – Judge: Uwe Peterman – V1
2015 RKNA Breed Show Judge: Olga Grin – V1
2015 RKNA Breed Show & ZTP Judge: Siegmund Trebshuh – V1
2015 ADRK Klubsieger-Zuchtschau Jude: Hans-Jurgen Radtke – V1 Working Class
2015 World Show Judge: Uwe Peterman – V1 & CAC
2015 RKNA Championship
2013 GDRK Breed Show Judge: Paul Dieter Viehoff – V1 Best Male – Open Class
2013 ADRK Klub Show Germany Judge: Jurgen Wulff SG Head To Extreme!
Edge is a very accomplished working male and very well titled show dog, and his influence on the character and conformation of Kley is obvious the moment you meet Kley. 
Kley's mom, Dorina Vom Zecwald, is the direct daughter of Hero von der Tonberger Höhe
Zb.-Nr. 117586
VDH Champion,
ADRK-JUNIOR CHAMPION
VDH-JUNIOR CHAMPION
ZWICKAUJUGENDSIEGER
THURINGENRJUGENDSIEGER
LANDESJUGENDSIEGER
DRESDENJUGENDSIEGER
JUGENDSIGER,
FCI 2, MULTI VI
Gunda's pedigree also has some nice working influences- Pongo Se Ungo-Rot, Na Li Se Ungo-Rot, Goga Se Ungo-Rot, Faryco Terzsky Dvur, Arlos Majestic Rot, Kafu Vom Beni, Nando Se Ungo-Rot, and of course the great "King" Marsio Ri Mobby Dick!  With such a balanced pedigree full of both some phenomenal working dogs and some of the most titled show dogs of all time, we are expecting our GLitter to produce accordingly!  Pregnancy confirmed via ultrasound with pups due beginning of March.  I will be personally escorting Gunda from Europe to the USA beginning of February.
---
Guardian Genevieve Von Gottschalk
Hi Alice and Miguel
Well, we are totally in love.  She divided the ride home between giving kisses and getting tummy rubs.  The toys you sent were a life saver.  She would play for a while, then crash and sleep for a while.
We can't thank Miguel enough for bringing her to us.  It was really a pleasure meeting him.  I hope he was able to leave on time, we drove into an awful storm after we left Atlanta and I hope it didn't delay his flight.
Gwen is sleeping peacefully now.  We will keep you updated on her progress.
Warmest regards,
Jean and Rick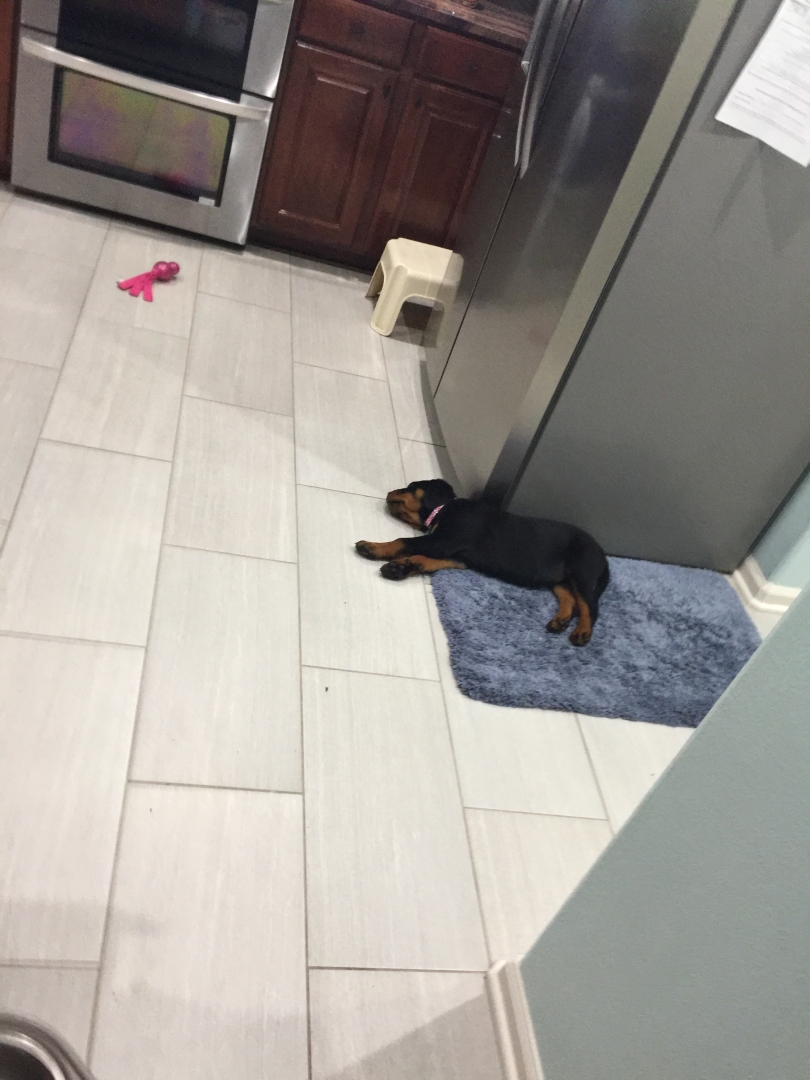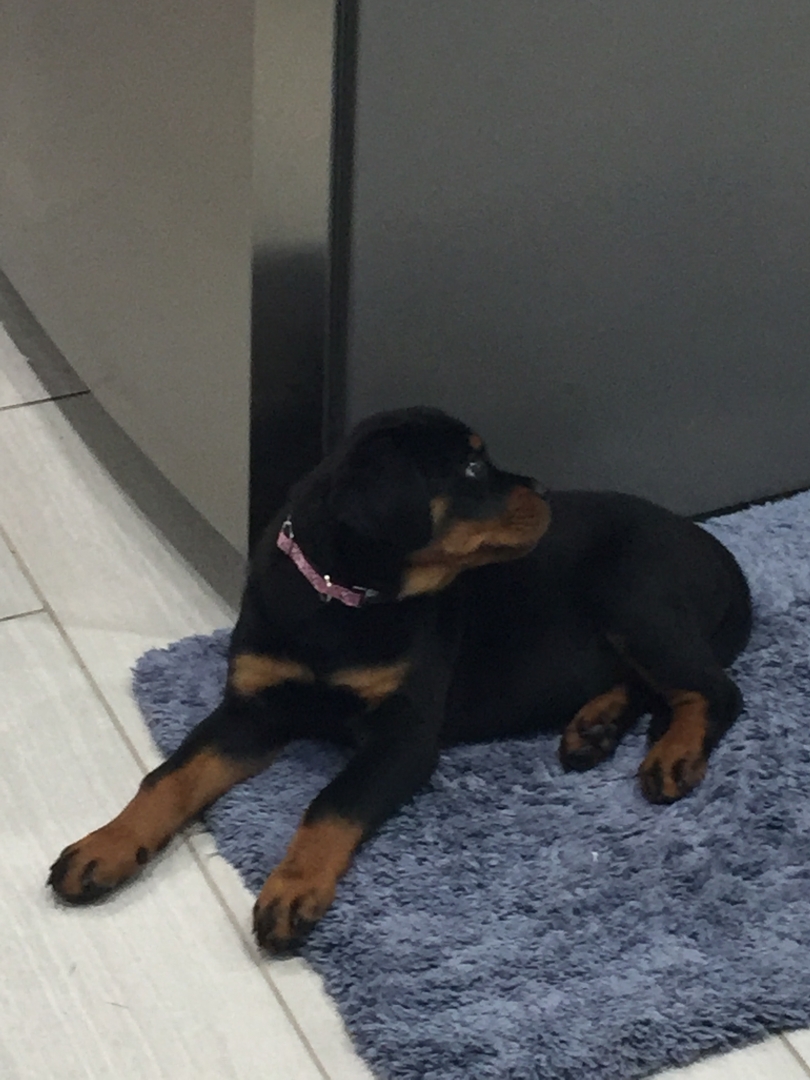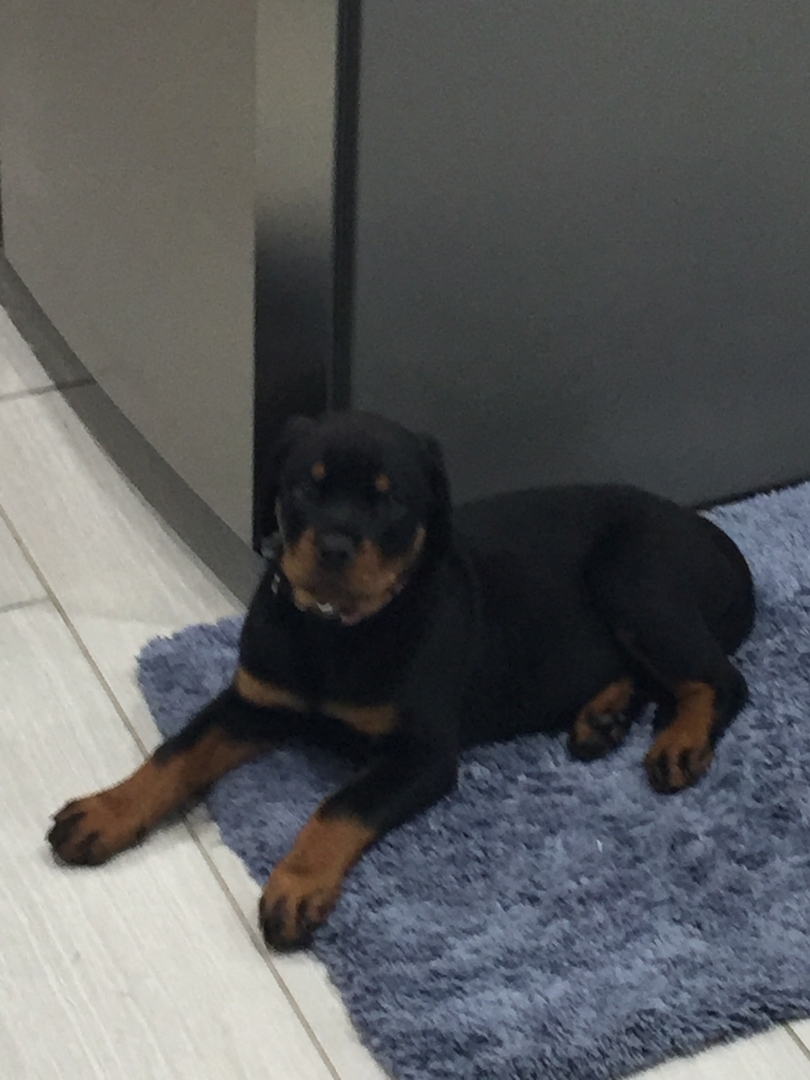 She is growing so fast. She has a box full of toys but her favorite is ice cubes. She comes running when she hears the ice maker and sits in front of the fridge waiting for hers. She is starting to understand that she sits to get her treats and, maybe wishful thinking, I think she will potty train quickly lol.   She bonded with us immediately and we've never had a single night of crying.  She even went into her crate on her own to take her morning nap today.
And I have not been attacked by a single Magnolia leaf
since I've had my Loyal Companion, my Guardian Rottweiler!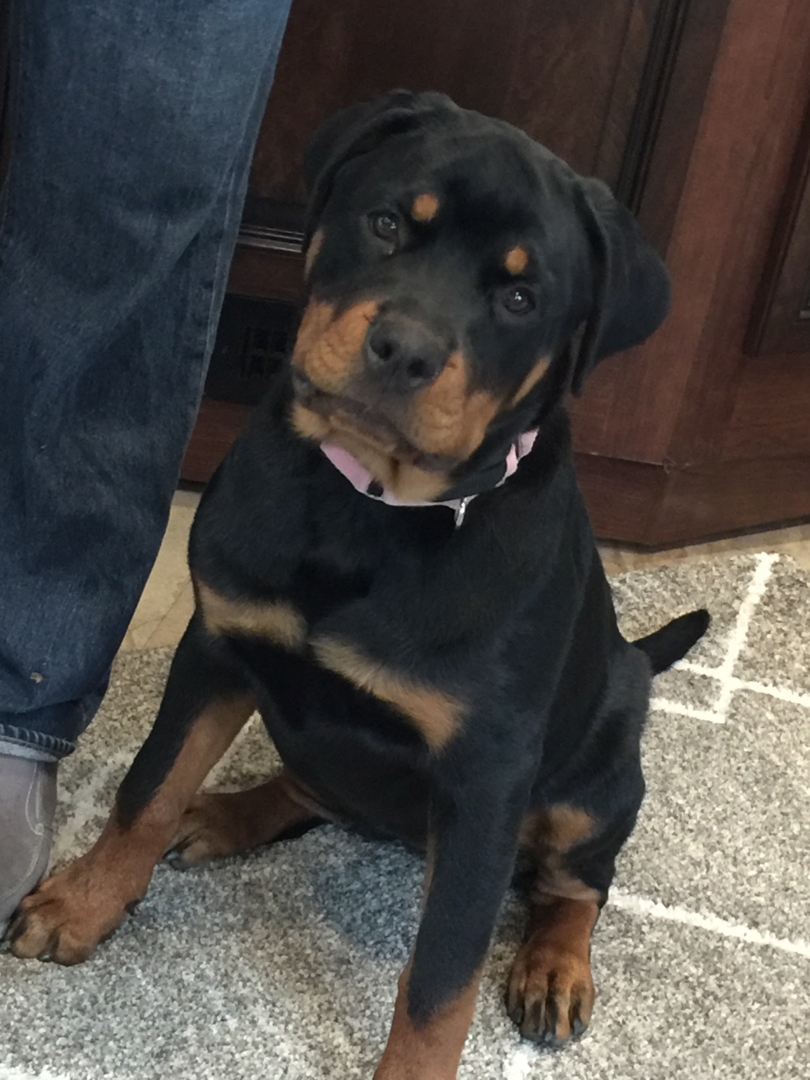 Hi Alice
Hope you and the family are enjoying your summer. Looks like you've been doing a lot of fun traveling.Gwen is everything we had hoped for. She is extremely intelligent, sometimes I think too intelligent lol.  She is a typical Rottie, snores loudly and can clear a room with her farts, thinks she is a lap dog and is a total lover. Two weeks ago she was 50 lbs. but looks very lean.From the pictures on your web site she looks very much like Gunda.  If you have any other pictures of Gunda and Kely I would love to see them. How big are they?  I have a feeling  she is going to be very large for a female.  Don't know if you noticed, but the tan under her tail is a perfect heart
? shape (love it).Hope Isis is improving. Sending prayers and positive energy her way.Warmest regards
Gwen, Jean and Rick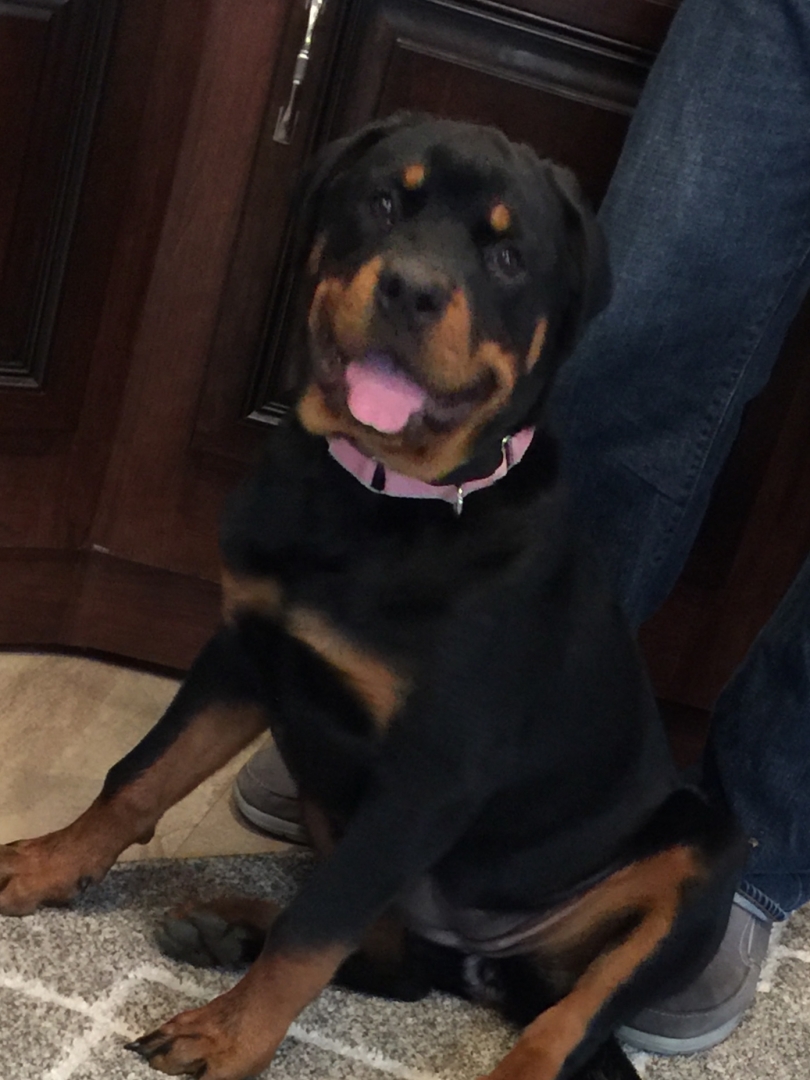 Hi Mama Alice
I'm having a great time with my new family. We've traveled from SC to Northern California in our new motor home. I've been a big hit from coast to coast, everybody I meet loves my tail and my kisses.Sending kisses to all the kids and a big 'thank you' for giving me such a good start in life.Love
Gwen
---
"Pepper" Guardian Garnet Von Gottschalk
Alice,
She is doing great. She wakes up and kisses. Completely different from Sparty. He was stressed out a bit. She is very happy.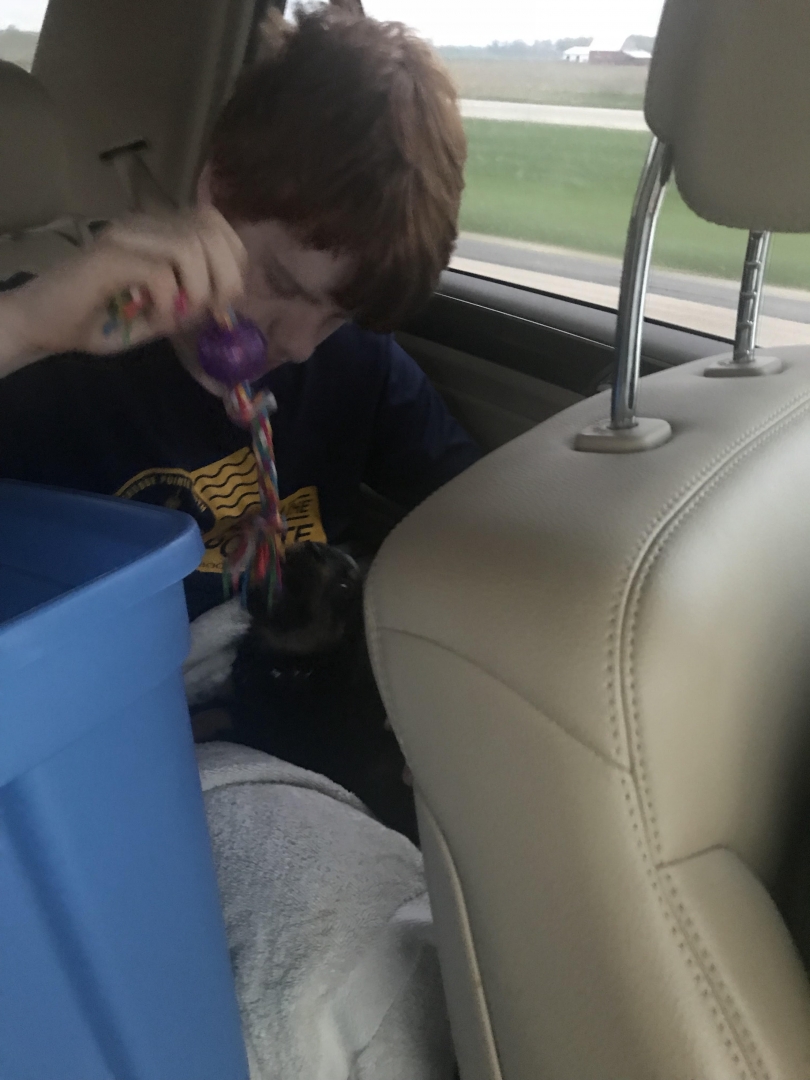 Alice -We decided to name her Tarah. She is very happy. No stress at all. As I mentioned before, in comparison to Spartan who was stressed first the first two days, she is playful and happy. We are having luck with potty training. She only had about 3-4 accidents since we came home (yesterday). She is in a medium size crate at night and I wait for a signal to take her out.I fed her barley mixed with ground turkey, egg and yogurt. All either organic or natural (turkey was natural). She likes tuna and apples.So, no worries, she is happy.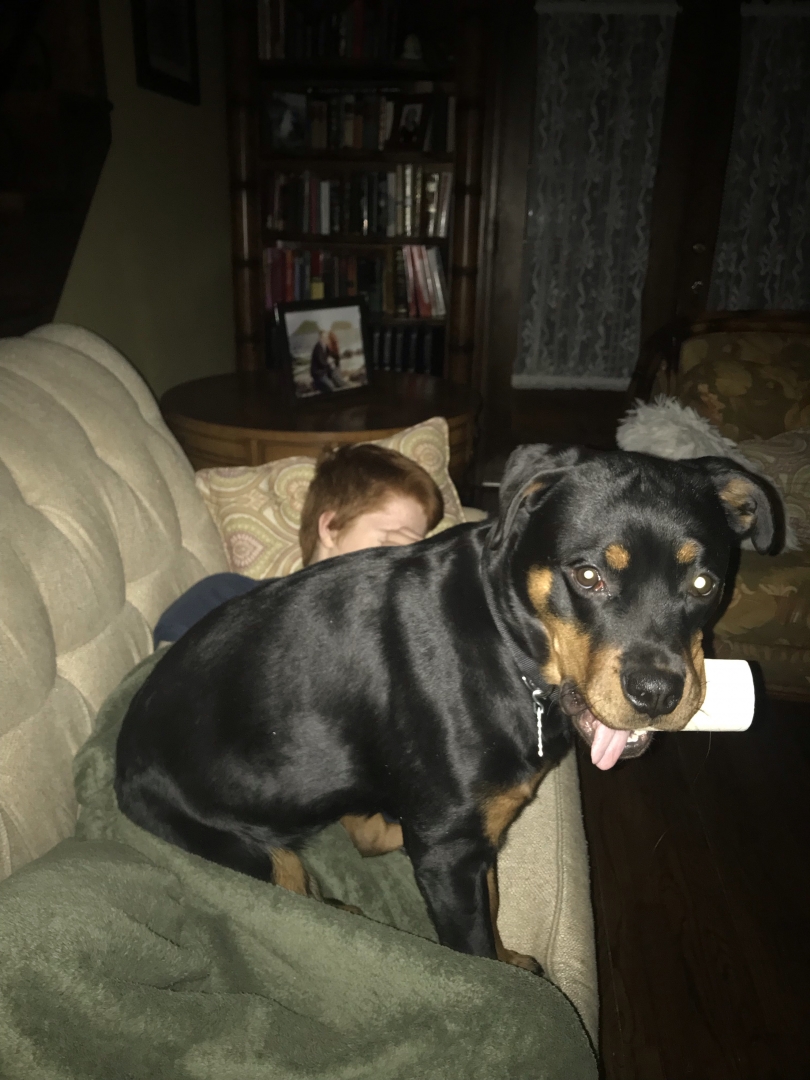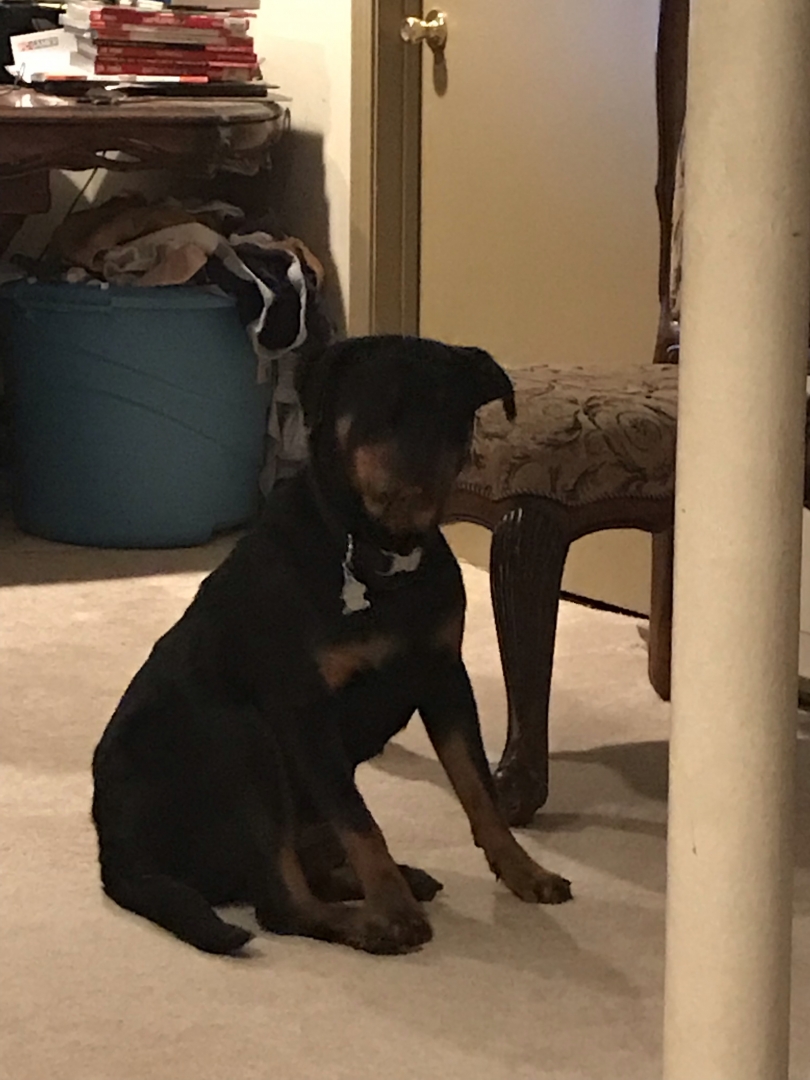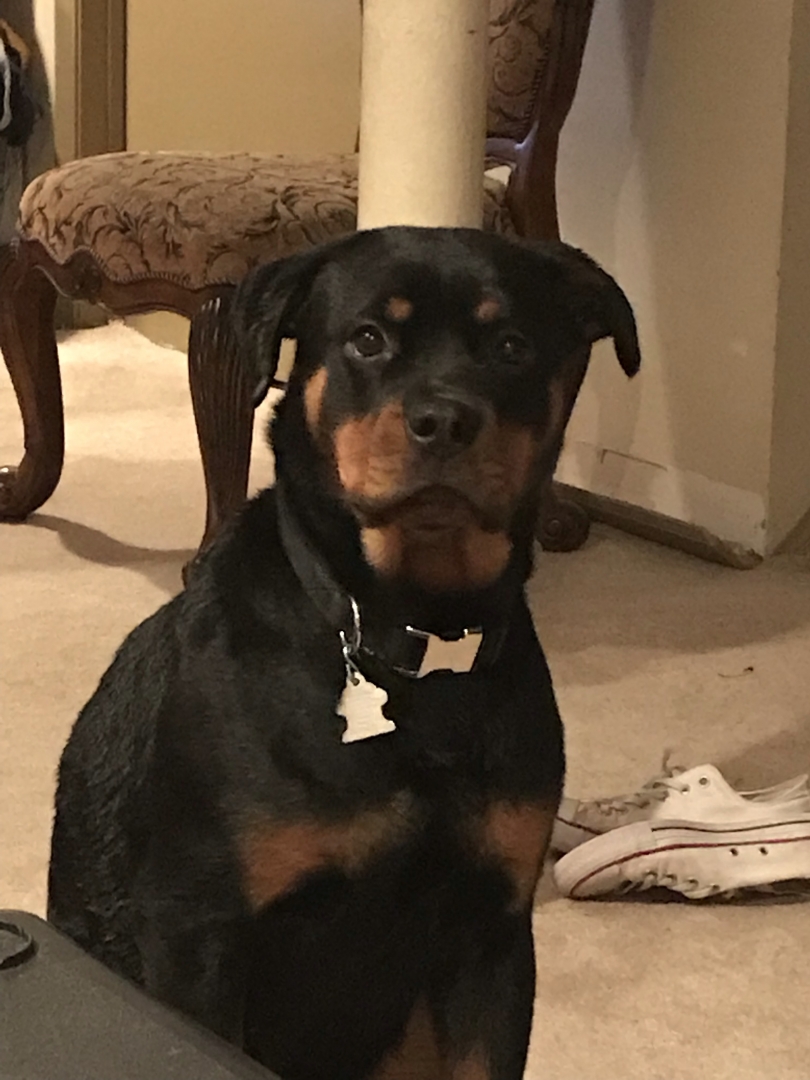 She is doing great. We named her Pepper. She is big girl! Just like vet told me.
By the way, she is the sweetest dog we had. She has the kindest heart! Alice, I never have to worry about her. In fact, she lets our kitty to eat from the same dish. Their faces are often in a bowl together. They eat and drink together.
---
"Chazaq" Guardian Graham Von Gottschalk
Hello Alice!
He is beautiful and sooo sweet!!! Smart, alert, and already knows who's his owner!!!
Below are picks and updates.
"Chazaq Batach" Guardian Graham Von Gottschalk — "Chazaq"
Meaning:
Chazaq (Khaw-zak ) Batach (Baw-takh')
Chazaq – to seize, be strong, courageous, causatively strengthen, to help, fortify, to conquer, mighty, be sure, take (hold), behave self valiantly, withstand.
Batach – to trust
God bless,
Sorelis
Here, scoping the situation — over excited big sis, but later, outside…
Straight talk… "Make no mistake, I will be Alfa as soon as I'm able to!"
At the airport, just before starting my new journey with my new papa
At mama's feet
At papa's feet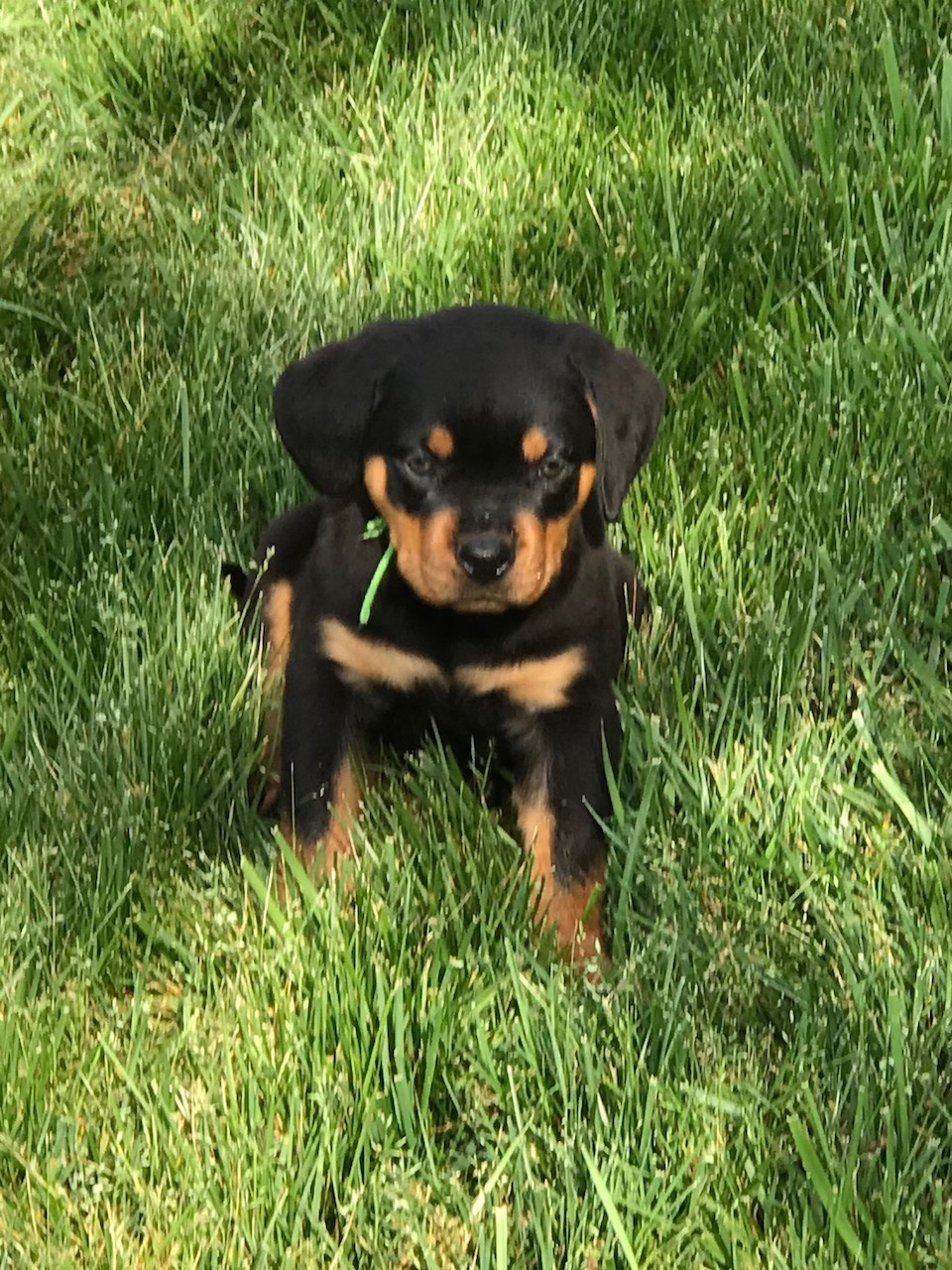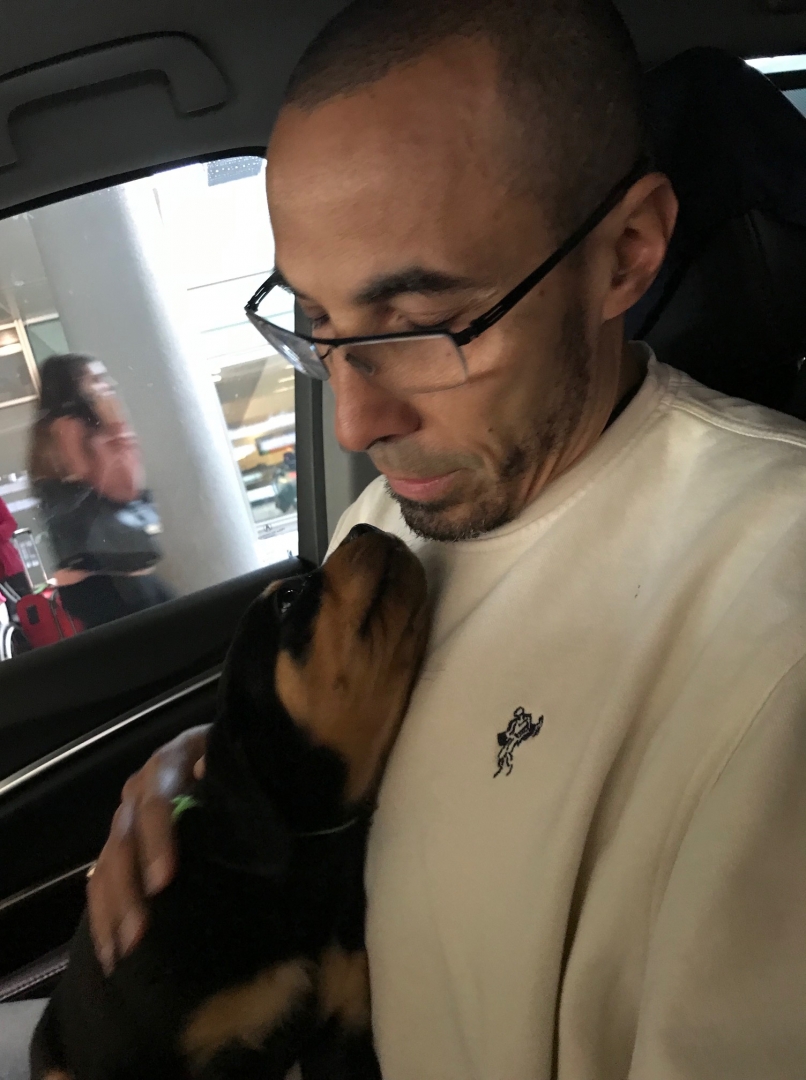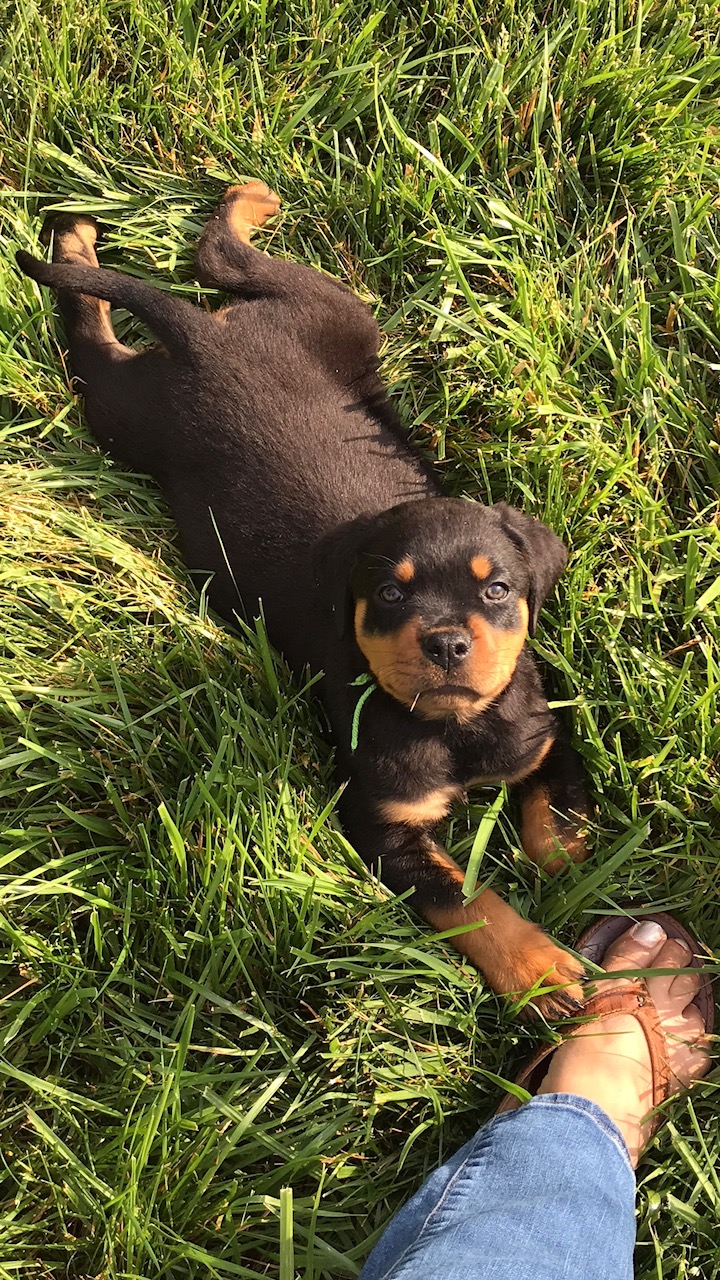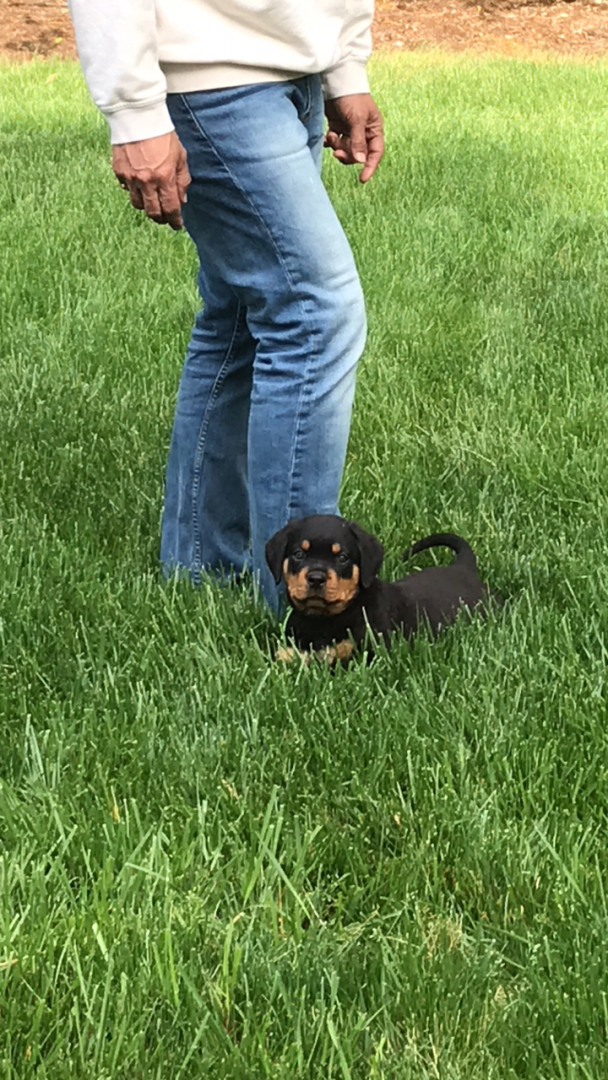 Hi Alice,
I pray this email finds you well!! 
Guardian Graham Von Gottschalk is doing so well!!! He is so smart, fully to the point of hilarious, and he has this gig of jumping backwards from standing or seating, that it is amazing and hilarious at the same time. He's been doing this since a few weeks after he came home and still does.
It has been a busy last 12 months for us which have included relocating to California! Never in my wildest dreams!!
Also, we have spoken about you using him if you would like to. Let me know your thought on that. He is still intact and is an amazing stud, and super smart 🙂 But if we won't use him, we may need to consider neutering at some point. Will appreciate you thought on this too.
Below is a video (taken by one of my sisters) showing how smart and funny he is with his SIGNATURE BACKWARD JUMP. Also some pics from when he was little (trying to catch up) through this past week. Enjoy!
Blessings,
Sorelis
Video following the "watch" command and the "to the mat" command with the backward jump.He still does that jump today; it's amazing! He is so agile!!! 
First weeks at home! His eyes were so beautiful! They darken fully — Still beautiful. In the car with Herbert, when we picked him up at the airport.
Current! In my office looking out the window checking out all those happy people out there
? Also enjoying those rough porcelain floors(not as beautiful as mama would have liked them but great for my traction and cleaning 
). At my sister's yard a few weeks back, during the move transition.
---
"Kona" Guardian Gloria Von Gottschalk
Dear Alice,
Your sweet little Gloria (aka "Kona") is celebrating her one year birthday today in New Hampshire and I thought you'd like to see what a beauty she is becoming.  She is quite the character, everything you promised and more.  She still gives gentle kisses and loves to snuggle, in fact she is a lap dog at 75 pounds.  She had chicken pot pie for this morning's breakfast to celebrate her special day!  Thank you for bringing this gorgeous girl into my life.  
?
Barbara


Look who's two years old today!  What a sweet beauty.  I love her so much.  
?
Thank you, Alice!!  🙂
Chicken pot pie and a big new red chew toy on her favorite LL Bean mat in the kitchen.
Guardian Gloria Von Gottschalk,   aka KONA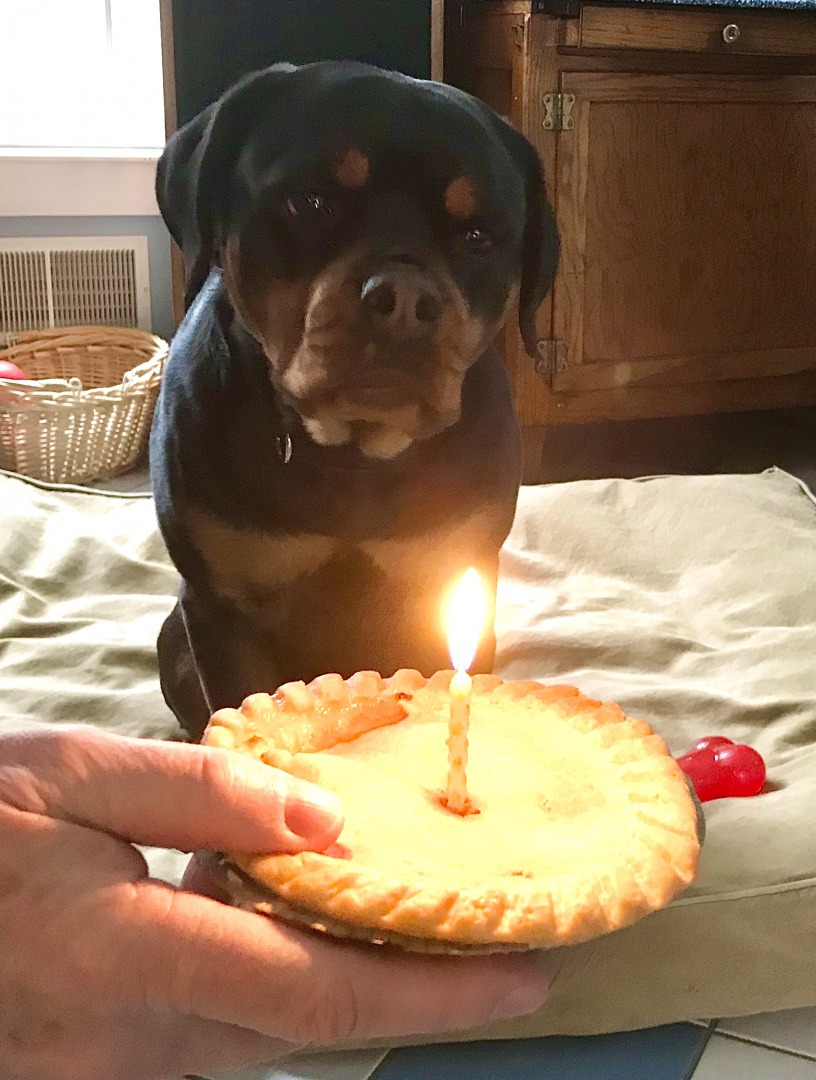 Ready to blow out the candle (sort of; actually ready to EAT but waiting till I say so):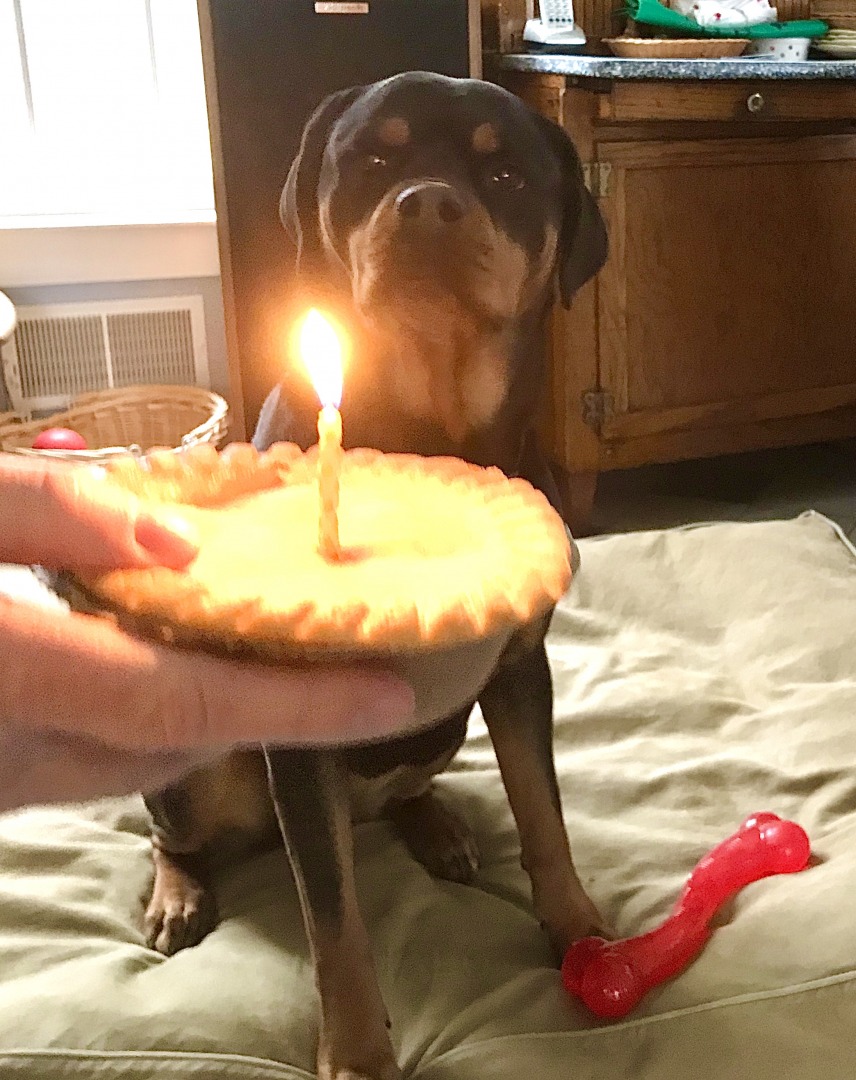 (Visited 52 times, 1 visits today)